Monday, 10 August 2020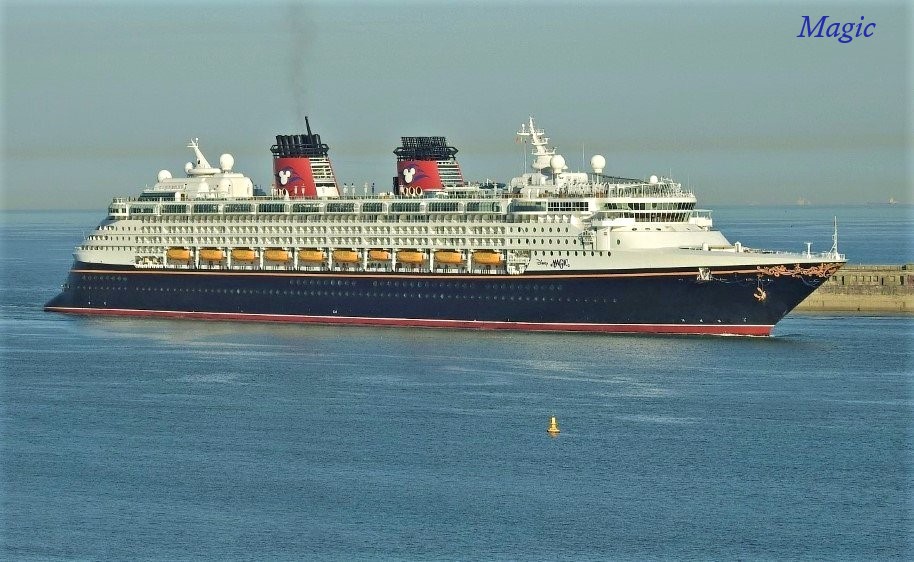 The Disney Magic entering the Port of Dover once again after a brief channel run....

WWW.DOVERFORUM.COM/SEA-NEWS
Sea Pictures from DOVER ....
Just to let everyone know...we have essentially closed Sea News.
Times have changed and these changes havent been good to us.
We will leave it open for research purposes ...if anyone wants to check anything etc etc
Other than that its all over.
A huge thanks to everyone who contributed over the 7 years.

Paul Boland - dover7@msn.com.
.
Use our SEARCH ENGINE below to find all sorts on the SEA NEWS pages....type in the topic and away you go,
or if you have the post number, just type it in the Search Box, more than
- 7000 -
nautical posts now.
Sea News Dover:
All pictures on these pages are the copyright of the owners and must not be reproduced without permission.
Post 422
PaulB, Dover
NOW WITH THE LATEST NEWS ON THE NEW PORT ELECTED REPRESENTATIVES... (see the other appointments further below )
NEW INDEPENDENT CHAIRMAN AND VICE CHAIRMAN ELECTED FOR PORT USERS GROUP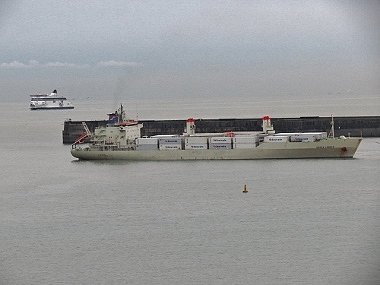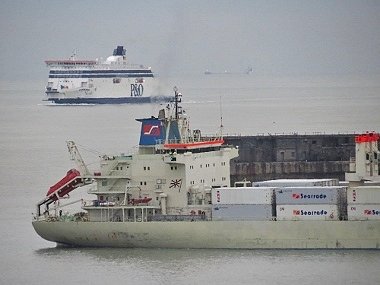 The newly formed Port Users Group (PUG) has elected its first Independent Chairman and Vice-Chairman as the Port's determination to transform the way in which it listens and consults with its key customers and Port users takes a further step.
James Ryeland, Managing Director of Dover Cargo Terminal operator George Hammond PLC, is the new Chairman and he will be supported by Robert Hardy, General Manager of MOTIS Freight Services Agency. Port users from the Eastern and Western Docks, James and Robert represent two key businesses within the Port and therefore a strong voice for all users.
The PUG provides a valuable platform for port users to debate issues of mutual interest. The new roles will support Port users in establishing a meaningful and independent engagement with the Port on what really matters to them as customers.
James Ryeland said: "I am delighted to undertake this important new role on behalf of all Port users. Together with Robert, I fully intend for the PUG to become a forum that is greatly valued by all participants in strengthening and nurturing positive relationships with the Port."
Reflecting the breadth of Port interests as well as the Port's desire for inclusive discussion, the PUG consists of ferry operators, cruise lines, the cargo terminal operator, sister ports, tenants, other local port users, cleaning and security contractors, freight agents, emergency services, trade associations and relevant government agencies.
Robert Hardy added: "I look forward to supporting James in establishing the PUG as a vital tool in working towards a collective voice for Port users and a partnership for mutual success."
Tim Waggott, Chief Executive, Port of Dover, added: "The election of James and Robert is a clear sign of our commitment to open, trusting and meaningful dialogue with all of our Port users as we work together in becoming the best port in the world."
* *
PORT AND COMMUNITY FORUM ELECTS POPULAR INDEPENDENT CHAIRMAN
*************************************************************
The Port and Community Forum (PCF), the group that is seeking renewed, positive and vibrant community engagement with the Port, has elected Derek Leach as its first ever independent Chairman following an anonymous ballot.
Mr Leach, Chairman of The Dover Society and a well respected member of the local community, will be supported by a new independent Vice Chairman, Dick Fuller, one of the two recently elected local representative members of the public. Together, they will lead the direction of the PCF as it works to deliver transformational projects for the benefit of Dover together with the Port.
Reacting to his appointment, Mr Leach said: "This is a golden opportunity that Dick and I intend to embrace enthusiastically. Over the last few months there has been an immense change for the better at the Port in how it has committed to its community. Now it is time for the community to build on that momentum to deliver the partnership for Dover that all members of the PCF and the Port wish to see. This is a role that I take incredibly seriously as we keep Dover's interests at the heart of all we set out to do."
The PCF is already developing a heritage strategy for Dover with practical projects that will deliver positive change. This is part of the group's commitment to pursuing a future for Dover that is exciting and transformational for Dover as a whole.
Dick Fuller said: "As an independent local community representative, my role is to bring the views and ideas from the local community to the PCF. I look forward to supporting Derek in making things happen for Dover together with the people of Dover for whom we wish to make a difference."
Tim Waggott, Chief Executive, Port of Dover, added: "I am delighted for Derek and Dick and believe that their experience will be invaluable in taking the PCF forward independently but with the full cooperation and positive input of the Port. This is a critical group for us as we look to build on the vision that, together with our community, we are all working towards."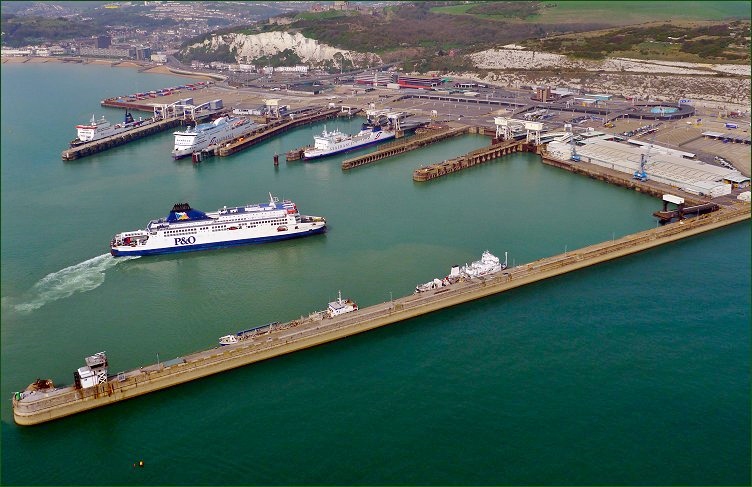 Interesting one on the DANCE TO FRANCE Andrew. Good luck with that.
Top pictures show the Hansa Lubeck arriving a day or two ago...the buoyant cargo turnaround continues..
Thursday, 23 January 2014 - 06:23
Post 421
Andrew MacLean, Canterbury (jazzandy@btinternet.com)

Dance to France – Sat. 29th. March on MV Spirit of France

Remember those good old days when folks would head for the ferries at the weekend to take part in the 'Dance to France' craze during the seventies and eighties on the 'Lion and 'Tiger' and latterly until 2006 on the Sealink boats.? Those starry evenings crossing the pond dancing to the sounds of the bands and discotheques belting out the latest pops while the ferries plied their way between the twinkling lights of the British and French coasts?

Well those days are coming back! The Lifeboat supporters and the Dover Steamship group have got together to re-instigate the popular event with a charity discotheque on board P&O's latest superferry, MV 'Spirit of Britain'.

Saturday the 29th. of March is the date and the departure is on the 1835 sailing to Calais returning into Dover by 2215.

All the on board facilities, the food court, Langan's Brasserie, and of course the low tax shops will also be open to the revellers who will probably be able to recoup the cost of their tickets from their purchases.

The discotheque will be situated in the forward bar area and will only be open to ticket holders. "We've combined the non-landing car park shopper deal with the disco," said Dave Carey, local fundraiser for the RNLI, "So our ticket holders will benefit from the on-board entertainment as well as the massive savings available in the Spirit of Britain's shops."

Tickets costing £12.50p per passenger are available by calling 01227 732414 or 01304 210572 and are based on a car and two passengers or a car and four passengers. "Book early," Dave advised, "Our numbers are strictly limited owing to the size of the lounge on board."

Further information from Andy MacLean at 01227 732414.


Wednesday, 22 January 2014 - 11:04
Post 420
PaulB, Dover
ENJOY DUNKERQUE CARNIVAL WITH DFDS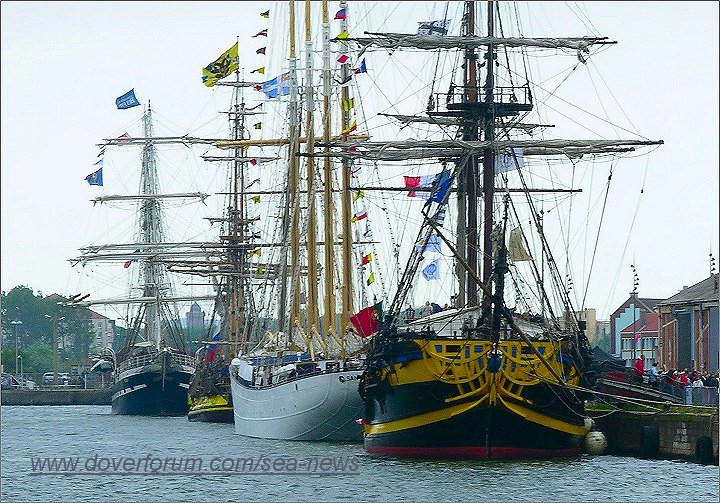 Join the Carnival in Dunkirk with a Ferry Good Offer from DFDS Seaways

· Save 20% on the price of return ferry crossings from Dover to Dunkirk
· Dunkirk carnival is one of largest and oldest in Europe
*************************************************************
DFDS Seaways, the award-winning ferry operator, is offering customers the chance to travel to the unique and colourful Dunkirk carnival from as little as £24 each way for a car and up to four people. The carnival is one of the oldest and biggest of its kind on the Continent and runs from mid January until late March.
Visitors to the carnival are encouraged to join in the fun of over 40 street parades with marching bands, 60 balls, competitions, music, traditional food and drink, plus a lot of dressing up! Renowned for its friendly atmosphere, the carnival welcomes visitors from the UK, with many homes operating an 'open house' policy to help them get involved. These Chapelles, as they are known, host live music and other festival activities.
The street parades are called Bandes and the music, marching and celebrations run from 3:00pm until around 8:00pm. The carnival balls are a highlight of the carnival and tickets can be purchased in advance, with all profits going to charity. Here, attendees garb themselves in colourful fancy dress and dance the night away, whilst dining, drinking and making new friends. All these balls begin at 10:00pm and the fun doesn't end until around 6:00am.
__
DFDS Seaways has 24 sailings a day between Dover and Dunkirk, offering passengers excellent flexible sailing times, as well as high quality onboard facilities. And with the crossing taking just two hours, you can relax and enjoy the journey as the perfect start to your trip. Dunkirk is 30 miles north of Calais and is close to France's excellent motorway network, so it's a convenient gateway to Europe and its wide range of cuisine, culture and adventure.
If you want to take advantage of the special discount, which is 20% off the normal fare, you need to book before 29th January and travel by March 31st, using code ECARNIVAL. To book your travel, or for more information on DFDS Seaways' Dover-Dunkirk route, visit www.dfds.co.uk
You can book package deals, including hotel accommodation, meals, costume hire and entrance to some of the key balls on the Dunkirk Tourist Board website www.shortbreaks.fr/
You can also book accommodation in Dunkirk or surrounding areas with our hotel partner booking.com.
* *
Picture shows some of the gathered Tall Ships at Dunkerque in Spring last year. The town is full of pleasant surprises.
We have used several of those tall ship pix before and this is yet another one.
Beautiful ships for sure.
Wednesday, 22 January 2014 - 07:10
Post 419
PaulB, Dover
ACTION MEN of the RNLI !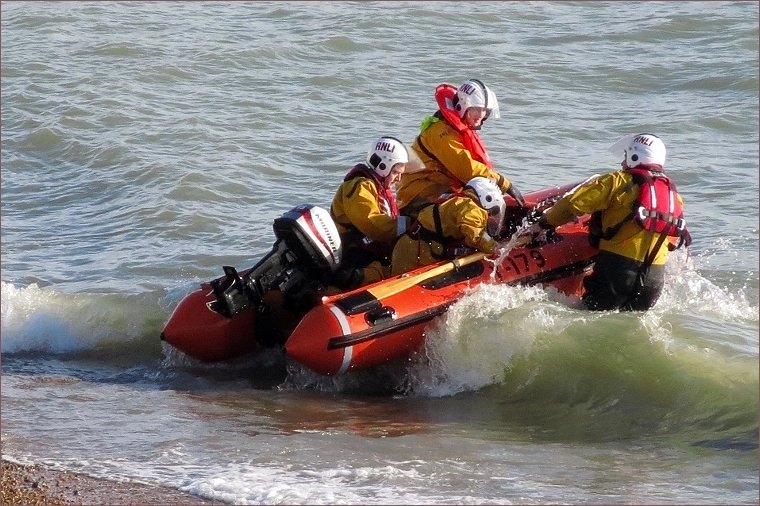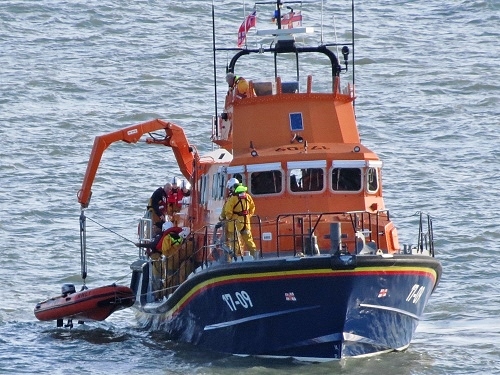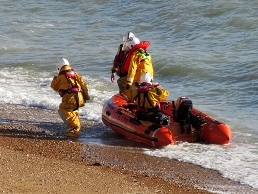 The guys from the Lifeboat were in training action on sunday morning. It seems to be a regular thing and in this episode shown here a RIB was lowered and the guys beached it as part of the exercise and then re-launched. The waves weren't too troublesome although the odd one gave them a bit of a splashing as you can see in the top shot. But of course the Lifeboat crews get used to these hardships and take it in their stride. After the training session was over they returned to the 'mothership' where the RIB was lifted out of the water and the guys probably had a flask of hot Bovril to hand.
Yes indeed Howard great coverage below there from Mike ..
and yes that Pacific Osprey is a bit special, glad I was able to get a picture.
NOTE TO ALL: Don't miss the SIX BOTTLES of FREE WINE if you are popping over. A great P&O Deal that....I've had that deal before myself and the wine tastes all the better for being FREE..especially in these grim times of economic austerity.
Tuesday, 21 January 2014 - 07:29
Post 418
howard mcsweeney, Dover
great all round coverage from mike on the research vessel, see one now and again round the back of de bradelei's cannot remember the name.

excellent photo of the "pacific osprey" paul.

Monday, 20 January 2014 - 17:41
Post 417
PaulB, Dover
FREE CASE OF WINE WITH P&O FERRIES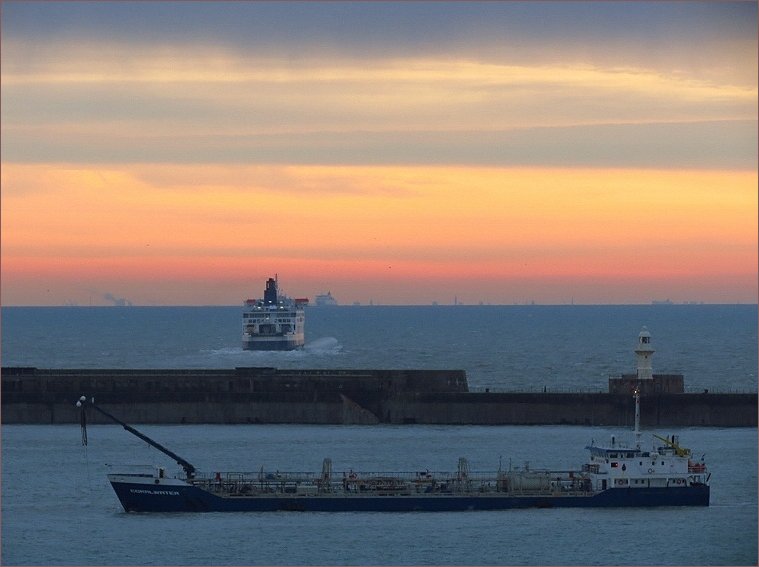 Book a Dover to Calais day trip for a car and passengers with P&O Ferries and collect six free bottles of red, white or rosé Piat d'Or wine on board. ________________________________________________________________________________________________________________
Fares are from just £23 return for a car and up to nine people Sunday – Friday, and from £28 return on Saturdays.
The offer is available for trips between now and 28 February at www.POferries.com so covers the entire period of Les Soldes – the January sales in France.
French shopkeepers are heavily regulated as to what they can call sales stock and the winter sales must take place between set dates (they end on 11 February). Reductions must be on normal stock items. Look out for "Soldes" signs and "Degriffe" or "Remise" followed by an amount which shows the mark-down, generally upwards of 50 per cent. A good source for tips on visiting Calais, including the best places to shop, is www.calais-guide.co.uk .
* *
This stunningly impressive piece of equipment below was making its way down the channel yesterday..if Im remembering correctly the time was about 3pm. We had a bit of sunlight to help with the photograph but as ever the vessel was a long way out so big zooming was needed and used. Its called the Pacific Osprey, an offshore lifting/construction system often used in offshore windfarm construction and the like. In the background is Cap Gris Nez.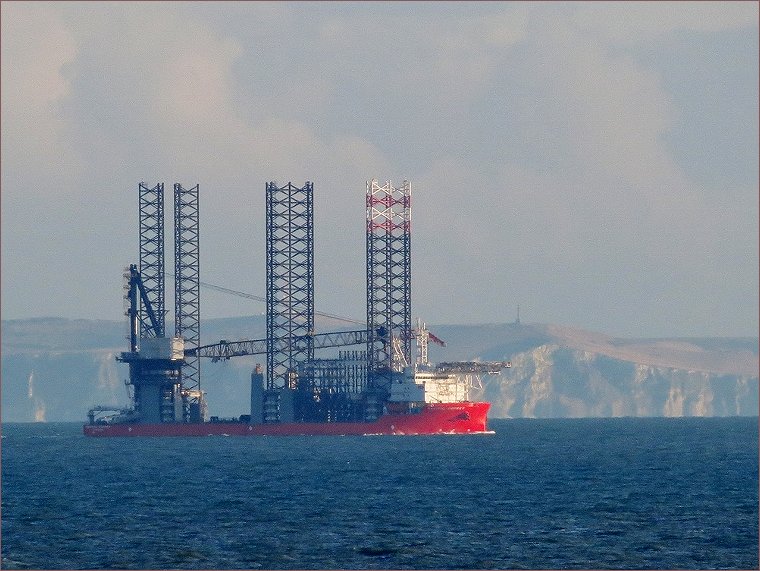 The colourful shot at the top of post shows the early P&O ferry heading for Calais in the super benign conditions of Saturday morning. Those benign calm conditions make a pleasant change from all our recent turbulent weather. You can see Calais in the distance popping up over the horizon while in the foreground you have the service vessel Coral Water.
Monday, 20 January 2014 - 07:39
Post 416
Mike J., Dover
The research vessel CEFAS ENDEAVOUR came into Dover on Saturday morning & berthed on Cruise-2.
She has been working in the Thames Estuary approaches & in the Goodwin Sands area during the last few days.
AIS shows the ALERT alongside the DAVID CHURCH again on Saturday night.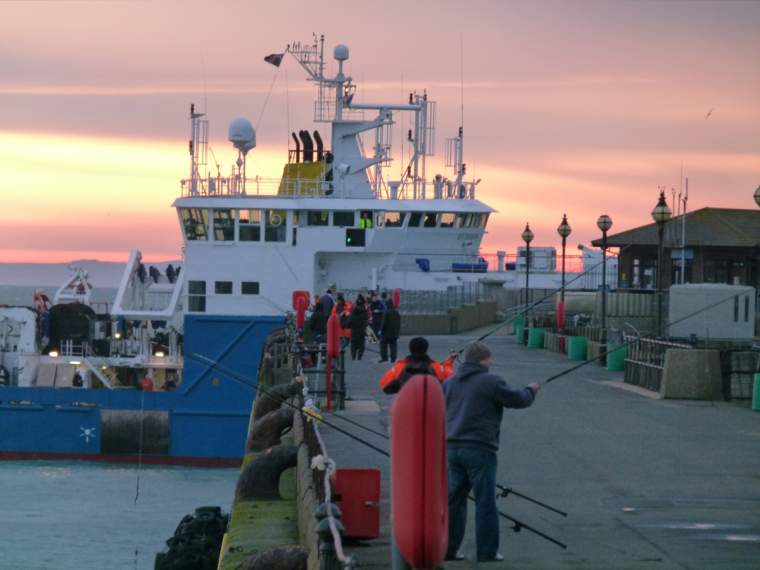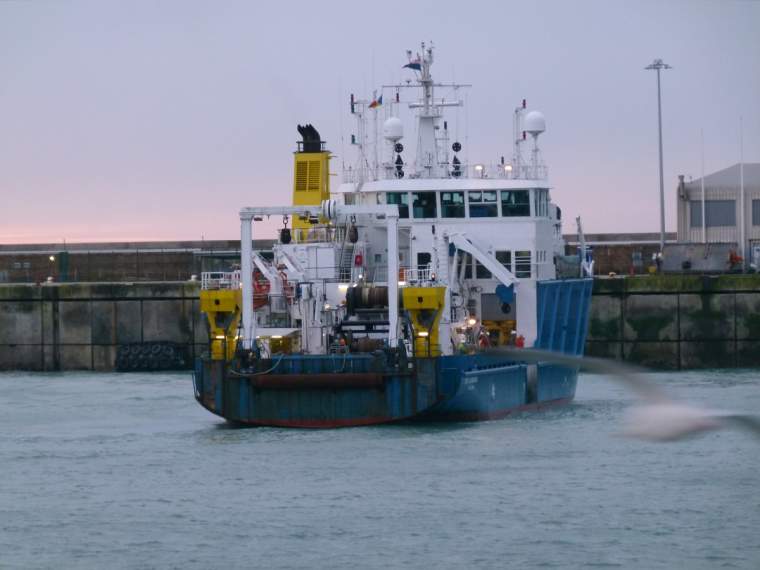 Sorry 'bout the damn seagull !
Saturday, 18 January 2014 - 20:15
Post 415
rosie newman, cornwall
Shame this forum is going down hill with all the backstabbing and bullying. Where are the admins????

Saturday, 18 January 2014 - 18:03
Post 414
look at this, New York (email@gmail.com)
xvXOYM Hey, thanks for the blog post.Much thanks again. Awesome.

Saturday, 18 January 2014 - 11:13
Post 413
PaulB, Dover
NEW TASKFORCE MEETS TO COMBAT ALCOHOL FRAUD
____________________________________________
The Economic Secretary to the Treasury, Nicky Morgan, has opened the first meeting of the Joint Alcohol Anti-fraud Taskforce (JAAT).
This new initiative brings together law enforcers, trade bodies and key alcohol industry figures to fight alcohol fraud, which costs the taxpayer around £1 billion a year. The JAAT is made up of senior officials from HM Revenue and Customs (HMRC), Border Force, the Home Office, Trading Standards and key industry stakeholders.
The group will work to improve intelligence and information-sharing and current legislation and processes, to prevent fraud and make it more difficult for fraudsters to operate. It will build on HMRC's Tackling Alcohol Fraud strategy, which was launched in 2010-11 to cover fraud involving all categories of alcoholic drinks. HMRC, working with Border Force, seized over 12 million litres of duty unpaid alcohol in 2012-13 and protected over £600 million of revenue, almost triple the amount protected in 2010-11.
Economic Secretary to the Treasury Nicky Morgan said:
"Alcohol fraud illegally diverts money that could otherwise be spent on public services and reducing the deficit. The fraud, which often involves organised criminal gangs, undermines honest businesses up and down the country.
"This Government will not let criminals steal money which our country is legally entitled to. The Government has invested £1 billion to tackle fraud, error and debt, and will work with the alcohol industry to strengthen our efforts to tackle this billion pound crime."
HMRC's alcohol fraud strategy involves targeting enforcement at key points of the supply chain, working with honest businesses to secure alcohol supply chains and tightening the law to make it more difficult for criminals to operate.
* *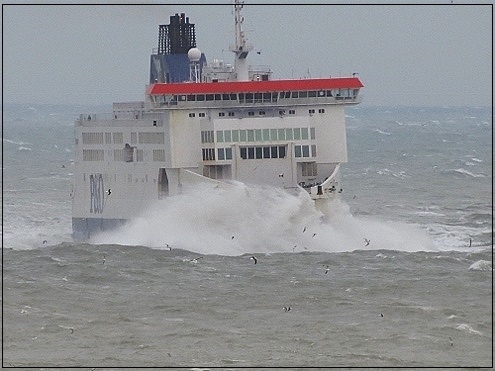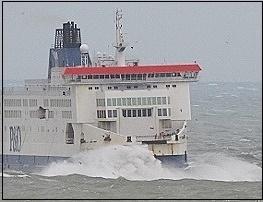 I don't know how often the guys in those little boats are getting out these days Jan as the weather has been extremely rough almost all the time. Its true there have been some lulls..but it has been generally very tough indeed, even nautical men of experience like Ed Connell himself have mentioned so. These pictures shown were taken yesterday friday...they show the Pride of Kent heading homewards through tough and rough seas.
Saturday, 18 January 2014 - 08:20
Post 412
JanT, Dover
Always lovely to see the colourful pictures of the fishing boats in Deal,I wonder how often they get to go to sea.
And yet again MyFerryLink passing on some good offers, have vsisted the lovely Wimereux, but not yet been to Saint Omer but must be on the to do list.


Friday, 17 January 2014 - 17:10
Post 411
PaulB, Dover
It was a rough ol night out on the channel I can tell you. Currently there is a force 8 gale whipping its way up the strait. This is the scene a few minutes ago at 9am friday with the sun trying to burst through the dramatic cloud formation..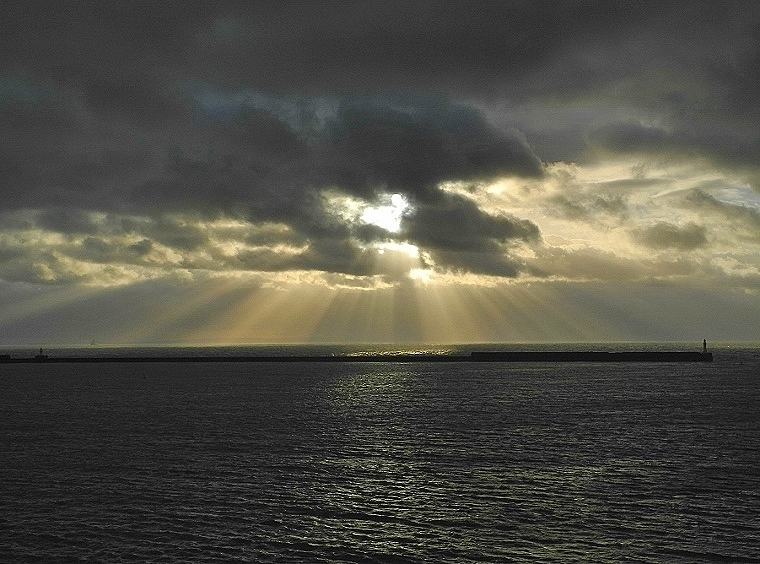 Friday, 17 January 2014 - 09:05
Post 410
PaulB, Dover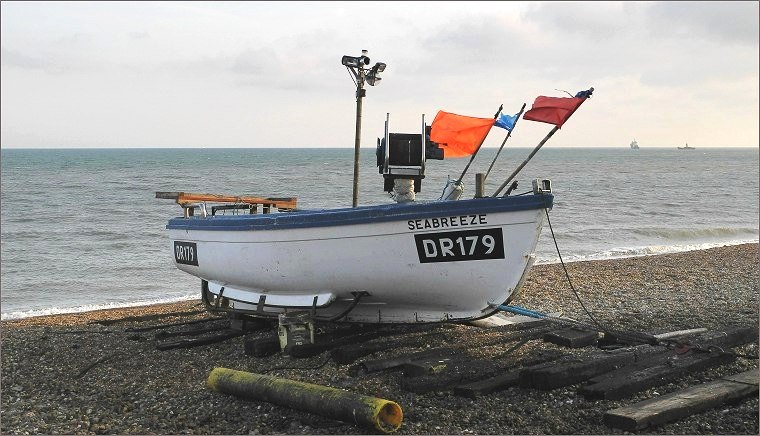 Well done with that picture in the previous post Mike of that other Trinity House vessel...ALERT.
Smashin' picture that one..well spotted. I noticed when going through my other pictures taken in Deal last sunday I have the TH Galatea again with its little friend in close attendance, the Lightship. There they are in the distant right hand side of the sprightly coloured fishing boat Seabreeze. The boats along the strand there in Deal always present colourful photo opportunities but sadly there seems to be fewer and fewer of them each year. See another couple of them below..complete with lobster pots. I guess they dont catch Lobster in Deal..might be more possibly crabs or...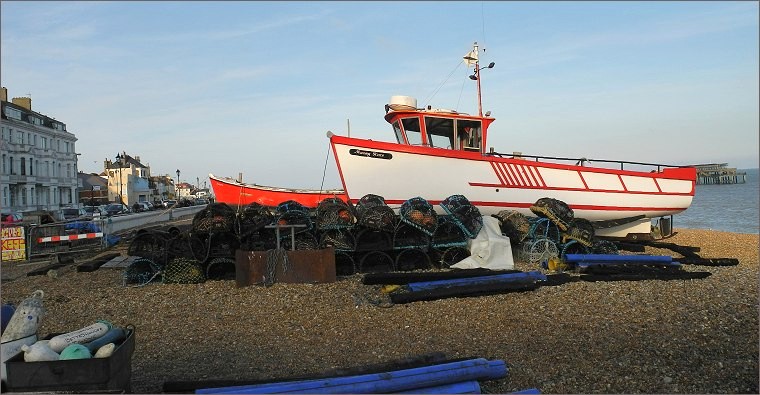 * *
Charming Châteaux Breaks in Northern France


MyFerryLink recommends two of the best cosy midwinter breaks from £56pp
____________________________________________________________
It's no secret; many people feel depressed during the early months of the year, when the daylight hours are low and the weather is cold. Take advantage of Dover-Calais ferry operator MyFerryLink's 24-hour fares and beat the blues with a change of scenery and a few bracing winter walks. Many châteaux in France are surrounded by beautiful parkland, whilst indoors an inviting log fire offers the perfect place to warm up after a spell outside. Here are two of MyFerryLink's favourite winter châteaux breaks:
Seaside Château – one night break from £85 per person
The Château de la Marine sits on the hill of Repembert in Wimille, just minutes away from the beautiful Belle-Epoque seaside resort of Wimereux. This section of the Opale Coast in northern France is perfect for a winter stroll along the stylish seafront boardwalk at Wimereux or up on the clifftops of nearby Cap Gris Nez. The Château de la Marine is a charming boutique hotel offering four beautifully decorated individually styled rooms, each with its own terrace and view of the sea, wooded parkland or surrounding countryside. Owners Guy and Catherine offer a table d'hôte on request, using freshly sourced regional produce. A double room for two guests, including breakfast, costs from €170 (£141) per night. Cross the Channel with MyFerryLink from just £29 for a 24 hour return for a car and up to 9 passengers.
18th Century Château– one night break from £56 per person
The 18th Century Château de Cocove is located in the rolling hills near the village of Recques sur Hem and nestled in beautiful wooded grounds. Just a 20-minute drive from Calais, the château is close to the charming market town of Saint Omer. Its 22 bedrooms and 3 pavilions have been recently refurbished and are all individually decorated in keeping with the building's architecture. Guests can dine in the gourmet restaurant with its cuisine featuring organic local produce and freshly caught local seafood. The château is famous for its extensive wine cellar. A double room for two costs from €98 (£83) per night. Cross the Channel with MyFerryLink from just £29 for a 24 hour return for a car and up to 9 passengers.
MyFerryLink operates 16 daily crossings on the Dover-Calais route. Fares for a car and up to nine passengers start from £29 each way any duration and from £19 for a day return.
To find the best fares, visit www.myferrylink.com or call 0844 2482 100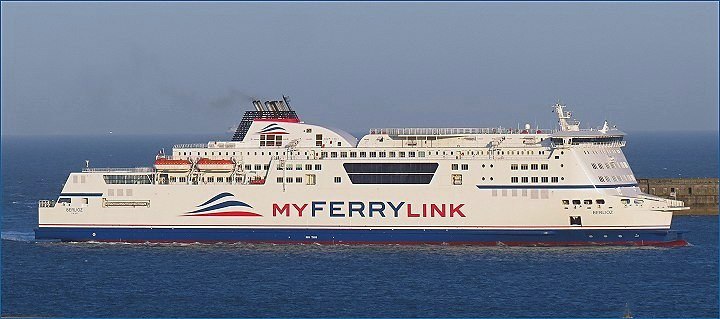 The Berlioz looking good....
Thursday, 16 January 2014 - 07:26
Post 409
Mike J., DOVER
Trinity House's workboat ALERT on the Tug Haven pontoon, Tuesday morning.
Late Tuesday night she was returning to her base at Harwich.
A few hours behind her. also heading for home, was the GALATEA.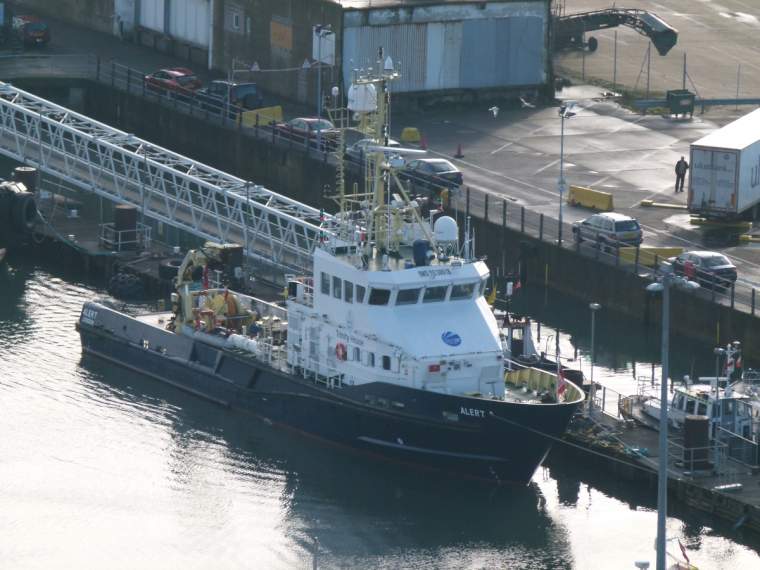 Tuesday, 14 January 2014 - 23:50
Post 408
PaulB, Dover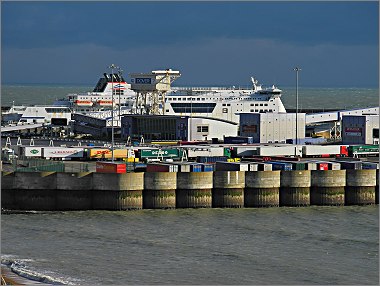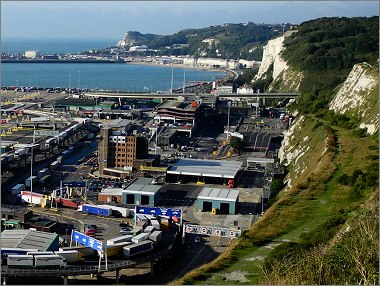 Port of Dover posts best traffic figures since 2009

____________________________________________
The Port of Dover has just posted its best year-end traffic figures for freight vehicles since 2009, recording an impressive rise of 13% in 2013.
Alongside the 2,206,728 freight vehicles that were welcomed by the Port, passenger numbers reached 12,753,343, another substantial increase of 7% as the Port's focus on providing excellent customer service and choice paid dividends.
Tim Waggott, Chief Executive, Port of Dover, said: "Such growth acknowledges the commitment of the Port and its major ferry customers to provide the best cross-Channel product and reflects, come rain or shine – and more recently high winds, the reliability and resilience of Dover in getting people and goods to where they need to be."
Millions of passengers choosing the UK's number one cross-Channel gateway will have enjoyed the benefits of free Wifi and the Port's on-going customer service training programme, as well as being witnesses to the major infrastructure works that continue to improve Europe's busiest ferry port for their journeys of the future.
Mr Waggott added: "My congratulations to our ferry partners and my thanks to all of our customers who entrusted us with their international travel last year. We will work hard in order to build on that trust as we create the best port in the world."
* *
Very impressive figures above from the Port and a very successful and buoyant situation all round. The trade arm as well also appears to be doing exceptionally well. You will remember we photographed the Ivar Reefer a couple of days ago leaving Port in the blinding early sun ( see down page )...well she is back from Antwerp already as you can see in the latest picture here. But had to linger for some time while the Lady Rascise finished unloading/reloading here in Port. Busy.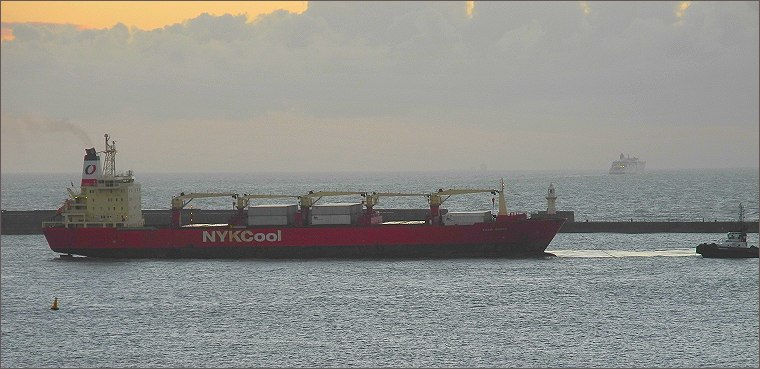 You will also remember we spoke about the new and very welcome seafront lights. Below we see them in the latest picture taken in the wee small hours of the morning. All working and in fine fettle. The new white lights along the seafront are believed to be more environment friendly than the yellow ones on the inland side.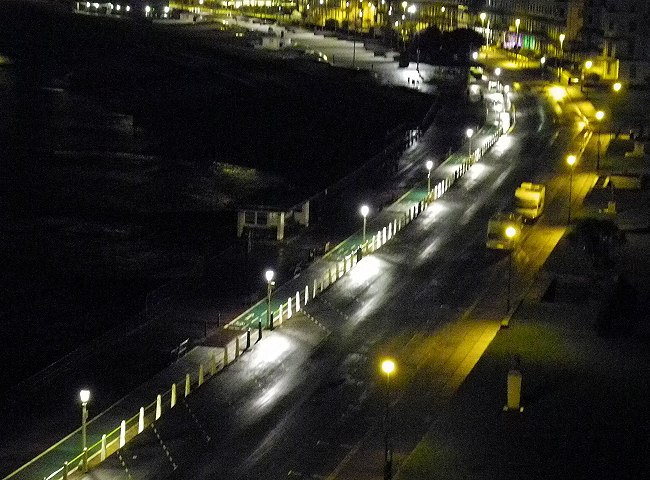 Tuesday, 14 January 2014 - 07:13
Post 407
PaulB, Dover
Many thanks for the information Roland. Good to hear from you. Yes the Galatea is still very busy it seems. Never a dull moment for the crew...its quite fresh out there this evening too!

Monday, 13 January 2014 - 18:40
Post 406
Roland K, DEAL
The lightship remains at anchor off Deal as of midday monday 13/01/14. The tug Galatea which was with her on sunday has departed for NE Spit.

Monday, 13 January 2014 - 15:55
Post 405
PaulB, Dover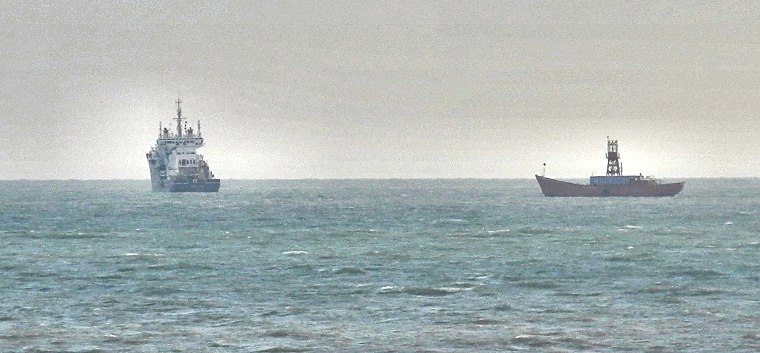 Yes indeed well done with the report and pictures below there Mike. You mention the Galatea being off Deal with Lightship...and there they are in the picture above...just a mile or so off Deal yesterday about 2pm. Happened to be down that way and there they were. Picture quality not great, as just had the little camera in pocket which has minimal zoomability...but got a picture anyway. Trinity House vessel Galatea is keeping very busy these times. There must be some problem with the Lightship but what it is...?
Monday, 13 January 2014 - 06:10
Post 404
howard mcsweeney, dover
great work with the write up and photos mike.

nice to see one from martin collins that paul has put up, not seen his name on here for a while.

Sunday, 12 January 2014 - 15:00
Post 403
Mike J., Dover
The tug & tow involved in Saturday's collision off Dungeness came into Dover during the night & are moored on the Admiralty Pier.
The barge, the WALCON WIZARD has received considerable damage.
The tug is our old friend, the 52 year old KINGSTON who was in Dover in September with photos posted here on 23/9.
News reports yesterday said that the other vessel involved, bound for Italy, went to anchor off Newhaven. She is probably the RICKMERS DUBAI.
A look at Marine Traffic AIS shows her still at anchor there & her AIS track shows her heading downchannel, bound for Genoa, & then making a sharp turn & going to anchor off Newhaven.
The GALATEA, who probably did the towing, has returned to the Downs [off Deal] where she is probably playing with a lightship or a buoy - her workmate, the ALERT, who often pops into Dover, was up there on Saturday.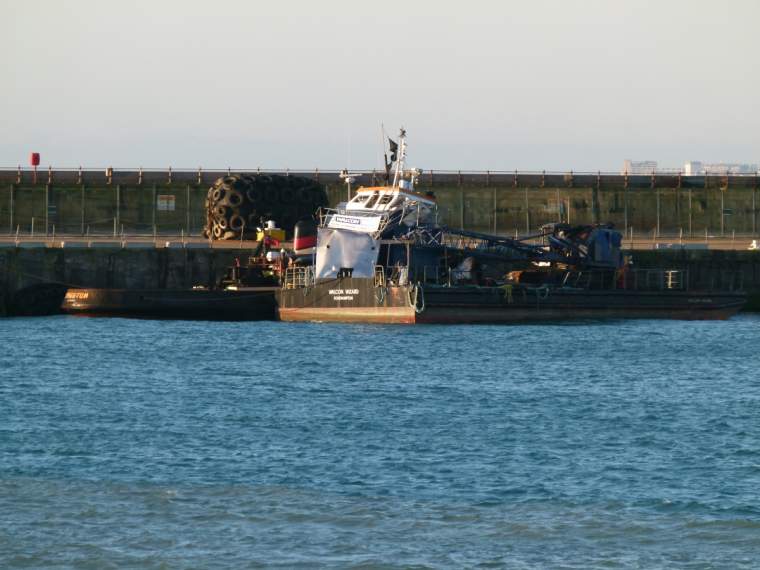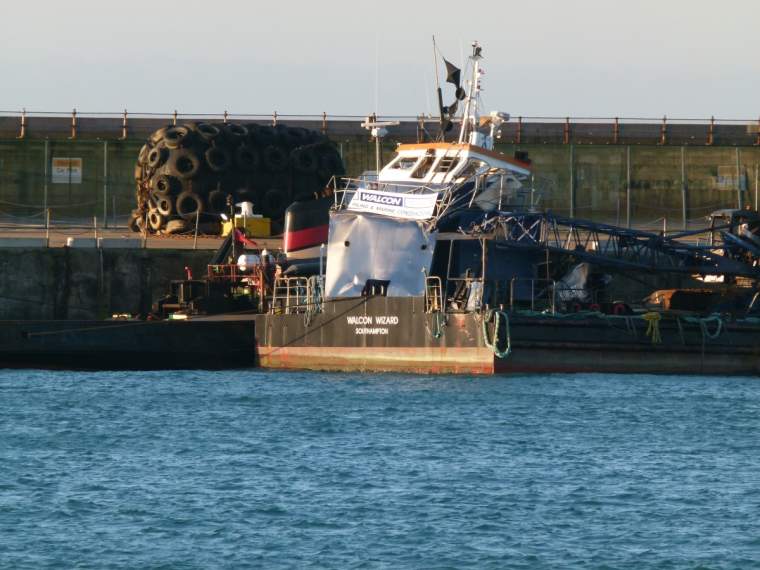 Another visiting tug is the UK-flagged MTS VICTORY who has been in the Tug Haven for several days - she doesn't seem to have done any work here.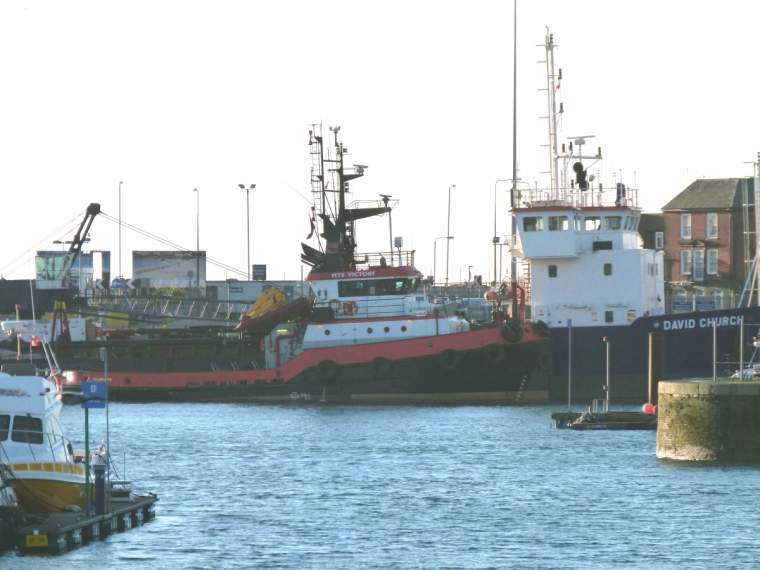 Sunday, 12 January 2014 - 11:31