Tuesday, 18 February 2020

WWW.DOVERFORUM.COM/SEA-NEWS
Sea Pictures from DOVER: Featuring all the ships that come and go and work at the Port of Dover ..
... with some further coverage of the surrounding ports.
Sea News Dover
Use our SEARCH ENGINE below to find all sorts on the SEA NEWS pages....type in the topic and away you go, or if you have the post number, just type it in the box, more than
- 6750 -
nautical posts now. Posts are welcome. just click 'Add Your Comment' below. Max of 5 pictures preferred although we can stretch that for special stories..
Sea News Editor Paul Boland - send info or pix to dover7@msn.com. Always welcome.
Port of Dover, DFDS, P&O say...Travel with Confidence from Dover.. see 6786 below.
DFDS Refit Investment...luxury lounges 6821.
P&O FERRIES - POST BREXIT travel info below 6780.
P&O NEW FERRIES Images below 6775...
P&O Ferries - new Catering Apprentices see 6790...
Book with P&O - Free Fuel see 6760
Visit us here in White Cliffs Country see 6772
Natalie Elphicke MP - thoughts post Brexit 6784
Just type the post number in the Search Box below.
NEW UPDATE:
To show your pictures at their best..it could be worthwhile resizing before posting to
860
pixels wide. Our new standard size.
All pictures on these pages are the copyright of the owners and must not be reproduced without permission.
Post 142
howard mcsweeney, dover
thanks for info about the "mair" mike, great photos from paul there especially the sunrise ones.

we get great dawn and sunset shots in dover but telephone lines get in the way of mine.

Monday, 30 September 2013 - 18:44
Post 141
Mike J., Dover
ALBATROS - nice pix of a nice ship.

Portland - big former naval port on the east side of Portland Bill, just south of Weymouth.

Site of last year's Olympic sailing events.


By the way, the neat little MAIR, photographed by Paul S & posted by Howard is an ex-RN 'Clovelly' Class Fleet Tender built in 1973 as the HORNING for odd jobs in support of the Navy.
Since she 'went civilian' she has often been chartered by Trinity House for work on navigational aids.

Monday, 30 September 2013 - 08:03
Post 140
PaulB, Dover (dover7@msn.com)
It is just past 8pm on a very dark Sunday night and the Albatross has just left in a blaze of sparkling dazzling light..at the moment the ship is just outside harbour and turning south, heading for Portland.. not really sure where Portland is but thats what it says on the tin. Its a dark oul night for sure...I wouldnt be convinced its an ideal time of year for cruising but many like it. The weather is calm though which I suppose is appreciated by those sipping cocktails with the captain !

But here we are..pictures from the other end of the spectrum...its arrival earlier today just after sunrise.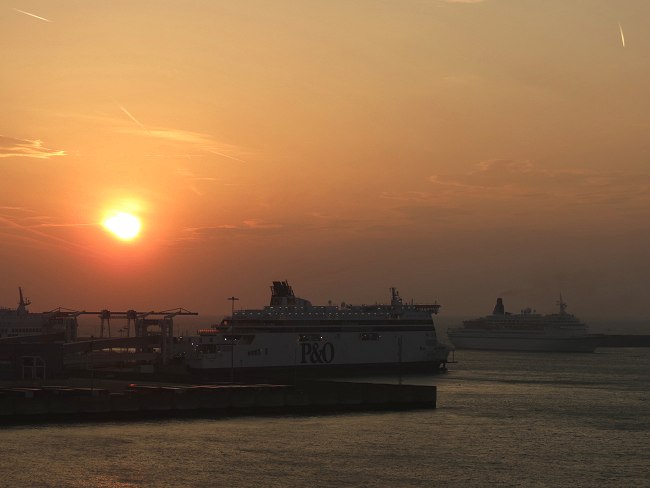 And below a little while later across the harbour being manouvred into position by Doughty and Dauntless.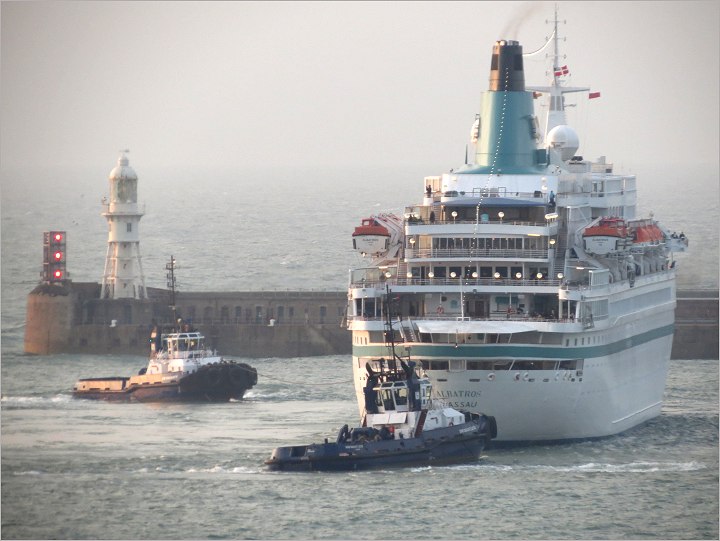 and once again, slipping slowly slowly into place on a gorgeous bright morning.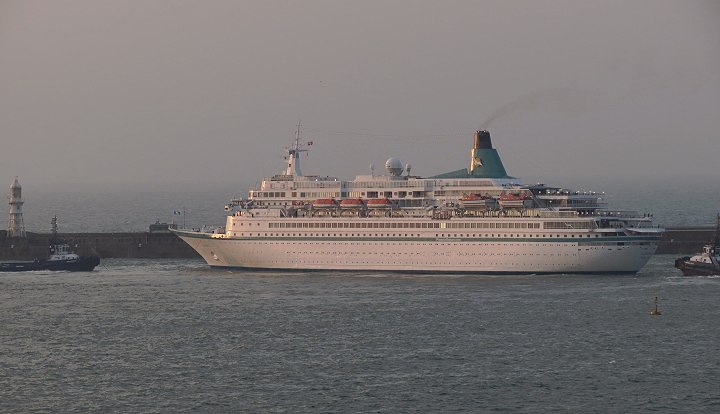 Sunday, 29 September 2013 - 20:18
Post 139
PaulB, Dover
The Albatross is in harbour now and looking sleek. No pictures yet because yours truly was sidetracked and wholly fascinated by the early sun hanging over the harbour as The Albatross approached. I havent uploaded the Albatross pictures from the camera as of yet so bear with me. It is her final call this year as you might expect.
But here we are with pictures of the early sun over the harbour which I thought were worth putting up on the page. It rises amid tramtracks of jet streams. Only a day or so ago I noticed the entire cloud formulation over the harbour was made up entirely of jet streams. If thats not one for the global warming bods i dont know. But anyway here we are with the latest batch of jet streams as of the sunrise this very morning. Will do the ship itself in due course so bear with..as they say.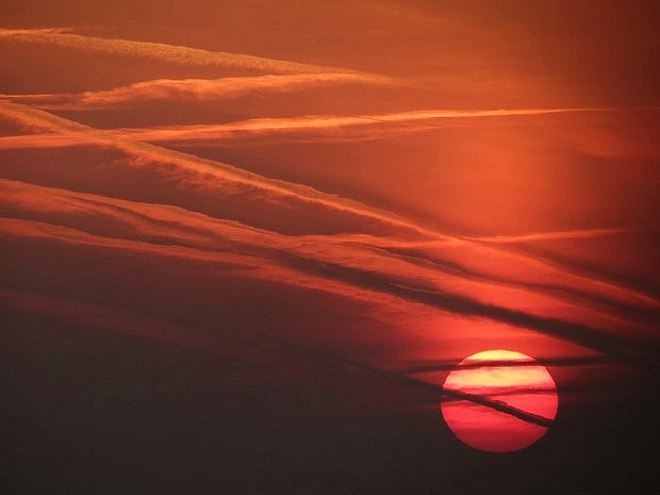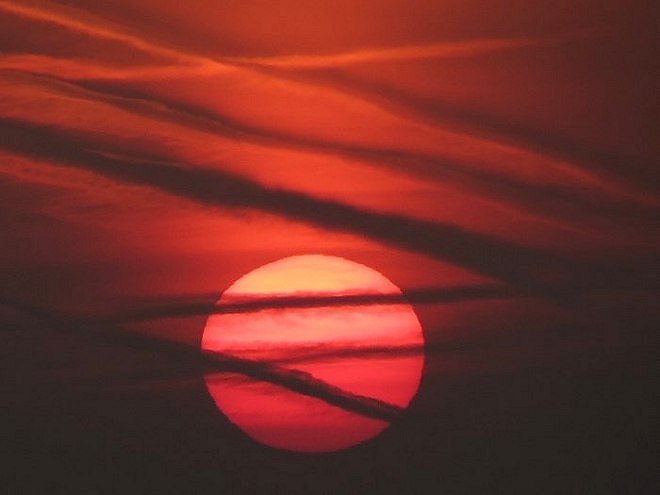 John and Jan see also the post below.
Will have pictures of the Albatross later.
Sunday, 29 September 2013 - 08:26
Post 138
PaulB, Dover (dover7@msn.com)
Ah..of course. Thanks for the information there John..the Quest for Adventure of course. How could I forget. Just looking at the picture i expected it to be called Saga something or other and the name completely slipped my mind. Interesting info too about the Saga Ruby and yes indeed she had a great send off from Dover.

Yes thats right Jan thousands and thousands will have enjoyed her pleasures. I wonder how many people have actually travelled on the ship over the years. When you think that only recently the Fred Olsen Braemar celebrated its 1.5millionth customer..I feel sure the Saga Ruby must be way up there too. The story on the Braemar is now on page 5 right here on Sea News.

THE ALBATROSS is approaching. Pictures in due course.

Sunday, 29 September 2013 - 06:48
Post 137
JanT, Dover
some really fab pictures of the Saga Ruby leaving dover for the last time, the end of an era for the ship.
I'm sure there will be some happy memories for all of those people who have sailed on her.

Saturday, 28 September 2013 - 14:45
Post 136
John Mavin, Dover
That's the Ruby (the Rose finally bowed out in 2009) and the Quest for Adventure. I can't tell you the actual date because I've lost my diary for 2011. With an eight year difference in their ages the interior layouts of the Rose and the Ruby was significantly different.

On Thursday I visited both the Ruby and the Sapphire and inevitably the subject of the Ruby's future was discussed. Needless to say plenty of rumours are flying around but for obvious commercial reasons nothing will be disclosed until the ink is dry on a contract. However, there is a strong hope that Ruby will continue her life, but not necessarily as a seagoing ship (on that bombshell ......!).

Saga Ruby was given a very nice send-off from Dover and one particularly amusing feature was a dance routine performed by the tugs prior to hitching up. Still pictures wouldn't really capture it, but if anyone videoed that from a distance you'd see what I mean.

Saturday, 28 September 2013 - 10:39
Post 135
PaulB, Dover (dover7@msn.com)
By way of further homage to the dear departed Saga Ruby.
Here is a picture from a couple of years back which I had labelled 'Saga Ships' in the archive. The ship on the left looks like the Saga Ruby or could it be the Saga Rose..they were near identical as far as i could make out, The ship on the right is not Saga at all but the Ryndam from the Holland America Line. But for the life of me I cant remember now what the one in the middle is? Year is 2011. Picture was taken immediately after one of those summer storms, hence the soft light.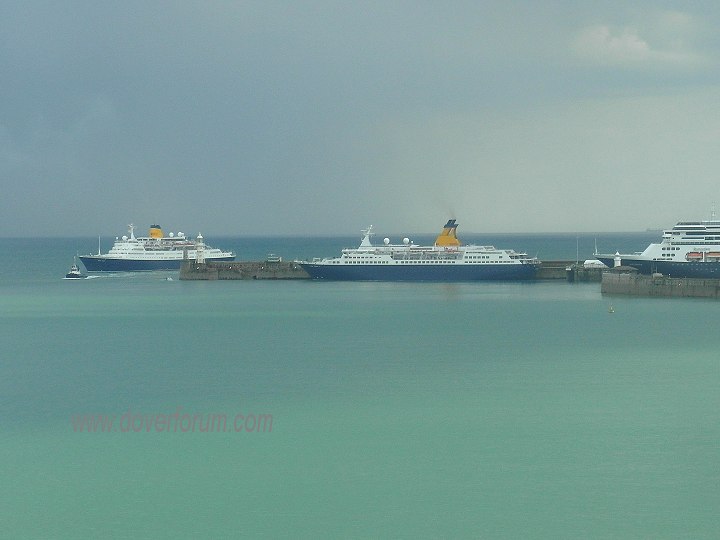 To mark the final departure I couldnt resist doing a mock-up as homage to the passing era. As the ship looks mightily from another time, even a tad Art Deco, I figured we could almost get back into that era by creating this (fake) postcard immediately below, just the way they used to make the postcards of old. And as she leaves and the band plays on, you can almost see Jay Gatsby nuzzling into those Pink Gins on the foredeck. Picture was of course taken thursday evening.
And speaking also of the near identical Saga Rose now no longer with us either. Here is another couple of old pictures from about six or seven years back. This time featuring the interior of the Saga Rose. These pictures were sent to me several years ago by Barry W-S. Ive never been on one of these Sagas myself but here we go. I imagine it was exactly the same on the Saga Ruby.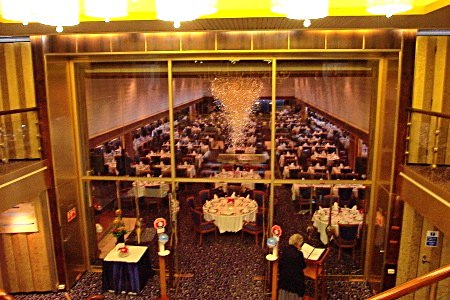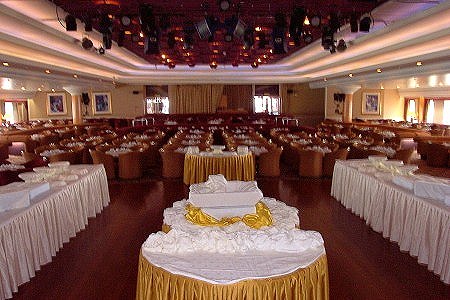 That's the oul dependable David Church below there through the mist Howard.
Well done as ever Paul Sampson - keep them coming as and when.
Saturday, 28 September 2013 - 06:47
Post 134
howard mcsweeney, Dover
this has probably featured on this thread before but i cannot work out what exactly it is and does, no doubt ed or mike will know the answer.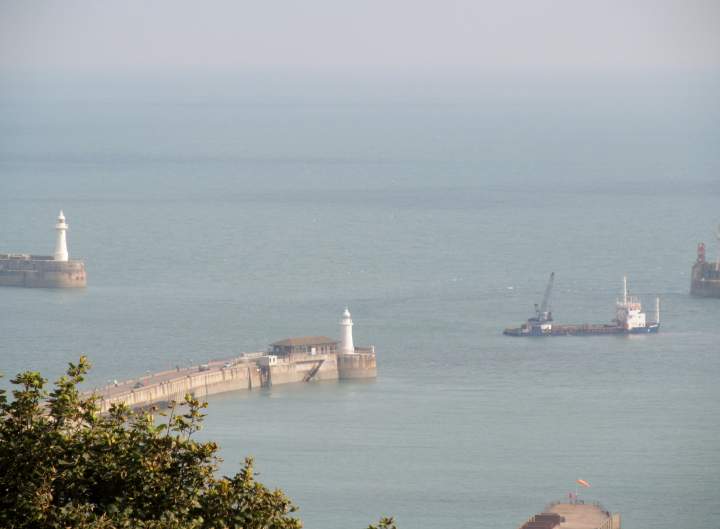 Friday, 27 September 2013 - 15:40
Post 133
howard mcsweeney, Dover
another taken by paul s yesterday, the "mair" which is a buoy/lighthouse maintenance vessel.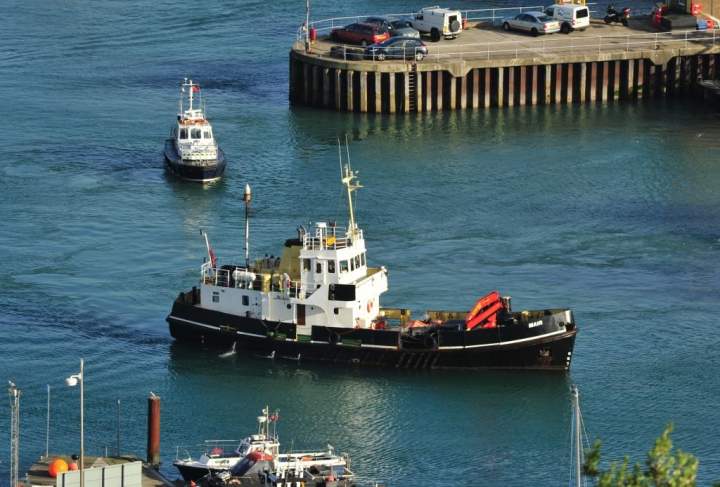 Friday, 27 September 2013 - 10:26
Post 132
PaulB, Dover (dover7@msn.com)
A great set of pictures all round there guys. Well done with those. Great stuff.
Yes indeed Dover gave the Saga Ruby a terrific send off. It was a mite sad to see her go, with the horns sounding and the water spraying. But age catches up with us all in the end I suppose. She really had that old world different era look to her..but now gone.
It was a spectacular goodbye though for sure..here are a few pix from me to add to the collection.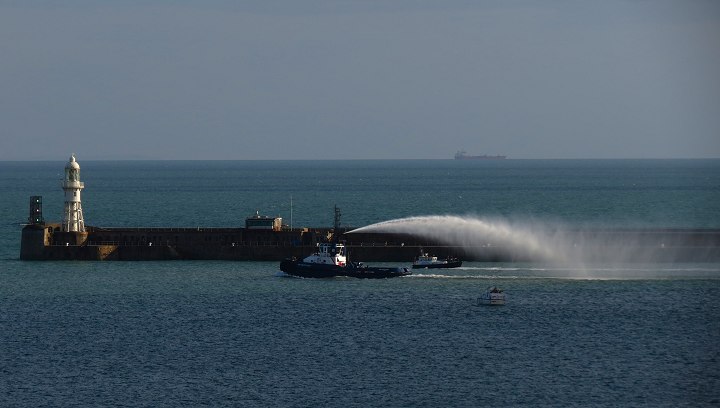 One of the tugs spraying in her path as she begins to move away out of shot.
The second tug doing the business as the Saga Ruby reaches open water..I didn't get a pic of the two spraying together unfortunately.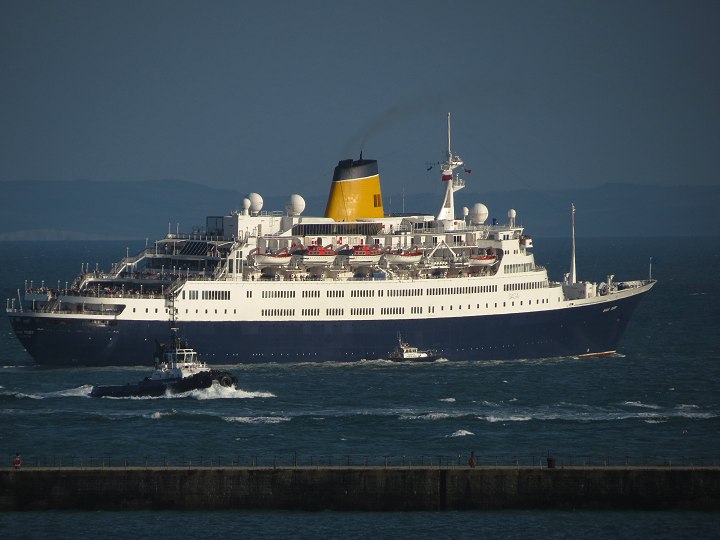 She begins to turn for Funchal with the pilot in attendance and one of the tugs returning. The send off complete.
Friday, 27 September 2013 - 07:03
Post 131
Mike J., Dover
Ed -

Re the DAVID CHURCH - the answer to my query might be in DHB Notice to Mariners 34/12 which mentions shoaling & changes to currents in the vicinity of the blockship.

It's not possible to put up 'live links' here & even a partial one would take up two lines of text so it's probably better to go to the DHB website home page, then in turn -

MORE
GENERAL MARINE INSTRUCTIONS
NOTICES TO MARINERS

Thanks for the Interesting photo of the contractors on the Breakwater, first time that I've seen vehicles out there.
Never imagined the DAVID CHURCH as a vehicle ferry !





Thursday, 26 September 2013 - 23:29
Post 130
Kevin Charles, Dover
Fitting send off from the Port of Dover tugs to a loyal cruise customer. Here's hoping Saga have plans for some new tonnage to grace Dover, in addition to the Saga Sapphire and Saga Pearl II

Thursday, 26 September 2013 - 20:15
Post 129
Dovert, Dover
...and another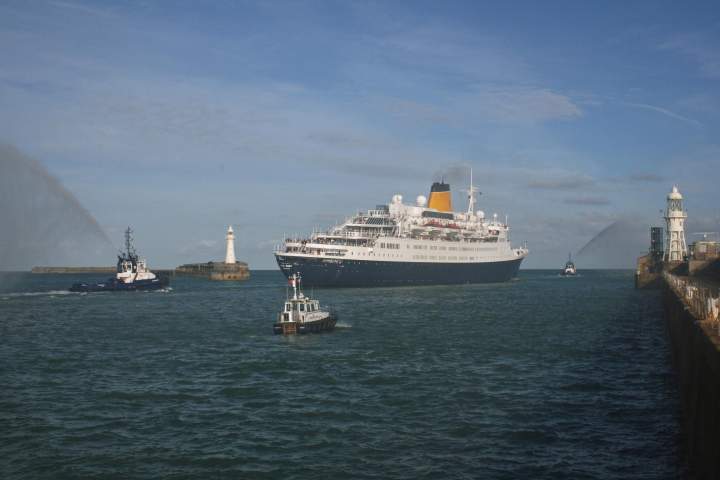 Thursday, 26 September 2013 - 20:06
Post 128
howard mcsweeney, Dover
many thanks to paul sampson of w.c.c.p for sending these in, taken late afternoon from st martin's battery.
a fitting farewell to the "saga ruby".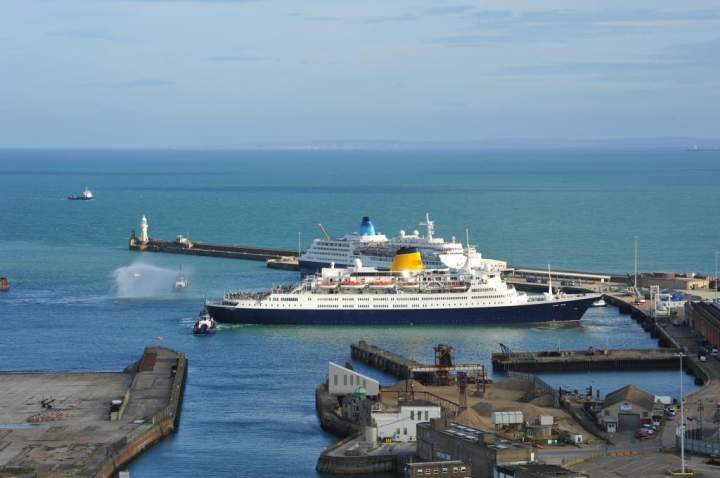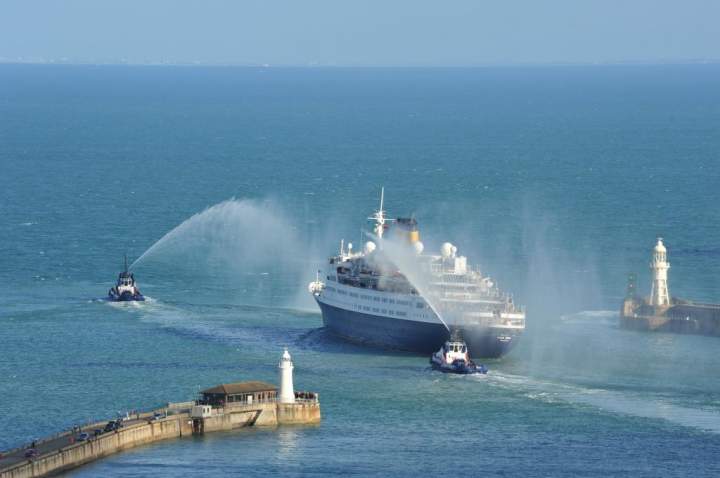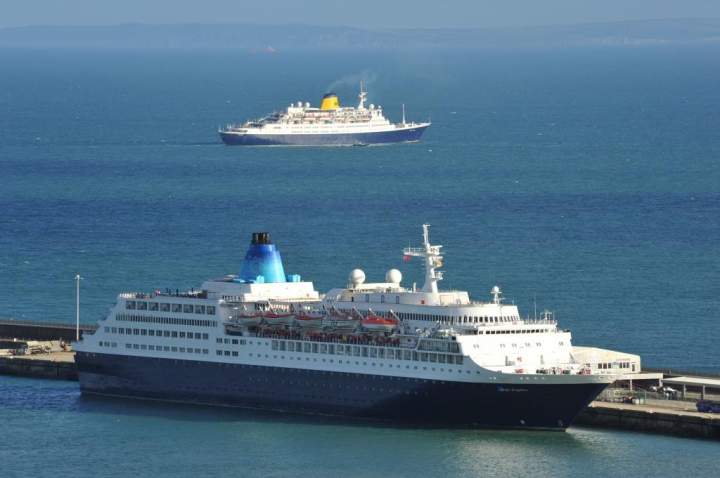 Thursday, 26 September 2013 - 20:03
Post 127
JanT, Dover
Yes good luck to the new team at DHB, hopefully they will continue to keep Sea News updated as before, always good to hear of any projects they have in the pipeline.


Some nice pictures guys always sad to see the end of the cruise ship season,but we have been treated to a fab array of pictures of the ones that have graced our seafront this season.


Thursday, 26 September 2013 - 17:54
Post 126
Ed Connell, Dover
Mike: Re the David Church dredging over the remains of the Spanish Prince. Don't know if there is still any build up of silt as there used to be when the blockship was still present. However, presume the area still has to be dredged in the same way as the rest of the harbour. David Church was over at the Knuckle Light yesterday landing her grab on the breakwater, and can also see a dumper truck in the photo. Very misty accounting for poor quality.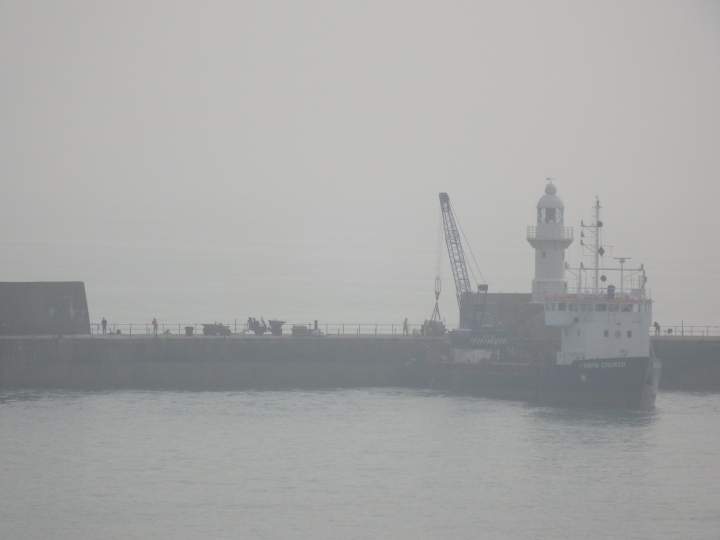 Thursday, 26 September 2013 - 15:54
Post 125
Ed Connell, Dover
Dunkerque Seaways conducting the annual exchange of one of her MES (Marine Evacuation System) units during the weekly layover in Dunkerque West on Saturday night.
Thursday, 26 September 2013 - 15:44
Post 124
Ed Connell, Dover
Another view of the Messina Strait at the Dover Cargo Terminal a couple of days ago, with Lyrika still on the Eastern Arm and listed as dead ship awaiting spares.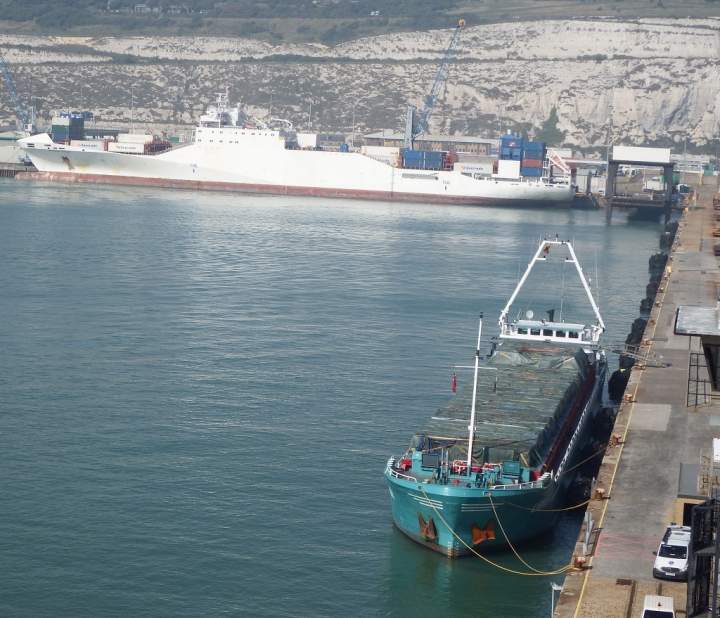 Thursday, 26 September 2013 - 15:38
Post 123
PaulB, Dover (dover7@msn.com)
Gosh you did very well getting that picture from the heights Howard. It looks great. I saw the Carnival Legend leaving last evening but could only see it faintly in shadowy outline sort of thing. She slipped away quietly in the foggy gloom and is sadly gone now and maybe for good...which is a bit of a pity. Thanks for all the very useful info Kevin. Yes saw the dredger Mike...Ed might know the answer to that one when he comes on. I think we did have discussion previously about the blockship effect heralding a change in the tidal situation.
And now as promised here we are with pictures of the new team at DHB. Clare Newman has departed as we saw in my previous post below.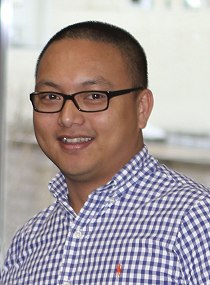 Barbara Buczek on the left is now Head of Business and Corporate Affairs and Ben Greenwood on the right takes over as Business Development Manager, replacing Clare Newman, and will report to Barbara...there is more fuller info in my previous post below from yesterday if you scroll down..

Good luck to the new team.
I cant let the departure of the super Carnival Legend go by without a picture from yours truly. So in the best tradition of those TV pundits of yore..
...here's one I made earlier.
The Saga Ruby is in harbour for the final time as i write with the other Saga (Saga Sapphire) approaching. Visibilty still not great yet but not as bad as yesterday..it might improve.
Thursday, 26 September 2013 - 07:10