Monday, 10 August 2020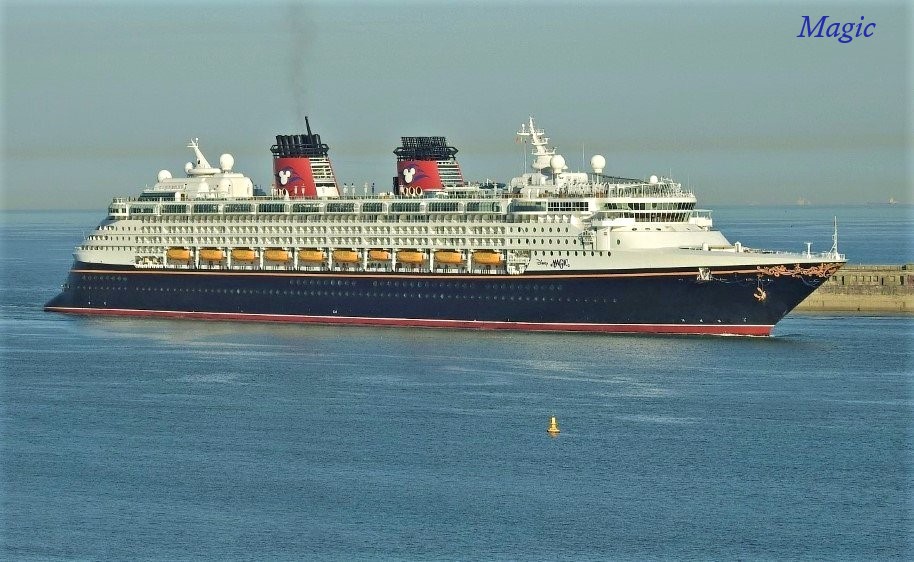 The Disney Magic entering the Port of Dover once again after a brief channel run....

WWW.DOVERFORUM.COM/SEA-NEWS
Sea Pictures from DOVER ....
Just to let everyone know...we have essentially closed Sea News.
Times have changed and these changes havent been good to us.
We will leave it open for research purposes ...if anyone wants to check anything etc etc
Other than that its all over.
A huge thanks to everyone who contributed over the 7 years.

Paul Boland - dover7@msn.com.
.
Use our SEARCH ENGINE below to find all sorts on the SEA NEWS pages....type in the topic and away you go,
or if you have the post number, just type it in the Search Box, more than
- 7000 -
nautical posts now.
Sea News Dover:
All pictures on these pages are the copyright of the owners and must not be reproduced without permission.
Post 463
PaulB, Dover
Conditions were abysmal yesterday. Here is a pic of the situation in the grim late afternoon with the tug boats having a full battle on their hands. This is Doughty...doughty by name, doughty by nature.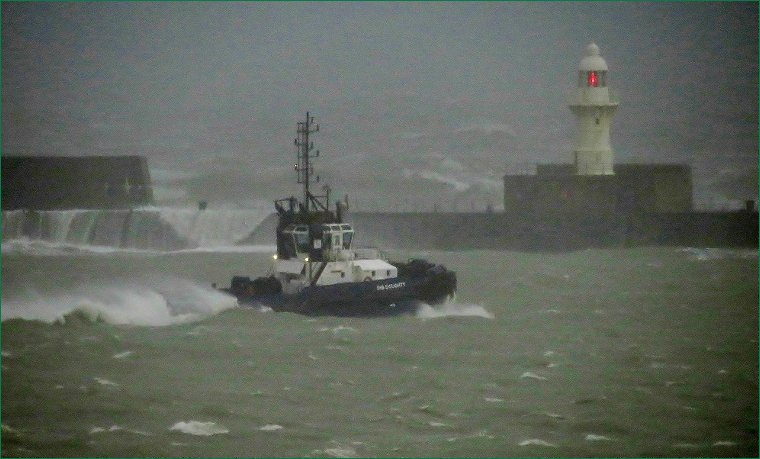 The picture above is not terribly sharp but as mentioned it is almost impossible to get anything sharp in the rain and driving wind but thought it worth showing to help illustrate the difficulties facing all mariners. Look how rough it is out there beyond the tug.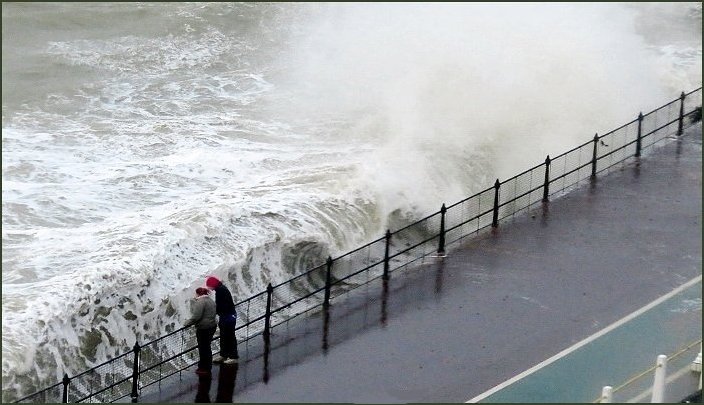 It wasn't possible to open a window the get a safe shot for fear of having the window itself wrenched off ( as happened to a neighbour). Therefore took these pictures of the girls getting a bit of a drenching yesterday through the aforementioned window.. glass n all.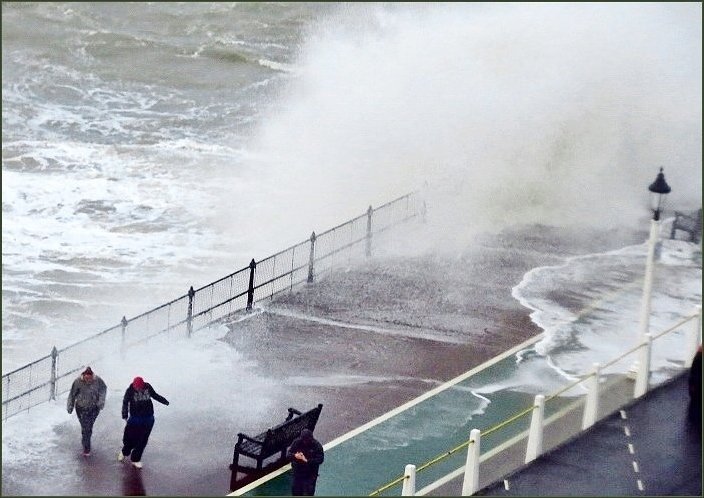 One of the great joys for the up-close water watcher is the subliminal satisfaction of avoiding getting wet...it rarely works..

The picture following was reproduced quite large at the top of the page when the news broke. Have taken that large version away now but will add the pic here for reference purposes. More on the Dover Vision story itself further down page.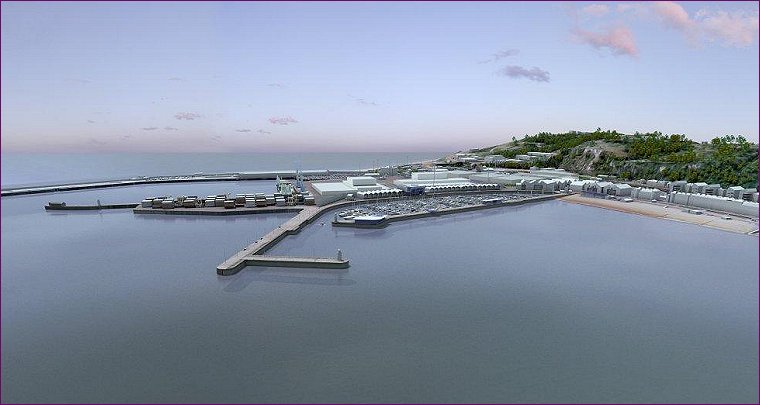 Thursday, 6 February 2014 - 06:15
Post 462
PaulB, Dover
Port of Dover Weather Warning
__________________________
In anticipation of the high winds which are forecast for the rest of today and throughout the night, the Port of Dover is advising its customers to contact their ferry operator and check the Port's website (www.doverport.co.uk) or twitter account (@Port_of_Dover) for the latest information on Channel crossings.
The safety of customers and staff is our priority. We are monitoring the situation closely and have made preparations to ensure that systems are in place to minimise any disruption to travellers.
Ferry service schedules are subject to delay with the Port's tugs assisting as required to ensure the safe berthing of vessels.
We apologise for any inconvenience this may cause and thank you for your patience.
______________________________________________________________________
Grim situation weatherwise. But excellent pictures there below to keep us buoyant..well done guys with those

Wednesday, 5 February 2014 - 15:35
Post 461
JanT, Dover
The announcements for the future of the Port and Western Docks must surely be welcome, if it brings jobs for local people that has to be a good thing.
As a major Port it is vital that we make these improvements to keep up with competition,otherwise there is a fear of lagging behind.
Agree there Howard some excellent pictures below.


Wednesday, 5 February 2014 - 15:09
Post 460
howard mcsweeney, Dover
plenty of announcements coming out the future of the port and also plans for the western docks. meanwhile life goes on as we see in the photos below - loved the low tide ones.
one here from steve walker taken early morning at samphire hoe last week.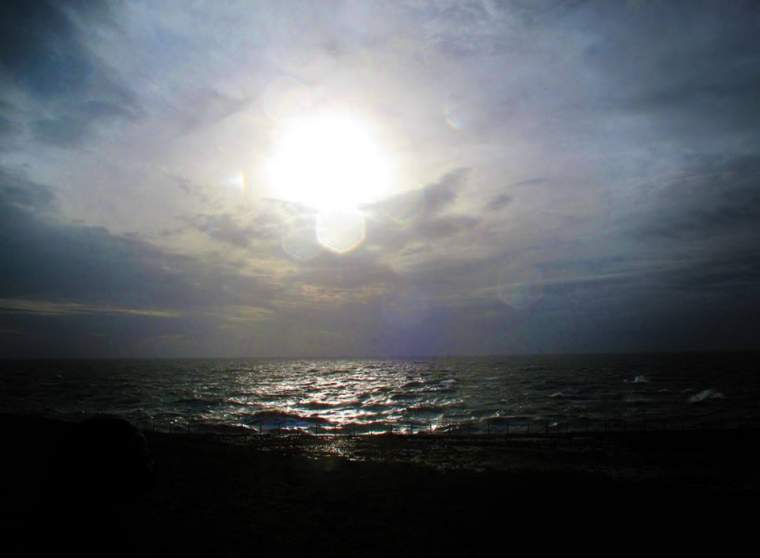 Wednesday, 5 February 2014 - 12:07
Post 459
Ed Connell, Dover
Another reefer, the Caribbean Star, at the Dover Cargo Terminal yesterday.
Wednesday, 5 February 2014 - 10:40
Post 458
Jan Higgins, Dover
Great pictures of the very low tide and what is only visible when they are that low.

Wednesday, 5 February 2014 - 10:22
Post 457
PaulB, Dover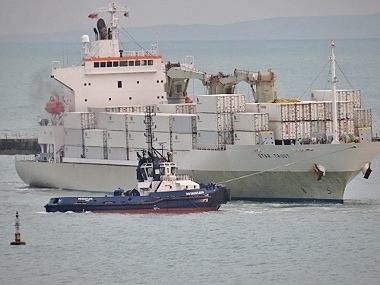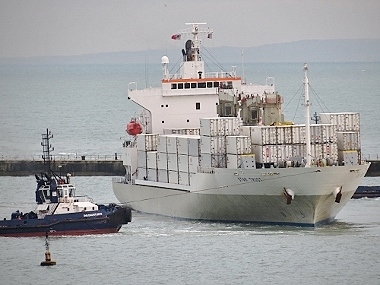 Western Docks Revival receives first wave of support from MOTIS.
_____________________________________________________
Bringing a new lease of life to the Western Docks and reviving its place as a key part of a bustling Dover community has been met with great enthusiasm by one of the existing residents of that part of the Port.
Robert Hardy, General Manager, Motis Freight Services Agency, said: "As the operator of the Freight Services Agency in the Western Docks, such a vision to create a vibrancy in this part of the Port that would transform it for the long term is fantastic news for us and our customers, for the Port and for Dover as a whole."
Since Motis came to Dover, it has been working hard to create new jobs and the vision unveiled by the Port will go a long way to creating a new generation of opportunity for local young people through the creation of over 600 new logistics industry jobs.
Tim Waggott, Chief Executive, Port of Dover, said: "This is exactly the kind of reaction we were hoping for, where people can see the vision for Dover we wish to create and how it delivers on so many fronts."
Alongside the renewed hub of activity in the Western Docks, the potential transformation of the waterfront and the creation of a new marina will create an amazing place to both live and work.
Mr Hardy added: "Dover now has the chance to realise its potential and create the destination where people will not only want to live but also want to work. We live in exciting times and I am glad to be part of it and for all those at Motis to see what opportunities there are working in Dover."
More about MOTIS:
Freight Service Agency Motis is one of the most progressive shipping companies in Europe with over 1000 customers throughout the E.U. Their network covers over 450 Freight Ferry Routes, Motorway Tolls throughout Western Europe, Alpine Tunnels, Rolling Highways, Truck Parking and Freight Insurance, in fact you could say MOTIS are a European Hauliers one stop shop...operating 24 hours a Day, 7 Days a week with 6 Locations throughout Europe.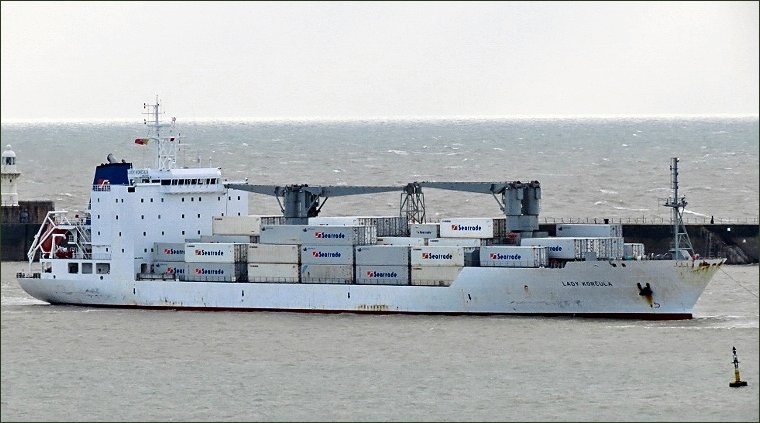 The pictures help to illustrate just how busy the freight terminal is here in Dover. Sometimes its role is overlooked a tad but it is indeed a very busy part of the harbour with a huge amount of coming and going...the plans shown could expand this activity much further. Top vessel here is the Star Trust being manoeuvred into position by one of our tugs prior to departure. Bottom shot from 2 days ago shows the Lady Korcula.
Wednesday, 5 February 2014 - 06:33
Post 456
PaulB, Dover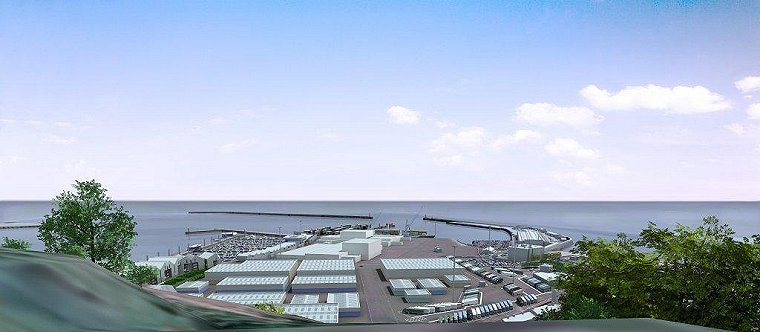 Dover Western Docks Revival – the Board's Vision
Bringing the Future Forward Today
____________________________
Dover Harbour Board announces today that it will pursue a major opportunity acting as a catalyst for the regeneration of Dover. Discussion on the vision commenced at the Port and Community Forum which was independently chaired.
Having successfully achieved Government approval in 2012 to develop the Western Docks, the Board wishes to seize the opportunity to lock in the many benefits that this could bring just as soon as it possibly can.
By reviewing its masterplan over several months, the team at the Port has identified a significant opportunity to support its customers and the community and provide the game changer for which the people of Dover have been waiting for so long.
Through the early development of the approved consented footprint in the Western Docks, the Port could create over 600 new logistics industry jobs for Dover and safeguard another 140 positions by developing a new cargo terminal. This would revive the Western Docks, protect long term Port capacity and enable the transformation of the waterfront with the potential creation of a new marina.
Cllr Paul Watkins, Leader, Dover District Council, said: "Delivering major port development that protects long term port capacity but delivers jobs and opportunities now whilst creating a catalyst for major regeneration will be a significant boost to the region and shows real commitment to Dover."
The Dover Harbour Board's vision is an evolution of the previous masterplanning proposals and represents a possible way of achieving key benefits of the plan based upon current market conditions and opportunities within the cargo business. Delivering such a vision would enable the Port to ensure that it has the essential infrastructure in place to serve its customers in the years ahead with the additional opportunity to increase ferry berth capacity in the Eastern Docks through the transfer of the cargo operation to the west.
George Jenkins, Chairman of Dover Harbour Board, said: "Transforming this part of the Port estate can in turn support the wider transformation agenda, one which sees the Port and town working together, which the Port of Dover is also championing through its Dover waterfront regeneration project with Dover District Council. The people of Dover have waited long enough for Dover's revival. That revival could start right now, breathing new life into our Port and into our community."
Such commitment to major investment, which the Port is already undertaking through its Traffic Management Improvement Project, berth refurbishment/replacement programme and heritage works, will need to be supported and enhanced by increasing the Port's ability to fund such a massive transformation.
Peter Jones, Chairman of the South East Local Enterprise Partnership, said: "The Port of Dover is of national and international significance. Ensuring that it can develop and grow as a key gateway and enhancing its resilience is vital so that it can continue to support the nation's economic activity and prosperity in the years to come. Port development must be seen as part of a wider strategic vision to establish an alternative transport corridor to the midlands and the north through a new Thames Crossing while supporting new town centre investment and community development."
Tim Waggott, Chief Executive, Port of Dover, said: "The Port is determined to do more for and with its community whilst working with its major customers to achieve mutual success for the benefit of the nation."
He added: "This opportunity requires the support of everyone to ensure that the Board gets the powers that it needs to deliver for Dover. We want to work closely with our customers and the community in establishing and driving a shared vision. Together we can and must make it happen and we begin that journey today."
Monday, 3 February 2014 - 15:09
Post 455
PaulB, Dover
As well as very high tides at the moment there are extraordinary low ones too.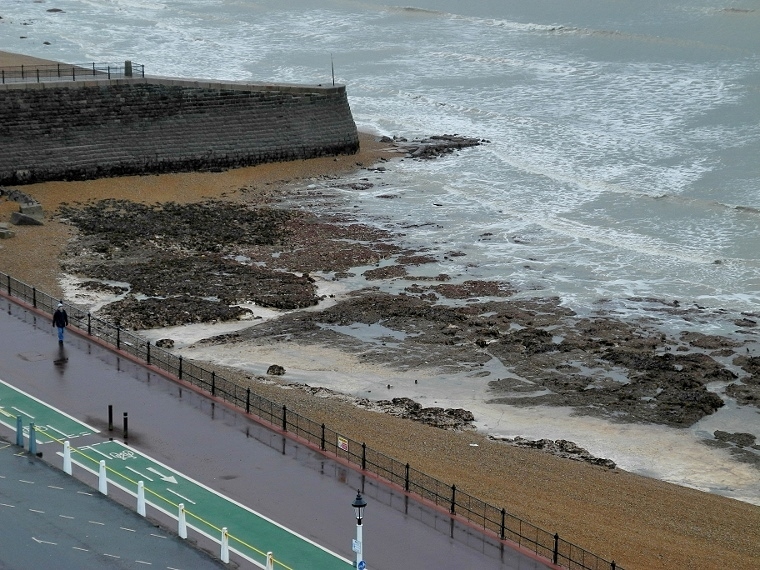 You could quite comfortably take the dog for a stroll around the jetties/piers these days. Highly unusual to see the tide pulling back so far and allowing us to see what goes on underneath the waves.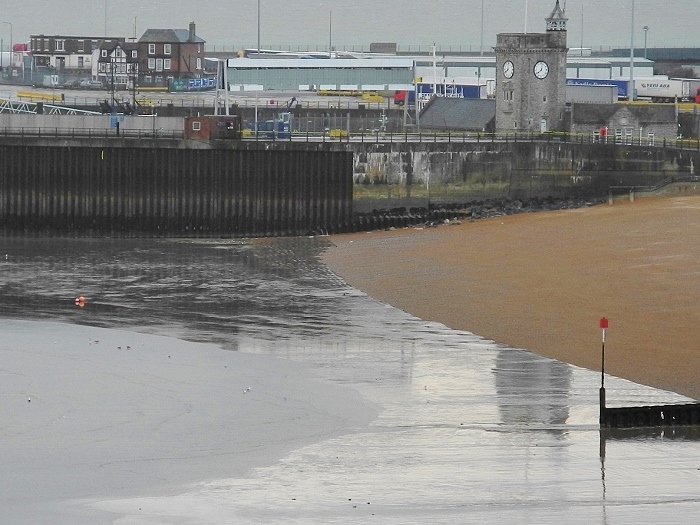 These are the kind of rare tides the swimmers dread as they have to walk out so far to find water. Note the marker buoy above to the left lying on terra firma.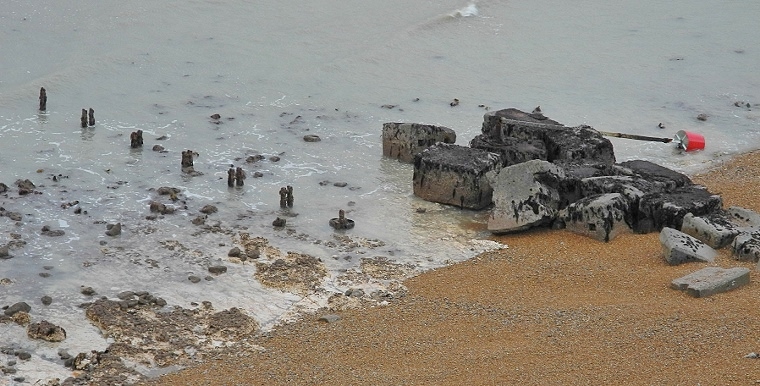 One of the red marker 'lampshades' bit the dust in the horrendous waves the other night. Not the only victim...several of the new seafront lights took a pasting and have extinguished themselves, and the restaurant in the hotel lost its overdoor canopy and had roof damage. And its not over yet.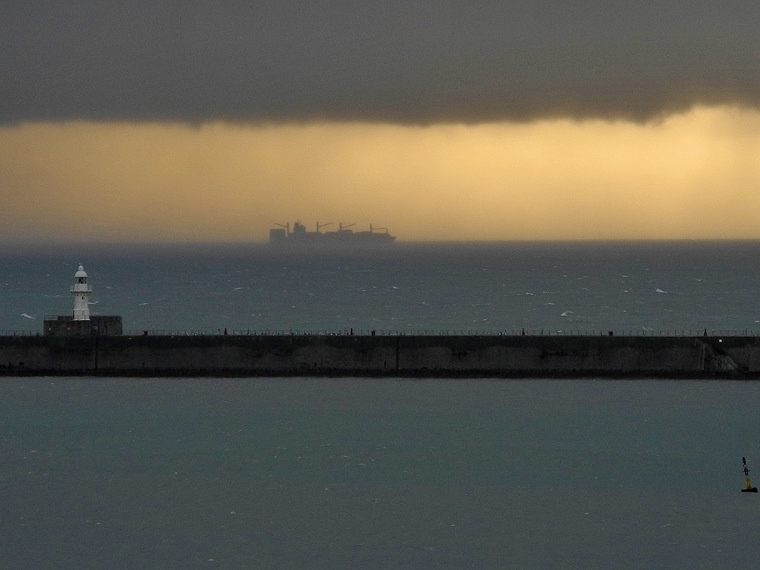 The shipping in the channel goes on come rain and wind.
* *
Great set of pictures there Ed. Excellent to have the close ups from the thick of the action. The guys being transported by bucket are fascinating to see. ahhh...Summer Wind Nassau...sounds exotic for sure.

PS: by the way the clock in the tower isn't accurate..has long since given up the ghost. The pictures were taken early sunday morning at 07.50.
Monday, 3 February 2014 - 07:22
Post 454
Ed Connell, Dover
Reefer Summer Wind on the Dover Cargo Terminal on Wednesday, not one I recollect seeing before. Even though they are tiny ships by comparison to the big boxboats, nevertheless the stacks of containers on deck are quite high and a couple of stevedores can be seen being transferred by bucket to and from the top of the container stack.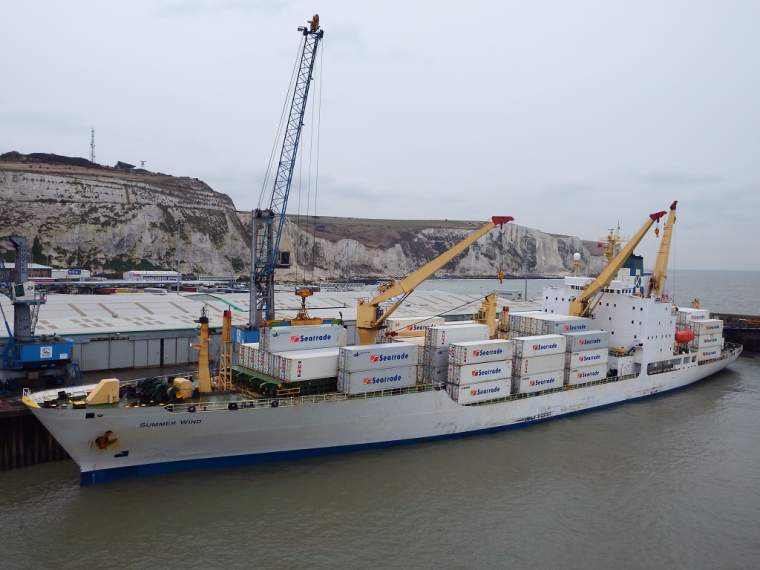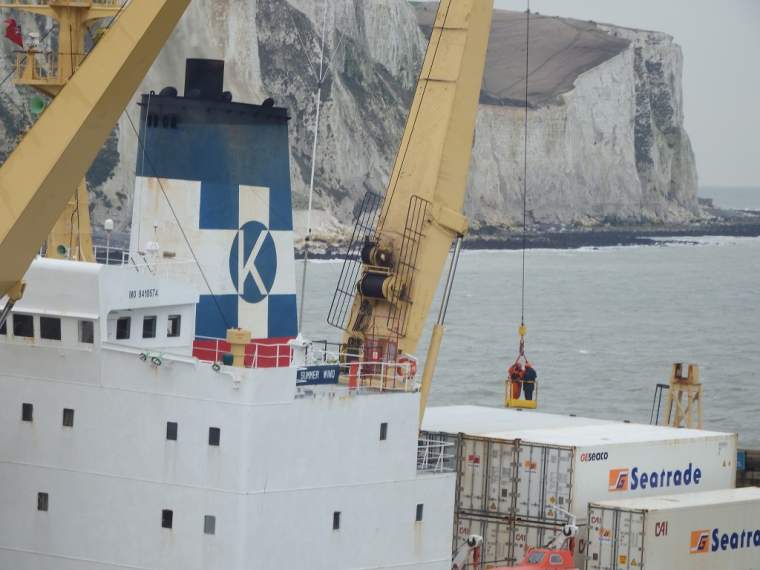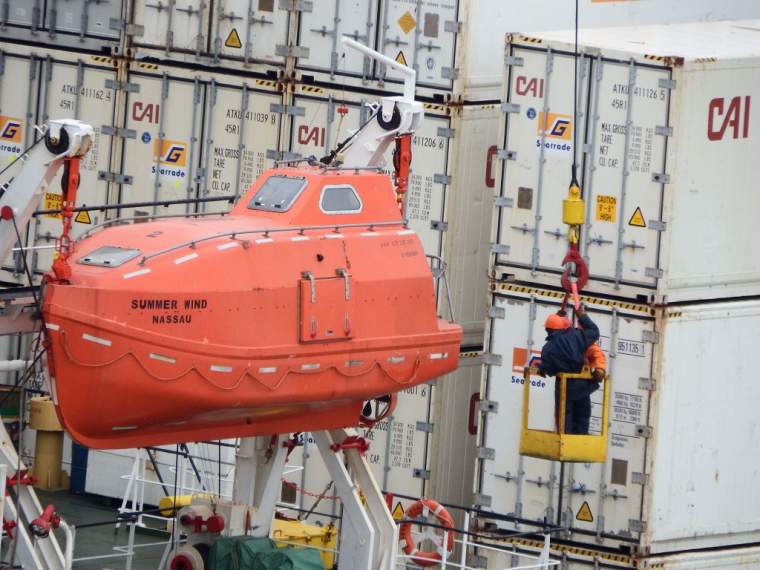 Saturday, 1 February 2014 - 17:01
Post 453
ColetteB, Dover
Indeed, agree, another terrific programme featuring our very well deserved town, I'm always bigging up Dover every chance I get & quite rightly so. I loved this episode & so soon too after 'The Choir'. All this positive publicity will stand us in good stead attracting more visitors here. Mandy Whall was excellent, such professionalism!!
I note the Dance to France is on my Birthday 29th March when I will be the grand ole age of 29 again
Perhaps I should throw all caution to the wind & go dance the night away. Great photo of the lifeboat from Andy, I'm sure PaulB used a smaller version of it a while back. I hope the night is a great success for the RNLI

Saturday, 1 February 2014 - 16:55
Post 452
Kevin Charles, Dover
Michael Portillo's famed pastel shades always add colour to the programme! Seriously, another great programme featuring the delights of Dover. I am sure most visitors go away with a much more favourable impression than many Dovorians would give credit. Like every town we have out faults, but if people spent as much time talking up the town as they do talking it down, we might start to get somewhere!

Saturday, 1 February 2014 - 09:40
Post 451
PaulB, Dover
Very difficult night once again, huge waves breaking over the seafront walls. Must have been horrendously tough out in the channel. Tides were very high and as I write they are now very very low at 6.20am...almost as if the sea has withdrawn. Looks somewhat odd.
Weatherman tells us there is more bizarre and stormy weather to come..so batten down the hatches!
By way of a bit of light relief. Here are a couple of pictures of Michael Portillo's visit to Dover as shown on his great railway journeys on Thursday night at 6.30pm. While not exactly a sea news item...the excuse is our very own seafront can be seen in the first shot. I tried to make a postcard out of it with only moderate success..

Here we are..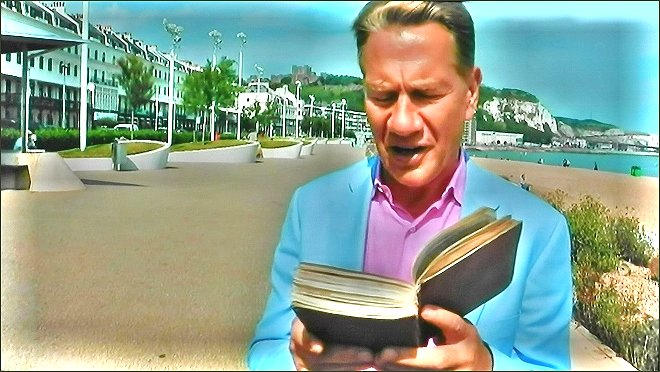 Yes that's former Politician Michael Portillo strolling along our very pleasant seafront here in Dover. He went on to explore the Grand Shaft with Mandy Whall of the WHPS who came across very well and here we have a pic of that..
The pictures are of course photographed from the TV. There are more pictures in the main forum by Howard and they look great.
I have 'postcardised' these ones.
* *
Thanks Andy for that further info re Dance to France...and for the dramatic picture. The lifeboat guys sent me that one in my previous role..still have it in the files. Its by Dan Keen if I remember rightly.
Im known for a mean soft shoe shuffle on the dancefloor so I am...lol!

Yes indeed Jan some good info through there from DFDS..great ideas.
Saturday, 1 February 2014 - 06:37
Post 450
JanT , Dover
Excellent picture showing the Lifeboat Andy and lets hope that the Charity Disco Cruise (Dance to France) has a good take up for a very good cause.

And DFDS give us some more very good offers, cases are already packed for those itchy feet


Friday, 31 January 2014 - 12:45
Post 449
Andy MacLean, Canterbury (jazzandy@btinternet.com)
Our Dover Lifeboat at speed!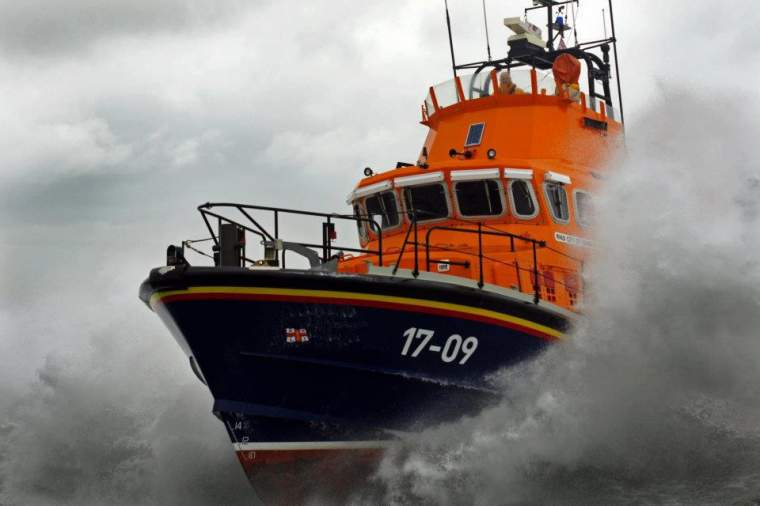 Please help us to support the good work by booking tickets for the Charity Disco Cruise 'Dance to France' on board MV Spirit of Britain - 1835 sailing - Saturday 29th. March.
Tickets from : 01304 210572 or 01227 732414
Places strictly limited so book early!
Friday, 31 January 2014 - 11:33
Post 447
PaulB, Dover
SHAKE AWAY THOSE WINTER BLUES ON A SHORT BREAK TO EUROPE WITH DFDS SEAWAYS

__________________________________________________________________________
• Travel for France for as little as £29 return for a car and four people
Award winning ferry operator, DFDS Seaways, has launched a fantastic £29 day-return offer on its Dover-Dunkirk route for a car and up to four people. Those wanting a longer break can take advantage of a £39 return fare for a three-day break or £45 for a five-day return, both for a car and up to four people. All offers are bookable from now until April 1, for travel before April 2.
The special fares are perfect for those looking to relax and recharge their batteries with a short break in France or Continental Europe.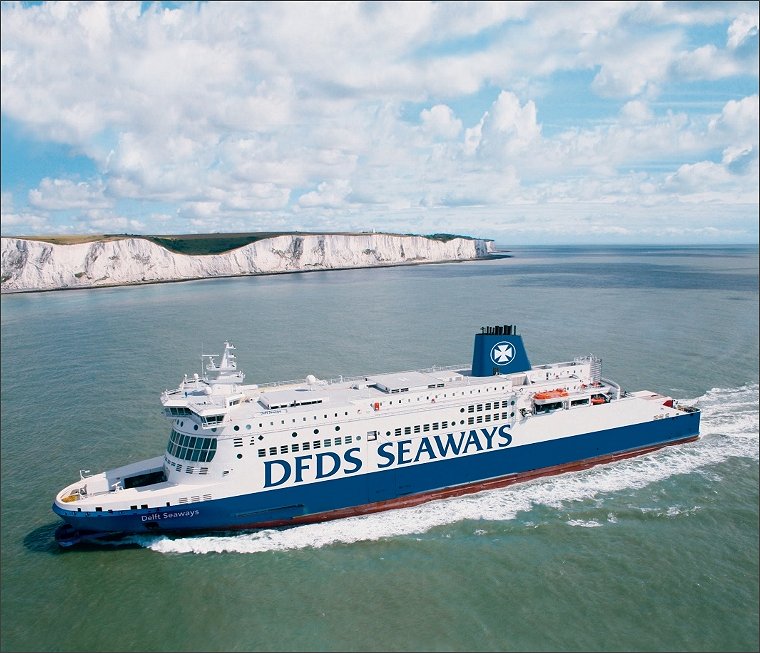 Day trip ideas
***********
If you are looking for a great family day out with a Continental flavor, then families with young children will love the family theme park at Plopsaland-de-Panne, which is just a short 20 minute drive from Dunkirk port in France.
If French cuisine hits your spot, then why not hop over to Dunkirk and pick up some delicious French produce? Market days in Dunkirk are Wednesdays, Saturdays and Sundays in the mornings, where you can buy fresh fruit, vegetables, meat, cheese, sweets and other local delicacies. Alternatively, the supermarkets are also fully stocked with French food, wine, clothes and other goods, and are open Monday-Saturday until late (08.30 - 21.30 Monday-Thursday and Saturday, 08.30 – 22.00 Friday). Dunkirk itself is well worth a visit, with over 15km of sandy beaches, as well as shops and eateries full of Flemish delights. Check out our Dunkirk travel guide for more information and ideas of where to go: www.dfdsseaways.co.uk/travel-guides/france/Dunkirk/
The offer code for the day return to Dunkirk is E24SB.
Short breaks
**********
If you are looking to take advantage of the three or five-day short break offers, then Bruges, the beer and chocolate capital of Belgium, is a good option and is under an hour's drive from Dunkirk port. Or for those wanting to go slightly further afield, why not travel on to the beautiful city of Ghent, which is home to a host of architectural and historic delights? Check out our Belgium travel guides for more inspiration: www.dfdsseaways.co.uk/travel-guides/belgium/
Romantics might want to visit Paris, at around three hours' drive from Dunkirk, or even travel around several French towns and cities as part of your touring holiday. Read our France travel guide for more ideas: www.dfdsseaways.co.uk/travel-guides/france/
The offer code for the three-day return fare is E72SB and the five-day return to Dunkirk is E120SB.
DFDS Seaways operates up to 12 return sailings per day between Dover and Dunkirk, offering passengers flexible and convenient crossing options. Passengers can relax on board during the short, two hour crossing and grab a bite to eat at one of the restaurants or cafes, pick up a few last minute travel essentials from the onboard shop or let the kids play the dedicated children's areas.
To find out more information, visit www.dfdsseaways.co.uk/ferry-offers-and-deals/ferry-to-france-offers/dover-dunkirk-short-breaks-offer/?src=hp/na/banner2 or telephone 0871 574 7235 to book your return crossing now....
* *
Some nice ideas above there from DFDS..yours truly is getting that itchy travel bug again!
Good to see that pic of the Lizrix up close Ed.
Howard there is some RNLI info on the 'Dance to France' here on page 2 from Andrew Maclean..
... just in case you missed it.
Friday, 31 January 2014 - 06:20
Post 446
Ed Connell, Dover
The bunker barge Lizrix which has replaced the Coralwater whilst she goes away to get a replacement rudder.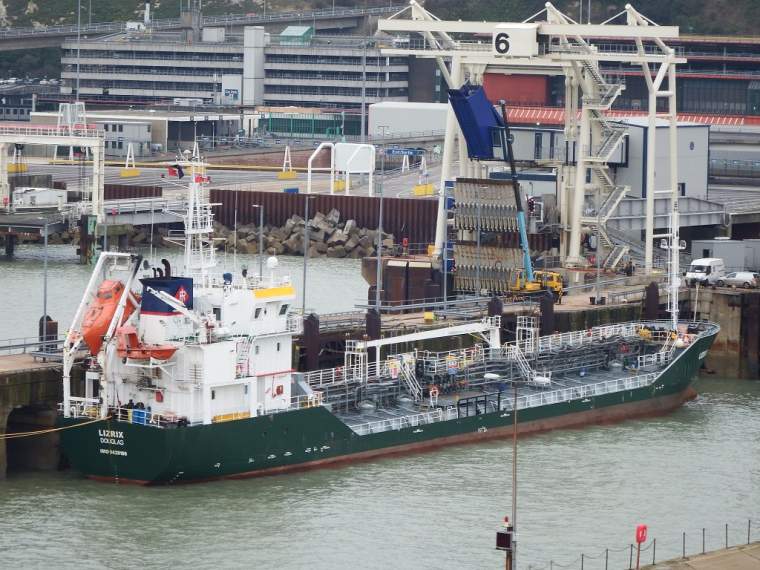 Thursday, 30 January 2014 - 20:12
Post 445
howard mcsweeney, Dover
mark makes reference to the "dance to france" trips, there is another planned on the "spirit of britain" in march organised by the rnli.

will start a thread on the main forum when i get full details.

Thursday, 30 January 2014 - 13:49
Post 444
PaulB, Dover
Yes indeed - well done with those Mike. I saw the Meander in action yesterday...towing the Coral Water away. Did get a picture myself but your ones better and right in close to the action. Excellent stuff! Yes the Coral Water broke down a few days back..just outside harbour. Reference to it with picture further down page.

Thursday, 30 January 2014 - 08:16
Post 443
howard mcsweeney, dover
looked in just before logging off for the night and find that mike has come up with the goods again.

great informative stuff.

Wednesday, 29 January 2014 - 23:27