Monday, 10 August 2020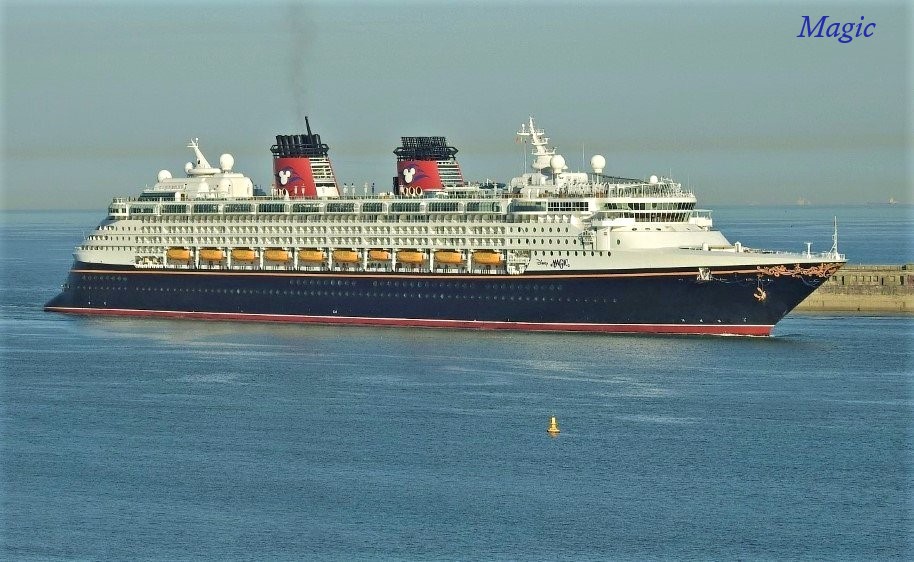 The Disney Magic entering the Port of Dover once again after a brief channel run....

WWW.DOVERFORUM.COM/SEA-NEWS
Sea Pictures from DOVER ....
Just to let everyone know...we have essentially closed Sea News.
Times have changed and these changes havent been good to us.
We will leave it open for research purposes ...if anyone wants to check anything etc etc
Other than that its all over.
A huge thanks to everyone who contributed over the 7 years.

Paul Boland - dover7@msn.com.
.
Use our SEARCH ENGINE below to find all sorts on the SEA NEWS pages....type in the topic and away you go,
or if you have the post number, just type it in the Search Box, more than
- 7000 -
nautical posts now.
Sea News Dover:
All pictures on these pages are the copyright of the owners and must not be reproduced without permission.
Post 442
Mike J., Dover
The Dutch tug MEANDER towed out the Dover bunker tanker CORAL WATER mid-morning on Wednesday, bound for Rotterdam for repairs - the CORAL WATER's rudder had dropped off about a week ago [honest !].
The tow was assisted across the bay & out thru the Eastern Entrance by the DOUGHTY & whilst the little convoy was waiting for the DELFT SEAWAYS to enter via Eastern the SPIRIT OF BRITAIN came in through the Western Entrance & went straight to No.9 berth.
The tiny dot at the bottom, just right of centre of the first SPIRIT OF BRITAIN photo was a seal - several were mooching about by the Prince of Wales.
The MEANDER had been in Dover for a few days, waiting for an improvement in the weather before starting the tow.
The CORAL WATER has been replaced by the Isle of Man-flagged LIZRIX.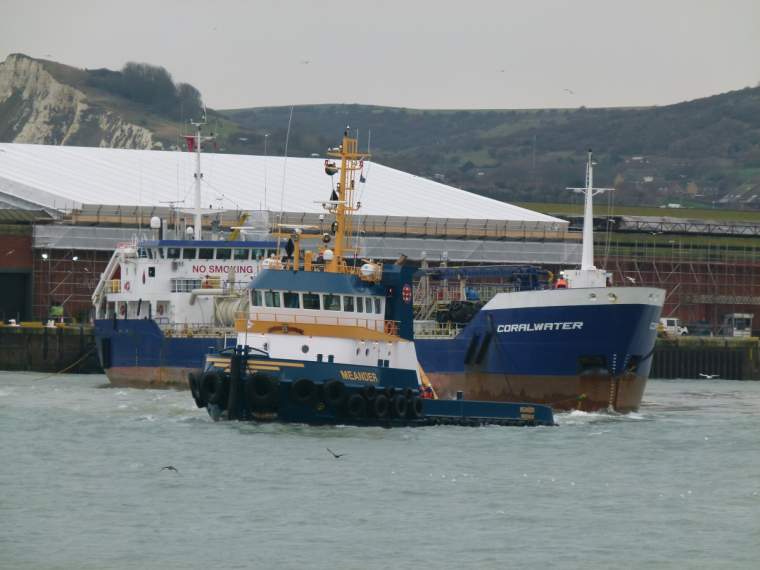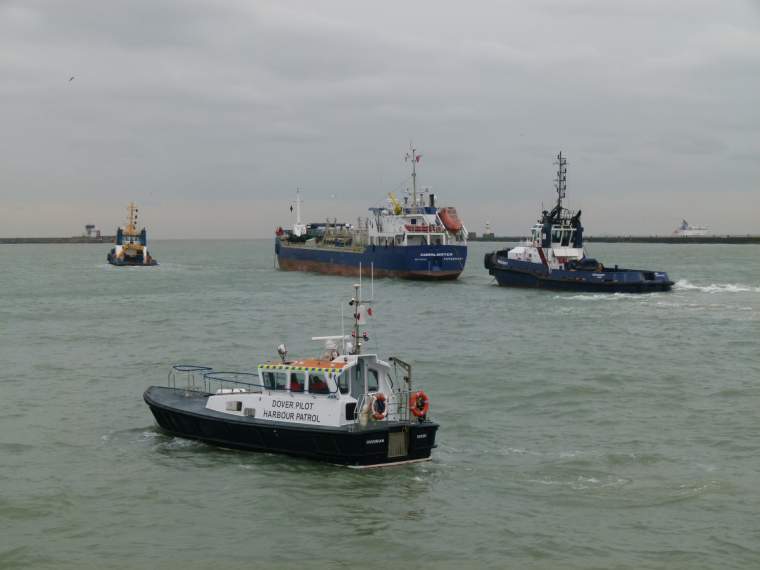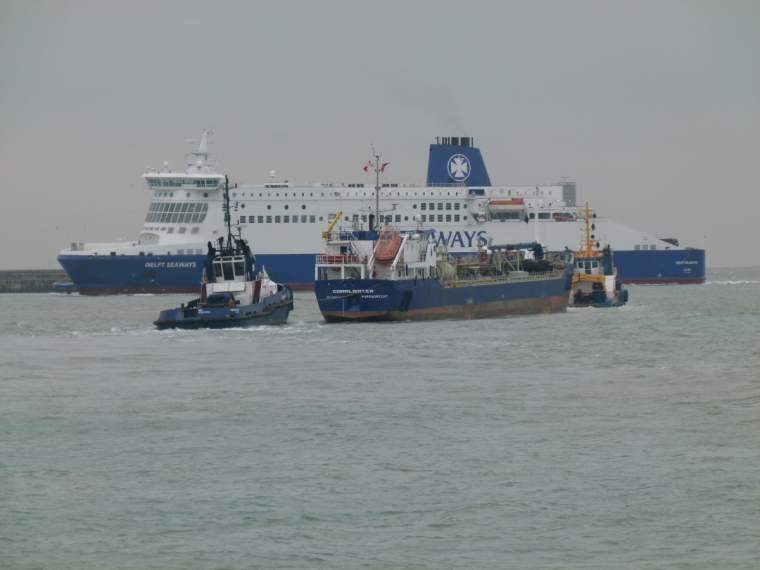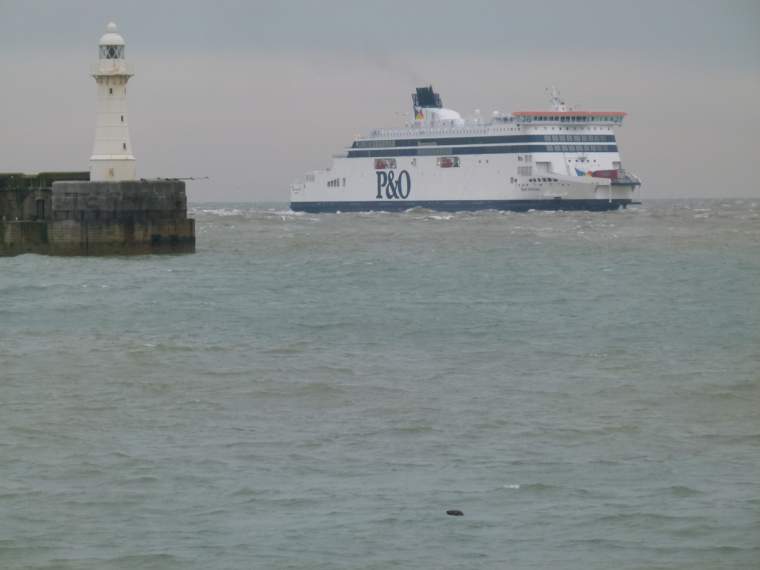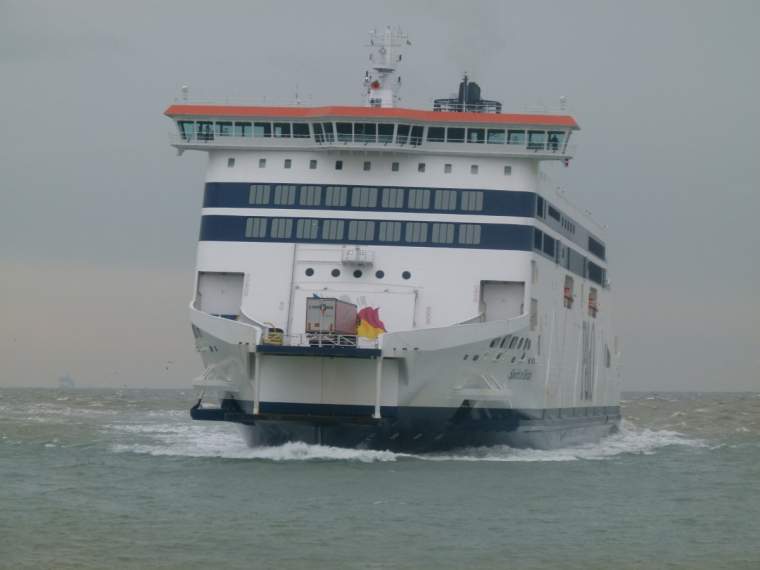 Wednesday, 29 January 2014 - 22:59
Post 441
PaulB, Dover
The Costa Rican Star gets ready for departure yesterday in the rough conditions around 1pm. Several ferries were delayed around that time due to the rough seas and as a consequence the local traffic became congested. You can see how rough the sea is in the background. Both tugs were in active assistance. I believe there was a Force 8 in play at the time..even holding the camera steady was a challenge. The tugs got the Costa Rican Star safely on her way to Antwerp.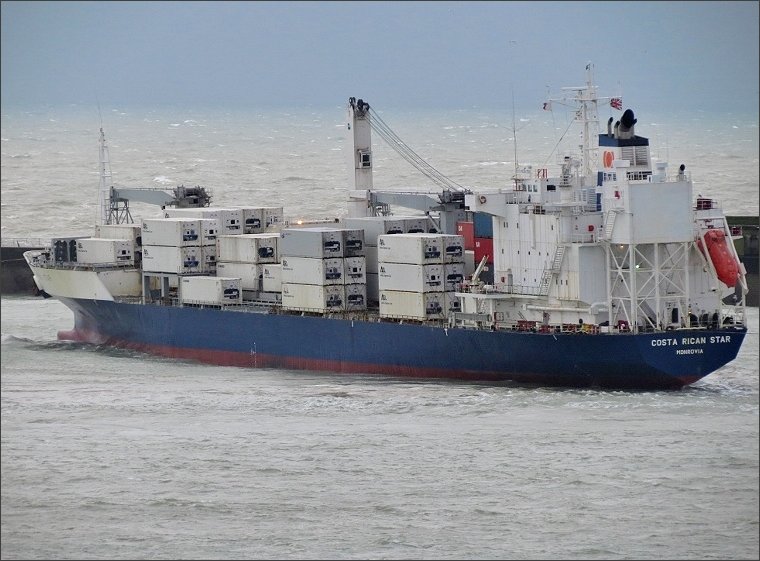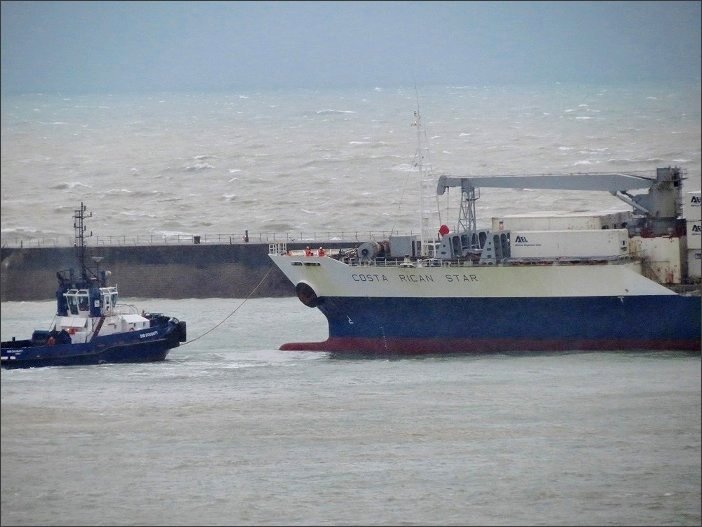 Cant say I have noticed the Costa Rican Star before, perhaps she is a new visitor. Found out a little bit more about her via the general internet...and quite an interesting tale here about her eventful recent journey.
Courtesy Vesseltracker.com
"
On Jan 27, 2014, around 7:30 ,a.m. the "Costa Rican Star" notified the CROSS Joburg about losing two empty containers. The reefer was located west of the traffic separation scheme of the Caskets, about 50 nautical miles west of Cap de la Hague (Cotentin). The CROSS Joburg immediately informed the vessels transiting the area. The maritime prefecture then issued an urgent notice to mariners.
The Maritime Operations Centre deployed an EC 225 helicopter of the French Navy base in Maupertus to investigate the situation. Due to the relatively accurate initial position provided by the ship the helicopter crew quickly identifed the two containers and marked the boxes with a tag which allowed the maritime prefecture to track the containers in real time and thus avoid collisions. Around 6:20 p.m., the beacons ceased to work so it was very likely that they sank. The "Costa Rican Star" which was enroute from Dakar, where it had sailed on Jan 21, to Antwerp where it was expected on Jan 28, docked at Dover port on Jan 27 around 10.20 p.m. "
* *
And speaking of all things maritime.. as we do. Here is an interesting and related press release from DDC...
VIKING RECRUITMENT STARTS CONSTRUCTION
OF MARITIME SKILLS ACADEMY
___________________________________
A £6.5 million investment in state-of-the-art facility provides a boost to local economy.
Dover based Viking Recruitment Ltd has started construction of a state-of-the-art maritime training and conference facility at its head office on the Beechwood Business Park in Dover. The Maritime Skills Academy will include a specialist fire fighting and a sea survival centre with wave pool and accompanying environmental effects. The new complex will meet the increased demand for such training with new regulations coming into force in 2017 requiring all seafarers to undertake increased training as well as refresher training every five years.
In addition to providing safety and sea survival training, the centre will also feature numerous training rooms for professional development, simulator training equipment, a conference provision for 120 people, modern kitchens, a restaurant, and coffee shop/bar, all utilised for maritime hospitality training. The Maritime Skills Academy also provides a boost to the local economy, as trainees will require accommodation in local hotels and B&Bs.
Viking Recruitment, established in 1988, has secured financing for the development along with an initial interest free loan of £1.3 million from the East Kent Expansion Fund, part of the £40 million Regional Growth Fund.
Dieter Jaenicke, Chairman and Founder of Viking Recruitment, said: "Dover has a rich seafaring heritage with many people employed in the maritime industries across East Kent. Up until now, they have had to travel further afield and even abroad for such training, but from 2015 they will be able to train here in Dover. The new centre will also provide an important showcase for maritime careers to young people whether at sea or ashore."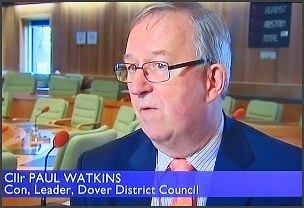 Cllr Paul Watkins, Leader of Dover District Council, said: "This is another example of renewed investor confidence in the Dover District. Viking Recruitment has built a strong business in Dover, and has spotted a great opportunity to expand their business and build on Dover's reputation for maritime innovation and excellence."
* *
Interesting post below there Ken. Yes its a lovely ship, let's hope they can get that item attended to fairly swiftly. Yes you are indeed a busy continental traveller, good luck with all that. Hope weather will be reasonable in the coming weeks.

Wednesday, 29 January 2014 - 07:49
Post 440
Ken Tranter, Dover (staygulf@msn.com)
As someone who uses P&O at least once a week I am always conscious of following safety announcements and signage, but I was horrified at a sign on the truck deck of the Spirit of France. It was printed on a note pad sized piece of paper and sellotaped to the bulkhead door and bore the wording TO BE KEPT CLOSED AT SEA.
I would have expected a more permanent sign but this is classic spoiling the ship for a 'happorth of tar.


Tuesday, 28 January 2014 - 09:14
Post 439
PaulB, Dover
And Now...a great idea from MYFERRYLINK for those with regular travel in mind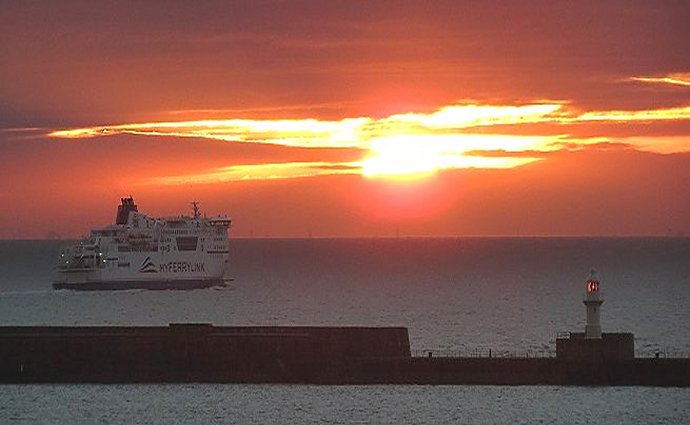 Fantastic savings with the MyFerryLink Carnet frequent traveller scheme
Regular travellers benefit from great prices and flexibility
____________________________________________________
Regular travellers from the UK to the Continent can now take advantage of special rates with the MyFerryLink Carnet. This frequent traveller scheme offers great value, fixed price travel starting from just £27 per crossing for a car and up to 9 passengers when buying 24 single tickets.
Prices for 18 single tickets are £29 per crossing, 10 single tickets are £31 per crossing and 6 single tickets are £33 per crossing. What's more, Carnet customers are not required to book a specific date or time if they don't wish – they can simply turn up at the port and will be guaranteed a sailing on one of the next two departures (excluding peak dates). One or more tickets can also be allocated to a friend or family member, depending on the number of tickets purchased.
A supplement applies for peak holiday dates and for motorhomes and minibuses. For more details, visit the offers page on www.myferrylink.com
MyFerryLink operates up to 16 daily crossings on the Dover-Calais route. Fares for a car and up to nine passengers start from £29 each way any duration and from £29 for a day return.
To find the best fares, visit www.myferrylink.com or call 0844 2482 100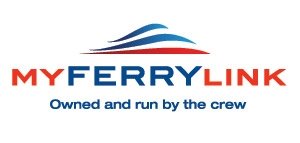 Top picture shows the Berlioz heading over to Calais guided by a rising sun.
Tuesday, 28 January 2014 - 07:56
Post 438
PaulB, Dover
Hello Antony in London.
There is passenger traffic coming and going only from the Eastern Docks these times. But these Eastern Docks are very big and very busy...carrying more passengers and freight than ever. The western docks have not been used for the general passenger since the demise of the hovercrafts and seacats etc. Although over on the far western arm of the harbour is where you will find the two cruise terminals. As I understand it these are clearly marked when approaching by car.

Monday, 27 January 2014 - 15:14
Post 437
antony, london, england
We are a private taxi company and we are looking for brief instructions on the pickup and drop off procedures at Dover.

Am I correct in assuming passengers both arrive and depart from the eastern and western docks? Also is there a third cruise terminal?

Thanks in advance for any help and information.

Monday, 27 January 2014 - 14:18
Post 436
JanT, Dover
Have also watched the video very sad to see its end that way, and seeing the picture below of her last working day, it must in its working life have carried so many across the channel to many destinations.


Monday, 27 January 2014 - 14:11
Post 435
brian., dover
re pride of calais,it was a nice piece of parking too, a sad end really.

Monday, 27 January 2014 - 13:58
Post 434
PaulB, Dover
Colette that's a good finale to the story about the lost wallet, a wallet which seemed to have considerable content, so I bet the person herself was glad to get it back untouched as it were. It was extraordinary to see it lying there mid carpark. But all win as you say, and even the Pilgrims Hospice wins too...excellent.

Further to the videos about the beaching of the Pride of Calais. Here is another chance to see her on her last working day. We have used the picture before..and indeed we have other similar ones too, but here she is again on 20 October 2012 on her final working arrival into harbour complete with two trucks on her nose.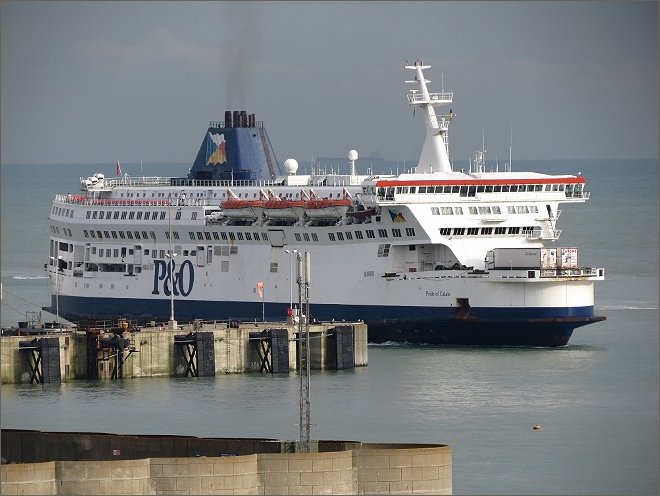 Of course P&O have arguably the most modern fleet and below we see one of her steady working replacements in fine action. yes its the Spirit of France photographed last week after her return from refit.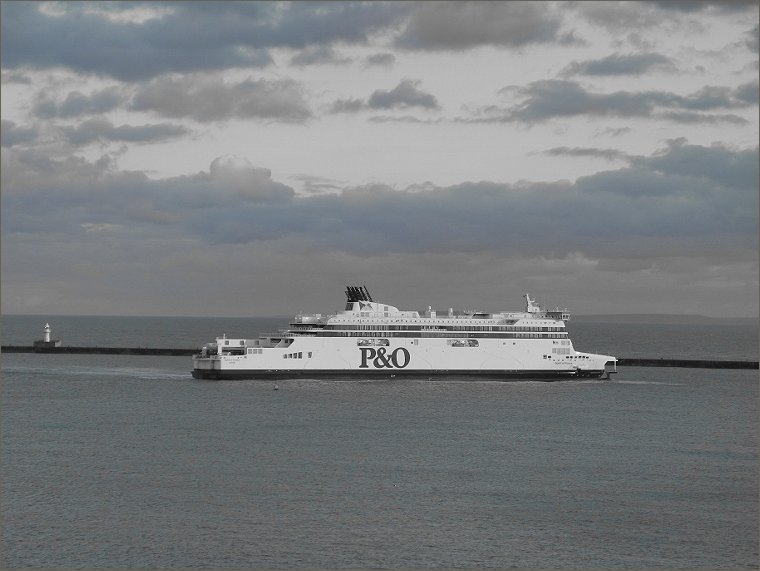 Monday, 27 January 2014 - 07:29
Post 433
ColetteB, Dover
Just watched the video that Brian posted on the Pride of Calais, very sad indeed but I guess inevitable, she was such a popular ferry in her day.
Pity we didn't bump into you on Friday Howard, fancy that, you & PaulB taking a snap of the Survey Vessel, Sea Vigil, on the same day. Indeed a good photo but lucky he took it before he sampled the delights of Cullins ie the wine cellar

Just thought I would mention that we found a wallet outside De Bradelei on the day which I handed in to the store. The owner phoned me later & she made a donation on my behalf to a charity of my choice to say thank you, so a win win for her, me & the Pilgrims Hospice at Ashford

Sunday, 26 January 2014 - 15:54
Post 432
PaulB, Dover
Well there you are Howard. You know what they say...great minds think alike !

Always meant to photograph the Sea Vigil but never got round to it but when I saw your mention the other day I put it on my to-do list.
Karlos yes Mike mentioned that beaching a few days ago and I see there is now a film of the beaching on the main forum under the heading...
Pride of Calais. Spectacular stuff ! Not able to do films on this page.
Good story there Mark. Like it. Quite a few years ago they used to do the Dance to France thing. It wasn't long after I moved here to Dover and I used to notice loads of girls all dressed to kill heading towards the ferries on Saturday nights. Wasn't sure what was going on, twas a headscratcher for sure...but in due course I twigged. It was disco fever!

Sunday, 26 January 2014 - 08:01
Post 431
howard mcsweeney, dover
stone me paul i took exactly the same photos as you from the de bradelei boardwalk yesterday, didn't come out as well though.

Saturday, 25 January 2014 - 19:26
Post 430
Mark Rushton, Northants
The chat about dancing your way across the channel reminded me of a couple of times in the 1970s when I was dragged along by my parents to staff disco's for BR Sealink employees and hangers-on (my mum worked for the Government statistics unit that still conduct passenger interviews on the boats today). These were held on the car deck of one of their ferries laid up for the winter in Wellington Dock. Clearly I was too young to consume alcohol - certainly in such close proximity to my parents - so for me the events held limited appeal - but the grown ups seemed to have fun !

Saturday, 25 January 2014 - 12:30
Post 429
Karlos, Dover
Re the Pride of Calais at the scrap yard - never seen anything like that before.


Saturday, 25 January 2014 - 11:06
Post 428
PaulB, Dover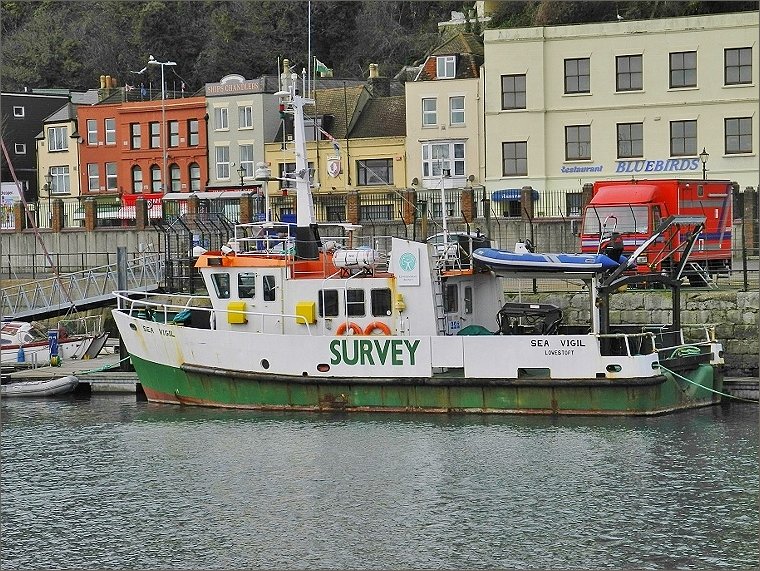 Howard mentioned the survey vessel currently residing in the marina the other day, and there she is above, picture taken yesterday from Cullins Yard..where one was sampling the local delights...It was a cold oul day but one bravely ventured forth with camera onto the dockside to get the pic..

I believe the vessel, called the Sea Vigil, is for sale at 125,000...
"David Abels built survey vessel dating from 1991, one of a series manufactured for the Environment Agency installed with equipment specifically used for survey purposes. Fitted with twin economical Perkins Sabre engines, this craft has good range of around 1000NM and excellent working areas both undercover and deck areas. Complimentary equipment is positioned on the working deck for ease of access and management. "
The wider view of the marina below looking into the late afternoon sun. Still plenty of yachts and so on to be seen.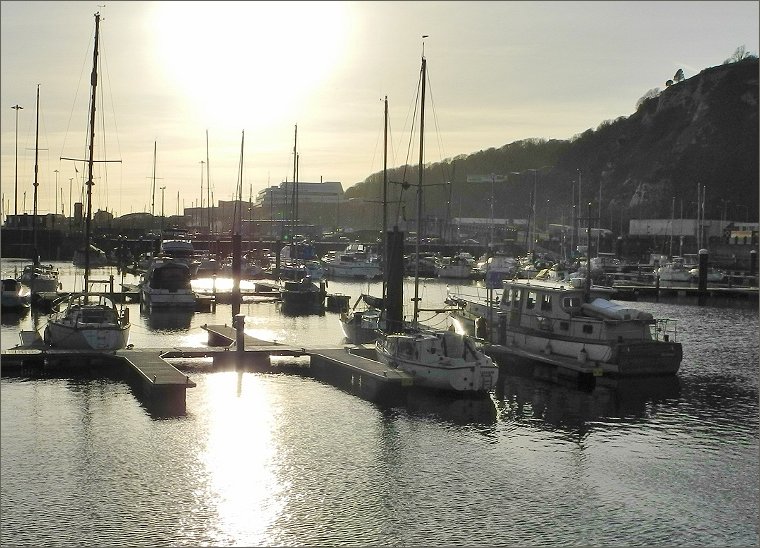 Saturday, 25 January 2014 - 08:24
Post 427
PaulB, Dover
Thanks Jan - glad you like the pic. That was nature as it was this morning, directly from the camera. Not touched up in any way.
I wrote that romantic vision stuff earlier but it didn't last...look at this..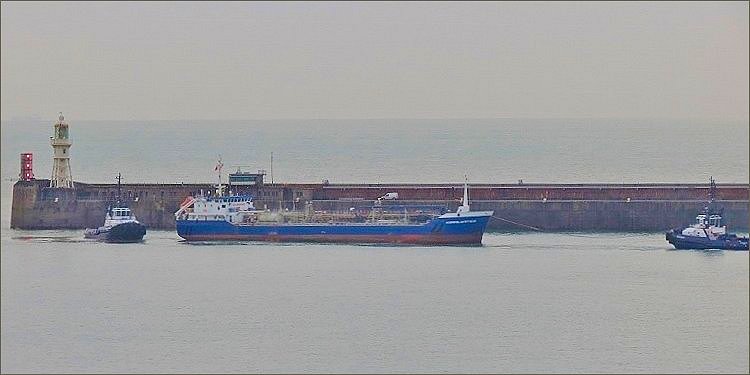 Yes its the Coral Water as mentioned in the picture earlier, well it broke down an hour or two later. It went out into the open sea and before long the two tugs were called to tow it back in...looking a tad..ermm knackered to use the technical term. Reality alas in slate grey.
You can just see the tow rope there above.
Friday, 24 January 2014 - 17:58
Post 426
Jan Higgins, Dover
Wow!!!!!!!!!!!!
That is an absolutely stunning picture Paul.

Friday, 24 January 2014 - 11:03
Post 425
PaulB, Dover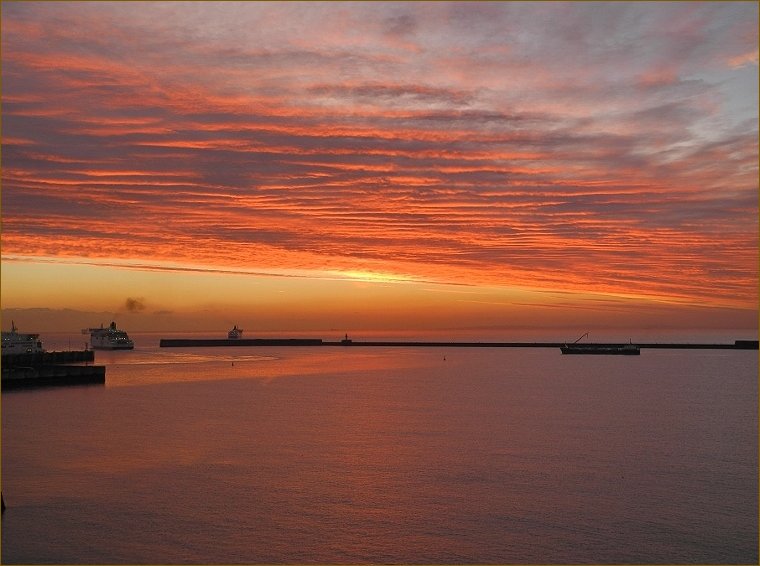 This is the scene at harbour entrance no more than a few minutes ago as I write. Great colours see the P&O Spirit of France off on her journey while the same sky greets the Coral Water to another long day as she moves slowly across the harbour.
Have more general information coming through shortly. At the moment getting to grips, or trying to, with a new computer and software. Mindboggling..

While transferring old pictures I noticed some old ones from 7 or 8 years back that might be of the Pride of Calais...will check. Might be worth a look. Will try and find that video on YouTube Mike.
Vic...funny story that. I can just imagine boxers trying to pursue their craft in rough weather...balance would go all to hell for sure..indeed it would turn the contest into something of a dance so probably best to stick to the Dancing on the high seas as mentioned by Andrew below.

Friday, 24 January 2014 - 08:18
Post 424
Mike J., Dover
For video footage, filmed from ashore, of the spectacular beaching of the PRIDE OF CALAIS/OSTEND SPIRIT at the Turkish scrapyard go YouTube & do a search on -

'M/F OstendSpirit - SelimSan - Beeching / Aliaga'

There are also several clips on YouTube that will probably pop up, filmed from aboard the CALAIS.

A sad but inevitable end to a popular ferry.



Thursday, 23 January 2014 - 15:24
Post 423
Vic Matcham, River Dover
Talking about the times that they held danceing to and from France,well also we held boxing matchs as well the boxing was held on the car deck when we got to France,but one time the boxing was running late and the ship left port when the last bout was on ,it was fun to see the boxers trying to get their footing right with the ships movements it was hard to stay on their feet,in the end we had to stop the fight and call it a draw.


Thursday, 23 January 2014 - 08:12