Wednesday, 23 October 2019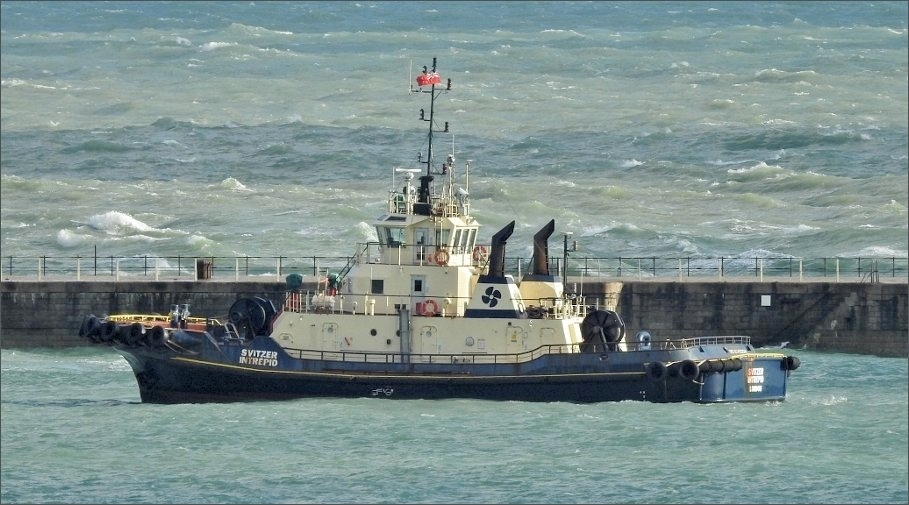 Svitzer Intrepid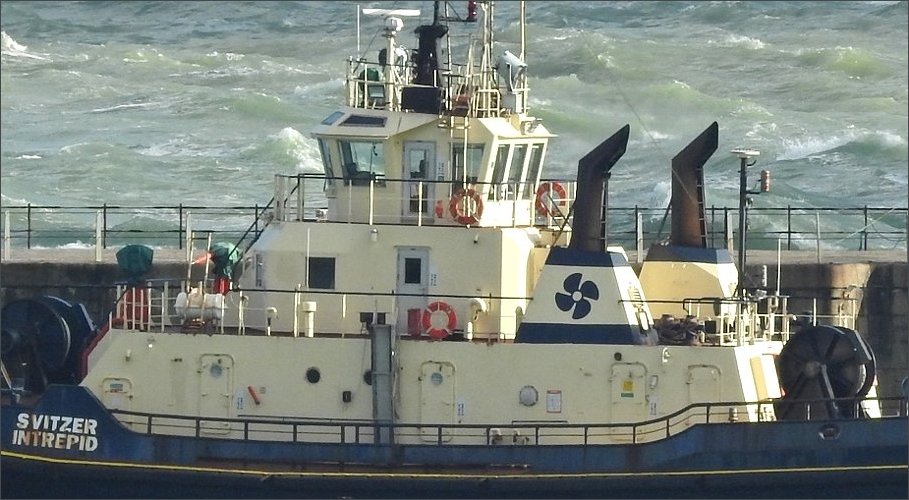 Svitzer Intrepid... the temporary replacement tug for Doughty at the Port of Dover.

WWW.DOVERFORUM.COM/SEA-NEWS
Featuring all the ships that come and go and work at the Port of Dover ..
... with further coverage of the surrounding ports.
Sea News Dover
P&O FREE WINE see 6600 --- Dover Lifeboat Sunday Drama see 6607.
Use our SEARCH ENGINE below to find all sorts on the SEA NEWS pages....type in the topic and away you go, or if you have the post number, just type it in the box, more than
- 6500 -
nautical posts now. Posts are welcome. just click 'Add Your Comment' below. Max of 5 pictures preferred although we can stretch that for special stories.. Sea News Editor Paul Boland - send info or pix to dover7@msn.com. Always welcome.
CRUISE CALLS:
https://www.doverport.co.uk/cruise/find-a-cruise/
UPDATE:
To show your pictures at their best..it could be worthwhile resizing before posting to
850
pixels wide.
All pictures on these pages are the copyright of the owners and must not be reproduced without permission.
Post 6431
Sea News, Dover
The Atlantic Reefer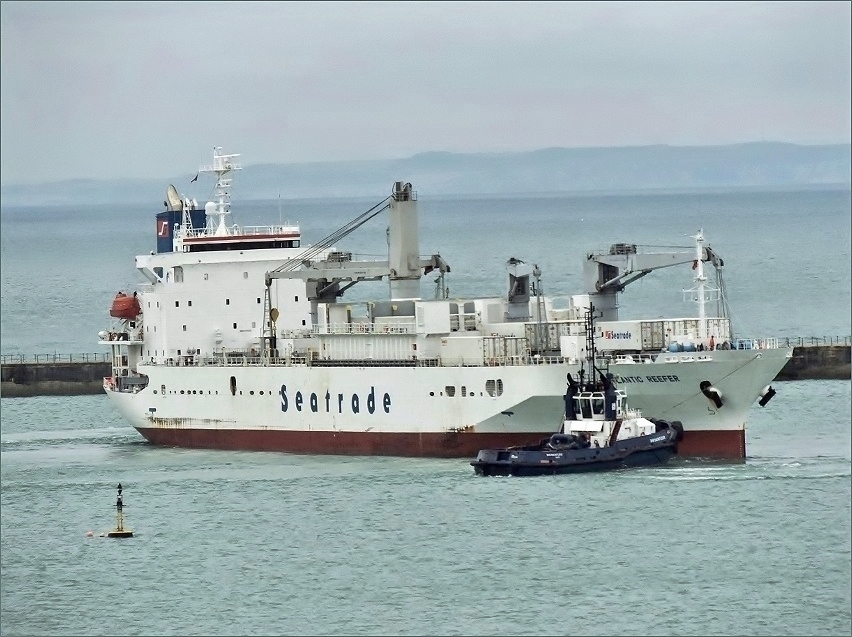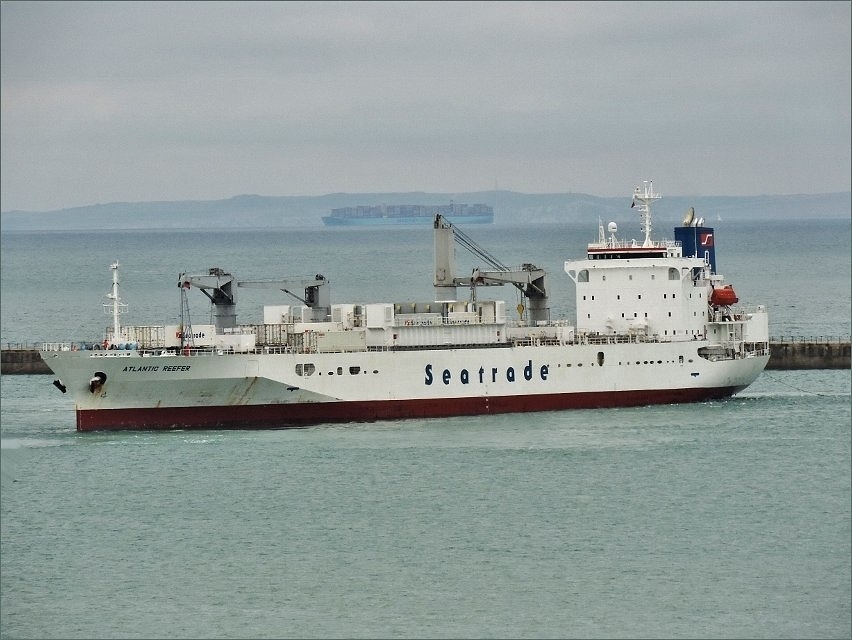 In the midst of all the glamour provided by the scintillating cruise ships, we mustn't forget the cargo ships quietly working away at the same time. So we will let Atlantic Reefer take the lead today with two simple pictures of her arrival taken a few days ago. We also have Lombok Strait to catch up on...
so much to do, so little time...

Just catching up with Brilliance of the Seas as she departs for Amsterdam on...ermmm..let me check.. yes on the 29th which was Monday. She was returning to Amsterdam to complete her round Britain tour.. Pictures of her arrival here in 6429 below.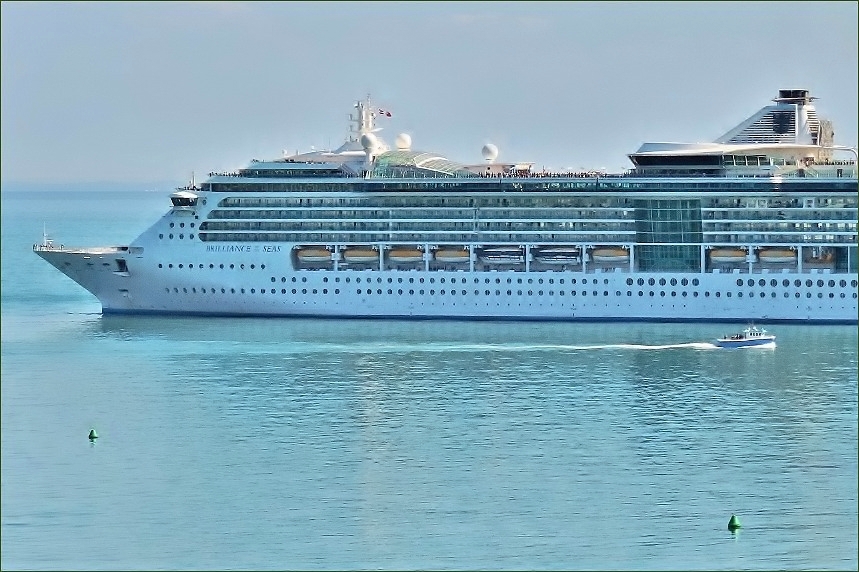 Brilliance of the Seas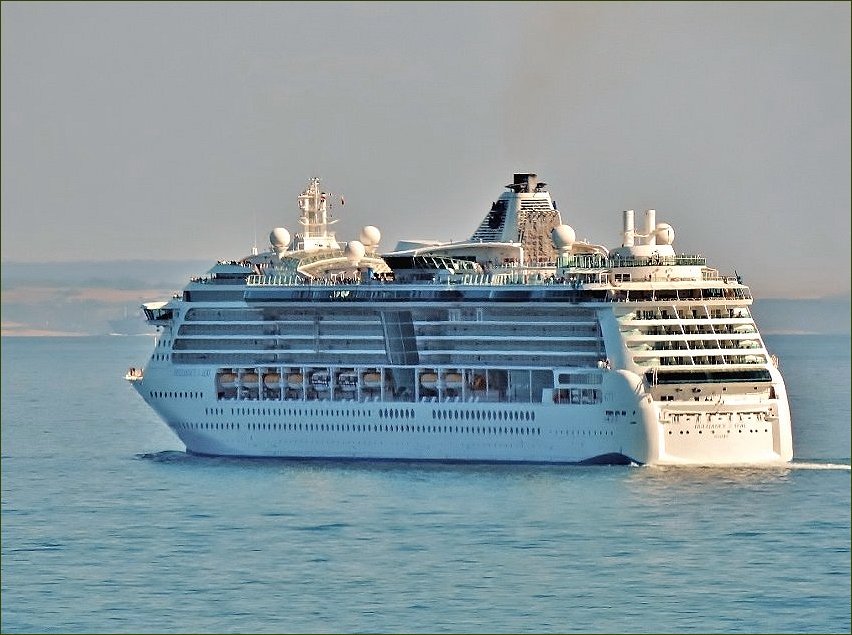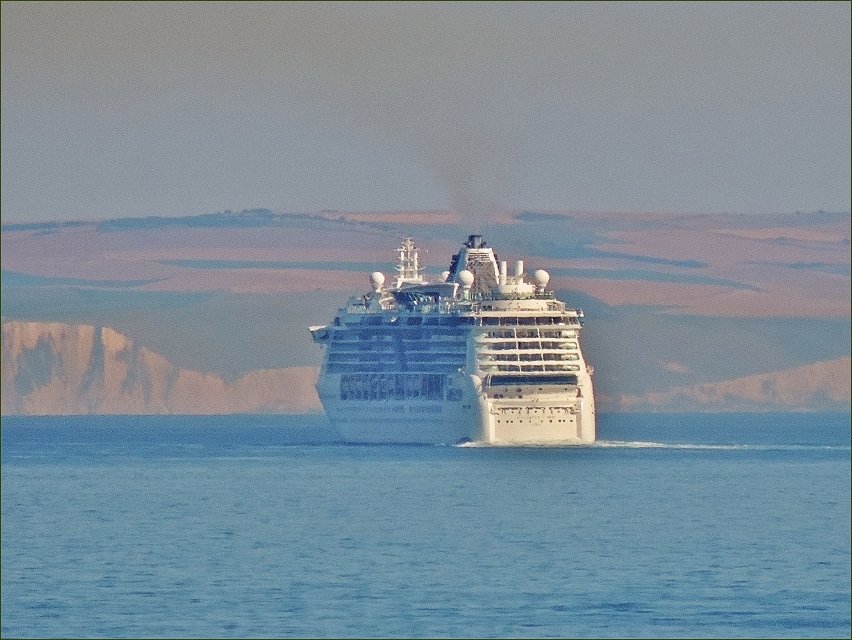 Picture 3 there of 'Brilliance' is obviously long distance with a misty Coast of France coming in to play.
We had a major cruise day yesterday with three cruise ships in port. The new berth Western Dock 4 being used once again. A fine day for yours truly to be without his main camera...the expensive battery therein had a final and total meltdown and refused to work...had to fetch an old moth-eaten camera out of the cupboard to meet the need. Will aim to have a collection to follow in due course..taken on the old boneshaker..

Del yes that looks like an excellent initiative...the aforementioned corner of England and the aforementioned corner of France working together to increase tourism. Its got to be good...should suit everyone including the ferry companies. Yes lets hope Brexit doesn't scupper it...
PaulB
Boudicca in Port today...
Wednesday, 31 July 2019 - 06:47
Post 6430
Del Styan, Norwich
Nice to see Norfolk involved with Kent and Dover in a EU project to add to involve more tourism. What say the brexiters? Will the new Govt proclaim this from the hills?

Tuesday, 30 July 2019 - 23:16
Post 6429
Sea News, Dover
The Brilliance of the Seas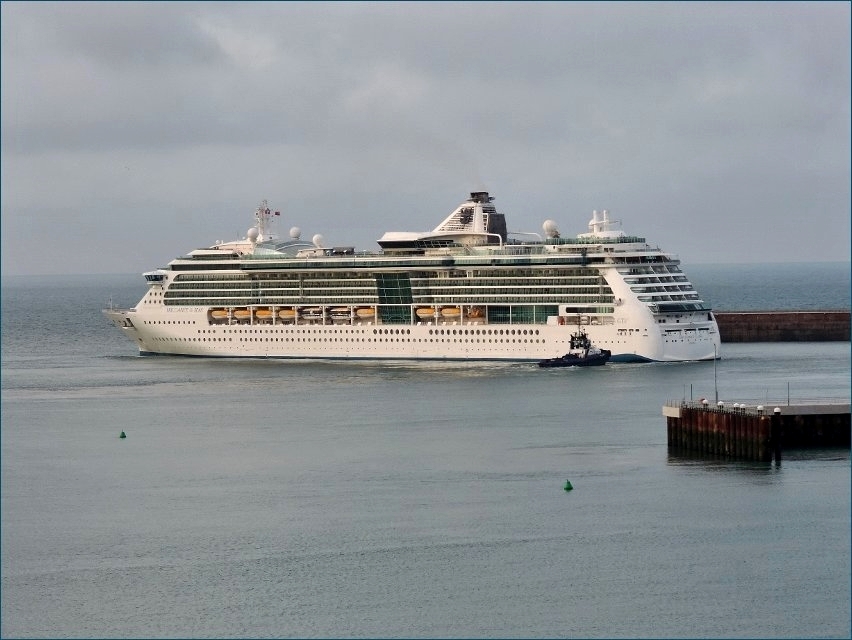 The Brilliance of the Seas arrives with us yesterday morning Monday. A fab ship indeed and of magnificent proportions. The conditions were a tad grey initially but some sun came through an hour later when the picture below was taken...time of top shots... 06:00 ... time of pic below 06:56.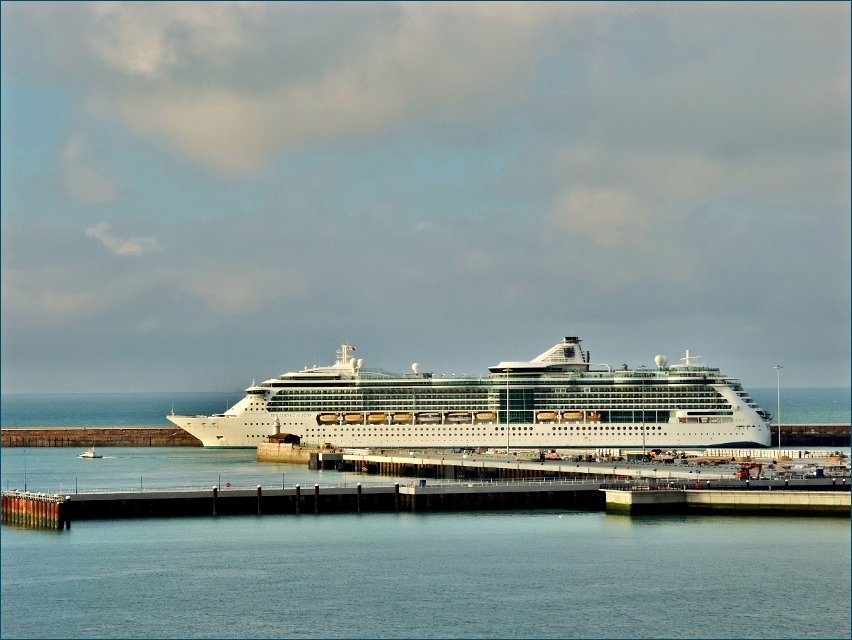 As you can see above there she is big...958ft long. Will have some pictures of the ship leaving in due course.
Dover District Council To Be Part Of Multi-Million-Euro Project To Boost Tourism
_______________________________________________________________________
Dover District Council is welcoming news that a €23.3 million project to deliver economic development through tourism experiences in the south of the UK and north of France has been given the green light.
Interreg Experience led by Norfolk County Council, alongside project partners Visit Kent and the Kent Downs AONB aims to deliver 24 million visitors and €147 million of additional visitor spend by extending the tourism season through the development of off-season bookable experiences with an emphasis on overnight stays.
The four-year project, starting September 2019, will include 14 partners from across England and France, with a focus on the six pilot regions of Norfolk, Kent, Cornwall, Pas-de-Calais, Compiègne, Morlaix & Côtes d'Armor. Dover District Council is one of ten organisations to have committed to match fund the Visit Kent and Kent Downs AONB budgets in support of Kent's involvement in the project.
Partners have been awarded funding as part of the Interreg Channel Programme. Kent will benefit from an additional €3.3 million of funding, which will help to shape the development of new experiences, events and things to do. The project will also encourage additional visitor spend and more overnight stays in Kent during the quieter October to March period, as well as help cross-channel partnership working.
Cllr MJ Holloway, DDC Cabinet Member for tourism, said: "We are delighted to be involved in this exciting opportunity to boost tourism all year round, and to enhance the great experiences on offer in White Cliffs Country. We are very pleased to be able to work with our partners, including Visit Kent and the Kent Downs AONB on this project, and look forward to delivering a dynamic programme that will support economic growth in the district and beyond."
For more details on the Interreg Experience Project, please see the Visit Kent website.
ENDS
A most interesting Tourism project above there, with much co-operation. A promising initiative...

Wow!! three cruise ships in Port this morning ...all coming at approximately the same time. Very exciting - its like the carpark at Tesco here right now... but in a good way. Well done the Port of Dover...


Viking Jupiter, AIDAaura, Pacific Princess.
PaulB
Tuesday, 30 July 2019 - 06:30
Post 6428
Sea News, Dover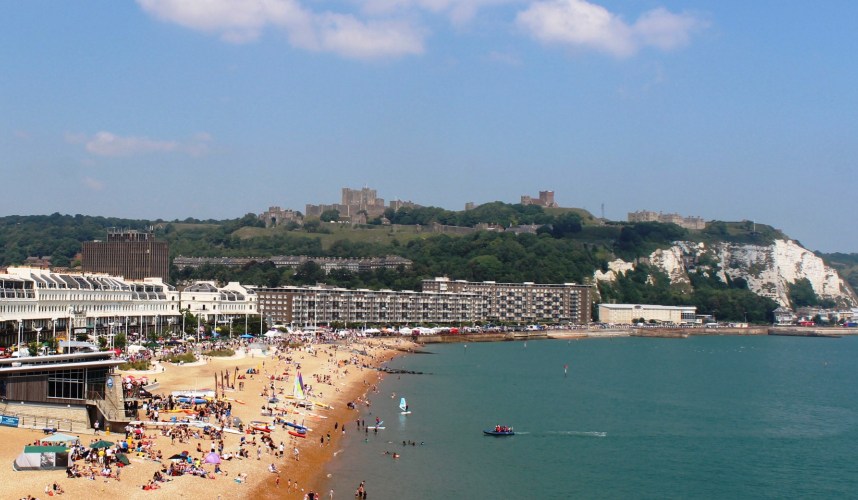 Open Air Cinema's The Greatest Showman to provide spectacular end to this year's Dover Regatta
Sunday 4th August 2019 from 10am

The Port of Dover Community Regatta is back for its 7th year, bigger and better than ever, with a huge, energetic programme in store. And for the first time ever, the Port is hosting an Open Air Cinema screening of the Greatest Showman on the Beach from dusk.
From the giant inflatable assault course, a 7.5 metre high climbing wall and segway's, to a bungee run, sumo suits and the Community Raft Race, there's guaranteed to be lots of fun in store for all. Whether you want to sit back and enjoy the local refreshments, see demonstrations and performances through the day, or let your competitive streak out by taking part in one of the activities, there's something for everyone.
Barbara Buczek, Chief Commercial Officer from the Port of Dover said: "The Regatta is one of the most anticipated days in Dover's annual event calendar, and with more fun and competitive activities than ever before, this year's is guaranteed to be a fantastic day for all. It's the perfect opportunity for the local community to come together and celebrate everything the Seafront has to offer, whilst raising money for local charities."
Port of Dover and P&O Ferries staff will be joining in the fun and competing in their own Sports Day, putting forward teams for the activities with an ultimate winner being crowned. Port vessels, Dover Lifeboat, Border Force, Splash Pals Newfoundland Dogs and Royal Cinque Ports Yacht Club will also be doing demonstrations.
Around 10,000 members of the public come down to the Seafront for the Regatta each year. All money raised will be donated to our chosen local charities – Dover Smart Project, Pegasus Play Scheme and Wet Wheels.
ENDS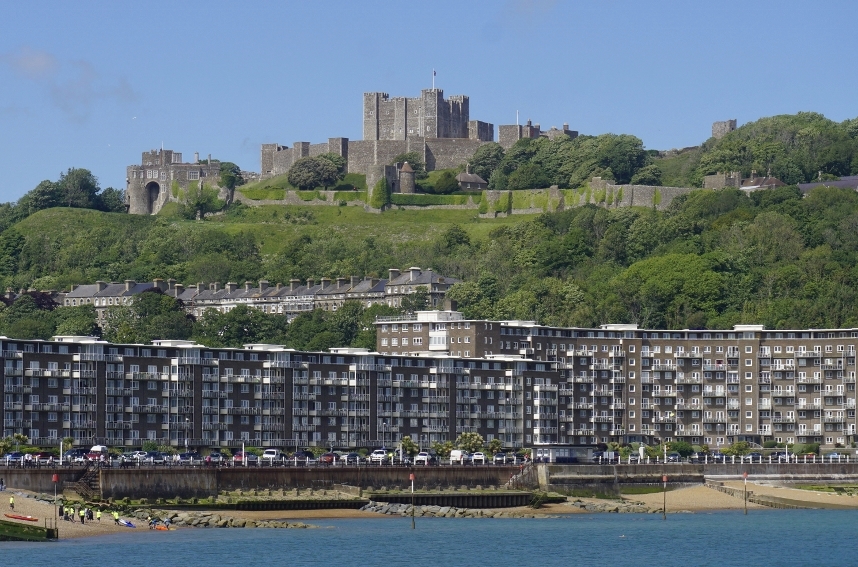 View from the new pier.....
Many thanks to the Media Team at the Port for the info above...

* *
Some more pictures of the Spirit of Discovery now..these are the latest shots from the recent visit on 27th ...bit misty at times...
First two show the arrival early morn..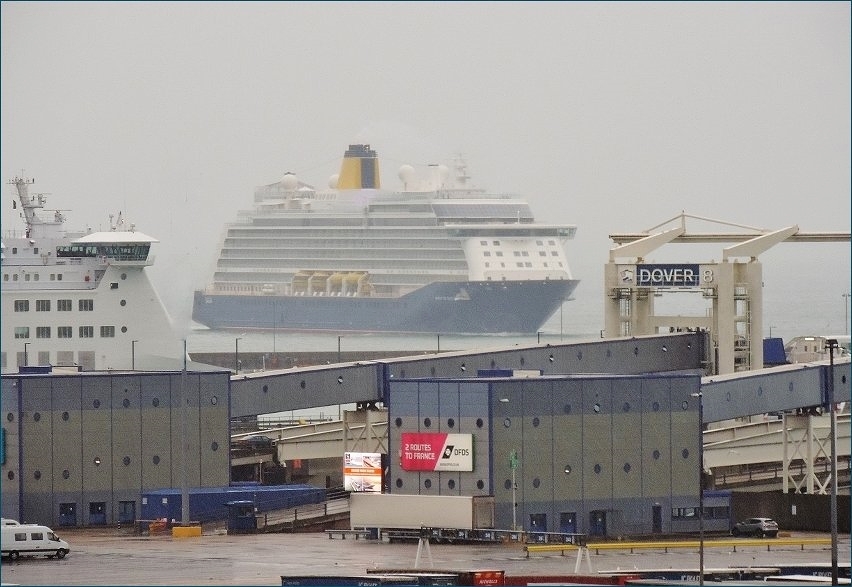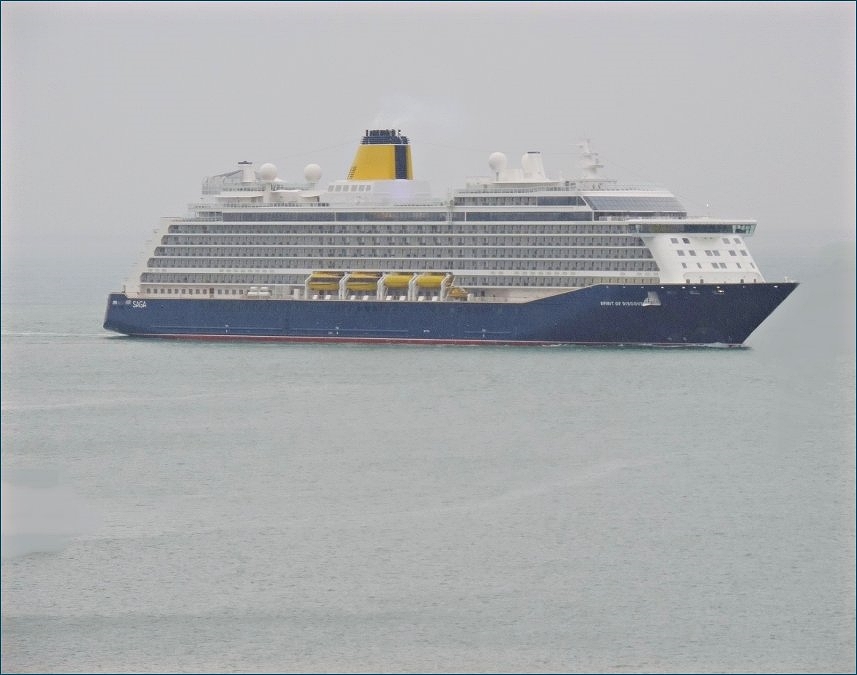 The next two show the departure early evening....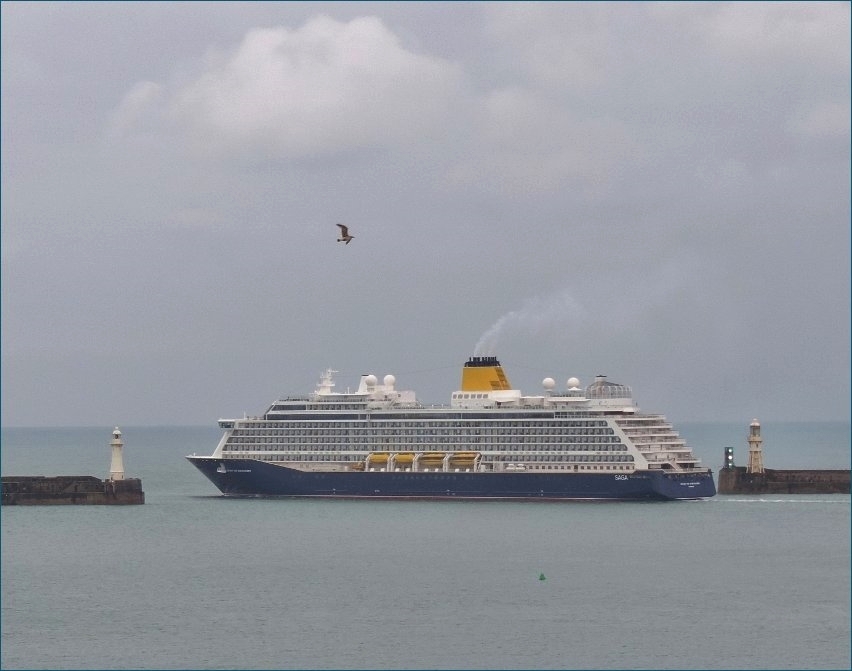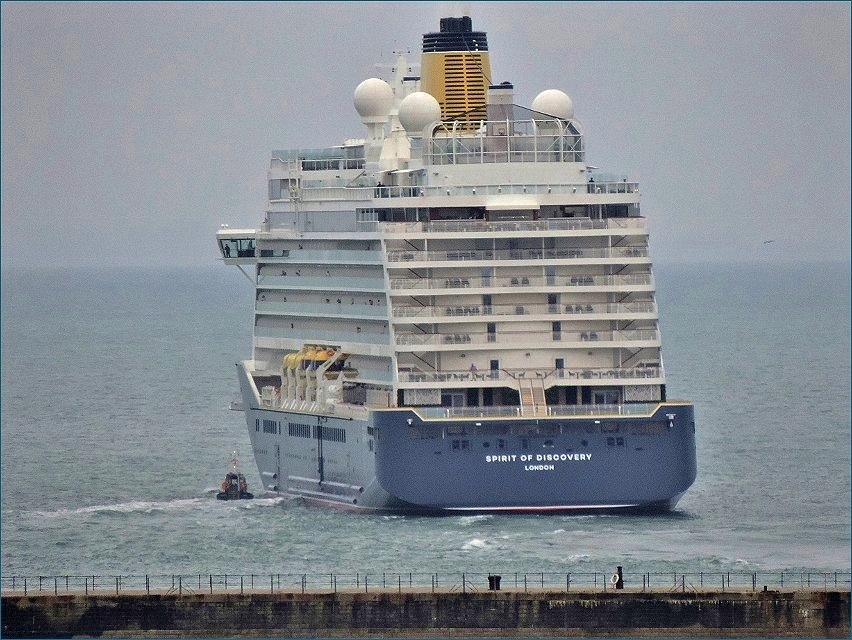 Off on a seven day Norwegian Fjord adventure...
The super Brilliance of the Seas in Port today monday...Fab ship...another whopper!!


Yes great to see the back of all that traffic Brian and the weather guys tell us sleeping will be easier this coming week, its going to be fresher.
PaulB

Monday, 29 July 2019 - 06:20
Post 6427
brian dixon, dover
all clear my end, phew a bit cooler now for sleeping. phew.

Sunday, 28 July 2019 - 07:34
Post 6426
Sea News, Dover
Catching up now with recent visitor the Viking Jupiter...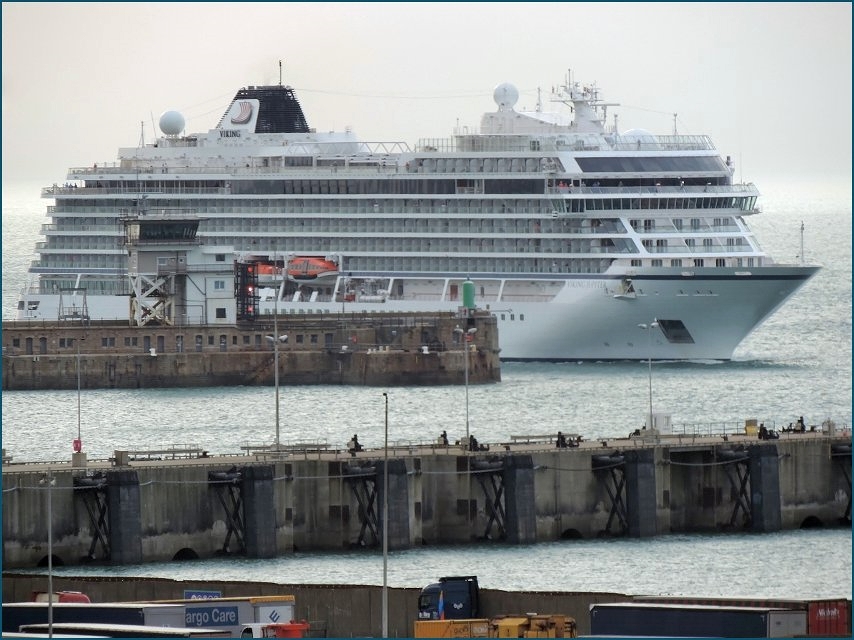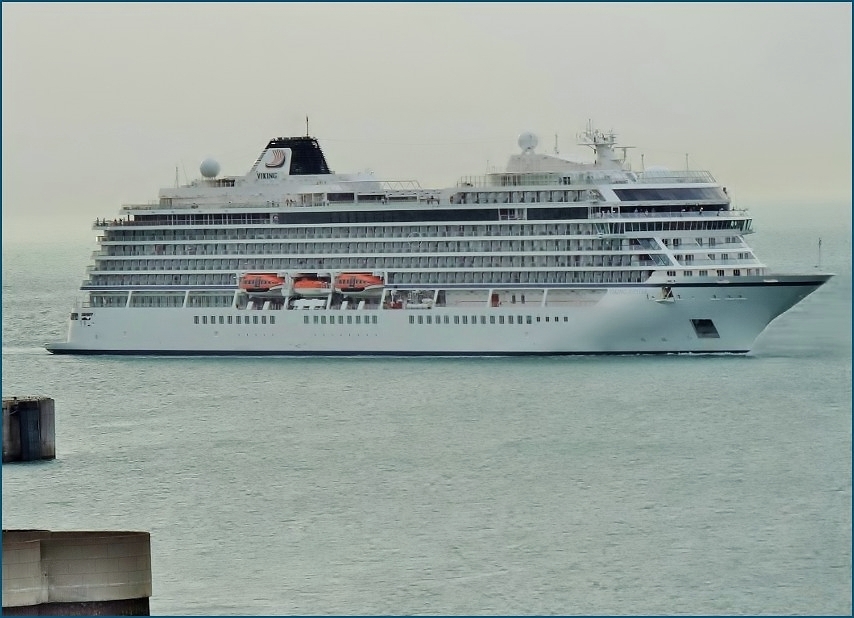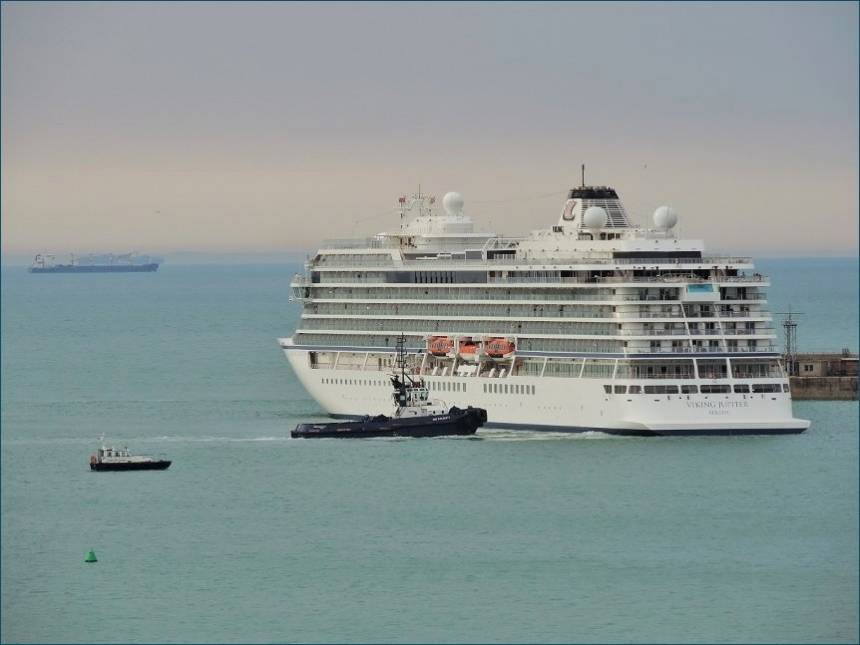 Off the top of head this appears to be a first visit here to Dover for the Viking Jupiter, so good to be able to get some pictures in the bag. The top three show her arriving on a misty early morning...if its Sunday today it must have been ermmm Friday..

... while the shot below shows her leaving that evening. She is/was on a one way 14 day cruise from Bergen to London Greenwich..she had been round the UK and also to Dublin Ireland.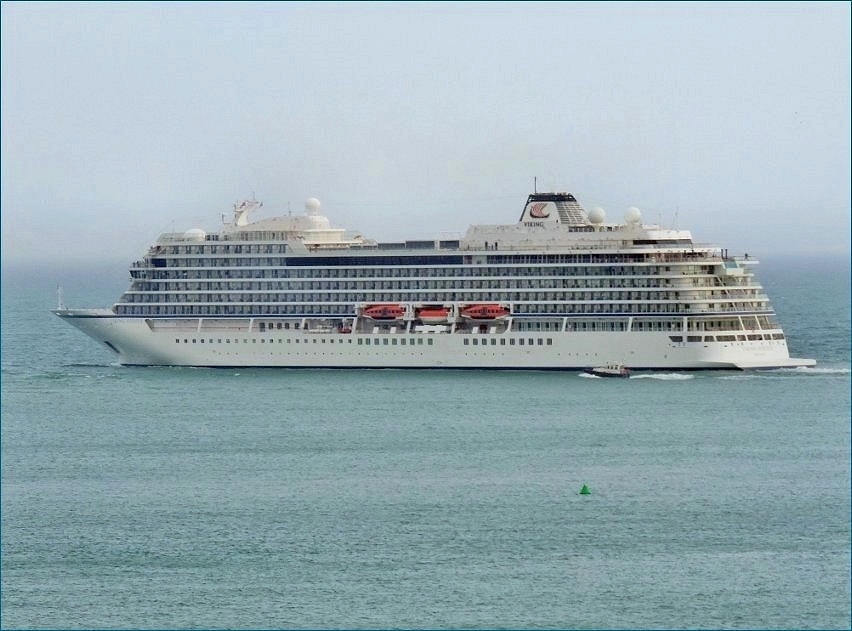 Del yes it was hot and sticky here, although perhaps not as sticky as elsewhere as we are of course by the sea...the big cities swelter... they become hothouse cauldrons, London Paris Brussels...records broken everywhere. And speaking of Brexit Ministers... As we infamously know..Raab knows little about Dover and what we do here.
He is now Foreign Secretary. Cripes!

The good news here today is that the traffic chaos appears to be over...hopefully I don't speak toooo soon.
PB
Sunday, 28 July 2019 - 07:06
Post 6425
Del Styan, Norwich
As usual, I expect the Brexit Ministers will avoid Dover - a touch too close to reality. Same as the last 3 years. How do they sleep at night - which reminds me - I do hope the lower temperatures tonight will allow a sweat free kip. How has it been down your way?

Saturday, 27 July 2019 - 23:16
Post 6424
Sea News, Dover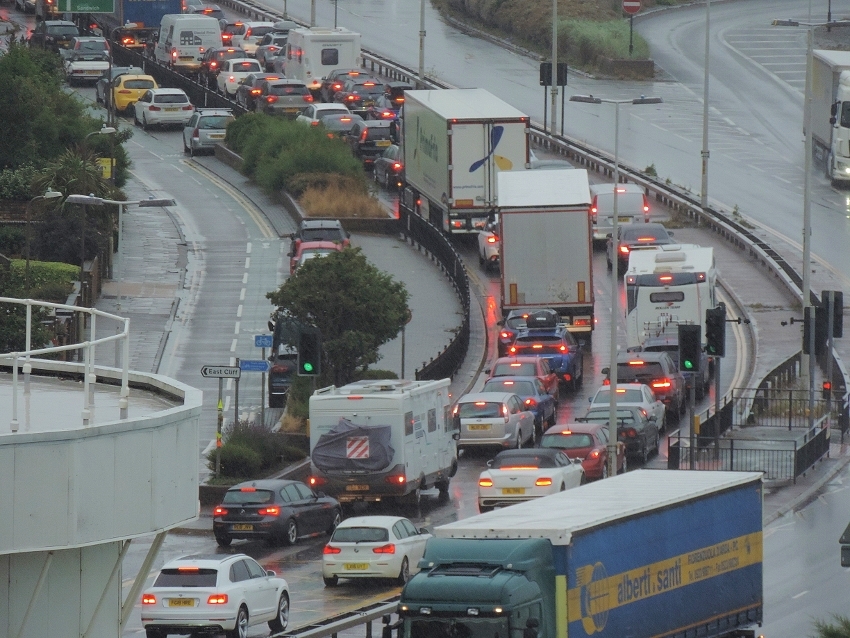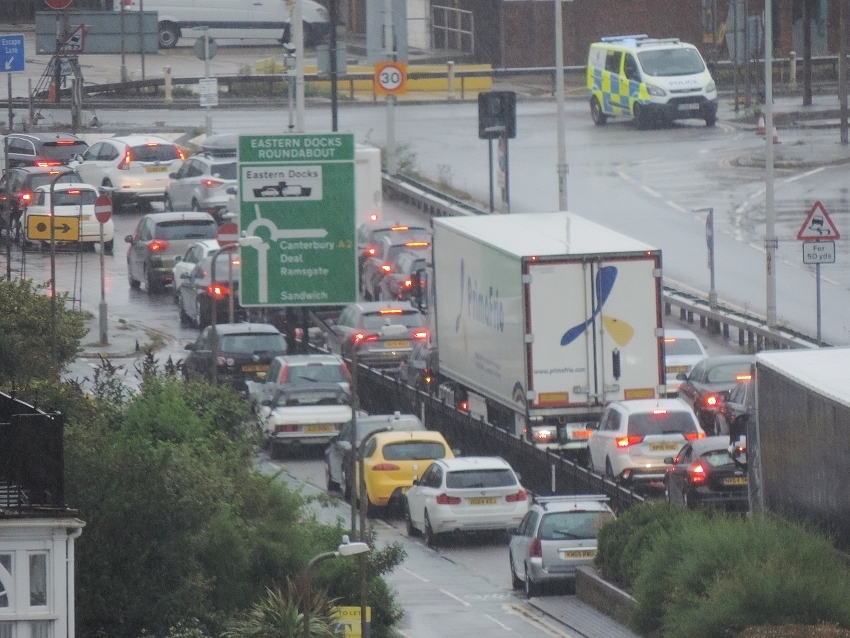 Yes indeed we are once again experiencing the 'joys' ( !!!) of traffic chaos here in Dover. Pictures above are from a few hours ago and its still the same now at 5PM approx and was the same all through the night. I don't know how people stick it in those cars/trucks...its just unbelievable ! Jubilee Way is still jammed as is Townwall Street etc etc. It would be oh so enjoyable to have one of the supposedly all-singing all-dancing new Brexit Cabinet getting stuck like this..then perhaps they might supply a little more vision as to how we might cope with reality.
Thanks for the info below there Brian.

PaulB
Saturday, 27 July 2019 - 16:54
Post 6423
brian dixon, dover
still backed up at 1317, [1.17 pm] the main town was or still is at a standstill.

Saturday, 27 July 2019 - 13:19
Post 6422
Sea News, Dover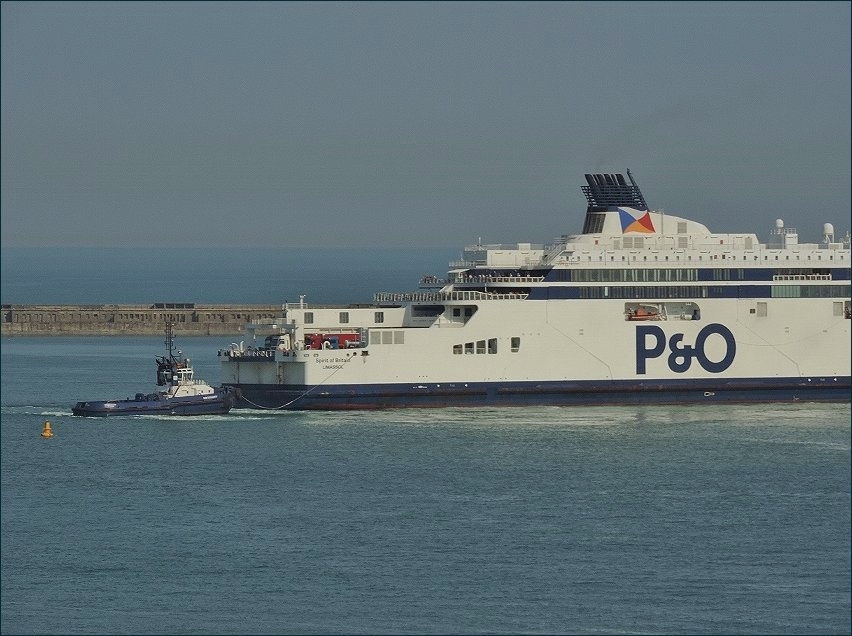 The tug was standing by ready to assist as the Spirit of Britain came in to Port. Unusual to see a ferry needing assistance on a flat calm still day so there may have been some temporary slight problem. The pictures, taken on Thursday late afternoon, show tug Doughty helping the Spirit into the Dover 9 berth.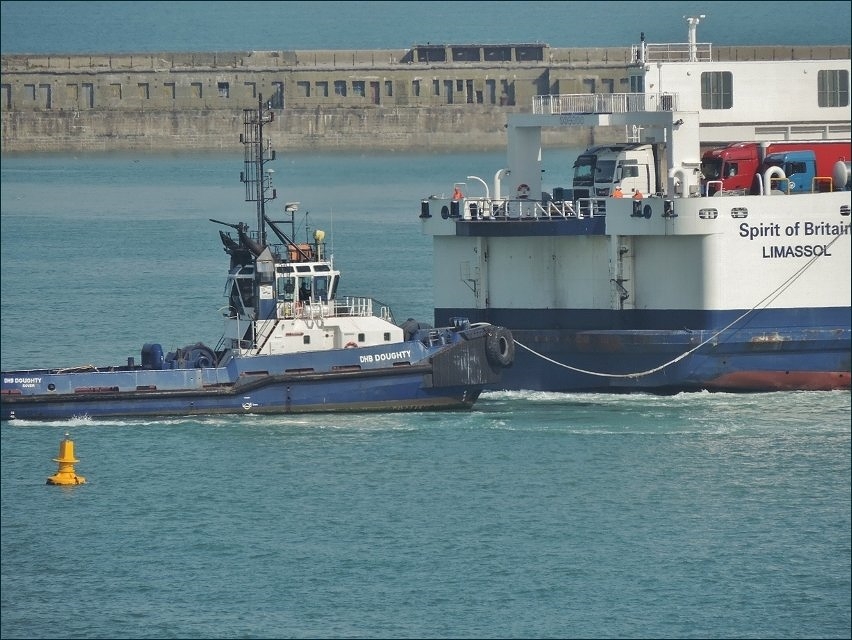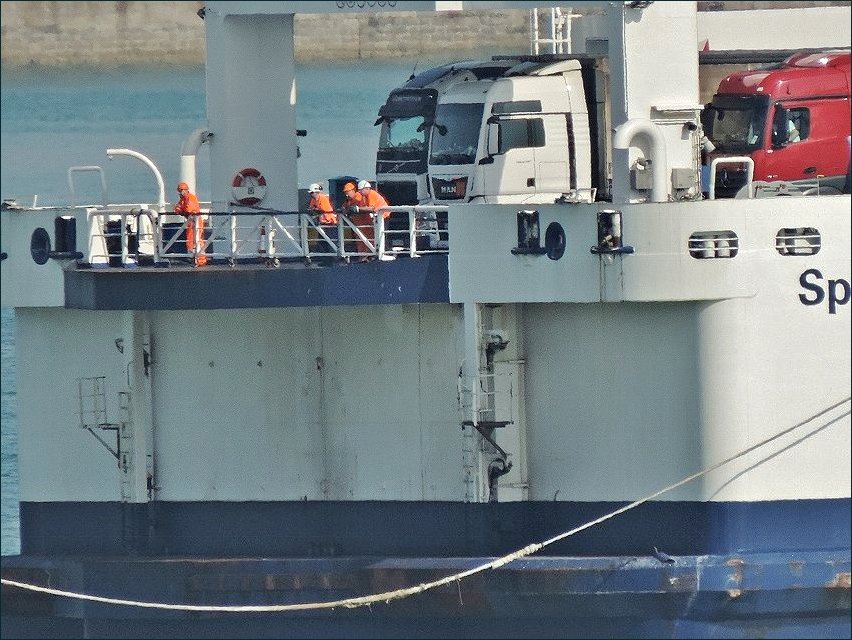 You can see the crew above.. poised ..ready to leap into action should action be needed....
....and below, easing into the berth..slowly efficiently..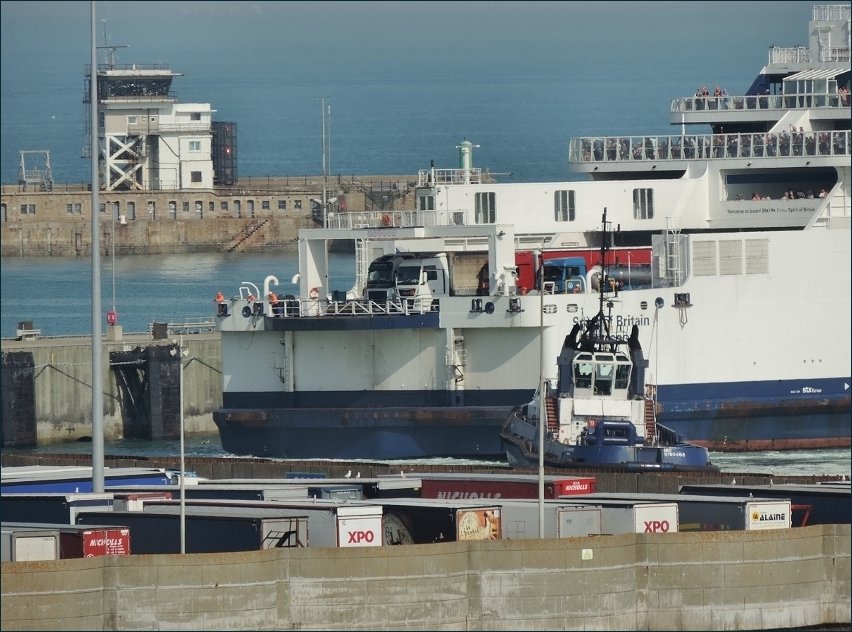 We have had an amazing ( if that's the right word!) traffic jam all day and all night as people try to get into the Port and get away. Jubillee Way packed and tailbacked as I write at 06.45 and its been like that all day and all night. The same with the main road through the town....dreadful hold-ups and its clearly not ever fixable once the usual routine gets upturned or overloaded. One shudders to think what will happen with Brexit...

PaulB
ps Spirit of Discovery back in Port today...just returning from her channel 4 day hop.
Saturday, 27 July 2019 - 06:55
Post 6421
Sea News, Dover
You wont need me to tell you how hot its been...in fact it still is right now..as one tickles the keyboard. But last night after a burning record breaking blisteringly hot day in Dover ( and throughout the UK and EU ), the storms came. That's the scene over the Port at 8PM last night exactly. Was hoping to get a nice flash of lightning to liven the picture up but it wasn't to be. But yes indeed there was much lightning later....
Just drifting back to show some pictures of the recent visit of the Spirit of Discovery. The first two pictures show her arriving back from her Round Britain Tour on Tuesday...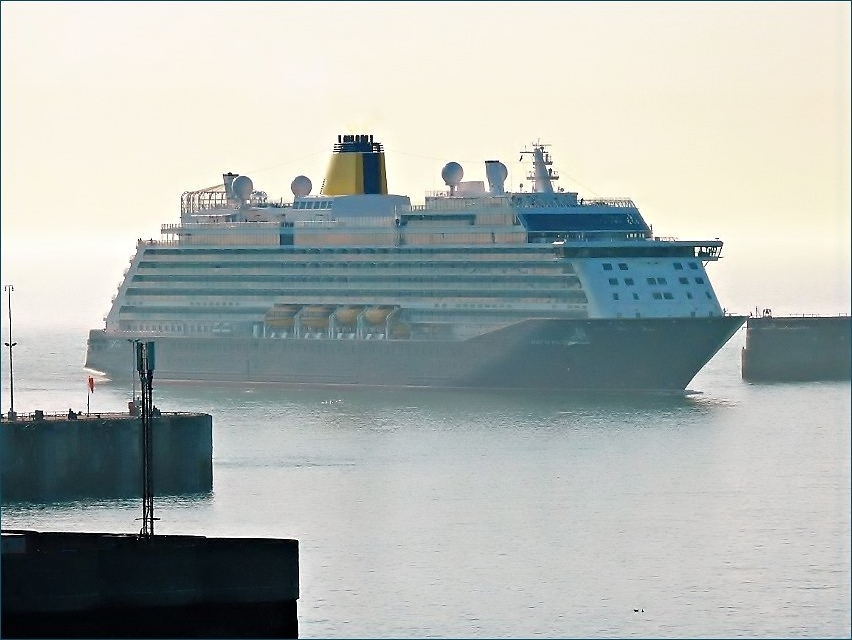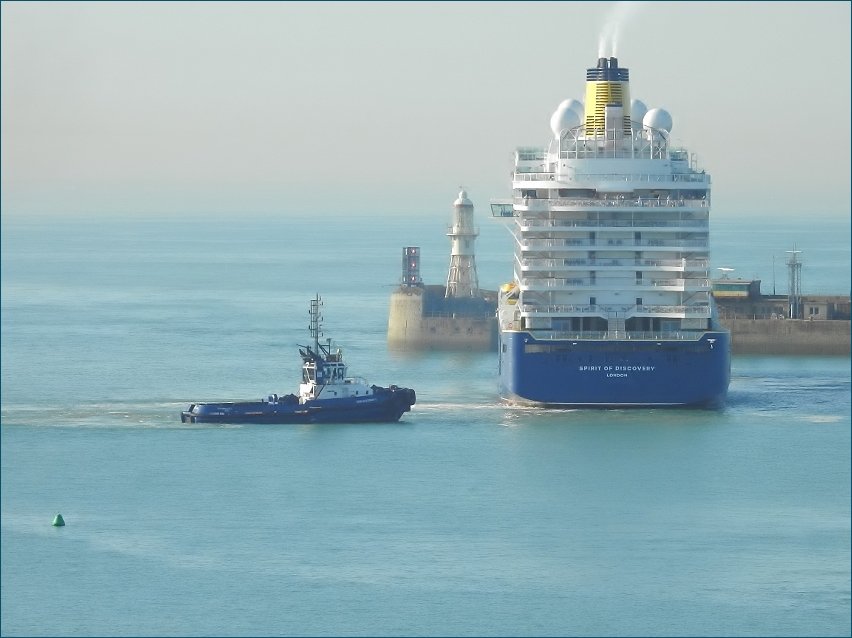 And the next two show her departing later that same day on a 4 Day Channel Islands hop......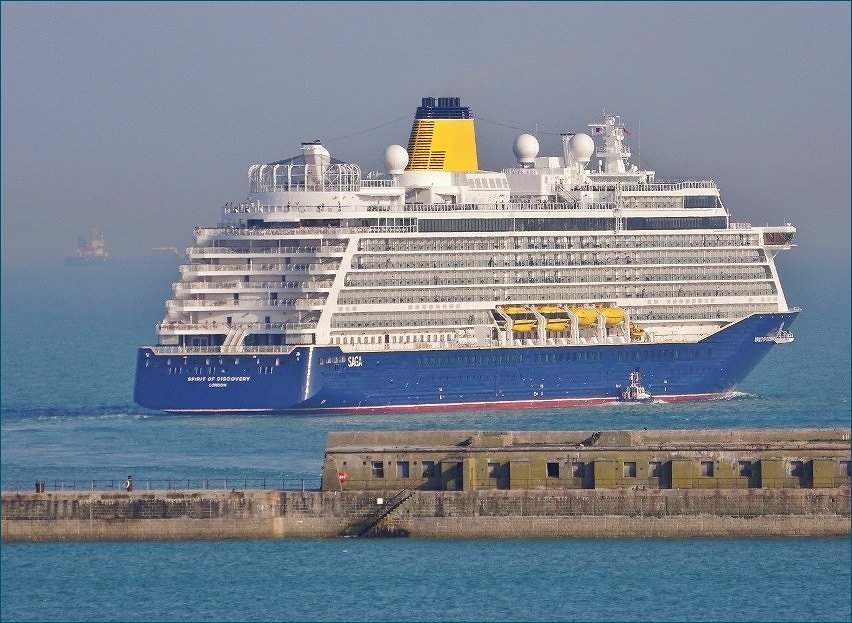 Also see 6417 for pic taken at same time.
Great all round pictures below there Mike...great stuff and that top shot or first shot is brilliant..

Del yes Charlie is back in the soup, just when everyone thought it had all gone away....and yes he has been suspended from The House as I understand it, so the Conservatives lose another vital vote from their armoury. He is still sending out his regular missives. Had another one in yesterday but no mention in it of anything controversial. I occasionally use it when it relates to the Port.

PaulB
Viking Jupiter in Port today - will have pix in due course.
Friday, 26 July 2019 - 06:17
Post 6420
Mike J., Dover
Thursday afternoon & the smallest 'Workcat' that I've yet seen, part of the Riley Marine fleet.
Riley's are Dover-based marine contractors but they work all over the place.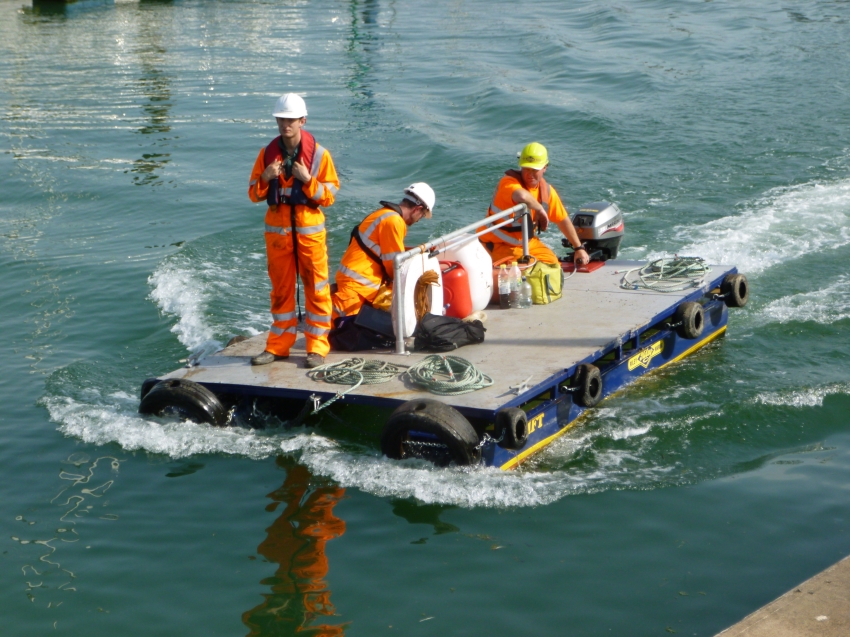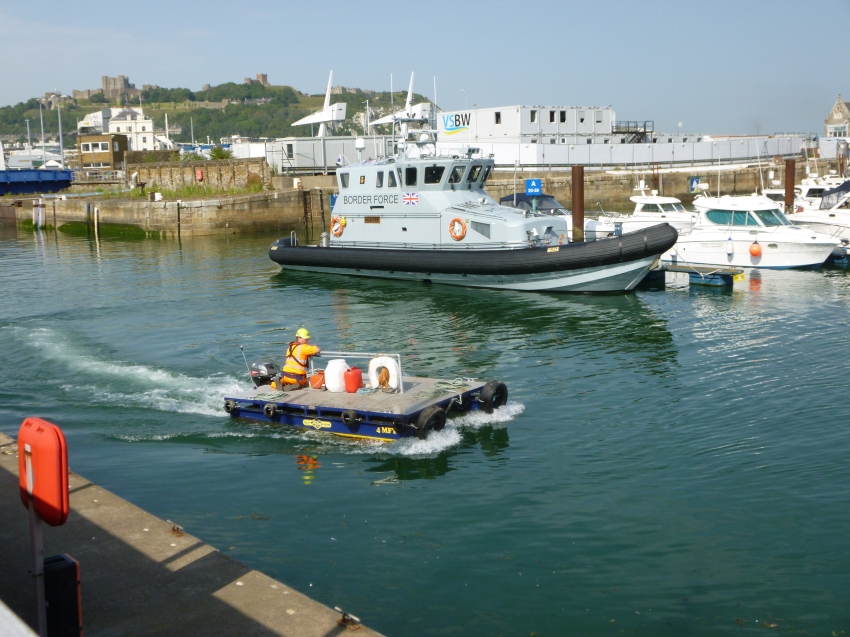 Their workboat DOVER WORKER is the most likely of their vessels to be seen working in Dover.
Here she is in August 2016 alongside Riley's larger DOVER CONSTRUCTOR.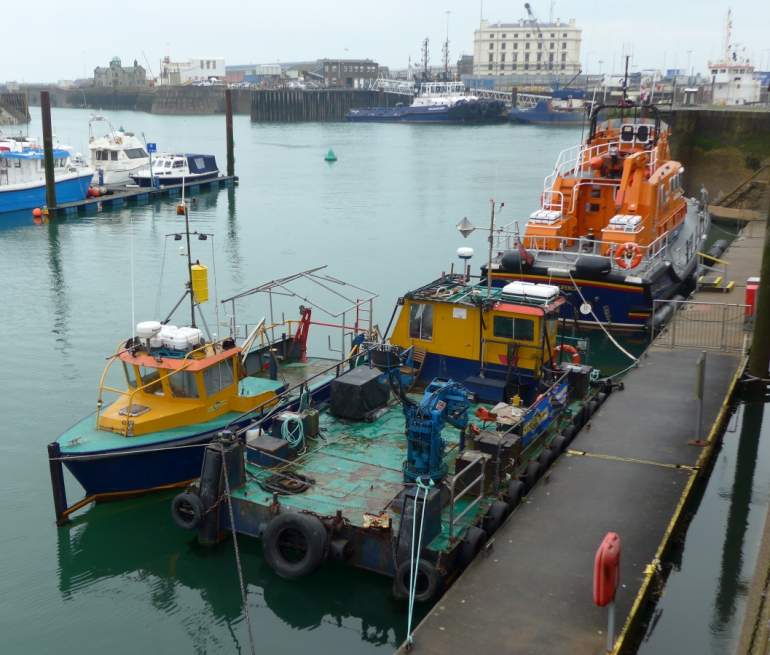 The outer lock gates being exercised a week or so back.
They were fully open when I first saw them but were just about closed by the time I'd dug out the apparatus for a snap . . . .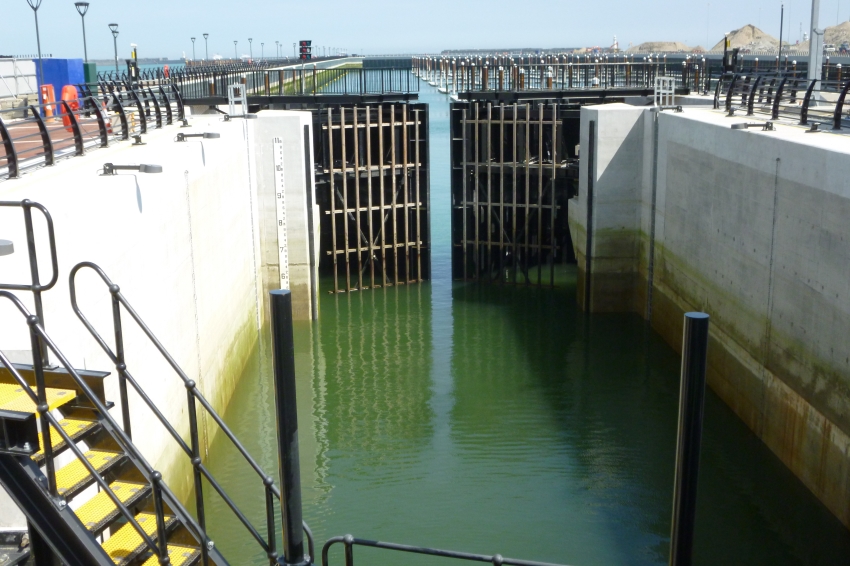 Old friend TOPLINK is currently laid-up in Wellington Dock.
She was working off New Romney a few weeks ago but hasn't been seen to move recently, her last AIS report shows her entering Dover on 7 July.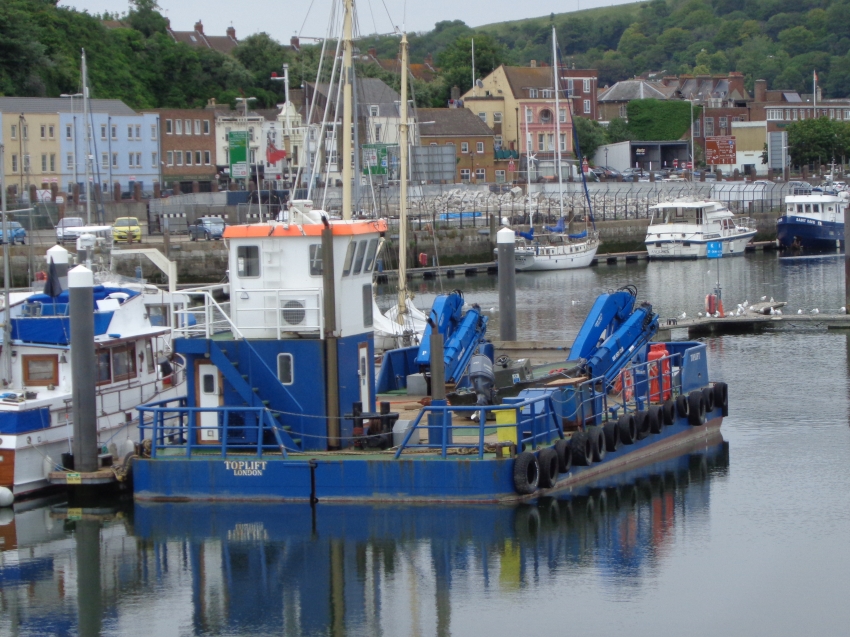 Friday, 26 July 2019 - 00:50
Post 6419
Del Styan, Norwich
And Charlie 's been lifted by the old bill - my what interesting times we do live in. I wonder if he'll be reinstated just in time for another confidence vote. By all means delete this post if its too controversial!

Thursday, 25 July 2019 - 23:04
Post 6418
Sea News, Dover
A general round-up this morning of the various... notice how red is the featured colour today..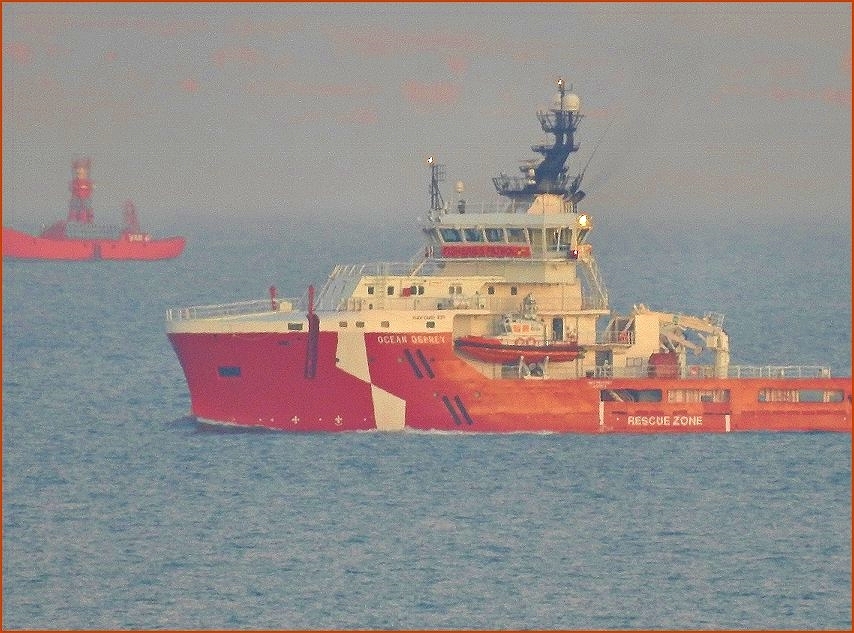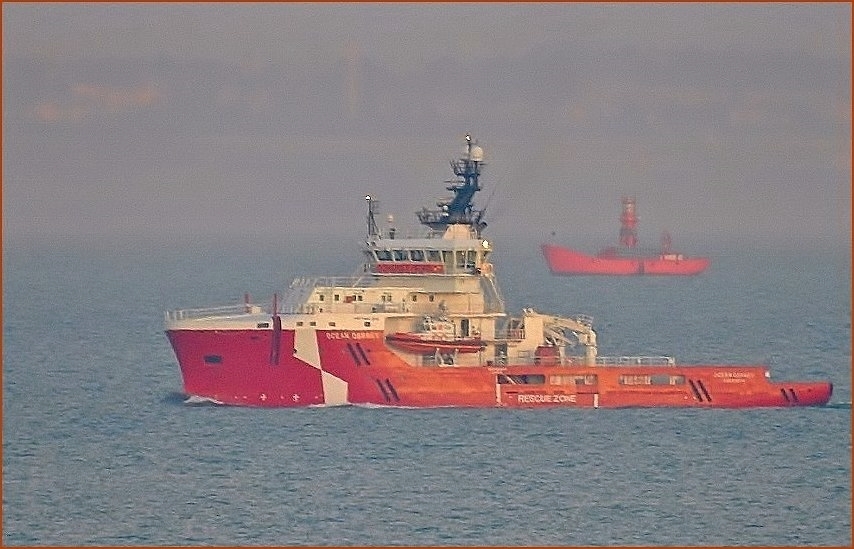 Top two shots above there show the Ocean Osprey working out in the channel, she was busy out there for a couple of evenings this week. The pictures are very long range and a bit misty alas...but you can just see the buildings on the hills of France in the background coming through the mist. The pictures were taken on Monday evening..she is described variously as a tug and support vessel. That's the Varne lightship behind there...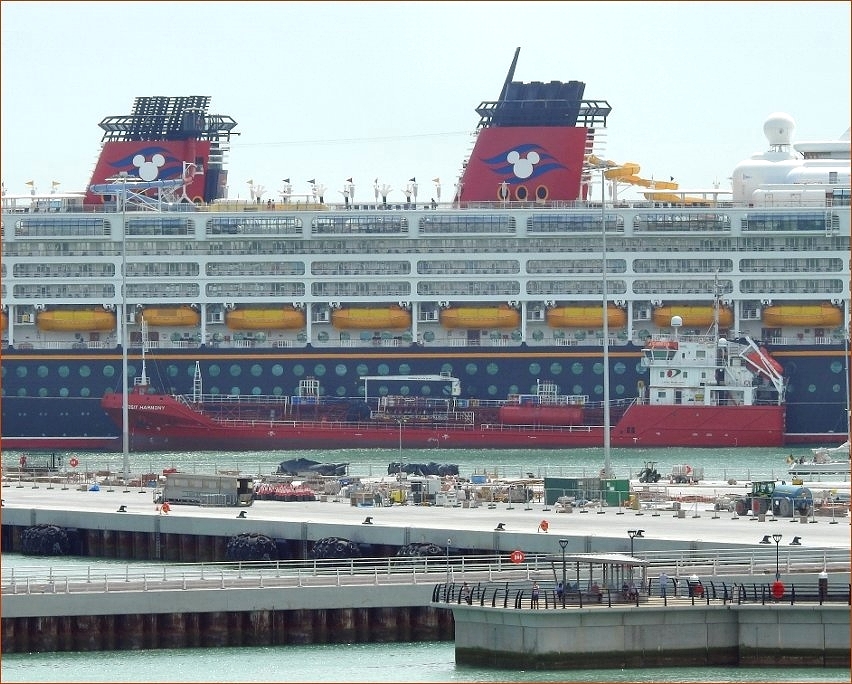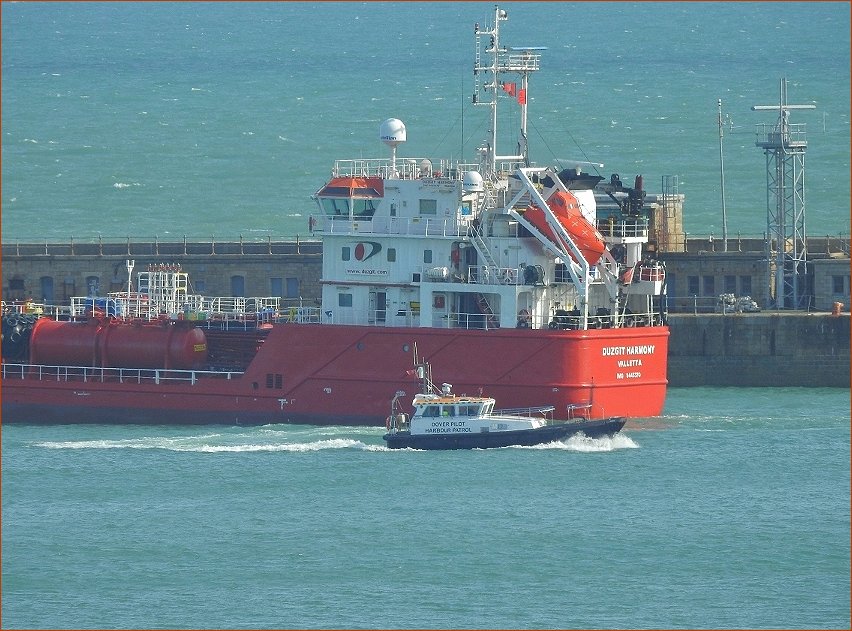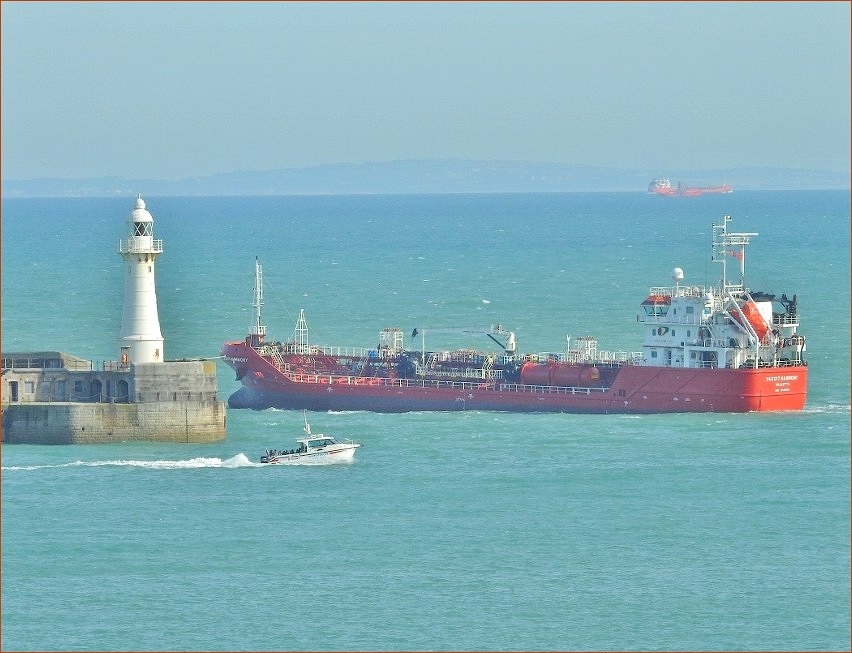 Our old familiar friend Duzgit Harmony came in to Port to supply bunker services to the Disney Magic ...there we are with a few shots above there to mark the occasion...an almost identical looking red ship out in the distance at the same time in picture 3. This wasn't noticed at the time or would have looked it up...maybe Duzgit Venture?? remember that one …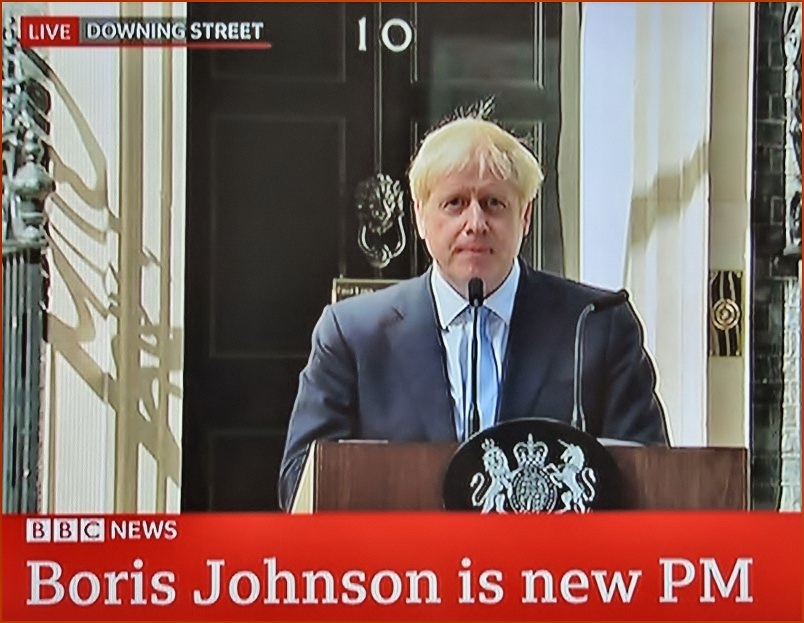 You may not have noticed ( how could you miss the wall to wall coverage!!

) but you have a new Prime Minister this morning. Boris "BoJo" Johnson has made it to No 10 promising us a new fix-all government. I wont make a list of the promises but it isn't far short of the Utopian dream...
The existing Cabinet was savaged, you could see blood on the carpet as they crawled out of the door of No 10...and they have all been replaced with mostly hardline rightwing Brexiteers. The moderates have been pushed off a cliff...
PaulB
Great inshore coverage below there Mike...well done with all that. Excellent.

Thanks Jan and Ken for the info below there re the seafront soldier. Interesting info there about the rifle turned upside down..good to get the information, presumably though the eyes being closed is a reflection on death. So much of it...
Good to hear your grandfather was one of those who made it back Jan.

Its a great work by Mark Humphrey

see 6414.
Thursday, 25 July 2019 - 06:21
Post 6417
Mike J., Dover
Boatyard, Tuesday afternoon.
DOVORIAN & preserved lifeboat WILLIAM & KATE JOHNSTON [posts 2773/93] blocked-up in the yard.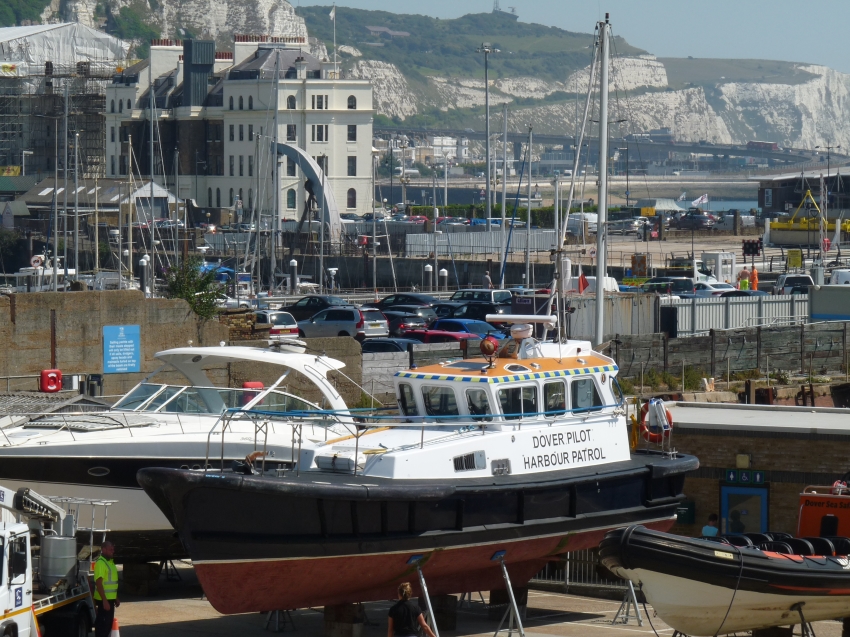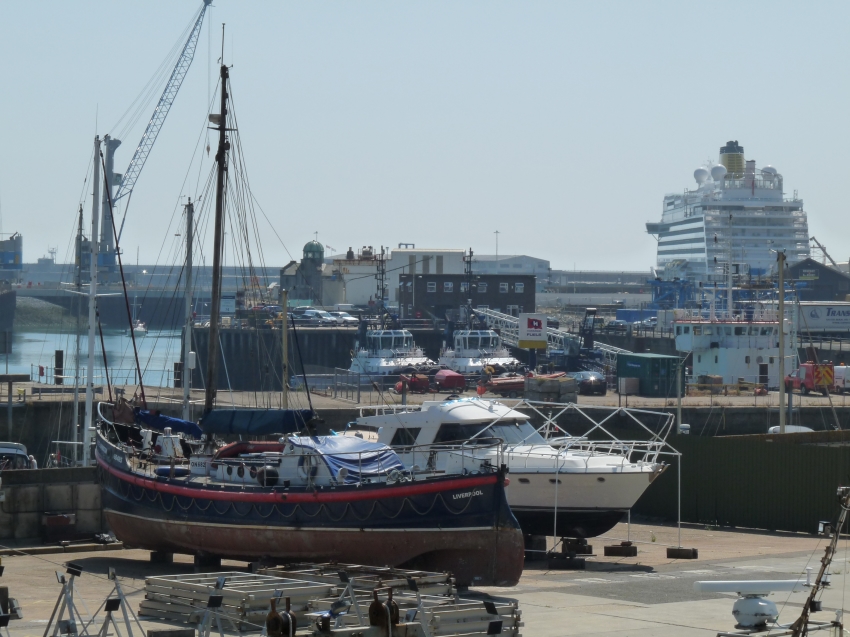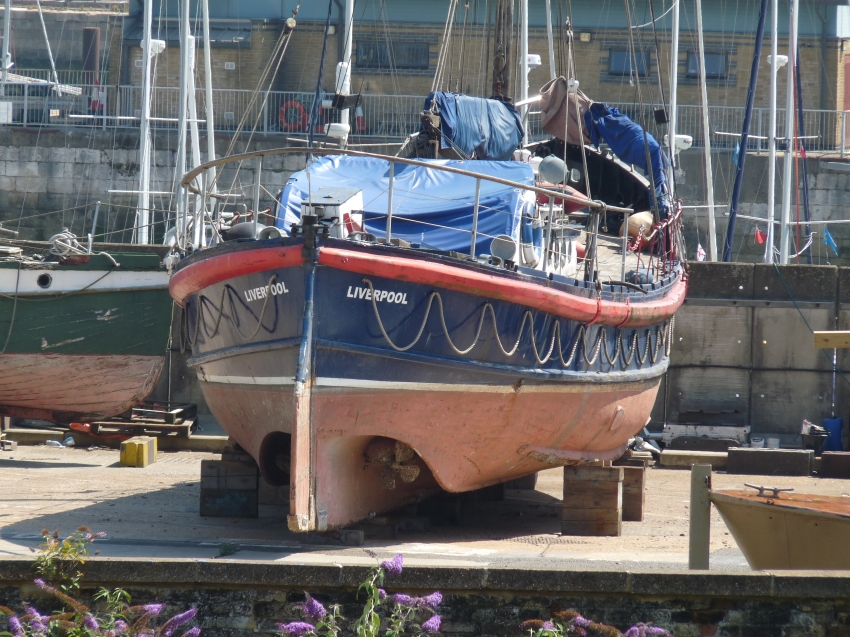 A yacht on the move & in the background the immaculate red-hulled TERLYN [post 6270] high & dry for even more than than the usual TLC.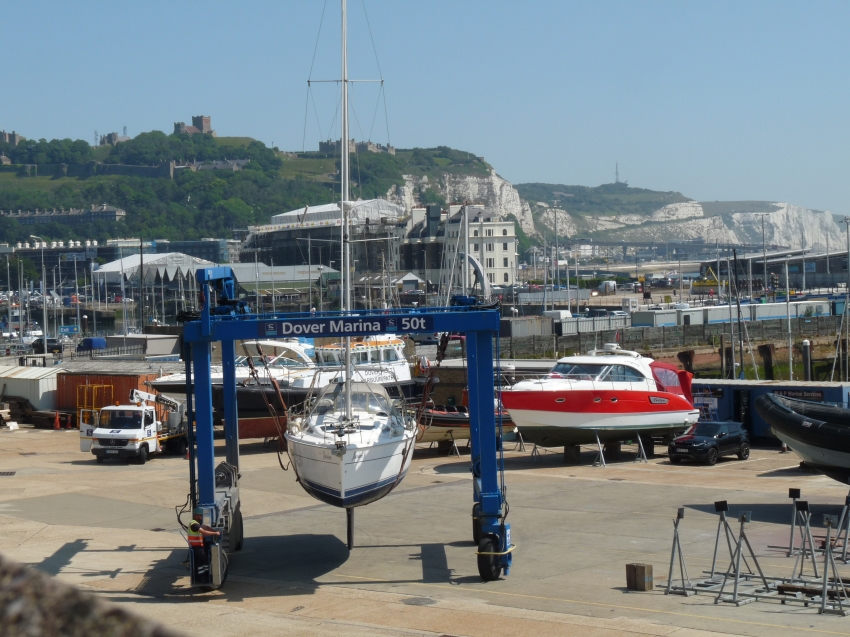 SPIRIT OF DISCOVERY is in the background to one of the lifeboat pix, here she is dropping the pilot as she sailed Tuesday evening, heading for Guernsey while the SPIRIT OF FRANCE was berthing.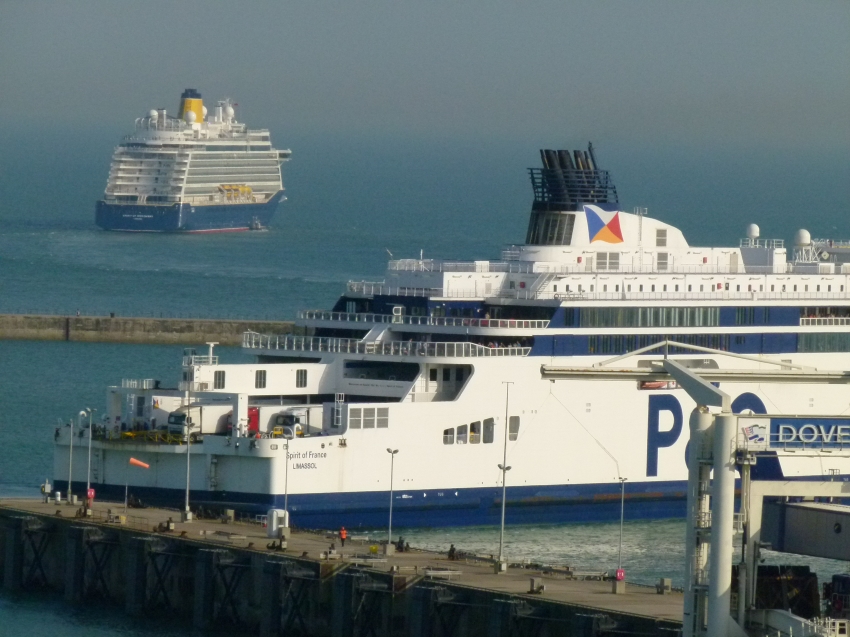 Thursday, 25 July 2019 - 00:02
Post 6416
JanT , Dover
I have just been told by Ken that his eyes are closed because as his rifle is 'reversed' the soldier would either be depicted at a graveside or attending a specific memorial service.

Wednesday, 24 July 2019 - 11:08
Post 6415
JanT , Dover
Drove passed the new statue on Monday had to slow down and take a closer look,it's a wonderful tribute to those who never made it home. I was lucky my Grandfather was one of those who came home.
And with the eyes closed I'm sure it's saying we remember all of you who never made it back.

Wednesday, 24 July 2019 - 08:32
Post 6414
Sea News, Dover
New Arrival: some pictures now of the stunning new statue on the seafront here in Dover.
"Thankyou to the WW1 Generation" a magnificent capture by artist Mark Humphrey.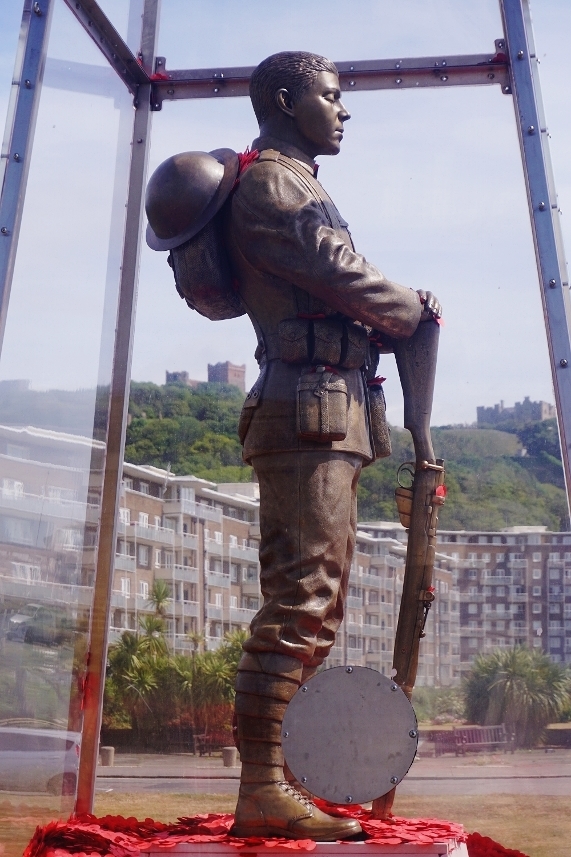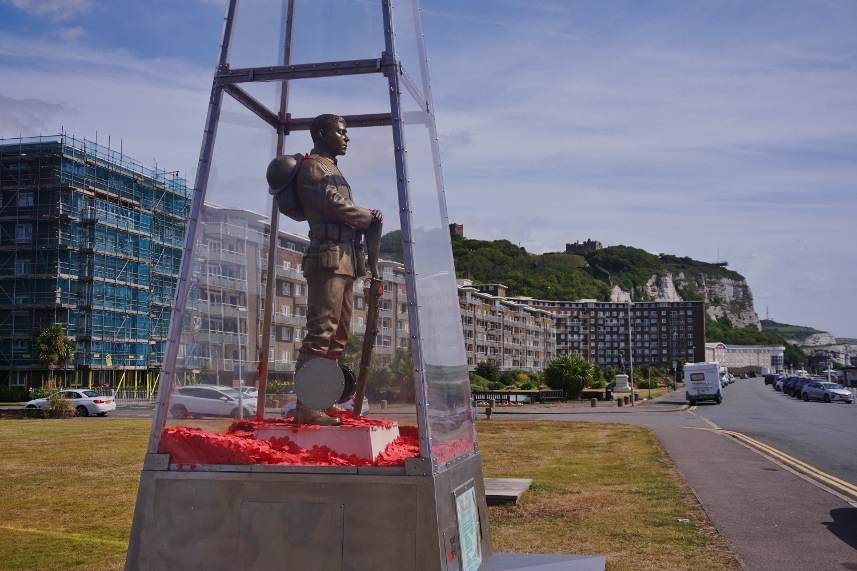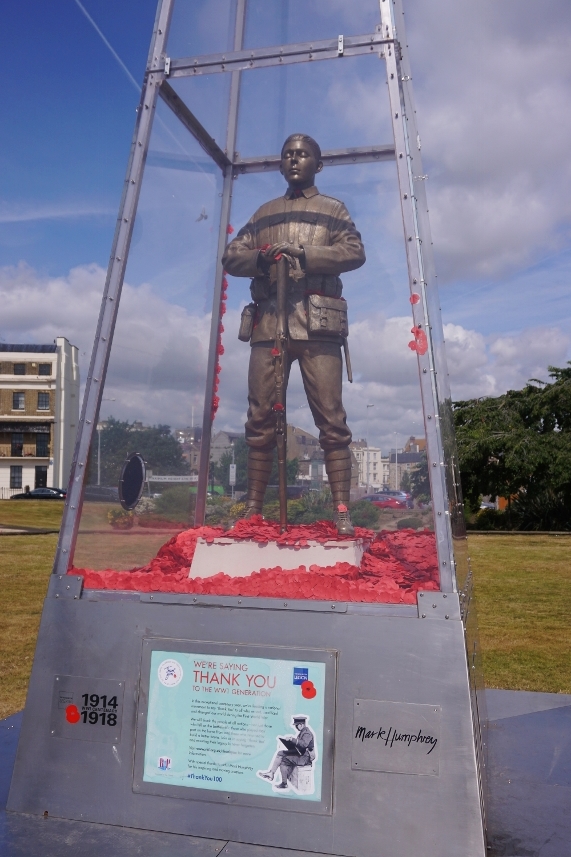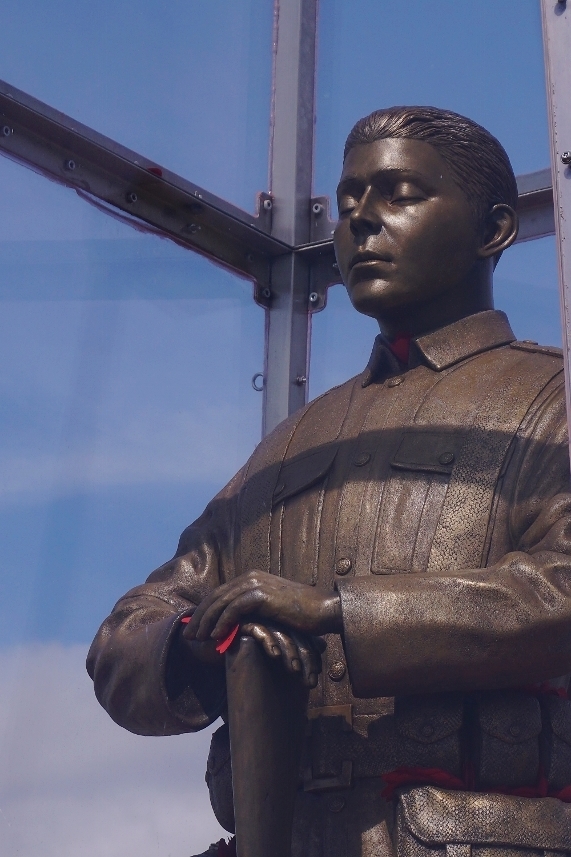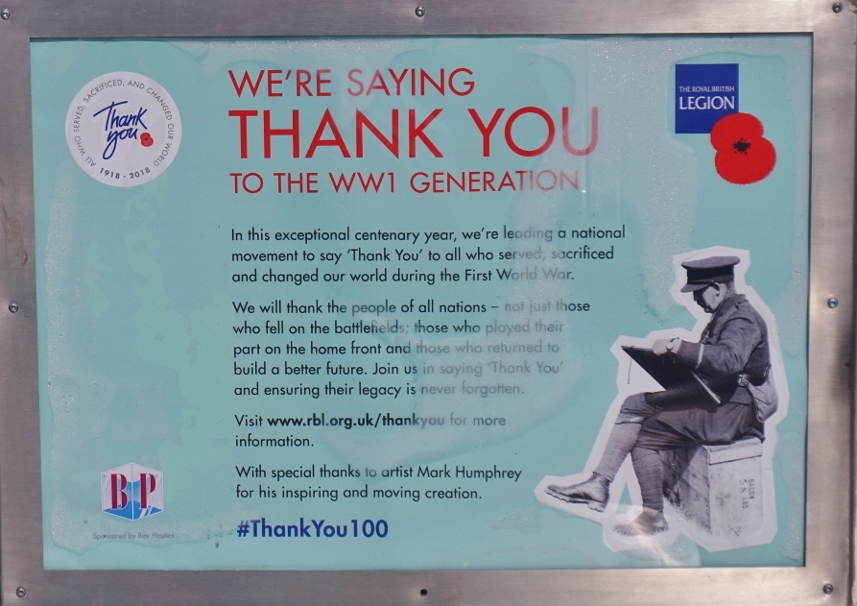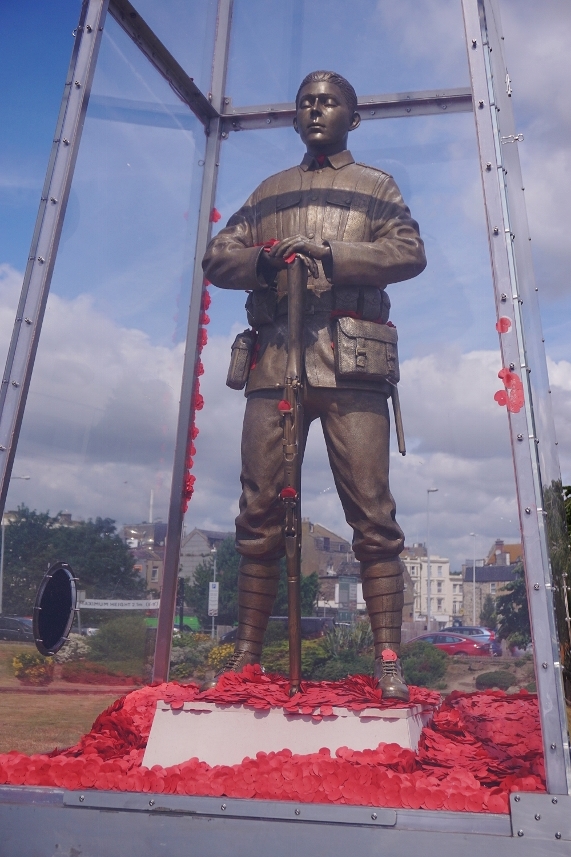 You will notice that delicately poignantly but chillingly the soldier sleeps...
PaulB
Pictures above were taken on Sunday morning...the wider shots clearly show the location if you want to come and see it.
It is attracting a lot of attention. Excellent.
Fascinating and enjoyable post below from Mike our 'inshore correspondent'

Don't miss that one...

Wednesday, 24 July 2019 - 06:38
Post 6413
Mike J., Dover
Excellent 'cover picture' with a superb sunlit view of the departure of the DISNEY MAGIC as she sailed on Sunday.
Hard to realise that this smart-looking ship is 21 years old & with the DISNEY WONDER were the first two ships of the Disney cruise line.
I heard a tale when Disney were new to cruising that it was a sackable offence if you worked in the Disney organisation & referred to the DISNEY MAGIC & the DISNEY WONDER as the DISNEY TRAGIC & the DISNEY BLUNDER.
However Disney knew that they were doing & what their customers liked & the fleet has expanded to four ships with a fifth one coming into service in 2021.
Tidal Basin – catch-up time -.
Another veteran visitor on 11/7 was the the rather nice motor yacht MAUDORCES built in 1925 on the Gareloch, better known now for the nuclear suimarine base at Faslane.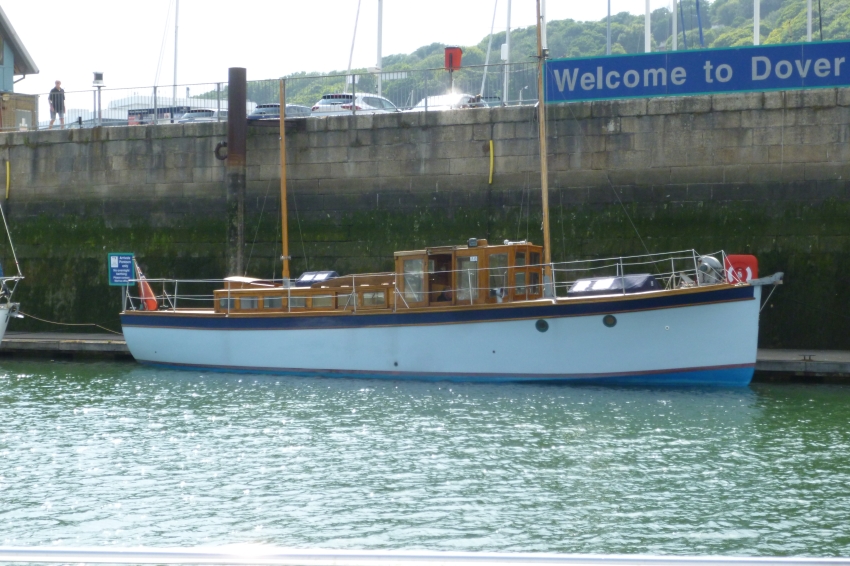 She was overnighting on passage from Aldburgh, her normal base, to Cowes.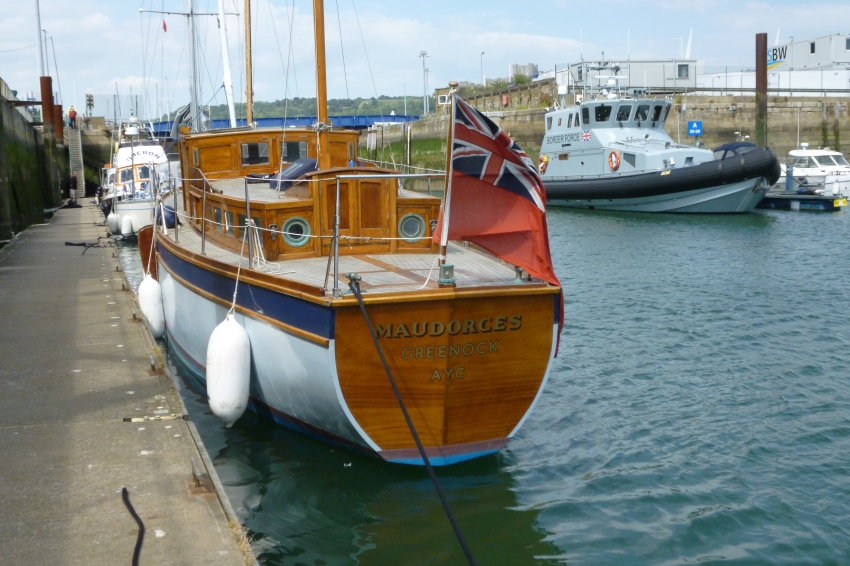 During WW2 & under another name she worked as a Clyde patrol vessel & one of her duties was watching for parachute mines falling into the river.
She was 'marking' the position of one of the mines with a buoy when the mine exploded & she was damaged, but after repairs returned to duty.
The incident was recorded as a cartoon in a Glasgow evening paper which is proudly kept on board.
Thanks to Mr.Wilson, the owner, for the hospitable reception.
Two rescue boats, one from Viking Marine & the other ex-the Holland-America WESTERDAM remain in a corner of the Tidal Basin.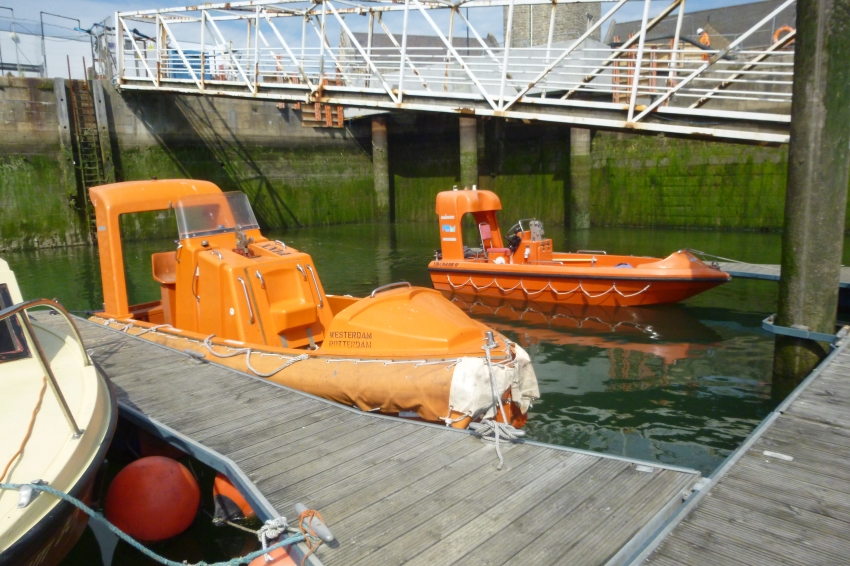 The Viking Marine 'crewman' was having a nice lie-down before being thrown over the side to be rescued yet again.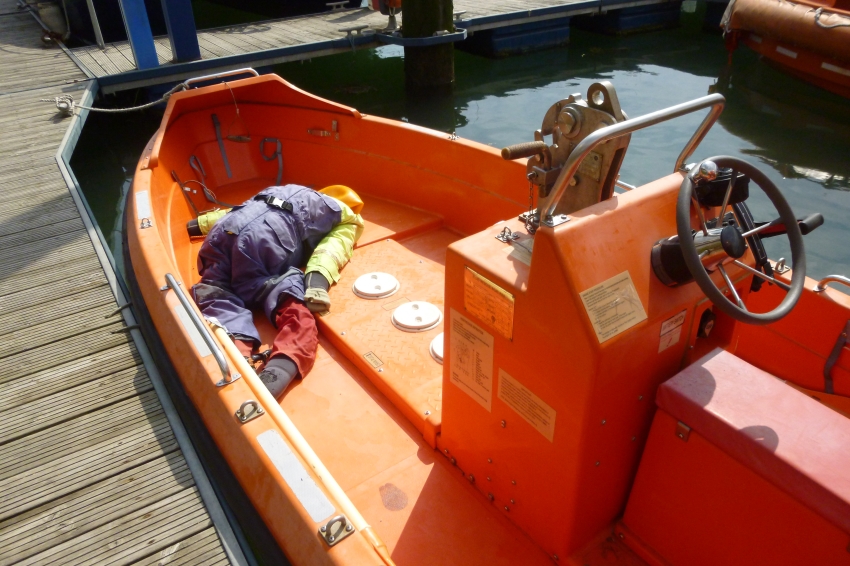 Wednesday, 24 July 2019 - 01:15
Post 6412
Sea News, Dover
The Disney Magic moves away.....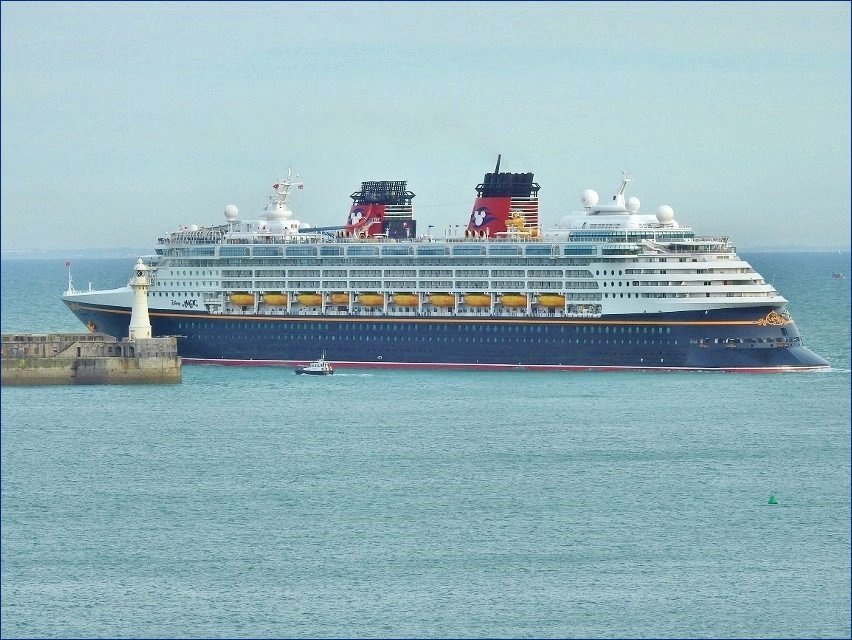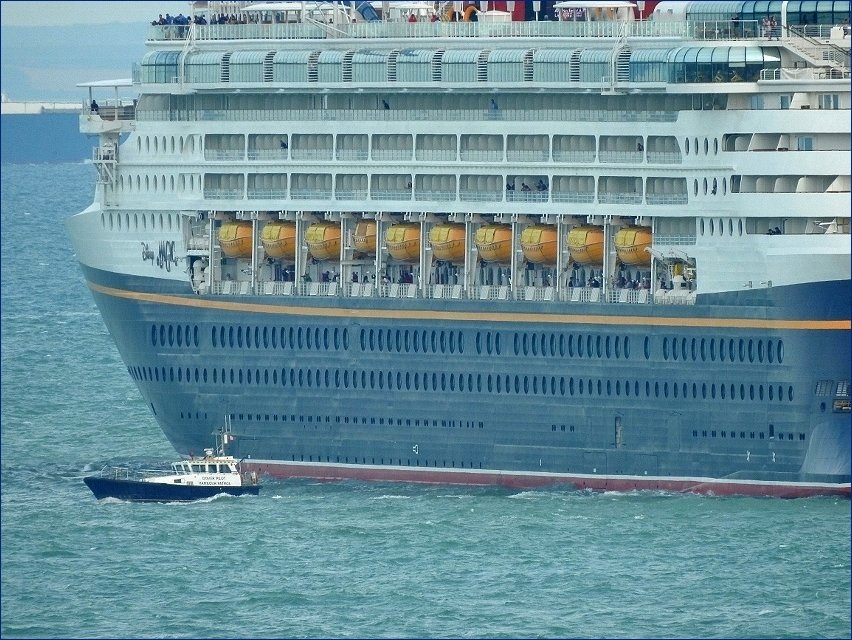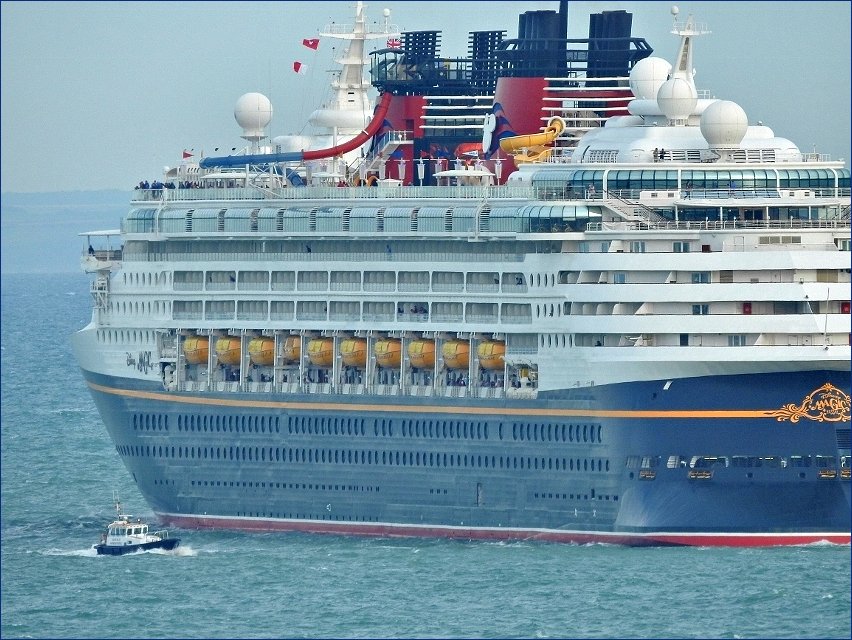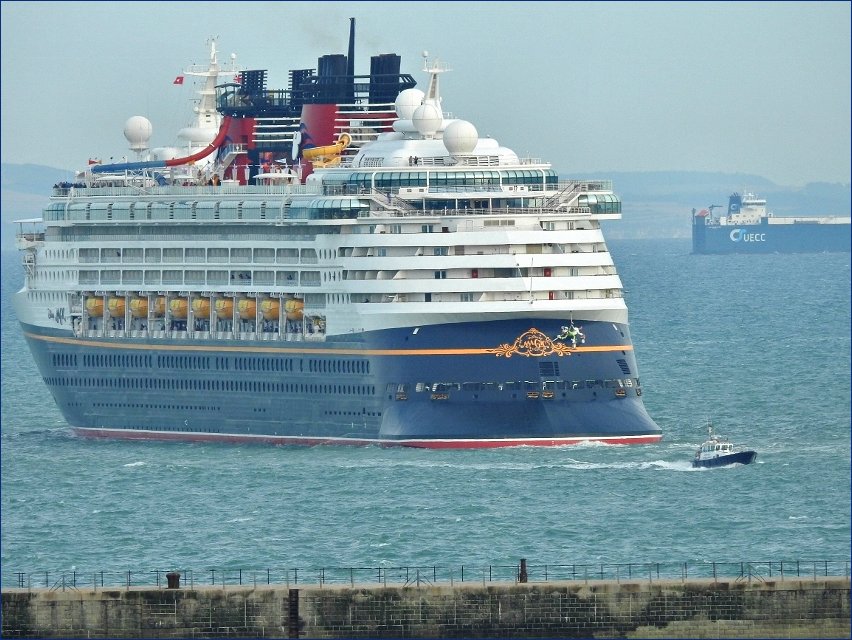 Yes away goes the Disney Magic above on Sunday evening... away on her 11 day circular cruise of Iceland..also calling at the Norwegian fjords and eventually finishing in Copenhagen. You can see the pilot boat featuring in most of the shots above ( in fact in all of the shots .. now that I double-check!)... see also the posts below 6410, 6411, for more pictures...
PB
The Spirit of Discovery back in Port today after its round Britain cruise...
will have pictures tomorrow of the new WW1 Soldier..the glass encased statue now on the seafront.
Tuesday, 23 July 2019 - 05:48