Saturday, 4 April 2020

WWW.DOVERFORUM.COM/SEA-NEWS
Sea Pictures from DOVER: Featuring all the ships that come and go and work at the Port of Dover ..
... with some further coverage of the surrounding ports.
Sea News Dover
Use our SEARCH ENGINE below to find all sorts on the SEA NEWS pages....type in the topic and away you go,
or if you have the post number, just type it in the Search Box, more than
- 6750 -
nautical posts now.
Posts are welcome. just click 'Add Your Comment' below.
Upload a Max of 5 pictures....Many Thanks.
Sea News Editor Paul Boland - send info or pix to dover7@msn.com. Always welcome.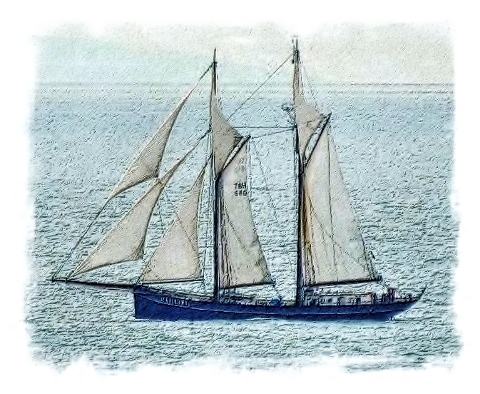 Headlines.... P&O FERRIES 11,000 staff laid off and Furloughed to HMG scheme , see 6909.
P&O Ferries secure vital flow of goods, medicines...see below, post 6901.
DFDS coronavirus announcements below see post 6880 and 6885.
P&O Ferries present record breaking cheque to Dover Lifeboat...post 6874 below.
P&O Ferries - European Expansion 6867
Hurtigruten and the Port of Dover see 6857...see also pictures in 6856 and 6859.

See SCARLET LADY pix.. FIREWORKS too..type Scarlet Lady in our SEARCH box below..
Port of Dover, DFDS, P&O say...Travel with Confidence from Dover.. see 6786 below.
DFDS Refit Investment...luxury lounges 6821.
P&O FERRIES - POST BREXIT travel info below 6780.
P&O NEW FERRIES Images below 6775...
Visit us here in White Cliffs Country see 6772
Natalie Elphicke MP - thoughts post Brexit 6784
Just type the post number from the listed Headline in the Search Box below.
Port of Dover Cruise Calls:
http://www.doverport.co.uk/cruise/find-a-cruise/
To show your pictures at their best..it could be worthwhile resizing before posting to
860
pixels wide. Our new standard size.
All pictures on these pages are the copyright of the owners and must not be reproduced without permission.
Post 6733
Sea News, Dover
Happy New Year to All!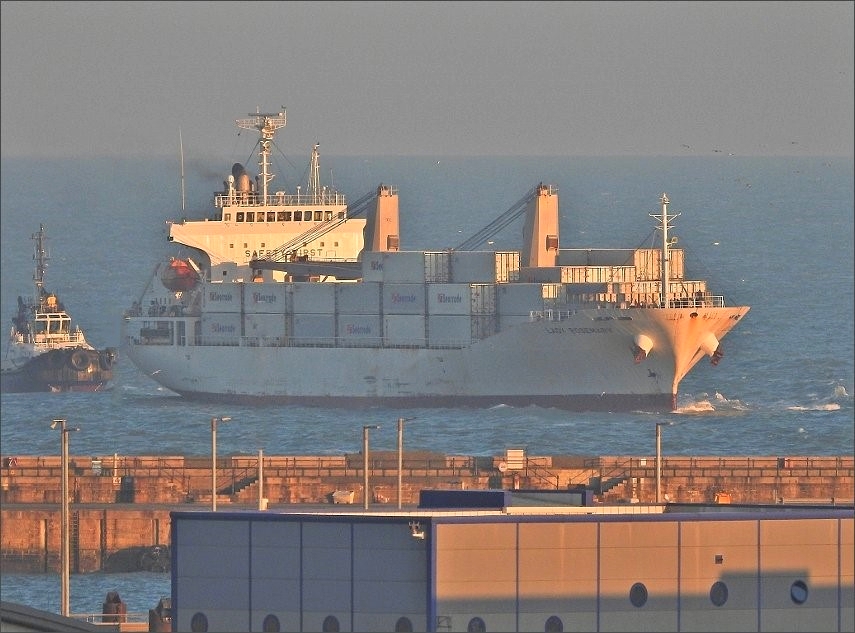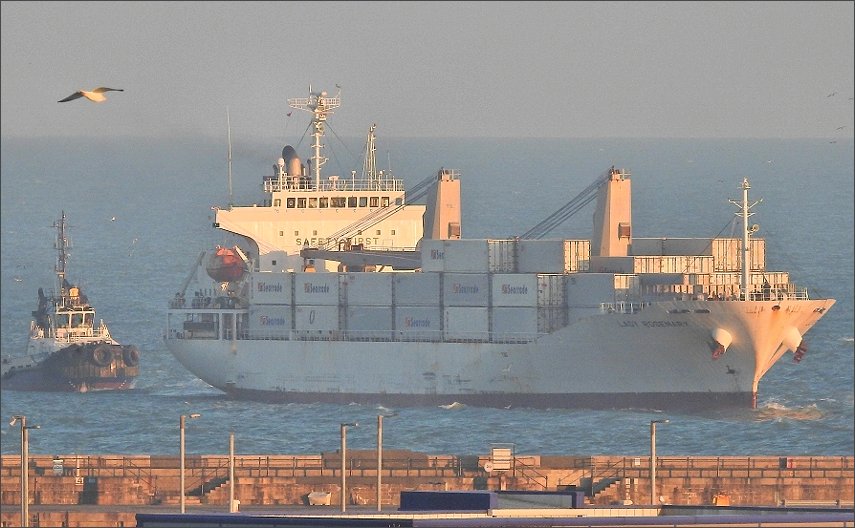 The pictures above there show Lady Rosemary approaching the port from the East after her long trip across the Atlantic. Unfortunately it was misty muggy as she approached so the pictures are not super-clear, but happy to get them nonetheless...able to do so courtesy of the vacated ferry slots. The top two shots are very similar but Sid the Seagull flew into the second one a minute later!
Then below we see Lady Rosemary entering and crossing the Port until she reaches the new Western Cargo Terminal WD5.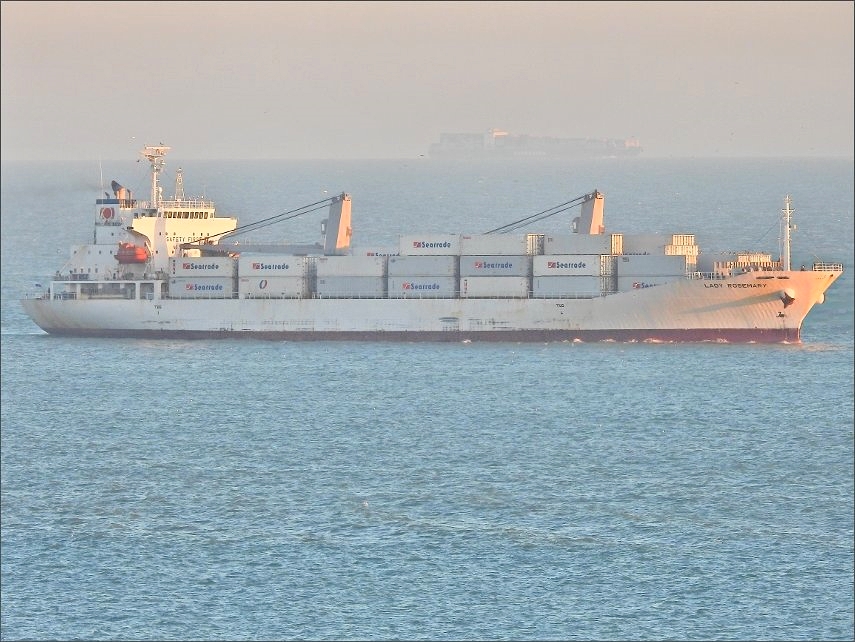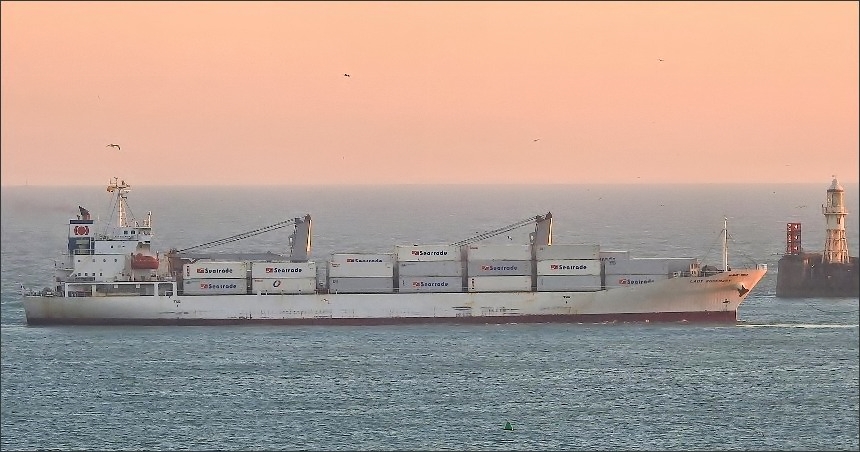 Time of pictures above; 15.30 to 15.50 in fading light December 30.
She has since left us (yesterday)...the turnaround appears to be quicker lately, perhaps its the all new slick terminal...will have some pictures of that departure following along, still in camera. It was murky then too.
Very interesting post below from Mike...don't miss that one. Thanks all round Mike..

Many thanks Del..

2020 here we come!


PB
Wednesday, 1 January 2020 - 07:57
Post 6732
Mike J., Dover
A very Happy New Year to all 'Sea News' readers & thanks to PB for running this most interesting site.
Nothing to do with ferries, but I thought that readers might be interested in this rather fuzzy faded photo of the bar on the bulk carrier-REYNOLDS somewhere out in the Atlantic between Gibraltar & Norfolk.Virginia, as the the old year was 'rung out' by the oldest man aboard, Second Engineer Tommy Patel & 1986 was rung in by the youngest aboard, Colin the Deck Boy, who is waiting his turn.
Unsurprisingly drink was taken.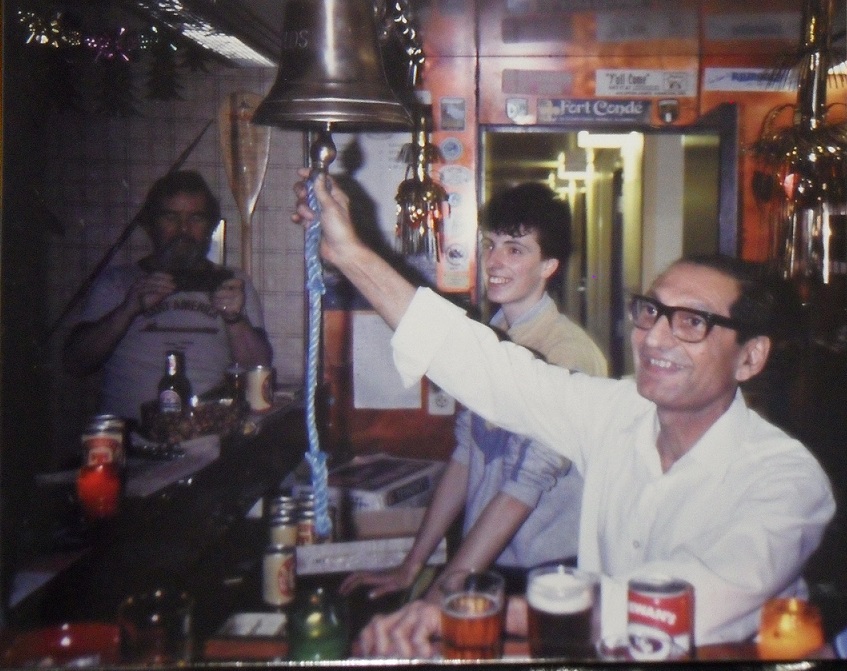 I don't remember a similar ceremony when I was on the ferries in more recent years.
If it was was celebrated similarly drink, of course, would certainly NOT have been taken.
Tommy later flew home to retirement during the voyage & was presented with a tankard engraved 'TOMMY PATEL - FINISHED WITH ENGINES' - a very familiar phrase to him from the ship's engineroom telegraph which received orders from the bridge.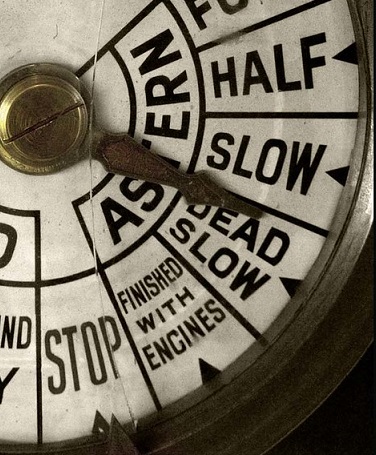 Wednesday, 1 January 2020 - 02:51
Post 6731
Del Styan, Norwich
Beautiful pics - well done.

Wednesday, 1 January 2020 - 00:15
Post 6730
Sea News, Dover
Morning and Evening on the 29th December....
Dover Sunrise, Dover Sunset.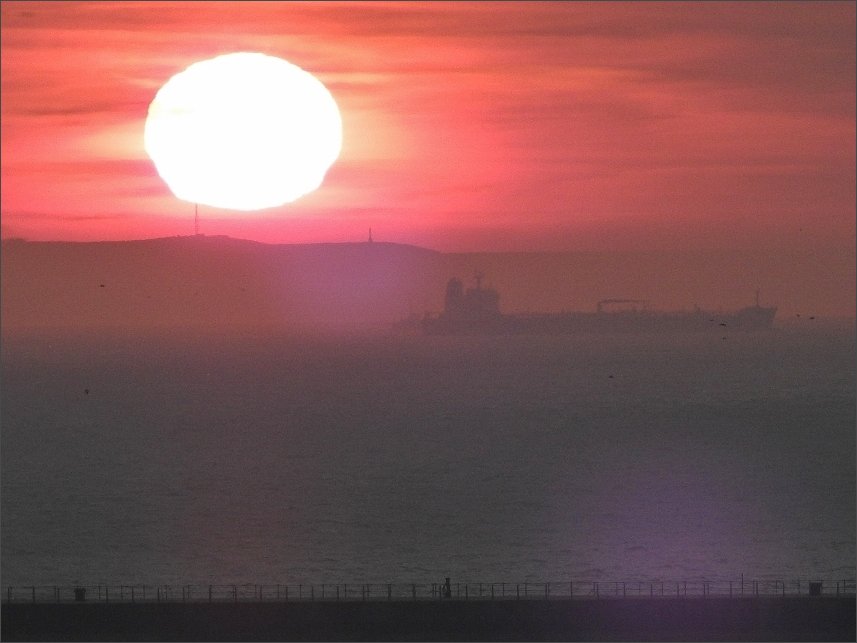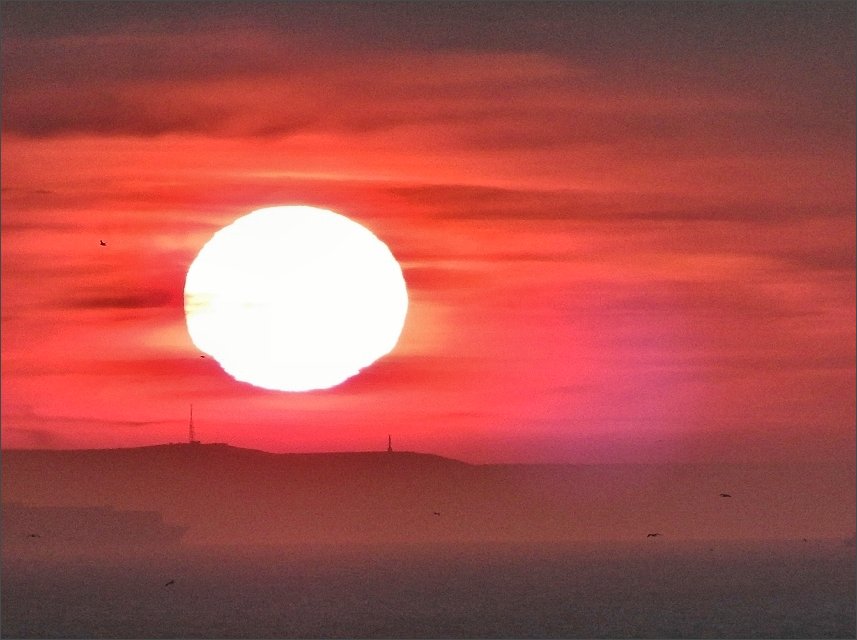 The pictures above show Cap Gris Nez in France on Sunday morning (29th). The shipping lanes are as busy as ever, even at this time of year ...as the sun rises dramatically over the Cap. You can see the monument and the mast there.... actually stood there looking back one time...quite a sight.
There was a stunning sky the same evening...these are just a couple of pictures, have more...
Looking westward ho! Yours truly waited quite a while for this seagull, where are they when you need them...?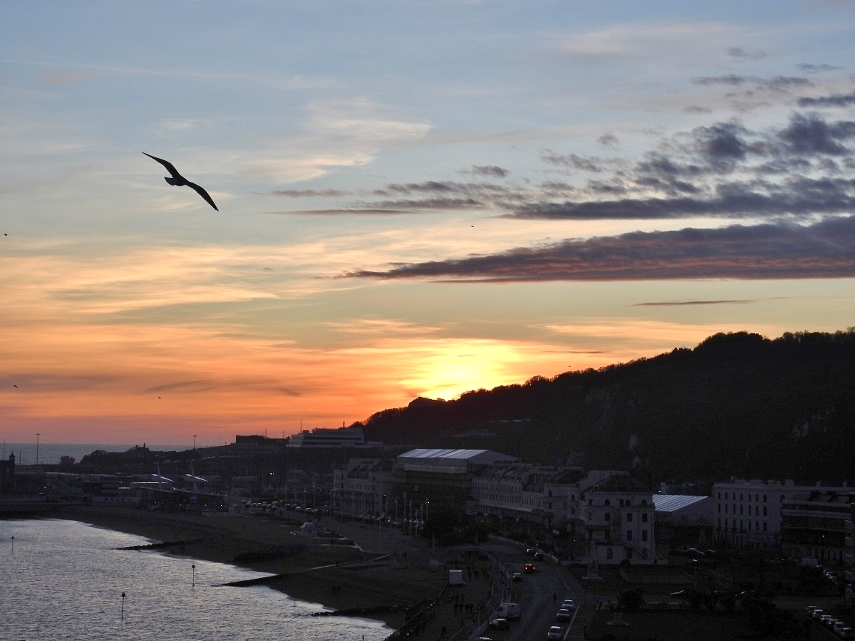 We will have pictures of the reefer Lady Rosemary arriving ... coming soon.. as they say...
That's a first visit..thinkso
PaulB
Tuesday, 31 December 2019 - 07:09
Post 6729
Sea News, Dover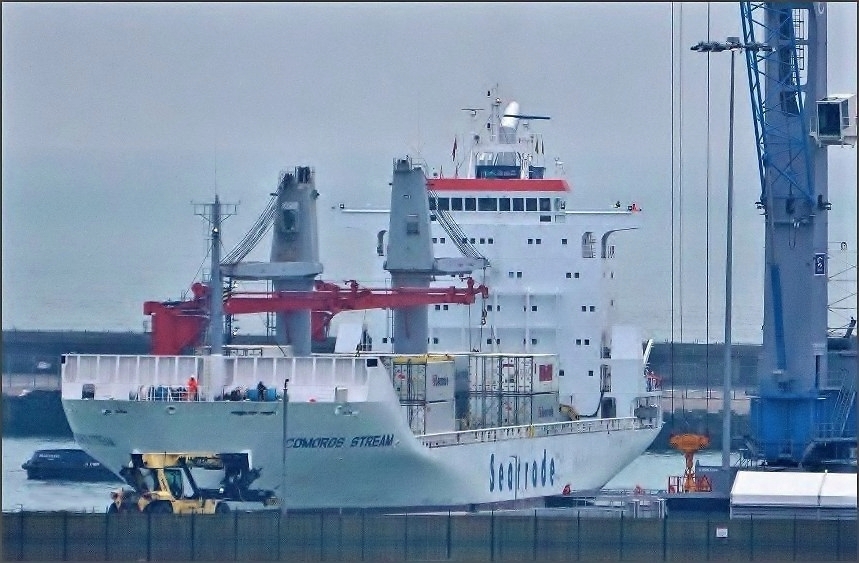 These are quiet days so we have time for a little bit more of Comoros Stream arriving with us here in the Port. Top shot, following along from the earlier pictures below page, shows her sidling into the new Western Cargo Terminal WD5...almost into berth there with the gentle help of the ever present tugs and under the towering new cranes.
While uploading the picture above, yours truly noticed the pic below in the files. Trying to remember why its there ? Have a feeling it was sent to me years back by the Port, possibly illustrating the projected possibility then of an all new Western Cargo Terminal...
anyway...Comoros Stream once again, this time as model extraordinaire...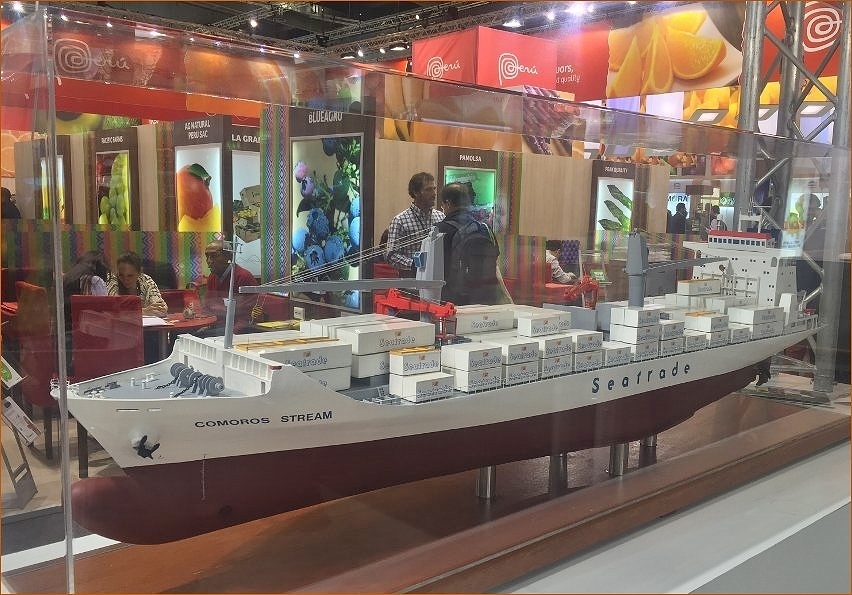 Drifting back now we see the Channel on Christmas Day...Christmas morn in fact at 07.22...we see a small boat making its way to Boulogne and yes you can see Boulogne in the far distance right, sparkling in the near darkness. In the centre of shot you can see the Varne Lightvessel, and in the foreground of course the breakwater lighthouse flashing red...
"all is calm, all is bright...."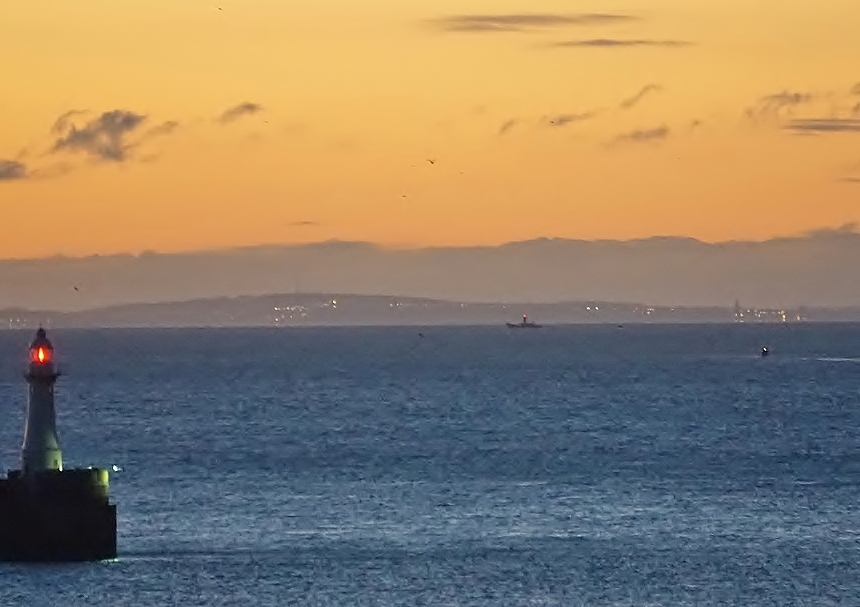 There was some gorgeous skies yesterday, both ends of the day...tried a few pix so will aim to show some of those.. if all went well with the camerawork...

PaulB
Monday, 30 December 2019 - 07:23
Post 6728
Sea News, Dover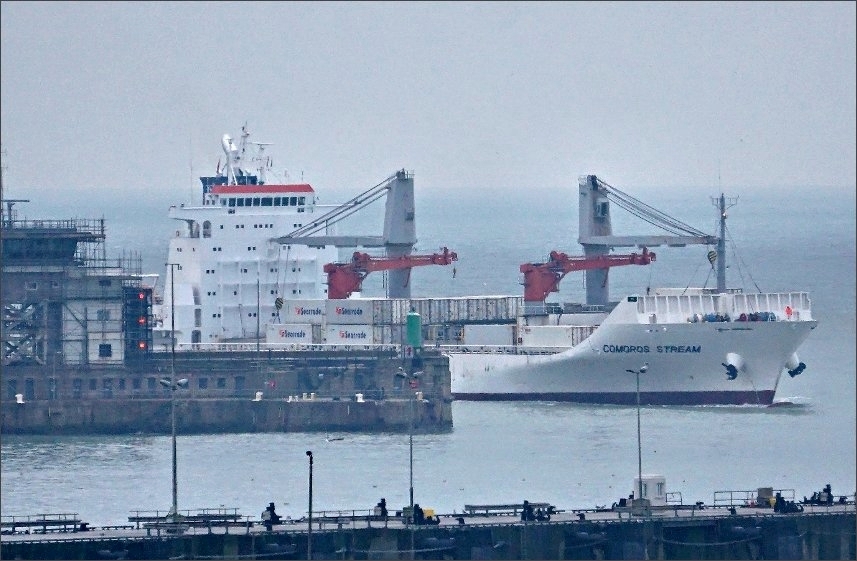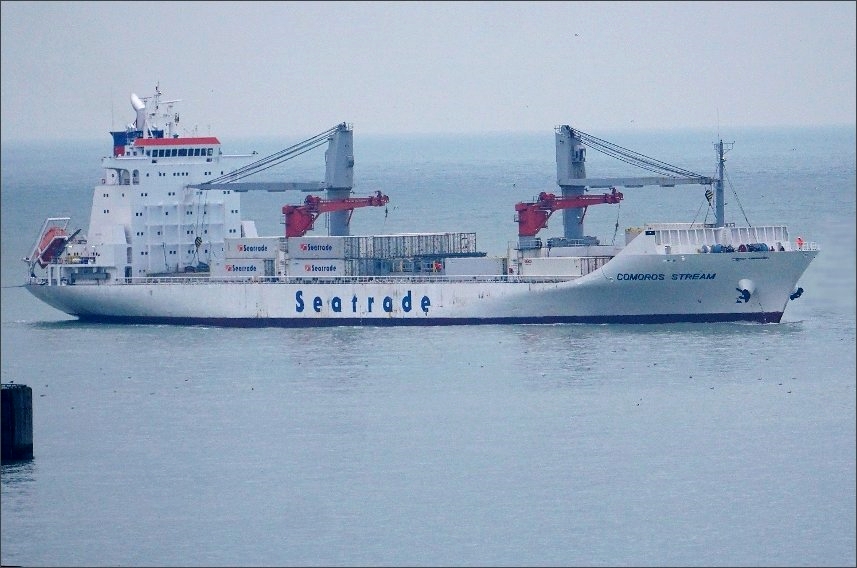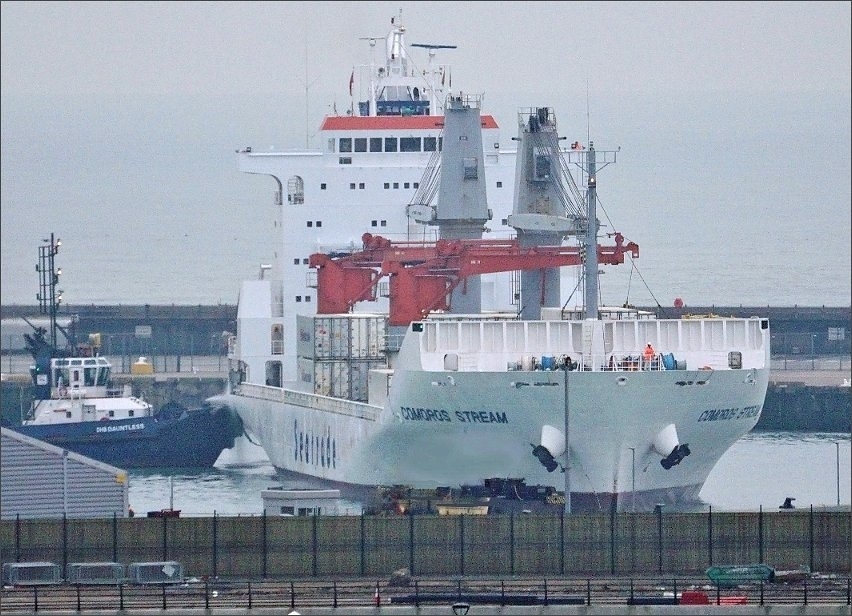 Comoros Stream:
Some further pictures above there of Comoros Stream arriving here in the Port of Dover on the 27th which was.. let me see...yes Friday. Arriving from Vlissingen we understand. She left later the same day taking some of those dockside containers we photographed recently with her.
Harking back now a day earlier...to Boxing Day...not Comoros Stream but Cold Stream this time. Its a rough oul picture (bit forced!) from a rough oul day, but managed to get an image of her at the new Western Cargo Terminal WD5. She left Boxing Day around 9.30pm or so...
Cold Stream.
Well done Nigel with that picture below. Hugely enjoyable shot...

Don't forget the Archbishop of Canterbury's new years day message with the lifeboat guys here in Dover...
"The Archbishop of Canterbury's New Year's Day message will broadcast on New Years Day on BBC One at 1pm and again on BBC Two (with subtitles) at 4pm that day."
PaulB
Sunday, 29 December 2019 - 06:34
Post 6727
Mike J., Dover
I thought similarly, Del, altho' I wondered whether it might be a special BFD [Bishop Floatation Device],
Mind you, I thought that Senior Clerics could already walk on water . . . . .
Back to the serious stuff, here's a very nice view of the arrival of the COMOROS STREAM, taken from the new reclamation & posted by courtesy of 'Dover Straits Shipping' arriving from Vlissingen on Friday.
Curious red cranes on deck, not seen those before.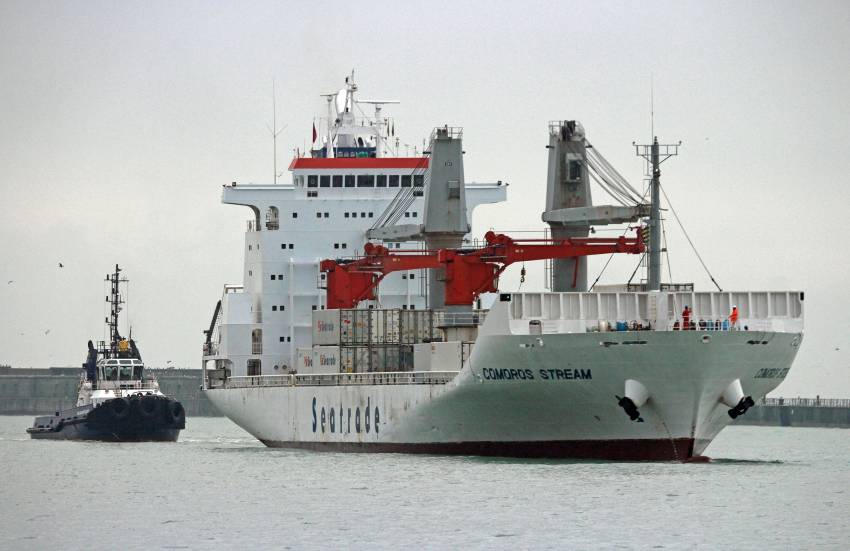 She gone now, heading for Gdansk, but hard on her heels is the LADY ROSEMARY, giving 0600 Sunday as her ETA, with Dover as her first port after crossing the Atlantic.
After that, according to AIS, things go quiet until the next reefer, the PACIFIC REEFER, arrives on 6th.January.
Sunday, 29 December 2019 - 01:39
Post 6726
Del Styan, Norwich
Shame about the Archbishop's left foot - must be a hell of a bunion!

Saturday, 28 December 2019 - 22:55
Post 6725
Sea News, Dover
Some pictures now of the crowds gathered for the Boxing Day Dip here in Dover. The weather was grim so it looked like there were fewer people gathered but we still saw a healthy turnout. The tide was high and as a consequence the beach was narrow/short etc etc...but the usual hardy souls took to the cold cold water with the usual all-conquering gusto...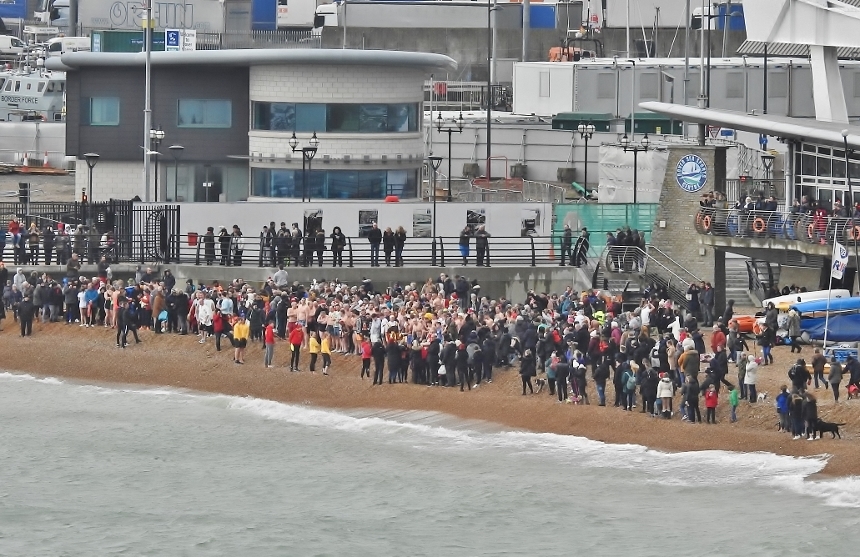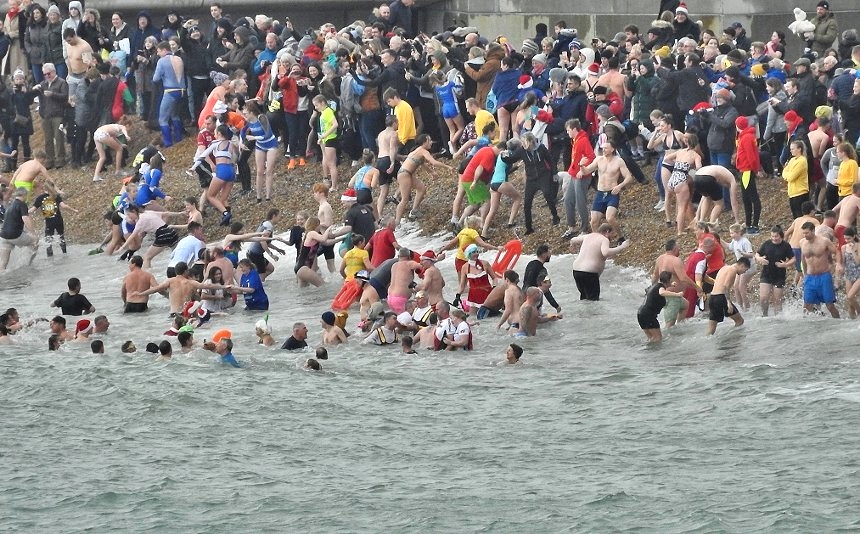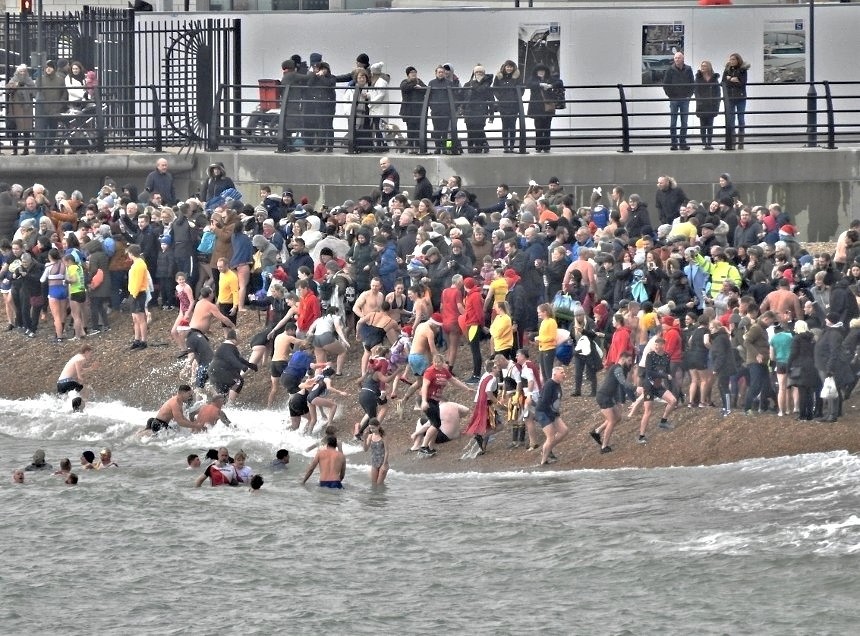 And from a former year looking back from the opposite direction...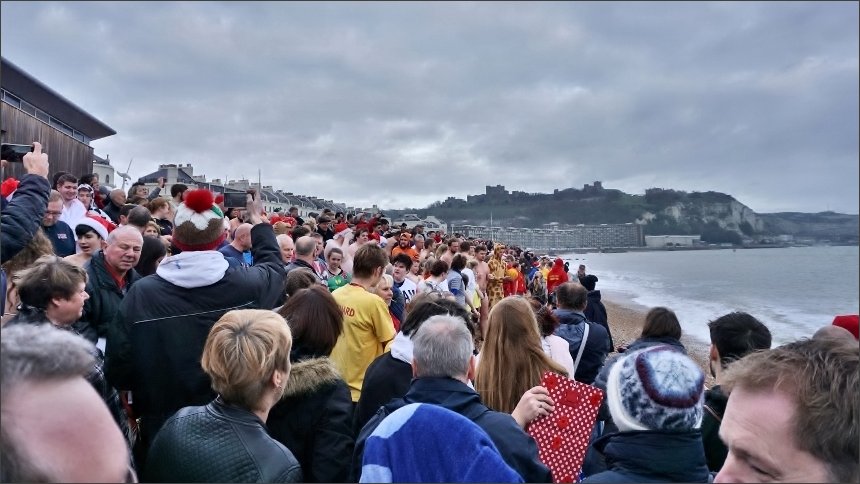 Many thanks for that info below AG ..

PaulB
Saturday, 28 December 2019 - 08:59
Post 6724
A G Jones, Whitfield (gjpve@tiscali.co.uk)
re the "Caesarea" going astern - yes, that's what her balls on the rear mast indicate

Saturday, 28 December 2019 - 06:49
Post 6723
Sea News, Dover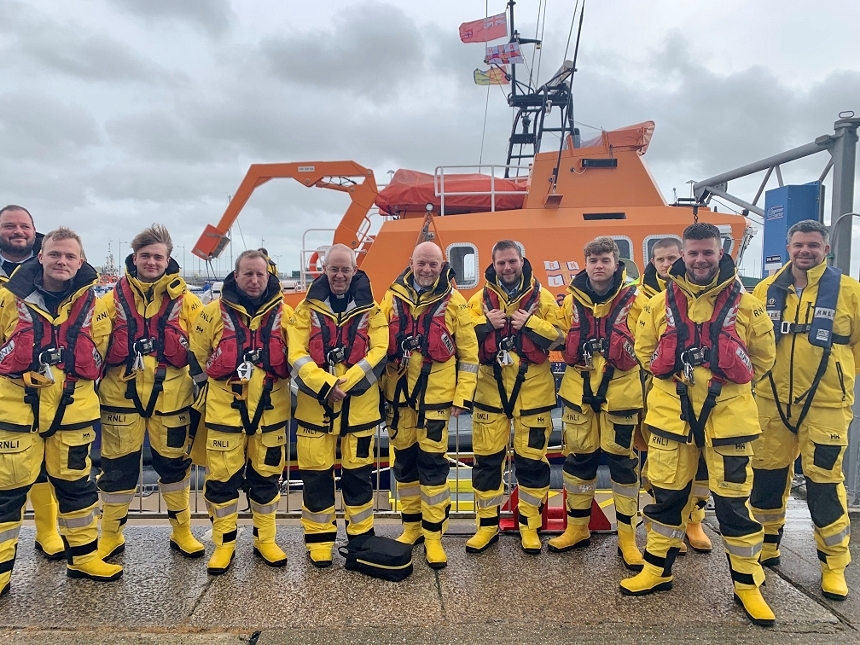 Dover RNLI recently welcomed a Special Visitor
___________________________________________
Volunteers at Dover RNLI were invited to the station earlier this month to meet a mystery guest.
They were delighted to welcome Archbishop Justin Welby, the 105th Archbishop of Canterbury, as he had asked to visit the station, which is in his diocese, as the location to film his New Year's Day message.
As well as filming, Archbishop Welby spent time speaking to volunteers there about their fundraising, visitor and education work there, and to the crew about the challenges of keeping such a busy station afloat.
Dover Coxswain James Clapham said, 'Our lifeboat station is very much a part of our community and we are always happy to welcome people from other walks of life to see what we do and learn more about our work.
'The Archbishop was very supportive of our great volunteers and showed a real understanding of how we operate. He enjoyed a tour of the boat and chatted to the crew about their rescues and their 'other' lives away from the station.'
The Archbishops New Year's Day message will broadcast on New Years Day on BBC One at 1pm and again on BBC Two (with subtitles) at 4pm that day.

ENDS
The Dover Lifeboat in recent action..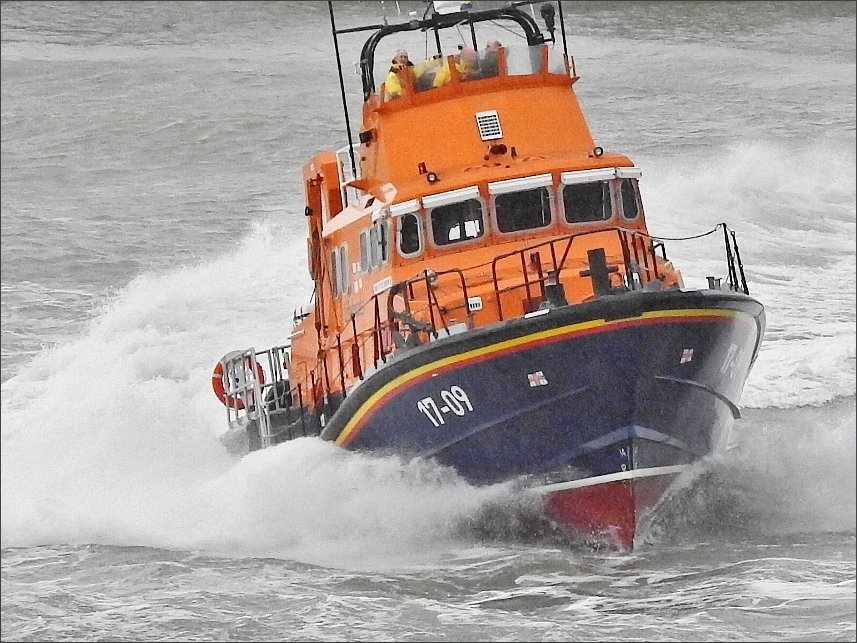 That's Archbishop Welby 5th from left or 7th from right in the top pic above.
Many thanks as ever to the Dover Lifeboat team.


Great all round coverage in the posts below from Mike our 'inshore correspondent' excellent suff!

And very interesting info below from Mark in Northants … excellent

Thanks Del... hope all going good where you are

PaulB
Friday, 27 December 2019 - 06:40
Post 6722
Mike J., Dover
Mark - Thanks for the interesting cloud info – I used to do a bit of gliding back when dinosaurs ruled the earth but we never saw lenticulars over Kent Gliding Club at Challock !
I've been lucky enough to see the classic 'stack of saucers' overseas.
Odd that you should mention Xmas trees on the ferries, I was about to do a piece on them after seeing a tree on a vessel in Dover a day or two ago after photting the EAGLE in the Tidal Basin.
The tree was mounted on the VIKING PRINCESS 2, recently purchased by the Brickell Brothers who used to own the very smart Folkestone f/V VIKING PRINCESS [post 5521], often seen in Dover who has been sold to Eastbourne owners.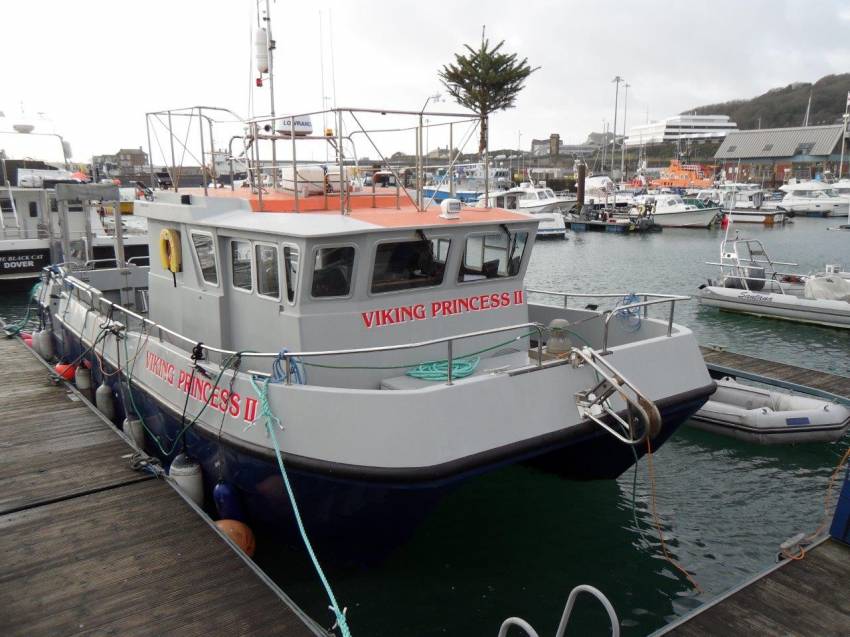 The former PORTIA will continue to be used for angling, diving & swimmer escort duties.
I never saw masthead Xmas trees during my time on ferries [1989/98] but they were certainly to be seen in earlier years.
Here's an excellent view of the CEASAREA sporting her tree in 1967 as she came astern thru the Western Entrance for an Western Docks berth.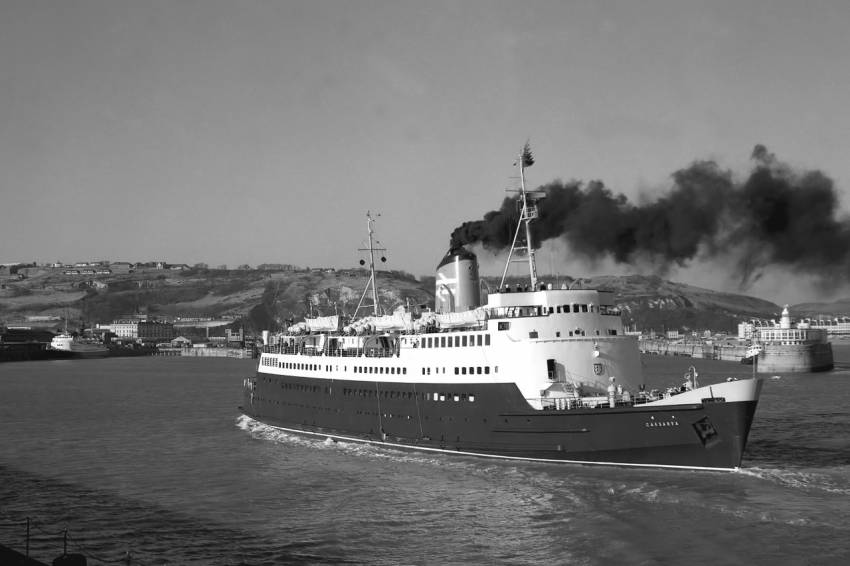 The image doesn't stand much enlargement but here's a closer view.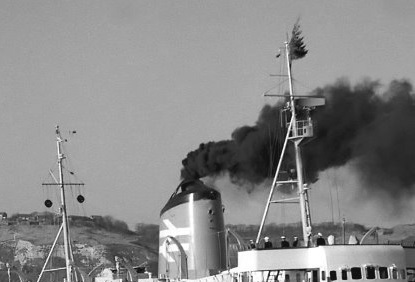 Note the Captain & officers & Quartermaster temporarily navigating from the wheelhouse top as she backs to the berth.
The two black balls on the aftermast are THOUGHT to be hoisted to indicate that the vessel is going astern - can anyone confirm this ?
CEASAREA photo copyright & courtesy of John Hendy & Dover Ferry Photos forum.
Thursday, 26 December 2019 - 02:06
Post 6721
Mark Rushton, Northants
Wow ! Great cloud. For what it's worth it's a lenticular cloud, caused by a standing wave pattern in the upper air. The standing waves are normally kicked off by the wind blowing at right angles to a mountain ridge - like the Pennines. So these are very unusual down south where there are no mountains. Probably triggered by a "phantom" mountain ridge such as a frontal system. Each wave bar marks the peak of one wave - if you look closely you can see the next peak miles downwind towards France. Glider pilots up north use wave systems to get to stupid heights of 20000 feet or more. Have a great Christmas, and thanks for the photo of the fleet laid up in Eastern Docks. Shame they don't put Christmas trees on the masts any more - anyone remember that ?

Wednesday, 25 December 2019 - 13:57
Post 6720
Mike J., Dover (helcion@hotmail.co.uk)
Christmas morning with no-one on the Eastern Arm this year.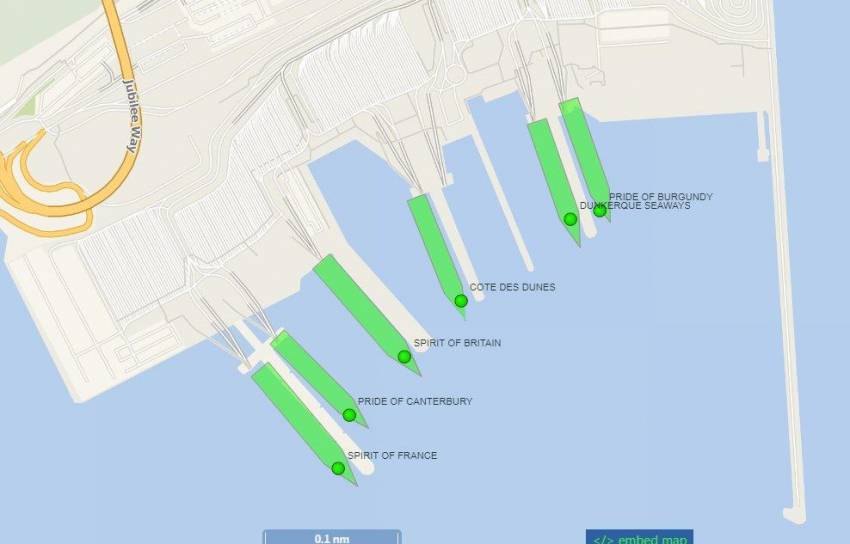 Damn cloud, the only one in a perfect blue sky, that sat there for 30 minutes, blocking the sun . . . . .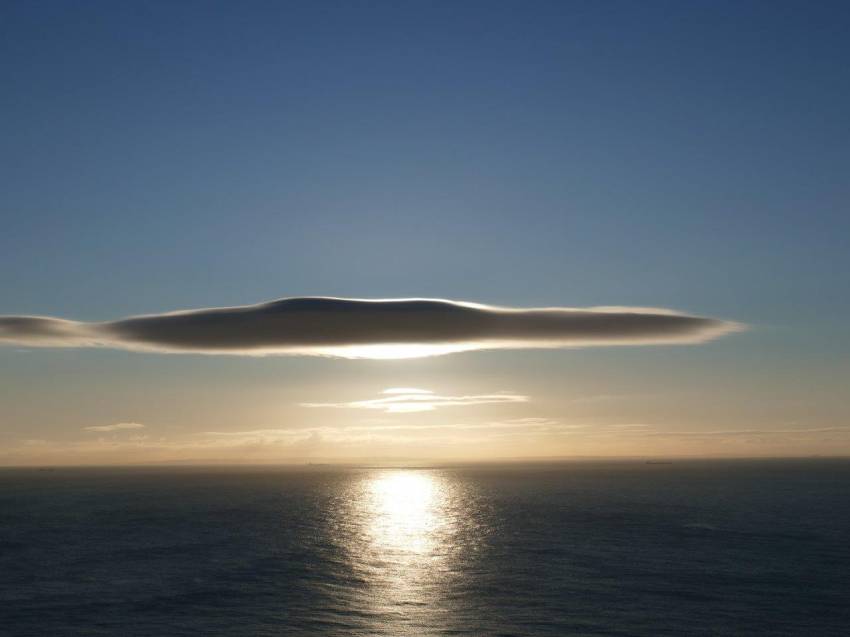 Over in Calais were CALAIS SEAWAYS – COTE DE FLANDRES – EUROPEAN SEAWAY & Dunkirk was home to DOVER SEAWAYS & DELFT SEAWAYS.
AIS showed at least ten windfarm craft parked-up at Ramsgate & four vessels anchored in Margate Roads
Border Force EAGLE came in from an early patrol & off the port one the Ramsgate BF cutters steamed slowly by after what would have been a perfect night for clandestine crossings.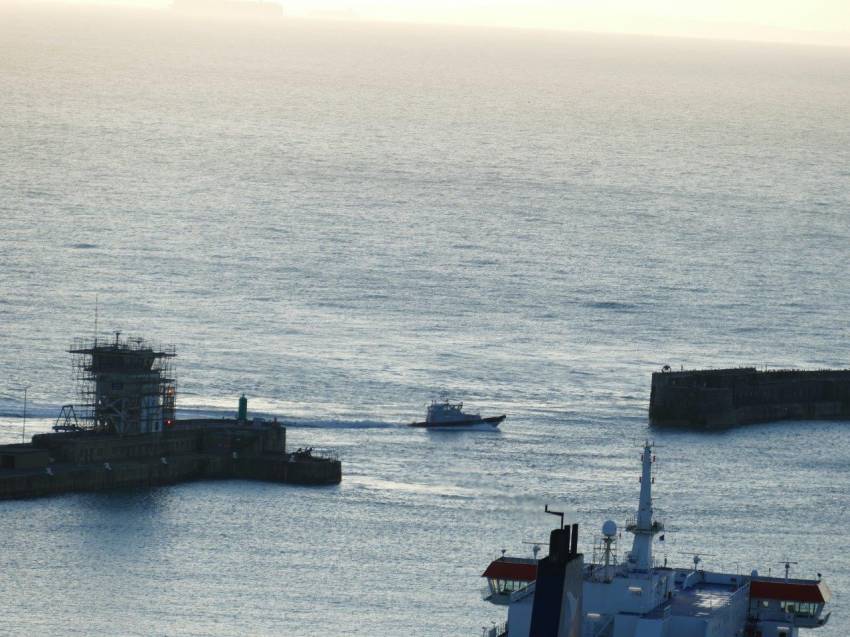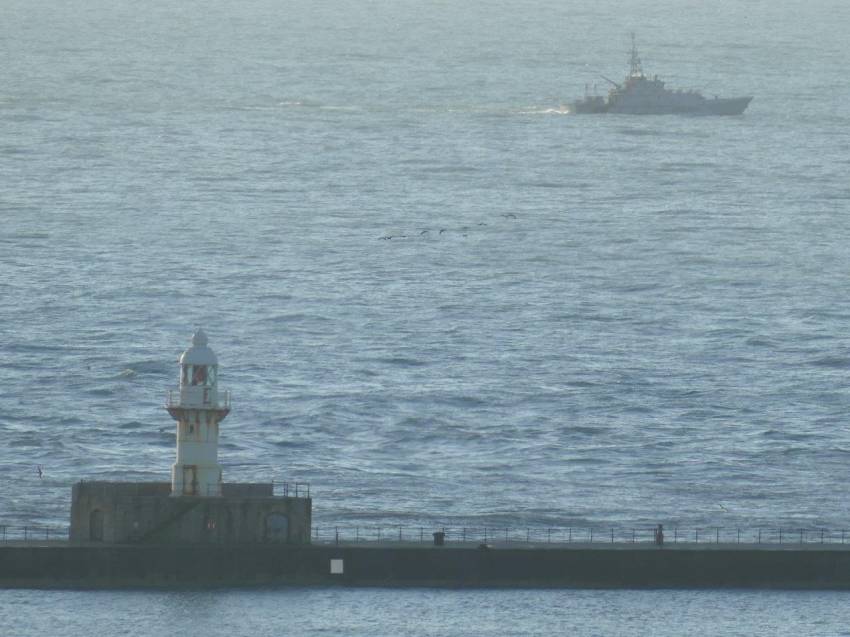 Wednesday, 25 December 2019 - 11:46
Post 6719
Mike J., Dover
Merry Christmas to all DSN readers !
Then there were three . . . . .
The Border Force patrol vessel EAGLE arrived in Dover Tuesday evening from the Solent, her usual patrol area, & was on the Crosswall Quay pontoon about midday Wednesday.
She is here over the Christmas period but all three p/vs are manned & ready for service.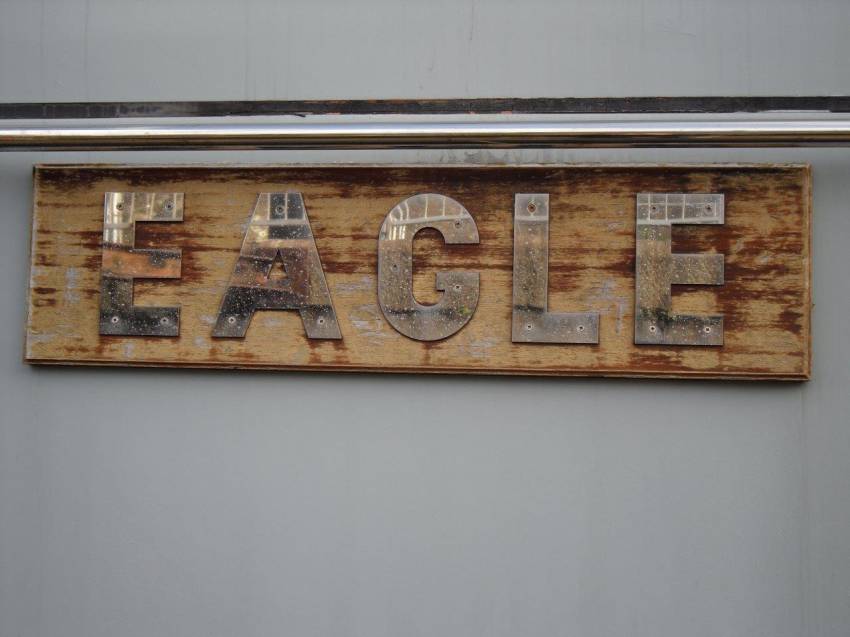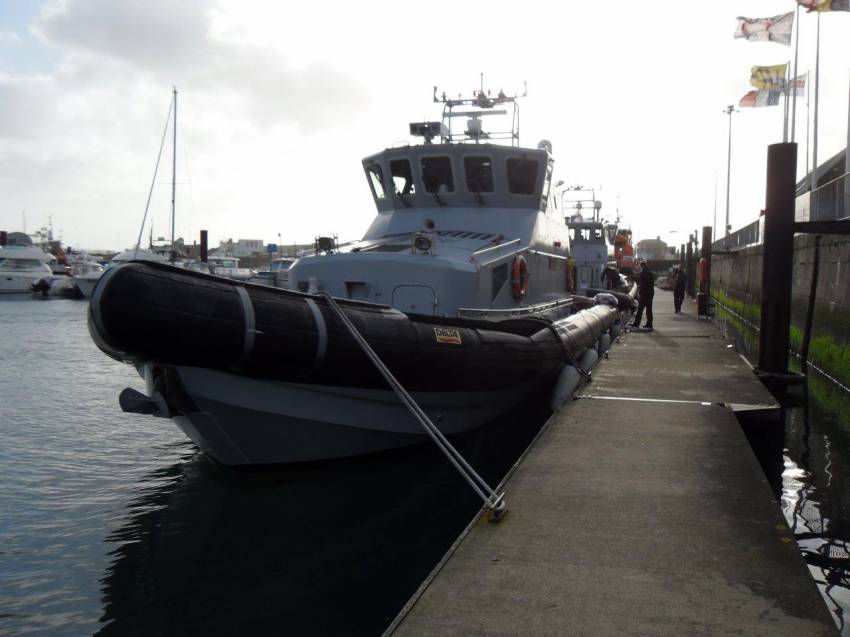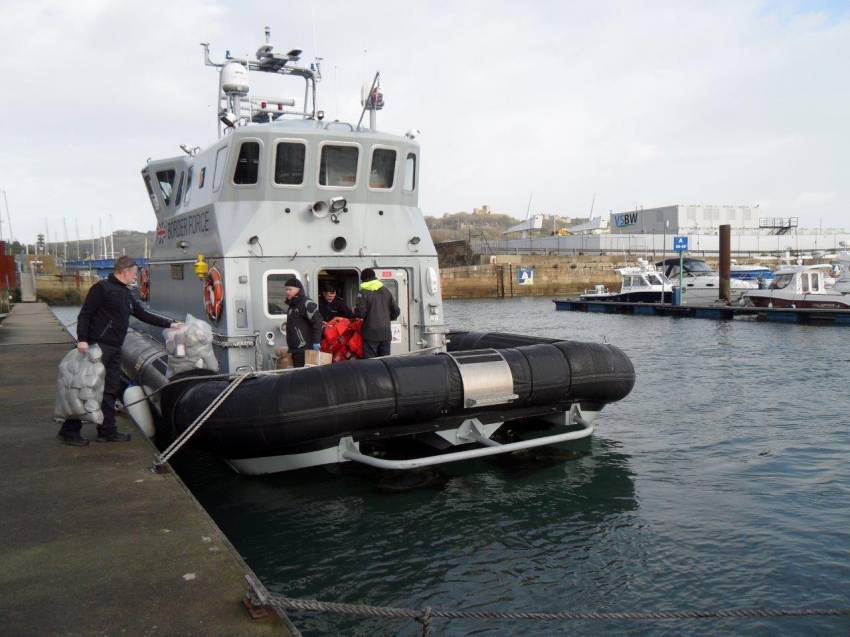 HUNTER astern of EAGLE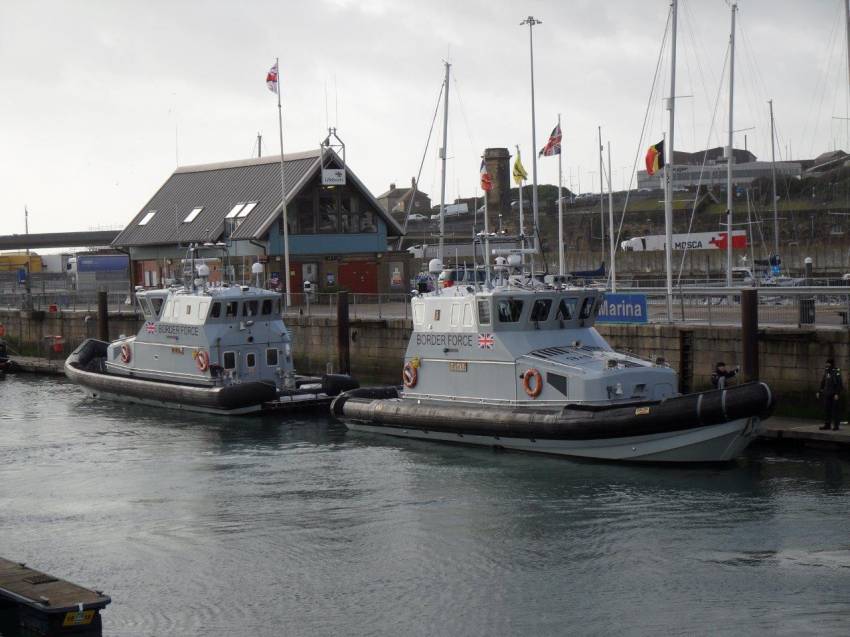 Wednesday, 25 December 2019 - 02:30
Post 6718
Del Styan, Norwich
And Merry Christmas to you too PB

Tuesday, 24 December 2019 - 22:47
Post 6717
Sea News, Dover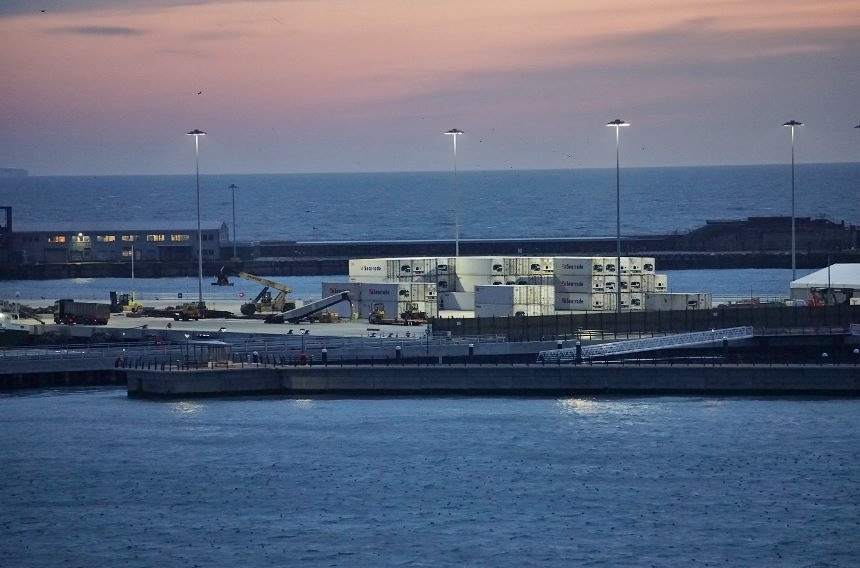 Containers: looking westward towards the recently arrived containers as night falls on the Western Docks.
Its now beginning to get quite quiet all around us...in fact its …
"Beginning to Look a lot like Christmas...everywhere you go..."
We will probably wind down now for a couple of days.
Merry Christmas everybody...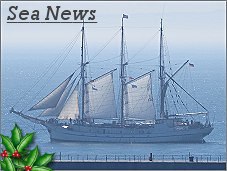 Tuesday, 24 December 2019 - 07:02
Post 6716
Sea News, Dover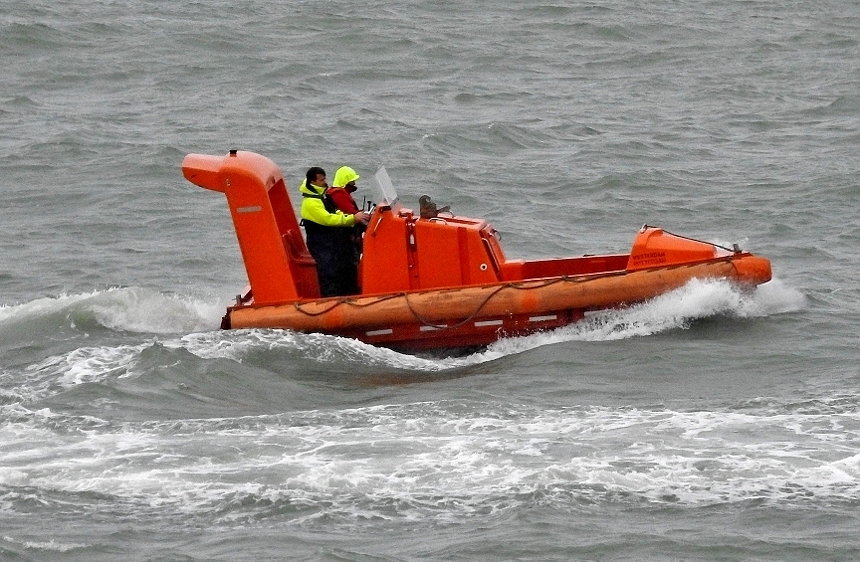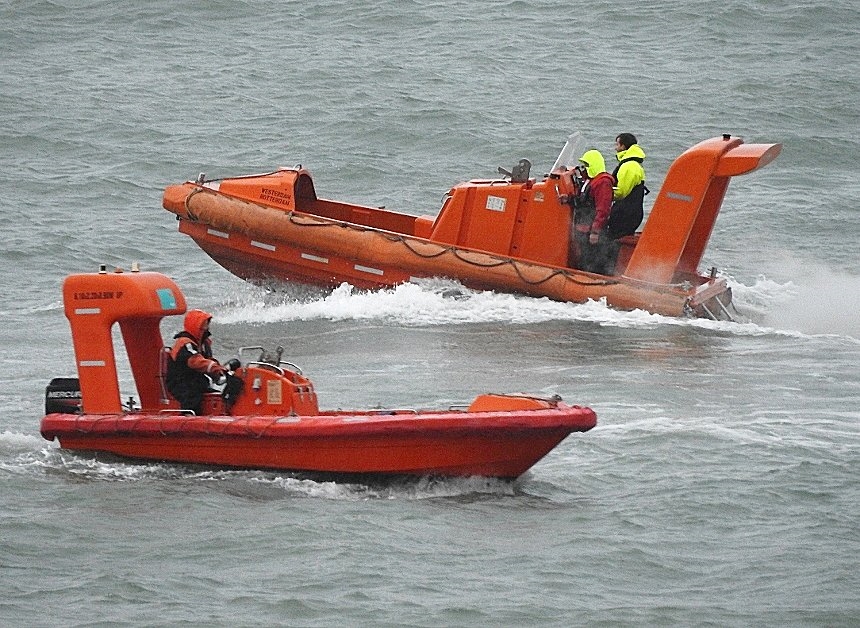 The Maritime Skills Academy undergoing some training exercises in the harbour on...ermmm let me see..yes Friday mid morning. They always make for a colourful display as you can see... they added some much needed colour to a grey ol' day... Delighted to take their picture for sure, anything that keeps yer bones away from Christmas Shopping has to be enjoyable.


PaulB
Monday, 23 December 2019 - 06:28
Post 6715
Sea News, Dover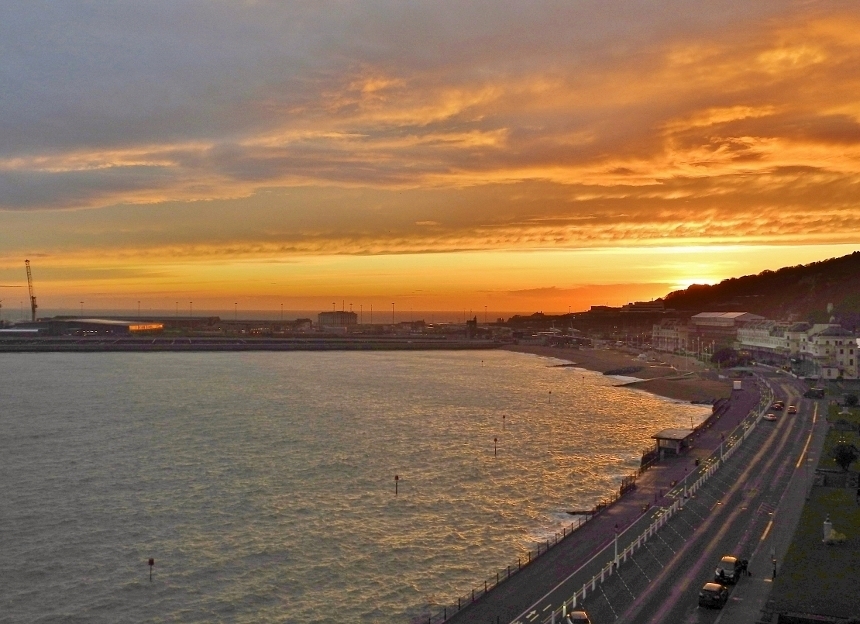 A fairly dazzling sunset above there as we look over and beyond the Western Docks, picture taken on Thursday evening. Its not often we see the sun lately so we rejoice when we see it...enough already...of this eternal rain. Sadly I missed out one of the cranes in the picture, can you believe it! Grrr


Brian thanks for that info...its always sad news to hear of situations like that. Last night the Coastguard helicopter was continuing to search to and fro in the area shown in the picture above .. for those who are not familiar, its the area just beyond the harbour.
PaulB
Sunday, 22 December 2019 - 07:52
Post 6714
brian dixon, dover
sar's helicopter and lifeboat off shakespere beach at 3.30 pm this afternoon, body found in the cliff area .

Saturday, 21 December 2019 - 16:47