Wednesday, 21 August 2019

WWW.DOVERFORUM.COM/SEA-NEWS
Featuring all the ships that come and go and work at the Port of Dover ..
... with further coverage of the surrounding ports.
Sea News Dover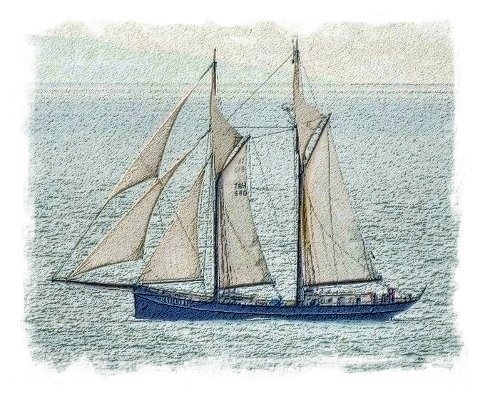 P&O Cadet Bursaries plus.. see 6457
DFDS:Temple Ewell Run plus FIP(?) booking 6453
Dover Regatta see 6438, 6441, 6442
Port of Dover: Chief Exec EU statement 6373
DFDS New Ship for Channel see 6303
DFDS Europe's award winning Ferry Operator 6332
Port of Dover : Virgin Voyages 6289

Port of Dover: Brexit Resilience 6123
P&O Ferries: Alternative Euro Breaks 6298
P&O: Record Fundraising for Lifeboats see 6253
Port of Dover: Reducing Carbon Footprint 6332
Port of Dover: New Cargo Manager see 6205

WW1 Soldier Dover Seafront 6414
Thames Estuary Forts 6250
SS Richard Montgomery at rest (WW II Supply Ship ) 6329
Premier Inn completes see 6149 plus

Scroll down and over to see the Boudicca D-Day pictures in several posts...
….and now also too the Spirit of Discovery
Use our SEARCH ENGINE below to find all sorts on the SEA NEWS pages....type in the topic and away you go, or if you have the post number as shown above, just type it in the box, more than - 6400 - nautical posts now.
Posts are welcome. just click 'Add Your Comment' below. Max of 5 pictures preferred although we can stretch that for special stories..
Sea News Editor Paul Boland - send info or pix to dover7@msn.com. Always welcome.
CRUISE CALLS:
https://www.doverport.co.uk/cruise/find-a-cruise/
UPDATE:
To show your pictures at their best..it could be worthwhile resizing before posting to
850
pixels wide.
All pictures on these pages are the copyright of the owners and must not be reproduced without permission.
Post 6295
Sea News, Dover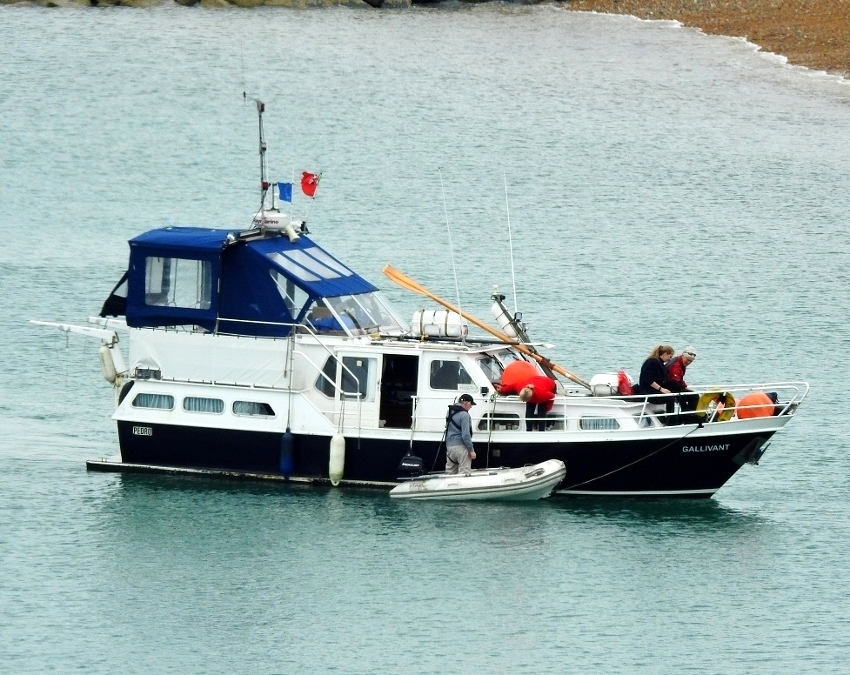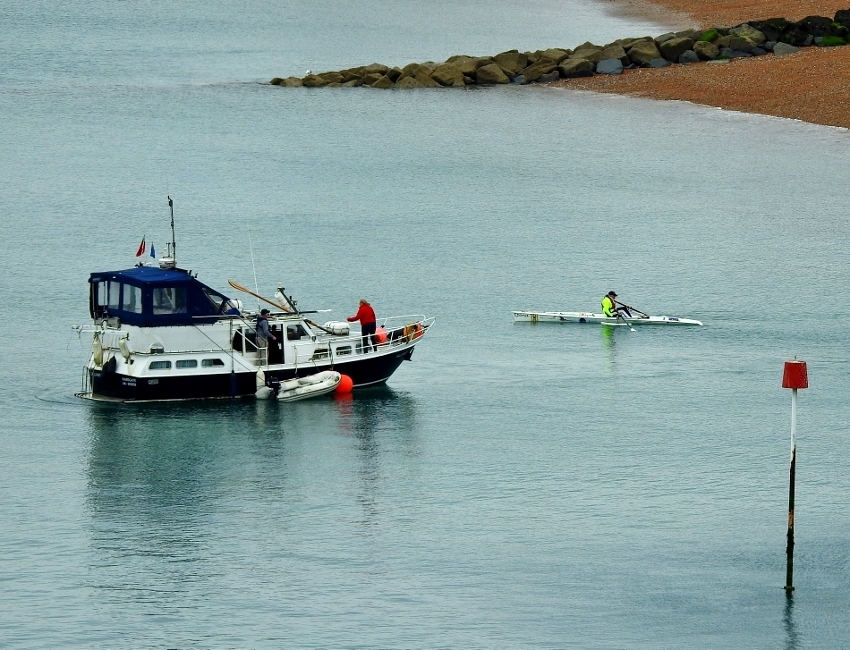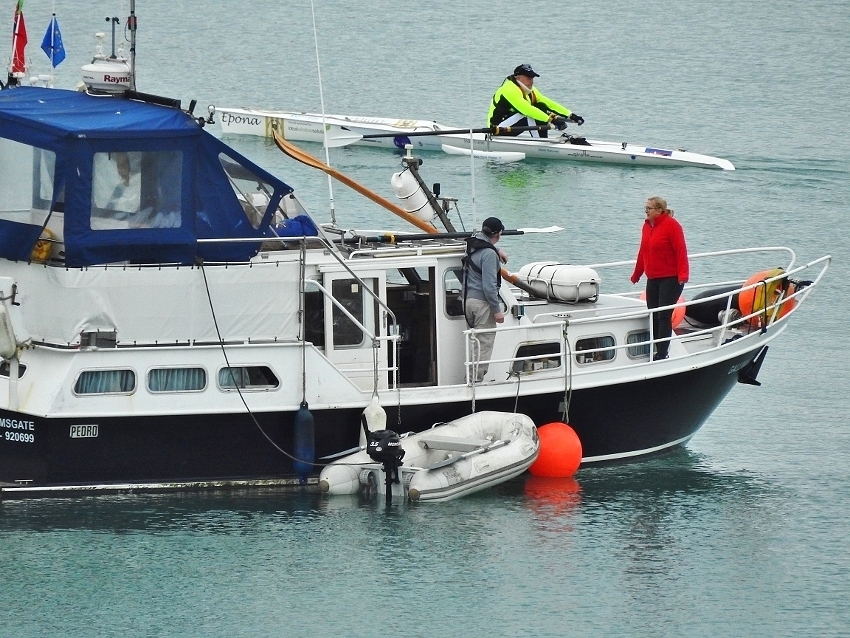 Some pictures above there from Saturday morning. It shows motor cruiser Gallivant along the seafront here waiting to assist a rower doing a channel crossing. Gallivant fulfils the support vessel role on a regular basis. Gallivant operates regularly from Ramsgate we understand.
Great picture below from Mike..enjoying that one. Lovely shot. Good to see the small workboat up close... And great info as usual.

These photos today all resized to 850 pixels wide...our new size.

PB
Monday, 27 May 2019 - 07:03
Post 6294
Mike J., Dover
Good pix of HMS QUEEN ELIZABETH from Patrick & Paul.
Re post 6293 & the unidentified workboat.
She's been in the port for a couple of weeks but has been quite elusive until a few days ago when I caught her heading out from the Tidal Basin.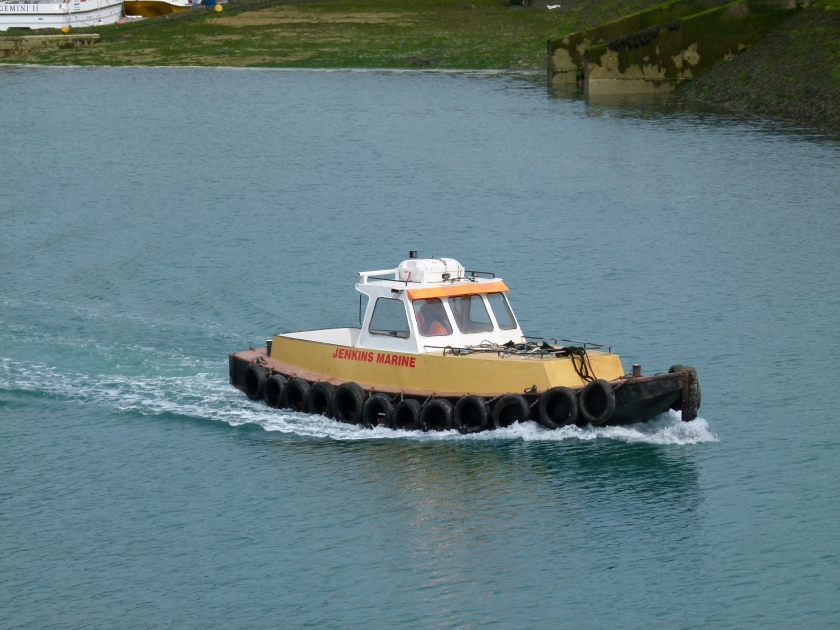 Owned by Poole-based Jenkins Marine I could see no name, but their website shows her as one of three 'Beaver' class workboats.
Ed Connell posted photos of one of their larger catamaran workboats, the AVON, back in 2014 in post 900.
Interestingly amongst a wide range of speciaist marine contracting vessels Jenkins also offer for charter a very smart 15 mtr yacht, the CORK MALT 2, presumably the name of a sponsor.
Monday, 27 May 2019 - 00:35
Post 6293
Sea News, Dover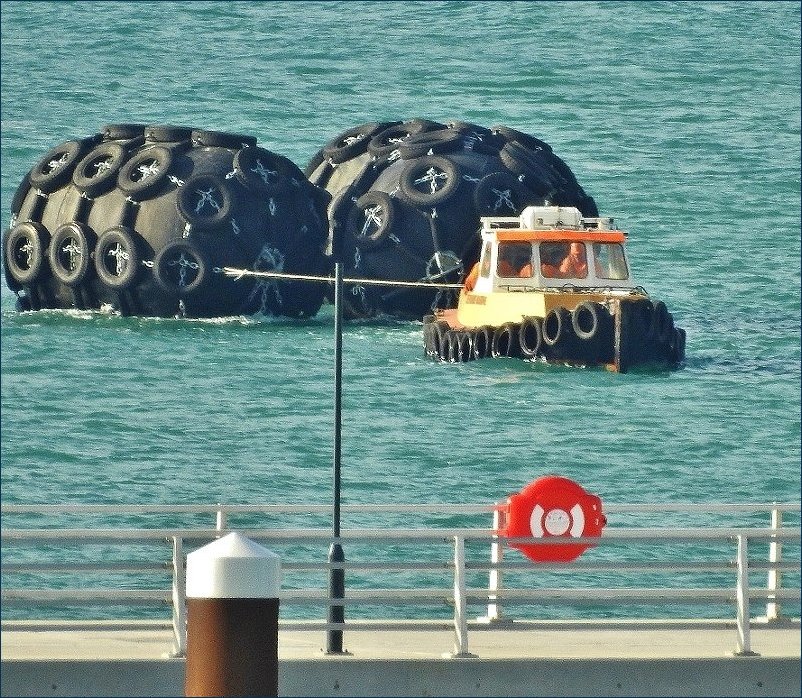 Yours truly enjoyed this picture above taken earlier in the week. It shows a small workboat towing those two mighty large fenders across for placing on the new extensions. Didn't catch the name of the small boat there but enjoyed seeing it.
We've heard workboat Pampero has finished its tenure here on the DWDR ( Dover Western Docks Regeneration) and just by sheer chance took this pic below of her on her last day...or next to last day. We will miss her colourful presence.
Pampero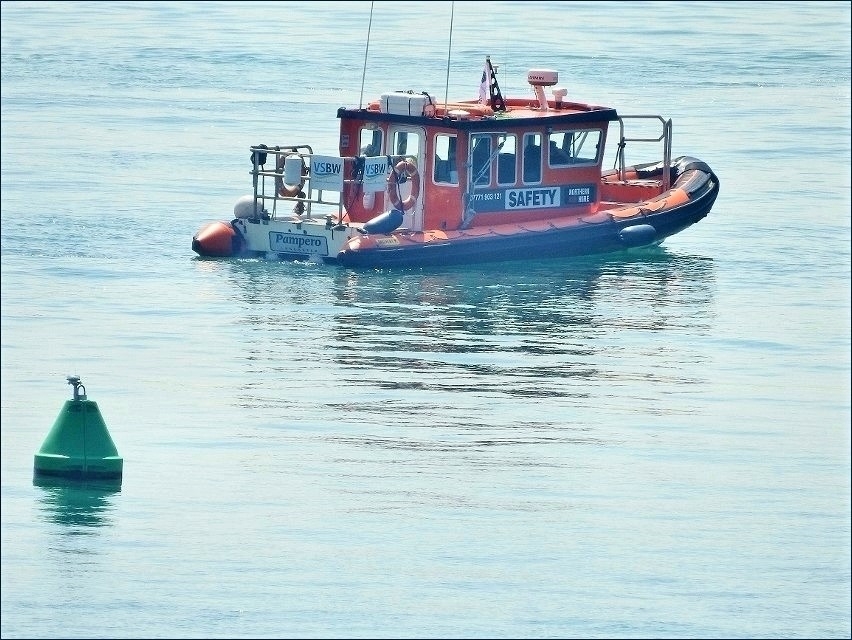 Following along from Patrick's shot and following a hot wire tip off from Mike... I was able to get these couple of shots of the impressive HMS Queen Elizabeth moving down channel. Very grey ship plus very grey morning equals difficulty...but here we are anyway.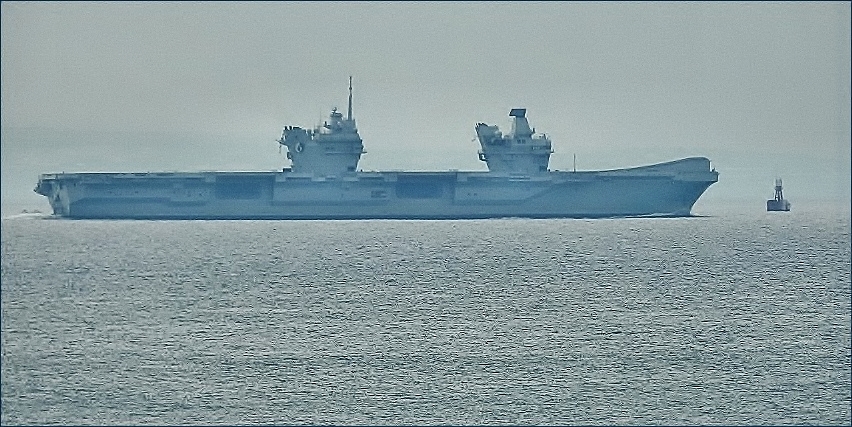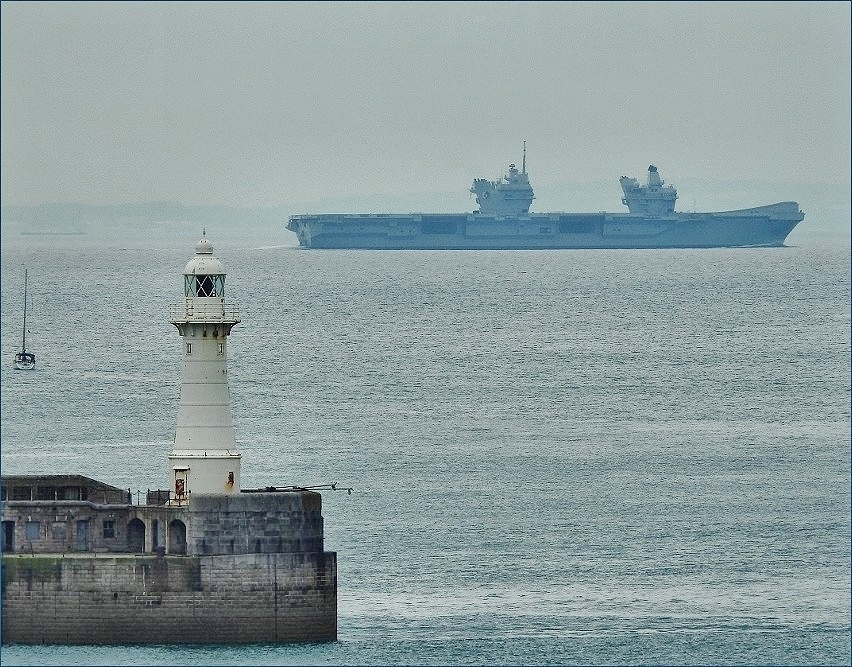 Yes indeed the Captain has been physically removed from the ship while on active duty for seemingly excessive use of the 'company car'...well now that seems a bit extreme doesn't it. Heavens!..there would be nobody left in higher management if all followed that extreme.

Well done with that shot below Patrick. It was a tough one to get.

Thats great Vic. Glad you are enjoying it ...still lots more to come..

Del everything seems to be working fairly smoothly at the moment. Its been a very busy weekend...hotels packed...and fingers-crossed everyone going through well. And you can have the added excitement of a quick look round to see the changes..

GOOD NEWS RE PICTURES:
we have been able to squeeze a bit more out of the system and now the pictures are 850 pixels wide. This is a good size, very happy with it. Good enough for most detail but still the right size for eye comfort.
Pampero above 850 and Royal Navy 850.
So to get the best from your uploaded pictures resize to 850 pixels wide.
My thanks once again to colleague Chris Tutthill for doing the necessary.
PaulB
Sunday, 26 May 2019 - 06:52
Post 6292
Del Styan, Norwich
Thanks for the western docks update - I shall see for myself as I'm heading that way next weekend. Hope the French Customs officers are still on active duty.
As to the latest political situation, well - I think I'll adopt the head in the sands pose. If I can't see it, it isn't happening.

Saturday, 25 May 2019 - 23:22
Post 6291
Patrick, Marine Parade
Good to see a new scheduled arrival for next year in Dover of the 'Scarlet Lady'.
As the early morning mist swept along the Channel just caught an outline of something with a different shape appearing as she passed Dover.
The 280-metre, 65,000-tonne 'HMS Queen Elizabeth' Aircraft Carrier (sans Captain) en route to home port from Rosyth Dock following a program of repairs.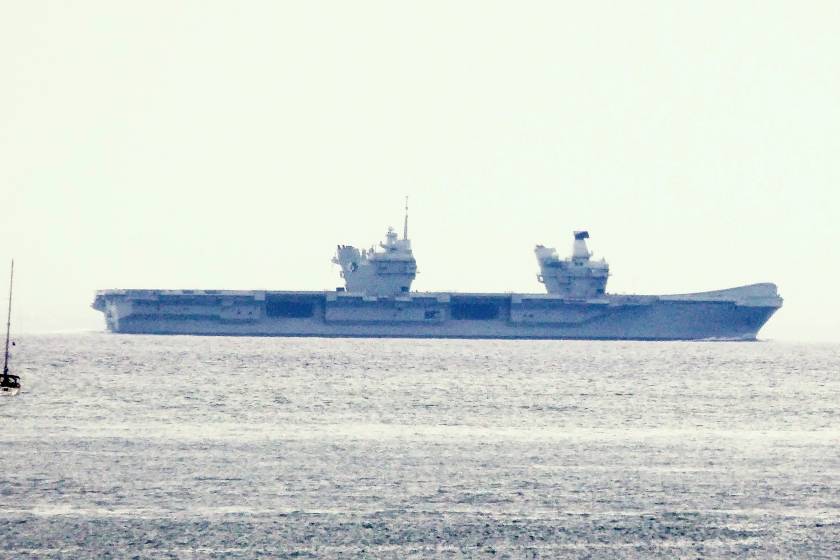 Saturday, 25 May 2019 - 18:17
Post 6290
vic matcham, Dover
Yes still about great photos coming out about the port. I still read this page only. thank you and well done,

Saturday, 25 May 2019 - 07:06
Post 6289
Sea News, Dover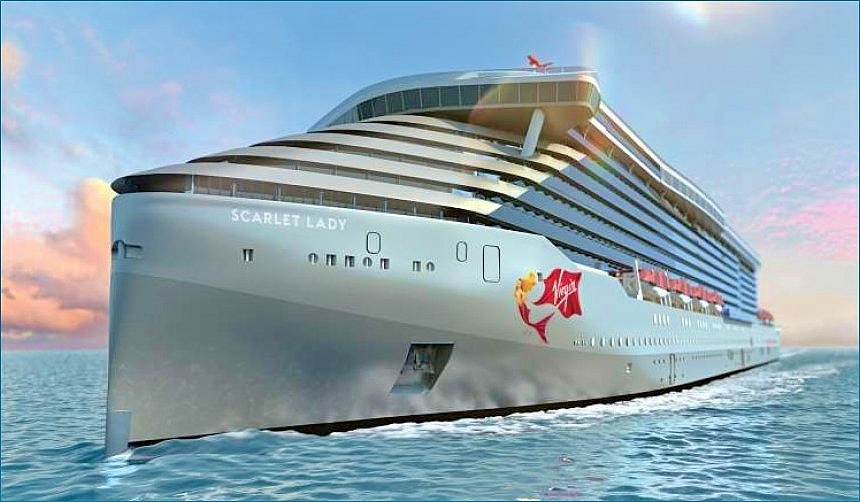 Virgin Voyages has announced that Dover will be the first ever port of call for its epic Scarlet Lady cruise ship
…………... in February 2020.
This exciting news was revealed by Spice Girl Geri Horner (Halliwell) at a press conference in London two nights ago and celebrated at a star studded party, which showcased a taste of Virgin Voyages' signature Scarlet Night on-board events.
After leaving the Fincantieri shipyard in Genoa, Italy, Scarlet Lady will set sail first to the Port of Dover where she will be hosting a number of exclusive events for First Mates, media and VIPs.
Sonia Limbrick, Head of Cruise at the Port of Dover says: 'We are incredibly excited to be welcoming Scarlet Lady here for her first ever preview. Set amongst the wonderful backdrop of the White Cliffs (now maybe with a splash of red) and Dover Castle, the Port will undoubtedly give her the first class welcome she deserves.'
Barbara Buczek, Chief Commercial Officer at the Port of Dover adds: 'We are absolutely thrilled to be working work with Virgin Voyages team, who are definitely making waves in the cruise industry. It's fantastic to see their rebellious approach to creating a unique offer and we are delighted to be part of this extraordinary journey."
Further details will be revealed soon!
Ends
Many thanks to the Port for the exciting info above there.

* *
A Smile from AIDAbella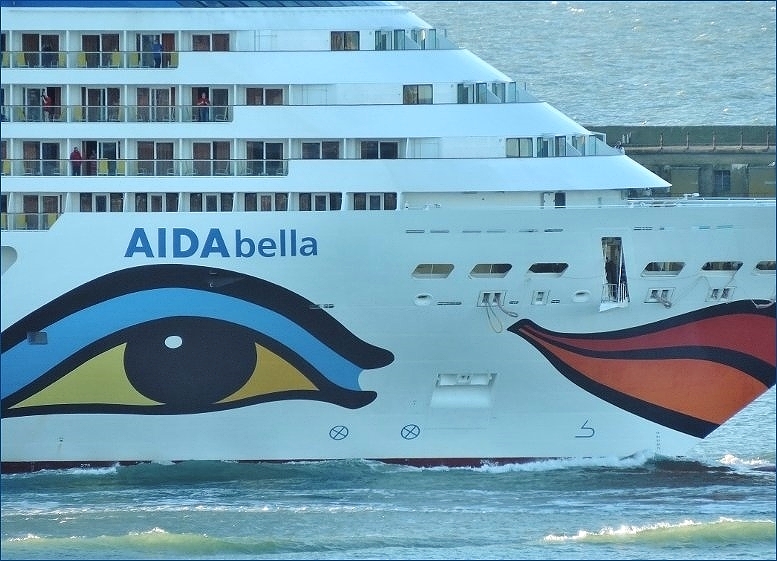 Well done Patrick. You saved the day with that nice shot of AIDAbella in your recent post below 6287...as yours truly missed it completely. The extra shot above there is from a former visit.

Yes progress has been made Del. The new road and bridge are now open and in full urban use, and of course the new pier is open and appears to be very popular. Lots of people experiencing it. I haven't been on it myself yet but will in due course. But the contractors still have much more to do...lots of building work going on all over the area.
Lots of people heading to the Port as I write, very busy, no doubt all frenetically trying to escape the Tory Party Leadership Contest.

PaulB

Saturday, 25 May 2019 - 06:26
Post 6288
Del Styan, Norwich
How are the western dock works getting on? I only ask because I haven't seen any updates recently. Are they near fruition?

Friday, 24 May 2019 - 22:54
Post 6287
Patrick, Marine Parade
Cruise Liner 'AidaBella' graced our port this morning from Ijmuiden berthing at CT2 for the day before a scheduled 7pm departure.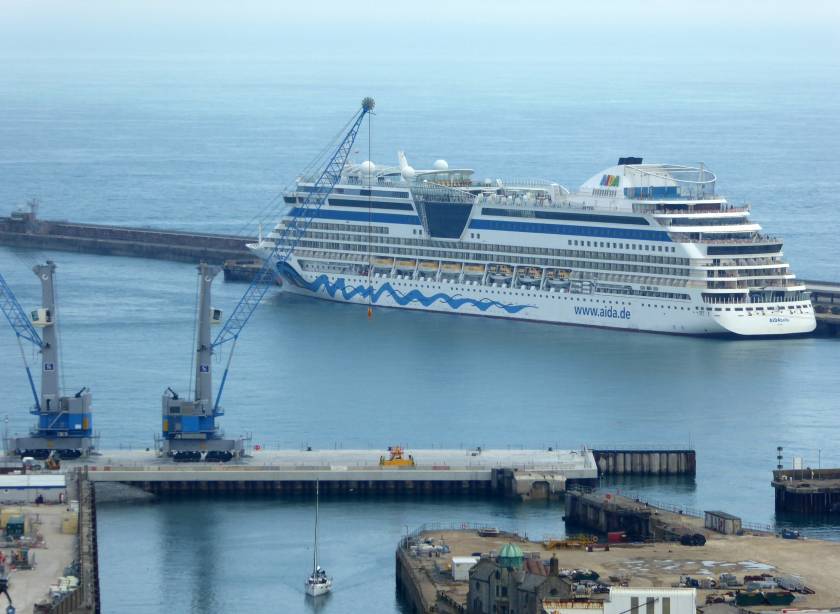 Friday, 24 May 2019 - 16:53
Post 6286
Sea News, Dover
Dover Lifeboat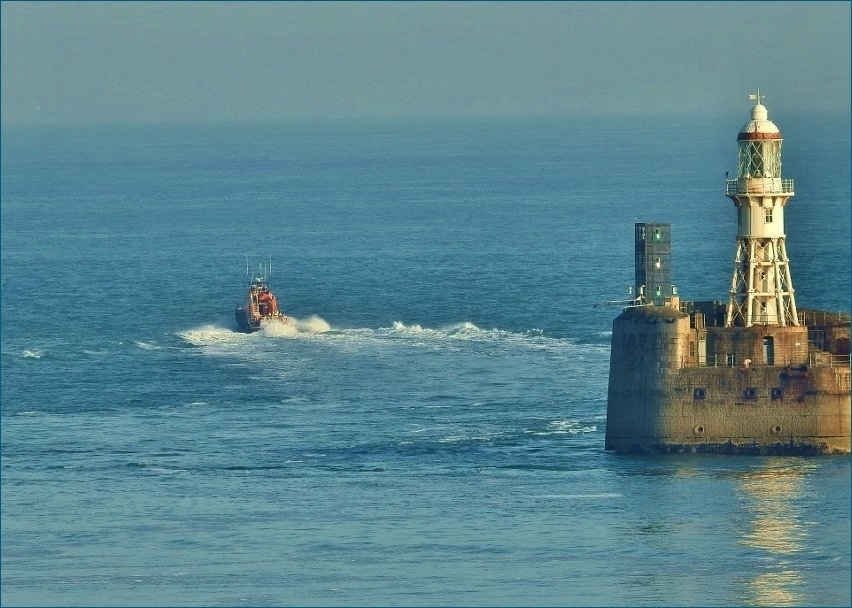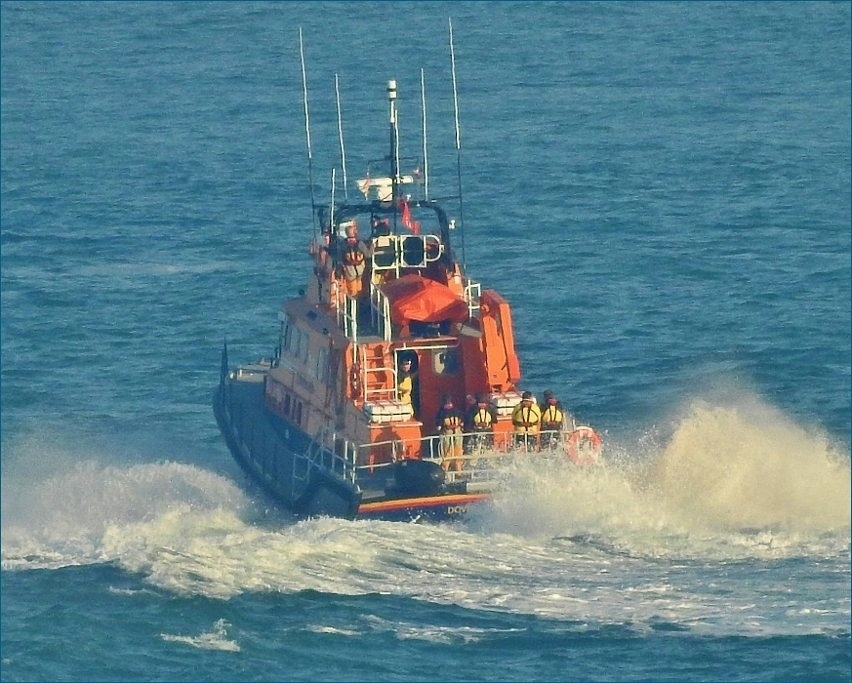 That's the Dover Lifeboat above there powering out into the Channel at some speed on Tuesday evening. They normally carry out training exercises on Tuesday evening, however this time it looked more of a serious 'shout'...but I don't know for sure. These are busy times in the Channel. Time of both pictures above 19:07.
An hour and a half later and we see the return..time of first following shot is 20:28 in the fast fading light. The light was a wee bit too poor for the long range camera but we were lucky and just about managed. Great to see the guys in action.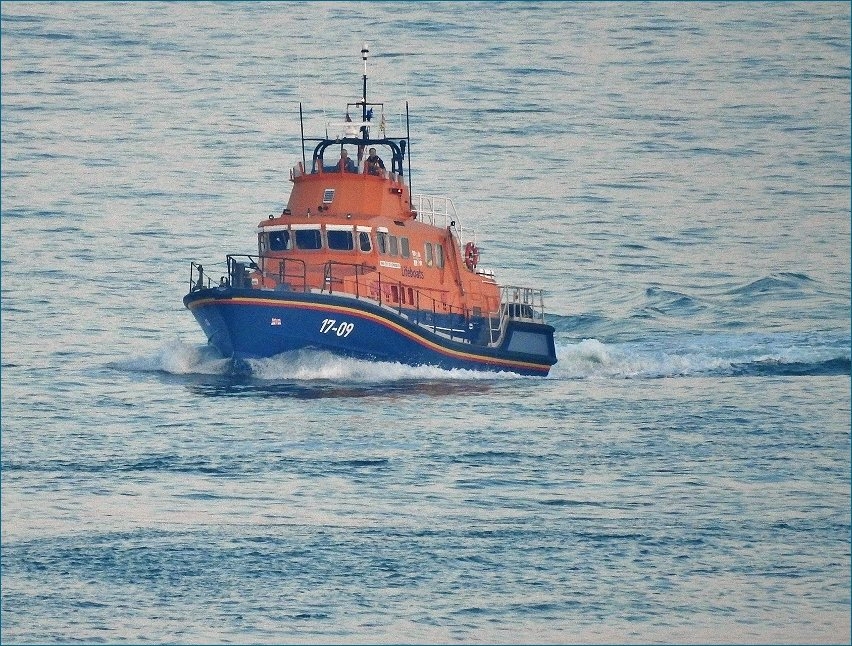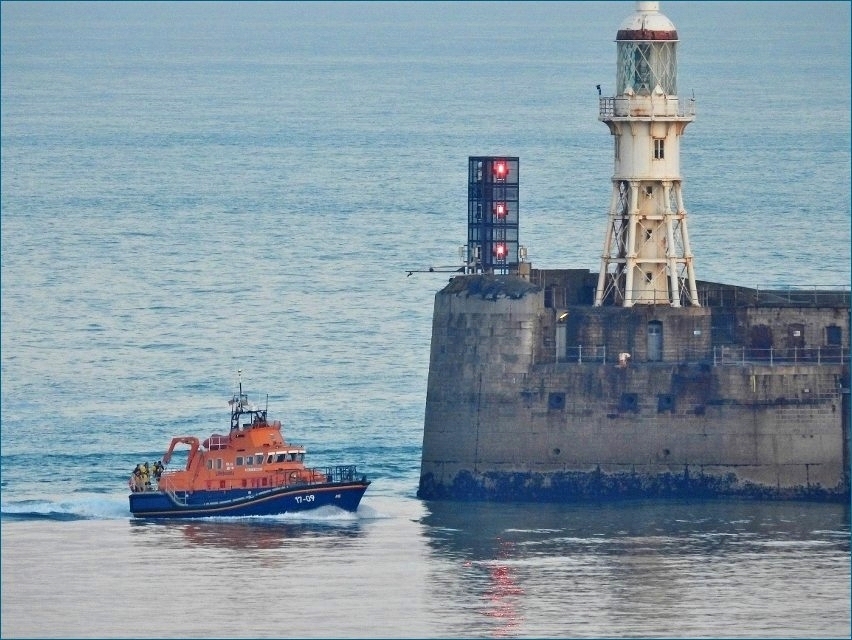 Unscheduled I will try and include these two Lifeboat shots from the past. Had forgotten these ones but have just re-discovered them...good action... and certainly worth another look. Ive gone a bit overload with the pix this time but hopefully it will all post okay.
These following two pix are from hi-summer 2016.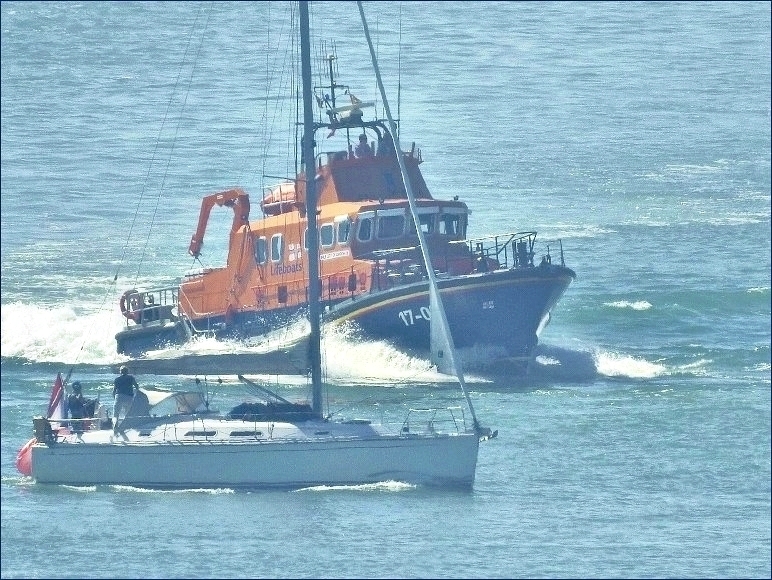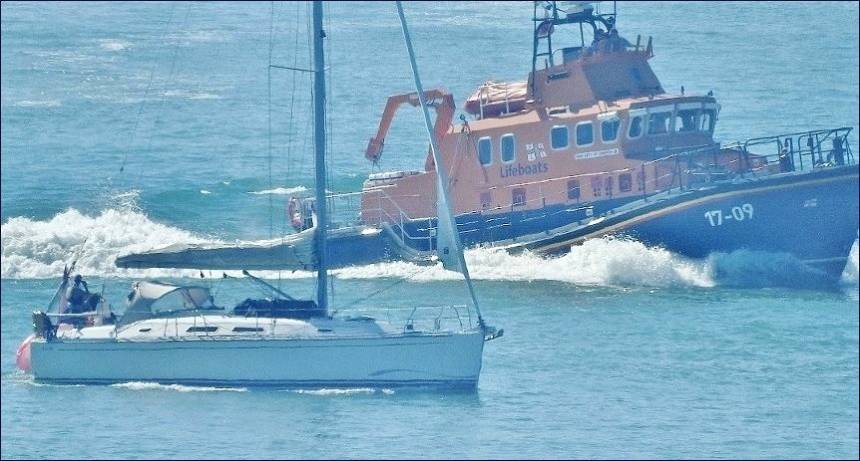 Border Force Hunter passes the power boat from the Patricia ...this following along from Mike's shot in his earlier post ( see post 6284 ). The second pic below here is a crop of the first one...just about works as its enlarged a bit too far! See Patricia herself in 6285.
These pix wed morning 09:40.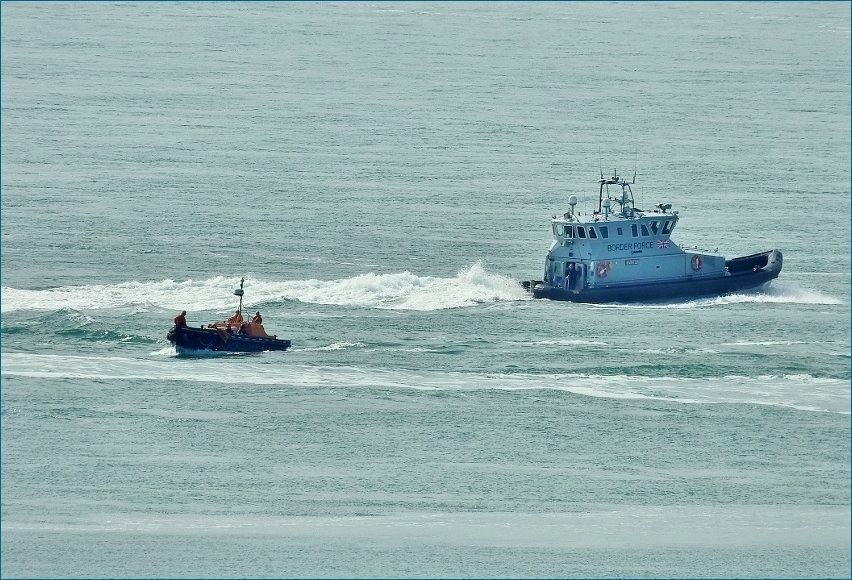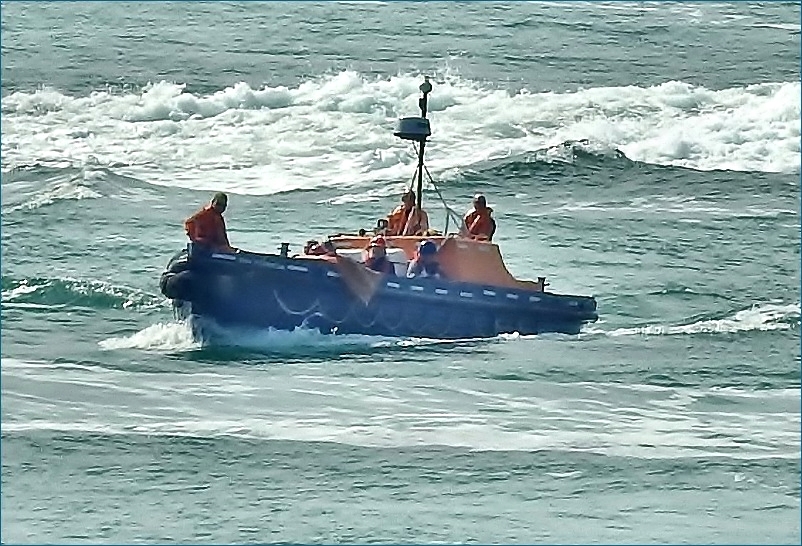 PaulB
ps: AIDAbella has come in behind me here...missed it...yikes

Friday, 24 May 2019 - 07:16
Post 6285
Sea News, Dover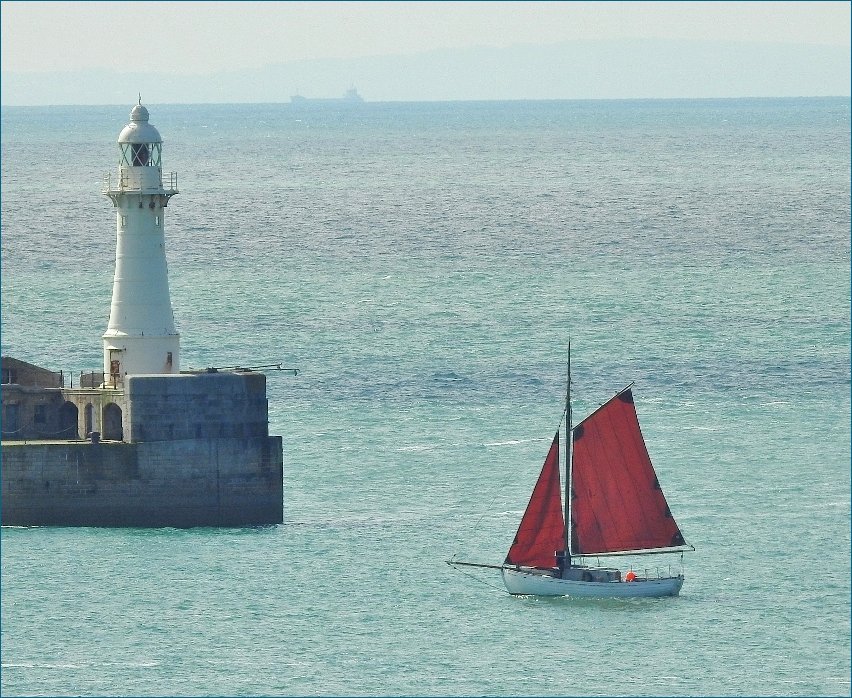 I have been asked to show a large version of the little sailboat picture at the top of page...well there we are, pictured in full 'chocolate box' mode.. as we used to refer to these things. And very nice too.... Dover on a beautiful morning.
Below we have a small shot of Morgenster passing a few days back, yours truly couldn't get a sharp picture, camera on the blink again ( always blame yer tools

) She was on her way to the delightful Cherbourg, because the pic is poor an extra shot of Morgenster from a previous time now added further below.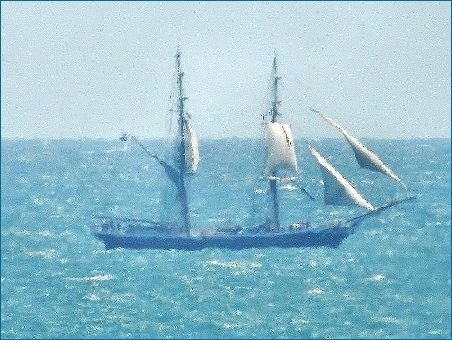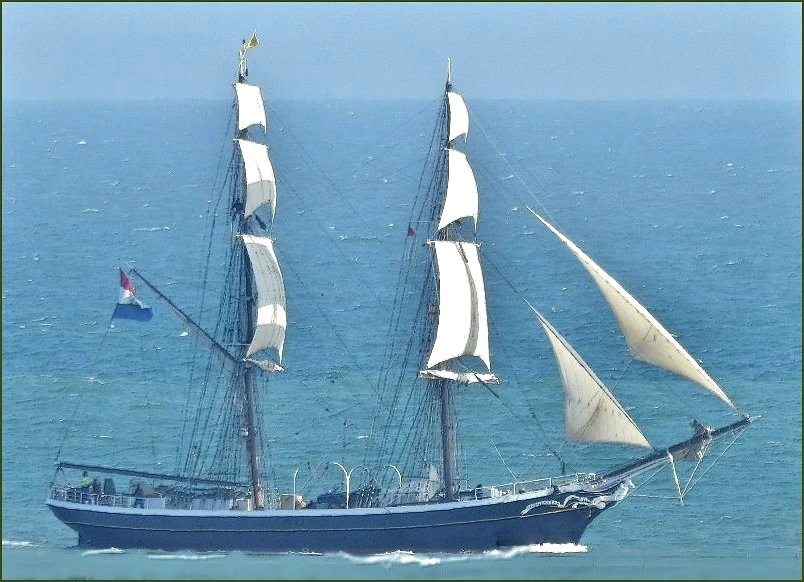 Mike mentions THV Patricia...here she be yesterday morning just off Samphire Hoe...looking across the western rooftops.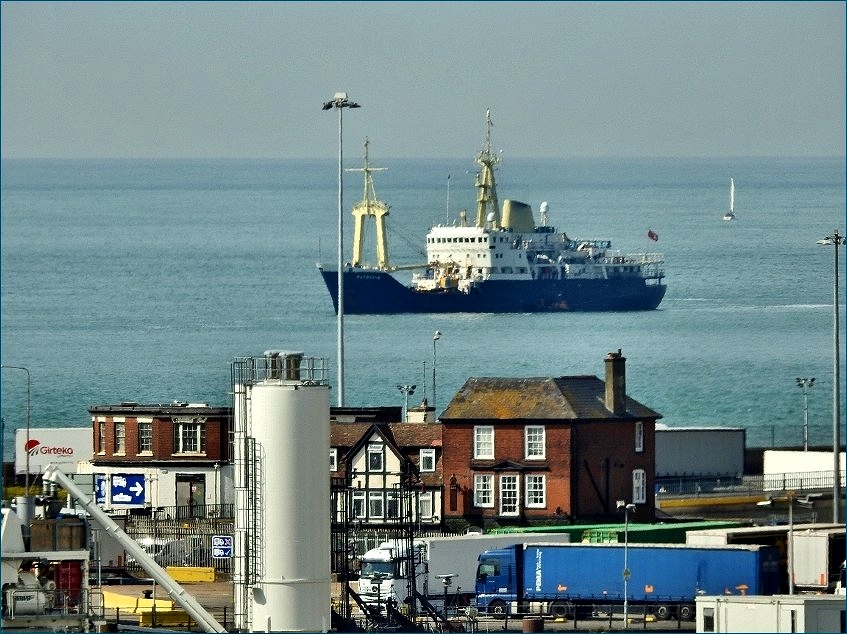 Enjoyable post below there from Mike. Excellent pictures - don't miss those.

Jan yes busy time of it these days for sure

Del yes an ungodly hour.. yours truly has been known to nod off occasionally, not that one would admit to it.


PaulB
Will have some Lifeboat pictures following along...from Tuesday evening... bear with...
Thursday, 23 May 2019 - 06:08
Post 6284
Mike J., Dover
STØDIG sailed for Dunkirk late-morning Wednesday.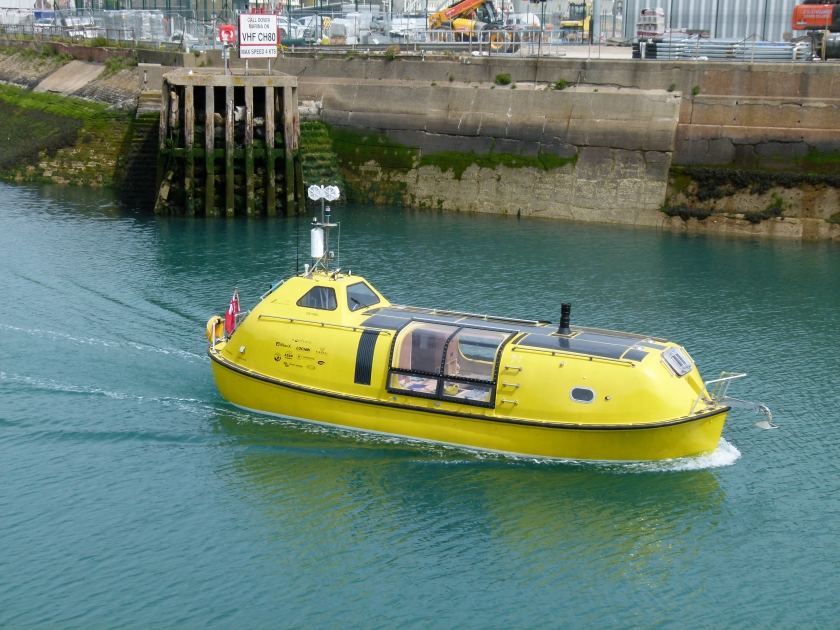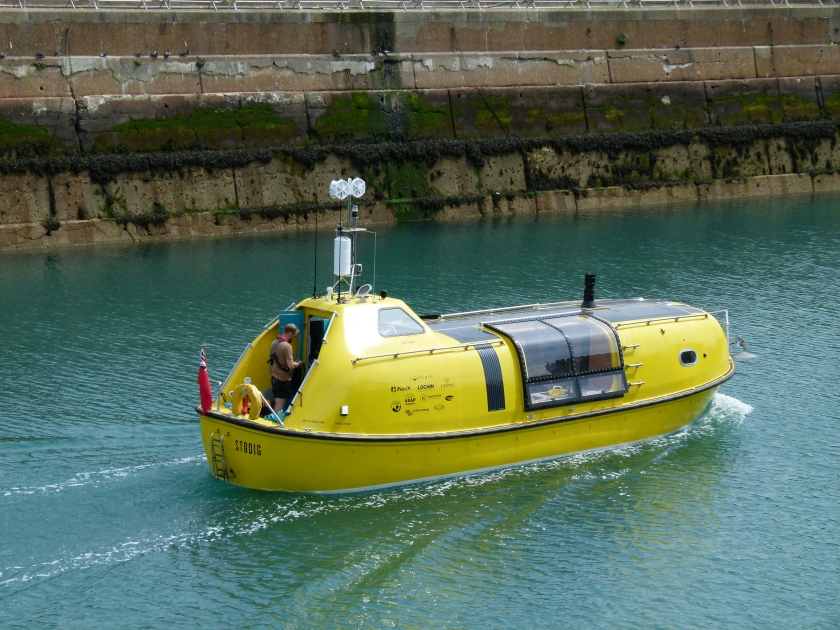 While I was waiting for her to sail an unusual visitor heading back out to sea passed by, one of the two tenders from THV PATRICIA [post 4122] who was lying off Samphire Hoe.
The tender had presumably called in for stores or a personnel change.
& to pick up the morning papers nae doot.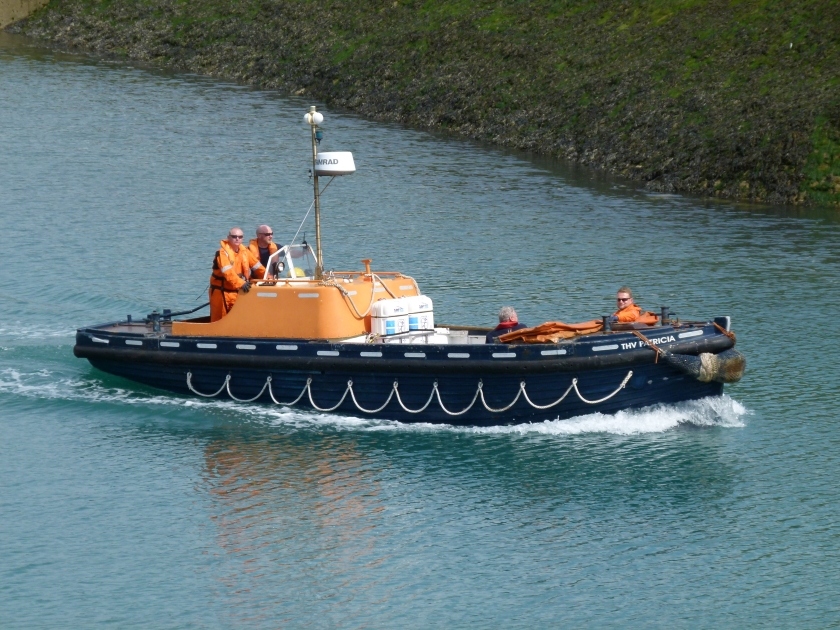 Wednesday morning blocked-up In the boatyard was the ALERT.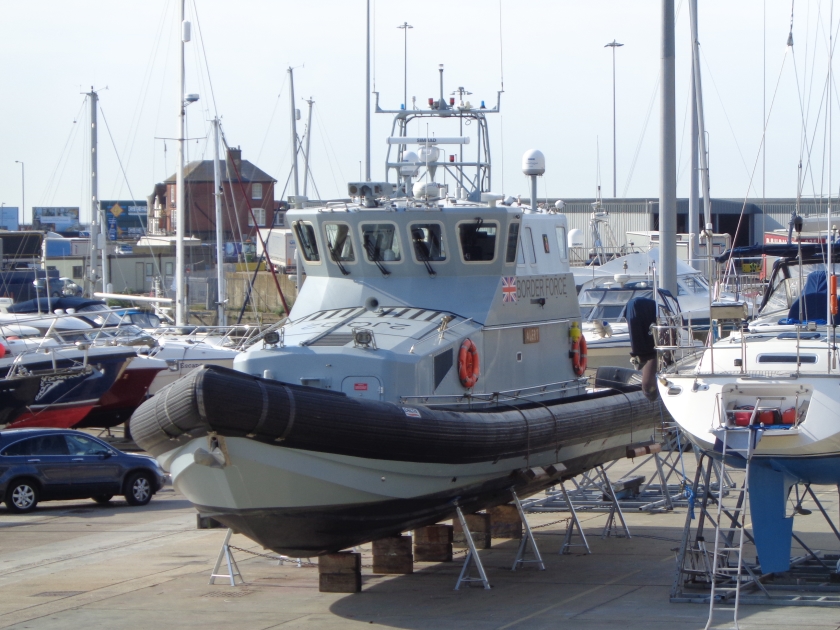 Thursday, 23 May 2019 - 01:10
Post 6283
JanT, Dover
Good set of pictures there from Mike J, see you've been busy with that camera, with the better weather coming up the seafront is getting more busy than ever..

Wednesday, 22 May 2019 - 14:47
Post 6282
Mike J., Dover
Hansa Shipping's KERTU sailed Tuesday afternoon for Rouen after delivery of the second of three consignments of biomass timber for Sandwich.
This was the second series of deliveries & the KERTU had brought in one cargo during the first series.
Preparing for sea with gantry crane lowering hatch covers into position.
Coming off the berth & preparing to swing.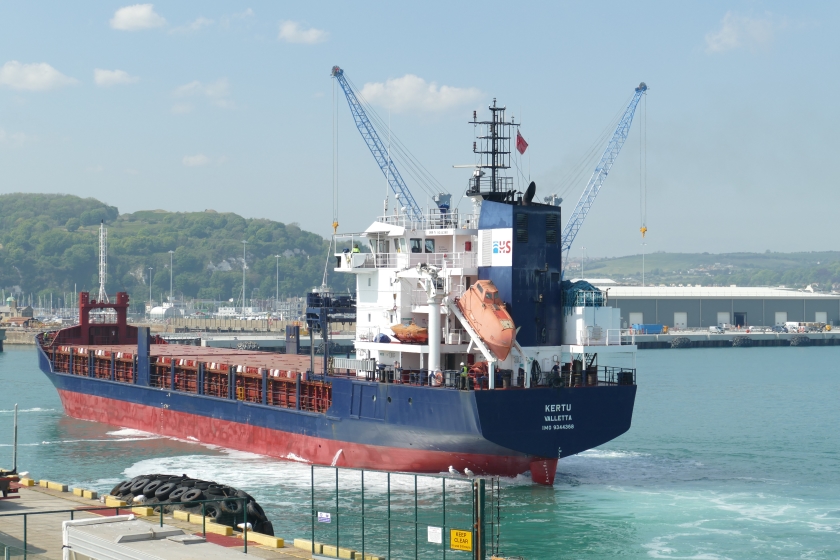 Swung & proceding out.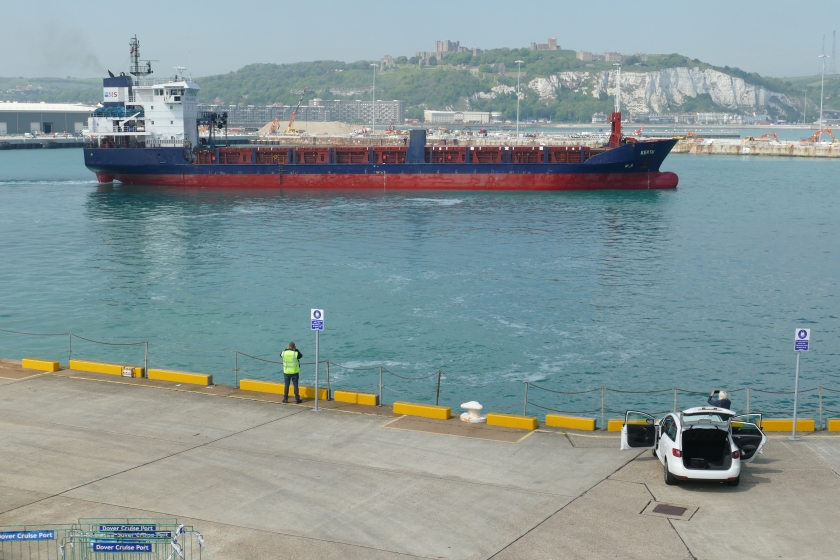 Just before she sailed there was the unusual sight of a yellow ships lifeboat entering by the Western Entrance & heading down to the Tidal Basin.
The STODIG [Norwegian for 'reliable' or 'Steady'] is a semi-enclosed lifeboat previously in service up in Bonnie Scautland on the Caledonian-MacBrayne ferry CLANSMAN.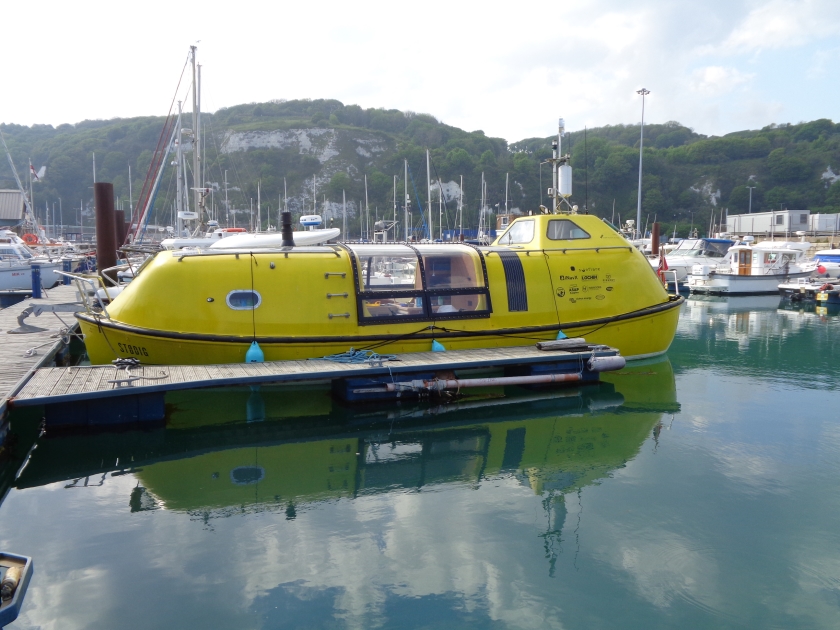 She was sold in 2017 to two young architects who have fitted her out as a motor yacht & is currently on the first stage of an ambitious voyage to Tromso in Norway, partly at sea & partly thru the European inland waterways system.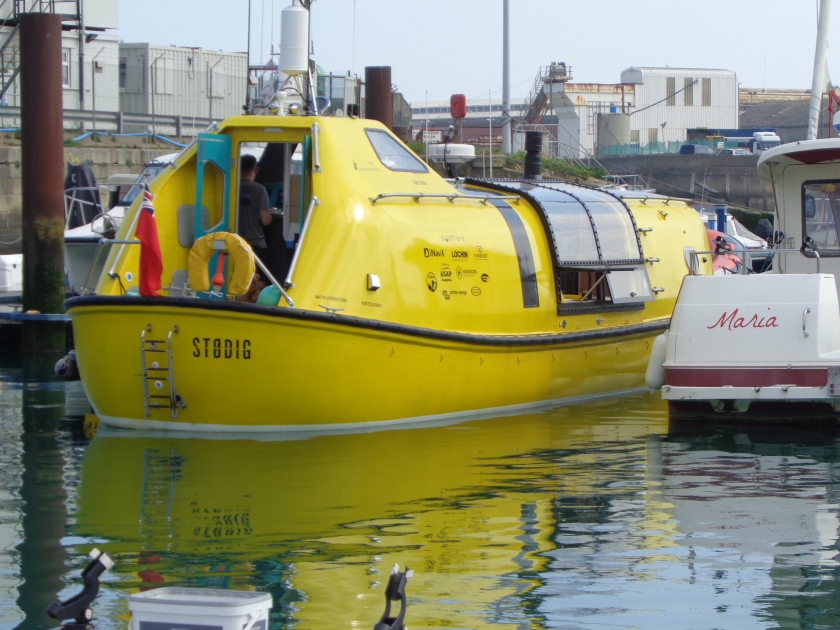 The STODIG had come up from Newhaven & had had an uncomfortable night anchored down near Dungeness & plan to set off on Wednesday for Dunkirk.
An impressive conversion has been carried out internally & the very basic interior of a 100-person lifeboat has been converted into a series of cabins & other accommodation, with all 'mod cons' installed & equipment & machinery upgraded.
At present she doesn't have an AIS transmitter.
A most unusual conversion although a similar houseboat conversion can be seen at Ramsgate.
Full details of the project & intended voyage can be found on their excellent website by googling 'ARCTIC LIFEBOAT'
I'm sure that we all wish Guylee & David [not forgetting ship's dog 'Shackleton'] all the very best & bon voyage on this most interesting trip.
Wednesday, 22 May 2019 - 00:58
Post 6281
Del Styan, Norwich
4.50am - ye gods, I hope you have a nap the afternoon!

Tuesday, 21 May 2019 - 23:04
Post 6280
Sea News, Dover
Pacific Princess wins Port of Dover award for environmental performance
____________________________________________________________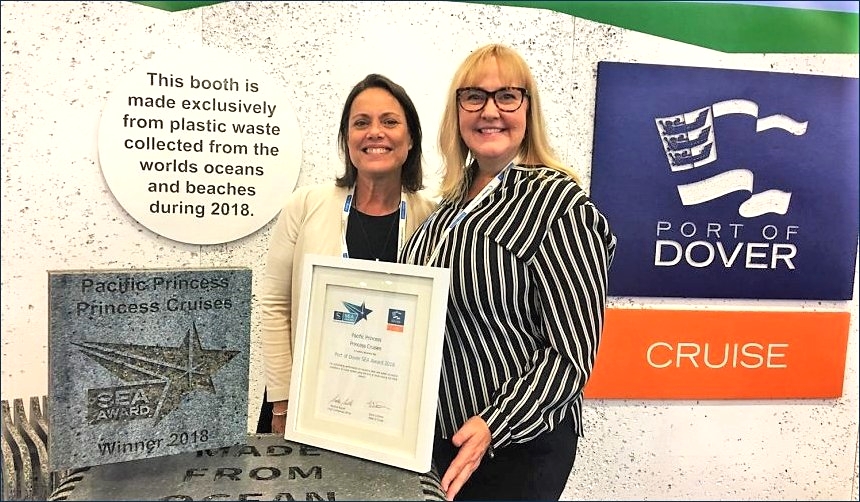 The Port of Dover is pleased to announce that Princess Cruises' Pacific Princess has won its Safety Environment Awareness SEA Award for 2018.
Presented to Princess Cruises at the recent Seatrade 2019 Global Cruise Conference in Miami, the award acknowledges the outstanding performance on recycling rates and waste procedure compliance of Pacific Princess when calling at Dover during the 2018 season.
This year's SEA award presentation was part of a bigger push by Dover to encourage cruise lines looking to minimise their impact on the environment whilst growing their business. The Port exhibited at Seatrade with a stand made entirely of waste plastic collected from the world's oceans and beaches during 2018 – the most sustainable stand ever to exhibit at the conference and fully accredited zero waste.
Sonia Limbrick, Head of Cruise at Dover Cruise Port, said: "I was delighted to present Princess Cruises with our SEA Award, which shows our joint commitment to driving the sustainability agenda within the industry.
"The award, now in its second year, also recognises and reflects the strengthening partnership between the Port and our wider cruise line partners, shipping agents and waste handlers in working to improve environmental performance."
The Port looks forward to welcoming back Pacific Princess and Princess Cruises during the 2019 cruise season.
ENDS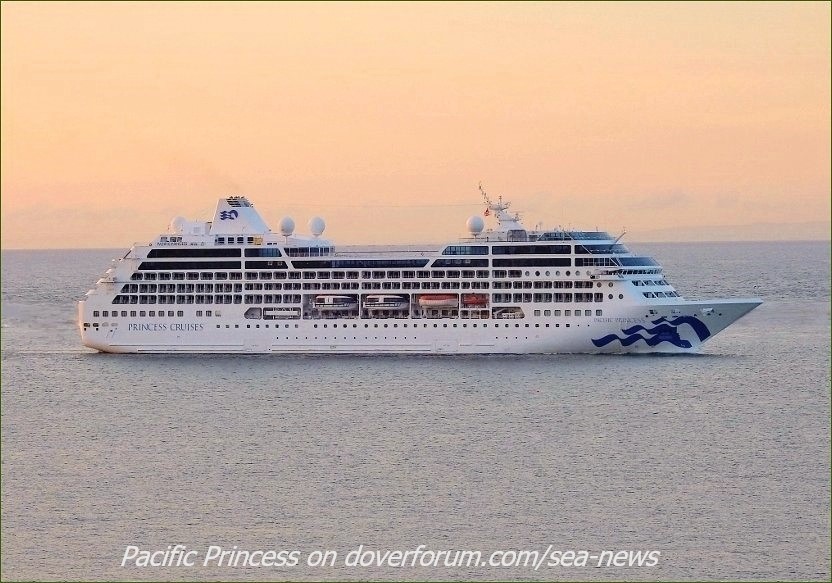 Thanks to the Port for the info. Any move that reduces plastic in the oceans has got to be good.

* *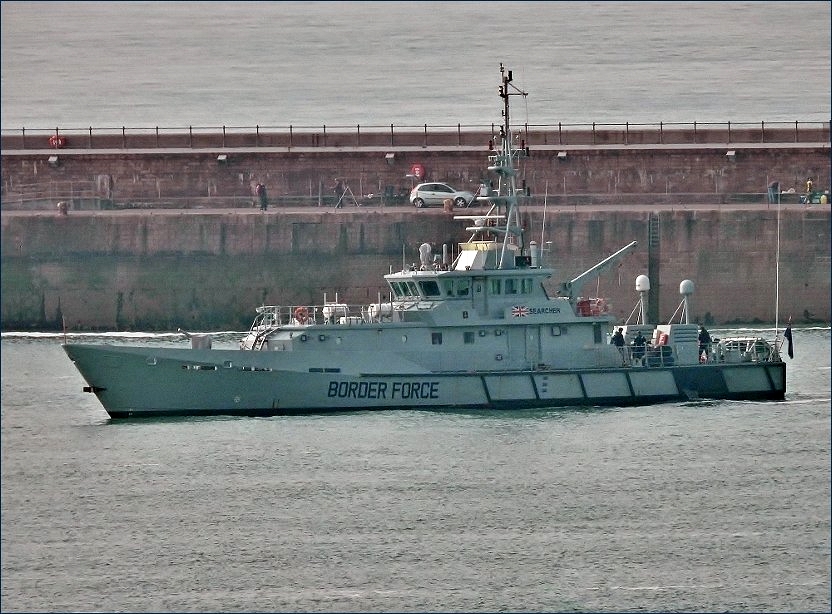 A picture of Border Force Searcher above there taken at the weekend in the harbour. They were probably/presumably taking a short break while they regroup in the midst of yet more migrant crossings at the weekend. It was and is hugely busy out there. 52 people including children made the crossings in four boats all of course at different times..that's as as we understand it. There were other Border Force vessels also out there on patrol. We can be glad that nobody has lost their life making the crossing...so far.
A pic below from yesterday morning..super early..ie 4.50am and a sleepy eyed yours truly just caught the tail end of the departure procedure of Emerald. Several shots were attempted, all blurred, apart from the one below which was just about passable in the early dark gloom. The ship was setting off for Vlissingen in the Netherlands.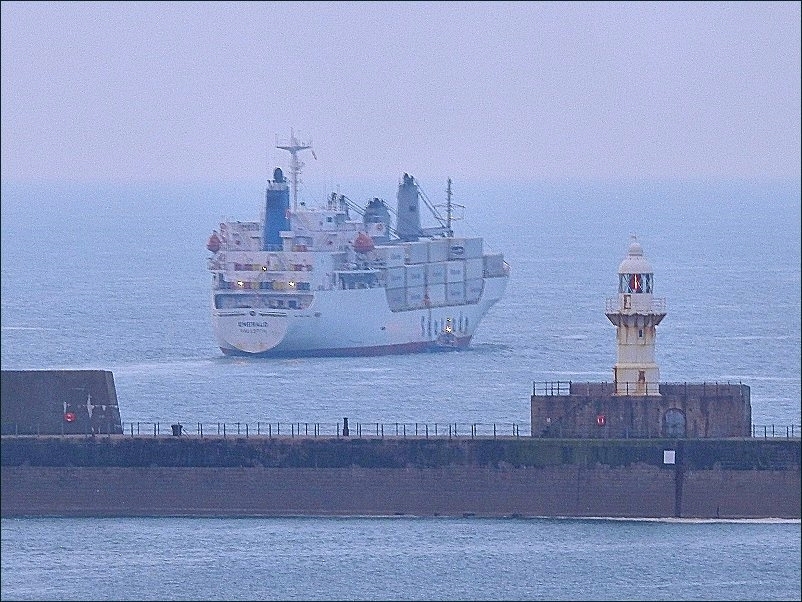 The picture below shows Emerald better...from a previous time..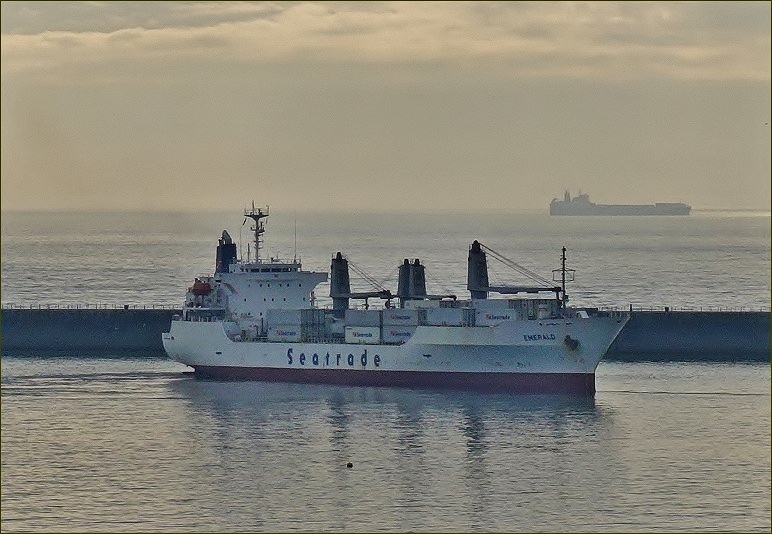 PaulB

Very interesting post below from Mike so don't miss that one...enjoyable pictures and info there

Tuesday, 21 May 2019 - 06:03
Post 6279
Mike J., Dover
After Paul's flurry of elegant cruise ships, another ship much less elegant & considerably older.
Paul & Sarah have from time to time put up photos of the former U.S Rhine patrol boat P-22 [posts 4534/4762] built in Germany just after WW2 that now lives at Sandwich but ventures out from time to time.
A few miles away , further down the Stour & moored in the Stonar Cut, Richborough is another wartime veteran, this time built during WW1, the former sand & gravel dredger SPITHEAD enjoying retirement as a houseboat after an interesting career.
Designed by shipbuilders Pollocks of Faversham & built by yards around the UK no less than 200 'X-Lighters' [nicknamed 'Black Beetles'] were built during WW1 & were intended as harbour vessels & landing craft, most notably at Gallipoli, although it's not known whether the SPITHEAD served in Turkey.
Initially known as X44 she was built in Sunderland in 1915 & disposed of by the Navy in 1921 becoming a gravel dredger until she was requisitioned by the Navy during WW2 which she spent working up in Scapa Flow.
After the war she returned to dredging as well as working as a salvage vessel until the 1970s & has been a houseboat at Stonar Cut for at least 30 years & was being worked-on when photographed last July.
You can see her 'spoon' bow which enabled her to run aground easily when necessary, such as when landing troops, usually from ladders on each side of the bow.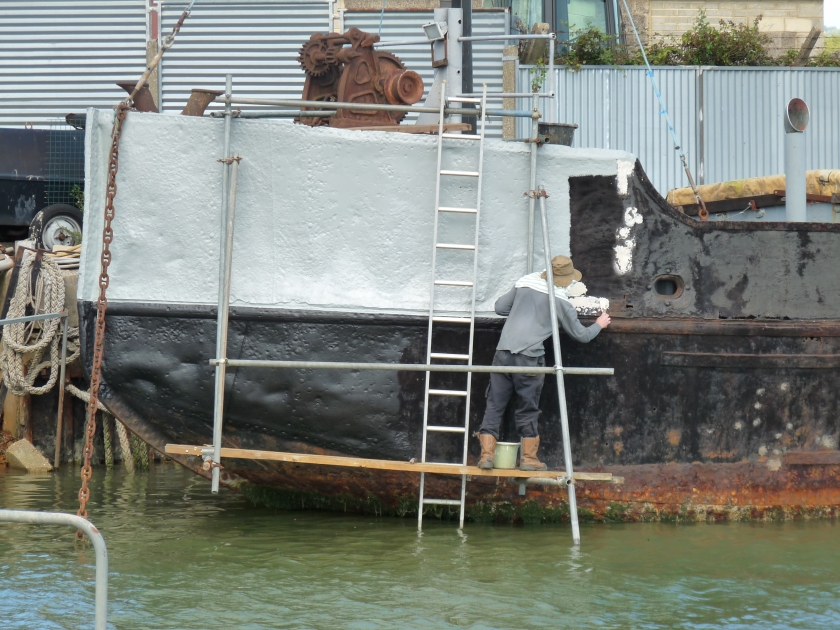 Interestingly, almost alongside SPITHEAD & partly visible at low water is a former German coastal patrol launch that sank at her moorings & was abandoned, to be largely swallowed by the mud, but that's another story . . . . .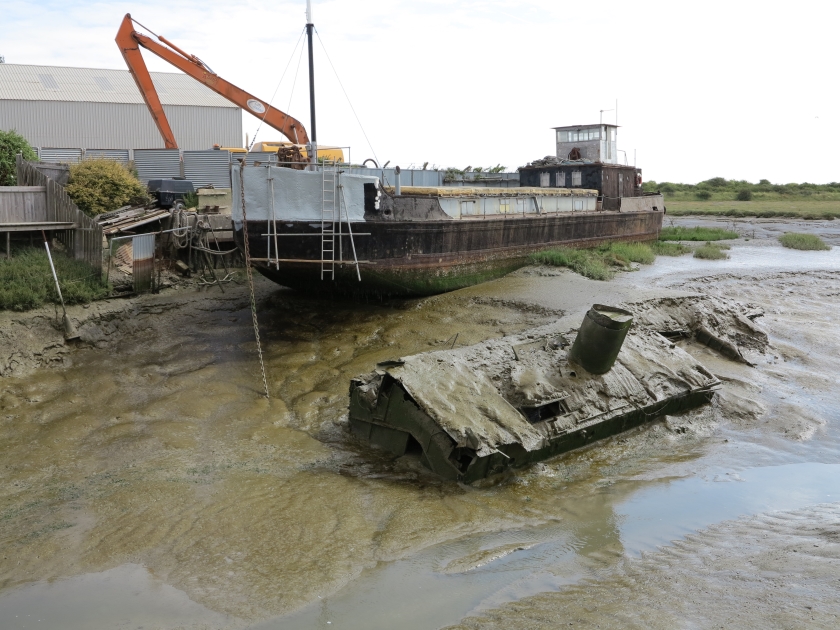 Tuesday, 21 May 2019 - 01:01
Post 6278
Sea News, Dover
General Recent Cruise Round-Up Port of Dover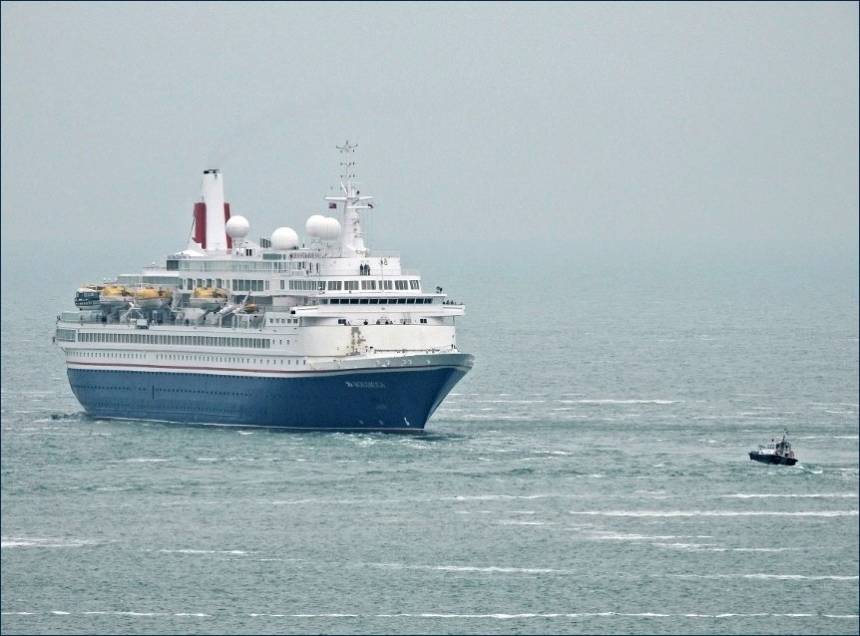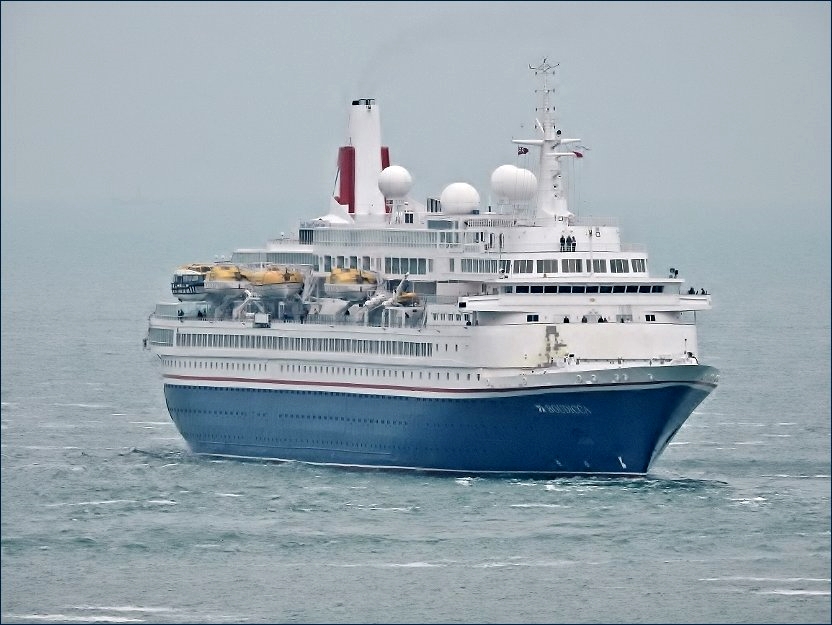 Hark back now to Friday evening and we see the elegant Boudicca moving astern through the eastern exit in grey murky ol' conditions.. it wasn't a cheery evening and chilly too, but those three guys above the bridge there are hellbent on enjoying it all...and quite right toooo..
Soon after Boudicca left the harbour Seabourn Quest followed her out....as you can see in the pix below. The glamourous ship looking good indeed. Seabourn was highlighting Iceland on her trip and Boudicca was heading to Monte Carlo for the Grand Prix...well its fab down there...yours truly can vouch for that!

The small working boat in the foreground of pic below is Pampero.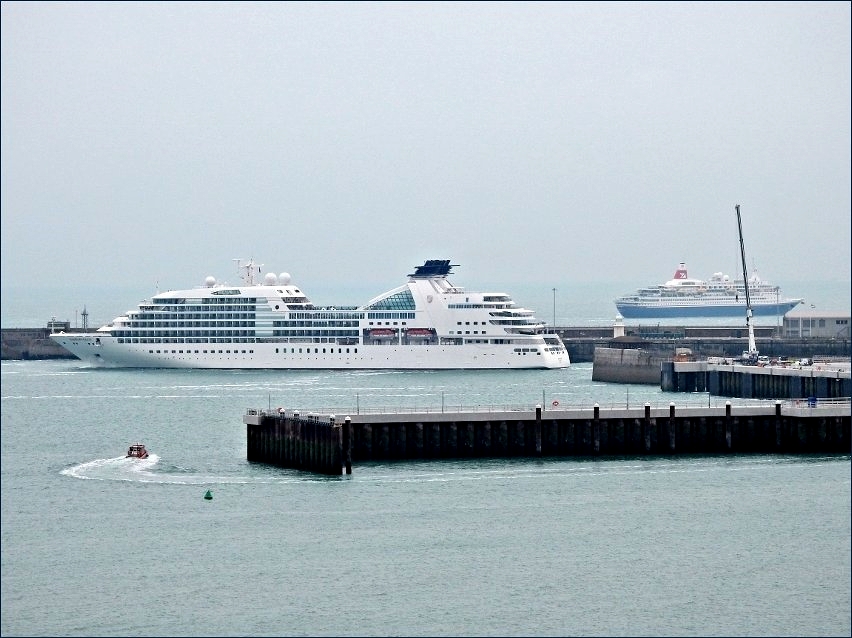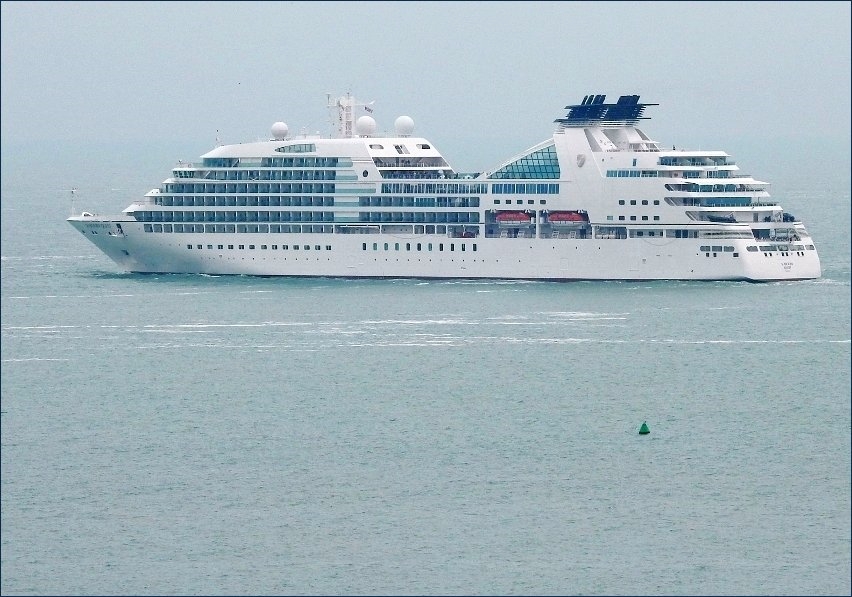 Seabourn Quest
Recently we had visits from AIDAaura and Viking Sun. Well here we have included an extra two pictures of the super Viking Sun to top up our previous shots...the final pic is from a former visit ...but who can resist.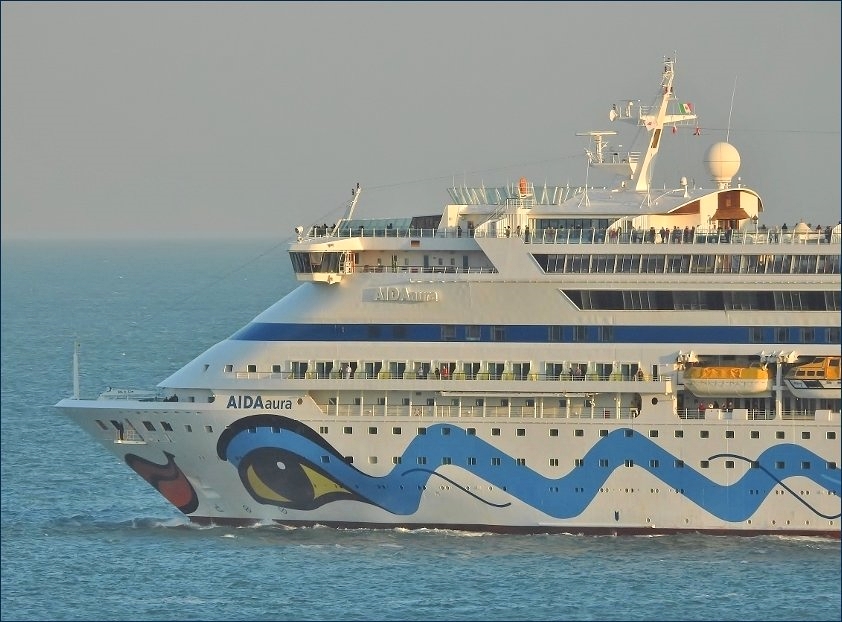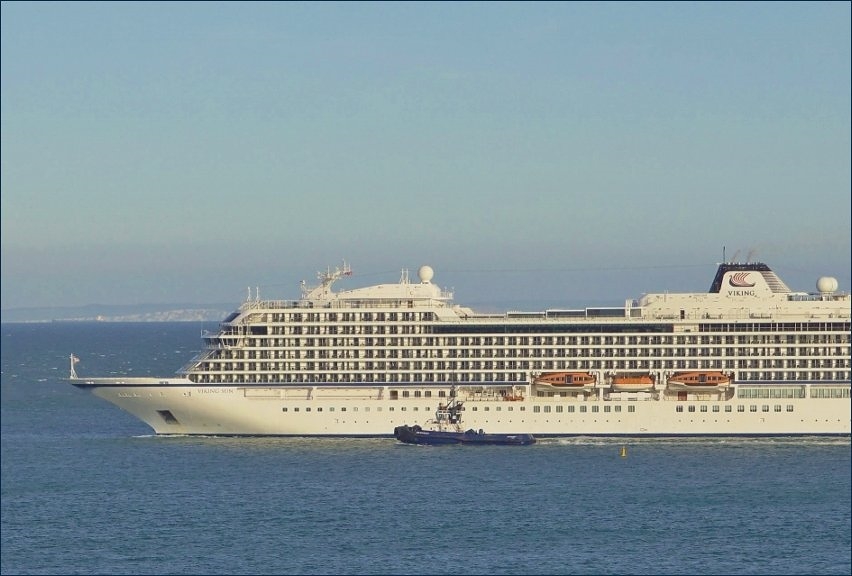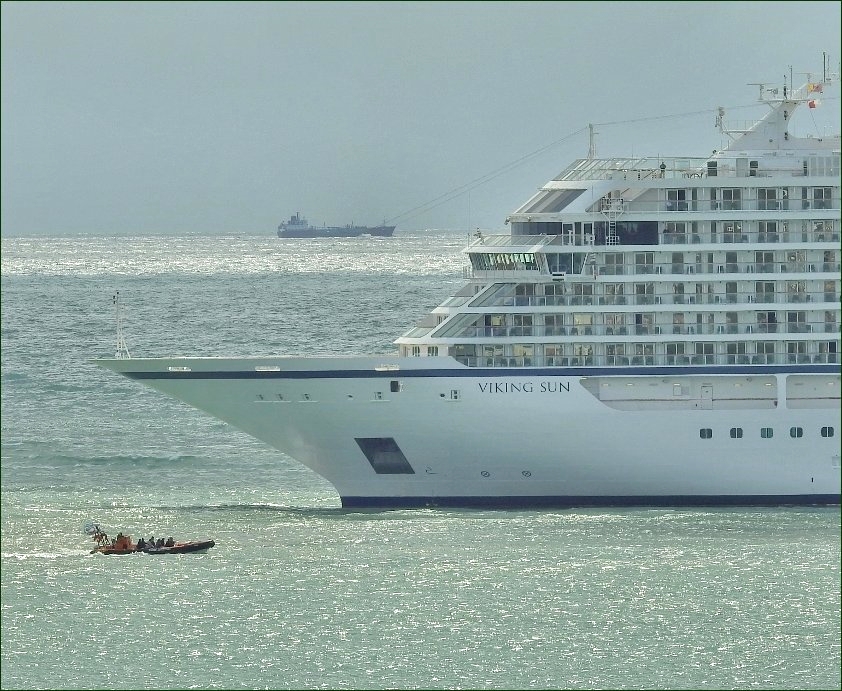 Viking Sun
Quite a collection of impressive ships. Well done the Port of Dover

Thanks Jan...yes the moon looking good..

PaulB
Monday, 20 May 2019 - 06:32
Post 6277
JanT, Dover
Wow love the moon picture's always fascinating looks so close but always so far away.
Lots of great pictures over the past week.

Sunday, 19 May 2019 - 11:47
Post 6276
Sea News, Dover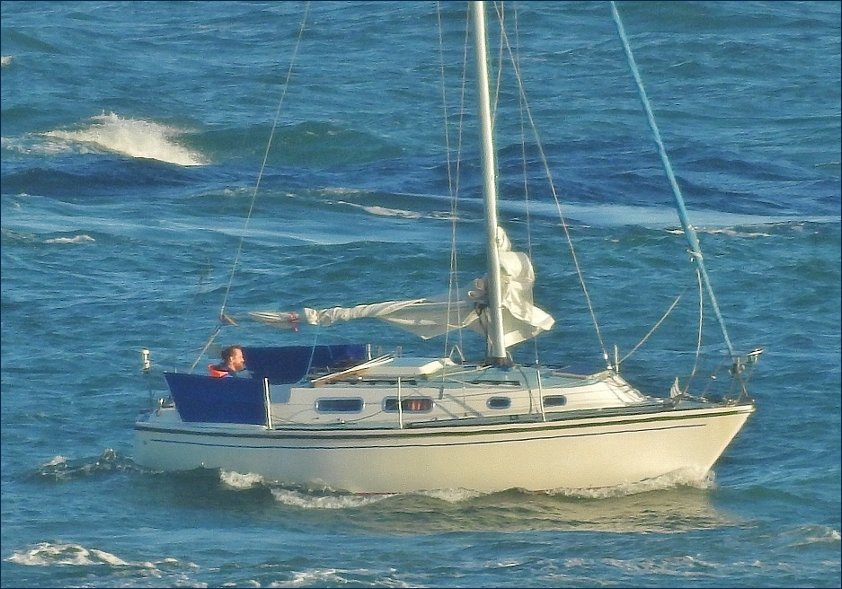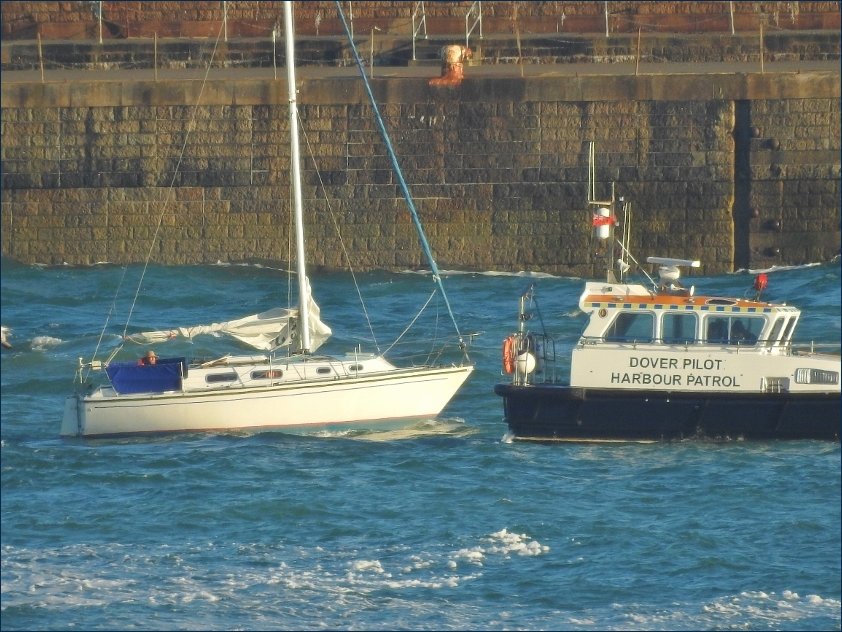 A few evenings ago in the stiff whipping breeze this small yacht above appeared to be struggling a wee bit just outside the harbour and was lent assistance/guidance by the Harbour Patrol Pilot Boat which escorted the yacht safely to harbour...
all the while this big moon gazed down on us all from just above. The evening was still bright, around 7pm ...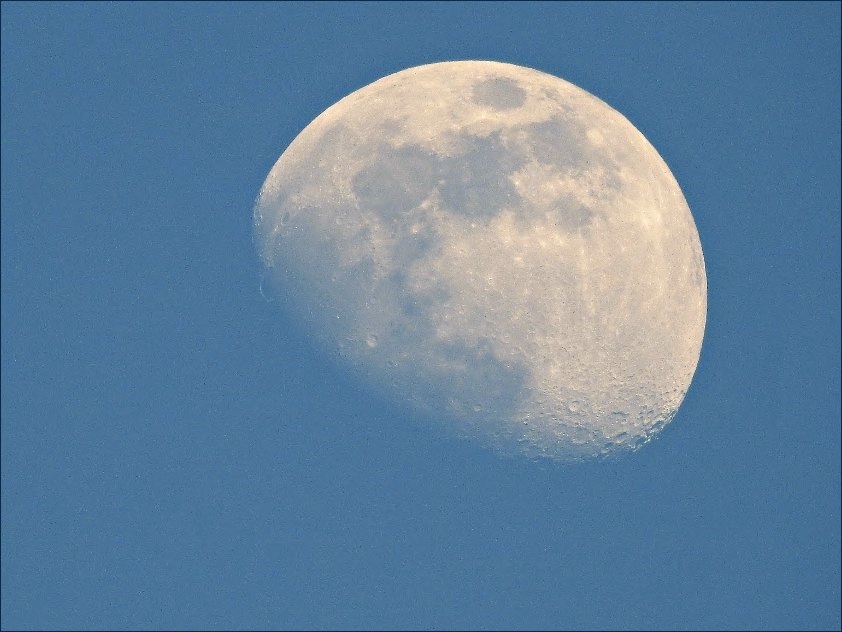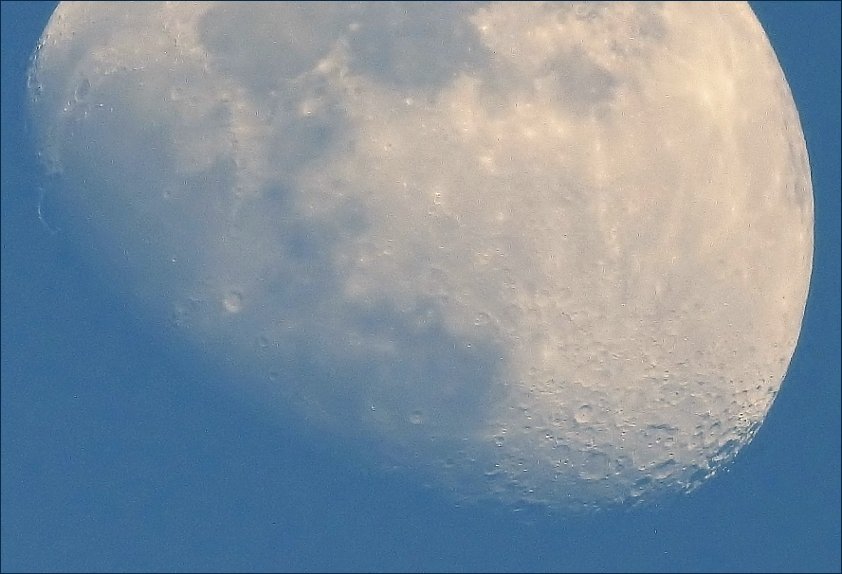 Blue Moon
Will have some round-up departure pictures of Seabourn Quest and Boudicca to follow along next with some extra cruise shots as well.
PaulB
Sunday, 19 May 2019 - 05:58