Friday, 18 January 2019

WWW.DOVERFORUM.COM/SEA-NEWS
Featuring all the ships that come and go and work at the Port of Dover with further coverage of the surrounding ports both sides of the Channel. Click ADD YOUR COMMENT below to post direct, no membership needed.
Listing highlights....
Scroll down or use our Search Engine for posts and pictures of Border Force in Dover and Ramsgate.
BREXIT READY statement from Port of Dover/DFDS/P&O Ferries see 6021.
P&O Spirit of Britain - notable Cyprus reflagging see 6017.
Deal Pier Kitchen restaurant opens 6016.
Charlie Elphicke MP - making our borders stronger, safer 6014.
BORDER FORCE SEARCHER and migrant boat.. see 5969 below..

Port of Dover supports Women in Maritime 5975.
Christmas Lifeboats in Ramsgate see 5937.
P&O: Britain's Favourite see 5922.
DFDS: Voted Worlds Leading Ferry Operator...see 5918..
Charlie Elphicke MP: Migrant Crisis 5894.
P&O: Santa Onboard see 5870.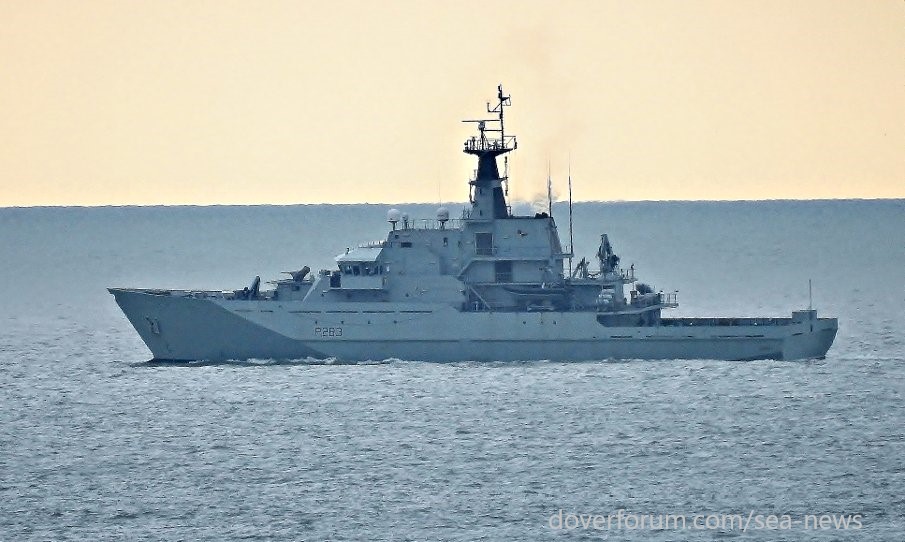 The Royal Navy - HMS Mersey off Dover.

Highlights continue...
Wreck of the Anneliese 5880, 5881, 5882 ...
Port: Additional Funding for Kent Wildlife Trust 5879.
P&O: Apprentices welcome RB Legion veterans 5853.
Eight new apprentices graduate see 5845.
DFDS: 'SEE PORTS' Calais and Dunkerque 5834.
DFDS: Revitalising dining concepts onboard.. see 5831.
P&O: Schoolchildren mark WW1 see 5816.
Lower Thames Crossing boost..5812. see now also 5817.
Dover Museum's revitalisation see 5807.

Port of Dover: Refrigerated Cargo Terminal .. software for 5801. Latest NATO also 5801.
Port of Dover: Great increase in summer traffic 5795.
Russian and shadow 5785.
The Waverley paddle steamer latest 5778...
New SAGA Ship launching in Dover see 5776.
DOUG BANNISTER: New Chief Executive Port of Dover see below 5734....
Merchant Navy Ceremonial images also 5734.
P&O: To Rome on Horseback 5759.
Dover Regatta Rescue incident plus .. see 5713.
Dover Regatta pictures Lifeboat etc..5716, 5717, 5718, 5720.

DFDS Expansion: More New Ferries on order... see 5693 see also 5500 and 5381.
Excellent Tourist season for P&O Ferries see 5649.
VSBW Port of Dover - Women at Work 5638.
P&O Second Female captain see 5107. Also see latest 5570.



NEW:

For instant access to any item listed above - just type the post number in the Search Engine below.

Sea News Dover : Use our SEARCH ENGINE below to find all sorts on the SEA NEWS pages....
type in the topic and away you go, more than - 6000 - nautical posts now.
Posts are welcome. Max of 5 pictures preferred although we can stretch that for special stories..
Sea News Editor Paul Boland - send info or pix to dover7@msn.com. Always welcome.
All pictures on these pages are the copyright of the owners and must not be reproduced without permission.
To show your pictures at their best..it could be worthwhile resizing before posting to
840
pixels wide.
Post 5846
Sea News, Dover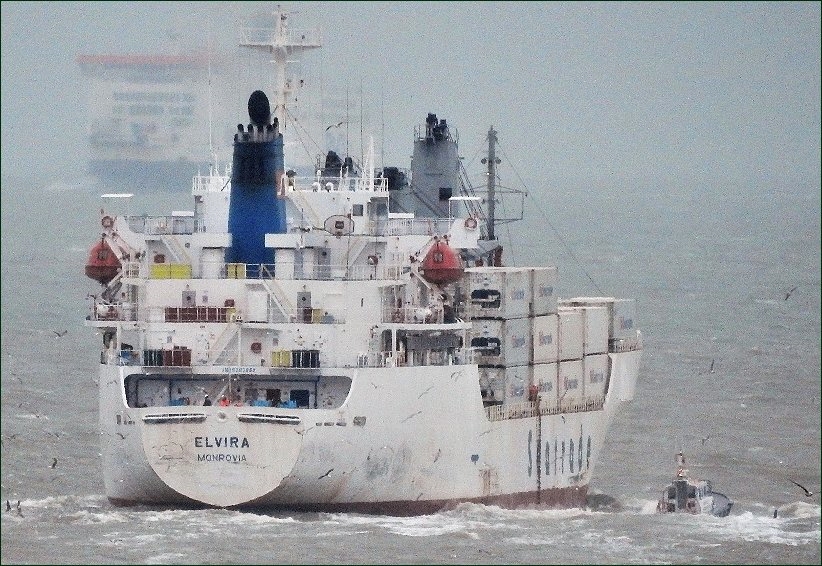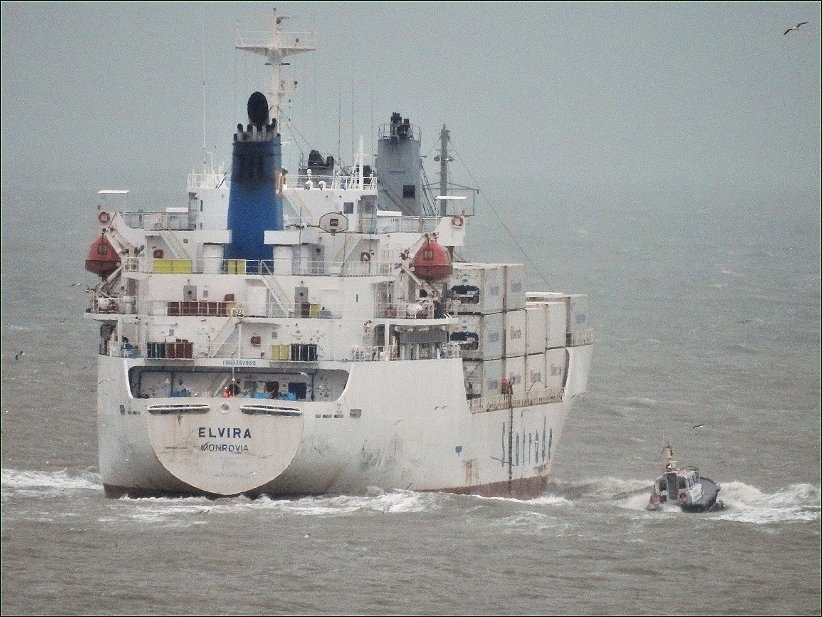 Long range pictures above there from a few days ago, the 30th of October around midday to be more accurate, and they show Elvira heading off in rough and murky conditions. You can see the pilot boat alongside in the choppy gloom. Tough job that.. piloting ! Elvira was on her way to Hamburg.
A day earlier and below we see a well loaded Nederland Reefer across the rooftops as it were, this time at the Cargo Terminal. It shows how busy the Cargo Terminal gets and of course there are other vessels coming and going too, its not always possible to get images everytime. We will try though. There is yet another reefer ship in today...Polarlight. Busy busy...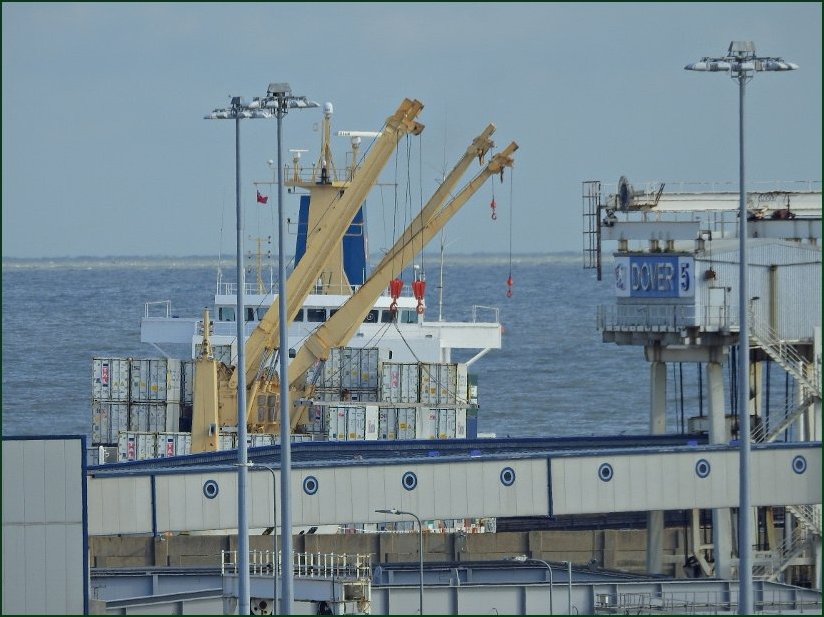 The picture below is from a previous time and obviously gives a better overall view of the Nederland Reefer.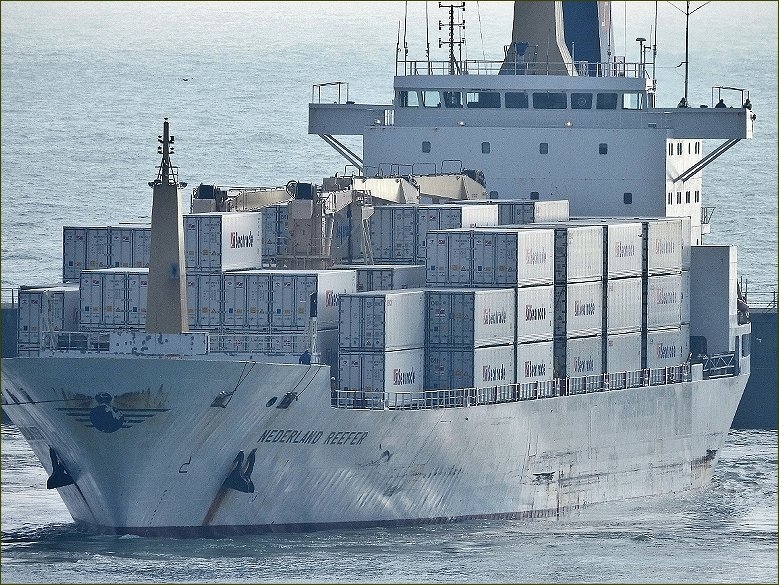 PaulB
Thursday, 1 November 2018 - 06:03
Post 5845
Sea News, Dover
P&O Ferries Special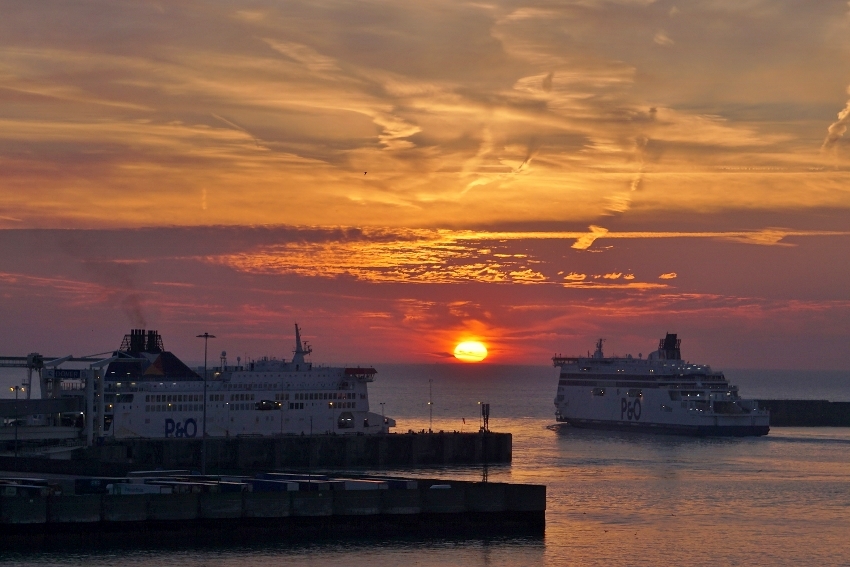 The early P&O Ferries at work above on a gorgeous recent morn...ahhh.. life on the ocean waves..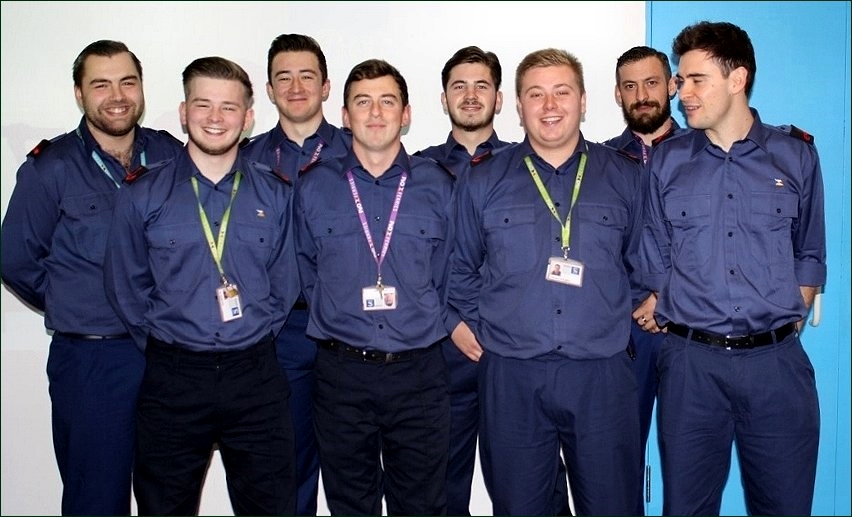 Eight young lads graduate....
EIGHT KENT YOUNG MEN GRADUATE FROM P&O FERRIES APPRENTICESHIPS SCHEME
___________________________________________________________________________
EIGHT young people from Kent are celebrating this week after graduating as qualified seafarers from the P&O Ferries apprenticeships scheme.
The group (pictured) were presented with their SQA Level 2 diplomas in maritime studies, accredited by the Merchant Navy Training Board, meaning that they are now legally able to work on board P&O Ferries' 47,000 ton ships on the English Channel.
Their two year course combined time spent working at sea with three one-month periods of study at the National Maritime Training Centre at North Kent College in Gravesend, culminating in exams last summer. Four of the eight will be employed as deck ratings, with tasks such as assisting on the ship's bridge, vessel loading and unloading, and mooring operations; the other four will be engine room ratings, tasked with taking on fuel bunkers, engine room watchkeeping and oil checks.
Captain Volker Heil, P&O Ferries' Head of Fleet Operations who spent 17 years at sea, told the graduates: "You have a great future if you want to work at progressing on the qualification you have now achieved. I wish you all the very, very best for your career."
Mark Burgess, Training and Development Manager at the Merchant Navy Training Board, said: "The Merchant Navy Training Board works to promote and enhance the training of UK seafarers in order to improve their prospects both here and abroad. This P&O Ferries programme can be picked out as a good one, bringing out the best in people."
Jai Howard, one of the graduates, added: "I am surprised how much it is like a family on board. The best bits were my mentors and bosses. I would definitely recommend it to people, it's a great job."
P&O Ferries has been running the scheme for four years with 16 of the apprentices graduating into full time employment. Applications for the next apprenticeships scheme open next summer - to register for job alerts visit poferries.com/careers.
ENDS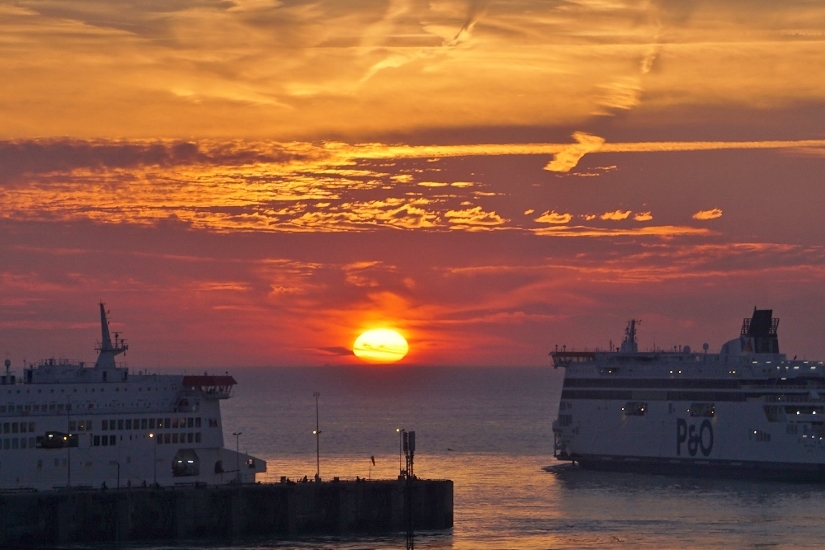 A different day...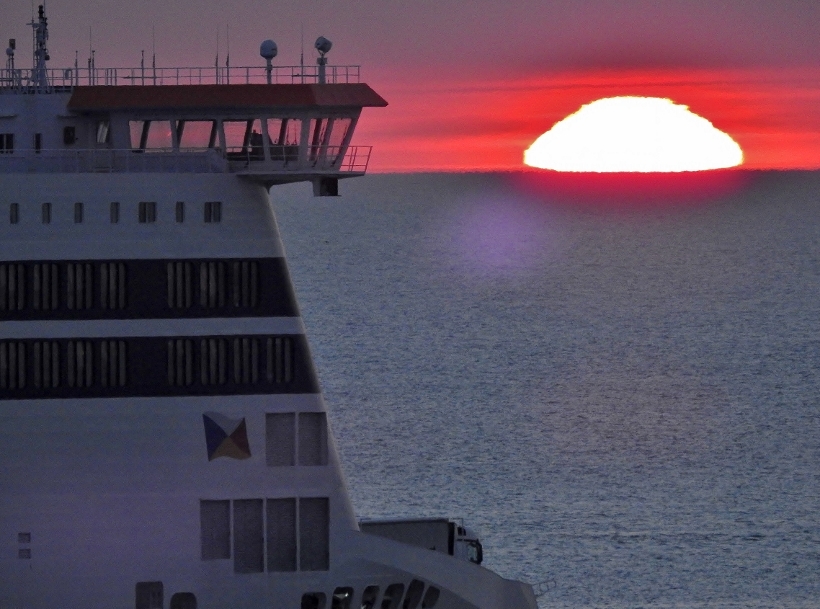 Many thanks once again to the team at P&O Ferries for the latest information above.

PaulB
Wednesday, 31 October 2018 - 06:11
Post 5844
brian dixon, dover

ah thanks paul,it was lurking in the works area, it looked a lot bigger than that one..

ps, I've been on that one pictured very nice it was to.

Tuesday, 30 October 2018 - 13:10
Post 5843
Sea News, Dover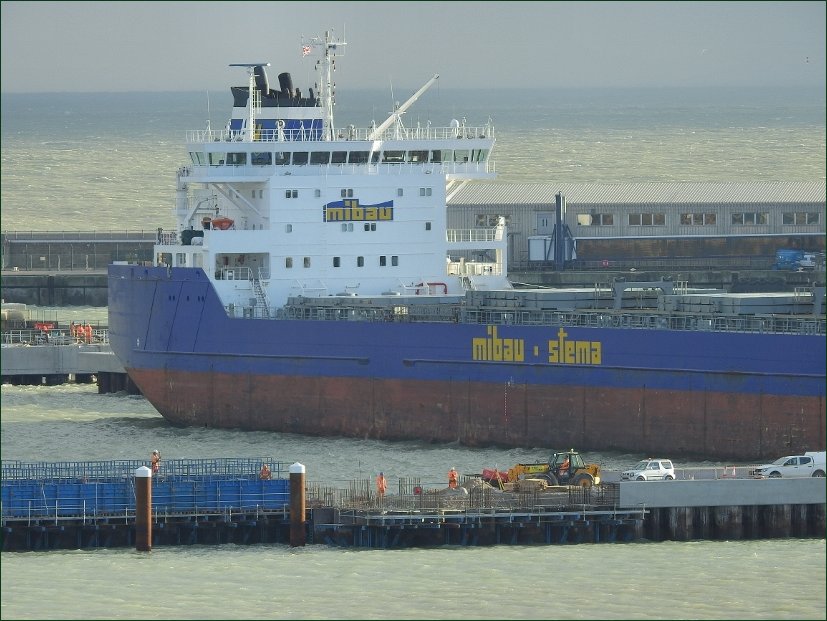 Following along from Mike's pictures in the post below 5842, a few extra ones now of Bulknes offloading yesterday. The shot above and the one immediately below were taken late afternoon...4.20PM...that's late in the day now with the clocks just having gone back. She was still pumping away even at that time having arrived the night before.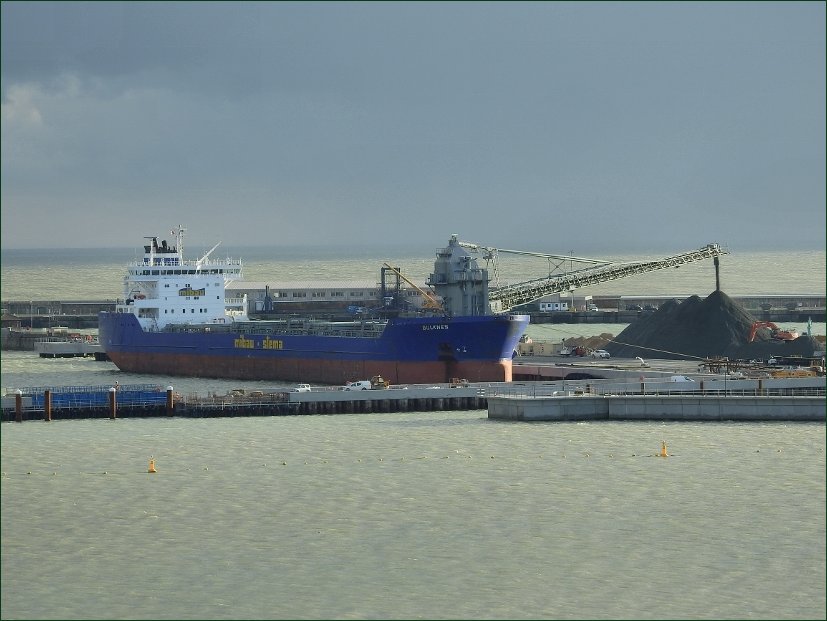 The picture below shows Bulknes late morning...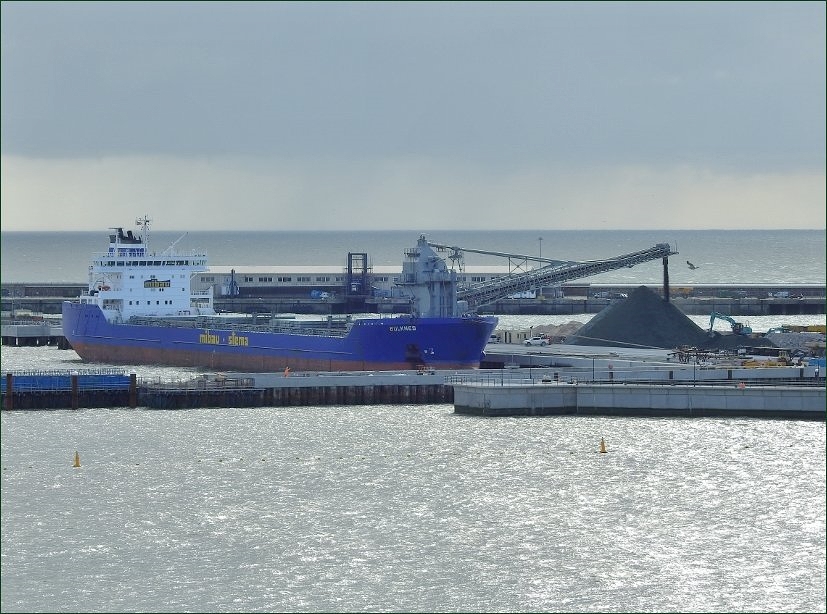 Ah Brian I couldn't see a Seacat yesterday but here's one for you from approx. 10 years ago. Remember this one ? I had a job finding it as couldn't remember its name... but yes eventually twigged what she was called with Googles help. Yes this one is from our archives here and shows the Norman Arrow approaching the Port on a wee bit of a roughish day.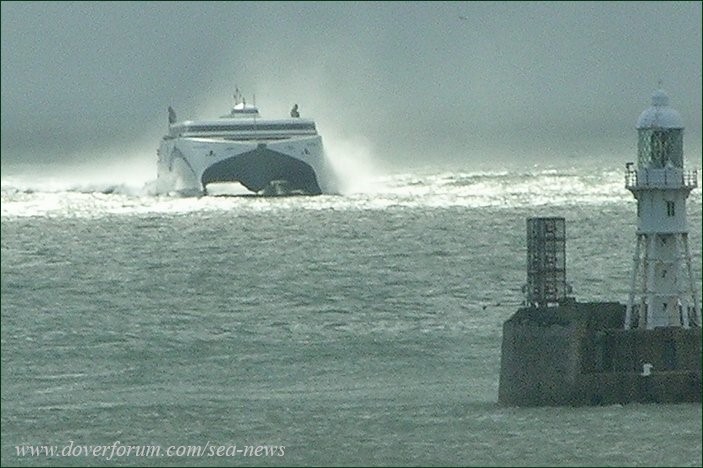 Well done with those pix below Mike. Nice angle shows all the activity.

Don't miss those!
PaulB
Tuesday, 30 October 2018 - 06:05
Post 5842
Mike J., Dover
The Antiguan self-discharging bulk-carrier BULKNES came into Dover late on Sunday night & sailed for Jelsa [Norway] at 1800 on Monday, leaving a large pile of 'stuff' on the Reclaim.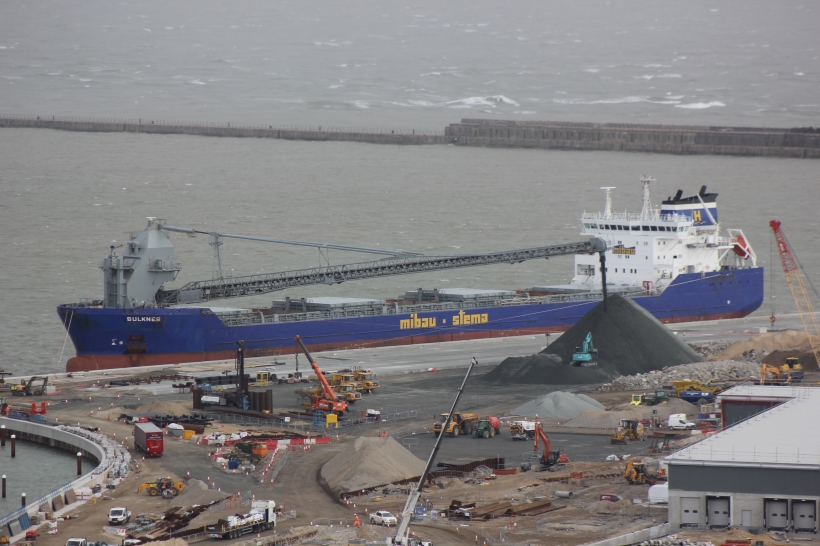 Going back to the FRI SEA & her log cargo [post 5837] it has been confirmed that they were for the Sandwich biomass plant & that this was the first of a number of similar cargoes.
If the trade continues the timber will eventually be handled on one of the new DWDR berths when they come into service, hopefully in 2019.
Tuesday, 30 October 2018 - 00:54
Post 5841
brian dixon, dover
i tought I spotted a seacat amonst the harbour works this lunch time.

Monday, 29 October 2018 - 13:30
Post 5840
Sea News, Dover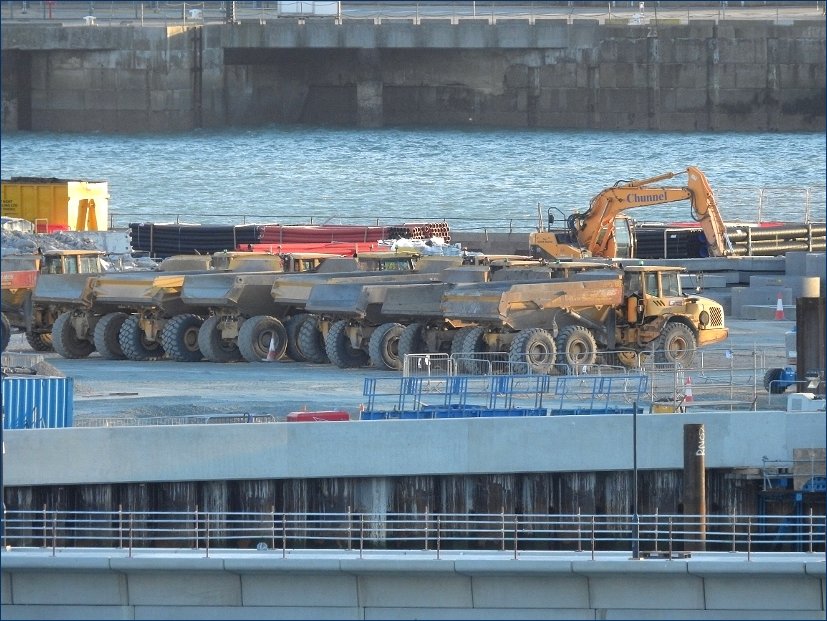 The heavy-grade DWDR trucks at rest. Yes its a sleepy Saturday evening and all those neatly lined up Volvos ( they look like Volvos) settle in for a nights sleep. Some DWDR sections were working but most areas looked at rest for the weekend.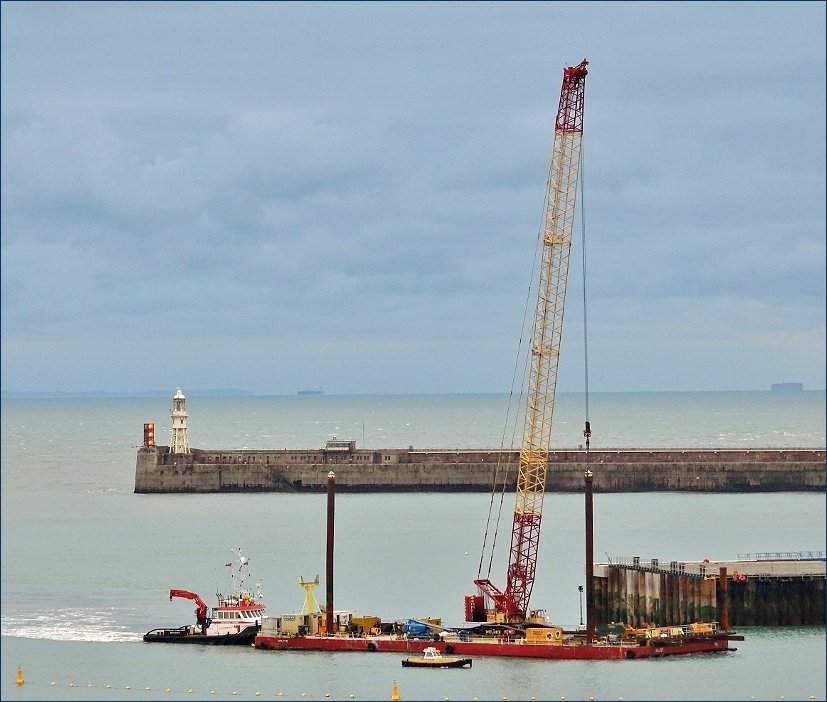 A day earlier and it was still all go. The crane platform comes out for another hard day at the office with Afon Lligwy doing the shoving. That's an unfamiliar small launch alongside. Must watch out for that one.
The last truckstop in all England. You cant park there!...says the man to the left in the orange attire...

Below some shots from the sea defence work late last week. Busy big build world around here right now.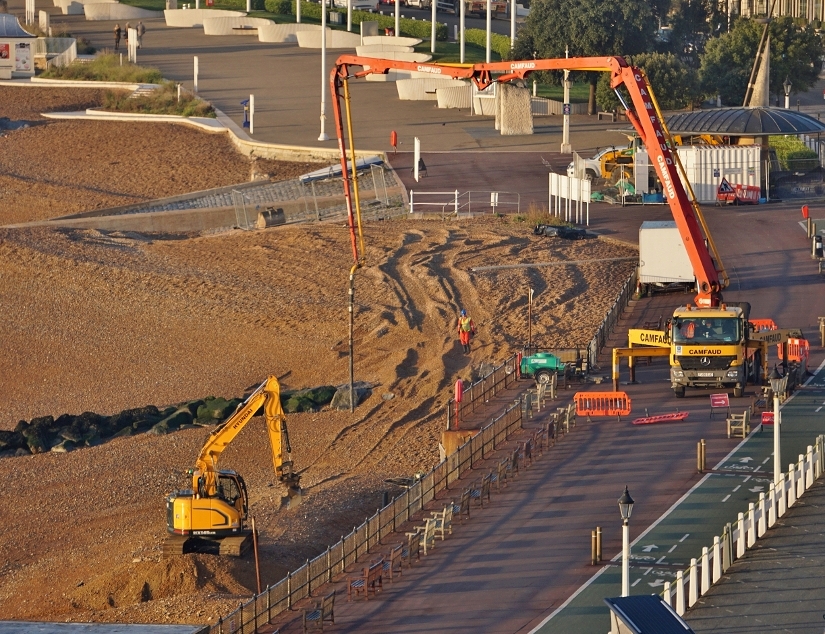 The work goes on rebuilding or re-aligning our sea defences on the seafront above.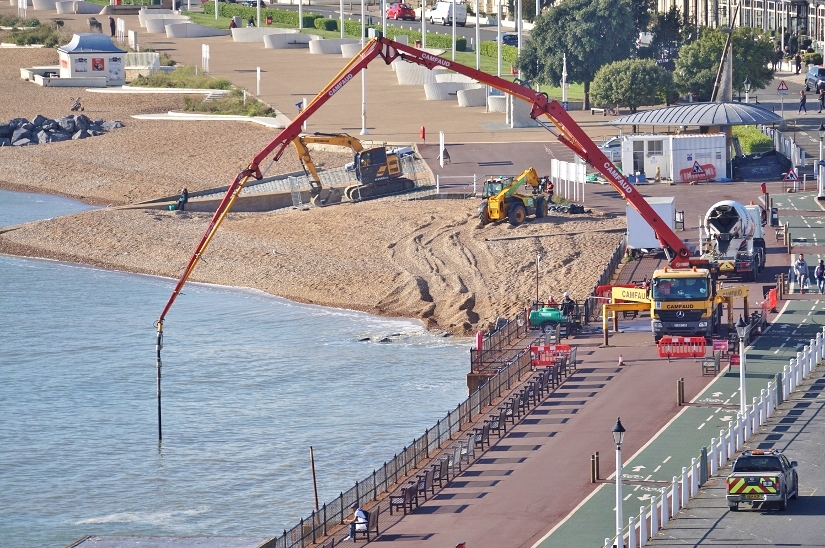 High tide now: Not sure what is happening in this picture... perhaps syphoning off the excessive and ever-rising sea levels...if only it were that simple!
PaulB
Monday, 29 October 2018 - 04:44
Post 5839
Sea News, Dover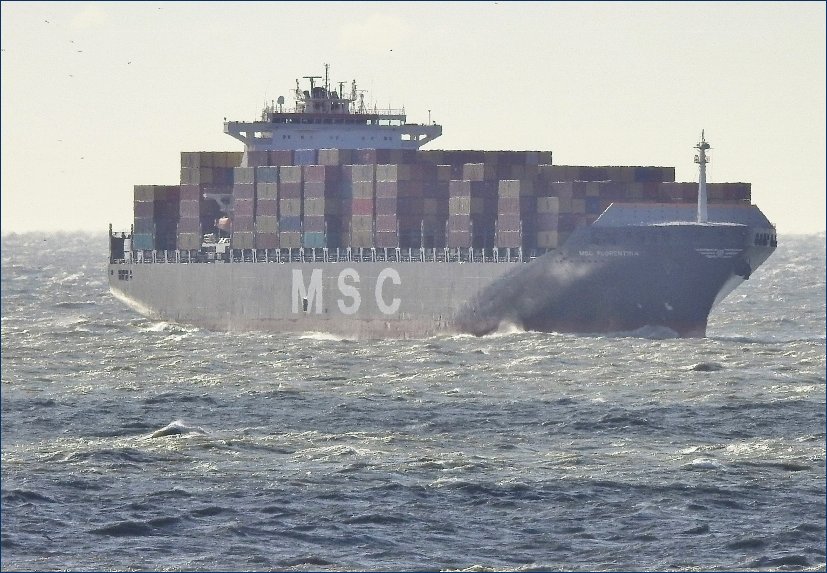 This big container ship came in close to Port this morning sunday...presumably to let the pilot off, a situation we often find in very rough weather. We had a force 8 this morning. It is the MSC Florentina. The pic is not hugely clear as shooting into the light, but hopefully all can see fairly okay.
PB
Sunday, 28 October 2018 - 15:14
Post 5838
Sea News, Dover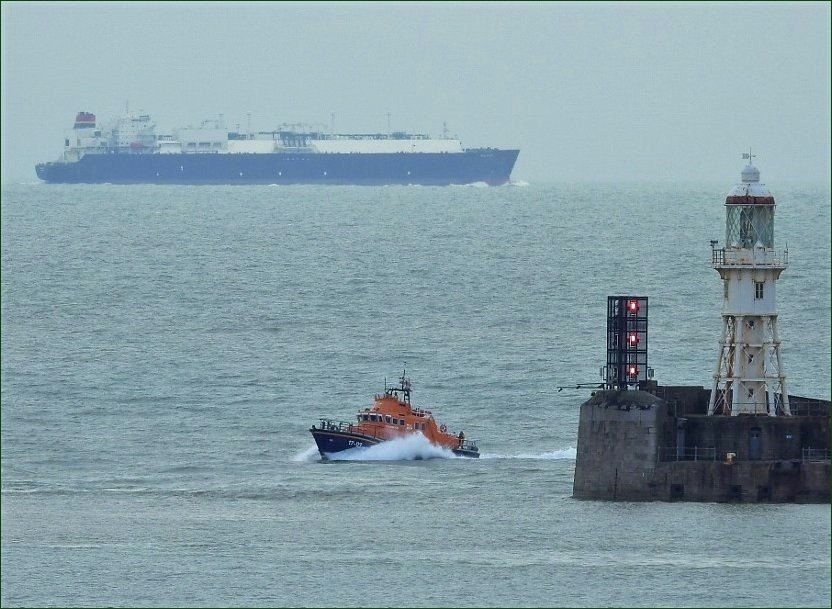 Dover Lifeboat: These pictures were taken on Friday morning..time of shots 11.52am .. all pix were taken within the same minute and show the Dover Lifeboat making a swift return to Port. It was a grey gloomy ol' day so we needed to push and strain our pixels...well we needed our images through all that oul gloom! The pictures are similar to recent ones from yours truly in post 5823 but of course taken on a different day...a more recent day.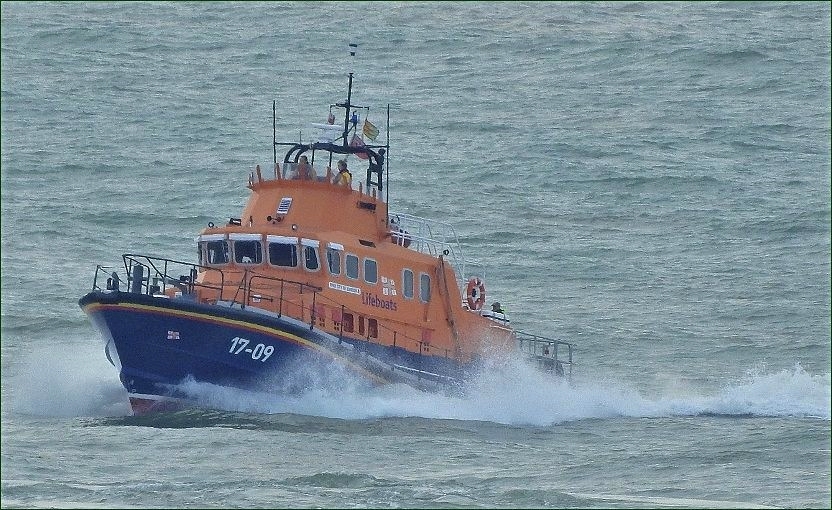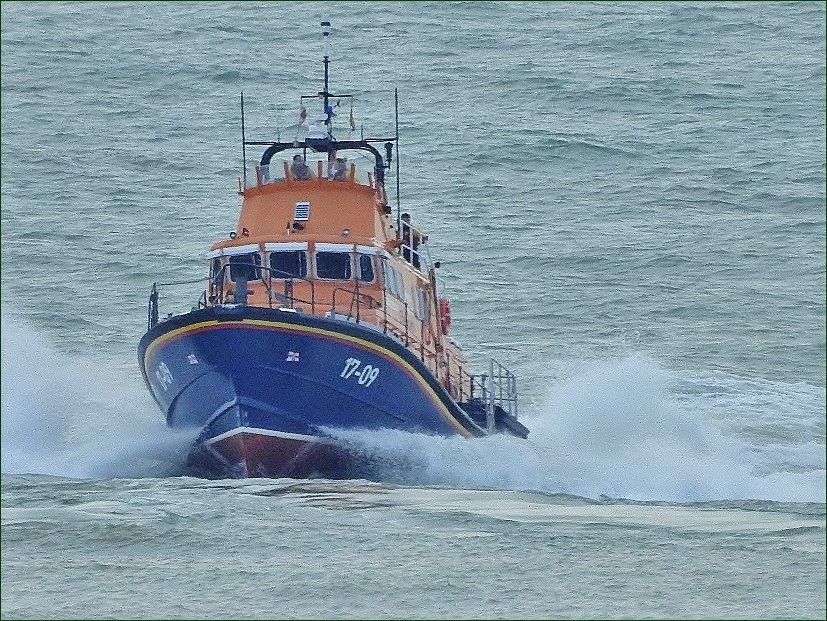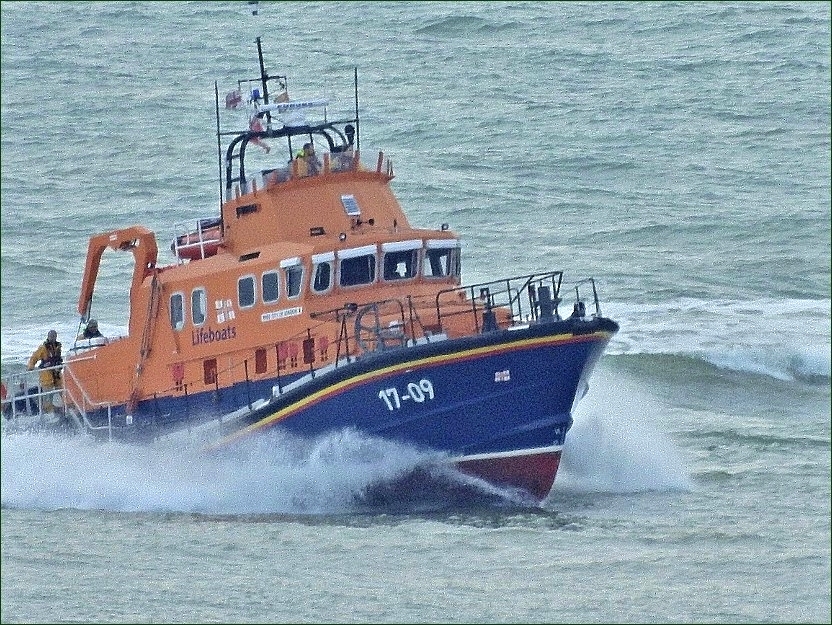 See also Sarah's excellent Lifeboat pictures in post 5835

Interesting one below Mike..never a dull moment around here

PaulB
Sunday, 28 October 2018 - 06:07
Post 5837
Mike J., Dover
The Bahamas-flagged coaster FRI SEA arrived early on Friday & I took her to be another coaster coming in to load grain.
I didn't bother about a photo until Saturday morning shortly before she sailed for Rouen & when looking at the image in the camera it looked like just another routine photo of a distant coaster.
The downloaded image looked a different from usual & closer look showed a socking great pile of small logs on the quay,
I'm guessing that the logs are for the 'biomass' plant on the old Prizers site at Sandwich where the logs will be chipped & used to fire the boilers of the generating plant there.
A rare sight, a coaster UNLOADING at Dover & more business for DHB & I wonder whether this will be a regular cargo or just a 'one-off' experimental call.
I duuno where FRI SEA loaded the logs, she came from Liverpool with her previous port being Liepaja, in Latvia.
Sunday, 28 October 2018 - 00:30
Post 5836
Sea News, Dover
The two great orbs in the sky...
As regulars will know we like a moonshot or two and yes indeed we had a full moon this week .. and as is usual yours truly had a try for some pictures. Alas alas the pictures were not 'great' this time around. Couldn't get the blasted thing sharp, but there we are, you win some and lose some.
However as compensation… something unusual happened....while photographing the fab full moon something went right across it, right across our path. Impossible to see what with the naked eye...but the camera captured it and here we are below. Its either a high flying high flung jet, or shock horror an invader from Mars...you decide...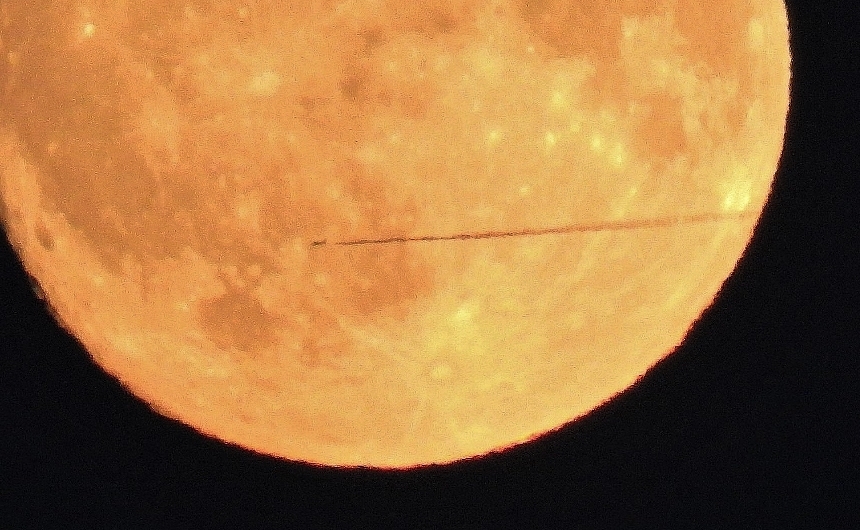 Earlier...the early moon over dover 7.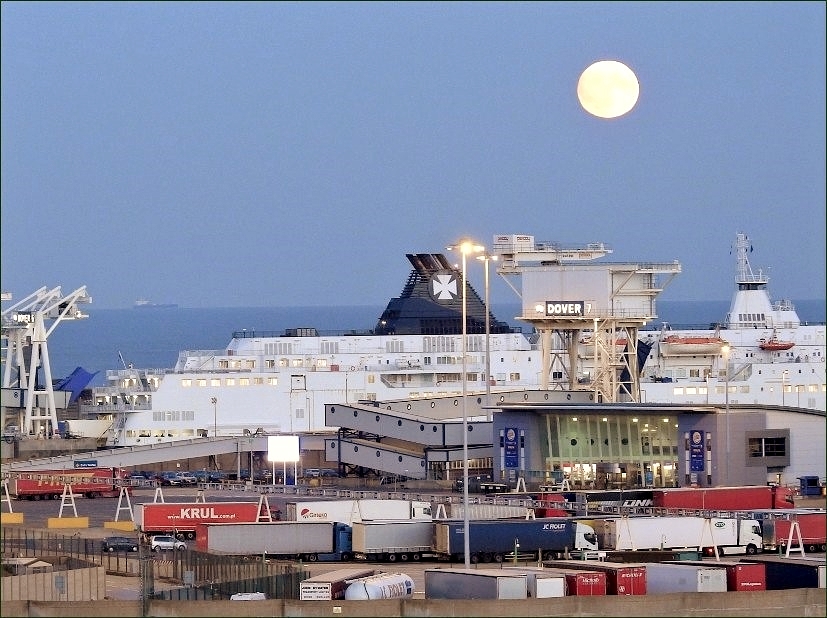 And now that other golden orb... the sun..
pictures from earlier this week. First shot shows the sun rising through the gloom directly over Calais. A dark brooding very early sun but then...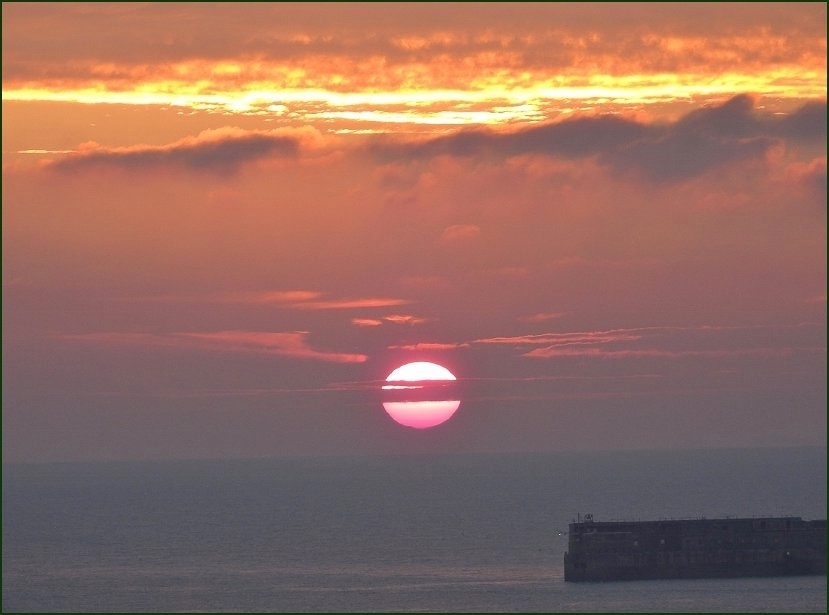 ....it burst forth over an early DFDS ferry.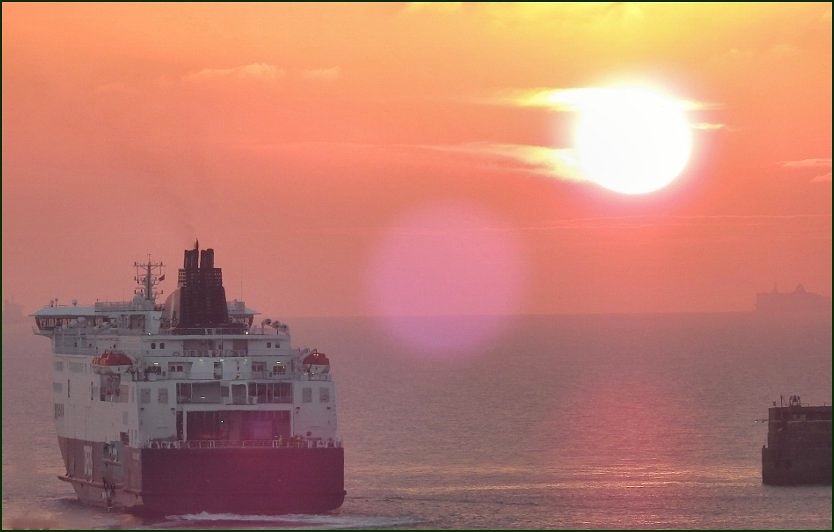 Great collection below Sarah. Well done with those. The top shot is an ace

PaulB
Saturday, 27 October 2018 - 05:13
Post 5835
Sarah, Ramsgate
Some recent lifeboat action
5 lifeboats approaching Hastings on the day their new lifeboat finally arrived.
left to right
Hastings Lifeboat "Sealink Endeavour", Hastings new Lifeboat "Richard & Caroline Colton", Eastbourne Lifeboat "Diamond Jubilee" Hastings Lifeboat "Daphne May" (front) & Rye Harbour Lifeboat "Hello Herbie II" (behind)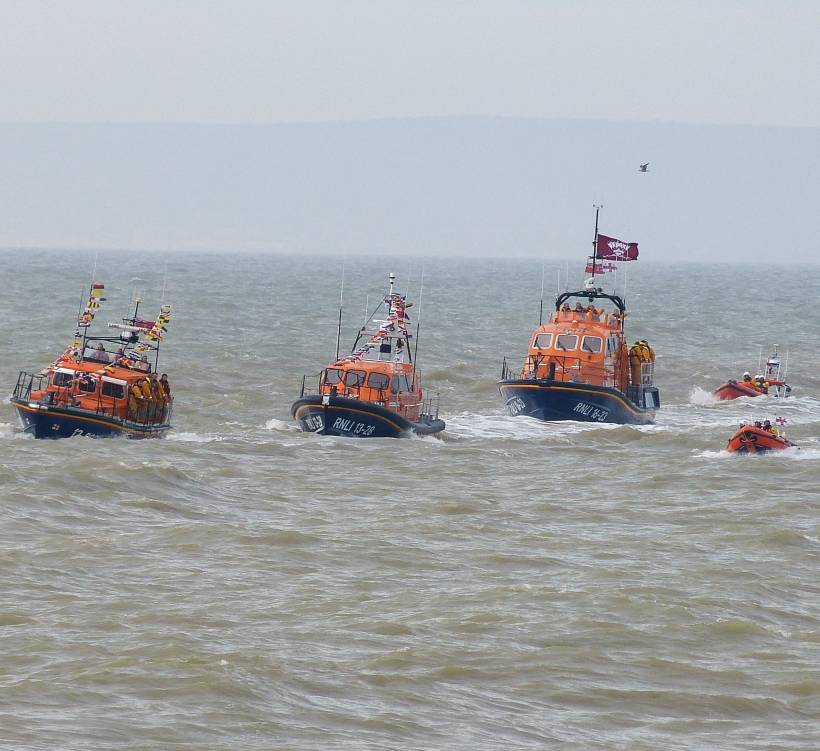 Hastings new Lifeboat showing off her paces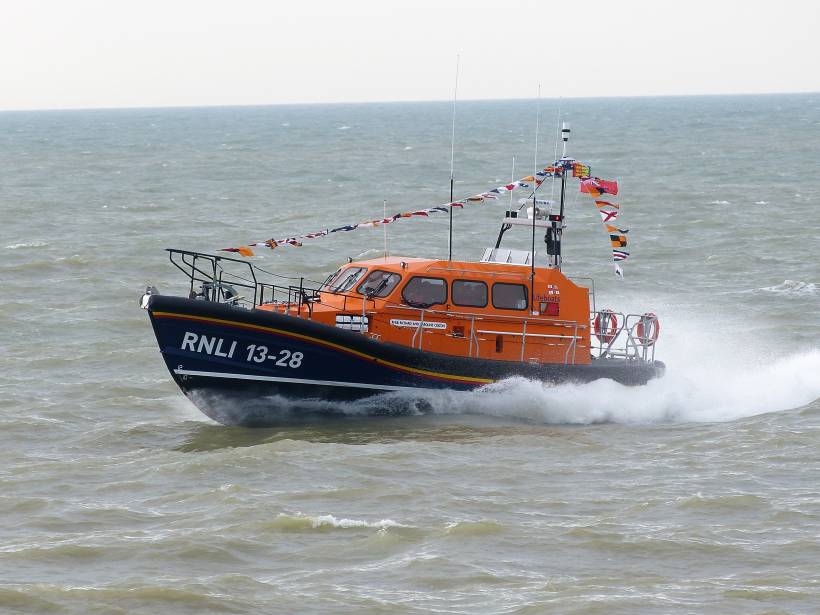 Floating to attention for the huge crowd that greeted the new lifeboat.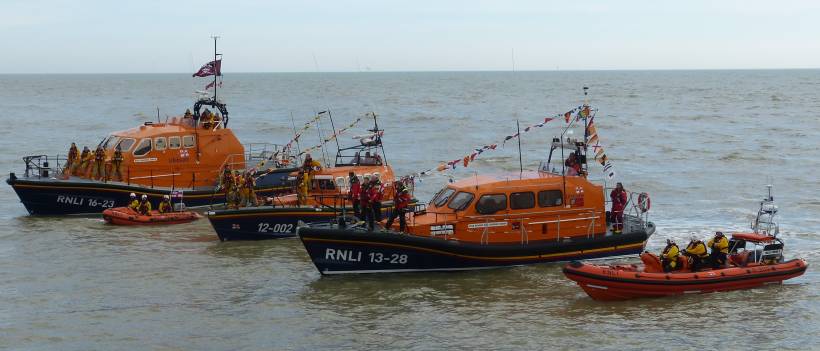 Closer to home, Ramsgate Lifeboat returning from an 8 hour call out.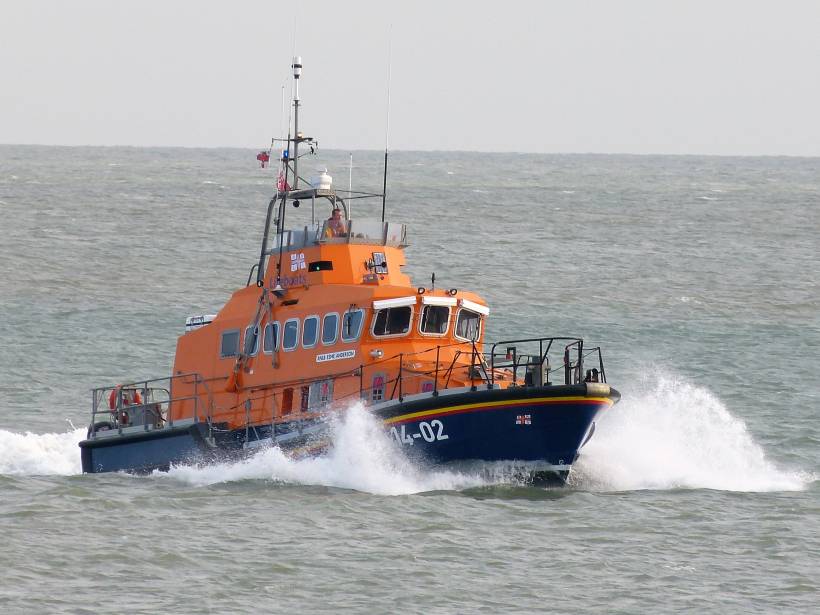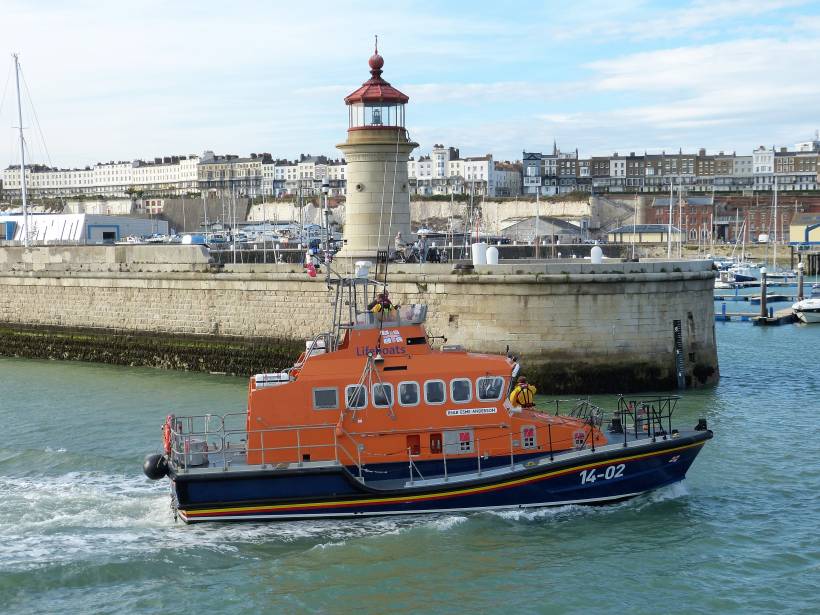 Friday, 26 October 2018 - 07:37
Post 5834
Sea News, Dover
25 OCTOBER 2018 :
DFDS LAUNCHES 'SEE PORTS' CAMPAIGN TO ENCOURAGE UK TRAVELLERS TO VISIT FRENCH PORT TOWNS

Exclusive discounts for top attractions and events in Calais & Dunkirk
Every year, DFDS transports more than 1.8 million passengers to the French ports of Calais and Dunkirk using their popular ferry crossings from Dover, and yet only a small percentage take the time to enjoy these bustling port towns for themselves.
DFDS, in partnership with the Calais Tourism Office and Dunkirk Tourism Office, has launched 'See Ports' – a campaign encouraging its passengers to take the time to experience all that these vibrant towns have to offer. DFDS is also offering exclusive discounts for local attractions such as the World War II Museum in Calais and Princess Elizabeth Restaurant and Tea-room in Dunkirk, in addition to free entry to Dunkerque Wine and Beer Fair (26-29 October), to further entice people to visit.
To launch the campaign, DFDS visited both Dunkirk and Calais to ask locals and visitors what it is that they love most about the destinations – with the beaches, good food and culture being popular choices in both towns.
Calais has long been an important gateway for trade – however this friendly town is the perfect spot for anyone wanting to spend a long weekend in a quaint, traditional setting.
Residents describe the town as both interesting and endearing, with the beach being a favourite spot for those seeking sun, sea and sand in the warmer months. Alternatively, for those looking to try out adrenaline pumping water-sports, the beach provides ideal conditions for wind-surfing and kite-surfing year-round.
Following the success of last year's blockbuster film Dunkirk, a record one million visitors travelled to the historic city of Dunkirk in 2017. Tourists are welcomed by locals who love sharing everything there is to do and see, with many taking the time to visit the famed World War II Museum, as well as the iconic beach and coastline.
Dunkirk is also an underrated haven for foodies – visitors can enjoy the unique gastronomic offering on board the Princess Elizabeth and join the locals at one of the bustling bistros offering fresh fish, cheeses and wine from the region.
DFDS operates daily sailings between Dover-Dunkirk (from £39 each way for a car with maximum of nine people) and Dover-Calais (from £45 each way for a car with maximum of nine people).
Book a trip, or to find out more about the exclusive 'See Ports' offers ranging from discounted entrance fees for museums, gardens and historical sites, to sporting activities, and food & drink, visit www.dfdsseaways.co.uk.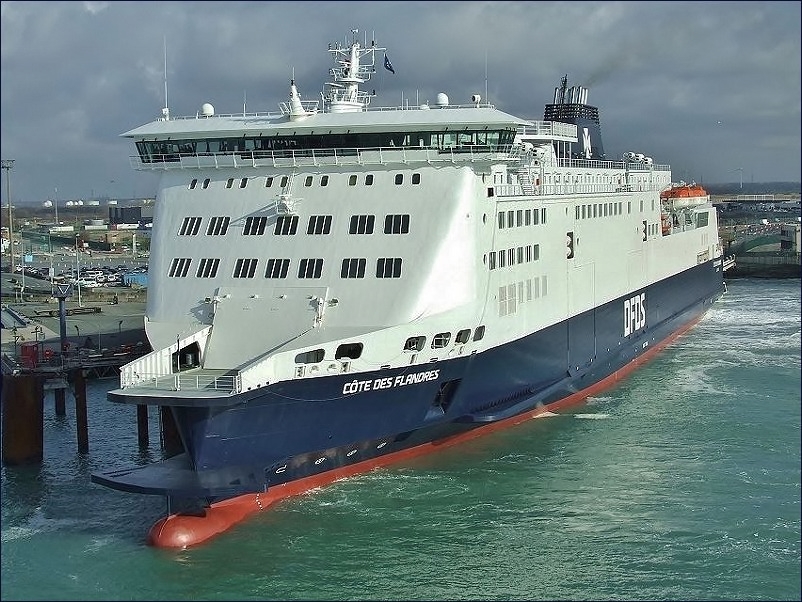 Picture from Dunkerque above by George Holland. Many thanks George.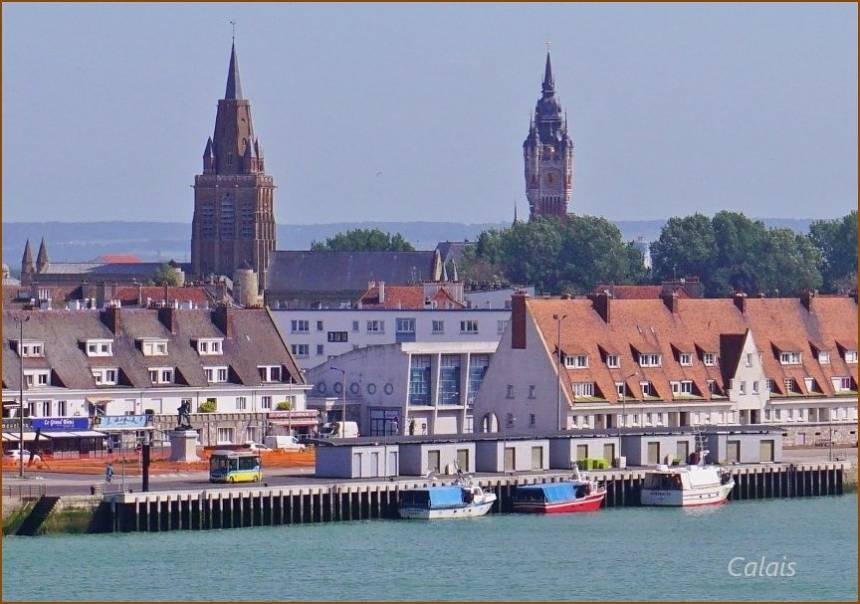 Lots more on the DFDS website ( www.dfdsseaways.co.uk )...videos of the towns featured and much more.
ENDS
* *
Many thanks to the team at DFDS for the info above. Totally agree those towns are well worth enjoying...great bistros, great food and wine.. among other things...

Ah yes Del a familiar message from our MP below but it is indeed his latest missive.
just to add generally, we don't use all Charlie's letters (just the ones Port/Dover/Calais/Sea related) nor do we necessarily agree with those we do use.
PaulB

Friday, 26 October 2018 - 06:44
Post 5833
Del Styan, Norwich
Think I've read Charlie Elphicks message before?? About a year ago? No criticism intended, it just rang a tiny bell.

Thursday, 25 October 2018 - 22:52
Post 5832
Sea News, Dover
The Calais Jungle Must Never Return...says Charlie Elphicke MP
__________________________________________________________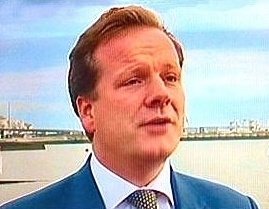 Dear Mr Boland,
We will never forget the horror of the Calais Jungle. This was a desolate place where vulnerable people lived in appalling squalor. There was no running water – and no sanitation. The only accommodation was rickety shacks. People traffickers roamed free exploiting the desperate people who lived there with false promises of a better life.
Day by day the numbers in the camp grew – they came in the hope of breaking into Britain for a better life. Calais became a migrant magnet. By the summer of 2016, more than 10,000 people were living in the Jungle.
As Dover's border security was stepped up, the traffickers became ever more desperate. They attacked lorries on the roads to Calais. Wielding machetes and chainsaws they chopped down trees and threw them into the road. They wreaked havoc – stopping lorries so migrants could be smuggled into the back. Truckers and tourists were left terrified as burning branches were thrown across the highway, while traffickers revved their chainsaws by the side of the road.
It was chaos. That's why I fought so hard to get rid of the Jungle once and for all. The French authorities finally caved in and in the autumn of 2016 the camp was dismantled. The people of Calais got their town back. We must never allow the Jungle to return. Not just for our security – but to protect vulnerable people from the traffickers seeking to exploit them for the evil trade.
Yet already it seems the lessons of the recent past have already been forgotten by some. One London Labour MP is calling for the UK to take in more migrants from Calais. When we hear about vulnerable people living in harsh conditions, of course our first instinct is to want to help. Yet here at the Dover frontline we know that it will simply make Calais a migrant magnet again – and condemn vulnerable people to appalling conditions and a hellish life once more. We cannot allow that to happen.
Let's not forget what happened after the Prime Minister met French President Emmanuel Macron and agreed to speed up the processing of child migrant applications as part of the so-called Sandhurst Treaty. They did this with the best of intentions – yet the worst of results. Within weeks the number of migrants in Calais doubled. Fresh clashes broke out between rival groups with gunfire and violent brawls. While many adults posed as children seeking to game our compassion.
We must be compassionate – yet we must also send the right message. That we will help the needy in conflict zones, that we will take in vulnerable people from those conflict zones, yet we will not allow people to break into Britain from Calais.
The Calais Jungle brought nothing but misery to thousands of people. We must be resolute in ensuring that it will never return.
Charlie Elphicke MP for Dover and Deal.
Returning to Sandwich now for another picture or two...and we have our familiar ol' friend the American Gunship of the Rhine...P22. Always good to see it there in Sandwich. Picture of Notice Board added with some extra info. Trivia moment: Notice how 22 becomes 55 on reflection in the water.
Well I never...!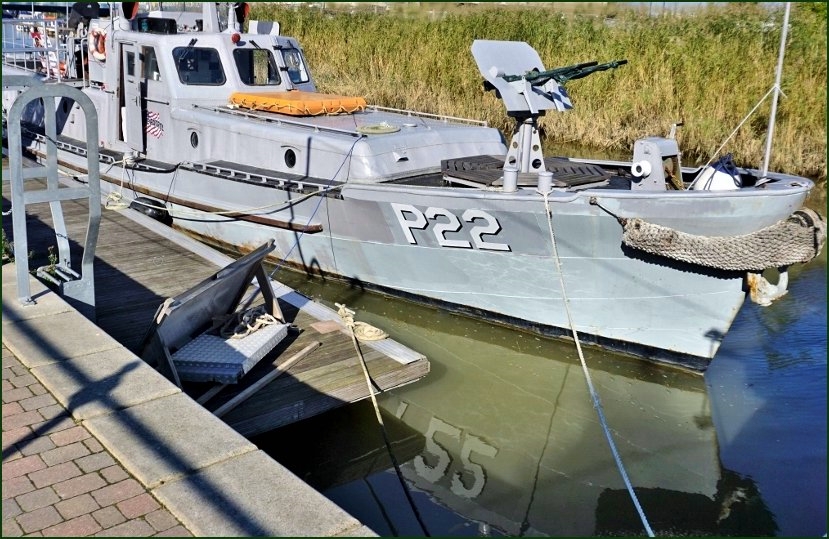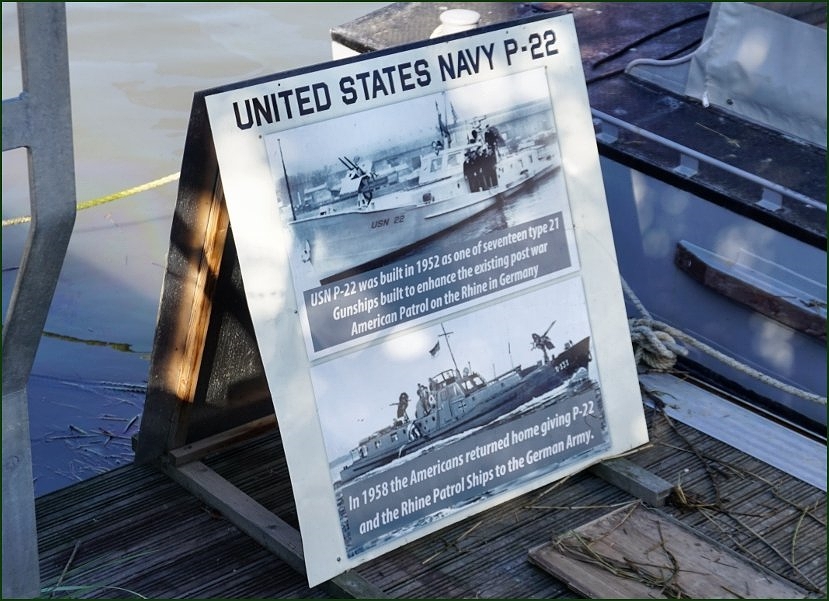 Mike mentioned the Southern Queen in a post below 5830...
here she is but obviously from a former time as she is not in action currently.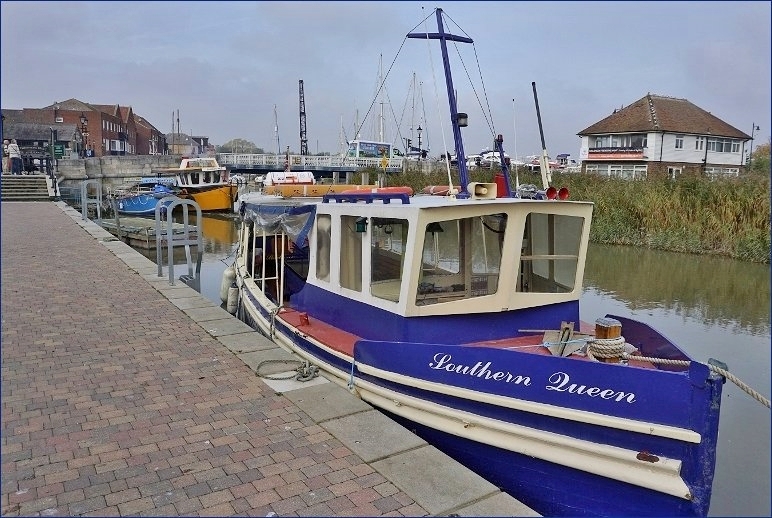 PaulB

Thursday, 25 October 2018 - 06:11
Post 5831
Sea News, Dover
DFDS APPOINTS SMC TO REVITALIZE DINING CONCEPTS ON-BOARD EASTERN CHANNEL FLEET
_____________________________________________________________________________

Award-winning ferry operator DFDS today announces the appointment of leading ferry and cruise ship design consultancy, SMC Design, to redevelop its catering outlets on board its Eastern Channel routes.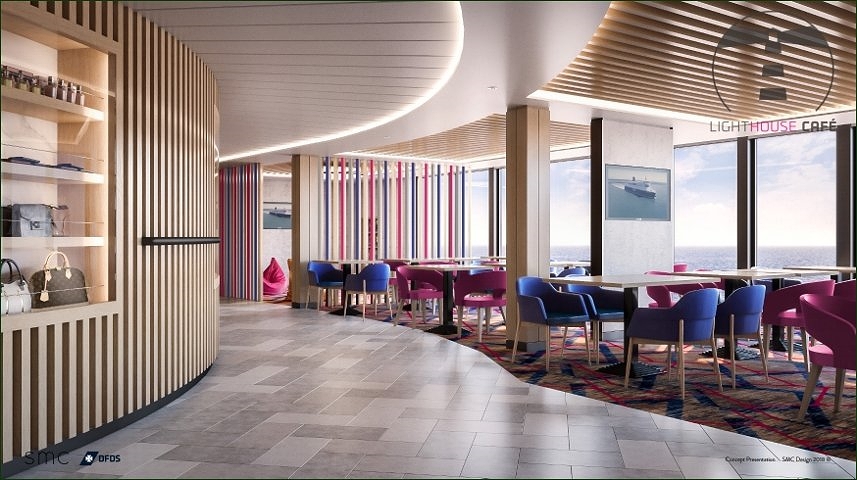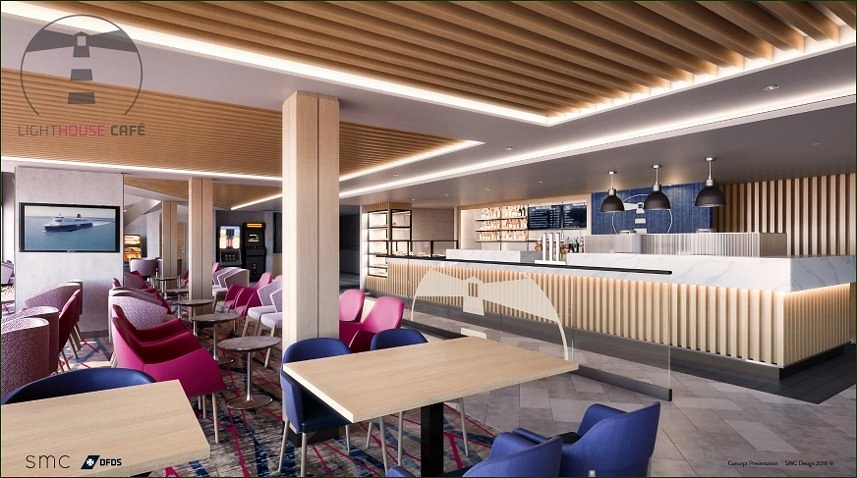 The redesign will commence when the first Dover-Dunkirk vessel enters dry-dock on 7 January 2019, with plans to complete the entirety of the fleet in just five weeks. The £1,800,000 investment, equating to £600K per ship, will see the relaxed food and beverage outlet revitalized to create the Lighthouse Café, a fresh and modern European coffee shop experience.
Steve Newbery, On-Board Commercial Director, at DFDS commented: "We're delighted to be working with the prestigious SMC Design consultancy, on a project designed to offer a new, contemporary dining outlet for our passengers.
"The decision to revitalize the current catering concept on board our Eastern Channel routes follows passenger feedback, something we pride ourselves in listening and responding to. In an effort to boost passengers experience on-board, the Lighthouse Café will include a revised menu, recycling stations and a re-vamped children's play area, all underpinned by a new and vibrant colour scheme."
The project with SMC Design will continue over the next three-years and will expand to include a £180,000 investment and upgrade to the Horizon restaurants on-board the Dover-Calais fleet, with work commencing early 2019.
This re-design contributes to DFDS' ongoing investment in its fleet which includes a chartered combined freight and passenger ferry (ro-pax) to be delivered in 2021 for deployment on the English Channel routes. This, in addition to the recent order of a freight ferry (ro-ro) new build, in August, and five previously ordered freight ferries, contributes to DFDS' plans to increase operational efficiency in the route networks in northern Europe and the Mediterranean.
For more information, or to book visit: www.dfdsseaways.co.uk
ENDS
Extra pictures now showing some of the DFDS fleet in daily action..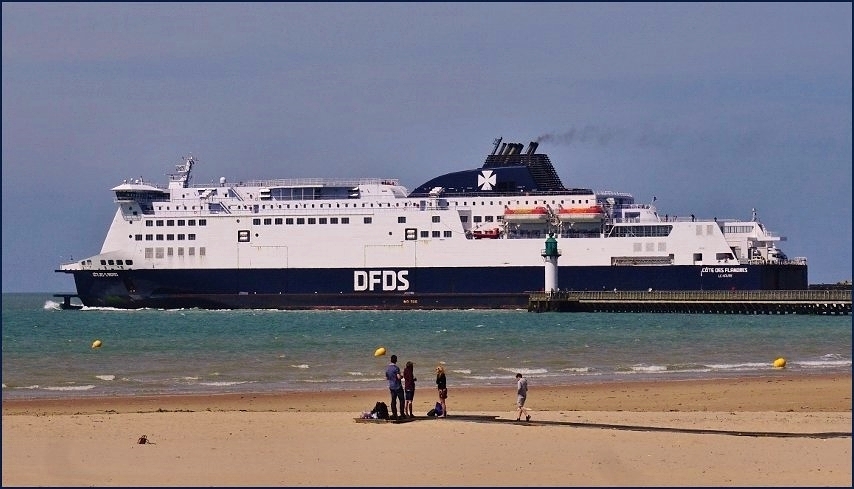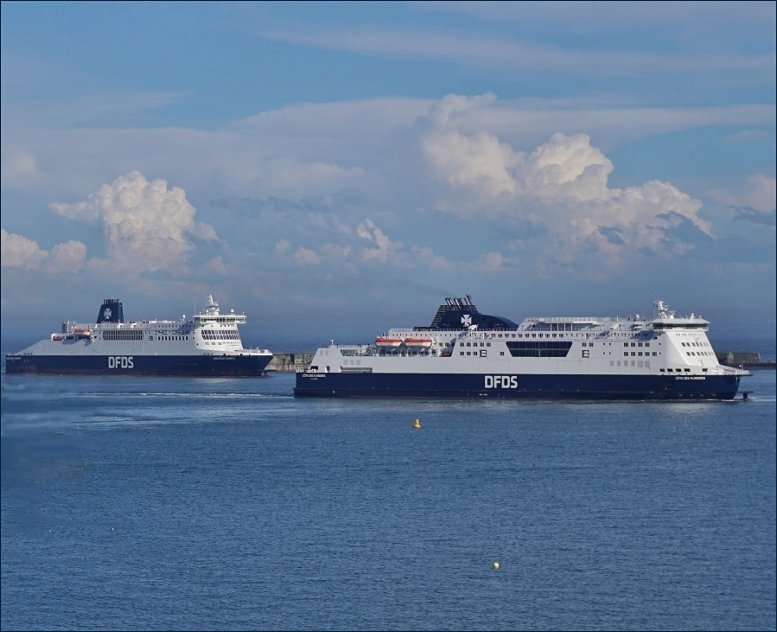 * *
Many thanks to the team at DFDS for the info and the top pictures above. Brilliant designs, fascinating item.

The early ferries at work below, pictured a few days ago under a golden sky.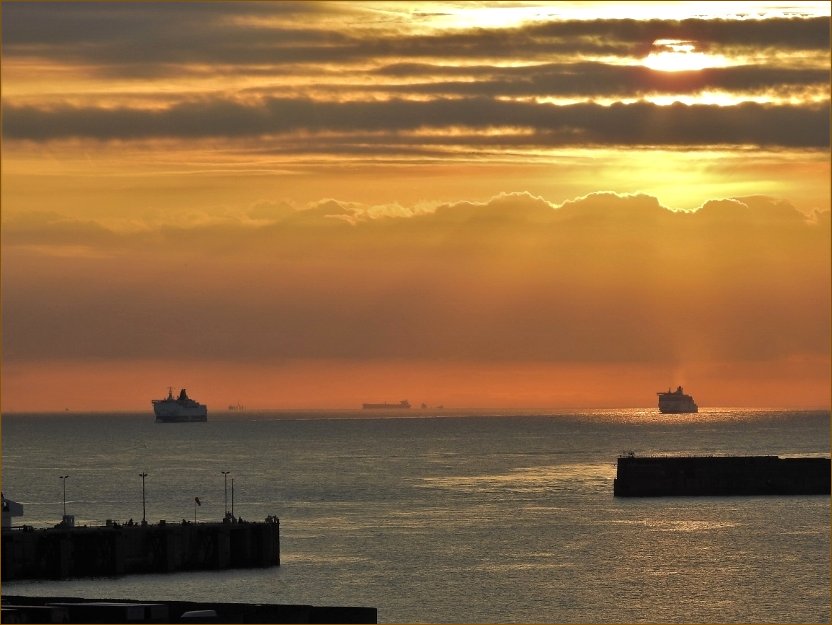 Thanks again Mike for the info below..and yes nice pic from Sarah below there.

PaulB

Wednesday, 24 October 2018 - 05:59
Post 5830
Mike J., Dover (helcion@hotmail.co.uk)

Thanks to Sarah for the excellent Ramsgate photo.
Spoke to the Sandwich Harbourmaster who also runs the seal-spotting trips [almost said seal-hunting trips !] in the SANDWICH TUG while the SOUTHERN QUEEN is under repair after her sinking by vandals.

The REVENGE is to be restored for commercial service & in a few days will move downriver to Sandwich Marina.


Tuesday, 23 October 2018 - 16:02
Post 5829
Sea News, Dover
Well done Mike, we were on the same page! Excellent info and pic.

PB
Tuesday, 23 October 2018 - 12:47
Post 5828
Mike J., Dover (helcion@hotmail.co.uk)
Beat me to it, Paul !
I took very similar pix on Monday when there was no-one around to ask what's going to happen to her.
You must have arrived very soon after she arrived from Ramsgate where Sarah had pounced on her on Friday.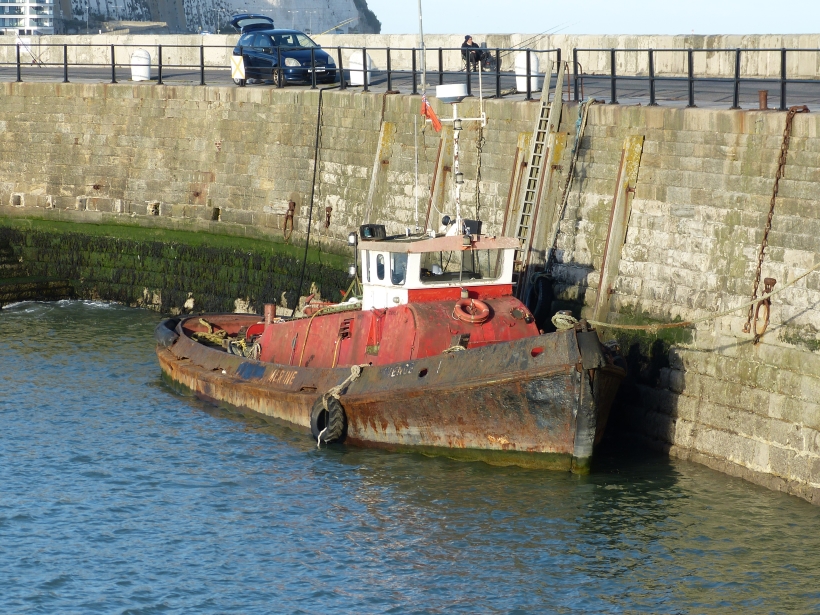 On the way up the Stour she had tied up at Richborough, probably waiting for the tide.
The REVENGE was built for Cory Lighterage in 1946 & had been laid up at Silvertown for five years & had arrived from the Thames a few days earlier.
One rumour has her at Sandwich for a complete refit, another that she is to be converted to a houseboat.
I have to go to Thanet this afternoon & will see if I can find out more about this 70-year old veteran.
Tuesday, 23 October 2018 - 10:49
Post 5827
Sea News, Dover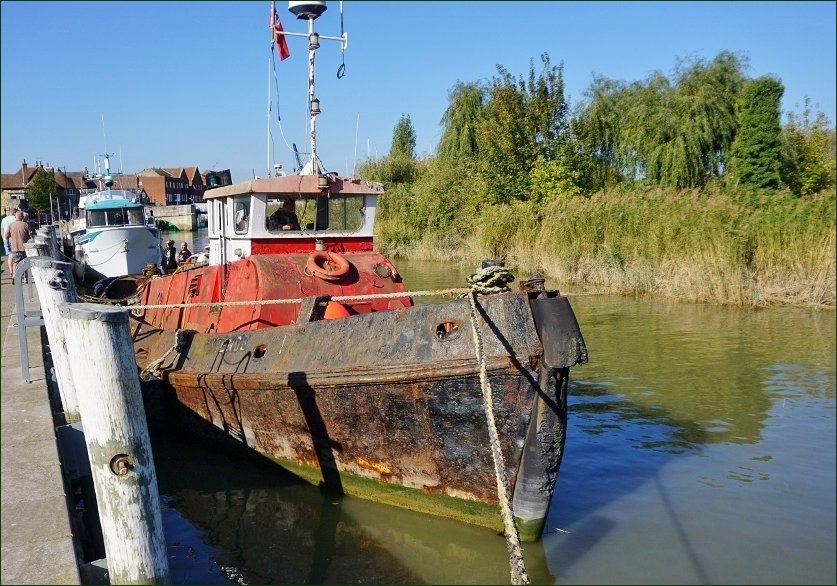 This old tug called Revenge is currently on the quayside in Sandwich, pictures taken on the Sunday just gone. She is in a poor oul state, some might even call her an old rustbucket. But it looks like she could be about to have some major restoration. There are pictures of her in pristine condition on our Channel Traffic link (marinetraffic.com) on dover.uk.com our sister channel.
Were the people looking around below interested in a second home? who knows... The Sandwich Marina guy there looks like he knows his way around a toolbox..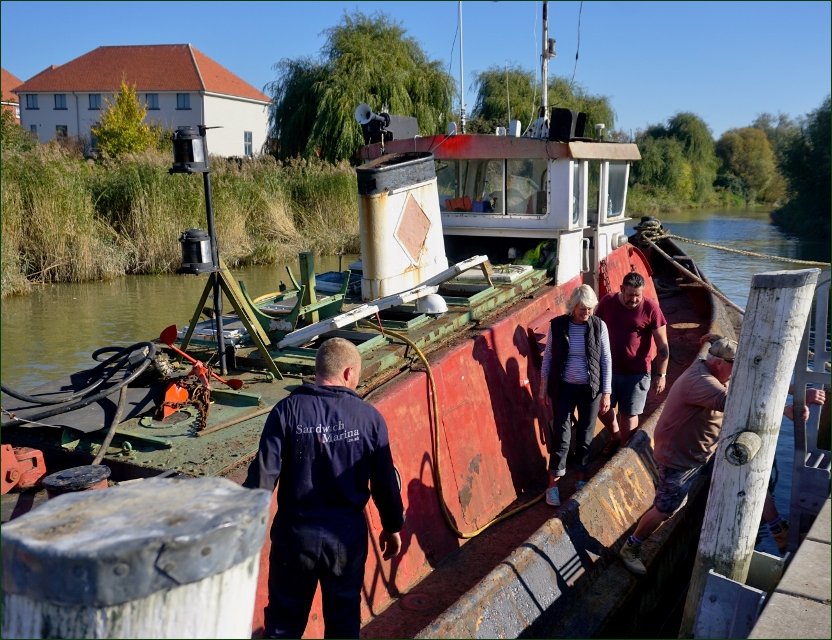 A jolly but sedate trio of water-scooters went by and took yours truly by surprise as he sauntered across the Sandwich bridge.. Can never remember what they're called...ahh yes jet-skis that's it. Making their way out to sea for some fun and frolics.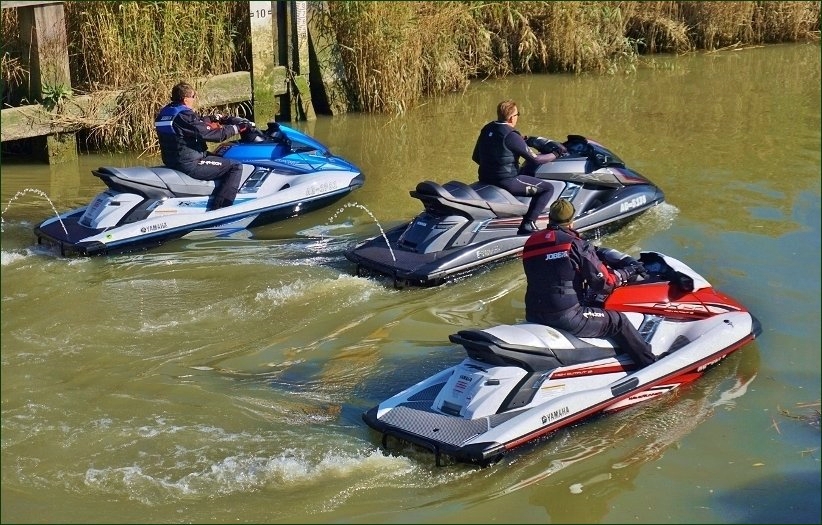 You can see same jet-skis below further along...in the foreground the ol tour bus..the Sandwich Tug is just loading some visitors.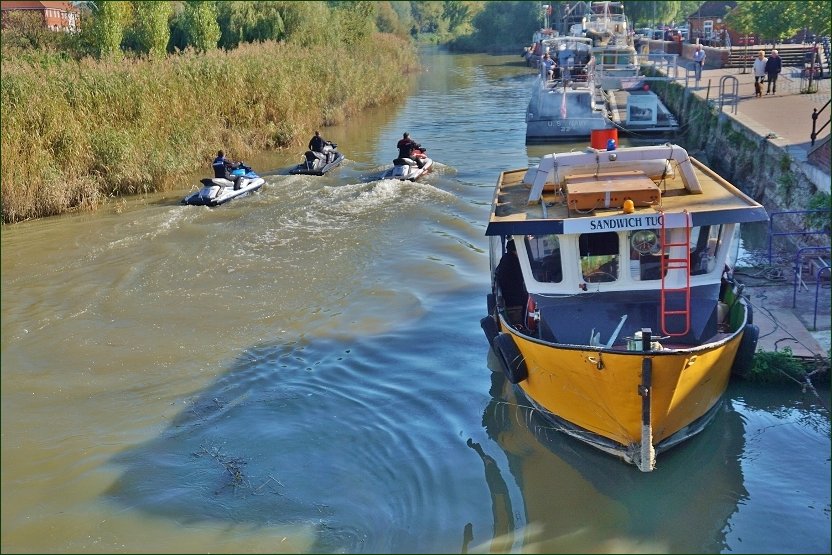 PaulB
Tuesday, 23 October 2018 - 07:58