Tuesday, 19 March 2019

WWW.DOVERFORUM.COM/SEA-NEWS
Featuring all the ships that come and go and work at the Port of Dover ..
... with further coverage of the surrounding ports.
Port of Dover: Brexit Resilience 6123
DFDS: For apprentice information see 6125
Sea News Dover :
Use our SEARCH ENGINE below to find all sorts on the SEA NEWS pages....
type in the topic and away you go, or if you have the post number just type it in the box,
more than - 6000 - nautical posts now.
Posts are welcome. just click 'Add Your Comment' below. Max of 5 pictures preferred although we can stretch that for special stories..
Sea News Editor Paul Boland - send info or pix to dover7@msn.com. Always welcome.
All pictures on these pages are the copyright of the owners and must not be reproduced without permission.
To show your pictures at their best..it could be worthwhile resizing before posting to
840
pixels wide.
Post 5968
Mike J., Dover
Post 5965 - I sure as heck didn't plan to post 14 images – major finger trouble !
Here's the Mk.2 version, hopefully 'as originally planned' –
Arrival of KERTU from Liepaja with logs, Thursday morning.
Her second visit with 'biomass'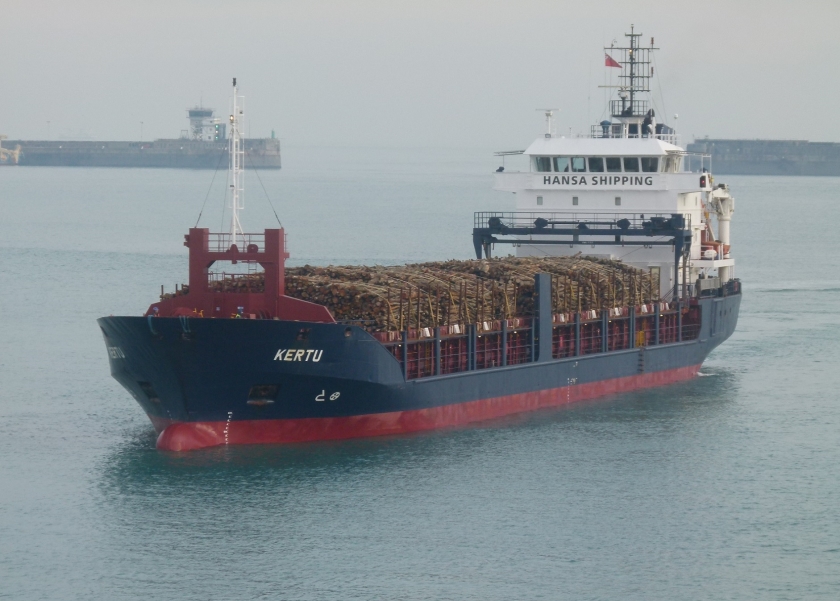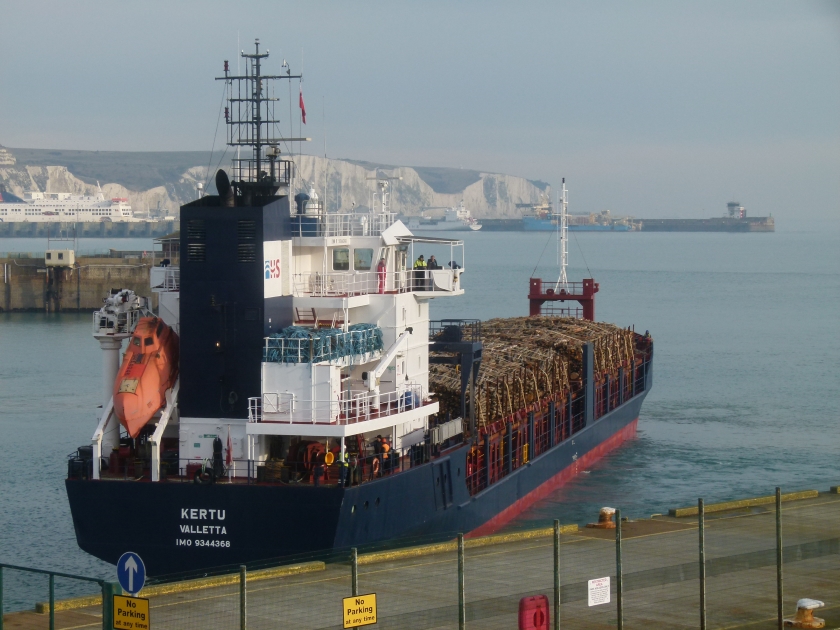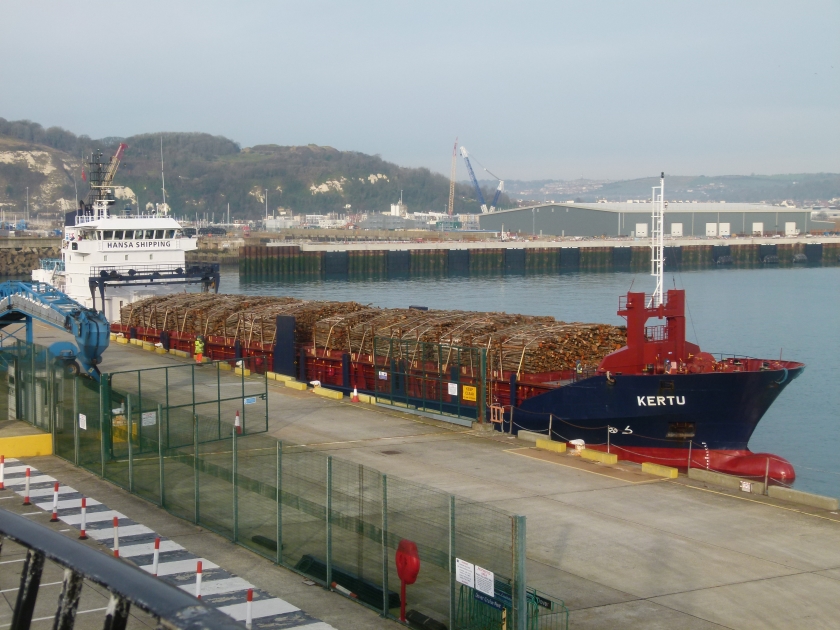 As I started to walk back along the Admiralty Pier after a welcome coffee & bacon roll I noticed the HUNTER approaching from the Folkestone direction presumably with more people aboard than when she left Dover.
She entered & went down to the Tug Haven where the ayslum-seekers are initially processed.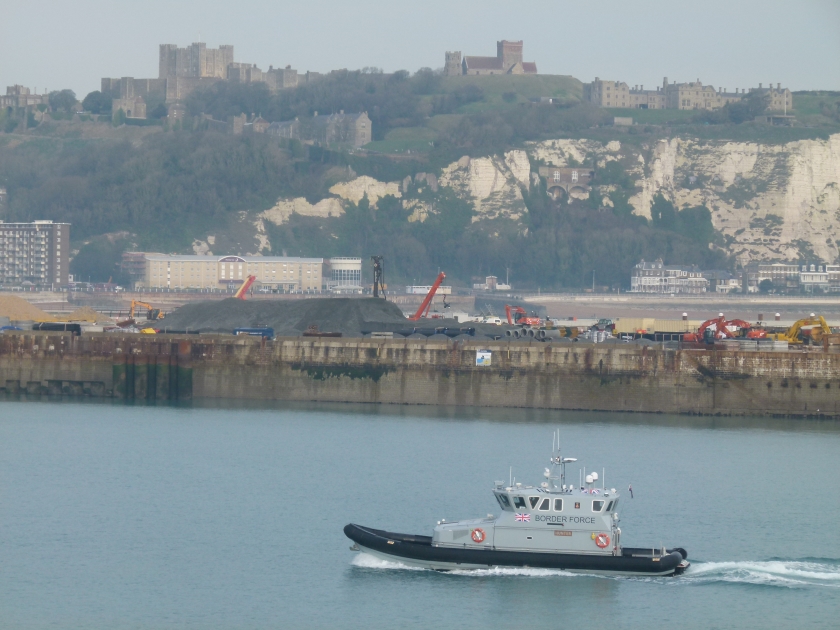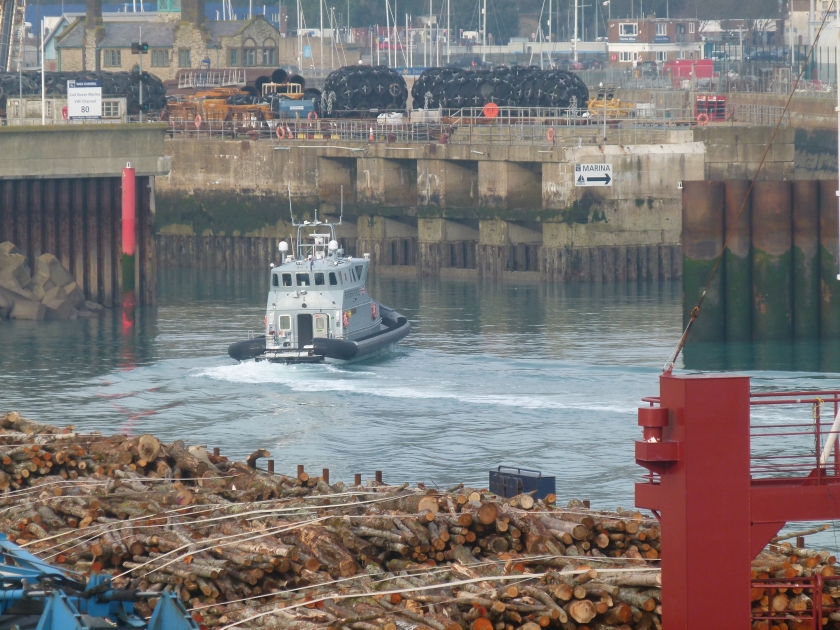 As I approached the shore end of the AP I noticed 'activity' on Shakespeare Beach & the Dover Sea Angling steward told me that at dawn he'd seen a rubber boat on the beach with half a dozen people milling about & had reported the sighting to Port Control & the 'visitors' had been swiftly rounded-up.
No sign of the dinghy but the tilt-bed lorry & the hi-vis jackets must have been the 'clear-up' party.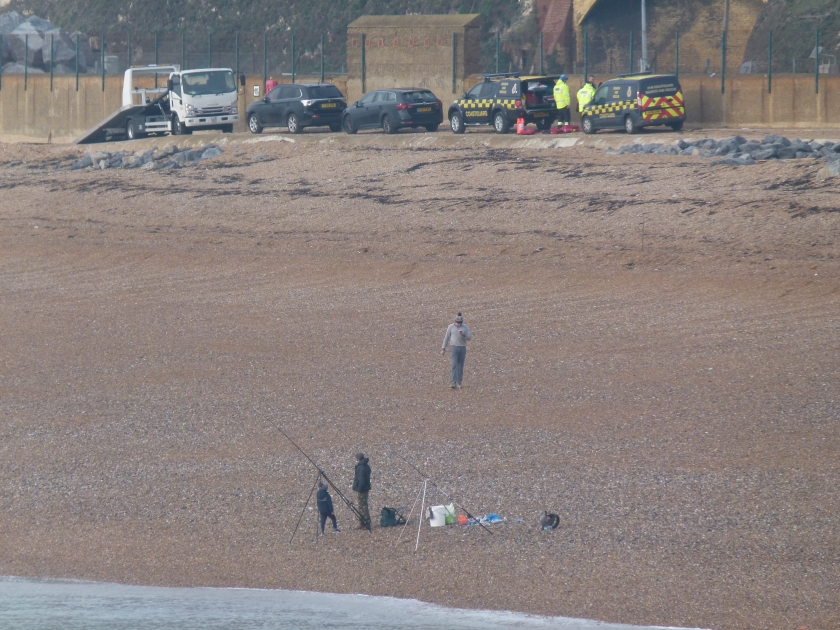 p.s
i caught a distant view of one of the big cutters, VIGILANT or SEARCHER, coming into Dover today, Friday, & there have been media reports of further 'interceptions' today.
Friday, 28 December 2018 - 22:43
Post 5967
brian dixon, dover
uncle jack the pirate looks a bit worse for wear.

Friday, 28 December 2018 - 16:32
Post 5966
Sea News, Dover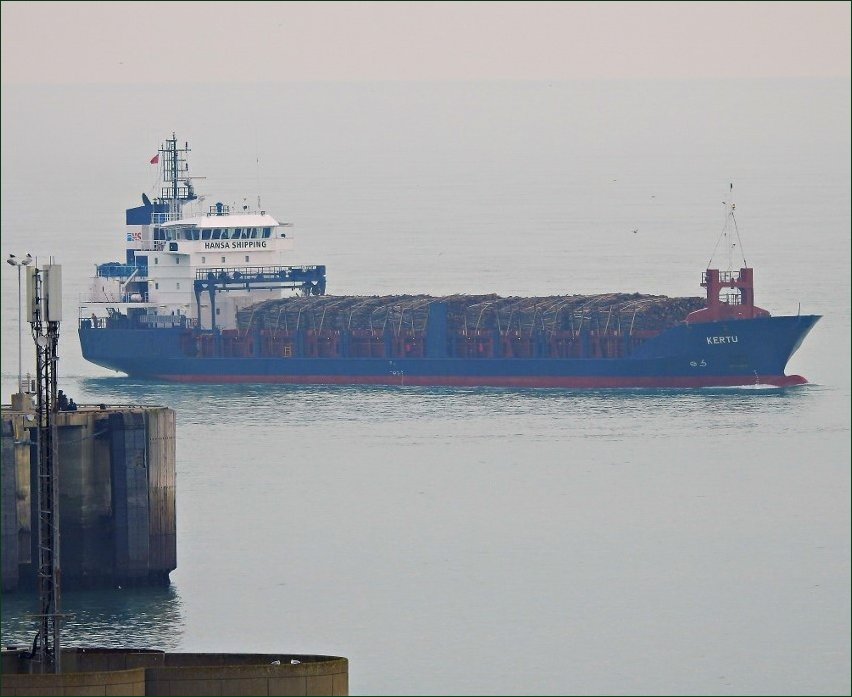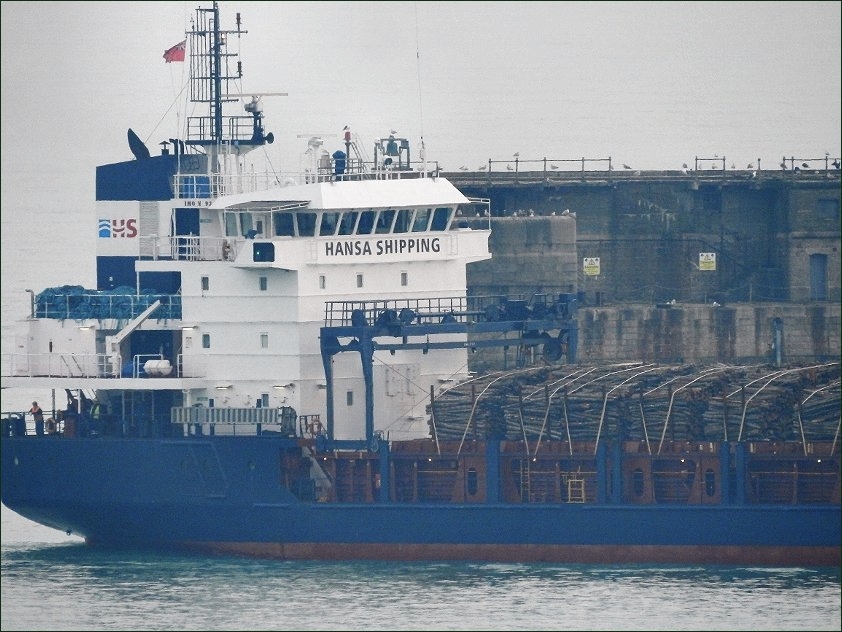 Two pictures above there of Kertu arriving in port yesterday morning around 10.00am or soon after. The atmosphere had too much blue mist for clear shots but have forced a few images there. Thanks to Mike for tipping me off and letting me know that she was approaching. Yes with another delivery of logs.
A few jollier seasonal ones below from Cullins Yard..taken a few days ago. First shot taken before lunchtime got busy busy and shows the cosy interior and seasonal lights. That's Richard to the right, he probably didn't know he was being photographed .. ahh the joys of the wide angle lens.
Yours truly will be in there tonight too all being well.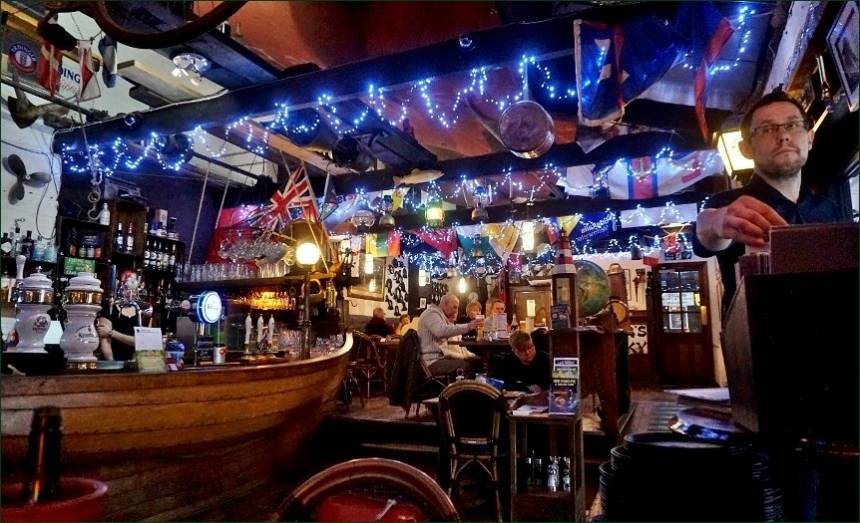 A view below taken from the rear of the restaurant.... which is a great place for us nautical types, the place is full of nautical memorabilia and more... I think this picture below has gone a wee bit soft on me..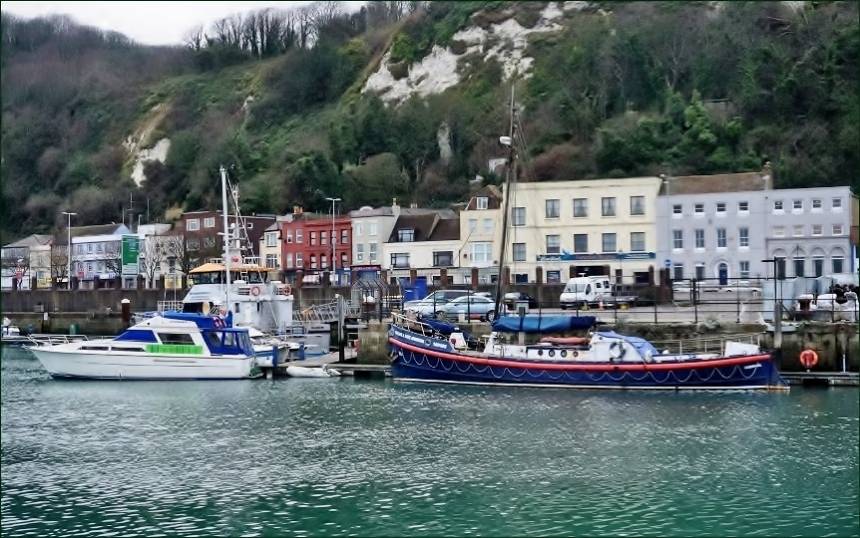 This guy serves up your burger...


!!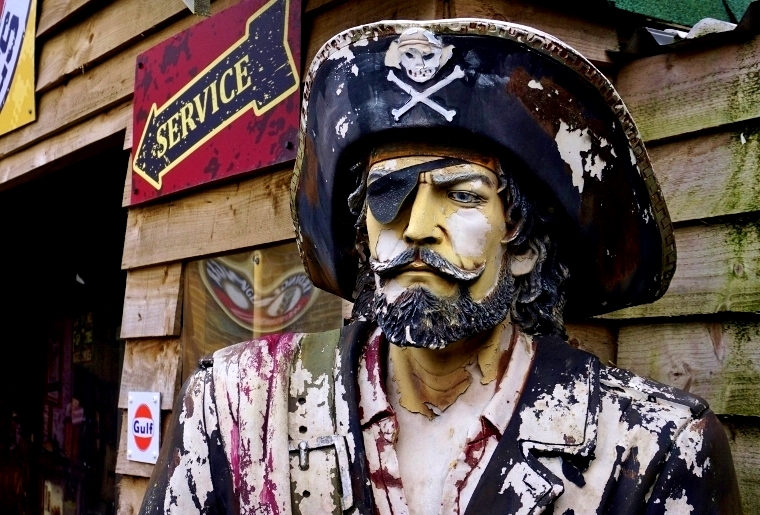 Nice shot from Mike below of Kertu.

but alas alas we have a malfunction below as most of Mike's pictures didn't visualise.
The clue is here, in the number of images put onto the system... IMAGE 14...(way overload I'm afraid).
PaulB.
Friday, 28 December 2018 - 06:14
Post 5965
Mike J., Dover
EDIT: Post reworked and updated see 5968.

Friday, 28 December 2018 - 02:32
Post 5964
Sea News, Dover
The sun rising spectacularly on Christmas morning above as we look across towards Calais. Yours truly thought it was going to be that kind of easy tranquil Christmas day but not so... as the breaking news channels were telling us early morning that more unfortunates had attempted to cross the channel in the night.
Shortly after the above, Border Force Vigilant moved very slowly by.. towing a dinghy as you can see in the picture below. Rather surprisingly Vigilant did not come into the Port here at Dover but moved slowly on by.. presumably heading to Ramsgate ( since confirmed by Mike's pictures in the post below ). Was that a migrant dinghy? that was the question of the moment.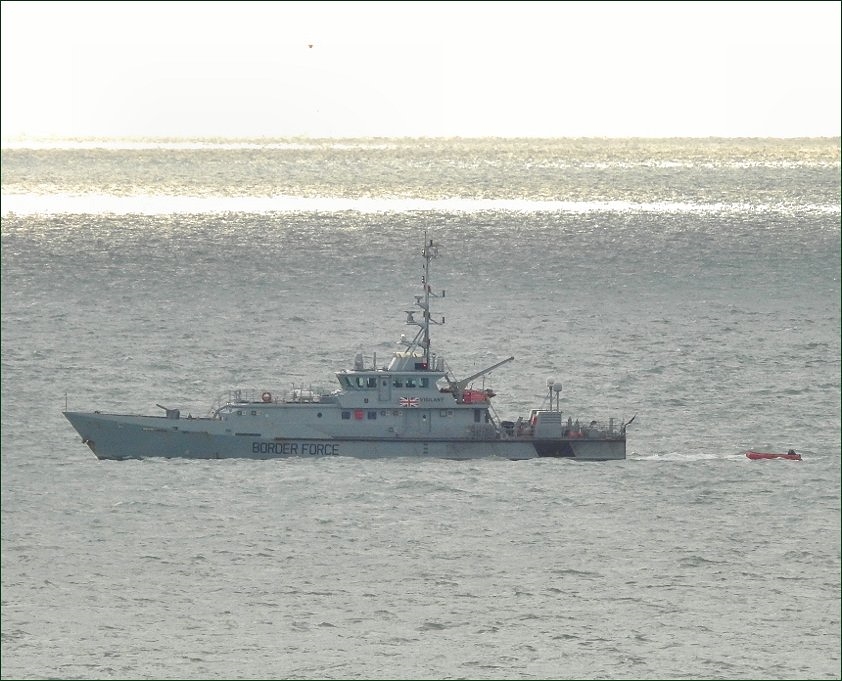 Shortly afterwards Border Force Speedwell chased out of the Port here and headed after Vigilant, the two shots below showing her exiting the Port through the eastern exit.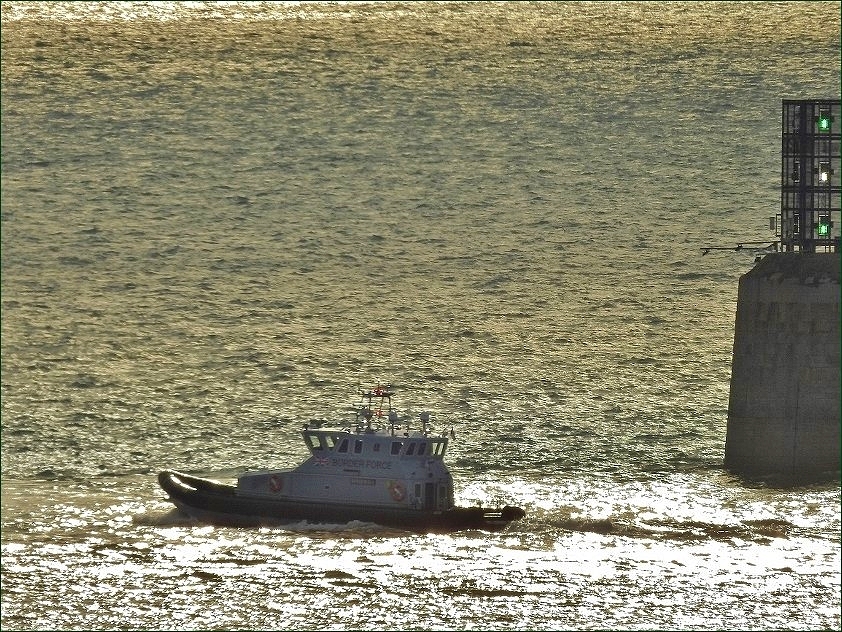 Just then while checking the pictures in the camera...I visually just caught the tail end of Dover Lifeboat heading off at speed. Just got one shot as she disappeared behind the resting Pride of Kent. Phew! thought I...its all happening....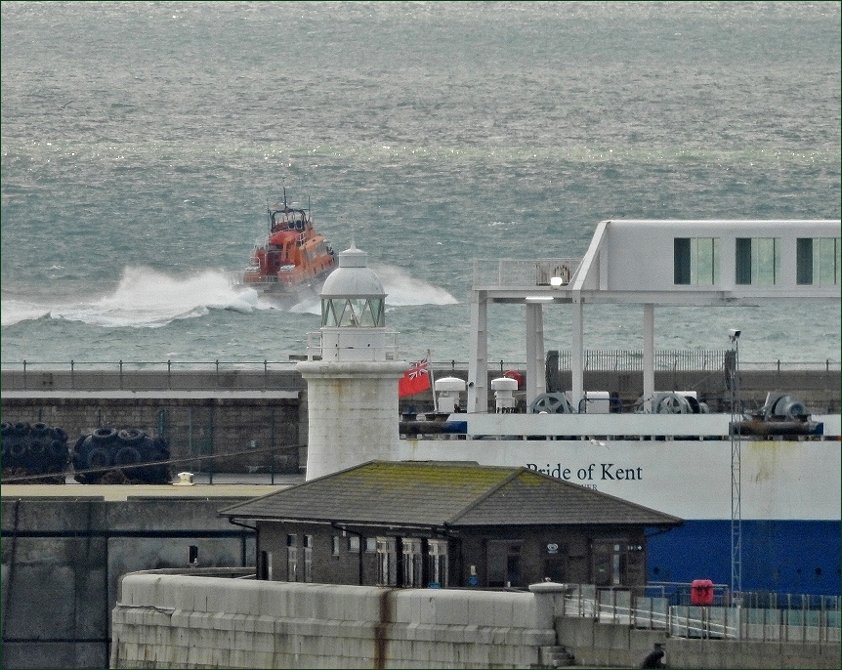 Then two police vans showed up on the seafront. Clearly someone had called them and with all the pointing etc etc....we realised there was a boat adrift in the harbour. Someone had wisely called the police because sometimes you don't spot the obvious...yours truly didn't even notice it. This is the boat below... interestingly though...
This is the very same boat featured on the national news overnight with migrants onboard. How it got to be adrift right here in the harbour Gawd knows...
All this and it was still only 11am Christmas day. I had to dash out then, and just as I was dashing out...dashing into view at speed came the Harbour Patrol Boat, the police had obviously called them re the drifting migrant boat...
How did that boat get to be drifting about out there...headscratching moment


PaulB
Cracking Ramsgate shots below there from Mike...Don't Miss Those

Thursday, 27 December 2018 - 05:00
Post 5963
Mike J., Dover
Returning to Dover on Boxing Day I called into Ramsgate 'on the off-chance' & found that the diversion was worthwhile.
Border Agency cutters SEARCHER & VIGILANT were on the West Pier & the patrol vessel NIMROD was on the Visitor's pontoon.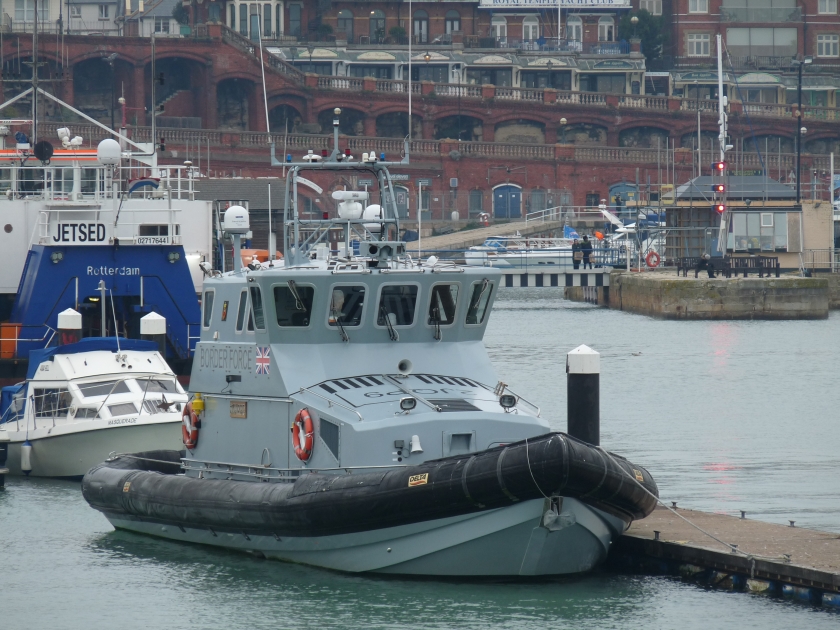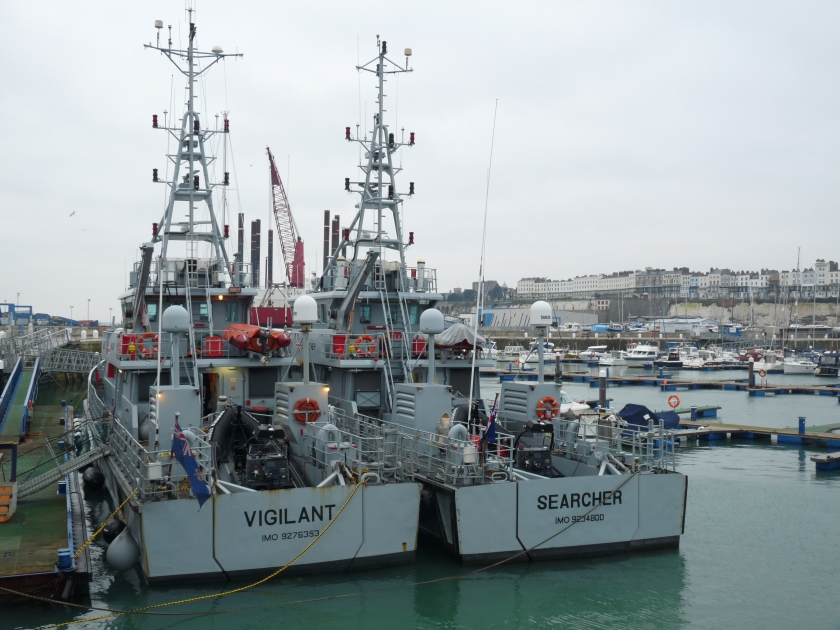 The stern view show the 'doors' that pivot upwards to permit the launching & recovery of the Boarding RIBs.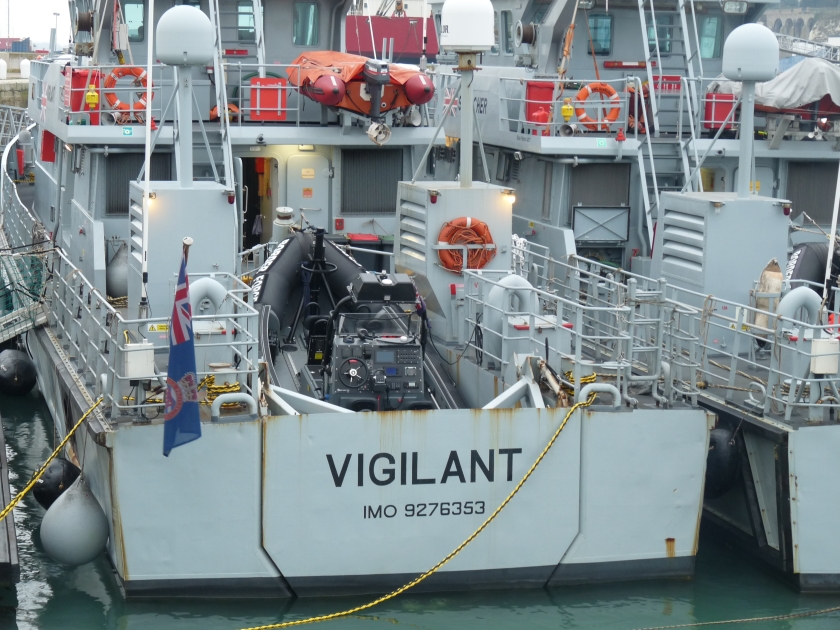 Also in port for Christmas were the MTS VALOUR & the odd-looking very specialised dredger JETSED who has made several visits to Ramsgate in the past to work on Ramsgate's long-standing shoaling problems.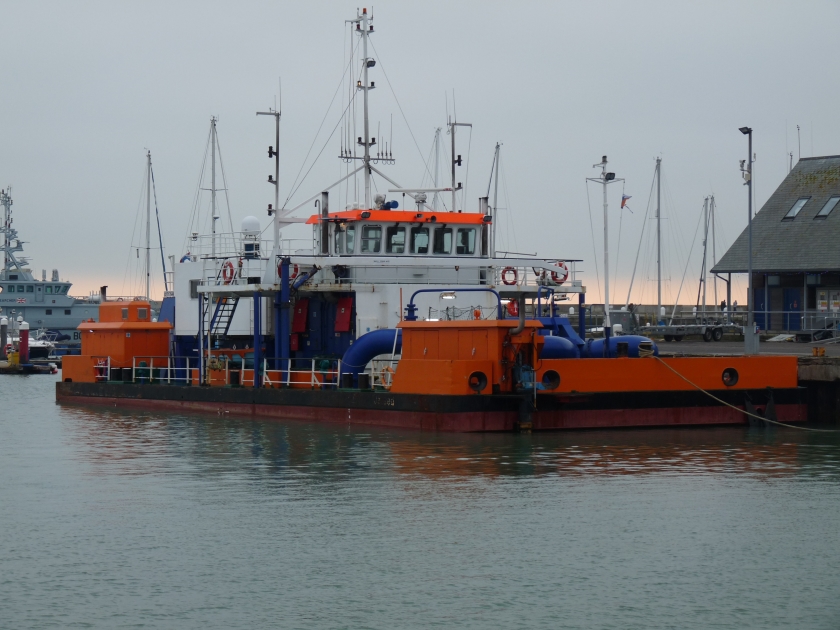 Wednesday, 26 December 2018 - 21:55
Post 5962
Sea News, Dover
Well it was Christmas day yesterday as we know and we thought it would be all sleepy and inactive. But not a bit of it..generally inactive yes...but nonetheless we had action from the Border Force, Vigilant towing what looked like a migrant dinghy, Speedwell leaping off into the fray, the Dover Lifeboat called out...just caught the tail end of her as she disappeared behind Pride of Kent nestling on the western wing...and the Police called because there was a boat adrift in the harbour.
And all that before 11am when yours truly had to dash off...
will have pictures of all that tomorrow morning when normal service will be resumed, haven't had a chance as yet to sort them..
Never a dull moment eh..


Great capture below there Patrick of an arriving Atlantic Reefer. Well done with that.Great to see..

Splendid all round collection/info Mike of the general Port enjoying a rest on Christmas Day. Great stuff!

Nice to see the RNLI Ramsgate Christmas greetings Sarah.

Del as you can see ..inactive of one hand, frantic on the other...

Thanks for the all round comments..ace

PaulB.
Wednesday, 26 December 2018 - 06:29
Post 5961
Patrick, Marine Parade
I echo Mike J's wishes and thanks to PB in the crows nest. Our intrepid and constant look out for all thing Port wise. Thanks for some amazing reports and shots this last year on the forum.
One of the last arrivals before Xmas shutdown was the Seatrade 'Atlantic Reefer' from Paita, Peru for the DCT.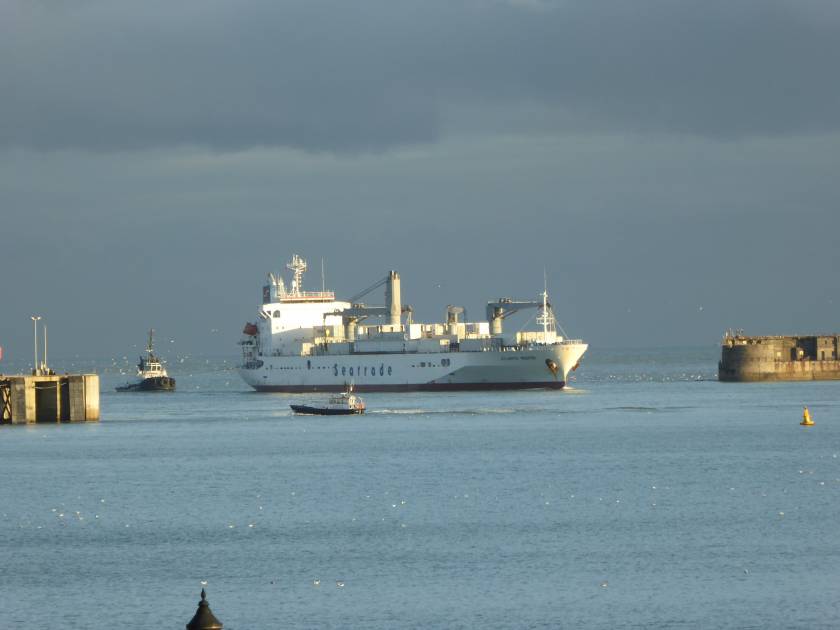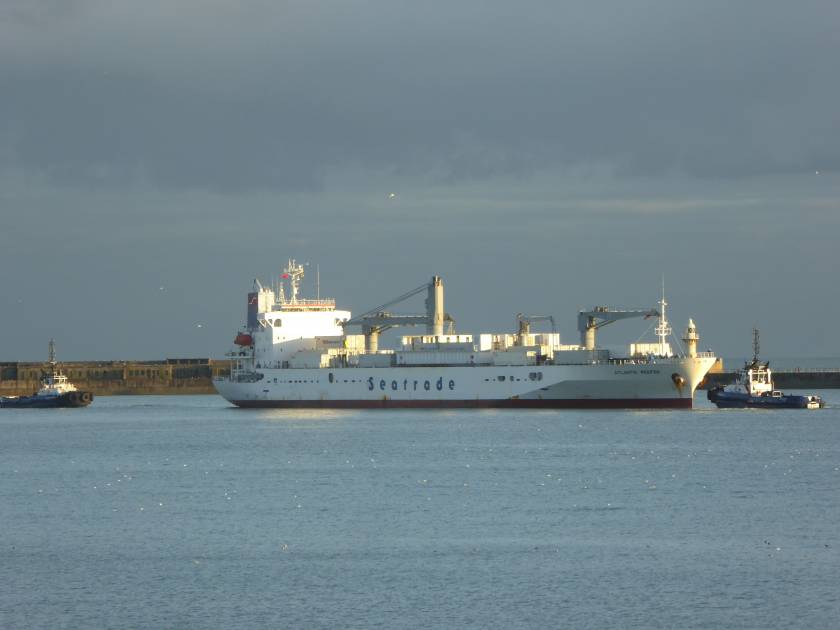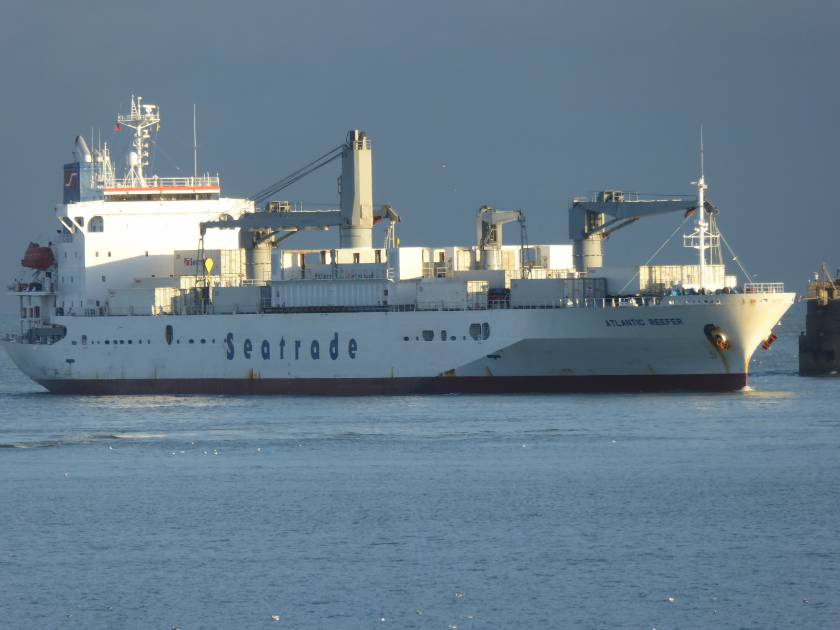 Two other reefers -'Atlantic Klipper' & 'Lombok Strait' are currently laid up on The Downs from Zeebrugge and Vlissingen respectively.
Tuesday, 25 December 2018 - 16:34
Post 5960
Mike J., Dover
A very Happy Christmas & best wishes for the New Year to all 'Sea News' readers & thanks to Paul for running the forum.
A few pix of the annual shutdown, sadly I arrived a little late for some fabulous golden dawn light which rapidly fizzled out.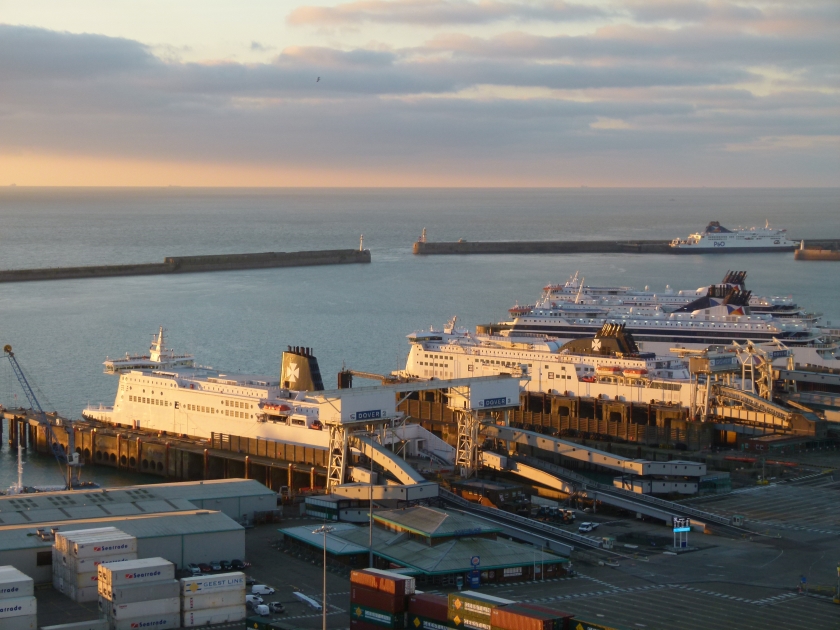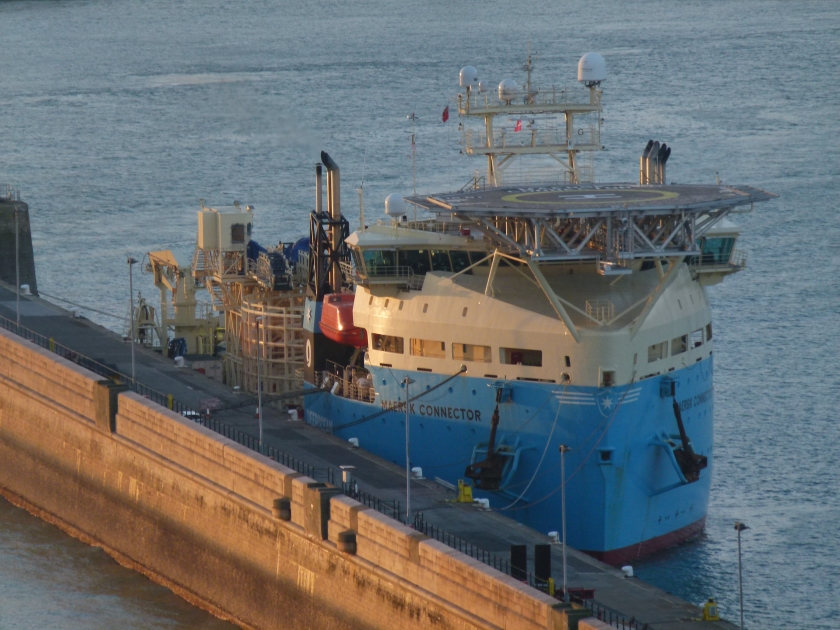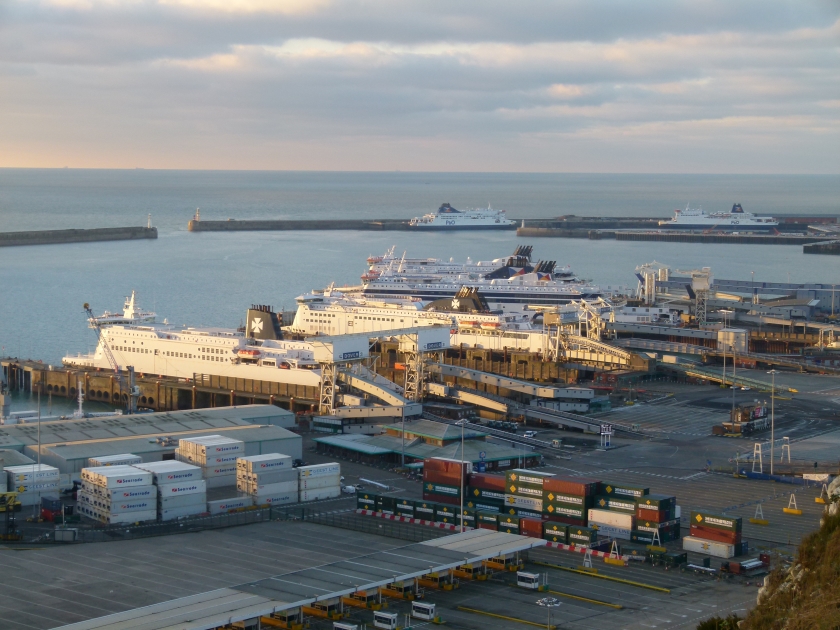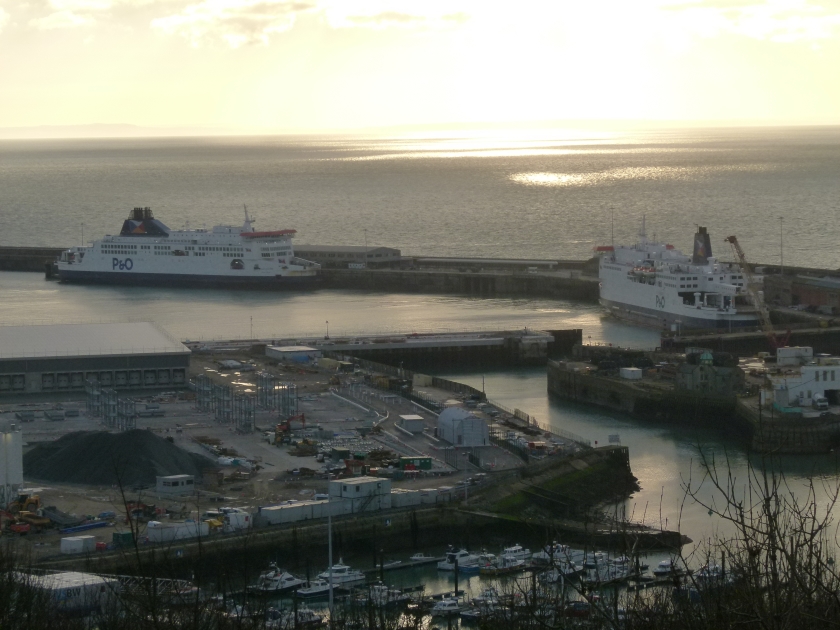 Over in La Belle France the COTE DES DUNES & CALAIS SEAWAYS are in Calais with the DOVER SEAWAYS & the DUNKERQUE SEAWAYS in Dunkerque & the EUROPEAN SEAWAY in the Dunkerque drydock.
Larger 'commercials' in Dover, apart from the DHB 'regulars' on Christmas morning were -
MAERSK CONNECTOR Eastern Arm
ATLANTIC REEFER DCT
r/v MORVEN Wellington Dock
windcat EMS VULCAN Wellington Dock
DWDR 'Mosquito Fleet' Tidal Basin
Border Agency HUNTER Tidal Basin
B/A NIMROD & SPEEDWELL are elsewhere, perhaps out there seeking customers.
Dover lifeboat was busy during the night, AIS showing her off Deal but at 0900 she was back on her berth.
However a look at AIS at 1030 showed her back out at sea, mid-channel & almost alongside the big French Government tug ABEILLE LANGUEDOC, both vessels being almost stationary.
Tuesday, 25 December 2018 - 11:22
Post 5959
Del Styan, Norwich
Happy Christmas, PB. Hope you spot some port inactivity tomorrow.

Monday, 24 December 2018 - 23:13
Post 5958
Sarah, Ramsgate
Seasons greetings sent out by the RNLI Ramsgate & Broadstairs Fundraisers. Happy Christmas to everybody on Dover Forum.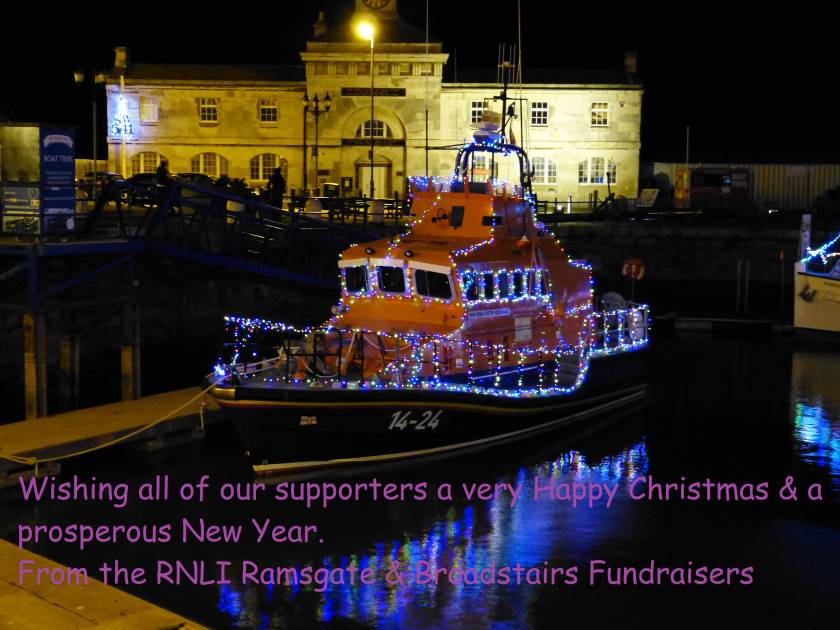 Monday, 24 December 2018 - 07:35
Post 5957
Sea News, Dover
And now...as promised, some pictures of Toploader on the way out for a final day 'at the coalface' before the Christmas break. Its early morning, darkish... you can still easily note the electric lamps powering through the gloom. The conditions, well .. cold and choppy, and as the working team come out they place planks of wood at the front end of Toploader, you can see it below there... not at all sure why...perhaps/probably/presumably to keep the choppy seas at bay.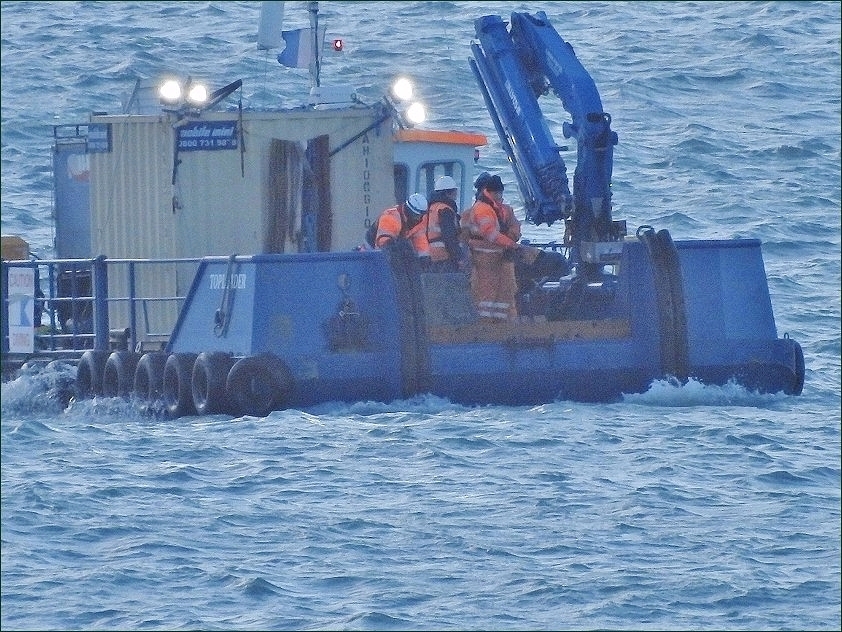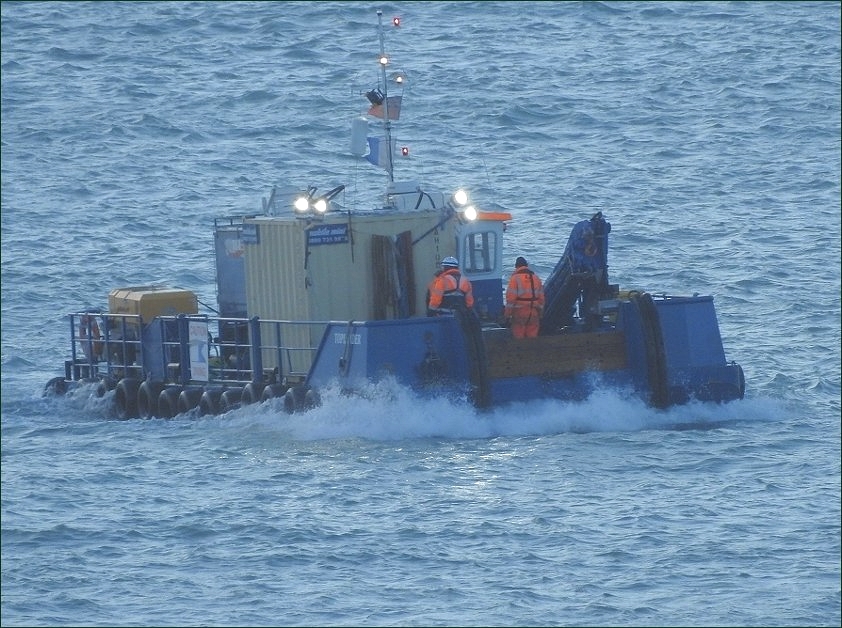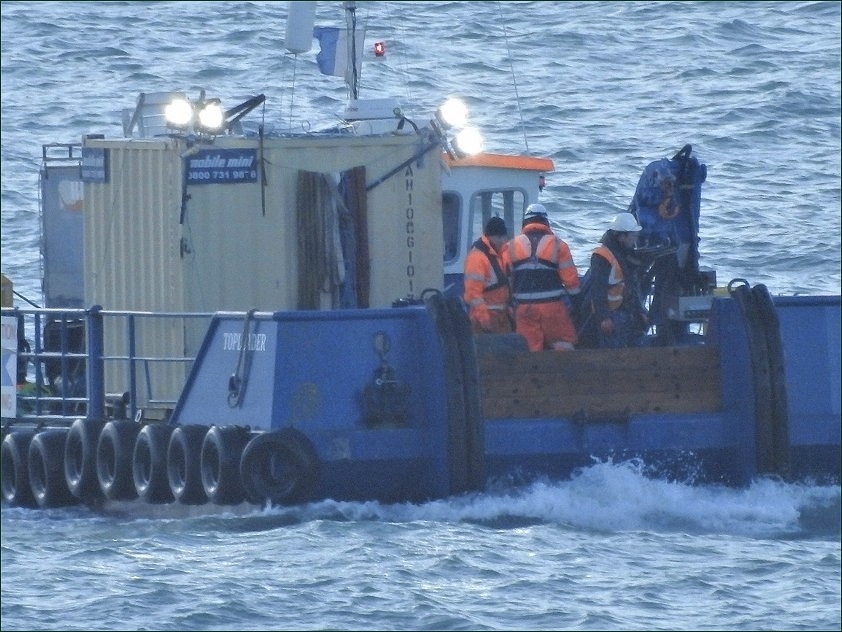 A Merry Christmas to one and all
much goodwill while decking that hall
Jolly good spirits with lots of cheer
and maybe even a glass of beer!

I've got Shakespeare worried there...
PaulB
Monday, 24 December 2018 - 05:02
Post 5956
Sea News, Dover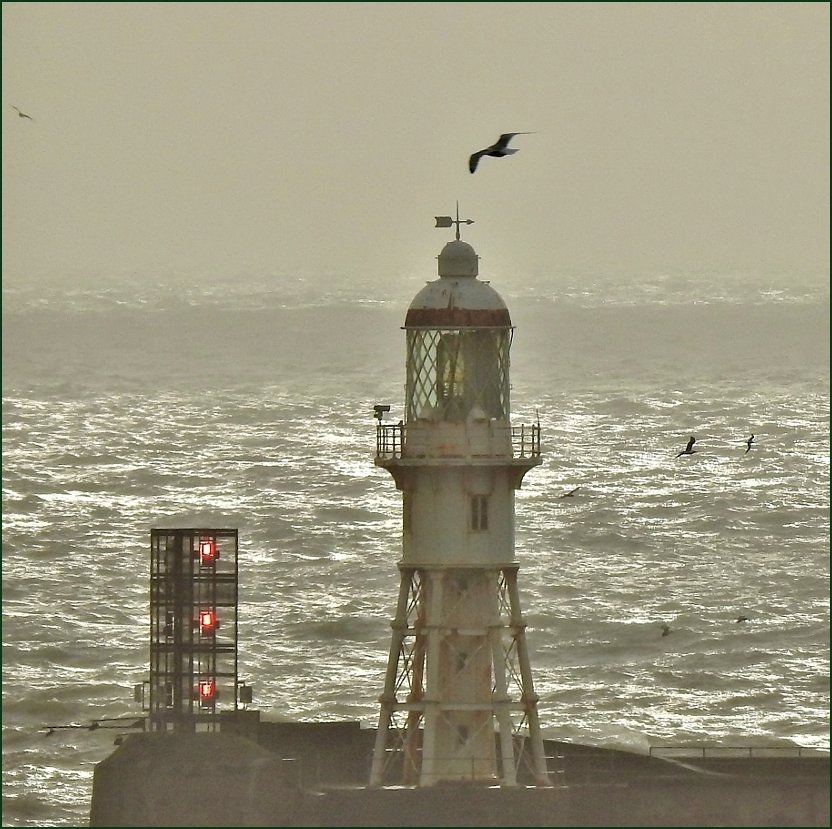 When the sun breaks through on rough seas.
That's the much loved lighthouse at the end of Admiralty Pier on a turbulent day...she withstands all weathers and flashes away magnificently every night giving a kind of grand reassurance.
Swinging the camera eastwards at the same time and we see the approaching DFDS ferry Dunkerque Seaways with one of the P&O Spirits a distance behind waiting to approach the Port. Both pictures from Friday.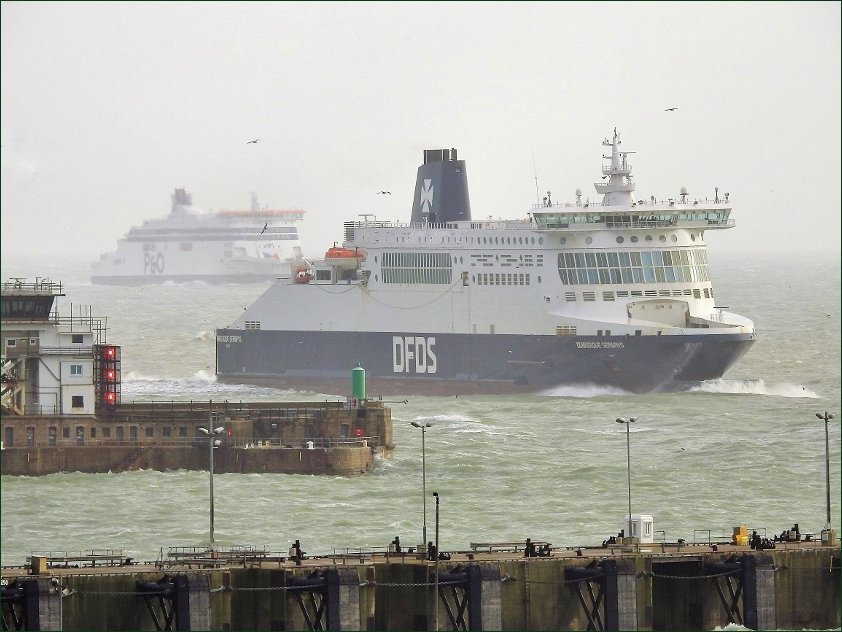 The Grimaldi Lines have been in the news. This is NOT the ship making the headlines but a near identical one by the looks of it...this is one of our own pictures and a relatively recent one, and shows the Grimaldi Grande San Paulo passing by the Port .. as they do regularly. Worth showing it again due to the unfortunate headlines... (see below)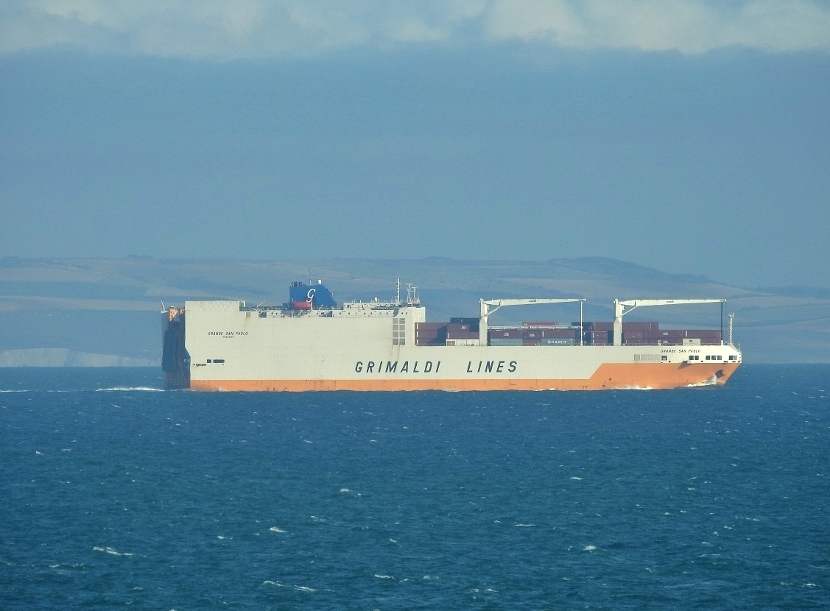 From the BBC
"
Four stowaways found on a Grimaldi cargo ship in the Thames Estuary have been detained after the vessel's crew was threatened. The Grande Tema's crew had to lock themselves in the vessel's bridge for safety, a spokesman said.
Essex Police said the vessel was boarded and secured shortly after 23:00 GMT on Friday - almost 14 hours after the force was first called. Four men who were on the ship have been held under the Immigration Act, the force added.
A police spokesman said they would be handed over to UK Border Force.
"
PaulB
ps: the promised Toploader pictures will be here Monday morn.
Sunday, 23 December 2018 - 07:33
Post 5955
Sea News, Dover
Some more pictures now of cruise ship Columbus...our unscheduled visitor..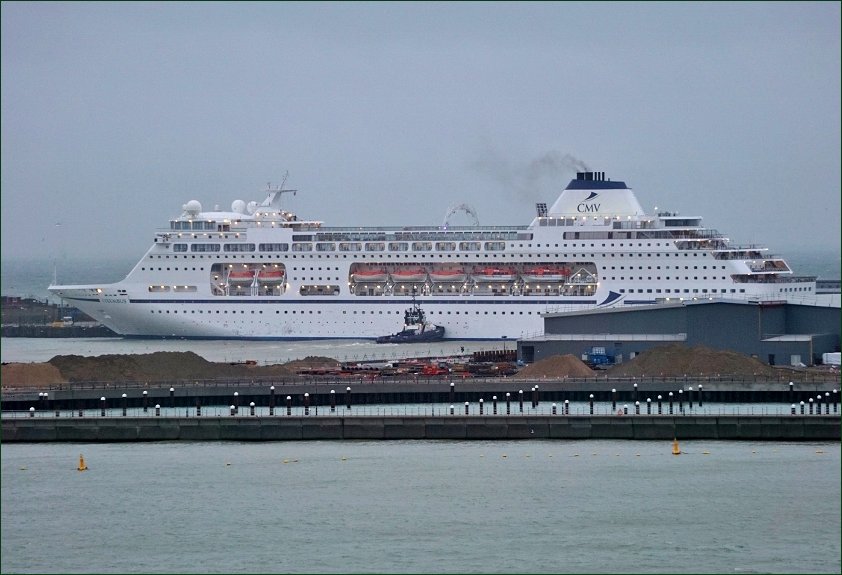 This is yours truly's first daylight picture of her early in the morning Friday after her arrival in the dark on the previous evening. Following along from Mike's shots...Yes indeed you can see the tug above there pinning her to the dock securely, there was a strong and fresh south-westerly crosswind, strong enough to blow the double whipped foam off yer frappe...

Change of camera for the shot below...'the zoomer' was brought into action and it shows Tug Doughty close up and doing the job.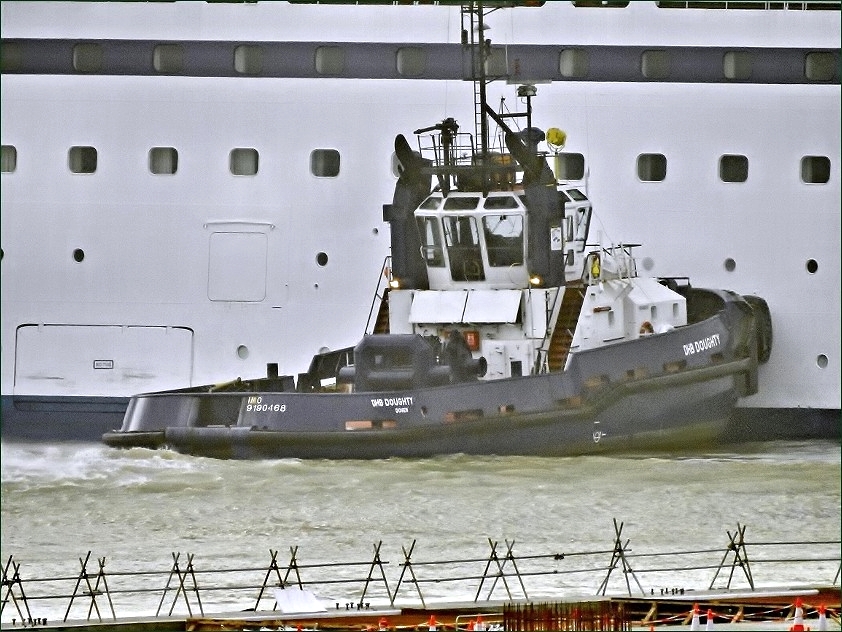 Harking back then to the previous night and we can just see both tugs settling Columbus into position, or trying to, in the strong winds..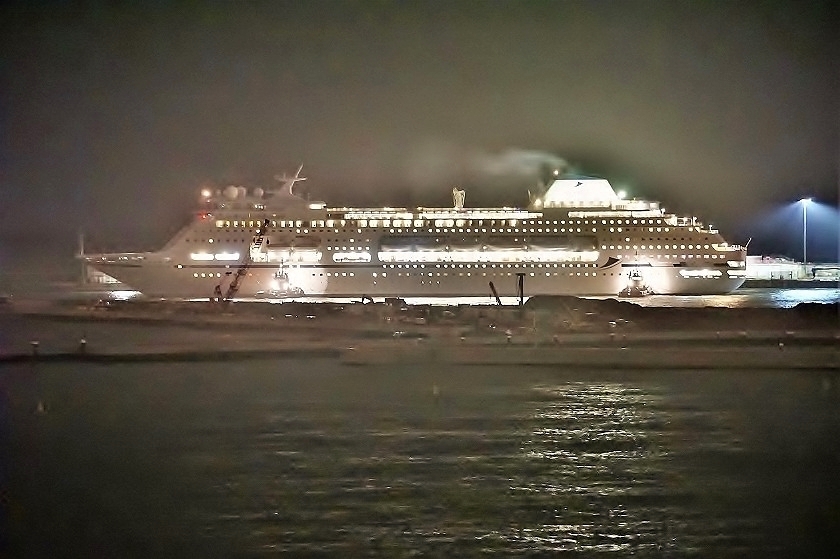 There has been much talk of drones over the past few days, the airwaves ( media ) are full of their major downside as the little blighters have disrupted more than 100,000 people getting away from Gatwick for their Christmas break. Very sad to see such disruption and gobsmacking to see so little official defence for such droning interference. Brings me to a couple of shots here below...
....these taken a while back...while photographing the cranes/barges one evening, the drone seen here suddenly came onto the scene...no idea where it came from or who the operator was. There have been others... and I have seen one in particular a few years back flying right over towards the ferries..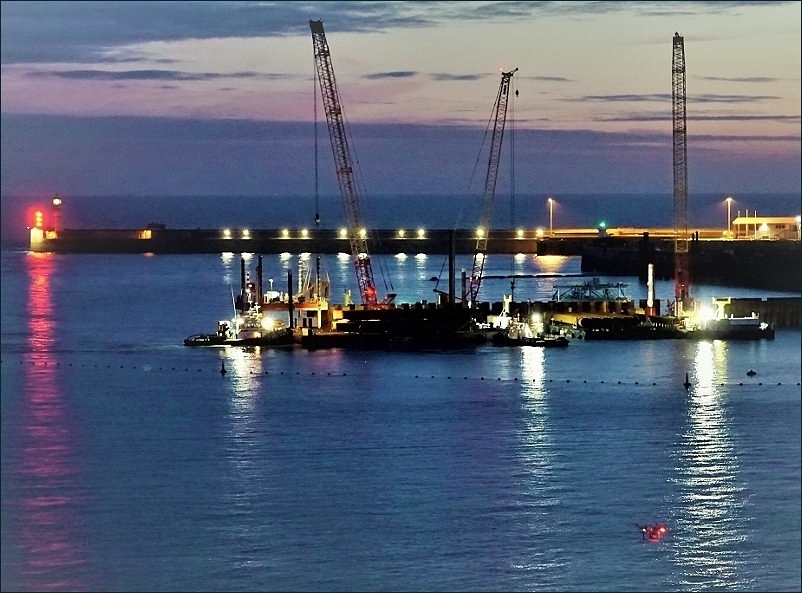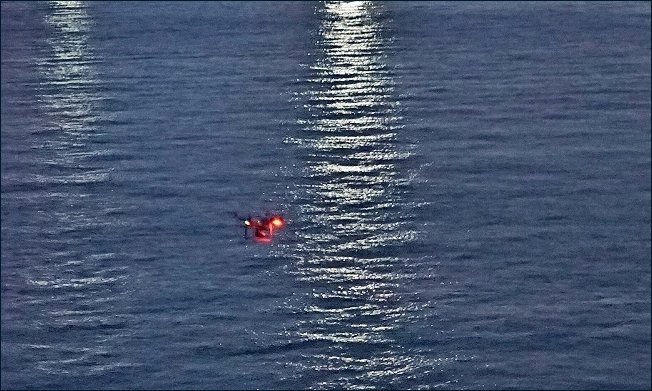 Nice collection below from Mike. Great info too....so don't miss all that.

By coincidence I got some Toploader pictures the same day, as she came out early morn for a last day at the coalface before the Christmas break... will fetch them out and up..
PB
Saturday, 22 December 2018 - 06:55
Post 5954
Mike J., Dover
Home for Christmas - - the TOPLOADER shifted into Wellington Dock Friday morning to lay up until the New Year & was photted coming thru the swingbridge from the deck of the friendly FPV MORVEN [post 5951] who later shifted from the Wellington to moor alongside the DAVID CHURCH, perhaps preparing to sail. She was still alongside Friday night.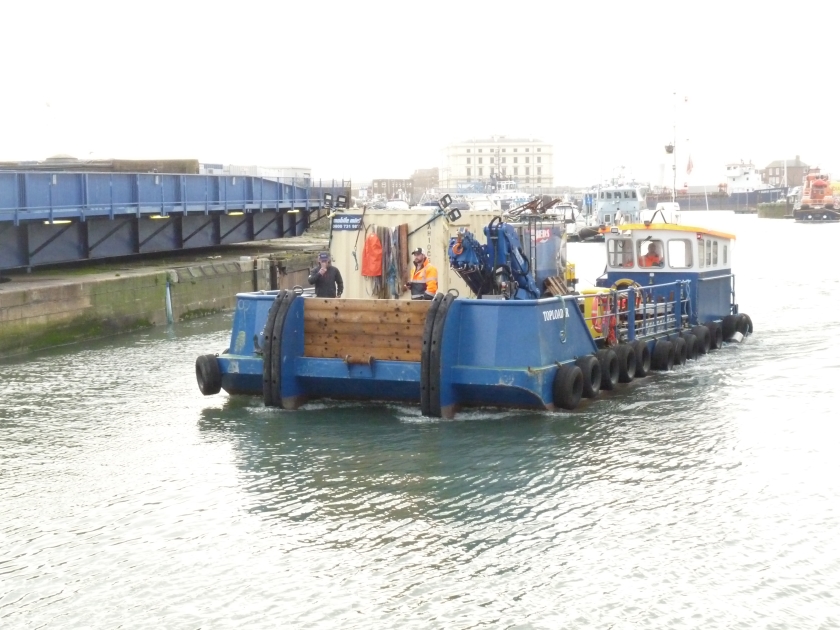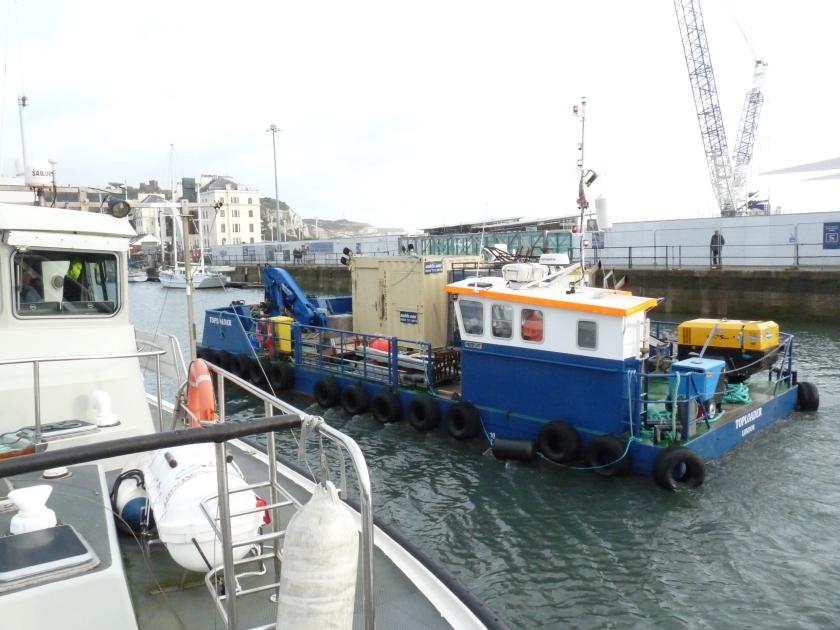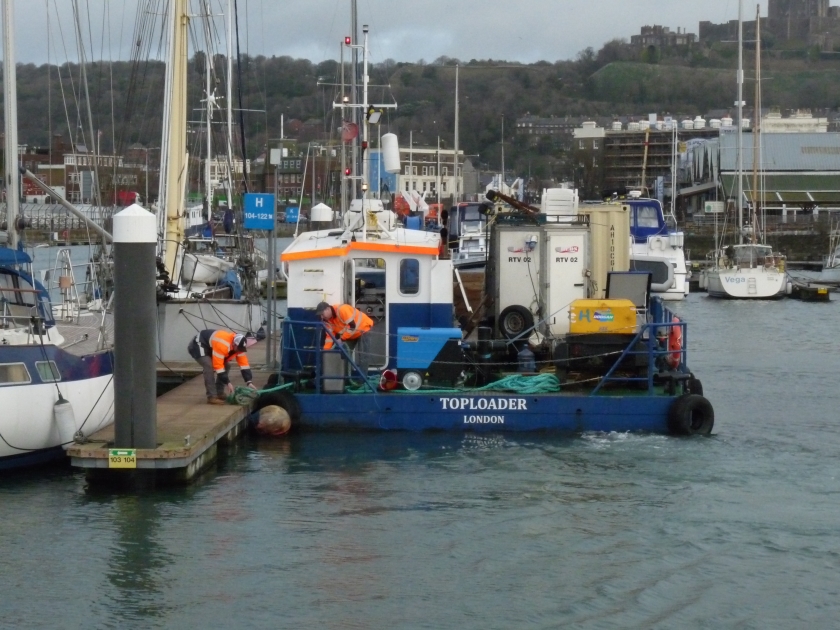 The Admiralty Pier was closed, probably due to the weather, so no close-ups of the COLUMBUS who sailed at 1830 for Amsterdam. Her first Dover call I believe, normally her cruises start from Tilbury.
It was a windy day & one of the tugs was 'pushing up' holiding her on the quay.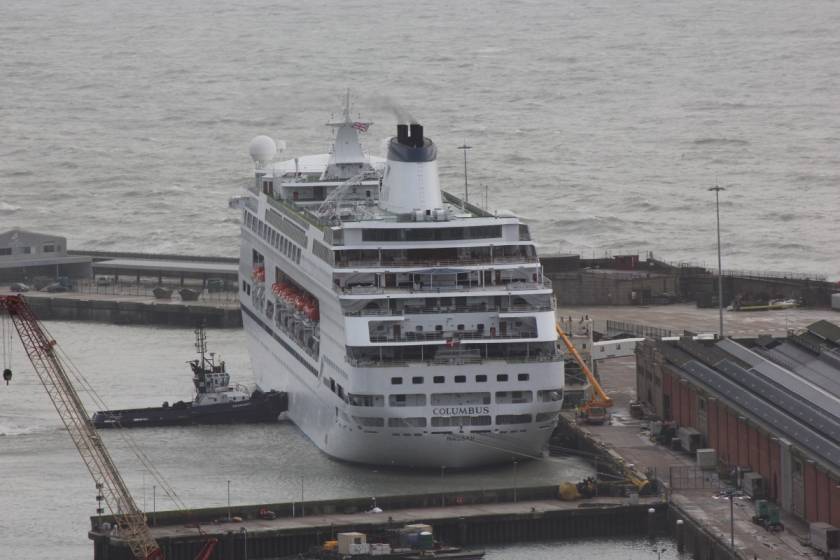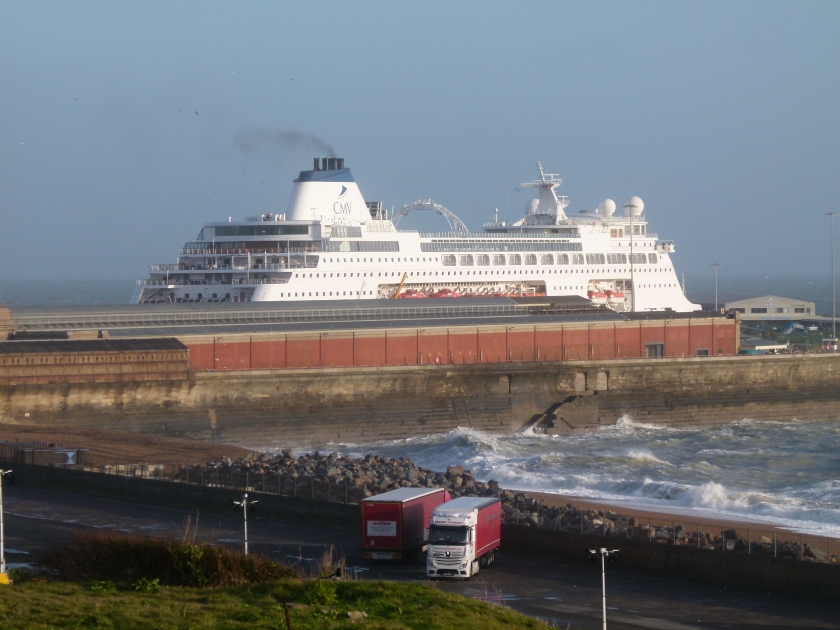 There is a 'piracy' incident taking place off Margate aboard the Italian GRANDE TEMA - some details on the 'Dover Straits Shipping' Facebook page.
Del - fishing vessels in Dover – as far as I know the MARINER 3 is the only commercial f/v working out of Dover but there many 'fishing vessel' type craft who work as angling or dive boats & are occasionally chartered for other work, such as safety boats.
Examples are PORTIA [post 5094] & ROYAL CHARLOTTE [3216].
Occasionally fishing boats will come temporarily for repairs or other reasons & Folkestone's VIKING PRINCESS can be seen in post 5599 embarking what looks like a yacht crew for maybe an off-port crew change. She often lays up in Granville Dock.
While I was down in Western Dock a convoy of the ALE heavy-lift lorries appeared, arriving to start preparation to load another big transformer for Sellindge.
The heavy-lift ship bringing the transformer is arriving after Christmas & is apparently called the HAPPY DOVER !
Friday, 21 December 2018 - 23:53
Post 5953
Sea News, Dover
Some good news for a rainy day. We have been able to increase the size of our pictures so they display now nicely bigger ( much thanks once again to Chris T for doing the necessary ). They are now on display at 840 pixels wide. You can upload any size but... if you resize to 840 before you upload you see the maximum benefit..its the optimum way. These two pictures following along are shown in this way.
Tug Dauntless on a rough oul day...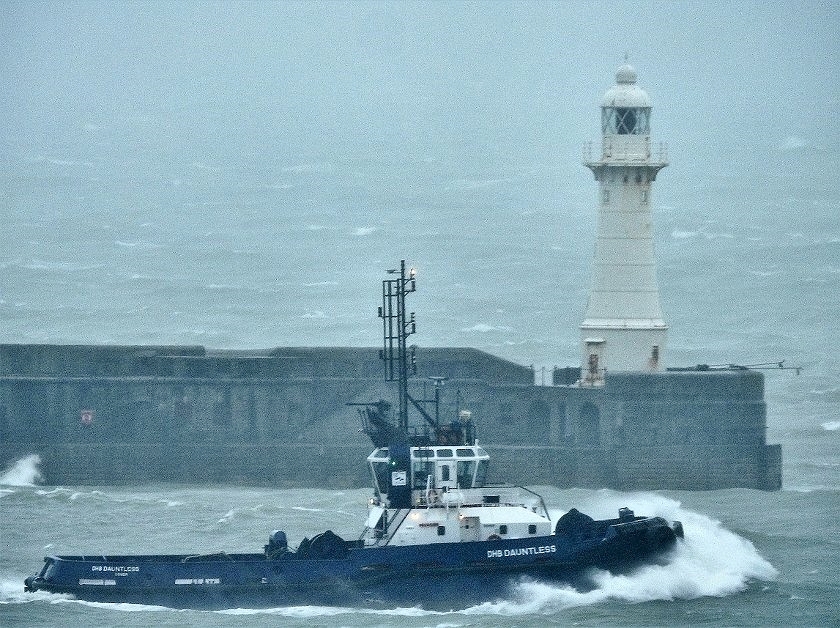 Testing with this nice drawing here below...
drawn by the computer's fair hand...it can be oh so delicate when it wants to be
but some days it bites back...

but not this time...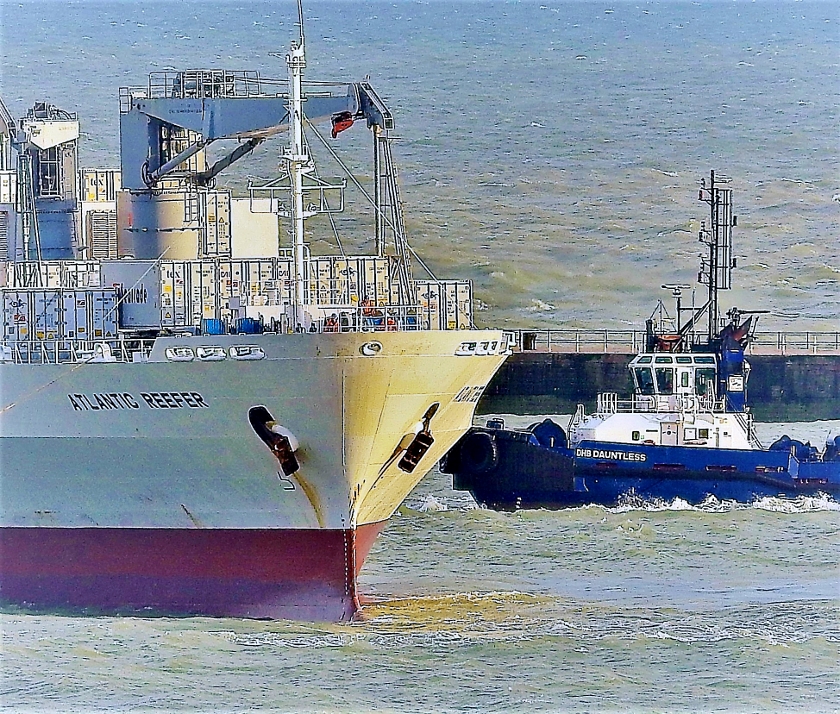 Pictures seem to work better in a more 4:3 format rather than say a 16:9
or in other words slightly squarer shots show slightly better...so there we are..
PaulB
Nice all round collection below from Mike our 'inshore correspondent'...

.
Del...Mike might have some more for you on that.

also see below last nights picture of our unscheduled arrival around 9pm...Cruise Ship Columbus see 5950

Will have another couple of pictures in the morning to follow along..
Friday, 21 December 2018 - 04:46
Post 5952
Del Styan, Norwich
A fishing boat in Dover.... tell me more!

Thursday, 20 December 2018 - 22:56
Post 5951
Mike J., Dover
Small fry. While waiting for the FRI RIVER out on the Ad.Pier on Tuesday I spotted the recently arrived workboat BEAVER moving some of the floating fenders ['Yokos'] from the new reefer berth into the old Jetfoil Terminal.
Some piles have recently appeared in the JFT which won't be filled in as it will become part of the boat yard for yachts & other small craft.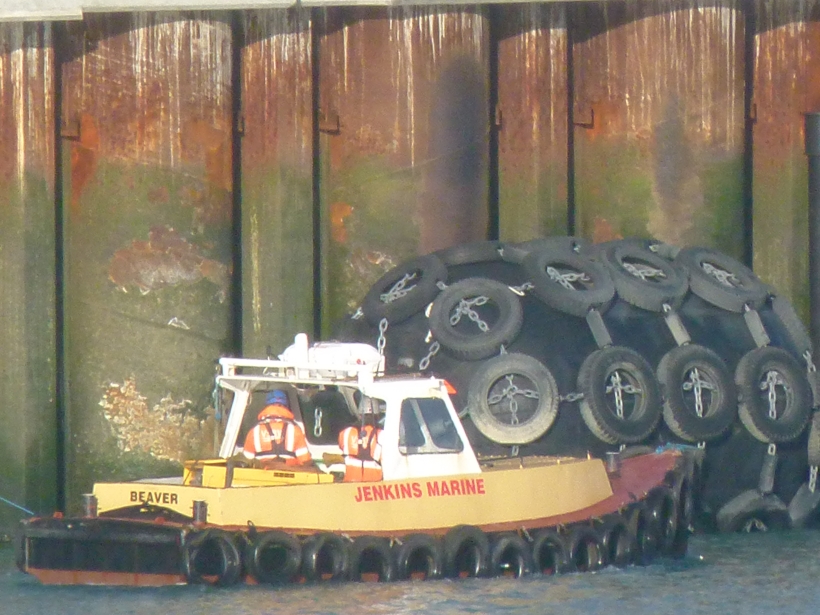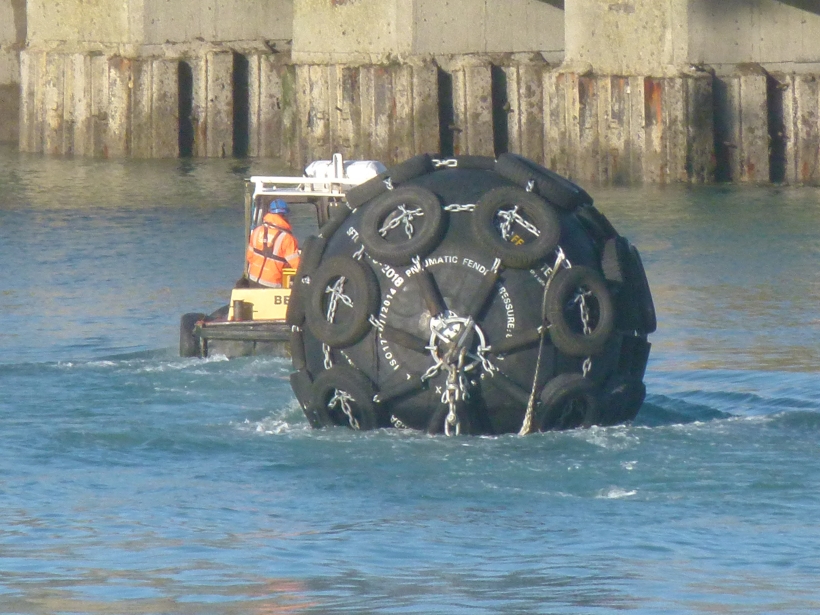 Also passing were the familiar DWDR crew boat PAMPERO & MARINER 3, one of the last, if not the last, commercial fishing boat based in Dover. [post 3195].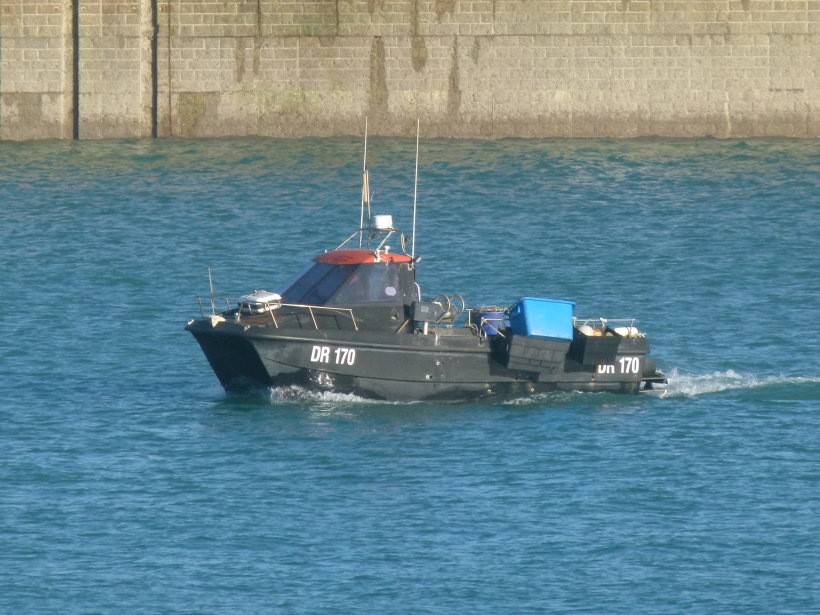 Arriving in the wee small hours of Tuesday from Ramsgate was the survey vessel/workboat FPV MORVEN & she was still in Wellington Dock on Thursday night.
She was built in the Isle of Wight in 1983 as a fishery protection vessel & is currently chartered to A2 SEA who specialise in inshore cable operations & who have an interesting website.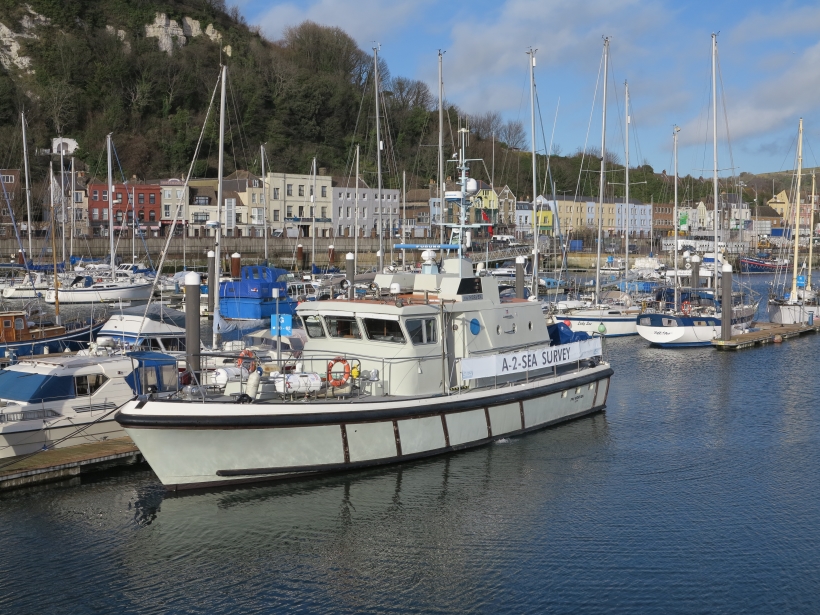 Thursday, 20 December 2018 - 22:05
Post 5950
Sea News, Dover
Columbus..arrives unscheduled.
Time of picture 20.52 tonight in pitch darkness.. She has come into Port here at Dover with ..we understand... a technical problem..
Here she is just a few minutes ago as I write... she was initially en route from Tilbury to Amsterdam.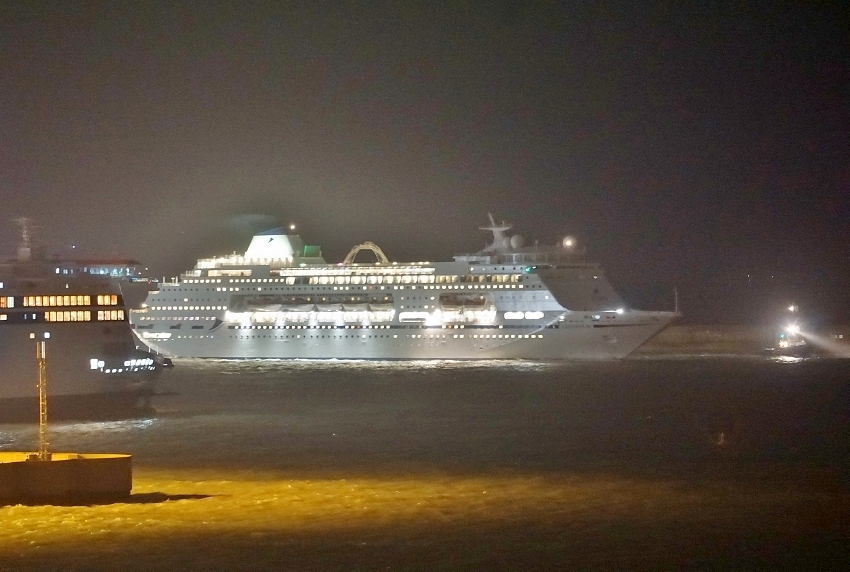 Thanks to Mike once again for spotting the situation early enough...
PaulB
Thursday, 20 December 2018 - 21:13
Post 5949
Sea News, Dover
Another couple of pictures now of Fri River to add to the mix. They show the vessel in the exact same spot ( almost!) both coming and going...( arriving on the 17th departing on the 18th )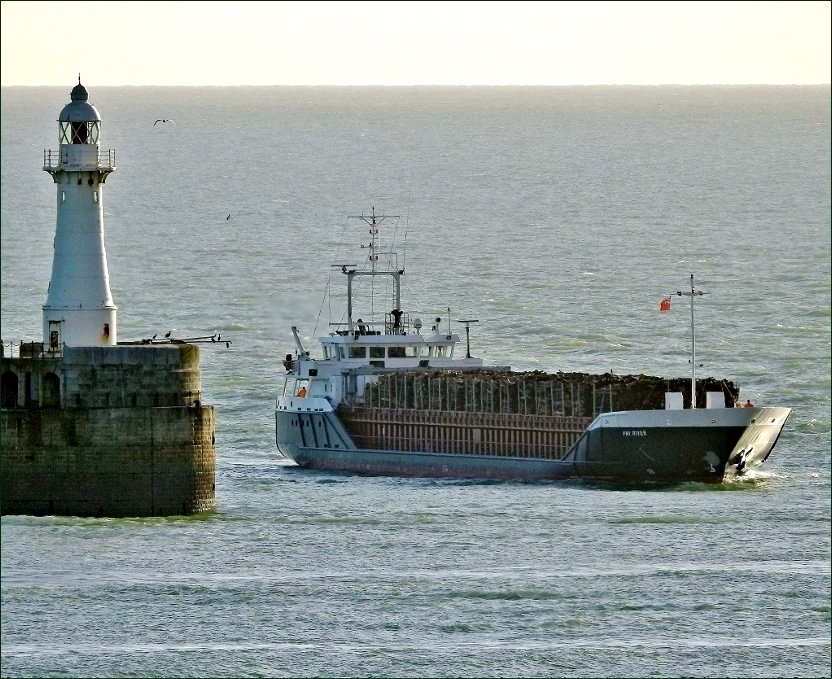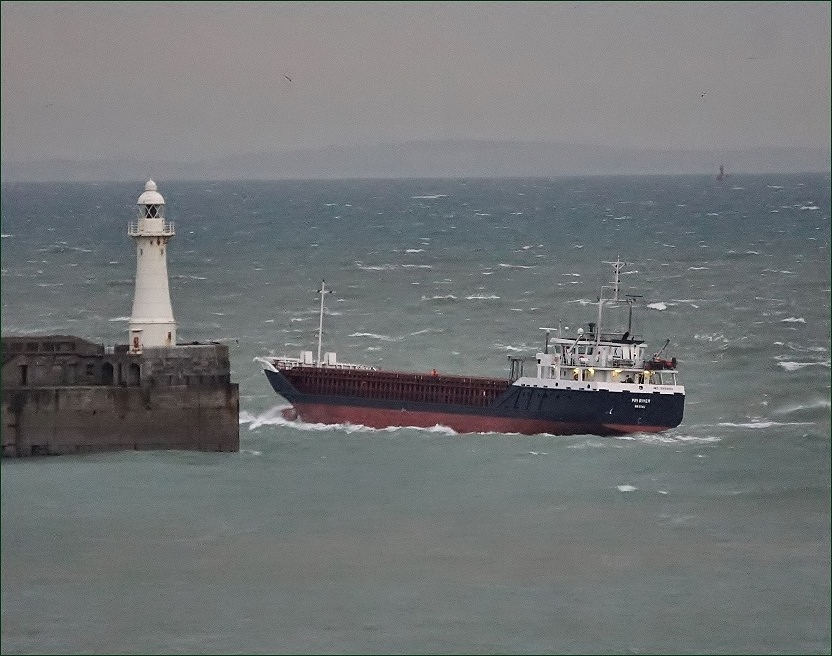 See also 5945 and 5946 for more of Fri River.
PB
Thursday, 20 December 2018 - 07:15