Thursday, 23 January 2020
Sea Pictures from Dover....

WWW.DOVERFORUM.COM/SEA-NEWS
Featuring all the ships that come and go and work at the Port of Dover ..
... with further coverage of the surrounding ports.
Sea News Dover
Use our SEARCH ENGINE below to find all sorts on the SEA NEWS pages....type in the topic and away you go, or if you have the post number, just type it in the box, more than
- 6750 -
nautical posts now. Posts are welcome. just click 'Add Your Comment' below. Max of 5 pictures preferred although we can stretch that for special stories.. Sea News Editor Paul Boland - send info or pix to dover7@msn.com. Always welcome.
Book with P&O - Free Fuel see 6760
NEW UPDATE ..just in:
To show your pictures at their best..it could be worthwhile resizing before posting to
860
pixels wide. Our new standard size.
All pictures on these pages are the copyright of the owners and must not be reproduced without permission.
Post 6586
Patrick, Marine Parade
Two recent visitors during rather overcast and choppy weather on 1 October.
Noble Caledonia's 'Hebridean Sky' departing Western Docks Cruise Terminal with attendant pilot launch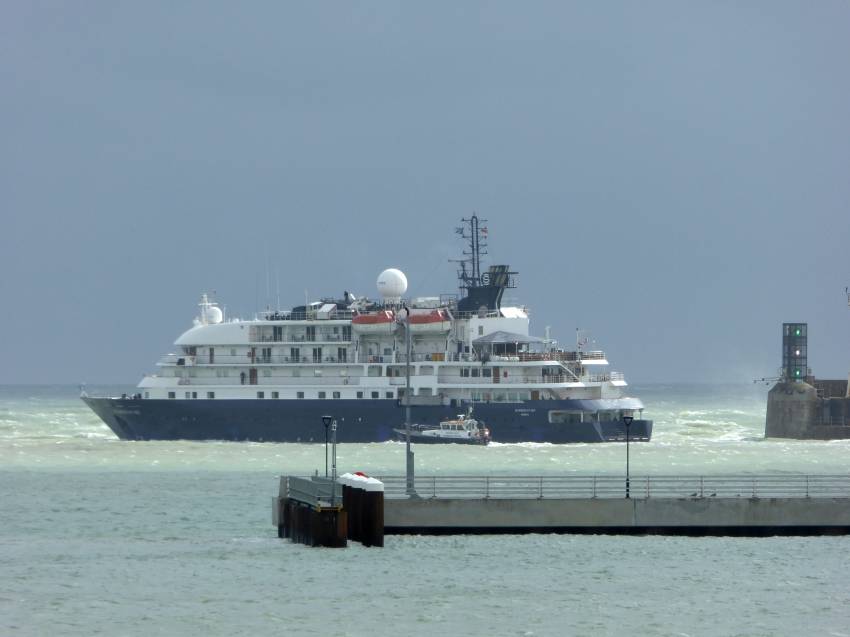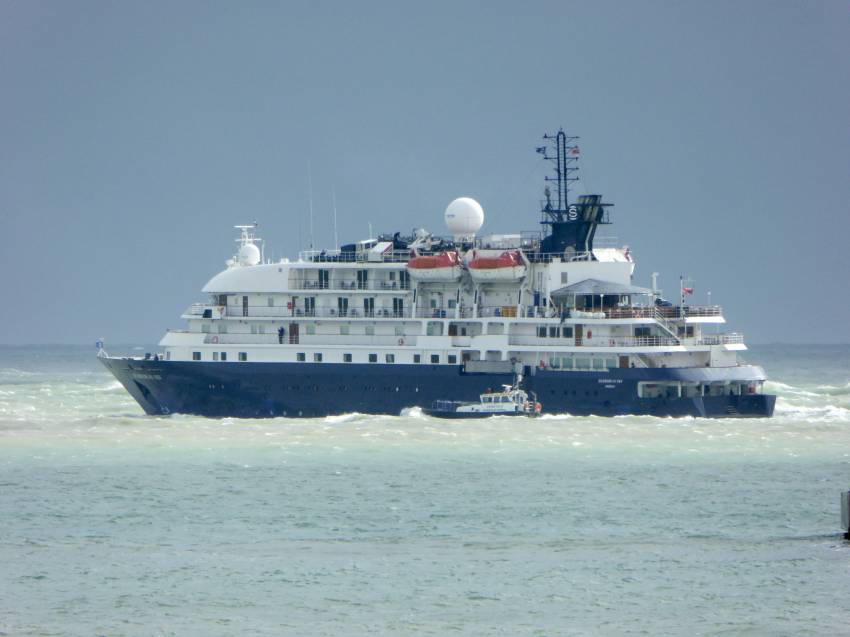 Offshore Supply Ship - 'Olympic Challenger'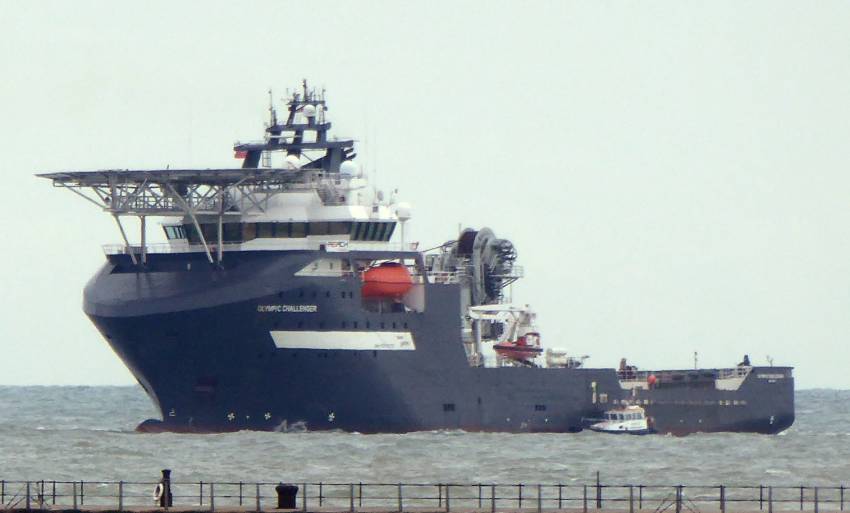 Saturday, 12 October 2019 - 12:43
Post 6585
Sea News, Dover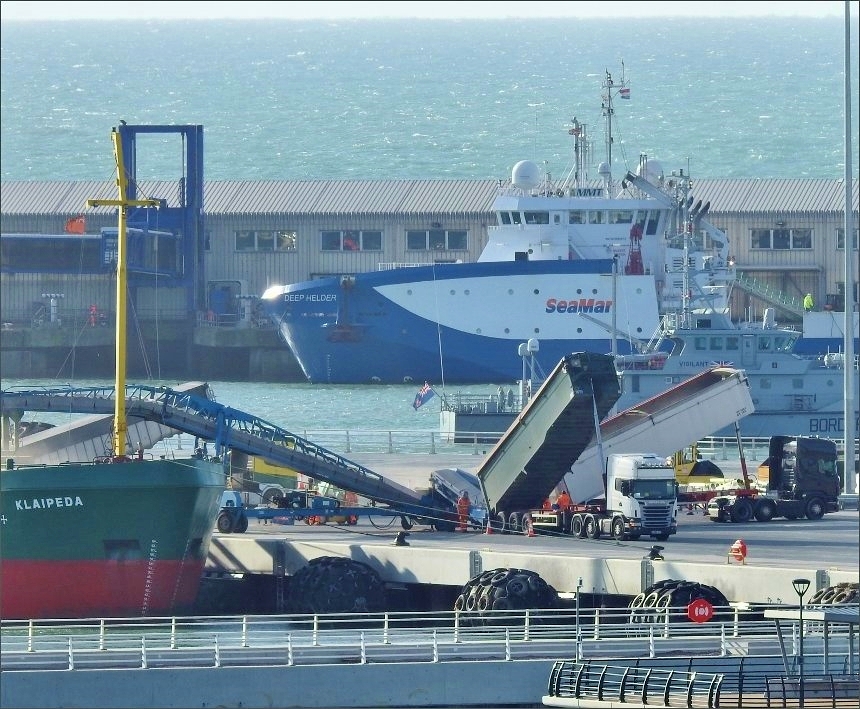 Extra Pic : Another grain loading pic to compliment the one currently showing at the top of page...this one taken a day later, conditions a tad hazier... you can see some of Klaipeda there (see earlier posts below), plus Border Force Vigilant and Deep Helder, a packed shot.
See also yours truly's earlier post today...just in below...
PaulB
Saturday, 12 October 2019 - 06:22
Post 6584
Sea News, Dover
Fairly long range picture above of Elvira approaching the Port of Dover a few days ago....aided by the tug there. You will remember we could see her in the earlier post (see 6579) waiting outside Port for Lombok Strait to depart. Lombok did depart of course, heading for Bridgetown and in came Elvira more or less straight away...and here she is below just after arriving...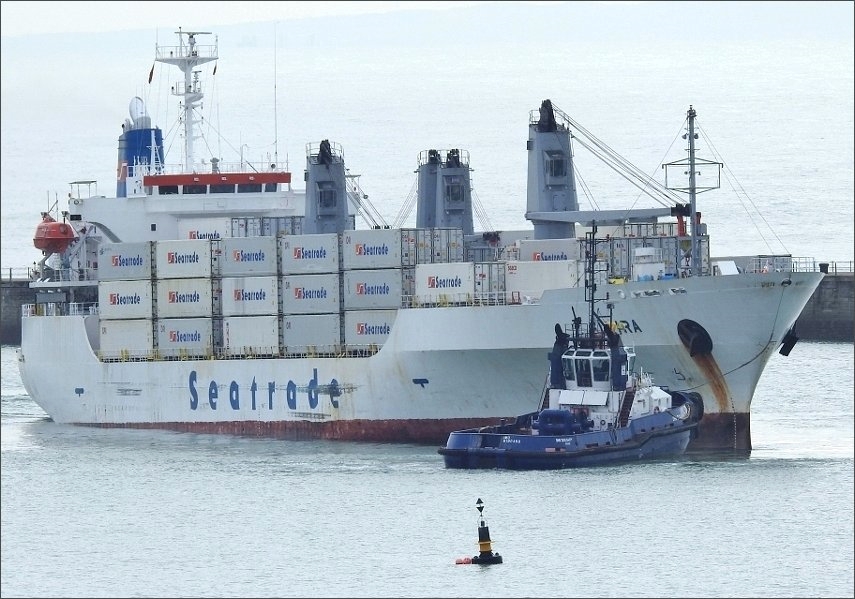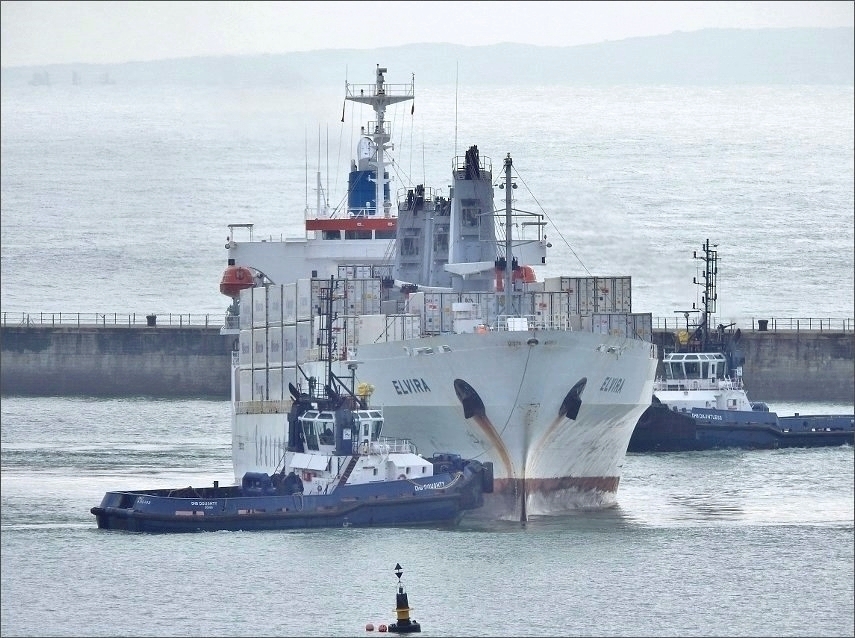 Elvira has since left again ... and now at the cargo terminal...Royal Klipper…
obviously we cant get pictures of them all...
they
will
come and go in the dead of night...Grrrr

PB
Saturday, 12 October 2019 - 06:09
Post 6583
Sea News, Dover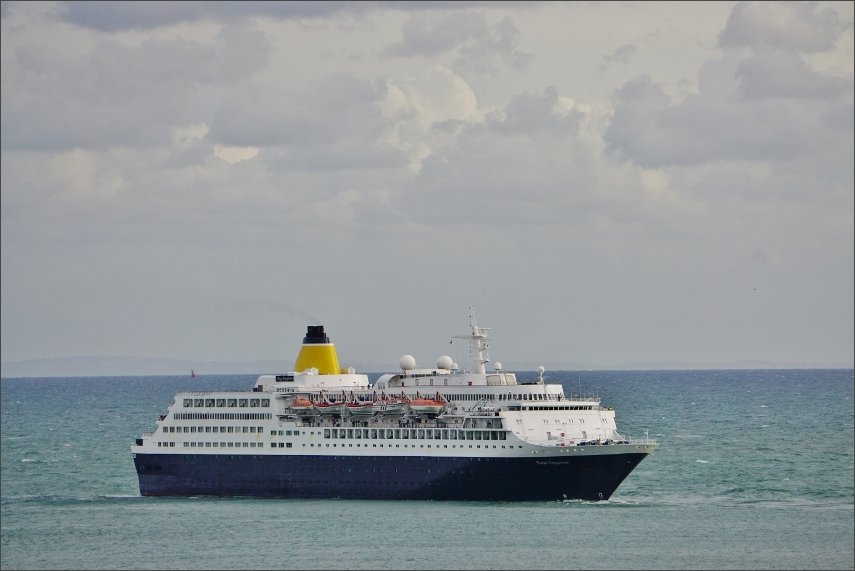 Saga Sapphire at Dover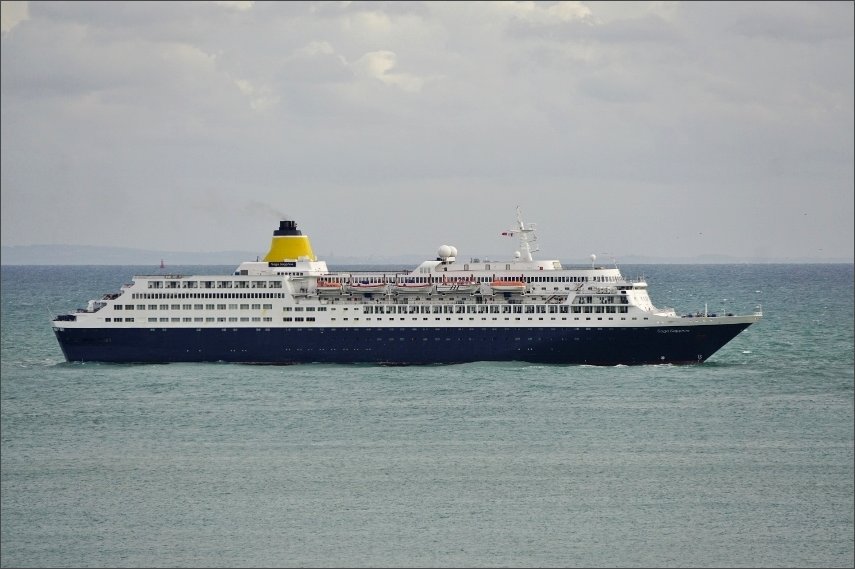 Top two pictures there show Saga Sapphire leaving us on Wednesday evening
...just readying outside the Port of Dover above there to head south to the warmer climes of the glorious Mediterranean. Her 14 day trip majoring on Spain... Barcelona, Valencia, La Coruna etc etc...very nice.
The general cargo vessel Aldebaran below...just caught her departing the same evening as Saga Sapphire, Wednesday, now presumably fully loaded with grain after her stay at WD5 - the new cargo terminal. I believe she was heading for Amsterdam. See also Mike's picture further below which shows her at WD5.
Following along from Mike's pix below of Klaipeda and yours trulys earlier couple...one more of her arrival.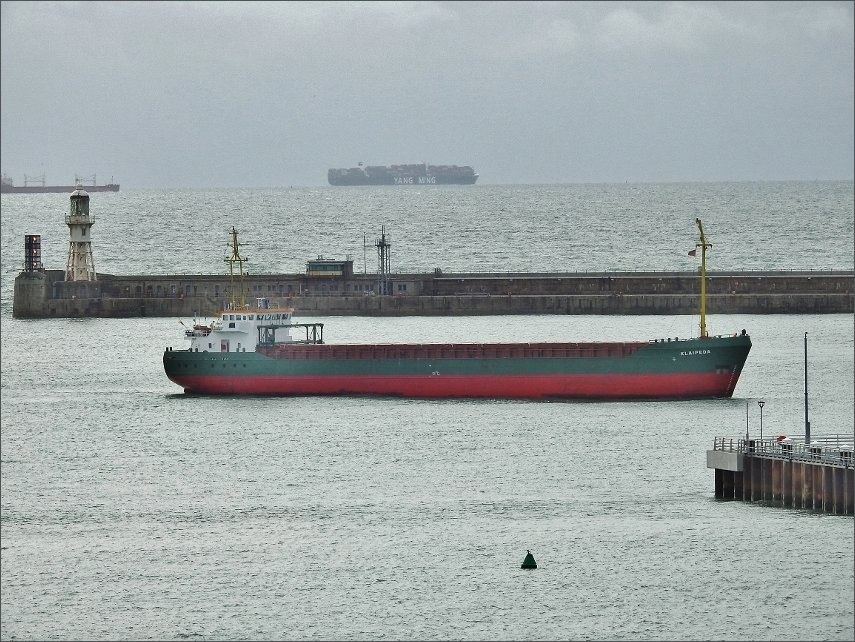 Nice enjoyable collection below from Mike...Great stuff there!

PaulB
Friday, 11 October 2019 - 06:09
Post 6582
Mike J., Dover
Ref Paul's post of the arriving KLAIPEDA - its a small world - I photted her in Goole in early September.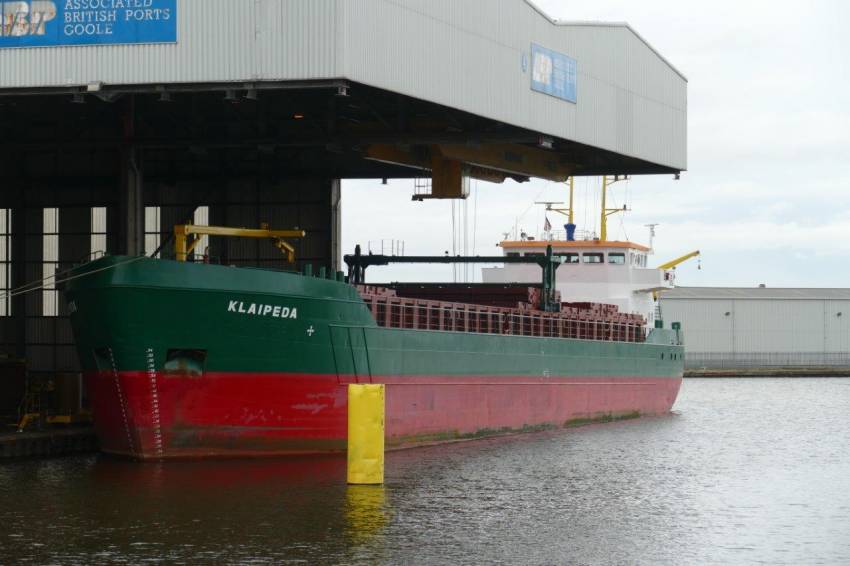 Its not often that you see a ship registered in the same port as her name, so you get identical names on the stern.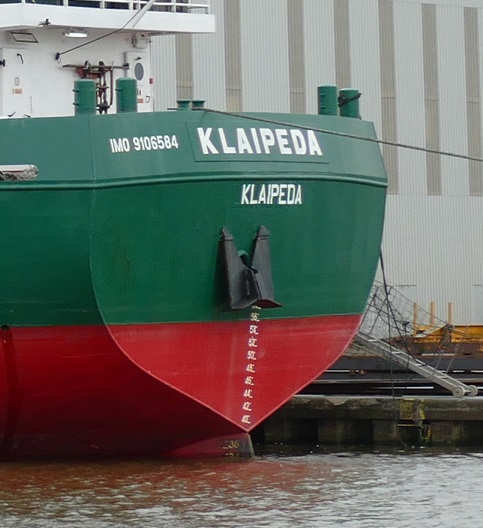 It was managed in Ramsgate when they had their own elderly dredger - the RAMSGATE was registered in Ramsgate.
I almost managed it when I was on the bulk carrier CARCHESTER who was registered in Manchester - the MAN being replaced by CAR, the beginning of the name of the long-term charterers CARGILLS.
A little activity in the new lock chamber on Tuesday with pontoons being installed.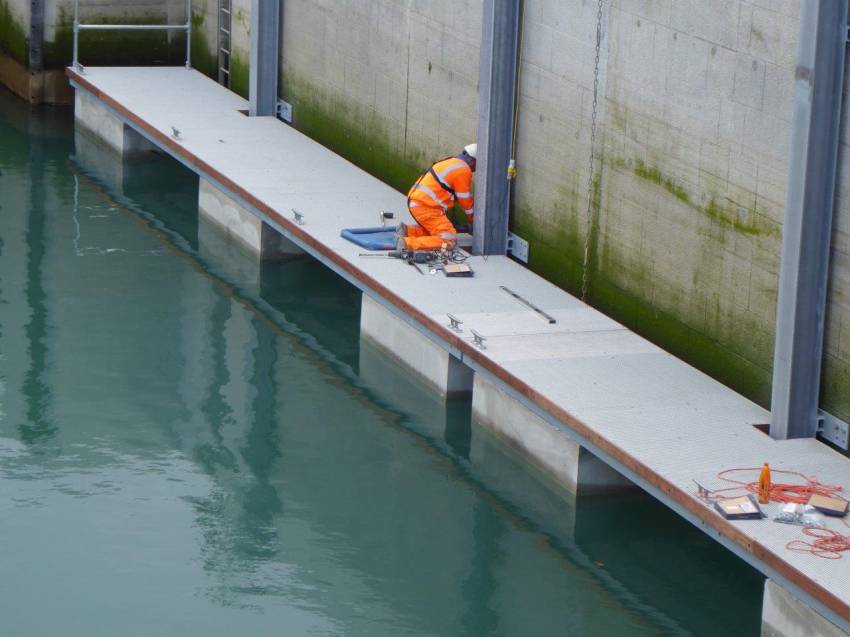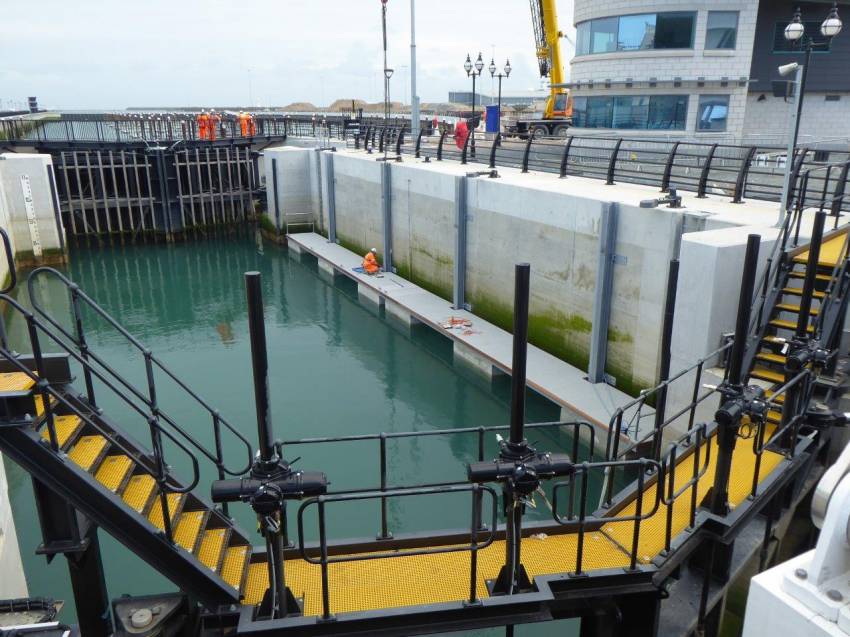 Rather a lot of 'supervisors' on the lock gate !
In the Wellington Dock on the same day was the elegant modern motor yacht LADY ANN, a pleasant change [for me anyway] from the over-bodied 'look at me' designs of 'Sunseekers' & the like.
Friday, 11 October 2019 - 02:49
Post 6581
Sea News, Dover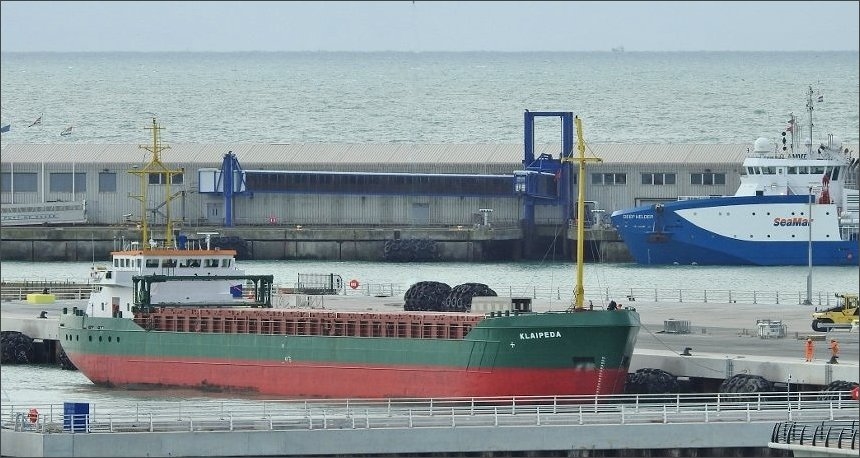 Klaipeda : In the previous post below Mike speaks of the arrival of the next grain ship Klaipeda at WD4. Life is getting very exciting at WD4 the new pier/berth. Well there she is above.. coming towards the pier at 10 am yesterday...first shot above actually 09:55. She is still there as I write too so the show goes on... in pic 2 you can just see Deep Helder in the background there...
Just to catch up now with some more arrival pictures from the past few days. Taken in very early morning light under mostly gloomy skies...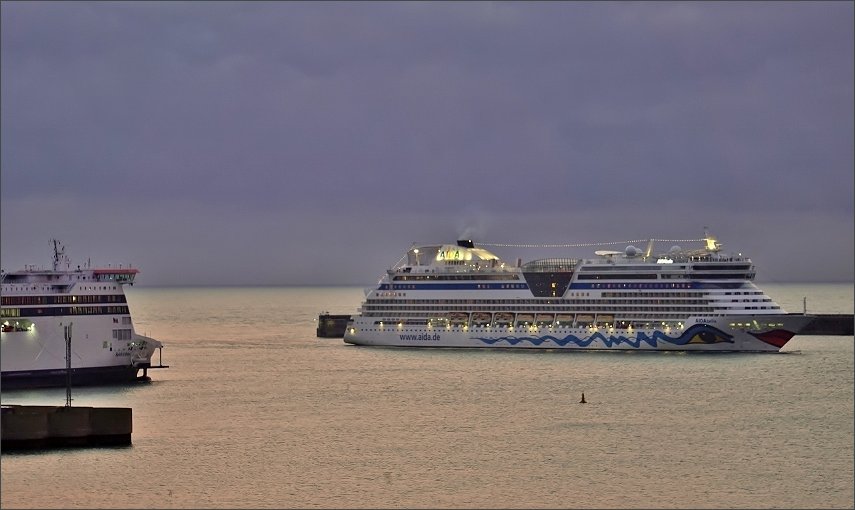 AIDAbella on Monday earlier this week above
and Rotterdam arriving the next day Tuesday below.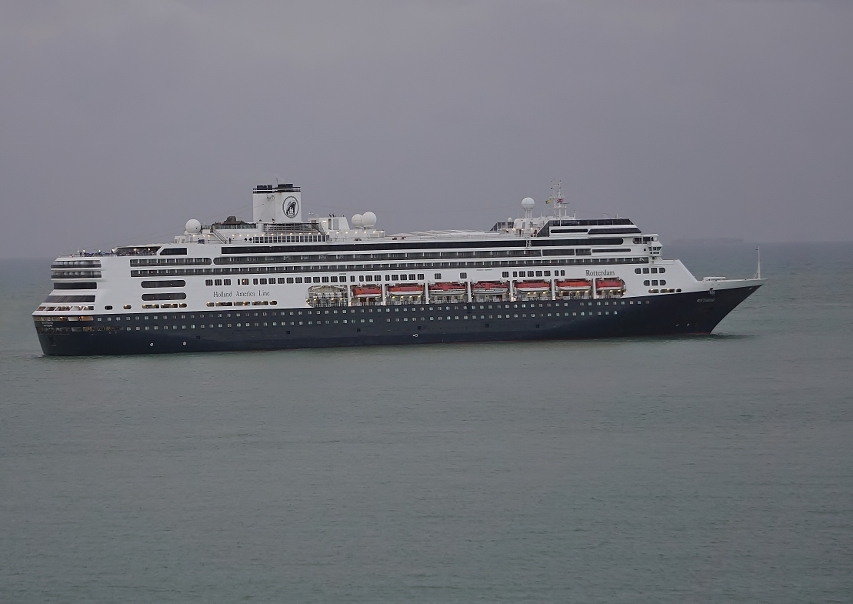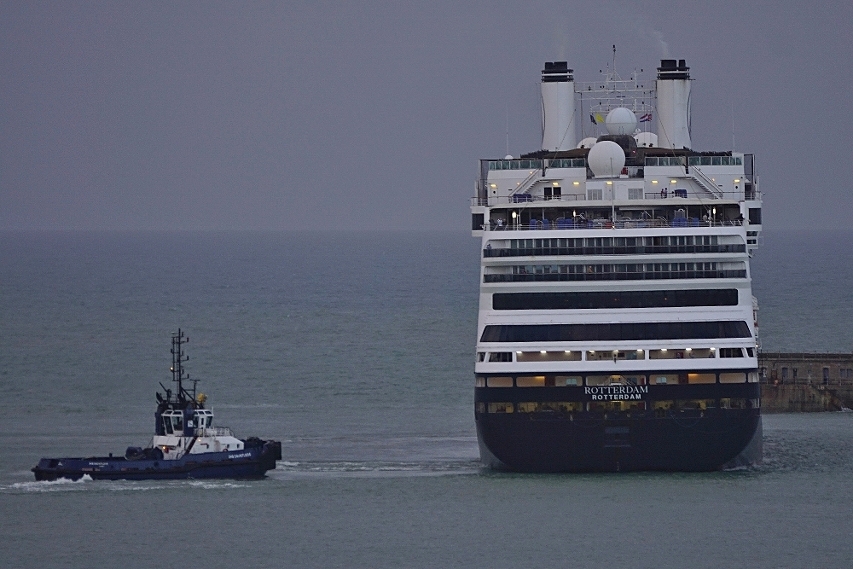 Great info and enjoyable pix from Mike below...don't miss those...

PaulB
Thursday, 10 October 2019 - 07:35
Post 6580
Mike J., Dover
Wednesday & the ALDEBARAN sailed from WD5 about 1730 for Rotterdam on completion of loading her grain cargo.
An hour earlier the SAGA SAPPHIRE had sailed for Ceuta,
DEEP HELDER was on Cruise-2 all day, loading equipment & stores & was still alongside early Thursday.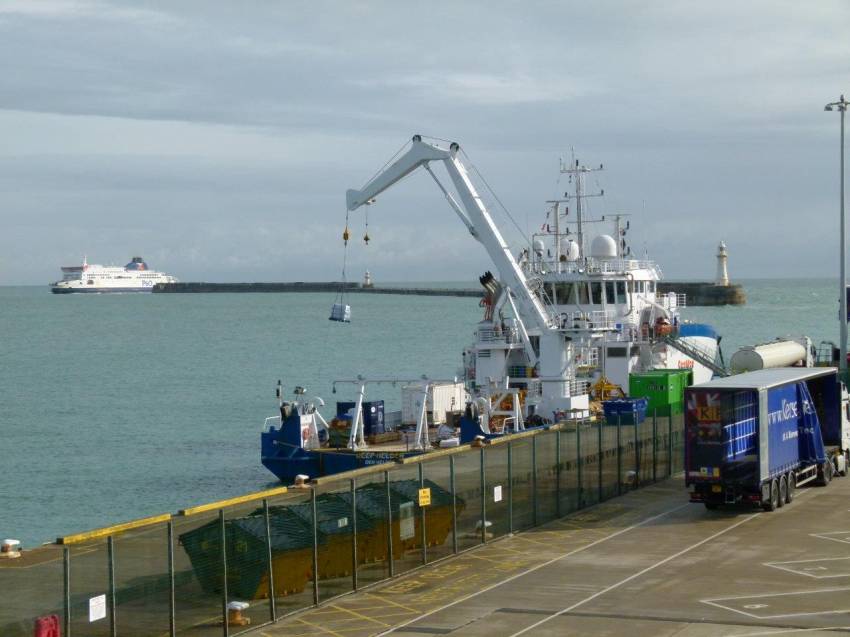 As I walked up the Admiralty Pier I was surprised to see the next grain ship, the Lithuanian KLAIPEDA already alongside WD4 & almost invisible behind the reclaim.
The Admiralty Pier will be closing on Monday & on completion access arrangements for anglers & walkers will change & the initial walk will will be a little less interesting.
It'll be necessary to go down a new set of steps to the lower level of the pier & then along a fenced path before gaining access to the upper level of the pier.
I understand that this change is due to work needed at the landward end of the upper walkway, but it is very good that DHB are investing in the Admiralty Pier for the benefit of the public.
Thursday, 10 October 2019 - 02:29
Post 6579
Sea News, Dover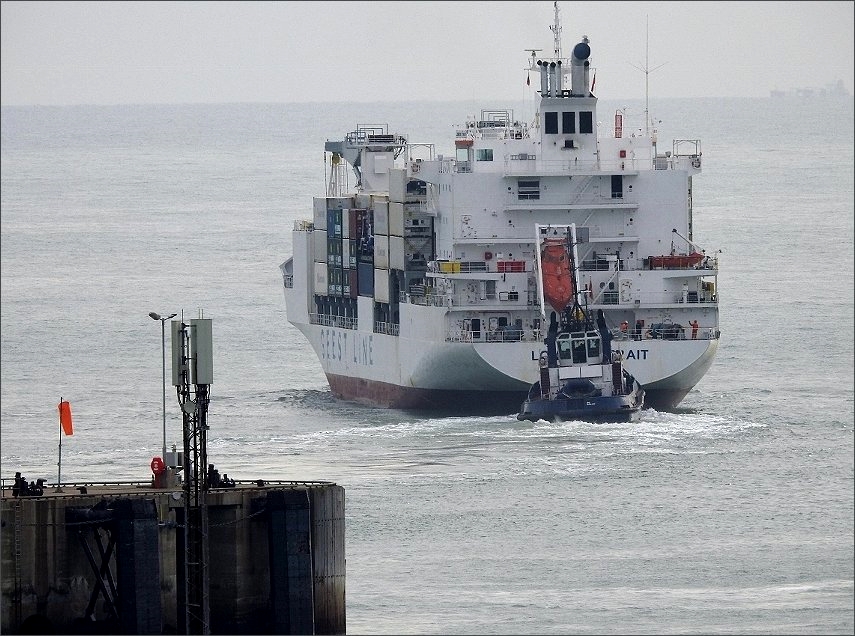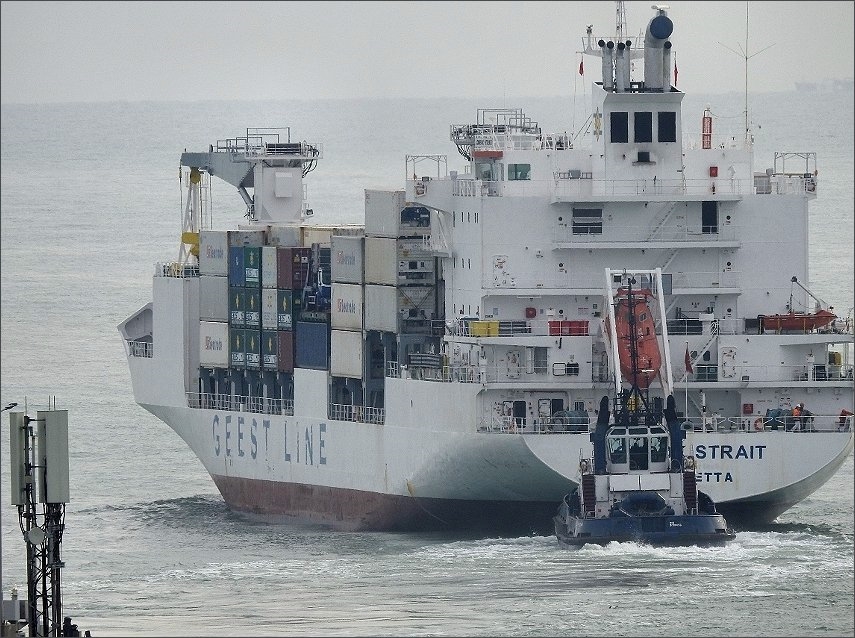 Lombok Strait : Some pictures above there of reefer Lombok Strait moving off on Monday morning. She didn't come over to the bay area to be photographed but nipped straight out the eastern exit from the eastern terminal like a movie star keeping a low profile.... 'shouldnt be allowed'

Was able to grab these pix because there was no ferry in either Dover 8 or Dover 9 and there we are. Off she goes on the long haul to Bridgetown in Barbados.
We got the following picture a tad earlier...looking across the rooftops as it were you can see Lombok Strait still at the Cargo Terminal...in the distance you can see Elvira waiting for the Lombok Strait departure...yes they are queuing up... will have a pic or two of Elvira arriving as well. That will be following along in due course.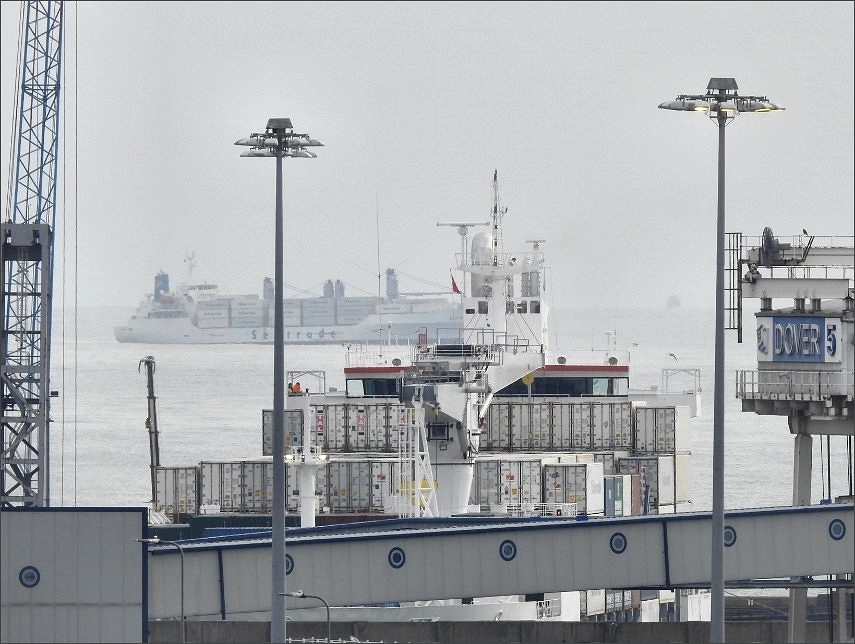 Don't miss those pix below from Mike...a nice collection below there...

PaulB
Saga Sapphire in Port today.
Wednesday, 9 October 2019 - 07:58
Post 6578
Mike J., Dover
Monday's visitors.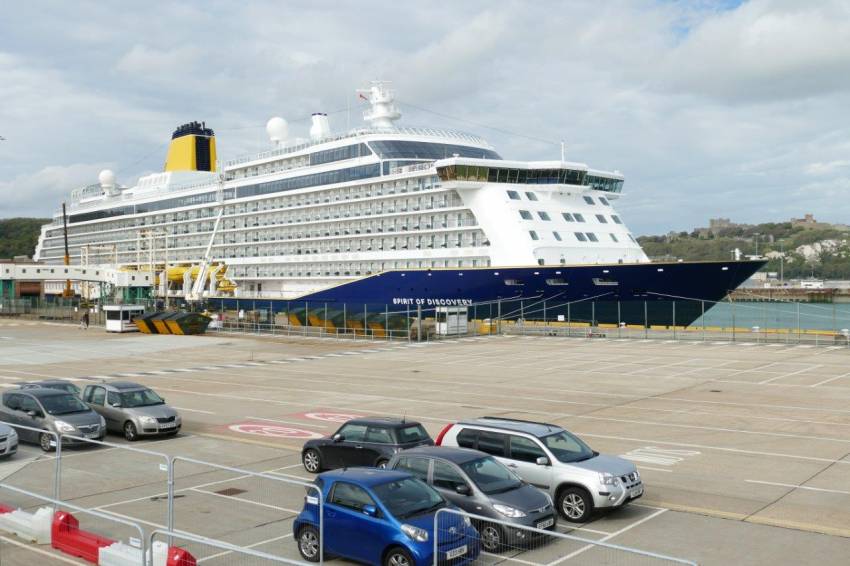 The outer end of the Admiralty Pier, beyond the turret, was closed as usual, closing whenever a ship is on Cruise-2.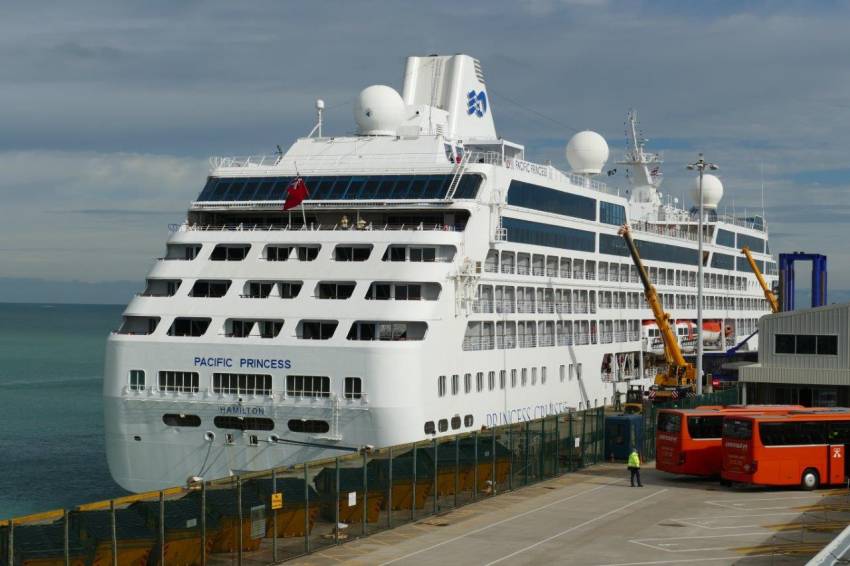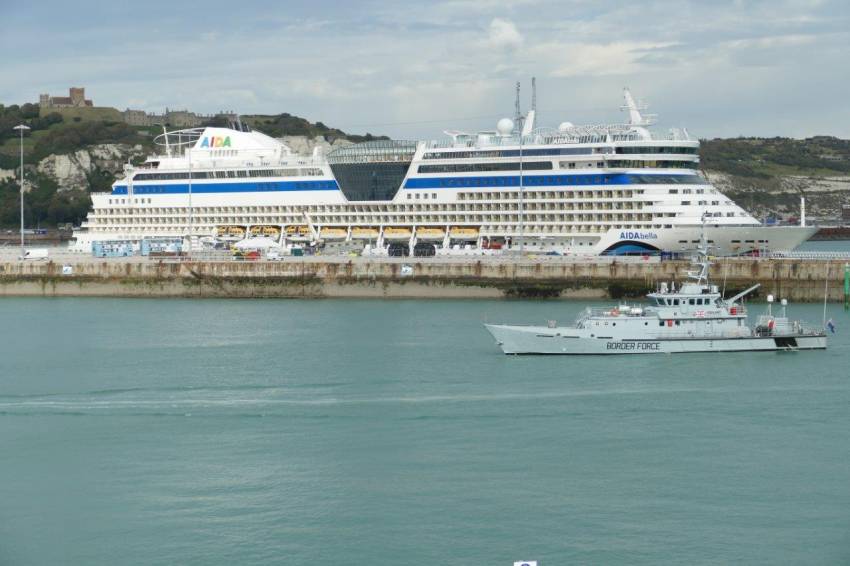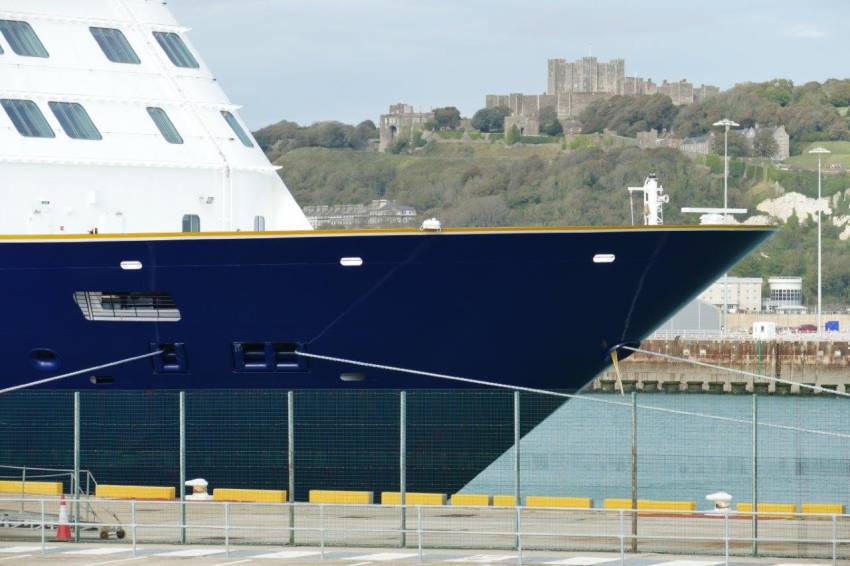 The weather deteriorated during the afternoon [I once saw an American TV weather map marked 'increasing lousiness'] & drizzle at dusk didn't improve the view of the threesome taken just before the PACIFIC PRINCESS sailed for La Coruna,
,

Wednesday, 9 October 2019 - 02:24
Post 6577
Sea News, Dover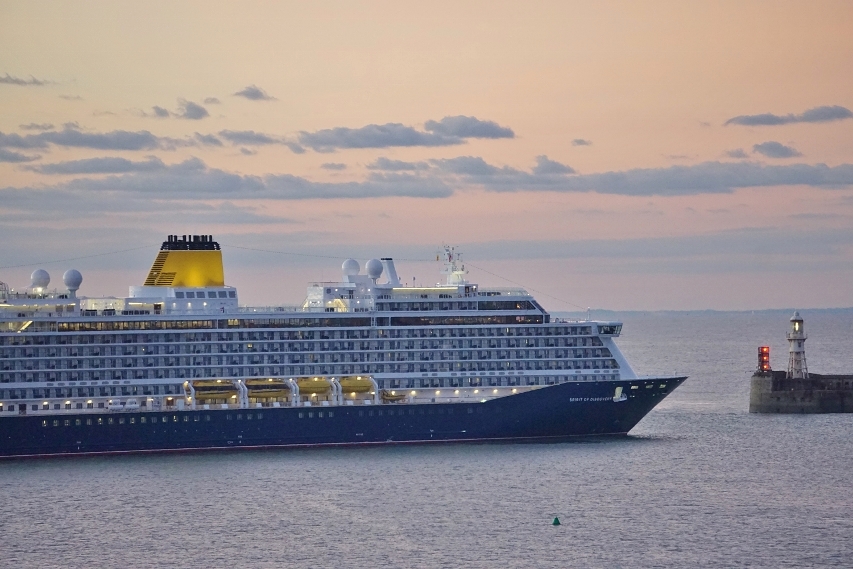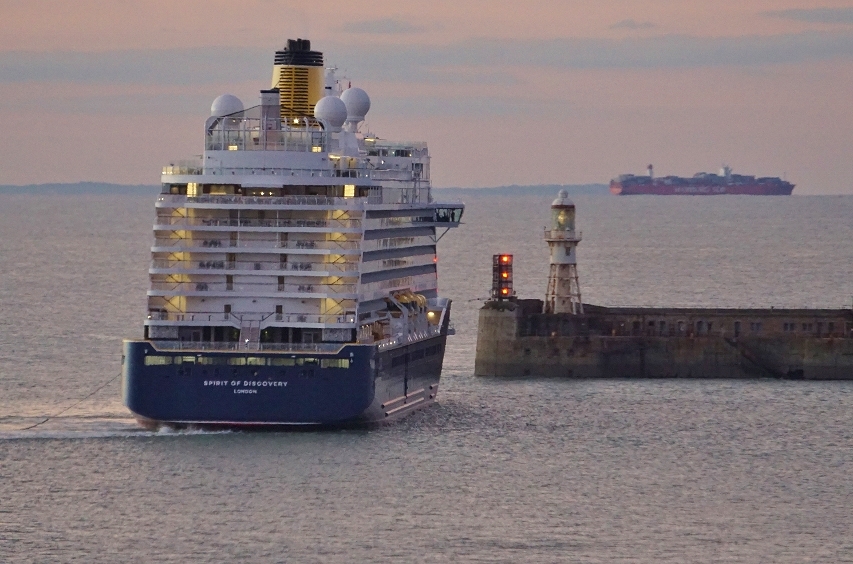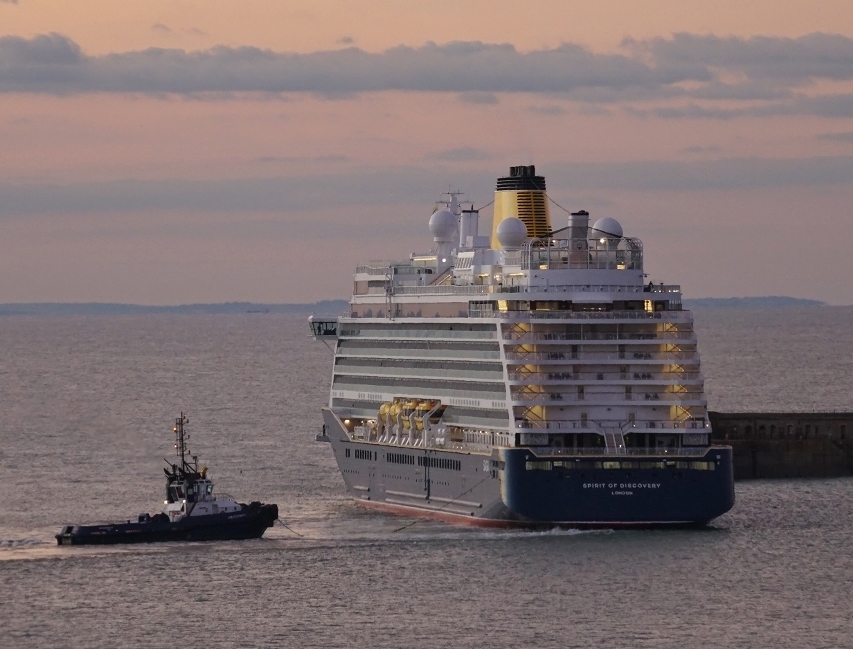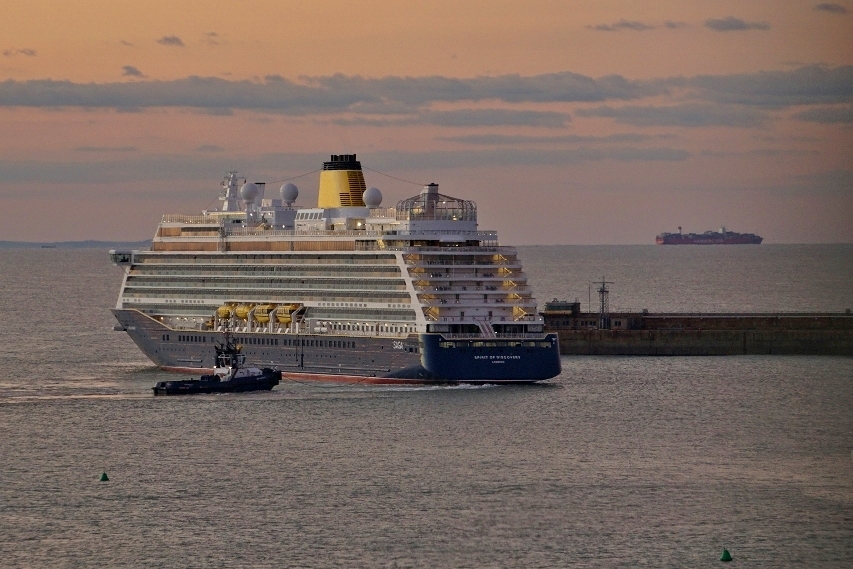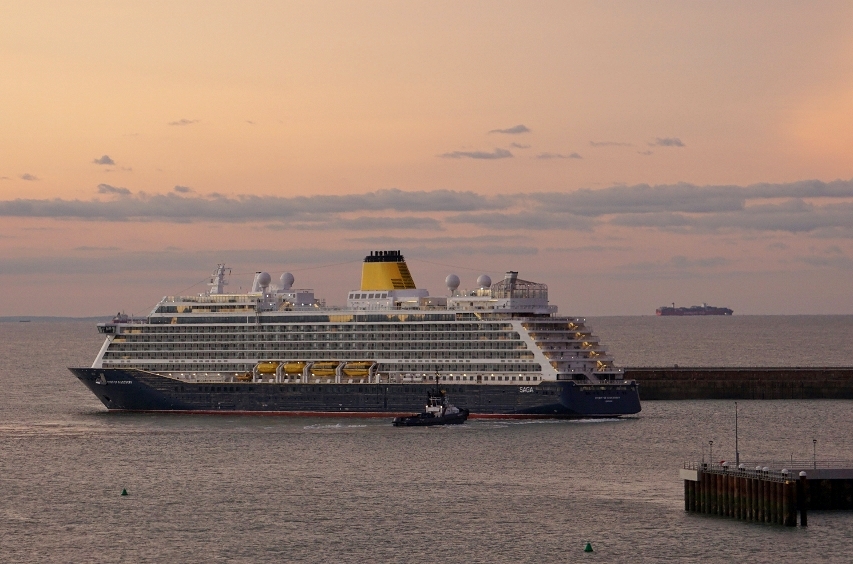 Spirit of Discovery : A sequence above there of an arriving Spirit of Discovery very early morning Oct 3. This was her previous arrival...she was back in port again yesterday after a short cruise..she came back before yours truly caught up with using her previous pix...well there they are above now. Catching up! It has indeed been a busy spell. Always good to see the Spirit of Discovery.
Enjoyable collection below from Mike our busy 'inshore correspondent' ...don't miss those!

PB
Rotterdam back in Port.
Tuesday, 8 October 2019 - 04:46
Post 6576
Mike J., Dover
Mid-afternoon the VIGILANT came in from the west to land some crew members.
She drifted between the Admiralty Pier & the Prince of Wales & sent the crew ashore to the Tidal Basin in her RIB which is launched down a ramp at her stern, sadly modestly hiding her stern from the camera during this interesting operation.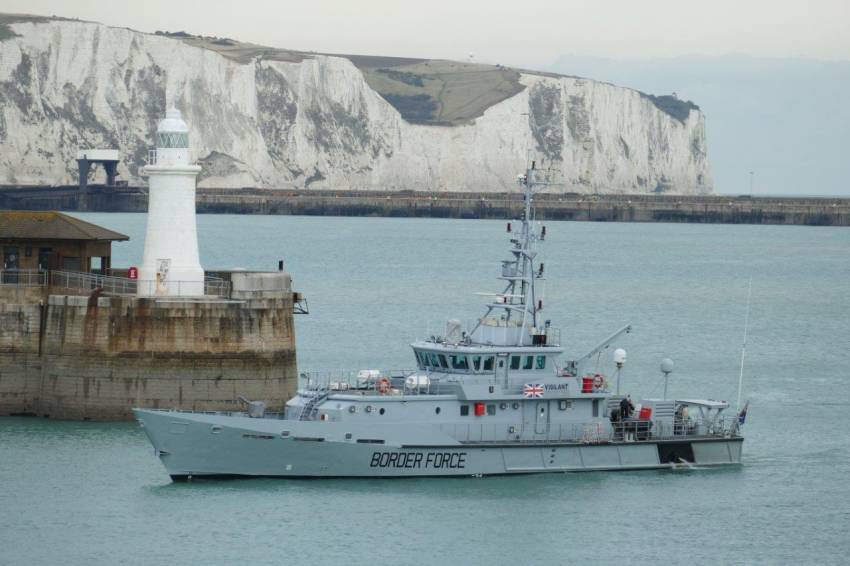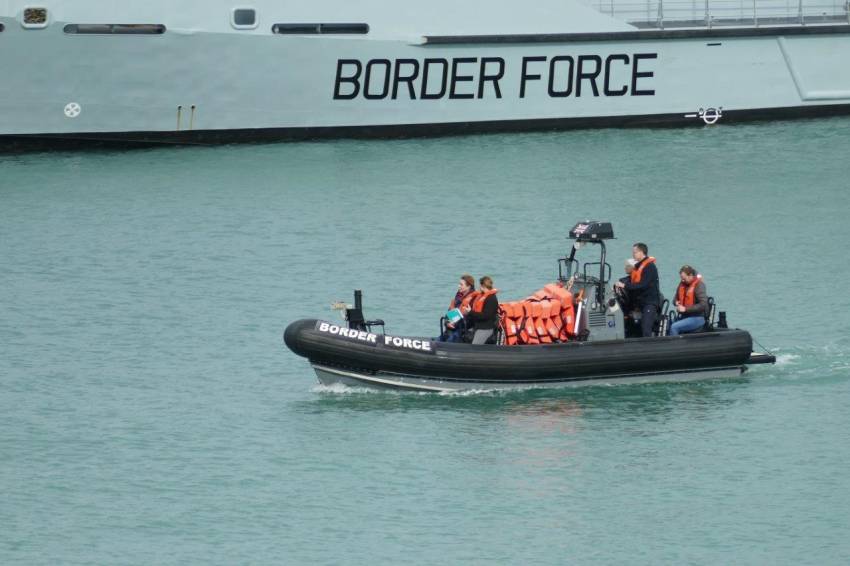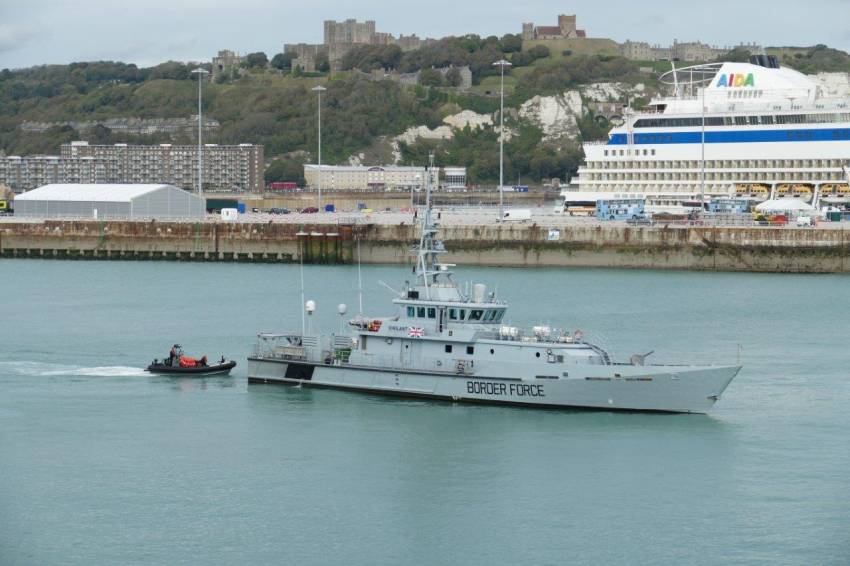 On WD5 the DUBLIN PEAK was completing her loading, sailing at 2215 for Hamburg.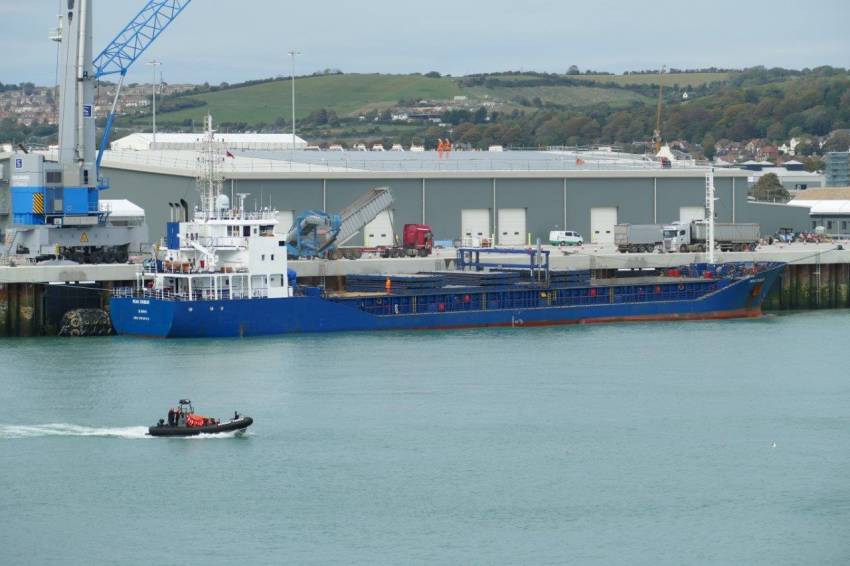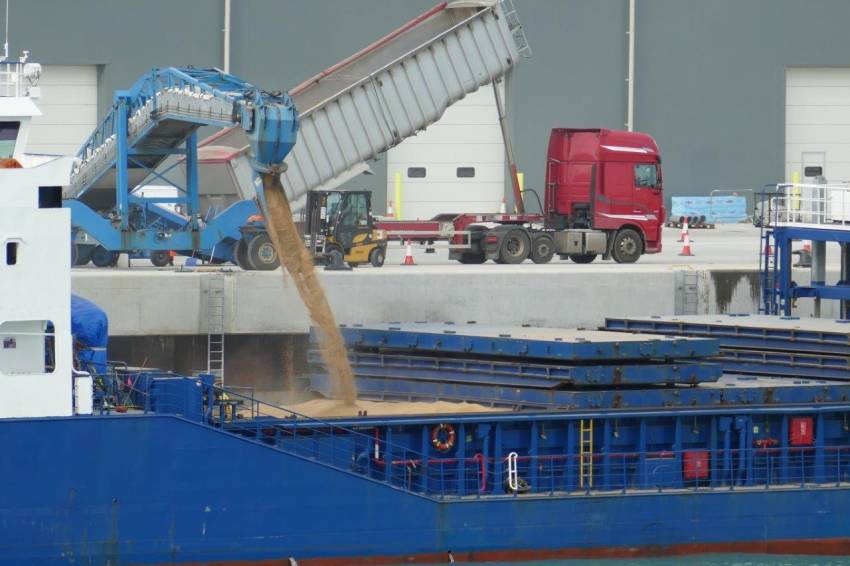 Another grain ship, the Lithuanian-flagged ALDEBARAN is coming down from Rotterdam & currently giving her ETA as 0900LT Tuesday.
Almost forgot - three cruise ships in as well.
Tuesday, 8 October 2019 - 01:01
Post 6575
Sea News, Dover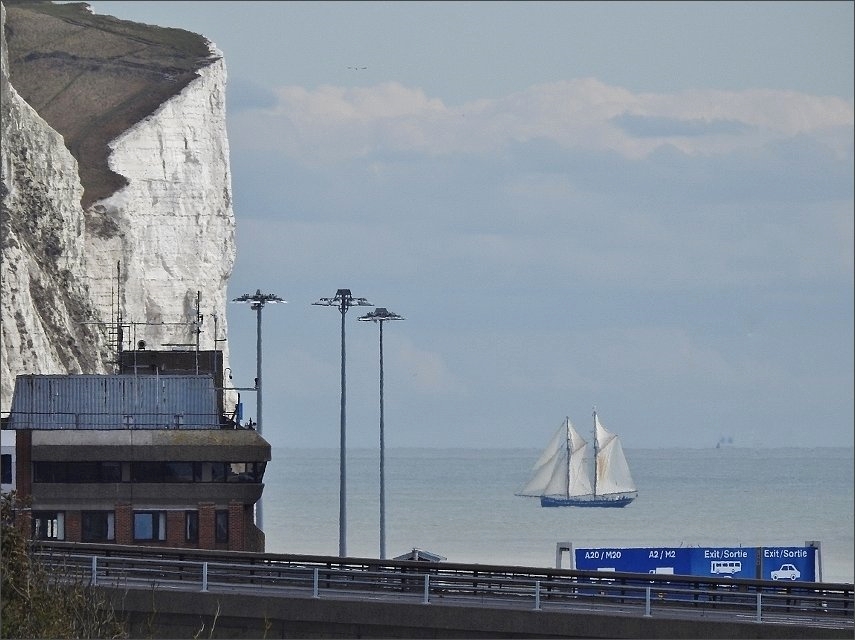 A picture above there of fab sailing ship Gallant just below the White Cliffs a few days ago...let me see..yes Thursday. Some zoomed in pictures were also tried but there is/was too much shimmer in the results over the long range...so have settled on the wider look.
That was the sailing ship we featured as a logo at the top of the page for quite a long time...the jagged edge pic went down well on Google..so there she is again just a few days ago and looking good as you can see.
And now the departing Rotterdam
the picture sequence is self explanatory below, no words needed...and away she goes...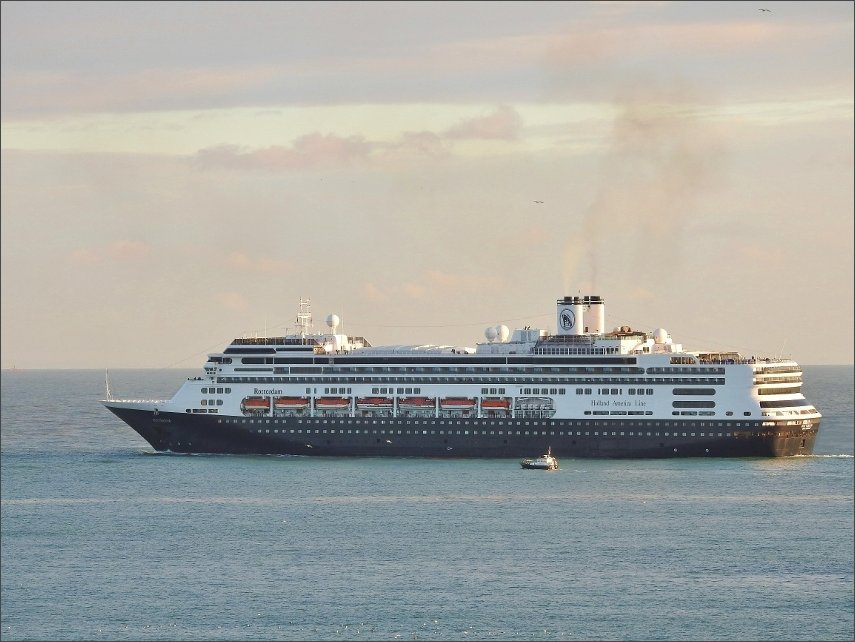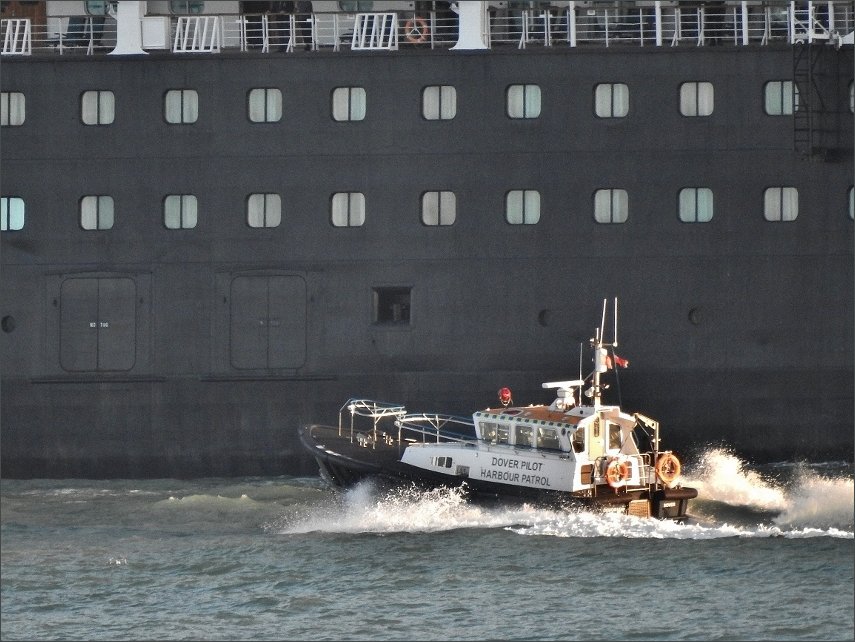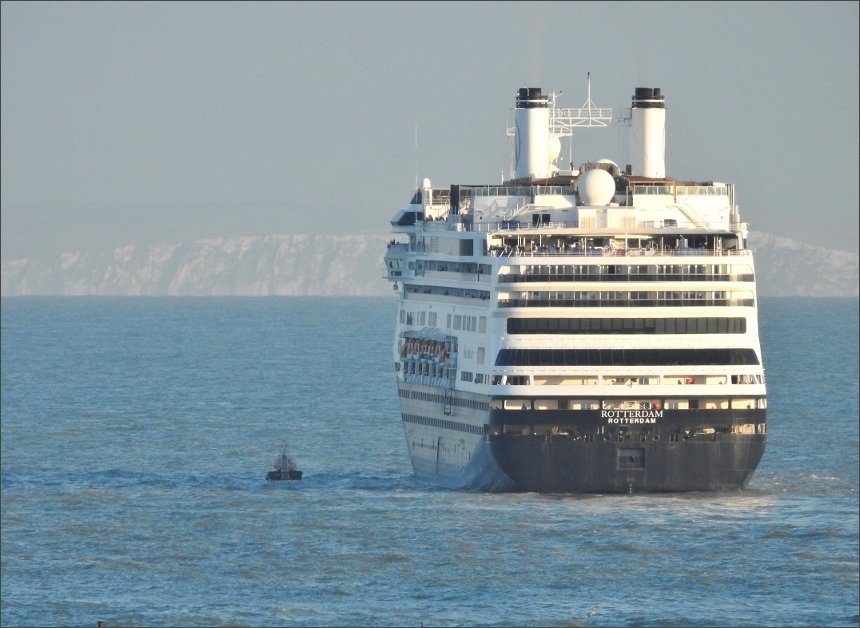 Rotterdam heads off.... the cliffs in France catching some misty late sun there. Pictures...Friday evening.
She is on a 28 Day cruise around the British isles, Ireland, France and finally ending in Rome.
Very interesting collection below there Mike...really enjoyable all round and great to get those shots of Peak Dublin moving across. You played a 'Peaky Blinder' there...!!
okay I couldn't resist

PaulB
We brilliantly have three cruise liners again today..Pacific Princess, The Spirit of Discovery, and also the large AIDAbella at the new pier WD4. Tugs are still active as I write...Cargo: Elvira cargo ship approaching, Lombok Strait already in Port. Packed Port!
Monday, 7 October 2019 - 06:46
Post 6574
Mike J., Dover
A few more angles on the PEAK DUBLIN taken on Thursday soon after she arrived to be the first vessel to load grain on WD4.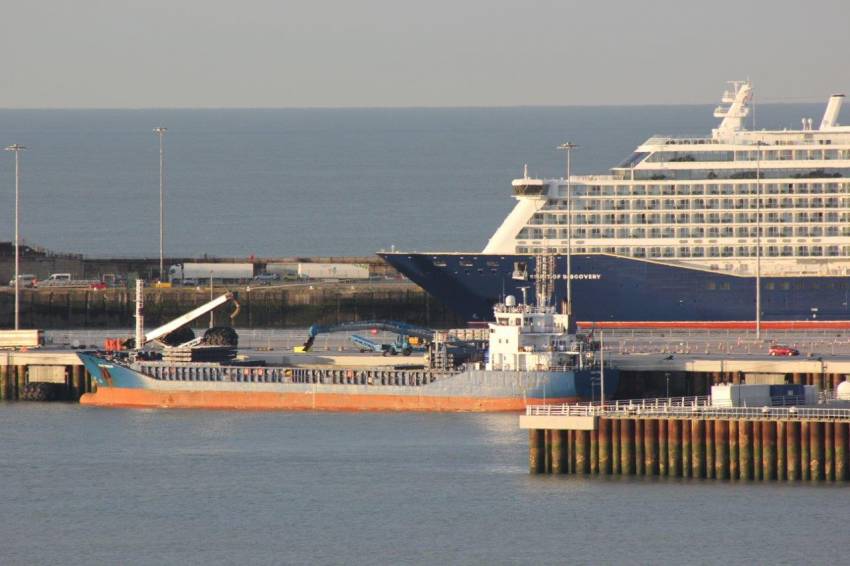 The end-of-the-Marina-pier shot needs as high water as possible so that the hull is not below the level of the reclamation.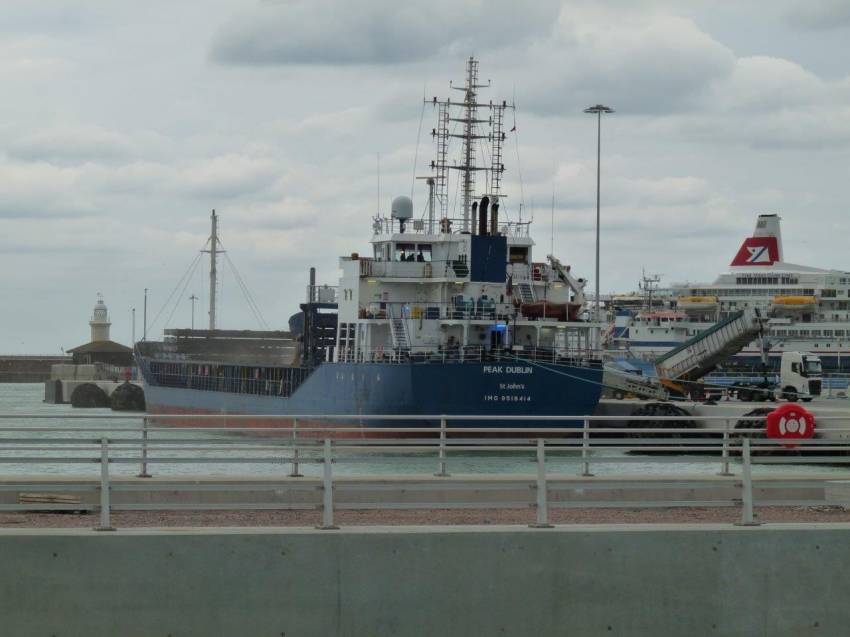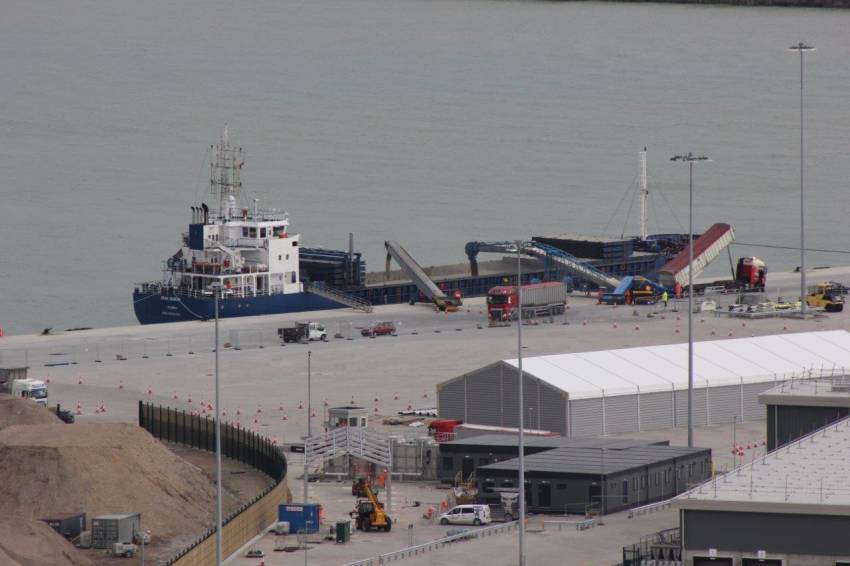 The PEAK DUBLIN did not load on Saturday or Sunday & during Sunday afternoon shifted to the reefer berth WD5 to make space for the AIDA BELLA who is due on WD4 at 0800 Monday, although the DHB cruise ship list calls it Berth C.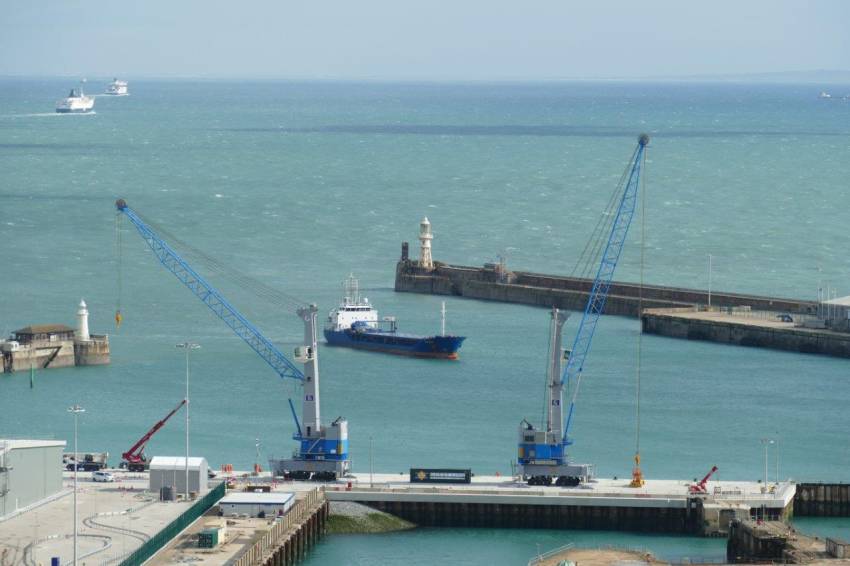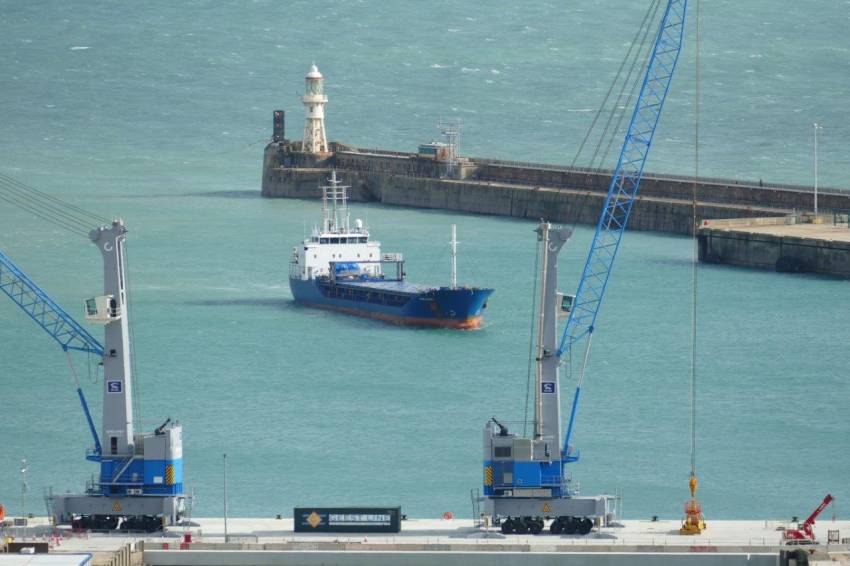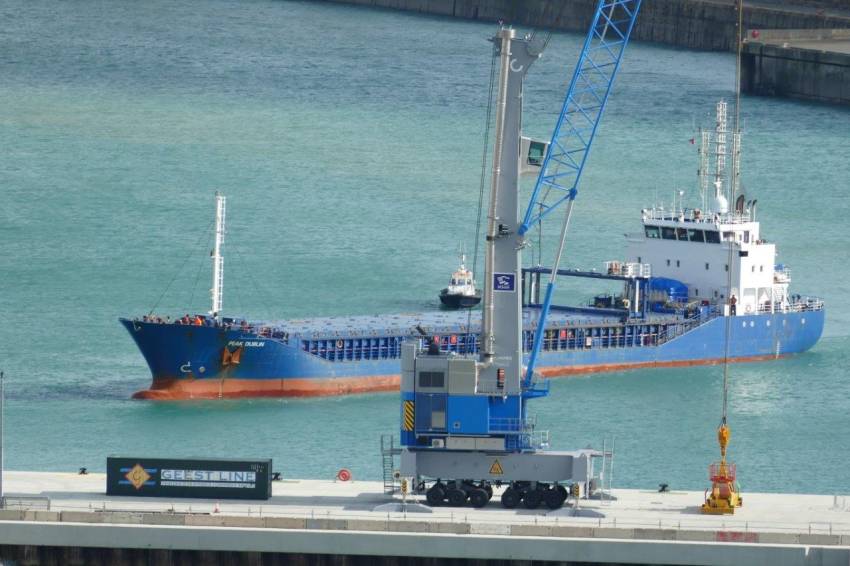 Monday, 7 October 2019 - 02:00
Post 6573
Sea News, Dover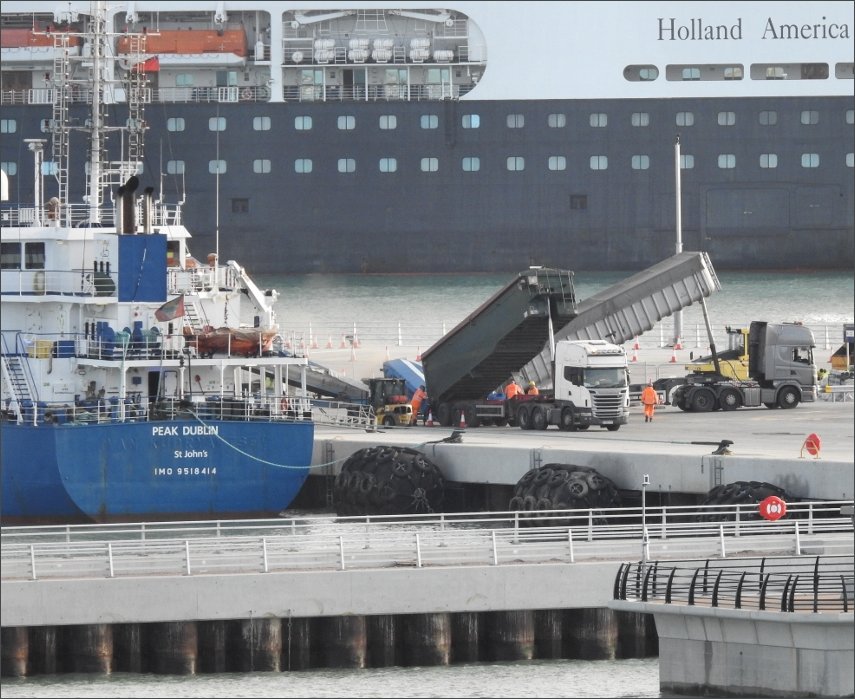 Peak Dublin: And the grain loading trucks..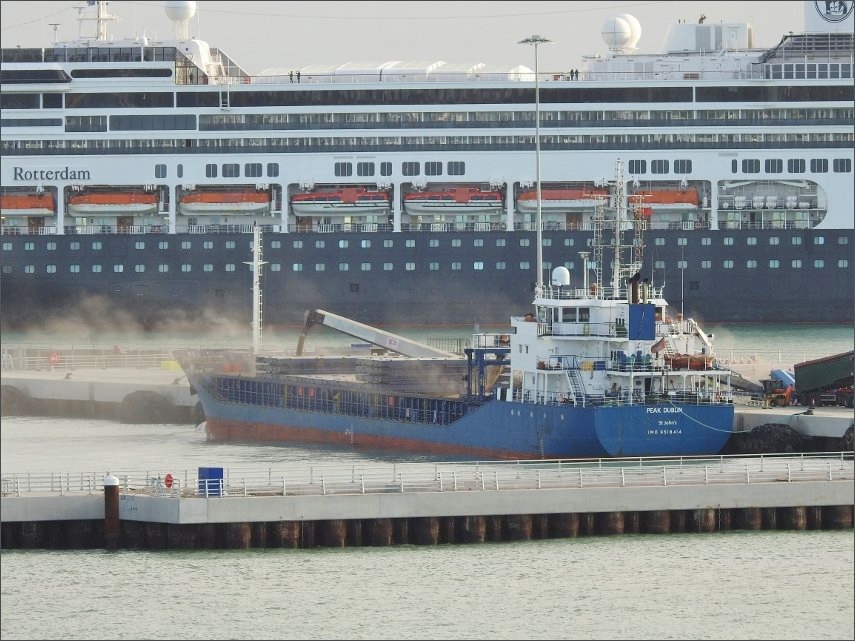 Peak Dublin loading...
Three pictures above there of new arrival Peak Dublin loading grain on Friday at new pier WD4, an exciting first and a new service with the Irish ship. The pictures above show various stages of loading, the blustery wind catching some of the dusty grain, while in the background cruise ship Rotterdam rests at Cruise Terminal Two.
The picture below is from a day earlier and we see Boudicca in the background this time. Also in shot...the familiar Andros...you can just see her ( Andros ) beginning to move away..her Bunker job done..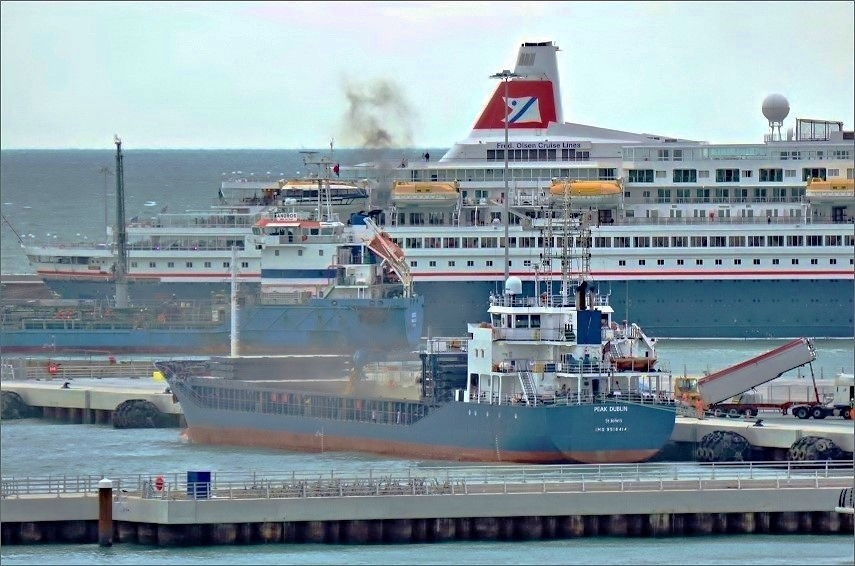 Below we see Andros some short minutes later with pilot boat also in shot...she was on her way.
The sunny uplands of France looking good in the distance ...it was very grey over here at same time...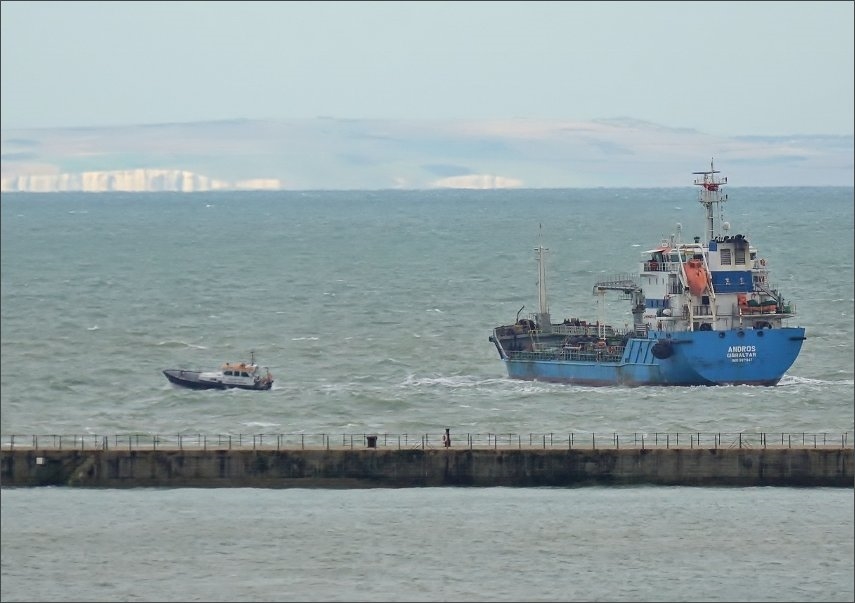 Just including this unscripted one of Andros from a former time...just came across this in the files, always worth another look...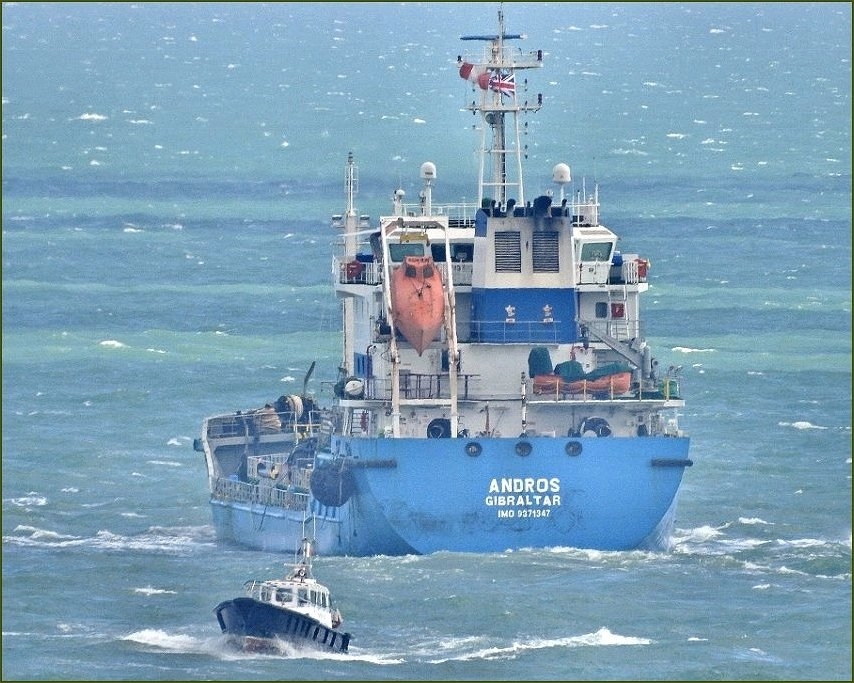 Just adding this one on to the post by way of trying to catch up all round...showing HMS Mersey a few days ago catching the late sun...and in the foreground of the long range pic...the recently featured Titan Discovery returning to Port.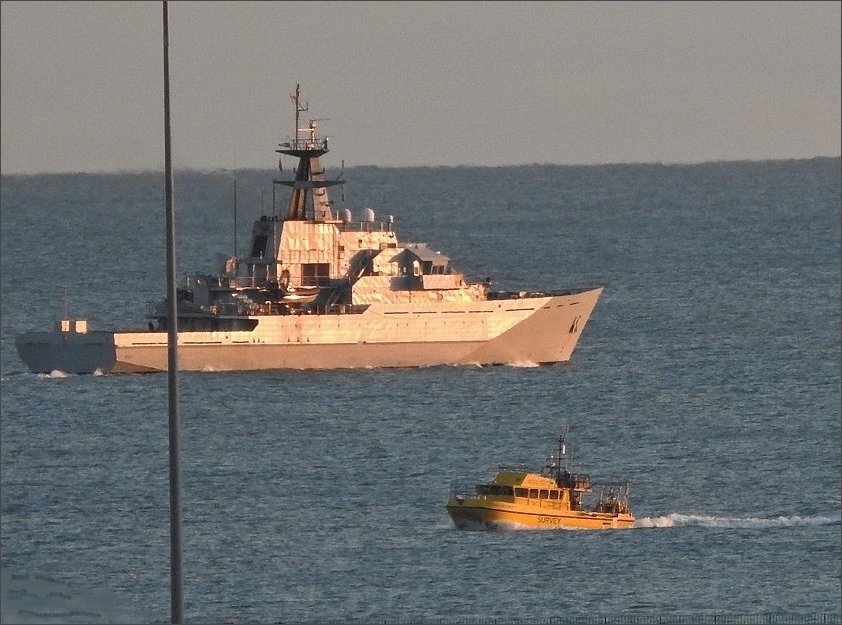 Great collection of pictures below there...well done Mike once again...cracking stuff!

and big thanks to Nigel for the great Lifeboat picture

PaulB
Sunday, 6 October 2019 - 08:32
Post 6572
Mike J., Dover
Saturday afternoon saw the arrival of Trinity House ALERT from Harwich to moor alongside the DAVID CHURCH in the Tidal Basin.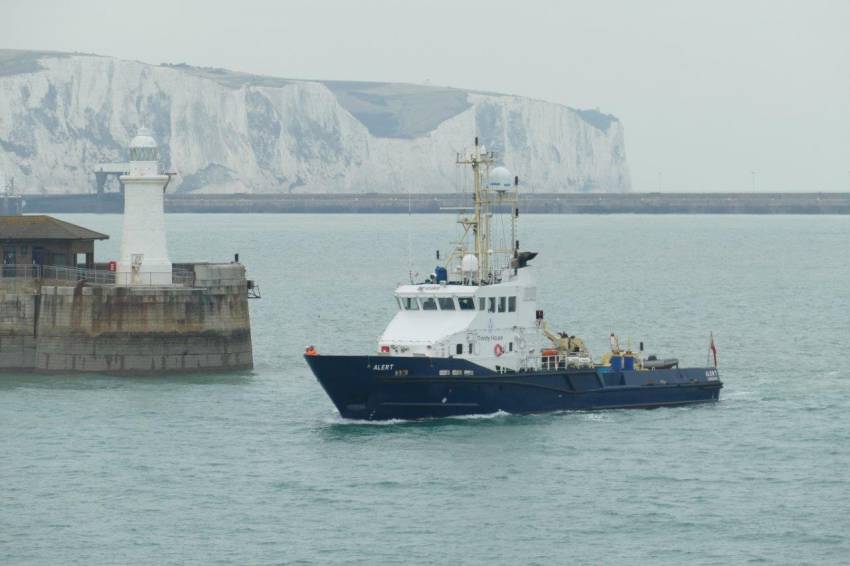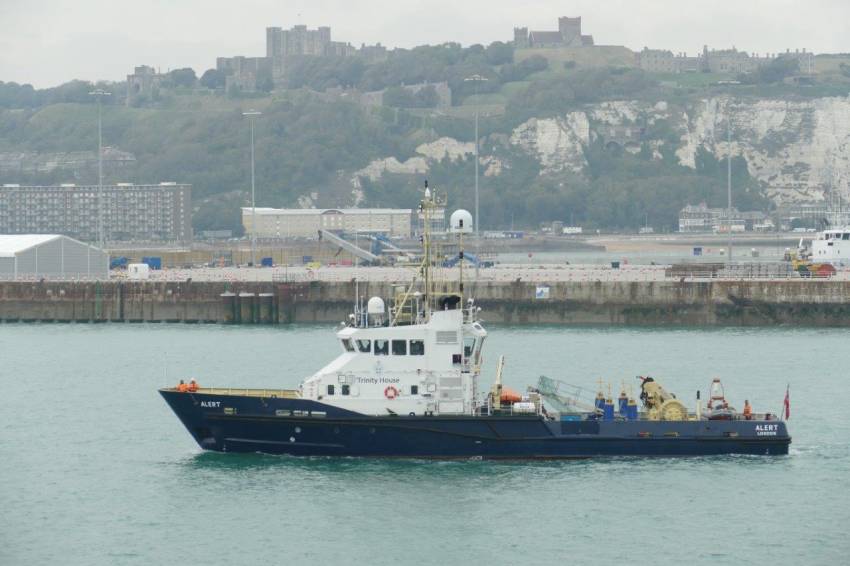 Bouys on deck - I'm no expert on buoys but I think that they MIGHT be wreck buoys. Perhaps someone out there can give a definite answer.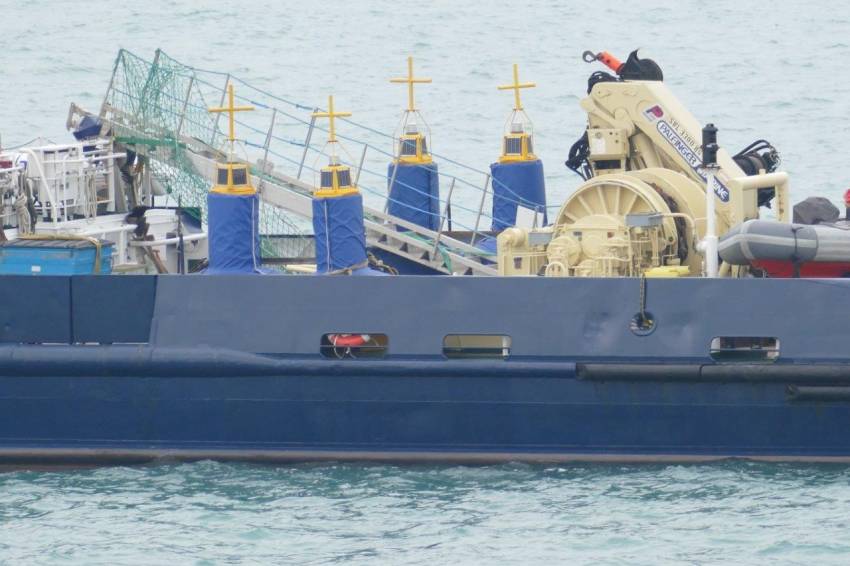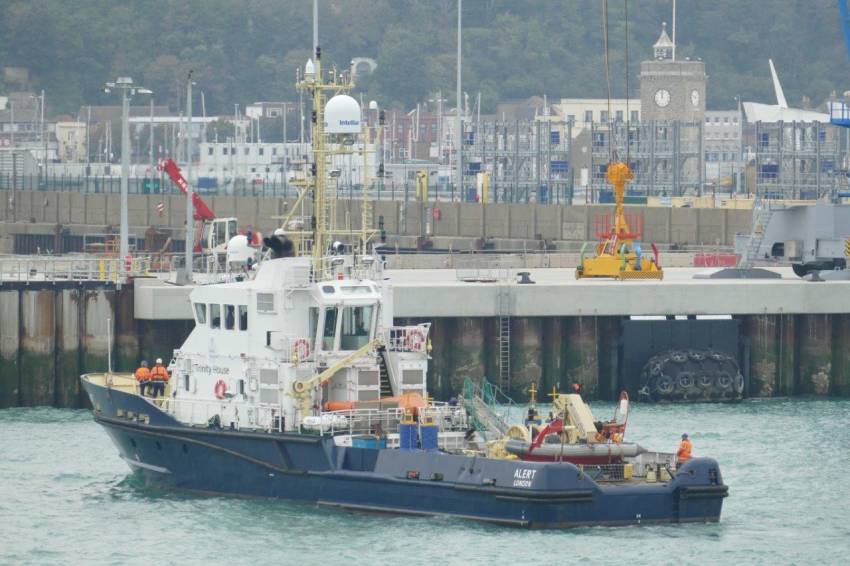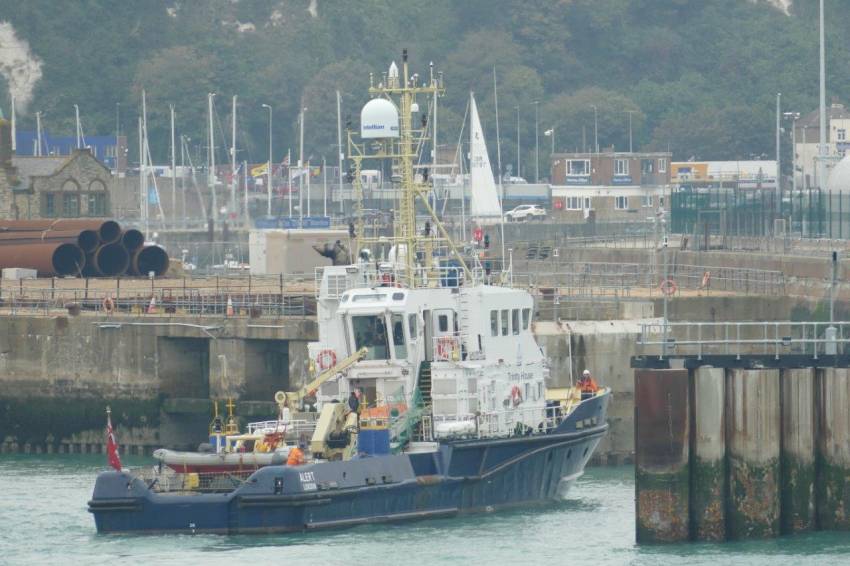 I was away from Dover until late Friday & quite missed the arrival of two visiting TAMAR class lifeboats for an overnight stay & only noticed them Saturday morning on AIS after they had sailed.
Drat.
Walton & Frinton boat 16-06 FRANK & ANNE WILKINSON was heading for Poole & refit & will be covered by 16-19 MURIEL REES.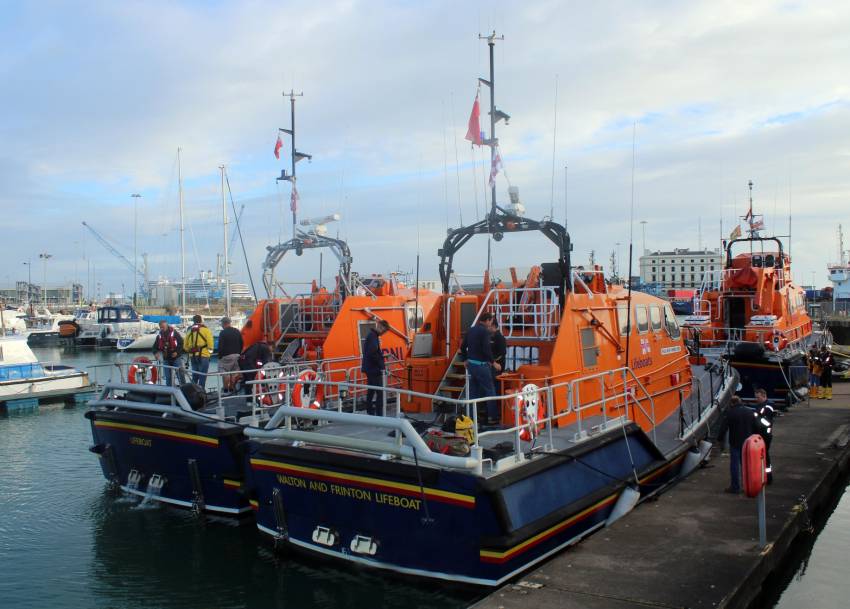 Many thanks to 'Dover Strait Shipping' for the use of this unusual photo, not often that three lifeboats are in together.
Sunday, 6 October 2019 - 01:45
Post 6571
Sea News, Dover
Following on from yesterdays picture of Rotterdam just outside Port, here she is just having entered. It was getting darker and gloomier by the minute so it was good to get some reasonable pictures... you can see a rowing crew in the foreground...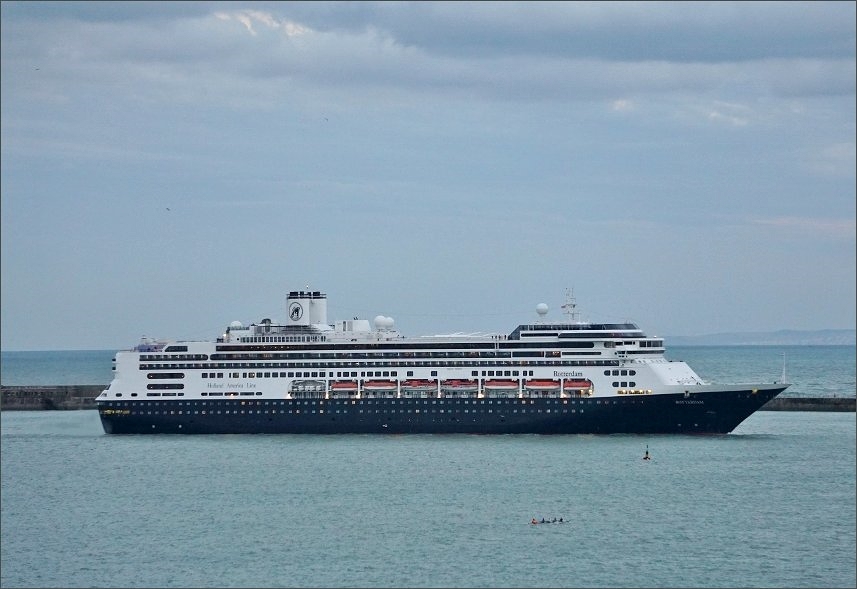 Rotterdam: Yours truly took a long range shot below as just wasn't sure if it would be too dark by the time she got to Port and here we are below, looking across a departing ferry on a chilly evening...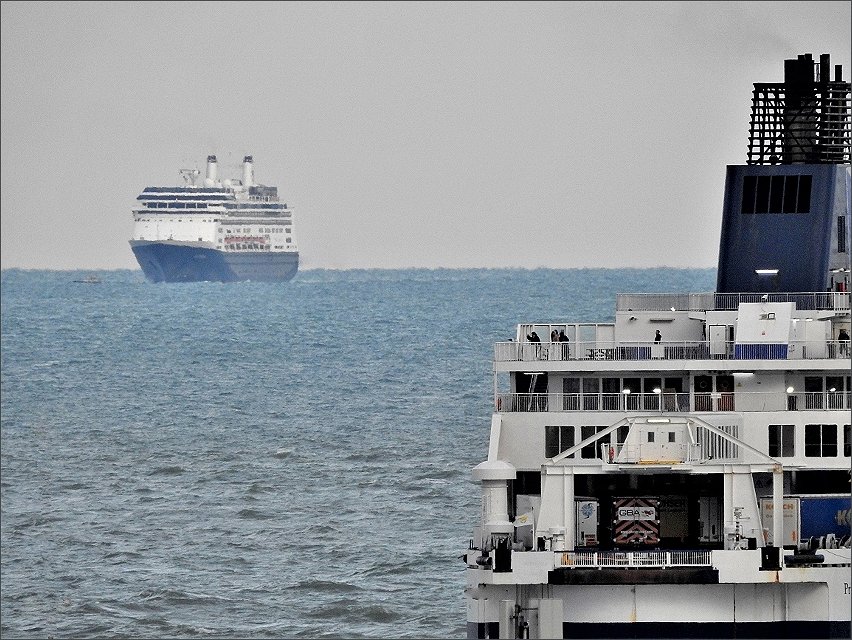 We will have pictures of her leaving last evening too...will follow along with those in due course...have quite a bit to catch up on..
On to the departing Boudicca now...
Fred. Olsen Cruise Lines' 'Boudicca' to set sail from Dover on longest-ever voyage
________________________________________________________________________
Fred. Olsen Cruise Lines 880-guest Boudicca will be departing from the Port of Dover, Kent on 3rd October 2019, on the company's longest-ever sailing, an epic 168-night Grand Voyage. Boudicca returns to Dover after nearly six months at sea on 19th March 2020.
Those guests joining the cruise for the whole duration will have the chance to visit no fewer than 61 different ports, towns and cities, right across the globe. Guests can also book shorter sectors of this spectacular longer cruise, such as a 14-night 'Indonesian Islands Discovery' from Phuket, Thailand, to Bali, Indonesia in November 2019 and a 14-night 'Authentic India' exploration from Colombo, Sri Lanka to Dubai, United Arab Emirates in February 2020.
Jackie Martin, Sales and Marketing Director for Fred. Olsen Cruise Lines, said:
"Boudicca's 'Grand Voyage' – of an epic 168 nights – is set to be the longest, most extensive sailing ever undertaken in Fred. Olsen's history! Guests will get the chance to visit no fewer than 61 different ports, towns and cities right across the globe, taking in far-flung destinations rich in culture and steeped in history.
Of course, we appreciate that not everyone is able to sail away for an entire 168 nights, so we hope that those looking to take a shorter, but equally exotic, Fred. Olsen fly-cruise will also enjoy making memories to last a lifetime!"
Sonia Limbrick, Head of Cruise at the Port of Dover, said:
"We are delighted that the Port of Dover has been chosen as the starting point for such a celebrated Fred. Olsen cruise. As Dover is immersed in UK history, its iconic cliffs and castle provide the perfect backdrop to begin a voyage to some of the world's famed destinations."
Guests embarking on this remarkable adventure will get the chance to marvel at many of the planet's most spectacular islands; legendary cities; cultural, historic and spiritual sites; a diverse array of amazing wildlife; and awe-inspiring natural wonders.
ENDS
- that's part of the press release above there...
Some pictures below of the tug spraying, sadly there was heavy cloud and strong wind at the time and all was a tad gloomy for the spraying tugboat at departure, but here we are with some pix….
a salute to send her off on her lonnnnng voyage.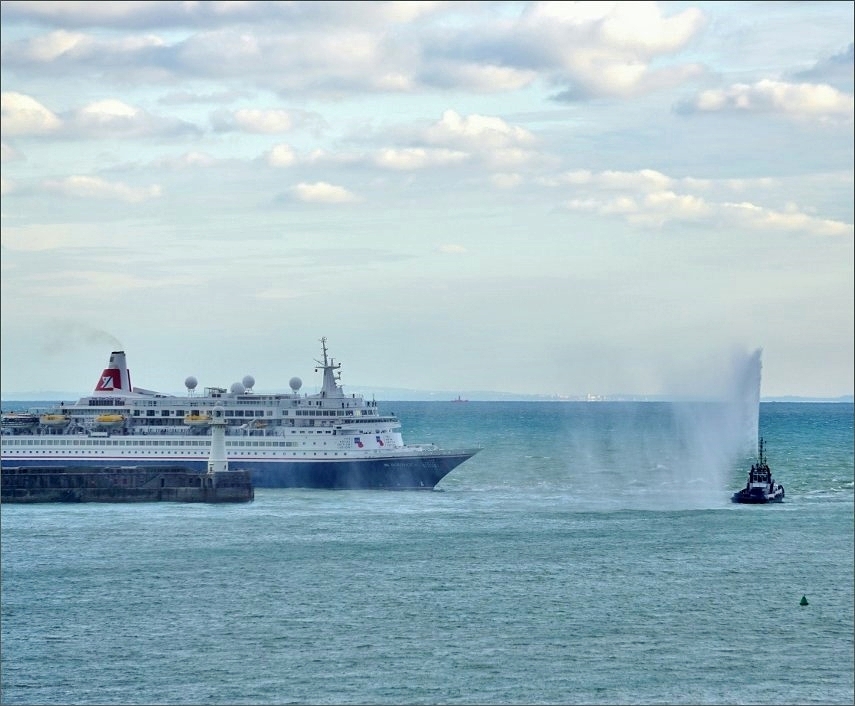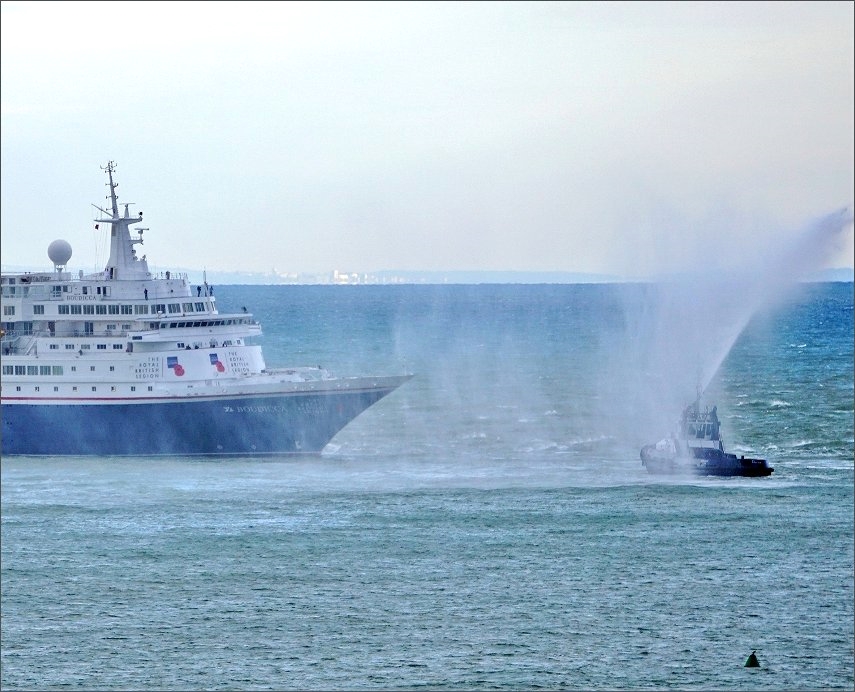 Oddly enough as it got darker it brightened up...if that makes sense..

So there was some marginally better light later on for the picture below...And away she goes....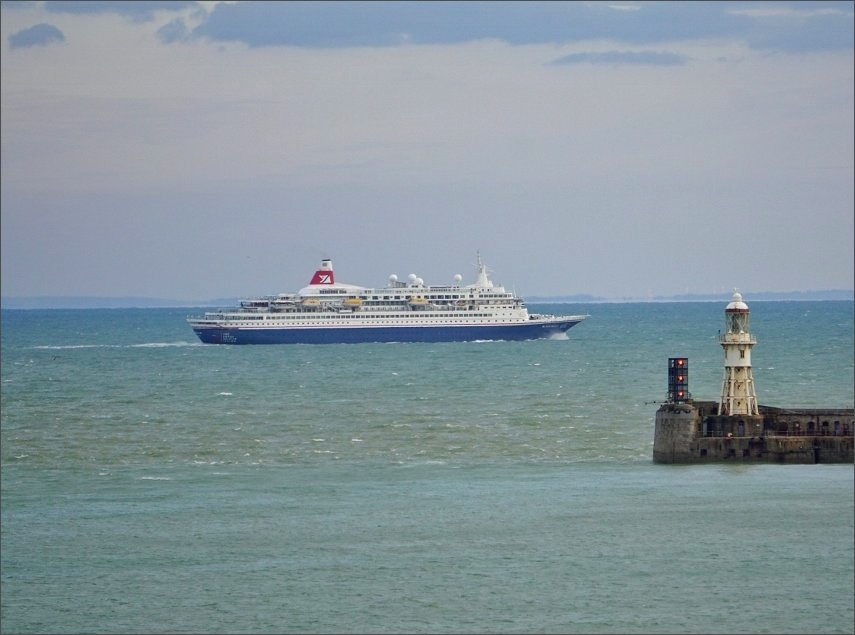 All pictures above taken Thursday evening Oct 3.
Will get the Peak Dublin pictures up tomorrow.
PaulB
Saturday, 5 October 2019 - 06:16
Post 6570
Sea News, Dover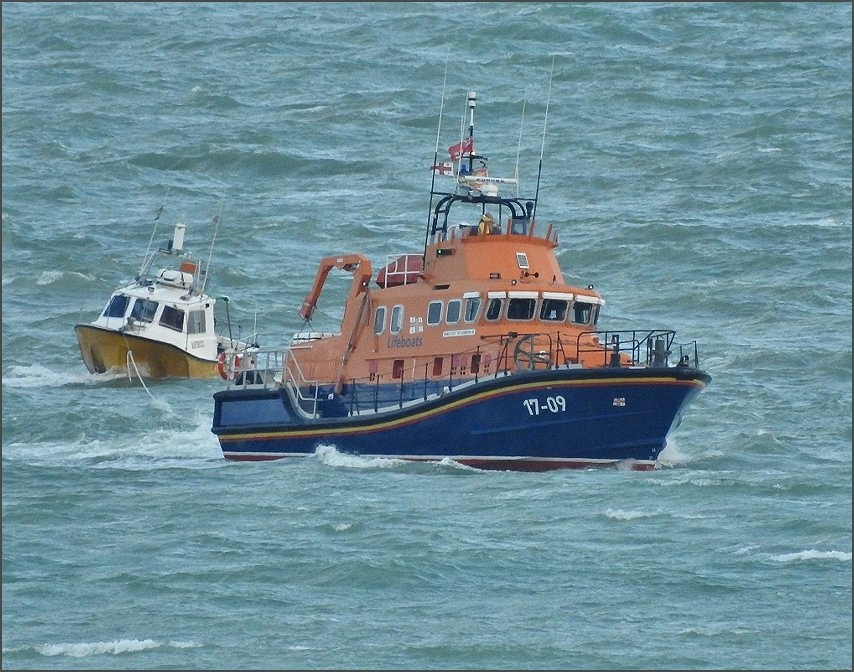 A picture above there of the Dover Lifeboat taken yesterday evening thursday just before 6pm. You can see the Lifeboat there towing local boat Maverick back to Port. There was obviously some kind of breakdown. Yours truly didn't realise there was a tow rope in place when taking the picture...one coundnt see it with the naked eye, but obviously noticed it later when looking at the pictures in close up.....and there we are....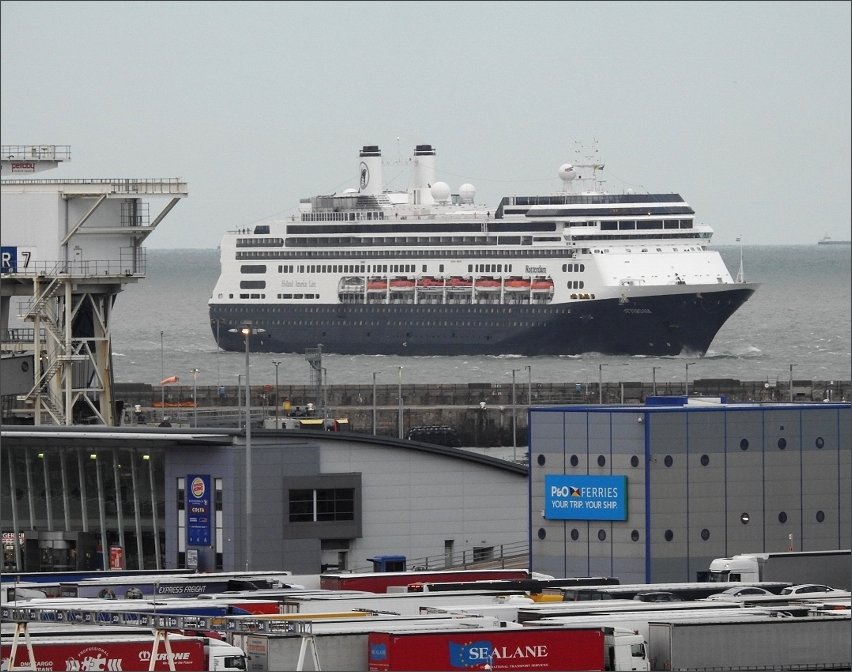 The picture above there shows cruise ship Rotterdam approaching the Port yesterday evening. Thanks to a tip off from Mike we were able to get that photo...I wouldn't have known the ship was coming.
A nice ship - not sure if the picture does it justice as we look through the gloom, but we will aim to have more ….
That's the second cruise ship in a short time to come in unscheduled in the evening. The AIDAvita being the other one. The ragged remnants of Hurricane Lorenzo may have brought this earlier arrival....
Environmental Survey boat Titan Discovery has been going back and forth from the Port...here she is returning to Port a couple of evenings ago. You can also see Royal Charlotte in the third picture in the sequence.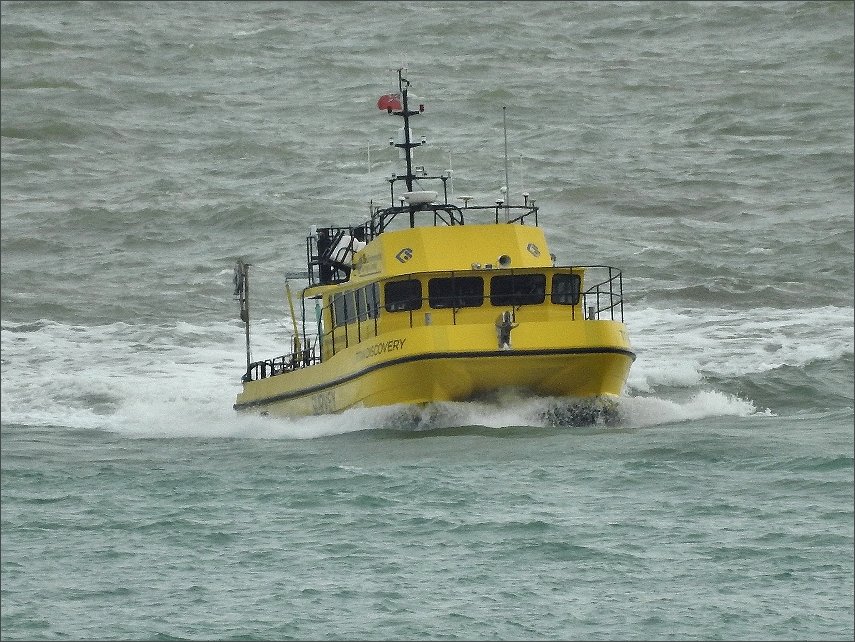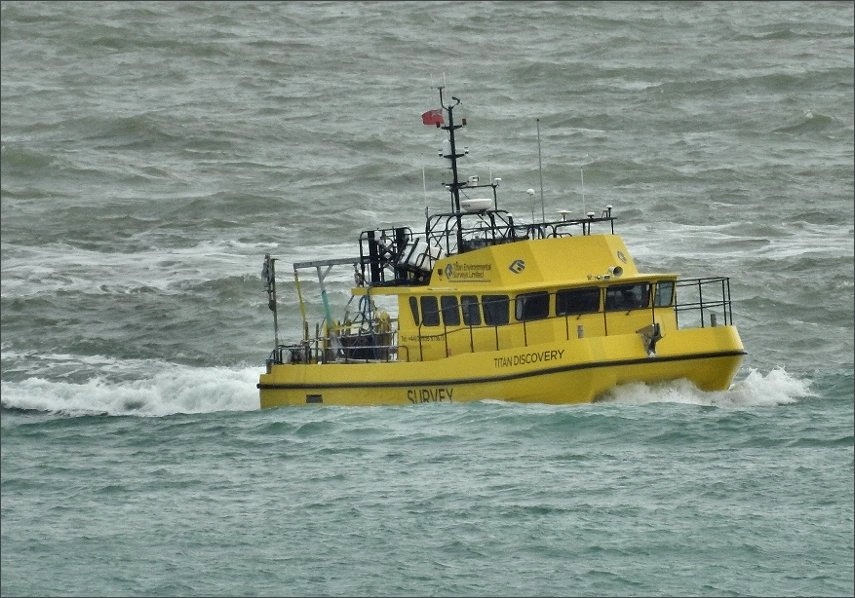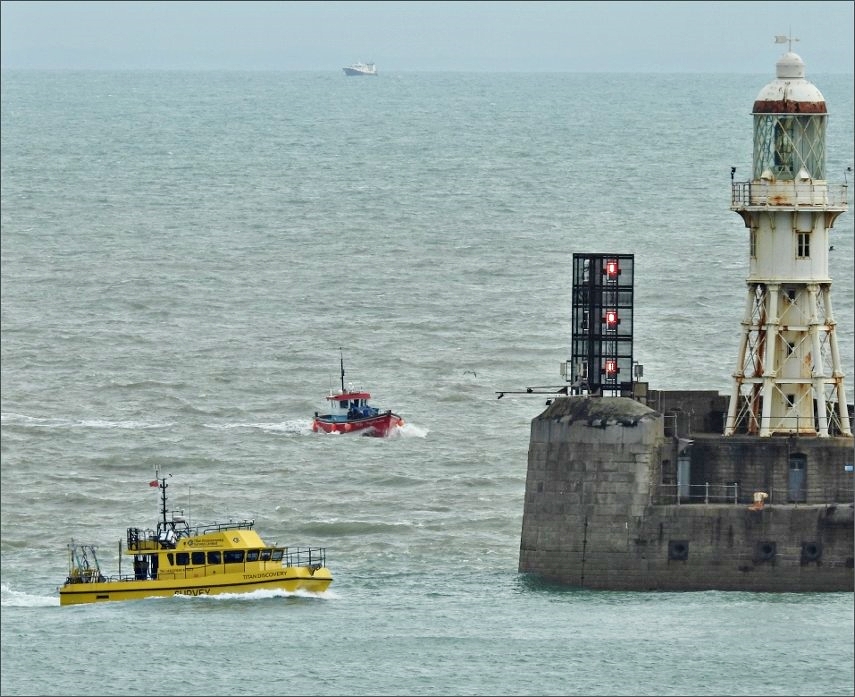 Finally another shot of the Hebridean Sky moving south...with the pilot in the foreground,
see also the previous similar picture in 6567...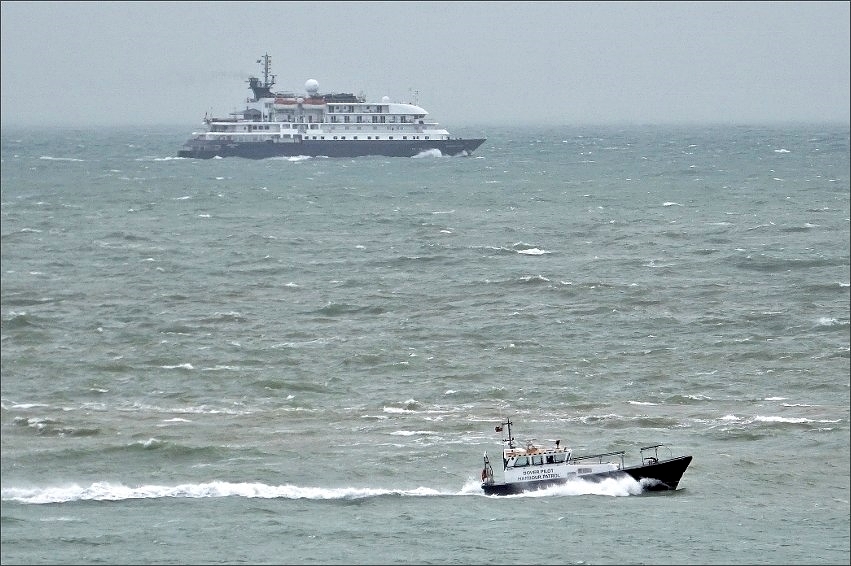 Yes Brian we spotted that one coming...or to be more accurate Mike did and tipped me off. Will have more pictures.

Excellent collection below there from 'inshore correspondent' Mike...man on the spot...

Also one of the tugs gave a water spray send off to Boudicca last evening ...she is on a huge cruise round the world we understand. The weather was gloomy but will have a picture...the spray from the tug was blasted all over the place by the wind. Also will have pix of Peak Dublin....
PaulB
Friday, 4 October 2019 - 07:17
Post 6569
brian dixon, dover
I see the cruise ship rotterdam is in port 12 hours early.

Thursday, 3 October 2019 - 19:02
Post 6568
Mike J., Dover
Wednesday afternoon & the Dungeness lifeboat brings in a disabled yacht..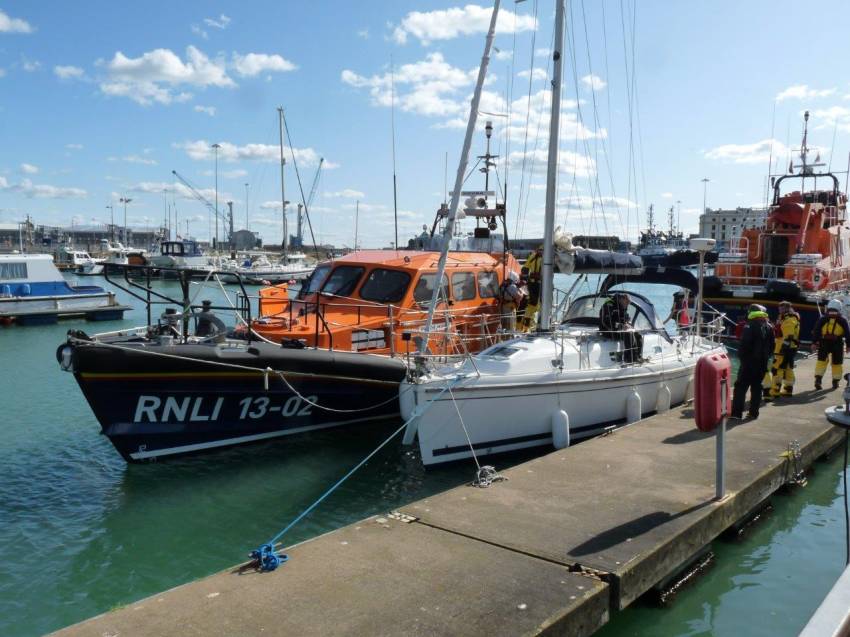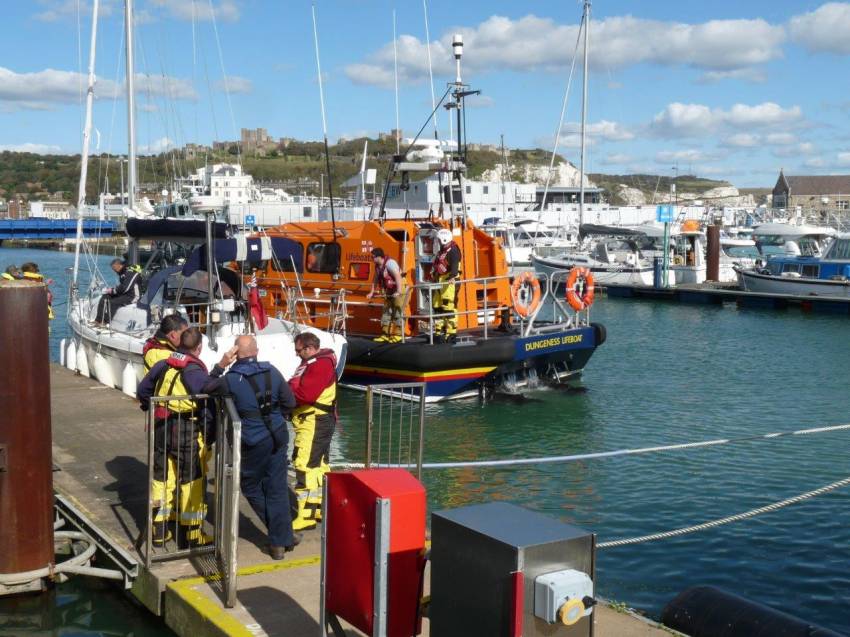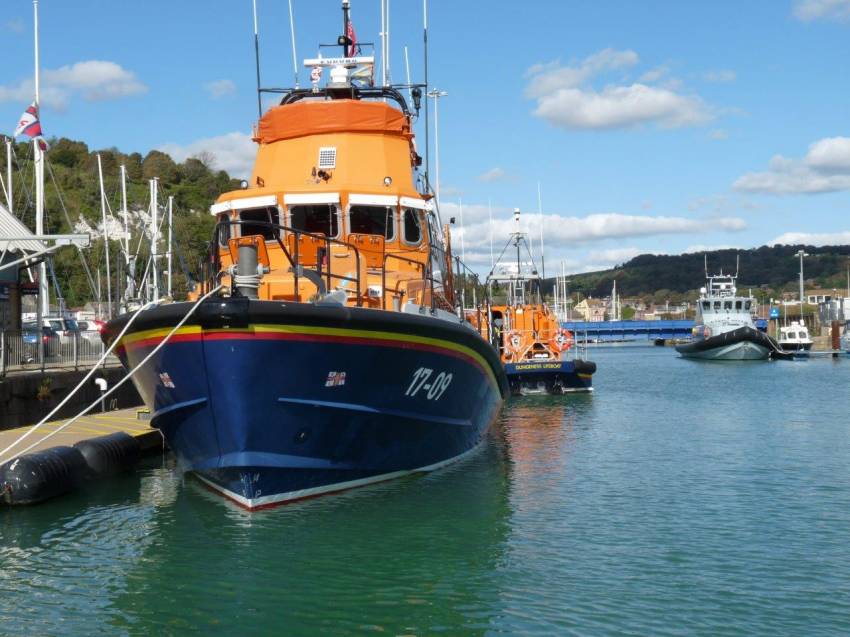 The Tug Haven from Channel View Road with the SPIRIT OF BRITAIN docking in the background
.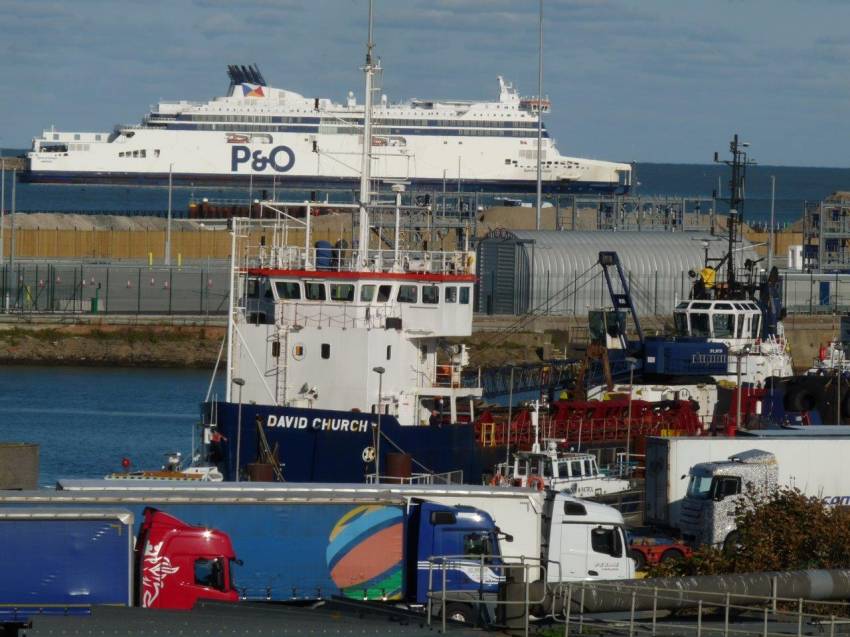 Thursday, 3 October 2019 - 07:26
Post 6567
Sea News, Dover
Hebridean Sky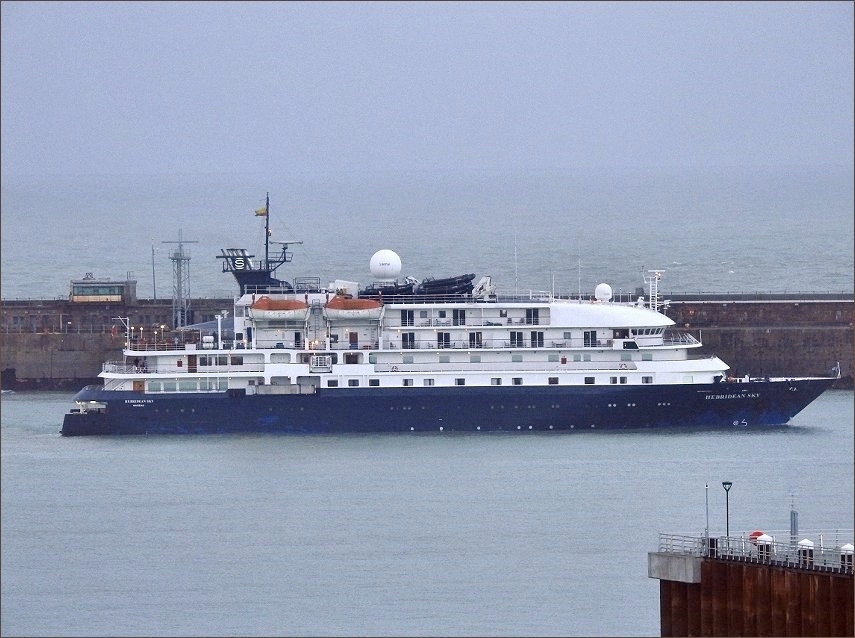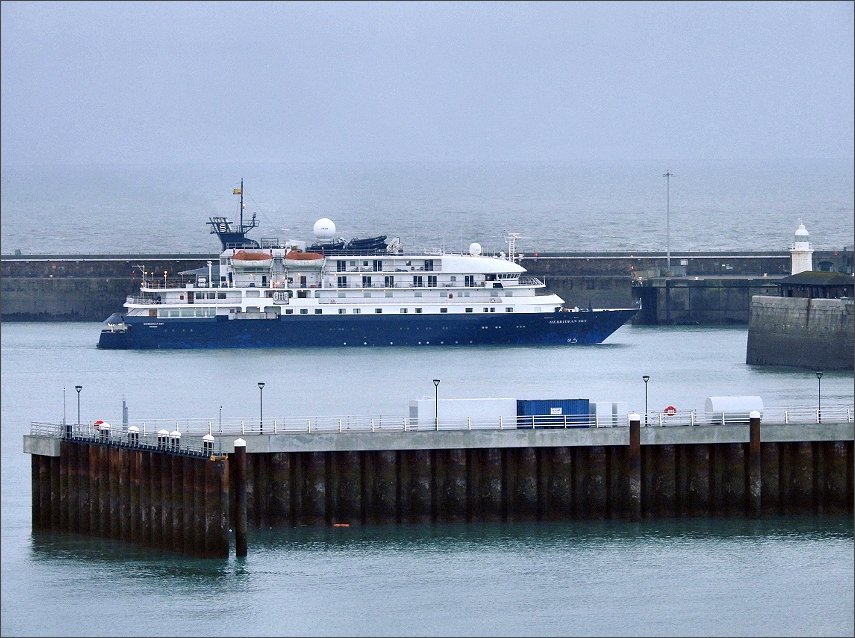 A couple of pictures above there of the Hebridean Sky arriving with us on...ermm let me see...Tuesday morning, pix taken in the early morning slate grey gloom as you can see. She left early in the day, around lunchtime, yours truly was disappointed not to see her departure but caught her a short time later out in the Channel, while the pilot boat returns to base in the foreground. I think she must have left via the eastern exit, weather was fairly rough....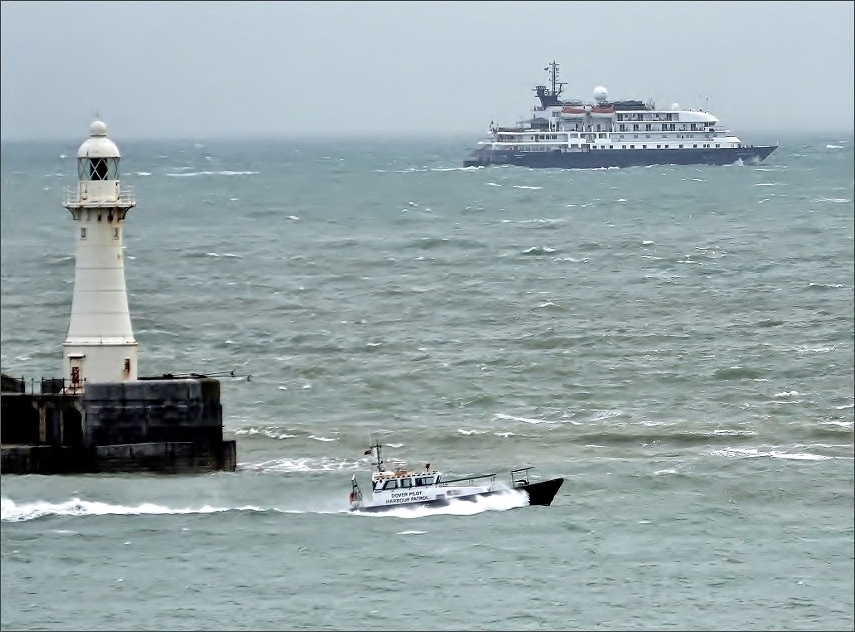 We featured the Olympic Challenger in recent days...thought I saw her again yesterday so took a few very long range pictures. When double checking later it turned out to be the recently featured NKT Victoria. Also in shot is the Varne Lightvessel and in the distance the pleasant town of Boulogne...final picture today at the bottom shows again her recent visit. Used it again below there just to add more detail to the long range shot...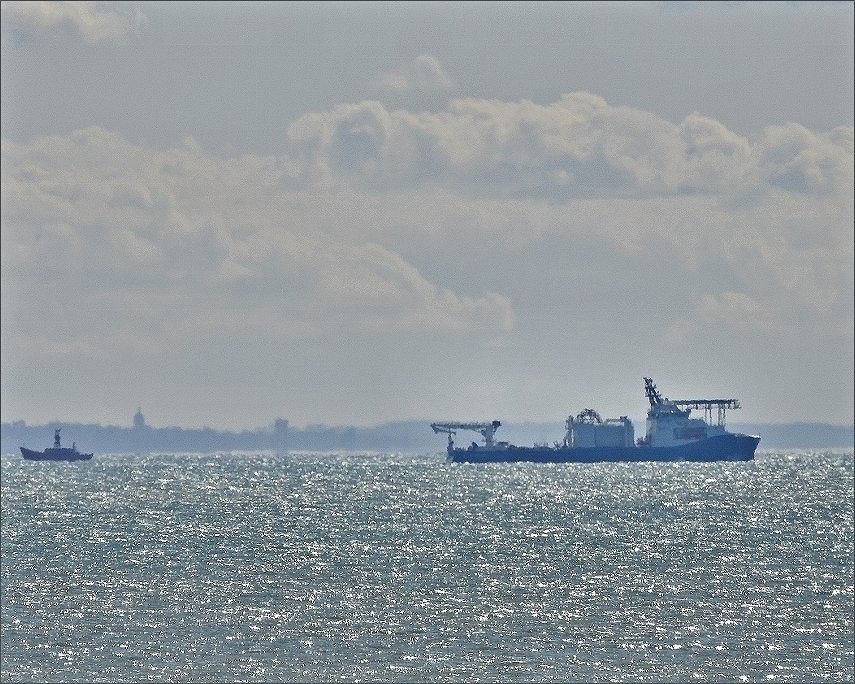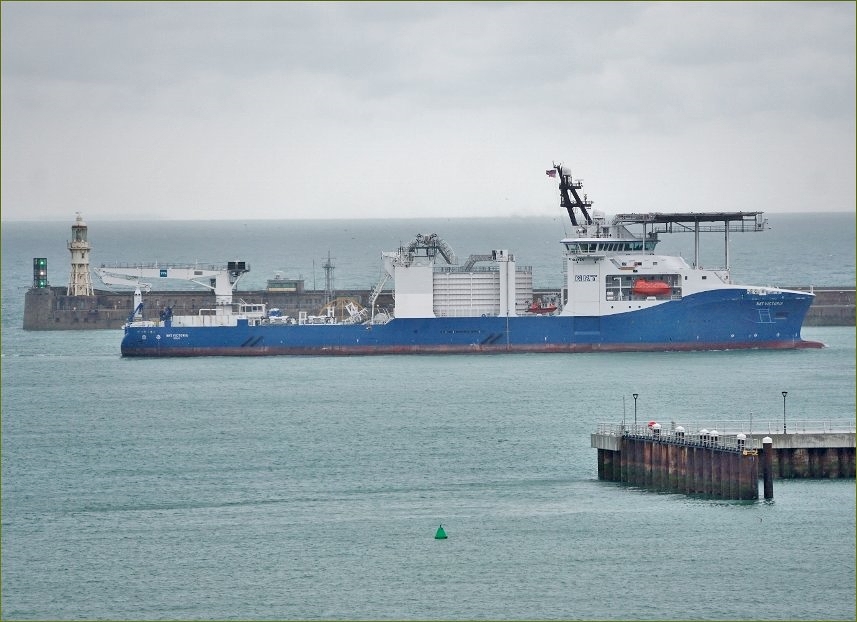 NKT Victoria. There is clearly a lot of cable-laying going on...

Cracking Ramsgate collection below there Ted...always great to see your 'Famous Five'.
Terrific enjoyable pictures from Ted...Dont Miss Those!

Vic yes somebody walking on water there...I do that myself on a regular basis just to keep my hand in!

Glad you are still enjoying all the comings and goings Vic

PaulB
Busy morning...new ship Peak Dublin at WD4 don't miss the news release re that one in post 6562, thanks to Mike for the tip, also in ....Boudicca and the Spirit of Discovery.
Thursday, 3 October 2019 - 07:24