Saturday, 14 December 2019
Sea Pictures from Dover....

WWW.DOVERFORUM.COM/SEA-NEWS
Featuring all the ships that come and go and work at the Port of Dover ..
... with further coverage of the surrounding ports.
Sea News Dover
Port of Dover: New CARGO TERMINAL opens for business see 6688....


Christmas

Spectacular Event at the Port 6648... Port Fundraise Record 6659.
MP Charlie Elphicke moving aside for wife..see 6646. Wife Natalie Elected 6694.
P&O: St Richards School trip to Calais for 6 year olds see 6630. New Apprentices 6662. AWARD SUCCESS 6681.
DFDS: Contract Cancelled see 6626. New Apprenticeships 6650. WORLD'S BEST see 6676.

P&O Ferries Choir dates for

Christmas

... see 6693.
Use our SEARCH ENGINE below to find all sorts on the SEA NEWS pages....type in the topic and away you go, or if you have the post number, just type it in the box, more than
- 6600 -
nautical posts now. Posts are welcome. just click 'Add Your Comment' below. Max of 5 pictures preferred although we can stretch that for special stories.. Sea News Editor Paul Boland - send info or pix to dover7@msn.com. Always welcome.
UPDATE:
To show your pictures at their best..it could be worthwhile resizing before posting to
850
pixels wide.
All pictures on these pages are the copyright of the owners and must not be reproduced without permission.
Post 6536
Sea News, Dover
Atlantic Klipper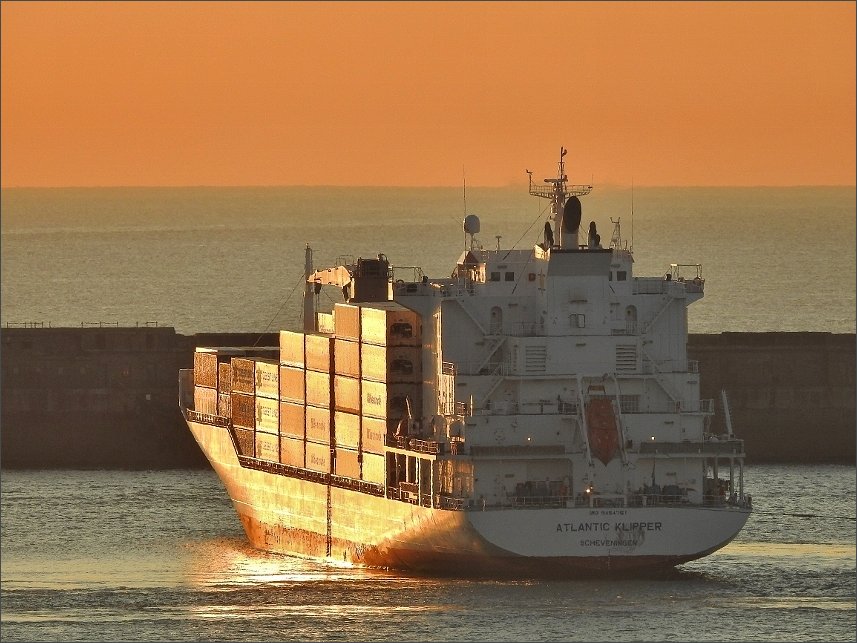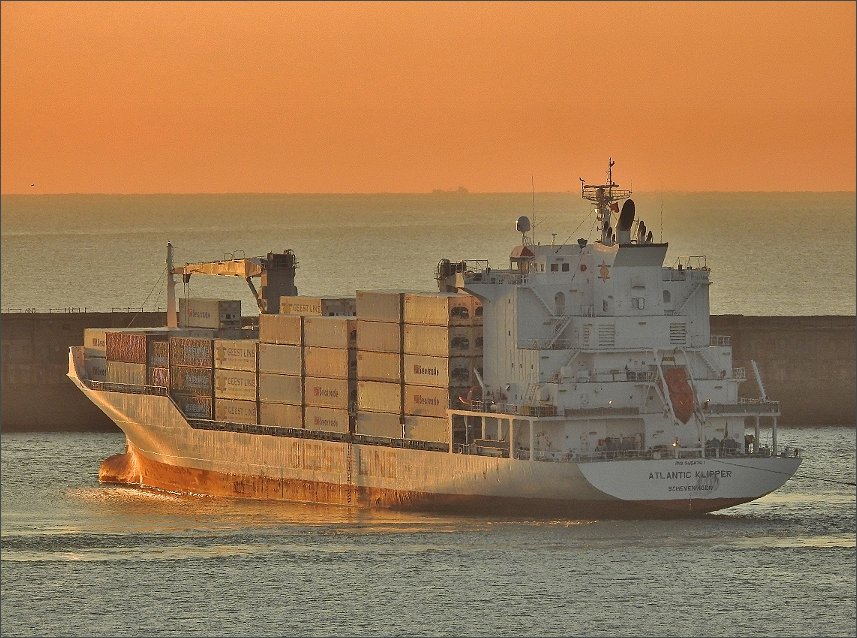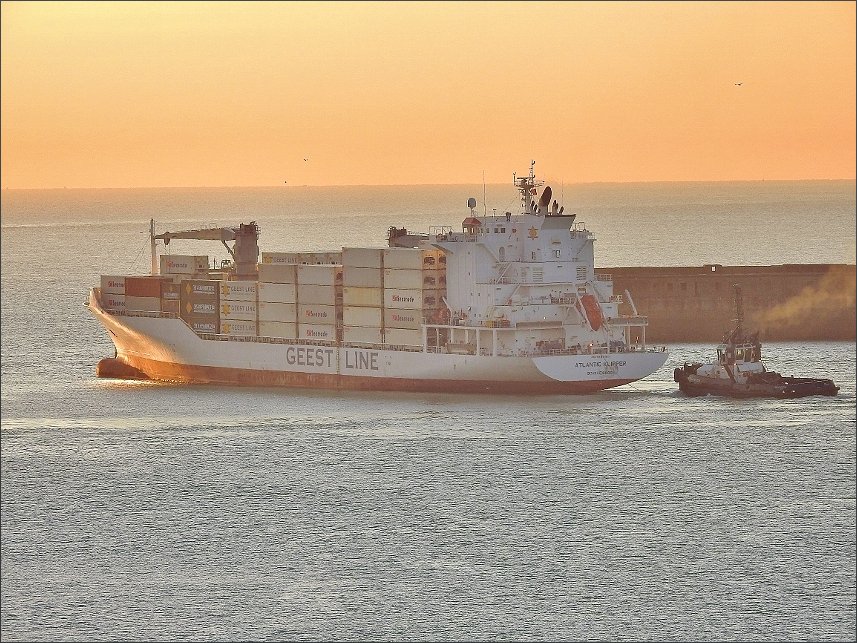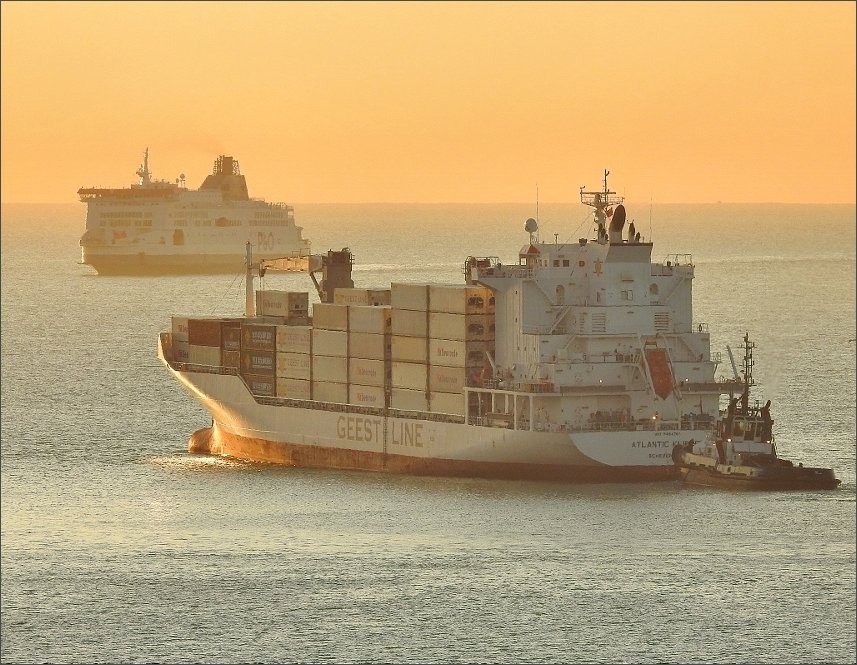 Some pictures above there of the departing Atlantic Klipper on a very early sunday morning.. 06.50 in fact and in the striking early-morn colours she is away to Bridgetown in Barbados to no doubt collect another cargo of super exotica for European consumption..... across the Atlantic she goes - bon voyage! Another reefer..called Lady Rosebay.. came in to port soon after. A new one on me, will have pix in due course..
While taking the previous pictures of Atlantic Klipper, right behind the camera as it were, the full moon was shining down on us at the same time...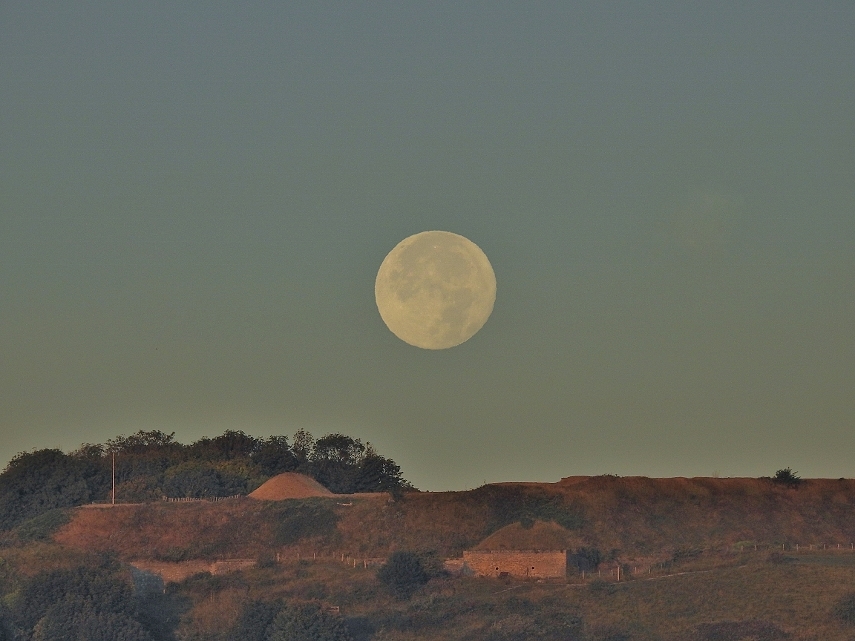 The Moon over Western Heights Dover...
Added extra...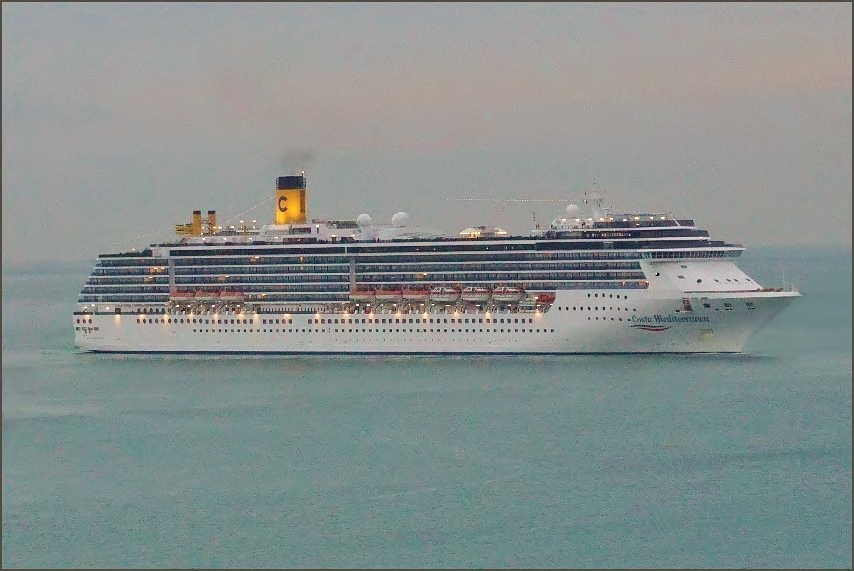 Costa Mediterranea early morning.

Great collection below Mike ...cracking stuff !

Really great to hear from you Jeremy. Wow that was quite a move..from Dover to Lincolnshire. Hope its all going very well for you up there. Thanks for all your excellent pictures in the past...you got some good scoops I remember. Glad you are still looking in and enjoying it all...
PaulB
ps: cruise ship Marina in port today...
Wednesday, 18 September 2019 - 07:09
Post 6535
Mike J., Dover
Newhaven's 'Severn' class 17-21 DAVID & ELIZABERTH ACLAND came into Dover on Monday morning to use the boat-lift & AIS showed her still in the boatyard on Tuesday morning, but by the time I got down there early afternoon she was afloat by the boathouse, her place taken by CITY OF LONDON receiving new anti-corrosion 'anodes' & a lick of underwater paint.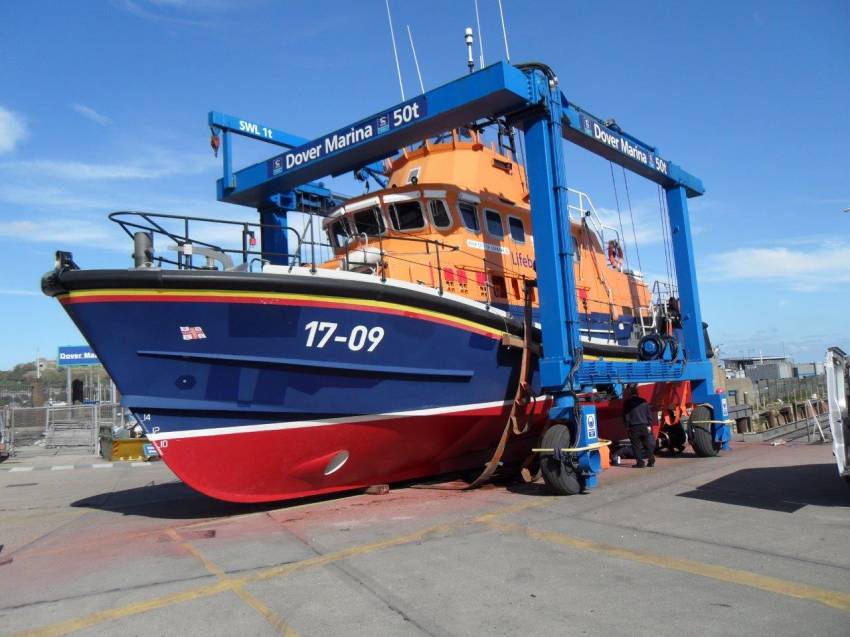 I was chatting when we heard that 17-21 was about to sail, so I scuttled round to get her sailing.
She had only a 'run crew' so wasn't SAR-capable.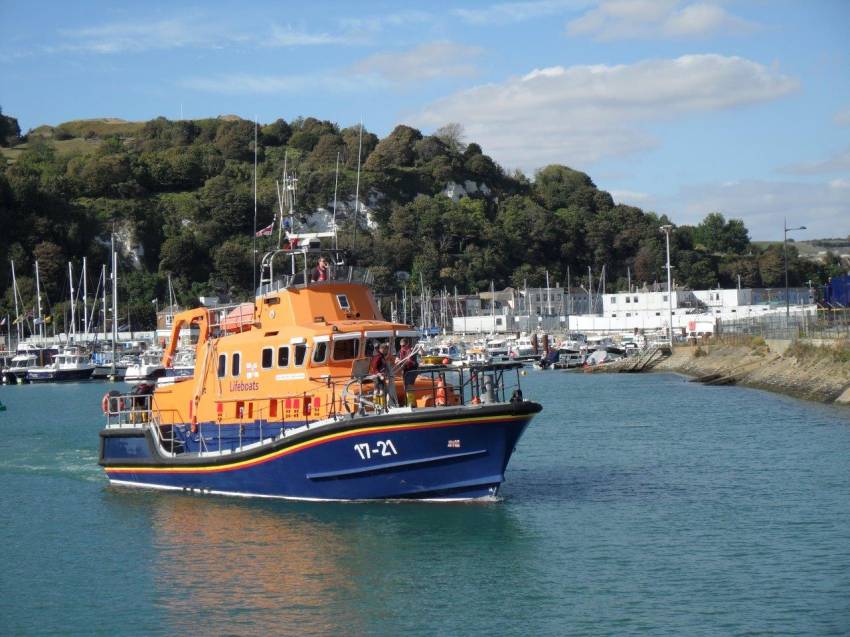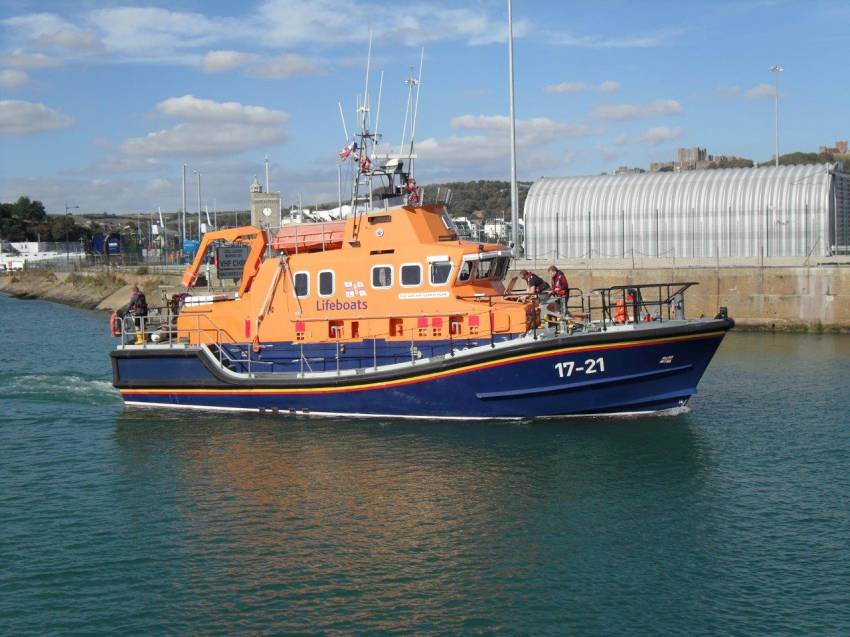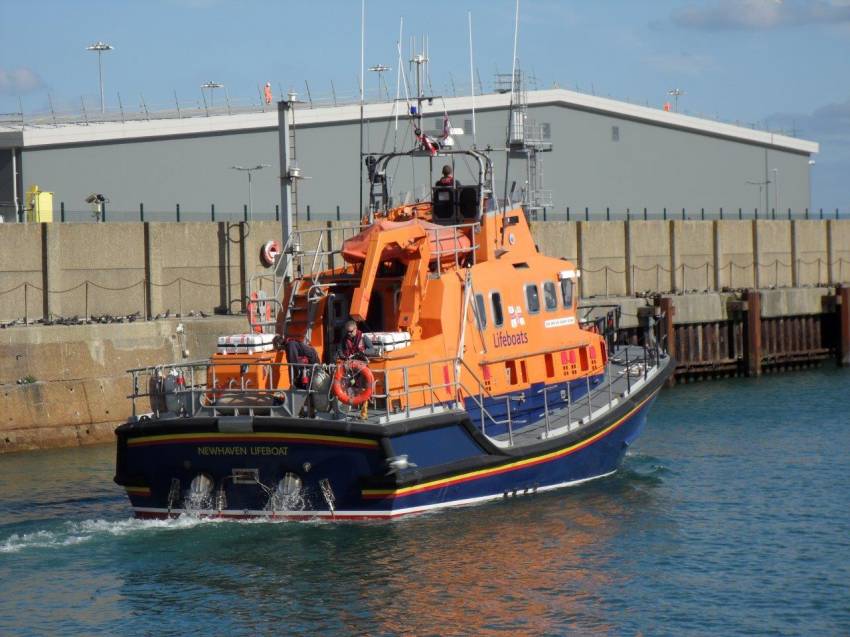 Wednesday, 18 September 2019 - 03:18
Post 6534
Jeremy Ward, Holton-Le-Clay, Lincolnshire
Still enjoying all the posts on here even though I have moved to Lincolnshire. Sorry can't post any photo's of Dover anymore. All the best to everyone at Doverforum.

Tuesday, 17 September 2019 - 18:22
Post 6533
Sea News, Dover
Another three cruise ship day on Monday...two days in a row the Port has had three cruise ships all at once. Exciting times for sure...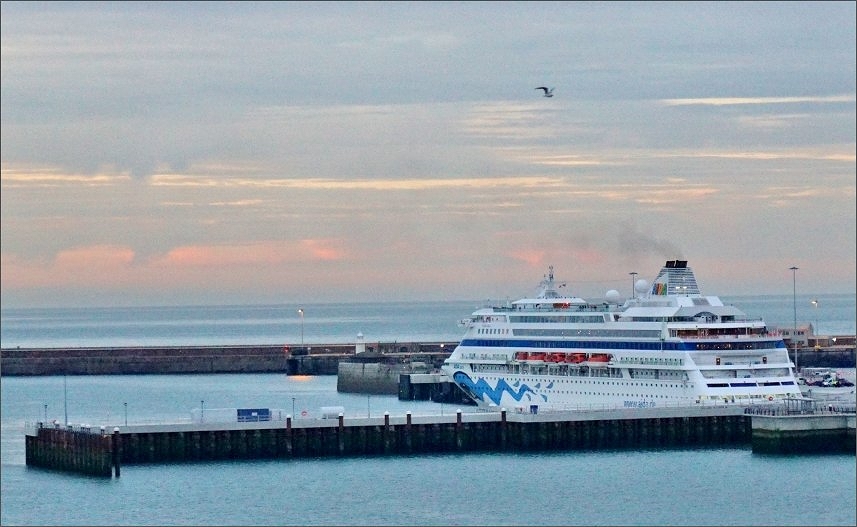 AIDAcara takes up first and early position at the new pier/berth WD4 on a gorgeous gently coloured morning...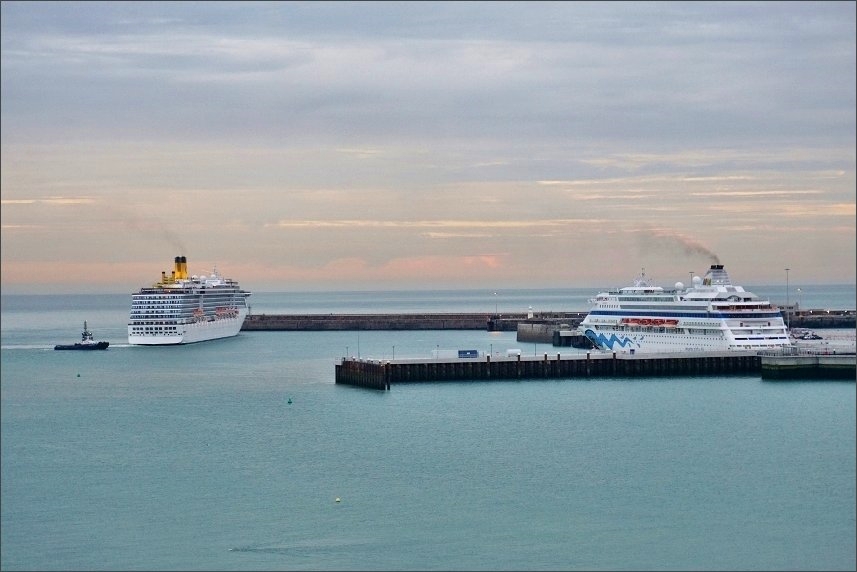 Then the huge Costa Mediterranea arrives...she looks small in that shot above but not so...
Then Costa Mediterranea moves slowly astern onto Cruise Terminal 2...elegantly done of course...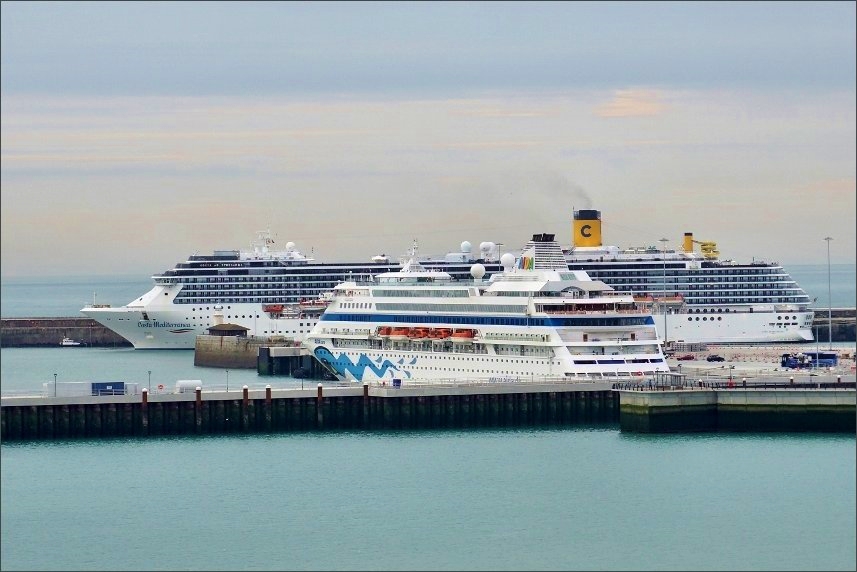 Costa Mediterranea settles in at Cruise Terminal 2 with AIDAcara in the foreground at new pier...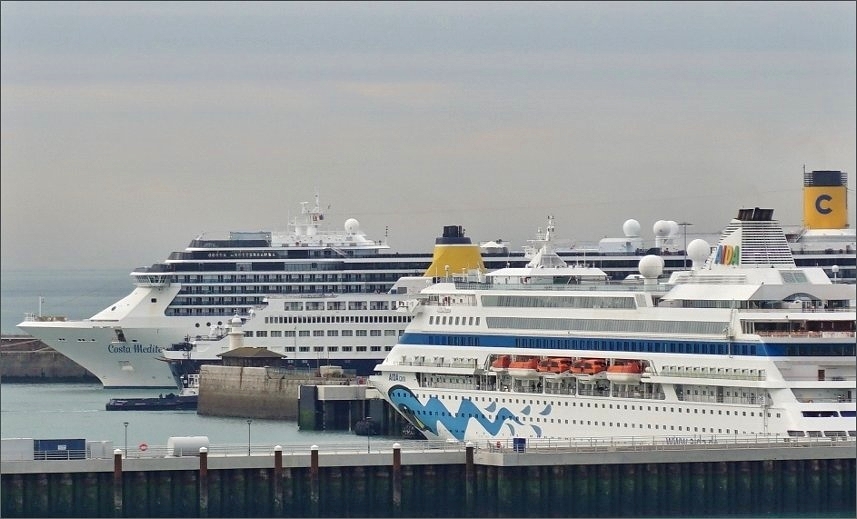 Saga Sapphire slips in between the early pair.. so we have a triple whammy with added tug for good measure. Busy days...
We have a backlog of pictures of all sorts, will try and get round to it all, what will today bring?...

PaulB
Tuesday, 17 September 2019 - 06:05
Post 6532
Sea News, Dover
Yesterday (Sunday) was a hugely busy and impressive day at the Port of Dover. There were three fabulous cruise ships...Disney Magic, AIDAsol, and Boudicca all in Port and all at the same time. There were also two Reefer ships, one coming one going, and as an all round consequence lots of tug activity, then a bunker vessel, there were also Border Force vessels in action as it was another hugely busy day for them...and of course lots of smaller craft tooing and froing...
so here we go with some of the pictures...
AIDAsol arriving...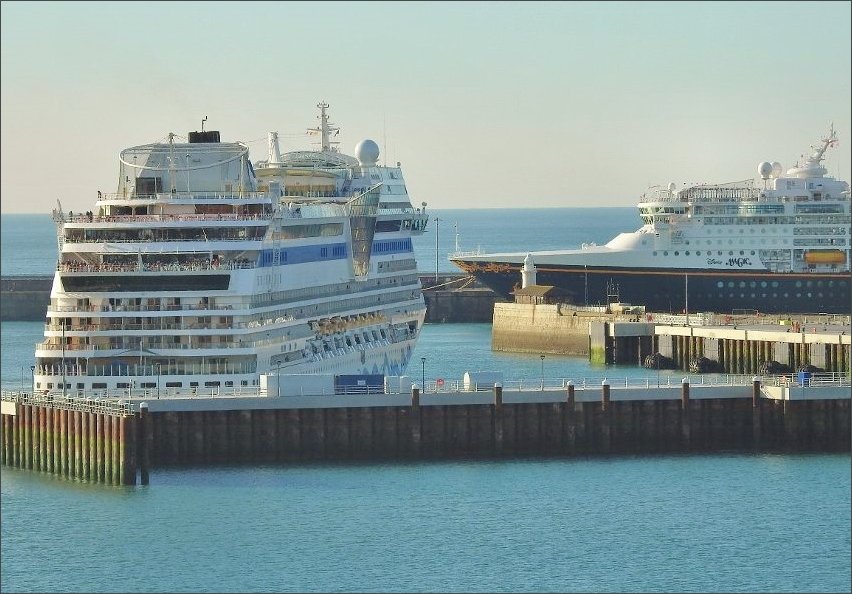 You can see that the new pier ( we're calling WD4 ) was brought into play above there again...
AIDAsol last one into Port settled there...
you can see her slowly manoeuvring into position in the pictures...
Yes indeed huge activity for Border Force yesterday with something like 56 migrants making the crossing on several small boats, we understand the small Calais camp was cleared out by the authorities there, so many had a go at the crossing.
Vigilant...vigilant by name and vigilant by nature...yes in the pic below we see Border Force Vigilant, first time we have seen Vigilant in a while, here she is patrolling yesterday and you can see the Spirit of Britain right behind her there...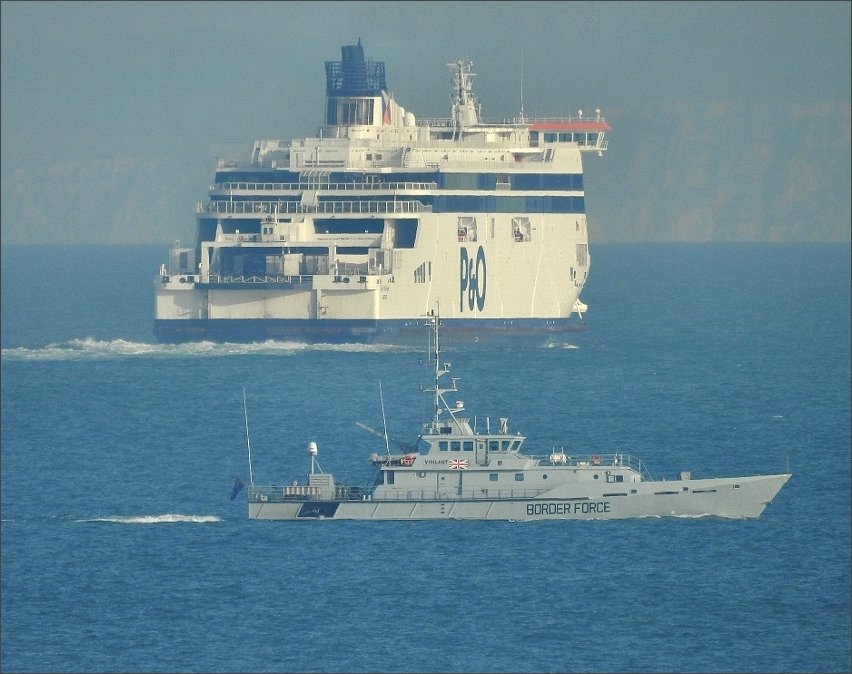 Sorry to hear you haven't been well Vic but hopefully you are mending and getting much better. Glad you are enjoying all the ships on the Sea News pages...it gets ever busier. Always welcome Vic....

PaulB
ps: another fab three-cruise-ship day today at the Port of Dover...Costa Mediterranea, AIDAcara and Saga Sapphire...busy times..
Monday, 16 September 2019 - 06:22
Post 6531
matcham, Dover
just to let you know I am still looking in,I have not been well and went away for a week,but your photos of the port and the ships that use it and still very good and I have now got upto date with what is going on in the port. vic.
Sunday, 15 September 2019 - 07:57
Post 6530
Sea News, Dover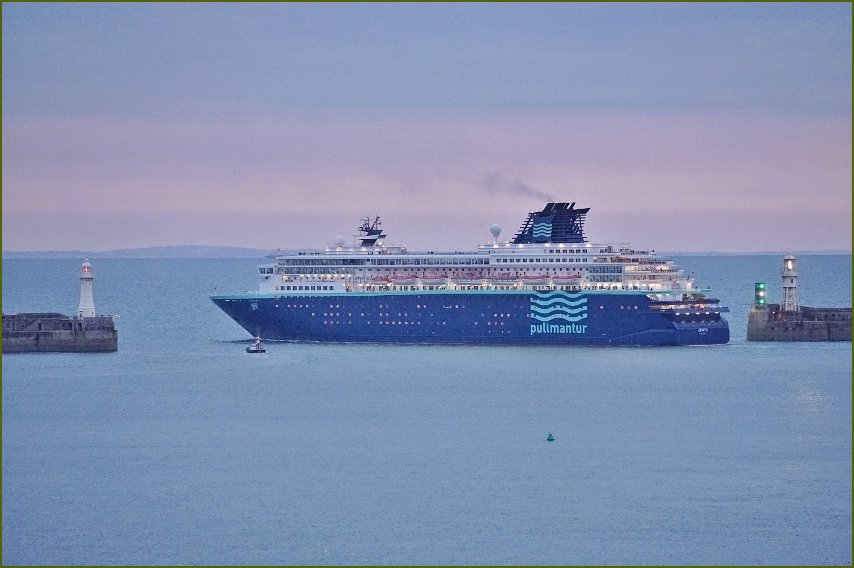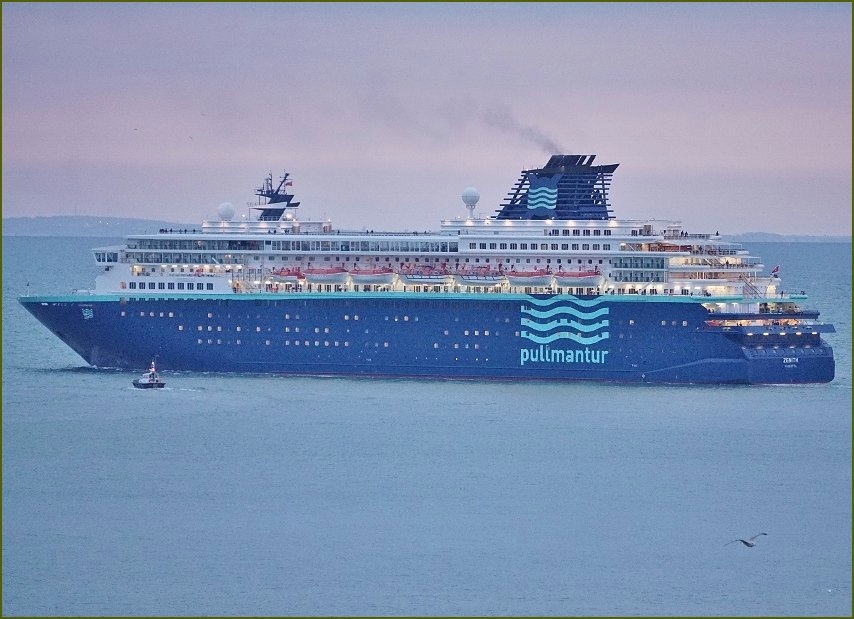 Just catching up above there with a couple of pictures of the Pullmantur Zenith setting off in the late evening glow a few days back. She is currently on an 8 day tour starting Malmo finishing today in Lisbon. She called in here to Dover as you can see, also to destinations like Cherbourg and Vigo.
Yours truly was away from his desk for Costa Pacifica...but here's one we did earlier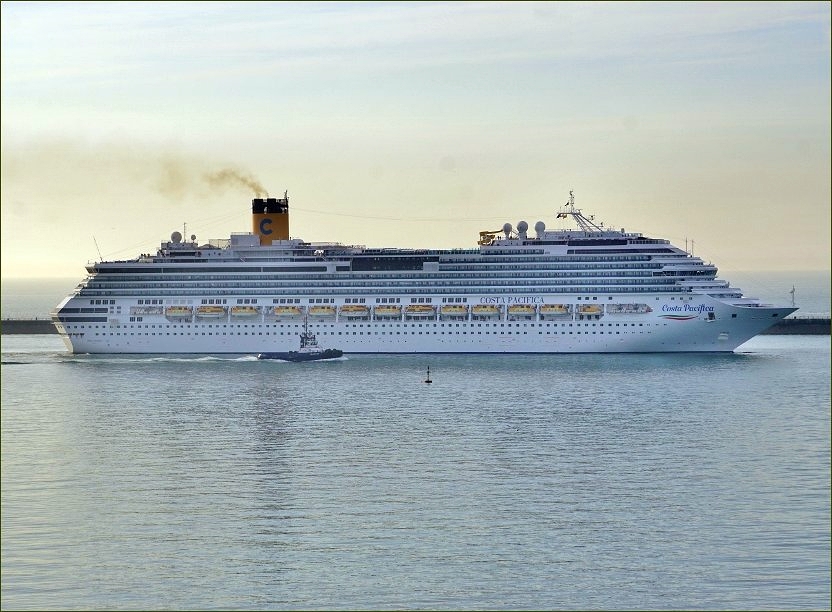 Fab ship indeed. Busy day today here at the Port of Dover...three cruise ships scheduled, more on that later...
Interesting pictures below there Patrick, great one of Maverick...very enjoyable

Thanks for all the info Mike. Great stuff! fascinating to see those Moby links...they do work. Just 'copy and paste'.

PaulB
Sunday, 15 September 2019 - 06:03
Post 6529
Patrick, Marine Parade
'Maverick' *a good drying day in the outer harbour*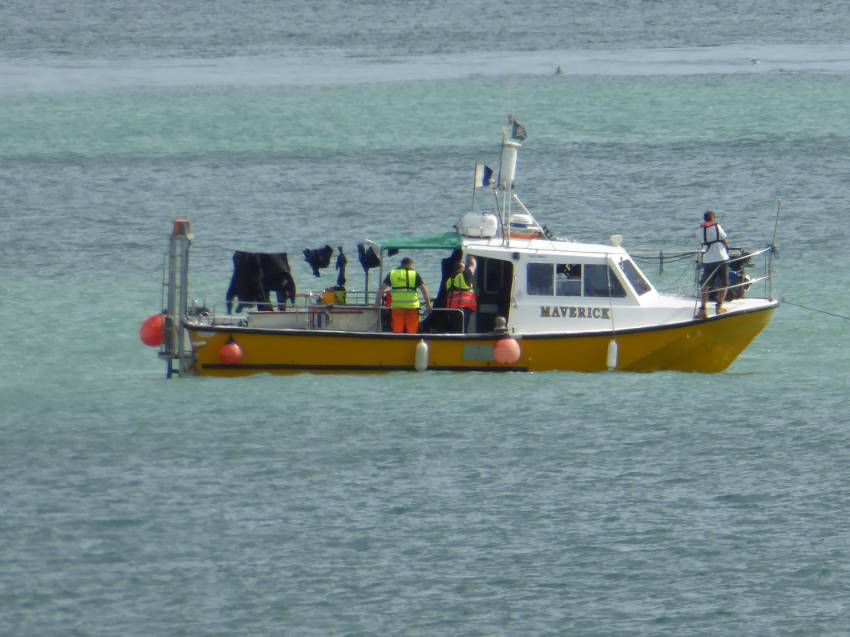 Dutch Inland Pleasure Craft ' NOORDERZON' leaves Dover after a short stay heading for overnight mooring at Harty Ferry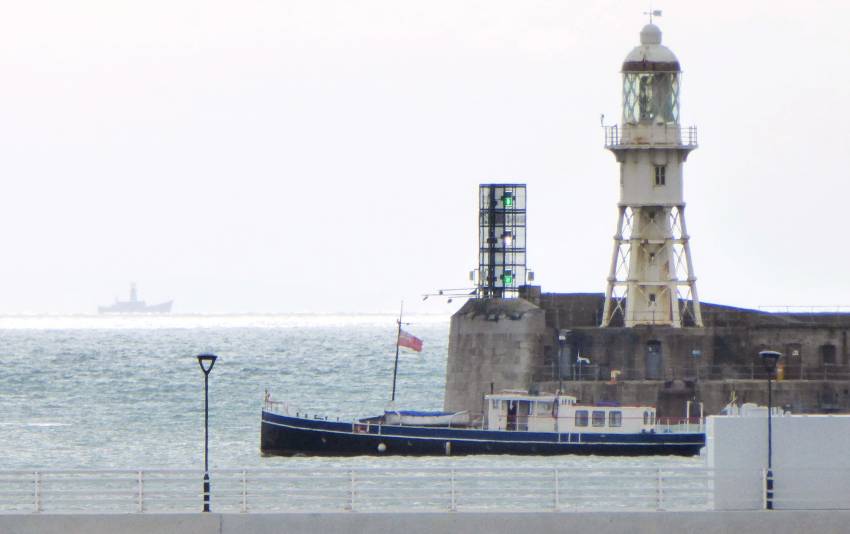 Friday, 13 September 2019 - 23:01
Post 6528
Mike J., Dover

Re post 6526 & the spectacular Moby Line painthobs -

When they started operations in the late 50s with small ferries running between Italy & Italian offshore islands they were one of the pioneers with hull advertising, starting off with a cute & cuddly whale.

They initially used secondhand ferries including some from the Dover Straits & cross-channel routes including Sealink's EARL GODWIN & Townsend's FREE ENTERPRISE 2.

For a view of FE2 as the MOBY BLU with the whale try googling 'MOBY BLU FERRY PHOTO'

Oddly the 'cut & paste' method that worked fine in my last post seems to have stopped working.
.



Back in the 90s a chartered Italian freightship operated out of Dover for a while -
I don't remember her name, but she advertised a mineral water & 'ACQUA MINERALE' was painted large on her hull.

It was amusing to hear her being called by other ships who thought that 'ACQUA MINERALE' was her name . . . . .


Friday, 13 September 2019 - 13:34
Post 6527
Sea News, Dover
Atlantic Reefer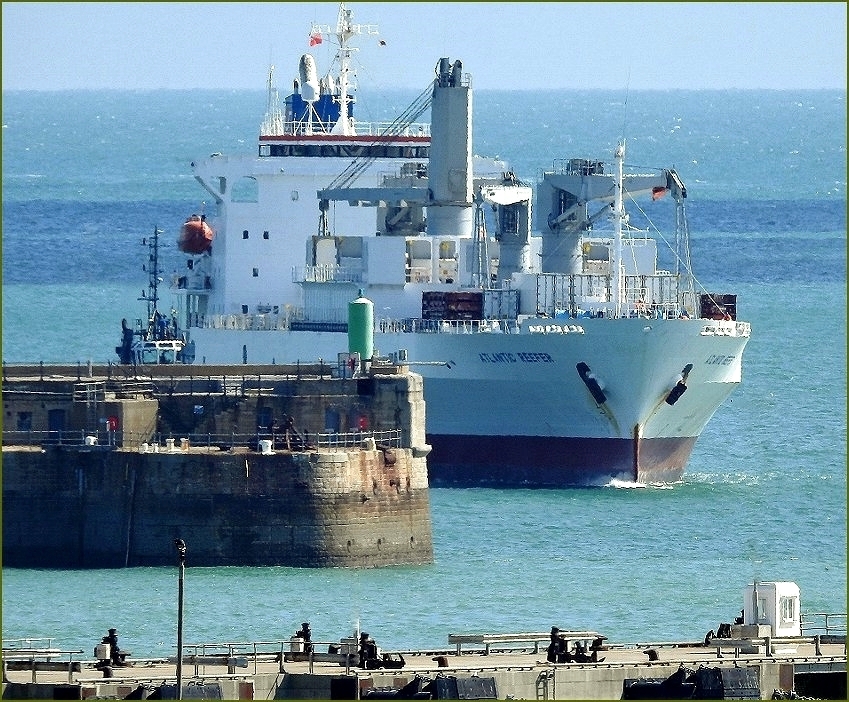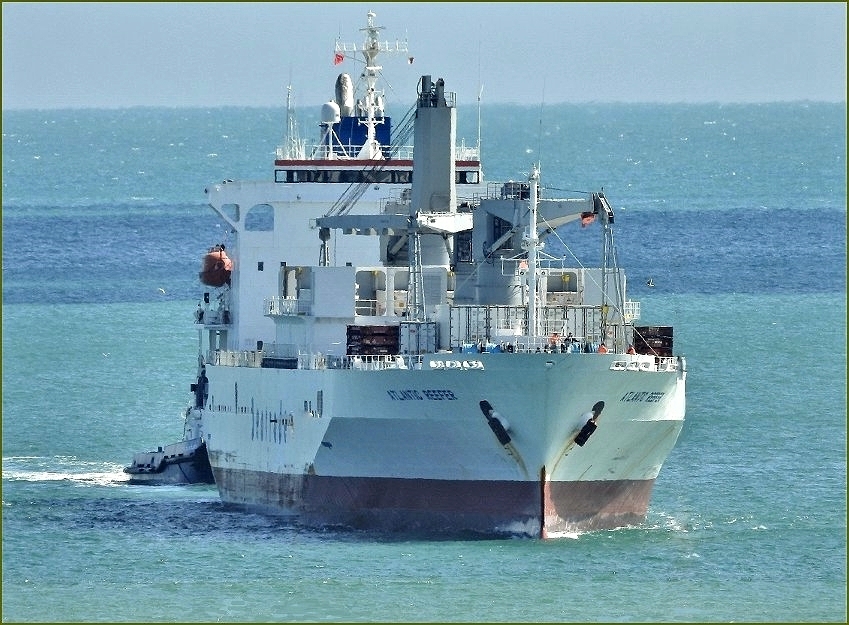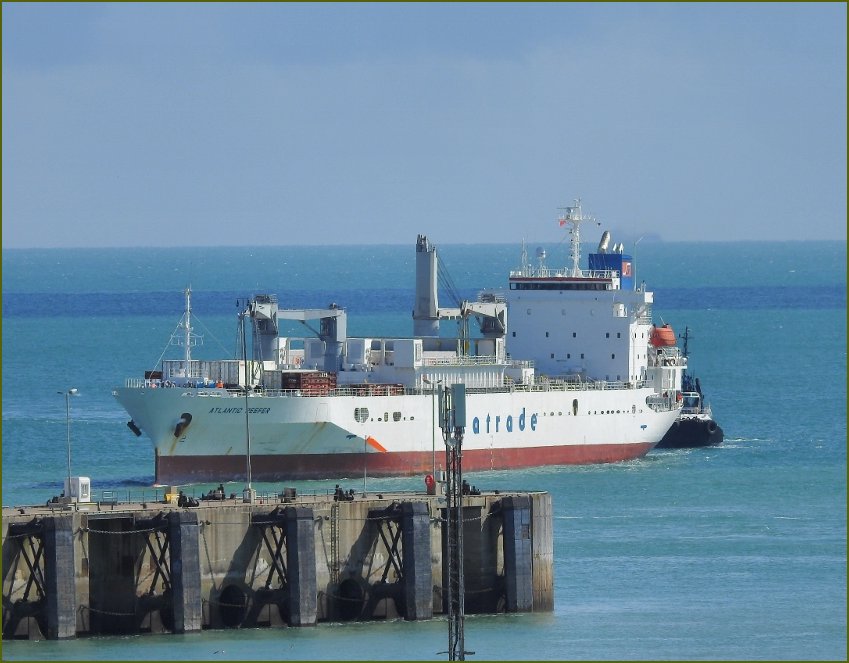 Some pictures above there of Atlantic Reefer arriving with us here at the Port of Dover on Sunday. Instead of coming across the bay as it were, she cut out all that usual manoeuvring, and cannily nipped directly in towards the cargo terminal as you can see above... not ideal from yours truly's picture-taking point of view but got a few shots nonetheless...and there they are above taken in the bright light of Sunday morning.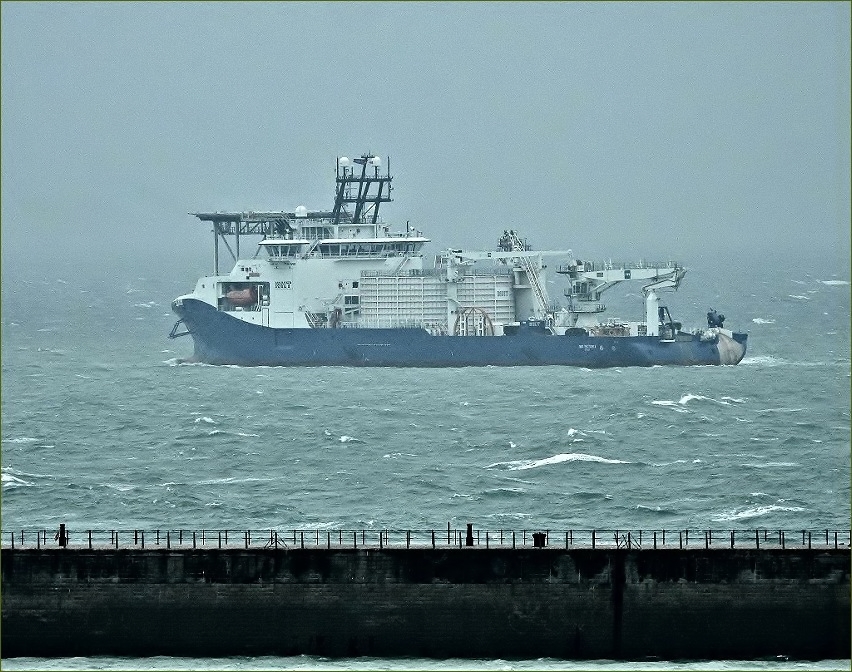 As mentioned previously I missed the departure of NKT Victoria, had head buried in Windows 10..just got the rough oul long shot above which doesn't do her justice. See Mike's earlier post 6523 for up close pix...also see 6519.

...Nice post below Mike, great round up pix as usual. Great shot of Cullins Yard one of yours truly's favourite places. The links to MOBY are amazing. Quite a sizzling colour-shock to the eyeballs...as we can see from the DFDS artists impression (6524), they will do a much better job with the design.

Del …
PaulB
Friday, 13 September 2019 - 05:06
Post 6526
Mike J., Dover
Thanks anyway, Del !
Dover arrivals noticed on Wednesday.
The CWIND FULMAR was on the Crosswall quay pontoon but on Thursday AIS showed her in the Wellington Dock with her destination given as Ipswich.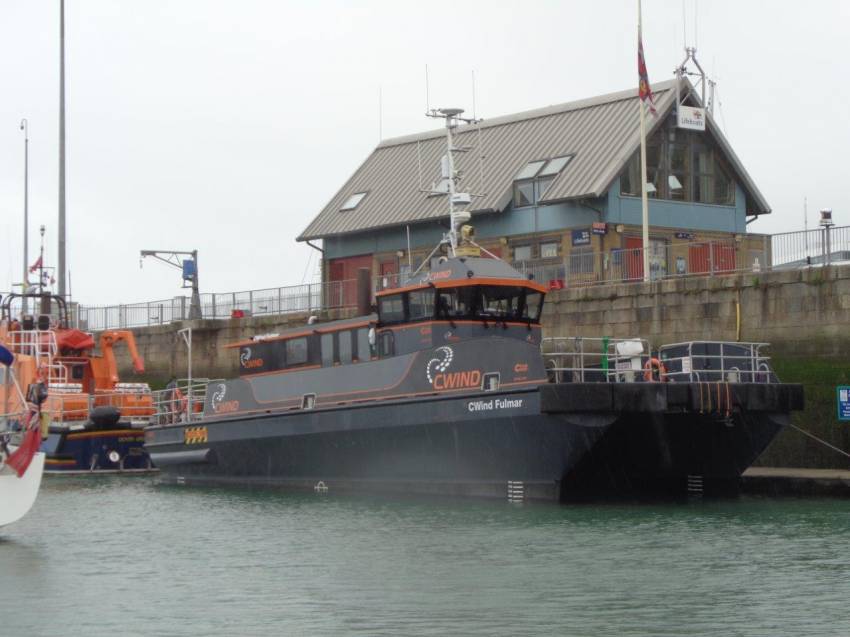 The interesting Dutch motor yacht NOORDERZON came in on Monday from Nieuwpoort & may be here for a while.
Very little on the internet about her, perhaps someone knows a little more !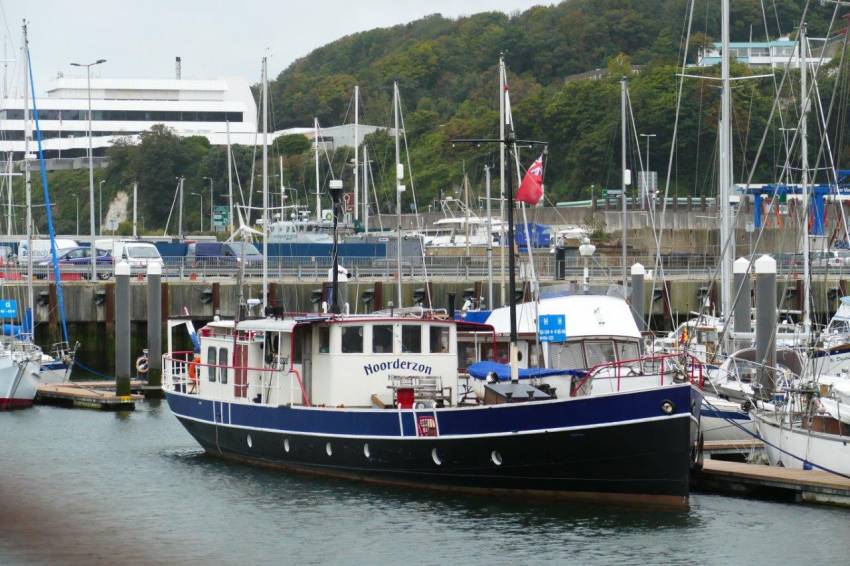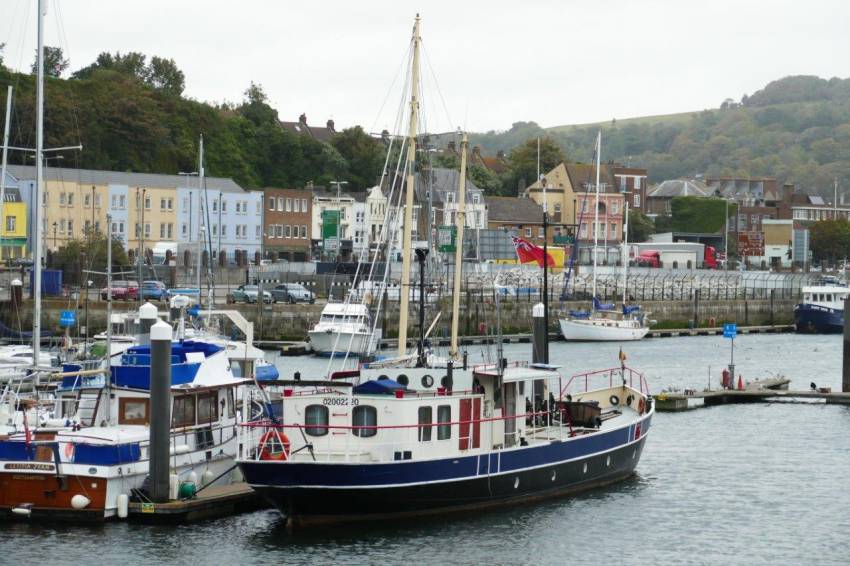 A little different is the impressive model of RMS CULLINS YARD which is here to stay & has been permanently moored at the entrance to CULLINS YARD pub & restaurant on the edge of Wellington Dock for about a year [I don't get out much].
An impressive model altho' the builder seemed to have lost interest aft of the funnel.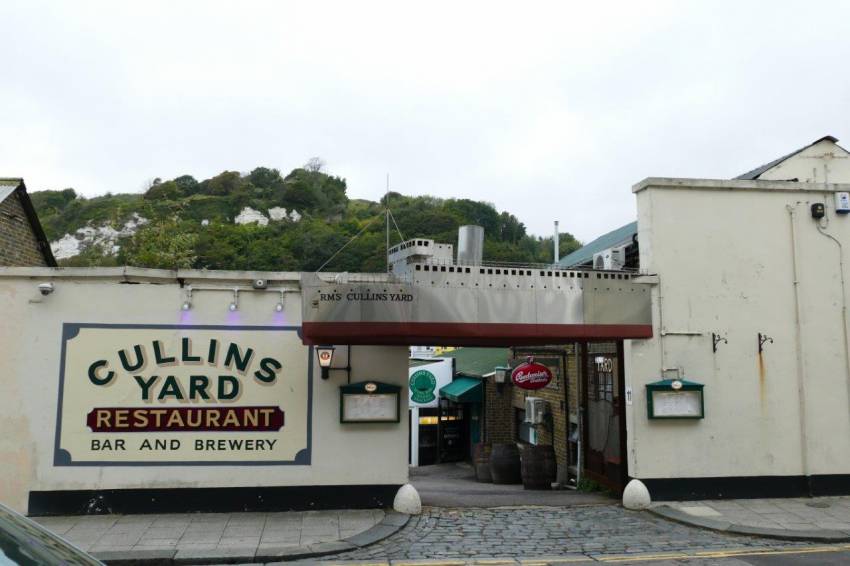 I'm trying to think what ship she reminds me of & may have to go in for a pint to find out – a tough assignment indeed . . . .
Re Paul's DFDS press release earlier today about DFDS & Moby line swapping two ferries I'm sure that the first thing DFDS will do is to paint over Moby Line's amazing 'Looney Tunes' paintjobs.
Cut & paste these links & be amazed, they make the 'exotic' paintjobs on some Dover cruise ships look quite restrained !
https://www.mobylines.com/the-company/fleet/moby-wonder/
https://www.mobylines.com/the-company/fleet/moby-aki/
Friday, 13 September 2019 - 00:34
Post 6525
Del Styan, Norwich
I wish I could help with the Harwich to Felixstowe ferry origins, but as someone once said - I know nothing. And my parents used to live in Felixstowe. I'm defeated and deflated.

Thursday, 12 September 2019 - 23:21
Post 6524
Sea News, Dover

DFDS ANNOUNCE TWO NEW SHIPS TO JOIN THEIR NEWCASTLE-AMSTERDAM ROUTE THIS YEAR
______________________________________________________________________________

Moby Wonder and Moby Aki will join the fleet in October 2019, sailing in early 2020
(Artist Impression)
DFDS has entered into an agreement with Italian ferry company Moby to exchange two passenger ferries, with the focus of raising the onboard customer experience and capacity, for both passengers and freight customers.
Moby will acquire the two passenger ferries currently operating on the Newcastle to Amsterdam route — King Seaways and Princess Seaways, built in 1987 and 1986, respectively.
At the same time, DFDS will acquire two passenger ferries currently operated by Moby — Moby Wonder and Moby Aki, built in 2001 and 2005, respectively. The ships will be renamed when they join the fleet. The names are yet to be decided.
The ferries are expected to be delivered in the second half of October 2019 and will undergo significant refurbishment, including commercial and technical investments on board as well as port investments.
DFDS will subsequently bareboat-charter King Seaways and Princess Seaways until January and February 2020.
Kasper Moos, Vice President & Head of BU Short Routes & Passengers at DFDS said: "The new ferries are ideally suited to our Newcastle to Amsterdam route. They will provide our passengers with modern onboard facilities and with more car-deck capacity, the new tonnage will allow DFDS to increase passenger revenue by fulfilling the growing demand for high yield car passengers. To freight customers, we will be able to offer increased capacity that can remain constant throughout the entire year"
DFDS's freight capacity is expected to increase around 40%* on a full-year basis and car capacity increasing around 5% on a full-year basis.
-Ends-
Although outside our general remit area we were delighted to hear of the new ships above there and very happy to include the info.
Many thanks once again to DFDS. Exciting times - one way or another.

* *
Big numbers of migrants making the Channel crossing in the past couple of days...these following pictures were taken right in the midst of all the increased activity two days ago...
Border Force Seeker morning and evening...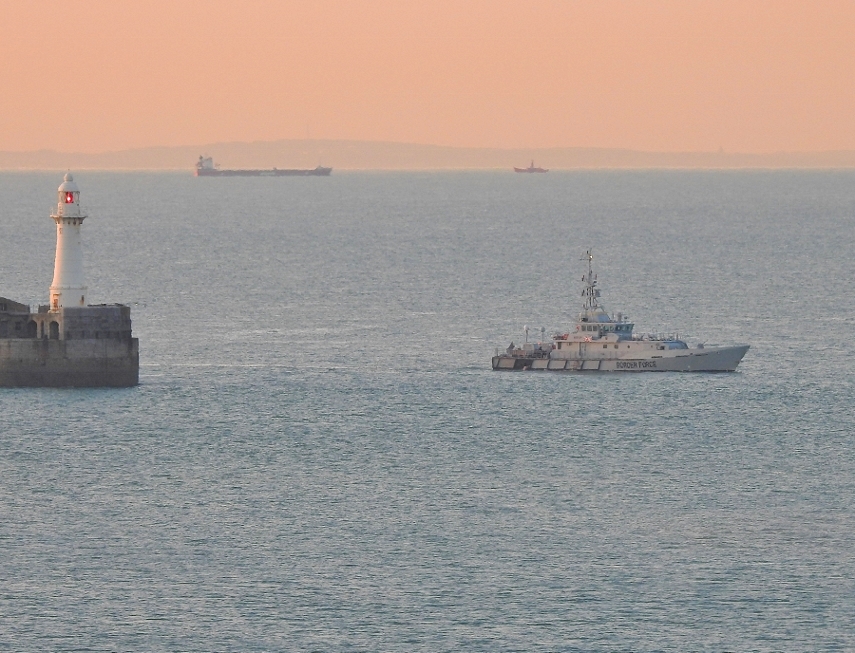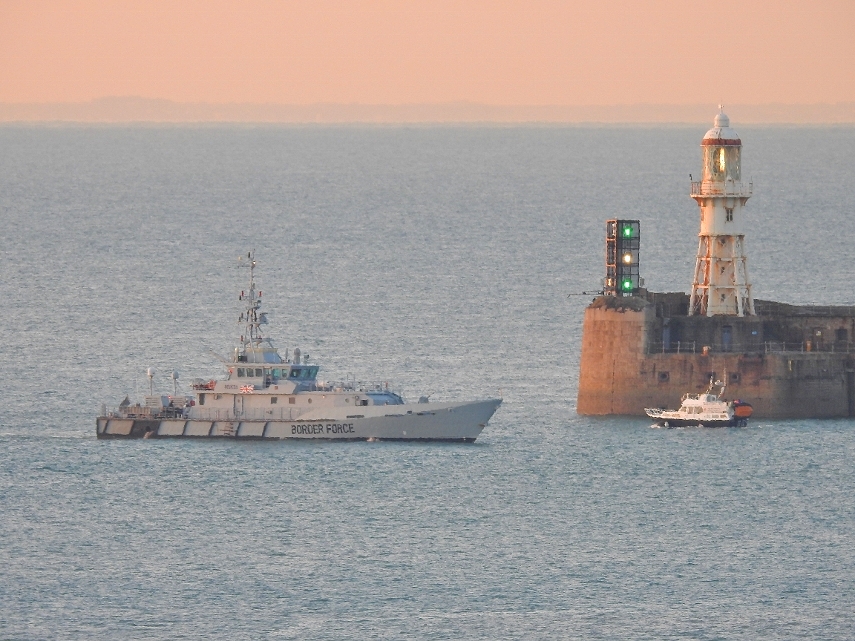 Evening...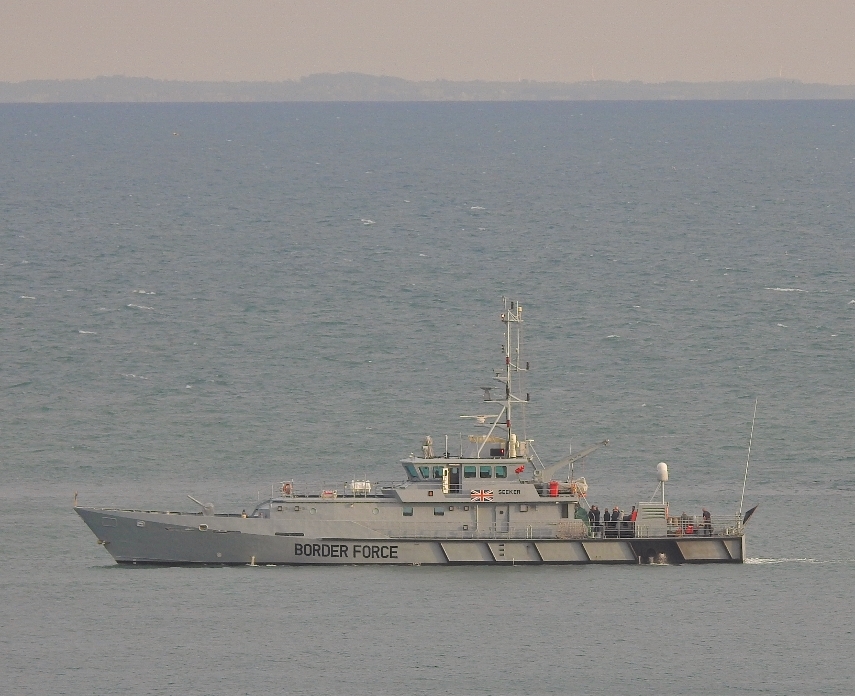 Border Force Seeker.
* *

Well done Mike with those pix below..right on the spot. Must have been chilly down there yesterday in all the gloom....those pictures are very enjoyable. I missed the ship leaving...that's what you get when head is stuck in computers. Got a long range pic...will have a look later to see if any good.
PaulB
ps: Spirit of Discovery arriving...

Thursday, 12 September 2019 - 06:48
Post 6523
Mike J., Dover
Cable ship NKT VICTORIA sailed 1600 Wednesday.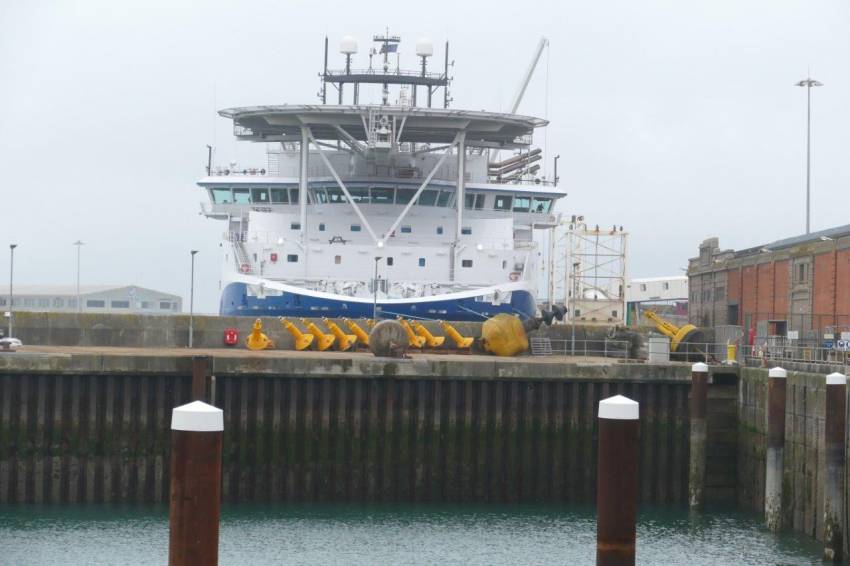 A rapid swing after coming off Cruise-1 showed her maneuverability before she left, heading across to the northeast lane & her eventual destination of Karlskrona.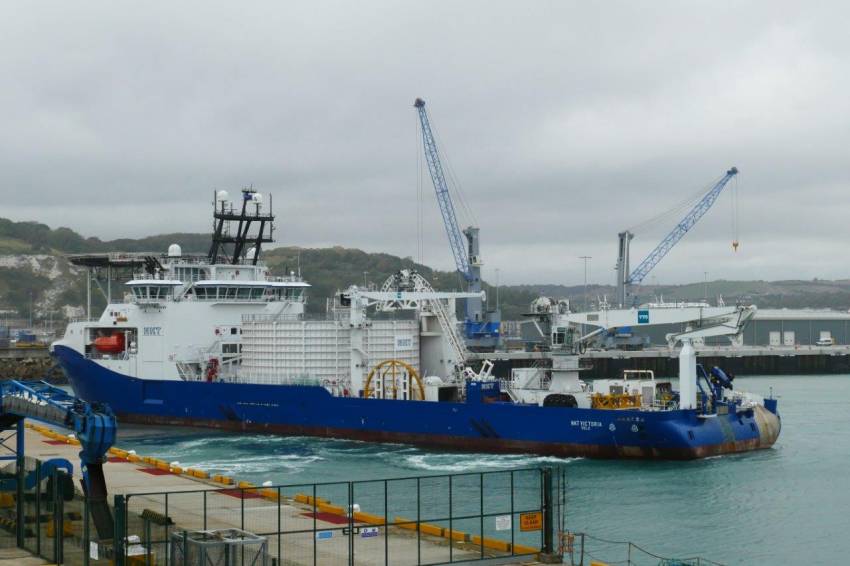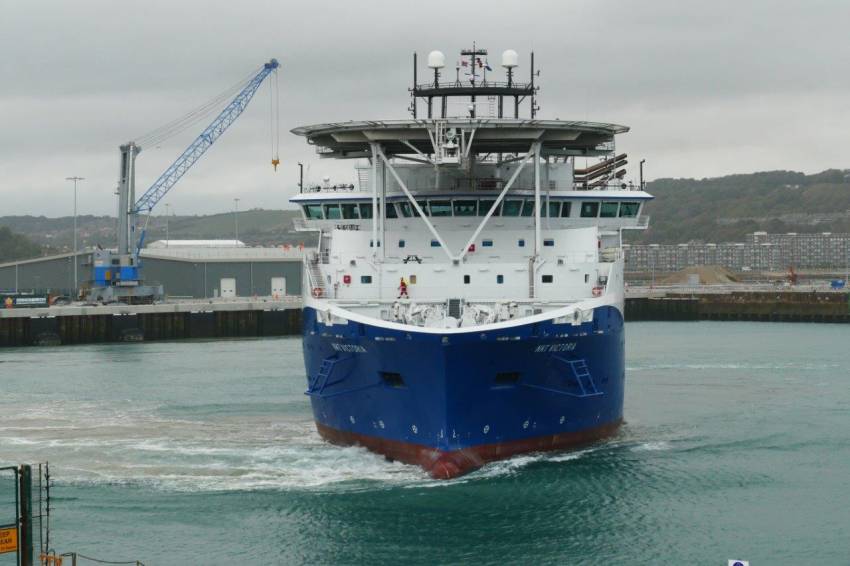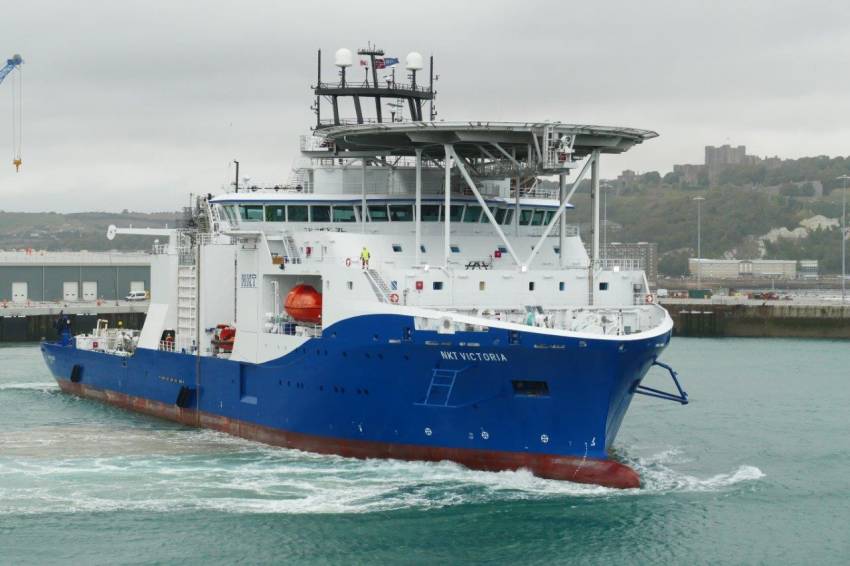 A but lumpy outside & the pilot disembarked before the VICTORIA passed thru the Western entrance.
Sid the Seagull kept an eye on proceedings.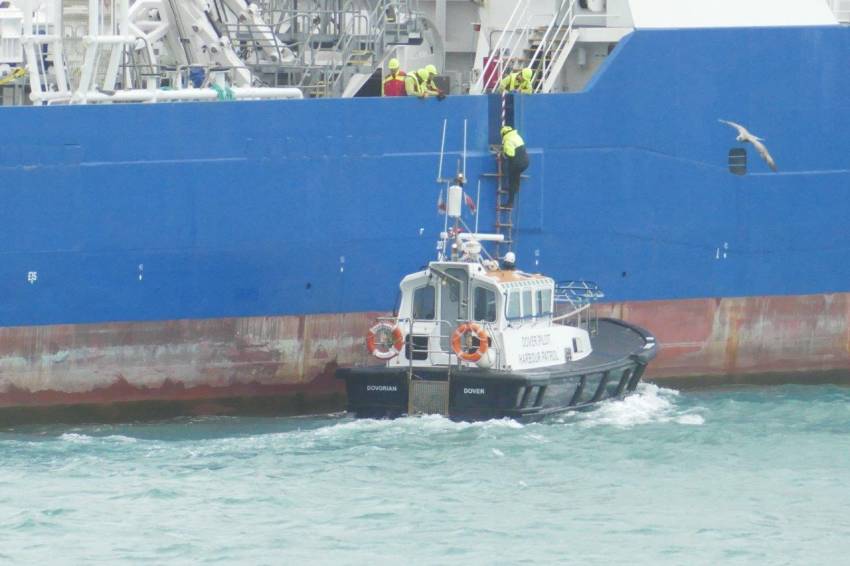 Thursday, 12 September 2019 - 01:31
Post 6522
Sea News, Dover
Some pictures to add here now of the MPI Adventure going down the Channel this morning in the gloom...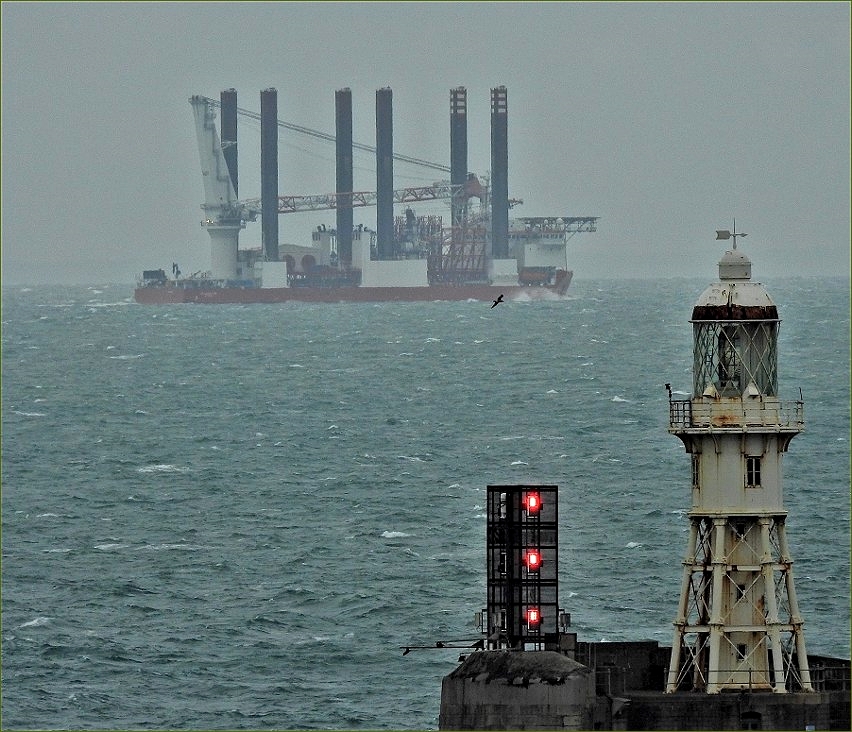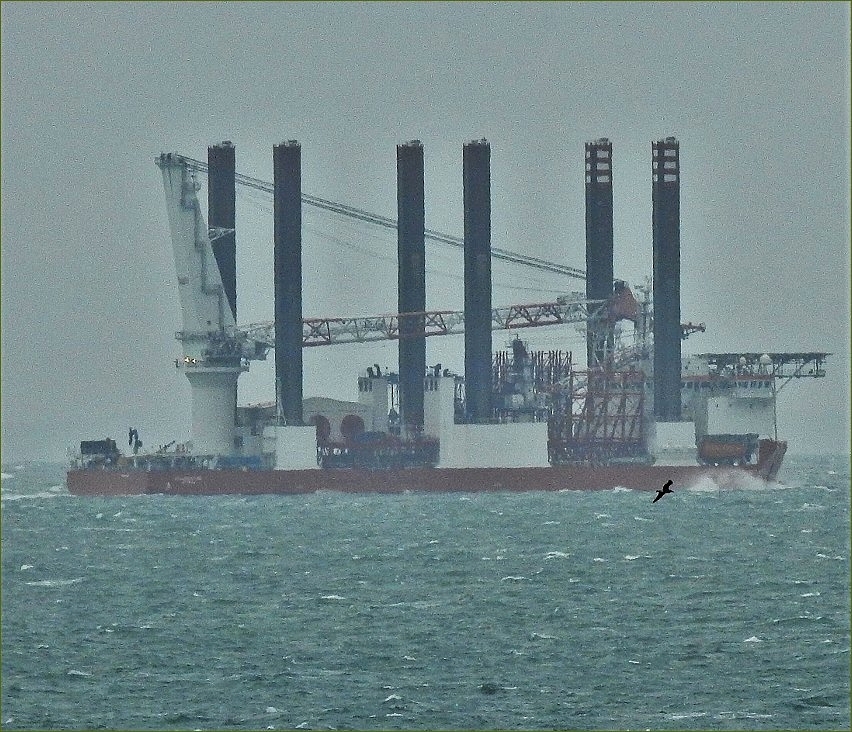 An impressive beast for sure. The second picture is a crop of the first as it was difficult to get a useable shot in the conditions. We have also featured other MPI platform vessels in the past...put MPI Discovery or MPI Enterprise in the Search Engine to see more. This mornings vessel, MPI Adventure, did not have a particular destination listed...
PB
Wednesday, 11 September 2019 - 15:57
Post 6521
Sea News, Dover
Pullmantur Zenith arriving at dawn yesterday....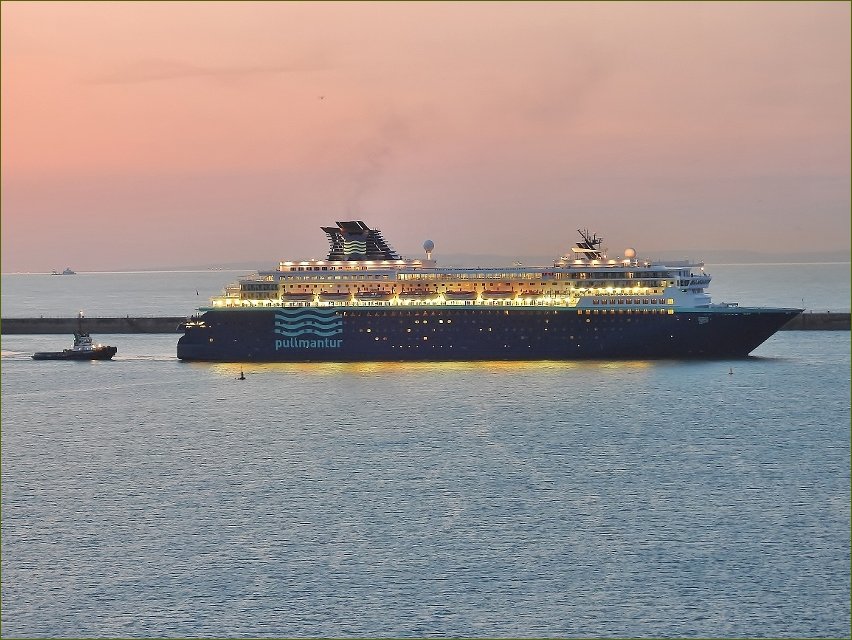 It was a mixture of dark and bright as Pullmantur Zenith made its colourful way across the harbour yesterday morning very early. A second camera ( the little one ) was used below as a back up as the pictures in camera one appeared to be too dark...but all was well...or wellish as you can see. She made her way over to Cruise Terminal 2 in elegant style. She left Dover for Cherbourg last night..... currently on a 7 day cruise from Malmo in Sweden to Vigo in Spain. Yes it was a colourful arrival as you can see...no such colours this morning, all is slate grey out there as we speak.
Very interesting collection below Mike from further afield...some familiar guys there for sure...

Yes a busy day for the Border Force yesterday...the highest number of migrants in one single day made the attempt at crossing. The number was 86 we understand.
PaulB
Wednesday, 11 September 2019 - 06:53
Post 6520
Mike J., Dover
Considerably outside our local area but I thought that three familiar vessels that I met on Monday whilst returning to Dover from Lowestoft might be of interest.
At Lowestoft Holyhead Towing's AFON CEFNI was looking very smart as usual & the Border Agency cutter SEARCHER was nearby.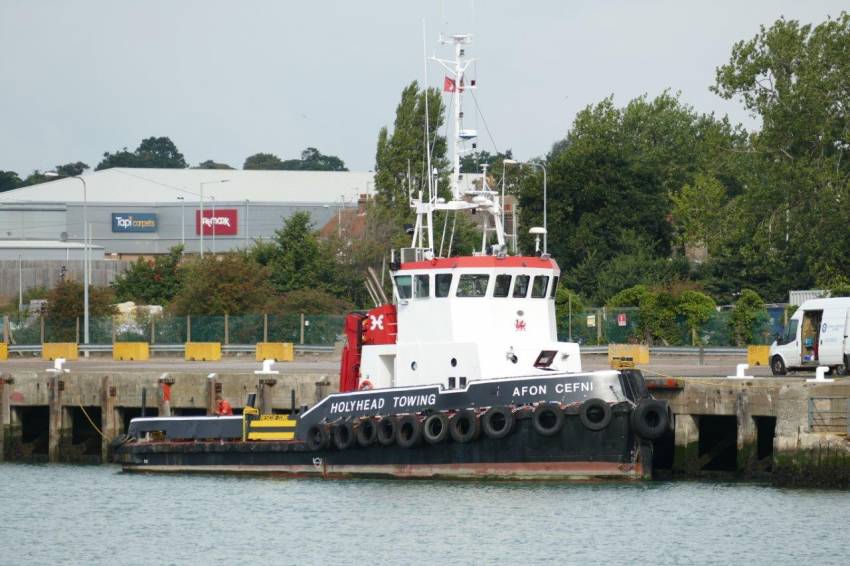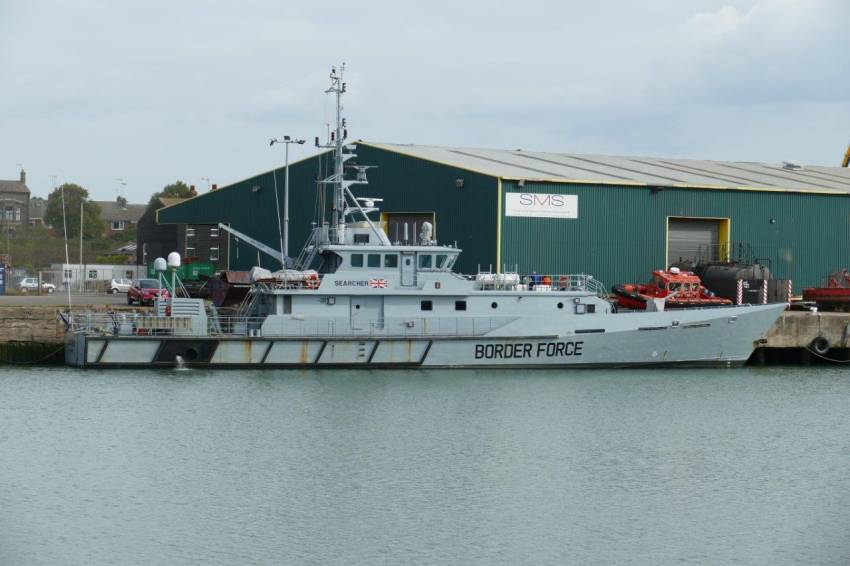 SEARCHER was moored at the SMS shiprepair yard & drydock & the DHB tugs have visited the same yard for refit work in the past.
At Harwich International was the COSTA MEDITERRANEA with the bunker barge ANUKET SAPPHIRE alongside.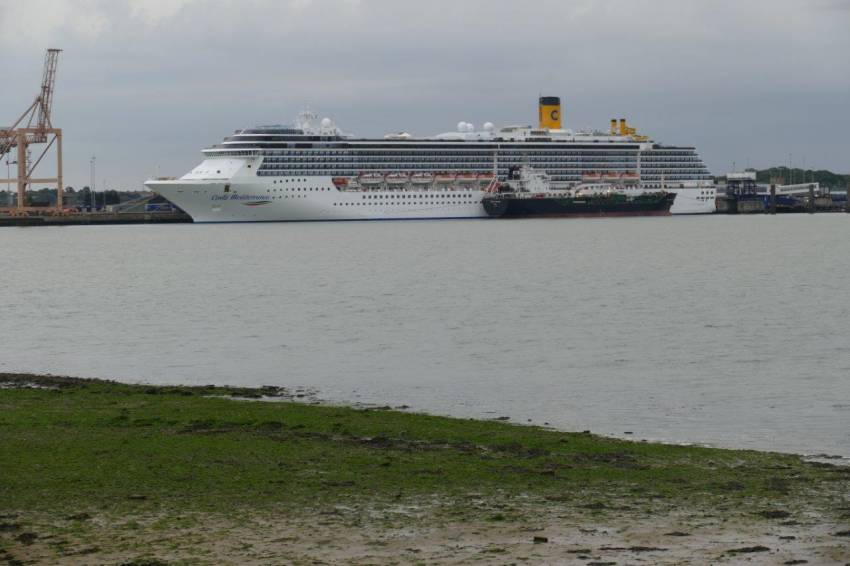 Nothing to do with Dover but I can't resist a snap of the tiny Harwich/Felixstowe/Shotley foot-ferry dwarfed by the MAERSK MCKINLEY MOLLER as she was arriving Landguard Fort, Felixstowe where she beaches to load & unload passengers using the odd-looking-but-safe structure on her bows.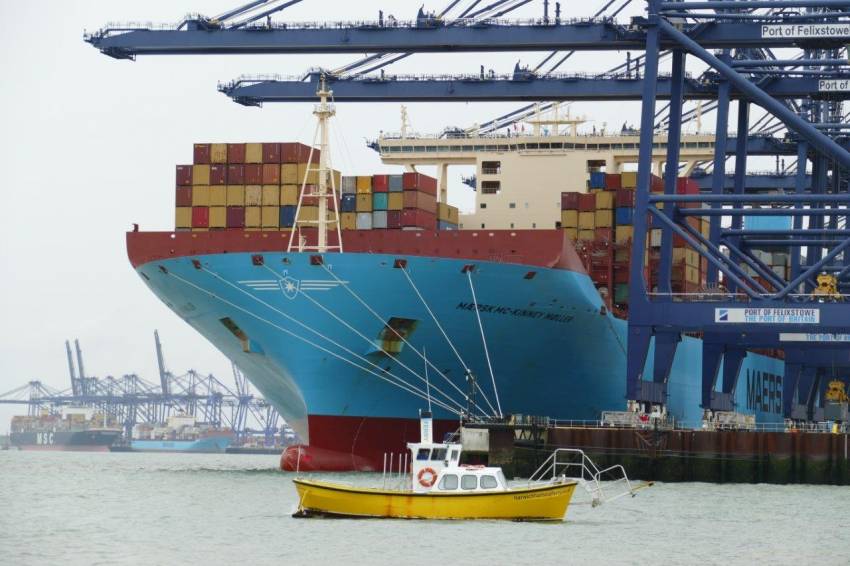 As she had no passengers for Felixstowe & no-one was waiting to board she got discouraged & didn't beach, turning round & plodding off to Shotley.
I believe that ferry boat was originally a passenger tender on a P&O cruise ship, maybe Del will know . . . . .
Harwich to Felixstowe as the seagull flies is 1.5 miles, by road 33 miles . . . .
More info ? Google 'Harwich Harbour Ferry' for their excellent website.
I hear that one of today's 'incidents' was right off Dover with a Border Agency cutter & one of their Dover-based patrol craft in attendance.
Wednesday, 11 September 2019 - 01:11
Post 6519
Sea News, Dover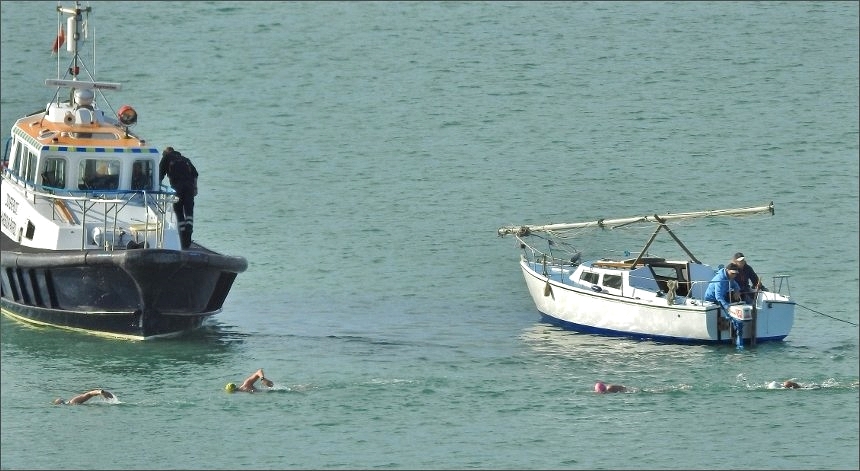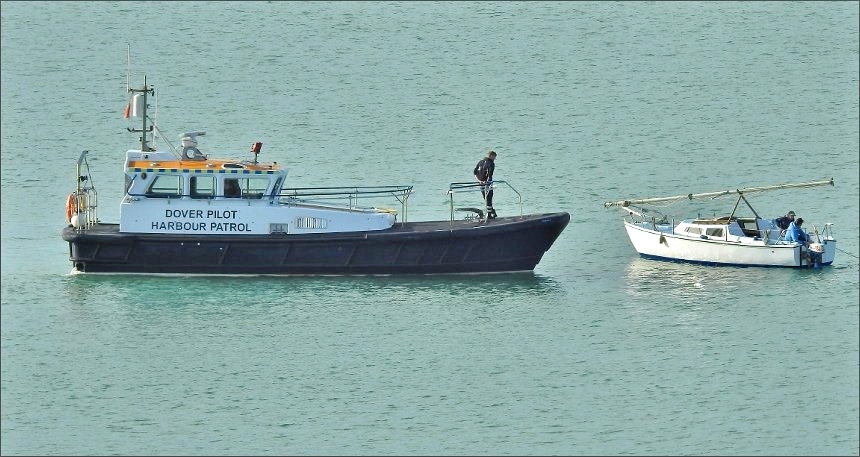 Yet again the swimmers appear to be compromised, this time with a small yacht right in their path at the weekend and inside the exclusion area. Fortunately on this occasion the Harbour Patrol arrived to move it on. I wrote to the Port Media re the previous pictures (SEE 6507) which showed the swimmers in potential harm...but heard zippo back...although maybe they passed on the info and vigilance has been increased. We don't want any accidents.
A couple of pix below now of the passing Blue Clipper. Its always a delight to see a sailing ship and one always hopes for full sail...partial success here. The small boat is Altered Ego from Dover..its a small fishing boat if I'm remembering correctly off top of head .. pictures from Sunday...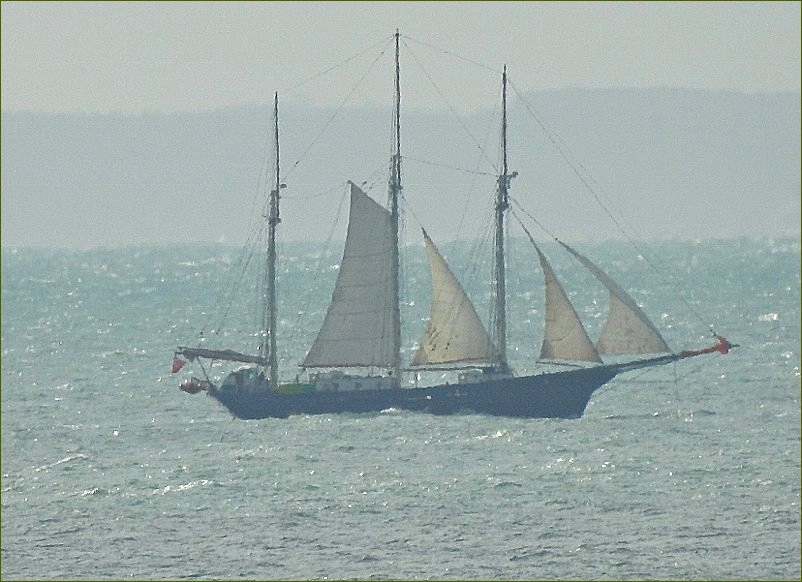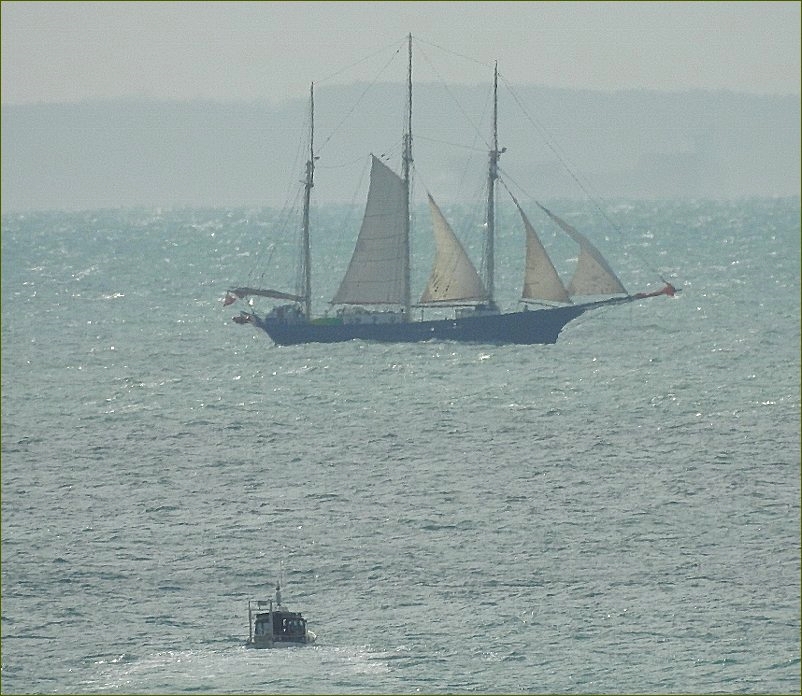 Just caught NKT Victoria yesterday morning before she nipped 'round the bend' to Cruise Terminal One. She is still here.... an award winning cable laying vessel we understand. Striking ship for sure. Hope to get some better shots in due course.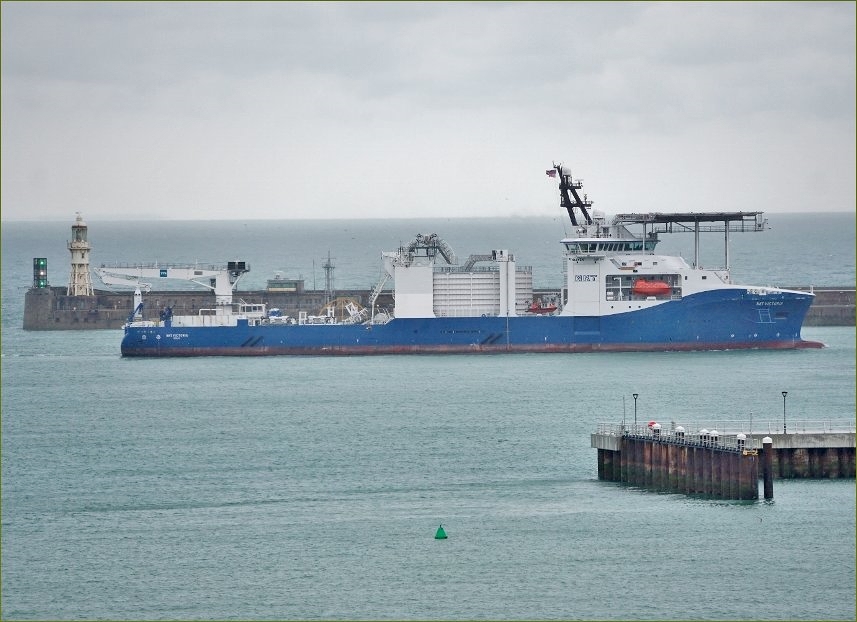 Del many thanks, glad you like all things lunar and this time the mention of the Indian story too...great stuff!

Jan yes great to see the Rock Choir, imagine being surprised by them onboard a DFDS ferry...that would be an enjoyable shock/surprise.

PaulB
ps:Pullmantur cruise ship Zenith in Port today.
Tuesday, 10 September 2019 - 06:58
Post 6518
Del Styan, Norwich
Wow - what a moon shot. Well done! Reminds me of the recent moon landings reminiscences. And well done for mentioning the Indian space exploration attempts - woefully under reported in our press.

Monday, 9 September 2019 - 23:13
Post 6517
JanT , Dover
Wow Rock on DFDS how amazing was that,I hope the Rock Choir did well, would be interesting to find out if anyone at DFDS knows.

Monday, 9 September 2019 - 12:35