Saturday, 16 February 2019

WWW.DOVERFORUM.COM/SEA-NEWS Featuring all the ships that come and go and work at the Port of Dover with further coverage of the surrounding ports both sides of the Channel. Click ADD YOUR COMMENT below to post direct, no membership needed.

Listing highlights....


Scroll down or use our Search Engine for posts and pictures of Border Force in Dover and Ramsgate.
RHA - we need to avoid cliff-edge Brexit 6069.
BREXIT READY statement from Port of Dover/DFDS/P&O Ferries see 6021.
P&O Spirit of Britain - notable Cyprus reflagging see 6017. See also latest 6041.
Tourism Thriving see 6044.
Deal Pier Kitchen restaurant opens 6016.
Charlie Elphicke MP - making our borders stronger, safer 6014.
BORDER FORCE SEARCHER and migrant boat.. see 5969 below..

Port of Dover supports Women in Maritime 5975.
Christmas Lifeboats in Ramsgate see 5937.
P&O: Britain's Favourite see 5922.
DFDS: Voted Worlds Leading Ferry Operator...see 5918..
Charlie Elphicke MP: Migrant Crisis 5894.
P&O: Santa Onboard see 5870.



Highlights continue...


Wreck of the Anneliese 5880, 5881, 5882 ...
Port: Additional Funding for Kent Wildlife Trust 5879.
P&O: Apprentices welcome RB Legion veterans 5853.
Eight new apprentices graduate see 5845.
DFDS: 'SEE PORTS' Calais and Dunkerque 5834.

DFDS Revitalize Dining 5831
P&O: Schoolchildren mark WW1 see 5816.
Lower Thames Crossing boost..5812.
see now also 5817.
Dover Museum's revitalisation see 5807.

Port of Dover: Refrigerated Cargo Terminal .. software for 5801. Latest NATO also 5801.
Port of Dover: Great increase in summer traffic 5795.
Russian and shadow 5785.
The Waverley paddle steamer latest 5778...
New SAGA Ship launching in Dover see 5776.
DOUG BANNISTER: New Chief Executive Port of Dover see 5734....

Merchant Navy Ceremonial images also 5734.
P&O: To Rome on Horseback 5759.
Dover Regatta Rescue incident plus .. see 5713.
Dover Regatta pictures Lifeboat etc..5716, 5717, 5718, 5720.
DFDS Expansion: More New Ferries on order... see 5693 see also 5500 and 5381.
Excellent Tourist season for P&O Ferries see 5649.
VSBW Port of Dover - Women at Work 5638.
P&O Second Female captain see 5107. Also see latest 5570.




NEW:

For instant access to any item listed above - just type the post number in the Search Engine below.

Sea News Dover : Use our SEARCH ENGINE below to find all sorts on the SEA NEWS pages....
type in the topic and away you go, more than - 6000 - nautical posts now.

Posts are welcome. Max of 5 pictures preferred although we can stretch that for special stories..

Sea News Editor Paul Boland - send info or pix to dover7@msn.com. Always welcome.

All pictures on these pages are the copyright of the owners and must not be reproduced without permission.

To show your pictures at their best..it could be worthwhile resizing before posting to

840

pixels wide.
Post 5930
Sea News, Dover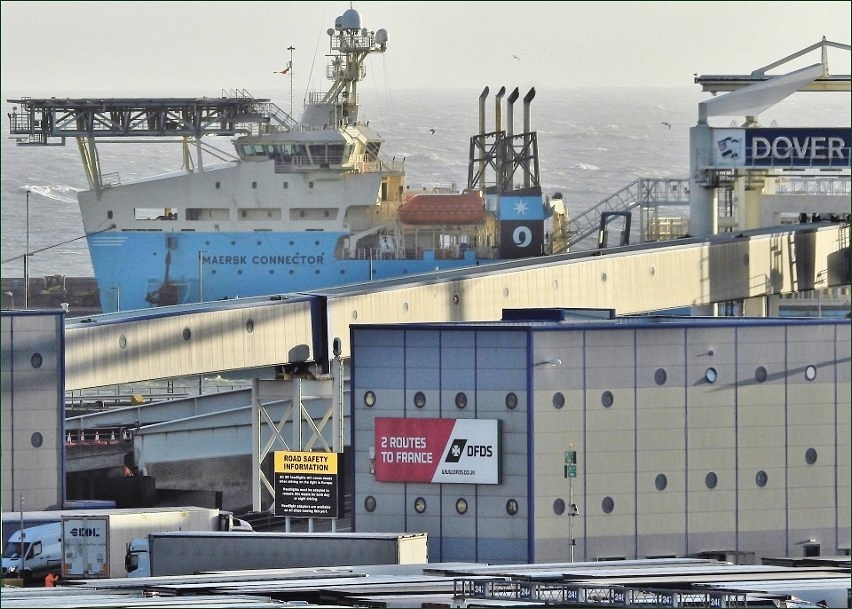 Looking 'across the rooftops' above there at the Maersk Connector. The vessel is still in Port as we speak (3.40PM Monday)...over there on the eastern arm. As you can see we have a wee bit of a restricted view from this angle. See also todays earlier post below focusing on the Megger story.
Monday, 10 December 2018 - 15:40
Post 5929
Sea News, Dover
The picture above was taken two days ago and shows a ship we hardly ever photograph for some odd reason. It gets missed over a little but not with any intent... but there she is now...its the Delft Seaways making her spectacular way back to the Port of Dover, pictured in some of the recent rough weather.
Planning Permission Set to Power New Growth for Megger in Dover
____________________________________________________________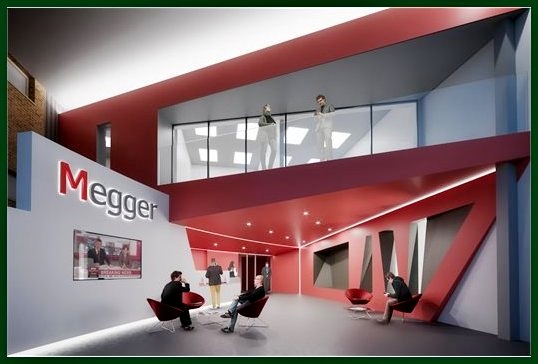 (Picture credit: Clague LLP)
Megger is set to transform its business in Dover after full planning permission was granted by Dover District Council for a multi-million pound investment in the company's HQ and manufacturing plant. The plans include a new manufacturing building and access arrangements on Channel View Road, a vibrant new staff restaurant, new product development and marketing facilities, a customer training facility with specialist servicing for vehicles used for high-voltage testing, and a heritage centre with historic displays. A modern new look for the existing building on Archcliffe Road will include solar shades and a green/living wall to the existing staff car park.
Megger has been based in Dover since the 1960s and employs 260 highly skilled staff in the design, development, manufacture and commercialisation of electrical testing equipment. The new investment will help the company to recruit and retain key talent as it continues to grow, creating a modern, inspirational working environment with office views out across the English Channel.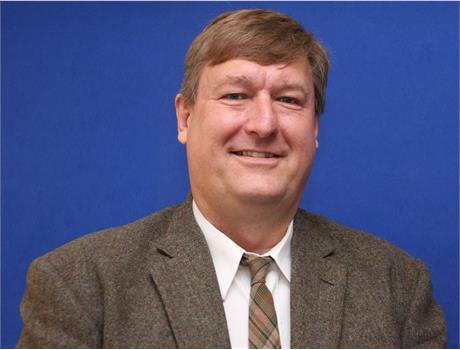 Cllr Keith Morris, Leader of Dover District Council, said: "This investment is a major vote of confidence in Dover from Megger, one of the world's premier manufacturers of electrical testing equipment. Megger has been an important part of the local economy since the 1960's, exporting products 'Made in Dover' around the world and creating a talent pool of highly skilled local employees."
Jim Fairbairn, Chief Executive, Megger Group Ltd, said: "We are delighted to announce this multi-million pound investment and couldn't be happier with the support of the local council around our plans to make our Dover site truly world class. Everyday I'm struck by the professionalism and dedication of our staff in our Dover facility and we are thrilled as business to be able to further in invest in our site."
The plans for the Megger site were developed by Clague Architects. Construction on the scheme is expected to start in the New Year.
ENDS
The picture below is slightly peculiar, it went odd but bear with...as its shows Megger and its location overlooking the Port. You can see Megger there in the background on the hill rising out of Dover. Also visible in the shot is one of the new cranes which has just arrived to do heavy lifting work on the new bridge over the canal/dock.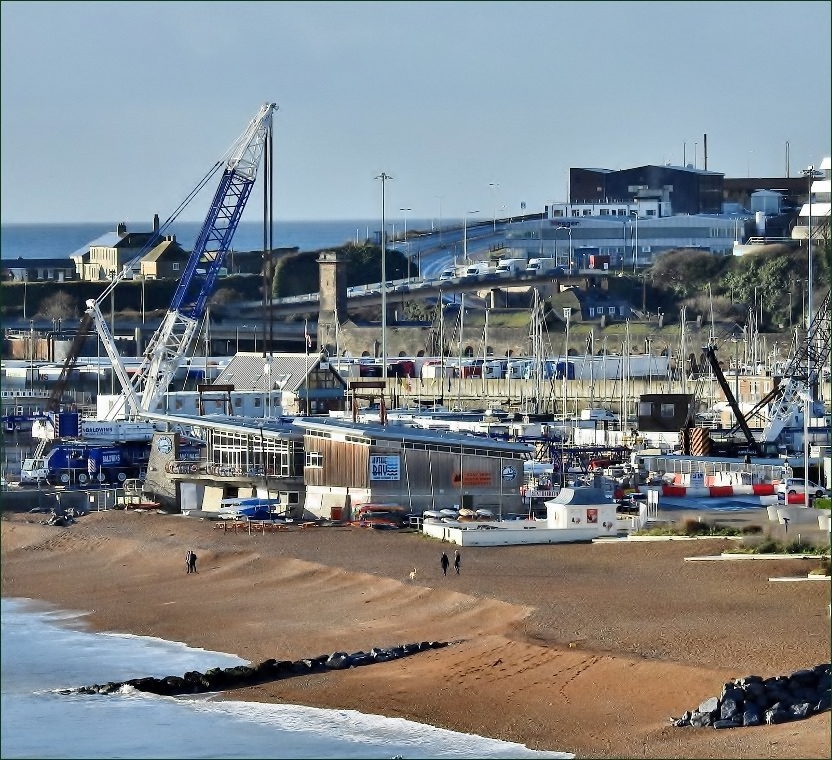 Yours truly has been fiddling with his photo-dials..always a mistake!
…
Megger must have faith in a positive Brexit fate, one that will keep the roads flowing.
Thanks for the all-round info below Mike.

.
Yes indeed the Maersk Connector has been with us all weekend...over there on the east wing. Still there too...
And yes Saga Pearl back with us again.
PaulB

Monday, 10 December 2018 - 06:05
Post 5928
Mike J., Dover
The MAERSK CONNECTOR is back & seems to be spending the weekend on the Eastern Arm.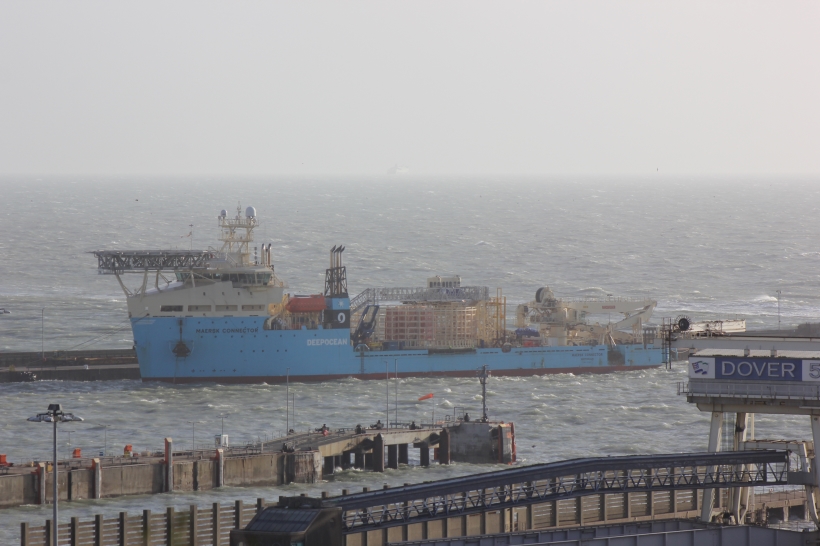 The SAGA PEARL 2 will be back in Dover on Monday, with AIS showing her coming down from Hamburg with an 0700 ETA - SAGA's website has her starting a 'Scandinavian Festive Delights' from Dover.
The final final visit ?
Who knows ?
No sign on AIS of any tug heading for Dover with the bridge for the Wellington Dock 'cut' but excellent photos from PatrickS on the preparations for the 'big lift' on the Dover Town forum.
There are reports that the arrival is delayed but the job should be worth a look when it finally arrives.
Re Paul's comments on his Premier Inn photos in post 5925 – I believe that when one of their hotels is being built or expanded there's a factory up in Manchester that builds their bedrooms & bathrooms as 'modules' which are brought down on the back of a lorry & slotted into position, connected up to the 'services' & are then 'ready to go'
Clever.
As to Paul's remarks in the same post about the BBC reporting Folkestone as still being a ferry port, I often think that when you hear about a subject that you DO know a little about, the information in the media is often inaccurate or totally wrong, so how accurate is the info in the media on subjects that we DON'T know about ?
Sunday, 9 December 2018 - 12:21
Post 5927
Sea News, Dover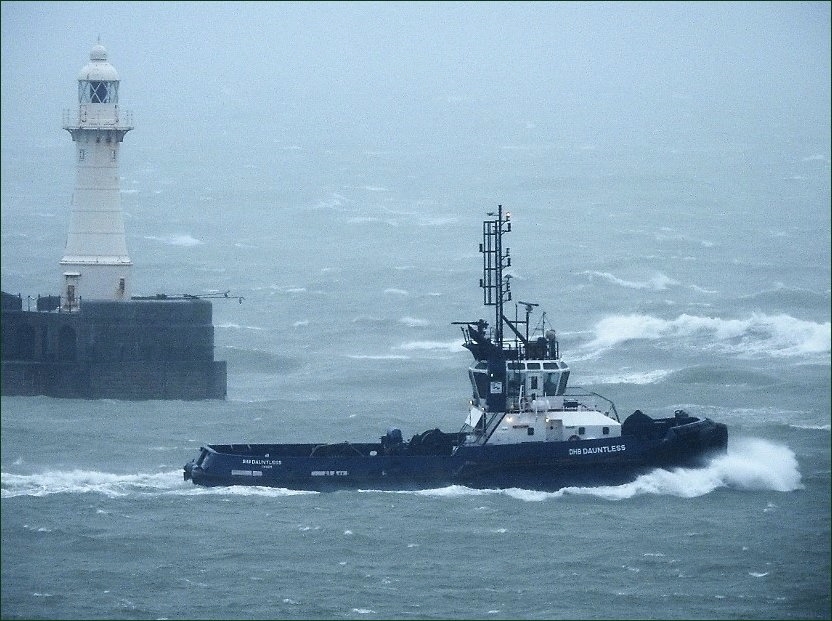 Tug Dauntless above there heading back to base for a brief break during the wild and woolly conditions on Friday. It was a tough day for sure but everyone kept right on going in brilliant style and the Port stayed operational.
The picture below is from a previous time. One from the archives. It shows Dauntless again on another fierce day...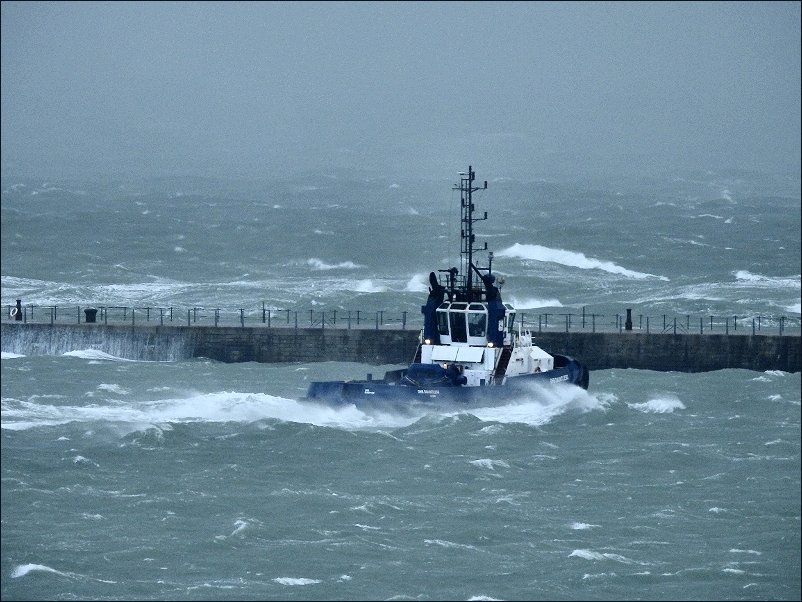 Good luck Del getting through the yellow vest or 'gilet jaune' situation...

PB
Sunday, 9 December 2018 - 06:04
Post 5926
Del Styan, Norwich
The Premier Inn is certainly going up at a rate of knots. I will be passing by your way tomorrow, but alas I'm going by the tunnel, so won't be able to have a look for myself.
Thought I'd go and get stuck in a yellow jacket blockade as a change from getting stuck in a traditional British traffic jam.

Saturday, 8 December 2018 - 23:10
Post 5925
Sea News, Dover
Ferries on a very rough day.
Yes..a rough oul picture from a rough oul day...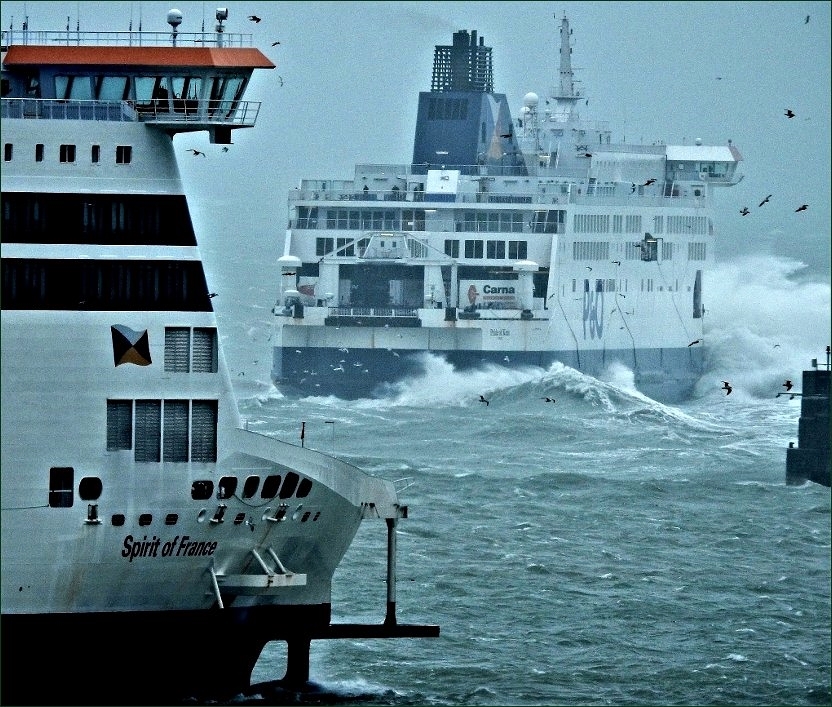 Yes we had a 'Severe Gale 9' yesterday as forecast on the ol reliable legendary Shipping Forecast on Radio 4. Yours truly had to retreat to a secondary position downwind to get the above picture, it not being possible to open up the usual pole position. Yes the picture is a bit rough as of course are the conditions shown. You can just see the Pride of Kent leaving the port and immediately hammered by thunderous waves. The camera and myself were knocked sideways in the wind so the pic was askew...that's the top corner of the shot enlarged.
Some more pictures now of the ever rising Premier Inn extension. These pictures are from Wednesday and you can see how the development has grown much further in such a short time. More eventually later.
To follow the growth as it happened. Just type Premier Inn in the Search Engine and you can see the building rise from rock bottom.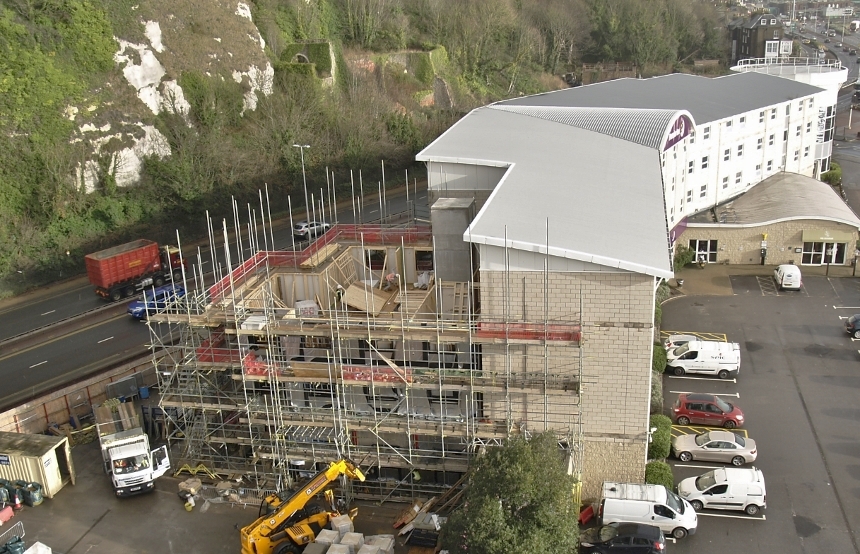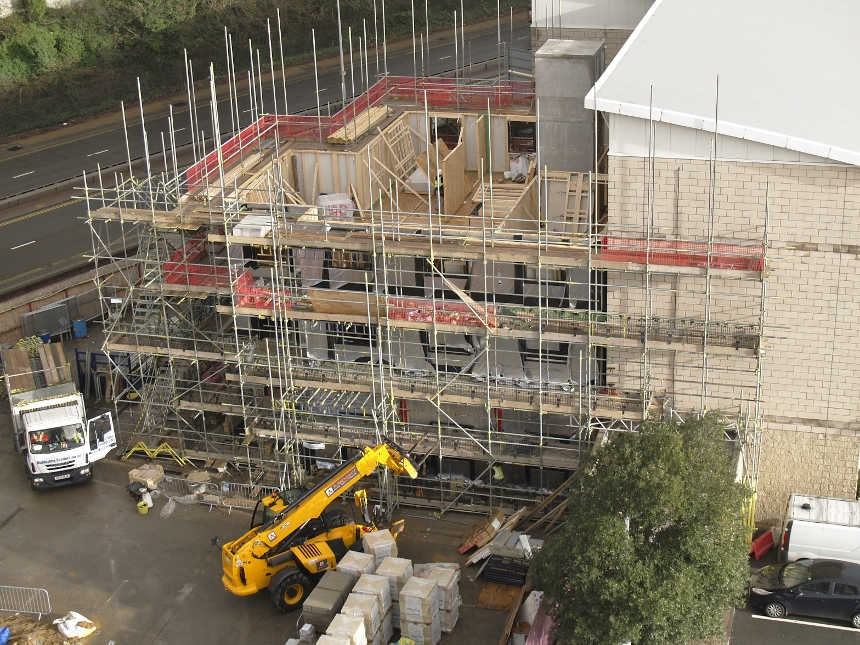 Extraordinary how fast these buildings go up these days. A brilliant British workforce ( no matter what nationality they are ! ). Interestingly they don't seem to build it like they did in the old days ( not that I'm an expert!) The parts all come in by truck every day and the building is just assembled on the spot. Like so much stuff nowadays...even car manufacturing is done in such a way....the free flow of trucks needed and of course essential right across the board, which of course brings us to Brexit and the potential jams to come....as Del refers to below.
Del its quite extraordinary how those running things in London Central appear to have scant knowledge of local happenings as exemplified by Raab in the first instance. Latest example: The BBC yesterday constantly referring to the "ports at Folkestone and Dover" being affected...sheesh!!

Anyone who saw the link yesterday of James Whale radio host exasperated with Peter Lilley will know what we mean.
Many thanks Mike W for the interesting item below there. Good to hear those reminiscences..

PaulB
Saturday, 8 December 2018 - 06:11
Post 5924
Del Styan, Norwich
I see that the government has discovered that Dover may be adversely affected by Brexit. What a surprise. Who could have seen that coming?

Friday, 7 December 2018 - 23:07
Post 5923
Mike Waight, Wiltshire
Thanks for helicopter correction.

Change of subject:

Re Post #5912. Maersk Connector and seaward end of Prince of Wales Pier.

In 1966 when I lived in The Gateway and during one of Jack Dash's dock strikes in London, an Elder-Dempster cargo ship was rerouted to Dover and berthed on the eastern side of Prince of Wales Pier. I went aboard (I was on leave from Ben Line at the time) and spoke to some of the crew who were surprised at being able to work cargo relatively easily on the pier. DHB must have pulled out all the stops to make that operation a success with a view to attracting more deep-sea cargo ships.

Friday, 7 December 2018 - 14:36
Post 5922
Sea News, Dover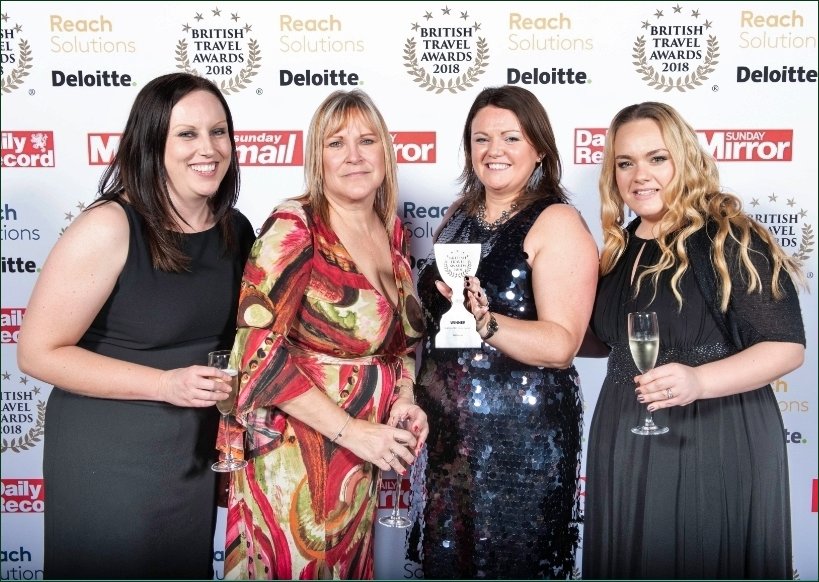 P&O FERRIES WINS PUBLIC VOTE TO FIND BRITAIN'S FAVOURITE FERRY OPERATOR FOR ELEVENTH CONSECUTIVE YEAR
________________________________________________________________________________________________________
P&O FERRIES won the Best Ferry/Minicruise Operator category for an unprecedented eleventh year in a row at last week's gold standard British Travel Awards.
The awards, which were presented at Evolution in London's Battersea, are the most prized accolades in the travel industry because they are voted for exclusively by consumers. Incredibly, in every single year since the awards were opened to a public vote in 2008, P&O Ferries has been the winner.
To make it a doubly successful evening, P&O Ferries also won the category for Best Ferry Booking Website.
Sarah Rosier (pictured, second right), Director of Passenger Sales at P&O Ferries, said: "The British Travel Awards provide one of the most accurate measures of how the travelling public views a company because they are 100 per cent chosen by the consumers themselves. We are therefore delighted to have won Best Ferry Operator for the eleventh year in a row, a testament to the outstanding customer service to which every single person at P&O Ferries is dedicated."
"We are transitioning from a service economy to an experience economy, in which businesses create memorable events for their customers and the memories themselves become the product. We are currently investing in our on-board dining and shopping experience to take it up to the next level and we hope that in 2019 even more people will discover for themselves the enduring magic of the 182-year-old P&O brand."
To ensure integrity and transparency, the British Travel Awards are verified by the leading accountancy firm Deloitte. The voting process is completely transparent with the winners determined solely by the number of votes they receive from the public.
P&O Ferries is a leading pan-European ferry and logistics company, sailing 27,000 times a year on eight major routes between Britain, France, Northern Ireland, the Republic of Ireland, Holland and Belgium. It operates more than 20 vessels which carry 8.4 million passengers and 2.3 million freight units annually.
Together with its logistics division, P&O Ferrymasters, the company also operates integrated road and rail links to countries across the continent including Italy, Poland, Germany, Spain and Romania. P&O Ferrymasters also owns a rail terminal in the Romanian city of Oradea, which facilitates the onward movement of goods to Britain from Asian countries via the Silk Road.
ENDS
Many thanks to the team at P&O Ferries for the latest info above. Great result there...

A couple of pictures of the P&O Ferry Spirit of France below to celebrate.
First one a very recent picture not used before... pic taken during a dazzling sunrise.
Similar one below...but this time a bit of an oldie for sure...dating from 2014 with old style logo...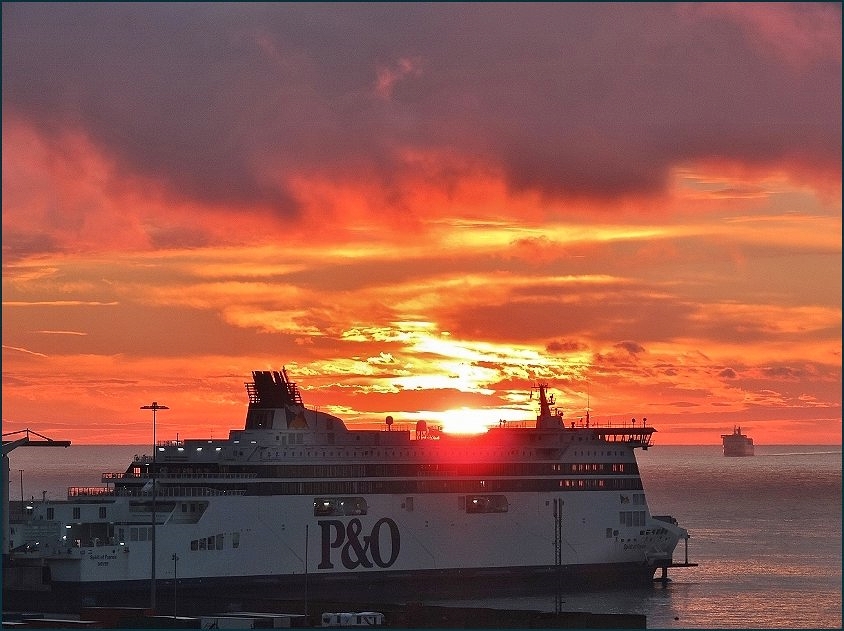 * *
We haven't seen sunrises like that for a while, all is gloom at the moment. The Shipping Forecast tells us today of a Severe Gale 9 at times today in these parts..."shiver me timbers!"

or should that be.."hold on to yer hat!"
Through the aforementioned gloom yesterday Thursday strode Border Force Vigilant. Here she is below. Yours truly didn't actually spot Vigilant leave the Port here but spotted her outside, assuming she had been in Port here. It was very murky and the picture was quite soft. Have forced it a bit and used it smaller than norm... those guys are certainly busy these days...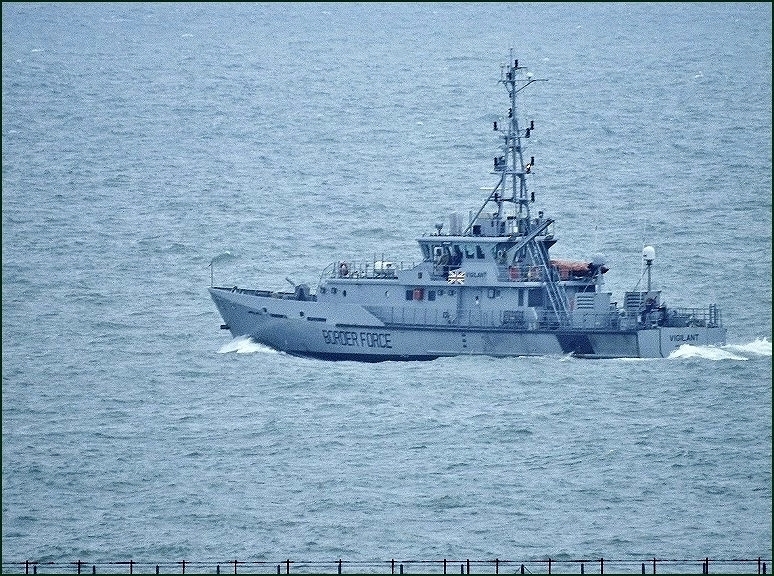 PaulB

Friday, 7 December 2018 - 06:03
Post 5921
Sea News, Dover
The Maritime Skills Academy on exercise.
A collection of pictures below now taken yesterday. They show teams from the Maritime Skills Academy out there in the harbour on a gloomy roughish ol' Wednesday morning. Time of pictures 11am approx. The larger boat seems to be offering a tow rope to the smaller boat on the left. There may have been a problem or indeed they may just have been carrying out an exercise...it was a dull day for sure out there, drizzly and damp..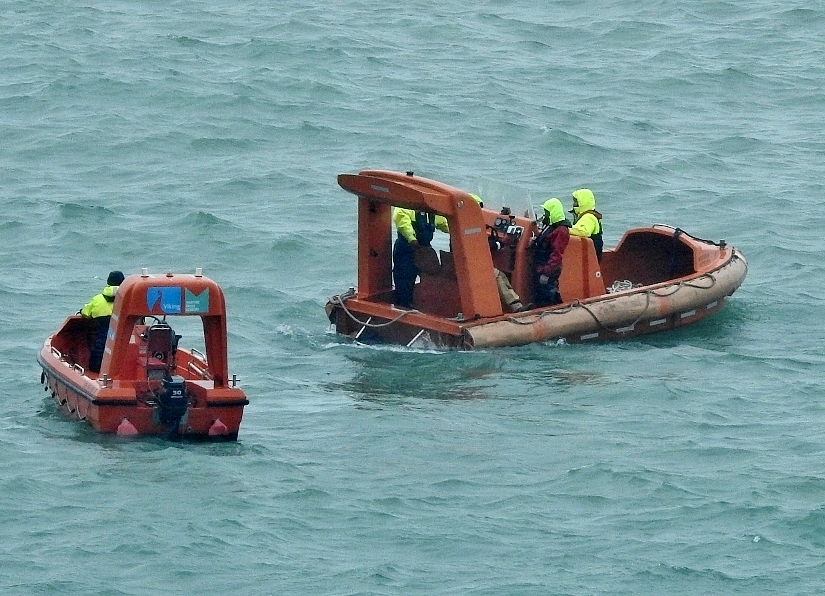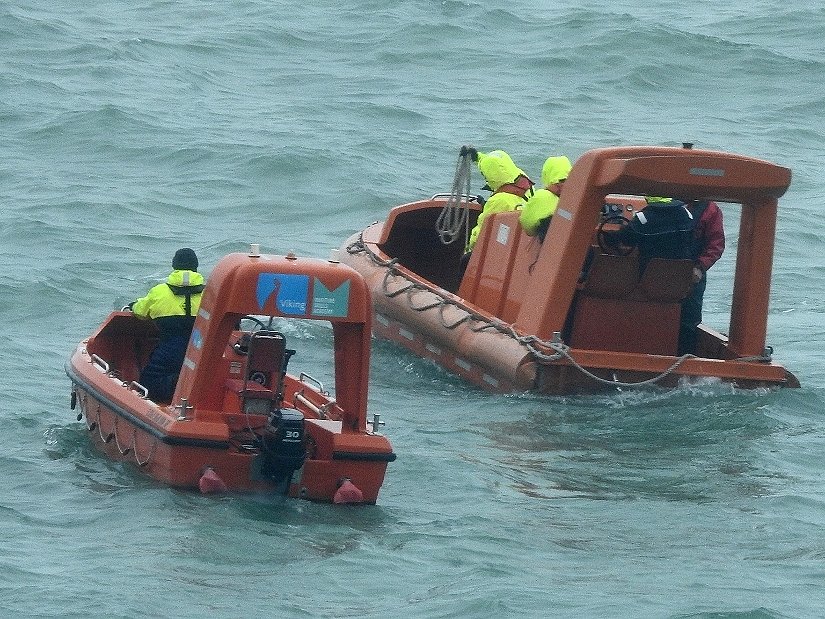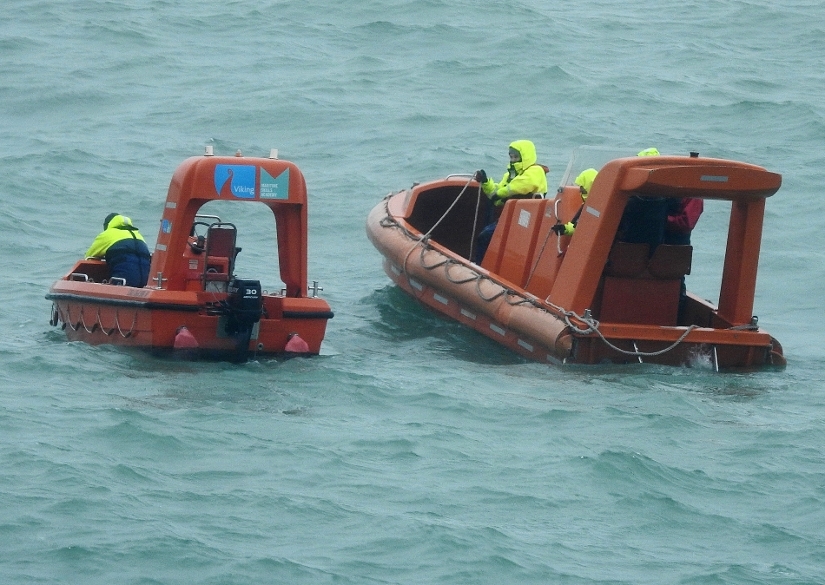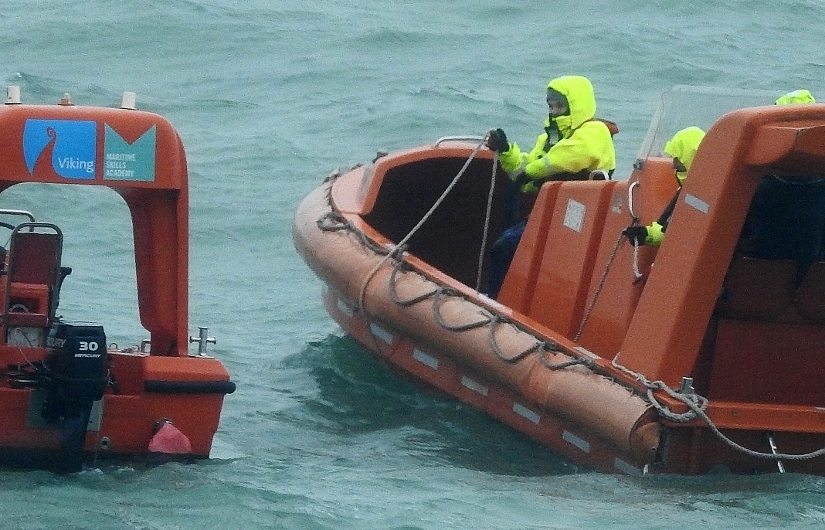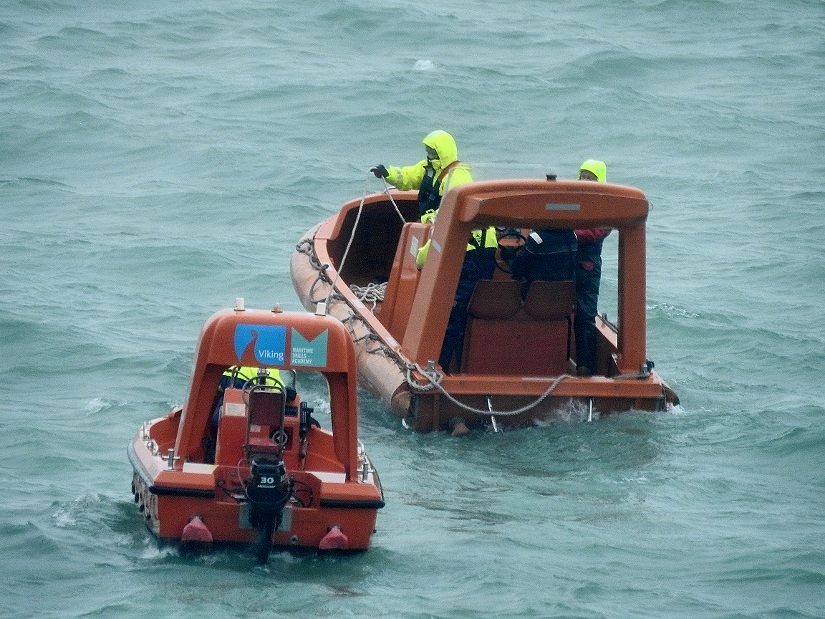 PaulB
Thursday, 6 December 2018 - 05:53
Post 5920
Mike J., Dover
Interesting pix of the TOPLOADER out at the end of the 'Marina Curve'
I believe that this area is where the tugs, dredger & other DHB small craft will be moored, as will the lifeboat, when the Tidal Basin is filled-in.

Interesting info on the 'Dover Straits Shipping' Facebook page - during the next few days tugs will arrive with components for the bridge over the new cut between Wellington Dock & the new Marina.

Thursday, 6 December 2018 - 02:02
Post 5919
Sea News, Dover
We have seen Mike's shots of Toploader and now here we are with another couple of pictures taken a few days ago. These pictures show Toploader way down there at the tip of the new arm/pier, with the familiar truck settled in there in the last parking spot in all England, taking on a further load from the industrious digger...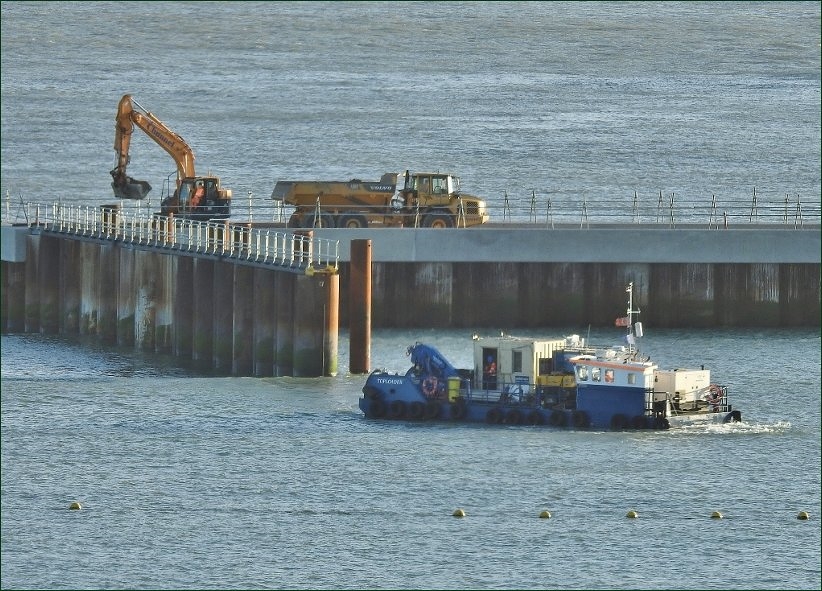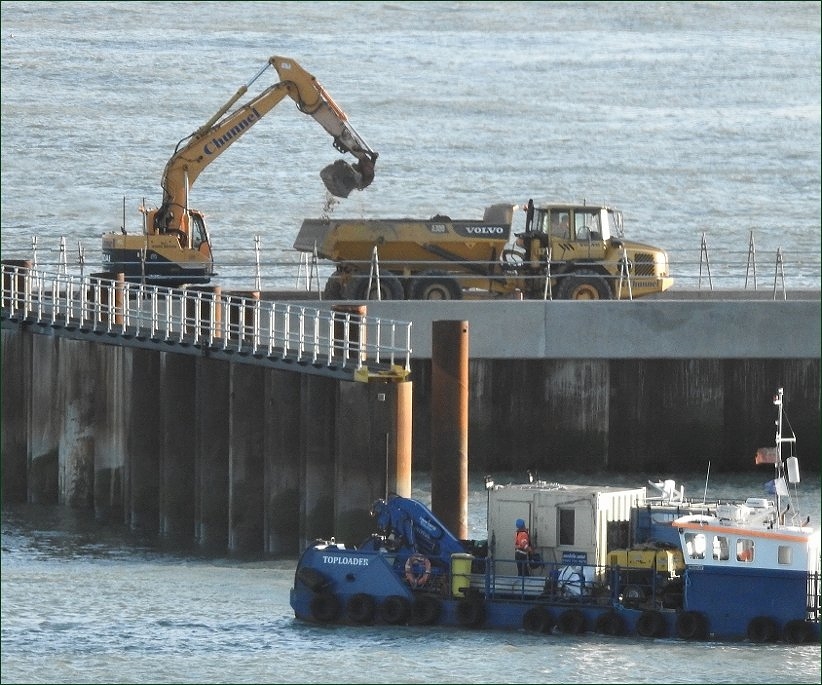 Okay the last of the last ones..yes I admit its another one of Saga Pearl II even though yesterday's was supposedly the last of the last ones...sort of.. This picture below just confirms for sure that she did leave with a tug spraying final farewell on Friday October 12...time of picture 6.15PM on gloomy evening..
Although as we now know she has returned since.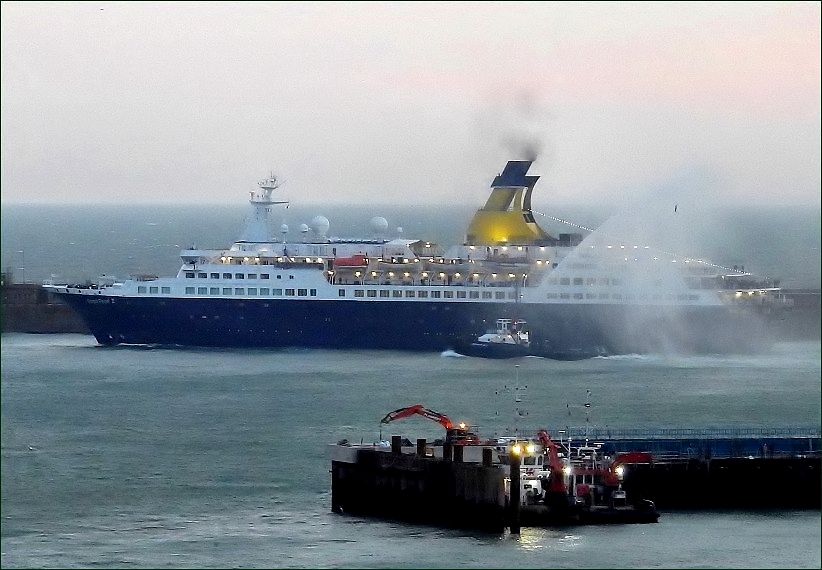 So there we are....
PB.
Wednesday, 5 December 2018 - 05:10
Post 5918
Sea News, Dover
DFDS NAMED WORLD'S LEADING FERRY OPERATOR FOR 8TH YEAR RUNNING
_____________________________________________________________________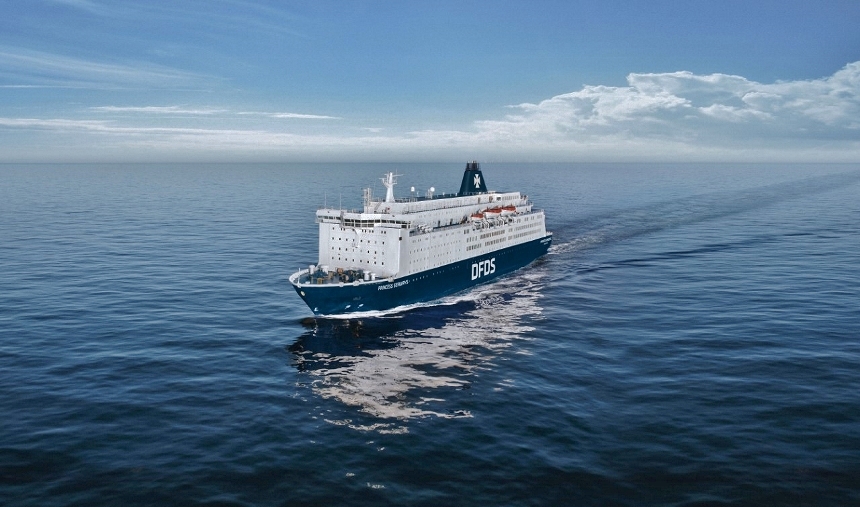 DFDS has been named the 'World's Leading Ferry Operator' at the World Travel Awards for the eighth consecutive year.
The accolade was awarded on 1 December 2018 at the World Travel Awards Gala Ceremony in Lisbon, Portugal. The most prestigious awards event in the industry, the World Travel Awards are given in recognition of outstanding achievements within the travel sector, rewarding those companies who consistently provide their customers with an exemplary service.
Winners are decided by votes from the public and travel industry professionals, which makes this an even more special award and win for DFDS. Here's what some of our most honest critics think is the reason we won:
Pete Akerman, Passenger Marketing Director at DFDS, commented: "We are delighted to be named 'World's Leading Ferry Operator' for yet another year, and we have our loyal DFDS customers and those that voted to thank.
"We always strive to provide outstanding customer service, which we believe to be at the heart of creating exceptional experiences; whether customers are enjoying one of our mini-cruise sailings or simply joining us for a comfortable crossing to get them from A to B.
"We pride ourselves on listening to customer feedback and therefore continually improve upon and refine our offering. This year is testament to that, with significant investment in new catering concepts on board our Newcastle-Amsterdam service, and our impending refurbishment of dining areas on board our Dover-Dunkirk ships. We'll continue to grow and evolve over the coming years."
The ferry operator also supports a range of charities, sports groups and not-for-profit organisations, and runs an apprenticeship programme to support future industry professionals.
DFDS operates a comprehensive passenger route network, including four routes from the UK to Europe via Dover-Dunkirk, Dover-Calais, Newhaven-Dieppe and Newcastle-Amsterdam. It also offers routes in Scandinavia and across the Baltic Sea, including a cruise ferry service from Copenhagen to Oslo and services from Germany to Lithuania, Sweden to Lithuania and Sweden to Estonia.
For further information, please visit dfds.co.uk.
-Ends-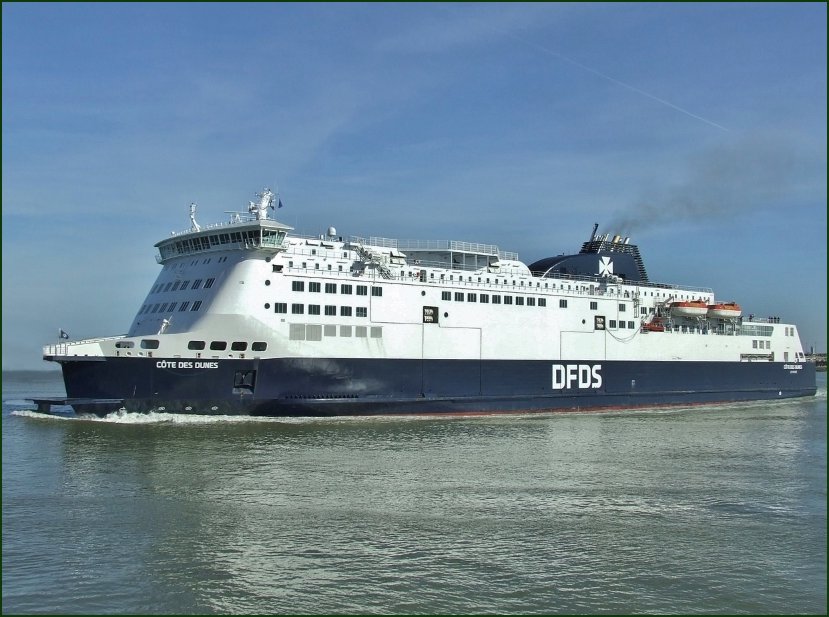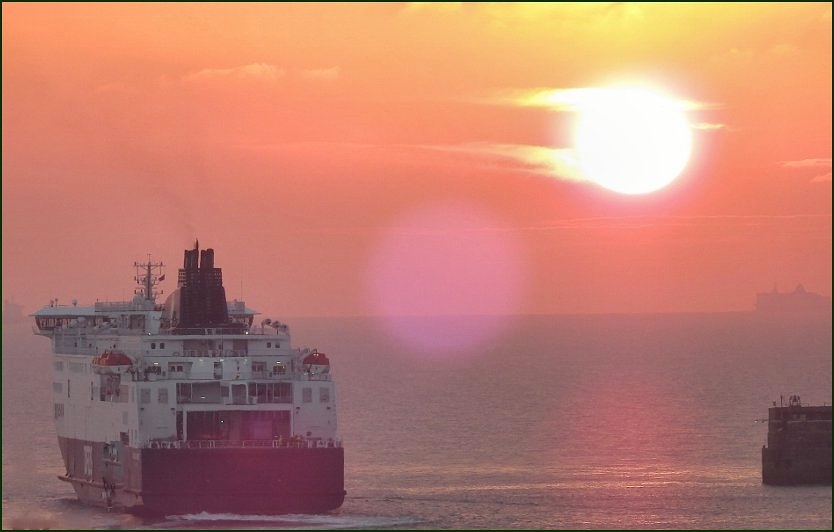 Great news from DFDS above there. Many thanks to the team for sending the news over to us here. The ferry at the top is the Princess Seaways.

* *
A final shot of the Saga Pearl II .. well maybe, or possibly or..ermm probably...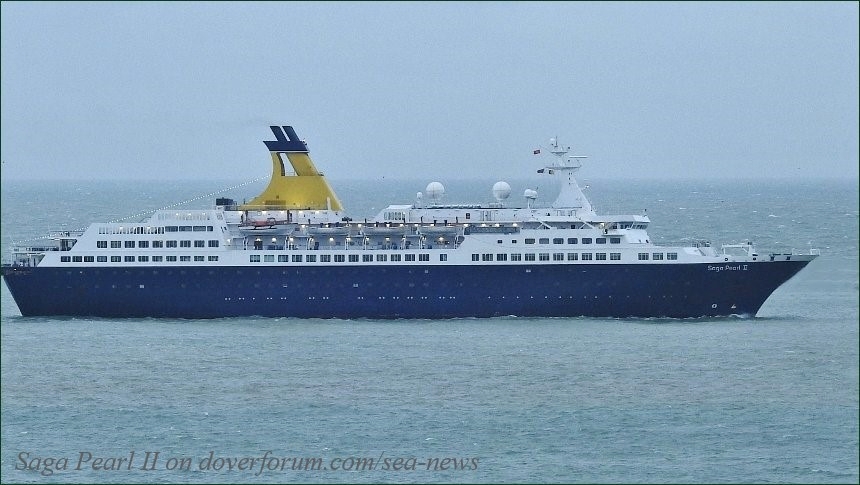 Great all round post below Mike..enjoyable ..great stuff!

PaulB

Tuesday, 4 December 2018 - 07:20
Post 5917
Mike J., Dover (helcion@hotmail.co.uk)
Monday morning in the Tidal Basin - TOPLOADER living up to her name - now set up as a dive boat & seems to have been working on the 'Marina Curve' in recent days.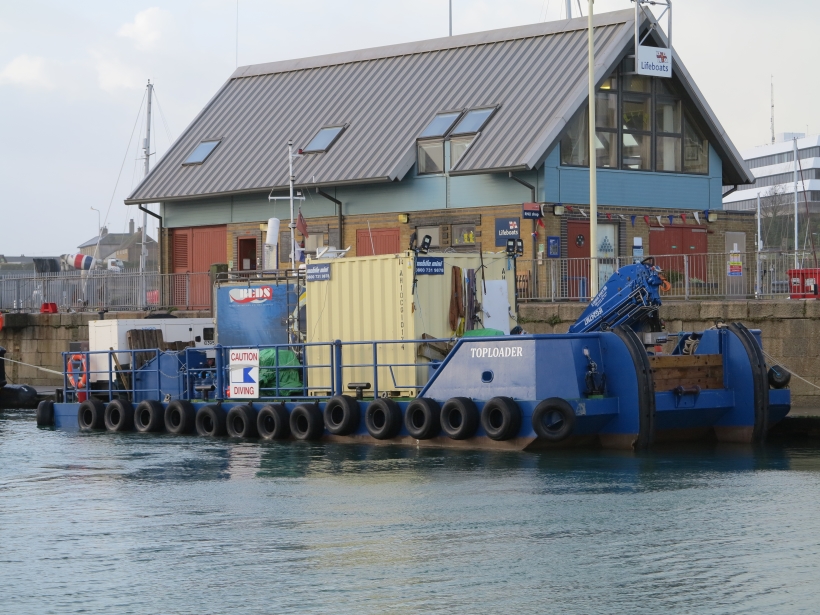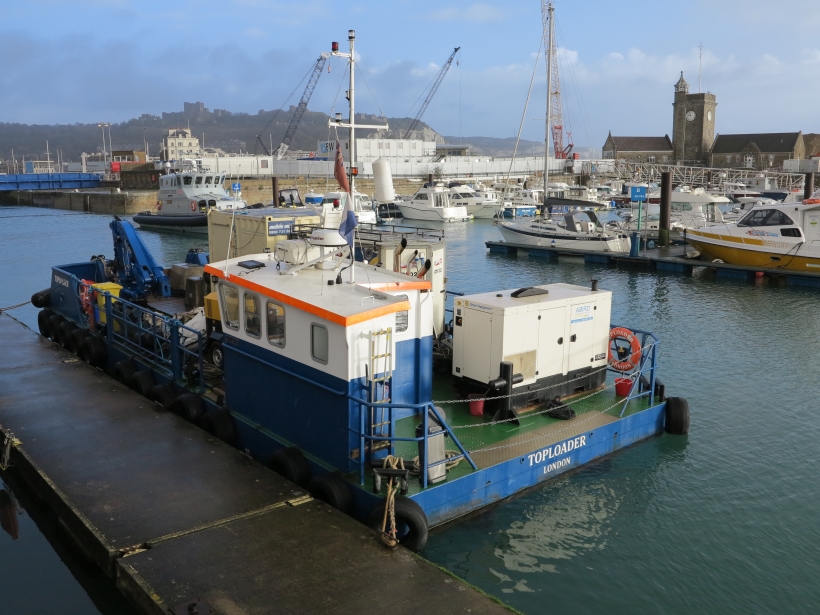 Another anonymous 'Sunseeker' yacht was in Dover & was caught leaving after probably overnighting on a delivery trip from her Poole builders.
Here she is swinging in the basin & recovering her fenders before heading on off out.
On the same day in Ramsgate the guard ship WHITE HEATHER VI had arrived at dawn from Whitby & is probably about to start work as a guard ship with Nemo Link, the UK/Belgium power cable project.
She was on the Commercial Quay & a stern view showed her fishing boat origins [trawl winches, crane etc] before she was chartered for the cable job.
Foolishly thinking that she had been in Ramsgate before I neglected to get photos from other angles.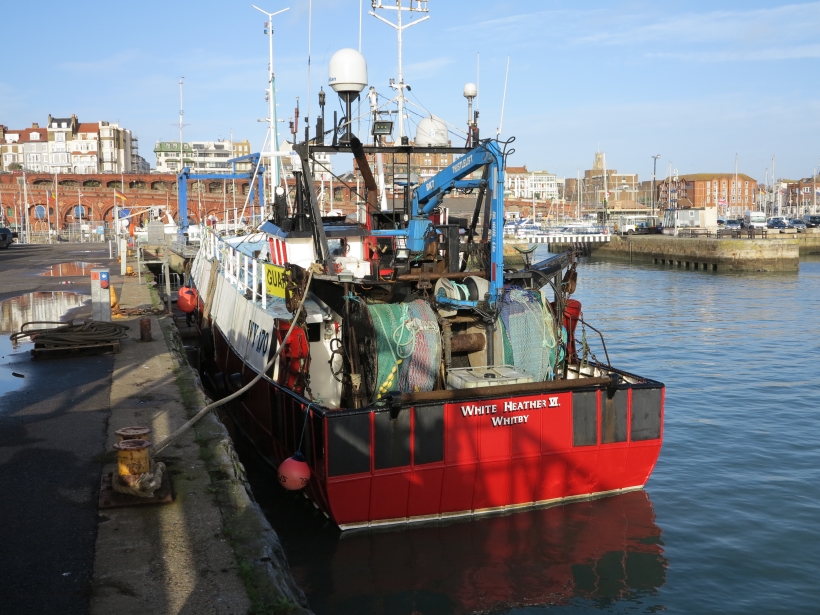 A few miles offshore Saturday's Dover visitor, the MAERSK CONNECTOR could be seen working on the Nemo Link cable.
Work continues on the CERVIA [Ted's post 5902] who remains afloat, no signs of pumping going on.
Tuesday, 4 December 2018 - 00:48
Post 5916
Sea News, Dover
As promised some shots now of the Maersk Connector arriving on Saturday morning. Mike also got some pictures too see 5912 below. A very impressive vessel indeed....always great to see it.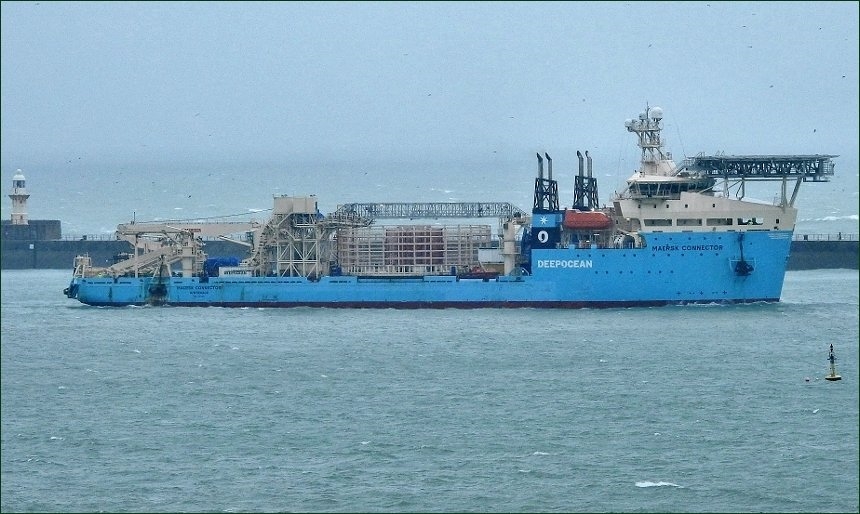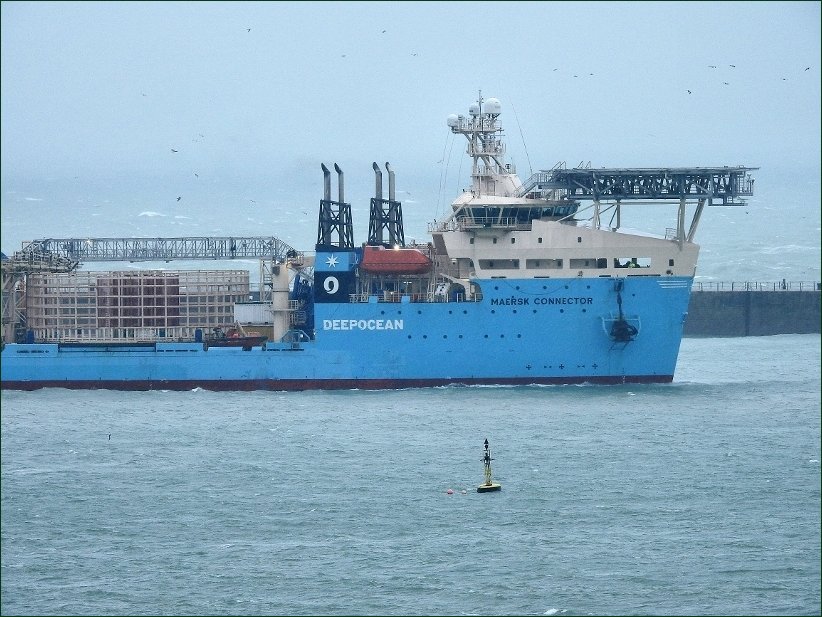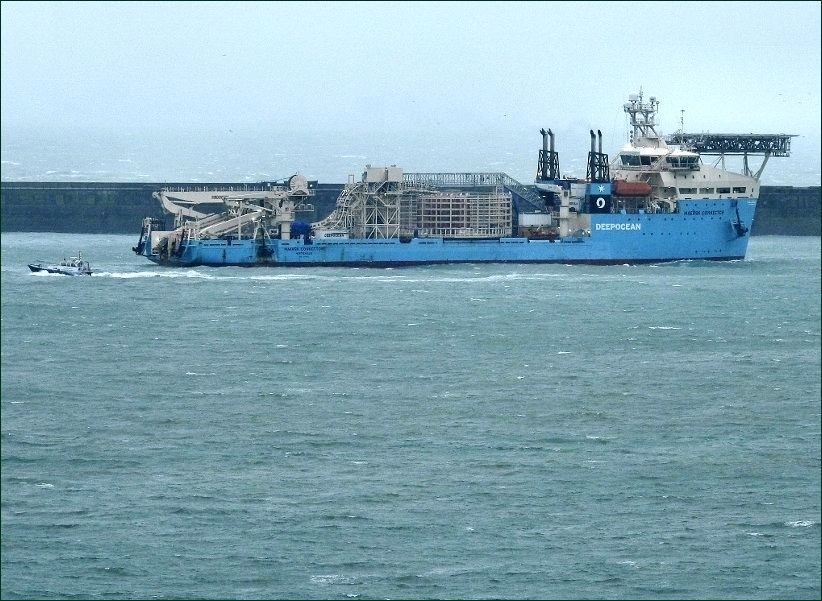 One from a previous visit below... taken by our good friend Ben Payne. Absolute great shot this one, we have used it before at the top of page but most definitely worth another look.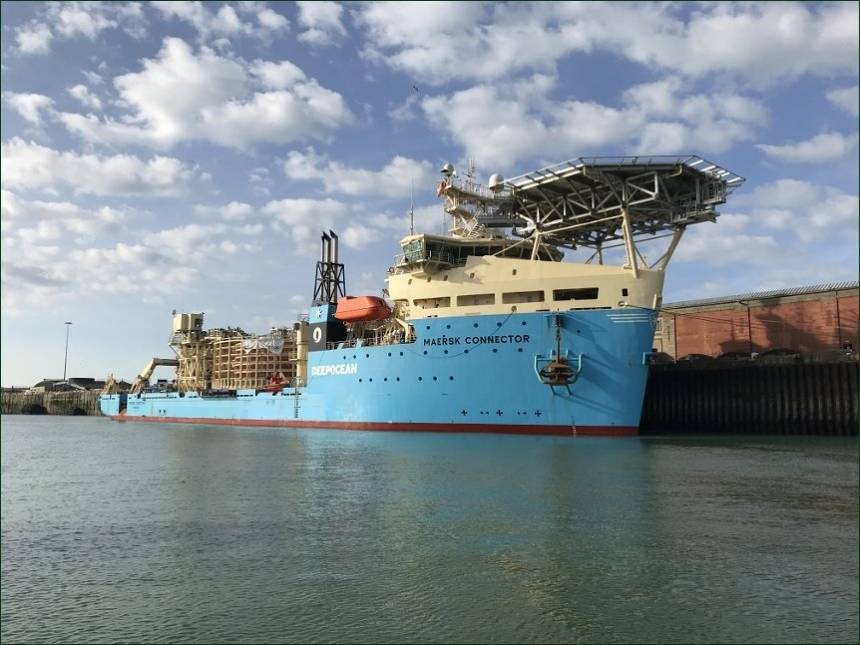 Jeremy - Excellent set of pictures below from Ramsgate...great stuff once again!

It looks like an awesome beast for sure. Great to see those.
Also see 5897 too.
Ah yes indeed Patrick...she enjoyed her farewell so much the last time she came back to do it again


PaulB
Monday, 3 December 2018 - 07:02
Post 5915
Jeremy Ward, Whitfield, Dover
Spotted this at Ramsgate today. Excalibur Platform. Up close it looked huge.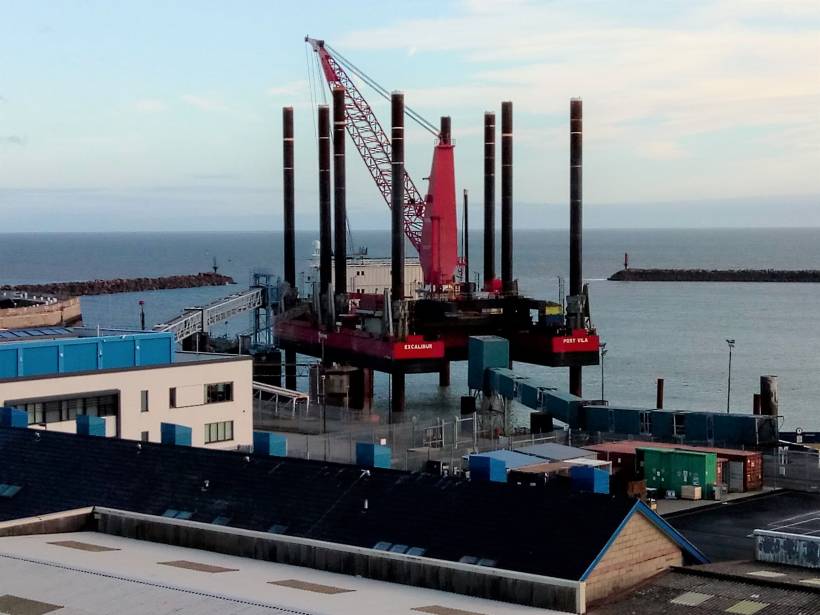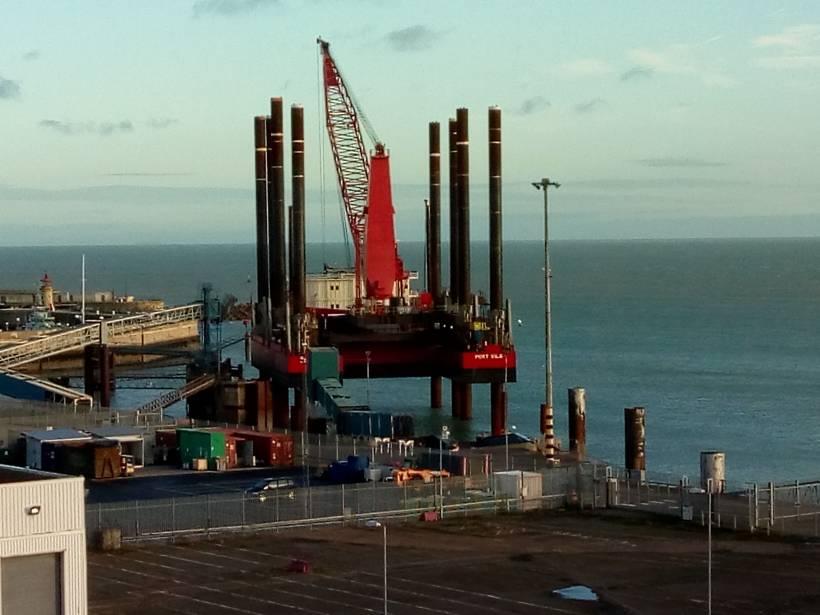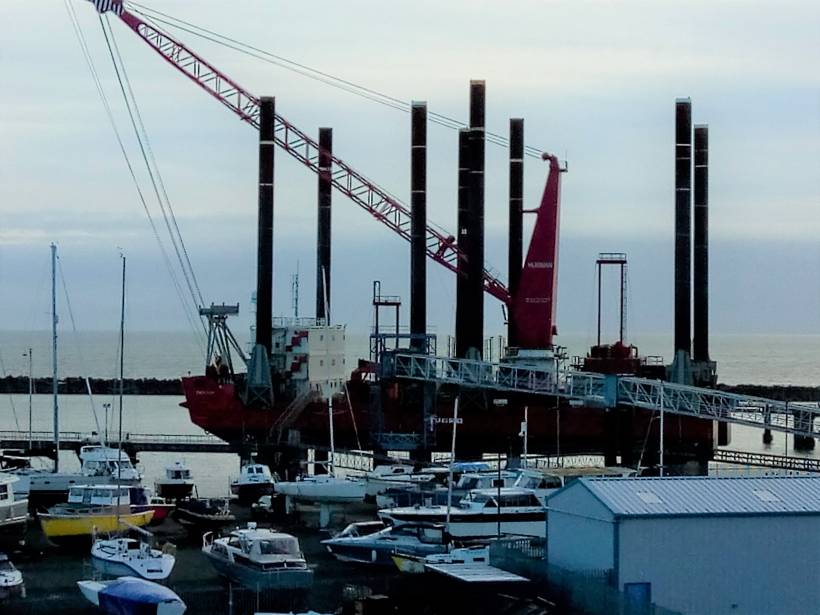 Sunday, 2 December 2018 - 16:19
Post 5914
Patrick, Marine Parade
Unexpected return of the 'Pearl'
Sailing gracefully across the harbour yesterday for a short stay before heading off into the twilight bound for Ijmuiden. Our old friend 'Saga Pearl II' - last seen here at her 'farewell' to Dover on 12 October. What next!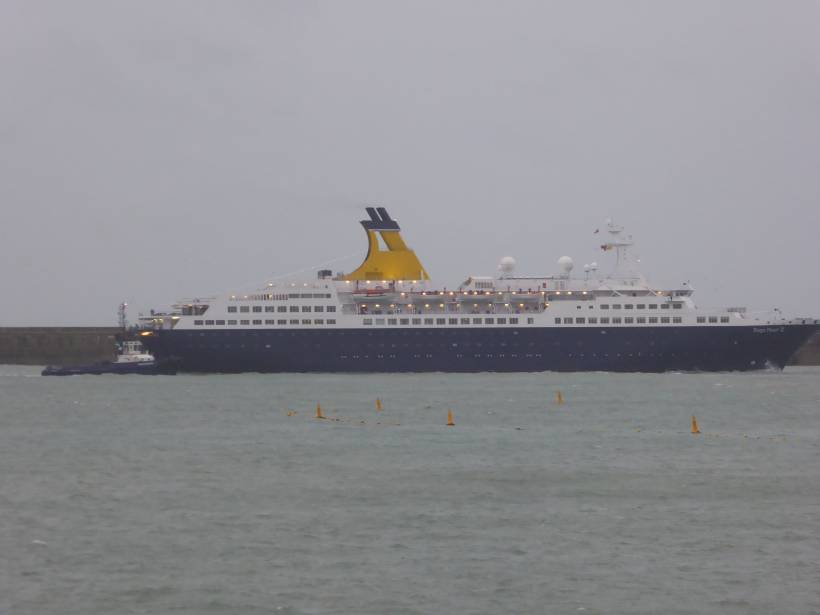 Sunday, 2 December 2018 - 16:06
Post 5913
Sea News, Dover
Mike mentioned the Kamelia previously and here she is now. The ship had been delivering logs I believe over at the near cruise terminal, cruise terminal one. Just caught her in the pictures below as she set off for Rotterdam. Pictures from...let me see... yes Friday morning 08.30... taken during a lull in the recent and ongoing dramatic weather.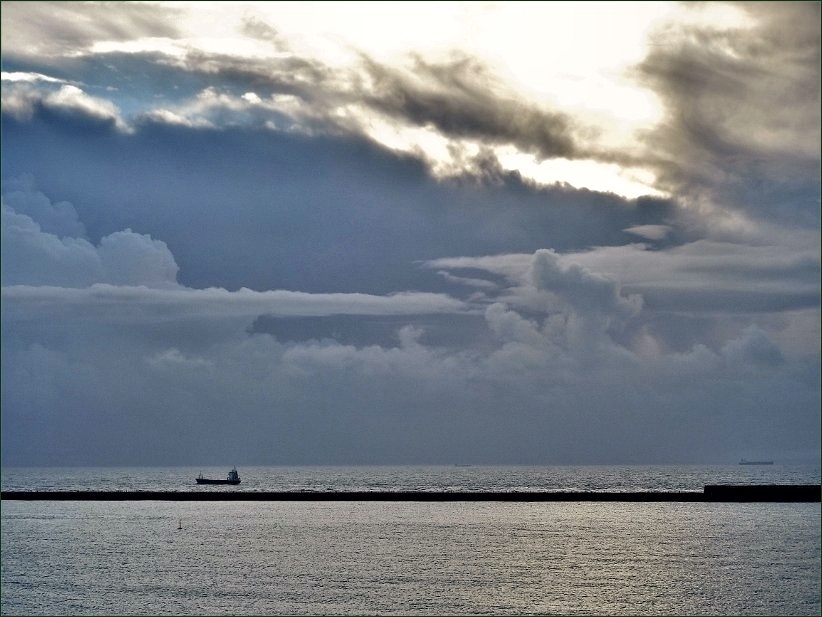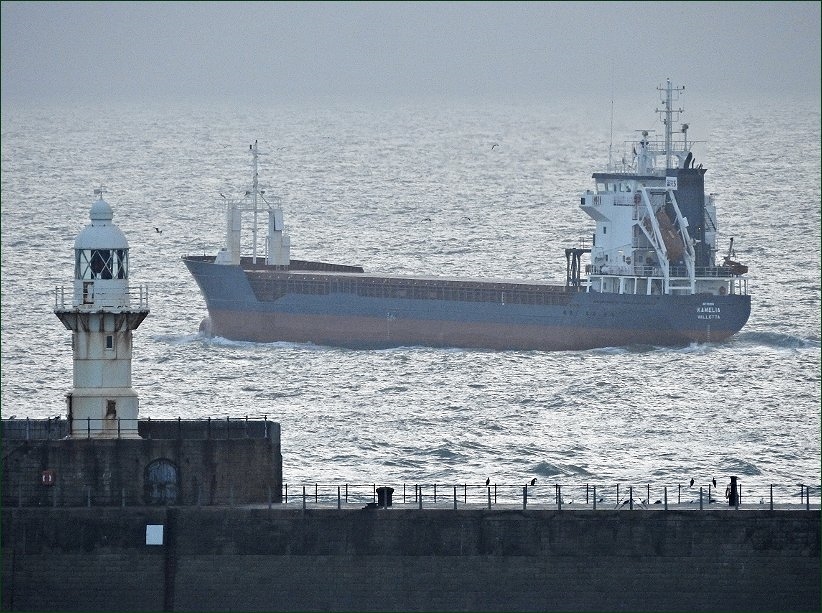 And as rumoured the Saga Pearl II made an unexpected return to the Port of Dover yesterday Saturday, first spotted her approaching about 08.20. Yours truly hadn't suspected a return for the Saga ship as she bid us a spectacular farewell in mid-October. But here she is again, making this the best comeback since that Lazarus chap re-appeared.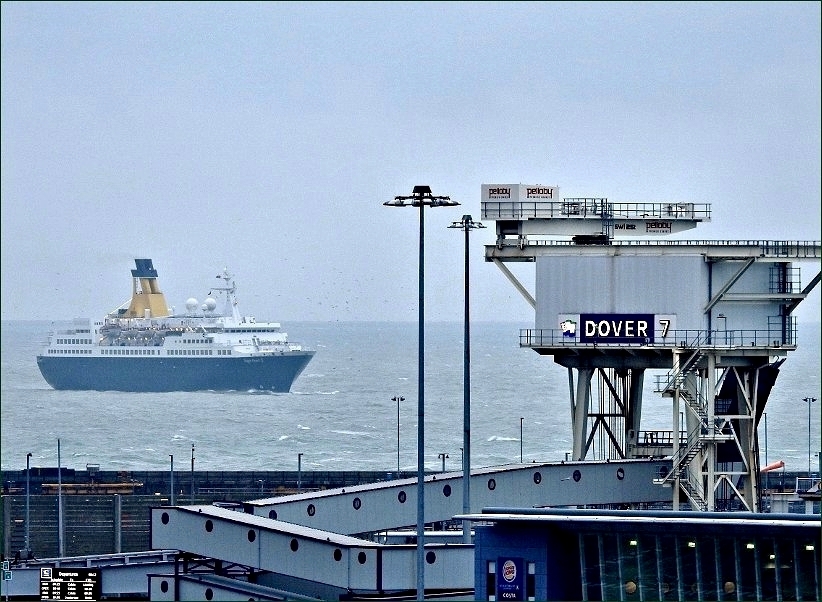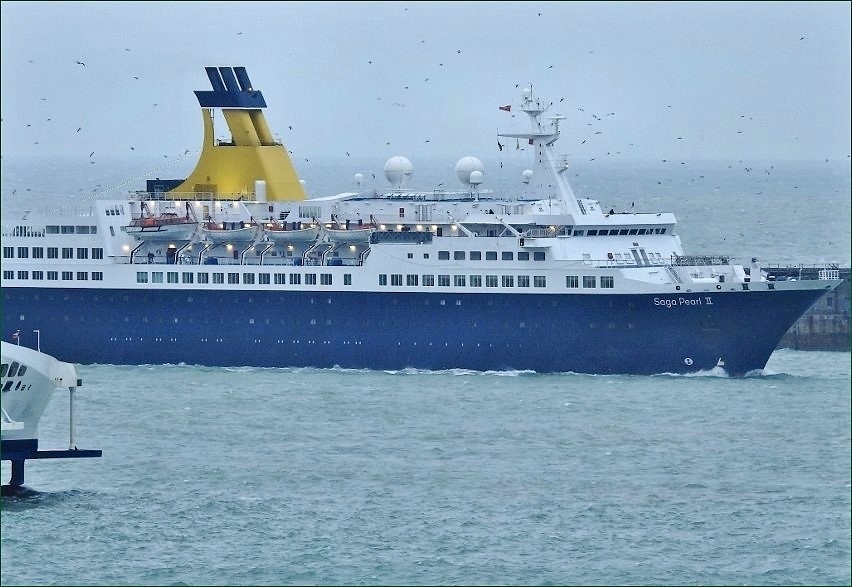 .
Well done Mike with the shots below. Great stuff !

I will be able to add a few of the Maersk Connector too in due course. Thanks for the tip....
PaulB
Sunday, 2 December 2018 - 07:17
Post 5912
Mike J., Dover
Unexpected visitors, Saturday morning.
Arrival of SAGA PEARL 2 & MAERSK CONNECTOR in driving rain.
Both gone now, SP2 to Ijmuiden [final final departure ??] & MAERSK CONNECTOR back to the cable job off Ramsgate.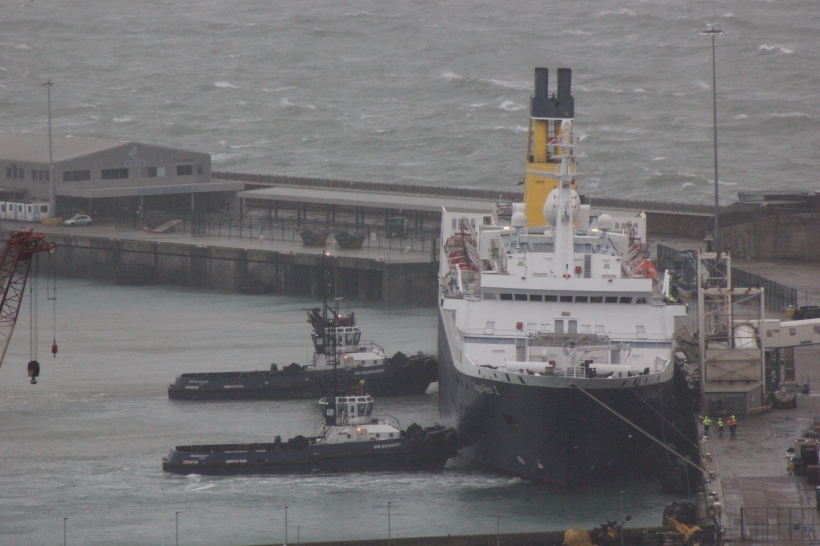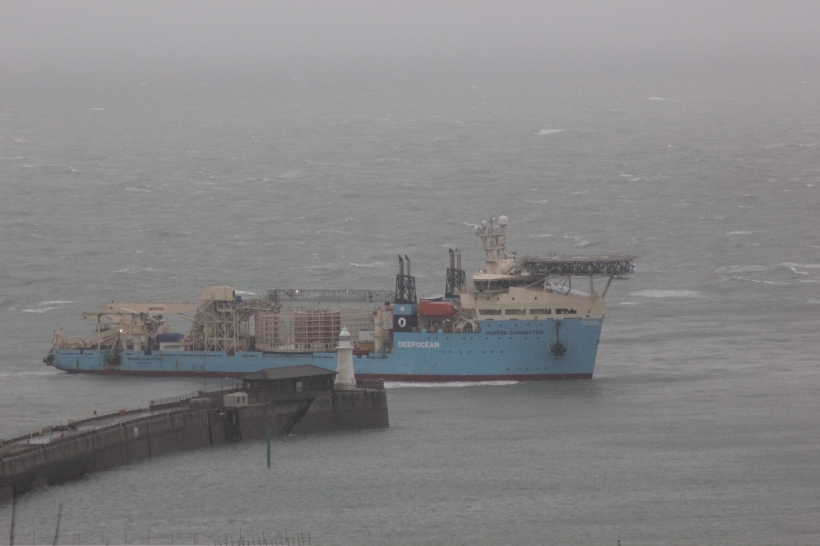 Passing the end of the much-missed Prince of Wales Pier which looks almost unchanged with hardly any sign of the DWDR works further back along the pier.
Docking on Cruise-2
Sunday, 2 December 2018 - 00:12
Post 5911
Sea News, Dover
Well, we have had some rough weather over the past couple of days and of course rough weather wouldn't be the same without some dramatic pictures of our ferries with waves exploding around them. And this time is no exception...here we go...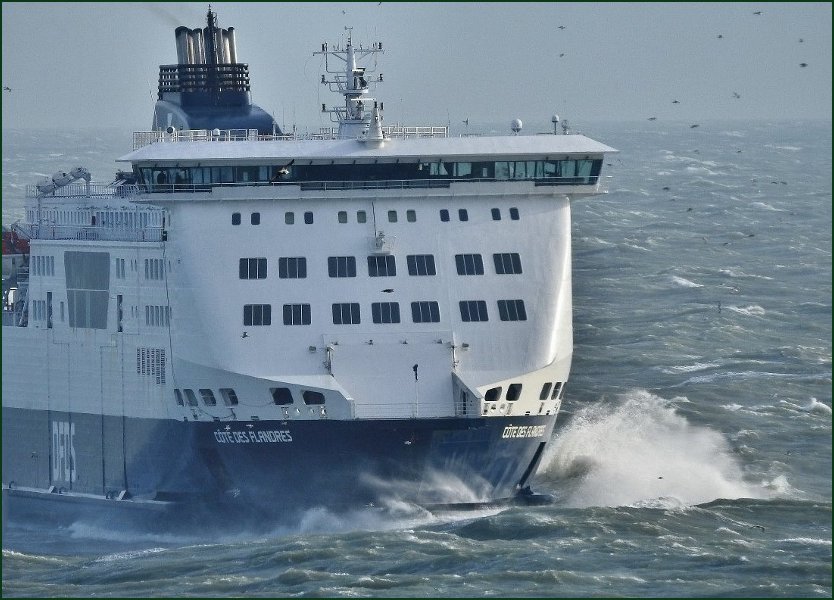 The Cote des Flandres approaching the Port of Dover in the rough tough weather on Thursday, what a day... just look at that sea....
Below we have, on the same day, the European Seaway ( no added 'S' this time

) making its way to Port. Had time to do a bit of artwork on this one in as much as I removed all the light poles along the pier/jetty thereby adding to the clarity. Therefore more of an arty picture this one... we've got Renoir and Turner worried..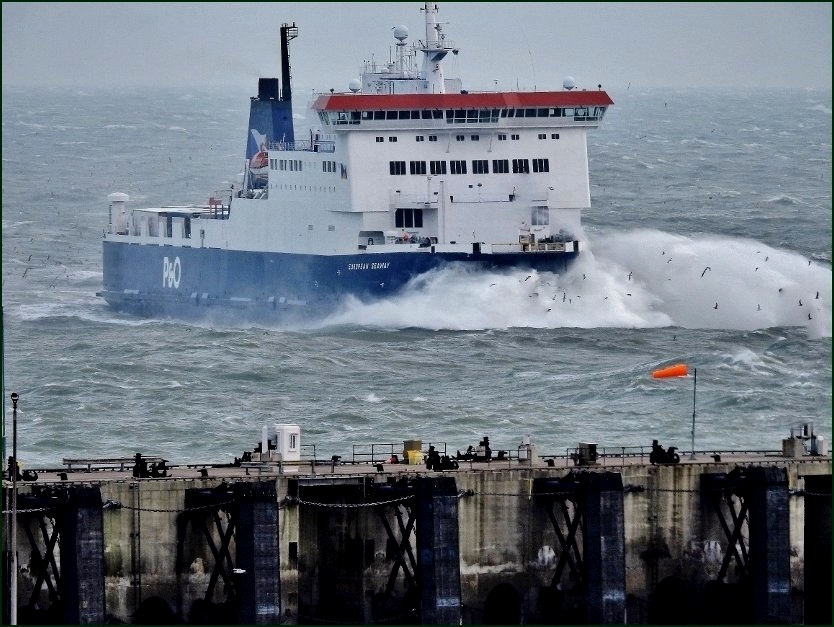 A recent one below of the Spirit of France...whoosh!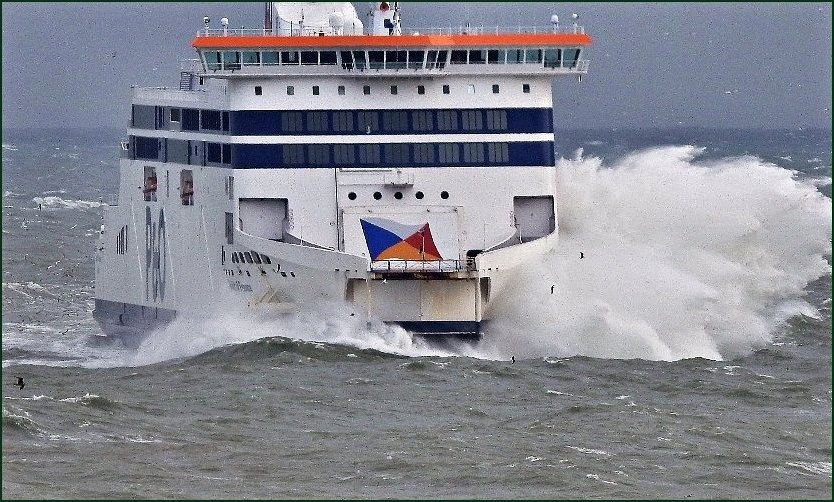 Thursday evening after the stormy weather had calmed down, we experienced some dramatic but calming colours over the seafront.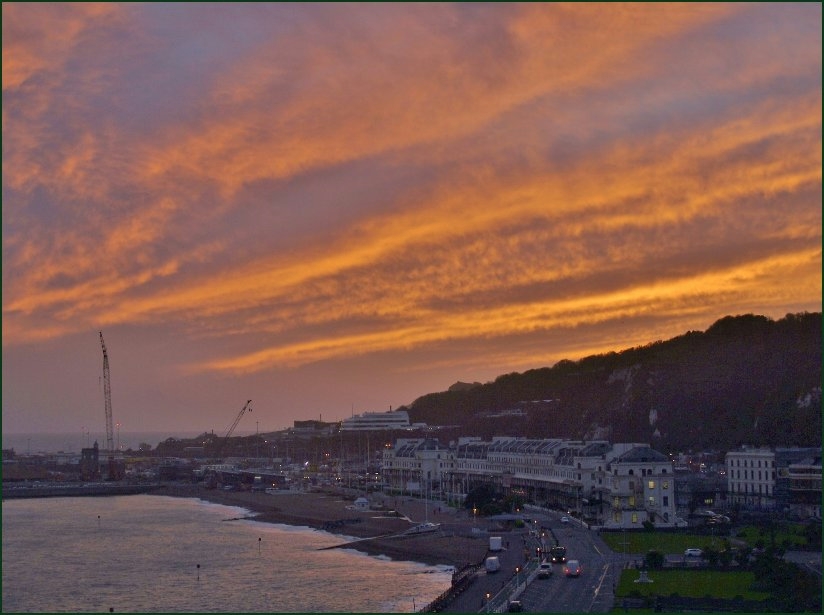 Thanks for that info below on the helicopter Phil.

PaulB
UPDATE at 08.30 : the Saga Pearl II has indeed arrived..just coming across harbour..
Saturday, 1 December 2018 - 06:08