Wednesday, 21 August 2019

WWW.DOVERFORUM.COM/SEA-NEWS
Featuring all the ships that come and go and work at the Port of Dover ..
... with further coverage of the surrounding ports.
Sea News Dover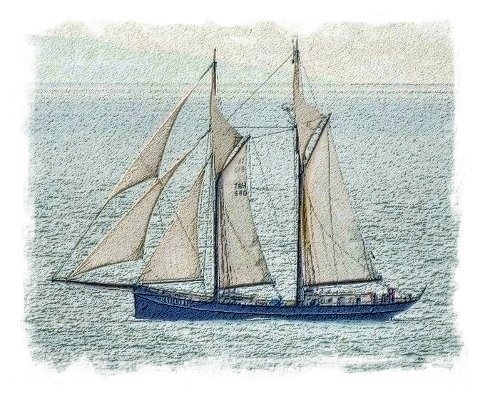 P&O Cadet Bursaries plus.. see 6457
DFDS:Temple Ewell Run plus FIP(?) booking 6453
Dover Regatta see 6438, 6441, 6442
Port of Dover: Chief Exec EU statement 6373
DFDS New Ship for Channel see 6303
DFDS Europe's award winning Ferry Operator 6332
Port of Dover : Virgin Voyages 6289

Port of Dover: Brexit Resilience 6123
P&O Ferries: Alternative Euro Breaks 6298
P&O: Record Fundraising for Lifeboats see 6253
Port of Dover: Reducing Carbon Footprint 6332
Port of Dover: New Cargo Manager see 6205

WW1 Soldier Dover Seafront 6414
Thames Estuary Forts 6250
SS Richard Montgomery at rest (WW II Supply Ship ) 6329
Premier Inn completes see 6149 plus

Scroll down and over to see the Boudicca D-Day pictures in several posts...
….and now also too the Spirit of Discovery
Use our SEARCH ENGINE below to find all sorts on the SEA NEWS pages....type in the topic and away you go, or if you have the post number as shown above, just type it in the box, more than - 6400 - nautical posts now.
Posts are welcome. just click 'Add Your Comment' below. Max of 5 pictures preferred although we can stretch that for special stories..
Sea News Editor Paul Boland - send info or pix to dover7@msn.com. Always welcome.
CRUISE CALLS:
https://www.doverport.co.uk/cruise/find-a-cruise/
UPDATE:
To show your pictures at their best..it could be worthwhile resizing before posting to
850
pixels wide.
All pictures on these pages are the copyright of the owners and must not be reproduced without permission.
Post 6315
Sea News, Dover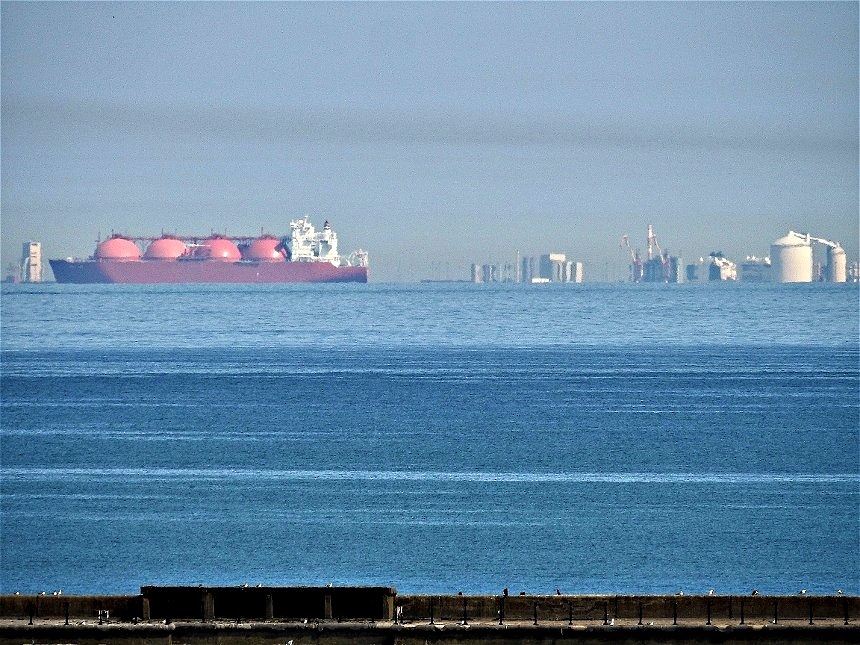 Yours truly noticed a red LNG tanker in the far distance for a few days but was unable to get a picture of it...it would be a very long range shot. But then at the weekend in the truly amazing visibility (complete in some cases with a mirage or two) I was, with the stunning atmospheric clarity, able to get that enjoyable picture above. It shows Arctic Lady anchored just outside Calais in fab weather awaiting a berth at the new LNG ( Liquified Natural Gas) terminal in Dunkerque. I remember Ed got some great pictures of the terminal for us a year or so back.
A record number of migrants crossed the Channel in one day..Saturday. According to the BBC up to 70 migrants in eight boats made the dash for the UK. The visibility was excellent ...so perhaps they were a tad easier to spot for the Border Force teams on patrol, although as you can guess..they are busy busy.
The picture above there shows Border Force Searcher on the day. Also in shot Neptune
...and Neptune below. Now...not 100% certain but I think that's the small boat featured alongside that great monster container ship AFIF a few days back see 6310.
* *
DFDS teams up with tech firm for high seas treasure hunt
_________________________________________________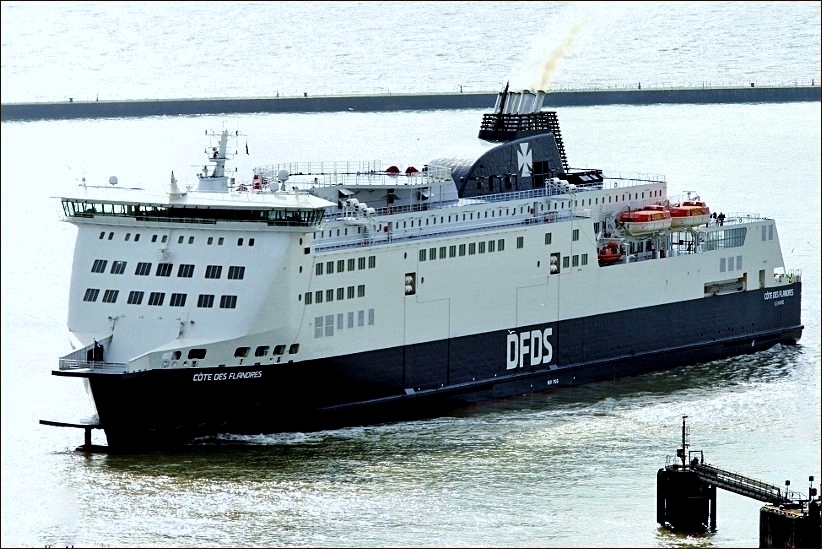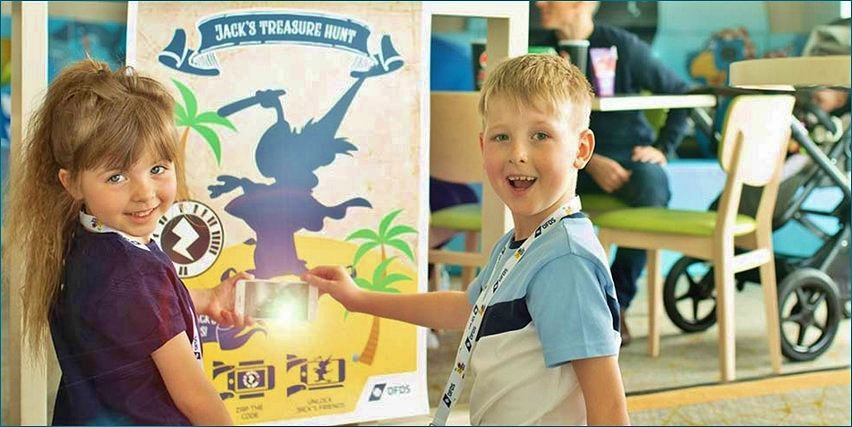 • DFDS launch interactive, mobile game for children with reality specialists Zappar

Leading ferry operator DFDS has teamed up with augmented reality specialists Zappar to create an app to entertain families during their journeys this summer.
The interactive game Jack's Treasure Hunt stars swashbuckling DFDS mascot, Jack the Pirate, and passengers can download the app and play for free on ferry routes from Dover to Calais and Dunkirk, and from Newcastle to Amsterdam.
They are then pitched into an intriguing adventure to discover chirpy Jack the Pirate's hidden treasure as they set sail on the Channel or North Sea. It will take them to different parts of the ship as they track down and solve clues, meet Jack's friends on Pirate Island, collect tokens to win prizes, discover vouchers to spend on board, or access discounted ferry crossings.
Zapping poster codes in different areas aboard the company's ships also helps the mini pirates find the four-part key to unlock Jack's hidden treasure.
DFDS campaign manager Jacques Webb said: "Throughout the summer our young travellers can join an exciting adventure as they cross the Channel or North Sea, but the app is also a fun way to amuse and encourage our young passengers and their families to move around the ship and explore, stretching legs and getting to know all that a DFDS crossing can offer.
"We're excited to become the first UK travel company to work with Zappar, which is part of our digital strategy to enhance our passengers' experiences of travelling with us. The launch of the game also highlights quality Wi-Fi coverage now offered on our ships."
Customers can simply download the Zappar app from the Apple or Android app stores before or after boarding. Find out more about Jack's Treasure Hunt at dfds.co.uk/jacks-treasure-hunt
-Ends-
Your camping or caravanning holiday starts with DFDS
______________________________________________

• Receive 10% off bookings for Camping & Caravanning Club members or take your caravan for free* with DFDS
In celebration of National Camping and Caravanning week, here are some of the great offers and experiences you can get with award-winning ferry operator, DFDS.
Take your caravan from Newcastle across to the continent totally FREE! Travel on selected Sunday, Monday or Tuesday's and only pay for your car, leaving more in your back pocket to spend while you're there. Alternatively, if you are a Camping and Caravan Club member you can get 10% off direct DFDS prices travelling from Newcastle or up to 10% off if going to France on the Newhaven to Dieppe route.
With no luggage restrictions you can set sail then hit the road to visit some of Europe's most popular holiday destinations at your own pace, with Belgium, France, Germany and Holland all within easy reach of our ports.
From Montpellier to Amiens in France, from Ypres to La Roche-en Ardenne in Belgium and from Appeltern to Renesse in Netherlands there are hundreds of great camping sites to choose from that offer river views, to sandy beaches or national parks on your doorstep.
Caravans go free from £45 pp, based on 4 sharing, with one daily sailing from Newcastle to Amsterdam.
Travelling from Dover or Newhaven to France, you can book your up to 10% off via the Camping and Caravanning Club website.
For more information on DFDS, visit: www.dfds.co.uk
Ends
Many thanks once again to the team at DFDS for all the recent news and information.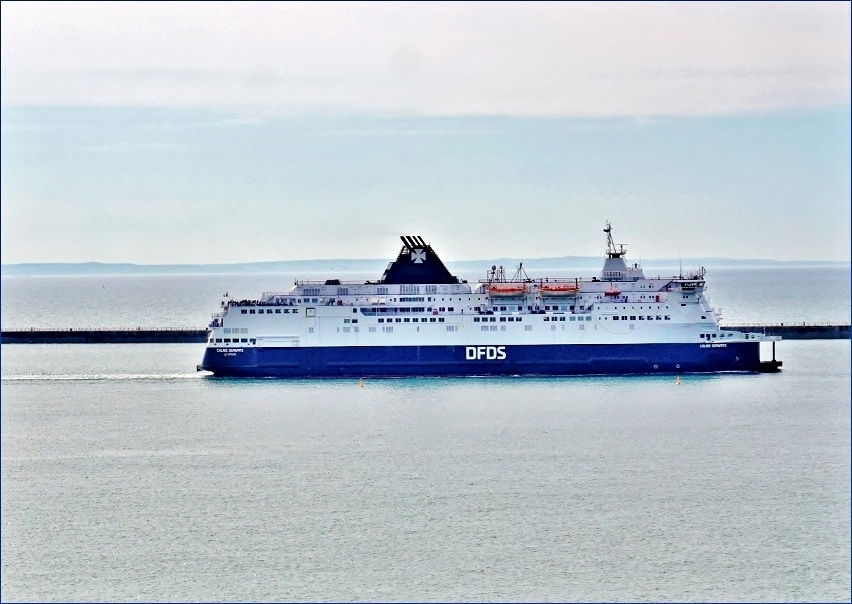 Mike mentioned that it might be the end of the Calais Seaways when the new DFDS ship arrives...Calais Seaways pictured above there. Yes in some of the recent paperwork from DFDS it did indeed mention that the Calais Seaways will be facing retirement.
Many thanks to Mike our 'inshore correspondent' for all the info/pictures below..

Great stuff!

Also have pictures of the Lifeboat and reefer Elvira to catch up with...plus... will all follow along in due course.
PaulB
Tuesday, 4 June 2019 - 06:38
Post 6314
Mike J., Dover
A few more angles on the BOUDICCA on Cruise-1 on Sunday.
The end of the new marina pier isn't a patch on the much-missed Prince of Wales Pier for seeing cruise ships.
The view towards Cruise-1 may get further cluttered as more 'infrastructure' appears on the reclaimed land.
I understand that the new RNLI boathouse will be somewhere along the 'Marina Curve' so there will be good views of the lifeboat coming & going.
I've heard that the tugs & dredger & other DHB small craft will be tucked-in by the short pier at the outer end of the 'Marina Curve'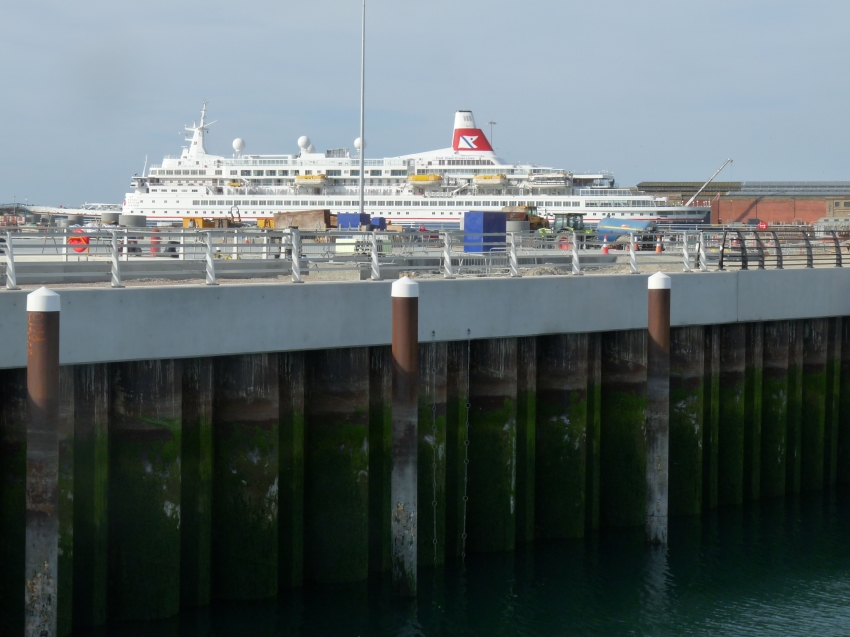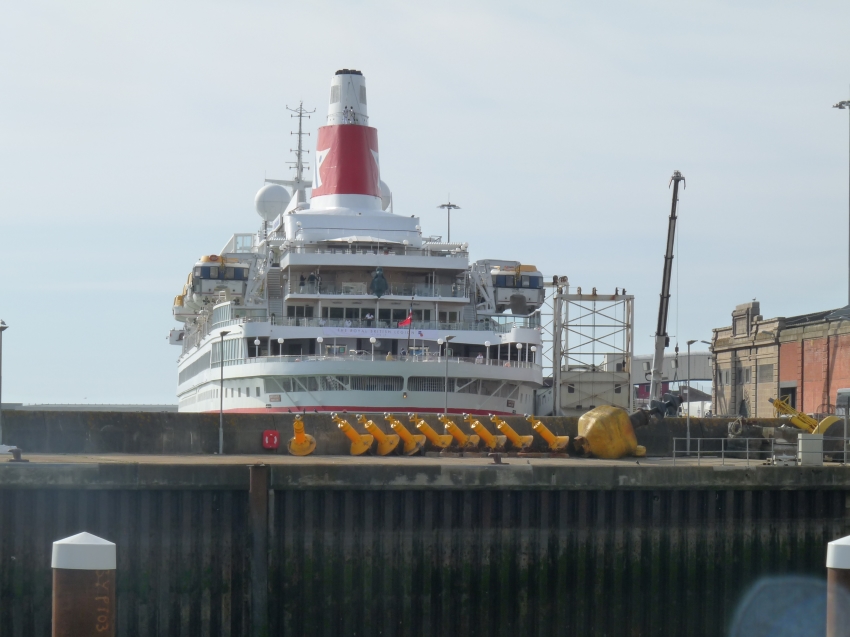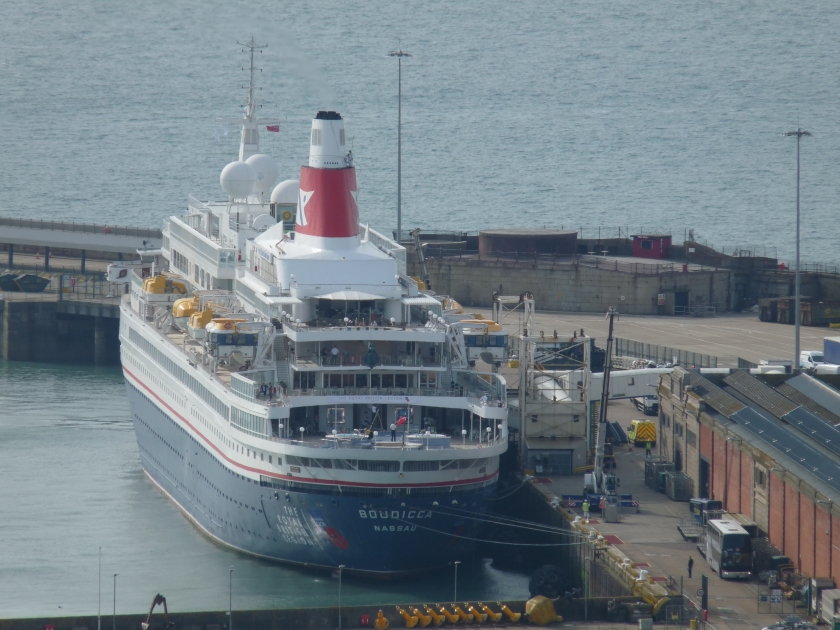 While up at St.Martin's Battery I noticed that small craft in the Wellington Dock had been moved away from the pontoons in the vicinity of the 1868-built Fairbairn hand-crane.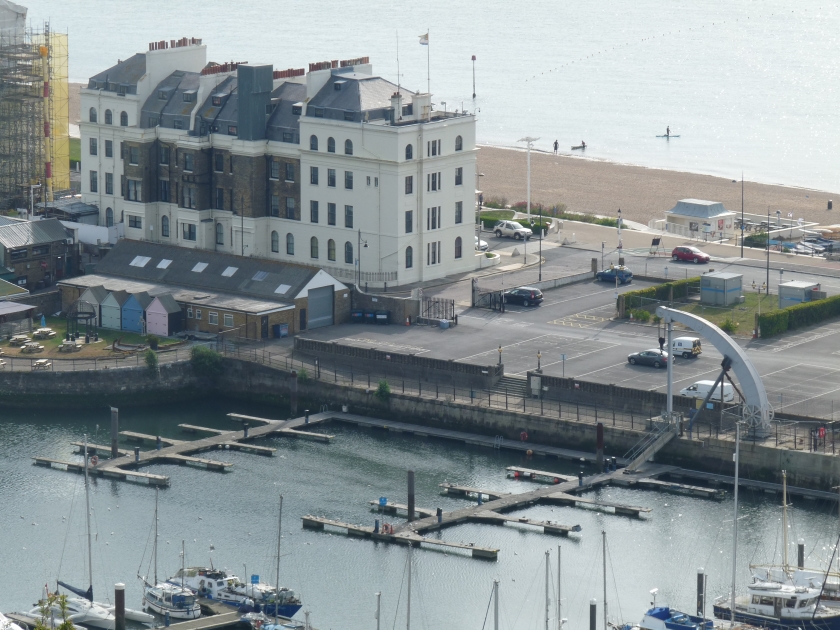 [
This is apparently because of concerns about it's stability.
It was restored several years ago & propped in position.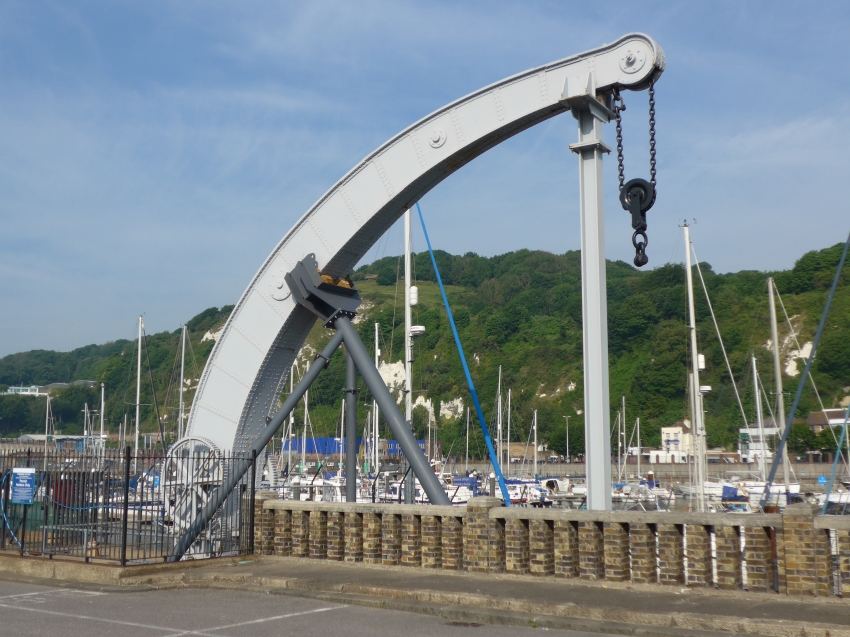 Maybe last year's pile-driving has caused problems.
Despite being a crane it is a 'listed building' so should survive.
Tuesday, 4 June 2019 - 03:08
Post 6313
Sea News, Dover
Following along from Mike's excellent collection of Boudicca arriving yesterday in the post below...here she is departing later last night. She moved away at 9pm on the button...as per schedule. Obviously it was a bit dark by then but the tugs gave them all a very good send off...the veterans will have seen the water jets spray high into the air despite the night ascending.
Boudicca moved across the harbour and left through the eastern exit, a bit unusual for Boudicca that.. but maybe it was so all could see the spray jet spectacle.
Boudicca's D-Day Voyage begins...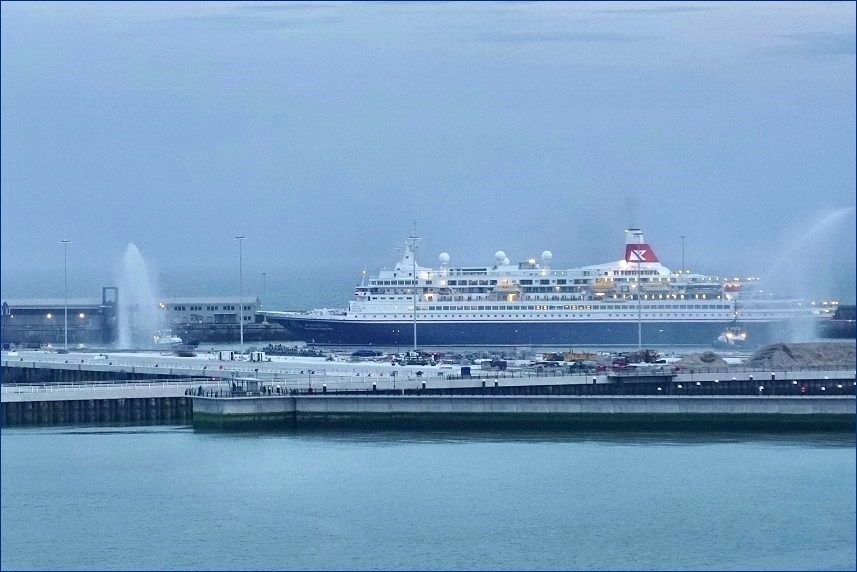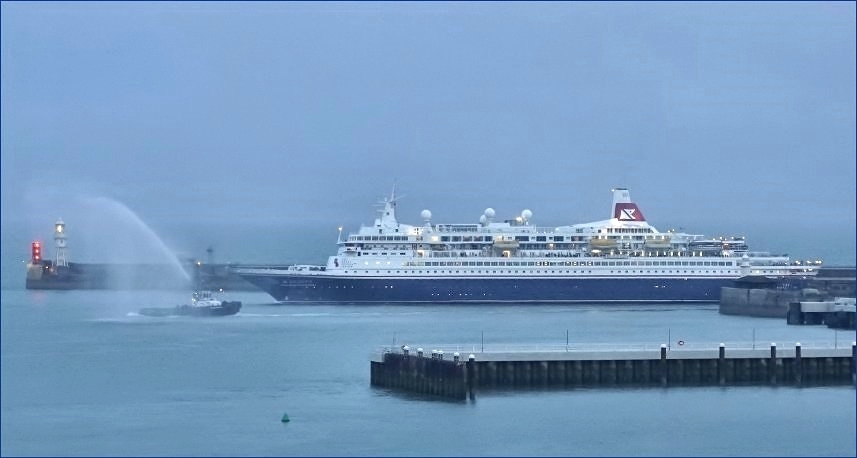 Mike also mentioned the Silver Cloud cruise ship...see the story below 6312 about her adventure in Ramsgate. This is the ship just off Dover in early 2018...in the foreground one of the busy dredgers operating then...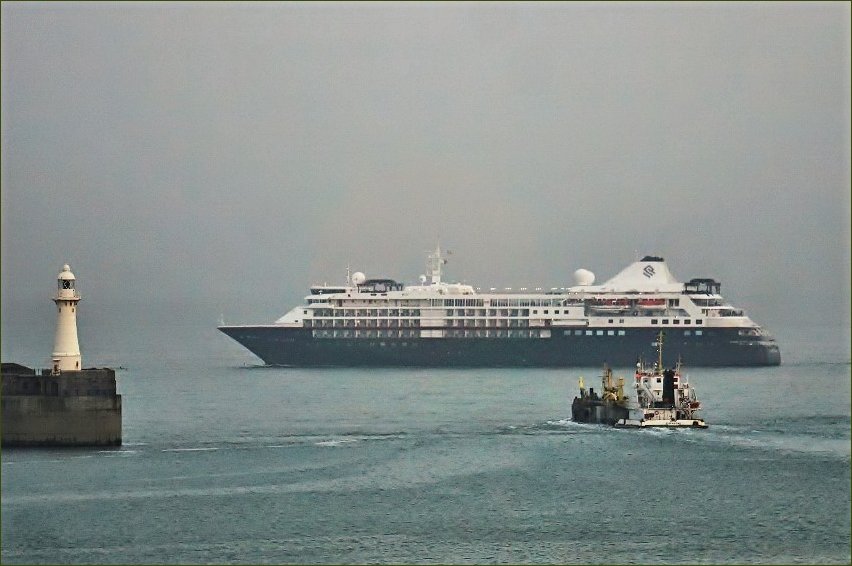 Great collection below Mike...Great stuff!

PaulB
Monday, 3 June 2019 - 16:25
Post 6312
Mike J., Dover (helcion@hotmail.co.uk)
Arrival of the BOUDICCA from Gibraltar about 0530 on Sunday morning from Langdon Cliffs.
She was about 30 minutes early, a good job that I didn't have that second coffee.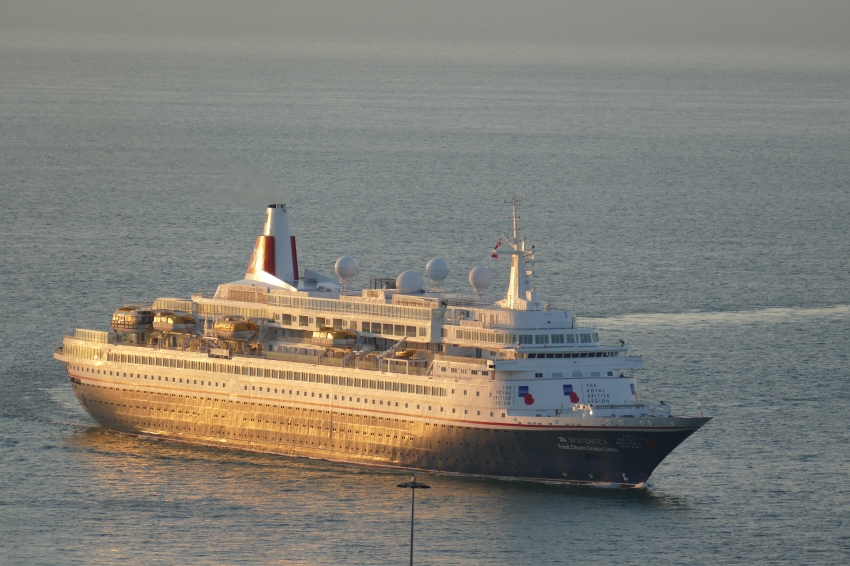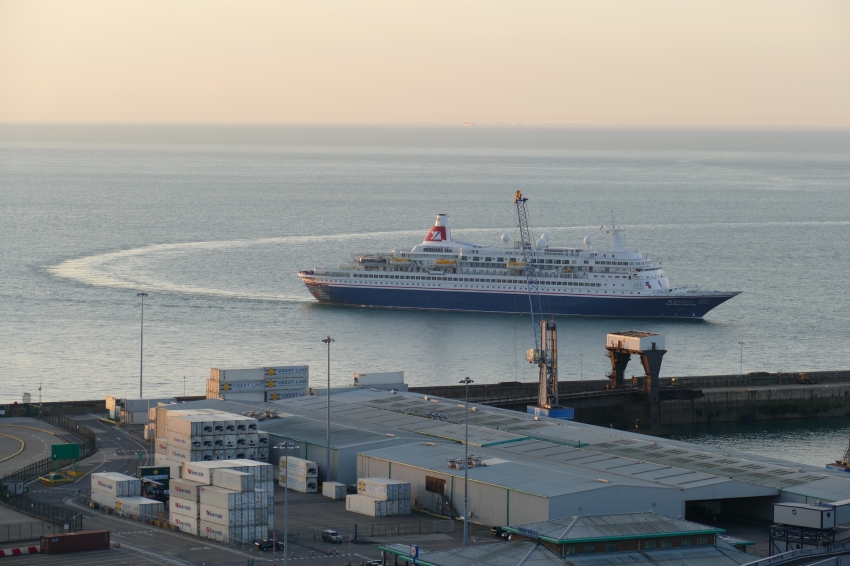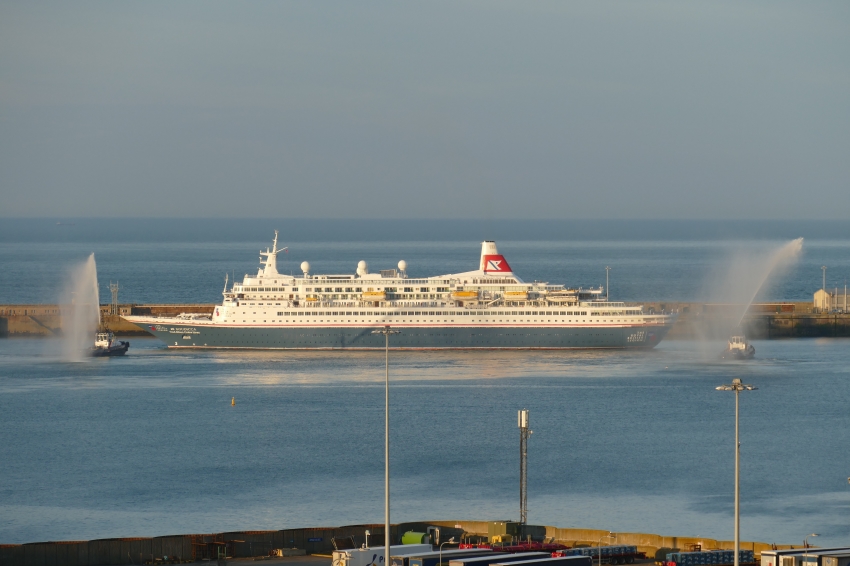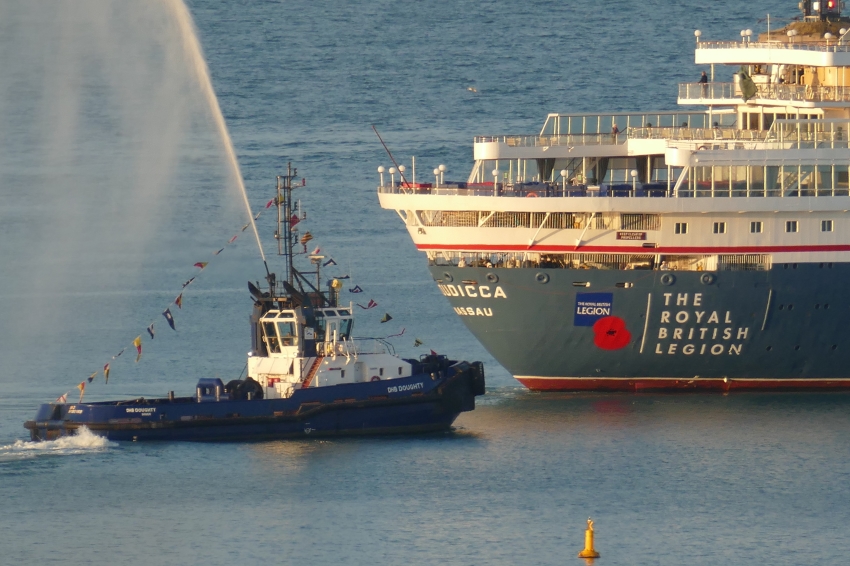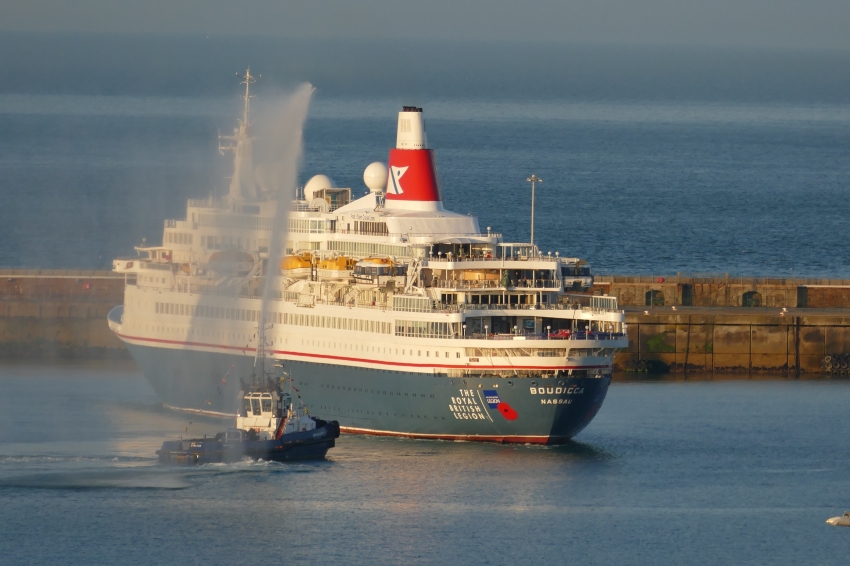 The watery welcome from the tugs was a little unexpected as the D-Day veterans & other Royal British Legion passengers were not yet aboard so I guess that it was for the benefit of the media to catch Sunday's TV news.
If that was the intention, it failed miserably with the main cruise ship item Sunday evening being the runaway MSC OPERA making a 'hard landing' in Venice.
Most unusual activity at Ramsgate today !
The cruise ship SILVER CLOUD called in for 12 hours while on passage to London from Hull.
As there is no passenger side-gangway at Ramsgate passenger transfers were by RIB.
Quite missed that one.
Damn.
I don't seem to have any pix of SILVER CLOUD, maybe Paul or another reader has one.

Monday, 3 June 2019 - 00:24
Post 6311
Sea News, Dover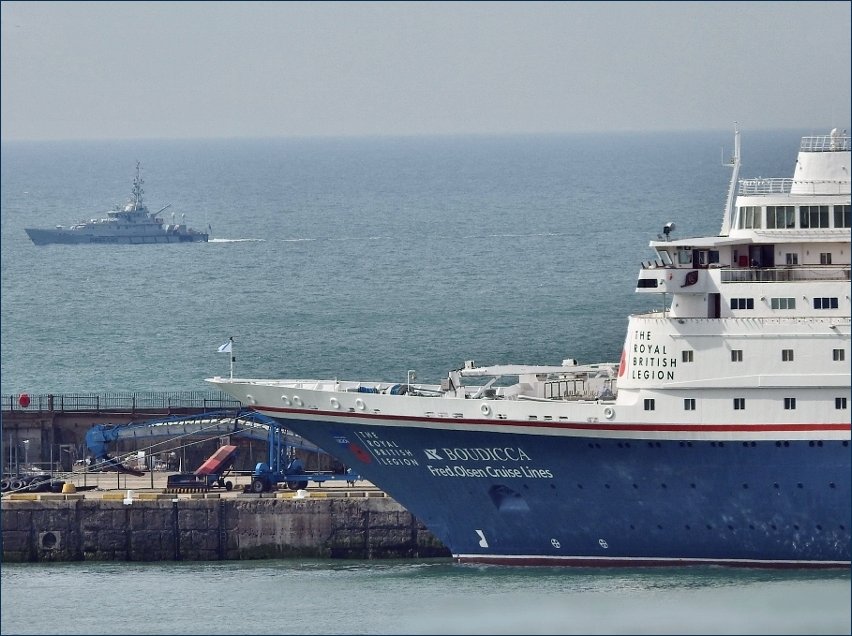 Border Force Searcher and Boudicca awaiting her D-Day Voyage...see below..
Sunday, 2 June 2019 - 16:54
Post 6310
Sea News, Dover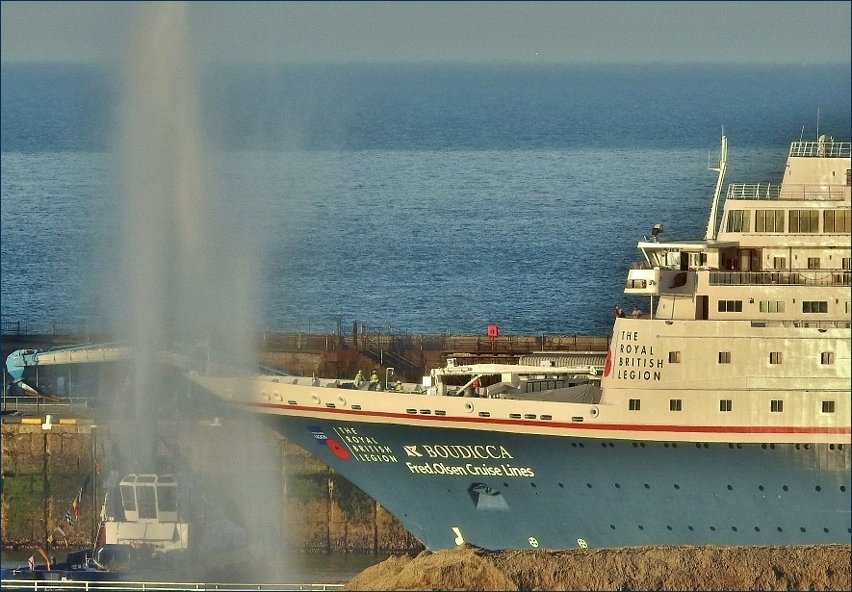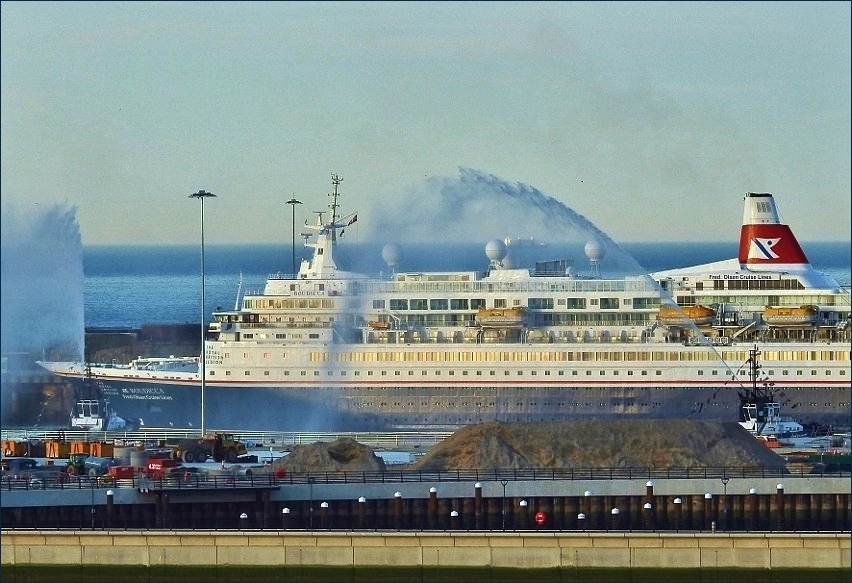 Boudicca....the D-Day Voyage of Remembrance.
Some pictures of Boudicca literally a few minutes ago as I write...time of first shot 05.44 and we just managed to catch the tugboats spraying a magnificent traditional greeting. Not the best pictures by any means with the light being awkwardly reflective on the ship but nevertheless glad to have secured something to mark the moment. You can see her above there moving into Cruise Terminal One.
There were some magnificent views on the Channel yesterday as the visibility and weather was so good. Was intrigued by this monster moving on down yesterday morning en route to Southampton...(off the top of head I think from Antwerp) but presumably going much further afield. She is called AFIF...one of Dover's fishing boats next to it..astern..shows the mind-boggling scale. Fabulous.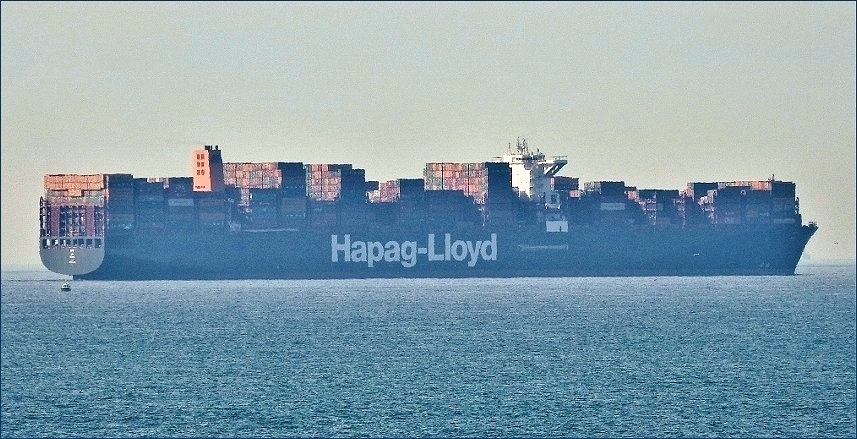 And then we had the Atlantic Klipper a short time later, seen here having just left the Port of Dover and now on her way to Bridgetown in Barbadoes.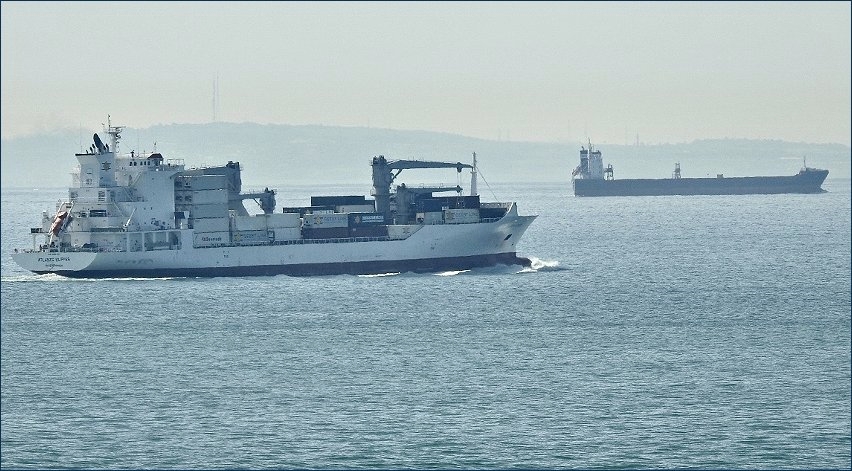 Thanks for the info below Mike... she came in a wee bit earlier as they do...was glad to see the tail end of it. Thanks for the ongoing info.

PaulB
Sunday, 2 June 2019 - 06:16
Post 6309
Mike J., Dover


There will be no public access to the whole of the Admiralty Pier all day Sunday due to security around the BOUDICCA who is thought to be going to Cruise-2.

ETA is 0600
ETD is 2100

Saturday, 1 June 2019 - 21:05
Post 6308
Sea News, Dover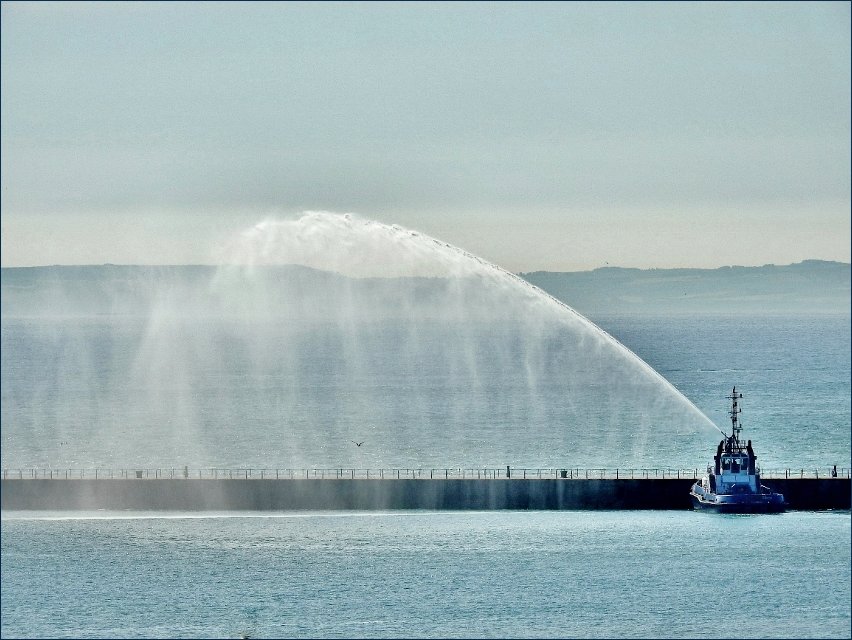 One of the tugs spraying into the air earlier today. it may have been a rehearsal for the Boudicca D-Day event tomorrow..see Mike's post below 6306...
Saturday, 1 June 2019 - 17:31
Post 6307
Sea News, Dover
A sequence of pictures now of the arriving Amadea taken on Thursday morning early...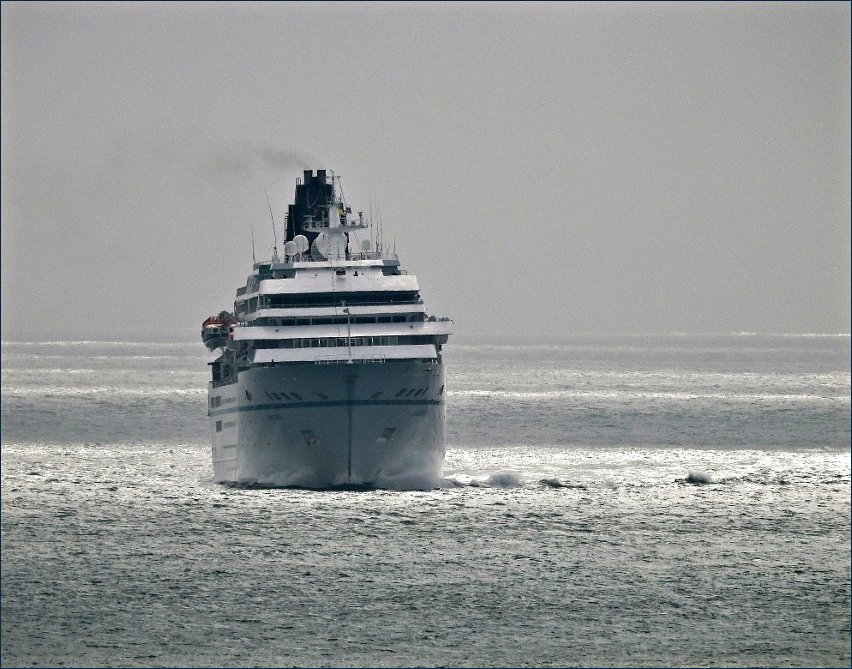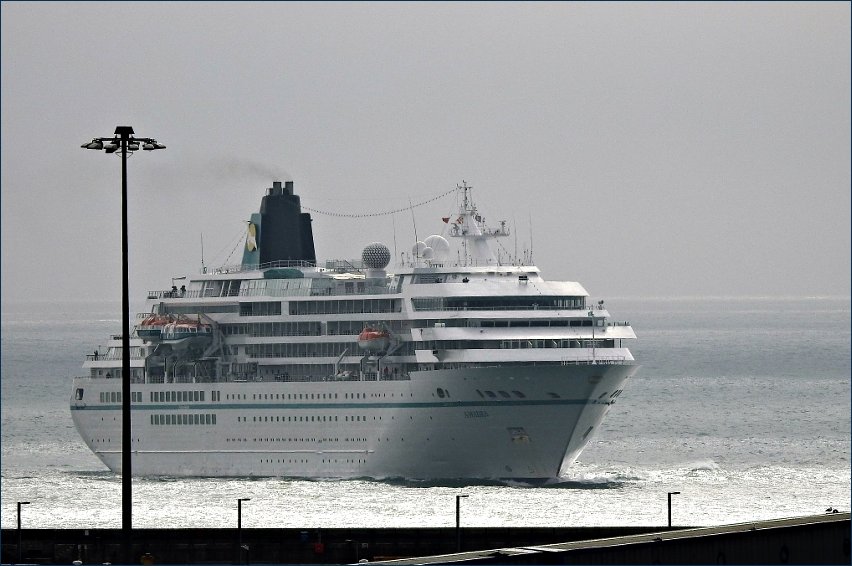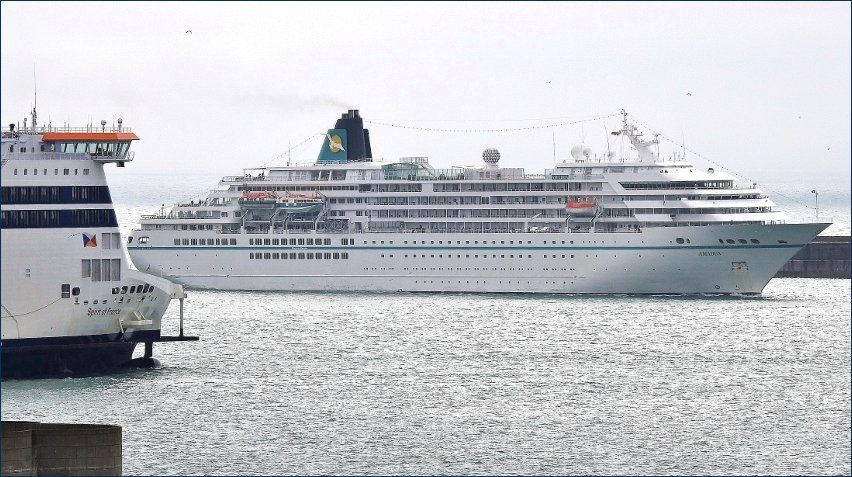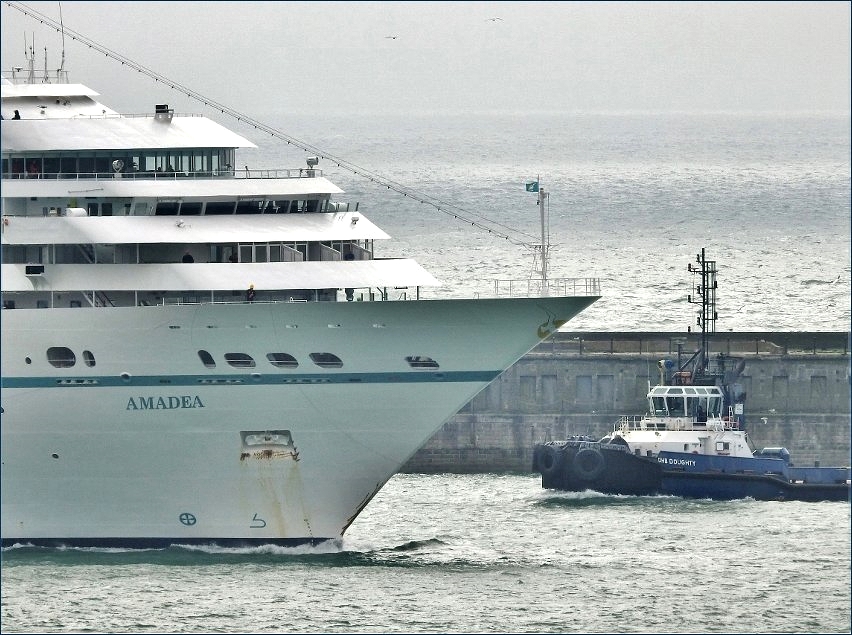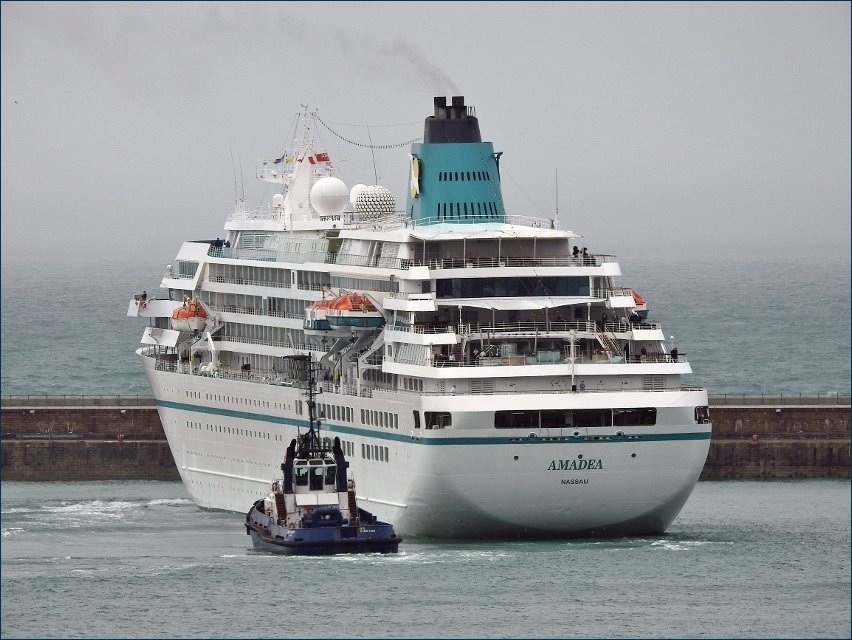 She left us late on Thursday night heading back to Bremerhaven after a long cruise which took in Honfleur, St Malo, Bordeaux, Bilbao, La Coruna.. plus..
Interesting comments below from John, Del, and Mike ..

lots of info there.
I would suggest the designs these days are more about safety than anything else. Thinking back to the dark ages and the Irish run when there were lots of open decks...I even remember one ship which had nothing but a chain across one section of deck. I was a kid and then a teenager, but I remember that feature being more than a tad scary as a youngster in rough weather. It always seemed to be rough on the Irish Sea or was there just a dark cloud following me around...

I think that particular ship might have been the Princess Maud.
You can guess what the decks were used for as well in rough weather.
One was scarred for loife !

Although I do sympathise at the same time with the diminishing open spaces.
PB
Thanks for the info re Boudicca Mike will watch for that.

Saturday, 1 June 2019 - 06:56
Post 6306
Mike J., Dover
Del - I expect that John, with his many contacts in the ferry industry, has seen a little more of the COTE D'OPALE plans than the press release photo that Paul posted.
I quite agree with John re the continuing decline in opon deck space in favour of retail areas - probably the best deck spaces recently were on the French FIESTA [now razorblades] & the FANTASIA [after many name changes still in service in the Baltic as the Polish WAWEL] who both had a vast amount of open deck between the two funnels, very popular with the travelling public & a 'spin off' of their conversion from Bulgarian freight ferries.
On the FANTASIA at least there would have been even more open deck space but some areas were closed off when the crew started living aboard to avoid their off-duty sleep being disturbed by noisy/nosy passengers.
The FIESTA often used to permit FIESTA passengers onto the walkway in front of the accommodation block, a superb viewpoint when entering port which I never saw permitted on the FANTASIA.
The introduction of the COTE D'OPALE will presumably mean the withdrawal of the CALAIS SEAWAYS after a long career on the Dover Straits, having started as the Belgian PRINS FILIP ion the Dover/Oostende service in 1992.
Talking of oldtiomers Paul's nice view of the 'old style' BONITA in post 6302 was certainly accurate - she was built in 1892 at Arndside in Cumbria - a wonderful survivor.
More info on her if you google 'classic yacht info bonita'
As mentioned in an earlier post When the BOUDICCA arrives in Dover on Sunday at the start of her 'D-Day Voyage of Remembrance' she will be displaying Royal British Legion poppies & this photo is from the Fred Olsen's website.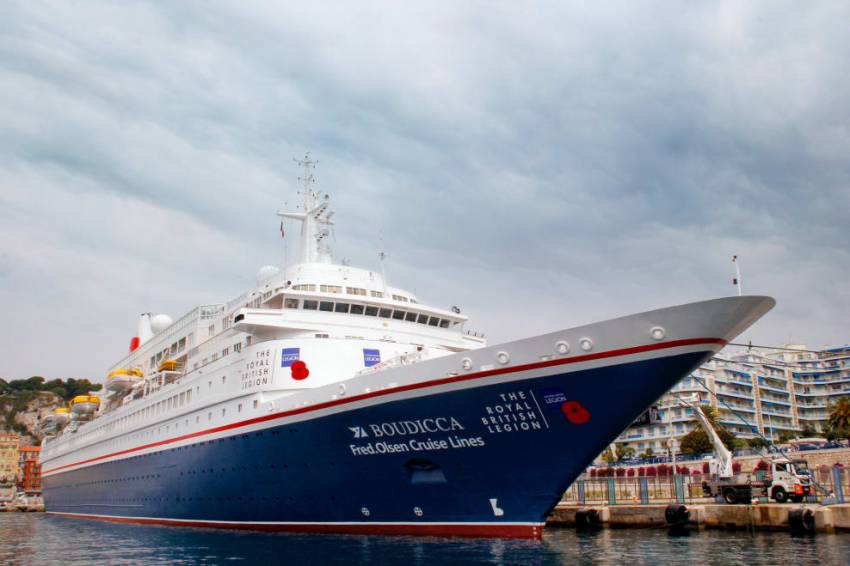 For more information on the Remembrance cruise, including a detailed itinerary, google 'Boudicca voyage of remembrance'
Saturday, 1 June 2019 - 01:32
Post 6305
Del Styan, Norwich
I must admit I agree with the previous correspondent about the need for outside areas on the ferries. Makes the experience a real voyage. But I don't know how he deduces that from a single image taken from the front - the bow end - I believe? Do you know any more, PB?

Friday, 31 May 2019 - 23:09
Post 6304
John Hendy, St Mary's Bay
As usual, the requirements of the passenger who wishes to spend the crossing taking in the Channel breezes have been totally neglected. The image shows a minimal outside area at the stern as is the present trend in ferry design. This started with the of Spirit of Free Enterprise trio, which Townsend Thoresen introduced from 1980, and has become progressively worse with each new generation of ferries. It is appreciated that the owners would like all passengers to remain inside during the crossing in order to spend their money at the multitude of retail outlets. How long will it be before it's decided that there's no need for any outside space at all in which case the experience of crossing the Channel will become similar to going through the tunnel.

Friday, 31 May 2019 - 17:47
Post 6303
Sea News, Dover
DFDS announce the name of new ship for English Channel, as the build begins it's journey
________________________________________________________________________

New vessel will be named Côte D'Opale as steel cutting of the vessel commences..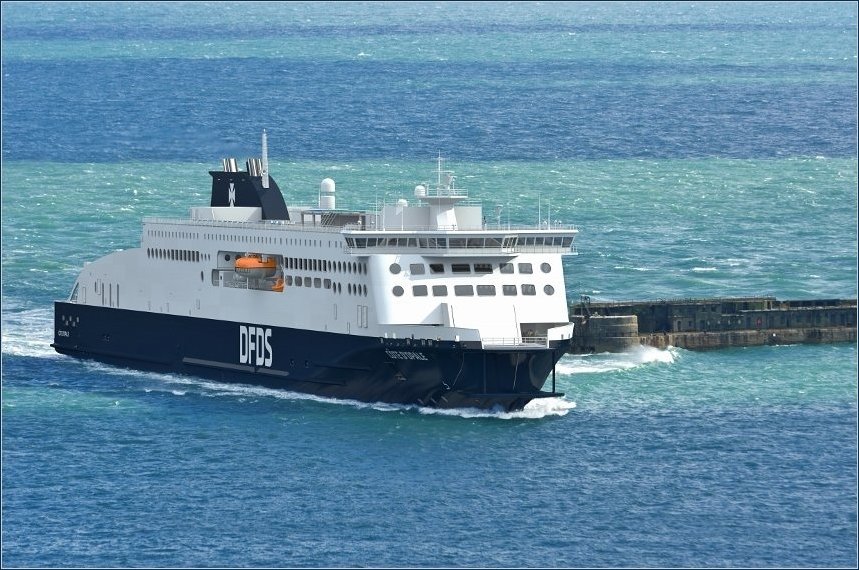 Artist impression
DFDS, the world's leading ferry operator, has announced the name of their new ship for the English Channel due in service 2021 as the Côte D'Opale.
It is named after a region of France that overlooks the English Channel. The Côte d'Opale is a French coastal region bordering Belgium, situated opposite the cliffs of the south-east of England.
On the 30th May the Côte D'Opale started its journey with the first steel plates being cut in the traditional steel cutting ceremony. The vessel is being built at the AVIC shipyard in Weihai, China and will be launched for operation in 2021 on the Dover Calais route. It will be the longest ship on the channel with capacity for 1,000 passengers and crew.
The emphasis has been to provide customers with the best possible service and experience on board each and every day. Earlier this year DFDS put extensive investment into ensuring their ships are the best in meeting customer's needs, with investing in a substantial fleet renewal programme to ensure continued growth. Improving the customer experience with passenger comfort, children's play area, familiarity and dynamic food concepts at the forefront in the design process. Also offering WiFi, children's play area and easily accessible outdoor space.
Further development of the modern sea travel experience will be replicated over time across the fleet on the English Channel, which will bear a familiar resemblance to the Côte d'Opale. Further enhancing the best possible customer experience that DFDS has to offer, regardless of which vessel customers sail on.
Kasper Moos, Head of Short Routes and Passenger in DFDS said "We have great pleasure in announcing our new ship will be named the Cote D'Opale and the steel cutting marked a very special and exciting time as the ship starts to take shape in the construction process. The Côte D'Opale will give our passengers a relaxed travel experience with modern food concepts and the largest shopping experience on the channel. We continue to have a clear focus on our customers and take great pride in continually seeking improvements to ensure those special memorable experiences of travelling with DFDS.''
Ends

Exciting News - Many thanks to the team at DFDS - PB.
Friday, 31 May 2019 - 07:01
Post 6302
Sea News, Dover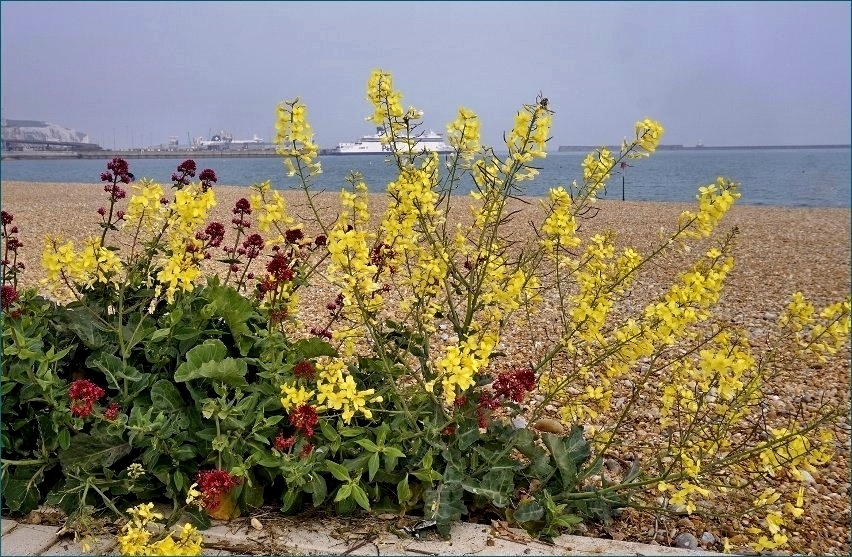 Some pictures now from last weekend of the all-natural seafront wild gardens..well, you would hardly call them gardens but...lets say wild flowerbeds...if we can put it that way. They always make a fascinating annual floral splurge along the seafront. What makes them different to 'official' flowerbeds you ask?..well they are just natural growths. Yours truly isn't explaining this very well as one wouldn't know ones dandelion from ones dahlia...but here we are anyway. I don't think the beds have reached their full colour maturity yet so worth watching out for when out for the Dover Seafront stroll. The picture currently at top of page is from a former time.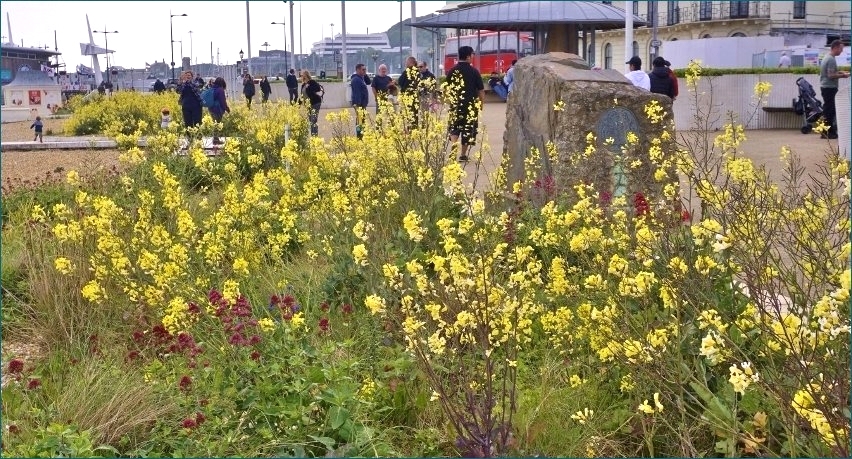 Old style sailboat Bonita moving away a couple of days ago...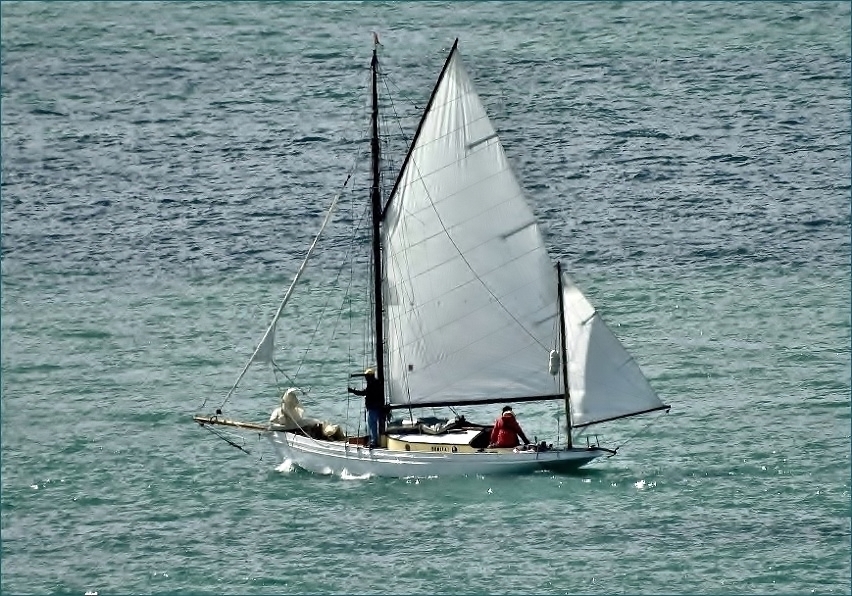 Interesting post below Mike, fascinating pictures and info as usual.. Pampero moves away..great to see those shots all round.
Just caught the tail end of that arriving flotilla but couldn't do anything with it from this angle.

Well done Patrick...on the pace there with Pampero. Great to see the pix, yes have noticed the new lights at the end of the curve. Will try and get a pic at some point.

Vic glad you had some good memories stirred there with that P&O feature on European destinations. Great stuff!

PaulB
Thursday, 30 May 2019 - 06:26
Post 6301
Mike J., Dover
A rarely-seen flag in the Tidal Basin on Wednesday morning - Japanese.
The rather smart KING BEE had arrived Dover from Dunkirk on Tuesday.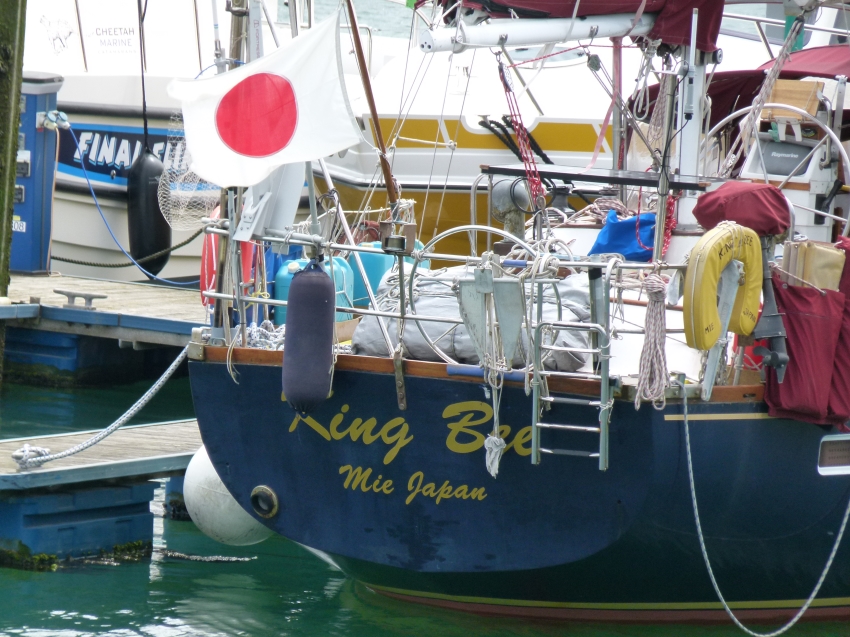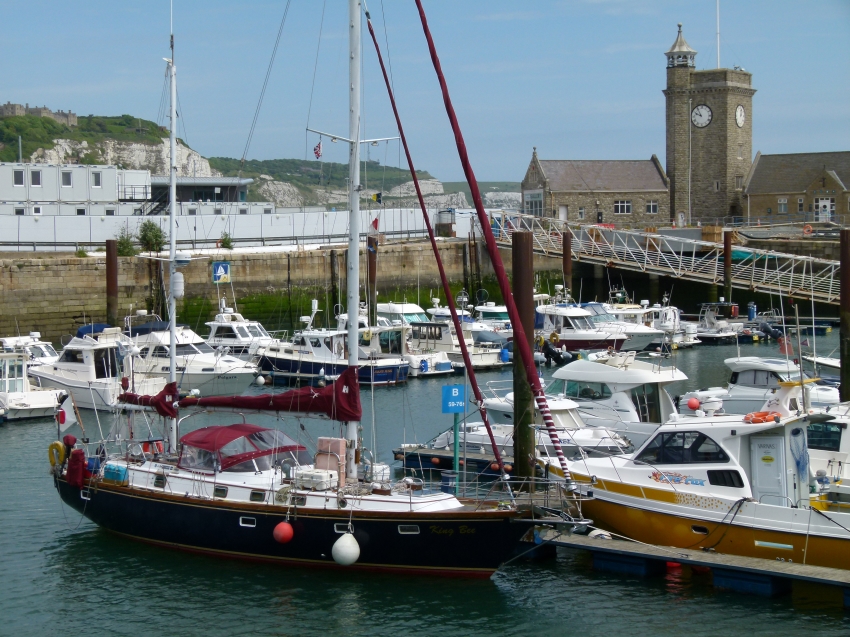 The PAMPERO looked a little odd, out of the water & on the lorry, with her deflated all-round 'fendering'
The driver told me that Northern Rib Hire would be delivering another workboat in the near future.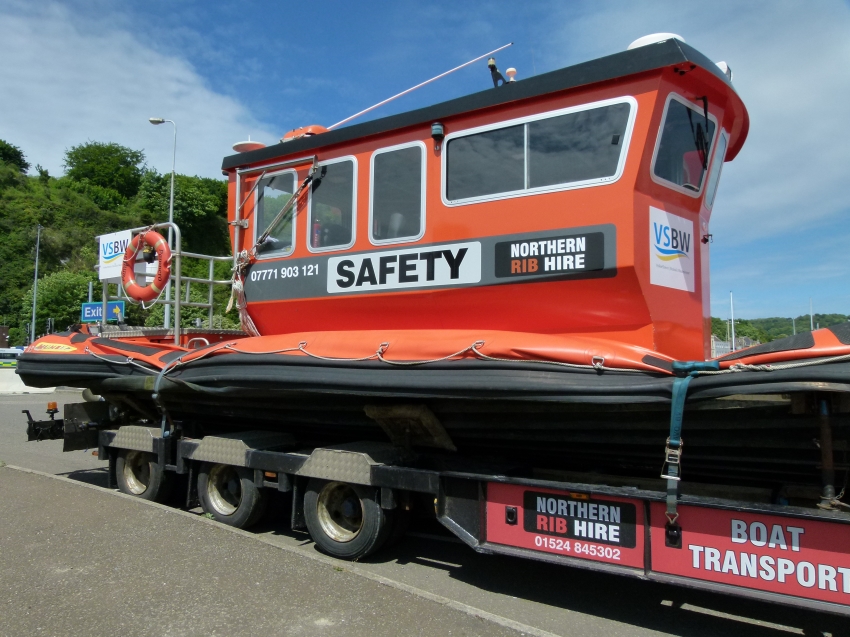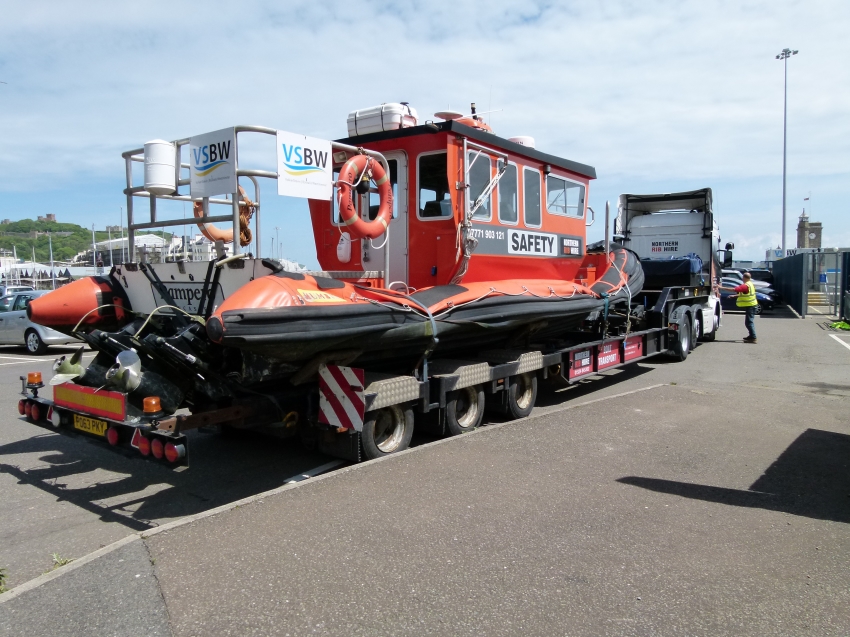 Quite missed, unless Paul or Patrick have pix up their sleeves, was the flotilla of about a dozen Dutch motor yachts that came in thru the Eastern Entrance Tuesday afternoon for an overnight stay..
I was down in Western Docks by 0700 hoping to see them sail, but there they were, gone, having sailed about 0530.bound for Eastbourne which tonight is packed with Dutch AIS signals.
When the BOUDICCA arrives around dawn on Sunday to start her D-Day 'Voyage of Remembrance' she will have Royal British Legion poppies on her bows & accommodation.
She will return to Dover on 9th.June
.
Thursday, 30 May 2019 - 01:34
Post 6300
Patrick, Marine Parade
Adding to Paul's picture of 'Pampero' as she ends her tenure at DWDR - here is the proof of her imminent departure on Northern RIB hire transporter.
Thanks to the new bascule bridge being open I now use this route back to Marine Parade and there she was in Union Street Car Park all loaded up and ready to go. We'll miss seeing here rounding the Marina curve in and out of the new marina.
Adieu 'Pampero'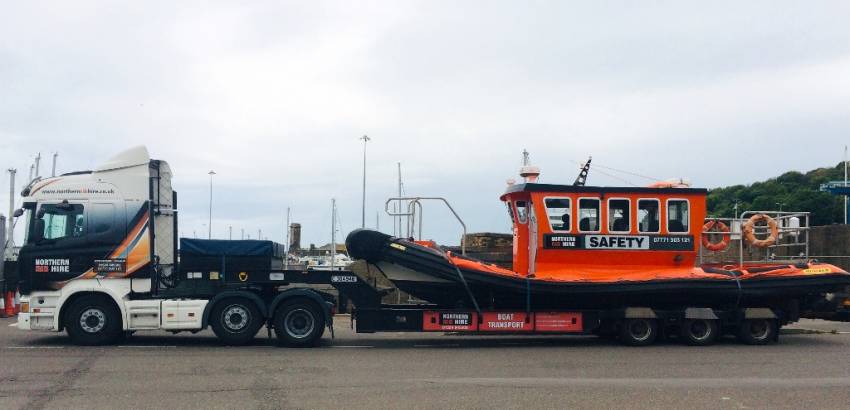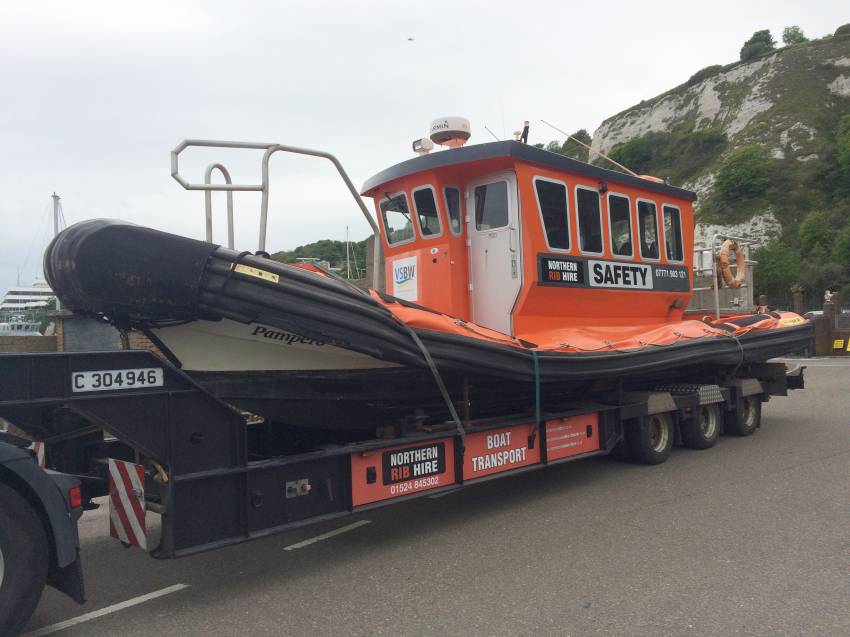 By the way have you noticed that the end of the curve breakwater now has a bank of red nav lights
Wednesday, 29 May 2019 - 17:48
Post 6299
matcham, Dover
Great Photo of TRIER Germany I lived and worked just outside there for well over a year,also helped train the German police the art of boxing.

Wednesday, 29 May 2019 - 10:30
Post 6298
Sea News, Dover
THE P&O SPIRIT...
SAIL INTO SUMMER - ALTERNATIVE EUROPEAN BREAKS WITH P&O FERRIES
When planning a summer getaway, there are a number of classic European cities that spring to mind – Paris, Amsterdam, Bruges... However, if you're starting to find your favourite destination a little too familiar, or want to beat the crowds, P&O Ferries has rounded up suggested alternatives to the major tourist destinations. Easily reachable by ferry, these fairytale cities are sure to shake up your holiday ritual:
Swap Bruges for Dinant, Belgium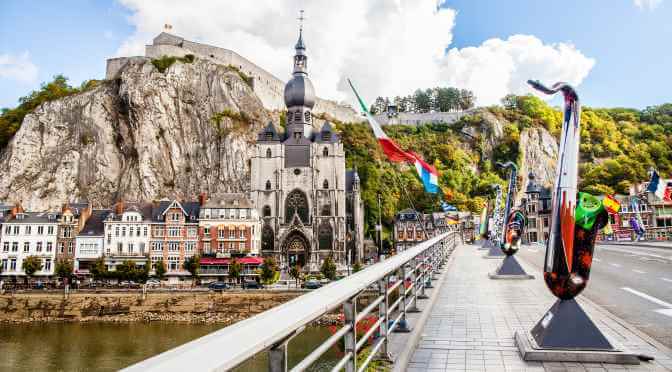 With all the charm of its better-known counterpart, you'll be left awestruck by the unbelievable landscape of Dinant; the birthplace of Adolphe Sax, inventor of the saxophone. Explore the beautiful Collegiate Church of Notre Dame before stopping at a cafe for a Couque de Dinant, but be sure to dunk their traditional biscuit in tea or coffee first. This hidden gem is also the perfect spot for cycling, walking and hiking in the surrounding countryside.
Swap Amsterdam for Groningen, Netherlands
Groningen is the ideal alternative city break for fans of Amsterdam. A bustling yet peaceful metropolis of cafés and cyclists, and the local university adds a surprisingly lively nightlife into the mix. Stop off at the Groninger Museum, opened in 1874 to house all kinds of art, before heading to the top of the tower of the city's oldest church, Martinikerk, for panoramic views of the neighbourhood.
Swap Paris for Nantes, France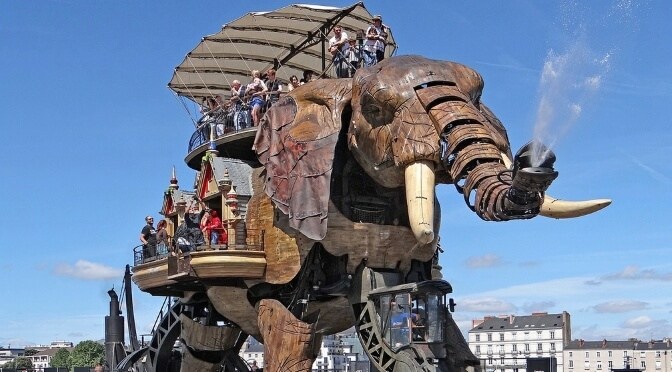 Nantes is Brittany's capital, set on the banks of the Loire river. An ideal destination for fans of French culture, you could happily wander around this beautiful city for hours without needing a guidebook. The Jardin des Plantes is a spectacular botanical garden, perfect for a reinvigorating walk with the fresh scent of blossoms. Another gem well worth a visit is Les Machines de l'Ile (Machines of the Isle of Nantes), where two artists have created a fantasy world of giant sculptures, including elephants and towering steel trees, which are still being added to today.
Swap Cologne for Trier, Germany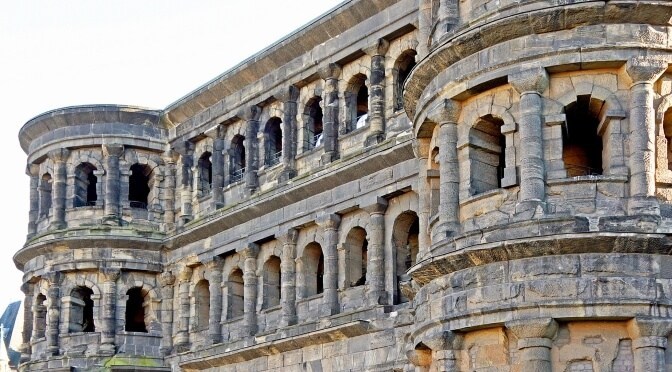 One of the oldest cities in Germany, Trier is a hidden gem in the vine-riddled valleys of the Moselle wine region. After taking a leisurely drive through the countryside, visitors can cross the Roman bridge over the river Moselle, the oldest bridge north of the Alps. Stroll around the ruins and Roman baths before stopping at the second-century Porta Nigra gate, an incredible reminder of days gone by.
Sarah Rosier, Director of Passenger Sales at P&O Ferries, said: "The UK's close proximity to the continent means we're lucky to have a wealth of affordable holiday destinations at our fingertips. We know many travellers are on the lookout for somewhere off the beaten track to explore this year and these lesser-known cities are a great option."
"With a variety of different routes and flexible ticket types available, travelling by ferry gives you the freedom to take your car, motorcycle, bicycle, minibus, motorhome, or even travel as a foot passenger over to Europe at leisure. Your holiday begins the moment you get on board."
There are up to 23 sailings a day between Dover and Calais with P&O Ferries, which are 90 minutes in duration, giving flexibility to fit your schedule and ensuring a relaxing trip across the Channel. On board you'll find a variety of eateries, including The Brasserie for an a la carte dining experience, as well as the Food Court, offering a full range of family favourite dishes. For those who want to travel in further comfort, spaces at the Club Lounge are bookable from just £12 per person.
Daily overnight crossings also operate from Hull to Zeebrugge and Rotterdam. A range of comfortable cabin accommodation options, discount shopping and onboard entertainment await.
P&O Ferries also recently extended its 'Brexit Buffer' offer, giving free cancellations for all bookings made up until 31st October, to ease any travel uncertainty.
For more information, or to book a crossing visit www.poferries.com.
ENDS
Many thanks to the team at P&O for the information above. PB.

Wednesday, 29 May 2019 - 05:25
Post 6297
Sea News, Dover
Border Force Hunter and Searcher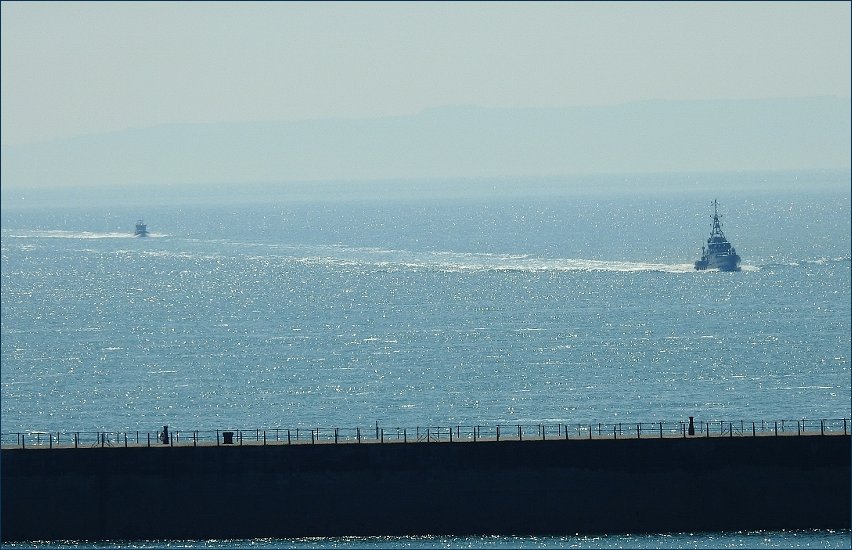 Yes there we have the Border Force in operation out in the Channel, the two vessels are returning to base from a long way out. First up is Searcher and in the distance Hunter. A busy time for them for sure with yet more migrant incursions over the past few days. Always vigilant...that's the name of the game.
From the BBC...
"
The number of migrants picked up trying to cross the Channel in May is now higher than the figure for December, when a "major incident" was declared.
Eight men were intercepted in a small boat at about 06:20 BST, bringing the total for May so far to 140.
In December, during mild weather, 138 migrants attempted the journey and Home Secretary Sajid Javid set out a plan for dealing with the problem.
At least 642 migrants have now crossed the Channel since 3 November.
….
On Friday, 18 migrants were picked up in a dinghy and brought to Dover.
Of the eight men found in waters off the Kent coast earlier, seven presented themselves as Iranian and one was an Afghan national.
The men were transferred to a Border Force vessel and taken to Dover ...
"
The pictures featured today were taken on Friday.. first shot ( top ) ..10.30am.
Border Force Searcher approaching the Port of Dover.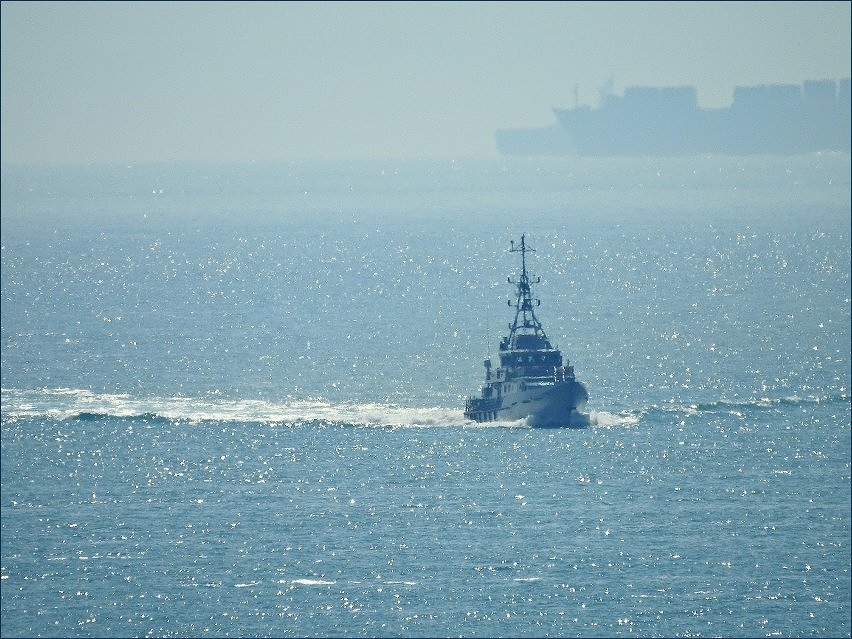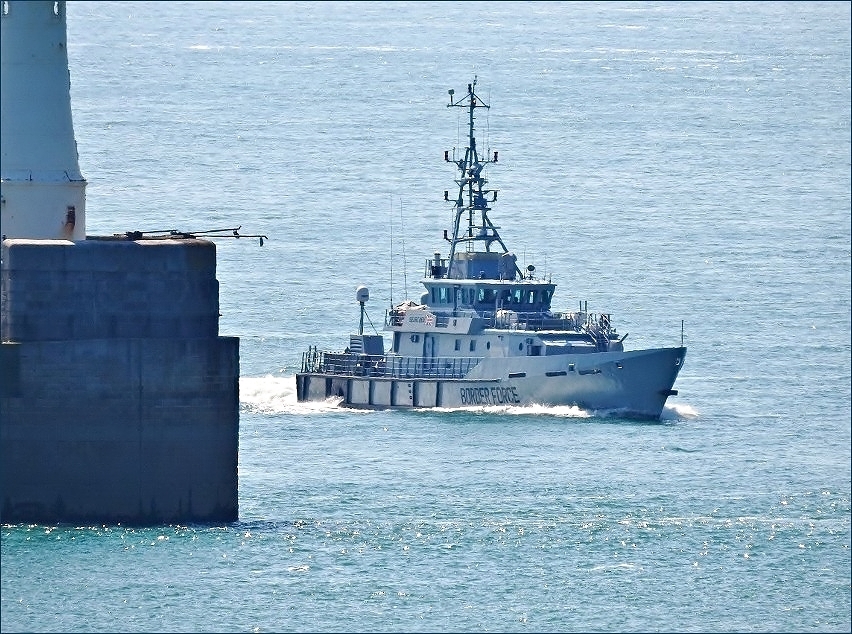 Border Force Searcher.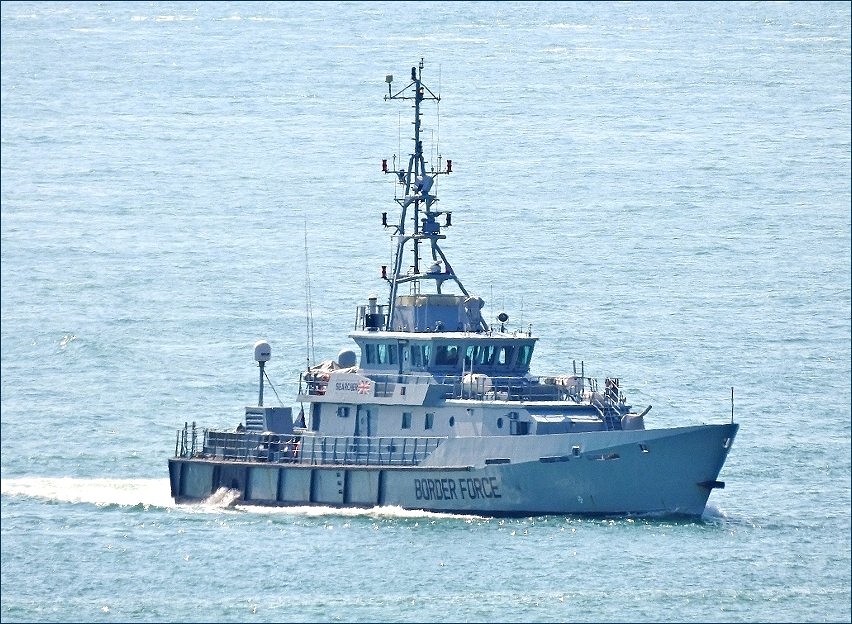 Border Force Searcher.
PaulB
Tuesday, 28 May 2019 - 04:47
Post 6296
Sea News, Dover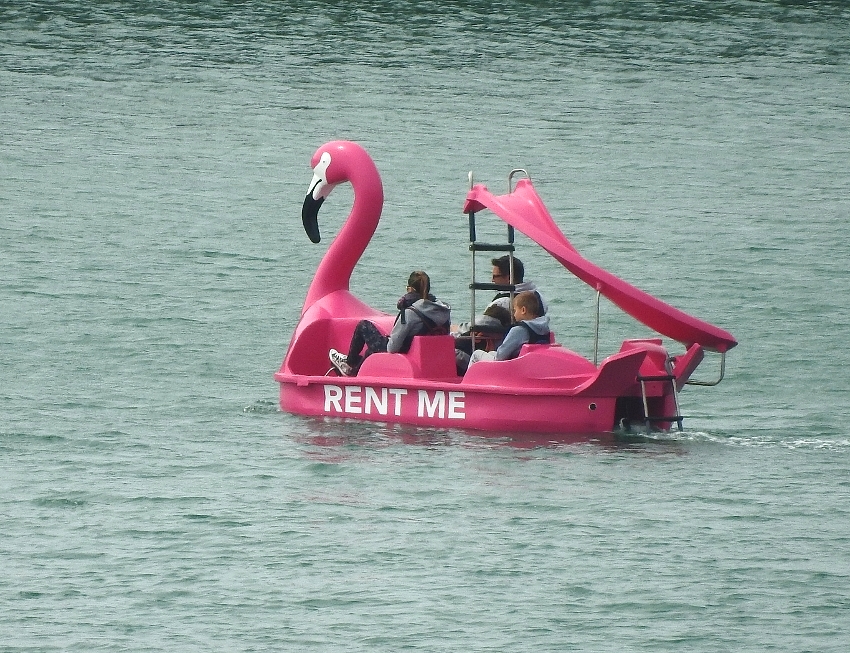 Well we all love a bit of wildlife don't we...so yours truly was proud.. nay delighted.. to capture this dazzlingly amazing pink feathered flamingo in the harbour yesterday...one felt right up there in the far reaching echelons with David Attenborough!

.....just awaiting the Knighthood now!
Great family fun in Dover Harbour.

PaulB
Monday, 27 May 2019 - 10:47