Thursday, 23 January 2020
Sea Pictures from Dover....

WWW.DOVERFORUM.COM/SEA-NEWS
Featuring all the ships that come and go and work at the Port of Dover ..
... with further coverage of the surrounding ports.
Sea News Dover
Use our SEARCH ENGINE below to find all sorts on the SEA NEWS pages....type in the topic and away you go, or if you have the post number, just type it in the box, more than
- 6750 -
nautical posts now. Posts are welcome. just click 'Add Your Comment' below. Max of 5 pictures preferred although we can stretch that for special stories.. Sea News Editor Paul Boland - send info or pix to dover7@msn.com. Always welcome.
Book with P&O - Free Fuel see 6760
NEW UPDATE ..just in:
To show your pictures at their best..it could be worthwhile resizing before posting to
860
pixels wide. Our new standard size.
All pictures on these pages are the copyright of the owners and must not be reproduced without permission.
Post 6606
Mike J., Dover
Another visit to the cliffs un Sunday afternoon to get a clearer view of the STAR STRATOS now that the ATLANTIC KLIPPER had departed.
As I arrived the COTE DES DUNES was swinging to dock on No.2 berth & a P&O had just left via the Western Entrance.
Between the two ferries the Dover lifeboat was returning to Dover at speed, having been exercising near the SW Goodwin buoy.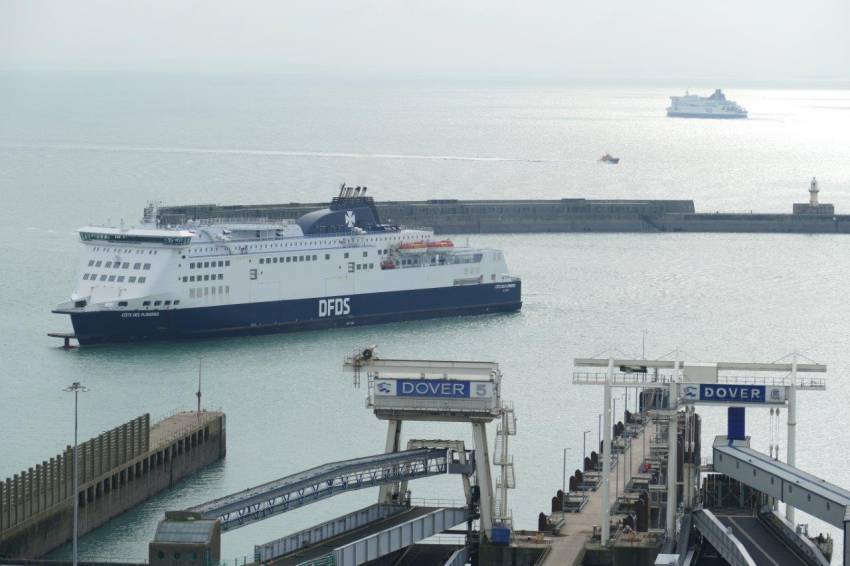 STAR STRATOS remained on the Eastern Arm & ATLANTIC REEFER, from Vlissingen, was approaching the DCT.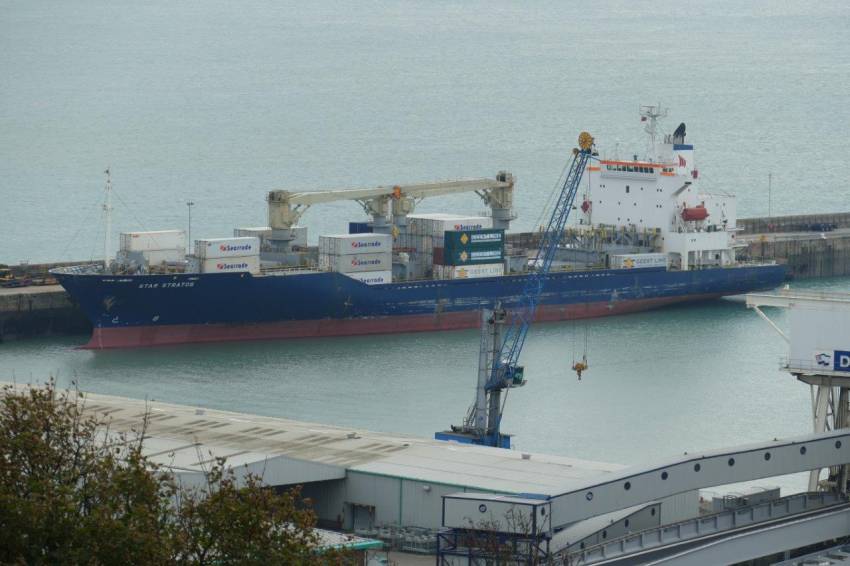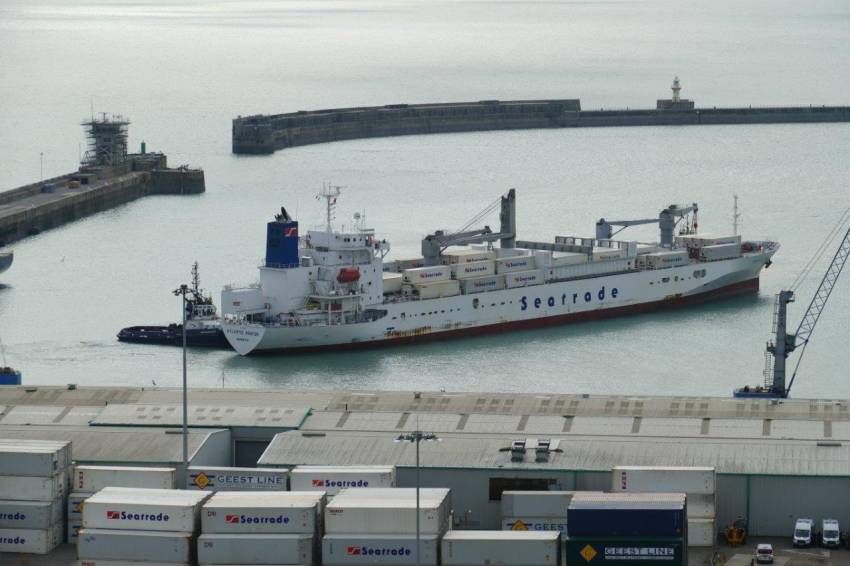 DOVER SEAWAYS departs as the ATLANTIC REEFER approaches wIth both tugs in attendance.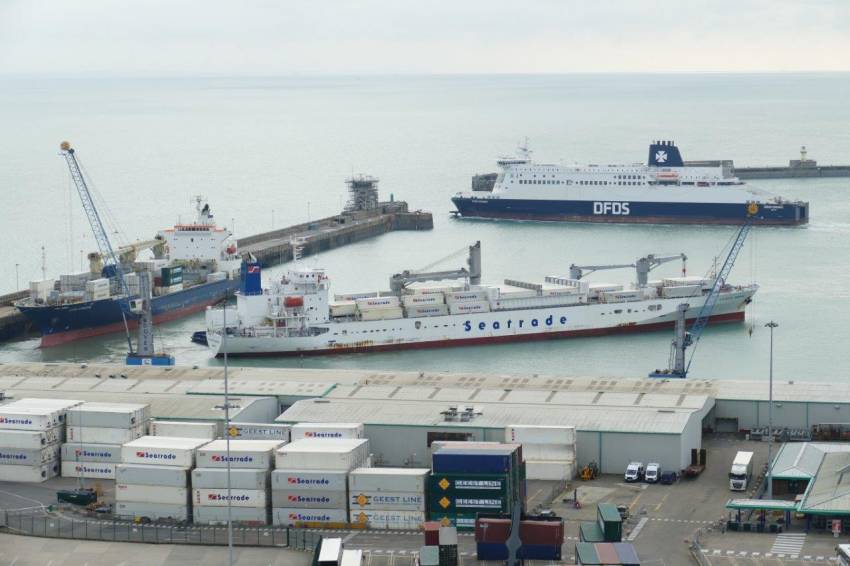 With SPIRIT OF BRITAIN & COTE DES DUNES both discharging at the same time the docks flyover soon filled with slow-moving freight,
Monday, 21 October 2019 - 00:28
Post 6605
Sea News, Dover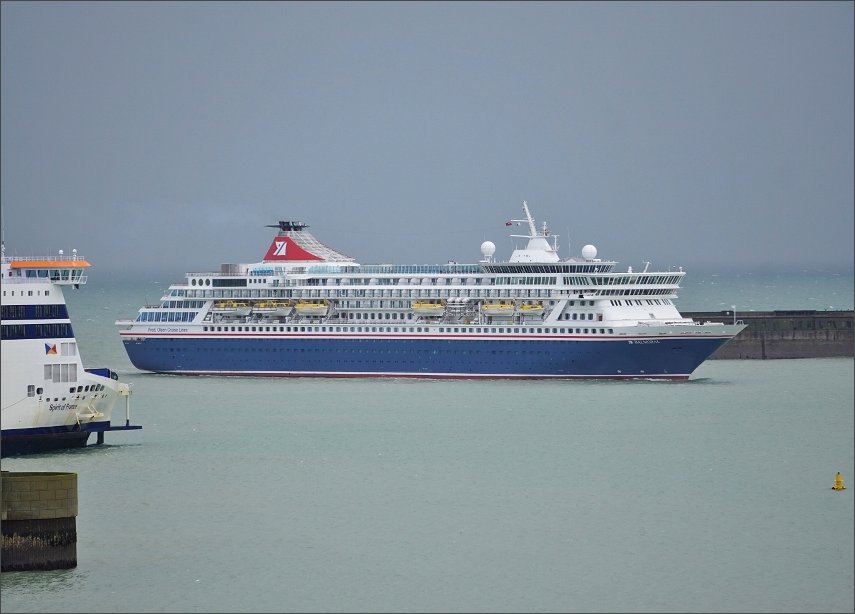 Balmoral
Balmoral arriving with us yesterday morning under dark skies..the ship looking good though .. in the gloomy light. She is on a short tour this time, 5 days. French rivers..and visiting the delightful locations of Honfleur and Rouen.
You know...one has a home in the country called Balmoral but one doesn't get there much now...

!!
Yes indeed gloomy weather, not ideal conditions for cruising but there we are. The sky is the main feature in the next two shots...
The pictures need to be mentally positioned side by side to get the full panorama.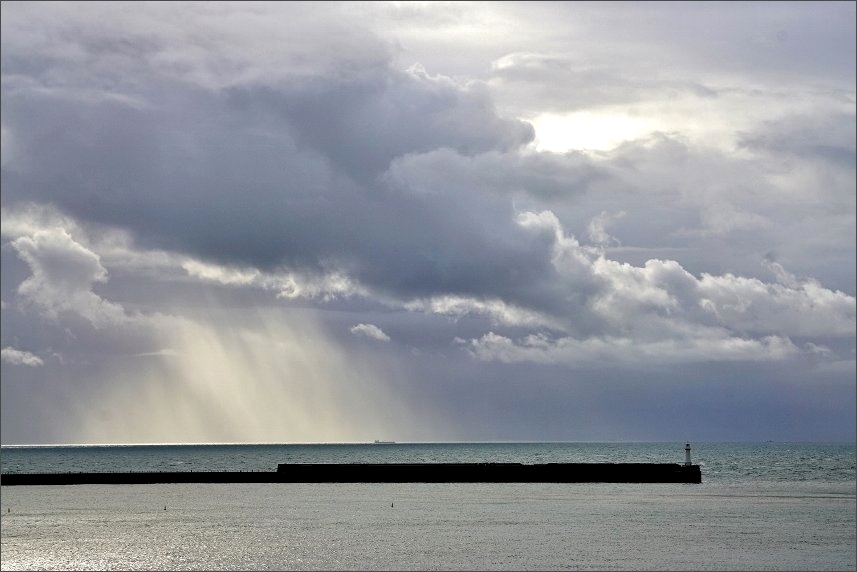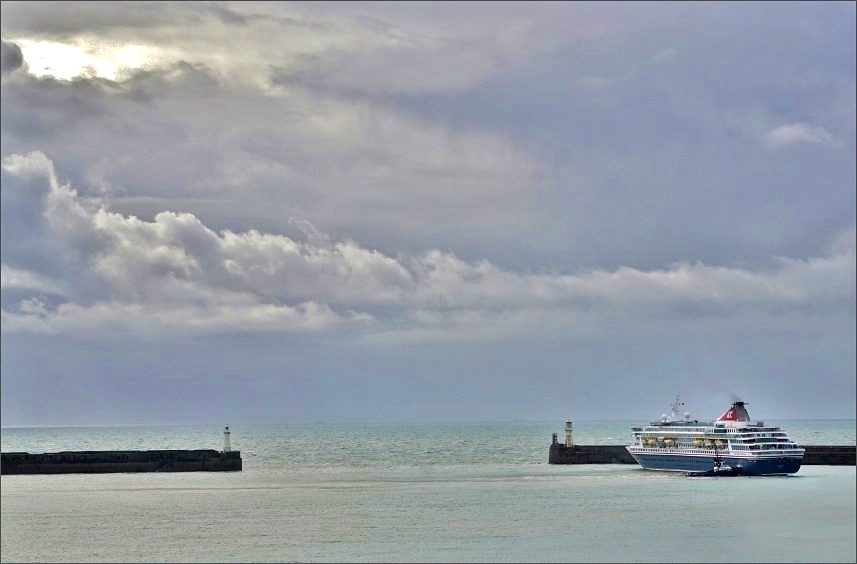 And below ... afternoon at Cruise Terminal 2, with the newly positioned crane in view.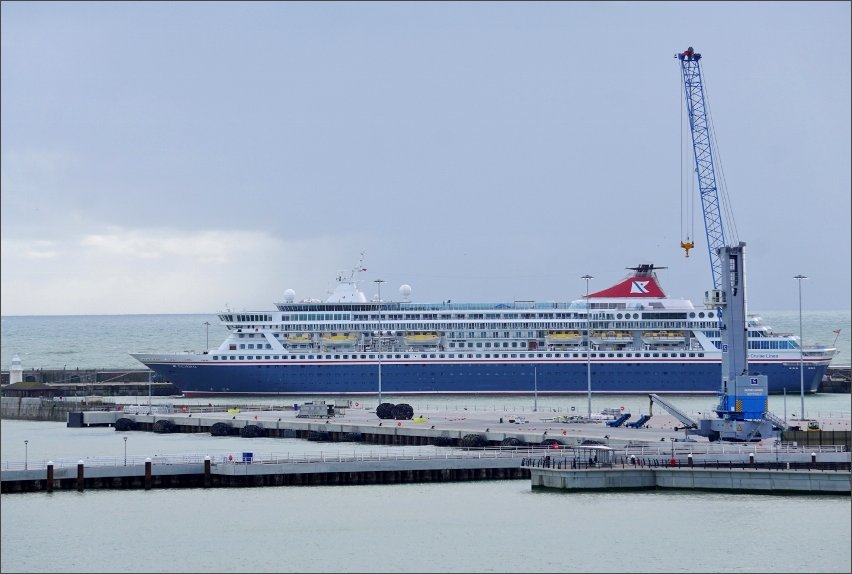 And here comes Andros again..coming to provide bunkering services, picture also taken yesterday early afternoon.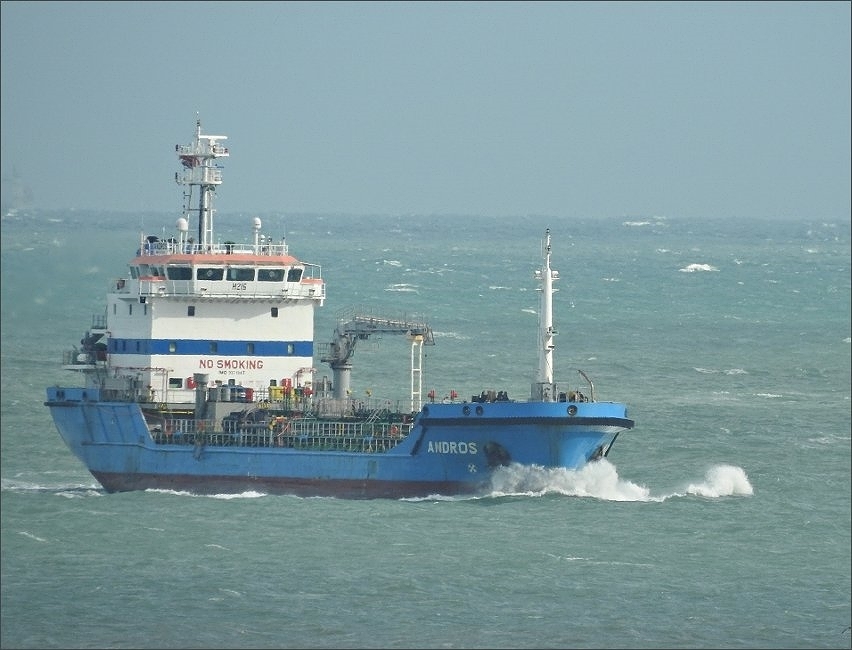 Andros
See also Mike's pix below capturing the two reefers..

PaulB
Sunday, 20 October 2019 - 07:25
Post 6604
Mike J., Dover
ATLANTIC KLIPPER on DCT on Saturday afternoon, when the sun finally came out after a morning of rain, with STAR STRATOS on the Eastern Arm after shifting from the DCT.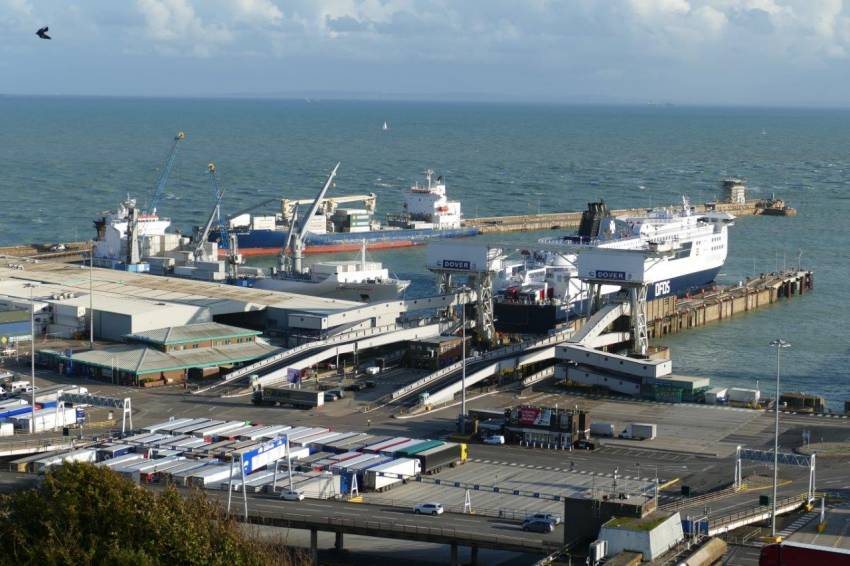 COTE DE FLANDRES berthing on No.2
Usual Saturday rush of freight heading home for le weekend.
Sunday, 20 October 2019 - 01:37
Post 6603
Sea News, Dover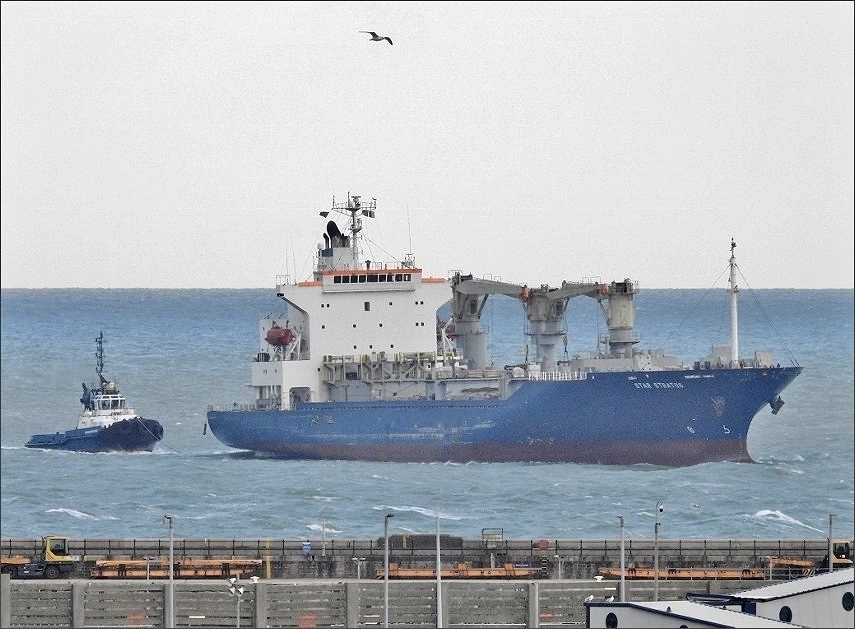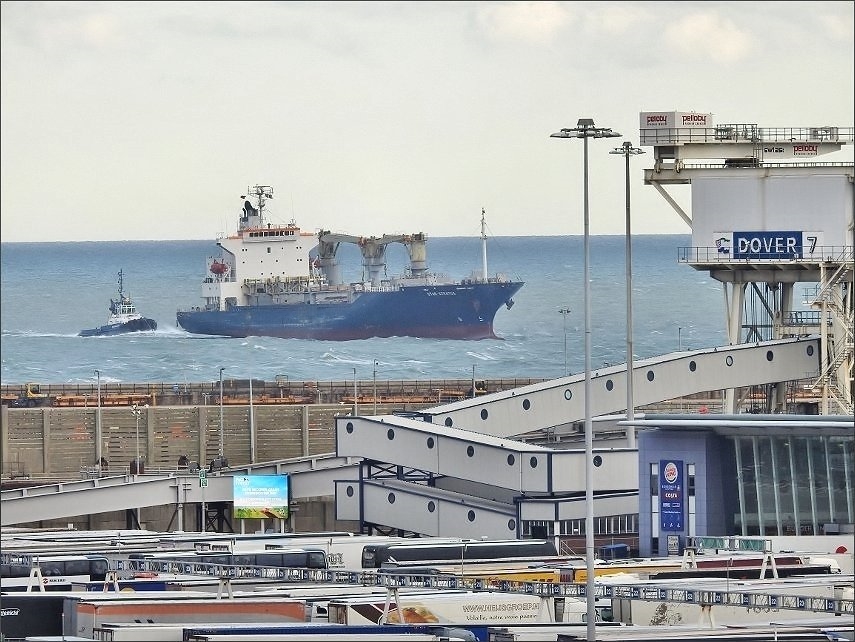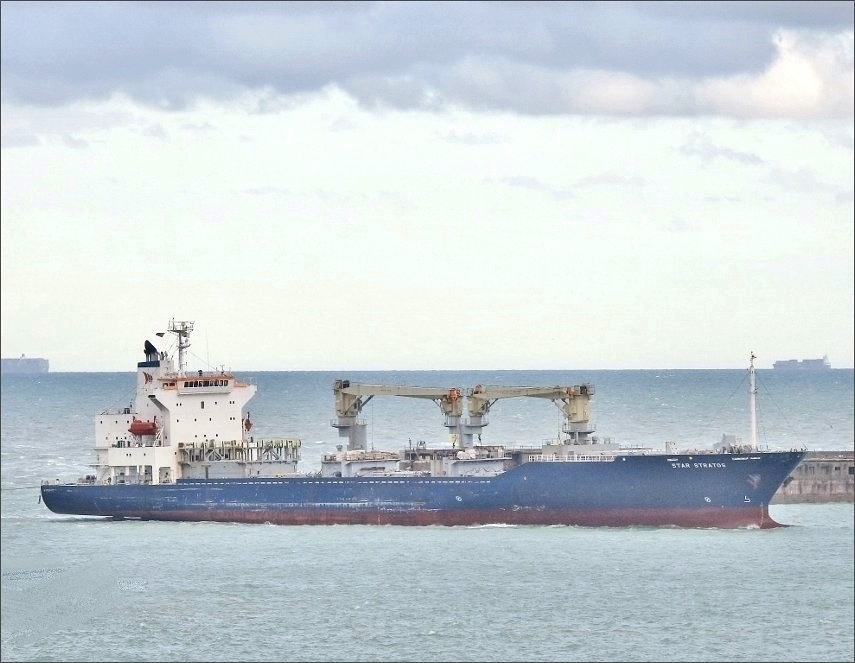 Just following along from Mike's pictures below of Star Stratos, here she is arriving from another angle. Top shot shows her approaching the Port, did some zooming in there, while the second has a wider more relaxed view...and then you see the ship arriving into Port. A dark ship in very dark grey conditions..had to boost the pix up a wee bit...Unfortunately no further angles were available as she moved stern first into the Cargo Terminal without further adooo ..pity
Yes I think its a first visit here for this one.... as mentioned she has come directly from St Petersburg in Russia.
Good work below Mike...

PB
ps: one of the few remaining cruise liners has come in...Balmoral..
only a few cruise visits left see list at top of page.
Also Atlantic Klipper cargo reefer has come in, probably in dead of night, and is at the Cargo Terminal
Star Stratos has moved to the Eastern Arm to make way. Busy down there...
Saturday, 19 October 2019 - 06:08
Post 6602
Mike J., Dover
A quickie before Paul posts his pix of the STAR STRATOS.
I missed a bows 3/4 view as the gap where I was hoping to phot the ship was suddenly filled by a berthing ferry but I'm sure that Paul will have covered the arrival from all angles.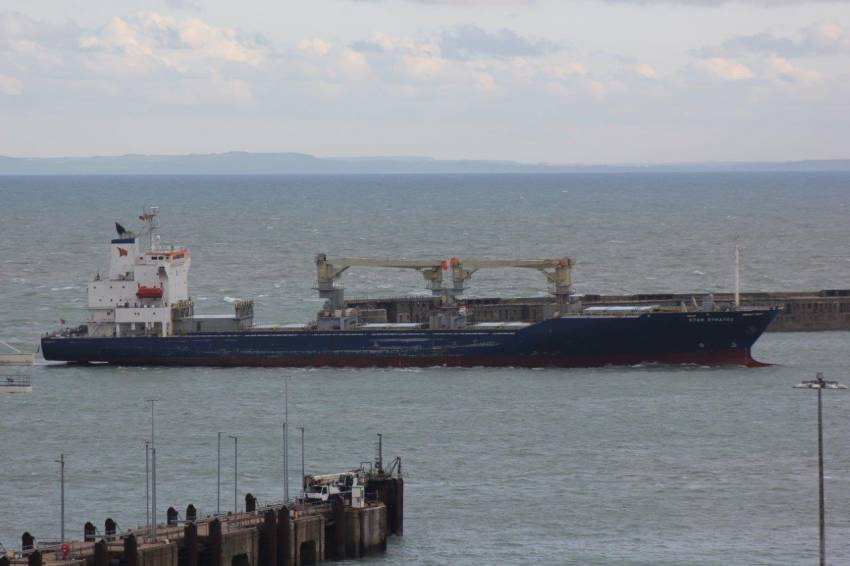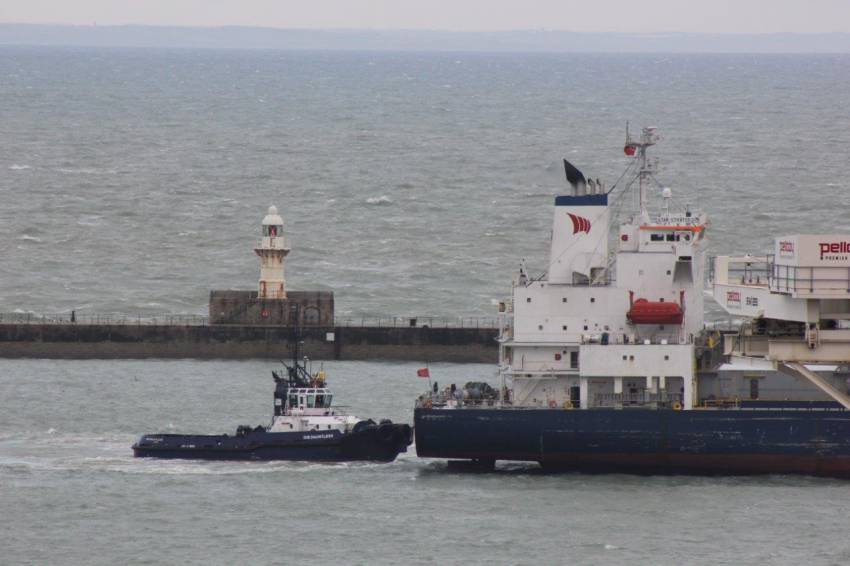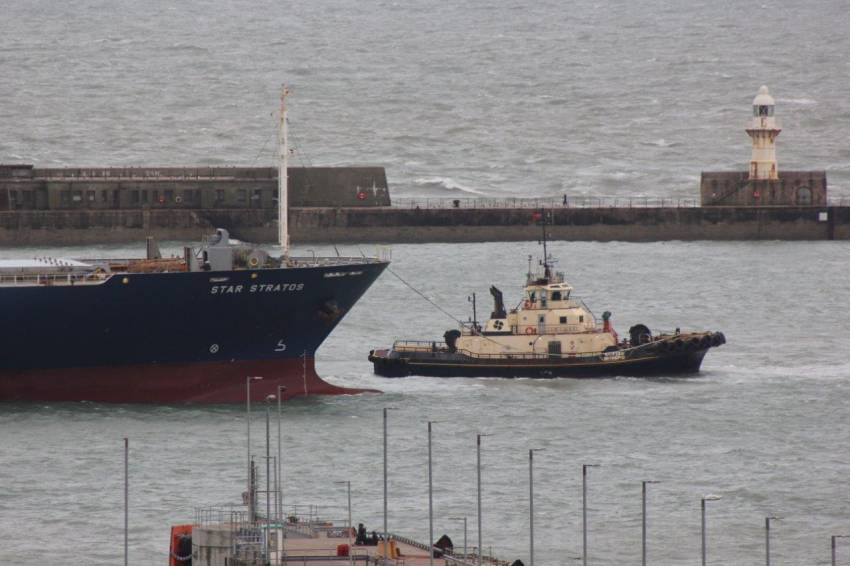 The Singapore-flagged reefer had come from St.Petersburg & is presumably loading empty boxes.
First Dover call ?
The DOUGHTY is up on the Humber for a refit & is expected back iearly November.
You get the oddest things coming ashore in Dover - I photted this lorry with a very curious load & couldn't puzzle out what they were, initially thinking of 'modern art dragons' or suchlike.
Cropping showed it the load to be three strange German agricultural implements.

Friday, 18 October 2019 - 10:15
Post 6601
Sea News, Dover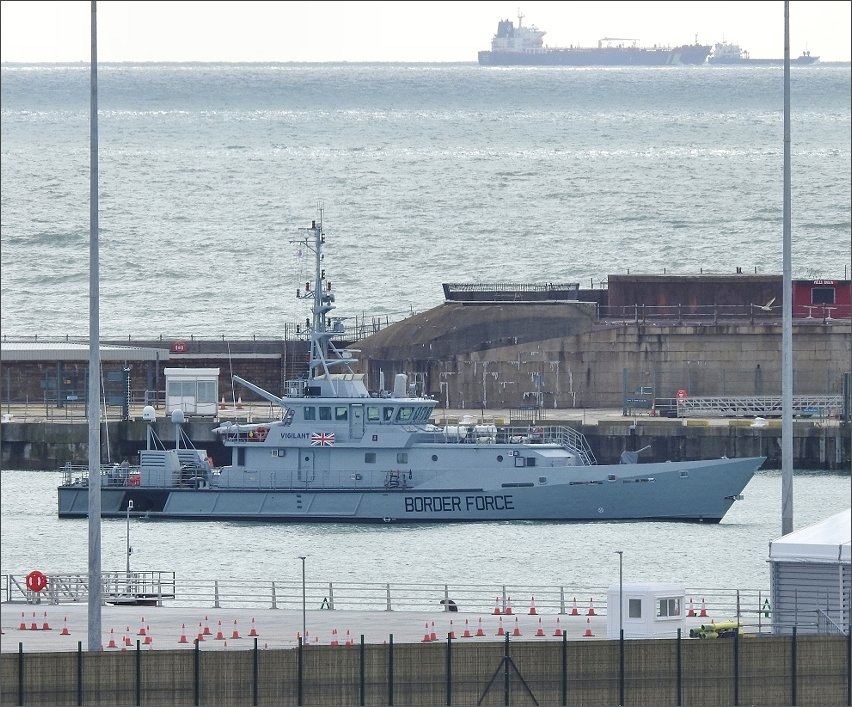 Border Force Vigilant in Port yesterday, no doubt 'taking a breather' from the considerable daily grind...or indeed maybe taking a crew change. The high level channel vigilance goes on as the attempts at illegal crossings continue … Vigilant vigilant…
The normally irritating light poles are almost helpful in the picture above..framing it nicely.
That's our story and we're sticking to it!!...

A couple of tail end straggler shots below of the departing Royal Klipper..following along from the pix featured yesterday...see those also..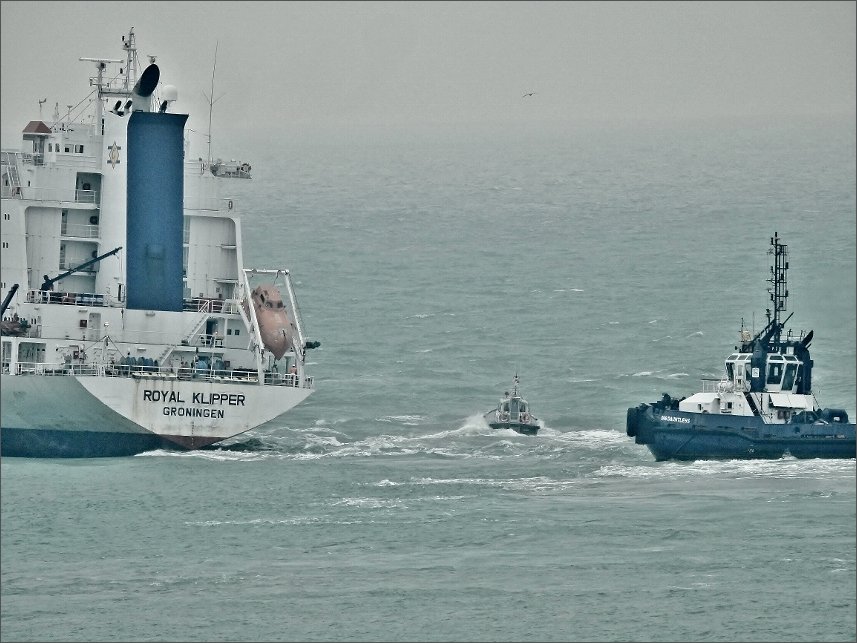 Dauntless pulls back and the pilot boat leaps forward into the situation...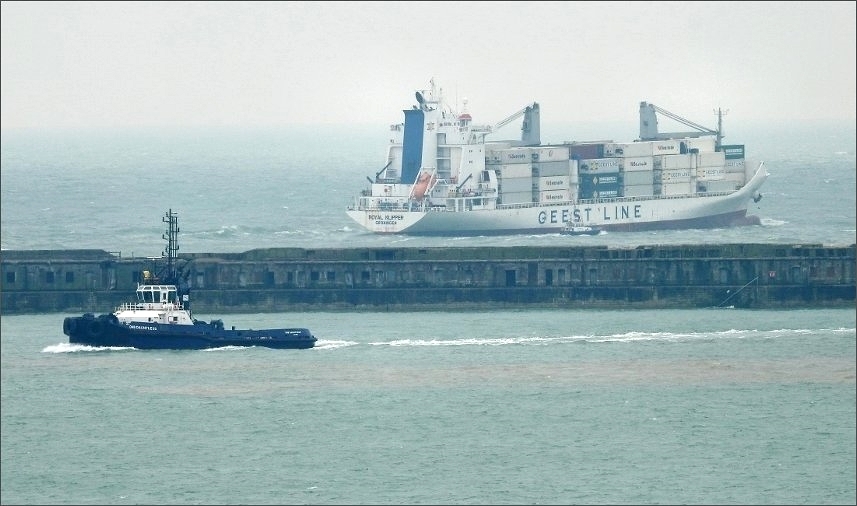 Dauntless now with Klipper job done...moves across to deal with the approaching Pacific Reefer...
Another reefer Star Stratos came into Port yesterday...not remembering this one previously, she has a different look, will have pictures..
PaulB
Friday, 18 October 2019 - 07:59
Post 6600
Sea News, Dover
P&O FERRIES' FANTASTIC FREE WINE OFFER IS BACK
_________________________________________________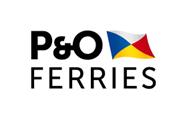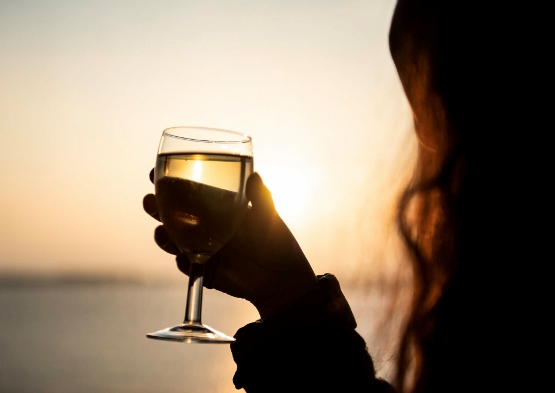 P&O Ferries is offering six free bottles of wine to those enjoying a day trip to France - all you have to do is travel between Dover and Calais with the ferry operator before October 31st.
Whether you want to stock up for a special event, save some money, or simply enjoy a treat when you get home, the choice between Banrock Red, or White Wine fits all occasions.
In addition, France, a country known for its wine regions and rolling countryside, is the perfect backdrop for a day trip. Within close proximity of the port, Calais offers great restaurants, scenic routes for hiking or cycling and the cities of Arras, Lille and Boulogne-Sur-Mer are only a short drive away. P&O Ferries' adventure planner is on hand to inspire the perfect itinerary to explore the highlights in a short period.
Sarah Rosier, Director of Passenger Sales at P&O Ferries, said: "Our free wine offer proved so popular with customers that we decided to bring it back ahead of the festive season. France has so much to offer at this time of year and what better way to end a day out than sailing back to the UK with six free bottles of wine to enjoy."
How to claim:
1. Book a day trip via the P&O ferries website
2. Enter promo code WINE19
3. Receive your voucher at Dover port check-in on the day of departure
4. Present your voucher at the tills on board during your outward journey
5. Pick up your six free bottles of wine
There are up to 23 sailings a day between Dover and Calais with P&O Ferries, which are 90 minutes in duration, giving flexibility to fit your schedule and ensuring a relaxing trip across the Channel. On board are a variety of eateries, including The Brasserie, as well as a Club Lounge for those who want to travel in further comfort, spaces are bookable from just £12 per person.
To book a crossing, or for more information, go to www.poferries.com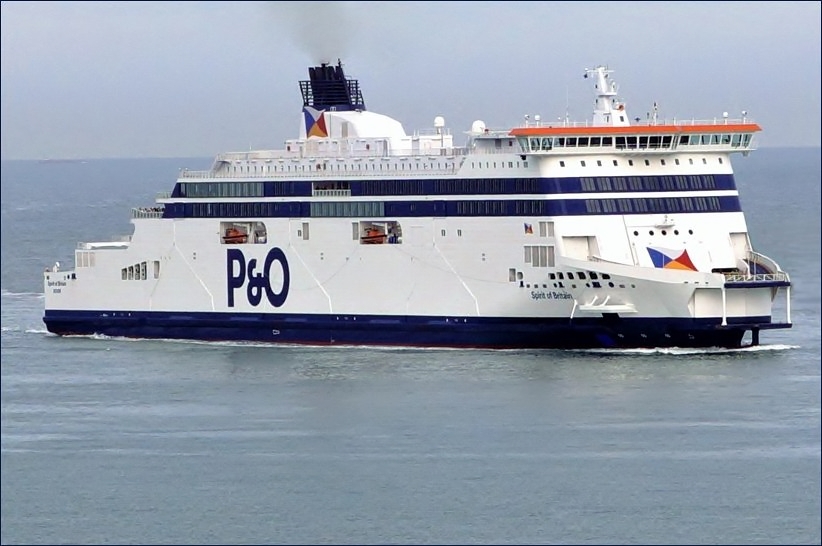 ENDS
The P&O wine offer is always a great idea...and with Christmas looming...well..

Book by 31st October.
And now as promised those pictures of the Royal Klipper departing through the western exit with tug Dauntless providing the support...the pictures show the reefer leaving for Bridgetown in miserable conditions a few days ago...
...just double checking which day...yes on Monday.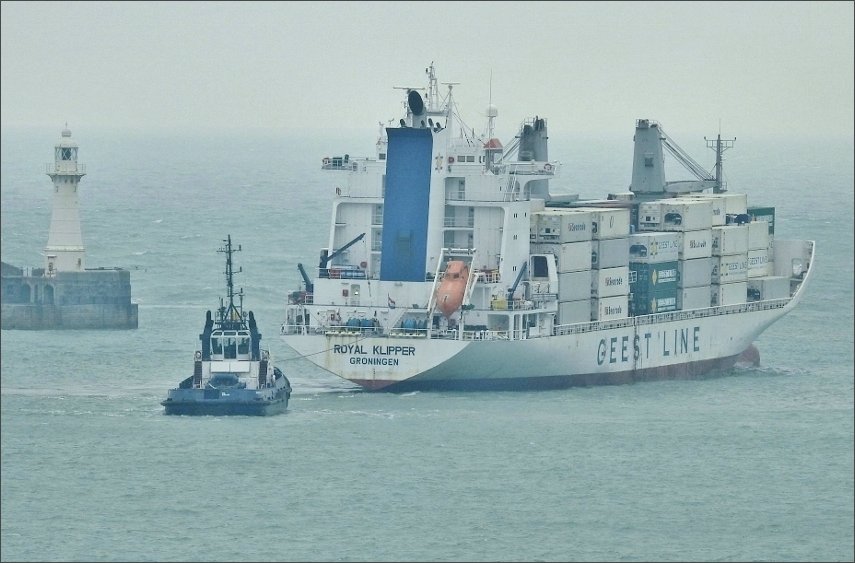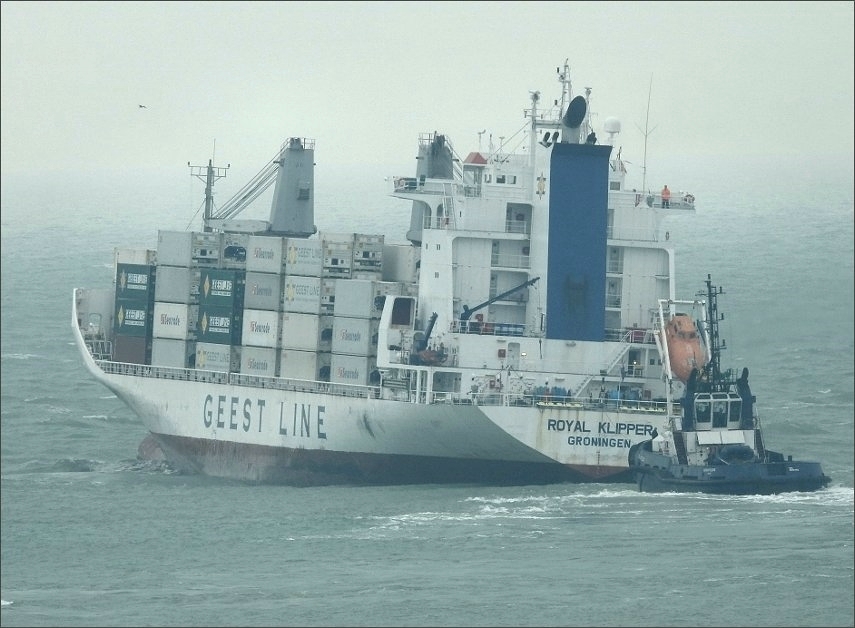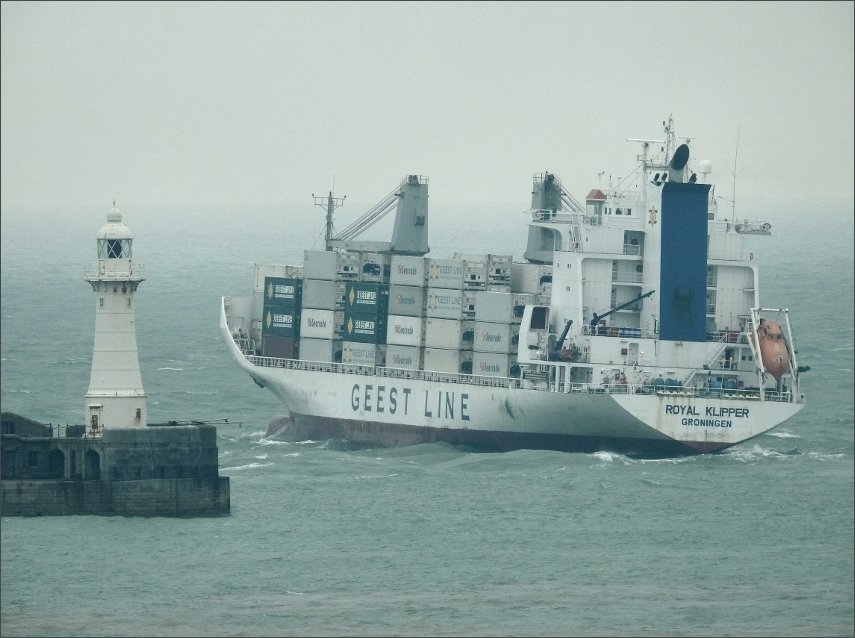 And she was on her way....Royal Klipper.
Nice collection below from Mike..great to get a close look at the 'smaller fry' below there...

PaulB

Thursday, 17 October 2019 - 06:04
Post 6599
Mike J., Dover
More 'small fry'
Workboat EAGLE in the boatyard about ten days ago, previously seen on the boat-lift in post 6492.
The pressure wash she was getting then now turns to be before lay-up as she has been blocked-up in the boatyard ever since.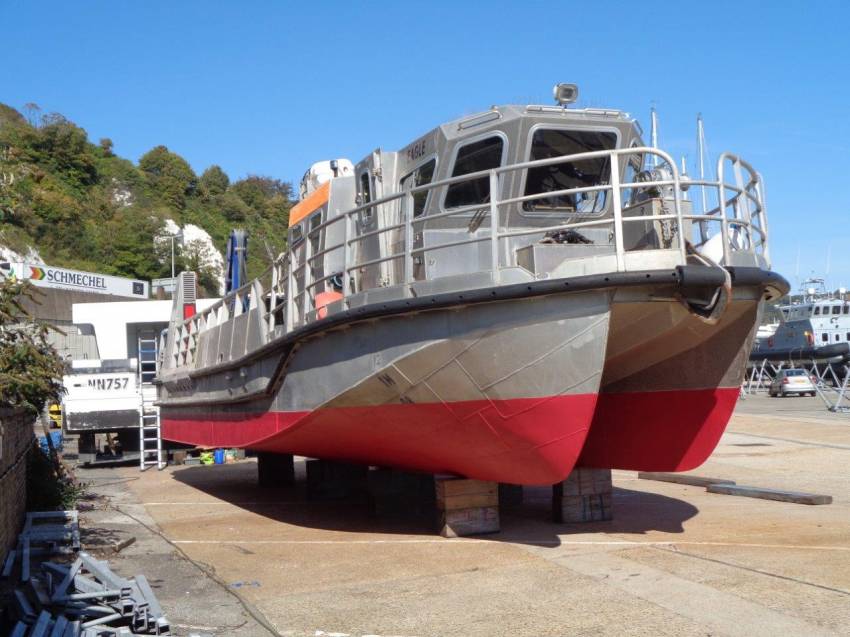 Also in the boatyard for a while, preserved Barnett class lifeboat WILLIAM & KATE JOIHNSTON.
Built in 1922 she was on station at New Brighton until 1950. & saved over 200 lives.
She has her own Facebook page.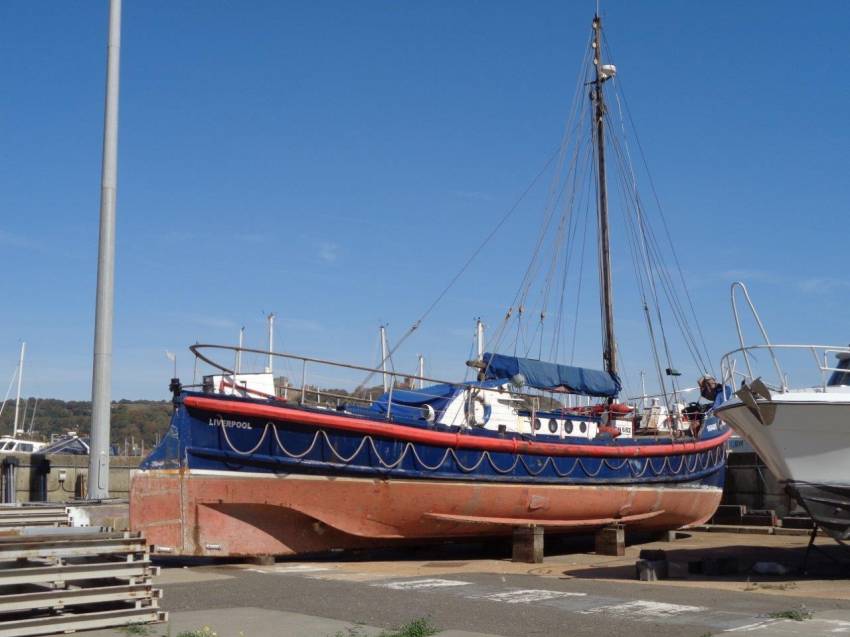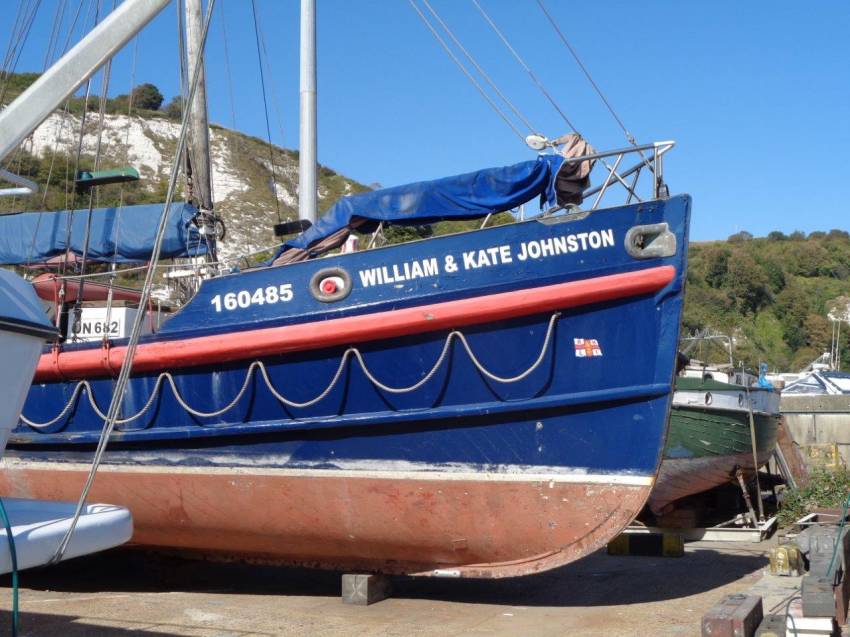 Long term resident of the Tidal Basin, the survey launch TRITAN DISCOVERY has some impressive equipment at the stern.
She makes occasional forays out sea, last spotted by Paul in post 6570.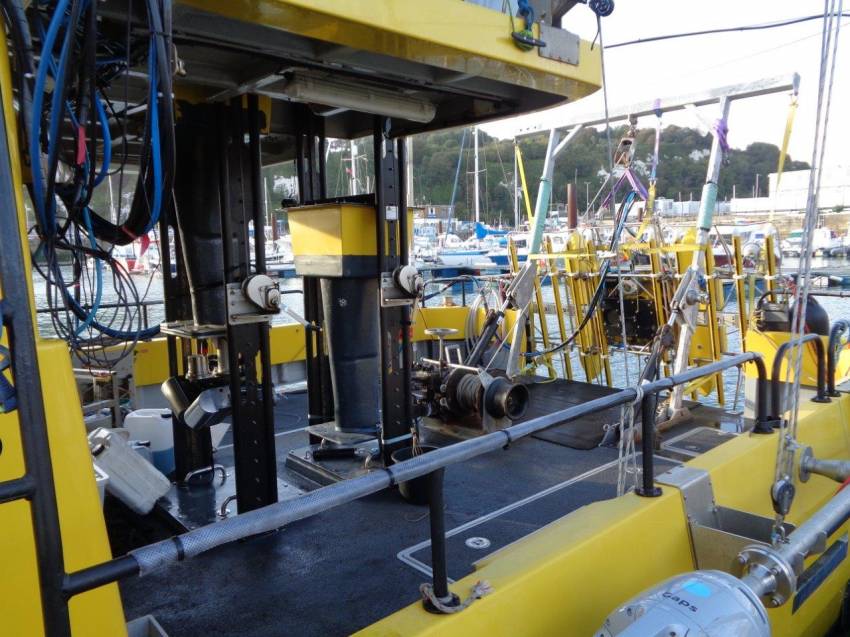 Thursday, 17 October 2019 - 00:16
Post 6598
Sea News, Dover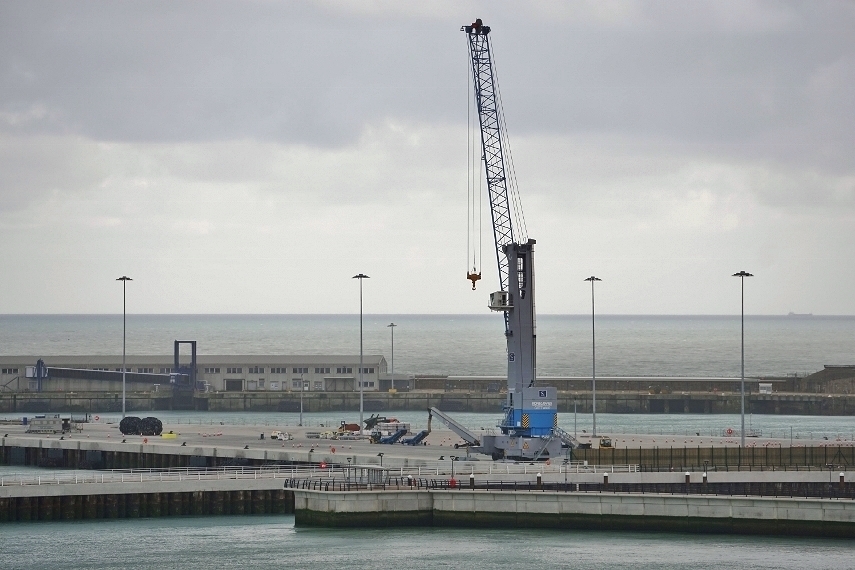 One of the giant cranes moved across yesterday from the new cargo terminal (WD5) to the position shown.. close to new pier/berth WD4. Some pictures of the crane's new position above there taken through the damp drizzly conditions. Perhaps there is some large delivery expected at WD4....
A picture from former times below to show the previous spot...the move is presumably temporary. This picture below shows the situation previously.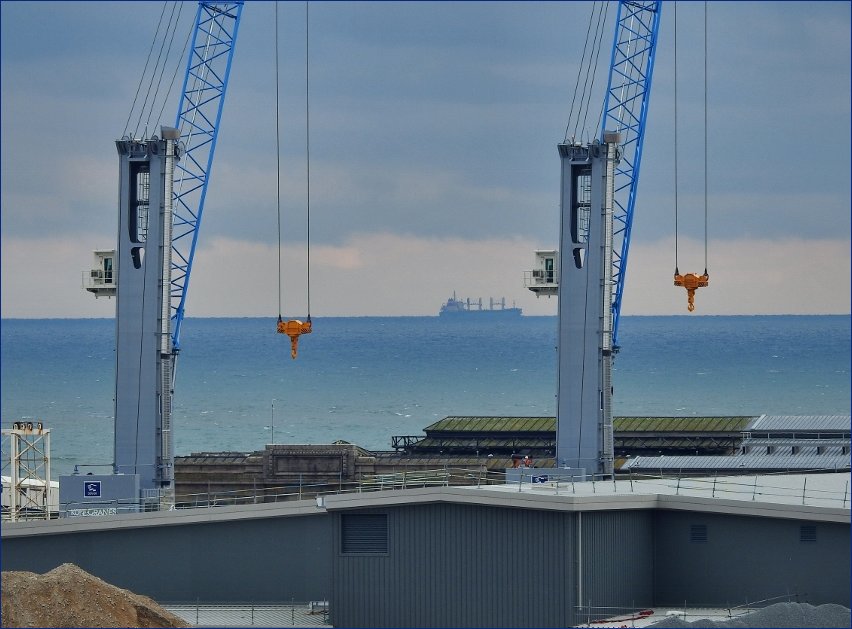 See also yours trulys earlier post today on the extra tug situation just below, and Mike's earlier post just below that.
PB
Wednesday, 16 October 2019 - 15:30
Post 6597
Sea News, Dover
We mentioned briefly yesterday that we have a new tug on the scene, an unfamiliar face, a temporary replacement for regular tug Doughty and here she is below.... already in the thick of the action..
Svitzer Intrepid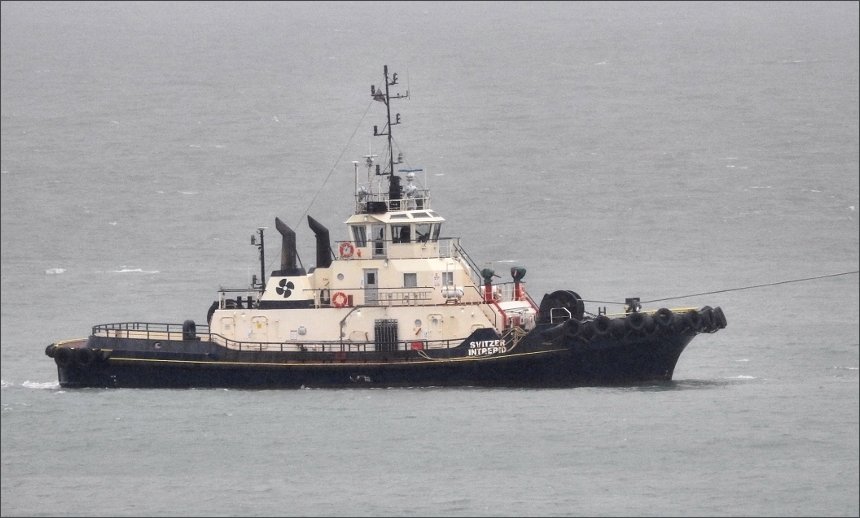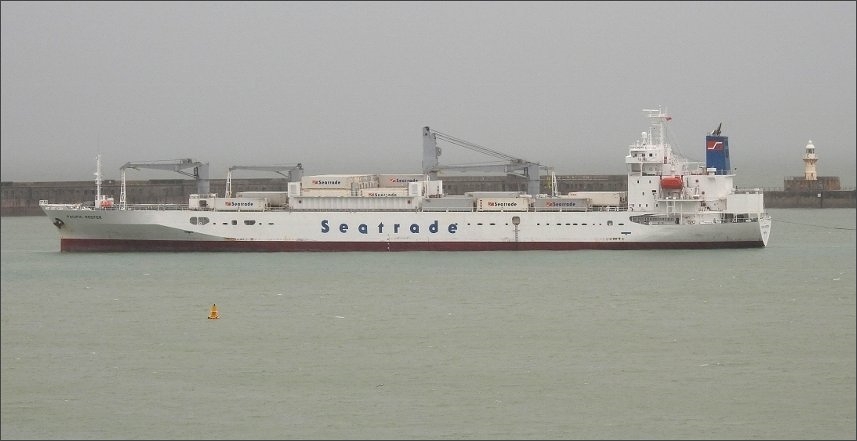 Our first glimpse was to see her working with Pacific Reefer.. as mentioned yesterday Pacific Reefer had been anchored offshore (see yesterdays picture 6595) but then came through to rest at the Eastern Arm of the Port while waiting for the departure of the Royal Klipper...Dauntless and Svitzer Intrepid did the necessary.
We had the following info through from Dave in Sandwich ¦ many thanks Dave..
"
In post 6595 you mention the Svitzer Intrepid, she is 5 years younger than the Dover tugs, built in 2005. She is different in design as she was built for the Japanese ports and this ˜look™ is common there. They are very well respected tugs, She is normally based in Sheerness working on the Medway and over at London Gateway.
"
And then a short time later below working with the departing Royal Klipper….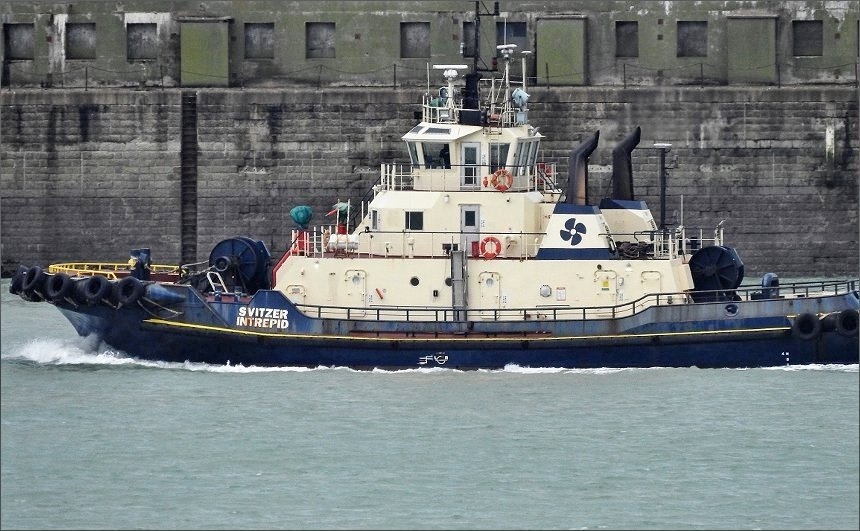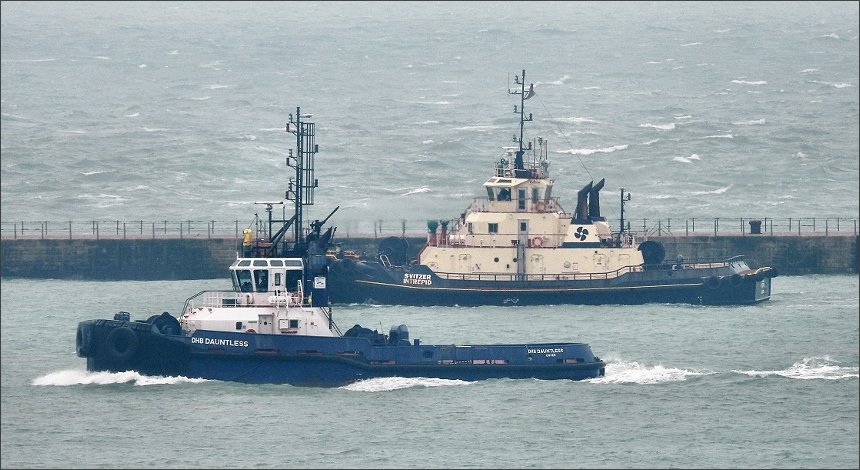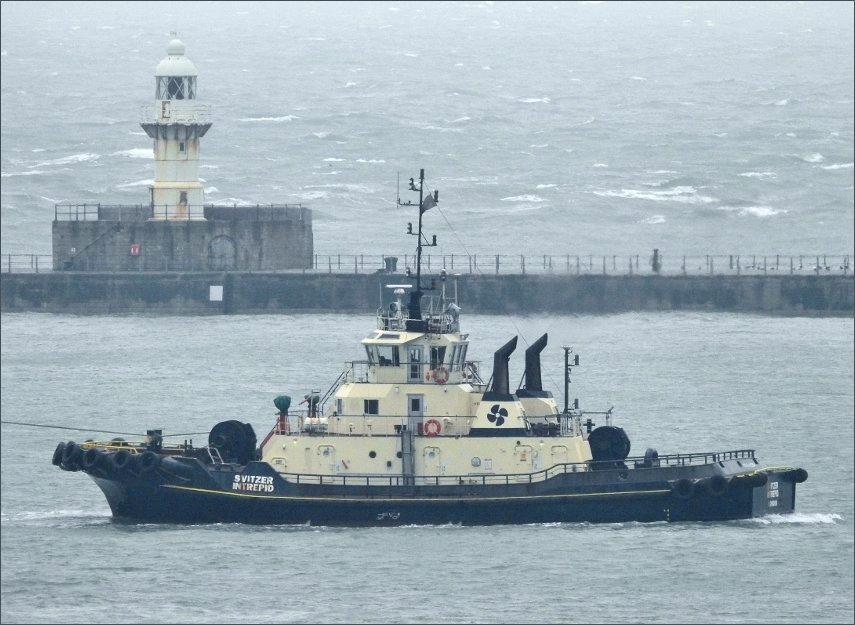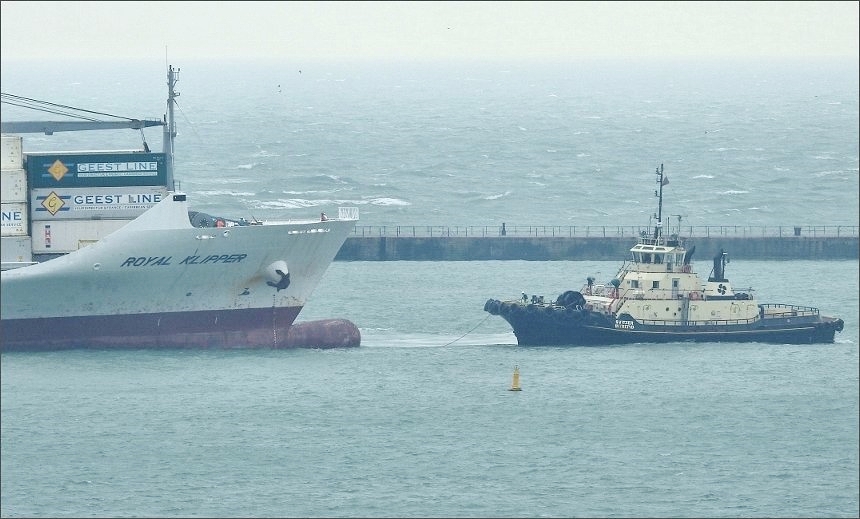 We had intermittent rain... so some of the pictures are a trifle soggy as they were taken through the aforementioned...
We will have pictures of Royal Klipper exiting Western later.
Interesting collection below from Mike our roving 'inshore correspondent'...don't miss those ones.

PaulB
Wednesday, 16 October 2019 - 07:16
Post 6596
Mike J., Dover
'Small Fry' catch-up.
Border Agency ALERT high & dry in the boatyard where she has been for some weeks.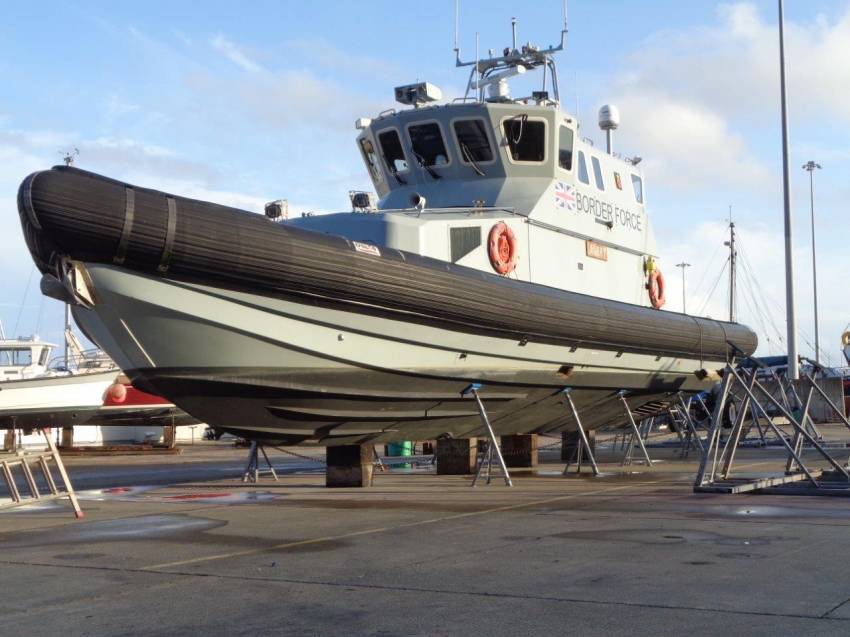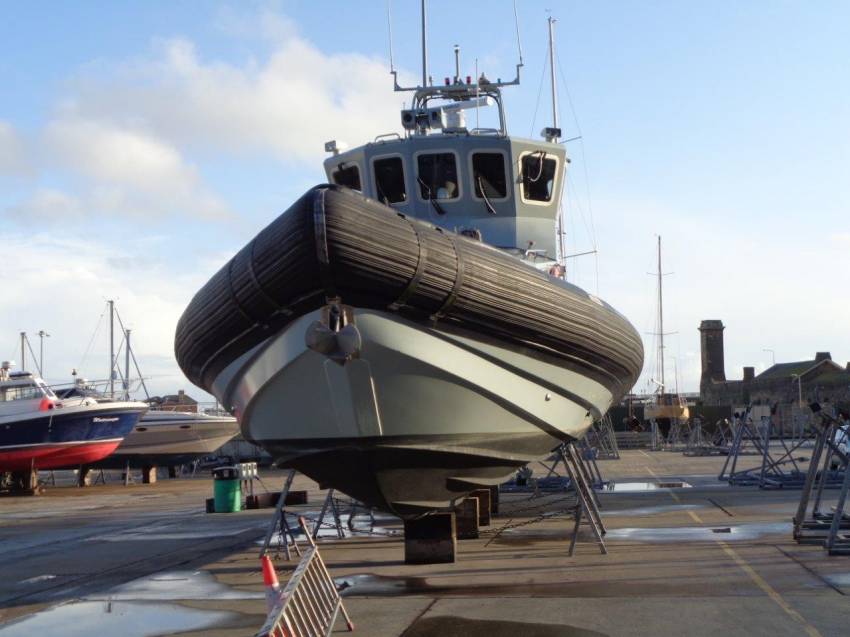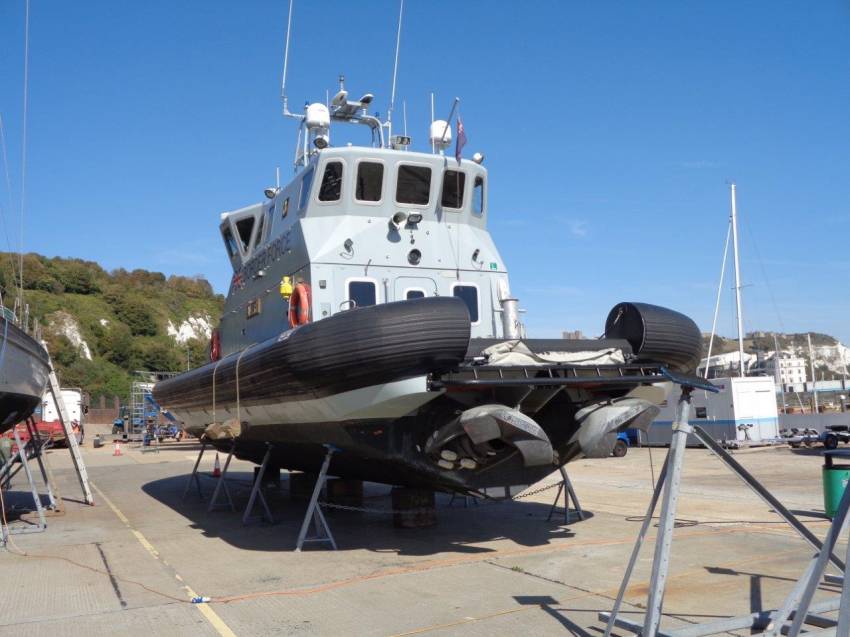 Arrival of Dutch barge BEMA 26/9 by road from Holland & movement by the boat-lift to her storage location.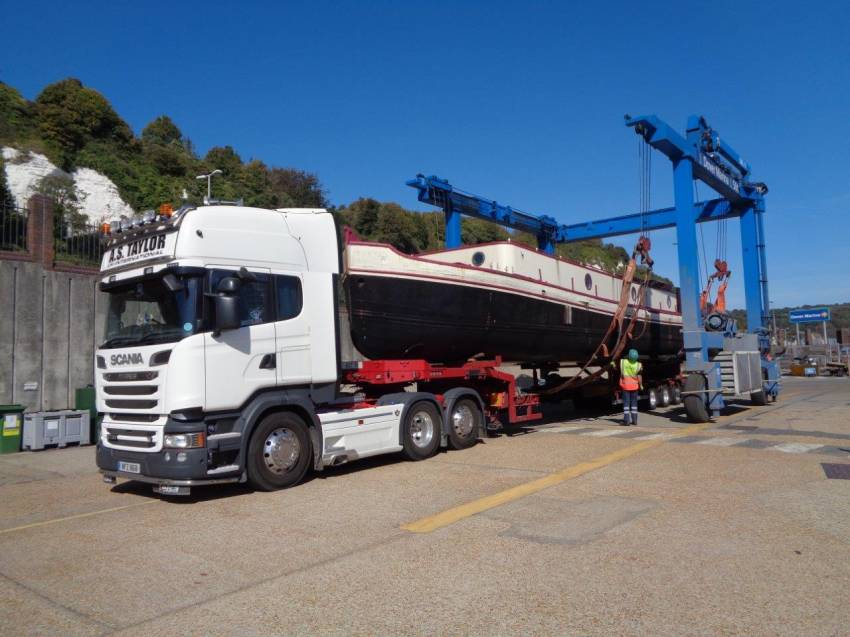 Already partly converted to a 'live aboard' barge I was told by the owner that she was to be in the boatyard for a few weeks before going down to Sandwich for further work.
I forgot to ask whether she'd be going down under her own power.
Wednesday, 16 October 2019 - 00:42
Post 6595
Sea News, Dover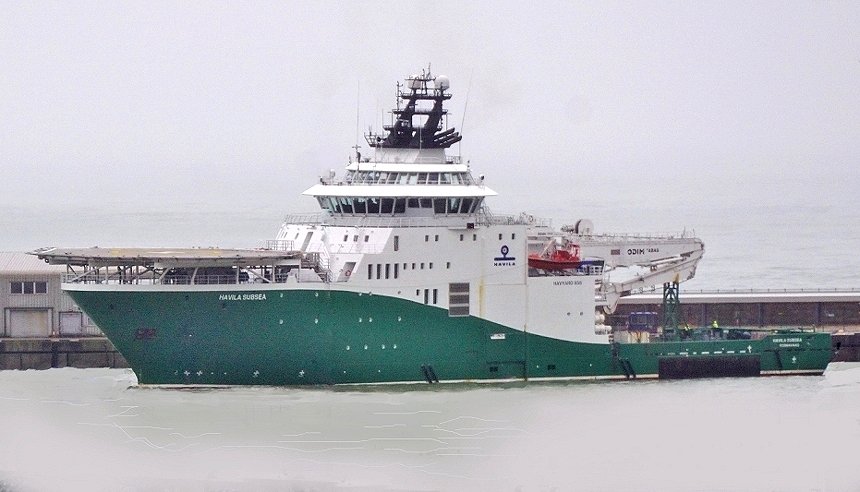 Havila Subsea: This is the 'artwork' picture above as promised. It shows once again the impressive Havila Subsea but this time over between the two cruise terminals with ermmm much of the surrounding paraphernalia removed...artistic license gone mad.
And speaking of artistic license gone mad...here we are with another artwork below. Yours truly was up all night with pen ink and watercolour brush to capture the significant recent visit of Klaipeda to the WD4 pier.
I'm fibbing of course...as you can see we've almost got Banksy worried..

Although having seen his recently sold brilliant painting of the braying parliamentary monkeys...well we happily bring up the rear.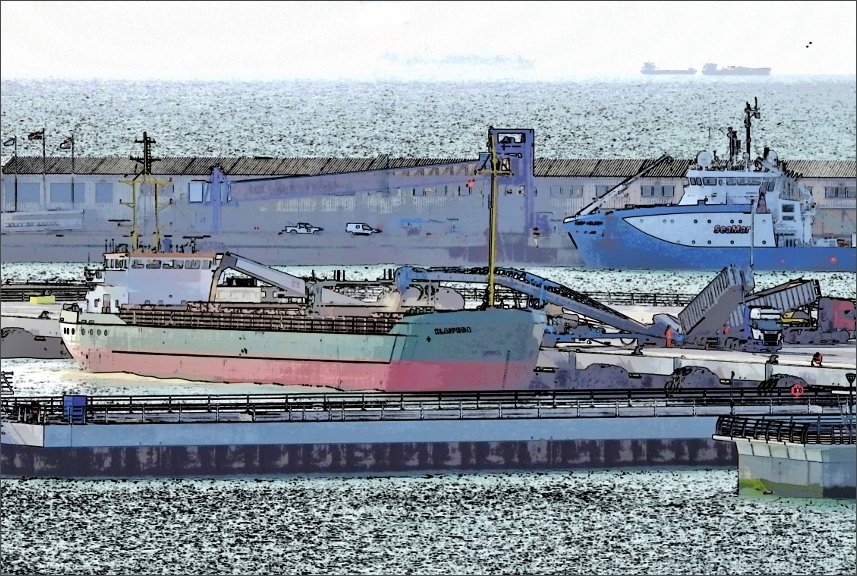 Below we have Pacific Reefer offshore yesterday. The picture shows the ship anchored a couple of miles out there in the gloom as you can see. She was waiting for the departure of Royal Klipper...however there was obviously more of a delay than initially anticipated and the tugs helped her into Port to wait on the eastern arm. Royal Klipper left in due course and Pacific Reefer moved to the cargo terminal...with the help of the tugs. Tug Doughty is away for refit and another very welcome tug has taken Doughty's place...Svitzer Intrepid, we have pictures in the pipeline.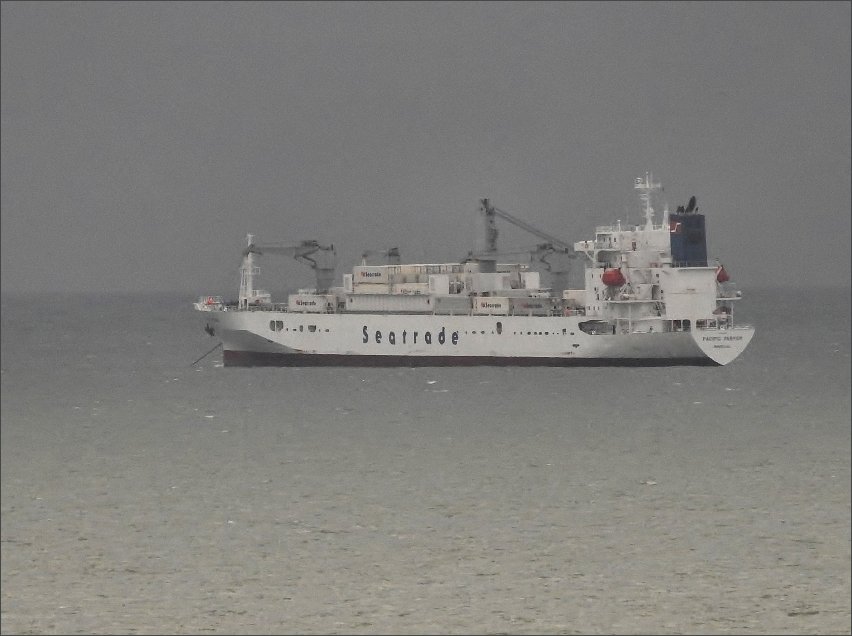 Good to hear that you are enjoying the pictures etc Mike W...glad we are able to bring back fond memories of Dover and surrounds. Yes all change here..... exciting times...
PaulB
Tuesday, 15 October 2019 - 06:19
Post 6594
Mike Waight, Wiltshire
May I just say that the quality of the photos on this site is excellent. Seeing the vessels and the port makes me wish I'd never left Dover many moons ago. As an ex mariner it makes me feel very proud of the way Dover has developed business and continues to prosper in the maritime sector. Keep up the good work chaps.

Monday, 14 October 2019 - 16:44
Post 6593
Sea News, Dover

Leading ferry operator DFDS reports rise in pets travelling
_____________________________________________________
The thought of leaving a distraught pet in kennels is leading to increasing numbers of holiday-makers deciding to take their four legged family members with them. Travellers are finding it less stressful than they expected to get their dogs a pet passport. Leaving kennels with the sound of a pet whimpering – or worse howling 'don't leave me' – as you drive away, possibly in tears, isn't the perfect way to start a holiday.
Ferry company, DFDS reports an increased number of canine travellers - 364 more pets carried per month (on average) from 2017 to 2018. In 2017 DFDS carried 3,539 per month on average, which increased to 3,903 in 2018.
Numbers have more than doubled on their Amsterdam-Newcastle crossing since 2017 (from 701 to 1631 per year). On the Copenhagen-Oslo route numbers went up from 106 to 378 from 2017-2018 and stands at 270 so far for 2019.
Vets, travel companies and other travellers are reassuring pet owners that the Pet Travel Scheme works efficiently. You do have to plan ahead because under current scheme guidelines the last rabies vaccination must be more than 21 days from the travel date but kennels expect vaccinations to be completed 14 days before so a seasoned traveller will be used to meeting these health check criteria.
Jeremy Stattersfield from Burnham House Veterinary Surgery in Dover trains the DFDS onboard team on pet first aid for the company. He said: 'DFDS has done a wonderful job and is very pet friendly. We have helped to train the onboard staff in pet first aid so they know what to look for if a dog isn't well while on the crossing. It makes a big difference if a situation arises, staff have the knowledge to help owners who may not know what to do, and that knowledge can help to save a dog's life.'
The Burnham House Veterinary Surgery has noticed a steady growth in applications for pet passports, although uncertainty over what will happen after Brexit is having an impact this year. Mr Stattersfield advises pet owners should plan well in advance so that their travel plans will go as smoothly as possible and it is important to liaise with your vet at least 4 months beforehand, as they will be up to date with the current DEFRA guidelines regarding Brexit.
To travel in Europe the pet must be:
microchipped (which must take place before or at the same time as the rabies vaccination)
have a pet passport
vaccinated against rabies
Jeremy Stattersfield advises owners to take the ferry early or late in the day during hot weather and remember to leave their car with windows open to provide good ventilation. He added: 'If a pet is in a carrier avoid blocking ventilation slats with luggage and keep the animal in a well-ventilated part of the car. Most importantly remember – if you are heading to the bar leave your pet a drink too!'
The overall price for passport and rabies is around £100-£150 - all puppies are microchipped by law in UK. This compares to around £20 per day plus VAT for a large dog in UK kennels, or for dog hotel accommodation, the daily rate can rise to £40 daily.
Pet-friendly cabins or kennels on DFDS' Newcastle to Amsterdam route cost £30 per pet each way and it's the same price to leave your pet in the car for the journey, but not recommended. On the Dover-Calais route pets have to remain in cars and its £15 per pet each way. On the Newhaven-Dieppe route pets have to remain in vehicles and its £18 per pet each way.
Ray Ferris, from Newcastle upon Tyne frequently travelled to Germany by ferry with his Bichon, Bibi, and said: 'Pet travel with DFDS is excellent. We never had any problem travelling with her, she was made very comfortable in our car and returning with her at Dunkirk was no problem at all.'
The emotional cost to dog and owner being apart, seems to be making the pet passport price one more and more pet lovers are happy to pay.
For more information please visit dfds.co.uk/pets
ENDS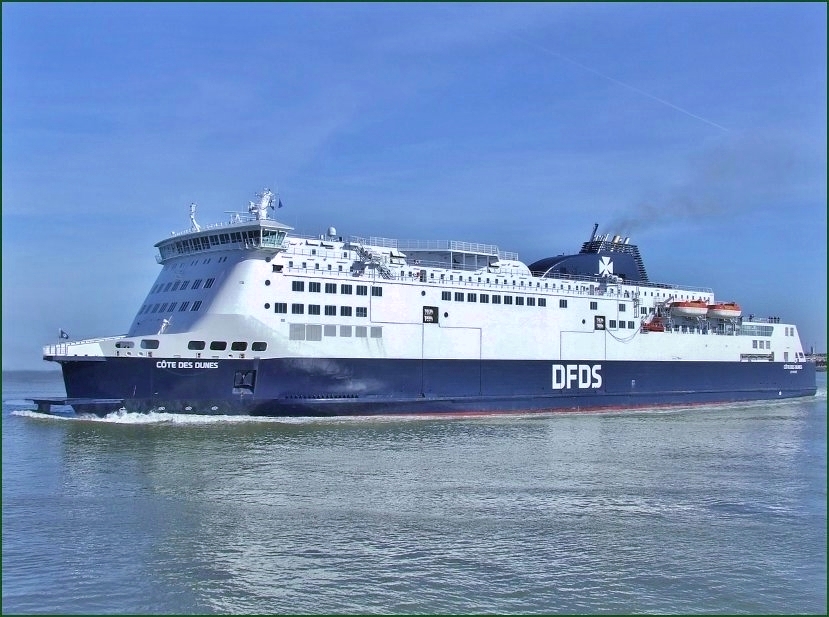 Cote des Dunes just off Calais.
* *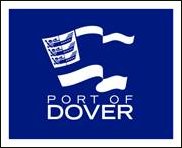 APPOINTMENT OF JANE SIMPSON TO DOVER HARBOUR BOARD
__________________________________________________________
Dover Harbour Board has appointed Jane Simpson as its newest Board Member.
Jane joins at a pivotal time for the Port of Dover with its £250 million investment in new infrastructure coming on stream to support a portfolio of growing businesses, including cruise and cargo, alongside the development of a 30-year master plan to deliver the ferry port of the future.
Chairman Richard Everitt CBE said: "I am delighted to welcome Jane Simpson to the Board. With her background in infrastructure and engineering alongside extensive experience in large capital programme delivery and asset management, Jane brings a strong skill set that will enhance the Board's governance during a period of major and ongoing investment."
Such skills have been developed through key appointments at Network Rail, where Jane was latterly Chief Engineer and interim Group Safety, Technical and Engineering Director, as well as more recently as Head of Capital Delivery for Severn Trent Water.
Jane Simpson said: "I am excited to join the Board of the Port of Dover at such a critical time. I have been greatly impressed with the commitment and vision to deliver an exemplary port for their customers and community, and I look forward to supporting their journey as the Port embarks on the next phase of its development."
Previously featured in the Telegraph's top 50 women in engineering and the Financial Times' 100 women to watch, Jane's position on the Board will also provide increased support to the Board's diversity agenda, the Port being a signatory to the Maritime UK Women in Maritime pledge to drive gender diversity throughout the organisation and wider industry.
ENDS
Many thanks to both DFDS and DHB for the information above....

* *
Havila Subsea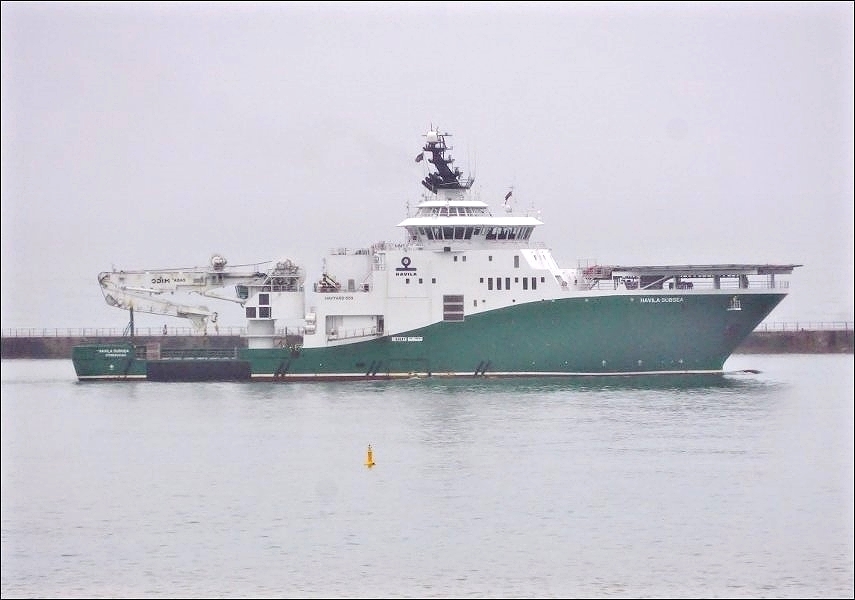 Havila Subsea arriving through the rain on Saturday morning...she stayed for a brief time and then was off out into the gloom once more..heading I believe to Ponta Delgada in Portugal. There is lots of technical info about her on Google, Bing etc. we have had other Havila vessels stopping off in Dover before...always great to see. Thanks to Mike once again for the heads up on this ones imminent arrival.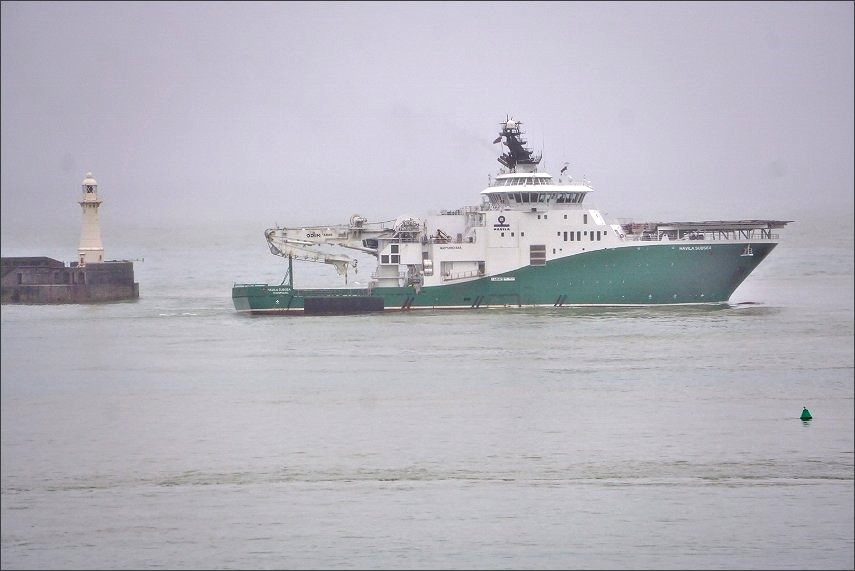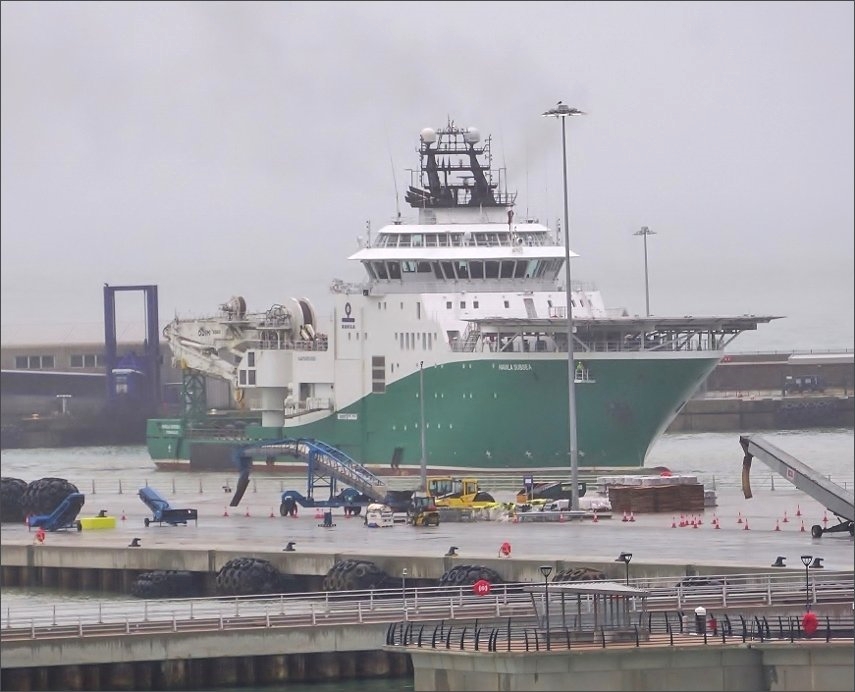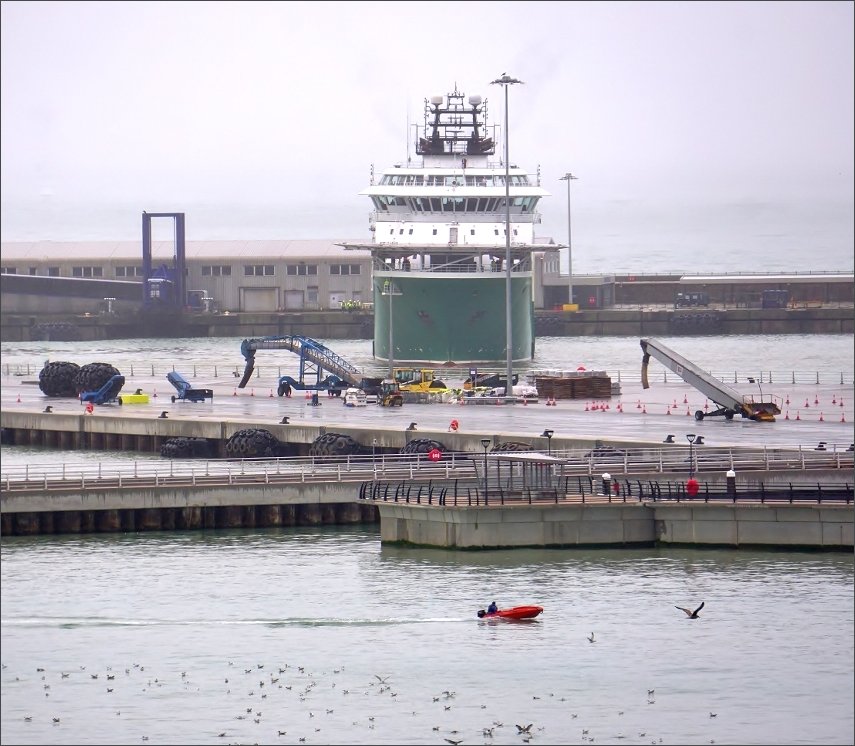 Will aim to have an 'airbrushed' version of the above in a day or two..trying something new...
Many thanks to all for the info below

PaulB

Monday, 14 October 2019 - 06:39
Post 6592
Patrick, Marine Parade
Mike - re #6588 - thank you for the additional information on the 'Olympic Challenger'

Sunday, 13 October 2019 - 17:45
Post 6591
Mike J., Dover
Nice 'busy' picture from Paul of DEEP HELDER & KLAIPEDA.

Mike -

Thanks for the confirmation re the ALERT's wreck buoys.
I was expecting them to have stripes, but on closer inspection they seem to be shrouded with canvas or something.

Sunday, 13 October 2019 - 17:23
Post 6590
Mike Waight, Wiltshire
Further to my post about the buoys. You are quite correct in assuming they may be wreck buoys. My apologies the old grey matter didn't work fast enough; the cross topmark can be used on wreck and DZ buoys.

Sunday, 13 October 2019 - 16:13
Post 6589
Mike Waight, Wiltshire (retmaster1@gmail.com)
Post 6572. The buoys on the aft deck of Alert are small DZ Buoys (Danger Zone) and are used for all sorts of things like marking race areas, works in port and at sea, army and RAF ranges, temporary prohibited zones, etc. Many DZ buoys at sea do not have topmarks so I'm guessing these are destined for sheltered waters.

Sunday, 13 October 2019 - 16:09
Post 6588
Mike Waight, Wiltshire (retmaster1@gmail.com)
Post 6586; vessel "Olympic Challenger". Given the equipment fit on her aft deck she is more than a supply vessel - more likely to be an offshore support vessel of some kind, probably multi-task capable. Perhaps, drill support, surveys, diving support, etc.

Sunday, 13 October 2019 - 16:00
Post 6587
Sea News, Dover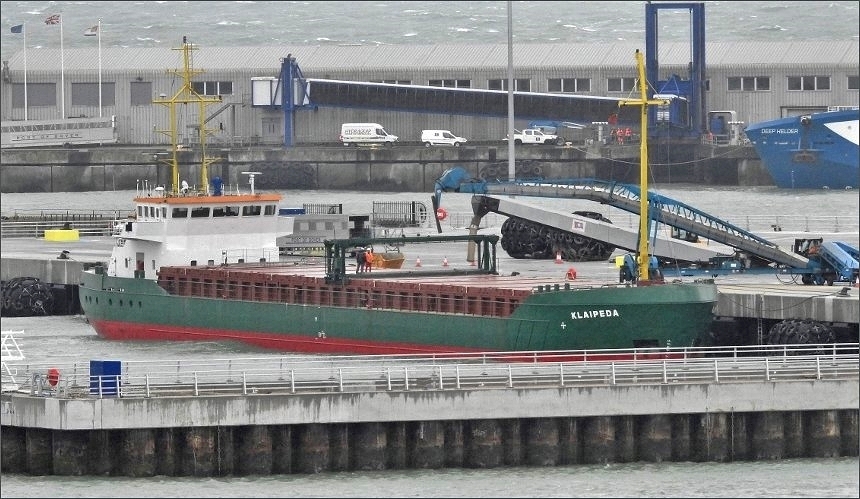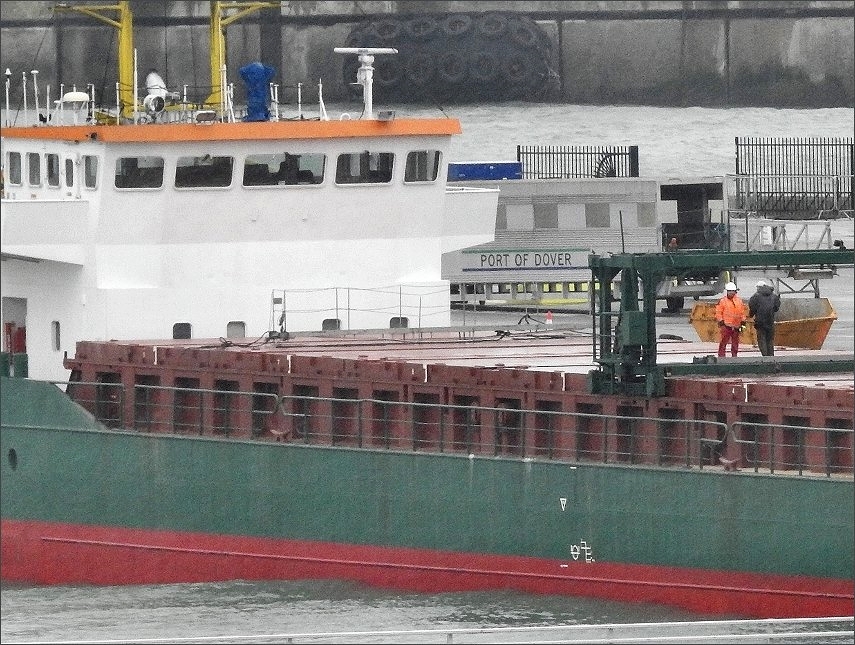 Two final pictures above there of Klaipeda...as she has now left us. She disappeared unseen, caught yours truly by surprise. There one minute..puff!! gone the next. Was hoping to get some shots of her departure. Looks like the guys in supervisory capacity are examining the full load above...before the off...
The Artania cruise ship was in with us yesterday...couldnt get a picture as the ships are almost hidden from this vantage point nowadays when at cruise terminal one...didn't used to be the case. But that's progress...
So had a stab at her leaving last night. But not only was it pitch dark but it was raining too... so no chance. Had a try below anyway, wasn't sure if it was worth putting this pic up as its not great.. but...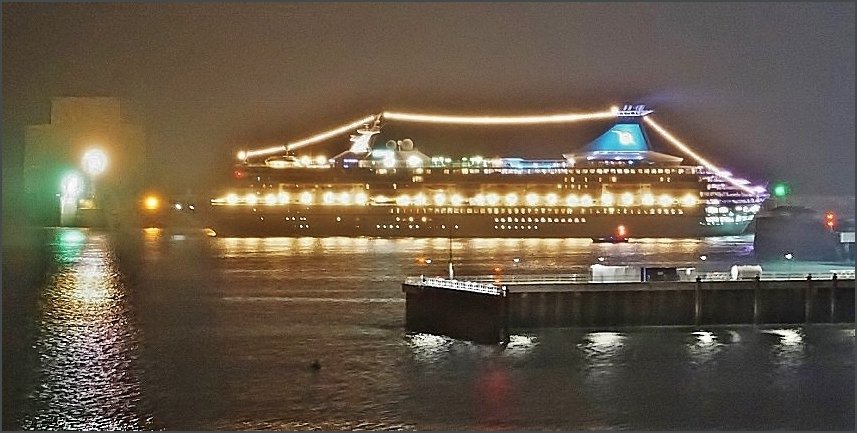 Mike tipped me off about the impressive Havila Subsea...she came in yesterday very briefly. Got some pictures, alas through the rain again...will do some work on those and get them up in the morning..two press releases also, various bits..
Nice catch-up pix below there Patrick, nice light on the Hebridean Sky..

PaulB
Sunday, 13 October 2019 - 08:11