Sunday, 21 April 2019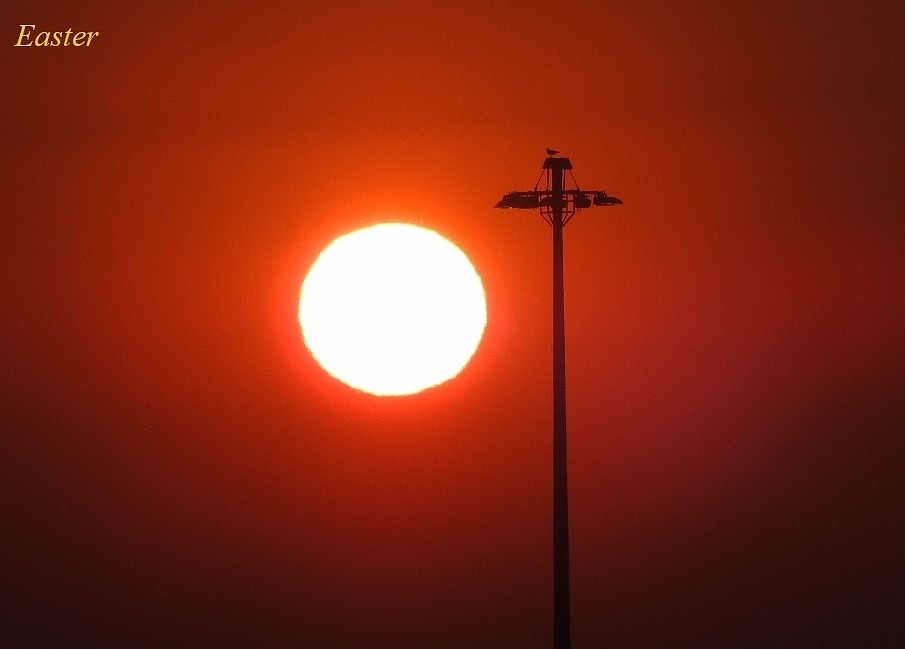 Easter Greetings to All. Top picture taken yesterday Easter Saturday looking across the Port of Dover at the rising sun.
The pic below .. a wider shot from a previous Easter.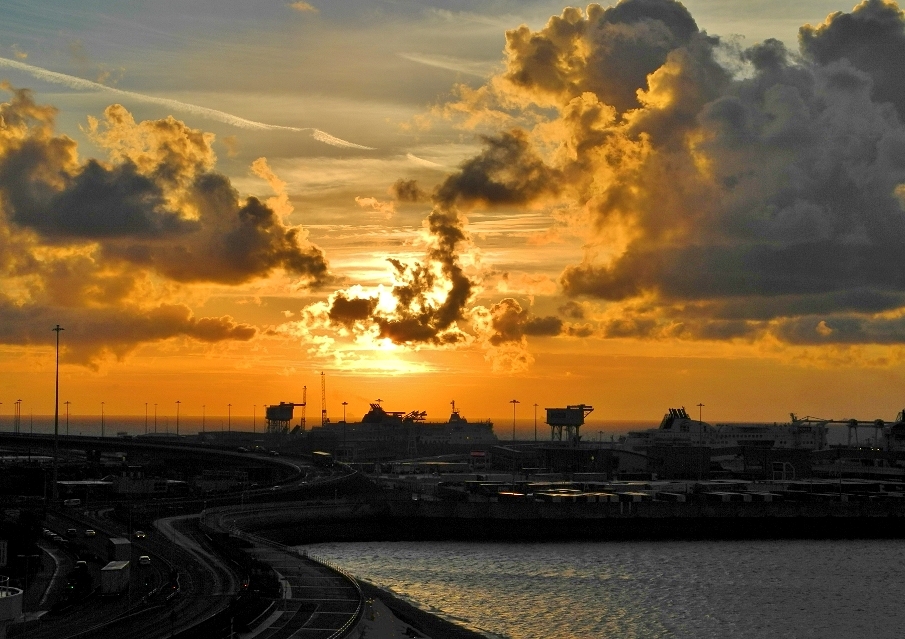 WWW.DOVERFORUM.COM/SEA-NEWS
Featuring all the ships that come and go and work at the Port of Dover ..
... with further coverage of the surrounding ports.
Sea News Dover
Port of Dover: Brexit Resilience 6123
DFDS: For apprentice information see 6125
Premier Inn completes see 6149 plus
P&O: Brexit Buffer.. Free Cancellations 6176
DFDS: ORCA 6179
P&O: Jobs Fair/Apprenticeships 6187
Port of Dover: New Cargo Manager see 6205
Use our SEARCH ENGINE below to find all sorts on the SEA NEWS pages....
type in the topic and away you go, or if you have the post number as shown above, just type it in the box,
more than - 6000 - nautical posts now.
Posts are welcome. just click 'Add Your Comment' below. Max of 5 pictures preferred although we can stretch that for special stories..
Sea News Editor Paul Boland - send info or pix to dover7@msn.com. Always welcome.
CRUISE CALLS:
https://www.doverport.co.uk/cruise/find-a-cruise/
To show your pictures at their best..it could be worthwhile resizing before posting to
840
pixels wide.
All pictures on these pages are the copyright of the owners and must not be reproduced without permission.
Post 6063
Del Styan, Norwich
A light dusting of snow up here in Norfolk, I hope you have some more than us tomorrow.
(I love snow!) Sorry if that disrupts things.

Thursday, 31 January 2019 - 22:55
Post 6062
Sea News, Dover
Border Force Speedwell returning to the Port of Dover on Tuesday morning...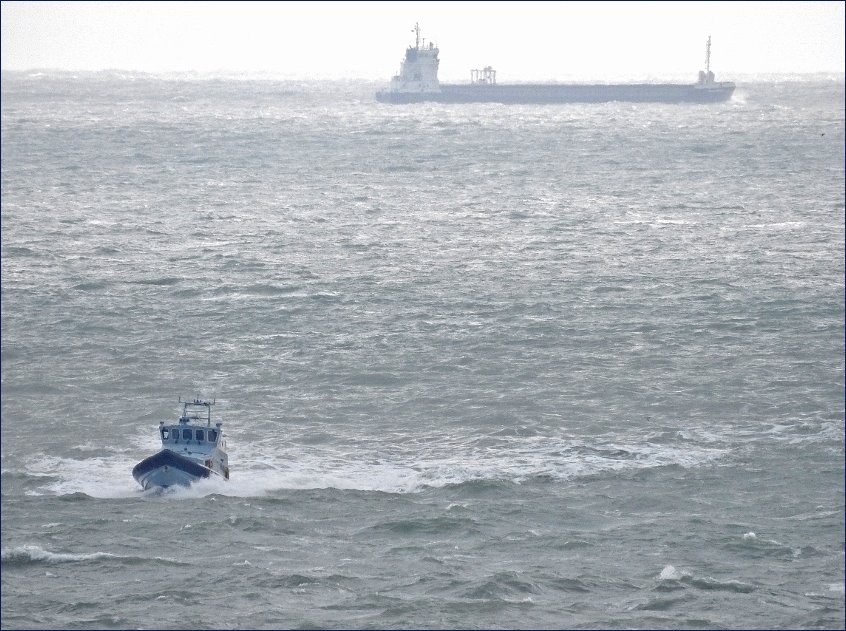 As you can see Speedwell was experiencing some rough conditions there. We had choppy waters.
Out there at the same time as Border Force Speedwell, in roughly the same area, was a Border Force cutter...either Vigilant or Searcher ( it wasn't showing on AIS )...and the Royal Navy in the current shape of HMS Enterprise. So a busy well defended well monitored stretch of immediate water. Some might say this is possibly expensive overkill...but who knows for sure....Home Secretary Javid has his finger on the pulse!!
PaulB
Thursday, 31 January 2019 - 06:26
Post 6061
Sea News, Dover
As promised .. some further pictures now of Bulknes.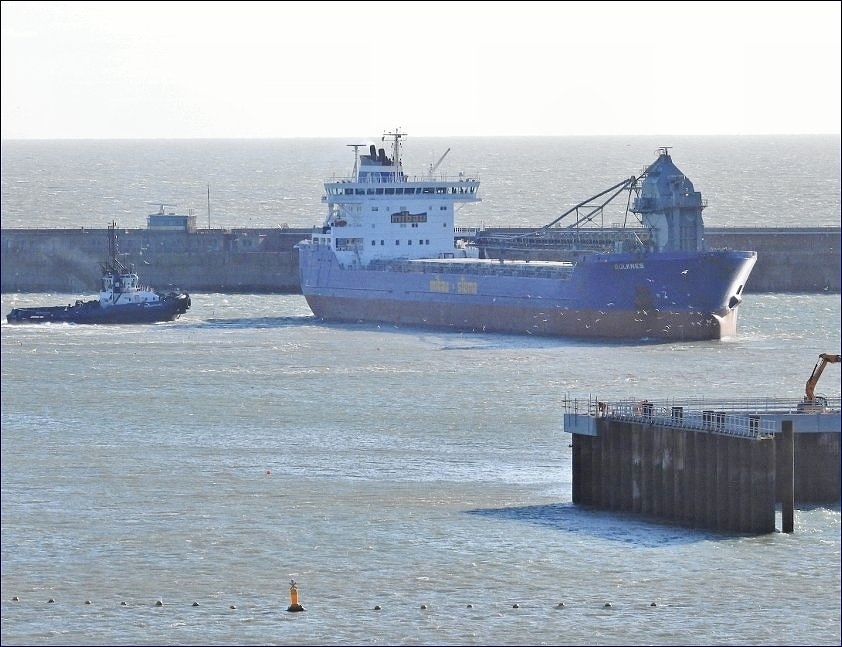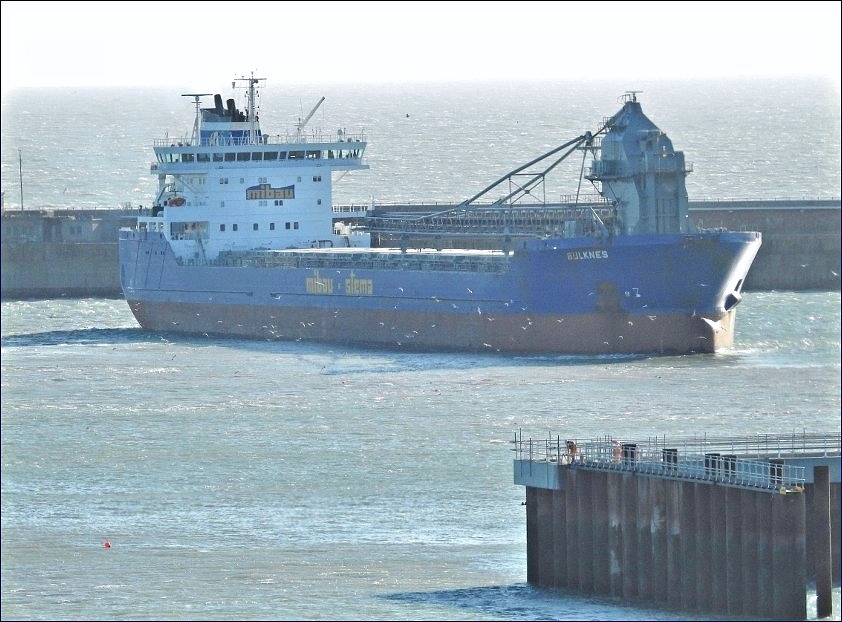 Bulknes.
Reversing out above there. Yours truly thought Bulknes was about to leave port...but then unexpectedly she began to move forward in the pix below...although even then it was a surprise to see her go over to the new terminal. See Patrick's post below 6056. It took yours truly by surprise for sure, as I took my eye of it temporarily, planning to get pictures as she exited the port some minutes later...which of course didn't happen on the day.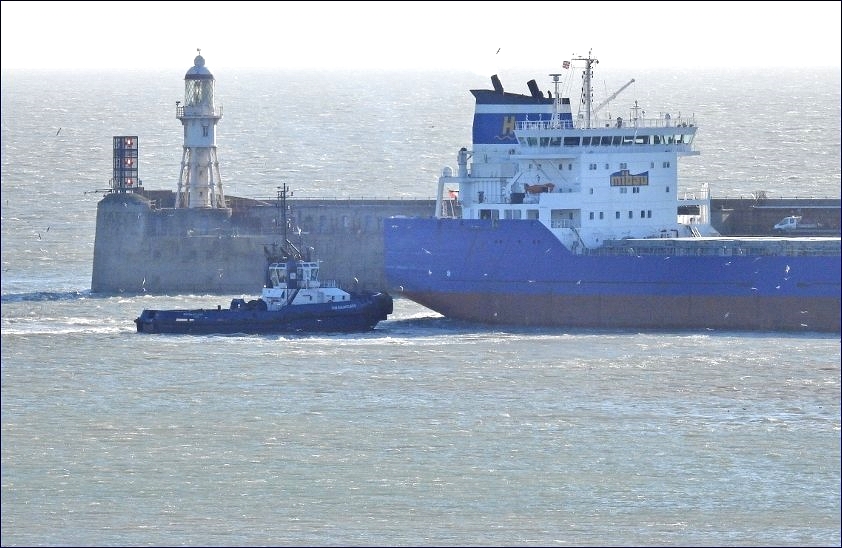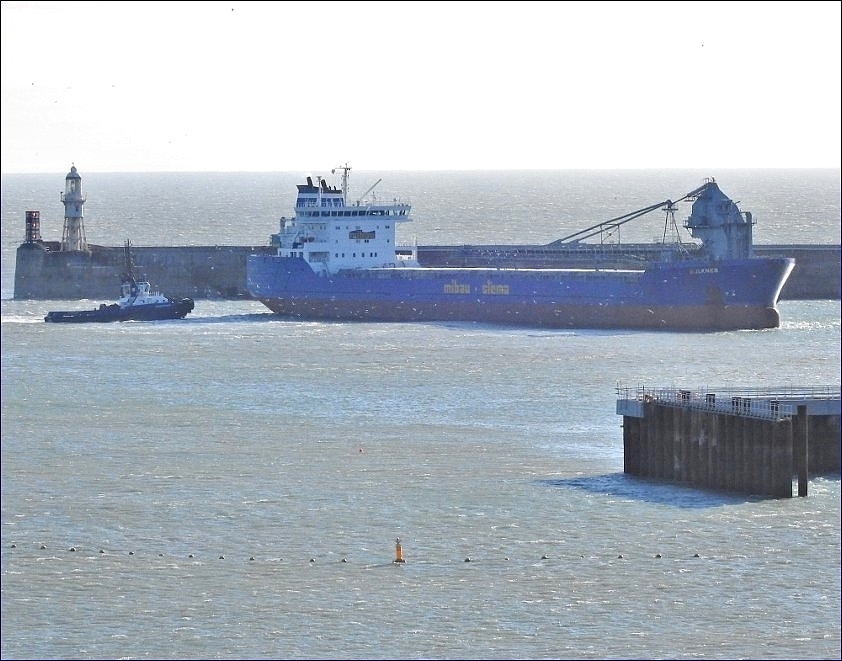 The following day below...yesterday Tuesday in fact, and she moves away....
heading to Norway during a blazing sunrise...time of pic 07.38.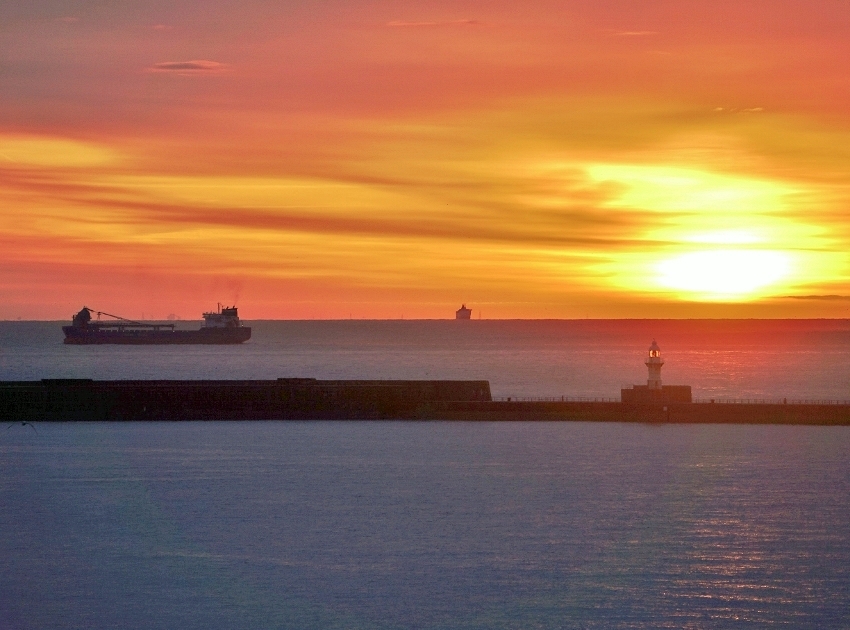 As mentioned above see 6056 also see 6057.
PaulB
Wednesday, 30 January 2019 - 06:59
Post 6060
Sea News, Dover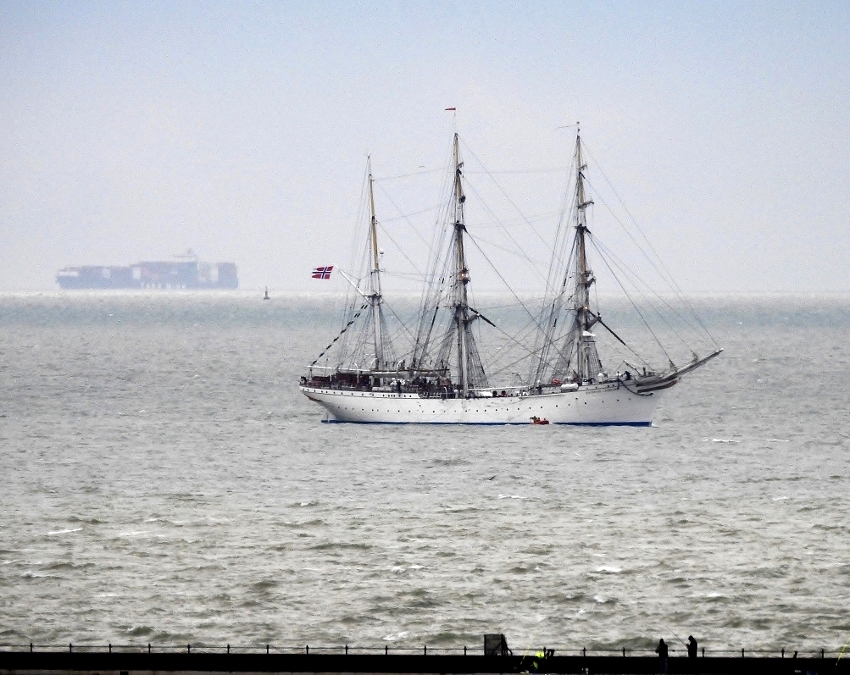 An extra picture there to enjoy of the magnificent Norwegian tall sailing ship...Statsraad Lehmkuhl...that's a tricky one to get right spelling-wise. We are currently featuring the same ship at the top of page but obviously that pic wont stay there forever...so good to have this extra one in the files. Pictured at the weekend when she came in close to shore.
The guys fishing there on Admiralty Pier are carrying on regardless .. hardly giving her a glance.
"Statsraad Lehmkuhl is a three-masted barque rigged sail training ship built in 1914, the vessel is owned and operated by the Statsraad Lehmkuhl Foundation. It is based in Bergen, Norway and contracted out for various purposes, including serving as a school ship for the Royal Norwegian Navy." ...from Wikipedia .
PaulB
Tuesday, 29 January 2019 - 17:06
Post 6059
Sea News, Dover
Bulknes has now moved away.
Will have those extra pictures in the morning. PB.

Tuesday, 29 January 2019 - 08:29
Post 6058
brian dixon, dover
the name of the warship echos the names of kirk and picard. lol beam me up scoty.

Tuesday, 29 January 2019 - 05:53
Post 6057
Sea News, Dover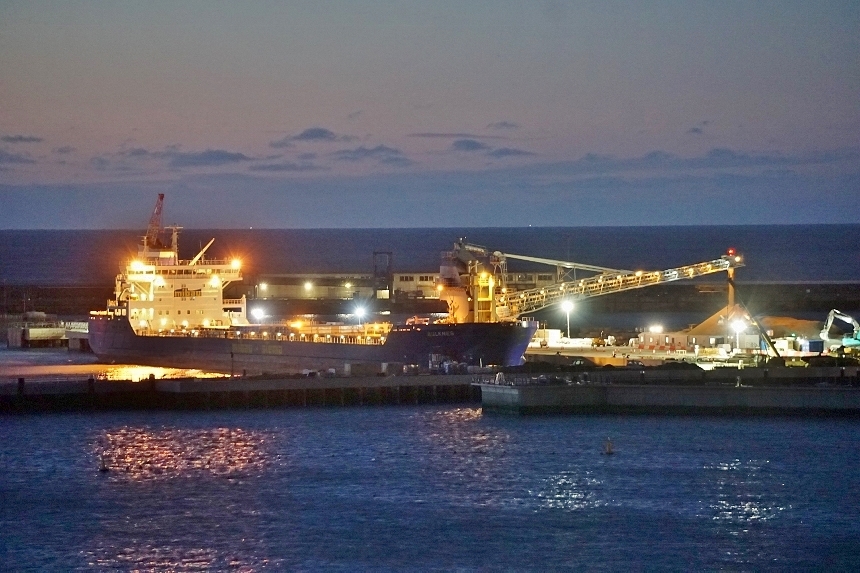 That's a picture above there of Bulknes very early yesterday morning. You can just see her discharging her cargo of sand there...time of picture 06.50. Took it while it was still fairly dark to try and capture the glowing lights and the exciting activity. Realised afterwards that we have a similar picture in the system from a previous trip. We have an evening pic below as well, taken after she had moved over to the new cargo terminal...see also Patrick's pictures below in post 6056.
Picture 2 here shows HMS Enterprise in the distance as we look across the Bulknes long conveying arm mid morning yesterday.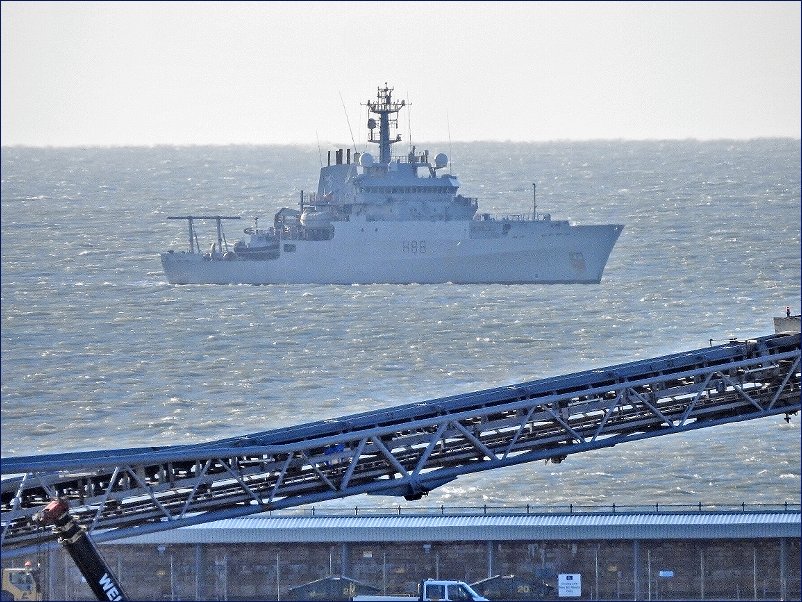 As mentioned, here we have Bulknes again below...evening-time at the new cargo terminal. Exciting times!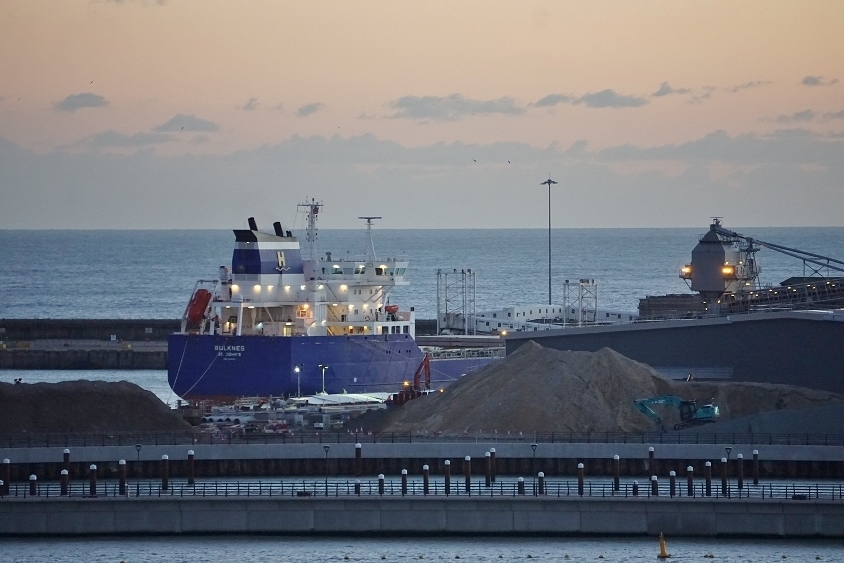 Cracking collection below Patrick. You got a bit of a scoop there with Bulknes at the new terminal. Great stuff Patrick...

Brian

PaulB
Have some extra pictures of Bulknes as she moved across to the new terminal...will catch up with those in due course.
She is still in Port at the time of writing.
Tuesday, 29 January 2019 - 04:55
Post 6056
Patrick, Marine Parade
'BULKNES', the self discharging bulk carrier that has graced our Port with sister ships on a number of earlier occasions discharging dark aggregate into the DWDR area, arrived this morning at the new Berth 'C'. Having partly discharged she moved for the first time to complete operations onto Berth 'A' alongside the RCT ('Banana Shed'). First time I have seen a vessel on that berth. Progress continues apace.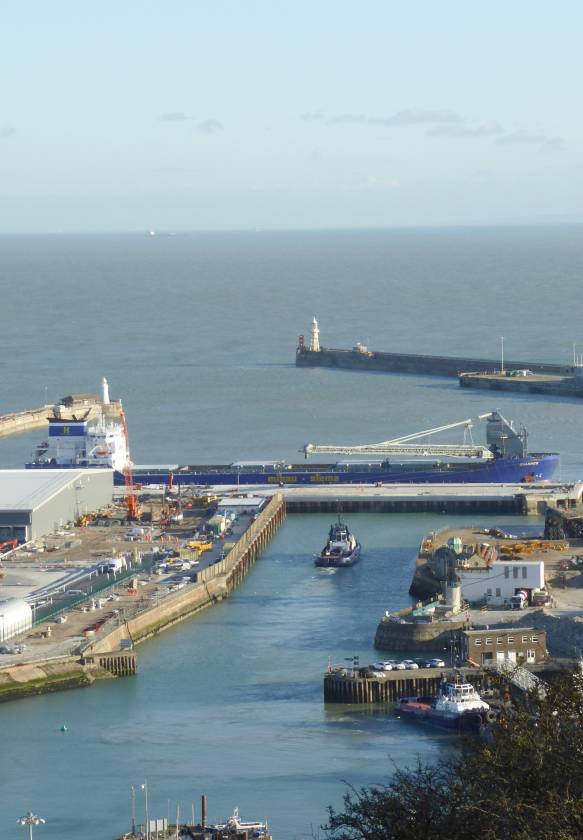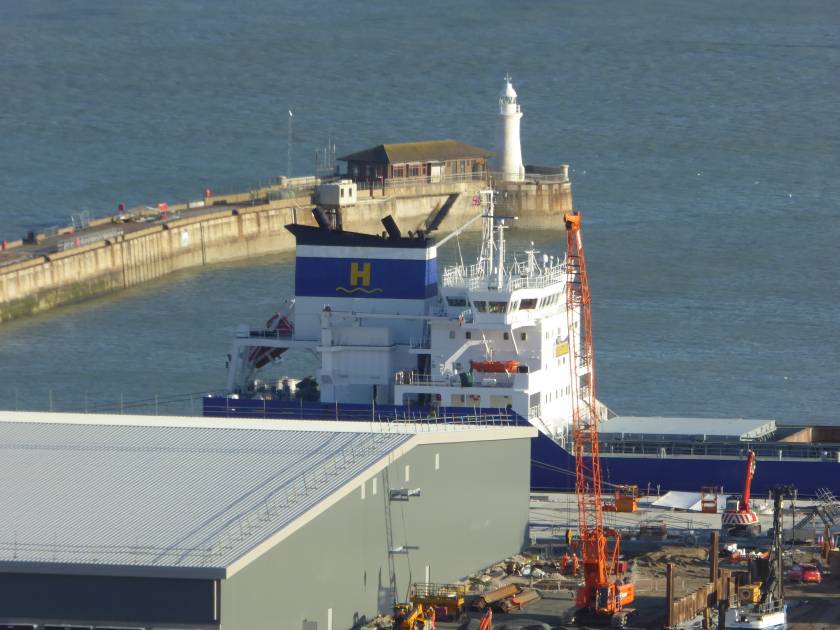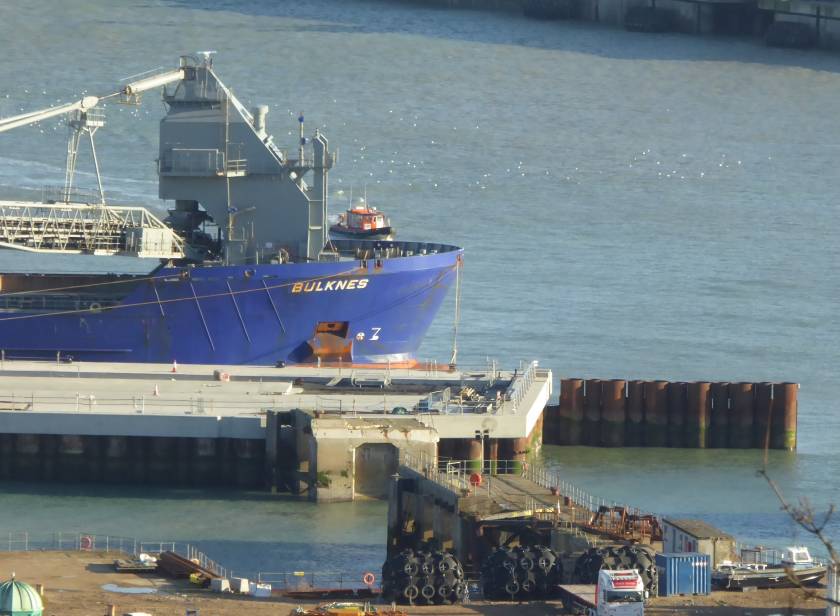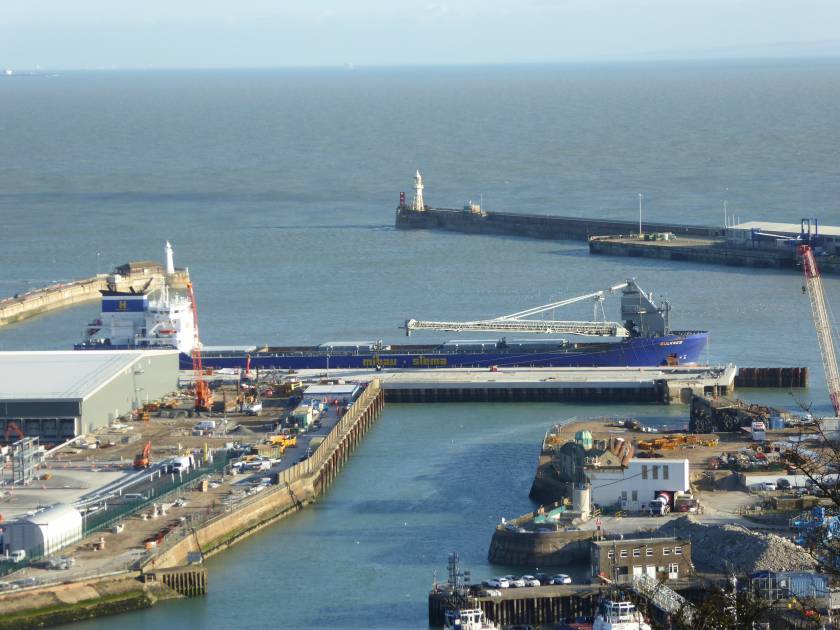 Monday, 28 January 2019 - 17:01
Post 6055
brian dixon, dover
at least they got a safer ride back, and in the warm to.


Monday, 28 January 2019 - 12:56
Post 6054
Sea News, Dover
Border Force Vigilant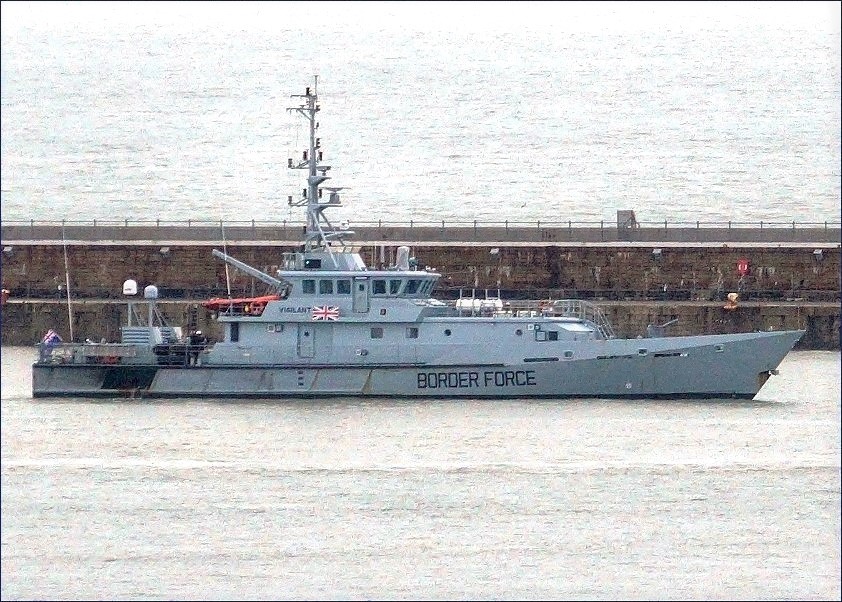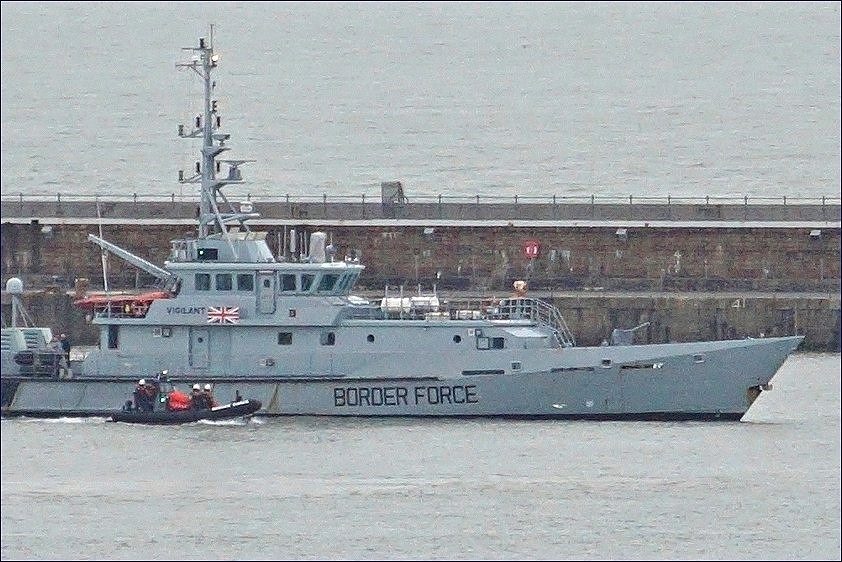 A couple of pictures above there of Border Force Vigilant just after arriving into Port late last week. It had just begun snowing at the time of pictures...so twas a cold oul day for sure. A RIB dropped suddenly out of the rear of the vessel and and began to move away...heading to the inner harbour. The heavy Channel patrolling goes on, by both Border Force and the Royal Navy.
Below and we have some more pictures of the current 'organised turmoil' on the legendary Dover Beach. The poet Mathew Arnold, who wrote that famous poem, would hardly recognise it now. But fear not Matthew..don't swivel...it will return to normal eventually, we are assured.
"Listen! you hear the grating roar
Of pebbles which the waves draw back, and fling..."
Plenty of pebbles here for flinging...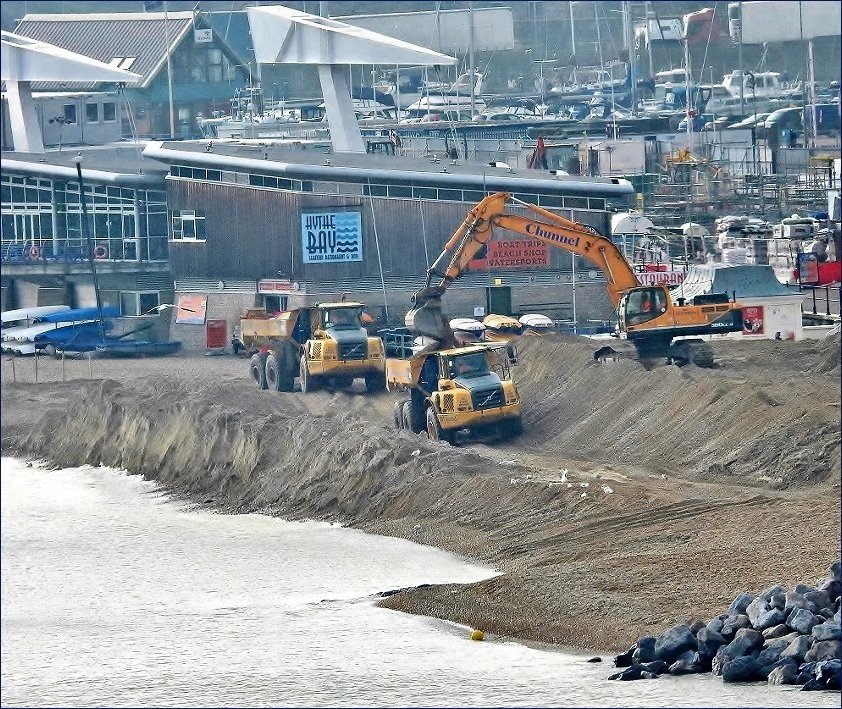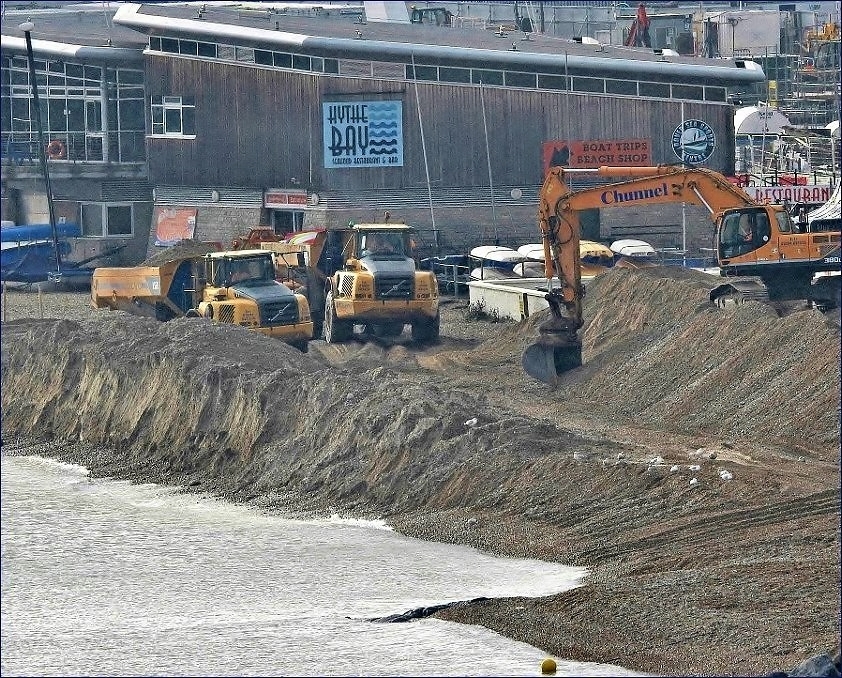 Very interesting collection below there from Mike. Keeping us up to speed with the general workings and the inner goings on. Great stuff again Mike !

Patrick yes chilly times indeed. Brave girl. Nice enjoyable shots there - so well done with those. Dont know about yourself but yours truly is tending to be anchored to the warm sofa at the moment...


Del you will probably be having some more wintry windy weather up there in Norfolk today...you might be needing that ol sou'wester...


Ah yes indeed Brian, it could always be worse I suppose...

PaulB
Monday, 28 January 2019 - 06:11
Post 6053
Mike J., Dover
A couple of views of the new lock, a pity that the temporary bridge obscures the new bridge's deck.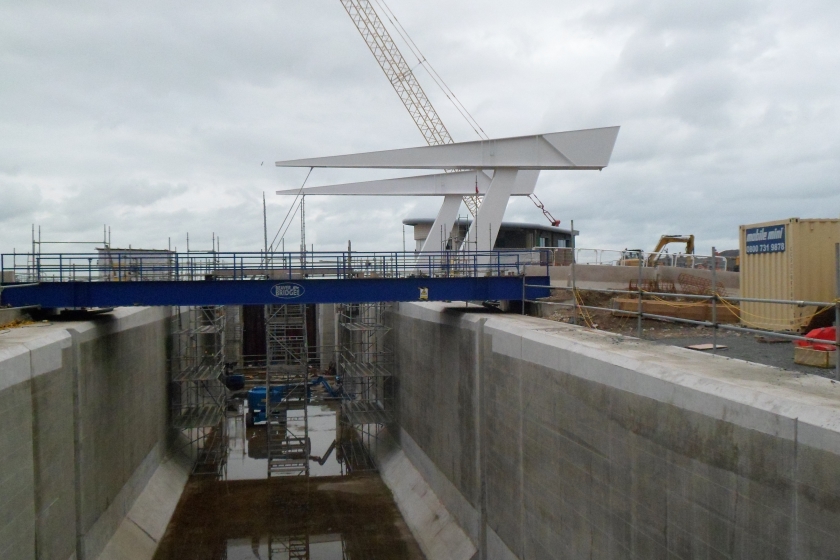 TOPLOADER has shifted into the Wellington Dock [diving work finished ?] & the TOPLIFT was on the Tidal Basin pontoon on Sundsy.
Dunno whether she's about to sail elsewhere or start working in Dover.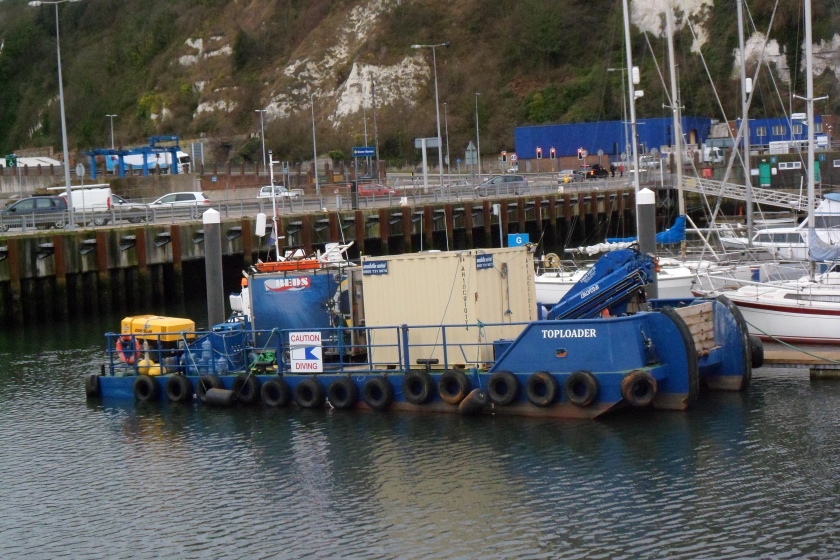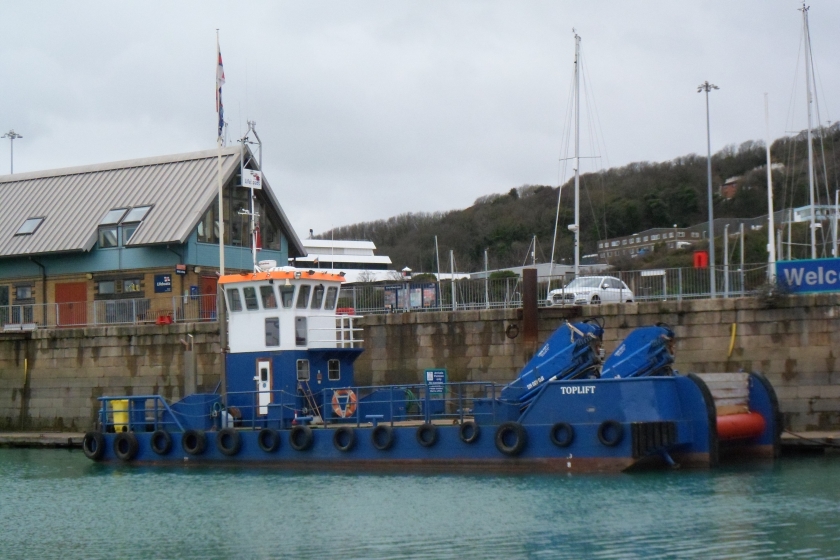 Self-discharger BULKNES [post 5843] should arrive in the wee small hours of Monday morning.
Monday, 28 January 2019 - 00:57
Post 6052
Del Styan, Norwich
Hope the weather treats you kindly. I think the winds and rain has finally left us up here in Norfolk. Hope the big people carrier vehicles on the sea front don't topple over!

Sunday, 27 January 2019 - 23:17
Post 6051
Patrick, Marine Parade
Shiver me timbers me hearties. Someone not the least bit worried about this cold windy winter weather in the harbour.
Easy peasy on the paddle board just like A B C. Love the hat!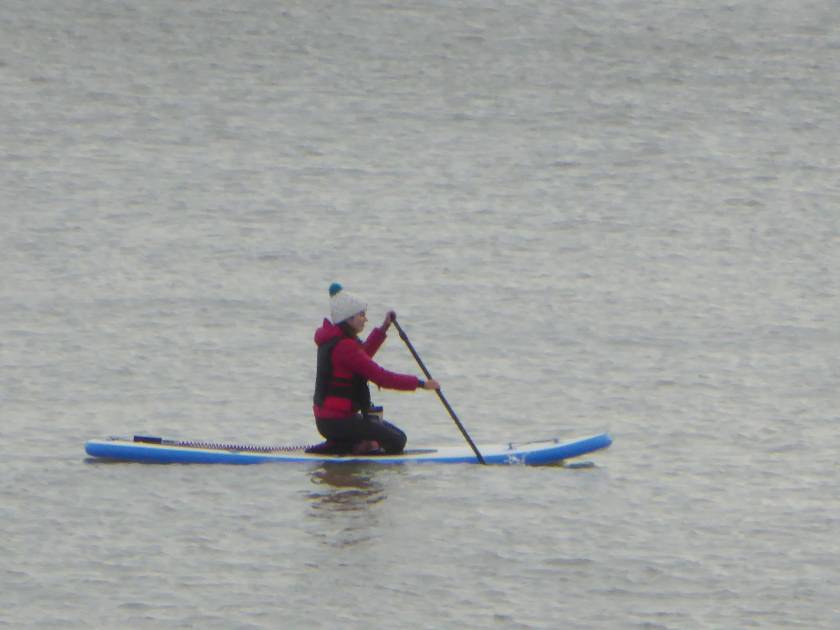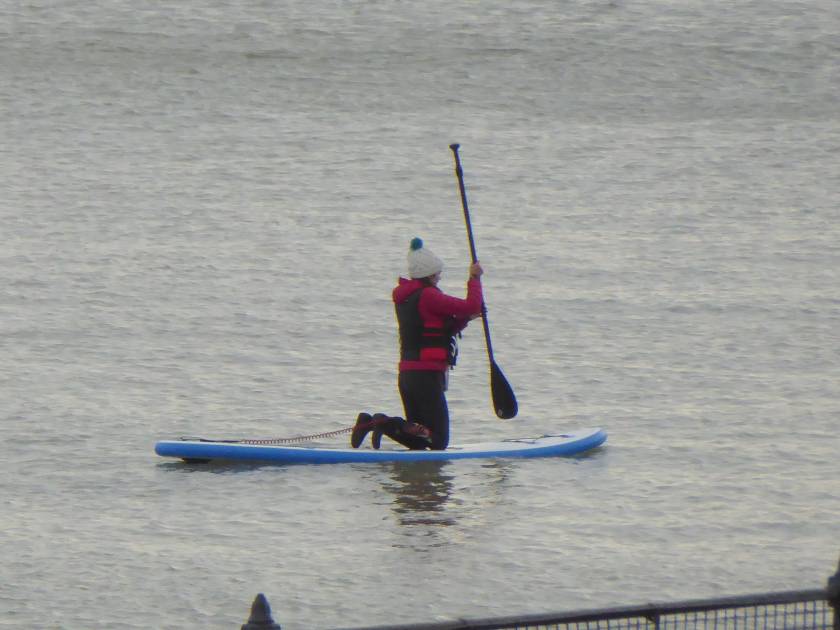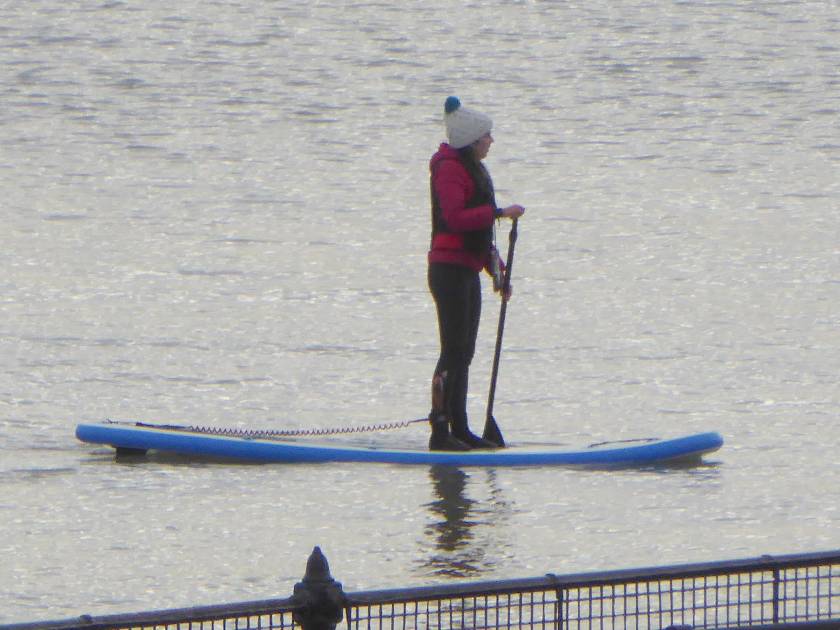 Sunday, 27 January 2019 - 23:12
Post 6050
brian dixon, dover
pb, re the boat people nothing harsh about it,sending them back to franc is a soft option.could have sent them back to iran or where ever they come from, now that's harsh.

Sunday, 27 January 2019 - 12:57
Post 6049
Sea News, Dover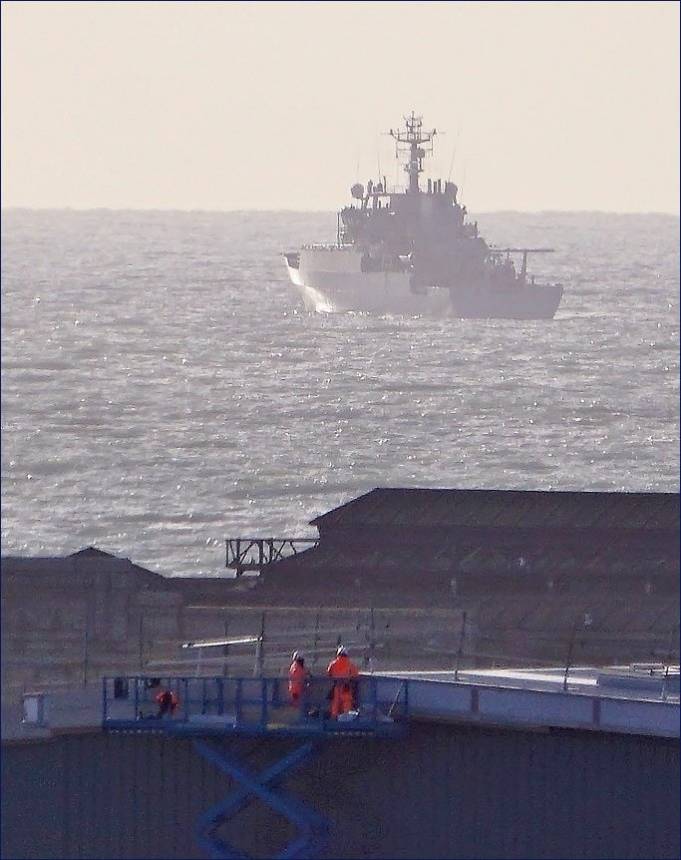 HMS Enterprise turns about in the distance, continuing her gentle patrolling up and down the coast here...while in the foreground the Dover Western Docks Redevelopment workers work on...
HMS Enterprise working away tirelessly above there as you can see. Meanwhile....From MSN yesterday:
"Home Secretary Sajid Javid has signed a new deal with his French counterpart to return migrants who illegally cross the Channel back to France.
The agreement saw the first handful of migrants returned yesterday and is part of a new action plan which is backed by £6m extra money from the UK government. It was announced yesterday after the Home Secretary met French interior minister Christophe Castaner in London.
The French have agreed they will take back migrants who have been fingerprinted on the so-called Eurodac database. This enables immigration officers to establish if they have already applied for asylum in an EU country or illegally transited through other EU states."
ENDS
That new plan seems a tad harsh. These unfortunates, sometimes with children in tow, grimly risk their lives coming across the choppy waters in flimsy craft in the dead of night.. only to be unsympathetically sent back.
The need for a deterrent is understandable but...
Yesterday mid morning saw the departure once again of our regular friend the Maersk Connector. How can you miss a ship that big moving off?? well yours truly almost did...but saw it across the breakwater at the last minute. And speaking of the breakwater, lots of cormorants on there in the foreground as you can see, and lots of gulls on the wing.
The Maersk Connector, looking magnificent, was off to Rotterdam.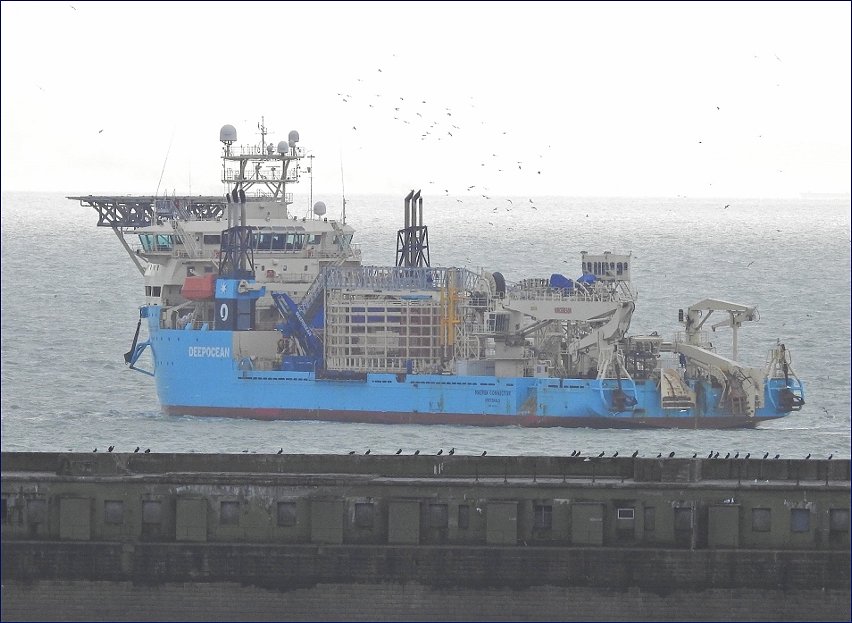 The Maersk Connector.
Thanks Del - yes lucky to get the pix, the recent improvement in visibility led to the opportunity
...and of course yours truly got the tugboats and the Border Force to co-operate with the images...

!!
Its going to be a very windy day out there...veering between Gale Force 8 and Severe Gale 9 along the Channel.
So sayeth the Shipping Forecast.
Hold on to yer hat!
PaulB
Sunday, 27 January 2019 - 06:04
Post 6048
Del Styan, Norwich
Snow in France - how do you get such great pics? Well done.

Saturday, 26 January 2019 - 22:55
Post 6047
Sea News, Dover
The Snowy Hills of France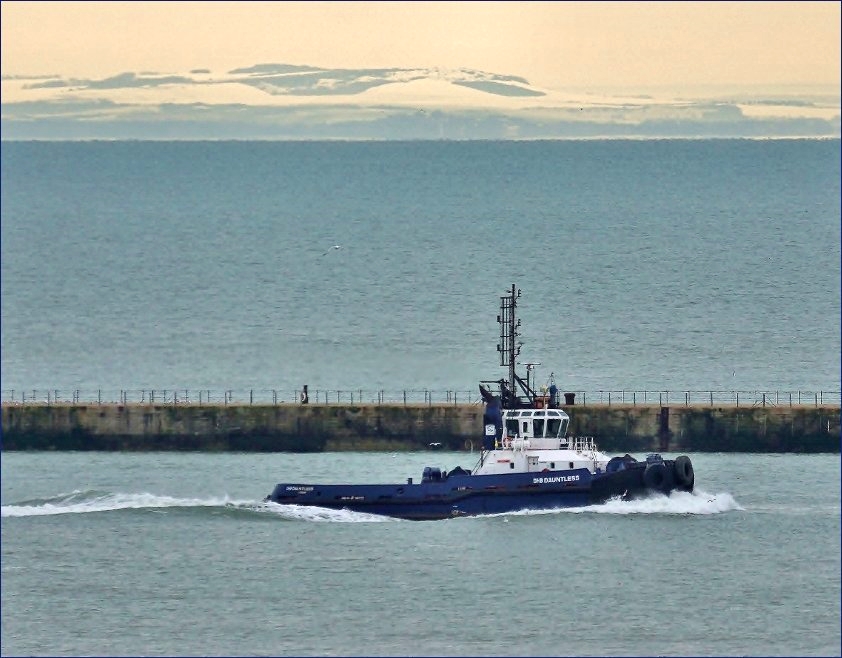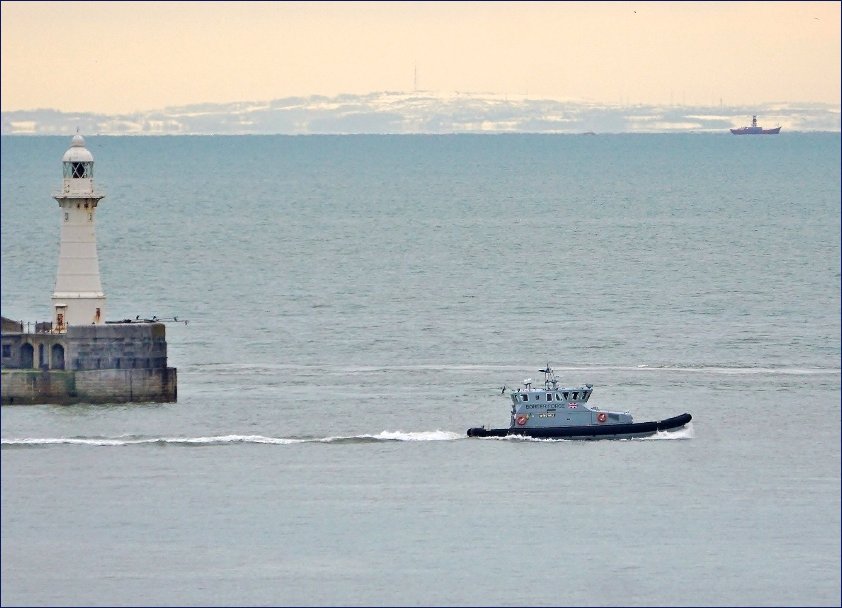 Top shot there captures Dauntless at work on our recent chilly Thursday. What is notable about a picture of the familiar Dauntless this time however, is the snow in the distance. We had snow ourselves but it soon dispersed, but the white stuff remained all down along the coast of France .. as you can see in both pictures.
The second picture shows Border Force Speedwell returning to its base here at the Port of Dover...once again highlighting the snow in the distance. That's the Varne Lightship also in the distance. Soon after the pictures were taken we had a flurry or two ourselves. I love an occasional flurry...well who wouldn't.

PB
Saturday, 26 January 2019 - 05:57
Post 6046
Sea News, Dover
As promised ... some further pics now of HMS Enterprise taken this week
...and here we are..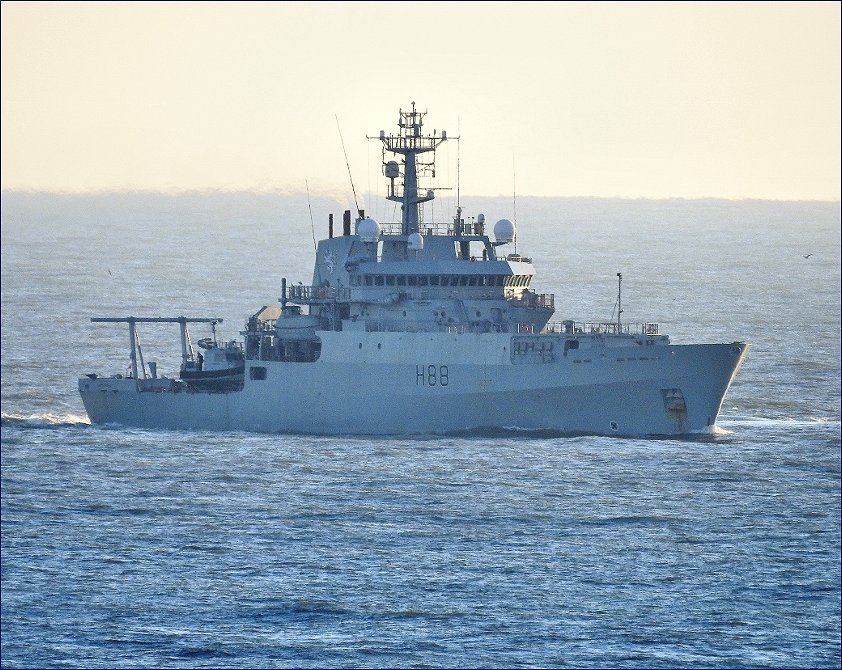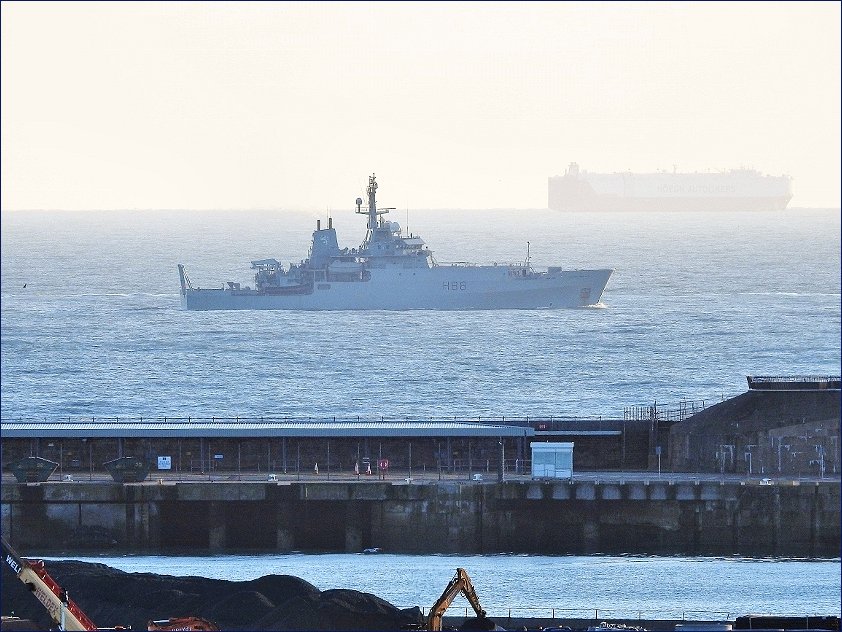 HMS Enterprise.
There she goes...patrolling the area west of the Port here at Dover.
Maersk Connector back in Port today - at cruise terminal one.
Yes indeed Brian

Friday, 25 January 2019 - 07:28
Post 6045
brian dixon, dover
yes paul, p&o are owned by dubai ports nowadays, doing what they have done makes them more tax effishant as barry w would say.

Thursday, 24 January 2019 - 13:28
Post 6044
Sea News, Dover
Tourism Thriving In White Cliffs Country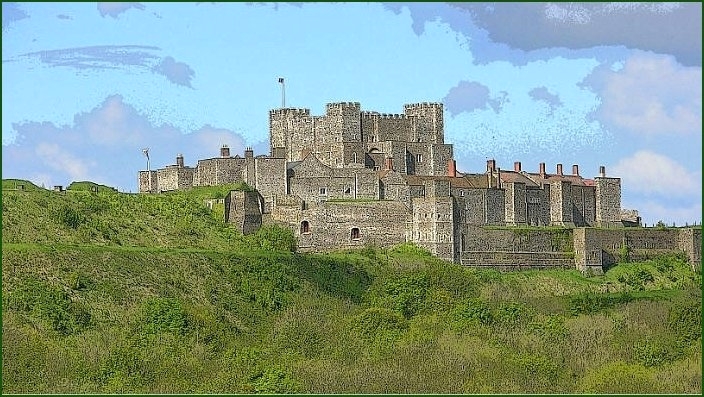 Dover Castle.
Tourism continues to flourish in the Dover District, with tourism related jobs increasing by 4.2% in 2017 and the industry now accounting for 17% of all total employment, according to research released this week.
Independent research commissioned by Visit Kent, on behalf of Dover District Council and the district's three town councils, also revealed that the value of White Cliffs Country's visitor economy grew by 6.5% in 2017 and is now worth £282 million.
Visits rose by 2.45% to 4.6 million trips which included nearly half a million overnight stays and an increase in the number of day trips to 4.2 million, a rise of 7.2% when compared to 2015. The economic value of day trips to White Cliffs Country also saw a healthy growth with a rise of 9.5%.
Cllr MJ Holloway, Dover District Council's Cabinet Member for Tourism, said: "I am delighted to see that tourism across the district has continued on its upward trajectory, creating more opportunities and wider economic benefits for our community.
"This research demonstrates why we have placed a key focus upon tourism and the visitor economy in the district with an ambitious tourism agenda. The future for the district is exciting with creative plans to put White Cliffs Country and our three principal towns of Deal, Dover and Sandwich firmly on the map as destinations of choice.
"We will be working hard with partners across the district to ensure that we harness the potential of the Open Golf Championship in 2020. The district can also anticipate the introduction of new possibilities to the tourism and visitor economy as we form new and strengthen existing relationships with industry partners and town councils to supplement and continue to facilitate our already fantastic visitor offer, which includes some of the finest heritage, landscapes and nature that Great Britain has to offer."
Deirdre Wells OBE, Chief Executive of Visit Kent, added: "Tourism is the UK's fastest growing service sector and these figures demonstrate the contribution which our vital industry makes to the economy of Kent."
Paul Carter, Leader of Kent County Council, said: "The results from the 2017 survey commissioned by Visit Kent clearly show that the visitor economy is increasingly important to the county's future prosperity."
For more information about White Cliffs Country, please see the White Cliffs Country website (www.whitecliffscountry.org.uk )
ENDS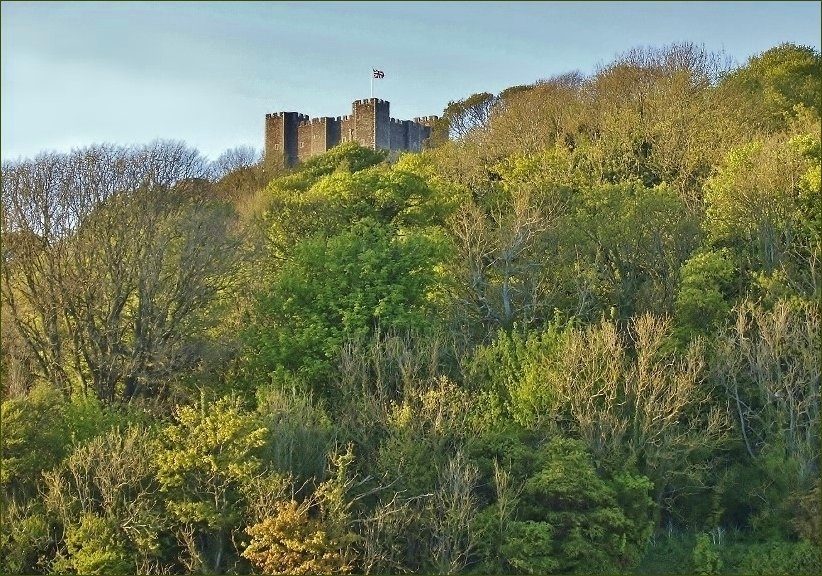 Dover Castle.
That is good news above there re Kent in general...you can understand now why the hotel groups such as Travelodge and Premier Inn are making these local investments...and you can see why Marco Pierre White has associated himself with the Dover Marina Hotel. The Hythe Bay Restaurant on the beach here is closed for a major refurb this month.... so its all happening. And then of course there is the new marina itself coming...exciting times..
* *
A picture gazing along the aggravated beach this week. You can see the way the tidal pattern in relation to the beach has changed. The new harbour build has shifted the tidal flow somewhat. The picture shows the situation at high tide. Will have some extra pictures of the beach workings in due course.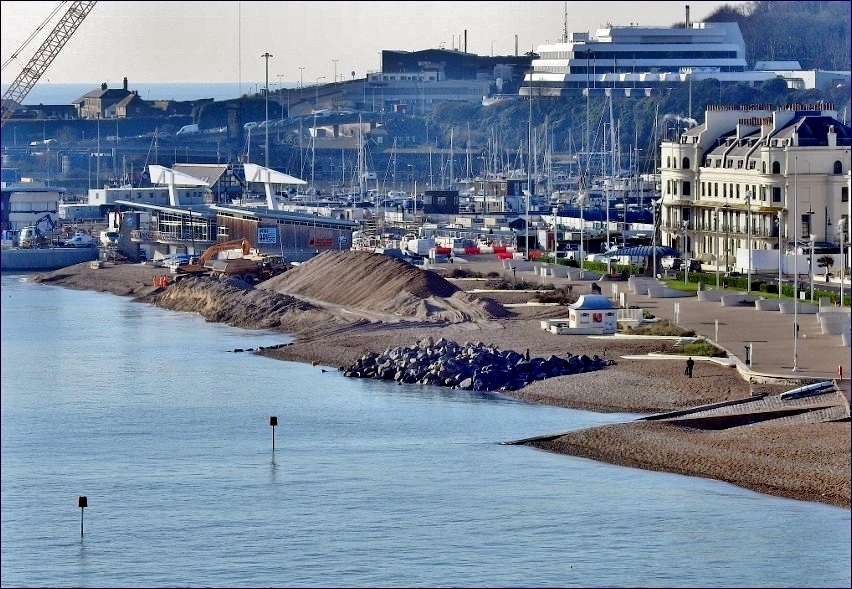 Interesting all round collection below there Mike...Topbond currently replacing Holyhead Towing as the main player. Those Holyhead guys seem to be all gone nowadays... much missed.

Brian yes I can totally understand the reasons behind P&O's decision...it is such a wide-eyed surprise though...them being the long time long term example of the stalwart British maritime tradition ( even though like much else they are Foreign owned these days ).

PaulB
ps: have some more pictures of HMS Enterprise coming...

Thursday, 24 January 2019 - 06:14