Friday, 18 January 2019

WWW.DOVERFORUM.COM/SEA-NEWS
Featuring all the ships that come and go and work at the Port of Dover with further coverage of the surrounding ports both sides of the Channel. Click ADD YOUR COMMENT below to post direct, no membership needed.
Listing highlights....
Scroll down or use our Search Engine for posts and pictures of Border Force in Dover and Ramsgate.
BREXIT READY statement from Port of Dover/DFDS/P&O Ferries see 6021.
P&O Spirit of Britain - notable Cyprus reflagging see 6017.
Deal Pier Kitchen restaurant opens 6016.
Charlie Elphicke MP - making our borders stronger, safer 6014.
BORDER FORCE SEARCHER and migrant boat.. see 5969 below..

Port of Dover supports Women in Maritime 5975.
Christmas Lifeboats in Ramsgate see 5937.
P&O: Britain's Favourite see 5922.
DFDS: Voted Worlds Leading Ferry Operator...see 5918..
Charlie Elphicke MP: Migrant Crisis 5894.
P&O: Santa Onboard see 5870.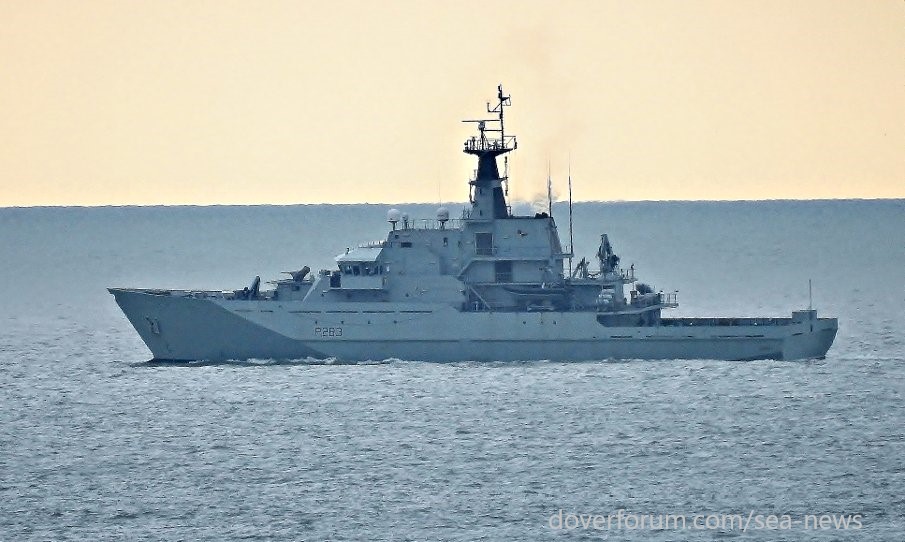 The Royal Navy - HMS Mersey off Dover.

Highlights continue...
Wreck of the Anneliese 5880, 5881, 5882 ...
Port: Additional Funding for Kent Wildlife Trust 5879.
P&O: Apprentices welcome RB Legion veterans 5853.
Eight new apprentices graduate see 5845.
DFDS: 'SEE PORTS' Calais and Dunkerque 5834.
DFDS: Revitalising dining concepts onboard.. see 5831.
P&O: Schoolchildren mark WW1 see 5816.
Lower Thames Crossing boost..5812. see now also 5817.
Dover Museum's revitalisation see 5807.

Port of Dover: Refrigerated Cargo Terminal .. software for 5801. Latest NATO also 5801.
Port of Dover: Great increase in summer traffic 5795.
Russian and shadow 5785.
The Waverley paddle steamer latest 5778...
New SAGA Ship launching in Dover see 5776.
DOUG BANNISTER: New Chief Executive Port of Dover see below 5734....
Merchant Navy Ceremonial images also 5734.
P&O: To Rome on Horseback 5759.
Dover Regatta Rescue incident plus .. see 5713.
Dover Regatta pictures Lifeboat etc..5716, 5717, 5718, 5720.

DFDS Expansion: More New Ferries on order... see 5693 see also 5500 and 5381.
Excellent Tourist season for P&O Ferries see 5649.
VSBW Port of Dover - Women at Work 5638.
P&O Second Female captain see 5107. Also see latest 5570.



NEW:

For instant access to any item listed above - just type the post number in the Search Engine below.

Sea News Dover : Use our SEARCH ENGINE below to find all sorts on the SEA NEWS pages....
type in the topic and away you go, more than - 6000 - nautical posts now.
Posts are welcome. Max of 5 pictures preferred although we can stretch that for special stories..
Sea News Editor Paul Boland - send info or pix to dover7@msn.com. Always welcome.
All pictures on these pages are the copyright of the owners and must not be reproduced without permission.
To show your pictures at their best..it could be worthwhile resizing before posting to
840
pixels wide.
Post 5886
Sea News, Dover
The Harbour Patrol boat Director came in close to shore yesterday. It was virtually up against the promenade wall but had pulled back a tad by the time the camera warmed up...well its getting old! The chap in view took out his large pole to retrieve debris from the Anneliese which had washed up and been lying about since the incident the other day. ( see also 5880,5881,5882, type the numbers in our Sea News Search Engine above. )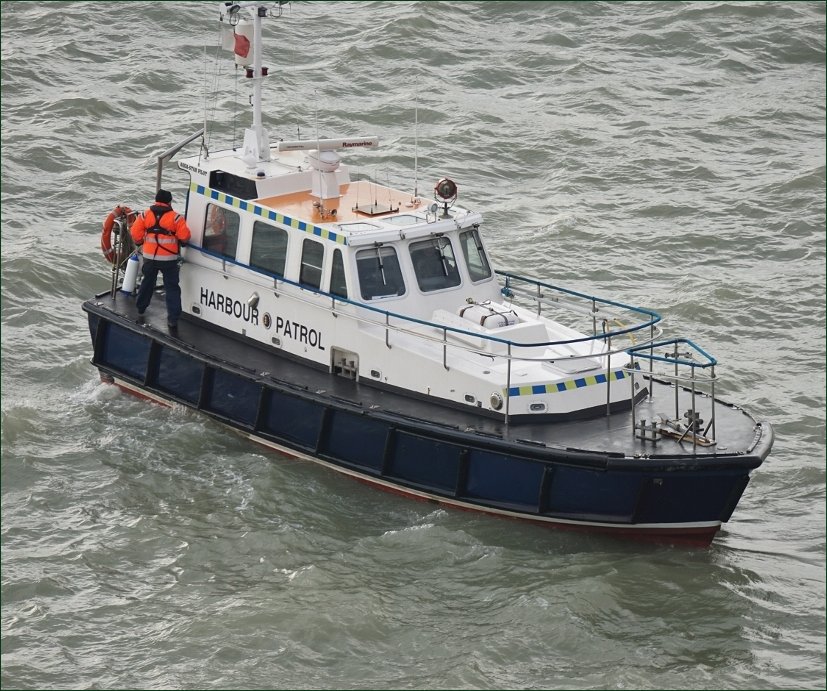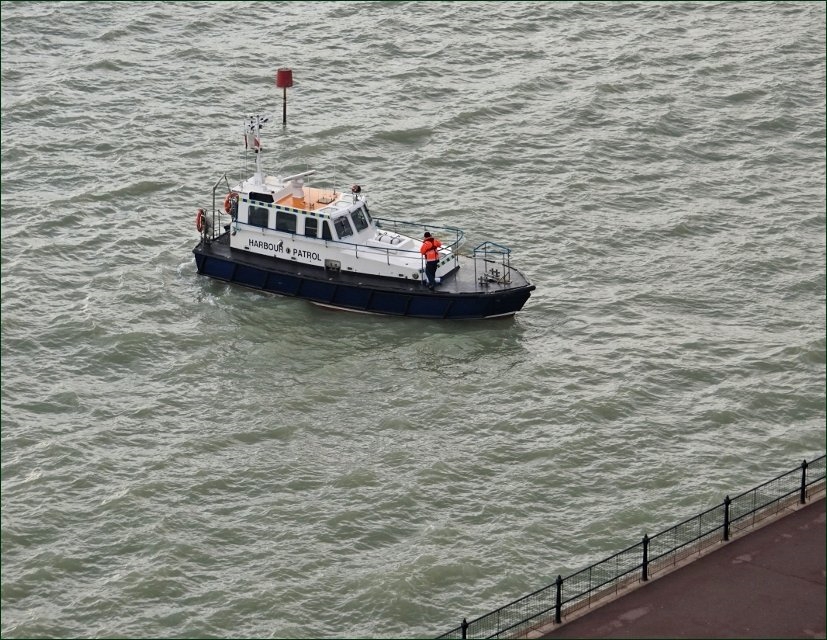 Some more shots now of the vessels that came in close to shore in the recent very rough weather. First shot a general view...to the left you can see ol warhorse European Seaways making her way to Calais...to the right we have CSAV Tyndall and CMA CGM Fort St Pierre.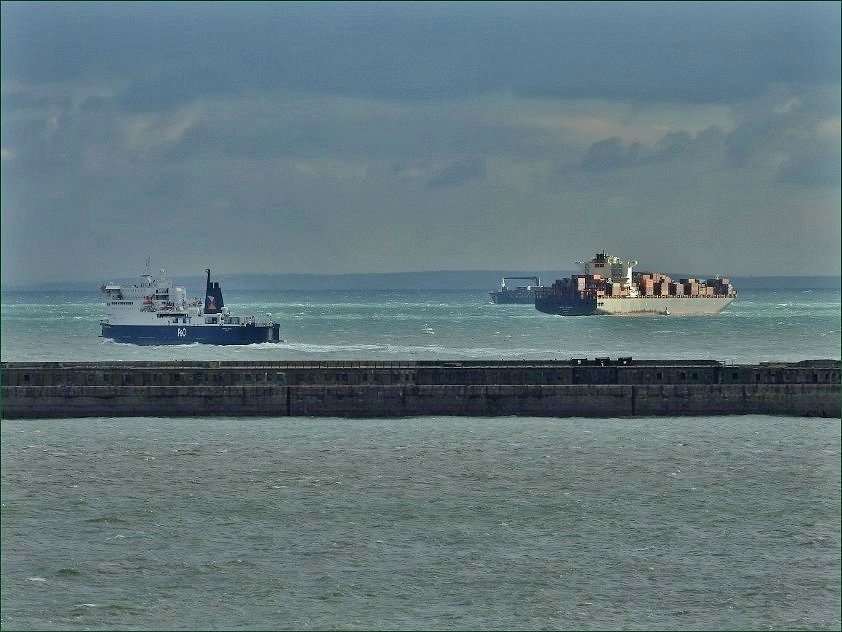 Tyndall below..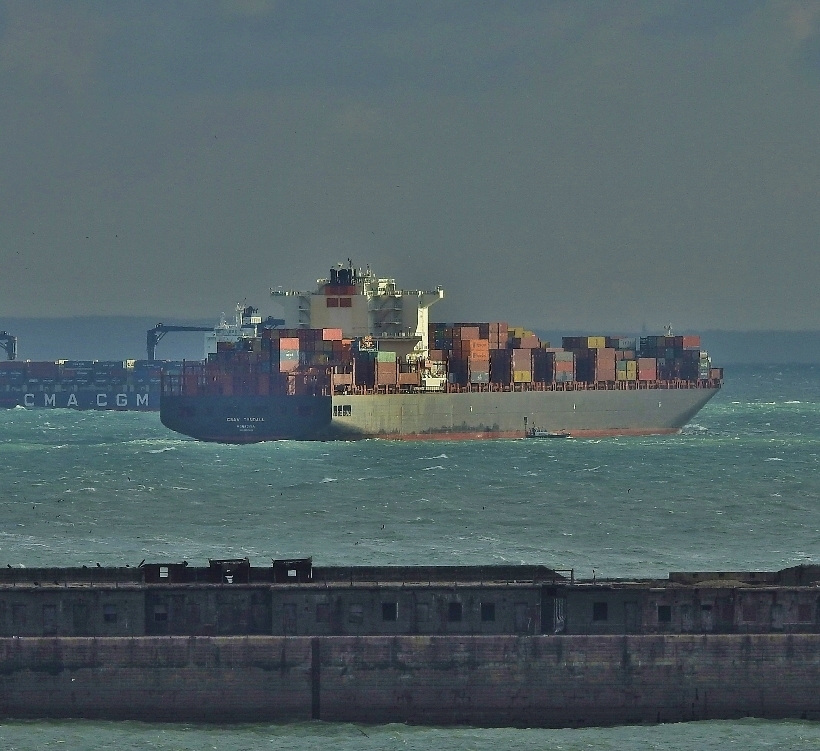 Fort St Pierre below...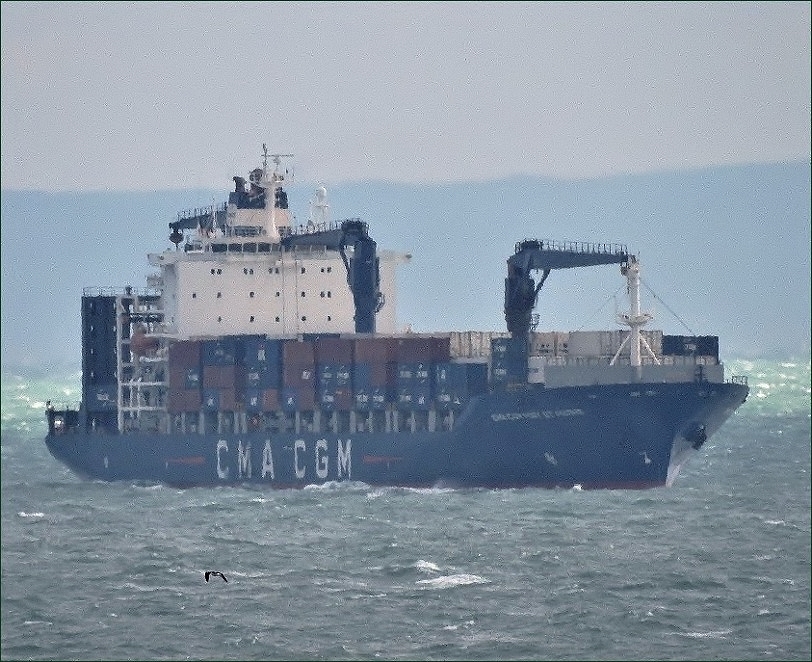 PaulB
Friday, 23 November 2018 - 05:50
Post 5885
Sea News, Dover
There was some very rough weather earlier in the week and an assortment of big ships came in close to Port. As we have said previously..presumably to drop pilots off who on account of the rough conditions were not able to alight sooner...we feature one of them here. A huge MSC ship as you can see...the MSC Kalina. It is great to get the chance to see these great ships fairly close and to get the opportunity to take a picture or two.
One can imagine the dialogue on the bridge of the DFDS Calais Seaways below as it approaches the Port's eastern entrance...
"What the heck!"....or words to that effect.
"There's a bloody monster in our path!"


However all was totally fine, easily fixed by a gentle glide to starboard side...
The brightness was coming and going as there was intermittent heavy cloud, but here we are..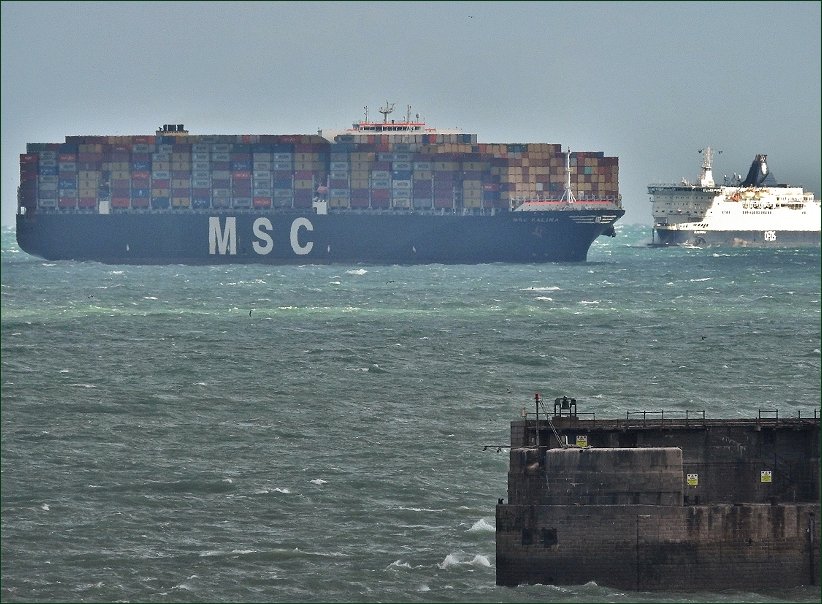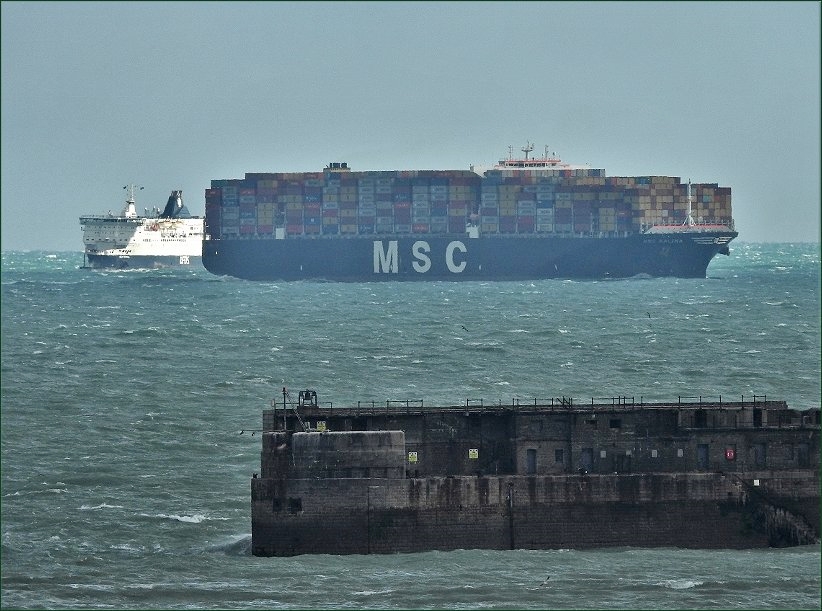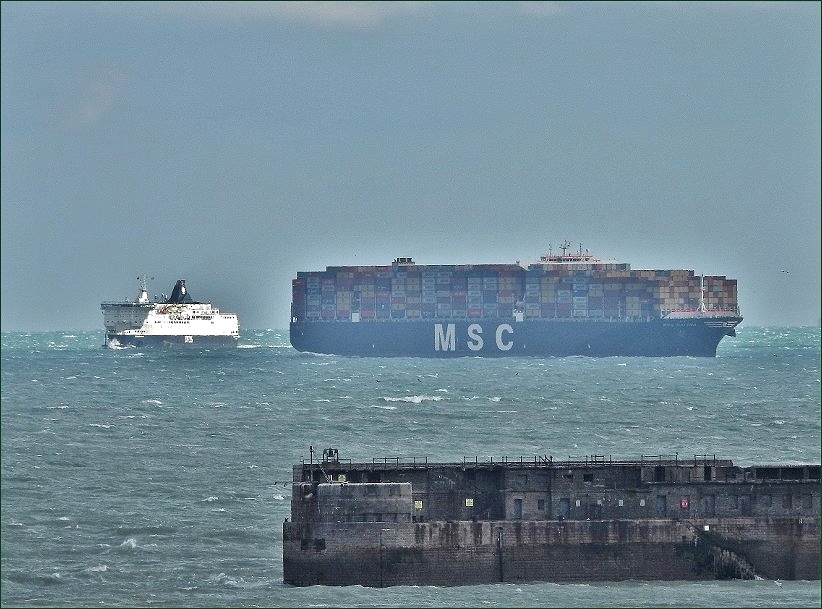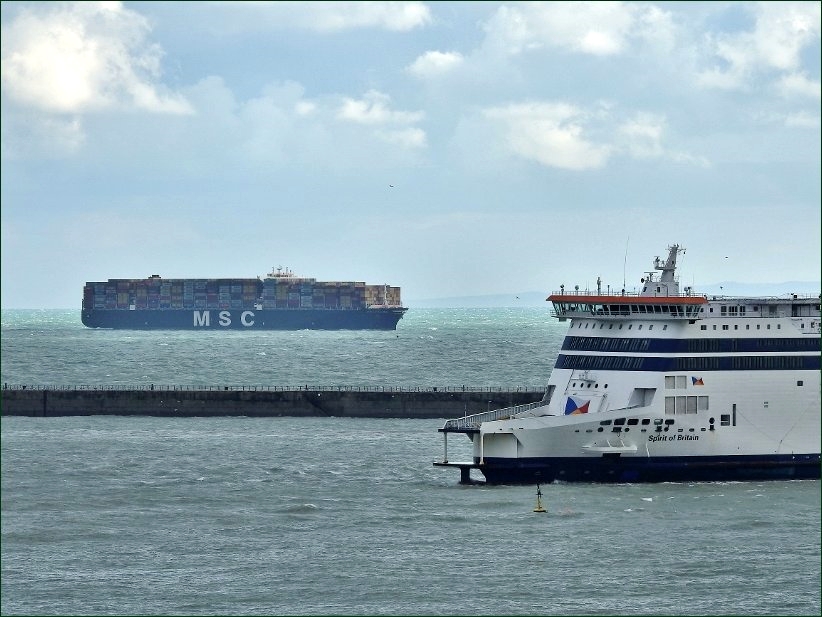 The P&O Spirit of Britain seen above there had arrived just ahead of the DFDS ship and had come in through the western entrance, anticipating the monsters arrival..
PaulB
Thursday, 22 November 2018 - 05:07
Post 5884
Sea News, Dover
Departing Reefers at Night
First three shots show the Lombok Strait leaving us on Sunday night. Both tugs assisting as she turns and heads off to Vlissingen on a cold dark night...and here she goes...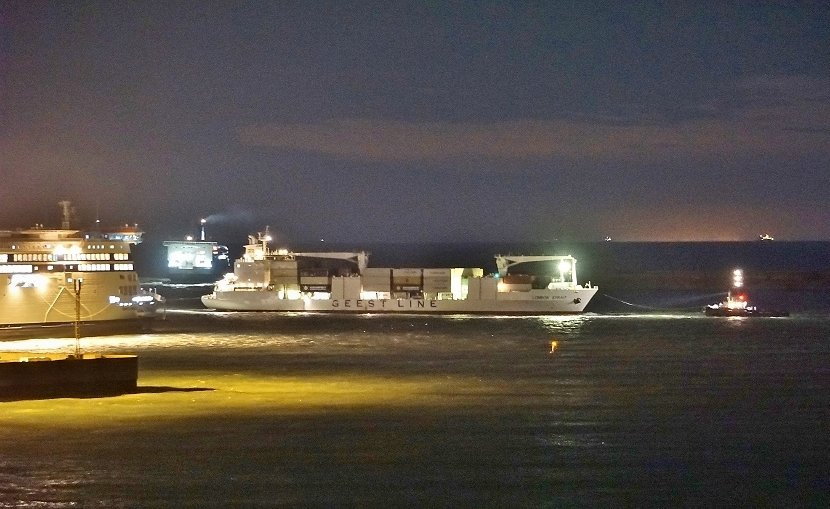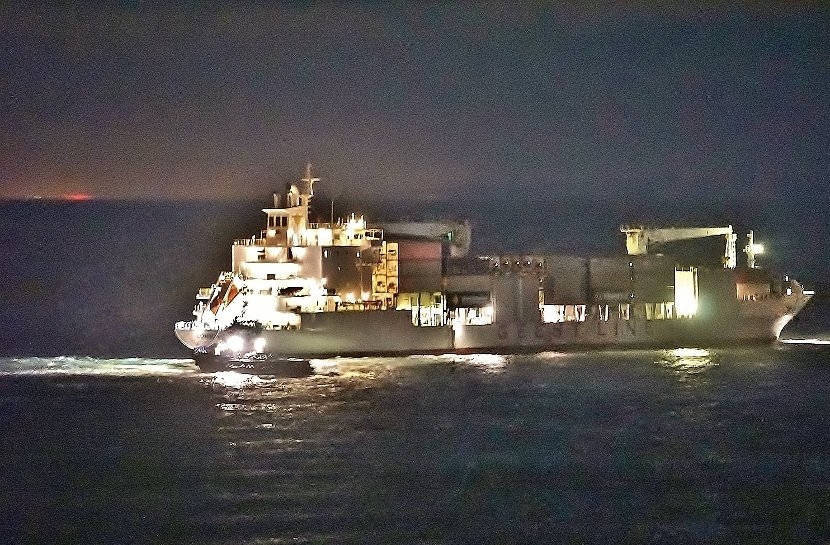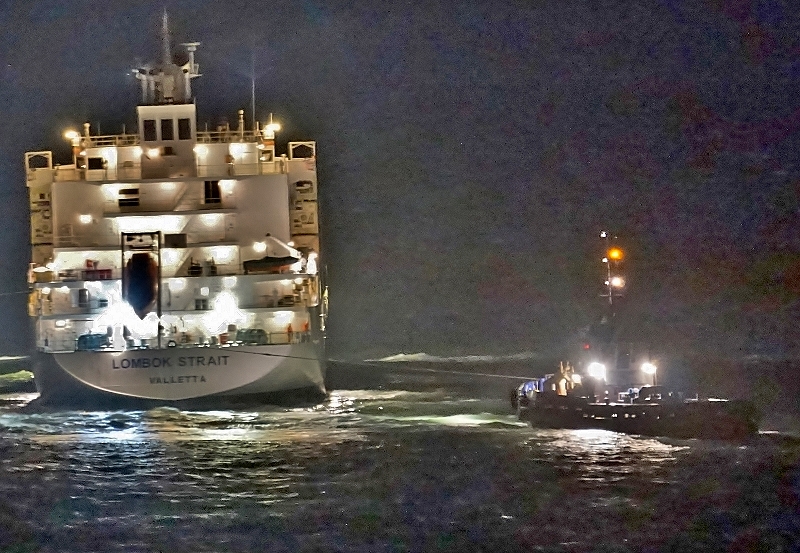 On to Monday night now. After the departure of Lombok in came Emerald to take up the slot at the busy cargo terminal... the picture below shows her departing within the same day... within 24 hours.. on Monday night as mentioned. You can see her setting off below for Hamburg. On both sets of pictures you can see Calais all aglow in the distance.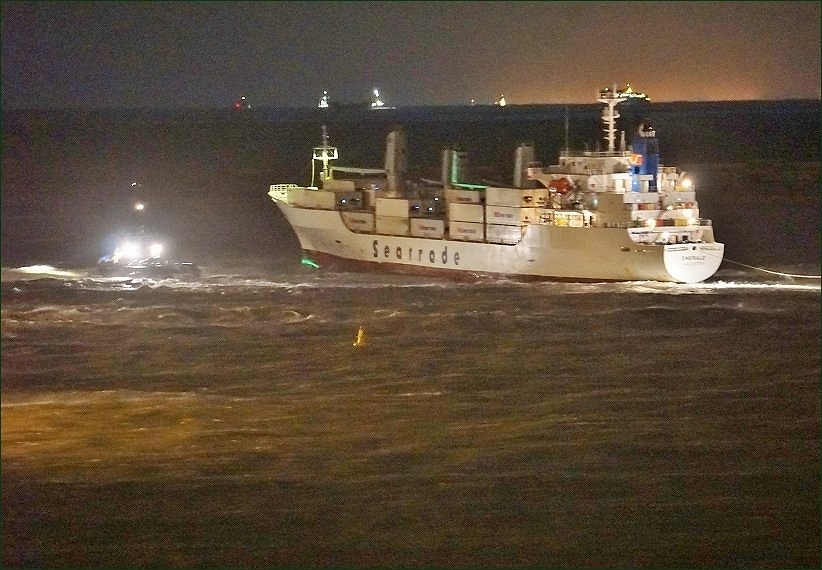 Great all round collections from Mike in the posts below - don't miss those

Great coverage of the Anneliese story. Great stuff!
PaulB
Wednesday, 21 November 2018 - 07:51
Post 5883
Mike J., Dover
Early Monday morning the Spanish high speed ferry AIGUES DE FORMENTERA came in for shelter & remains in the Tug Haven on Tuesday evening.
Bult in 2002 as the TIDEBRIS she was is presumably on a delivery voyage to the Meditteranean from Wilhelmshavn.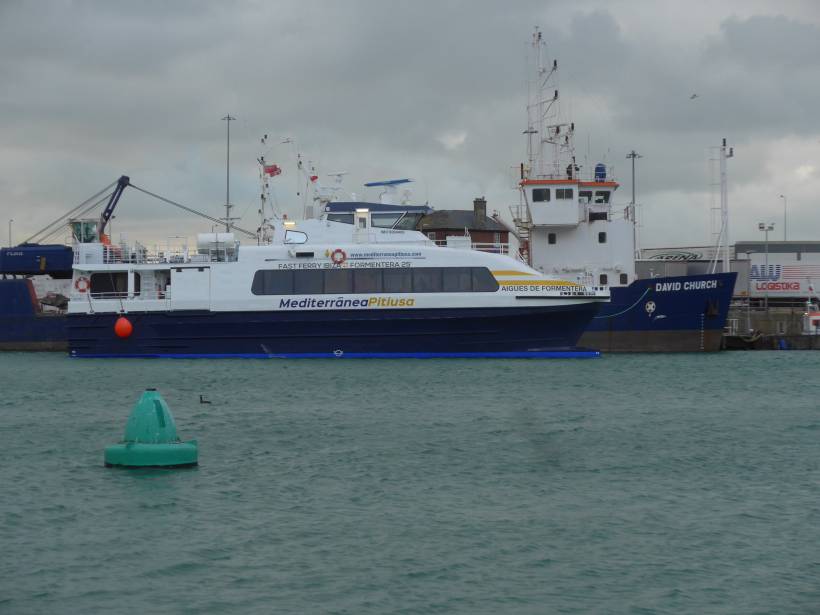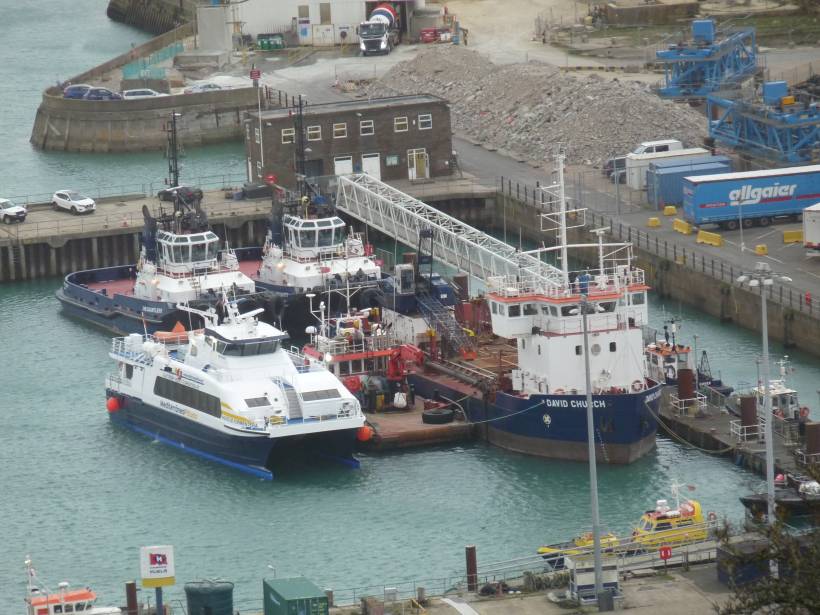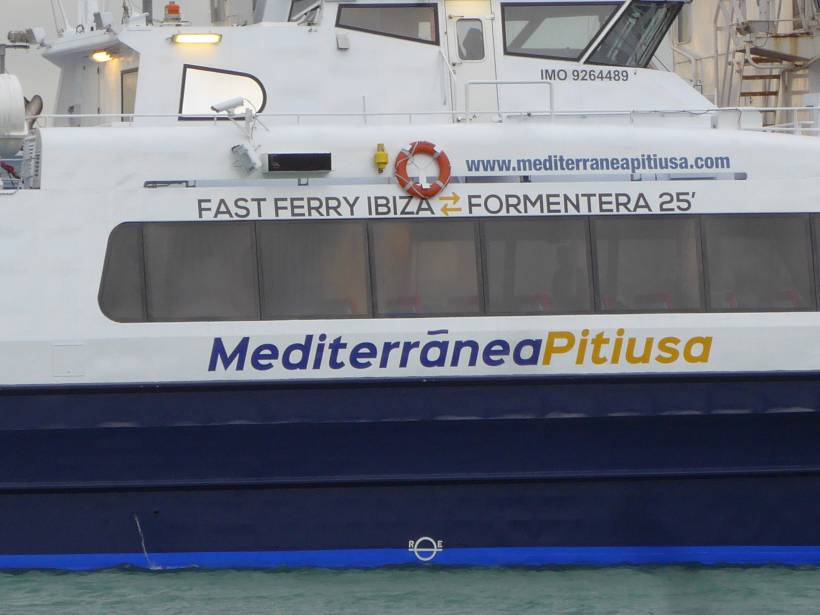 Two Border Agency cutters have been in Dover since at least last week [post 5874] & no doubt go out to sea from time to time & were still in the Tidal Basin on Tuesday morning
One is the familiar HUNTER & the second is the SPEEDWELL, the first time that she has been noticed in Dover.
Wednesday, 21 November 2018 - 00:06
Post 5882
Mike J., Dover
Tuesday morning & the sad remains of the ANNELEISE Ihauled up the slipway.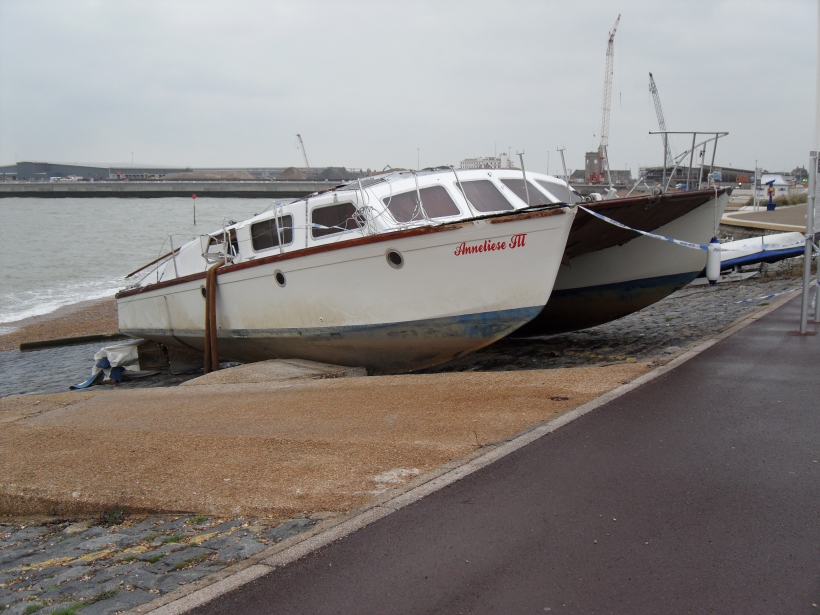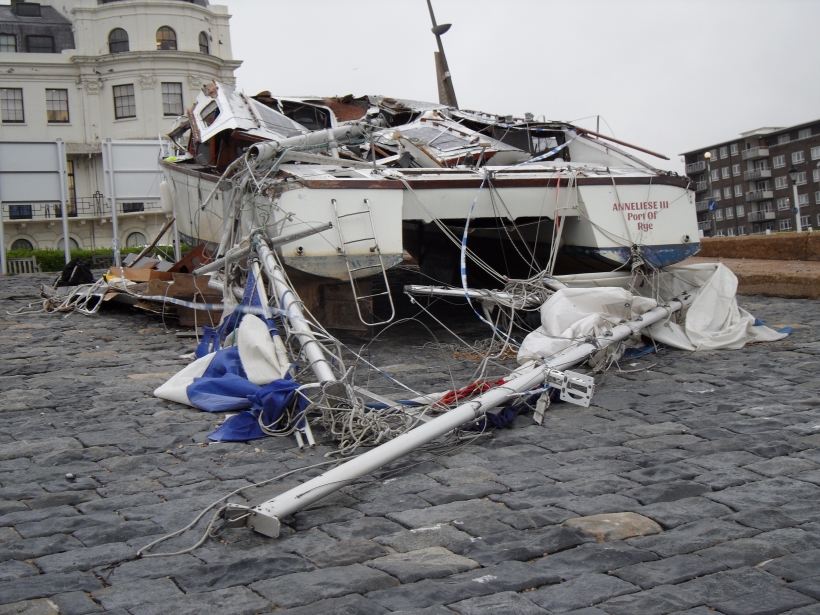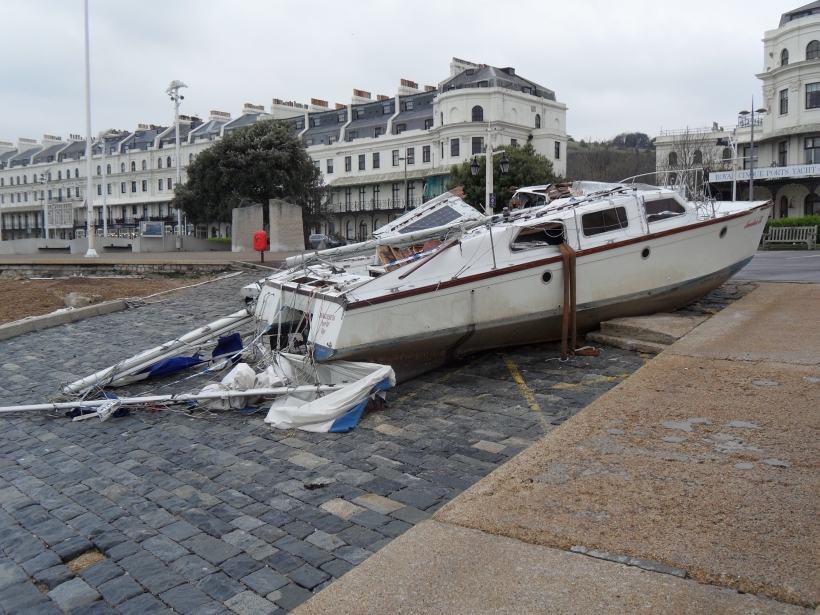 Tuesday, 20 November 2018 - 14:45
Post 5881
Sea News, Dover
Exceptional picture sequence from Mike on the unfortunate catamaran Anneliese situation. Good to see those pictures. But even earlier in the morning yesterday yours truly snapped the following sequence. The sun was just rising and casting its light intermittently through the thick black clouds...you can see the red early light skimming the surface of the water as the two boats...Pampero of DWDR fame and our own pilot/harbour patrol boat Dovorian came to the scene. That's Anneliese upturned in the water there. See more info in Mike's post. As you can see, the support boats left a short time later, unable at that time to do anything further re Annaliese. Very early, poor light, so the quality isn't the finest on these ones...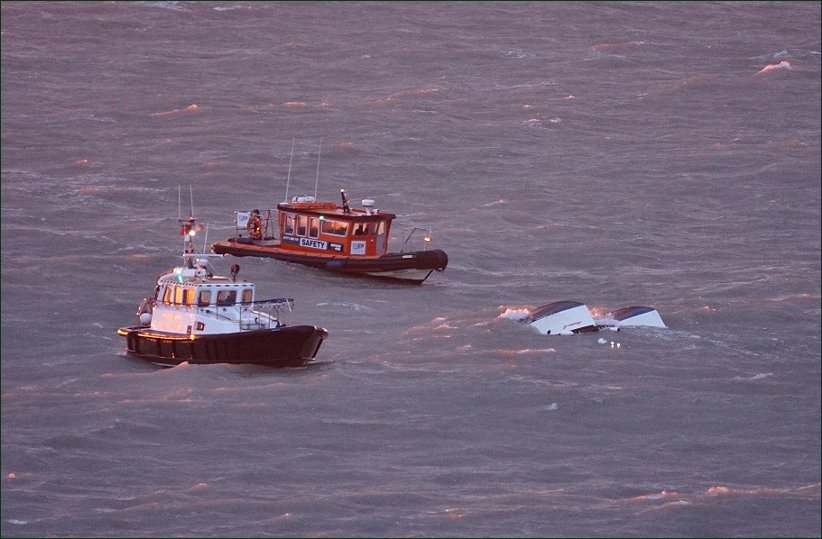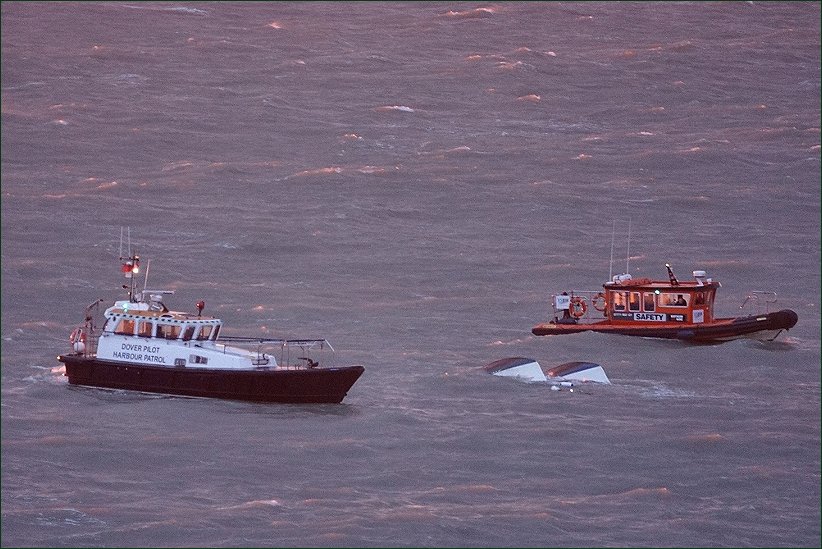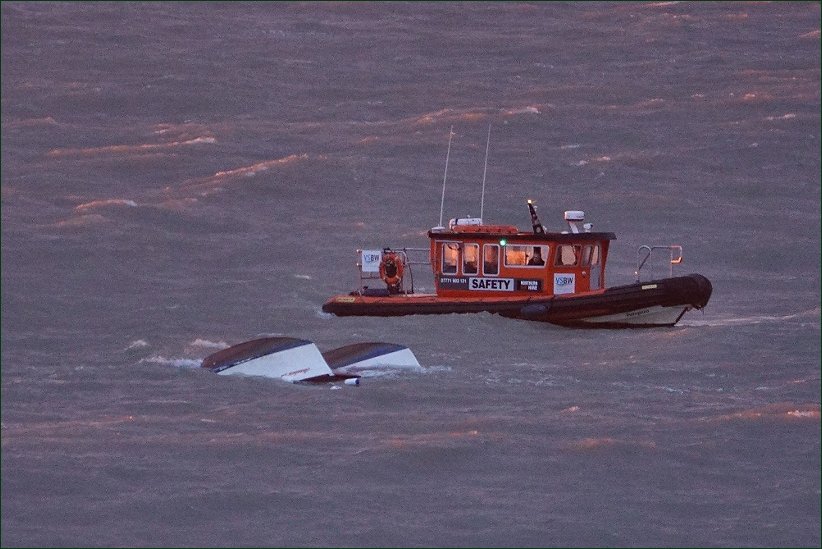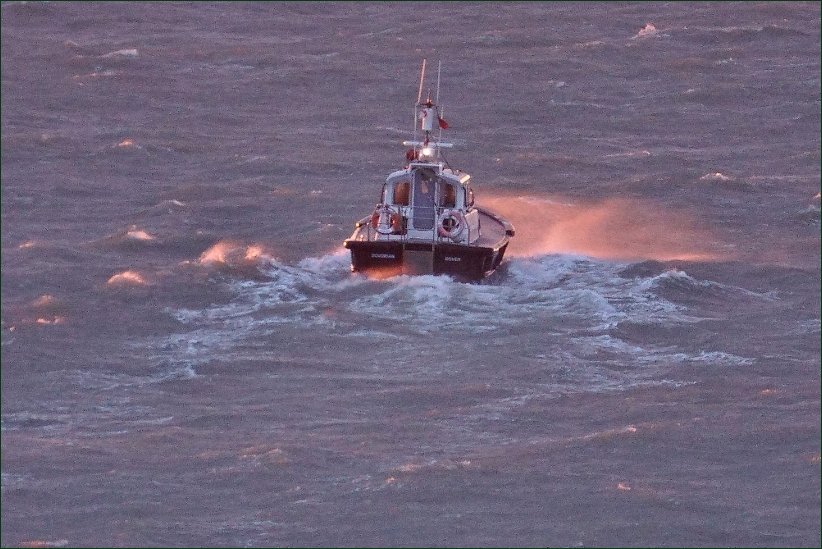 PaulB
Tuesday, 20 November 2018 - 05:05
Post 5880
Mike J., Dover (helcion@hotmail.co.uk)
Early on Monday morning the Dover lifeboat was towing in the catamaran yacht ANNELEISE 3 which capsized under tow.
The three folk aboard were rescued.
The ANNELEISE stayed afloat & at daybreak was moved to the beach by the Harbour Patrol Vessel DOVORIAN with the assistance of DWDR's crew boat PAMPERO.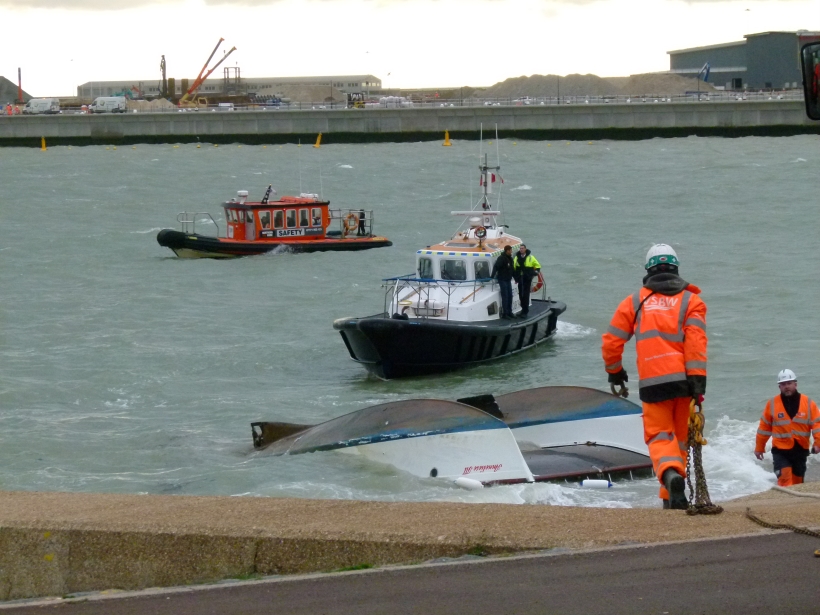 DWDR to the rescue although the initial attempt using a small digger to tow the ANNELEISE onto the slipway failed when the rope parted.
Plan B was to use the digger's bucket which wasn't too successful, causing some damage.
DHB later attended.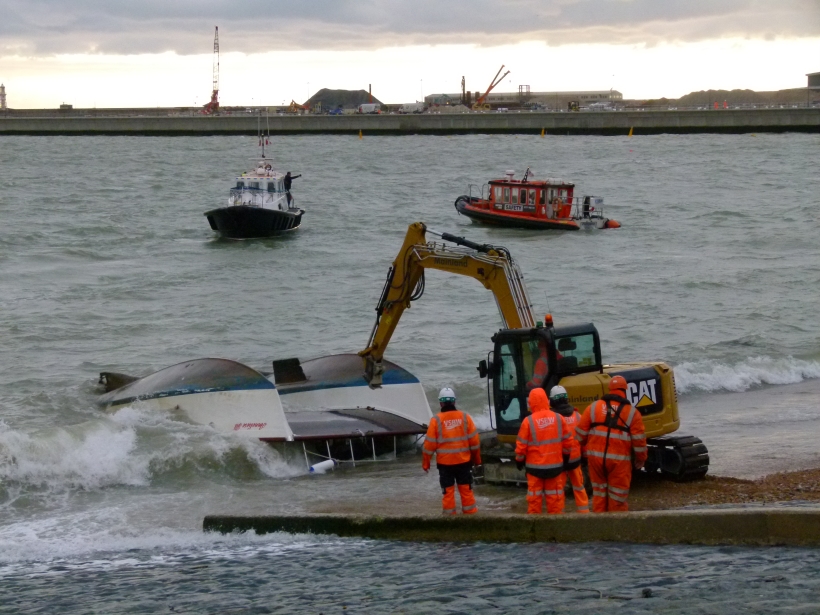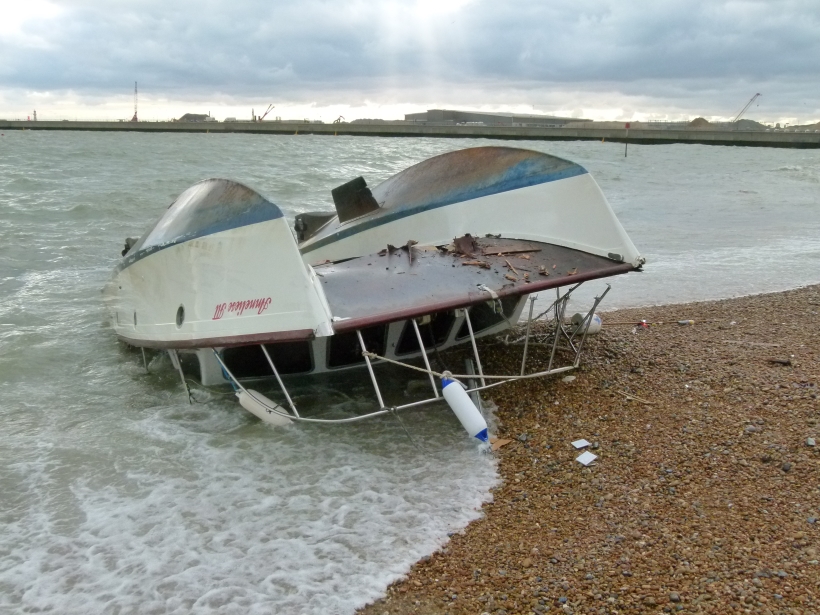 As the tide was falling the ANNELEISE was left 'as is' & photos on Dover Lifeboat's Facebook page show that later she was righted & dragged above the high-water line.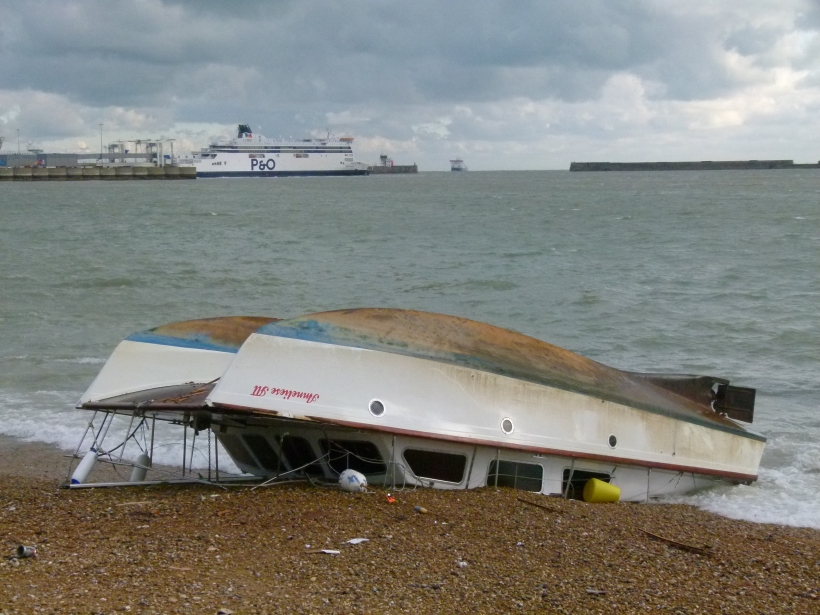 Tuesday, 20 November 2018 - 00:09
Post 5879
Sea News, Dover
Port Community Fund supports Kent Wildlife Trust for another year.
______________________________________________________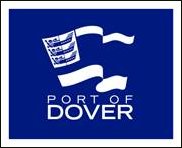 The Port of Dover Community Fund has provided the Kent Wildlife Trust with a grant for a second year running in the latest round of funding.
The Trust was successfully awarded a total of £6,500 for their latest application which means that they can provide a full-time Dover Conservation Community Warden for a second year to continue to work closely within the community, engaging local people with the rich natural heritage on their doorstep.
Established in 2014, and independently managed by the Kent Community Foundation, the Port of Dover Community Fund benefits the local community by supporting projects that provide opportunities for people to develop employment skills as well as those offering activities that enrich and improve the social, cultural and environmental life of local communities.
The total amount of financial support provided by the Port Community Fund to date is £520,000, funding 66 projects for 47 local organisations and over 44,000 beneficiaries.
The grant was awarded for the Kent Wildlife project, entitled People Saving Nature: Nature Helping People through which the Community Warden organises and implements a varied programme of community volunteering and training opportunities which bring the community together to improve their local landscape. Since receiving their first Port of Dover Community Fund grant in 2017, over 750 people have been involved, including 460 children. Initiatives include Forest School Training which helps local people find a deeper connection to nature through garden work at care homes, churches, youth clubs and community centres. Involving people in the development of these areas has created a sense of ownership and provided a safe and usable outdoor space for the benefit of local people and wildlife.
Port of Dover Community Social Responsibility Officer, Jenny Beacon said: "The Port of Dover Community Fund continues to provide a wonderful opportunity for local projects to bid for much needed funding to enhance our community.
"The Kent Wildlife Trust Dover Conservation Community Warden is a fantastic project bringing the community together and creating amazing spaces for both people and local wildlife whilst preserving our natural heritage. I'm delighted that it was chosen for funding again this year and wish them every success."
Kent Wildlife Trust Head of Conservation Delivery and Partnerships, Paul Hadaway said: "We are very grateful to the Port of Dover Community Fund for their continued support and involvement in our Dover project work. Their funding has allowed us to deliver some exciting projects with the communities of Dover, from wildlife gardening, transforming community greenspaces to developing skills and knowledge which allows young people to engage and understand the wild spaces that surround them. We look forward to a continuing relationship with Port of Dover and are very excited about what the future holds."
Ends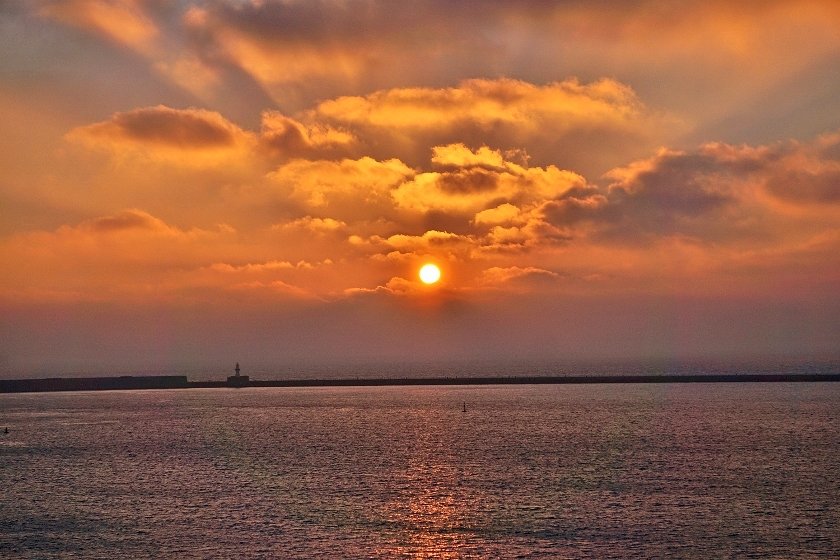 Sunday Morning...
From the ROAD HAULAGE ASSOCIATION ...
RHA acknowledges progress on Brexit agreement
___________________________________________
The RHA acknowledges the progress announced on a draft Brexit agreement between the UK and EU.
The Association says it's an important step given there is currently no workable solution for EU-UK cross border road haulage by March 2019.
RHA chief executive, Richard Burnett said: "Whatever the outcome of negotiations a transition period is essential – it would be catastrophic for the supply chain if we didn't have one.
"We must have the time to put in place processes to allow lorries to continue to cross borders without delays."
Theresa May faces calls to reject the deal from both senior Brexiteer and some Remain supporters.
The draft is seen as a significant moment in the long running negotiations between London and Brussels.
The RHA has not seen the deal and isn't commenting on details or supporting the content.
It argues the haulage trade doesn't have clear instructions on what to do after March 2019 and clarity is badly needed as lack of preparation and organisation has frustrated logistics and wider business.
ENDS
* *
An exciting colourful and amusing collection below there Mike.... good to see those.

I myself don't have the assault ship you mention.
PaulB

Monday, 19 November 2018 - 06:44
Post 5878
Mike J., Dover
Coming back from Deal Sunday morning along the seafront I came across a colourful display of kites of all shapes & sizes being flown in the brisk but chilly wind by Chris from Royal Tunbridge Wells to the pleasure of passing walkers & confusion to some of their dogs.
Chris told me that, unsurprisingly, most of the kites come from China these days & with the aid of computers for the design & fabric cutting new styles can be very quickly produced.
There seems no limit to the imagination of the designers . . . .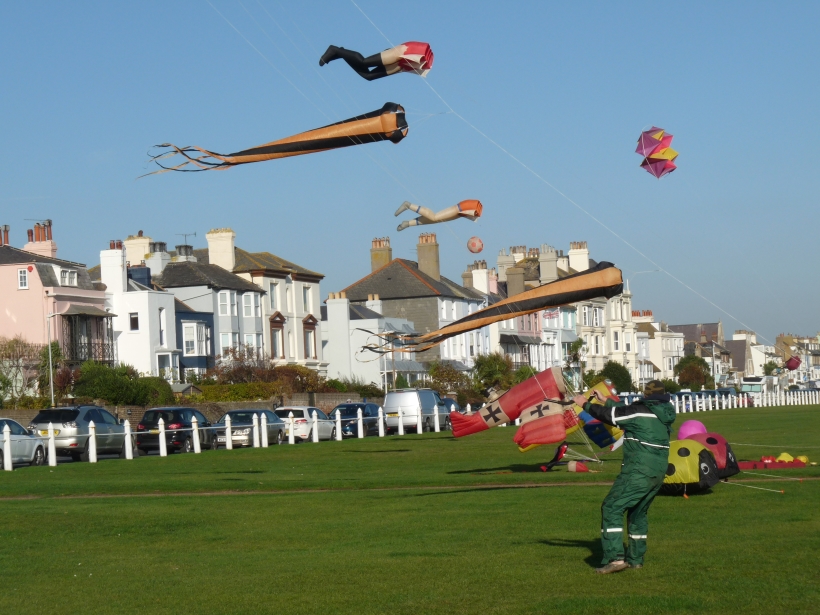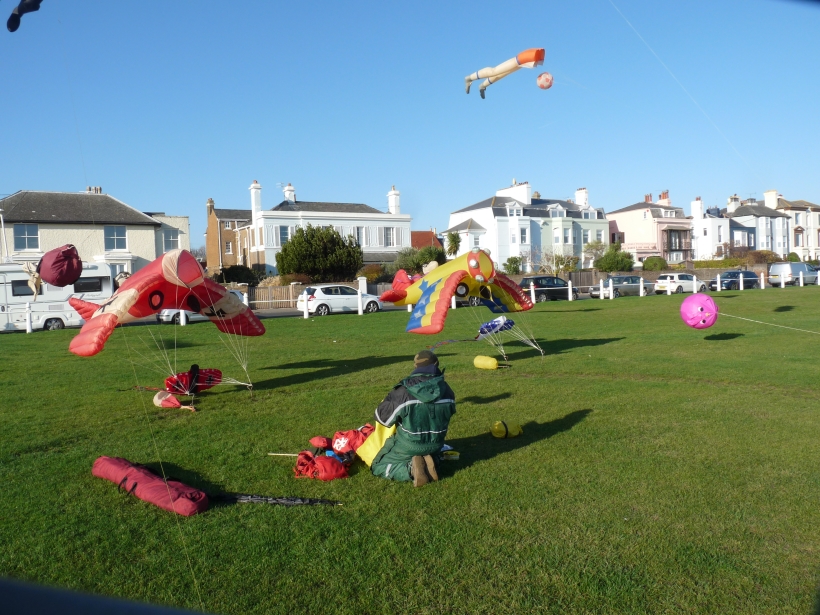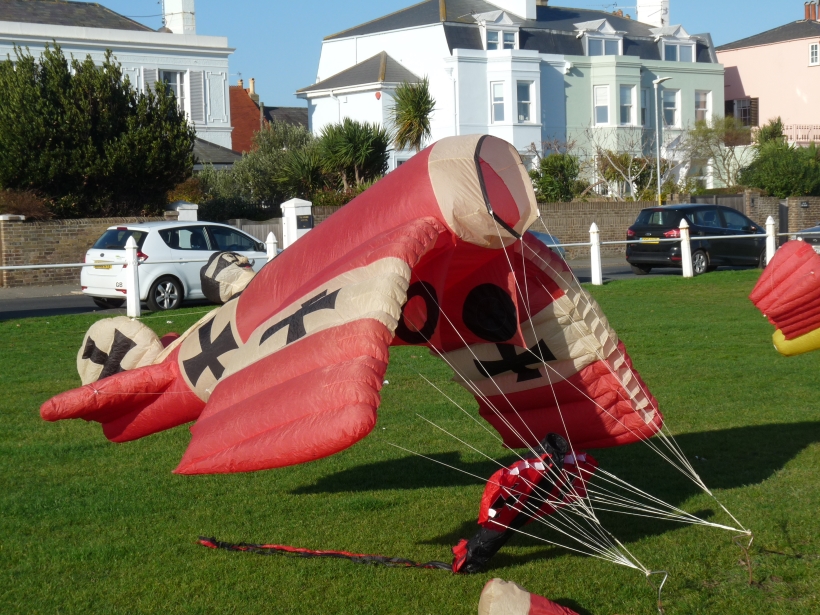 I would have liked to have seen the RED BARON & SNOOPY airborne at altitude as both were straining at their leashes, but Sunday lunch was calling & I had to be satisfied with a lady's legs . . . . . . . . .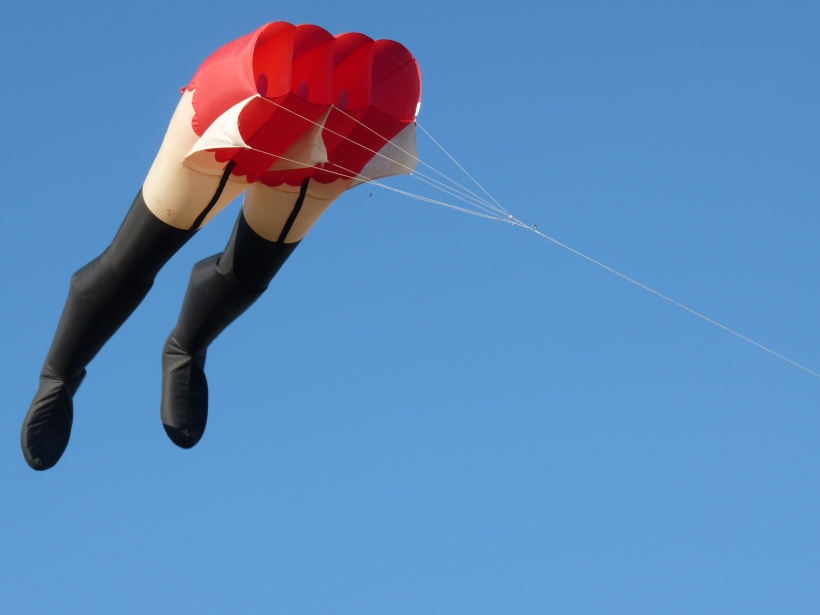 Keeping the aeronautical theme going, helicopters, mostly the Coastguard choppers from Lydd, are often seen over the White Cliffs but a particularly tiny one flitted by on Saturday afternoon.
The 2-seat 'Robinson R22 Beta' G-IIPT was built in California in 1994 & is based with Polar Helicopters at Manston & I later heard that the pilot was on his first solo flight - he certainly chose a nice spot & a lovely day for this most important flight as he proceeded northwards just offshore in a dignified manner, with the seagulls keeping well clear.
Just a pity that the sun was on the wrong side.
Congratulations to the pilot are in order !
The U.S amphibious assault ship IWO JIMA, looking at a distance like an aircraft carrier, passed Dover heading south about 1300 on Sunday.
She was showing on AIS but I hadn't noticed her, perhaps Paul or one of the other 'Sea News' reporters had better luck.
She had come from Oslo & was bound for an unknown destination.
Monday, 19 November 2018 - 00:35
Post 5877
Sea News, Dover
Gentle evening sky over the cliffs ..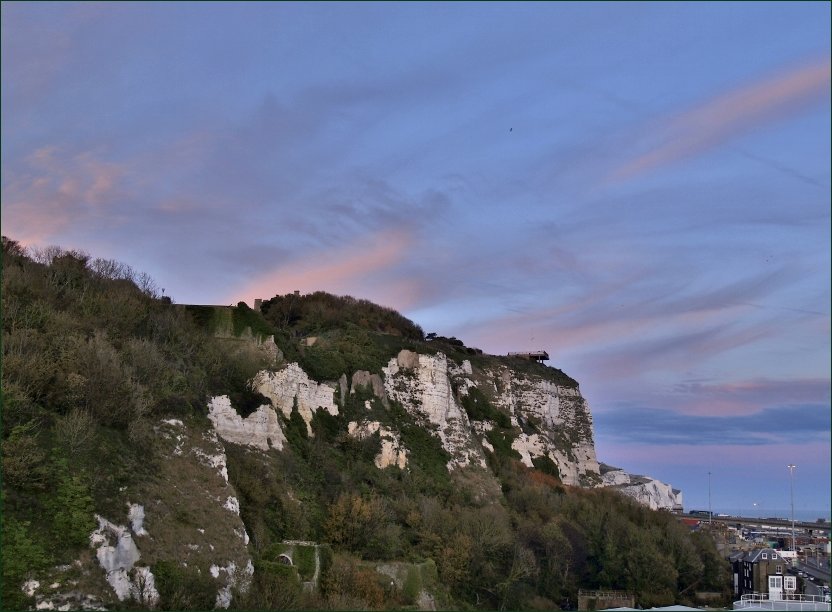 And below said sky we see the new wing of the Premier Inn rising...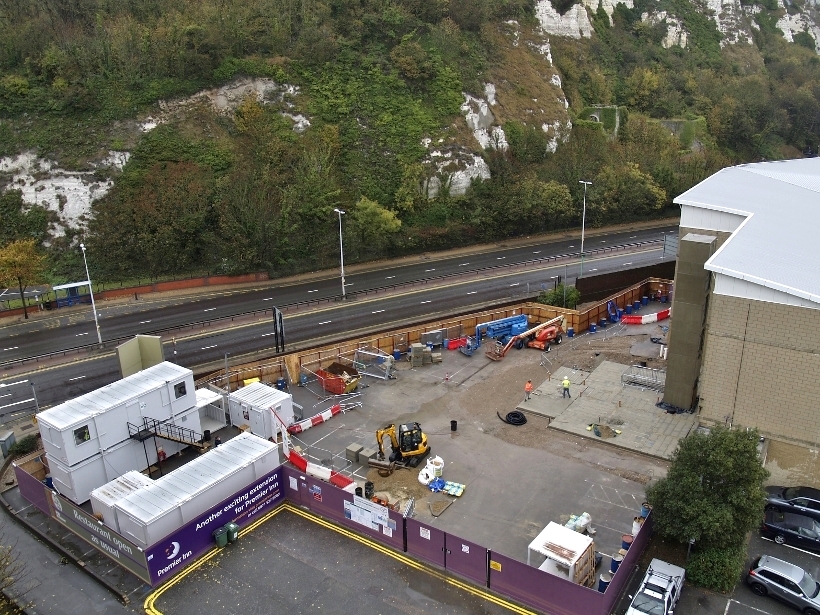 The foundations had been dug and laid and we had a new flat bottom ..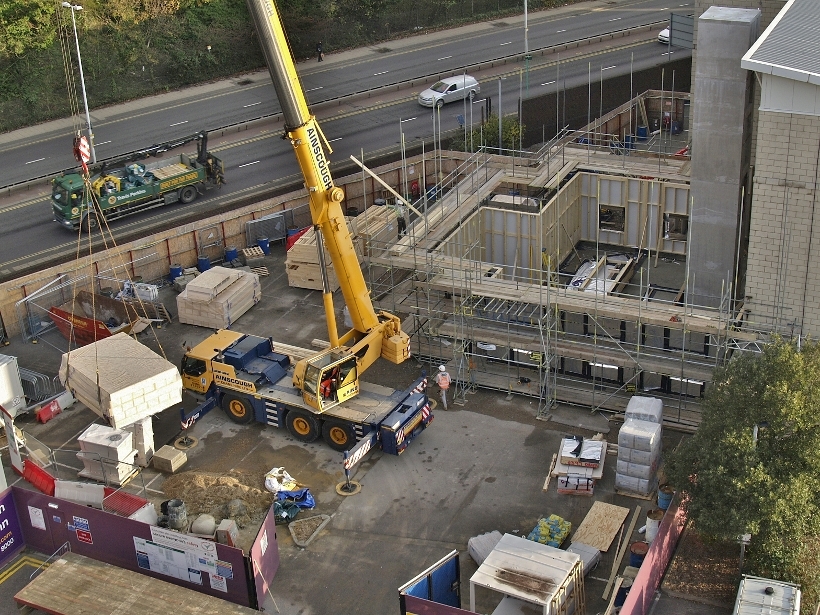 Then new sections were brought in and she began to rise fairly rapidly. Amazing to see how quickly they work and how organised they are. Looks like they've done this kind of thing before..

That looks like a lift shaft to the right. The second picture there was taken just 2/3 days ago.
To see the earlier pictures just type Premier in the Search Engine above.
PaulB
Sunday, 18 November 2018 - 07:10
Post 5876
Sea News, Dover
As promised here we are now with the midweek arrival of the Atlantic Reefer...
as mentioned previously she had been waiting for the departure of the Luzon Strait and came into Port a short while later.... and here we are...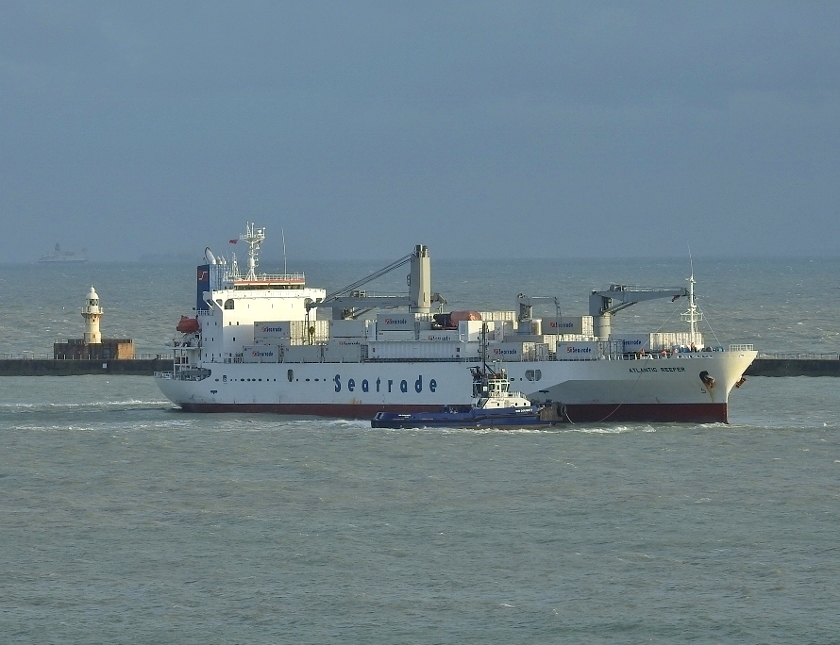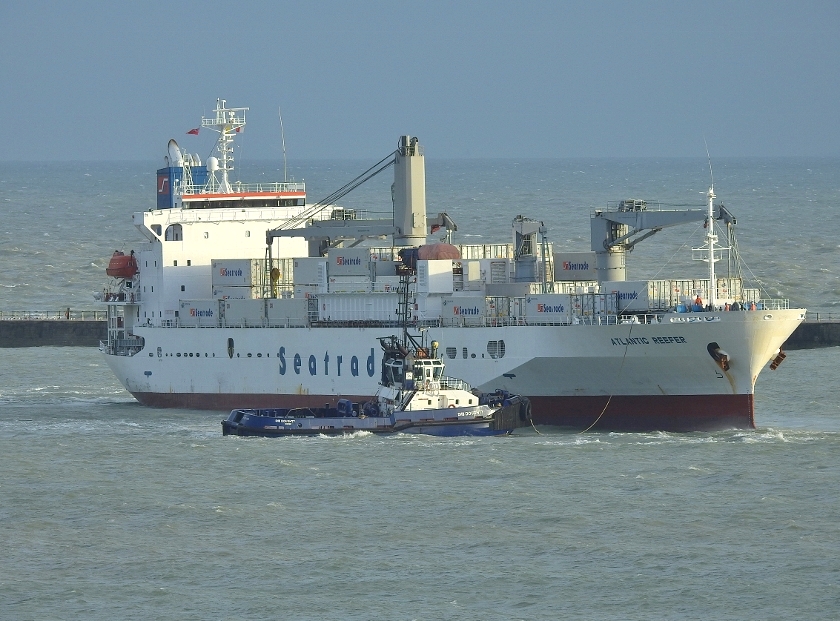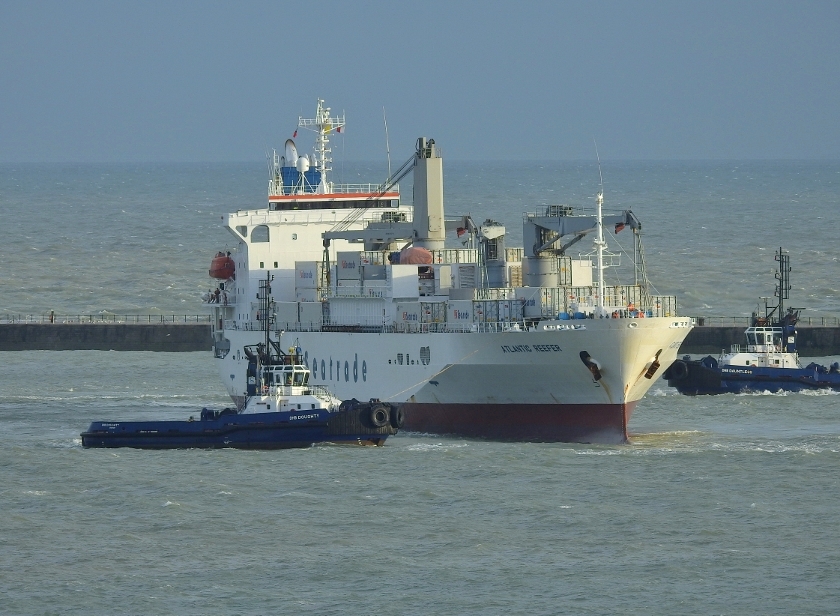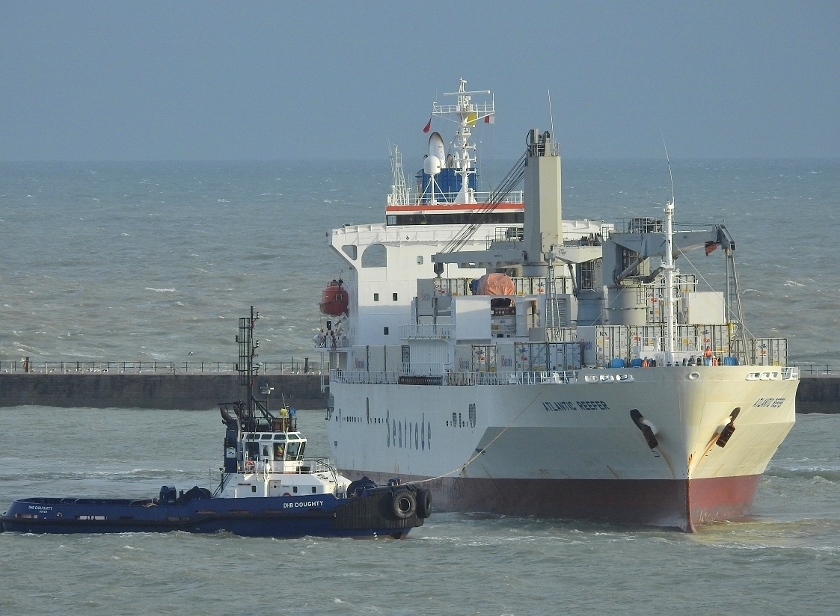 She has since left us and is now in Rotterdam.
In port now...The Lombok Strait...the Cargo Terminal continues the busy trading schedule...
Let's hope it will be a bit less foggy today...its ghostly in the 'observation tower' seeing nothing..it sure dries up our supply of pictures.
Ghostly fog!


PB
Saturday, 17 November 2018 - 06:39
Post 5875
Sea News, Dover
Going back a few days now and we have the departure of the Luzon Strait. First two shots show the tug trying to turn her round... pulling her against the strong wind that was whipping across the harbour at the time.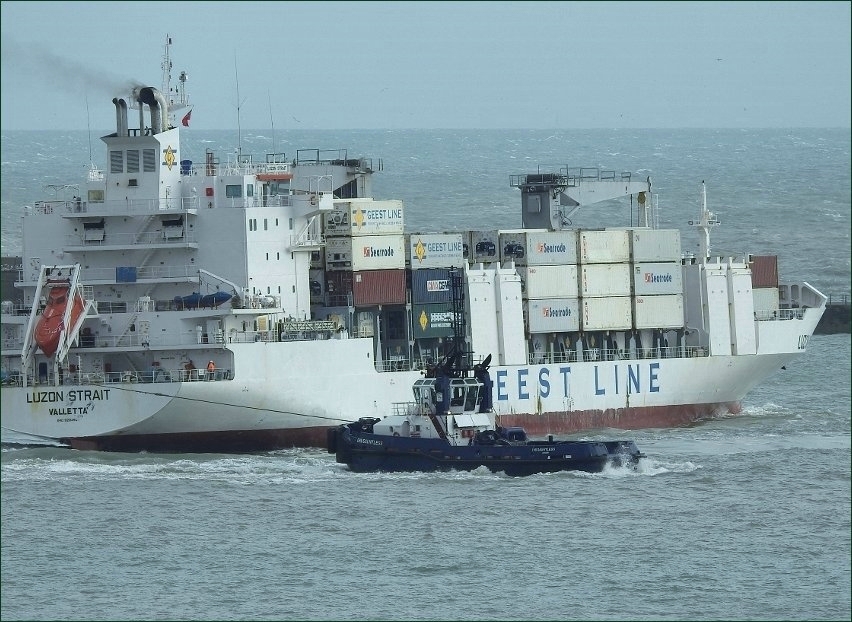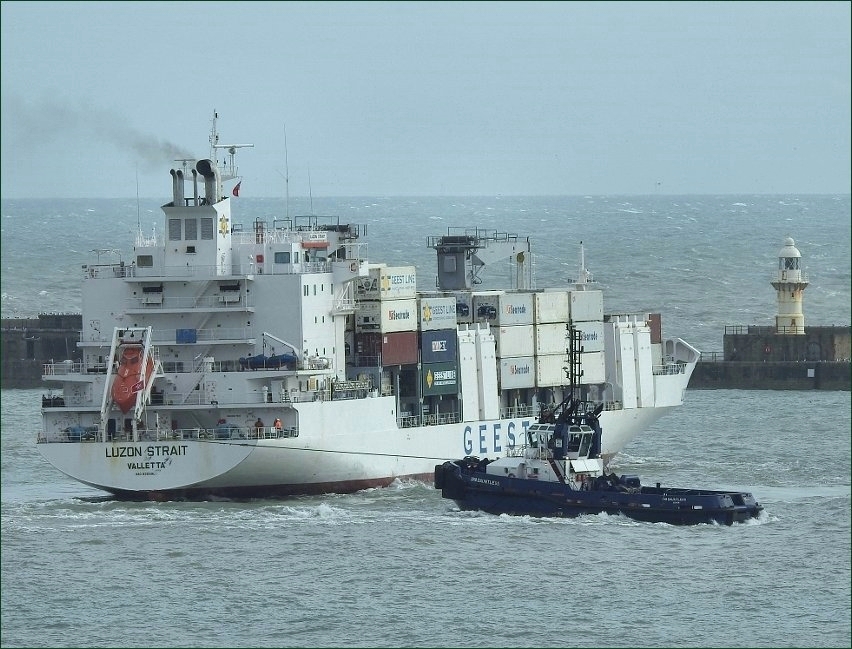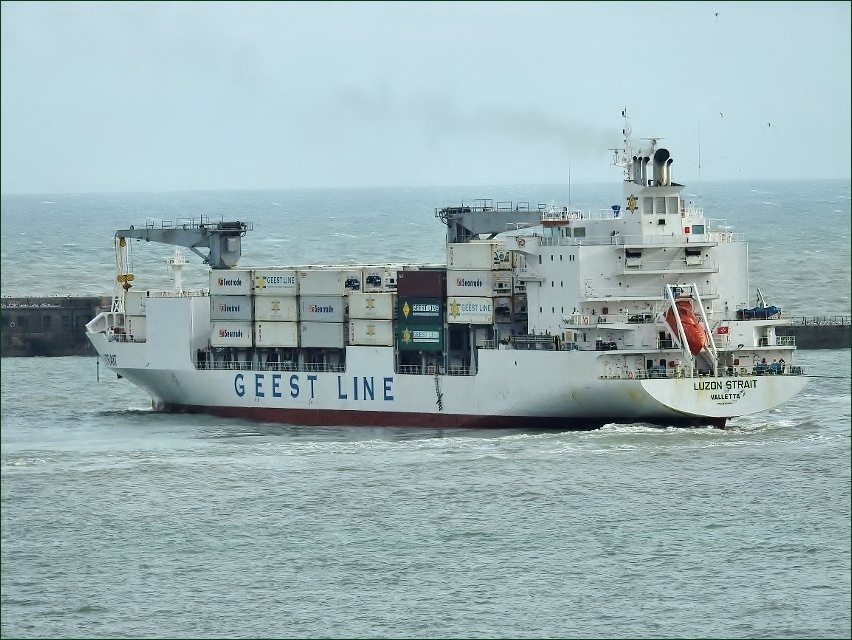 And then it was done in the pic above and she was on her way...
While all this was going on, waiting offshore was the Atlantic Reefer, she had been waiting for several hours for the slot to become free. You can see quite how windy and rough it was at the time in the picture below...(those lighting poles again..

)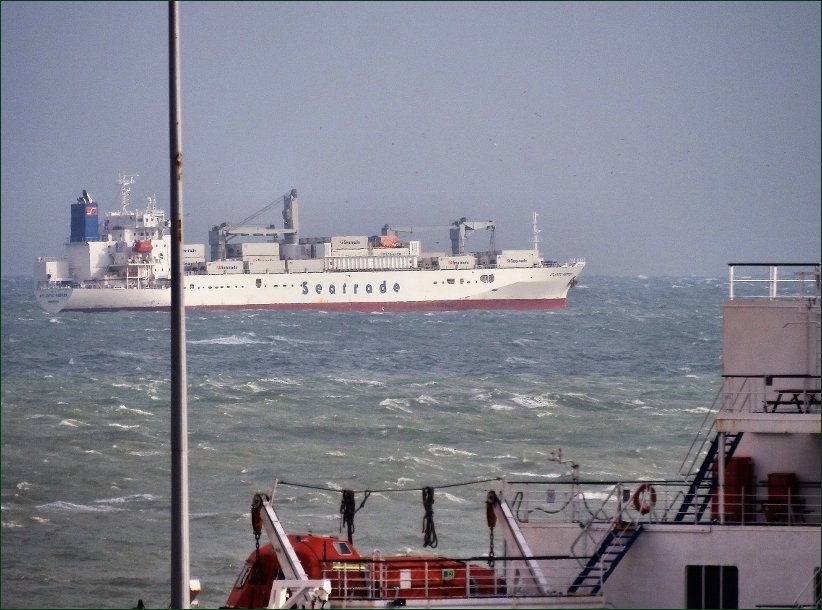 Will also have pictures up close...relatively speaking...of the aforementioned Atlantic Reefer as she arrived to follow in due course.
Excellent all round collection in the 2 posts below from our 'inshore correspondent'. Great to have the views from on high of the DWDR in our Sea News system and also the latest of the general 'goings on'. Well done Mike.
Don't miss those.

Also see the news pictures of the migrant boat arrival with the lifeboats (5872) just below those.

PaulB
Friday, 16 November 2018 - 06:46
Post 5874
Mike J., Dover
Nice sunny Thursday morning turned into mist & murk as I turned into the docks around noon.
Two Border Agency cutters were in the Tidal Basin, the HUNTER & [I think] the SEEKER, but all the action was out on the Admiralty Pier.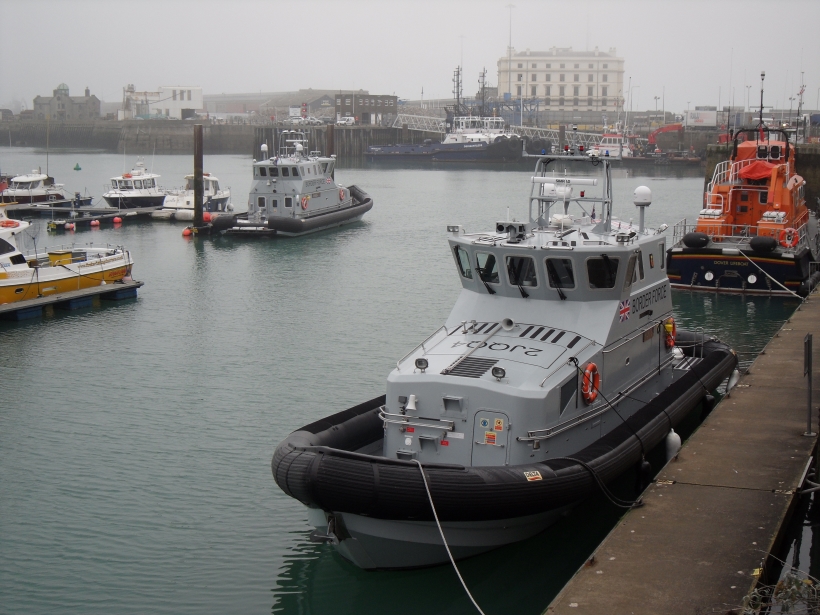 Hansa Shipping's KERTU had arrived from the Estonian port of Heltermaa, via the Kiel Canal, during the night & was busy discharging the second cargo of logs for the biomass plant & power station at SandwIch.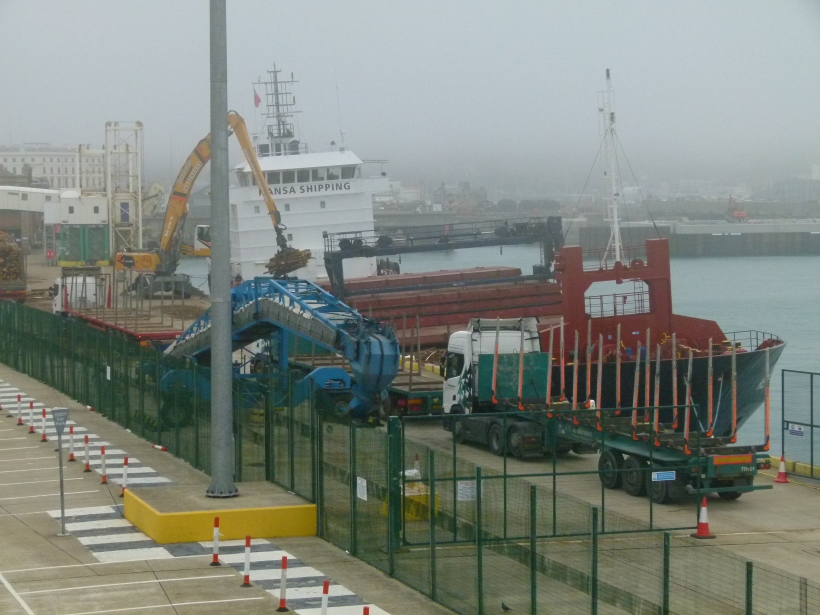 Damned lighting poles !
A mobile crane was grabbing the logs from the KERTU's hold & placing them in shore 'racks' or loading directly onto lorries.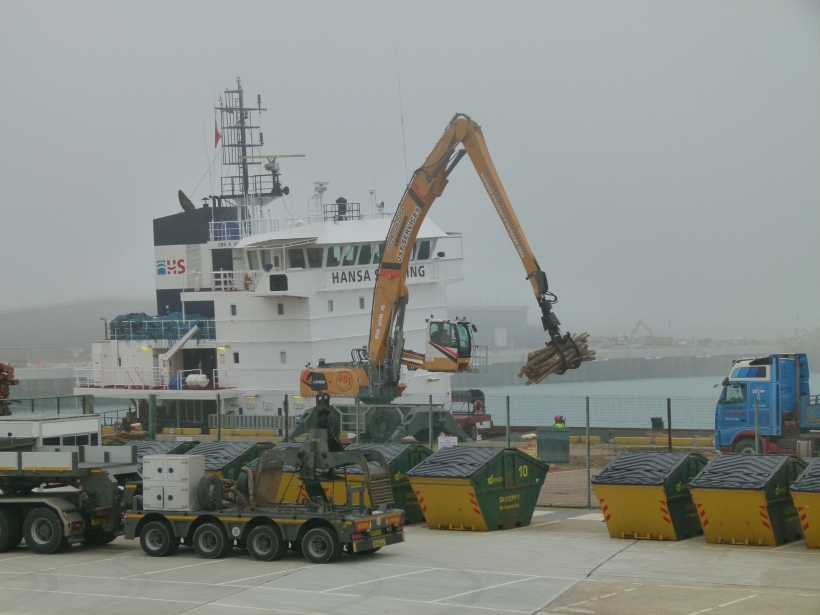 Some of the lorries had their own cranes & loaded themselves from the shore racks - not much shelter in mucky weather . . . .
Note the DWDR crane jib disappearing skyward into the low-flying crud.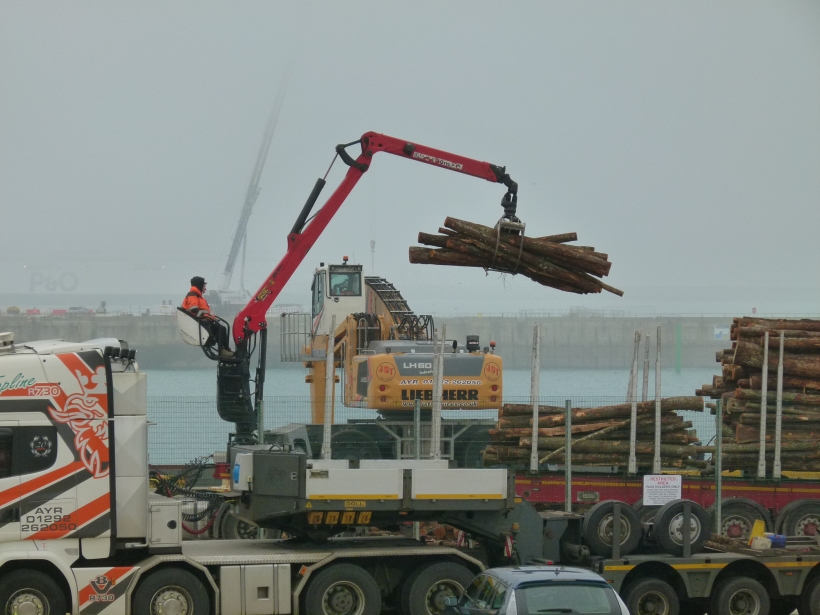 A continuous string of lorries were shuttling to & from the Sandwich biomass plant located on the old Pfizer's site.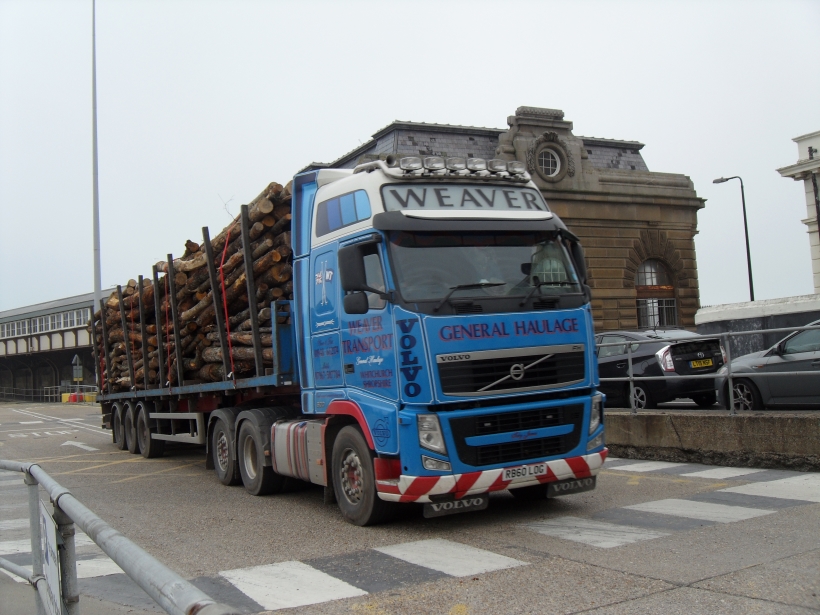 Friday, 16 November 2018 - 00:10
Post 5873
Mike J., Dover
Good asylum-seeker sequence from Paul.
A good job that they didn't try to swim for it as they approached the shore, that would have stretched the 'resources' to the utmost.
The launch was later taken away by the Border Agency but the LEPERVIER remains in Granville Dock.
A few DWDR pix on Tuesday.
Cold Store & new berths.
Reefer berth beyond Cold Store & general cargo berth eastern side of reclaim.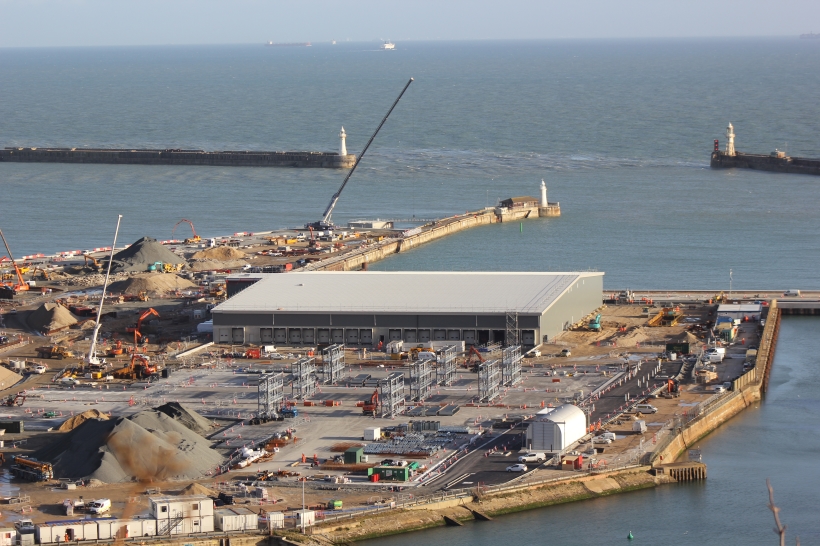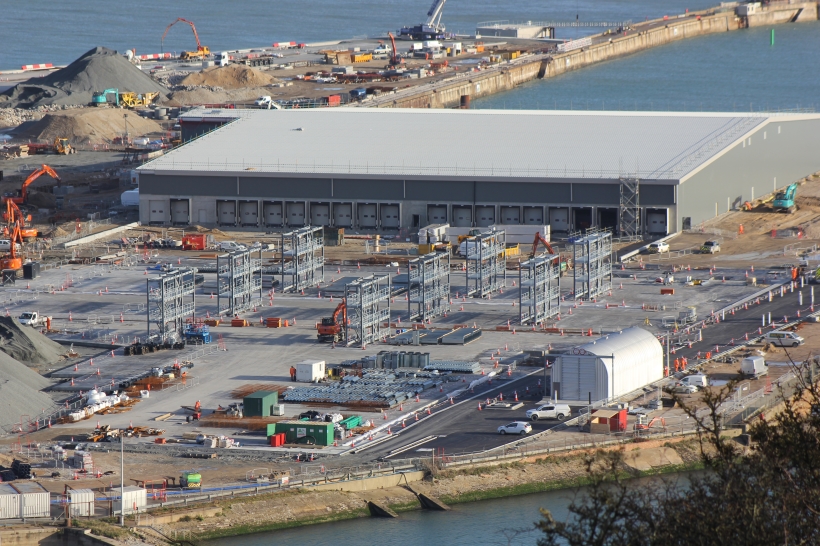 Lock from new marina into Wellington Dock & Marina office.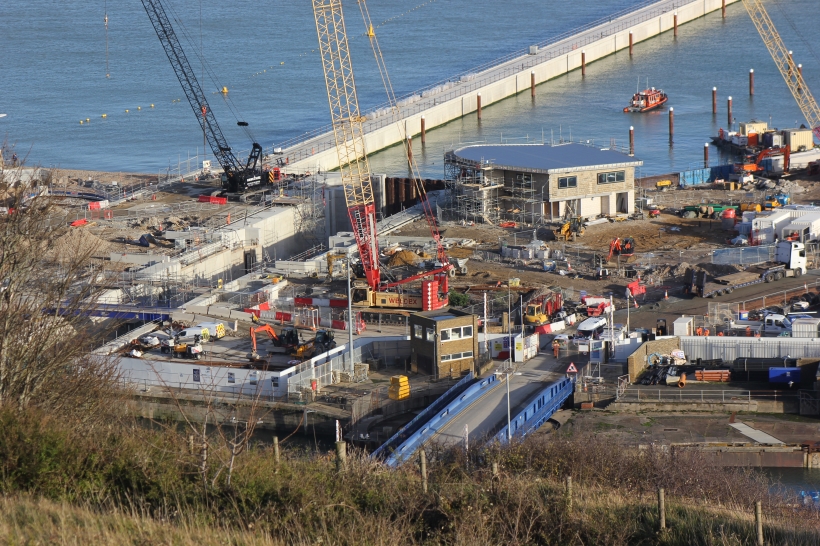 The piles have got their hats on . . . .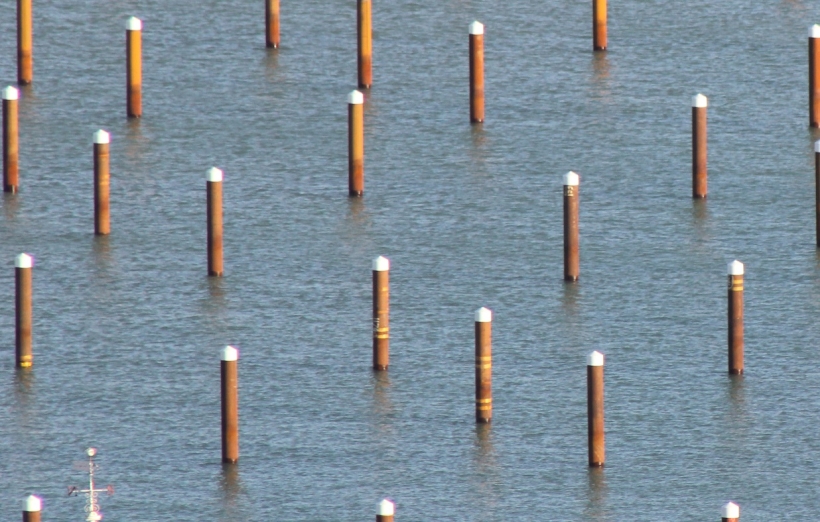 One of a number of waste water tanks due for burial [to hold excessive rainfall etc] waiting to cross the swingbridge onto the DWDR site.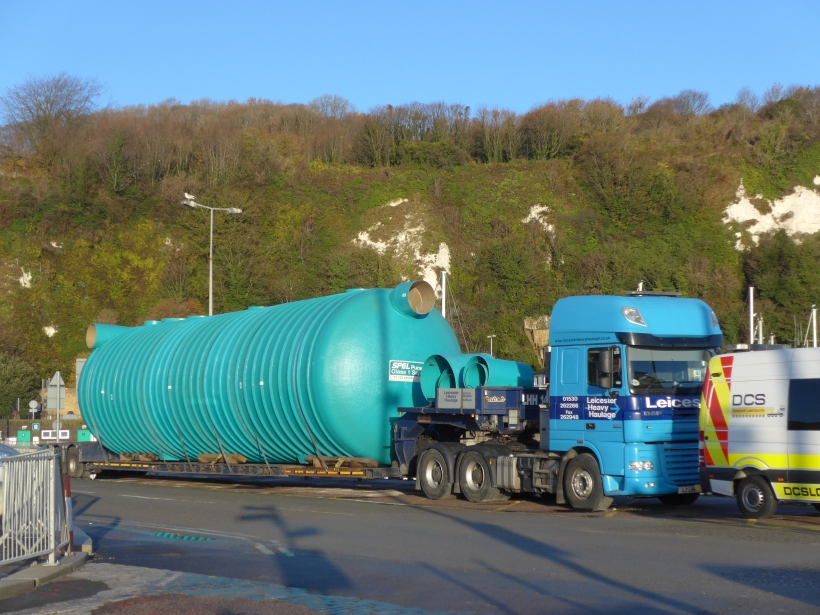 Thursday, 15 November 2018 - 11:57
Post 5872
Sea News, Dover
Some pictures now of the latest migrant incursion from yesterday Wednesday...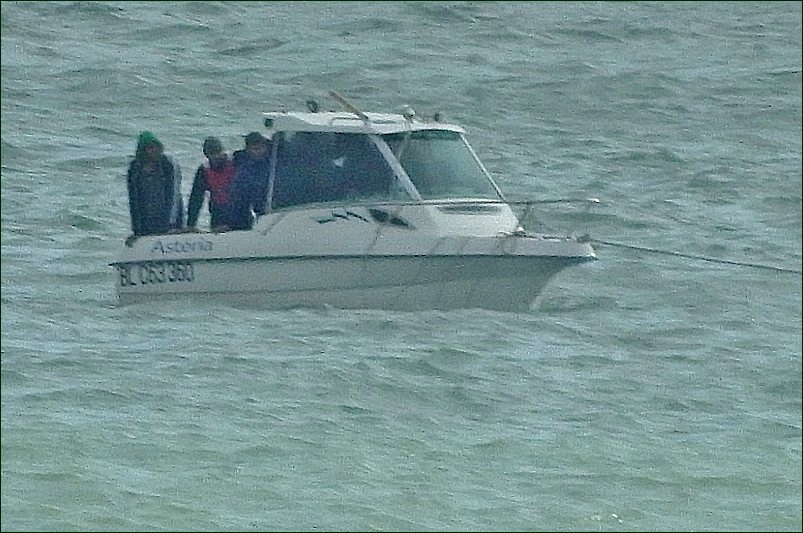 This shot above taken as a small boat entered the harbour through the eastern entrance...straight away it looked oddly out of place that's why the picture was taken..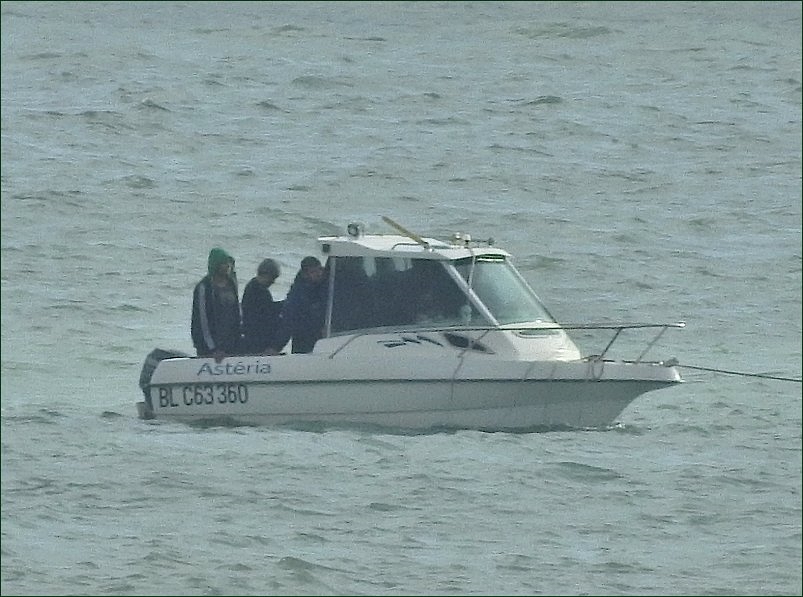 We then realised immediately what was going on...the small boat was being towed by the Dover Lifeboat. We initially couldn't see the tow-rope with the naked eye.
Into view then through the harbour entrance and bringing up the rear came the small rib Lifeboat...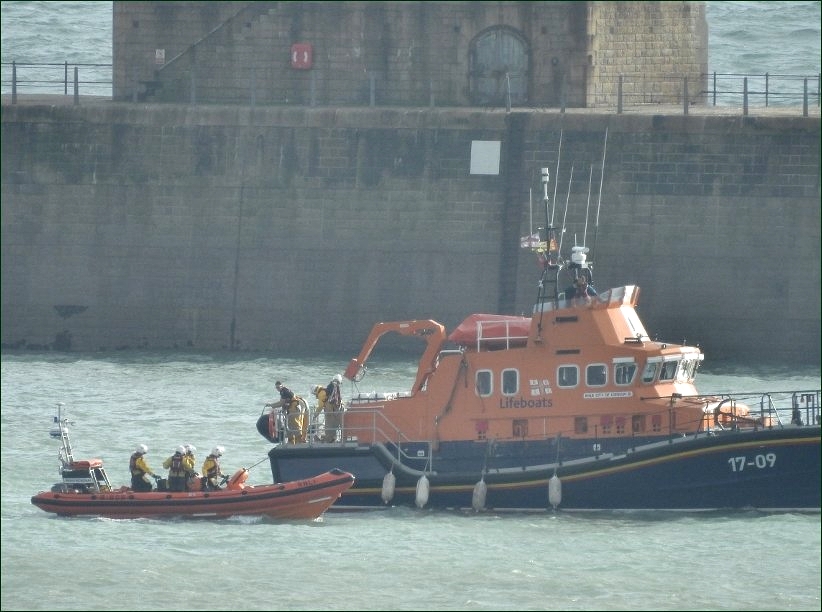 The rib then went ahead to join the main Lifeboat.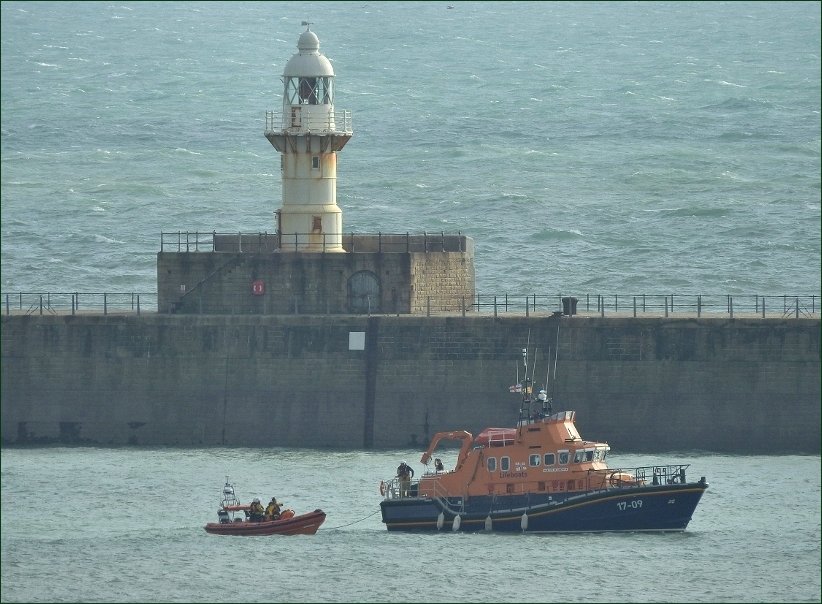 Overall view...just out of shot to the left is the small migrant boat.
Time of first picture: 10:44 Wednesday morning.
There has been a small flurry of migrant boats entering lately...we ourselves have reports on two others anyway
see 5851
and 5869
PaulB
Thursday, 15 November 2018 - 05:11
Post 5871
brian dixon, dover
mike, stolen is a bit harsh, borrowed would be a better word for it. lol

Wednesday, 14 November 2018 - 14:23
Post 5870
Sea News, Dover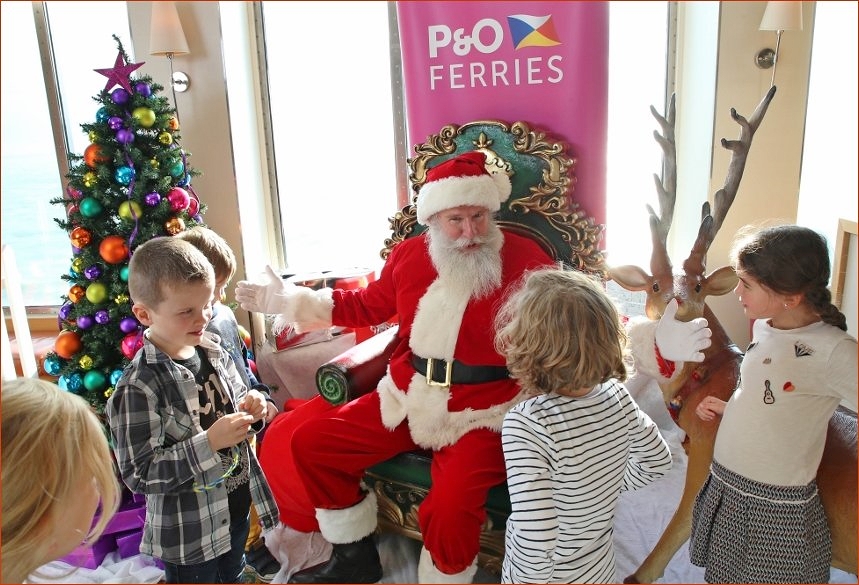 FATHER CHRISTMAS COMES TO P&O FERRIES' SHIP THIS YEAR TO MAKE CHILDREN'S FESTIVE DREAMS COME TRUE
________________________________________________________________________________________________________
CHILDREN of all ages are being invited to 'Sail with Santa' this Christmas on board P&O Ferries' flagship on the English Channel.
Father Christmas and one of his reindeer are visiting the Spirit of Britain ship every weekend between now and 25th December so that children can personally give him their wish list of presents. Every child who meets Santa on board will also receive an early Christmas present and can have their photograph taken with the famous man in red.
Jacqueline Burns, Corporate Communications Officer at P&O Ferries, said: "This is the first time that we have ever had the honour of welcoming Santa Claus to one of our ships and we hope that children everywhere will take advantage of the opportunity to give him their Christmas lists in person."
"It has become increasingly difficult these days for children to meet Santa face to face and families can combine a visit to see him with a day trip or weekend break in France to do their Christmas shopping."
The Spirit of Britain sails ten times a day between Dover and Calais and the first children to meet Father Christmas on board the ship were two classes of six-year-olds from St Richard's Catholic Primary School in Dover and Ecole Notre Dame in Calais respectively.
James Blomfield, Headteacher at St. Richard's, said: "The children were blown away by the experience and loved meeting Santa. Their gifts were brilliant and our parents were really impressed to see how much their children enjoyed their day."
Day trips to France on P&O Ferries start from just £17 for a car. In addition to Christmas shopping in France, anyone sailing with P&O Ferries in November or December can take advantage of the on-board shops, with up to 50 per cent off high street prices on wine, fragrance and kids' accessories and clothing from brands such as Cath Kidston and Joules.
The cost of meeting Father Christmas on the Spirit of Britain is £9.99 and he will be on board to meet children on 17, 18, 24, 25 November and 1, 2, 8, 9, 15, 16, 22, 23 December. For more details and to book a crossing visit www.poferries.com.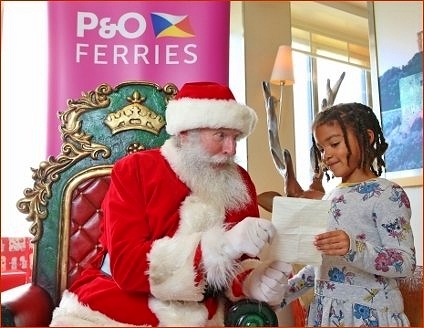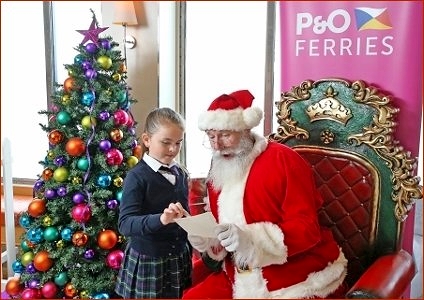 ENDS
Pictures by NIGEL HOWARD above there. Lovely pictures Nigel. Great to see the kids from both Dover and Calais schools enjoying themselves in the pictures there. Excellent. Many thanks once again to the team at P&O Ferries. Great stuff!

A brilliant idea for kids for sure. The ferry featured...The Spirit of Britain, and here she is below.
* *
Topical pictures and info below there Mike... on the ball. Well done with that.

PaulB

Wednesday, 14 November 2018 - 07:21
Post 5869
Mike J., Dover
The apparently stolen Boulogne fishing vessel LEPERVIER that came into Dover in the wee small hours of Monday with asylum seekers aboard.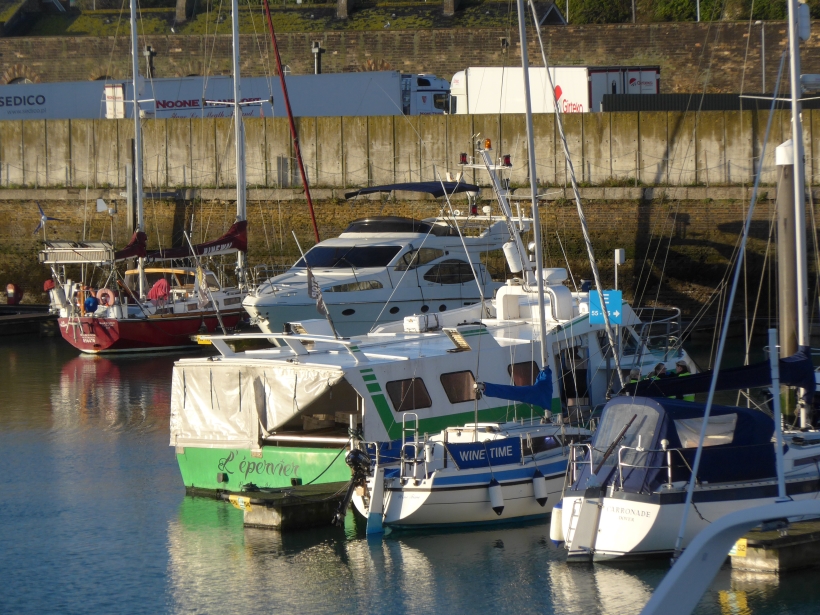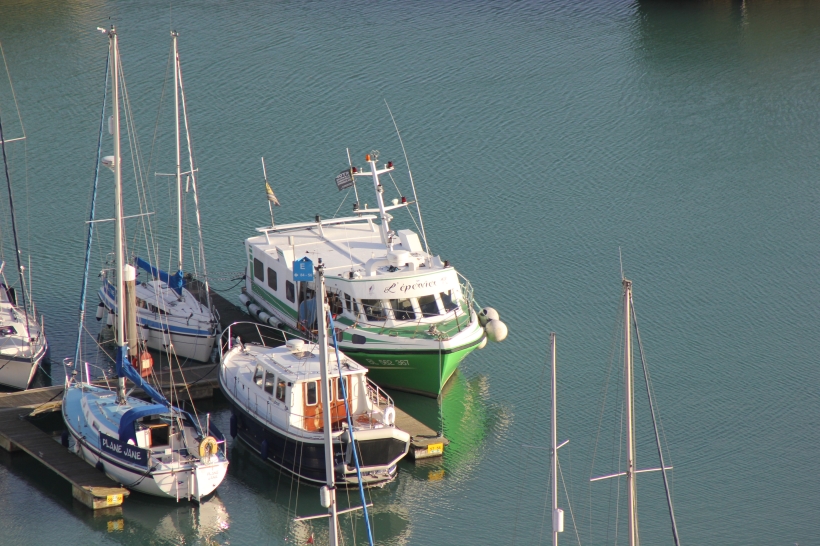 Last Thursday afternoon an unexpected arrival was a Dutch landing craft who beached briefly at Dover to unload a single vehicle.
LCU L2959's visit was covered by 'Dover Straits Shipping' who have just put up a short video which can be seen by going to Youtube & typing 'DUTCH LANDING CRAFT 08 11 18' into the search box.
After a few days alongside in Dover L2959 continued on to Portsmouth, currently AIS shows her en route Plymouth.
Wednesday, 14 November 2018 - 01:28
Post 5868
Sea News, Dover
Ferries in Rough Sea action...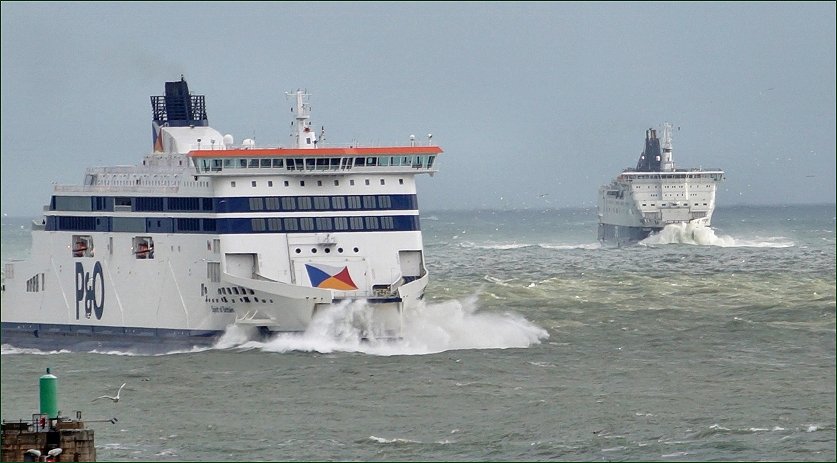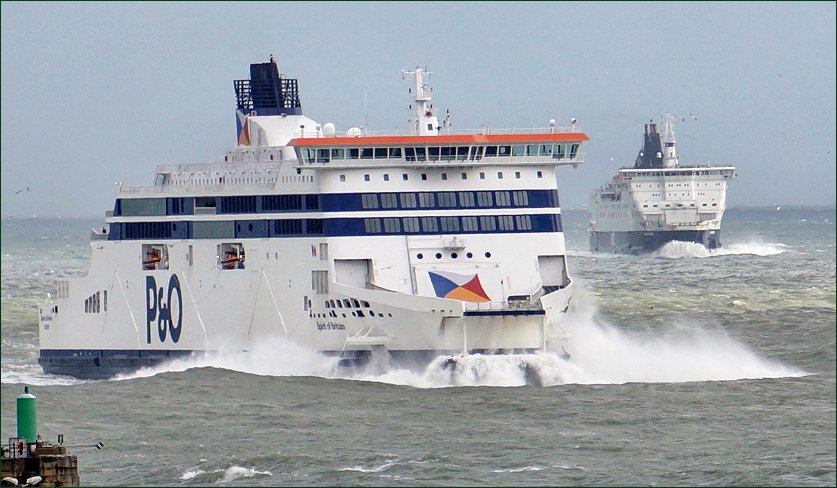 Pictures above there of a couple of ferries approaching yesterday in the rough ol' weather ...one DFDS ferry at the rear called Calais Seaways and the one at the forefront .. P&O's the Spirit of Britain. Both ferries tough and resilient as they work away in the adverse conditions. Always dependable. Pictured as they get ever closer to the Port of Dover.
Yours truly tried to photograph an approaching squall below. Very menacing as the sea gets very choppy and turns an odd colour almost black. First shot looking across the remnants of the old Prince of Wales Pier with the new additional work thereon, and the second shot looking over and across Admiralty Pier .. looking southwest. The ship in the distance is the monster vehicle carrier Orion Highway. Have just realised while uploading now that we featured that one before...bit of a fluke there. You will find her in the Search Engine.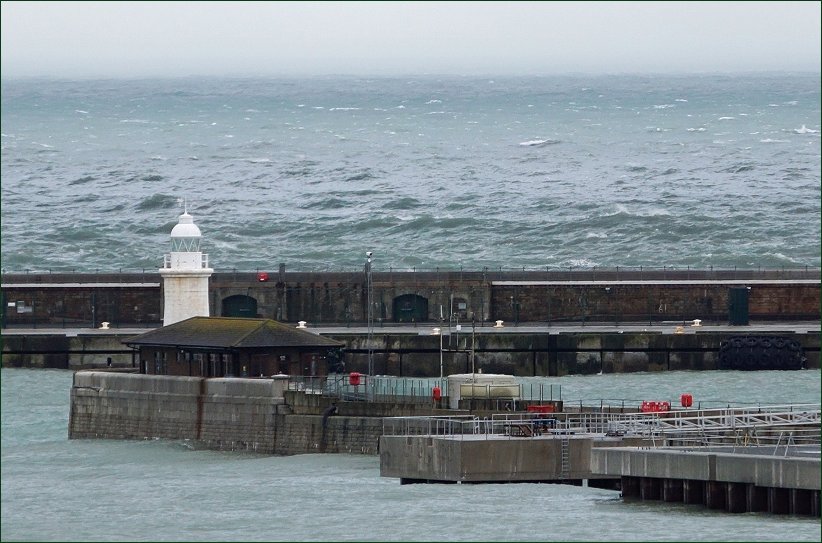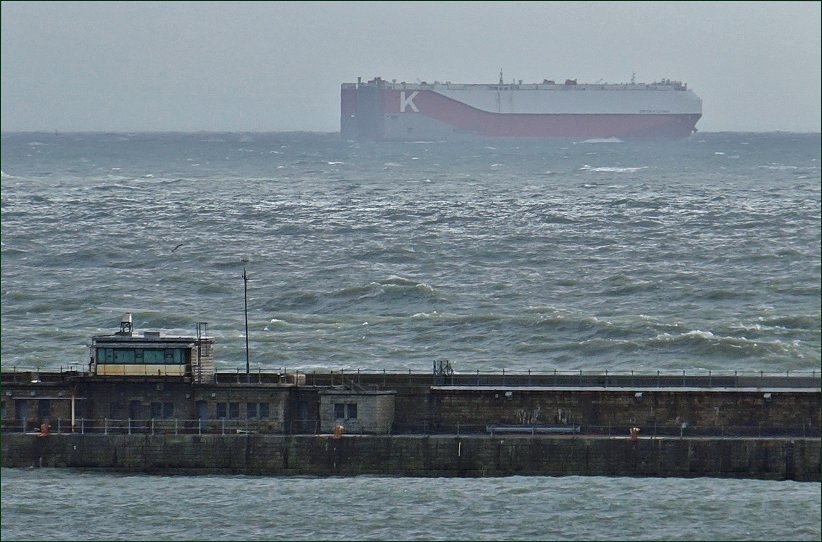 MORE FREE WINE with P&O Ferries...
Free Wine Day Trip Offer with P&O Ferries
Our popular FREE WINE DAY TRIP OFFER is back!
To take advantage of this great promotion, simply book a day trip between now and 9th December 2018 using discount code 'WINE18' in the farefinder for travel between 30th October and 12th December 2018.
Your voucher will be printed at Dover check-in and you can collect your 6 bottles of red or white Banrock Station wine from the onboard shop on your outward journey only.
Now is a great time to stock up your wine cabinet in time for Christmas and New Year, so why not take advantage of our other great on board offers too!
www.poferries.com/en/dover-calais/daytrips
(Copy and paste that link there into your browser )
Ends
Very handy for Christmas there...

PaulB
Tuesday, 13 November 2018 - 06:34
Post 5867
Sea News, Dover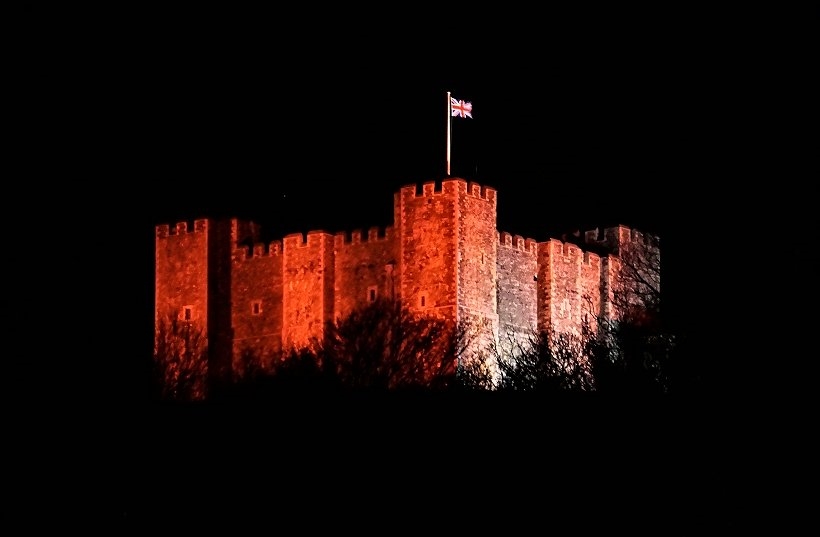 Dover Castle overlooks the Port here in Dover
.........and was floodlit red last night for Remembrance Sunday.
Many thanks for the info below there Brian - always welcome. PaulB.

Monday, 12 November 2018 - 15:14