Thursday, 18 October 2018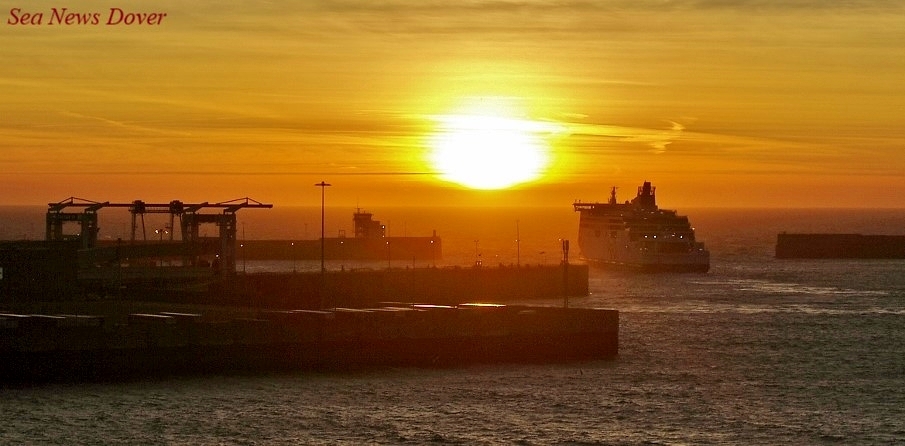 The Port of Dover with early ferry.

WWW.DOVERFORUM.COM/SEA-NEWS
Featuring all the ships that come and go and work at the Port of Dover with further coverage of the surrounding ports both sides of the Channel. Click ADD YOUR COMMENT below to post direct, no membership needed.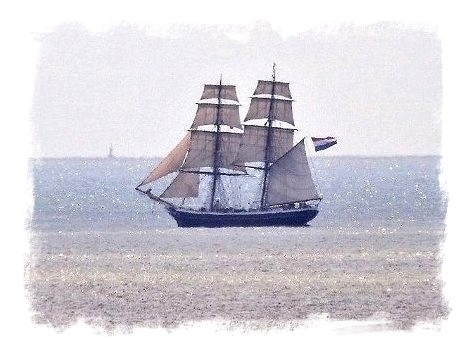 P&O: Schoolchildren mark WW1 see 5816.
Lower Thames Crossing boost..5812.
Dover Museum's revitalisation see 5807.
Port of Dover: Refrigerated Cargo Terminal .. software for 5801. Latest NATO also 5801.
Port of Dover: Great increase in summer traffic 5795.
Russian and shadow 5785.
The Waverley paddle steamer 5778...
New SAGA Ship launching in Dover see 5776.
P&O: To Rome on Horseback 5759.
DOUG BANNISTER: New Chief Executive Port of Dover see below 5734....
Merchant Navy Ceremonial images also 5734.
Dover Regatta Rescue incident plus .. see 5713.
Dover Regatta pictures Lifeboat etc..5716, 5717, 5718, 5720.
DFDS Expansion: More New Ferries on order... see 5693 see also 5500 and 5381.
Excellent tourist season for P&O Ferries see 5649.
VSBW Port of Dover - Women at Work 5638.
P&O Second Female captain see 5107. Also see latest 5570.



NEW:

For instant access to the items above - type the post number in the Search Engine below.



Sea News Dover : Use our SEARCH ENGINE below to find all sorts on the SEA NEWS pages....
... more than 5800 nautical posts now.
Posts are welcome. Max of 5/6 pictures preferred although we can occasionally stretch that on special stories.
Sea News Editor Paul Boland - send info or pix to dover7@msn.com. Always welcome.
Type CRUISE VISITS in our SEARCH ENGINE below for news of the latest cruise arrivals.
NOTE:

We have added a new feature. This has resulted in some slight change to the numbering system on the posts. We needed to align data in order for us to be able to use post numbers in the Sea News Search Engine. For example..type into the Search Engine box the number 5734 if you want the story on Doug Bannister...and it will pop up for you. This will be very useful going forward. You can still search in the older way too. My thanks to long time ace colleague Chris Tutthill for enabling the extra feature. Chris runs our sister channel..dover.uk.com. PaulB
All pictures on these pages are the copyright of the owners and must not be reproduced without permission.
Post 5666
vic, dovor
Well I did tell the D.H.B AND PUT IT ON HERE that the DHB needs to move into the Port of Ramsgate or some other company will, and looks like that will happen so that will be a lose of trade for Dover.

Tuesday, 14 August 2018 - 17:24
Post 5665
Colette B, Dover
CRUISE VISITS
_____________
It's Great to see that our brave RNLI & Coastguard are always at the ready either towing sailing boats needing a helping hand into port or searching for missing swimmers, thankfully all okay

Some wonderful photos of the departing HMS Diamond and her crew (Well Done Mike & Mr B) also the RNLI training complete with exhausted surfer and the congestion free zone. As always we have a Great Sea News Team with cameras at the ready to capture great shots of the many vessels either visiting or hard at work in the harbour.
Here we go again Chaps with another fine collection of visitors.
Tomorrow Wednesday 15th August we welcome back AIDAAura with her enchanting smile, she arrives at CT2, 08.00 hours whilst on her 14 night Round Trip of the British Isles & Ireland. Having left Kiel she has already called at Newcastle- Upon –Tyne, her next ports of call are Fishguard, Dublin, Belfast, Greenock, Invergordon and the Danish port of Aarhus before dropping anchor at her home port of Kiel on Saturday 8th September. She leaves us at 21.00 hours, PoC.
Then a few days break until Saturday 18th August when Pacific Princess glides into CT2 at 06.00 hours to begin her 8 night Round Trip of 'Ireland, Scotland & Wales' with the option of the Military Tattoo (I'd prefer something more feminine like a small Butterfly myself) lol!

She will be visiting the following ports; Jersey, St Helier, Milford Haven, Dublin, and Edinburgh before returning back to our shores Sunday 26th August on Dover Regatta Day.
She departs at 17.00 hours, T/R.
Our next visitor on Tuesday 21st August is the Saga Pearl II at CT1, 08.00 hours, starting her 4 night 'Delightful France' Round Trip cruise. Her first call is beautiful Honfleur, where it's well worth visiting the Vieux-Bassin's 16th & 18th century townhouses painted by many artists including Claude Monet & local artist, Eugene Boudin

She then has a stopover in Caen, famous for the Chateau de Caen built by William the Conqueror in 1060, flanked by the Romanesque abbeys of Saint Etienne & Sainte Trinite.
Also the Memorial de Caen, the museum dedicated to WWII 1944 Normandy Landings, before returning to Dover on Saturday 25th August.
She will be leaving us at 16.00 hours, T/R.
The following day Wednesday 22nd August Saga Sapphire calls at CT1, 08.00 hours for her 5 night 'Edinburgh Fringe at Sea' Round Trip. Her first port of call being Newcastle-upon-Tyne where you can visit many of its famous art galleries, she then visits Edinburgh with the 'Fringe' in full swing and by coincidence it is also the last day of the Military Tattoo. There is also a 'Mini Fest' on board where acts will regale you with dazzling performances. She leaves us at 16.00 hours, T/R.
Then on Thursday 23rd August we have another 'Double Whammy'

Firstly we welcome back Viking Sun who arrives at CT1, 06.15 hours, whilst coming to the tail end of her 13 night One Way 'Bergen to London Tilbury' cruise. Having left Bergen she called at the following ports: Lerwick, Invergordon, Edinburgh, Kirkwall, Ullapool, Belfast, Liverpool, Holyhead then across the Irish Sea to Dublin before setting sight for Dover. After leaving us at 18.00 hours she sets course for Tilbury via Old Father Thames, PoC.
Then Hapag-Lloyd's MV Europa arrives at CT2, 07.30 hours (not seen here since May 2016, so a Huge Welcome Back!). She is on a 14 night one way 'Travemunde to Hamburg' cruise having already visited the following ports, Edinburgh, Ullapool, the Isle of mull, the Isle of Man, Liverpool, Dublin, Tresco Island in the Scillies, Fowey and the Isle of Wight. After leaving our shores at 18.00 hours she drops anchor in Hamburg on Friday 25th August, PoC.
Finally on Friday 24th August, Boudicca calls at CT2, 07.00 hours to start her 5 night 'Cruising the Seine' Round Trip. Her first port of call is Honfleur where you can see St Catherine's Church which is the oldest timber church in France or embark on a tour of Bayeux to see the iconic Bayeux Tapestry at William the Conqueror centre.
Then on to Rouen in the Heart of Normandy to uncover tales of Joan of Arc at Place du Vieux Marche where the' Maid of Orleans' was burnt at the stake in 1431. Visit the spectacular Cathedrale de Notre Dame which houses the heart of Richard the Lionheart. Tour Claude Monet's House & explore the gardens which inspired him to paint the legendary 'Water Lilies' or head to Paris for a romantic liaison. Finally board the graceful lady Boudicca to head home via the River Seine. Get me on this cruise Now!

……..
She leaves us at 17.00 hours, T/R.
I will be back with the next batch of cruise calls Real Soon Folks

Tuesday, 14 August 2018 - 15:40
Post 5664
Sea News, Dover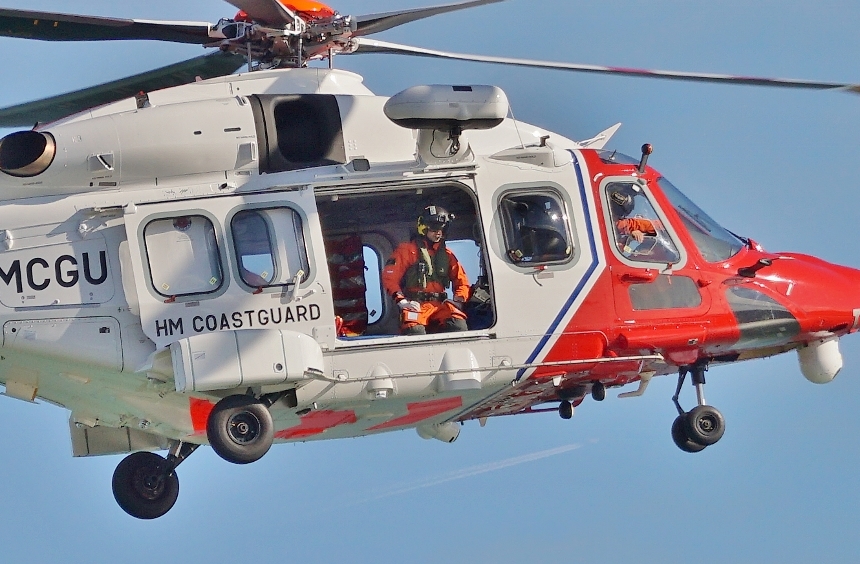 These pictures today show the fairly frantic harbour search which took place last week. a young man was reported as 'lost' in the waters of the harbour and a rapid fire and well organised search took place featuring the HM Coastguard helicopter, the Lifeboat, and various other small boats from the workings of the DWDR.
In the end there was no tragedy to report as the young man was found safe and well elsewhere. The helicopter shown hovered very close to yours truly's 'observation tower' as you can see, as they searched the waters edge.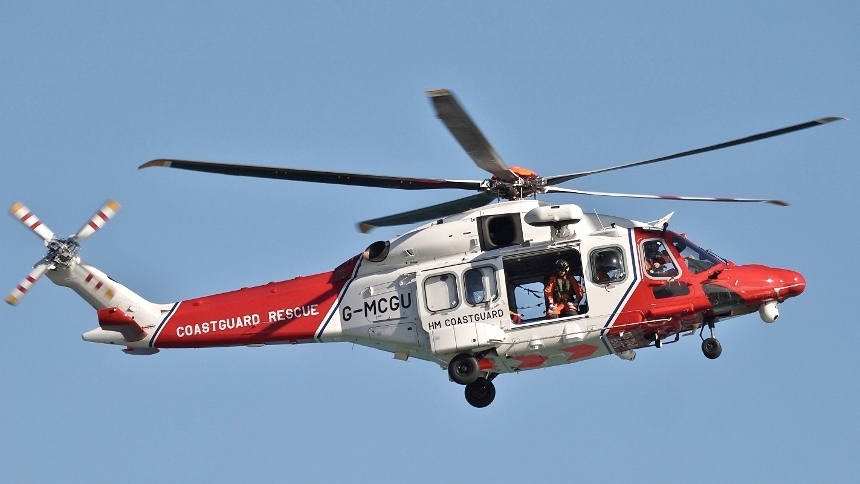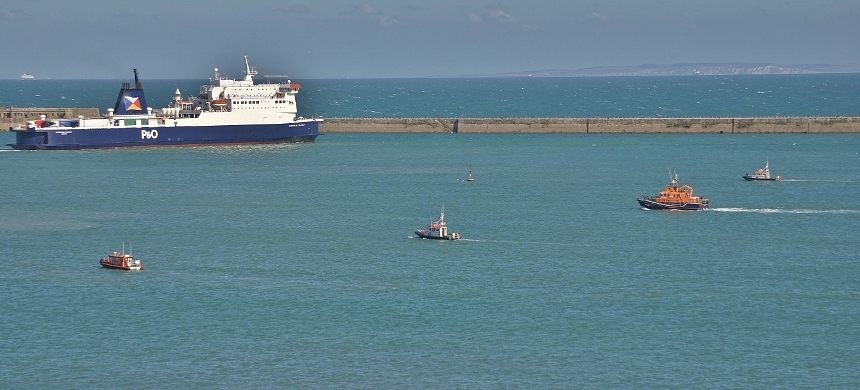 Very interesting item and picture below Andrew...fascinating story about the possible return of a legend.

PaulB
Tuesday, 14 August 2018 - 06:48
Post 5663
Andrew Humphreys, Broadstairs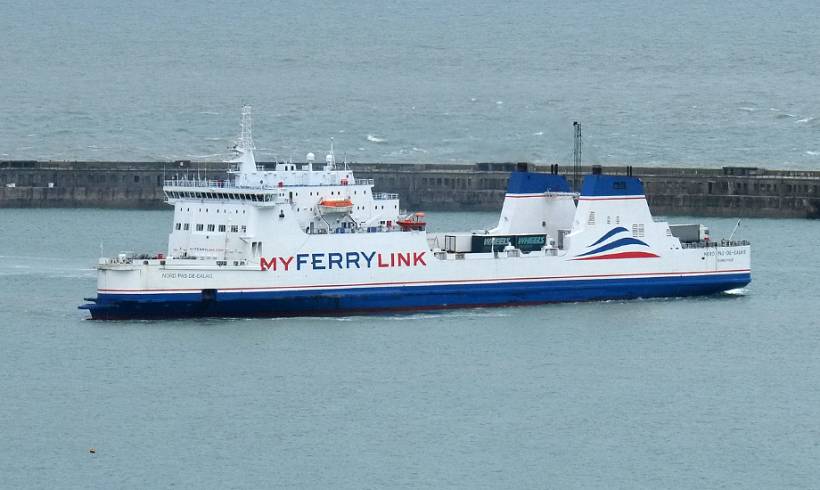 A regular ferry seen in Dover in the past, the NORD PAS-DE-CALAIS, now called AL ANDALUS EXPRESS under the Cypriot flag may be returning to our shores from Spain. Press reports circulating over several months with many rumours spreading amongst ferry enthusiasts, that a ferry service from Ramsgate to Ostend will return has taken a step closer. Seaborne Freight has launched a website upon which are the aims of the Company to provide an unaccompanied freight service, passengers may follow later, together with a proposed timetable and providing certain agreements are reached; the service could be in place within the final quarter of this year. They consider that a three vessel service will be required and whilst no names of vessels are given, the NORD PAS-DE-CALAIS is eminently suitable for the role. A round the clock service is essential and it is believed dredging at Ramsgate will be required to allow for all states of the tide sailings, the cost of this may be a point of issue before the service can commence. It will be interesting to see how this develops and I shall endeavour to keep Sea News accurately informed.
Monday, 13 August 2018 - 22:51
Post 5662
vic, dovor
Some of their legs look like mind and I cannot walk

Monday, 13 August 2018 - 14:52
Post 5661
Sea News, Dover
Motis Ireland Limited Commercial Director qualifies for the GB Triathlon team!
______________________________________________________________________
Motis Ireland is pleased to give full support to our very own Commercial Director, Chris Polwart, who will be heading to the Gold Coast (Australia) to compete in the ITU Triathlon (Age Group) World Championship's representing team GB in September this year.
Chris has completed Triathlons from the Shorter "Sprint" distance all the way to Full distance "Ironman" over the last 6 years and managed to secure a spot on the GB squad at a qualifying race in Chester in July where he finished 2nd in the Age Group category. This gave him the opportunity to compete in the same arena with the likes of Jonny Brownlee, Mario Mola and many of the current greats of the sport. Chris will be racing in the "Olympic Distance" race which comprises of a 1500mtr Sea Swim, 40km Bike and 10km Run.
As Motis is very much a Pan European business, Chris spends a significant amount of time visiting customers, suppliers, partners and staff throughout Europe. It is not unusual for Chris to be out running / Swimming / Cycling at sunrise (and before!) to keep fit (and hopefully fast) whilst managing a busy schedule and you are unlikely to find him travelling without at least a pair of trainers in his suitcase!
Motis Ireland is Europe's leading supplier of Freight Ferry bookings, Motorway Toll payment systems, Truck parking, VAT reclaim, Operates the FSA Facility in Dover's Western Docks in addition to many other services to the European Transport industry. Learn more at www.motis.com.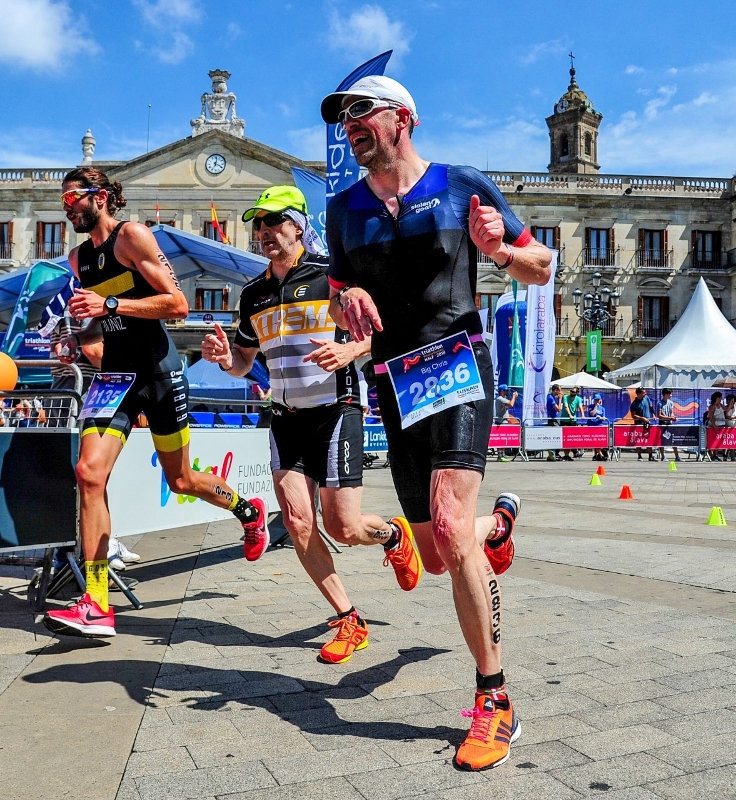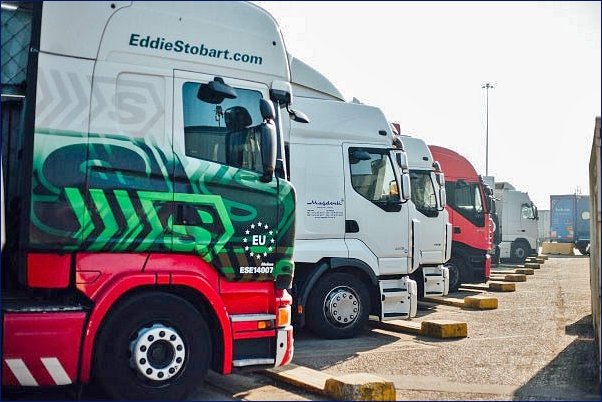 ENDS
Many thanks to Motis Ireland for the very interesting sporting story above there. Good luck to Chris.
Always nice to have the info coming through.
* *
And now a couple of pictures of the new western docks cargo building. Under a stormy sky just a few days ago ...the all new building was caught by the late sun making it an attractive and colourful scene...and here it is...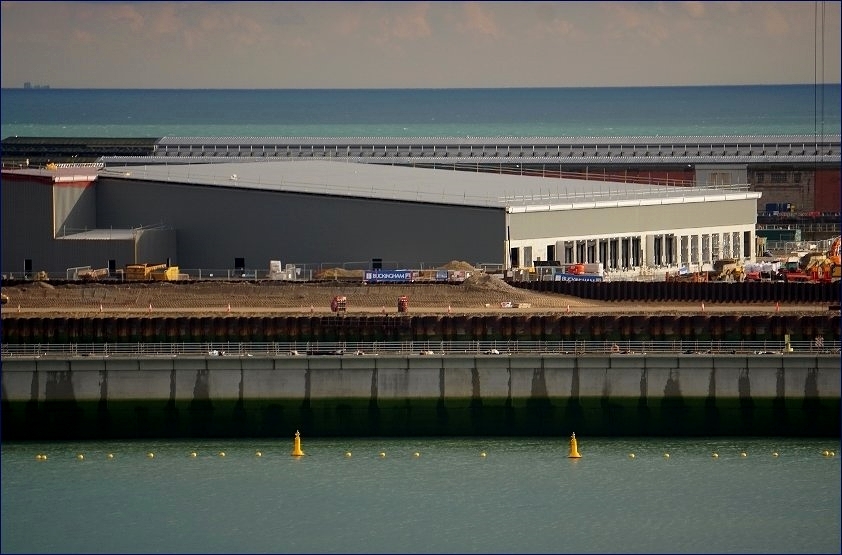 Ah lovely stuff below there Sarah, great action from Whitstable. Nice pictures to enjoy there for sure. Keep snapping!

Very interesting pictures and words below there Andrew too. All enjoyable and very nice shots.

Well done Mike once again for catching up for us on the inshore comings and goings.

PaulB

Don't miss all those recent posts below.
Monday, 13 August 2018 - 07:26
Post 5660
Mike J., Dover
Thanks to Sarah & Andrew for their excellent coverage of the Whitstable Harbour Day.
Thanks for the comments on Friday's MAYBE 'incident'
Here's a couple more.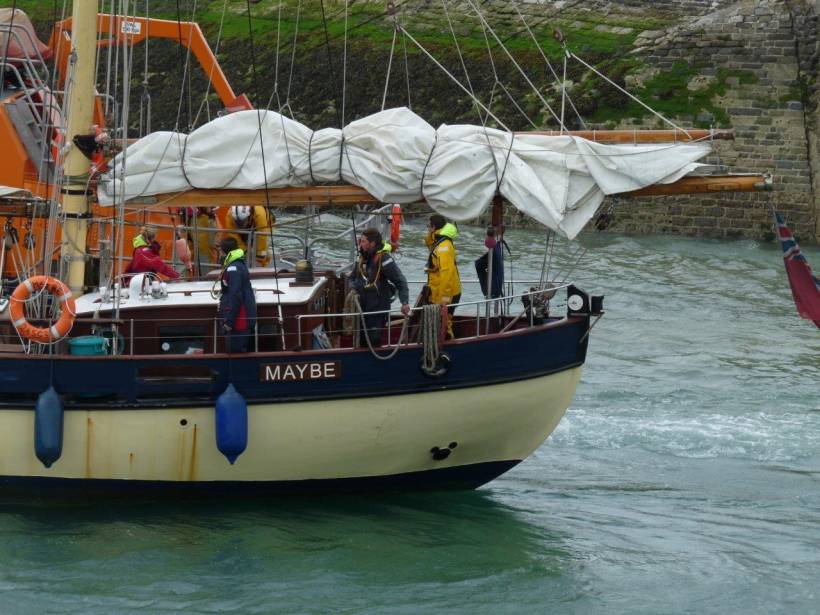 Earlier the same day the when the weather was a lot better the elegant wooden yacht CRESCENT MOON was in the Tidal Basin.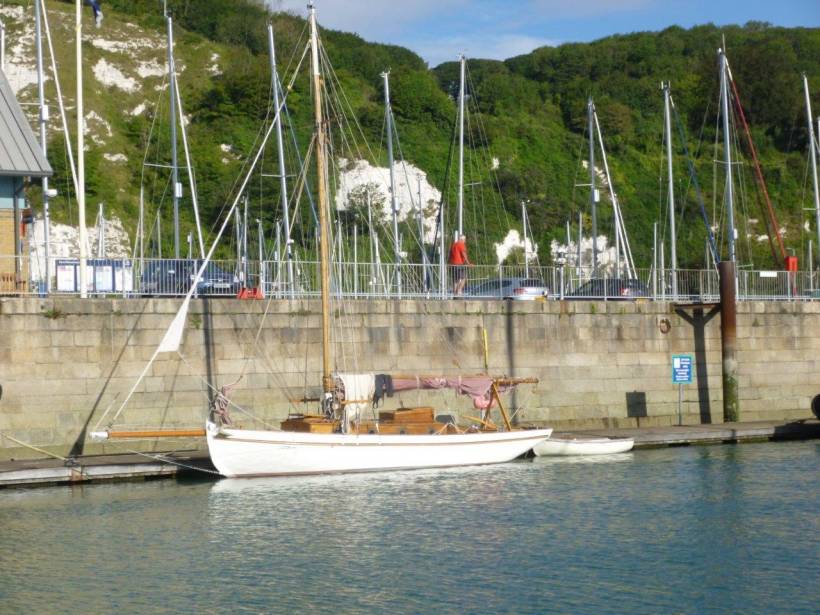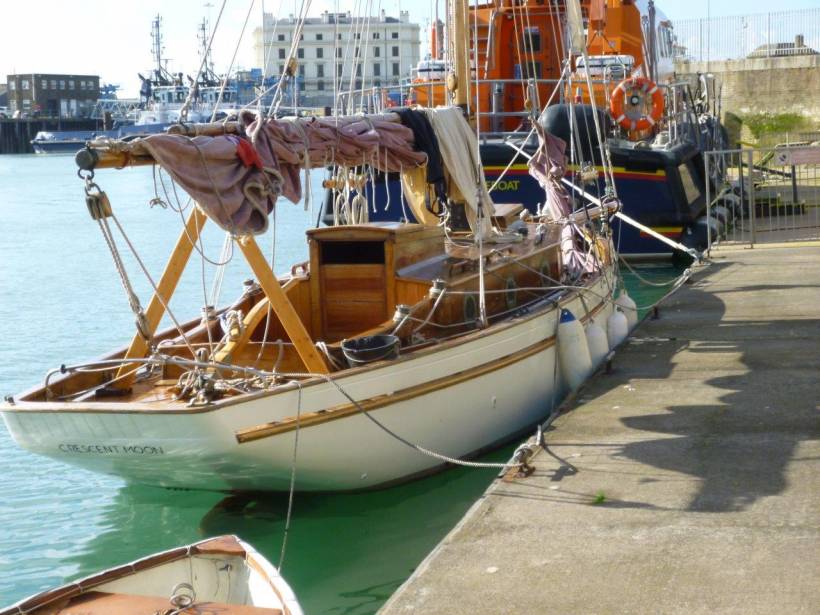 It was a little early in the morning & there were no signs of life aboard so I was unable to 'make further enquiries' about her.
Maybe we have some 'yachties' reading 'Sea News' who know a little more.
Sunday, 12 August 2018 - 22:38
Post 5659
Andrew Humphreys, Broadstairs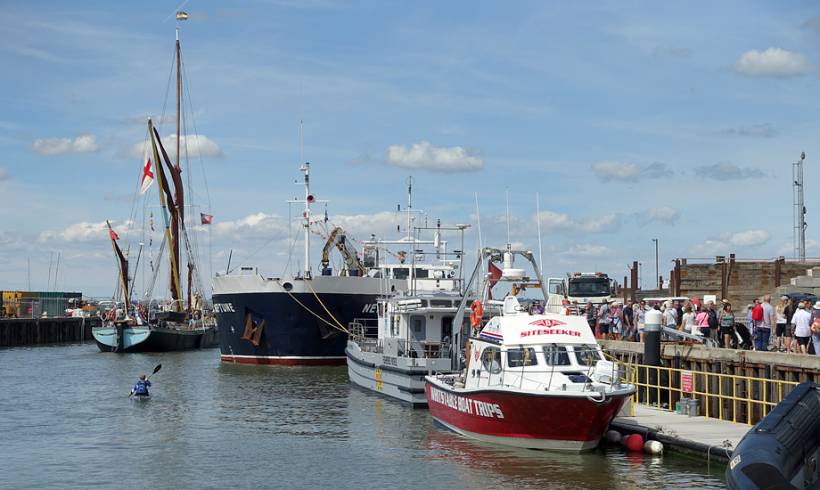 My two photographs are by way of a footnote to Sarah's coverage of the 'service' craft at Whitstable Harbour Day and show the commercial life of the Port, past and present, with the Thames Sailing Barge GRETA passing the coaster NEPTUNE alongside East Quay. NEPTUNE was proving very popular, being open to the public, a rare chance these days, to visit a cargo vessel. Hopefully it will stimulate interest, especially for the young, on how ships help bring materials in bulk, to maintain our roads and infrastructure around the South East of England. I am sure I am not alone in missing the import and export activity that could be seen in Dover's Western Docks, now anonymous but more efficiently handled in containers.
Sunday, 12 August 2018 - 12:56
Post 5657
Sarah, Ramsgate
Whitstable Harbour Day.
Margate Lifeboat arriving.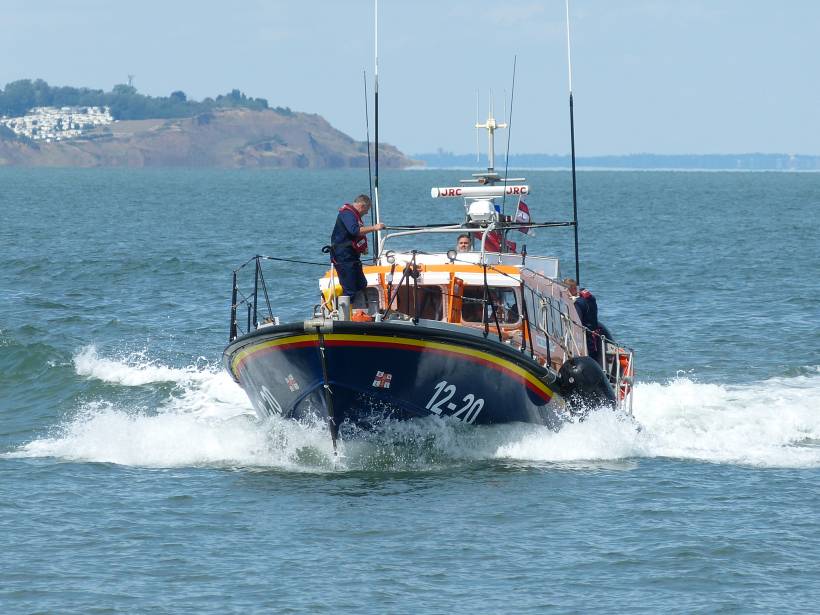 Border Force "Hunter" leaving.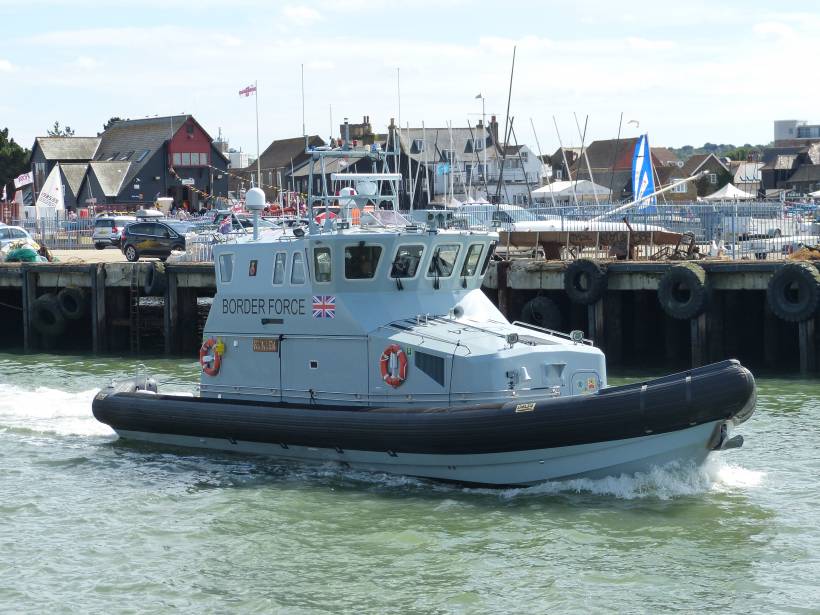 Margate Lifeboat & Border Force "Hunter"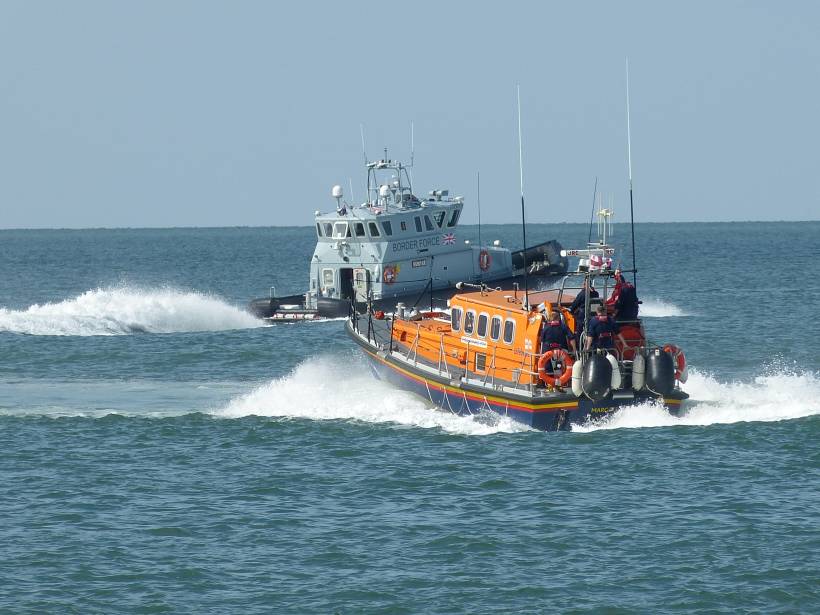 FPV Nerissa & Thames Barge "Greta" (Little Ship of Dunkirk)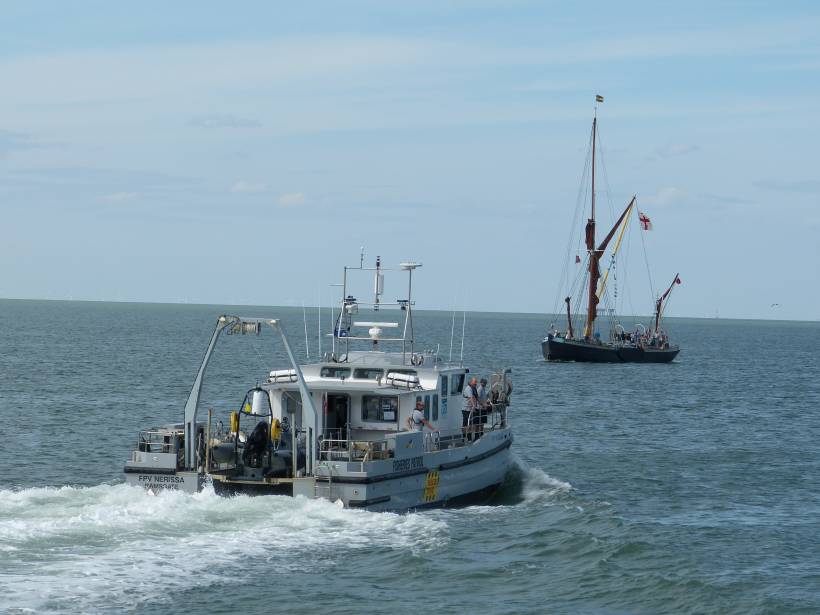 Back in Ramsgate
Border Force "Nimrod" with "Hunter" behind it having returned from Whitstable.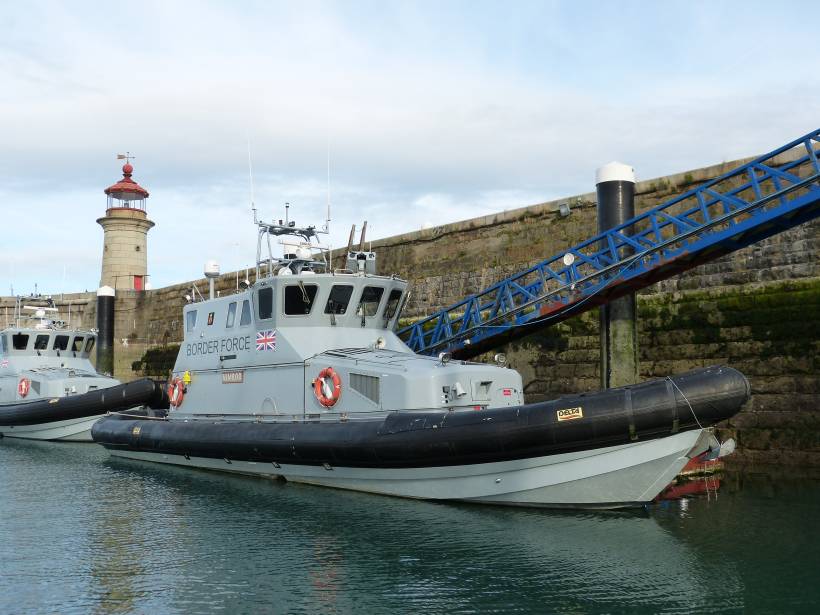 Sunday, 12 August 2018 - 07:06
Post 5656
Sea News, Dover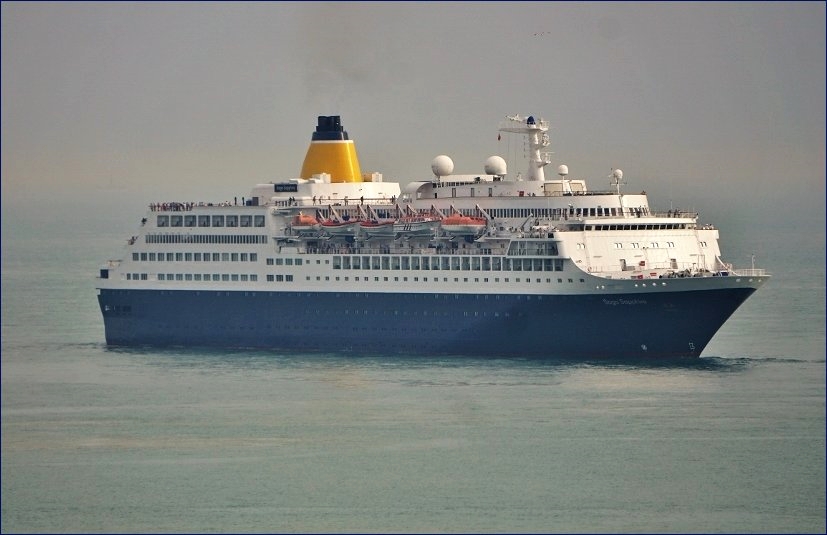 Some catch up pictures now of the general cruise manoeuvrings earlier in the week. The picture above shows Saga Sapphire on a murky tuesday evening as she reverses out of Port ready for her trip to the magnificent St Petersburg in Mother Russia and to the Baltic generally.
Then we have her stablemate a day or so later...Saga Pearl II as she departs a bit earlier on in the evening. Heading off on her Scottish tour while in the foreground of picture two we have the ever familiar Boudicca as she reverses out and off to the icey north.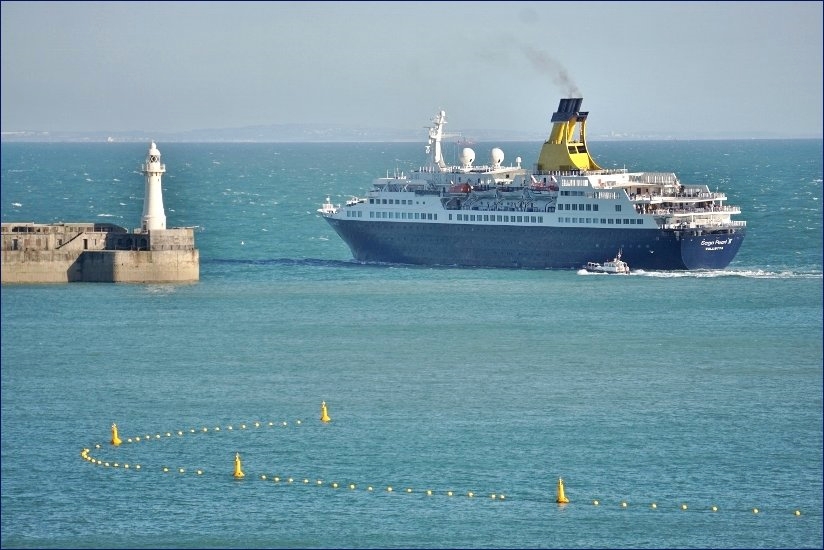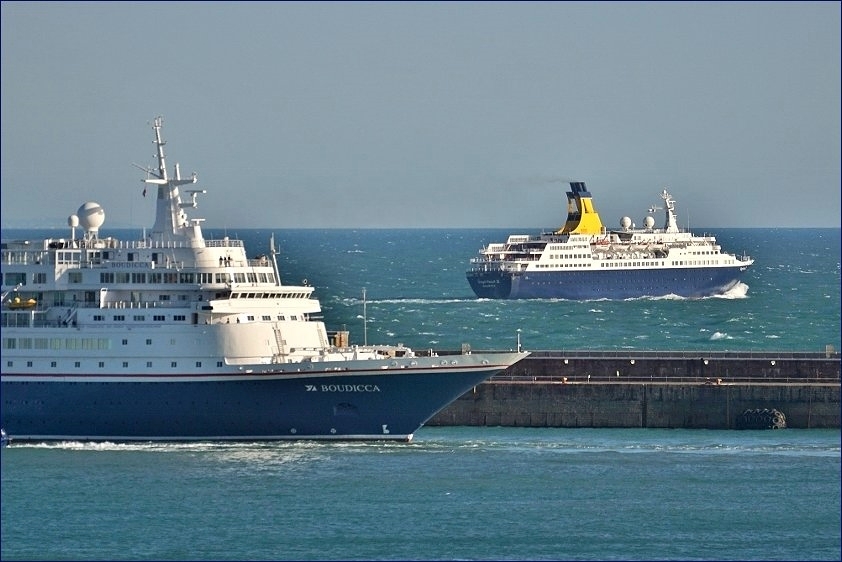 Excellent man-on-the-spot work below there from Mike our 'inshore correspondent'. Yes indeed Friday was a very rough day here with at least a Force 8 gale bashing us. Must have been bracing on the Admiralty Pier. Ferries were delayed and needed the assistance of the tugs when they got into port..


Yikes weird summer or what.. from one extreme to the other.
Well done Ted below with those pictures of the Hebridean Princess..a 'famous three' this time. Enjoyable pictures for sure.

Thanks Jeremy - yes you're right about Ted's shots there. Also enjoyed your earlier ones too as well.

Thanks Vic....yes you can stroll Deal Pier again now.

PaulB
Sunday, 12 August 2018 - 05:04
Post 5654
Mike J., Dover
On a very windy Friday afternoon the British sail training vessel MAYBE was towed into Dover by the relief lifeboat DANIEL L GIBSON.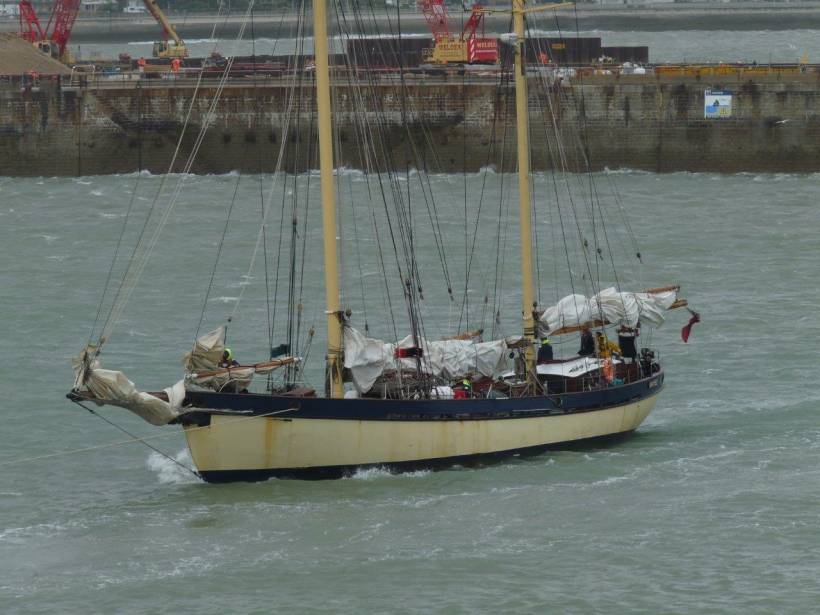 The 1929-built ketch had been on passage to Weymouth from Harlingen.
AIS shows her getting well downchannel, past Le Touquet, before turning & proceeding to Dover.
With high gusty winds the DWDR crewboat PAMPERO & the Patrol Launch gave a hand as the tow was shortened & the lifeboat secured alongside the 'casualty' to bring her down to the Tidal Basin where she was moored alongside the DAVID CHURCH.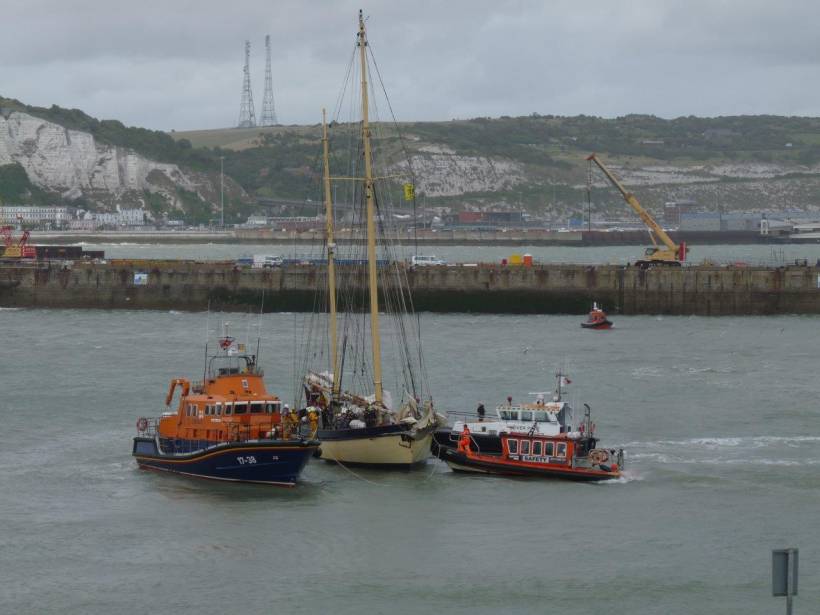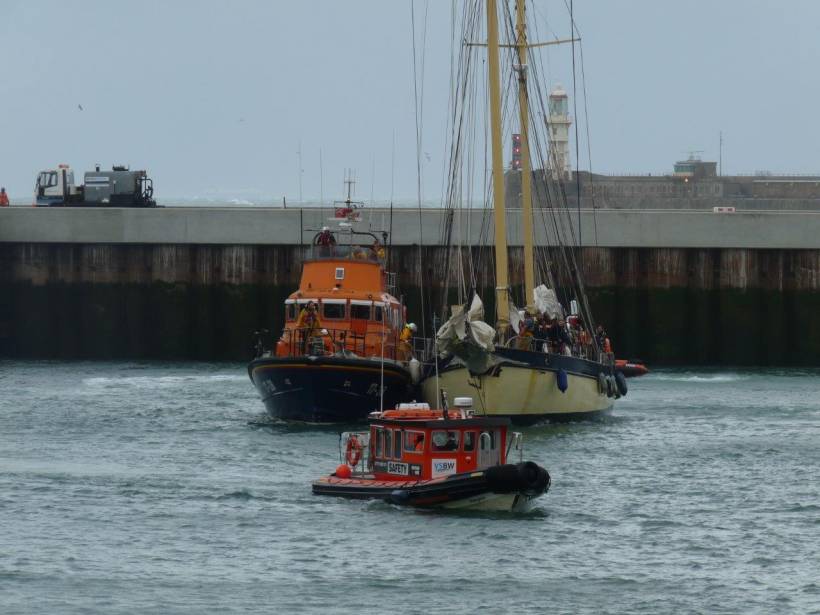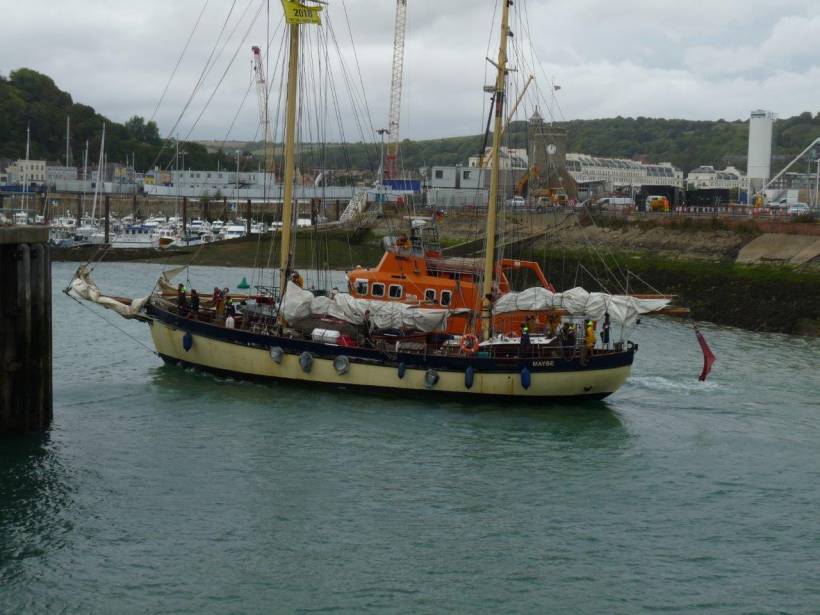 'Sea-level' pix on Dover Lifeboat Facebook page.
Friday, 10 August 2018 - 23:09
Post 5653
Jeremy Ward, Whitfield, Dover
What fabulous high quality photo's of the HEBRIDEAN PRINCESS by Ted. Put mine to shame. Well done Ted

Friday, 10 August 2018 - 17:26
Post 5652
Ted Ingham, Canterbury
"Three from the Medway"
Following her recent visit to the Port of Dover I was on the River Medway early Friday morning and managed to catch the HEBRIDEAN PRINCESS inward bound for Chatham Historic Dockyard.
We had anchored in Stangate Creek overnight after a day of torrential rain and a night of Thunderstorms.
Dawn broke with sun rising into a perfect blue sky.
Switching on the VHF Marine Radio later I heard "Medway VTS this the Hebridean Princess... Pilot aboard....anchors aweigh in the Nore Anchorage and now proceeding inward bound for Chatham."
I though to myself "Thank you,someone loves me....
The first photograph she is passing Grain Fort.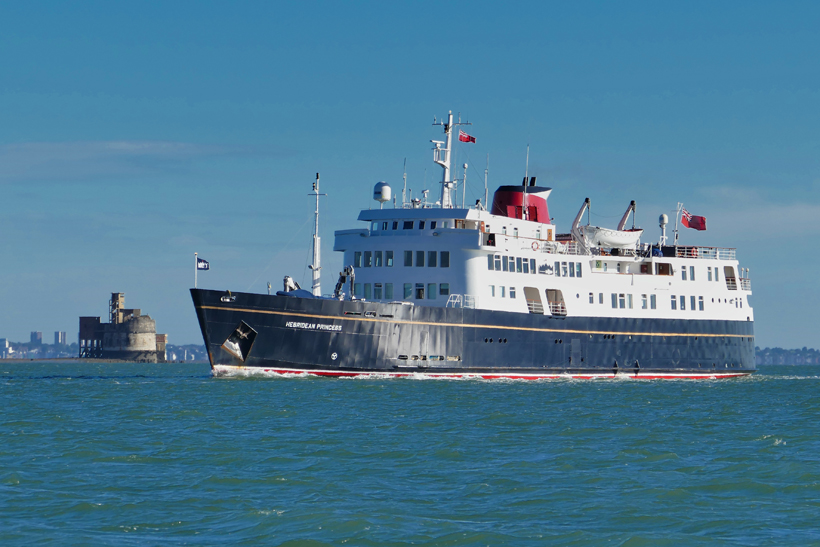 Abeam the Isle of Grain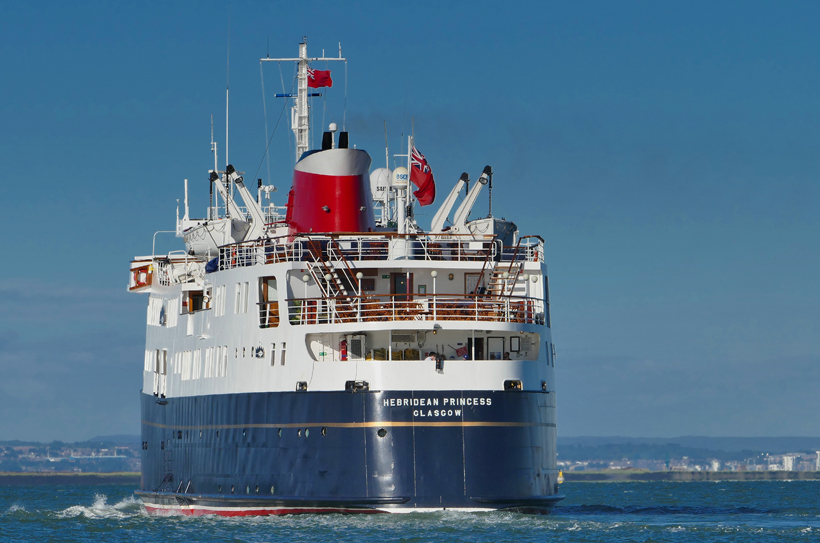 Passing Thamesport Container Terminal for Kethole Reach with the Medway towns in the distance.
Friday, 10 August 2018 - 16:04
Post 5651
vic, dovor
nice to see Deal pier open again we like Deal a lot and always walking along the front.

Friday, 10 August 2018 - 09:19
Post 5650
Sea News, Dover
The cruise terminals as we know have been very busy, yes indeed, but so too has the cargo terminal. We try to keep up with everything ( its getting harder!

but we almost get there .. ) and here we are with some pictures of the cargo activity earlier in the week. The pictures show the departure of the Lombok Strait ( called after the region which sadly suffered the abysmal recent earthquake with much loss of life ). She was helped by the tugs in fine hard-working style and was soon on her way.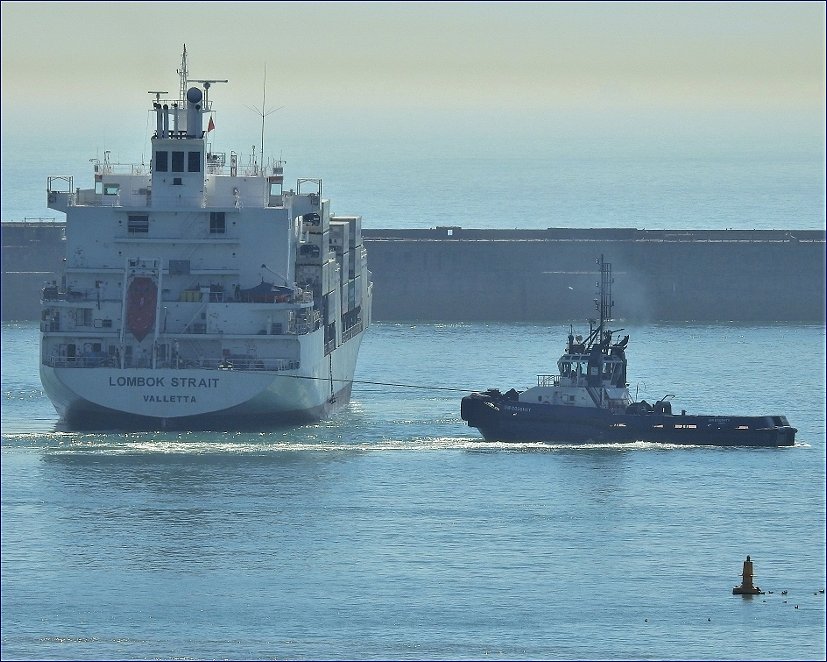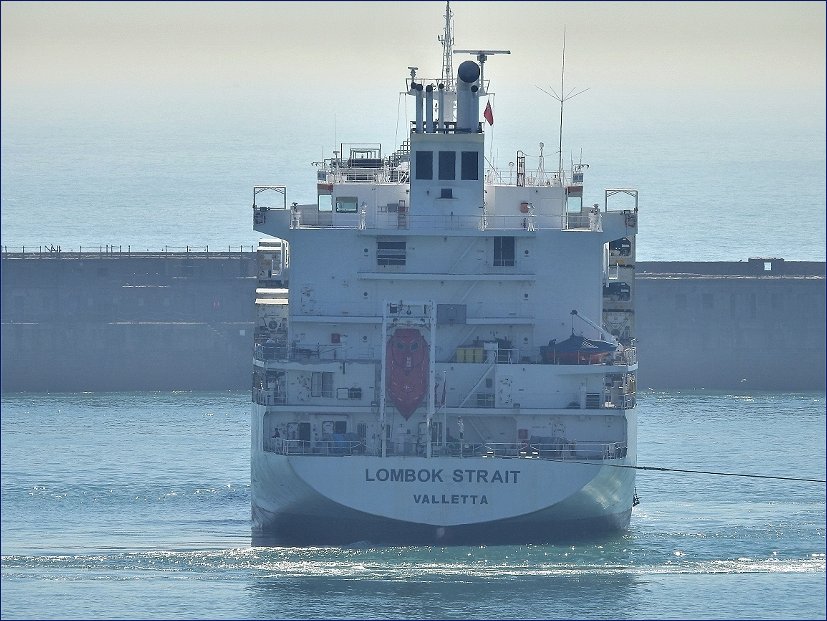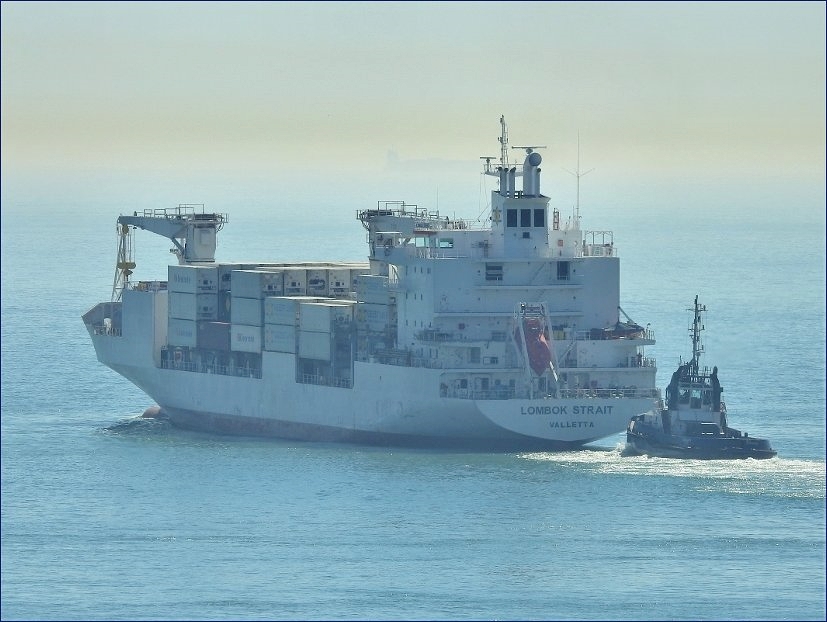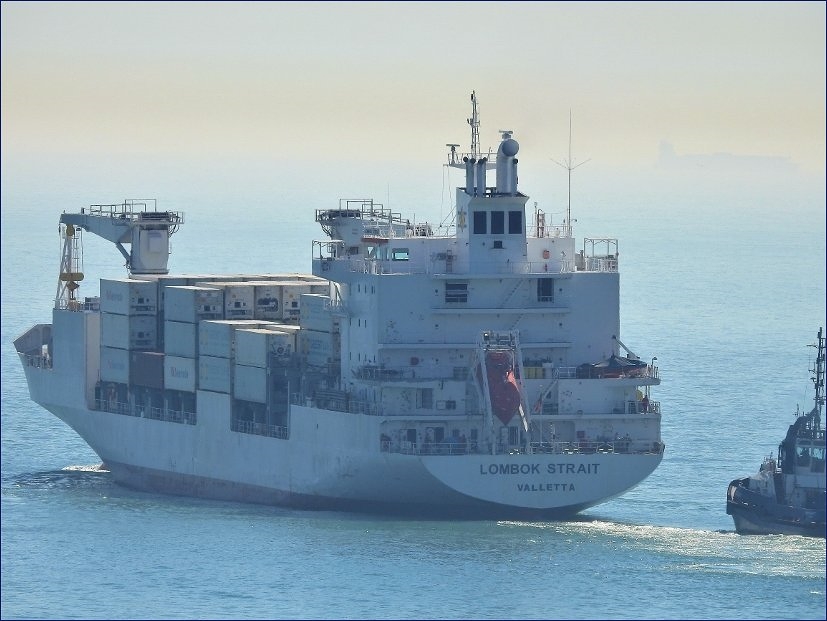 There she goes...
and as she went out of Port in came Elvira within minutes...now I think it was Elvira...embarrassing moment as yours truly neglected to make a note of it and as she nipped in behind the Pride of Kent and was only visible for a moment...her name wasn't showing and in the hustle and bustle yours truly forgot to check later.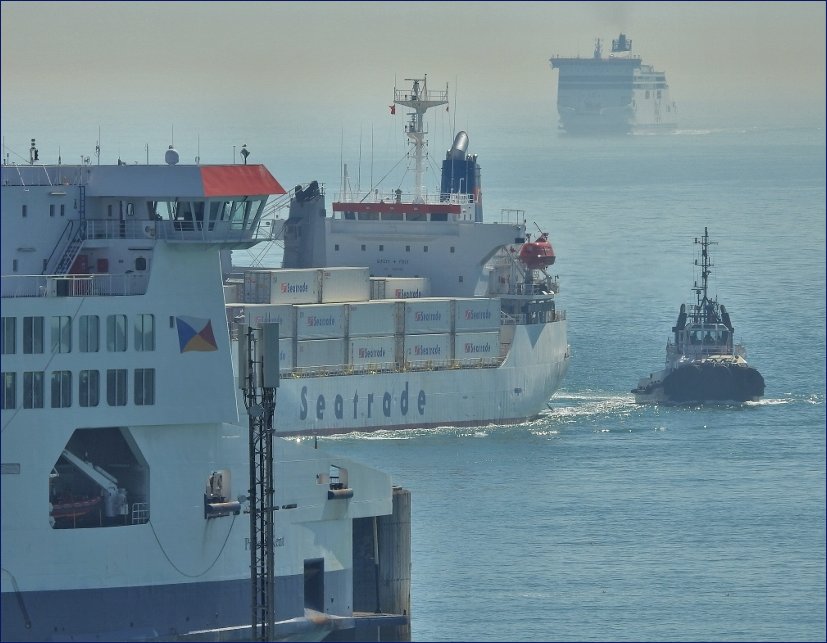 DEAL PIER...for those fond of Deal Pier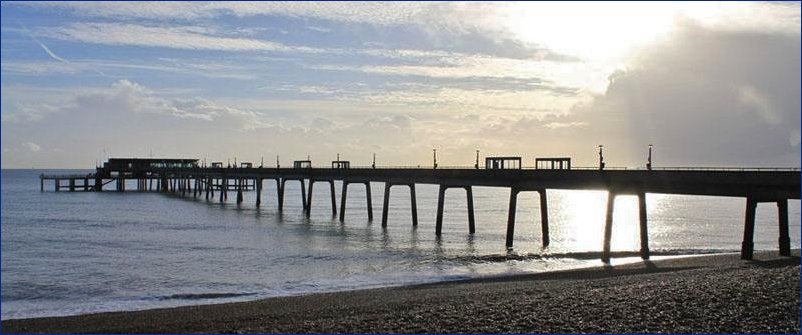 DDC image
Deal Pier to Re-open on Saturday
_________________________________
Deal Pier re-opens to the public on Saturday (11 August) following the completion of works to install a new gas main. The extensive works involved installing over 300 metres of new gas main. Problems with the pier's gas supply were discovered during enabling work prior to the refurbishment of the café.
An announcement concerning the new café operator will be made once contractual arrangements have been completed.
During the pier's closure, works were also undertaken to complete the resurfacing, repair and replace sections of railing, complete a major overhaul of the pumped drainage system, and paint the railings and entrance gates.
Contracts for the final phase of the revamp of Deal Pier have been awarded, and include the installation of new seating and repairs to the lower deck which is a popular fishing venue.
Cllr Trevor Bartlett, Cabinet Member for Corporate Property, said: "We'd like to thank everyone for bearing with us whilst we completed these urgent works to the pier's gas supply.
"We're delighted to be re-opening the pier this weekend and look forward to sharing some exciting news soon about the new café operator."
Ends
PB
Friday, 10 August 2018 - 05:14
Post 5649
Sea News, Dover
The Latest News from P&O FERRIES …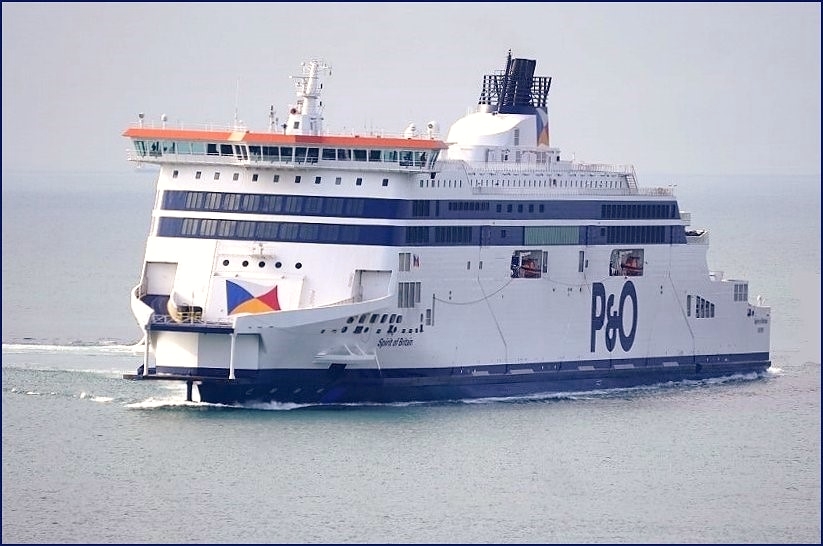 P&O FERRIES HAS BEST JULY FOR TOURISTS ON THE ENGLISH CHANNEL SINCE 2015
___________________________________________________________________________
Release time: immediate
P&O FERRIES today reports the best tourist carryings for a July on the English Channel in three years, with the hot summer weather inspiring more people to travel between Britain and the Continent by ship.
The integrated ferry and logistics company carried 161,468 cars between Dover and Calais during the month - a 4.5 per cent increase on the previous year and the highest July volume since 2015.
Janette Bell, Chief Executive of P&O Ferries, said: "More people started their summer holiday by taking a P&O ferry across the English Channel in July, with our outstanding on-board offer and the glorious summer weather proving an irresistible combination."
"We have been able to handle these high volumes because of our continuing investment in the Spirit-class of ships which have helped to transform our customers' experience of cross-Channel travel. The Spirit of Britain and Spirit of France are both capable of carrying 2,000 passengers, twice the capacity of a standard ferry, whilst offering first class food, shops and entertainment."
"It is often said that we are moving to an 'experience economy' where memories become the product. Imagine you and your family travelling on one of our ships in the glorious sunshine against the backdrop of the glistening blue sea and you get a sense of what a trip with P&O Ferries has to offer this summer."
Last month P&O Ferries launched a new 'grab and go' menu on its English Channel ships which is designed to put fresh, high quality, seasonal food at the heart of the customer experience. It also launched a mobile app which means that customers no longer have to use any paper for their tickets.
P&O Ferries is a leading pan-European ferry and logistics company, sailing 27,000 times a year on eight major routes between Britain, France, Northern Ireland, the Republic of Ireland, Holland and Belgium. It operates more than 20 vessels which carry 8.4 million passengers and 2.3 million freight units annually.
Together with its logistics division, P&O Ferrymasters, the company also operates integrated road and rail links to countries across the continent including Italy, Poland, Germany, Spain and Romania. P&O Ferrymasters also owns a rail terminal in the Romanian city of Oradea, which facilitates the onward movement of goods to Britain from Asian countries via the Silk Road.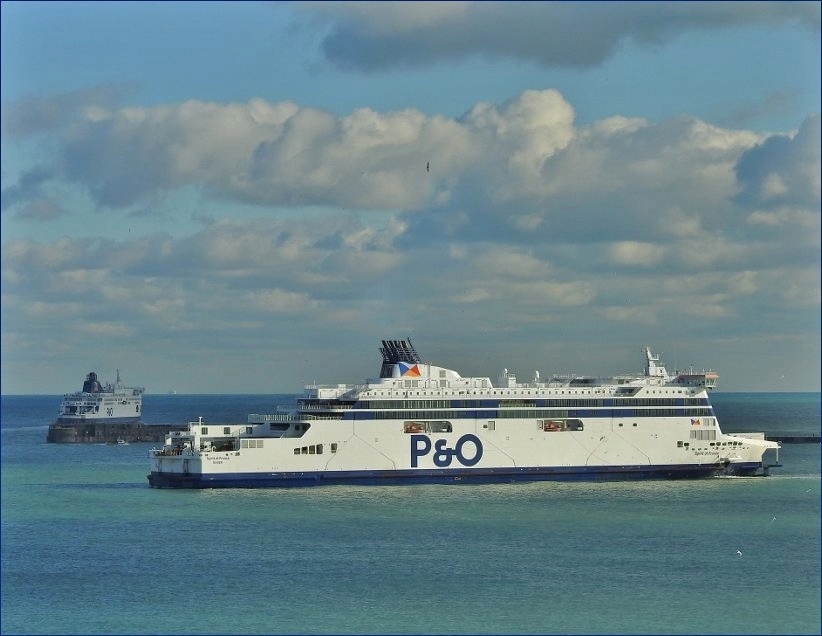 The Spirit of Britain top and the Spirit of France here
ENDS
* *
Many thanks once again to the team at P&O for all the news and info.
As promised a couple of pictures now of the departing Brilliance of the Seas from Tuesday evening. As Jeremy said...she is 294 metres long and here she squeezes her giant size out through the western exit. How do they do it?...well with such 'brilliance' is the answer.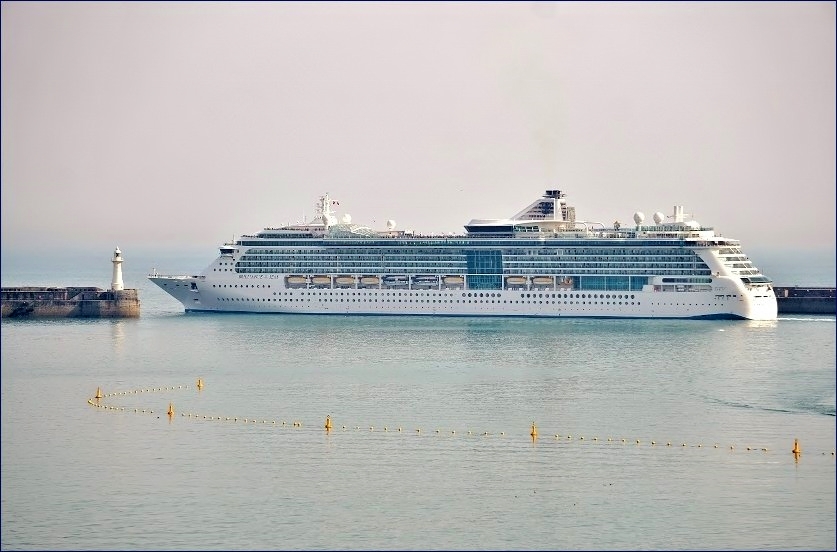 The pilot boat coasts alongside...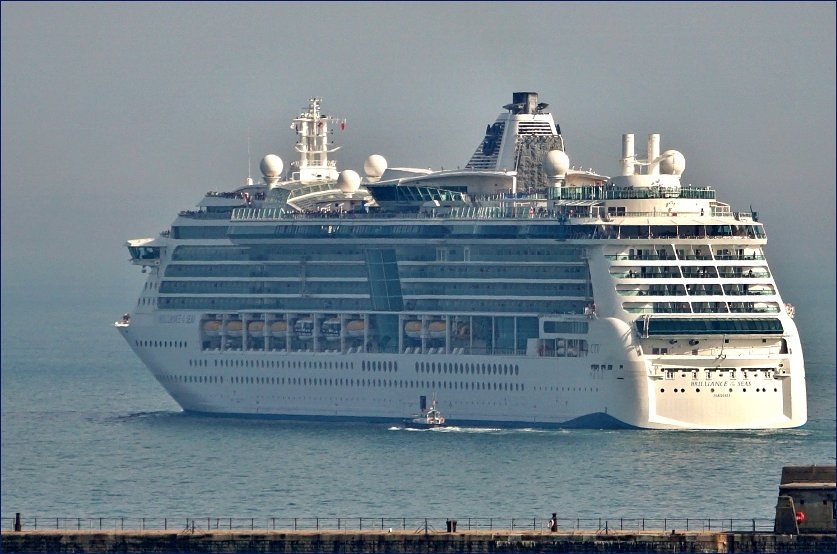 And now from the evening before, much later in the evening, you can see the fading rays of the dying sun as the Viking Sky moves away. More info on destinations and itinerary in the cruise listing...type in cruise visits in the search engine above. Beautiful ships visiting Dover for sure.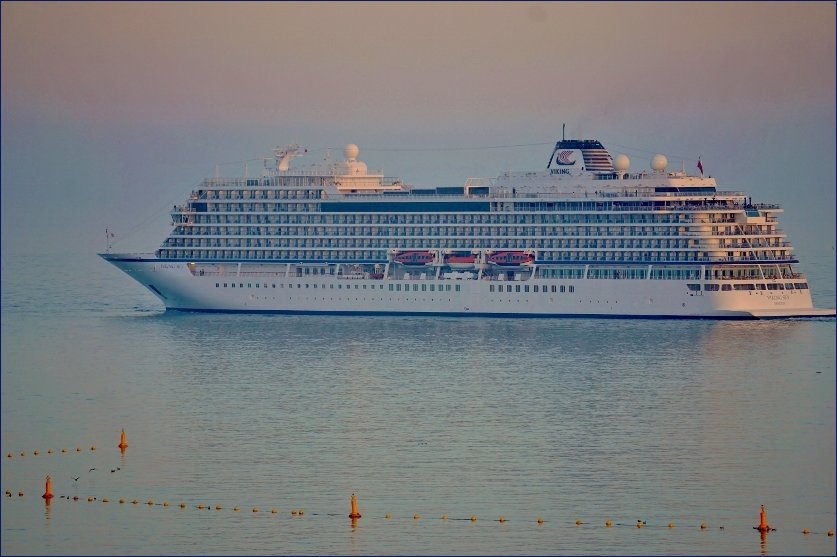 Thanks Del and Mike. Another fine picture collection below there from Mike once more.

Scroll down to see all the pix of HMS Diamond. Don't miss those ….
PaulB
Thursday, 9 August 2018 - 05:11
Post 5648
Del Styan, Norwich
Lovely pinned shot of the early hours all-lights-ablaze Eastern docks. As you say, let's keep it that way.

Wednesday, 8 August 2018 - 23:07
Post 5647
Mike J., Dover
Nice HMS DIAMOND departure pix from Paul B.
There were reports that after HMS DIAMOND sailed from Dover she escorted two Russian warships downchannel, the cruiser ADMIRAL USTINOV & destroyer SEVEROMORSK.
Such 'escorts' are quite routine.
Here's a few more pix from the Ad.Pier.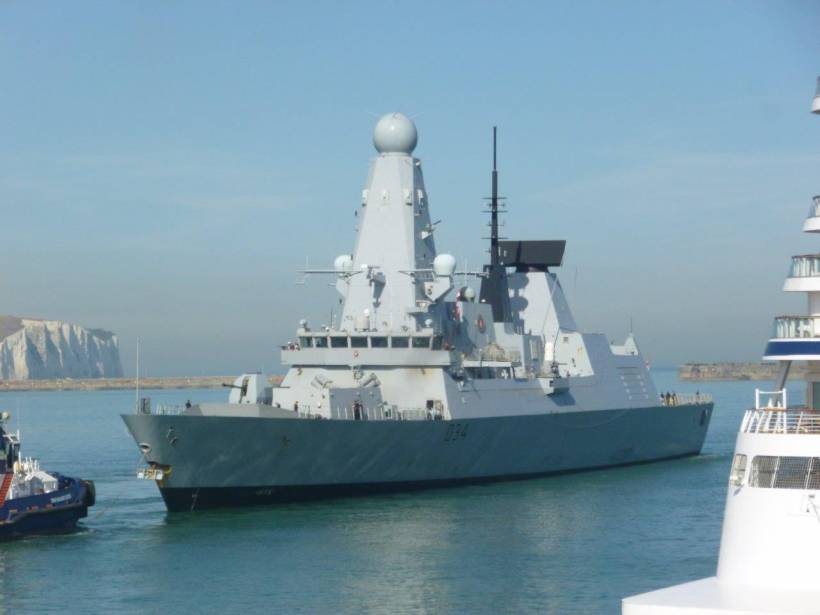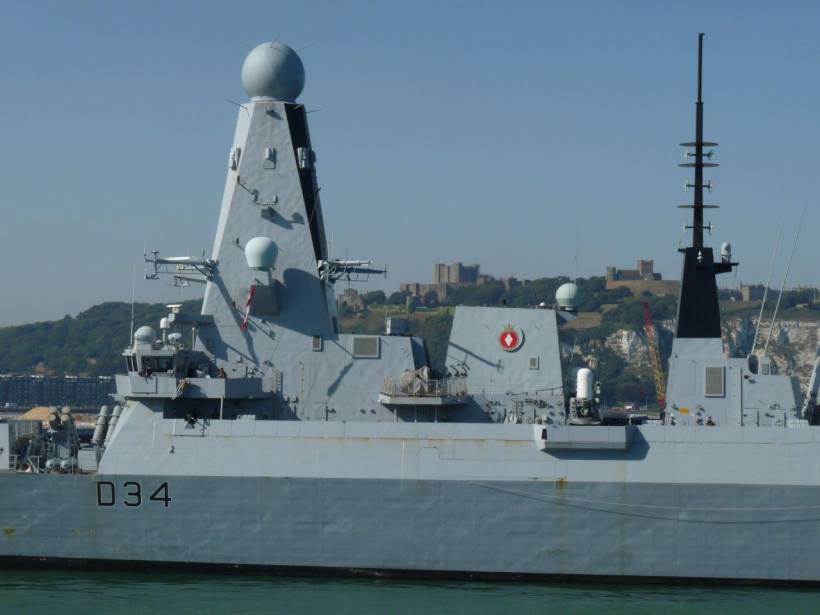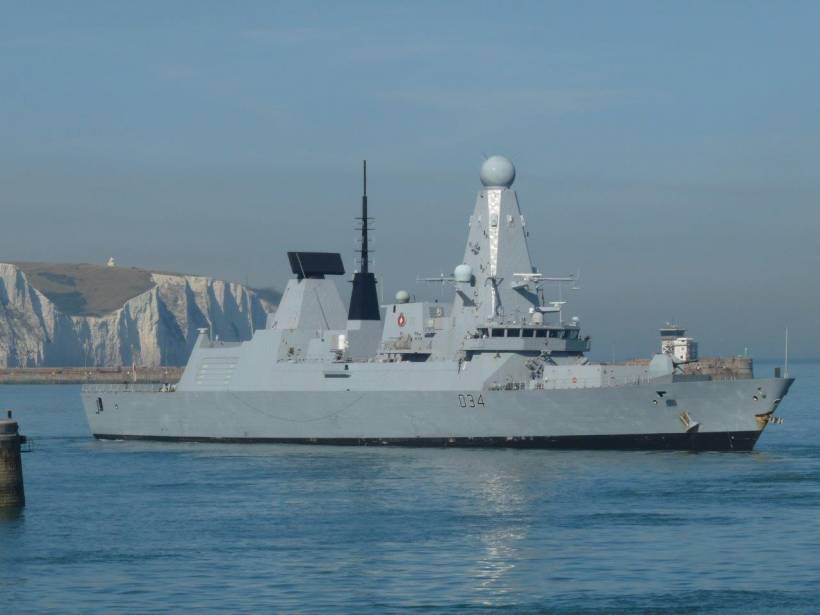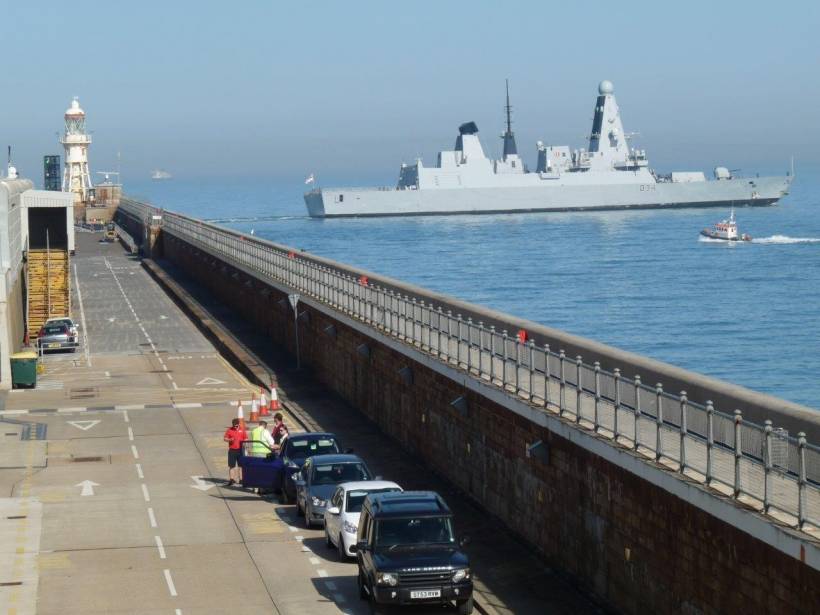 Perhaps Colin Lewis's son is amongst the working party aboard the DIAMOND shortly before she sailed on Monday.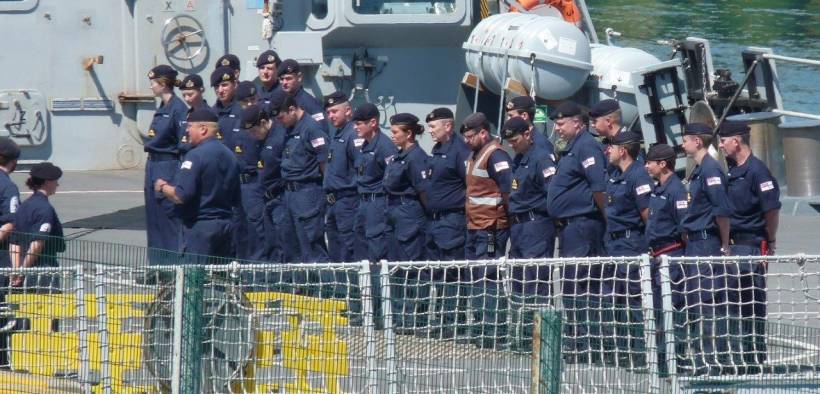 Wednesday, 8 August 2018 - 21:20
Post 5646
Sea News, Dover
And now...HMS Diamond as she moves away.. time of first pic 16.44 (Monday).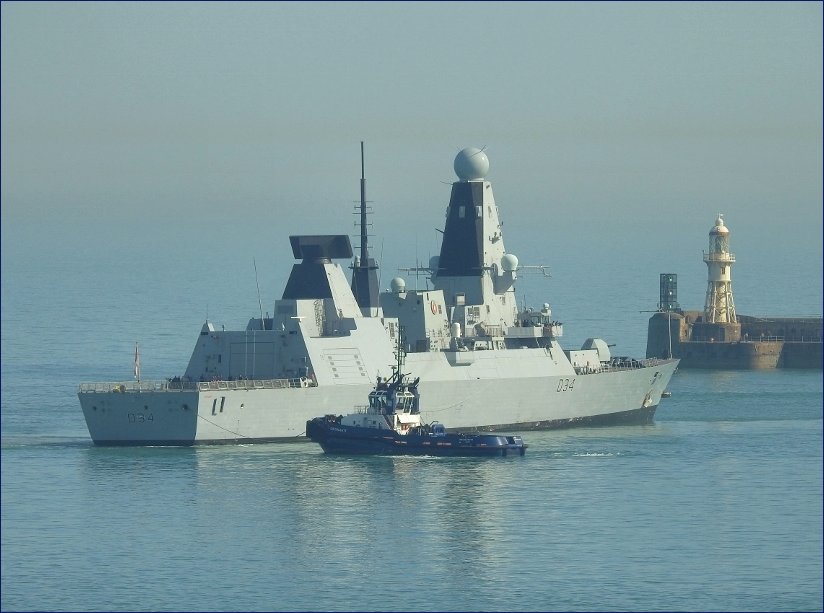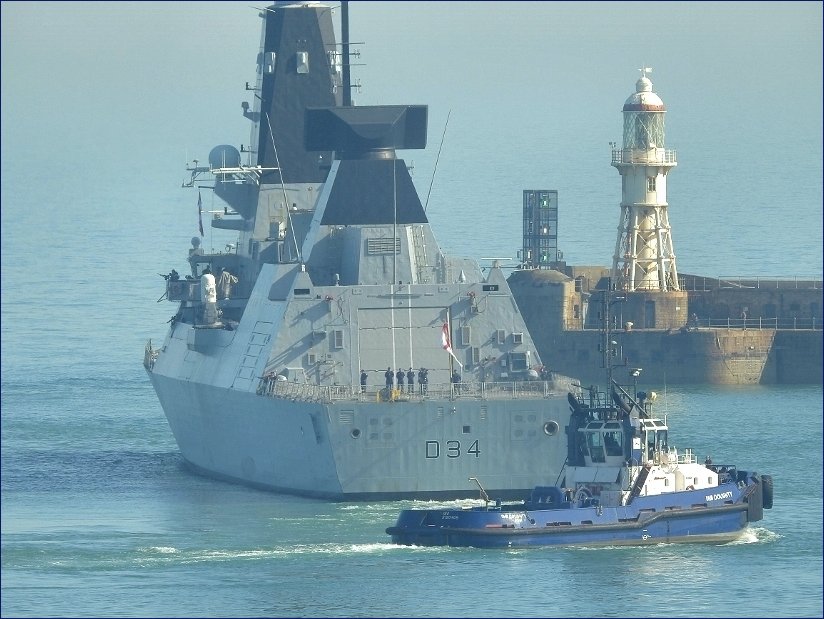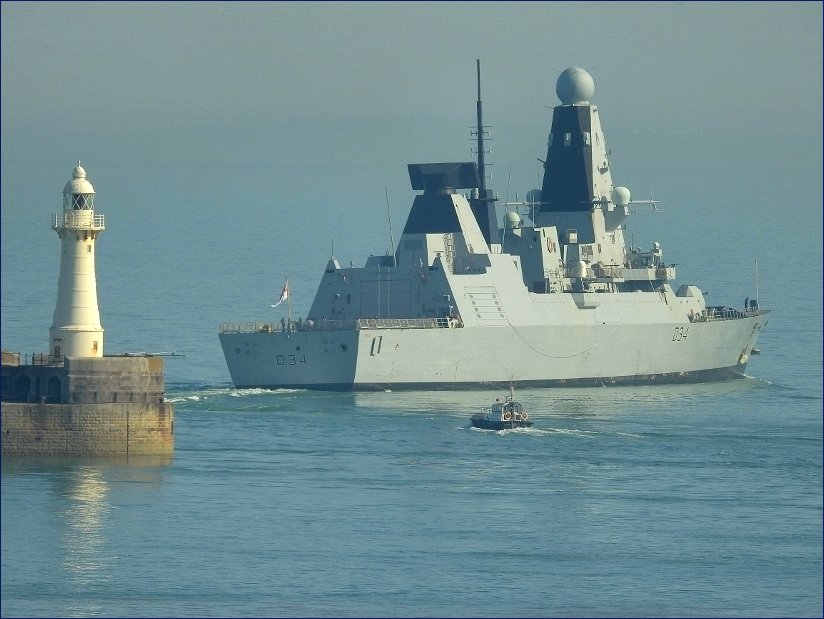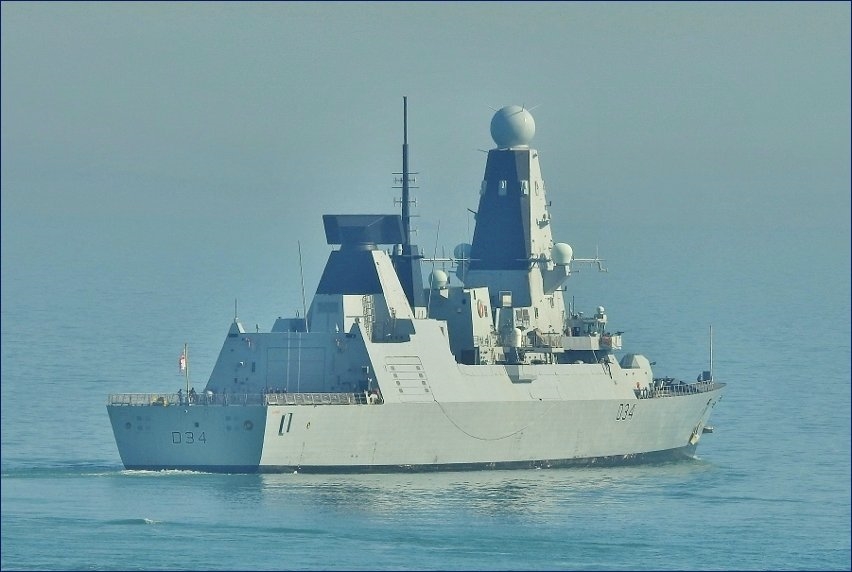 I will leave the pictures to do the talking above there. A great visit.

* *
Yes indeed Del the tugs help out in most cases. Viking Sky a big ship and the Brilliance of the Seas even bigger. Another two cruise ships in today...Boudicca and Saga Pearl - a hugely busy time right now.

Well done again Jeremy. Brilliant shot below there of...Brilliance..


Will aim to add a picture or two myself soon as well.
PaulB
Wednesday, 8 August 2018 - 06:09
Post 5645
Del Styan, Norwich
It must have been quite a task for the tugs ( assuming there were some ) to get the Viking Sky berthed. If it did alone - wowee!

Tuesday, 7 August 2018 - 23:02