Wednesday, 28 June 2017
Dover Lifeboat in recent action. Long range picture...
doverforum.com/sea-news
Featuring all the ships that come and go and work at the Port of Dover with further coverage of Ramsgate, Calais, Dunkerque.
Email:dover7@msn.com to send SEA NEWS pix or info.... or click ADD YOUR COMMENT below to post direct, no membership needed. Use our SEARCH ENGINE below to find all sorts on the SEA NEWS pages..more than 180 now with more than 3666 nautical posts. Posts welcome. Max of 5 pictures preferred per post. Sea News Editor Paul Boland.



Sea News Dover:



P&O Ferries give Lifeboat £10,000...see 3933.
DFDS Cycling Special : Tour de France see 3902.

P&O visit St Richards School 3904.
P&O Ferries award surprise Bursary.... 3816.
BEST EVER FIRST QUARTER FOR DFDS...see below..3813.
Highest ever Q1 Freight Volumes for P&O see 3623.
Type Cruise Visits in search engine below for the latest cruise ship arrivals..
in fact you can find anything in our Search Engine.
Post 3800
vic matcham , Dovor
When the D.H.B. had their old cranes down the western end of the port on rails,I was send down there to repair them and reweld where the need be,I was down there for weeks out in all weathers when I at last had done them,a week later I was back down there to cut the old cranes up


true story.

Saturday, 13 May 2017 - 09:15
Post 3799
Ed Connell, Blackpool
Have now gone back to my new home in Blackpool for two weeks leave so catching up on the last photos taken.
Emerald at the DCT on wednesday.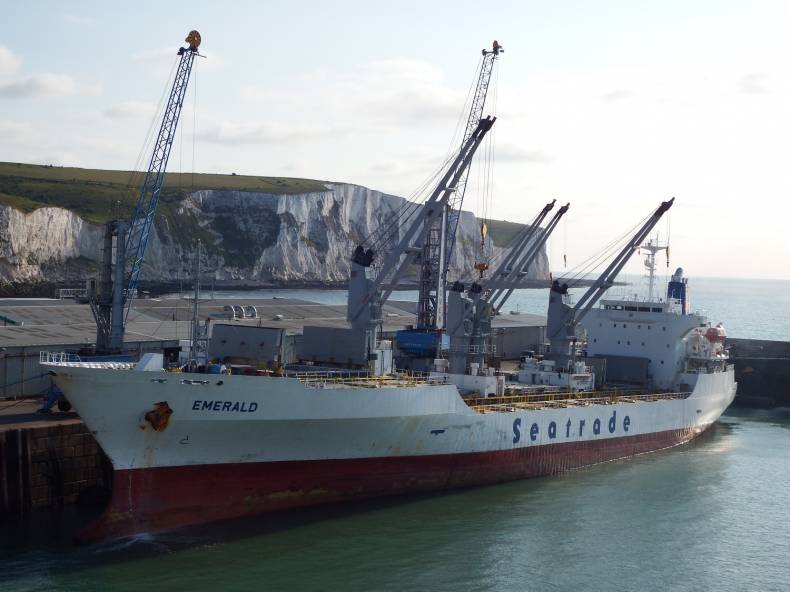 Nederland Reefer at the DCT on sunday.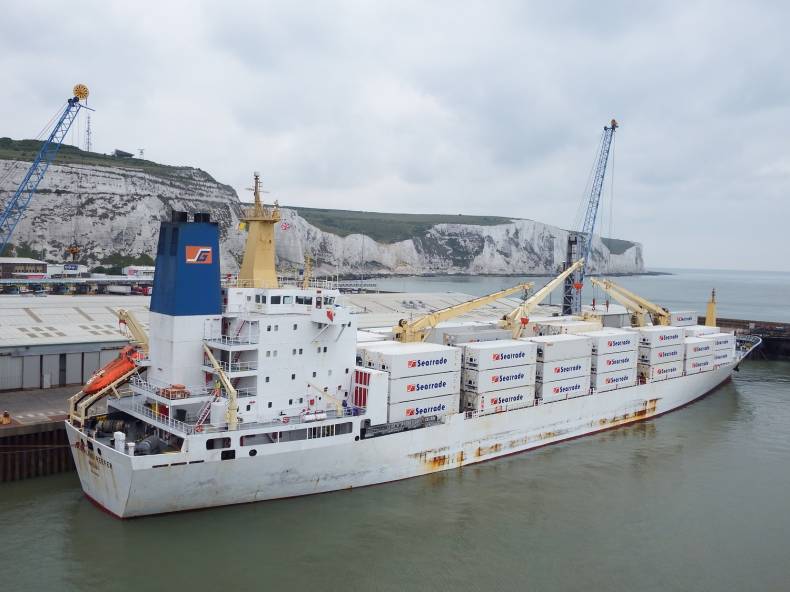 Had some refreshment in the Doric Arch pub outside Euston Station and amongst the other railway memorabilia there is this beautiful model of a British Railways class 9F heavy freight loco.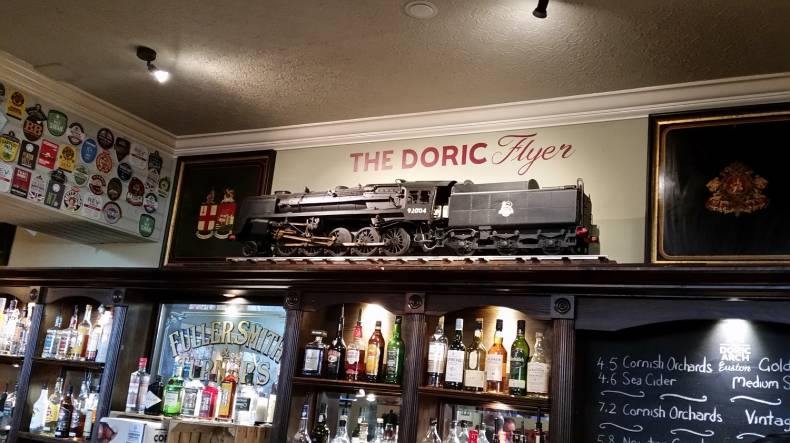 Friday, 12 May 2017 - 17:56
Post 3798
Colette B, Dover
WOW! Sea News is on Fire!!! Loving all the content

Friday, 12 May 2017 - 11:25
Post 3797
Sea News, Dover
THE DEPARTING EMERALD...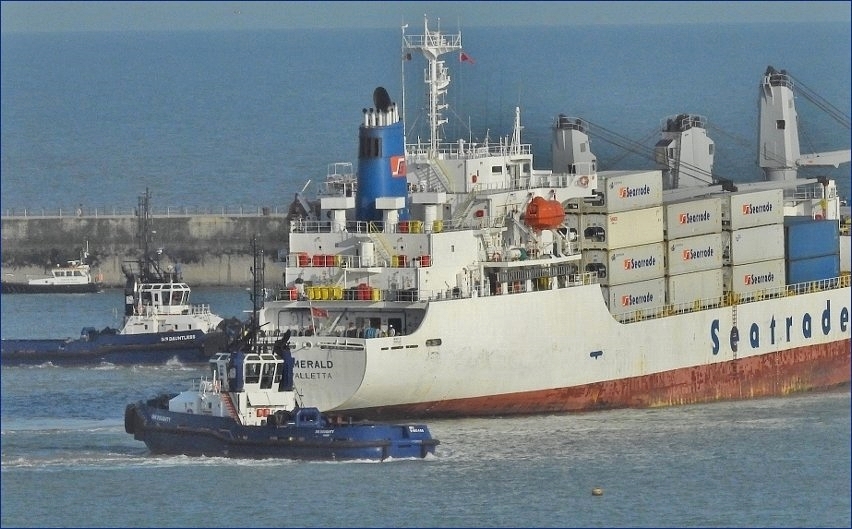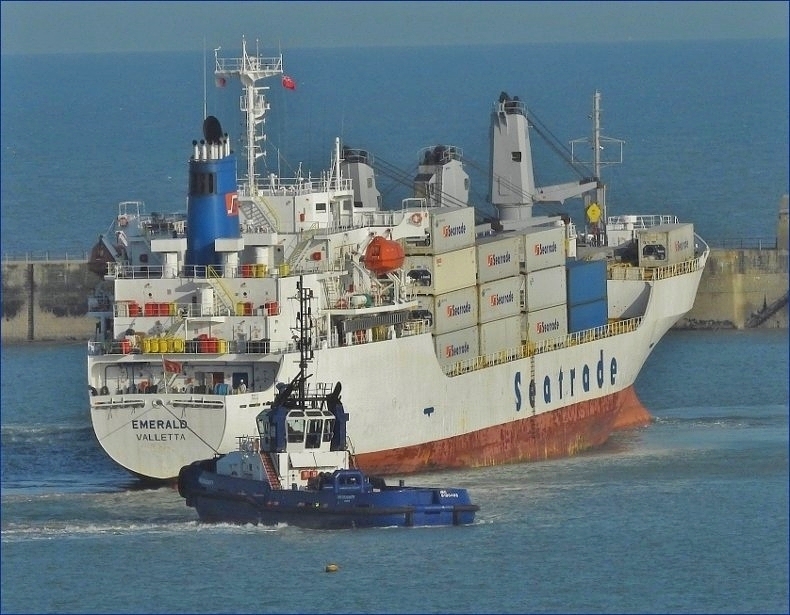 On Wednesday evening in the low bright sun, the reefer Emerald gets ready to depart the Port of Dover with the help of both tugs Doughty and Dauntless, you can also see the pilot boat in the background...there she goes, she was heading off to Flushing in Holland with quite a load. The Port of Dover continues to be busy with visits from our cargo friends..and with lots more to come.
Below we have Dutch tug Lingestroom which came here to take our much featured dredger MP40 away to Peterhead. Pity to see MP40 go as she added much excitement, but there we are. They also left Wednesday evening.
See Patricks pictures of the moment of departure...3791
also Ed got the first shot of Lingestroom in 3775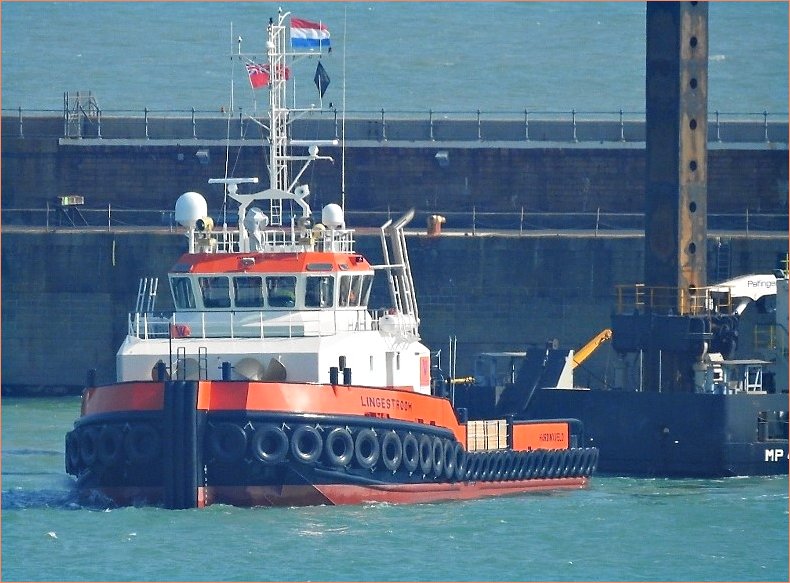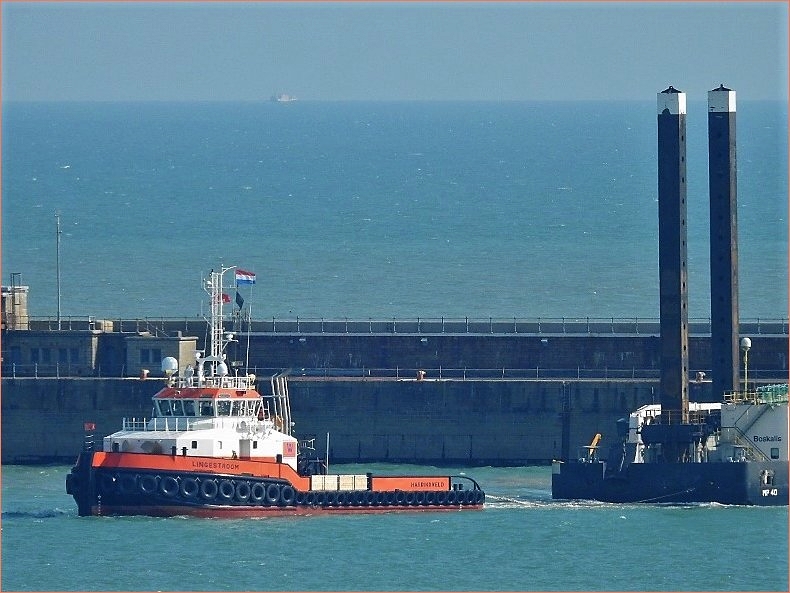 Many thanks to..
Vic for his comments below there. Glad you are still enjoying things on here Vic

and to Sarah...
Thought you might like those Lifeboat shots..glad you did. Thanks to Ben and Mike.

Don't forget the Marina Open Day on Sunday...yours truly will be there for a while with his box brownie..

See 3759.
Cruise Ship Saga Sapphire arriving as we speak...
PB
Friday, 12 May 2017 - 06:01
Post 3796
vic matcham , Dovor
Told some years go ,vic you are not fit to work any more and to old. so we spend our time going to the hos/or in the garden and looking at this great page on the forum showing all the work going on and the big ships coming and going. Now the good weather is with us and we go out more ,we head for the port to see for our self. But we never miss a morning looking at your great page,please keep it going.

Thursday, 11 May 2017 - 09:37
Post 3795
Sarah, Ramsgate
Great photos of the Dungeness Lifeboat Paul, Mike & Ben, I'm loving them





Thursday, 11 May 2017 - 06:55
Post 3794
Sea News, Dover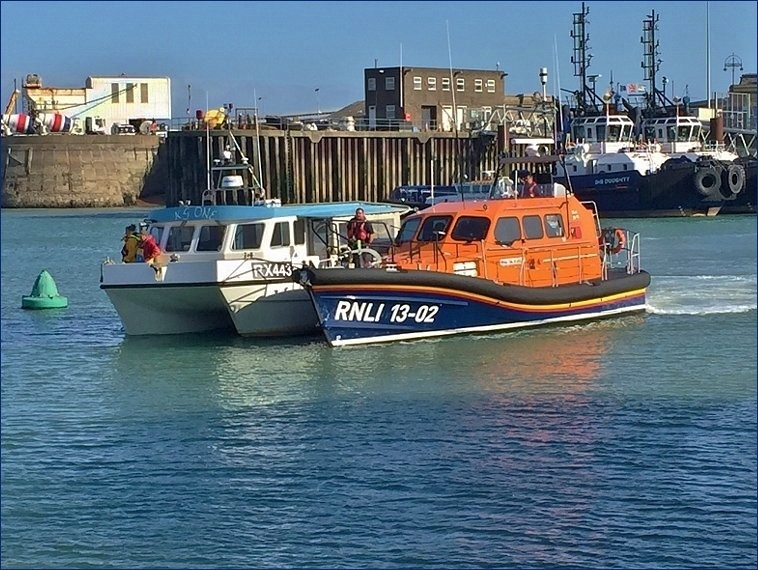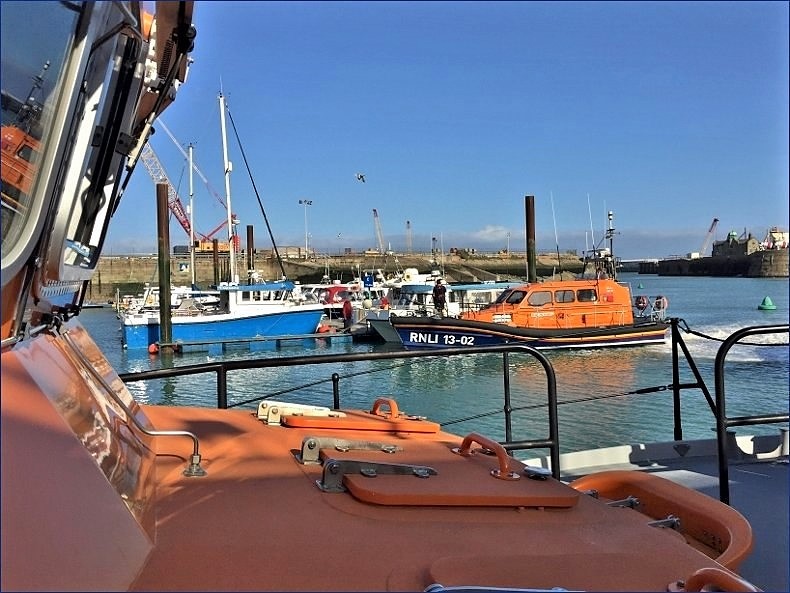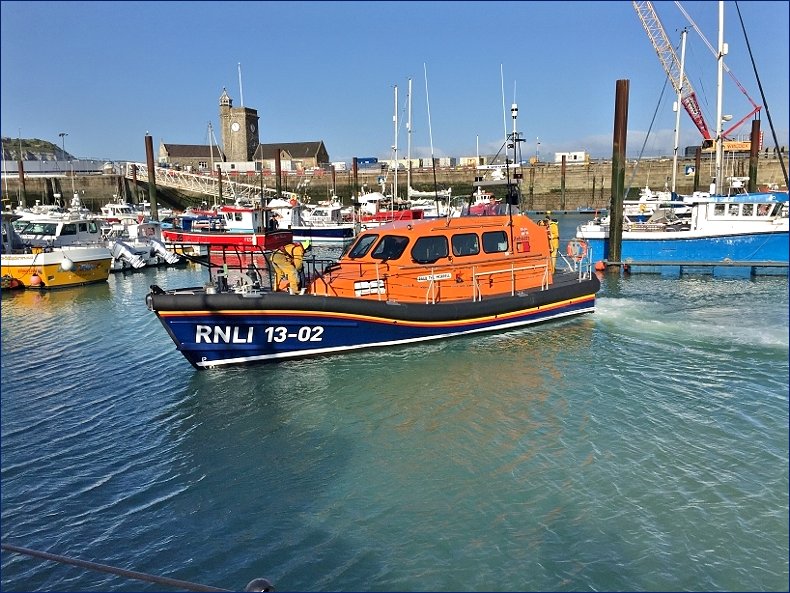 The Dungeness Lifeboat above there just after arriving in port a couple of evenings ago having assisted fishing boat KS One .
ALL PICTURES ABOVE BY BEN PAYNE.
Ben is a Lifeboatman here in Dover and doing sterling work as they all do. Many thanks Ben, good to see your pictures.
....and now here is an extra one from our famed roving correspondent. I came across this stunner in the files while doing this feature.. The Dungeness Lifeboat again in thrilling action.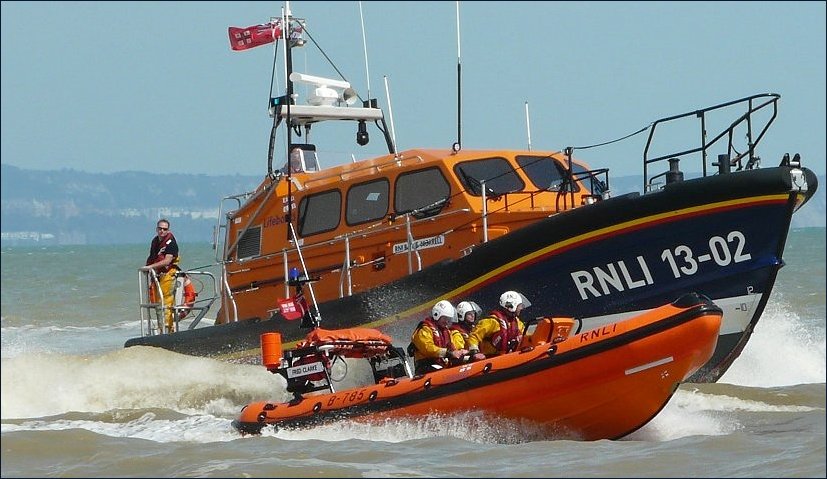 PICTURE BY SARAH HEWES
That's a cracking shot above Sarah.
See also Mike's pictures of the Dungeness Lifeboat in 3780.
See also 3788.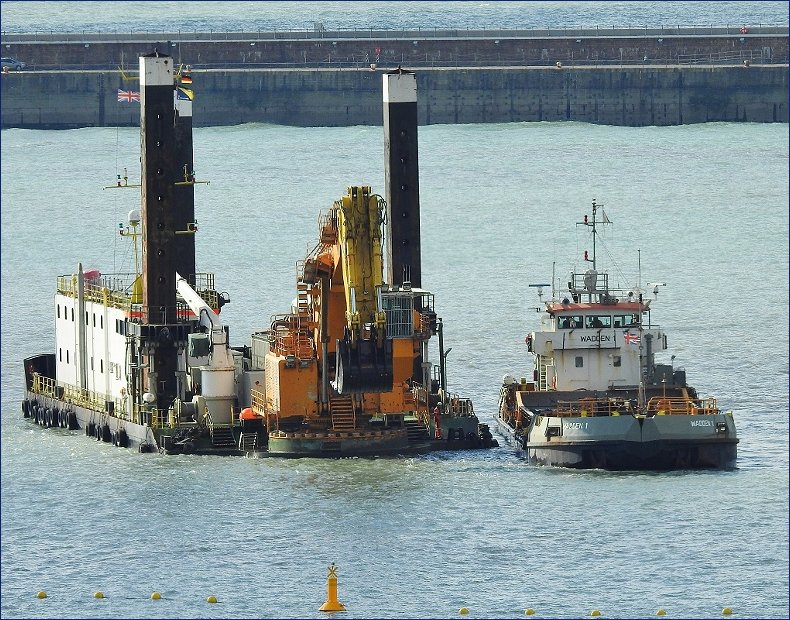 Ah yes, as Patrick said below, we sadly saw the MP40 being towed away yesterday evening and there she is above in a recent shot with Wadden 1. See Patricks pictures below 3791, might be able to add to that sequence in due course when I catch up with myself. Never thought I'd be missing a dredger...what can ye doooo. yours truly needs to get out more...

Great pictures of the Brexit Banksy George. Love those.....such excitement re Banksy.
and Vics comment had us laughing out loud
as did Dels too. Good to hear from you Del as ever.
Lifeboat Special

PaulB
Thursday, 11 May 2017 - 05:59
Post 3793
Del Styan, Norwich
What I want to know is- how did Banksy do it without you spotting it!

Wednesday, 10 May 2017 - 23:17
Post 3792
George, Dover
A few more snaps of Dover's latest artistic attraction taken just now in the gorgeous evening sunshine. A poignant or celebratory image depending on which side of the Brexit argument you are on?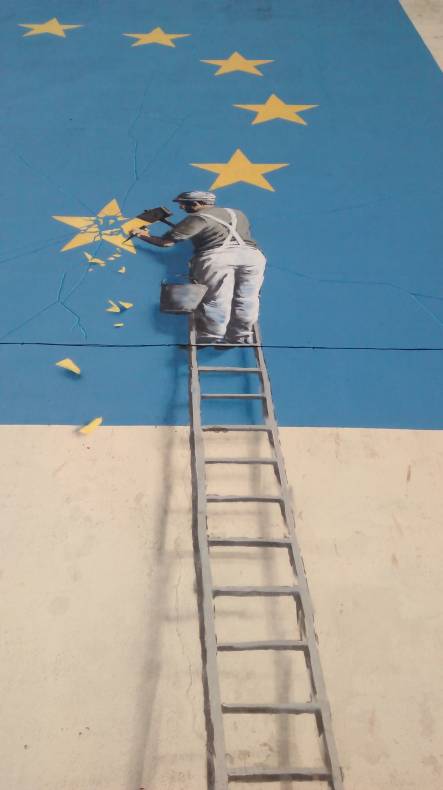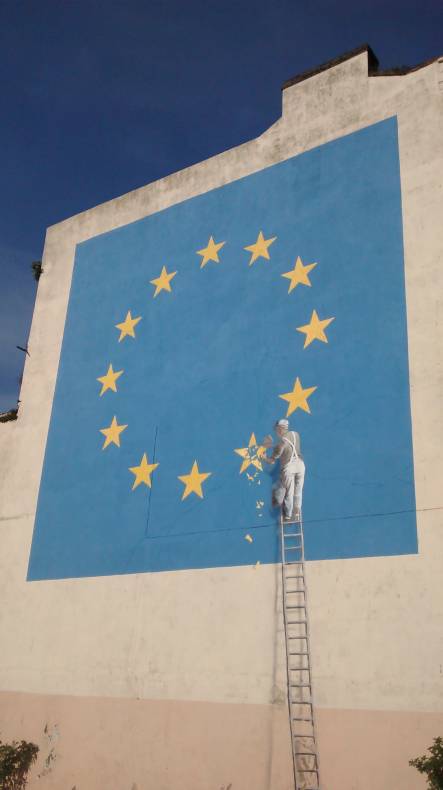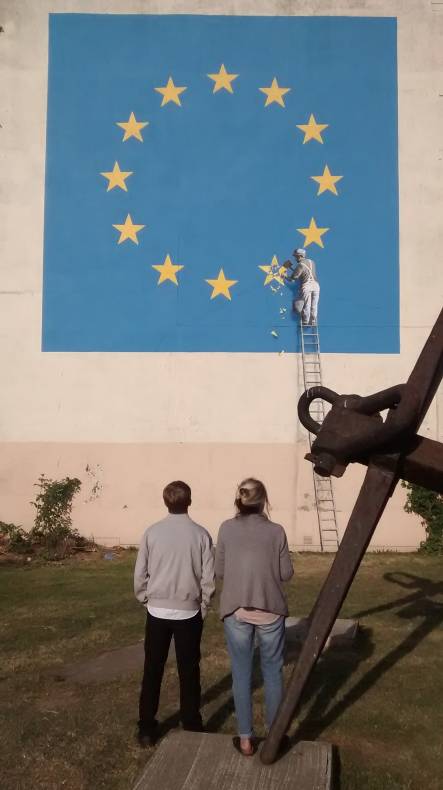 Wednesday, 10 May 2017 - 18:28
Post 3791
Patrick, Marine Parade
This afternoon saw the departure of the Backhoe dredger 'MP40' that has been working in the outer and inner harbour over the past few weeks as part of the DWD Revival program.
Towed by support tug 'Lingestroom' it is heading for Peterhead.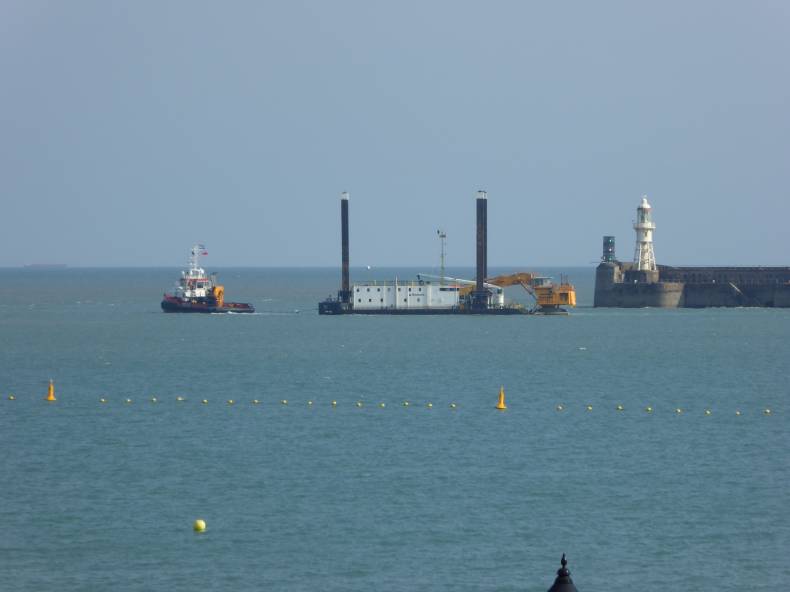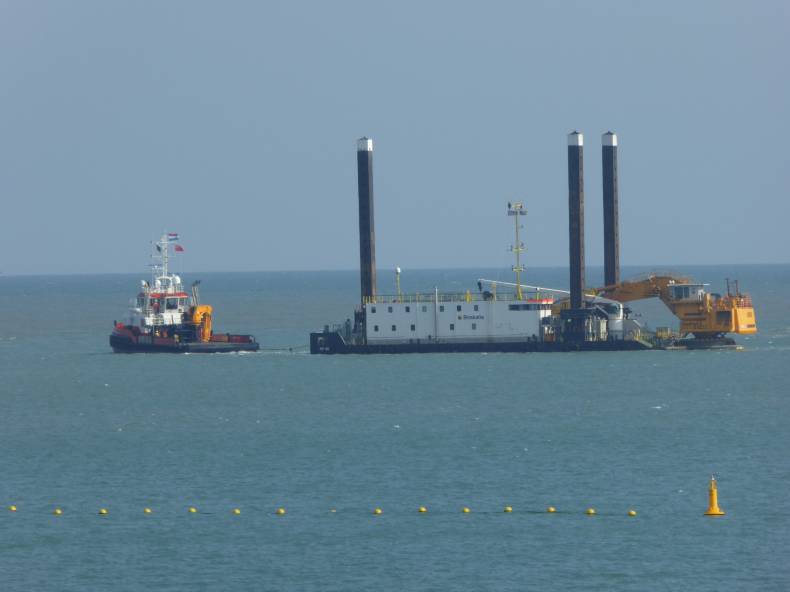 Wednesday, 10 May 2017 - 18:15
Post 3790
vic matcham , Dovor
My eyes must be bad ,I tryed to get up that ladder to talk to the painter.

Wednesday, 10 May 2017 - 16:19
Post 3789
Sea News, Dover
Much excitement has been caused by this immense surprise...a Banksy picture right here in Dover...
Man up ladder chips star off EU flag.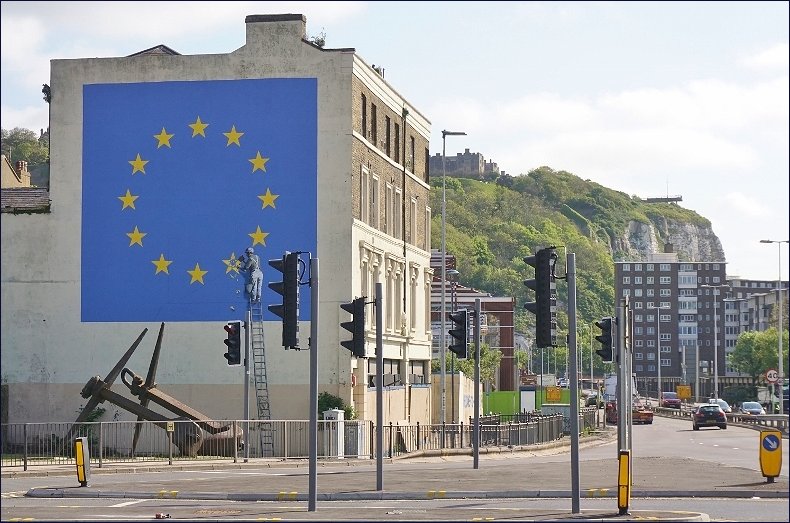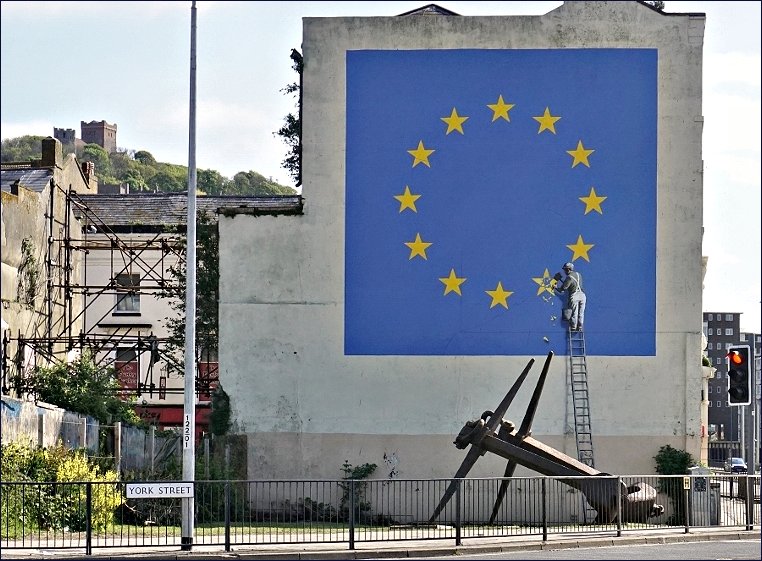 It appeared out of the blue a few days ago. Yes indeed much excitement. TV crews from all over the place, including the EU, have been filming and I understand we have just had a mention in the New York Times...we are global!
Well done Banksy !

You gave us all a lift. I pin this in excitement for the moment.

PB.
Wednesday, 10 May 2017 - 11:18
Post 3788
Sea News, Dover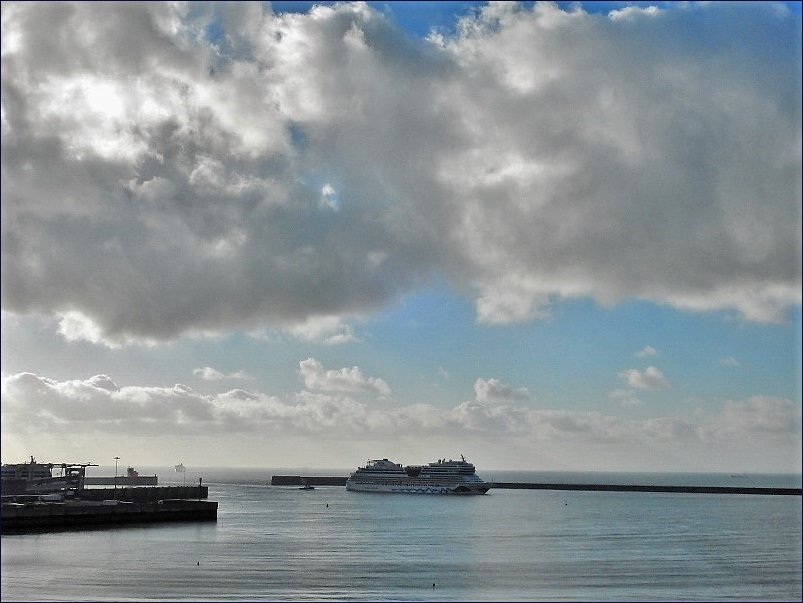 Our familiar friend AIDAsol arriving with us yesterday morning early under a big sky, always great to see such glamourous ships arriving here at the Port of Dover. The picture below shows her turning having come across the harbour with one of the great dredgers MP40 in the foreground ...with added small boat, presumably Smit Stour, completing the picture.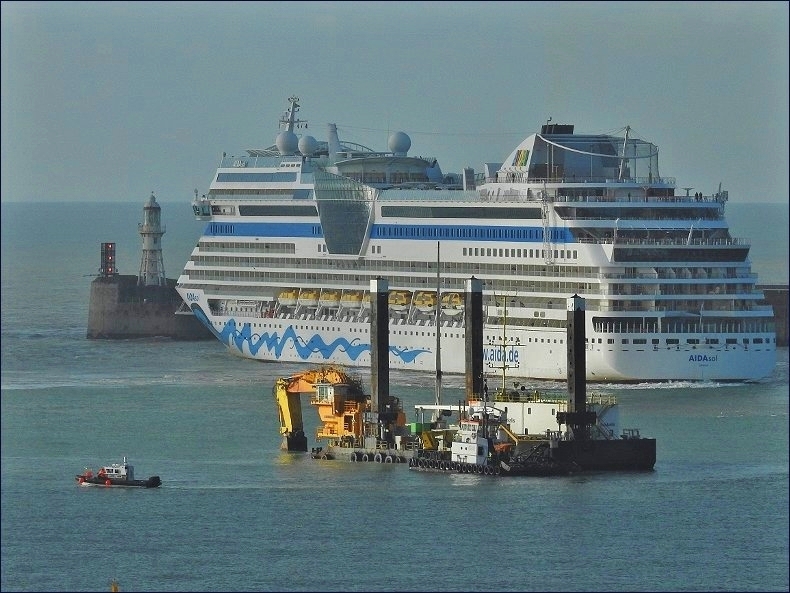 Following on from Mike's pictures of the Dungeness Lifeboat ( 3780 ) towing in a disabled fishing boat, here are a few extra pictures of the same situation as she entered harbour. They are not terribly good, possibly overzoomed, but at least they further show the situation at arrival.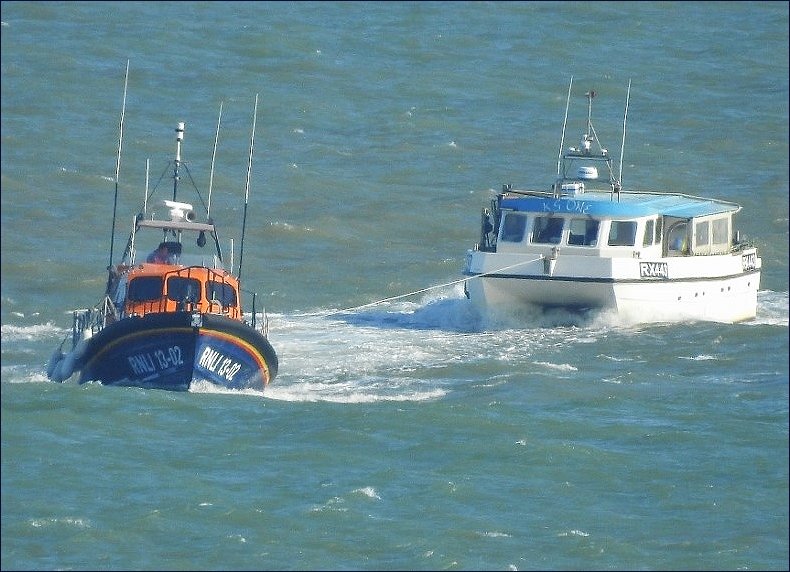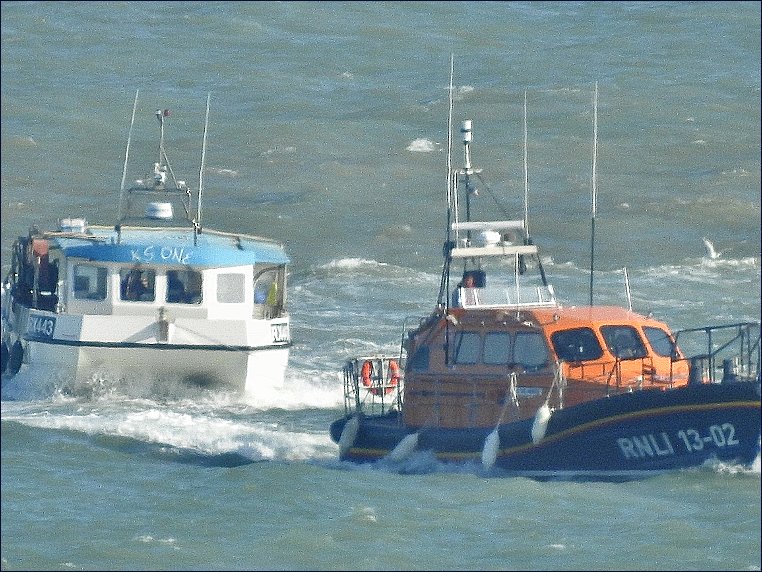 Ah..I see I have had more new pictures of this Lifeboat situation just sent in...watch for those extra ones in due course.

Well done Mike with the latest Hengist info below. Also noted what you say re Saga Pearl funnel...in the current mode you might say...very Banksy


PaulB
Wednesday, 10 May 2017 - 06:51
Post 3787
Mike J., Dover
Smart yacht !
Post 3749 showed the former HENGIST shortly after beaching at Aliaga.
By 3rd.May demolition was well advanced & soon the old girl will be gone.
Sad but inevitable.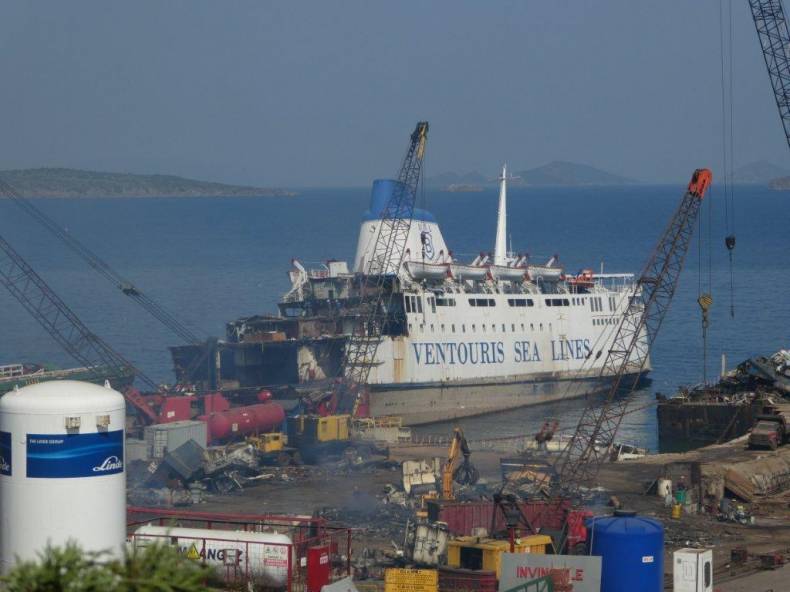 Photo by courtesy & copyright of Selim San.
After the ship is stripped of useful equipment the steel goes to nearby steelworks which were set up to 'process' steel from ships scrapped at the many Aliaga shipbreaking yards.
Ref post 3774 & the SAGA PEARL II - I see that she still has a different paintjob on each side of the funnel.
Unusual.
Tuesday, 9 May 2017 - 23:56
Post 3786
Sea News, Dover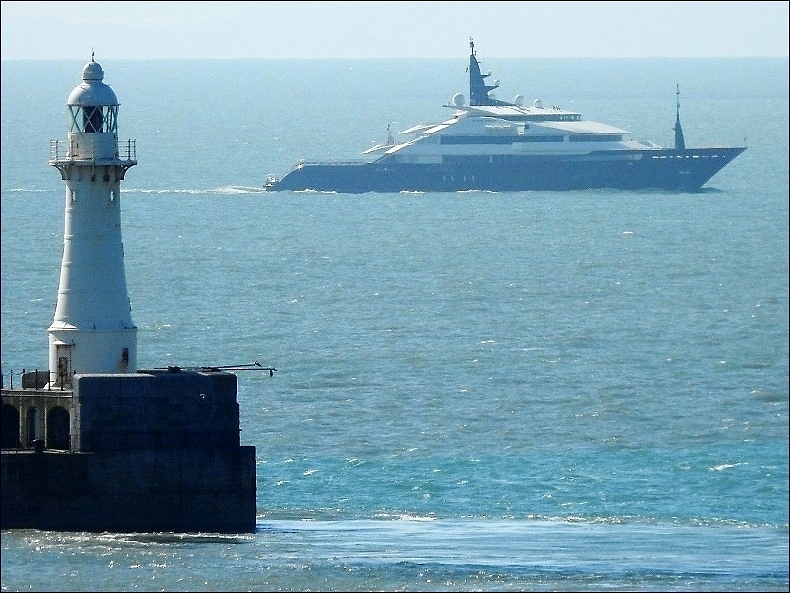 This fabulously super superyacht came idling by the Port at about 11 am this morning. She is called Alfa Nero and she was on her magnificent way to the almost equally fabulous Antibes in the South of France. She came close to shore hoping to catch yours trulys attention, as they clearly wanted me to come along...
but alas one had to decline as one had to stay indoors and await a grocery delivery from Tesco Direct.
...Well you have to get your priorities in order... yikes


From Edmiston.com
"
ALFA NERO was launched to universal acclaim in 2007. She sailed off with every important award including Boat International's interior and exterior yacht of the year, Showboats' best yacht over 75 metres and Yachts International's most innovative yacht over 40 metres. In simple terms she was the finest new yacht in the world.
"
So there you have it. We understand its owned by a Russian billionaire.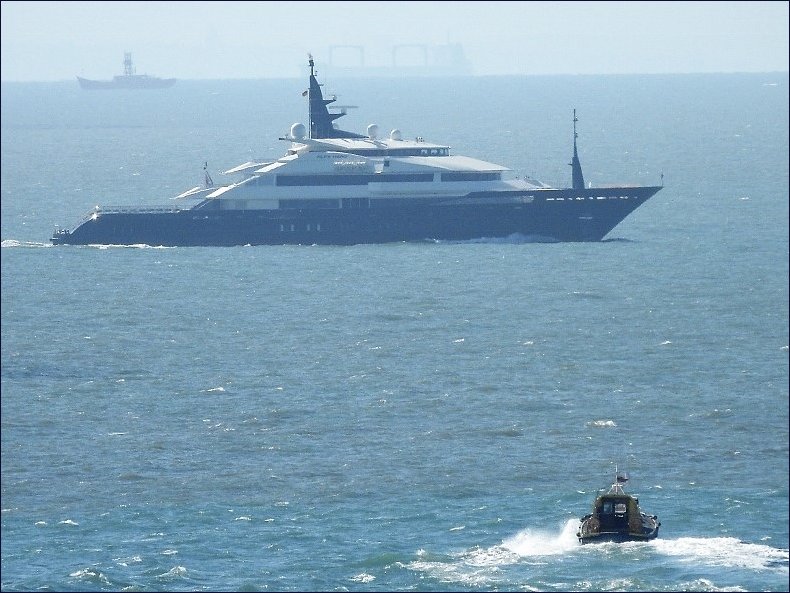 Thanks to Dave and Vic for the info and comments below.
PaulB
Tuesday, 9 May 2017 - 14:43
Post 3785
vic matcham , Dovor
you are right sir but it is the ground at times..

Tuesday, 9 May 2017 - 11:45
Post 3784
Dave, Broadstairs
Re post 3780:
I think 'thumping' posts in is a thing of the past now-a-days. They tend to vibrate them in. The weight of the unit and fast vibration is enough to do the job, especially around our chalky shores.

Tuesday, 9 May 2017 - 10:38
Post 3783
vic matcham , Dovor
You can see the round piles being put in now,well some years ago we was putting them down in Chatham docks about 3oo of them our job was to put them down then put a cage inside each one then I had to cut off the tops off that was about 8ft then the Concrete lads would fill the part in the ground with concrete we would with a crane take the offcut away to our part of the site put the off cuts on rollers and reweld them back up to use again,well we put down about 4to six in one day,but one day it was a Friday we had just done last one for the day and was getting dark we never done it in the dark that would be very unsafe,Well we was just packing up and the site foreman came over ,"Sorry to tell you lads they have got a ex lot of Concrete and we need you to do one more cutoff ,must say I was not happy about this no site lights and it was getting very dark, anyway we went back up on site I cut the holes in the side of the pile then they done a pour before I cut the top off so that made it very hard to cut it off ,the crane droped his chains and I fixed them to the pile and cut round it well wet concrete poured out of it and I got burned ,anyway by now it was dark. After each pile is done and cut off they put tape around each one so you can see where they are,well this night after I had done the last one we could not see across the site all we had was the light of the crane we was walking long side it holding a rope on the off cut which the crane was holding and then it happen there was a pile done and no tape round in, I did not see in and in I went ,but has luck would have it I put my arms out and they rested on the side of the pile the wet concrete was slowly taking me down but they drop off the pile they were carrying

and put the chains around me and pulled me up out of it At one point I was thinking it was the end of me.

Tuesday, 9 May 2017 - 09:22
Post 3782
vic matcham , Dovor
Two very good looking girls there with lips like that ship just going out of the port
Tuesday, 9 May 2017 - 08:51
Post 3781
Sea News, Dover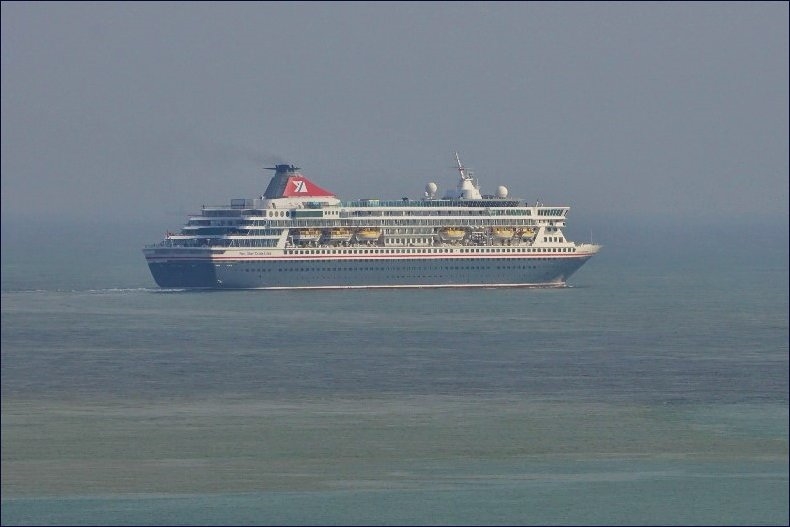 SUNDAY EVENING DEPARTURES: yes indeed it has been a busy period for cruise liners here at the Port of Dover. Long may it continue. The top shot there shows the Balmoral heading off on Sunday evening, going south to enjoy a tour of Spain with Le Coruna the first stop.
Below we have the departure of AIDAvita, by now its beyond 8pm and getting dark as she heads off on her round Britain and Ireland tour....as indicated by ColetteB in her Cruise Visit listing below page. Always type in Cruise Visits in the Search Engine to keep up to speed, as I do myself.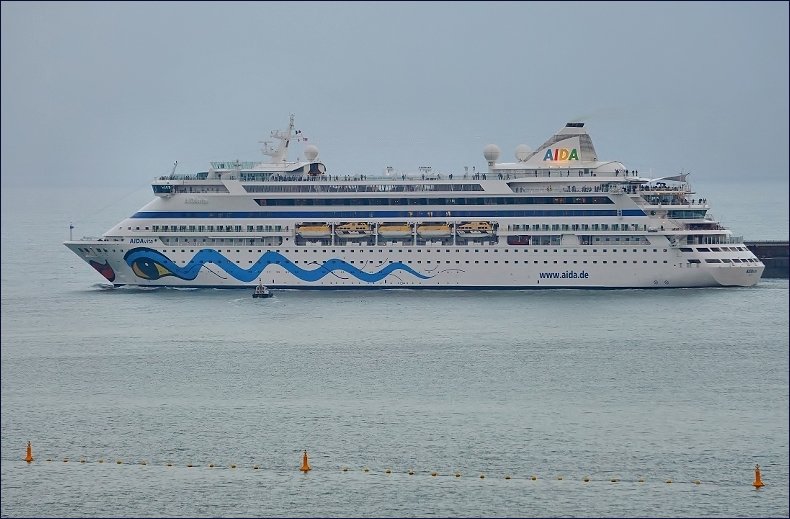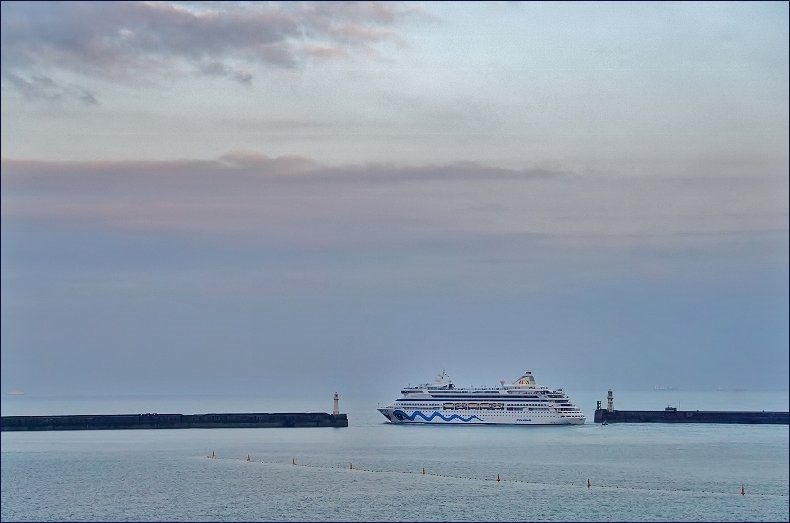 While going through the files right now yours truly spotted this one below of AIDAvita from last spring 2016...couldn't resist putting it up, taken on a bleak oul day but a striking picture. Makes you want to reach for your anorak just looking at it. Brrrrr.. shiver me timbers!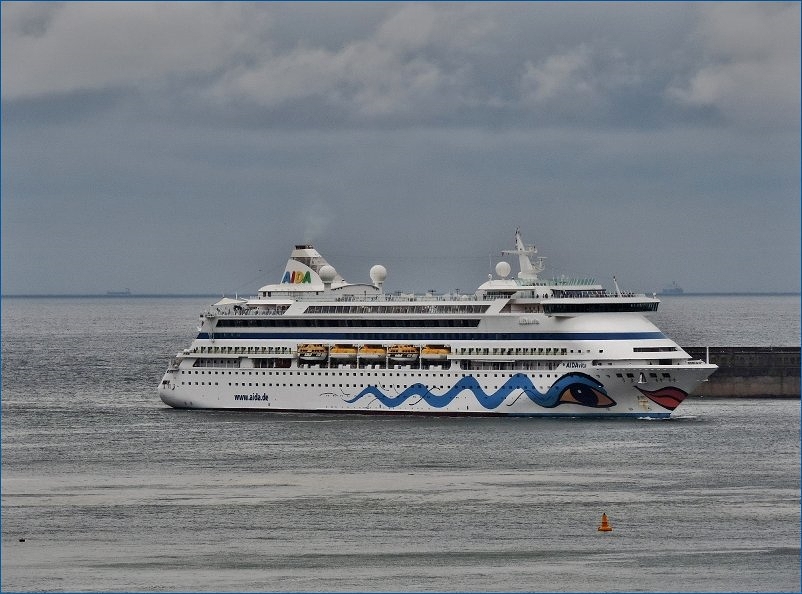 SEA NEWS SUPPORTERS: And speaking of ColetteB and her Cruise Lists...here she is below on the left with fellow enthusiast Alison on the right. You may remember these two were part of the charity fund raising efforts we featured a while back...here they are at a ladies lunch ( or was it afternoon tea .. ermmm ) a couple of days ago...all very nice at the Dover Marina Hotel. They were pictured by another one of the girls but not sure who it was for the moment.
Ah...info has since come through...
PICTURE BY LINDA HANNENT
Cracking pictures below there Sarah. I can feel the salt spray on my lips looking at those lifeboat shots...and what a grand picture of the tall ship.
Great stuff indeed!
Well done the roving correspondent.


Right on the pace below there Mike..spotting the lifeboat arriving. I saw it last evening towing and rounding the Admiralty Pier and entering the harbour...a bit long range but I had a go at a few shots, still in camera ... still catching up as ever... might have a follow up picture or two of it all later.

PaulB.
EDIT: 0730 and AIDAsol returns.
Tuesday, 9 May 2017 - 06:02