Sunday, 25 February 2018
Dover Lifeboat in evening action. More below...

doverforum.com/sea-news
Doverforum.com: Featuring all the ships that come and go and work at the Port of Dover with further coverage of Ramsgate, Calais, Dunkerque. Email: dover7@msn.com to send SEA NEWS pix or info.... or click ADD YOUR COMMENT below to post direct, no membership needed.

TRADING GROWTH FOR DFDS DESPITE BREXIT see 4642
PORT OF DOVER RECORD FREIGHT see 4551.
PORT OF DOVER: GEEST LINE arrival see 4597.
SECOND FEMALE CAPTAIN FOR P&O see 4608.
Sea News Dover : Use our SEARCH ENGINE below to find all sorts on the SEA NEWS pages..more than 230 now with more than 4500 nautical posts. Posts welcome. Max of 5 pictures preferred per post. Sea News Editor Paul Boland.
Post 4531
Sea News, Dover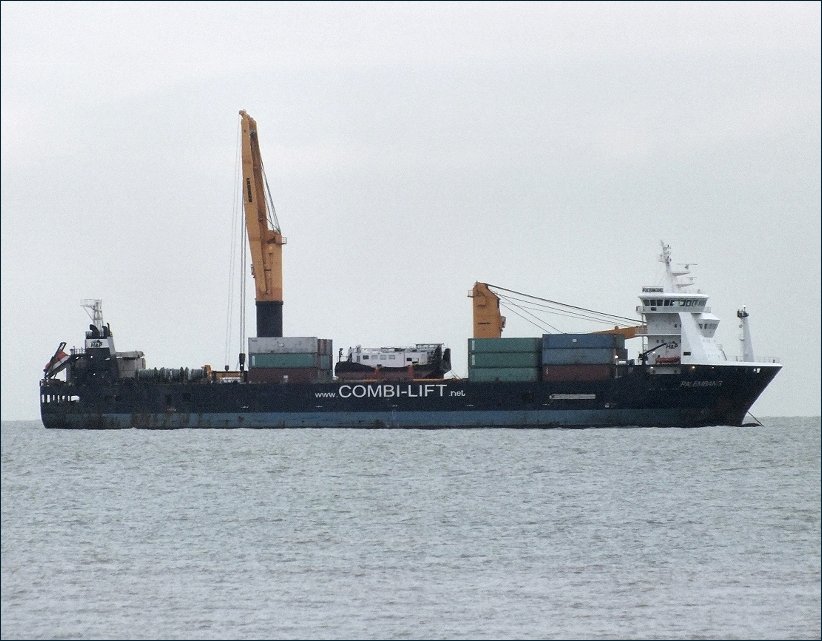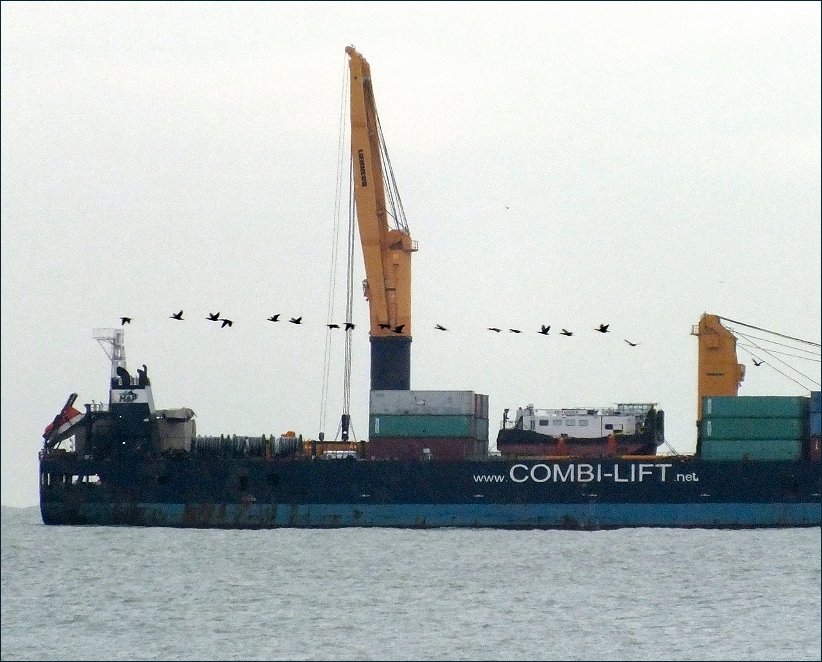 Both pictures above of MV Palembang were taken by SIMON BRISS and sent in earlier today.
Simon says...
"
Good Morning,
Currently at anchor in The Downs. Looks like she left Vlissingen yesterday morning (05:20hrs) and turned up off Walmer approx 13:45hrs, en-route to Freetown. Any ideas?
"
We understand there is a big lift taking place here in Dover later this week Simon. I thought initially Wednesday but I think Mike then said Friday...but... not sure now. They used to keep us informed locally but I guess there have been so many that they may well have given up doing so ...Whatever the day anyway we will watch for developments.
If anyone knows anything further let us know by all means..
Happy New Year to you too Simon. Well done with those pictures.

PaulB
Gosh that's a really great picture from Ed below there. That's the best collection of knitwear Ive seen for many a year. Good luck and Happy New Year to the catering crew there...


Tuesday, 2 January 2018 - 14:53
Post 4530
Ed Connell, Dover Strait
Photo on the noticeboard of our catering crew all dressed up in Christmas jumpers which they had been encouraged to bring in for the occasion. They wore them for a day and looked brilliant. Re ringing the ship's bell: our youngest crew member Brandon rang New Year in. Our oldest crew member refused to play ball because that was me and I was watching "An American Werewolf in London" on the telly. It always gives me the shivers when I am on the escalator on the tube and remember the sequence where the commuter gets attacked on the escalator at Tottenham Court Road!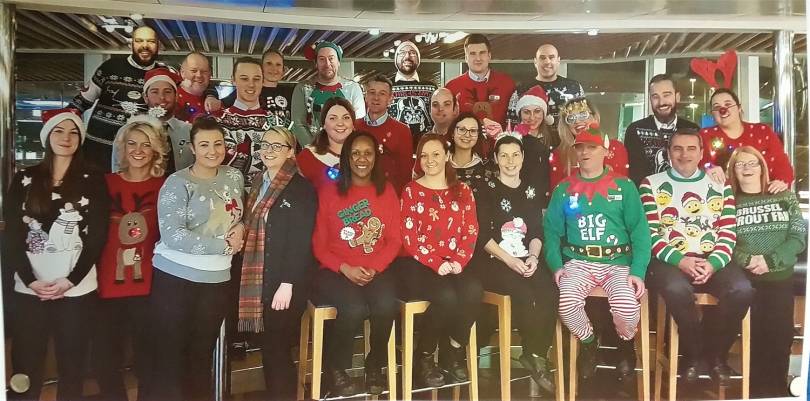 Tuesday, 2 January 2018 - 07:50
Post 4529
Sea News, Dover
Following along from Mike's picture of the Dover Seaways, here she is again in much rougher grimmer conditions, being robustly assisted into berth by tug Dauntless in yet another strong wind...the strong winds go on
unfortunately...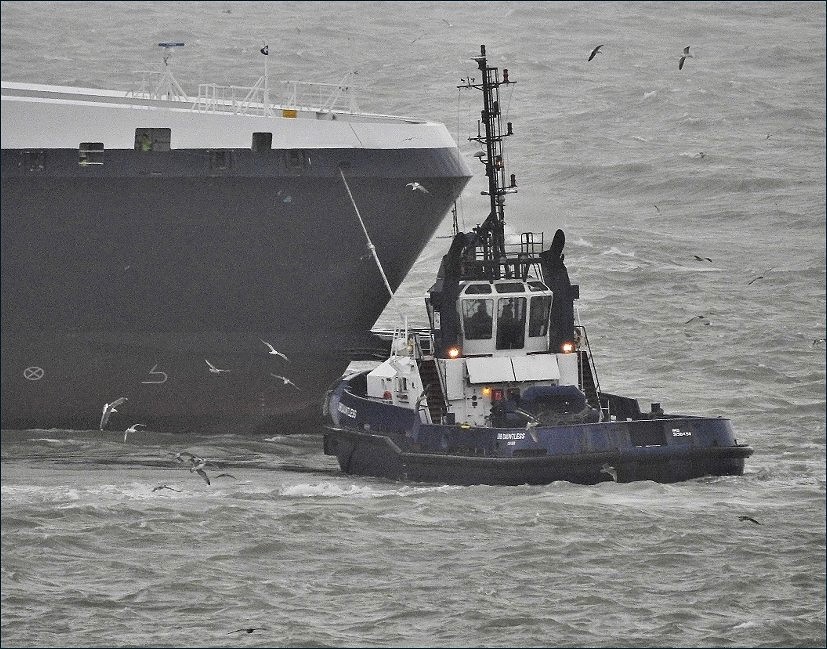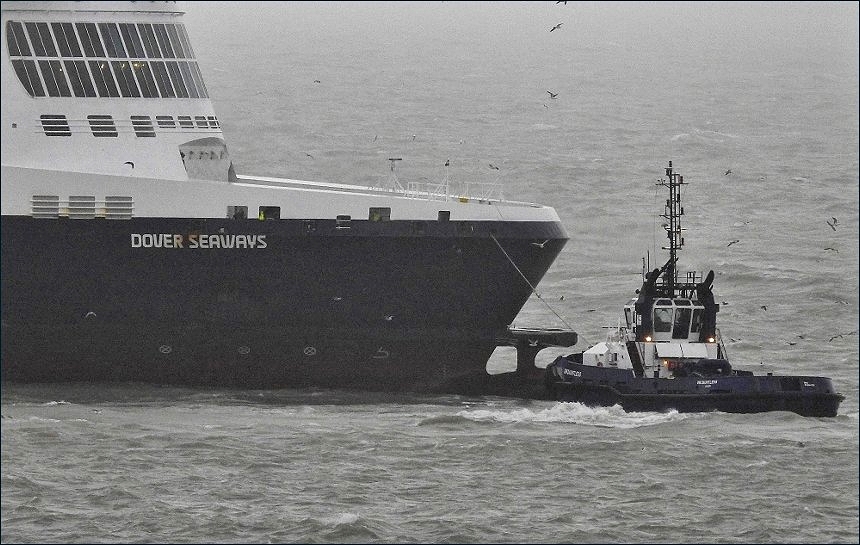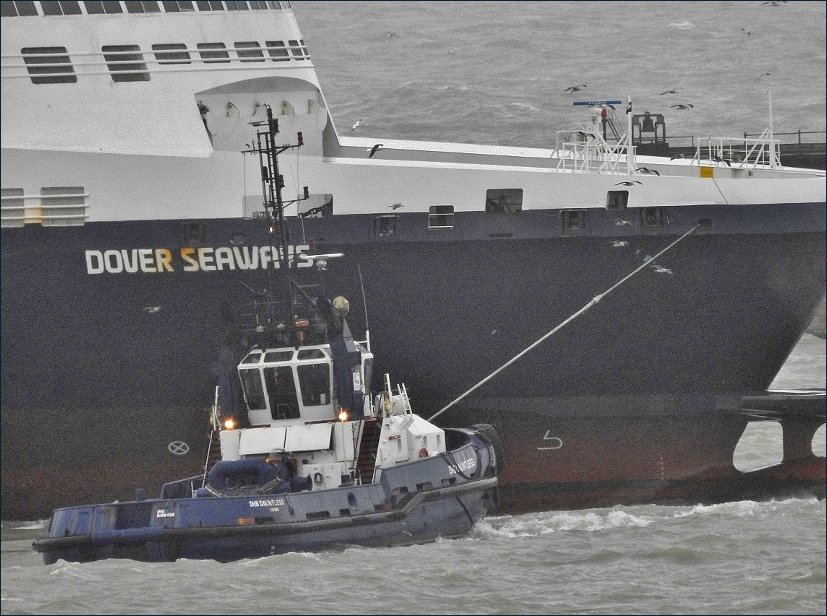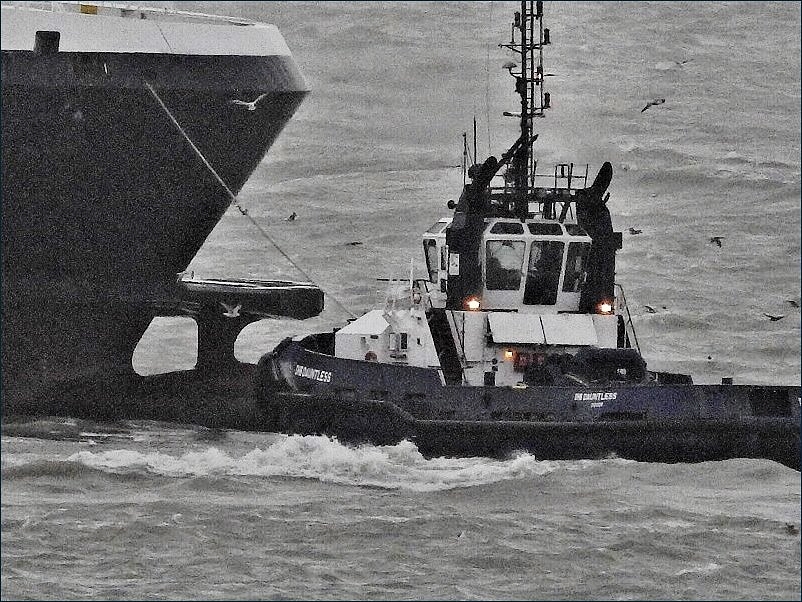 The fourth shot is an enlarged crop of picture 2.
That's a nice shot below Mike...liking that one. Ah yes re the ships hooting and tooting on New Years Eve. I caught the tail end of that experience when I first moved to Dover. It was great. But just as soon as I began to relish the exuberance...it all stopped. There must have been a blanket ban directive issued from somewhere on high...as it all ceased at once...

I tried a picture or two in the golden light mentioned..still in camera will check later to see if there is anything worthwhile.
PB
Tuesday, 2 January 2018 - 05:58
Post 4528
Mike J., Dover
A nice 'golden sunset' for the first dusk of 2018 & I was hoping for some nice 'glints' from the SPIRIT OF FRANCE, approaching beyond the DOVER SEAWAYS, but by the time she'd entered & started her swing the light had gone.
Perhaps the 'Gateway Gang' were luckier.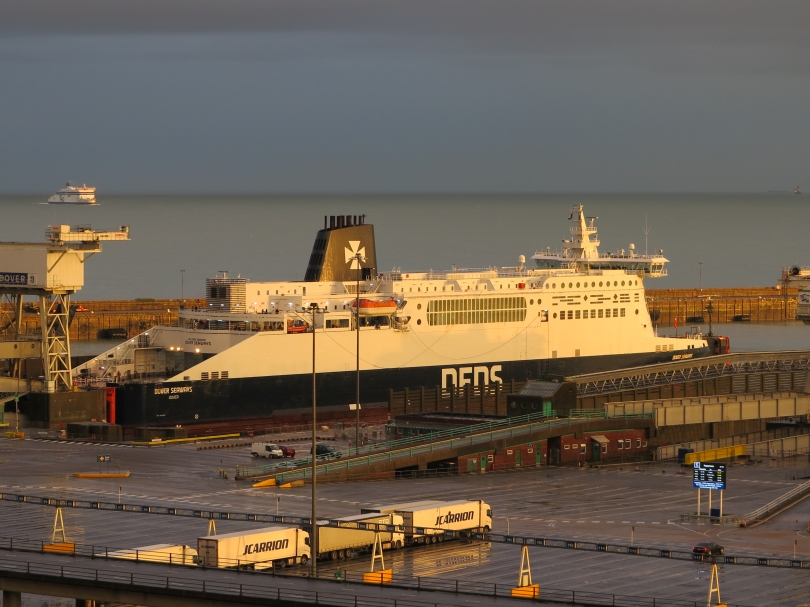 As Paul mentioned, like a lot of people in Dover I heard the fireworks at midnight.
One thing I didn't hear was any of the ferries in port blowing their whistles.
.
When I was on the ferries in the 90s there was often a blast from ferries that happened to be in port.
Years ago when I before I started working on the ferries midnight was usually celebrated by every ship in port blowing their whistles loud & long at midnight & it was a never-to-be-forgotten sound.
Inevitably someone, wanting to first be first, jumped the gun a minute or two early but at midnight everyone opened up & with a wonderful variety of noise - steam whistles, air whistles, klaxons, even the ships' anchor bells. Some blew long blasts, others tooted, some even tried 'tunes'
The whistling would go on almost continuously for some time before gradually dying away with some ships trying to be the last to sound their whistle, before going down below for another beer or three.
Wonderful.
Ships underway at sea would sometimes blow their whistles & the New Year would be often be rung out on the ship's bell by the oldest crewmember & rung in by the youngest.
Whether in port or at sea, quite an experience, but times change . . . . .
Excuse me my wallow in nostalgia & Happy New Year to all.
Tuesday, 2 January 2018 - 00:05
Post 4527
Sea News, Dover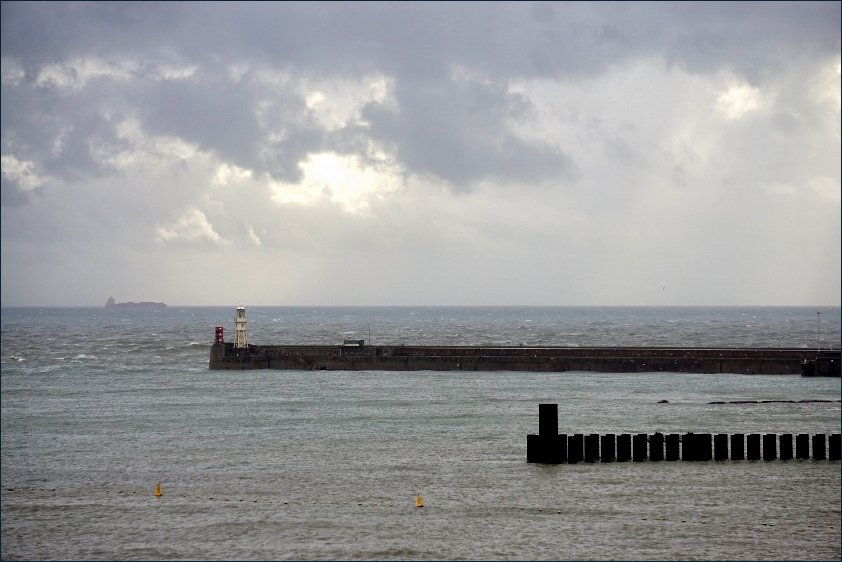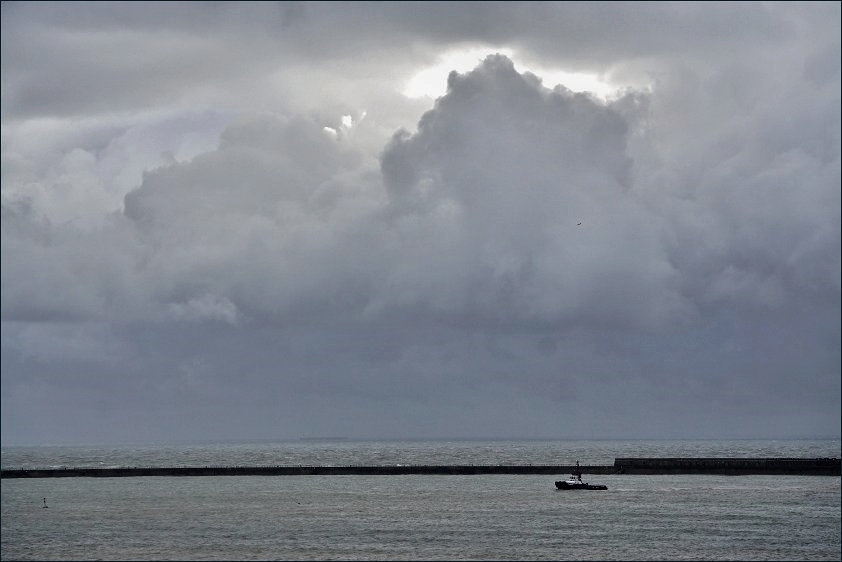 Some pictures above there of the rough oul weather and menacing oul skies over the channel in the past 2 days. There goes 2017. Storm Dylan didn't give us the pasting expected here in Dover...people were happily setting off fireworks storm free around and about the 'observation tower' at midnight last night and a jolly old time was had by all. Yours truly ( forced into it of course ) sampled the delights of the grape...
...in a small way...


Thanks for all the help in 2017 from all the contributing team. PaulB.

Monday, 1 January 2018 - 06:39
Post 4526
Sea News, Dover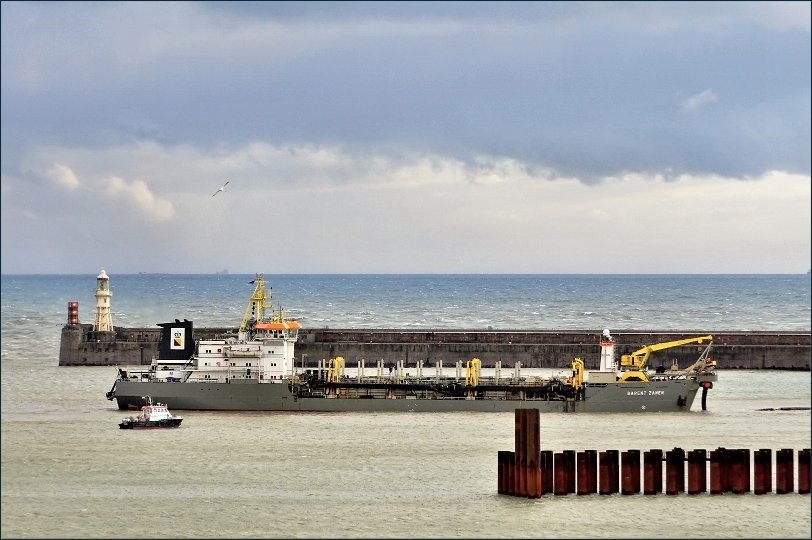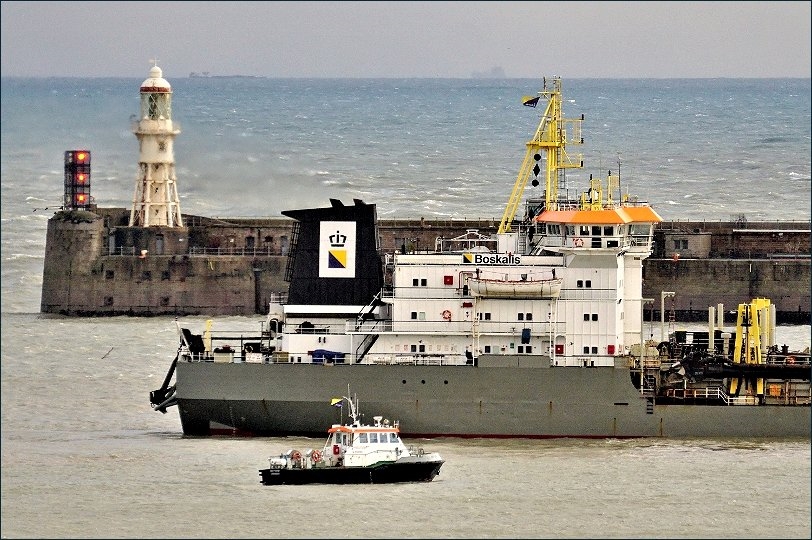 Barent Zanen's work goes on...there we are above with pictures from two days ago (29th) which show the vessel arriving in between rain showers with yet another load of sand. In close attendance above is Smit Young again. Nearby amongst the piling and readying things for offloading is Morag M in the picture below.
For camera buffs...these pictures were taken using a digital zoom rather than an actual zoom lens. The main camera was charging so yours truly tackled a bit of experimentation using the 'unreal'. Or in other words...it was the computer wot dunnit...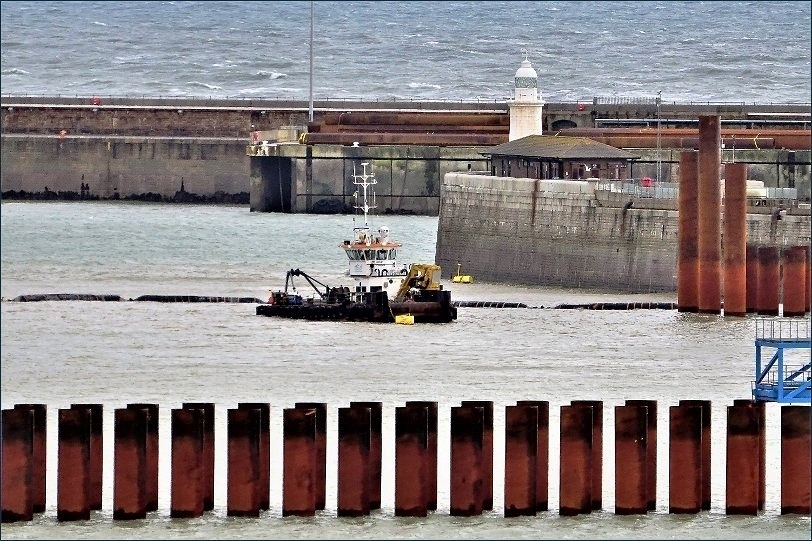 Sunday, 31 December 2017 - 06:47
Post 4525
Sea News, Dover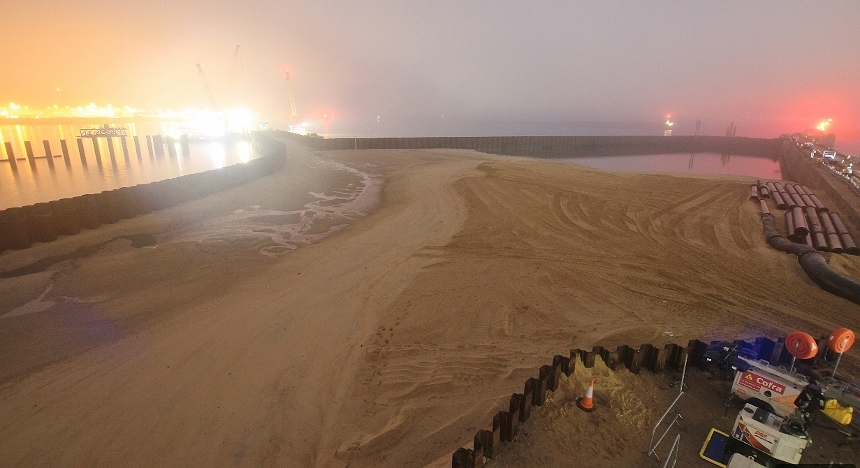 If you look at picture 4 in Ed's latest post below you can see the same section of development as shown above. The picture above shows it from the inshore angle and was taken the same day as Ed's shot December 20. Amazing to see the amount of sand infill already... and they're still going strong...
Many thanks to the guys at the Port for sending that picture over. I've made it as large as I can so all can see.
Below we have a picture of yesterdays rough morning, very rough morning. The two ferries featured are...Calais Seaways and Spirit of France .... shown here as they leave the port around mid morning. The blustery weather isn't over either as there is another storm on the schedule we understand.. Storm Dylan this time.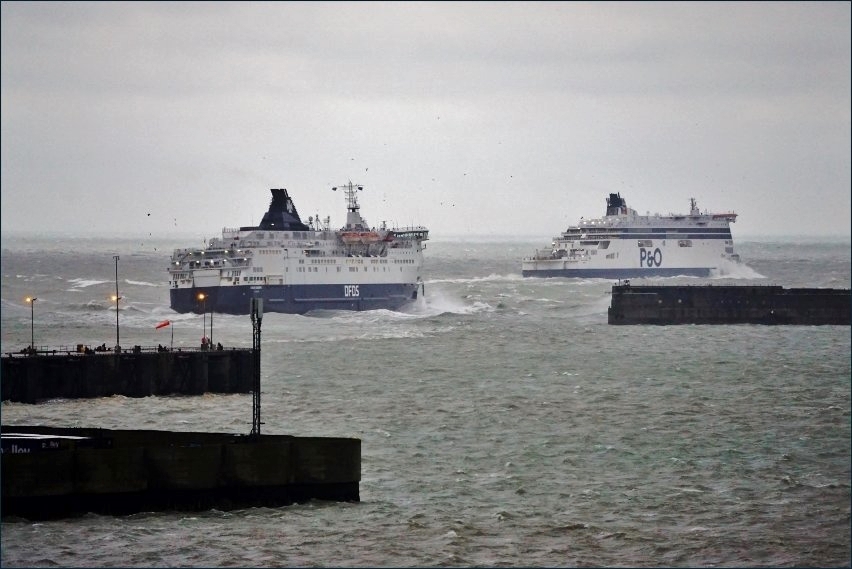 Excellent pictures below Ed. Good to see those.

Thanks for the info Mike as ever.

PB.
Saturday, 30 December 2017 - 06:09
Post 4524
Mike J., Dover
I've just come across DHB's latest DWDR promotional video - excellent drone footage of the works, filmed on a lovely sunny day & dated December 2017.
Particularly good coverage of the piling works.

If you've not seen it just Google 'DWDR DECEMBER 2017' & the film should come out top of the list.
November one is worth a look too.

A pity that there weren't any DWDR craft moving about or much activity.
Perhaps the next one will have the BARENT ZANEN in action.
Terrible music !


Saturday, 30 December 2017 - 00:41
Post 4523
Ed Connell, Dover Strait
Pursuant to Harald's photo of the European Seaway in drydock in Dunkerque, here she is in the Dunkerque fairway at noon today following her departure.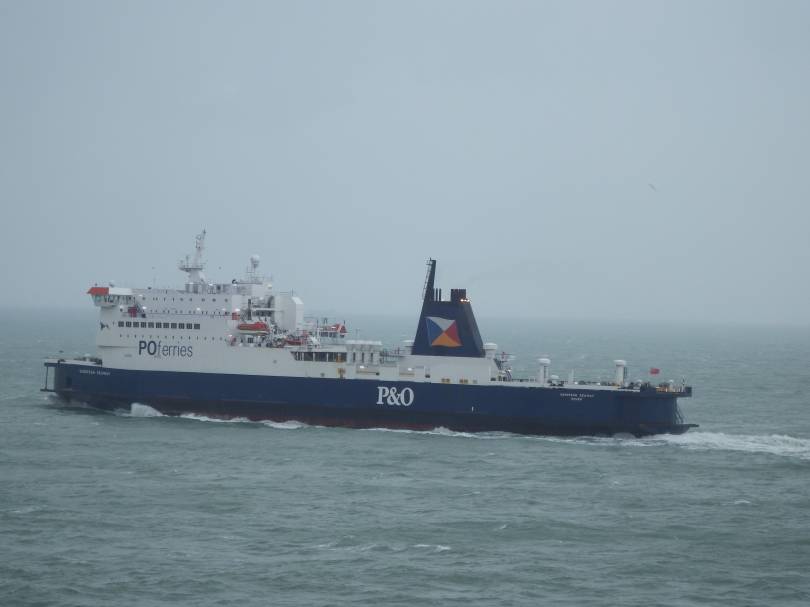 Some photos of the DWDR progress taken from seaward on 20th just before I went for a week's leave.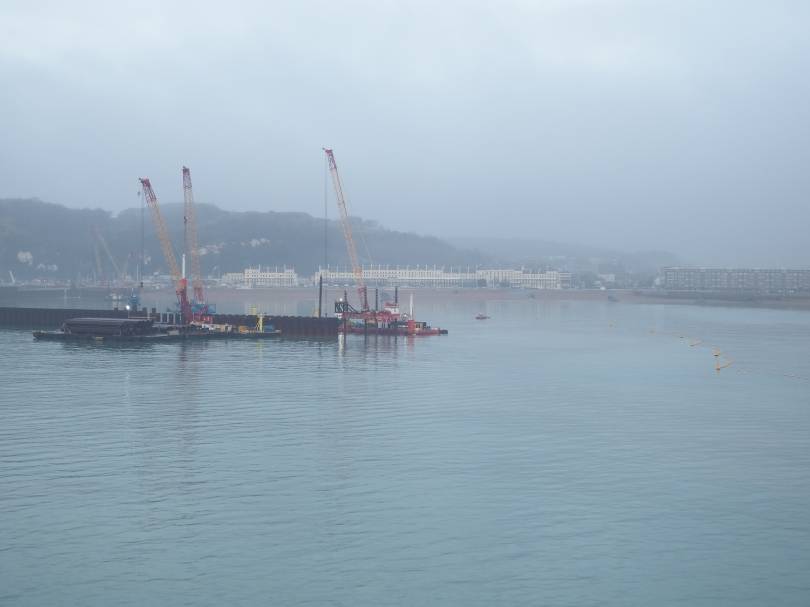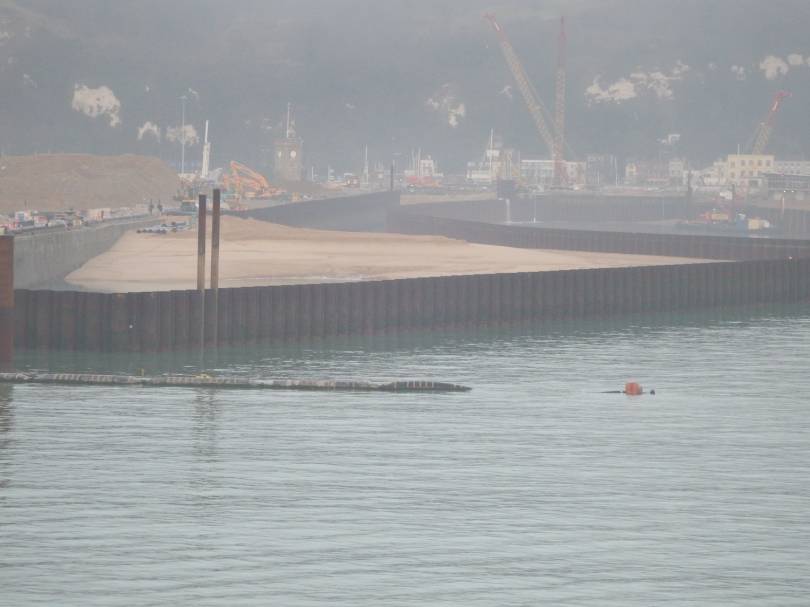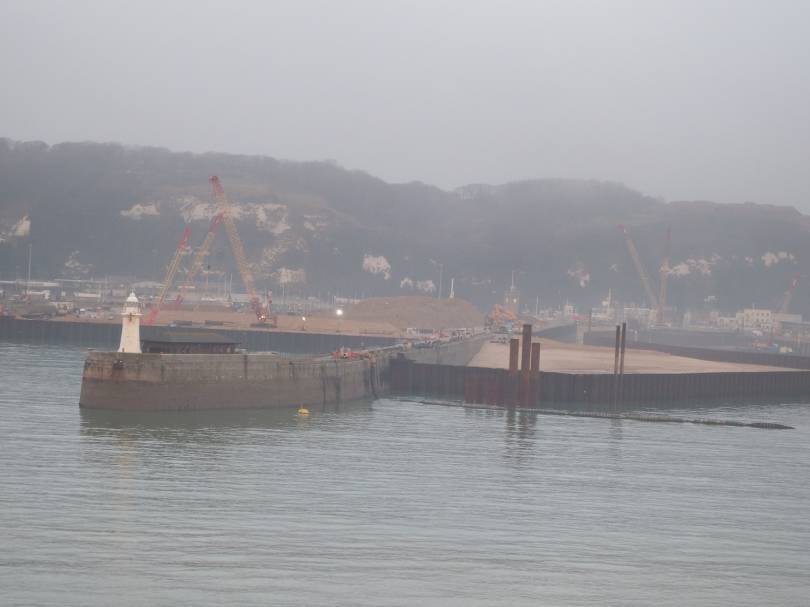 Friday, 29 December 2017 - 12:49
Post 4522
Sea News, Dover
The cranes are away at rest now with heads bowed, sleeping quietly through the Christmas period. But just before they went, these pictures were taken during their last evening of operation before the break. The pictures, as you can see, were taken as night hit the harbour...
The one below is a similar picture, not quite what was wanted as yours truly was trying to capture the flashing lighthouse... however... it has a mysterious addition. Creeping into the picture is an almost unseen drone...it crept in un-noticed initially and there we are. Who was operating the thing...well Gawd knows...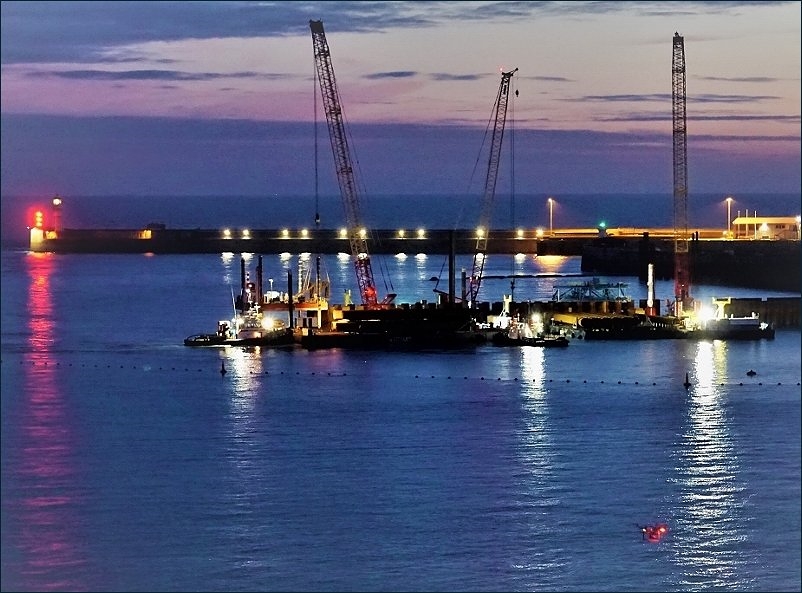 Eventually these things will have to be licensed...
Yes indeed that's a cracking picture below Ed of Duzgit Harmony. Well done with that one.

And another well done to Harald too...

PaulB.
Friday, 29 December 2017 - 06:37
Post 4521
Patrick, Marine Parade
Great photo Ed. What a difference a clear day makes.

Thursday, 28 December 2017 - 20:30
Post 4520
Ed Connell, Dover Strait
Duzgit Harmony at the DCT today.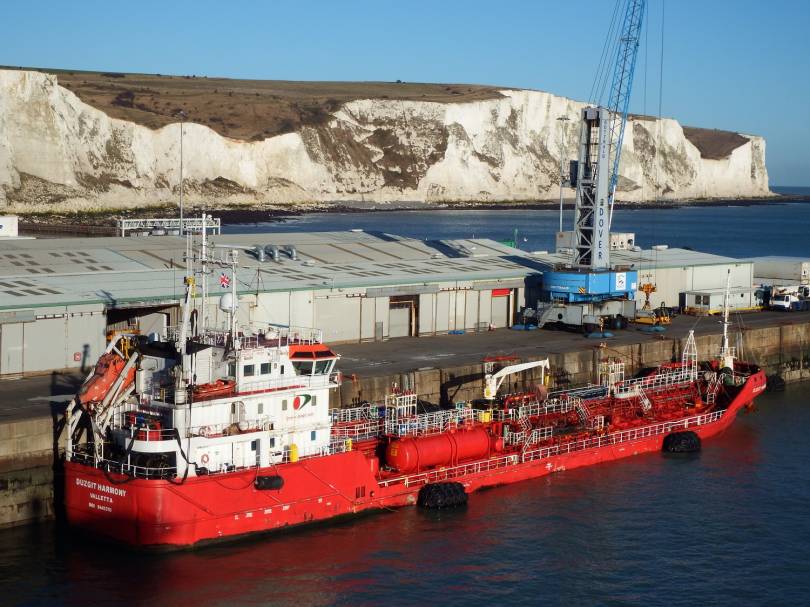 Thursday, 28 December 2017 - 18:58
Post 4519
Sea News, Dover
Harald its really great to see those pictures from the shipyard in Dunkerque. Great pictures for sure. They are very welcome on here.

PaulB.
Thursday, 28 December 2017 - 15:55
Post 4518
Harald Boot, Tholen, The Netherlands
Pride of Kent and European Seaway at Damen Shiprepair in Dunkerque on Boxing Day.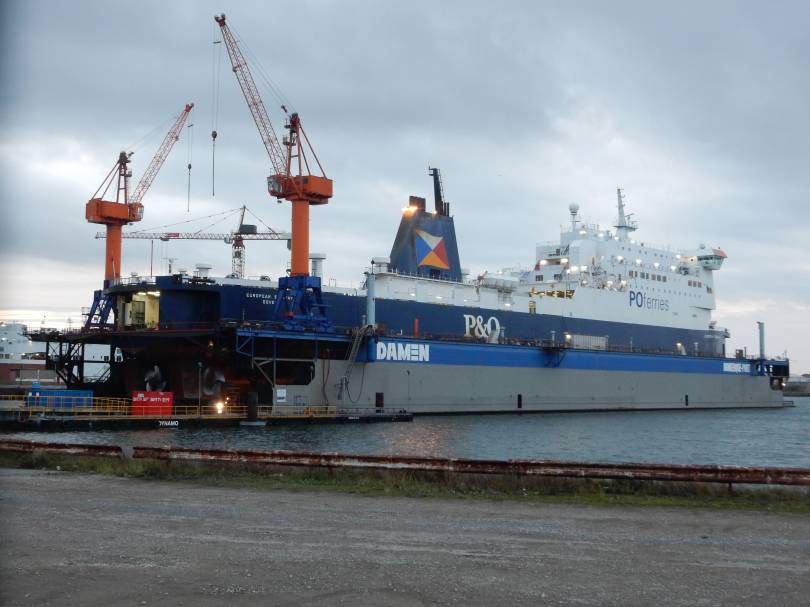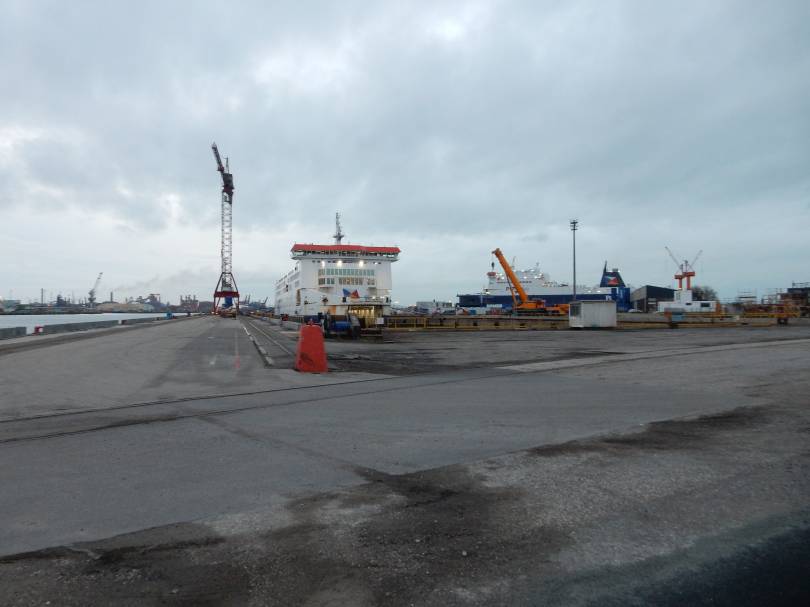 Thursday, 28 December 2017 - 11:20
Post 4517
Sea News, Dover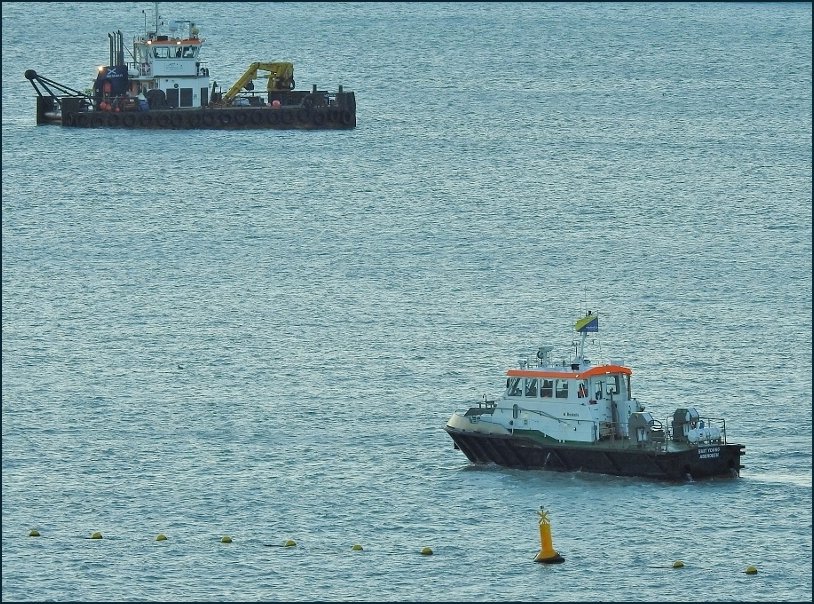 Its early on Boxing Day and above we see the working boats Morag M and Smit Young waiting for the imminent arrival of Barent Zanen...Barent was approaching with another load of sand for our considerable Western Docks redevelopment here at the Port of Dover. Mike got a nice first shot of Smit Young a few days ago (4503)...she is new on the scene here. That's her again in the zoomed shot above with Morag M in the near distance.
Also in with us...and I believe she came in on Christmas Day was our old friend Elvira. Yours truly didn't capture her this time around but here is a rough oul picture of her from around this time 2014...we've recently been having rough weather like this.... she left for Antwerp yesterday. PB.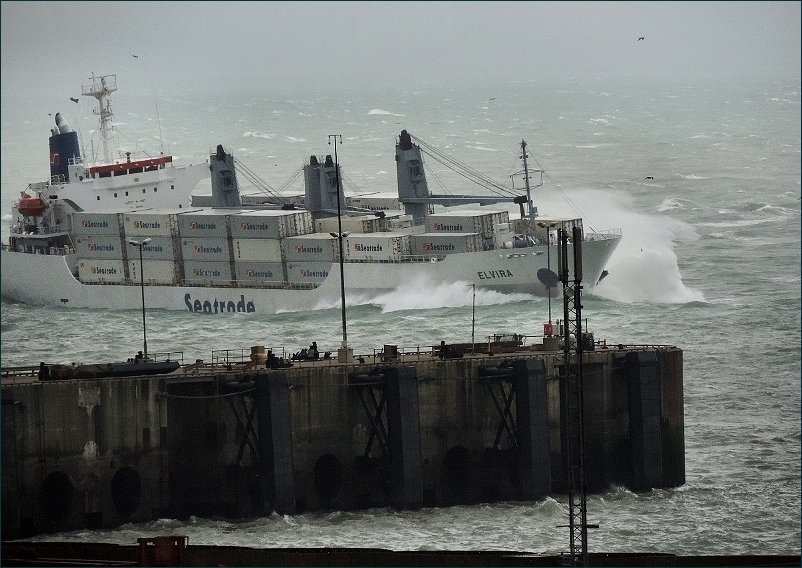 Thursday, 28 December 2017 - 05:14
Post 4516
Sea News, Dover
BOXING DAY DIP DOVER 2017:
A big crowd turned up for the annual Dover Boxing Day Dip this year. The high bright sun attracted many, and all parking spaces were taken all along the seafront. The annual mad foray into the freezin' water is quite a spectacle, albeit a brief spectacle...well, who wants to stay in that icy water for any length of time. It was fairly chilling for the spectators too, as there was a refrigerating breeze whipping along Dover Beach that would chill yer to the bones even if wearing a Norwegian anorak.


Lifeguards at the ready....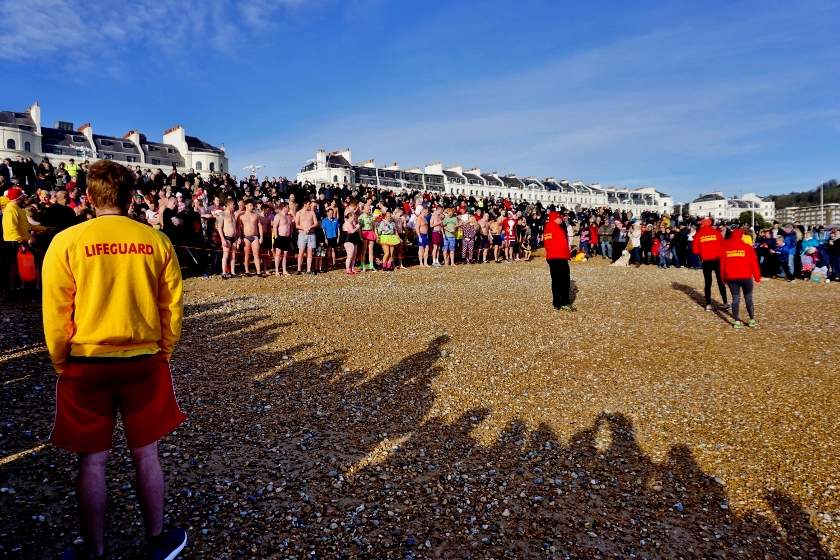 And..they're offfff...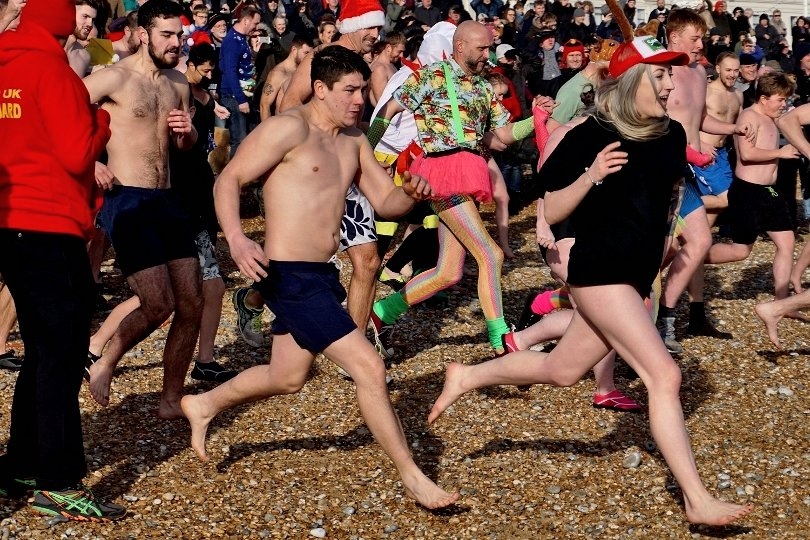 Jeeez that was chilly... lets get out fast..
Santa redbeard having a refresher after the rigours of the day before...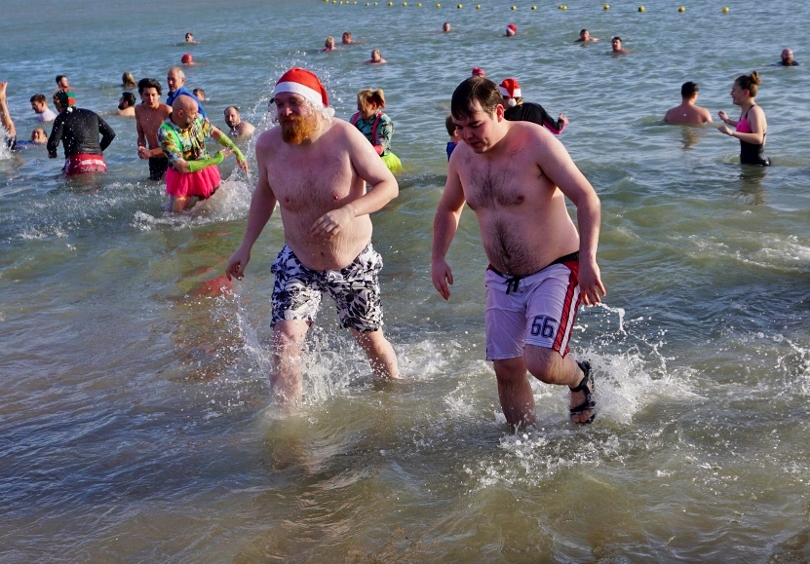 That's a selection of pictures above, a good turnout of dippers, there wasn't as many 'madly dressed characters' this year but it was all great fun nonetheless.
There'll all maaaaad I tell you...

PaulB
Wednesday, 27 December 2017 - 05:05
Post 4515
Sea News, Dover
The weather turned a great deal rougher, the ol wind was wailing and howling around the 'observation tower' during the evening and all through the dead of Christmas night..twas enough to shiver yer timbers so it was. These pictures below were taken a day earlier on Christmas Eve and you can see the choppier waters.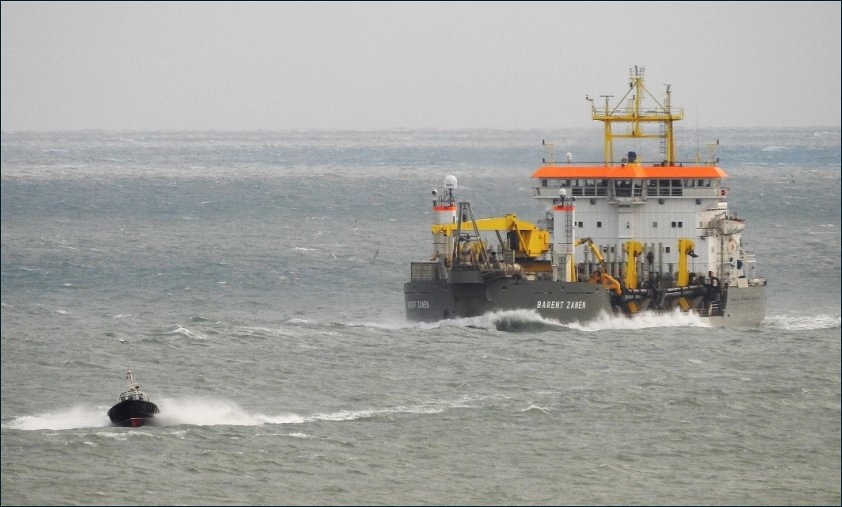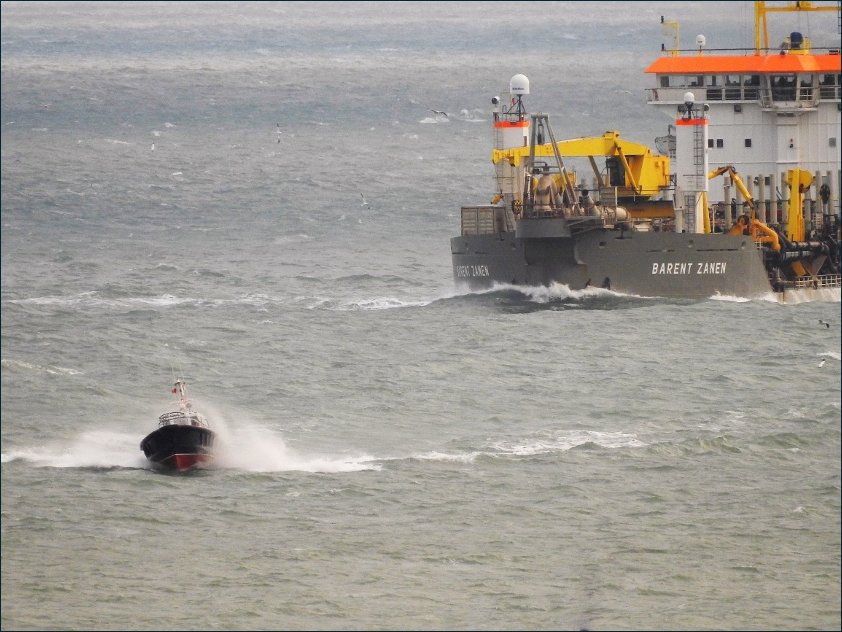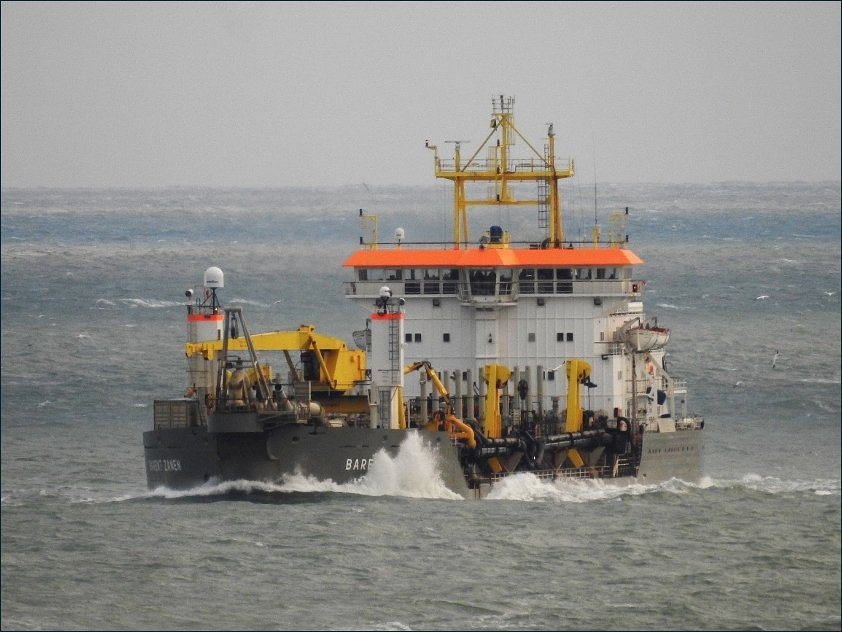 Top two shots show the pilot boat blasting its way homeward through the rough seas with Barent Zanen ploughing along behind.. you can see Barent Zanen more clearly in shot 3 just above. Pictures: Christmas Eve. But the ship was also working all through the day on Christmas Day and also indeed were the support vessels in Port, as you can see in Mike's pictures in the earlier post.
Well done with those pictures below Mike. Great coverage all round re the Christmas Day layover.

Love that Christmas Lifeboat below there Sarah with that great message....
well done all round to our Roving Reporter. Exciting times for sure.

Best wishes to you Del..always good to hear from you.

PaulB
Tuesday, 26 December 2017 - 06:55
Post 4514
Mike J., Dover
A dull grey grotty windy morning up on the cliffs & chilly with it.
The skeleton crews on the ferries will probably be joined their by families for Christmas lunch aboard [at least they used to].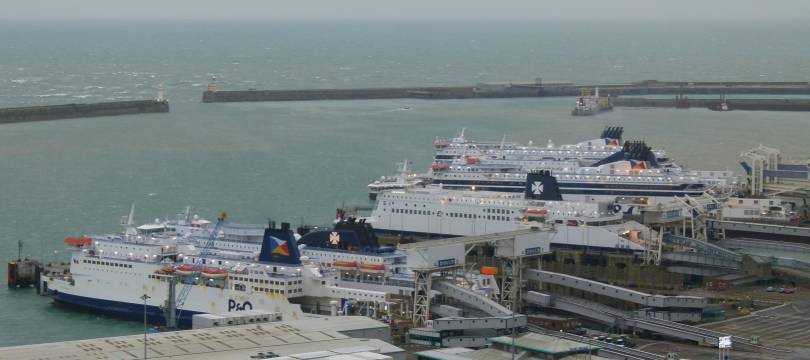 BARENT ZANEN came in about 0930 & was attended by the MORAG M & SMIT YOUNG & the DWDR bulldozers came out to play.
Hope that everyone was on a good Xmas bonus.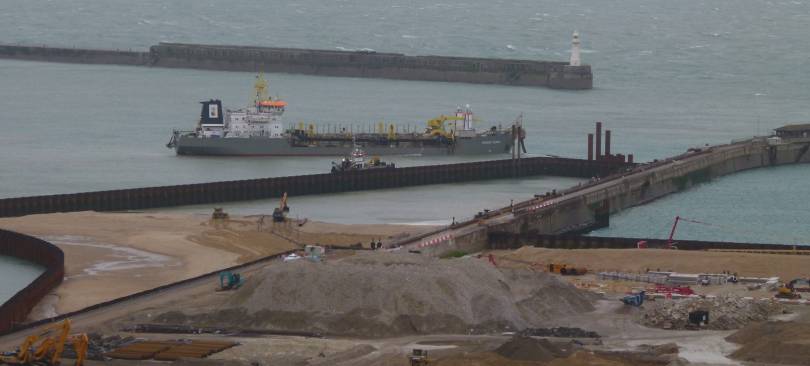 As Patrick showed us a few days back The old Jetfoil terminal was full of contractors' plant & the relaxed security for the Cruise-1 Christmas market permitted a close-up view of them & the LLANDWYN ISLAND.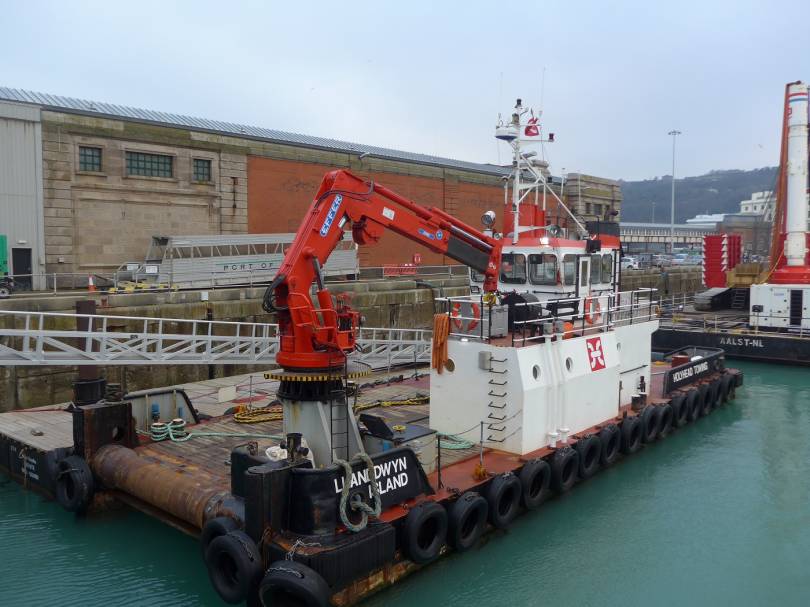 Monday, 25 December 2017 - 11:47
Post 4513
Mike J., Dover
Midnight Christmas morning & the fleets in . . . . . .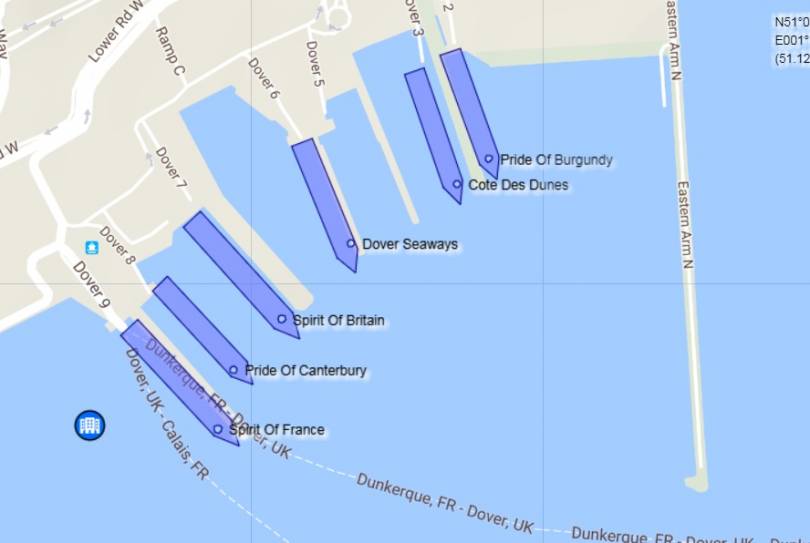 Over on the other side -
Calais - EUROPEAN SEAWAYS – COTE DE FRANCE – CALAIS SEAWAYS
Dunkirk West - DUNKIRK SEAWAYS – DELFT SEAWAYS
Dunkirk East, Damen Shiprepair drydock - PRIDE OF KENT
The Newhaven/Dieppe ferry SEVEN SISTERS is also laid-up in Dunkirk East docks.
Merry Christmas to all 'Sea News' readers & contributors & to Paul for keeping us unruly mob under control & for his own superb pix.
Monday, 25 December 2017 - 01:32
Post 4512
Del Styan, Norwich
Happy Christmas to you all in Dover.

Sunday, 24 December 2017 - 14:46