Tuesday, 18 February 2020

WWW.DOVERFORUM.COM/SEA-NEWS
Sea Pictures from DOVER: Featuring all the ships that come and go and work at the Port of Dover ..
... with some further coverage of the surrounding ports.
Sea News Dover
Use our SEARCH ENGINE below to find all sorts on the SEA NEWS pages....type in the topic and away you go, or if you have the post number, just type it in the box, more than
- 6750 -
nautical posts now. Posts are welcome. just click 'Add Your Comment' below. Max of 5 pictures preferred although we can stretch that for special stories..
Sea News Editor Paul Boland - send info or pix to dover7@msn.com. Always welcome.
Port of Dover, DFDS, P&O say...Travel with Confidence from Dover.. see 6786 below.
DFDS Refit Investment...luxury lounges 6821.
P&O FERRIES - POST BREXIT travel info below 6780.
P&O NEW FERRIES Images below 6775...
P&O Ferries - new Catering Apprentices see 6790...
Book with P&O - Free Fuel see 6760
Visit us here in White Cliffs Country see 6772
Natalie Elphicke MP - thoughts post Brexit 6784
Just type the post number in the Search Box below.
NEW UPDATE:
To show your pictures at their best..it could be worthwhile resizing before posting to
860
pixels wide. Our new standard size.
All pictures on these pages are the copyright of the owners and must not be reproduced without permission.
Post 6679
brian dixon, dover
there is two [ 2 ] of them near the burnt out nightclub.

Wednesday, 4 December 2019 - 15:51
Post 6678
Sea News, Dover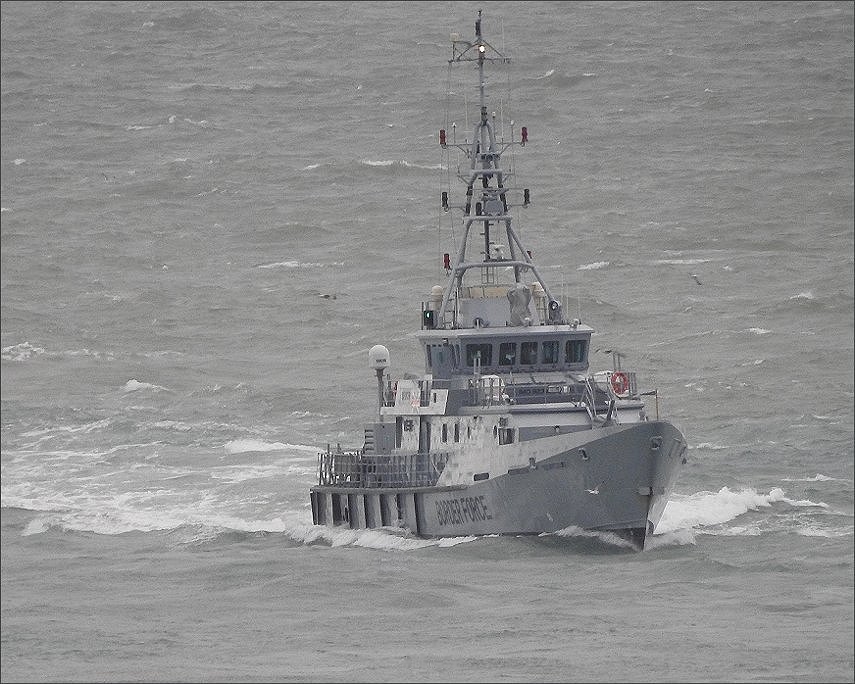 Border Force Seeker above there.
The Border Force were in interceptive operation again yesterday Tuesday when two boats carrying 13 migrants were stopped in the English Channel.
From the BBC...
"
Two boats carrying 13 migrants have been intercepted in the Channel, the Home Office has confirmed.
The boats, spotted at about 08:00 and 09:00 GMT, were stopped by Border Force vessels and all those on board were taken to Dover, Kent.
The first boat was carrying eight men who said they were Iranian and the second had five men, four of whom said they were Iranian and one Albanian. One was later found to be a child and will be cared for by social services.
All were medically assessed and interviewed by immigration officials.
"
Some pictures now of an arriving Atlantic Reefer a couple of days ago...let me check...yes Sunday. The Cargo Terminal was over-stretched once more as Barrington Island had to move to the Eastern Arm...will also have pix and info re Barrington Island soon.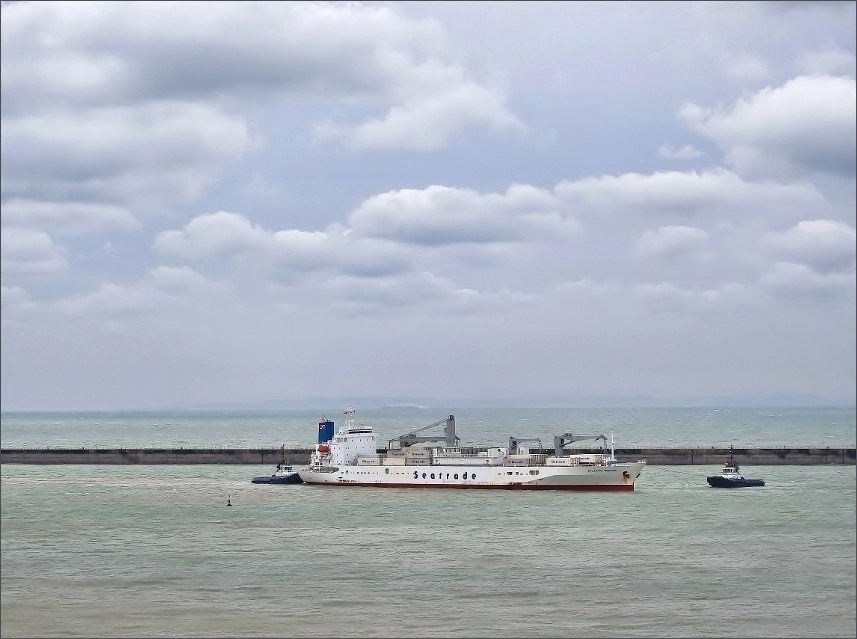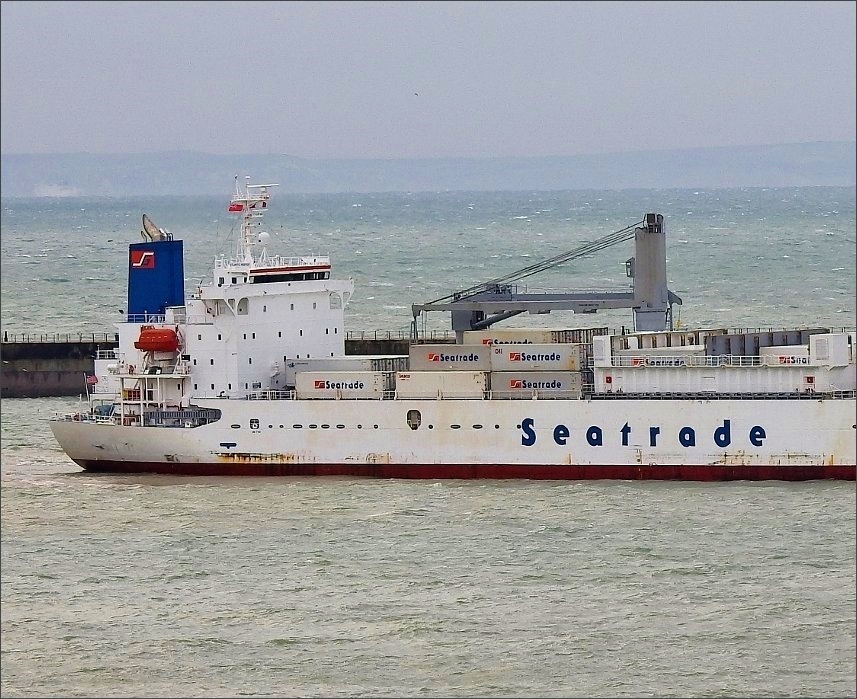 Atlantic Reefer
* *
This is not a political endorsement one way or the other, yours truly is comfortably sitting on the fence...just like Jeremy Corbyn on Brexit, although his particular fence is rather a spiked one.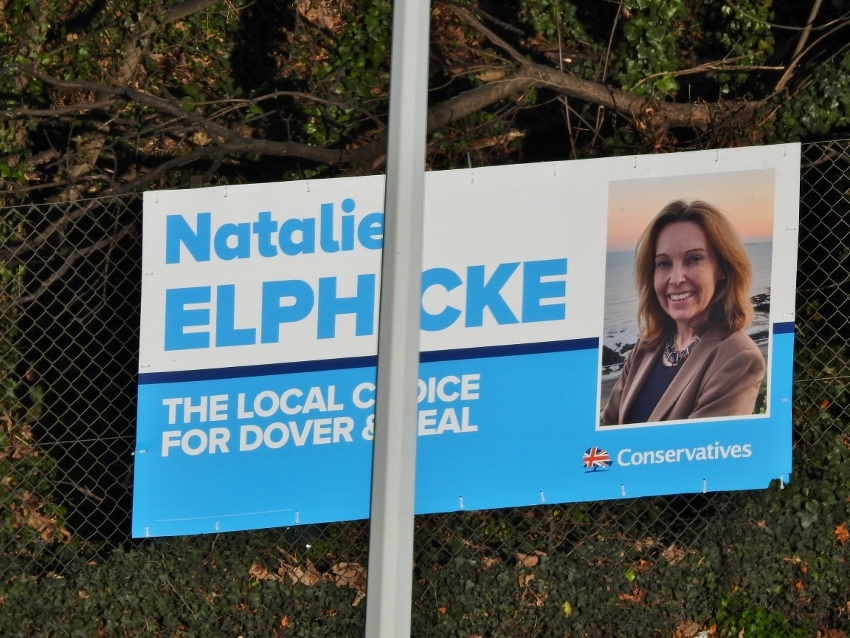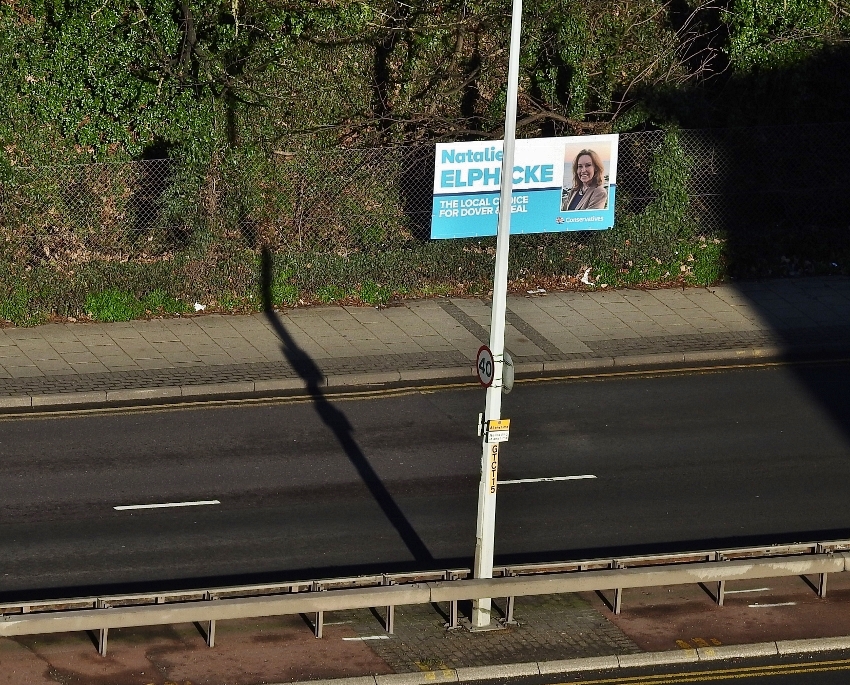 This poster/billboard of Natalie Elphicke (Charlie's missus ) has suddenly appeared on the main road here...never in many an election have I seen a poster on the main road 600 metres from the entrance to the busiest port in the UK. Is it safe to have it there or is it a hazard...I dont know.
The bitter irony here is this...do you see the Lighting Pole in front of it. It hasn't worked at all in 4/5 years. I have written to the Highways Agency about it several times...its an ongoing dialogue more interesting than a Charles Dickens novel, but the thing still isn't working.
For 4 days .. approximately 2 months ago it briefly worked. Nightime maintenance crews came and did the necessary with several lights along the main road, but alas this one shone bright for just 4 days and sank into its usual pitch darkness again, and that's where they chose to put the rather large poster board.
The Highways Agency told me they dont have a budget for a new light pole as this one is obviously buggered and needs replacing. The Conservative government have been in power for 9 years already and the cuts across the board have been so extreme that the poor ol Highways Agency cant affort a new pole. They told me they are now applying for funding for a new pole. We are supposedly one of the richest economies on earth.. but where are all those riches ??
This lighting pole is symbolic of much else.
Anyway...there we are...
PaulB
Nice collection from Mike below there. Well done with those Mike. Great to see Protector there...

Wednesday, 4 December 2019 - 07:05
Post 6677
Mike J., Dover
Continuing to push the geographical limits of DSN's coverage further out may I submit a couple of pix from Lowestoft but hastily point out that there IS a Dover connection.
On 27 November I saw the Border Force vessels SEARCHER & PROTECTOR on the repair berths at Lowestoft, at the yard that has been used on occasion by DHB for DAVID CHURCH & the Dover tugs.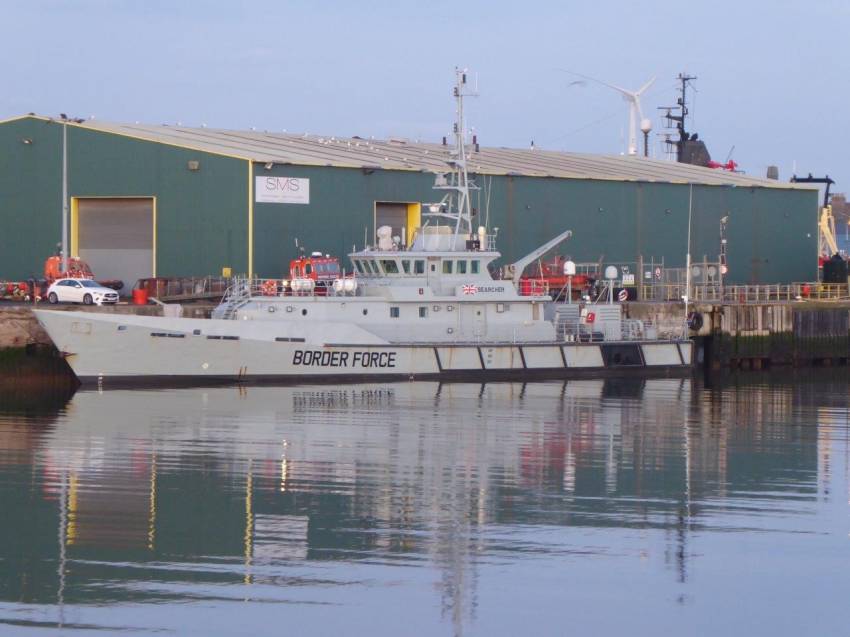 The PROTECTOR was not easily phottable from Asda's carpark but when I passed by again on 30/11 had shifted to the outer harbour.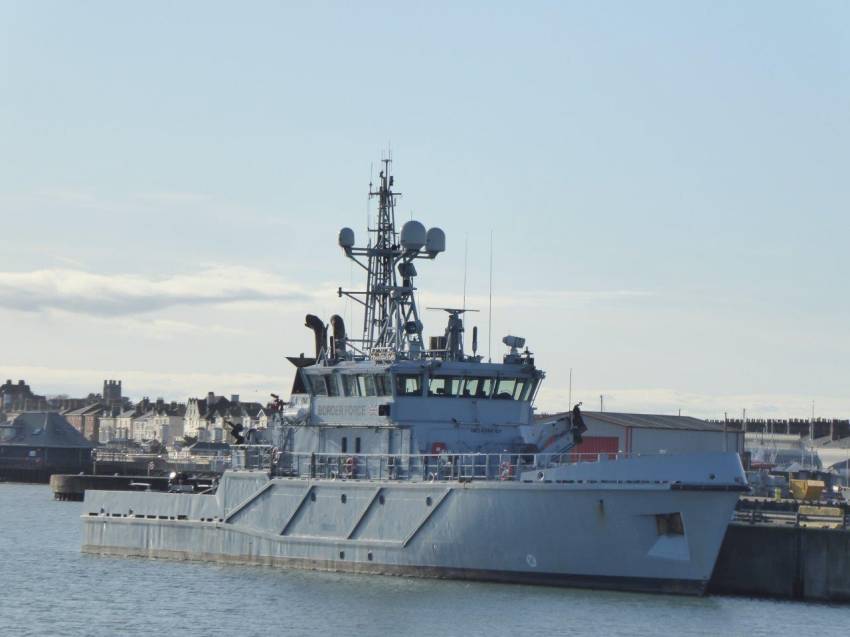 The PROTECTOR was purchased from the Finnish Border Guard Force in 2013 when she was called the TAVI, one of a class of three built in Rauma, Finland & is the only vessel of this type working for the Border Force.
She entered service with the UK Border Force in 2014 but has rarely been seen in local waters [or on 'Sea News' at least] being spotted thru the mist by Paul in March this year, [post 6161].
Nudging the geographical limits 15 miles further up the coast I couldn't resist the very smart f/v ACHIEVABLE at Great Yarmouth, neatly converted from the 'Liverpool' class wooden lifeboat ISA & PENRYN MILSTEAD, built in 1957 & spending her short career at Filey, on the Yorkshire coast before being sold out of service & converted in 1968.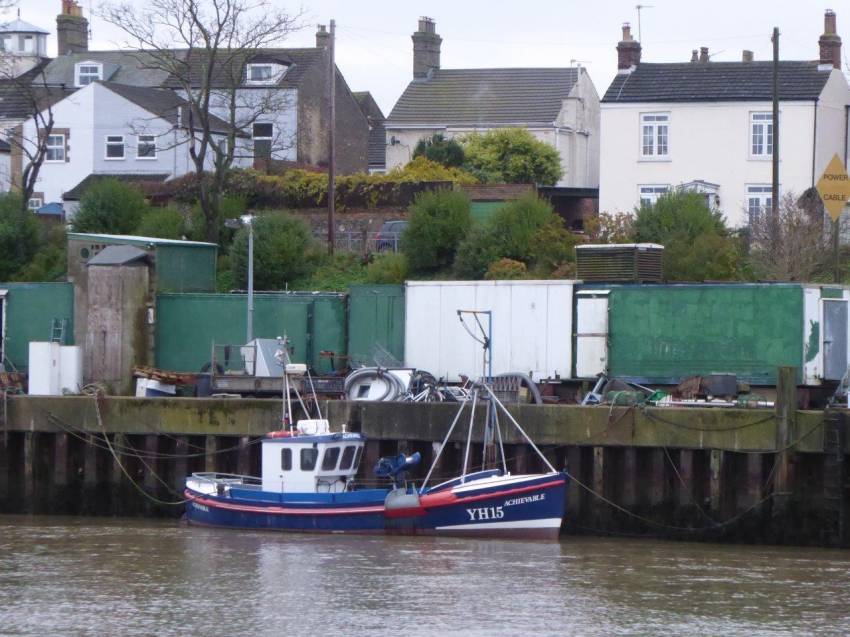 Tuesday, 3 December 2019 - 00:54
Post 6676
Sea News, Dover

DFDS named World's Best Ferry Operator for ninth consecutive year
___________________________________________________________
Ferry operator DFDS scooped the title of 'World's Leading Ferry Operator' for the ninth year in a row at the World Travel Awards recently.
The awards, which are known as the travel industry's Oscars, were handed out at a gala ceremony at the Royal Opera House Muscat in Oman. They reward leaders in the tourism, airline, cruise and ferry, and hotel and hospitality sectors around the world. Winners are selected through an online poll involving members of the public and thousands of travel and tourism professionals.
Pete Akerman, Passenger Marketing Director at DFDS, said: "It's an honour to be recognised as the World's Leading Ferry Operator for a ninth year, showing the consistent quality of the services that we offer to passengers from around the world.
"We are proud of our record of providing an excellent customer experience across our route network, whether passengers are looking for a relaxing start to their holiday, a fun weekend away, or a comfortable and affordable way to get to their destination."
DFDS operates one of the largest networks of passenger and freight ferry routes in and around Europe. Its UK ferry services run from Dover to Calais and Dunkirk, from Newhaven to Dieppe and from Newcastle to Amsterdam. Its pan-European services include routes from Copenhagen to Oslo, from Kiel or Karlshamn to Klaipeda, and from Paldiski to Hanko and Kapellskär.
The company will introduce a new ship, the Côte D'Opale, on its Dover to Calais route in summer 2021. It will be the longest ship on the Channel and will carry 1,000 passengers and crew. The ship will offer new, modern restaurant concepts and the largest shopping experience on the Channel.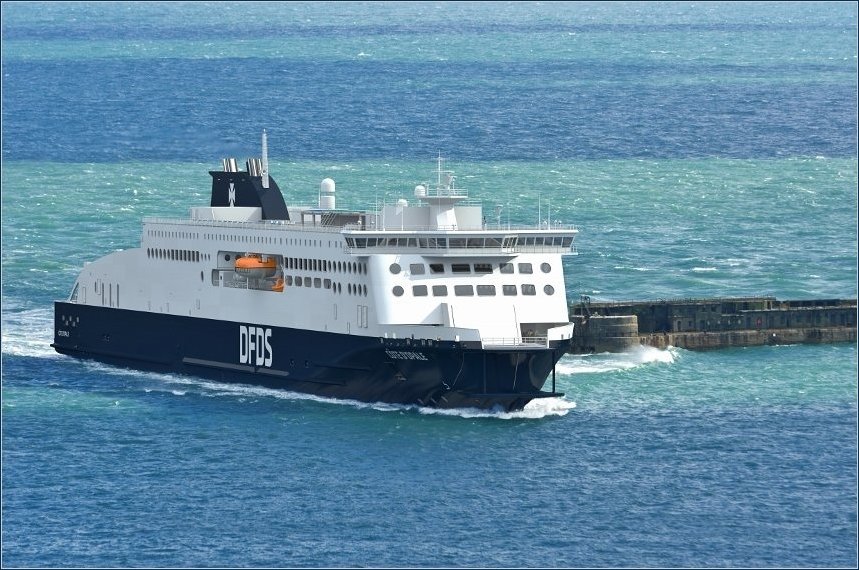 Artists Impression: Cote D'Opale
-Ends-
Congratulations to DFDS...
Many thanks once again to the DFDS Media Team for the info there.

While we are talking about all things DFDS...here we are with some pictures from the past. Just came across these in the files and sure..Who can resist a stroll down memory lane?
We feature here the DFDS ferry Dieppe Seaways with differing colour schemes.
... in 2012 just outside the Port of Dover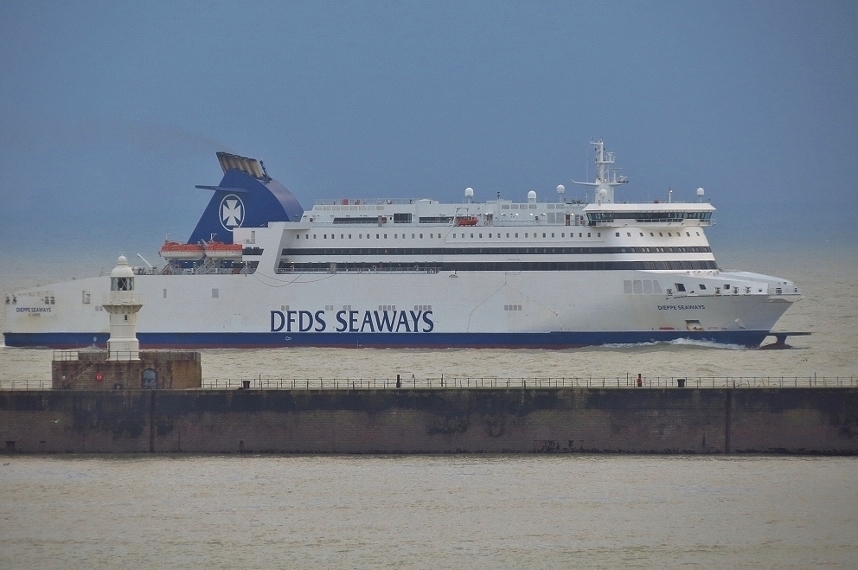 and in 2014 just outside the Port of Calais... featuring the ever popular Calais Beach.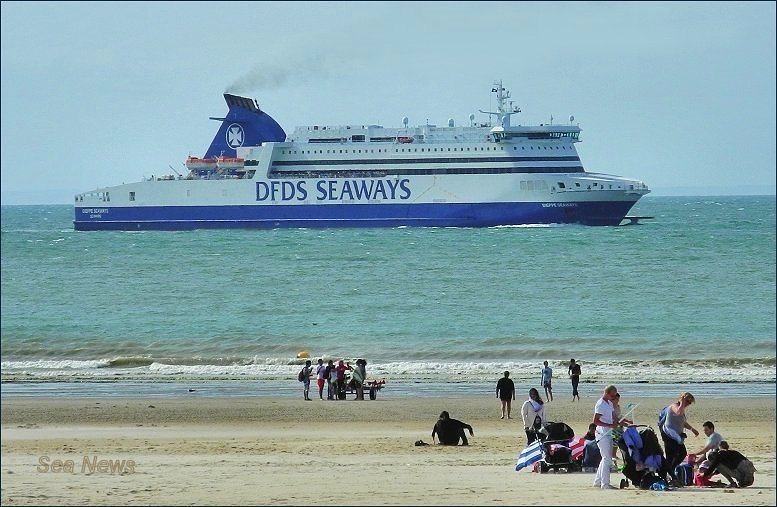 Dieppe Seaways
* *
Dublin Port Pilot Boat....DPC Tolka. Named no doubt after Dublin's River Tolka...it rang a bell!

she paid a fleeting flying visit here to Dover on...let me see...yes Thursday.
Looking good....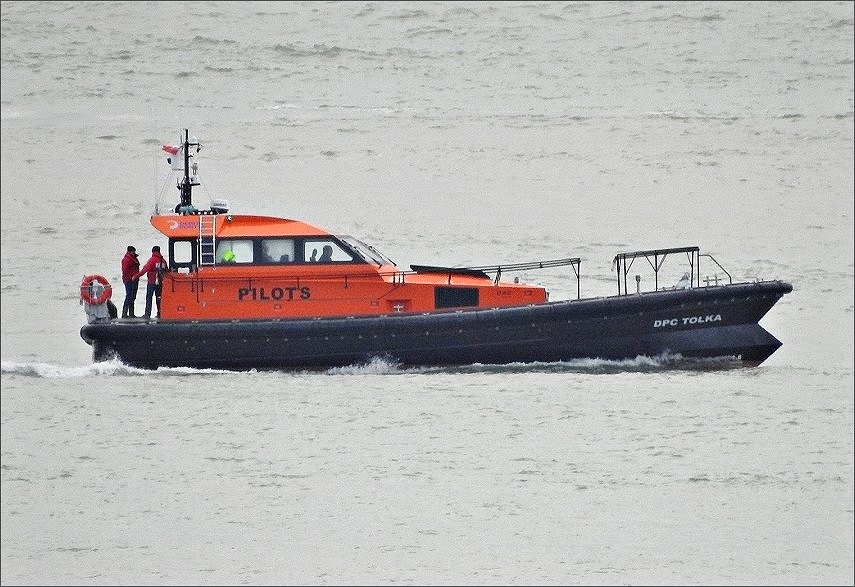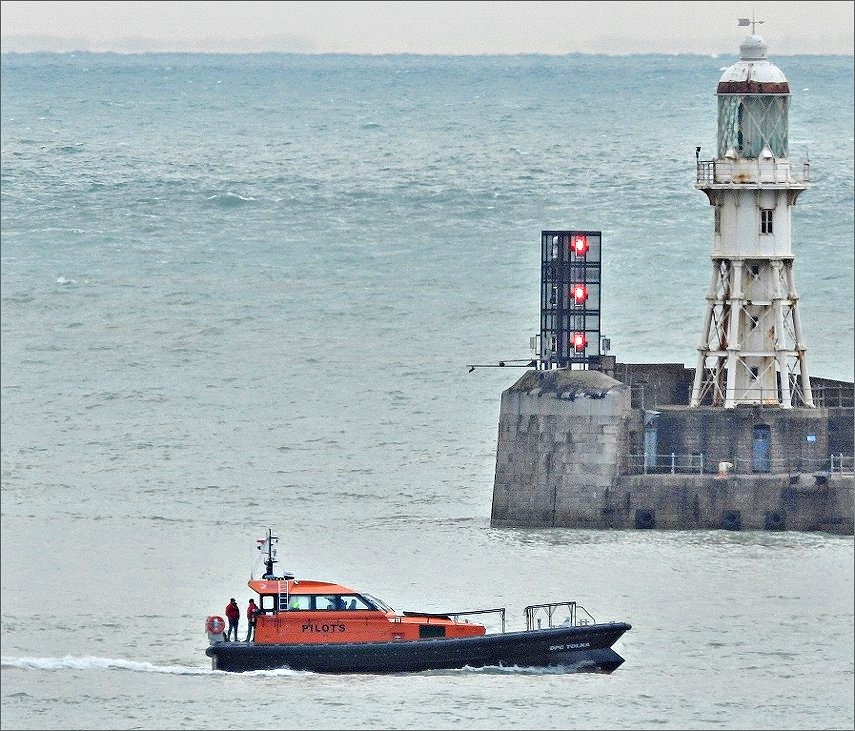 DPC Tolka at the Port of Dover.
* *
Thanks Del, glad you enjoyed that one...
will aim for some more dramatic morning shots as we amble through winter.

PaulB

Monday, 2 December 2019 - 06:04
Post 6675
Del Styan, Norwich
Great pic of clouds over Calais. Well done.

Sunday, 1 December 2019 - 22:44
Post 6674
Sea News, Dover
The final shots of grain ship Hendrika Margaretha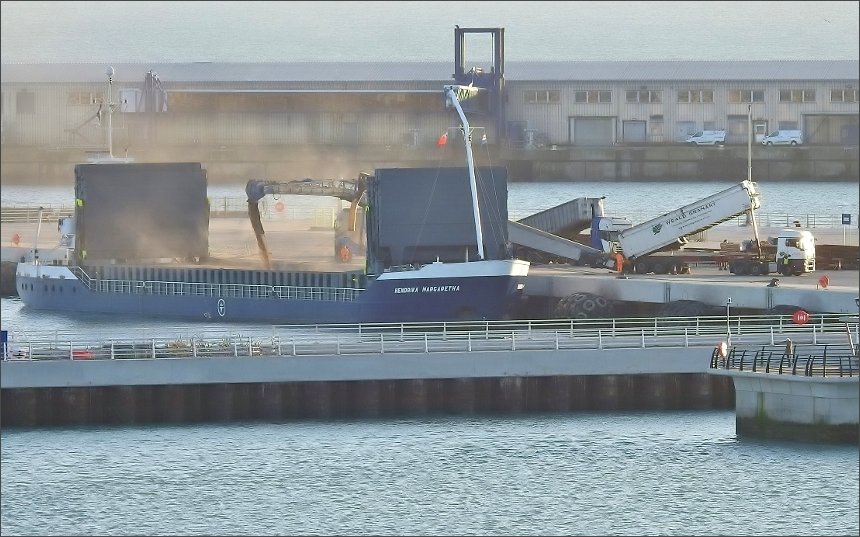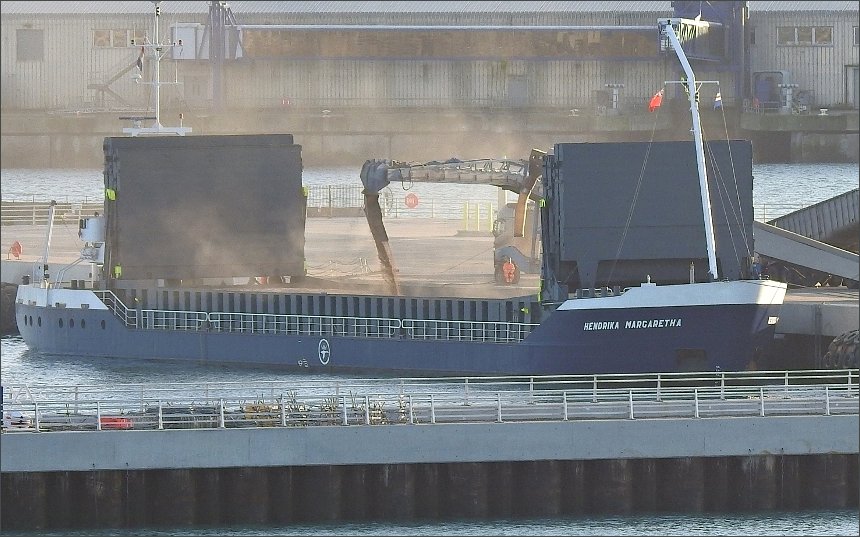 These final pictures of Hendrika Margaretha are from late-in-the-day Friday...the swirling grain dust just catching the weak late day sun. You can see the hold of the ship open wide for all comers. The grain truck unloading is one of the trucks featured in our pictures yesterday...the Weald Granary truck finally got its turn. The ship left the Port later the same day...
A picture below from a few days ago shows Border Force Seeker powering towards the Port through the grey seas... always a re-assuring sight.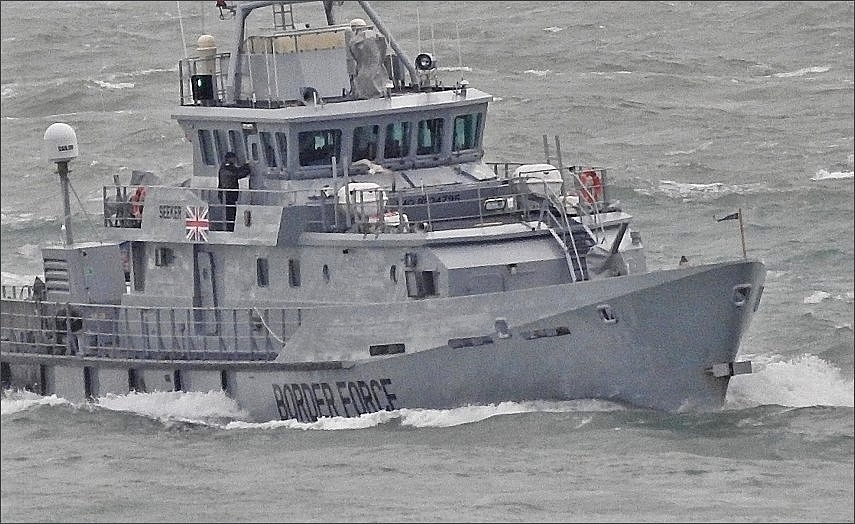 Border Force SEEKER.

The lovely Christmas Event at the Port...the White Cliffs Christmas... starts in earnest today Dec 1St...type in 6648 in our Search Engine Box above and the full details will pop up for you. Very exciting... Entry and Car Parking is FREE which makes it even more exciting!

PaulB
ps: will have some pictures of the brief stay Dublin Pilot Boat tomorrow.
Sunday, 1 December 2019 - 06:36
Post 6673
Sea News, Dover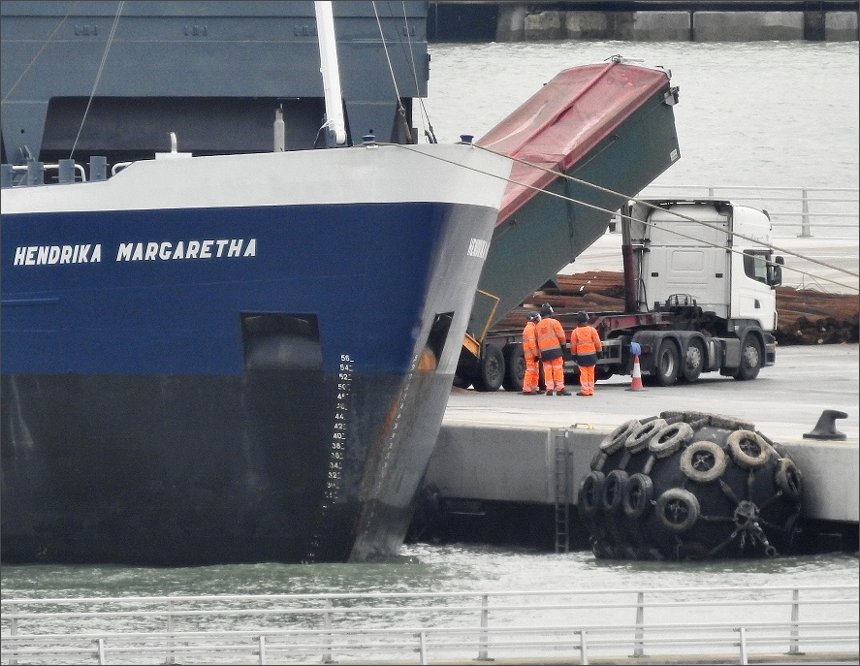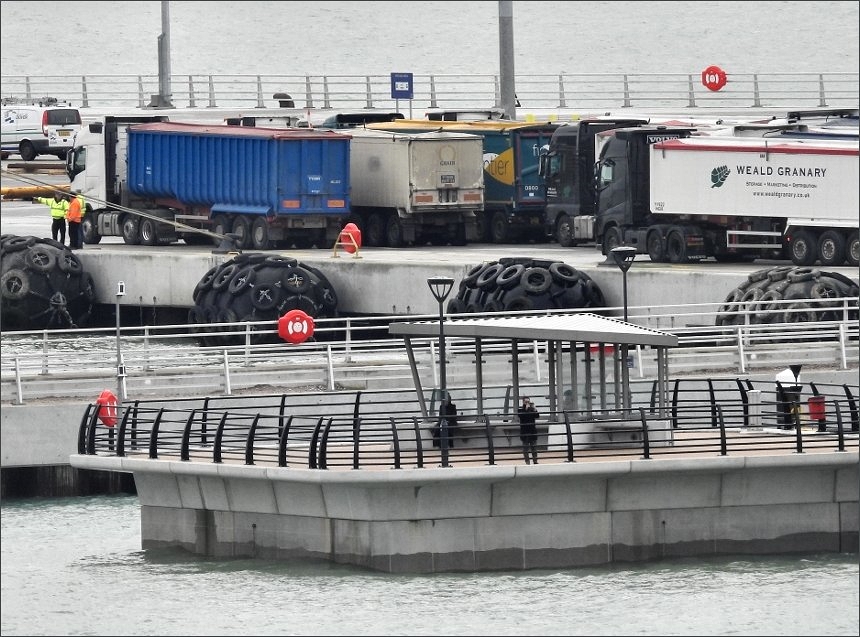 Some pictures above there of Hendrika Margaretha once again and the ongoing truck discharging at pier WD4. You can already see this is a very popular new asset for the Port ...look at those grain trucks lined up there...
Hendrika left the Port last night.
While photographing the above, the Sand Falcon came in close to Port...I think we have featured this one before off top of head, it should be in the Search Engine. The pic isn't super clear but...
PB
Saturday, 30 November 2019 - 07:47
Post 6672
Sea News, Dover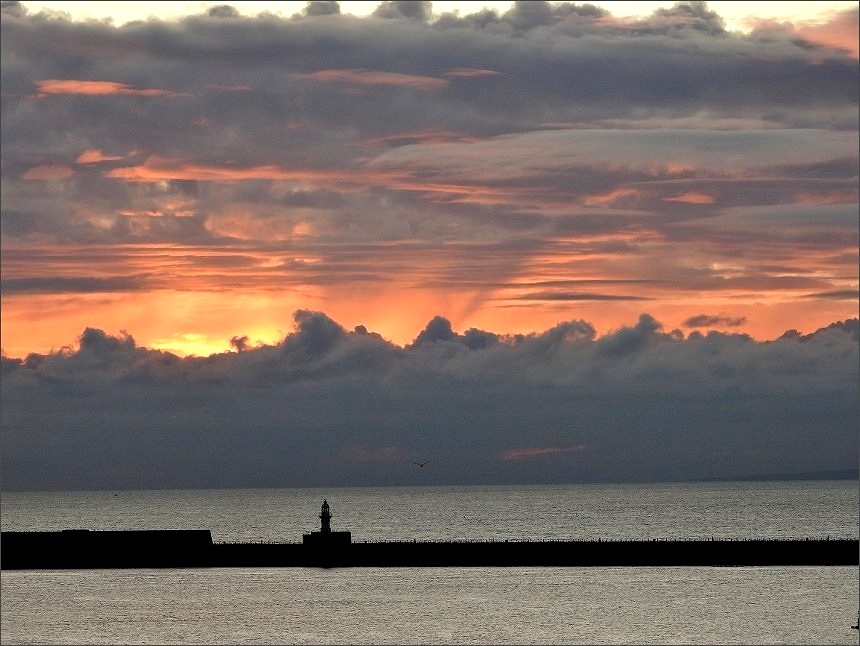 The picture above was taken about a week ago...looking across the channel to the very heavy cloud hanging over Calais...while at the same time the colourful sky and sun struggles to burst through. All natural pic. Its normally a great time of year for sunrises but this time around we have struggled with too much rain... rain rain go away come back again another....etc etc.
The picture below from yesterday shows another ship at the all new pier WD4, This time its...and lets see if I get this right...Hendrika Margaretha
...and here we are...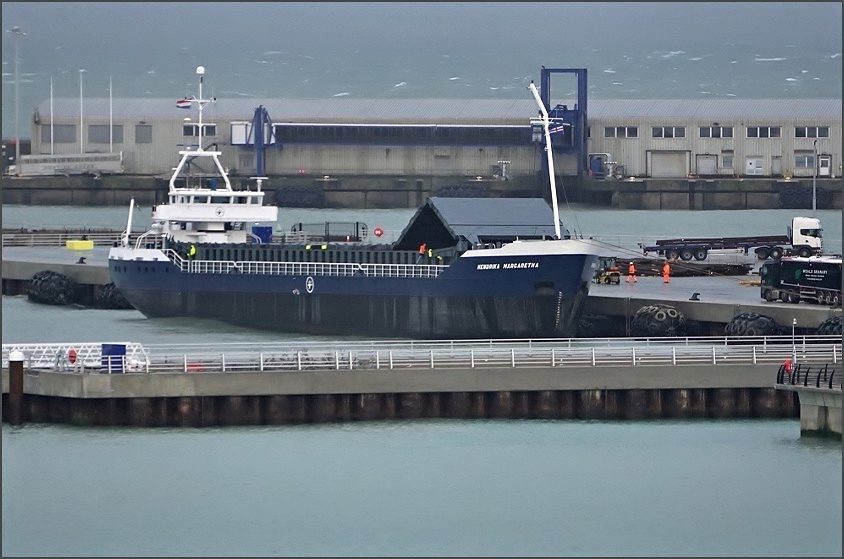 A first visit for Hendrika there... obviously a grain ship. Late in the day yesterday there were quite a substantial amount of grain trucks queuing up delivering. Will aim to get a few more shots on this...
PB
Friday, 29 November 2019 - 07:23
Post 6671
Sea News, Dover
Some pictures now of the relatively new regular reefer...Star Stratos...
Here she is on Monday readying for departure having just left the Cargo Terminal...and indeed eventually departing, she is seen here as she begins her journey to Vlissingen in the Netherlands...the regular destination for many...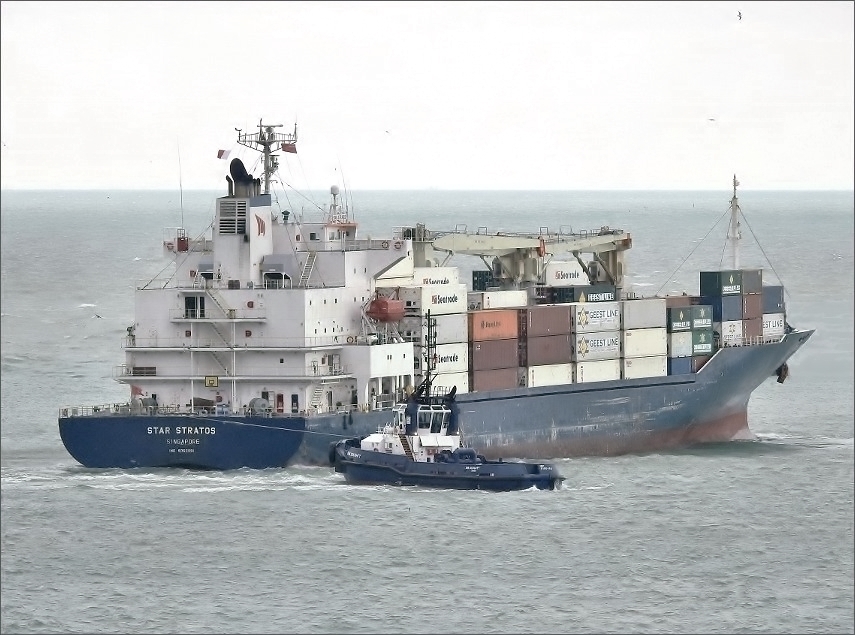 Star Stratos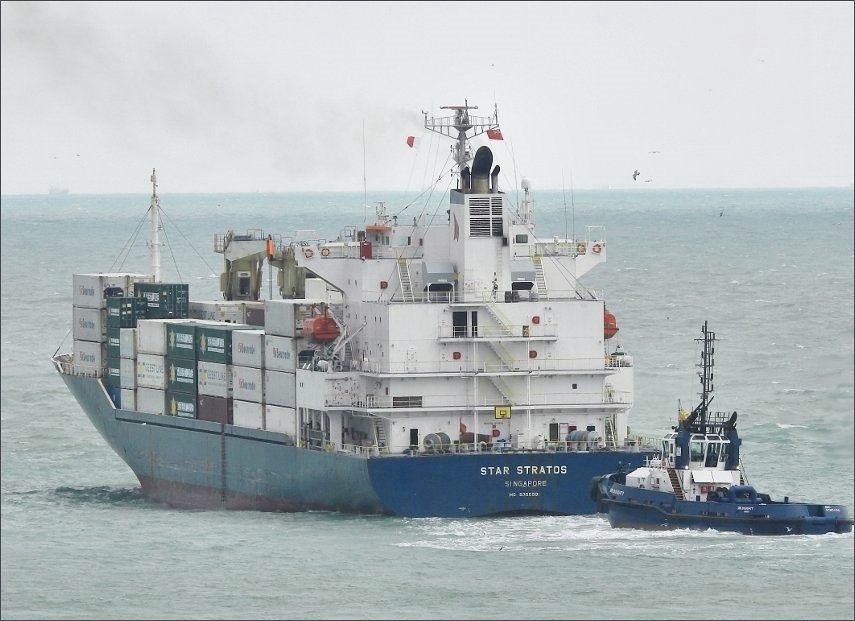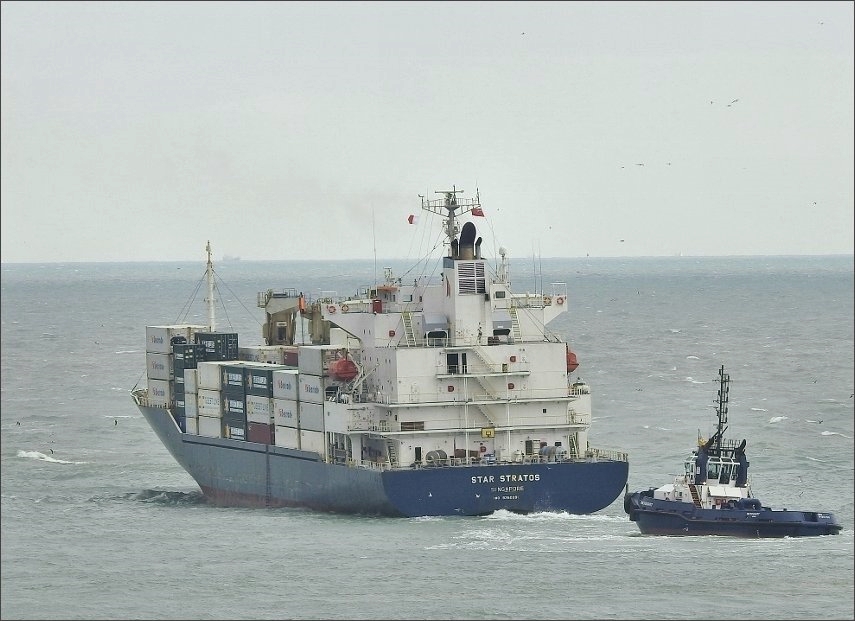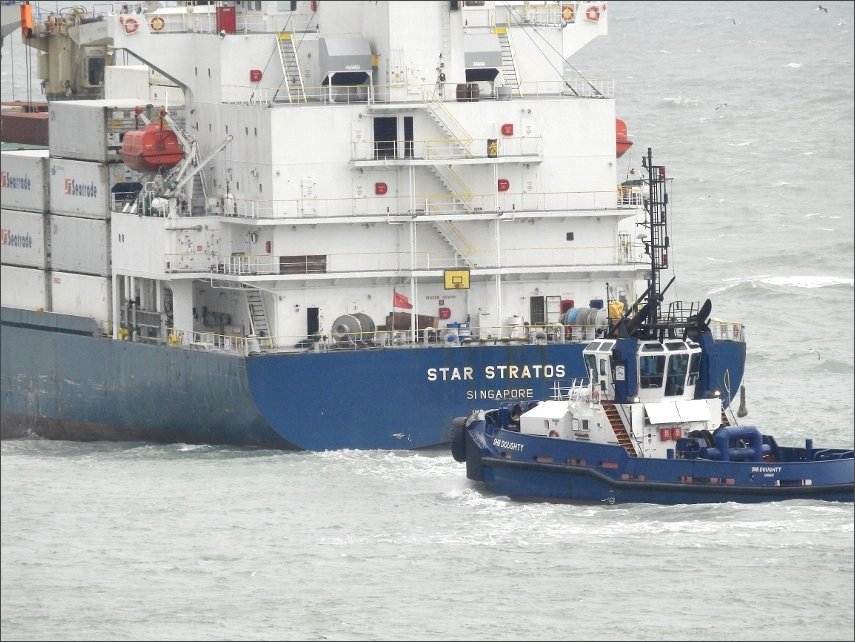 Star Stratos.
The tug, seen peeling away in the final two shots there, was heading back to the Cargo Terminal, or in actual fact to help move Pacific Reefer from the Eastern Arm where she had been waiting, directly to the Cargo Terminal. Very busy down there once again.
PaulB
Thursday, 28 November 2019 - 06:37
Post 6670
Sea News, Dover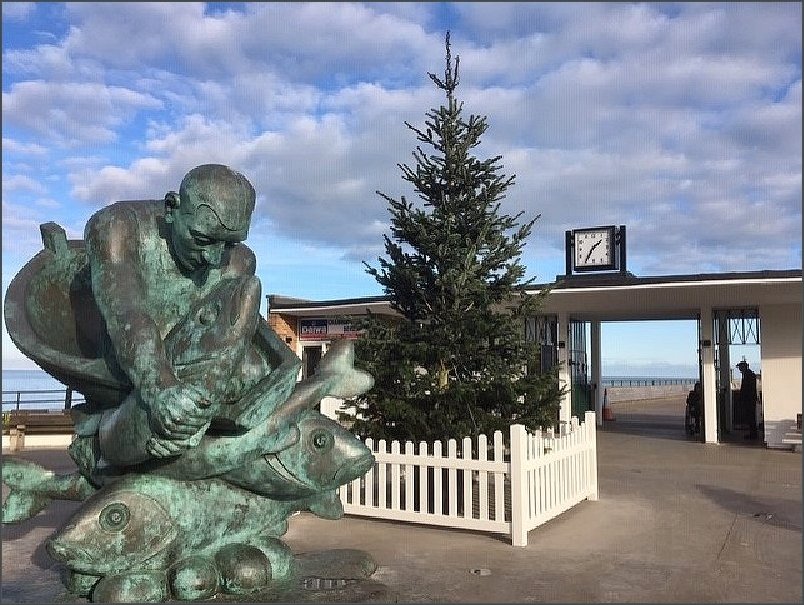 Clocking on to Christmas Time at Deal Pier
______________________________________
Time and tide wait for no one so the saying goes, so it's good news that Deal Pier has a brand new clock! Installed as part of the £1m revamp of the popular local attraction, the bespoke art-deco style clock was manufactured by Smith of Derby, clockmakers since 1856, and has been installed at the entrance to the pier.
Along with the new clock, the entrance to the pier also now features a new digital media screen which will have a showreel of the pier's history along with information on the Deal Pier Kitchen eaterie, local weather, tide and fishing information, and promoting local tourist attractions.
Adding a festive cheer to the pier this year, Dover District Council has also unveiled an 18ft Christmas tree on the pier apron. The lights were switched-on Friday (22 November) to coincide with the town's Christmas lights event organised by the Deal & Walmer Chamber of Trade.
The next stage of the refurbishment works will include the installation of new LED lights along the full length of the pier in the New Year.
Roger Walton, Strategic Director at Dover District Council, said: "Deal Pier is a key focal point for the local community so the new clock is a perfect addition. We hope everyone enjoys the Christmas tree."
ENDS
Thanks to the media team at Dover District Council for the above.

As mentioned briefly yesterday...cruise ship AIDAmar called into Port yesterday tuesday. The visit was scheduled, but it is still something of a jaw dropping moment to see a cruise liner this late in the year. She arrived in the dark and left in the dark
...but as ever, with a bounding bravura we tackled the picture problem that the darkness presents...

And here we are...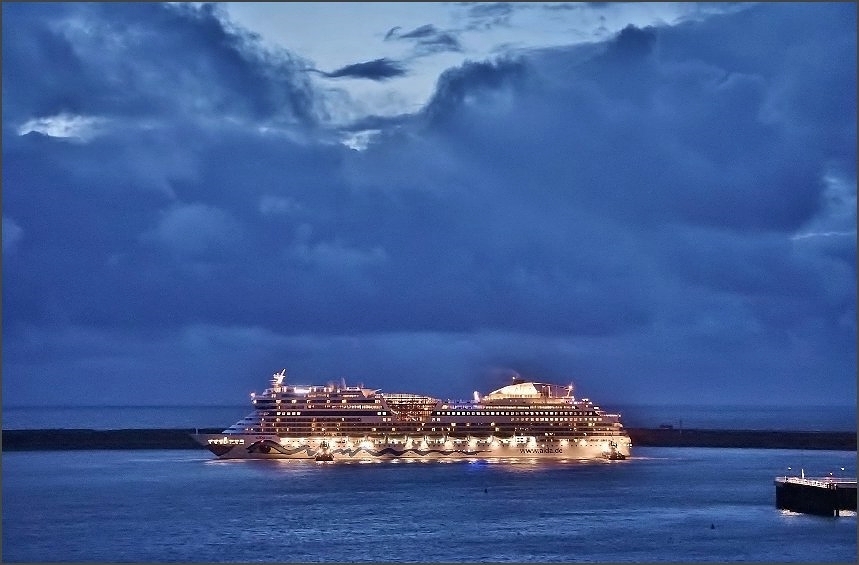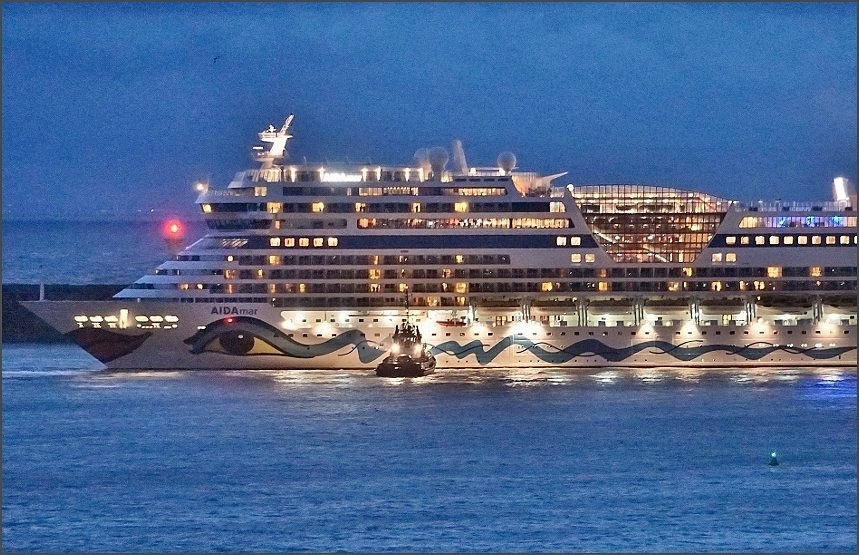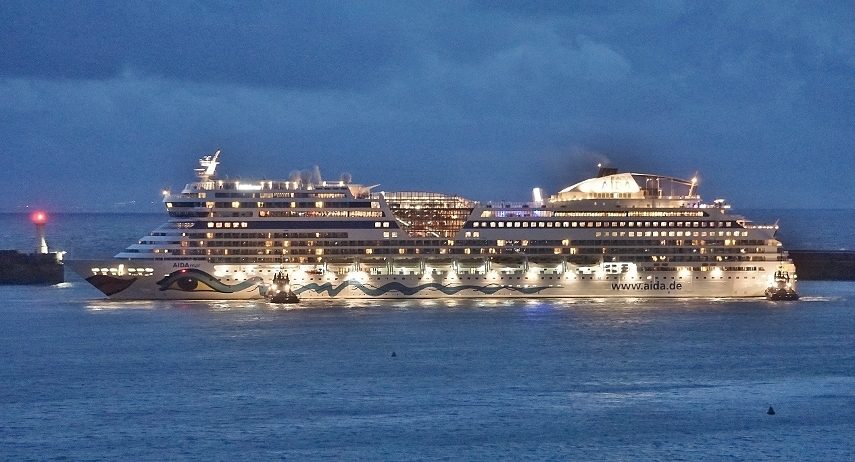 Yes...AIDAmar with the help of the tugs, moves astern with lights ablaze towards Cruise Terminal Two in the shots above. She left again around 7pm...the ship is on a 13 day one way trip from Hamburg to Majorca.
Also in port we have general cargo ship EEMS Dollard at the new pier WD5... limited visibility so just able to catch the 'rear end' here... hopefully more pictures later... high tide needed for this one..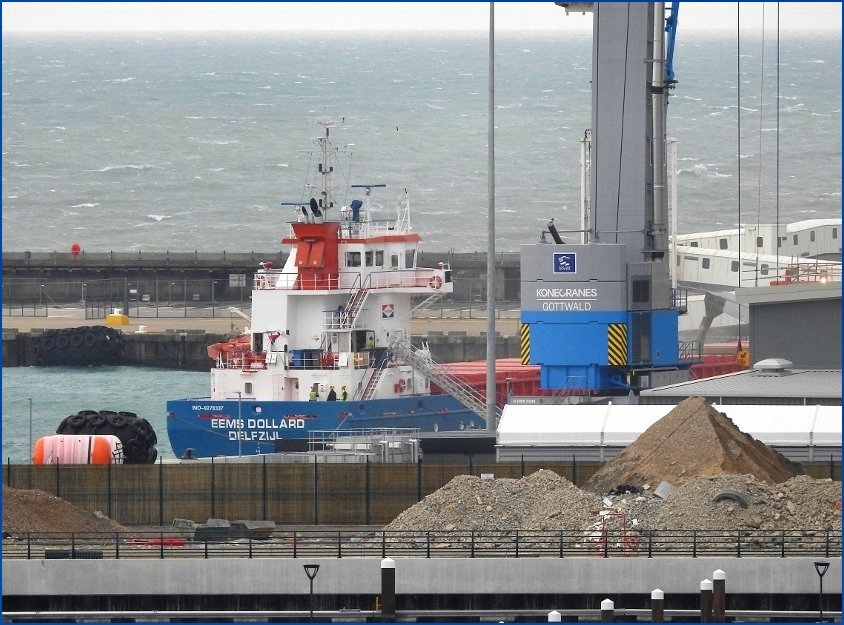 PaulB

Wednesday, 27 November 2019 - 07:43
Post 6669
Sea News, Dover
DOVER LIFEBOAT SPECIAL
We just caught the Lifeboat powering out of harbour on Sunday morning...time of first shot above there is 09.33. We have a bonus in the first pic above...because to the left we see the Border Force rib hurtling off out into action also, to the right a fisherman's boat returns to Port after an early morning sojourn in the choppy seas... these pictures taken shortly after the pictures of Royal Charlotte in the previous post....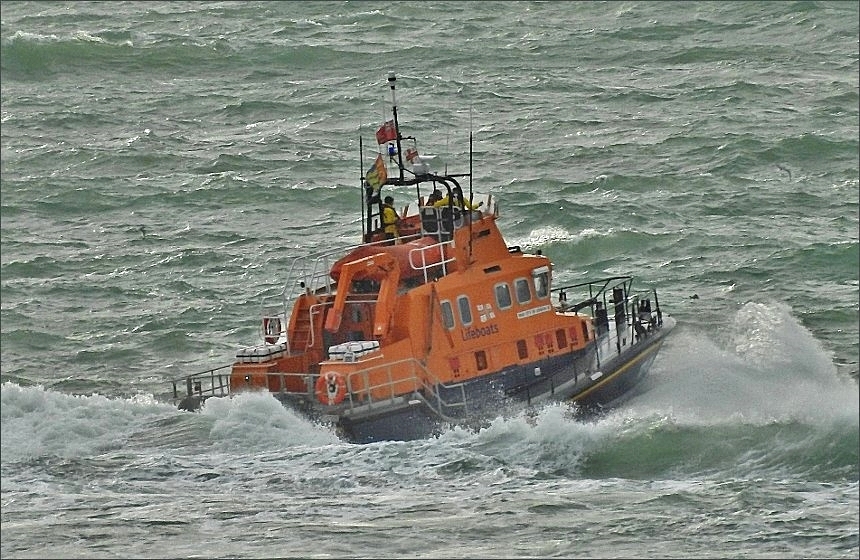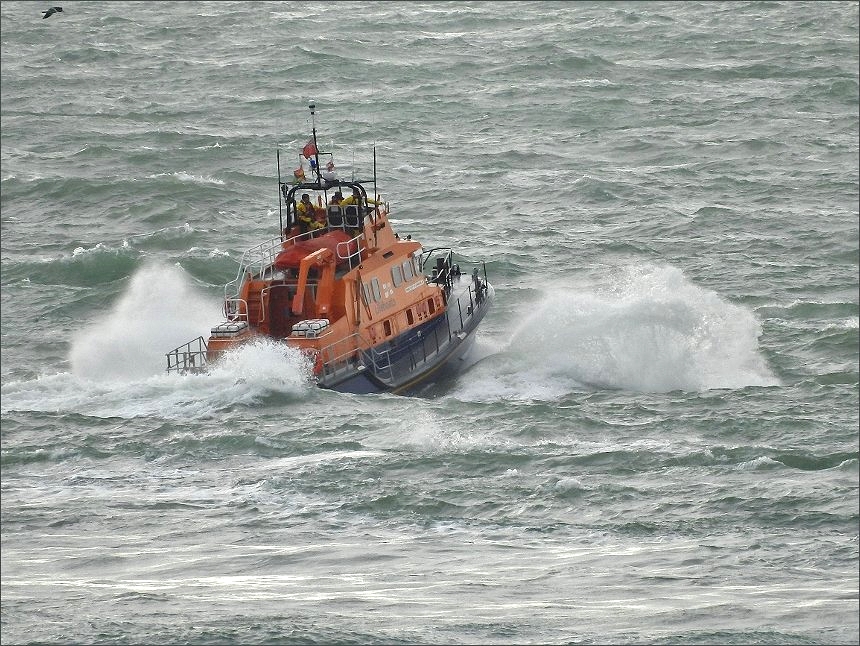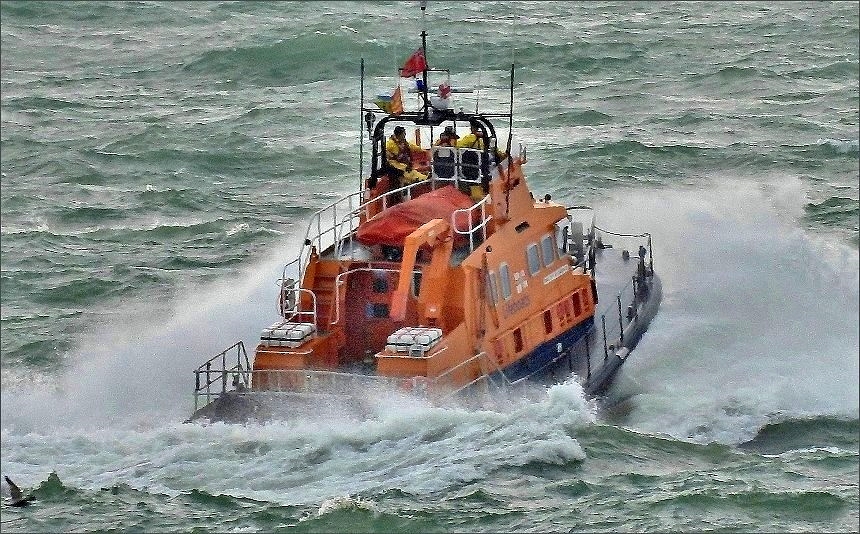 Dover Lifeboat in action.
For Lifeboat guys everywhere.

Mesmerised to see a big cruise ship outside the 'observation tower' window very early this morning
...AIDAmar a blaze of light through the darkness.
The final ship...
PaulB
Tuesday, 26 November 2019 - 07:24
Post 6668
Sea News, Dover
A picture above there from yesterday morning Sunday (08.36) of fishing boat Royal Charlotte...the sea was difficult as you can see...and the boat was doing some considerable rolling. As the guys were just outside the Port yours truly thought they might give up and return...but no they carried on with a steely determination as you can see in Picture 3.
Picture 2 below is a crop/enlargement of the top picture in an effort to show clarity however not sure it improves clarity as the quality is fairly poor on the enlargement.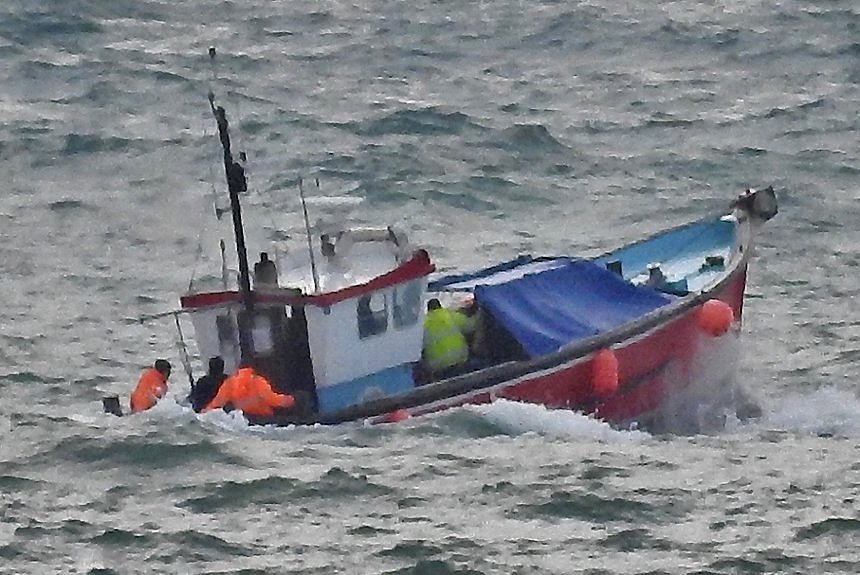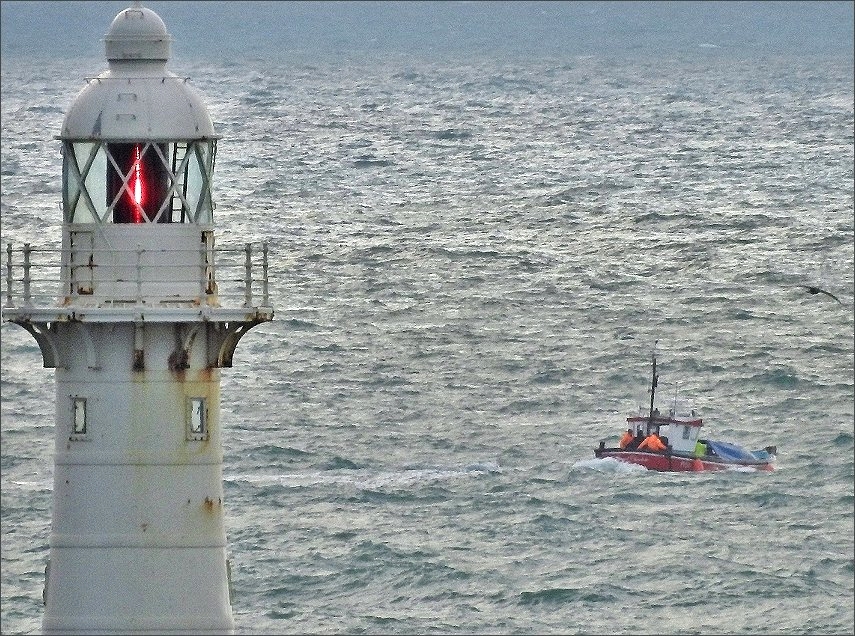 We have some Lifeboat shots in the pipeline taken at roughly the same time...they just need a bit of work and a bit of resizing to fit etc etc...so watch for those...
We have featured Royal Charlotte before, you can find her via our Search Engine above.
PaulB
Monday, 25 November 2019 - 07:33
Post 6667
Sea News, Dover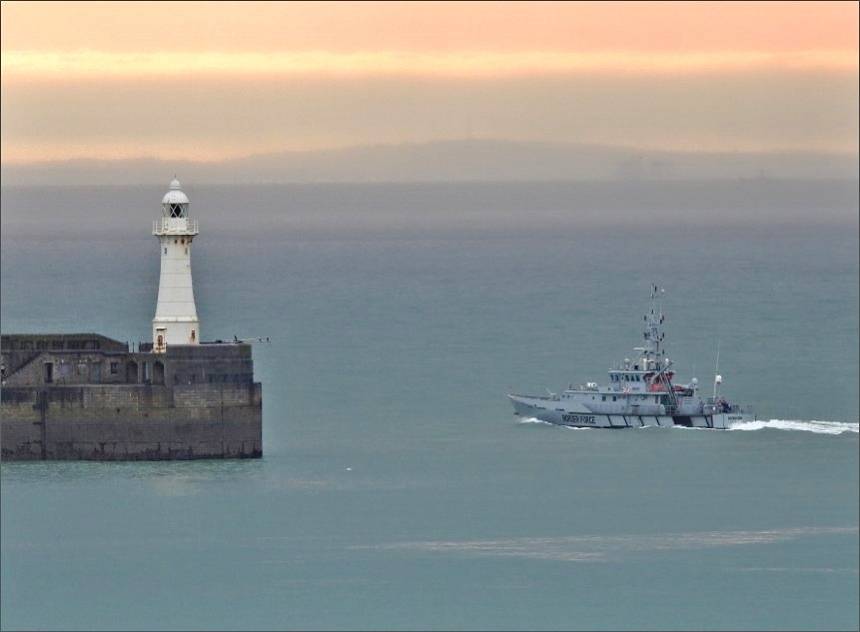 Some pictures now of Border Force Seeker as she sets out on a benign recent morning...pictures from just a few days ago... 'twas benign weatherwise as you can see, but the vessel's busy role is anything but tranquil .. and goes on...
the little boat below is called Y Knot and sure... why not!!?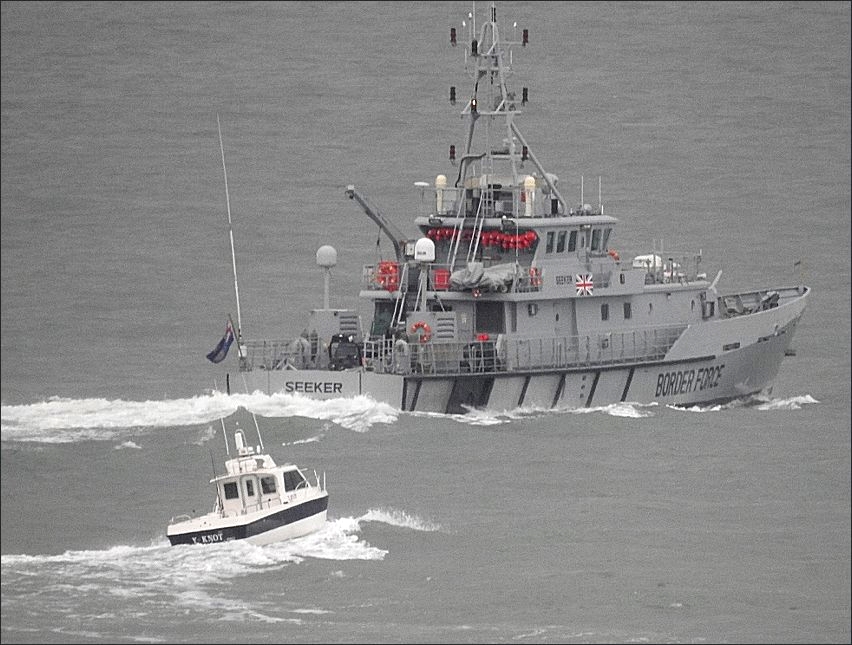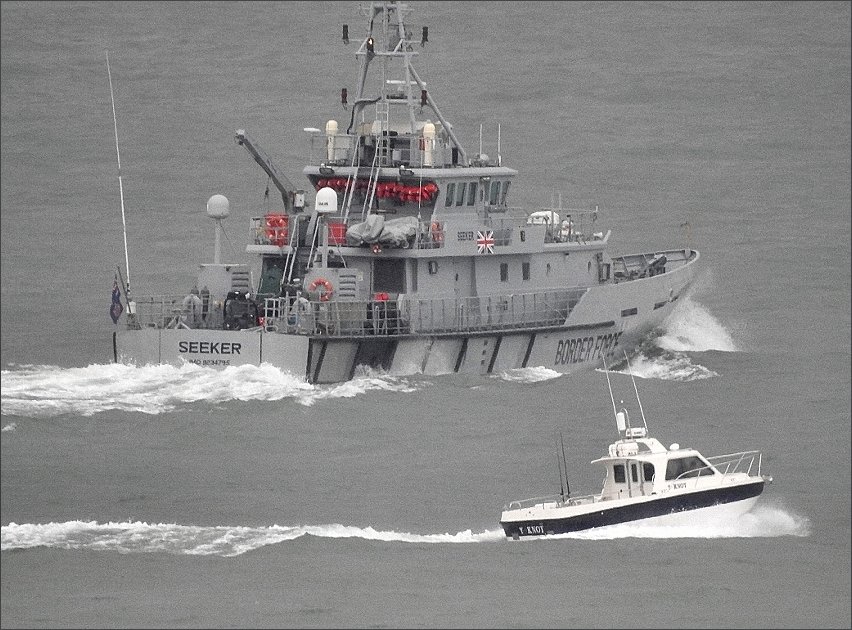 Although the colour changes significantly above there in the few pictures, they were actually taken at the same time...the bottom two as she turned away from the light just outside the harbour...odd..
Back to the Air Ambulance
Yes another shot of the Air Ambulance helicopter there as she approaches Dover Castle earlier in the week...just noting the large gun at the bottom left of pic. They fire this one off from time to time to mark significant occasions...and it makes one heck of a thunderous bang I can tell you. It doesn't half rattle the rafters in the roof around here, and at one time yours truly's Ming Vase fell off the mantlepiece with the vibration...fortunately it landed on a cushion...


PaulB
Sunday, 24 November 2019 - 06:12
Post 6666
Sea News, Dover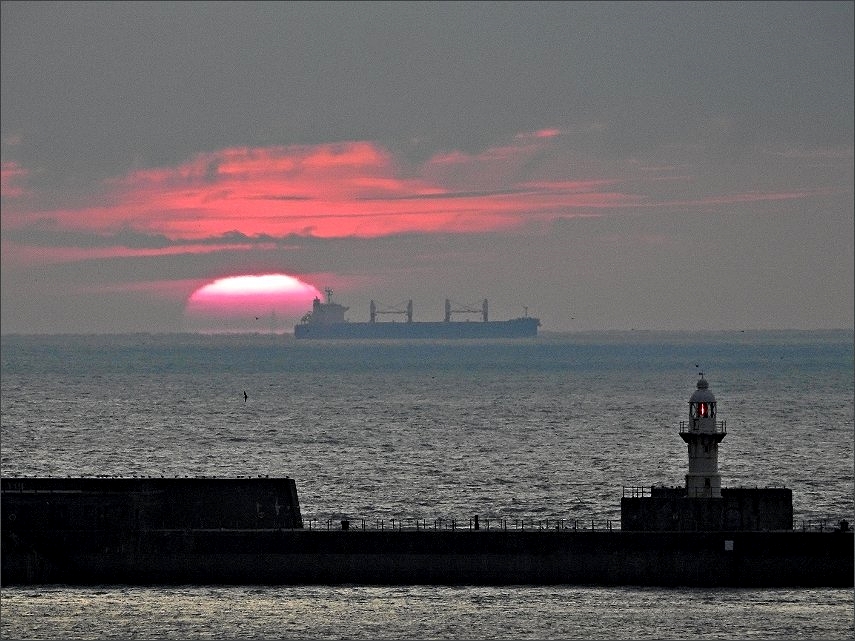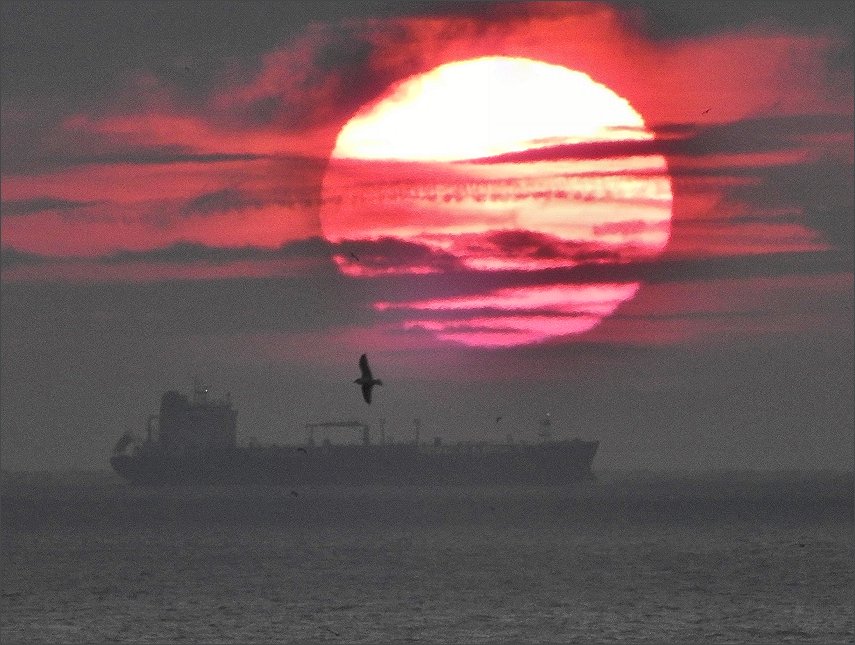 Dover Sunrise:
A couple of extra 'gloomy' sunrise pictures designed to run in harmony with the picture currently at top of page. Meant to use them earlier in the week but with one thing and another...Pictures taken about a week ago...all natural, nature doing the work.
An enjoyable 'Famous Five' from Ted below, very interesting post indeed. Don't miss those pix.

PaulB
Friday, 22 November 2019 - 07:44
Post 6665
Ted, Canterbury
"Five liners from the past"
The Cunard liner CARONIA......Looks familiar....Later became the SAGA RUBY.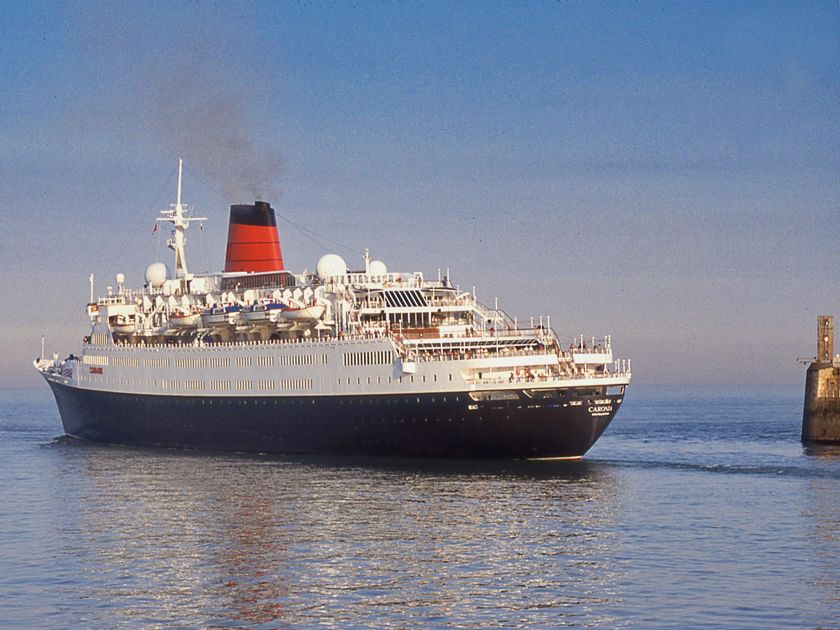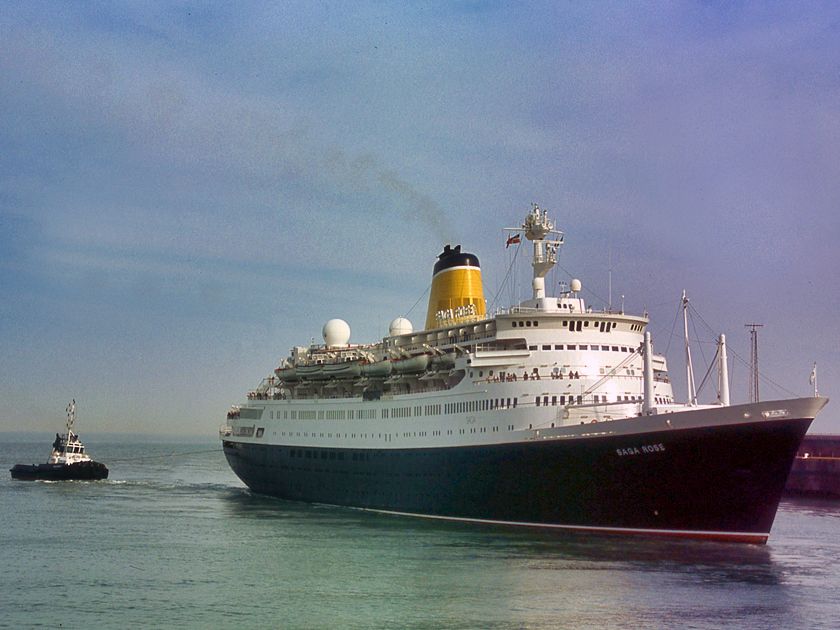 The SAGA ROSE sister ship to the SAGA RUBY.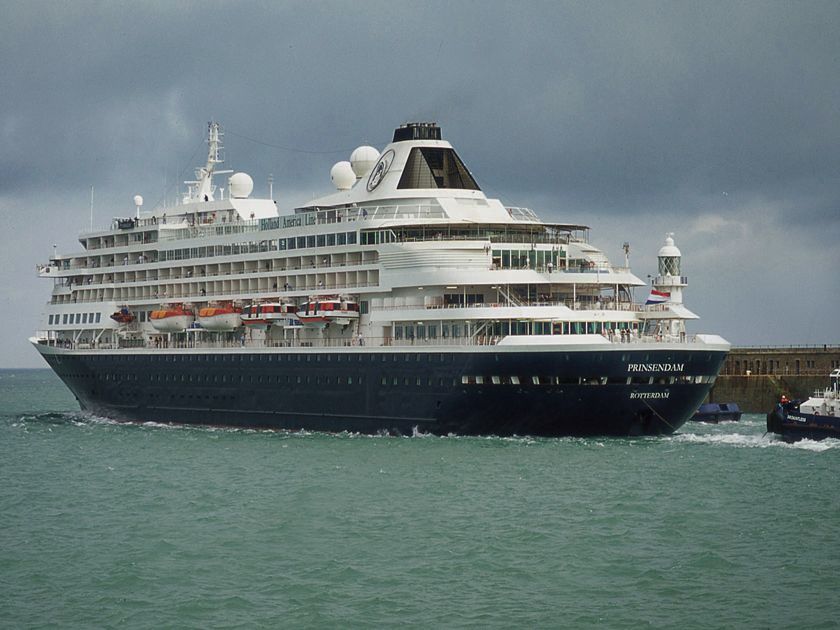 The PRINSENDAM. Recently sold and renamed AMERA.
The BRAEMAR just before she was lengthened in a dry dock at Hamburg.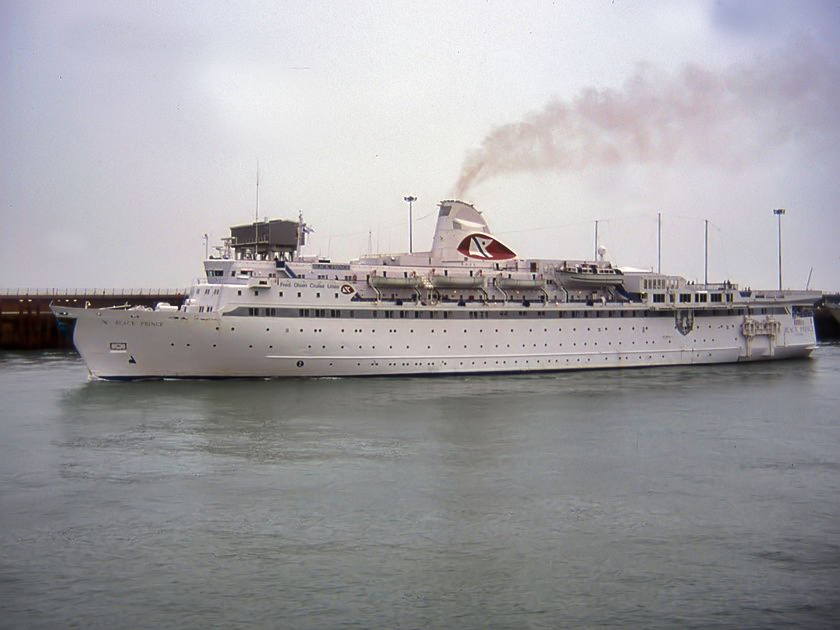 The BLACK PRINCE. a former North Sea ferry.One of Freds early cruise ships.
Thursday, 21 November 2019 - 16:59
Post 6664
Sea News, Dover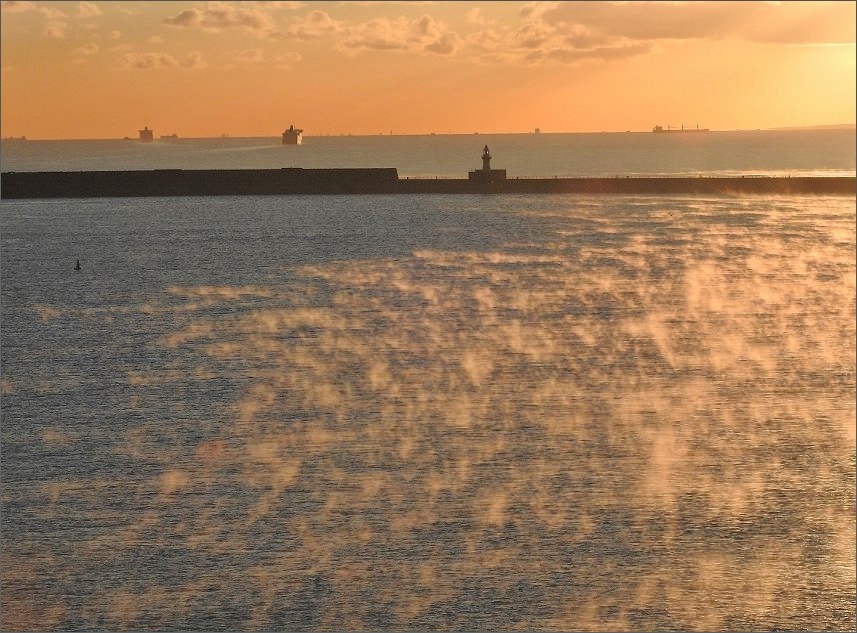 "Smoke on the water...Fire in the sky"
Well not exactly but this exciting phenomenon is quite rare...yet nature put on this foggy display for our delight and delectation on Tuesday morning. Not that early either so easily see-able. Time of first shot above 07.53. That picture looking more into the sun so showing a tad more 'fire'...below looking a smidgen further westward.
Fog on the water...
Just caught Elvira departing for Vlissingen on same day, just got the one pic before she disappeared from immediate view..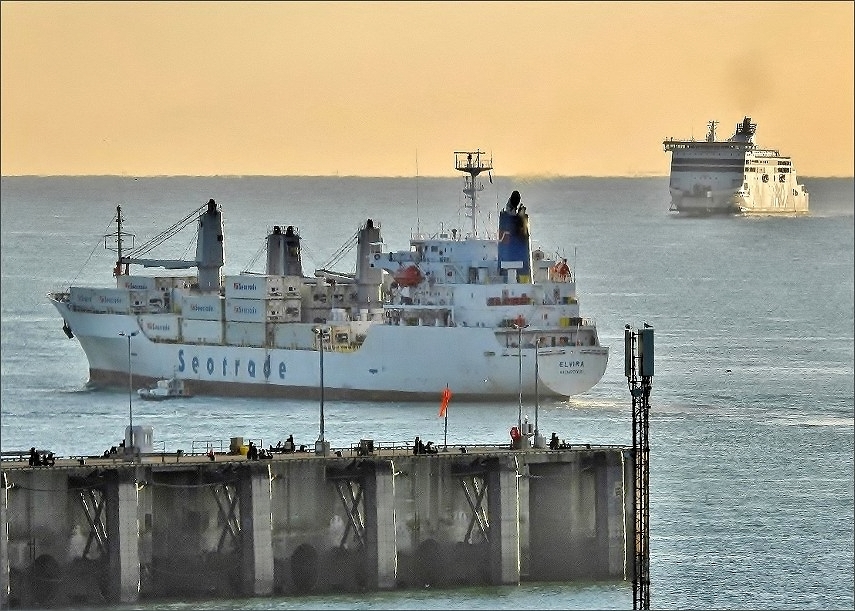 Just came across this one below again recently. I took the pic a few years ago but recently spotted it on Google...had forgotten all about it. But here is Elvira again and in very rough weather, and here's the thing... in the very same spot...just a-coming rather than a-going..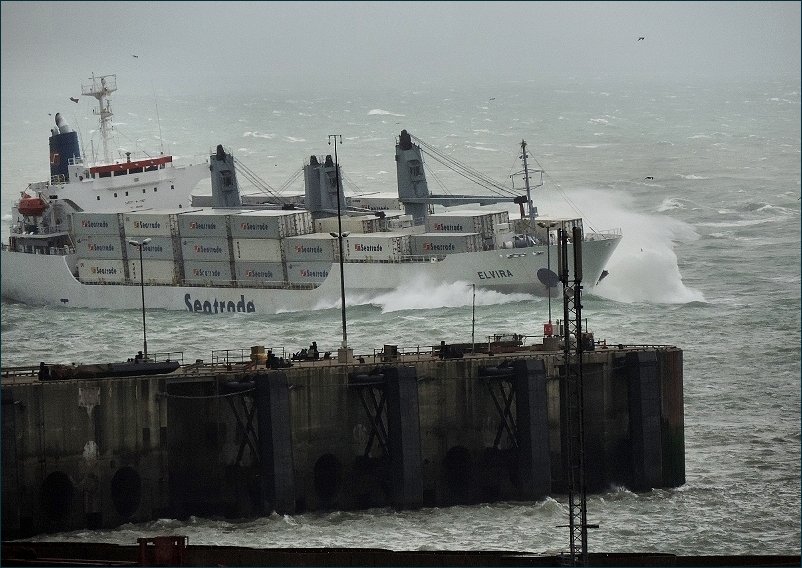 Rough weather in Dover...
Nice collection below from Mike...don't miss those pix showing some of the Border Force team ..

PaulB
Thursday, 21 November 2019 - 07:10
Post 6663
Mike J., Dover
On 18/11 three Border Force patrol vessels were noticed in the Tidal Basin, with the NIMROD joining the SPEEDWELL & HUNTER.
All three remained alongside on Wednesday.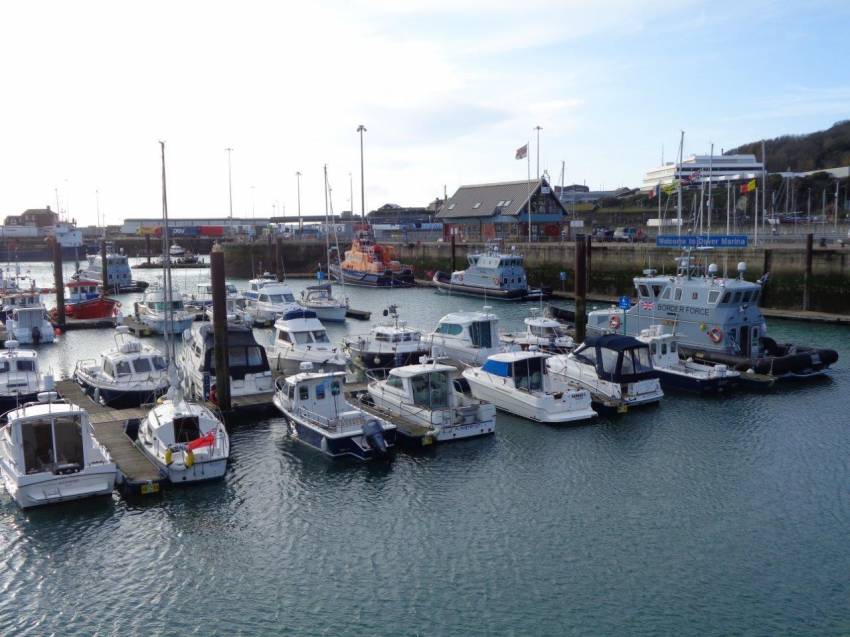 The NIMROD was last noted in Dover almost a year ago [post 5938 when again three PVs were in port].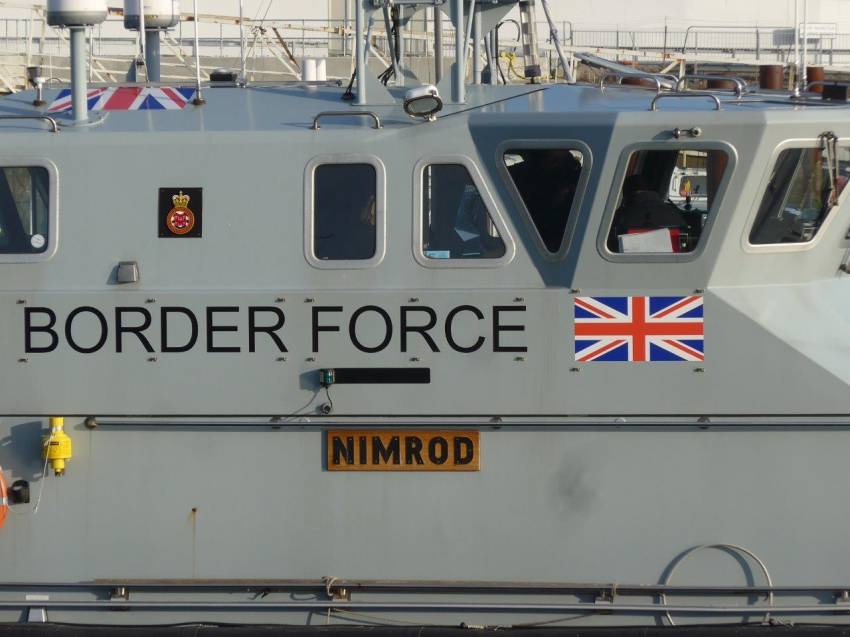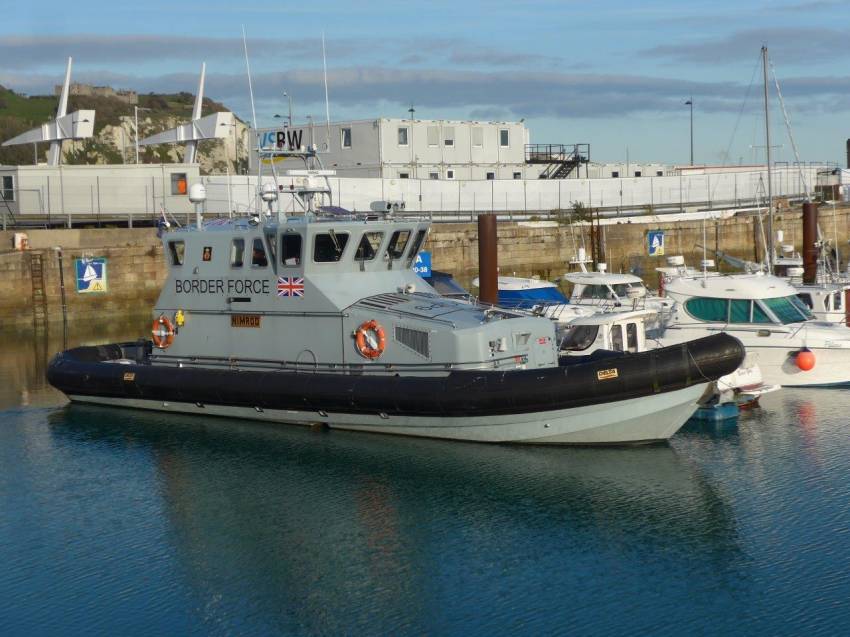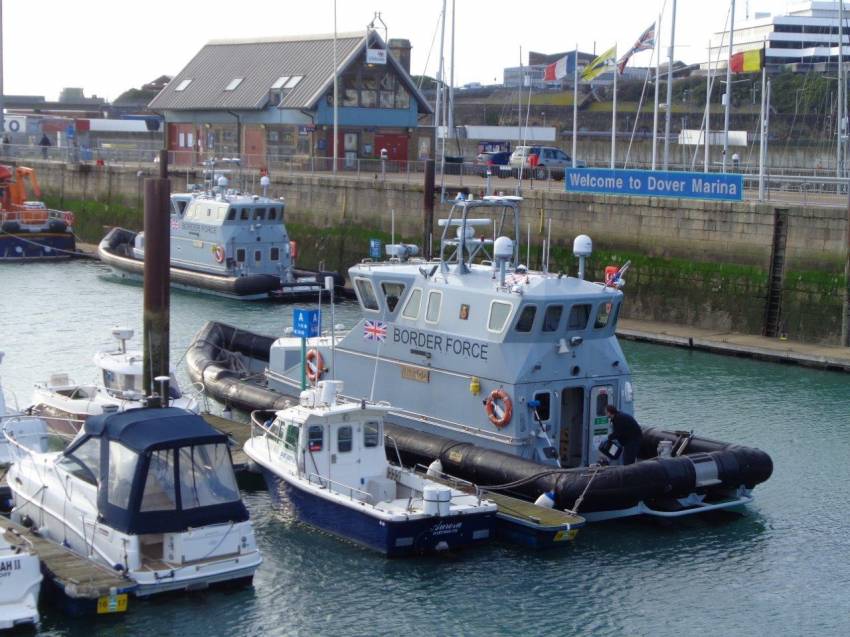 Crewmembers that I met were understandably a little cagey about whether all three were to remain in Dover
On the same day I noticed that the ALERT had left the boatyard where she had been blocked-up for some time.
Neither her or the NIMROD had their AIS switched-on, so it wasn't possible to see their recent movements.
The odd shapes & colours in the smart chromed nameboard are reflections of 'stuff' in the Tidal Basin.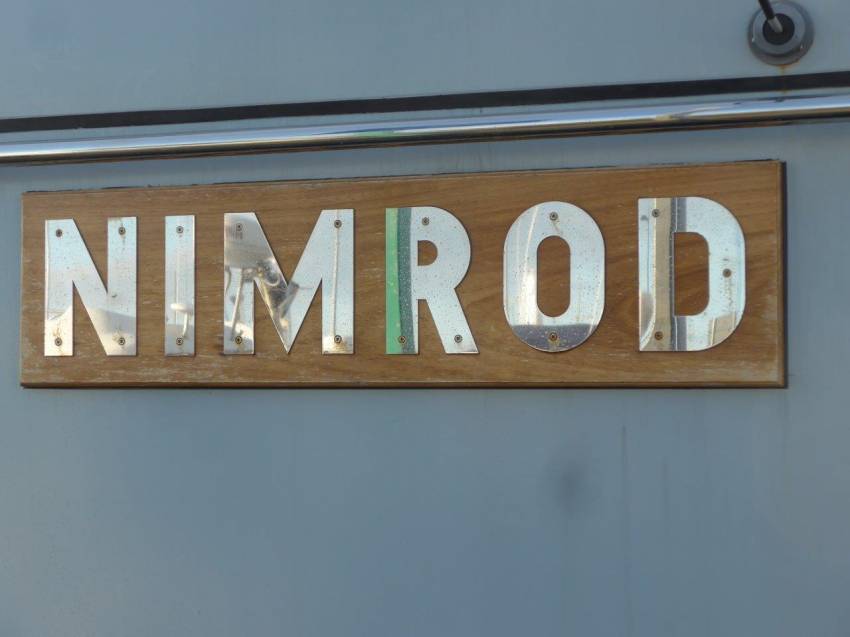 .
Thursday, 21 November 2019 - 02:55
Post 6662
Sea News, Dover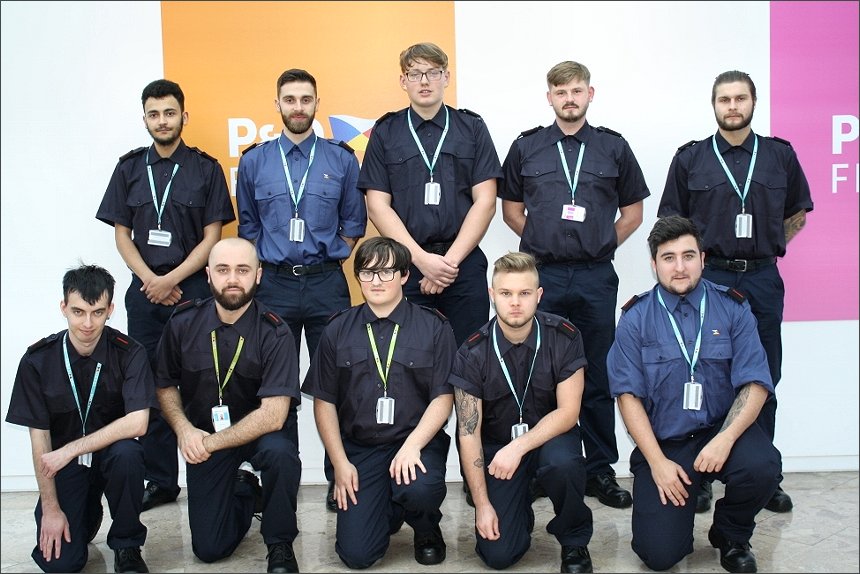 P&O FERRIES CONTINUES TO SUPPORT LOCAL TALENT …
... AS IT WELCOMES THE NEXT GENERATION OF SEAFARERS TO ITS APPRENTICESHIP SCHEME
__________________________________________________________________________________
After receiving a record number of over 180 applications, ten new recruits have been selected to join P&O Ferries apprenticeship scheme - the two-year course commences this month.
The trainees, aged between 18 and 26, come from a variety of backgrounds in Kent, including a former railway worker, security guard, retail supervisor and two P&O Ferries stewards.
Seven members of the group are in training to become Deck Ratings and three members as Engine Ratings, with the course resulting in a SQA Level 2 Diploma in Maritime Studies, certified by the Merchant Navy Training Board and the Maritime & Coastguard Agency.
The full group are employed on a 'Shoreside Learning Contract', meaning that they will split their time between the classroom and at sea. They will spend three one-month periods at the National Maritime Training Centre at North Kent College learning essential skills, which they will then put into practice on board. While at sea, the trainees will gain additional insight from former apprentices who are now in full-time employment with P&O Ferries, as well as individuals from the operators officer cadet programme.
Commenting on the programme, trainee Blaze Robson-Davis, aged 19, said, "My family has a seafaring background and recommended it to me. It is a good life and you get to see a lot of the world at the same time which really appealed to me."
Fellow apprentice, James Goudie, aged 25, added, "What attracted me to apply is the fact that P&O Ferries put your career progression first and the apprenticeship offers a better salary than I would have been able to get elsewhere. I cant wait to be on board."
Mike Willis, Learning and Development Advisor at P&O Ferries, said: "We received a huge amount of interest in our scheme this year and are pleased to welcome our new apprentices to the P&O Ferries family. Our scheme is geared to set individuals up for life, which is reflected through the quality of training we provide and the significant investment we place in each persons progression."
P&O Ferries launched its apprenticeship scheme in 2014 and has since welcomed four successful cohorts to its Dover to Calais route.
Applications for the next apprenticeship scheme open next summer....
To register for job alerts visit poferries.com/careers
Image above:
The P&O Ferries 2019 Apprenticeship Intake:
Front row (L to R): Stefan Palmer, Joel Venner, Ryan Sarahs, Blaze Robson-Davis and Alex Roberts
Back row (L to R): Jack Marsh, Liam Care, Jordon Newport, James Goudie and Jack Smith
P&O Ferries...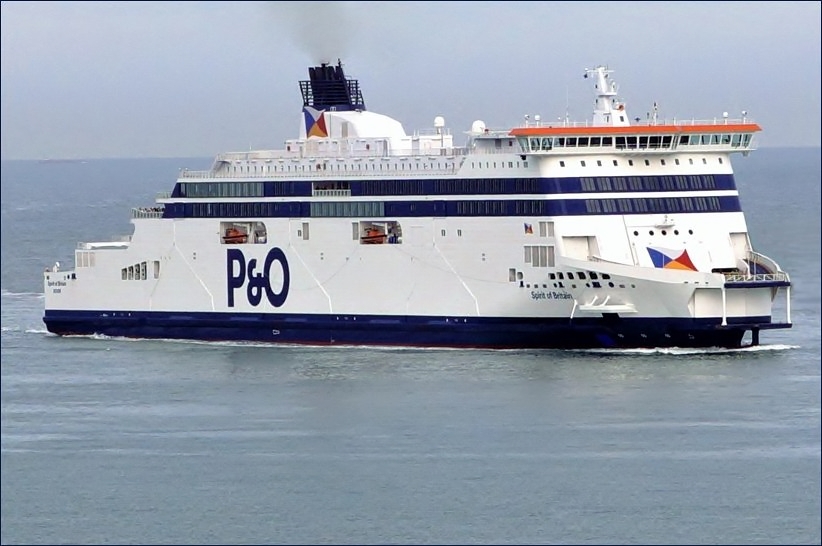 The Spirit of Britain above and below...
with the addition of Border Force Vigilant...ever vigilant...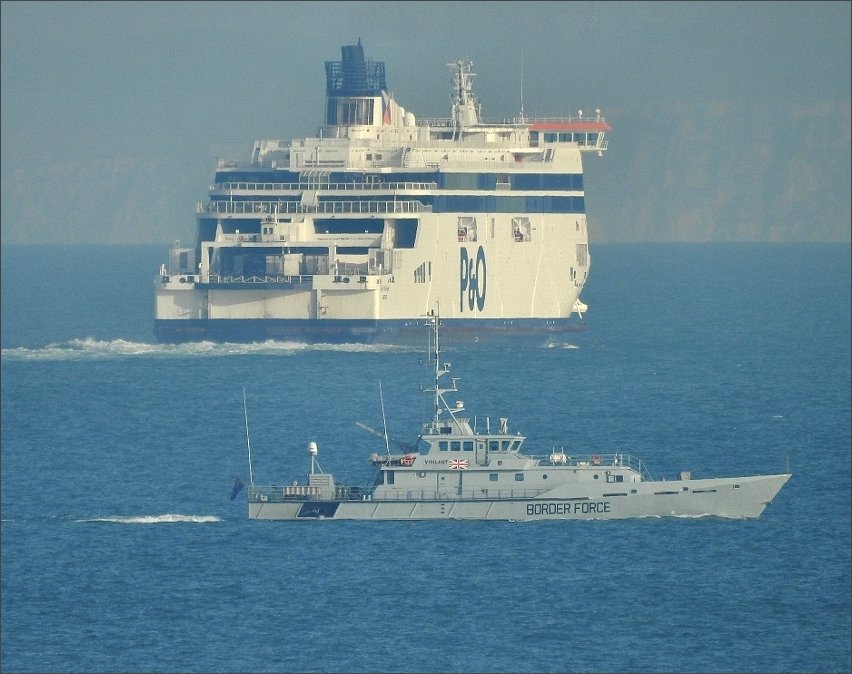 ENDs
Many thanks to the team at P&O Ferries for the top picture and for the information.
A nice shot of the lads there...good luck to them.
PaulB

Wednesday, 20 November 2019 - 06:10
Post 6661
Sea News, Dover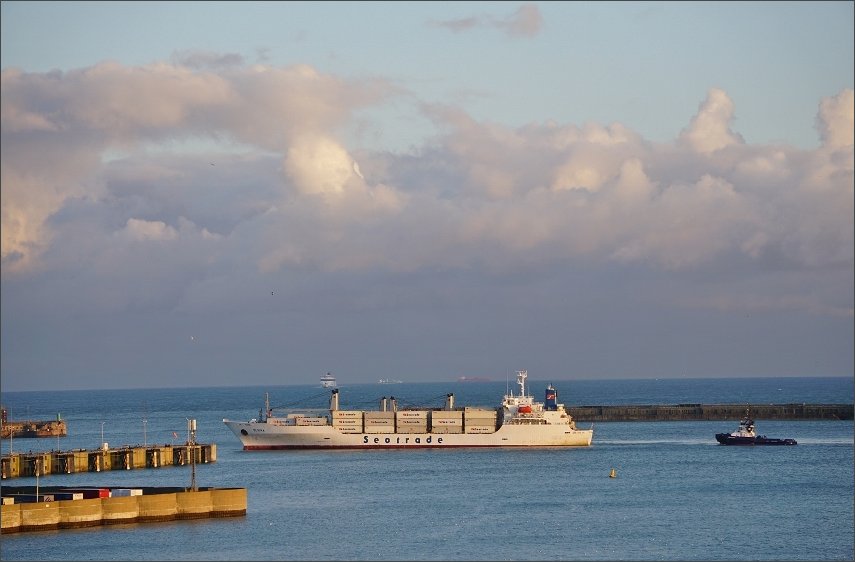 The picture above shows Elvira just after arriving in Port last evening...just catching the late-in-the-day glow of sunlight. She is moving gently and elegantly towards the Cargo Terminal...both tugs lending assistance, one out of shot. She is not scheduled to stay here in Dover for long... will be on her way to Vlissingen shortly, having arrived here from Paramaribo.
Winding back the clock to earlier yesterday, time of first shot 09.53, and we see the Air Ambulance approaching Dover Castle...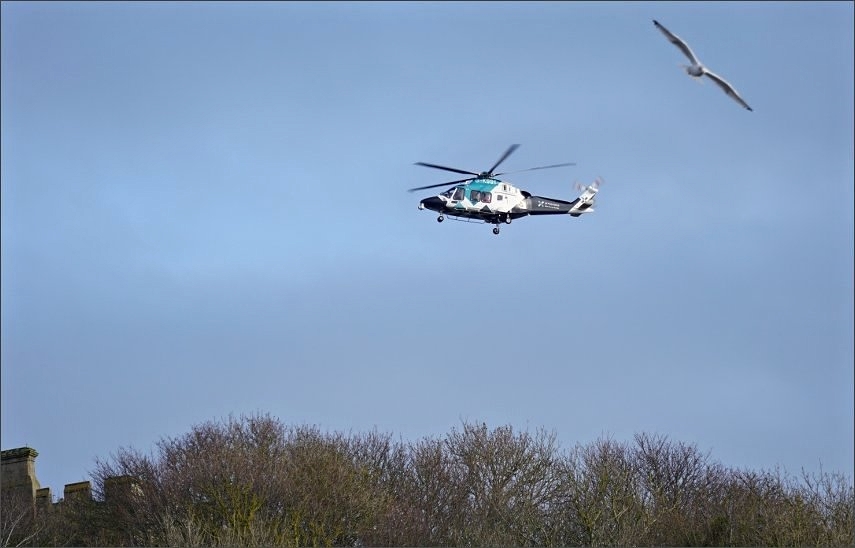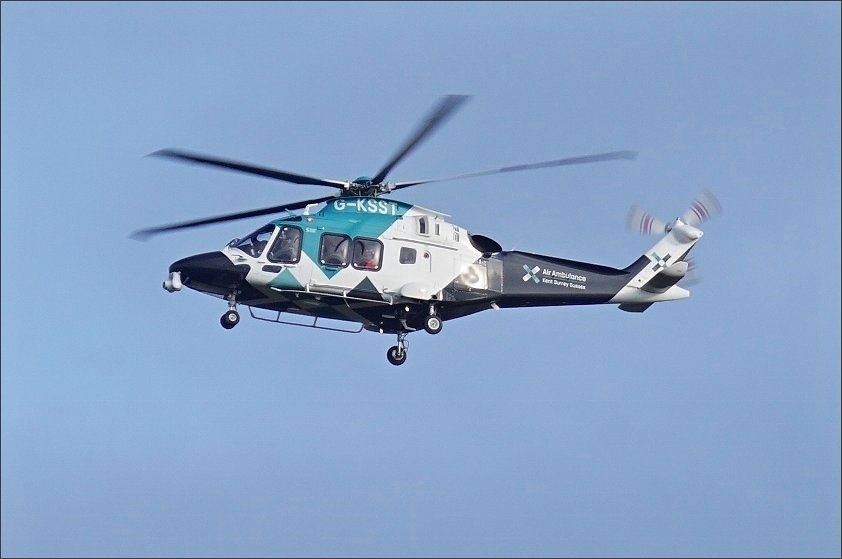 The helicopter cant have been on the ground for more than 7 to 10 minutes...then she was off again in the picture below...moving away westward over the Castle. As of yet I haven't been able to find any further info relating to the visit.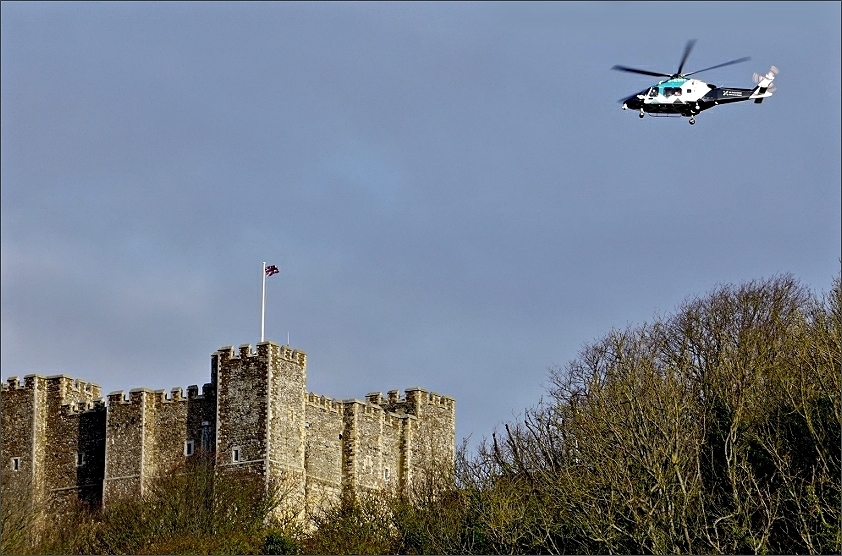 Nice pictures and info below..always good to see Seeker up close..

PaulB
Tuesday, 19 November 2019 - 06:12
Post 6660
Cyril Jackson, Dover
Arrival of Border Force cutter SEEKER returning to her berth at Ramsgate on 16/11.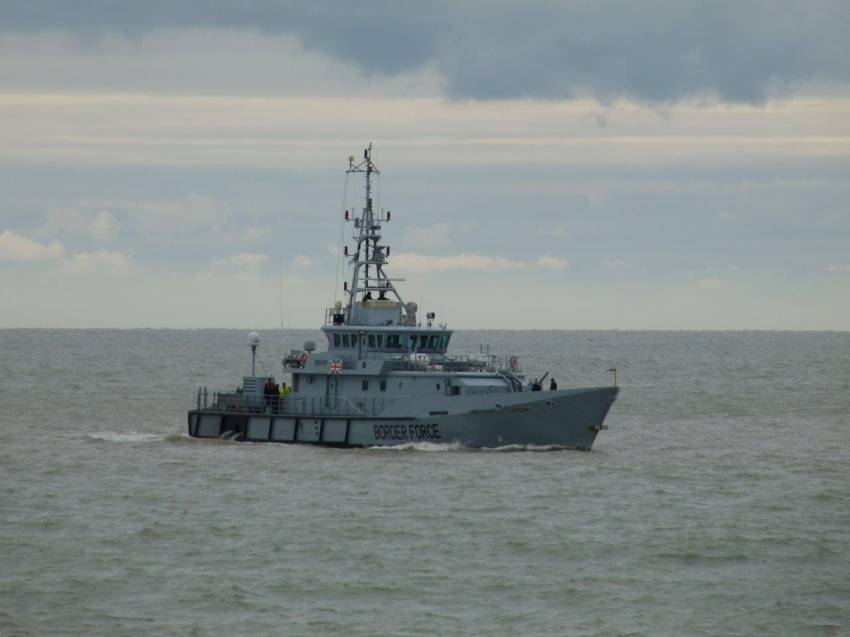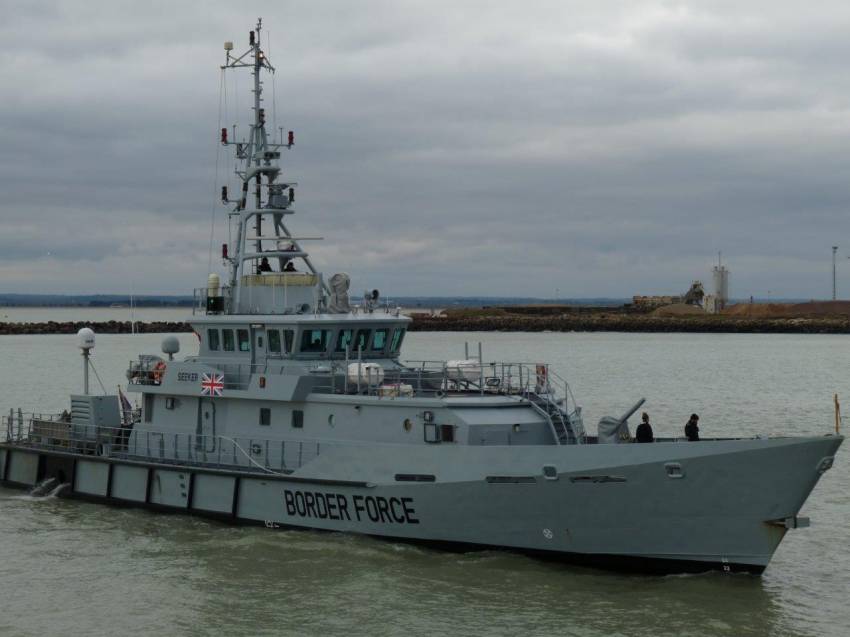 Impressive & good-looking vessels, the 'gun' on the foredeck is not what it seems, it is in fact a fire-fighting 'monitor'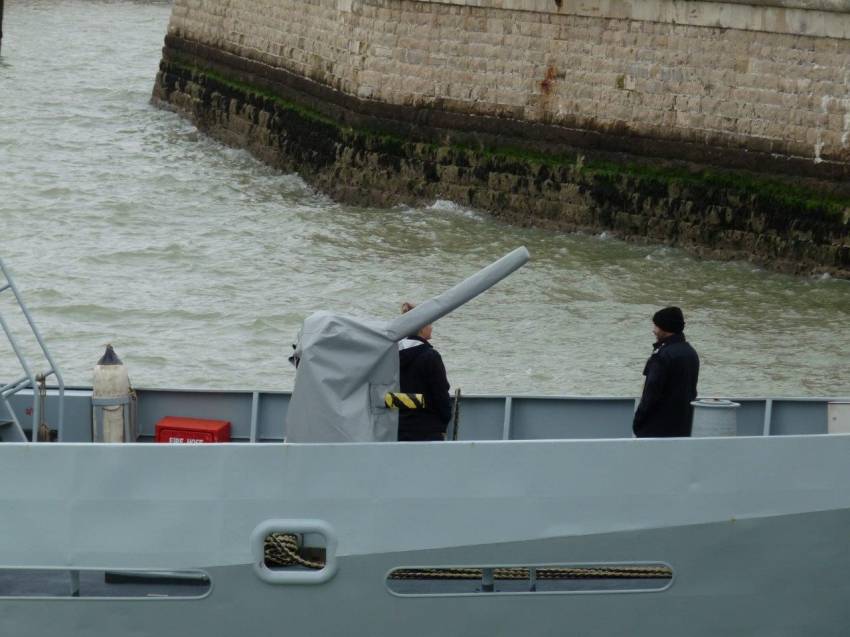 So if WW3 breaks out SEEKER won't be able to blast our enemies out of the water, but will at least be able to give them a good soaking.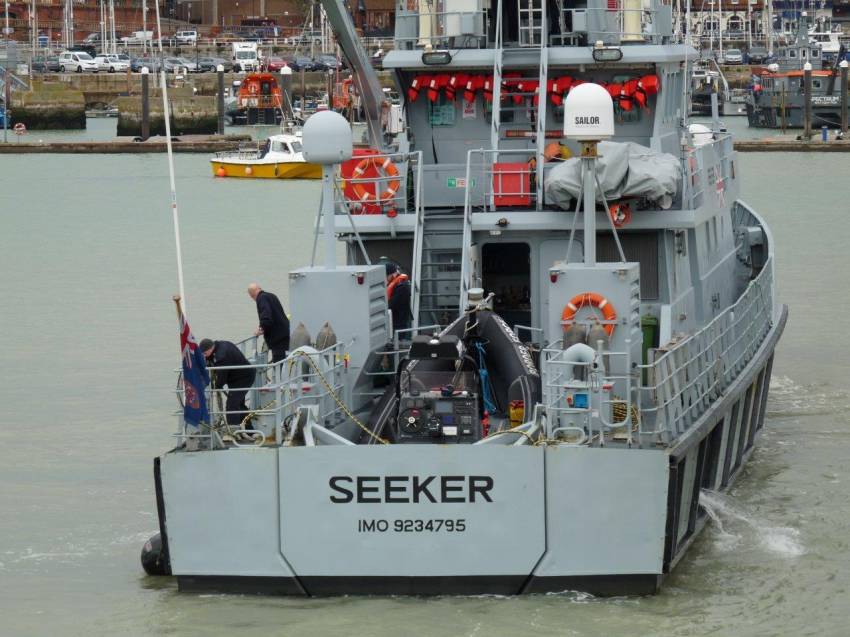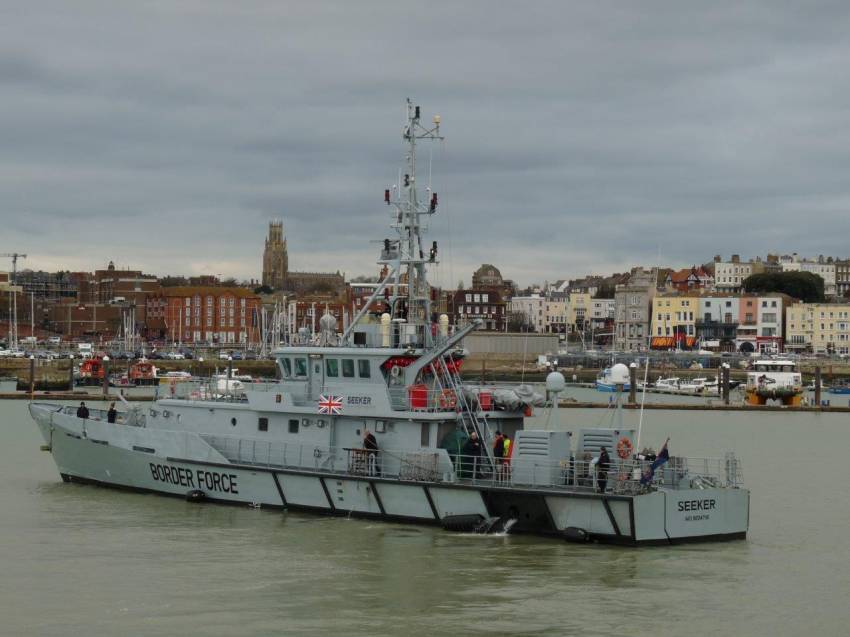 In Dover on Monday, Border Force patrol vessels SPEEDWELL & HUNTER had been joined by NIMROD.
ALERT, blocked-up in the boatyard for some weeks [post 6596], has left Dover for an unknown destination & is not showing on AIS.
Tuesday, 19 November 2019 - 02:21