Wednesday, 21 August 2019

WWW.DOVERFORUM.COM/SEA-NEWS
Featuring all the ships that come and go and work at the Port of Dover ..
... with further coverage of the surrounding ports.
Sea News Dover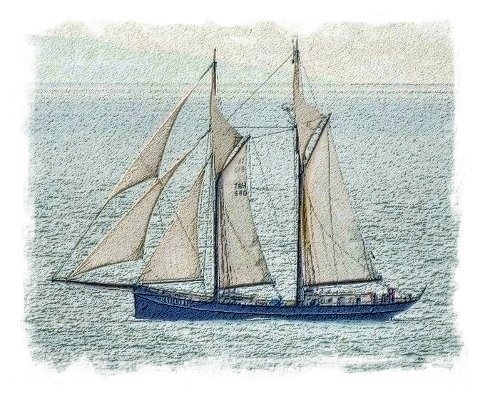 P&O Cadet Bursaries plus.. see 6457
DFDS:Temple Ewell Run plus FIP(?) booking 6453
Dover Regatta see 6438, 6441, 6442
Port of Dover: Chief Exec EU statement 6373
DFDS New Ship for Channel see 6303
DFDS Europe's award winning Ferry Operator 6332
Port of Dover : Virgin Voyages 6289

Port of Dover: Brexit Resilience 6123
P&O Ferries: Alternative Euro Breaks 6298
P&O: Record Fundraising for Lifeboats see 6253
Port of Dover: Reducing Carbon Footprint 6332
Port of Dover: New Cargo Manager see 6205

WW1 Soldier Dover Seafront 6414
Thames Estuary Forts 6250
SS Richard Montgomery at rest (WW II Supply Ship ) 6329
Premier Inn completes see 6149 plus

Scroll down and over to see the Boudicca D-Day pictures in several posts...
….and now also too the Spirit of Discovery
Use our SEARCH ENGINE below to find all sorts on the SEA NEWS pages....type in the topic and away you go, or if you have the post number as shown above, just type it in the box, more than - 6400 - nautical posts now.
Posts are welcome. just click 'Add Your Comment' below. Max of 5 pictures preferred although we can stretch that for special stories..
Sea News Editor Paul Boland - send info or pix to dover7@msn.com. Always welcome.
CRUISE CALLS:
https://www.doverport.co.uk/cruise/find-a-cruise/
UPDATE:
To show your pictures at their best..it could be worthwhile resizing before posting to
850
pixels wide.
All pictures on these pages are the copyright of the owners and must not be reproduced without permission.
Post 6336
Sea News, Dover
P&O FERRIES UNVEILS NEW BRASSERIE MENU COMPLETE WITH MORE MEAT-FREE MEALS
_______________________________________________________________________

Increased variety of vegan and vegetarian options ahead of World Meat Free Week (17-23 June)
New menu developed in partnership with BaxterStorey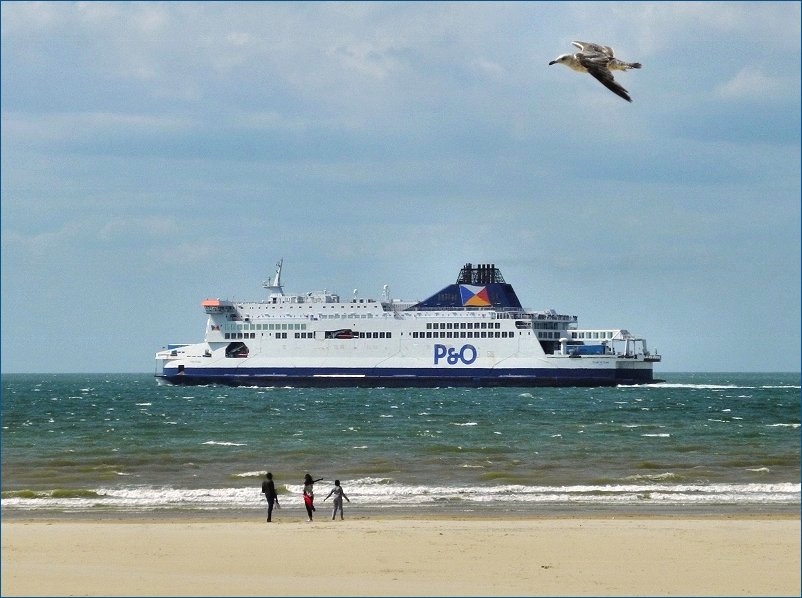 British ferry operator P&O Ferries has unveiled an extensive new menu on board its Dover to Calais and North Sea routes, with an emphasis on fresh, locally sourced ingredients to suit vegetarians, vegans and meat eaters alike.
Elevating the on board dining experience for customers, the final selection for the new Brasserie menu, which can be viewed here, was decided in partnership with the UK's largest independent hospitality provider BaxterStorey.
Menu highlights include a range of delicious new starters and sharing platters, including a Vegetarian Platter which boasts feta cheese, potato salad and stuffed vine leaves, amongst other tasty items.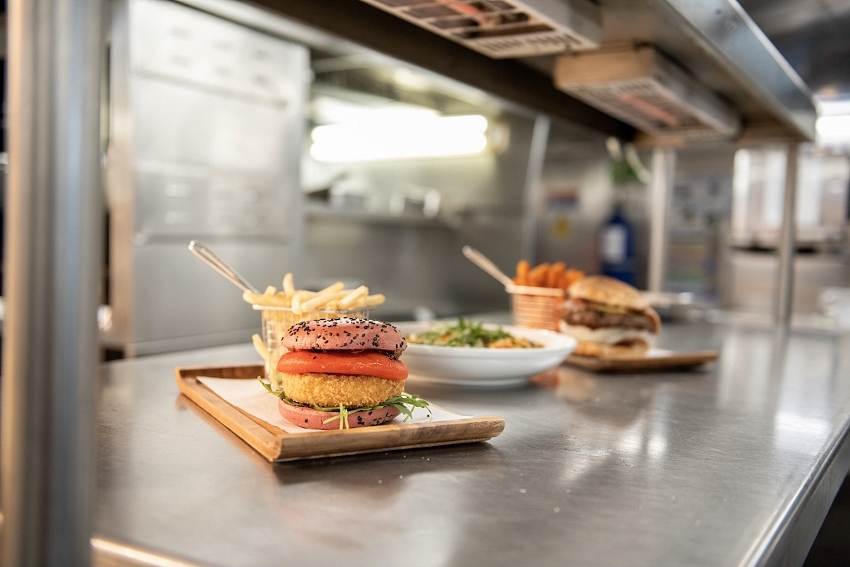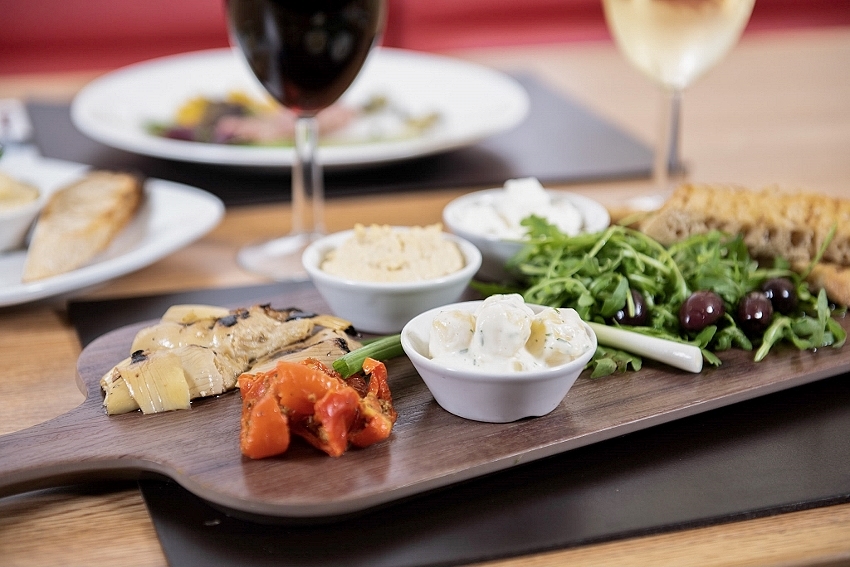 Mains include a halloumi burger served in a beetroot bun and a white bean cassoulet, with a side of chive mashed potatoes. For vegans, a tasty vegan pizza topped with vegan cheese and roasted vegetables is available, as well as linguine all'arrabbiata served with hard vegan cheese, sun blushed tomatoes and olives.
Sarah Rosier, Director of Passenger Sales at P&O Ferries, said: "There's nothing better than starting a holiday right with a great meal and sea views. We've worked hard to ensure that our on board food offering lives up to the culinary standards that we know our customers expect, with this new menu designed to offer high quality, tasty meals to suit a range of tastes."
"In collaboration with BaxterStorey, every ingredient has been carefully selected with our commitment to supporting the British farming industry in mind and we are very much looking forward to serving up these dishes throughout the summer."
Noel Mahony, co-chief executive at BaxterStorey said: "We are delighted to be working with P&O Ferries in creating a quality food offering, supported by a highly trained culinary team, which celebrates the very best in seasonal fresh produce.
"We very much look forward to welcoming customers into The Brasserie restaurant for a dining experience enjoying the best of local British food whilst surrounded by impressive sea views".
A number of other diverse dishes are also on offer for meat and fish lovers. A tempting Mediterranean Platter includes a selection of meats, olives, pesto and sun blushed tomatoes, alongside other classic starters such as soup, ham hock terrine and smoked salmon. Plates from the grill include steak and roast chicken served with fries. An impressive beef burger and pork belly with mash also accompany fresh seafood - roast cod and salmon, both served with potatoes.
To finish off a meal, tasty treats from The Brasserie dessert menu await. Favourites include a chocolate and coffee opera cake, boasting indulgent layers, a perfectly sharp lemon tart which comes with fresh raspberries and a fruit compote, as well as a varied cheese board.
Those travelling on an overnight crossing from Hull to Rotterdam or Zeebrugge, or heading off on a bright and early Dover to Calais sailing, can begin the day right by sampling the new breakfast options. Choose from a Full English or vegetarian breakfast including an egg cooked however you like it, or a continental breakfast basket complete with pastries, ham, cheese, and a number of condiments, or smoked salmon with avocado if you're looking for something extra.
A fixed price menu option offers two courses for just £16.50. An additional saving of up to 10% is on offer for advance online dining bookings on North Sea sailings.
There are up to 23 sailings a day between Dover and Calais with P&O Ferries, which are 90 minutes in duration, giving flexibility to fit your schedule and ensuring a relaxing trip across the Channel. Daily overnight crossings from Hull to Zeebrugge and Rotterdam also operate with a range of comfortable cabin accommodation options, discount shopping and onboard entertainment.
P&O Ferries also recently extended its 'Brexit Buffer' offer, giving free cancellations for all bookings made up until 31st October, to ease any travel uncertainty.
For more information, or to book a crossing visit www.poferries.com.
-Ends-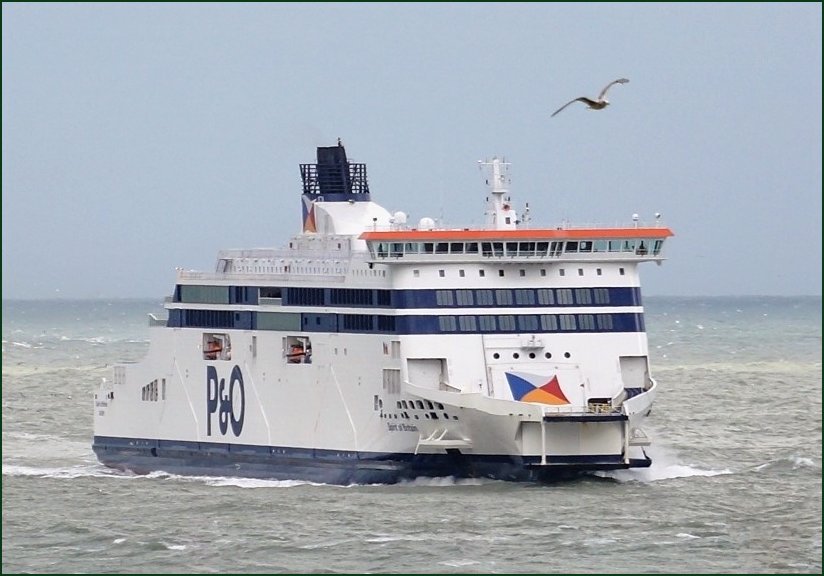 Many thanks to the team at P&O Ferries once again...

* *
Just catching up now with some more of Boudicca, this time as she returns to normal duties. Yes the D-Day voyage is over and its back to the normal routine...you can see her below coming about just outside Port as she heads to Bergen and the Norwegian Fjords …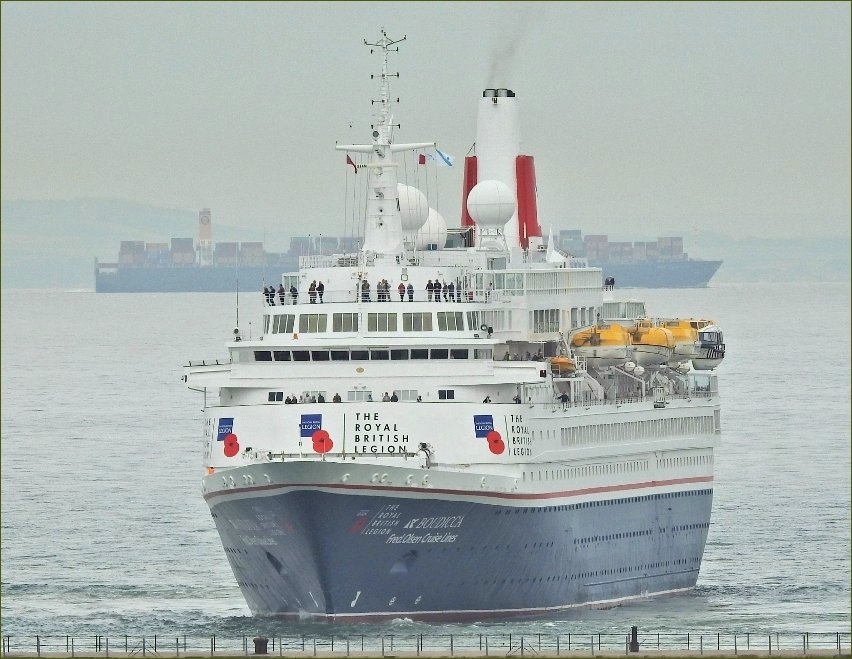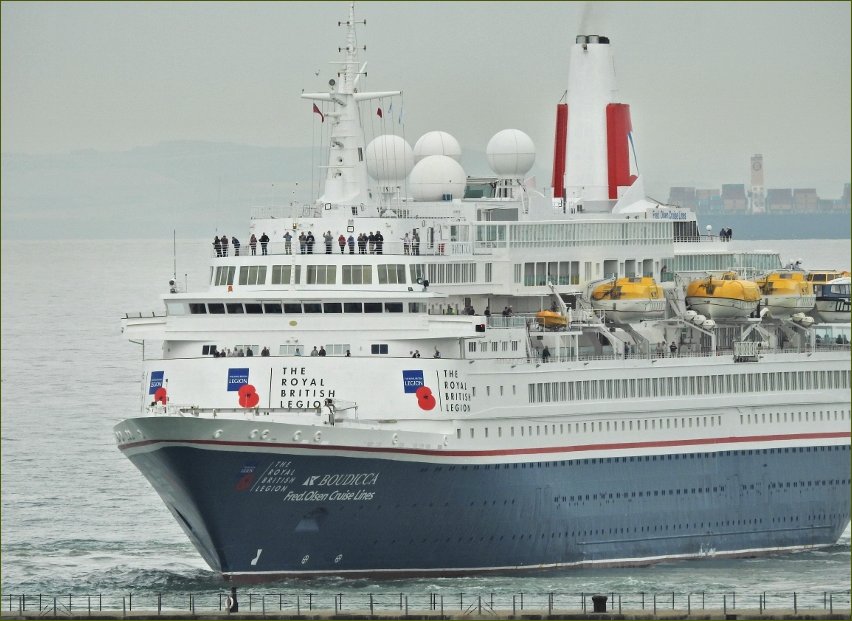 Boudicca
The magnificent Crystal Serenity moves away below...off to Dublin, and beyond then to further Celtic callings and further on to Reykjavik in Iceland.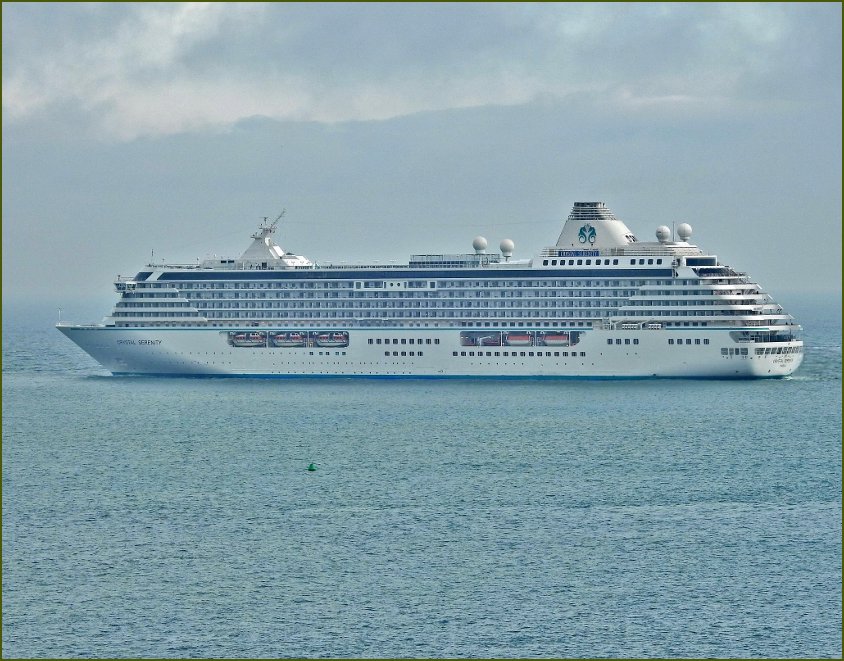 Thanks Jan yes good to see the Port working to improve its Carbon Footprint ...

Well done to Mike and Patrick for the posts below there. Great stuff

No the 'observation tower' hasn't missed them Mike but quite a backlog to get through here at the moment. Up next Sea Cloud and AIDAaura… not sorted as yet, still in camera ... but getting there....
PaulB

Thursday, 13 June 2019 - 07:05
Post 6335
Mike J., Dover
Catch-up time.
The CRYSTAL SERENITY seems to have sneaked past the Observation Tower unnoticed on Monday when she arrived from Honfleur just as dawn was dawning.
She later sailed, seemingly equally unnoticed, for Dublin's fair city . .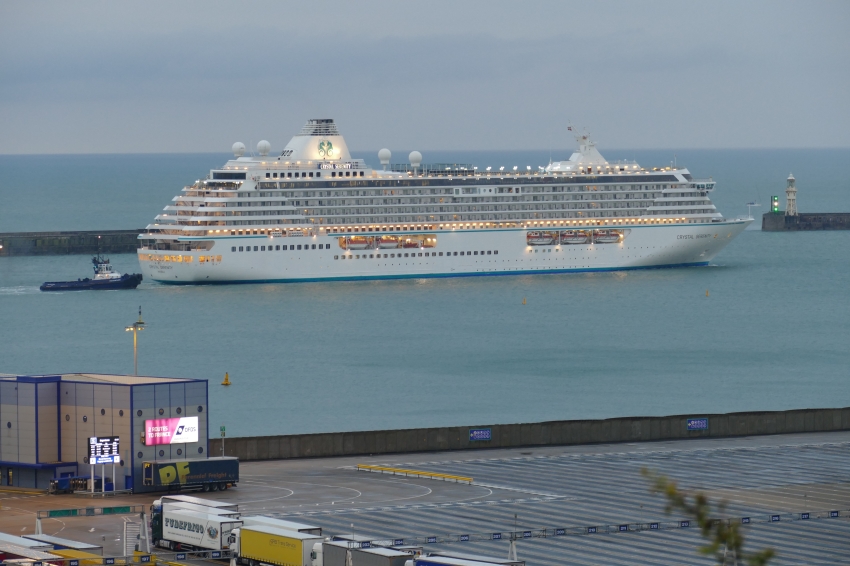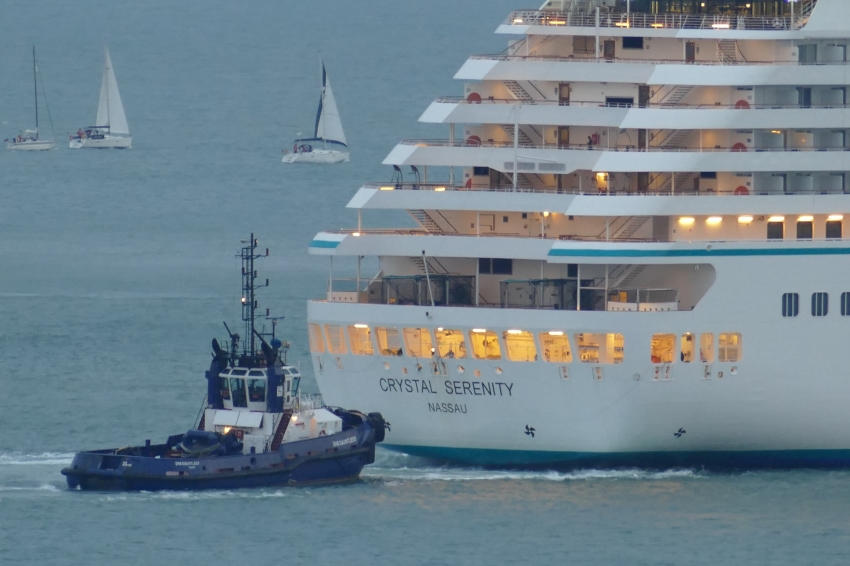 Thursday, 13 June 2019 - 01:01
Post 6334
Patrick, Marine Parade
Yesterdays double clutch of arrivals featured the very elegant barque - 'SEA CLOUD II' Cruise Liner and the 'AIDA aura'. The sailing vessel was unfortunately hidden from my view by the new RCT Terminal (and the odd sand heap) but here she is departing in the later afternoon sunshine destined for Honfleur via Portsmouth. Must look great in full sail.
Next to depart our shores was the well packed 'AIDA aura', gleaming as usual in bright sunlight as she departed the Western Docks from CT2 with packed rear decks to look back on our port, the white cliffs and historic Castle. Hope they enjoyed their stay. She is destined for the north Spanish port of Gijon.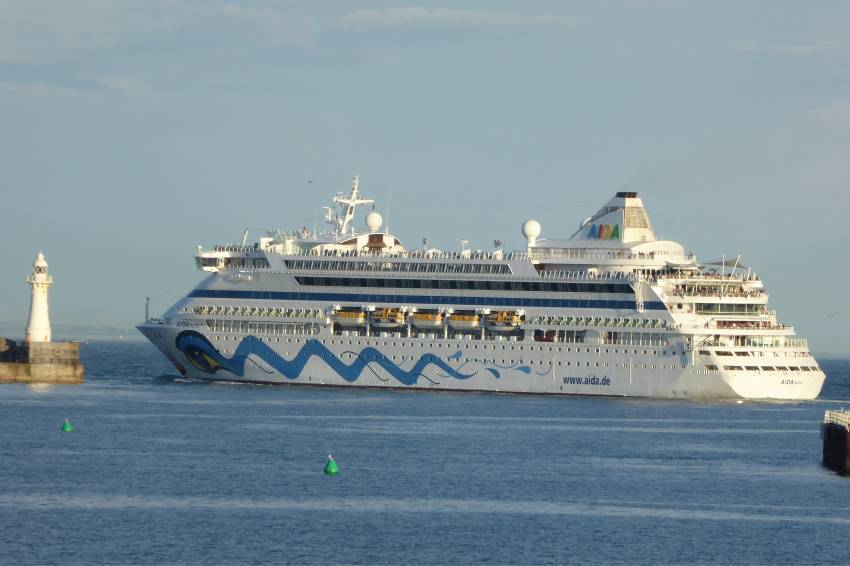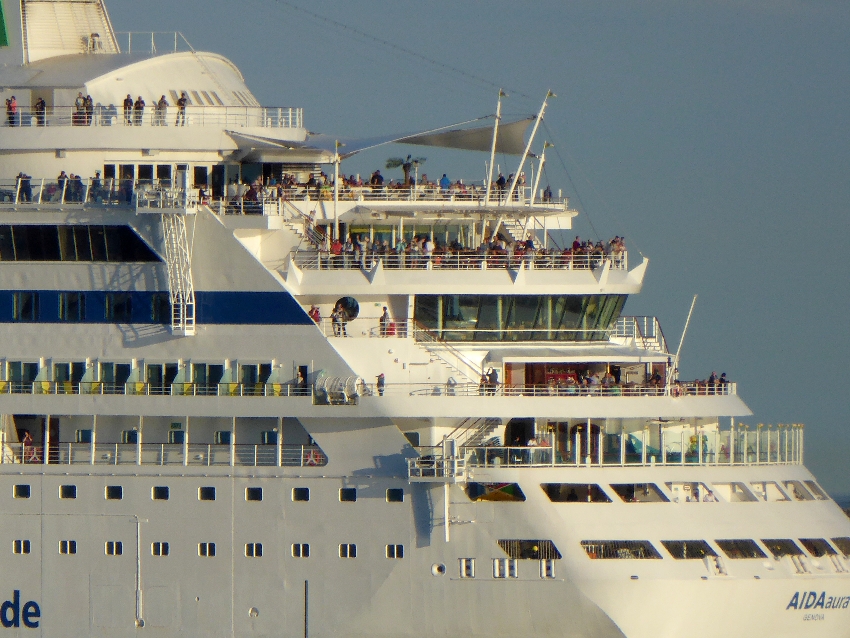 Wednesday, 12 June 2019 - 21:27
Post 6333
JanT, Dover
Well done to DFDs have travelled across the channel with them many times and hopefully will do so this summer.
always a smooth sail.
And good the Port is taking climate change serious hopefully many more will.

Nice to see you chaps have been busy with pictures and information,keep it up always good to read the posts.

Wednesday, 12 June 2019 - 11:54
Post 6332
Sea News, Dover
DFDS named Europe's Leading Ferry Operator for 8th consecutive year
• The World Travel Awards ceremony took place in Madeira on 8th June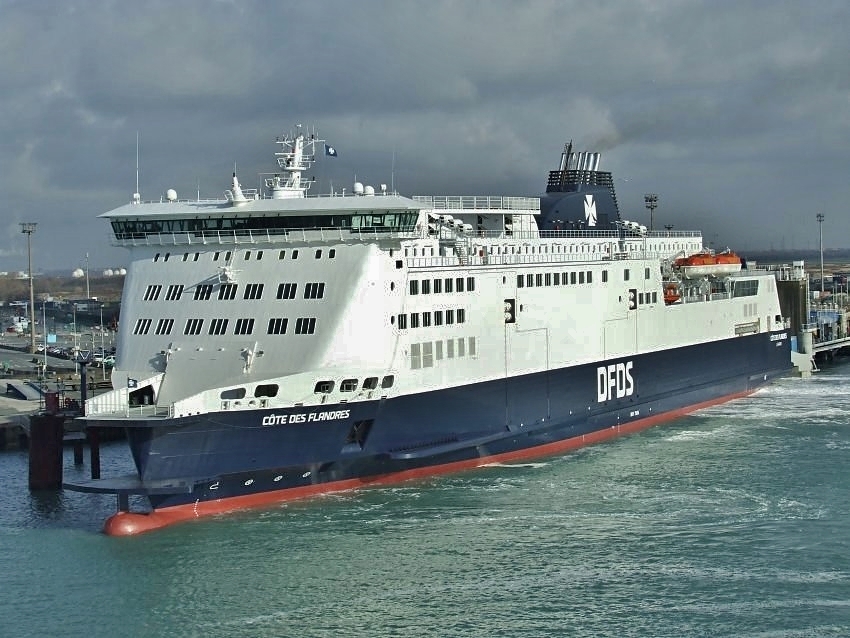 Picture by George Holland
DFDS has been named 'Europe's Leading Ferry Operator' at the World Travel Awards™, for the eighth consecutive year.
The awards ceremony, which is now in its 26th year, took place in Madeira, Portugal on 8th June 2019, bringing together over 300 of the leading figureheads and VIPs from across Europe in celebration of standout hospitality.
The awards recognise excellence in the global travel and tourism industry and winners are decided by votes from the public and travel industry professionals.
Peder Gellert, Executive Vice President & Head of Ferry Division says: "We are delighted to be named 'Europe's Leading Ferry Operator' at the World Travel Awards for the 8th consecutive year. It is always a testament to our teams on board and ashore who work incredibly hard to provide our passengers with the best possible service.
"We value this award highly as it is decided by both the public and industry professionals – those who have first-hand experience with our service and our people. We're always innovating to bring our passengers new on-board offerings to enhance their travel experience with us. We remain passionate about providing a modern ferry travel experience that is all about the joy of the journey. We will continue to strive to improve and exceed passenger expectations.''
DFDS operates a comprehensive passenger route network, including four services from the UK to Europe, via Dover-Dunkirk, Dover-Calais, Newhaven-Dieppe and Newcastle-Amsterdam, offering passengers a gateway to Europe. The company also operates a number of ferry routes across the Baltic Sea and a cruise ferry service between Copenhagen and Oslo.
For more information or to book a DFDS trip visit: dfds.co.uk
Cote des Dunes amongst the dunes of Northern France.
-Ends-
* *
Port of Dover reveals new solar panelled roofing





The Port has proven its mission to be a sustainable Port for the future by transforming its former multi-storey car parks into state of the art, solar panelled roofing.
This bold move contributes to the Port's aim of reducing carbon footprint by 5% each year, working towards a zero carbon future. It has already been successful in achieving reductions in its carbon footprint (41% since 2008), exceeding EU and UK targets to achieve a 20% reduction in carbon emissions by 2020.
Liz Fagg, Environment Manager from the Port of Dover says:
"The impact of climate change on our fragile environment has never been so apparent. As one of the world's busiest passenger ports, it is important that we source our energy from sustainable sources and capturing solar generated energy does just that."
The two previous multi storey car parks were above the current Passenger Terminal in the Eastern Docks Ferry Terminal. In 2016, the building was refurbished as part of the Traffic Management Improvement Project. This new roof, which includes the solar panels and new cladding is the final phase of the re-construction and will be complete in the summer.
The Port has been working in partnership with Beond energy consultants and EvoEnergy.
www.doverport.co.uk/about/news/port-of-dover-reveals-new-solar-panelled-roofing/13460/
ENDS
* *
Many thanks to both DFDS and the Port of Dover for sending the info through....
Some further pictures now of Seabourn Ovation this time capturing her evening departure, as she heads for Stavanger and the Norwegian Fjords.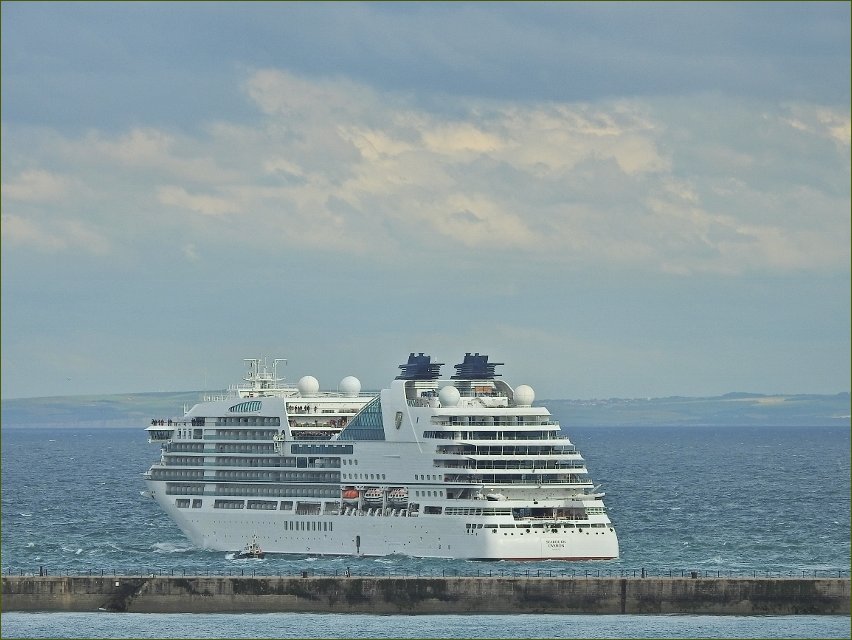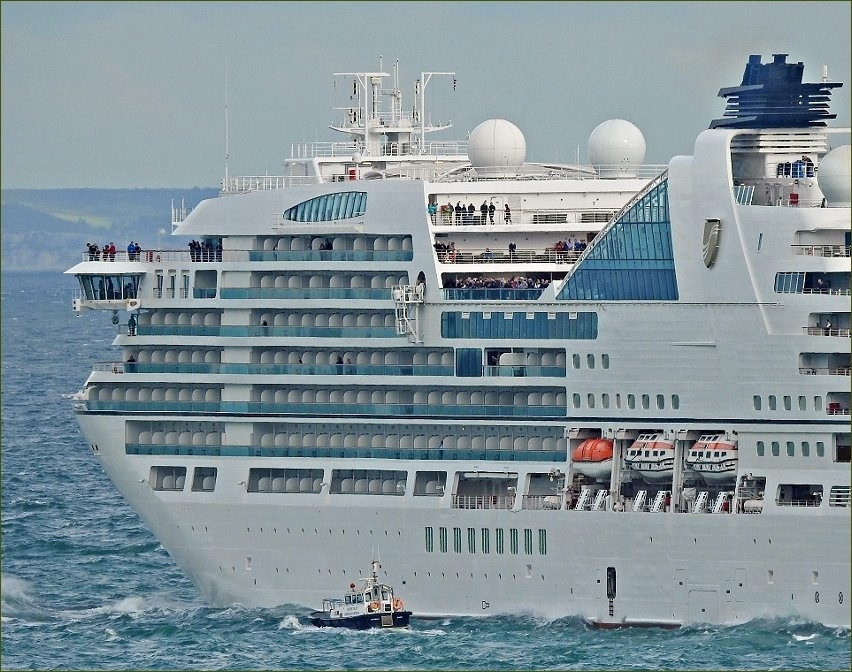 * *
Just rounding off with some bright mid-day shots of EMS Vulcan..a familiar friend, as Mike has pictured her for us a few times, and here she is giving it some power as she arrives at the Port a couple of days ago....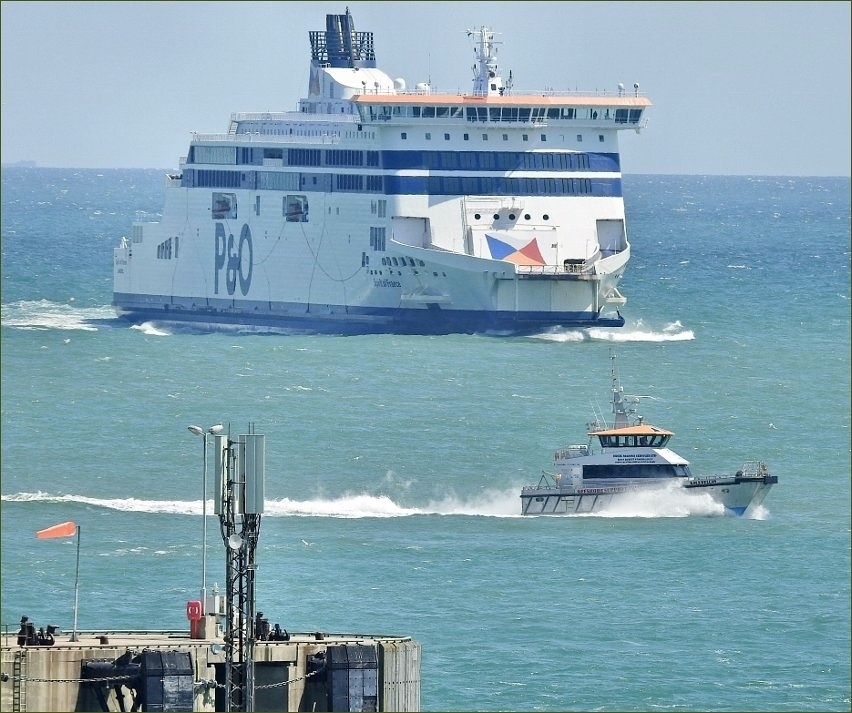 Del well said below...

Much more to come, we are still catching up...
PaulB

Wednesday, 12 June 2019 - 07:06
Post 6331
Del Styan, Norwich
Fascinating pics and words from Ted. I had no idea that wreck was there.

Tuesday, 11 June 2019 - 23:05
Post 6330
Sea News, Dover
The ultra modern design of the beautiful Seabourn Ovation....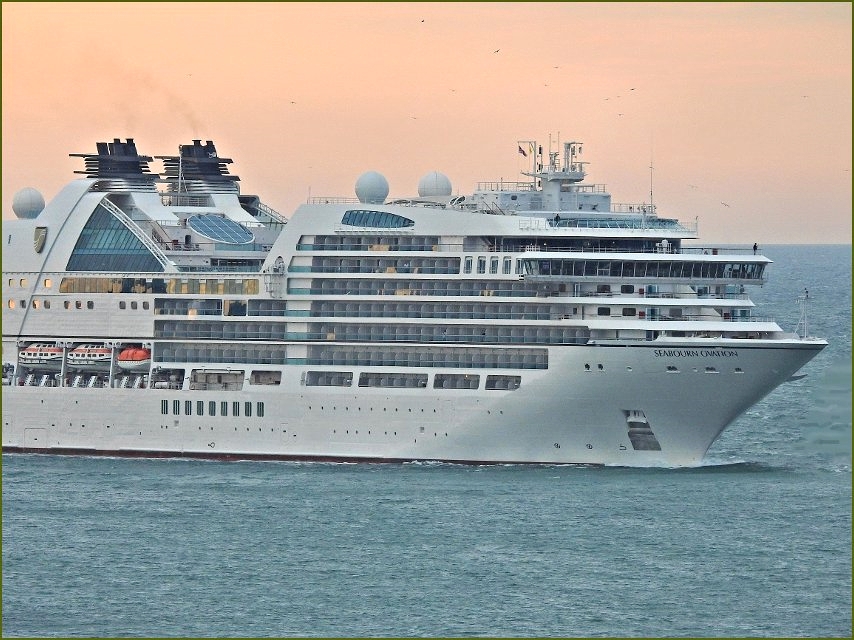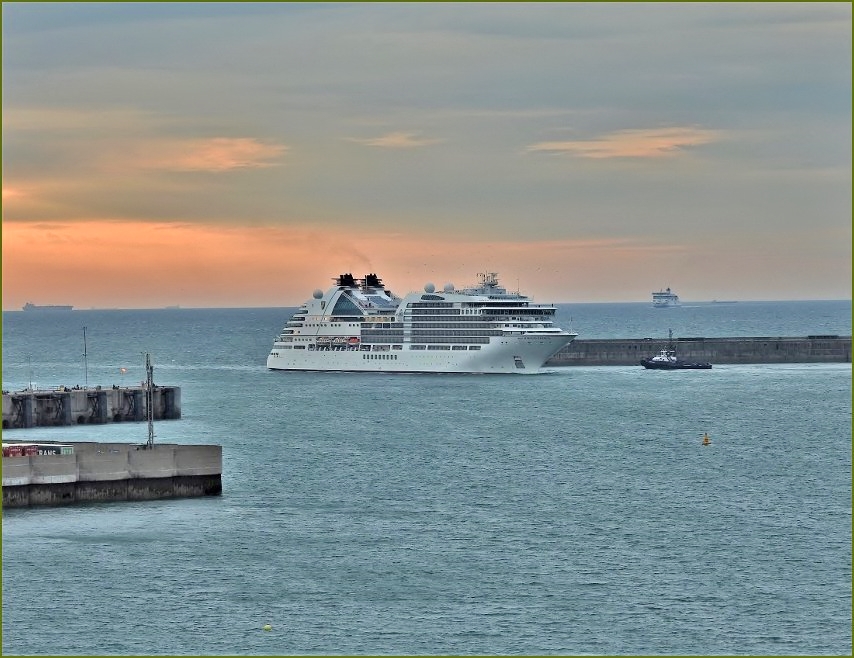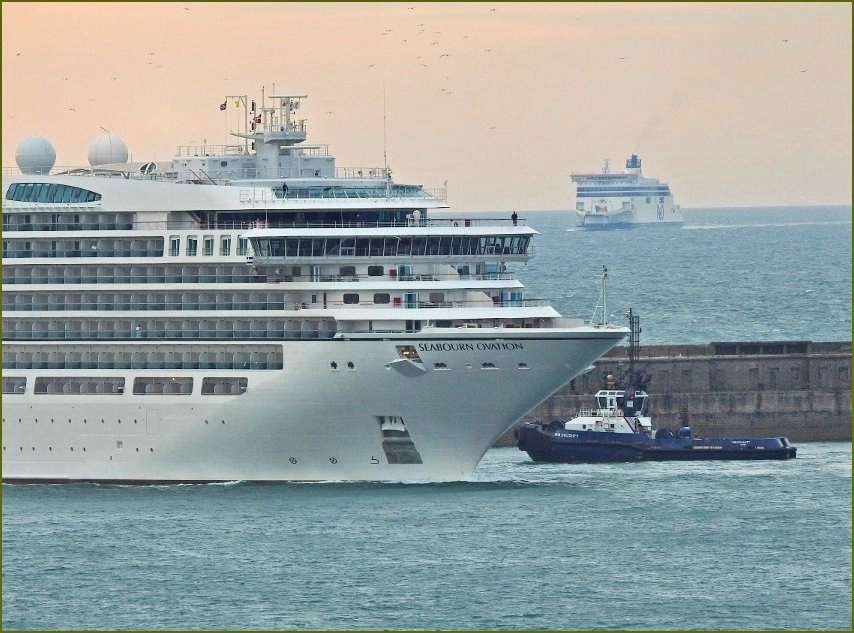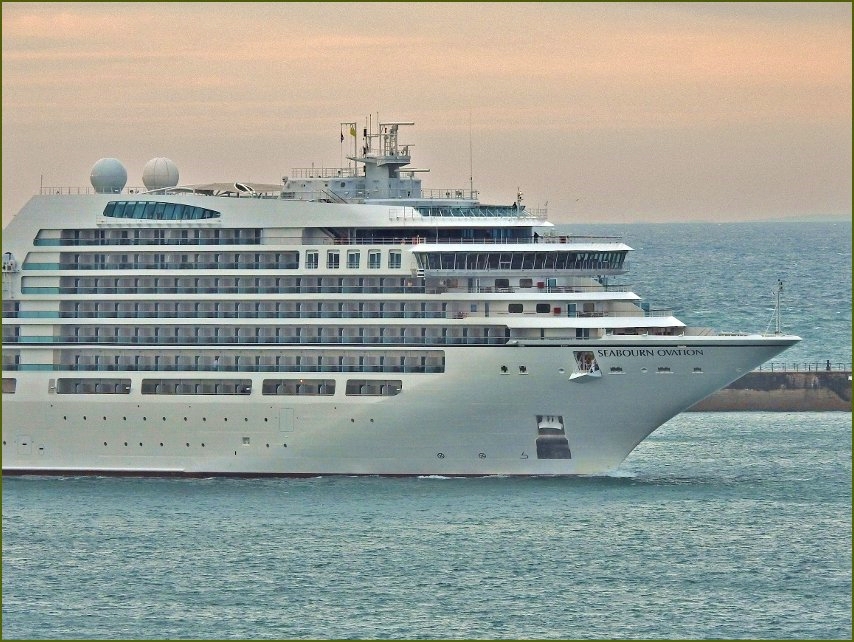 It has taken us a while to catch up but there we go...Seabourn Ovation arriving here at the Port of Dover early last Friday morning...looking good! She left us later that day, heading off on a long cruise of the spectacular Norwegian Fjords...its very popular up there.
Great post below Ted, hugely enjoyable 'famous five' pictures with fine words to match... Great Stuff Ted!

Don't Miss That One..
PaulB
ps: The tall masted Sea Cloud II is in with us this morning
and as I write AIDAaura approaches.
Tuesday, 11 June 2019 - 06:45
Post 6329
Ted, Canterbury
Five from the Medway...Just for interest I had the opportunity to take my boat around the wreck of the Richard Montgomery at low tide last week.
With the 75th anniversary of D Day I thought it appropriate to show this series as she was one of the many vessels that supplied the troops after the landing.
SS Richard Montgomery was an American Liberty ship built during World War II, one of the 2,710 used to carry cargo during the war. The ship was wrecked off the Nore sandbank in the Thames Estuary, near Sheerness, England in 1944, whilst carrying a cargo of munitions.
She travelled from the Delaware River to the Thames Estuary, then anchored while awaiting the formation of a convoy to travel to Cherbourg, France, which had come under Allied control on 27 July 1944 during the Battle of Normandy.When Richard Montgomery arrived off Southend, she came under the authority of the Thames naval control at HMS Leigh located at the end of Southend Pier. The Harbourmaster, responsible for all shipping movements in the estuary, ordered the ship to a berth off the north edge of Sheerness middle sands, an area designated as the Great Nore Anchorage.
On 20 August 1944, she dragged anchor and ran aground on a sandbank around 250 metres from the Medway Approach Channel. As the tide went down, the ship broke her back on sand banks near the Isle of Sheppey about 1.5 miles (2.5 km) from Sheerness and 5 miles (8 km) from Southend.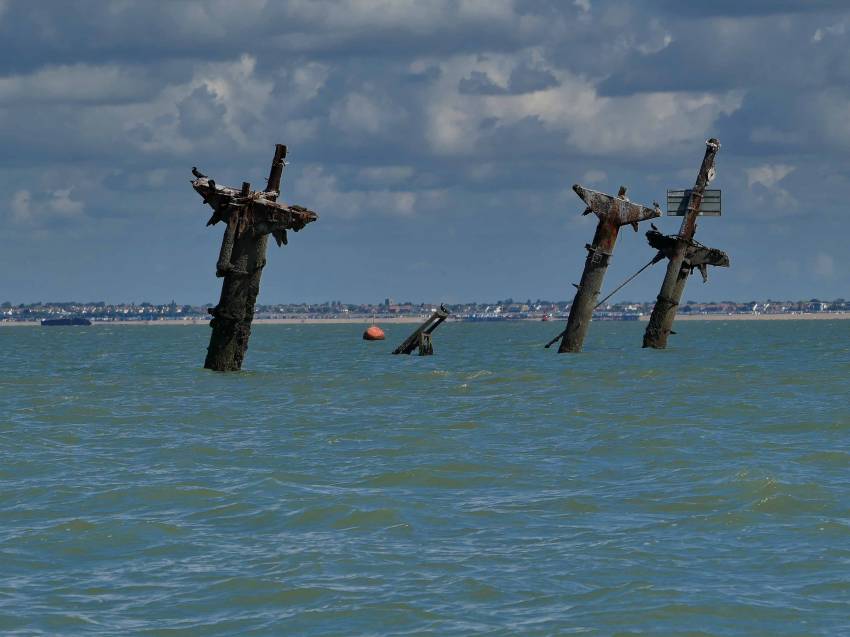 With Southend on Sea in the background if you look to the middle left hand side you can see the remains of a Mulberry Harbour Pheonix Caisson.These were built all over Britain to form an artificial harbour along the Normandy beaches.This one started taking in water and was beached off Southend. Locally one can be seen off Littlestone on Sea near Dungeness.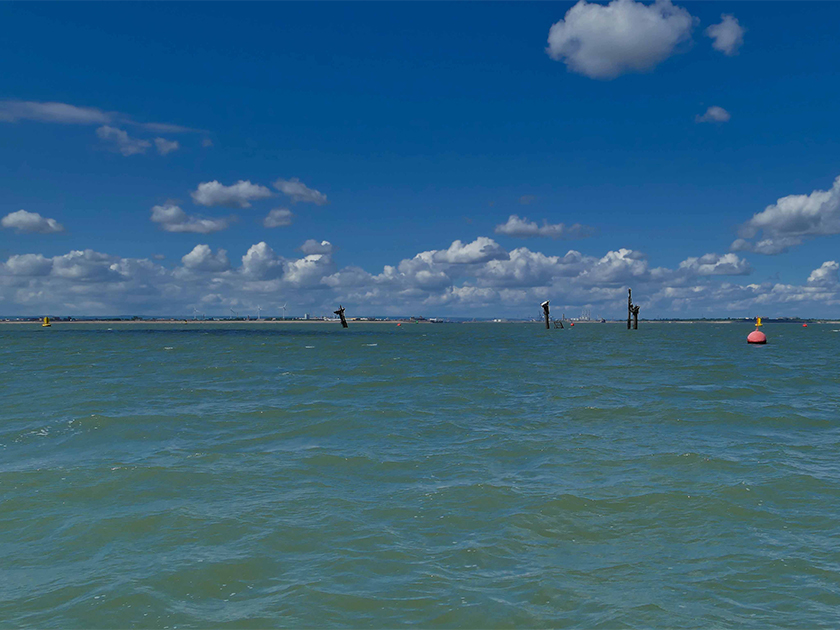 In the background is the mouth to the River Medway with the Port of Sheerness.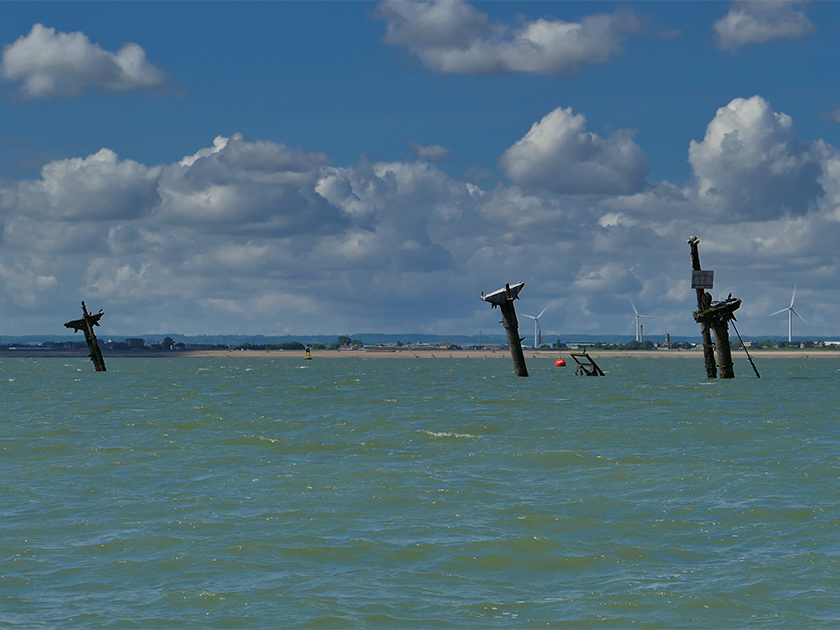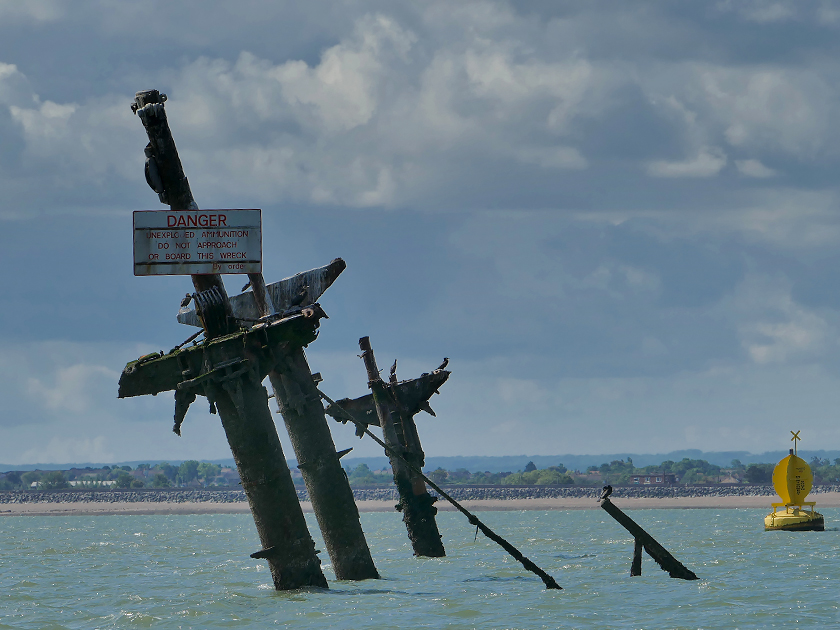 A close up of the wreck.The Maritme and Coastguard Agency survey and monitor her condition.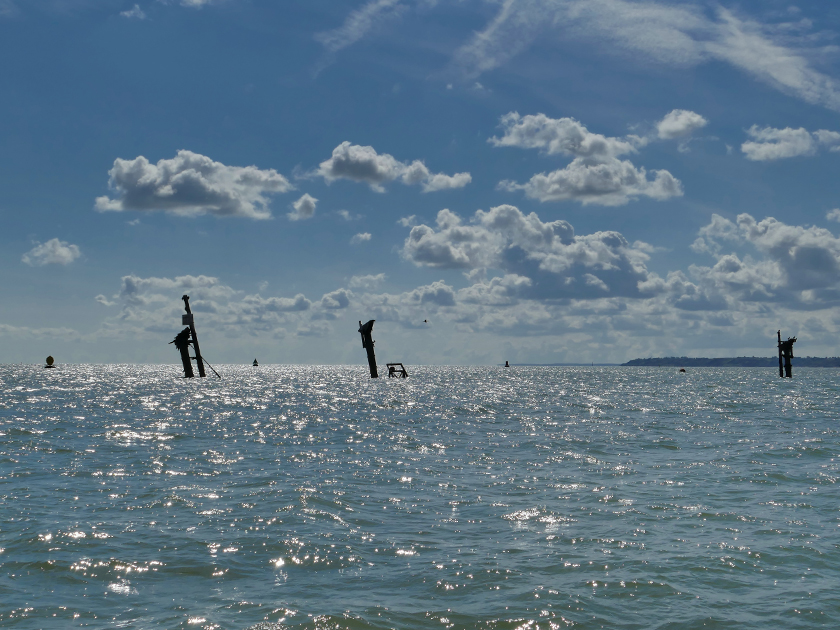 Further information on the Richard Montgomery can be found on the web and in bookshops.
Monday, 10 June 2019 - 12:12
Post 6328
Sea News, Dover
A final round-up of pictures from Boudicca's arrival on Saturday evening late..you can see her below bringing an end to the notable D-Day voyage. The ship was scheduled to go to Portsmouth as mentioned earlier but due to weather difficulties came here to Dover....and very glad we were to have her and the valiant veterans. She has now it seems reversed back to normal duties and is, as of last night, on a tour of the Norwegian Fjords...
Caught the top two shots below just as a ferry was reversing into place...just made it before the view was obscured.
Here she comes catching the late weak rays of the dying sun... and we follow her across...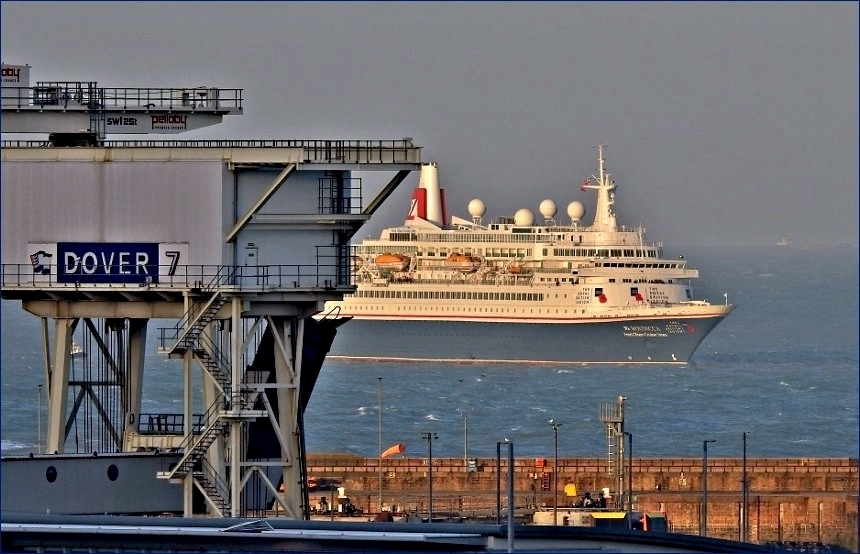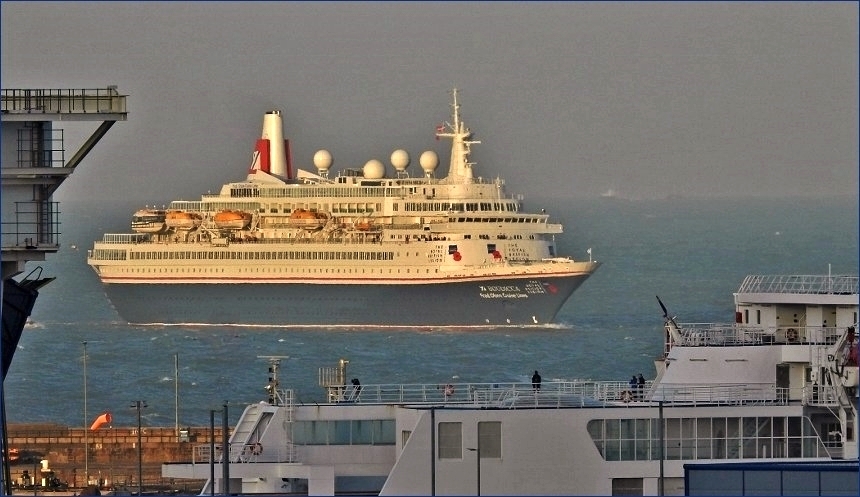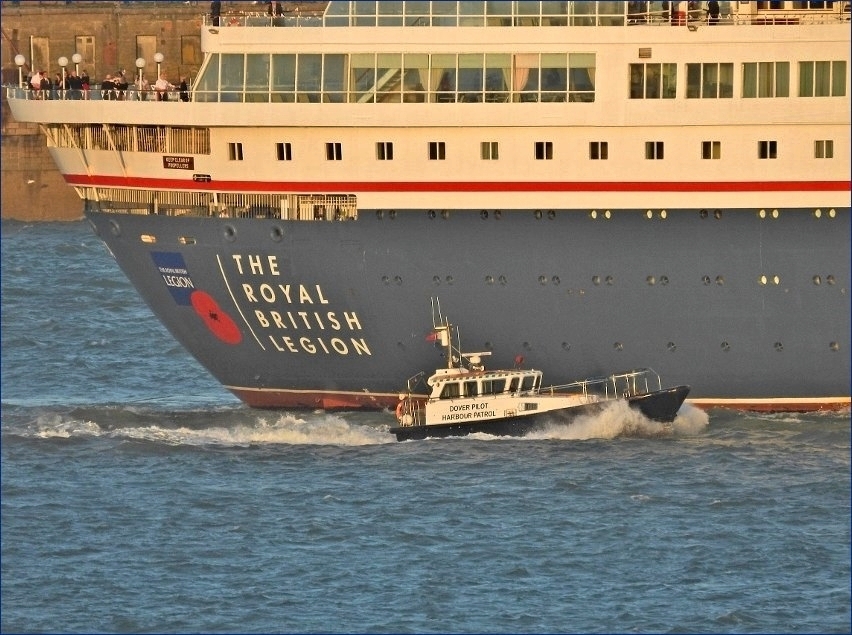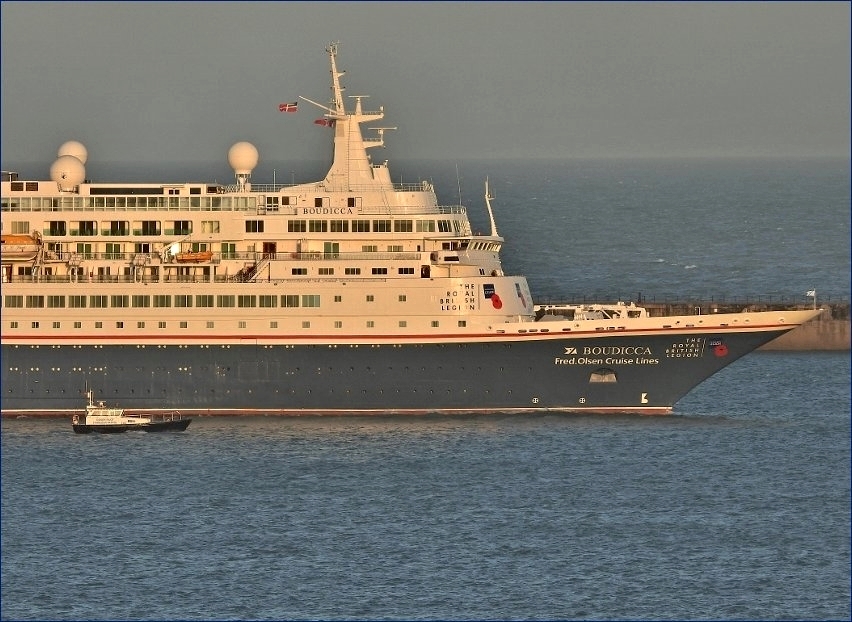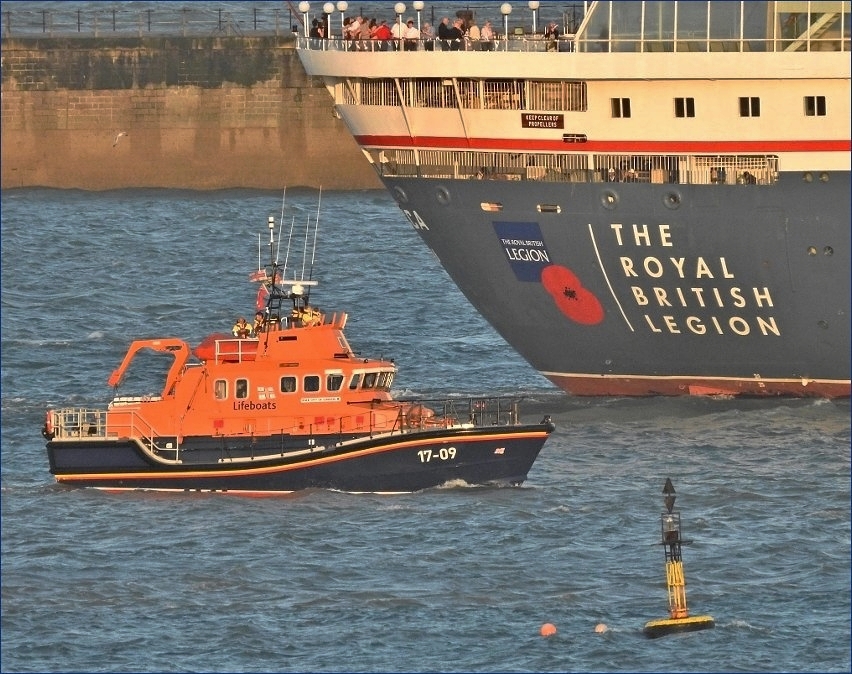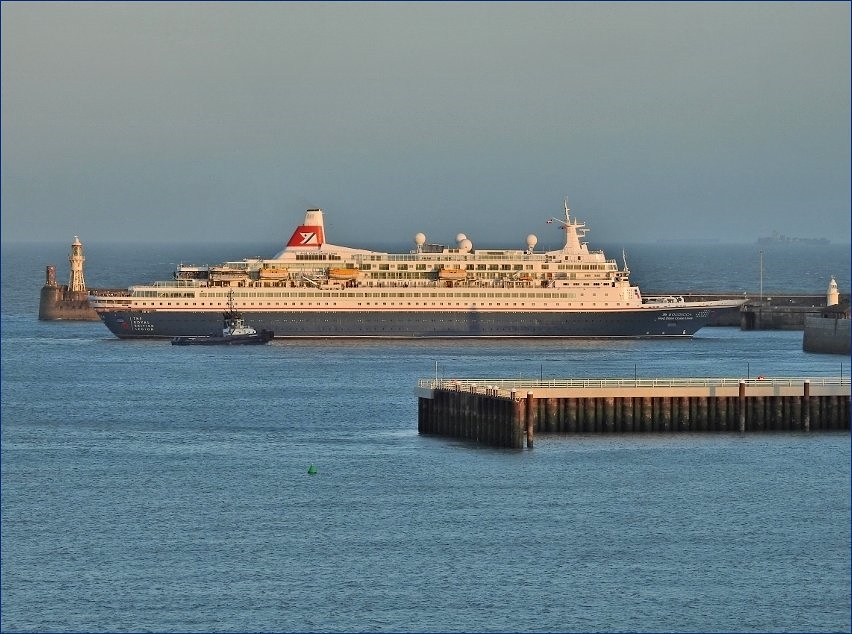 Have yet to get the pictures up of Seabourn Ovation but will do...in the pipeline, we were sidetracked by changing events. Here is a taster below...but we have shots of her arrival and indeed departure (but may not be able to fit all that in).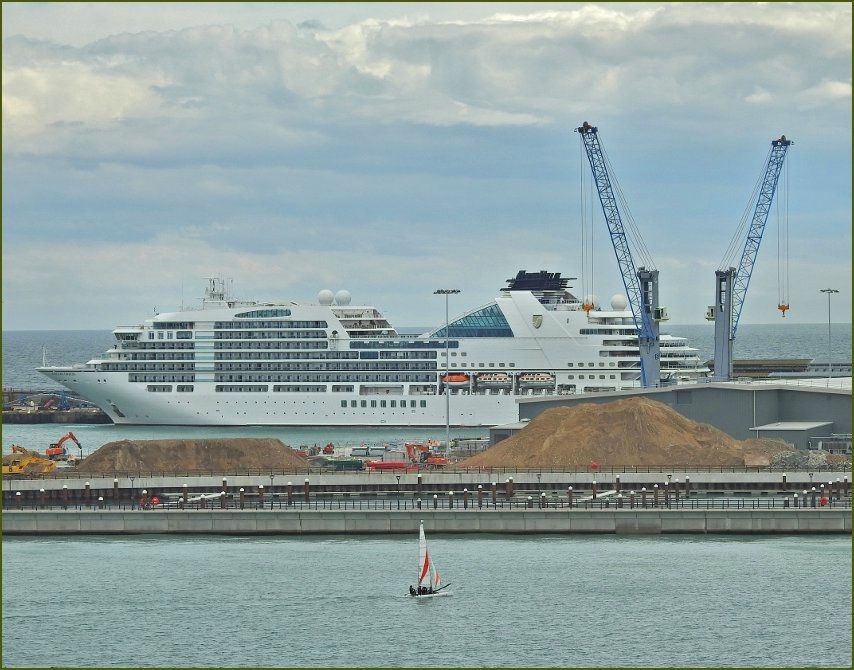 More Boudicca pictures below from the team...
PaulB
ps: Crystal Serenity in port today.
Monday, 10 June 2019 - 07:03
Post 6327
Sea News, Dover
Boudicca returns...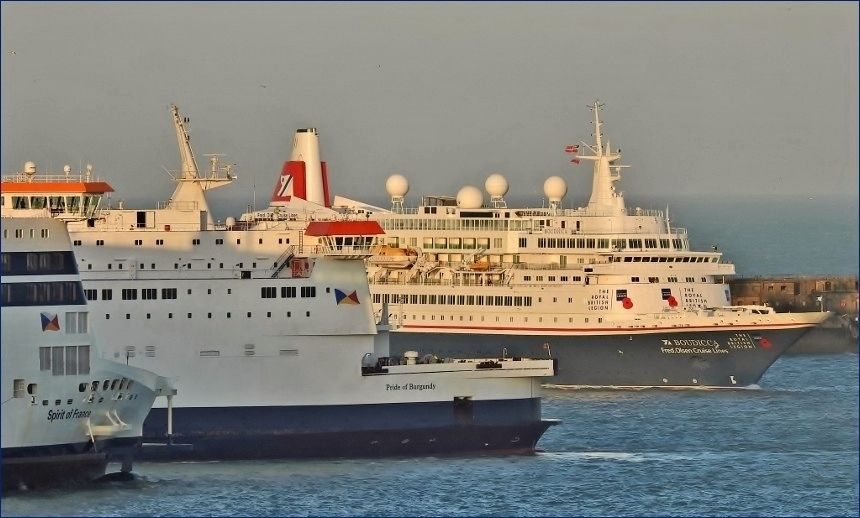 Boudicca returns to a great welcome here in Dover...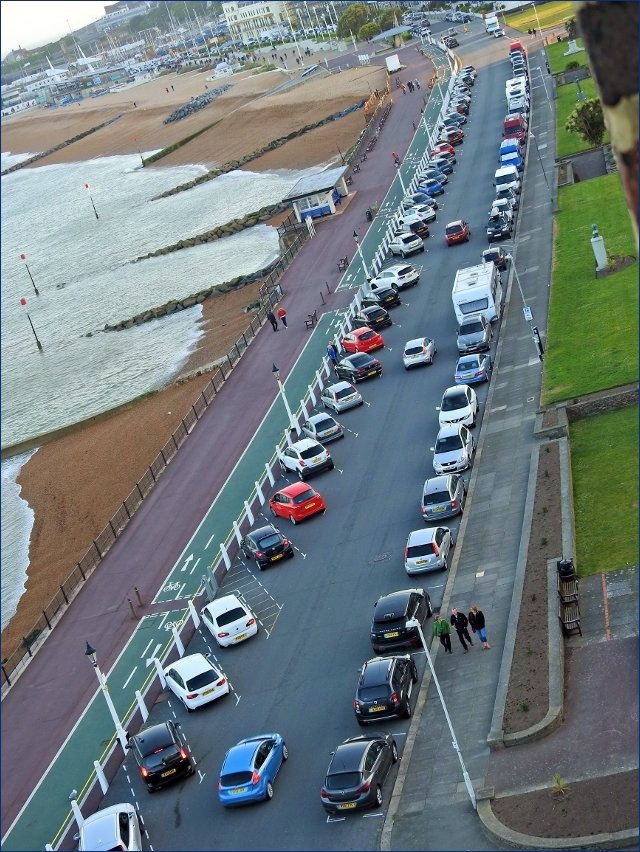 Yes indeed as mentioned...Boudicca was re-routed to Dover last night to avoid stormy weather in and around her intended destination...Portsmouth. The call went out to show support and lots of people came down to the seafront to see the magnificent return. Picture three above shows all the cars beginning to arrive along the seafront, that's a dizzyfying picture to look at, was dizzyfying to capture.. so take-in in small dozes, and Patrick's pictures below show the crowds along the new pier so you can see the excitement/support generated. Great stuff!
Will have further general round-up pix of Boudicca at a later time.
Just catching up with a further group of pictures of Duzgit Harmony from a few days ago to run in tandem with the one currently in top slot....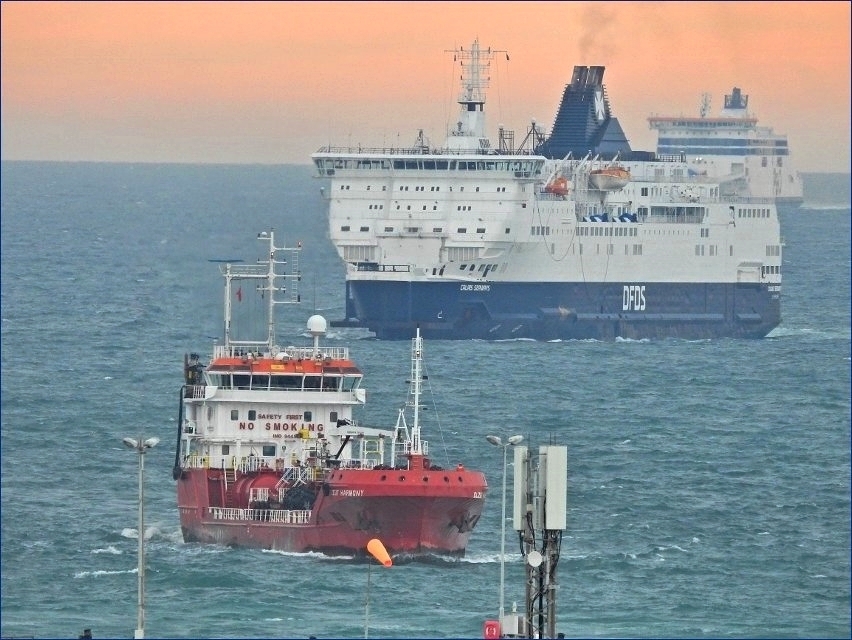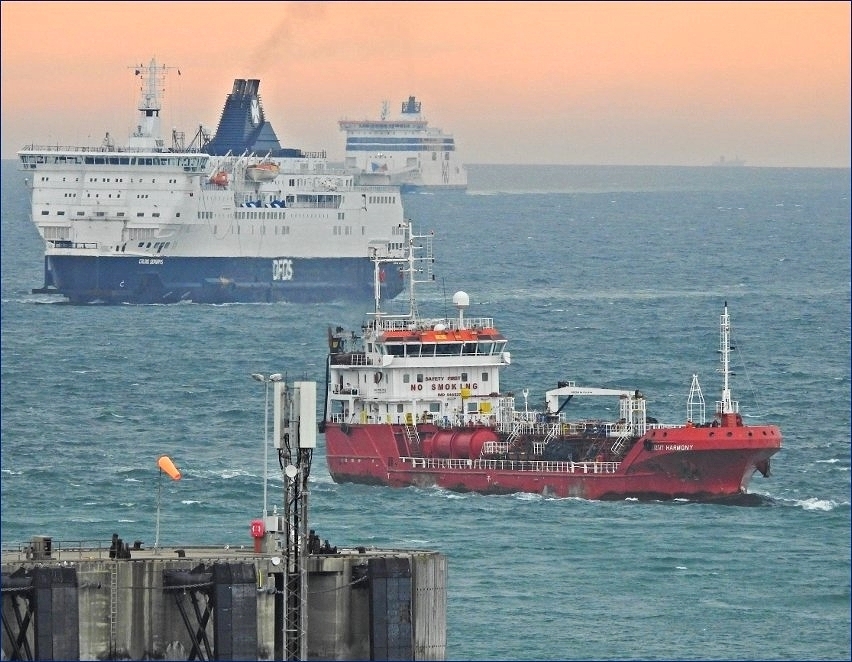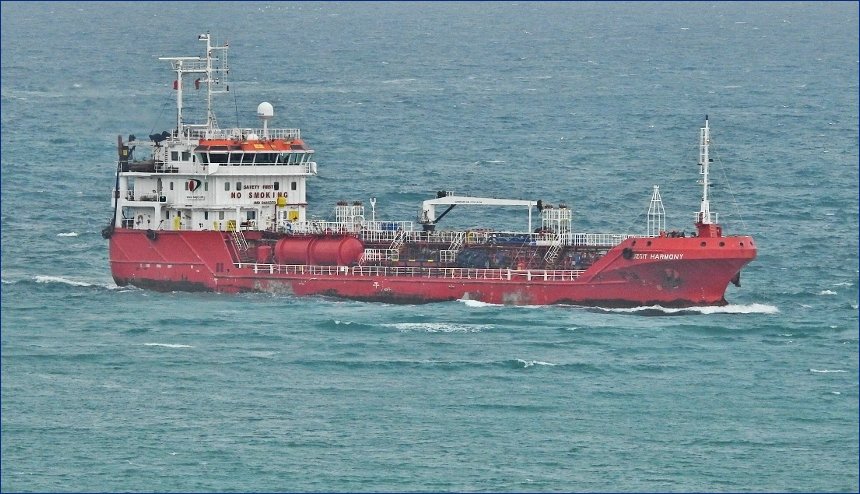 Duzgit Harmony
Great posts from Mike and Patrick below...so DONT MISS THOSE !

Lots of info and exciting pictures below there...
PaulB
ps: not sure if there is such a word as dizzyfying as I'm getting red warning underlines here...but what the heck


Ah...a slight technical issue with yours truly this morning, so my earlier attempt was deleted. Unfortunately it has left a gap in the numbering system...unfortunate..
Sunday, 9 June 2019 - 07:13
Post 6325
Mike J., Dover
After being away from Dover all day on Saturday I looked in at The Tidal Basin on the way back & was pleased to find a brand new workboat sheltering from the present unpleasantness.
The ISLAND RANGER was built by 'Blyth Catamarans' of Canvey Island [interesting website] & was en route to Southampton for the workboat 'Seawork' trade exhibition.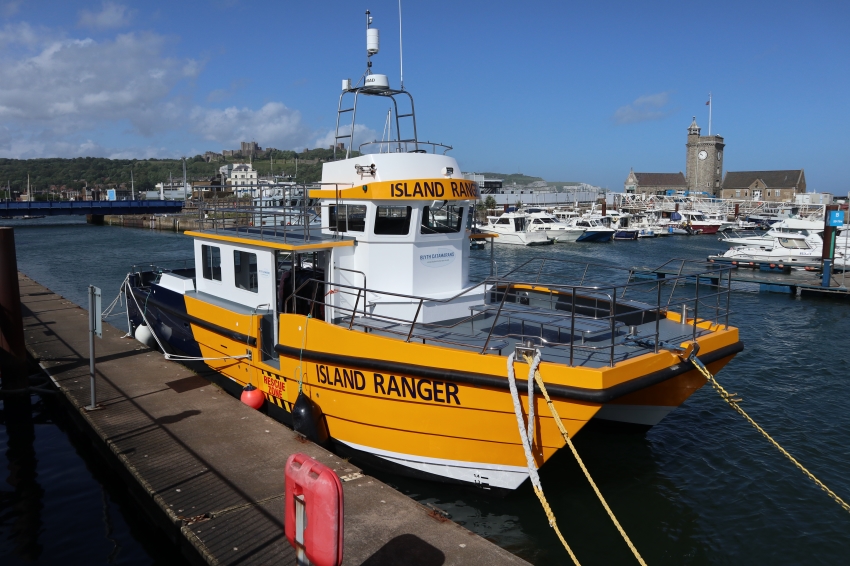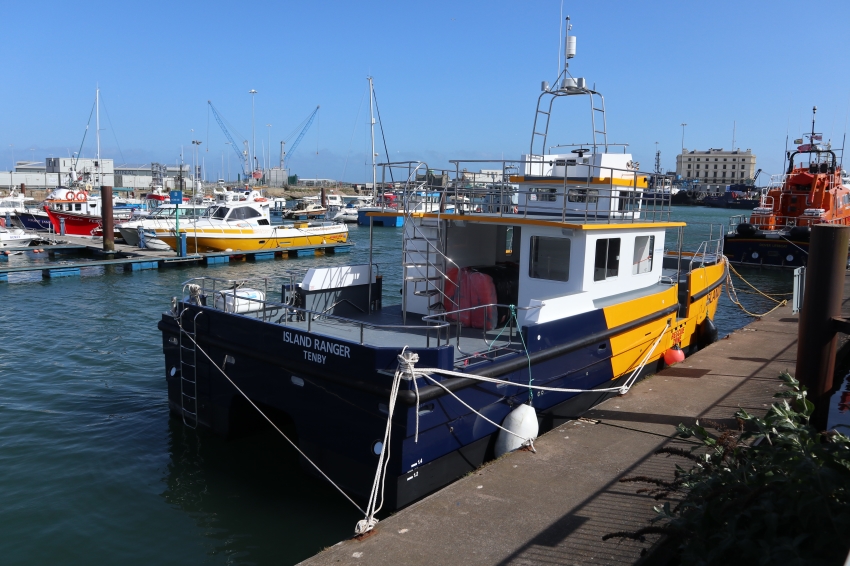 By the seating arrangement on her open decks she may be intended as a sightseeing launch & by her Tenby registration probably working in that area of Pembrokeshire where there are some offshore islands popular with tourists.
When I returned home early evening I heard about the unexpected arrival of BOUDICCA & that Dover was 'being invited to meet the ship & welcome the veterans'
No time to get back down to the docks so I grabbed a few photos, catching the last gasps on the evening sunlight as she entered via Eastern & crossed the bay before berthing on Cruise-2.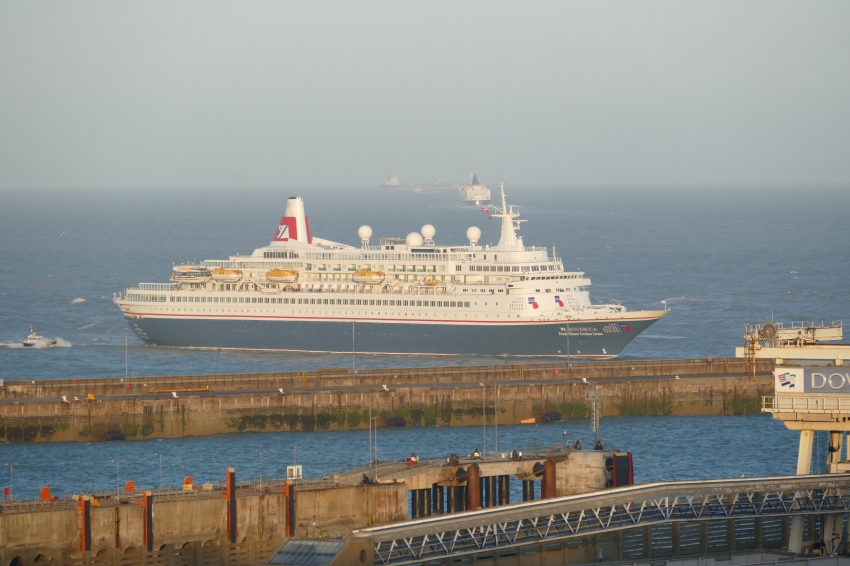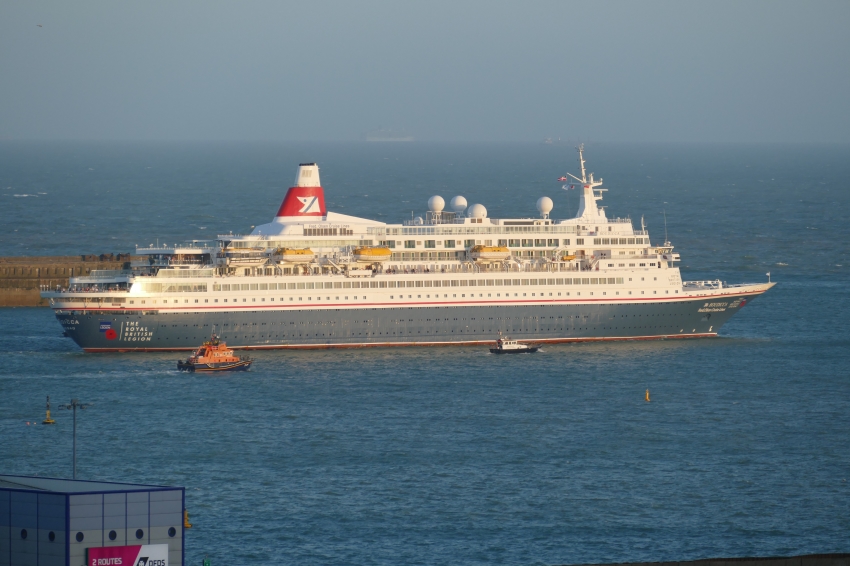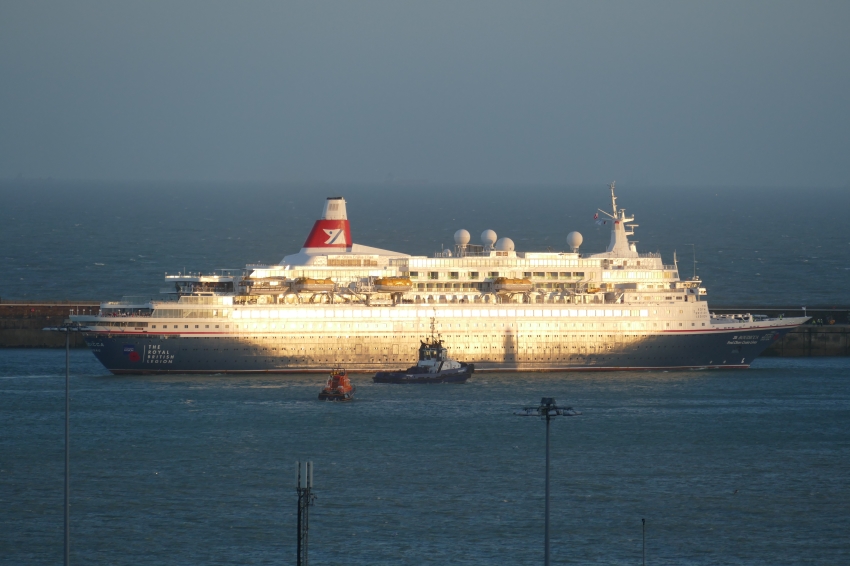 I later heard from someone who had gone down to greet the BOUDICCA on the Admiralty Pier & had found that the security barrier had opened & that the quay was 'solid' with cars & the general public.
Nice 'crowd scenes' & detail pix from Patrick.
Sunday, 9 June 2019 - 01:42
Post 6324
Patrick, Marine Parade
The call went out in Dover tonight to welcome back our returning veterans from 75th Anniversary D-Day Commemorations in Portsmouth and Normandy.... and was answered by scores.
Arriving on the mv 'Boudicca' specially chartered by the Royal British Legion for the occasion, the veterans and their escorts arrived to the sight of cheering crowds that completely filled the new pier end. Flags and cheers went up as the vessel came into the Eastern entrance and across the bay, escorted by Dover Lifeboat and moved quietly to berth at Cruise Terminal 2.
What a welcome back ....... wonderful spectacle and fitting tribute to end their journey of remembrance.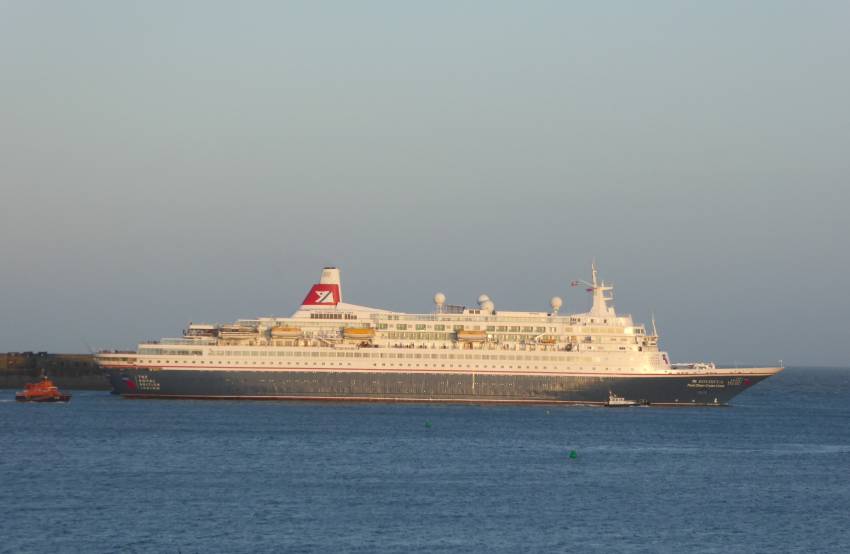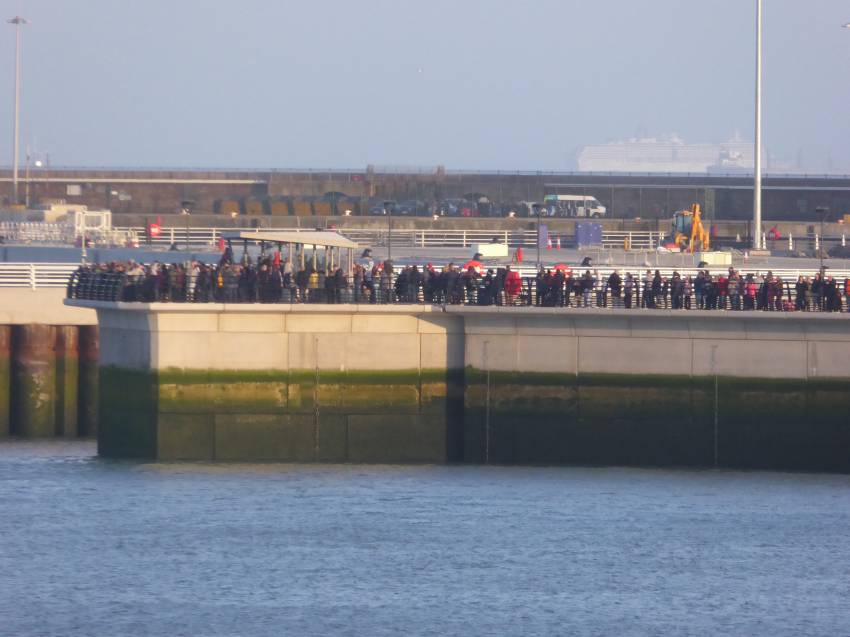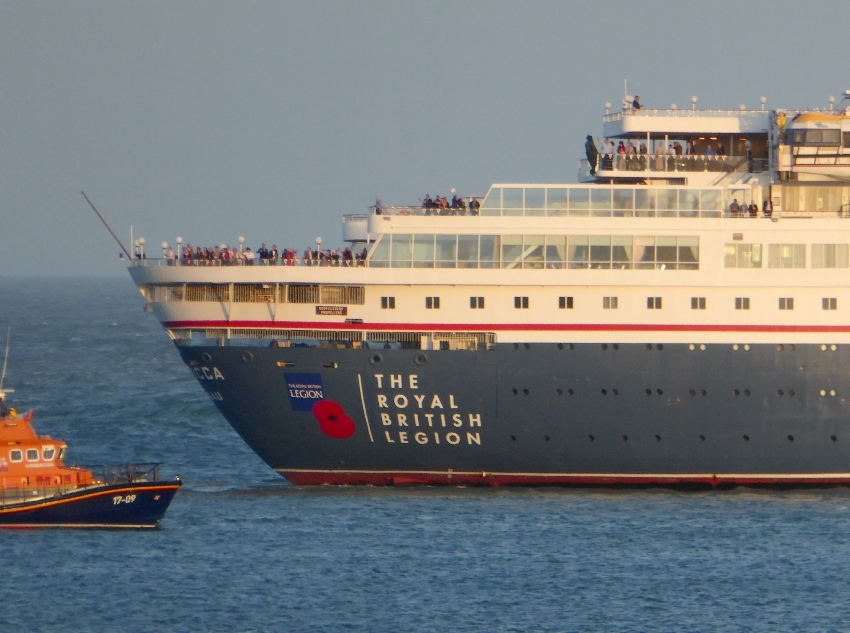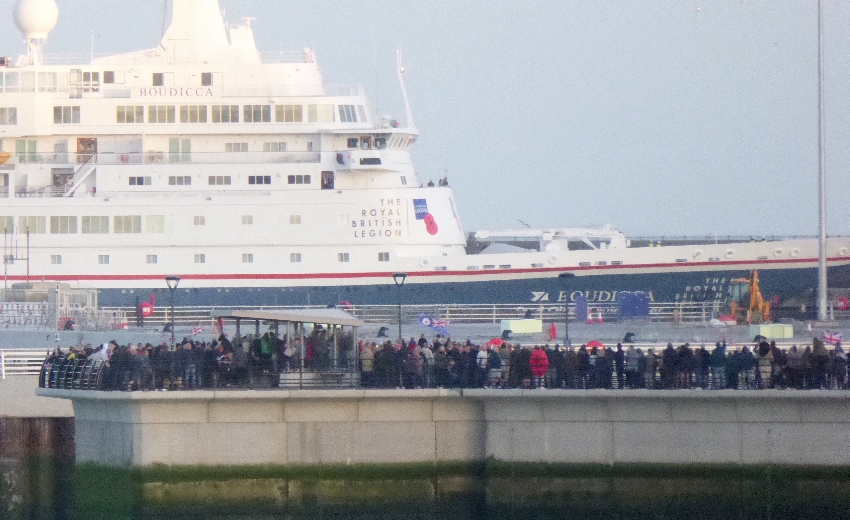 Saturday, 8 June 2019 - 23:13
Post 6323
Sea News, Dover
It was a nice bright blue day when these following pictures were taken...Thursday in fact. Nothing at all like this morning...this morning early we have Gale Force 9/Storm 10 in the English Channel...with buckets of rain a-pouring down. " We need the Rain" said the weatherwoman earlier this morning...well okay if you're sure... The pictures show Trinity House Vessel Alert arriving with us here in Dover on Thursday and as she comes across the harbour we see heavy lift vessel Palmerton departing for Spain and Sevilla ( Seville).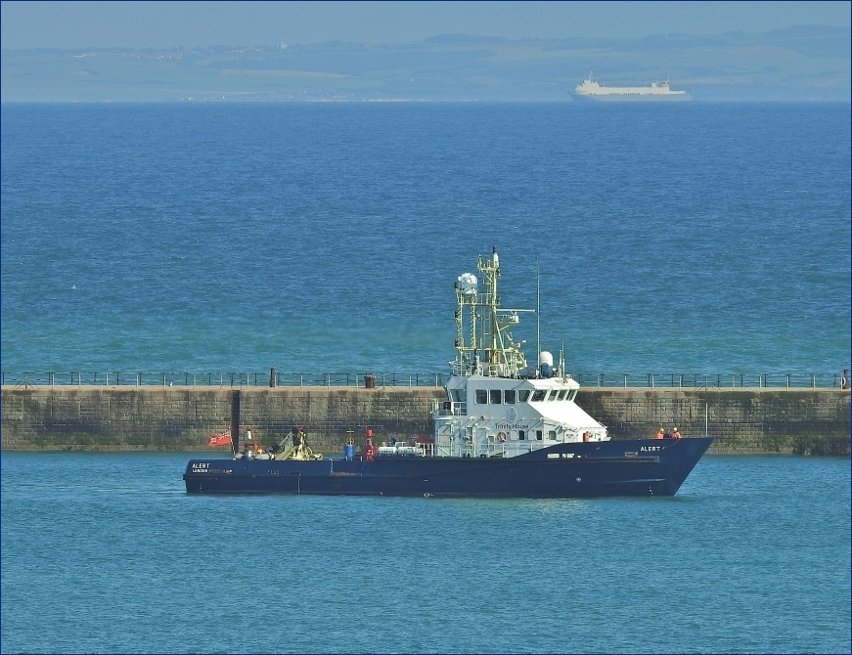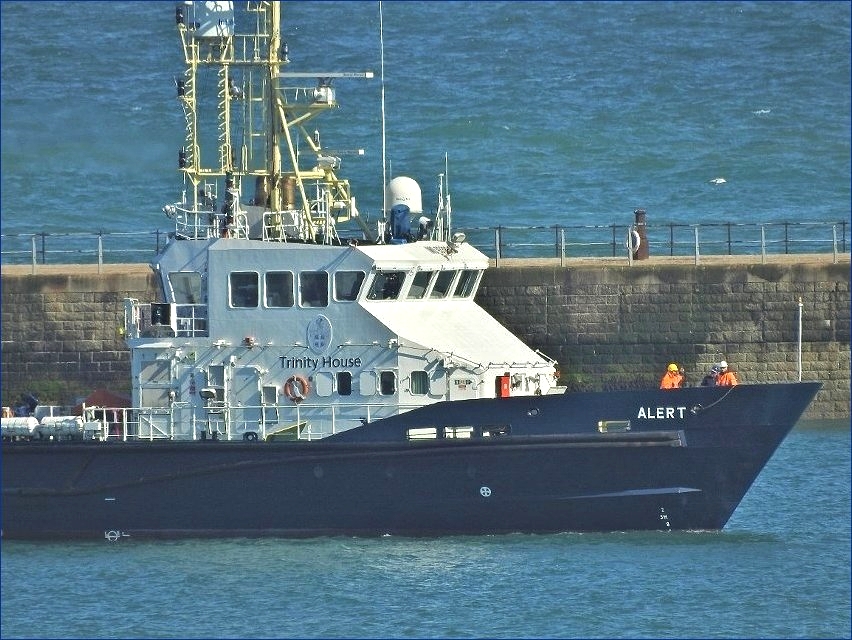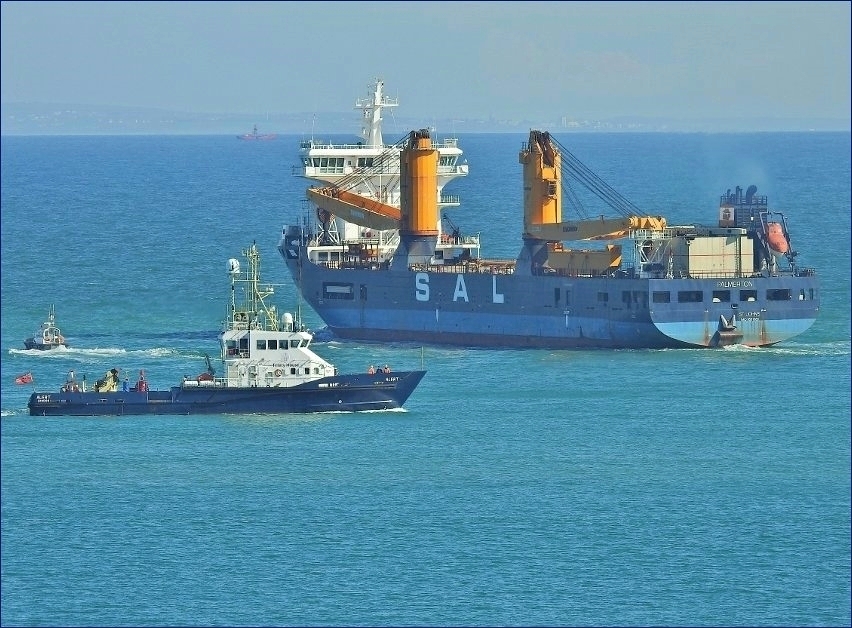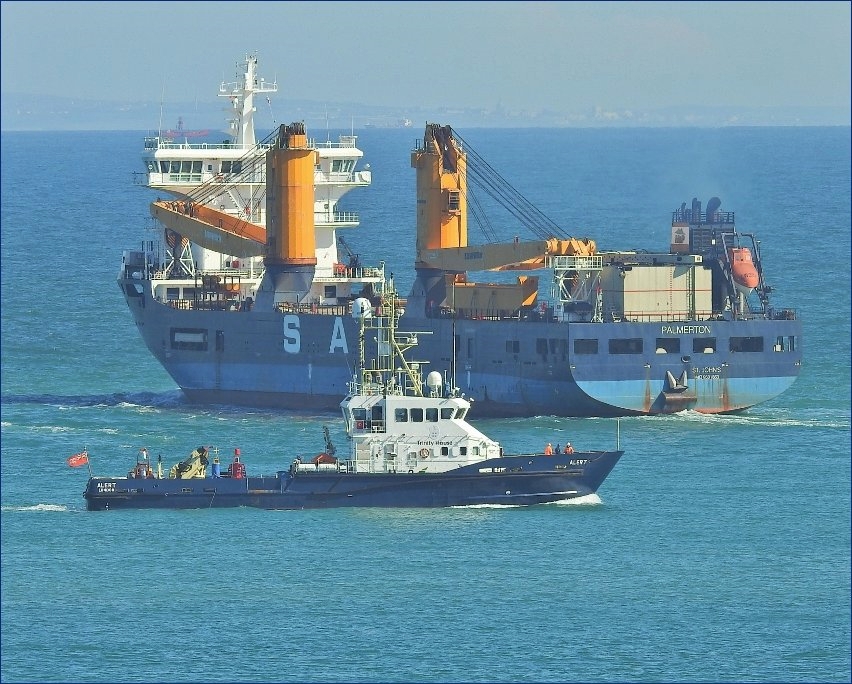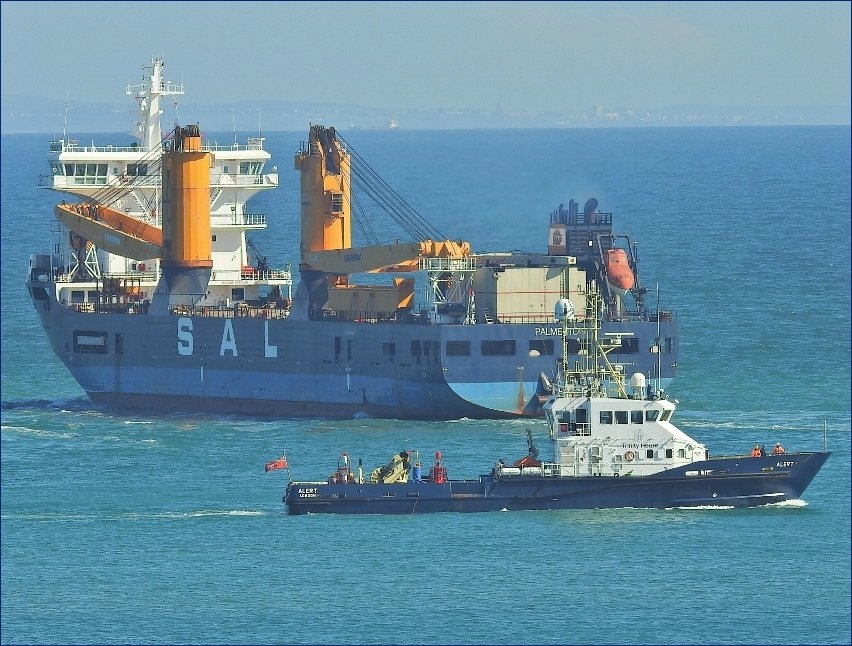 If you look hard enough you can just see Boulogne in the background there through the haze.
Nice collection below there Mike... we've captured Palmerton coming and going... enjoyed the picture of the clifftop roses.

Heavens...its brightening up...weatherwise..
PaulB
ps: also have pictures of Seabourn Ovation in the pipeline both coming and going and more of Duzgit Harmony...
'so much to do so little time'..

Saturday, 8 June 2019 - 06:01
Post 6322
Mike J., Dover
I put up a post of the arrival of the PALMERTON etc at about midnight but they seem to have vanished overnight !
Here's attempt No.2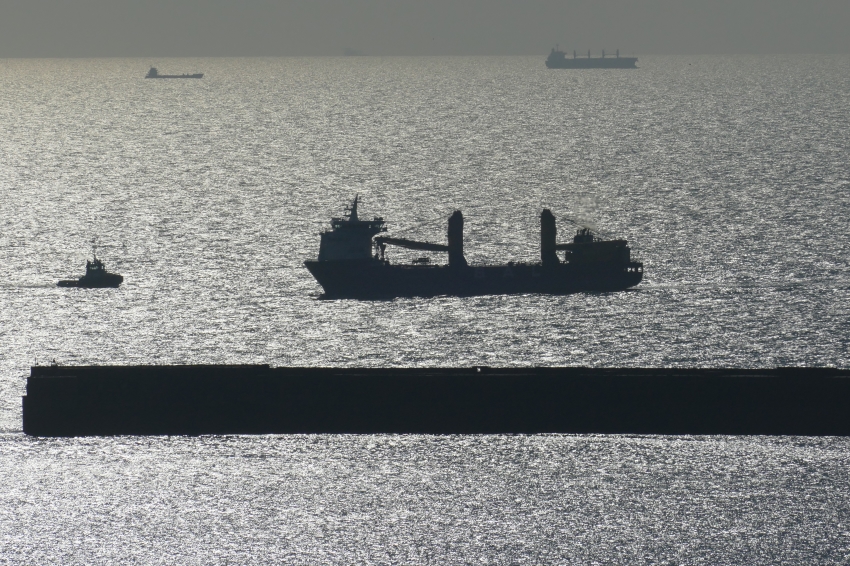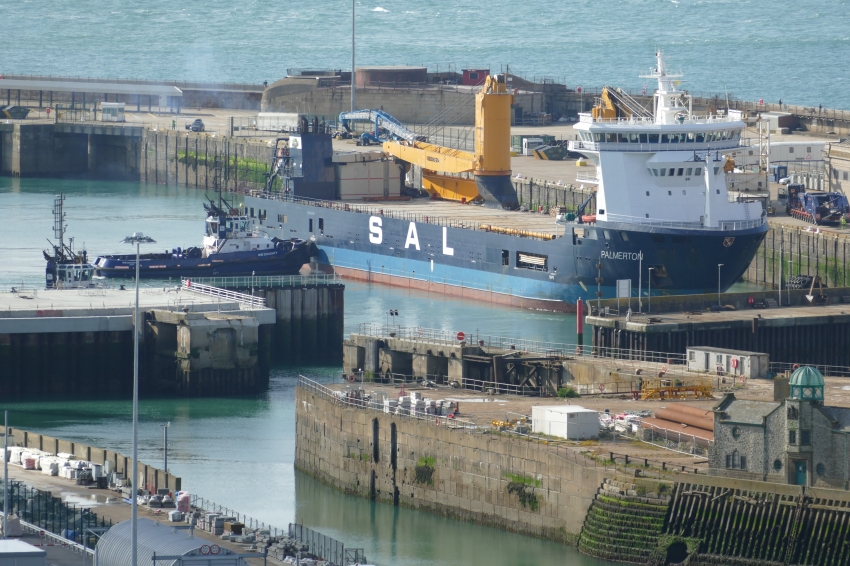 An interesting small craft was noticed in the Tidal Basin on Thursday afternoon.
A weather-beaten rescue boat that seems to have come from from the 2004-built Holland American cruise ship WESTERDAM.
This craft may have been surplus, possibly after a major 2017 refit such as was the recent yellow lifeboat STØDIG [post 6282] when it was surplus after a refit on the Calmac ferry CLANSMAN.
Perhaps a recruit for the Viking Marine fleet in Granville Dock ?
Roses up at St.Martins Battery on Thursday.
Possibly a D-Day memorial or perhaps a touch of romance, who knows ?
Lets hope that they gave comfort or pleasure.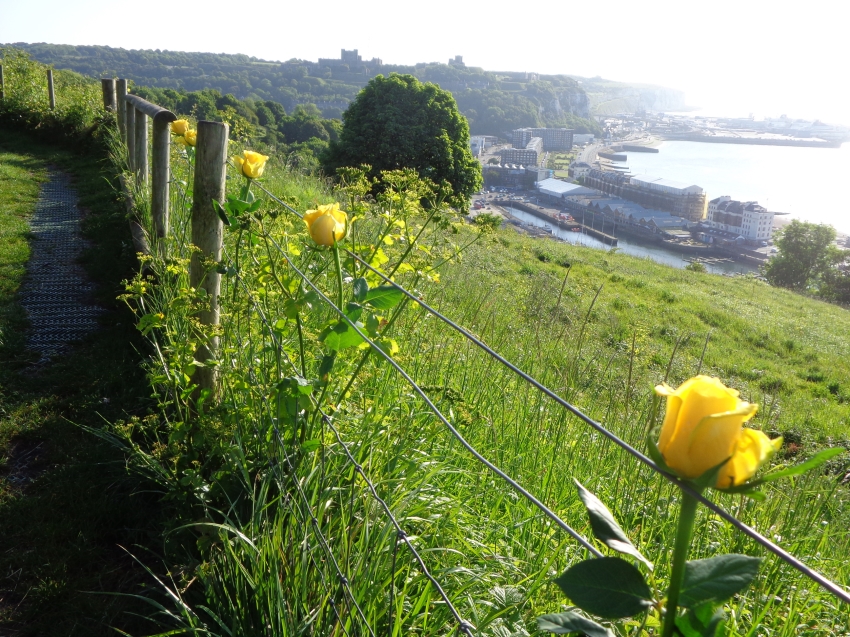 Friday, 7 June 2019 - 08:39
Post 6321
Sea News, Dover
Some pictures now of Palmerton the heavy lift vessel, pix taken yesterday morning beginning at 10.50, you can see her here bringing in to Port some more of those heavy transformers for the National Grid Substation at Sellindge. Here she comes...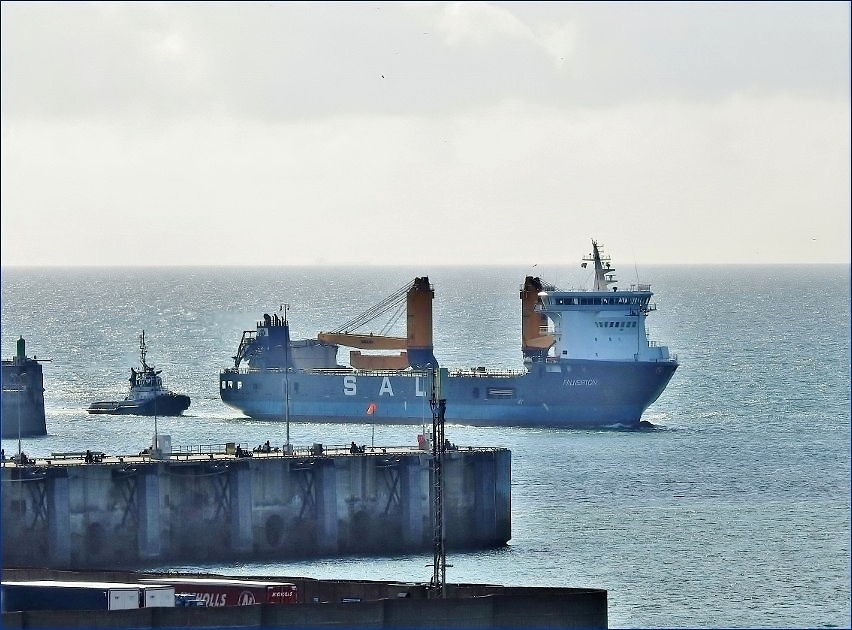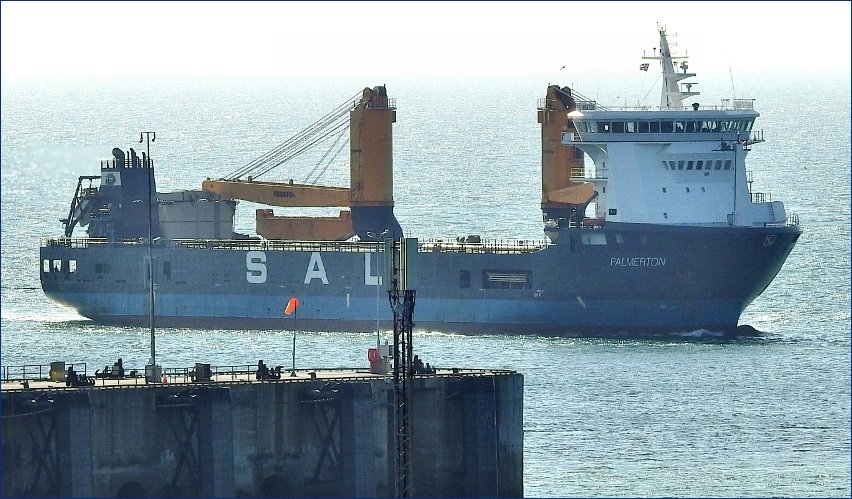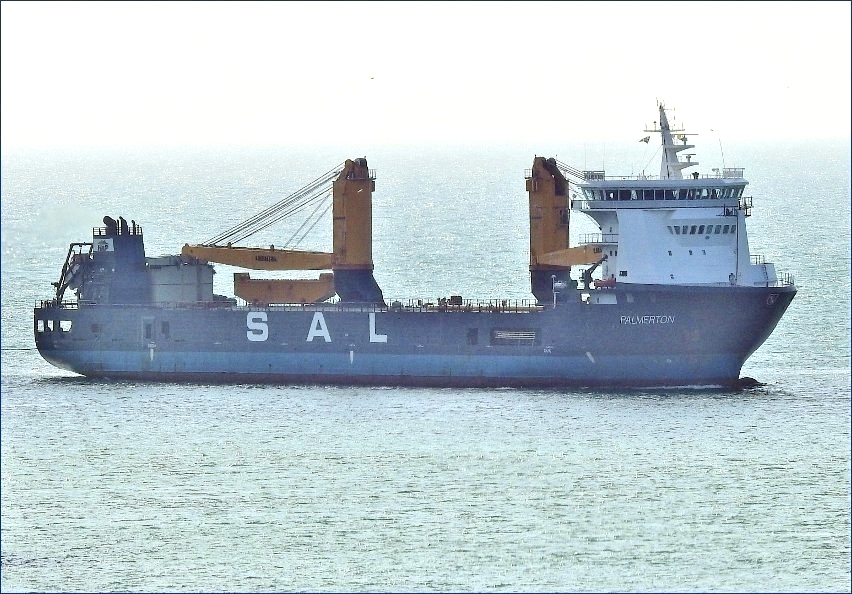 Entering the Port above and gently moving across harbour to eventually settle at Cruise Terminal One.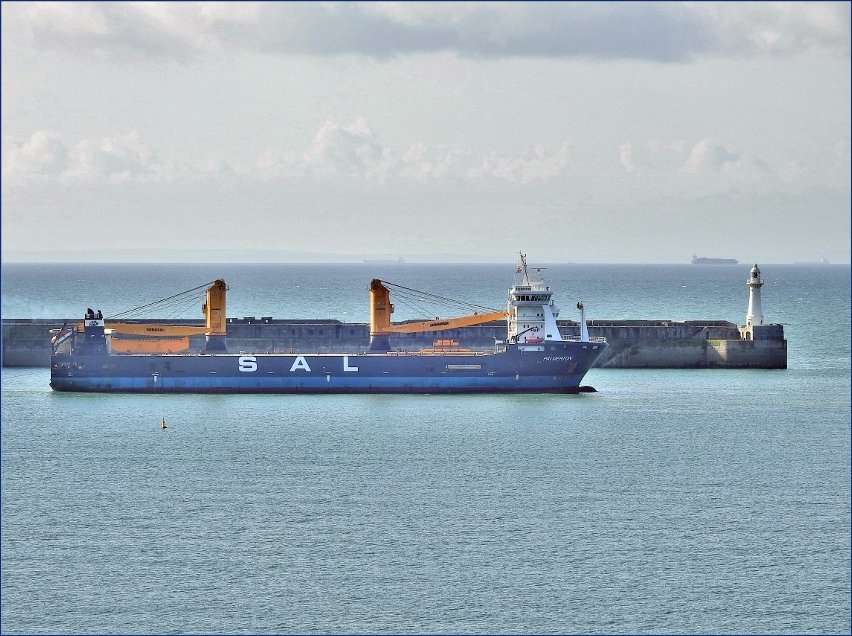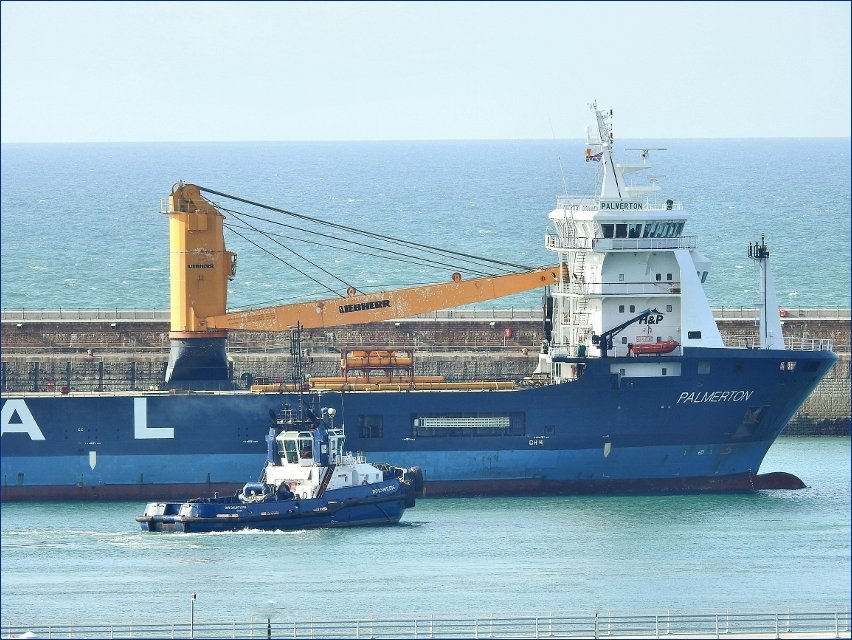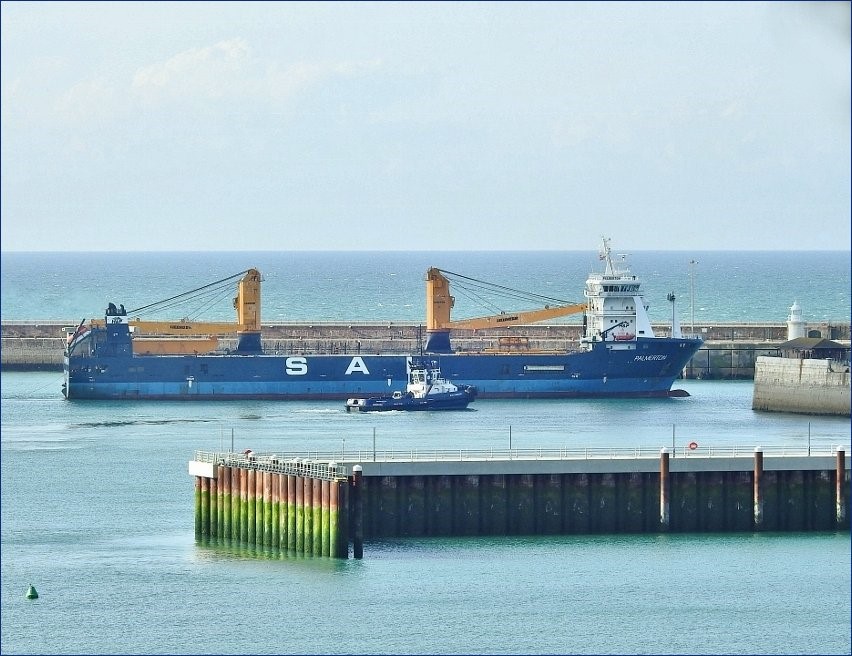 We also have pictures of her leaving yesterday evening with Trinity House Vessel Alert also in the shots...still in camera, so yet to get round to those. Also...this morning the ultra glamourous Seabourn Ovation is in Port...we will have pix of that one arriving too ( when we catch up!! bear with..bear with..

)
Thanks to Mike for the nod on the Palmerton pending arrival.

Well said Del and Jan below there.

Amazing and moving ceremonies and commemorations both in Portsmouth and in Normandy and indeed Dover played its part too as the ship carrying the veterans departed from here...Boudicca of course. Great to see the brave veterans having their special day. Long may we keep peace.
PaulB
Friday, 7 June 2019 - 07:07
Post 6320
Del Styan, Norwich
I agree totally with Jan. I was in Dunkirk last weekend and always think of the 2 wars which meant so much. As Donald himself might have said - so sad, so sad - as we look at the present political scene.

Thursday, 6 June 2019 - 23:14
Post 6319
JanT, Dover
It really makes you feel thankful for the freedom we have today,it just goes to show how close our ties are to Europe and how many of those young men and women that are buried in the cemeteries in France. And to see the veterans make their way to Normandy brings a lump in the throat for many of them it will be the last chance to say goodbye to their fellow comrades.

Some really good pictures over the past week chaps the camera's have worked overtime.


Thursday, 6 June 2019 - 09:49
Post 6318
Sea News, Dover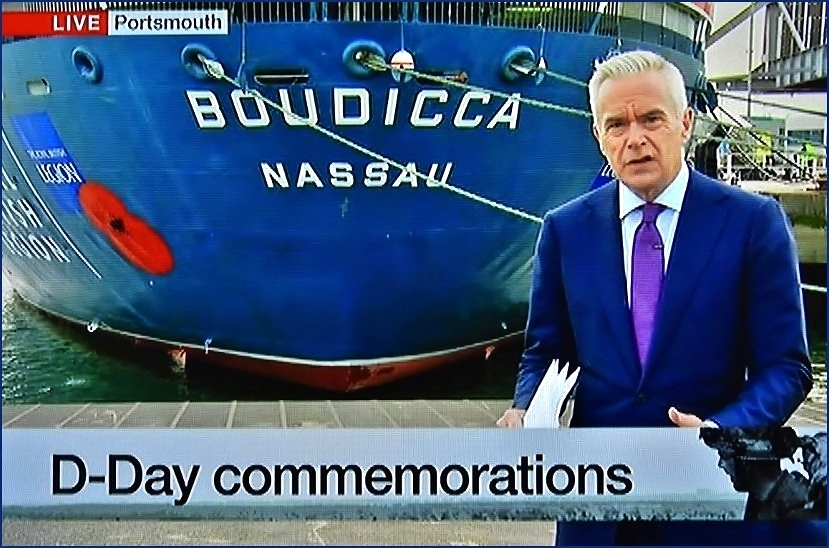 The familiar Boudicca provided the essential backdrop on the BBCTV news last night at 6pm. The ship had returned from Dunkerque to Portsmouth for the huge 75th D-Day commemorations and provided excellent atmospheric support for news anchor Huw Edwards and his 'live' deliberations.
The Remembrances move on to Normandy today. It is great and encouraging to see the political leaders in harmony.
President Trump has moved on to Ireland for a spot of golf and conviviality.
He has almost instantly put his foot in it by comparing the Irish Border to his Mexican Wall project...
Not quite Donald

* *
On sunday morning the Lifeboat had a gentle amble about the harbour...one had the feeling they had some of the D-Day dignitaries on board...so here we have some gentle pictures to go along with the mood, focusing on some close-ups as well as the general shots.
First picture shows the Lifeboat adjacent to the new pier about 10.20 am where some people on said pier got some great close-ups...it comes across the harbour from there... here we go..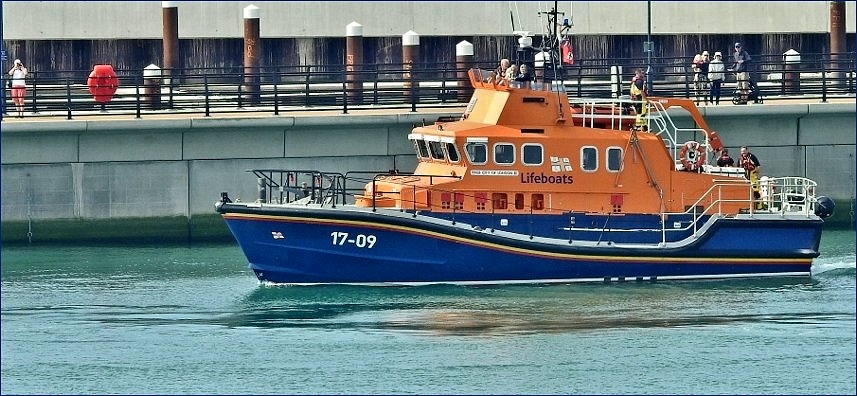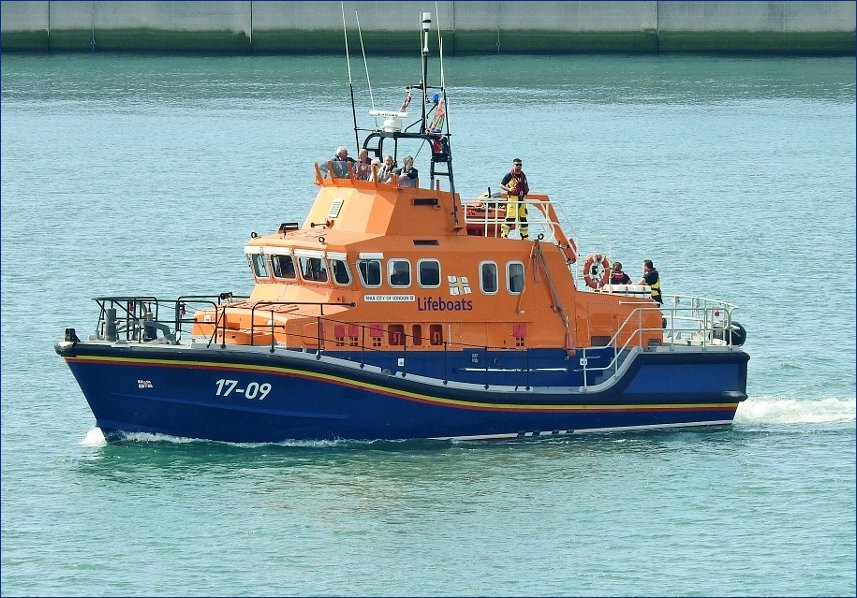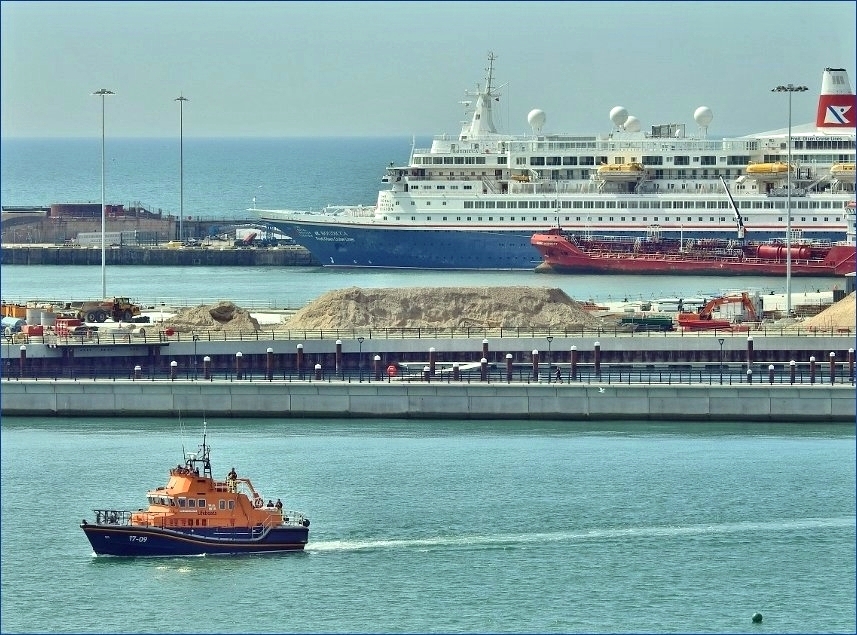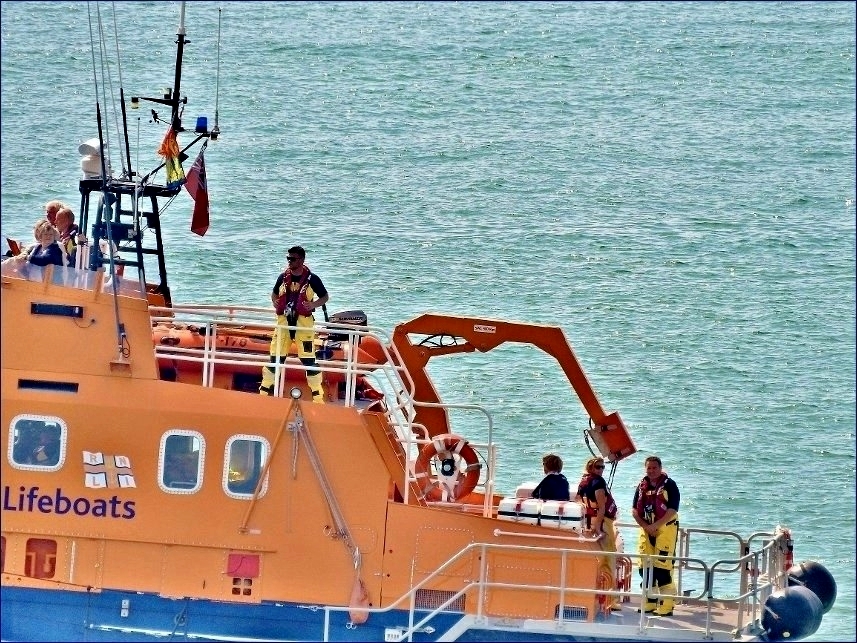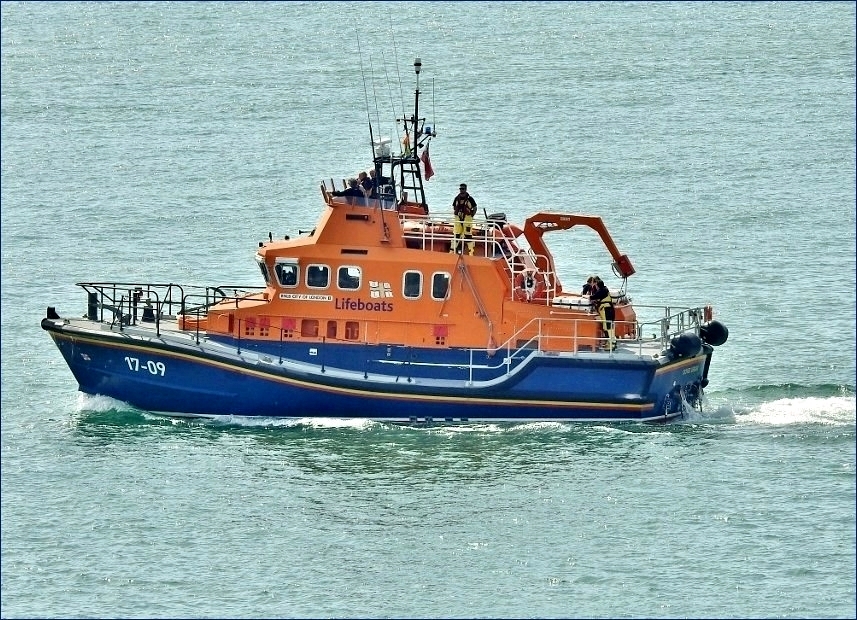 And there we are, lifeboat picture 5 is a bit forced as the sun hit the camera and blinded us out...almost.
Boudicca in the background lifeboat shot 4.
PaulB
Thursday, 6 June 2019 - 06:10
Post 6317
Sea News, Dover
Regular cargo visitor Elvira arriving on a dazzling Sunday morning...
It was a very busy morning in the Port last Sunday...lots happening, you can see the tugs below in full celebratory regalia while carrying out the daily chores, this of course was for the Boudicca D-Day Voyage, remembering the 75th anniversary of the epic D-Day event....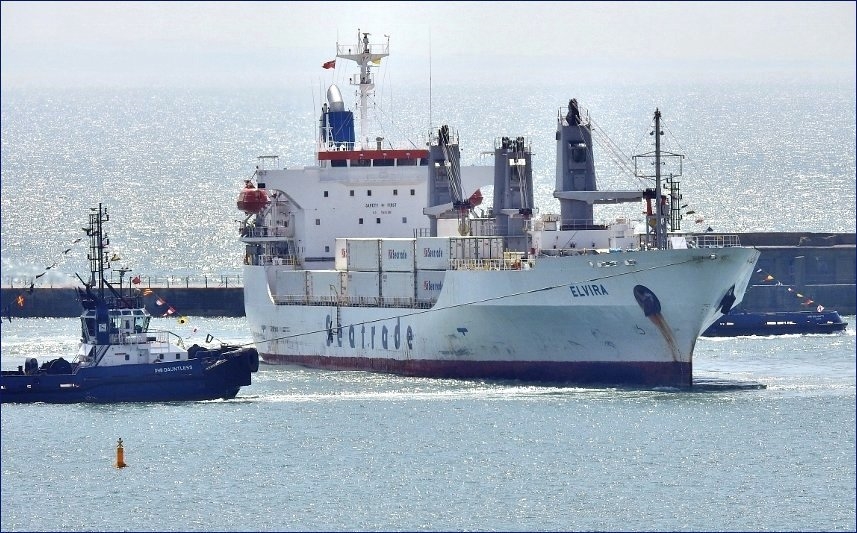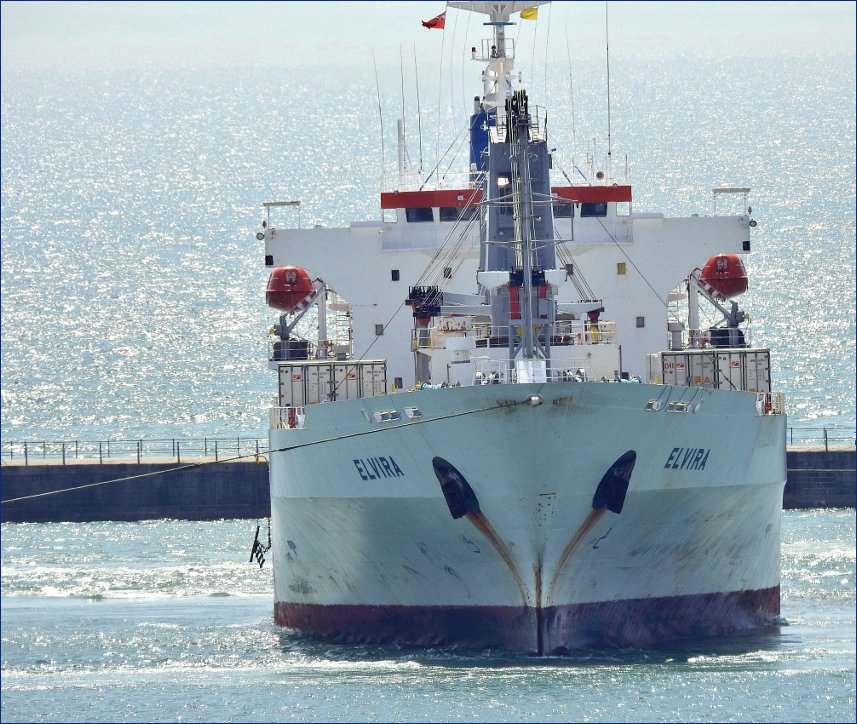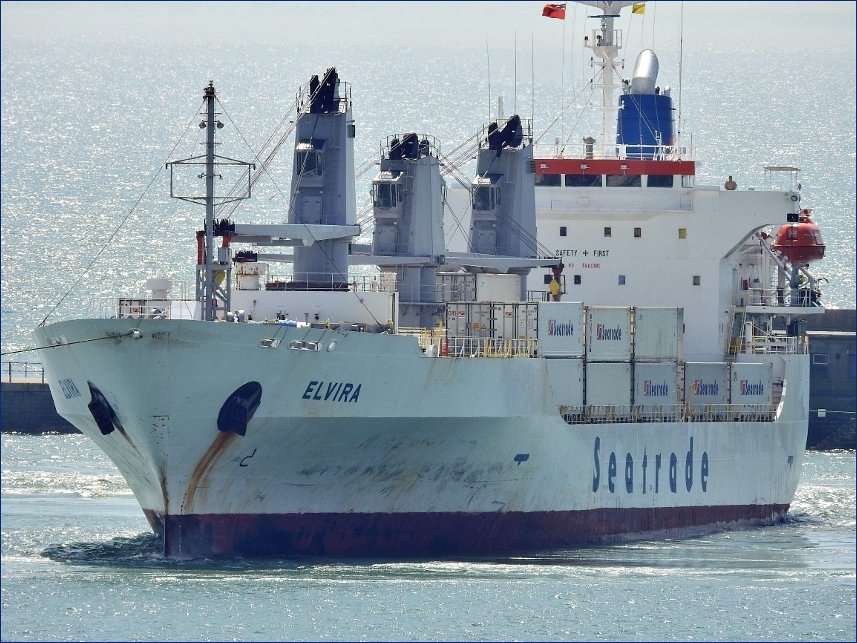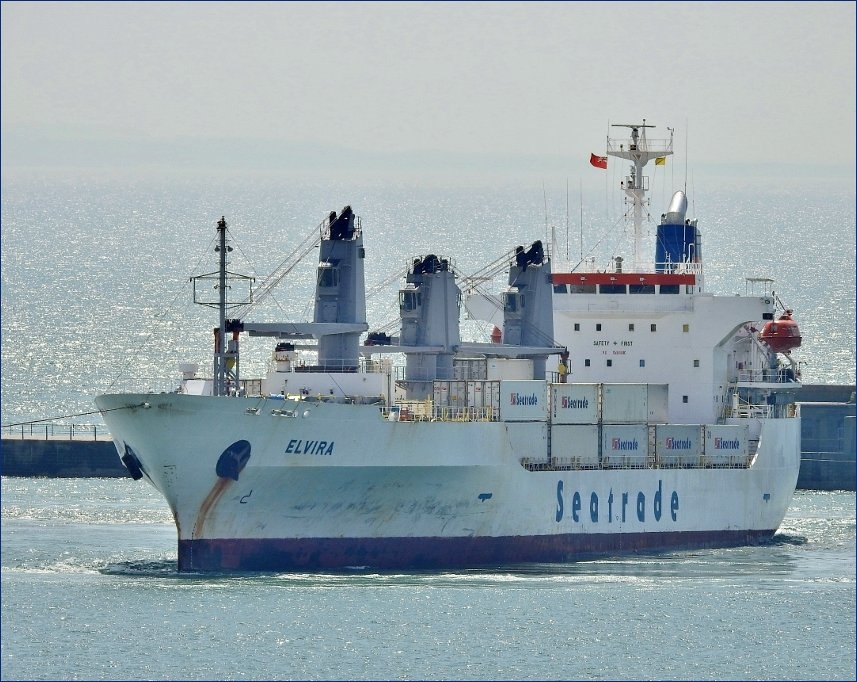 Elvira
Great to see the pictures below from Ramsgate.. ace work all round

PB
Wednesday, 5 June 2019 - 07:00
Post 6316
Mike J., Dover
Most impressive mirage view of Calais & the gas boat.
Quite a contrast Tuesday evening & at 2230 you can't see across the harbour.
Here's the SILVER CLOUD at Ramsgate a few days ago, there are no further plans for any more cruise ship there at present.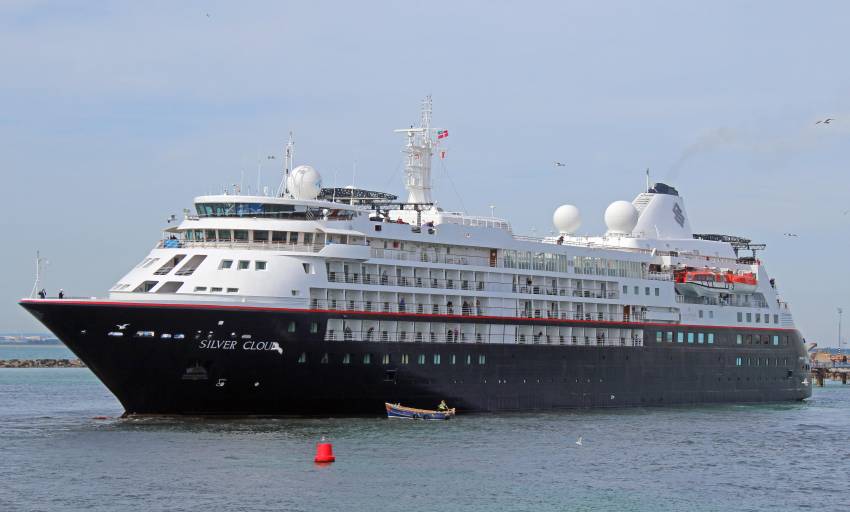 Note the mooring boat BUMBLE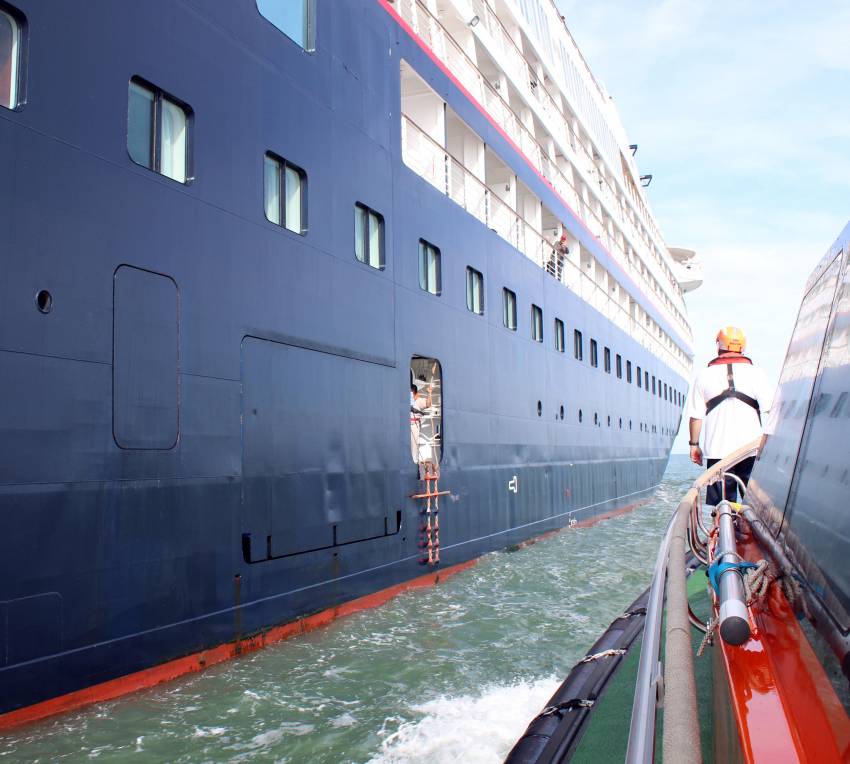 Photos courtesy & copyright of DOVER STRAITS SHIPPING for which many thanks..
Tuesday, 4 June 2019 - 22:46