Monday, 18 June 2018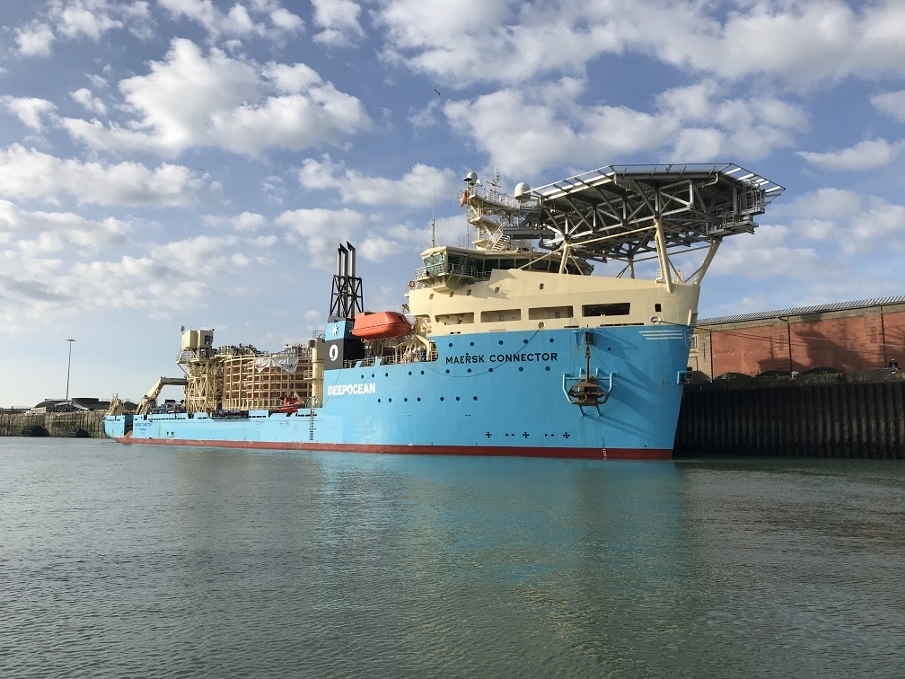 The Maersk Connector - currently at the Port of Dover. Pictured by Benjamin Payne. Great pic. Many thanks Ben.

WWW.DOVERFORUM.COM/SEA-NEWS
Doverforum.com: Featuring all the ships that come and go and work at the Port of Dover with further coverage of the surrounding towns both sides of the Channel. Email: dover7@msn.com to send SEA NEWS pix or info....
or click ADD YOUR COMMENT below to post direct, no membership needed.
DFDS ACQUISITIONS and EXPANSIONS...see below 4984
Dover Marina Control - New Contract Awarded see 4970.
PORT OF DOVER: Konecranes for new Cargo Terminal 4916.
PORT OF DOVER: £21 Million DWDR 'paving plus' contract awarded 4895.
PORT of DOVER - three cruise ships, one day 4885.
DFDS Charters New Ship see 4866.
New Marina Pier ... Latest...see 4861.
P&O FERRIES presents big cash to RNLI Dover...see 4829.
PORT of DOVER: Chief Executive TIM WAGGOTT Resigns...see 4778.
P&O FERRIES recruiting...4745.
PORT of DOVER awards Cargo Refrigeration Contract see 4740.
PORT OF DOVER: Community Benefit 4688
TRADING GROWTH FOR DFDS DESPITE BREXIT see 4642
PORT OF DOVER RECORD FREIGHT see 4551.
PORT OF DOVER: GEEST LINE arrival see 4597.
SECOND FEMALE CAPTAIN FOR P&O see 4608.
Sea News Dover :
Use our SEARCH ENGINE below to find all sorts on the SEA NEWS pages....
more than 240 now with more than 4750 nautical posts.
Posts are welcome. Max of 5 pictures preferred per day although we can occasionally stretch to 6 on special stories.
Type CRUISE VISITS in our SEARCH ENGINE below for news of the latest arrivals.
Sea News Editor Paul Boland - dover7@msn.com .
Post 4858
Sea News, Dover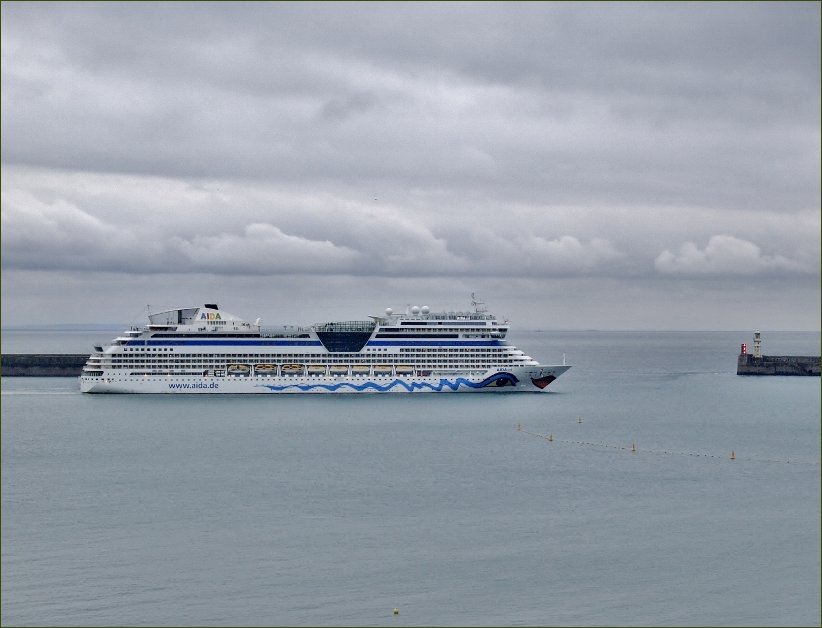 AIDAsol arriving in the dark and gloomy conditions early this morning. Despite the gloom it is always a pleasure to see such a great cruise ship. She is on a four night round trip from Hamburg. They got murky oul weather for it...
Thanks Vic glad you are still enjoying the coverage. Hope yourself and wife Lesley had a nice time in Hayling Island - not much sun at the moment alas!
See also todays other images below. PB
Sunday, 29 April 2018 - 12:10
Post 4857
vic matcham, DOVOR
Also great to see the Royal Navy calling in.

Sunday, 29 April 2018 - 08:45
Post 4856
vic matcham, Dover
We have been away again to Hayling Island we like it there it was my wife 70th birthday,but again your photos of both the royal ports of Dover and Ramsgate are very good and I hear on the news today that Dover now as over 400 hgv going and coming each day and the work goes on at the Western end looking good now but still two years work to do there yet.

Sunday, 29 April 2018 - 08:43
Post 4855
Sea News, Dover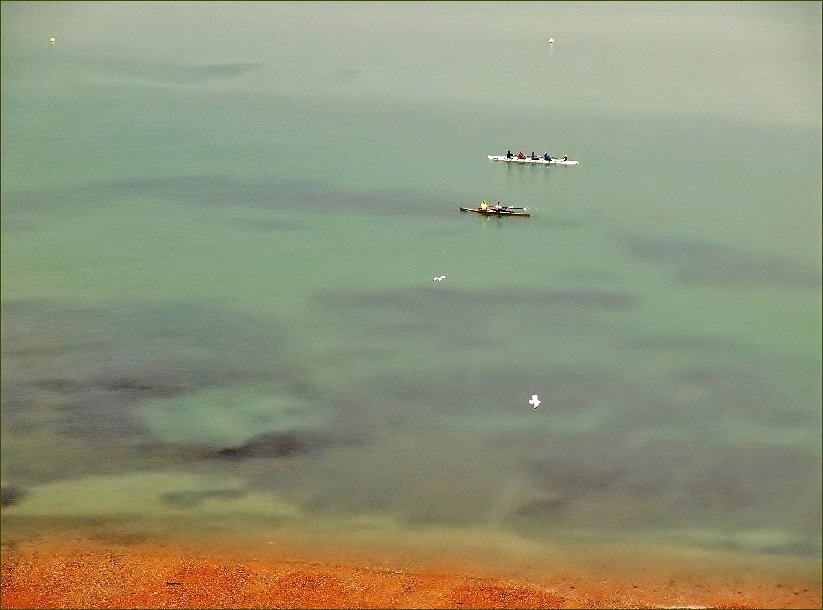 The picture above there shows the sea on Friday evening...it was in a strangely calm and super clear state and in unusual lighting, as these rowers made their way back and forth. You can clearly see right through to the bottom...to the seabed. I can now categorically confirm that there are no sharks down there!

In the distance you can see the recently re-laid section marker buoys while in the foreground the seagulls frolic about..
(that's the out-dated old Olympus camera in action above there again...it does an odd job or two..its a bit strange. )
The picture below I meant to include with the other Sospan Dau pic yesterday...when I spoke of her intricately meandering through the piling to get in close to shore and workings. Yours truly had a minor aberration..forgot completely in other words, but here she is now...in the background the Scot Venture delivers more precast plinths for the pier...we will have a feature on that tomorrow monday.
PaulB.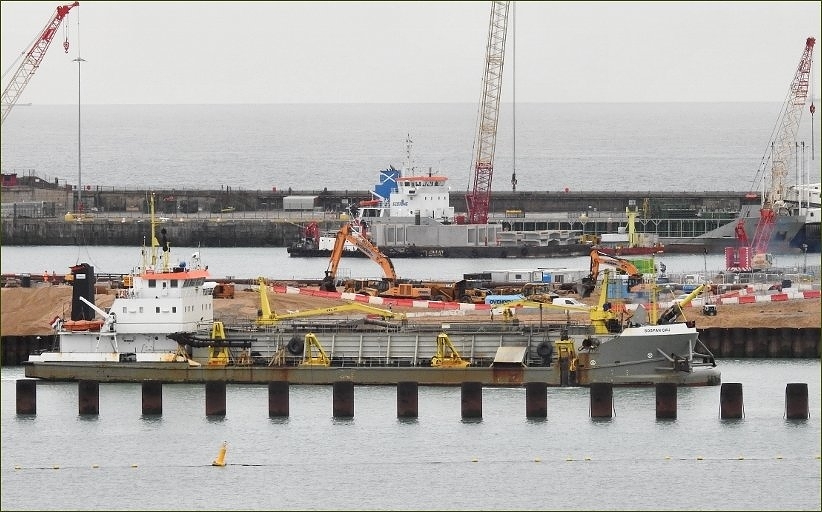 Sunday, 29 April 2018 - 04:23
Post 4854
Sea News, Dover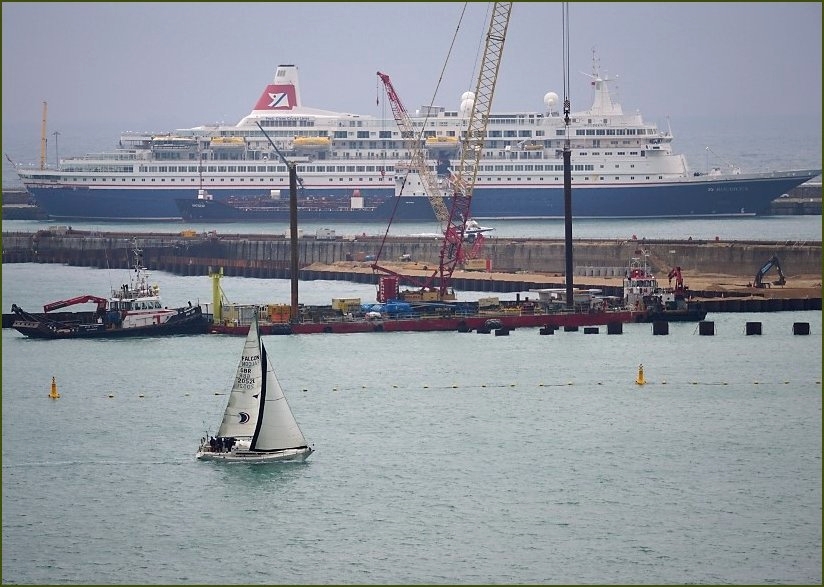 Boudicca today in the grey conditions. She is being serviced by Whitstar - you can just make Whitstar out there through the gloom. Also in shot is Afon Lligwy pushing a crane barge.. as Llanddwyn Island steers from the front. All the while in the foreground yachts were gliding by in super genteel mode....just one in the shot there as you can see. Time of picture 11am.
Saturday, 28 April 2018 - 16:59
Post 4853
Sea News, Dover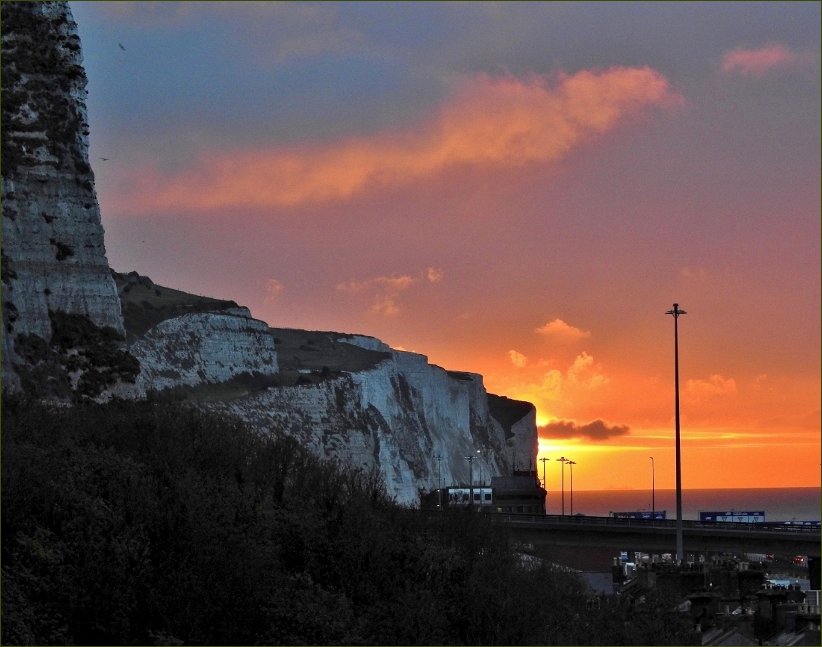 Yesterday morning and the sun tries to rise....it produced these great colours behind the famous White Cliffs of Dover but within 4 to 5 minutes it was all gone, swamped by thick grey cloud. It was a short lived bedazzling experience...

time of picture 04:45.
Another picture below of Sospan Dau..this shot from yesterday morning too and you can see how grey it had become as the Sospan makes her way in close to shore. She gets right in close too...manoeuvering right through the piling with some delicacy and she's not that small!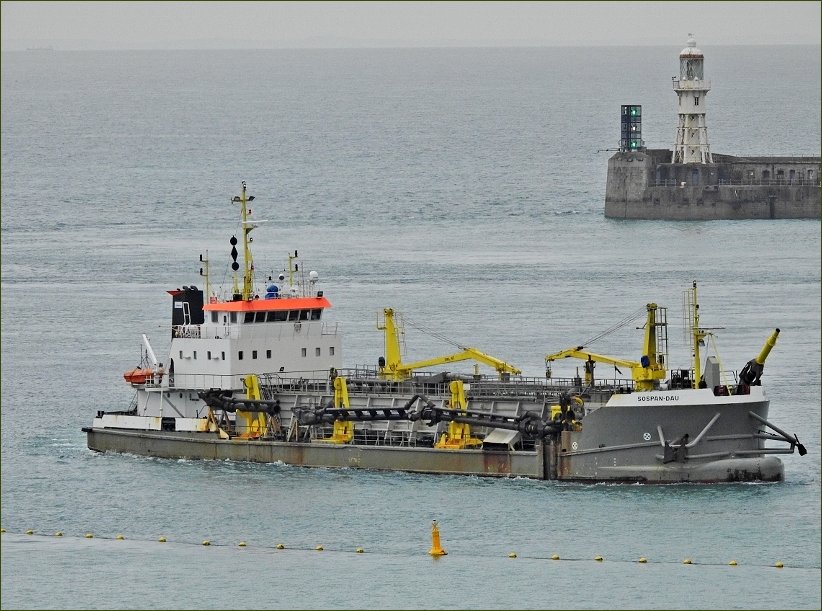 Nice classic collection below there Ted...great to see those, brilliant subtle colours too.

PB
ps: Boudicca in port...
Saturday, 28 April 2018 - 06:56
Post 4852
Ted Ingham, Canterbury
'THREE FROM RAMSGATE'
Photographed alongside the Commercial Quay at Ramsgate the 1972 built dredger MANNIN. Recently fitted with a new crane she is owned by the Padstow Harbour Commissioners and travels around the coast working at different harbour locations.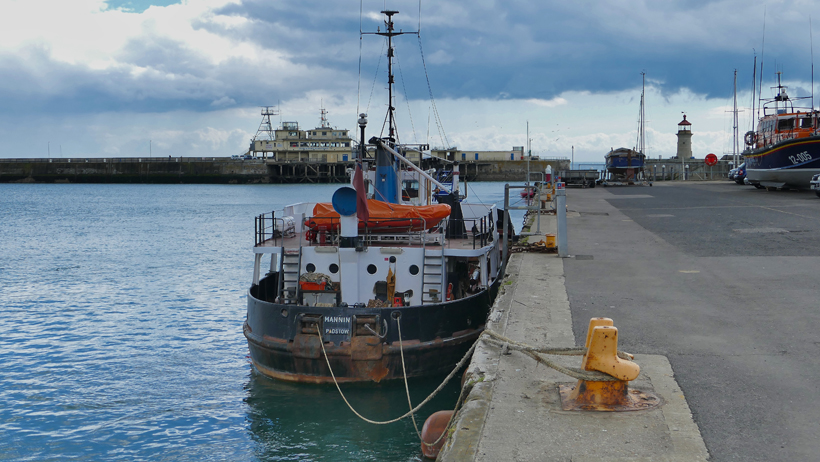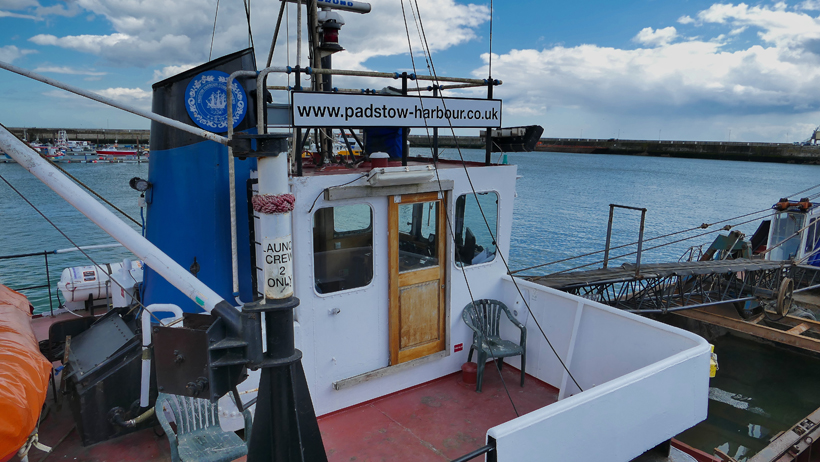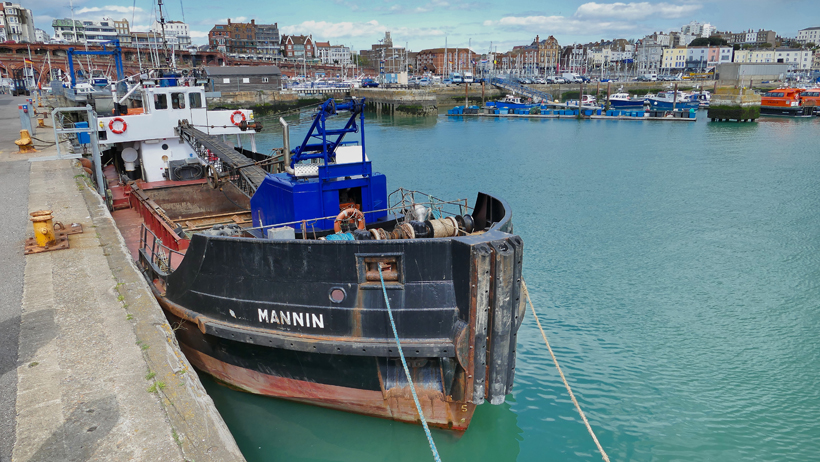 Friday, 27 April 2018 - 12:06
Post 4851
Sea News, Dover
RETURN OF THE SOSPAN: A Sospan can be a vital essential in many jobs of work, and this Sospan in particular is proving a vital tool in the daily grind of the DWDR. Yes Sospan Dau is back with us and there she is above in the rough seas of Wednesday. The picture is fairly long range and shows her out there in the channel after depositing her load. A pretty rough oul sea that...
To see previous pictures of Sospan Dau type the name in our Search Engine above and away you go.
Rainbows in the Channel on Thursday. No need for a shovel this time guys...we would never find that pot o' gold down there...not with a shovel anyway...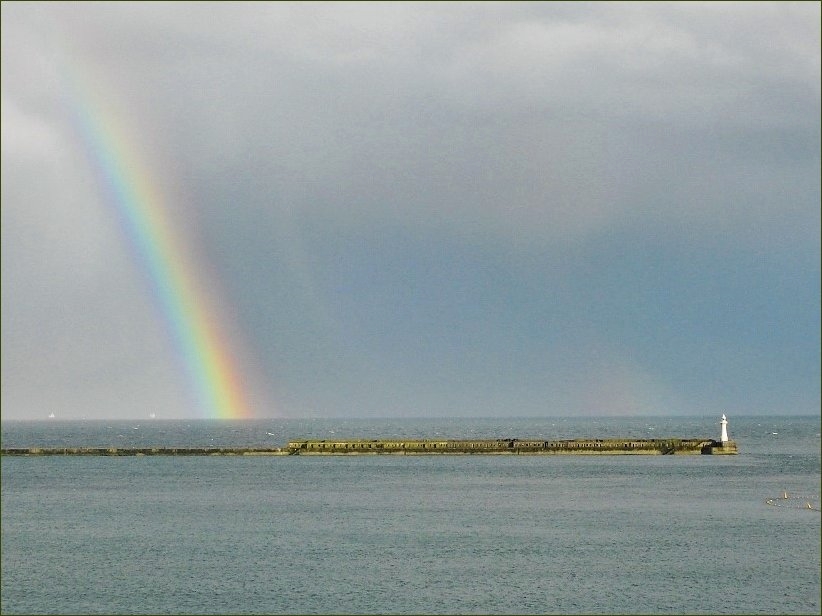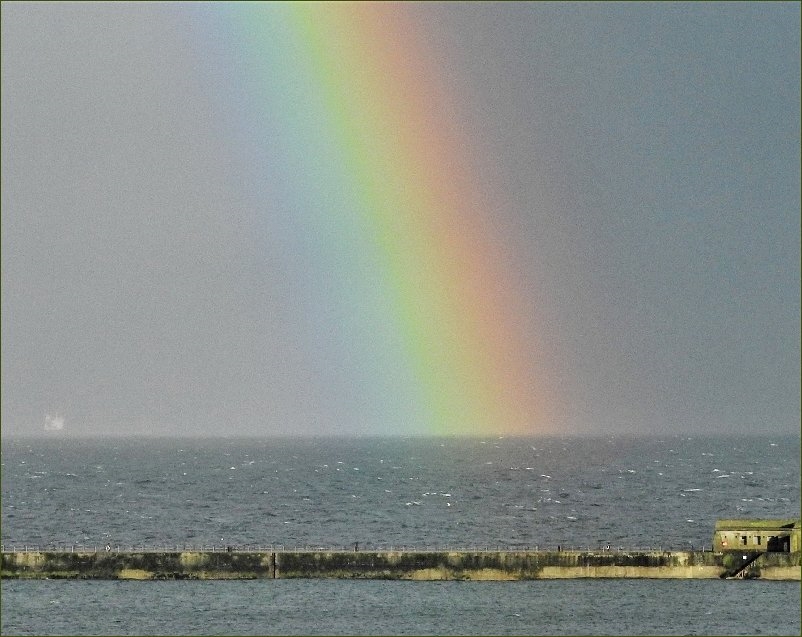 Thanks for that Cruise listing again Colette. Always very useful to have that to hand so we know what's going on

PaulB
Friday, 27 April 2018 - 06:15
Post 4850
Colette B, Dover
CRUISE VISITS
____________
Dramatic action shots there of the two Royal Navy ships in the turbulent sea MrB, luvit!
As the old song goes 'All the nice girls love a sailor' ……

On Saturday 28th April the Grand Lady Boudicca graces our shores arriving at CT2 06.30 leaving us later in the day at 17.00 hours, T/R. She will be setting her sights on a 7 night round trip of Scenic Fjords & Waterfalls of Norway. Her ports of call include Bergen, Flam and Olden before returning to Dover on Saturday 5th May.
The following day Sunday 29th April we are greeted once again with the AIDAsol's formidable smile. Déjà vu indeed, MrB, I feel like Bill Murray in Groundhog Day

She arrives at CT2, 09.30 hours on her 4 night Hamburg Round trip. Departing at 21.30 hours before dropping anchor in her home port on the 1st of May.
I cannot believe that these are the last of the April cruise visits, I will be back with the beginning of May scheduled arrivals real soon folks ……………………..

Thursday, 26 April 2018 - 13:12
Post 4849
Sea News, Dover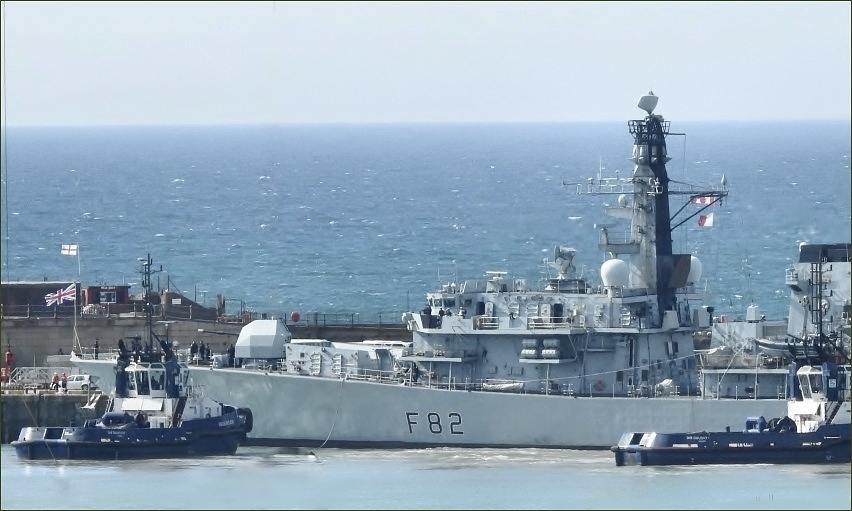 Yours truly spotted the tugs yesterday getting HMS Somerset ready for departure and thought...well I have plenty of time here, so buried head in the computer for a further foray, only to look again in imagined moments and find she was already gone. Rear-guard action pictures below ... also that's port dredger David Church creeping into shot. She has just returned from refit and is back in action.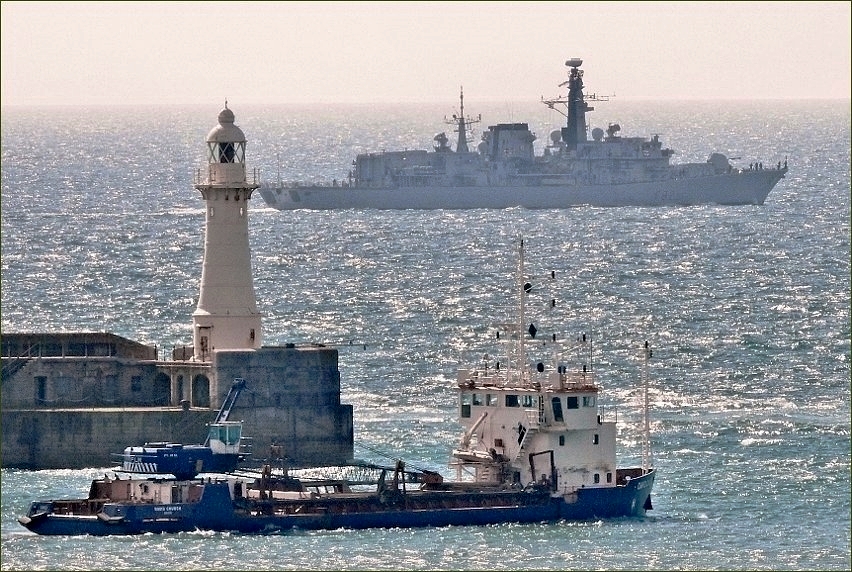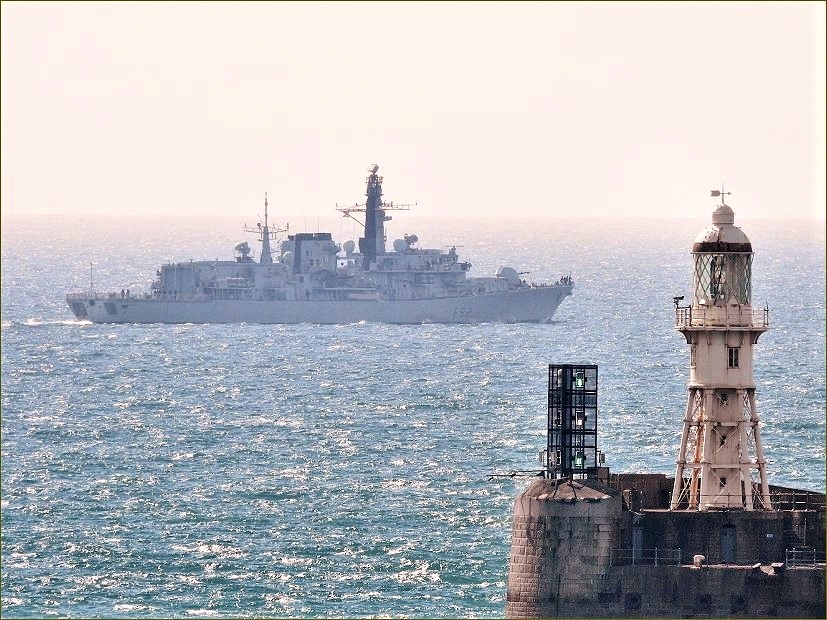 Just to add this one of Emerald arriving a couple of days ago. Lombok Strait left us and in came Emerald.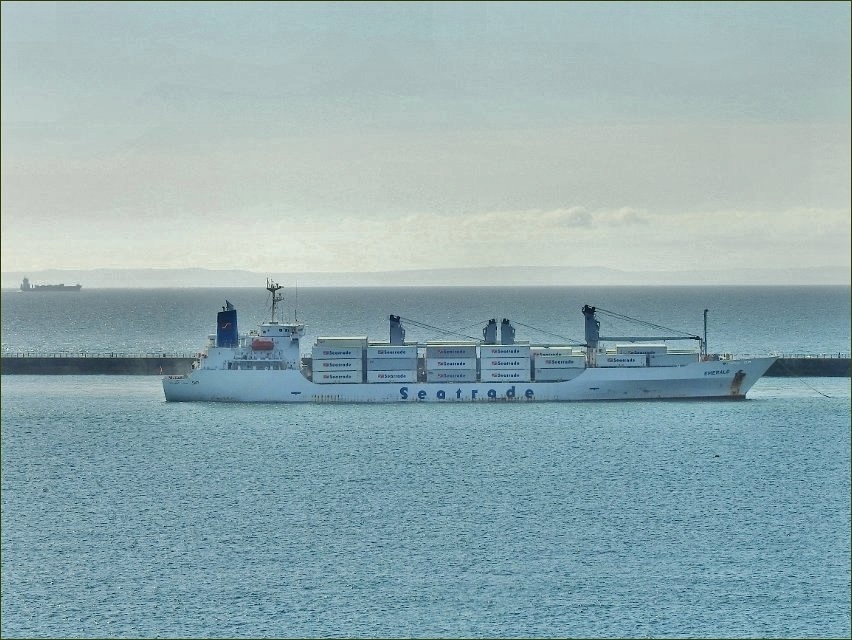 Well done Patrick with those pix below- yes it was worryingly narrow but now looking a tad better.

Mike - very glad you were able to get that info together for Rickard ...as he has now made contact with the owners.

Yes Del .. some thumping late evening for sure - but last night wasn't too bad...says he stoutly

PaulB
Thursday, 26 April 2018 - 06:04
Post 4848
Mike J., Dover
Patrick - Thanks, I'm sure that you're right about the capping for the 'promenade pier' & the 'little people' put in by the artist.
My post 4729 [search for 'Jetfoil'] seems to show them on barges after delivery, perhaps in two sizes.




Thursday, 26 April 2018 - 00:04
Post 4847
Del Styan, Norwich
Sorry to hear of your late night thumping, Annoying, isn't it! Hope it finishes soon.

Wednesday, 25 April 2018 - 23:16
Post 4846
Patrick, Marine Parade
Some really great pictures of the Naval Craft. Thanks to Mike J and PB. Superb photos.
Yes we too heard the late night pile driving at DWDR.
- Keep it down lads - you might not be sleeping but we want our kip with all this excitement to follow as each dawn breaks.
Mike J - regarding the "width" of the new pier. These latest shots go some way to providing a better idea of what can be expected. These capping blocks have been added to the landward end of the new pier but still look kind of 'narrow'. The PR photo probably used that age old trick of showing two small persons on the causeway to make everything else around them look larger - perhaps!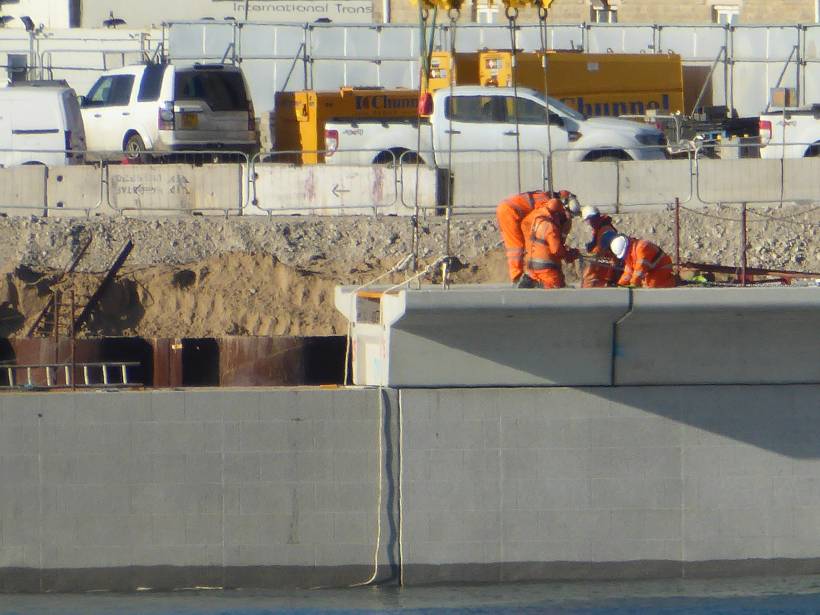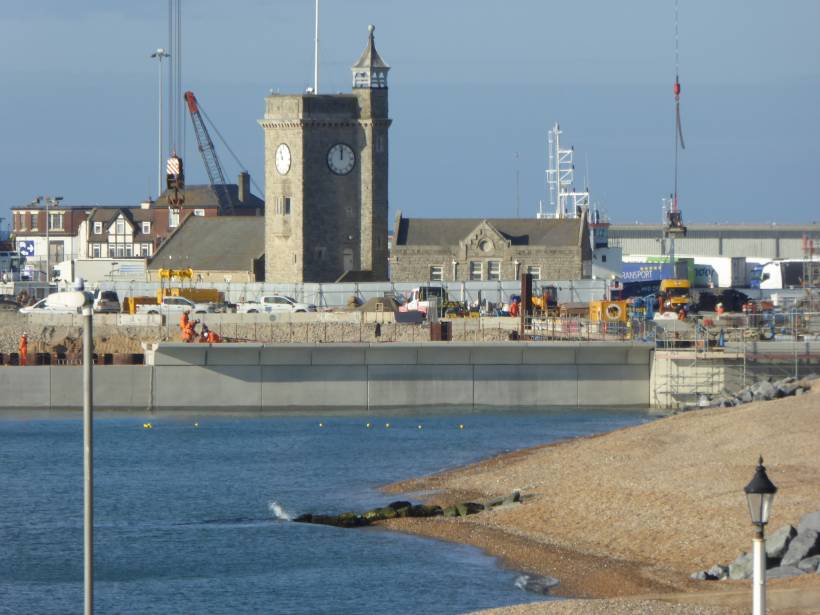 Wednesday, 25 April 2018 - 23:01
Post 4845
Mike J., Dover

Richard -

I suggest that you contact the Dover Marina Office & they may be able to put you in contact with the owners.

marina@doverport.co.uk

44-1304-241663

Further details on the 'Marina' section of the DHB website.

I'm sure that 'Dover Sea News' will be interested in any old photos or more information that you have on this historic ship.



Wednesday, 25 April 2018 - 09:50
Post 4844
Rickard Undevik, Dala-husby, Sweden (r.undevik@gmail.com)
Hello, I am searching for contactinfo. to the owner of Saint David of London.
I am happy of anyone have some information to give me.
I live in Dala-Husby where she was in traffic 100 years ago.

Thanks!
Rickard

Wednesday, 25 April 2018 - 08:46
Post 4843
Sea News, Dover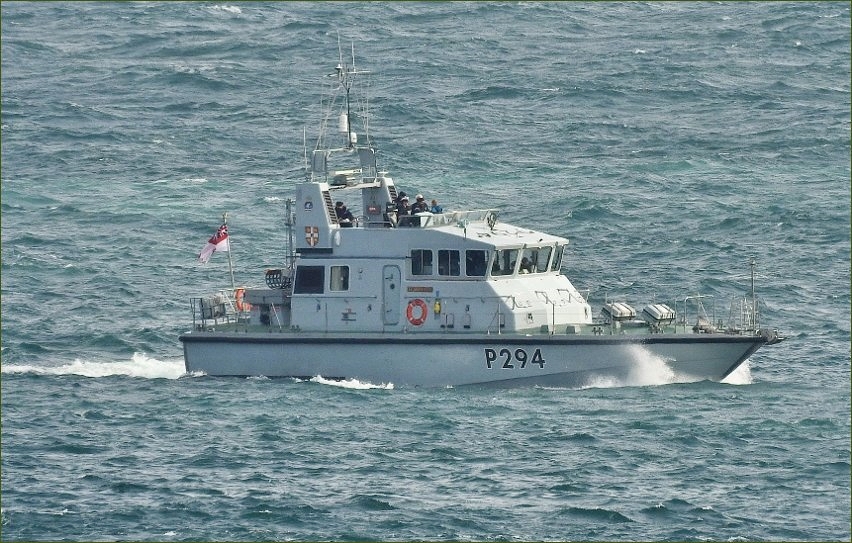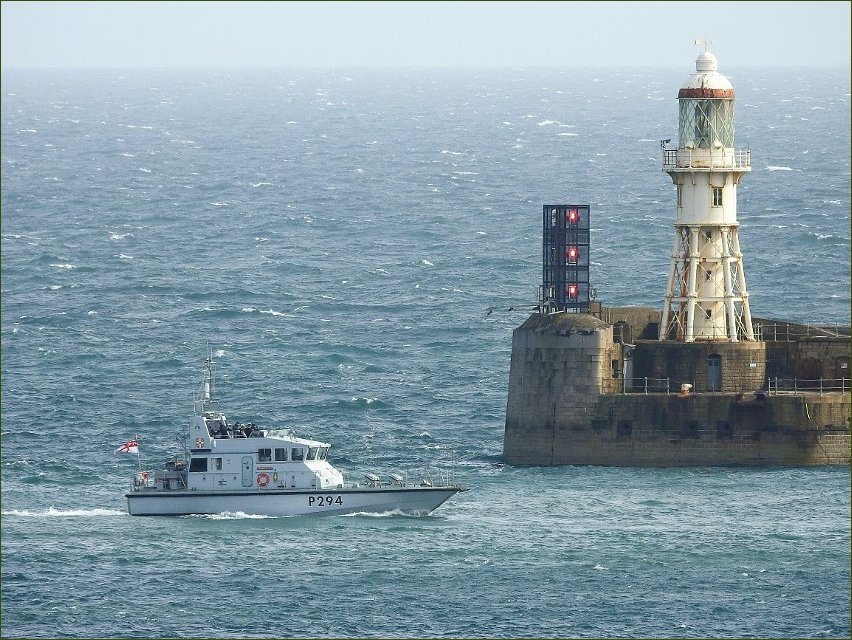 Following on from the shots at the tip top of page...there we are above with the third of the naval boats...HMS Trumpeter...taken just after 3PM on Monday afternoon. They had already been in Port as we saw with Mike's pictures in 4840 so presumably they went out on a training exercise...and they got some real choppy exercise weather for their endeavours. We are glad they did go out again as they provided some exciting picture opportunities.
Fascinating detailed collection below there from Mike of HMS Somerset docking - don't miss those. Great stuff indeed!

PaulB
Yes Mike you will certainly have heard some late night bumping and grinding. We have had notice here in the 'observation tower' and beyond that the work hours have been extended. So ...time for the late night ear plugs

Cruise ship AIDAsol approaching.
Wednesday, 25 April 2018 - 06:17
Post 4842
Mike J., Dover
Splendid 'action shots' from Paul of the RANGER & SMITER returning to Dover.
Here's a few 'detail views' of HMS SOMERSET docking on Sunday afternoon.
She sails 1000 Wednesday morning.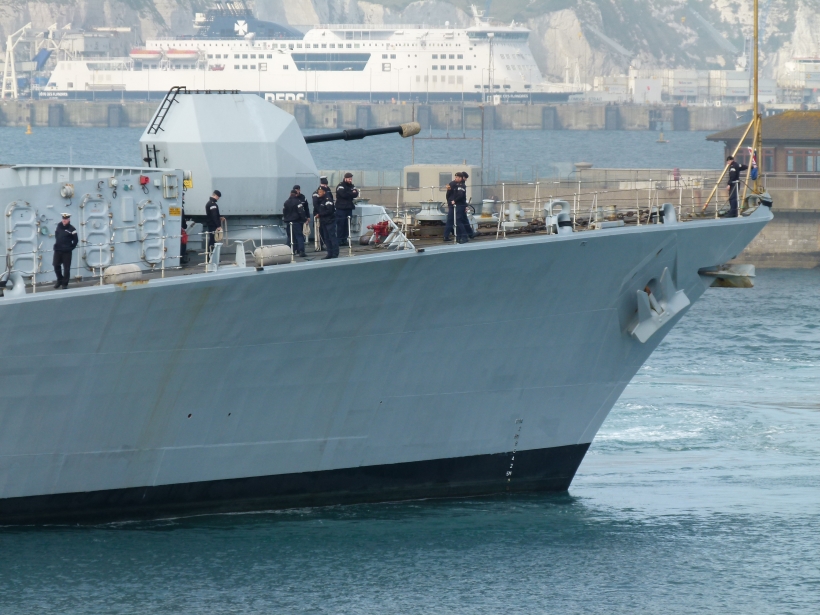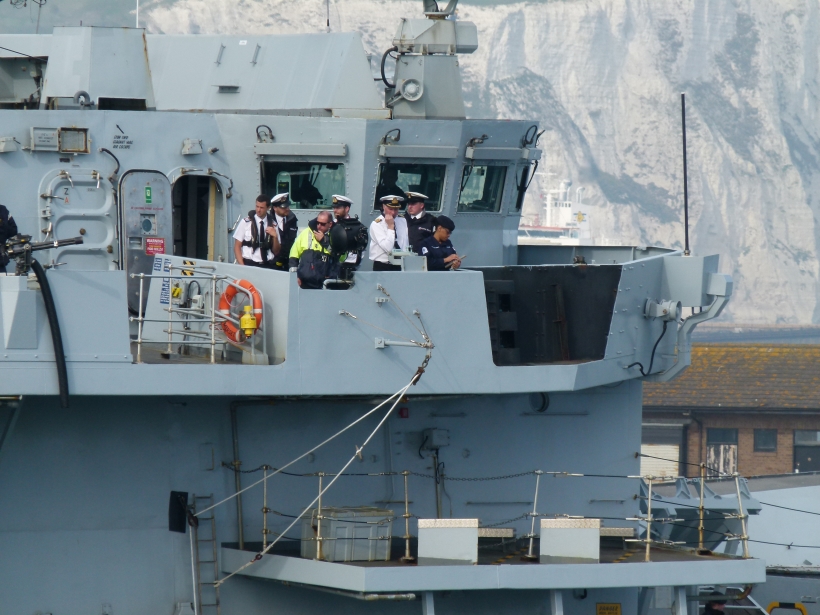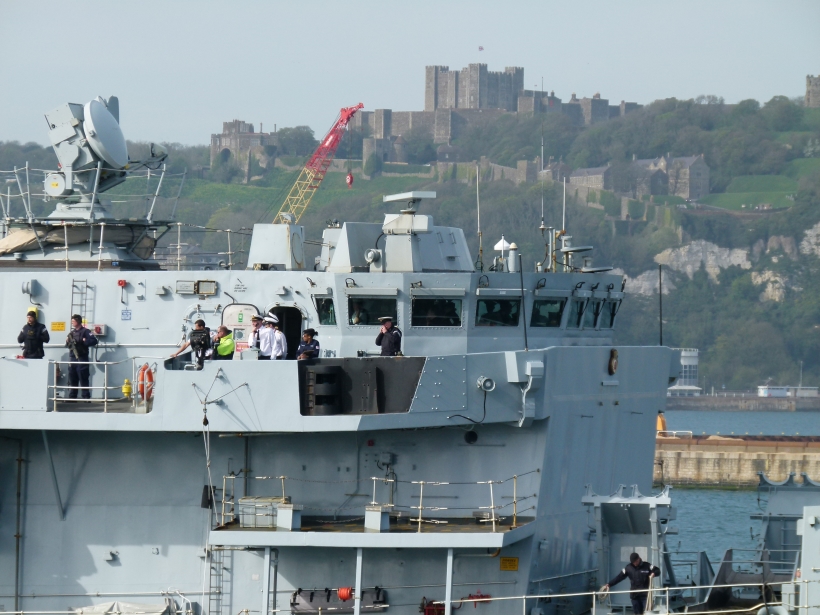 Amongst the visitors waiting on the quay for the arrival of the SOMERSET was the all-important poo tanker.
Did I hear pile-driving well past midnight on Tuesday night ?
Wednesday, 25 April 2018 - 00:21
Post 4841
Sea News, Dover
La Luna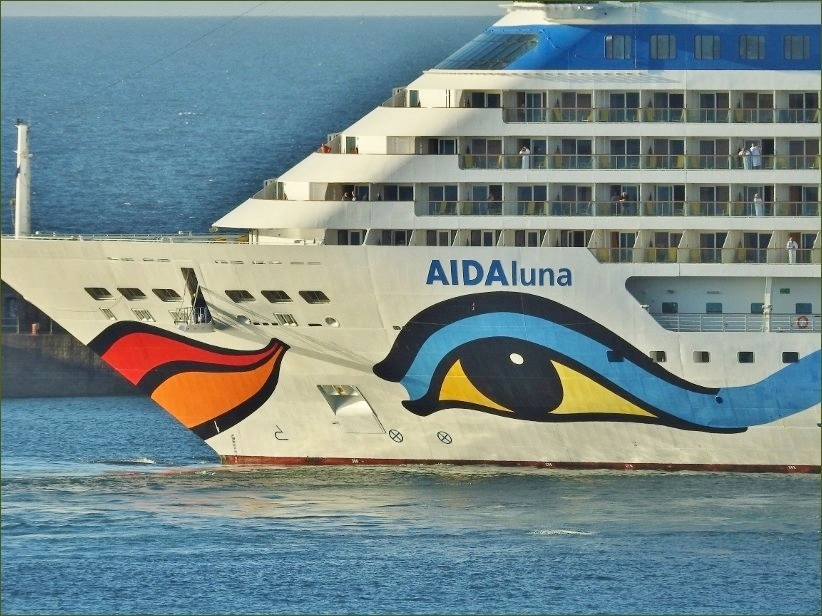 It wont have escaped your attention that the AIDA cruise ships all look remarkably similar. Yours truly keeps getting a touch of the deja-vu's through the camera lens but in fact the pix are all originals.I keep telling myself that anyway! This time we have 70,000 tons of the magnificent AIDAluna.. yes another monster here with us in the Port of Dover.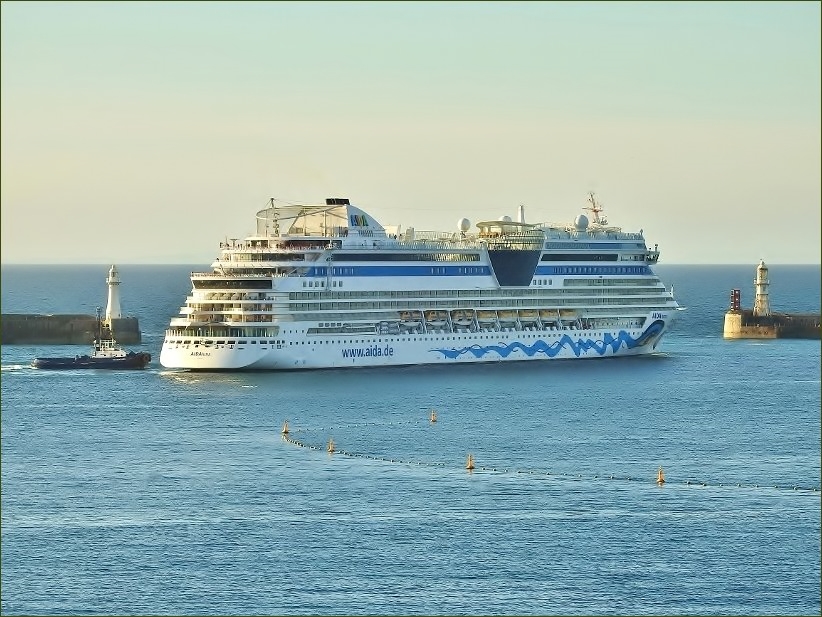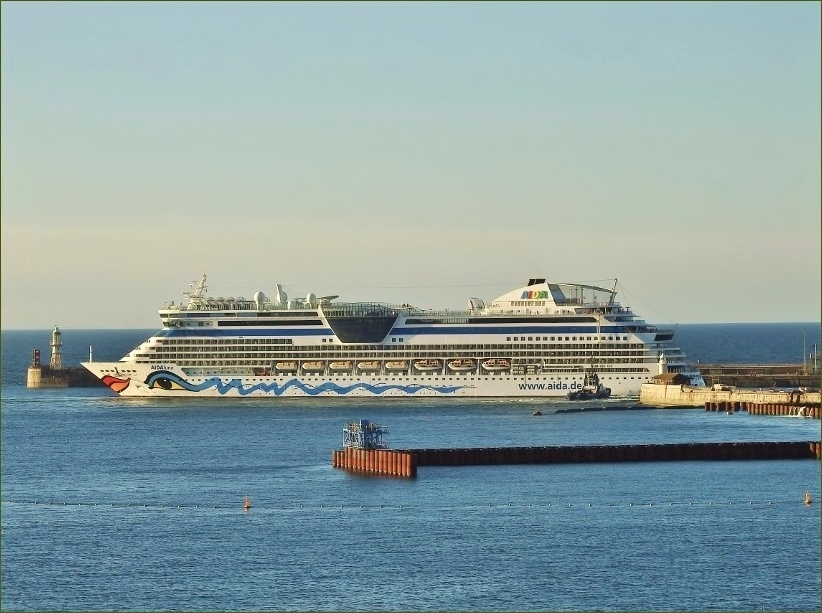 AIDAluna left last night at approximately 6PM. She slowly made her was across the Port to leave through the Eastern Exit...unusual to see them going out through that particular exit, but there was a very strong cross wind last evening so presumably that was the reason. Her next stop was Ijmuiden in the Netherlands. The pictures above are of her morning arrival.

An excellent collection in the post below there from our busy 'inshore correspondent' with camera at the ready...Mike.
Well done Mike. A super collection there, will be able to add to those naval ones in due course. Its all busy busy around here right now....lots of exciting comings and goings.
PaulB
Tuesday, 24 April 2018 - 06:56
Post 4840
Mike J., Dover
Monday morning found three 'Archer' class patrol vessels in the Tidal Basin having arrived overnight to join HMS SOMERSET for the 'Zeebrugge Raid' memorial service.
They normally work as as training vessels attached to University Royal Naval Units.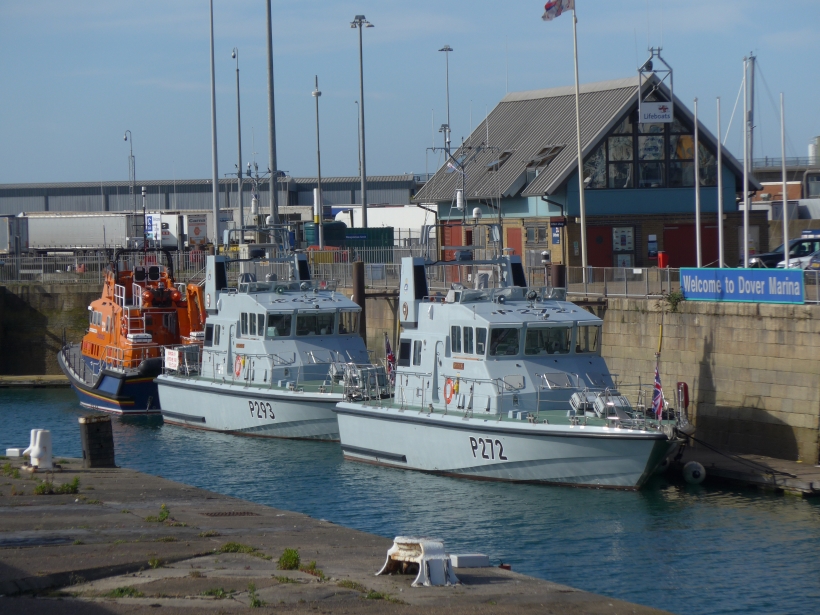 P272 SMITER - Oxford
P293 RANGER - Sussex
P294 TRUMPETER - Cambridge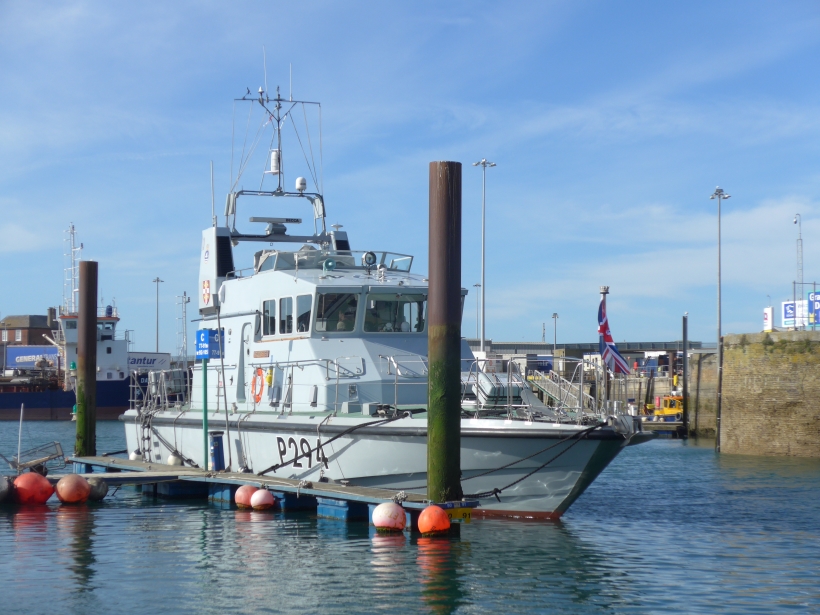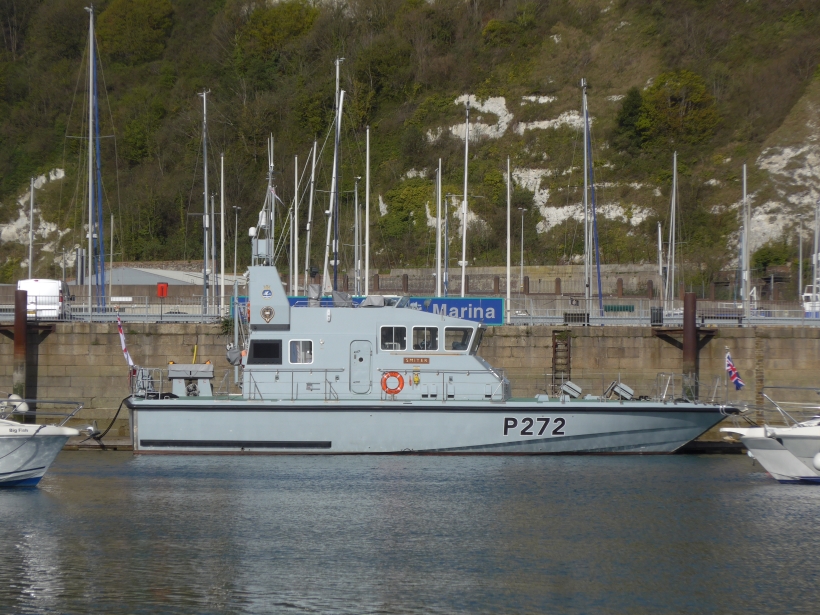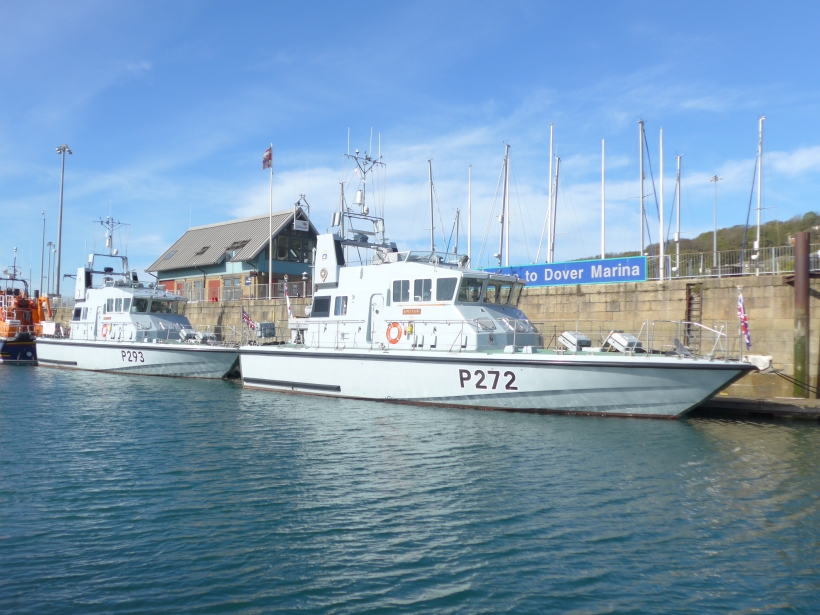 Monday, 23 April 2018 - 16:27
Post 4839
Sea News, Dover
Following along from Patrick and Mike...here we are with some more shots of the exciting new pier. Its all concrete at the moment and here we are. These pictures were taken last week on the... let me see... yes the 17th and the final pic on the 18th.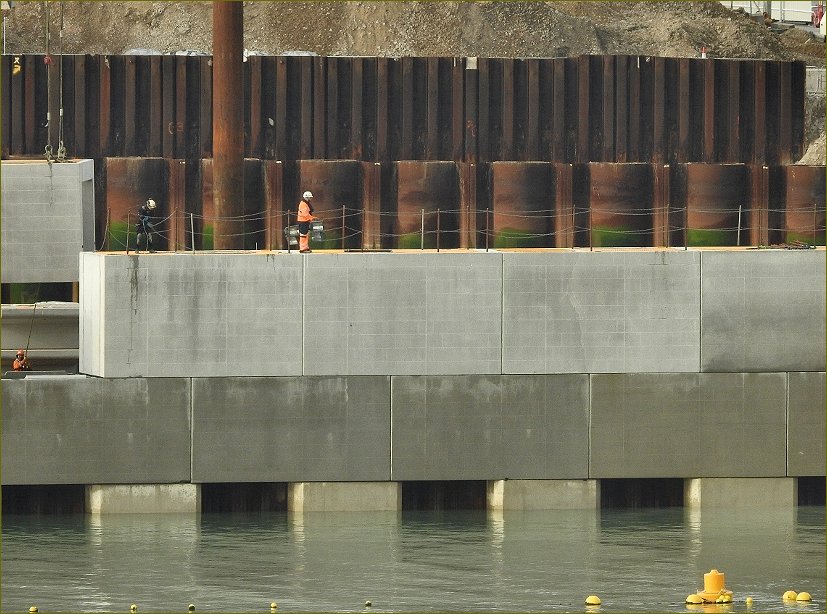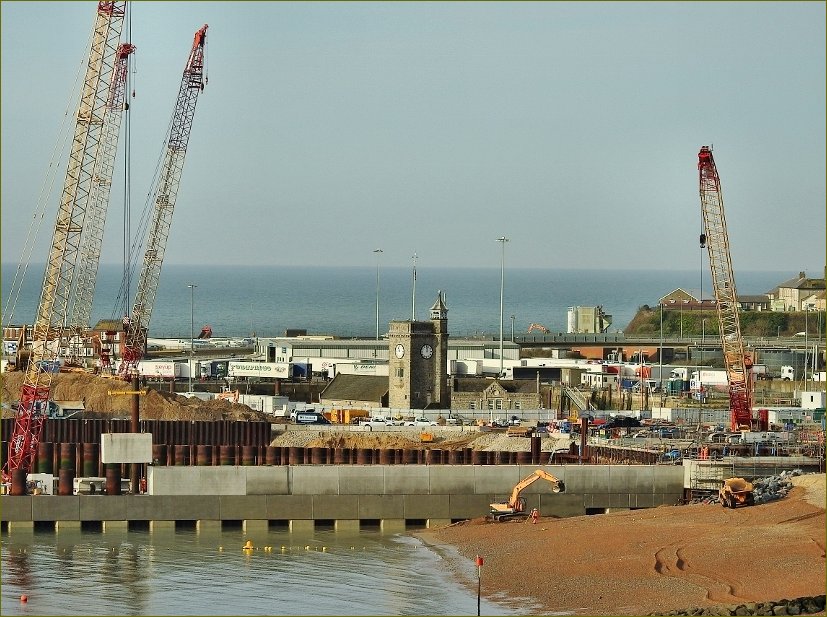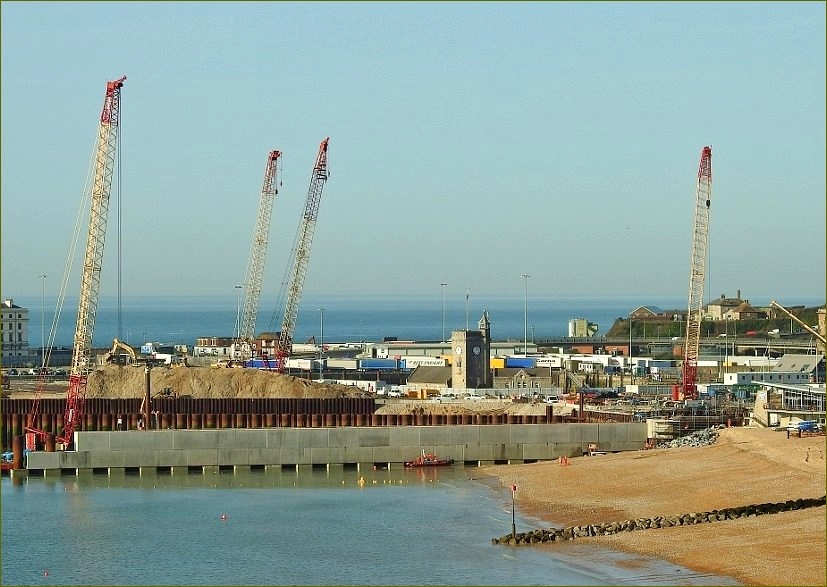 Following along from the excellent collection below from Mike of the HMS Somerset arrival...an extra one here looking across the harbour with added cranes. I arranged for the cranes to pop up right in that spot...

She is here of course for the ZEEBRUGGE Commemorations as mentioned previously.
Yes indeed Jan they made an impressive sight, especially at night.
We have another double whammy in effect today with both AIDAluna and HMS Somerset.
Also at the cargo end of things...Emerald is back in with us too.
PaulB
Monday, 23 April 2018 - 15:02