Tuesday, 12 November 2019
Sea Pictures from Dover ...

WWW.DOVERFORUM.COM/SEA-NEWS
Featuring all the ships that come and go and work at the Port of Dover ..
... with further coverage of the surrounding ports.
Sea News Dover
Christmas Spectacular at the Port 6648.
MP Charlie Elphicke moving aside for wife..see 6646.
P&O: St Richards School trip to Calais for 6 year olds see 6630.
DFDS: Contract Cancelled see 6626.
Use our SEARCH ENGINE below to find all sorts on the SEA NEWS pages....type in the topic and away you go, or if you have the post number, just type it in the box, more than
- 6600 -
nautical posts now. Posts are welcome. just click 'Add Your Comment' below. Max of 5 pictures preferred although we can stretch that for special stories.. Sea News Editor Paul Boland - send info or pix to dover7@msn.com. Always welcome.
CRUISE CALLS:
https://www.doverport.co.uk/cruise/find-a-cruise/
UPDATE:
To show your pictures at their best..it could be worthwhile resizing before posting to
850
pixels wide.
All pictures on these pages are the copyright of the owners and must not be reproduced without permission.
Post 6509
Mike J., Dover
A drizzly day in Dover Docks [sounds like a song title !],
Fortunately it cleared up later in the day but I was severely drizzled-on at 0845 as the 'Tamar' class Cromer lifeboat 16-07 sailed from Dover after overnighting en route for refit at Poole.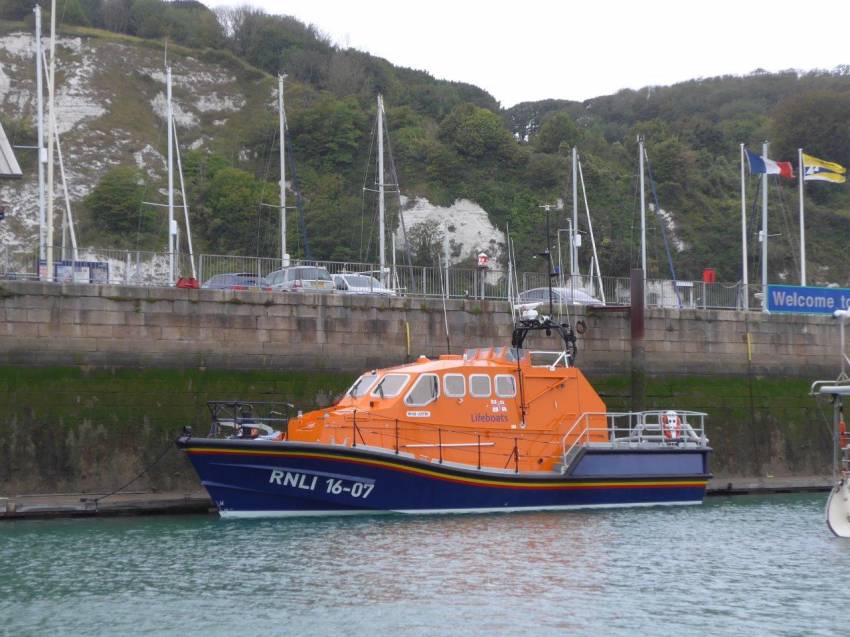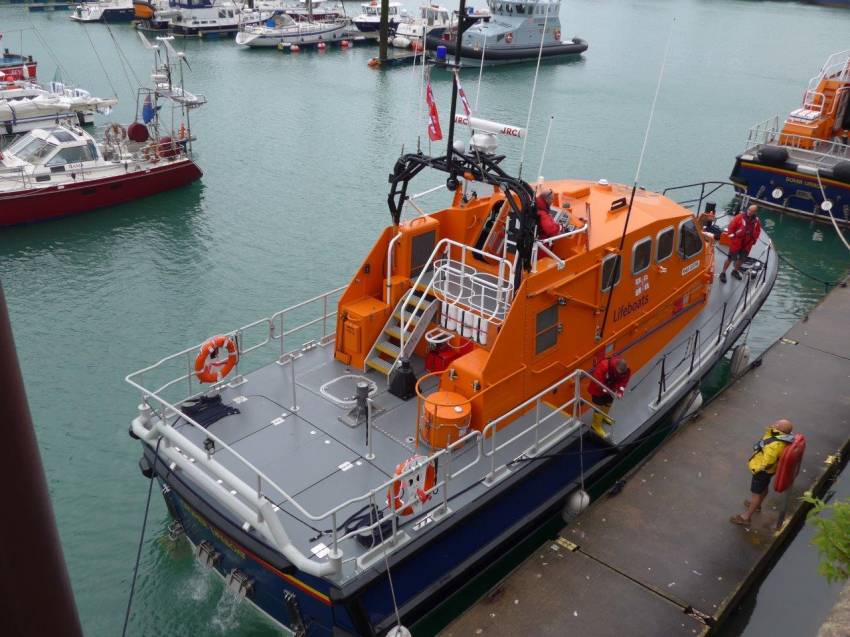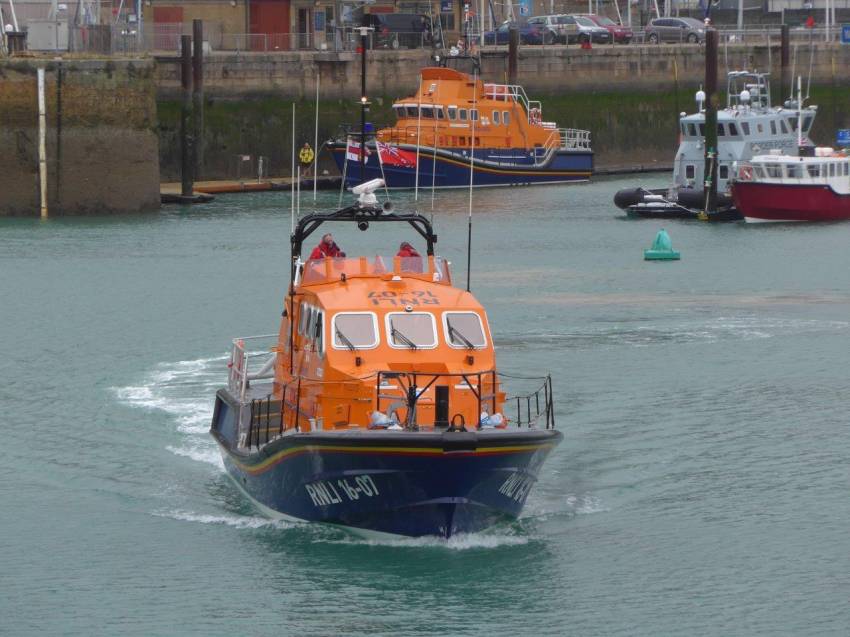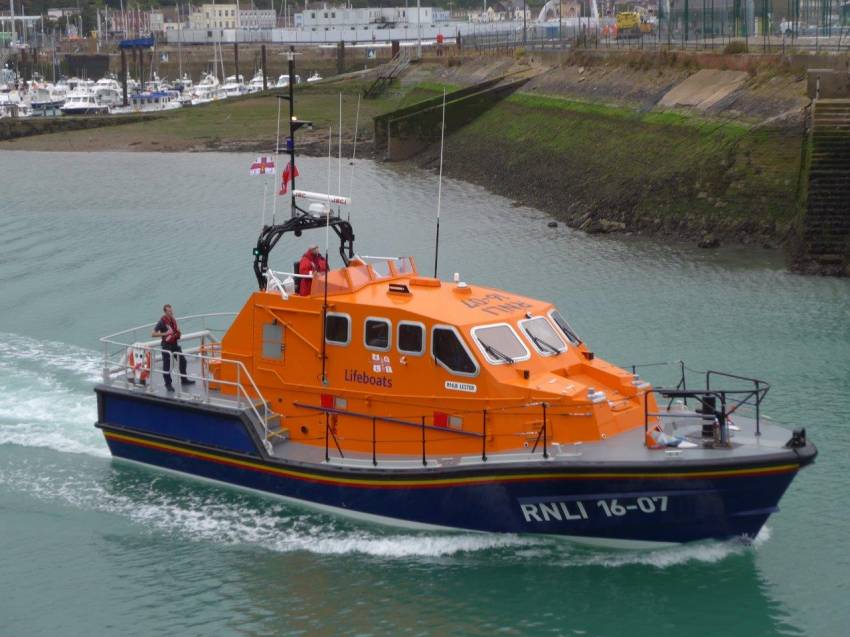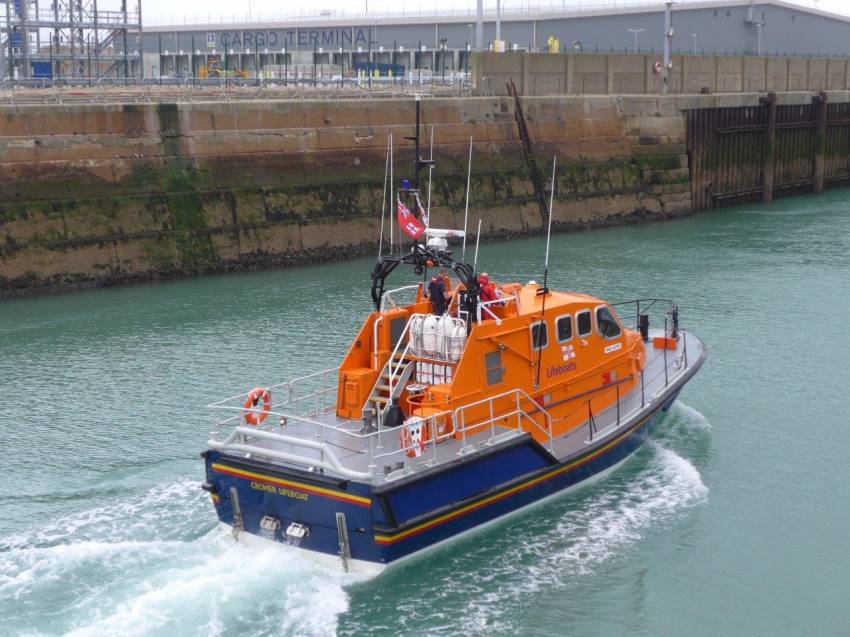 The LESTER has been temporarily replaced up at Cromer by another 'Tamar' PETER & LESLEY–JANE NICHOLSON, 16-01, the prototype of the class.
An excellent selection from Ramsgate - Ted seems to have a knack of finding plenty of action & interesting vessels on his Wednesday visits . . . .
Thursday, 5 September 2019 - 00:47
Post 6508
Ted, Canterbury
"Five from Ramsgate"
Ramsgate Lifeboat had a busy day with an early morning rescue.
The narrative is taken from the Ramsgate Lifeboat Facebook page.
Service Call 48
4th September at 05:19 All Weather Boat tasked by UK Coastguard to an 18m Ketch at anchor with engine failure at the end of the Ramsgate approach channel. On scene the AWB passed a line and after the skipper of the ketch ditched his anchor, towed it into Ramsgate.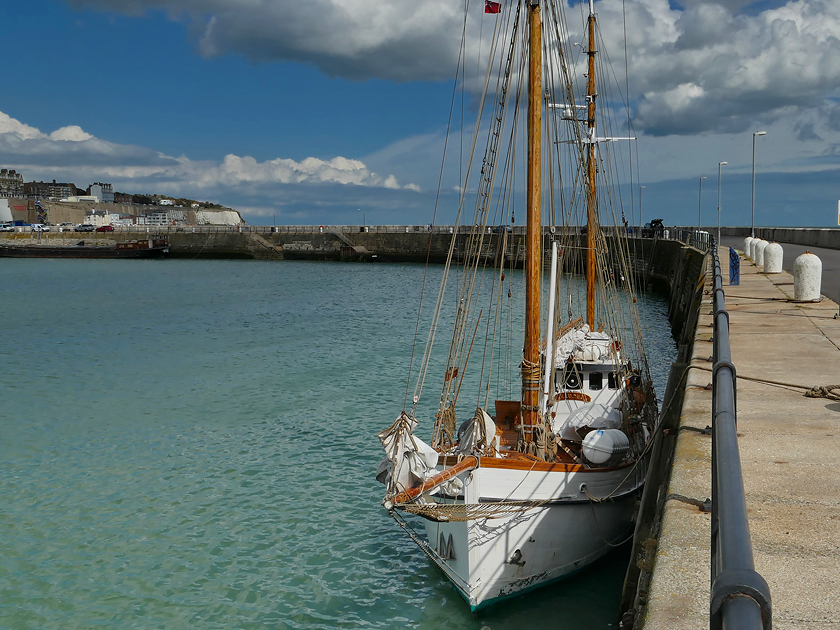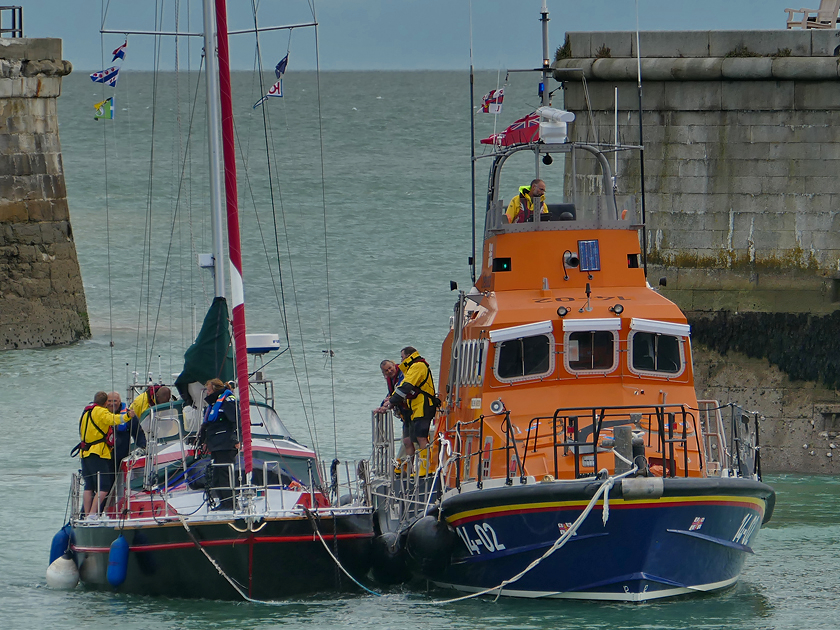 Service Call 49
4th September, immediately after completing Service Call 48, the AWB was re-tasked by UK Coastguard to a yacht with engine failure 26 nautical miles NE of Ramsgate. On scene the AWB passed a line and towed the casualty vessel into Ramsgate harbour. Wind on scene Force 9.
Ramsgate Lifeboat returns to the Boathouse to get refuelled and ready for service.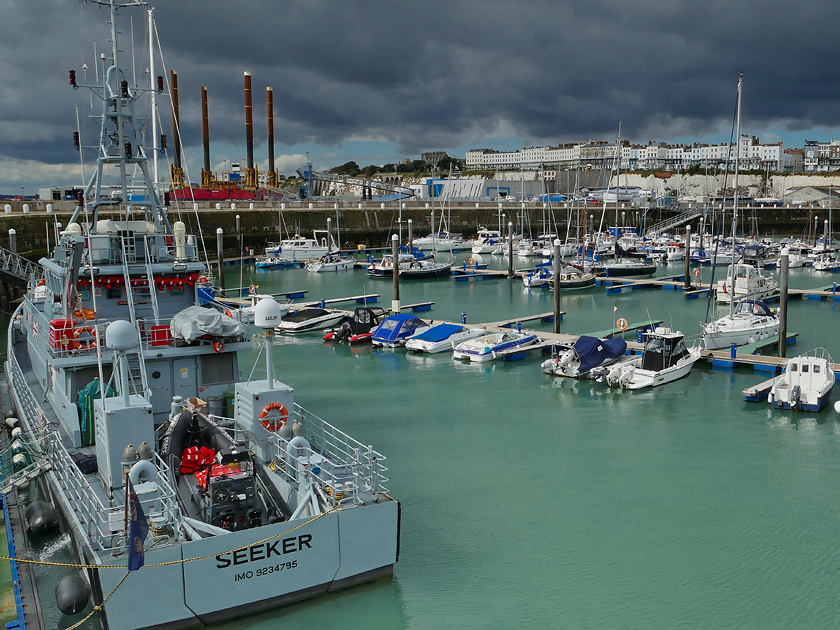 A weather front passes over Ramsgate but luckily the rain stayed away.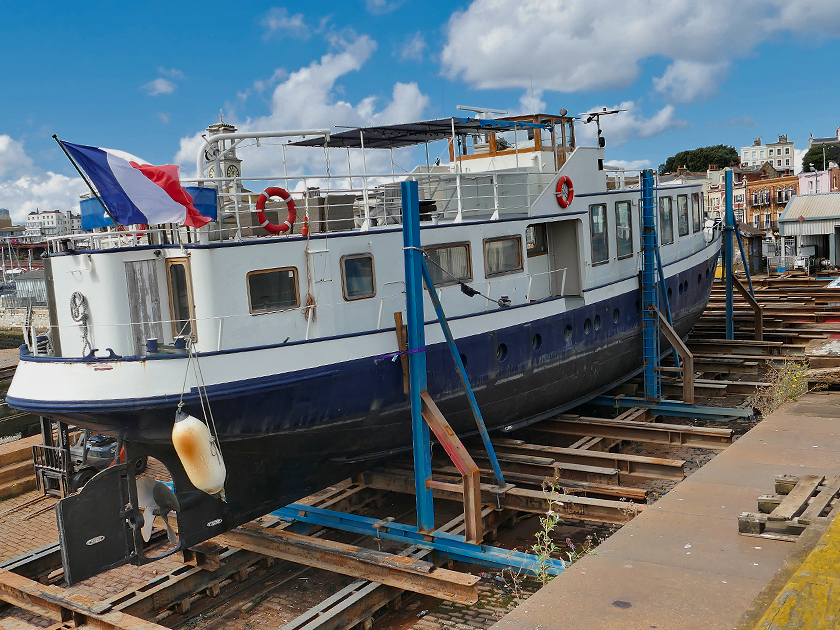 Now fine weather and a fine looking motor vessel on the slipway at Ramsgate.
Flying the French flag..but the name on the awning on the stern was Zeeland which is a coastal region of the Netherlands.A Marine surveyor was taking readings of the hull plating.I cannot find any information about her on the web.
Wednesday, 4 September 2019 - 18:35
Post 6507
Sea News, Dover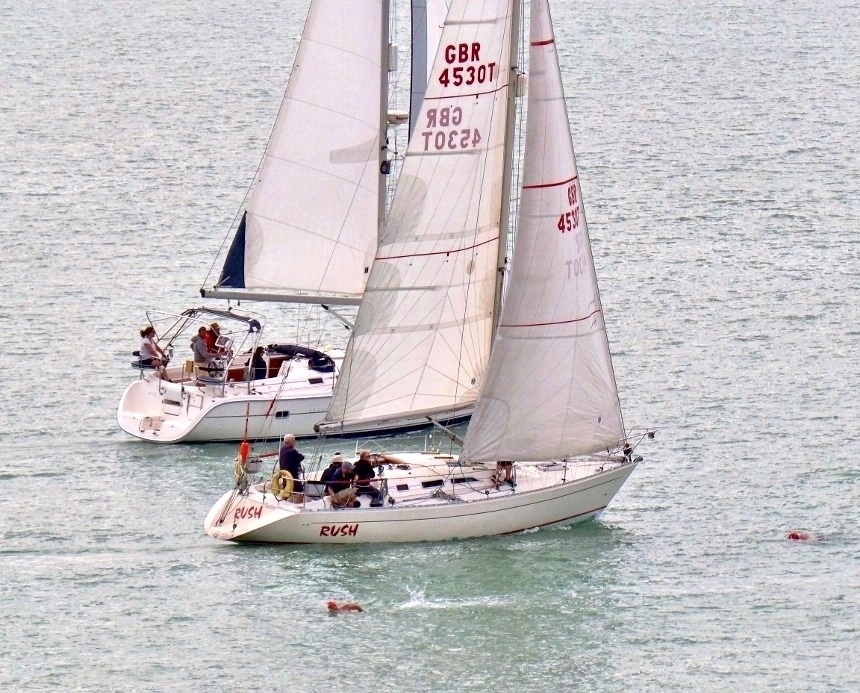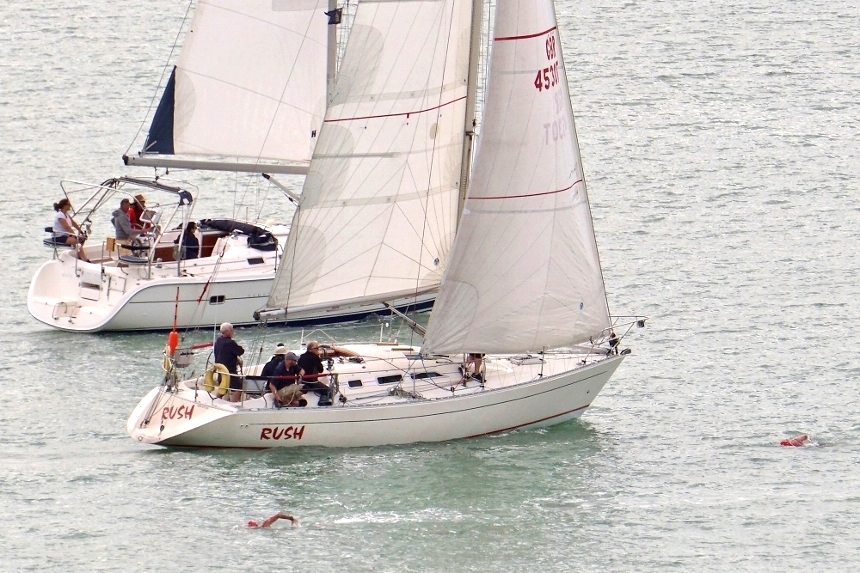 Two pictures above there taken on Saturday...the pix obviously show the yachts sailing by but look at the swimmers in the water right next to them. Yours truly didn't notice at first but upon examining the pictures later was surprised and concerned to see the swimmers right alongside the yachts as the yachts powered by. There was a number of yachts out there as you saw in Patrick's earlier shot ( 6499 ).
I will draw the Ports attention to this as none of us want to see an accident.
PaulB
More.....
Thanks to Howard James for the information on the US Warship see the UPDATE in 6502.

Thanks to Mike as ever for the information on those early ferries below. in 6503..

And thanks too to John Hendy for the cracking shot below looking across the channel

Wednesday, 4 September 2019 - 06:59
Post 6506
Sea News, Dover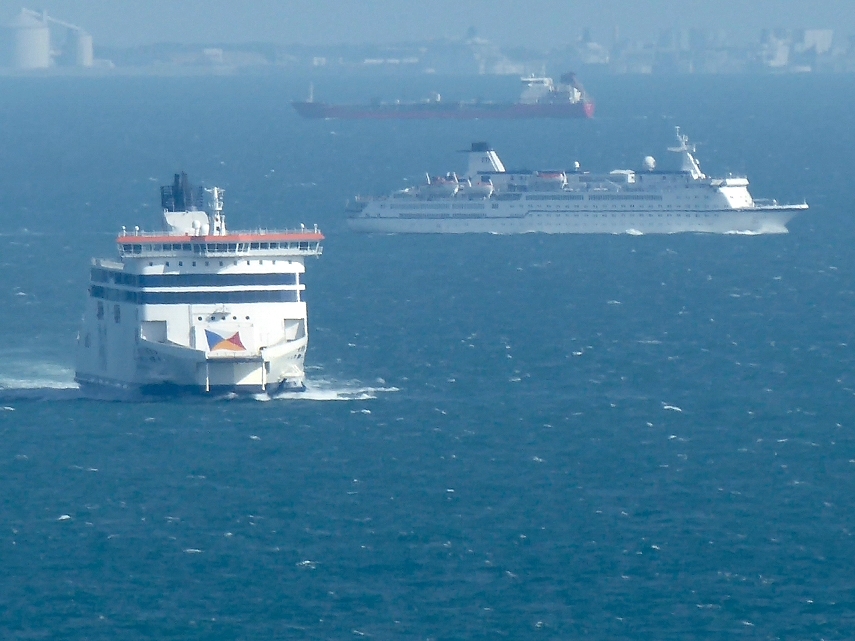 The Spirit of Britain making for Dover passes the liner Berlin in the Dover Strait. The latter was making for Le Havre. A hazy view but at least a record!
Picture/words by John Hendy
Many thanks for the striking picture John - happy to help. PaulB

Tuesday, 3 September 2019 - 14:51
Post 6505
John Hendy, St Mary's Bay (johnhendy479@btinternet.com)
Image above....

Tuesday, 3 September 2019 - 12:08
Post 6504
John Hendy, St Mary's Bay (johnhendy479@btinternet.com)
The Spirit of Britain making for Dover passes the liner Berlin in the Dover Strait. The latter was making for Le Havre. A hazy view but at least a record! (see 6506)

Tuesday, 3 September 2019 - 12:06
Post 6503
Mike J., Dover

Steve -

Post 6501 - You're quite right of course, I was thinking of passenger ferries rather than freight ships, altho' I'm sure that the SEAWAY has carried 'tourist' traffic on occasions, altho' with a much limited passenger capacity.

She's flitted around a bit, having worked in the Irish Sea & even as a windfarm 'mother ship' several times.

Her two sister ships the EUROPEAN HIGHWAY & EUROPEAN PATHWAY were extensively converted in 2002 becoming the PRIDE OF KENT & PRIDE OF CANTERBURY & can now carry 2000 passengers.

Tuesday, 3 September 2019 - 07:38
Post 6502
Sea News, Dover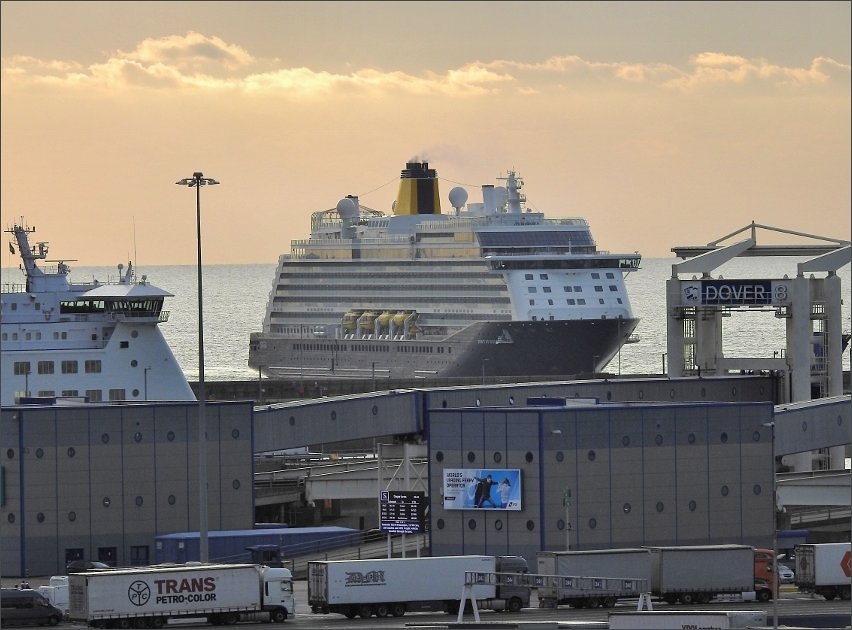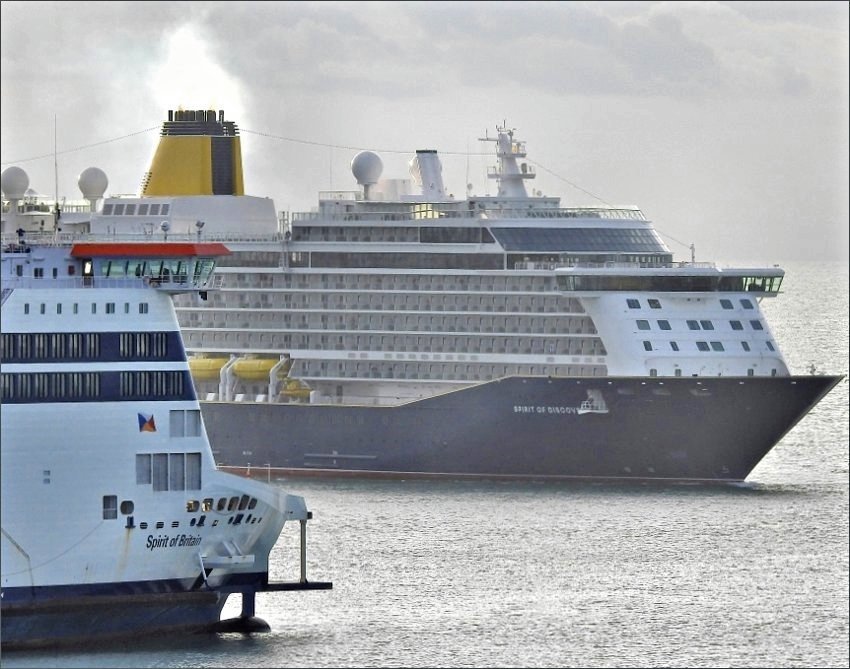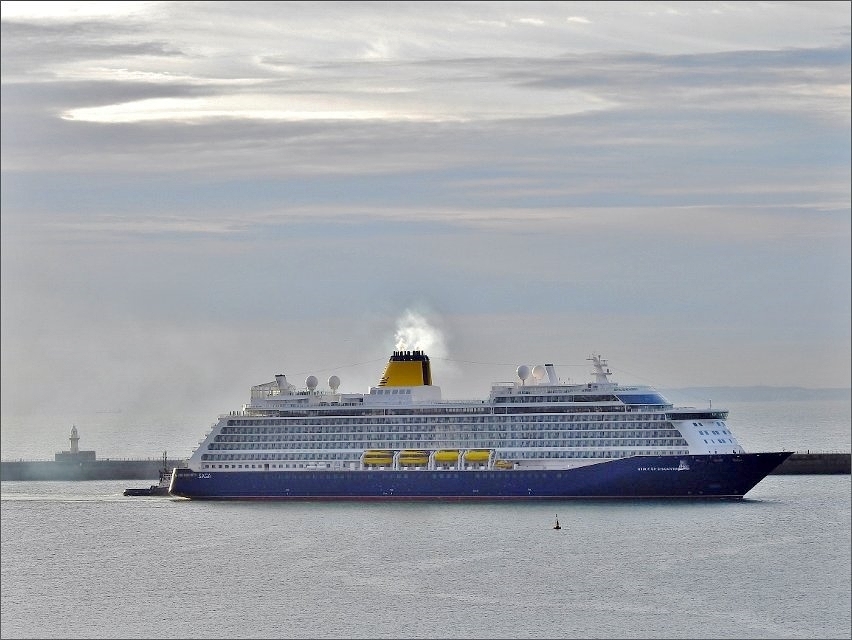 Pictures above of the Spirit of Discovery approaching and entering the Port last Sunday morning early...shooting into the light to a degree and then below across the other side of the Port with the light behind us somewhat.
As you can see the Disney Magic was already in....on Cruise Terminal Two. The Disney Magic always arrives in the wee small hours. You can see the Spirit of Discovery manoeuvring towards Cruise Terminal One in the shot below.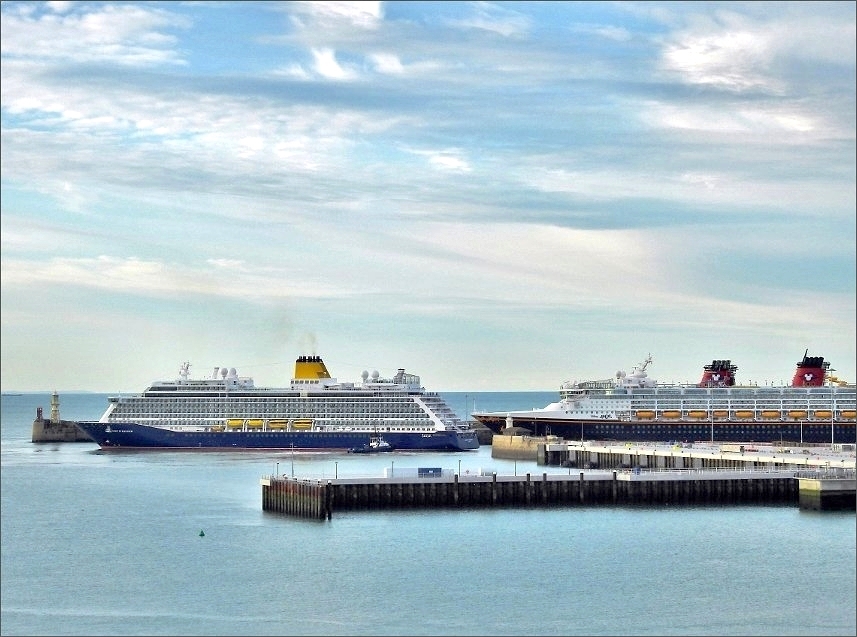 Just an extra one now...showing a warship going down the channel yesterday afternoon Monday...time of picture 13:26. Alas its just for visual purposes only... as I write as don't know the name of the ship...so if anyone knows let us know, info always welcome.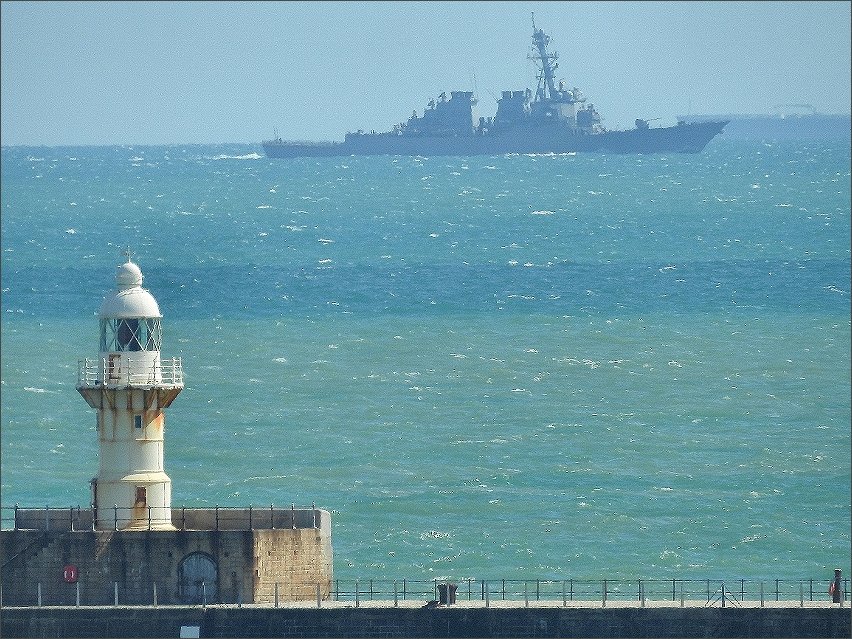 UPDATE:
The warship is USS RAMAGE –DDG 61 – Arleigh Burke Class Guided Missile destroyer – have no movement details.
Hope this helps,
regards
Howard James
……..Huge thanks for the update Howard - PaulB

Thanks for that info/clarification below Steve. Yes both of those you mention are indeed our older ferries....

PaulB
ps Still have quite a few pictures to catch up with including Pacific Reefer which came and went yesterday...saw her leaving surprisingly last night just after 10PM..also more Disney etc etc
Tuesday, 3 September 2019 - 06:09
Post 6501
Steve P, Dover
Reference 6492 and the Calais Seaways. I'm sure the European Seaway (presently broken in Dunkirk) is the oldest ship of the combined DFDS/P&O cross channel fleets. October 1991 for the Seaway v 1992 for the Prins Filip/Calais Seaways.

Monday, 2 September 2019 - 16:24
Post 6500
Sea News, Dover
From Charlie Elphicke MP
Missing Banksy
___________________
The Dover Banksy was an iconic piece of art. Wherever you stand on Brexit, it attracted visitors to our area and got people talking.
That's why so many of us were so deeply disappointed to see it disappear from the side of the former Shakespeare Hotel. We don't yet know what's happened – but many suspect the building's owners have simply painted over it.
Our campaign to save the Banksy at least kept it in Dover for more than two years. The huge piece – thought to be the artist's largest ever – became something of a landmark. Children and adults stopped and stared. Tourists came from far and wide. News reporters and film-makers pointed their cameras. All of us looked up, appreciating the special tribute to a unique moment in time.
And we fought hard to preserve it. An application was sent to Historic England to have the building listed. It argued the Banksy had strong cultural significance, that given its size and political relevance it could be worth millions of pounds. Historic England previously listed the Abbey Road crossing and even a 1960s Bournemouth bus depot described as hideous. If they are going to list things like that, they should have listed an iconic and culturally important piece of art like our Banksy. Yet they refused. This is the result – and they should hang their heads in shame.
We also tried to engage with the building's owners – the Godden family, famous in this area as the former owners of the Rotunda in Folkestone and Dreamland in Margate. Sadly, they wrote to me at the time labelling it graffiti. I tried to approach them to arrange a meeting, but they failed to respond. Only a few weeks ago I spoke to the council – who told me they were also finding it difficult to get them to engage.
What a massive shame. Because in Dover and Deal we have not always done well enough at protecting our heritage – at looking after things loved through the ages. Our iconic Prince of Wales Pier was shut down. Near to the Banksy, the Crypt site badly needs sorting out too.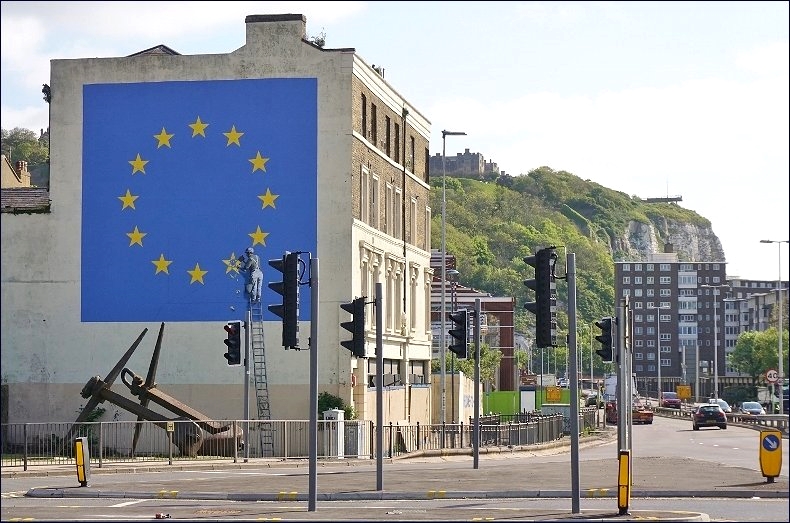 Yet we should not forget the progress we have made. Burlington House was a far less loved part of the local landscape. The huge empty town block blighted the area for years. Now, a shopping and cinema complex has risen in its place. Similarly, the seafront is being transformed. A new marina curve is due to be constructed next year.
Yet we must also fight to protect the great things we already have. Regeneration is about more than just new buildings. This was about protecting a piece of social history for the people it was intended for, their children and grandchildren.
I hope that as we continue to build a brighter future for Dover and Deal, we always remember the past. Our town has long been the gateway and guardian of the nation. We must embrace and celebrate its special role.
Charlie Elphicke MP for Dover and Deal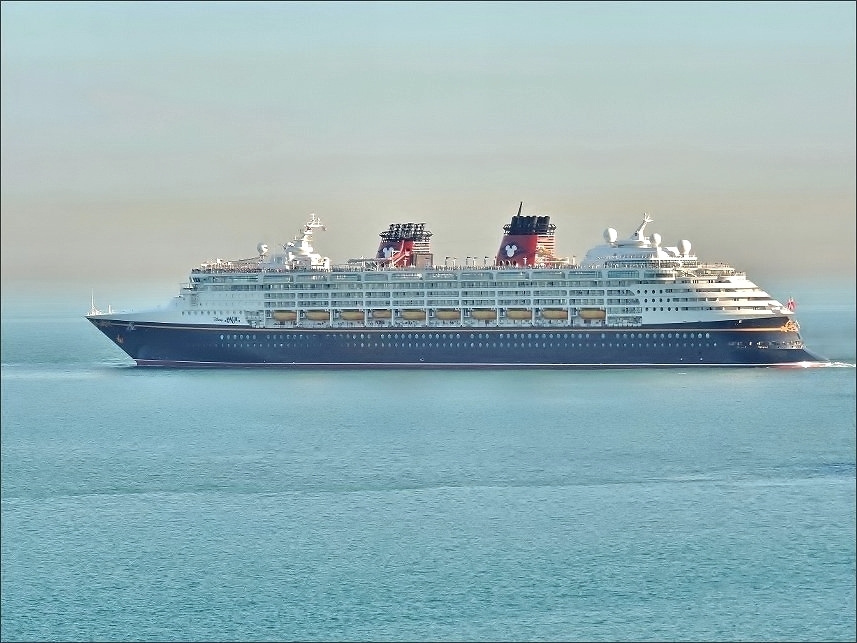 The Disney Magic provided all round hectic excitement yesterday once again, packed hotels...taxis too-ing and fro-ing doing great business ...frenetic kids with Mickey Mouse ears everywhere ( I will have to get a pair of dem ears...

) Great fun all round to a gentle background tinkle of "when you wish upon a star".
Also in Port was the Spirit of Discovery...we will have more pictures later. So an impressive day for Cruise Liners at the Port of Dover..
A couple of shots now to finish off...showing bunker ship Duzgit Harmony a-comin' and a-goin'
The sea looks positively Caribbean in the hot shots...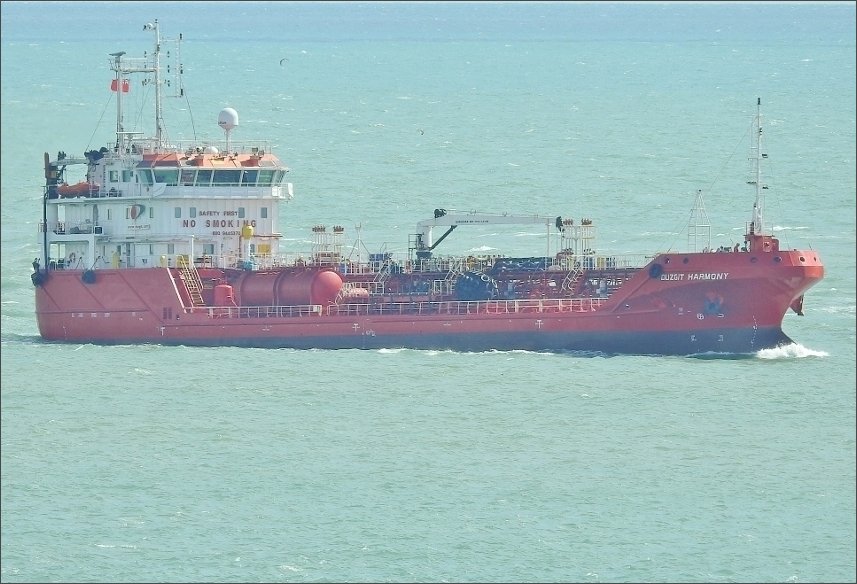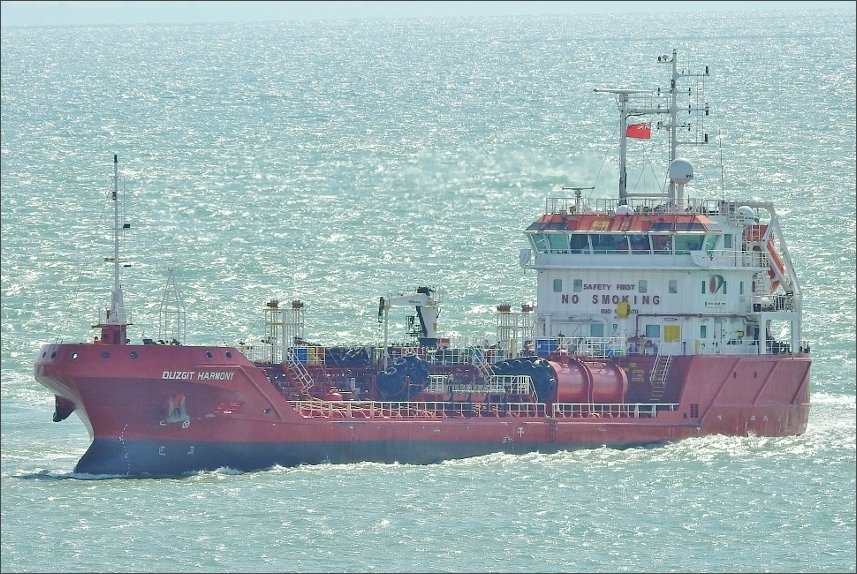 Cracking picture below Patrick - well done with that one.

PaulB
ps: Viking Sun in Port today...
Monday, 2 September 2019 - 07:11
Post 6499
Patrick, Marine Parade
Five in a row silently a'sailing. Makes a welcome change from the diesel powered ferries going back and forth on a pleasant afternoons recreation in the outer harbour.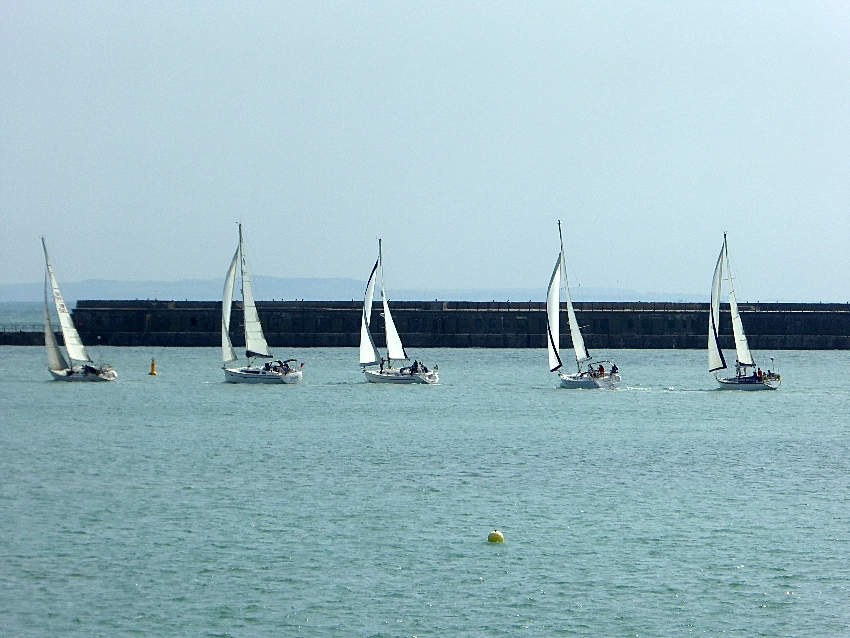 Sunday, 1 September 2019 - 16:11
Post 6498
Sea News, Dover
The Lombok Strait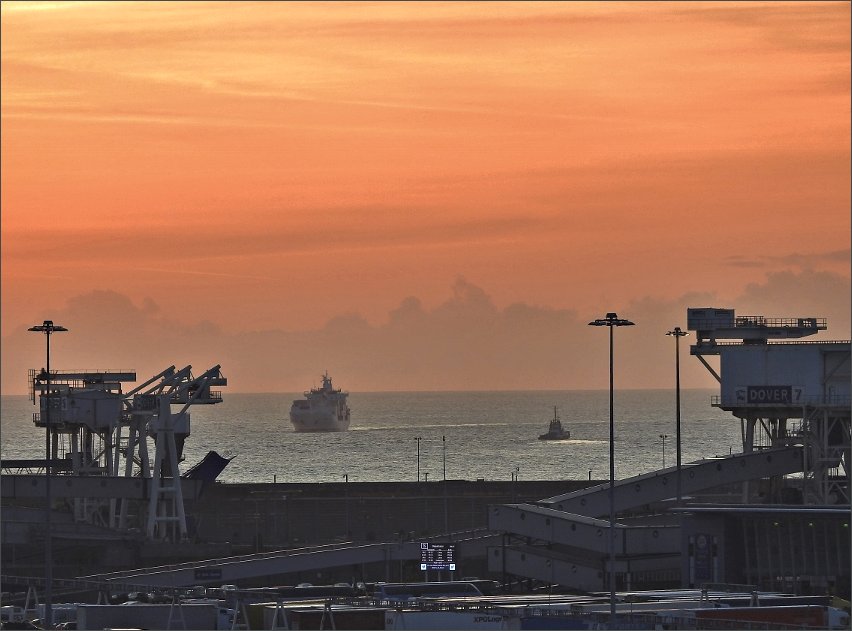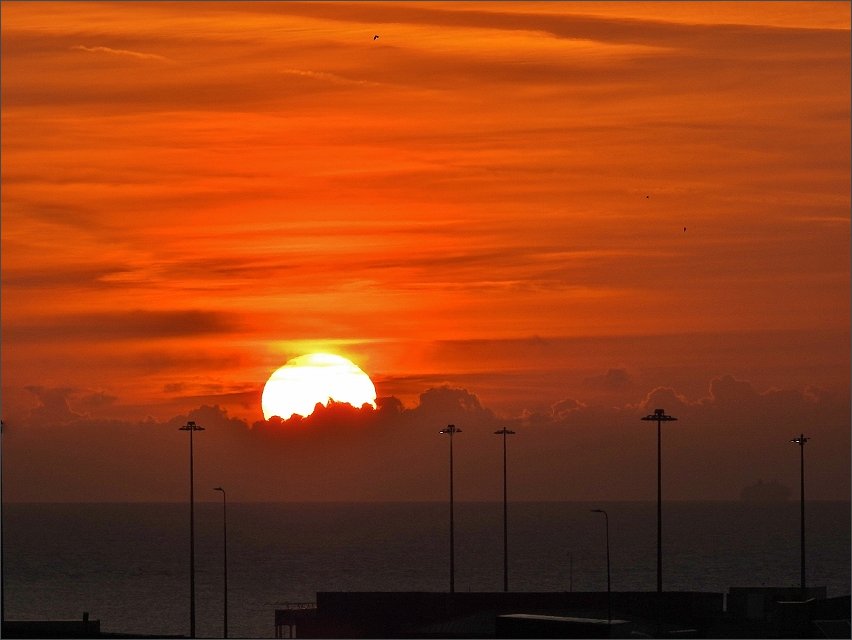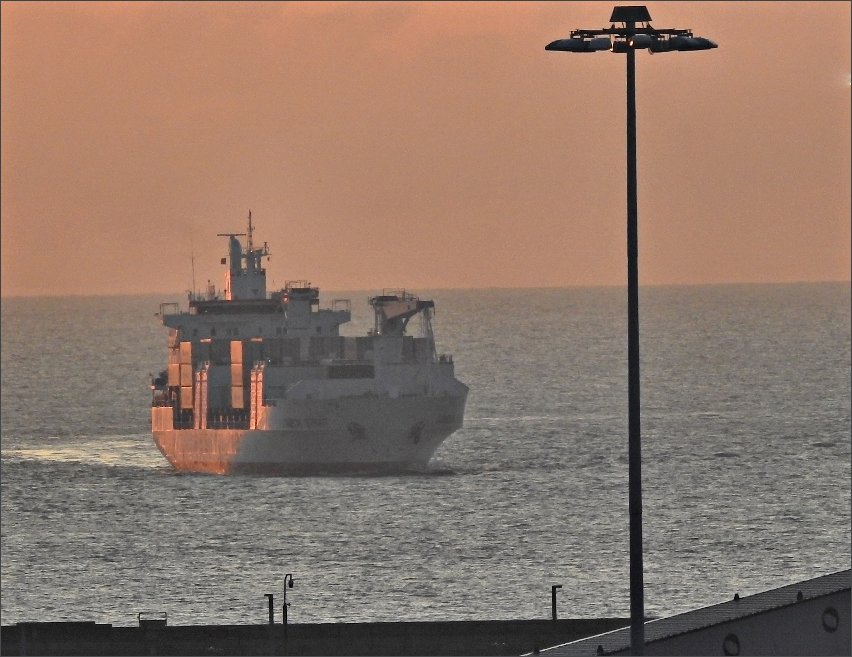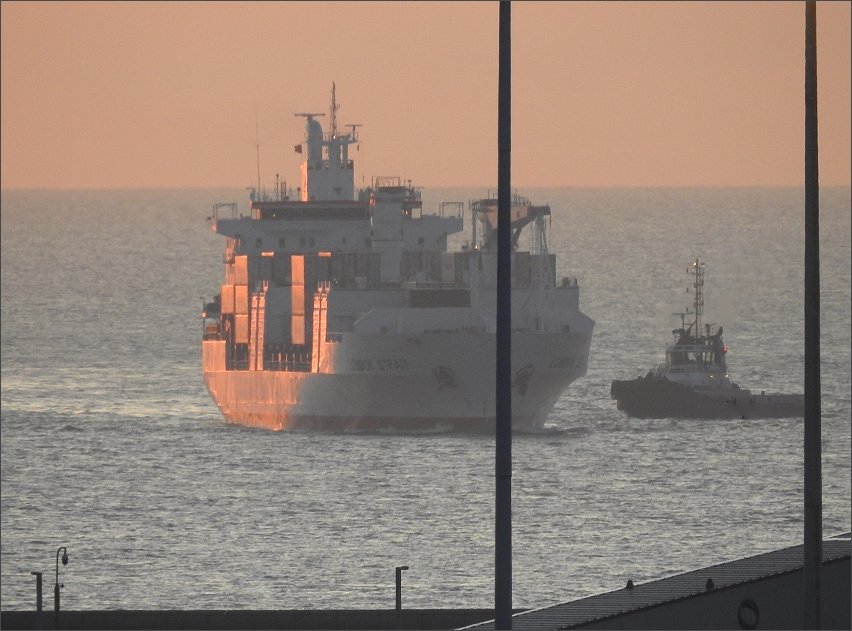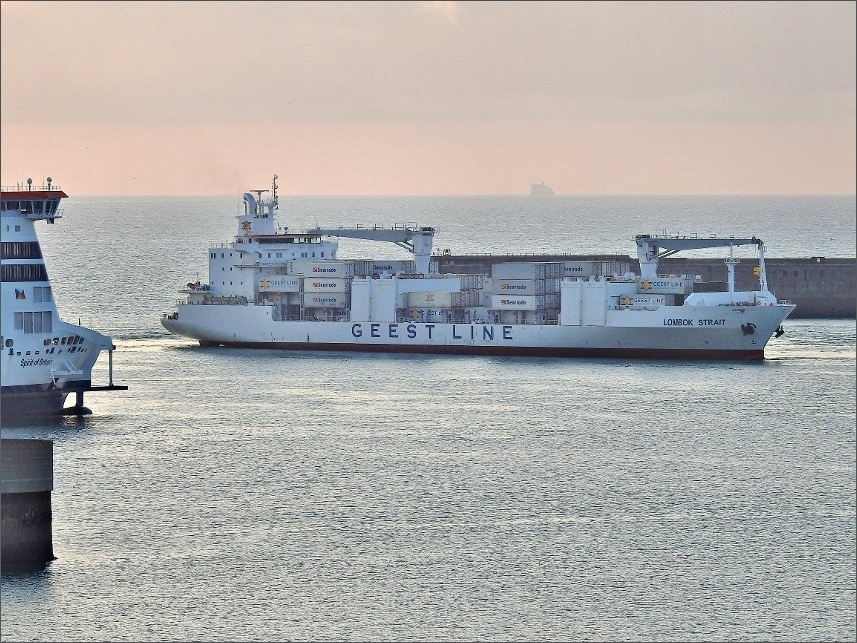 A series above there of the Lombok Strait coming towards the Port of Dover on Friday morning early, arriving from Vlissingen just as the sun rose dramatically behind her...glancing across the Port now I see she has since left us, must have left in the wee small hours of the morning... yes I see now, currently on her way to Bridgetown.
Most interesting all round collection below from Mike our 'inshore correspondent' so don't miss those. Great info too...

That sounds like one heck of a cruise Brian...bet you have booked to go...


And speaking of all things 'cruise' ... two heavy hitters in Port today, the Disney Magic and the Spirit of Discovery.
PaulB
Sunday, 1 September 2019 - 07:12
Post 6497
brian dixon, dover
the Viking sun cruise ship, intrestly will be starting a 33 week cruise from dertford creek London,at the princly sum of 66990 gb pounds.will not be back until late april next year.yes its a world cruise. yikes.

Sunday, 1 September 2019 - 06:27
Post 6496
Mike J., Dover
Nice light on the water as the SEEKER approaches really 'makes' the 'cover page' photo.
HUNTER & DALBY TEES in the Tidal Basin on Saturday morning during a very low tide.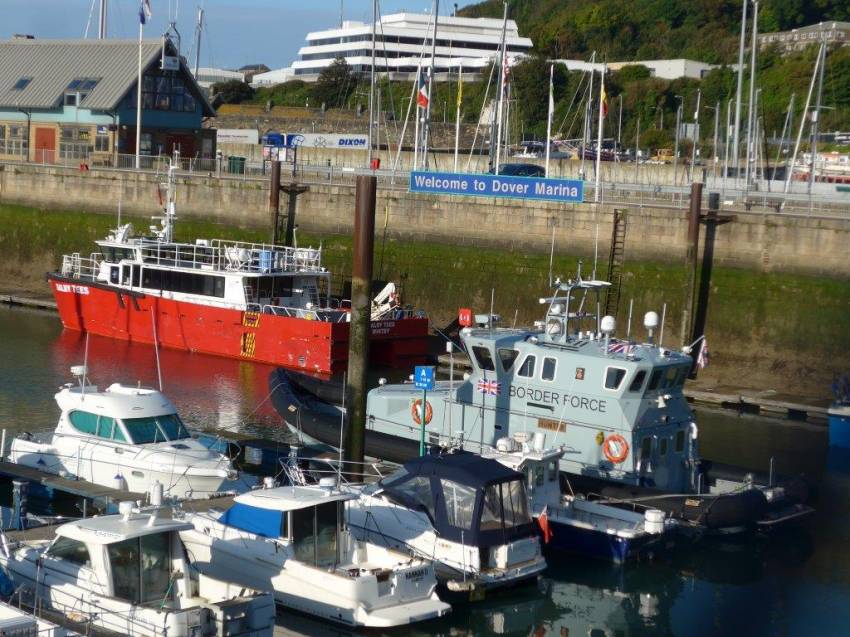 The workboat DALBY TEES came in on from the Solent Friday afternoon & sailed for Lowestoft midday on Saturday.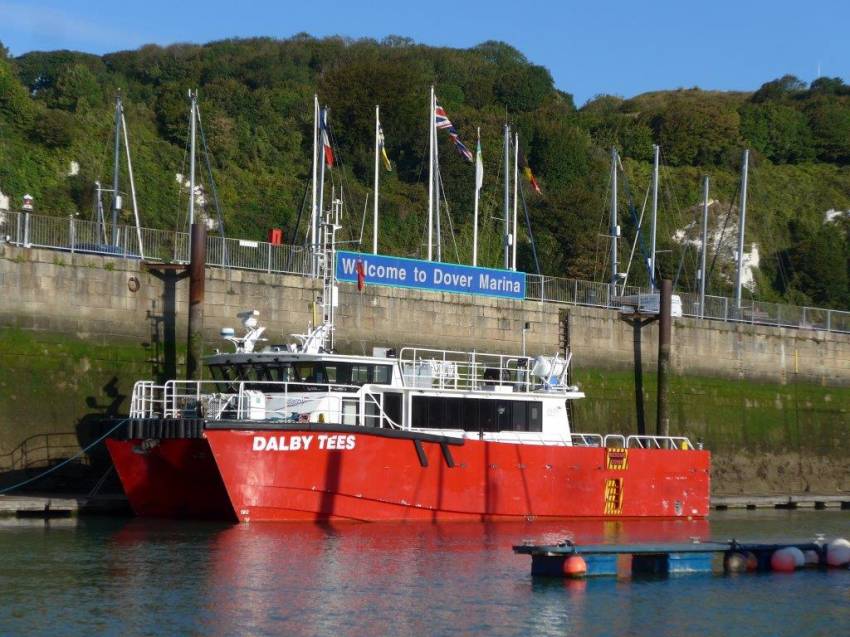 THV ALERT is in for the weekend alongside the DAVID CHURCH & Hammonds colourful launch was on her usual berth by the fuel pontoon.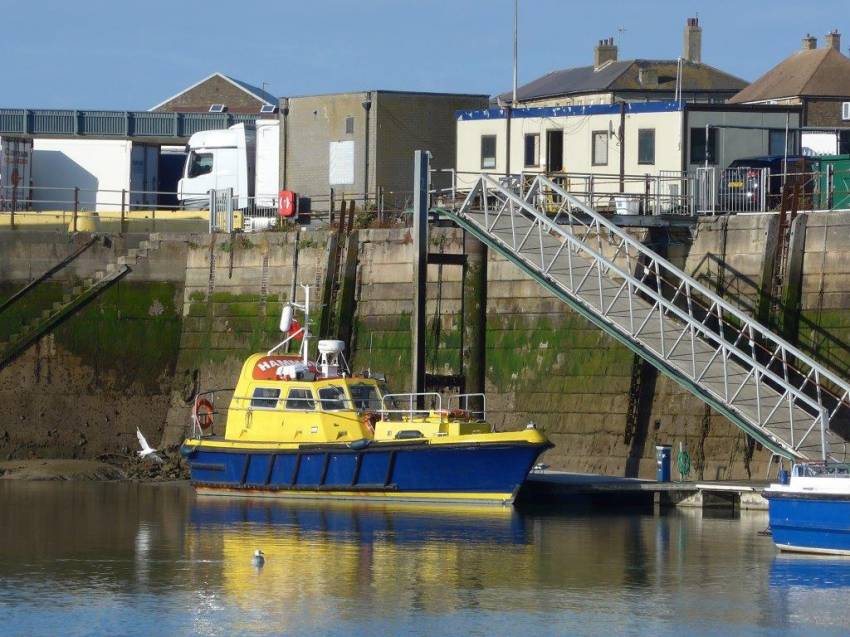 I'm sure that Sarah will agree that you can't have too many lifeboat pix.
Not much water in the harbour Saturday morning, with one of the lowest tides that I've seen.
The sill of the Wellington Dock gate channel is well exposed & normally unseen banks are showing as the PORTIA heads down the Wick with an angling party.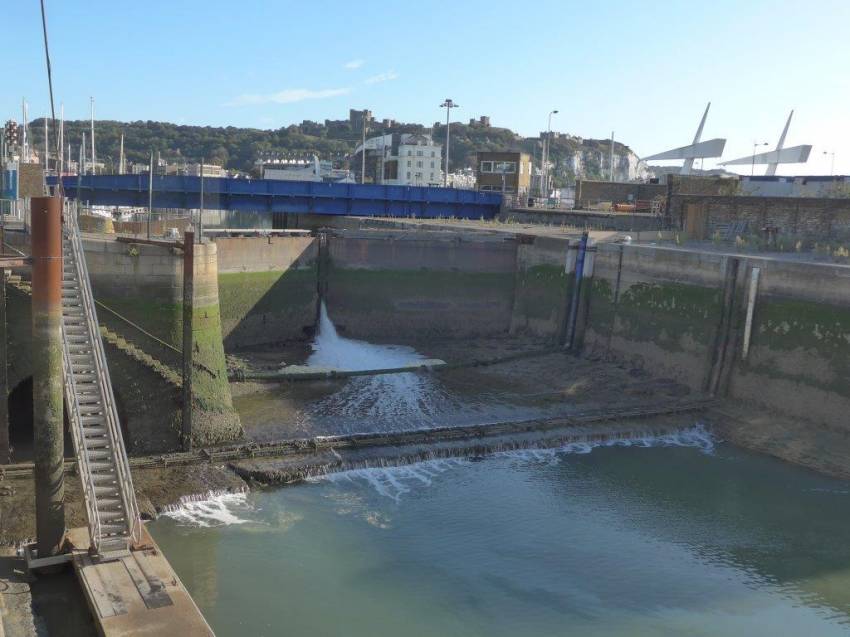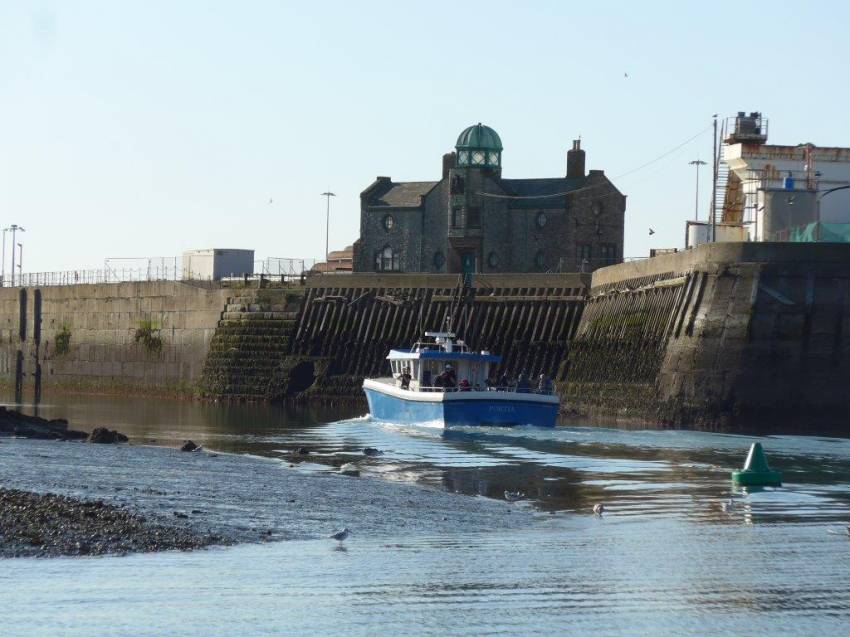 Re Paul's post of the DAVID CHURCH - she's lifting the East Buoy & maybe the 'smoke' is sunlight catching the spray from a high-pressure water jet cleaning the highly-visible seaweed & general crud from the base of the buoy.
Sunday, 1 September 2019 - 03:32
Post 6495
Sea News, Dover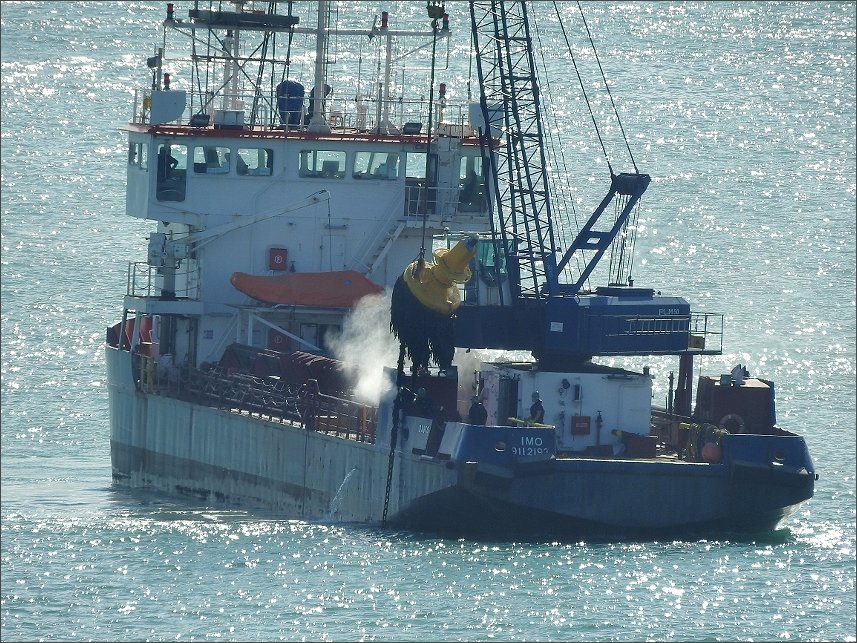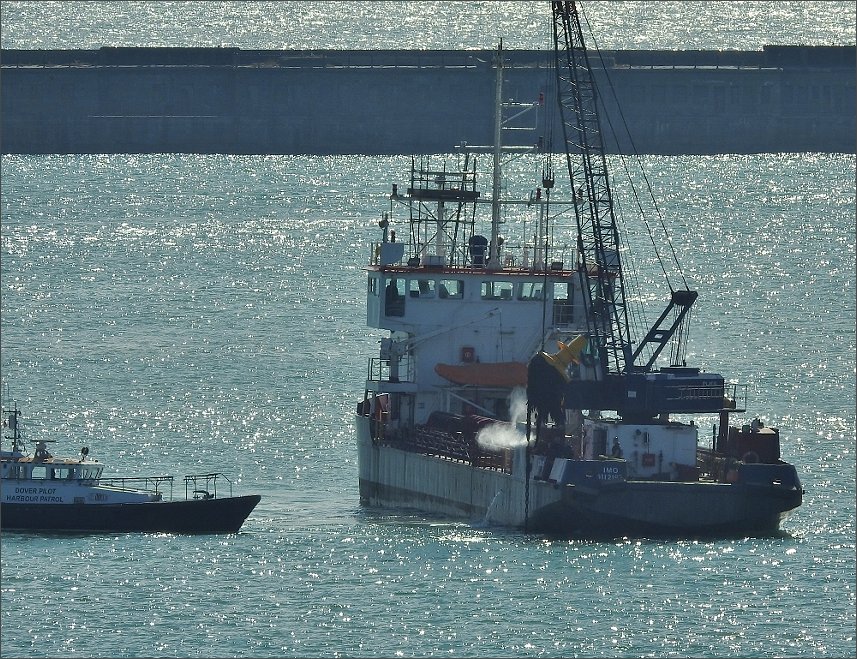 Some pictures above there of dredger David Church taken on thursday ...yours truly saw what looked like smoke rising from her deck...well you can see above there, but nothing of an alarming nature.... probably drilling something. You can see one of the marker buoys suspended in the pictures.
Following along from Mike's pic of Alert approaching, here she is again below a short time later, just heading into the inner harbour. Just saw her at the last minute.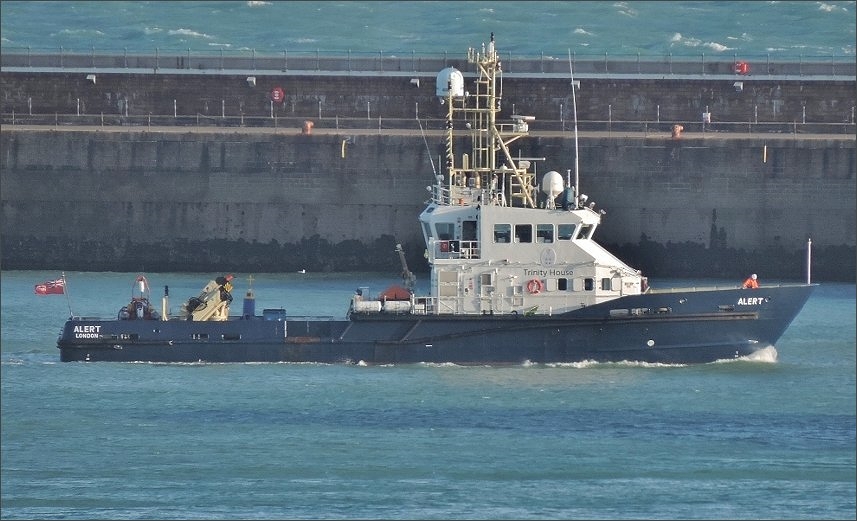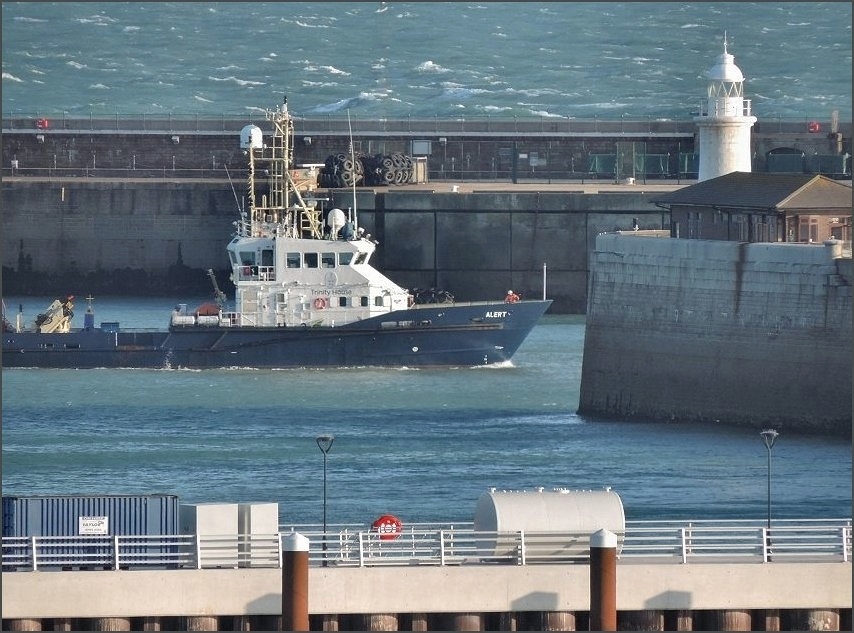 I know Del...our seagull is determined to get in to all the shots, mad for fame and glory....what can ye dooo


PB
Saturday, 31 August 2019 - 06:44
Post 6494
Del Styan, Norwich
See that pesky seagull has blown into your pic again. How does he/ she manage it!

Friday, 30 August 2019 - 23:05
Post 6493
Sea News, Dover
The Premier Inn on Dover Seafront is busy busy these days. The picture above there shows the hotel at dawn two days ago and looking good. Obviously now this is the season for dramatic early skies...and sure who can resist all that glorious colour...as you can see in the picture below. Sunglasses at the ready...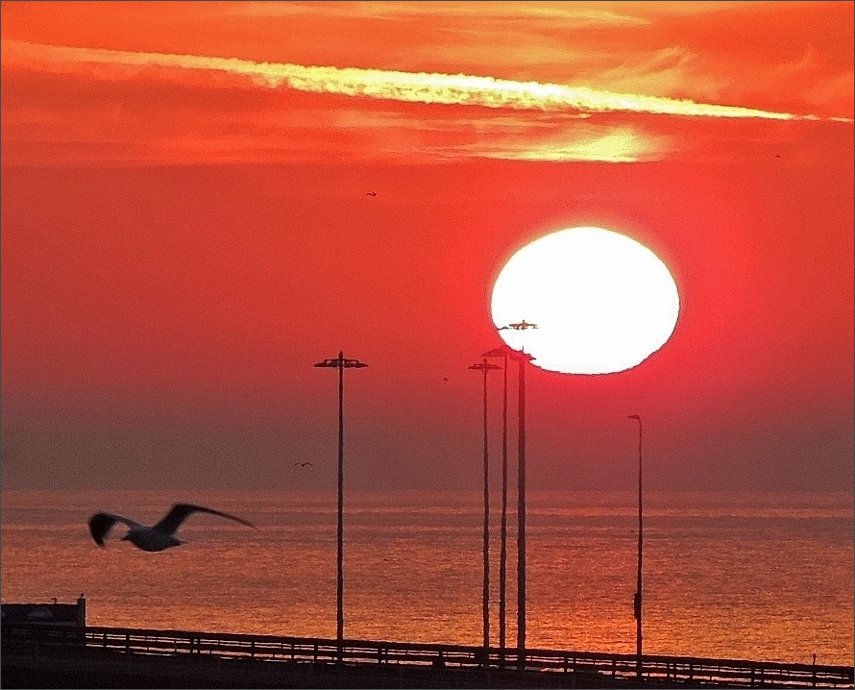 When the camera gets turned vertical as per top picture above, the width of the image appears to shrink. Its quite odd yet the dimensions are still the same as when horizontal...in the words of the song "its witchcraft"


I speak of course of standard dimensions.
Below we have a picture of the Viking Sun arriving yesterday morning...twas a soft morning for sure as she ambled slowly across the harbour to settle at Cruise Terminal Two...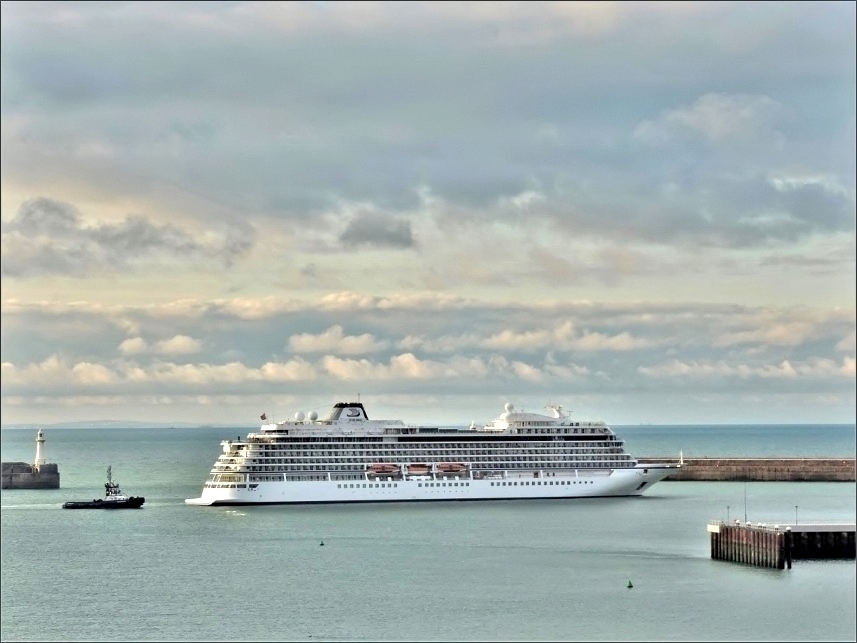 Mike yes I noticed the Calais Seaways myself yesterday and how good she was looking...the ferry is due to be replaced next year if i'm remembering correctly...but still cutting a dash!
Agent paddling furiously...lol

PaulB
Friday, 30 August 2019 - 06:04
Post 6492
Mike J., Dover
A nice sequence of the departure of the LUZON STRAIT from Paul.
In the first photo, bottom left hand corner, is that the Agent in hot pursuit with some paperwork that he'd forgotten to give the Master ?
A few Thursday pix, departure of the VIKING SUN for Tilbury, altho' they're not due there until the 31sr & the arrival of THV ALERT, with a lighting pole getting in the way as is traditional.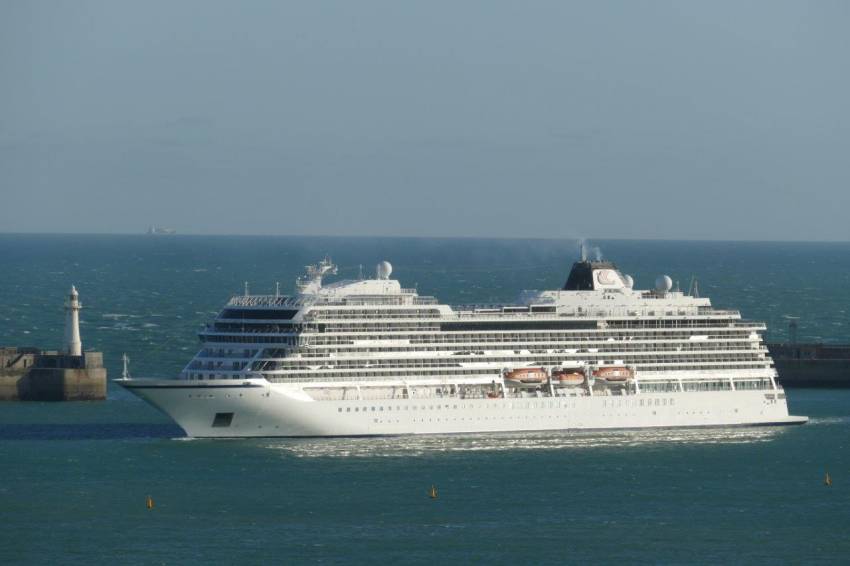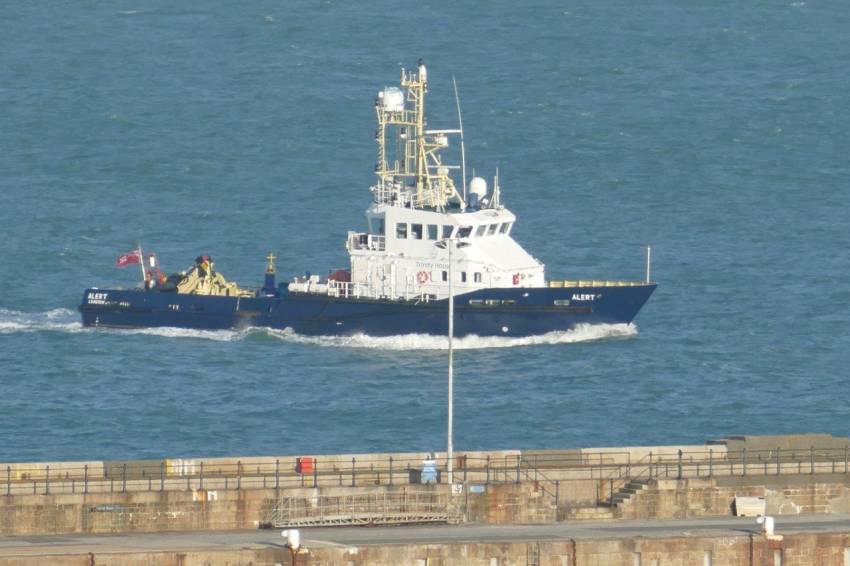 Similar pole intrusion for the docking of the CALAIS SEAWAYS, the oldest local ferry, looking good after 28 years of service & a bewildering array of names.
I have slides of her, covered in flags, making her inaugural visit as the brand new PRINS FILIP oif RMT, probably photted from the ST.CHRISTOPHER or the FANTASIA.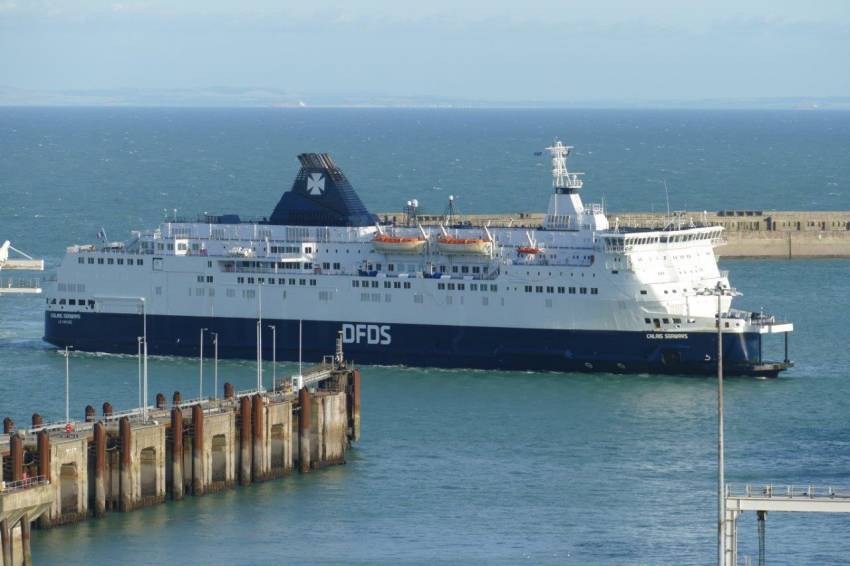 An interesting workboat, the EAGLE, was on the boat lift during the morning having a quick pressure-wash.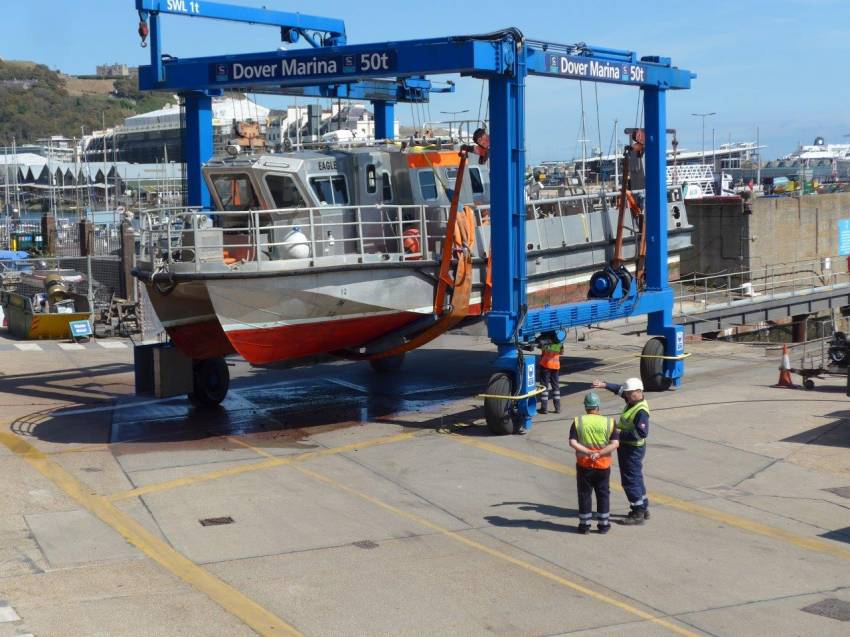 Not found anything about her yet.
Friday, 30 August 2019 - 03:11
Post 6491
Sea News, Dover
The GEEST LINE leaving the Port of Dover !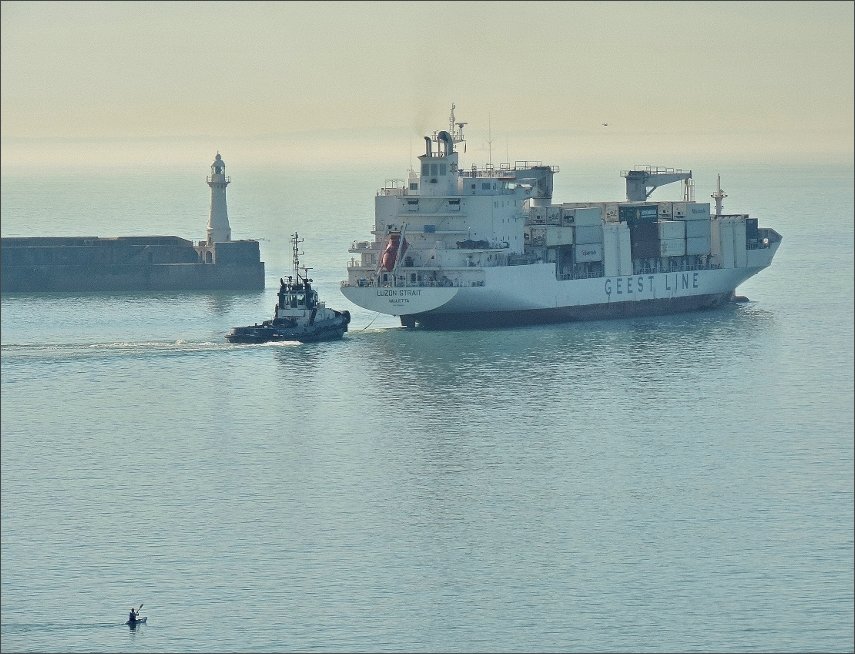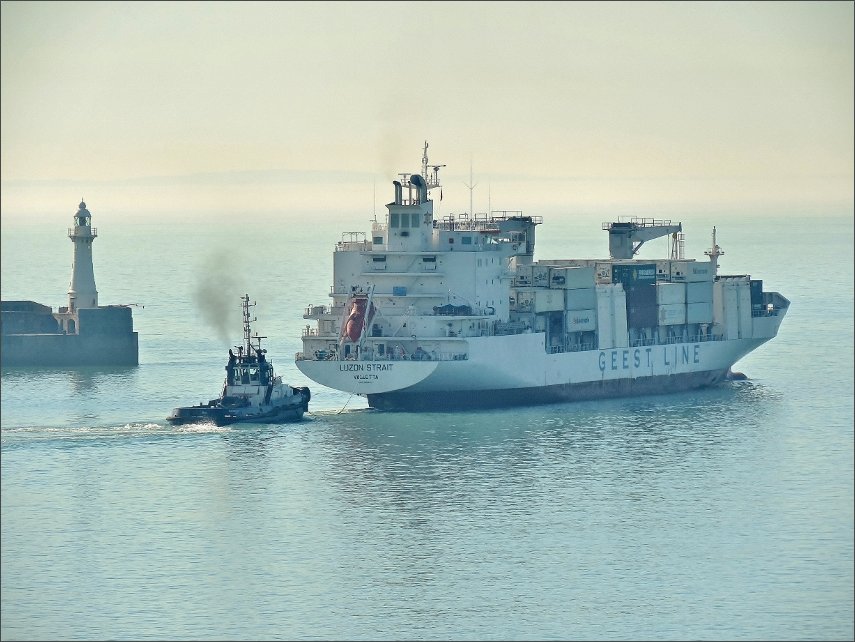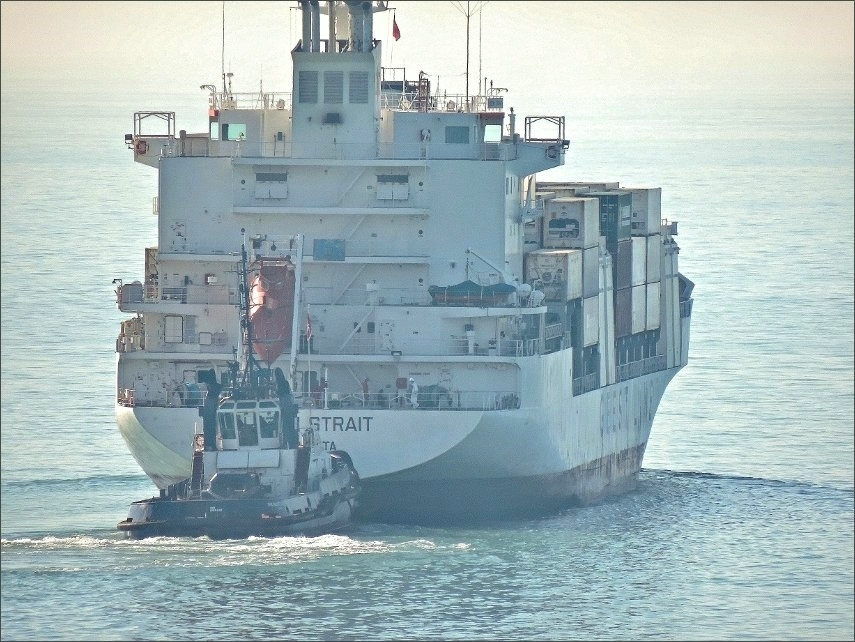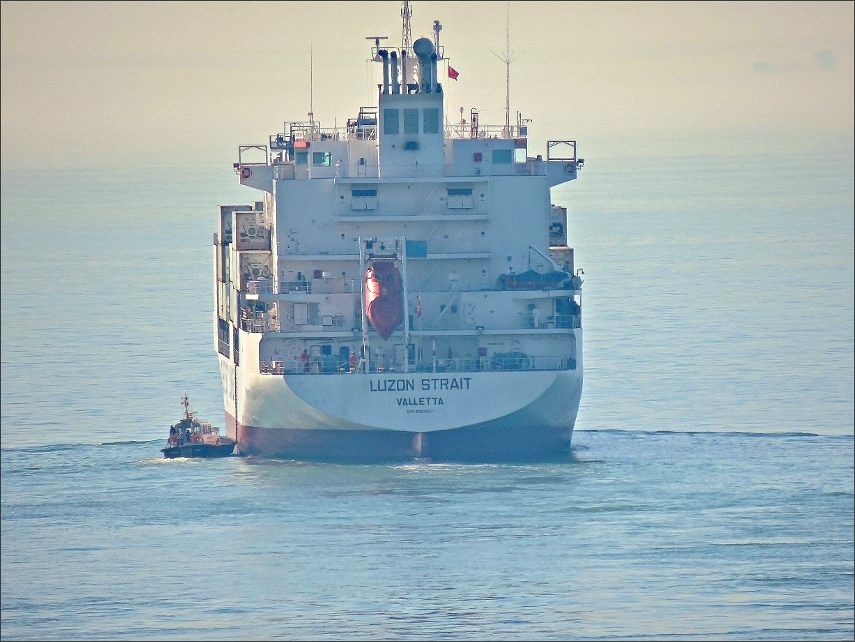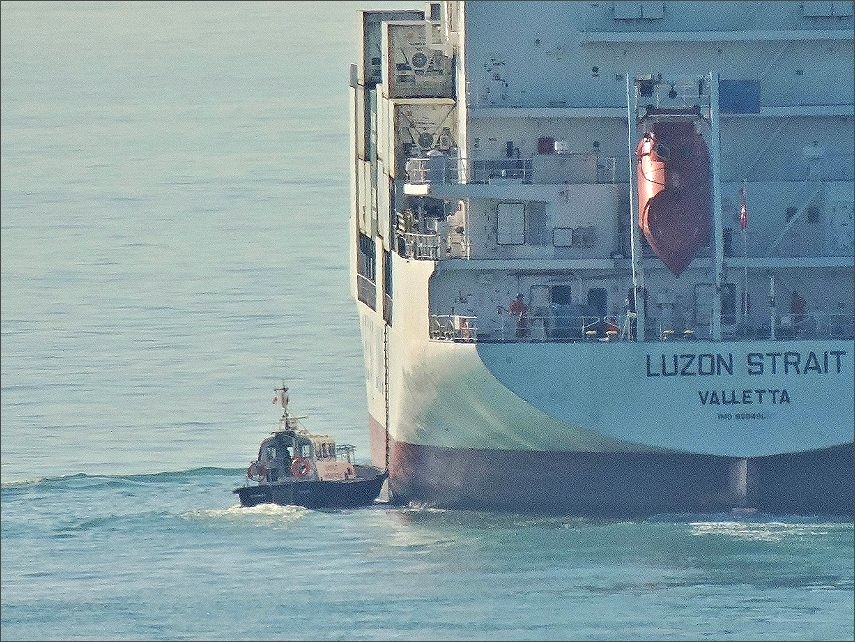 A sequence above there of the Luzon Strait leaving the Port of Dover through the western exit a few days ago. Seen above as she begins her long voyage to Bridgetown in Barbados to collect another consignment of tropical fruit. Sadly as we understand it .. Geest Line are leaving Dover and moving back to their previous stronghold in Portsmouth. We are ever optimistic that the Port here will be able to replace the loss.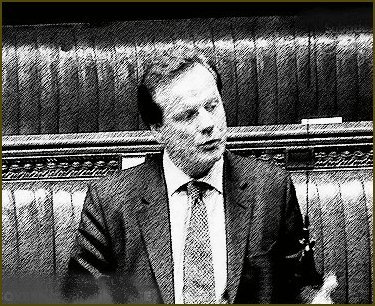 Time for serious investment in our roads...says Charlie Elphicke MP
_____________________________________________________________
Dear Mr Boland,
The M20 is the slowest motorway in Britain. This weekend saw yet more delays thanks to the latest works.
The closures – this time in both directions between junctions 9 and 11 for resurfacing – were a nightmare for drivers. They came on top of ongoing works between junction 3 and 5 to make it a so-called a "smart motorway". And the hundreds of thousands of cones that now seem to line every major road in and around Ashford as they continue to build the new Junction 10A.
Then there are the steel barriers down the middle of the carriageway for Operation Brock – the contraflow scheme that is supposed to replace Operation Stack. All these things have contrived to turn the M20 – a vital cog in our trading machine – into the nation's slowest motorway. Yet again, it underlines why we need more investment in Kent's roads. Not Brock. Nor smart motorways. We need serious investment in wider roads and more road capacity.
That starts with dualling the A2. By 2030, freight traffic at Dover is projected to rise by 40%. A single carriageway A2 is simply inadequate. There needs to be investment in off-motorway lorry parking too. Kent MPs spent a lot of time convincing the Department for Transport to provide money for the Stanford lorry park. Now we need to get that important project back on track. And we need a better road between Dover and Deal to boot. The A258 is congested, inefficient and dangerous. A dual carriageway linking north Deal to the Eastry bypass is vital.
These major projects must be delivered. In the meantime, our priority should be ensuring our towns aren't gridlocked by queuing trucks. That's why I welcome the Department for Transport's new enforcement scheme – something I have long called for. Until now drivers were able to bypass traffic management queues by heading down smaller roads like the B2011, York Street and Jubilee Way. Before long Dover is at a standstill. Under the new plans, lorry drivers would have to present a permit to show they had queued correctly – or be fined £300 and sent straight to the back.
It's encouraging to see a Government that is serious about leaving the European Union – and preparing for every eventuality. Money is being spent on extra border officers, customs agents and better IT systems. Not only is this a sensible precaution – it means European leaders know we are serious about leaving, deal or no deal. That gives us a better chance of securing a good one. Most importantly, it means we can finally deliver what people voted for more than three years ago.
And then we can focus on all the other hugely important things – schools, healthcare, home ownership, the economy. And transport. These M20 problems have gone on long enough. Only real investment in our roads will end years of frustration.
Charlie Elphicke
ENDs
* *
Interesting collection below Mike - good to see those.

PaulB
ps:Viking Sun in Port
Thursday, 29 August 2019 - 06:06
Post 6490
Mike J., Dover
A stroll up the Ad.Pier on a rather gloomy Wednesday morning to get a bow 3/4 view of the BOUDICCA on CT2 proved a little more interesting than expected.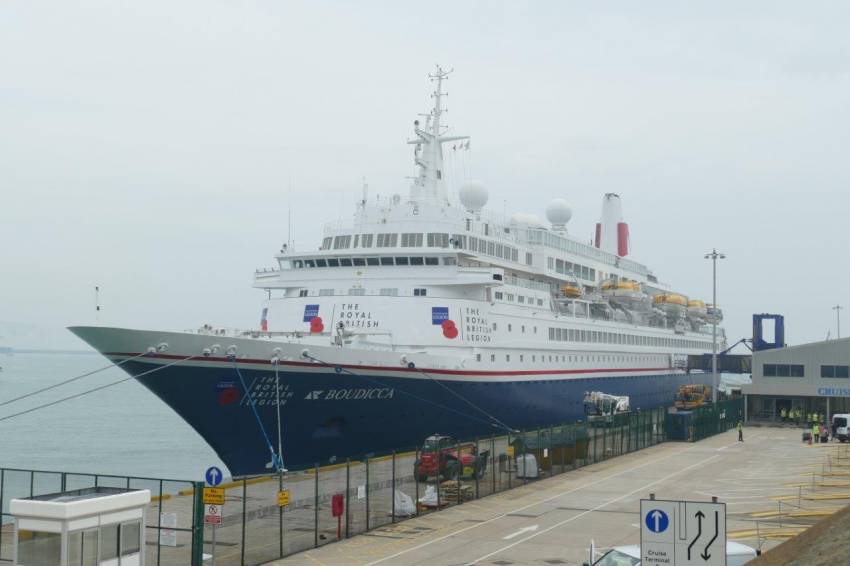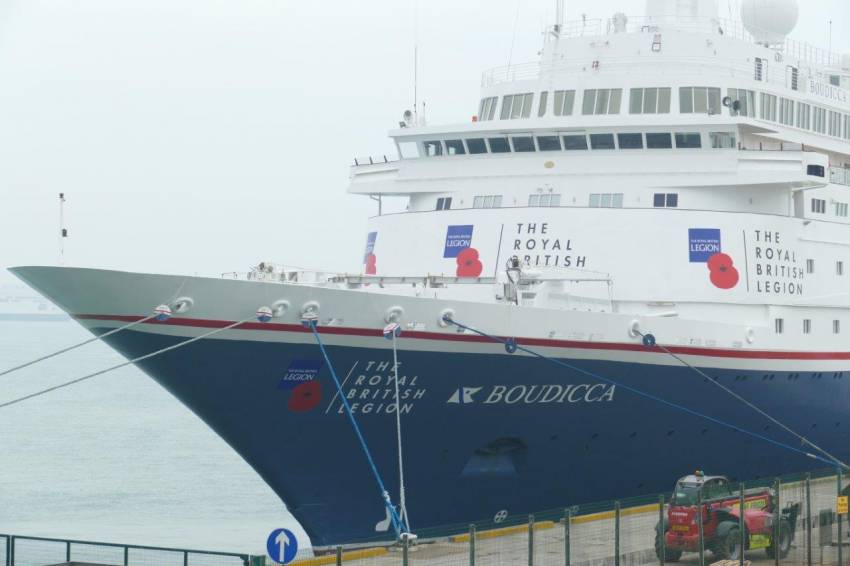 The ANDROS was bunkering the BOUDICCA & I'd forgotten that DEEP HELDER was still alongside CT1.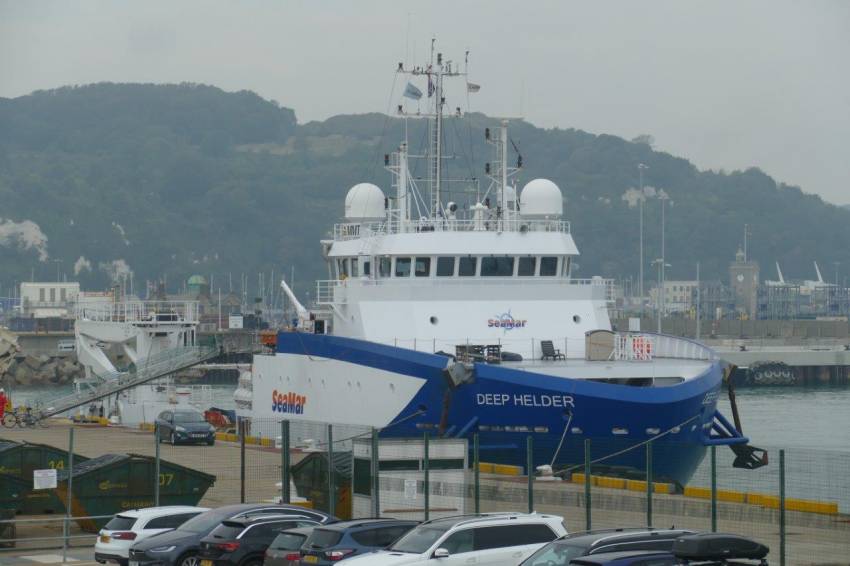 Chatting at the Turret café I almost missed the unexpected arrival of Border Force HUNTER.
She was towing a RIB so presumably had 'guests' aboard.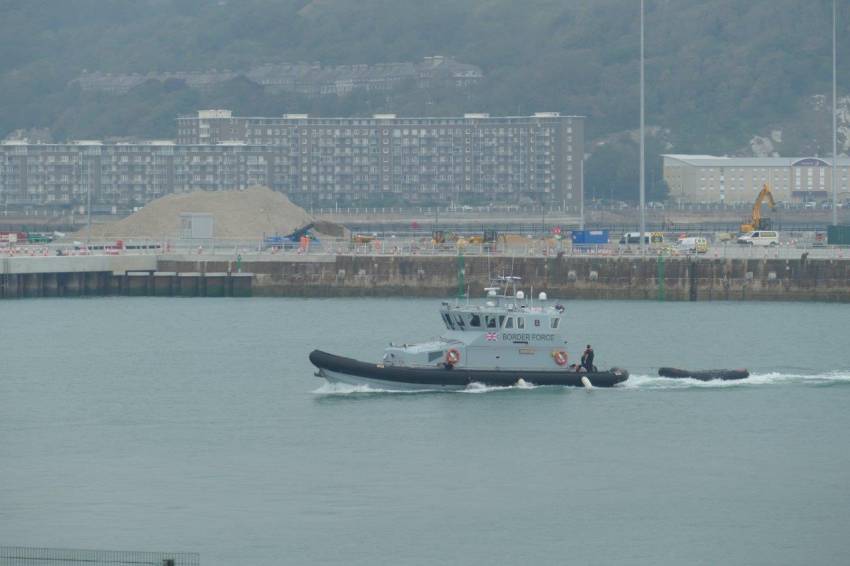 Another unexpected sight was a former US Navy biplane that made a change from 'marine matters'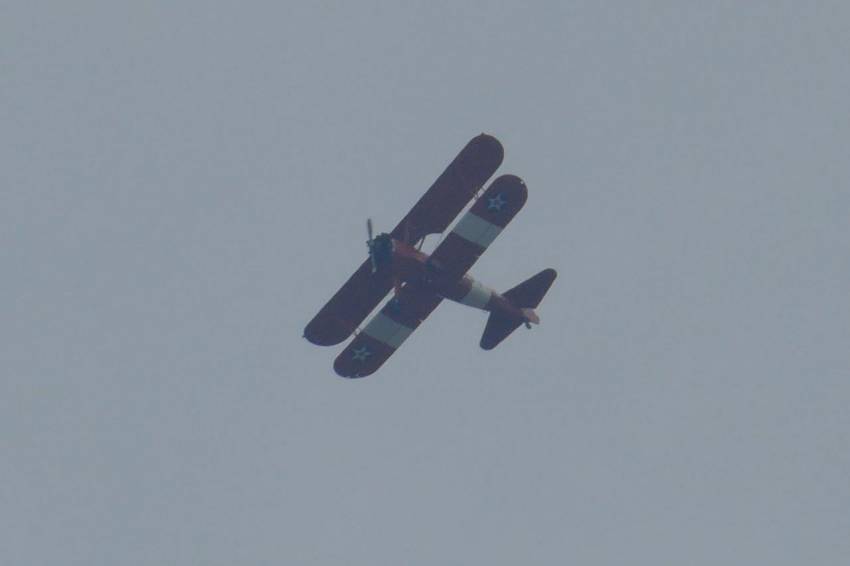 The Boeing Stearman was a former training aircraft built during WW2 & now lives at a farm near Hythe.
She circled overhead in the gloom, seeming to hang in the air compared to the Spitfires that are common sights flying over Dover & the White Cliffs.
Thursday, 29 August 2019 - 01:44