Wednesday, 25 April 2018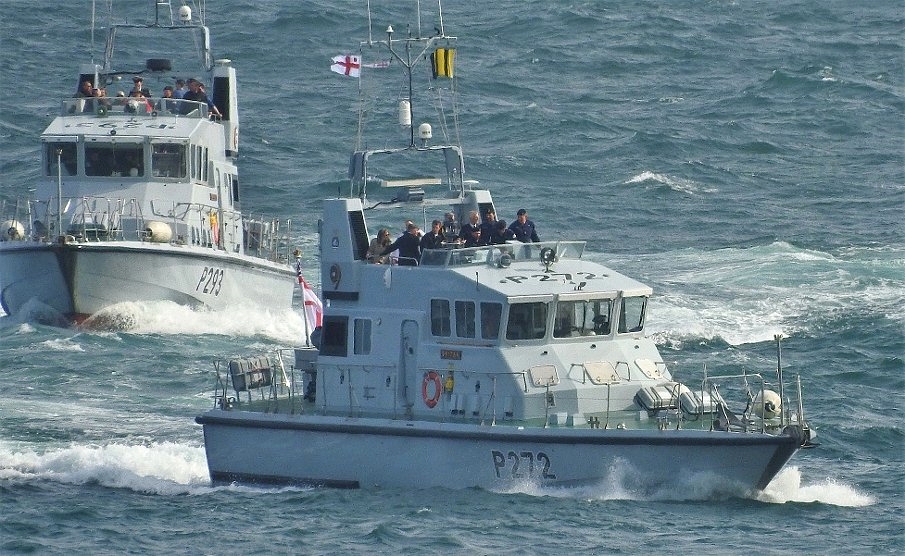 HMS Smiter and HMS Ranger approaching the Port of Dover in choppy seas Monday afternoon 3pm exactly....

doverforum.com/sea-news
Doverforum.com: Featuring all the ships that come and go and work at the Port of Dover with further coverage of the surrounding towns both sides of the Channel. Email: dover7@msn.com to send SEA NEWS pix or info.... or click ADD YOUR COMMENT below to post direct, no membership needed.

Port's Chief Executive TIM WAGGOTT RESIGNS see 4778
_______________________________________________________

P&O FERRIES presents big cash to RNLI Dover...see 4829.
P&O FERRIES recruiting...4745.
PORT of DOVER awards Cargo Refrigeration Contract see 4740.
PORT OF DOVER: Community Benefit 4688
TRADING GROWTH FOR DFDS DESPITE BREXIT see 4642
PORT OF DOVER RECORD FREIGHT see 4551.
PORT OF DOVER: GEEST LINE arrival see 4597.
SECOND FEMALE CAPTAIN FOR P&O see 4608.
Sea News Dover : Use our SEARCH ENGINE below to find all sorts on the SEA NEWS pages..more than 240 now with more than 4750 nautical posts. Posts welcome. Max of 5 pictures preferred per post.
Type CRUISE VISITS in our SEARCH ENGINE below for news of the latest arrivals.
Sea News Editor Paul Boland - dover7@msn.com .
Post 4705
Ted Ingham, Canterbury
A change of views as we move over to the Eastern Docks.
The first photograph was taken in the early 80's from a RAF SAR Wessex helicopter based at Manston. At the time I was a HM Coastguard Helicopter Liaison Officer and later transferred to Dover Coastguard until my retirement in 2011.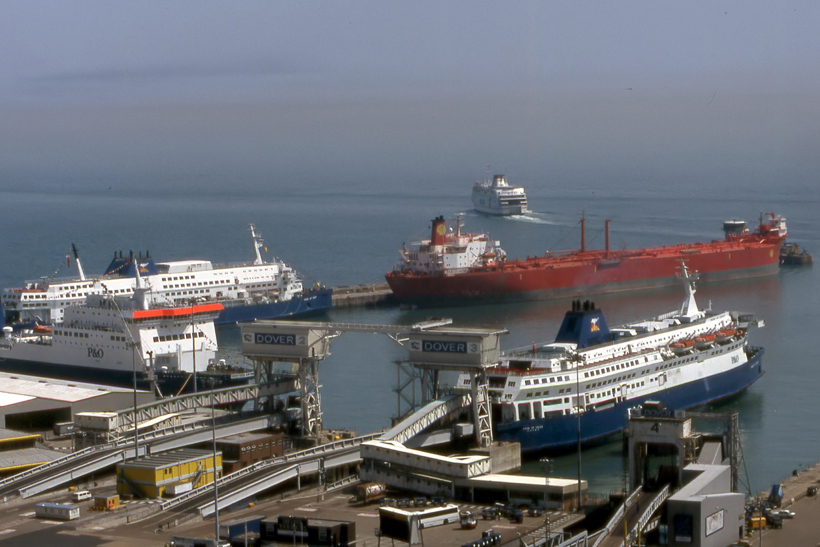 Photographed in June 1992 from Langdon Battery.
Celebrating 100 years of Shell Tankers the 127,540DWT/1980 built NORRISIA alongside the Eastern Arm. She was open to the Shareholders during her visit.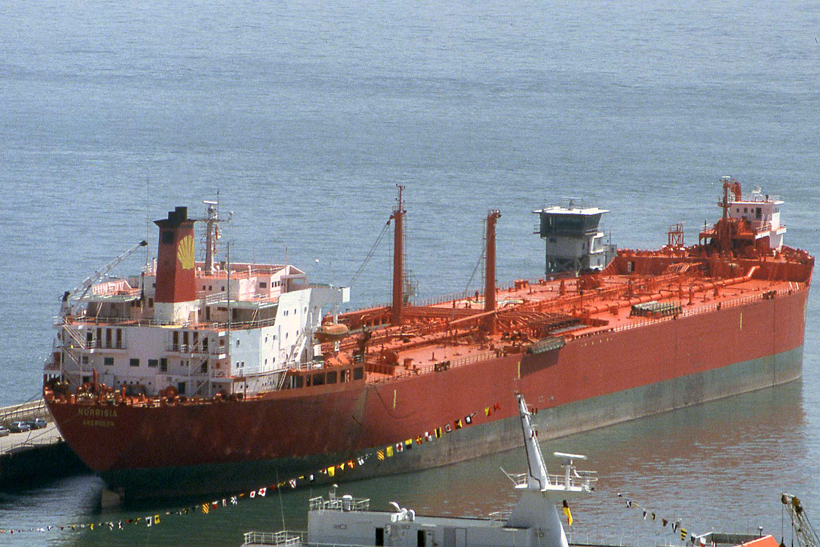 A close view of the Norrisia alongside the Eastern Arm.
On departing Dover she struck the breakwater causing damage. The Bill for the repair just on £5 million.
Friday, 9 March 2018 - 10:50
Post 4704
John Hendy, Romney Marsh (johnhendy479@btinternet.com)
With regard to the Admiralty Pier line up (post 4695), the vessels are as follows: No 1 - either the 'Ostender' Koning Albert or her sister Prince Philippe, No 2 - the 'Golden Arrow' steamer Invicta, No 3 - one of the three Belgian sisters, Roi Leopold III, Koningin Elizabeth or Reine Astrid, No 4 - the Belgian car ferry Prinses Josephine Charlotte (PJC) and No 5 - the Shepperton or Hampton Ferry.

Ted Ingham's wonderfully nostalgic images of the Western Docks bring back many happy memories when one could amble along King Charles II Walk, under the open section of the Prince of Wales' Pier and out onto the North Pier. It all goes to show just how much of our harbour and its unrivalled pedestrian access has been taken from us over the years. Not everyone views the DWDR with delight!

Friday, 9 March 2018 - 10:17
Post 4703
Sea News, Dover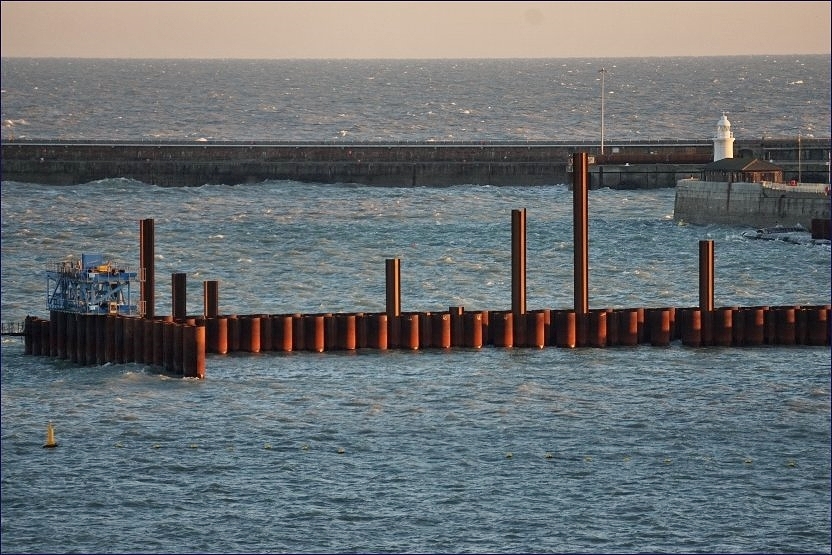 The late late low sun catching the piling and turning it orange on a recent very choppy and cold day.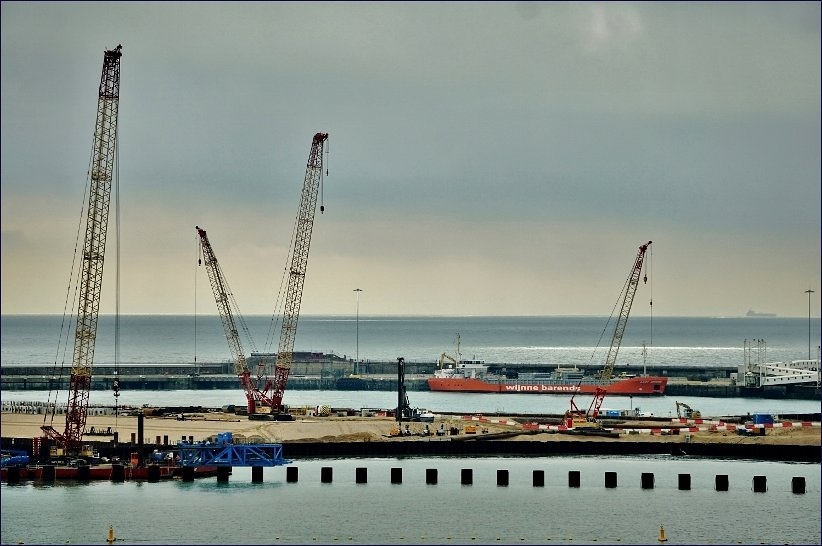 Lady Ariane continues to unload her DWDR cargo over at the Cruise Terminal ...while the DWDR cranes dominate all around them.
Barent Zanen is back with us doing her daily routine after spending time in Rotterdam...she turns into position while one of those luxury motor cruisers waits to get by.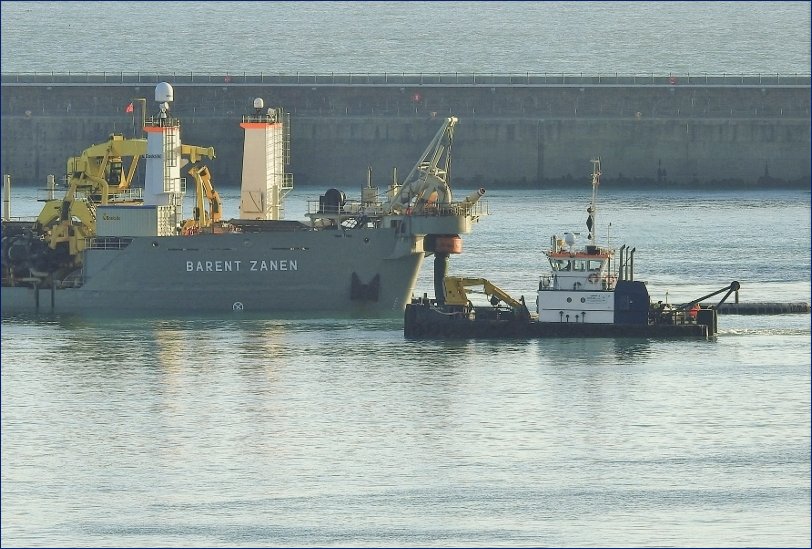 Another chance to see this picture... Morag M also back with us... seen here attending to the needs of Barent Zanen. The partnership continues...
Ted many thanks for those fascinating pictures...the changes about us are amazing and considerable.

Ed a great shot of Emerald ...its a cracker so it is. it would make a good poster that one.

Mark good to hear from you again. Fascinating post below for sure. Well done with that one

Thanks also to Vic and Brian for the reminiscences..

PaulB
Friday, 9 March 2018 - 06:00
Post 4702
brian, dover
I remember the andreda being used as a train ferry,rocked and rolled on a calm day.

Thursday, 8 March 2018 - 19:09
Post 4701
vic matcham, Dover
Yes the photos of Dover below is the real Dover I was a young man then and The port and Town was great. I have been here boy and man from 1942 seen it all and the best of it has gone.

Thursday, 8 March 2018 - 17:00
Post 4700
Ted Ingham, Canterbury
A couple of Black and White photographs taken from St Martin's Battery of the Western Docks.
The first one was photographed in the 60's prior to the Hoverport being built.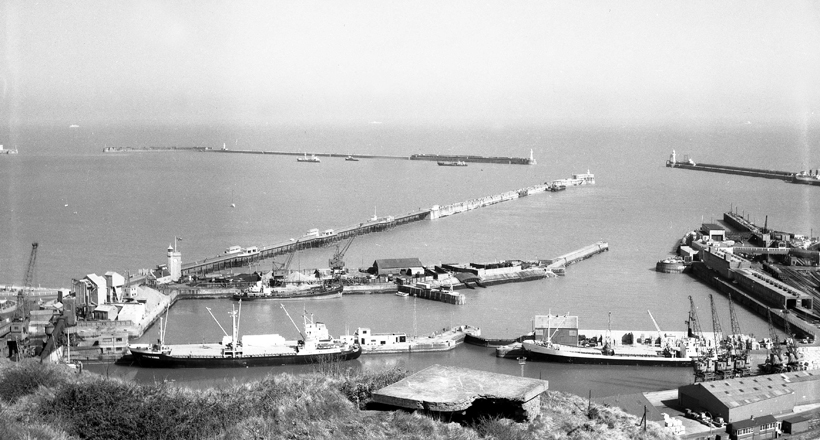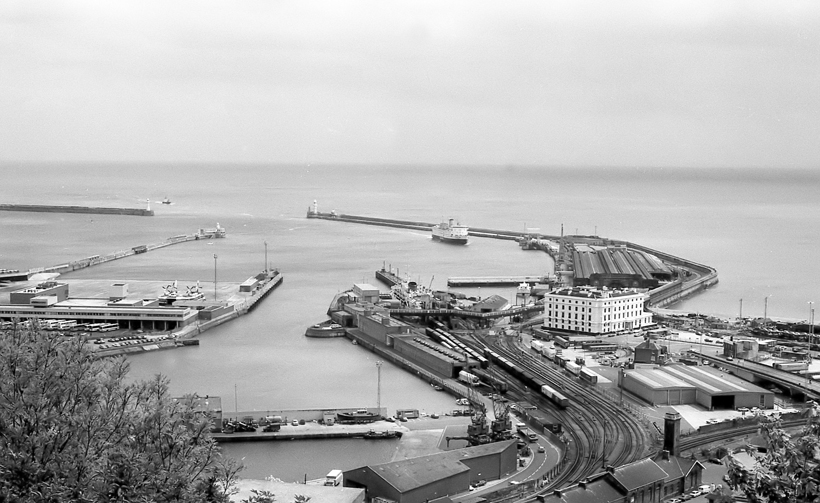 Photographed in the early 70's and now with Hoverport in full operation.
Thursday, 8 March 2018 - 15:19
Post 4699
Ed Connell, Dover Strait
Emerald at the DCT today. Fascinating post from Mark below.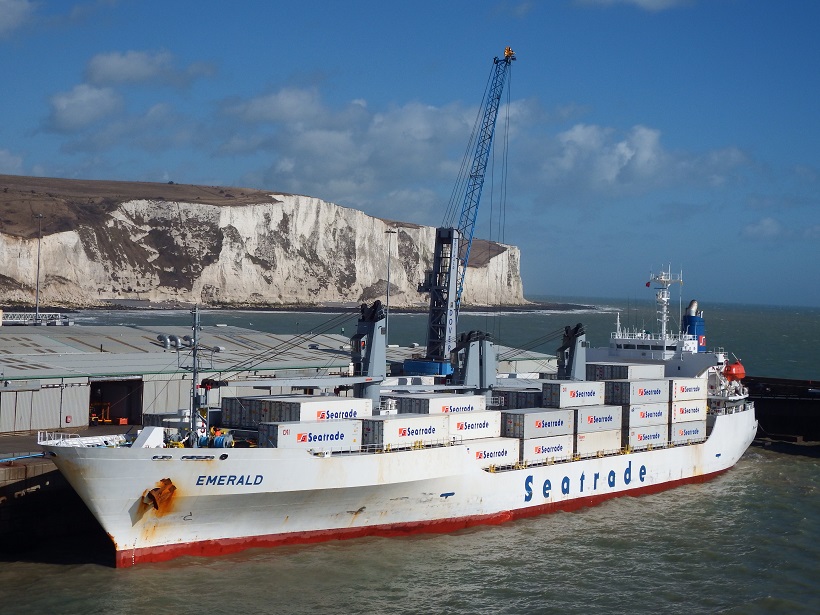 Thursday, 8 March 2018 - 12:27
Post 4698
Mark rushton, Northants (rushton.mark@hotmail.co.uk)
Hi Chaps. Been lurking for a while as I've had nothing useful to contribute, but I must say "Wow" to Ted's picture taken on Admiralty Pier in the 1960s - probably not much before I moved down to Kent in 1970 and my mum started working on the boats. So let's play a little game of spot the ferry. I reckon Nbr 1 is one of the old BR train ferries - maybe the Shepperton ? Nbr 2 seems to be the Princes Josephine Charlotte (or PJC as my mum used to call her) one of the RMT Ostenders, but I stand to be corrected. I'm pretty sure that Nbrs 3 and 5 are two of the three RMT trio Roi Leopold, Koningin Elizabeth and Reine Astrid. Not sure about Nbr 4 but my money's on SNCF's Cote D'Azur. Happy days. My mum used to interview passengers for National Passenger Census. She operated as part of a team of maybe 3 interviewers who would take a brief description of, say, every 50th boarding passenger and then find and interview them in the interests of Government statistics during the crossing. The nightmare boats were the peak summer sailings when there might be 1500 on board and finding them was not easy. Of course at least on the Ostenders you had 4 hours to find your victims - on the Calais runs you only got an hour and a half. And it was funny how boarding celebrities tended to be randomly selected far too frequently...

Thursday, 8 March 2018 - 12:12
Post 4697
Sea News, Dover
Trucks at the DWDR: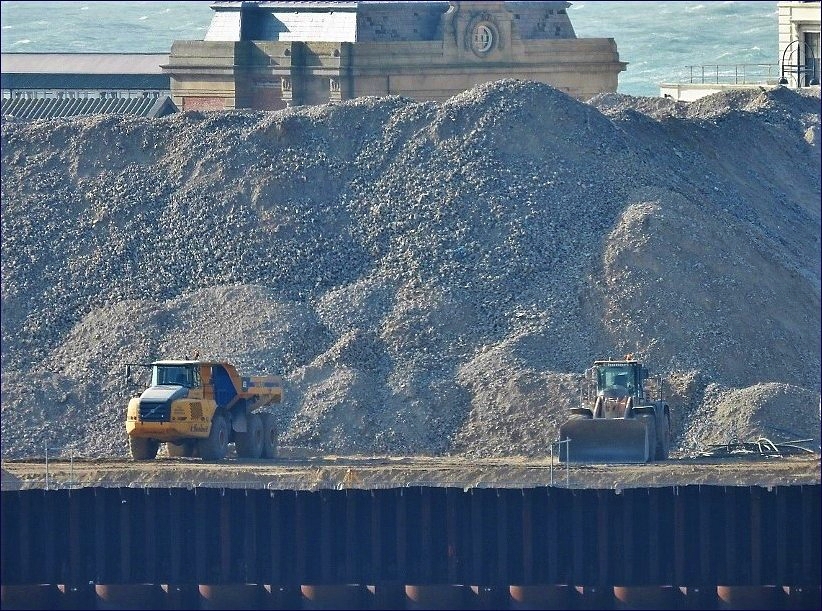 These great big Volvo trucks are very impressive beasts. But big as they are...in the top shot there you can see one of these giant trucks dwarfed against the huge 'mountain' of spoil/sand/gravel to its rear. This rich gravel resource will no doubt be used to good effect at a later time. Some of the remains of Burlington House is buried in there we understand.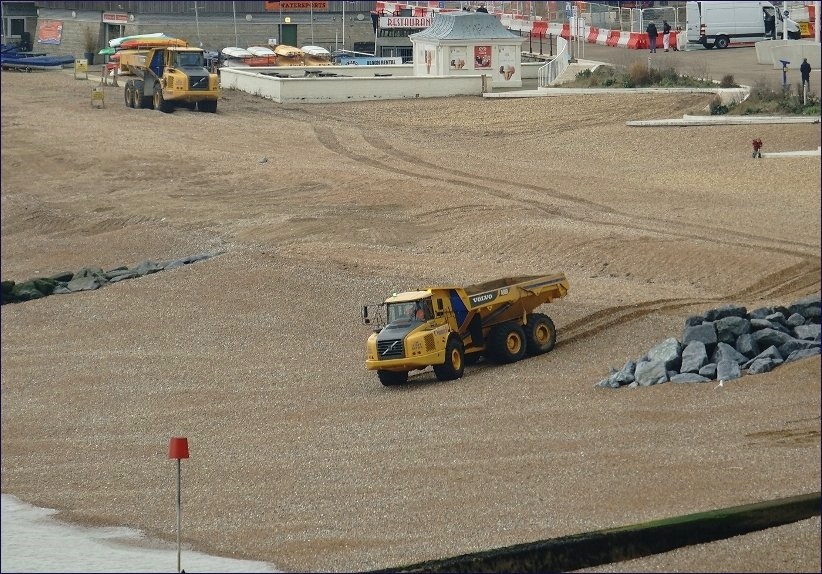 These next three pictures show the trucks on Dover Beach recently...yours truly is not entirely sure what they are doing on the beach but it looks like they may be bolstering the sea defences, although nothing major appears obvious to the eye .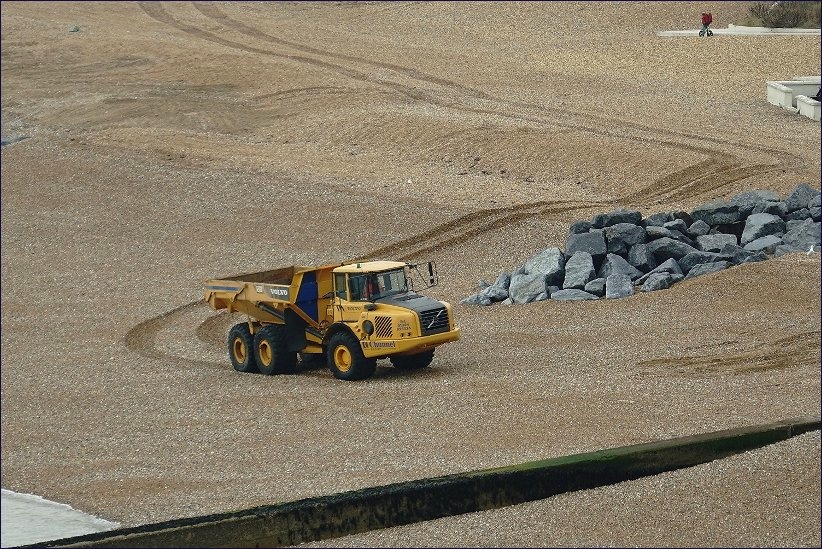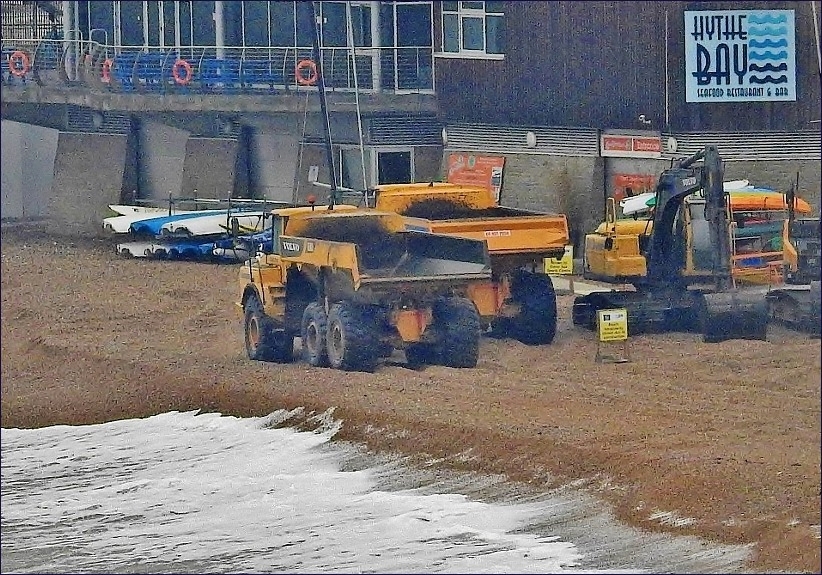 Waiting above there for the tide to pull back.
Good to hear from you Mike down there in Devizes. Glad you like the site. Nice to hear those stories from your past. Keep tuning in to our Sea News pages... we have lots more to come. Ships aplenty.


Well done Ted. Fascinating pictures below.... fascinating ships, and look at the trains going all the way down to meet them.
Great days

Rough oul day again as I write...where's Spring??
Yours truly however has a spring in his step this morning..as off to the dentist he jolly well goes. Cant wait


PaulB
Thursday, 8 March 2018 - 06:02
Post 4696
Mike Waight, Devizes
I've just discovered the Dover Forum and what an excellent site it is. The photos of the Western Docks brought home very happy memories of my childhood and young adult times in Dover before I went off to sea in the Merchant Navy. We lived all over the town – Duke of Yorks when it was entirely Army, Old Park when it was Army, Western Heights when it was Army and finally The Gateway flats. On my father's side the family goes back a long way in Dover and they worked in the Docks mostly, so it's nice to find a great site like this to peruse. Well done.

Wednesday, 7 March 2018 - 17:13
Post 4695
Ted Ingham, Canterbury
Whilst the DWDR is proceeding at a great pace.Here's a piece of nostalgia from the 60's.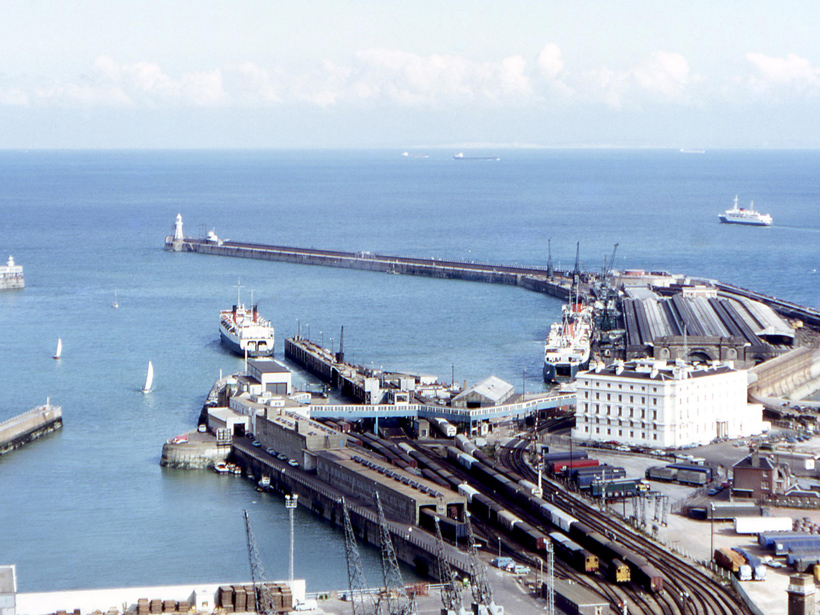 Wednesday, 7 March 2018 - 13:16
Post 4694
Sea News, Dover
Above and below we have recent pictures showing the Seasports Centre/Hythe Bay Restaurant under menace from some roughish weather. The seas were only moderately rough but as you can see the aforementioned building looks in danger of some flooding. Some defences were recently put in place but had the weather been 'very' rough ...well... The icy east winds were blowing the seas into that corner of the harbour.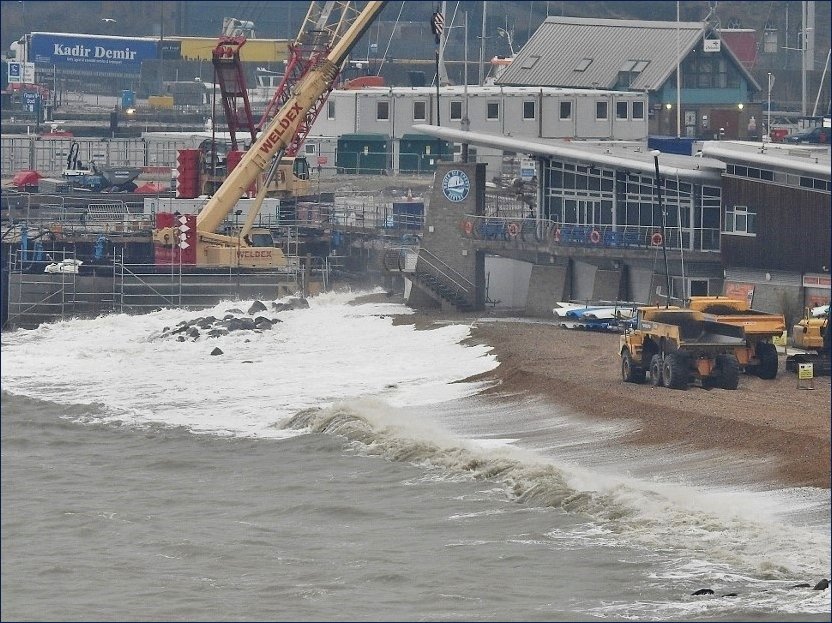 Below a pic from the files showing the stark beauty of the cold sea...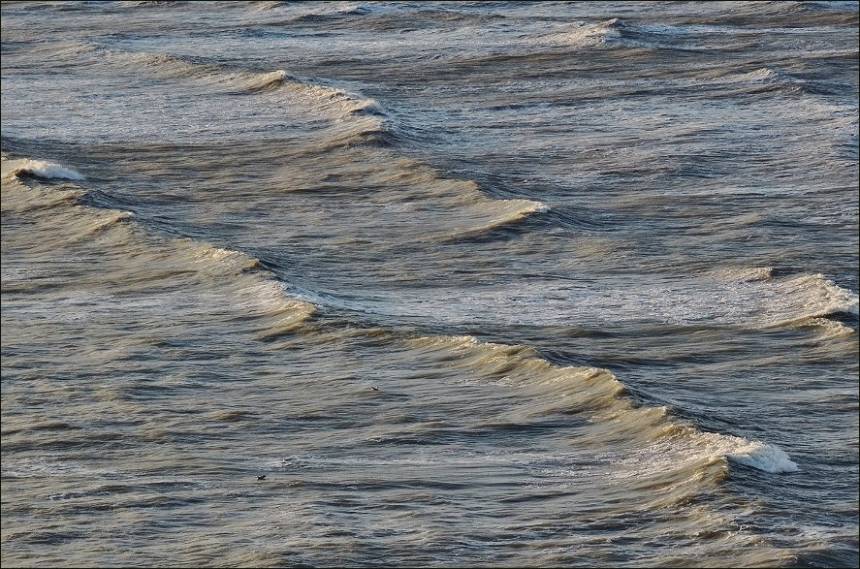 And now a shot of general cargo ship the Lady Ariane arriving here in Port yesterday morning around 11.15am...no doubt with more supplies for the Port development. It was an altogether much milder/calmer day and very welcome it was too.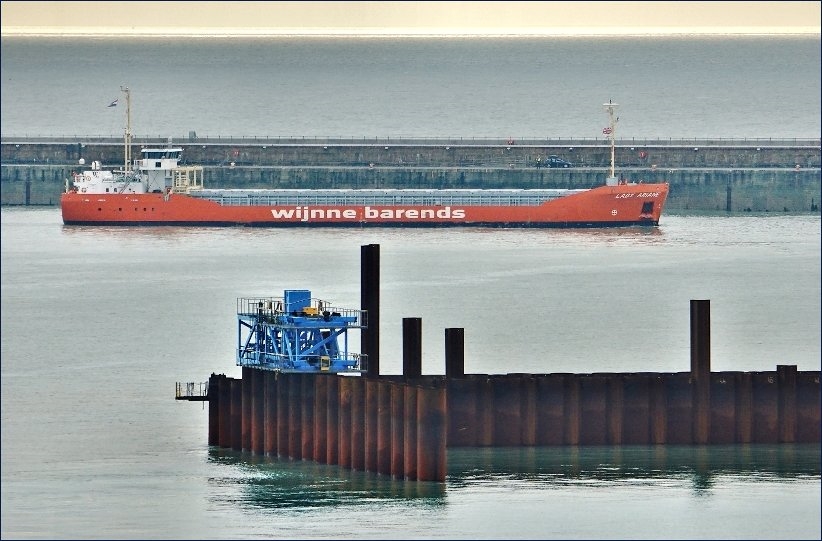 Wednesday, 7 March 2018 - 05:05
Post 4693
Sea News, Dover
The Maritime Skills Academy having a bracing time of it in the bitter conditions of a few days ago. That was a nasty oul wind and no mistake... you can feel the chill factor....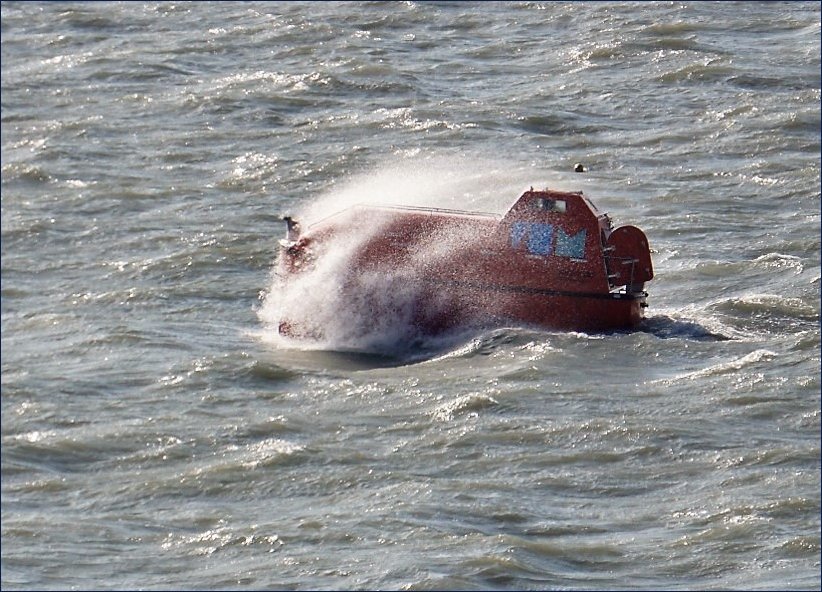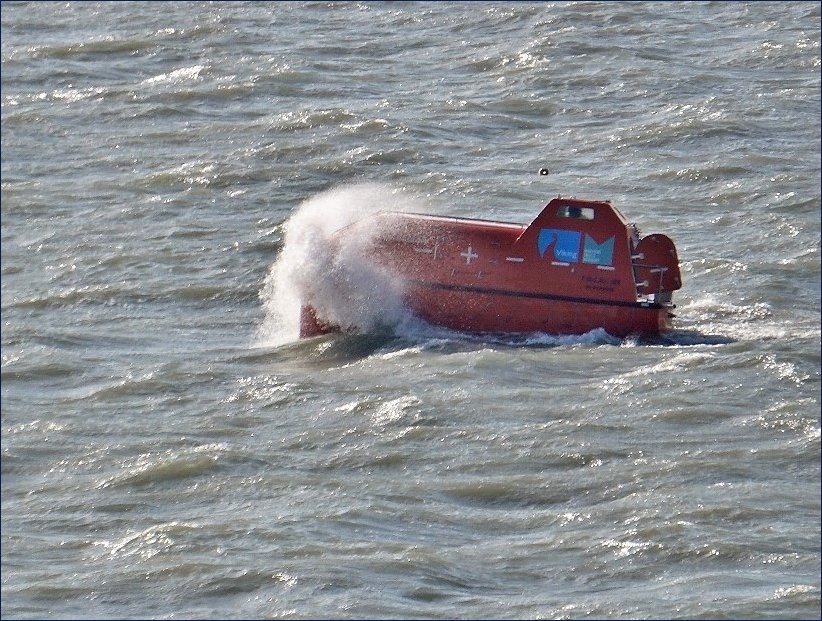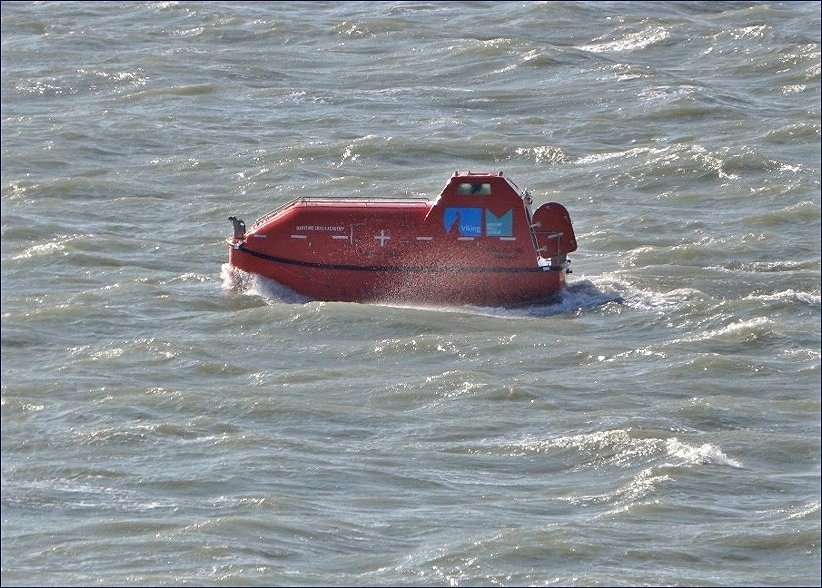 Dover is brilliant and has an even brighter future .. says Charlie Elphicke MP
Dover is on the up. Unfortunately a few dim-witted keyboard warriors are determined to talk our town down. An online list last week ranked Dover as the 10th worst town in the UK. Yet what do these internet trolls know?
Because the truth is that our town is on the up. The long shadow cast by Burlington House has gone. That hated building was torn down following a long campaign. A new cinema and shops are rising in its place. We have seen more than £400 million invested in recent years.
Everyone knows we've been battling for the St James development for a long time. It's not been easy. Just last week problems arose over getting the scheme connected to electricity. So I held crunch talks with the power suppliers and the council – and I'm pleased the switch-on date was rapidly moved forwards. The sooner the St James scheme opens, with hundreds of people starting new jobs and thousands more visitors attracted to our town, the better.
House prices are on the up too. The latest figures show that they are rising at 11.8% in Dover, nearly double the Kent average of 6.5%. We're working hard to match the demand by delivering more affordable, family homes at places like Connaught Barracks. Of course we have to battle the grumblers who try to stop all building and seek to hold our area back.
More and more people want to move here. And why wouldn't they? There's our world-famous history – our castle, iconic White Cliffs and Roman Painted House. Then there's our transport links. You can get to London in an hour on the fast train, or just as easily jump on a ferry to France.
In town we have some great independent shops and cafes. We are also overflowing with brilliant micropubs, from the Mash Tun in Bench Street to the Breakwater Brewery in Lorne Road – where I enjoyed a delicious pint of ale last week. With St James opening within weeks, we need to do all we can to support these businesses. That's why I'm fully backing Dover District Council's plans to invest hundreds of thousands of pounds in the "old town".
Along our stunning seafront, the port have an ambitious vision for a brand new marina with shops and bars. This will be great for Dovorians and draw in yet more visitors.
There is still a long way to go and a lot of work to do. One of the challenges ahead is to find a way of linking the old town, St James and the seafront. Yet if we put our minds to it, I know it can be done.
No-one thought Burlington House would ever come down. The doubters were proved wrong then – we can prove them wrong again.
ENDS
Interesting item from Charlie above there. Many thanks Charlie.

Ah yes indeed yours truly regularly pops in to the Mash Tun. A good Micropub for sure.

Well done all round lads with the pix below.
Nice pictures Ed of the Atlantic Klipper. Noted the new Geest logo on the funnel there. Great atmospheric pic in the fog.

Nice collection all round again Mike. Well done with those. Great to have the latest shots there as everything is moving along fast.

Ted you got it perfect first time there. Well done with that. Very clear picture showing how it all looked in 2010.

PaulB
Tuesday, 6 March 2018 - 06:40
Post 4692
Ed Connell, Dover Strait
A couple more of Atlantic Klipper at the DCT today, after the mist had cleared.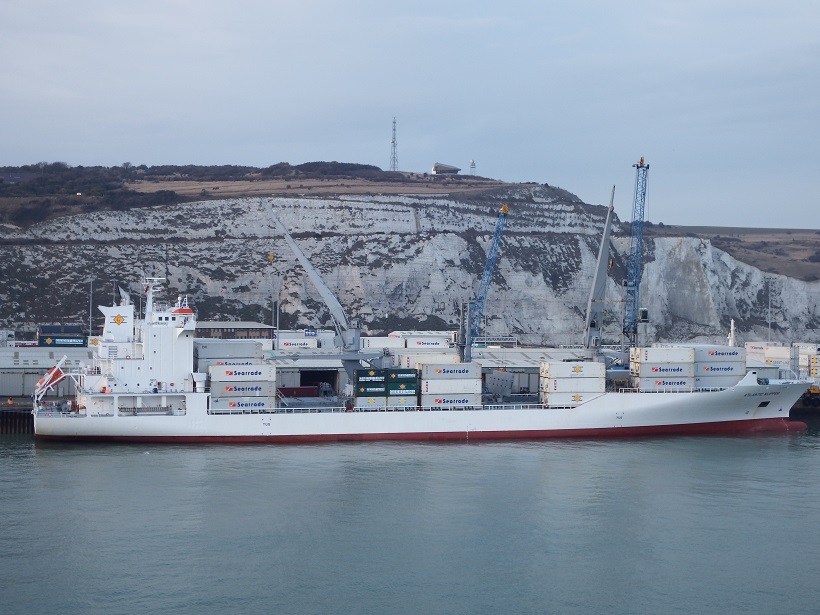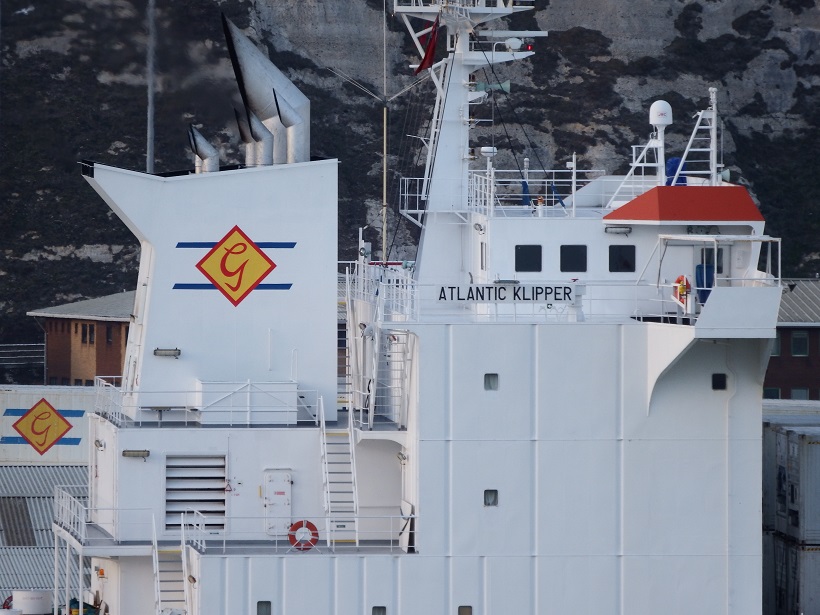 Monday, 5 March 2018 - 22:50
Post 4691
Mike J., Dover
Quite a contrast from Ted's 2010 photo -
Most of the smaller buildings in the centre of the photo have gone as has much of the concrete plant & no longer do we get dredgers discharging into & onto the remains of the first train ferry dock.
The cement & sand & gravel needed now come in by road.
Monday afternoon from St.Martins Battery & the DWDR job continues - never twice the same scene.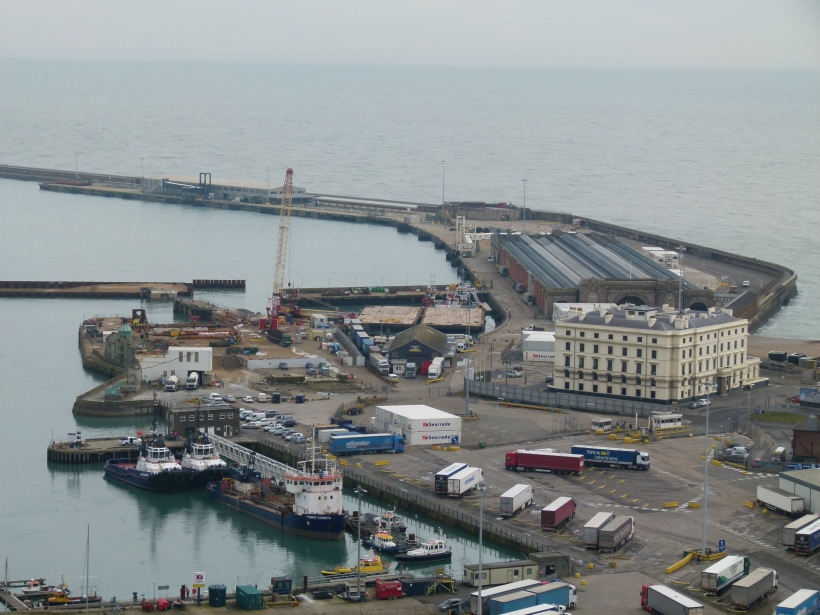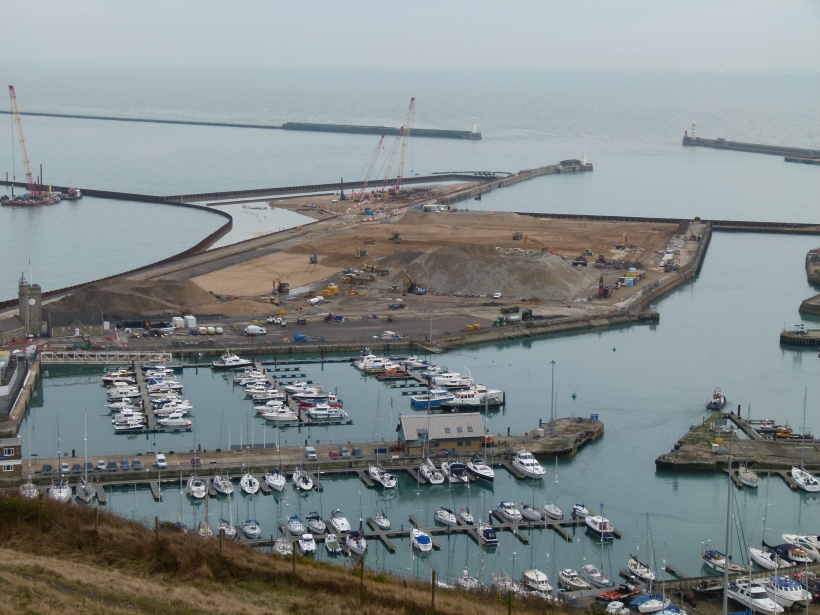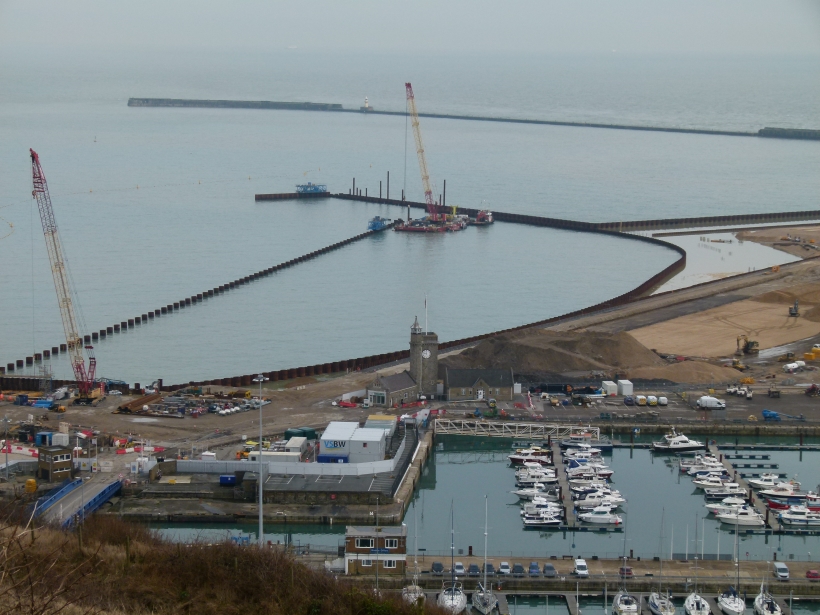 The tug WILLPOWER returned to Dover mid-afternoon from the Solent, berthing in the Jetfoil terminal which was packed with DWDR barges & tugs.
One of the barges had a crane aboard with the jib lashed down may be the 'customer' for the WILLPOWER.
A temporary bridge crosses the site of the 'Wellington Cut'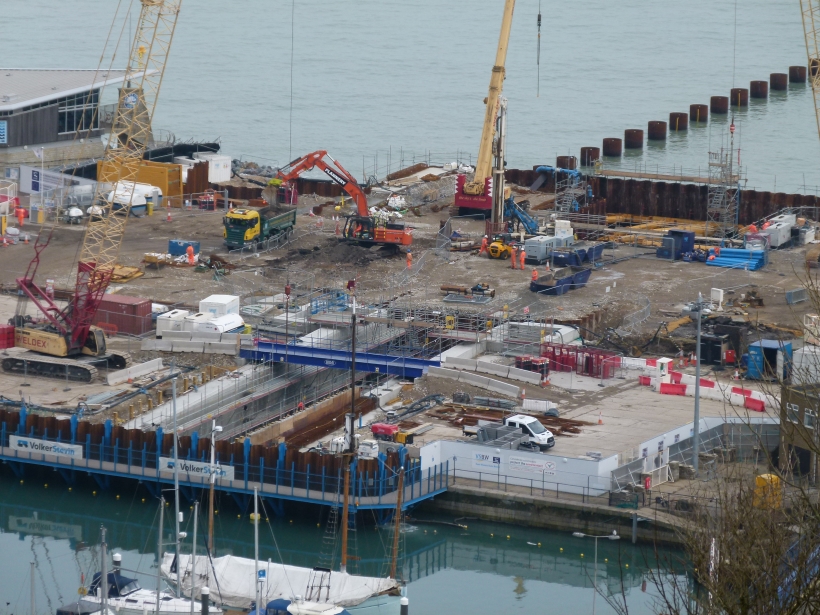 It is thought that the BARENT ZANEN will return to Dover this week.
Currently she remains in Rotterdam
Monday, 5 March 2018 - 21:49
Post 4690
Ted Ingham, Canterbury
Just a test to check my format is correct as this is my first posting with a photograph.
Photographed on the 4th August 2010. Cheers, Ted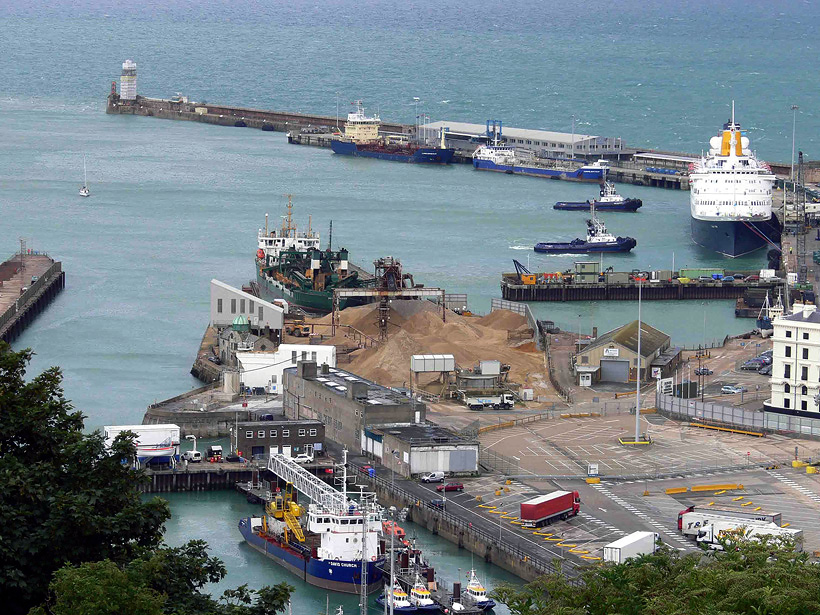 Monday, 5 March 2018 - 14:58
Post 4689
Ed Connell, Dover Strait
Atlantic Klipper at the DCT today in the mist.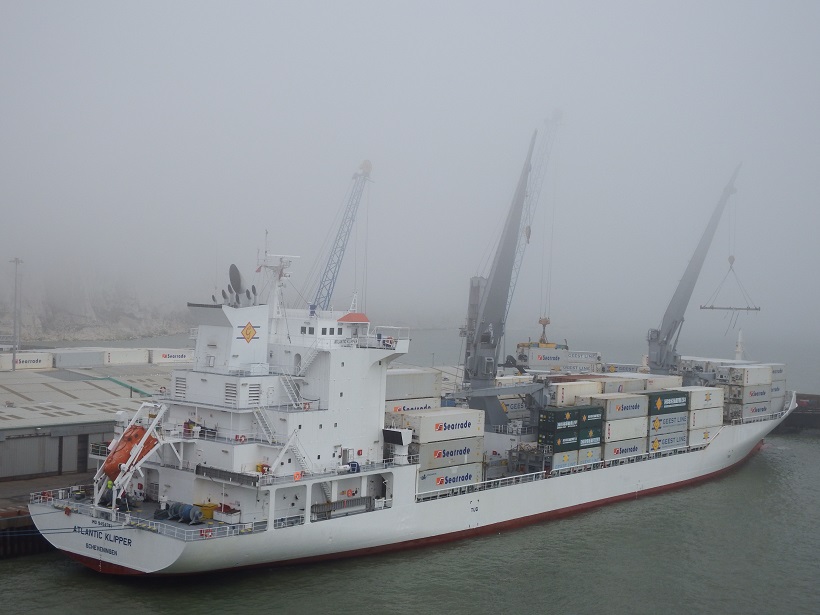 Monday, 5 March 2018 - 11:49
Post 4688
Sea News, Dover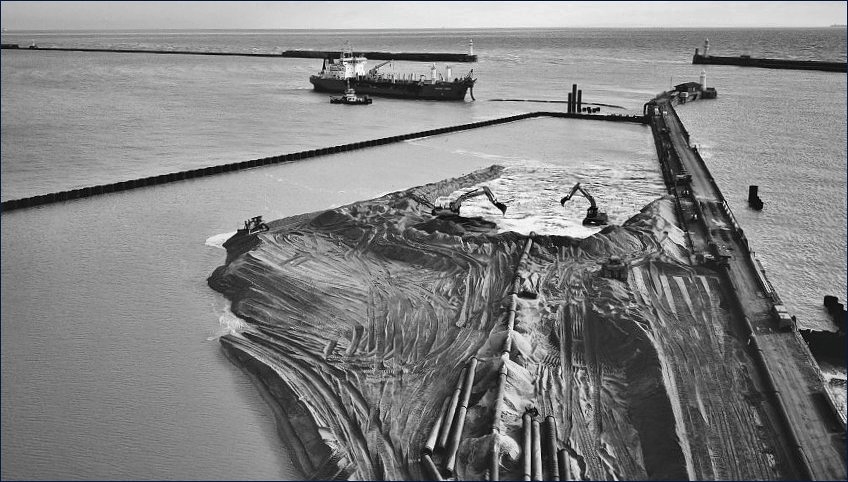 Port of Dover:
VSBW, a joint venture between VolkerStevin and Boskalis Westminster, who are delivering the first stage of the marine infrastructure for the Dover Western Docks Revival (DWDR) development, has calculated that the East Kent supply chain has benefited from just over £103 million worth of benefit through employment, staff accommodation and contracting services and goods from local businesses.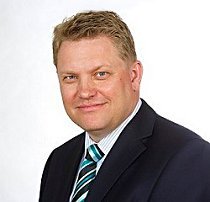 Tim Waggott, Chief Executive of the Port of Dover, said: "Dover Western Docks Revival is already benefiting our economy, even before it is open – providing business for local contractors, creating new jobs and developing the skills of our workforce.
"Once completed its impact will be even greater, as this flagship development will provide a catalyst for regeneration in Dover, supporting the jobs and livelihoods of local people."
Since work started on DWDR at the beginning of 2017, of the 251 people who have worked on the site - 43% live within East Kent and 32% within the immediate Folkestone – Dover – Deal – Sandwich area. Women account for 12.3% of VSBW's Dover workforce – above the industry average of 9%.
With a dedicated Science, Technology, Engineering and Maths (STEM) ambassador working with a number of local primary and secondary schools, and attendance at job fairs for young local jobseekers, VSBW continue to add value to the Port's engagement with young people.
Five apprentices are working on the development and VSBW have spent over 1,937 hours volunteering in the local community and invested £29,387 into community initiatives as part of the Port's wider corporate social responsibility agenda.
Rob Coupe, Managing Director at VolkerStevin, said: "Since we were first appointed, we have been committed to ensuring our work helps the Port provide an even greater boost to East Kent; be it through creating jobs, providing contracts to local firms or demonstrating to young people what the construction industry has to offer as a career.
"As we move towards completing the first stage of DWDR in early 2019, I'm confident the contribution of our work on this development will be felt as a legacy in the local community for years to come."
ENDS
Many thanks to the team at the Port for the news and pictures above.

* *
Just following along Del from yesterday's post...
we have a poor picture below but it shows the different gulls. I found this extra picture and top right you can see our ermmm 'standard' gull ( a young one ) and of course our visitors alongside.
Just the one solitary local gull sat in their midst.....
and here he is...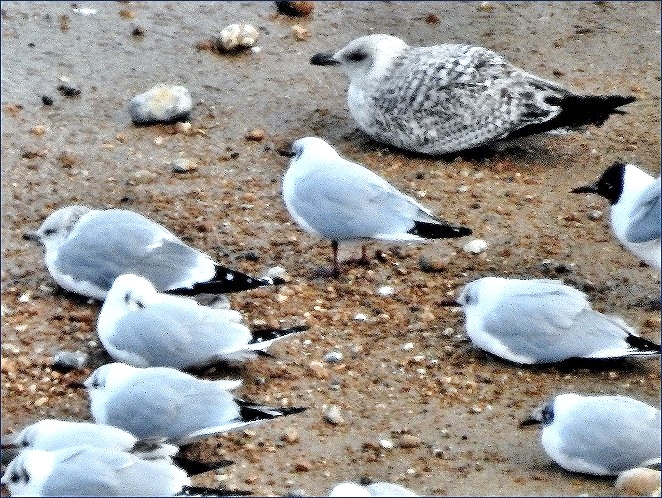 PaulB.
Monday, 5 March 2018 - 06:55
Post 4687
Del Styan, Norwich
Those gulls look glad to be on "dry" land. I wonder which type they are? Could they be a common type. but all fluffed up to keep warm?
Up here in Norfolk, the snow is a thawing, and life is returning to a normal, if slightly wet, pace.

Sunday, 4 March 2018 - 23:15
Post 4686
Sea News, Dover
In the Bleak Midwinter - except its supposed to be spring ?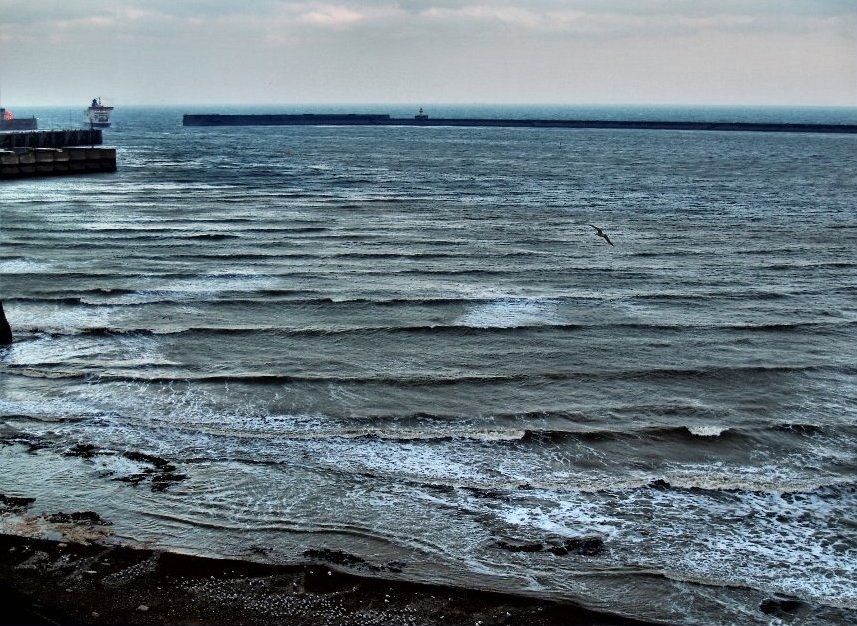 Yours trulys observation tower is in the teeth of the fierce wind from the east above there. The time of the picture was 5.55pm at night, when on paper it was supposed to be fairly dark, yet somehow Dover Harbour had a strange late lingering light...and there we are. Its a cold oul picture...but they tell us we are thawing.
In the bottom of the picture above you can just see loads of gulls on the beach. They are a different type of gull...blown in on the Siberian wind perhaps. I tried a few pictures of the gulls earlier on...not very good all round, but this reasonable one below will at least show those different gulls as mentioned. Not sure at all what type of gull or where from etc etc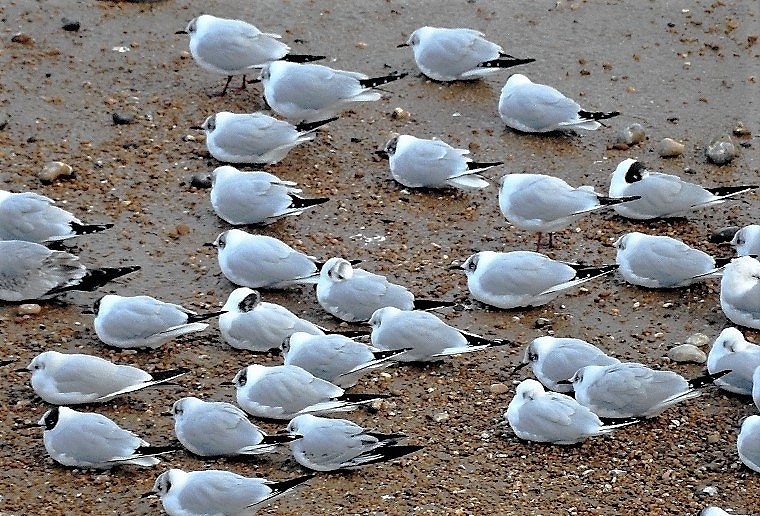 Thanks for that info below Mike. Will be good to see our ol friend MoragM again.

PaulB
Sunday, 4 March 2018 - 07:31