Monday, 11 December 2017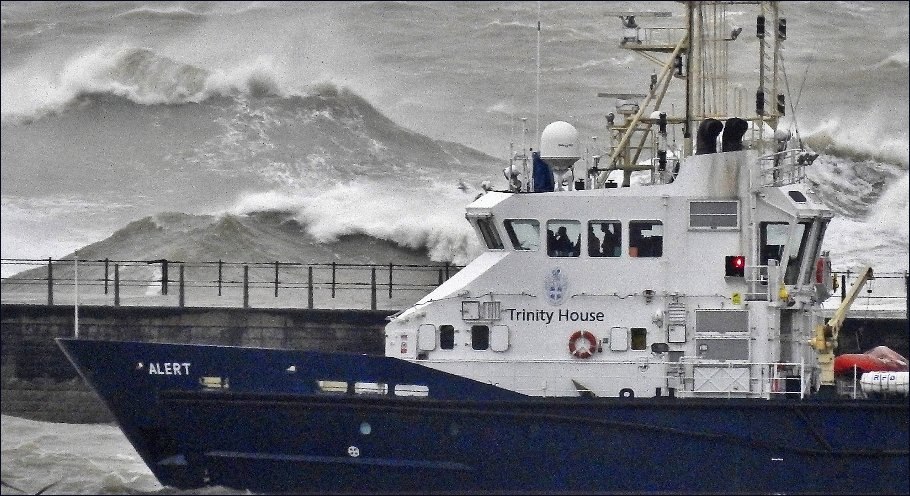 The guys onboard Trinity House Vessel Alert pause briefly before tackling the raging seas of Storm Caroline at Port of Dover. This is a zoomed-in cropped version of our picture further down the page with more emphasis this time on the rough seas.. PB.

doverforum.com/sea-news
Doverforum.com: Featuring all the ships that come and go and work at the Port of Dover with further coverage of Ramsgate, Calais, Dunkerque. Email: dover7@msn.com to send SEA NEWS pix or info.... or click ADD YOUR COMMENT below to post direct, no membership needed.

Port of Dover's Big White Christmas Ice Event. Delightful fun for all...see..http://www.whitecliffschristmas.co.uk/
See also post 4460 below.
Charlie Elphicke MP : On being suspended...see below 4424.

P&O Ferries- Britain's favourite 4465
Mammoth Tooth Find - Extraordinary at Port of Dover see 4389.
DFDS - Helping to tackle Breast Cancer - see 4377.
PORT of DOVER: COOL CARRIERS..great cargo coup. New Trade for Dover.. 4336.
P&O FERRIES...women in the workplace .. also 4336..also see 4370 for the new graduate seafarers.
also see 10 new local apprentices 4451.

PORT: Latest DWDR news and drone pictures...see 4330.

DFDS and the Maritime Catering Apprentices 4323.
P&O Ferries help children with serious illnesses cross to France 4316.
Port of Dover sponsors War Horse 4294
DFDS - Crowned Europe's leading Ferry Operator 4287.
DDC Leader Paul Watkins retires...see 4282 and 4270. Replacement 4328.

Use our SEARCH ENGINE below to find all sorts on the SEA NEWS pages..more than 200 now with more than 4000 nautical posts. Posts welcome. Max of 5 pictures preferred per post. Sea News Editor Paul Boland.
Type Cruise Visits (or indeed anything) in our Search Engine below for the latest cruise ship arrivals..
Post 4337
Mike J., Dover
Recent visitors - The 'Severn' class lifeboat DANIEL L GIBSON came into Dover on Saturday morning from Grimsby & was moored-up with the CITY OF LONDON 2 on Sunday morning.
Monday morning AIS showed her up by the boathouse with the Dover boat tucked-up in the corner of Granville Dock.
The GIBSON was out on exercise Sunday morning & is presumably a relief for the Dover boat.
The CITY OF LONDON photo was taken Saturday afternoon.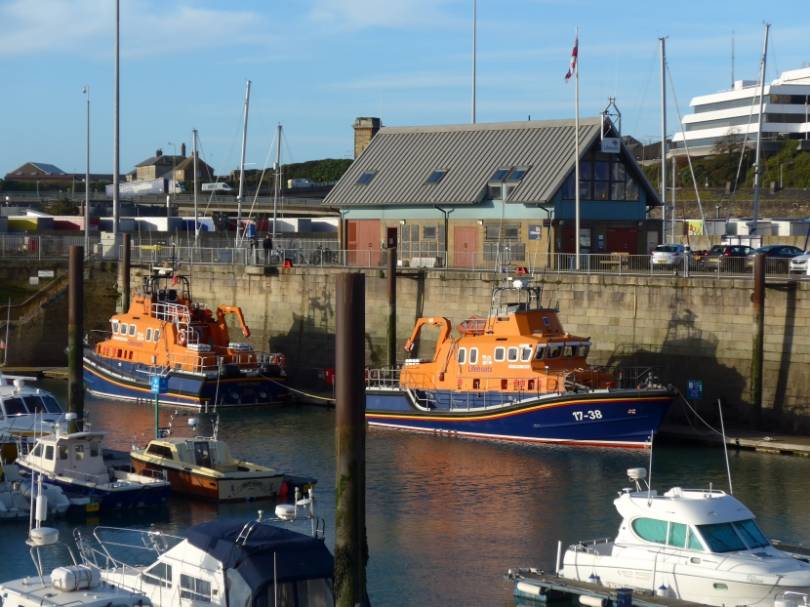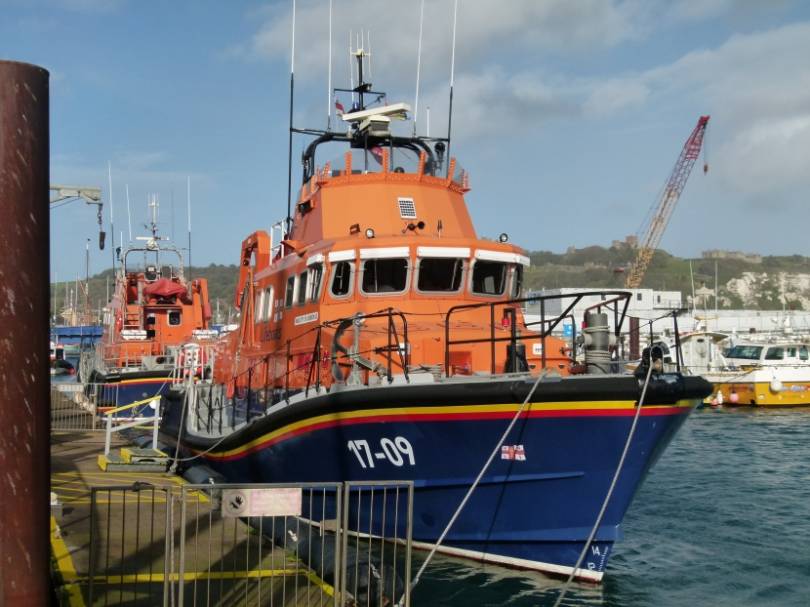 In Wellington Dock on Sunday morning were the rather nice 'Baltic ketch' WILLOW OF HARTY who is usually based at Faversham & has been in port for at least a week & the windcat EMS VIKING who has been laid-up for much longer.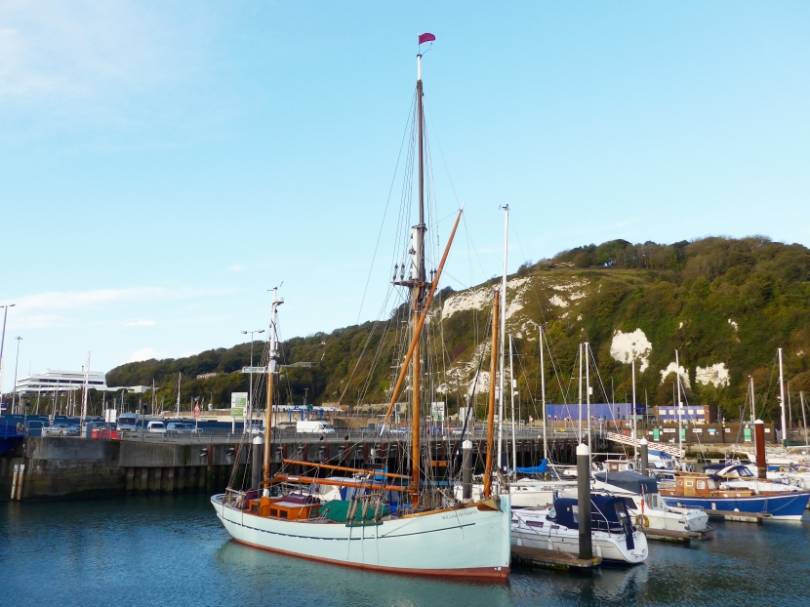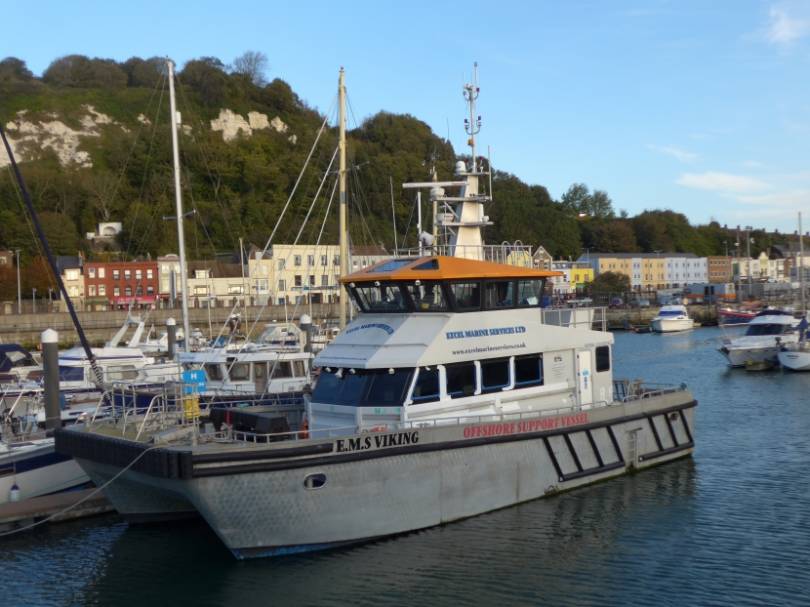 Rumour has it that a dredger will come in this week to start the DWDR land reclamation.
As the MMO hasn't yet announced a decision about the use of Goodwins sand she will be bringing sand from another licenced 'extraction' area.
She'll unload thru the floating pipeline & the pipeline along the Prince of Wales mentioned in Patrick's post 4283.
DARENT ZANEN, the dredger involved, is currently tied-up in Emden.
The only area that looks likely to be reclaimed at the moment is the area in front of the hoverport ramp.
Monday, 23 October 2017 - 11:55
Post 4336
Sea News, Dover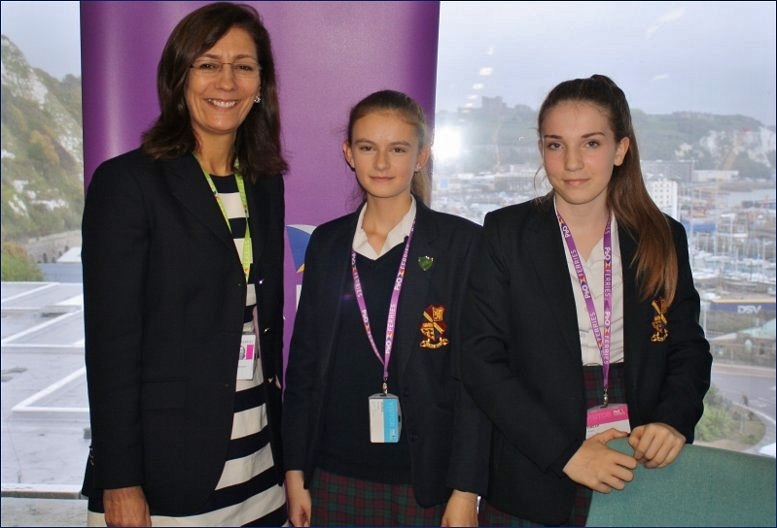 TWO KENT SCHOOLGIRLS GIVEN INSIGHT INTO THE ROLE OF WOMEN IN THE WORKPLACE BY P&O FERRIES
TWO students from Simon Langton Girls' Grammar School were given a first-hand insight into the role of women in the workplace when they spent a day at P&O Ferries head office in Dover recently (Friday 13th October).
Olivia Furness and Eimear Ruane, both 13, had been tasked by their school with gaining a deeper understanding of the world of work and in particular the role which women play in businesses. They will write up their experience in a journal during the half-term holiday.
The Year 9 pupils spent a day being given at tour of the Port of Dover, being introduced to health and safety requirements on board ships and meeting the team from the company's Buying and Merchandising department. The highlight was an interview with one of the most senior female employees in P&O Ferries' business, Operations and Business Transformation Director Sue Mackenzie.
Olivia, who lives in Canterbury, said: "It was very interesting to meet Sue. I asked her about her education and what advice she would give her 14-year-old self."
Eimear, who is also based in Canterbury, said: "The most enjoyable part of the day was our tour of the port. We wore bright orange safety clothing, went into the booths which process the passengers and saw how the whole operation works."
Jacqueline Burns, Corporate Communications Officer at P&O Ferries who oversaw the visit, added: "We were delighted to help Olivia and Eimear with their project about women in the workplace. Local schoolchildren are potentially our future employees and we are very happy to tell them more about the services which P&O Ferries provides and the jobs which we offer."
P&O Ferries' stakeholder project offers visits to schools, colleges and businesses within the local community. This is a totally free initiative. The visit is tailored to school requirements and their current projects. It can be a talk, with learning materials and other artefacts, judging a competition or providing an insight into the world of ferries and logistics.
ENDS
PICTURE: Sue Mackenzie on the left with Olivia and Eimear.
* *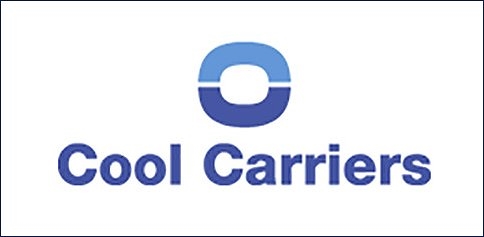 Reefer specialists Cool Carriers bring new trade to Dover
One of the world's largest reefer vessel operators has announced plans to trade through the Port of Dover from next year.
Cool Carriers will bring its Coolman Central America and West Indies service to Dover Cargo Terminal for onward distribution to UK and European markets from January.
The company, which has invested heavily in boosting both the palletised and container capacities of its fleet, says its decision was prompted in part by the Port's flagship Dover Western Docks Revival project which will create a new cargo terminal and logistics hub.
Michael Bergman, Line Manager at Cool Carriers, said: "We will move the UK discharge operation for our Coolman Service to Dover as of January 2018.
"There are various reasons behind our decision, such as Dover's geographical location in relation to our clients' distribution centres, as well as the massive infrastructure investment at the Port, and our requirements for the efficient handling of our new vessels which will enter service in early 2020."
The move comes as Coolman celebrates 20 years as a preferred service provider for clients favouring a dedicated and exclusive operation which offers Controlled Atmosphere and shortest transit time to the UK, he added.
Cool Carriers will predominantly ship bananas and pineapples from Costa Rica, Colombia and the Dominican Republic to Port of Dover Cargo Ltd, which specialises in handling time sensitive perishable foods.
Dover's current facilities include a dedicated berth in excess of 180m, 130 reefer plug-in points, and temperature controlled storage for 7,500 pallets.
The new facilities, due to come on stream towards the end of next year, will include two new cargo berths (251m and up to 350m); a cargo terminal building with eight temperature controlled compartments, each capable of holding cargo between +1 and +14 degrees Celsius; and significant mobile harbour cranes capable of handling up to post panama size vessels.
Sam Stewart, General Manager at Port of Dover Cargo Ltd said: "Cool Carriers' decision to come to Dover is excellent news.
"Port of Dover Cargo's strength lies in its fast transport links to the wider UK and Continent. We're just over 20 miles from mainland Europe and sit on one of the busiest international shipping lanes on Earth, providing minimum vessel deviation.
"Our new facilities and experienced operational staff will ensure the best possible handling of Cool Carriers' cargo and we look forward to working alongside this outstanding industry leader."
Barbara Buczek, Director of Corporate Development and Operational Businesses at the Port of Dover, said: "It is great to see that Dover Western Docks Revival is already promoting links with prestigious new business."
Ends
Many thanks to P&O Ferries for the information above.

And thanks also to the team at the Port...stunning news re COOL CARRIERS

* *
STORM BRIAN : MAN AT WORK
A photographer gets in real close to the bashing waves as he captures the life of Brian at the weekend.... whooosh!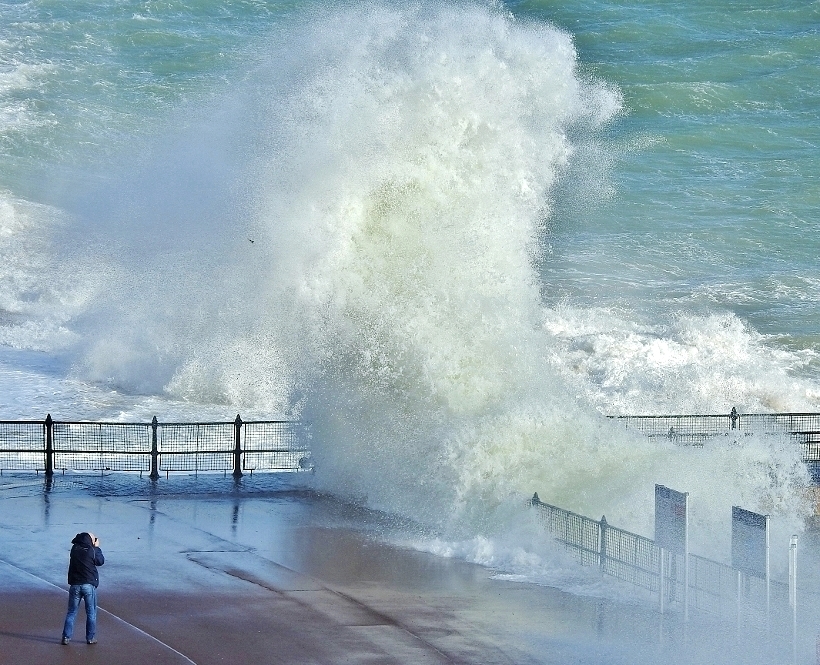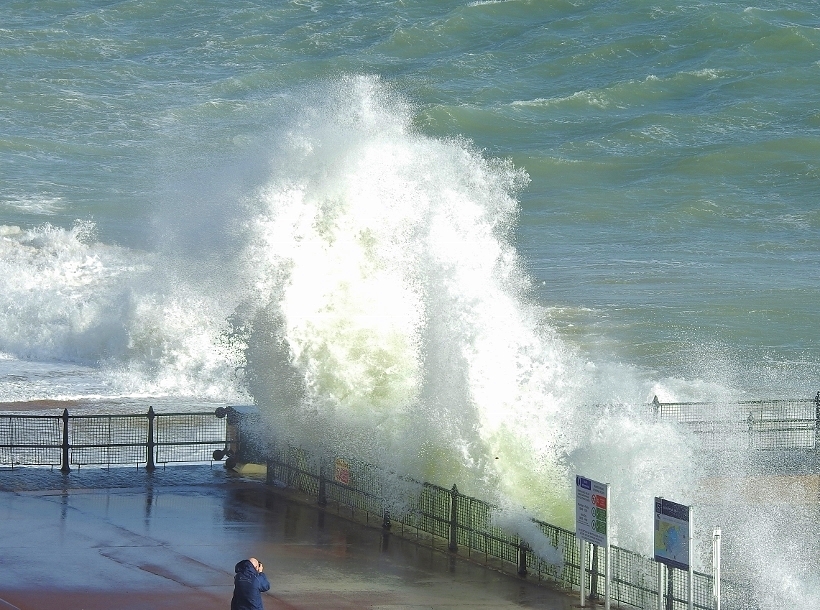 Yes indeed Del..often think about our ace man Ed out there. They all do a great job for sure.

Brian

Cracking pictures below Mike. Well done with those...wowzer!

PaulB

Monday, 23 October 2017 - 07:24
Post 4335
Del Styan, Norwich
Those crews deserve their wages in the Brian stormette.

Sunday, 22 October 2017 - 23:20
Post 4334
Mike J., Dover
Quite a day on Saturday. I came back to Dover after a few days away & as I came down Jubilee Way during the afternoon the sea conditions inside the harbour looked almost as bad as the conditions outside.
Both tugs were in action with several ferries waiting off the port.
Nonetheless I noticed one of the SPIRITs docking without tug assistance - three big bow-thrusts help !
Coming in thru the Eastern entrance was a bit 'lively' as Paul's excellent photos show.
Mid-afternoon the ferries were rolling as they entered & the coffee cups must have moving about a bit as the COTE DES DUNES entered.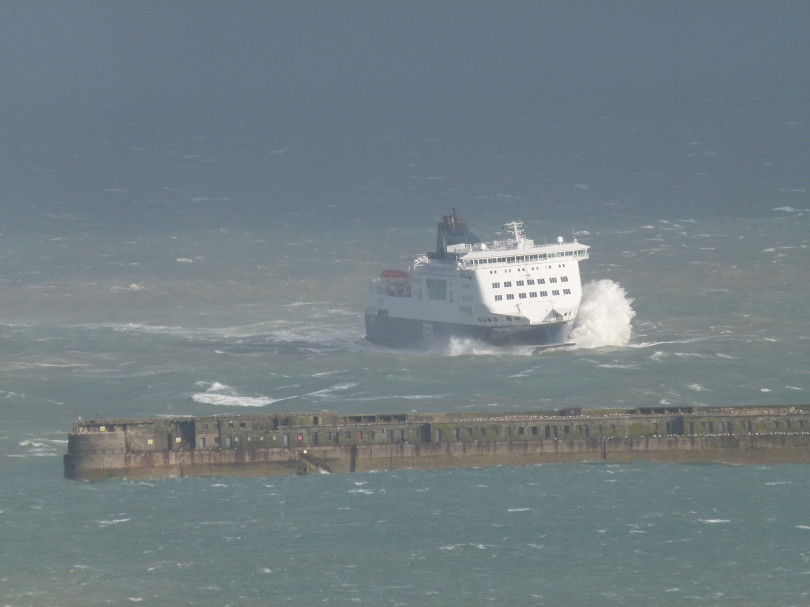 Nicer inside !
DWDR had closed for the day with the KREEFT retired to the Jetfoil terminal with the workboats & barges - the 'small fry' were all in the Tidal Basin.
All the crane jibs had been lowered & no work seemed to be taking place anywhere.'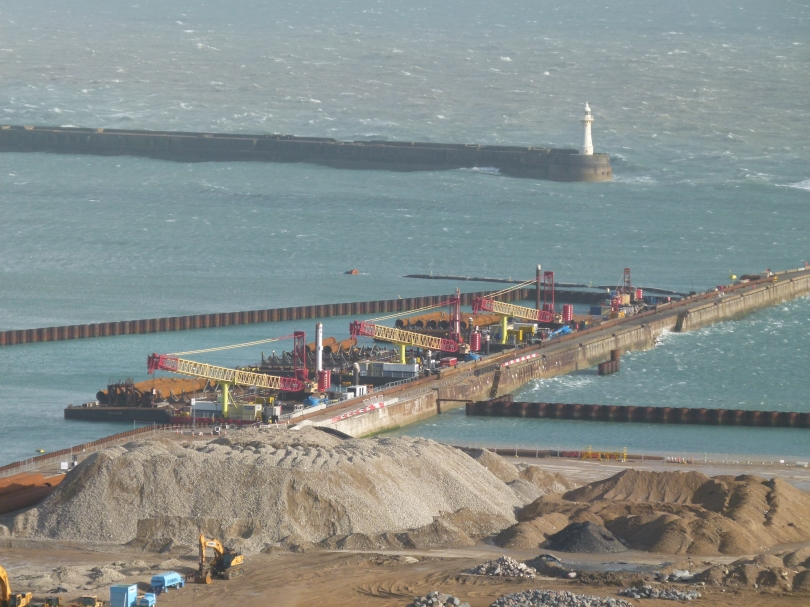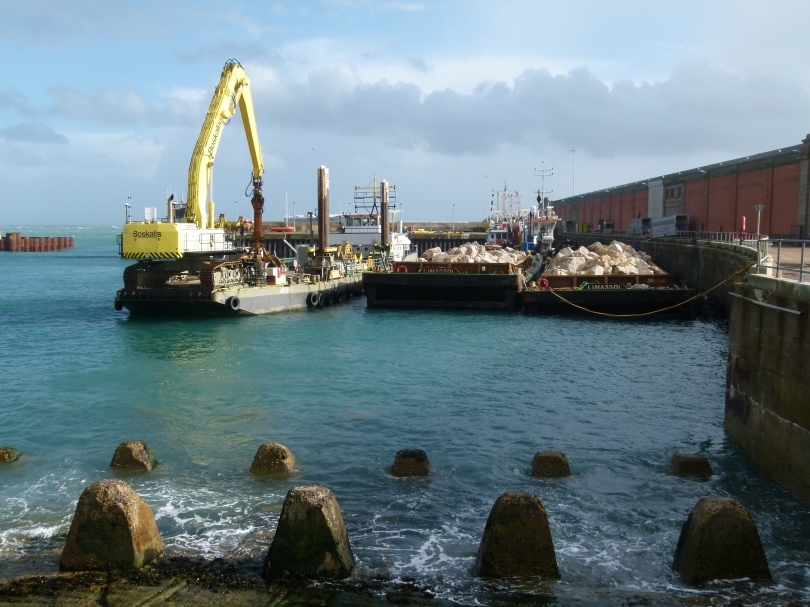 Much better today . . . . .
Sunday, 22 October 2017 - 13:54
Post 4333
brian, dover
p.b.

Sunday, 22 October 2017 - 13:12
Post 4332
Sea News, Dover
We had a bit of a lashing here at Dover from Brian yesterday saturday..
Storm Brian that is. Yes the rough oul weather whipped through during the day giving the ferries a hard time....but of course a spectacular time too for those on land looking on. And here we are with some of the spectacle....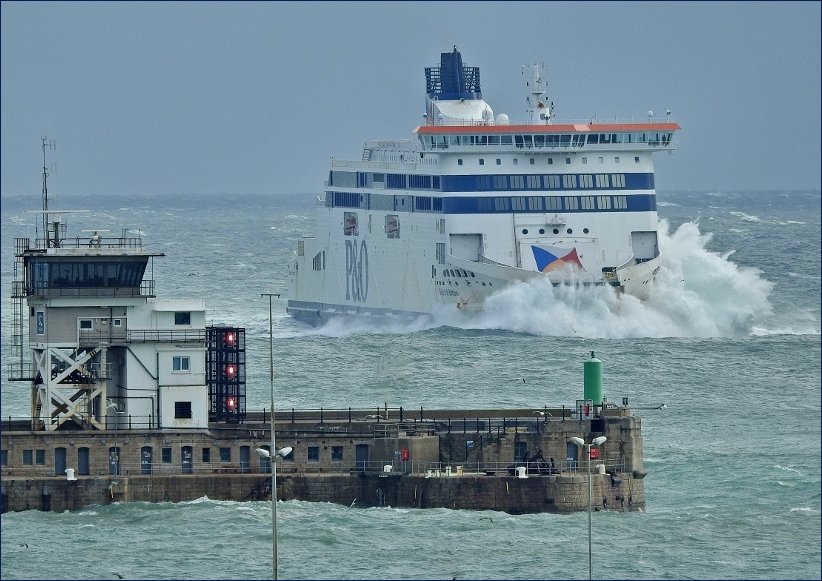 That's the Spirit of Britain above there approaching the Port of Dover yesterday and being bashed by a considerable wave as she steadfastly makes her way to Port through the rough seas.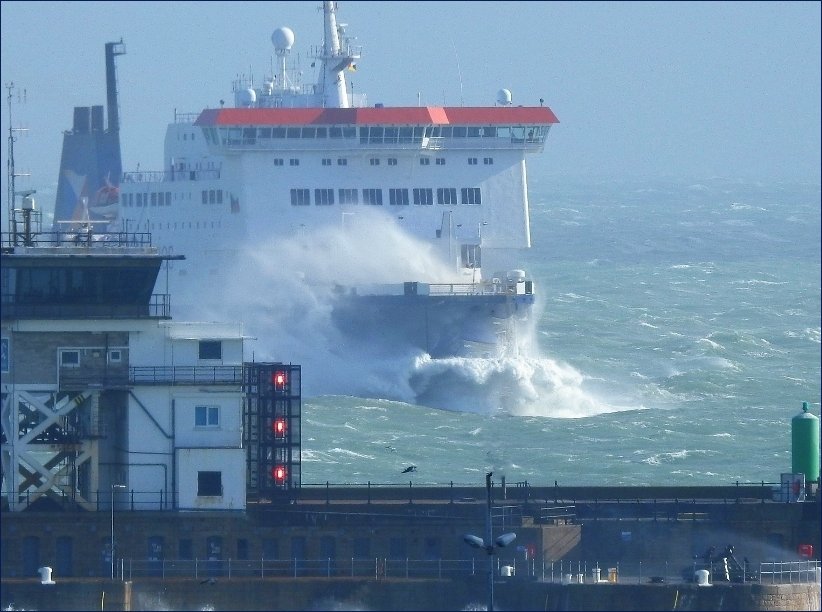 Not a day for a quiet fag on the foredeck! The front of the commercial ferry European Seaways awash as she rounds the Port's control tower in the rough tough conditions.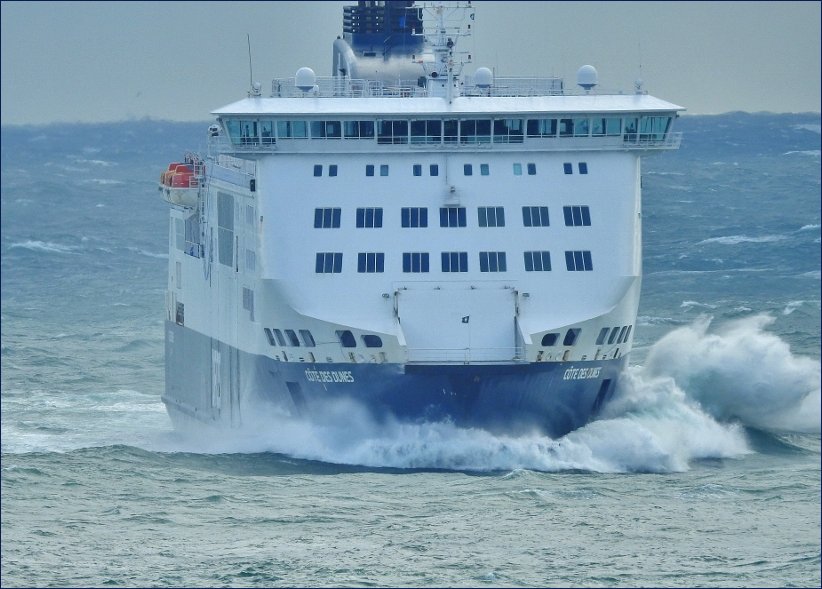 The Cote des Dunes powering to Port in spectacular style. Brilliant work by all the crews on all the ships. There were some delays of course but as they say ....' the ship sailed on...'
So a big thumbsup to all the guys ( male and female) on all the ships out there.

PaulB.
Sunday, 22 October 2017 - 08:03
Post 4331
Sea News, Dover
A sequence of shots below of the Havila Phoenix leaving us yesterday morning at 09.30. Because of the very rough seas she came gently across the harbour in order to leave port by the eastern exit..presenting us with the opportunity to get any amount of pictures. The four below are the most non-standard of the pix and captured those moments just after she left the harbour...you can see the vessel negotiating her way through the ferries. First she swung right and then came back to her left and was then on her way to the Sandettie Light Vessel. The ferries themselves were struggling in the conditions yesterday as several had to lay up just off port for a time.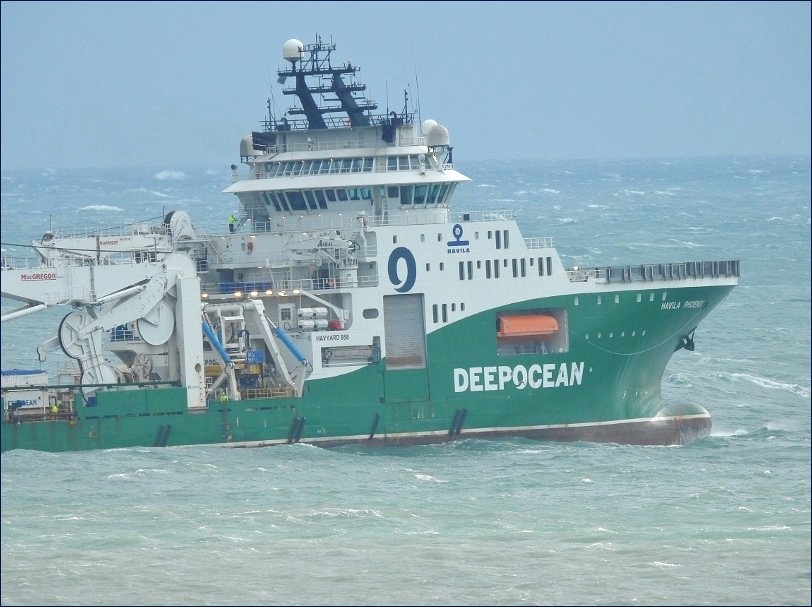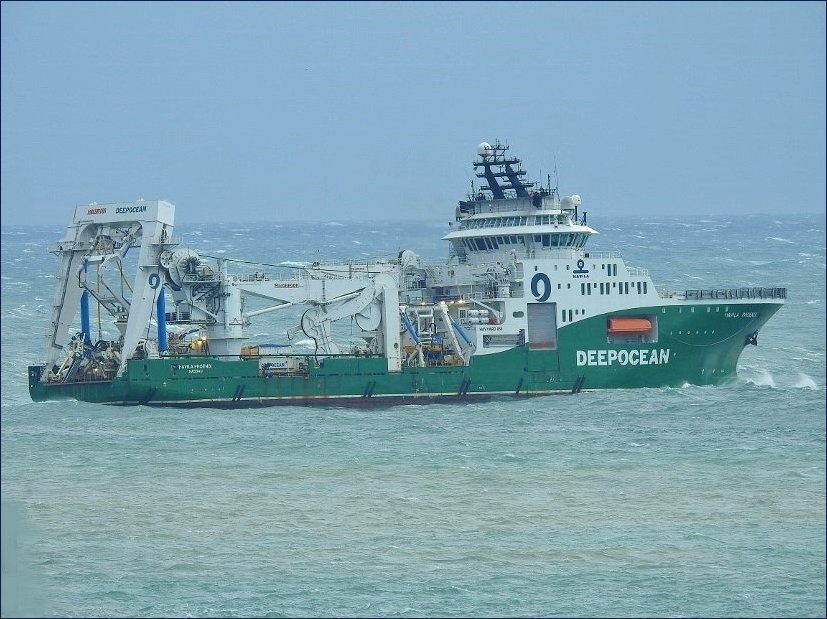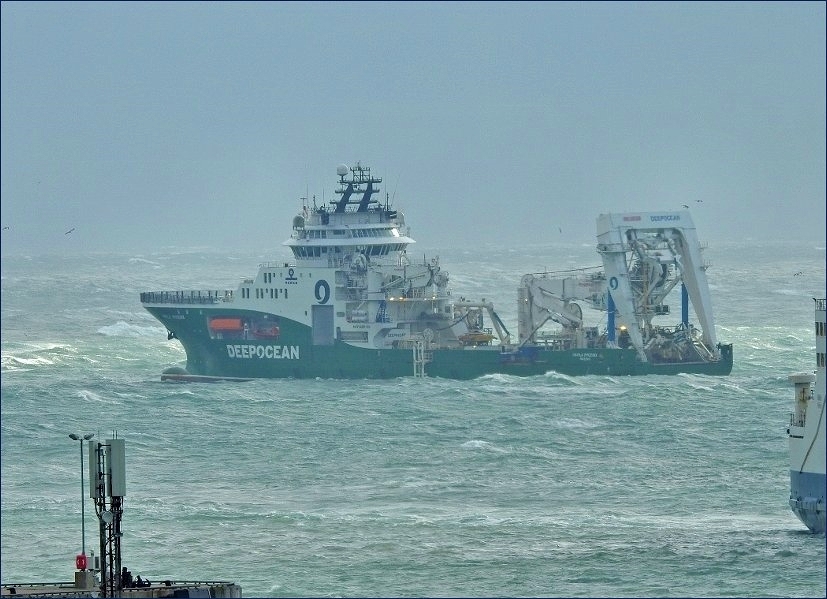 PaulB.
Saturday, 21 October 2017 - 08:16
Post 4330
Sea News, Dover
Dover Western Docks Revival already providing boost to East Kent economy.
___________________________________________________________________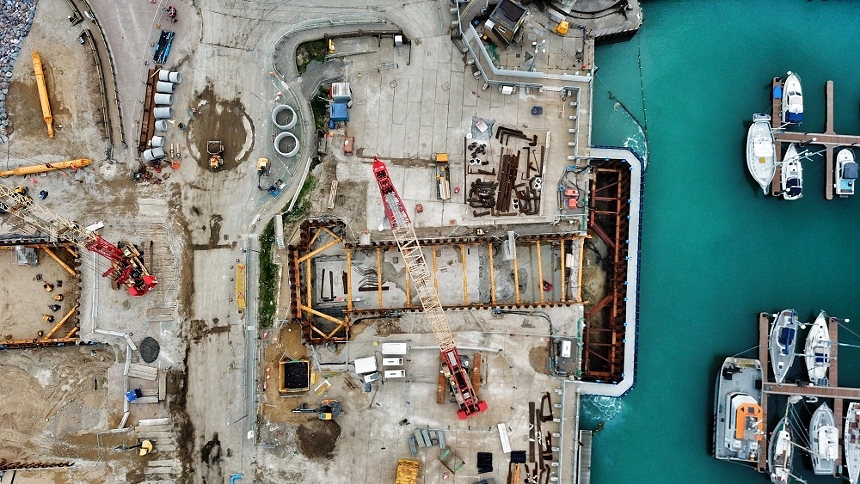 The East Kent economy has received a boost from the principal contractor delivering the Port of Dover's flagship Dover Western Docks Revival (DWDR) development.
VSBW, a joint venture between VolkerStevin and Boskalis Westminster, who are delivering the first stage of the development, have calculated the economic benefits as a result of employment, contracting services and goods from local suppliers, and staff accommodation.
Rob Coupe, Managing Director at VolkerStevin, said: "It is really encouraging when we are able to undertake such a contract, to not only deliver a quality project, but also contribute to and support the local communities. With a policy and contractual requirement to source labour and materials locally the development has already contributed £39.2m to the East Kent economy."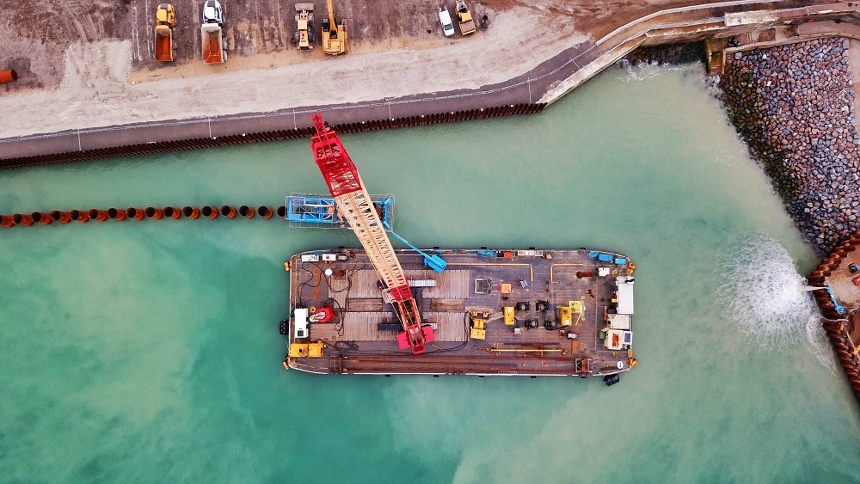 Since work started on the project at the beginning of this year, of the 200 or so people who have worked on the site - 42% live within East Kent and 33% within the immediate Folkestone – Dover – Deal – Sandwich area. Women account for 14.4 % of VSBW's Dover workforce – above the industry average of 9%.
World leading economists Oxera recently conducted a socio-economic impact assessment of the DWDR development and, based on accepted methodology, Oxera concluded that new activity related to DWDR could bring significant benefits to the local economy, measured as gross value added (GVA).
Tim Waggott, Chief Executive of the Port of Dover, said: "When fully completed, DWDR could generate up to £765m of local economic benefit through a host of new job opportunities for local people and a transformed waterfront experience for our community and visitors alike.
"Already, through our principal contractor VSBW, we are seeing local communities in and around Dover benefiting from the construction phase of this key project for Dover and the nation."
ENDS
Many thanks to the guys at the Port for the information and super pictures.
Here is an extra one below ...fascinating stuff indeed.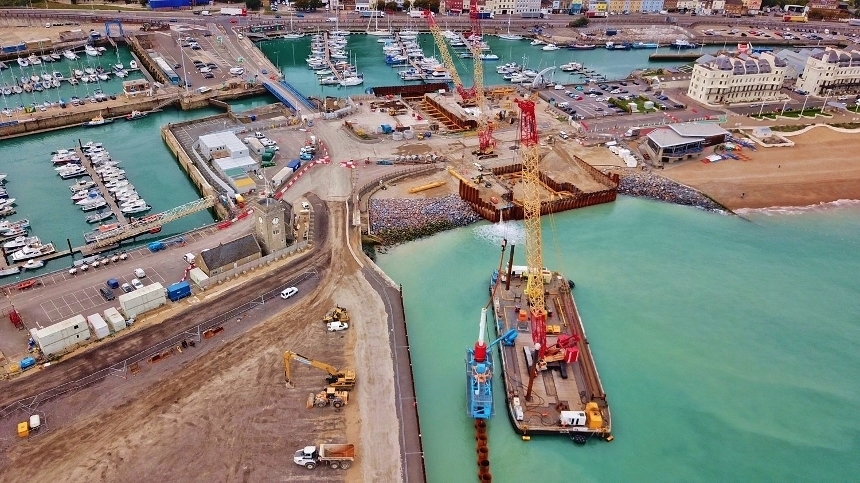 The brilliant images are by www.cloudcamuav.com.

Friday, 20 October 2017 - 07:30
Post 4329
Sea News, Dover
A couple of extra pictures from today...the Havila Phoenix as she sits at Cruise Terminal 2.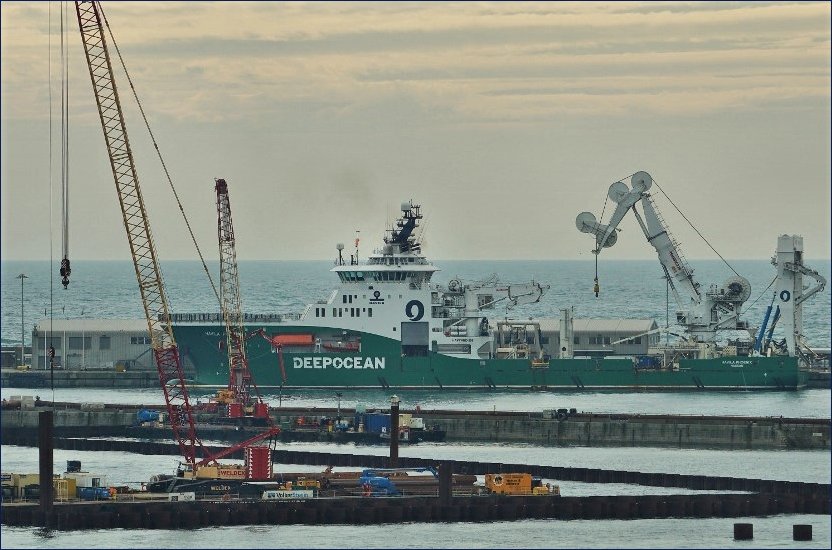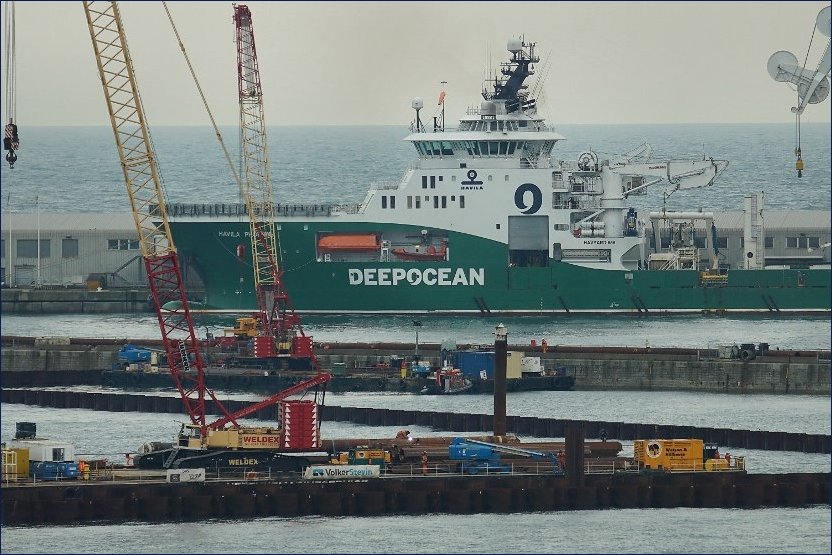 Thursday, 19 October 2017 - 17:50
Post 4328
Sea News, Dover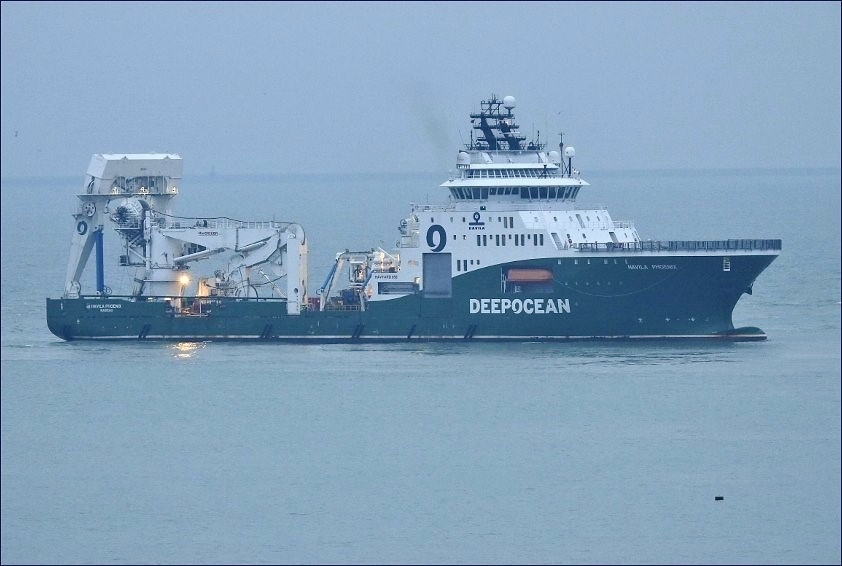 Well done Ed

great getting those pictures in the post below. It was beyond yours truly to get anything yesterday what with the mire and the murk .. so got these ones ready from our archives. Top shot shows Havila Phoenix arriving with us way back last February. We haven't used this pic before. Fascinating ship isn't she. And, still in port as we speak over at Cruise Terminal Two, so perhaps later we will have some more pictures.
Also as Ed showed in the previous post below...we had Eastern Bay with us yesterday... she is now in Rotterdam.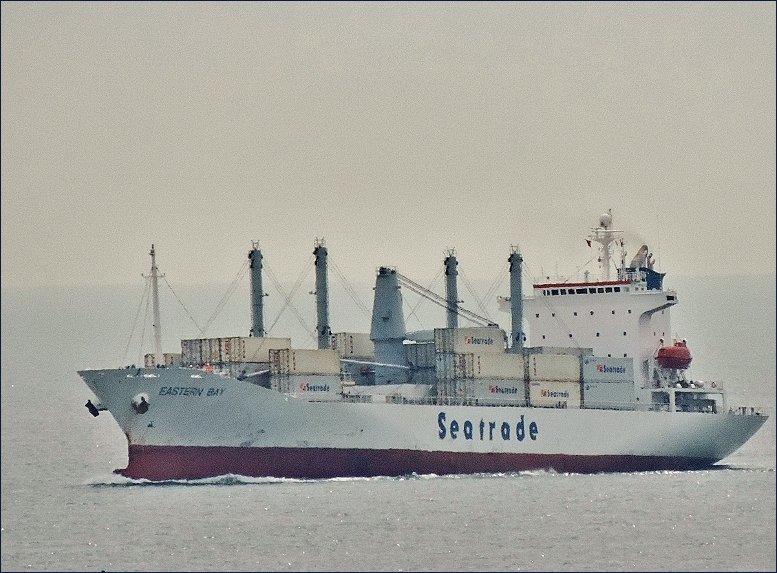 You will remember the items on the Paul Watkins retirement (4270 and 4282)...here we have the new man...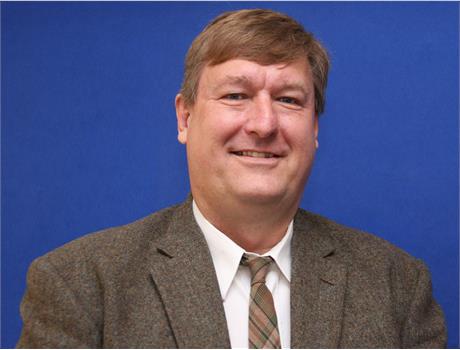 Cllr Keith Morris has been elected as the new Leader of Dover District Council.
A ward councillor for St Margaret's-at-Cliffe, Cllr Morris was first elected to the Council in 2011 and has been a Cabinet Member since 2015.
Cllr Morris hails from Northumberland and began his working life in the army spending nine years in bomb disposal, followed by a short spell with the Royal Ulster Constabulary.
He joined the Civil Service beginning in a local Job Centre and moving eventually to Whitehall where he worked in a number of policy jobs mainly in the employment and education departments. He has spent the last 20 years working in the charity sector at a local, regional and national level.
Outside of work Keith has, among other things, been the treasurer at a children's nursery, a school governor, a trustee of the Dover and Deal Volunteer Centre and spent eight years as a governor of the then Thanet College, now East Kent College. He has an MBA from Durham University and is a Fellow of the Institute of Directors. He is a keen supporter of Newcastle United.
Cllr Morris lives in the ward he represents, St Margaret's, with his wife. They have two sons.
Cllr Keith Morris, said: "It's an honour to be leading the Council at such an exciting time with new investment and jobs across the district. I look forward to working with the community to build on this success to ensure that alongside the physical regeneration we're now seeing, we deliver a step change in opportunities for all
Ends
Thursday, 19 October 2017 - 06:23
Post 4327
Ed Connell, Dover Strait
Eastern Bay at the DCT today.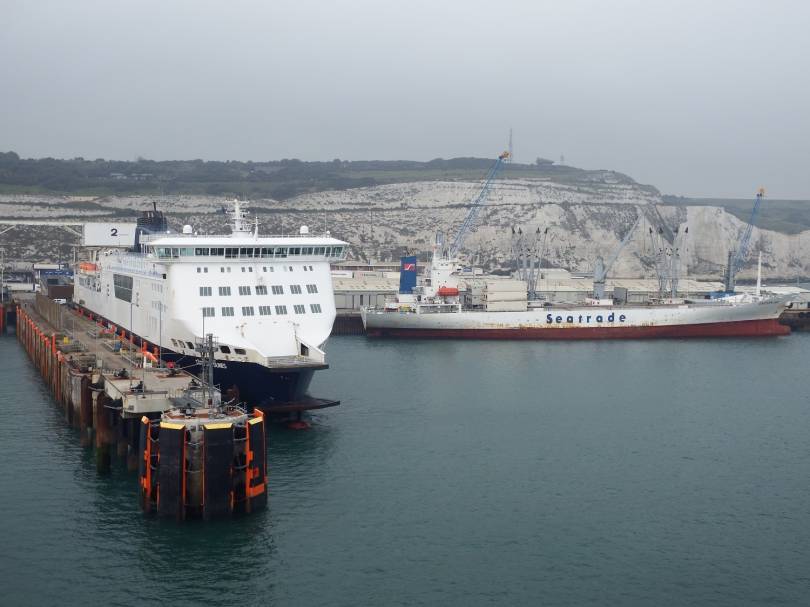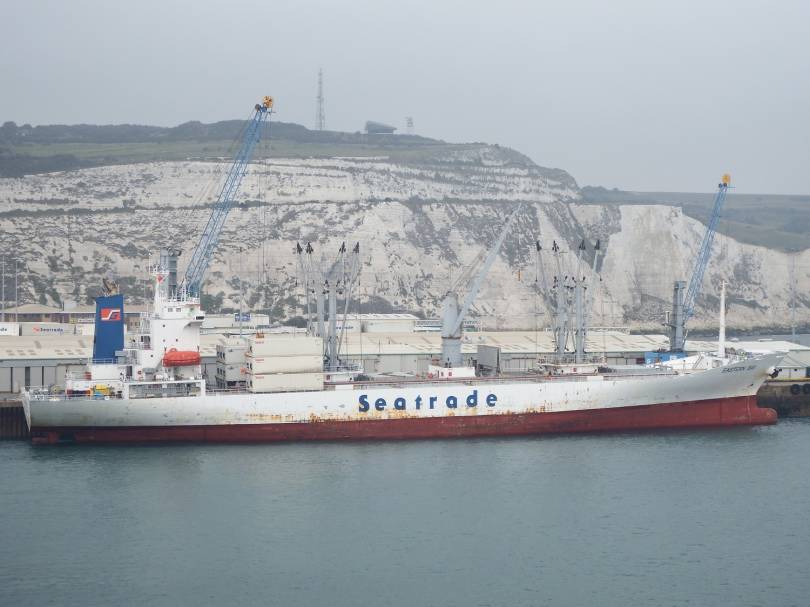 Havila Phoenix on the Admiralty Pier today.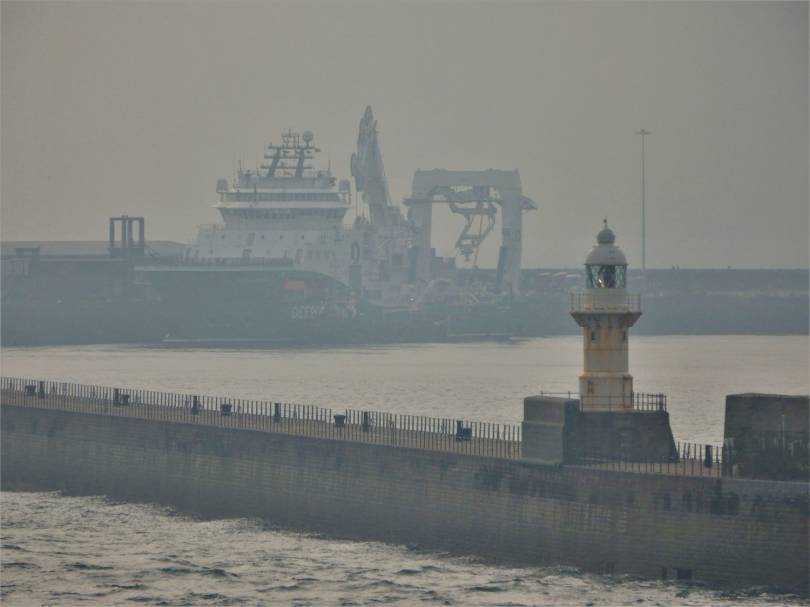 Wednesday, 18 October 2017 - 22:13
Post 4326
Sea News, Dover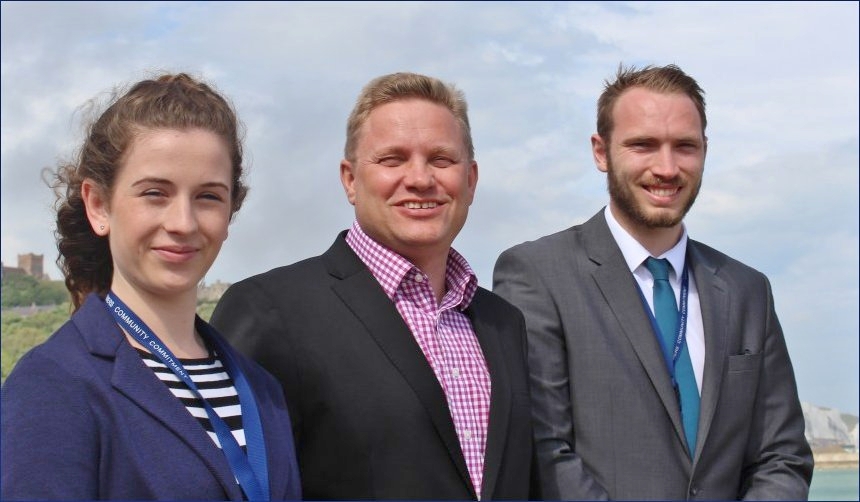 Maths student and keen rower beats all bidders for Port Bursary.
Dover maths student Ellie Fordham has won backing for her university education after successfully bidding for a Port of Dover bursary.
The former Dover Rowing Club member and Dover Girl's Grammar School pupil will get £3,000 a year to support her studies for a BSC honours degree in mathematics at Portsmouth University.
She was one of six very strong candidates vying for the award in the 2017 round of funding, which also gives the successful applicant a valuable work placement in the Port to enhance their education.
Ellie, 18, who will be working with the Port's business optimisation team, said: "I researched the Port of Dover and wider port management and operations while I was preparing my bursary application.
"That research showed the value mathematics can bring to the maritime industry - in particular, the master planning process which identifies port capacity, future demand and the impact of long term traffic forecasts. Much of my university course centres on statistics, operational research and modelling.
"In addition, Dover Western Docks Revival is a significant undertaking, and the opportunity to be involved in some way would be really exciting for me."
Ellie – Student of the Year 2015 at Castle Community College, Deal, and 'Maths Ambassador' at Dover Grammar School for Girls – also has experience of working in a busy environment. Last year, Dover District Council gave her a placement with its accountancy team between July and December.
Port of Dover Chief Executive, Tim Waggott, said: "Ellie's application was incredibly professional and stood out among some very strong contenders from around Dover.
"Ellie researched the port industry and saw not only where the Port could help her progress but also where her skills could bring value to our operation.
"I'm extremely pleased that we'll be supporting her at this crucial time in her education, and I look forward to working with her."
Port of Dover bursaries offer up to £3,000 per academic year for students in the postcode bands CT14 to CT17 who are looking to start port-related studies at university. These courses could range from civil, mechanical or marine engineering to accounting, economics or business management.
Pictured; (L-R) Ellie Fordham, Port of Dover CEO Tim Waggott, Port Business Optimisation Manager Phil Horne
Ends
And now some more pictures of the dazzling red sun...
as mentioned previously many are very excited. Since Hurricane Ophelia the sun has gone extra red as the atmosphere is full of blown-in Saharan dust and smoke from fires in Spain and Portugal... turning the sun red..
here she is over Dover yesterday..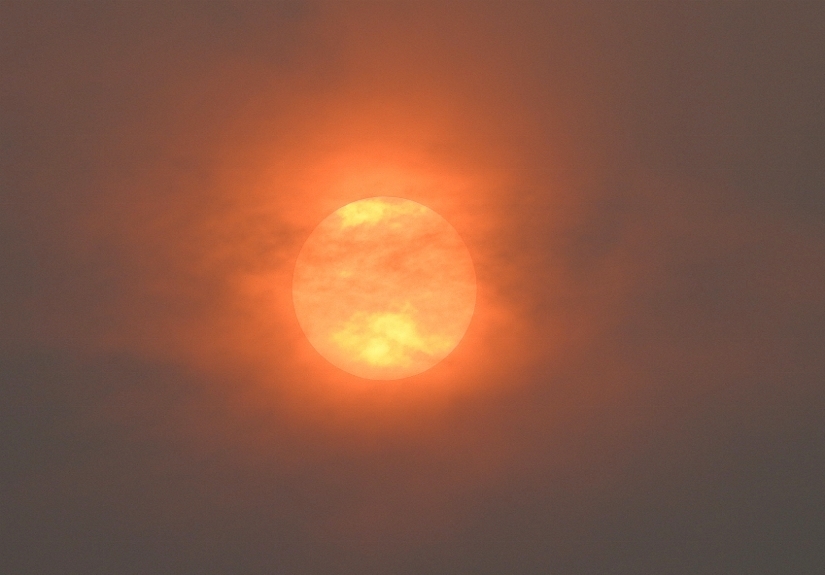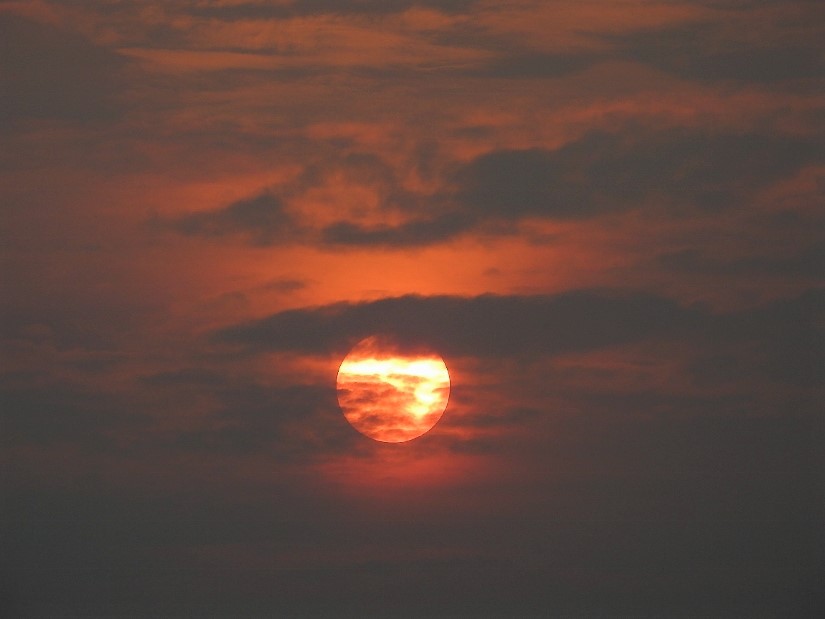 The last shot below taken at 5.25pm yesterday as she sinks behind Western Heights...delightfully a seagull flew into shot just at the right moment.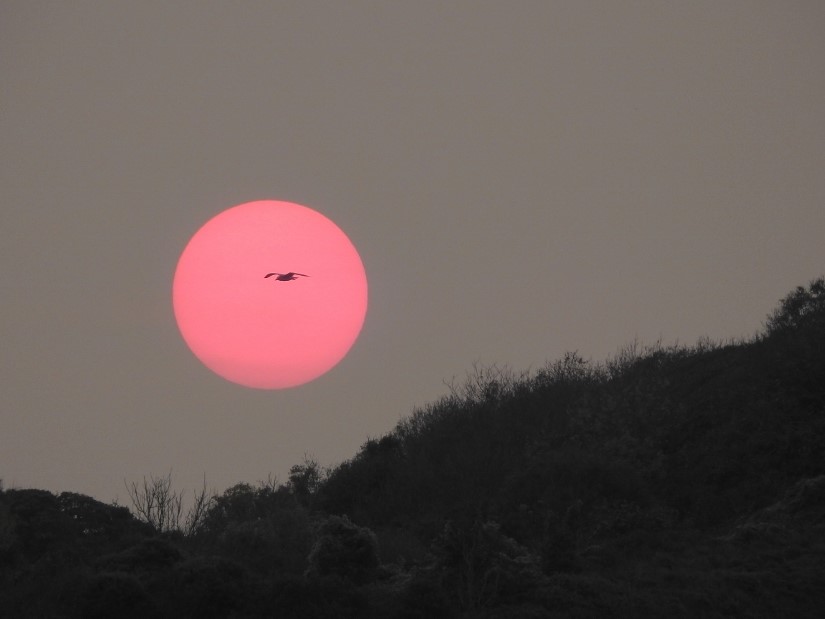 This is a further picture of the 'canal gates' and it shows the area without the drilling/hammering platform...see how pink everything has gone with the sun. A bog standard all natural picture.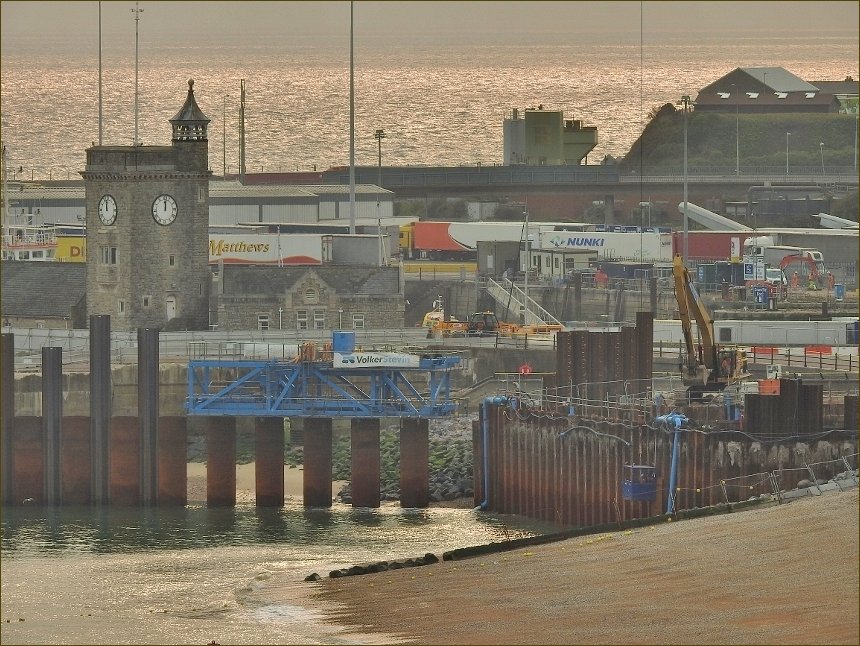 PaulB
Wednesday, 18 October 2017 - 07:01
Post 4325
Sea News, Dover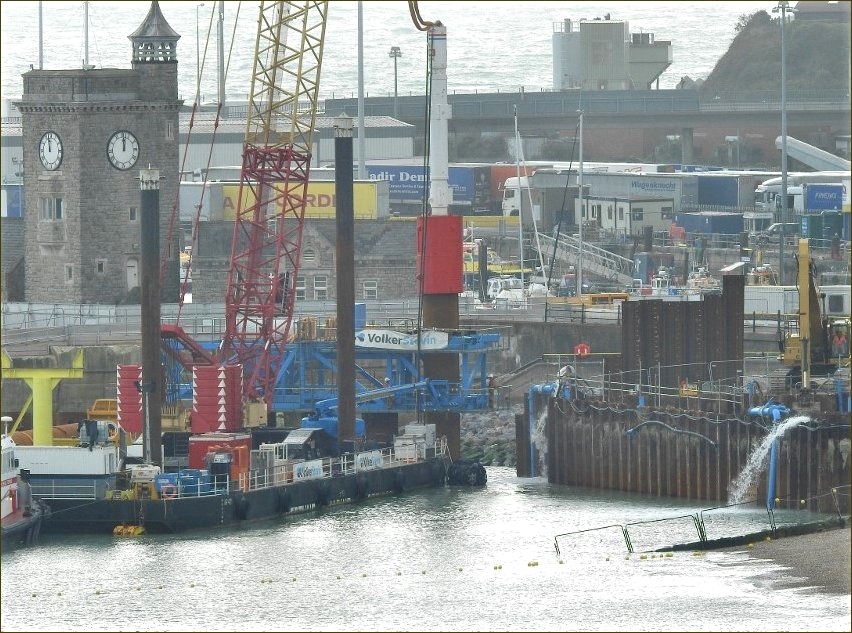 The pic above shows the piling being earth-shatteringly pulverised into position right at the 'canal gates' two days ago, it looks like they have reached their goal with this particular line of piling... it all looks fantastic so far. Once again ignore the clock.
Below we have Holyhead Towing's Afon Lligwy working hard as ever amongst the drilling barges. These two pictures were taken in very grey conditions but hopefully all fairly clear. It the background amongst other things...you can see our regular tugs Doughty and Dauntless moored up, but as ever primed ready and waiting.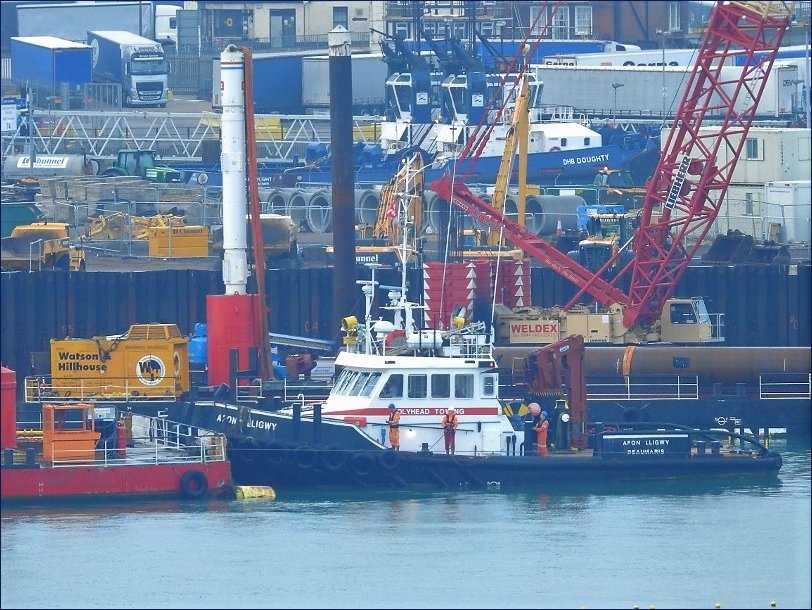 The BBC website yesterday was making much fuss about the red sun. It seems the colour of the sun was affected by Hurricane Ophelia as she hurled Saharan dust and smoke across the British Isles. So we had a stab at getting a picture of the red sun when she presented herself over Dover at 4pm yesterday through the murk and here she is...yessir red indeed.
Fortunately we seemed to have escaped much of Ophelia here in our Dover Ramsgate Dunkerque Calais corner....but our friends in Ireland were not so lucky.
Following along from Ed's welcome picture of Atlantic Reefer at the Dover Cargo Terminal...here we are with a couple of pictures across the rooftops taken later in the day yesterday as she unloaded cargo ...you can just see the crane doing her business...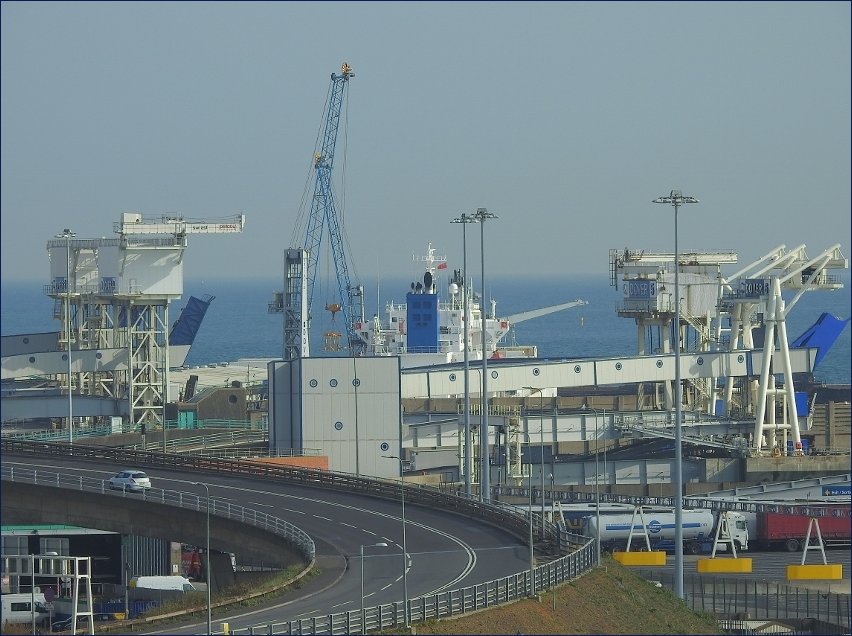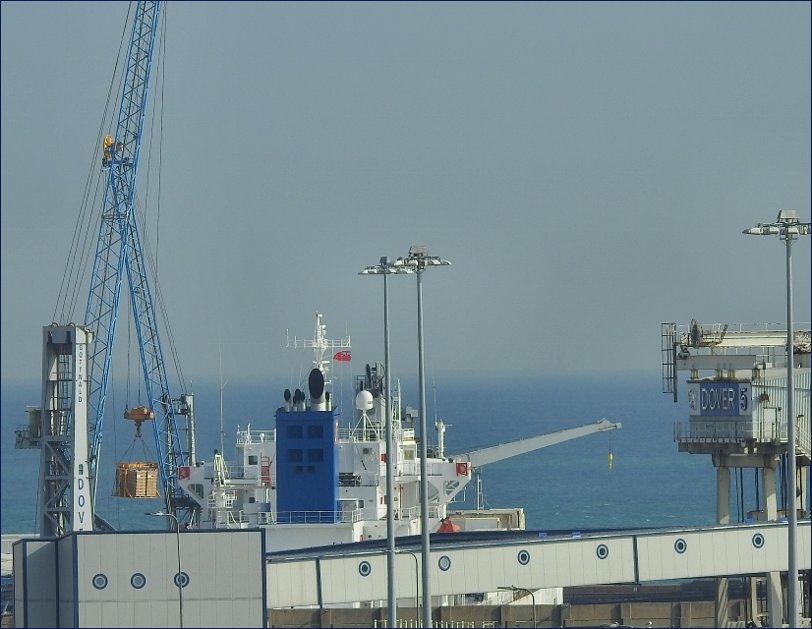 Atlantic Reefer left the Port last night at 7.15pm on a dark oul black night....bound for Hamburg she was. PB
Tuesday, 17 October 2017 - 05:58
Post 4324
Ed Connell, Dover Strait
Atlantic Reefer at the DCT today.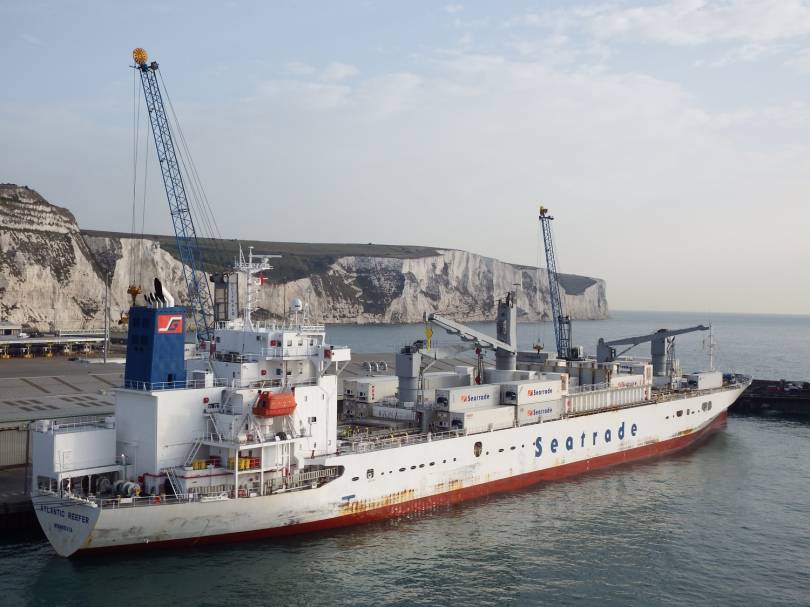 Monday, 16 October 2017 - 09:26
Post 4323
Sea News, Dover
DFDS BECOMES FIRST UK FERRY OPERATOR TO OFFER MARITIME CATERING APPRENTICESHIP
_____________________________________________________________________________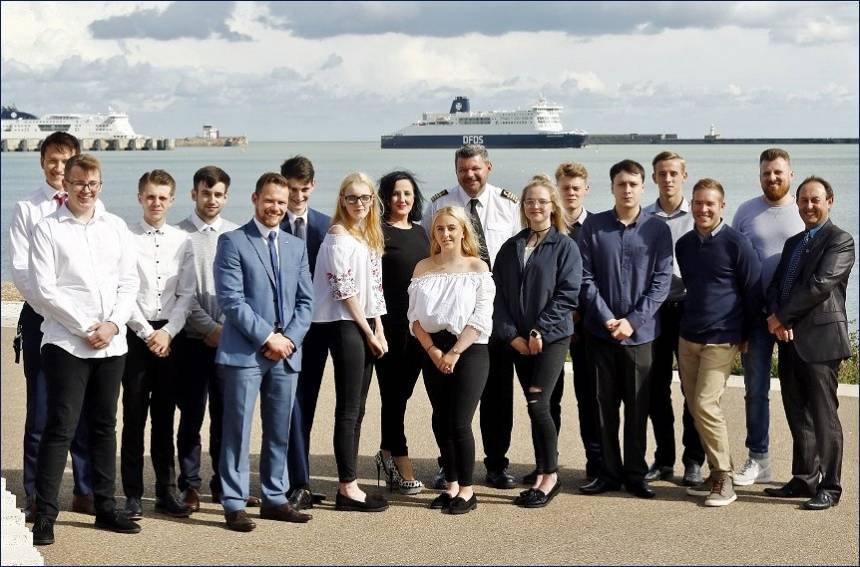 Europe's leading ferry operator, DFDS, has become the first UK maritime company to recruit apprentices for a brand new maritime catering apprenticeship programme.
The three new catering apprentices join a 12-strong group, made up of a further six deck and three engine apprentices. The group have started a 24 month programme of classroom training at North Kent College in Gravesend and on-the-job skills training on board DFDS' Dover-Dunkirk ships as they work towards qualification as Able Seafarers, Marine Fitters and Maritime Caterers.
DFDS held a welcome reception to celebrate the new apprentices, with guest speakers including Gemma Griffin, Vice-President of HR & Crewing at DFDS; Captain Paul Mount from DFDS ship Delft Seaways; Steve Watkins, Nautical Lecturer at North Kent College's National Maritime Training Centre; and Donna Stephens, Operations Manager at the Merchant Navy Training Board.
Gemma Griffin said: "We're proud to offer young people in the South East the opportunity to build a career at sea through our apprenticeship scheme. The UK shipping industry faces a particular challenge in attracting young people to join as ratings and we're delighted to be trailblazers in this area by providing three exciting routes into a maritime career.
"I'm particularly pleased that this year we welcome the first-ever maritime caterer apprentices into our business, leading the way and setting the standard for future apprentices in the UK to follow. It's hugely rewarding for our teams to welcome new faces into our business and to share their knowledge with the next generation of seafarers, helping them achieve qualifications that will give them skills for life. We look forward to following their progress and supporting them through their courses over the next two years."
DFDS's apprenticeship programme has been running since 2012 and has seen two groups of deck apprentices and one group of engineering apprentices qualify and take up full-time jobs with the company. The apprenticeships are offered in partnership with the Merchant Navy Training Board (MNTB), the shipping industry's central body for promoting and developing sector-specific education and training skills.
Donna Stephens, Operations Manager at the Merchant Navy Training Board said: "DFDS sets a great example to others in the way that they recruit people into our industry and train their workforce. The company has led the way, from being the first UK ferry operator to offer an apprenticeship scheme with their first cohort of apprentices in 2012, to now becoming the first business to offer the new maritime caterer apprenticeship programme in the UK.
"We value DFDS' input into our work and look forward to continuing to work together with Gemma and her team to develop our apprenticeship programmes further in the future."
The apprenticeship programmes are aimed at 17 to 24 year olds with a minimum of Grade C Maths and English at GCSE level (older age groups can also apply). The Deck Scheme will see students qualify as Able Seafarers, working in the deck department as a watchman and assisting with loading and unloading the ship; apprentices on the Engine Scheme work towards becoming Marine Fitters within the engineering team, responsible for maintaining and repairing the ships; and the new Catering Scheme will see students qualify as Maritime Caterers, working as chefs in the ship's galley to prepare the food served on board.
For more information on the apprenticeship schemes, visit www.careersatsea.org/opportunities-for-ratings or watch the MNTB's new careers at sea film:www.youtube.com/watch?v=DLai9EIK5_4
ENDS
Many thanks to DFDS for the information above. That's a great scheme for sure

Top picture shows the new DFDS apprentices with Gemma Griffin, Vice President of HR and Crewing, Captain Paul Mount (both centre) and Steve Watkins from North Kent College (far right)..pictured on Dover Seafront.
Thanks to DFDS for that one, a nice shot...the black and white pic below was also from DFDS....from a previous more colourful time. We have turned it into a study in monochrome.

An extra picture below...similar to another one we used recently showing Cote des Flandres leaving Calais.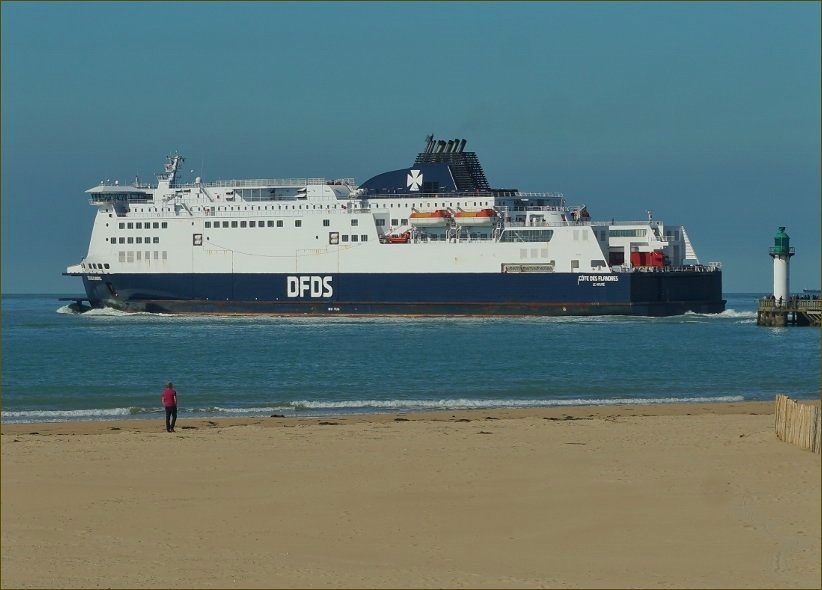 Nice Collection below there Mike


Monday, 16 October 2017 - 06:51
Post 4322
Mike J., Dover
Ramsgate, Saturday - poaching on Sarah's territory !
Taking a stroll around the harbour I was about 30 seconds too late for a decent view of survey vessel HMS GLEANER as she left the fuel pontoon after a very brief visit whilst en route Lowestoft from Gosport.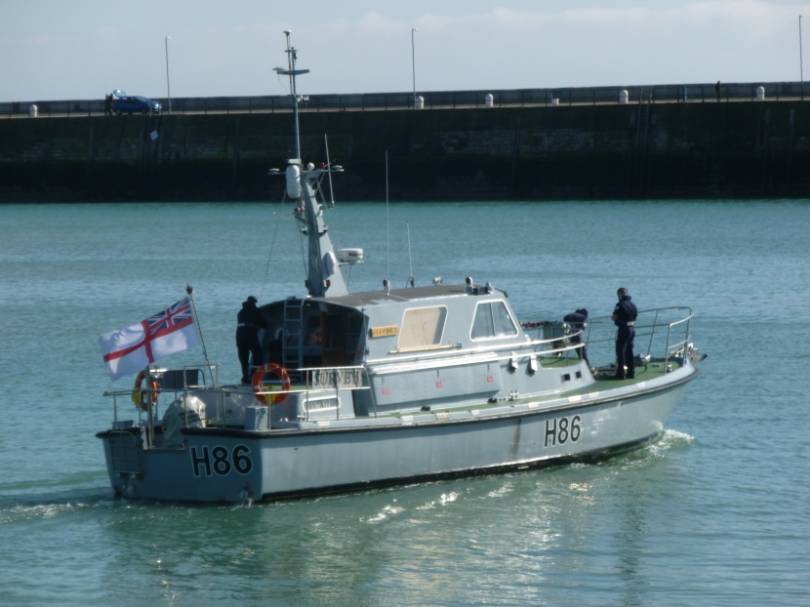 The GLEANER is thought to be the smallest commissioned vessel in the RN.
She was built in 1983 & is notable as the only RN vessel to have visited Switzerland when she steamed up the Rhine to Basle in 1988.
She visited Dover in October/November 2014 for a spot of surveying, posts & pix - 1180/1224.
Three windcats were laid up in the Inner harbour, Spectrum Offshore's SPECTRUM 1 & Turbine Transfers' RHOSCOLYN HEAD & PORTH DIANA.
Turbine Transfers are a subsidiary of Holyhead Towing who have tugs & worksboats working on the DWDR project.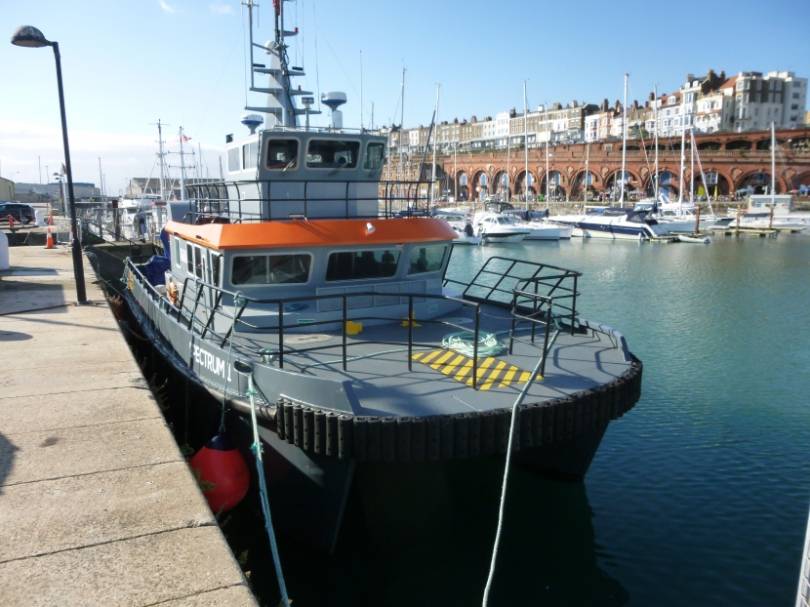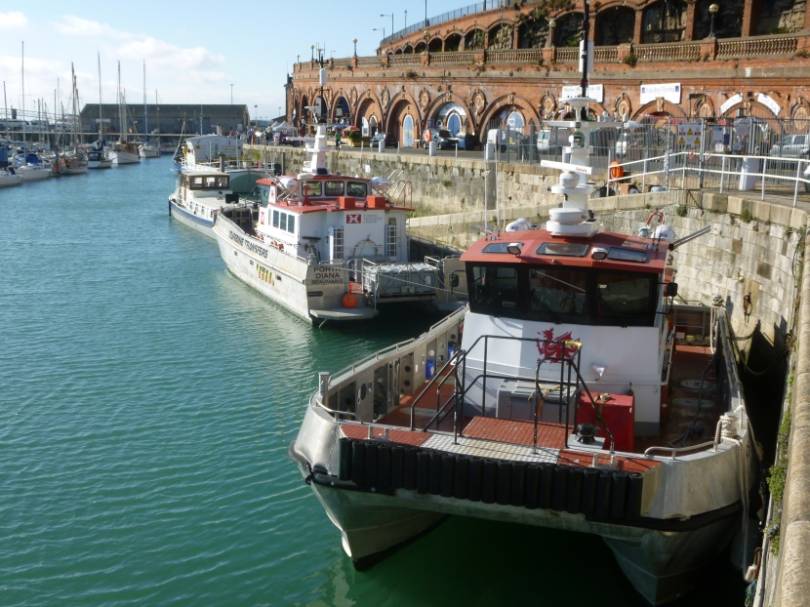 Absolutely nothing whatsoever to do with shipping was this delightful 'James Handy-Van' of mid-30s vintage on display outside one of the Inner Harbour 'arches'
Well worth a photo though.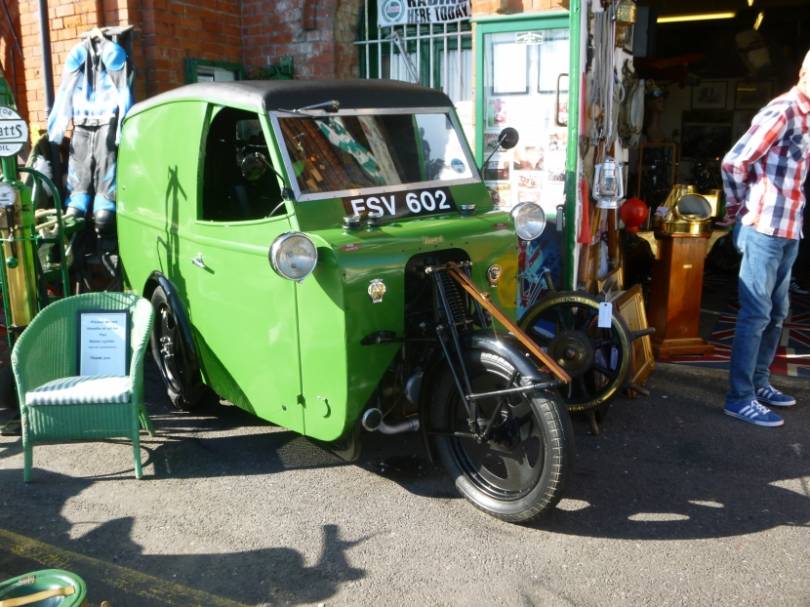 Sunday, 15 October 2017 - 10:28
Post 4321
Sea News, Dover
Just idly watching the world go by...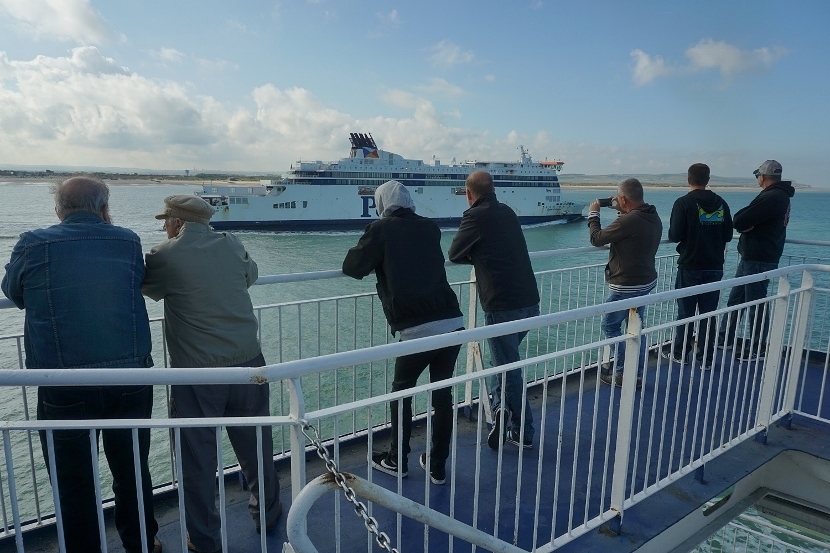 or in this case just idly watching the Spirit of Britain amble by just off Calais, from onboard the Pride of...ermmm which one was it...yes that's it...The Pride of Canterberrry...
and there goes the Spirit out into the Channel on a lovely sunny day...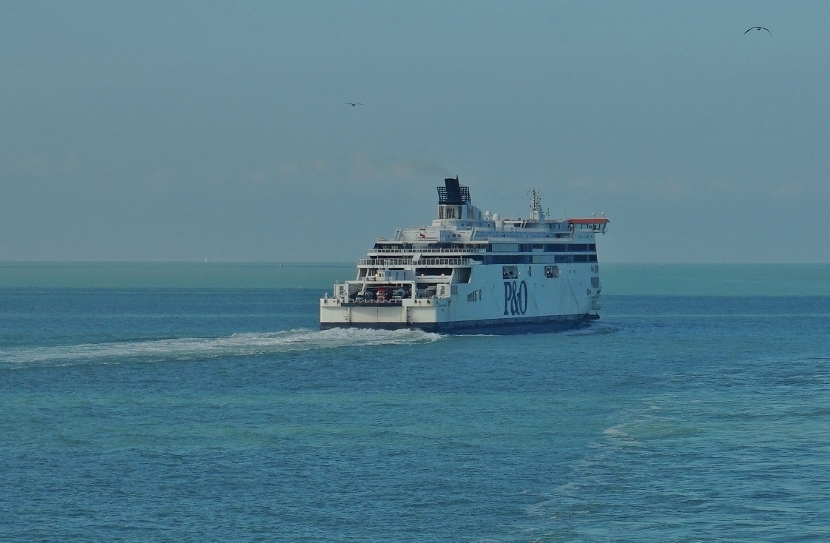 Some of the guys were up on the Thames last week aboard the Waverley and quite by chance I came across this picture of one and the same yesterday. I didn't remember I had this one...
The Waverley passing Dover in 2014.
Thanks Sarah, glad you liked those pix of Alert...always a photogenic vessel for sure. Hope all good over there in Ramsgate...


PaulB.
Sunday, 15 October 2017 - 06:08
Post 4320
Sarah, Ramsgate
Loving the superb Alert photos



Saturday, 14 October 2017 - 18:25
Post 4319
Sea News, Dover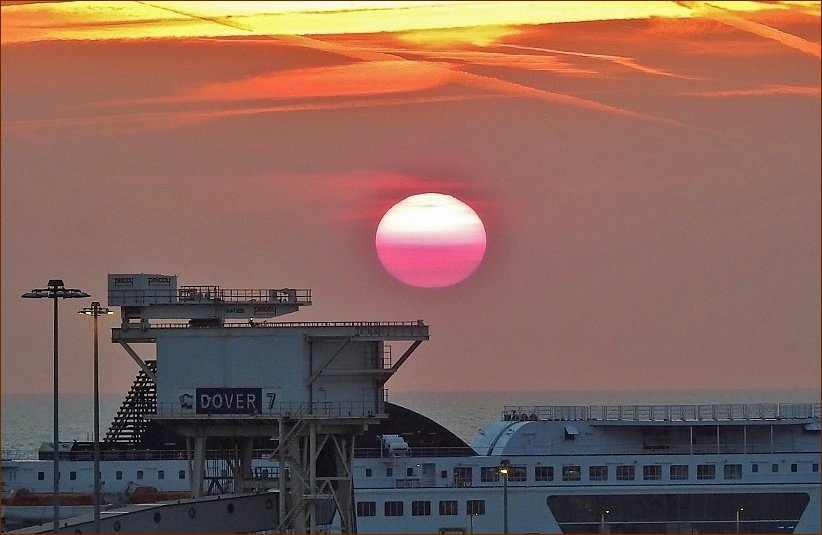 The sun rises over Dover 7 and so begins another day at the Port of Dover...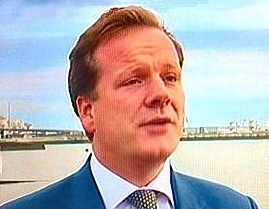 Dover and Deal are on the up...says Charlie Elphicke MP
_____________________________________________
We're working hard to build a brighter future in Dover and Deal. And it's clear things are on the up in our beautiful corner of Kent.
The new cinema and shops at St James are set to open in the coming months. The £120 million Western Docks development is underway. Deal continues to go from strength to strength and was recently ranked as one of Britain's top coastal towns.
There are exciting times ahead and people I speak to when I'm out and about are really positive about the future. Indeed, last week research was published which said happiness in Dover and Deal has reached its highest levels since records began.
Our level of happiness in 2016/17 was 7.69, researchers found. This is above the national average of 7.51 and a big rise locally from 7.17 last year. When the Office of National Statistics started measuring personal well-being in 2011/12, the level of happiness in Dover and Deal was 7.38.
Life satisfaction in the constituency is also up year on year, while anxiety is down. More people feel what they do in life is "worthwhile" than in 2011/12.
Too often some people talk us down. Yet the truth is that Dover and Deal are on the up. We've come a long way in the past seven years. We stopped the port sell-off, got a new hospital built in Dover and safeguarded Deal's. We secured £500 million of investment for our area and unemployment has near halved.
People said we'd never get the fast train to Deal – yet now it sweeps into the station every day. People said Burlington House would be there forever – yet we kept fighting until it was torn down. Now the former St James site is transforming before our eyes. Meanwhile the rubble from Burlington House is being used to lay the foundations of the Western Docks Revival.
Of course, there is still much more to do as we build a brighter future for Dover and Deal. The most vital issue of our times is ensuring we are ready on day one for Brexit. We cannot have a situation where there are long queues of trucks clogging up our roads. That's why I've been working with industry experts to put together a plan setting out the action we need to take now at the Dover and Deal frontline.
If we get it right, we can enjoy a real boost from Brexit. I got 40 MPs together to write to the Chancellor, calling for duty free sales on travel to Europe to return after Brexit. This could help boost visitor number and our ferries.
Things are changing. We are working relentlessly – taking action to secure investment, plan ahead and build a brighter future for Dover.
And if there's one reason above all else to be happy – it's that we finally got rid of the 40mph limit on the A20!
ENDS
An extra pic of Alert below...testing a new method used to produce the picture... PB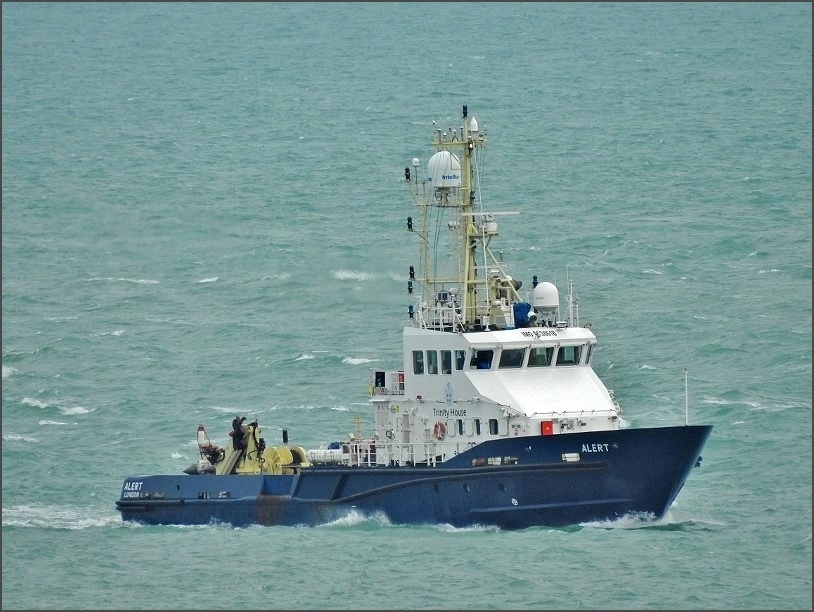 The return of Duty Free...is that a step forward or back?
Who knows anymore...what with the current Brexit befuddlement. At the very least it will give TV producers the notion to make more of those awful Booze Cruise films... currently never off ITV3.

Saturday, 14 October 2017 - 06:50
Post 4318
Sea News, Dover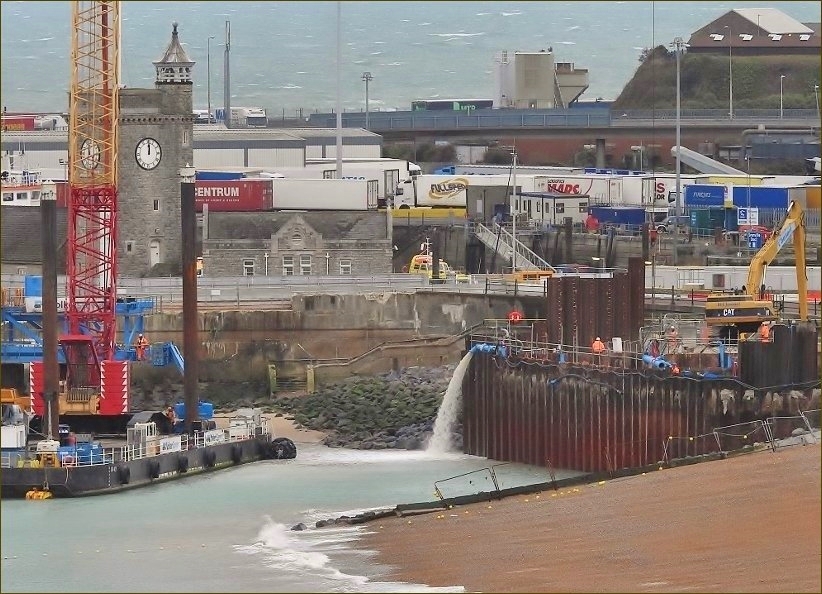 The picture above was taken just two days ago...early morning 11 October. But since then yet more piling has been pulverised into position right up close to the 'dock gates' .. for want of a better term. The noise has been horrendous. Yours truly didn't notice his Ming vase trip ever closer to the edge of the mantelpiece with all the vibration and tumble into a thousand pieces on the floor...!!
sheesh ! ..said I with a sigh and a scratch of the head !


Seriously though...terrific progress has been made...
You can see the progress being made in the following pictures since last March...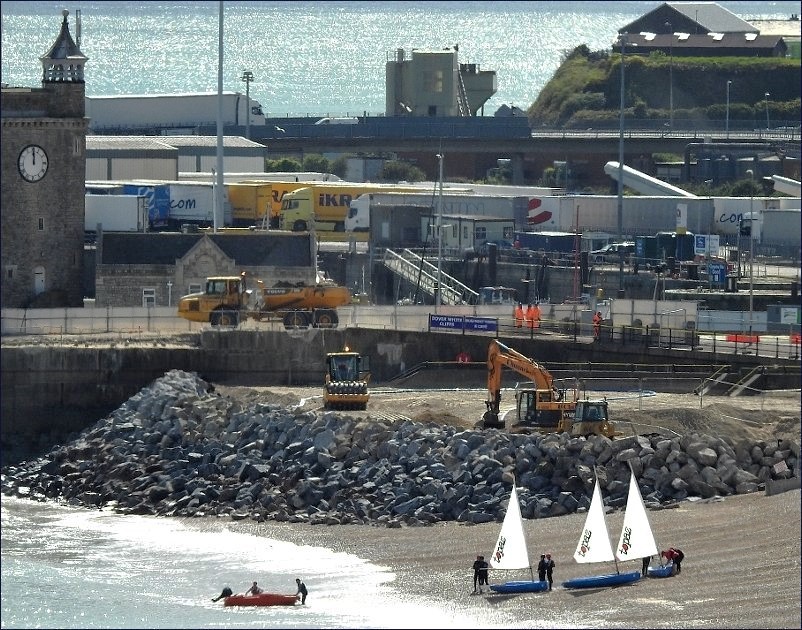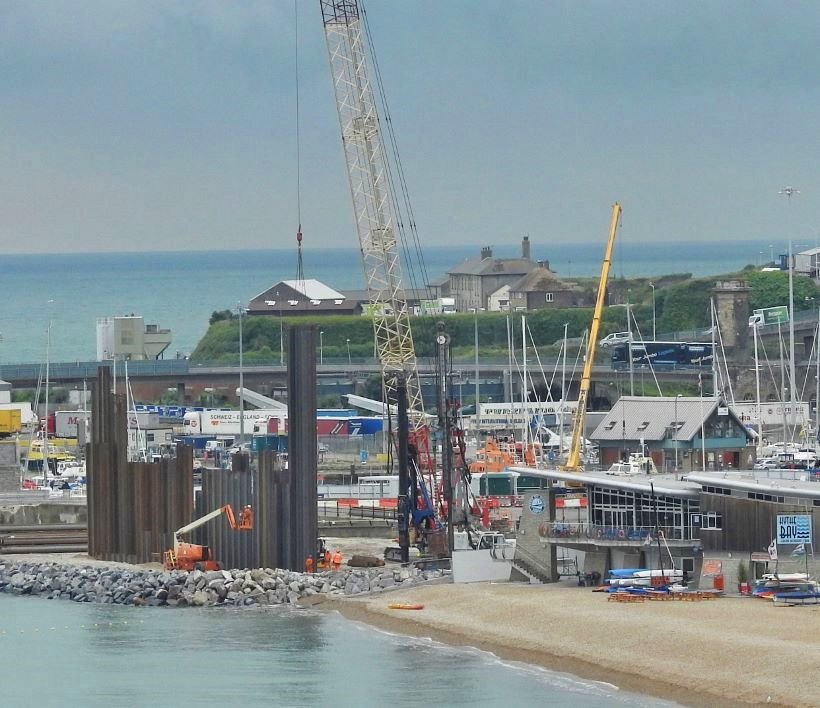 As we've mentioned previously...Once again pay no attention to the clock which has the delightful regularity of being right twice a day.

Fascinating tale below once again Vic. Tough times...but shows the resilience all round.
PaulB.
Friday, 13 October 2017 - 11:29