Saturday, 14 December 2019
Sea Pictures from Dover....

WWW.DOVERFORUM.COM/SEA-NEWS
Featuring all the ships that come and go and work at the Port of Dover ..
... with further coverage of the surrounding ports.
Sea News Dover
Port of Dover: New CARGO TERMINAL opens for business see 6688....


Christmas

Spectacular Event at the Port 6648... Port Fundraise Record 6659.
MP Charlie Elphicke moving aside for wife..see 6646. Wife Natalie Elected 6694.
P&O: St Richards School trip to Calais for 6 year olds see 6630. New Apprentices 6662. AWARD SUCCESS 6681.
DFDS: Contract Cancelled see 6626. New Apprenticeships 6650. WORLD'S BEST see 6676.

P&O Ferries Choir dates for

Christmas

... see 6693.
Use our SEARCH ENGINE below to find all sorts on the SEA NEWS pages....type in the topic and away you go, or if you have the post number, just type it in the box, more than
- 6600 -
nautical posts now. Posts are welcome. just click 'Add Your Comment' below. Max of 5 pictures preferred although we can stretch that for special stories.. Sea News Editor Paul Boland - send info or pix to dover7@msn.com. Always welcome.
UPDATE:
To show your pictures at their best..it could be worthwhile resizing before posting to
850
pixels wide.
All pictures on these pages are the copyright of the owners and must not be reproduced without permission.
Post 6556
Sea News, Dover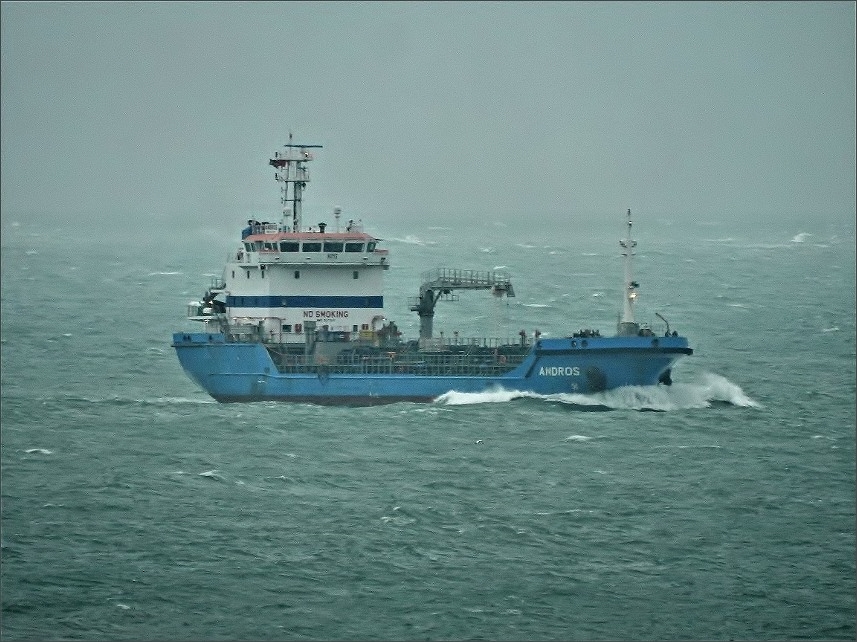 Bunker ship Andros battling her way towards the Port in the rough conditions of Thursday morning...she was coming our way to service the already-in-Port Boudicca.
The picture below captures the bleak weather when seen on the big screen but loses a bit in the restricted size we have here...
These smaller bunker vessels very rarely need assistance from a tug, but once again the rough conditions played a part here.
The Spirit of Discovery departs .. later that day..Thursday..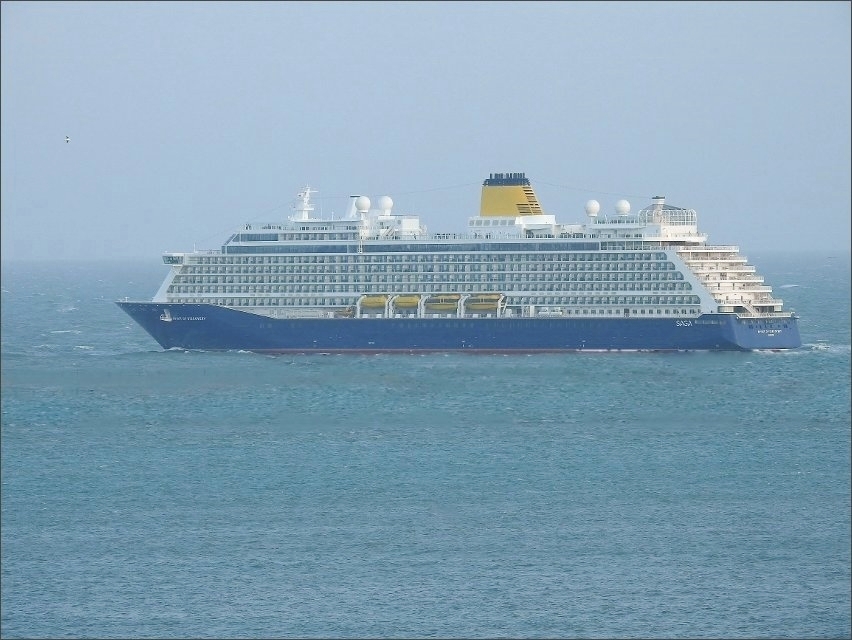 The Spirit of Discovery ... currently touring Norway...
Will have some extra shots of Boudicca to follow in due course.
Finally as promised, hopefully a better view of the Shetland trawler as seen early in the week with Pioneering Spirit as backdrop...LK985 Copious...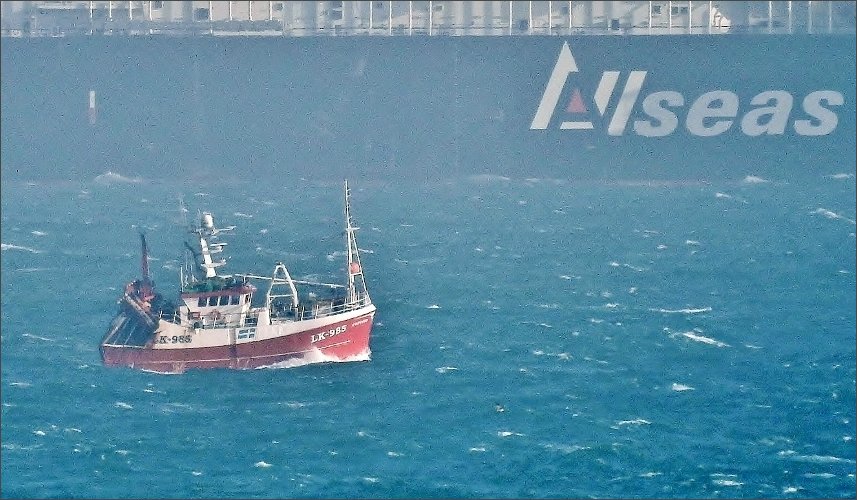 Nice collection below from Mike there. Great stuff! Don't miss those...

PaulB
Saturday, 28 September 2019 - 05:07
Post 6555
Mike J., Dover
Arrivals & departures - Noon Wednesday with DEEP HELDER crossing the bay & passing the SPIRIT OF BRITAIN before berthing on Cruise-1 to pick up equipment.
She was only alongside for about 12 hours before returning to work in the Thames Estuary.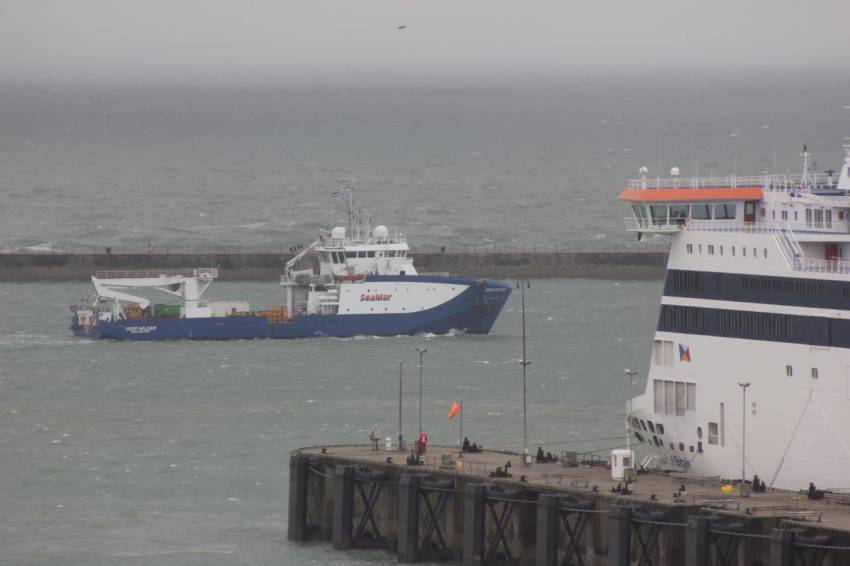 Departure of BOUDICCA for Amsterdam Thursday evening.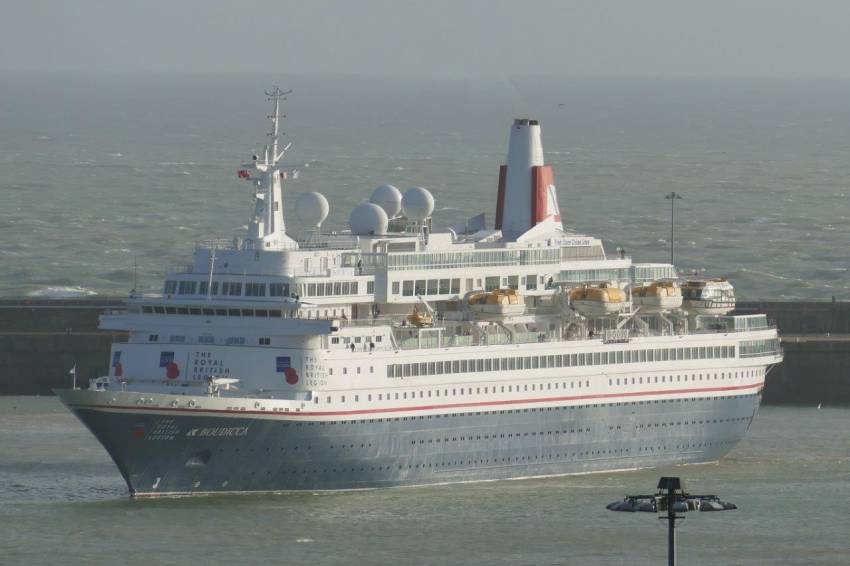 I thought that I was nicely set up for her crossing the bay to leave via Eastern but the arrival of the DUNKERQUE SEAWAY put paid to that plan . . . .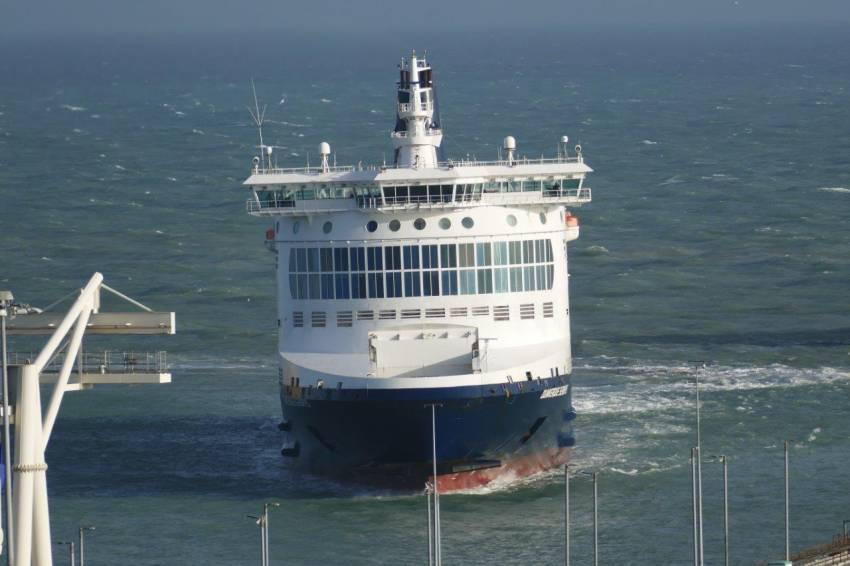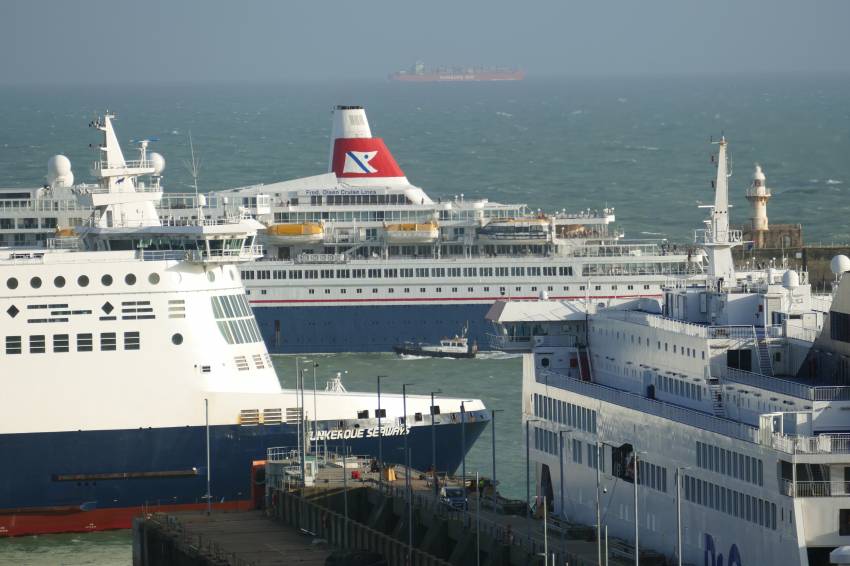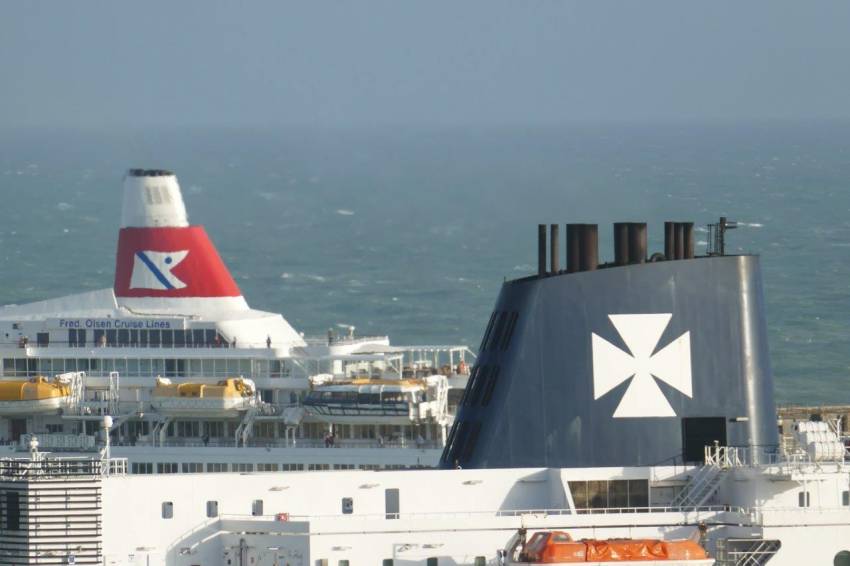 Saturday, 28 September 2019 - 00:36
Post 6554
Sea News, Dover
Tugs at Dover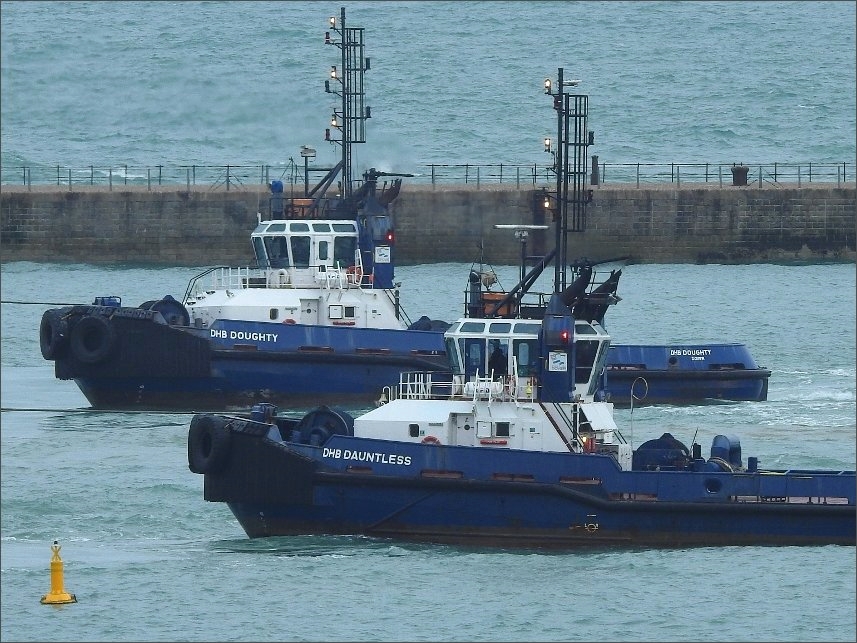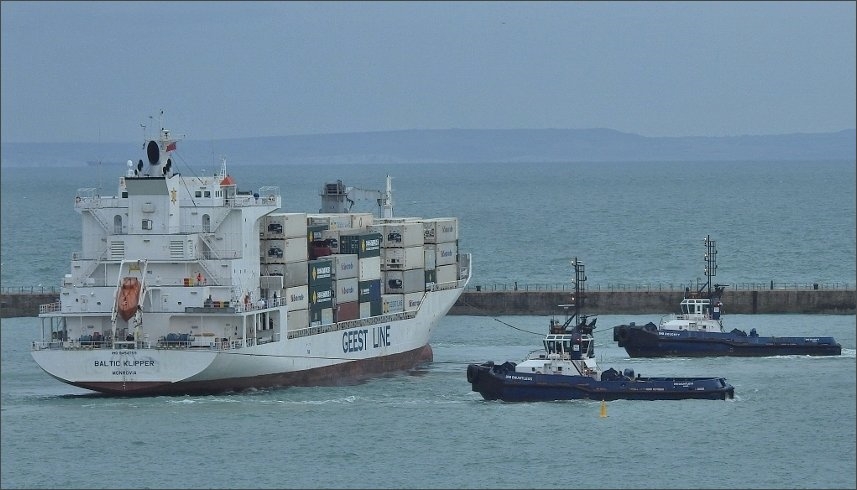 We are featuring the tugs here at Dover today. The top two shots show both robust vessels lending a helping hand to the Baltic Klipper a few days ago...out there night and day they are, and in all weathers. They're in action right now as we speak and its 05.56 as yours truly glances at the ever ticking clock..time waits for no....etc etc.. Yes the tugs are out there right now pinning the breakwater to its position..

Just to add these two extra ones from former times...
from 2016 and 2014 respectively..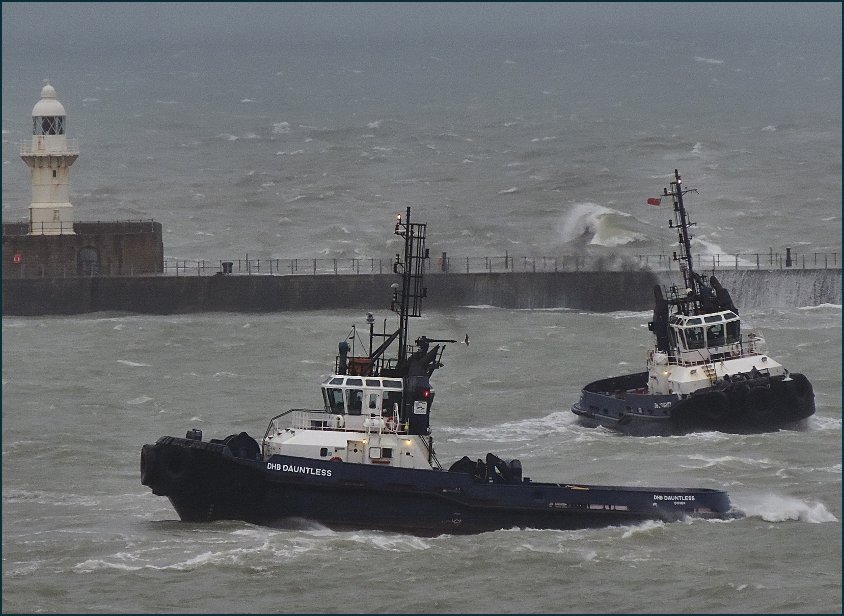 Following along from the Extinction Rebellion protest (6547, 6548) ....
here comes Charlie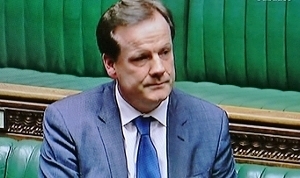 Protecting our environment
__________________________
Protecting our environment for future generations is vital if we are to survive as a species. That's why I have always been passionate about action on climate change.
Much has been achieved in recent years, yet there is much more to do. And we need to go harder and faster to get there. What won't help is people gluing themselves to the A20 in order to block the route to our port. This caused massive disruption and just made life harder for people to get about.
It was a cheap publicity stunt – by yet another protest group seeking to exploit Dover's important role for the nation. And it was counter-productive. The slow-moving traffic chuffed up more pollution, while local businesses were harmed and days out for families who work hard the rest of the week were ruined.
Yet the saddest thing of all is that this country has never needed mass protest to get the change we need. And we are already leading the way in the fight for a cleaner planet.
We've cut CO2 emissions by 3.7% a year – more than any other major industrialised country. It's been so successful that they are now at the level they were in 1888. Since I became an MP, CO2 emissions have fallen by a quarter. Renewable electricity generation has quadrupled. Electricity generated from coal has fallen from almost 40% in 2012 to our first coal-free day since the industrial revolution.
Fully-clean electricity now gives us over half our total. We've also been cutting down on the plastics and micro beads that harm flora and fauna. Anyone who has seen Blue Planet knows how sea life, from the humble seahorse to the great whale, is greatly impacted by our actions.
This country will also host the next round of global climate change talks next year. This is perhaps most important of all – because I do recognise there is so much more to do on a wider scale if we are to properly protect our planet for our children and grandchildren.
I want to see us build a land powered by renewable solar electricity. From solar panels on our roofs, not solar farms in our fields. These should not simply be tasked with powering our homes. They should power zero-carbon electric cars too. With advances in battery technology, it's no longer some far-off dream.
This is the future that now lies before us, that I hope will be the step change in the next decade to cut CO2 emissions even further. Environmental enterprise should be part of a wider rebirth of exports in this country – as we become a free-trading, global nation again. That way we can have strong economic growth, rising prosperity and preserve and protect our environment too.
Much has been achieved in the battle against climate change. Yet we need to go much faster. We should aim to dump petrol, diesel and coal for good – building a zero-carbon Britain as the beacon for a cleaner planet.
Charlie Elphicke MP for Dover and Deal
PB
Working on a closer study of that Shetland trawler... will get that up shortly...
also coverage of yesterdays excitement Andros, Boudicca, Spirit of Discovery..even though its late September its all still happening


Friday, 27 September 2019 - 06:02
Post 6553
Sea News, Dover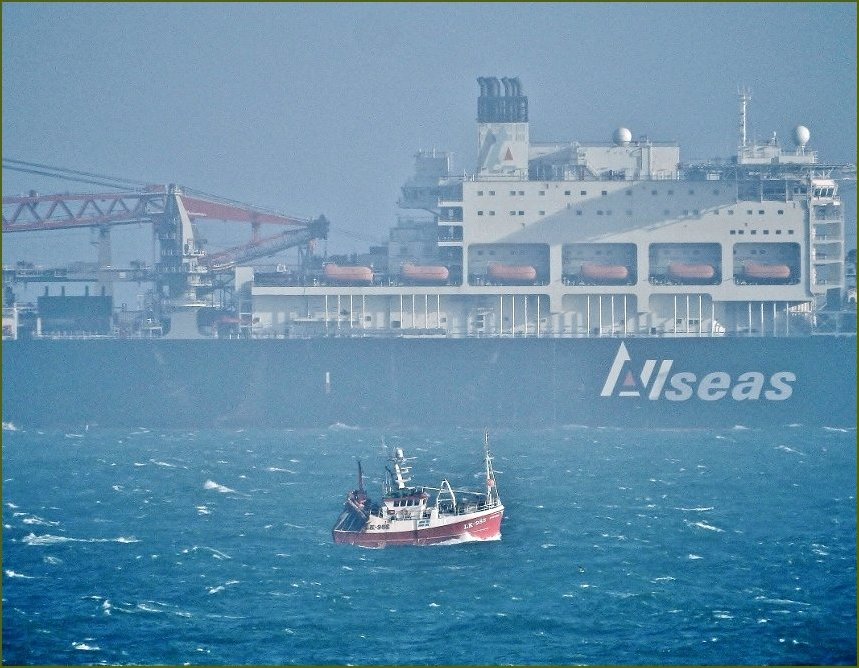 Following along from Mike's post below and indeed my earlier picture further below, here is another pic of the Pioneering Spirit but this time only as backdrop. I had been photographing the ship some minutes earlier, and then after a short break went back for another go as the clarity was nigh impossible. And there we are... from nowhere as it wasn't there earlier...we have the trawler LK985. Call it a magnificent manifestation!
But yes there she was .. all the way from Shetland and called Copious. Hopefully I have all that right...Google it anyway for further clarification.
A flat sort of picture below of the Pacific Princess from a few days ago...just want to catch up with this one.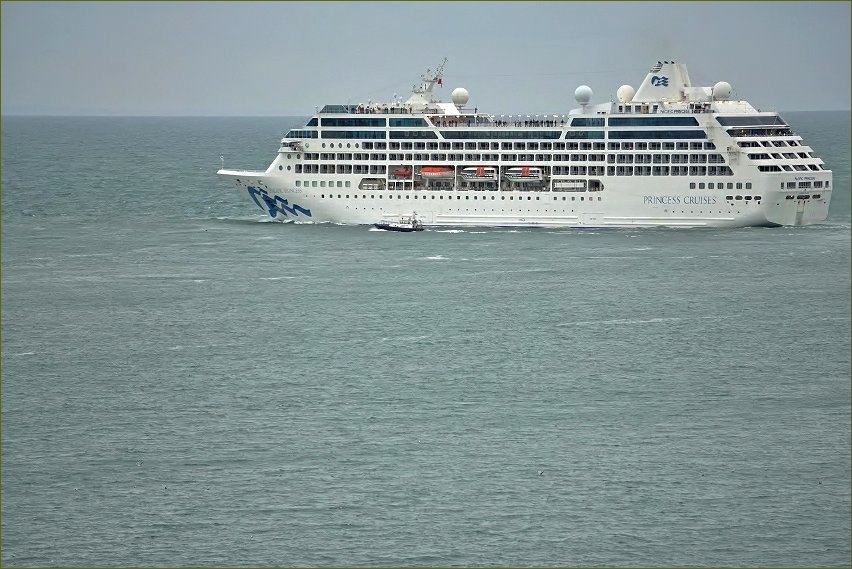 Pacific Princess currently on a 14 day roundtrip calling at St Petersburg in Russia also Talinn, Stockholm, Helsinki etc..very nice.
Hard to imagine the sun ever shines looking out the window today...but in the pic below of the magnificent Costa Mediterranea...she is all aglow in the gorgeous late evening gentle light..a hint of late sun here..pictured on Tuesday..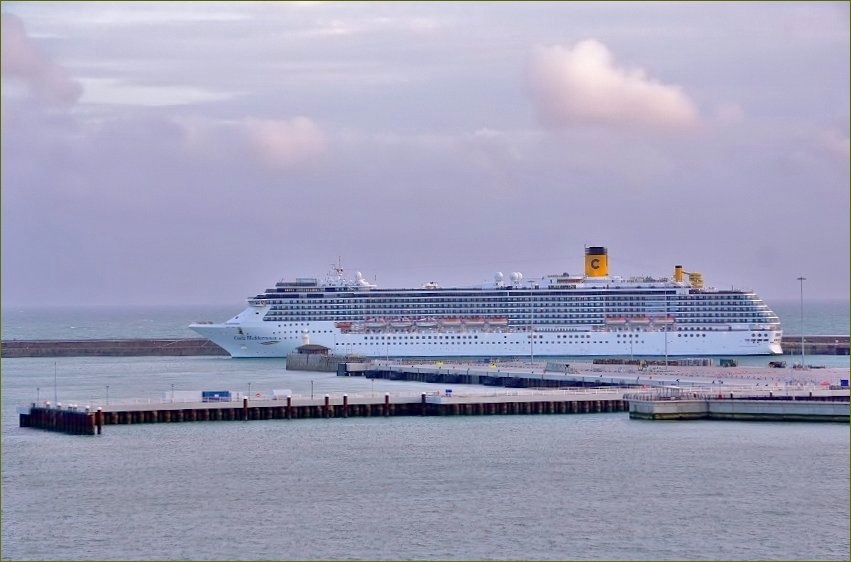 Costa Mediterranea… came in the pitch darkness, left in the pitch darkness. There we are somewhere in between.Costa Mediterranea on a 10 day one way cruise...highlights include Lisbon, Cadiz, Barcelona, Marseille...
See also Mike's post below...

PaulB
In port today Boudicca and Spirit of Discovery
Thursday, 26 September 2019 - 07:35
Post 6552
Mike J., Dover
Further to Paul's excellent photo of the PIONEERING SPIRIT she was mentioned on post 1380 when she was called the PIETER SCHELTE. with a few details of her work,
The photo with the post is repeated here & you'll see one of the reasons why she is such an unusual vessel.
Since this photo, taken on her maiden voyage from Korea, she was acquired a lot more equipment & has been very busy with rig removal & pipelaying operations & is, I think, bound for Brazil, via Tenerife for bunkers.
Plenty of current Photos & further info if you google 'PIONEERING SPIRIT PHOTO'
An even larger vessel of the same type is under construction.
DEEP HELDER came in about noon in the drizzle & is currently on Cruise-1.
Wednesday, 25 September 2019 - 16:38
Post 6551
Sea News, Dover
Following along from yesterdays picture of Baltic Klipper cutting through the 'convoy' ..here we are with another shot of the moment, see also yesterdays picture. Looking over the top of Baltic Klipper you can just see Emerald... to the right is the barge being towed by MTS Viscount...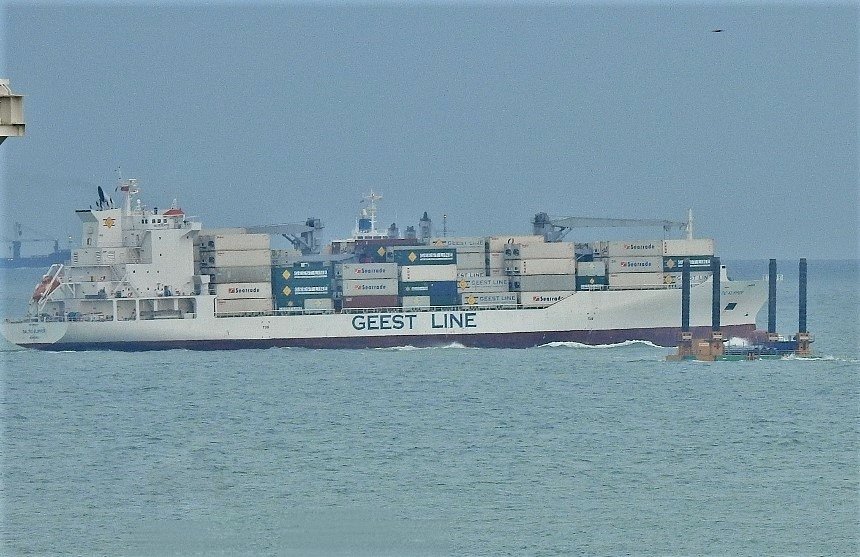 In yesterdays post yours truly had the following picture of an approaching Baltic Klipper ready to go up on display but forgot all about it in the sizzling heat of the dynamic moment...

Camera looking across the top of a ferry with a solitary watcher...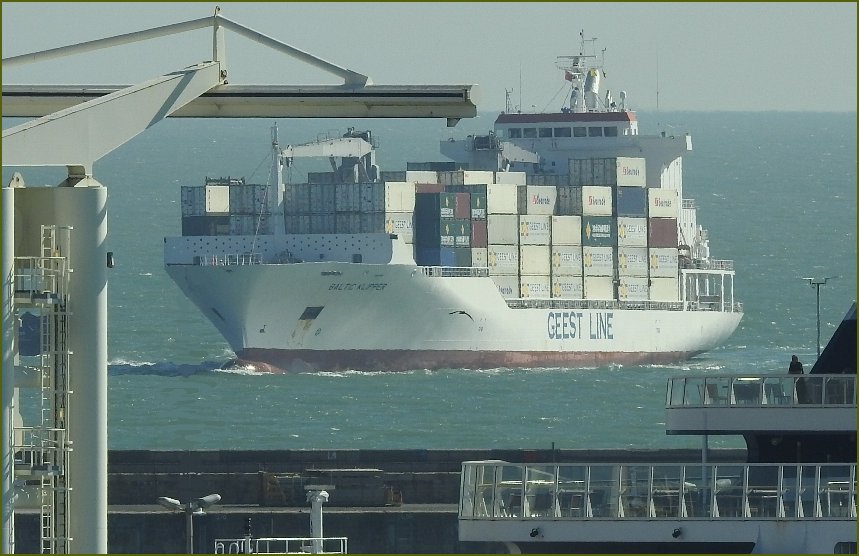 But going back to the 'convoy'. The aforementioned (see post 6550) MTS Viscount paused to allow Emerald through and here she is below soon after arriving in Port. Although weather previously very gloomy... she just caught a sudden late burst of very red sunshine as she manoeuvred...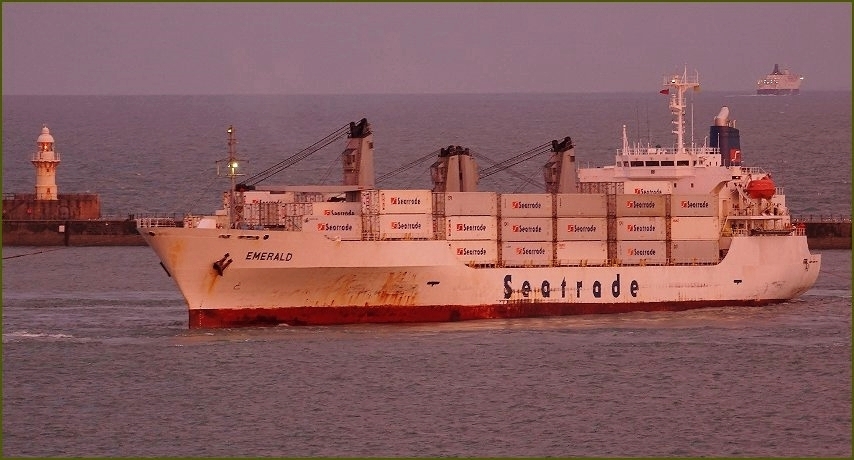 Emerald didn't linger long with us here in Dover and the following morning she was on her way again...the following two pictures capture her departure for Vlissingen...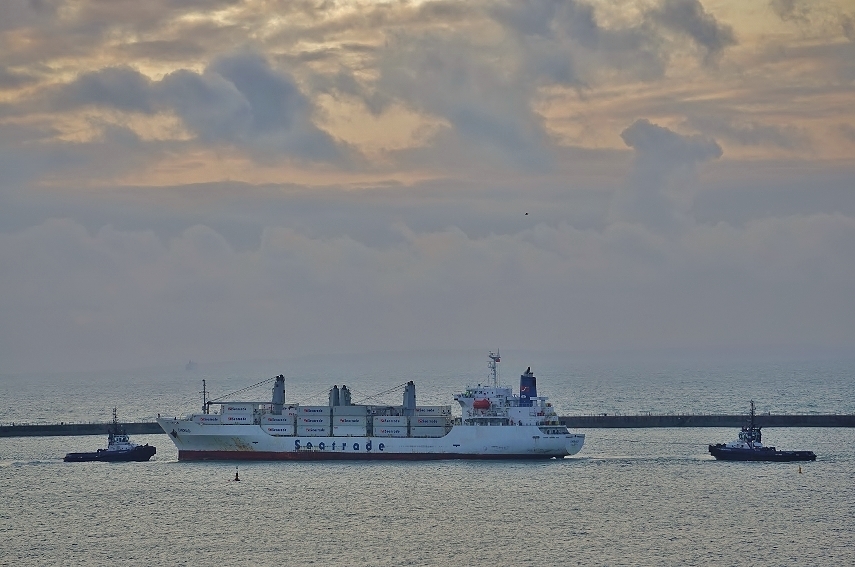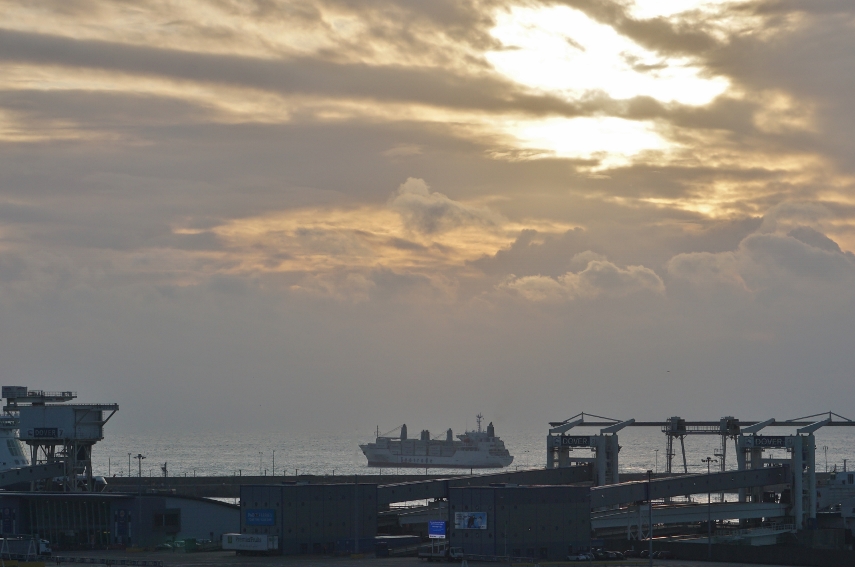 Had a tip from Mike later yesterday about an intriguing vessel coming down the Channel... Pioneering Spirit...alas alas visibility was very poor as the large impressive ship passed us here. Had a stab at some pictures nonetheless and the following shot is more a computer image than a photograph.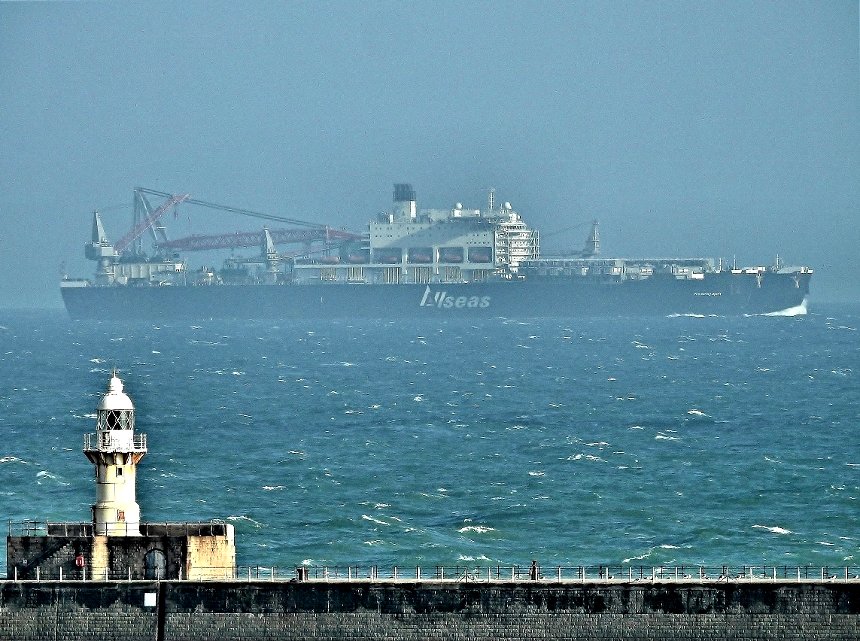 PaulB
Wednesday, 25 September 2019 - 06:13
Post 6550
Sea News, Dover
Busy scene above. The Baltic Klipper had just left the Port...pictures of her readying below. She had left the Port and had pulled out of view towards the cliff base. Yours truly saw another reefer, Emerald, coming almost at once. Thanks to a tip off from Mike, I was watching the approaching MTS Viscount and barge and suddenly from nowhere ( sort of ) the Baltic Klipper pulled right across through their midst as it were. Gave me a shock but I'm sure they knew what they were doing...
Anyway...there's the picture of the particular moment above there. It needed brightening up as the scene was getting quite dark... unfortunately looking at it now after uploading it looks too bright … unfortunate.
Two pictures below of the Baltic Klipper coming about in the bay...about to depart the Port.. just prior to the picture above...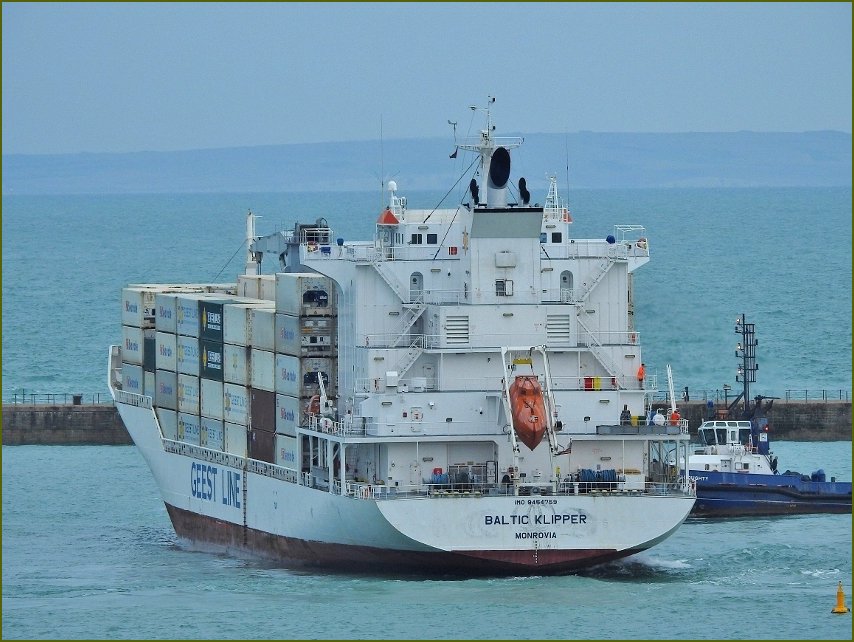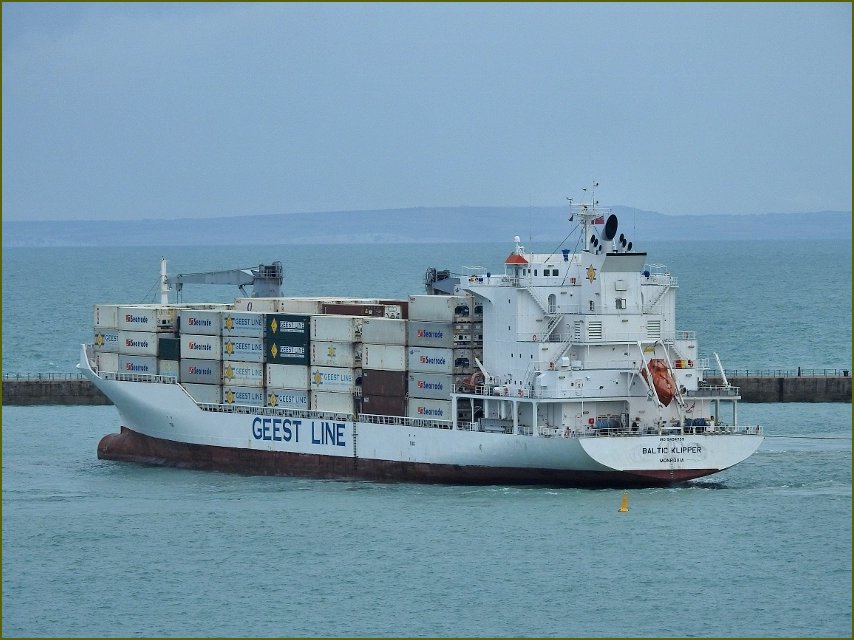 Later....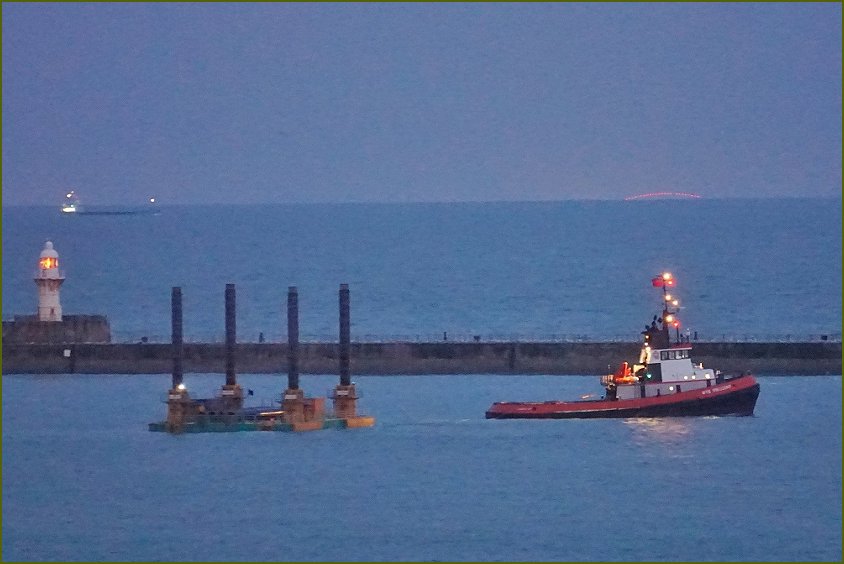 Some time later, as she was held up with a lot of traffic.. MTS Viscount arrived towing the barge as shown. As mentioned, thanks to Mike for the info.

All pictures taken late on Sunday.
Brian yes, as you will probably see the Costa Mediterranea is in Port today...
like our American friends say..she is "a day late and a dollar short"
she was indeed scheduled for yesterday, but may have been held up with the weather or...
PaulB
Not a day for a picnic is it....

Tuesday, 24 September 2019 - 07:28
Post 6549
brian dixon, dover
I notised that the costa ship was absent today.

Monday, 23 September 2019 - 19:15
Post 6548
Sea News, Dover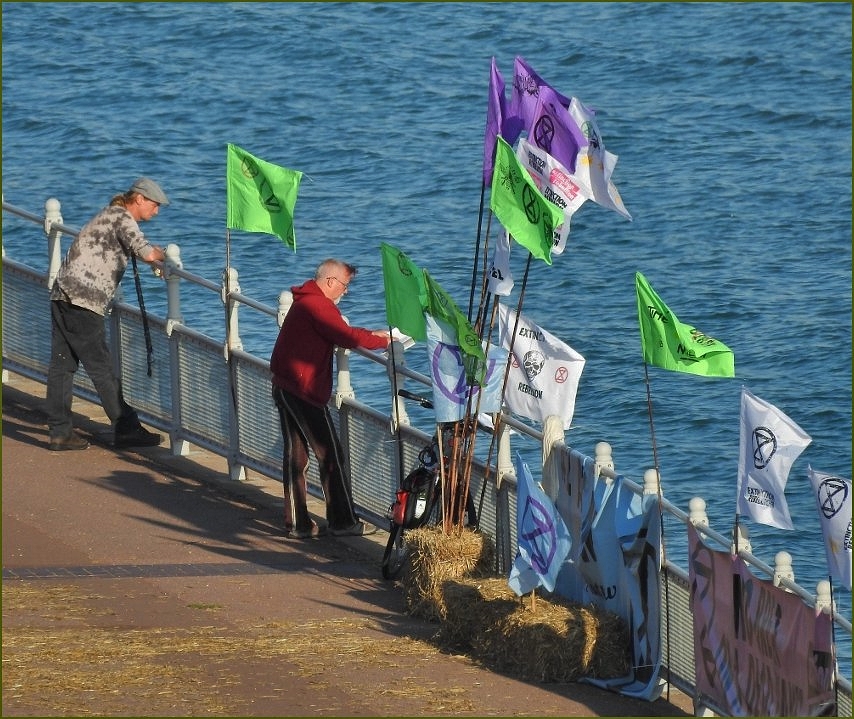 Its the end of the day at the Extinction Rebellion blockade at the Port of Dover. The colourful flags of rebellion are fluttering seaward on the northerly breeze and one or two of the guys are relaxing...winding down. The symbolic straw bales lie to oneside, their job done for the day....
See also the pictures in the previous post below 6547.
We have been wanting/waiting to catch up with the Lady Rosebay, well here she is now...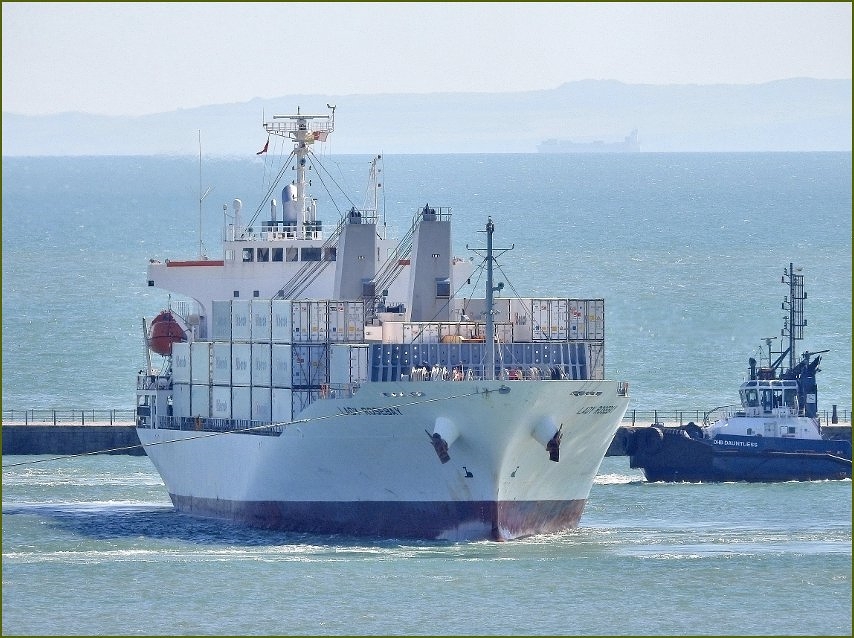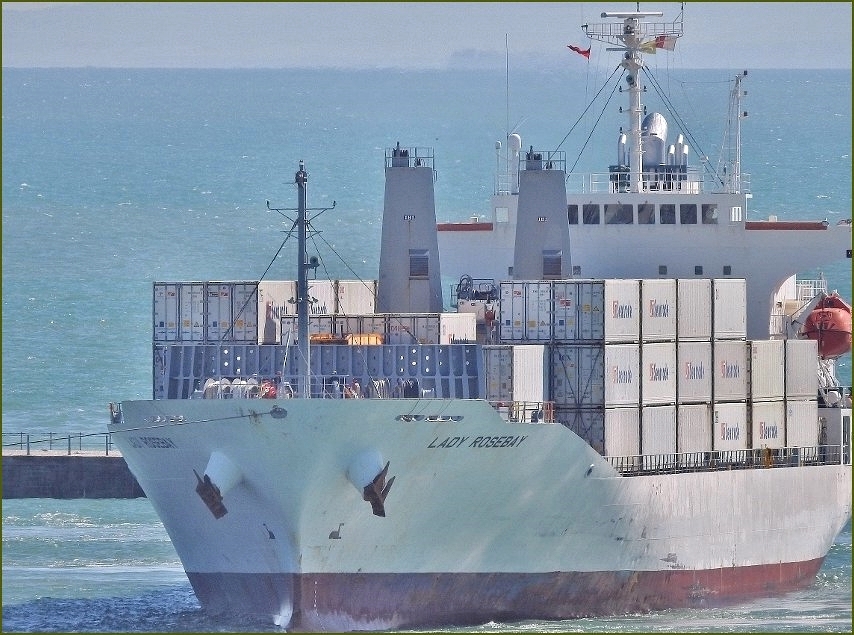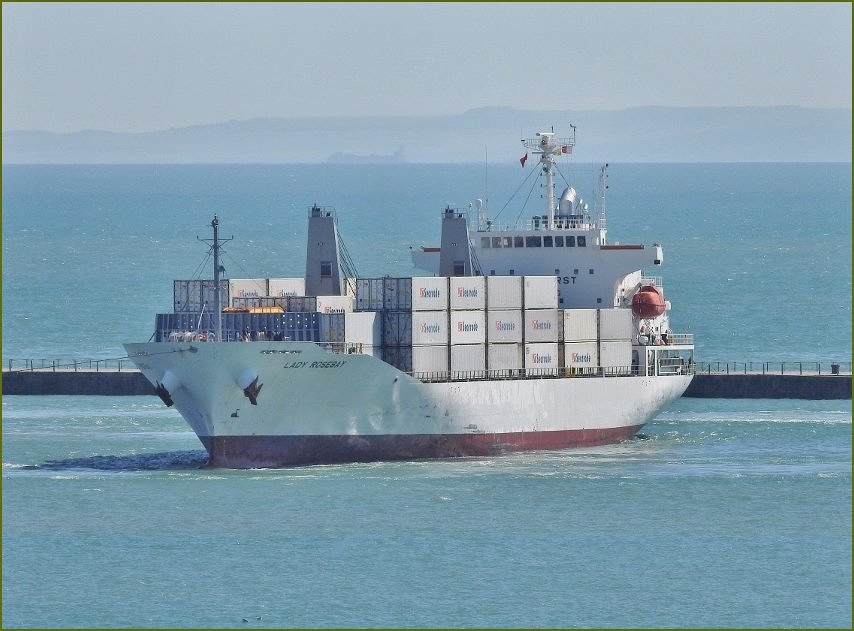 Not entirely certain but this may have been a first visit to Dover.
She left us for Vlissingen a day or so later and is currently on her way to Paramaribo.
PaulB
ps: Pacific Princess in Port...
Monday, 23 September 2019 - 06:05
Post 6547
Sea News, Dover
Dover Port Disruption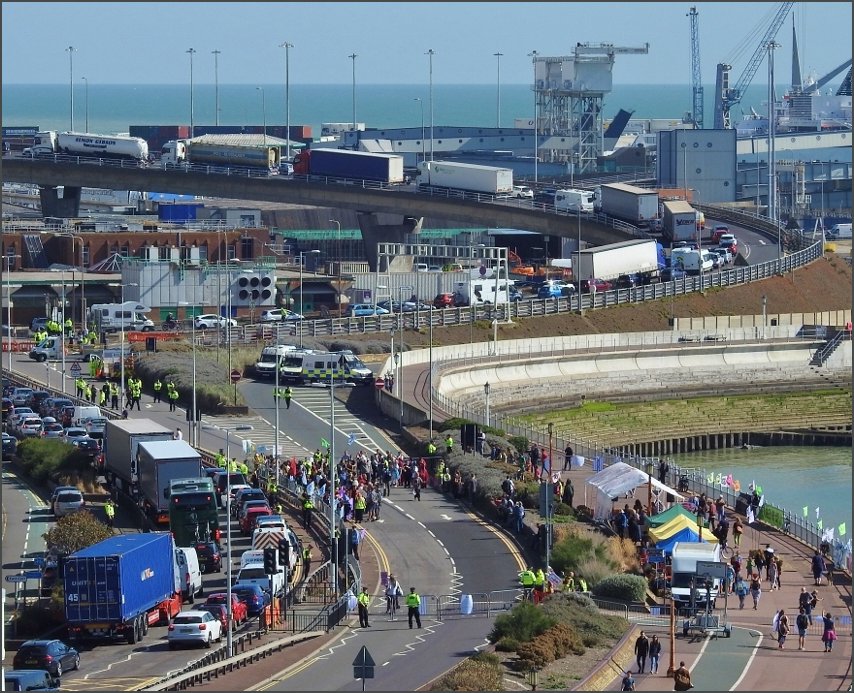 We were expecting a massive scale protest from Extinction Rebellion yesterday saturday but the numbers on the demonstration were relatively small. I say that in comparison to previous demos we have seen here. However they got the job done as there was for a brief time some considerable disruption to the traffic. It didn't last too long and a moderate flow continued. You can see in the pictures how several sections were blocked off by the police to allow the demonstration to take place. In fact and in reality there were more police officers than protesters. 10 people were arrested we understand.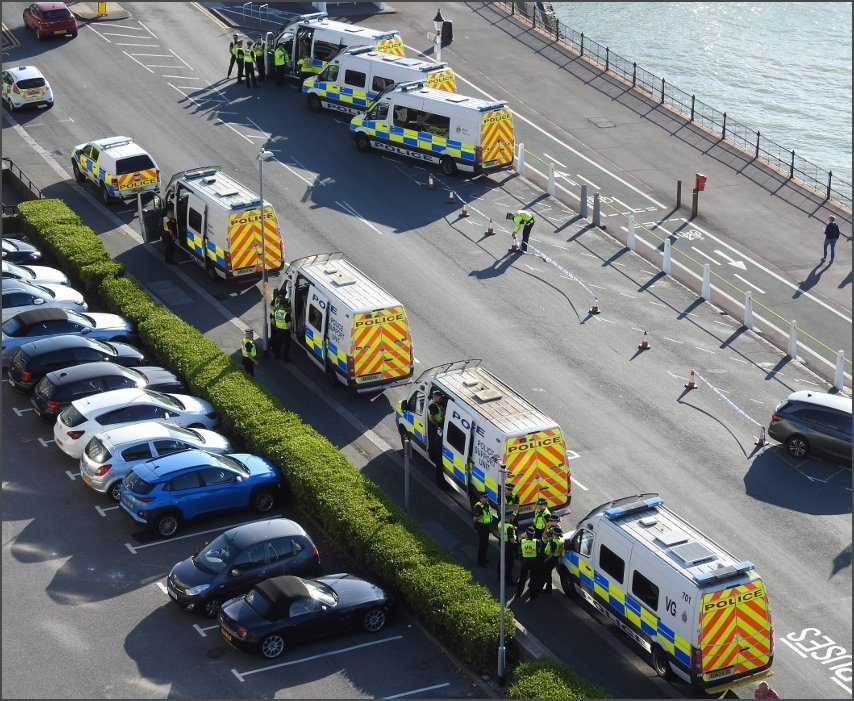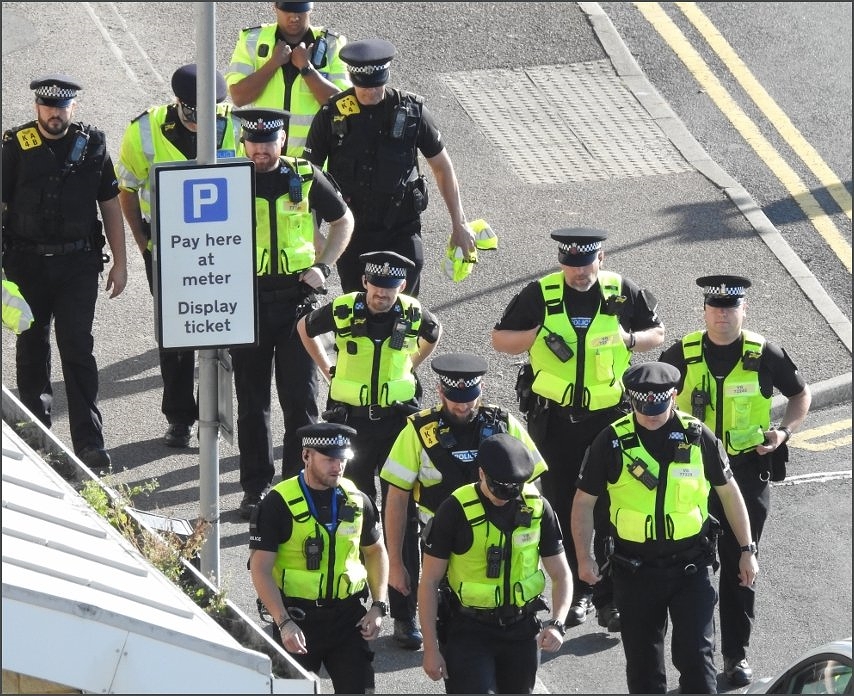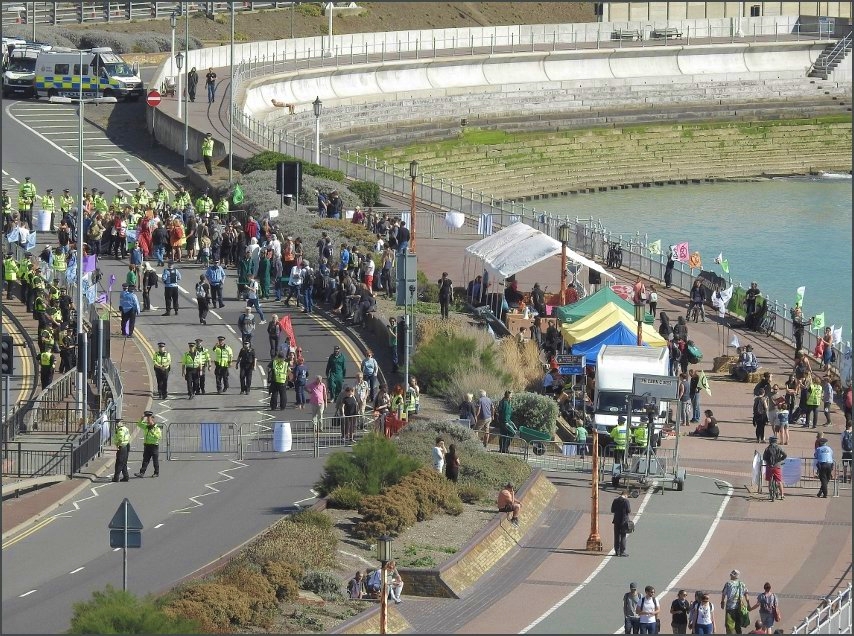 Excellent pictures and info below Mike. Great stuff!

Jan glad you enjoyed the flying machines plus

PaulB
Sunday, 22 September 2019 - 07:08
Post 6546
Mike J., Dover
No-one seems to have come up with the Dover connection for the Woolwich ferry [post 6539] so I had better reveal all.
One of the two new ferries built in Poland & in service since early 2019 is called the DAME VERA LYNN who is forever connected with Dover with her wartime song "White Cliffs of Dover" & the unforgettable line "there'll be bluebirds over the White Cliffs of Dover"
The connection ?
Dame Vera, who is still with us at the amazing age of 102, was born in East Ham, just a mile or two from the northern landing place of the ferry, so is very much a 'local lady'for the Woolwich ferry services.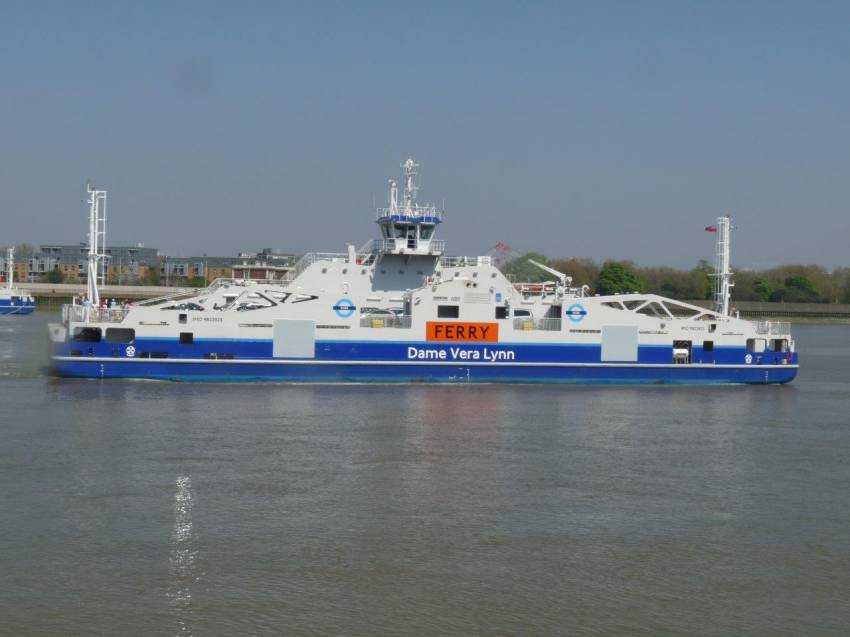 The name of the second ferry, the BEN WOOLACOTT, has a sadder origin, being named after a young seaman who lost his life in an accident aboard one of the earlier ferries in 2011.
Both ferries are normally in service during the week [no spare ferry these days] but only DAME VERA LYNN was working the weekend service when I crossed on 21/4/19.
While waiting for your 'masterphots' you can amuse yourself by photting departing aircraft from London City Airport
I decline to say how many times I messed up the photo . . . .
Sunday, 22 September 2019 - 01:06
Post 6545
JanT , Dover
Thank you Mike J for the second Bridge picture,I check out Qualter Hall they been around since 1860 a very impressive History.

And great array of helicopter pictures and the stealth plane looks like something out of Star Wars.


Saturday, 21 September 2019 - 09:26
Post 6544
Sea News, Dover
The 'airborne' pictures now as promised...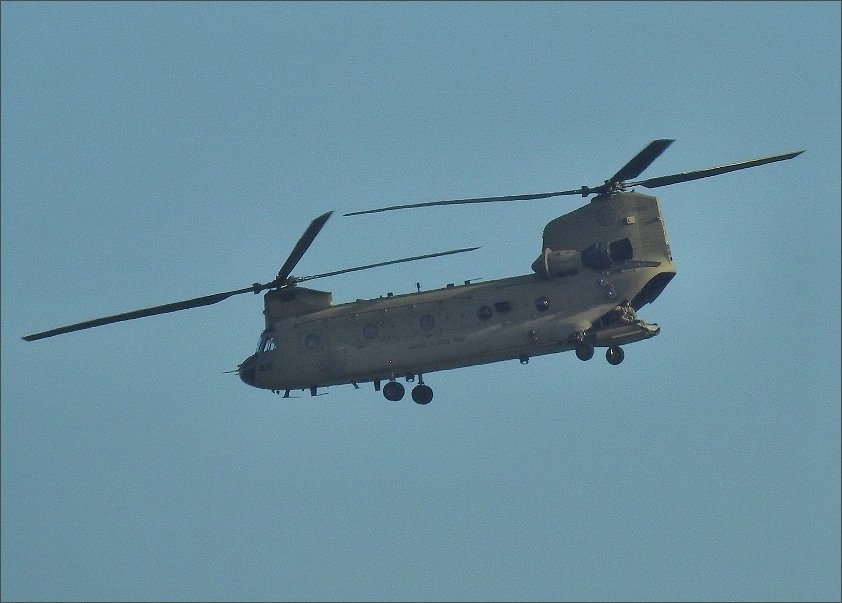 This Chinook helicopter roared by a few days ago..often hear them rattling through but generally they are a tad behind the 'observation tower' .. but this one did a run over the harbour. Yours truly didn't spot the chap on the rear platform until later, when looking at the pix on computer...and here we are below..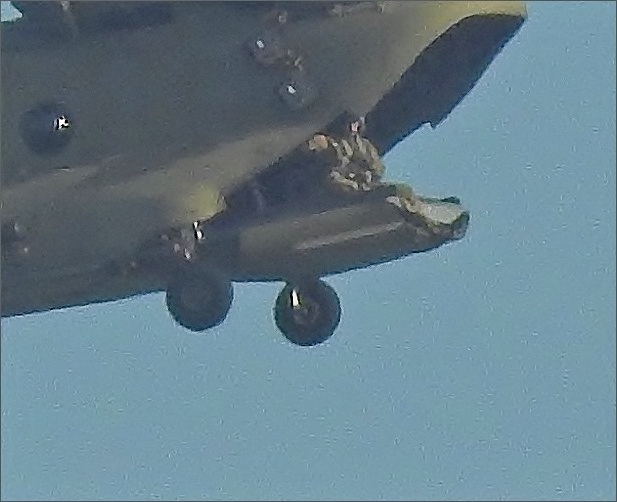 The shot below is very poor quality but thought I would show it anyway as it shows the airman's legs dangling over the edge of eternity...Yikes!!
...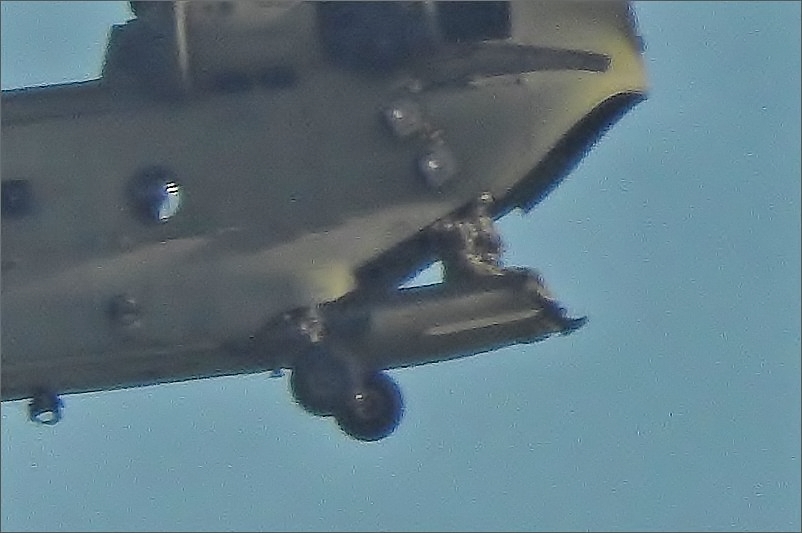 A Chinook pic below from a former time which gives a better view..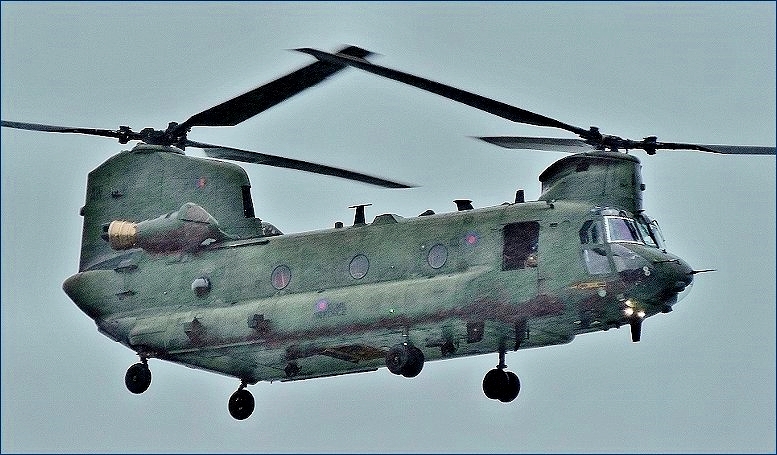 This looks like a Stealth Bomber below to me...would expect a Stealth machine to make one heck of a roar but no this guy was very quiet..almost didn't see it.... look at the way the mist/vapour rises from those stealth wings..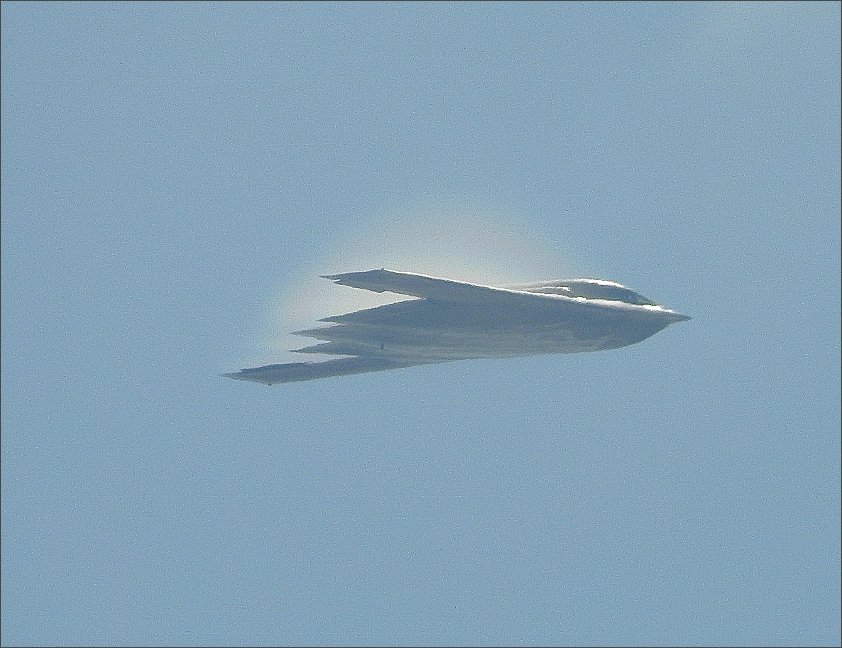 Yours truly just has a small slot for air shots before the window frame kicks into play...you can see that just about to happen below... but the pic gives you the general gist...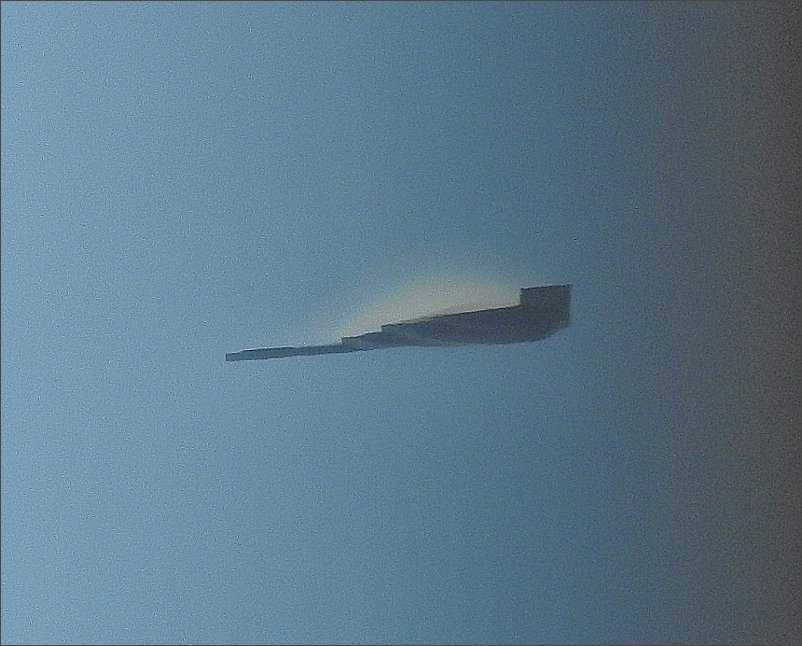 Just to say a fond farewll to the Disney Magic...here she is leaving for the final time this year...on a cruise that ends in New York. Golly gumdrops the hotels and indeed taxi drivers had a bonus/bonanza with Disney.... as they say in all the best movies...
"come back soon"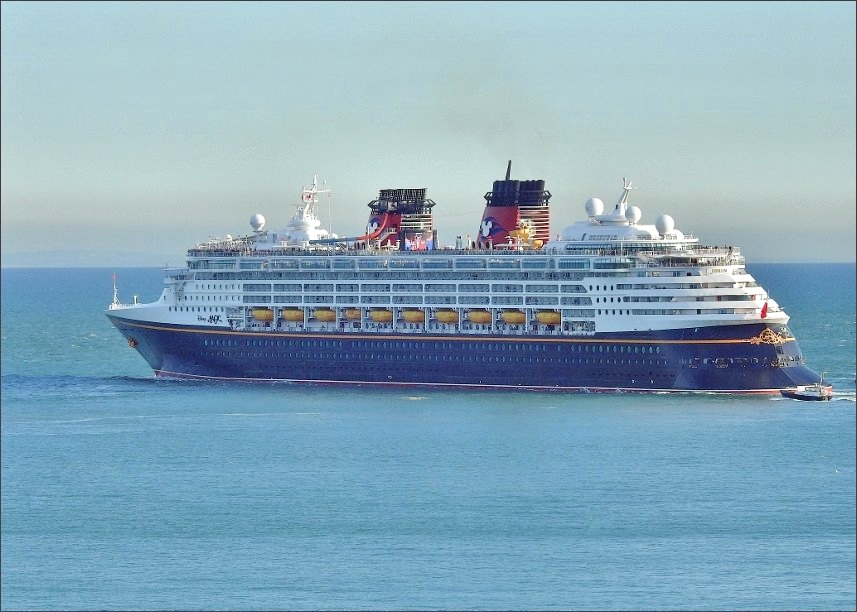 Disney Magic departs Dover.
PaulB
The Port of Dover and its local residents are facing disruption today..
Saturday, 21 September 2019 - 07:37
Post 6543
Sea News, Dover
Following along from Mike's report and pictures of the clifftop rescue yesterday around midday … in fact time of the following pictures 13.08...as stated somebody 'fell over' the cliffs and the appropriate rescue teams kicked into action. You can see the Coastguard helicopter in the following pictures doing the necessary...and you can see one of the crew being lowered. Pictures obviously long range so not ideal quality...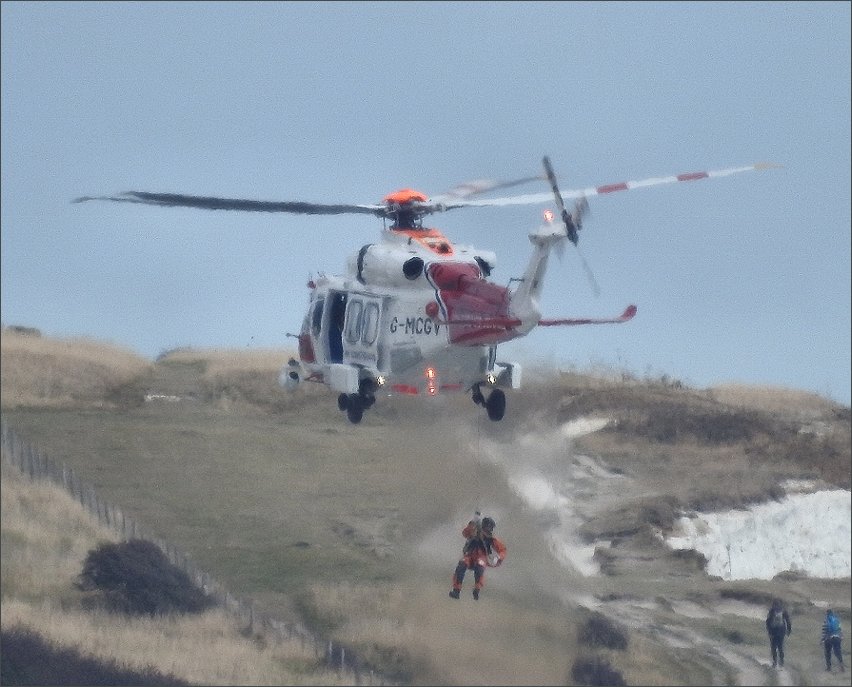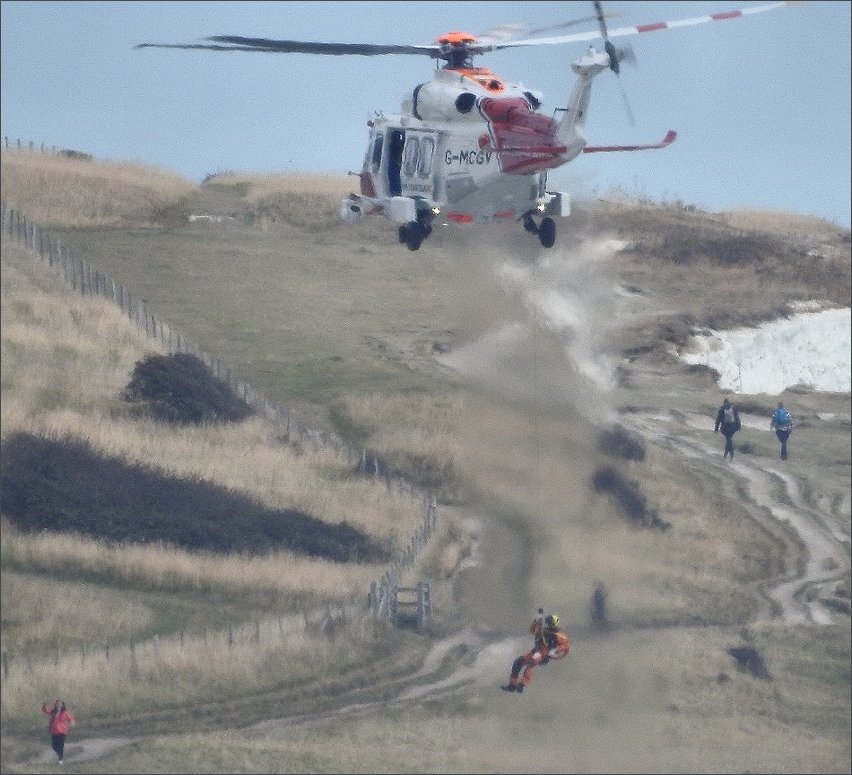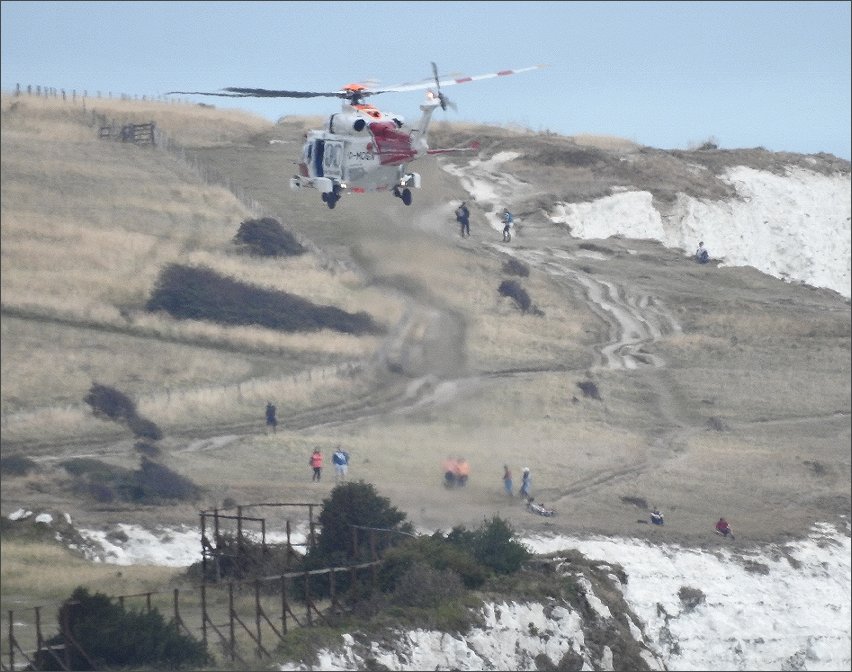 Just catching up with the departing AIDAcara on the recent gloomy evening ( Monday). You can see her departing here from the new berth/pier WD4. Was intending to upload these pictures yesterday with an added departing Disney shot but Mike and Teds pictures were great so left them in top slot. Catching up now. Will add the farewell Disney shot later.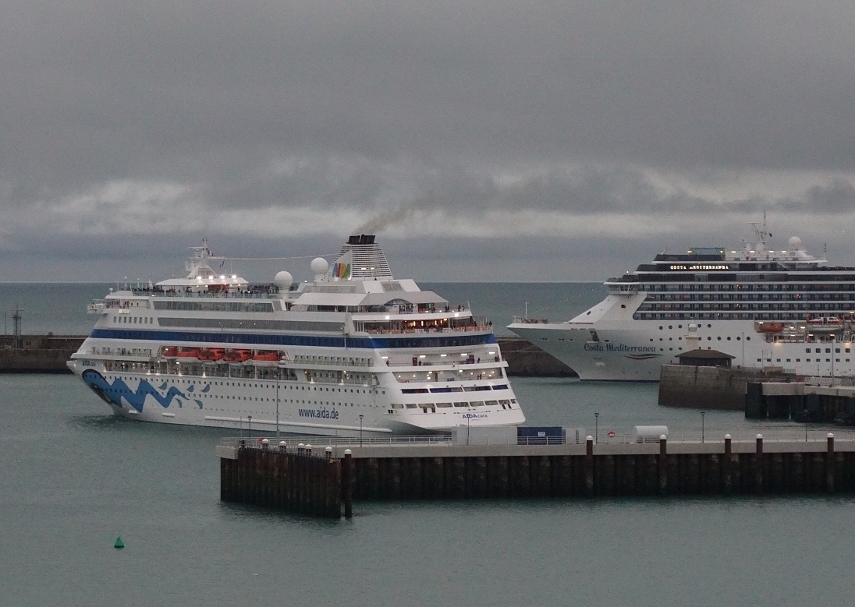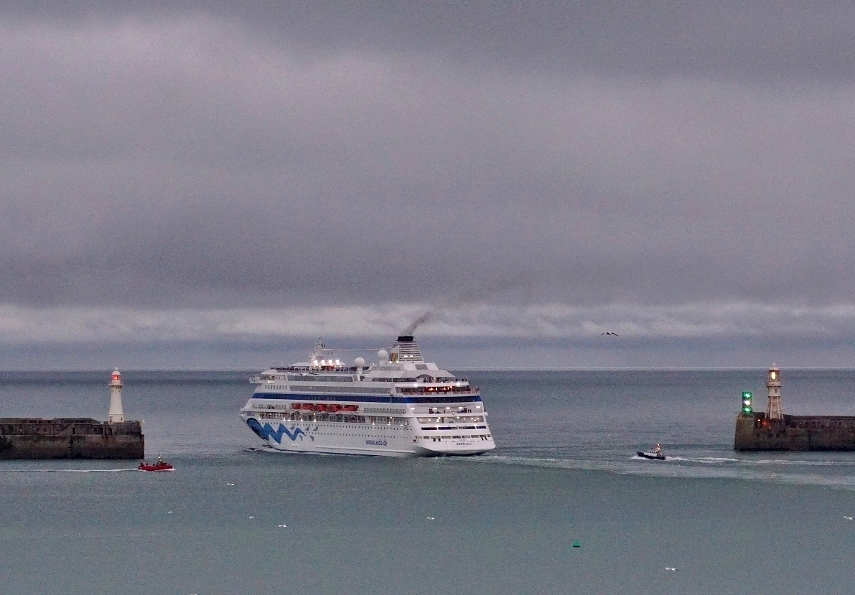 And this one taken a wee bit earlier just prior to the off...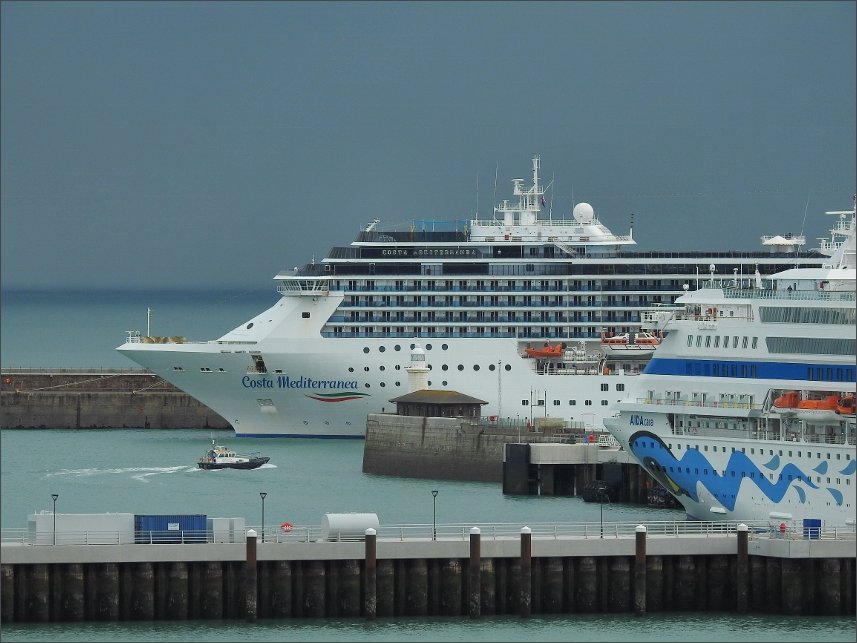 Brilliant work in the posts below from Mike and Ted. Cracking shots all round. Great Ramsgate ones from Ted, ace work Ted... and great Bridge pictures from Mike...hugely enjoyable. Well done re helicopter too Mike.

Thanks too to Steve P for the info on the European Seaway. Info always welcome Steve..

Thanks to Mike W as well. great info there too Mike..very welcome.

Yes Jan the bridge is striking. Mike has the details below..as mentioned its a Qualter Hall design and manufacture. I enjoyed those pix of it by Mike for sure...
PaulB
PS: am aiming to have more but different 'airborne ' pictures tomorrow..still need sorting..
Friday, 20 September 2019 - 06:14
Post 6542
Mike J., Dover
JanT - glad that you liked the bridge pix, here's another one.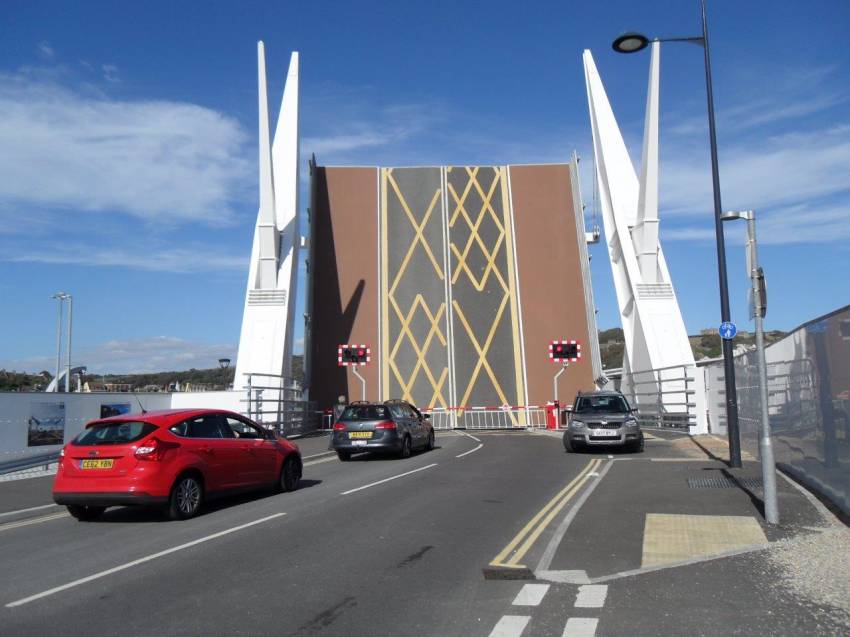 You asked about the designer - this from the DHB/DWDR website -
. . . . . . The bridge, designed and manufactured by Qualter Hall has been installed by Qualter Hall on behalf of VSBW - a joint venture comprising Volker Stevin and Boskalis Westminster – who are responsible for the marine and bridge civils contract for the DWDR development . . . . .
Qaulter Hall have worked in Dover before on berth rebuilds & have been involved in all sorts of worldwide projects, some of which can be seen on their website.
Just google 'qualter hall'
Right time, but the wrong place !
Thursday morning I was partway up the cliff path when the Coastguard helicopter apeared & hovered by the cliff edge, looking to be over Langdon Hole, just east of the Coastguard Station.
Any walkers up there would have had a grandstand view as the winchman was lowered & then the 'action' drifted out of my sight.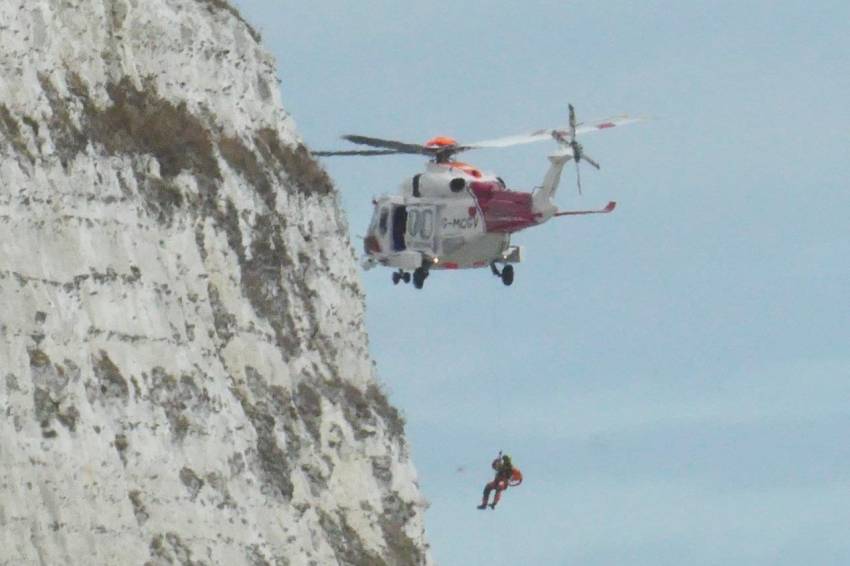 A report later seen on 'Kent Live' gave an excellent view of Langdon Hole & confirmed that someone had fallen & that the casualty had been recovered & landed to the care of paramedics.
No further details.
More excellent work by the Coastguard, no doubt their Cliff Rescue Team would also have been in attendance.
I've just heard that the former DHB dredger ADMIRAL DAY passed Dover last night after working at Sheerness & is now bound for Fleetwood.
She still carries her original name & last time I saw her still had the DHB crest on the front of her accommodation & had been treated to a new crane.
Thanks Andrew !
Friday, 20 September 2019 - 01:30
Post 6541
Mike Waight, Wiltshire
Re photos of SOLENT GUARDIAN - Briggs Marine (Head Office and base at Kirkcaldy, Fife) have fingers in lots of pies including being sub-contracted to Serco-Defence for all MOD owned Mooring & Navigation Buoy work in UK waters. They are also reported to be bidding for the Babcock towage contract for the non-tidal basin work at Rosyth.

Thursday, 19 September 2019 - 14:21
Post 6540
JanT , Dover
Mike love the picture of the Bridge I have to say when I drive over it, the design really fascinates me I guess creativity comes in all shapes and sizes.
Do we know who actually designed the Bridge.

Thursday, 19 September 2019 - 08:26
Post 6539
Mike J., Dover
Tuesday afternoon I walked across across the new bridge & noticed that the outer lock gates were open altho' the entrance from the Wellington Dock was still buoyed off to prevent trips thru the channel.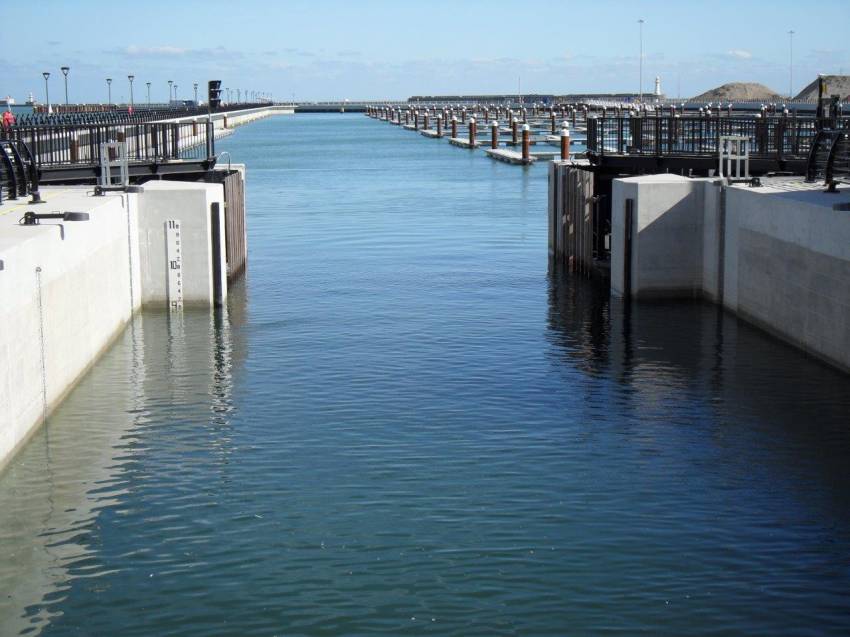 I stopped for a photo & was eyeing up other angles when there was a tinkling of bells & the barriers started to descend.
The Bridgemaster courteously allowed me to leave the bridge deck before he started raising it & then immediately lowered it allowing the surprising amount of cars that were waiting to cross the bridge.
Interesting shapes -
In the Werllington Dock was the survey vessel SOLENT GUARDIAN who normally lives in Chatham Dockyard.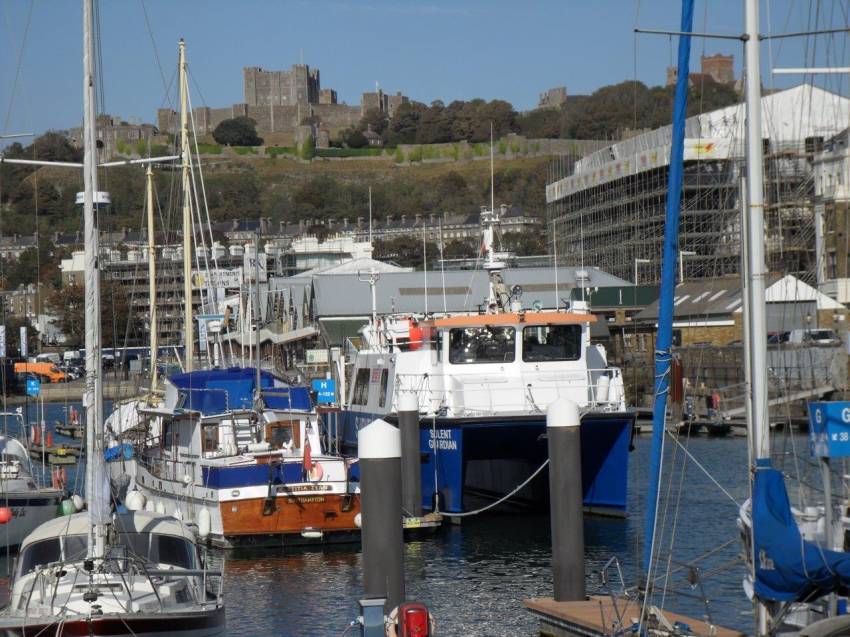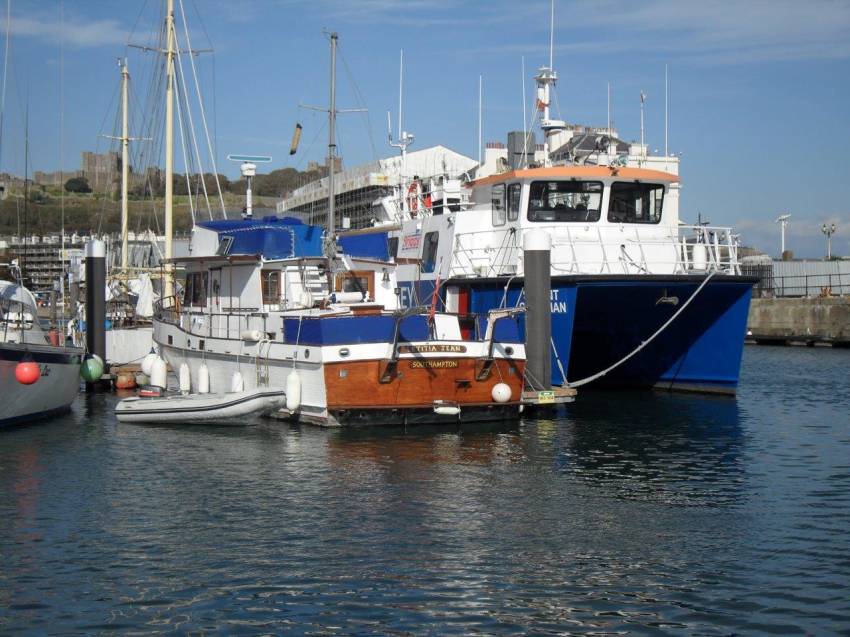 With the sun being where it was she wasn't in the best spot for photos, but some better ones can be seen on post 3782.
She is operated by Briggs Marine who operate many different types of craft, including the two new[ish] Woolwich Ferries, one of which has a Dover connection - anyone know what it is ? ?
She left Dover at 0400 Wednesday & is now in Lowestoft,
Paul often grumbles about Sid the Seagull blundering into his photos - at least there's only one Sid - while photting the departure of the Newhaven lifeboat on Tuesday afternoon I had trouble with Percy the Pigeon who had brought all his mates along with him . . . . . . .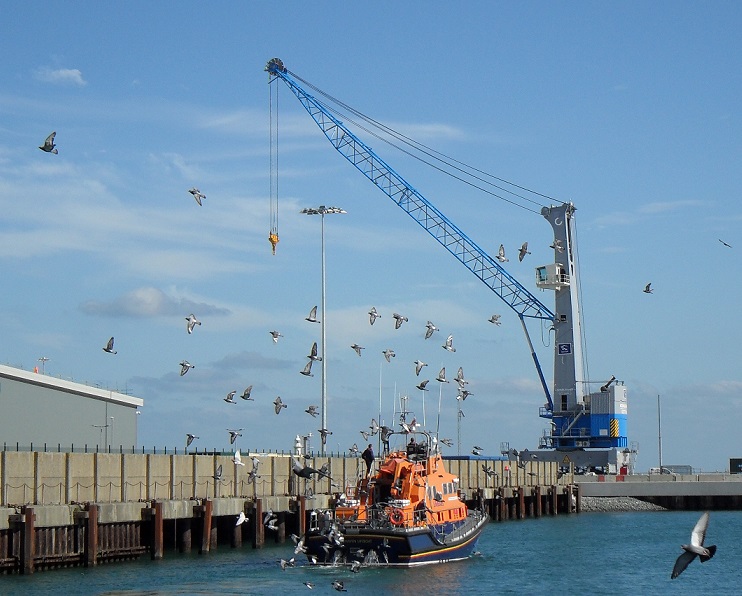 Thursday, 19 September 2019 - 01:52
Post 6538
Ted, Canterbury
"Three from Ramsgate"
For those on a walkabout around Ramsgate Harbour may be wondering what the two very large pontoons are doing moored against the East Pier.
Well, they are part of the redundant jetty that was built at Wallasea Island for the Crossrail/RSPB Project.
Wallasea Island jetty completed for Crossrail helped the RSPB shape Europe's largest new nature reserve.
The jetty, constructed by BAM Nuttall, comprises two 800 tonne steel pontoons, each 15 metres wide, and is able to accommodate two 90 metre, 2,500 tonne ships simultaneously. At peak, two unloading machines per pontoon serviced four ships and unloaded up to 10,000 tonnes of material over a 24 hour period.The jetty received in the order of 4.5 million tonnes of material excavated during Crossrail's tunnelling operations in London.
The last shipment of soil to Wallasea Island was completed in April 2015.
1528 shipments have delivered 4.5 million tonnes of excavated material.
To see how the Island looks today. Google RSPB Wallasea Island.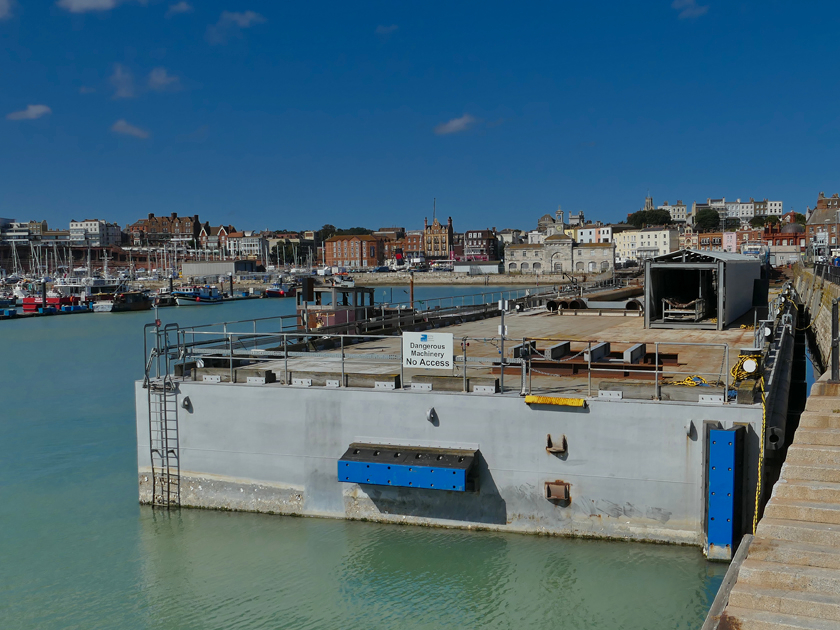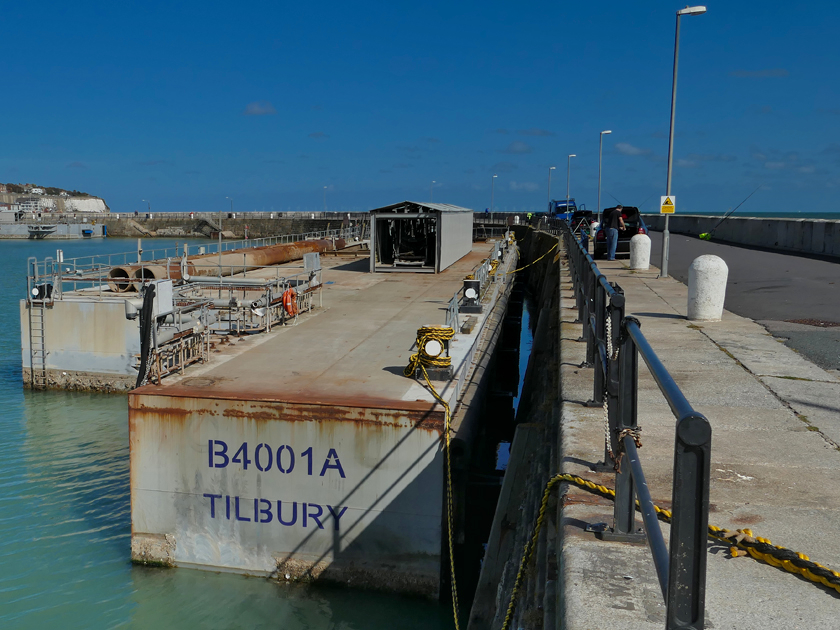 From my previous posting the vessel Zeeland has now almost completed refit.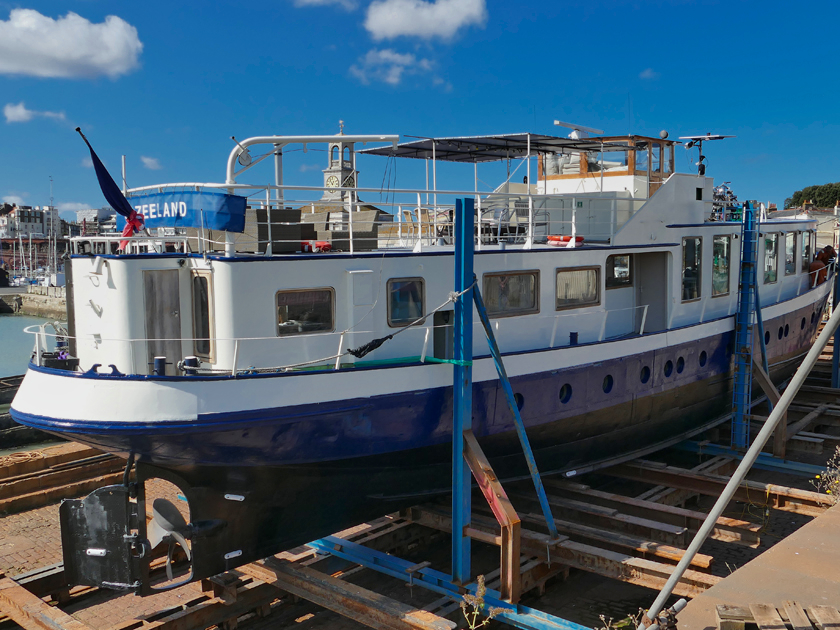 Wednesday, 18 September 2019 - 18:15
Post 6537
Steve P, Dover
Noticed the broken European Seaway being towed from Dunkerque yesterday afternoon. Heading north so presumably to a Northern European shipyard for repairs (and not south to retirement on a Turkish beach!).

Her AIS is off, but you can follow the progress by looking up tug 'Fairplay 33' which was handling the job.

Wednesday, 18 September 2019 - 14:50