Saturday, 4 April 2020

WWW.DOVERFORUM.COM/SEA-NEWS
Sea Pictures from DOVER: Featuring all the ships that come and go and work at the Port of Dover ..
... with some further coverage of the surrounding ports.
Sea News Dover
Use our SEARCH ENGINE below to find all sorts on the SEA NEWS pages....type in the topic and away you go,
or if you have the post number, just type it in the Search Box, more than
- 6750 -
nautical posts now.
Posts are welcome. just click 'Add Your Comment' below.
Upload a Max of 5 pictures....Many Thanks.
Sea News Editor Paul Boland - send info or pix to dover7@msn.com. Always welcome.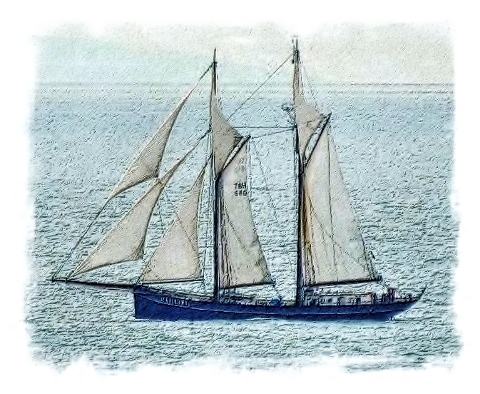 Headlines.... P&O FERRIES 11,000 staff laid off and Furloughed to HMG scheme , see 6909.
P&O Ferries secure vital flow of goods, medicines...see below, post 6901.
DFDS coronavirus announcements below see post 6880 and 6885.
P&O Ferries present record breaking cheque to Dover Lifeboat...post 6874 below.
P&O Ferries - European Expansion 6867
Hurtigruten and the Port of Dover see 6857...see also pictures in 6856 and 6859.

See SCARLET LADY pix.. FIREWORKS too..type Scarlet Lady in our SEARCH box below..
Port of Dover, DFDS, P&O say...Travel with Confidence from Dover.. see 6786 below.
DFDS Refit Investment...luxury lounges 6821.
P&O FERRIES - POST BREXIT travel info below 6780.
P&O NEW FERRIES Images below 6775...
Visit us here in White Cliffs Country see 6772
Natalie Elphicke MP - thoughts post Brexit 6784
Just type the post number from the listed Headline in the Search Box below.
Port of Dover Cruise Calls:
http://www.doverport.co.uk/cruise/find-a-cruise/
To show your pictures at their best..it could be worthwhile resizing before posting to
860
pixels wide. Our new standard size.
All pictures on these pages are the copyright of the owners and must not be reproduced without permission.
Post 6773
Sea News, Dover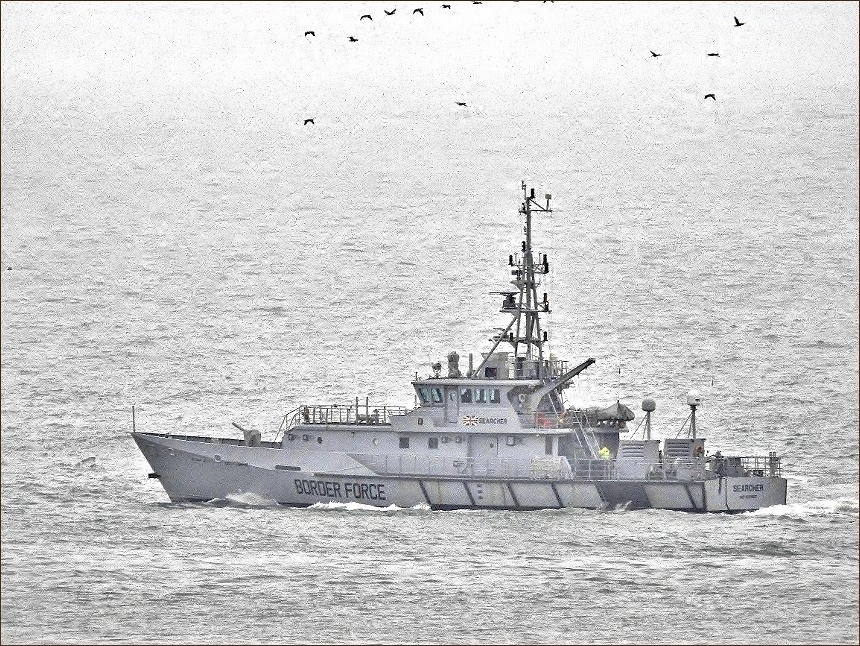 Another picture of Border Force Searcher above there, this one to run in harmony with the picture currently at the top of page...both taken at roughly the same time in the foggy conditions a couple of days ago...some artwork needed to reduce the fog in the pix. Up to 28 migrants rescued in the past few days, initial estimates suggested seven but the figure was upgraded. Busy times for Border Force. You can see the wildlife in the picture going their way too... or are they..?
The Obelisk !
The platform showing below is situated in the castle grounds. It overlooks the harbour and offers striking views in normal times, in recent days it has taken on a new demeanour. The flagpole, well it looks like a flagpole but is it just a flagpole?...well it has acquired extensive scaffolding... I mean what can ye do with a flagpole...?! The new structure seems to dominate the landscape...
The 'viewing platform' was formerly used as an Admiralty Lookout and Signalling Station in WW2 ...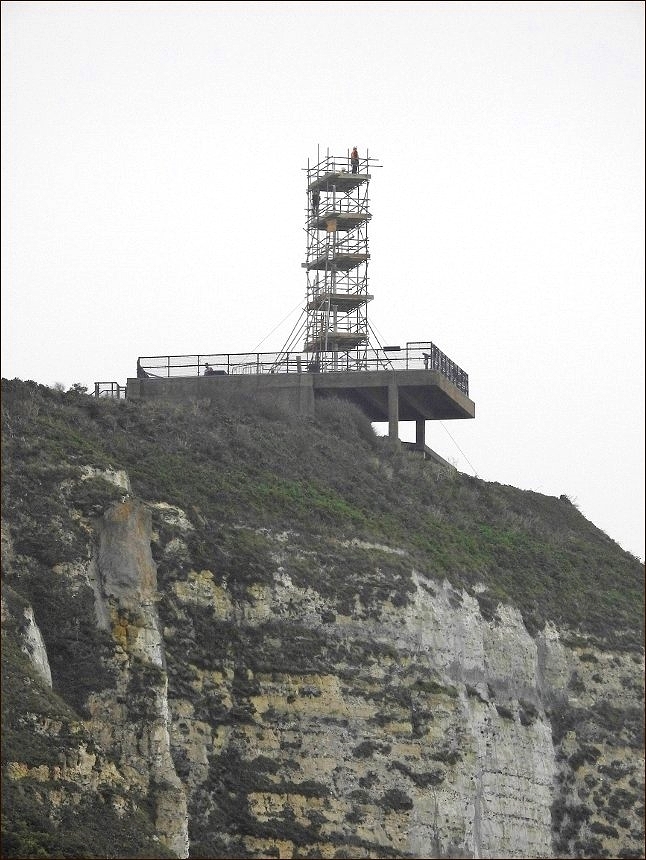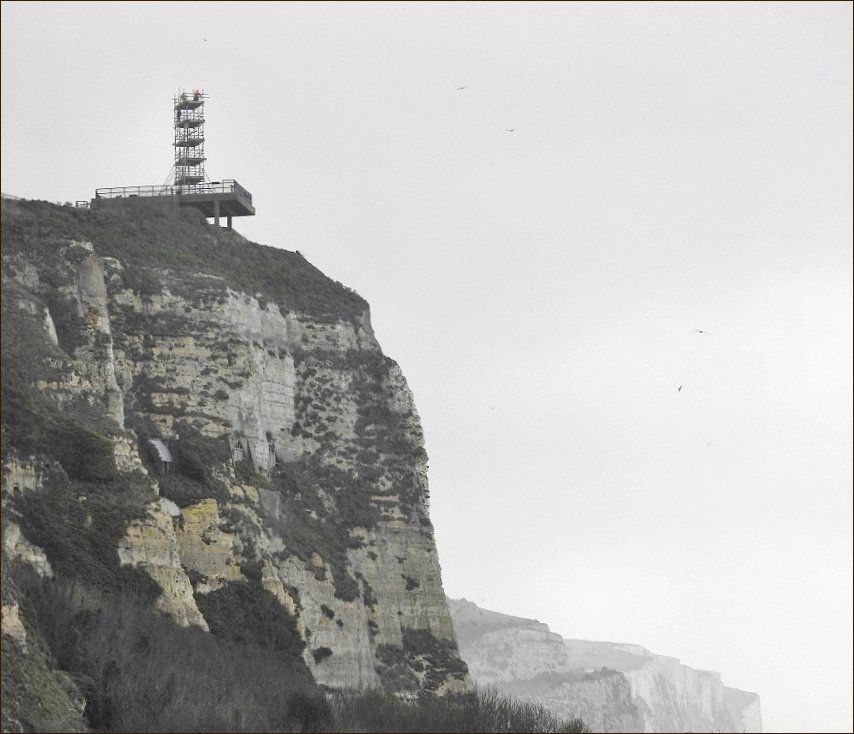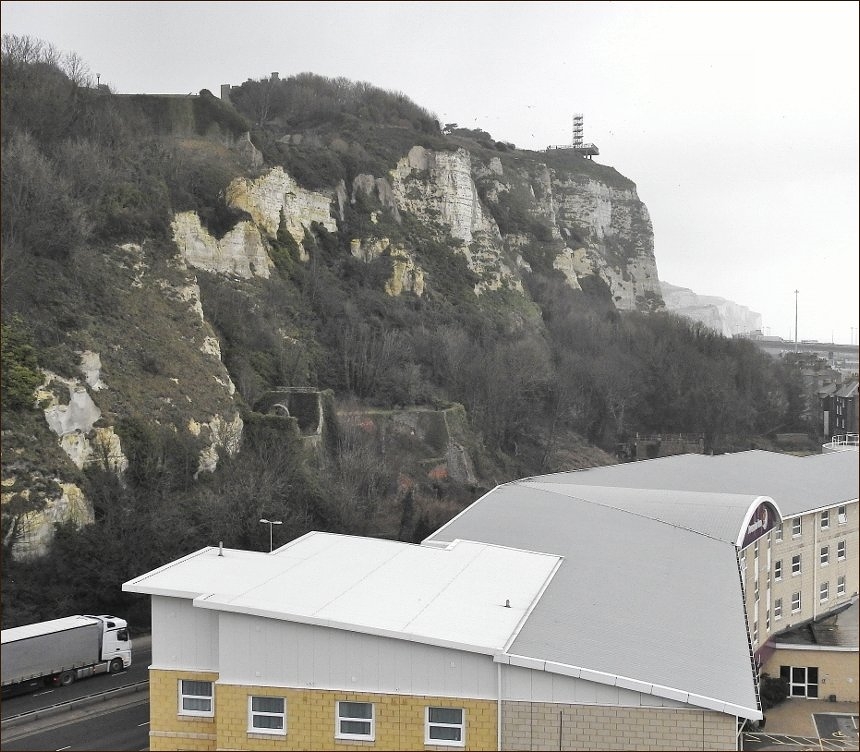 Will aim to have new P&O info and imagery tomorrow...just need to sort it all..
PaulB
Tuesday, 28 January 2020 - 06:16
Post 6772
Sea News, Dover
Get Set to Go Places in 2020 - White Cliffs Country Visitor Guide Launched
_________________________________________________________________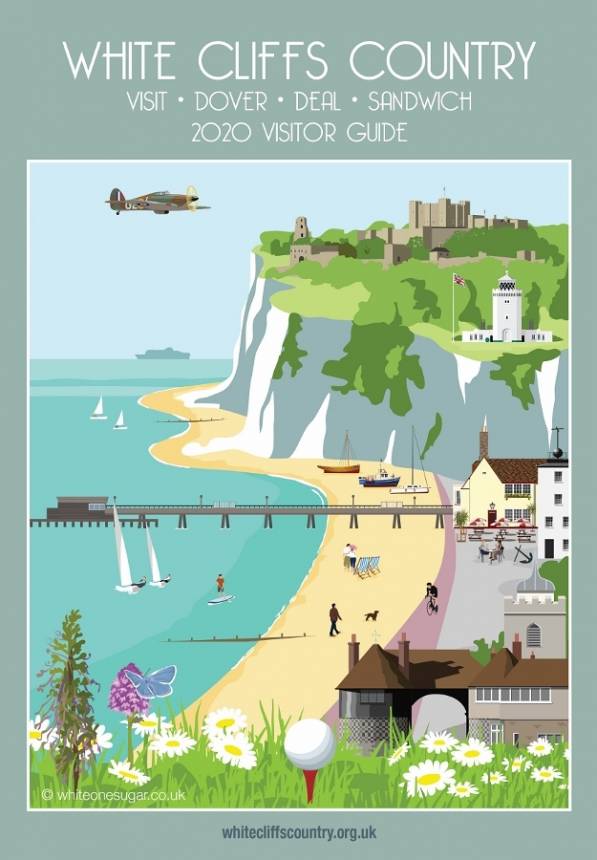 As White Cliffs Country looks forward to an exciting year ahead in 2020, including The 149th Open coming to Royal St George's in Sandwich, Dover District Council has published a striking new Visitor Guide packed with information for all the family.
The 53-page guide is designed and produced in-house by DDC, and showcases the unique tourism offer in the district, highlighting a range of diverse visitor attractions, events and leisure activities throughout Deal, Dover, Sandwich and the surrounding coast and countryside.
The Visitor Guide provides a great introduction to the district and features a whole range of helpful information to inspire visitors, with eye-catching new artwork, pictures and maps. The guide includes ten good reasons to visit the area, including: our world-famous White Cliffs; impressive history and heritage; stunning coastline; beautiful countryside; perfect places for walking and cycling; exhilarating coastal activities and outdoor pursuits; culinary delights; quirky hidden gems; the chance to relax with some retail therapy; and vibrant festivals and regattas.
Cllr MJ Holloway, DDC Cabinet Member for Tourism, said: "It's going to be a great year in White Cliffs Country, as tourism continues on its upward trajectory, supported by our work on our dynamic new Tourism and Visitor Economy Strategy. As well as a range of stunning attractions and events in White Cliffs Country in 2020, the area is honoured to be hosting The 149th Open at Royal St George's this summer.
"The district has something for everyone, with excellent transport connections, year-round family-based attractions and great local hospitality, amazing facilities, as well as breath-taking heritage and landscapes. Whether people are visiting for great days out, family holidays, or visiting and returning to the district for world-class sport, we look forward to welcoming visitors throughout the year."
Copies of the 2020 Visitor Guide are available from the Visitor Information Centres in Deal, Dover and Sandwich, or online at www.whitecliffscountry.org.uk
ENDS
Many thanks to the team at DDC for the info above..

* *
You will have seen me referring to the gloom on Saturday morning in my recent post...well the miserable conditions didn't put these sailing guys n gals off....loads of them took to the water on Saturday and it cheered a viewer up...all those colours were a delight in the deep midwinter gloom...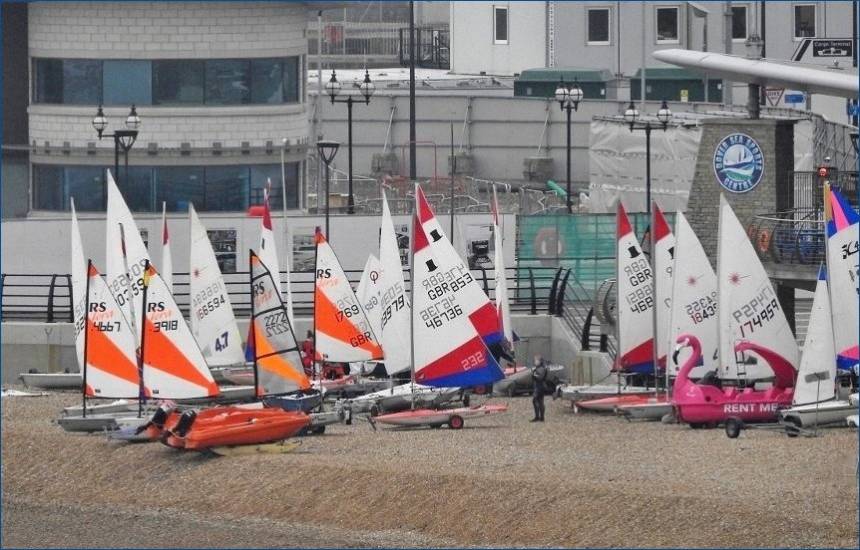 Readying for the off above... there were many more...
The cavalry charge to the see...and yes there were many more..
And below a little later as the light improved a tad, cheerful, colourful, skilful ...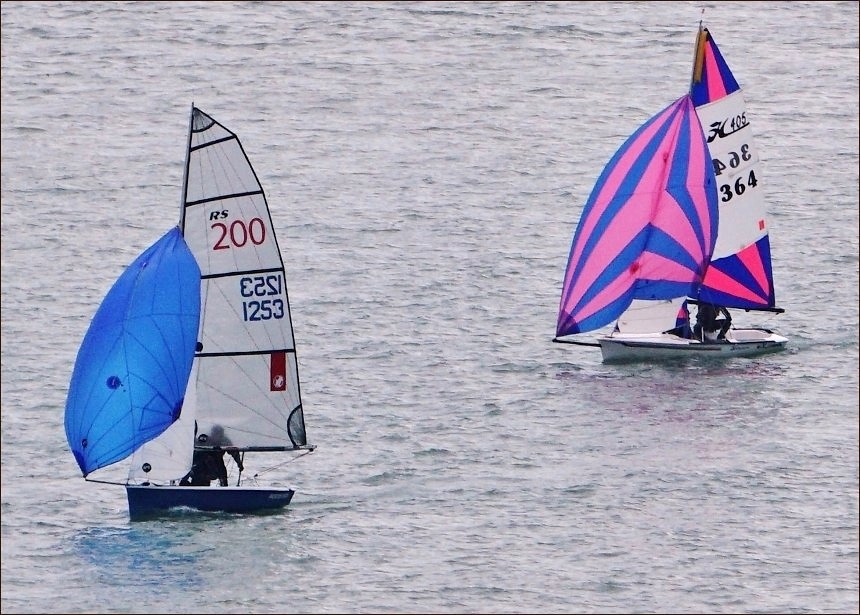 Don't miss the collection from Ramsgate below..Great Stuff Mike !

PaulB

Monday, 27 January 2020 - 07:51
Post 6771
Mike J., Dover
A quiet Sunday morning at Ramsgate, with just a little work taking place on the bunker tanker DISTRIBUTOR on the slipway.
She normally works on the Thames.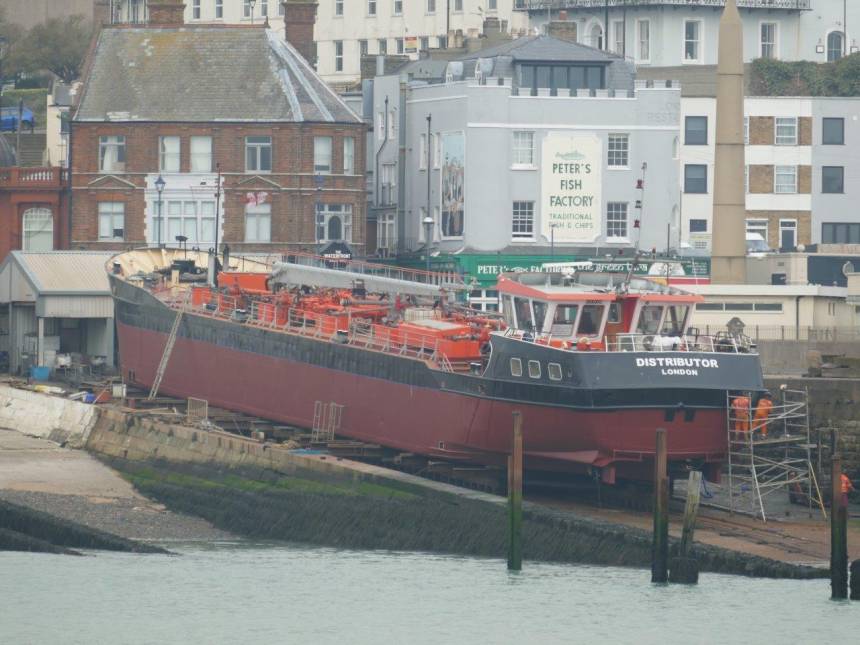 Laid up in the Inner Harbour, [AKA the 'Inner Marina'] were windcats CWIND FULMAR & GALLION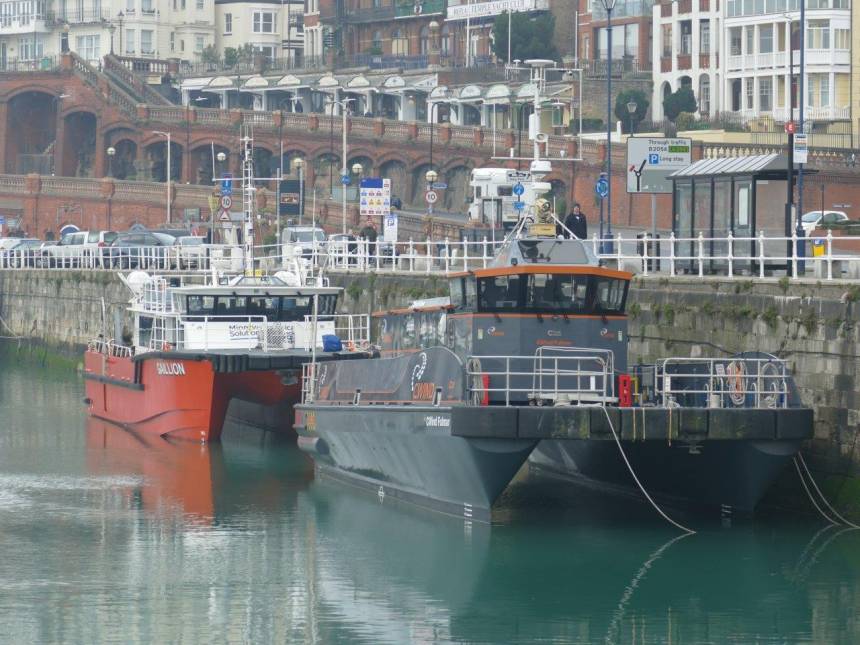 GARDIAN 3 was tucked up at the at the eastern end of the dock with the elegant 'Clock House' in the background.
The bows of the DISTRIBUTOR can [just] be seen on the left.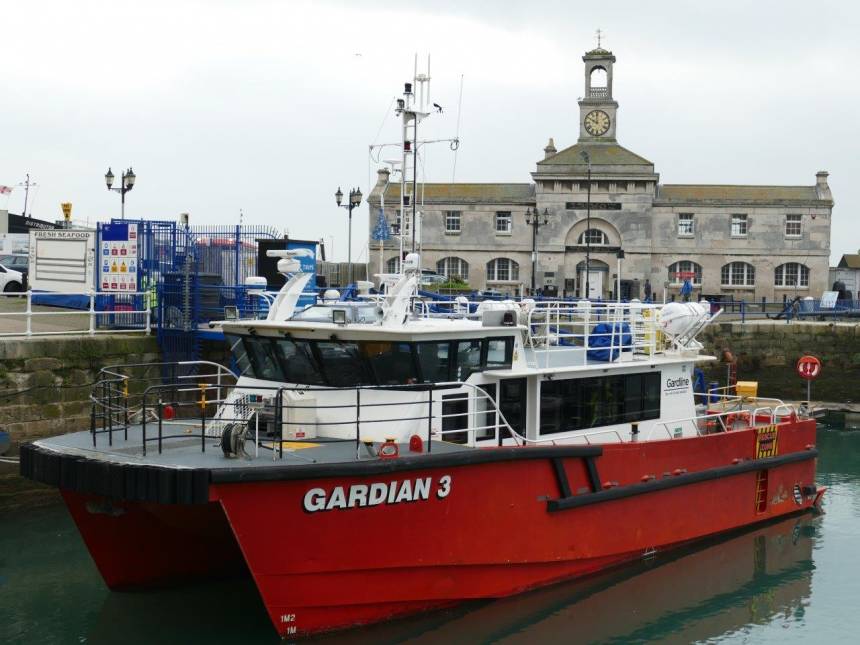 Monday, 27 January 2020 - 02:52
Post 6770
Sea News, Dover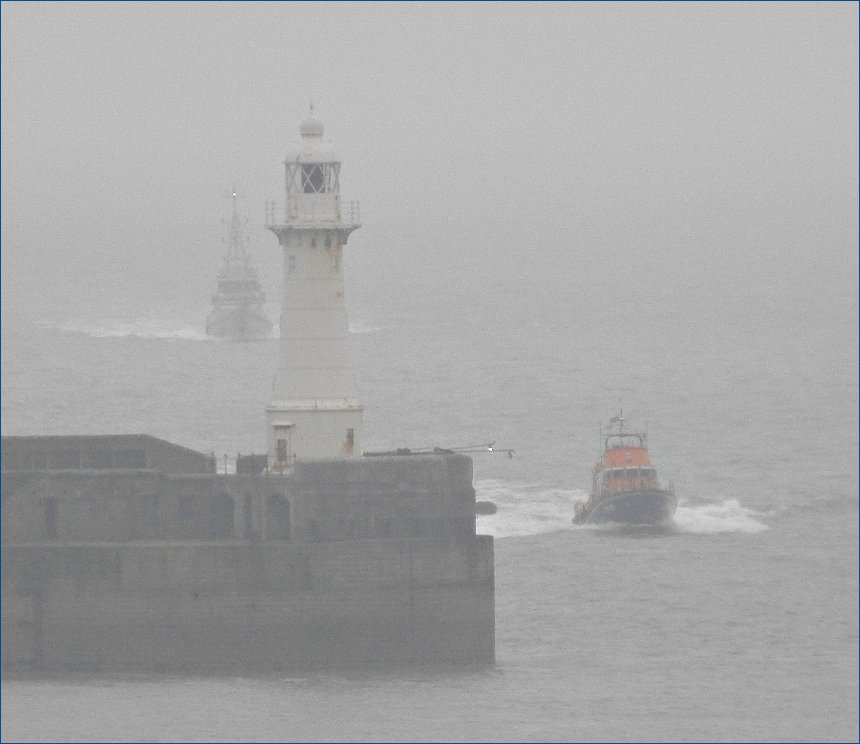 We understand there were 7 migrants picked up yesterday. The overall weather condition was foggy...in the pictures above, through said fog and mist, you can see the Dover Lifeboat returning to Port here in Dover towing a dinghy...you can just see the dinghy in the top shot. With the naked eye at the time yours truly didn't spot it until the Lifeboat came closer to Port, as seen in pic 2 below. Following along behind is the Border Force...this time Border Force Searcher....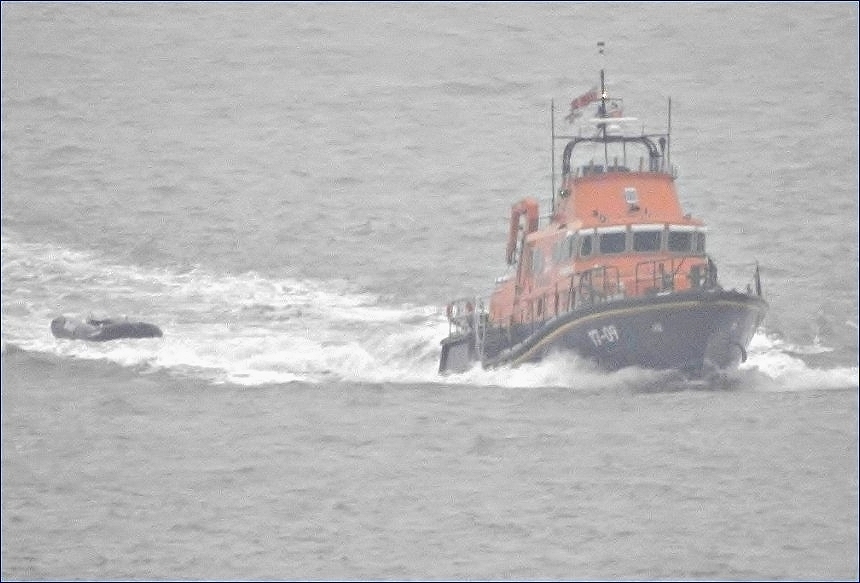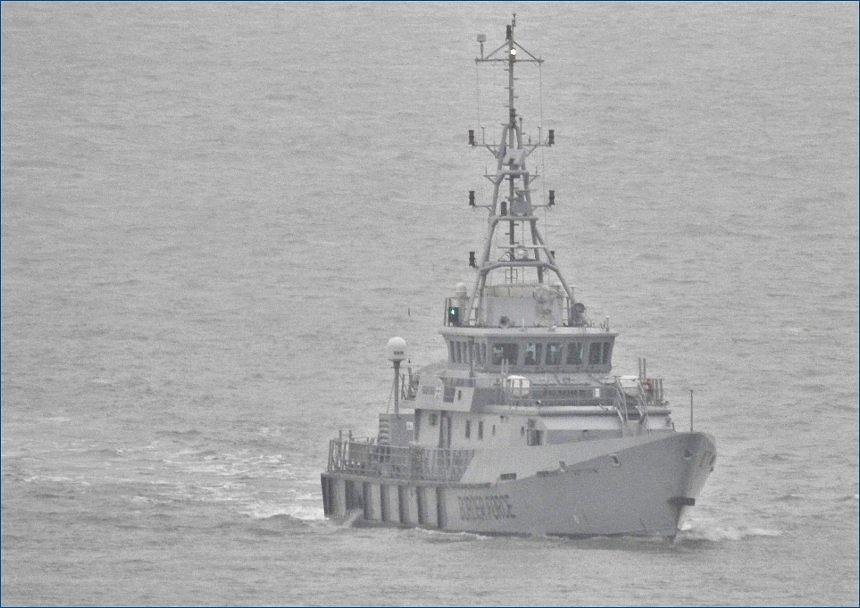 It was very gloomy early yesterday with the fog...the crow below seemed to fit the gloom perfectly, like an extra from a Hammer Horror...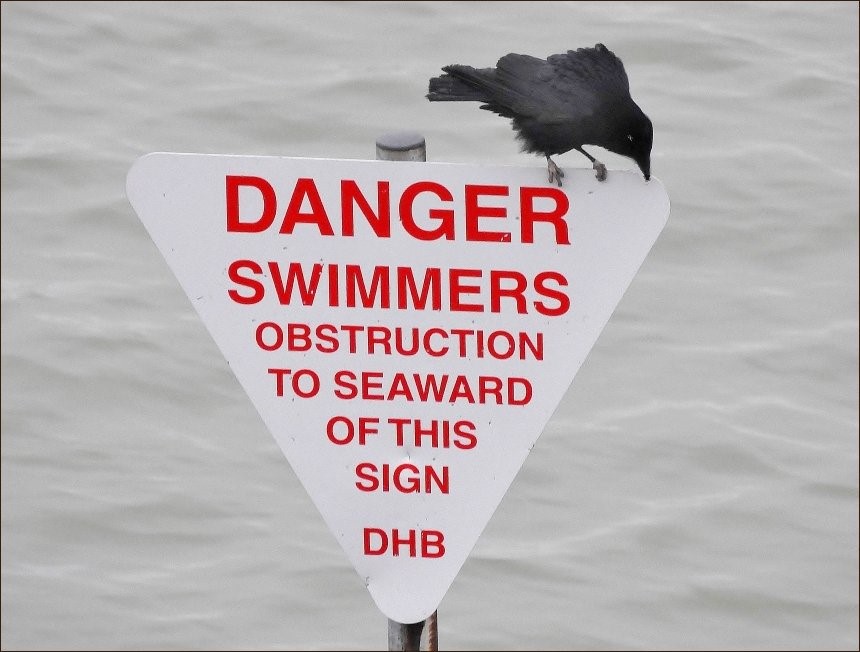 Great spot below Mike....will watch for that. Seems a bit odd/unusual without a logo on the funnel. Still, changing times..

PaulB
Sunday, 26 January 2020 - 05:56
Post 6769
Mike J., Dover
The end of the Maltese Cross ?
I'm not sure when the COTE DES DUNES returned from her January refit, but it was only Thursday that I noticed that she now carries DFDS lettered on her funnel in place of the familiar DFDS Maltese Cross.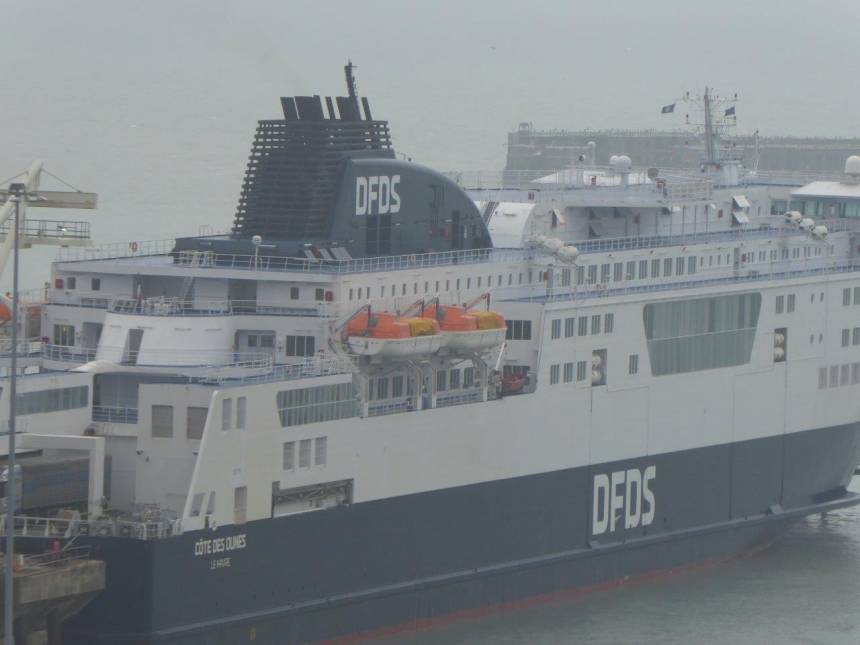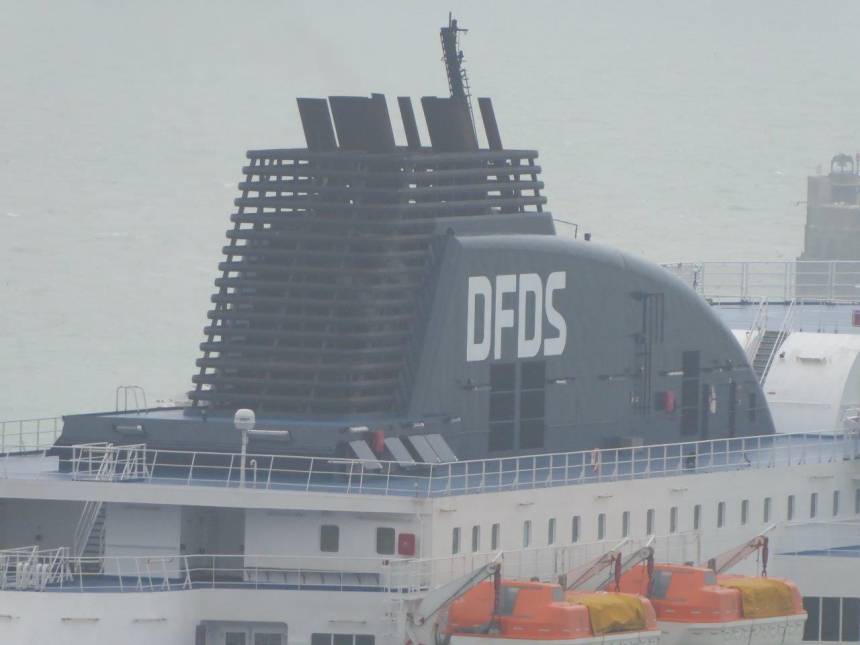 Presumably this 'rebranding' will be seen on other vessels as they return from refit.
Saturday, 25 January 2020 - 01:41
Post 6768
Sea News, Dover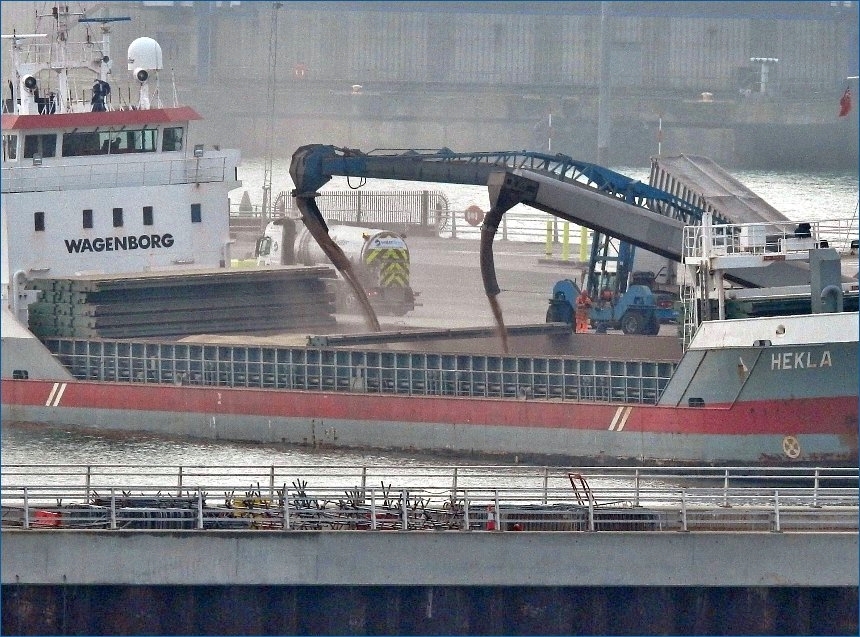 Hekla loading grain...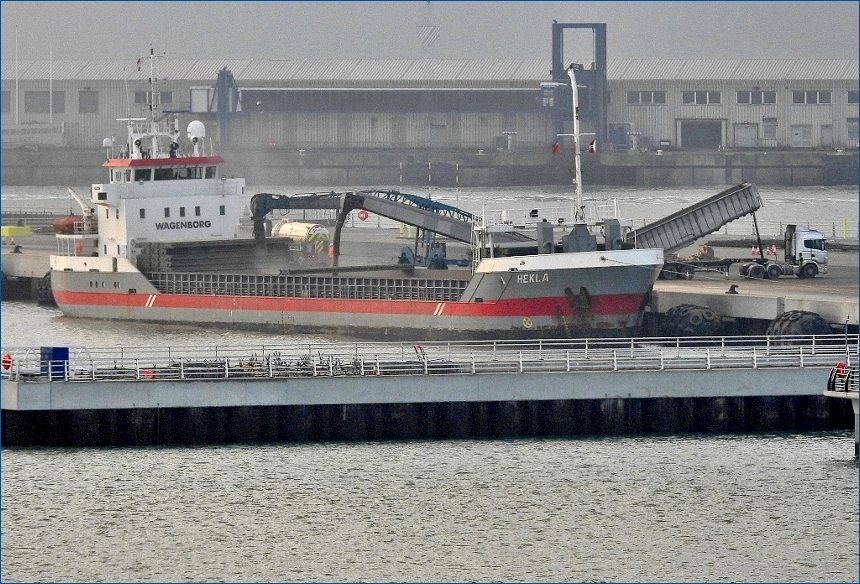 Some final pictures above there of Hekla to make up for the one yours truly failed to deliver yesterday, these taken on wednesday just prior to her departure for Rotterdam...and you can see the grain being pumped/conveyed onto the ship there with gusto...
Below we have Border Force Searcher the same day...very grey early morning, very grey vessel... but the migrant activity continues, with up to 50 intercepted this week. It was cold out there...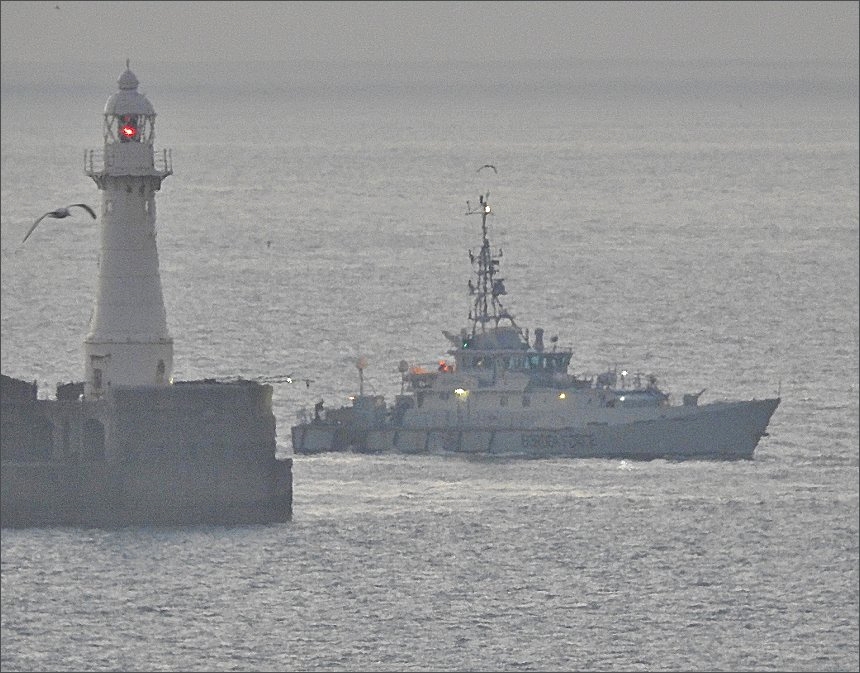 PB
Friday, 24 January 2020 - 07:38
Post 6767
Sea News, Dover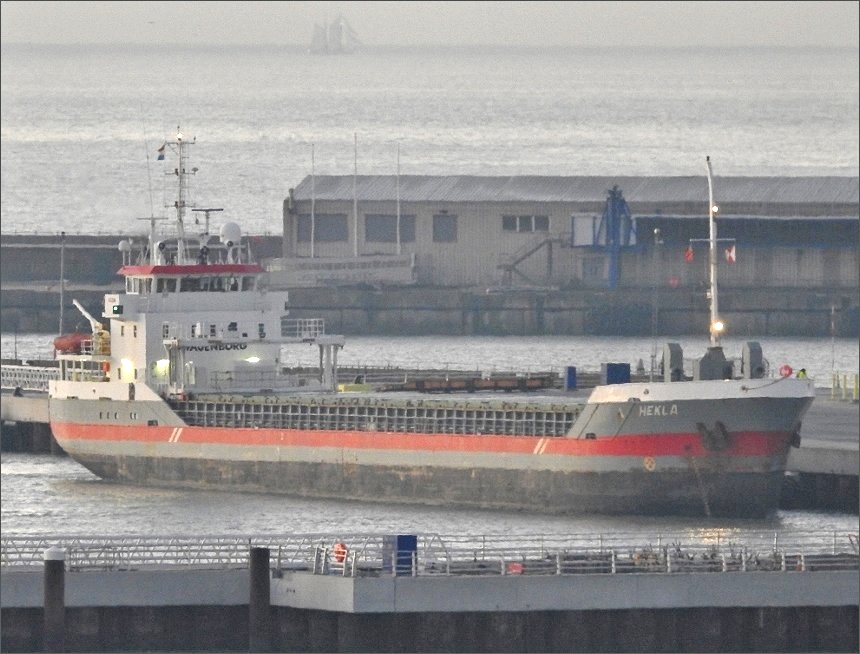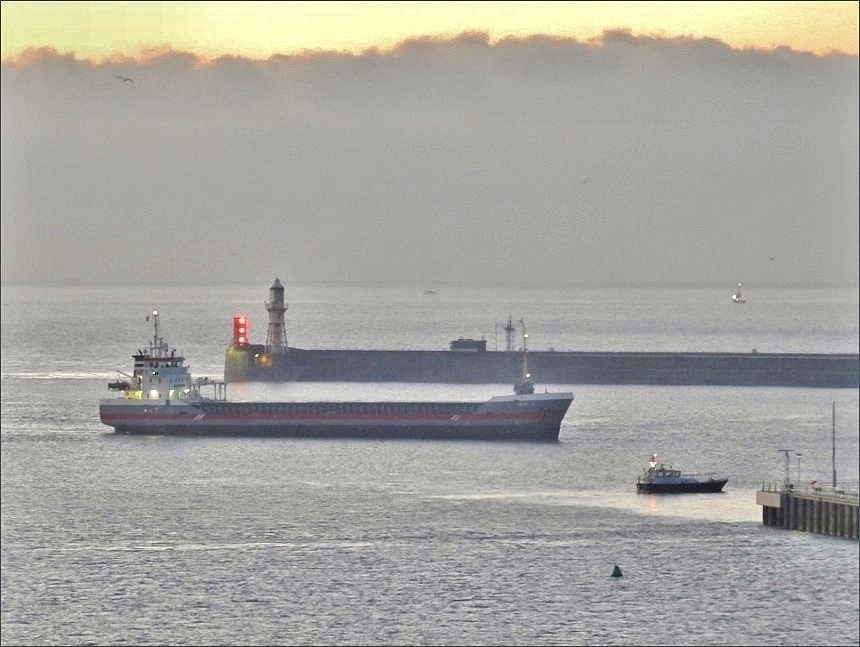 Top picture there shows general cargo ship Hekla arriving at the 'grain' pier WD4 on Tuesday morning at 07.30. All was fine on a misty morning ( do you see the tall sailing ship in the distance at the top of picture one above...missed that completely, never even saw it until I sorted these pix on the computer later! doh! must have been the misty conditions!!)) The second picture shows Hekla approaching the pier a few minutes earlier with pilot boat in sharp attendance. All was fine...yours truly had a third picture to go up right here, but on further inspection this morning have decided to scrap the picture...it was ermmm ...far too grainy!!

Can the jokes get worse than this..

However will have two more pictures of the ship taken yesterday to follow in due course.. to complete things.
Hekla left last night at 7pm - destination Rotterdam.
Now back to the stunning sunrise of Monday as promised.
First picture here...well it probably should have been in the sequence yesterday but better late than never. It shows the Spirit of France ferry blowing a huge bubble from the funnel...well I joke of course. But it almost looks that way. This is a lucky shot because the intention of producing this image was far from mind... just get the pic in the bag was the aim...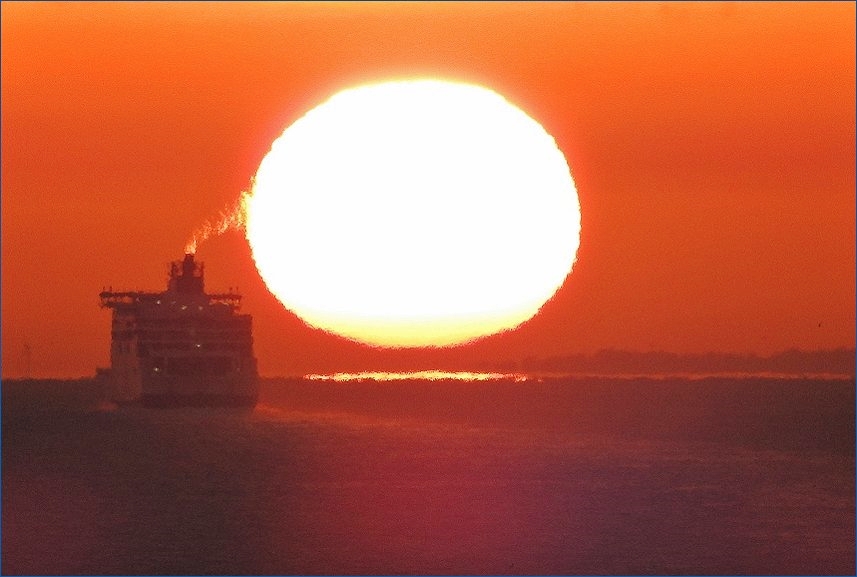 Sunrise and the Dover ferry.
We mentioned yesterday...before the sun arrived the sky was even more dramatic....here it is below....
nature at work...
Sunrise at Dover...above and below...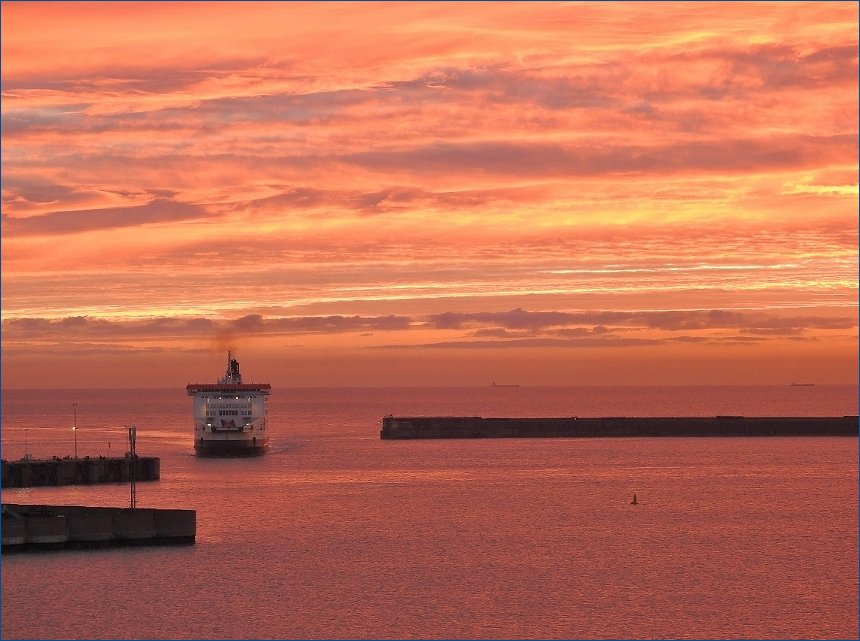 PaulB
Thursday, 23 January 2020 - 07:01
Post 6766
Sea News, Dover
Ferry consumed by the Sun - well perhaps not quite...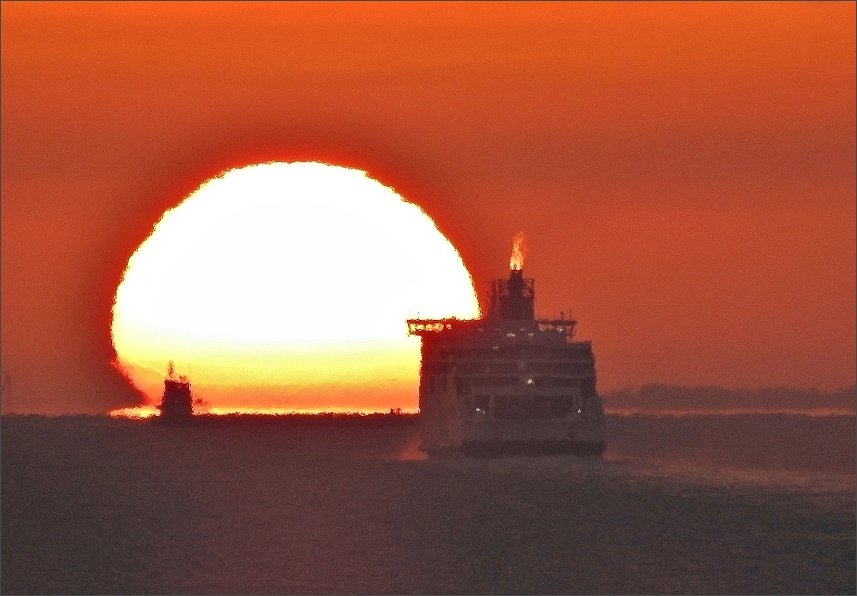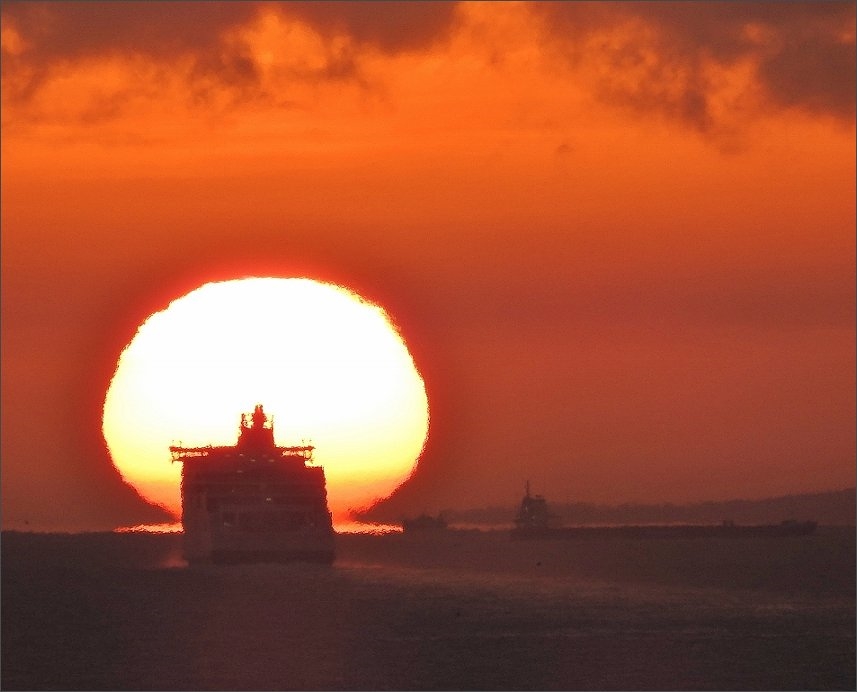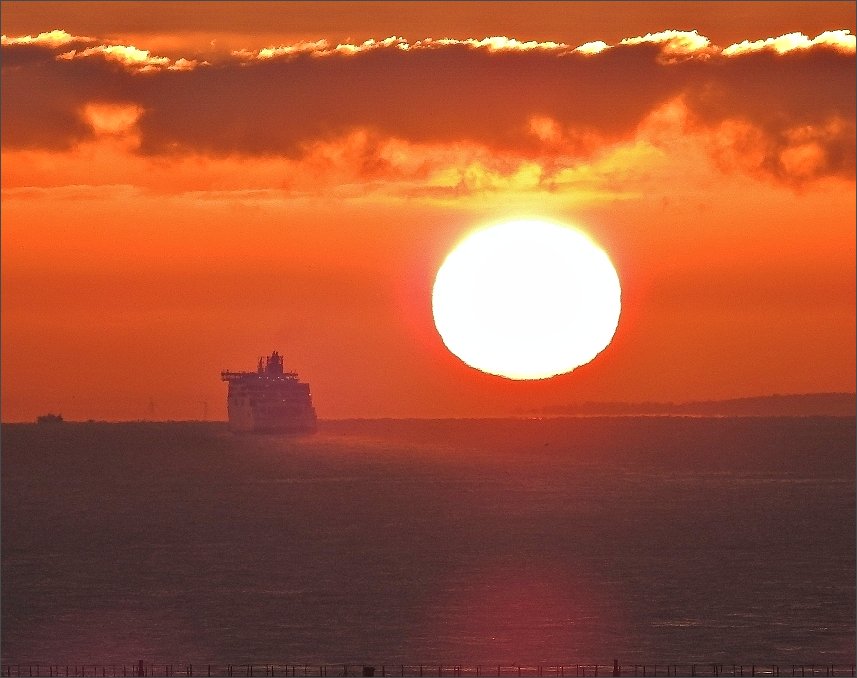 The Dazzling Sun on the Calais Dover run...
The Sun dominates all...as we gaze at the striking skies of Monday morning. It was even more fab before the sun appeared. It was one of those special days for 'the sunrise extraordinaire'. Will aim to have another pic or two showing the sky prior to the sun appearing...bear with...
The ferry featured is the P&O Spirit of France....on the early run to Calais.
Had many more pictures, trying to select which ones to use was the difficult bit...

nice problem to have!
Also.. in port is Hekla another general cargo/grain ship now over at WD4...the grain terminal. Will have pictures.
PaulB
Wednesday, 22 January 2020 - 07:02
Post 6765
Sea News, Dover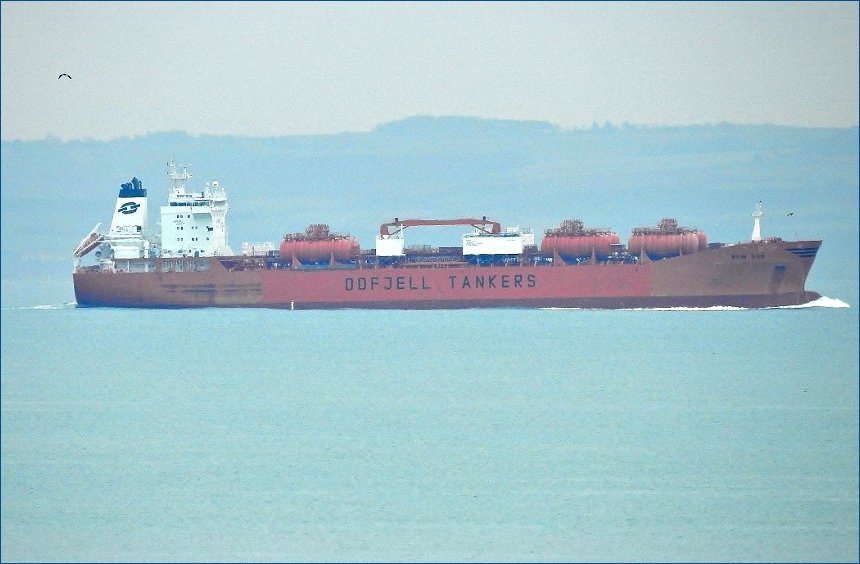 The Bow Sun oil/chemical tanker coming down the misty channel yesterday morning just before midday. She is on her way from Antwerp to Wilmington in the USA...the ship just caught the eye amongst many others...perhaps its the red colour...
See also the earlier post below...
Tuesday, 21 January 2020 - 07:56
Post 6764
Sea News, Dover
Lady Rosebay departing last evening..
time of pictures 16.50 (or 10 minutes to 5 in old money!)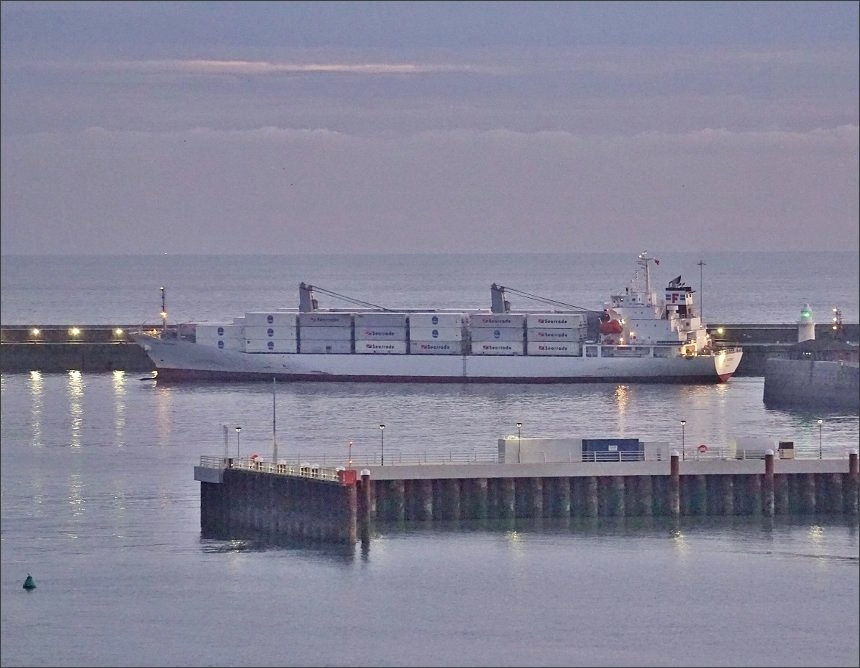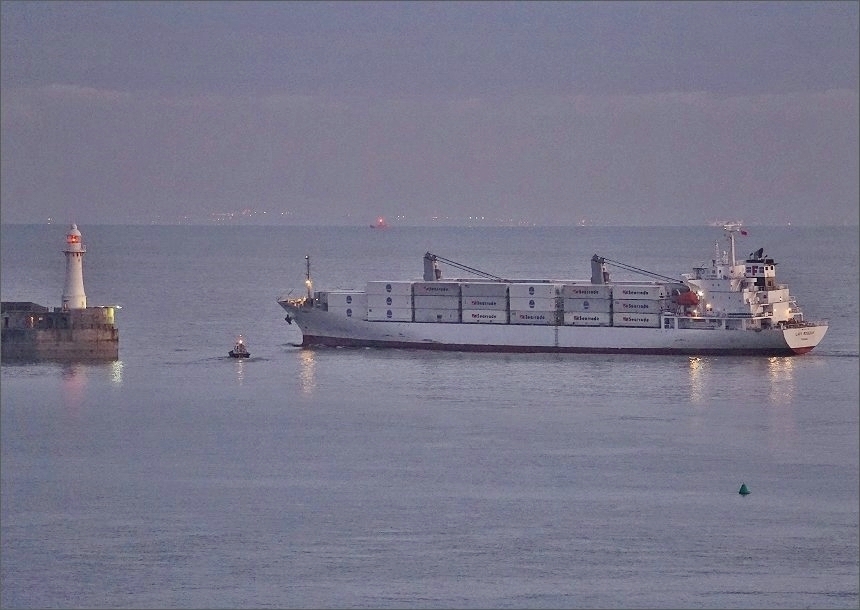 Although there was still some light, it was just that bit too dark by the time Lady Rosebay left the port last evening..we were hoping for a few longer range shots but it wasn't possible. The pictures above are in fact brightened up a tad but you can nevertheless just see the lights of Boulogne shimmering away in the distant background. Away she goes there with a full load of containers for Vlissingen, having been with us here in the Port of Dover for about 20 hours.
An image below from a former visit in brighter times...
PaulB
Tuesday, 21 January 2020 - 04:44
Post 6763
Sea News, Dover
"I See No Ships...."
This is the scene yesterday morning Sunday at 07.41...yours truly gazes out and sees...
nothing at all ! Yikes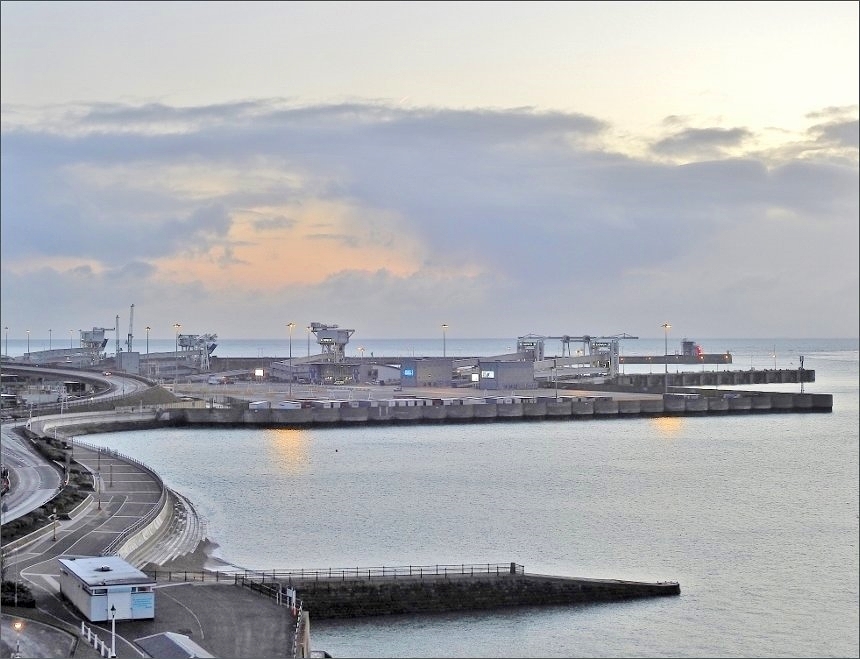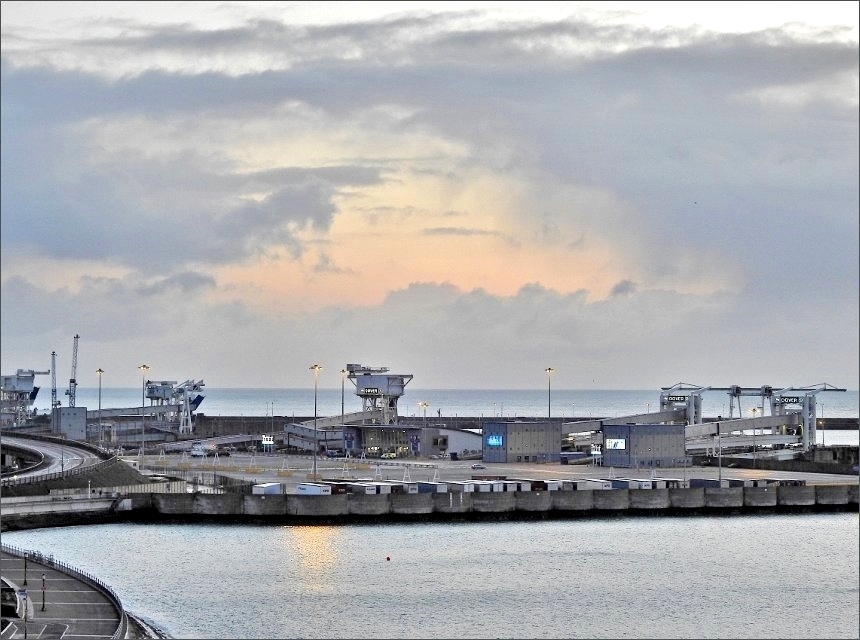 Gadzooks! Where is everybody!!?
No ferries at all.
Twenty minutes later one sees a ferry approaching in the distance...
I thought.. oh no more strikes or something...
but no.. all seemed to be normal upon investigation, perhaps 'twas just a glitch in the timing. Very unusual to see no ferries in Dover.
The picture below is a recent picture of Lady Rosebay. It was taken in mid December and shows the reefer over at the new western cargo terminal. Well she is back...will aim to get some pictures. The ship came in to port in the dead of night, probably close to midnight. Busy ship.. already been back and forth across the wide Atlantic since the picture was taken.
You can see in the pic below her bow facing towards the camera, facing east...this time her stern faces east. Interesting.. a change of preference already... puzzled !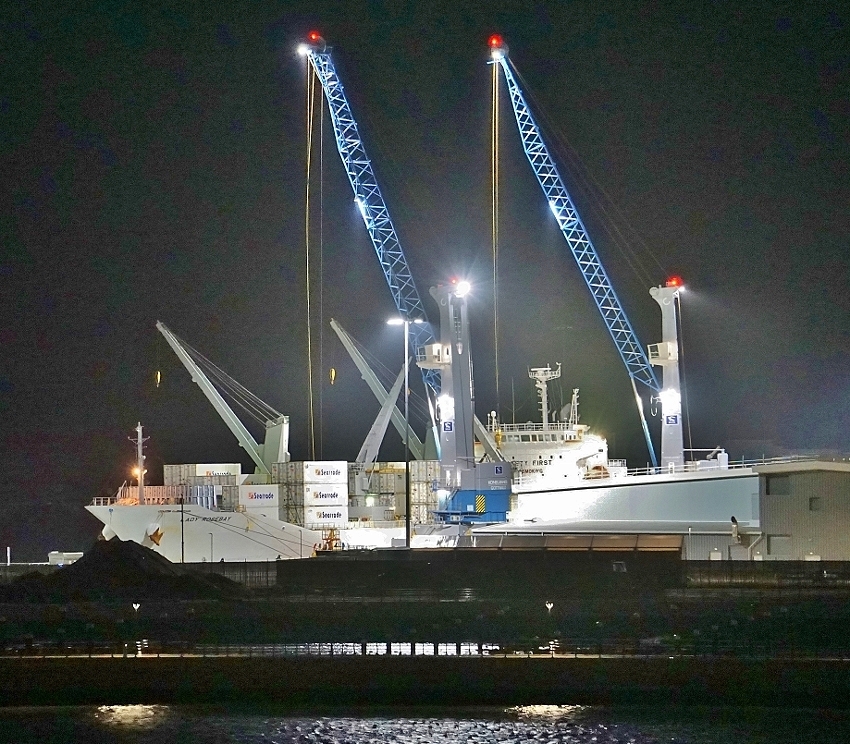 PaulB
Monday, 20 January 2020 - 07:29
Post 6762
Sea News, Dover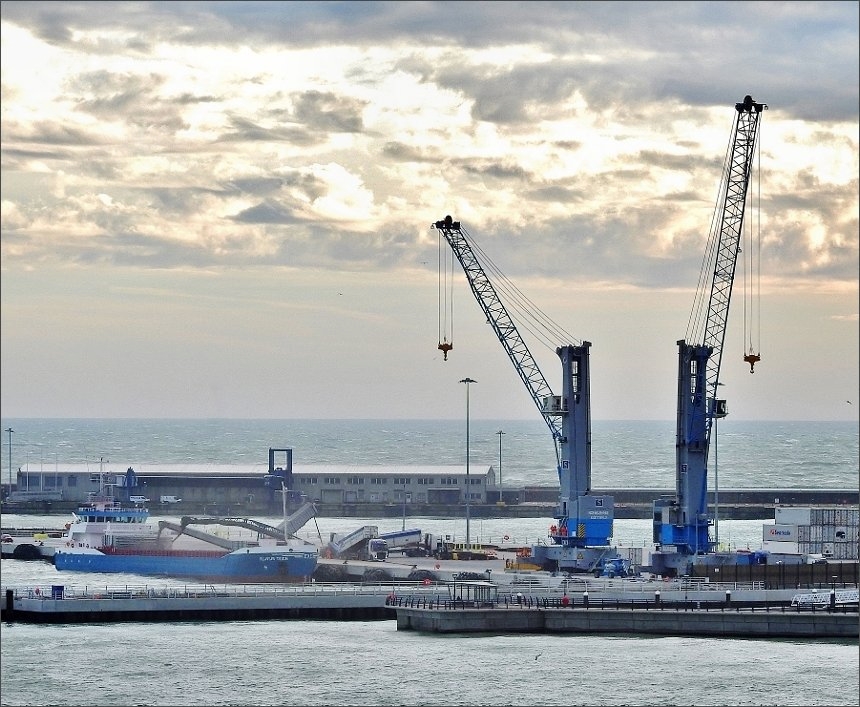 A general picture of the cranes today...they are normally situated at the new western cargo terminal WD5 but they are something of a 'moveable feast' and impressively so....here you see them on 'walkabout' over at WD4...the new grain pier. also in picture you can just see, against the light, Fluvius Teign to the left. Both Fluvius Teign and Merit have left us now.
PB
Sunday, 19 January 2020 - 07:31
Post 6761
Sea News, Dover
MERIT arrives here at the Port of Dover
...catching up with these pictures at last, all taken on Wednesday around midday.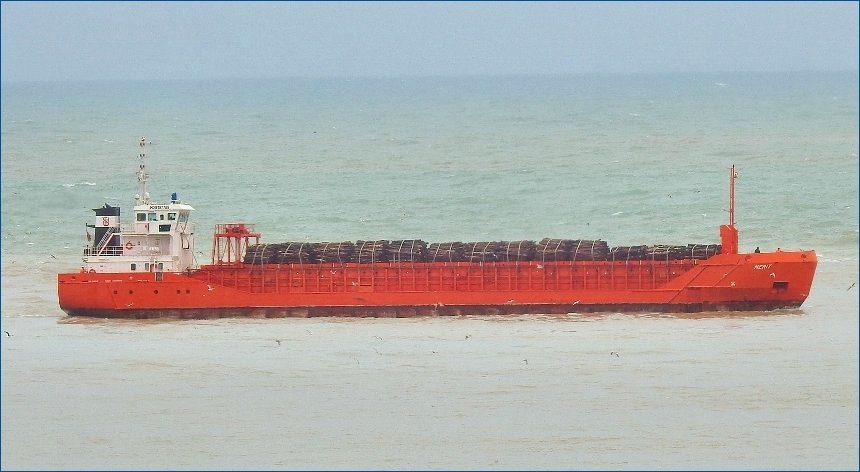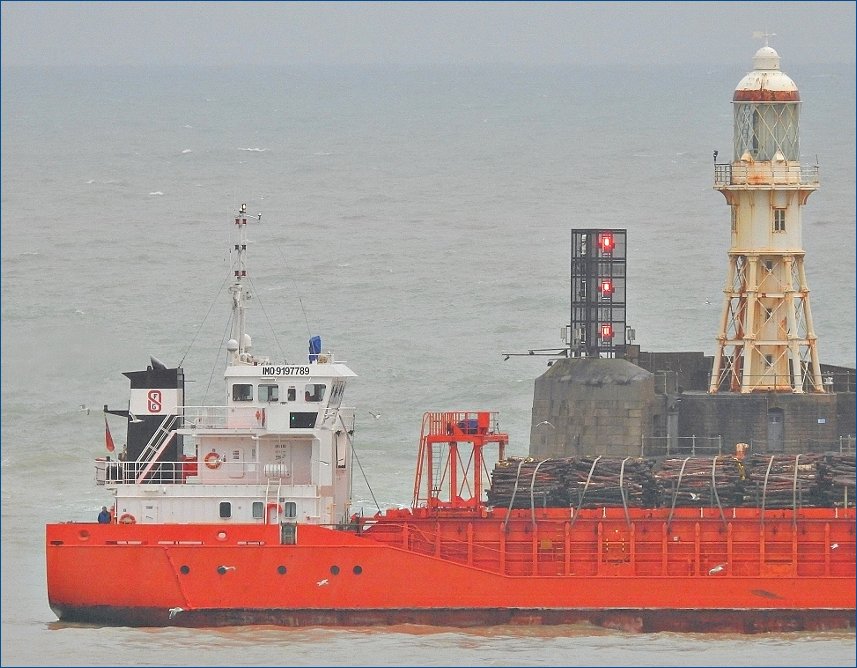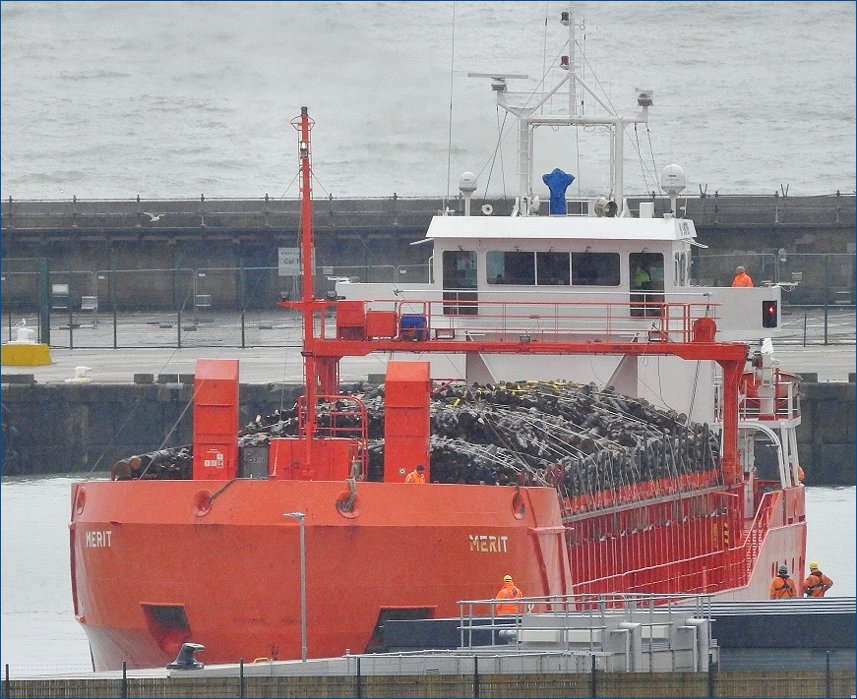 The sequence shows the strikingly coloured Merit arriving with a cargo of biomass timber and moving across the harbour to the new pier/cargo terminal WD5. You can see the dockside crew there in the last shot waiting to engage.
Don't miss the deal in the post below if you are thinking of popping over.

PaulB
Saturday, 18 January 2020 - 07:00
Post 6760
Sea News, Dover
SAIL THROUGH THE BLUES WITH P&O FERRIES' EXCLUSIVE BOOKING OFFERS
____________________________________________________________________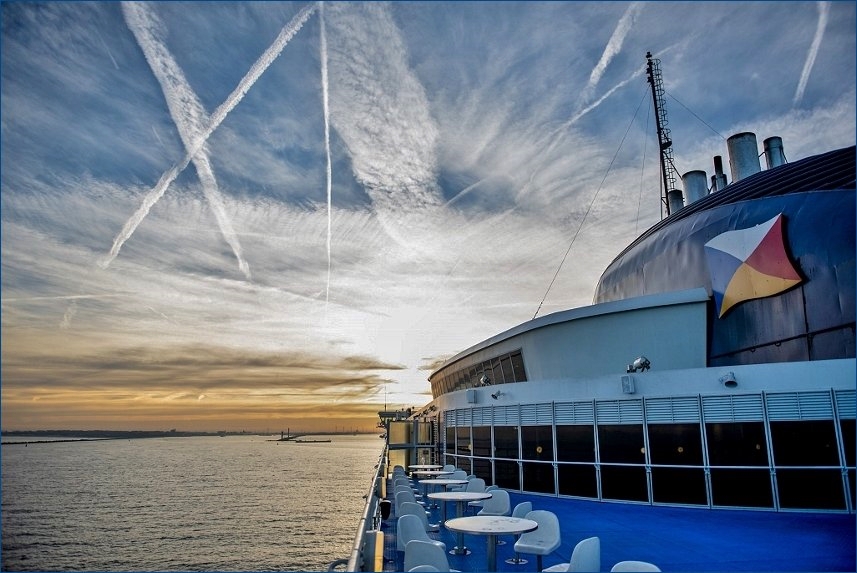 P&O Pride of Hull
Dubbed the most depressing day of the year, Blue Monday (20th January) marks the point when the Christmas lights have truly gone out, new year's resolutions are already a distant memory and to top it all off, it's still cold and dark. Helping you to sail through the blues, P&O Ferries has launched a series of incredible offers to take advantage of this January.
Dover to Calais – Free fuel when you sail
________________________________________
To help you on your way, P&O Ferries is offering a free fuel voucher worth £30 when you book a trip by 31st January, for travel up to 18th December 2020. The Dover to Calais crossing takes just 90-minutes and with up to 23 sailings a day, it ensures a flexible and streamlined experience. Whether you're heading across the Channel to explore the grand boulevards and smart boutiques of Paris, to potter around one of France's quaint market towns or to journey across the continent, there are a multitude of options at your fingertips.
If you simply can't wait to get away, P&O Ferries is also offering £15 worth of free fuel to those who book a day trip to France by 12th February 2020, for travel between now and 14th February 2020. From exploring parts of the stunning Opal Coast which stretches out for 120km between Calais and Berck-sur-Mer, to visiting Nausicaa, Europe's largest aquarium or learning about Calais' fascinating role in the history of lace at the renowned Centre for Lace and Fashion, travellers will not be short of places to fill up their day.
Hull to Rotterdam and Zeebrugge – 10% off North Sea routes
______________________________________________________
Sailing from England's north east coast, travellers can snap up a 10% discount on P&O Ferries' overnight sailings between Hull and Rotterdam and Hull and Zeebrugge. Valid for travel up to 30th December 2020, the offer is available on any single or return trip booked up to 31st January 2020. From these European ports, the only tricky decision is to decide where your end destination is. From the charming medieval town of Bruges, to up-and-coming design hotspot Rotterdam and beyond, there is a place to suit everyone's desires.
Sarah Rosier, Director of Passenger Sales at P&O Ferries, said, "Here in the UK we're so lucky to have the continent on our doorstep. Whether you buy into the January blues or not, what better way to end one of the coldest months of the year than by taking advantage of one of P&O Ferries' exclusive offers."
For more information about P&O Ferries and details about the offers above, visit www.poferries.com.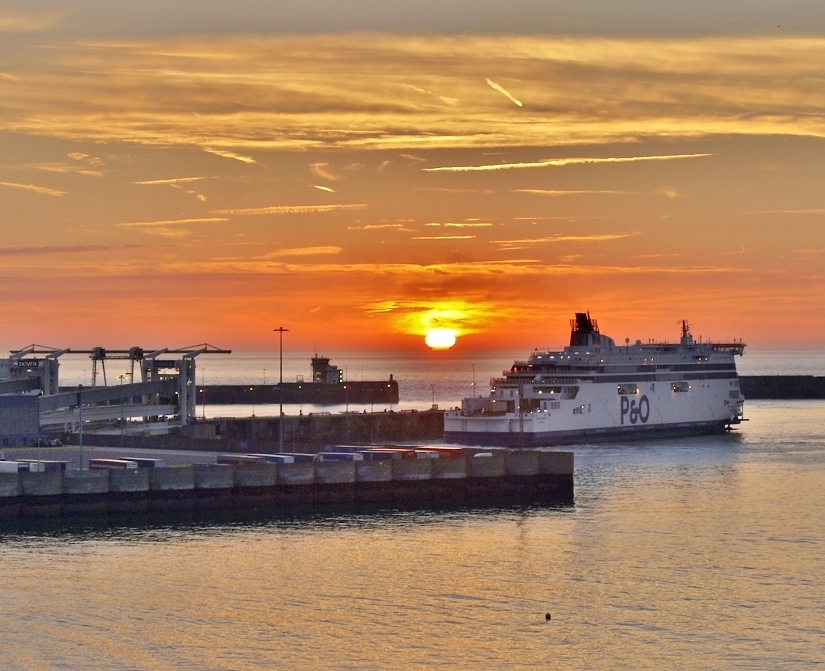 Spirit of France
ENDS
* *
Mike tipped me off to this one below passing on Wednesday evening....Dutch Assault Vessel Johan de Witt. Managed to get some late-in-the-day pictures and here we are...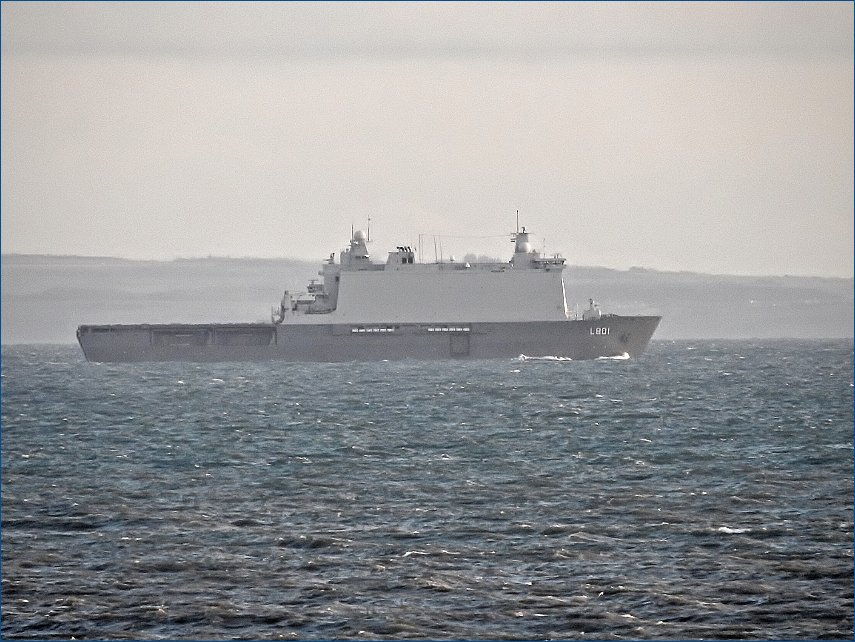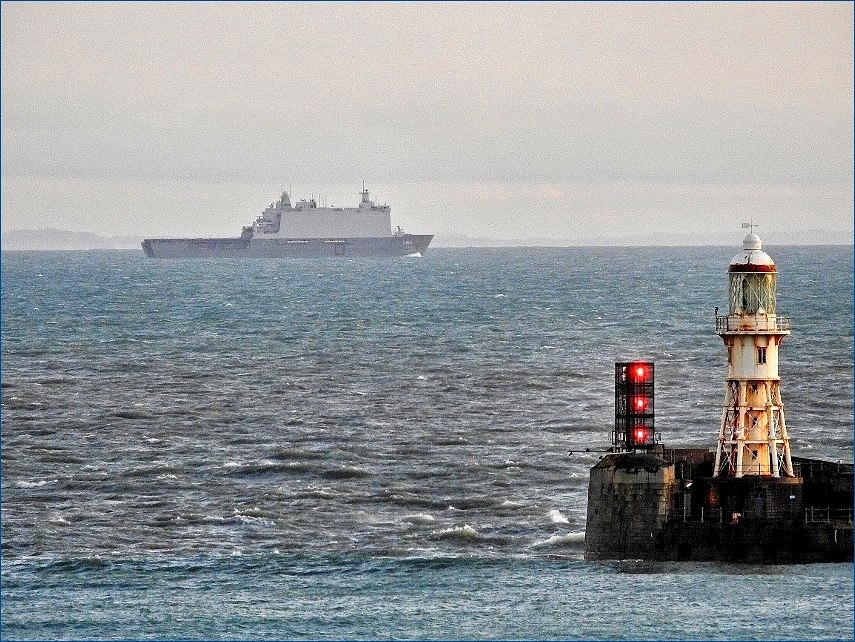 "HNLMS Johan de Witt is the second Landing Platform Dock amphibious warfare ship of the Royal Netherlands Navy. It is an improved design of Rotterdam, which was designed in conjunction between the Netherlands and Spain. The ship, displacing 16,800 tons, was launched in February 2007. The motto of the ship is Ago Quod Ago, translated as I do what I do"
Courtesy Wikipedia
and finally...
Fluvius Teign loading grain late yesterday...
The second picture being a closer crop of the first to show more detail..hopefully..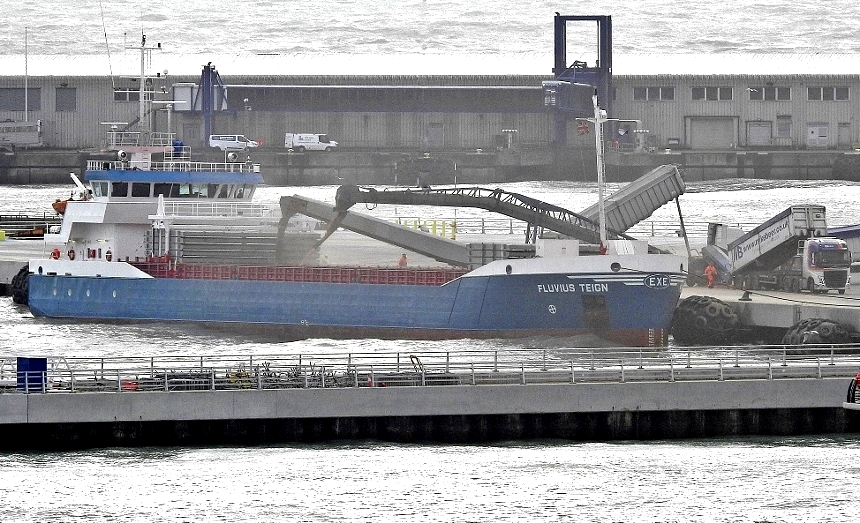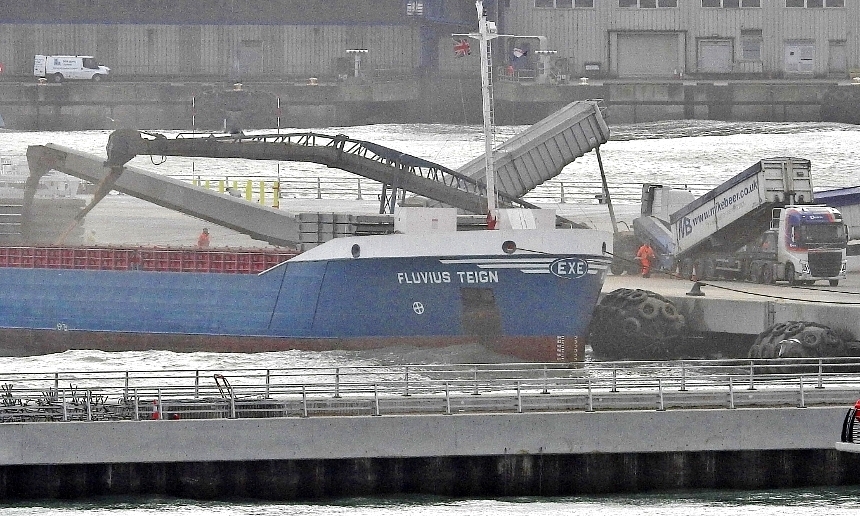 Yes indeed Jan and Patrick...that's living the dream for sure (see 6755). A great story..

Well done Mike with the latest shots of both the traffic pictures and Fluvius Teign

Will have pictures of Merit along next.
My thanks to the team at P&O once again.

PaulB

Friday, 17 January 2020 - 08:10
Post 6759
Mike J., Dover
The British-owned Barbados-flagged FLUVIUS TEIGN came in from Tilbury before dawn on Thursday to load grain on WD4.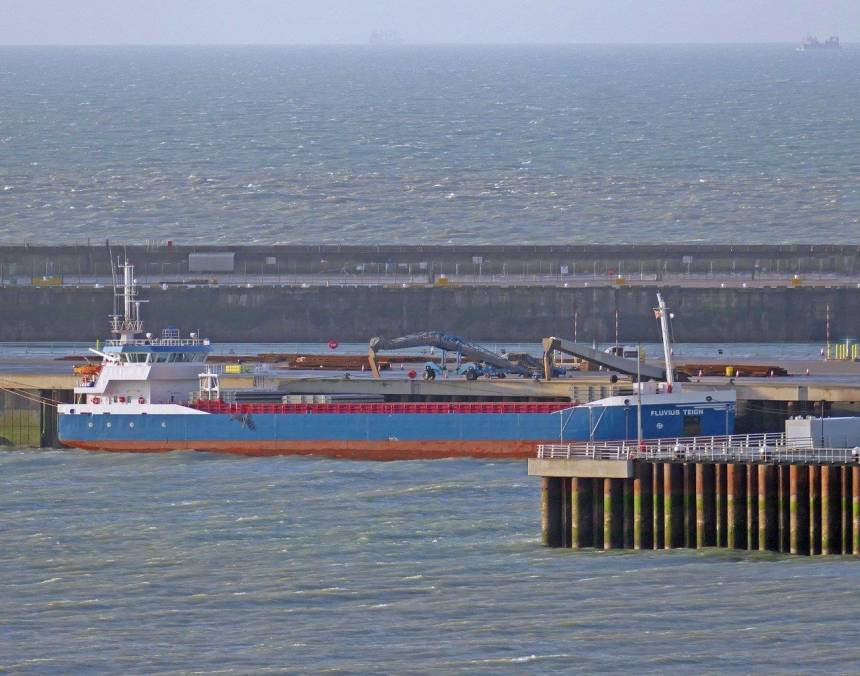 The Gibraltar-flagged MERIT came in Wednesday morning from the Swedish port of Sodertalje to discharge biomass timber on WD5 & is still alongside.
Friday, 17 January 2020 - 01:05
Post 6758
Patrick, Marine Parade
Fascinating accounts on 'living the dream'. Many thanks for taking the time to provide great insight into the history of this lovely vessel.

Thursday, 16 January 2020 - 22:40
Post 6757
JanT , Dover
Great piece on Living The Dream, how many of us day dream about maybe sailing off and living a dream, to actually achieve it must be so rewarding.

Thursday, 16 January 2020 - 18:10
Post 6756
Mike J., Dover
Most interesting post from the Archbolds re the elegant NOORDERZOON - a very interesting craft with quite a history.
Many thanks !
Further to Paul's 's Wednesday congestion photo, here's a couple of late afternoon pix from the cliffs - the A2 & A20 were well bunged-up with freight as well but all looked pretty clear by midnight.
Efficient handling by DHB & the ferries !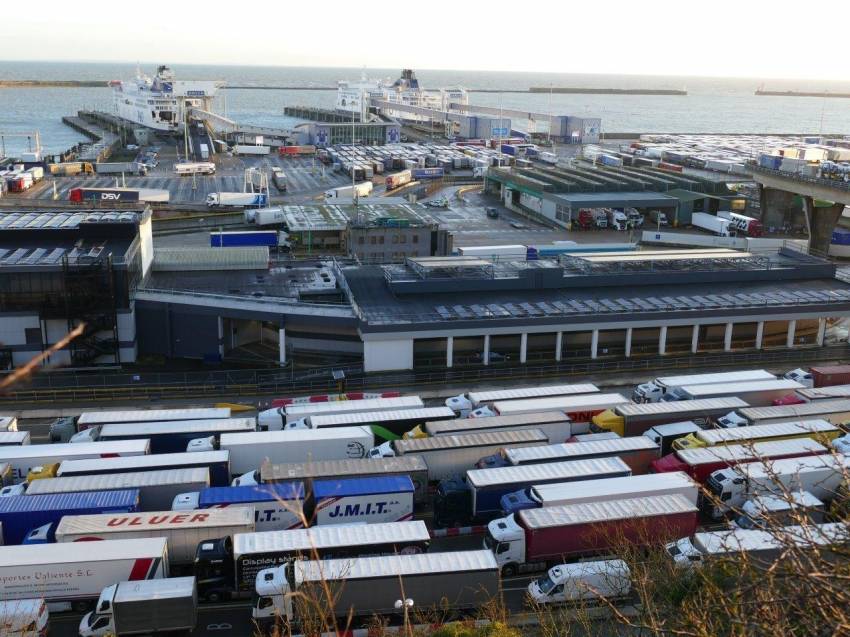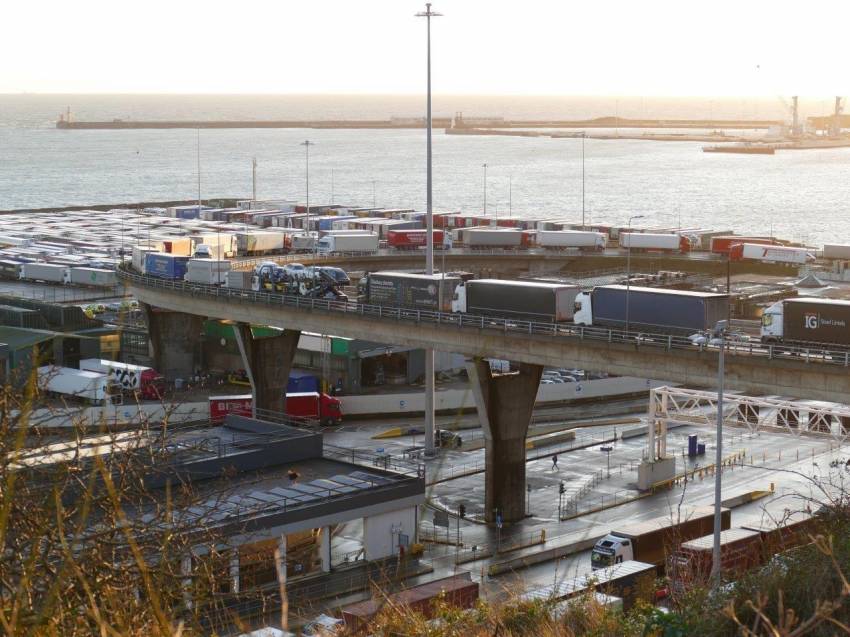 Thursday, 16 January 2020 - 09:51
Post 6755
Sea News, Dover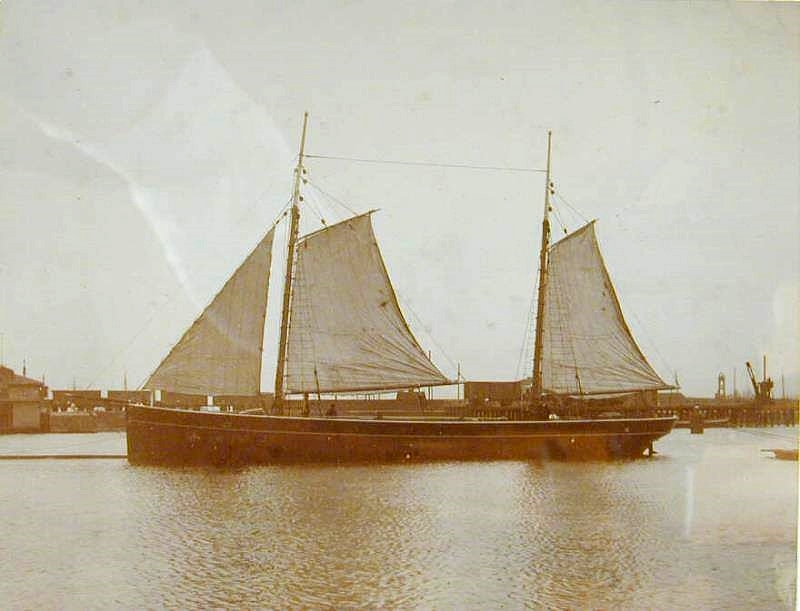 Living the Dream ……
_________________
Back in post 6526 Mike had pictures of Noorderzon and asked if anyone knew more....Patrick also had pictures in 6529...
well it brought this fascinating response from Gary and Jill below...
Hi,
You asked for some information on our Dutch ship Noorderzon.
She was Built in Lieden in the Netherlands in 1900, she was built to service the marker bouys in the north sea, her job was to supply them with LPG to keep the lights lite, she was built for the Dutch Coast Guard, to go out in all weathers.
She was then a twin masted ship, with no engine, she would have been towed out to sea, and set sail from there, managed by one man & a boy.
In 1907 she had a small 10 HP engine installed, so she could leave on her own.
First stationed at Rotterdam, later moved to Dan Helder where she finished her days as a working ship.
Not much is known about her until 1964, when she was converted into a motor cruiser.
We have owned her since 2014, and we live on her, we cruised around in Friesland for 4 and a half years, before bringing her over to the UK, we are a British couple, living the dream.
Regards Gary & Jill Archbold (Noorderzon)
ps:I have attached a photo taken in 1907, and a brief history of Noorderzon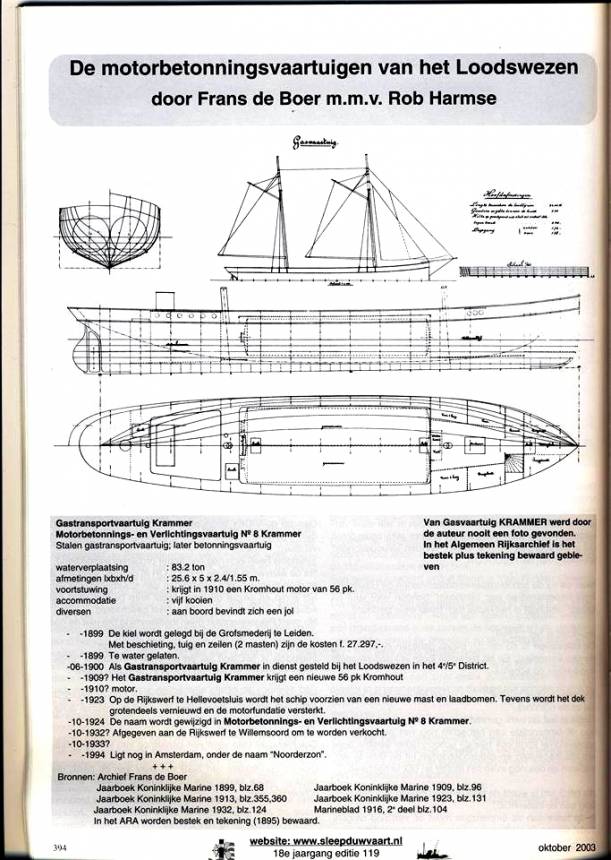 Further from Gary.....
....have added photo of our arrival in Dover, that's me on the stern, A local Dover man Mark Hughes, and his Son Harry at the wheel.
Thought it might add some interest.
Regards Gary
And here we are....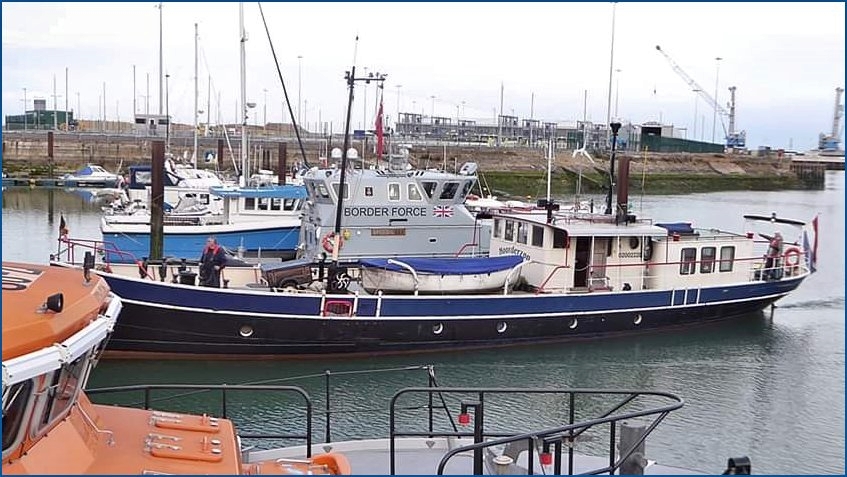 As mentioned, see also 6526 and 6529...just type the numbers in our SEARCH ENGINE above.
Many thanks to Gary and Jill for the info and pictures...Keep on "Living the Dream"

..shades of Riddle of the Sands there in some of the story, it drew a reminder as we were chatting Riddle of the Sands recently.
* *
Back to the daily fundamentals now with the picture below of the traffic chaos at 07.59 yesterday morning...the approaching lines of trucks controlled by the Police at the Port entrance...a little few let through here, a little few let through there. The weather out there was horrendous...leading to the backlog situation...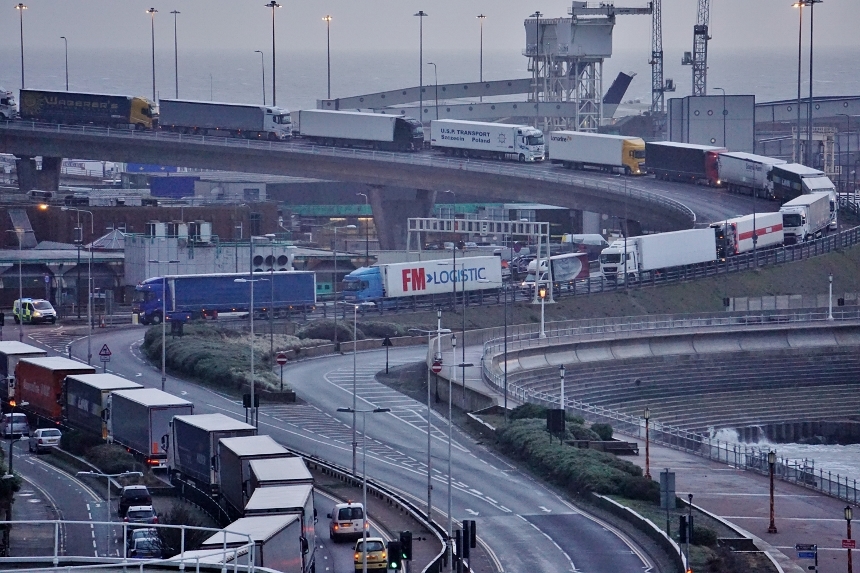 PaulB
Thursday, 16 January 2020 - 06:12
Post 6754
Sea News, Dover
P&O FERRIES SUPPORTS LOCAL STUDENTS WITH CAREERS SESSION AT COMPANY HQ'S CONTACT CENTRE
____________________________________________________________________________________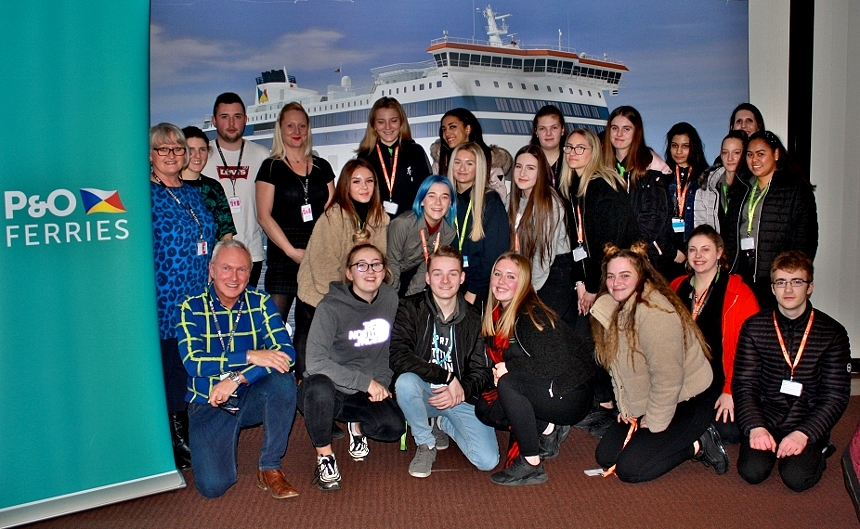 Leading regional employer P&O Ferries welcomed students from Dover Technical College to its Contact Centre last week, to gain an understanding of potential career paths through a first-hand experience of the ferry and logistic company's central customer service and bookings division.
Organised by P&O Ferries, 20 students – who are enrolled on the Travel and Tourism (Level 2 Diploma) course at the college – were hosted by the manager of the centre, Mark Hollingdale, who kicked the afternoon off with a careers talk and Q&A session.
The budding travel professionals were given a thorough overview of the crucial function of the Contact Centre, which handles thousands of bookings a week across all routes and focuses on providing exemplary customer service to meet the needs of all P&O Ferries' customers. The students gained an understanding of the qualities and skills required to pursue a career within the centre and received advice on how to apply and where they could view current vacancies.
Following the talk, the group listened in to calls and spoke to employees, directly experiencing the varied nature of the roles as well as noting additional desirable skills such as speaking a second language. Career paths across other areas of the business were also discussed, demonstrating how an initial entry-level role within the Contact Centre could lead on to wider opportunities within the group.
Mark Hollingdale commented, "It's always a pleasure to spend time with students who are destined to be the next generation of travel professionals and it's important as a leading employer in the region, to take the opportunity to remind them that there are a wealth of career opportunities available through P&O Ferries."
Sacha Waite, Programme Director of Travel and Tourism at Dover Technical College, said: "We'd like to thank P&O Ferries for providing our students with valuable insight into what a career would be like within its Contact Centre. Everyone thoroughly enjoyed their visit and found it very informative."
Josh, a student at Dover Technical College, added, "I would love to work at P&O Ferries' Contact Centre. You have to start somewhere, and this would be a great way to kick start your career."
Jacqueline Burns, Business Transformation and Communications Manager at P&O Ferries, said, "Dover Technical College's visit is just one of many that we organise for local schools and organisations throughout the year, with the aim to introduce students to the full spectrum of career paths available to them at P&O Ferries. The Contact Centre is a vital part of our operations and it represents a fantastic entry point for students who are keen to pursue a successful career within the maritime industry."
P&O Ferries has a workforce of over 4,000 people, spanning a diverse range of sectors. With a myriad of different career paths available, the ferry and logistics operator regularly partners with local organisations and schools to support interests and ambitions across the community.
For more information about career opportunities with P&O Ferries, visit www.poferries.com
ENDS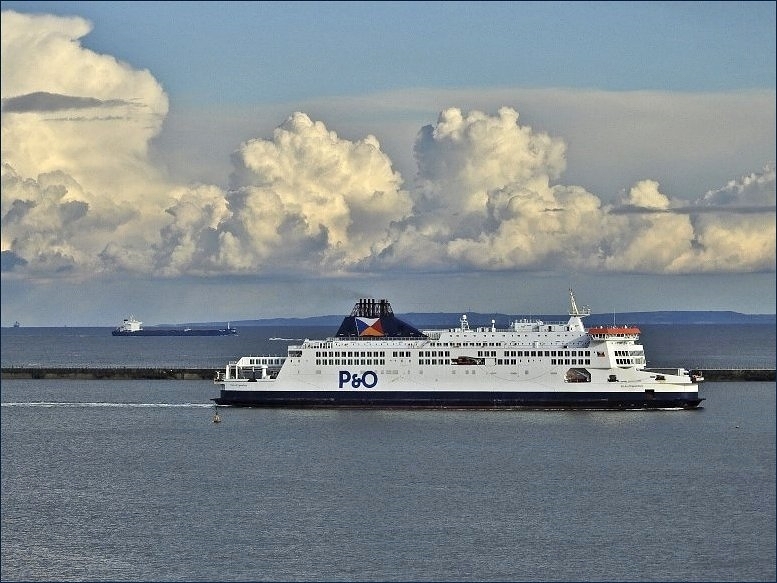 Pride of Canterbury
Top Picture: Mark Hollingdale, Contact Centre Manager at P&O Ferries, with students from Dover Technical College.
Many thanks once again to the team at P&O Ferries for the info.
* *
Below we have the Diana survey boat out in the harbour..well.. surveying..earlier in the week. Getting in the work before the onslaught of the fairly fierce weather we have experienced over the past couple of days...ferries were disrupted, traffic was chaotic, and the observation tower timbers were a-shiverin' and a-rattlin' …
...but all was briefly tranquil here below..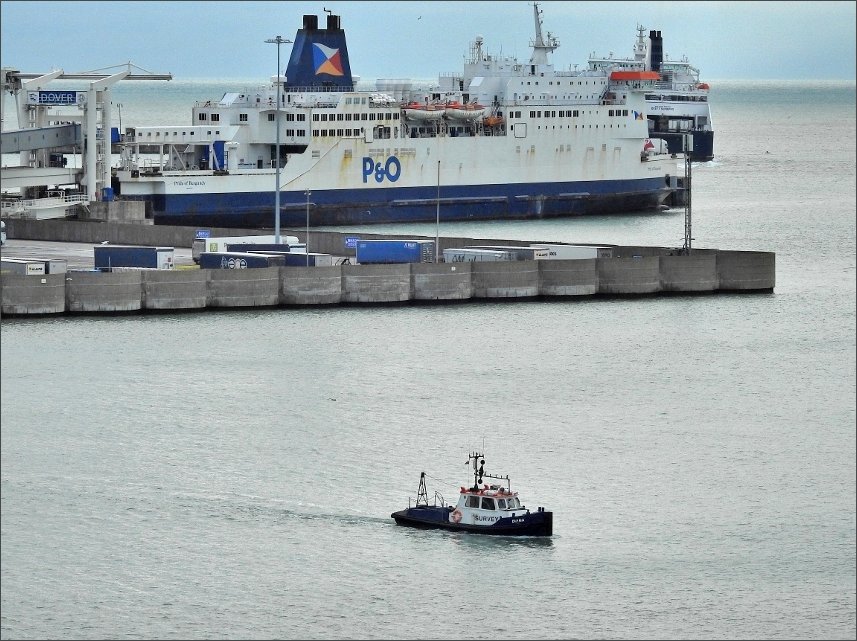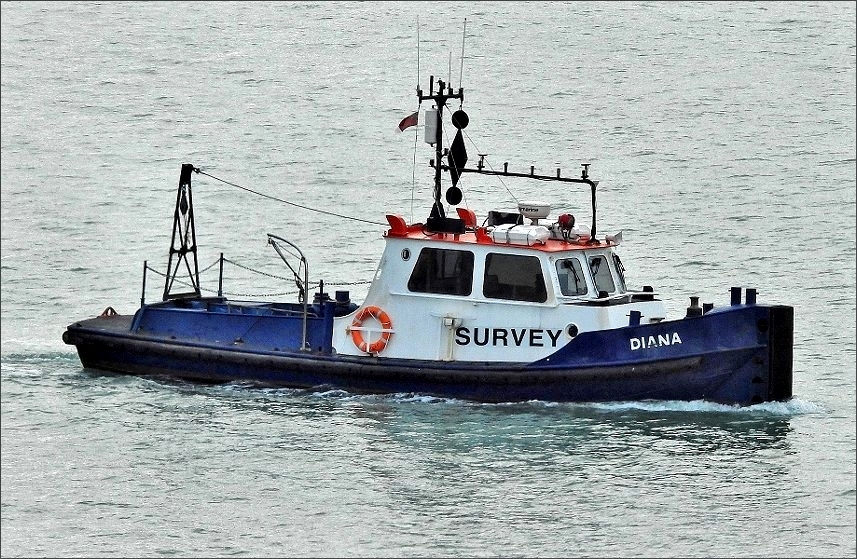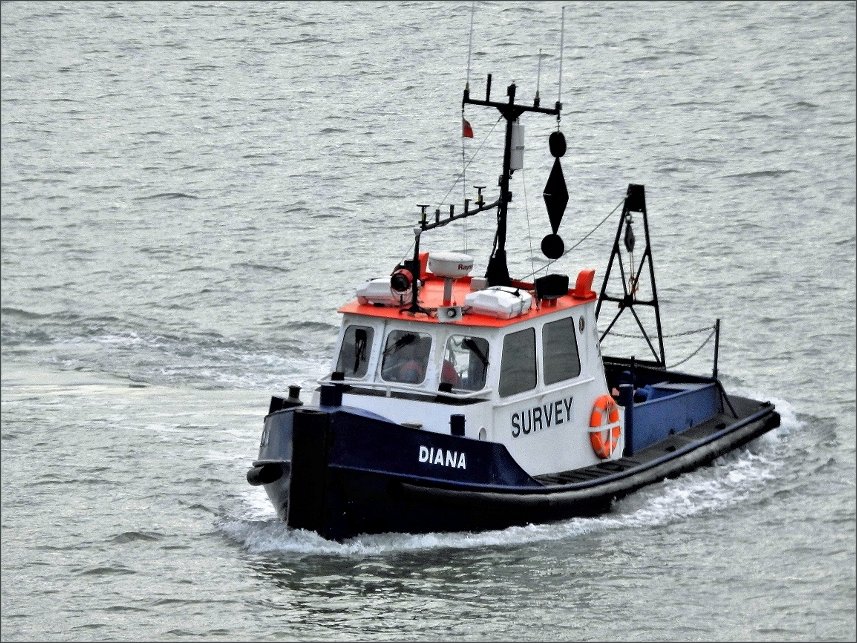 Diana Survey...
PaulB

Wednesday, 15 January 2020 - 06:06