Sunday, 25 February 2018
Dover Lifeboat in evening action. More below...

doverforum.com/sea-news
Doverforum.com: Featuring all the ships that come and go and work at the Port of Dover with further coverage of Ramsgate, Calais, Dunkerque. Email: dover7@msn.com to send SEA NEWS pix or info.... or click ADD YOUR COMMENT below to post direct, no membership needed.

TRADING GROWTH FOR DFDS DESPITE BREXIT see 4642
PORT OF DOVER RECORD FREIGHT see 4551.
PORT OF DOVER: GEEST LINE arrival see 4597.
SECOND FEMALE CAPTAIN FOR P&O see 4608.
Sea News Dover : Use our SEARCH ENGINE below to find all sorts on the SEA NEWS pages..more than 230 now with more than 4500 nautical posts. Posts welcome. Max of 5 pictures preferred per post. Sea News Editor Paul Boland.
Post 4551
Sea News, Dover
SCHWEIZ REEFER - THE TRADE GOES ON...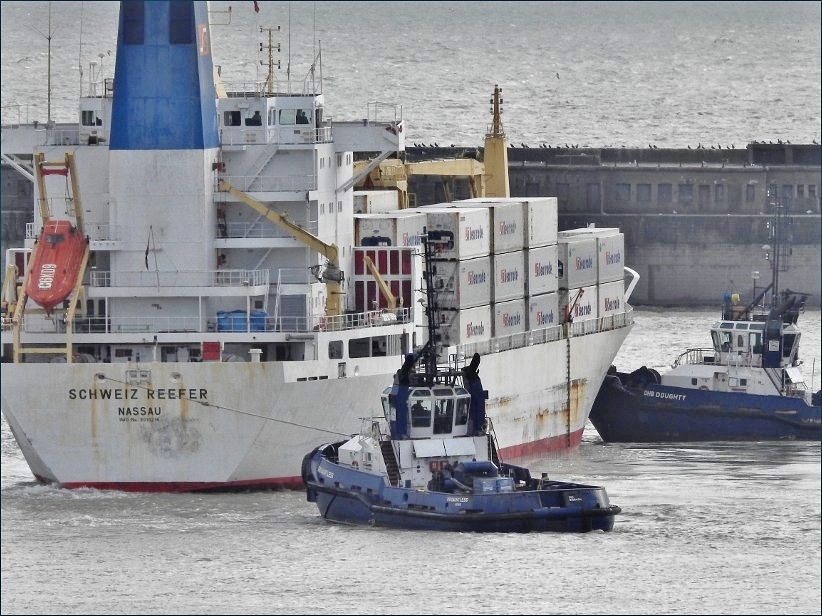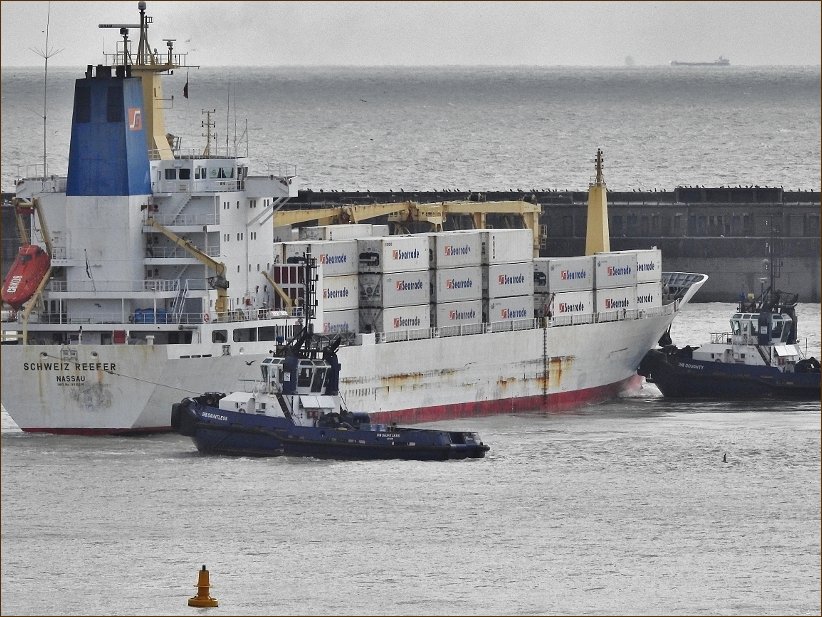 Very busy time for the cargo ships currently...we had Schweiz Reefer offloading with us for the past couple of days - she left yesterday, that's her above, pictures from a recent visit, and at 7pm last night we had another arrival from the South Americas...Atlantic Reefer. There were other vessels recently too, they slip in and out and we are not always able to get pictures this time of the year. Short days dark nights, but its always a joy to see the reefer trade very busy...
And speaking of all things commercial. Look at the latest exciting news below....

RECORD FREIGHT: Port of Dover announces fifth consecutive record year for freight.
_________________________________________________________________________
Freight volumes through the Port of Dover have reached record levels for the fifth consecutive year.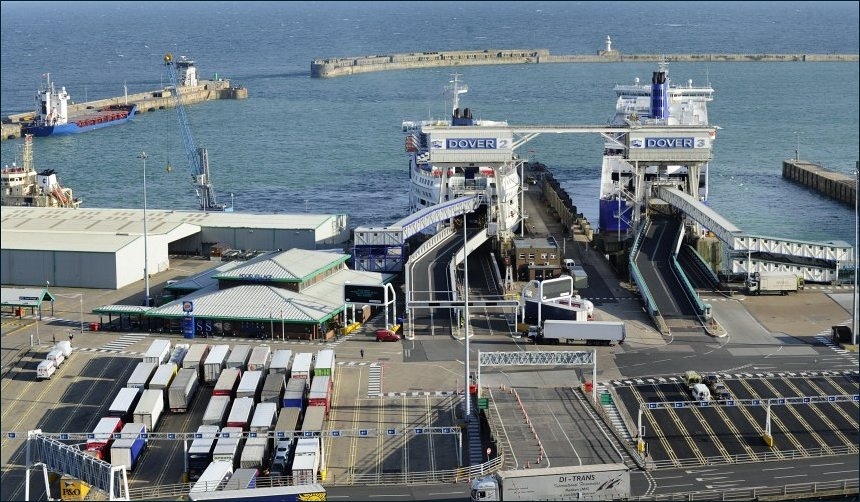 The Port handled 2,601,162 lorries in 2017 - up on the previous record by almost 10,000 units. It brings the total increase over the last five years to just under 650,000 units or 33% per cent.
This continued growth, says Port of Dover Chief Executive Tim Waggott, is proof that Dover continues to be the port of choice for hauliers travelling to and from Europe – the UK's largest trading partner.
The latest figures, released today, also underline the need for a post-Brexit trade deal that ensures continued traffic fluidity at this crucial export/import gateway which handles up to 17% of the UK's entire trade in goods worth up to an estimated £122 billion last year. As Europe's busiest ferry port, there remains no substitutable capacity elsewhere in the UK to handle Dover's trade volumes.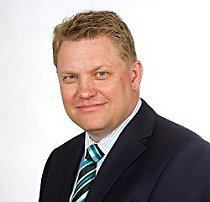 TIM WAGGOTT
Mr Waggott said: "We offer supply chains the shortest sea crossing between the UK and the Continent and, as such, will continue to be the most efficient strategic choice for hauliers.
"The recent year-on-year increases in freight traffic through the Port and continued growth projections further highlight that this key trade route connecting Ireland, the UK and the rest of Europe is vital to the UK's economic prosperity as well as the rest of the EU.
"With Brexit talks about to move on to trade, it is essential that all sides commit to the right solution to ensure fluidity at Dover and the wider trade corridor along with a more resilient strategic road network to support it. Jobs and livelihoods depend on it."
The Freight Transport Association (FTA) – one of the UK's largest trades associations, representing the interests of companies moving goods by road, rail, sea and air – echoed Mr Waggott's calls on post-Brexit trade requirements.
James Hookham, the FTA's Deputy Chief Executive, said: "The ease with which vehicles and their loads can pass through Dover and the French ports will be a big test of the post-Brexit arrangement. With Ro-Ro traffic growing at the current rates, getting clarification on how any future Customs procedures at Dover and elsewhere will work is the top priority for European logistics and supply chain managers in 2018."
Anastassia Beliakova, Head of Trade Policy at British Chambers of Commerce, agreed. She said: "It is great news that the Port of Dover is setting records, demonstrating its importance as a route for trade with Europe.
"It is therefore now important to ensure that ports and businesses all across the UK get clarity as our trading relationship with the EU changes.
"The UK Government must ensure to maintain customs cooperation with the EU, minimise customs administration at the border, as well as commit to infrastructure projects that facilitate the flow of goods to and from Europe."
And Jean-Marc Puissesseau, President-General Manager of Port Boulogne Calais, added his support for fluid trade post-Brexit. He said: "Like the Port of Dover, the Port of Calais is expecting to confirm record freight traffic this year, with 2 million heavy goods vehicles passing through in 2017.
"Forecast growth in freight traffic on both sides of the Channel in the coming years proves that the Calais / Dover route, the shortest and most economical route, remains a strategic choice for the transport and logistics industry.
"It is essential for the Port of Calais and its hinterland that this traffic flow is maintained and that the ongoing discussions between Europe and Great Britain over Brexit ensure the route's durability."
ENDS
It is clearly vital that we keep this trade flowing through the Port of Dover. We need a good deal for both sides in the Brexit negotiations to the commercial benefit of all - (just like we had before..!?) PB.

* *
Yes indeed Vic these are very exciting times. The new shopping complex is a great boost to Dover and to long term Dovorians like yourself... and as we feature regularly...the new Port development is hugely fantastic. We will continue to have lots of photos Vic.
So much going on....
PaulB.
Wednesday, 10 January 2018 - 05:07
Post 4550
victor matcham, Dovor (victormatcham@hotmail.co.uk)
I also think Dovor is on the way up again and the port and new shopping centre has gone along way to making it happen, the town centre still needs a much lifted make over.I was born here in 1942 so seen most what has happen to both the port and town more then most folk my family go way back to the 1500s both in Dovor and the bay so as you can tell we are a local family


. Still some great phots coming of the port and the work being done.Thank you and a happy new year to you all.
Tuesday, 9 January 2018 - 08:41
Post 4549
Sea News, Dover
2018 - A Year of New Openings and Opportunities in Dover District
________________________________________________________
Dover District Council is heralding 2018 as a year of new openings and opportunities across the Dover District. The year starts with a premiere as the much anticipated Cineworld six-screen, 900 seat multiplex cinema opens on Friday, 2 February at the St James leisure and retail development in Dover town centre. The £53m development by Bond City, owned and funded by Legal & General Investment Management Real Assets, provides a host of reasons for people to visit Dover town centre and includes new restaurants and cafes, popular high street brands, including M&S and Next, 24-hour gym, and a 108-bed Travelodge hotel.
In the Spring of 2018, a new £8m Visitor Centre opens at the Betteshanger Country Park, near Deal. The culmination of a major regeneration programme by Hadlow College and Dover District Council to bring new investment to the former East Kent coalfield site, the Visitor Centre incorporates the Kent Mining Museum offering a unique insight into the history of the former East Kent coalfield as well as a glimpse into the energy of the future.
Work also begins in March on a £500,000 refurbishment of Deal Pier to mark its 60th anniversary, including resurfacing, new seating, and structural repairs. By the summer, visitors and locals alike can enjoy a leisurely stroll along the renewed pier.
Energy of the future is also a feature for Sandwich in 2018 as the Discovery Park Enterprise Zone goes green with the opening of a £160m combined heat and power plant. The new facility will generate enough sustainable energy to power the entire park and to sell back to the National Grid. Plans are also underway at Discovery Park to develop a further 50,000 sq. ft. of laboratory space and 60,000 sq. ft. of new office space at what is already one of the leading science and technology business parks in Europe.
Later in 2018 the TradeMarq trade park opens at Whitfield including a new Lokn'Store self-storage facility, Subway, and trade units for Eurocell Plastics and Action Carpets. Construction continues apace on the new £26m Dover District Leisure Centre which opens in early 2019.
Work is also set to continue throughout 2018 on the Port of Dover's £250m Dover Western Docks Revival, along with major housebuilding programmes in Aylesham, Whitfield, and at Buckland Mill and Connaught Barracks in Dover.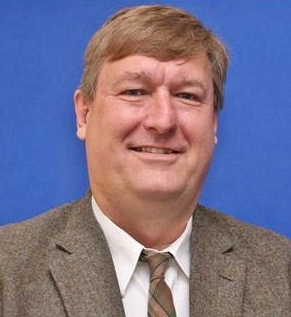 Cllr Keith Morris, Leader of Dover District Council, said: "2018 is going to be an exciting year right across the district with new openings, opportunities, and jobs for local people. The delivery of these major investments is already encouraging others to take a fresh look at what we have to offer in Dover, Deal and Sandwich. This is the year we put the district firmly on the map as open for business, tourism and as a great place to live. We can all play our part in 2018 by talking up what we have to offer."
END
Exciting times for sure.

Many thanks to DDC for the information above.
A couple of run-of-the-mill pictures now taken in the last few days as the workings begin to re-awaken..
the first shot here is looking across the grey day at the olde custom house as the diggers and the bulldozers rev up again for New Year action...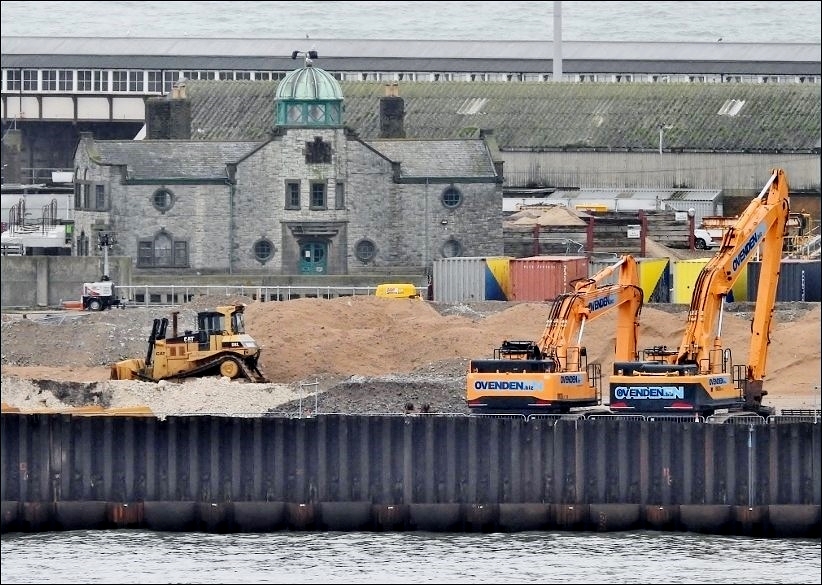 While below the swelling high tide has pushed the tugs higher into view across the harbour...it almost looks like the crews have parked and gone into the pub behind there...of course that would never happen.
Is that pub still open over there?.. sez himself in a headscratchin' moment of ponder ..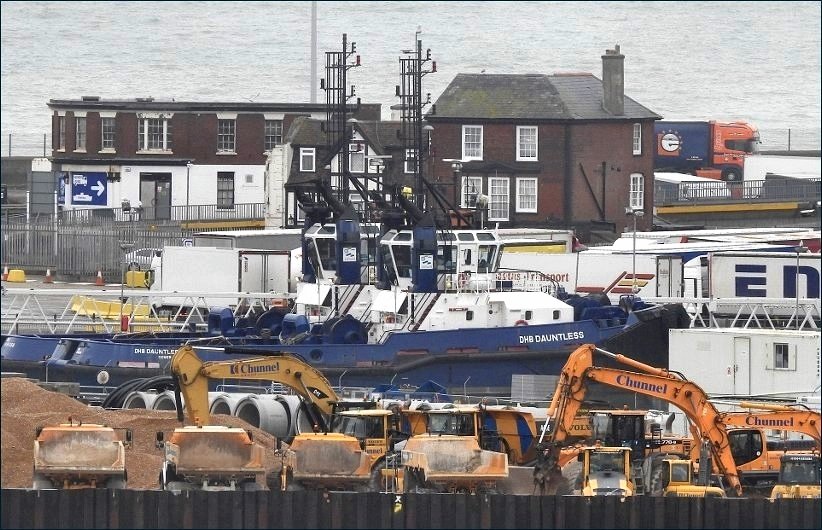 PaulB
Tuesday, 9 January 2018 - 07:10
Post 4548
Sea News, Dover
Stunning pictures below Sarah - absolute stunners!

You can feel the chill factor in your bones just looking at them. Hope you managed to get warm again later. PaulB.
Monday, 8 January 2018 - 15:33
Post 4547
Sarah, Ramsgate
Margate Lifeboat out on exercise on a very cold Sunday morning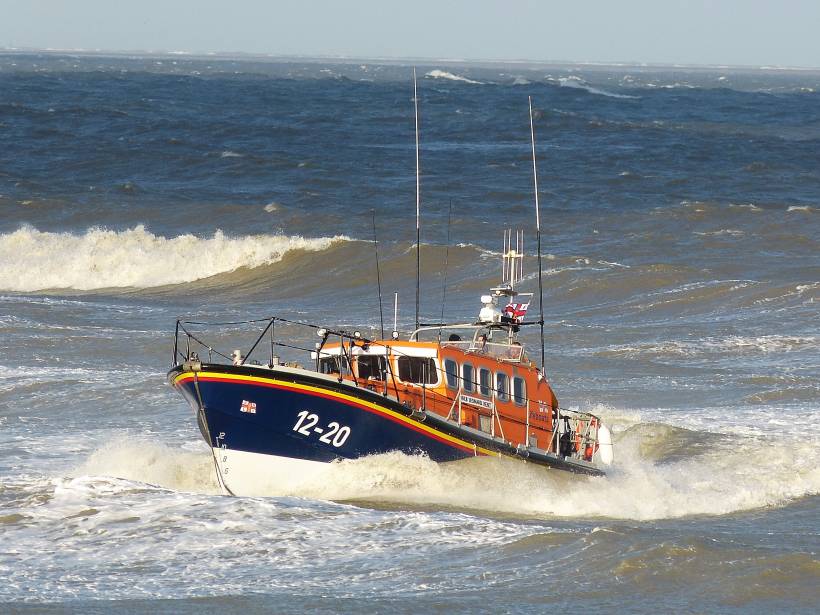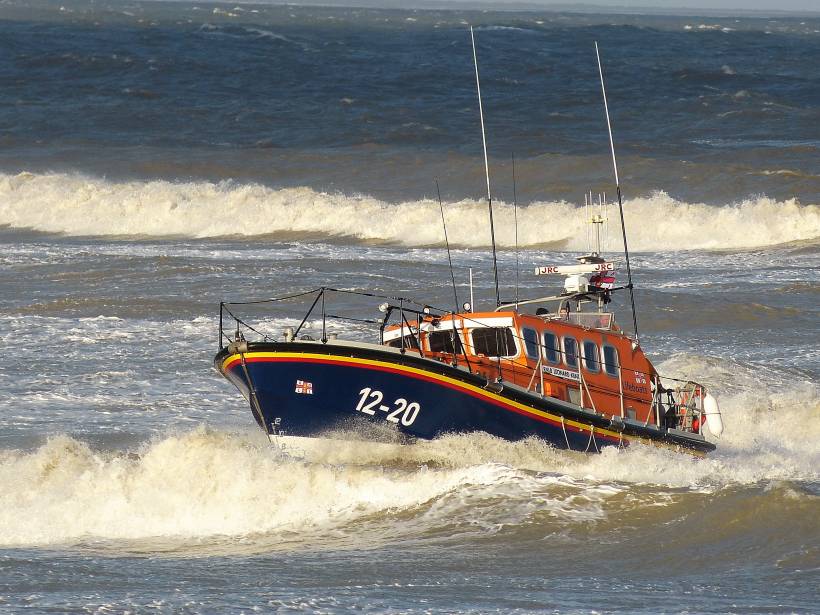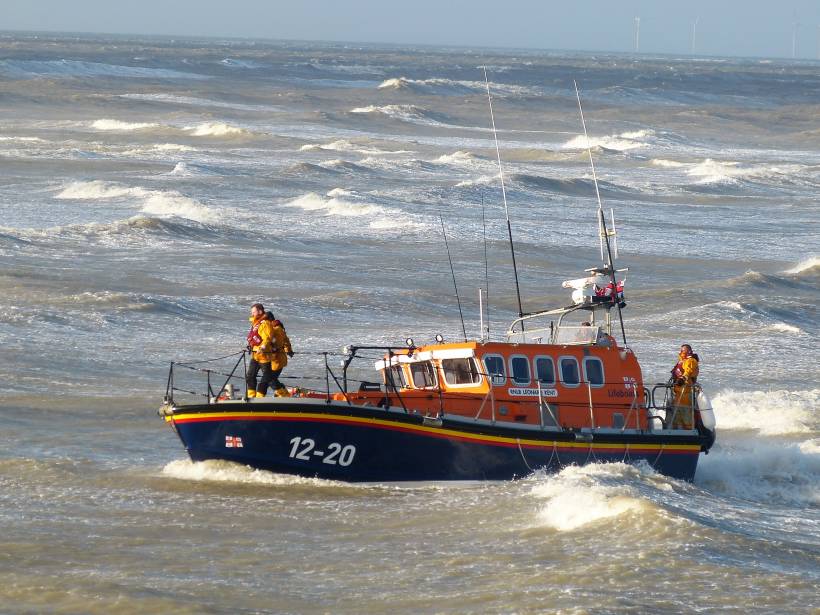 Monday, 8 January 2018 - 08:12
Post 4546
Sea News, Dover
TUGBOAT SPECIAL - Tugs at the Port of Dover
featuring Dauntless this time around...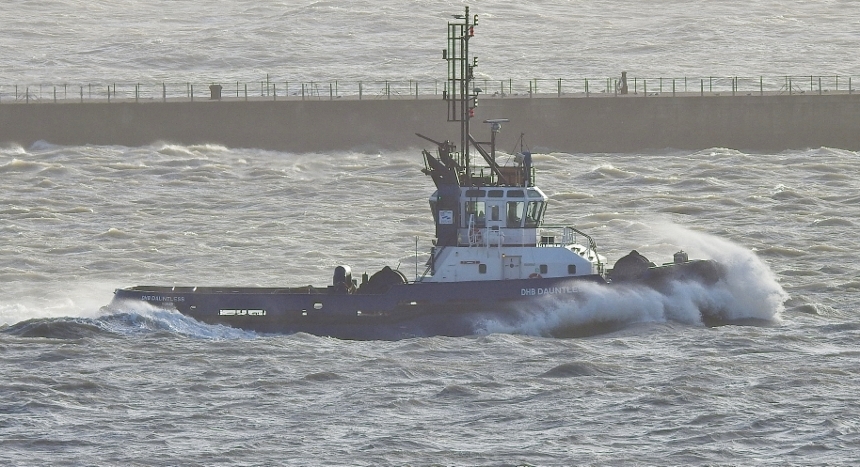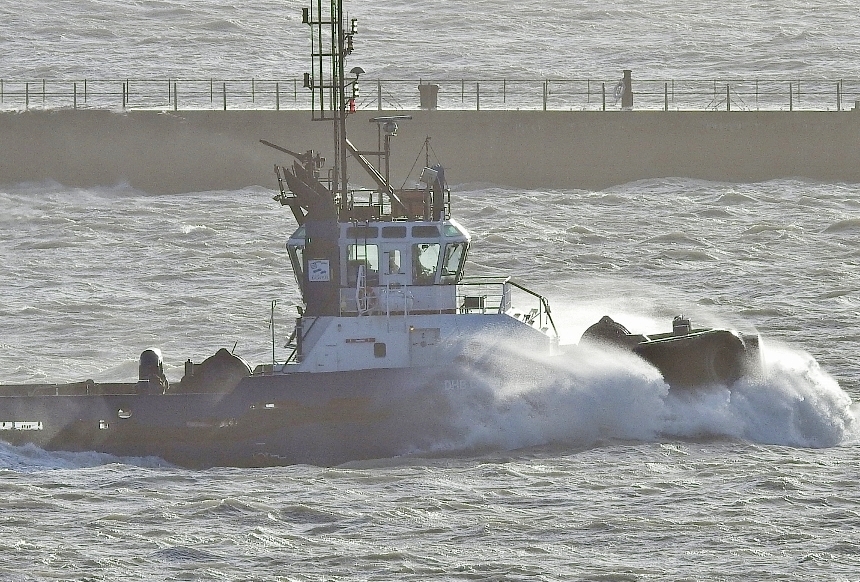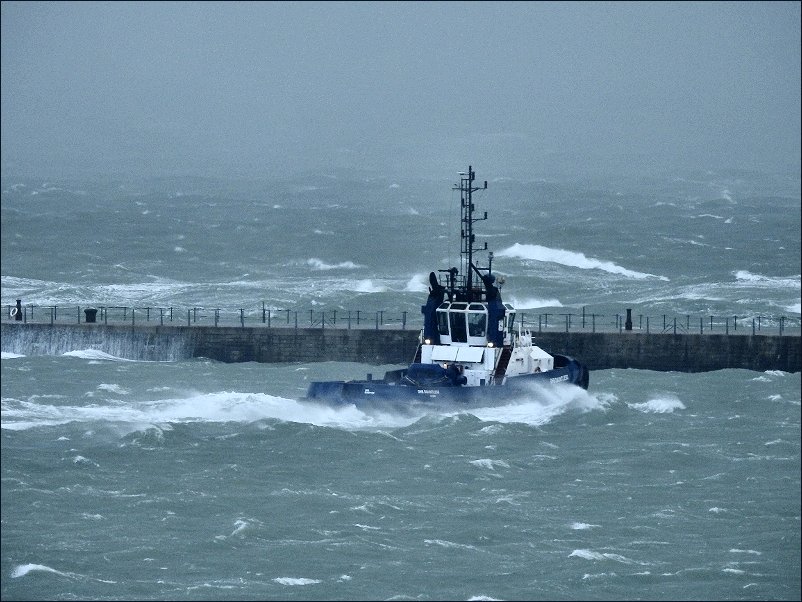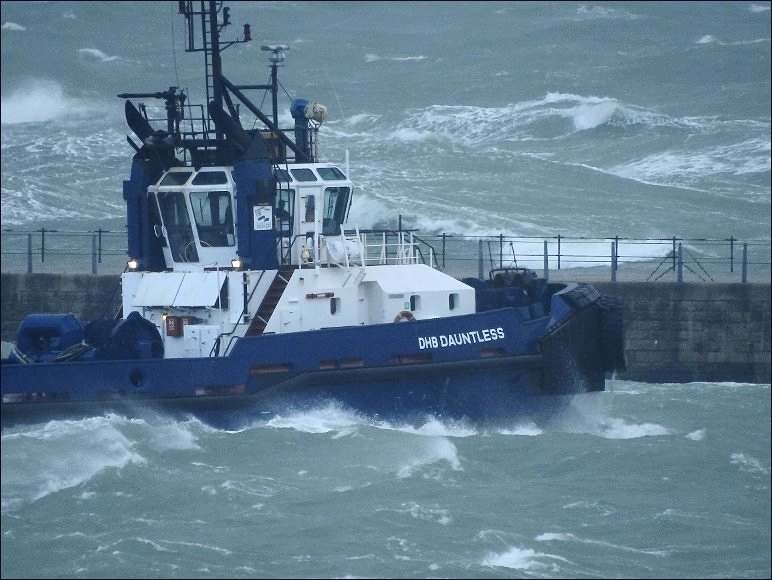 The top two shots are from late last week and show Dauntless in action in those strong winds courtesy of Storm Eleanor. The tugs always make attractive pictures especially in adverse conditions. Their workload has been heavy recently, with the ferries in near constant need of support and attention as they dock. The second two shots show Dauntless again, but from a previous time...also once again in stormy, wild and woolly conditions.
The biting winds go on...there is one heck of chill factor currently ..yikes

Many thanks Harald - great pictures below there once again. Very welcome

Monday, 8 January 2018 - 05:55
Post 4545
Harald Boot, Tholen, The Netherlands
I saw on Marine Traffic that the Spirit of France is at the Damen Verolme shipyard in Rotterdam. I tried to find a good place to see her, but the only thing I could see this afternoon was this.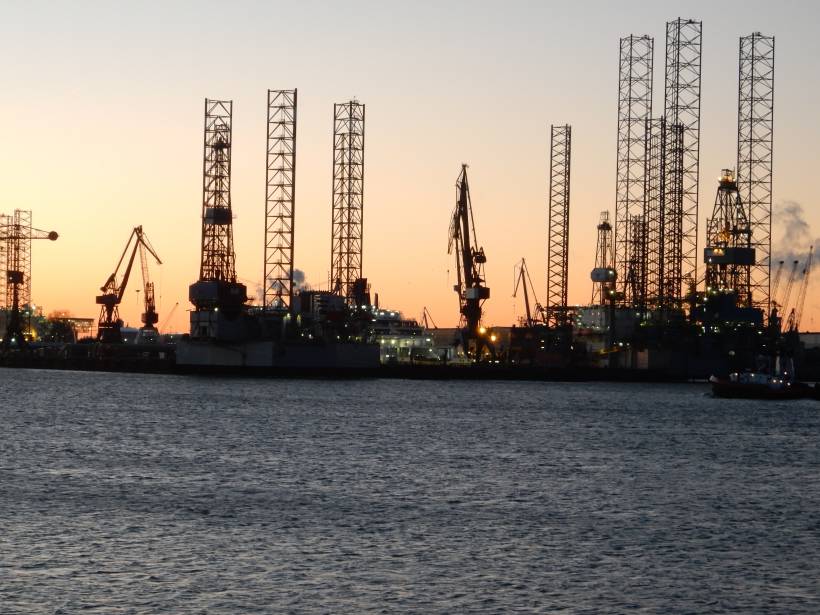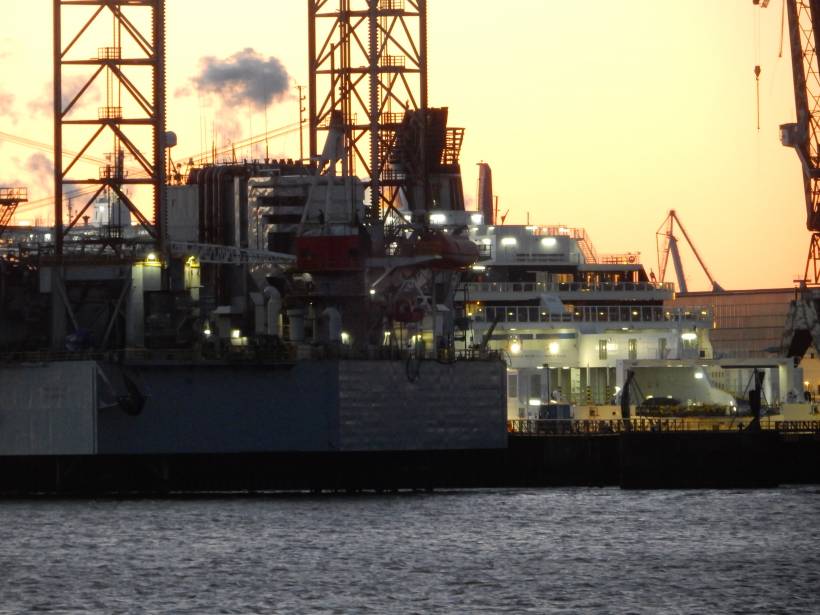 Sunday, 7 January 2018 - 18:59
Post 4544
Sea News, Dover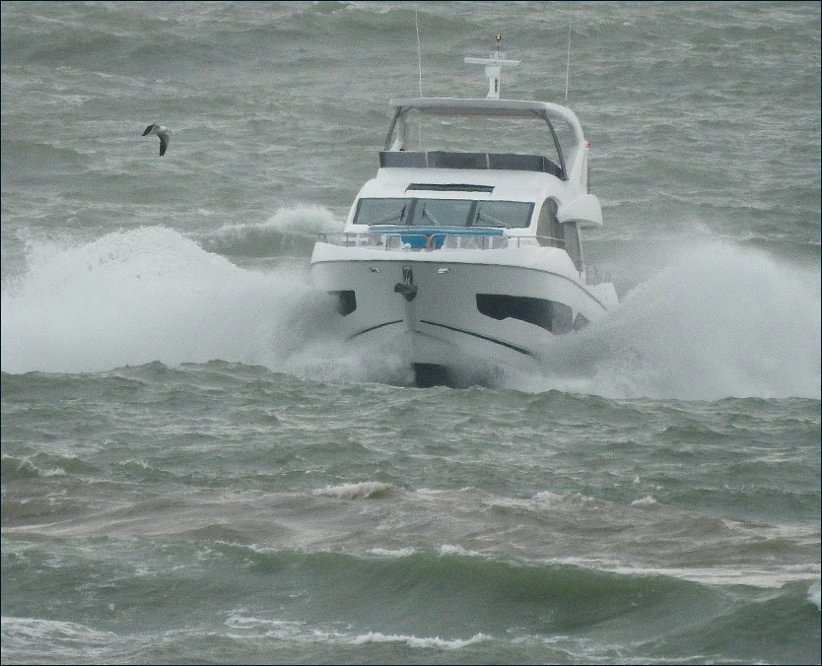 A couple of super-impressive brand new Sunseeker type motor launches powered into the harbour on...ermm..Friday. Before yours truly could get the camera focused the first one powered out of view but we caught the second of the duo as it blasted through the rough tough seas and here she is here... they have come up from their builders in Poole, no doubt being delivered to lucky clients.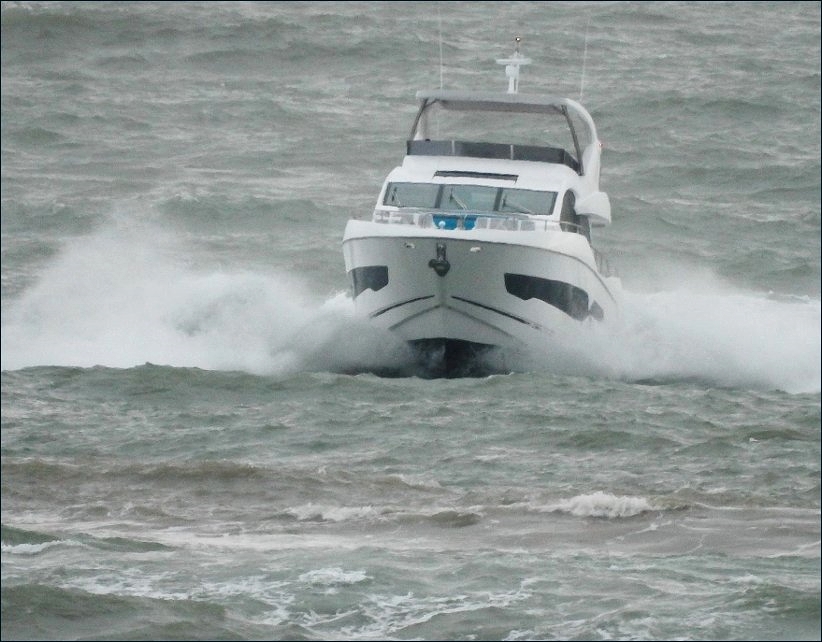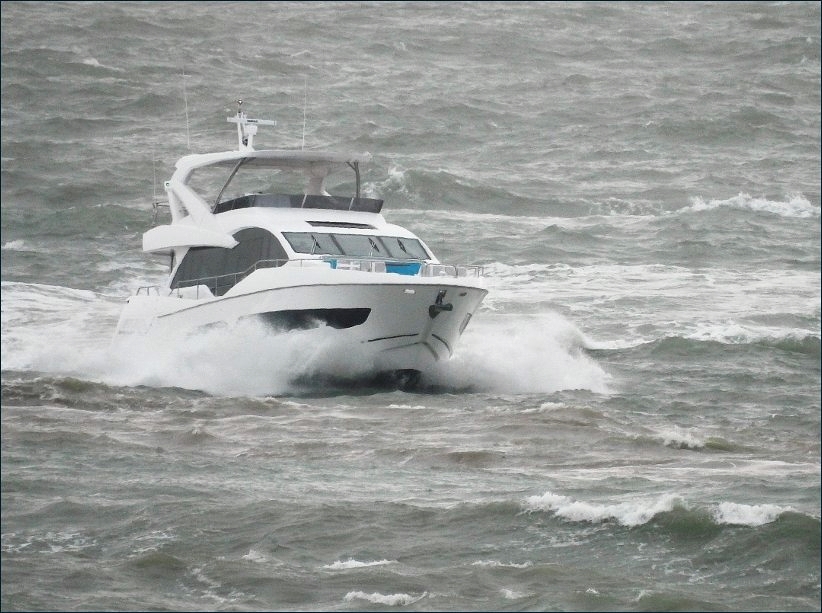 The pictures look slightly odd as there doesn't appear to be anyone 'driving' the thing...surely they are not being delivered by remote control...


lol! of course anything and everything is possible nowadays..
Hi Del have just checked through binoculars and there's not a cormorant to be seen today anywhere...where they go Gawd knows..somewhere warmer and less blustery maybe..

Nice picture below Mike.

yes getting prepared for the resumption of banging... missed all the piledriving over Christmas.
FURTHER NOTE RE DIMENSIONS: Just to let everyone know again in case it was missed. The optimum size for pictures now is 820 pixels wide...just like all the pictures in this post. This 820 size shows them at their best. If you resize..resize to 820. If pictures are posted larger they will still show at 820, if pictures are posted smaller they will show at the size posted.
Hope that's clearer than muddd. The font size is larger too.
PaulB
Sunday, 7 January 2018 - 08:19
Post 4543
Del Styan, Norwich
Love those cormorants. I wonder where they are all going? ( if that's not a stupid question ).

Saturday, 6 January 2018 - 23:20
Post 4542
Mike J., Dover
Signs of life in the old Jetfoil Terminal on Saturday morning with the crane jibs raised as the piling barges come back to life after their Christmas/New Year slumber.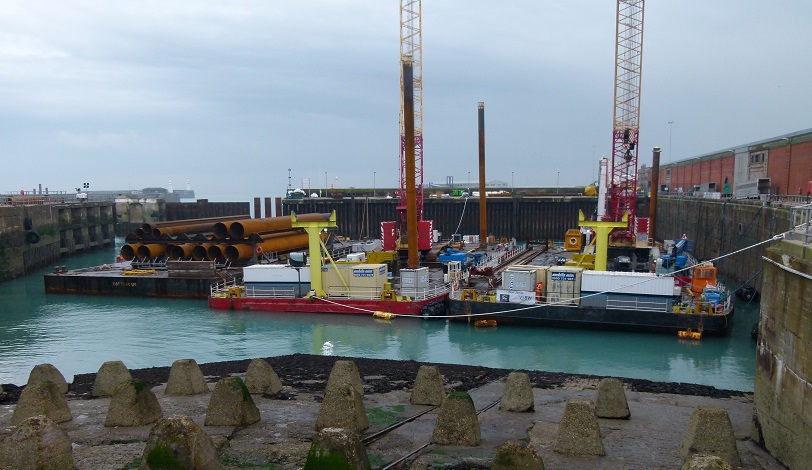 Stand by for a resumption of the thumping . . . . .
Saturday, 6 January 2018 - 23:14
Post 4541
Sea News, Dover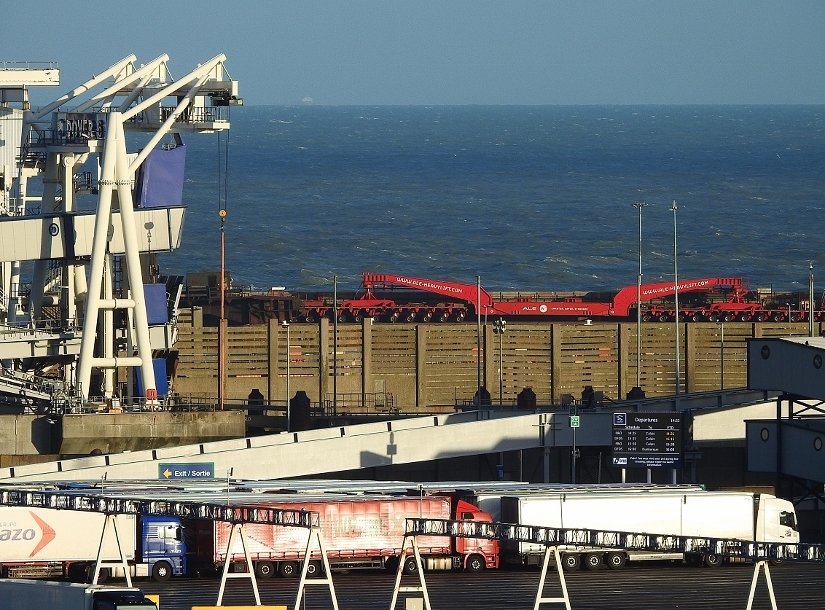 Above we have a picture of the red heavy lift transporter taken yesterday Friday as she waited on the eastern arm of the Port. A gap opened up between the ferries and there she was...all ready and waiting to take the transformer. Unfortunately yours truly couldn't get a view of the heavy lift ship BBC Olympus now departed
...as a substitute here we are with a shot of similar transformer being lifted here at the Port of Dover last year. The lift vessel on that occasion was BBC Pearl. The heavy load is on the move tonight starting out at 9PM.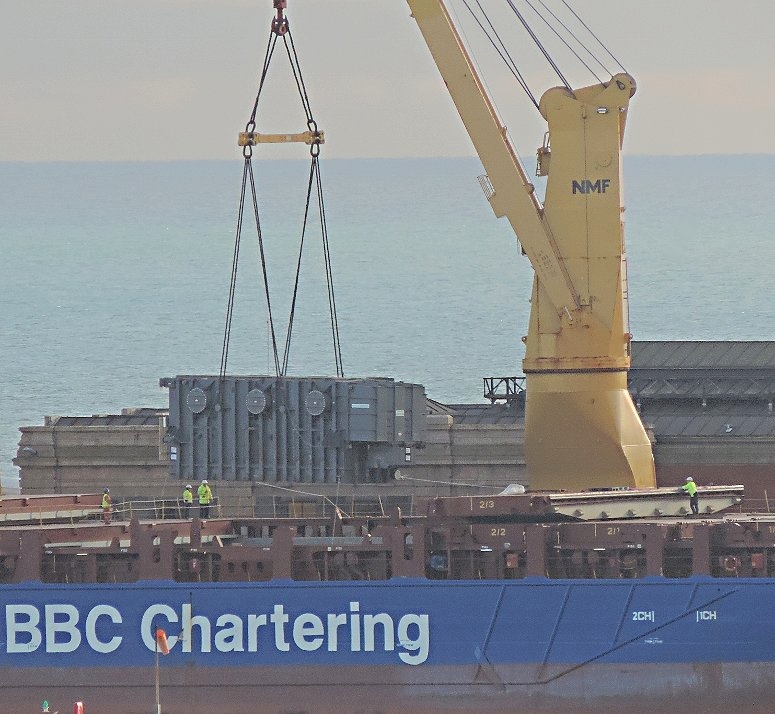 The pictures below are once again by SIMON BRISS.
Many thanks Simon. They were taken through the very heavy gloom of Friday morning just off Walmer. Various ships spend time resting there sheltering from the rigours of the weather. The large ship in the background is MV Federal Sable, in attendance is Tug Dauntless, while in the foreground as it were the Border Force Alert saunters by.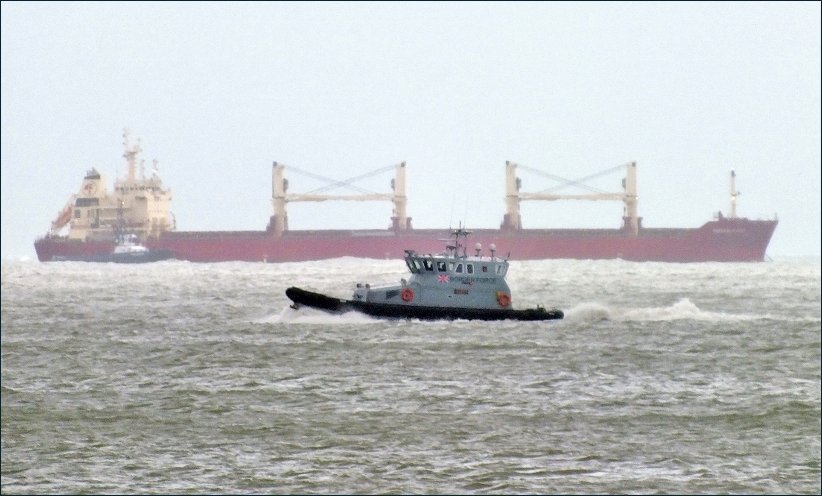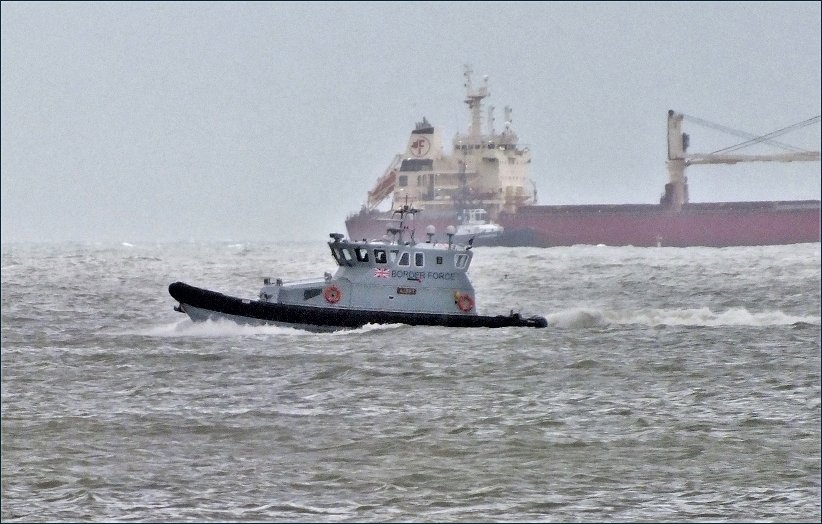 Saturday, 6 January 2018 - 14:56
Post 4540
Sea News, Dover
A couple of pictures to enjoy above there of DWDR tug Afon Lligwy as she moves over and across to the eastern end of the harbour. One cant be certain but she appeared to be helping out regular tugs Doughty and Dauntless in the recent rough weather as they worked at berthing the ferries.
And speaking of the regular tugs. A picture of Dauntless here below being blasted by fierce winds as she makes here way back across the harbour. This picture though is inspired by Simon's recent pic showing the flying geese/cormorants....note here all the cormorants on the breakwater behind the tug. I might even have better pictures of the tug but for now we needed to see and enjoy those cormorants...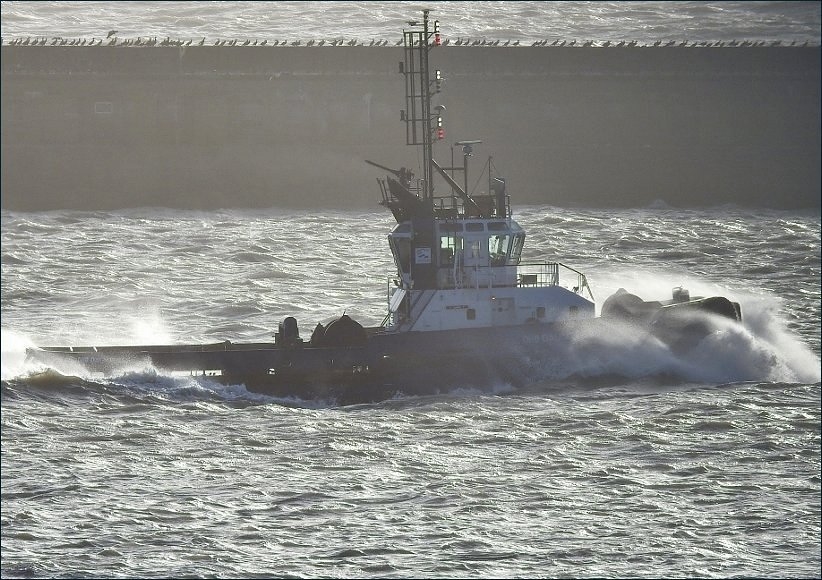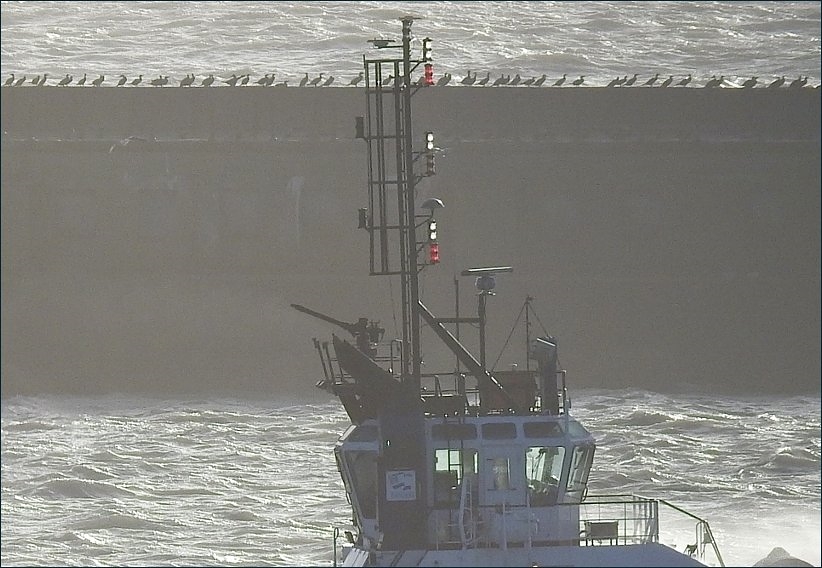 Below the aforementioned and nearly swallowed pier in the recent tidal surge.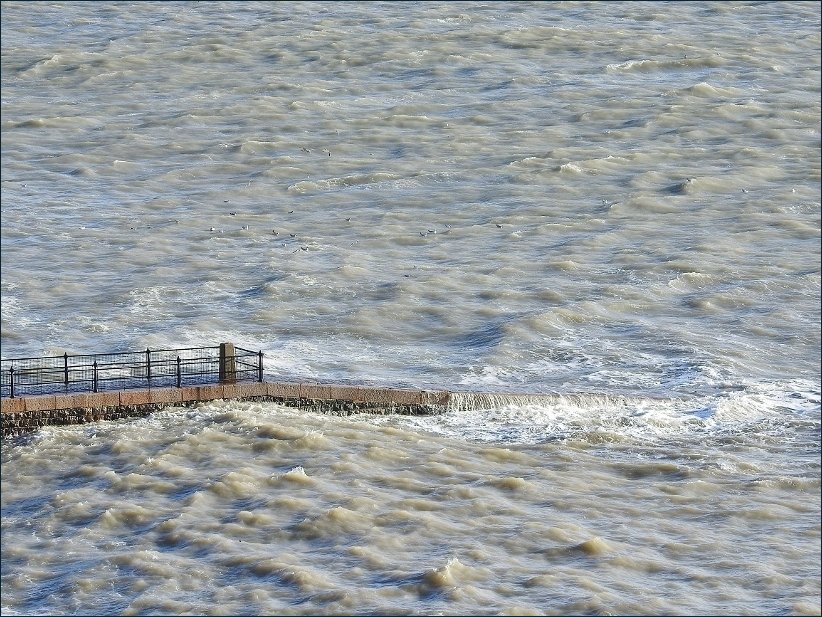 PaulB.
Saturday, 6 January 2018 - 06:07
Post 4539
Sea News, Dover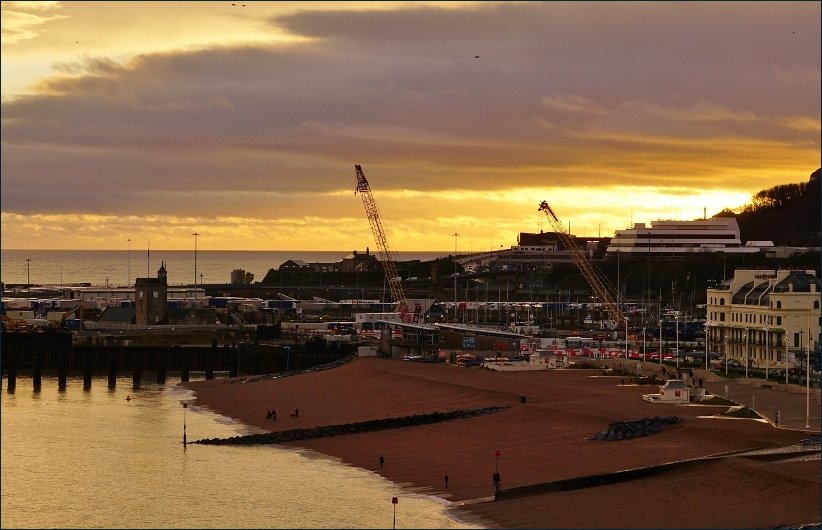 Rolling back time to New Years Day. Mike mentioned the golden light in post 4528...well that's the source of all that evening gold in the picture above there. It was indeed a golden evening. The picture below was taken close to the time Mike took his pic of the Dover Seaways and the approaching Spirit....and very nice too, while in the distance a small rainbow musters into play. This was the super calm situation on New Years Day, the calm before the approaching storm.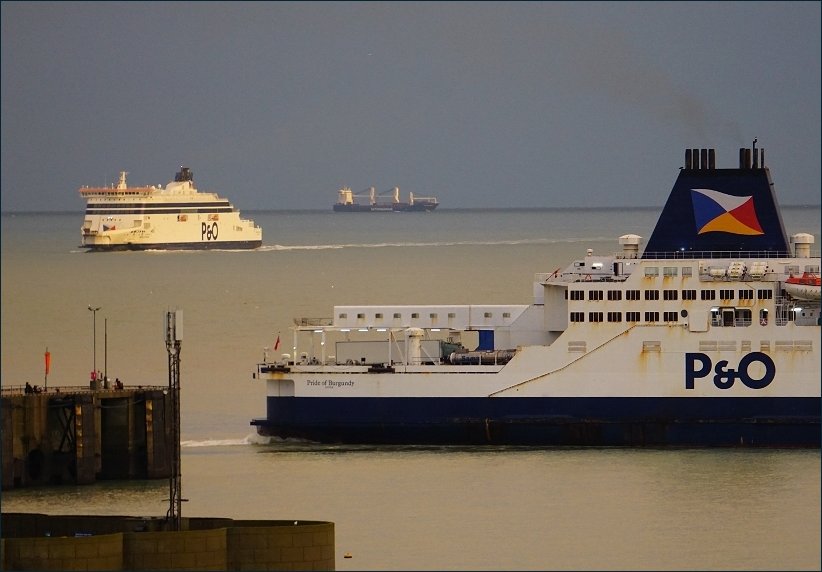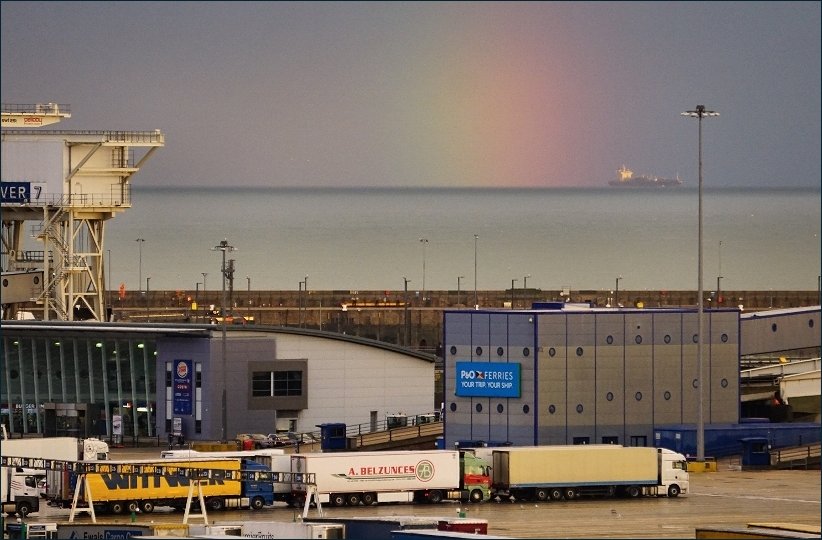 An hour later and the sunset looked quite glum indeed as you can see in the picture below...it had rained in the meantime but there was still a fascinating sky... but, Storm Eleanor was on her way.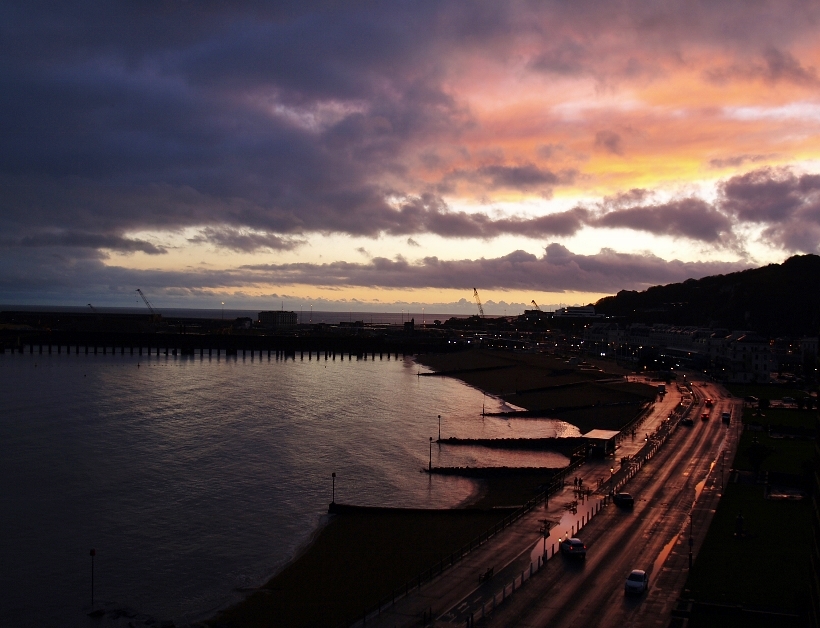 That was a great tip from Mike below re the beach webcam. Yours truly had a look and yes indeed there was clear moving images of the bulldozer bolstering up the sea defences as suspected. See the stormy pix below particularly the SeaSports Centre/Hythe Bay Restaurant one. Many thanks Mike for that tip...great stuff!

Ahh .. a good one Del

!! yes indeed I was determined to resolve the resolution issue as part of my New Years..ermmm well resolution..lol!


PaulB
Further small note re dimensions. The size of these pictures today is 820 pixels wide. They are all resized to fit as I always do. Its not essential to resize but can be good way to get the best from the image onscreen.
Friday, 5 January 2018 - 04:48
Post 4538
Del Styan, Norwich
I like the new type size and picture width. A good New Year's resolution - gedditt!! Ho Ho.

Thursday, 4 January 2018 - 23:08
Post 4537
Mike J., Dover
Re Paul's remarks about work taking place near the Seasports Centre there's a webcam there giving a good live picture looking towards Eastern Docks which shows part of the beach.
There's a bulldozer working there at the moment re-arrangng the shingle.
Remarkably good picture considering the grotty weather.

If you're unaware of the camera just Google 'SKYLINE WEBCAMS DOVER' & it should come up towards the top of the list.



Thursday, 4 January 2018 - 08:50
Post 4536
Sea News, Dover
The DFDS ferry Dover Seaways battling hard through Storm Eleanor's rough seas yesterday...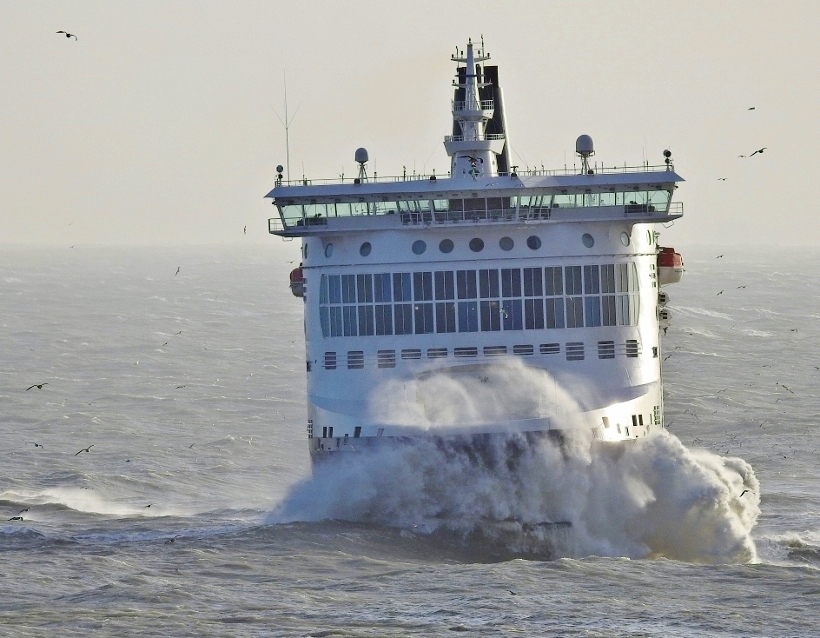 Not far to go now... almost there...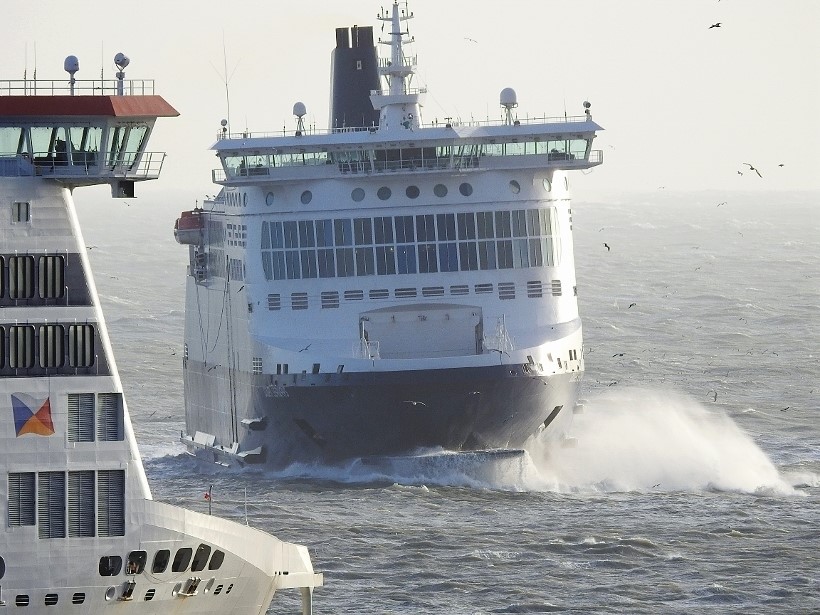 The sea looked spectacular yesterday. There was glorious sunshine and kids of all ages were down here on the seafront enjoying the spectacle, youngsters in particular played 'dodging the spray'... whoosh!
I used to do that with my daughter...now an NHS doctor of course...
First shot shows the sea powering over and across the small pier opposite the Premier Inn. Hadnt seen it quite doing this before., but the tide was high and so were the waves and at times this pier almost vanished in the raging surf...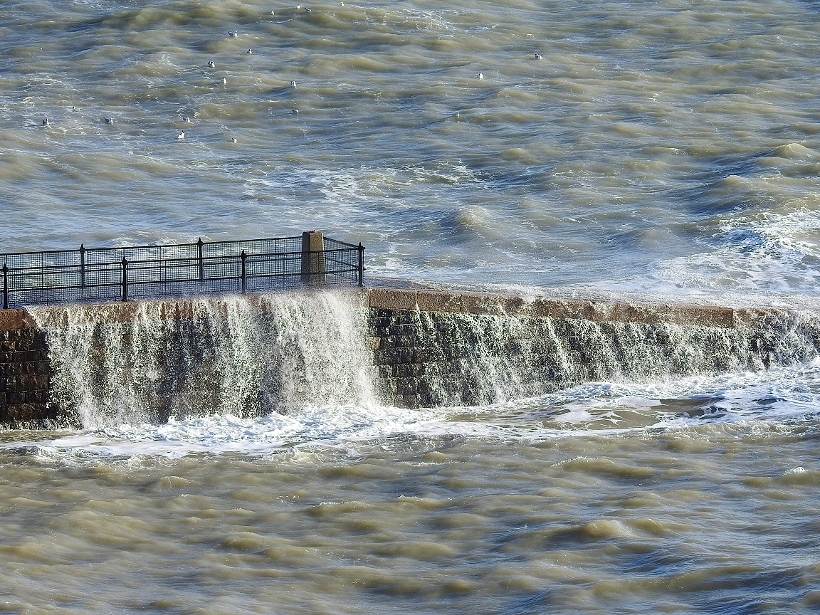 Another thunderous wave bursts shorewards....
The Seasports Centre/Hythe Bay Restaurant below looked distinctly menaced for a while. Later last night a team of bulldozers were working there. It was too dark to see what they were doing exactly. Its still dark now as I write but will check later to see if they were improving sea defences. In the distance you can also see the Lifeboat Station with the proud RNLI flag flying strongly in the wild wind. We cant see the Lifeboat now due to the temporary workhuts...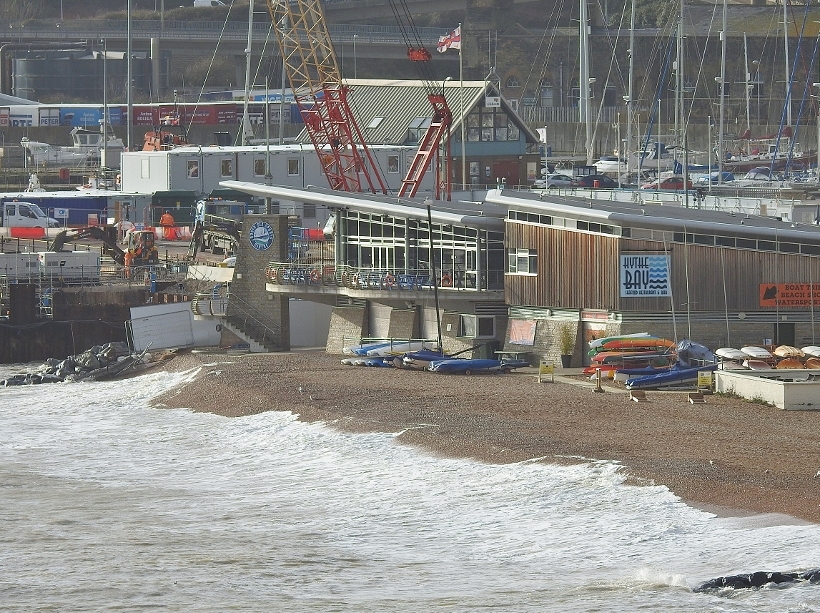 Thanks Brian - well done with that info below

Yes yours truly has since had a letter through the mailbox.
It leaves here ( the Port) at 9pm Saturday 6 January - goes along the Alkham Valley route to Sellindge to arrive 7am sunday morning. That's the plan stan.
Not sure when the ship carrying the beast arrives .. will watch for it.
PaulB
EXTRA NOTE:
New Dimensions.
For 2018 we have made some changes, both the writing and the pictures have been made larger for all to enjoy.
Pictures are now 820 pixels wide which is much better - really glad about this change.
And the readin n writin is easier on the eye,
so there we are. All the pictures featured above there are 820 pixels wide...the new standard size.
My thanks as ever to colleague Chris Tutthill for doing the nescessary.

I will pin this temporarily so all can easily see the dimension notes.
Now unpinned. PB.
Thursday, 4 January 2018 - 07:56
Post 4535
brian, dover
if alls well journey starts 9 pm saterday night arriving at selling at 0700 hrs sunday.there normal route is being used.

Wednesday, 3 January 2018 - 19:12
Post 4534
brian, dover
another transformer being lifted of the ship, of to sellange it goes.

Wednesday, 3 January 2018 - 17:15
Post 4533
Sea News, Dover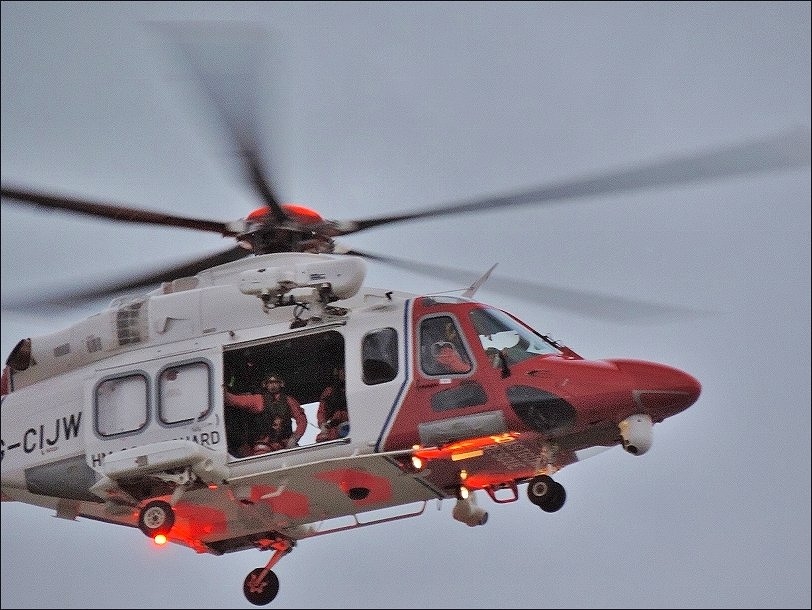 The Coastguard guys were attending a situation on Shakespeare Beach yesterday...it is reported that a woman's dog got into difficulty. The canine was rescued in due course and both the woman and dog were okay in the end. The patrolling helicopter was just that bit too far away in the gloomy weather to get a decent picture so that's a shot of the guys from a recent time above. Also in attendance according to reports was the Littlestone Lifeboat.
And speaking of Lifeboats...I bumped into ace Lifeboatman Ben Payne in Cullins Yard a few evenings ago...and Ben was able to tell me when the Lifeboat was going out...I was ready and waiting for it. Unfortunately the images were knobbled by the ghastly weather and lousy visibility but here they are nonetheless. Not very exciting shots, but here goes...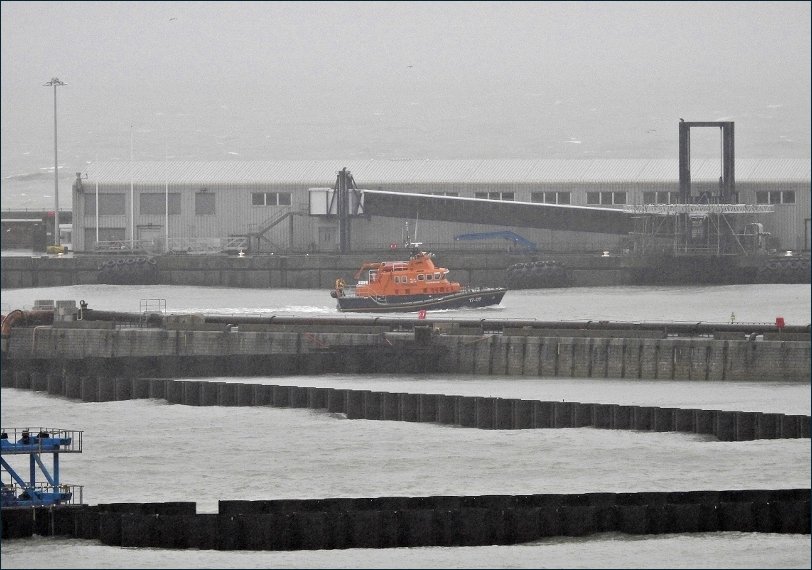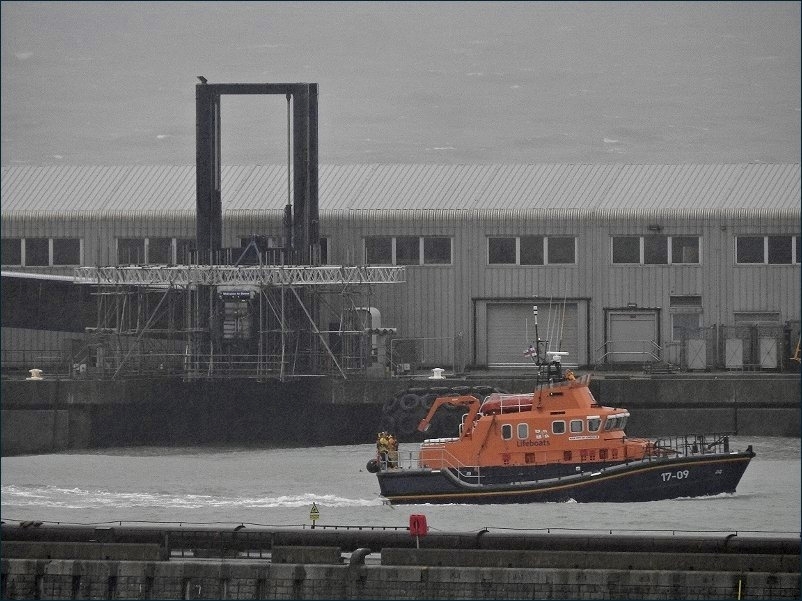 Thanks for that info below once again Mike.
Here is a shot of Palembang when she did the lifting in the Port of Dover last year ( Feb 2017 ) so it will be interesting to see what develops.
Yes I enjoyed the birds too Mike...cormorants, pelicans or even wild geese...
they really add to the picture. Simon did a great job with those pictures.

Its wild and windy.

PaulB.
Wednesday, 3 January 2018 - 04:22
Post 4532
Mike J., Dover
Rumour has it that the BBC OLYMPUS is the heavy lift expected in Dover towards the end of the week & she's coming in for another transformer job.
At the moment she's approaching Rotterdam from Antwerp.

Nice pictures of the PALEMBANG & I liked the 'fly-by' - cormorants ? pelicans ?
Her decks look a little cluttered for handling a transformer, maybe she's sheltering in the Downs waiting for the current unpleasantness to subside, AIS showed both tugs working with the ferries on Tuesday evening.


Wednesday, 3 January 2018 - 02:15