Friday, 20 October 2017

doverforum.com/sea-news
Featuring all the ships that come and go and work at the Port of Dover with further coverage of Ramsgate, Calais, Dunkerque. Email: dover7@msn.com to send SEA NEWS pix or info.... or click ADD YOUR COMMENT below to post direct, no membership needed.

DFDS and the Maritime Catering Apprentices 4323.
P&O Ferries help children with serious illnesses cross to France 4316.
Port of Dover's Big Christmas Event 4311. Fun for all...
Port of Dover sponsors War Horse 4294
DFDS - Crowned Europe's leading Ferry Operator 4287.
DDC Leader Paul Watkins retires...see 4282 and 4270. Replacement 4328.


Use our SEARCH ENGINE below to find all sorts on the SEA NEWS pages..more than 200 now with more than 4000 nautical posts. Posts welcome. Max of 5 pictures preferred per post. Sea News Editor Paul Boland.
Type Cruise Visits (or indeed anything) in our Search Engine below for the latest cruise ship arrivals..
Post 4209
Andrew, Broadstairs
Thanks Sarah for pictures of MAERSK CONNECTOR and DEEP HELDER working off Ramsgate.
Patrick the PEAK BREMEN discharged piles at Cruise Terminal 2. Another coaster to look out for is HAGLAND BOSS which is apparently bring 'rock armour' from Boulogne for reinforcing the piling with another 30+ shipments to come, she will be a regular sight.

Friday, 8 September 2017 - 20:46
Post 4208
Sarah, Ramsgate
Maersk Connector & Deep Helder spotted hard at work today, photo taken from the top of the tower at The Grange (Pugin's home).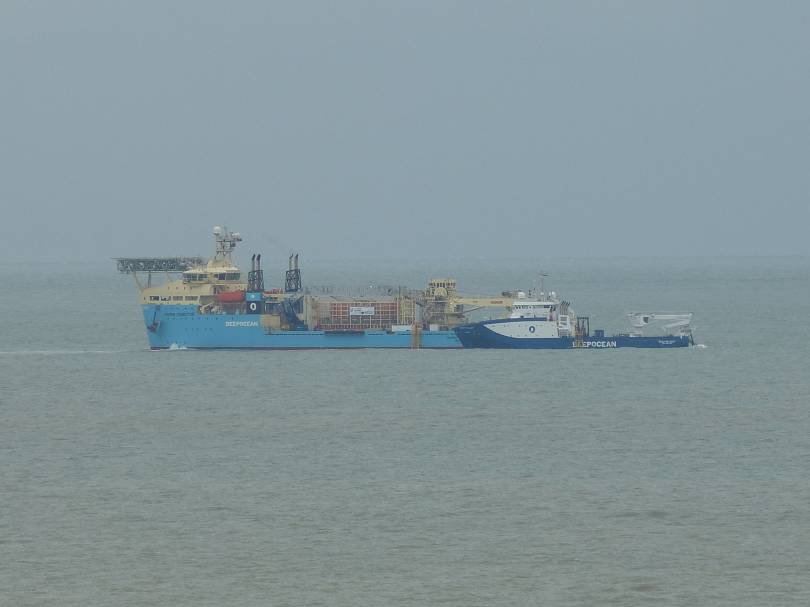 Friday, 8 September 2017 - 18:40
Post 4207
Patrick, Marine Parade
Dutch Registered general cargo boat 'Peak Bremen' arrived at the Western Docks two days ago and left for the Thames Anchorage last evening. This shot was from her arrival. Have not discovered if she was carrying cargo in or out or just a caller.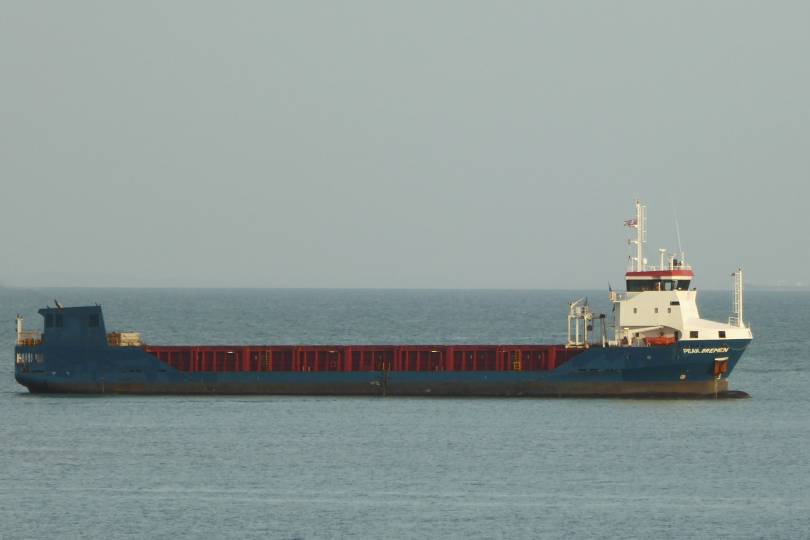 Friday, 8 September 2017 - 10:36
Post 4206
Sea News, Dover
The busy reefer visits go on... this time its the Southern Bay...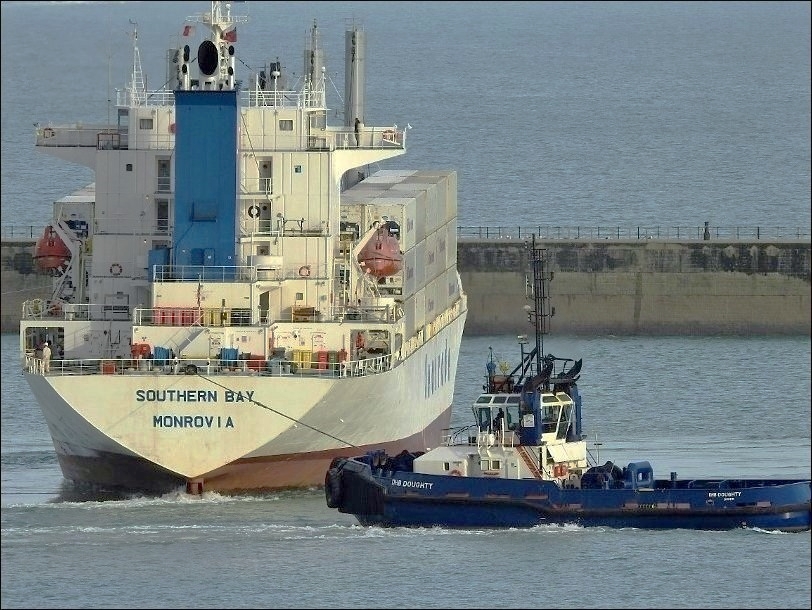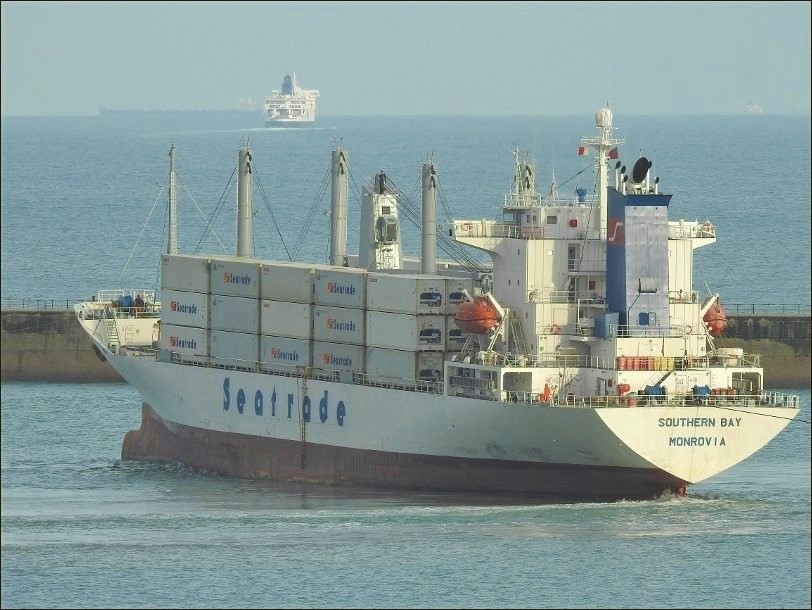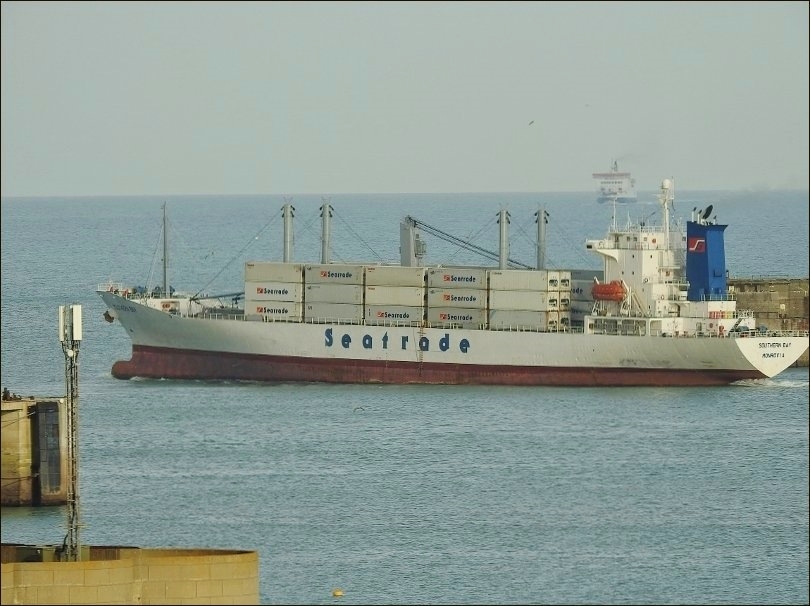 Yes that's the Southern Bay leaving us on Wednesday evening around 6pm. She was heading off to Rotterdam with the help of the tugs as ever..
Cracking pictures below Sarah of P22. You were right on the spot for the arrival to Ramsgate Harbour. Just realised while I was gazing at the pix that this is the very one I photographed in Sandwich in post 4046 a short while back. You had it previously too...great stuff indeed!
Keep snapping Sarah...


To search for all vessels don't forget to use the Search Engine, where you can easily find anything and everything...
Friday, 8 September 2017 - 06:09
Post 4205
Sarah, Ramsgate
A warm welcome back to USN P22 for the Heritage weekend.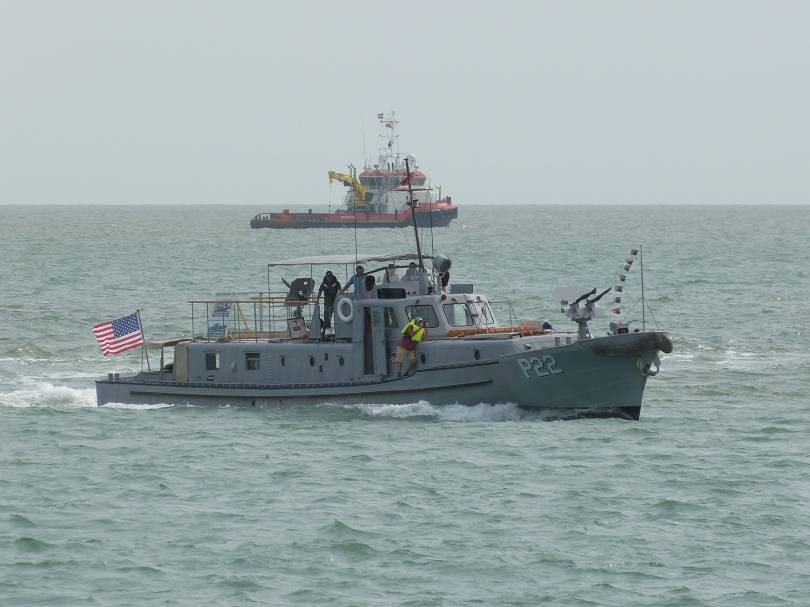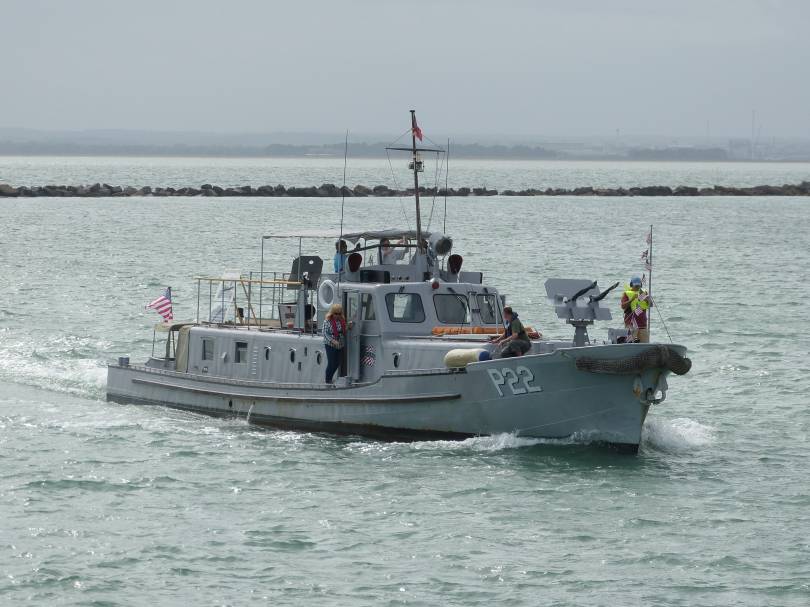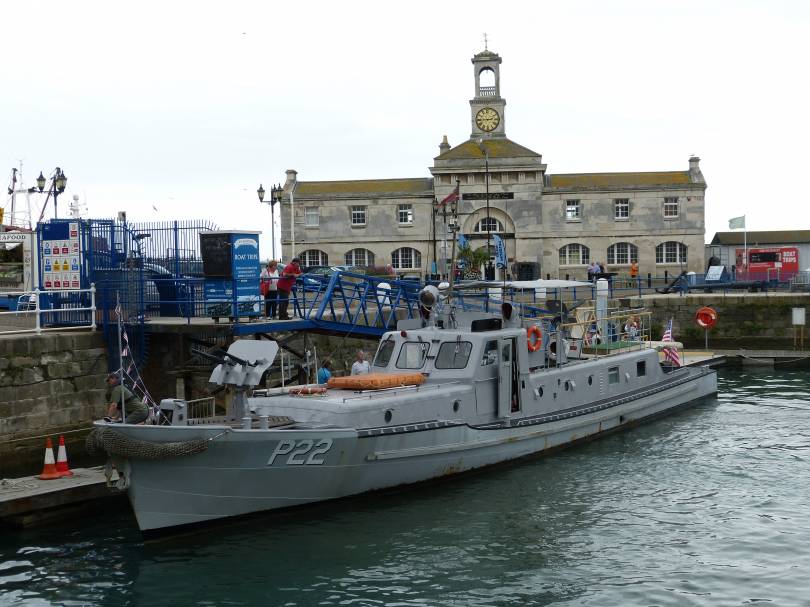 Thursday, 7 September 2017 - 16:57
Post 4204
Sea News, Dover
Following along from Andrew's picture of Deep Helder in post 4197...here we are with a couple of extra pictures as she approached the harbour on Tuesday ( more info in 4197 from Andrew)... in the background is a tall ship called Pegoria. To tell the truth I didn't even see the tall ship when taking the pictures as it was way out there... almost hidden by mist...But I spotted it later on computer. Wonder if it had been also in Ramsgate ..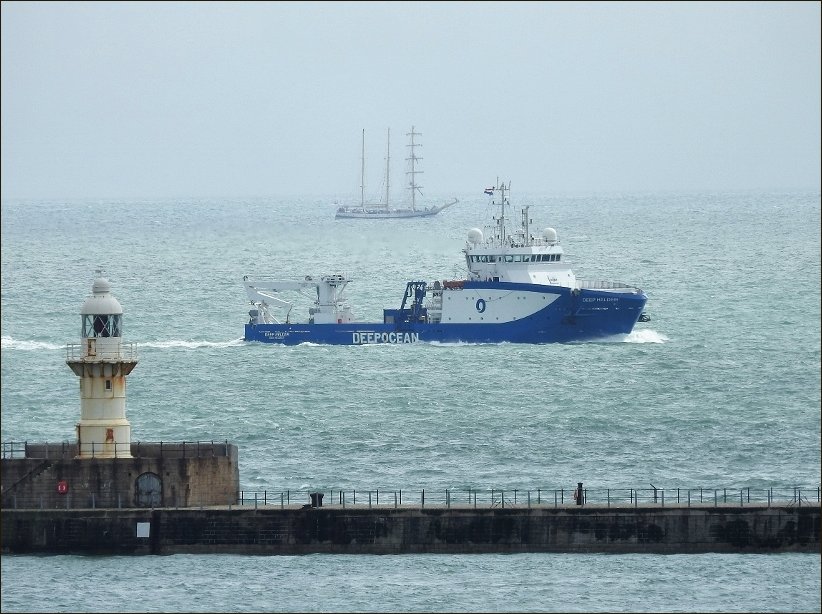 Oh I will add this one as well. Was going to leave it at just the two but what the heck....lets go mad...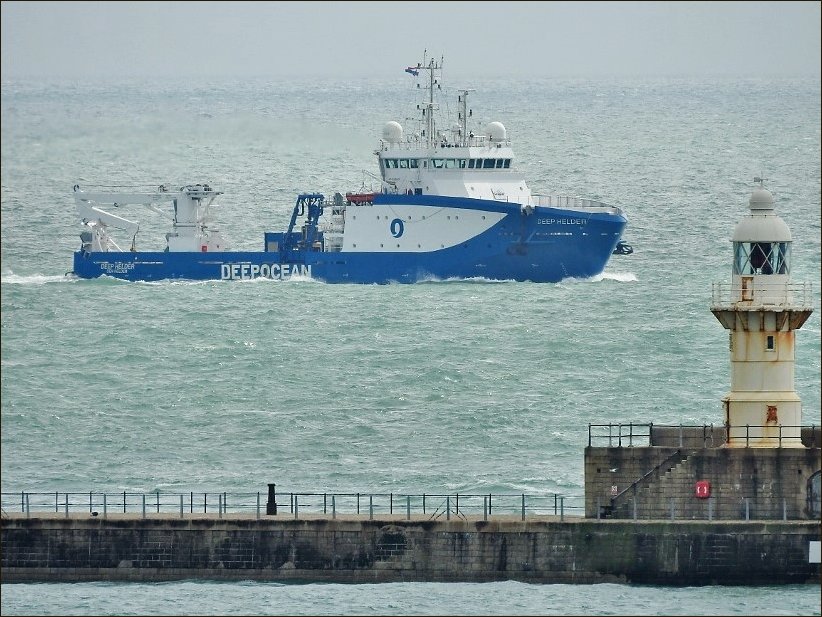 Thanks once again for the Cruise info below Colette.... Superduper.

Gosh they are stunners of the tall ships from Sarah over there in Ramsgate. Wow! All really good but that no 4 is majestic....'twould make another great wall picture of 6ft x 4ft...

Brilliant ones from Patrick too of the sailing yachts on Saturday. Real hands on shots...

Ah now I know what Kraken Eggs are Brian

PaulB.
Thursday, 7 September 2017 - 15:28
Post 4203
Colette B, Dover
CRUISE VISITS
_____________
Wonderful photos of the two 'Tall Ships' in Ramsgate and the sail boats in the harbour

Tomorrow Friday September 8th we have a Double Whammy, we welcome back Holland America's 'Prinsendam' arriving at CT2 at 07.00 hours. She hasn't graced our shores for quite a while, nicknamed the 'Elegant Explorer' she is on a round trip from Amsterdam on her 14 night 'Kiel & Great Britain'cruise. Her next ports of call are Newcastle, Edinburgh, Invergordon, Lerwick in the Shetlands then across the North Sea to Oslo, Copenhagen, Frederica (Denmark), Kiel and Hamburg before returning to Amsterdam. She departs at 17.00 hours, PoC

On the same day Saga Pearl II arrives at CT1, 07.00 returning from her Spanish Sojourn, this will be her last visit this season as she will be based in Southampton for the rest of the season. We look forward to welcoming her back to Dover in May 2018, she leaves us at 12.00, Debark only.
The following day Saturday September 9th we welcome another long lost visitor, the Costa Magica last here in August 2012, arriving at CT2, 08.00 from Amsterdam on her 13 night cruise to Marseille on the French Riviera. She calls at Le Havre, La Coruna, Porto, Lisbon, Gibraltar, Malaga, Civitavecchia (Rome), Savona then finally Marseille. She departs at 19.00 hours, PoC

On Monday September 11th we have another Double Header. Firstly, Pacific Princess arrives at CT1, 06.00 on her 14 night Round trip ' Scandinavia & Russian Collection' cruise. She calls at Copenhagen, Riga, Tallinn, St Petersburg, Helsinki, Stockholm, Kiel and Amsterdam. She leaves at 17.00 hours, T/R.
Then we welcome back Costa Pacifica arriving from Kiel at CT2, 06.30 on her 12 night 'Kiel to Barcelona' cruise, she was last here in September 2016. Her next ports of call are Cherborg, Vigo, Lisbon, Gibraltar, Cartagena, Civitavecchia before arriving at Savona, Italy. She leaves us at 19.00 hours, PoC.
I'll be back with more September cruise calls real soon folks

Thursday, 7 September 2017 - 14:53
Post 4202
Sarah, Ramsgate
We had two Tall Ships in Ramsgate yesterday.
Alva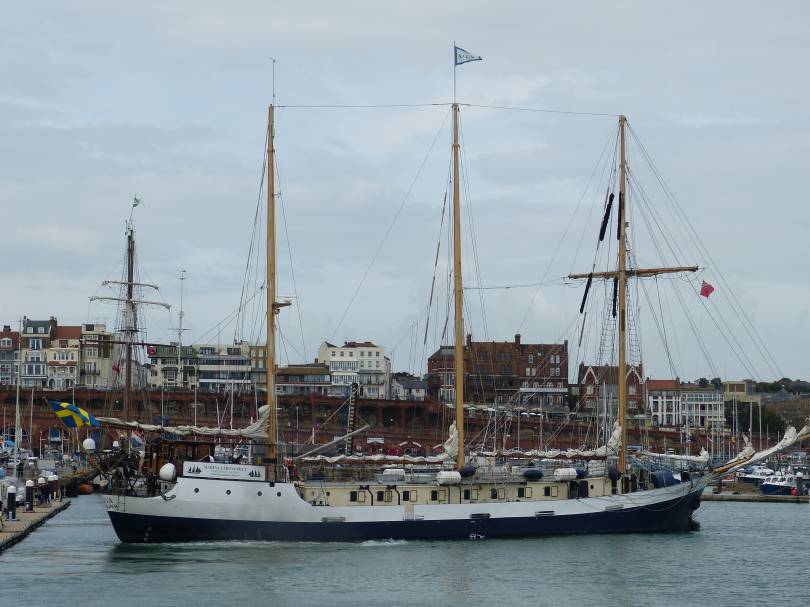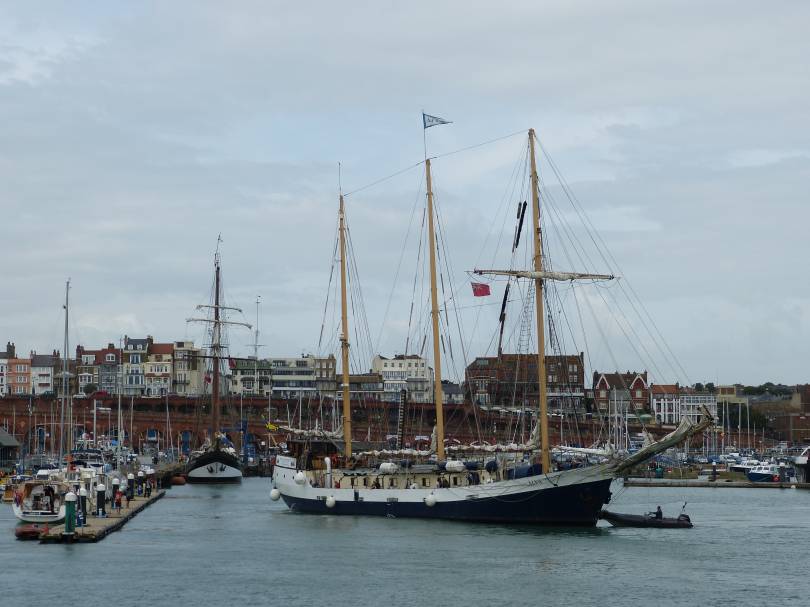 Oosterschielde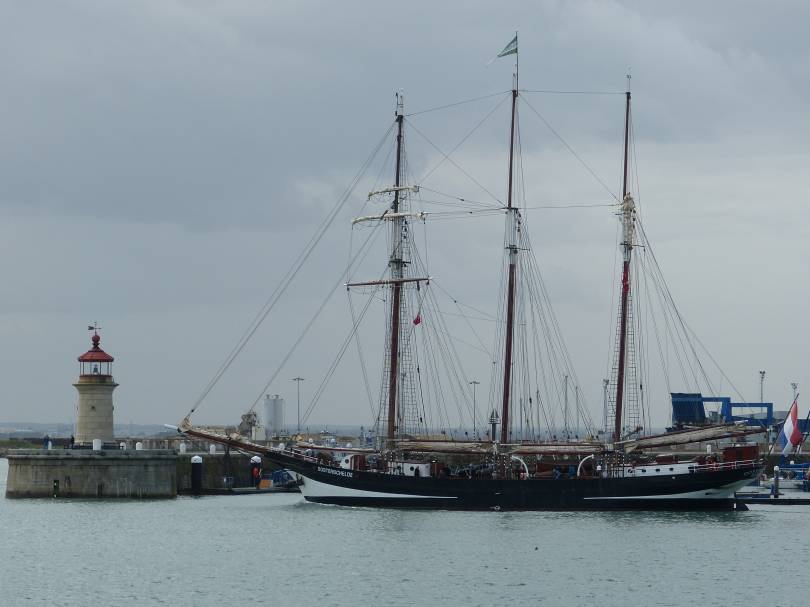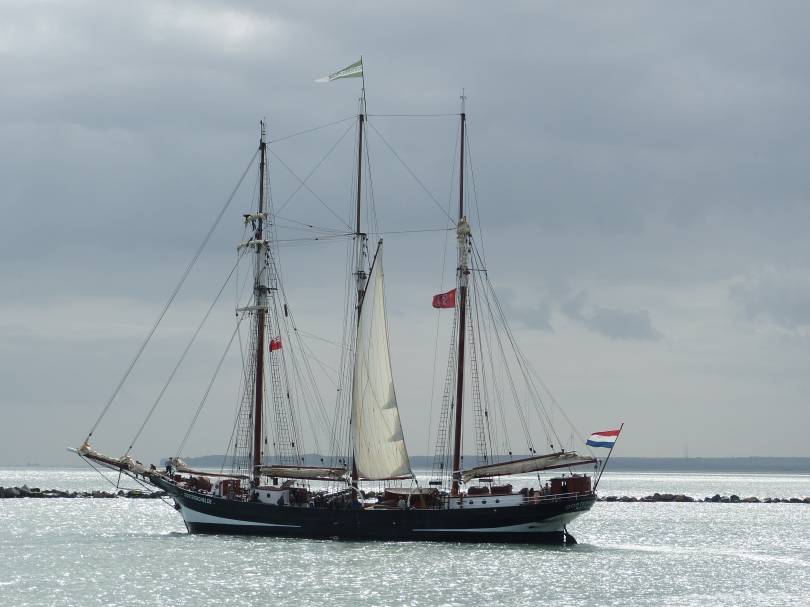 with Estuary Elan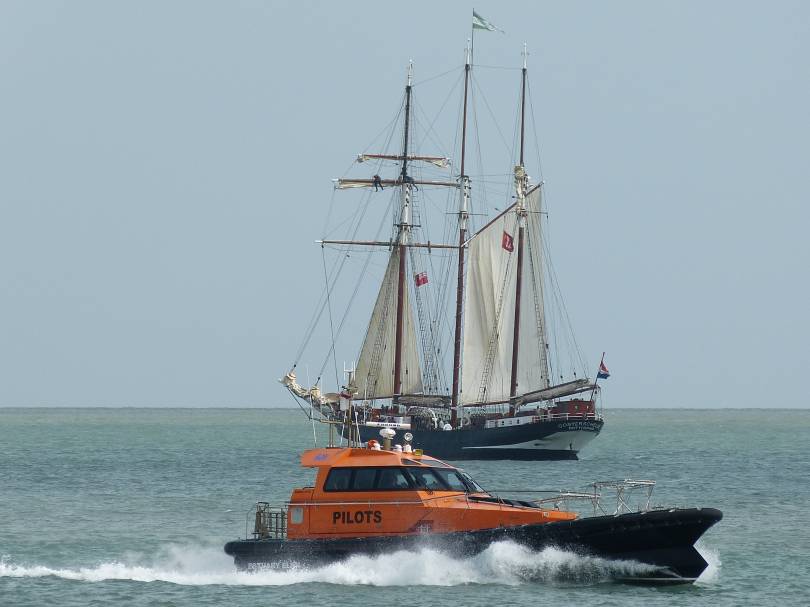 Thursday, 7 September 2017 - 09:56
Post 4201
Patrick, Marine Parade
More gentle in harbour sailing at the weekend with 'Rush' and 'Figaro'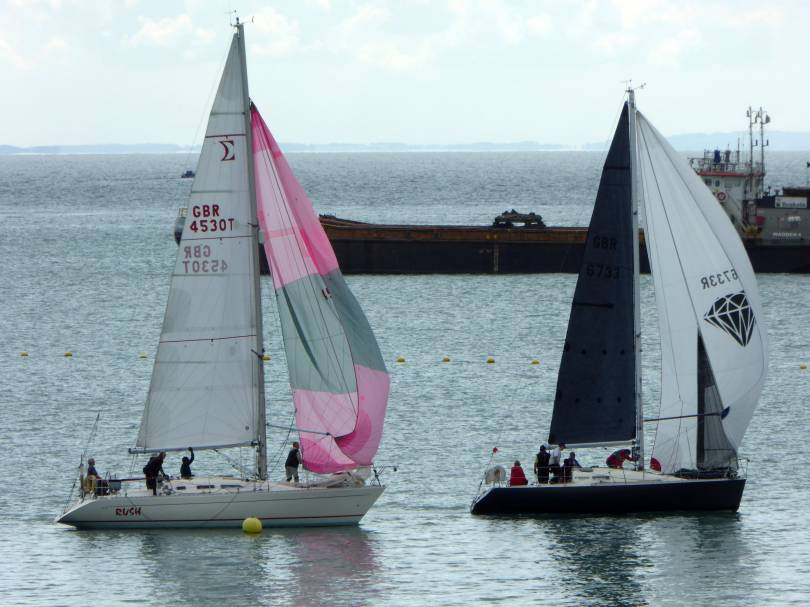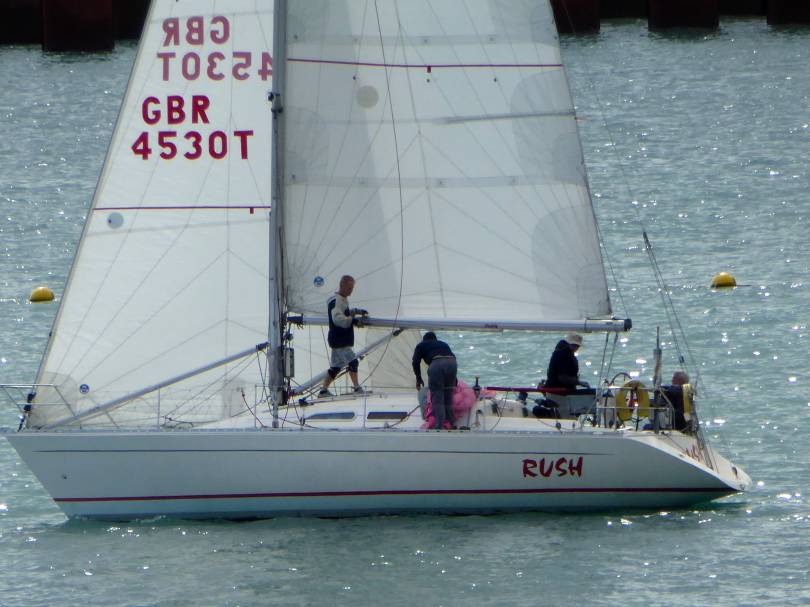 Wednesday, 6 September 2017 - 22:10
Post 4200
Colette B, Dover
CRUISE VISITS
_____________
I've got caught on the hoof this time as there were no cruises for the first week of September, however, it seems that we can expect to see the Sleek & Sassy Costa Mediterranea tomorrow.
She is on our schedule but elsewhere Harwich is mentioned, so expect the unexpected at 08.00 hours CT2, PoC. She is calling into Dover en route from Stockholm to Savona, Italy also calling at Le Havre, Vigo, Spain, Lisbon, Portugal, Barcelona along the way. Departing at 19.00 hours.
She was last here in May 2014, we look forward to seeing her again

More Costa's coming our way in the coming weeks.
Be back tomorrow for the rest of this week's cruises

As usual the recent action on Sea News is Awesome!

Wednesday, 6 September 2017 - 18:47
Post 4199
brian, dover
paulb,check out sea monsters and myths to find the answer.

Wednesday, 6 September 2017 - 09:49
Post 4198
Sea News, Dover
P & O Cruises ...Looking Good!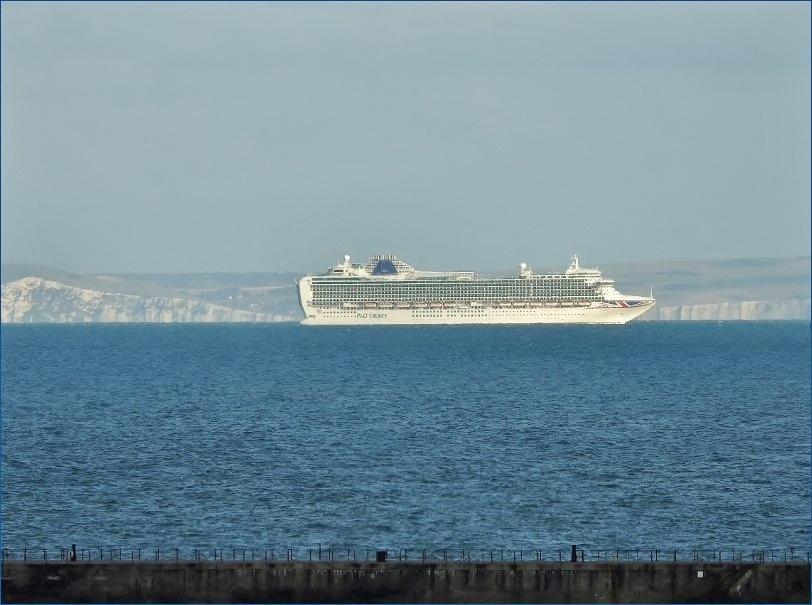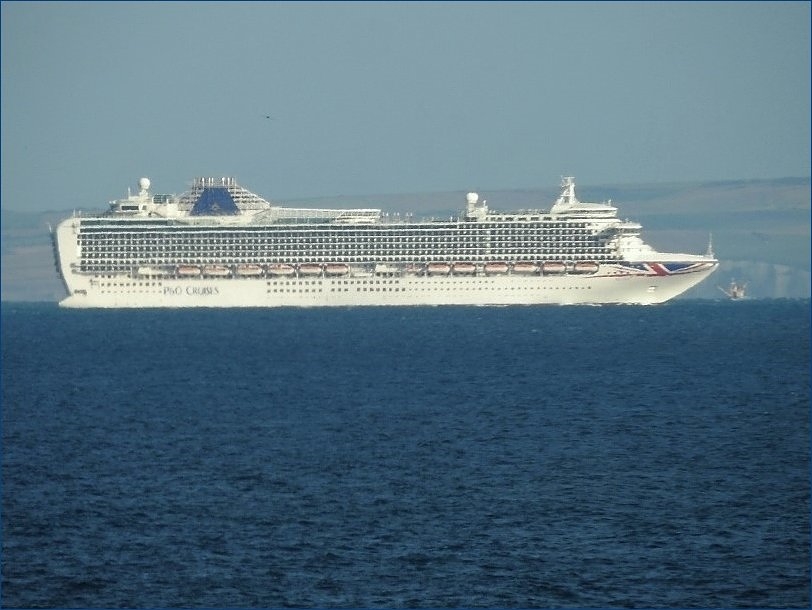 That's the fabulous Azura of P&O Cruises moving down the channel 4 or 5 evenings ago ..with France looking quite clear in the background. She was off somewhere exotic no doubt. Looks like an ideal ship for a long lazy cruise. Would suit yours truly as long as they didn't put me anywhere near that irritating guy that does the adverts for it on TV ...


From Peanuts to Prison for Tobacco Smuggler
___________________________________________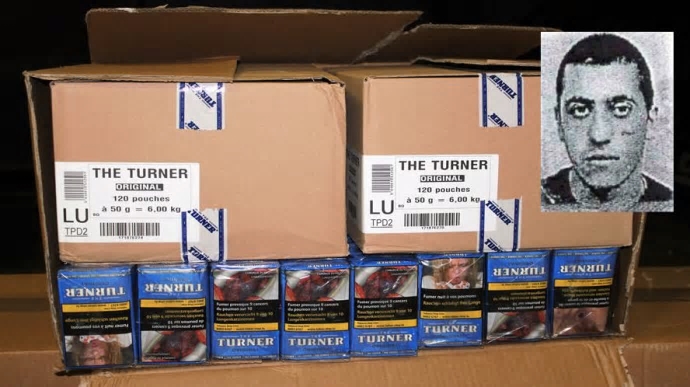 A lorry driver, who smuggled more than one tonne of hand-rolling tobacco into the UK hidden among a load of peanuts, evading £220,000 in duty, has been jailed for 22 months after an HM Revenue and Customs (HMRC) investigation.
Import documents showed the lorry was carrying 24 pallets loaded with boxes of sesame and caramel coated peanuts. However, a search of the vehicle revealed that in three of the pallets the peanuts had been replaced with 57 boxes of 'Turner' hand-rolling tobacco.
Georgi Ilchev, 26, was arrested by Border Force officers at Dover Eastern Docks on 2 August 2017, and the investigation referred to HMRC.
Tim Clarke, Assistant Director, Fraud Investigation Service, HMRC, said:
"Ilchev thought he could avoid detection by hiding the smuggled tobacco within a legitimate cargo of peanuts, but his crime was discovered and he's now paying the price in prison. Had the smuggled tobacco made it to the UK's streets it would have harmed honest retailers.
"HMRC continues to work with Border Force to reduce the availability of illicit tobacco, which costs the UK around £2.4 billion a year. We encourage anyone with information regarding the smuggling, storage or sale of illegal tobacco to contact our Fraud Hotline on 0800 788 887."
Ilchev pleaded guilty to evading excise duty at Maidstone Crown Court on 31 August 2017. He was jailed immediately for 22 months.
Ends
Thanks Brian... I daren't ask what Kraken Eggs are..

Excellent post below from Andrew with lots of info...Don't miss that one.

Cracking pictures too.

PaulB
Wednesday, 6 September 2017 - 06:19
Post 4197
Andrew, Broadstairs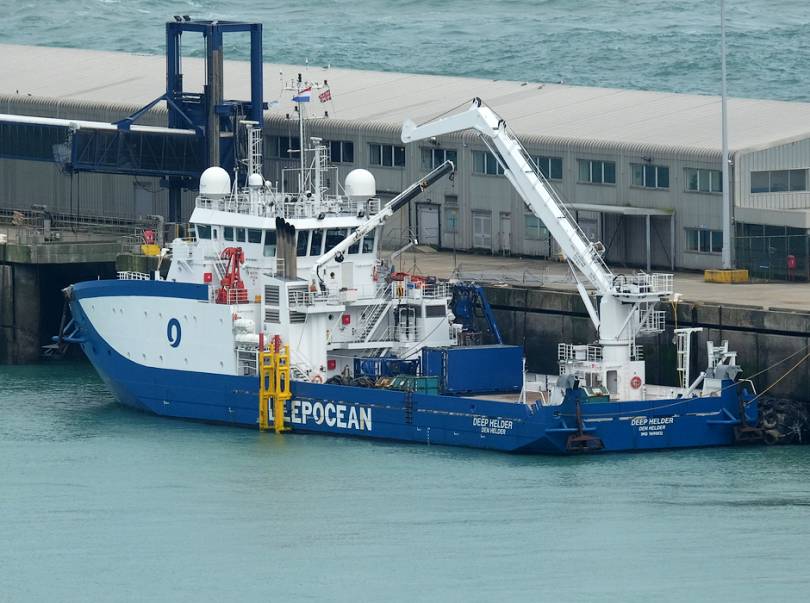 View | Delete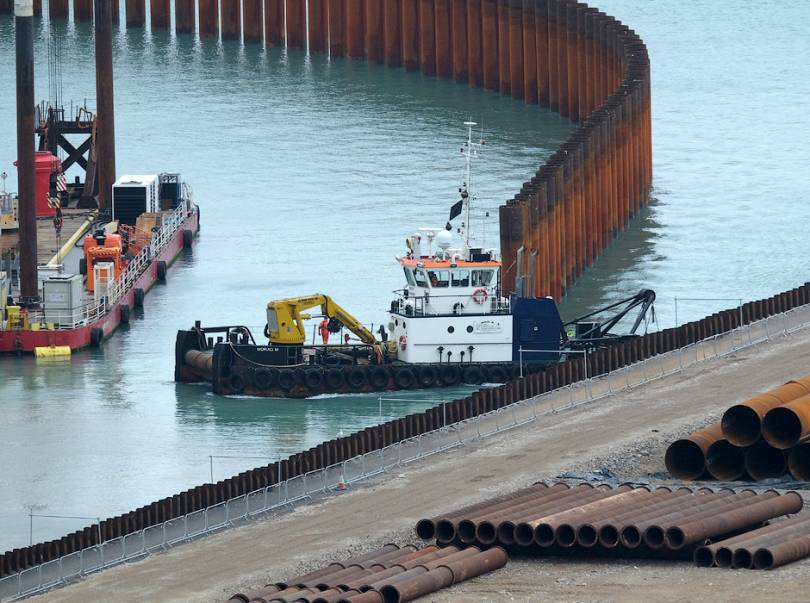 View | Delete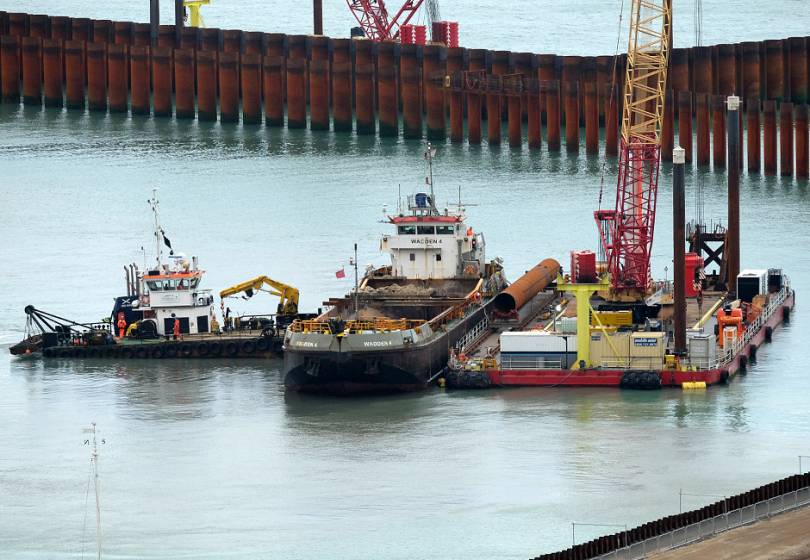 A short visit to Dover found the DEEP HELDER alongside Cruise 2. Belonging to Deep Ocean who are contractors for the laying of the 'Nemo' electricity cable link between Belgium and Richborough, we will no doubt see more of her in the coming months as the laying and trenching commences. There is a small fleet of vessels including MAERSK CONNECTOR, she loaded the cable at Blyth having been imported from Japan and can be seen off Ramsgate, sadly, for the moment, too far away for photographs from the shore. Another vessel shying away from being photographed is the WAVE SENTINEL which is laying some distance off the Eastern Arm, she has been converted to a cable layer from the Channel Islands cross channel ferry ISLAND COMMODORE, perhaps Ed might have more luck on one of his crossings; she shows Dover as her destination, so she may enter port? To complete my trio of pictures are two showing the MORAG M leaving the 'lagoon' and negotiating the gap between the Prince of Wales Pier and the new 'marina' curve of piling to assist Wadden 4 alongside the piling barge. With the construction well underway there is always something of interest going on day and night.
Wednesday, 6 September 2017 - 00:40
Post 4196
brian, dover
looking for kracken eggs.

Tuesday, 5 September 2017 - 20:07
Post 4195
Sea News, Dover
Never a dull moment around here .. the variety is immense...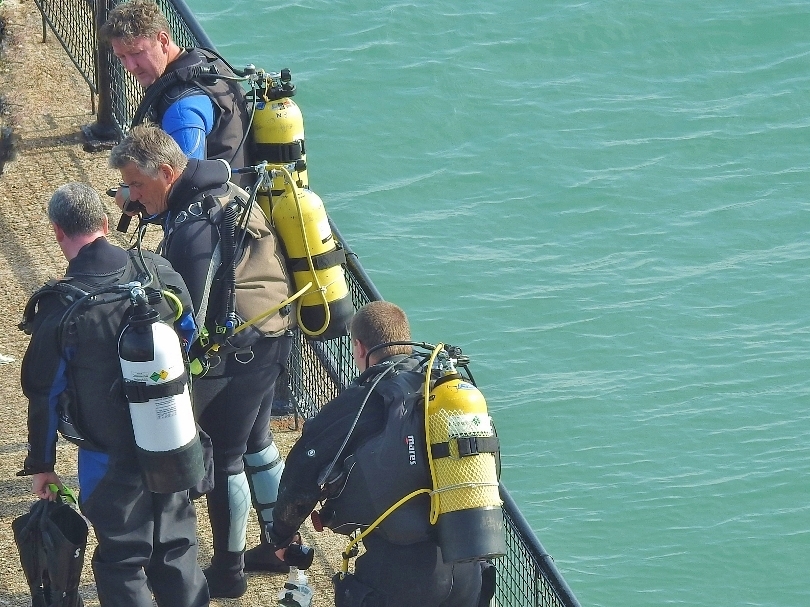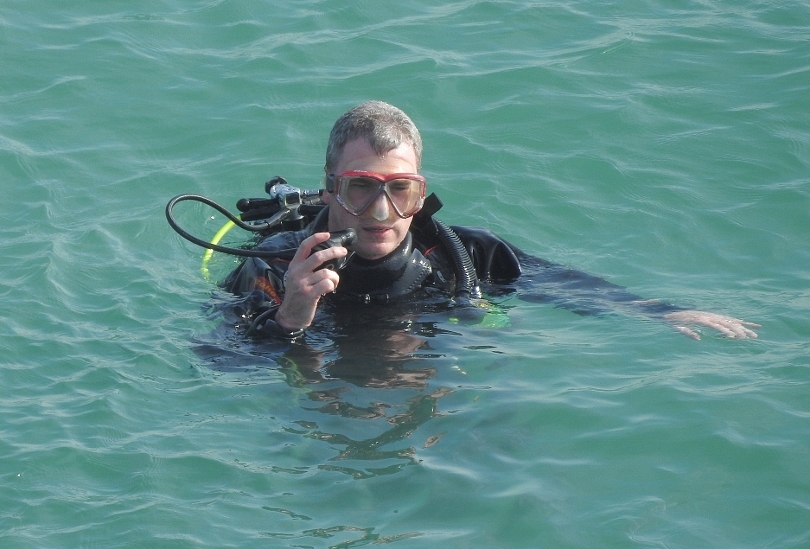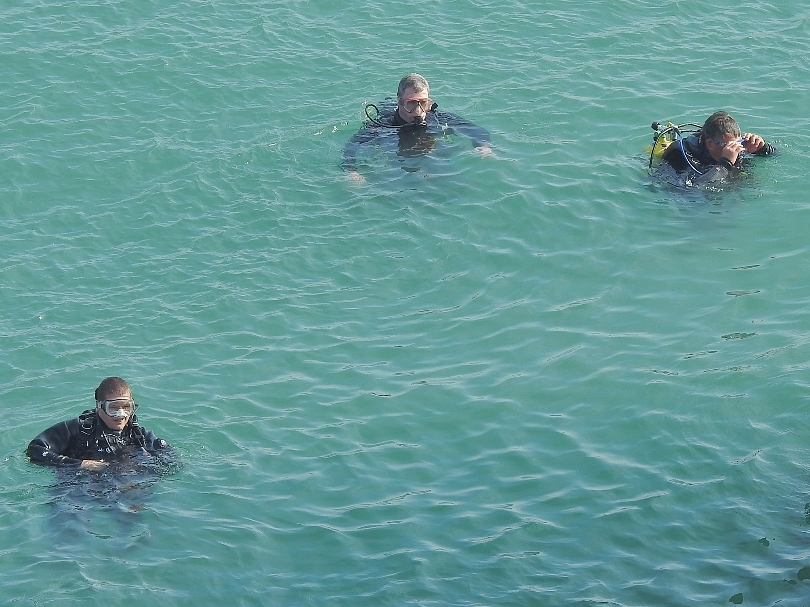 A few days ago these sturdy stalwart divers above went down fully equipped into the fathomless depths ...or well at least down into the depths of the immediate harbour. I've been down there myself but in my case I carefully waited til the tide went out! .. but these guys braved all in search of...
could have been buried treasure. There have been enough rainbows around here lately to stir up interest.


Great posts from Ed and Andrew below there on HMS Severn
Great info all round and an excellent picture from Ed.
Well done lads

Good to hear from you too Nigel up there in Ely.

Good to hear from you Del as ever...yes I manage to get the odd kip in between sunrises sunsets and moonscapes...


PaulB
Tuesday, 5 September 2017 - 15:43
Post 4194
Ed Connell, Thornton-Cleveleys, Blackpool
HMS Severn and her sister ships have cropped up countless times on the forum over the years. Here she is on the Eastern Arm way back in 2007 with a French trawler under arrest, quote: "In a separate case, the French stern trawler Saint Jacques II (BL914059) was boarded in the North Sea eight miles east south east of Dover by British and French Sea Fishery Officers working from HMS Severn. They found cod mis-recorded as black sea bream in the log book. And that the vessel had retained 25 per cent cod, when under cod recovery rules it is only allowed 20 per cent when using nets of 80-90 mm. In a prosecution brought by the Marine and Fisheries Agency, owners Luc Margolle, and Ludwig Margolle and master Gerard Battez later pleaded guilty at Folkestone Magistrates on October 26 to offences of failing to record cod in the ship's fishing log and breaking cod recovery regulations. They were ordered to pay a total of £36,750 in fines and costs."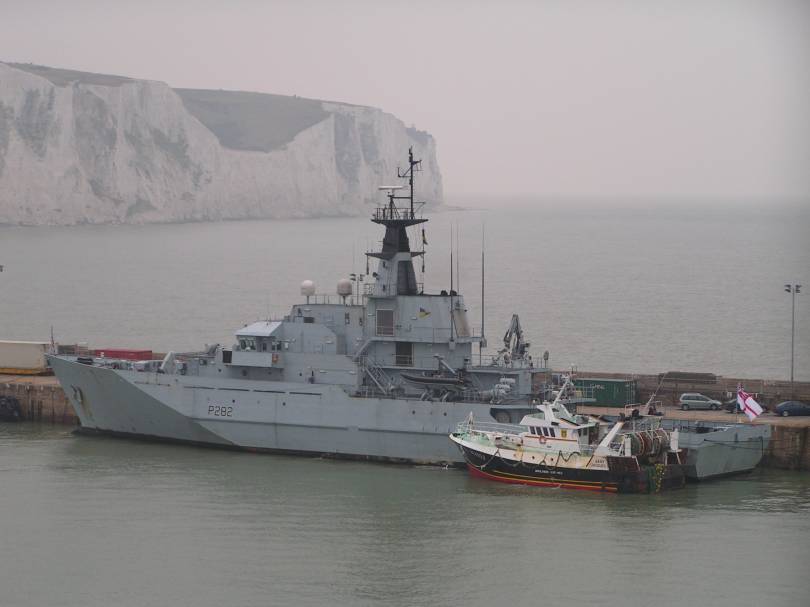 Tuesday, 5 September 2017 - 02:53
Post 4193
Andrew, Broadstairs
As a footnote to the various posts following Paul's post 4186 with fine pictures of HMS SEVERN, she is the first of the current River Class patrol vessels that is due to be decommissioned at the end of this year, so it was good to see the photographs of her as she will not be around for much longer. The replacement, Batch 2 class vessels, of which HMS FORTH has been completed and will shortly be followed by HMS MEDWAY, have improved armament with a 30mm cannon, 2 Miniguns and 2 general purpose machine guns, they have a flight deck, but no hangar, suitable for a merlin helicopter and are fitted with a 16 tonne crane, so like their predecessors they are lightly armed but are considered sufficient for the jobs they are currently required to do. The other names in the class will be TAMAR, TRENT and SPEY. HMS SEVERN has taken part in at least two noteable incidents in our area, in 2015 the interception of a drug carrying vessel escorted to Boulogne where French Officials found 2.4 tonnes of cocaine with a street value in excess of £350m and in April this year escorted the Russian Landing Craft KOROLEV through the Dover Straits.

Tuesday, 5 September 2017 - 01:43
Post 4192
Del Styan, Norwich
Photos from sunset to sunrise - lovely pics - thanks - hope you got some kip between them!

Monday, 4 September 2017 - 23:01
Post 4191
Nigel , Ely
HMS SEVERN Fishery protection vessel.

Monday, 4 September 2017 - 16:11
Post 4190
Sea News, Dover
Atlantic Reefer ( as opposed to the recent Atlantic Klipper ) was in with us at the weekend. She is now enroute to Hamburg... although she has probably arrived there by now. She left in the dead of night so this is a picture from an earlier visit that we haven't used before...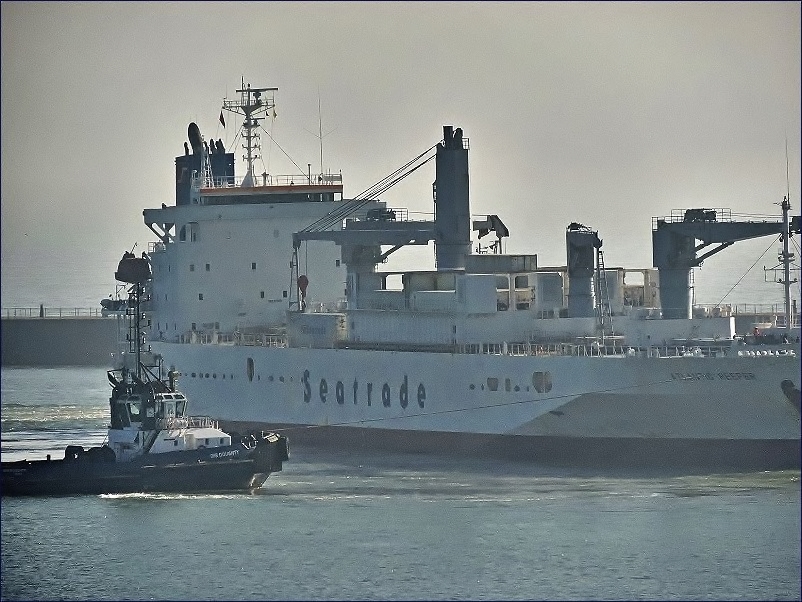 Monday, 4 September 2017 - 15:46