Thursday, 18 October 2018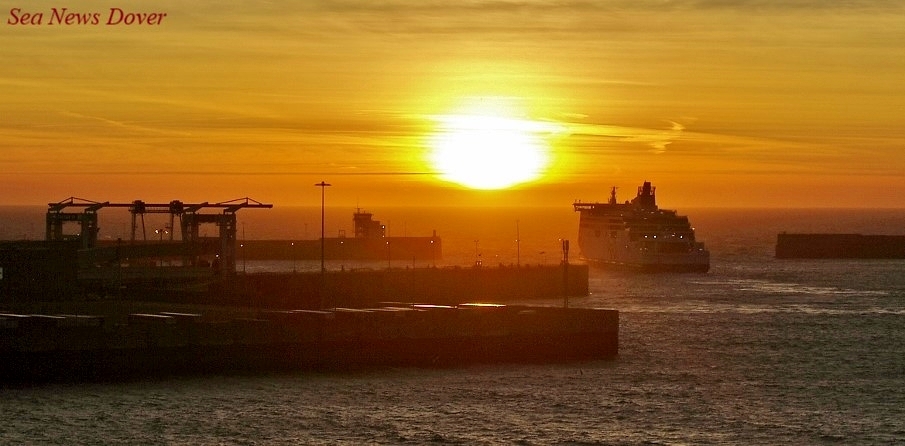 The Port of Dover with early ferry.

WWW.DOVERFORUM.COM/SEA-NEWS
Featuring all the ships that come and go and work at the Port of Dover with further coverage of the surrounding ports both sides of the Channel. Click ADD YOUR COMMENT below to post direct, no membership needed.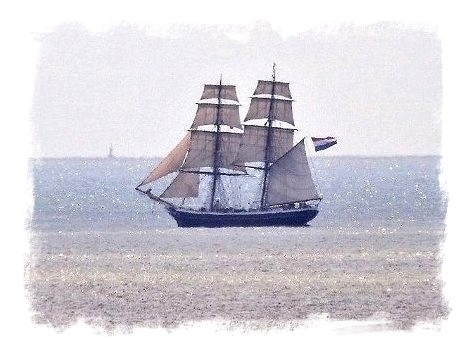 P&O: Schoolchildren mark WW1 see 5816.
Lower Thames Crossing boost..5812.
Dover Museum's revitalisation see 5807.
Port of Dover: Refrigerated Cargo Terminal .. software for 5801. Latest NATO also 5801.
Port of Dover: Great increase in summer traffic 5795.
Russian and shadow 5785.
The Waverley paddle steamer 5778...
New SAGA Ship launching in Dover see 5776.
P&O: To Rome on Horseback 5759.
DOUG BANNISTER: New Chief Executive Port of Dover see below 5734....
Merchant Navy Ceremonial images also 5734.
Dover Regatta Rescue incident plus .. see 5713.
Dover Regatta pictures Lifeboat etc..5716, 5717, 5718, 5720.
DFDS Expansion: More New Ferries on order... see 5693 see also 5500 and 5381.
Excellent tourist season for P&O Ferries see 5649.
VSBW Port of Dover - Women at Work 5638.
P&O Second Female captain see 5107. Also see latest 5570.



NEW:

For instant access to the items above - type the post number in the Search Engine below.



Sea News Dover : Use our SEARCH ENGINE below to find all sorts on the SEA NEWS pages....
... more than 5800 nautical posts now.
Posts are welcome. Max of 5/6 pictures preferred although we can occasionally stretch that on special stories.
Sea News Editor Paul Boland - send info or pix to dover7@msn.com. Always welcome.
Type CRUISE VISITS in our SEARCH ENGINE below for news of the latest cruise arrivals.
NOTE:

We have added a new feature. This has resulted in some slight change to the numbering system on the posts. We needed to align data in order for us to be able to use post numbers in the Sea News Search Engine. For example..type into the Search Engine box the number 5734 if you want the story on Doug Bannister...and it will pop up for you. This will be very useful going forward. You can still search in the older way too. My thanks to long time ace colleague Chris Tutthill for enabling the extra feature. Chris runs our sister channel..dover.uk.com. PaulB
All pictures on these pages are the copyright of the owners and must not be reproduced without permission.
Post 5693
Sea News, Dover
DFDS SPECIAL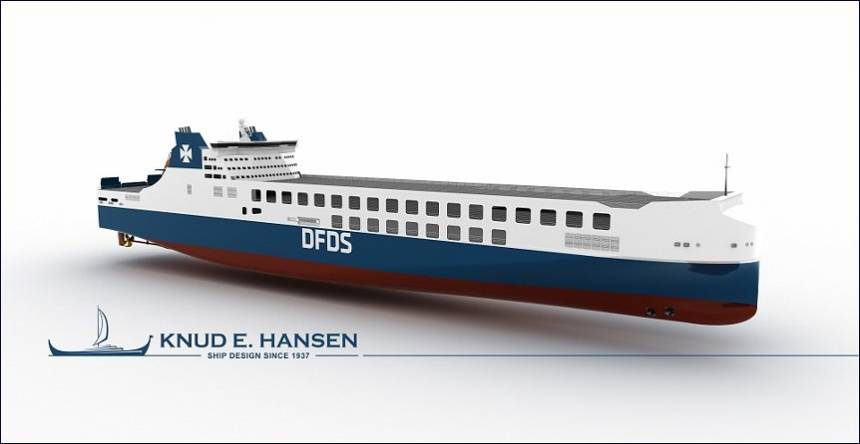 NEW FREIGHT FERRY ORDERED TO ACCOMMODATE GROWTH IN ROUTE NETWORK
___________________________________________________________________________
DFDS has today (Aug 16) ordered an additional freight ferry (ro-ro) new build from the Chinese Jinling Shipyard.
The new build is similar to the five previously ordered freight ferries and likewise designed to carry 6,700 lane metres of freight equivalent to around 450 trailers. The large capacity decreases unit costs as well as the environmental impact per transported unit.
This, in addition to the recently ordered ferries will help DFDS customers grow their business and increase DFDS' operational efficiency in the route networks in northern Europe and the Mediterranean. The new ferries will be deployed in the route network according to customer demand for capacity. The first two new ferries are expected to be received in the beginning of next year, the third and fourth in the second half of 2019 and the last two in the first half of 2020.
DFDS' fleet extension and renewal programme also includes two combined freight and passenger ferries (ro-pax) to be delivered in 2021 for deployment in the Baltic route network. In addition, two ro-ro ferries are being lengthened to increase capacity, and a chartered combined freight and passenger ferry (ro-pax) will be delivered in 2021 for deployment on The English Channel routes.
ENDS
Many thanks once again to the DFDS Team for all the info. Very welcome.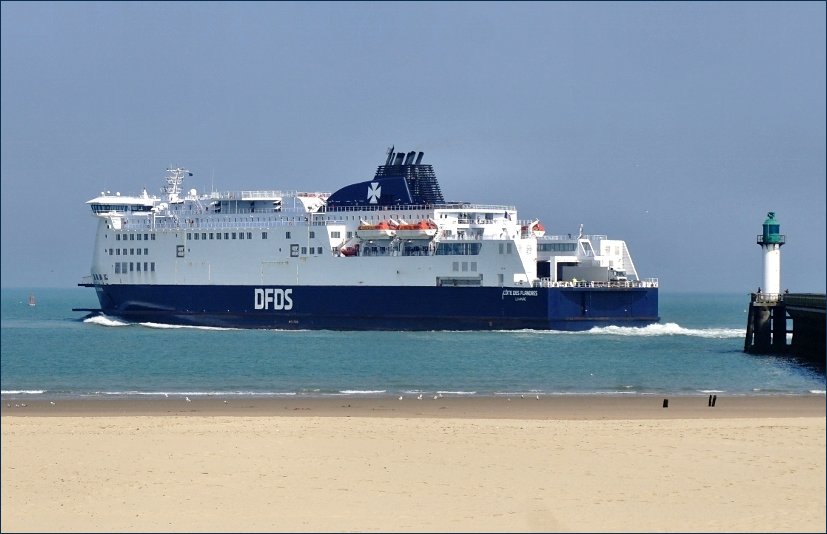 While we are having a DFDS Special, there's time to show two extra DFDS pictures. Firstly above there we have...well very much a current one, as we see the Cote des Flandres leaving the Port of Calais on a gorgeous sunny morn quite recently. While below...and who remembers this one...the Dieppe Seaways also at Calais. Just came across this striking ferry in the time distant files. Where is she now??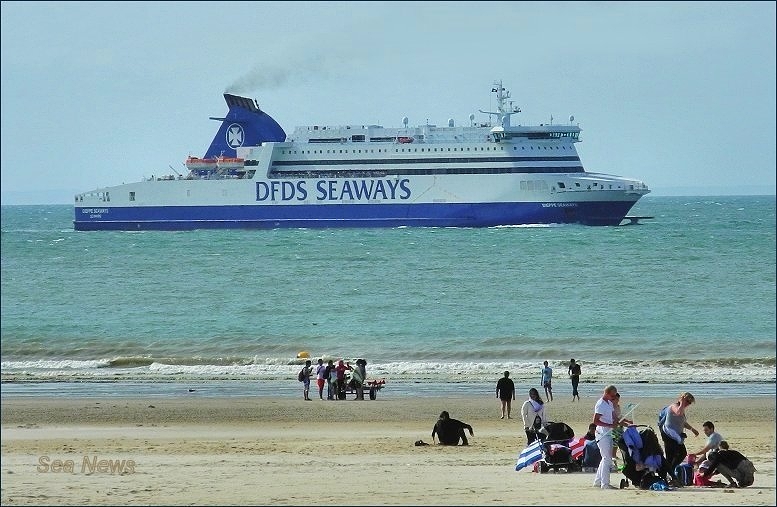 * *
A couple of pictures now from a few of days ago which show the Pacific Princess just after she left the Port here...the Port of Dover this time..

..Twas a wee bit choppy...
Yours truly zoomed in below..straining every sinew of the poor oul camera..

Further speculation on the Norwegian Star incident has reached the media. Stories are now emerging that the waterborne resilient British lady who was in the sea for 10 hours, allegedly actually jumped from said ship after an altercation with her boyfriend. Initial reports said she had fallen in. Oh dear...the plot thickens. No doubt it will all emerge in due course...

Picture plus re the Norwegian Star below.
PaulB

Tuesday, 21 August 2018 - 06:42
Post 5692
Sea News, Dover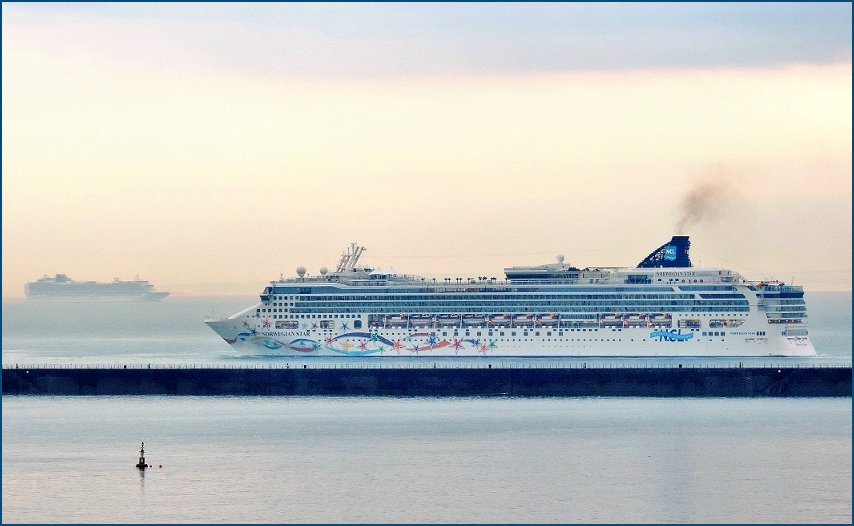 The Norwegian Star has been in the news today bigtime. A British woman fell off the back of the glamourous cruise ship and was in the waters of the Adriatic for at least 10 hours .... and lived to tell the tale. She was rescued eventually by the Croatian Coastguard. Its a big story today. More on the BBC both TV and internet.
That's a picture of the very ship above there on a visit to the Port of Dover in 2015.
* *
A nice collection in the post below from Mike our 'inshore correspondent'...great general coverage and pictures there of all the happenings.

PB
Monday, 20 August 2018 - 15:08
Post 5690
Mike J., Dover
Sometimes you're lucky - I was heading for Headcorn on Saturday morning & took a quick look into Western Docks & noticed relief lifeboat 17-38 moored ahead of 17-09 & preparing to sail.
No time to get to a 'preferred location' so I was obliged to poke the snout of my camera thru the mesh of the security fence to record the departure.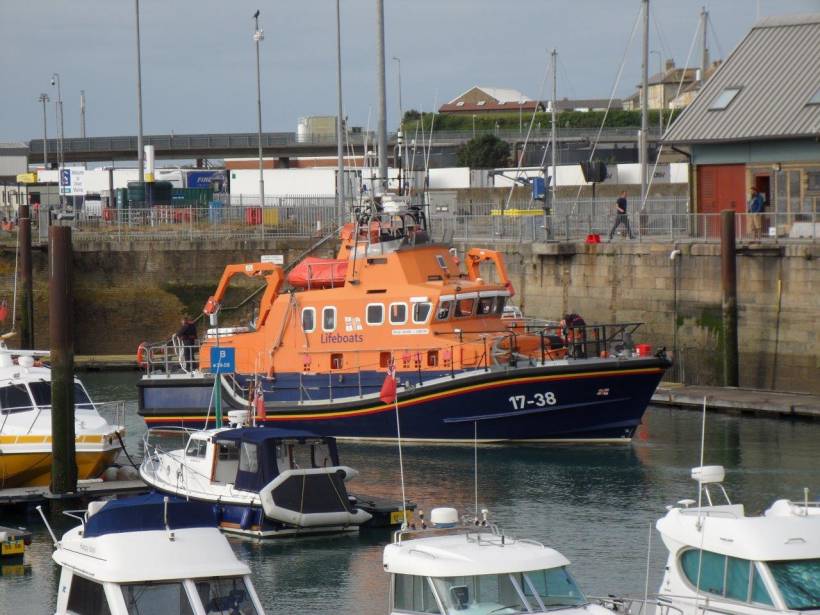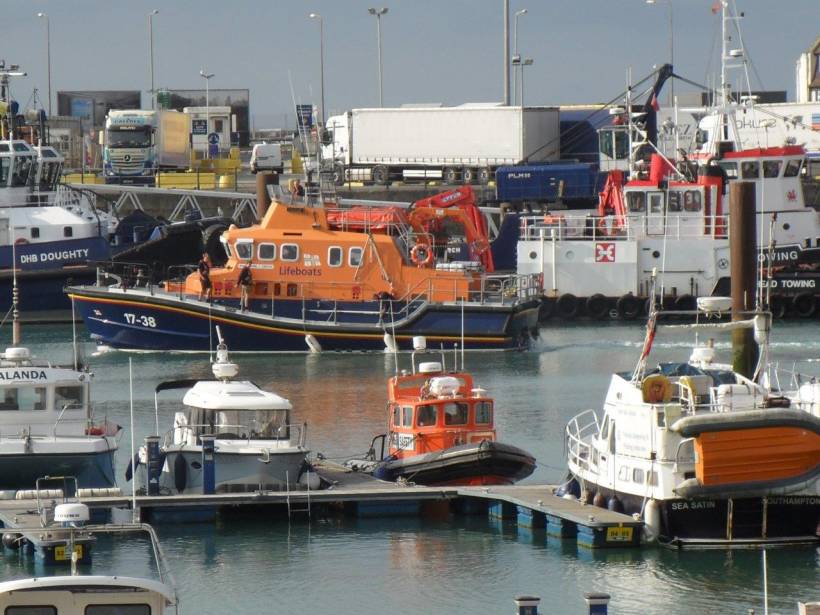 Sarah tells me that the DANIEL L GIBSON was heading for Harwich.
Supplementing Paul's pix of the BLAMANN here's a couple more.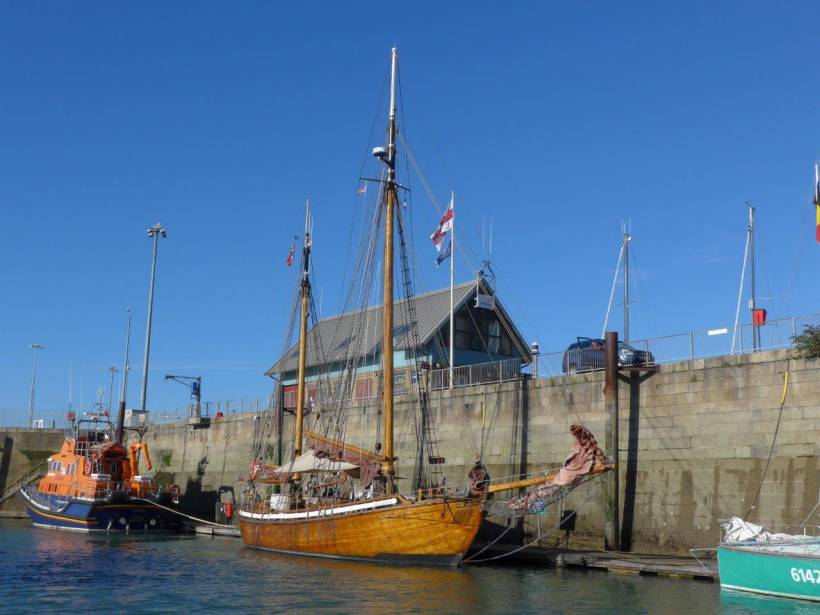 Actually she's not as old as she looks, having been built in 2002 & is based [according to the internet] on a Baltic 'rescue boat' which itself is probably based on a Baltic fishing boat.
Very nice & quite a contrast to THE two plastic Sunseekers who were also in the Tidal Basin on Wednesday morning.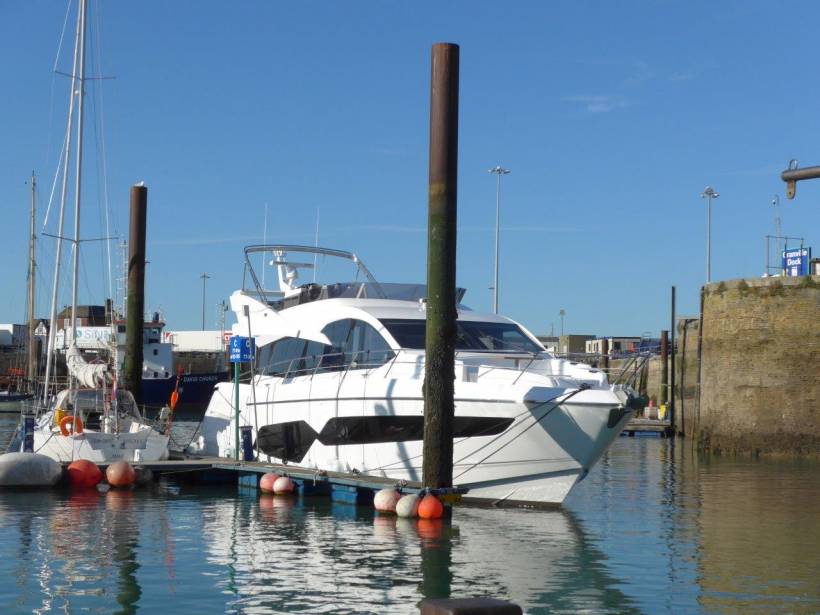 Monday, 20 August 2018 - 01:37
Post 5689
Sea News, Dover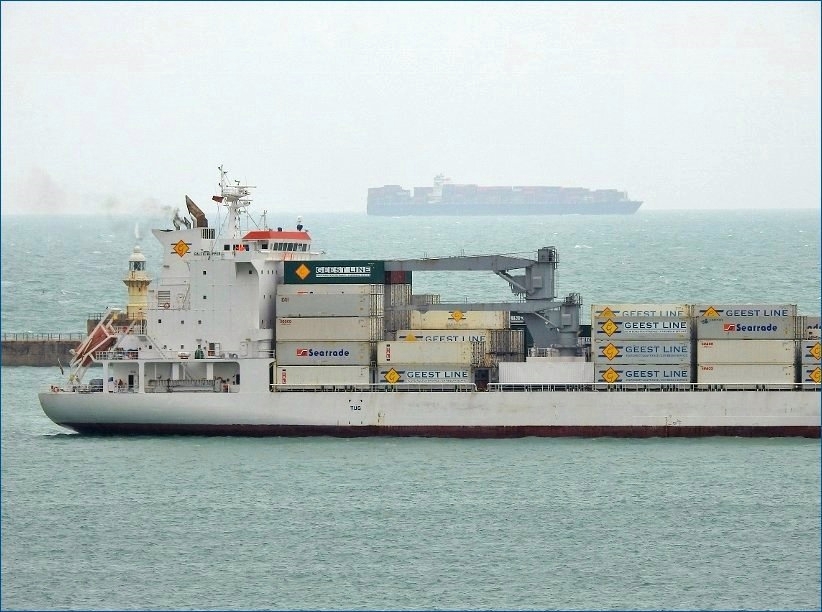 The Baltic Klipper arrived in with us yesterday and there she is pictured above...have just checked and she is still there at the Cargo Terminal. An image below of the same ship from 2017 and you can see the differences ( apart from the cooler colour balance ).
She will be off to Flushing before too long ….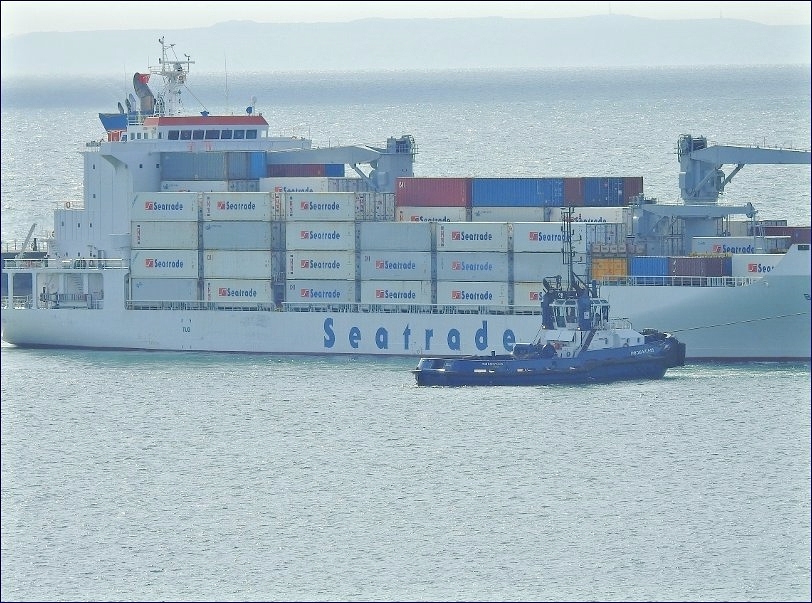 PaulB
Sunday, 19 August 2018 - 18:12
Post 5688
Sea News, Dover
Thanks Mandy for the info...we often feature the sailing yachts/boats ambling about the harbour. We don't particularly focus on ladies...there are many ladies on the beach for example. Its the boats/yachts we are after essentially. We even occasionally get requests for pictures from these yachts themselves. Hope that clarifies the situation. PaulB.

Sunday, 19 August 2018 - 08:23
Post 5687
mandy, na
Are the pictures of jolley roger not an invasion of the ladies right to their privacy.Do you take photos of any boat that leaves the marina and publish them without their consent if so this is a criminal offence just making you aware.

Sunday, 19 August 2018 - 07:58
Post 5686
Sea News, Dover
Jolly Boating Weather for the Jolly Roger....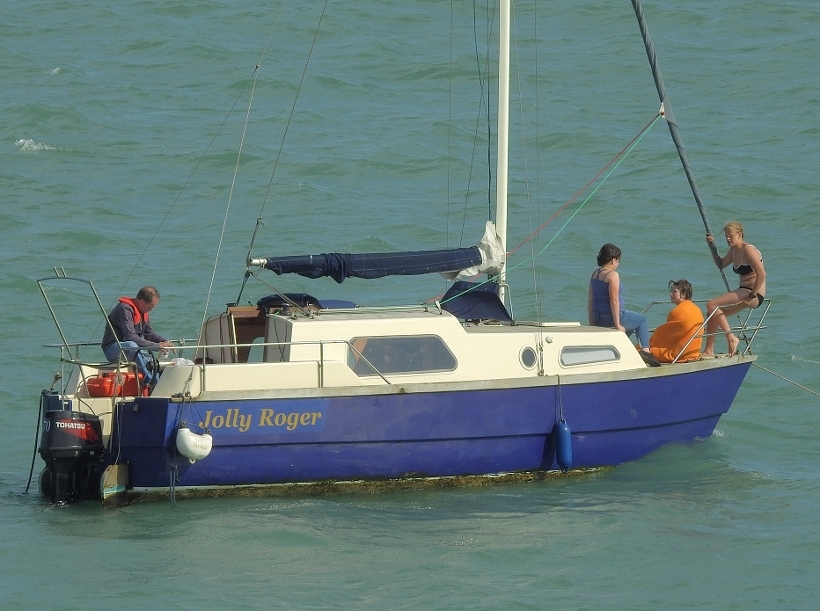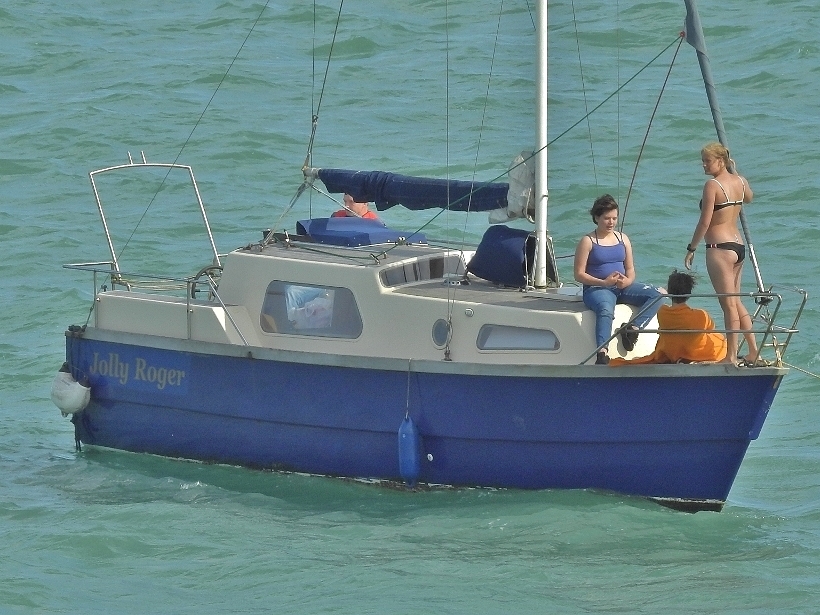 Ah yes the old-style Jolly Roger was just languishing off the 'observation tower' on Friday...the weather had been mixed but they caught just the right level of sunshine as they idled by ever so slowly...
ahhhh glorious summer days...
Below and its a day or so earlier as this delightful old ketch ( I say ketch but...

) left the port. Name: Blaamann junior. Sadly my few pictures were not focussed, or to put it another way, they were blurred! So yours truly has attempted to make a watercolour painting out of the one below. The idea hides the defects but shows the picture...well hopefully, and it is sunday morning and all's well...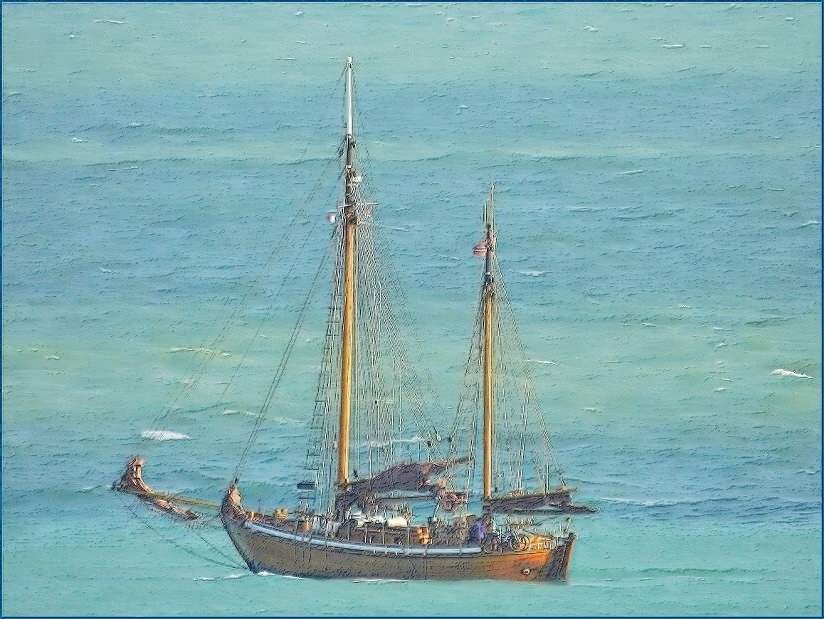 Cracking set of pictures below there Sarah..really capturing the fast Lifeboat action there. Blistering stuff!
Don't miss those....

PB
Sunday, 19 August 2018 - 07:38
Post 5685
Sarah, Ramsgate
Dungeness Lifeboat Day - 12th August 2018.
Dungeness, Rye Harbour & Littlestone-on-Sea Lifeboats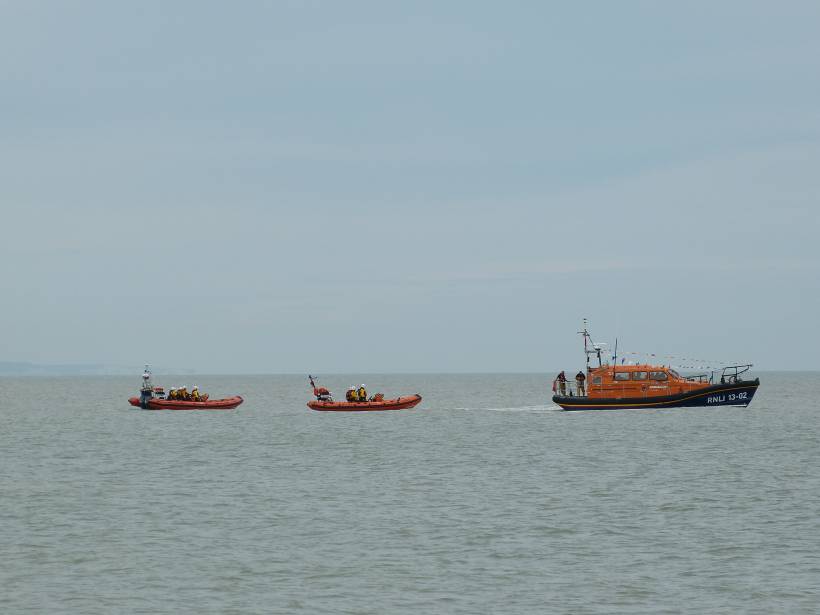 Dungeness & Rye Harbour Lifeboats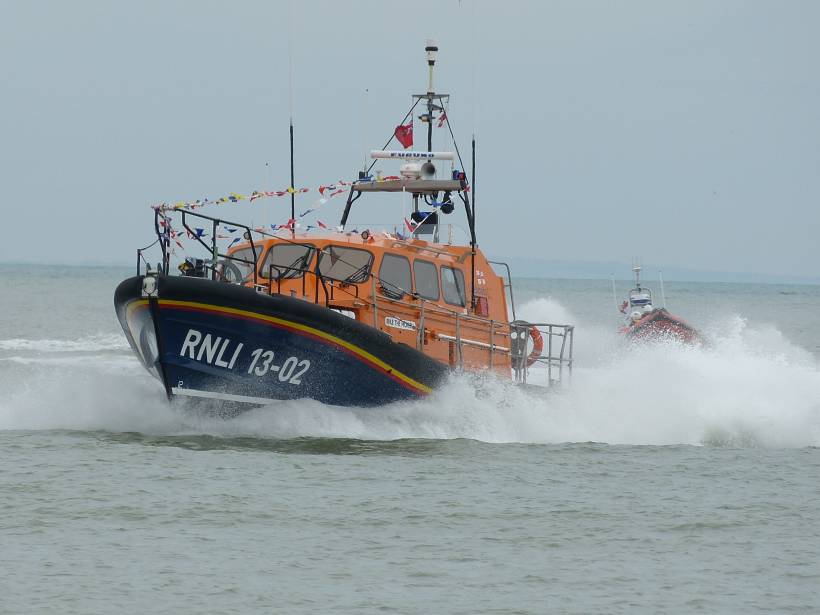 Rye Harbour Lifeboat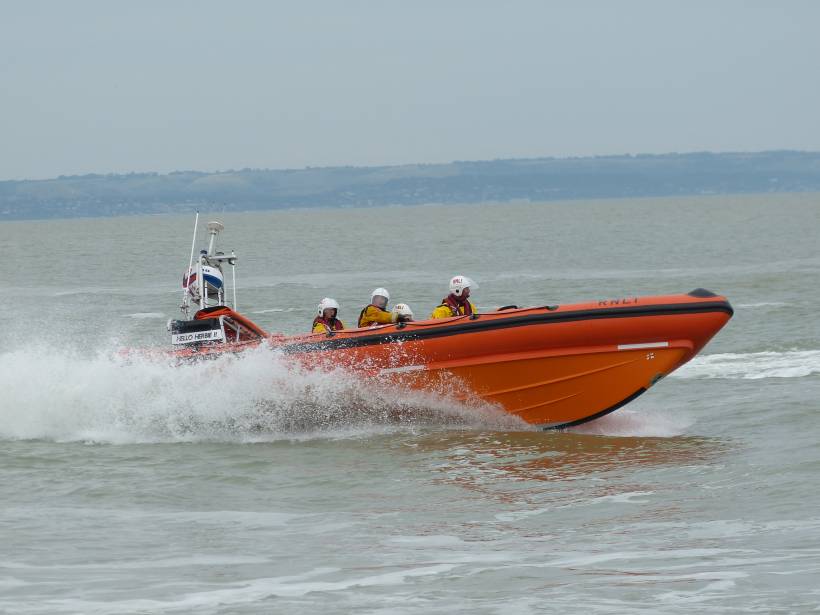 Littlestone-on-Sea Lifeboat
Dungeness Lifeboat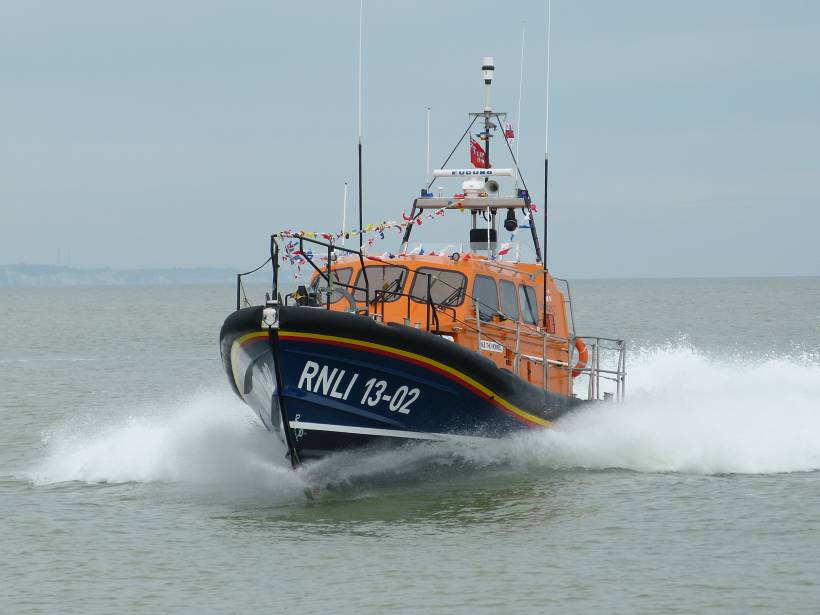 Sunday, 19 August 2018 - 00:35
Post 5684
Sea News, Dover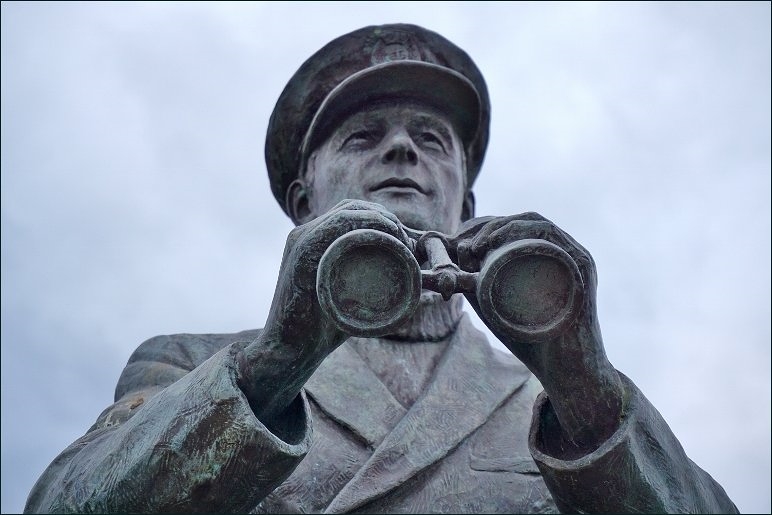 One for the notebook....
Merchant Navy Day In Dover 2018
__________________________________
A Merchant Navy Day Service is being held at Dover Town Hall on Monday 3 September from 10.30am, followed by a wreath laying ceremony on Dover Seafront at 12 noon.
The service and ceremony are being arranged by the Chairman of Dover District Council, Cllr Sue Chandler, along with Mr Donald Hunter, the Founder of the Dover and District Merchant Navy Memorial Fund, and all are welcome to attend.
National Merchant Navy Day takes place annually to honour the brave men and women of the Merchant Navy, including those who lost their lives at times of war, and to celebrate the vital role of merchant seafarers in the lives of our communities.
SCHEDULE:
10.00am - Town Hall opens.
10.20am - Standard bearers arrive and congregate by the side of the Town Hall (dry weather) or in Connaught Hall (wet weather). Guests arrive in Stone Hall.
10.30am - The Reverend takes his place. Sound the 'Alert' by bugler. Standard bearers march up the Town Hall steps (dry weather), or from Connaught Hall (wet weather), through Stone Hall to the dais at the rear of Stone Hall.
10.35am - Service.
10.55am - Speech by Mr Donald Hunter, Founder of the Dover & District Merchant Navy Memorial Fund, followed by closing speech by Cllr Sue Chandler, Chairman of Dover District Council.
11.00am - Standard bearers march out of Stone Hall. Light refreshments served in Connaught Hall.
11.40am - Those travelling on the coach take their seats. (Coach stationed outside the main entrance to the Town Hall).
11.50am - Coach departs for wreath-laying ceremony at Dover Seafront.
12 noon - Wreath-laying ceremony at the Merchant Navy War Memorial, Marine Parade, Dover Seafront.
Please note timings are approximate
ENDS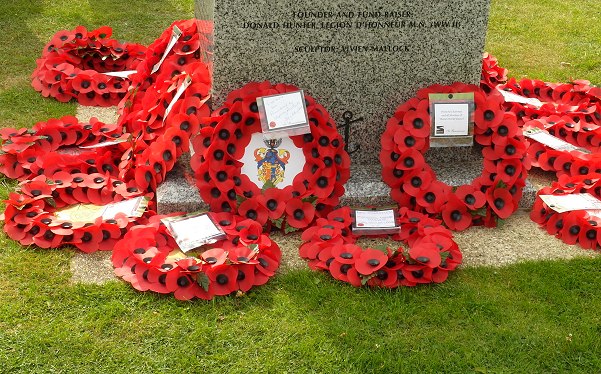 Saturday, 18 August 2018 - 06:22
Post 5683
Sea News, Dover
Thanks Phil - you're a star.

I made a note of that on the picture in the system now for future ref.
PaulB
Friday, 17 August 2018 - 15:07
Post 5682
Phil Chisholm, Dover
Both Spitfires - just the chopped wing variant

Friday, 17 August 2018 - 13:14
Post 5681
Sea News, Dover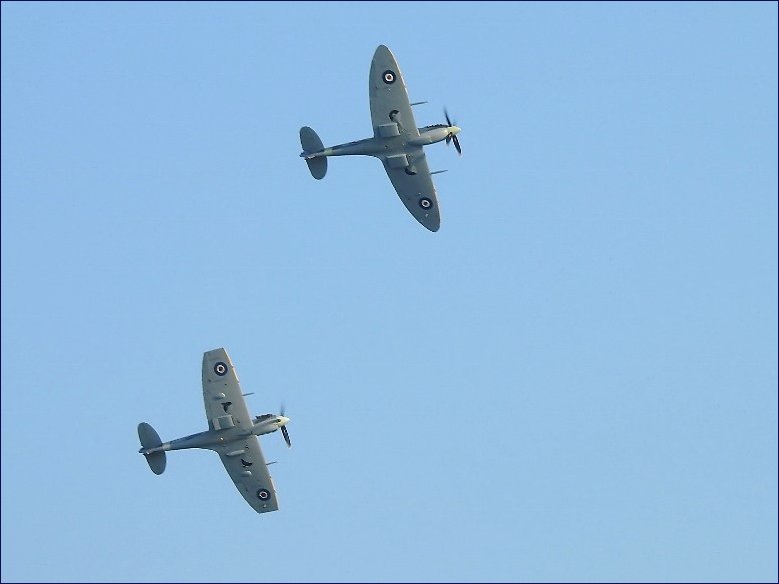 An extra pic above there from a previous Regatta. Looks like a Spitfire and possibly a Hurricane
(later update from Phil Chisholm see post above : actually 2 spitfires).
We were testing a situation with this picture earlier but we have now decided to leave the picture on display.
The Community Regatta is on here on Dover Seafront on the 26th August. See also the post below.
Friday, 17 August 2018 - 08:07
Post 5680
Sea News, Dover
This guy was fast...
Blistering pace.....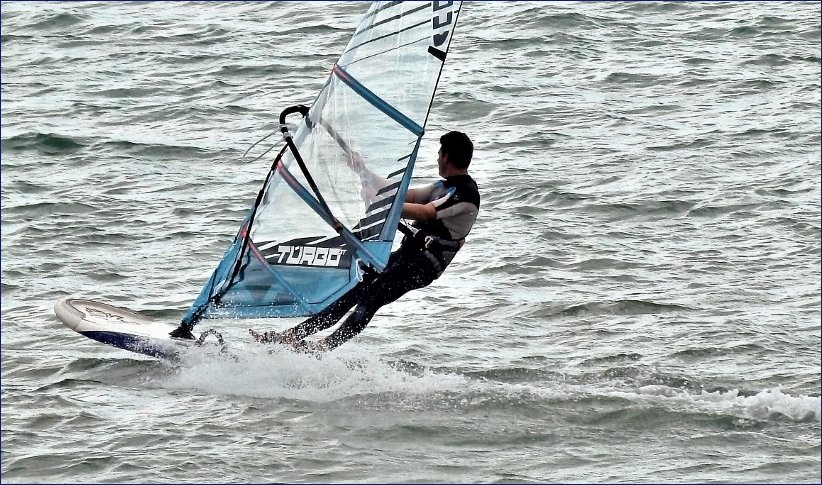 Yes indeed this windsurfer powered across the harbour with blistering pace a couple of days ago...no doubt making the best of the freshening breeze and creating quite a dashing image. Very skilful for sure.... how do they stay on the thing, never mind go so fast...

Oh dear! The Maritime Skills Academy posted one of our Sea News pictures on Twitter in the past couple of days without any acknowledgement as to where it came from - not very nice.
It was then retweeted by the Port of Dover.
This is the picture...similar to the one we used recently in our Regatta post 5103. It dates from 2017.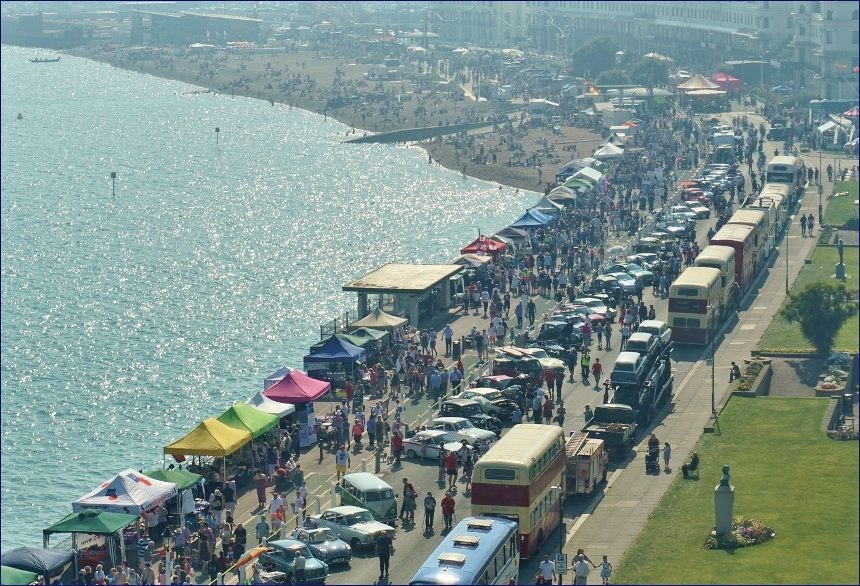 Nice collection all round below there from our 'inshore correspondent'
Well done Mike. Very enjoyable pix there from our man on the spot.

Lol! re Specsavers...but yes it does look like its a-dangling there

PaulB
Friday, 17 August 2018 - 06:26
Post 5675
Mike J., Dover
The tug DUTCH PIONEER paid a brief visit to Dover on Thursday to collect two barges.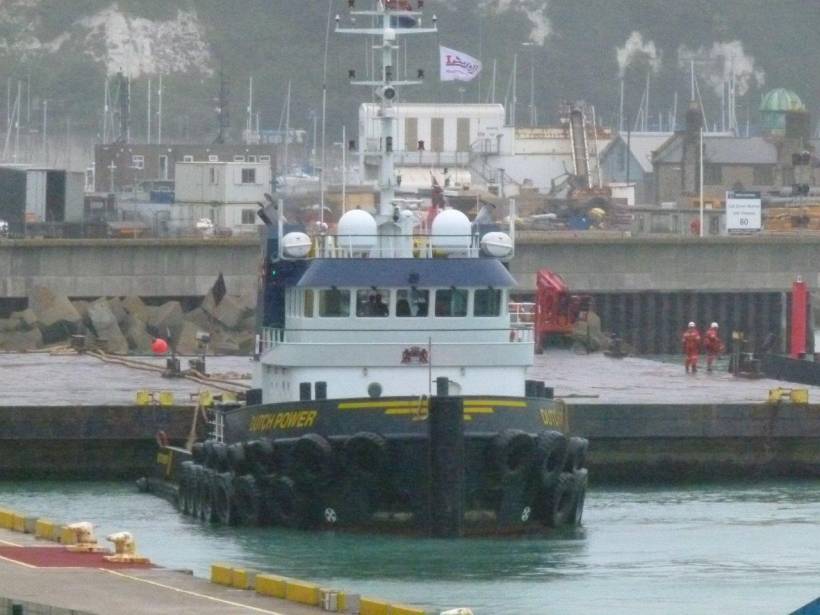 The two Holyhead Towing tugs helped with forming up the tow & escorted it out thru the Western Entrance where the tow was 'stretched out' & the little convoy set off for Rotterdam.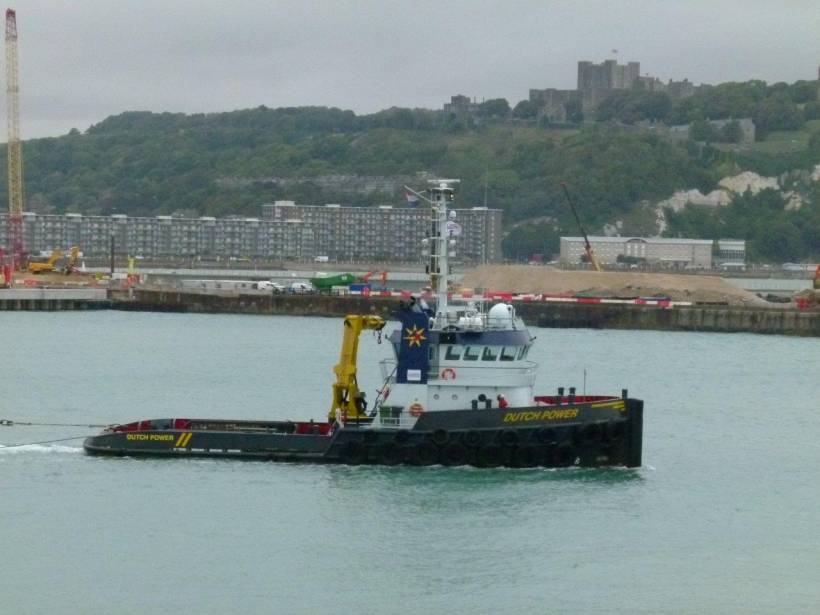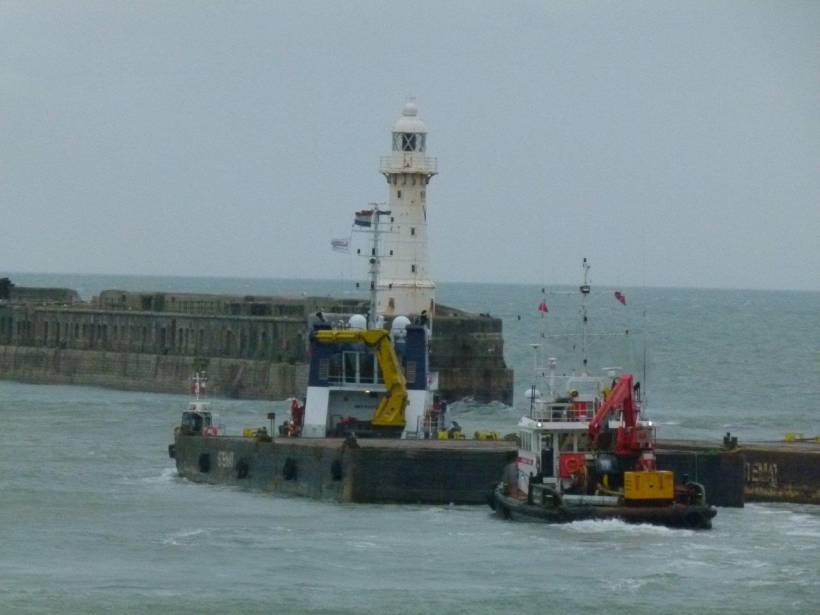 While waiting for the departure & dodging the showers in the lee of the turret a Border Force RIB & one of Viking Marine's rescue boats passed by.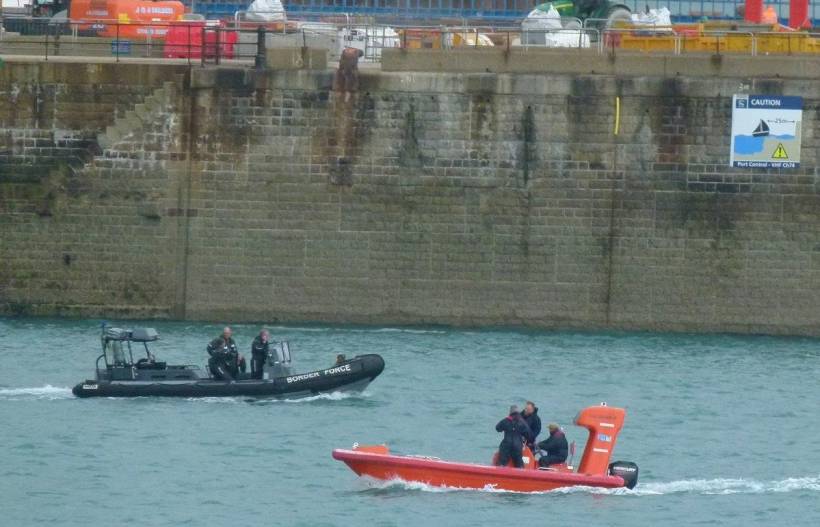 Re Paul's interesting post 5145 & 'sand shift shovelling' I noticed a DWDR bulldozer at work when I came off the Admiralty Pier.
When I first noticed it I thought it was dangling from the crane.
Should've gone to Specsavers . . . . .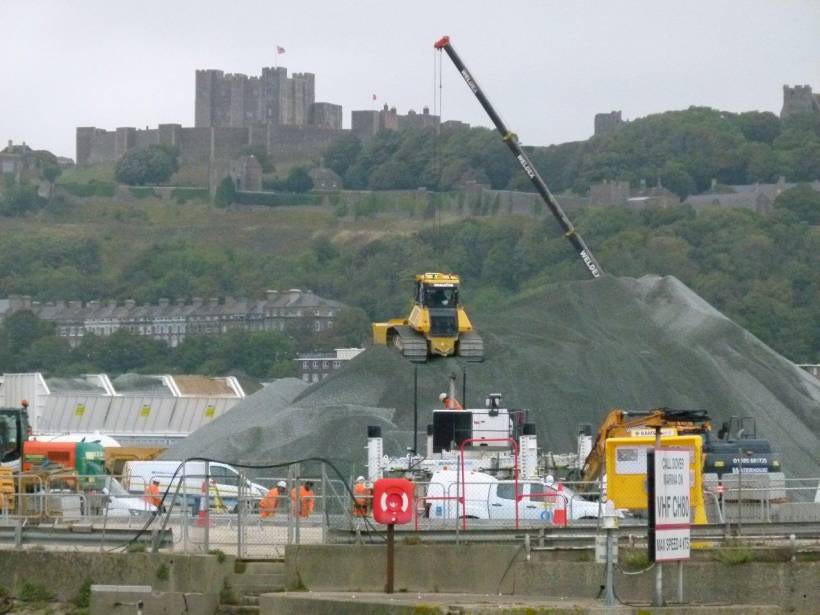 Friday, 17 August 2018 - 00:35
Post 5674
Sea News, Dover
Bit of a gloomy oul morning yesterday wednesday ( as it is indeed this morning ) for the arrival of she with the enchanting smile... AIDA aura.
Its been a while since we've seen the AIDA smile

And here it is..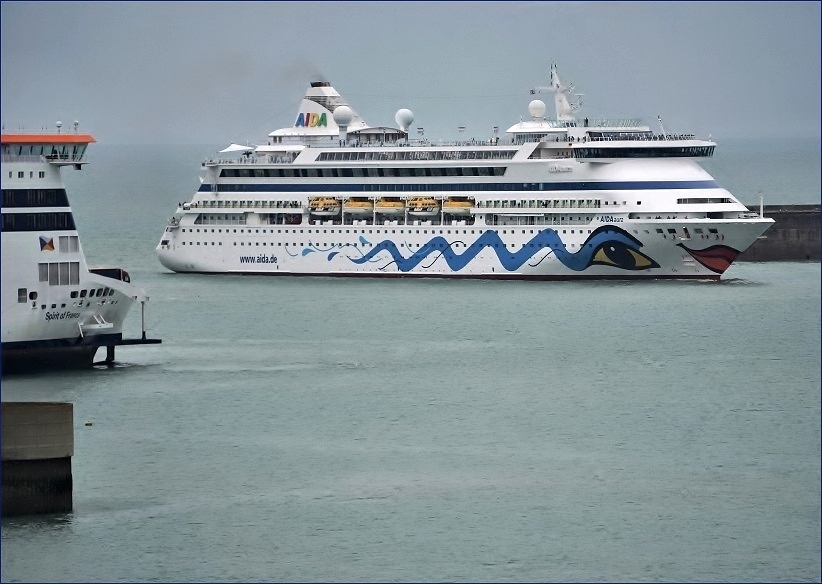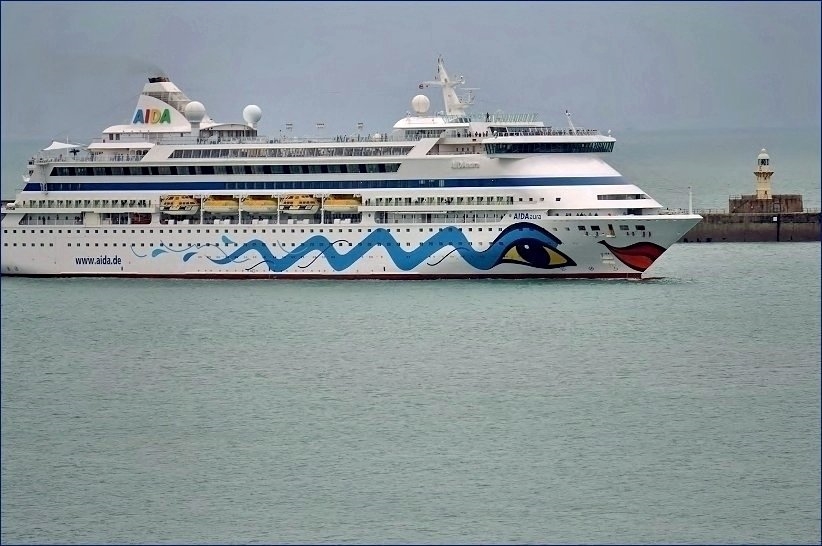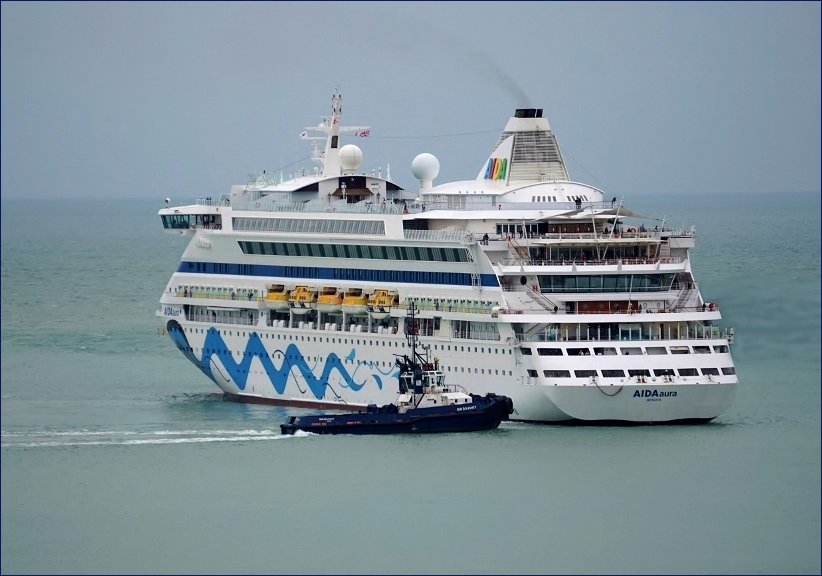 She left in the dark last night, heading off towards Ireland.
Have you noticed...the days are suddenly getting shorter...gadzooks!

Ace shot below Patrick of the Coastguard helicopter. Great stuff! More of the incident in 5140.


Lol Del ...yes indeed that's a mouthful..

PB
Thursday, 16 August 2018 - 07:20
Post 5673
Del Styan, Norwich
mmm - sand shift shovelling, tricky one.

Wednesday, 15 August 2018 - 23:10
Post 5672
Patrick, Marine Parade
Last week saw a full scale search mounted in the outer harbour when it was reported that a person was missing in the water. Thankfully the person was found to be safe and well and the search, conducted in a line sweep across the harbour, by several of the DWDR support vessels, DHB launch, Dover Lifeboat and others, including the Coastguard Rescue helicopter, was called off.
G-MCGU helicopter that took part in the search using a thermal imaging camera.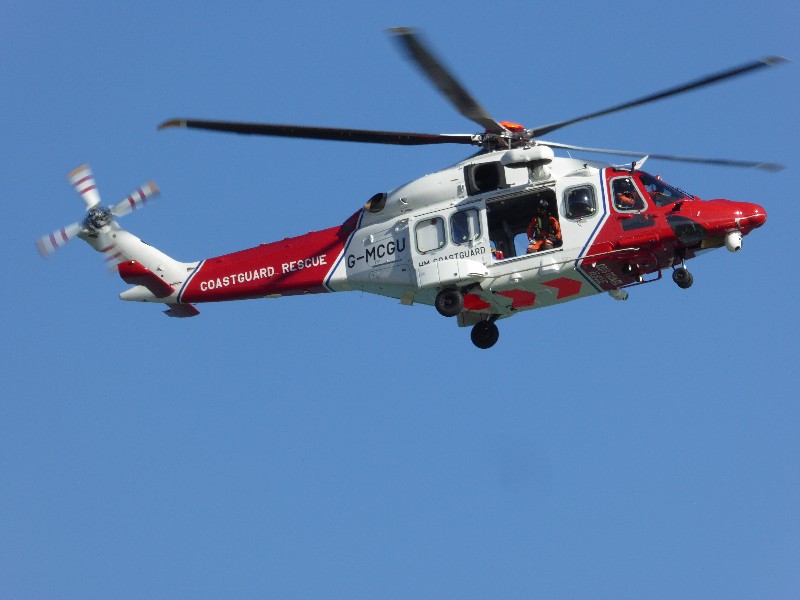 Wednesday, 15 August 2018 - 17:42
Post 5671
Sea News, Dover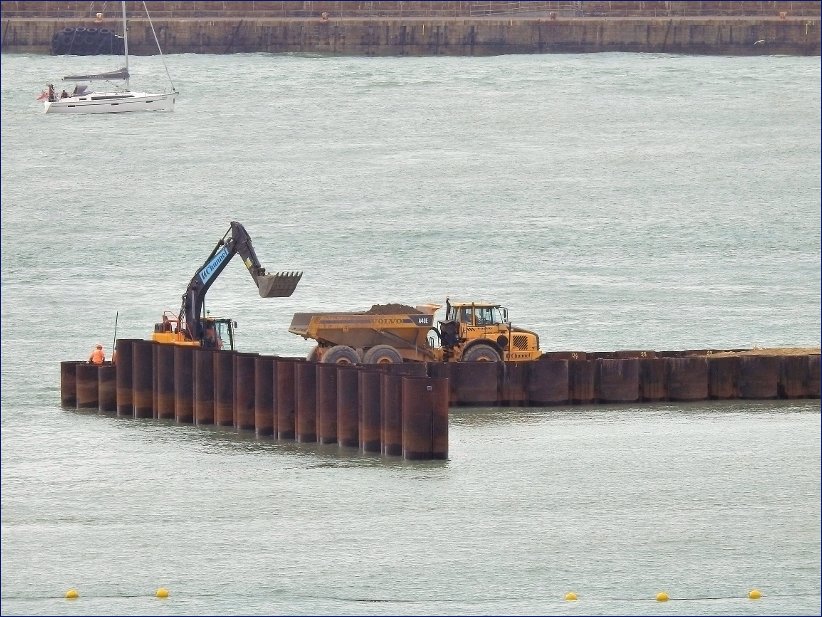 ALL AT SEA:
These pictures.. as you can see .. show a truck and a digger all the way down at the very pier tip of the new development. Shifting sands. From my angle it doesn't look possible to get a truck and a digger all the way down there to the leading edge but indeed they have and indeed they do. Some might say its the cutting edge of sand shift shovelling...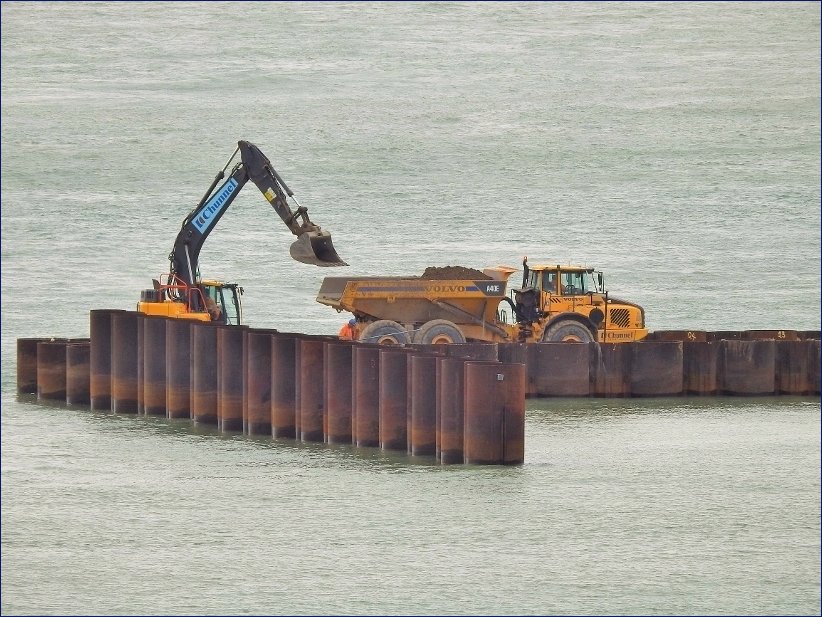 More REGATTA information now.....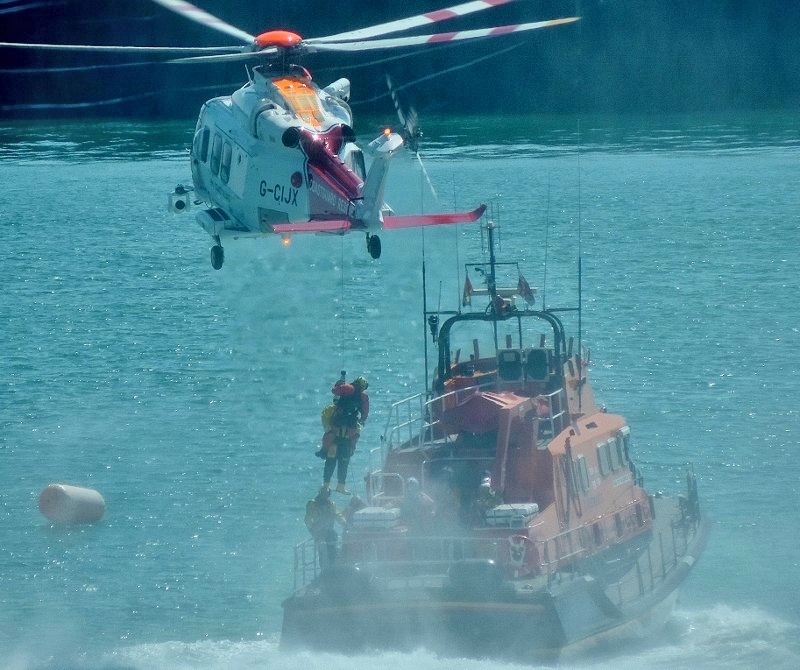 REGATTA MUSICA:
Here we are with a list of all the musical happenings on Regatta Day August 26...
________________________________________________________________________________________
As well as all of the maritime fun, this year's Port of Dover Community Regatta is set to be a musical extravaganza.
On Sunday 26 August, the shore side stage will provide the platform for some great local talent to perform throughout the day and into the evening.
The programme of artists for the day will be:
10:00 – 10:30 The Wiggins Sisters
Singing group of sisters, performing both covers and original material. Based in Kent.
10:30 – 12:00 Swingtime Sweethearts
The Swingtime Sweethearts are Annie Riley & Le'arna Castle, both successful solo artists, with a combined experience of over 20 years. Their affection for the forties has brought them together to perform as the Swingtime Sweethearts. Their wide range of songs from the 1940s, wartime & swing, includes the hits of The Andrews Sisters, Vera Lynn, Anne Shelton, Gracie Fields and Glenn Miller. The girls have been very busy since meeting in 2006, performing at Air shows, War events, and Festivals all over the country.
12:00 – 13:30 Happy Feet Ragroof Players
Let's dance! The Ragroof Players present their latest participatory show, Happy Feet, in which a team of fabulous DJs and dancers take you on a non-stop dance-a-thon through the decades.
14:00 – 16:00 Kent's Michael Buble – Jason Allen Sway
His tribute to The Great American Songbook includes some of the greatest swing songs ever written, performed by some of the world's biggest stars including Frank Sinatra, Dean Martin, Sammy Davis Jr and modern favourites Michael Buble, Jamie Cullum & Robbie Williams.
16:30 – 18:00 Cool Manière
Cool Manière are a 5 piece band from Kent. Playing music from the 60's up to current day.
18:30 – 20:30 Rudy Warman & the Heavy Weather
A popular trio from Folkestone playing all original music with their own unique sound.
So come along, enjoy the fun and watch some of Kent's best talent perform on our beautiful Dover seafront.
ENDS
...so there you are, if all that doesn't get your foot tapping..well ..

* *
Excellent inshore coverage from Mike below, very enjoyable pictures for sure. Don't miss those below.

Excellent Cruise coverage below from Colette - will keep checking that. Always easily found in the Search Engine

Many thanks to both Dave and Vic for the comments too. Interesting info there...

PaulB
Wednesday, 15 August 2018 - 06:45
Post 5668
Mike J., Dover
The MAYBE shifted across to the fuel berth Tuesday morning & sailed for Dublin about 1630.
Here's a few pix of her as she prepared to sail & I'm sure that we wish her Bon Voyage on the next leg of her interrupted voyage.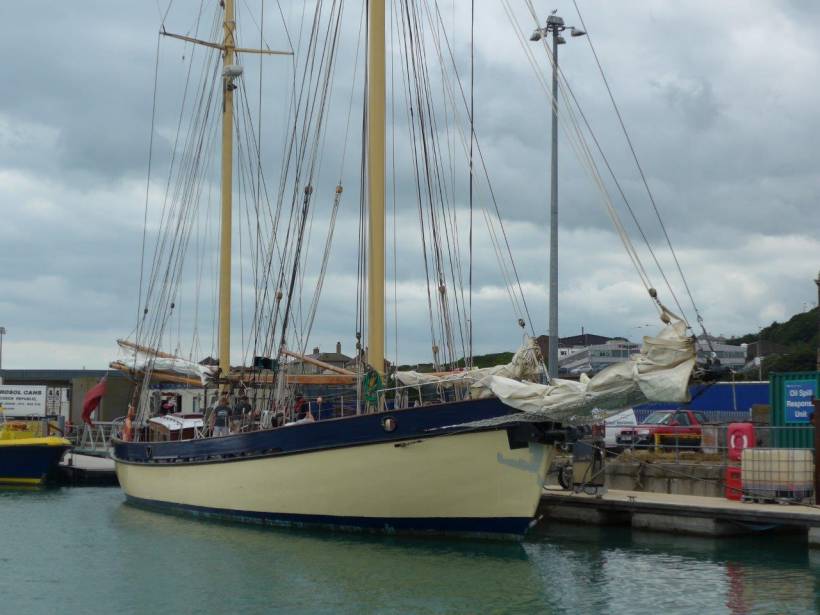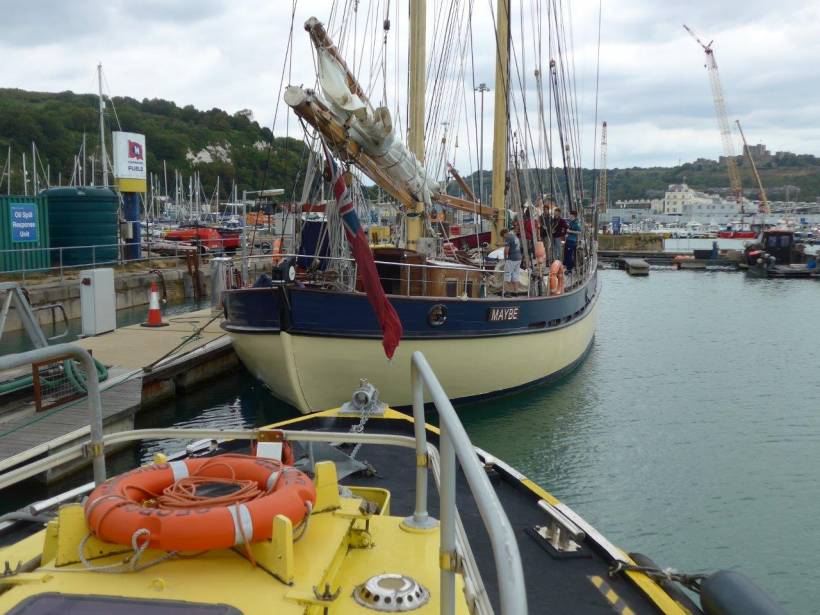 She was very close to the Goodwins before the Dover lifeboat was able to secure the towline & efficiently bring her safely back to Dover.
Another good job well done.
The fuel berth enabled 'different' views of the tugs.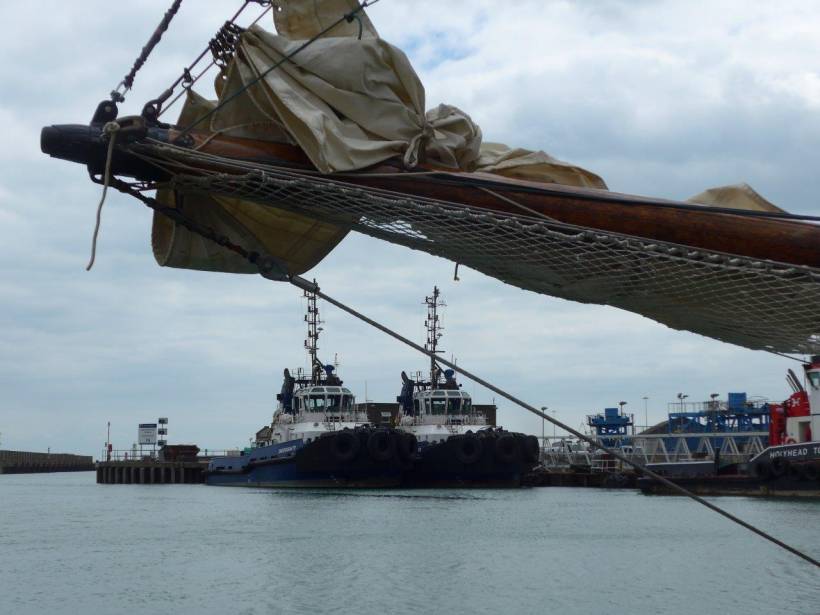 The lifeboats have changed round, with CITY OF LONDON 2 back on her usual berth by the boathouse & relief boat DANIEL L GIBSON is laid-up in Granville Dock.
Wednesday, 15 August 2018 - 01:09
Post 5667
Dave, Sandwich
Re post 5139:
Don't worry Vic, I doubt Dover will be loosing any trade to Ramsgate. This Seaborne lot has got Euroferries written all over it. Even if (big if) this has any credibility I doubt that FRS are going to let the AL ANDALUS EXPRESS go anywhere. They have just invested a lot of money into her, inc. a replacement engine and she now has an internal ramp which isn't suitable for the short sea routes.

Tuesday, 14 August 2018 - 18:34