Wednesday, 18 September 2019

WWW.DOVERFORUM.COM/SEA-NEWS
Featuring all the ships that come and go and work at the Port of Dover ..
... with further coverage of the surrounding ports.
Sea News Dover
Use our SEARCH ENGINE below to find all sorts on the SEA NEWS pages....type in the topic and away you go, or if you have the post number, just type it in the box, more than - 6500 - nautical posts now.
Posts are welcome. just click 'Add Your Comment' below. Max of 5 pictures preferred although we can stretch that for special stories.. Sea News Editor Paul Boland - send info or pix to dover7@msn.com. Always welcome.
CRUISE CALLS:
https://www.doverport.co.uk/cruise/find-a-cruise/
UPDATE:
To show your pictures at their best..it could be worthwhile resizing before posting to
850
pixels wide.
All pictures on these pages are the copyright of the owners and must not be reproduced without permission.
Post 6417
Mike J., Dover
Boatyard, Tuesday afternoon.
DOVORIAN & preserved lifeboat WILLIAM & KATE JOHNSTON [posts 2773/93] blocked-up in the yard.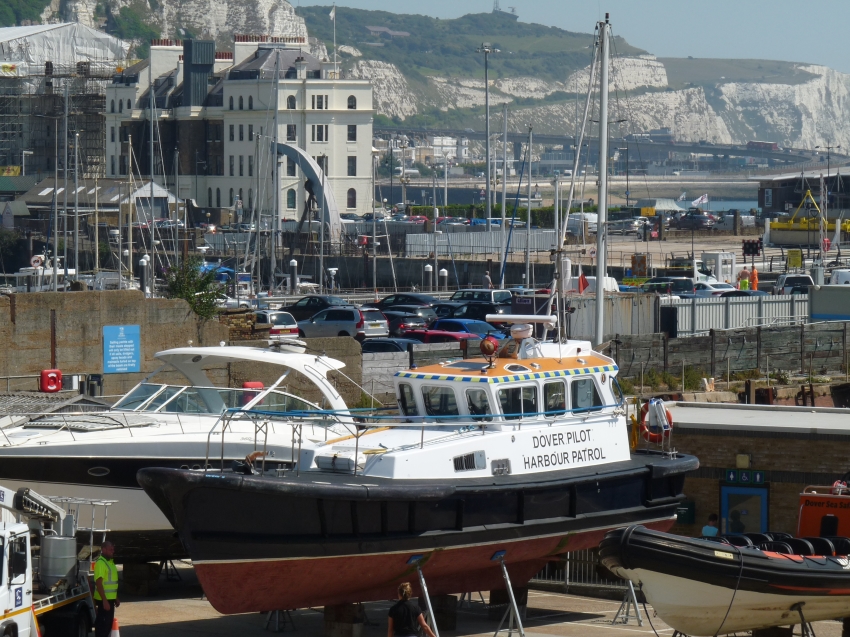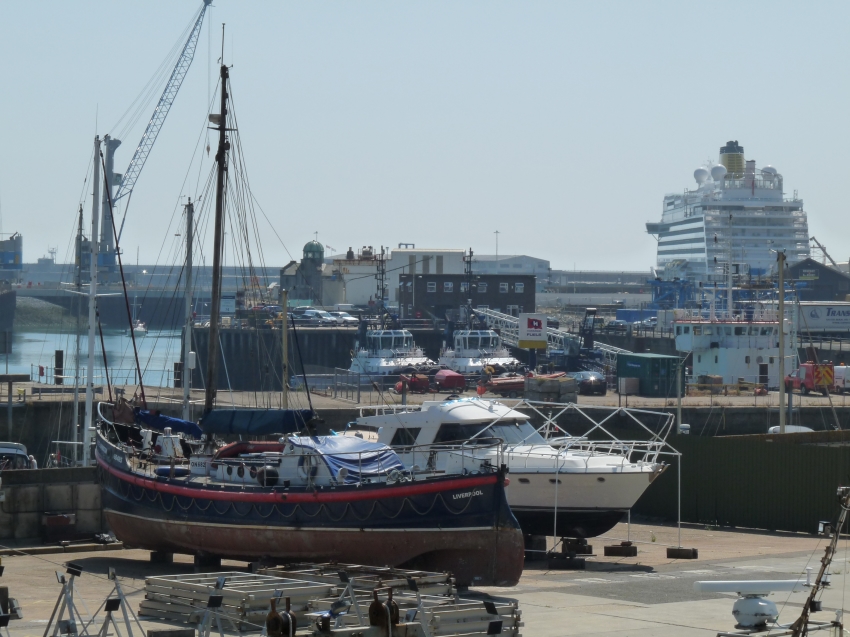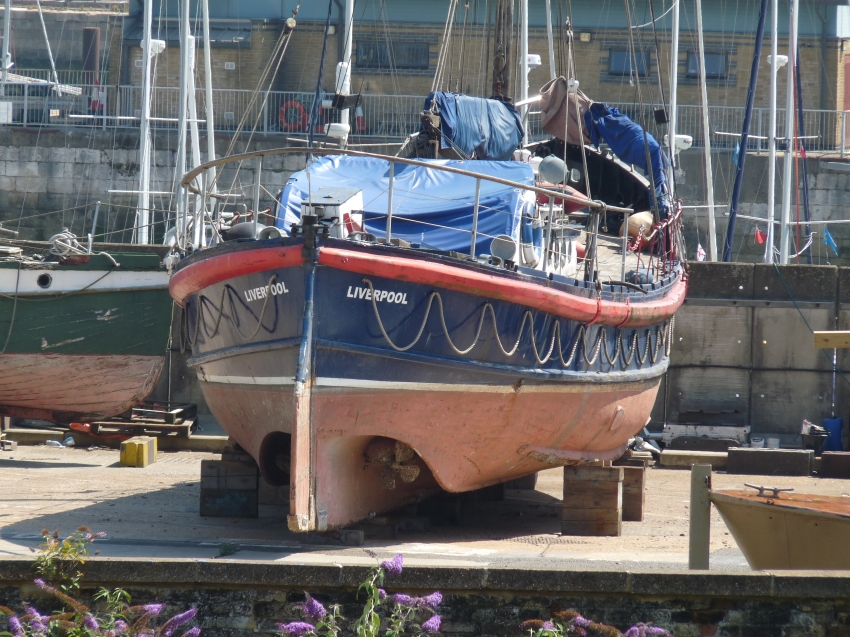 A yacht on the move & in the background the immaculate red-hulled TERLYN [post 6270] high & dry for even more than than the usual TLC.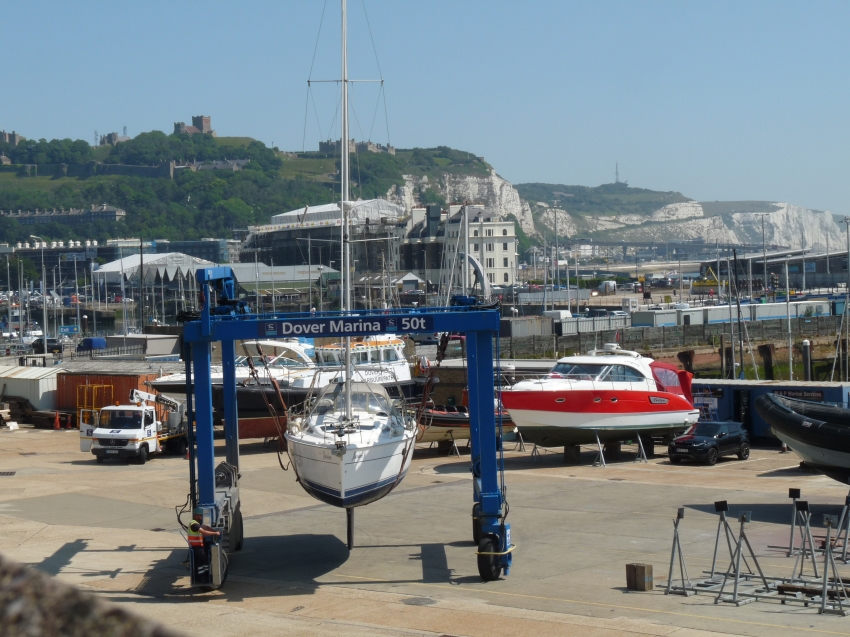 SPIRIT OF DISCOVERY is in the background to one of the lifeboat pix, here she is dropping the pilot as she sailed Tuesday evening, heading for Guernsey while the SPIRIT OF FRANCE was berthing.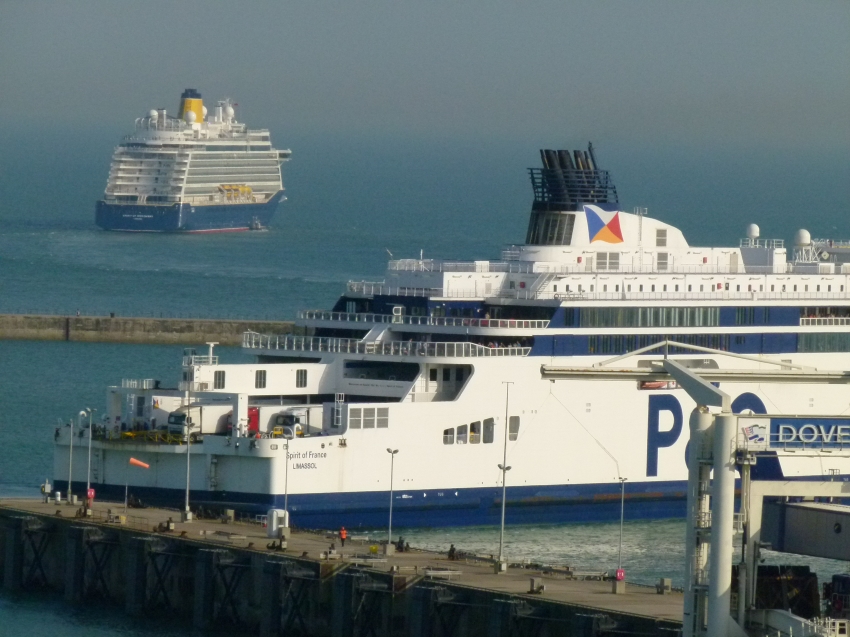 Thursday, 25 July 2019 - 00:02
Post 6416
JanT , Dover
I have just been told by Ken that his eyes are closed because as his rifle is 'reversed' the soldier would either be depicted at a graveside or attending a specific memorial service.

Wednesday, 24 July 2019 - 11:08
Post 6415
JanT , Dover
Drove passed the new statue on Monday had to slow down and take a closer look,it's a wonderful tribute to those who never made it home. I was lucky my Grandfather was one of those who came home.
And with the eyes closed I'm sure it's saying we remember all of you who never made it back.

Wednesday, 24 July 2019 - 08:32
Post 6414
Sea News, Dover
New Arrival: some pictures now of the stunning new statue on the seafront here in Dover.
"Thankyou to the WW1 Generation" a magnificent capture by artist Mark Humphrey.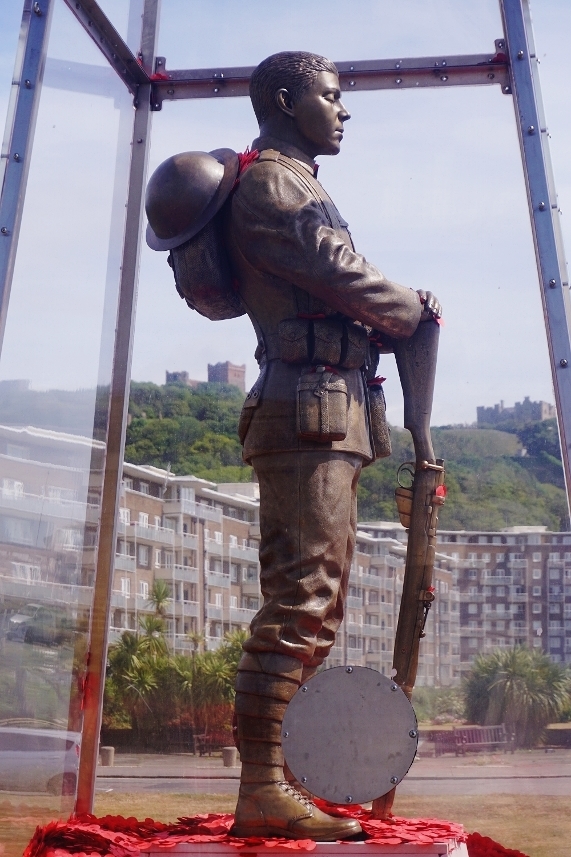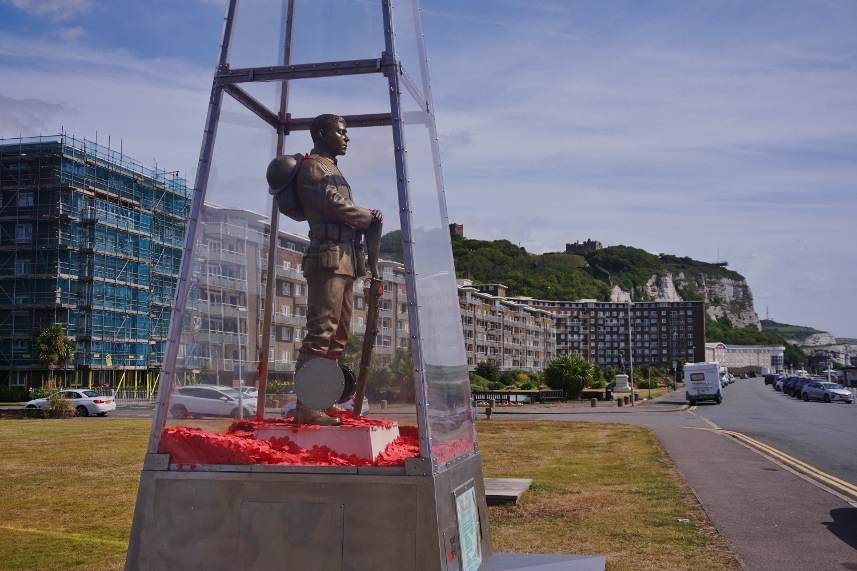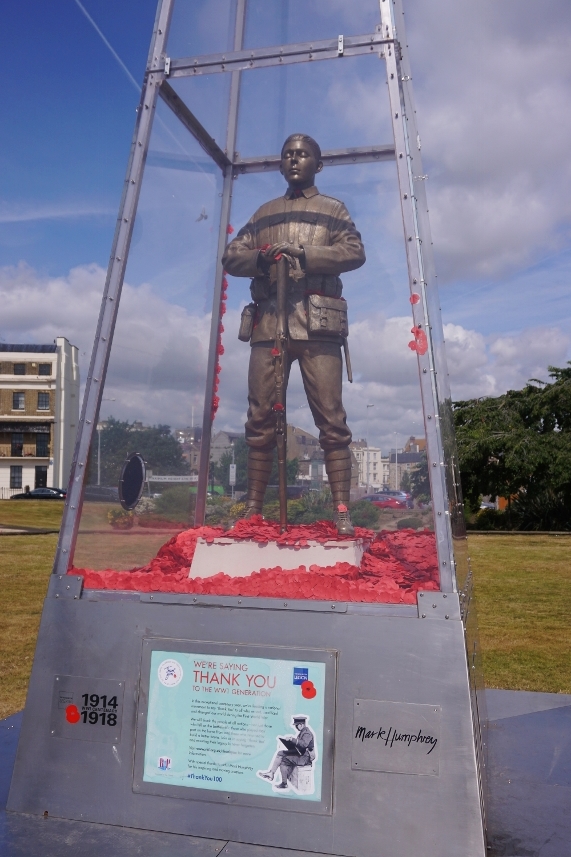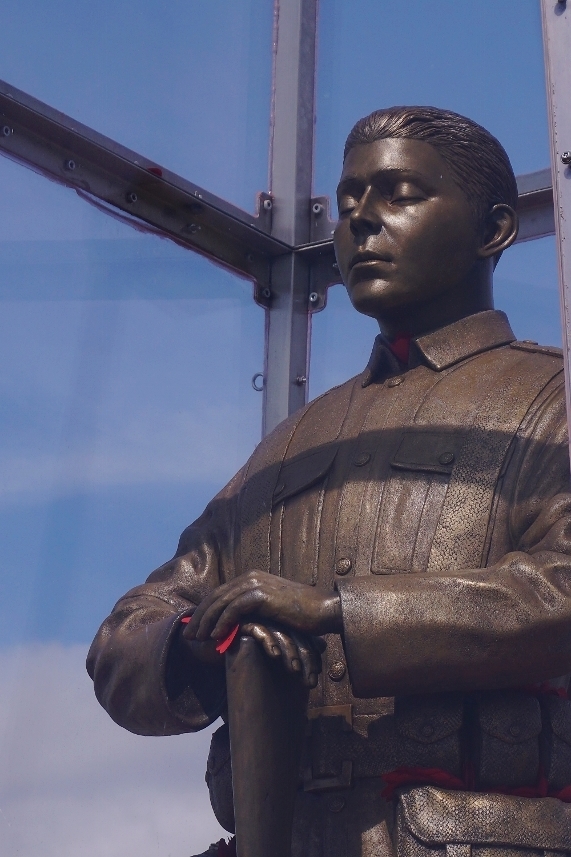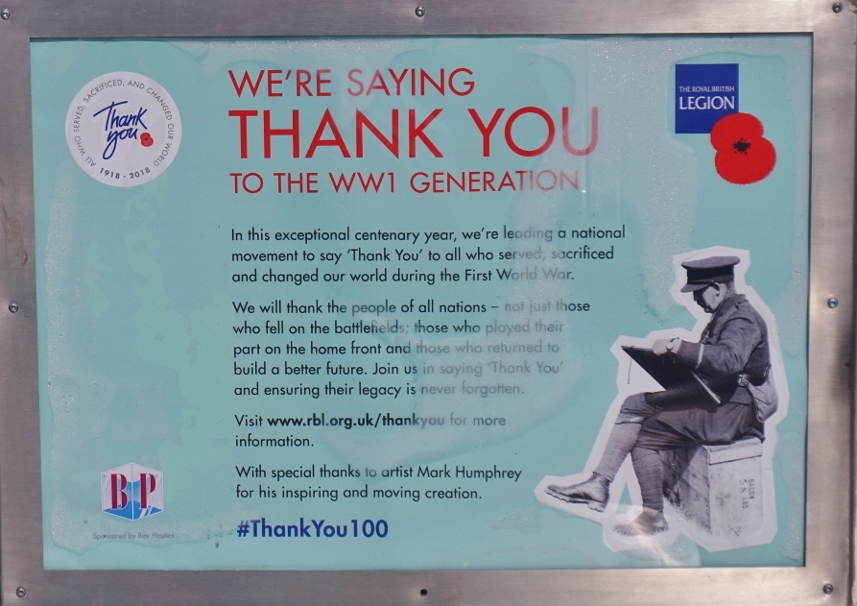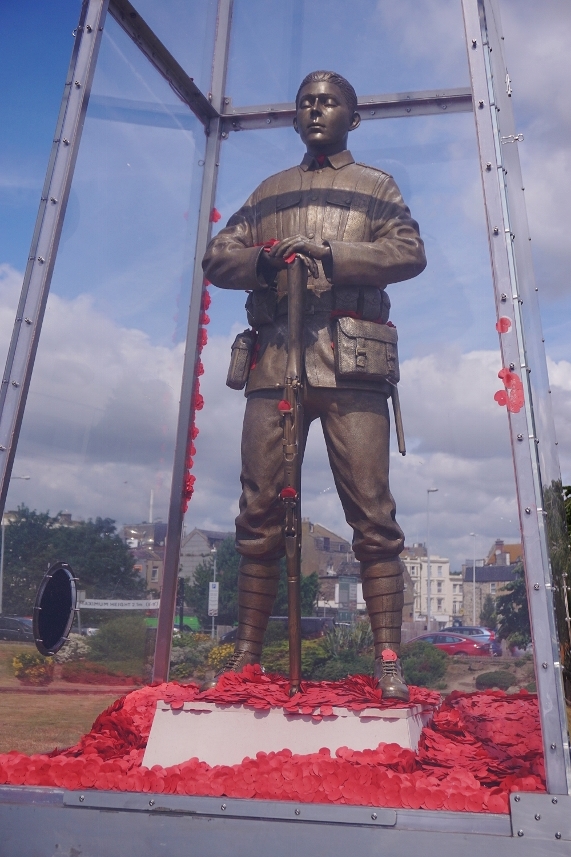 You will notice that delicately poignantly but chillingly the soldier sleeps...
PaulB
Pictures above were taken on Sunday morning...the wider shots clearly show the location if you want to come and see it.
It is attracting a lot of attention. Excellent.
Fascinating and enjoyable post below from Mike our 'inshore correspondent'

Don't miss that one...

Wednesday, 24 July 2019 - 06:38
Post 6413
Mike J., Dover
Excellent 'cover picture' with a superb sunlit view of the departure of the DISNEY MAGIC as she sailed on Sunday.
Hard to realise that this smart-looking ship is 21 years old & with the DISNEY WONDER were the first two ships of the Disney cruise line.
I heard a tale when Disney were new to cruising that it was a sackable offence if you worked in the Disney organisation & referred to the DISNEY MAGIC & the DISNEY WONDER as the DISNEY TRAGIC & the DISNEY BLUNDER.
However Disney knew that they were doing & what their customers liked & the fleet has expanded to four ships with a fifth one coming into service in 2021.
Tidal Basin – catch-up time -.
Another veteran visitor on 11/7 was the the rather nice motor yacht MAUDORCES built in 1925 on the Gareloch, better known now for the nuclear suimarine base at Faslane.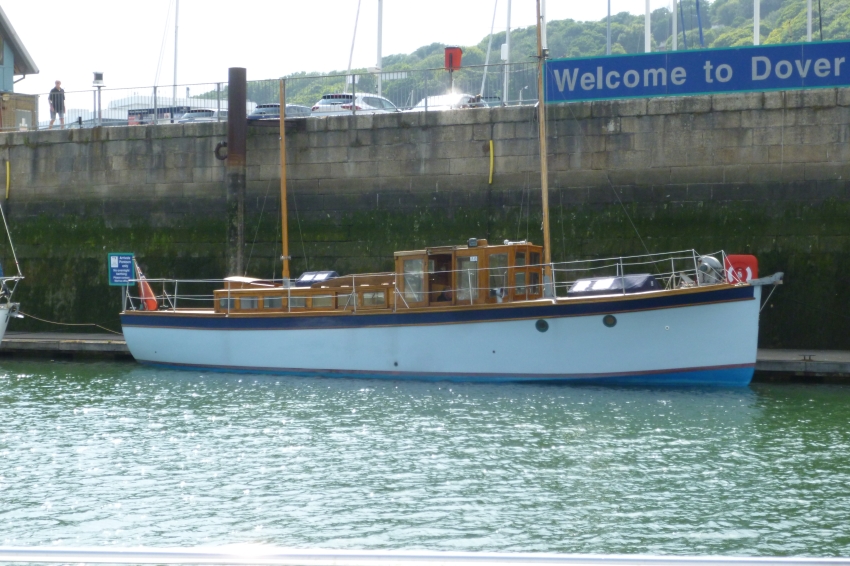 She was overnighting on passage from Aldburgh, her normal base, to Cowes.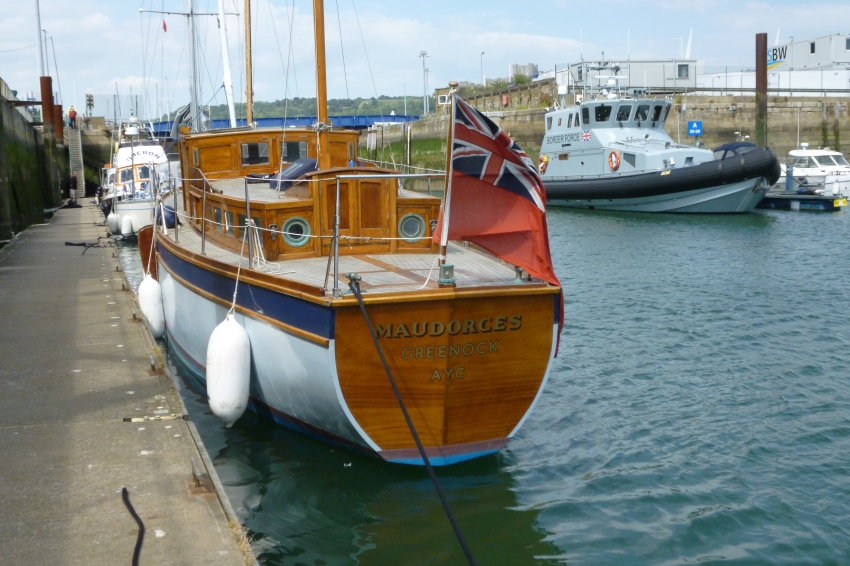 During WW2 & under another name she worked as a Clyde patrol vessel & one of her duties was watching for parachute mines falling into the river.
She was 'marking' the position of one of the mines with a buoy when the mine exploded & she was damaged, but after repairs returned to duty.
The incident was recorded as a cartoon in a Glasgow evening paper which is proudly kept on board.
Thanks to Mr.Wilson, the owner, for the hospitable reception.
Two rescue boats, one from Viking Marine & the other ex-the Holland-America WESTERDAM remain in a corner of the Tidal Basin.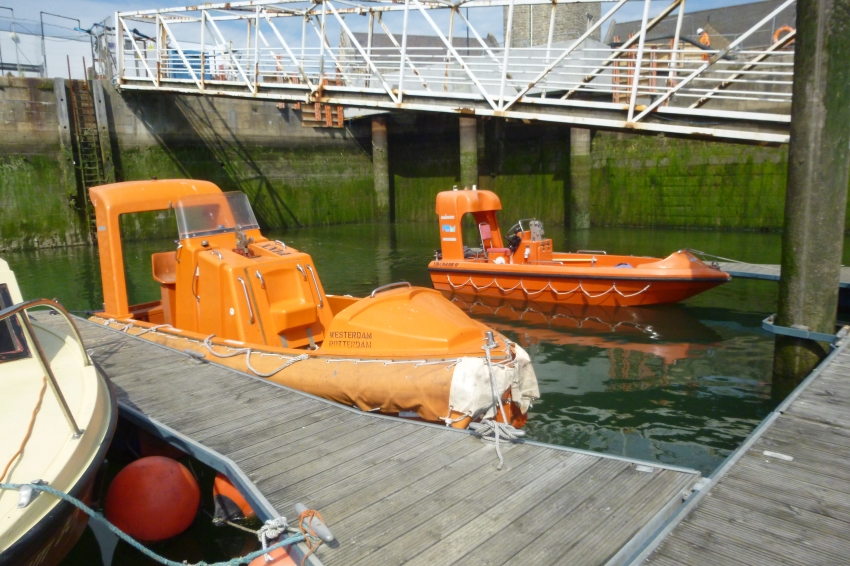 The Viking Marine 'crewman' was having a nice lie-down before being thrown over the side to be rescued yet again.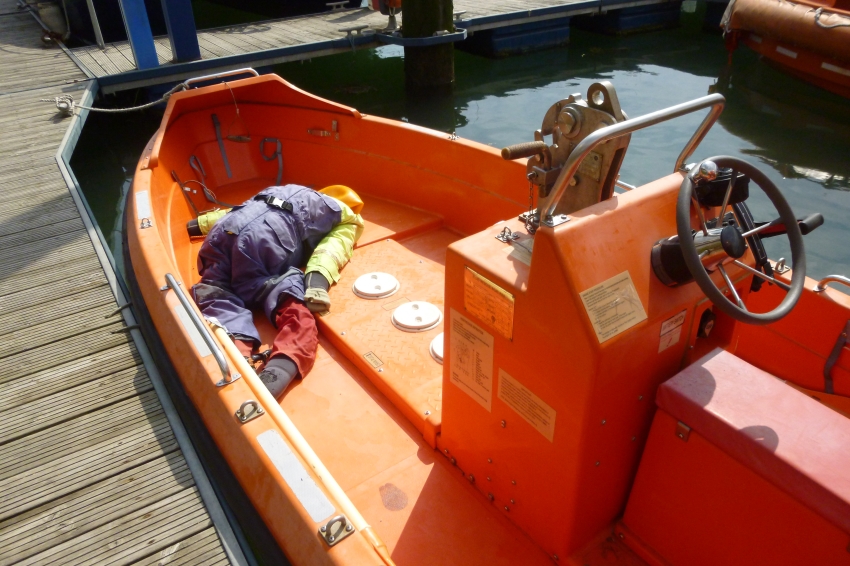 Wednesday, 24 July 2019 - 01:15
Post 6412
Sea News, Dover
The Disney Magic moves away.....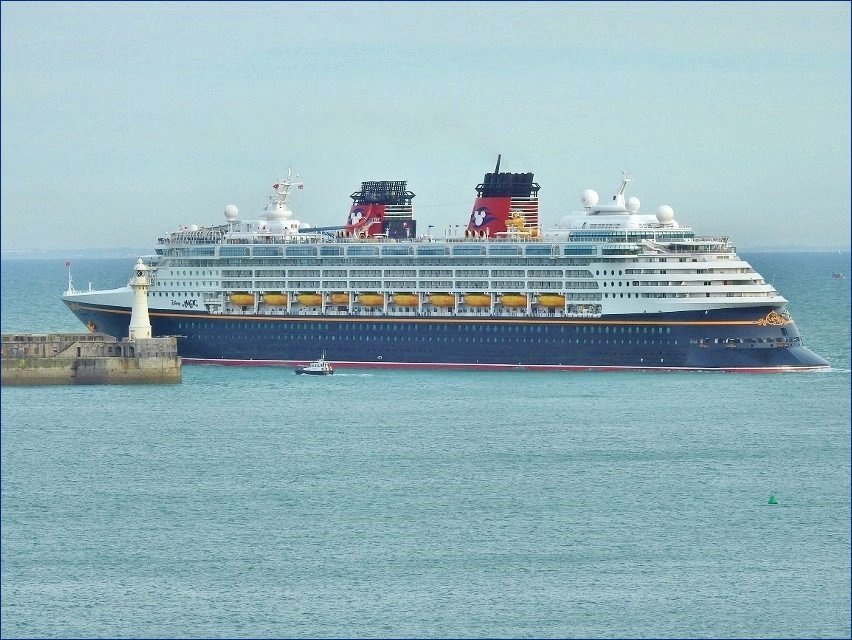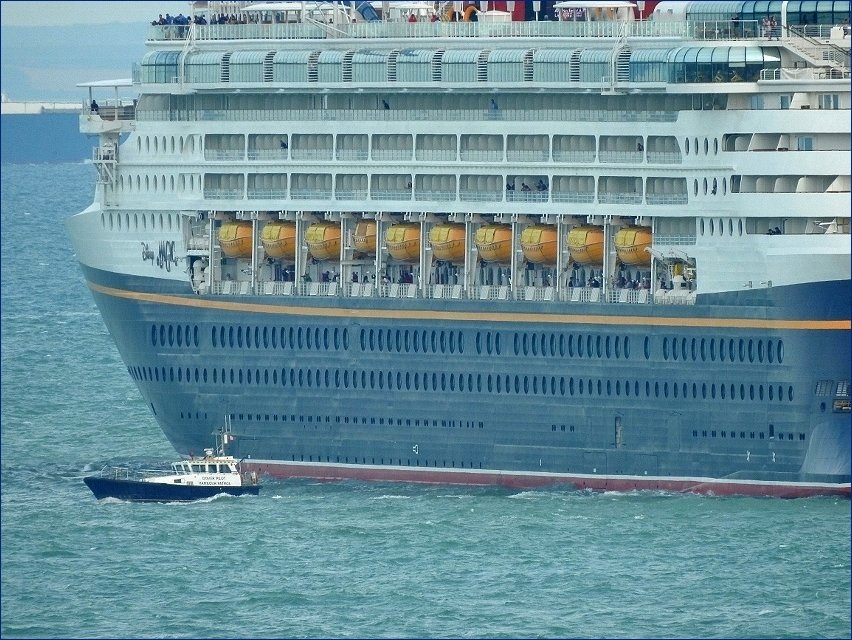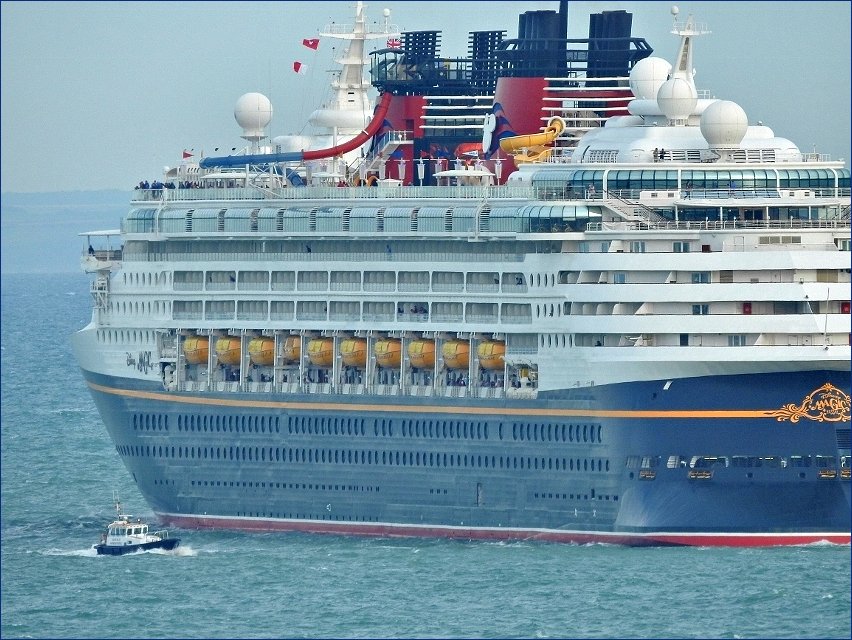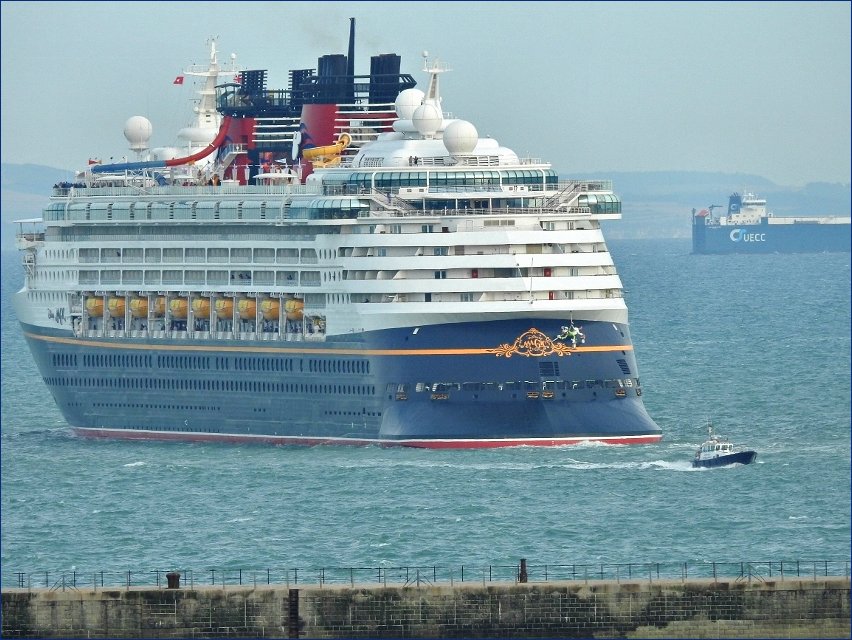 Yes away goes the Disney Magic above on Sunday evening... away on her 11 day circular cruise of Iceland..also calling at the Norwegian fjords and eventually finishing in Copenhagen. You can see the pilot boat featuring in most of the shots above ( in fact in all of the shots .. now that I double-check!)... see also the posts below 6410, 6411, for more pictures...
PB
The Spirit of Discovery back in Port today after its round Britain cruise...
will have pictures tomorrow of the new WW1 Soldier..the glass encased statue now on the seafront.
Tuesday, 23 July 2019 - 05:48
Post 6411
Sea News, Dover
DFDS deal aims to make its school trip crossings top of the class for next academic year
__________________________________________________________________________

• Prices from £19 per person • Special offers for coach drivers and teachers • No baggage restrictions
Award-winning ferry operator DFDS aims to be the 'go to' operator for schools, as heads and their staff plan group trips to the Continent for the next academic year.
Prices start from just £19 per person and crossing options include Dover to Calais or Dunkirk or, for schools and colleges based in the North or Scotland, there is the overnight 'cruise' route from Newcastle to Amsterdam.
Groups can travel as foot passengers* or aboard a coach and the DFDS deal includes special offers for coach drivers and teachers, with no baggage restrictions.
Crossing time is just 90 minutes on the Dover-Calais route or two hours from Dover to Dunkirk; crossing time on Newcastle-Amsterdam is 15-16 hours but the 'sleep over' in comfortable en suite cabins allows time to arrive refreshed on the Continent next morning.
Colin Fawcus, Head of Sales at DFDS says "Our ferry routes can be gateways to all kinds of academic or cultural expeditions. The destinations might include battlefields or other historic sites, the homes of famous artists, writers and historical figures, or some of the world's best museums or galleries.
"Our ferries into Calais and Dunkirk can really open up France, Belgium, Germany and Holland for short and longer school breaks or even ski groups to the Alps this winter. The overnight Newcastle-Amsterdam crossing also adds a cinema, live music and, with notice, our Guest Services team can arrange a disco for youth groups. It's worth remembering how much fun young people will get from being on a voyage with lots of fresh air and stunning sea views.
"Mealtime can also delight. Our Dover to France ships offer a self-service restaurant, fast food restaurant or snack bar, and with vegetarian and children's options. Groups aboard the Newcastle - Amsterdam ships offer even more, but the groups' favourite is the 'Explorer's Kitchen unlimited world-food buffet' – not surprisingly, offering dishes from all corners of the globe."
For more information on school group travel please go to https://www.dfdsseaways.co.uk/school-trips
OR call the group travel hotlines: 0871 522 9933 (groups) or 0871 521 1535 (coaches)
*foot passengers only applicable on the Newcastle - Amsterdam route.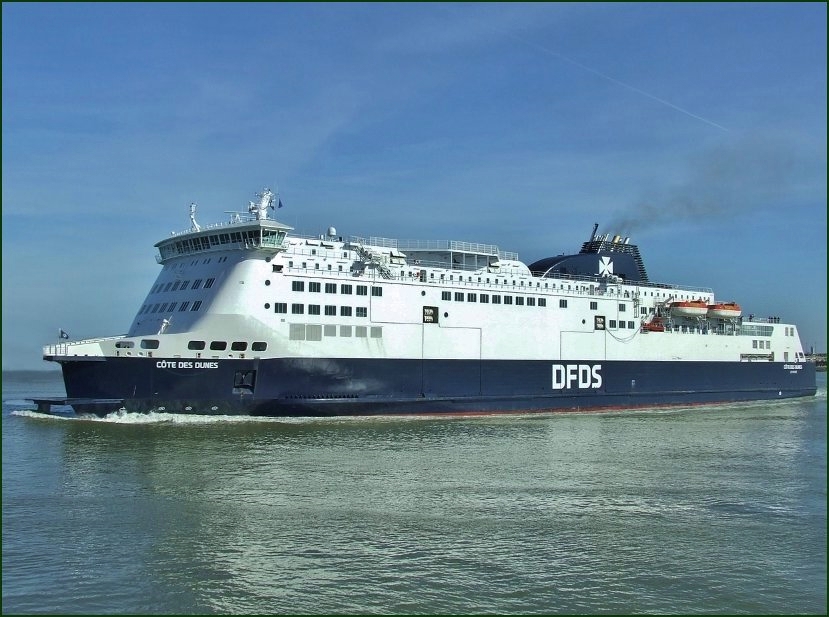 DFDS offers a free a 'Travelling Ted' bear when passengers spend £10 onboard
____________________________________________________________________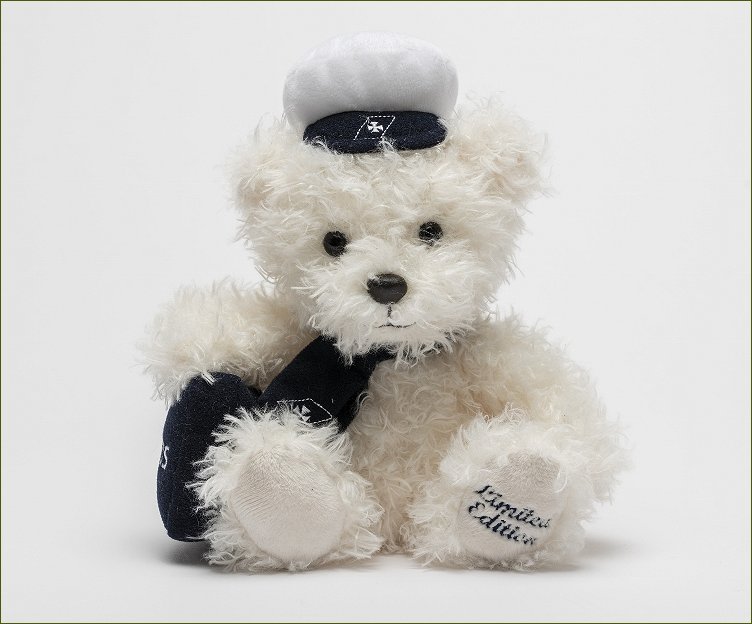 Award-winning ferry operator DFDS is treating passengers this summer to a FREE limited edition 'Travelling Ted' bear.
Whether sailing on the Dover-France or Newcastle-Amsterdam routes if you spend £10/€10 or more in the onboard sea shop and present the voucher, 'Travelling Ted' is yours to take home!
Take Ted on your travels and don't forget to tag him #TedsTravelsDFDS on Twitter at @dfds_uk and Instagram
at @dfdsuk.
Download the voucher to redeem your Travelling Ted bear here: dfds.co.uk/bear
ENDS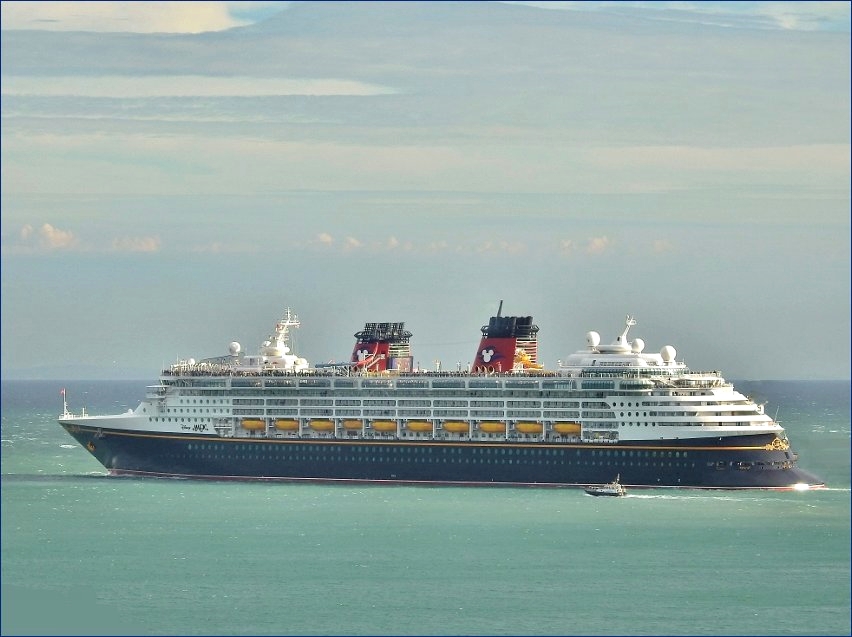 Yes see Mike's pictures below...the Disney Magic left last evening at 6.30, not playing 'when you wish upon a star" but did so earlier

. She was off on an eleven day round trip of Iceland calling also to Norway and finishing in Copenhagen in Denmark...and very nice too...
The local hotels were very busy with oodles of passengers waiting to board...
will have more pictures later...
Many thanks once again to the team at DFDS for all the brilliant info above...

See Mike's post below for the latest Disney pictures plus...Great stuff Mike !

PaulB

Monday, 22 July 2019 - 07:17
Post 6410
Mike J., Dover
Departure of the DISNEY MAGIC [about 90 minutes late] on Sunday evening.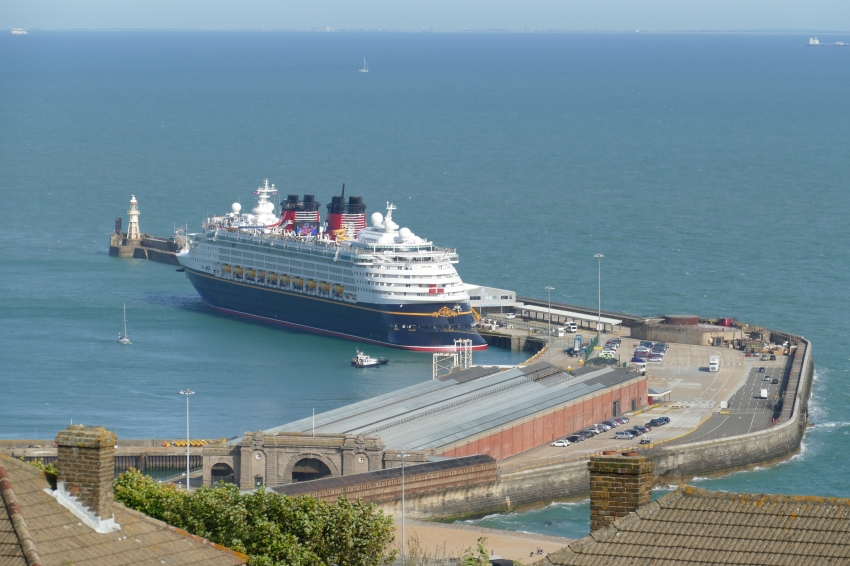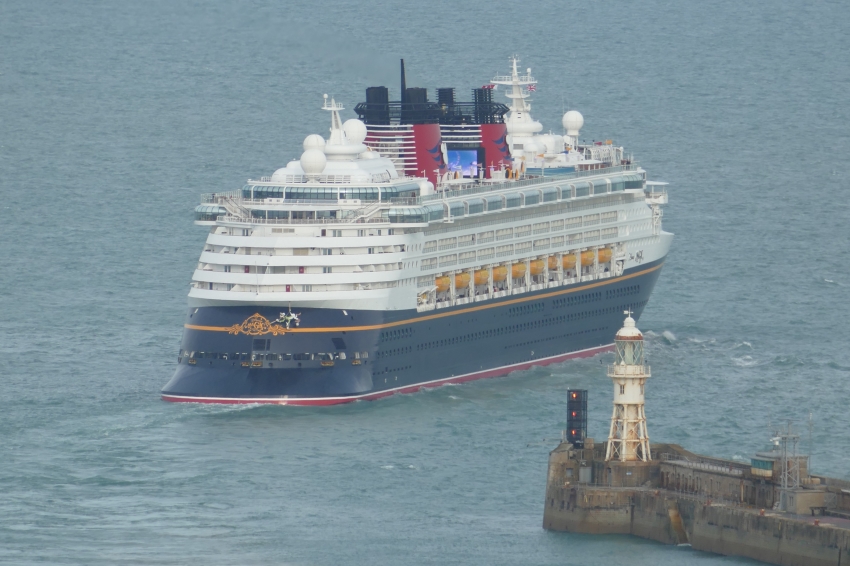 While I was waiting the Littlestone inshore lifeboat, ATLANTIC class FRED CLARKE came in towing a yacht that they had 'collected' further down the coast & I caught them returning to base.
I would have preferred to have got the lifeboat & tow from sea-level, but I was in the wrong place at the right time .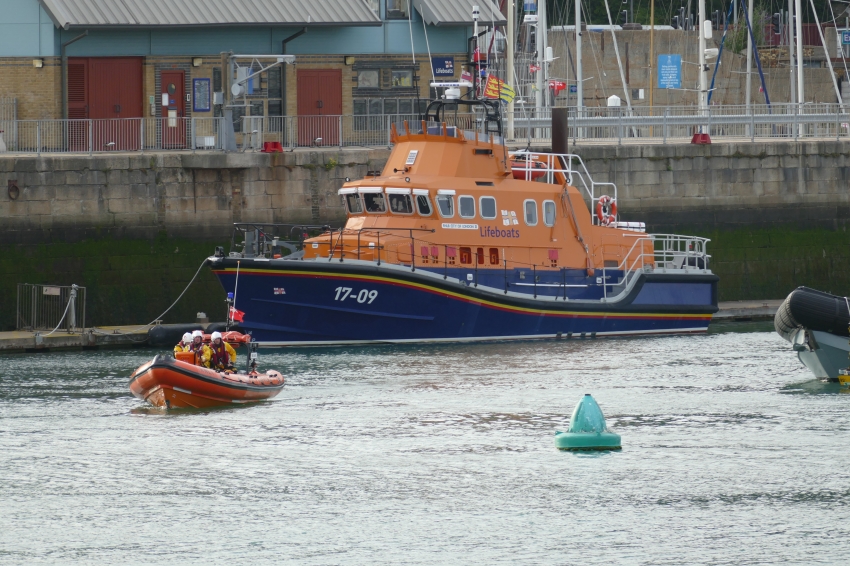 A friendly wave as they headed out, they were reckoning about an hour's run with a bumpy ride was in prospect as the wind was getting up a bit.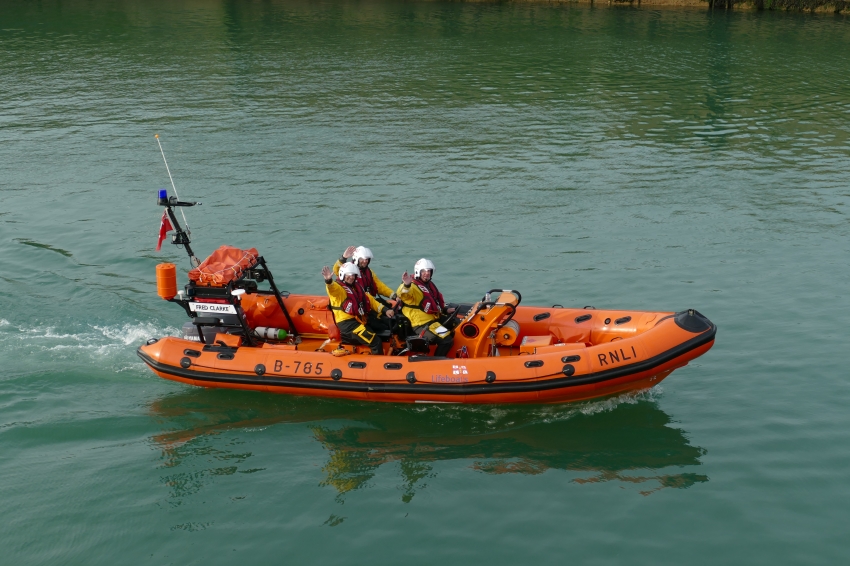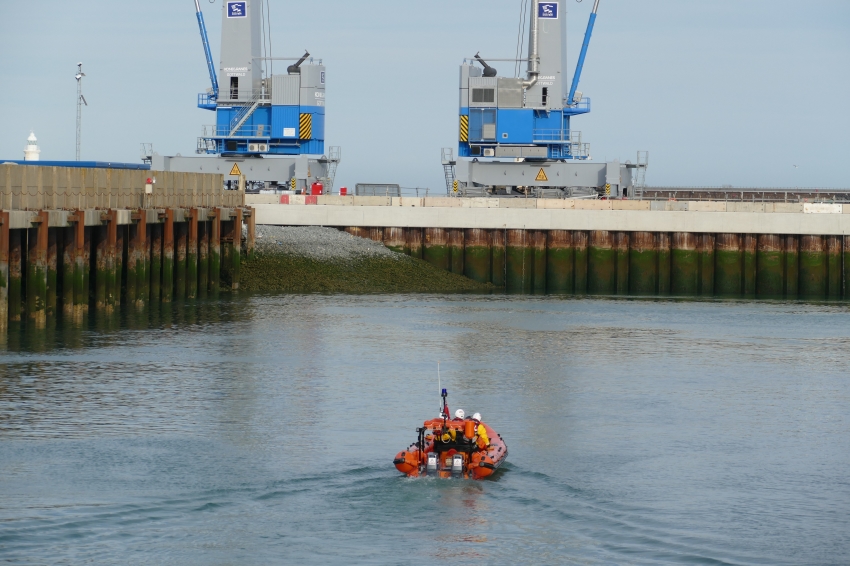 Monday, 22 July 2019 - 01:57
Post 6409
Sea News, Dover
Border Force Seeker....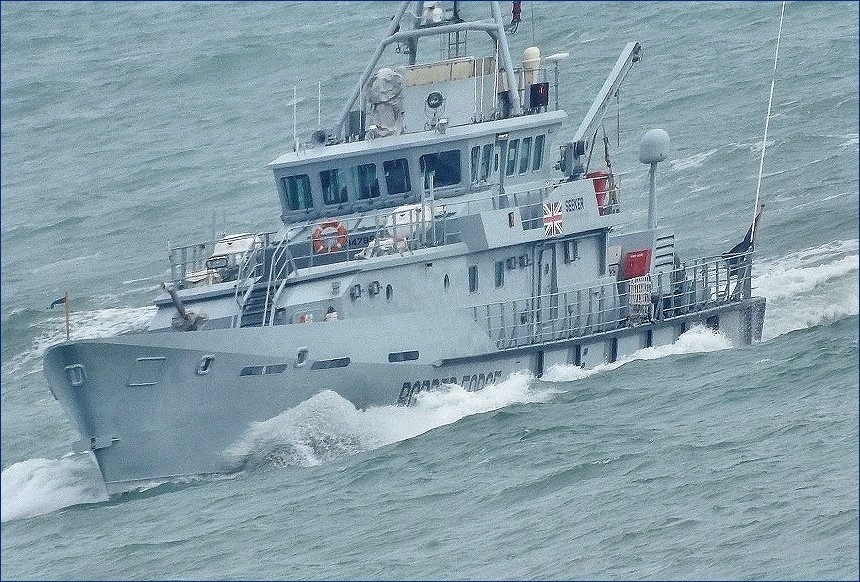 Top shot shows Border Force Seeker powering towards the Port on Friday early evening 17.40 and then in the second picture entering the Port. Yours truly assumed they had come in for a well earned rest...but not so...in a matter of a few minutes they were off again as shown in the picture below. You wont need me to tell you how busy it is for these guys... and indeed these pictures show it.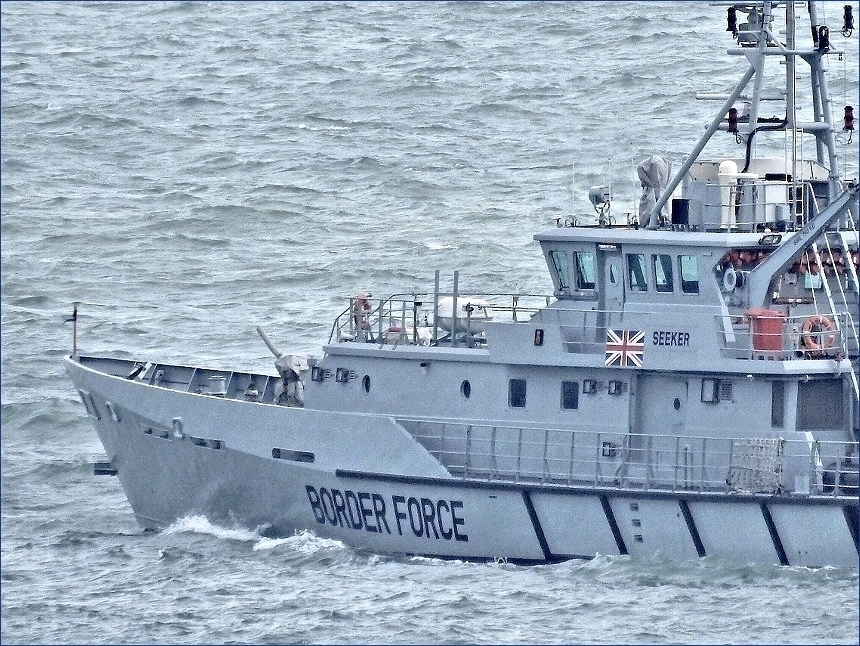 Border Force Seeker...busy times in Dover.
Del will do

PaulB
ps:The excitingly fabulous Disney Magic is in Port today. Great to see it...hopefully will have some new pictures later, none taken yet.
"When you wish upon a star"

Sunday, 21 July 2019 - 06:52
Post 6408
Del Styan, Norwich
Give my best to Sammy next time you see him fly past!

Saturday, 20 July 2019 - 23:11
Post 6407
Sea News, Dover
Celebrity Reflection once more...this time leaving the Port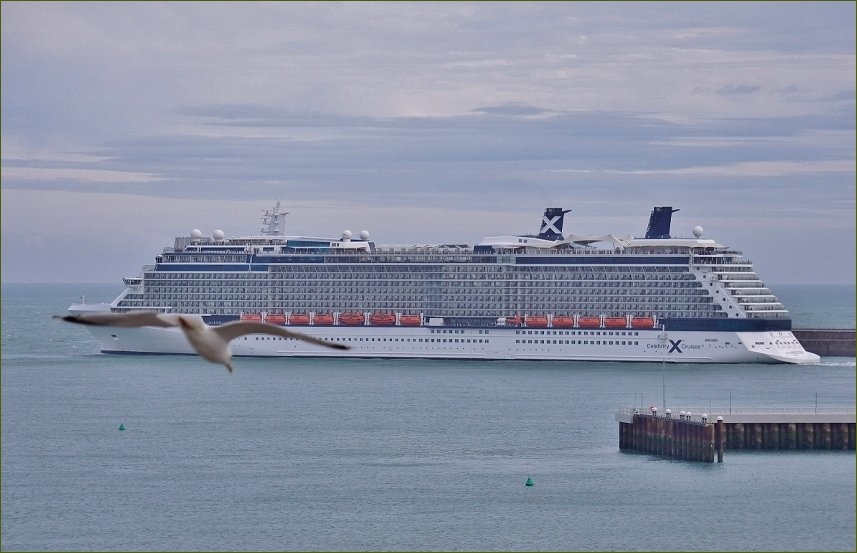 Just when yours truly had everything set for the first shot, Sammy the Seagull swooped into view and ruined everything. Well.. its true...We pay him a modelling fee regularly so that he will strategically place himself in some of the pictures, but this time he overdid it...divebombing the situation...Well I never!

Situation corrected below... as the magnificent Celebrity Reflection moves away. She was heading on to Zeebrugge and then on to Amsterdam to complete her 12 day round British Isles cruise. See also yesterdays pix further below of her arrival here in Dover, we promised departure pictures and here they are today.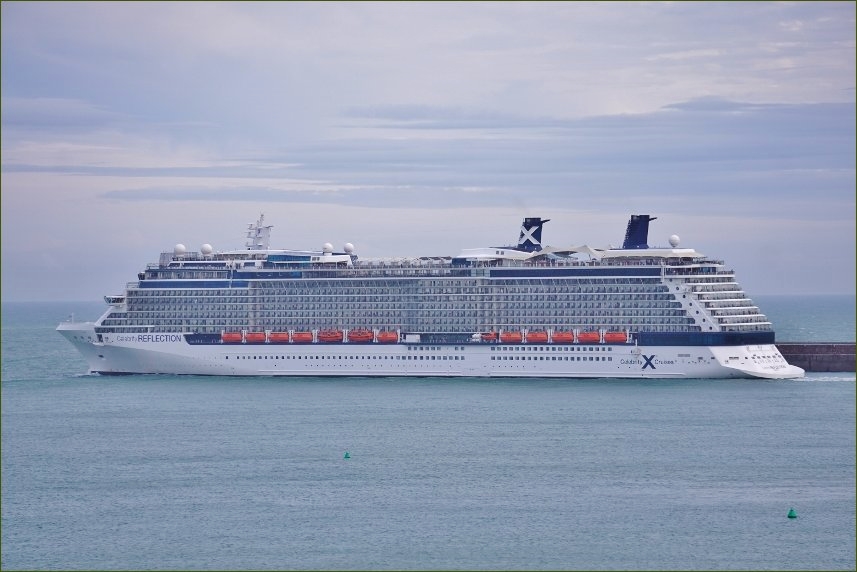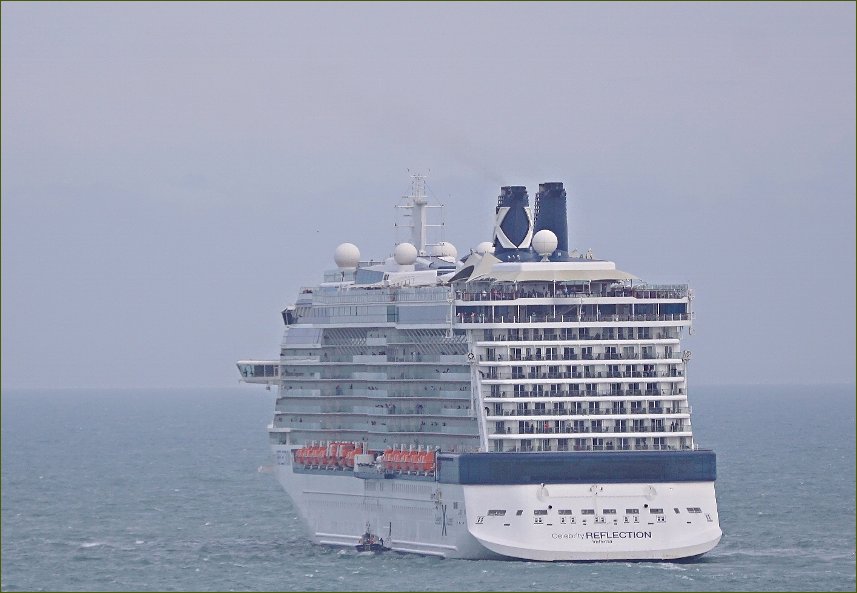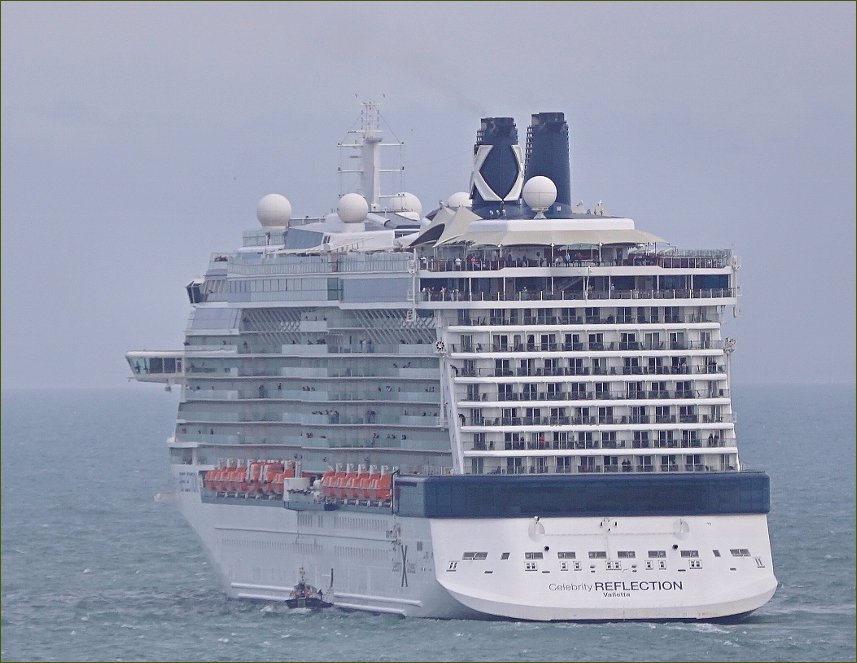 Celebrity Reflection Leaving the Port of Dover.
July 20 : This is the historical day Neil Armstrong first set foot on the moon...50 years ago today.
See also recent moon shots 6403. Or indeed type in Moon in our Search Engine above and see more...
PaulB
Saturday, 20 July 2019 - 04:45
Post 6406
Sea News, Dover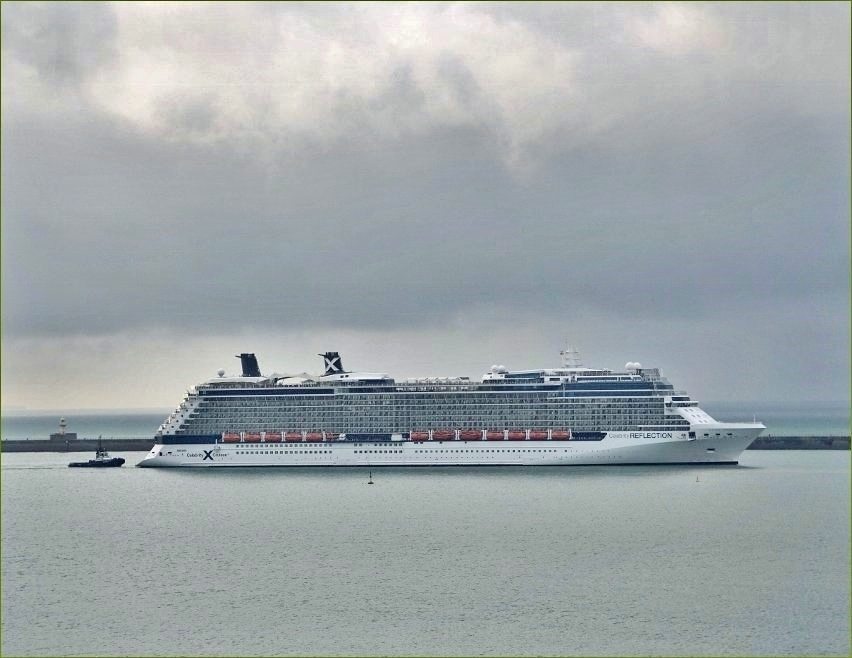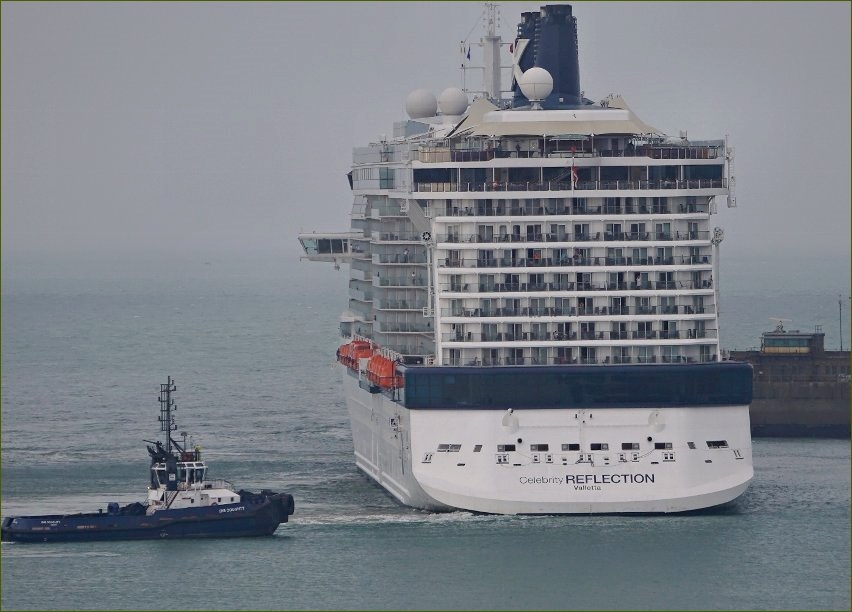 Celebrity Reflection arriving at the Port of Dover.
Showing a few extra pictures this morning in an effort to catch up on the general comings and goings. Top three shots above there show the arrival yesterday Thursday here at the Port of Dover of the magnificent and delightfully large Celebrity Reflection ( 125,000 tons plus )... as we used to say...'wot a whopper' before the term was pinched by a burger chain..

A magnificent cruise liner for sure..she is on a 12 day round trip from Amsterdam going round Britain and also calling at Dublin, Cherbourg, and Le Havre. Truly great to see ships like this here at Dover. Will have some pix of her leaving too when we catch up further.
A day or so earlier and we see the sleek Seabourn Quest below...moving away through the eastern exit on her way to Reykjavik in Iceland. A very interesting trip indeed.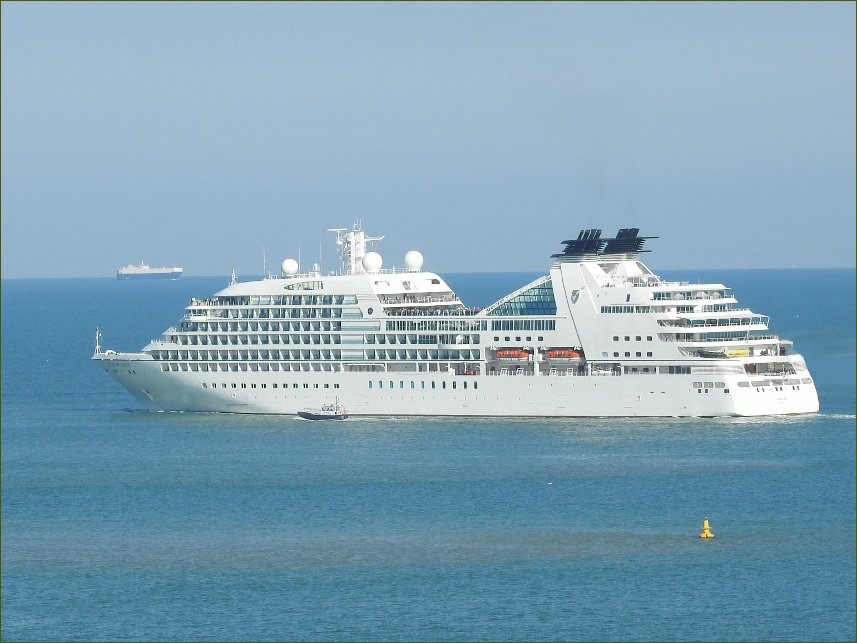 Elvira, a familiar reefer arriving here with us on the 14th from Vlissingen in the Netherlands...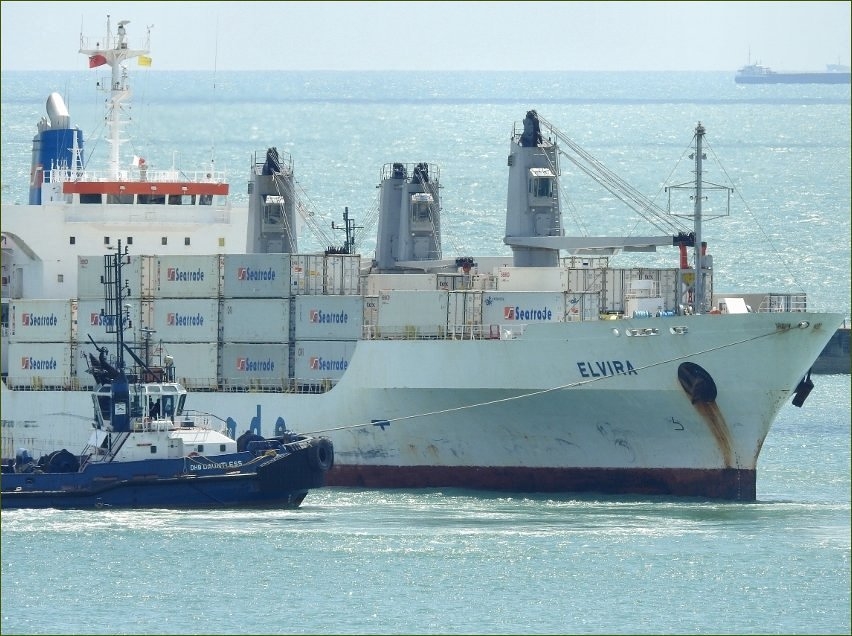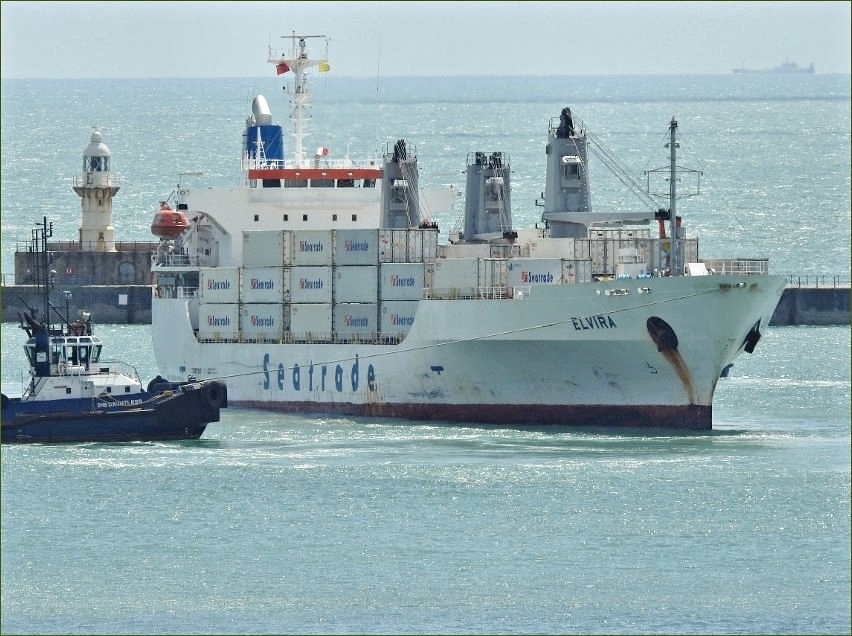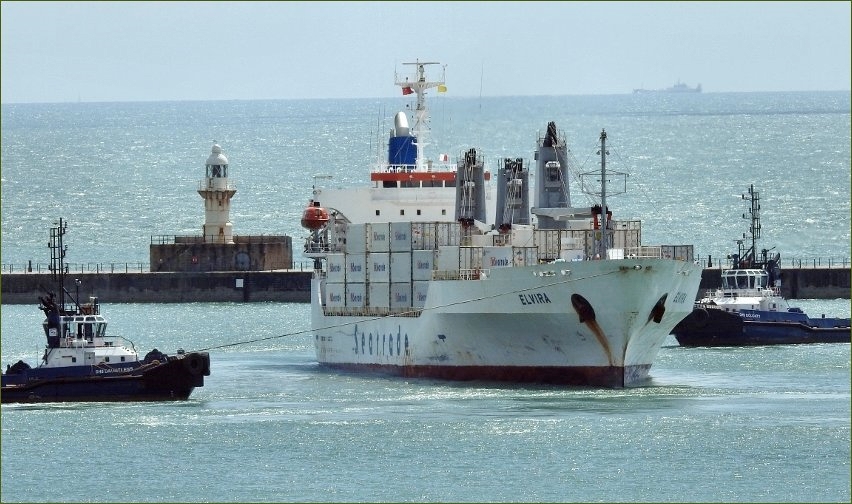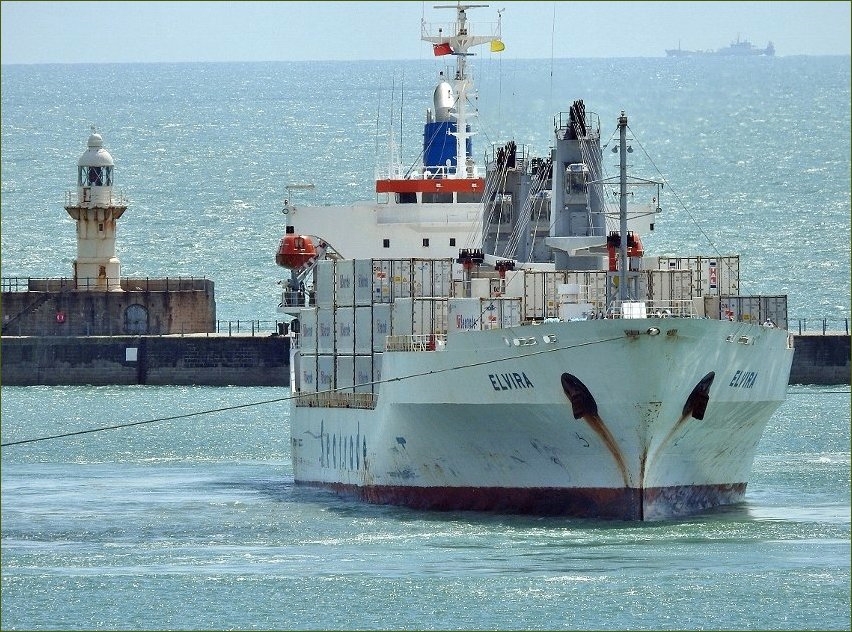 Elvira

Thanks to Del and Jan for the lunar comments below. Yes exciting celebrations currently... remembering the great days of moon travel and yes indeed the grainy images. It certainly wasn't HD.

Yes very exciting... but one mustn't forget one's inner 'sea of tranquillity' in the midst of all this 'lunar lunacy'...


!
PaulB
Friday, 19 July 2019 - 06:04
Post 6405
Del Styan, Norwich
Great moon shot- well done. I well remember watching very grainy TV of the live coverage - in fact I couldn't make it out at all, and then going into my parent's garden and looking up at the moon and feeling utterly amazed. I think I remember it so well because my parents stayed up, and that was so unusual - they always went to bed at 10.30 on the dot.


Thursday, 18 July 2019 - 23:16
Post 6404
JanT , Dover
Was amazing to think that it was 50years ago the walk of the moon took place, and we were lucky enough to have such a clear night to see the partial eclipse earlier this week,we are not due to see another one until 2021.
Another big cruise ship today shame the sunshine decided not to shine today.

Thursday, 18 July 2019 - 09:42
Post 6403
Sea News, Dover
Moon Shots!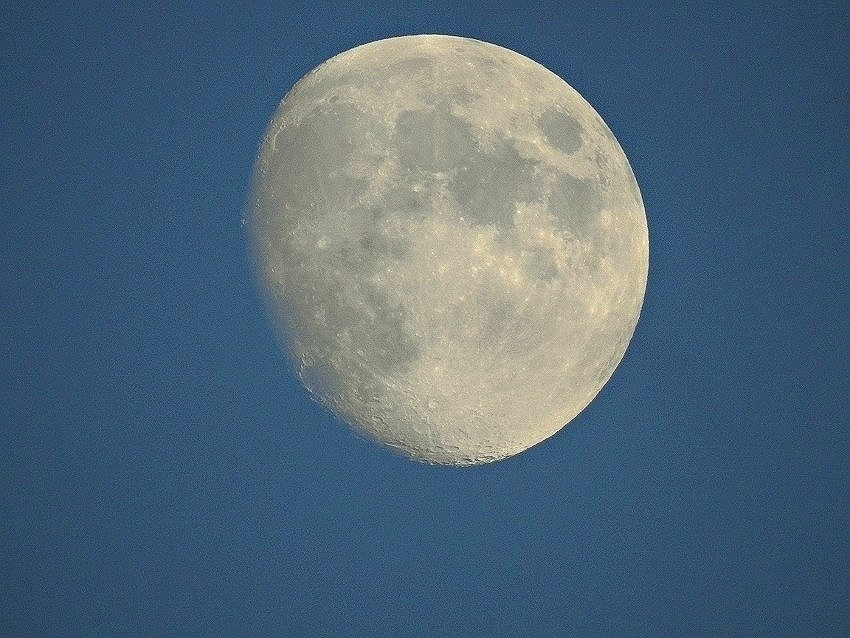 This is a great week for our relationship with the moon, as we celebrate the first lunar landing 50 years ago. Many will remember the great moment when Neil Armstrong set foot on the lunar surface and spoke those immortal words "One small step for man, one giant leap for mankind" it filled us all with hope and expectation. This is our small contribution to the celebration of that great moment.
The pictures above were taken a few days ago as the moon hung over the Port. Not night pix but taken late evening as the moon became more visible. The top pictures are of course zoomed in but you can see the wider general view below. All pictures taken at the same time. Top two look darker but that's because of the zooming...all taken at the same time...evening.
At roughly the same time the Harbour Patrol Boat did its evening patrol...you can see it below meandering re-assuringly around the harbour...
And finally earlier the same evening the Lifeboat returns to Port..presumably from a 'shout' as these are busy times in the Channel for all services...
PaulB
Update: The magnificently huge cruise ship Celebrity Reflection just arriving 07.05
Thursday, 18 July 2019 - 06:09
Post 6402
Sea News, Dover
Military Might!
Some military muscle moving down the Channel on Sunday evening...
First shot: splitting the two ferries as they make their way to Calais...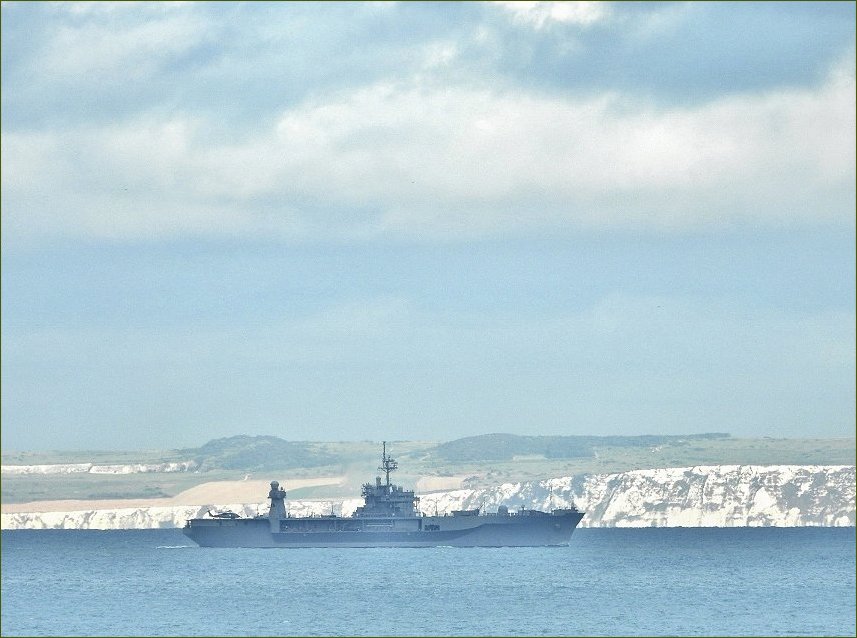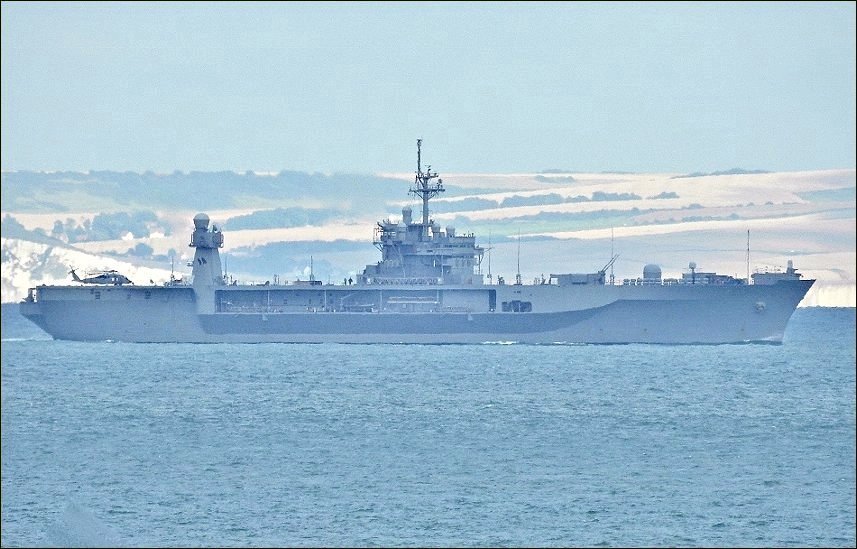 The ship above was mysteriously represented on AIS as a US "Government Vessel" it even had the quotation marks on there as shown...so there we are. Very dark and mysterious. It was difficult getting pictures of it too ...ie dark grey on grey...but the sun came through on the French coast which helped. Fascinating ...so there we are... Headline: "Government Vessel" moves south.
Within the same hour on Sunday evening, the Royal Navy frigate HMS St Albans was also seen moving south. Lets hope they are not all destined for the Gulf...a de-escalation needed there. Who was it that said "Jaw Jaw not Waw Waw"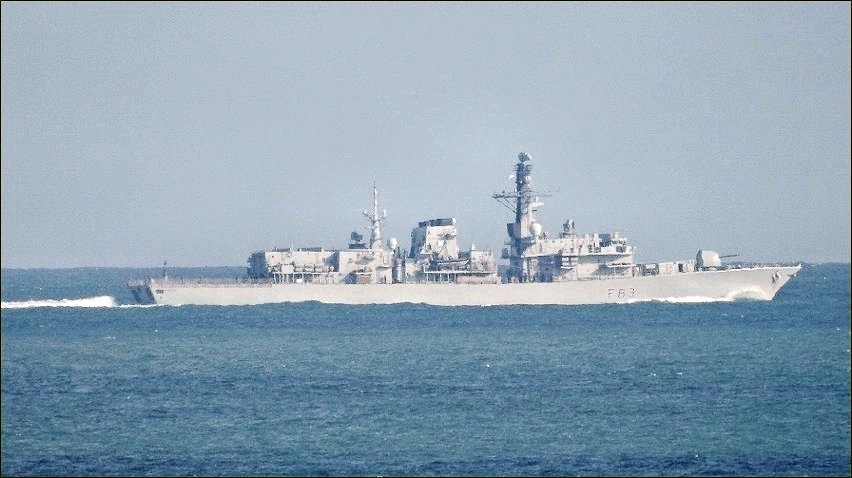 PaulB
Wednesday, 17 July 2019 - 07:04
Post 6401
Sea News, Dover
As promised ...some pictures now of the Rowing Regatta which took place on Saturday..
not full coverage by any means as it was a day-long event but just some shots to mark the dynamic occasion .. and here we are..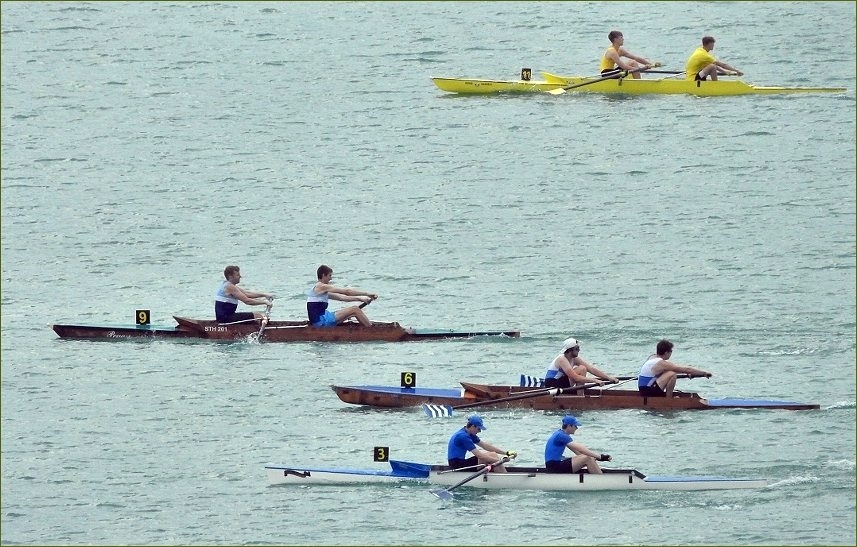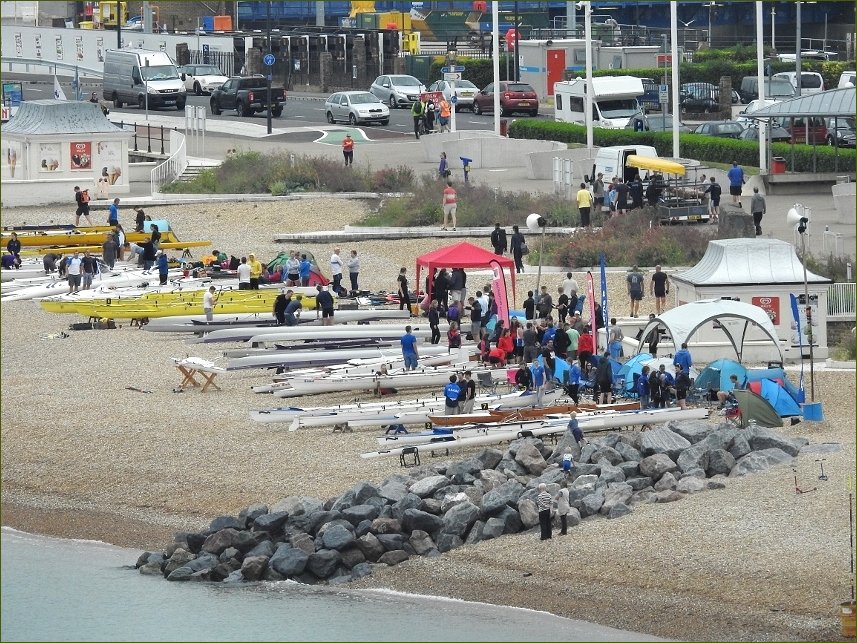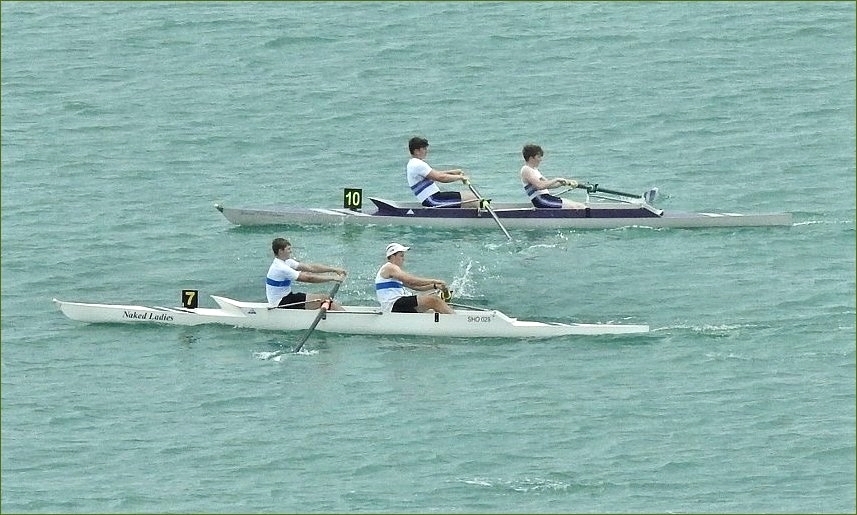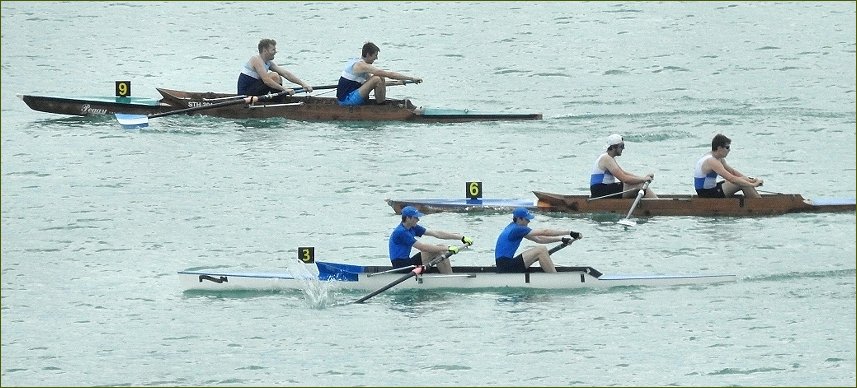 Later the same day yours truly just caught the Lifeboat returning ..
watched it come back to Port from a long way out as evening fell...
The Lifeboat returns...we were quite grey and gloomy here weather-wise but across the water in France they are basking in a nice late evening sun as you can see in the background there.....
Have just come across this one below.. a forgotten one from the past files and thought it worth including, another evening pic, there's the link to the two. Its a few years old, will double check in a moment ( june 2016 )... note the old logo on the P&O ferry.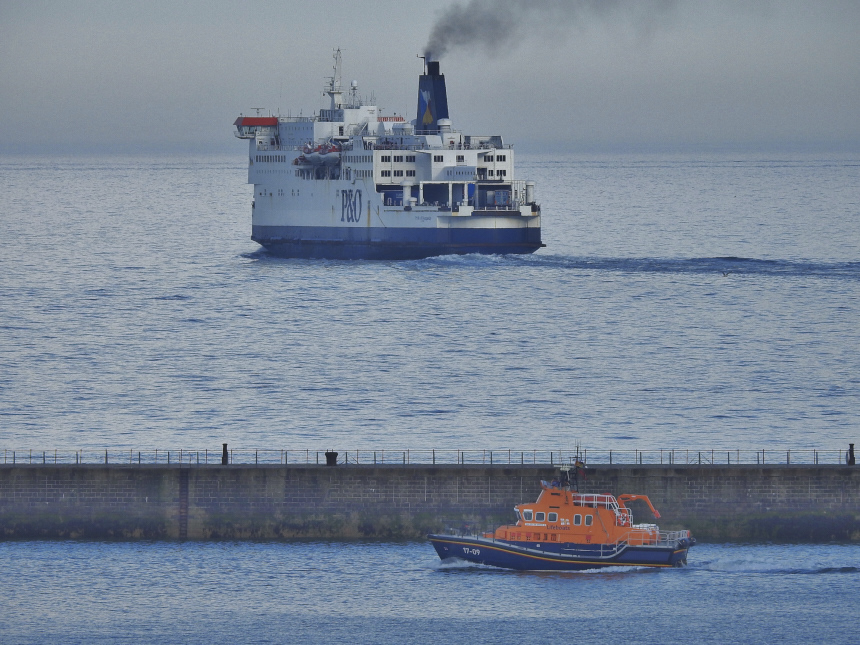 Nice schooner below there Patrick

PaulB
PS: Two cruise ships in today... Seabourn Quest and Pacific Princess, the busy schedule continues..
Tuesday, 16 July 2019 - 06:39
Post 6400
Patrick, Marine Parade
Tres Hombre Shipping carries sail cargo (wind only) across the Atlantic and in Europe.
Their 32m schooner 'Tres Hombres' pictured here in the channel off Dover recently can carry up to 45 tons of cargo and has a crew of 7 plus a similar number of trainees. In service since 2009 their office - Fairtransport B.V. - is based in the Netherlands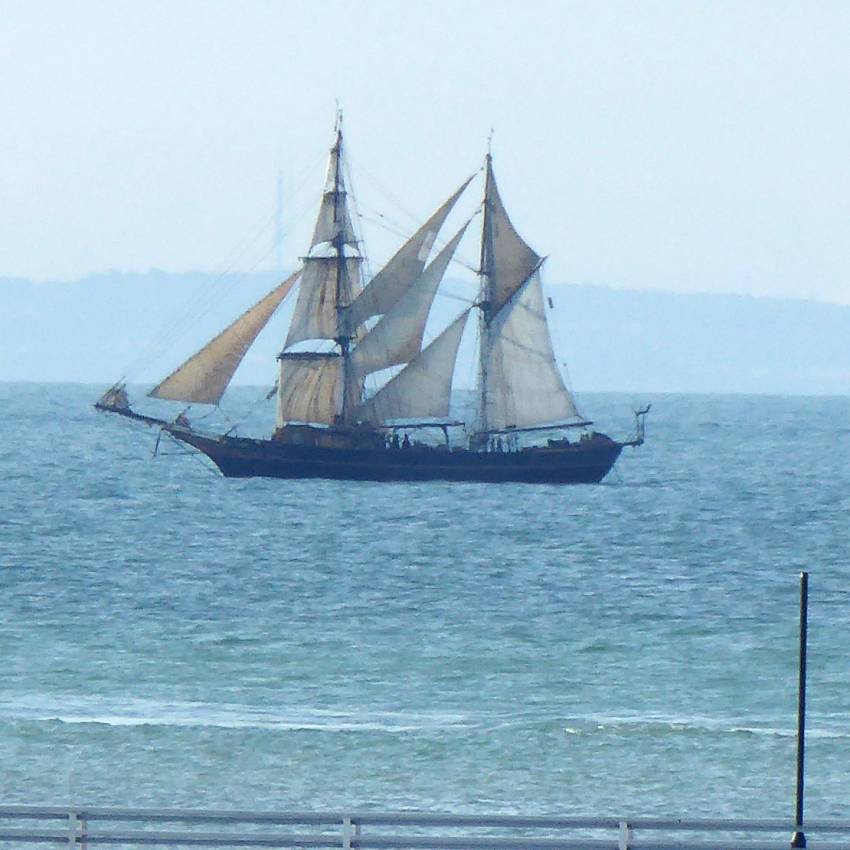 The calming influence of sail is echoed in the sunset glow in this photo of the departing 'Boudicca' this evening. She is bound for a Norwegian Coastal cruise before returning here on the 31st of this month.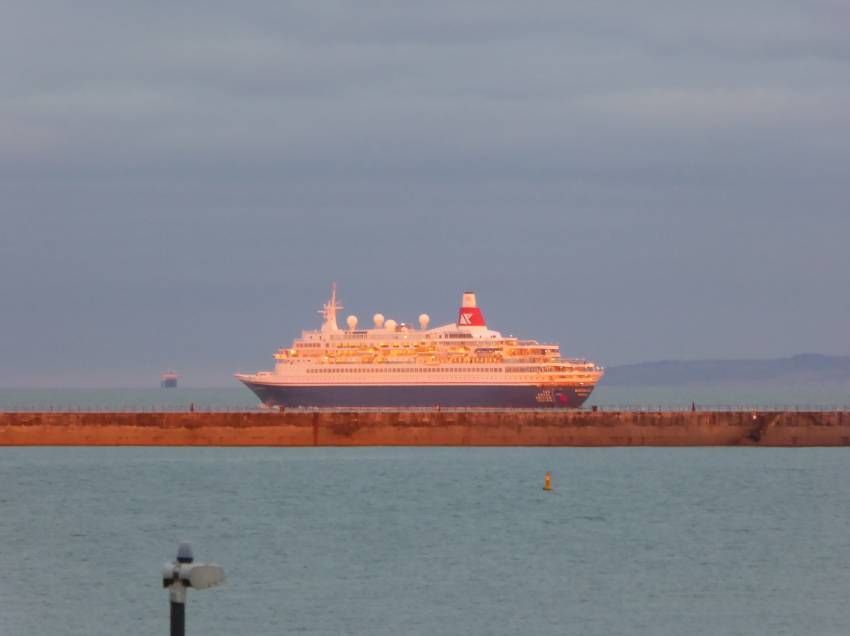 Monday, 15 July 2019 - 23:14
Post 6399
Sea News, Dover
Europa arriving and departing...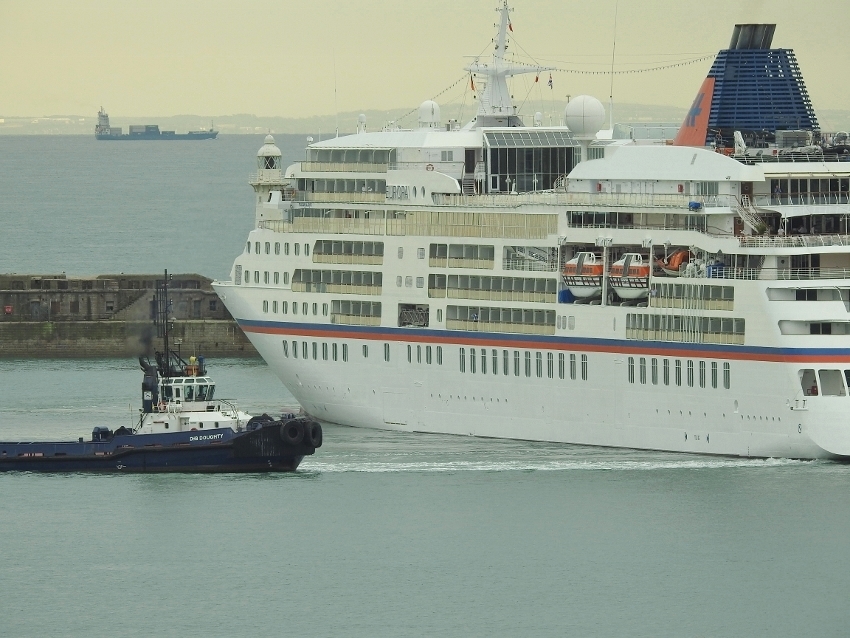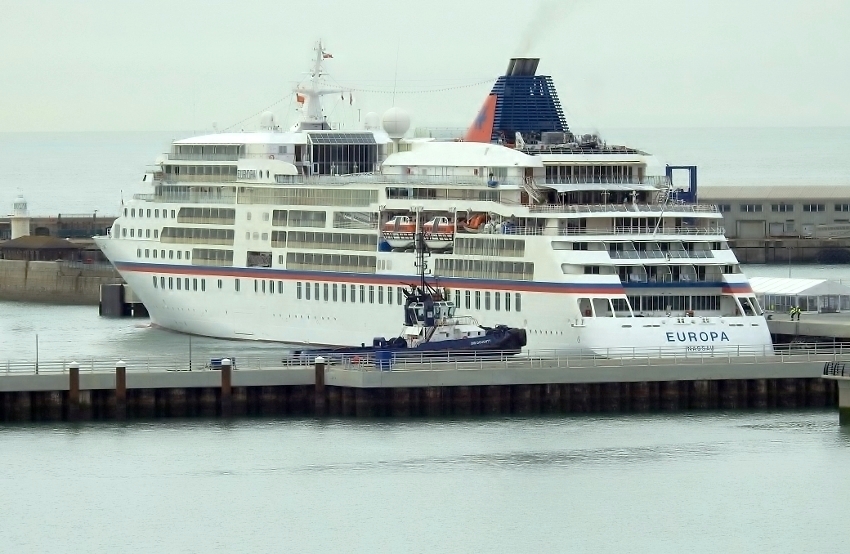 Way behind schedule with these pictures of the Europa cruise ship a-coming and a-going. Mike has already had a shot up from her visit here at Dover on the 9th July (6394 ), but worth while including some more pictures and here they are. Arriving above and of course with the added excitement of seeing the new berth being used at WD4 ( Western Dock 4 ) in pic 3.
Added Note: hadn't realised how biliously yellow those pix were until I put them up!
Then of course below leaving the new berth later in the day... and away she goes on a grand calm evening...heading for Hamburg.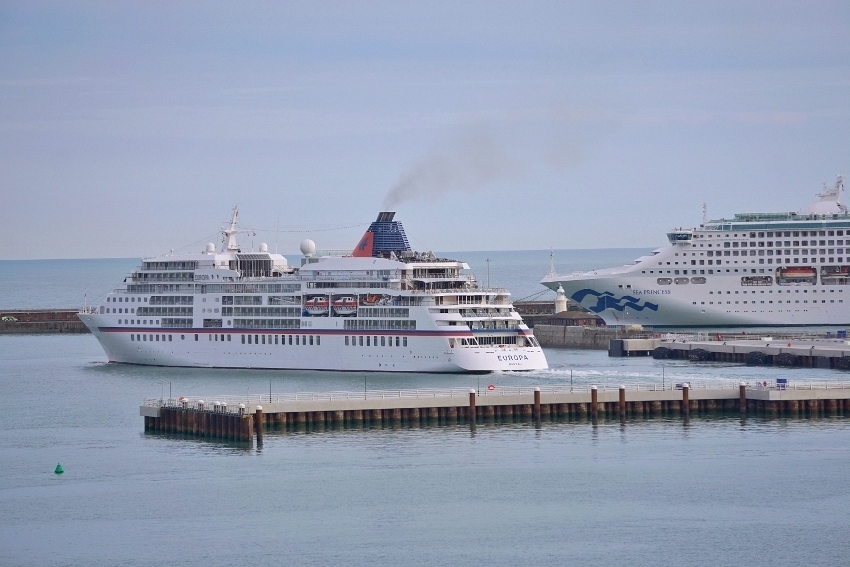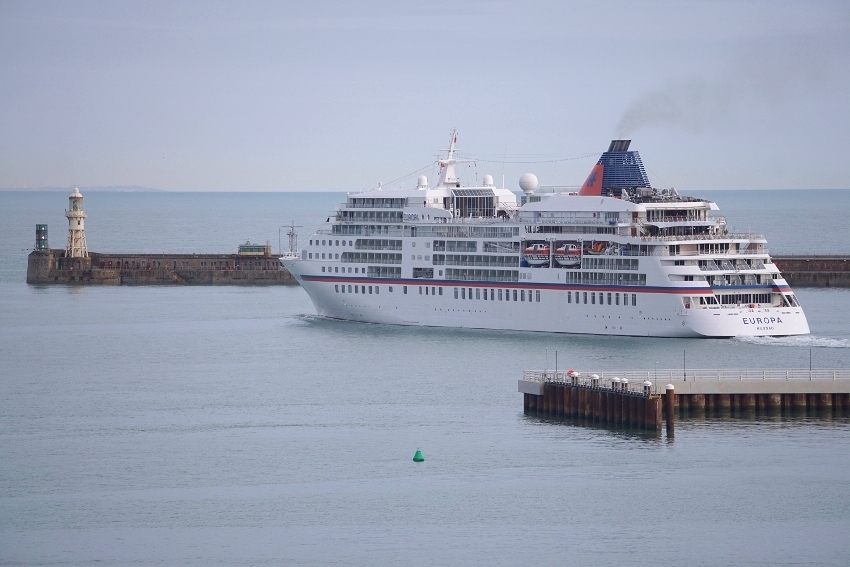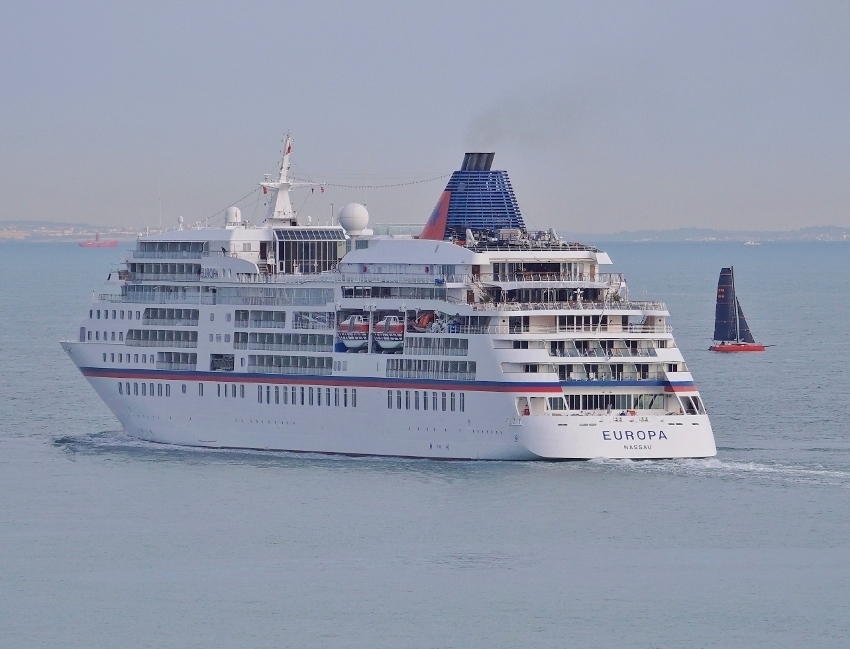 Europa ...and the yacht is a trimaran called Freshly Squeezed. Also featured is Sea Princess above.
There was a rowing regatta here on the seafront on Saturday...will have some pictures to follow. Not full coverage by any means but just a few shots to mark the occasion.
Saga Sapphire in port today.
Boudicca also approaching...
PaulB
Monday, 15 July 2019 - 07:06
Post 6398
Sea News, Dover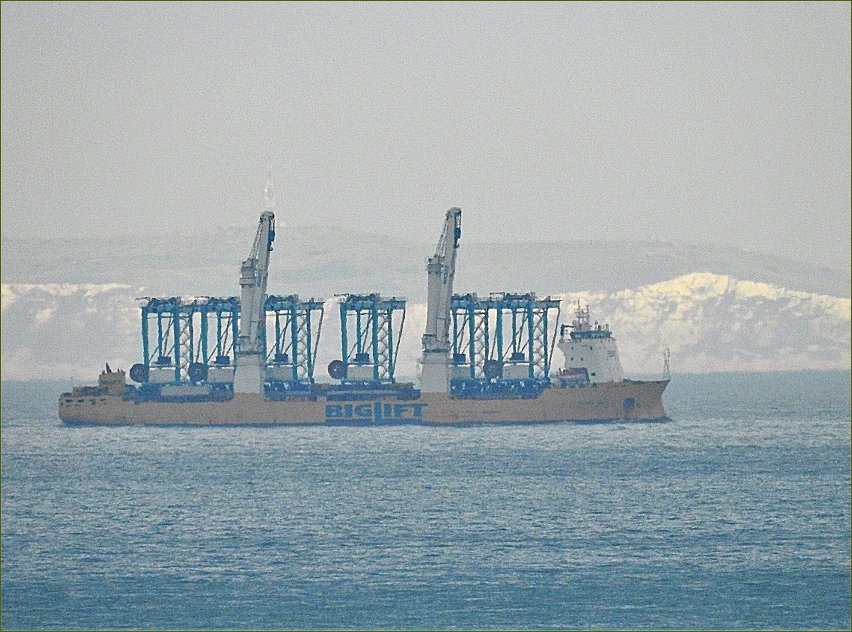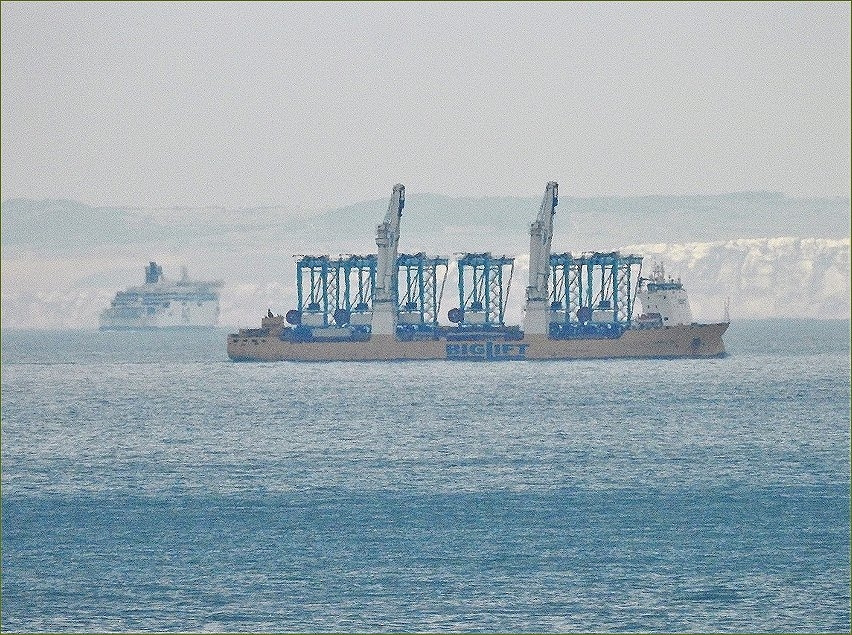 We are familiar with the Big Lift vessels in Dover, we have seen them bring in mammoth transformers and the like from time to time... and here we are with another one, this time passing on down the Channel and heading for Norfolk Virginia in the good ol' USA, coming from Gdynia in Poland. This particular Big Lift guy is called Happy Sky... Pictures taken on Friday.
While gazing out on the Channel...here we are with another shot, this time showing the Varne Lightvessel and Boulogne. Picture was taken yesterday Saturday. You can see the town in all its glory including the magnificent Cathedral there on the hill in the 'old town'. The lightvessel has Varne in striking large lettering on its side but alas the letter N seems to be semi obscured. Not the worst of problems of course...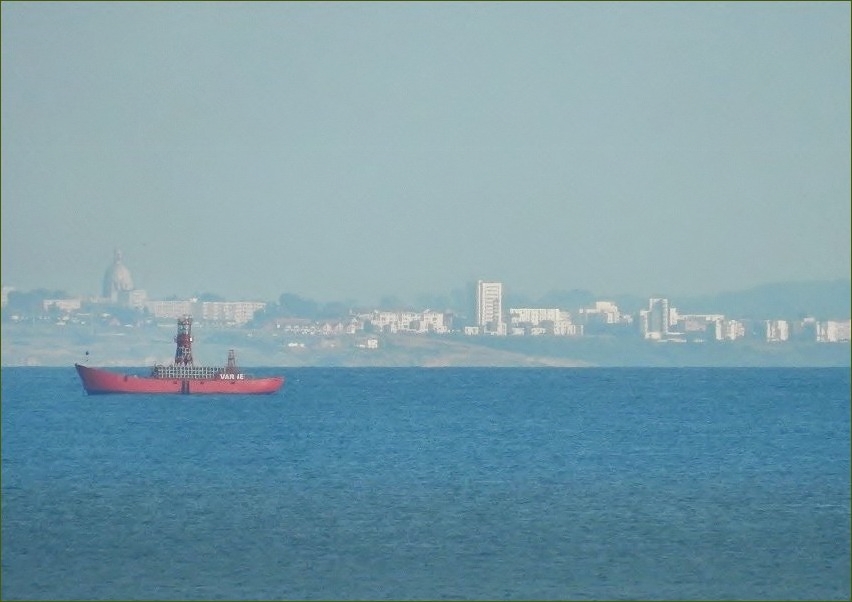 Hugely enjoyable inshore post below from Mike...don't miss that one

PaulB
Sunday, 14 July 2019 - 06:11