Friday, 18 January 2019

WWW.DOVERFORUM.COM/SEA-NEWS
Featuring all the ships that come and go and work at the Port of Dover with further coverage of the surrounding ports both sides of the Channel. Click ADD YOUR COMMENT below to post direct, no membership needed.
Listing highlights....
Scroll down or use our Search Engine for posts and pictures of Border Force in Dover and Ramsgate.
BREXIT READY statement from Port of Dover/DFDS/P&O Ferries see 6021.
P&O Spirit of Britain - notable Cyprus reflagging see 6017.
Deal Pier Kitchen restaurant opens 6016.
Charlie Elphicke MP - making our borders stronger, safer 6014.
BORDER FORCE SEARCHER and migrant boat.. see 5969 below..

Port of Dover supports Women in Maritime 5975.
Christmas Lifeboats in Ramsgate see 5937.
P&O: Britain's Favourite see 5922.
DFDS: Voted Worlds Leading Ferry Operator...see 5918..
Charlie Elphicke MP: Migrant Crisis 5894.
P&O: Santa Onboard see 5870.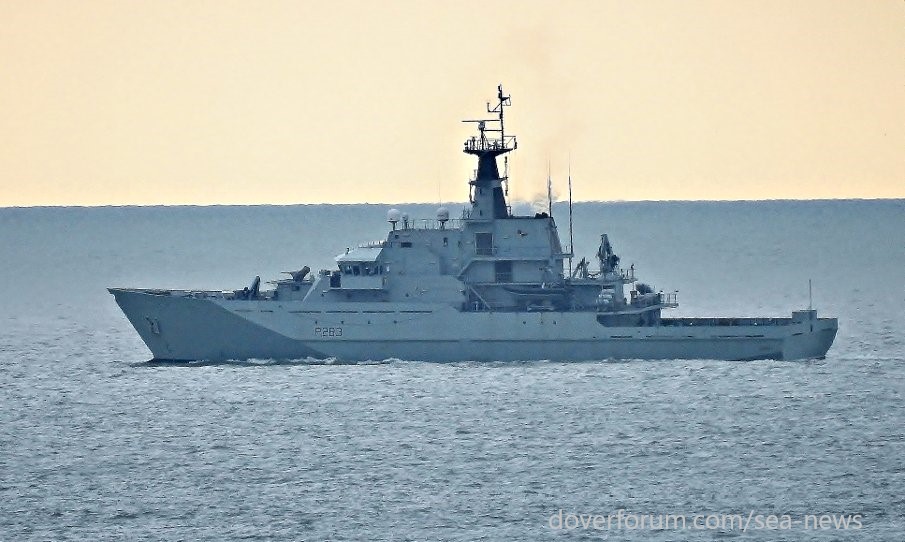 The Royal Navy - HMS Mersey off Dover.

Highlights continue...
Wreck of the Anneliese 5880, 5881, 5882 ...
Port: Additional Funding for Kent Wildlife Trust 5879.
P&O: Apprentices welcome RB Legion veterans 5853.
Eight new apprentices graduate see 5845.
DFDS: 'SEE PORTS' Calais and Dunkerque 5834.
DFDS: Revitalising dining concepts onboard.. see 5831.
P&O: Schoolchildren mark WW1 see 5816.
Lower Thames Crossing boost..5812. see now also 5817.
Dover Museum's revitalisation see 5807.

Port of Dover: Refrigerated Cargo Terminal .. software for 5801. Latest NATO also 5801.
Port of Dover: Great increase in summer traffic 5795.
Russian and shadow 5785.
The Waverley paddle steamer latest 5778...
New SAGA Ship launching in Dover see 5776.
DOUG BANNISTER: New Chief Executive Port of Dover see below 5734....
Merchant Navy Ceremonial images also 5734.
P&O: To Rome on Horseback 5759.
Dover Regatta Rescue incident plus .. see 5713.
Dover Regatta pictures Lifeboat etc..5716, 5717, 5718, 5720.

DFDS Expansion: More New Ferries on order... see 5693 see also 5500 and 5381.
Excellent Tourist season for P&O Ferries see 5649.
VSBW Port of Dover - Women at Work 5638.
P&O Second Female captain see 5107. Also see latest 5570.



NEW:

For instant access to any item listed above - just type the post number in the Search Engine below.

Sea News Dover : Use our SEARCH ENGINE below to find all sorts on the SEA NEWS pages....
type in the topic and away you go, more than - 6000 - nautical posts now.
Posts are welcome. Max of 5 pictures preferred although we can stretch that for special stories..
Sea News Editor Paul Boland - send info or pix to dover7@msn.com. Always welcome.
All pictures on these pages are the copyright of the owners and must not be reproduced without permission.
To show your pictures at their best..it could be worthwhile resizing before posting to
840
pixels wide.
Post 5906
Sea News, Dover
Some pictures now of the Eastern Bay. As mentioned previously she was waiting offshore for the Royal Klipper to depart and within minutes of said departure came in to Port...the tugs didn't need to return to base, they caught everything in their remit in one fell swoop.... Eastern Bay has since left us and is now in Hamburg. They keep going in all weathers.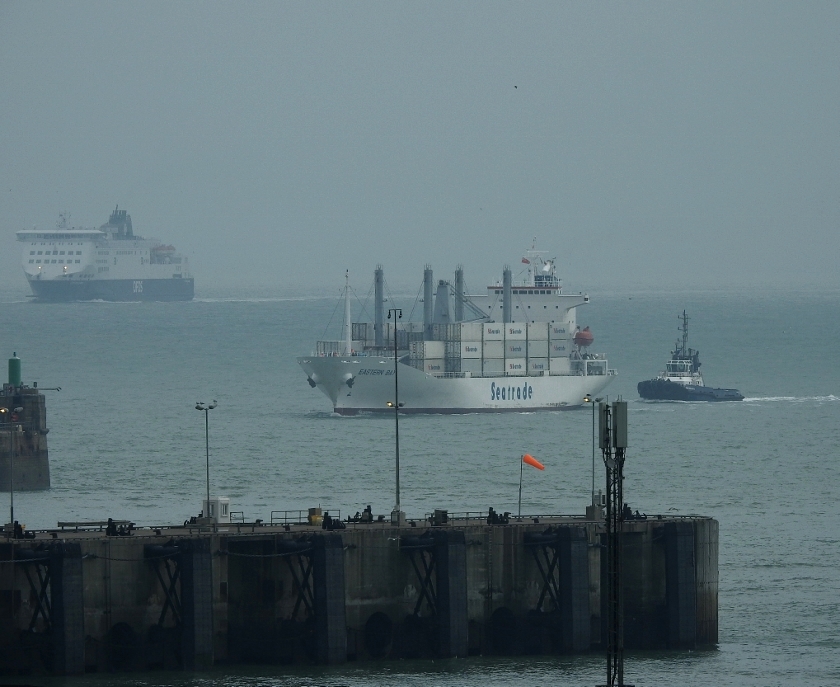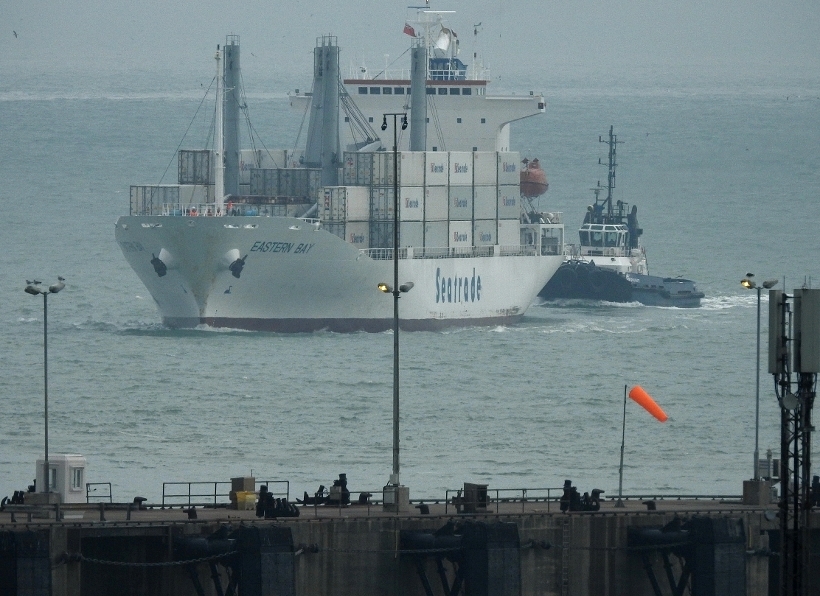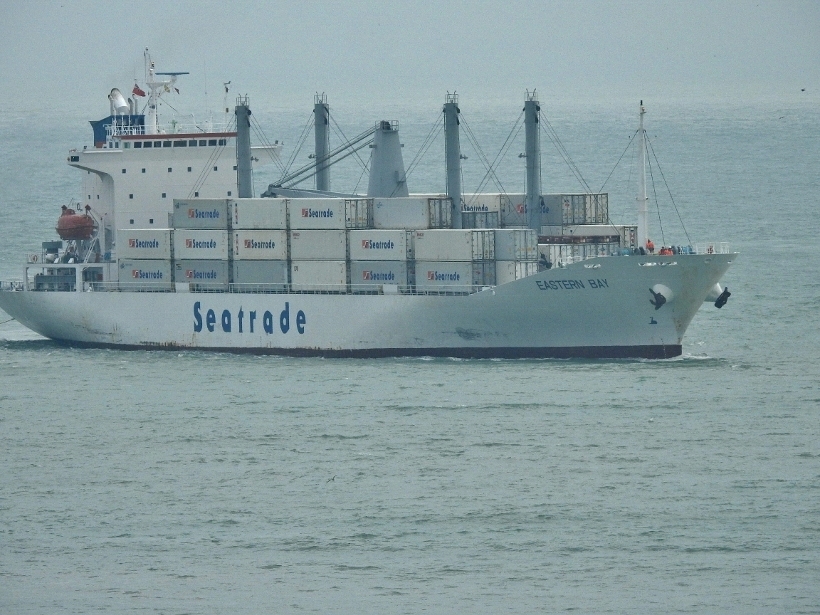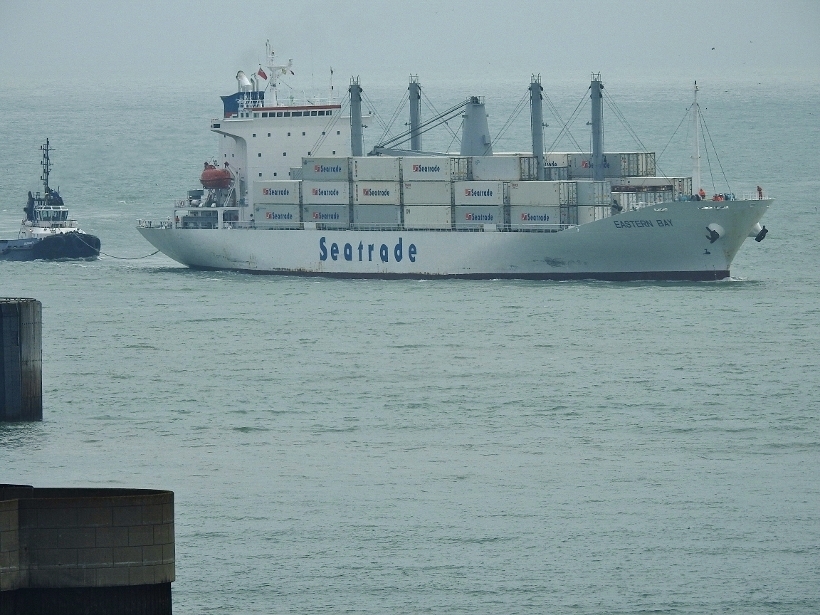 We've been having some very rough weather here in Dover and in the channel generally. The Star Spirit was scheduled to come in to Port and although we could see her out there in the awful conditions, she failed to make it in...so far anyway. Yours truly had a stab at some long range pictures and might have something in due course, if the computer can save the day. The weather/visibility was/is abysmal.
Both Ted and Sarah are sizzling in the posts below there with their respective cameras. Great images from both from Ramsgate and very welcome they are too. Cracking shots all round, and the YOUTUBE film from Ted hugely enjoyable. Copy and paste that link below.


a thumbsup each there...did you spot that...

Del yes indeed the oddest of odd situations. Charlie was at the launch of the new Marco Pierre White restaurant here at the seafront. Wasn't at the launch myself but there is a release picture circulating and will get that up soon as it has a novelty factor. Yours truly has been at the restaurant twice already...very enjoyable. I didn't have the particular wine that was starring at £22 per glass however...but had a more modest variation. There are pictures of Marco everywhere with his chopper in his hand!
Very menacing...well... it is a 'chop house' !!


PaulB
EXTRA: if any of the guys from the Port are looking in...the seafront lights this end have not been working for three nights, at the Premier Inn end of things and they are dark for about a third of the way up the seafront … so its pitch dark. A man with a hammer needed, or a man with a fusebox or...

PB
Thursday, 29 November 2018 - 04:16
Post 5905
Del Styan, Norwich
Last comment on Dover MP's status - I wonder why someone - him, Tory Central Office, the Police, or even one of his political opponents doesn't make a statement of some sort. It really is a weird situation, given Dovers central role in the current showdown. Sorry to verge on the controversial, but is really odd.
Now I'll go back to complimenting you on the marvellous pics!

Wednesday, 28 November 2018 - 22:56
Post 5904
Sarah, Ramsgate
Not seen this beauty in Ramsgate for a very long time.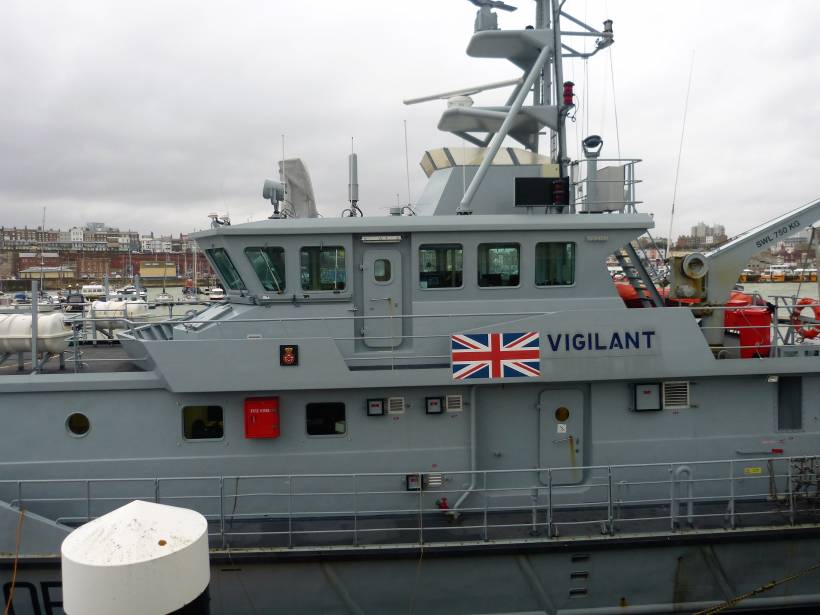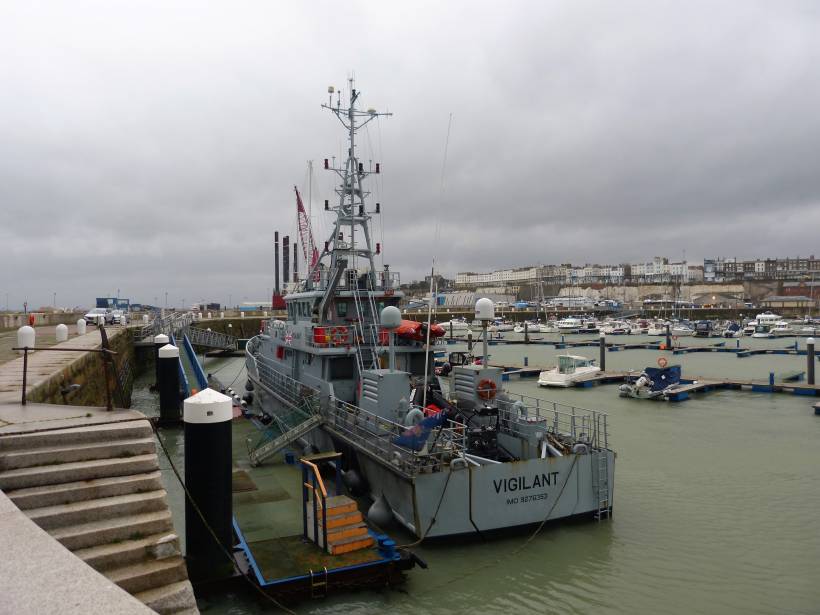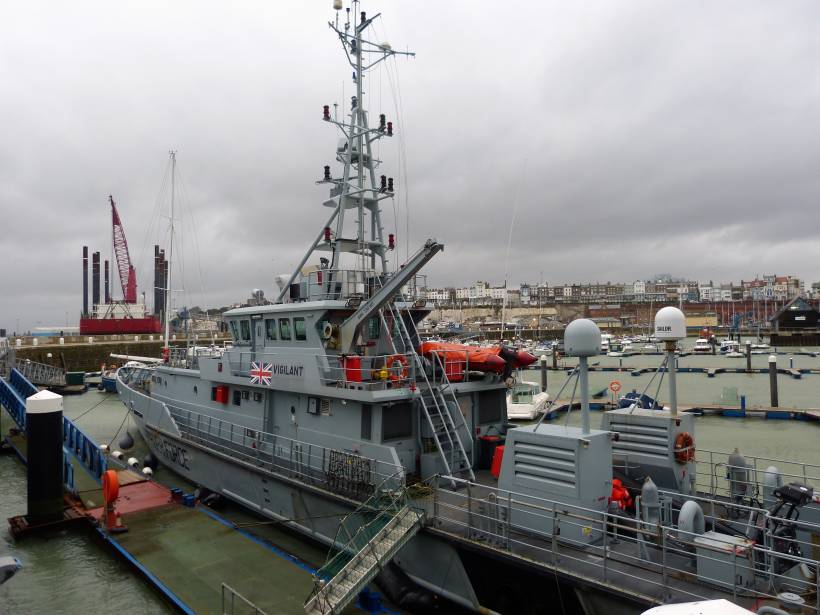 Relief Lifeboats in the Inner Harbour at Ramsgate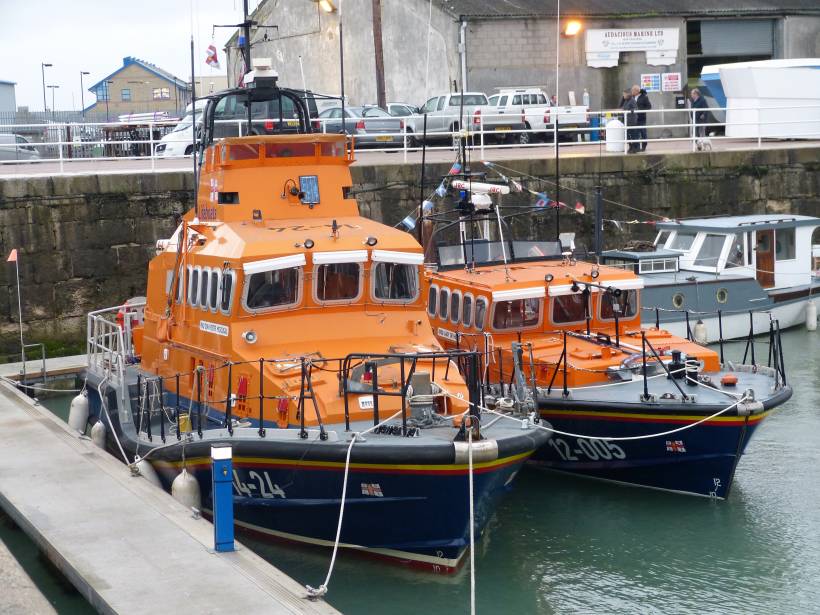 Wednesday, 28 November 2018 - 18:37
Post 5903
Ted, Canterbury
Following on from my photos of the Cervia at Ramsgate.
Below is the link to the video:-

https://www.youtube.com/watch?v=5myo9JRPuZ0

regards,
Ted.

Wednesday, 28 November 2018 - 18:24
Post 5902
Ted Ingham, Canterbury
"Five from Ramsgate"
Salvage operations were taking place at Ramsgate harbour this morning with Kent Fire Brigade and divers in attendance.
A diver placed a patch under the hull to stem the flow.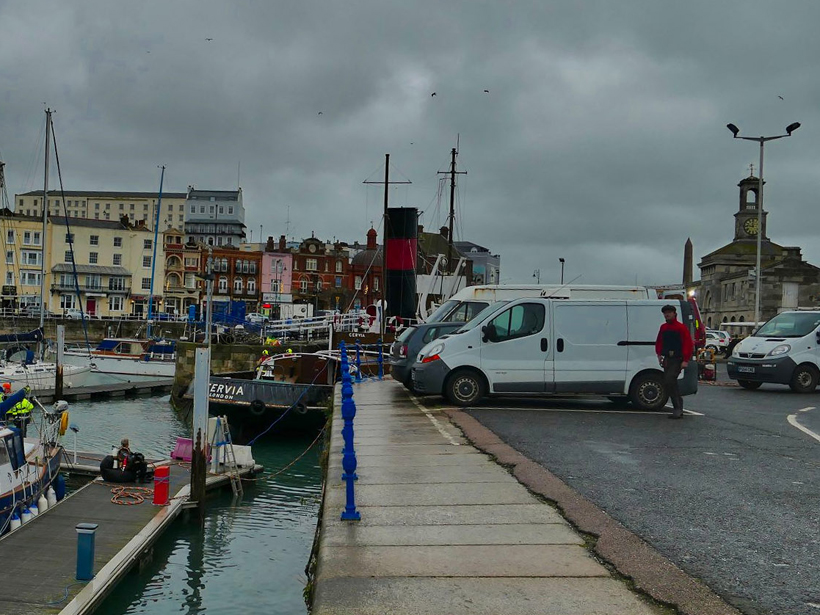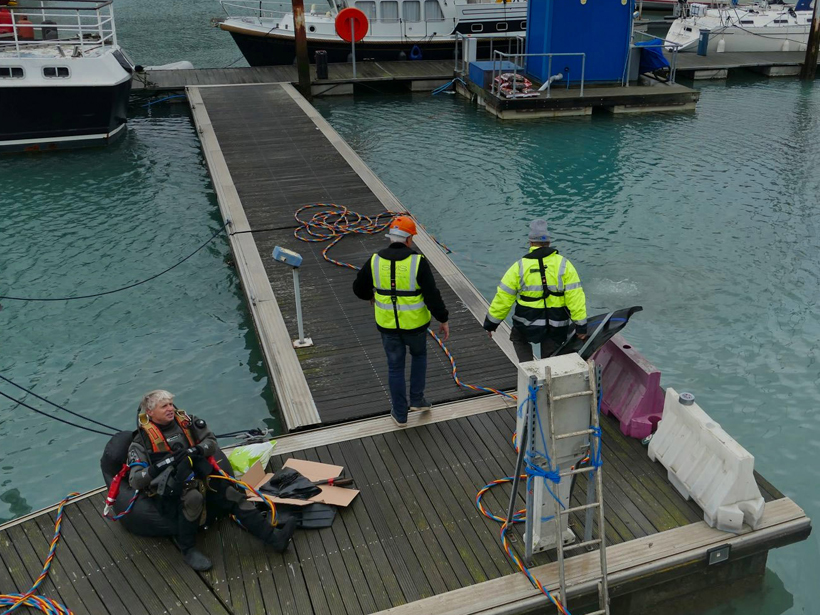 A patch is prepared for a diver to place under the hull.
Pumping operations in full flow.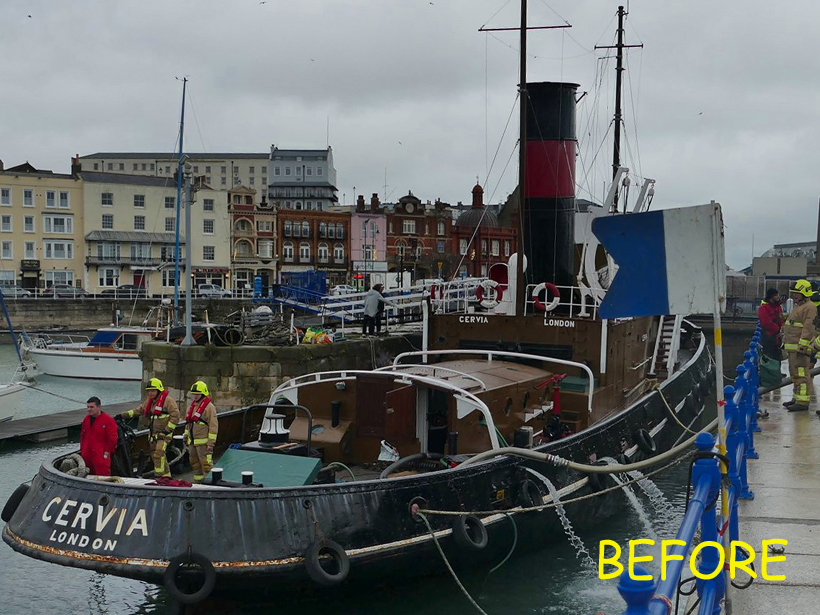 Pumping before the patch was applied.
Pumping after the patch was applied.
Wednesday, 28 November 2018 - 17:22
Post 5901
Sea News, Dover
Here we go with some pictures of a departing Royal Klipper. We had our pictures of her arriving a day or two earlier and now here she is leaving us. The pictures date from the 26th which was...ermmm… scratching head...Monday. Monday morning in fact. She was off to Vlissingen in the Netherlands ( or Flushing to give it the English usage ). Waiting for her departure just offshore was Eastern Bay - will have some pictures of that one arriving soon. Still catching up... very busy all round...
The two tugs and pilot boat in support here ...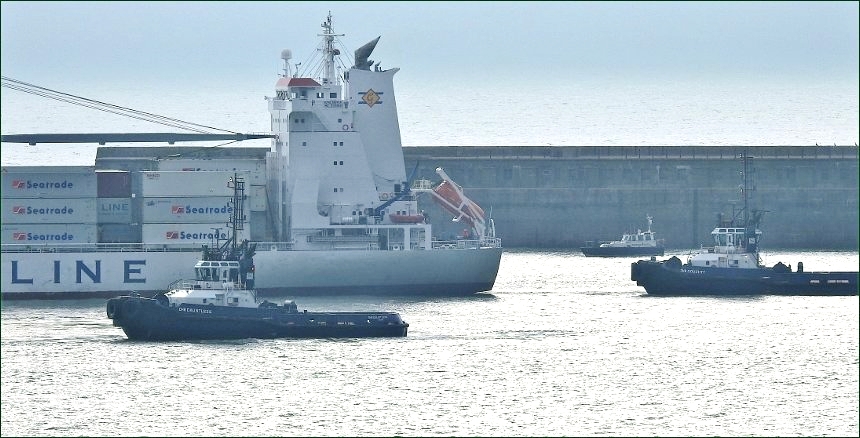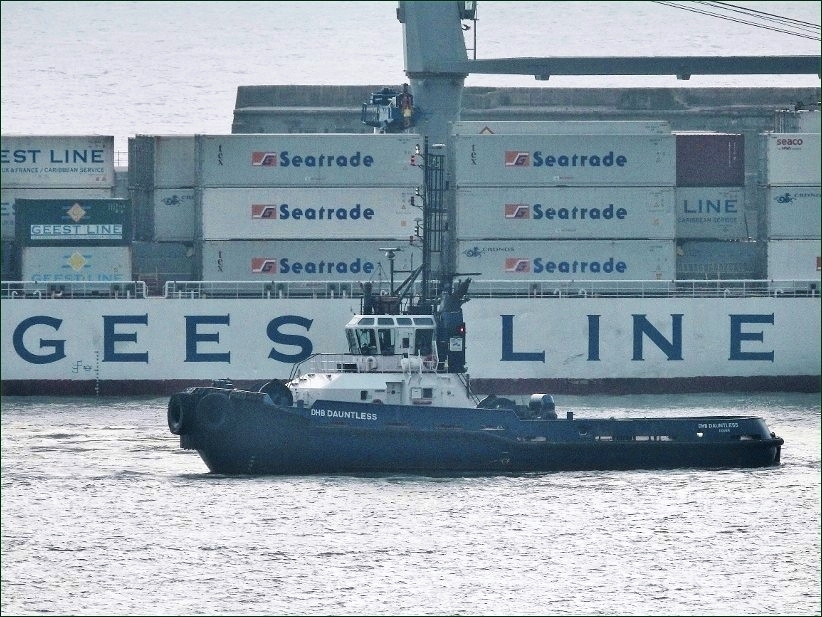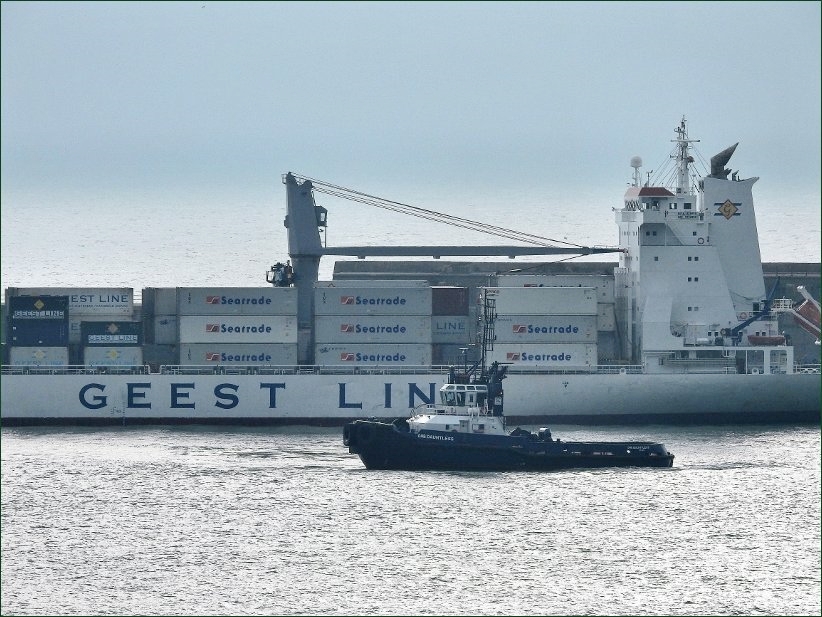 More fuller shots of Royal Klipper in 2 posts further down the page.
A picture below of AIDAmar yesterday. Heavens it was a rough oul day. You can see the gathering gloom as the big cruise ship, last one of the year, sits at Cruise Terminal One. She left the Port last night at 19.40 or 7.40pm. Yours truly had intended to maybe try a night shot but it was just too dangerous to open a window in the 'observation tower' ...twas really head-bashingly rough so it was … the timbers were a-rattlin'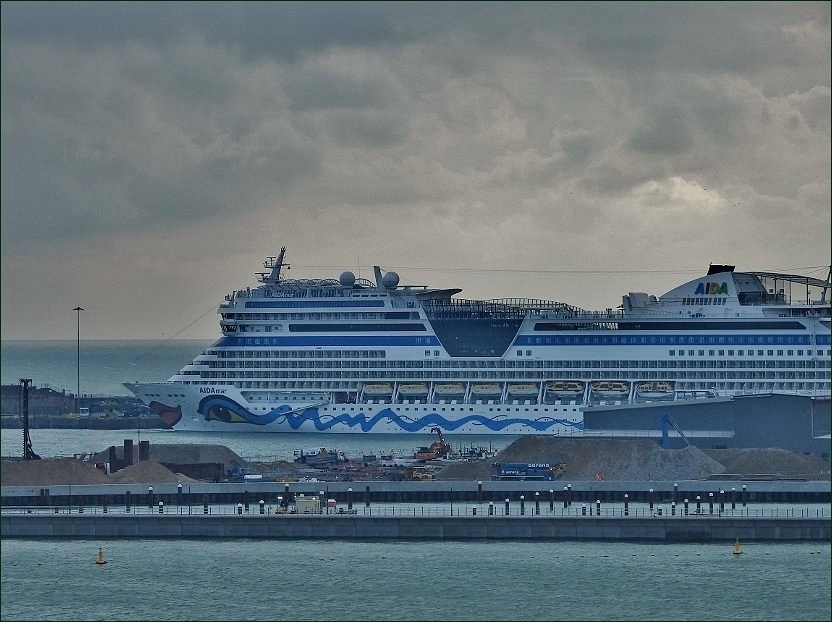 Hi Del

- yes its still very odd re our MP Charlie. He was on TV over the past few days here and the caption read....
'Charlie Elphicke MP. Independent. Dover.'
So yes he is still very much in Purgatory ( yes that's how you spell it

) which is the oddest thing I've ever seen. How this smouldering matter hasn't been resolved...well it is just bewildering and of course unacceptable to the voter. For people further afield who are unaware, he was once happily immersed in the Conservative fold.
Mentioning Brexit: Charlie was at onetime a Remainer but with supreme political athleticism he has managed a triple back flip somersault and is now in deep deep rabid Brexiteer territory.
How do they do that... ??

We use his newsletters when they relate to the sea/port.
Mike


PaulB
Wednesday, 28 November 2018 - 04:33
Post 5900
Del Styan, Norwich
Re your press release from our Dover MP, I heard him on my radio today, about the latest landings on the Kent shores. Has he been released from purgatory? (If that's how you spell it!).
I thought he'd been condemned to eternal silence by his party, which of course is so united over issues affecting Dover.

Tuesday, 27 November 2018 - 23:04
Post 5899
Mike J., Dover

Post 5897 - the KAMELIA has anchored off Margate as the AIDAMAR has parked in her spot.

Poor grammar in the same post - it's the lifeboat that will be covered in fairy lights, not Sarah.


Tuesday, 27 November 2018 - 11:41
Post 5898
Sea News, Dover
Life at the Sharp End
The blue-clad chap below here taking some vital last minute phonecalls at the bow before the glamourous yacht zaps off to more exotic climes. Pictures from Sunday morning. Unfortunately we are not able to tell the name of the glamourous machine...its AIS wasn't switched on (might interfere with the phone signal

! ) and yours truly couldn't read anything at that range.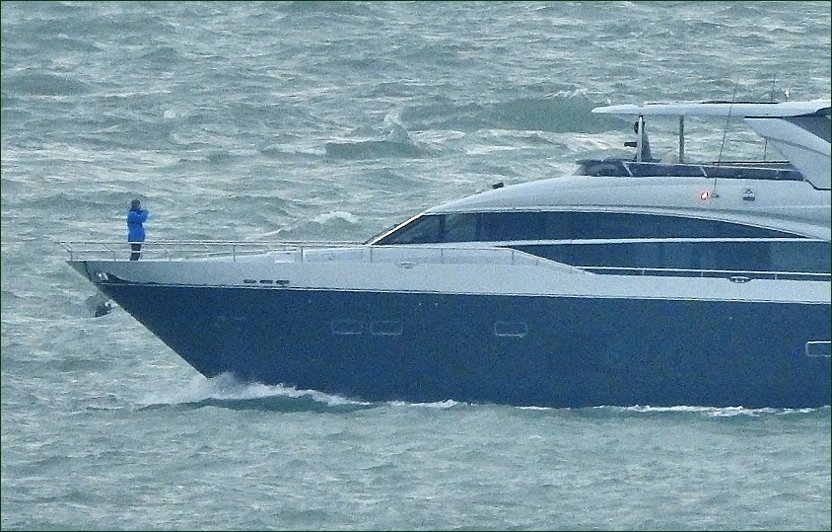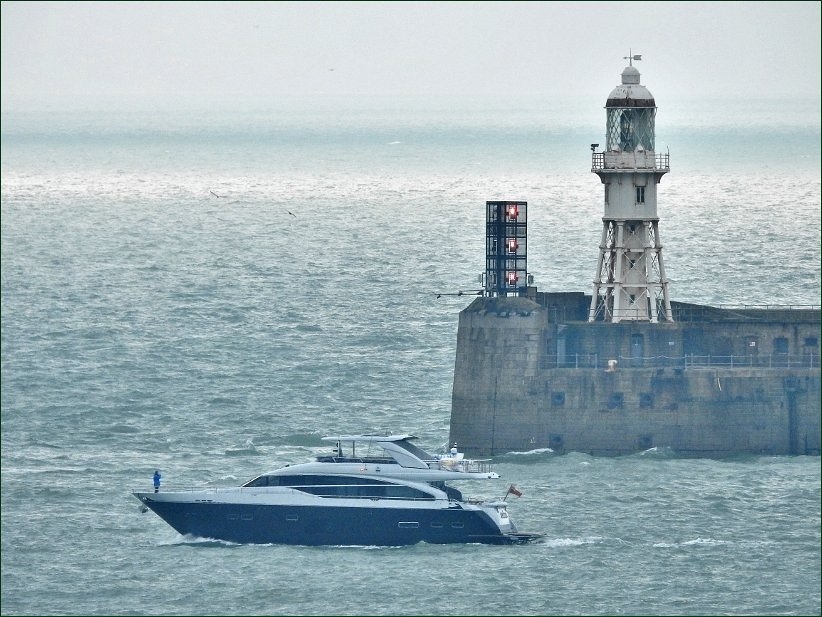 The picture below shows the Border Force going out on patrol on Monday morning...Speedwell is the cutter this time. It was very gloomy and grey on the day - was convinced this picture wouldn't come out well over the distance, but as it happens the oul camera surprised me as its not too bad at all.
As our MP was mentioning the two patrol boats (5894)...here is the other one. A recent picture of Hunter with yet another migrant boat strapped alongside. The Border Force have their work cut-out at the moment as more migrants were found in the channel earlier today.
Nice collection below Mike, enjoyable pictures and info. Well done with that.

Great stuff Sarah! That's a good one from Nigel there. We give Nigel the thumbsup

Well done with the last of the cruise info Colette - excellent.

PaulB
Tuesday, 27 November 2018 - 06:10
Post 5897
Mike J., Dover
Big jack-up crane barge EXCALIBUR came into Ramsgate on Sunday from the North Sea.
Rumour has it that she was brought in by the famous NORE CREST, built in 1960 for British Railways at Newhaven & who took part in many salvage operations.
Can't trace her recent movements though.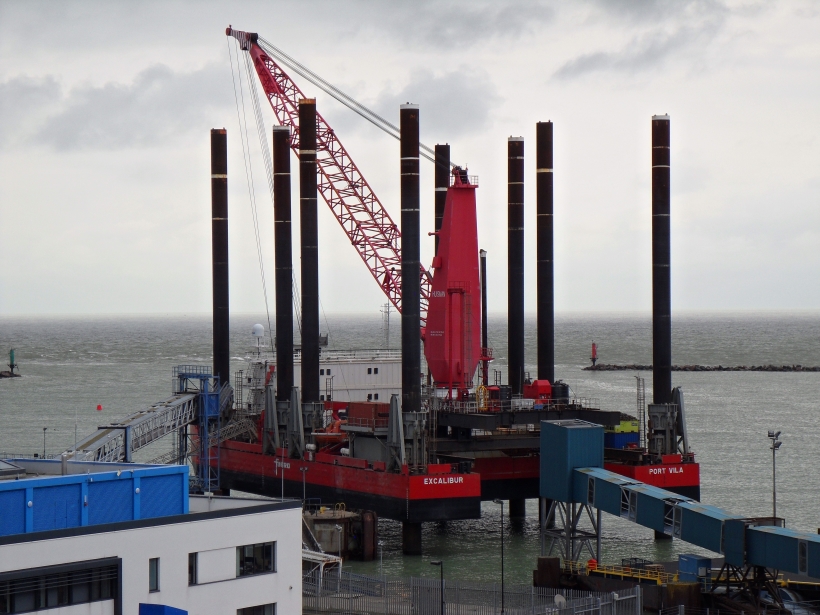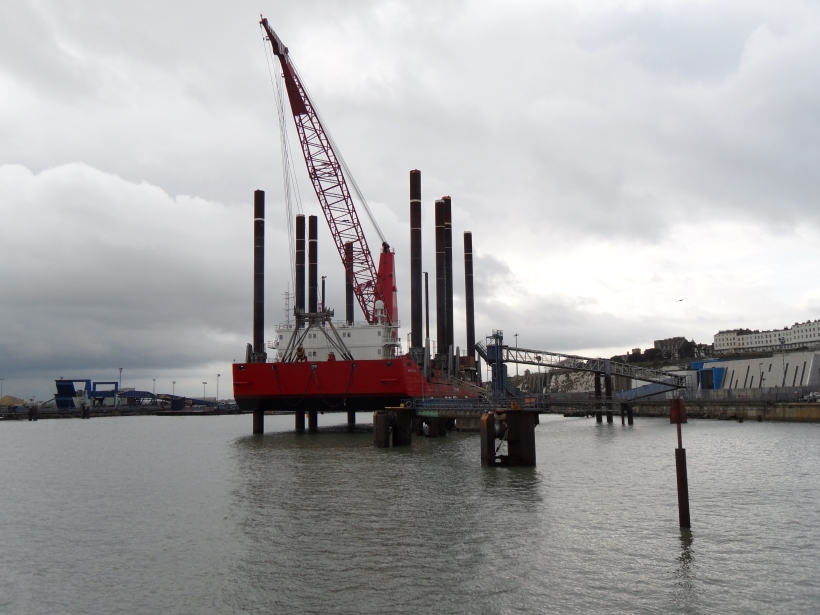 Nice selection of lifeboats recently from Sarah & Nigel.
The DORA FOSTER McDOUGALL will be here for a few days & has moved into the Inner Harbour & Sarah tells me that when she sails on 1st.December she'll be covered with fairy lights, as will one of the Ramsgate lifeboats.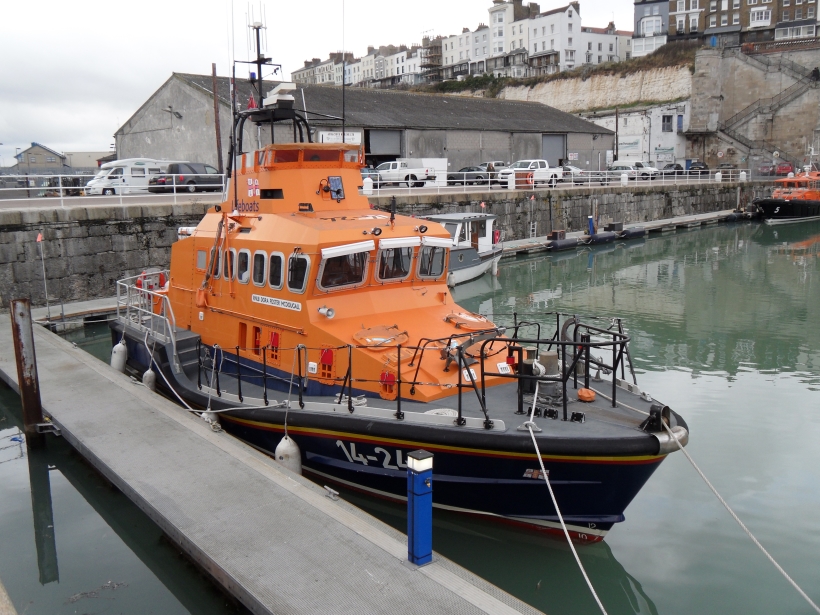 The elderly tug REVENGE [post 5827] moved downriver to Sandwich Marina on Saturday for some TLC.
The third [of six ?] 'Biomass Boats' the Maltese-flagged KAMELIA is due on Tuesday, her AIS giving an 0800 ETA.
Tuesday, 27 November 2018 - 01:20
Post 5896
Colette B, Dover
CRUISE VISITS
____________
It's been an interesting time in the docks over the last three weeks, with the ongoing expansion of DWDR and great photos from our Sea News team encompassing Dover and Ramsgate

We have had some interesting arrivals from across the channel, some expected and some not, newsworthy though to say the least!
Now for the last visitor of the 2018 cruise season.
Tomorrow Tuesday November 27th, not seen here since March 2015 is the AIDAmar greeting us with her wonderful smile, expected to drop anchor at CT2, 08.00 hours.
She is on her 13 day 'One way Hamburg to Palma de Mallorca' cruise having already visited Rotterdam after leaving her home port of Hamburg on Saturday November 24th.
Her next ports of call will be Le Havre, Ferrol, Lisbon, Cadiz and Barcelona before arriving in her new home port of Palma de Mallorca on Friday December 7th.
For the winter months AIDAmar will be based there visiting the Iberian coast. She will be cruising around Spain, Portugal and the Canaries until February 27th 2019 when she will once again pop in to say Hello here in Dover on her way back to Hamburg

She departs our shores at 19.00 hours, PoC.
It's time for me to say farewell unless we get any surprise visits from now until the end of the year.
The best present one can hope for this year is to spend time together

Have yourself a very Merry Christmas & let your heart be light spreading goodwill & Christmas Cheer!
Monday, 26 November 2018 - 14:38
Post 5895
Sarah, Ramsgate
A fantastic photo by Nigel Hefford of Relief Lifeboat "Dora Foster McDougall" arriving at Ramsgate - 24th November 2018.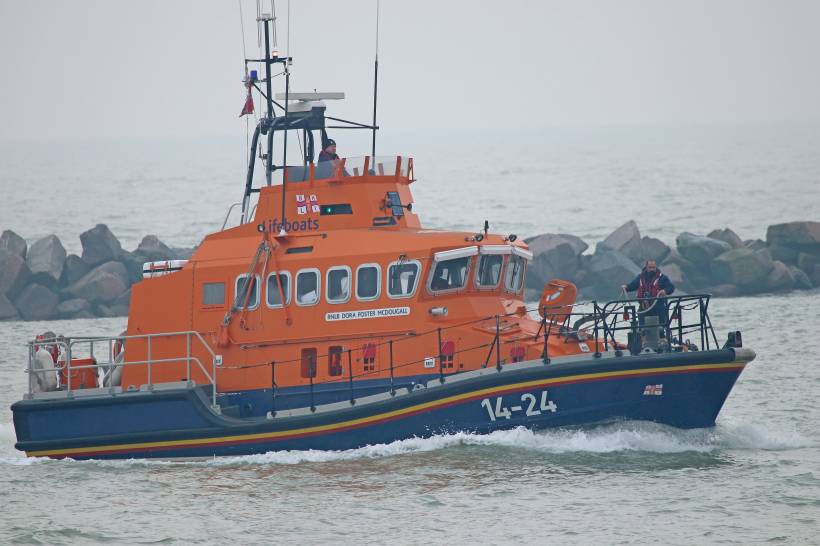 Monday, 26 November 2018 - 08:40
Post 5894
Sea News, Dover
Migrant boat..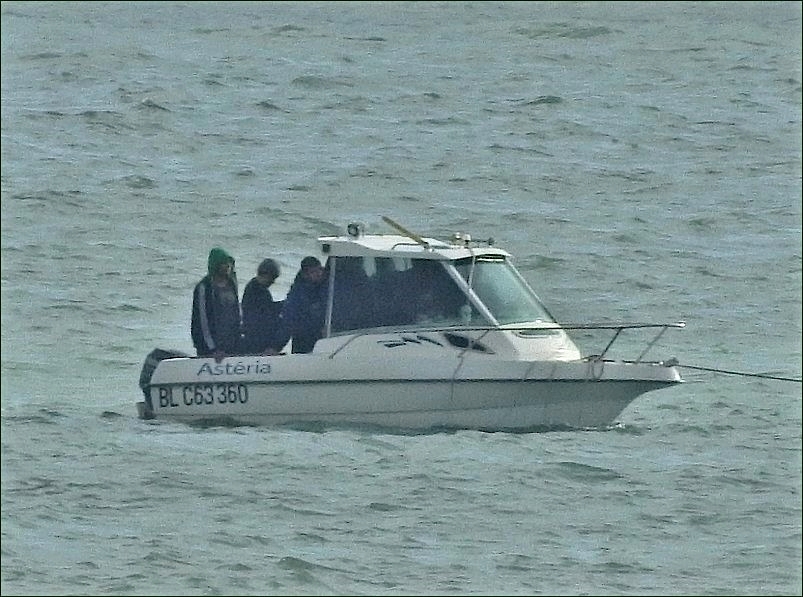 FIGHTING FOR STRONGER BORDERS
Dear Mr Boland,
Fighting for stronger borders is one of my top priorities. For years ruthless people traffickers have been exploiting the Dover-Calais route in order to break migrants into Britain.
Things reached crisis point in the summer of 2016. By then 10,000 vulnerable people were living in the squalor of the Calais Jungle. Driving along the road to the Port of Calais was like running a gauntlet – particularly for truckers forced to dodge burning branches lobbed across the carriageway, as people traffickers revved their chainsaws at the side of the road.
Yet after a hard-fought campaign we got the migrant camp dismantled. Since then the number of migrants detected at Dover has plummeted by more than a third, from 792 in 2016/17 to 503 in 2017/18. Of course, we still hear some reports of trouble in Northern France. Yet the situation has vastly improved – and the people of Calais have got their town back.
But everyone knows the battle for stronger borders is far from over. Because these people are desperate to reach our shores – and they will keep trying by any means possible. Now we've cracked down on the number of clandestines smuggled in trucks, we are seeing increasing numbers arriving in small craft.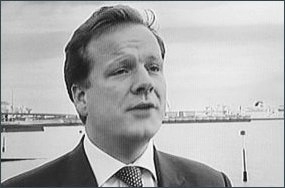 Just last week, 48 migrants were rescued from the English Channel in the space of 48 hours, in five separate incidents. We've seen this sort of thing before – but more sporadically, and very rarely during November. To see this number of brazen attempts to break into Britain, even as winter sets in, is unprecedented and deeply concerning.
One small, open boat even had a toddler on board, underlining just how desperate these people are. Clearly we must do more to deter them from making these dangerous journeys across the world's busiest shipping lane.
A damning report last week revealed that just two Border Force cutters are in operation to patrol almost 11,000 miles of UK coastline. This compares to 600 cutters patrolling the Italian coast, more than 3,000 miles shorter, and 147 covering Spanish waters, more than 4,000 miles shorter. Meanwhile, the number of hours our cutters spent at sea dropped from 11,137 in 2015 to 9,497 last year.
What's more, only two of the Home Office's eight Coastal Patrol Vessels purchased in 2016 are in operation. And 'Project Kraken', launched to improve intelligence gathering from people working in the marine sector, received just 49 referrals in 2016/17, with only two considered "actionable".
We must do more, with a clear plan for greater investment in securing our borders and more properly trained staff – not some sort of Dad's Army set-up.
Otherwise evil people traffickers will continue to exploit the situation and more and more people will break into Britain. The Home Office must not turn a blind eye to this growing issue. We must keep fighting for stronger borders.
Charlie Elphicke MP
ENDS
Thanks to Charlie Elphicke for the above. Indeed Mike had a picture of the two cutters mentioned last week...number of post in a moment. Yes here we are...see post 5874. Two cutters as opposed to the italian 600...well there we are...
We show the migrant boat again to illustrate Charlie's article.
* *
As promised some further pictures of the arriving Royal Klipper from saturday morning … a very grey day!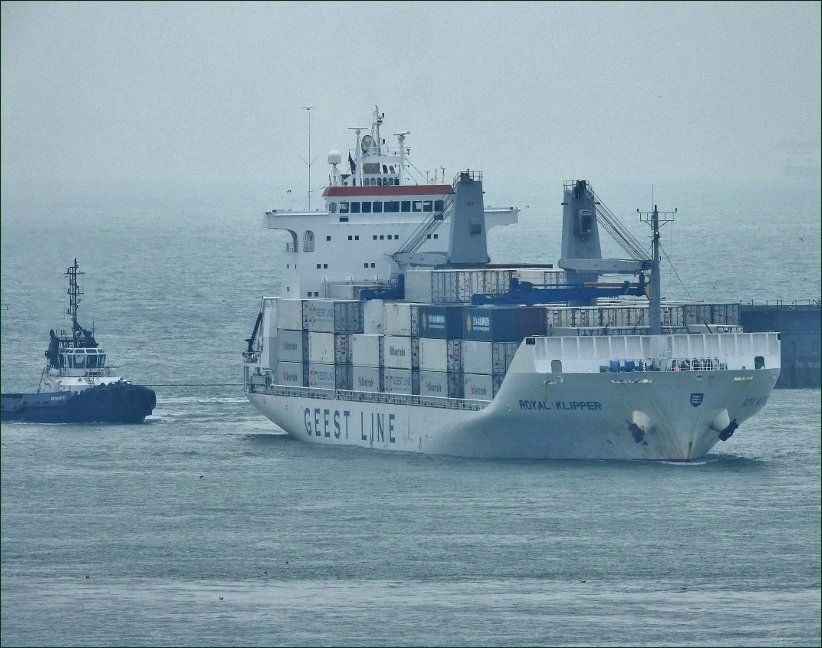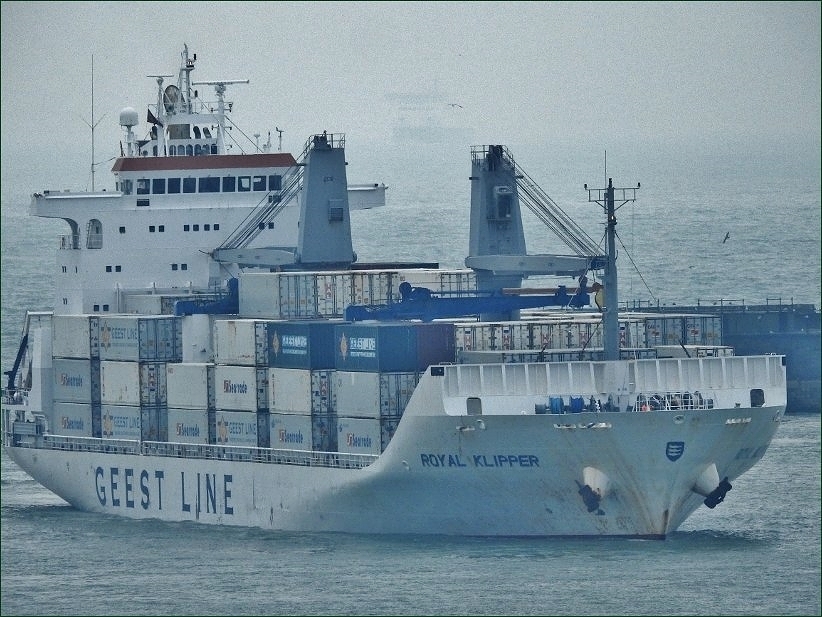 Nice enjoyable all round collections from Ramsgate/Dover below there from both Sarah and Mike - DONT MISS THOSE.
Great Stuff !

PaulB
Monday, 26 November 2018 - 08:17
Post 5893
Sarah, Ramsgate
Recent overnight visitor to leaving Ramsgate on its way home to Peterhead.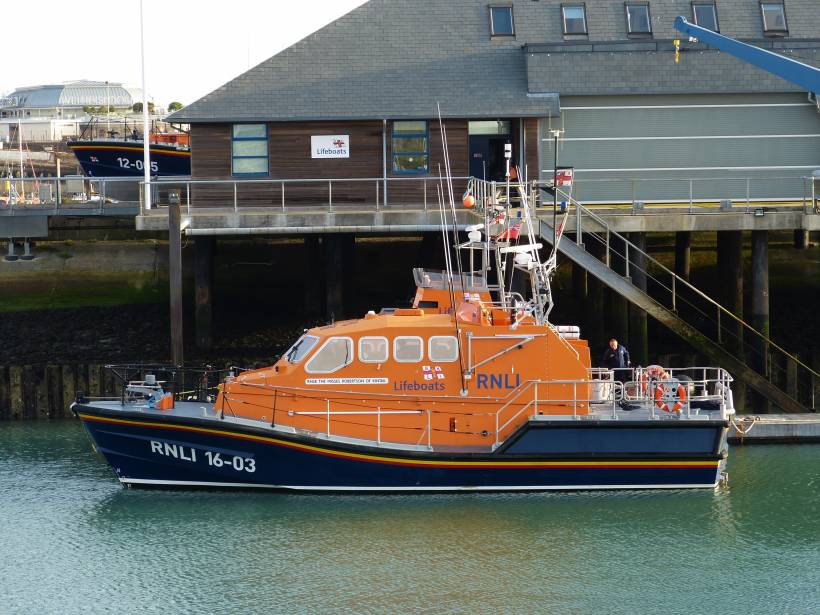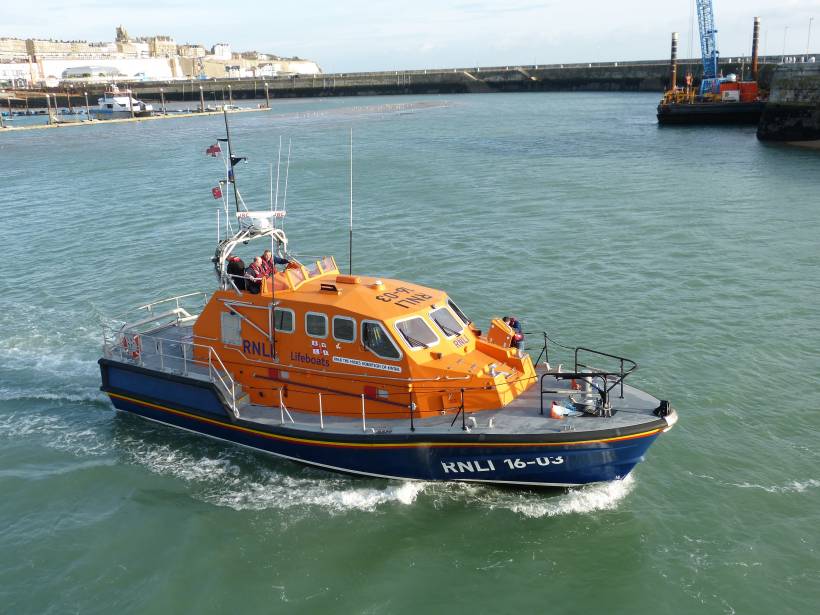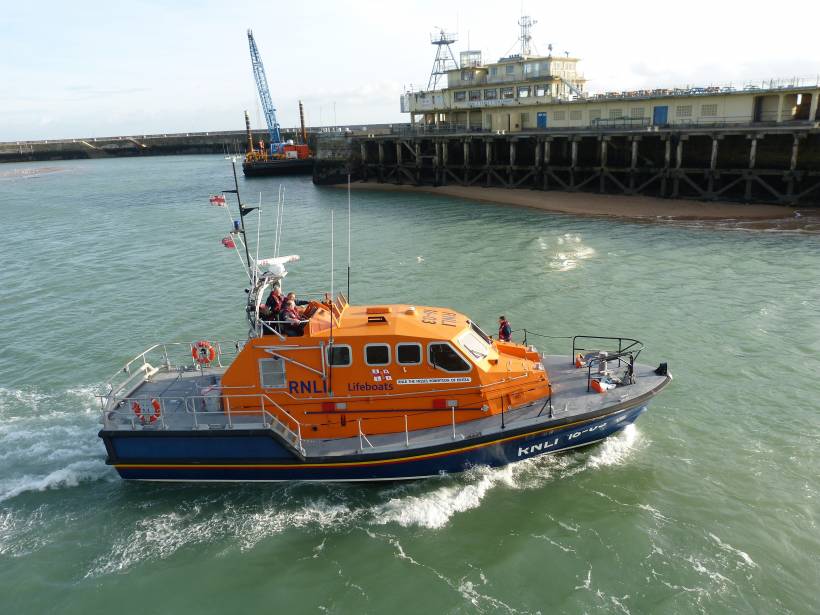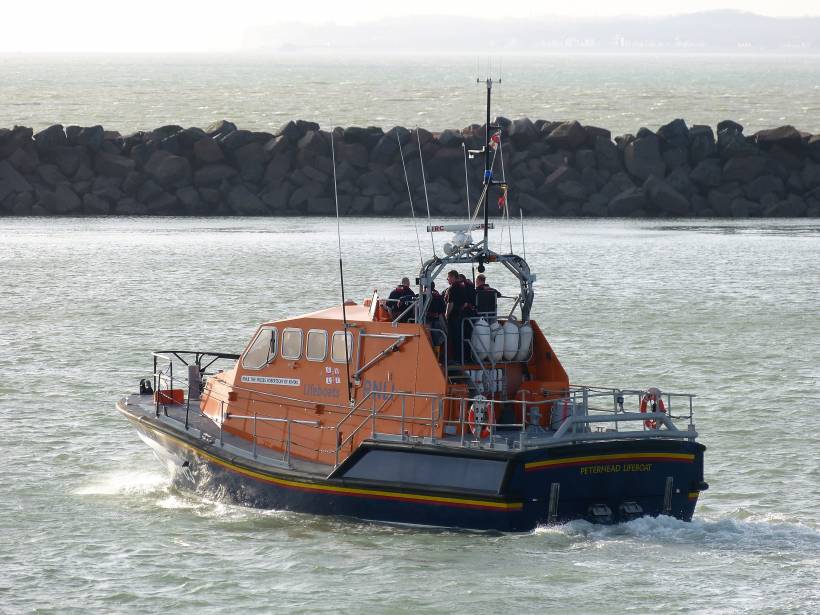 Monday, 26 November 2018 - 07:05
Post 5892
Mike J., Dover
Catch up time. On Wednesday I was over in Ramsgate & by sheer luck arrived as the barge GPS BOXER was being moored on the Commercial Quay with the aid of Ramsgate workboat SILVER LINING & the powerful & highly manoueverable low-profile workboat THAMES-2.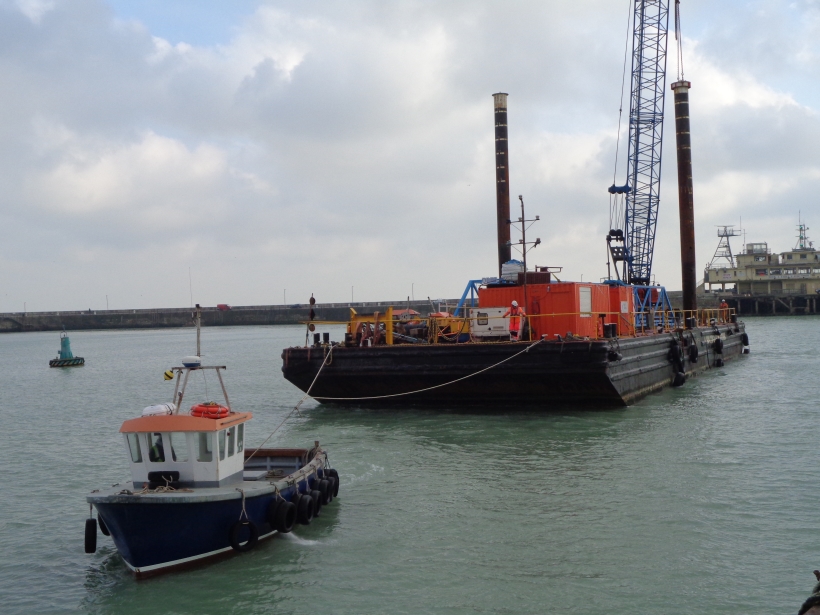 SILVER LINING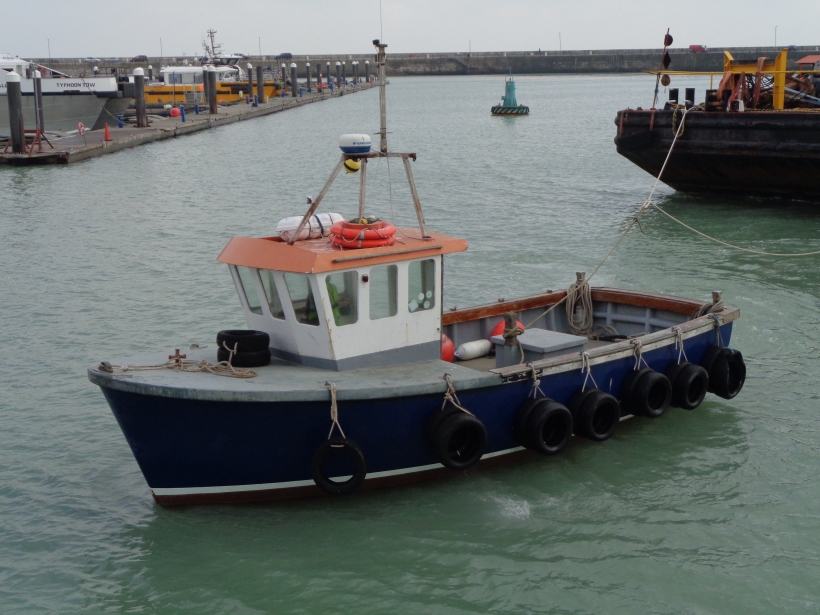 Young lady about to haul mooring line ashore with heaving line.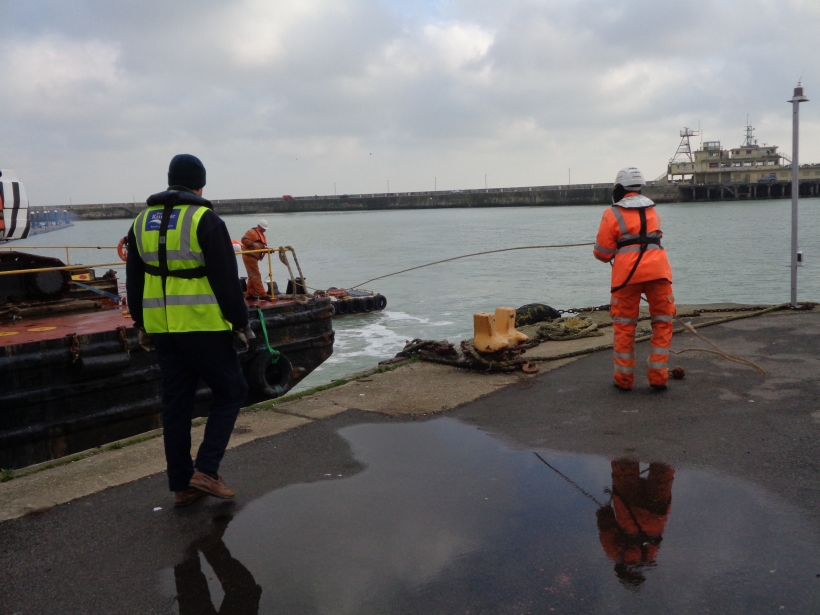 THAMES-2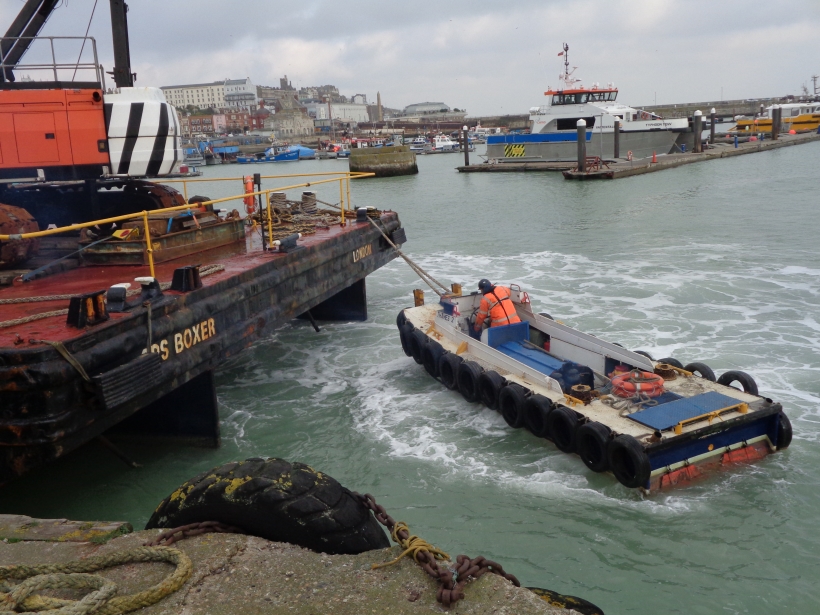 The barge had been chartered from GPS by the Marine Contractor RED-7 & the young lady who who waiting to take the heaving line from the barge told me that they were in Ramsgate to replace a number of piles.
The little workboat in post 5813 had been carrying out preparatory work for this job & is now sitting ashore on the Commercial Quay.
TOPLOADER [post 5889] has been busy with DWDR work since she arrived & was working Sunday when many artic tractor units were lined up on Union Street, presumably waiting pick up their trailers from DWDR on Monday.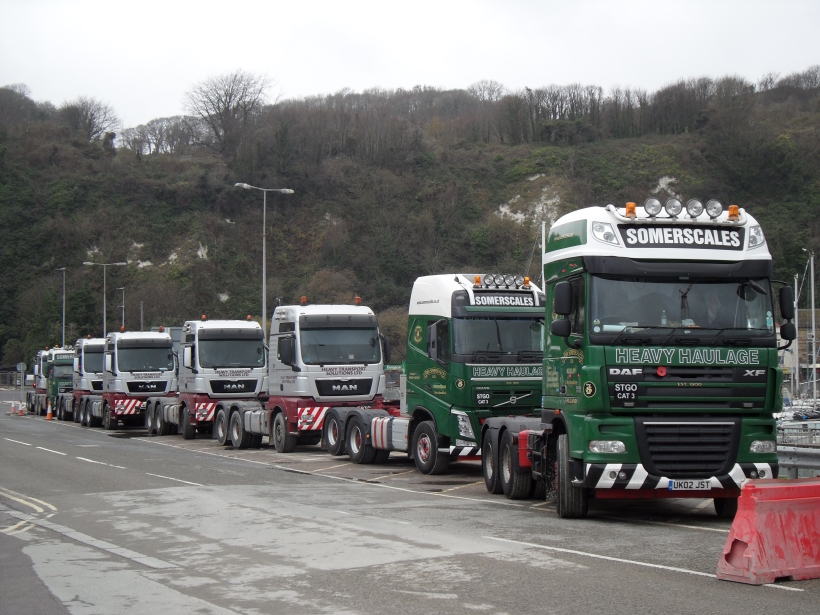 Nice 'atmospheric' picture of the helicopter & a 'Spirit' by Simon B - who says you need colour to make a picture 'work' ?
I'm no helicopter expert & don't recognise the type in Simon's photo, but I hear that the Lydd SAR choppers are grounded since they are same type as the one involved in the Leicester City tragedy.
Their duties have been covered by a different type of machine from Lee on Solent which obviously takes much longer to get up here than the Lydd machines & consideration is being given to having one of these based at Lydd until the cause of the Leicester crash has been found.
Monday, 26 November 2018 - 00:00
Post 5891
Sea News, Dover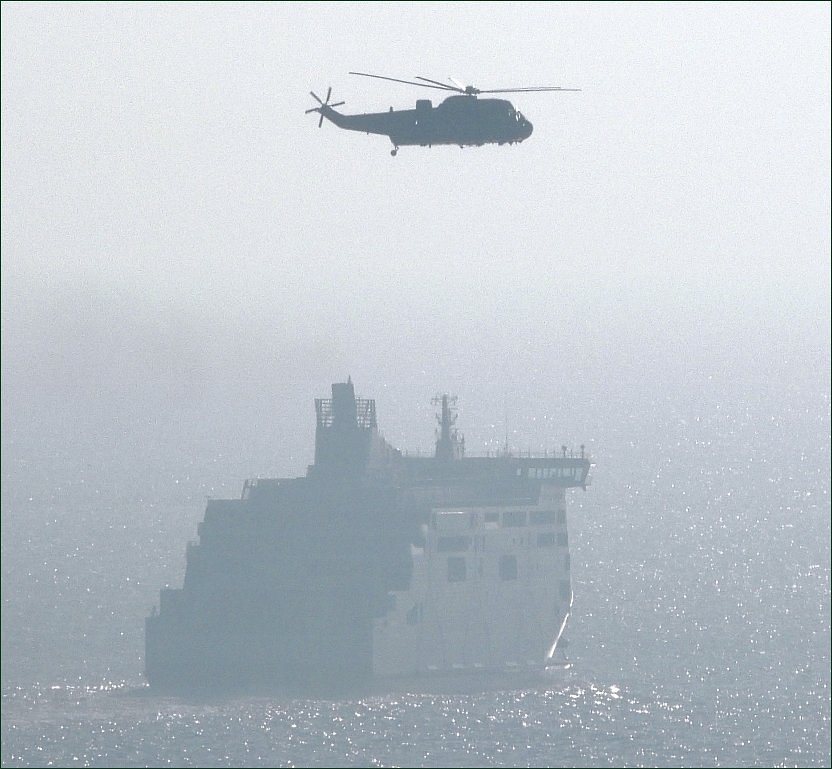 The excellent picture above was sent in to us by SIMON BRISSENDEN, many thanks Simon. Always welcome.

It shows one of the Spirits heading for Calais in the sunny but misty conditions while a low flying helicopter passes overhead, the helicopter heading in a south-westerly direction. A very nice shot indeed taken from the cliffs a couple of days ago.
Well done with that one Simon.
Below we have a pic of the Royal Klipper arriving from the Dominican Republic yesterday morning. It was a heavily miserable grey ol day yesterday saturday as she made her way into Port...but here we are anyway, we wont let the gloom stop us.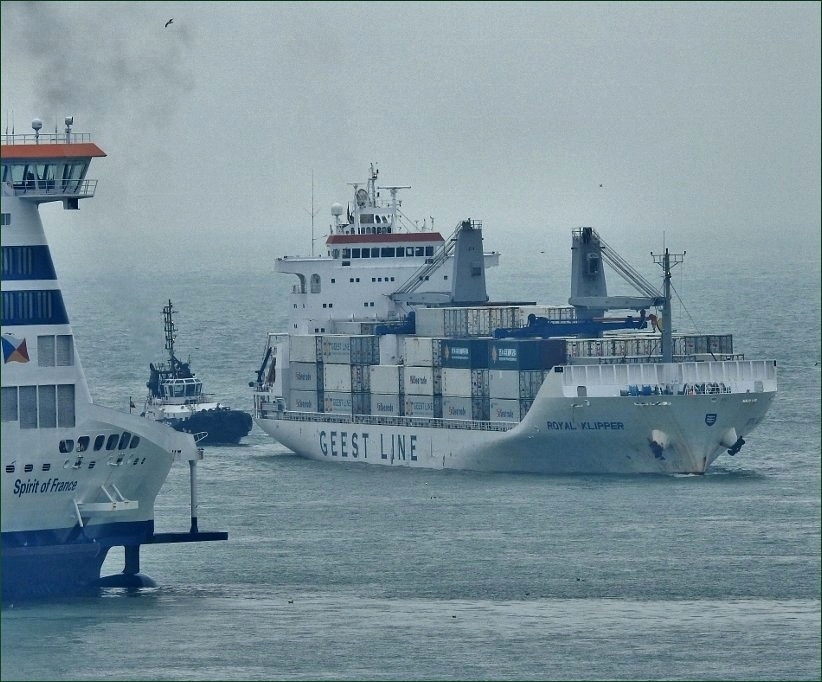 Will have another few pix of the Royal Klipper following along in due course.
PaulB
Sunday, 25 November 2018 - 06:19
Post 5890
Sea News, Dover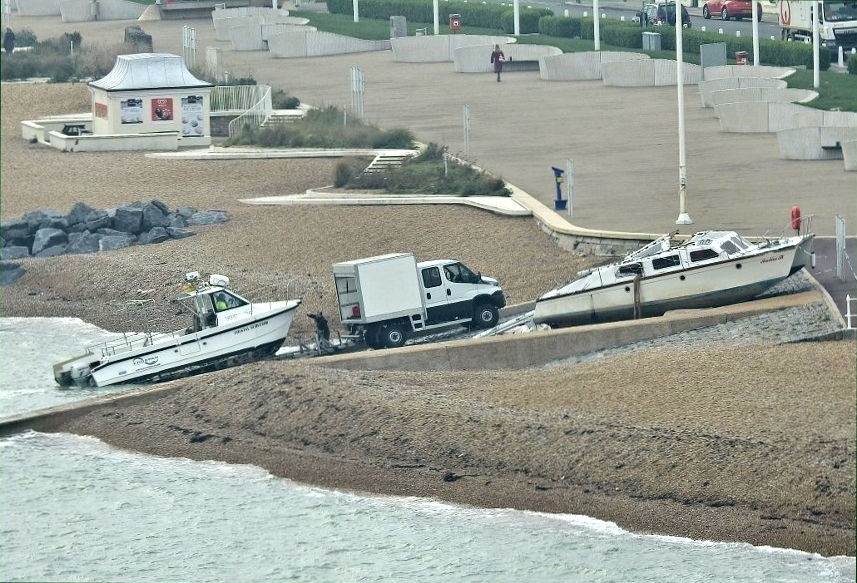 The wreck of Anneliese is still lying there like a beached whale, but yours truly spotted activity round and about the stricken yacht on Thursday morning and thought something was afoot. But no - when examining the situation through the zoom, it was clear that it was just a different survey vessel being brought ashore by a truck...nothing to do with Anneliese. Anneliese is to the right in shot and the boat to the left is the Coastal Surveyor (thanks Mike).
That's the oddest pic of the seafront for a while. There's hardly a soul about. There are the two guys bringing the boat ashore, and one woman in the distance...but all is deserted and this is mid-morning... 10.50 to be precise. It looks like a scene from a science fiction movie - The Day the Earth Stood Still or whatever...
It was a cold oul day though with enough of a chill factor to give you the tremblin' shivers.

* *
Just moving inland a wee bit for this below...its the new proposed design for Market Sq. Thought locals might like to see this, with apologies to our friends further afield..
Have Your Say on Market Square Redevelopment Proposals
Plans for the redevelopment of the Market Square in Dover have taken a major step forward with the project, led by the Dover Town Team and supported by Dover District Council and the Dover Coastal Community Team, invited to apply to the next stage for a share of the £40m Coastal Communities Fund.
Local people are invited to have their say on the plans for the Market Square as part of the latest round of consultation.
To take part you can:
See the plans and complete a short online questionnaire at www.dover.gov.uk/marketsquare
Visit the exhibition at Dover Library from 26-30 November
Come along to our stall in the Market Square on Saturday, 1 December and join in the festive fun for the Christmas lights switch on, organised by Dover Town Council
The project aims to revitalise the traditional heart of Dover's shopping district by redesigning the Market Square as a place for people to meet and socialise by improving access and public realm, along with a programme of seasonal events.
The Market Square will be the hub for connecting the community with the Old Town and the £53m St James development, and for visitors to start to explore the town's visitor attractions, including Dover Castle, the Roman Painted House, Dover Museum and Bronze Age Boat Gallery, St Edmund's Chapel, and the Maison Dieu.
ENDS
Very interesting post below from Mike ..yes our 'inshore correspondent ' has been out and about once more rounding up the news.
Great info/pix below there..

PaulB
Saturday, 24 November 2018 - 06:01
Post 5889
Mike J., Dover
Remember the TOPLIFT, the odd-looking workboat that could be divided into two sections for transport by lorry ?
She worked [& was laid up] in Dover in 2015/16 [posts 1100/1115 etc].
A slightly larger workboat, to a very similar design, was in the Tidal Basin on Friday morning on completion of her maiden voyage from the Solent.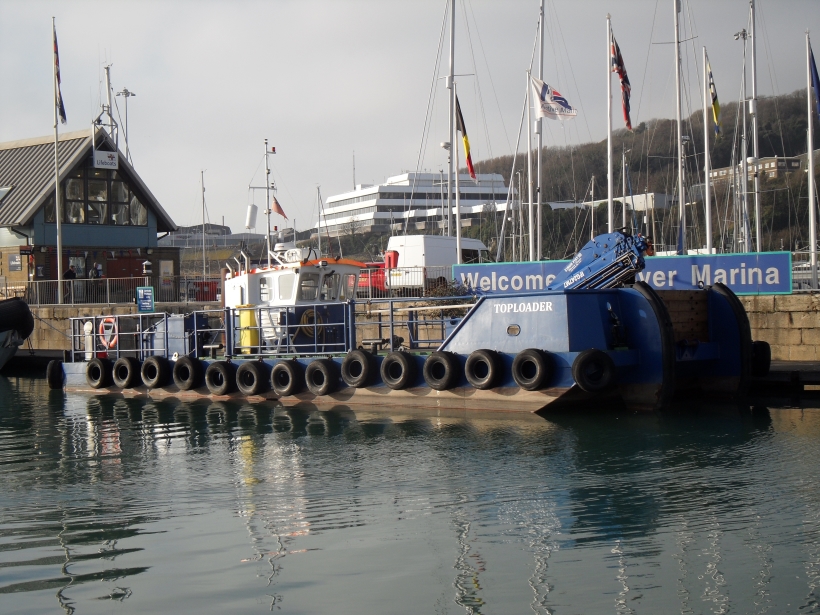 Press releases indicate that the TOPLOADER will be working in Dover, presumably on the DWDR job.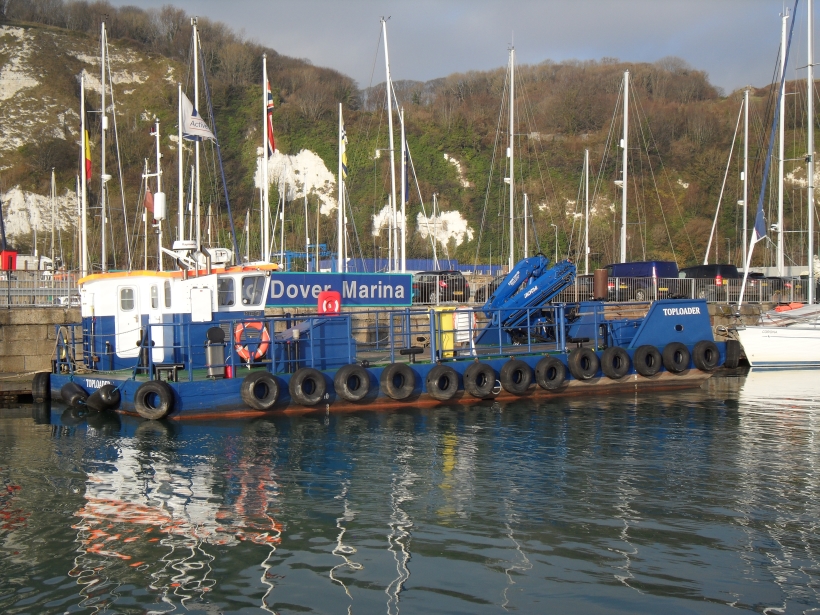 Built by MEERCAT WORKBOATS of Hythe [Hampshire] who describe the class as 'Floating Swiss Army Knives' due to their versatility, she's owned by marine contractors TOPBOND PLC of Sittingbourne, who operate other many other craft including jack-up barge TOPJACK & workboat FREYA [post 1458].
Perhaps the TOPLOADER will be working in association with the rather large crane that has materialised on the reclaim in these last few days, probably arriving by road as a kit of parts & assembled on site.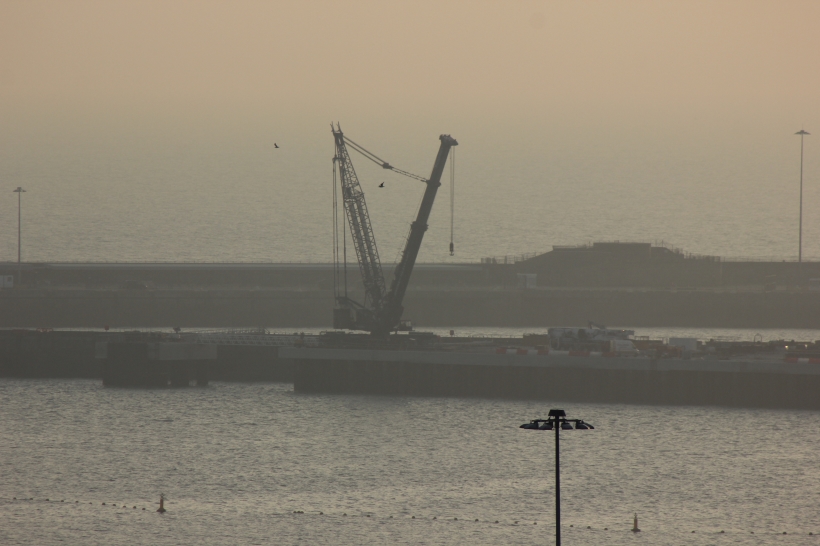 The TOPLIFT is thought to have gone to the Falklands & I'm pretty sure that she was leaving Dover forever when I photted her from Langdon Cliffs as she headed downchannel on a very windy day in August 2016 [post 3391], but I think she was then heading for the Solent, not the South Atlantic !
She would have gone down there as deck cargo on another ship.
Fast ferry AIGUES DE FORMENTERA sailed about 1600 for Brest, she's not hanging about & a few minutes ago AIS showed her doing 29kts [33mph].
Saturday, 24 November 2018 - 00:36
Post 5888
Sea News, Dover
Ah thanks Steve - will make a mental note of that for future ref. PB

Friday, 23 November 2018 - 16:28
Post 5887
Steve, France
Reference Post 5886; its the European Seaway, not Seaways!

The old girl is forever getting that extra 'S' added, but she was here long before DFDS!

Friday, 23 November 2018 - 14:51