Monday, 18 June 2018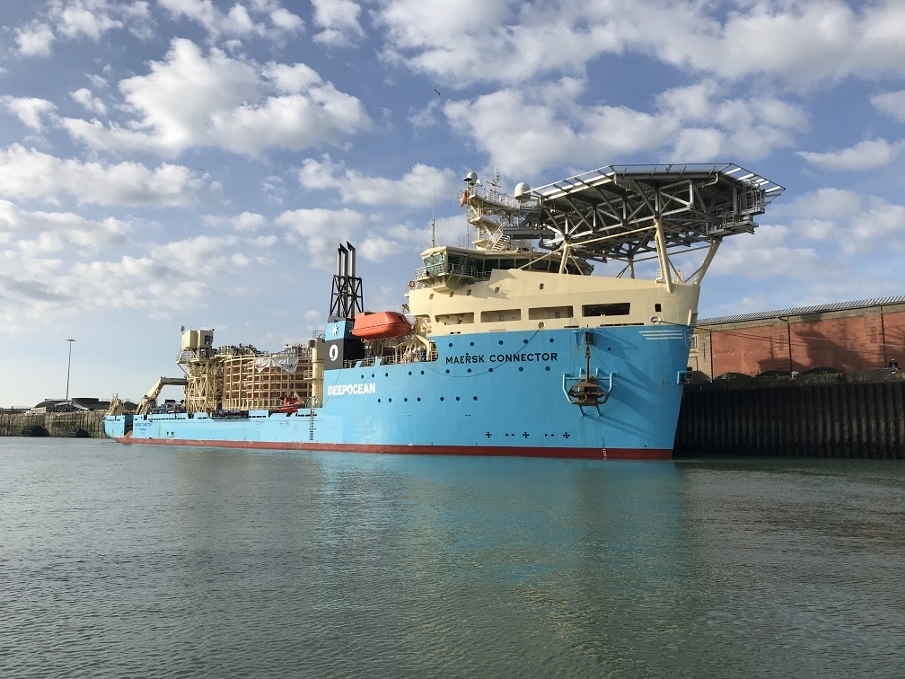 The Maersk Connector - currently at the Port of Dover. Pictured by Benjamin Payne. Great pic. Many thanks Ben.

WWW.DOVERFORUM.COM/SEA-NEWS
Doverforum.com: Featuring all the ships that come and go and work at the Port of Dover with further coverage of the surrounding towns both sides of the Channel. Email: dover7@msn.com to send SEA NEWS pix or info....
or click ADD YOUR COMMENT below to post direct, no membership needed.
DFDS ACQUISITIONS and EXPANSIONS...see below 4984
Dover Marina Control - New Contract Awarded see 4970.
PORT OF DOVER: Konecranes for new Cargo Terminal 4916.
PORT OF DOVER: £21 Million DWDR 'paving plus' contract awarded 4895.
PORT of DOVER - three cruise ships, one day 4885.
DFDS Charters New Ship see 4866.
New Marina Pier ... Latest...see 4861.
P&O FERRIES presents big cash to RNLI Dover...see 4829.
PORT of DOVER: Chief Executive TIM WAGGOTT Resigns...see 4778.
P&O FERRIES recruiting...4745.
PORT of DOVER awards Cargo Refrigeration Contract see 4740.
PORT OF DOVER: Community Benefit 4688
TRADING GROWTH FOR DFDS DESPITE BREXIT see 4642
PORT OF DOVER RECORD FREIGHT see 4551.
PORT OF DOVER: GEEST LINE arrival see 4597.
SECOND FEMALE CAPTAIN FOR P&O see 4608.
Sea News Dover :
Use our SEARCH ENGINE below to find all sorts on the SEA NEWS pages....
more than 240 now with more than 4750 nautical posts.
Posts are welcome. Max of 5 pictures preferred per day although we can occasionally stretch to 6 on special stories.
Type CRUISE VISITS in our SEARCH ENGINE below for news of the latest arrivals.
Sea News Editor Paul Boland - dover7@msn.com .
Post 4878
Sea News, Dover
DFDS OFFERS TRAVELLERS THE BEST OF BOTH THIS SUMMER
Picture by George Holland
Discounted multi-route booking option open for peak holiday season.
DFDS is offering customers a 'Ferry Flex and Save' option when booking during the peak summer season, giving travellers the chance to sail to Europe on one DFDS route and return on a different route. This means they can explore more of the continent's rich heritage while saving on crossings.
Holidaymakers can travel on the ferry operator's Newcastle-Amsterdam route and return home via its Calais/Dunkirk-Dover route – or vice versa. Those departing from the UK via the Newcastle-Amsterdam route can also take advantage of a 30% discount on selected travel dates in July 2018*.
The flexibility of this multi-route option gives travellers the opportunity to have the best of both worlds – a solution to peak season pricing with the flexibility to extend their holiday by creating a fun and personalised road trip.
Bookings can be made until 29 June 2018 and are subject to availability.
Outbound travel on the Newcastle-Amsterdam route must be made between 4th-5th July and 7th-18th July with no date restrictions on the return route via Calais or Dunkirk. Departures made from Dover to Calais/Dunkirk can be made any time, providing the return journey from Amsterdam-Newcastle is made between 13-15, 19-22 and 26-29 June, 3-5 July and 24-30 Aug 2018.
DFDS operates daily sailings between Newcastle-Amsterdam, while crossings between Dover and France operate 54 times per day.
For more information and to book tickets please call 0871 522 9955.*
-Ends-
*Applicable when booking offline only.
* No telephone booking fees apply. Calls cost 13p per minute plus your telephone company's access charge.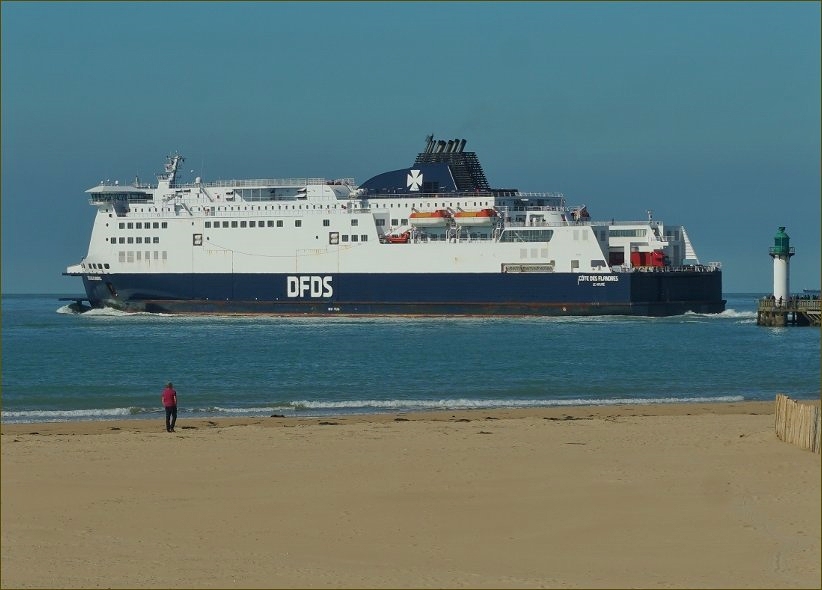 * *
It was a hugely busy day at the Port of Dover yesterday...not least because we had ColetteB's forecasted triple whammy of Cruise Ships...plus plus plus...we will get round to all the pix in due course.
You might remember we featured a distant shot of the Viking Sun heading to Greenwich a few days ago...well here she is arriving with us yesterday. Huge excitement! It was misty at the time as you can see but at least its a warm mist cheering us all up...welcome Viking Sun.. her first visit.
She left for Dublin in the Emerald Isle last night, will have more pictures in due course. Also starring yesterday were AIDAsol and MV Hamburg...and they both left for Hamburg last night as did the cargo ship Esmeralda. Its all happening in Hamburg.
Viking Sun ..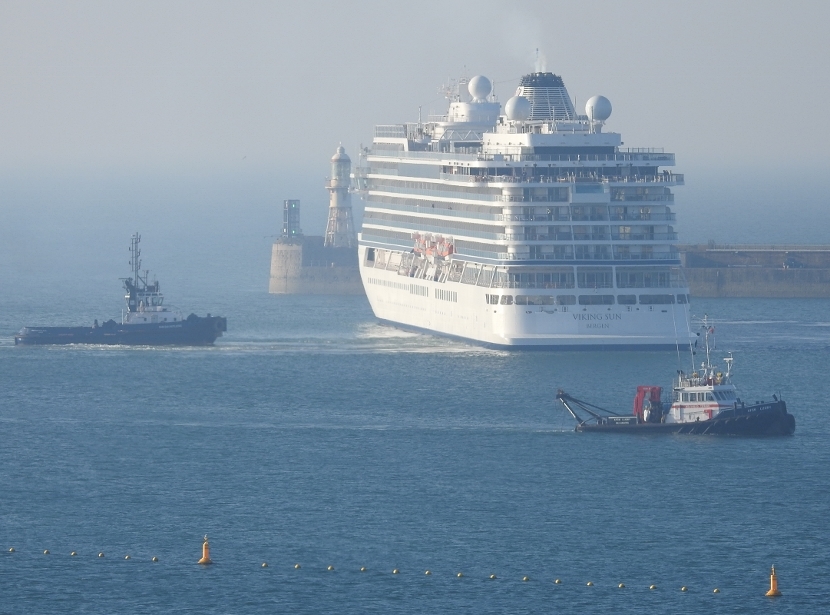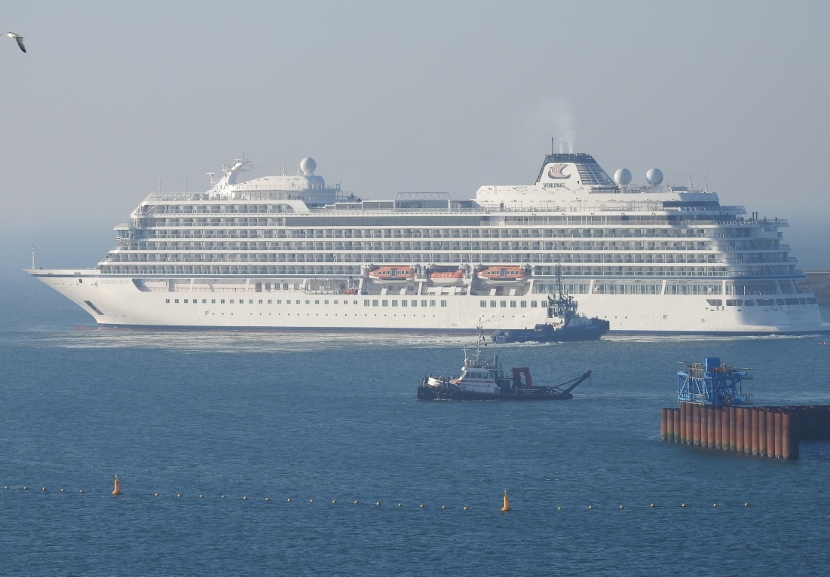 Well done with that cracking collection below Mike. Nice shots there

Many thanks to the team at DFDS for the info above. PB.
Tuesday, 8 May 2018 - 06:16
Post 4877
Mike J., Dover
About ten days ago ago I caught the survey launch SHAMROCK on the move, making a cautious departure from the Tidal Basin.
Since her arrival towards the end of March she hadn't been very active, but is now in regular use now & AIS shows her out working on Monday morning as I type this.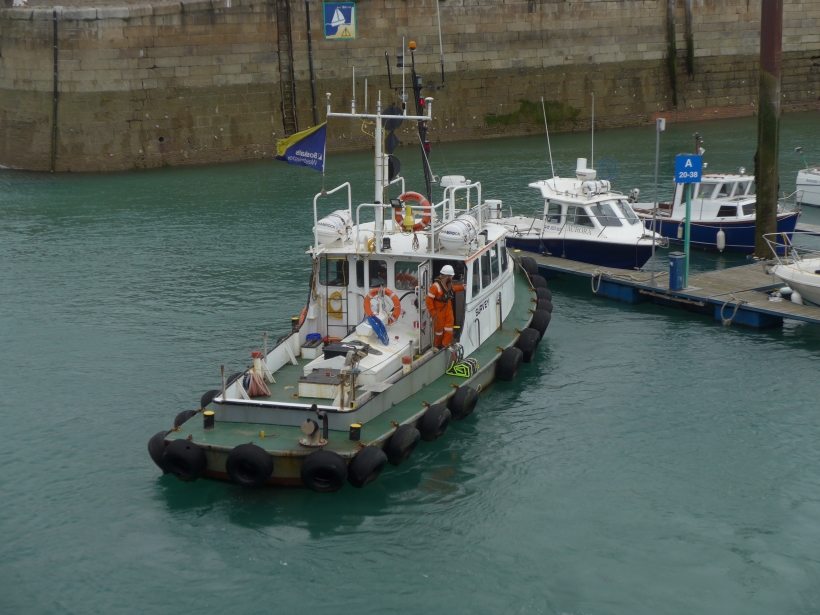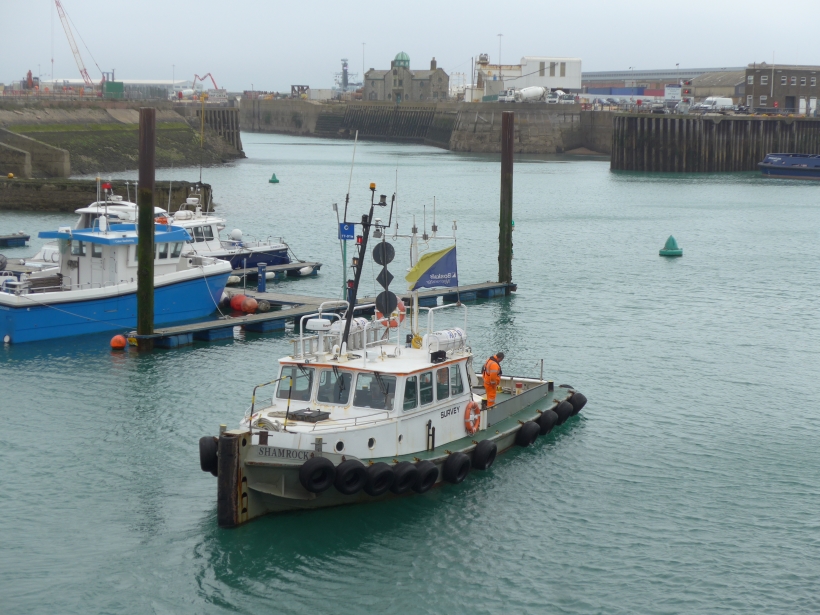 Some recent visiting Sunseekers in varying designs & weather conditions.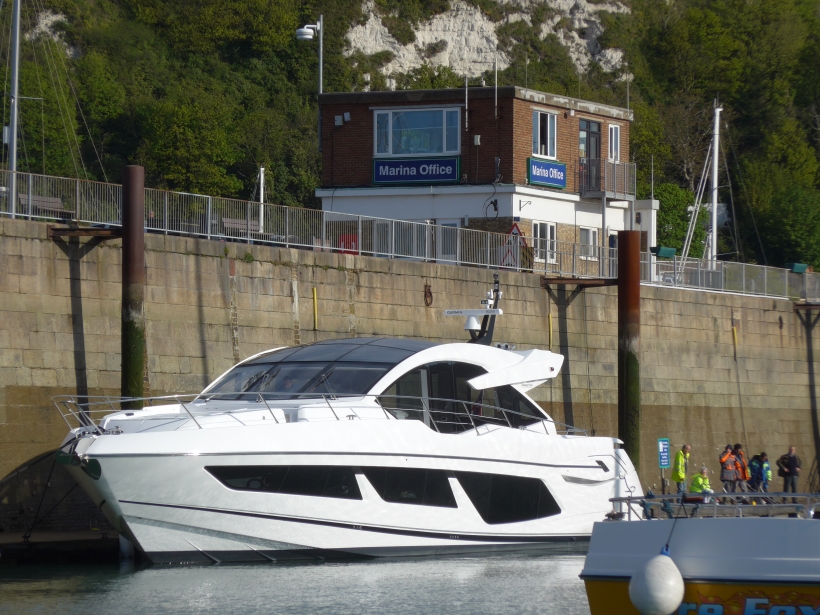 on Sunday evening I came across the rather nice motor yacht CARONIA, built as a fishing vessel in 1927 & named presumably after the famous Cunarder.
She still carries her St.Ives fishing registration number & is a Dunkirk 'Little Ship' with a most interesting history.
For more details Google 'ASSOCIATION OF DUNKIRK LITTLE SHIPS' & then look for CARONIA in the 'Little Ships' section.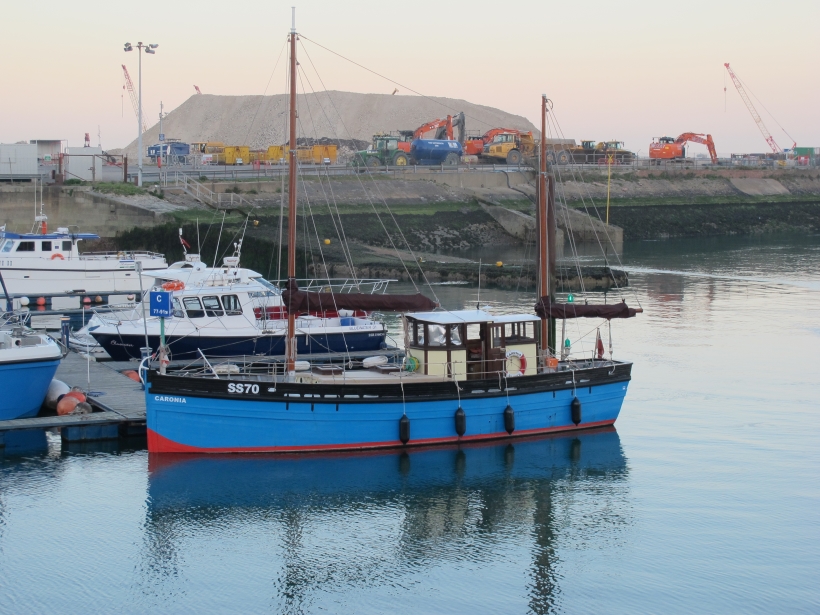 Monday, 7 May 2018 - 11:10
Post 4876
Sea News, Dover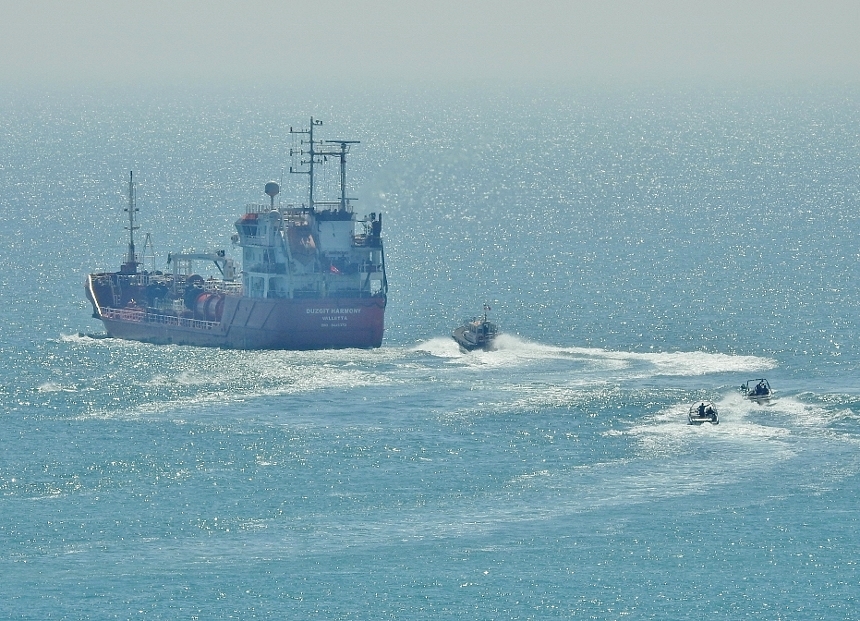 Duzgit Harmony came back to the Port of Dover on Saturday to service our familiar friend Boudicca...I think Whitstar did the servicing last time if I remember correctly. But we hadn't seen Duzgit Harmony here in the Port for a while... just caught her above there as she made her way back to Rotterdam, with a flotilla of small boats chasing along behind. First of those boats is the pilot and the other two presumably leisure craft out for a jolly jaunt.
While uploading just now found these two of Duzgit Harmony from a previous time. Go Duzgit... wild geese ahead..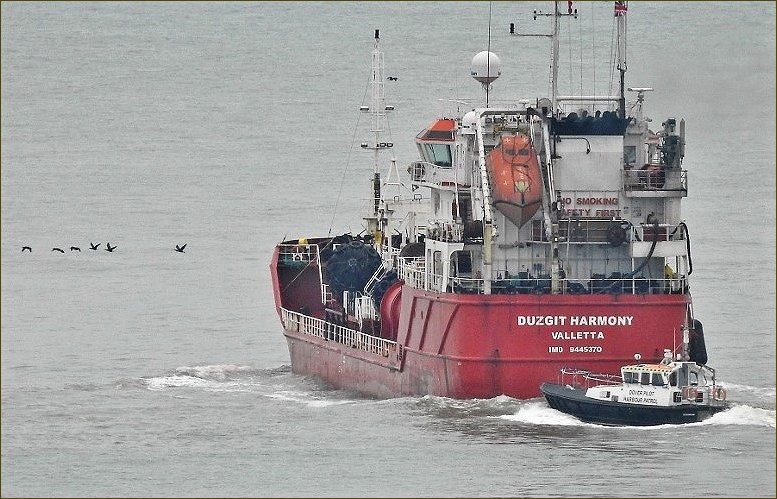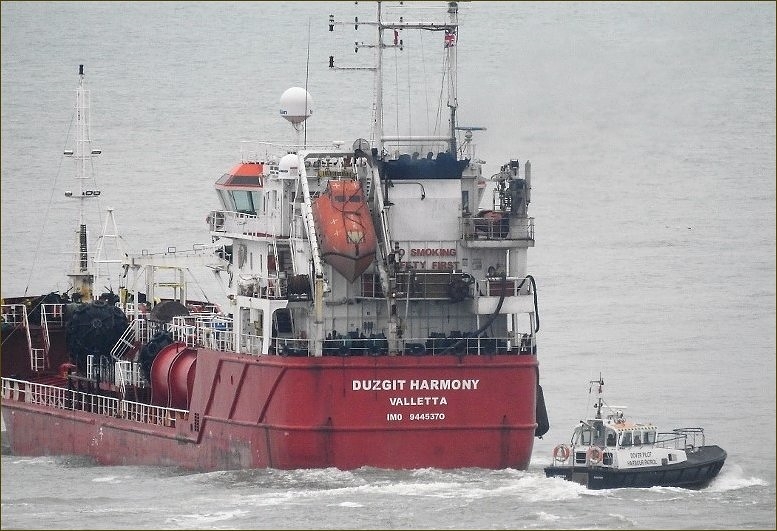 Later of course Boudicca was off...this time scheduled for Cadiz in Spain. Yours truly knows a few people all suddenly going to Cadiz in Spain. Is it the new 'hotspot' for travels ?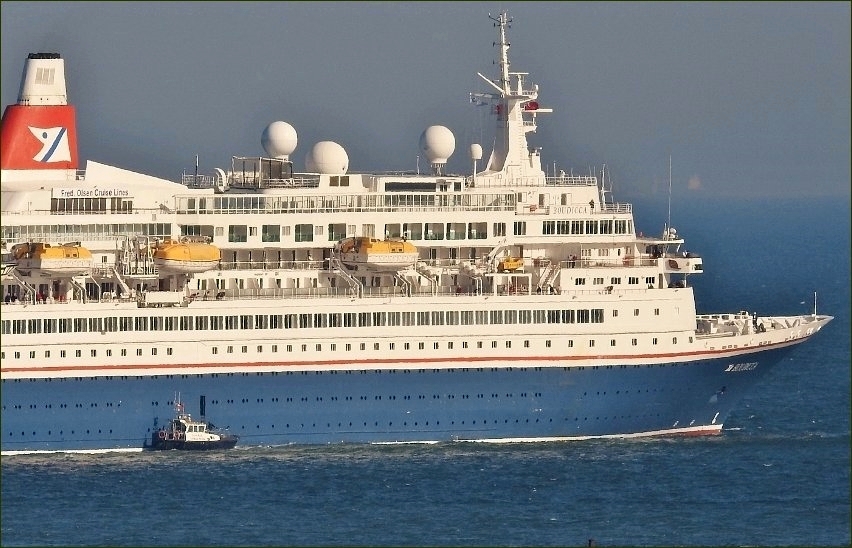 You can just about make out the pilot there leaving the ship. I have cropped the picture below for a closer look. Obviously long range zooming here.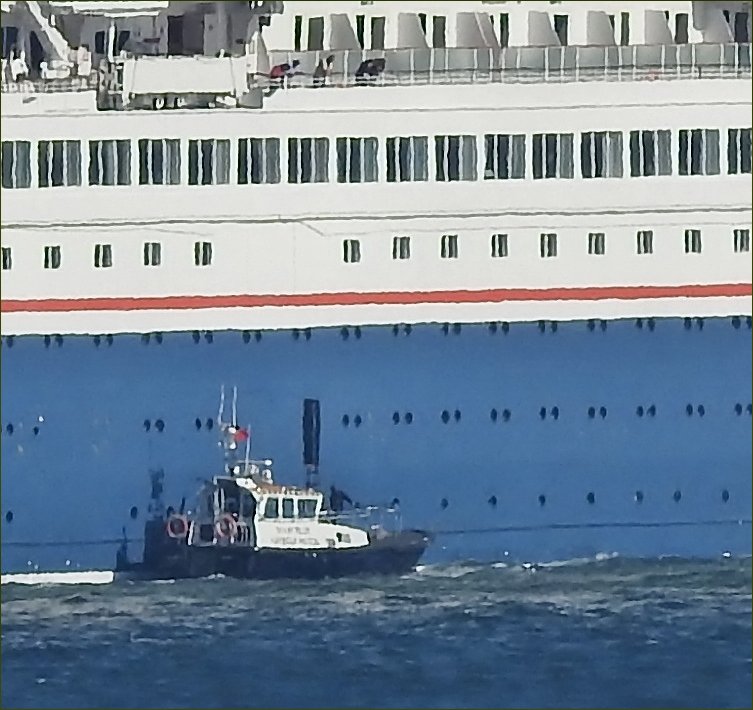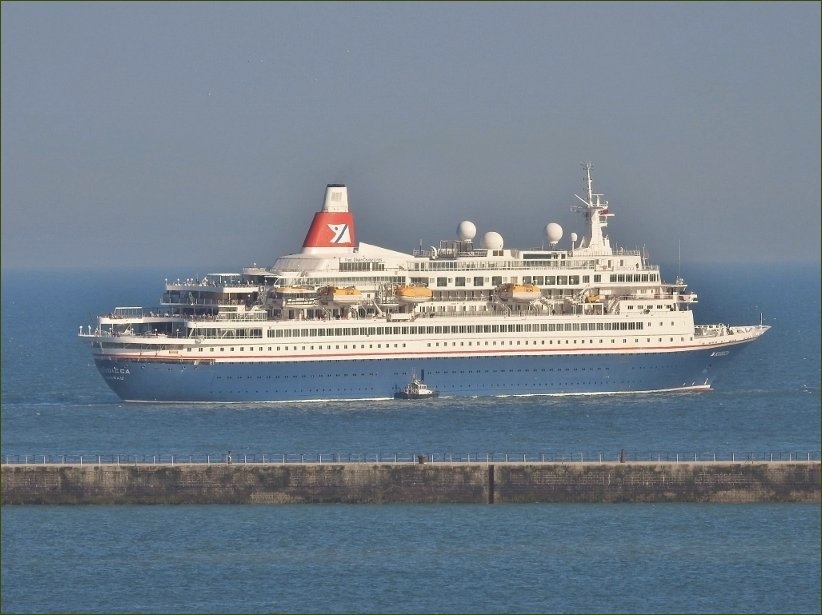 And she's off!
Thanks for that info below Patrick.

We've lost our Sospan!


Brian its true June often busts out all over - often don't know where to look..


PaulB
Monday, 7 May 2018 - 06:11
Post 4875
Patrick, Marine Parade
It would appear that the hopper dredger 'Sospan Dau' that has been working in the Outer Harbour has left us again. Last seen heading for Sunderland.

Sunday, 6 May 2018 - 15:13
Post 4874
brian, dover
yeah her name is june, shes bursting out all over,. lol

Sunday, 6 May 2018 - 14:25
Post 4873
Sea News, Dover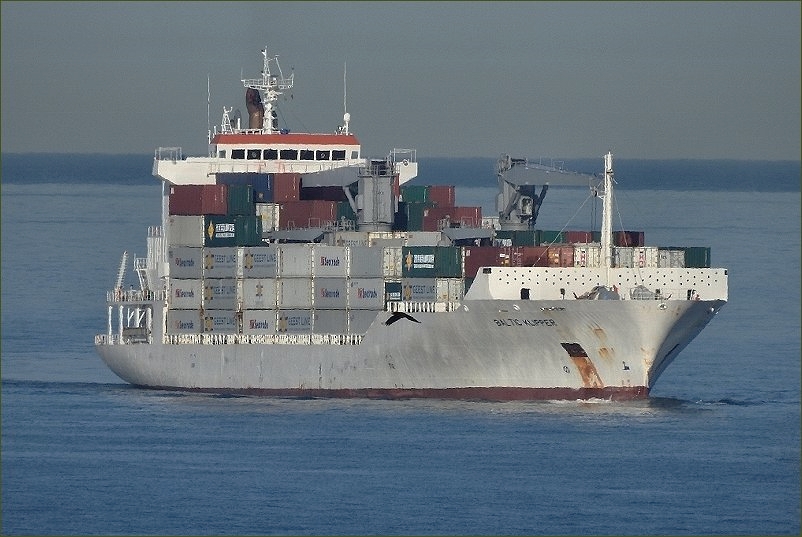 Top shot there shows Baltic Klipper approaching the Port on Friday evening at 6.30PM. Good load of containers onboard there. Its a long range pic looking east across the top of the Port...bit of shimmer involved there in the picture, it happens with all this sunkissed weather. Yes we are having a warm one for sure. Greatly welcome.
Saturday morning early below sees the arrival of our regular friend Boudicca...gently crossing the harbour in the early sun and ably supported by one of the tugs.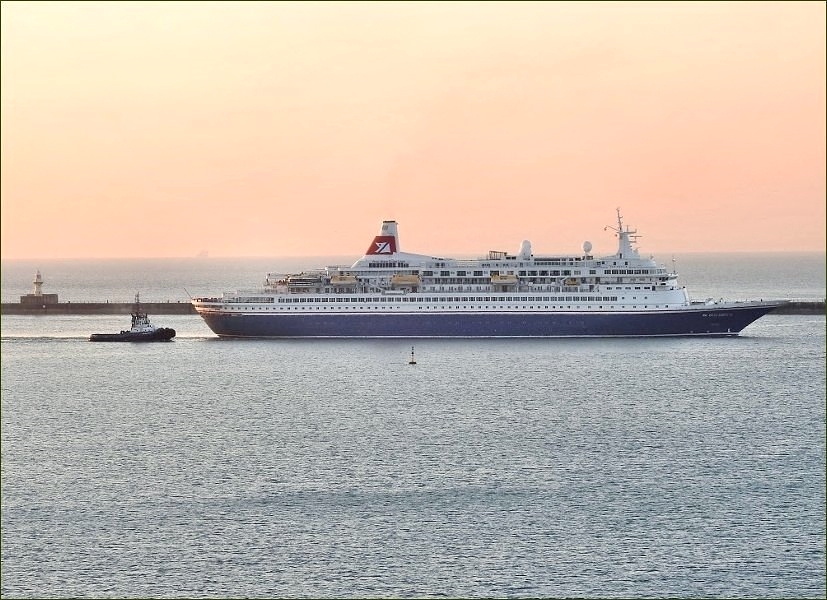 Yes indeed Del the White Cliffs look great from out there - gorgeous on a summery warm evening....especially when you have a glass of fine vintage in yer hand.


Just adding this extra pic below...its of DOVER CASTLE. We showed a picture of the Castle a couple of weeks ago where everything was still all brown and grim-ish, ( it wont be in our Search Engine as it was shown at the top of page ) but look at it now. With all the rain followed by hot sun the 'mountain greenery' has burst forth..
Burstin' forth...Yikes!

We gave the olde Olympus a run out again there..

PaulB
Sunday, 6 May 2018 - 06:13
Post 4872
Del Styan, Norwich
By golly, there is a lot of people looking back at Dover on that cruise ship. The white cliffs never cease to move the soul!

Saturday, 5 May 2018 - 23:11
Post 4871
Sea News, Dover
The Pilot Boat returns...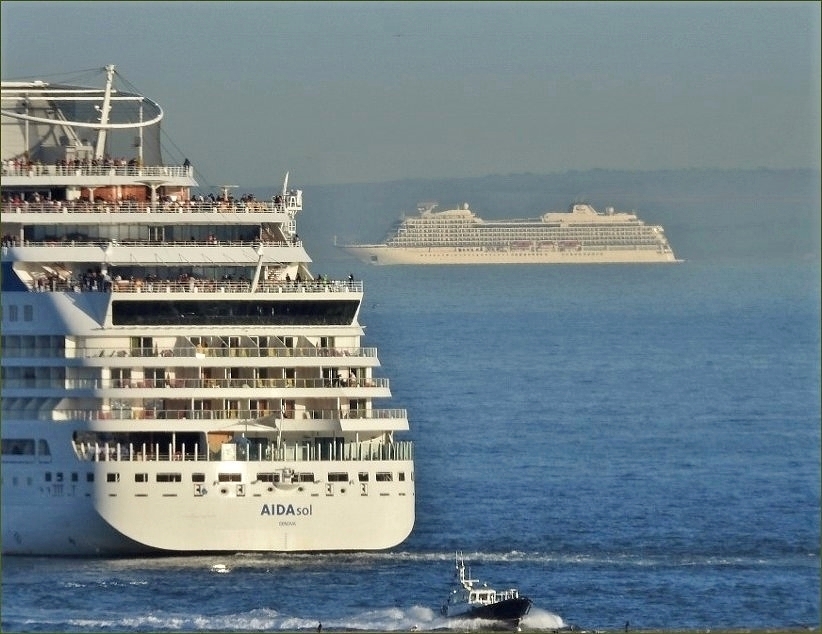 Top picture here shows the tail end of AIDAsol.. while in the distance the Viking Sun gently cruises by. AIDAsol was off to Ijmuiden in The Netherlands and the Viking Sun was destined for Greenwich in lil ol' London. But the main featured star of these three pictures today is the busy pilot boat, and we watch her as she returns at speed...en route zipping past the Sospan Dau below. Pictures from Thursday evening.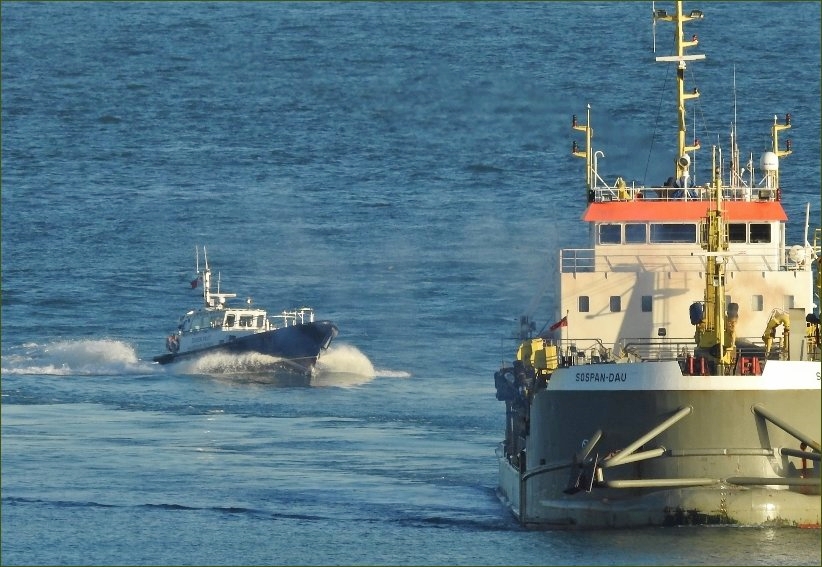 Nice collection Patrick below there of the work in progress. Great to see those - keeps us up to speed on the goings on/progress. That's a cracker of the three boats together in the final shot...a triple whammy that one. The pic of the AIDAsol from on high shows just how big she is.

PaulB
Saturday, 5 May 2018 - 05:12
Post 4870
Patrick, Marine Parade
Progress on the new Marina Pier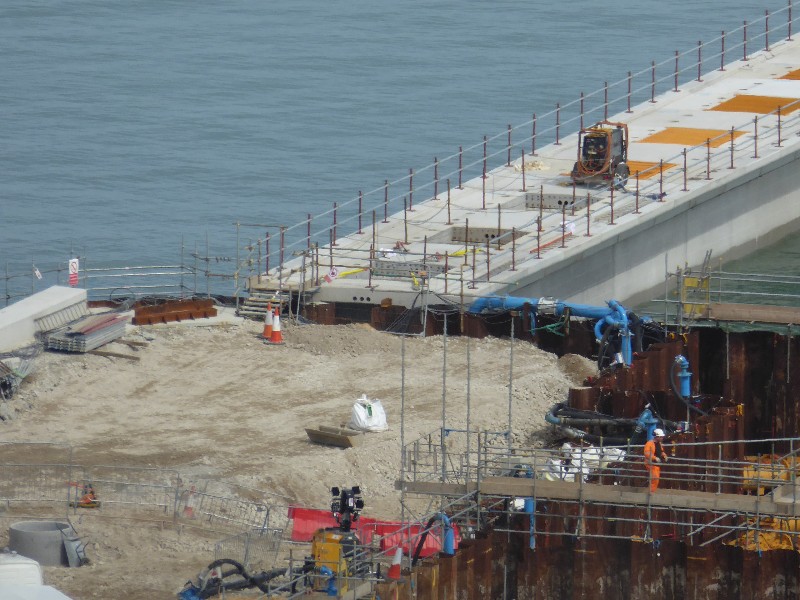 The Infill area east of the former Prince of Wales Pier has some way to go as yet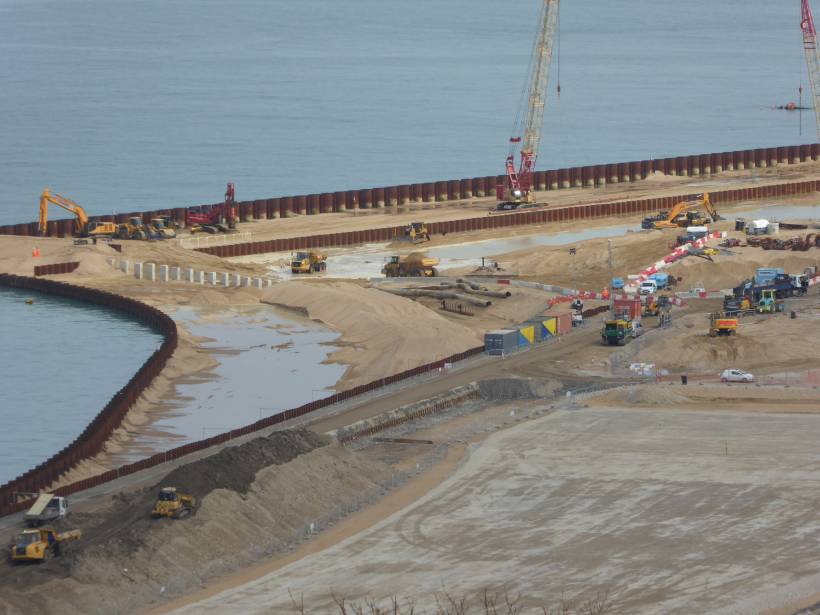 The AIDA sol on Cruise 2 and the'Dunkirk' gap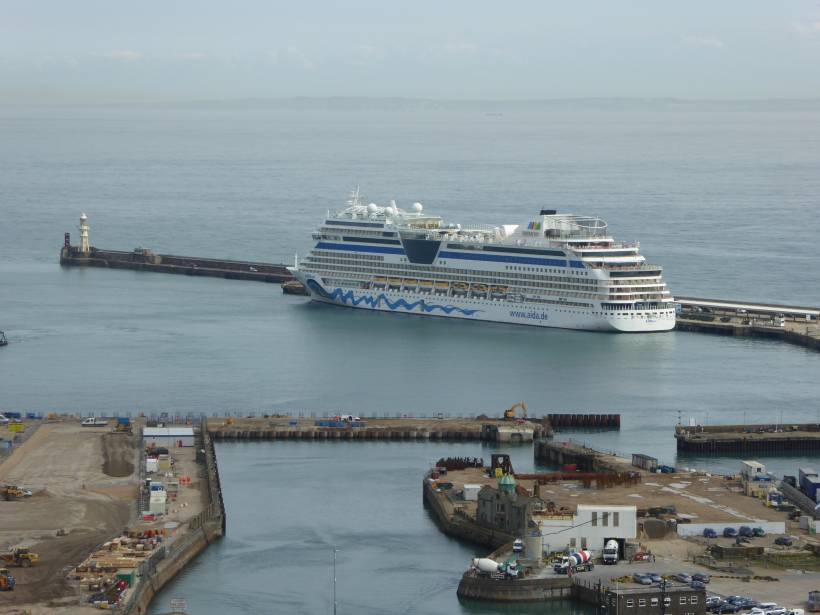 Meanwhile, in the outer harbour Dover Lifeboat teams up with the Harbour Pilot launch that had just retrieved what looked like a large log from the anchorage area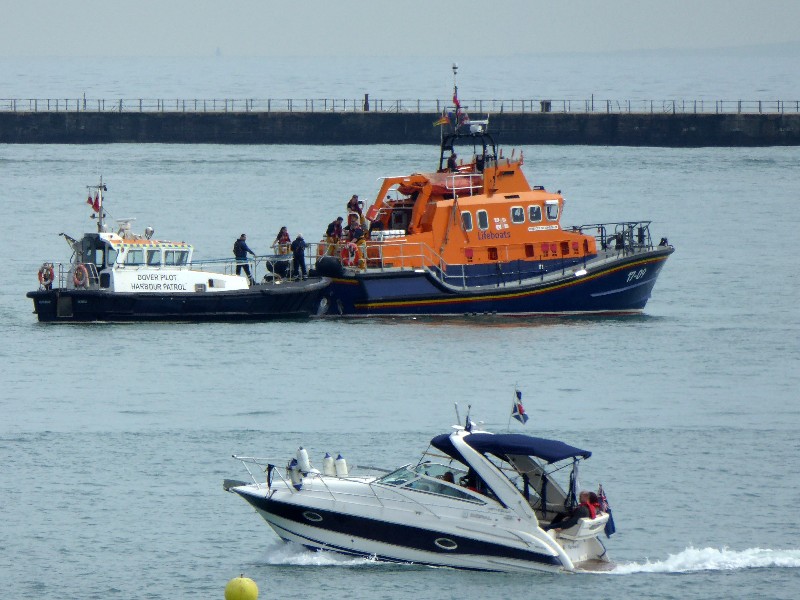 Friday, 4 May 2018 - 16:42
Post 4869
Sea News, Dover
The AIDAsol arriving yesterday morning early - but gadzooks in a bit of sunshine this time...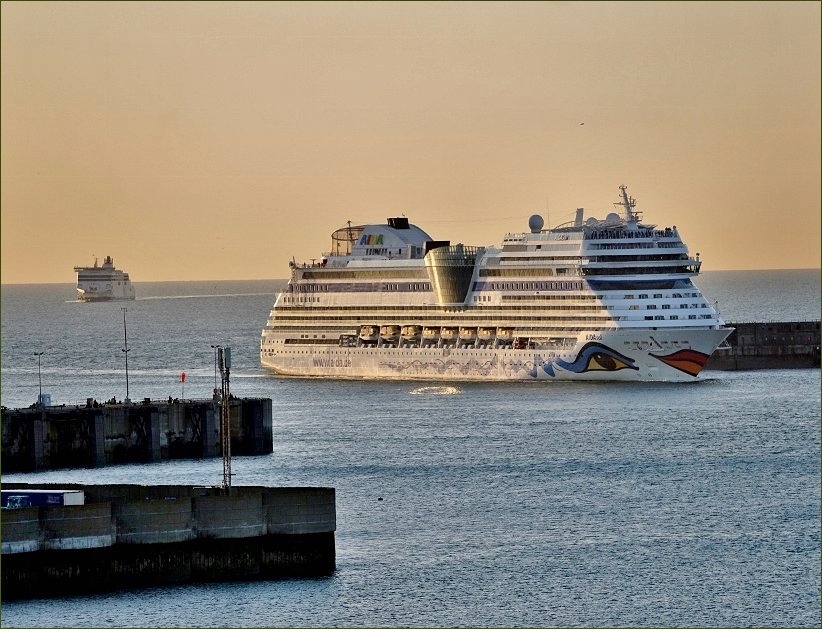 Yes catching the early low sunshine above and below there as she rounds into Port...in the far background of the pic above you can see one of the P&O Spirits approaching. It was a glorious morning...Spring at last! although the last time yours truly said that, we were hit with snow..surely not this time..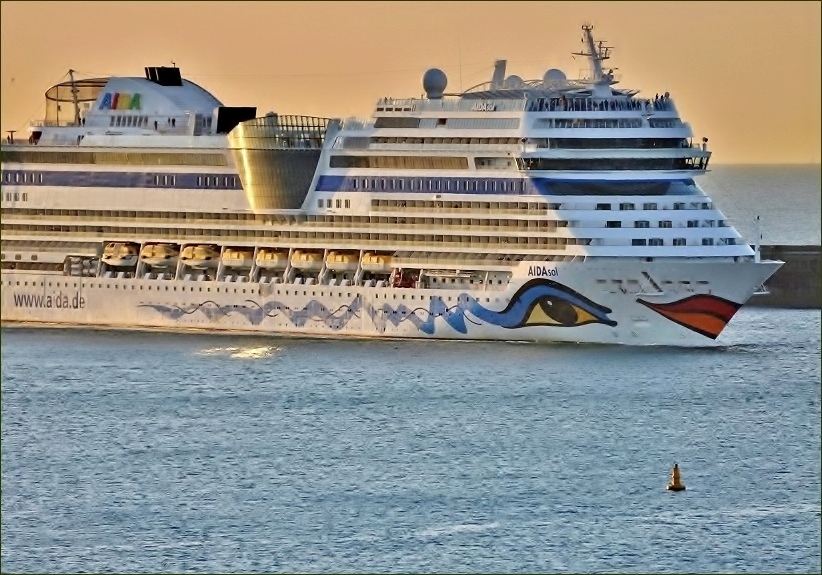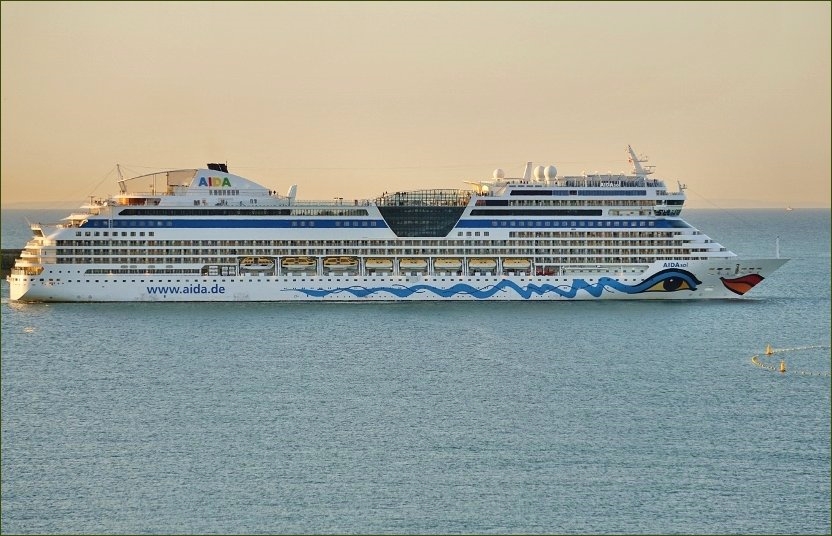 Moving across the harbour in fine style. The ship is immaculate.
A rainbow from Wednesday's watery evening below. Its pointing directly at the Sospan Dau way out there...clearly the suction dredger has sucked up some gold and is keeping schtummm about it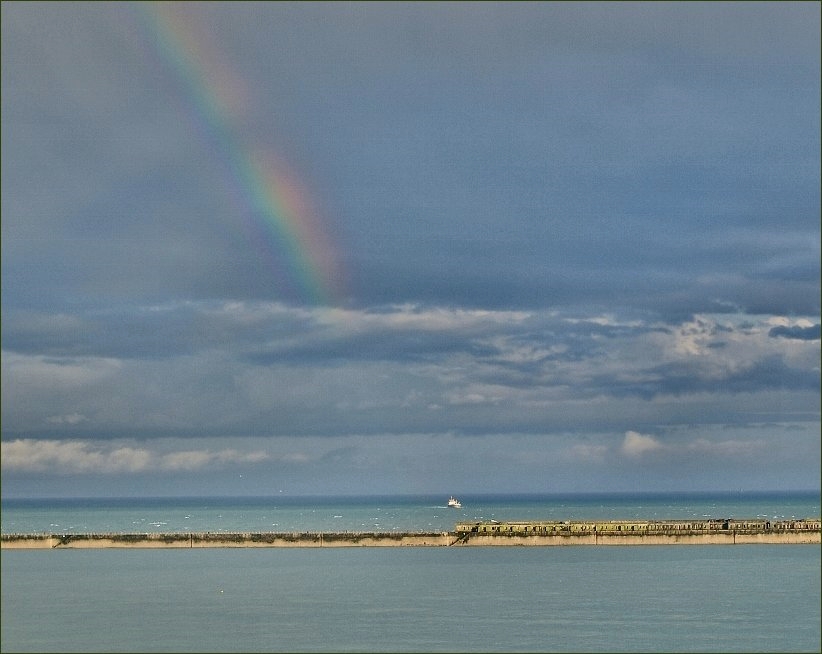 Ah - just noticed your post below Sarah. You posted just before me. Great shots there of Estuary Elite. Cracking stuff!

Don't miss those pix below. PB.
Friday, 4 May 2018 - 06:25
Post 4868
Sarah, Ramsgate
Estuary Elite returning to Ramsgate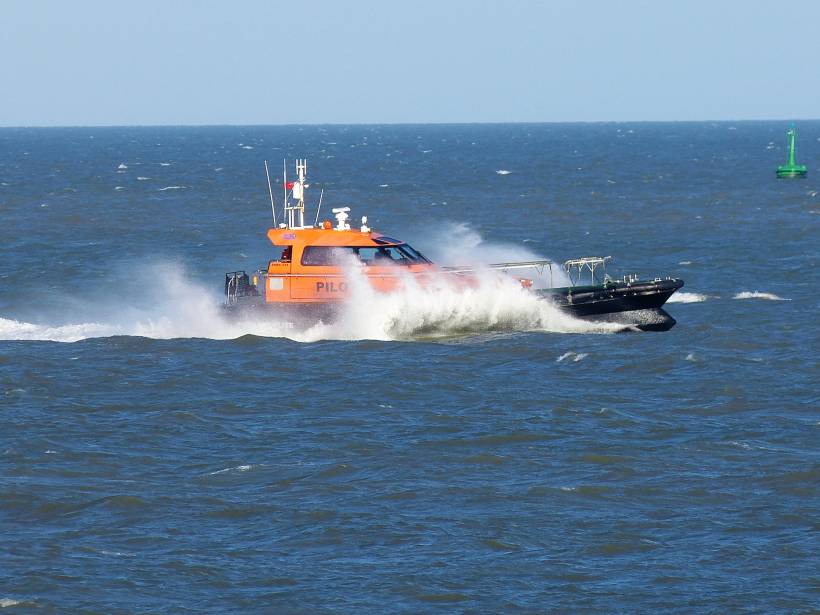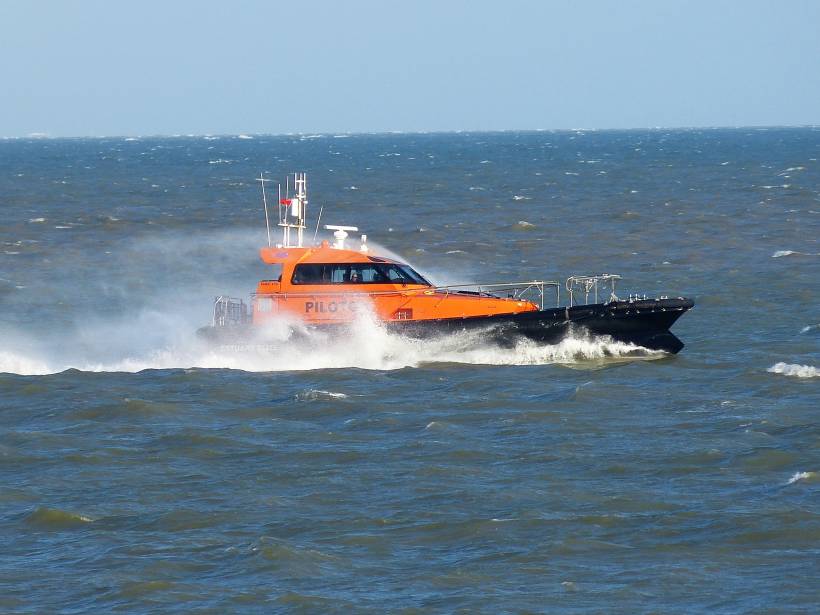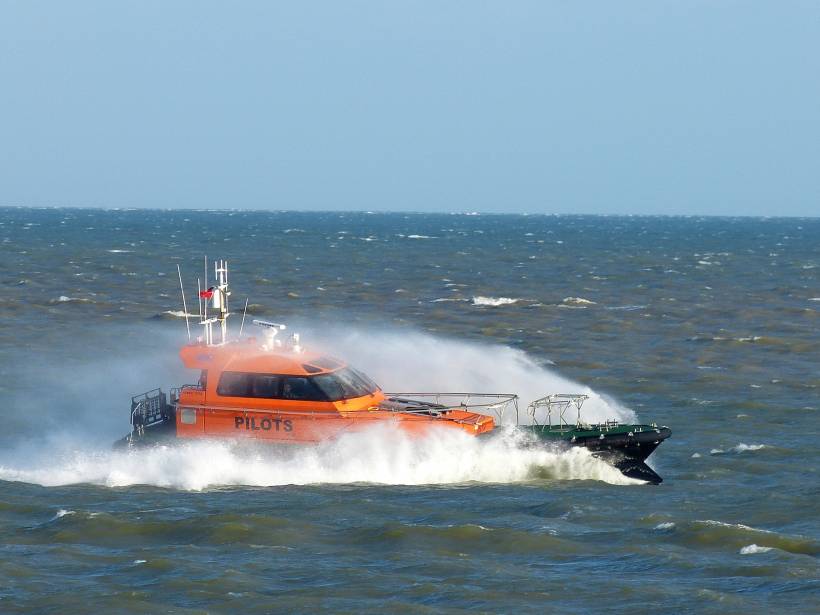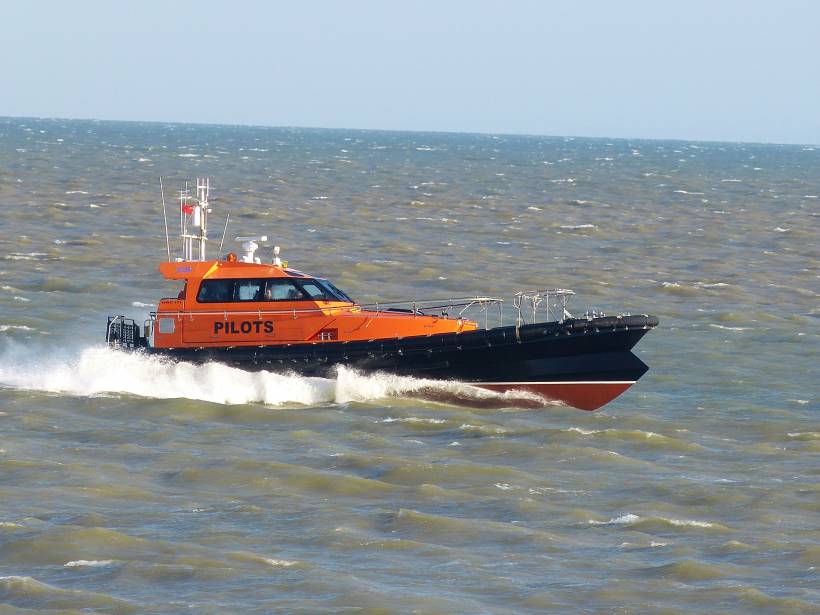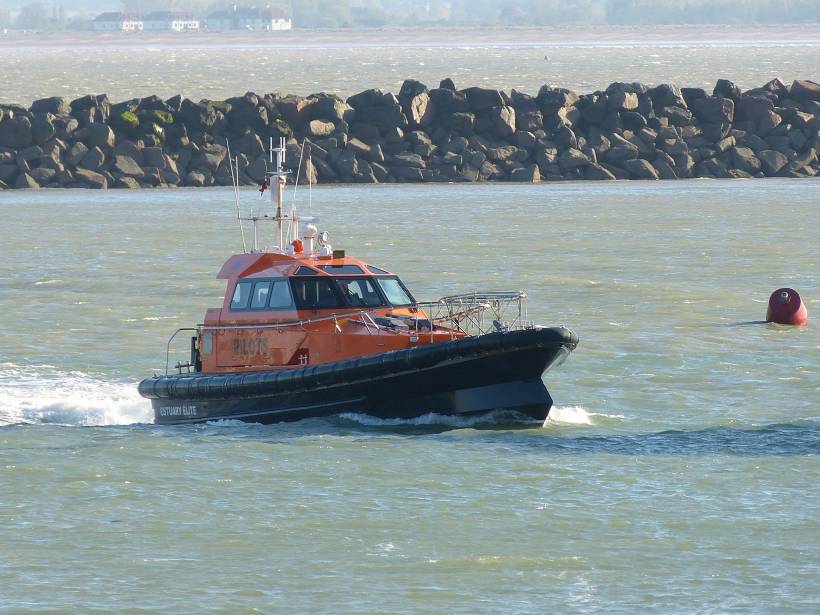 Friday, 4 May 2018 - 06:12
Post 4867
Sea News, Dover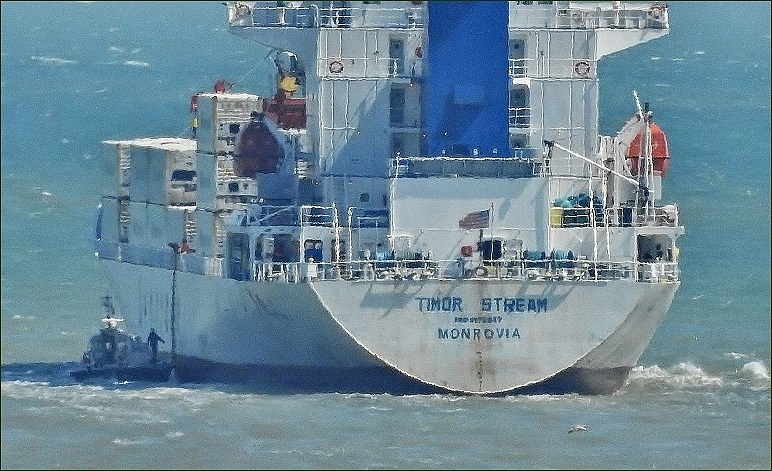 The top two shots today are of poor quality alas, but they show some of the comings and goings. The top picture shows a departing Timor Stream....another one bound for Hamburg if I am remembering correctly. She left right in front of me but somehow I missed the departure and only saw her way out there. This shot is looking across the Port so suffers from a bit of shimmer and atmospherics but you can see the pilot and pilot boat right next to Timor there, which makes it a bit more interesting.
Below we have MSC Zoe. During the recent rough weather some of these large ships were coming in close to Port but because of the poor visibility yours truly couldn't get pictures. There was a little bit of clearance in the conditions for this one below, but the picture still had to be forced a wee bit as the reality was much gloomier than shown. You can see the pilot boat once again making her way out there through the gloom. The ship is a whopping 193,000 tons....massive.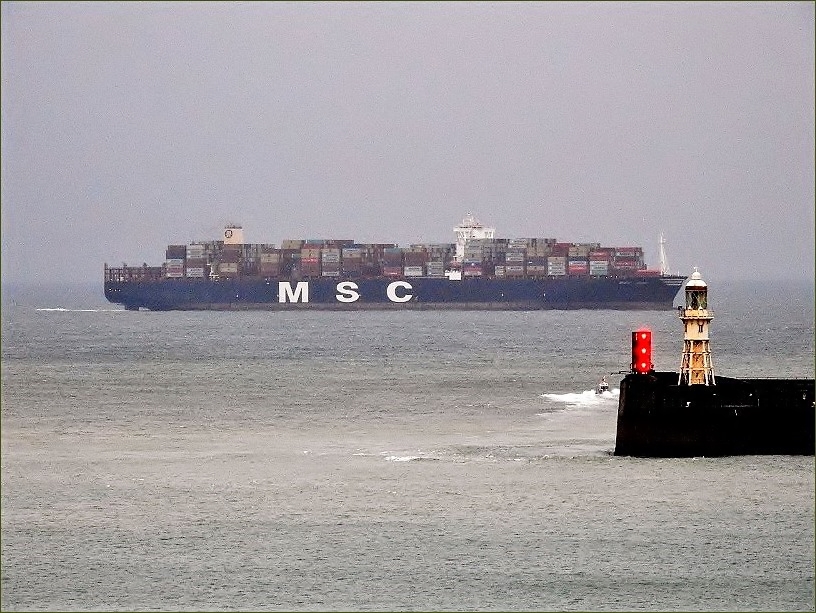 One from last week below of a departing Boudicca...on a cool evening as you can see...
PB
AIDAsol back in with us again...
Thursday, 3 May 2018 - 05:54
Post 4866
Sea News, Dover
DFDS CHARTERS NEW SHIP FOR THE ENGLISH CHANNEL IN 2021
__________________________________________________________
The new ship will be able to carry 3,100 lane metres of cargo and 1,000 passengers.
It will be built in China and deployed on the Channel in 2021.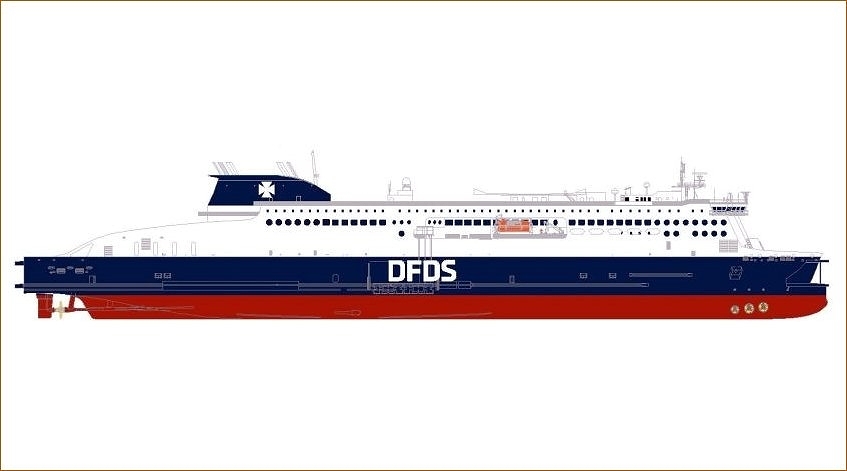 The Channel is a big and important market for DFDS. Every year, five million passengers, one million cars and 1.2 mil-lion trucks travel between Dover – Calais and Dover – Dunkerque on DFDS' ferries. And to continuously meet the customers' demands, DFDS has decided to deploy a new ship specially designed for the services in the Channel from 2021. The ship will be built in Avic Weihai shipyard in China.
"Since the ship has not yet been built, we have great opportunities to make sure that it is designed to give our guests the best possible experience with a completely new ship. We will charter the ship from Stena RoRo and operate it for 10 years with an option to buy it after that. And since we are considering replacing the fleet on the Channel in 2031, the timing is really good," says Peder Gellert, EVP of the Ship-ping Division in DFDS.
Four DFDS captains have been testing in simulators how to navigate the future ship to make sure that the new ship is best fitted out for the conditions on the Channel. "When sailing on the Channel, we need to ensure that the ship is at least as fast in arrival and departure situations as our current ships. Therefore, we have made modifications to increase maneuverability," says Henrik Tidblad, Commercial Fleet Di-rector.
The ferry will be highly efficient and environmentally friendly with an expected reduction in oil consumption of around 25% compared to current ferries. It will be able to carry 3,100 lane metres of cargo and 1,000 passengers. With this capacity, it will be the largest of the ships on the Channel.
"I am really looking forward to getting this fantastic ship to boost the business on the Channel. This new ship gives us excellent opportunities to develop our business on the commercial side. A newbuild ship will give us the flexibility to make room for tax-free shopping, depending on the outcome of Brexit. Together with an architect, we will design the interior of the ship to make sure we maximise our opportunities," says Kasper Moos, VP of Business Unit Channel in DFDS.
The initial plan is for replacement of the oldest of the ferries, Calais Seaways, which was built in 1991. Market developments will determine the final deployment plan, which will be announced in 2020.
ENDS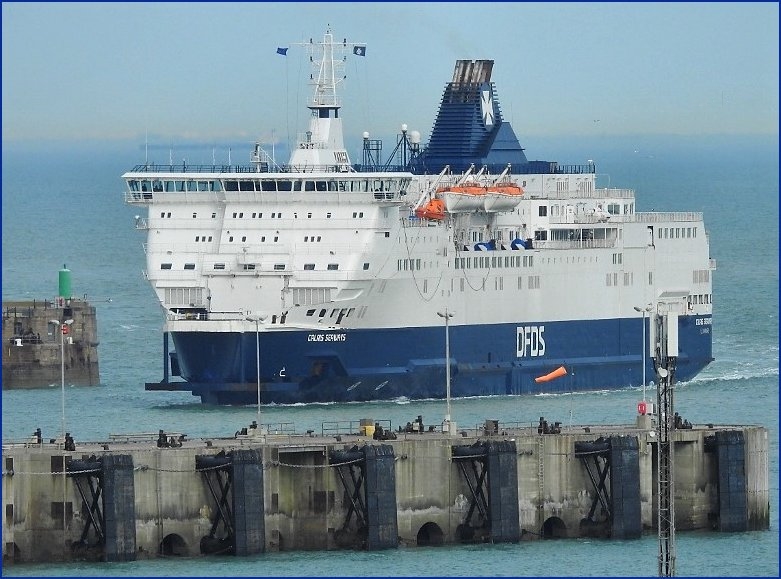 The Calais Seaways - destined for retirement.
* *
Many thanks to the DFDS team for the info above.

Another couple of images now of the arrival of the Zenith yesterday tuesday...these following along from the earlier picture shown yesterday in 4864. We see her here moving across the harbour and beginning her turn...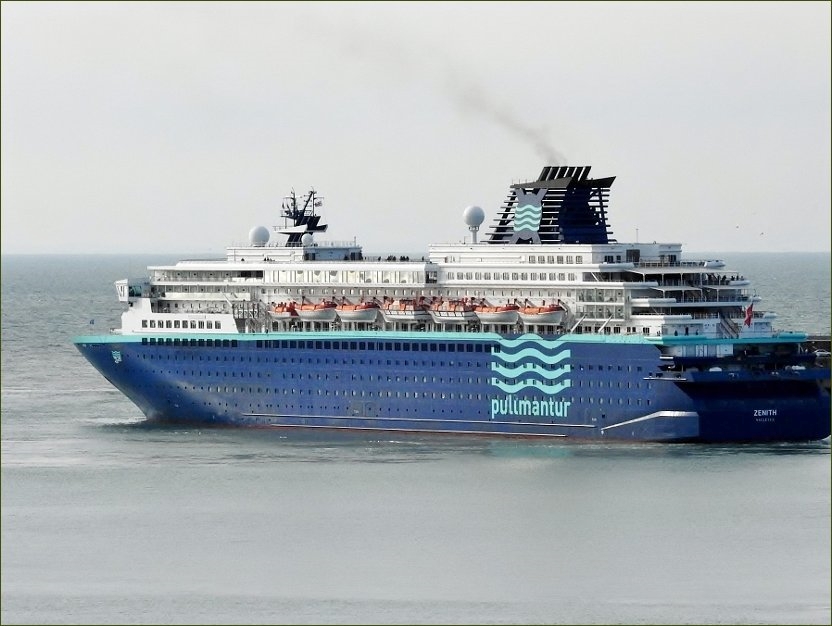 Very interesting post below ( 4865) from our 'inshore correspondent' - well done with that one Mike...nice collection there with information to match.

PaulB
Wednesday, 2 May 2018 - 06:32
Post 4865
Mike J., Dover
Echo Sarah & Paul's remarks re Ramsgate – a very sad business.
Some small craft high & dry in Dover & Ramsgate recently.
in the boatyard at Dover is winkle dredger OLY,RAY – the only vessel that I've seen with a comma in their name.
She's owned by Cardium Shellfish & is very similar to CARDIUM 2 [posts 4802 & 4815] who after a spell ashore in the boatyard has completed her refit & is now back in Whitstable.
I have been taken to task by a Whitstable friend who tells me that both vessels are WINKLE dredgers, not OYSTER dredgers. Thanks Derek !
There is an excellent little film of both dredgers working off Whitstable on YouTube - just put 'Cardium Shellfish' into the YouTube search box.
Ramsgate -
Estuary Services' pilot boat ESTUARY ELAN & the famous workboat BUMBLE, owned by the Cannon family who for generations have been very closely involved with Ramsgate Harbour & the RNLI - their workboats have always been called BUMBLE & this is thought to be at least the third one.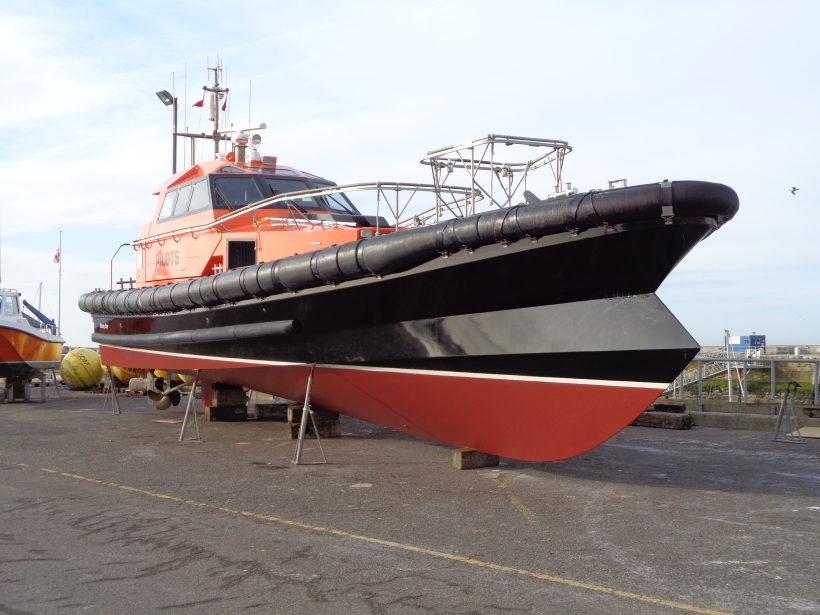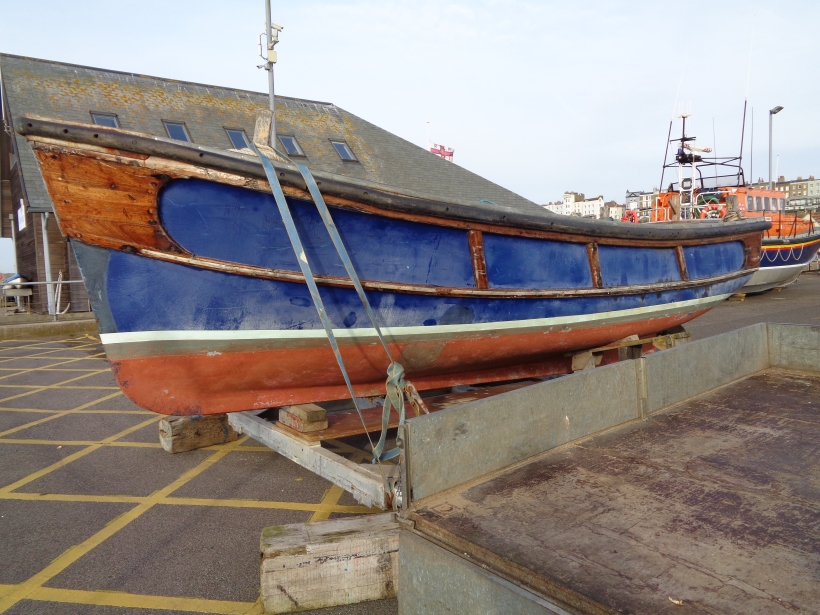 The relief 'Mersey' class lifeboat 12-005 LADY OF HILBRE is stored out of the water to reduce corrosion damage to her aluminium hull.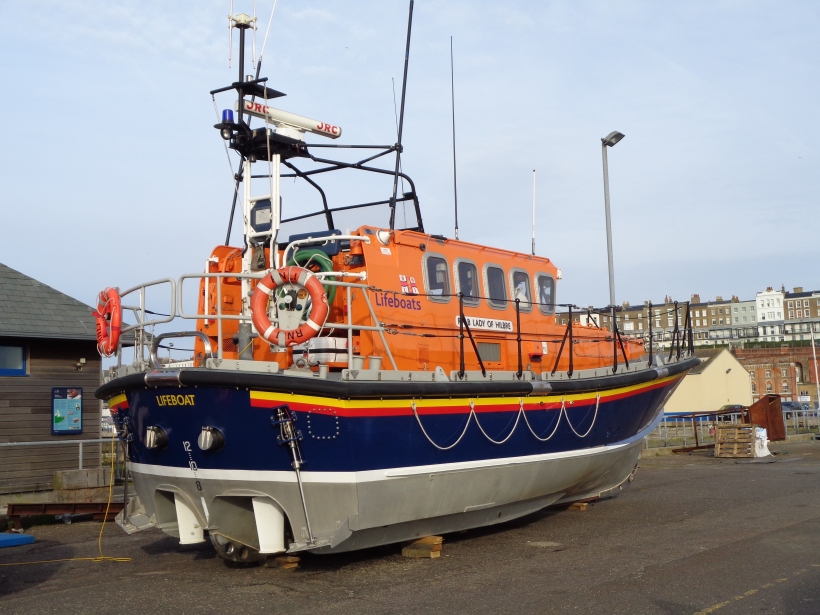 Interesting houseboat EDITH CAVELL still carrying her original name & named about after a British nurse executed in Belgium by the Germans during WW1.
The vessel started off life as a Royal Navy hospital launch in 1930 & after a varied career finished up as a houseboat at Sandwich.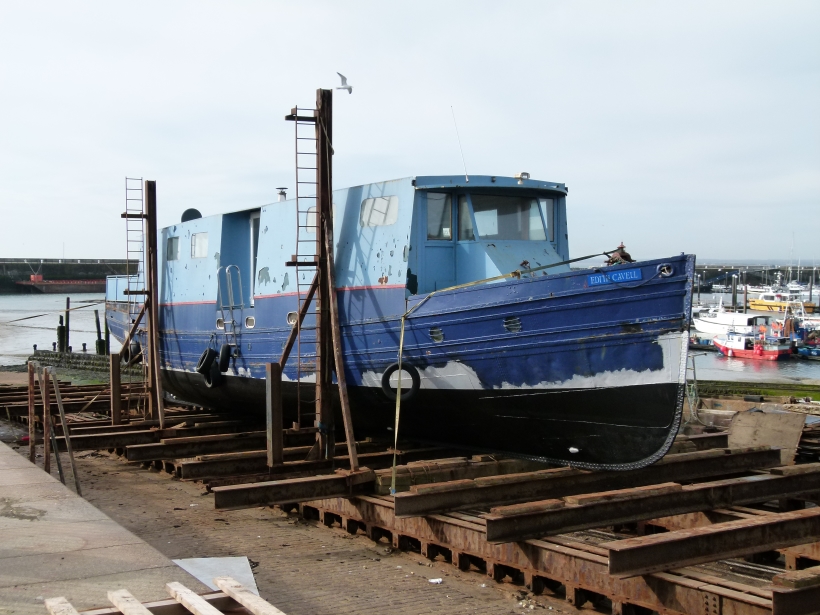 Tuesday, 1 May 2018 - 23:30
Post 4864
Sea News, Dover
Ah yes indeed Sarah very sad news from Ramsgate yesterday. As you say the whole episode very distressing for friends and family and of course for the lifeboat teams..must have been quite a shock locally.
Glad you are okay.
Paul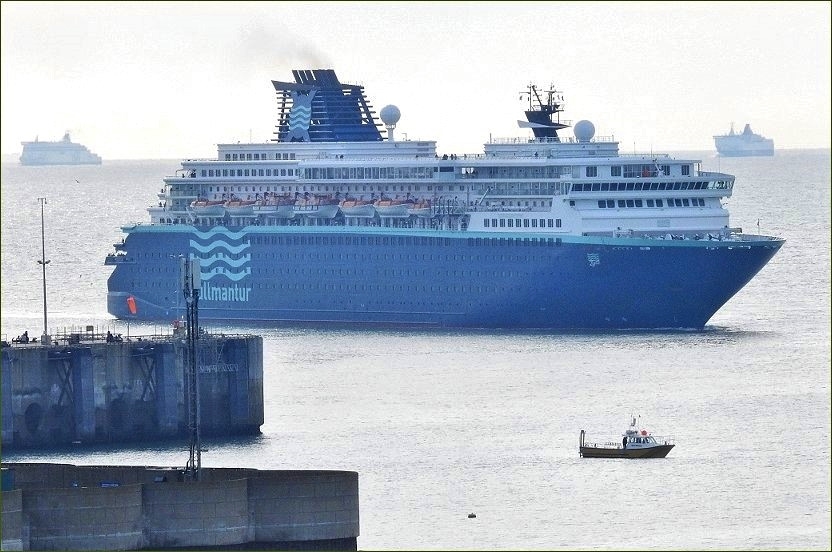 The Pullmantur Zenith arriving at the Port of Dover early this morning...
Tuesday, 1 May 2018 - 15:20
Post 4863
Sarah, Ramsgate
I took a few photos taken on my phone of the dreadful situation in Ramsgate Royal Harbour yesterday but sadly they won't upload correctly on here, my thoughts are with the family & friends of the casualties & the Ramsgate Lifeboat crews, a very sad day

. Thank you Paul so much for your kindness & concern.
Tuesday, 1 May 2018 - 08:58
Post 4862
Sea News, Dover
Night Boat to Hamburg
Yes indeed its sunday night at 8PM, its getting quite dark, and through the slight drizzle the giant AIDAsol begins to move away...you can see her lights beginning to glow. One of the tugs is in attendance at the rear and to the far right Afon Lligwy, working DWDR tug, goes about her business...and we're away, Hamburg here we come...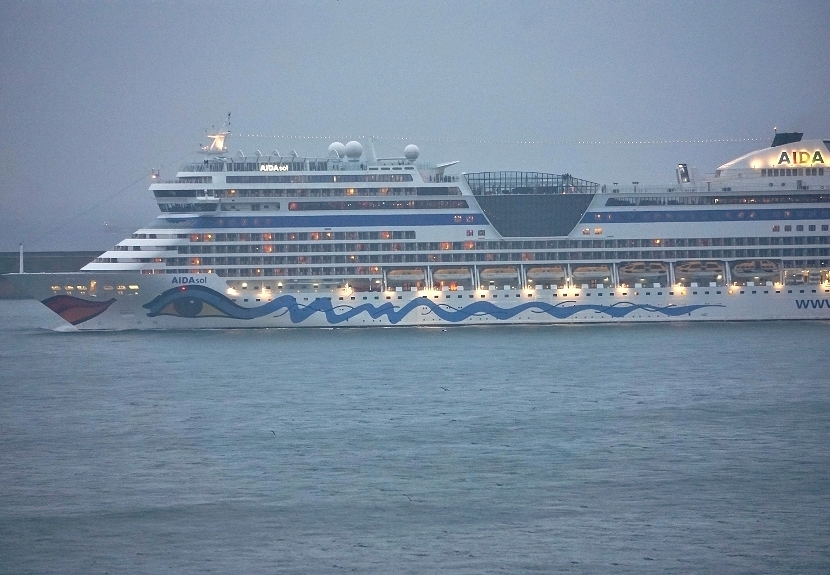 Caught this one passing below. Quality is poor mostly because of the grim conditions. but its one of those BBC heavy load ships...we have seen them here in Port on a few occasions. This one is BBC Alberta and she is carrying another vessel..looks like a coastguard type vessel..(Mike points out that it looks like two vessels being carried there, and when we look properly.. indeed he's right ) she was heading on down to Suez.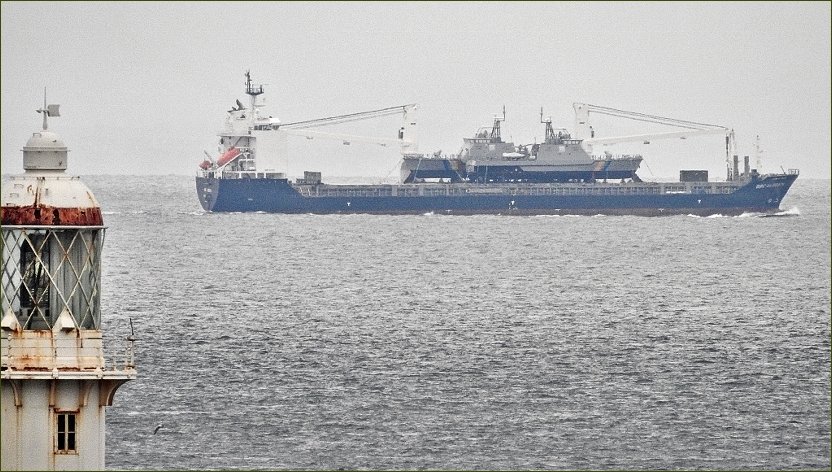 PaulB.
Tuesday, 1 May 2018 - 06:31
Post 4861
Sea News, Dover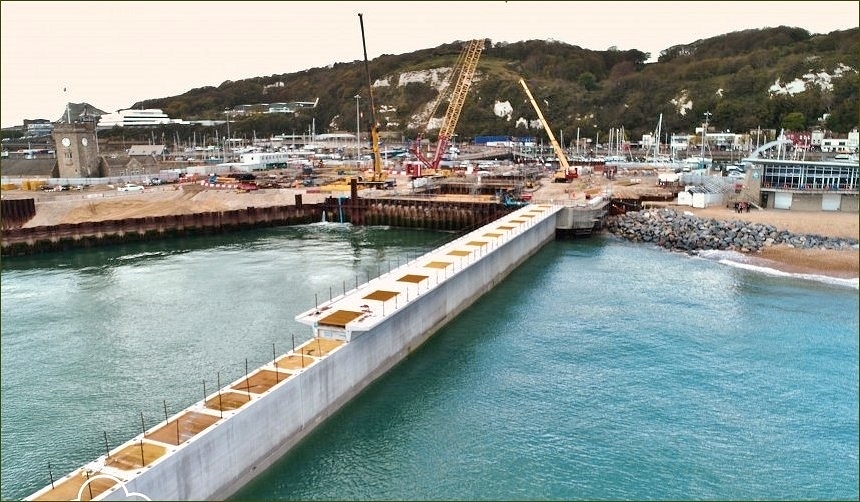 Marina Pier units set sail to Dover as Waterfront Regeneration takes shape.
___________________________________________________________________
The Port of Dover is beginning to take delivery of the new Marina Pier, as part of the Dover Western Docks Revival (DWDR) development, which consists of 360 individual precast concrete units with a combined weight of 13,350t and marks the return of 550m of revitalised waterfront promenade.
Components for the Marina Pier are being manufactured by Macrete, a company based in Northern Ireland, and at the forefront of the precast concrete industry. Designed by Tony Gee & Partners, the pier will be constructed by VSBW.
Dave Herrod, DWDR Programme Director, Port of Dover said: "Dover's new pier will offer a stylish modern structure which will form the northern part of the marina and deliver on our promise of a transformed waterfront."
"The pier represents a shared vision finally becoming reality and a big step towards a more vibrant and interesting waterfront for the whole community to enjoy."
The overall design ensures that the marina pier is in keeping with the surrounding harbour area and aesthetically pleasing to the Dover community. The wave walls have also been featured to promote important habitat for macroalgal and epifauna in the harbour - an initiative approved by the Environment Agency.
Mr Herrod added: "Macrete's massive, precast units and wave walls not only meet the structural requirements, but aesthetically, are textured to match existing structures in the harbour and deliver a high-quality finish for the development."
Abhey Gupta, Project Manager, Macrete Ireland Ltd said, "We are pleased and proud to be associated with Dover's regeneration and by shipping the units directly from Belfast to Dover, we have contributed to the sustainability and environmental targets of the project."
Adeniyi Aje, Marine Director of local design consultant Tony Gee and Partners, Kent said: "The New Marina Pier fills us with pride. It is unique with innovative and sustainable features serving a dual function as a new public promenade and as a breakwater to protect vessels in the new marina. The design solution has sustainability, safety and ease of manufacturing and assembly at its core. For example, the large hollow precast concrete units save on material resources, minimise handling and optimise the use of construction plant on site to reduce construction time. We are pleased to be part of the team delivering an exciting scheme within our community".
ENDS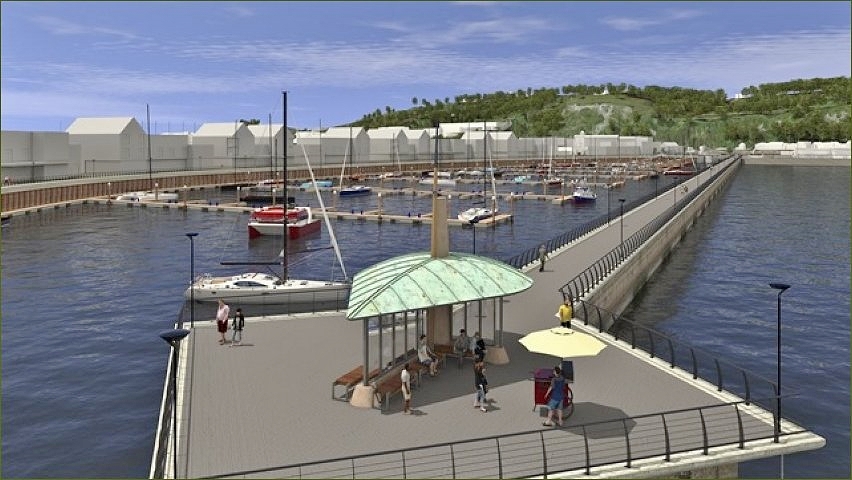 Extra picture below from very recent days showing the barge loaded with the concrete units moving towards the structure.
* *
Many thanks to the guys at the port for the above in-depth info..great stuff!

Very topical post below Mike ..great work and very complimentary to the latest news above, showing great up close pictures of the new pier as it happens.

Many thanks Colette for the cruise list again further below. Exciting stuff there...a triple whammy.. wowser!

ps: those pix in 4858 were taken on the old Olympus as well...there's some life left in the old equipment

!!
PaulB

Monday, 30 April 2018 - 06:36
Post 4860
Mike J., Dover
Sunday morning & another look at the 'promenade pier' for the new marina, showing the wider capping being fitted,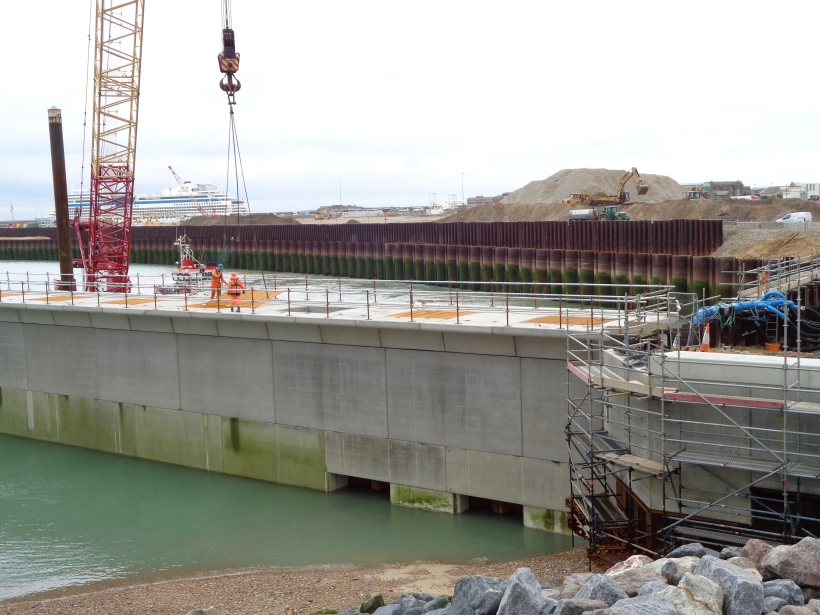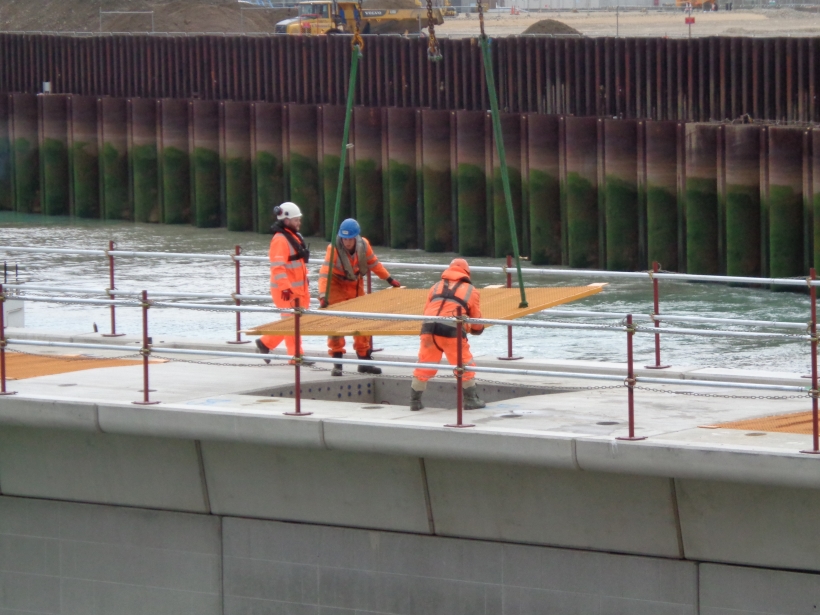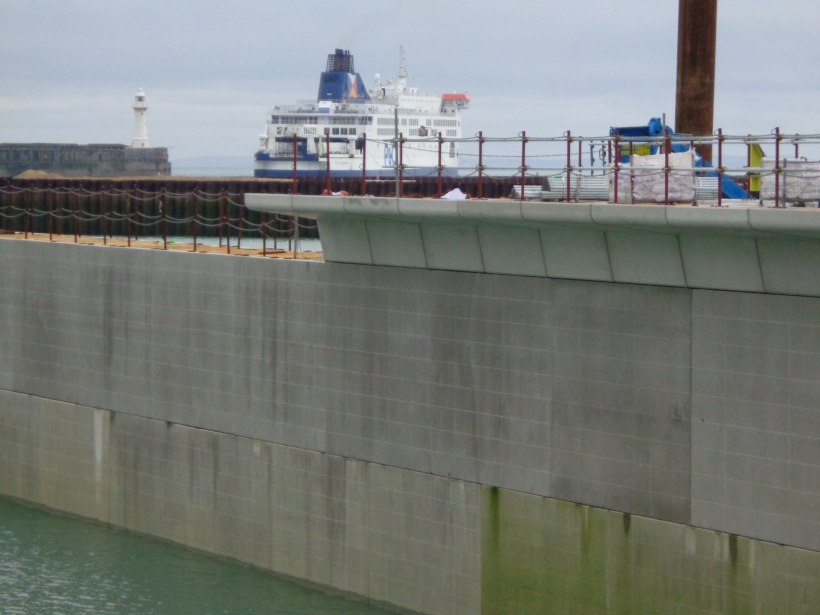 Temporary handrails at the moment.
Sunday, 29 April 2018 - 23:51
Post 4859
Colette B, Dover
CRUISE VISITS
_____________
The Merry month of May is now upon us.
Loving the sunrise and rainbow photos. I see the ole master & his old Olympus are still going strong, great shot of the bottom of the deep blue sea, Awesome!

Our first cruise call of the month is on Tuesday 1st May with Pullmantur's Zenith cruising into CT1 at 08.00 hours on her 8 night cruise from Lisbon to Warnemunde-Rostock. She is normally based in the French port of Marseille serving Mediterranean ports of call. Some of her sister ships have visited our shores in the past, the Empress & the Monarch. Her ports of call are Ijmuiden, Kiel and then finally Warnemunde –Rostock arriving there on Saturday 5th May. She departs Dover at 20.00 hours, PoC.
Then on Thursday 3rd May AIDAsol gives us a smile and a wink at CT2, 09.30 hours whilst on her 4 night Hamburg round trip. Her next port of call being Ijmuiden before arriving in her home port of Hamburg two days later. She leaves us at 21.30 hours, PoC.
On Saturday 5th May, once again the graceful lady herself, Boudicca, cruises into CT2 at 06.30 hours. She sets out on her 16 night round trip to the French Riviera, Spain & Portugal calling at Cadiz, Peniscola, Palamos, Monte Carlo, Cannes, Almeria and Porto before arriving back in Dover on Monday 21st May. She sets sail at 17.00 hours, T/R. Someone get me on this cruise & I'll jump ship at Monte Carlo!

Then for the first time this year we have a 'Triple Whammy'!

Firstly on Monday 7th May, another newcomer, the Viking Sun arrives at CT1, 08.00 hours on her 13 night Tilbury to Bergen cruise. She arrives here after sailing down Old Father Thames, she calls into Dublin, Holyhead, Liverpool, Belfast, Ullapool, Kirkwall (Orkney Island), Edinburgh, Invergordon, Lerwick (Shetlands) before dropping anchor in Bergen on Friday 18th May. She leaves us at 18.00 hours, PoC.
An hour and a half later our welcome frequent visitor AIDAsol arrives once again at CT2, 09.30 hours. She says Hello whilst on her 4 night Hamburg round trip, leaving us at 21.30 hours, PoC.
Then Plantours MV Hamburg (last seen here in April 2017), drops anchor at CT3, 14.00 hours. At this moment in time I do not have any further information on ports of call etc, hopefully will update closer, (depending on my ETA from Monte Carlo)

She departs at 20.00 hours, PoC.
Back soon folks.
Sunday, 29 April 2018 - 22:27