Monday, 15 July 2019

WWW.DOVERFORUM.COM/SEA-NEWS
Featuring all the ships that come and go and work at the Port of Dover ..
... with further coverage of the surrounding ports.
Sea News Dover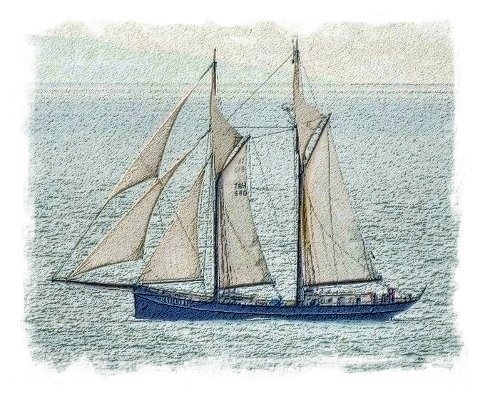 DFDS: 15% off fares plus FREE WINE book by 15th....see 6390
Port of Dover: Chief Exec EU statement 6373

DFDS New Ship for Channel see 6303
DFDS Europe's award winning Ferry Operator 6332
Port of Dover : Virgin Voyages 6289
Port of Dover: Brexit Resilience 6123

P&O Ferries: Alternative Euro Breaks 6298
P&O Ferries: Record Fundraising for Lifeboats see 6253
Port of Dover: Reducing Carbon Footprint 6332
Port of Dover: New Cargo Manager see 6205
DOVER MARINA Open Day 6358

Thames Estuary Forts 6250
SS Richard Montgomery at rest (WW II Supply Ship ) 6329
Premier Inn completes see 6149 plus

Scroll down and over to see the Boudicca D-Day pictures in several posts...
….and now also too the Spirit of Discovery
Use our SEARCH ENGINE below to find all sorts on the SEA NEWS pages....type in the topic and away you go, or if you have the post number as shown above, just type it in the box, more than - 6300 - nautical posts now.
Posts are welcome. just click 'Add Your Comment' below. Max of 5 pictures preferred although we can stretch that for special stories..
Sea News Editor Paul Boland - send info or pix to dover7@msn.com. Always welcome.
CRUISE CALLS:
https://www.doverport.co.uk/cruise/find-a-cruise/
UPDATE:
To show your pictures at their best..it could be worthwhile resizing before posting to
850
pixels wide.
All pictures on these pages are the copyright of the owners and must not be reproduced without permission.
Post 6278
Sea News, Dover
General Recent Cruise Round-Up Port of Dover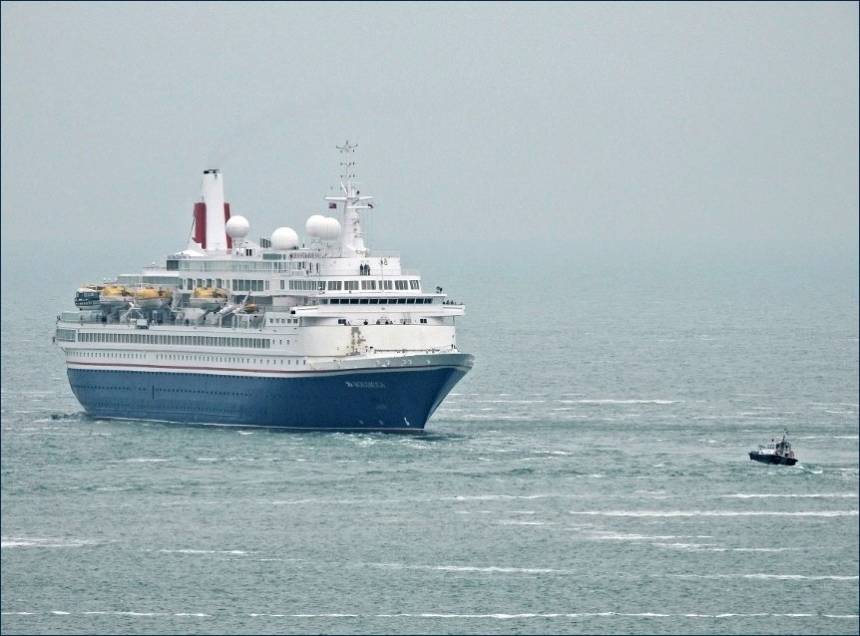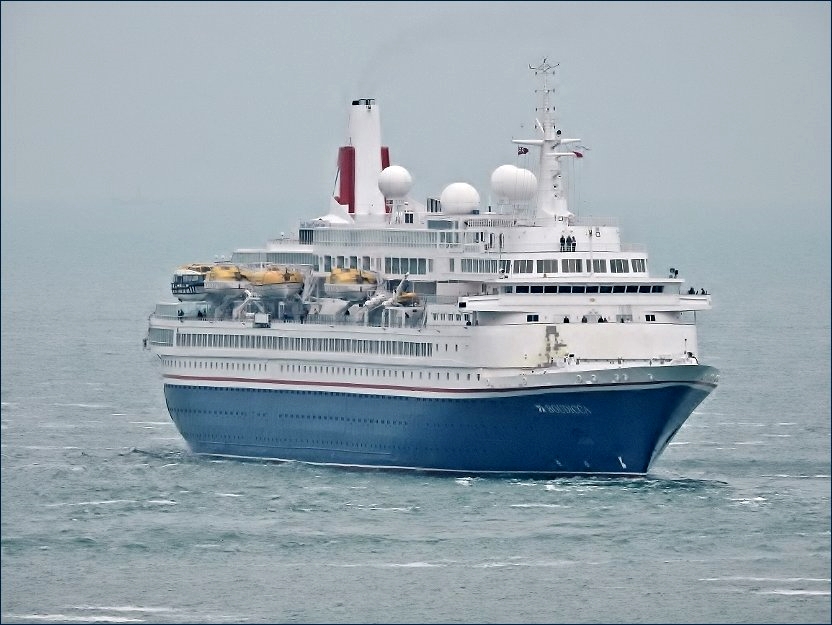 Hark back now to Friday evening and we see the elegant Boudicca moving astern through the eastern exit in grey murky ol' conditions.. it wasn't a cheery evening and chilly too, but those three guys above the bridge there are hellbent on enjoying it all...and quite right toooo..
Soon after Boudicca left the harbour Seabourn Quest followed her out....as you can see in the pix below. The glamourous ship looking good indeed. Seabourn was highlighting Iceland on her trip and Boudicca was heading to Monte Carlo for the Grand Prix...well its fab down there...yours truly can vouch for that!

The small working boat in the foreground of pic below is Pampero.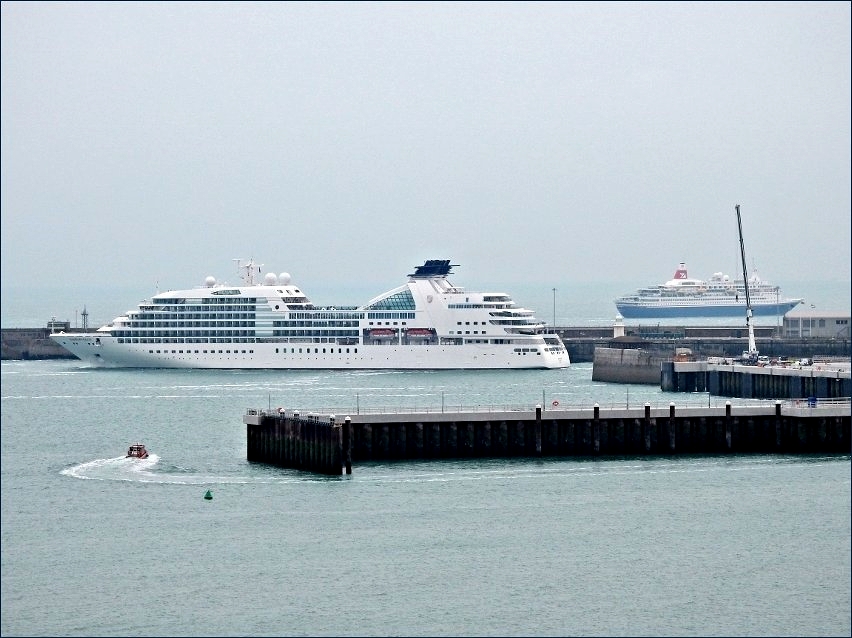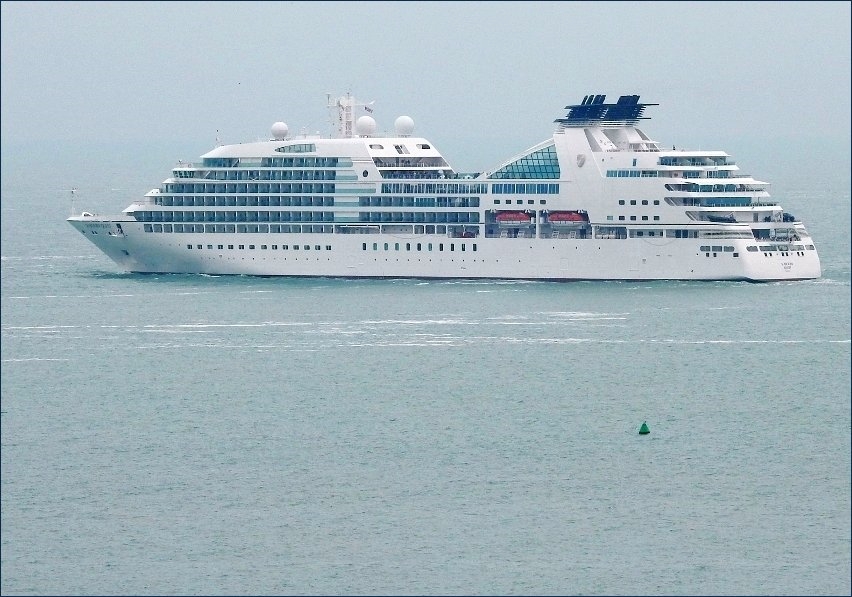 Seabourn Quest
Recently we had visits from AIDAaura and Viking Sun. Well here we have included an extra two pictures of the super Viking Sun to top up our previous shots...the final pic is from a former visit ...but who can resist.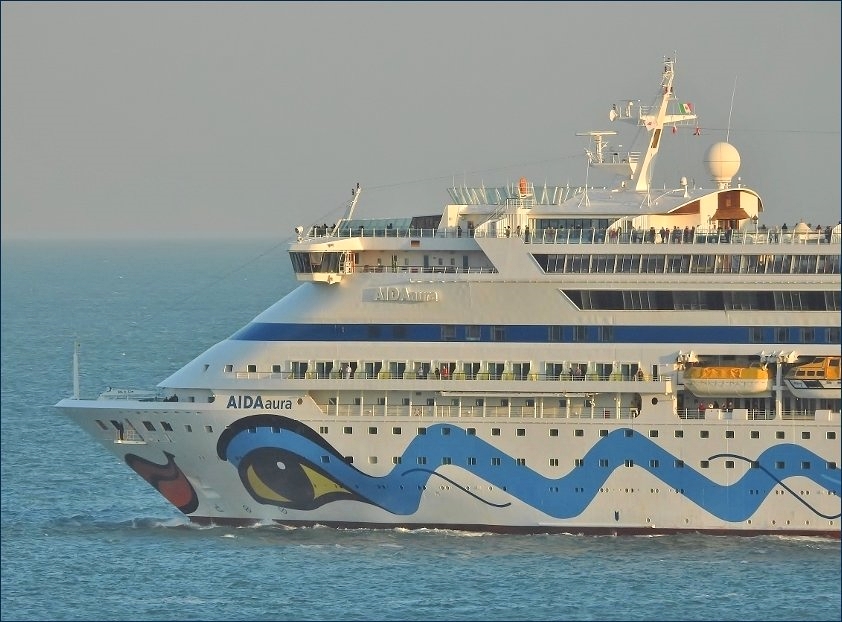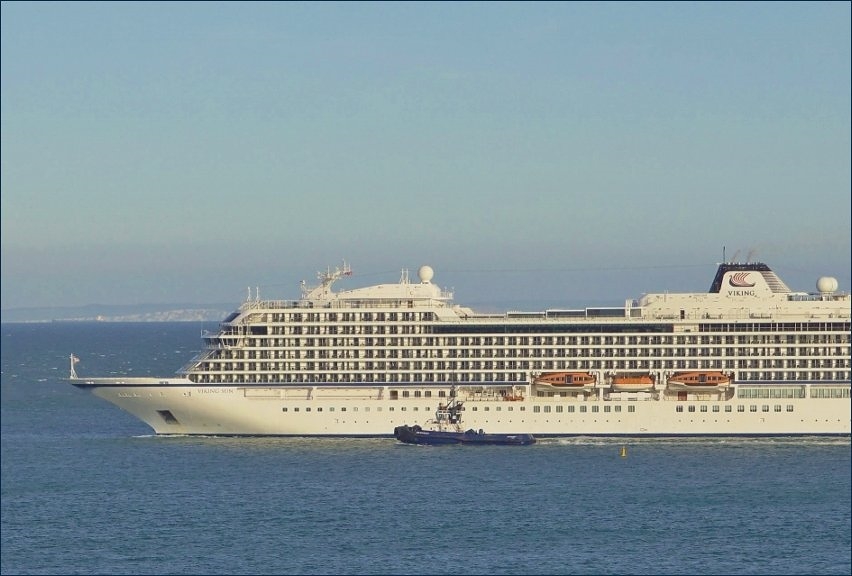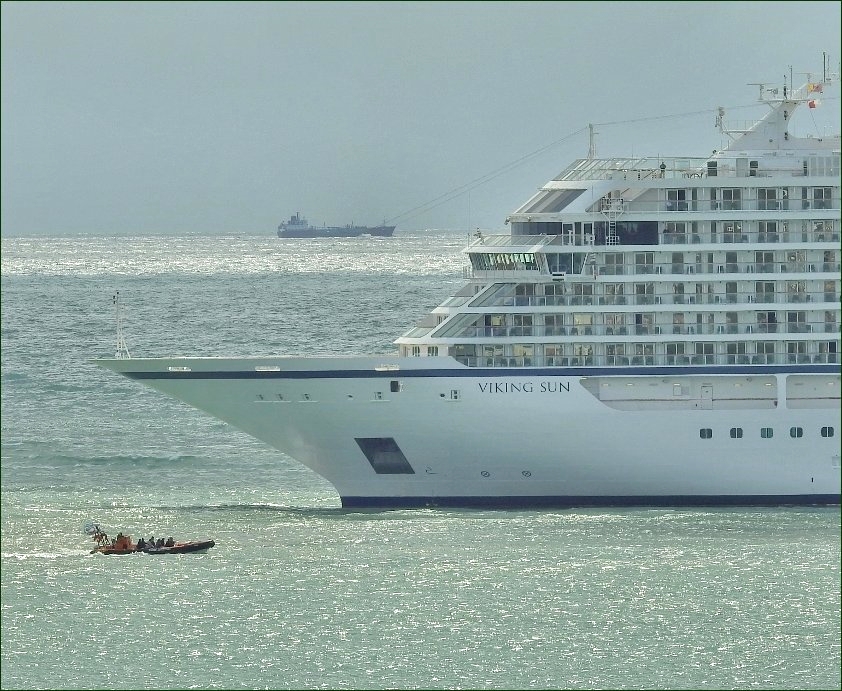 Viking Sun
Quite a collection of impressive ships. Well done the Port of Dover

Thanks Jan...yes the moon looking good..

PaulB
Monday, 20 May 2019 - 06:32
Post 6277
JanT, Dover
Wow love the moon picture's always fascinating looks so close but always so far away.
Lots of great pictures over the past week.

Sunday, 19 May 2019 - 11:47
Post 6276
Sea News, Dover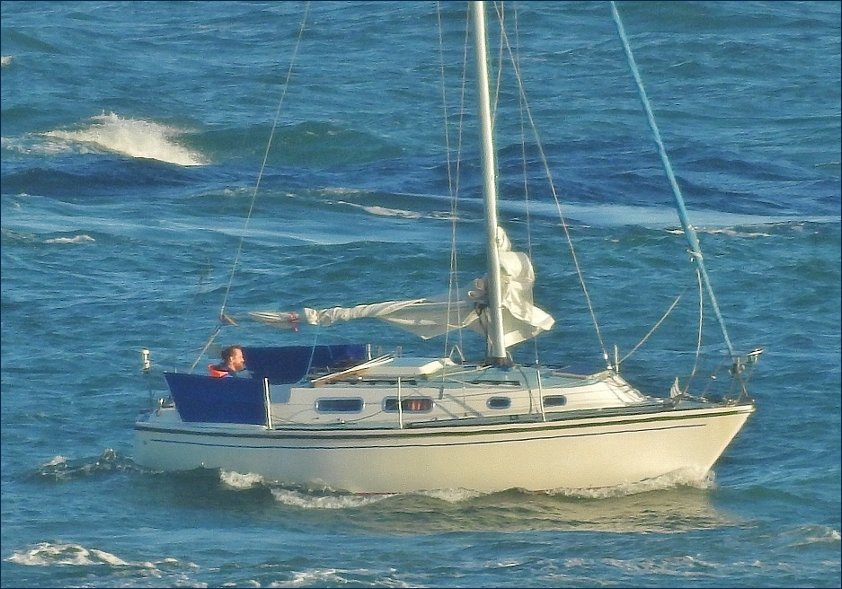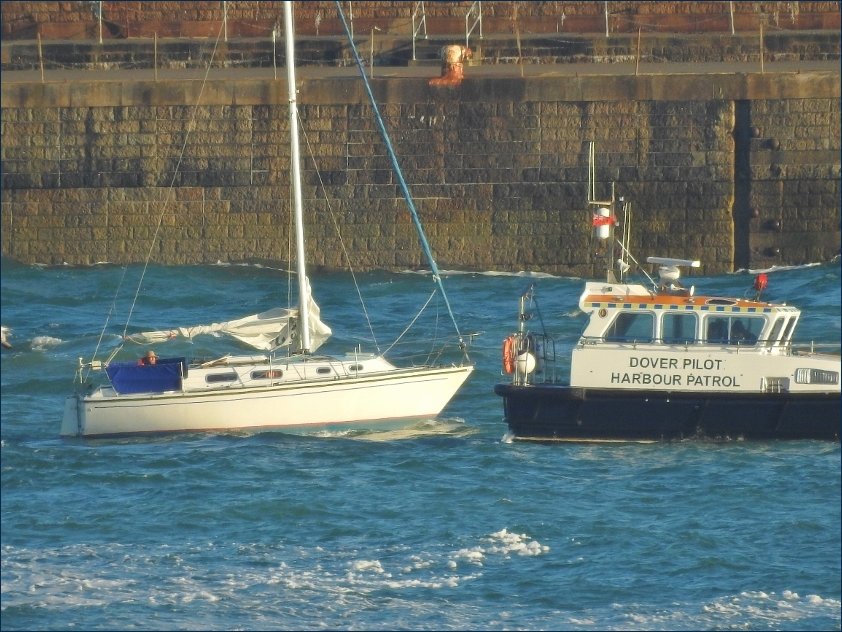 A few evenings ago in the stiff whipping breeze this small yacht above appeared to be struggling a wee bit just outside the harbour and was lent assistance/guidance by the Harbour Patrol Pilot Boat which escorted the yacht safely to harbour...
all the while this big moon gazed down on us all from just above. The evening was still bright, around 7pm ...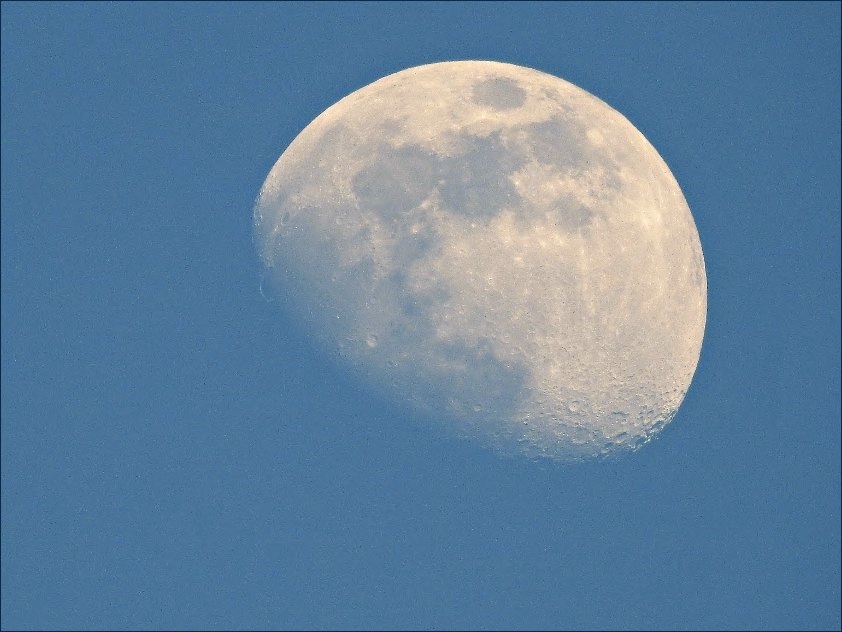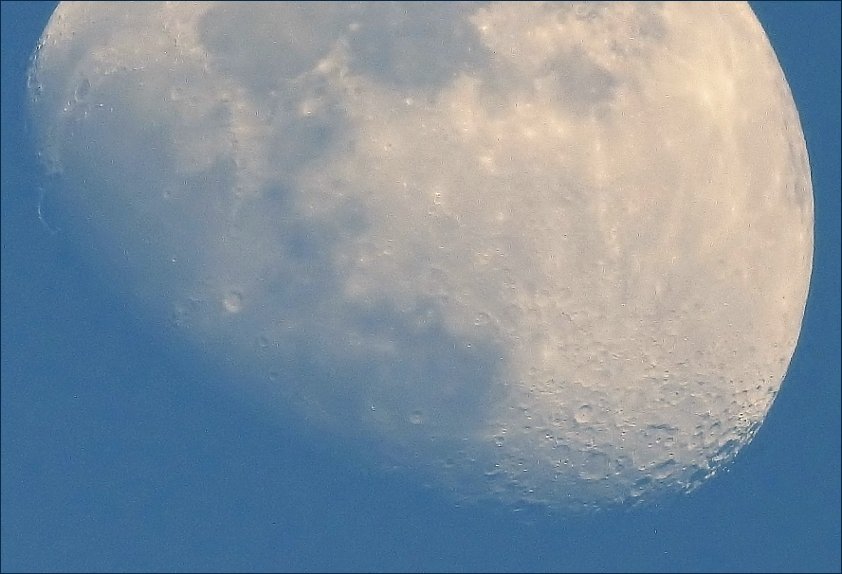 Blue Moon
Will have some round-up departure pictures of Seabourn Quest and Boudicca to follow along next with some extra cruise shots as well.
PaulB
Sunday, 19 May 2019 - 05:58
Post 6275
Sea News, Dover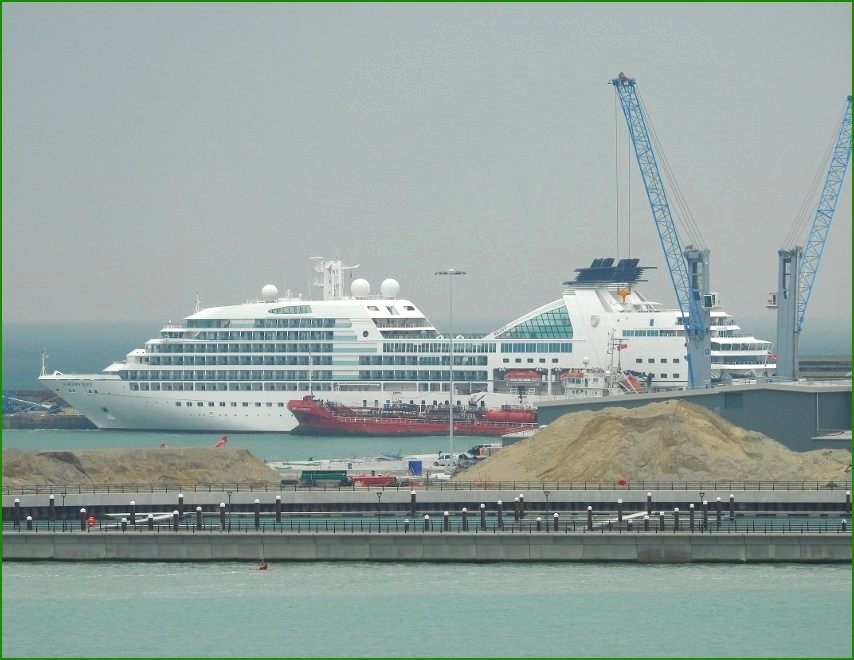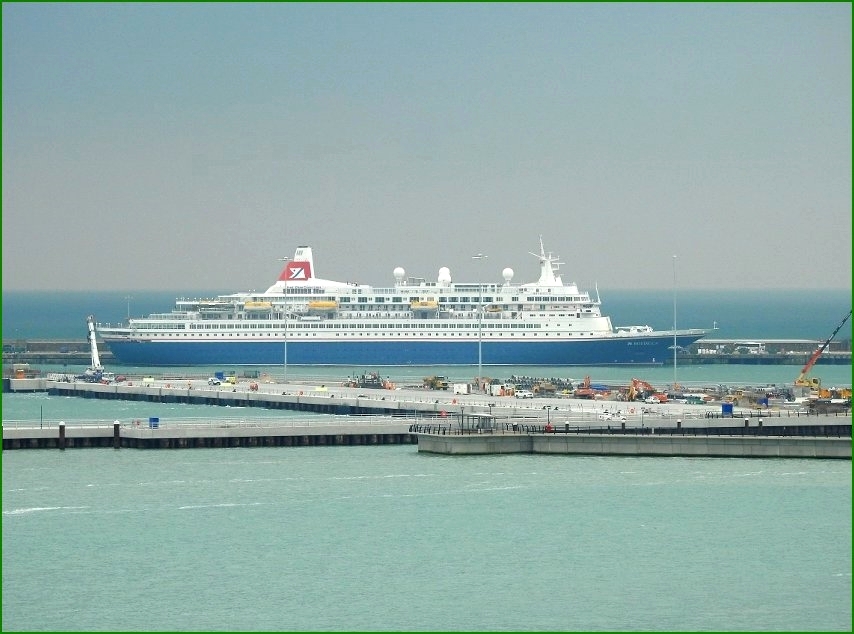 Some pictures above there taken mid morning yesterday. It was a murky oul day for sure as you can see in the pictures, but then suddenly there was some brightness for a short time and there we are above...Seabourn Quest and Boudicca. We may have more pictures to follow if they're up to it...departure shots...but in the mean time here is a better look at the Seabourn Quest from a previous visit...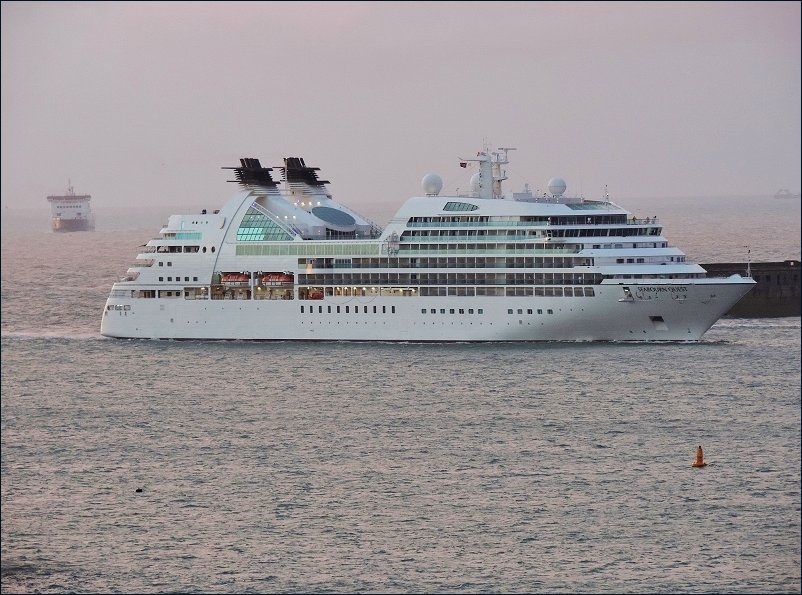 PB
Saturday, 18 May 2019 - 07:04
Post 6274
Sea News, Dover
A sequence now of the reefer Eastern Bay...arriving...turning..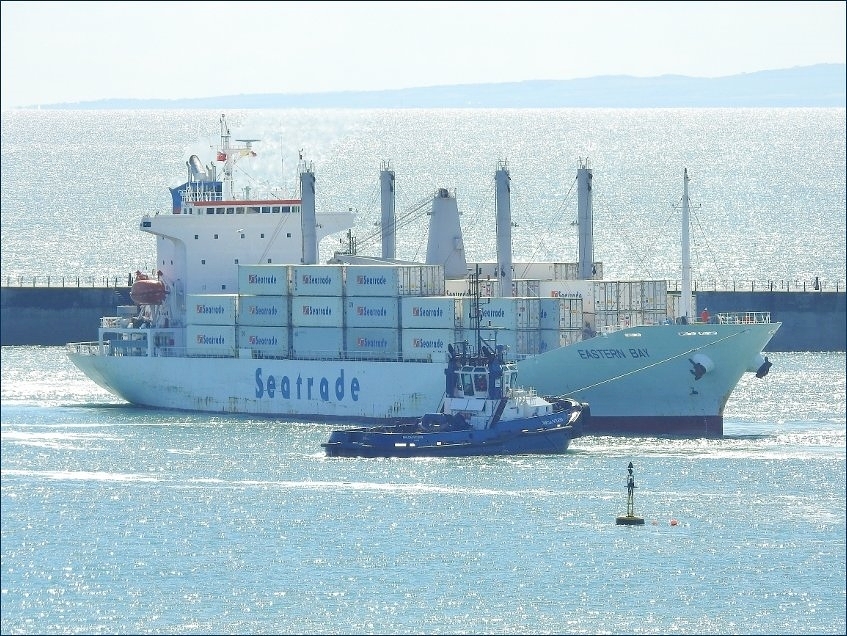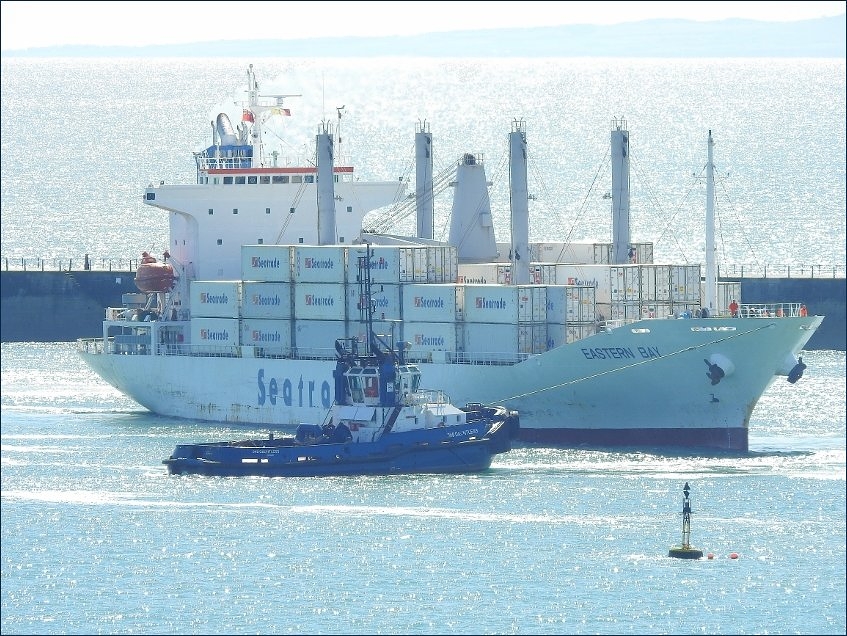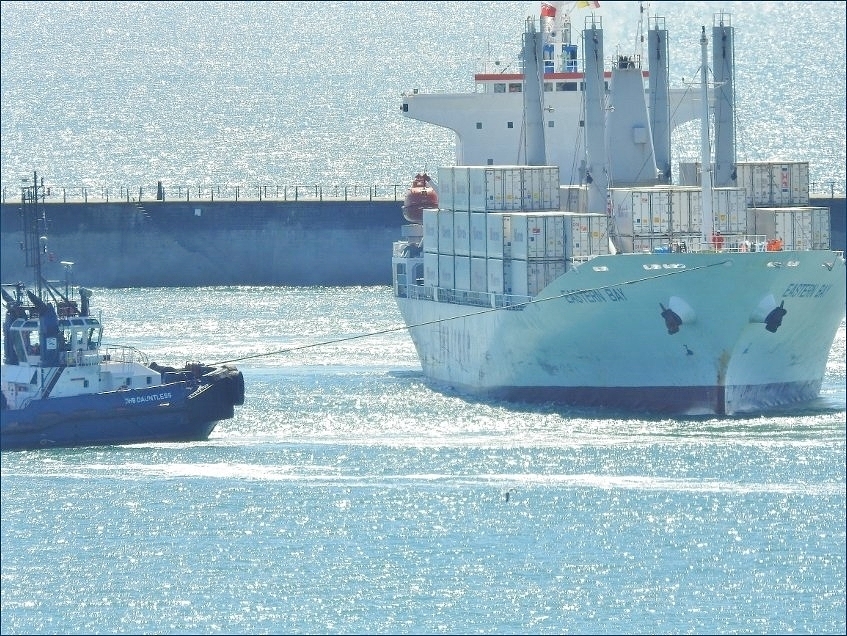 Pictures taken in blinding sunlight last Sunday morning.
She left Dover for Vlissingen the following day.
We have a double-header of cruise ships again today...the traditional Boudicca and the ultra modern Seabourn Quest.
PaulB
Friday, 17 May 2019 - 05:50
Post 6273
Sea News, Dover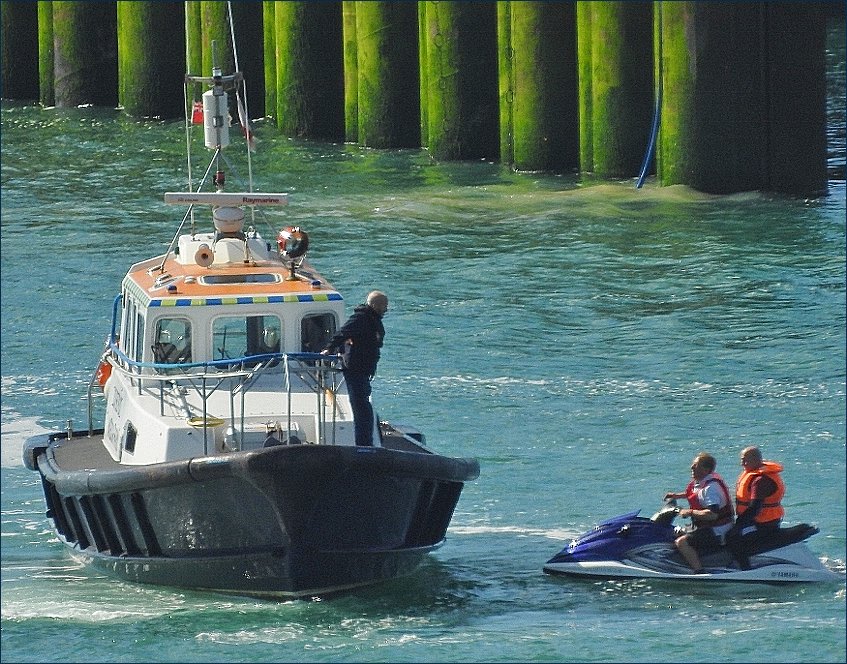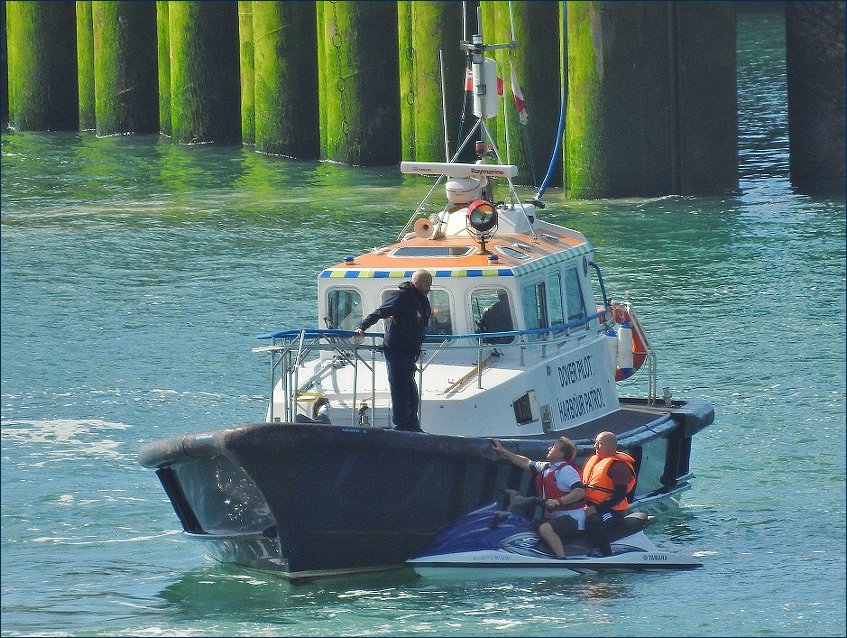 The harbour patrol boat with great concern came powering across the harbour at some speed when it noticed this jet ski amongst the 'pro swimmers' at the weekend. The sea was packed with swimmers, a big weekend for them, and as we know jet skis and swimmers don't mix. All boats/jet skis have to be in the designated outer zone but of course the problem is...they have to get there first .. and to get there they have to go through the swimmers. Fortunately those chaps on the ski seemed to be aware and appeared to be proceeding with caution....
The Benidorm or Bust Bad Boys and their Bangers :

Below we have a pic of the big rally yesterday morning along the seafront. Its a charitable run to Benidorm for old bangers much tarted up to look like...well ..old bangers. Great fun was had by all and as we understand, all to raise money for charity. There were 100 to 150 cars all lined along a buzzing seafront yesterday morning Wednesday, with the enthusiasts gathering at and in front of the Yacht Club. Ive made this pic as big as I can to show it all as best we can. Time of pic 07.44 yesterday morning Wednesday.
Its much quieter around here today.... no American horns whistling Dixie..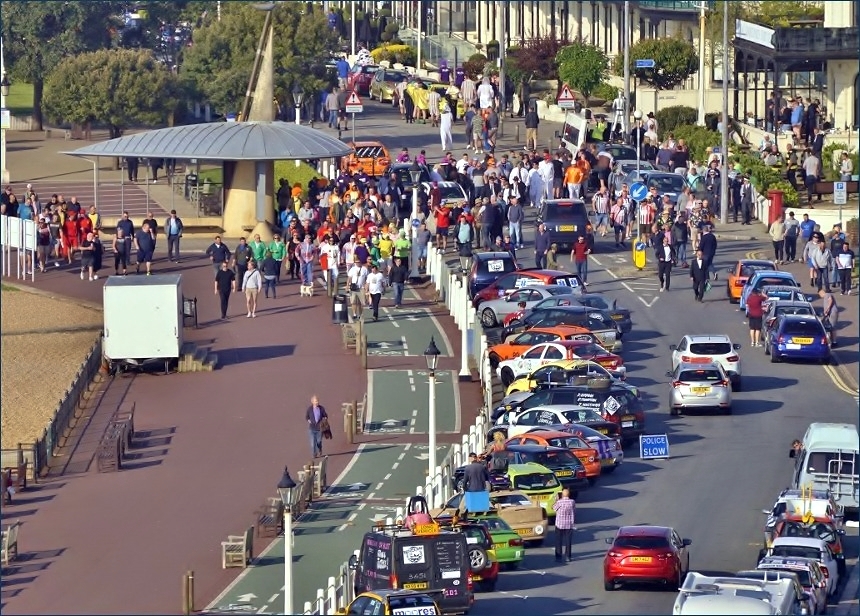 PaulB
Thursday, 16 May 2019 - 05:16
Post 6272
Sea News, Dover
VIKING SUN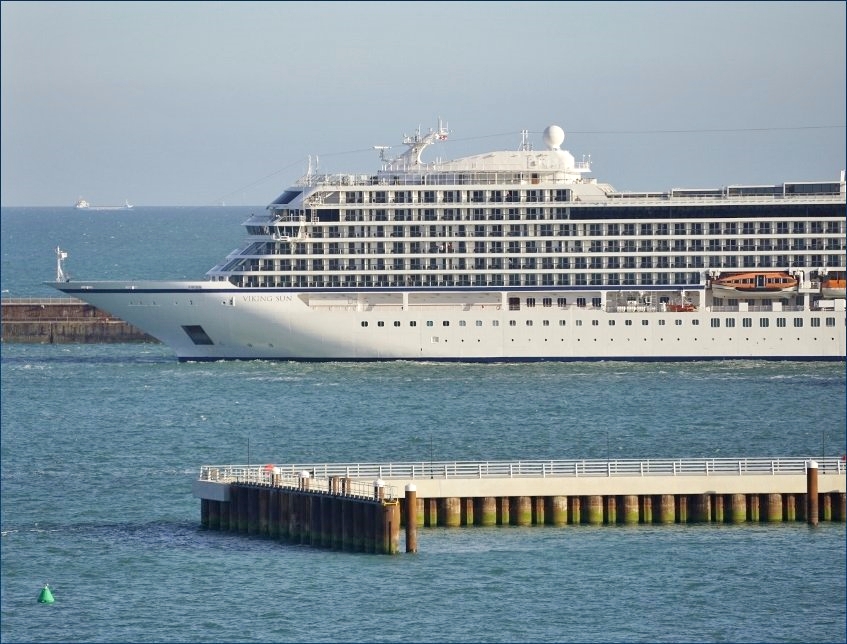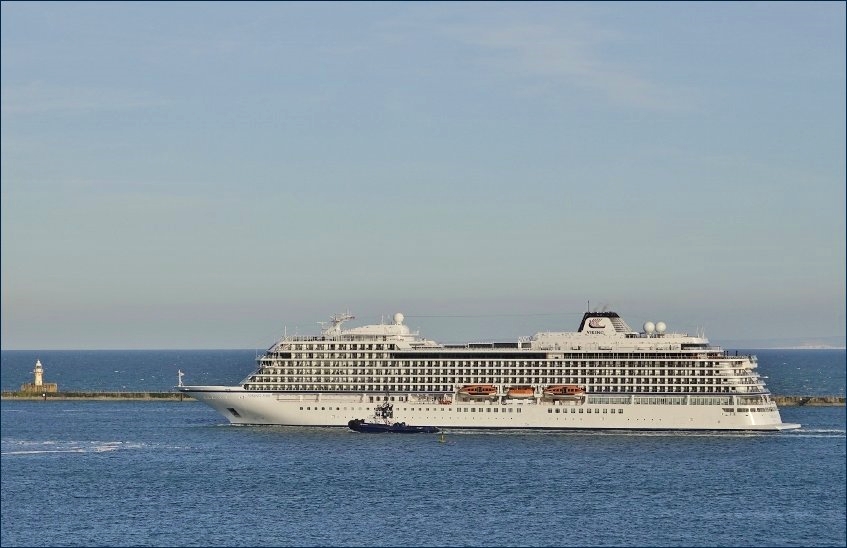 Some pictures above there of the striking Viking Sun moving away on Monday evening in the freshening breeze. She came across the harbour rather than leave through the western exit which as we know is the norm. This gives extra photo opportunities for us so very welcome here. She was off to Dublin for a high old Emerald time....and quite right too.
The picture below shows her arriving the same morning...we're shooting into the blinding sun here but just about managing.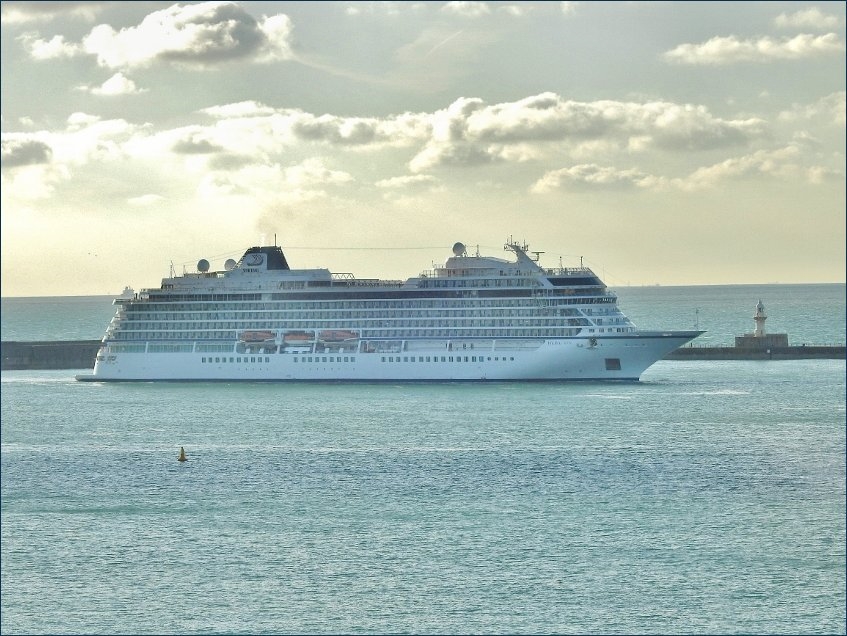 Later the same evening, much later in fact, about 20.30 and we see Saga Sapphire moving off as the light fades.
She was off on a long one to Canada and Niagara Falls...according to my info here.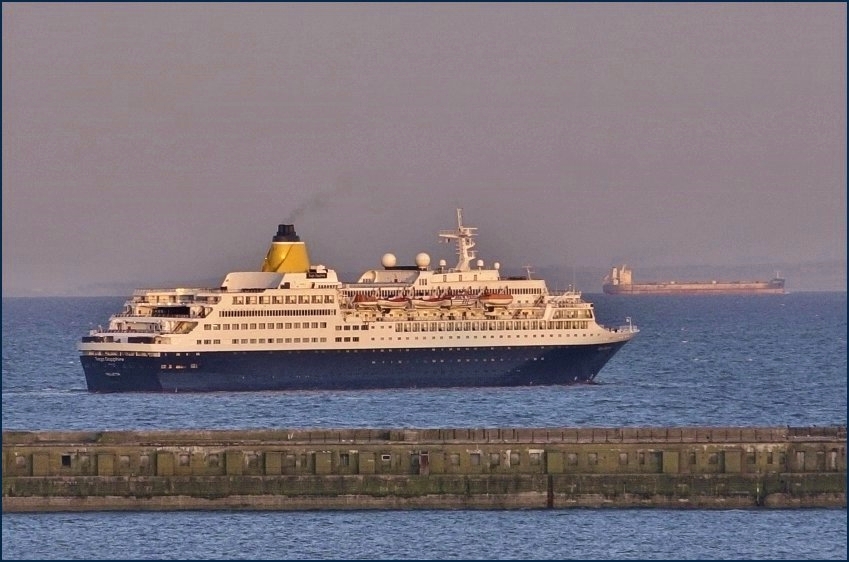 Well now a fairly dull shot below but it shows the all new lighting poles at the western development. Yours truly never saw them going-up but suddenly there they were. I've pushed the pic as large as possible so that hopefully all can see the poles mentioned.
Don't nod off..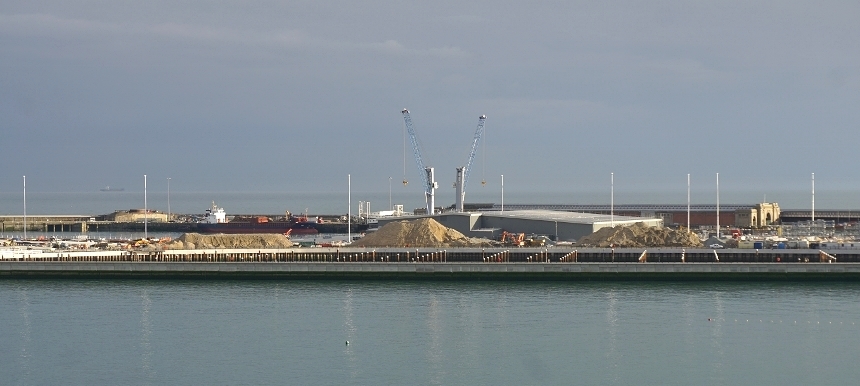 PaulB
Wednesday, 15 May 2019 - 06:23
Post 6271
Sea News, Dover
The Swimmers - pictures from the weekend.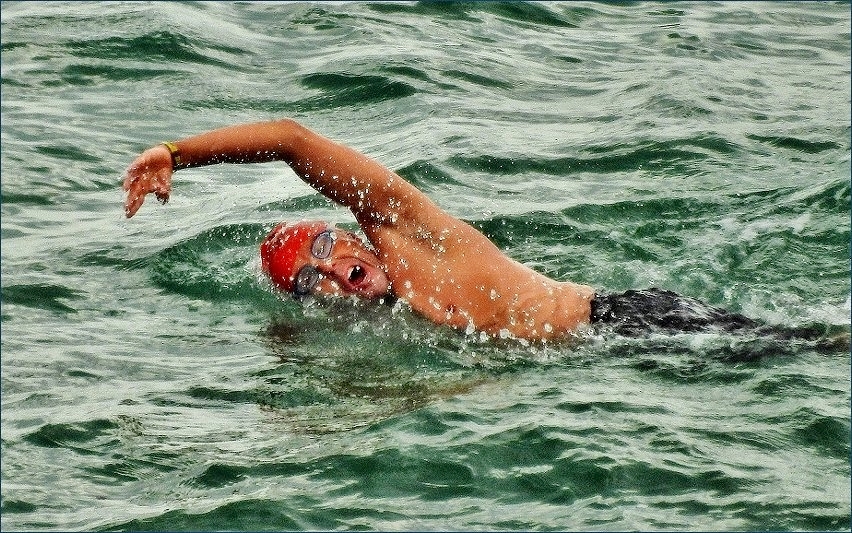 The loneliness of the long distance swimmer...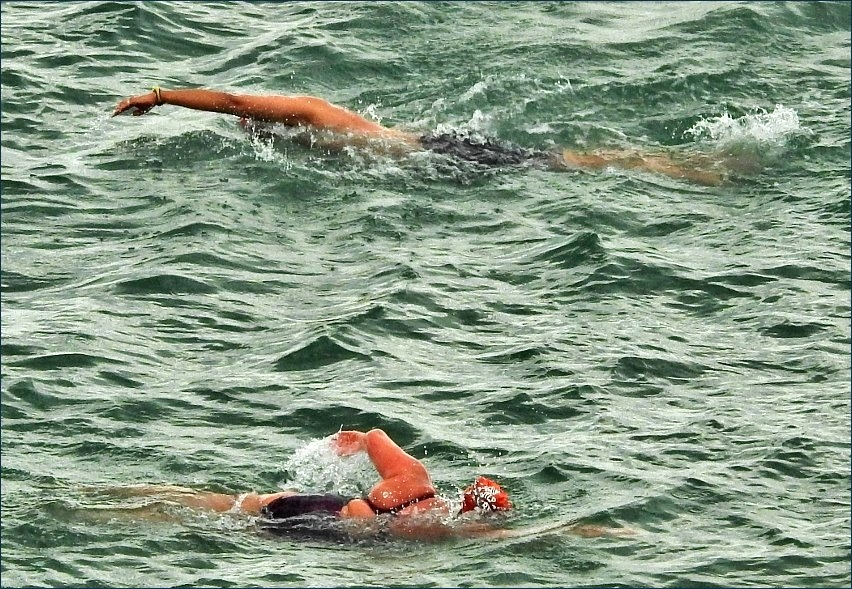 Ships that pass in the night...
Endeavouring to show the crowds of swimmers at the weekend here but the pic doesn't convey it entirely successfully. There was a huge swim buzz a-goin' on. It was indeed a big weekend for ...what you might call...the pro-swimmers.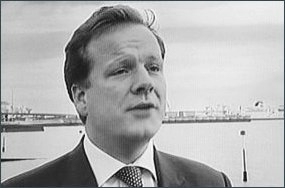 CHARLIE ELPHICKE MP: A record of action and a promise of more
_______________________________________________________________
Dear Mr Boland,
The local election campaign trail was a great opportunity to chat to people about what matters to them. Unsurprisingly, there was a sense of deep frustration over Brexit and a strong desire to get on with it – deal or no deal. We need to leave the EU and move on.
Yet the election also produced a hugely impressive set of results. An increased majority was a real testament to the hard work, teamwork and dedication of our local team. So much progress has been made locally in recent years. We've been working tirelessly to bring more jobs and money to our corner of Kent.
Back in 2010 things looked bleak. Unemployment locally had rocketed 50% in the Great Recession. Yet there are now 7,700 more people in work in Dover and Deal, while there has been more than £500 million of investment.
Nearly a year ago the new £50 million St James development opened. Where Burlington House once scarred the skyline, there now stands a brand-new multiplex cinema, shops and restaurants. Meanwhile the new leisure centre is a packed-out, massive success.
The £250 million Western Docks Revival is also well underway. I was lucky enough to walk along the new pier which opened recently. It will be a great asset for our community in the years to come.
In Deal, the town's pier is undergoing its most comprehensive refurbishment with £500,000 of investment and £600,000 more to follow. The new Deal Pier Kitchen draws hundreds of visitors who can at last truly enjoy this iconic landmark. The long-awaited Regent cinema plans are progressing.
Big companies have set up shop in our district too. Multipanel UK relocated its manufacturing operation from China to Eythorne in 2014. Last year I visited their 24/7 operation, producing more than 500,000 square metres of aluminium composite panels a month. Bosses told me they have been so successful that they hope to open new production lines – and hire up to 100 more staff.
All this investment has been delivered with the lowest council tax in east Kent. This is what a strong vision and teamwork can achieve – real investment, excellent services and great value for money.
We've been able to deliver more jobs and money by getting the nation's finances back in order. Unemployment is at a record low. We've also cared for the least well off by taking more than five million people out of paying income tax altogether. And over the past year wages have been rising well above inflation.
Much has been done. Yet there is much more to do. We need more investment in our roads, including a dualled A2 and lorry parks. We must focus like a laser beam on our high streets. We must strive for stronger borders.
And we want to get on with leaving the European Union. An incredibly bright future lies ahead – for this country and for our area. Let's keep working together to deliver it.
Charlie
The above newsletter is from Charlie Elphicke MP...this website does not necessarily agree with all the content.
Nadine Nearly Nods-Off : Yes its the Nadine Dorries deep-throated double-decker yawn... while the PM delivers more desperation during PMQ's in the House last week, and with frontbenchers and others seemingly all agog and riveted to the spot...the TV cameras swung wide and in that moment Dorries was caught by the aforementioned cameras in a gigantic yawn, a yawn that almost swallowed Hunt and Nokes in front of her. Some people say she has the concentration span of a gnat ..but one couldn't possibly comment.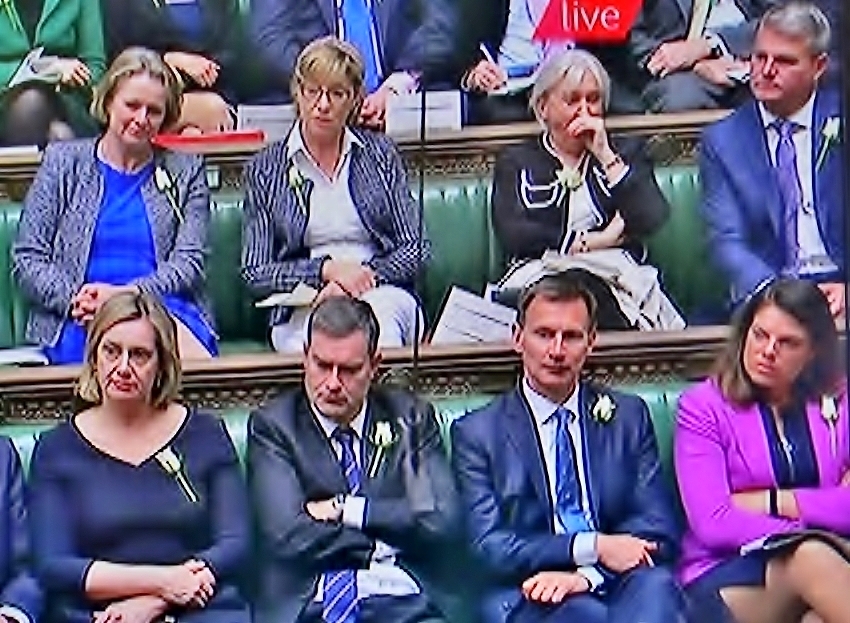 Enjoyable odds and ends there below Mike. Particularly enjoyed the 'Chelsea' shot from the new pier.

Yes exciting changes afoot Jan and yes lots of activity. Yours truly still has yet more cruise ships, reefers, etc etc to catch up with.

PaulB
Tuesday, 14 May 2019 - 06:25
Post 6270
Mike J., Dover
Some Dover odds & ends, starting with the blunt ends of of the AIDAVITA & the COSTA MEDITERRANEA [with WHITDAWN alongside] on recent visits.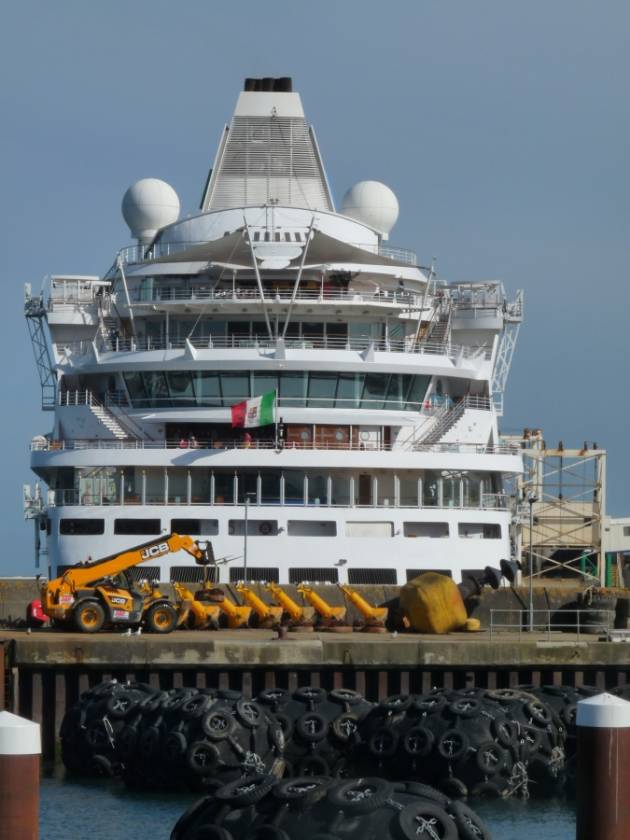 A close-up of one of the 'Yoko' floating fenders.
First introduced by the Yokohama Rubber Company.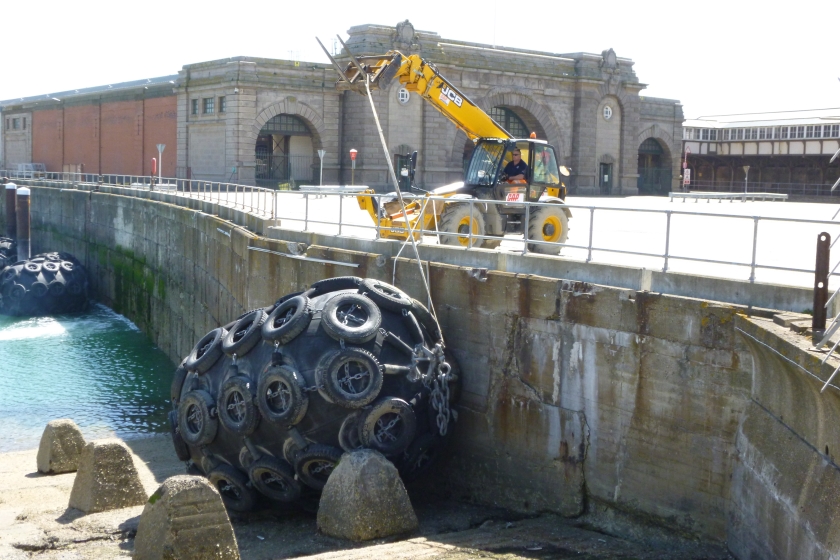 In the Tidal Basin the smart Dover-based TERLYN.
The owner is very proud of her, note the protective padding between the fenders & the hull & on some of the mooring ropes to prevent any markings on the motor-yacht's immaculate hull.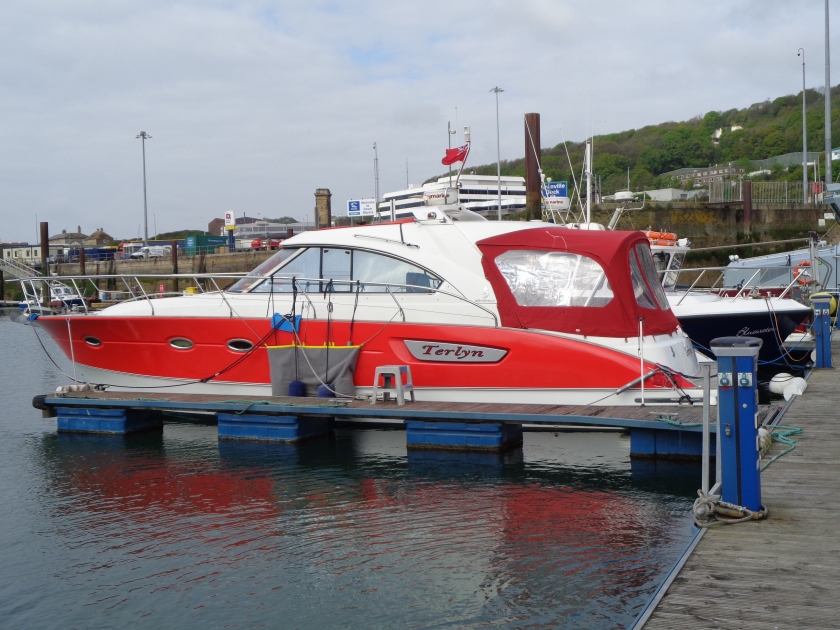 Come on you Blues !
At first I thought that the Chelsea FC's supporters club had come down for a swim, but it was a couple of busloads of Belgian schoolkids re-arranging the beach by lobbing much of it back into the harbour.
Taken from the new Pier.
Tuesday, 14 May 2019 - 00:34
Post 6269
JanT, Dover
Opening the curtains this morning to see two more cruise ship's sitting in the harbour.
Took a drive on the new piece of road and across the new bridge yesterday, along with the new pier it all looks very impressive

Monday, 13 May 2019 - 08:30
Post 6268
Sea News, Dover
P&O FERRIES PAYS BACK CUSTOMERS WITH FREE FUEL VOUCHERS
_______________________________________________________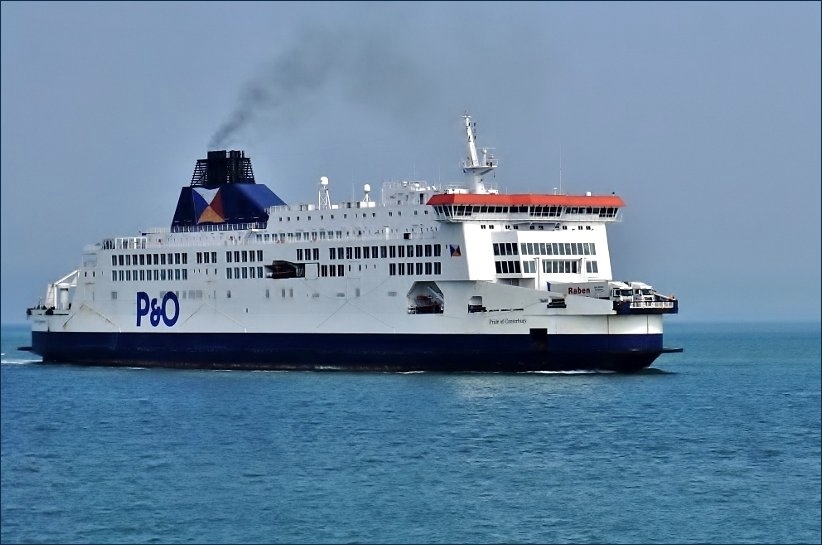 P&O Ferries is encouraging Brits to venture further when exploring Europe, by giving away £20 worth of free fuel for long break (5+ days) return bookings, or £10 of free fuel credit for single journeys from Dover to Calais.
Travellers can book direct on the P&O Ferries website from now until 5th June, for travel until 15th July 2019, using promo code Q2FUEL19. Valid for motorised vehicle bookings only, excludes bicycles, foot passengers and commercial vehicles such as vans.
Sarah Rosier, Director of Passenger Sales at P&O Ferries, said: "Just one of the many reasons people choose to sail with us to Europe is the freedom to take their car abroad and travel on their own steam. There are so many incredible destinations across the Continent reachable by ferry, from France, Spain, Belgium, the Netherlands and Germany – all within a day's drive from Calais."
"By filling our customer's tanks with an extra top up of fuel, we hope to lessen worries around rising fuel costs. This offer is also there to encourage people to travel further and explore beyond the usual tourist hotspots – by discovering somewhere new who knows what unforgettable holiday memories await."
To redeem your free fuel voucher (valid 24 hours after you've sailed), follow the below steps:
Use promo code Q2FUEL19 when you make your booking
Fill up on fuel
Follow the link on your e-voucher email
Enter your unique code and upload your fuel receipt
Once confirmed (within 7 days) fill in your bank details via the secure portal
Receive payment direct to your account
There are up to 23 sailings a day between Dover and Calais with P&O Ferries, which are 90 minutes in duration, giving flexibility to fit your schedule and ensuring a relaxing trip across the Channel. On board are a variety of eateries, including The Brasserie for an a la carte dining experience, as well as the Food Court, offering a full range of family favourite dishes. For those who want to travel in further comfort, spaces at the Club Lounge are bookable from just £12 per person.
For more information, or to book a crossing visit www.poferries.com.
-Ends-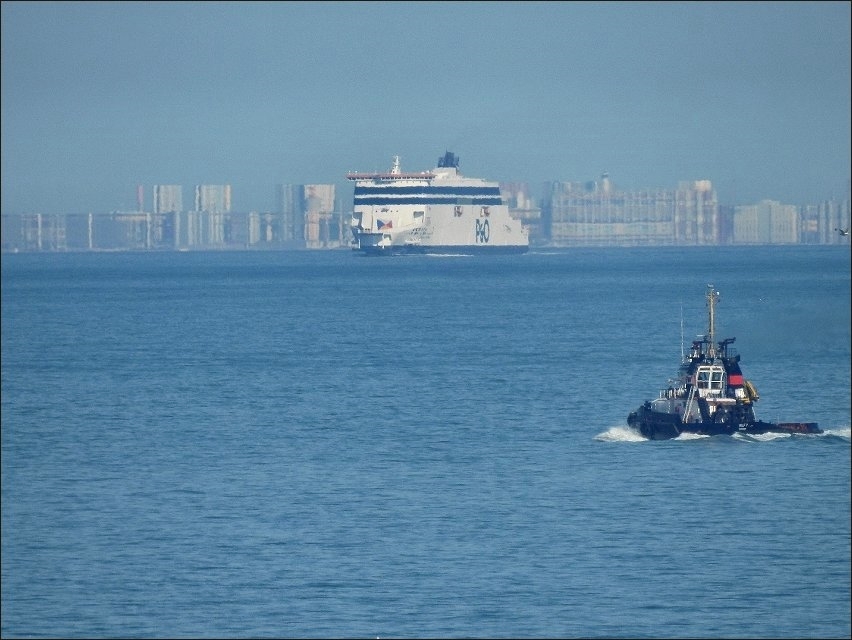 One of the P&O Spirits making its way back from Calais in the picture above. We have shown this one before but the mirage affect showing the buildings in Calais behind the ship is quite extraordinary. Its rare to get that effect so worth showing again. Obviously a long range pic...with the tug Wulf in the foreground.
Top shot shows the Pride of Canterbury approaching the Port of Calais.
A fascinating and novel idea above there from P&O Ferries. Some good offers from P&O at the moment see top of page. Like that other well known brand says..."every little helps!"
Many thanks to the team at P&O for the info.
* *
A busy time of it this weekend for Border Force.
The following pictures show the Border Force cutter Searcher in action yesterday evening just off the Port of Dover... more below..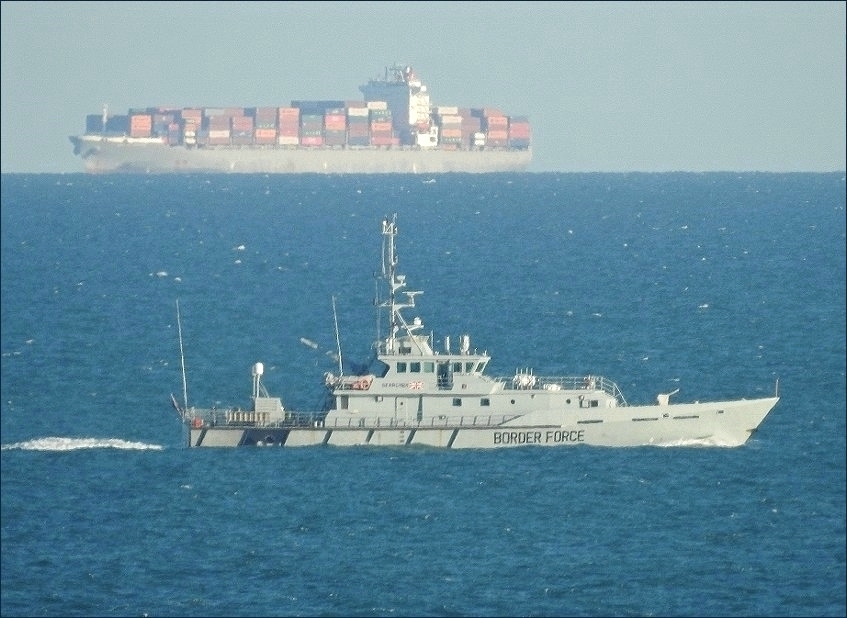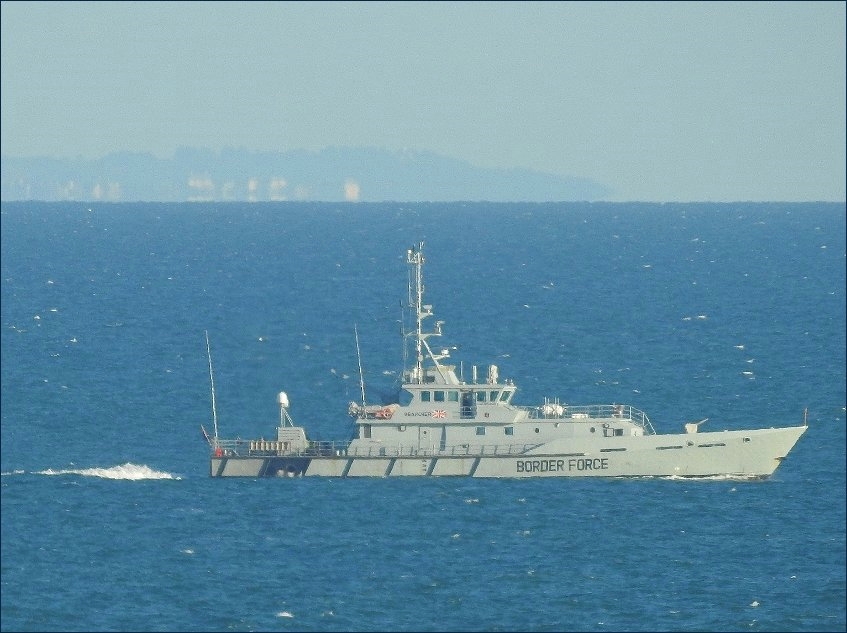 From the BBC...
"
Eight children were among 26 migrants intercepted in two dinghies off the Kent coast, Border Force said.
The first boat, carrying 14 people, was spotted by a fishing vessel in the early hours, before being intercepted by two Border Force cutters. A second boat with 11 men on board was met by a Border Force patrol boat.
All 26 have been checked over and four were sent for "further assessments" in hospital, the Home Office said.
"
AIDAvita was in with us again yesterday and we see another double whammy today..
Saga Sapphire and Viking Sun, so a very busy time of it.
Cracking shot below Patrick..

PaulB

Monday, 13 May 2019 - 06:08
Post 6267
Patrick, Marine Parade
Yesterday the cruise liner 'Crown Princess' was just visible out in the channel as it passed our Port en route to Le Havre from Scotland. In the process dwarfing the 'Cote Des Dune' ferry crossing the lanes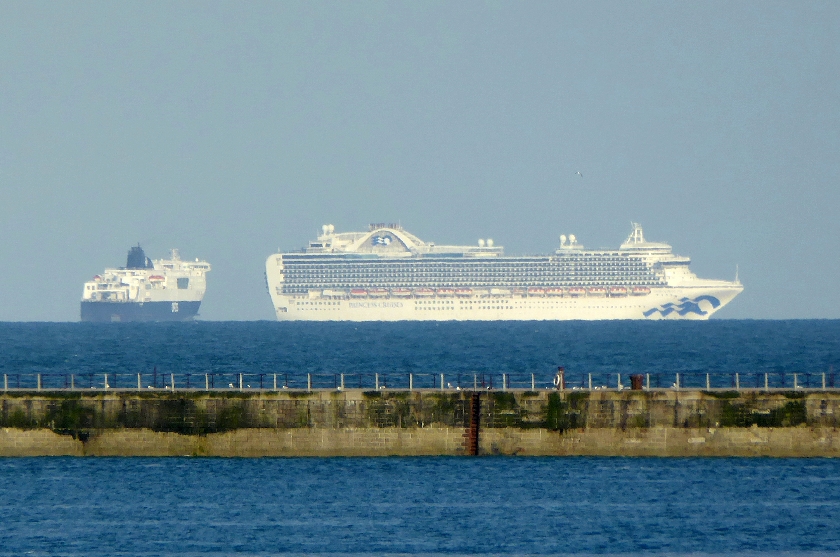 Sunday, 12 May 2019 - 22:37
Post 6266
Sea News, Dover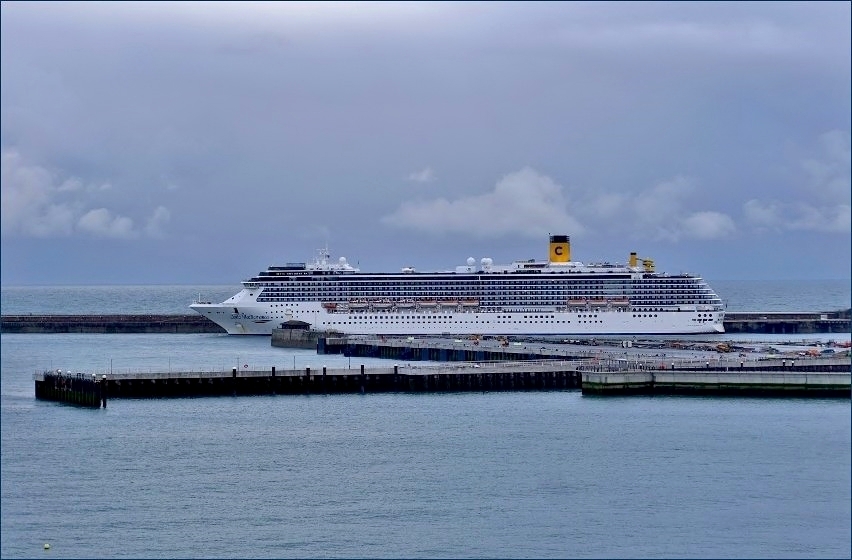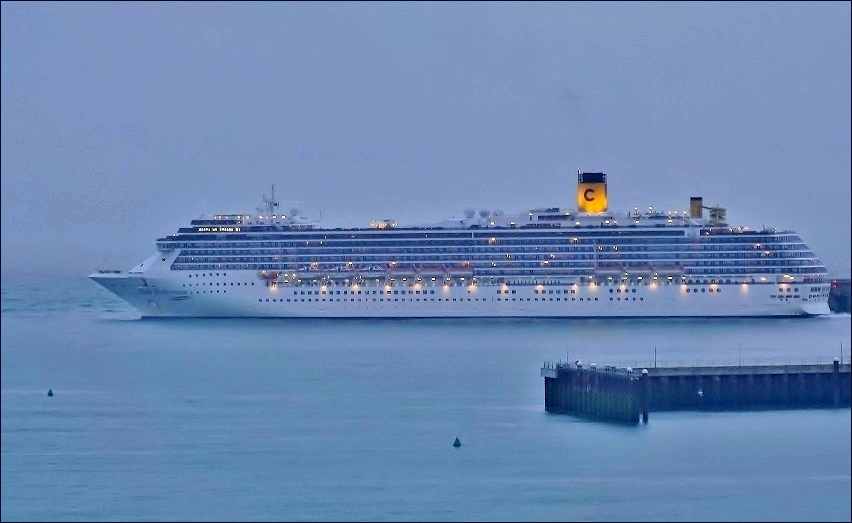 Costa Mediterranea
Some late-in-the-day pictures of Costa Mediterranea above there. Top pic shows her getting ready for departure and the following one shows the huge ship underway...it was getting dark as you can see. She was off to Bremerhaven in Germany as part of a seven day round cruise from Amsterdam/Ijmuiden which took in Bruges/Zeebrugge and Cherbourg and of course Dover and Bremen. Great to see the Costa ships still coming... always welcome. Pictures from Thursday evening.
A novelty pic of sorts below. Bog standard shot showing the harbour in the gorgeous sunlight 2 days ago. Yours truly is always amazed by the fixated patterns in the water, the regimented lines...a natural phenomenon.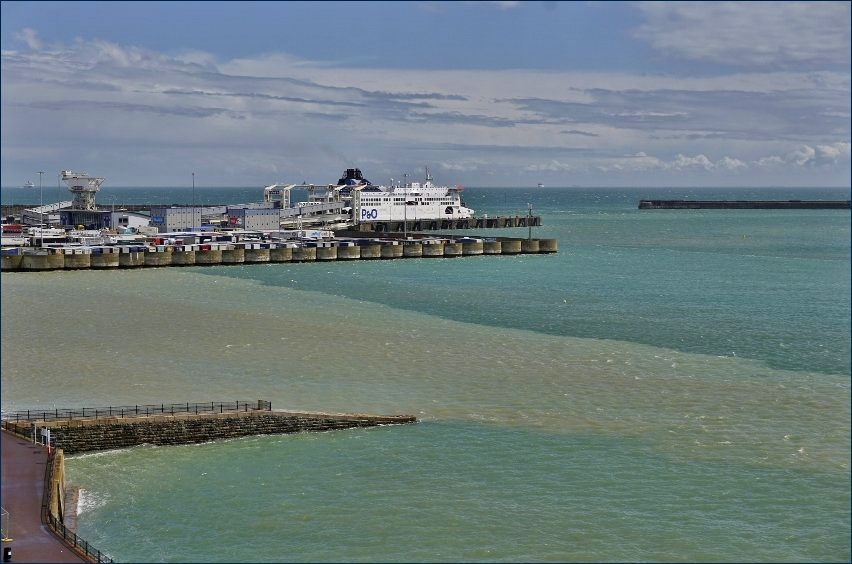 PB
Sunday, 12 May 2019 - 06:22
Post 6265
Sea News, Dover
Cargo Activity at the Port of Dover.. from the past few days...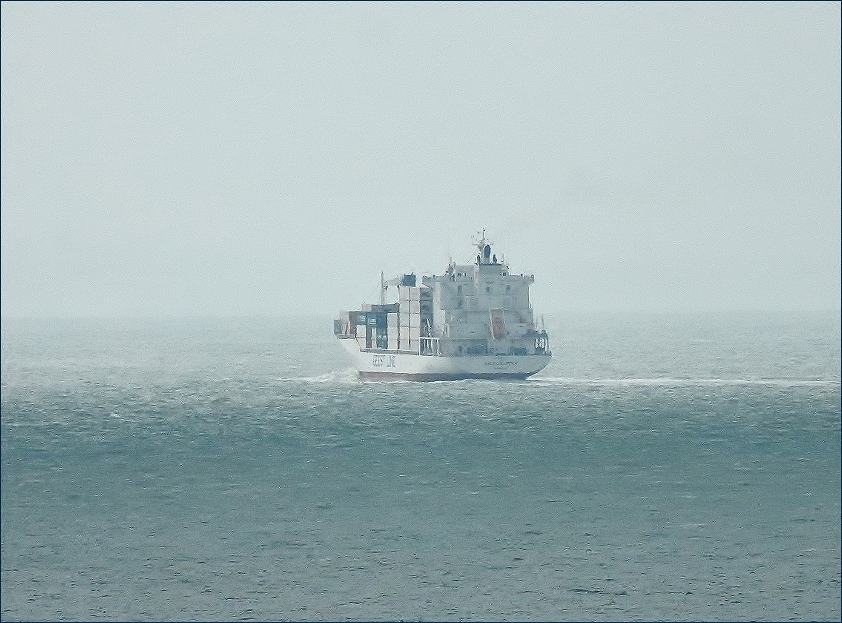 Distant picture above there of the Baltic Klipper moving off earlier this week. Just caught the tail end of her in the distance as she set sight for Bridgetown in Barbados...a long run.. she was just about to disappear into the low hanging mist above there..
Enter Stage Left: Just as Baltic Klipper moved off...in towards Port from the east came the Atlantic Reefer, yes to the left of original shot. You can see the ship here below approaching and entering Port...
Atlantic Reefer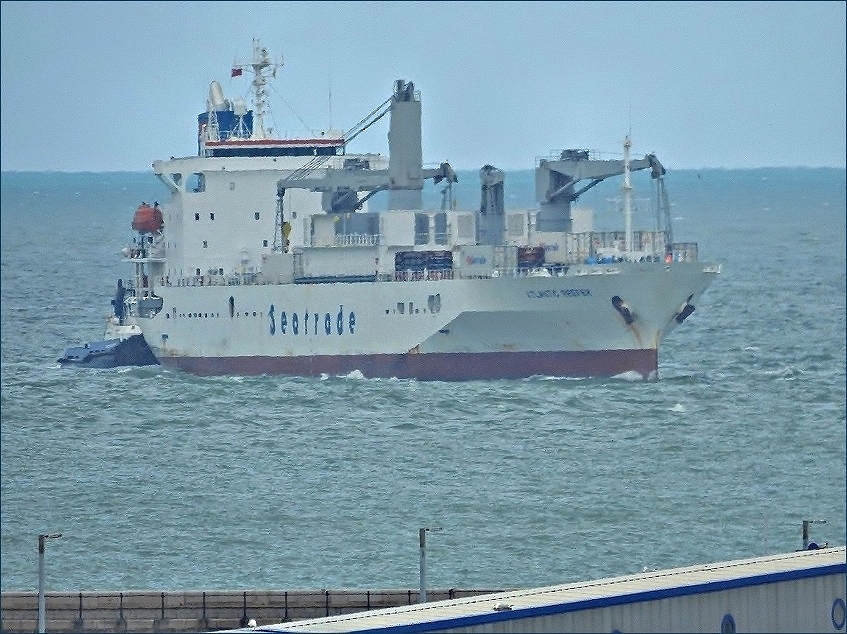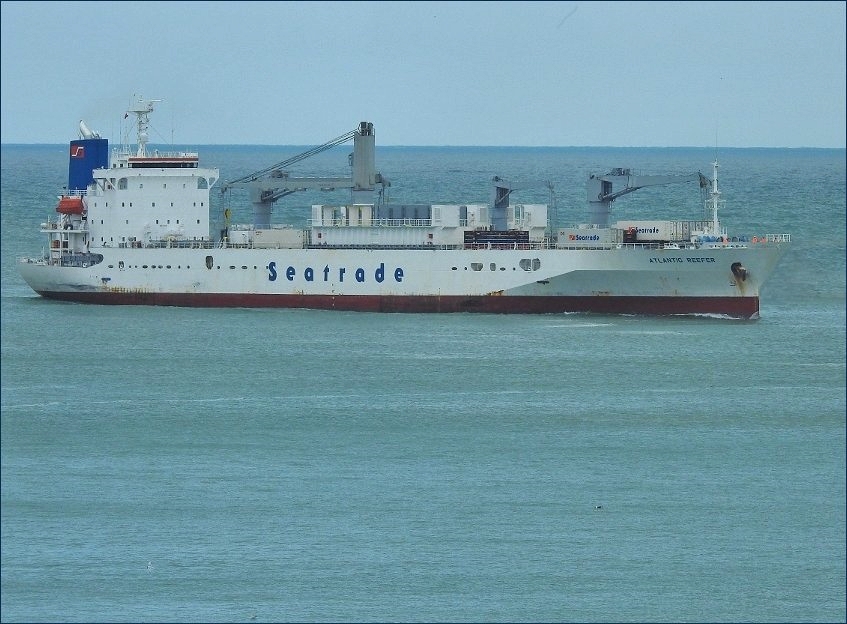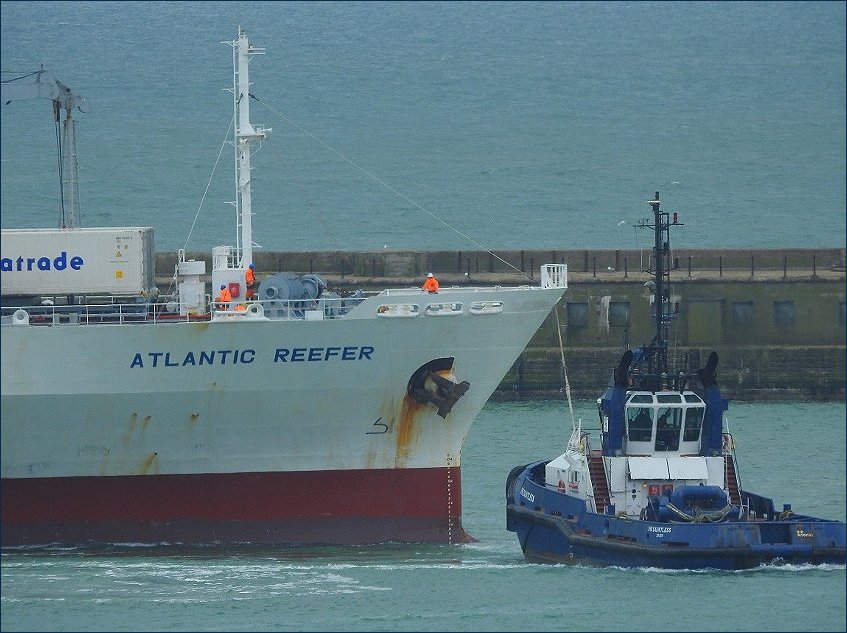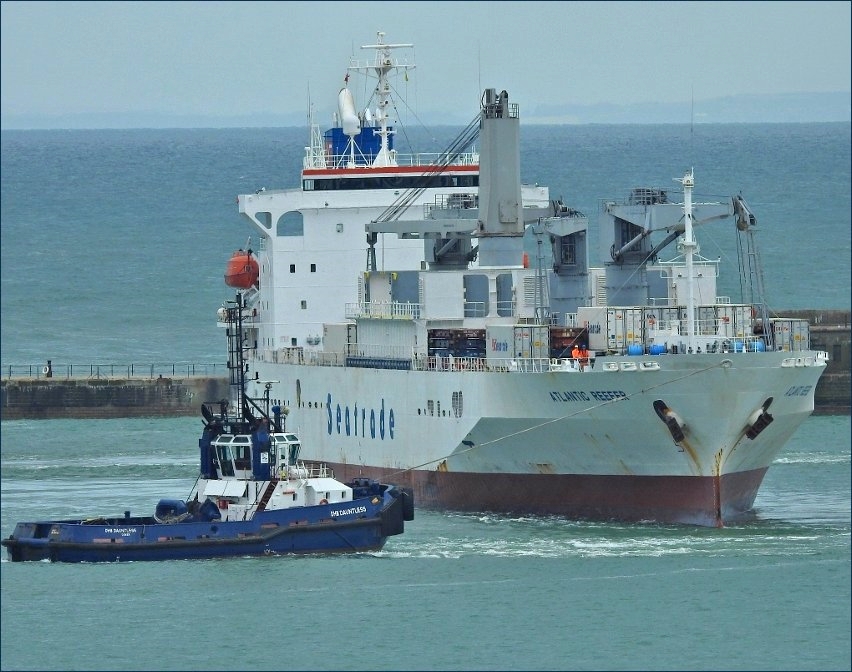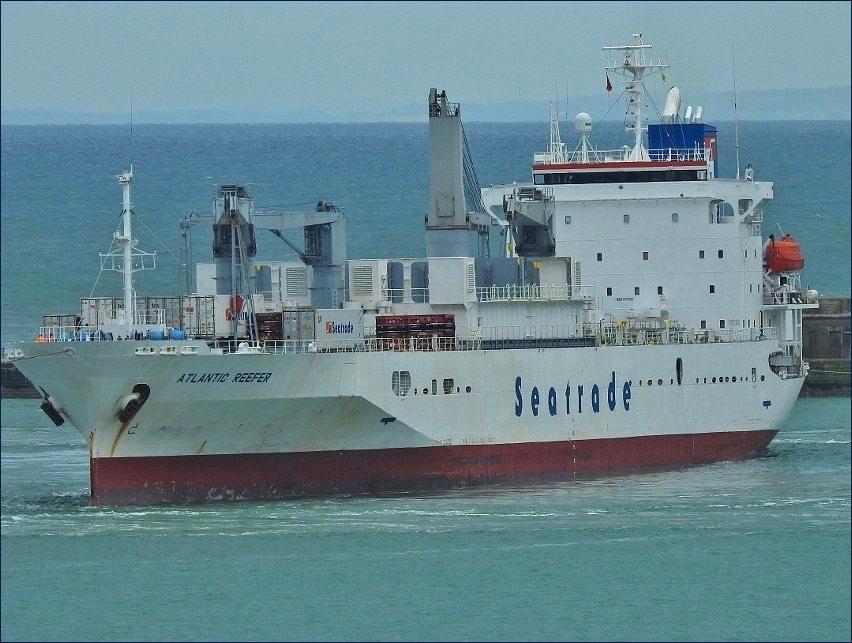 There is another reefer in Port as of now...Luzon Strait...so they come thick and fast. Never a dull moment!

Thanks Del, yes quite enjoyed that pic myself...not everyday you can get a pic of the French Coast due to visibility issues etc...
PaulB
Saturday, 11 May 2019 - 06:31
Post 6264
Del Styan, Norwich
Great long range shot of the Calais coast. Well done!

Friday, 10 May 2019 - 22:44
Post 6263
Sea News, Dover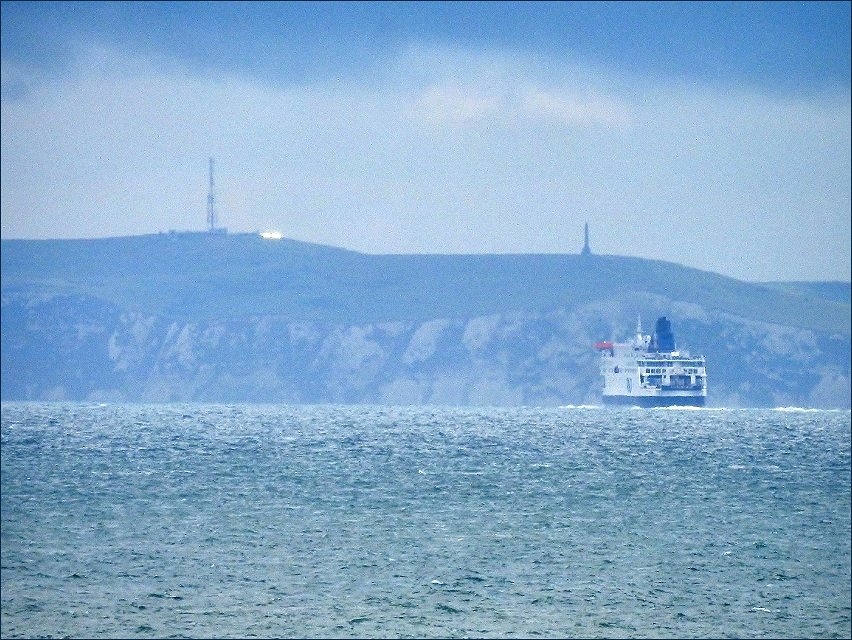 Just adding this very long range shot taken yesterday. The building at the very top of the French Cliffs beamed an amazing light across the channel as the sun caught something there late in day. Its obviously some sort of communication station there on top of Cap Gris Nez. The picture doesn't quite catch the beam of light but amazingly it came out fairly well all the same considering the range and mist etc..etc...
Friday, 10 May 2019 - 15:25
Post 6262
Sea News, Dover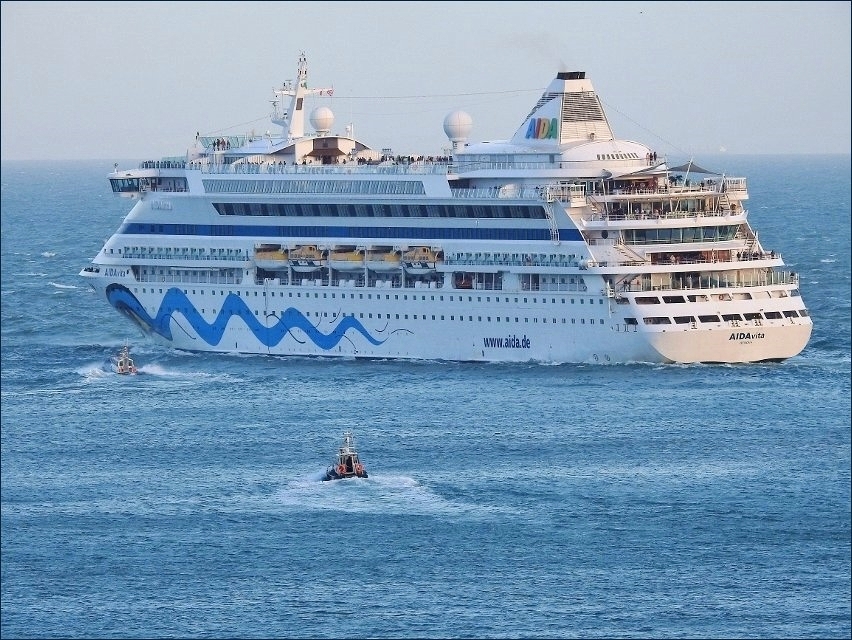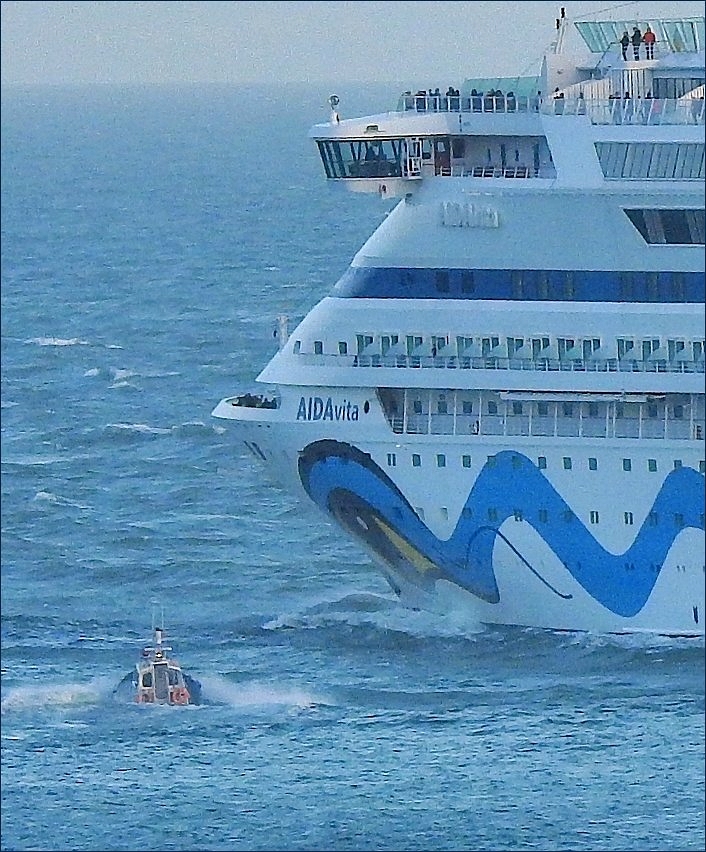 Top two pictures show AIDAvita departing on Wednesday evening at 19.50 or close to 8PM. Taken of course in fading light at that time...she was off to Hamburg via Amsterdam having cruised all the way across the Mediterranean from Crete. The pic below is from an earlier time and shows the other angle as it were. Nice looking ship for sure...bit smaller, not one of the 'whoppers'.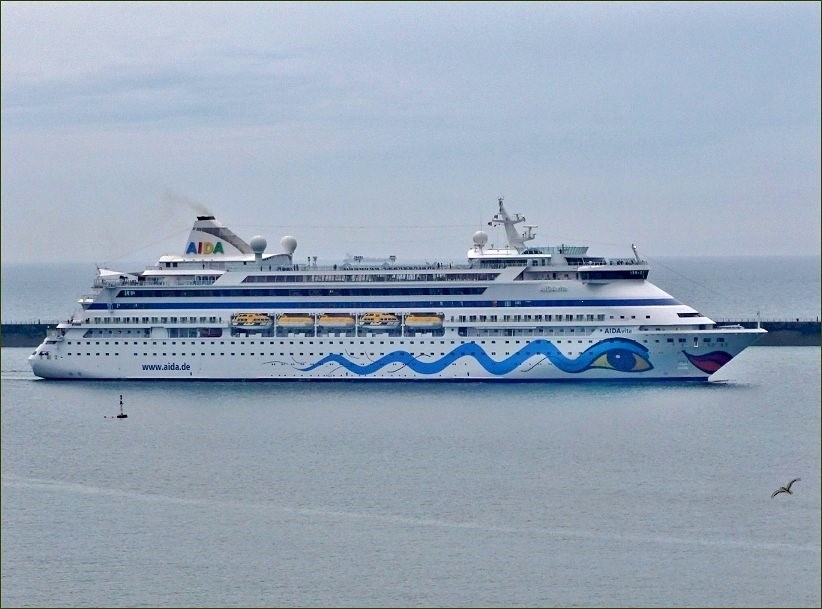 The same day we had AIDAluna...so we had an impressive double whammy of AIDA's. The pictures below are from the visit just before. As the ship comes in very regularly and we were not able to catch up... here we are now at last...AIDAluna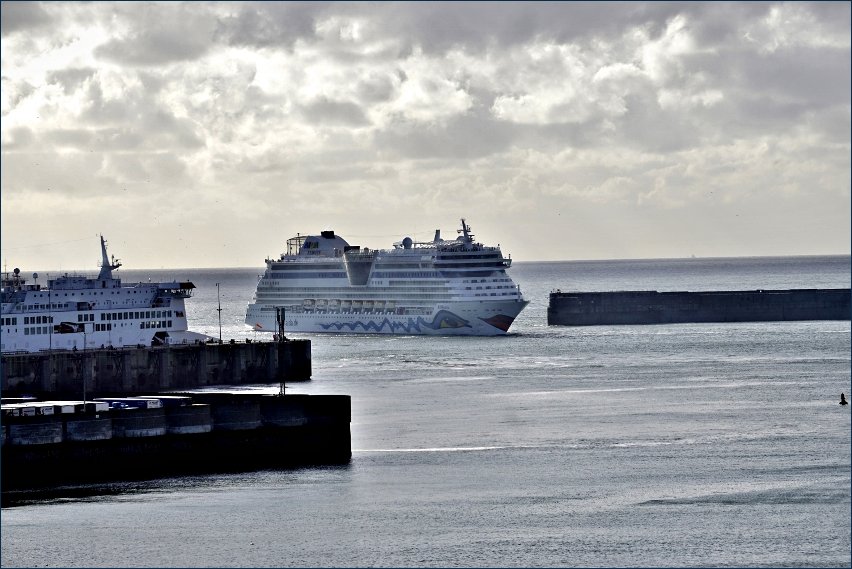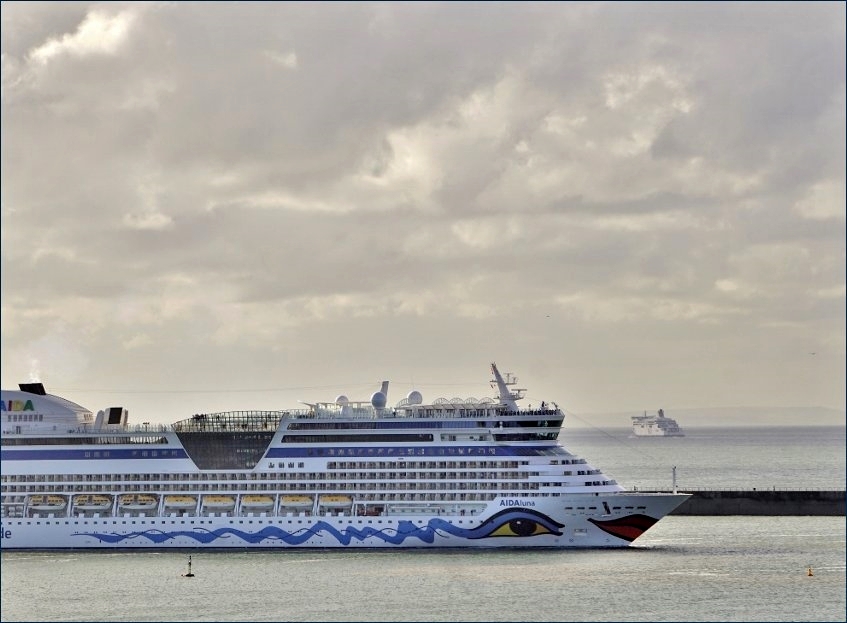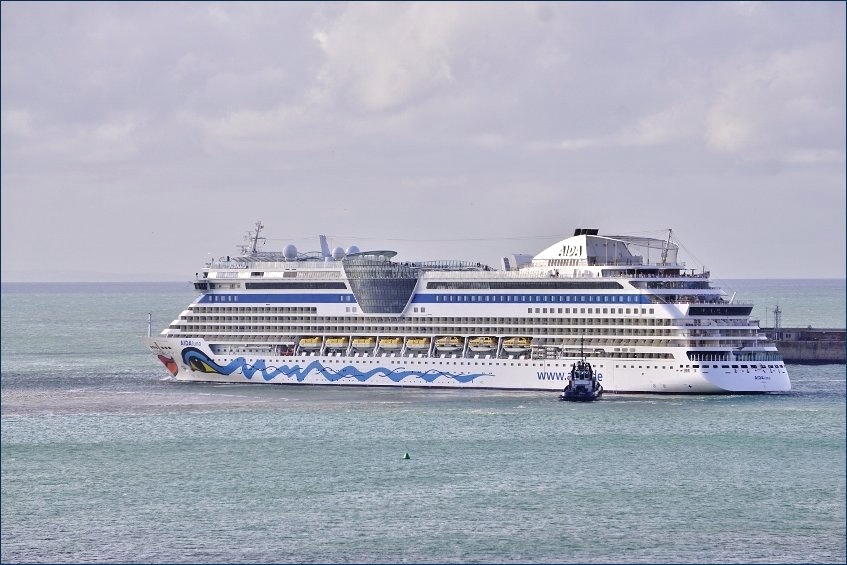 Excellent post below from Mike...interesting pictures plus...so...
Don't Miss Those!
Foggy today.
PaulB
Friday, 10 May 2019 - 06:33
Post 6261
Mike J., Dover
Thursday afternoon arrival of Maltese-flagged KEIT from Paldiski, Estonia via the Kiel Canal with the first of several consignments of log cargos for the Sandwich biomass plant.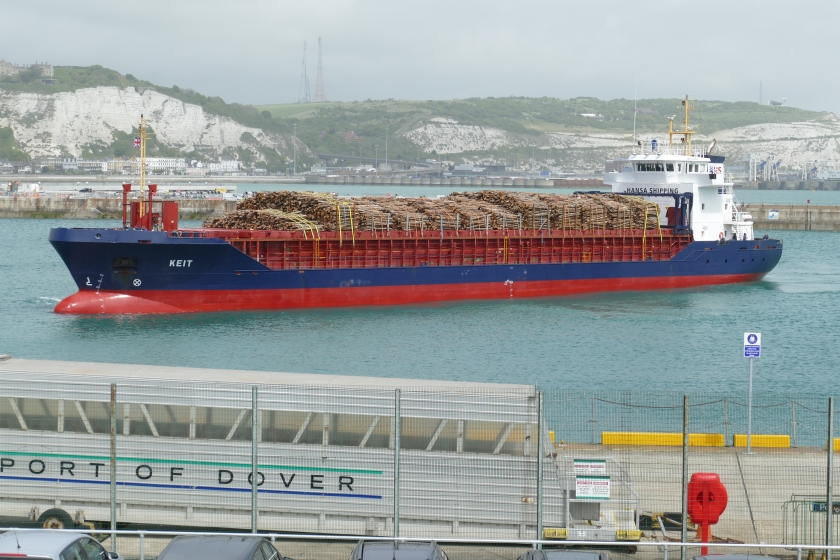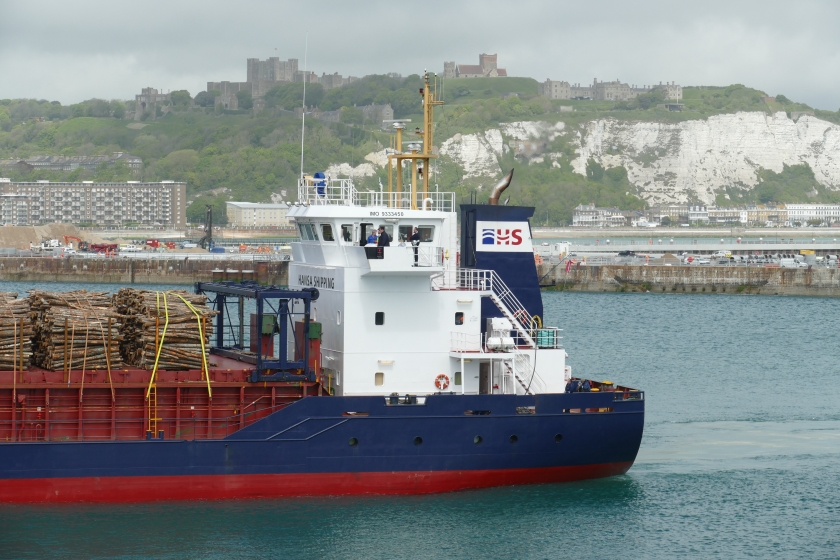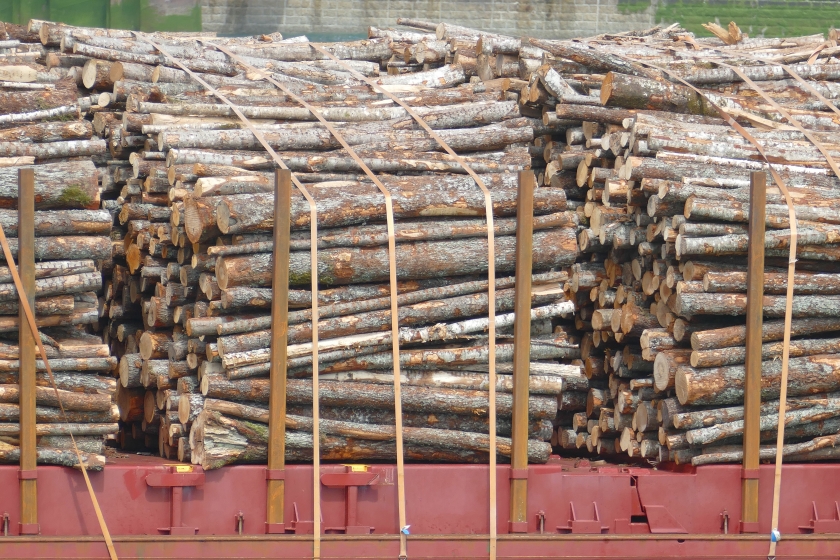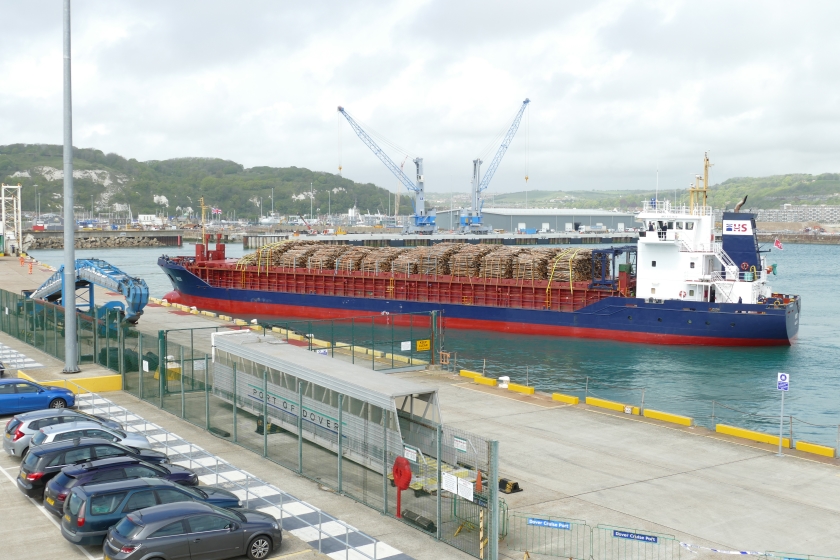 Log lorries awaiting loading.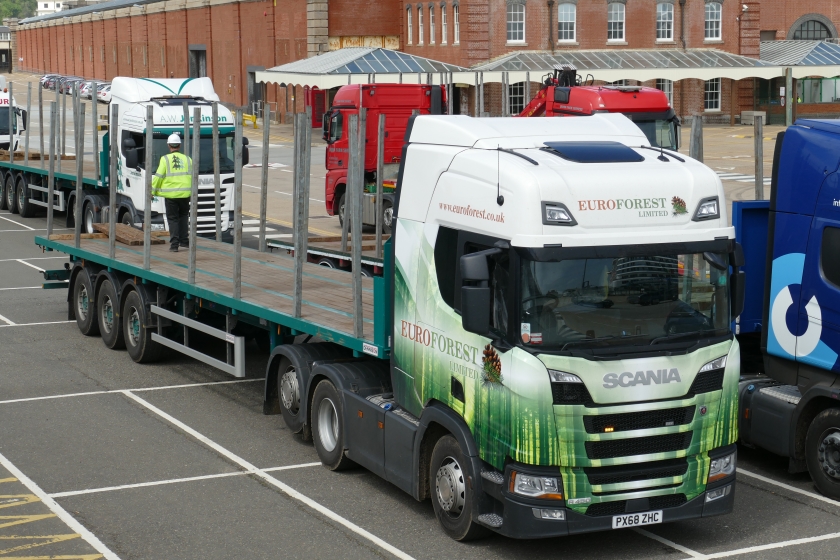 Friday, 10 May 2019 - 00:25
Post 6260
Sea News, Dover
PRINSENDAM DEPARTING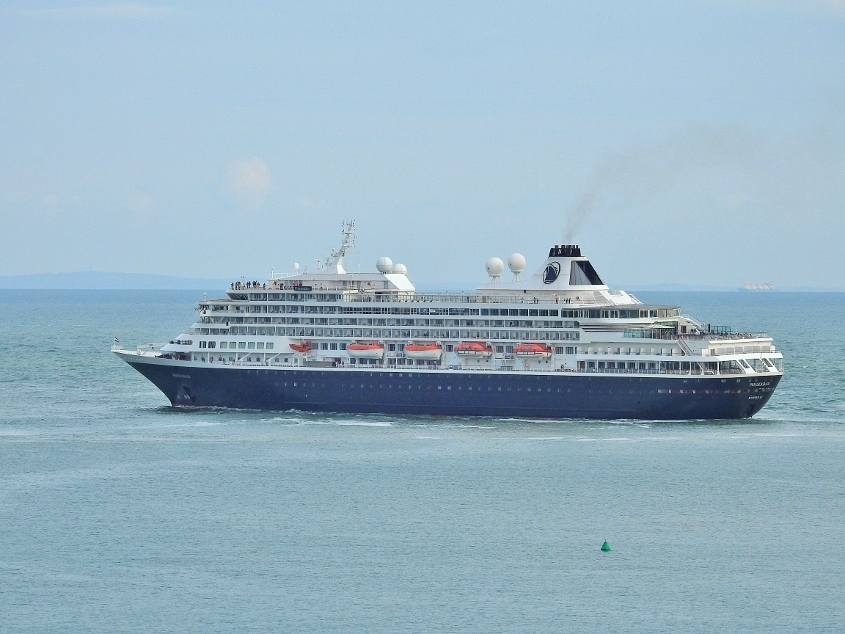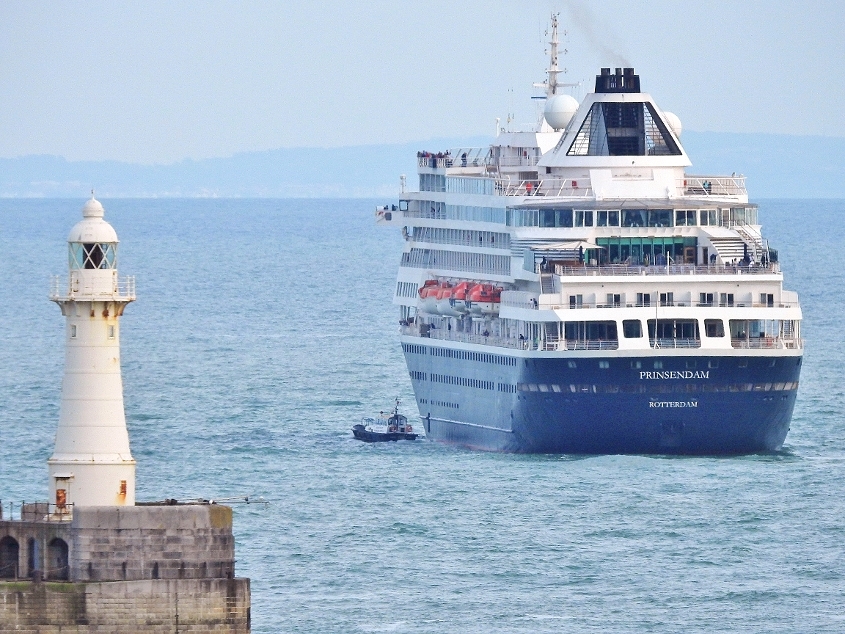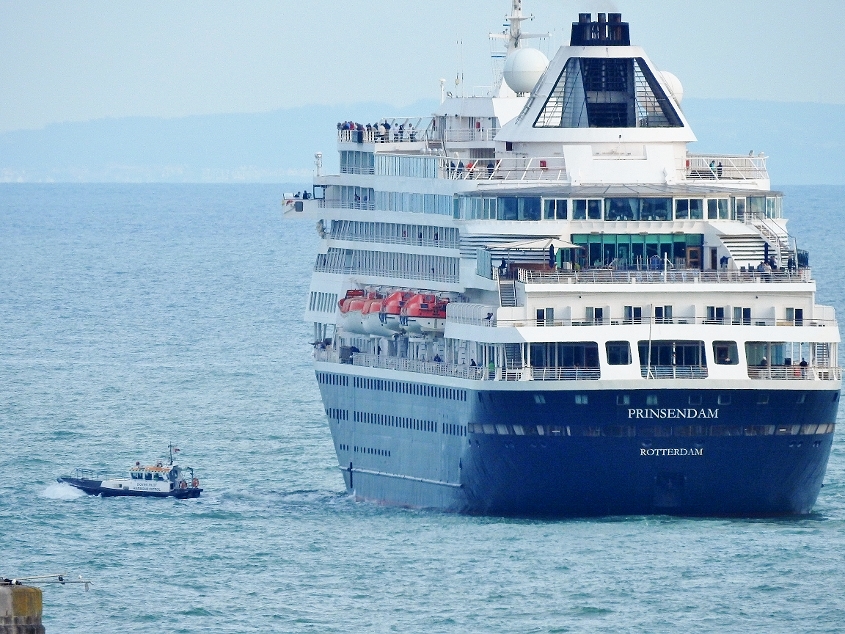 Some shots above there of the Prinsendam leaving us a couple of evenings ago ( Monday)...you can see the pilot boat alongside there on a blue evening as she made her way off on a 14 night Celtic Explorer cruise, and very nice too.
Cant resist also including this double whammy shot from last year which also shows Prinsendam and the Seabourn Ovation. Just re-found this picture in the files...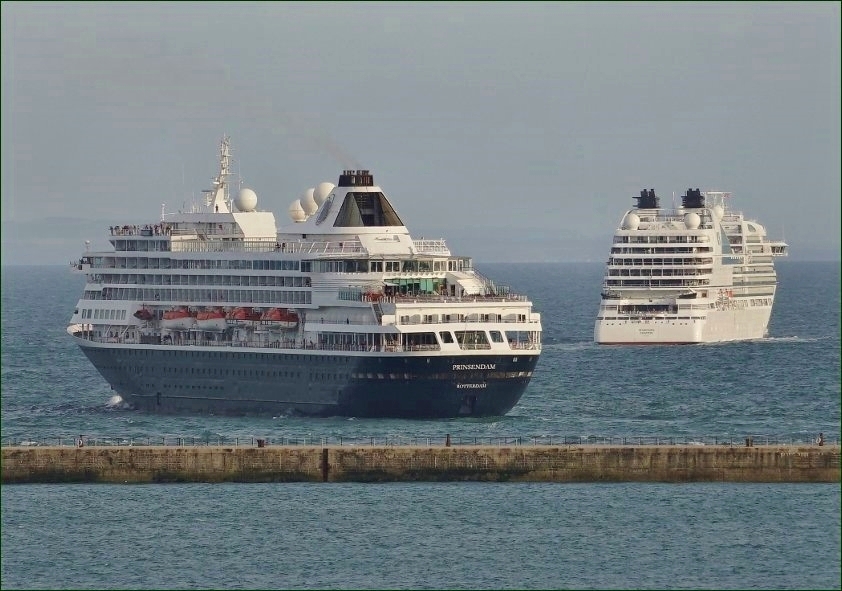 The Anuket Sapphire provided bunker services for the Prinsendam and here she is a-coming and a-going .. obviously on the same day... not an easy ship to photograph from range.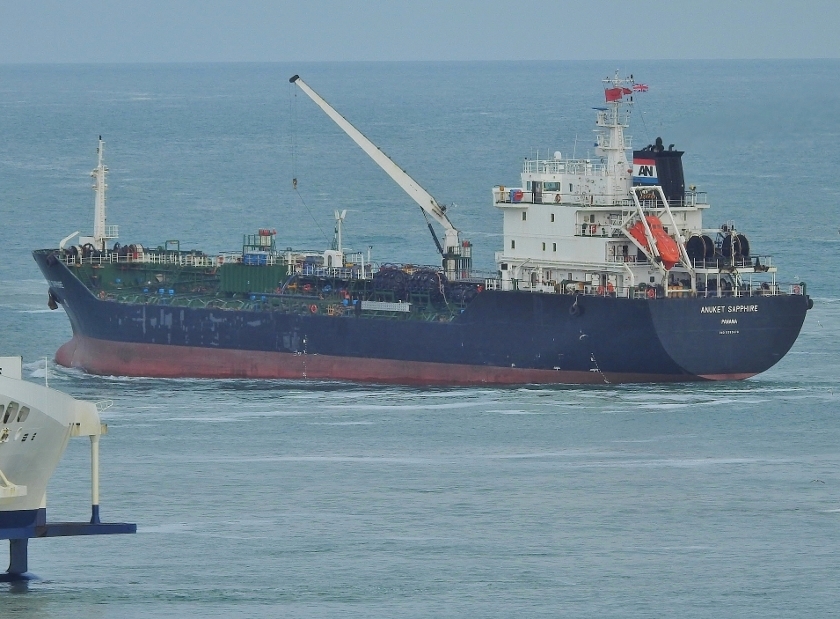 PaulB
The great cruise ship visits continue...Costa Mediterranea in with us today.
Thanks Jan yes lots happening at the moment.
Yes the Free Wine offer is very tempting...not that I touch a drop myself you understand!

!!
Thursday, 9 May 2019 - 06:58
Post 6259
JanT, Dover
Nice collection of picture's chaps, busy times in the harbour, and a good offer from P&O I'm sure lot's will be taking up the offer

Wednesday, 8 May 2019 - 09:03