Thursday, 18 October 2018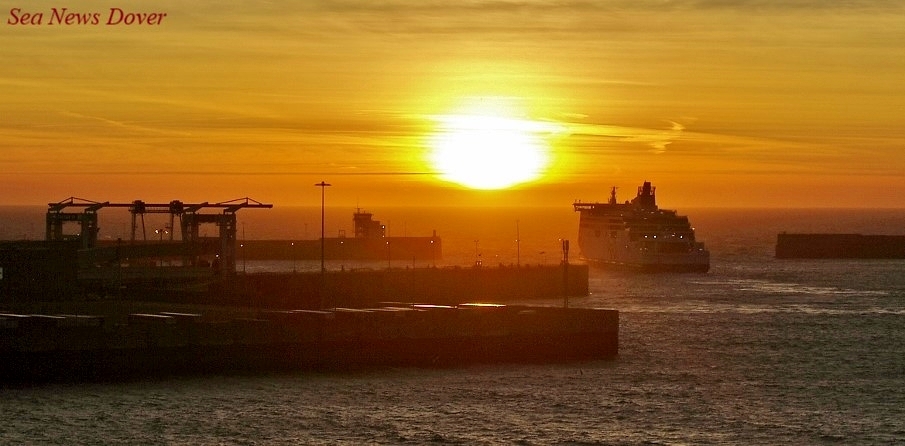 The Port of Dover with early ferry....and below the same scene but wider view a few seconds later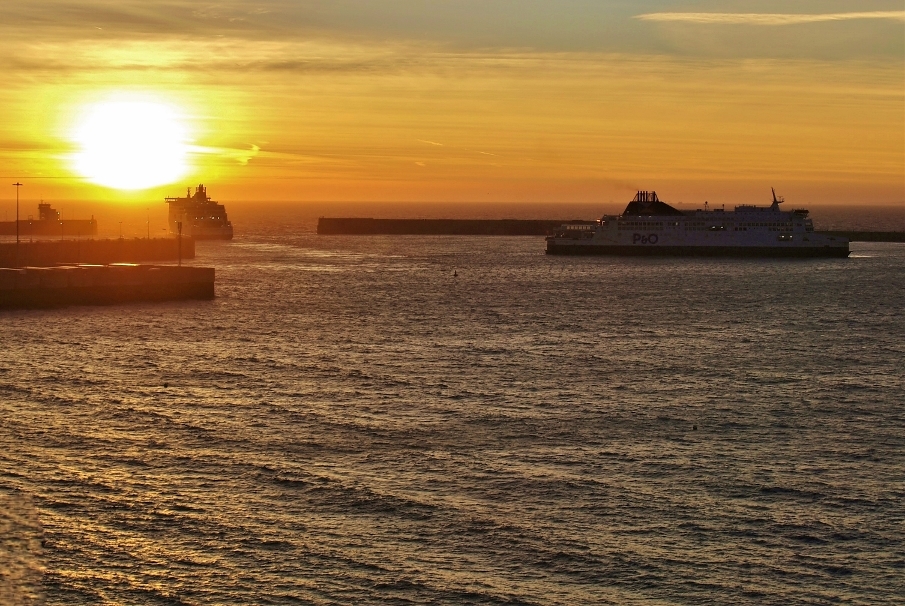 WWW.DOVERFORUM.COM/SEA-NEWS
Featuring all the ships that come and go and work at the Port of Dover with further coverage of the surrounding ports both sides of the Channel. Click ADD YOUR COMMENT below to post direct, no membership needed.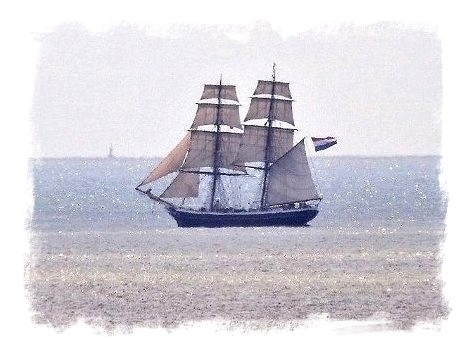 P&O: Schoolchildren mark WW1 see 5816.
Lower Thames Crossing boost..5812.
Dover Museum's revitalisation see 5807.
Port of Dover: Refrigerated Cargo Terminal .. software for 5801. Latest NATO also 5801.
Port of Dover: Great increase in summer traffic 5795.
Russian and shadow 5785.
The Waverley paddle steamer 5778...
New SAGA Ship launching in Dover see 5776.
P&O: To Rome on Horseback 5759.
DOUG BANNISTER: New Chief Executive Port of Dover see below 5734....
Merchant Navy Ceremonial images also 5734.
Dover Regatta Rescue incident plus .. see 5713.
Dover Regatta pictures Lifeboat etc..5716, 5717, 5718, 5720.
DFDS Expansion: More New Ferries on order... see 5693 see also 5500 and 5381.
Excellent tourist season for P&O Ferries see 5649.
VSBW Port of Dover - Women at Work 5638.
P&O Second Female captain see 5107. Also see latest 5570.



NEW:

For instant access to the items above - type the post number in the Search Engine below.



Sea News Dover : Use our SEARCH ENGINE below to find all sorts on the SEA NEWS pages....
... more than 5800 nautical posts now.
Posts are welcome. Max of 5/6 pictures preferred although we can occasionally stretch that on special stories.
Sea News Editor Paul Boland - send info or pix to dover7@msn.com. Always welcome.
Type CRUISE VISITS in our SEARCH ENGINE below for news of the latest cruise arrivals.
NOTE:

We have added a new feature. This has resulted in some slight change to the numbering system on the posts. We needed to align data in order for us to be able to use post numbers in the Sea News Search Engine. For example..type into the Search Engine box the number 5734 if you want the story on Doug Bannister...and it will pop up for you. This will be very useful going forward. You can still search in the older way too. My thanks to long time ace colleague Chris Tutthill for enabling the extra feature. Chris runs our sister channel..dover.uk.com. PaulB
All pictures on these pages are the copyright of the owners and must not be reproduced without permission.
Post 5737
Mike J., Dover
Small fry !
A new safety boat has appeared in the last few days.
Northern Rib Hire's PLUTO was in the Tidal Basin on Tuesday & has joined the DWDR fleet & is capable of 40 kts when pressed.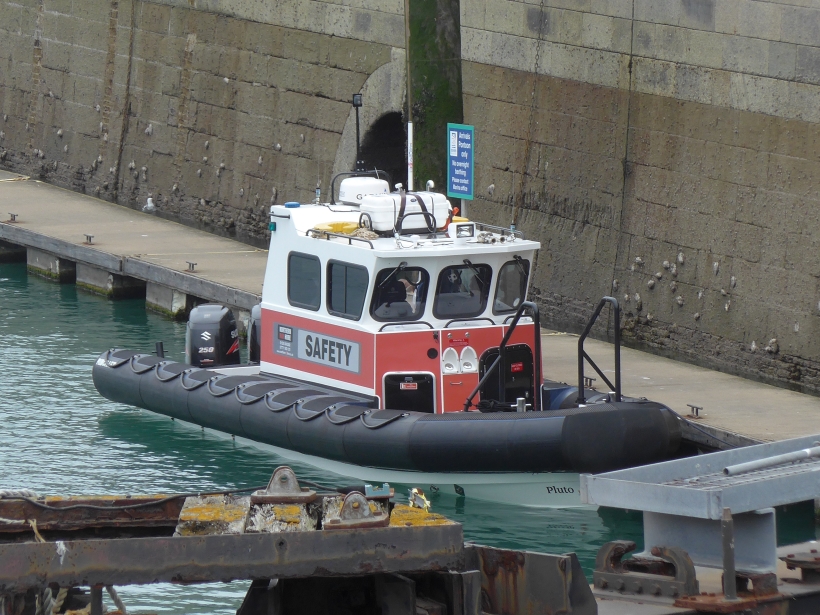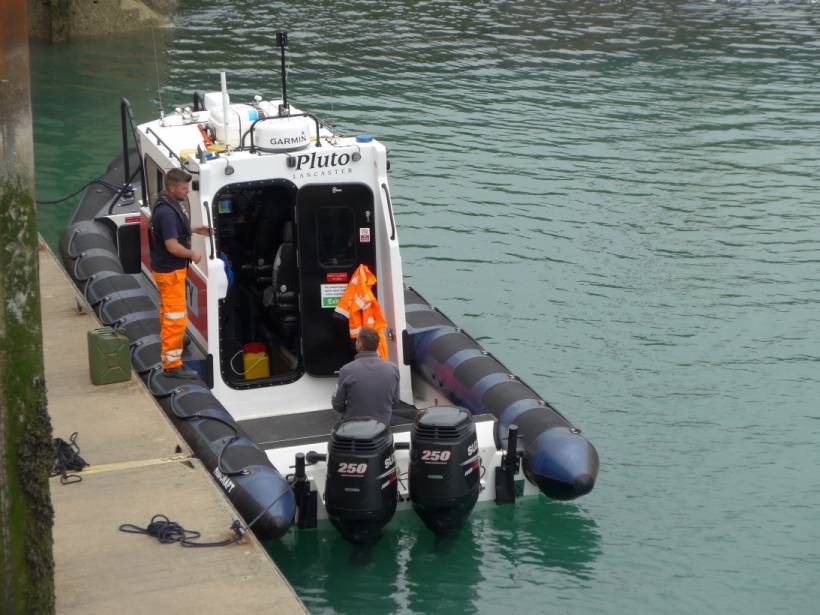 Monday found the angling boat SNOWSTAR OF RAMSGATE who is usually based [unsurprisingly] at Ramsgate, but has been blocked-up in the boatyard for a few days.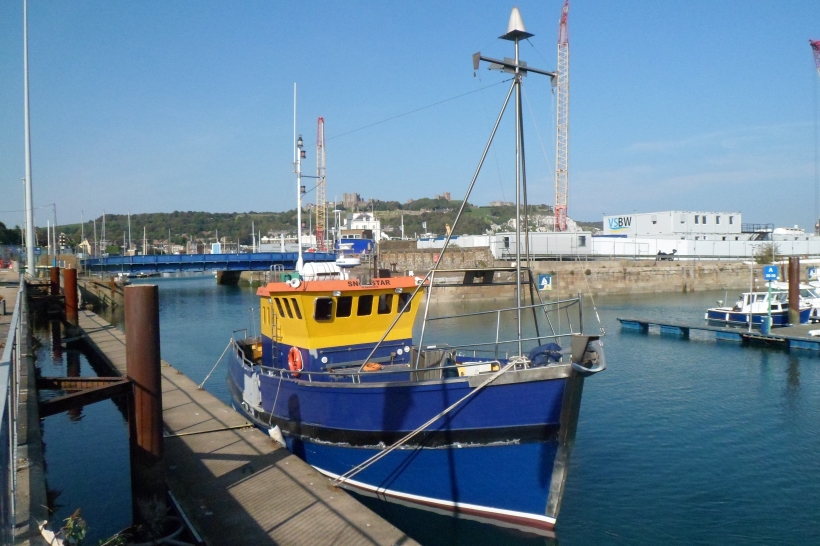 There's a nice little film about her taking an angling party out for mackerel - go to YouTube & search for 'SNOWSTAR OF RAMSGATE VESSEL'
On the same day the PAMPERO was on the boatlift for a spot of TLC.
Wednesday, 5 September 2018 - 01:19
Post 5736
Del Styan, Norwich
Good luck, Doug. Reckon you'll need it!

Tuesday, 4 September 2018 - 23:06
Post 5735
Colette B, Dover
Well Done Mike spotting my Red Herring but in this case it's a Kipper lol!

Can't have my Kippers in Texas MrB as the song goes ……..
All my ex's live in Texas
And Texas is the place I'd dearly love to be
But all my ex's live in Texas
And that's why I hang my hat in Tennessee
Love that song, happy days of yesteryear playing on the Playstation with daughter Briony

Great to see the buses Mike, how things have changed, no buses for footies now!
Tuesday, 4 September 2018 - 17:58
Post 5734
Sea News, Dover
PORT OF DOVER: APPOINTMENT OF THE NEW CHIEF EXECUTIVE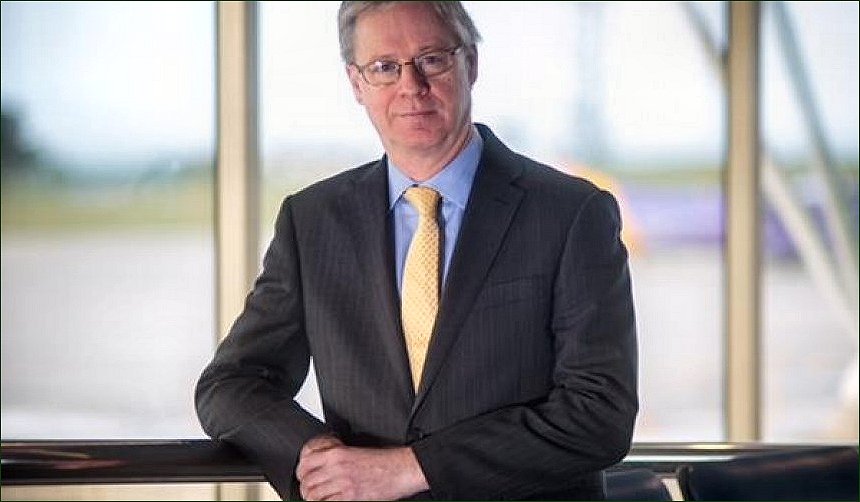 Dover Harbour Board, owner and operator of the Port of Dover, is pleased to announce the appointment of Doug Bannister as Chief Executive.
Doug has an extensive record of successful leadership in the maritime, aviation and ports sectors. As the Port of Dover manages the challenges of Brexit, the Western Docks Revival and developing and implementing a Masterplan for the future, the Board has secured a very high calibre candidate to lead the Executive team and the organisation at this time. Doug will join the Board and take up his position at the latest on 1st March 2019.
Richard Everitt, Chairman, said: "After an extensive search I am very happy to welcome Doug and his family to East Kent. He joins at a challenging time for the Port and its key customers. His skills, experience and personality will strengthen the Executive team and I am confident his appointment will be welcomed by all the Port's stakeholders."
Doug Bannister said: "I am very pleased to be given this opportunity to advance the success of the Port of Dover in what will be a challenging chapter in its rich history. I am looking forward to working with the team, our customers and stakeholders to deliver this ambition."
ENDS
EXTRA bit about Doug …
Doug is an American with dual British and American citizenship. He is currently Group Chief Executive Officer of Jersey Airport and Jersey Harbours, having previously been Managing Director of Maersk Line UK, the largest container shipping company in the world. His international business experience includes transportation organisations in North America, Europe, Asia, India and New Zealand.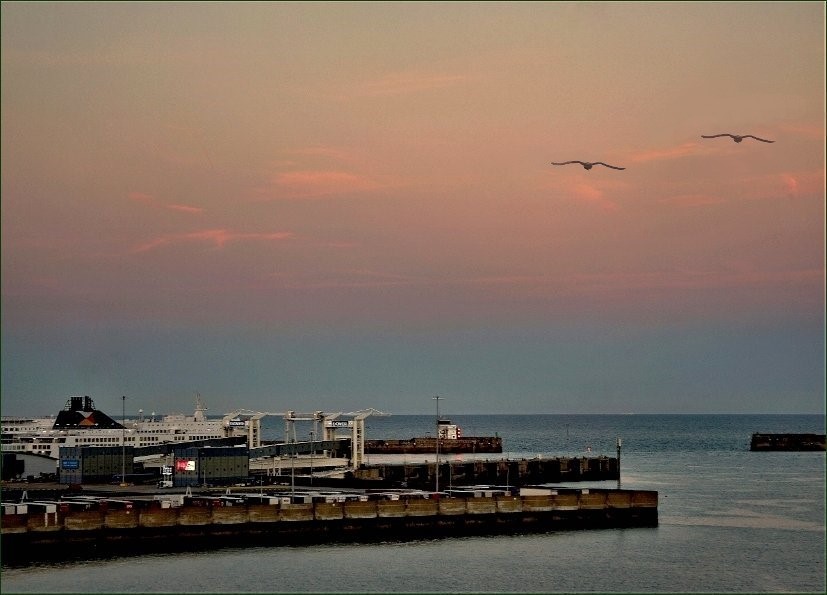 Evening over the Port of Dover...
* *
Some images now of The Merchant Navy Day memorial tribute on Dover Seafront yesterday Monday Sept 3.
In the background above with head bowed, the Chairman of Dover District Council Cllr Sue Chandler waits to place her wreath ...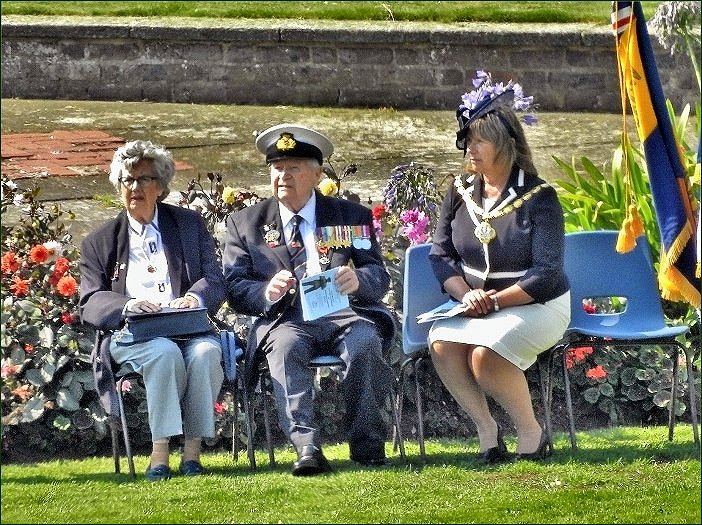 Mr Donald Hunter local Chairman Merchant Navy Assoc and Cllr Sue Chandler
Donald Hunter and Sue Chandler move forward to place their wreaths at the memorial statue.
PaulB

Tuesday, 4 September 2018 - 06:03
Post 5733
Sea News, Dover
DFDS releases unbeatable savings on sailings for motorhome and caravan owners
_________________________________________________________________________
Award-winning ferry operator DFDS is offering caravan and motorhome owners cut price crossings on its Dover to Calais and Dover to Dunkirk routes.
This special deal means crossings on these routes have been reduced by £10 each way, starting from just £39* each way for a small motorhome with up to nine people and from £60* each way for a car and caravan with up to nine people.
DFDS is the only ferry operator with two routes to France from Dover and with 54 sailings a day, it's a fast and convenient way to travel to the continent.
A 90-minute sailing into Calais is ideal for passengers wanting to travel to northern and central France, whilst a relaxing two-hour sailing to Dunkirk puts you a stone's throw from Belgium, with easy links to Germany​ and beyond.
Customers can choose to relax in the on-board Premium Lounge, which offers a quiet space with free newspapers, fresh pastries, soft drinks and unlimited tea and coffee, from just £12 per person each way. The ships also feature a wide choice of lounge and bar areas, the 7Seas restaurant offering a range of hot and cold meals, a shop offering savings off high-street prices, plus a Kidz Club play area to keep the children entertained.
For more information, or to book a crossing visit: www.dfds.co.uk.
-Ends-
*Customers must book before 9th October 2018 to take advantage of the offer, which is valid for travel until 31st December 2018. To book, visit www.dfds.co.uk and enter product code ECHV10 to secure the deal, or phone 0871 521 5522.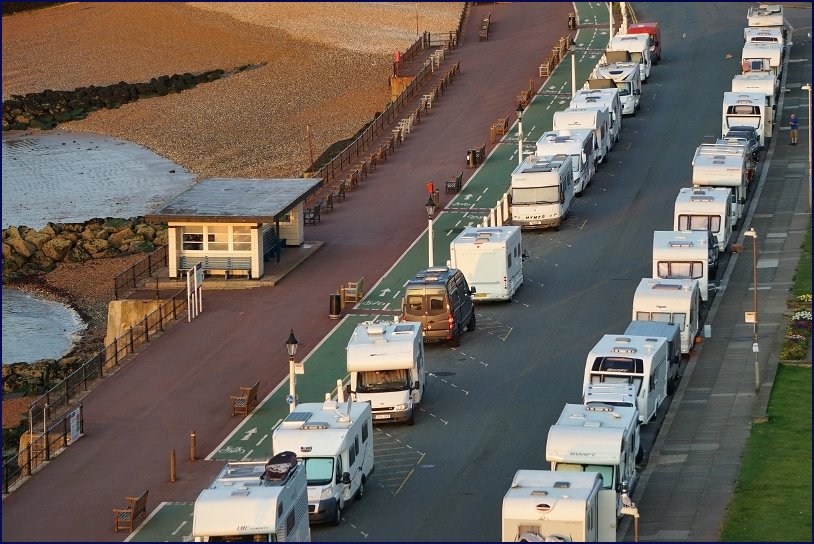 Caravan and Motorhomes along Dover Seafront...and even as we go into September it remains very busy.
DFDS ferry Cote des Flandres in top shot and below.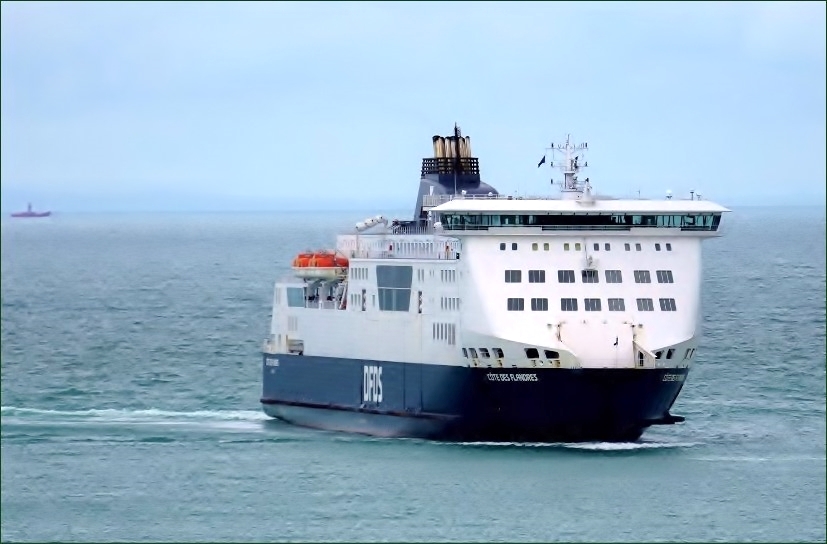 Many thanks once again to the team at DFDS for the regular news and info.

* *
A couple of extra pix below...first one up is a wide view of the Saga Pearl arrival in Port a couple of days ago. It was a gorgeous morning as you can see. Summer rolls on...
Below we have a shot from yesterday morning Sunday which shows the Luzon Strait loading up at the Cargo Terminal while a red hot sun rises for another gorgeous day. Time of picture: 06.20 Sunday.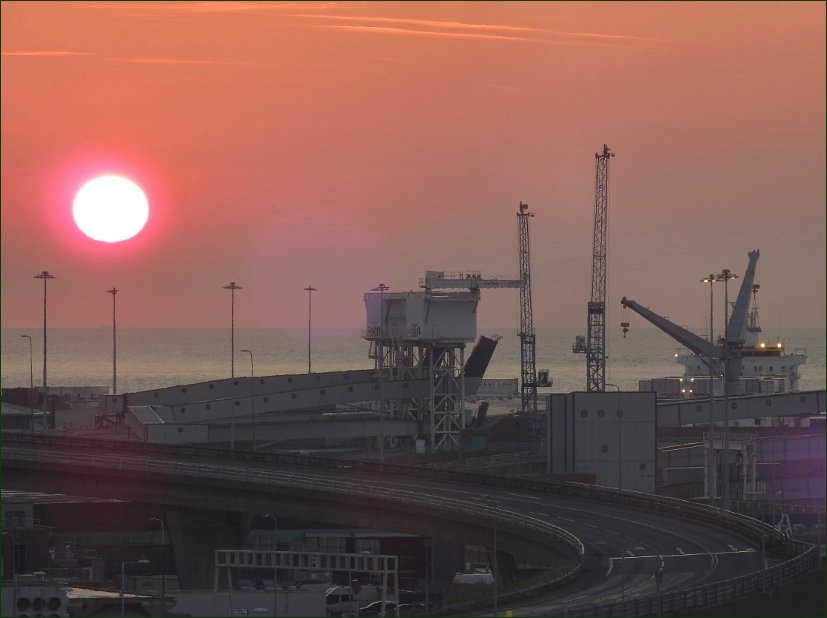 No visuals today so far - very misty right now.. thick mist. There is a lot of it about.

UPDATE: the mist is clearing slowly. I see the hugely magnificent MSC Orchestra in Port...this following along from the fab Disney Magic yesterday. its all happening with magnificent ships. Pictures will follow in due course.
PaulB

Monday, 3 September 2018 - 06:31
Post 5732
Sea News, Dover
The Cruise Ships keep right on coming....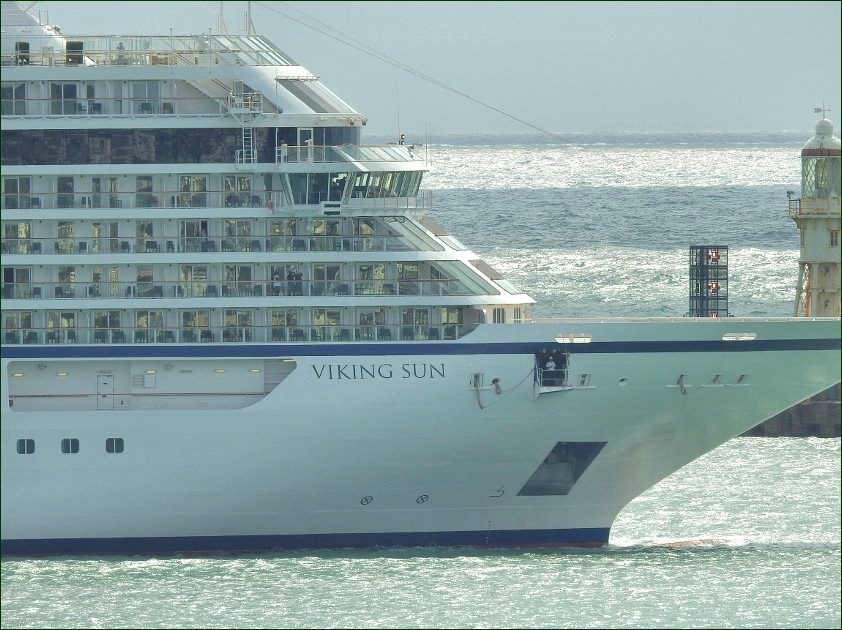 Yes indeed as per cruise listing, the fabulous Disney Magic is in with us again today, she came in very early , too early for pictures. But here we are catching up on a couple of shots of the magnificent Viking Sun from a few days ago ( 27Aug ). The pictures don't show her coming and going, but show her after her 180 degree turn before reversing and slotting into Cruise Terminal 2.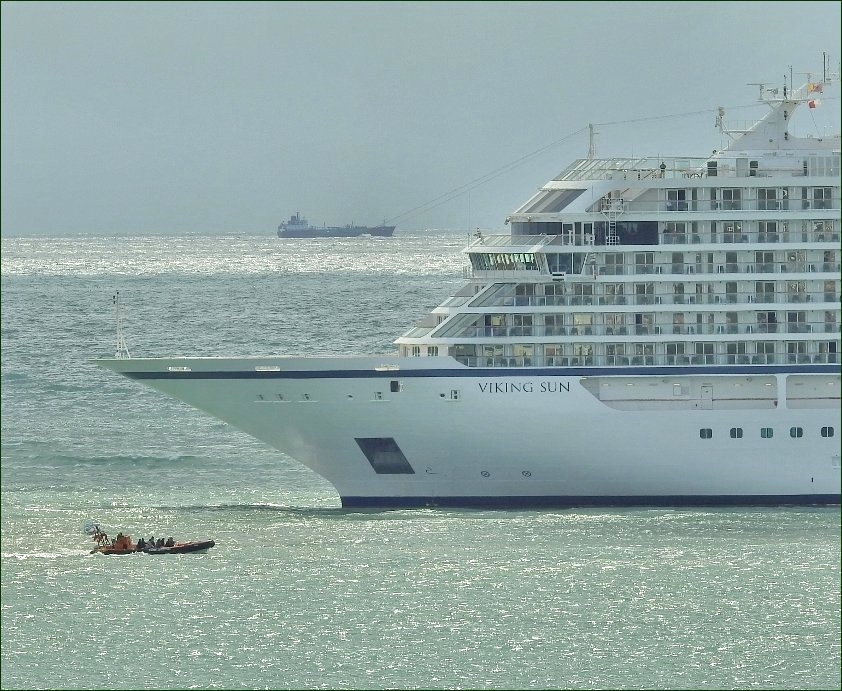 Very interesting and enjoyable post below re the Sealink Buses Mike..Great stuff!

Also ... Great comprehensive cruise list again Colette. Keeping us up to speed on all the goings on.

lol! yes good spot Mike re the 'Kipper' great fun!
"
do you like kippers for breakfast
mummie dear! mummie dear!
You gotta have them in Texas
cos everyone's a millionaire"
"
Famed song there..
well it is a sunday


PB
Sunday, 2 September 2018 - 06:34
Post 5730
Mike J., Dover
A bus ride down Memory Lane. . . . . .
Saturday morning I was on the last mile or so of the A20 before arriving Dover when I noticed two preserved buses, one red one & one unexpectedly in SEALINK FERRIES livery.
This was of interest as I had worked for Sealink until they were taken over by Stena in 1990.
I followed them to see where they were going & they turned into into the filling station at the western end of the port.
Chatting to the friendly crews as they took fuel I was told that Sealink had chartered three buses from East Kent for the shuttle bus service from Priory Station to the docks & for transferring 'footies' [as we called them] between the passenger terminal & the ferries.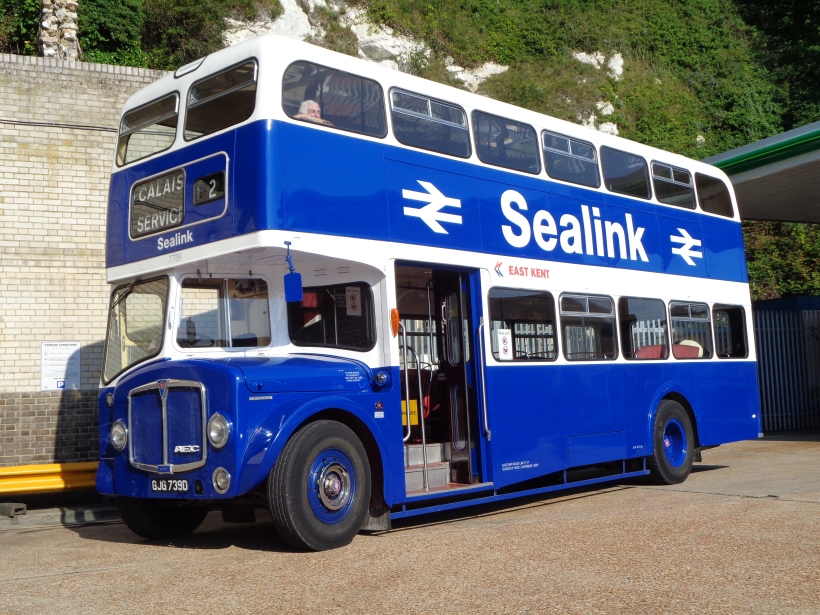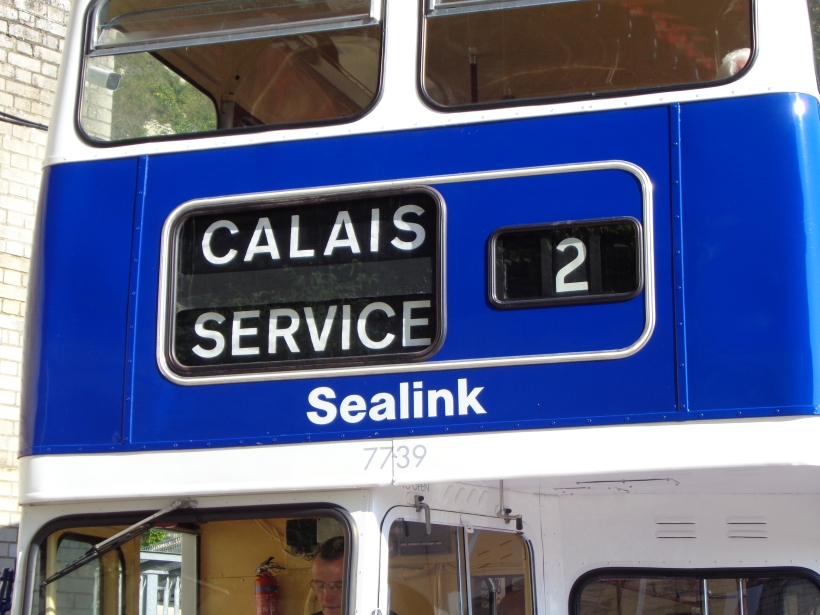 GJG739D wasn't one of the three that had been chartered but was the same type of bus, an 'AEC Regent' & had been in service with East Kent & had been immaculately restored to it's Sealink livery in memory of this unusual charter.
Both buses were en route Walmer & on Sunday GJG739D will be offering free rides between New Romney station of the Romney Hythe & Dymchurch Railway & Dungeness.
The second bus was an ex-London Transport 'RM' - a type of bus much loved by bus-fanciers.
p.s.
Colette - loved your fishy 'typo' - ATLANTIC KIPPER indeed !
Saturday, 1 September 2018 - 23:22
Post 5729
Colette B, Dover
CRUISE VISITS
_____________
Wow! Some fantastic photos from the Sea News team, it's been a 'Super Busy' week!
It's great to see the photos of our brave RNLI in action battling against the seas and the hard working tugboats Doughty and Dauntless having a bit of fun. Also the super photos of a 'Peloton' of cyclists or 'Grupetto' as the Italians say, raising monies for the Royal British Legion 'Pedal to Paris' event

The shot of the Atlantic Kipper shows that she is certainly 'Loaded to the Gunwales'and Mr B's photos of the Brave Security Officer risking his life to save the young lad on Regatta Day, the pictures say it all

Well here we are again chaps with the first of many cruises in September ….. as coined by the singer Dinah Washington 'September in the Rain' but we have sunshine

…. Hooray!
Tomorrow Sunday 2nd September Mickey takes the helm and brings Disney Magic into CT2 at the early hour of 04.15 to begin her 7 night 'British Isles' cruise. Her first ports of call are in the 'Emerald Isle' visiting Cork then on to my home city of Dublin, after which she pops over to Greenock and cruises down to Liverpool before returning to our shores on Sunday 9th September. She departs at 17.00 hours, T/R.
The following day Monday 3rd September MSC Orchestra (last seen here May 2014) arrives at CT2, 07.00 hours, Welcome Back! She calls in to Dover whilst on her 12 night One Way 'Copenhagen to Genoa' cruise.
Her ports of call after leaving Copenhagen were Warnemunde-Rostock, Goteburg, and Rotterdam before dropping anchor here. She then visits La Coruna, Lisbon, Gibraltar and Barcelona before her arrival in the Italian port of Genoa. She leaves us at 21.00 hours, PoC.
Then on Wednesday 5th September we have a 'Double Whammy'!
Firstly, the graceful lady Boudicca arrives at CT1, 07.30 hours, visiting Dover for the last time this year. She starts her 14 night 'Island Hopping to Suez' cruise visiting the following ports Porto, Cadiz, Ibiza, Valletta and Heraklion (Crete) before arriving at the Jordanian port of Aqaba.
She will be busying herself over the next four months visiting such faraway and exotic places such as Abu Dhabi, Sri Lanka, India, Seychelles and Mauritius when we look forward to her return in February 2019. She departs at 18.00 hours, T/R.
A half an hour later, Costa Pacifica glides into CT2 at 08.00 hours whilst on her one way 13 night 'Kiel to Marseille'cruise. Since leaving Kiel she has visited Amsterdam before arriving here, her next ports of call are Le Havre, Vigo, Lisbon, Tangier, Malaga, Barcelona and Savona before her arrival in Marseille on the French Riviera. She will be based in the Mediterranean until the end of November when she sets her course for the southern Caribbean Sea. She will be leaving us at 20.00 hours, PoC.
On Thursday 6th September we have an interesting visitor at CT1, Serenissima (last visited us in September 2016). At this present time we have her arriving & leaving at 00.00 hours

we will update you with arrival & departure times as soon as we know. This Noble Caledonia cruise ship is really something special, being a smaller ship she reaches remote ports inaccessible to larger cruise ships.
She has a fleet of Zodiacs to get even closer, her full capacity of 95 passengers makes this unique ship even more special. This is a Debark only, the next cruise scheduled is a 10 night Valencia to Valletta cruise in the 'Med' on the 12th September.
Finally Sunday 9th September Disney Magic arrives at CT2, 04.00 hours to start her 11 night 'One Way to New York' cruise. Her ports of call are the Isle of Portland, Cork then across the Atlantic to Sydney (Nova Scotia, Canada), Halifax, Saint John (New Brunswick, Canada) before arriving at the 'Big Apple' New York on 20th September.
We say a fond farewell to our friends Mickey, Minnie, Donald and Pluto and look forward to their return in July 2019. 'When You Wish Upon a Star' ……

Back with more cruise calls very soon.
Saturday, 1 September 2018 - 12:03
Post 5728
Sea News, Dover
Another one of those big cycling events arrived along the seafront on Thursday afternoon. This time it was the Royal British Legion event...Pedal to Paris. Heck of a trip that...its a long way to Paris never mind Tipperary,
of course ... a trip like that would be a breeze for yours truly...


We are probably not doing it justice here as the scale of it was enormous...
imagine being desperate for a cup of coffee and getting stuck in a queue on the ship behind this lot...but its all good fun and for an excellent cause.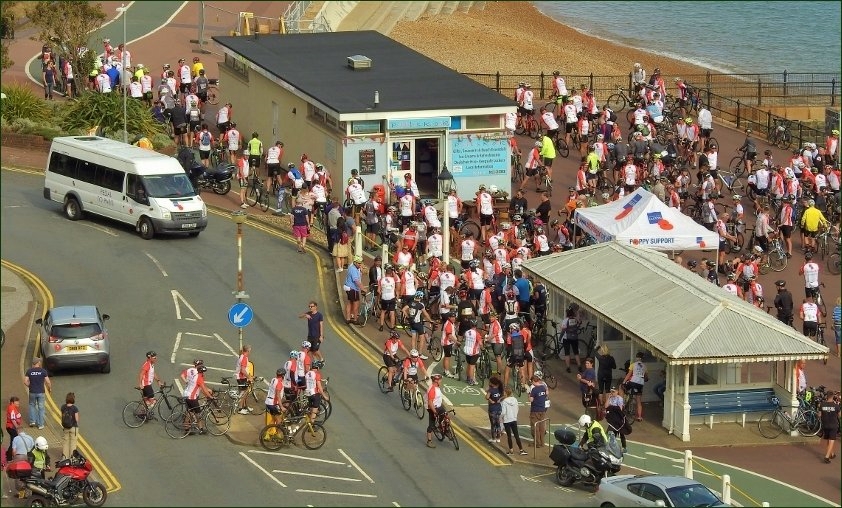 Its a very well organised event..support vehicles, support crew, support motorcycles and so on...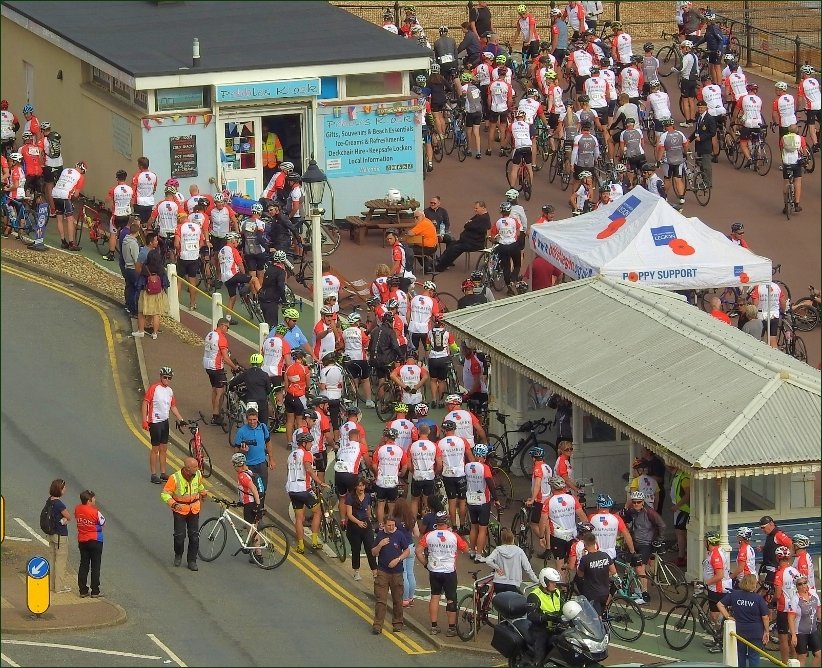 And support medical staff. These cyclists below endure some physical torture as the Roadside Therapy team swing into top gear.
Ouch!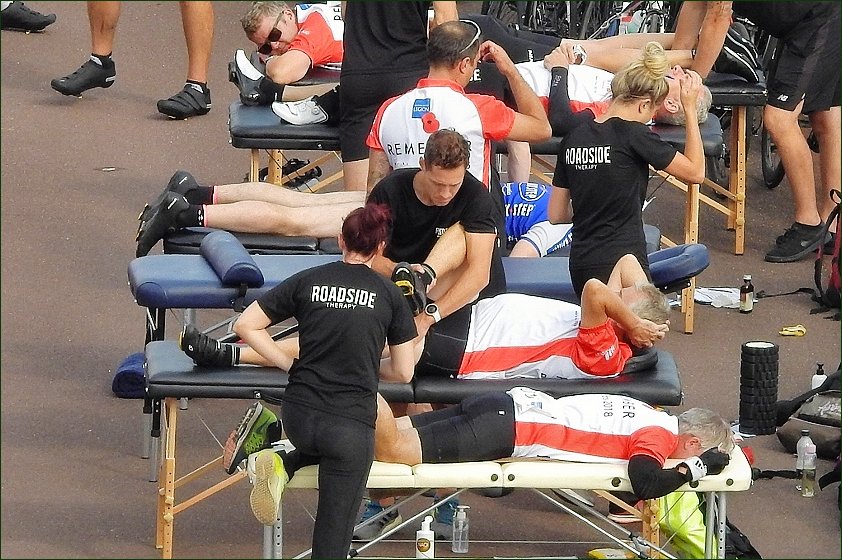 A mundane shot of the departing Cornelis Vrolijk below. As Mike said she headed north leaving us here at 17.20 … also on Thursday. In the foreground two of the Holyhead Towing support vessels work on the extended arm...Afon Lligwy and Llanddwyn island, almost joined together as they work.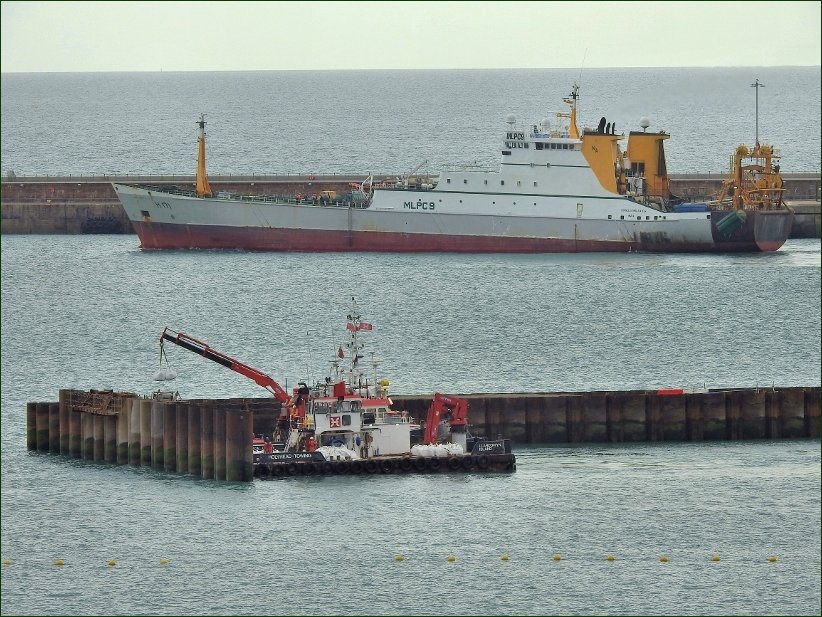 PaulB
Saturday, 1 September 2018 - 07:29
Post 5727
Sea News, Dover
Just catching up now on the approach and arrival of the Atlantic Klipper on the 29th …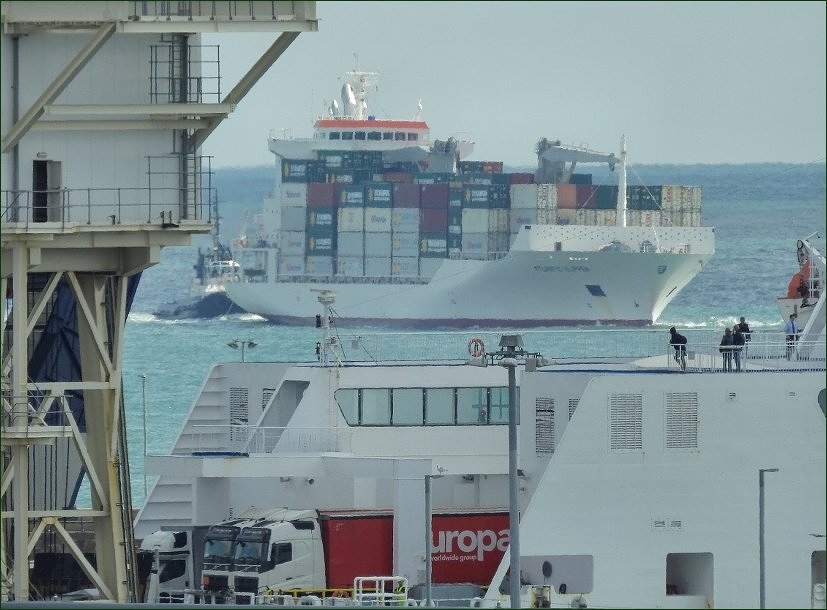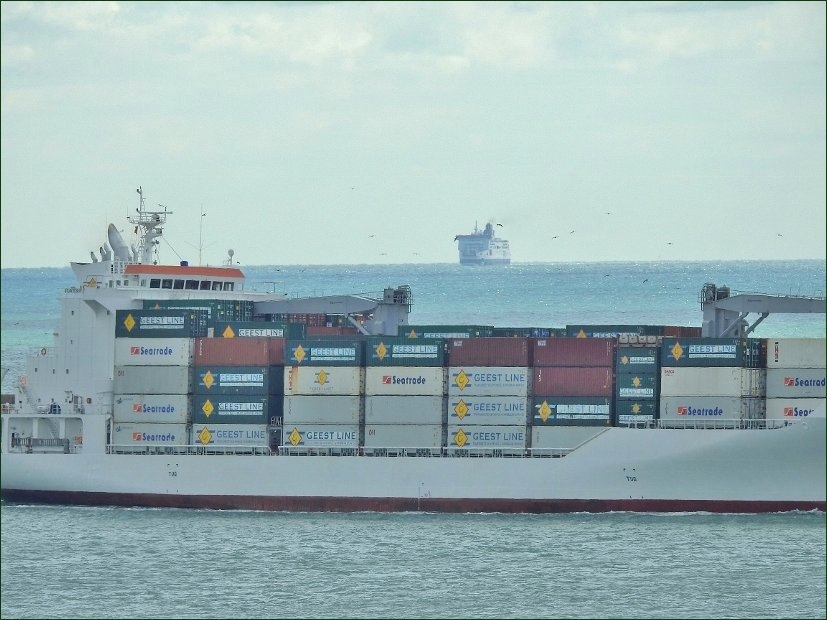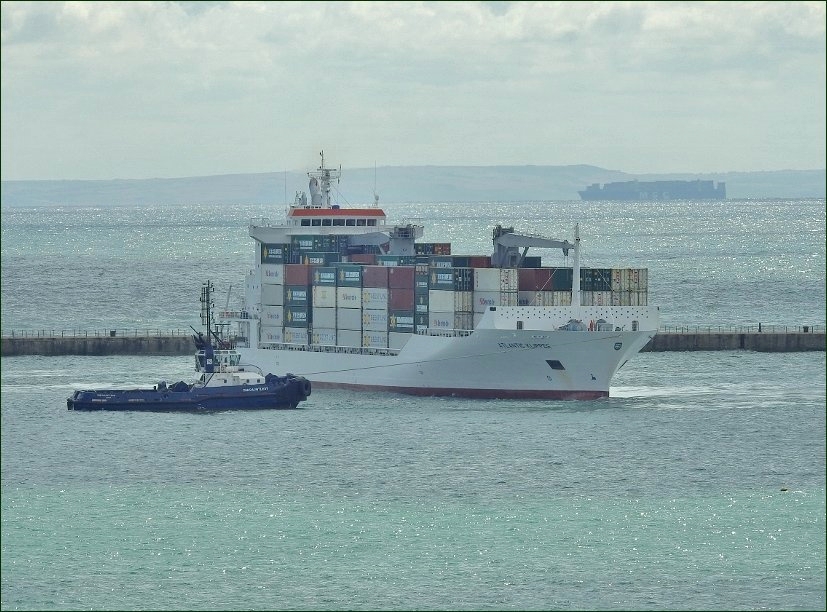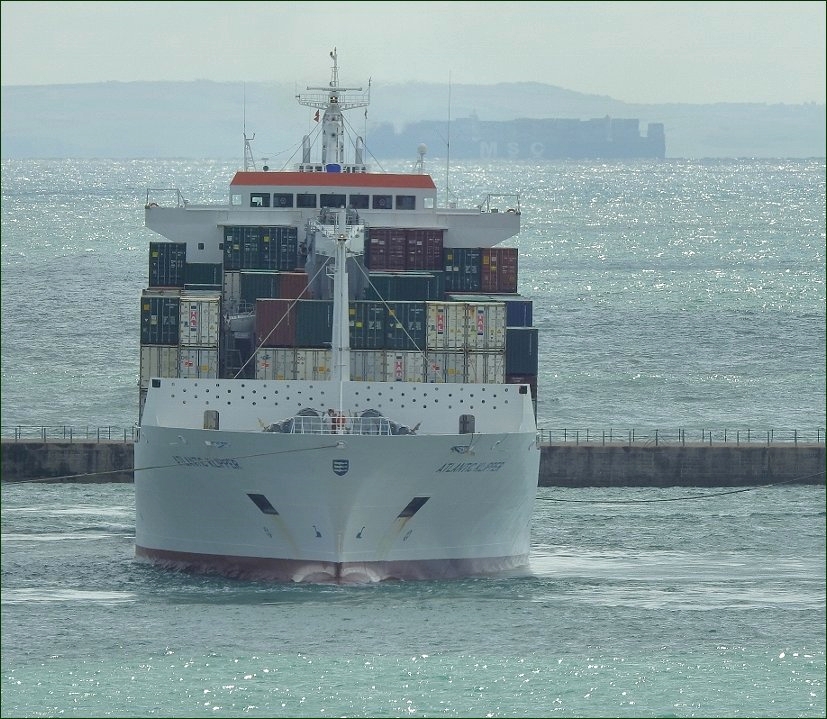 There is so much going on we can hardly keep up with it all...

Yikes!
See also the post below re AIDAaura...yours truly was burning the midnight oil there...
PaulB
Friday, 31 August 2018 - 06:45
Post 5726
Sea News, Dover
Yes indeed AIDAaura lingered unusually for a couple of days. The picture below shows her here at Cruise Terminal 1 on the second day partially obscured by the all-new cargo building. She left for Dublin last night with all lights a-blazin' so it looks like all normal service is restored.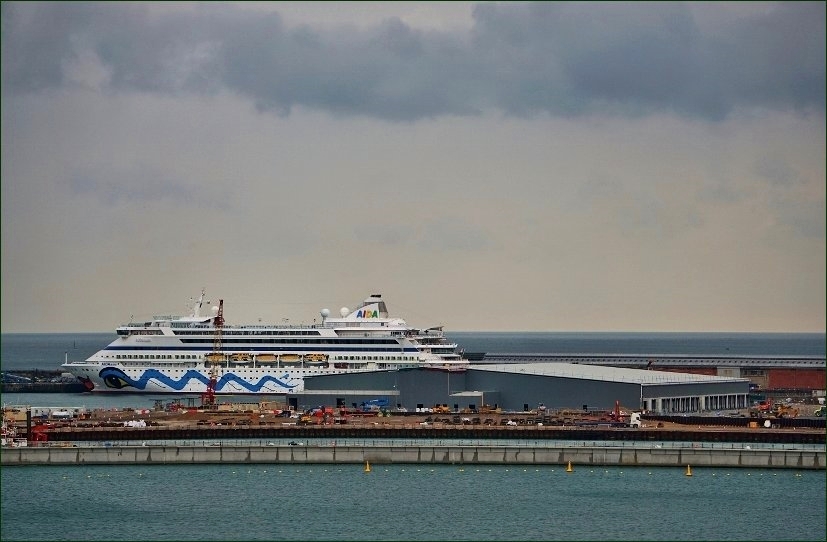 Excellent collection of pictures and info below there Mike of our ol friend Cornelis Vrolijk and of AIDAaura. Very enjoyable

Thanks for the info Brian.

PB
Friday, 31 August 2018 - 03:50
Post 5725
Mike J., Dover

The AIDA AURA finally sailed at 2100.
She has cancelled her Fishguard call & is heading straight for Dublin.

The CORNELIS VROLIJK sailed at 1700.
My predictions about fishing off West Africa were totally wrong - she is currently heading up into the North Sea with her AIS coyly giving her destination as 'SEARCHING FOR FISH'



Thursday, 30 August 2018 - 23:40
Post 5723
brian dixon, dover
still there as I type Mike, it seemed strange to see it still there this morning. no sign of it moving off at the moment.

Thursday, 30 August 2018 - 19:20
Post 5722
Mike J., Dover
Thursday morning & another visit of the deepsea trawler CORNELIS VROLIJK FZN, coming down from Scheveningen & in Dover probably for a crewchange & stores whilst en route for the fishing grounds - I think that she usually fishes off West Africa.
Like a lot of big fishing vessels today she'll contain a complete fish-processing & freezing plant.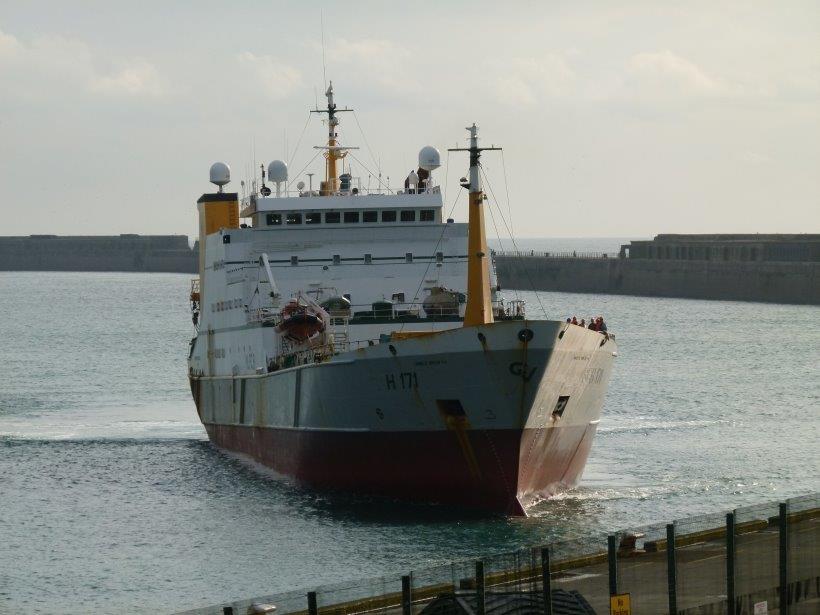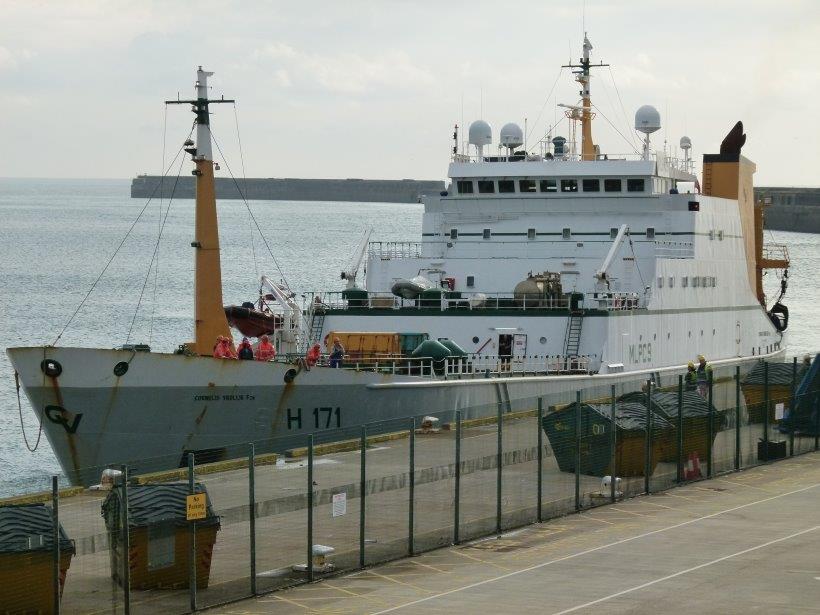 The VROLIJK used to be Dutch-flagged but has transferred to the British flag, presumably to take advantage of British fishing quotas - she unloads her catch in the Netherlands.
The 'H' on the bows indicates that her fishing registration port is Hull, painted over you can see the 'SCH' for Scheveningen when she was Dutch-registered.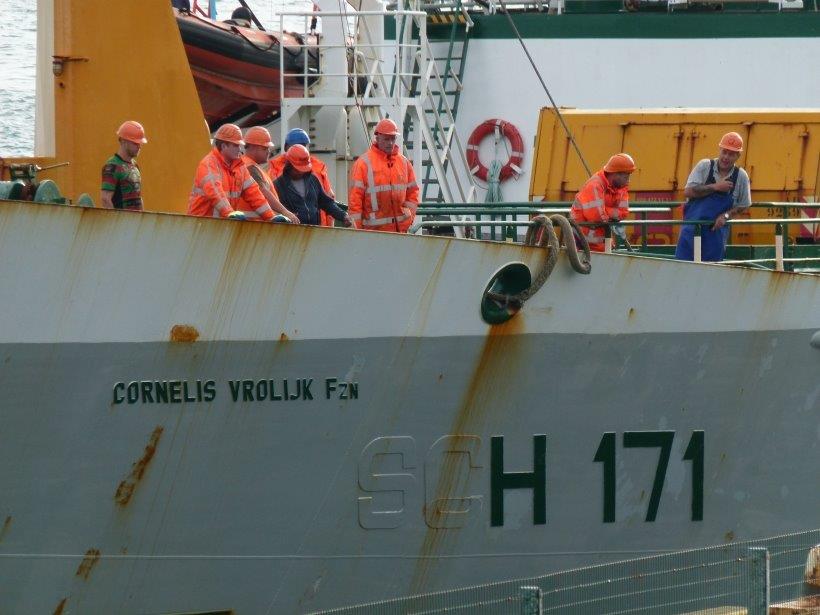 An unexpected sight on Cruise-1 was the AIDA AURA who was supposed to sail Wednesday night.
I noticed tour buses arriving & passengers walking ashore AT 0900 so there was no immediate prospect of her sailing.
An overnight delay for cruise ships is most unusual - there must be a major problem aboard.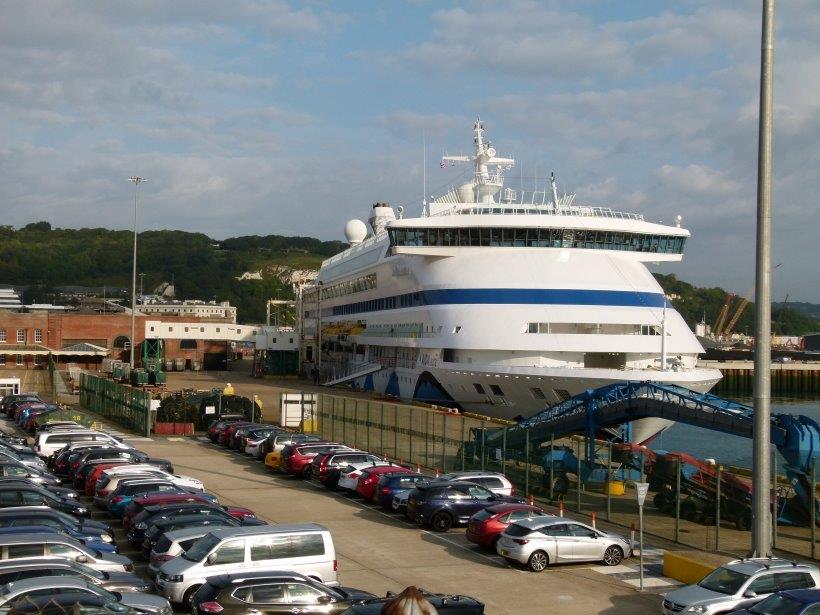 Thursday, 30 August 2018 - 15:09
Post 5721
Sea News, Dover
Just a small round-up now of some of the recent cruise visits...just a couple of ships here this time. Top shot shows Saga Pearl reversing out of Port on Saturday evening. Then followed by a couple of shots of the Disney Magic on Regatta Day Sunday. Yours truly was hoping to get better shots of the Disney Magic as she left us, but as we all know the weather went 'to hell in a handcart'. She had arrived around 4am, too early to do anything.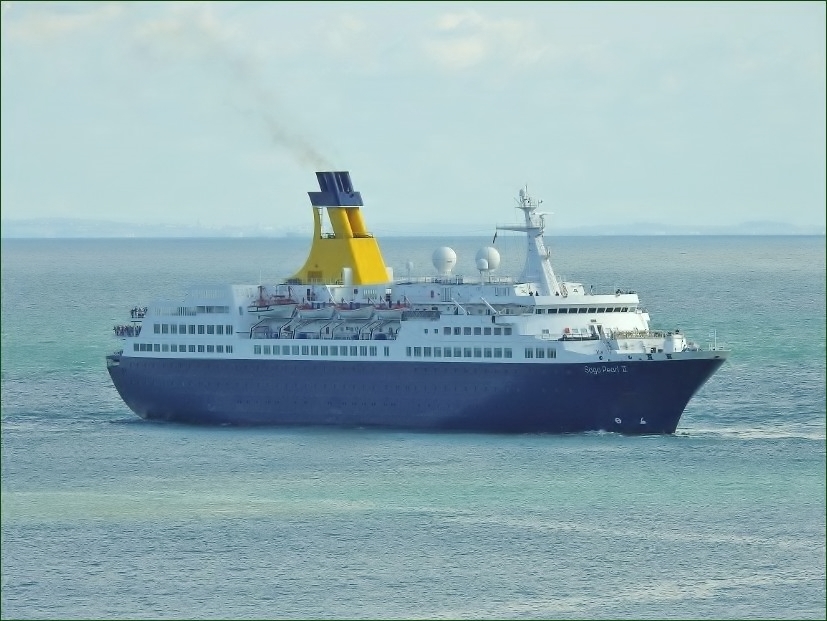 THE DISNEY MAGIC
Early above...a bit later below...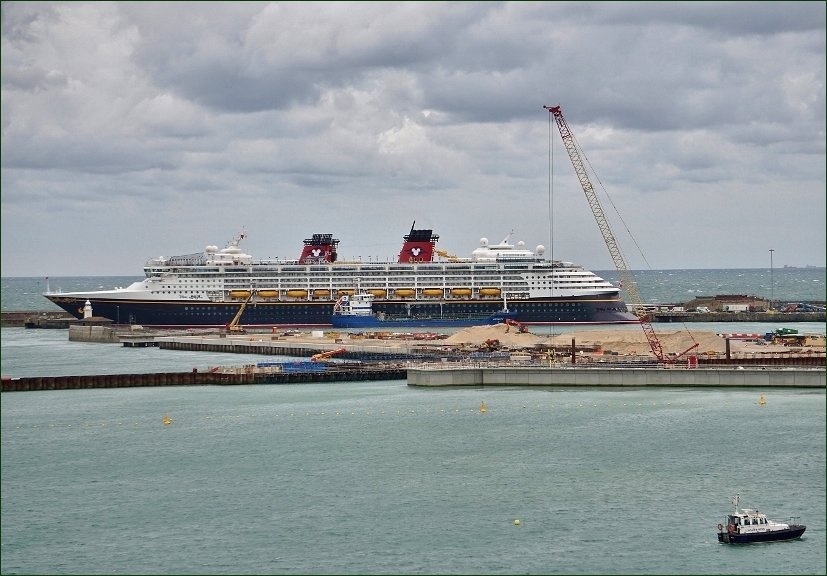 That's the Police Patrol boat in the bottom shot there and you can also see Sikinos next to the Disney Magic as brilliantly featured by Mike a couple of posts below. Look at that sky...the rough weather was coming our way..
PaulB
Thursday, 30 August 2018 - 05:59
Post 5720
Sea News, Dover
The final flurry of photos from the Regatta...
Not only did we have a great sizzling display from the Lifeboats but also too from our regular Tugboats Doughty and Dauntless. Perhaps not quite as ...ermmm...sizzlingly fast, but quite a watery spectacle and hugely enjoyable. And here they are....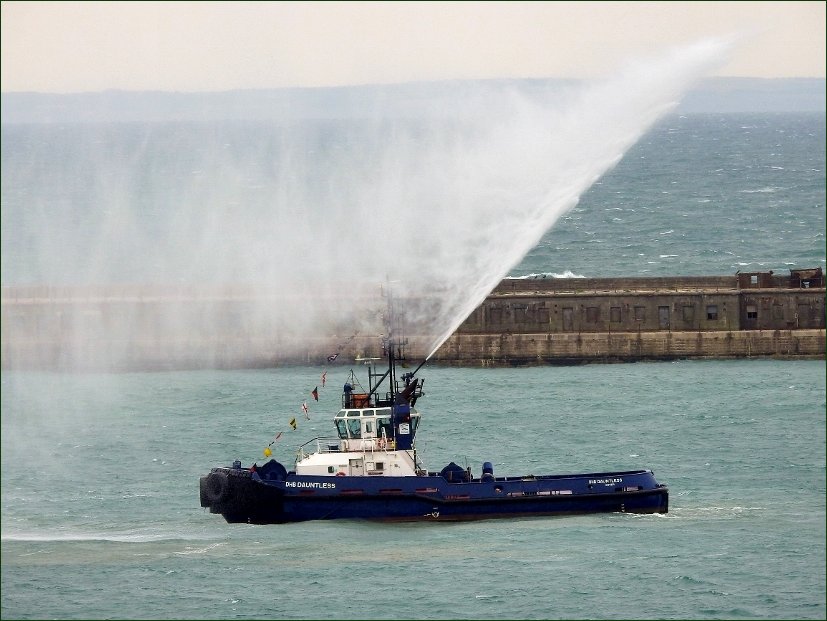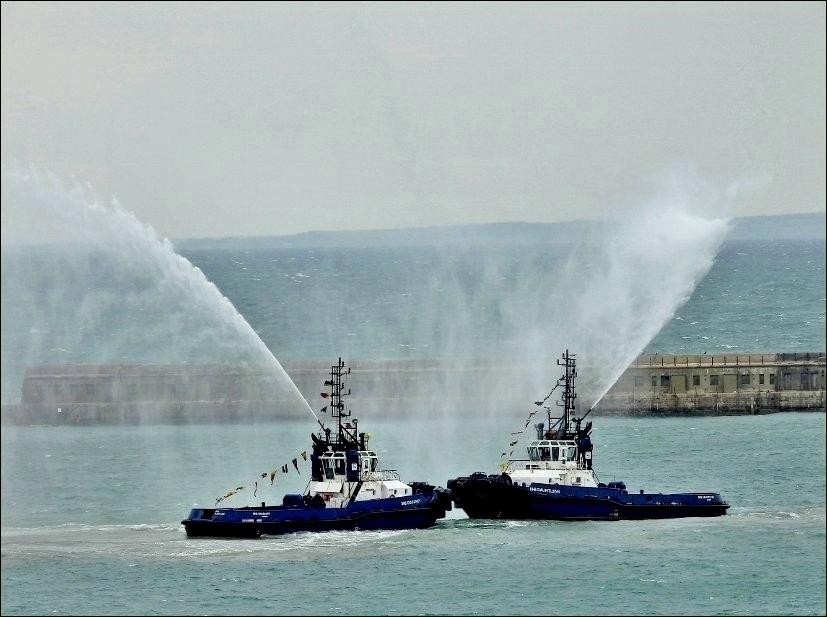 This one below from a different camera...different colour balance..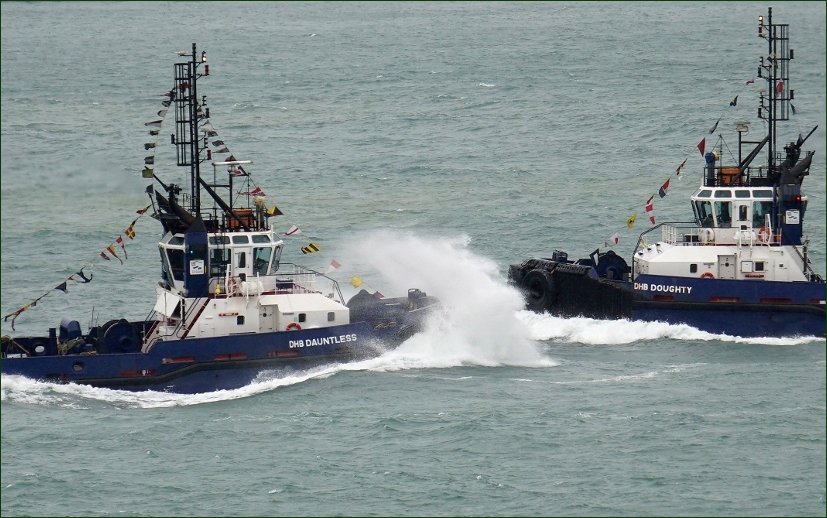 As promised a final wider shot of the Walmer Lifeboat as she powers along at considerable speed. Go lifeboat go...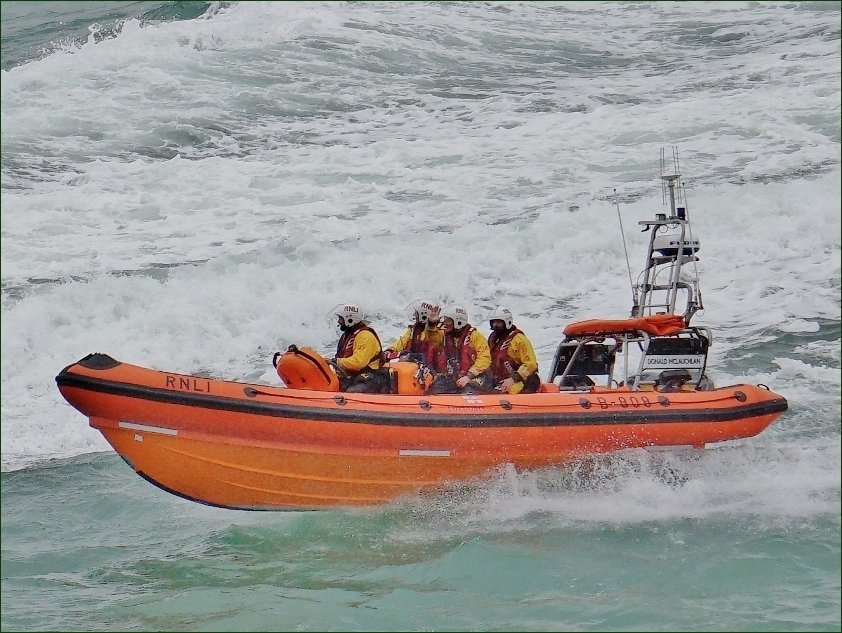 Entertaining post below from Mike - nice pictures and words. Don't miss that...

Nice collection from Sarah just below that too. Dont miss those either.
Hope you didn't get too wet and windswept Sarah

"Once again...the Ramsgate roving reporter roved over to Dover" I forgot to put that line in earlier..

PaulB
Wednesday, 29 August 2018 - 06:01
Post 5719
Mike J., Dover
Splendid selection of Regatta photos from Paul & Sarah - many thanks.
Paul's photos taken from the comfort of the 'observation tower' with Sarah at sea level getting extremely waterlogged in the driving rain but taking excellent photos - there's dedication for you !
The DOUGHTY's fire monitor would have made short work of the fire on the yacht [& probably the yacht itself] while the lifeboat's efforts looked like a garden hose.in comparison. [Joke].
With Paul's rescue sequence [I thought that photo No.4 was good enough to win awards, telling the whole story in a single photo] the marine side of the ill-fated Regatta has been very well covered, Thanks again.
& now to something much less exciting - the tanker SIKiNOS is a regular visitor supplying bunkers to cruise ships, most recently last Sunday to the DISNEY MAGIC
On 6/8 she 'attended' the VIKING SKY & I caught her leaving.
As she swung she recovered her 'Yokos' - the nickname for the floating fenders first introduced by the Yokohama Rubber Company in the 1950s.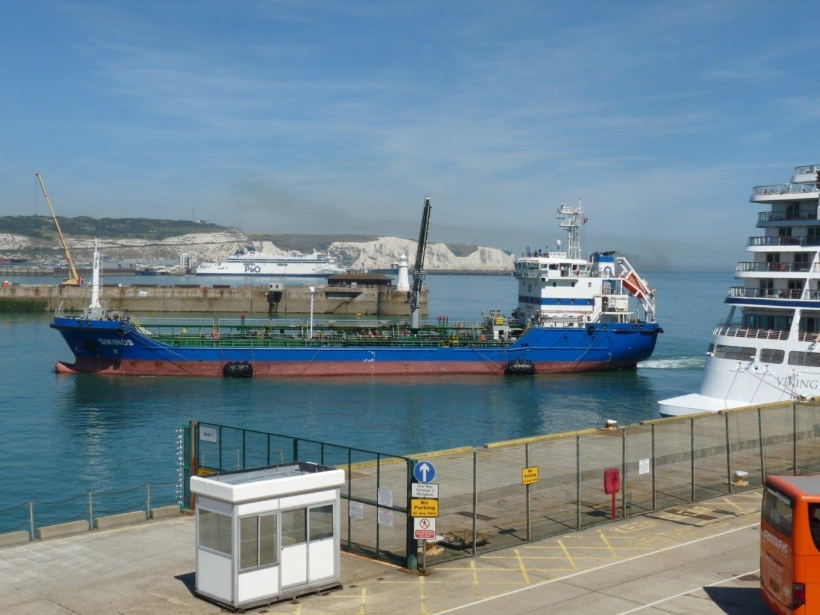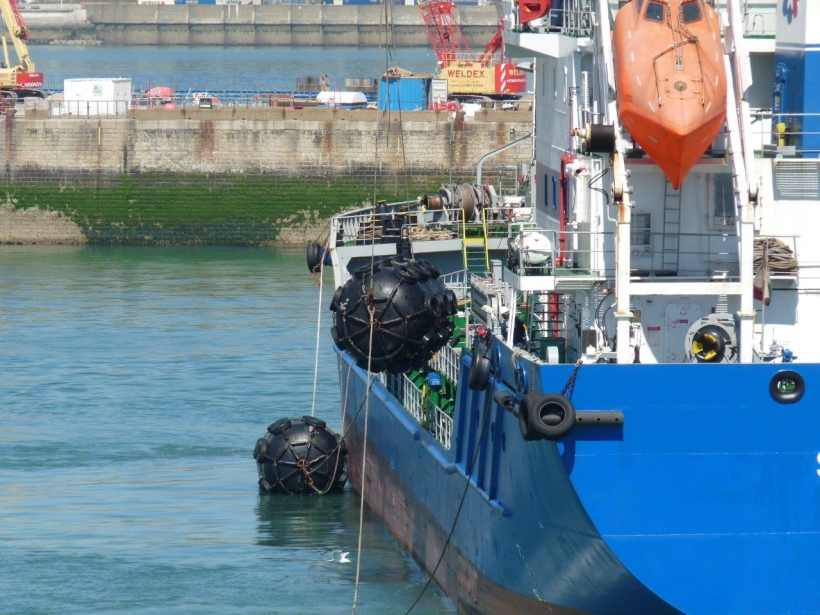 DHB use a lot of similar fenders on the Admiralty Pier & the Eastern Arm, secured by chains.
Wednesday, 29 August 2018 - 00:46
Post 5718
Sarah, Ramsgate
Sorry Paul I'm going to sneak a few more in

Dover & Walmer Lifeboats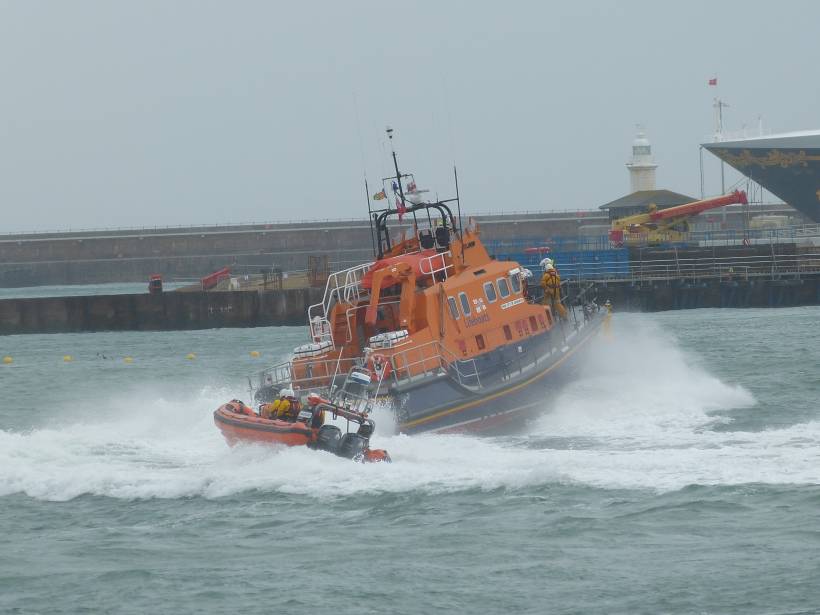 Walmer Lifeboat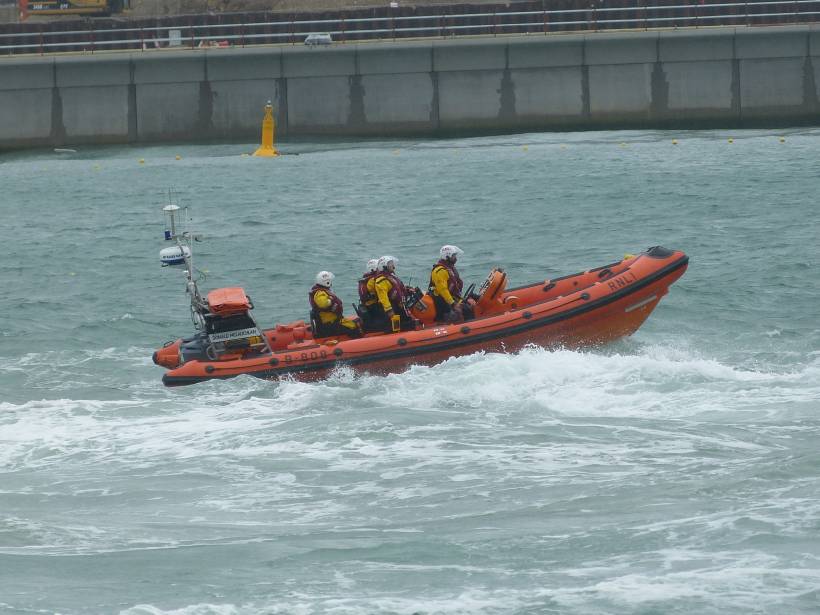 Maritime Skills Academy also did a display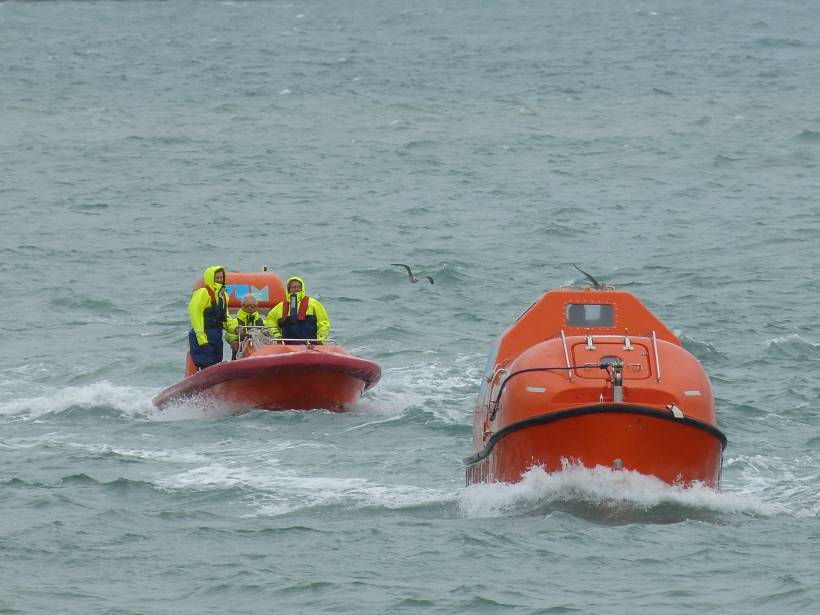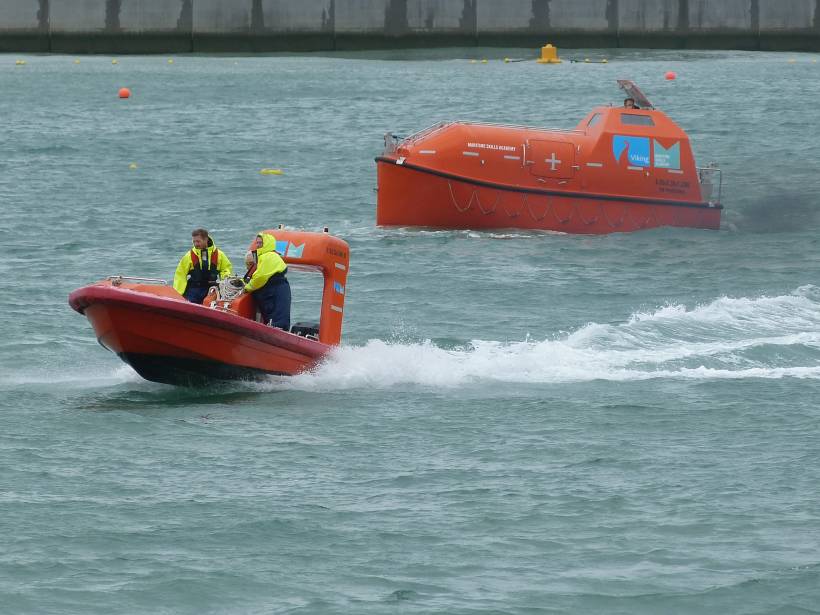 Tuesday, 28 August 2018 - 12:40
Post 5717
Sarah, Ramsgate
Great photos Paul, I'm loving them

I too was at the Regatta a few photos to share.
Director & Dovorian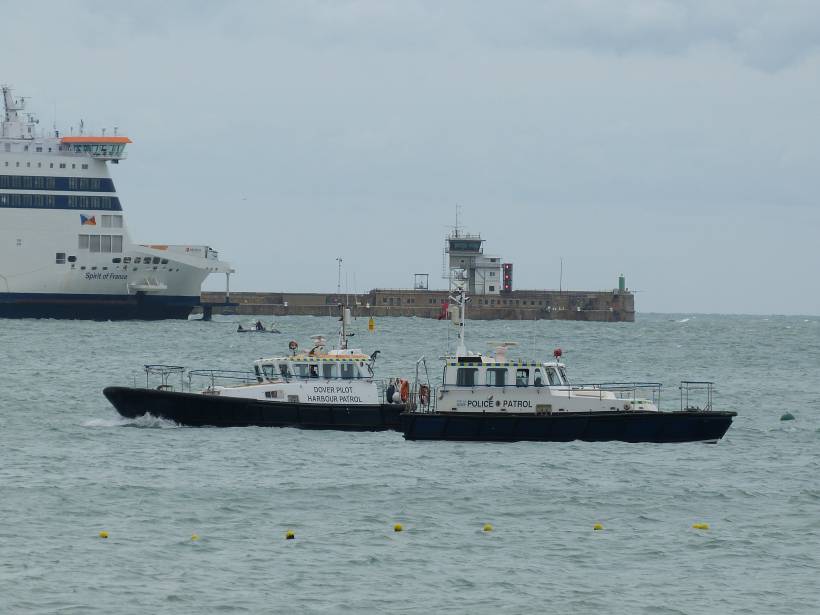 DHB Dauntless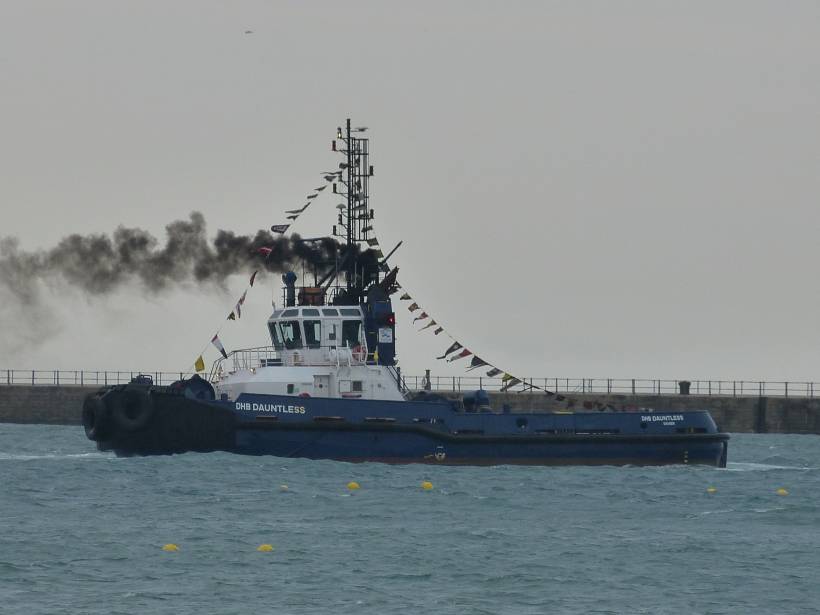 DHB Doughty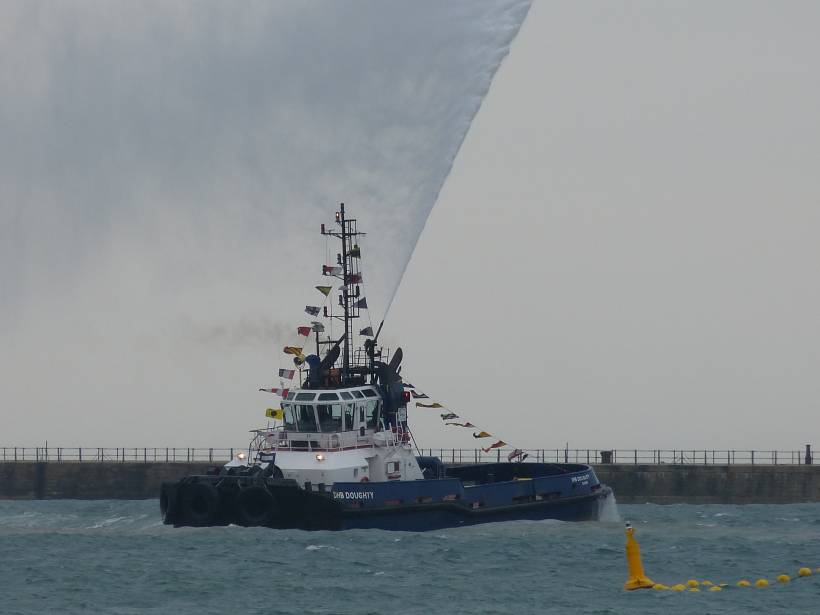 Dover Lifeboat putting out the fire!
Dover Lifeboat & Walmer B Class Lifeboat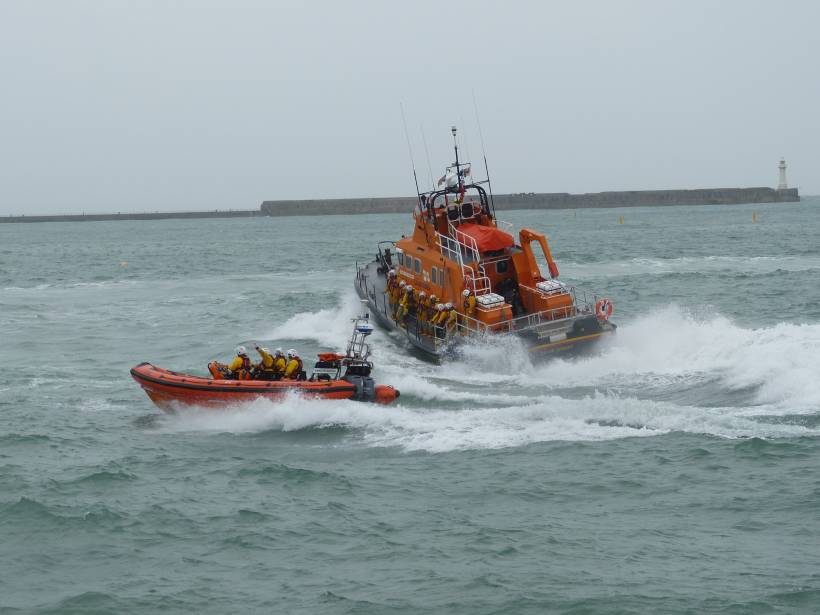 Tuesday, 28 August 2018 - 12:34
Post 5716
Sea News, Dover
Now as promised further Regatta Day fast-fast action from the Dover Lifeboat team..
Hold on to your hat!!...its the LIFEBOAT SPECIAL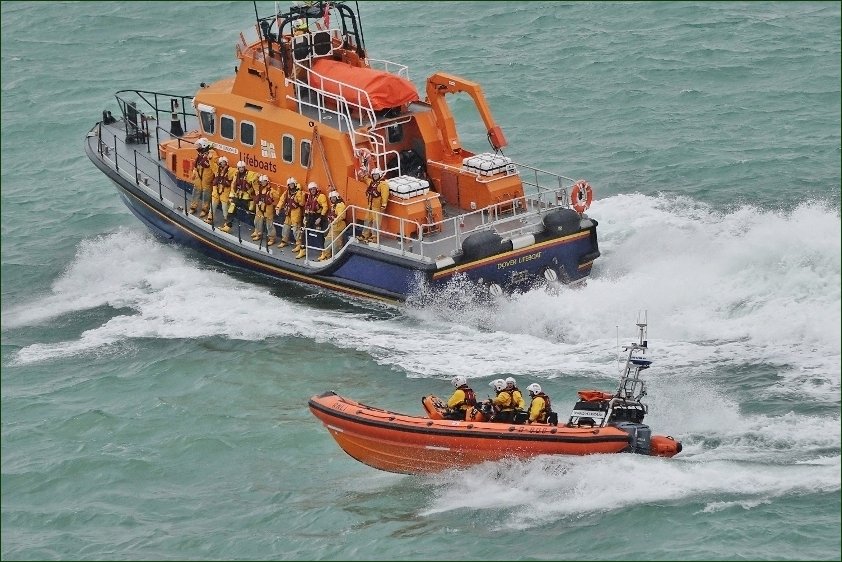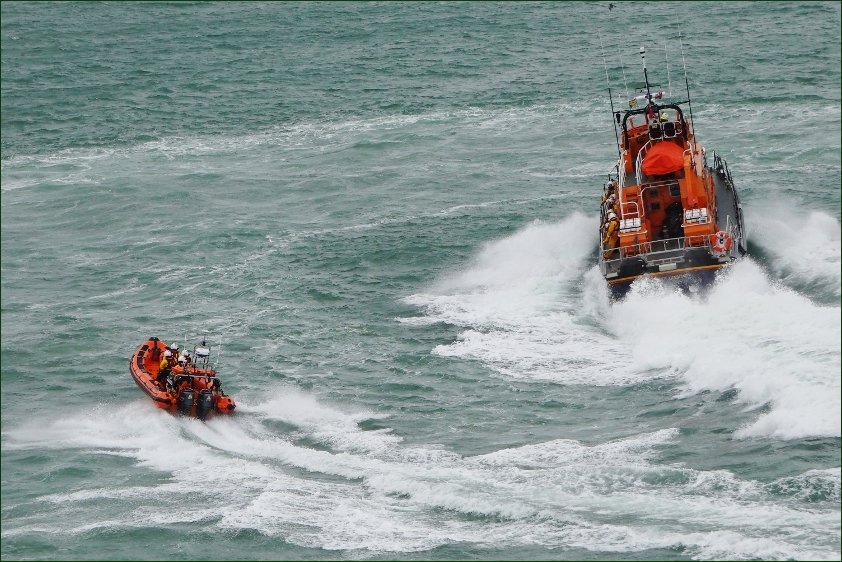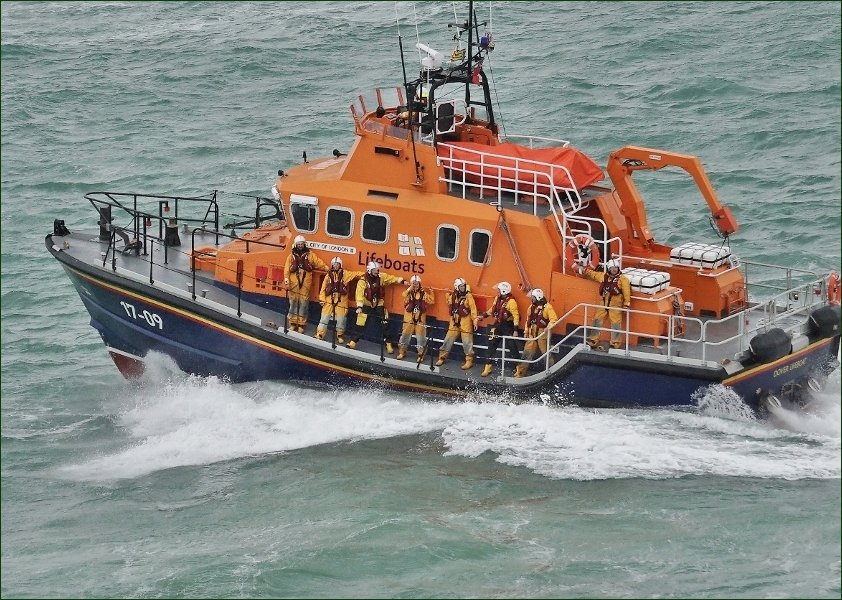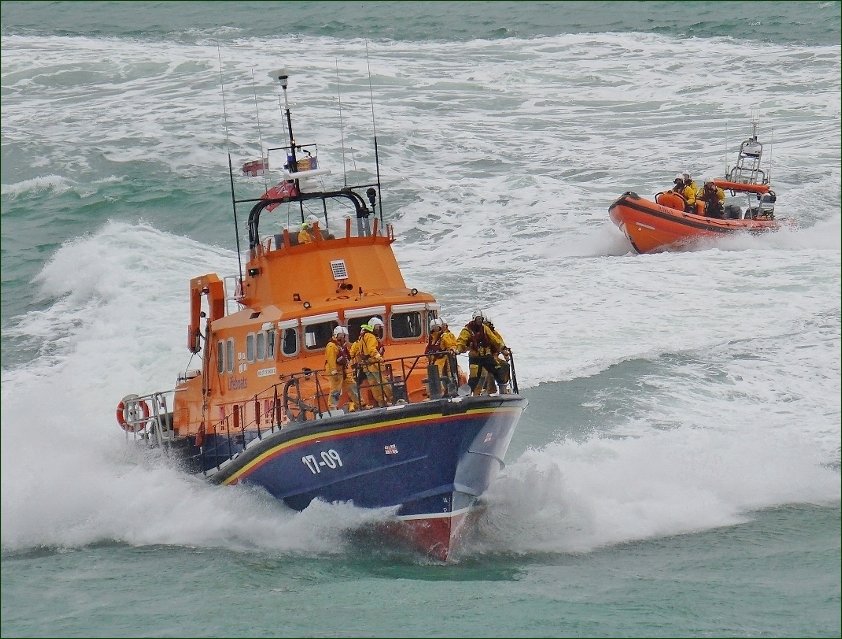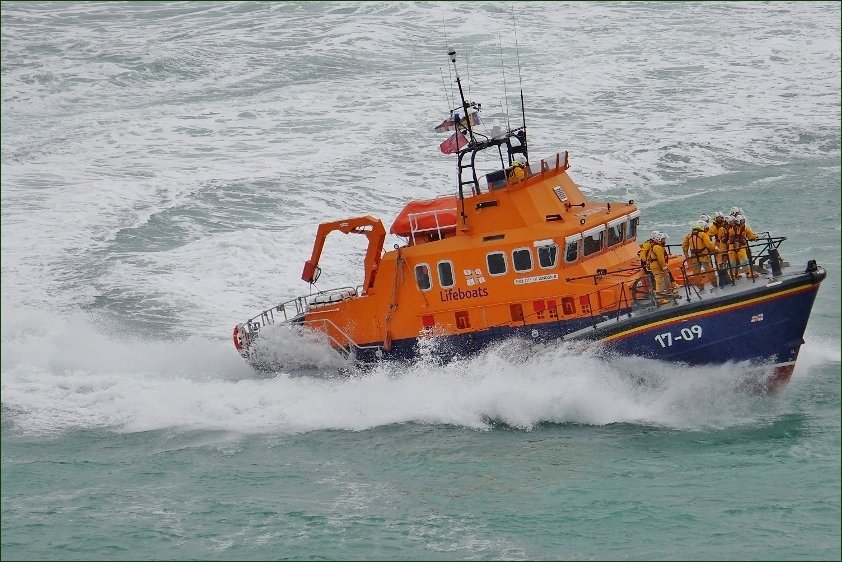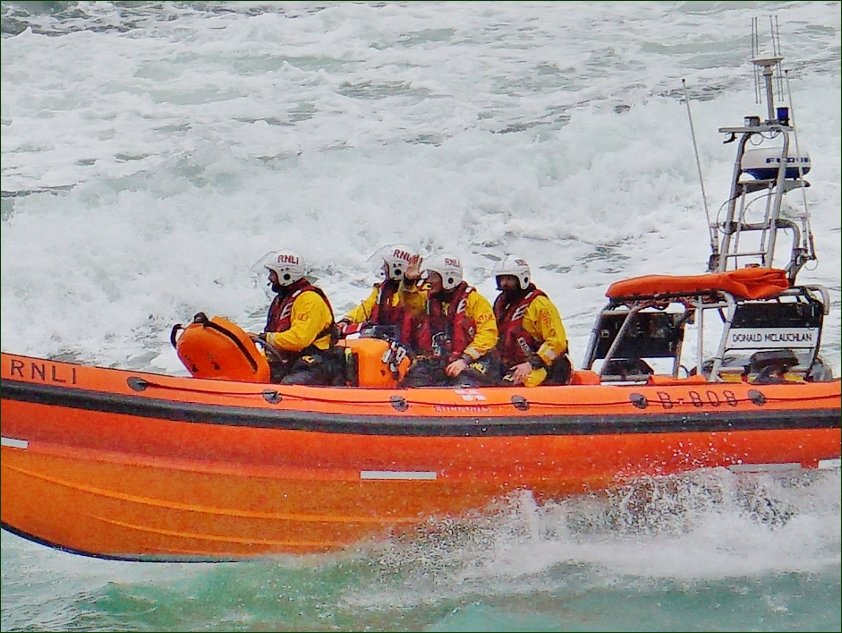 Now that was a fast paced collection...yours truly was dizzy after that dizzyfying (if there is such a word!) display. The weather was rough by then and many people had departed the weather-beaten seafront...but many had also stayed to enjoy the annual spectacle put on by the Lifeboat guys. All experienced guys I know but those fast paced manoeuvres even had those guys hanging on....
The smaller B-Class Lifeboat above there is from Walmer I understand. Fab guys - will have a wider shot of that last pic tomorrow all being well.
Will pin this one too until this evening out of admiration and respect for what they do.
Will have more Regatta pictures in due course...the tugs etc... but this is the last pinned one from the event.
Pinned

NOW UNPINNED.
* *
Thanks for all the cruise info plus below there Andrew, well done with that - yes indeed re the Security chap.

Glad you got down early to enjoy some of the event Barry before rain stopped play. Yes re Security guy..

PaulB
Tuesday, 28 August 2018 - 07:04