Sunday, 25 February 2018
Dover Lifeboat in evening action. More below...

doverforum.com/sea-news
Doverforum.com: Featuring all the ships that come and go and work at the Port of Dover with further coverage of Ramsgate, Calais, Dunkerque. Email: dover7@msn.com to send SEA NEWS pix or info.... or click ADD YOUR COMMENT below to post direct, no membership needed.

TRADING GROWTH FOR DFDS DESPITE BREXIT see 4642
PORT OF DOVER RECORD FREIGHT see 4551.
PORT OF DOVER: GEEST LINE arrival see 4597.
SECOND FEMALE CAPTAIN FOR P&O see 4608.
Sea News Dover : Use our SEARCH ENGINE below to find all sorts on the SEA NEWS pages..more than 230 now with more than 4500 nautical posts. Posts welcome. Max of 5 pictures preferred per post. Sea News Editor Paul Boland.
Post 4591
Sea News, Dover
THE FLIGHT OF THE SPIRIT.
pictures below of the early departing Spirit of France two mornings ago.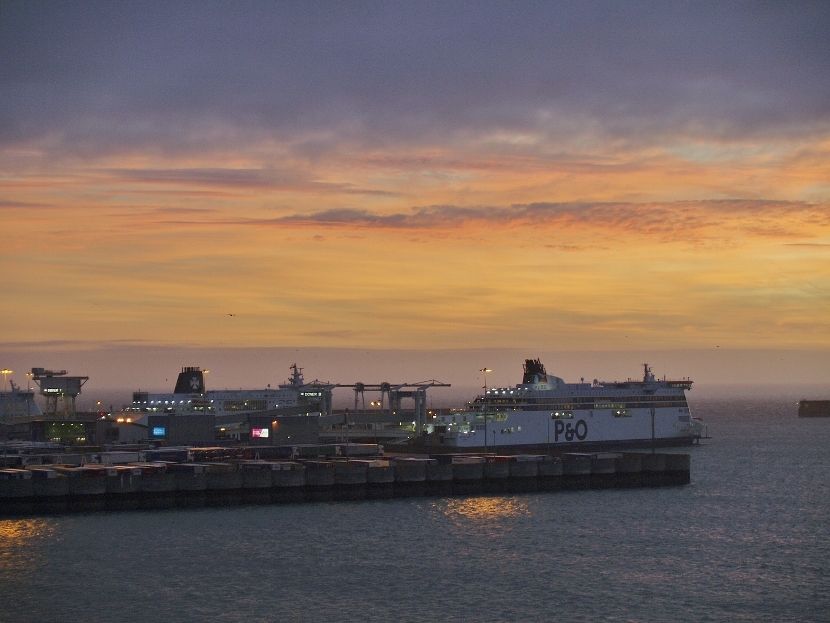 Waiting for the off at Dover 9 ...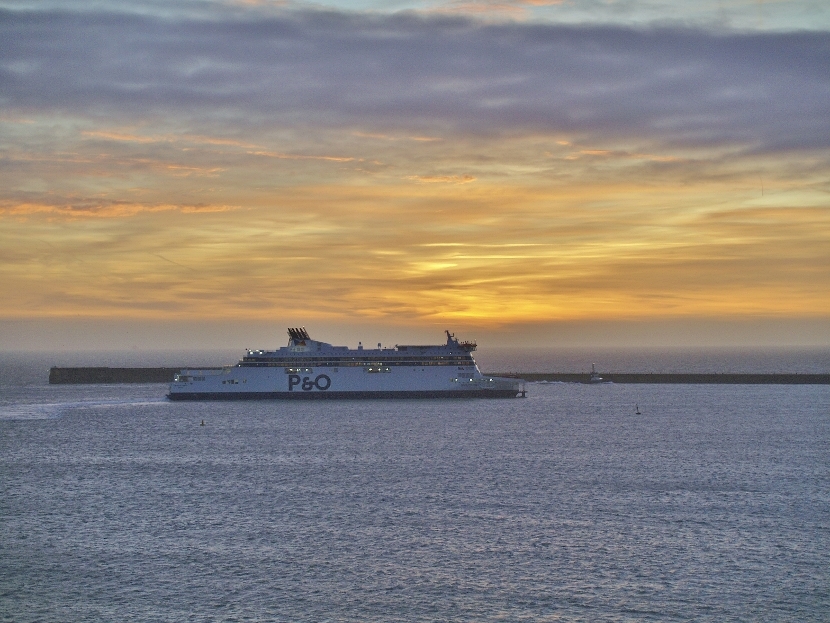 On her way now, gently moving across the harbour ..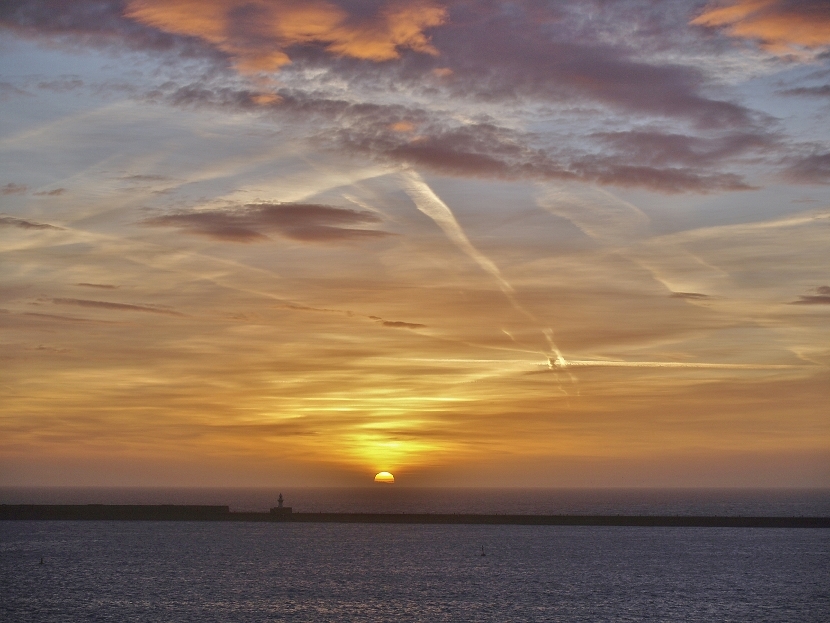 Just then the sun bursts through over the horizon ..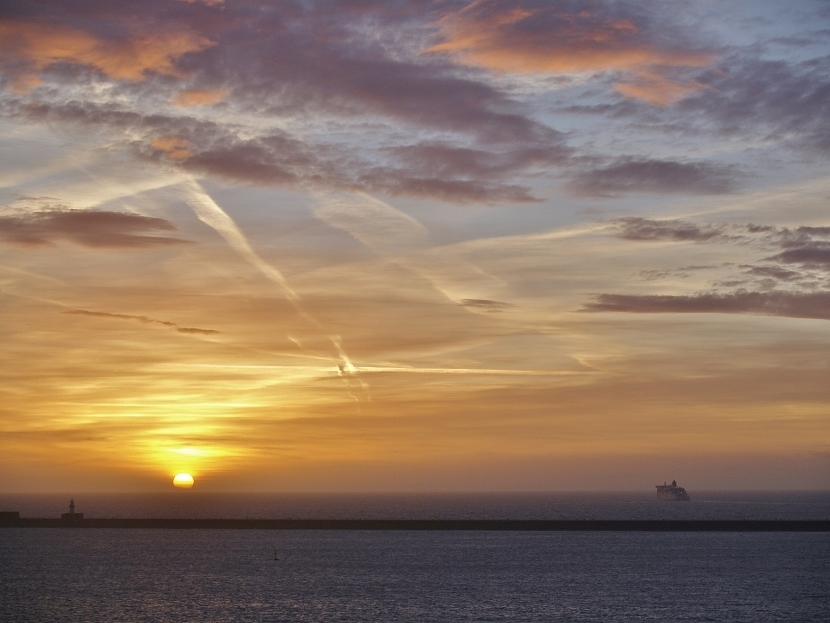 There she goes..well on her way now to Calais under a hugely colourful beautiful sky ..
And there we are.
Normal service is restored now at the Port of Calais...ferries now running normally.
PaulB
Friday, 26 January 2018 - 05:11
Post 4590
Sea News, Dover
Its a very slow day here in Dover as the Port of Calais and indeed the Port of Boulogne are blocked by protesting fishermen. The blockade is due to a gripe about Dutch trawlers using unfair fishing nets. Dunkerque is open however.

Thursday, 25 January 2018 - 15:25
Post 4589
Sea News, Dover
Rough Weather Dover!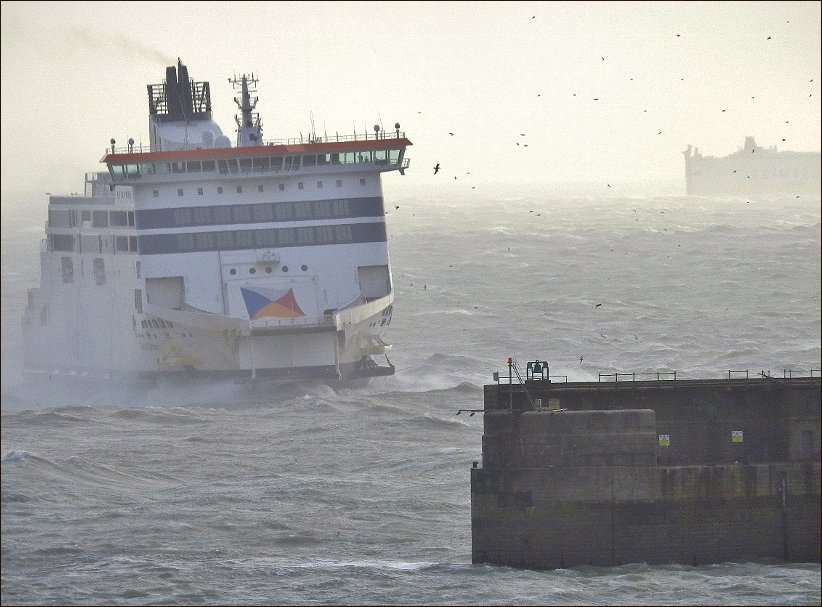 Above we have one of the P&O Spirits, I think the Spirit of France, beating its way towards the Port through the very strong winds yesterday morning..the winds were force 9 at one point, powering through from right to left in shot. You can see all the birds going maaaddd in the wild weather.
Below one of the tugs readies itself to help with the docking...you can feel that strong wild wind whistling through. It was a three Weetabix morning and no mistake! Both tugs were in action helping all the ferries.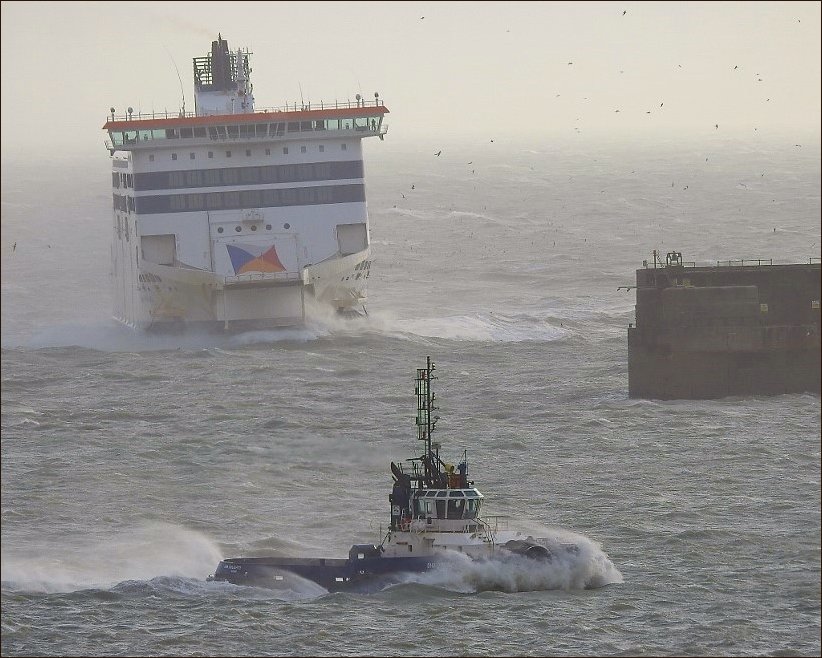 A tad earlier and we have the same thing once more , this time its the approaching DFDS ferry Calais Seaways....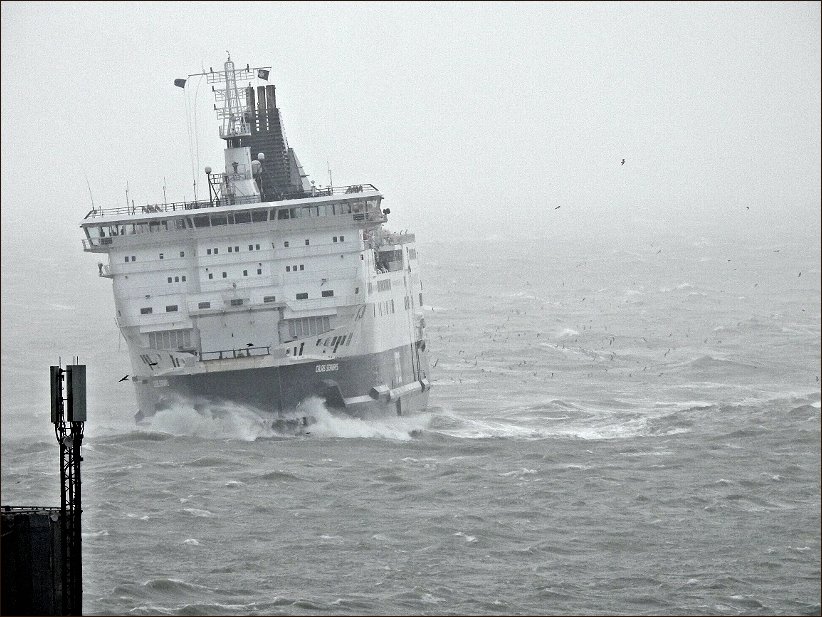 Finally below the departing Spirit of Britain, it was certainly rough out there as you can see. A big well done to all who keep that record-breaking freight going ...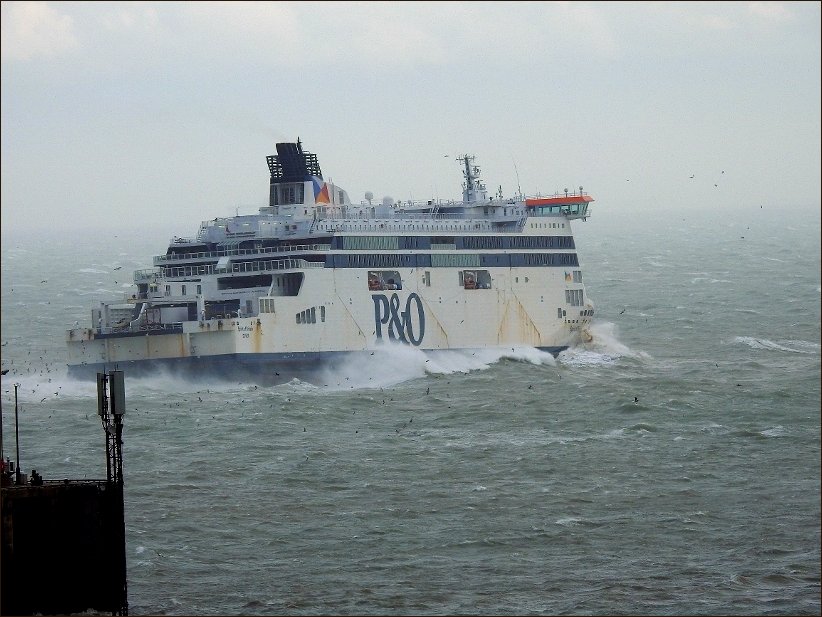 Wowser Jeremy! great work below there from up on the cliffs. Glad I wasn't on that approaching Pride of Canterbury below there...that looks rough for sure. The trucks are certainly packed in on the Dover Seaways.

Nice shots further below from Ramsgate from Sarah our roving correspondent - excellent, well done as ever Sarah.
Great to see those.

PaulB.
Thursday, 25 January 2018 - 06:06
Post 4588
Jeremy Ward, Whitfield, Dover
It was a very windy afternoon above the port looking from the White Cliffs. Dover Seaways was having a struggle berthing and the Pride of Canterbury was battling against the wind and sea...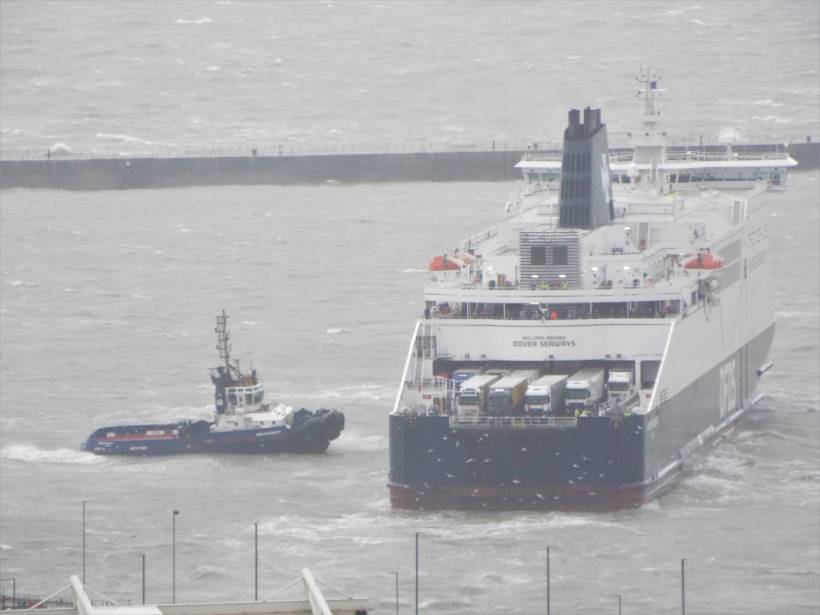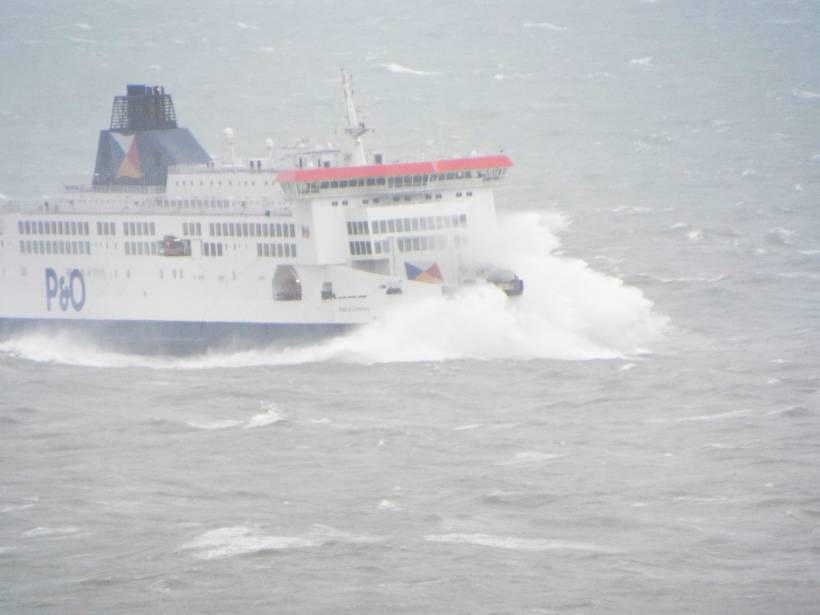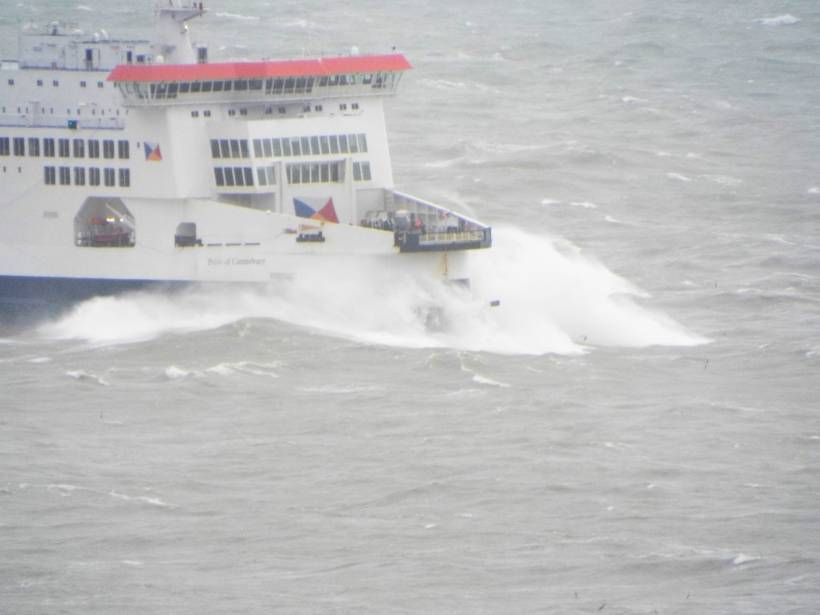 Wednesday, 24 January 2018 - 16:07
Post 4587
Sarah, Ramsgate
Estuary Elite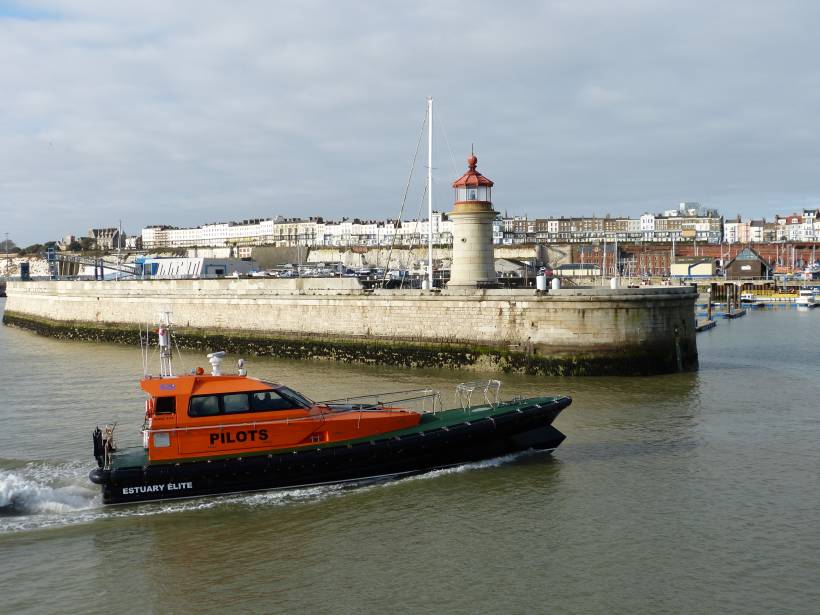 SC Amethyst
Wednesday, 24 January 2018 - 07:21
Post 4586
Sea News, Dover
A shot above there of the DWDR working tug Afon Lligwy as she prowls through the now extensive piling. In the background you can see the immensity of the work on all fronts on another busy day. Note too the green dome of the once visible, from this angle anyway, olde custom house. Lovely building that...now dwarfed behind huge mounds of earth/sand. We had those other pictures previously see 4549, 4558...note the big changes in a short time.. The whole harbour is a hive of activity as you can see.
We heard a rumour a few days back that the two tugs featured recently...with pix from Nigel S and Mike J (see 4566, 4567, 4575) were imminently heading off to pastures new. However the interesting tugs were still there last night and presumably still there now. Its dark currently. While there was a brighter moment some extra pictures were possible. Not the best angle from the 'observation tower' location but here we are anyway.
First one is Pathfinder
Second one Puma. I'm a fan of Puma. A chap could set up home in that one...maybe move to Chelsea harbour...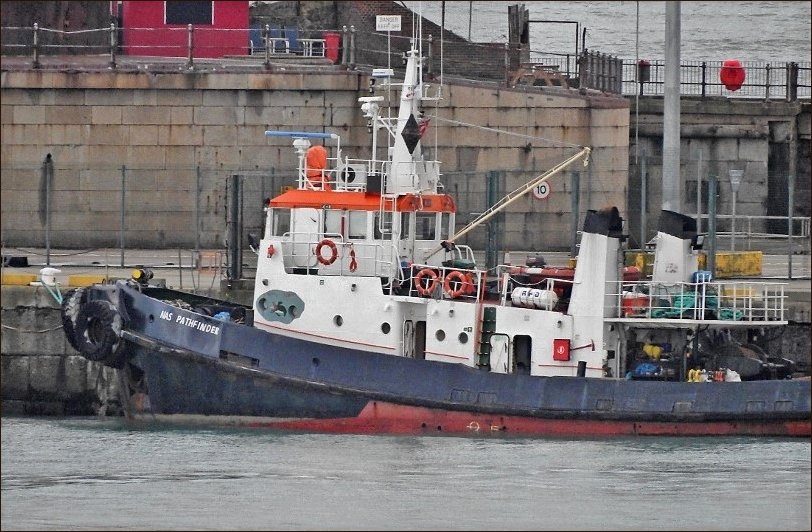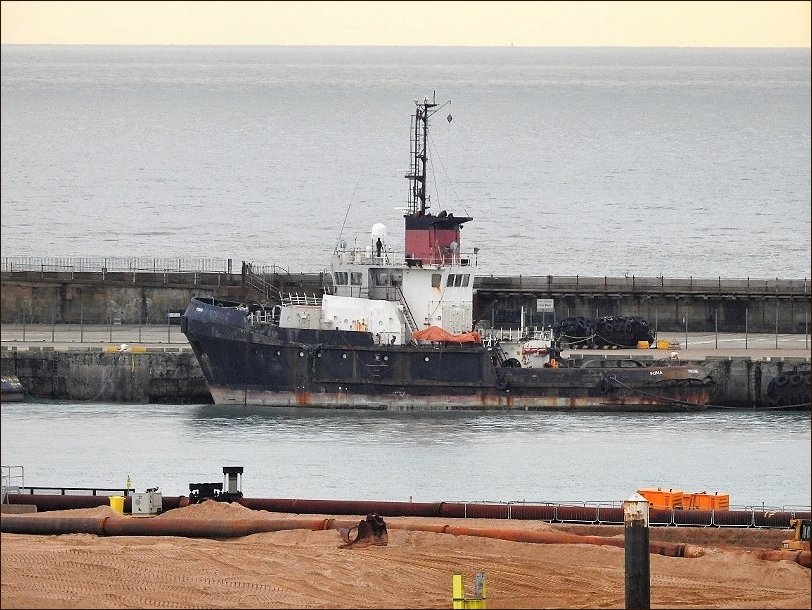 Baltic Klipper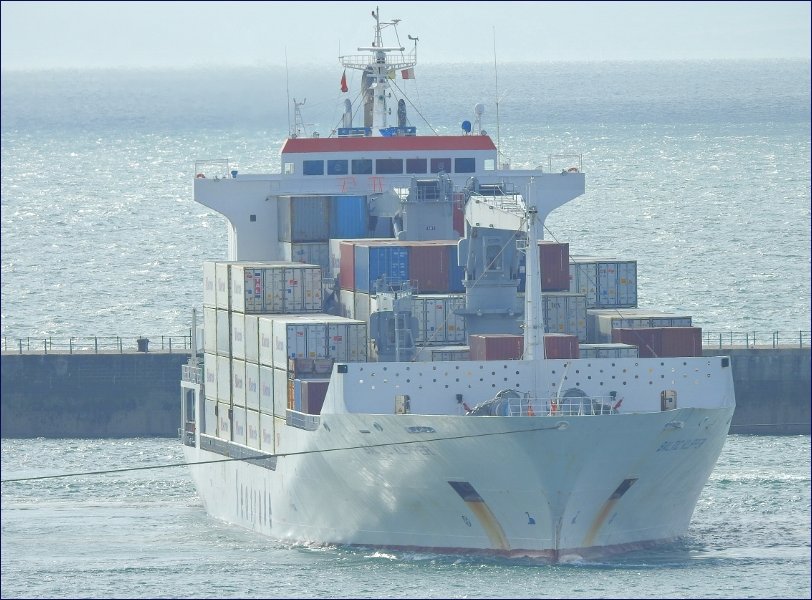 Yes Baltic Klipper currently in here in Port ( Update AIS: now apparently sheltering off Walmer). That's a shot from a previous time above. Also in port earlier this week was new visitor Agulhas Stream. That's her below across the rooftops. Unfortunately that's the best pic I could get...pity that...our Ed is not 'on location' at the moment. But hopefully there will be better opportunities as the days lengthen and brighten.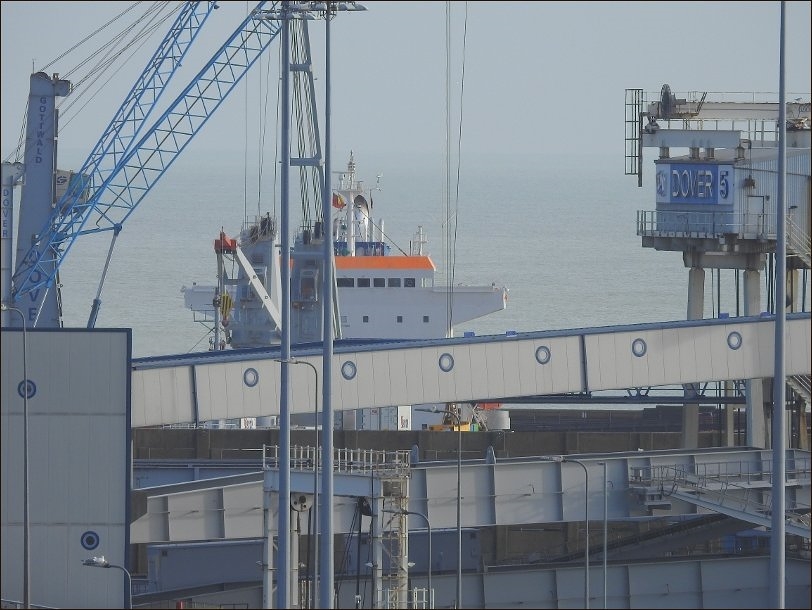 PaulB
Wednesday, 24 January 2018 - 06:05
Post 4585
Sea News, Dover
The Loneliness of the Long Distance Swimmer
You will remember the gloomy damp drizzly Saturday...one of those days when nobody ventures out willingly. There was I, yours truly, bemoaning my misfortune when I see this swimmer through the bleak day...and I realise, things can always get worse... yikes

The rainy seafront and sea was near deserted when this lone swimmer was spotted. Clearly a serious swimmer as nobody swims on a day like that for a 'jolly'. This was mid morning but it was so dark and damp that the camera couldn't produce a sharp image ( always blame your tools...!!). So this is an 'artistic impression' of a swimmer at work..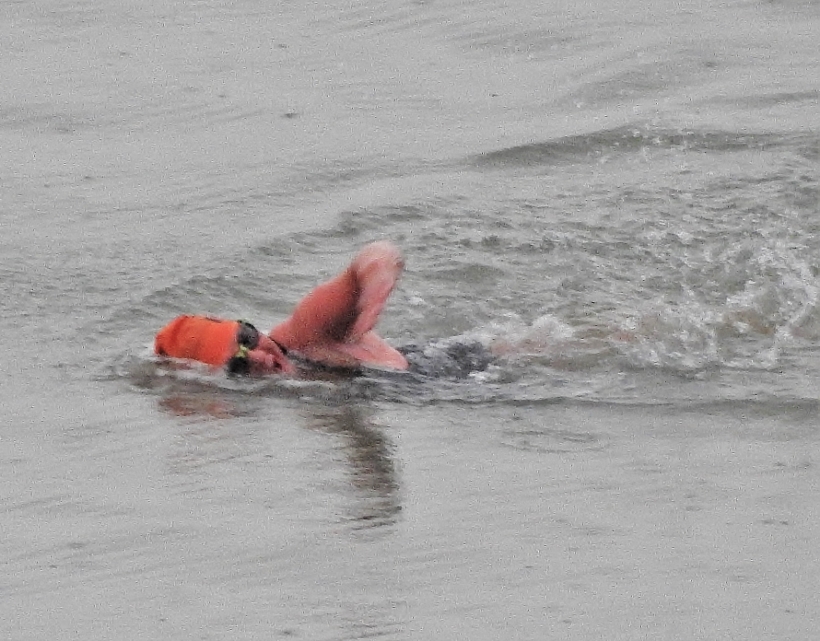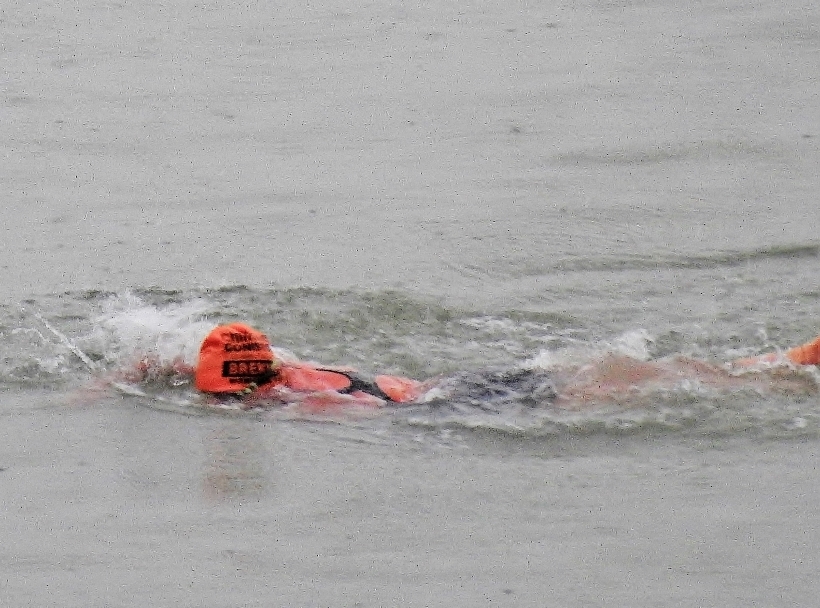 Well done to the swimmer above, she was tough for sure. Her cap seemed to carry the message... Coniston and Brexit ...I couldn't be totally clear.
Below...well this is what swimming is like in good weather...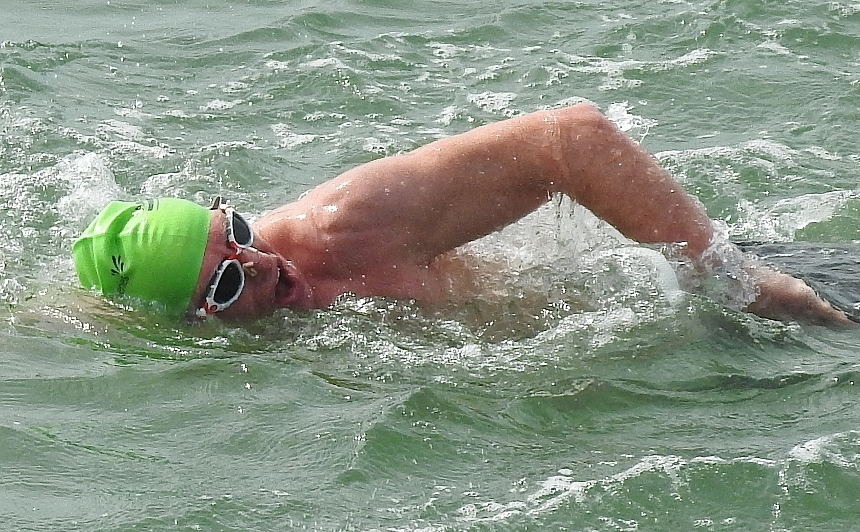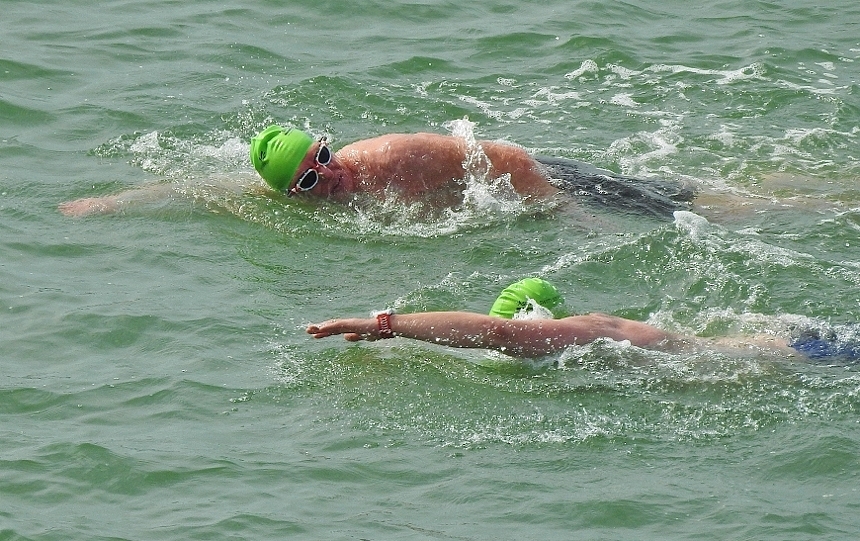 Lol Del thanks again. Be careful what you wish for..

! some of the ones above are not the best.
PaulB.
Tuesday, 23 January 2018 - 07:59
Post 4584
Del Styan, Norwich
A lovely shot of Calais in the distance. I always seem to be complimenting you on your photos - you should include some rubbish ones so we can say - Oh no, I don't like that one!

Monday, 22 January 2018 - 22:50
Post 4583
Sea News, Dover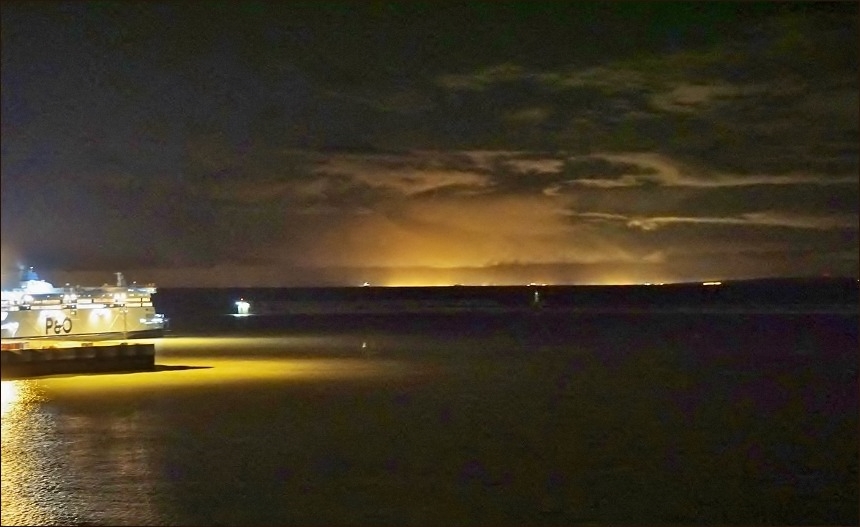 The picture above was taken a few evenings ago and shows primarily Calais in the far distance, the town is all aglow in the dazzling night sky. To the left you can see one of the P&O Spirits readying for departure. The ship wont have any trouble finding Calais with a glow like that beckoning on the horizon. Its not like that every night...
Some ruffled crumpled tousle-haired politico, who prowls the corridors of power in Westminster, plotting his chance to seize ultimate power, has had the audacity to suggest a bridge over this golden stretch of water...bah humbug... I say! PaulB.
Anglo-French summit
Joint statement
In a joint statement, Port of Dover Chief Executive Tim Waggott and Port Boulogne Calais President-General Manager Jean-Marc Puissesseau, said:
"the Anglo-French summit has re-stated the critical trading relationship between our two nations in support of the wider European economy, which our efficient ferry bridge across the Channel already provides.
The strong political support at the highest level demonstrated by the summit is hugely welcome as we head towards the next phase of Brexit negotiations."
ENDS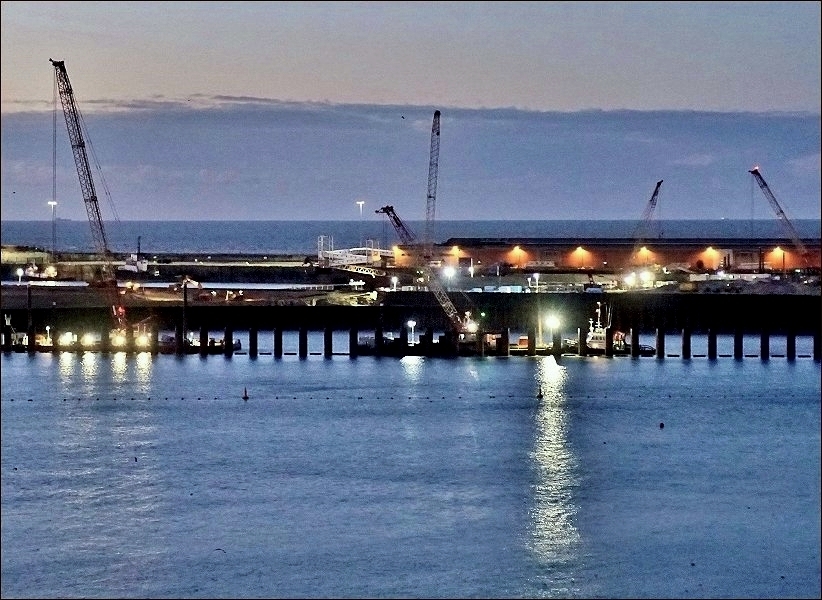 Night begins to turn to day in the two pictures above. Its very early morning....with the first hint of light in the morning sky, while the glowing nightime working lights still shine bright.
Llanddwyn Island below on Friday evening...the near end of a long week...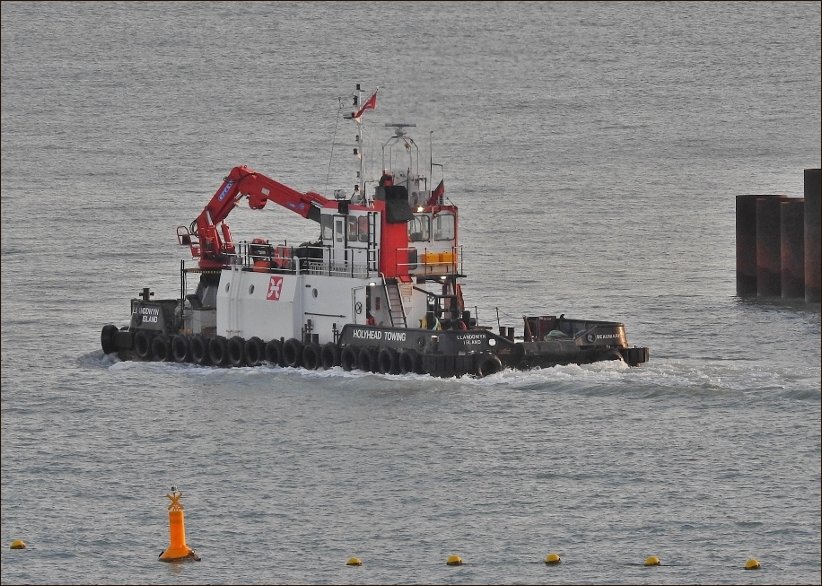 Good post below Patrick. Good to see that. Staggering progress being made

PaulB
Monday, 22 January 2018 - 05:55
Post 4582
Patrick, Marine Parade
Three shots showing the progress of the DWDR Infill area in the outer harbour from November last year to date. The area is still subject to tidal variations affecting ground work, including the compacting of the imported sand brought in by the dredger 'BARENT ZANEN'. Compacting (constant thumping) is currently being conducted well into the evening on a trial basis to assess the impact on adjacent properties for noise etc.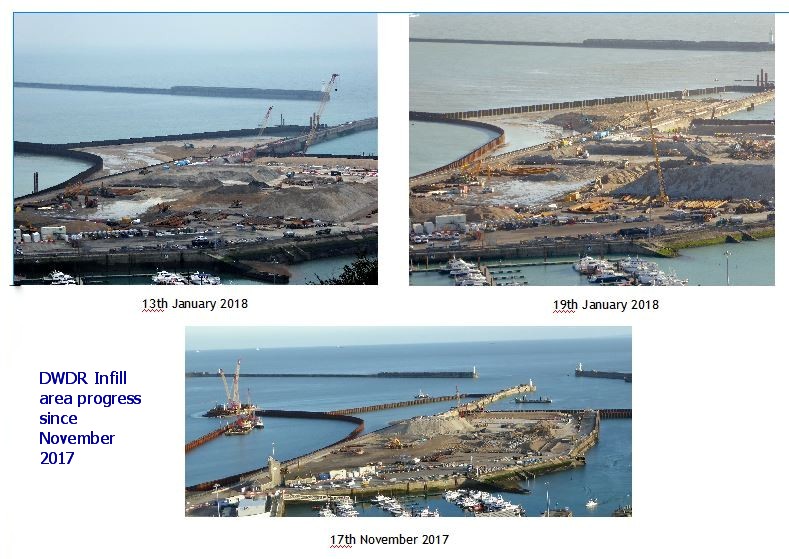 Sunday, 21 January 2018 - 22:13
Post 4581
Sea News, Dover
Barent Zanen.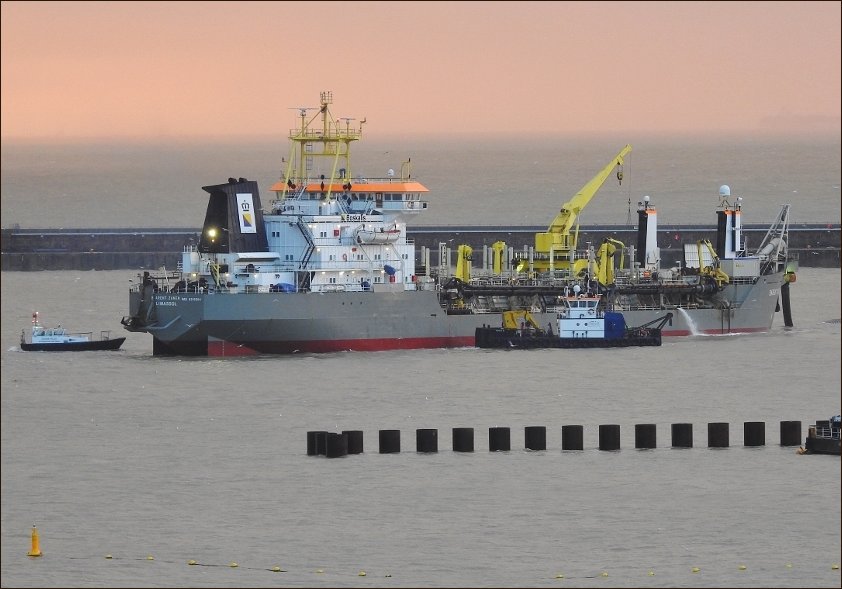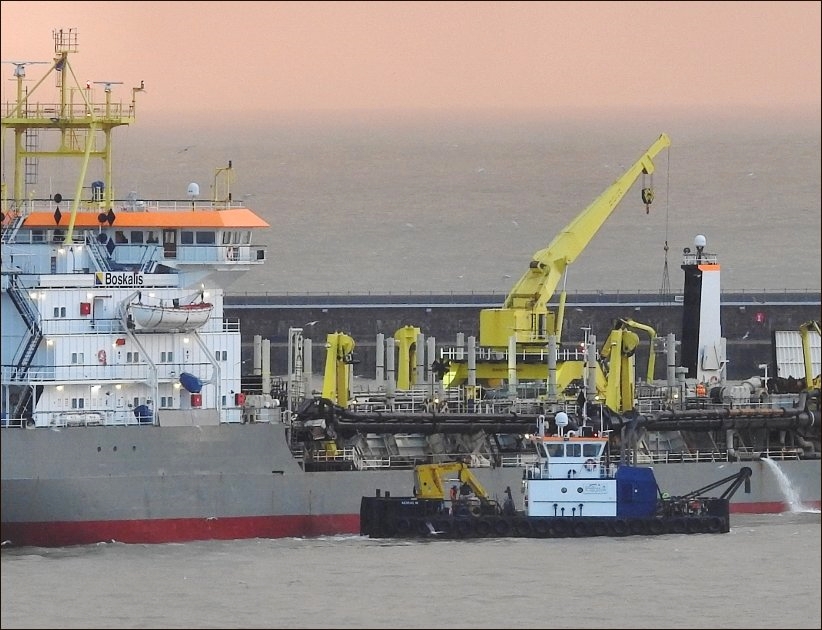 We are engulfed in gloom, drizzle, rain, mist and more gloom at the moment...pictures are difficult. We are definitely experiencing a touch of the bleak-midwinters currently...Those shots above are from a few weeks back, taken early morning when there was some light in the sky. They havent been used before and show the Barent Zanen sand dredger doing her thing, as she does everyday..ie delivering sand from the Thames Estuary. The piling has been further progressed since those shots were taken as there has been a big push since the new year began. That's 'workings' tug MoragM also in the shots.
Mike saved the day with that ace collection below of the general DWDR workings plus all the goings on.... Brilliant stuff Mike.
Ace work.

Those pix look great in our new 820 size.

Sunday, 21 January 2018 - 06:18
Post 4580
Mike J., Dover
DWDR Friday afternoon - the ever-changng scene as the DAVID CHURCH 'threads the needle' as she returns to her berth.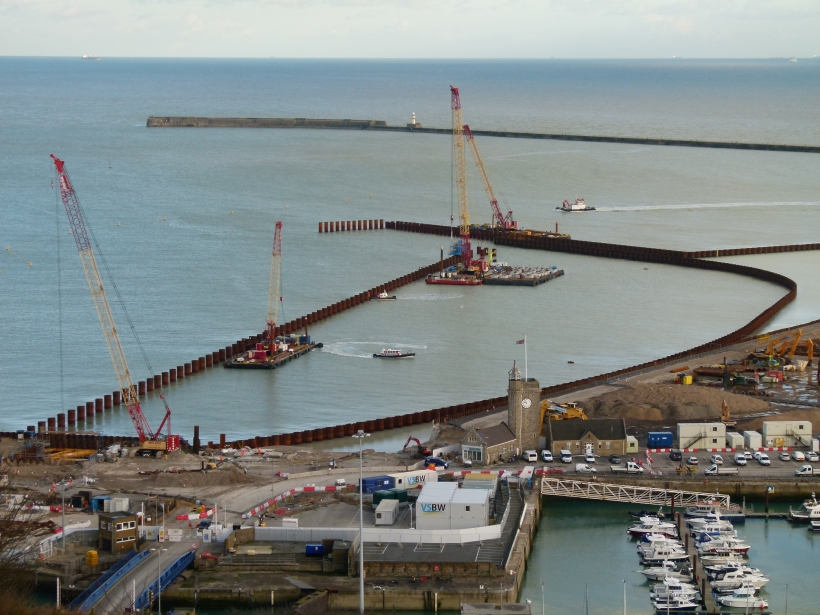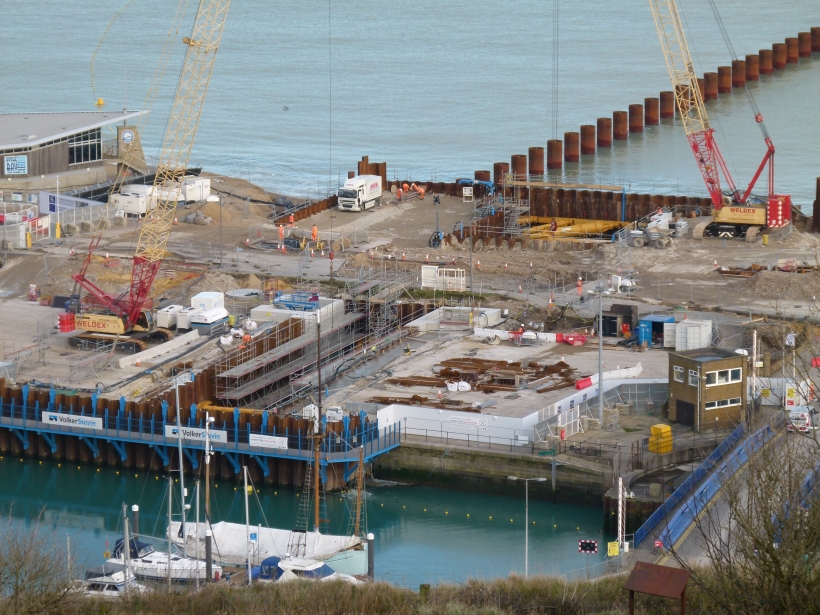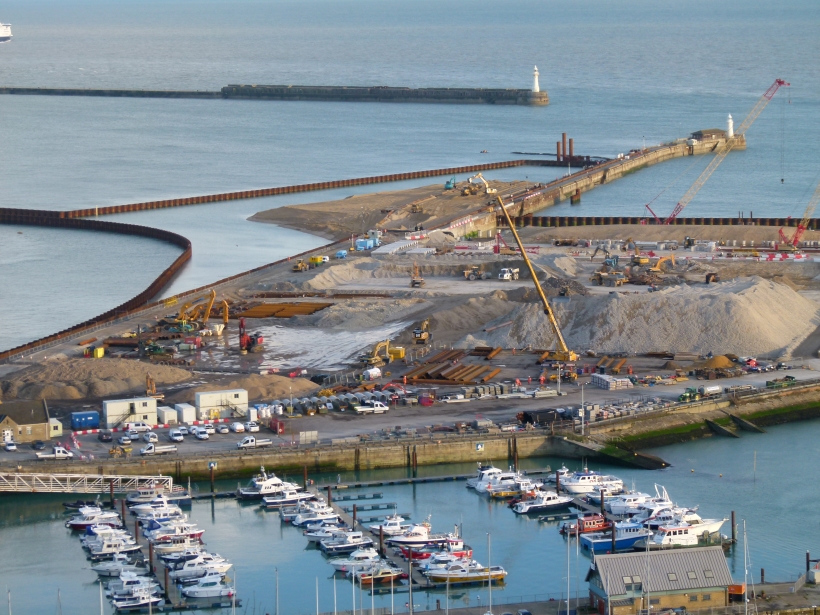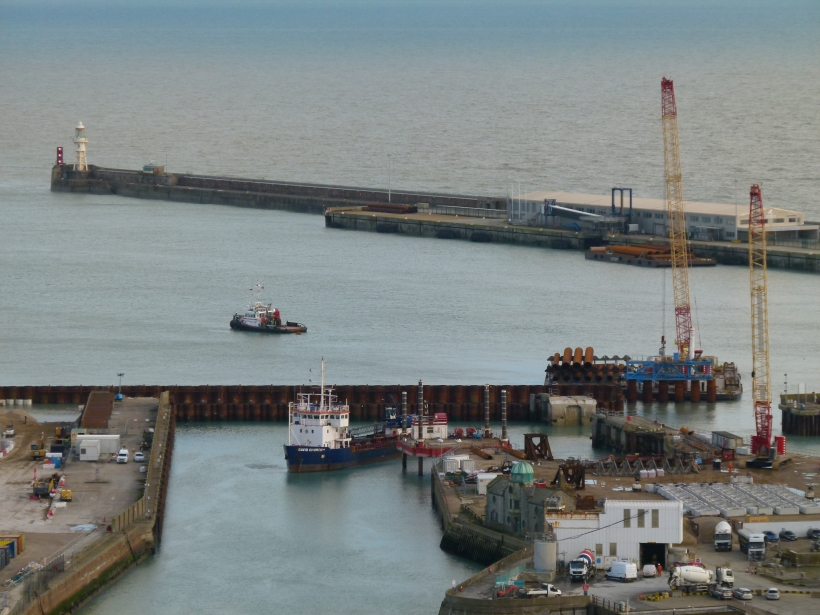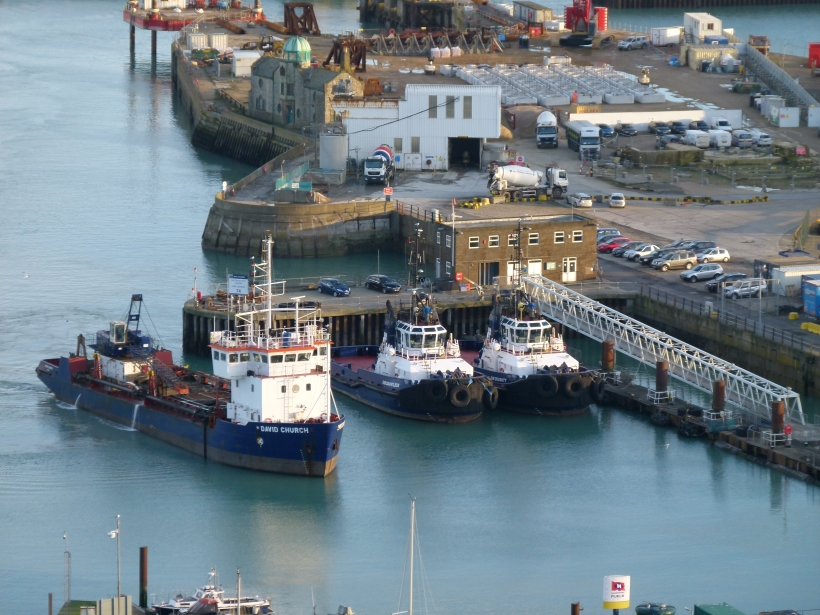 Saturday, 20 January 2018 - 00:24
Post 4579
Sea News, Dover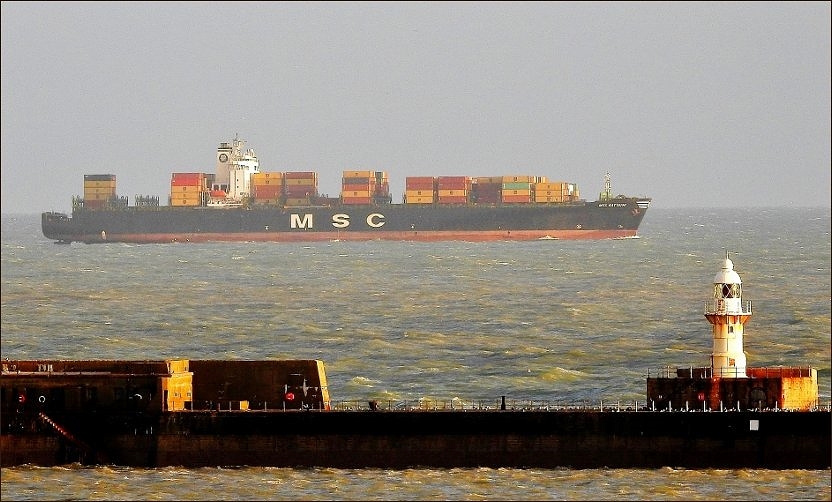 This guy was close to shore for an hour or two on...lets see..Wednesday late afternoon. You can see her above there catching the late day sun. She isn't of whopping proportions by any means but most definitely worth a picture opportunity. Its the MSC Katyayni...the AIS stated she was heading for Felixstowe but as Felixstowe is back thataway one doubts its accuracy on this occasion.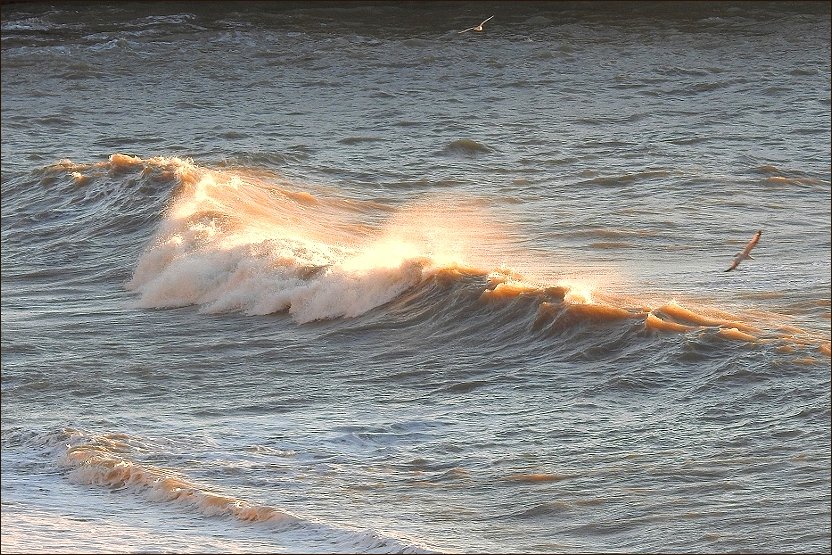 A thing of beauty is a joy forever...and this low-tide wave heading for shore yesterday thursday fits the bill, its tip catching the early pink/orange sun. While below at the same time Tug Dauntless waits in the whipping wind in order to help one of the ( out of shot) approaching Spirits into Dover 9.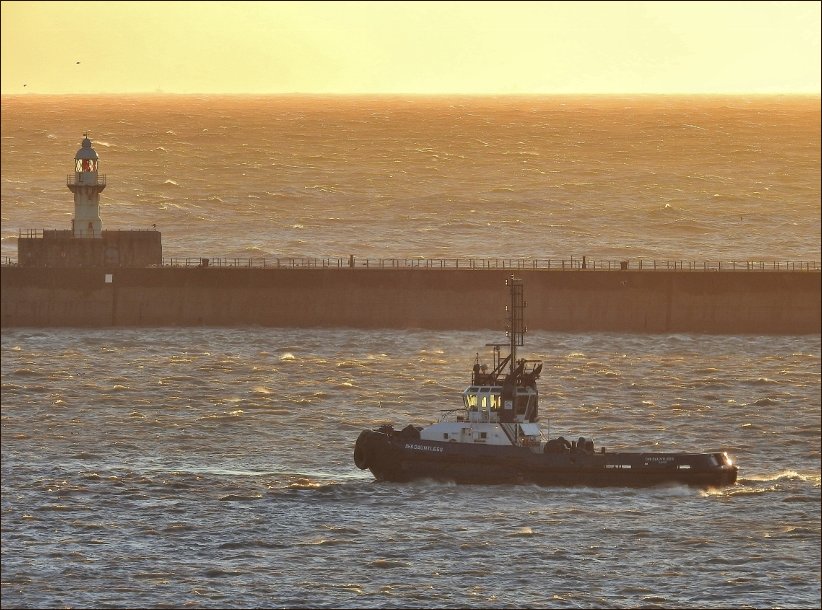 The following press release was issued the day before President Macron's visit to the UK yesterday thursday. It appears now that Calais have secured much more funding from the UK following the Macron/May meeting. The release below is from the RHA (Road Haulage Assoc) who represent those constantly delivering the recently announced record freight numbers... you can see their concerns..
French President calls for more action to ease Calais migrant crisis
____________________________________________________
17th January 2018
French President Emmanuel Macron visited Calais today (16.01.18) and called on the UK to take in more migrants and spend more on border security.
Responding, RHA chief executive Richard Burnett said: "I am baffled by President Macron's comments. What does 'more' mean exactly?
"We already have it on very good authority that the heartbeat monitors at the French border are not working. So why should the UK be asked to provide more funding when the equipment currently in place is not even being used? The bottom line is that the French authorities do not want migrants in Northern France."
Following the closure of the migrant 'Jungle' in October 2016, the UK funded a four-metre high, 1 km-long 'anti-migrant' wall – the Great Wall of Calais – which cost British taxpayers around £2 million.
"The wall hasn't stopped migrants attacking UK-bound hauliers, in fact it hasn't even scratched the surface of the problem," Richard Burnett continued. "What is needed is a proper migrant processing system. At the moment, the refusal of asylum just increases their determination to reach the UK by whatever means possible and regardless of the safety of themselves or others.
"We're concerned that this crisis is being used as a political football and we urge the two governments to work together to achieve some lasting solutions to this long running problem.
"The French authorities are not doing enough to get a grip of the problem and UK-bound hauliers continue to run the gauntlet of violence and intimidation from people-traffickers and migrants. Of course, we are happy to play our part in resolving the situation, but the authorities on both sides of the Channel must do everything within their power to prevent UK-bound hauliers having to face another year of cross-Channel migrant misery."
ENDS
* *
Well done Mike and Ted with the post below...interesting item from Ramsgate there.

Thanks also to Colette as ever.

Friday, 19 January 2018 - 06:49
Post 4578
Mike J., Dover
I had an interesting Email from Ted Ingham who visited Ramsgate on Wednesday.
Discharging on Bretts 'marine aggregates' berth was the Dutch dredger DC VLAANDEREN 3000.
The sand or gravel cargo being unloaded is being transferred to Dover by road for the DWDR job.
With the Dunkirk Jetty being cut through & all the new piling there is nowhere for the cargo to be unloaded at Dover, unless DHB wants a mess on the Ad.Pier & that would still have to be transported further to where it was needed.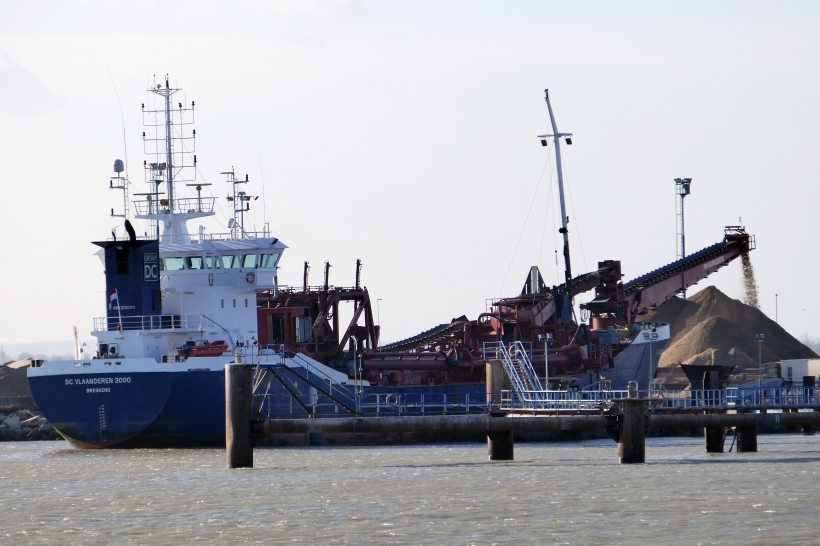 Ted also said the marine contractors GPS are now partners in Ramsgate Slipways so this will mean more business for Ramsgate with vessels from the extensive GPS fleet coming there.
More work for Sarah !
Thursday, 18 January 2018 - 14:07
Post 4577
Colette B , Dover
Love the Red Sun photo MrB, I spotted the ship too at precisely 05.10 (Sleepless in Dover)
Great photos below from Mike & Ed

Thursday, 18 January 2018 - 09:14
Post 4576
Sea News, Dover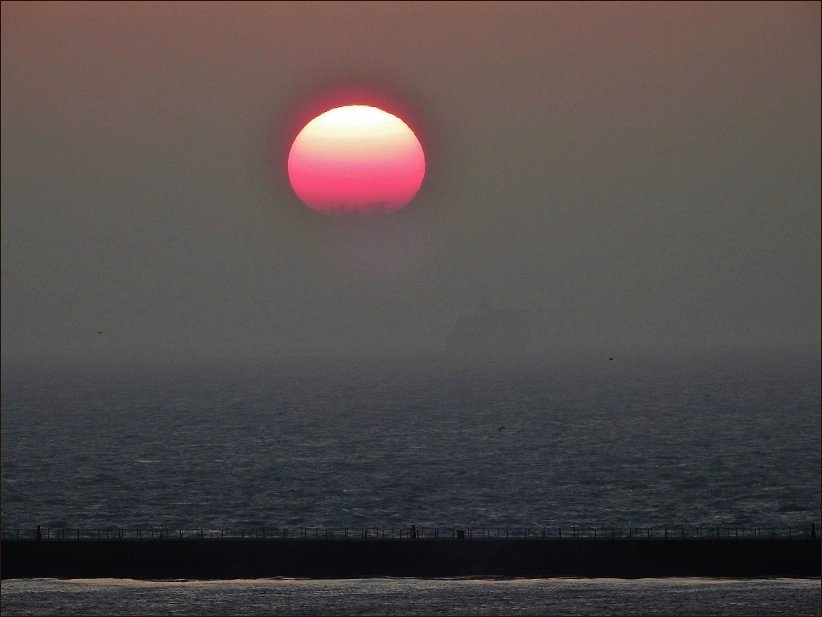 Nature at work above there. The red sun rising through the eternal gloom a couple of days ago. There's a ship in there somewhere - can you spot it? I hadn't spotted it myself til I was uploading just now. Calais is directly below the sun there in the middle of all that gloom. Bog standard natural shot.
The rough oul weather continues...that's the approaching Dover Seaways below. Hold on to yer hat!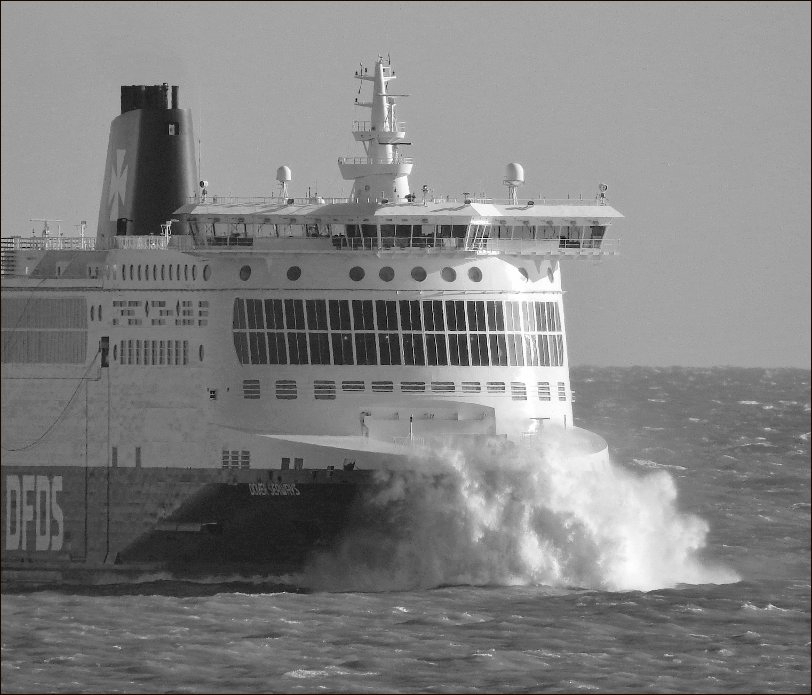 Wow a nice sharp clear collection below there featuring Puma and Pathfinder from Mike our 'inshore correspondent'. Great clear shots Mike. Nice work. Must have been chilly down there...hope you wore at least three anoraks. Its definitely three anorak weather down there.


PaulB.
Thursday, 18 January 2018 - 05:08
Post 4575
Mike J., Dover
Wednesday midday & the PUMA & NAS PATHFINDER on the Ad.Pier.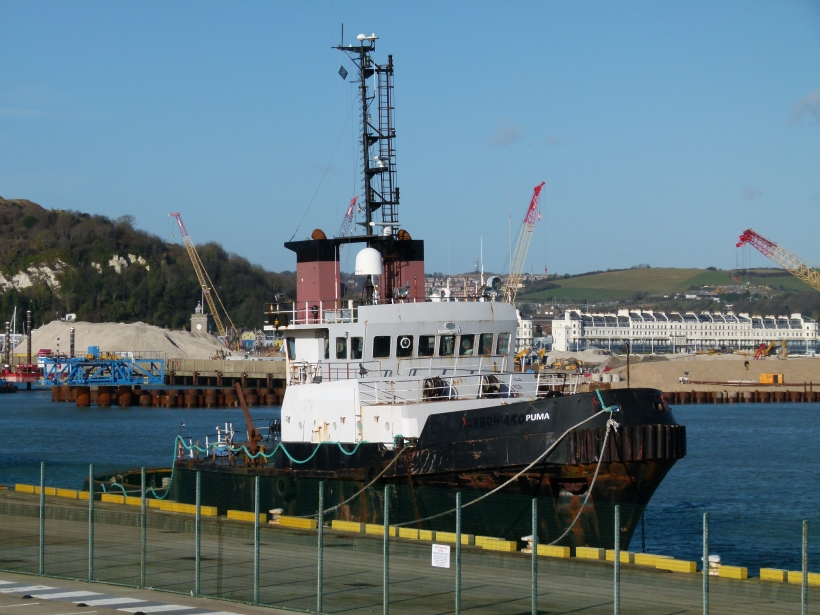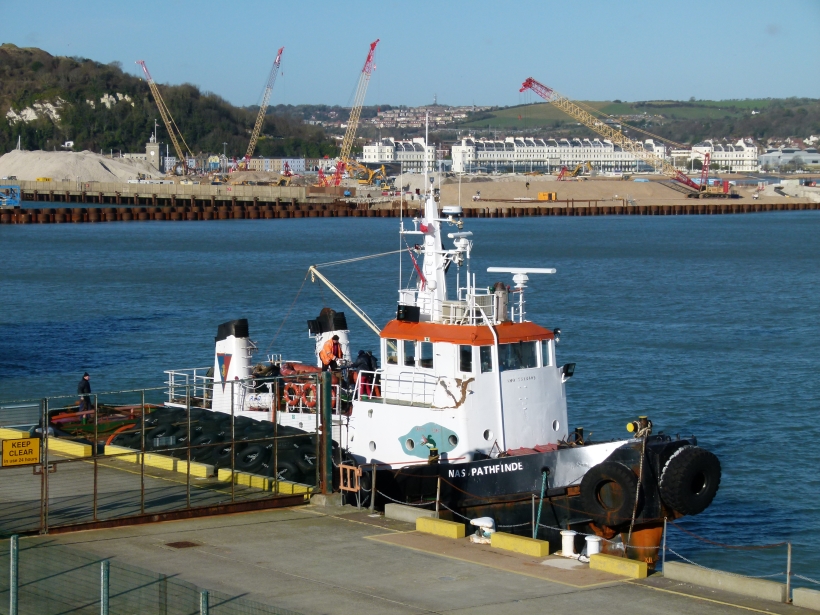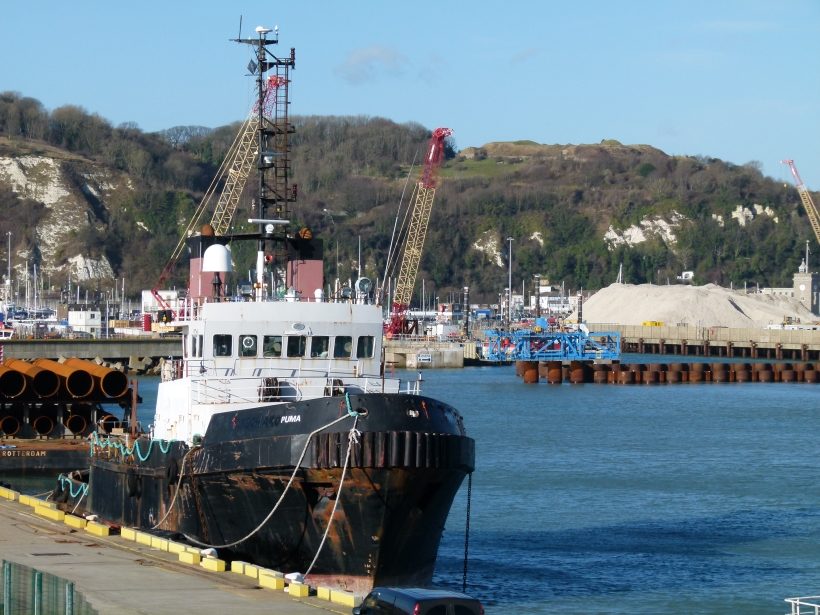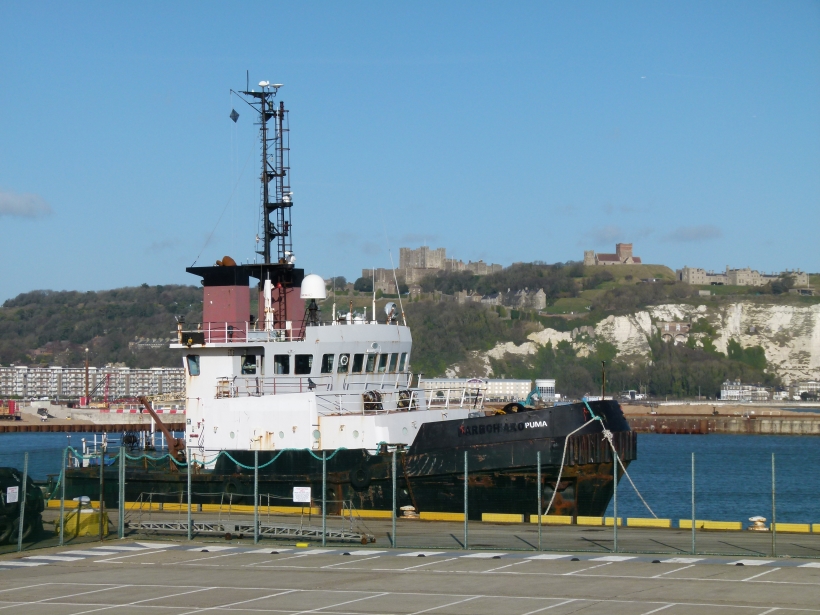 All the DWDR barges & other craft are sheltering with another westerly force 9 expected.
Eastern Docks looked full of freight late afternoon.
Wednesday, 17 January 2018 - 17:43
Post 4574
Sea News, Dover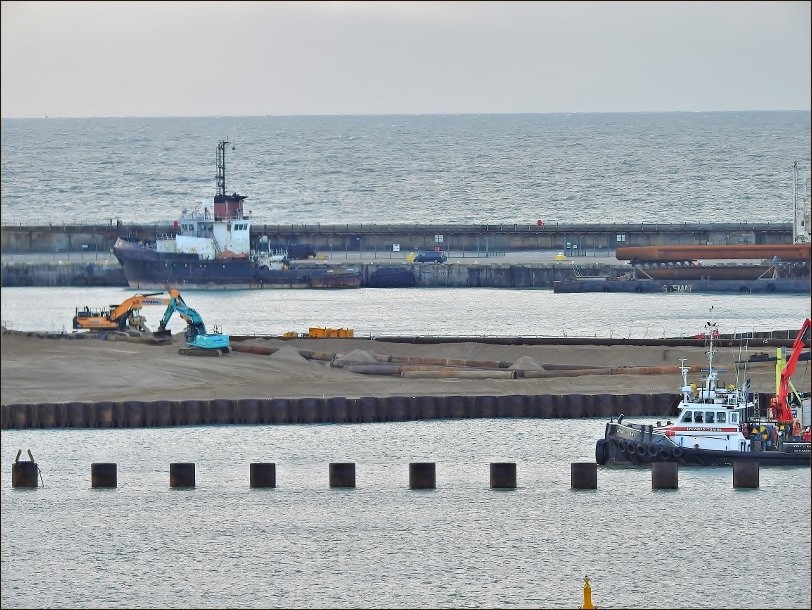 Its just amazing how that new land mass is being created...there is an island where there was nothing before, thanks to the industrious efforts of our now familiar friend.. sand dredger Barent Zanen. Its not the best picture above but gives the general gist...Afon Lligwy to the right and in the near distance old tug Puma.

Great collection below Ed..smashin pix from the channel and delighted you got Green Italia in the earlier post. Was hoping we would get that one because as far as I am aware its a very first visit. Nice shots of that. She left in darkness last night...tried a picture or two but it was just too dark out there.
PaulB
Wednesday, 17 January 2018 - 08:12
Post 4573
Ed Connell, Dover Strait
Two warships proceeding down the Southwest lane past Dover this afternoon. German frigate FGS Hessen and Dutch landing platform dock HNLMS Johan de Witt.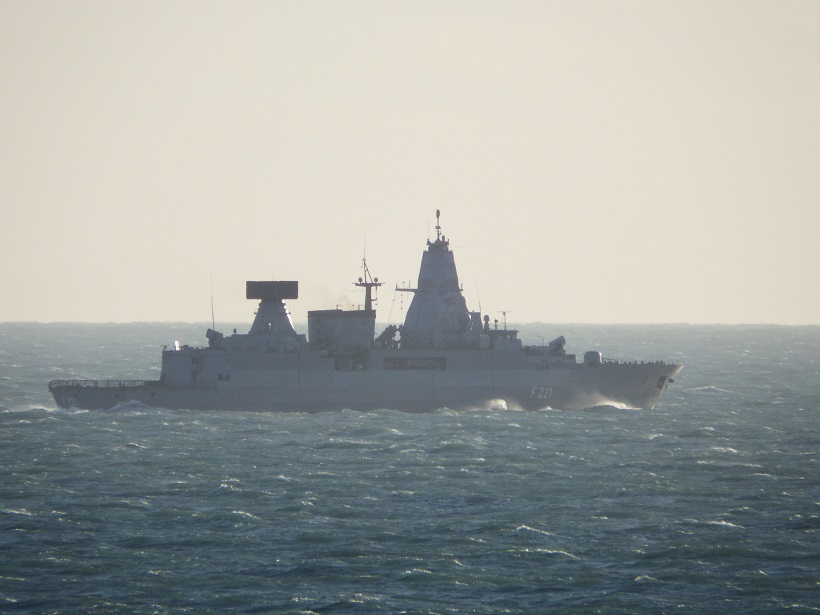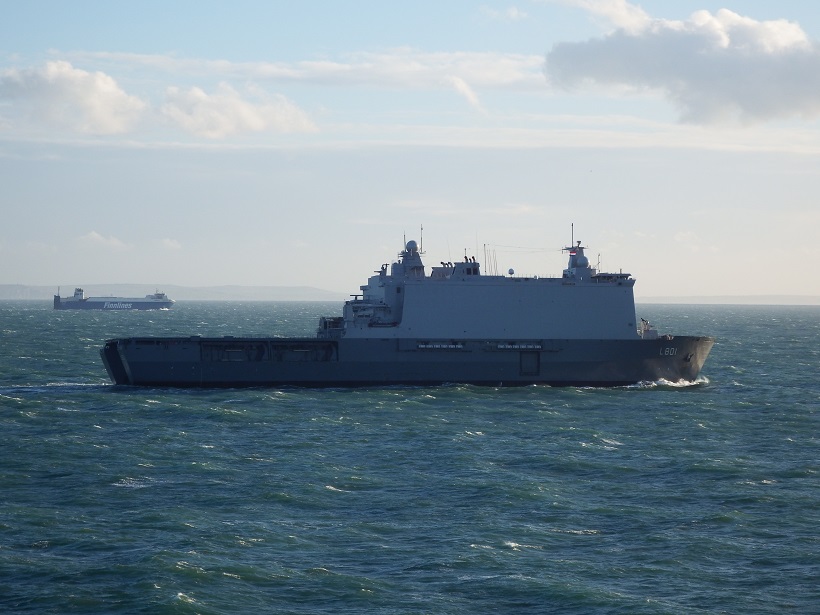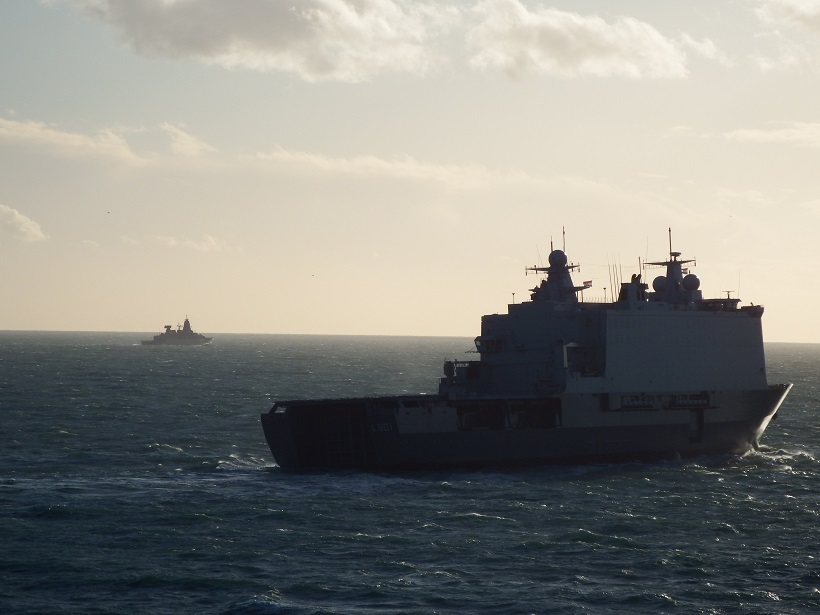 Tuesday, 16 January 2018 - 23:30
Post 4572
Ed Connell, Dover Strait
Green Italia at the DCT today.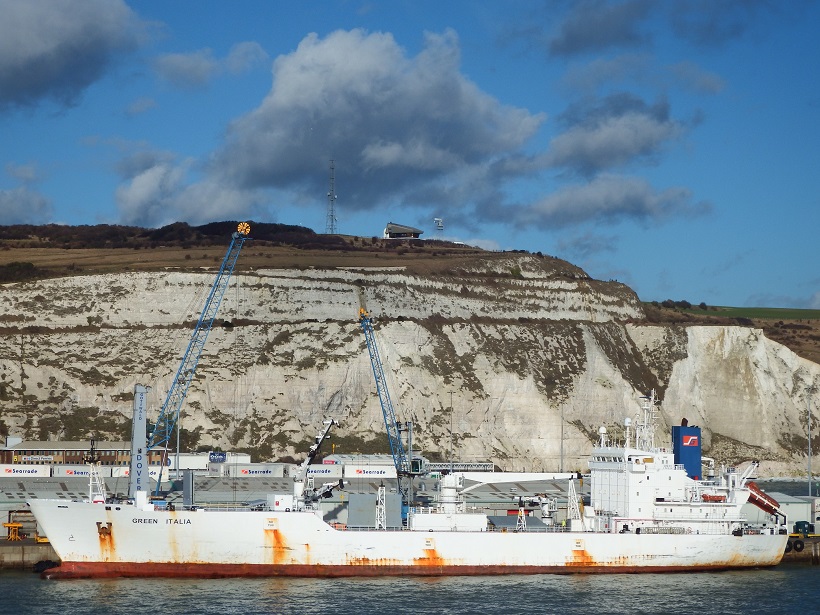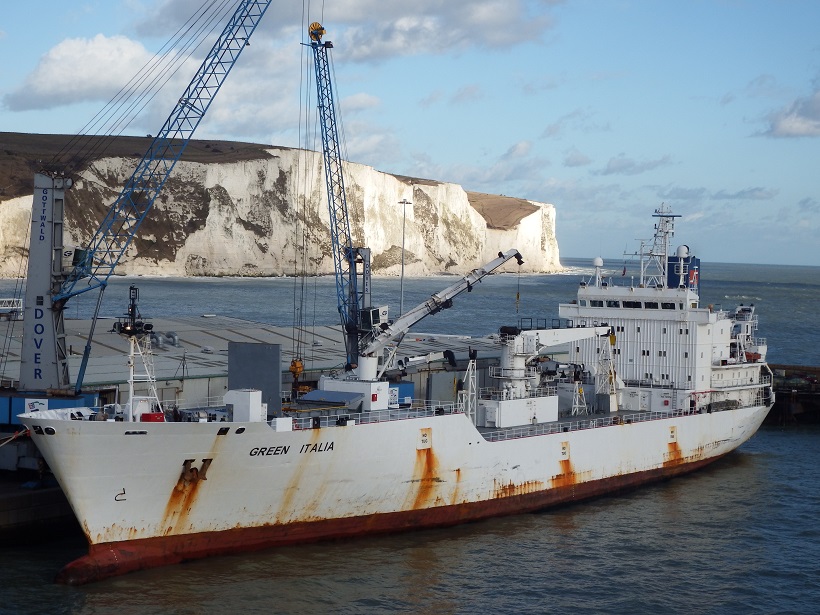 Tuesday, 16 January 2018 - 19:03