Tuesday, 14 August 2018
All the Ships at the Port of Dover...plus...

WWW.DOVERFORUM.COM/SEA-NEWS
Doverforum.com: Featuring all the ships that come and go and work at the Port of Dover with further coverage of the surrounding ports both sides of the Channel. Email: dover7@msn.com to send SEA NEWS pix or info....
or click ADD YOUR COMMENT below to post direct, no membership needed.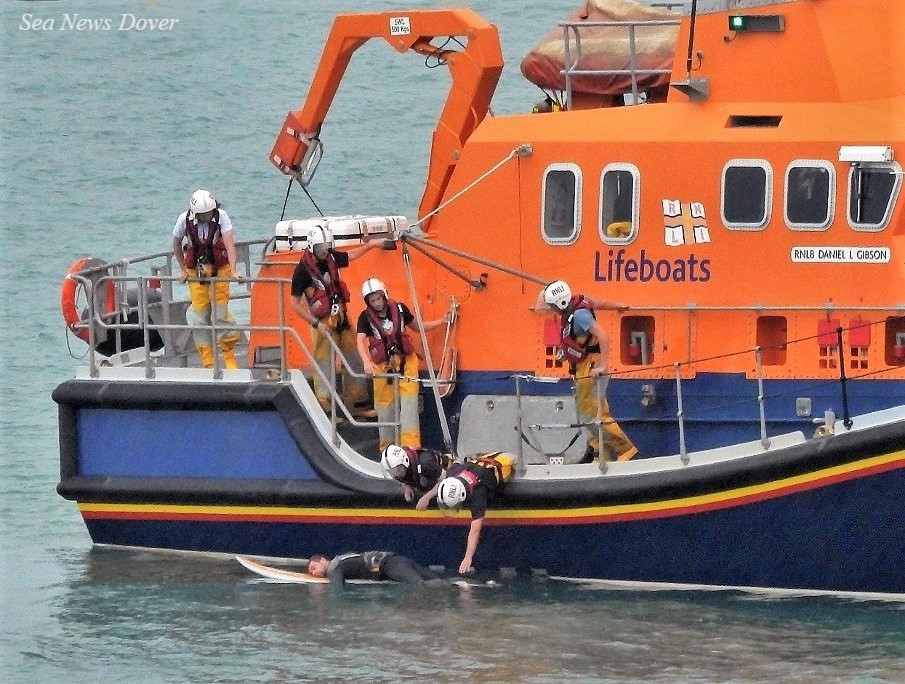 Dover Lifeboat action from Tuesday evening... the Lifeboat guys do training sessions on Tuesday evenings so we assume this to be a training session. We hope so, as the chap on the surfboard looks all in.
Excellent tourist season for P&O Ferries see 5127
VSBW Port of Dover - Women at Work 5117
P&O's summer recruits plus night-time fare deal see 5108
Port of Dover's influential project gets recognition see 5089
P&O - Students at the forefront..see 5087
DFDS and Marine Conservation at Dover Grammar Girls School see 5077
PORT OF DOVER new Board Member plus new Maritime Safety investment... see 5073
P&O FERRIES New Menu Launched...see 5071
DFDS the Success Story continues .. plus night-time fare deal 5068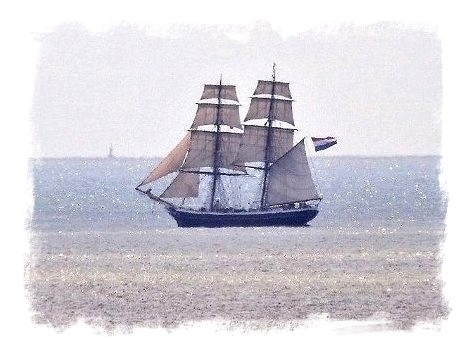 Fires near Dover Seafront .. see 5060
P&O's Jenny Evans - Maritime Young Person of the Year 5054 (also see 4608)
Europe's Best Festivals with DFDS 5029
P&O Pets Travel Free see 5019
DFDS Celebrates apprenticeship programme...5016
New Mobile App for P&O FERRIES see 5008
DFDS and ORCA see 5003.

DFDS ACQUISITIONS and EXPANSIONS...see below 4984
Dover Marina Control - New Contract Awarded see 4970.
PORT OF DOVER: Konecranes for new Cargo Terminal 4916.
PORT OF DOVER: £21 Million DWDR 'paving plus' contract awarded 4895.
PORT of DOVER - three cruise ships, one day 4885.
DFDS Charters New Ship see 4866.
New Marina Pier ... Latest...see 4861.
P&O FERRIES presents big cash to RNLI Dover...see 4829.
PORT of DOVER: Chief Executive TIM WAGGOTT Resigns...see 4778.


P&O FERRIES recruiting...4745.
PORT of DOVER awards Cargo Refrigeration Contract see 4740.
PORT OF DOVER: Community Benefit 4688
TRADING GROWTH FOR DFDS DESPITE BREXIT see 4642
PORT OF DOVER RECORD FREIGHT see 4551.
PORT OF DOVER: GEEST LINE arrival see 4597.
SECOND FEMALE CAPTAIN FOR P&O see 4608.
The Community REGATTA is on this year on the 26th August - see 5103.
Sea News Dover :
Use our SEARCH ENGINE below to find all sorts on the SEA NEWS pages....
More than 250 now with more than 5000 nautical posts.
Posts are welcome. Max of 5 pictures preferred per day although we can occasionally stretch to 6 on special stories.
Type CRUISE VISITS in our SEARCH ENGINE below for news of the latest arrivals.
Sea News Editor Paul Boland - dover7@msn.com .
Post 5061
Mike J., Dover
Thursday morning & after a day or two in the Tidal Basin the windcat EMS VIKING heads thru the swingbridge bound for another lay-up in the Wellington Dock.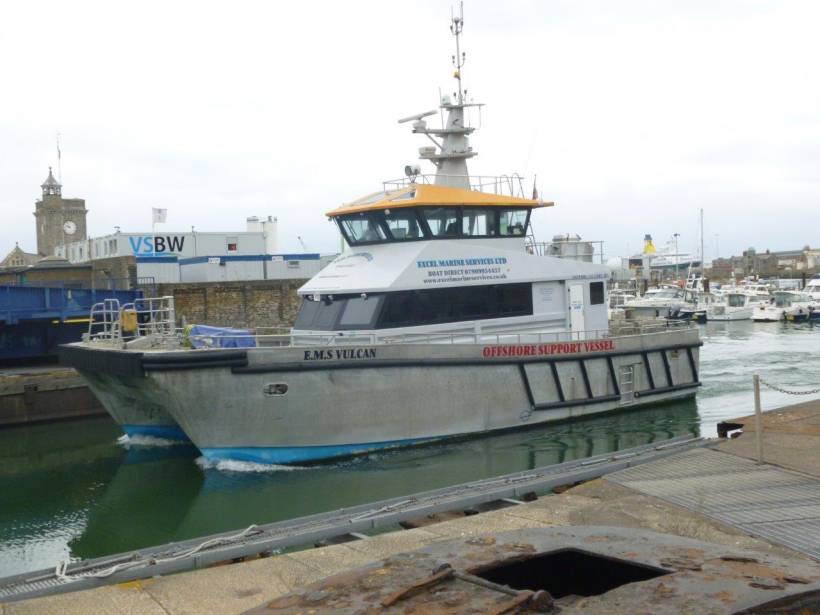 SAGA PEARL 2 on Cruise-1 being bunkered by the DUZGIT HARMONY & in the foreground in the old Jetfoil Terminal the LLANDWYN ISLAND & AFON LLIGWY await their next DWDR job.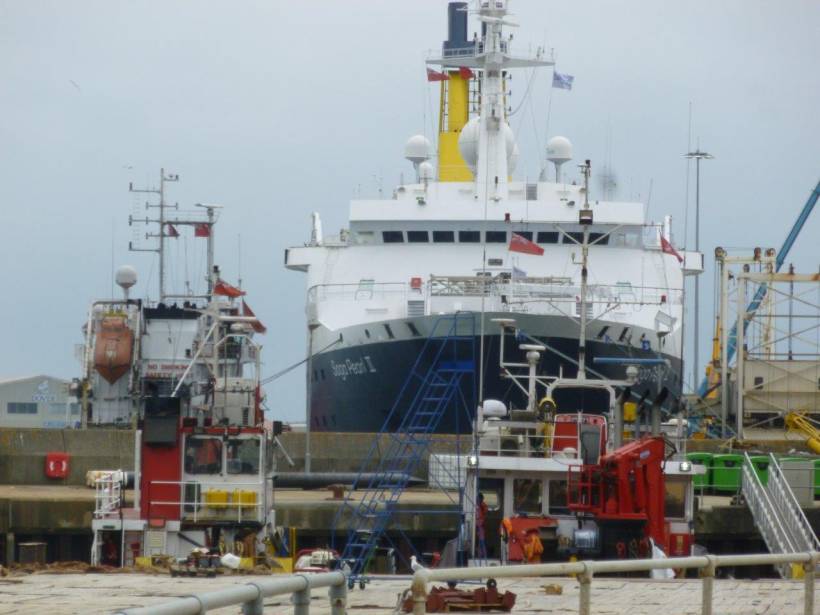 By late afternoon the sun had re-appeared & caught the DUZGIT HARMONY passing the frieghter EUROPEAN SEAWAY temporaily 'on the wall' as the bunker tanker heads for the DCT to await her next customer.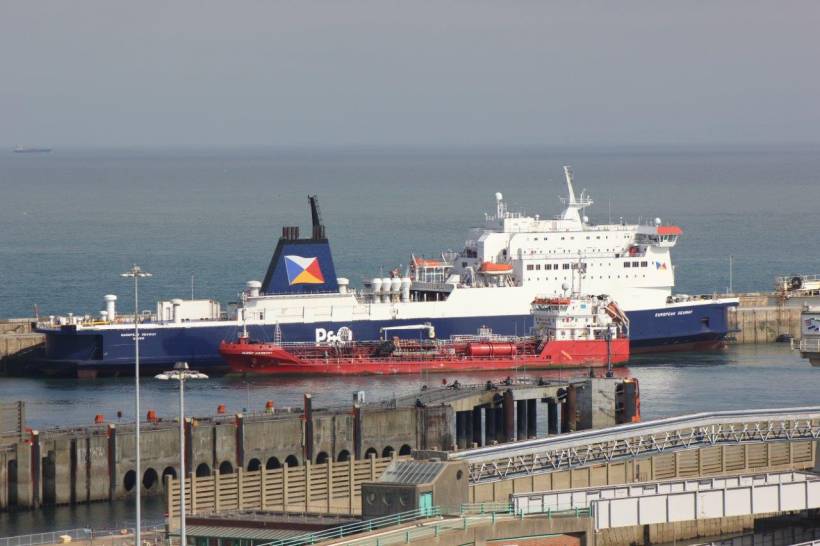 Friday, 13 July 2018 - 00:47
Post 5060
Sea News, Dover
PICTURE SPECIAL: The two fires near Dover Seafront Tuesday evening.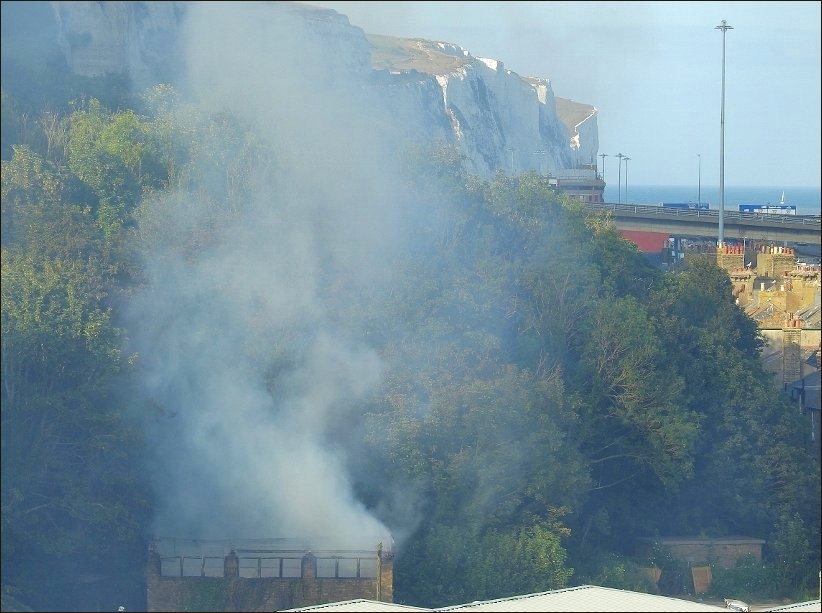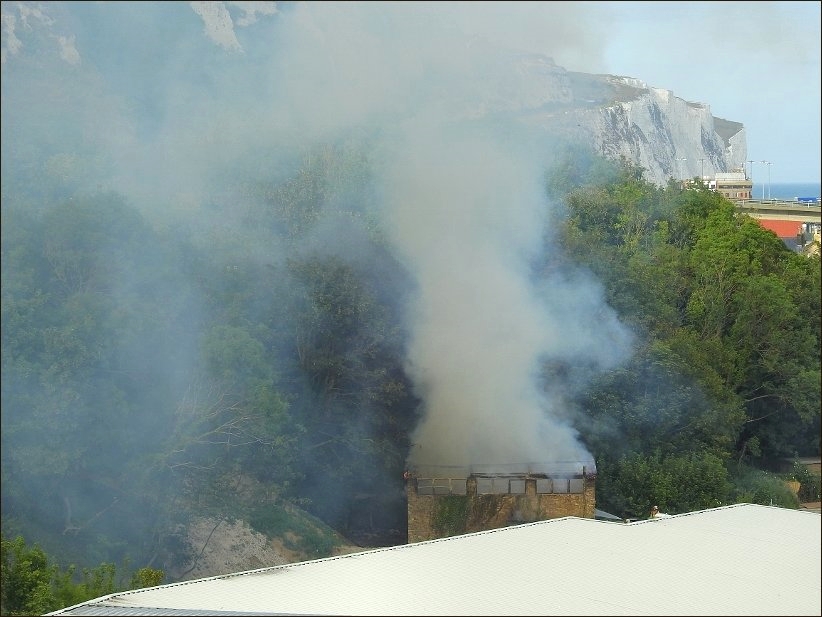 The shots above there show the fire at the old boathouse. The scream of fire engines filled the air so when investigating why...I saw the scene above...thick smoke billowing skywards. There have been some workings going on at this location...not sure what the plans are/were, but they came to an abrupt end on Tuesday evening. The fire was eventually put out...extra fire engines had raced down Jubilee Way to help. However on Wednesday morning it caught alight again, despite being extinguished the evening before. In other words it re-ignited somehow and all the services powered back again.
The Other Fire...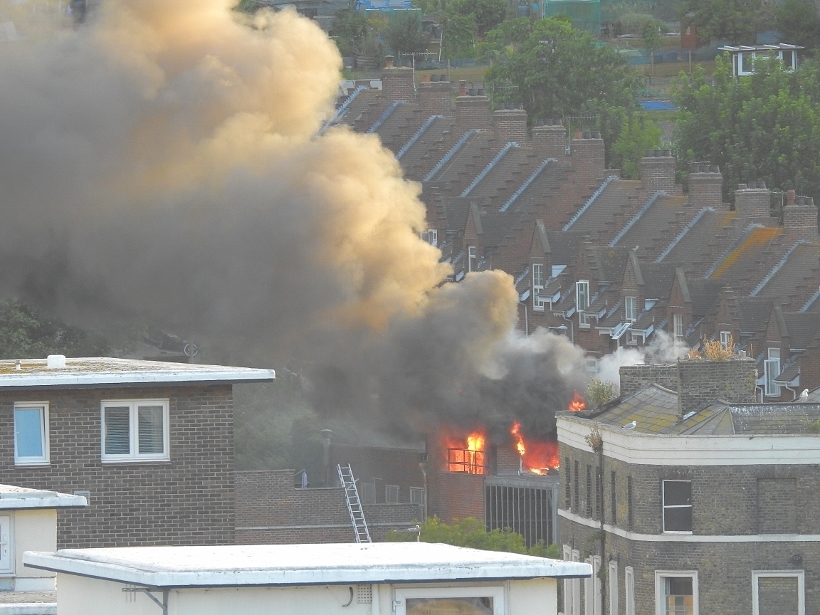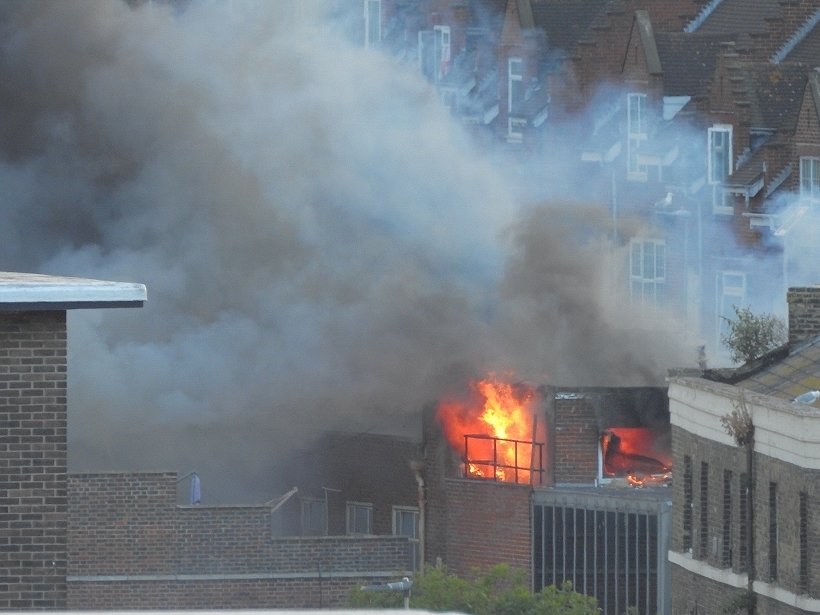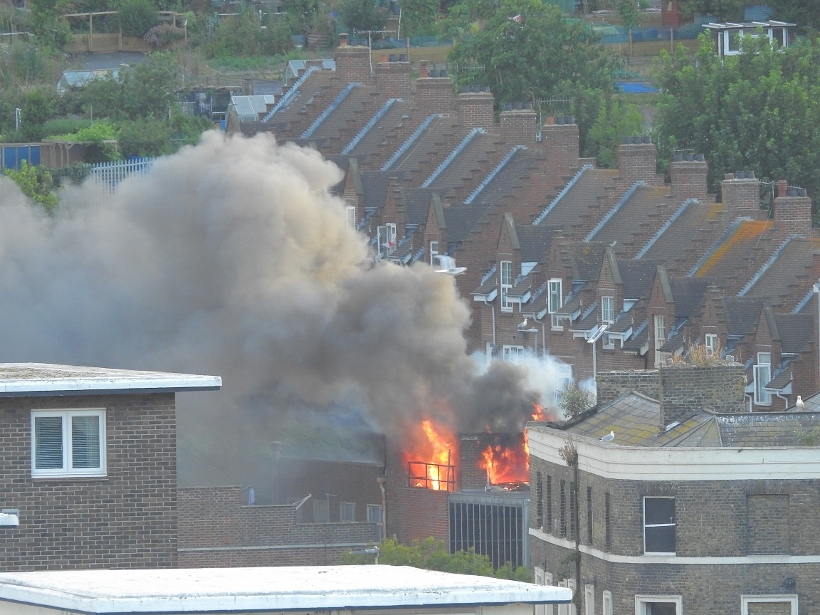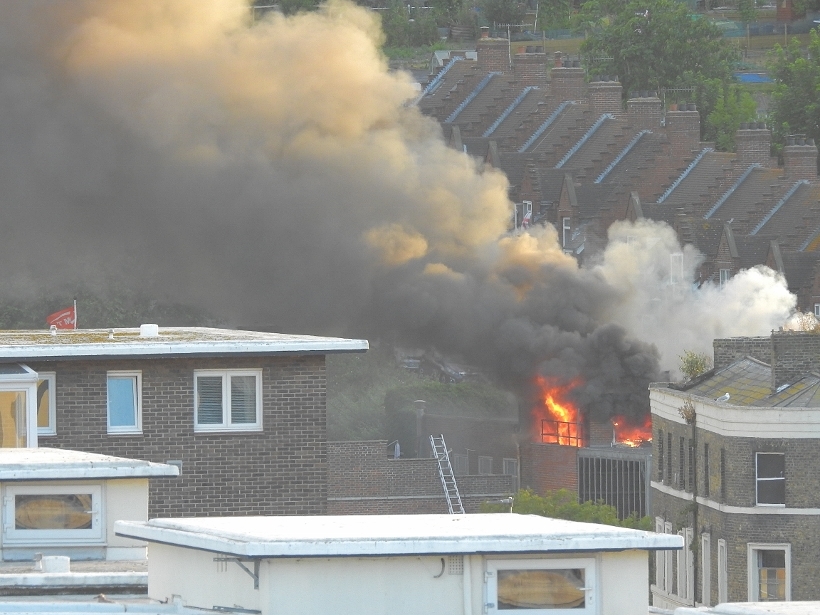 Above there we have pictures of the second fire. Most bizarre to have two large fires within an hour and a half of each other. This time we understand it was the old Nu-Age Nightclub...close to the York Street roundabout. All the services were immediately back in action again having hardly had time to enjoy a cup of tea.
From my location we had fires to the left of us, fires to the right of us...until we saw 'The Charge of the Fire Brigade' who heroically came to the rescue.
PaulB
Well done Mike below...nice shots there of Lady Ariane. I will be able to add to those in due course..
Thursday, 12 July 2018 - 06:47
Post 5059
Mike J., Dover
Arrival of LADY ARIANE from Belfast Wednesday morning, probably with more DWDR concrete sections.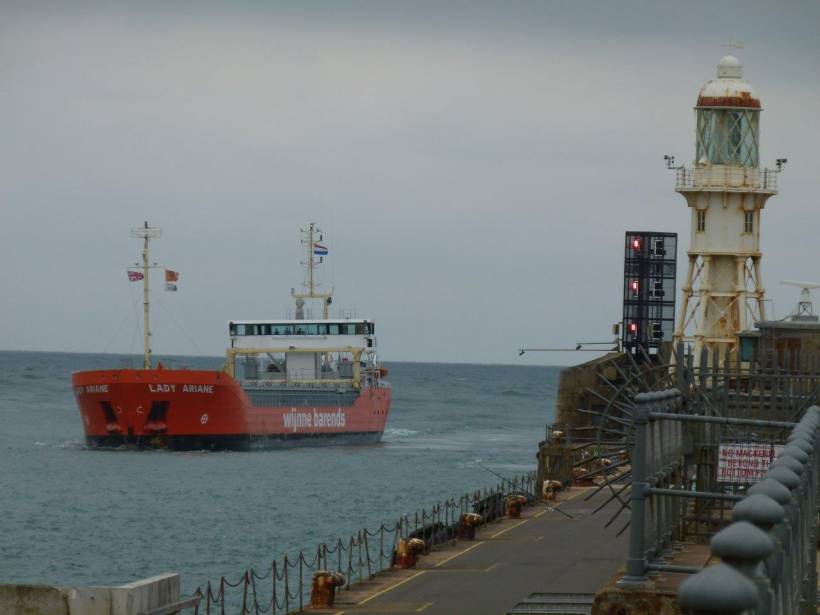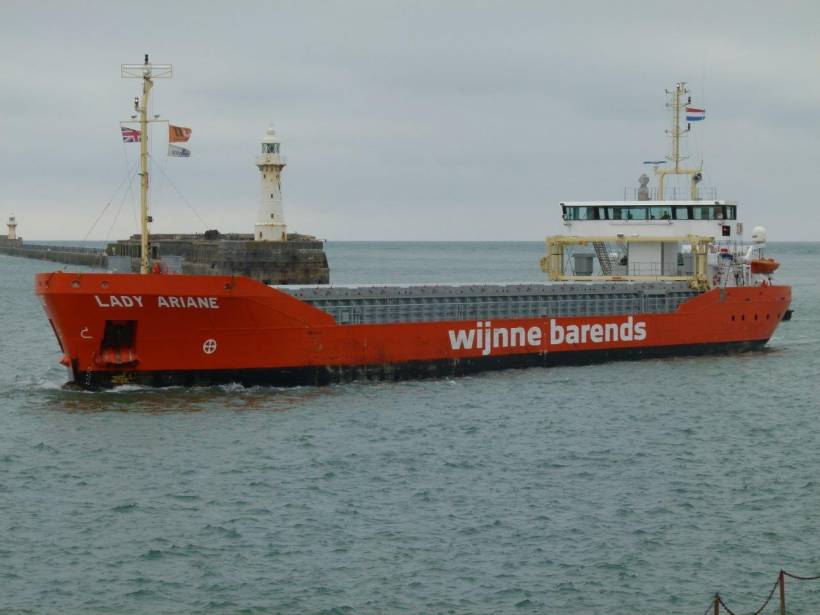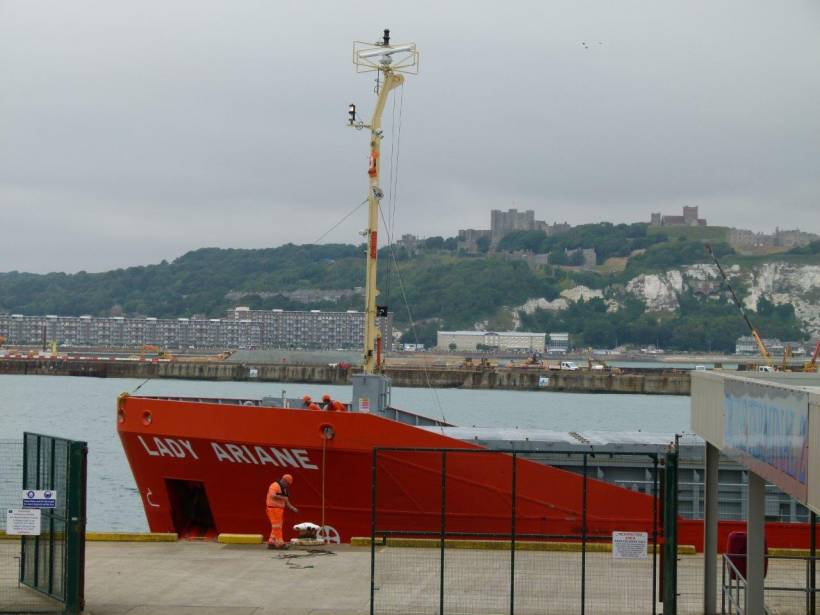 Wednesday, 11 July 2018 - 22:38
Post 5058
Sea News, Dover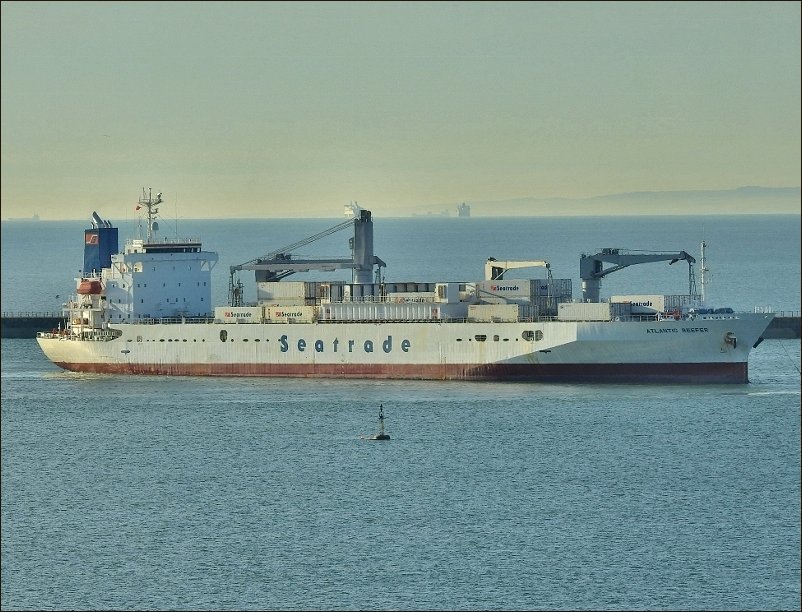 Featuring the Atlantic Reefer today: She arrived and departed on Monday. Slightly unusual that, to arrive and depart in the same day. The top picture shows her in the early weak sunlight arriving with us here at the Port of Dover. The following pictures show her later that day, in much greyer conditions as she departs for Hamburg. Quick turnaround Monday for sure..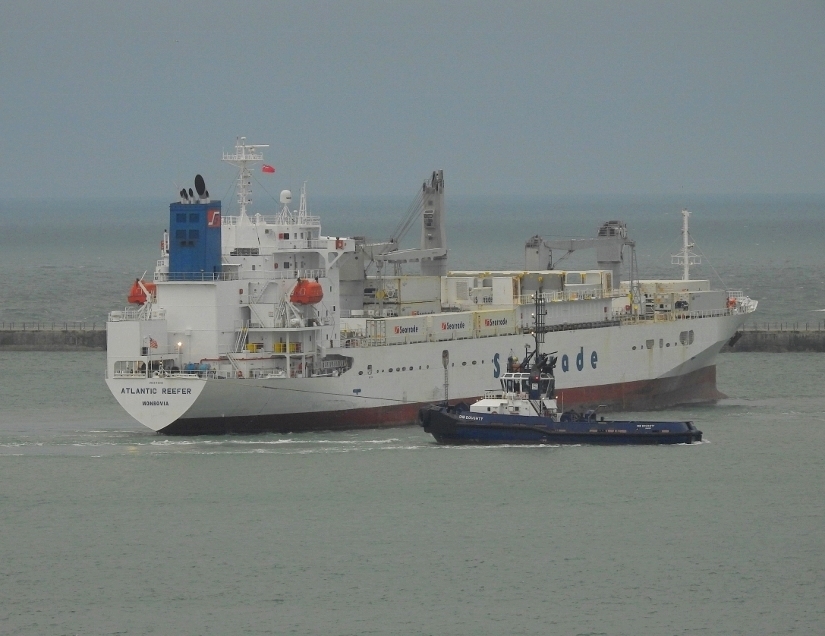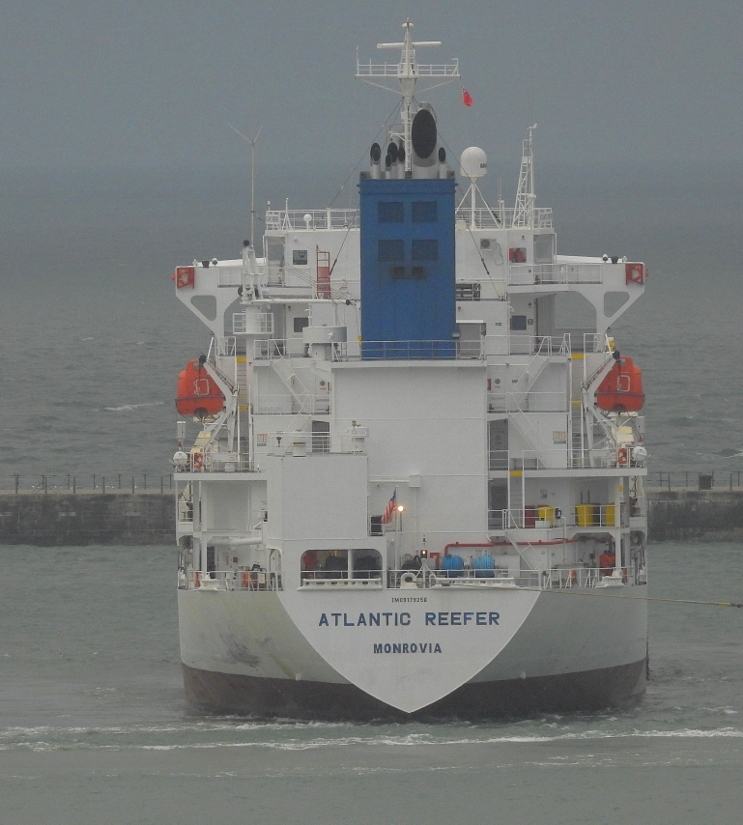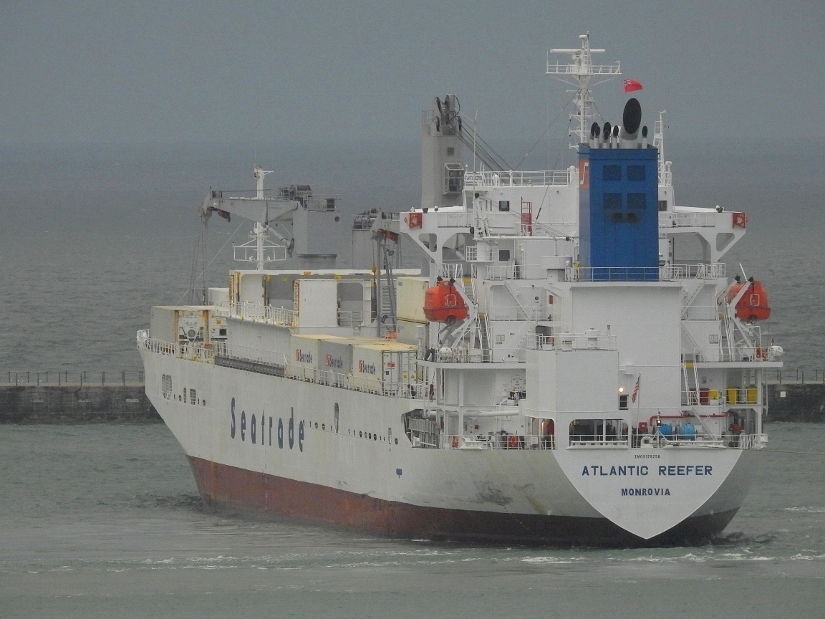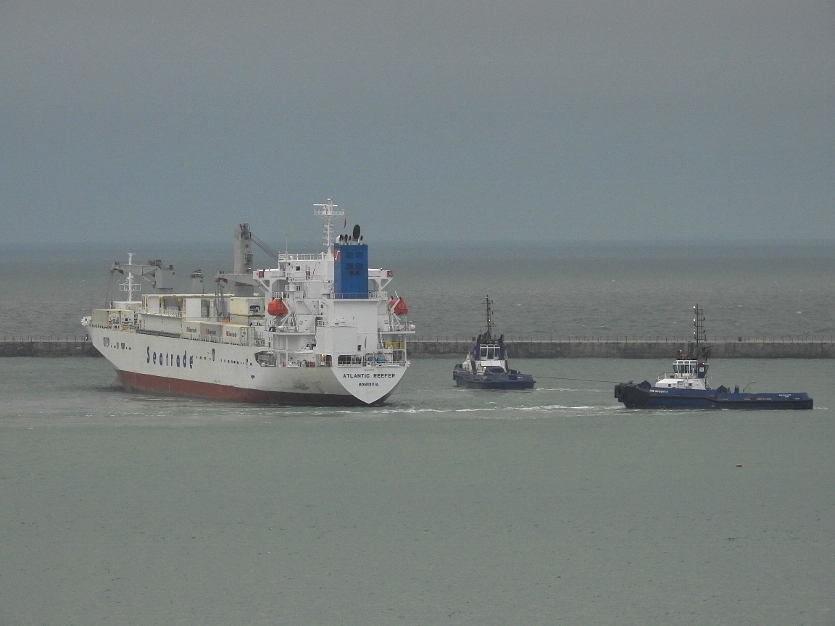 There she goes.
Many thanks Andrew for all that info below. Terrific stuff...will add that name to the oil platform picture for future ref...so it can be picked up on our Search Engine later.
Well done with those pictures too ..fascinating...

PaulB
EXTRA: there were two fairly big fires in Dover last evening, both close to the seafront. The old boathouse and the Nu-Age nightclub...odd to have two fires within an hour or so of each other, perhaps suspicious?? a very busy evening for the Fire Service. Will aim to have some pictures to follow in due course...
Wednesday, 11 July 2018 - 06:24
Post 5057
Andrew, Broadstairs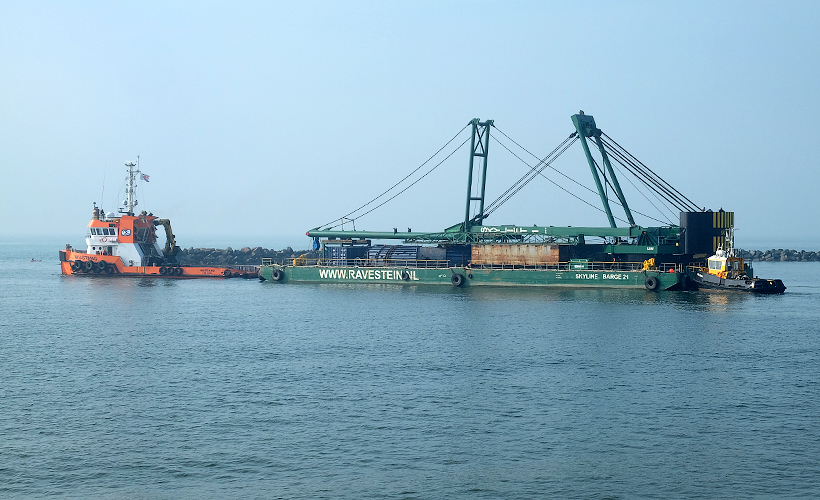 Inspired by Ted and then Sarah's pictures (Posts 5047 and 5036) of recent activity at Ramsgate I made an early morning (for me!) visit to the East Pier last Saturday, just in time to photograph tug MUSTANG towing SKYLINE CRANE BARGE 21 to Rotterdam via Immingham, presumably to pick up more work?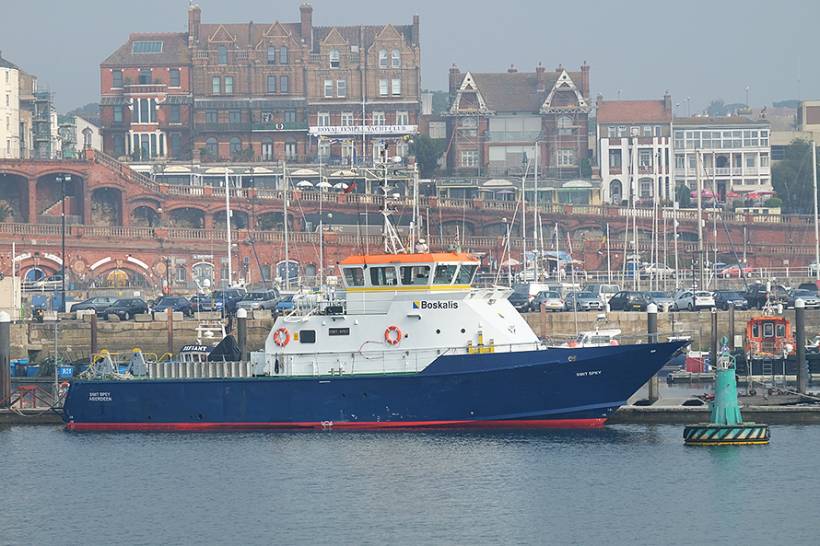 The Harbour always looks great in the early morning sunlight and revealed SMIT SPEY moored alongside the Marina, she was on passage from Buckie and is now in Portland (Dorset). With a service speed in excess of 16 knots she was built in the Philippines on behalf of Babcock, Southampton in 2003. She is classified as a training vessel specialising in air/sea rescue work.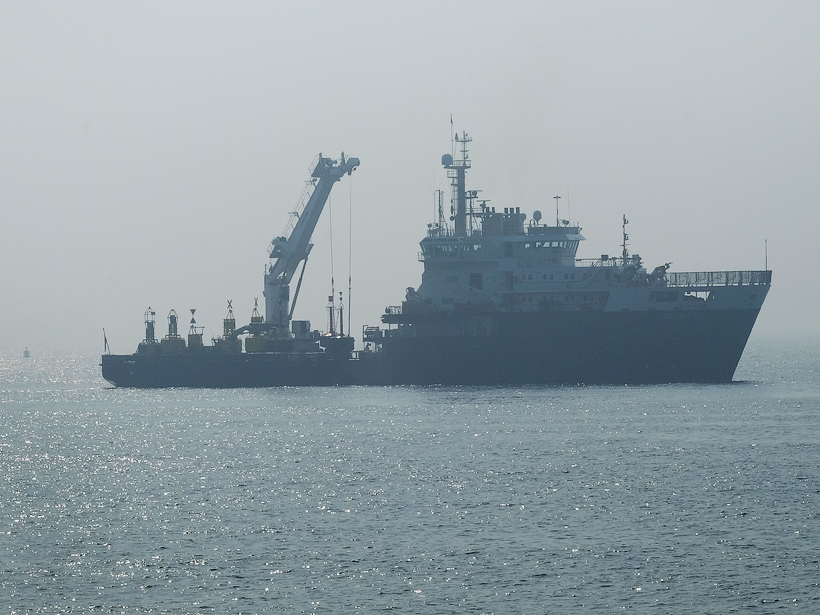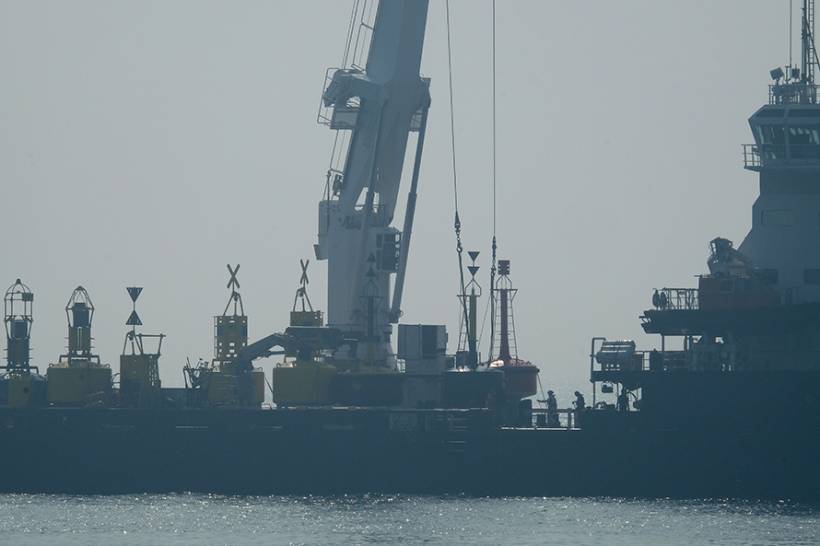 Once the tug and tow had cleared the main channel, Trinity House's GALATEA came out of the mist and commenced giving the buoys some maintenance her decks showing much work was on going,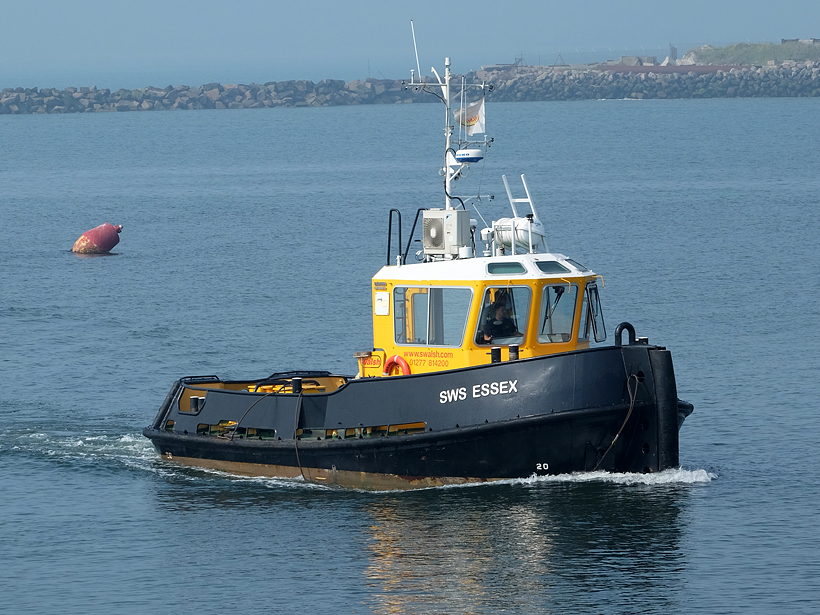 SWS ESSEX returned to The Royal Harbour having assisted the tow out into the open sea. A well spent hour, I must try and do it more often!
Tuesday, 10 July 2018 - 11:47
Post 5056
Andrew, Broadstairs
Just catching up with Sea News and noted two items with which I hope I can help, both originating from Norway!
The clue to the cargo of the self discharge vessel at the DWDR is her Port of Loading - JELSA which is the location of Norway's largest quarry for ancient stone which is used all over the world in port construction work, roads, railways and 'Rock Armour' in sea defences. This was recently used when repairing the railway lines at Shakespeare Cliff. It is reckoned to have on another 40/50 years supply, despite quarrying at an incredible rate.

The second item is your clear picture of the oil rig which I believe to be the SONGA TRYM under tow by ALP IPPON and ALP WINGER from Skipavik (Gulen) Norway to Aliaga for recycling, a sign of the times!

Tuesday, 10 July 2018 - 08:55
Post 5055
Sea News, Dover
A couple of pictures above there of the departing Saga Sapphire...she was off on a delightful trip down along the coast of France..sounds good to me. Among many treats, passengers will be sampling that wine in Bordeaux no doubt, as mentioned by ColetteB.
The ship aided in departure as ever by the pilot boat, and in the foreground you can see a DWDR platform being guided back to the inner harbour by the Holyhead Towing teamsters.
And speaking of platforms...this giant one below was being towed down the Channel yesterday afternoon by two tugs.. but.. yours truly wasn't able to find out anything about it...if anyone knows the name of the platform featured we would be pleased to hear. Time of picture: 3.25PM yesterday afternoon monday.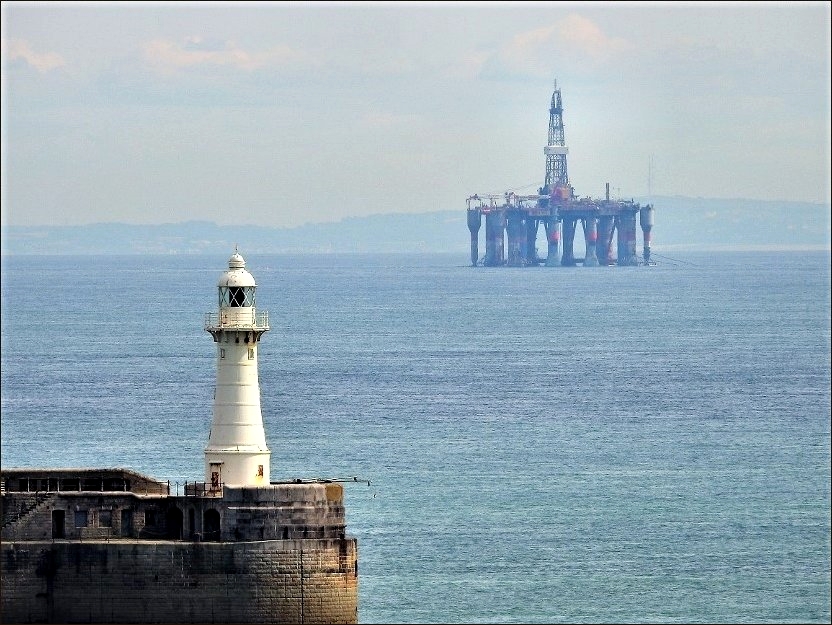 EXTRA: we believe that is the oil platform SONGA TRYM. Thanks to Andrew for the info.
PaulB
Tuesday, 10 July 2018 - 07:13
Post 5054
Sea News, Dover
P&O FERRIES' JENNY EVANS NAMED YOUNG PERSON OF THE YEAR
.......AT PRESTIGIOUS MARITIME AWARDS CEREMONY IN LONDON
_______________________________________________________

P&O FERRIES' Jenny Evans - who in January became only the second woman to captain one of the company's ships - has won the Young Person of the Year award at a ceremony in London organised by the prestigious maritime publication Seatrade.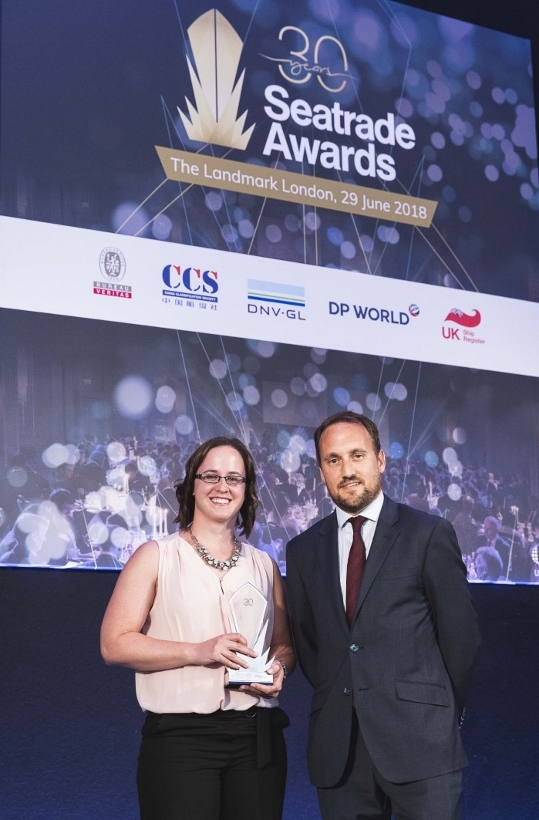 The 31-year-old Kent local, who lives in Rochester with her husband David, received her award in front of 300 guests at the Landmark Hotel in London's Marylebone on Friday the 29th June.
The awards, the best known and longest running in the maritime industry, were celebrating their 30th anniversary. They are designed to recognise individuals and companies which make outstanding contributions to shipping.
Jenny first joined P&O Ferries straight after taking her GCSE's and her father also works for the company.
She said: "I was honoured to receive this award, which came as a complete shock. I hope it encourages others within the industry and those thinking of joining the merchant navy to move onwards and upwards. I have always been lucky with those I have worked with throughout my own career both at work and at home."
The Young Person of the Year Award is presented to an individual under 45 who has made an outstanding contribution to the maritime industry. Jenny was this year promoted to the rank of Master on the Spirit of France and has responsibility for up to 200 crew members and 2,000 passengers who sail on the 47,000 ton ship between Dover and Calais.
P&O Ferries is a leading pan-European ferry and logistics company, sailing 27,000 times a year on eight major routes between Britain, France, Northern Ireland, the Republic of Ireland, Holland and Belgium. It operates more than 20 vessels which carry 8.4 million passengers and 2.3 million freight units annually.
Together with its logistics division, P&O Ferrymasters, the company also operates integrated road and rail links to countries across the continent including Italy, Poland, Germany, Spain and Romania. P&O Ferrymasters also owns a rail terminal in the Romanian city of Oradea, which facilitates the onward movement of goods to Britain from Asian countries via the Silk Road.
ENDS
Many thanks once again to the team at P&O Ferries for the info above.

Congratulations to Jenny...we did feature her previously too
see.. SECOND FEMALE CAPTAIN 4608.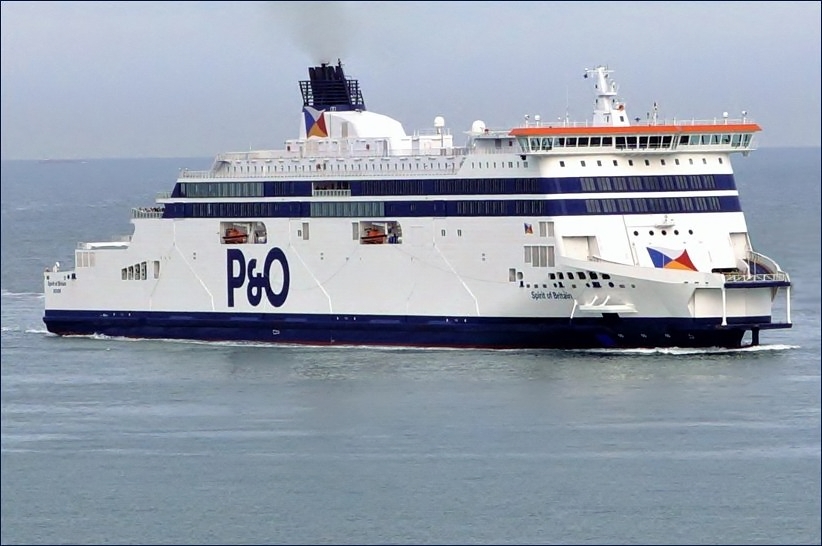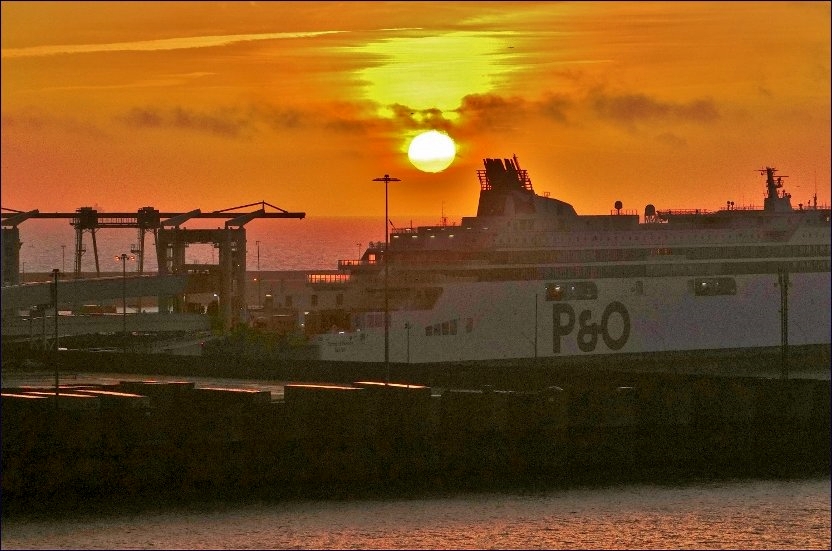 The Spirits of P&O …
PaulB.

Monday, 9 July 2018 - 06:14
Post 5053
Sea News, Dover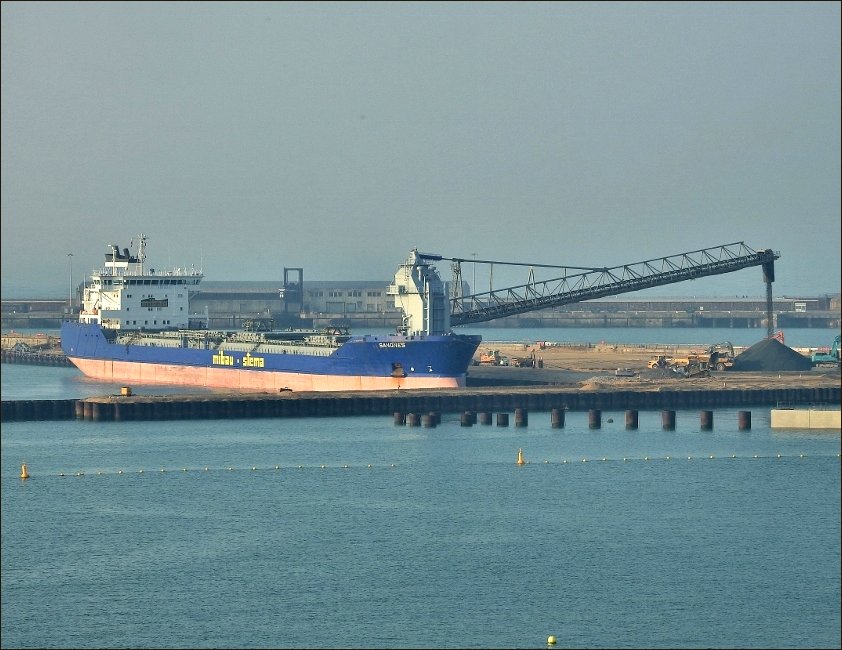 Mike was asking about the type of material being discharged...well hopefully this picture above will throw some light on the question. Its a graphite coloured sand-like substance and you can just see it above there as it was being discharged from the ship Sandnes on saturday…..
Sandnes has now left the building..or ermm harbour..

Following along from Patrick's shots of the Pacific Princess, we have an extra one below there as she moves away, heading off for a long stint in Scandinavia and Russia...the far point being the inviting St Petersburg.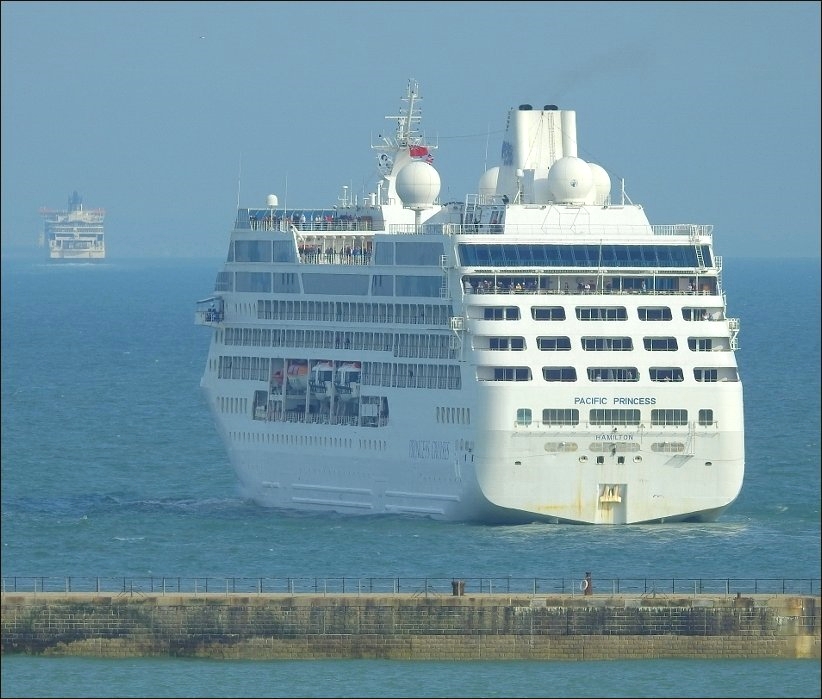 Thanks for the cruise listing Colette once again...some very useful info below there.

Sunday, 8 July 2018 - 04:36
Post 5052
Colette B, Dover
CRUISE VISITS
____________
The array of photos taken by the Sea News team almost takes your breath away, the awesome motor yacht 'Ghazal' powering by the Pacific Princess. Mike's detailed shots of the DWDR construction work and it is great to see that Dover has finally got a 'Sandy Beach' all of its own. Keep up the Good work Guys!

Now for next batch of cruise calls.
On Monday 9th July, Saga Sapphire arrives at CT1, 08.00 hours to start her 10 night cruise to the Harbours of Western France. Her ports of call are L'Orient (infamously remembered for the abandoned WWII submarine base), the Medieval port of Montour, Bordeaux (Oh, lovely wine

), La Pallice and Le Havre before returning to Dover Wednesday 18th July.
She departs at 16.00 hours, T/R.
Then on Thursday 12th July Saga Pearl ll drops anchor at CT1, 08.00 hours to begin her 16 night 'Icelandic Discovery' cruise. Her ports of call are Kirkwall in the Orkneys, Lerwick (Shetland Islands), Akureyri and Reykjavik ( Iceland),then Dublin before returning to Dover on Saturday 28th July.
She sets sail at 16.00 hours, T/R.
The last call in this collection is on Friday 13th July

when Boudicca graces us with her presence at CT2, 06.30 hours. She starts her 7 night 'Scenic Fjords of Norway' cruise, calling at the iconic Norwegian ports of Rosendal, Flam and Bergen returning to Dover to recharge her batteries on Friday 20th July. She leaves us at 17.00 hours, T/R.
Back with more cruise calls very soon

Saturday, 7 July 2018 - 16:02
Post 5051
vic m, Dovor
no fear about it that is good news ,Anyway back to the great photos coming out of the working port must be very hot down there for that kind of work better to work at nights when it has cooled down,

Saturday, 7 July 2018 - 12:30
Post 5050
Mike j., DOVER

Well done Sarah !
Sorry to have missed this nice looking tug, but I'm away 'oop north' at the moment.

Also sorry to have missed the interesting SANDNES but I believe that at least one more visit is expected.
It'll be interesting to know the material that was being unloaded. probably stone or gravel, & what will be done with it - expect that it was stockpiled & bulldozers/haulers will be involved distributing it.
Time for another visit to St Martin's Battery !

The information is probably somewhere on the many 'official' DWDR websites but life is too short to wade thru them all . . . . . .

Vic - fear that you are mistaken re the 'Goodwins sand' - the BARENT ZANEN's sand was obtained from 'licensed' dredging areas up towards Harwich.


Saturday, 7 July 2018 - 11:03
Post 5049
vic m, Dover
Is this true,?I have been told by some one in the know that they are taking sand from the Goodwins by dragging it off first then piping it up onto a ship and then bring it back to use at the Western end of the port.If this true it must be stopped and that who is doing it taken to court.


Saturday, 7 July 2018 - 06:42
Post 5048
Sea News, Dover
More of the Sandnes ..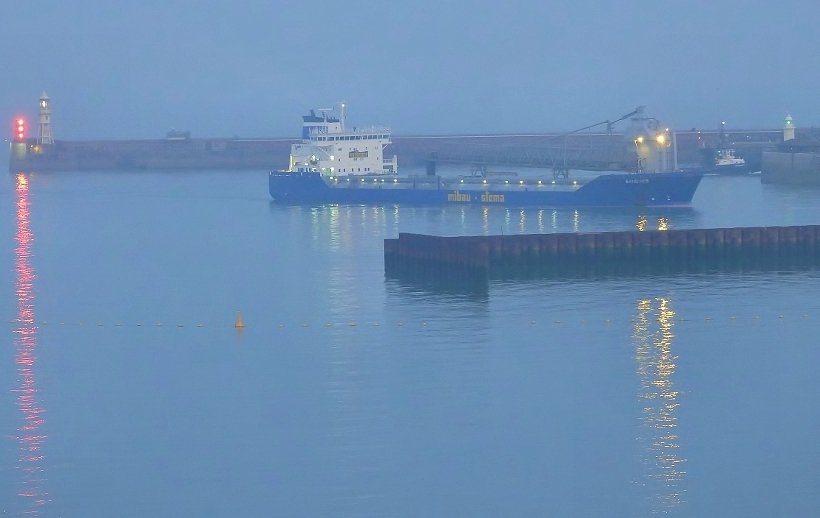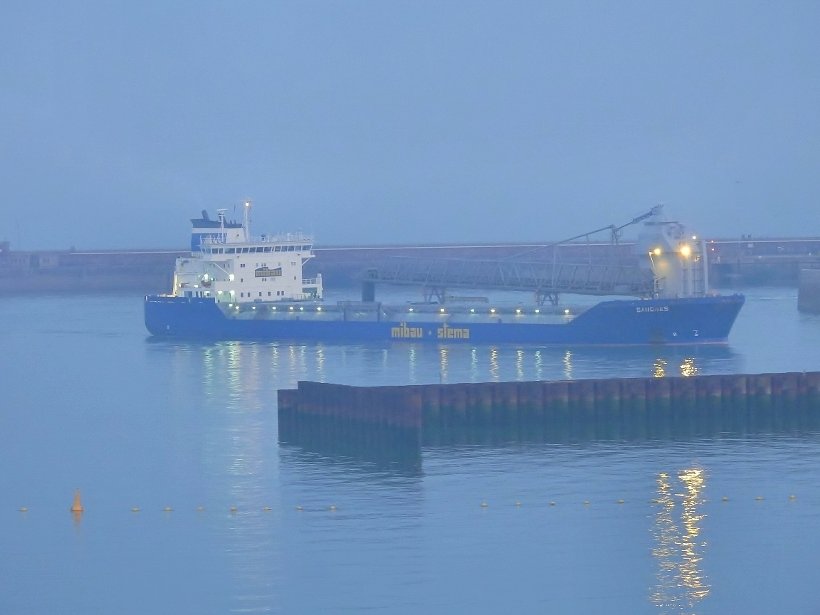 Yes these pictures were taken last night (Friday) as the Sandness slowly edged her way across Port and into position. Time of shots: 21.38 ...."twas a dark and misty night"... as you can see.
A shot below of our old friend the Lombok Strait as she readies for departure...she was off to Vlissingen in The Netherlands. Note both regular tugs of long standing are back in operation together again...you pull this way, I pull that...
Yes its Doughty and Dauntless in harmony together.
Pictured a few days ago.
Brilliant pictures below Sarah - cracking stuff once again. You are right in close, I can feel the salty spray in the air..


Great work all round Patrick...love the fake one of the Hercules and the Pacific Princess.
..and the night shots of Sandness. Great stuff!

Thanks Jeremy once again for the excellent info.

Indeed Del a welcome collection from Mike of the daily DWDR grindings

Thanks Vic once again for the positive comments.

PB
DONT miss those pictures below
Saturday, 7 July 2018 - 06:16
Post 5047
Sarah, Ramsgate
Mustang arriving at Ramsgate. Hope these are ok for you Mike
.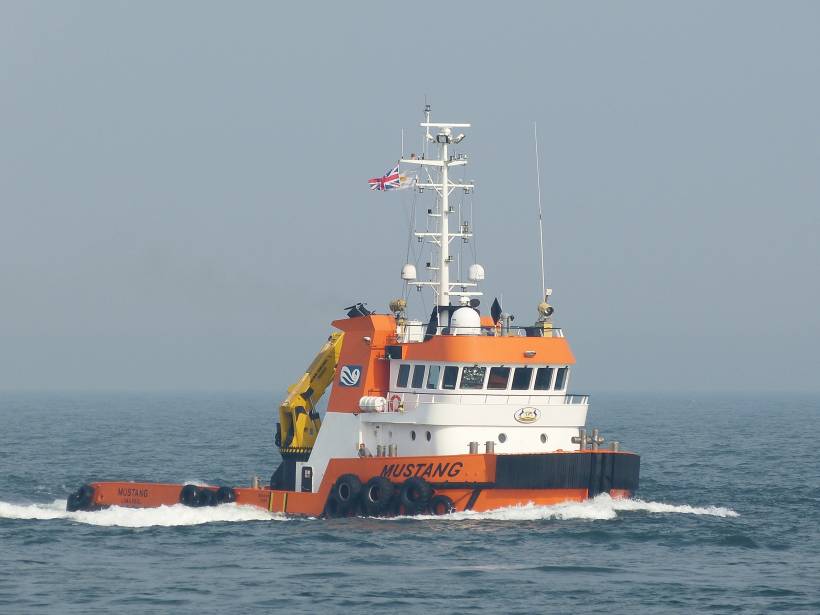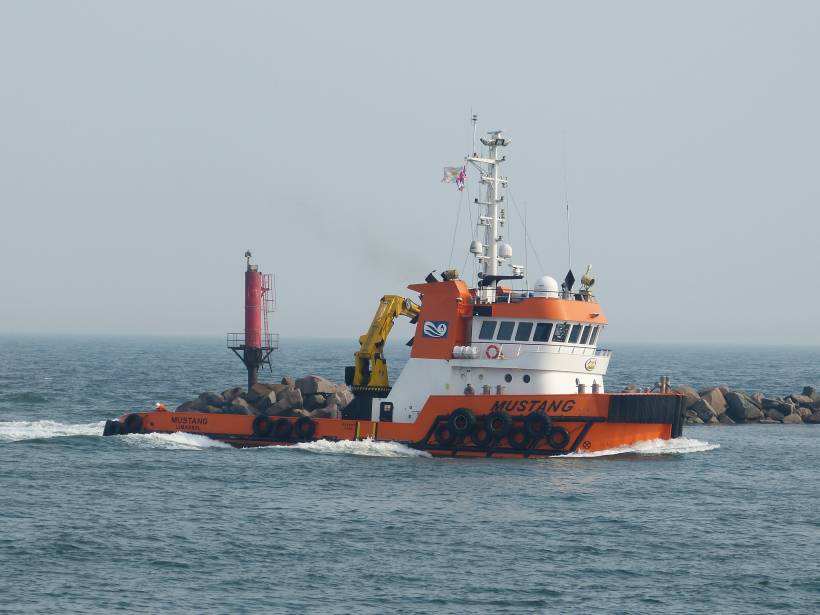 Estuary Elan returning to Ramsgate.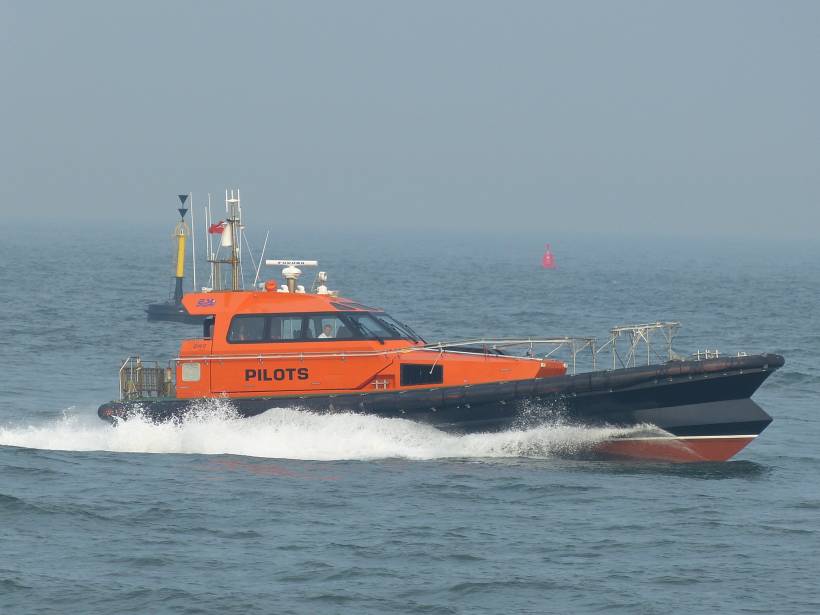 Ramsgate Inshore Lifeboat launched on a duty call with Mustang & Hunter also in the photo.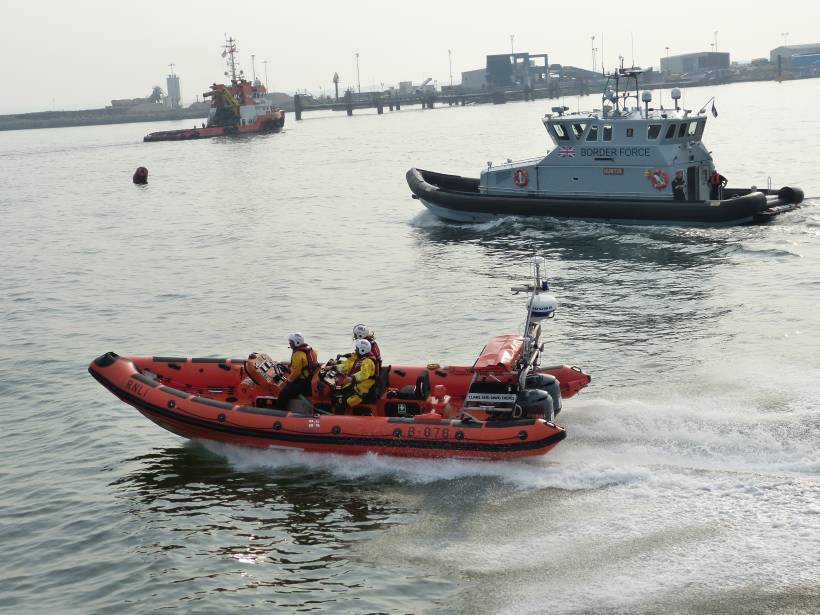 Border Force "Hunter" leaving Ramsgate on duty.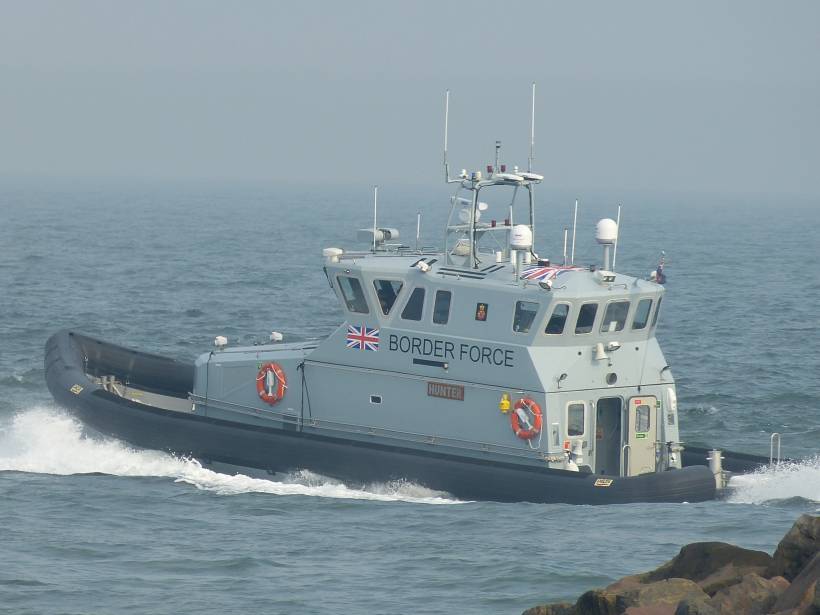 Saturday, 7 July 2018 - 02:08
Post 5046
Patrick, Marine Parade
#5044 Thank you Jeremy for the aircraft identification.

Friday, 6 July 2018 - 22:43
Post 5045
Patrick, Marine Parade
Self discharging bulk carrier 'SANDNES' berths at the new DWDR infill area where Cargo berth C will be when completed. Not very clear shots with the evening light fading rapidly. The extending arm seen in the first shot is deployed and lit in the third photo. Plenty of activity around the top of the infill area tonight. Flashing lights everywhere.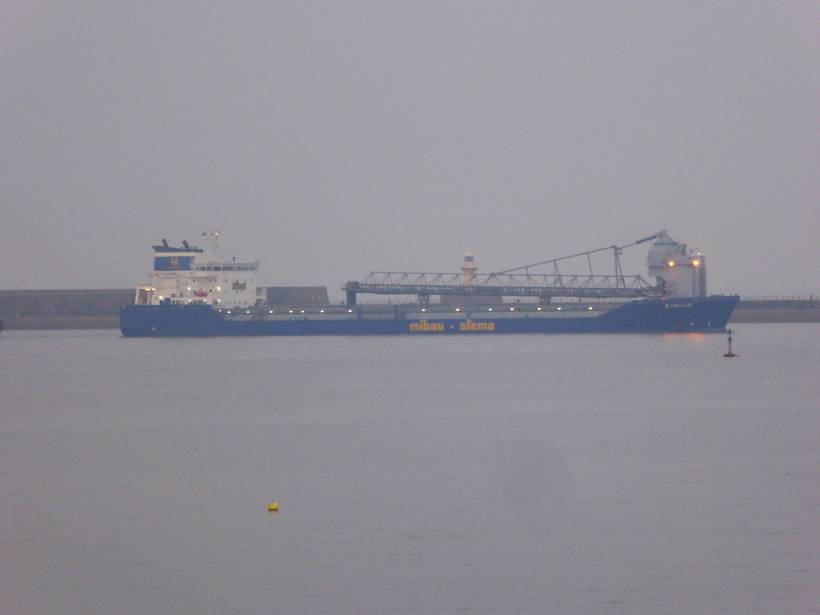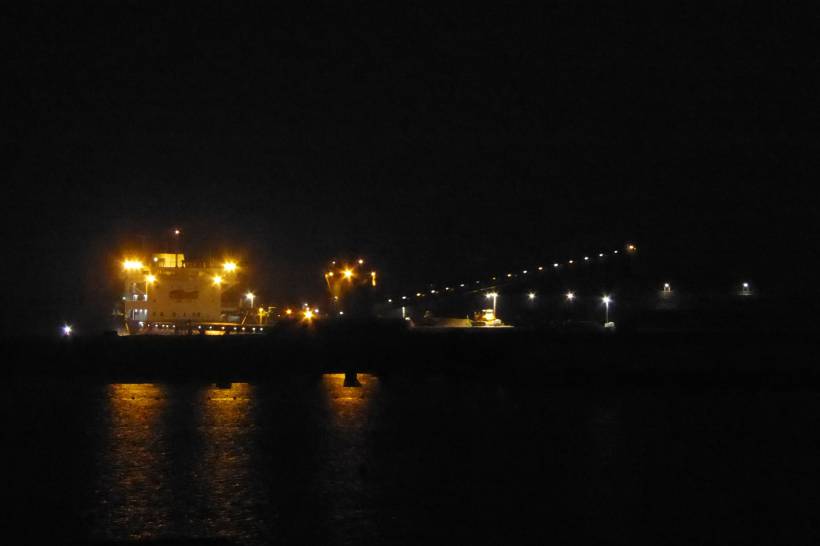 Friday, 6 July 2018 - 22:25
Post 5044
Jeremy Ward, Whitfield, Dover
That RAF plane is a C130J Hercules

Friday, 6 July 2018 - 22:16
Post 5043
Patrick, Marine Parade
Just seen the 'SANDNES' a self discharging bulk carrier coming across the harbour heading towards the new Cargo Berth C at the infill area. Came from JELSA in Norway. Hopefully more later but the light is fading fast.

Friday, 6 July 2018 - 21:44
Post 5042
Patrick, Marine Parade
The 'Pacific Princess' leaving Dover for her 14 night Scandinavian & Russian Collection Cruise on 4th July.
As she departed a low flying RAF transport aircraft passed low overhead. I could not get both into one shot unfortunately as it happened rather too quickly for my less than agile reaction these days - so here is a superimposition (a fake, if you like) to show both in one shot. The second and third shots are the real deal.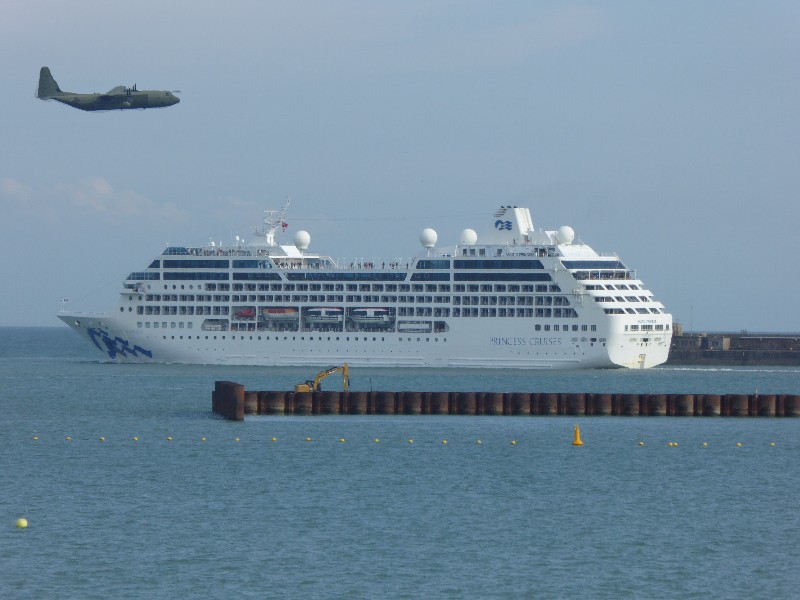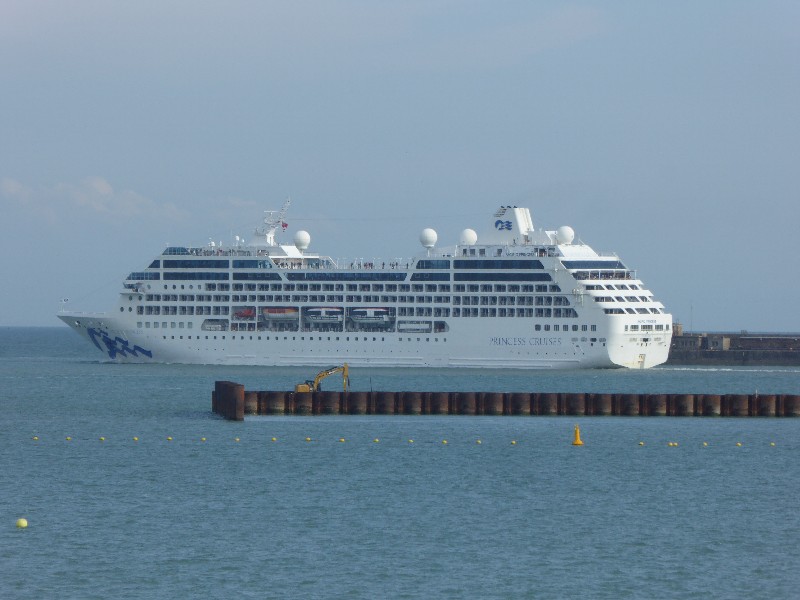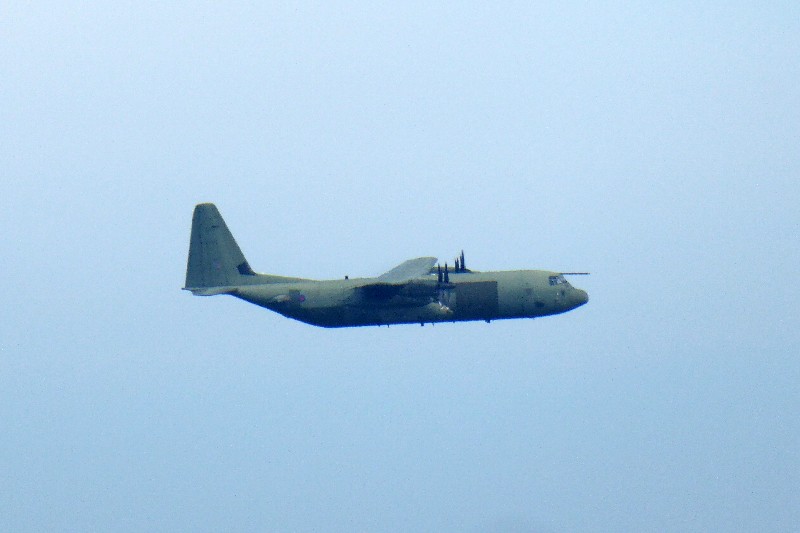 Can some RAF buff identify the aircraft. Is it a Lockheed C130 Hercules C5?
Friday, 6 July 2018 - 21:20