Wednesday, 28 June 2017
Dover Lifeboat in recent action. Long range picture...
doverforum.com/sea-news
Featuring all the ships that come and go and work at the Port of Dover with further coverage of Ramsgate, Calais, Dunkerque.
Email:dover7@msn.com to send SEA NEWS pix or info.... or click ADD YOUR COMMENT below to post direct, no membership needed. Use our SEARCH ENGINE below to find all sorts on the SEA NEWS pages..more than 180 now with more than 3666 nautical posts. Posts welcome. Max of 5 pictures preferred per post. Sea News Editor Paul Boland.



Sea News Dover:



P&O Ferries give Lifeboat £10,000...see 3933.
DFDS Cycling Special : Tour de France see 3902.

P&O visit St Richards School 3904.
P&O Ferries award surprise Bursary.... 3816.
BEST EVER FIRST QUARTER FOR DFDS...see below..3813.
Highest ever Q1 Freight Volumes for P&O see 3623.
Type Cruise Visits in search engine below for the latest cruise ship arrivals..
in fact you can find anything in our Search Engine.
Post 3860
Patrick Simmons, Marine Parade
Summer flowers to colour our seafront - lovely pics Paul.

Re: Sour Note: new road layout through Dover.....
Oh how right you are to be sure.

So much for the assured"connectivity" promised long ago to make routes to/from the seafront from town more accesible.
It has never been worse.
Both routes to/from Marine Parade cause confusion to visitors and frustration for residents. Worse still it actively promotes illegal or dangerous 'U turns' and the only exits (Marine Parade East and Wellesley Road) require a jump across fast (and even faster) dual carriageway to get into the correct lane for access to the town. With more ferry berths promised at Eastern Docks with the opening of the new cargo terminal at West the traffic, the problem, and the dangers, will be further exacerbated.

Our 'Charlie' should widen his views, and praise, of the benefit of the A20 variable speed limit, to address the concerns of townsfolk and frustrated tourists alike (I met one just the other day in a car in Wellesley Road asking politely how to get to the feryy terminal - what do you tell them!), before a serious incident occurs.
'Go West Young Man' has a slightly different connotation here perhaps.

END OF RANT (but my pet hate)


Wednesday, 31 May 2017 - 11:08
Post 3859
Ed Connell, Dover Strait
Elvira at the DCT today.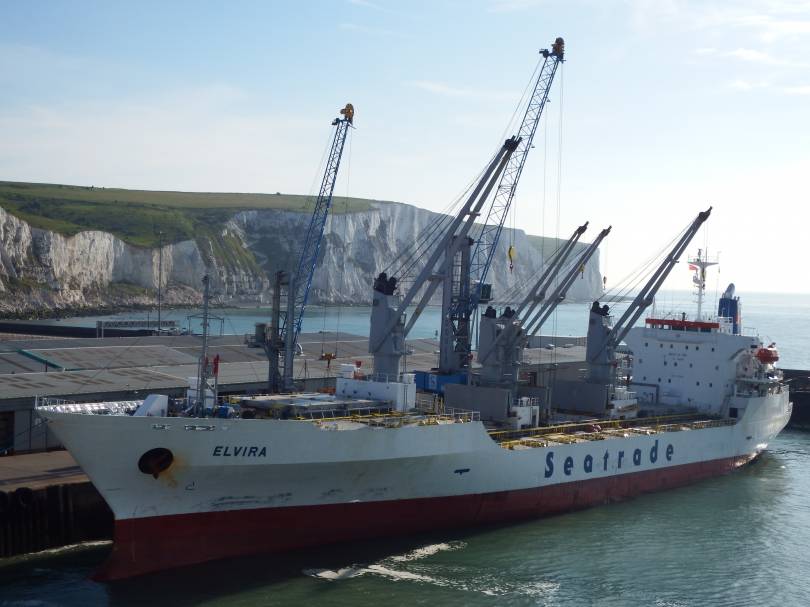 Wednesday, 31 May 2017 - 07:49
Post 3858
Sea News, Dover
As promised - our annual display of the wild flowers on Dover Seafront ...
the wild flowers spring into bloom this time every year and they look great, they only last a relatively short time so get on down here...visit Dover Seafront.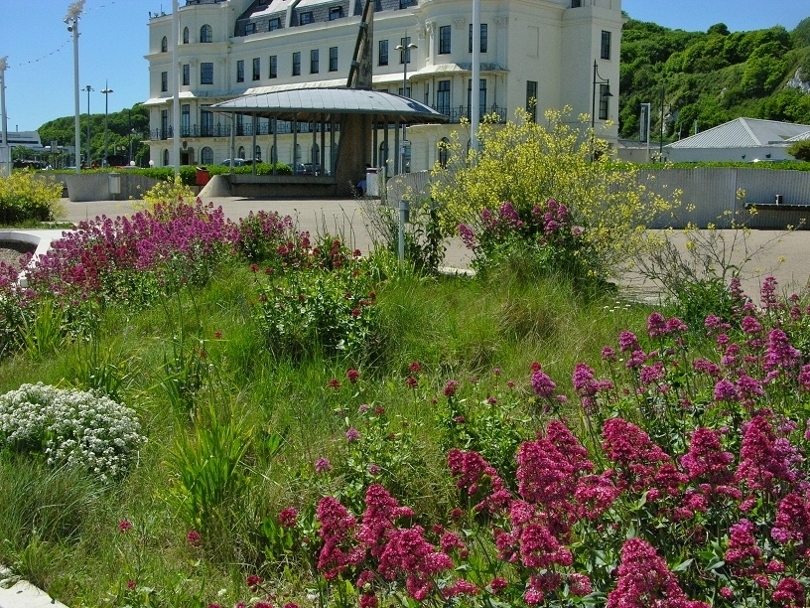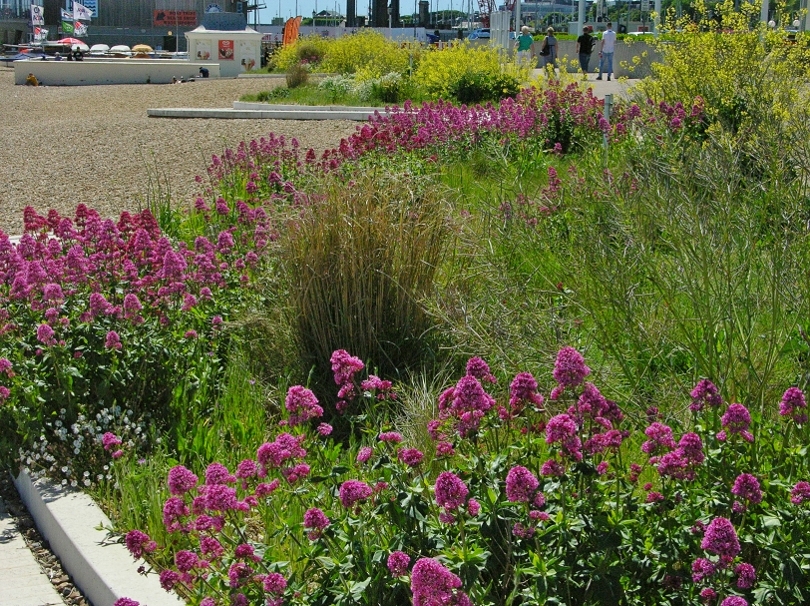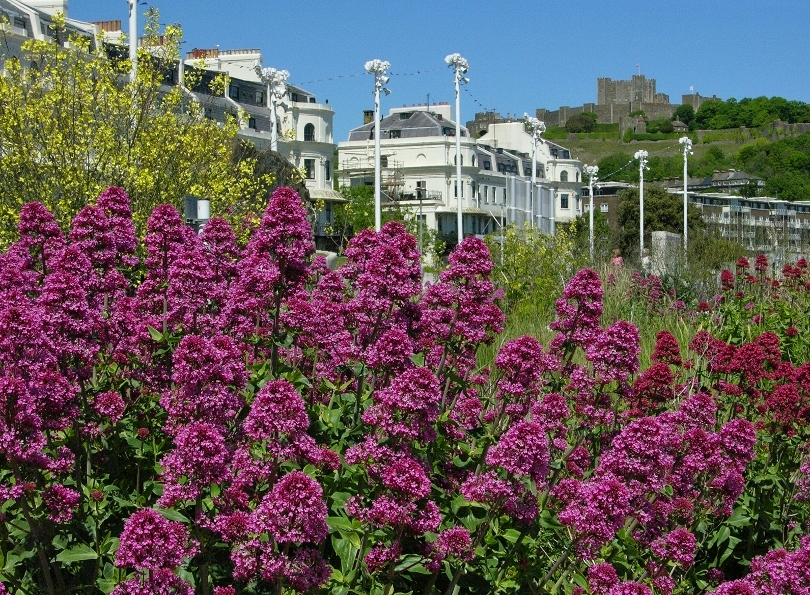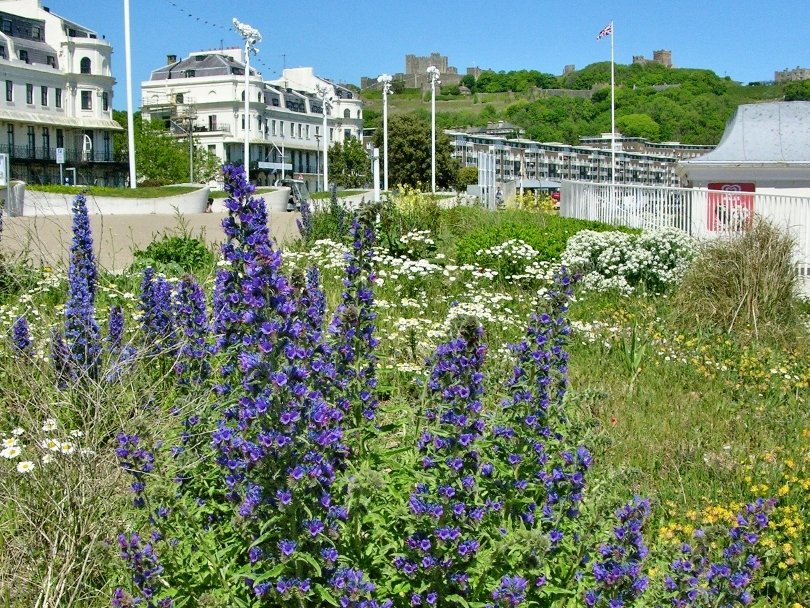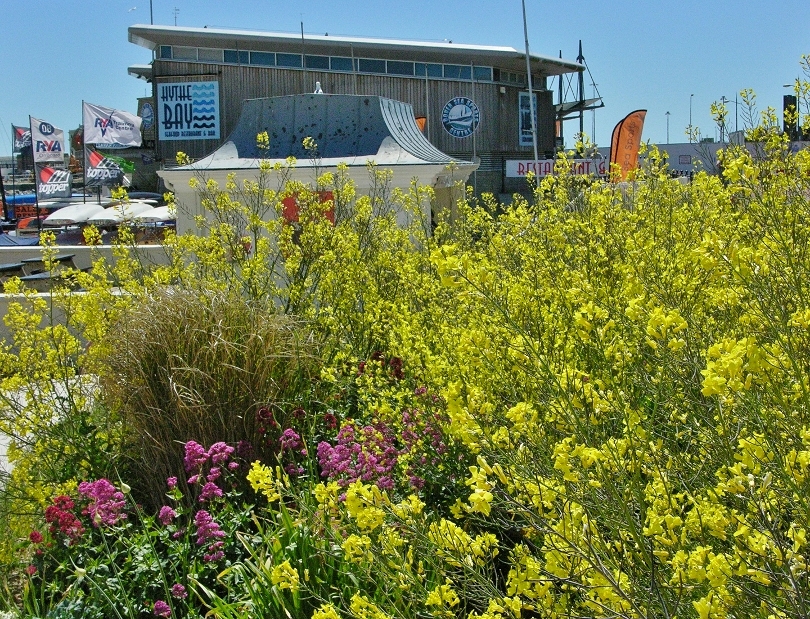 I will let the pictures do most of the talking. When the new seafront was designed five or six years ago they left five sections of...what looked to yours truly like scrub. I thought..whaaa?? But wise heads had prevailed and at this time every year...there we are...uncultivated heaven.
I have been asked to point out too...the delightful Hythe Bay Restaurant right on the beach here as seen in the final shot...is open for fine business despite all the new harbour developments.
* *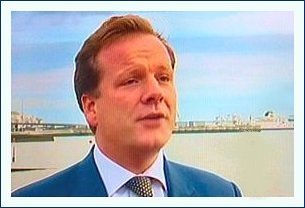 The A20 VICTORY IS GREAT NEWS says Charlie
The works are finally starting on the A20. At long last the hated 40mph speed limit is officially going. This is another important piece of progress for our area. Indeed, all over Dover and Deal cranes tower in the skyline and diggers roll by as workmen are busy getting things built.
Since 2010, we've come a long way together. We've built a new state-of-the-art hospital, fixed our rail line in record time – and soon new shops and restaurants will spring up at the St James site. Sorting out the A20 speed limit is another step forward. It was only ever meant to apply when there were problems with traffic. It was not meant to be on all the time. Finally getting highways chiefs to deliver what they were meant to do in the first place is positive for our community.
..... Charlie Elphicke MP
That's a short section of the recent newsletter from Charlie. We are in the midst of an election as you will know, so that's the section that's relevant to this post. We will all be glad to see that 40 mph limit finally disappear.
SOUR NOTE:
Yes indeed sorry about the sour note but here we are.
The new road layout through Dover is working fine save for one thing. Let me explain..
The hotels on the seafront are packed with visitors this time of year all heading for the port and of course further afield to Europe. They leave the seafront to go to the port in the mornings and when they go onto Townwall St ( the main road) at the outlet next to the Premier Inn, they are shuttled away from the port for a couple of miles. They have to go all the way to the old roundabouts in order to turn back towards the Port.
Of course the visitors don't know this plan. They are shuttled back from whence they came knowing the port is getting further and further behind them, and many in panic are doing u-turns at the main intersections of York St and at the Maison Dieu/Leisure Centre. And who can blame them...?
Some way for them to head towards the port sooner needs to be found. A new legal U-turn section added at one of the main intersections would be useful and safer for all.
PaulB.
* *
Well done Mike and Ed with those shots of the Monarch below. You saved the day.

Whats that.. Mike in Ramsgate?? I will have to absorb that one after a cup of strong early morning coffee.

Thanks Ray. Good to hear from you again. Yes indeed will keep going- lots more to come.

I gave the ancient Nikon a run out with the wild flowers as I do every year.
Its an early digital model. Thankfully nowadays the cameras are much easier to use.
Wednesday, 31 May 2017 - 05:29
Post 3857
Mike J., Dover
Tuesday evening & the MONARCH prepares to sail as the CITY OF LONDON II exercises in the bay.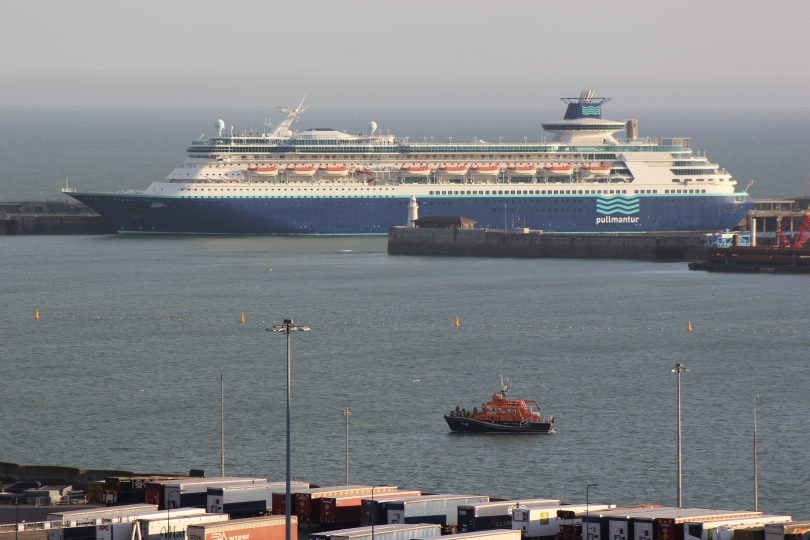 Dredger ARCO AXE passes by as the MONARCH sails for Ymuiden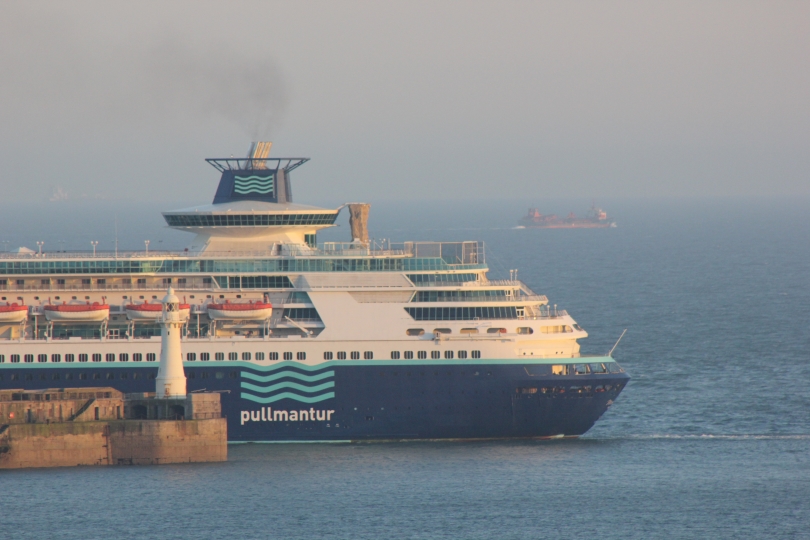 Poaching in Sarah's territory the same day, yet another view of Border Agency's EAGLE.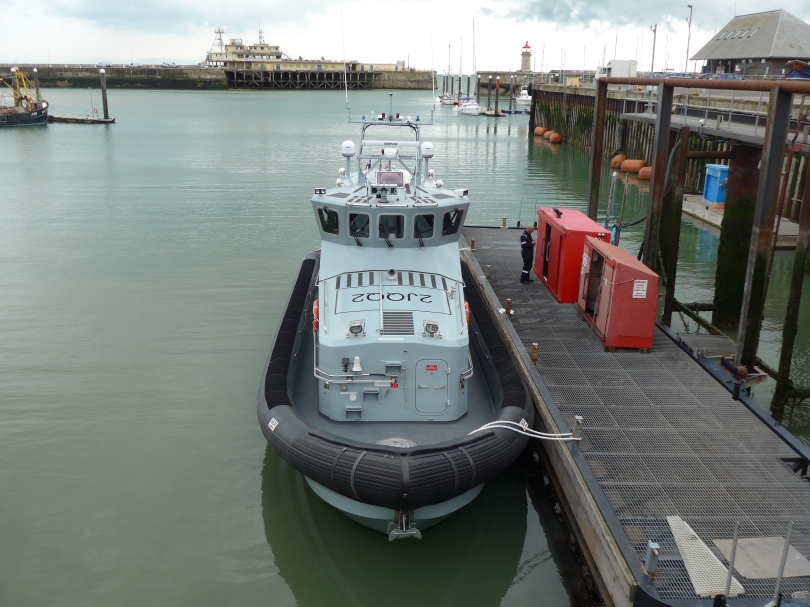 The windcat PORTH DIANA laid-up in the Inner Harbour while in the Outer Harbour the FPV MERISSA seems to be tied-up across from Noahs Ark.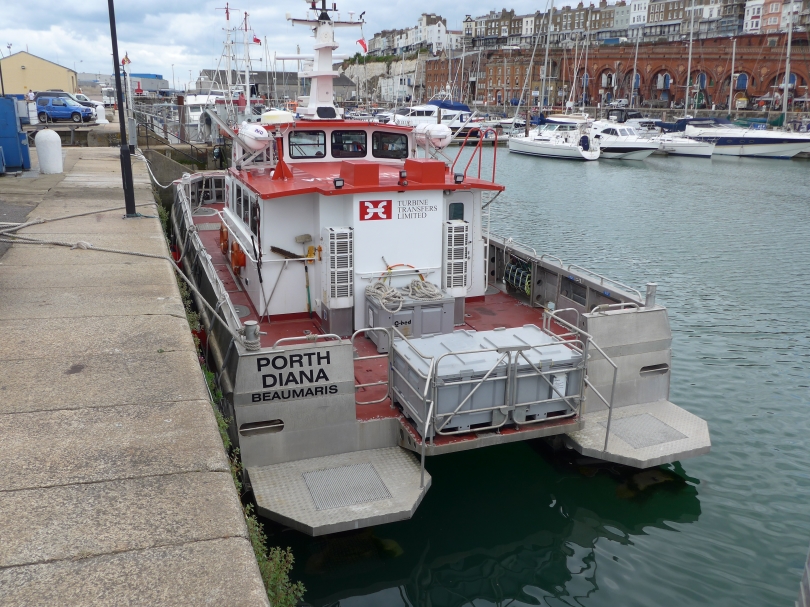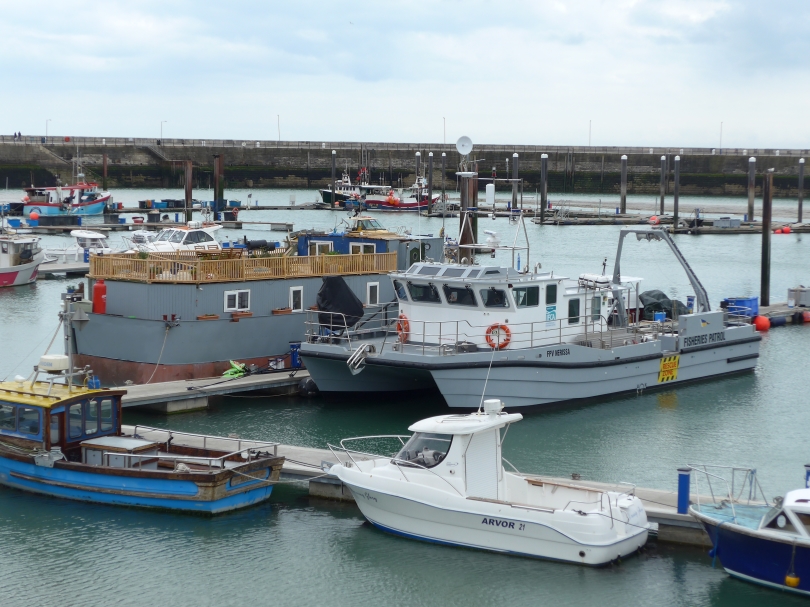 Wednesday, 31 May 2017 - 00:22
Post 3856
Ed Connell, Dover Strait
Monarch at the cruise terminals today with Dover Explorer entering by the Eastern Entrance.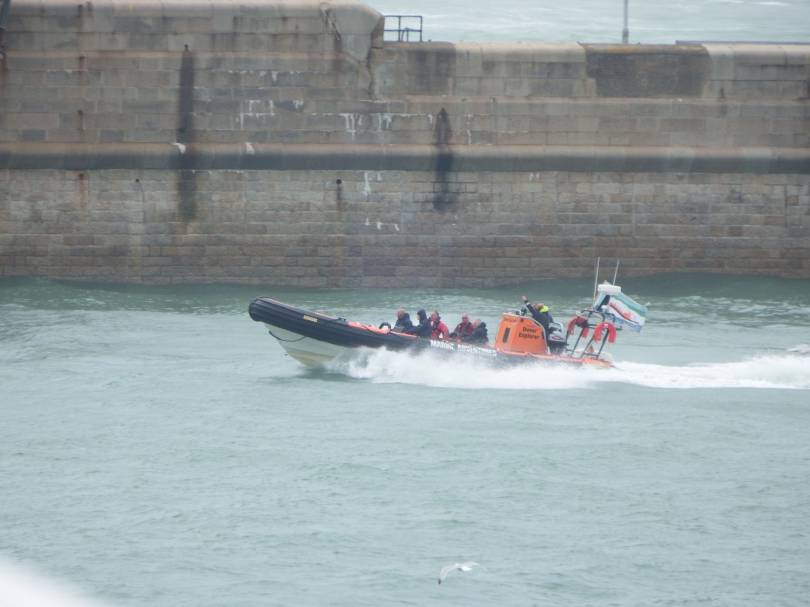 Tuesday, 30 May 2017 - 18:43
Post 3855
Ray H, Dover
Re your fears about overdoing Cranes in post 3852 - Worry ye not and keep up the good work.

Tuesday, 30 May 2017 - 16:16
Post 3854
Sea News, Dover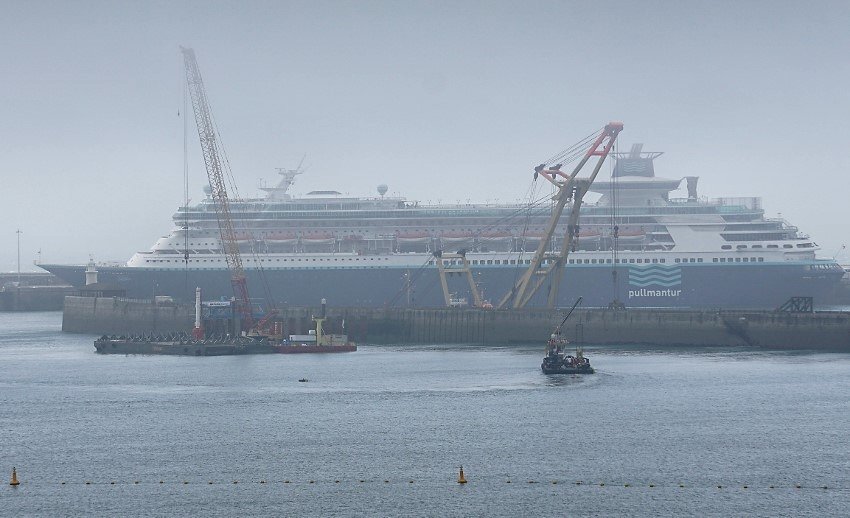 Monarch through the mist this morning...not the worlds greatest picture by any means but it conveys the general situation...
Blimey Ed - what a cracker below. A real beauty, its a shame in a way to put anything above it on the page.

PB.
Tuesday, 30 May 2017 - 15:10
Post 3853
Ed Connell, Dover Strait
Belgian schooner Rupel in the Dunkerque fairway today.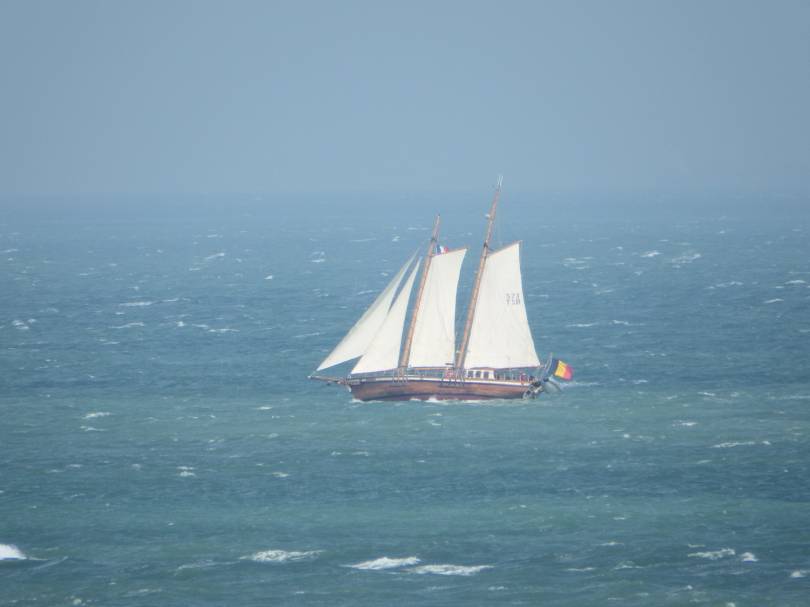 Tuesday, 30 May 2017 - 13:09
Post 3852
Sea News, Dover
Phew! I'm having one of them days and its only early...
made an error so here we go again..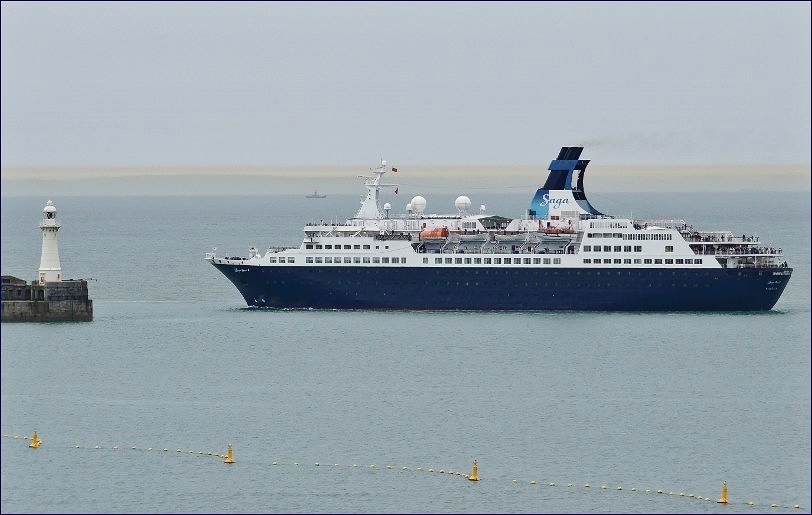 Almost overlooked in all the current excitements...here we have the Saga Pearl II departing on sunday evening. She was heading off to Stavanger, the first step in her North Cape Cruise as mentioned by ColetteB previously. An exhilarating trip for those onboard for sure. Hope they packed their anoraks... it gets chilly up there..

Below we have her earlier in the departing procedure as she turns amid the platforms etc. That's HMS Falken again to the left of shot below... with Arion in the foreground.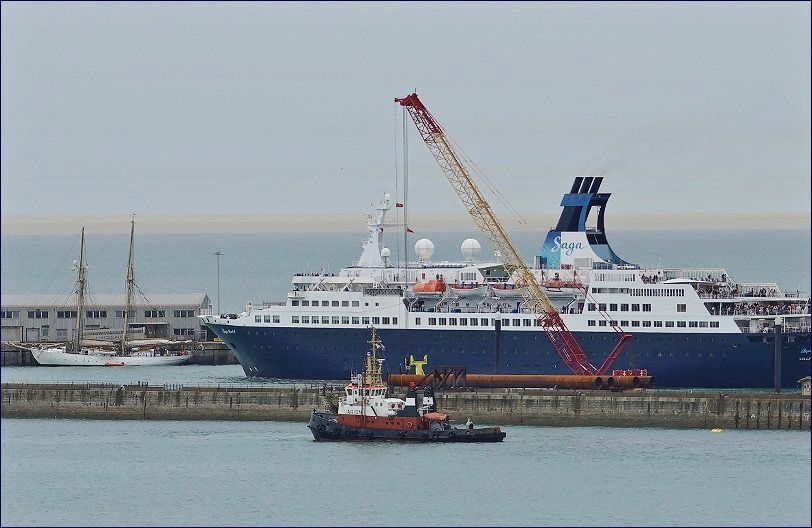 And now some more of the huge crane platform ENAK as she moves into the outer harbour with Tug Arion again in play.. that's Falken again there to the left in the background.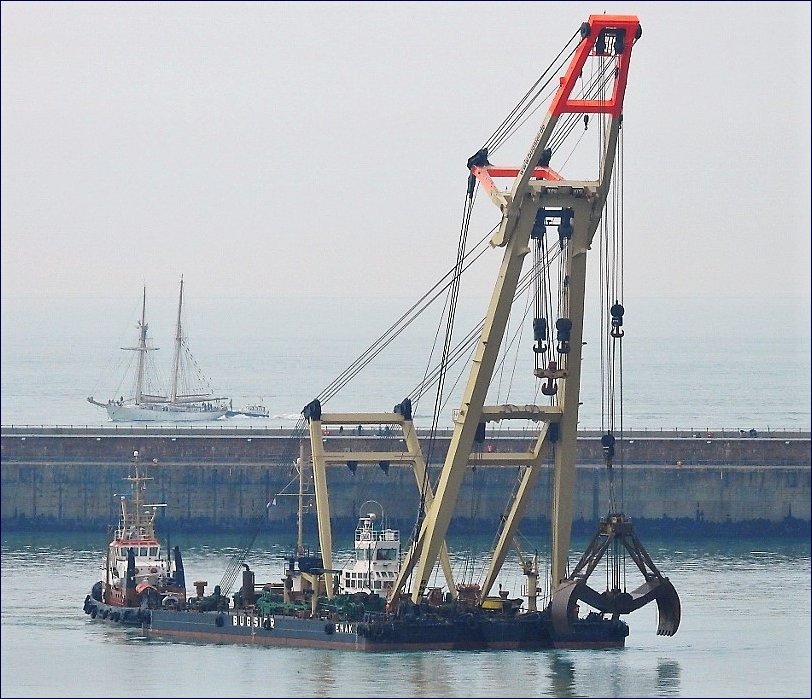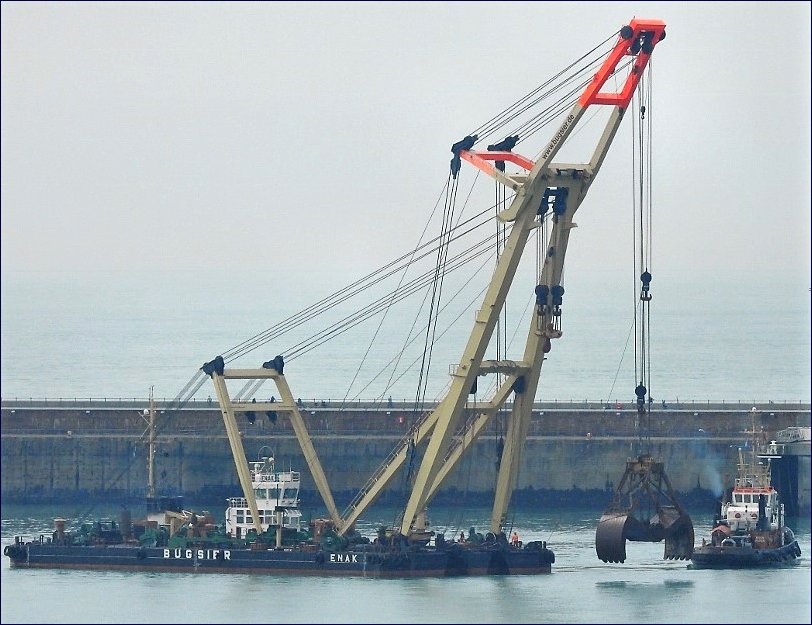 I've probably over done it with the cranes etc...so as a complete and total antidote and to keep a wider balance.. tomorrow we will have something different, the wild flowers currently showing along the seafront. Only because they are wild and woolly...

Great work from our roving reporter Sarah below there. Lovely shots Sarah.
Right in close to all the goings-on as ever.

Good ones of the Falken Mike. Nice work all round. Nice shot that of Grumpy at the tidal basin.

And grand contributions from Patrick, good story too .. capturing the moment.

Well done teamsters


PaulB
PS: Another great ship in port...Monarch. So far pictures hampered by mist, but hopefully things will improve.
Tuesday, 30 May 2017 - 07:27
Post 3851
Sarah, Ramsgate
Selection from harbour activity in Ramsgate
Border Force "Eagle"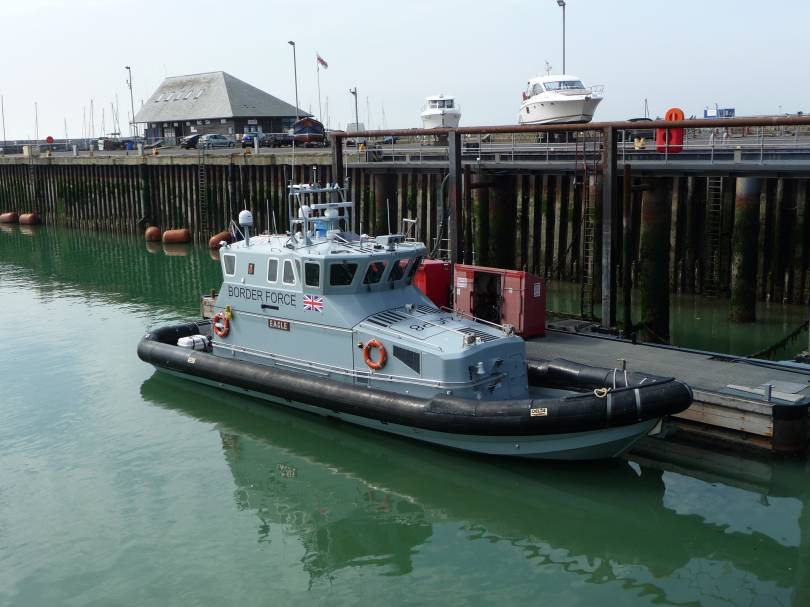 Sea Bronco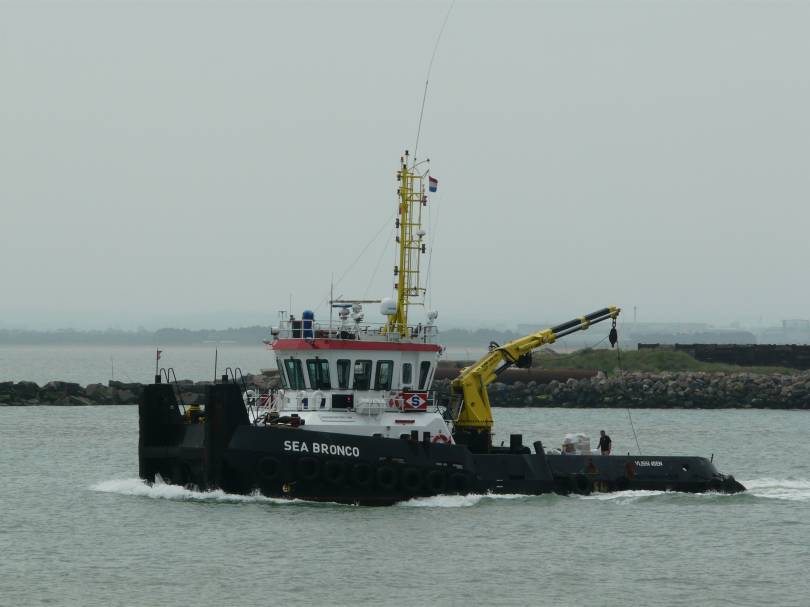 Ramsgate Lifeboat "Esme Anderson" called out twice in one day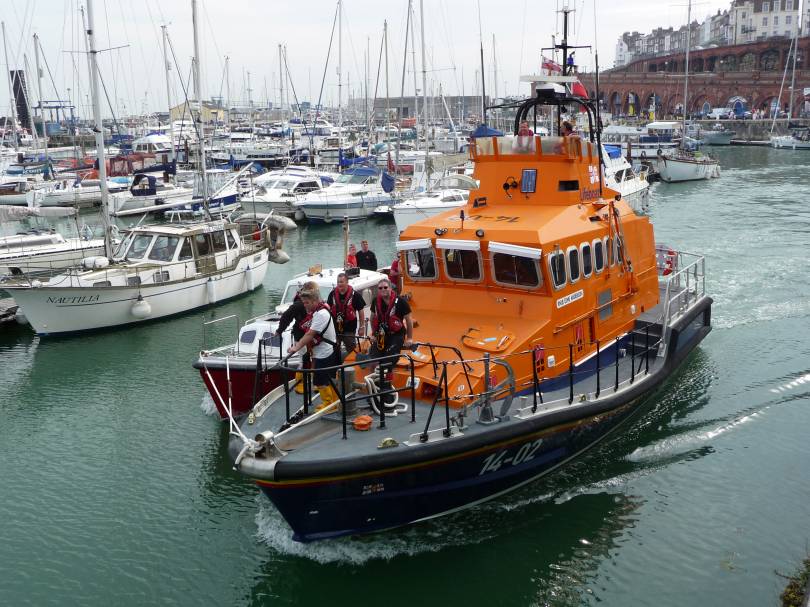 Monday, 29 May 2017 - 21:58
Post 3850
Patrick, Marine Parade
Thanks Mike J. Just missed the 'splash' unfortunately, and the weather not too good for those great clear crisp photos we see on this forum.
Second large chunk retrieved this morning by 'ENAK's' large grab. This appears to be the last one as the barge has now returned to the other side and the 2 small yellow marker buoys at the 'drop zone' have disappeared.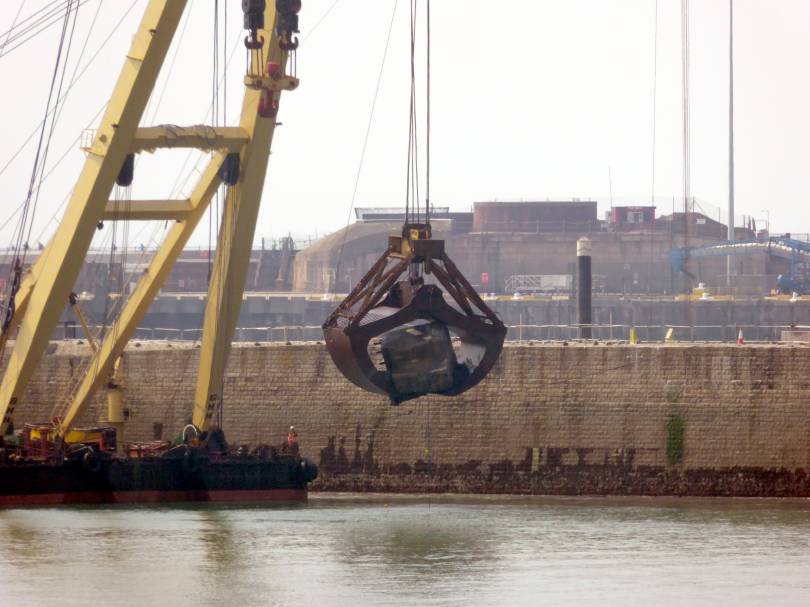 Grab size clearly visible here showing the workpersons in orange below - somewhat dwarfed by the size of the grab. The retrieved block was set down just beside and behind the first on right of shot.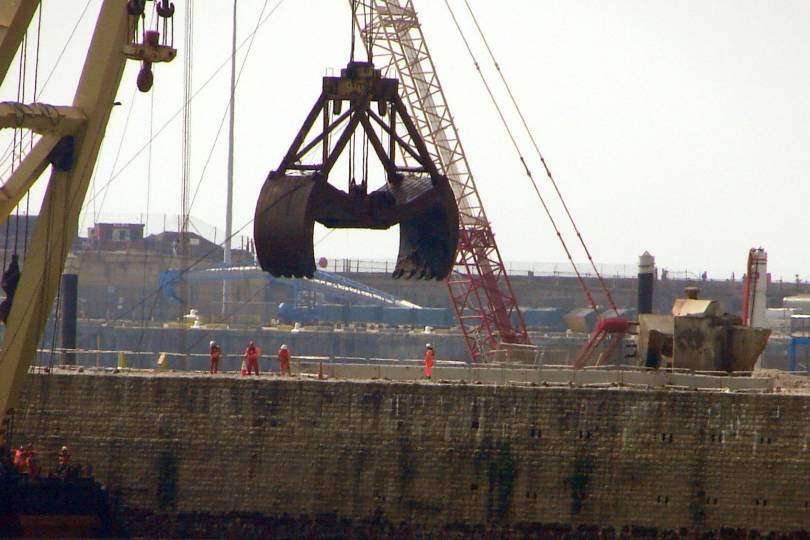 Monday, 29 May 2017 - 15:20
Post 3849
Mike J., Dover
A fascinating sequence from Patrick - well done !
Must have been a helluva splash when the block slipped from the grab.
The ENAK is going to be working on the Dunkirk Jetty demolition for a month, will be worth keeping an eye on.
Nice FALKEN pix from Paul, here's a few from the Ad.Pier.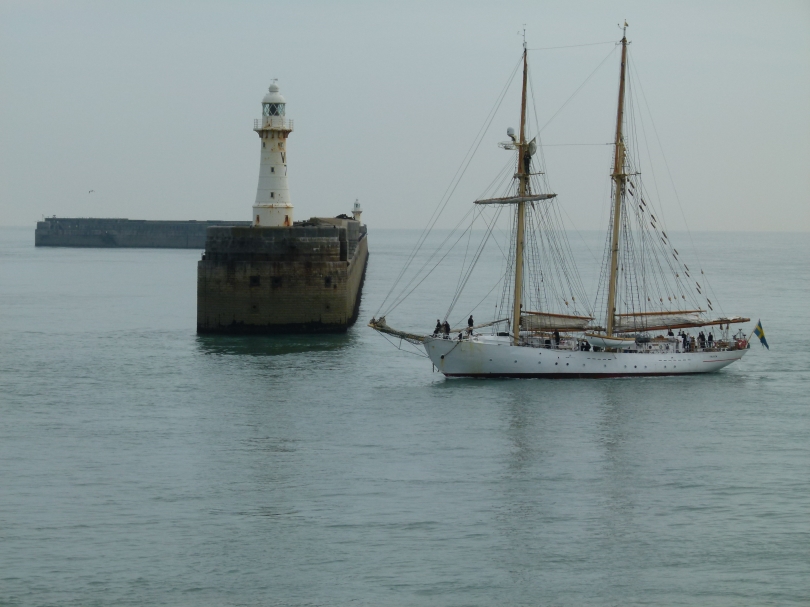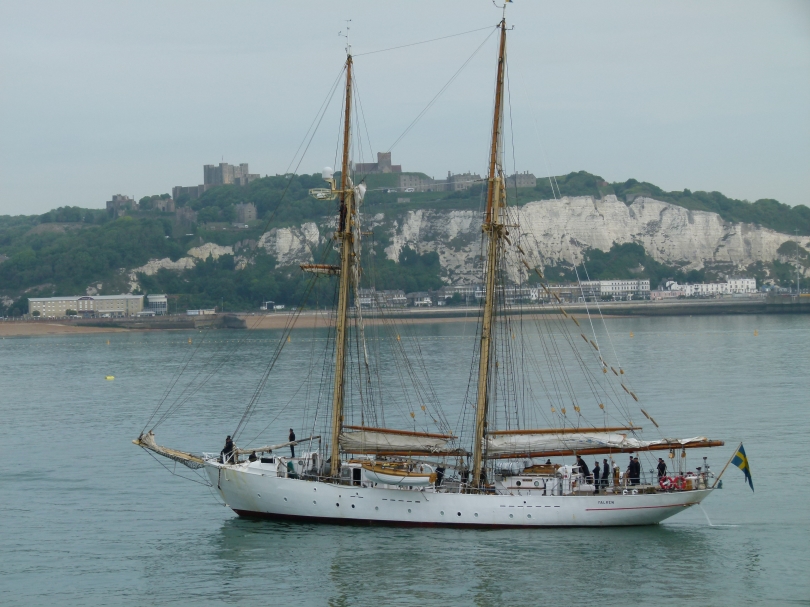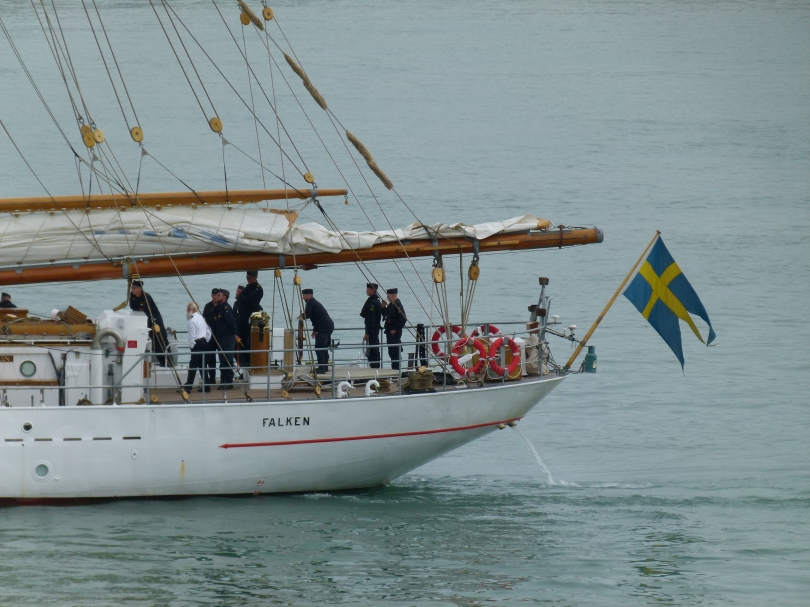 She was en route Ostend from the Solent & had anchored overnight off Samphire Hoe.
The FALKEN was built in 1947 & is operated by the Swedish Navy as a training ship.
A most attractive vessel.
Extremely low water on Sunday morning.
First time that I've seen weed at the side of the entrance to the Tidal Basin. the channel is cut thru the chalk.
Monday, 29 May 2017 - 11:08
Post 3848
vic matcham , Dovor
I would love to be working down there at this time just my kind of work.

Monday, 29 May 2017 - 10:37
Post 3847
Patrick, Marine Parade
Floating Crane barge 'ENAK' was working on Saturday removing large concrete block from the Dunkirk Jetty demolition. The block, with mooring bollard clearly visible, was being moved round the Prince of Wales into the outer harbour for apparent deposit next or onto the pier.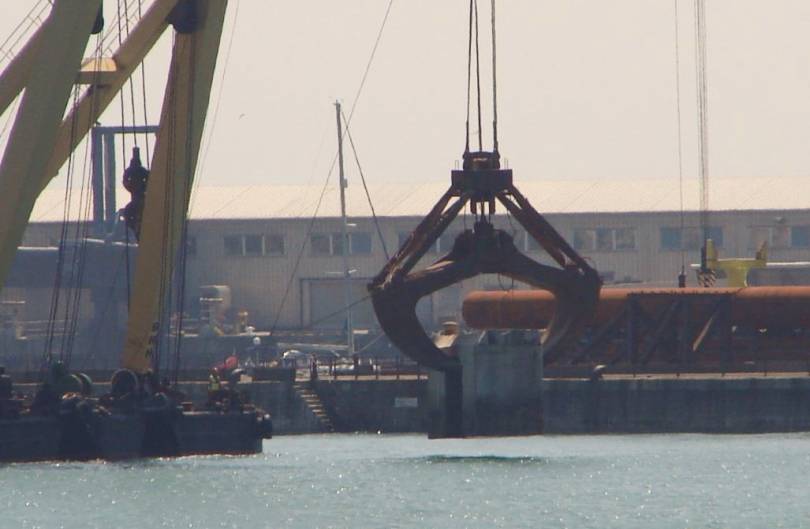 It seems that it may have been somewhat unfortunate in that the grab split the block whilst in transit along the eastern side of the pier and it fell into the water.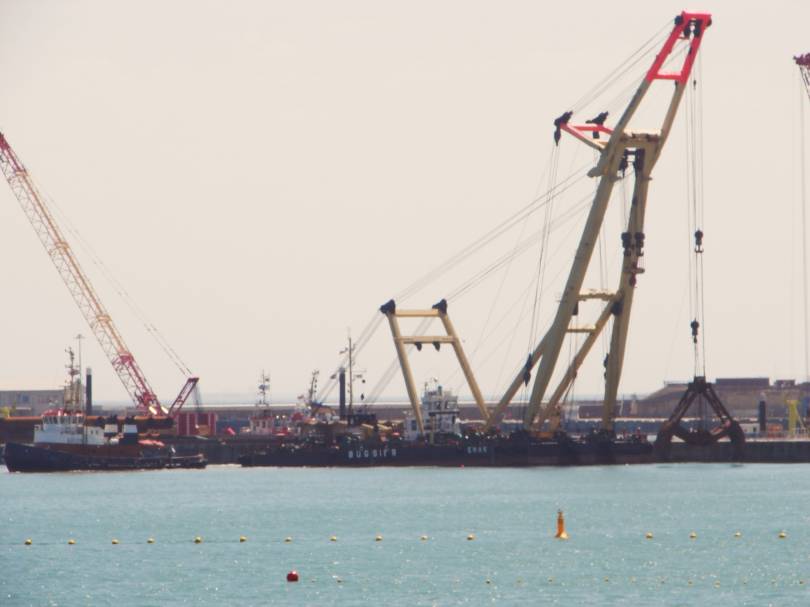 On Sunday the hunt was on to locate abd retrieve said block. 'ENAK' carefully manoeuvred to the spot; spent quite a while in the search and finally retrieved at least the larger part - now deposited on the Prince of Wales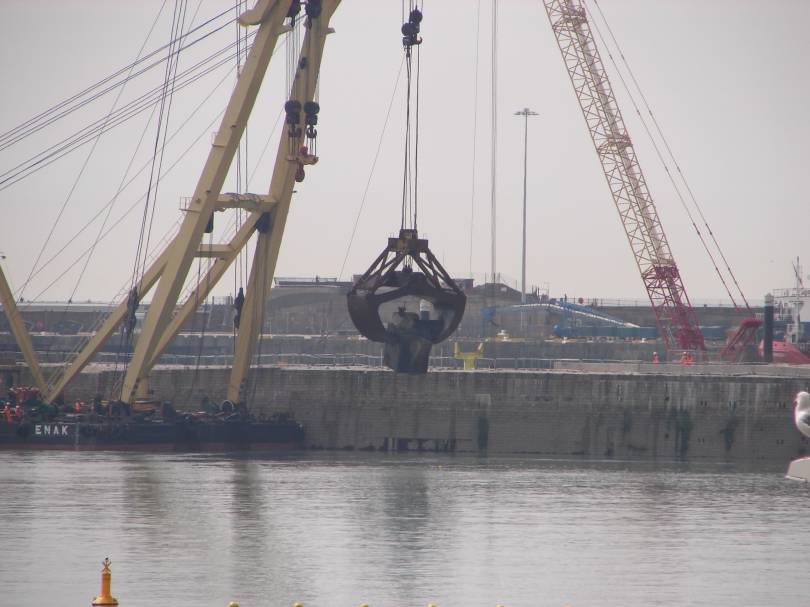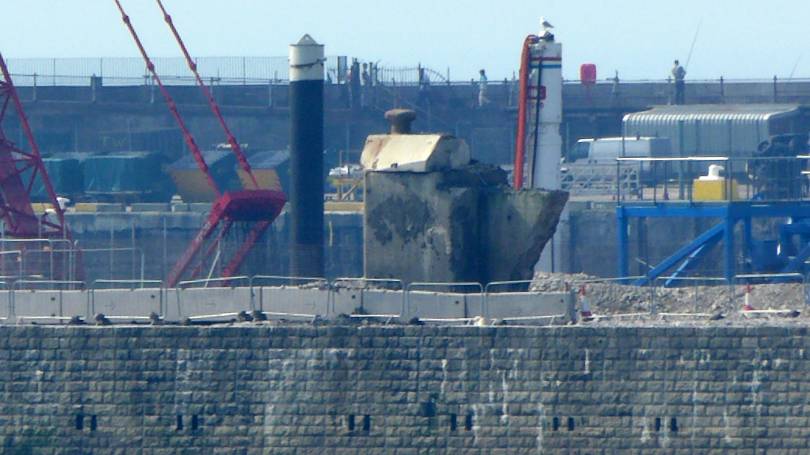 Today (Monday morning) 'ENAK' is back in the same spot - apparently looking for the remaining bit(s).
Of course this may all be no more than a training exercise or just not the case at all! Any News?
Monday, 29 May 2017 - 10:07
Post 3846
Sea News, Dover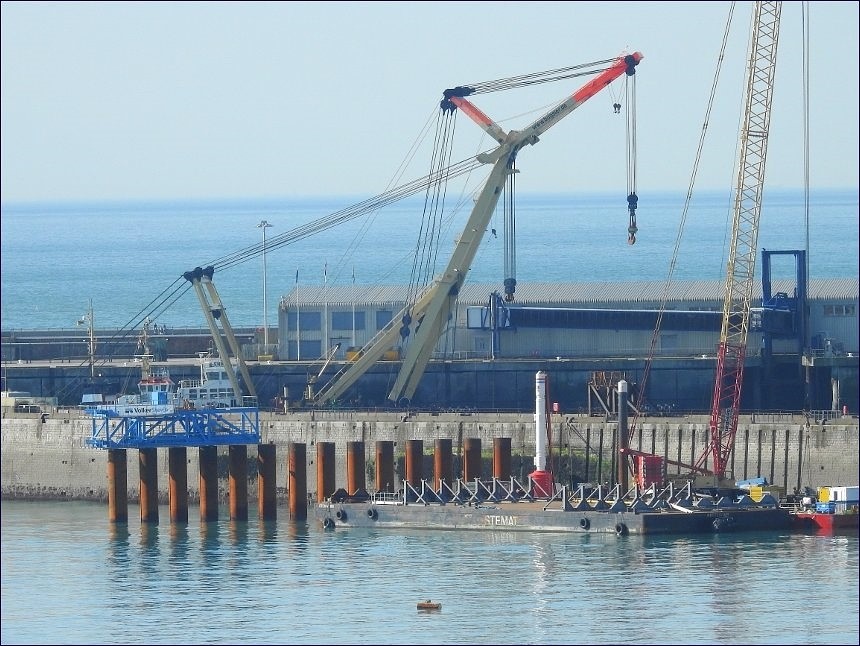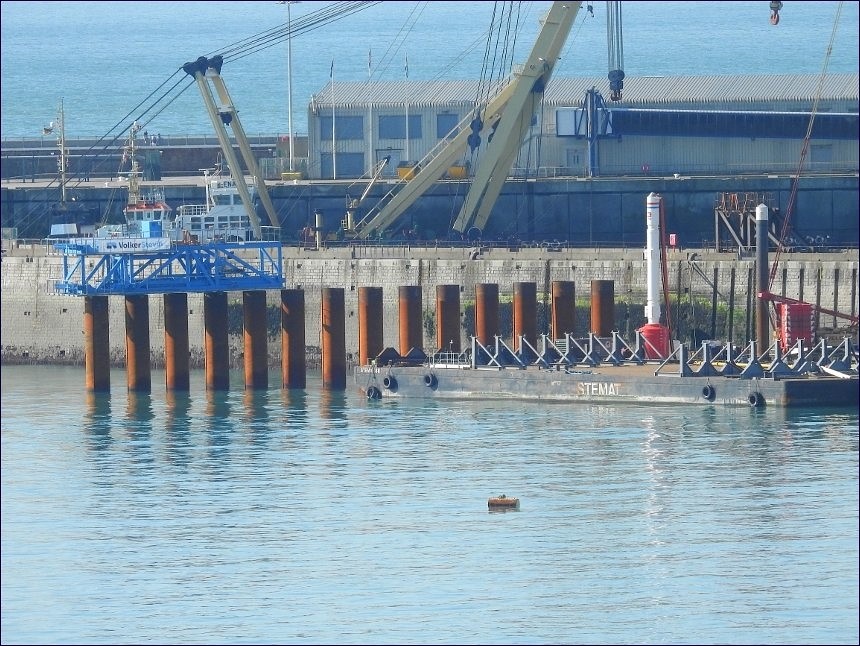 A couple of pictures above there of the piling in the water taken in the last two days. I have made the pictures extra large or as large as I can possibly go so that all can see. Piling is not something that leaps off the page naturally so hopefully all can see those above clearly. The lighting also made the piling appear clearer and then a barge/platform in front of them slipped away and there we are.
The picture below is from a different camera, taken a tad later, its a bit too bright...but..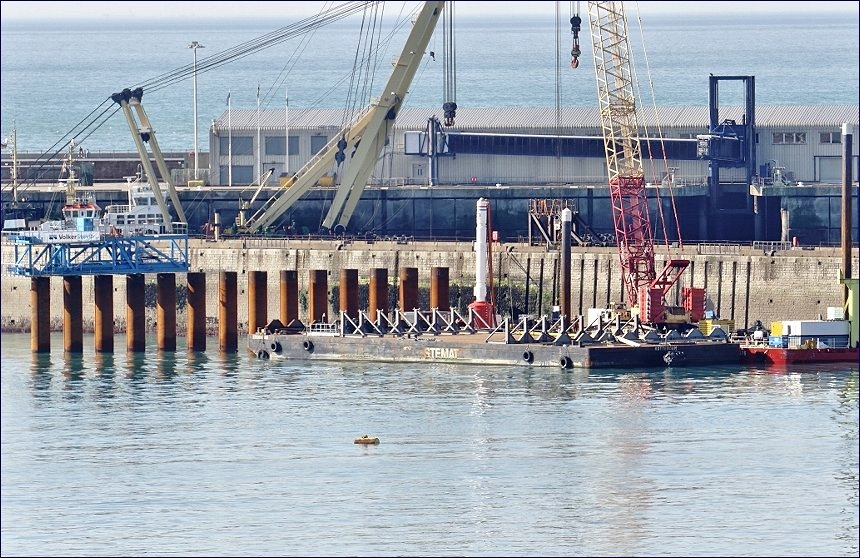 Below we have HMS Falken. She came into port yesterday for several hours arriving at 09.50. She is gone again now. We have had pictures of this one before under full sail too...check it out in the search engine. I knew the name rang a bell...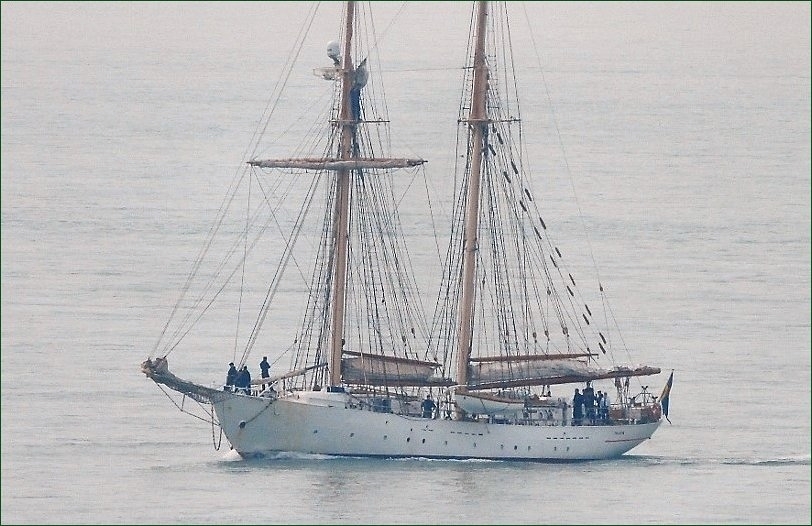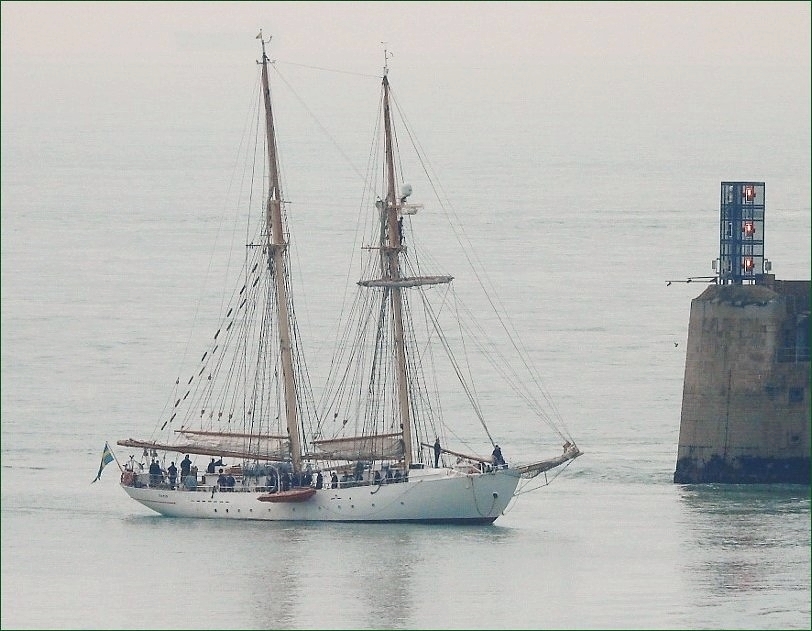 That was one heck of a storm last night. It woke yours truly violently from his slumbers, as the observation tower began to rattle and shake. My sweet dreams came to a shuddering halt around 2am. I was dreaming about that Rhine maiden too...
or..to make it clear..my maiden aunt who lives by the Rhine


Great work below there from Andy and Nigel. Amazing angles from on high. Cracking shots indeed!

Well done doing that post Mike

Glad you got that shot of Lombok Strait Ed...that's one ship that eludes me. I cant seem to get a decent pic.

Yes I think I saw the Red Baron too Brian...quite a plane that

PaulB.
Monday, 29 May 2017 - 06:42
Post 3845
brian, dover
so that's why the red baron was lerking around. lol

Sunday, 28 May 2017 - 16:47
Post 3844
Mike J., Dover
Another splendid drone photo from Andy Wood of the EUROPEAN SEAWAYS on the Cairnryan/Larne route, standing-in while one of the regular ships on the run is away for refit.
I wish that drones had been invented earlier, I could have got VERY keen on them . . . . ..
Also two of many excellent pix from Nigel Scutt who has done a couple of photographic 'sorties' in the last few days, covering mostly Dover harbour but with other local non-shipping views as well as views from the lower Thames estuary.
Some were taken from the red biplane [an ex-USN Stearman] that appears over Dover from time to time & lives just off the M20.
More pix on his Dover Marina Facebook page. Recommended.
Many thanks to Andy & Nigel for permission to post these.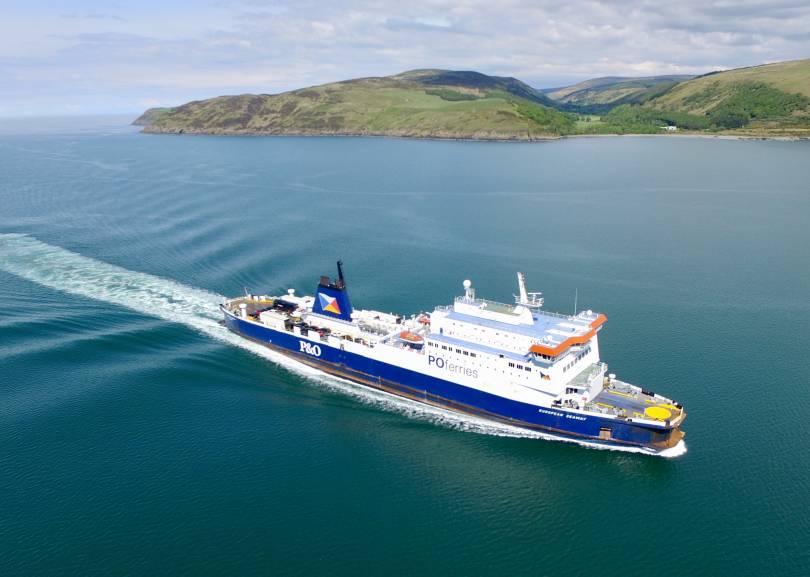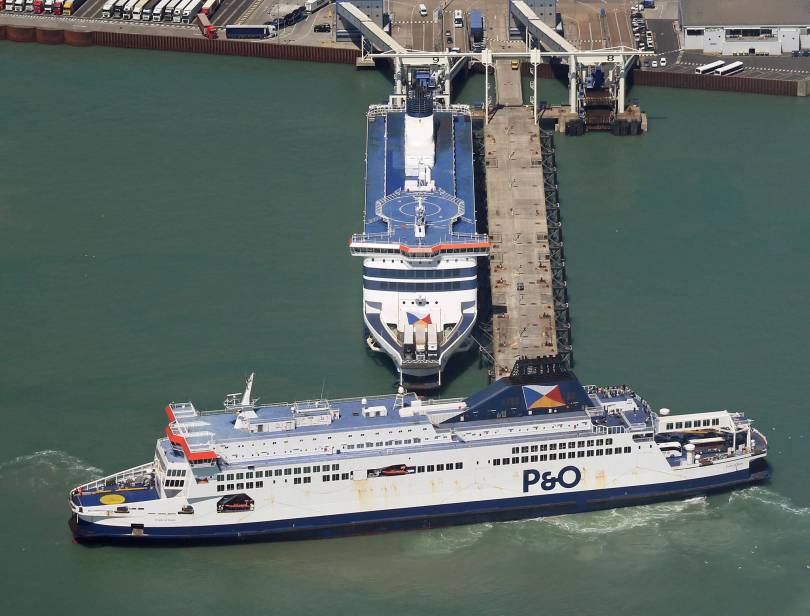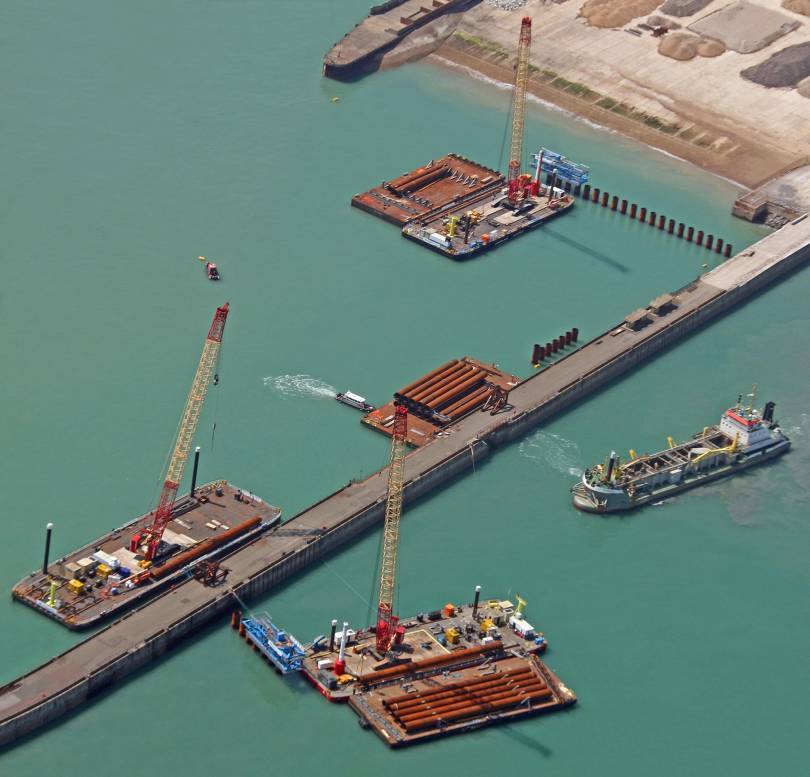 Sunday, 28 May 2017 - 15:43
Post 3843
Ed Connell, Dover Strait
Lombok Strait at the DCT today.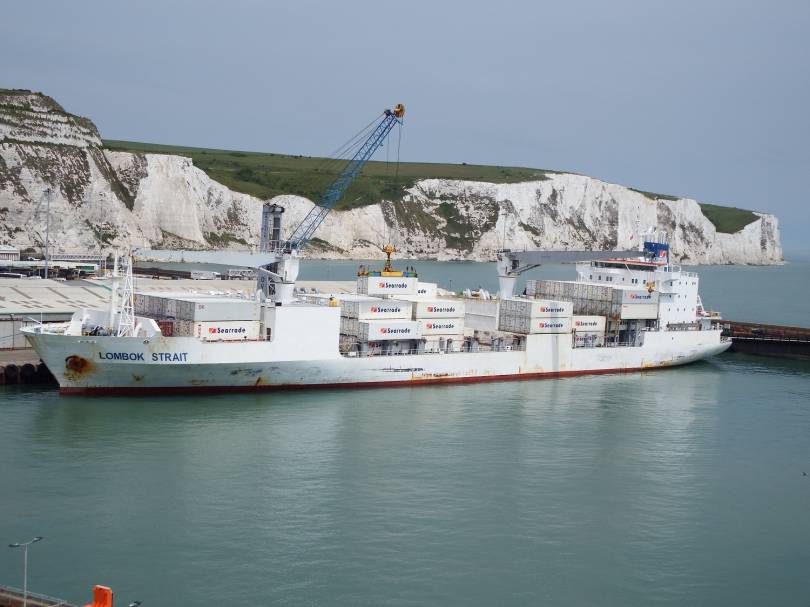 Sunday, 28 May 2017 - 13:30
Post 3842
Sea News, Dover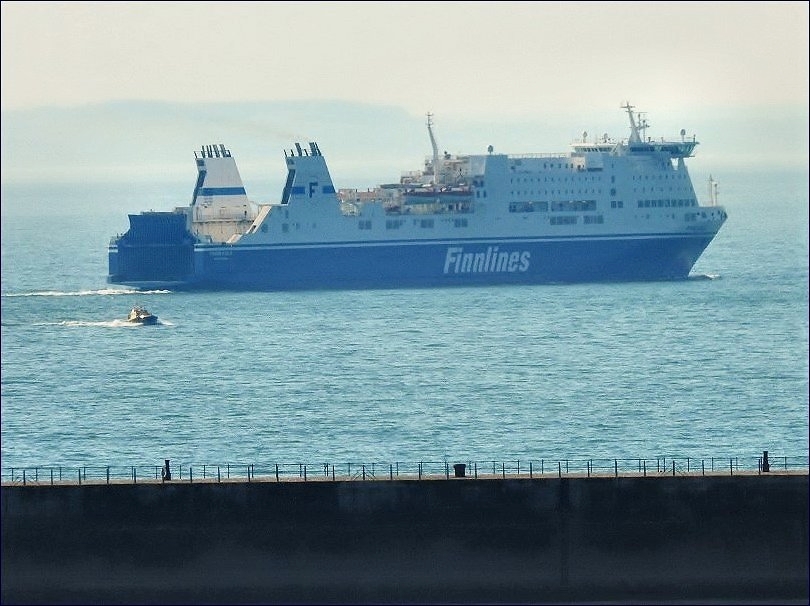 The Finnlines ferry Finneagle paused outside port yesterday. She was visited by one of our George Hammond boats. You can see the small boat returning in the shot above. The ferry was heading on down to Savona on the Italian Coast and was soon on her way again.
Below we have another one of Arion towing the big crane platform Enak .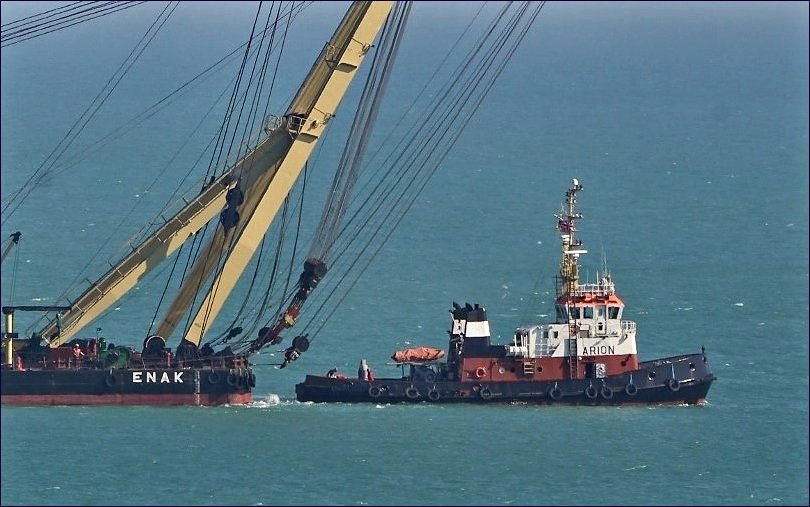 Great contributions from all the teamsters below.
Nice work again Sarah from over there in Ramsgate. Right in the midst of the action.
And Nice work too from Ed out there mid channel. Cracking shot of the helicopter and .. its always good to see people pix for sure. Always enjoyable.
Great work again Mike..you're on fire.
Thanks once again Colette for the cruise listing. Lets us know where we are.
Vic I appear to have some good shots of the piling..still in camera- will get those up probably tomorrow now as we have great pix to enjoy below today.

Sunday, 28 May 2017 - 06:45
Post 3841
Sarah, Ramsgate
Fantastic photos guys, loving them.



The Royal Navy visited Ramsgate today. Photos of HMS Archer are below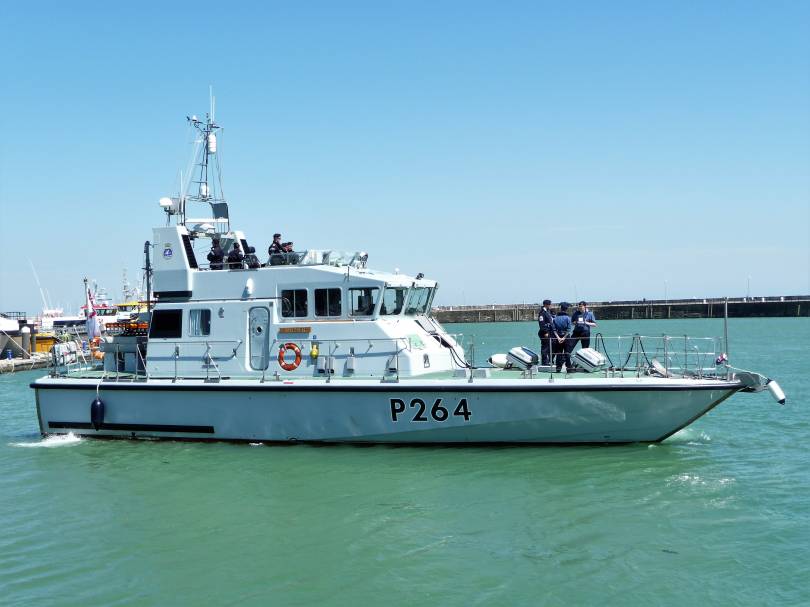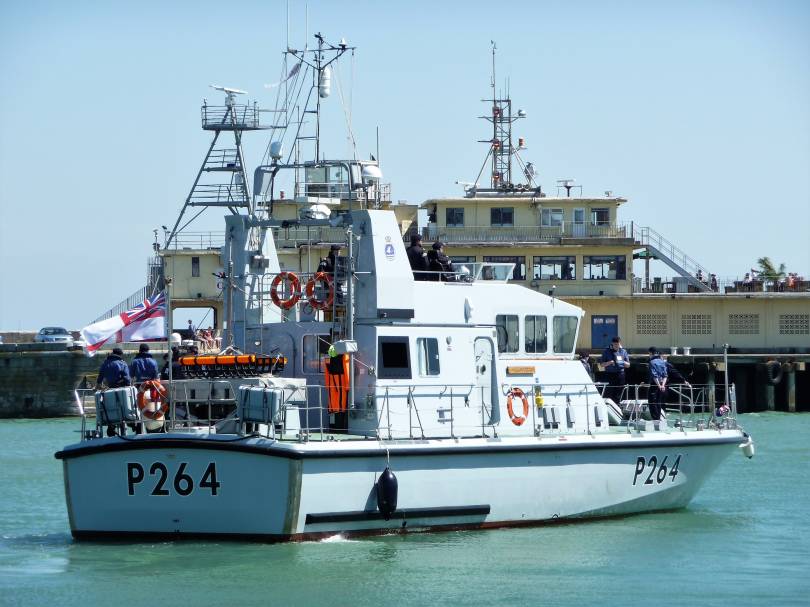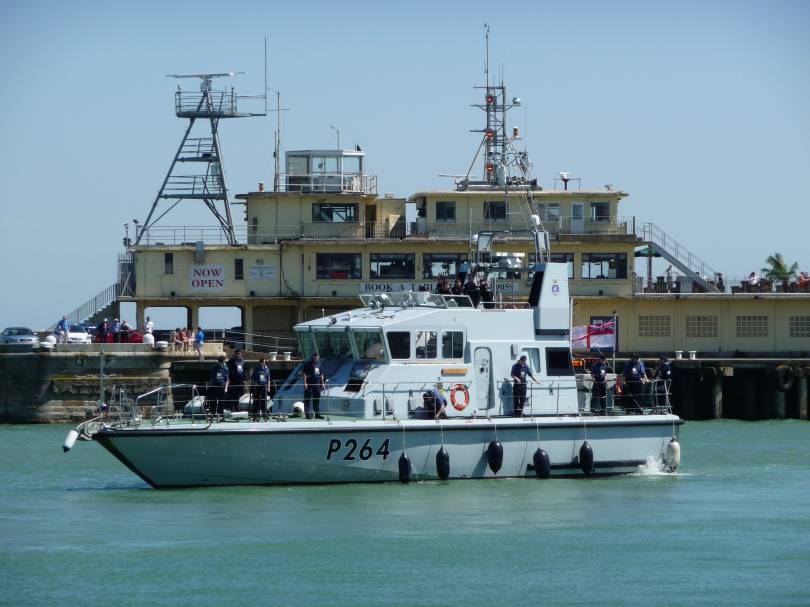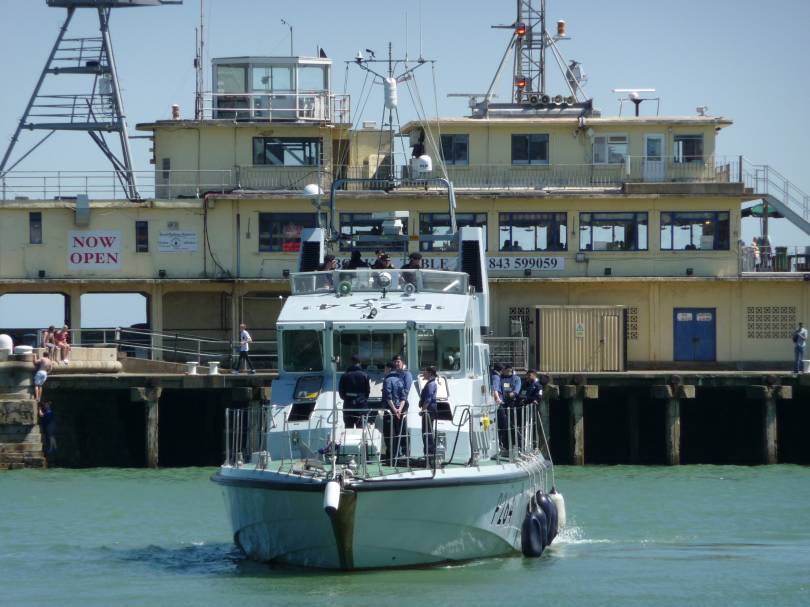 Saturday, 27 May 2017 - 22:11