Friday, 18 January 2019

WWW.DOVERFORUM.COM/SEA-NEWS
Featuring all the ships that come and go and work at the Port of Dover with further coverage of the surrounding ports both sides of the Channel. Click ADD YOUR COMMENT below to post direct, no membership needed.
Listing highlights....
Scroll down or use our Search Engine for posts and pictures of Border Force in Dover and Ramsgate.
BREXIT READY statement from Port of Dover/DFDS/P&O Ferries see 6021.
P&O Spirit of Britain - notable Cyprus reflagging see 6017.
Deal Pier Kitchen restaurant opens 6016.
Charlie Elphicke MP - making our borders stronger, safer 6014.
BORDER FORCE SEARCHER and migrant boat.. see 5969 below..

Port of Dover supports Women in Maritime 5975.
Christmas Lifeboats in Ramsgate see 5937.
P&O: Britain's Favourite see 5922.
DFDS: Voted Worlds Leading Ferry Operator...see 5918..
Charlie Elphicke MP: Migrant Crisis 5894.
P&O: Santa Onboard see 5870.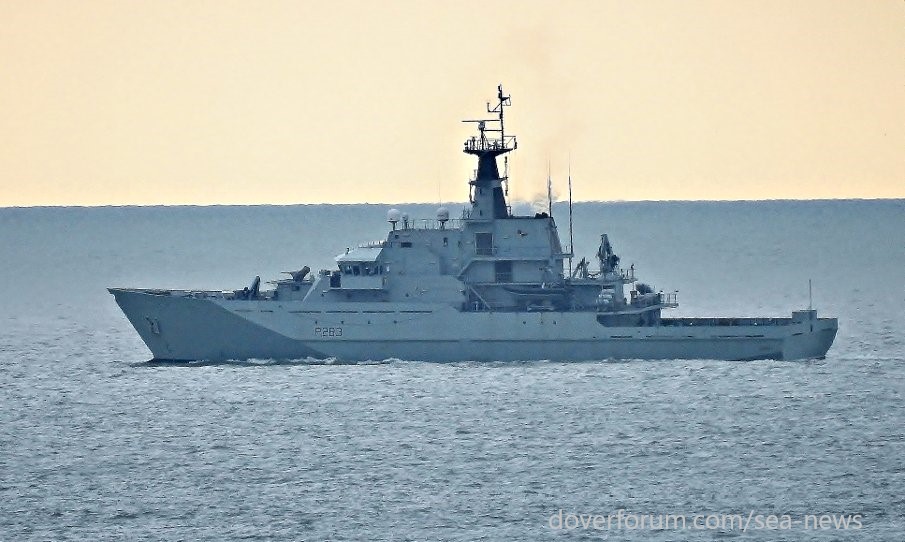 The Royal Navy - HMS Mersey off Dover.

Highlights continue...
Wreck of the Anneliese 5880, 5881, 5882 ...
Port: Additional Funding for Kent Wildlife Trust 5879.
P&O: Apprentices welcome RB Legion veterans 5853.
Eight new apprentices graduate see 5845.
DFDS: 'SEE PORTS' Calais and Dunkerque 5834.
DFDS: Revitalising dining concepts onboard.. see 5831.
P&O: Schoolchildren mark WW1 see 5816.
Lower Thames Crossing boost..5812. see now also 5817.
Dover Museum's revitalisation see 5807.

Port of Dover: Refrigerated Cargo Terminal .. software for 5801. Latest NATO also 5801.
Port of Dover: Great increase in summer traffic 5795.
Russian and shadow 5785.
The Waverley paddle steamer latest 5778...
New SAGA Ship launching in Dover see 5776.
DOUG BANNISTER: New Chief Executive Port of Dover see below 5734....
Merchant Navy Ceremonial images also 5734.
P&O: To Rome on Horseback 5759.
Dover Regatta Rescue incident plus .. see 5713.
Dover Regatta pictures Lifeboat etc..5716, 5717, 5718, 5720.

DFDS Expansion: More New Ferries on order... see 5693 see also 5500 and 5381.
Excellent Tourist season for P&O Ferries see 5649.
VSBW Port of Dover - Women at Work 5638.
P&O Second Female captain see 5107. Also see latest 5570.



NEW:

For instant access to any item listed above - just type the post number in the Search Engine below.

Sea News Dover : Use our SEARCH ENGINE below to find all sorts on the SEA NEWS pages....
type in the topic and away you go, more than - 6000 - nautical posts now.
Posts are welcome. Max of 5 pictures preferred although we can stretch that for special stories..
Sea News Editor Paul Boland - send info or pix to dover7@msn.com. Always welcome.
All pictures on these pages are the copyright of the owners and must not be reproduced without permission.
To show your pictures at their best..it could be worthwhile resizing before posting to
840
pixels wide.
Post 5946
Sea News, Dover
Another giant MSC ship comes in close to Port. These pictures were taken just a few days ago. This time its the MSC Camille, all 155,000 tons of her approx. Great to see these huge ships up close...the downside of course is that they generally just come in close in bad weather, which adversely affects the quality of the pictures. But I guess you cant have everything...that's what I grumble to myself anyway.
Here we go, misty murky drizzly conditions, so pictures are a wee bit forced unfortunately...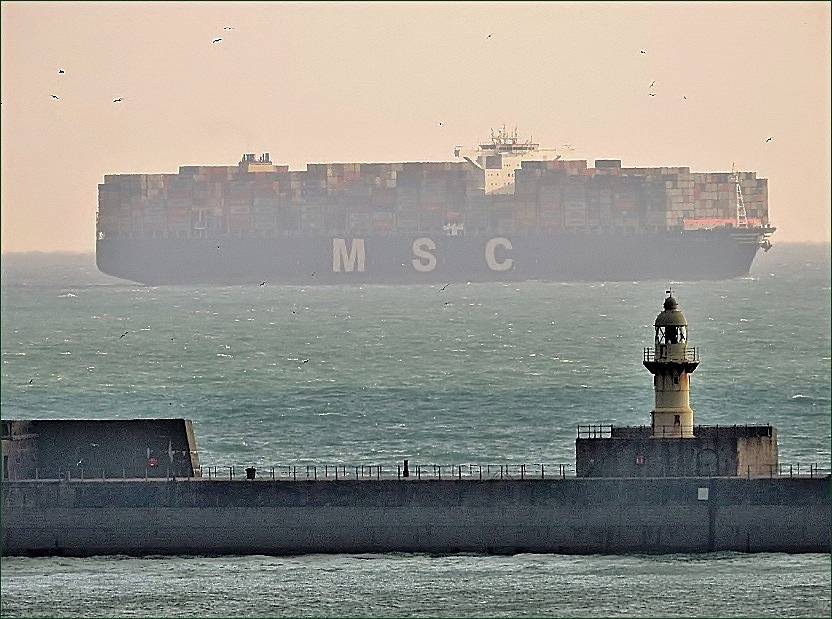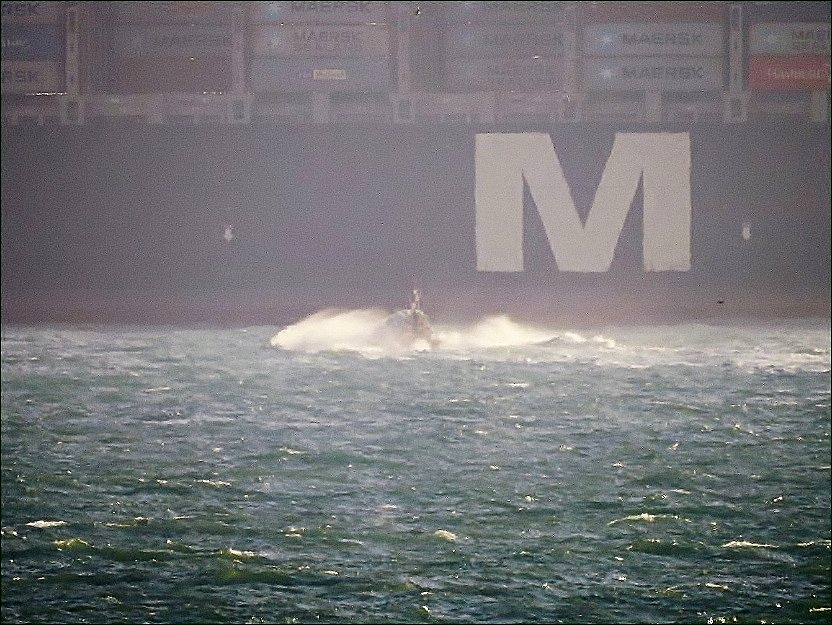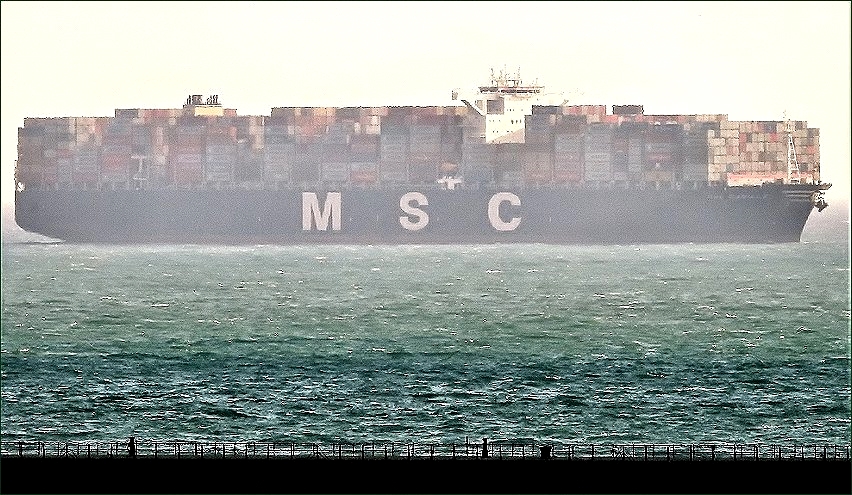 Following along from Mike's excellent pictures in the post below, another shot here of Fri River bringing in a load of those logs yesterday for the Biomass Plant in Sandwich...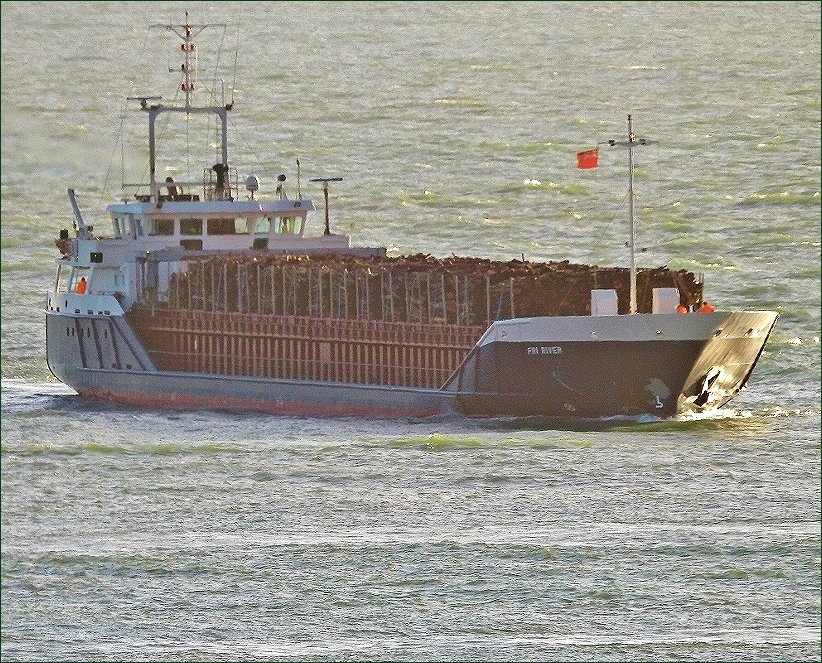 Excellent collection in the post below from Mike. Dont Miss Those..

PaulB
Tuesday, 18 December 2018 - 07:18
Post 5945
Mike J., Dover
Monday afternoon & the arrival of reefer ELVIRA making her first European port call after the long haul from Paita in Peru via the Panama Canal & the 4th 'bio-mass boat' FRI RIVER from the Baltic via the Kiel Canal.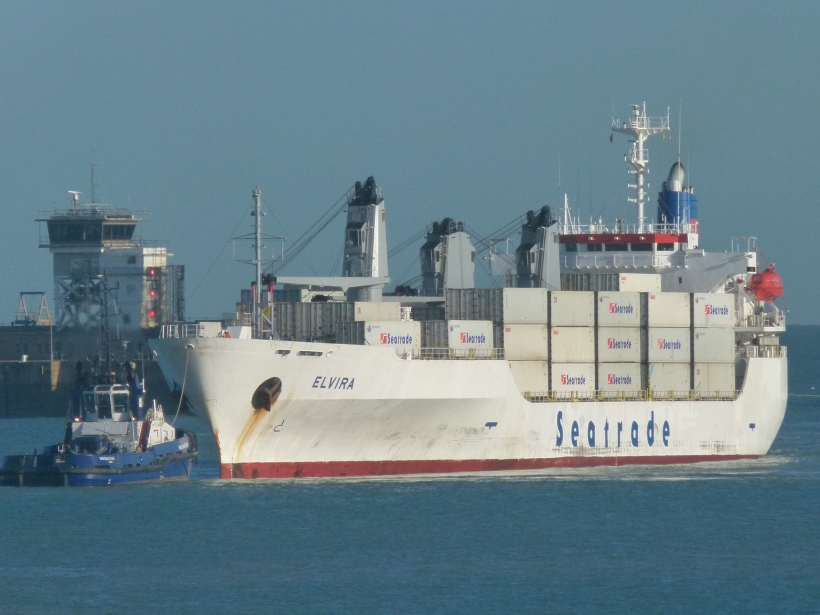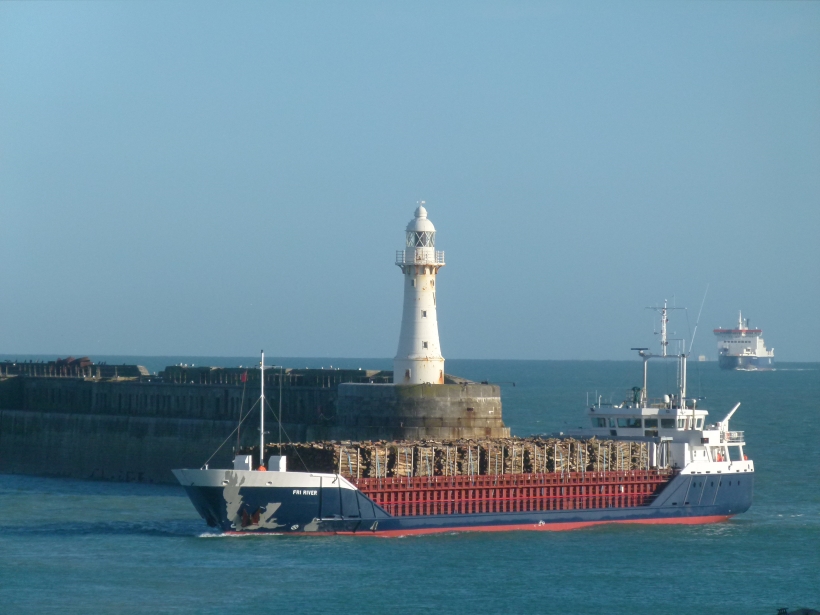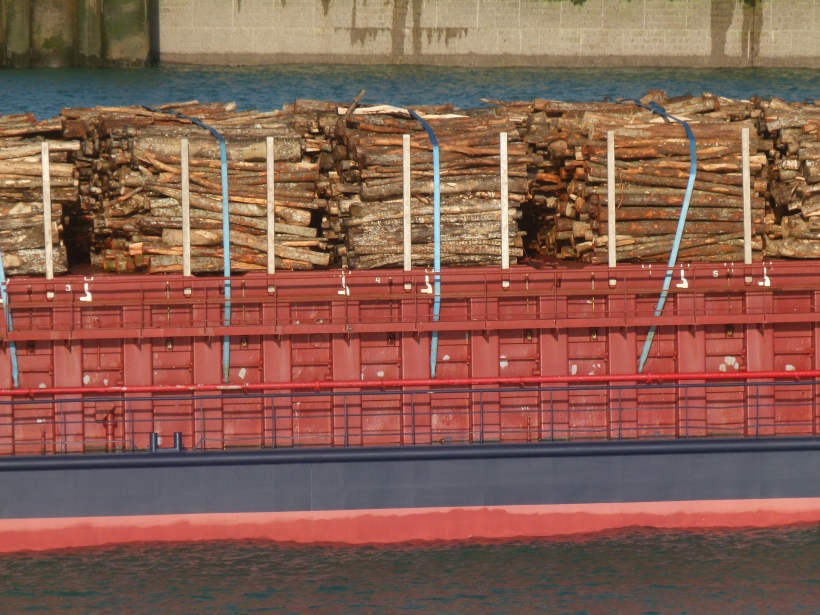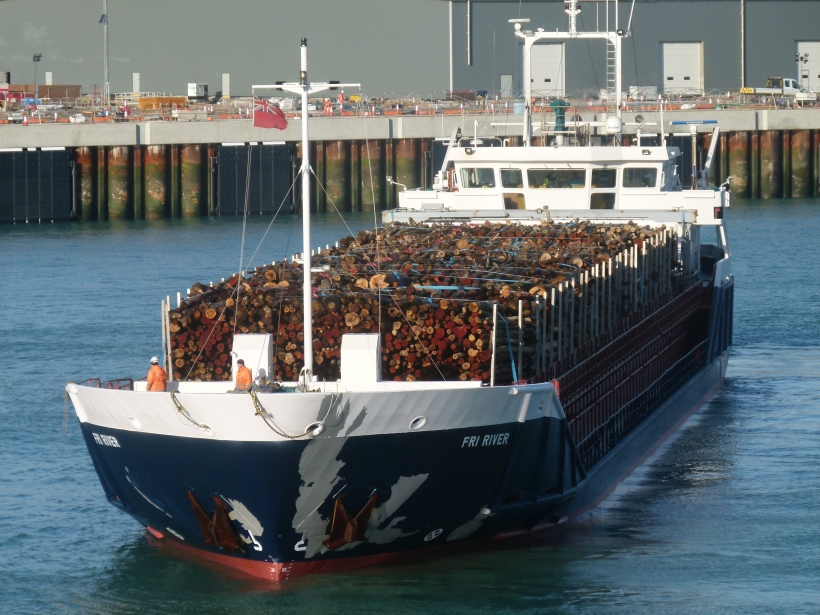 I think there are four more timber ships expected.
Tuesday, 18 December 2018 - 00:35
Post 5944
Sea News, Dover
Just catching up now with some further pictures of bunker supply ship Sikinos as she moved away from the Port last week. These pix obviously run in harmony with the one currently at the top of page. Will give that top shot another day or two but wanted to get these Sikinos ones into the system and into the search archive..and here we are...
First two shots show her turning about...we are looking across the major current workings towards the west wing...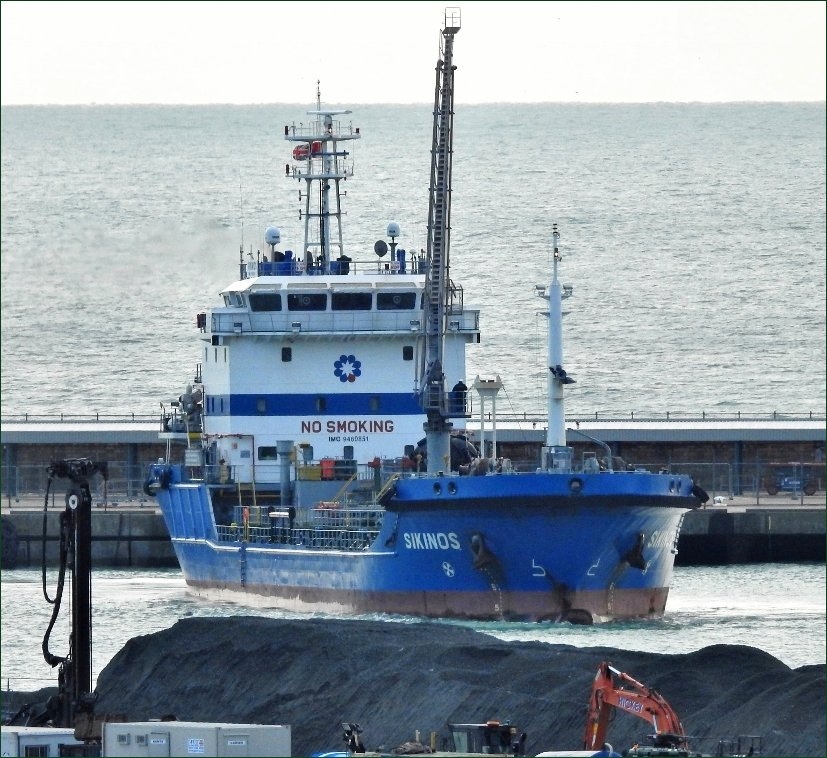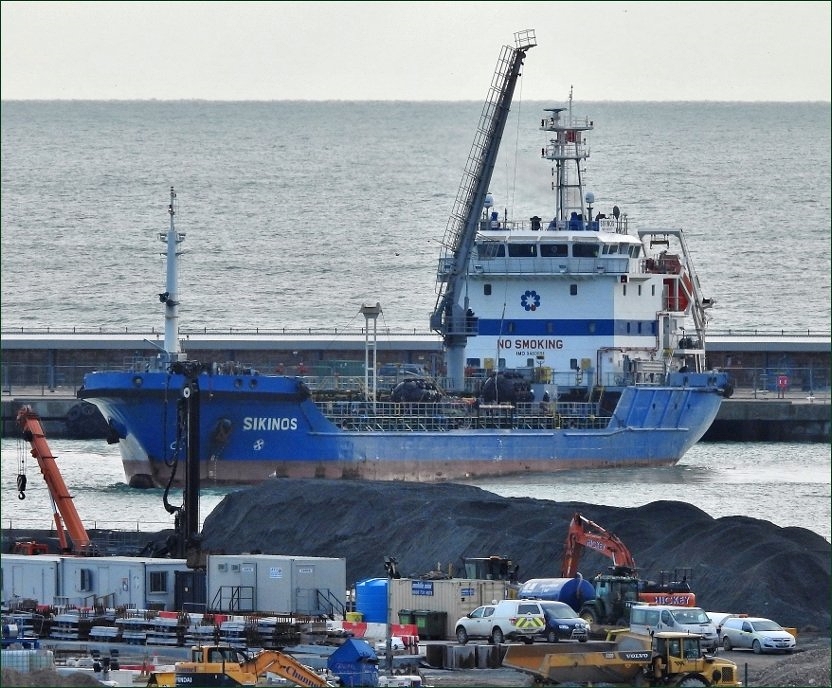 And then off into the blue yonder she goes, possibly to Rotterdam.... with the pilot alongside...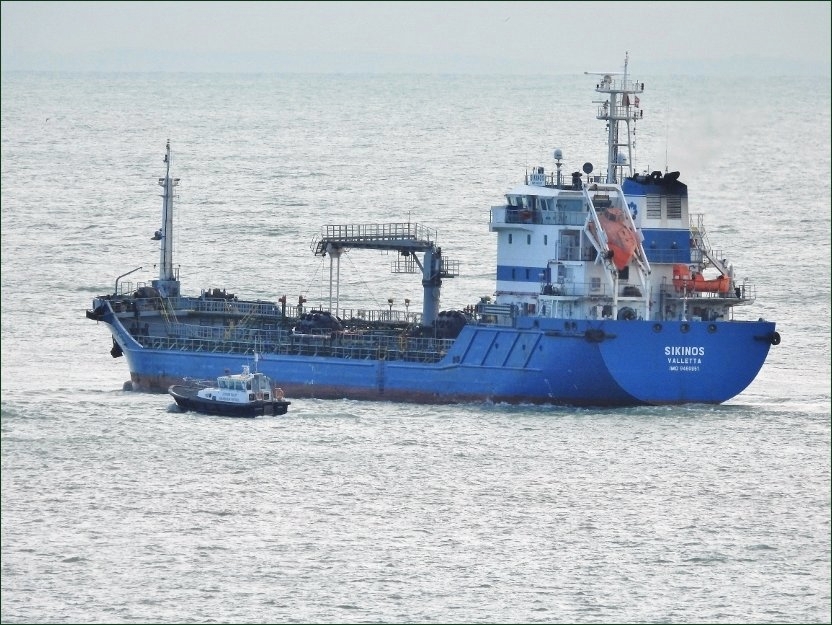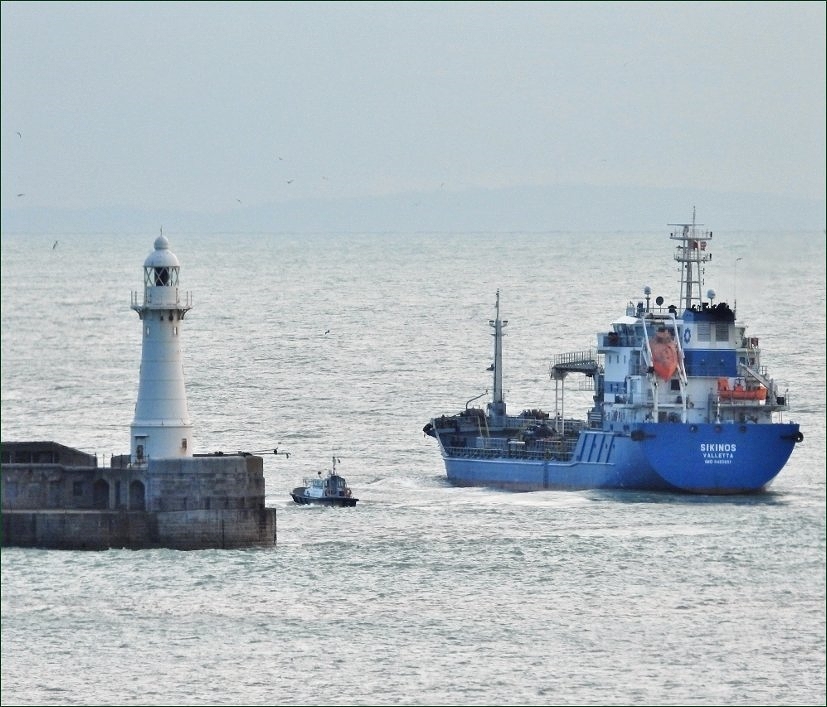 Excellent Bathing Water Results Help To Make A Splash In Dover District
Dover District Council is welcoming news that water quality at all three designated bathing water beaches in the district has been rated as excellent, and is delighted to have taken part in a campaign celebrating our coastline and keeping beaches clean.
Latest news from the Department for Environment, Food and Rural Affairs is that the water quality at the three Environment Agency designated bathing waters at Deal Castle, St Margaret's Bay and Sandwich Bay remains excellent.
This is further to Southern Water choosing the beach around Deal Castle for an investment of around £3.9m to help protect and enhance the area. Deal Castle is one of seven beaches nationally where the water company worked alongside local authorities and others to improve bathing water quality, as part of a major Bathing Water Enhancement Programme, (BWEP).
The BWEP was launched following an investigation into factors influencing water quality. Southern Water has completed a range of works in the Deal area, and has announced that all public misconnections have been rectified. This includes upgrades to sewage pumping stations.
As part of this work, the Beauty of the Beach campaign was launched in the district to encourage everyone to work together to keep our beaches clean. DDC worked with funding from Southern Water on a range of projects in Deal, including increased signage, more enforcement patrols to maintain cleanliness, and improved drainage on Deal Pier.
Cllr Trevor Bartlett, DDC Cabinet Member for Property Management and Environmental Health said: "We are delighted that the bathing water remains excellent at our beaches, and have been very pleased with the success of the Beauty of the Beach campaign. We look forward to seeing the results of this continuing work, and continued excellent standards at our beaches."
ENDS
PaulB
Monday, 17 December 2018 - 05:02
Post 5943
Sea News, Dover
Fake News Alert: or a little bit of frivolity for a sunday morning...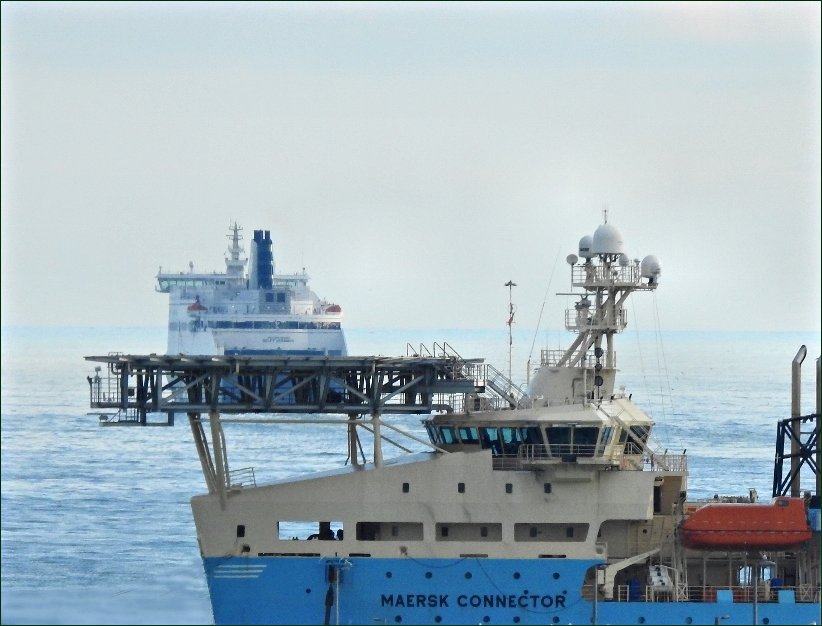 Yes a picture above there of the photogenic Maersk Connector once again - this time giving the Delft Seaways a lift back to Dunkerque ...well it saves on fuel. Two for the price of one. A certain manipulation to the Maersk Connector there shows her all at sea...


Of course that's all gobbledegook above...
But for some serious stuff now.
The ever rising Premier Inn on Dover Seafront. Remember...type Premier Inn in our Search Engine above and you can see the whole thing rise from ground level.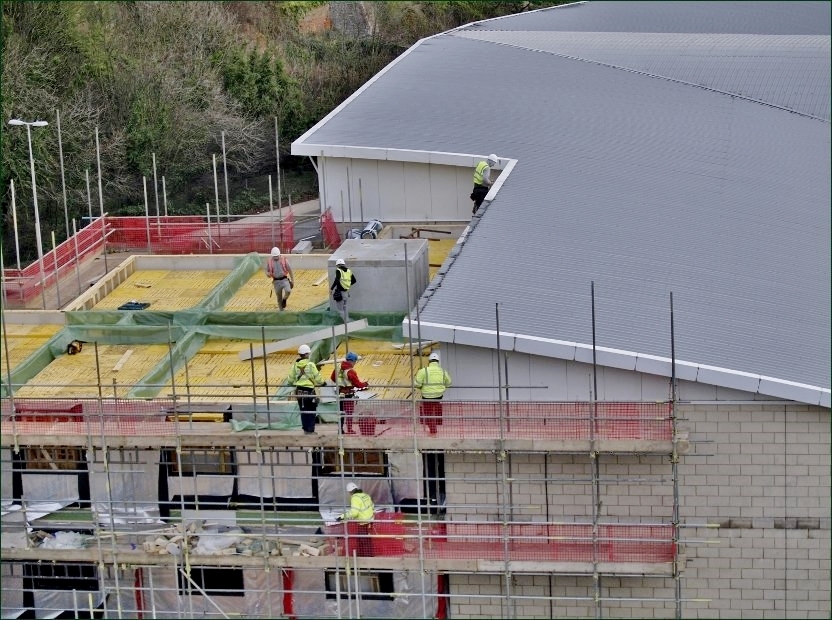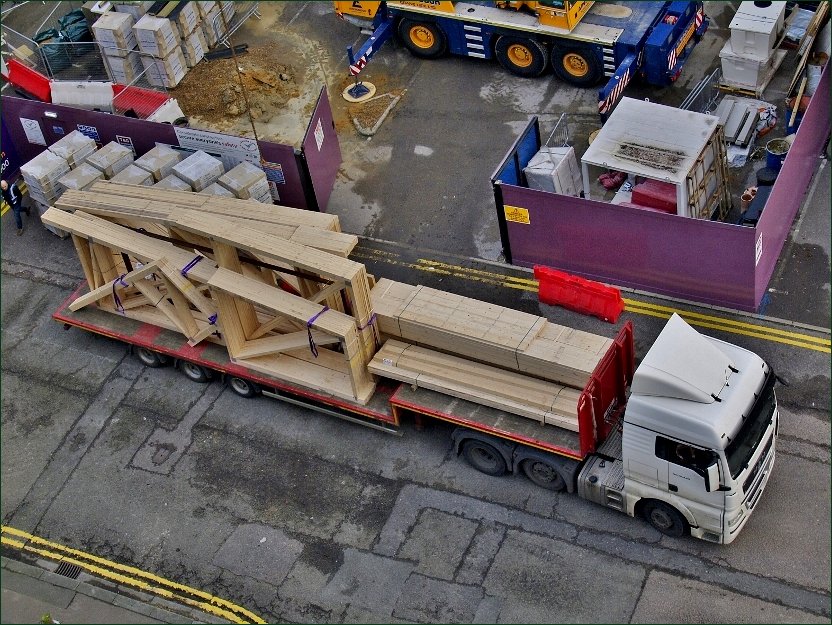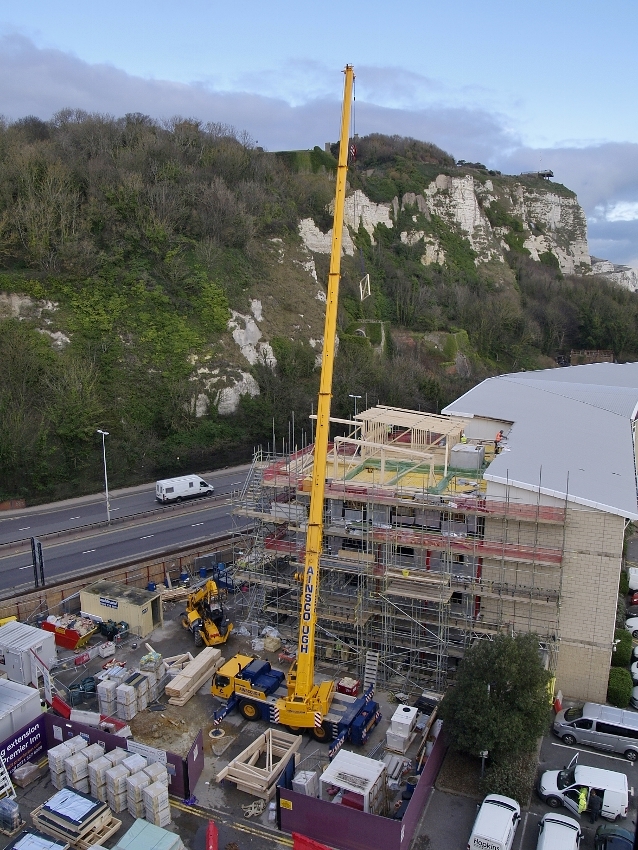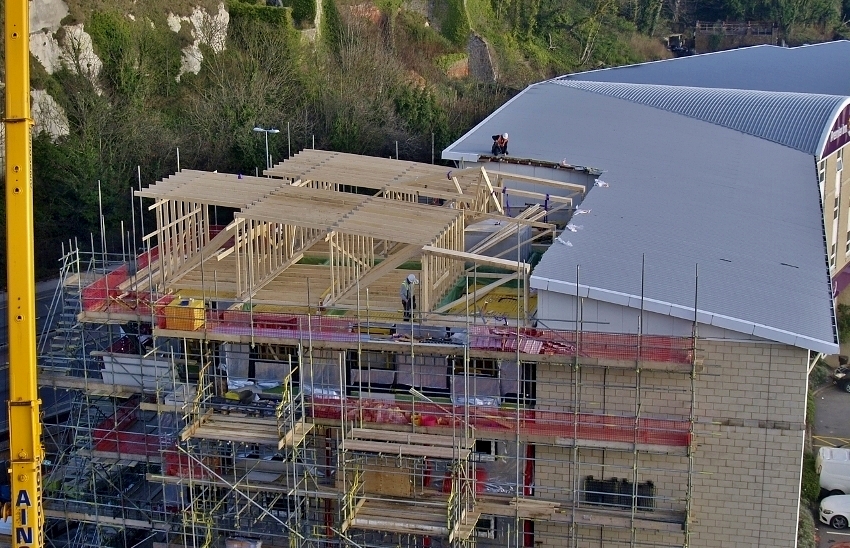 Those picture above from earlier in the week. And even since then...well rapid further progress. Yours truly is gobsmacked by the speed of it. It would take me that long to put a nail in the wall and hang a picture...but those guys build four/five floors plus in the same time...wowser!
As we said before the parts are delivered and then assembled..you can see one of the trucks there. Yours truly's eastward visual is rapidly changing.
PaulB
Nice shot below Mike of the Maersk Connector... yes still there

Sunday, 16 December 2018 - 08:42
Post 5942
Mike J., Dover
The MAERSK CONNECTOR remains on the Eastern Arm & is likely to remain there until the New Year.
The NEMO power cable job has completed the construction phase & commissioning is now taking place.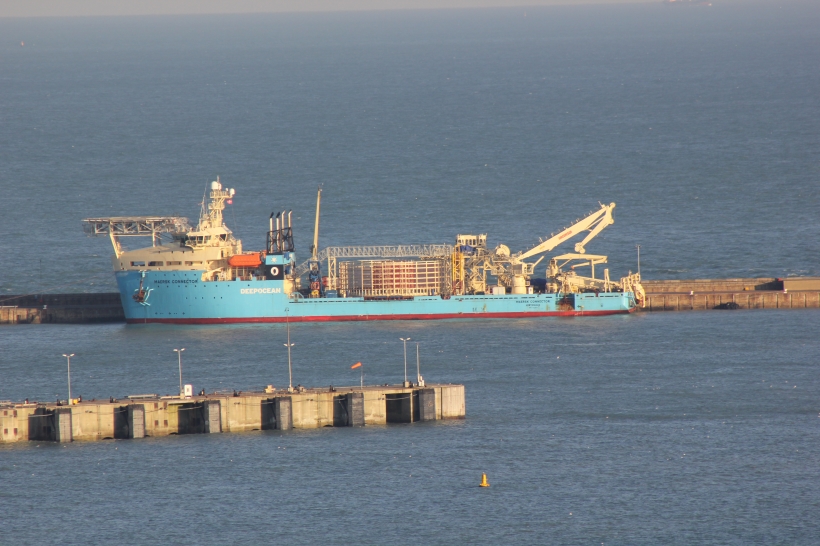 They may have had an uncomfortable time Saturday afternoon & evening when the southerlies got a little lively for a while.
Sunday, 16 December 2018 - 01:42
Post 5941
Sea News, Dover
Just in from Mike...referring to the helicopter post just below...
This from Nigel Scutt, who likes helicopters -
. . . . . . That's the newer and larger Kent Air Ambulance. There was no emergency declared, so the only thing I can think of is that they were doing some night training and looking at potential HLS's as these AW189's are larger than the Eurocopters they are replacing. The service has used the beach before, but not this far down. They can't use the area right outside Sea Sports as it's all tied up with DWDR . . . . . .
Many thanks there to Mike and Nigel for the info..Great stuff lads!

PB
Saturday, 15 December 2018 - 10:12
Post 5940
Sea News, Dover
Here we are with the 'helicopter landing on beach' pictures. At 8.45pm on Thursday night the helicopter below came slowly in towards the beach, its floodlights lighting the way before it. It came down in an arc from the Western Heights direction and surprisingly landed on the beach here on Dover Seafront. As mentioned previously and you can see from the pictures, there was no seafront emergency, no police on the ground. So it was rather a surprise.
I thought initially it might be the Coastguard but as you can see the helicopter is not red. Although sometimes at night the colours are not easily identifiable. But here we are anyway....the arrival certainly gave the customers in the Hythe Bay Restaurant something to gawp at over their oysters, while in Marco Pierre White's Chop House they were surely all agog gazing at the arriving 'Chopper'.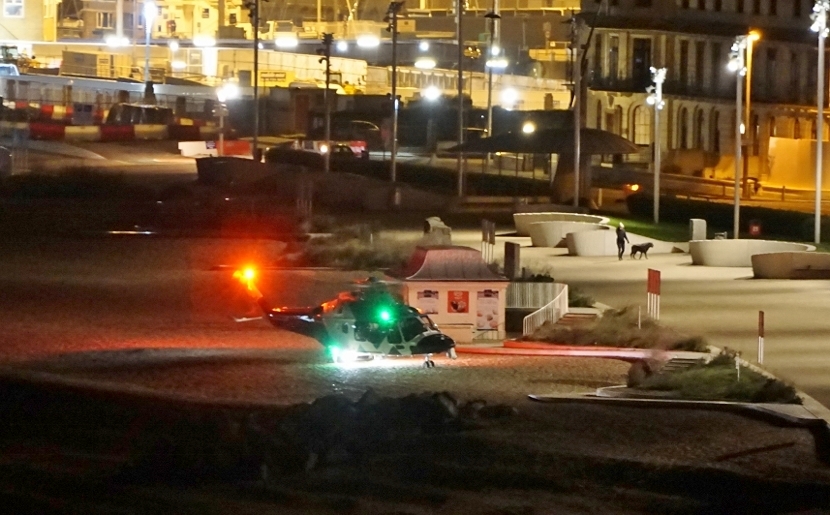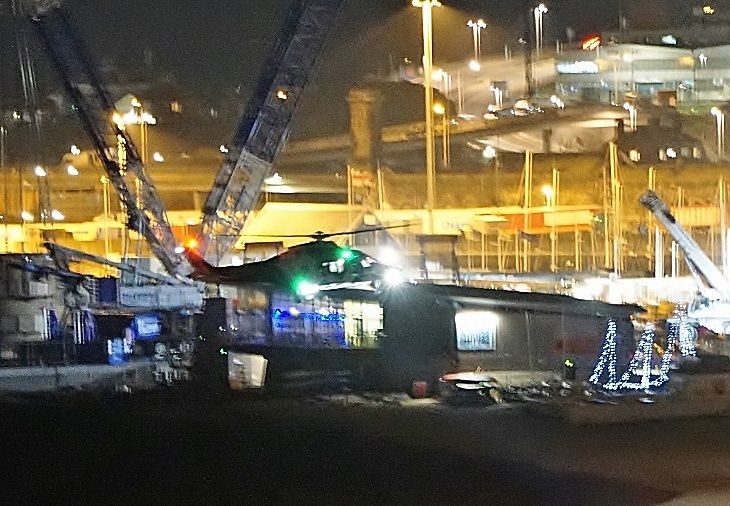 The top shot above shows the helicopter just after it landed. Shot 2 poorer quality shows it approaching just before landing....that's the Hythe Bay Restaurant and Seasports Centre behind it there.
A half an hour later she readied for take-off.. and then in picture 4 she was off. Look at that chap bottom right, sitting on the ground with camera in hands...bet he got some good shots.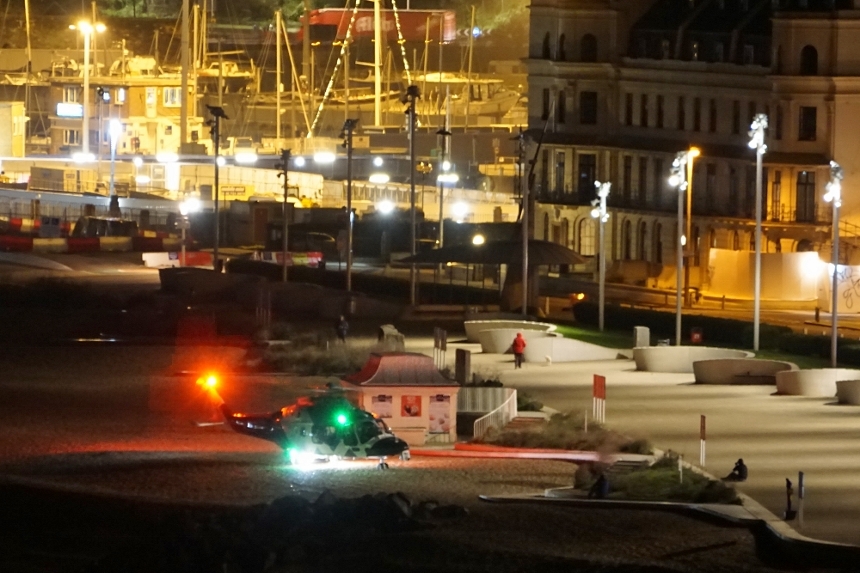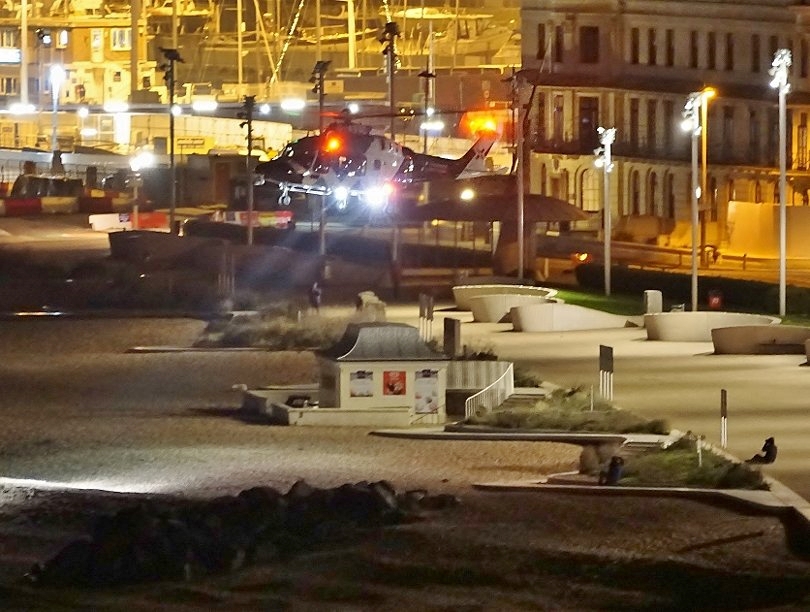 The picture below was taken earlier the same evening...capturing the chilly sunset...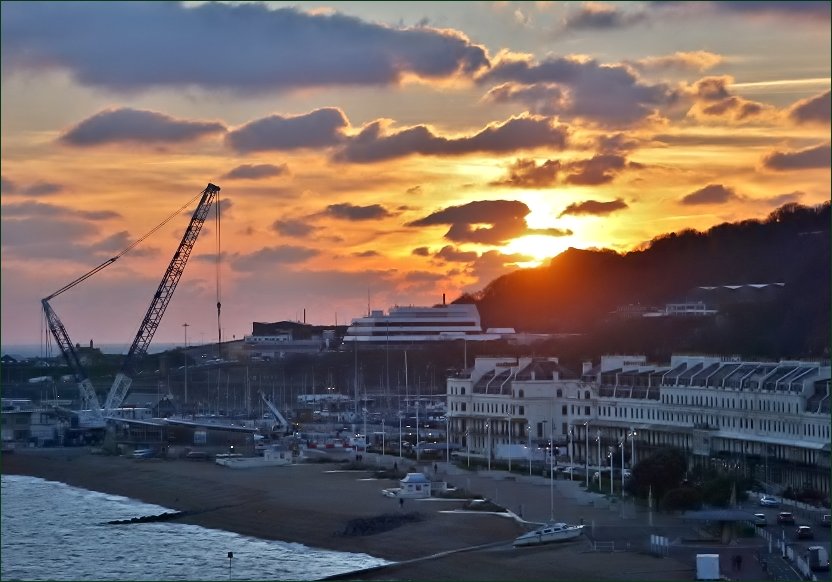 If any helicopter buffs out there recognise the helicopter by all means let us know. Information very welcome.
Update: Its the Kent Air Ambulance see later post.
PaulB
Saturday, 15 December 2018 - 05:08
Post 5939
Sea News, Dover
Some pictures now of what we believe to be another migrant situation although we haven't been able to confirm it. The drone of a suspended-in-mid-air helicopter caught the attention at 0800 Wednesday morning. Then we spotted both the Border Force and the Dover Lifeboat out there in the fray a short distance off Shakespeare Beach, which is just outside the Port. Some poor quality pictures below here but added them to show the whole scene as it were.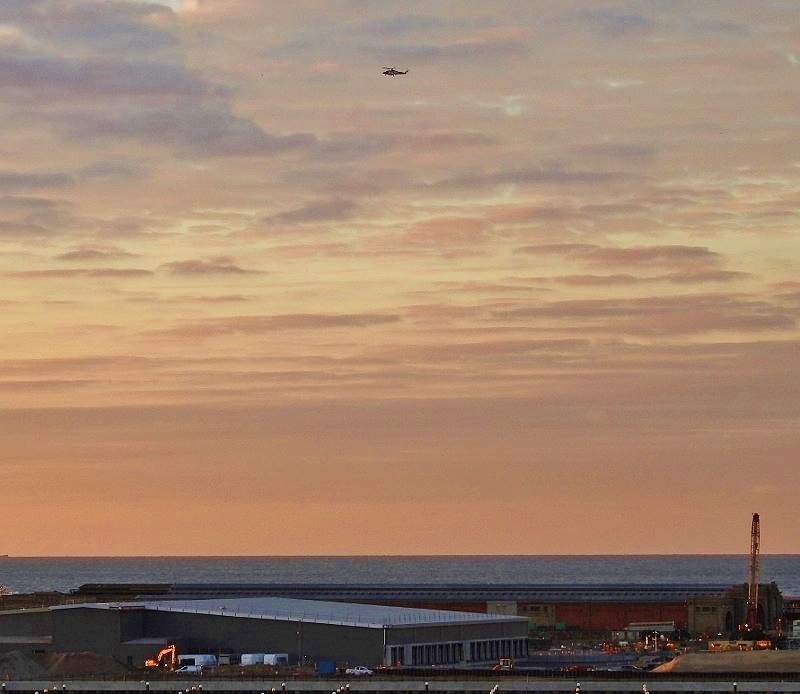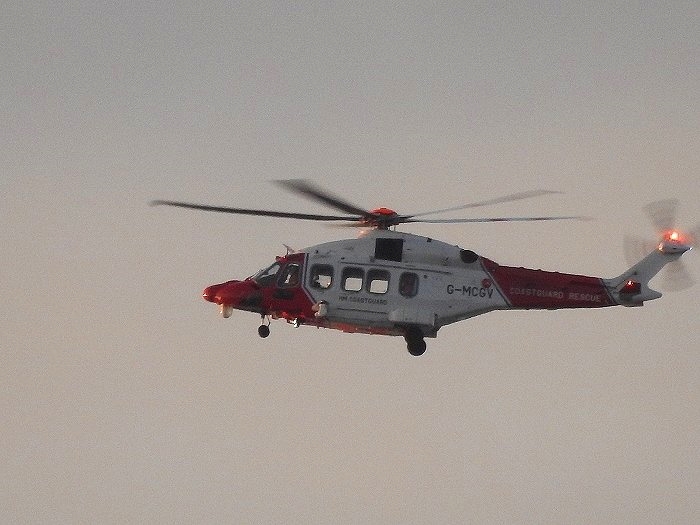 The HM Coastguard helicopter above there as you can see and below Dover Lifeboat and Border Force Hunter in close harmony. The pictures are not the best …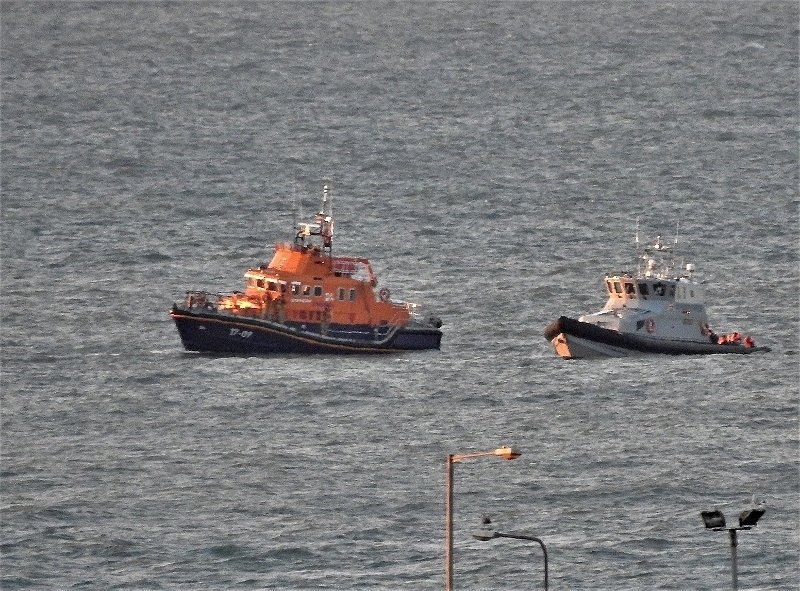 Border Force Hunter returning to Port 15 minutes later at exactly 0815.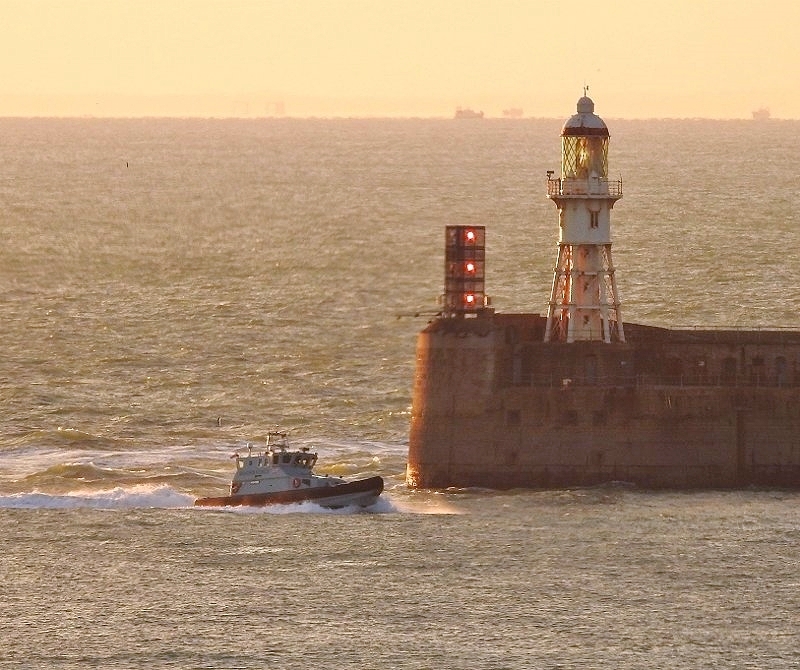 A very busy time for the Border Force.
Last night (Thursday) again we had more helicopter activity. About 9PM a helicopter surprised everybody by landing on the beach here on Dover Seafront. There were no emergency services on the ground, no police, no emergency vehicles of any kind, but the helicopter came down on an empty beach. It stayed there for 20-30 minutes and then was off again. It was pitch dark...I tried to get some pictures and will have some of those to follow in due course. Never a dull moment around here that's for sure.

A great all round set of pictures below from Mike our 'inshore correspondent' showing the latest happenings. A lot of Border Force guys here now. Great shot of the new bridge...
Great stuff! Don't Miss Those...

And Dont Miss the beautiful Christmas pictures just below too from Sarah over there in Ramsgate. We look forward to those ones every year. Great stuff again! cracking shots ...gets us in the Christmas Spirit. Gorgeous building in the background there too...
PaulB
Friday, 14 December 2018 - 06:07
Post 5938
Mike J., Dover
Thursday showed the bridge deck in position with the other bridge components now stored awaiting installation.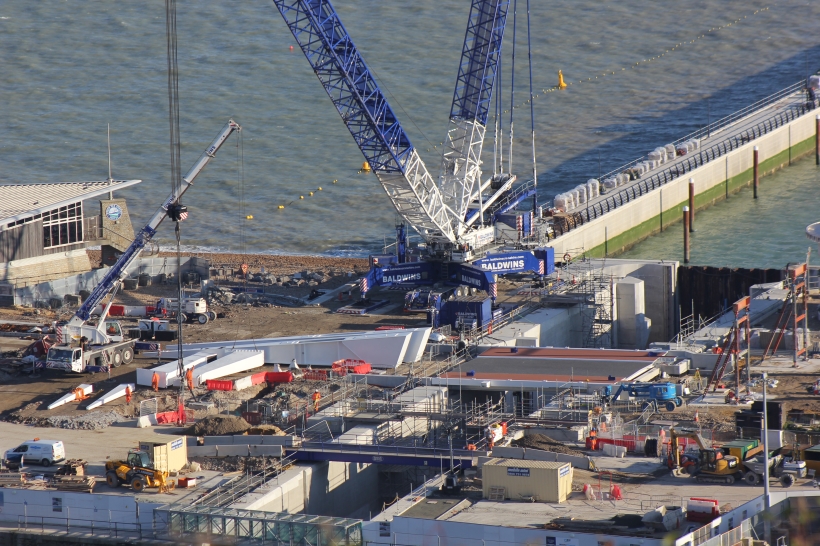 Three of a kind. During the 'big lift' on Wednesday afternoon the Border Agency's patrol vessel NIMROD came in to join the HUNTER & the SPEEDWELL.
First time I think that the three have been together in Dover.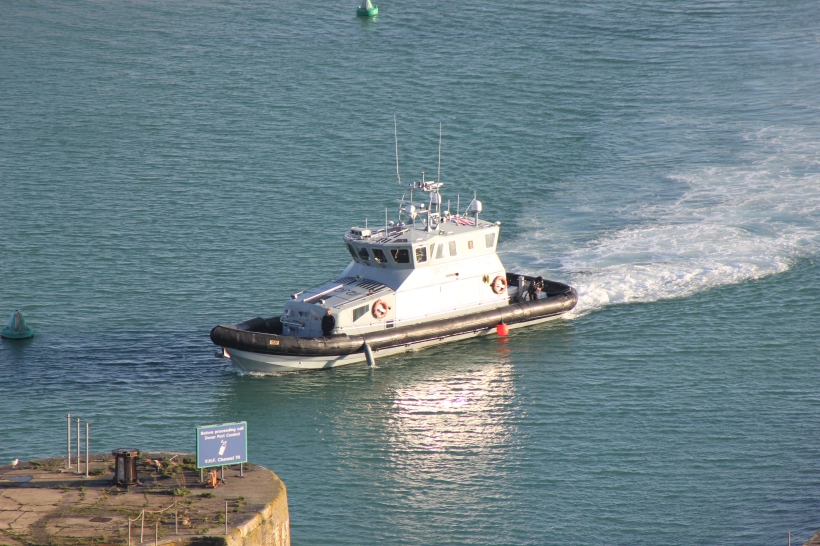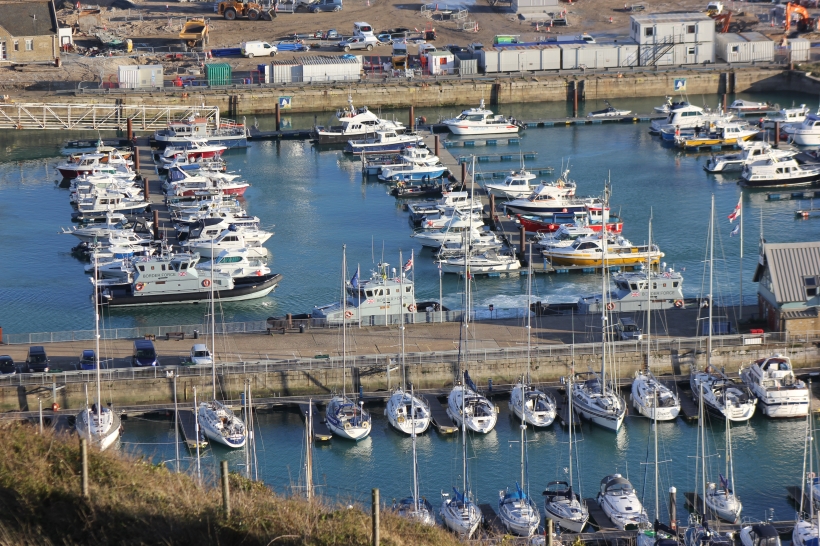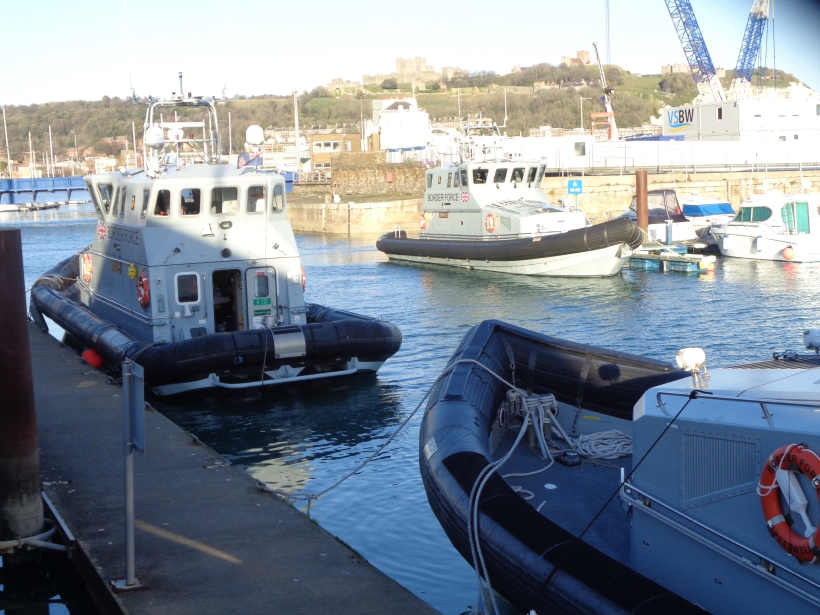 Sarah advises that the NIMROD has come down from Scotland to join the local Border Agency fleet & that the VIGILANT is currently in Ramsgate.
Friday, 14 December 2018 - 01:58
Post 5937
Sarah, Ramsgate
It is starting to get a bit like Christmas in Ramsgate with two Relief Lifeboats all decked up with lights as part of the Ramsgate Harbour Illuminations.
"Lady of Hilbre"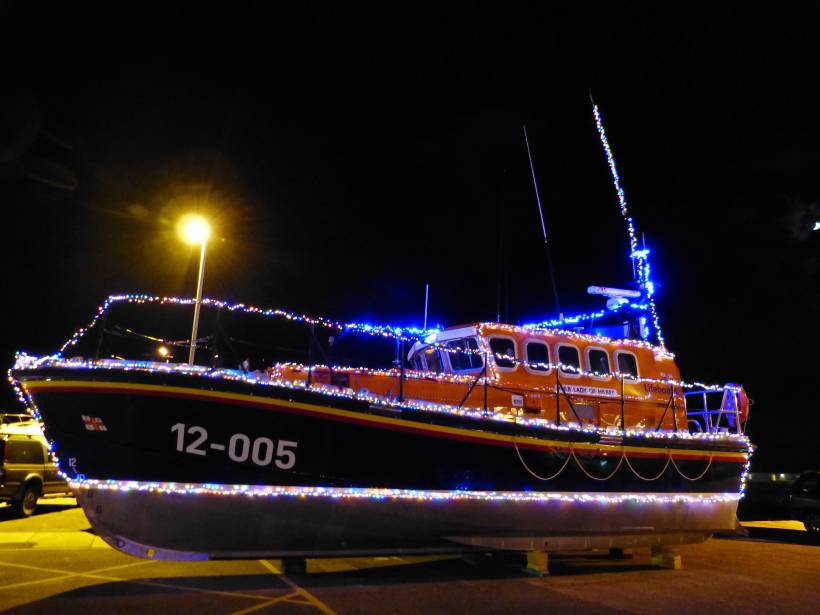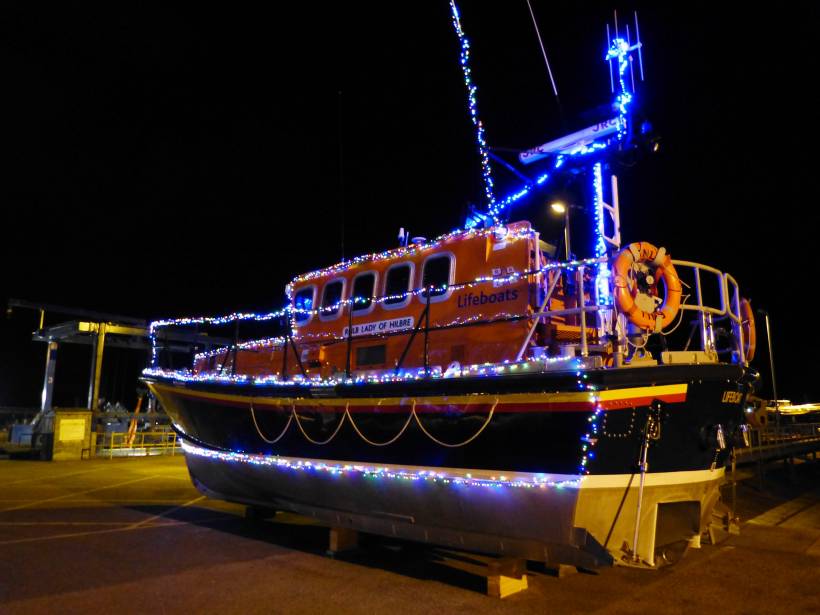 "Dora Foster McDougall"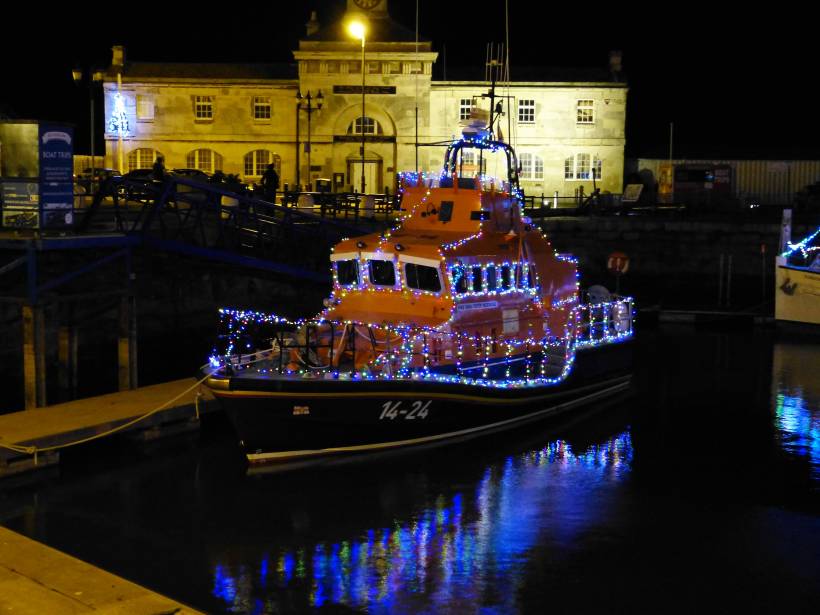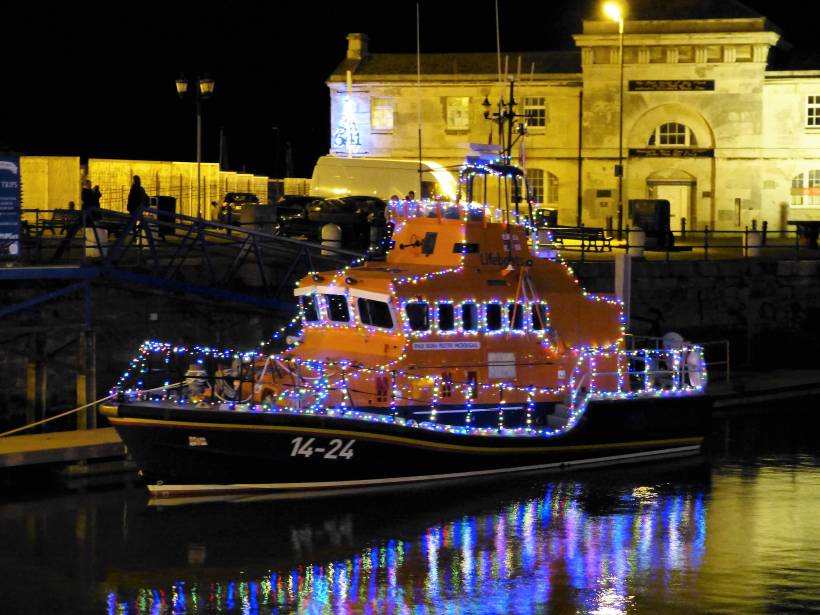 Thursday, 13 December 2018 - 05:52
Post 5936
Sea News, Dover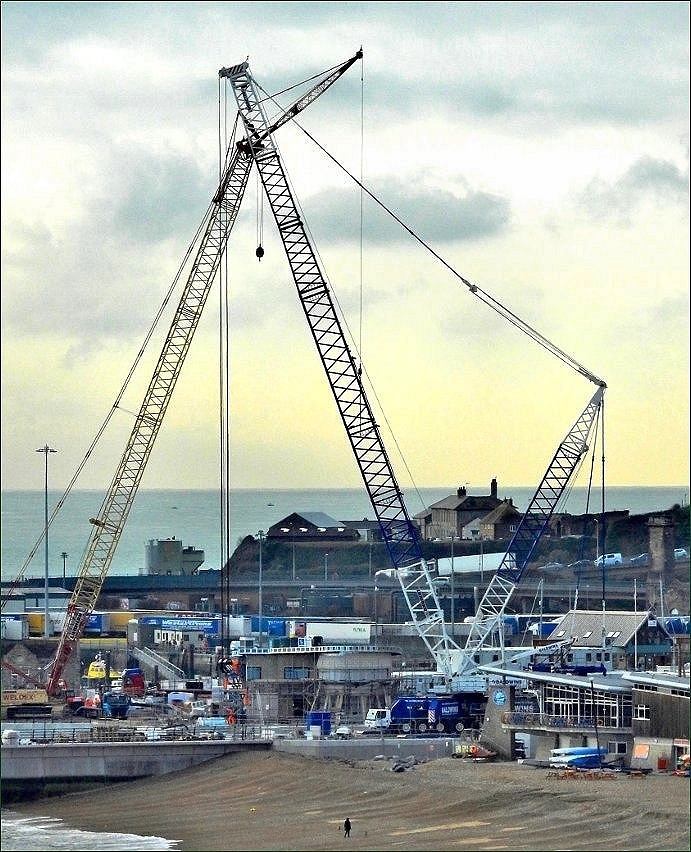 The giant cranes once again...we can see how they hugely dominate the scene above there. To get the scale, just look at the person walking the dogs on the beach. Massive beasts they are...ermm the cranes that is, not the dogs...although ...

Another one of Vigilant below there...Border Force stepping up the patrols. There was an incident yesterday too with the Coastguard Helicopter, the Lifeboat, and Border Force Hunter in local action. Yours truly tried for some pictures...initial look at the pictures shows me the quality isn't good but will see if they are useable. Will have a further examination...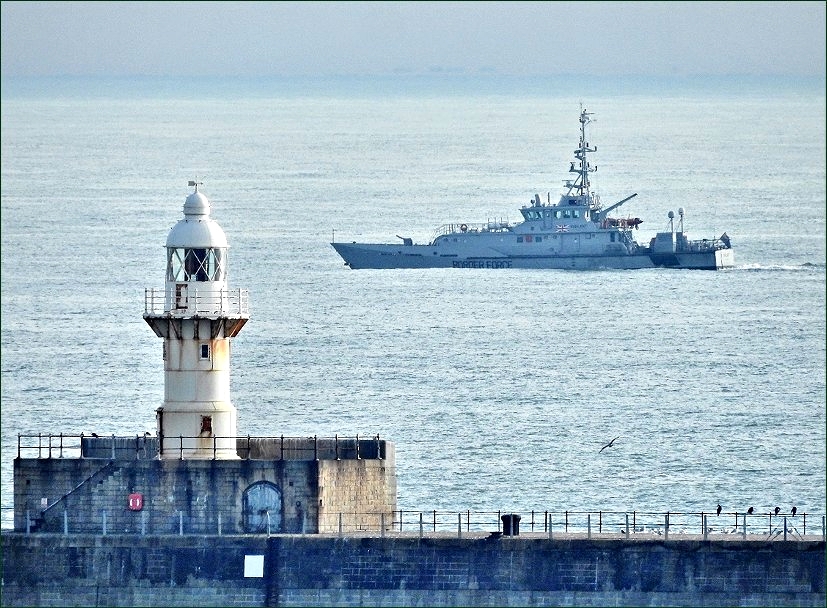 A picture below of Cold Stream. Not sure if its a first visit, might be, but its a rare visitor anyway....and certainly a first shot for Sea News. Just caught her as she set off for Hamburg with a full load late on Tuesday afternoon. You can see the pilot there too...poor fading light over the longer range so not the best quality.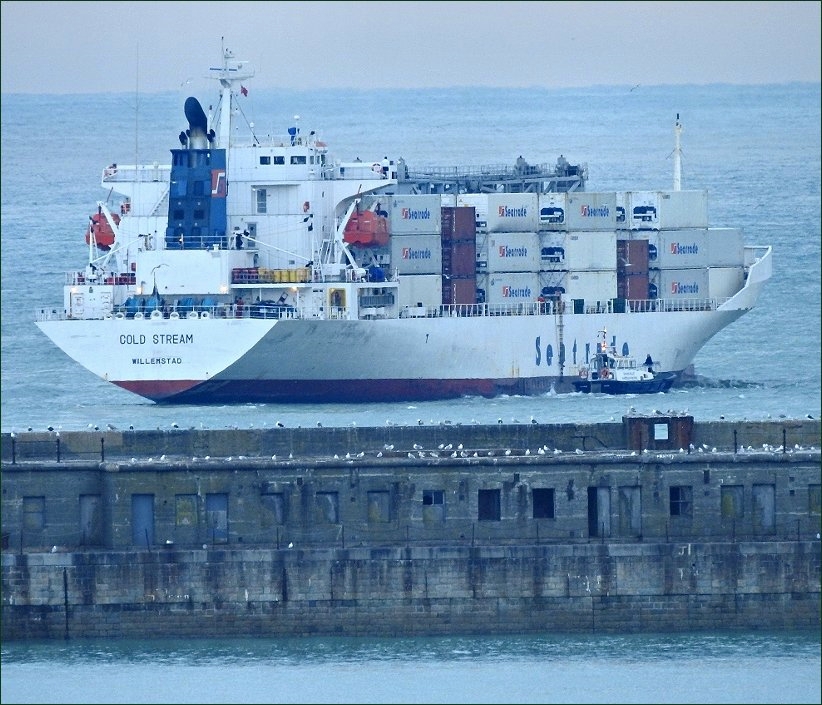 Oh the irony.... as yours truly has been griping about the (still dark) lights around here... 5906, 5933.
FROM DOVER DISTRICT COUNCIL …
Lighting The Way To Brighter, Safer Streets - £1m Street Lighting Programme Approved
A £1m investment in new street lighting, including the extensive replacement of lights with LED lamps, is set to provide a brighter, safer and more environmentally friendly way forward in Dover District, following a decision by Cabinet this week.
DDC is currently responsible for more than 2,500 street lights across the district.
The first element of the works will include an extensive replacement programme of more than 100 lighting columns, and the upgrading of all of the district's concrete columns in order for the new LED lamps to be fitted.
The second element to these works will be to replace all of the existing high wattage sodium lamps with LEDs. It is estimated that the £500k cost of the LED conversion will be paid back from energy savings within 5 years. This will provide further sustainability and improved footway lighting across the district.
Cllr Trevor Bartlett, DDC Cabinet Member for Property Management said: "We know that street lighting is important to local communities. Brighter, more efficient street lights help people feel safe at night and assist with community safety measures like CCTV coverage."
Cllr Nicholas Kenton, DDC Cabinet Member for Environment said: "This sustainable programme to replace our lights with LEDs is good news for the environment. This will help to reduce light pollution, and will save on energy usage for the future, helping to reduce our carbon footprint and lower costs to Council Tax payers."
ENDS
DONT MISS the collection of work pictures below from Mike.

Excellent collection there and great info too.
And just below Mike's post a fab 'famous five' from Ted..catching up with the Ramsgate situation.

Well done Ted.
PaulB
Thursday, 13 December 2018 - 05:11
Post 5935
Mike J., Dover
The deck/roadway of the lifting bridge for the Wellington Dock channel was lifted into position from the CATHARINA 11's barge on Wednesday afternoon after being brought round from Cruise-1.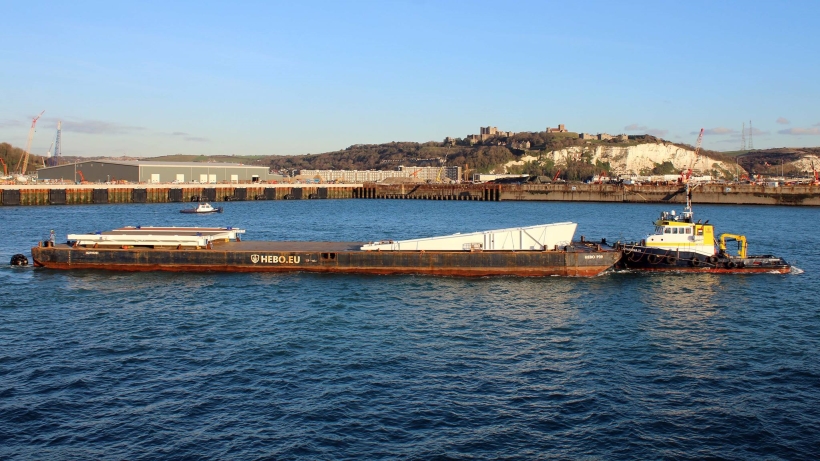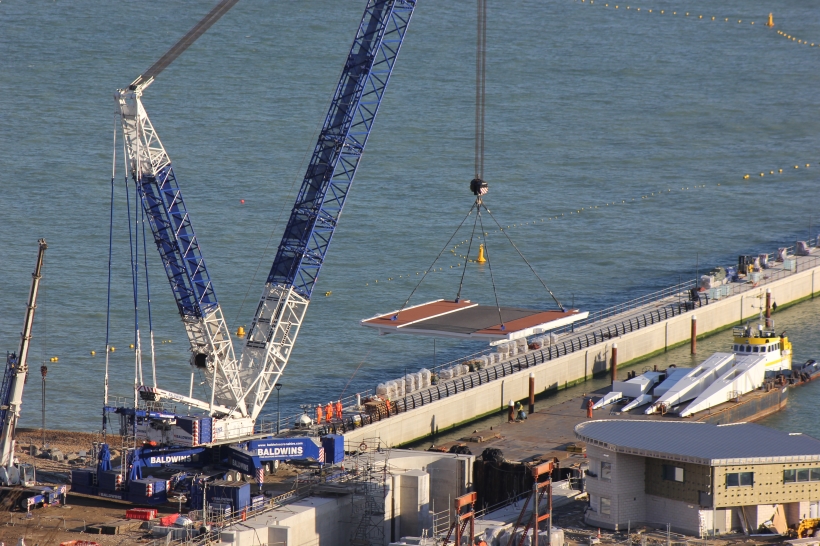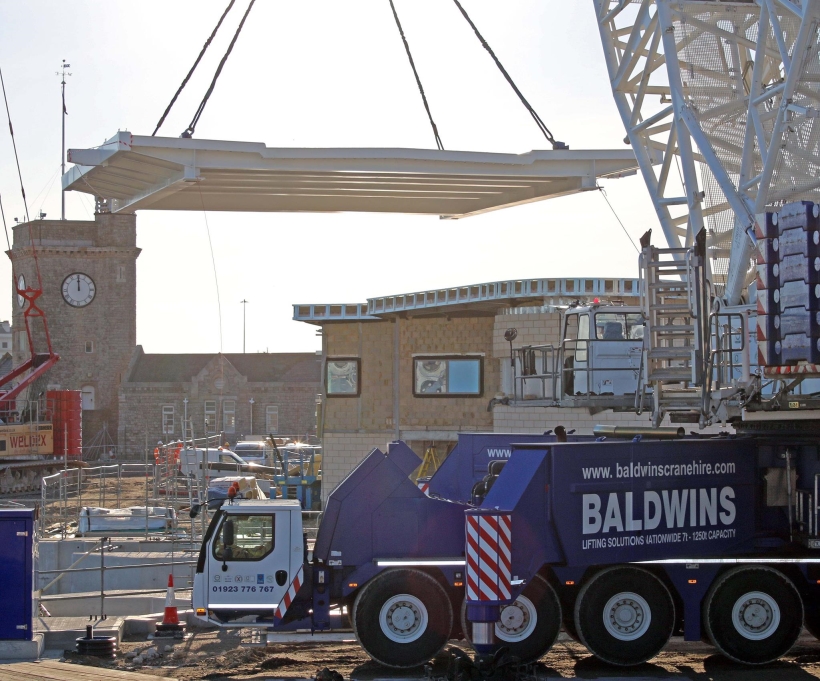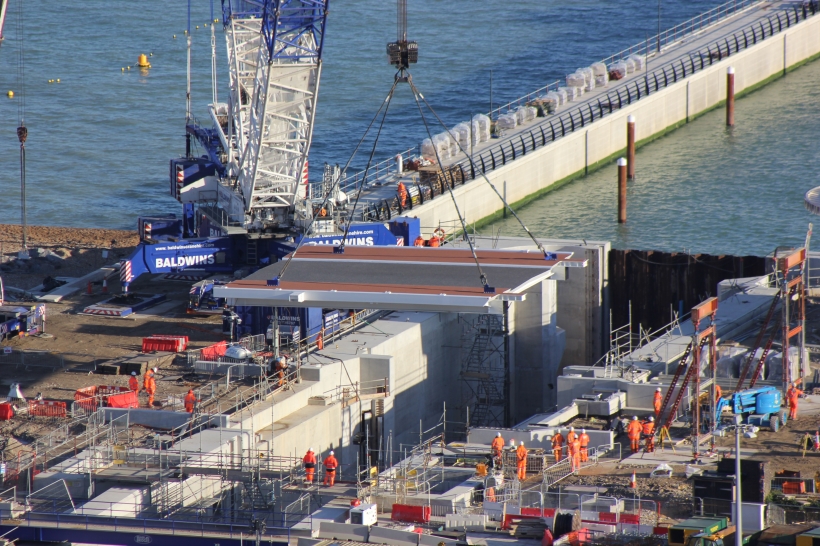 After the deck was being 'landed' the barge was taken out of the new Marina with the help of the DOVER WORKER [centre] & under the beady eye of DHB survey vessel DIANA, with the PAMPERO lurking amongst the piles.
The barge was then turned around so that the next lifts of further bridge components could be made.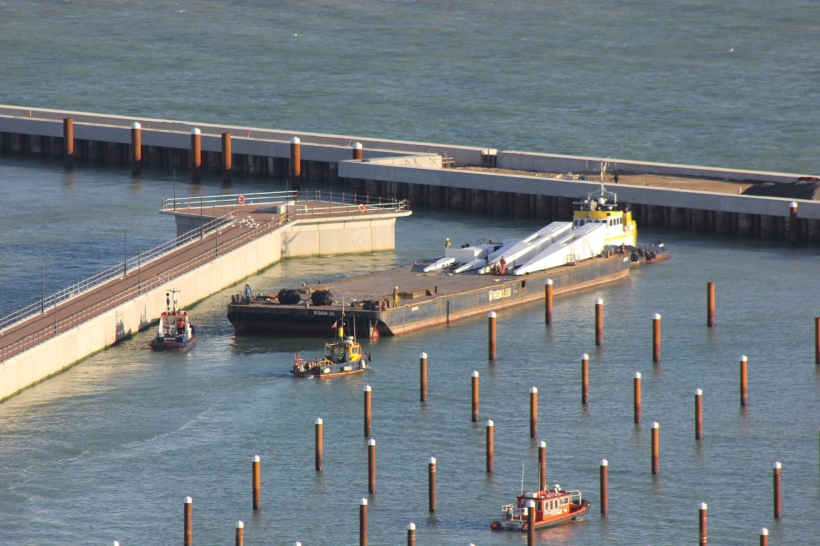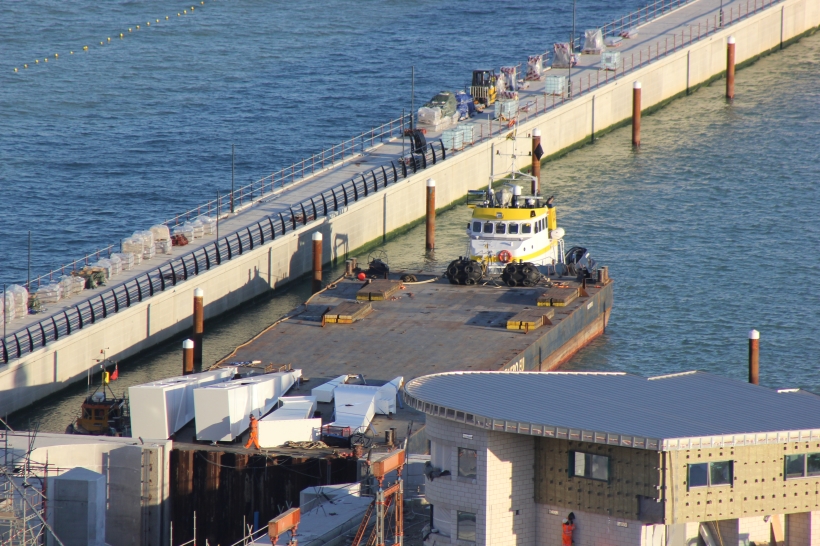 I left the chilly clifftops before any further lifts took place & I assume that these have been been carried out as the CATHERINA 11 left Dover at 2100 heading for Schiedam.
Quite a few photographers were shivering up at St.Martin's Battery, including a crane enthusiast who had come down from Hull.
First & third photos courtesy & copyright of 'Dover Straits Shipping' for which many thanks.
The rails for the 'Promenade Pier' are coming along nicely !
Paul's post 5933 - the vessel beyond the VIGILANT is one of the 'VOS' windfarm workboats operated by VROON OFFSHORE SERVICES, one of the divisions of VROON B.V a major Dutch ship management company who operate many different types of vessels.
The 'windcats' can often be seen in Ramsgate where Ted posted a photo of VOS SAMPSON in post 5588.
Most Vroon vessels have a large 'V' painted on their bows.
Thursday, 13 December 2018 - 00:13
Post 5934
Ted, Canterbury
'Five from Ramsgate'
An update on the tug Cervia.No pumps in action today.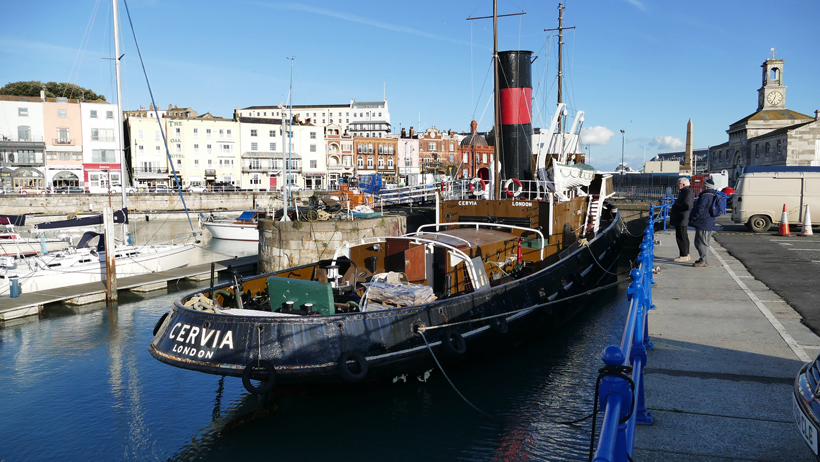 Bags of sand and cement at the ready to go into the cement mixer and a few tubes of expanding foam. A temporary measure but will hopefully stop any ingress of water.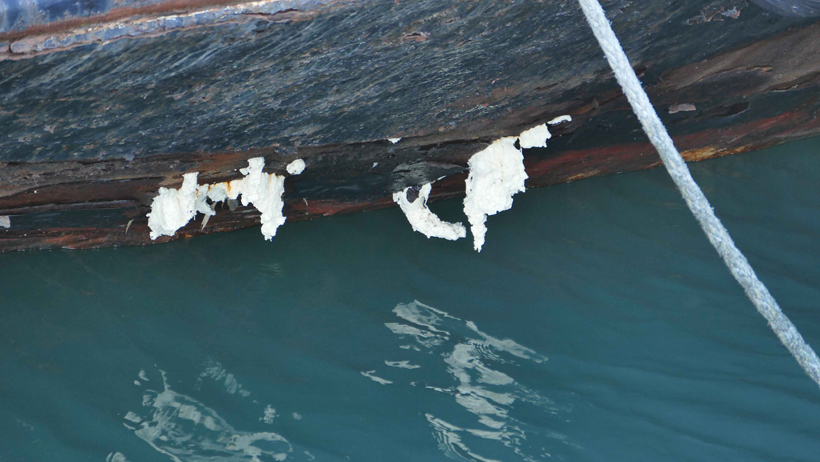 Expanding foam oozing out of the hull.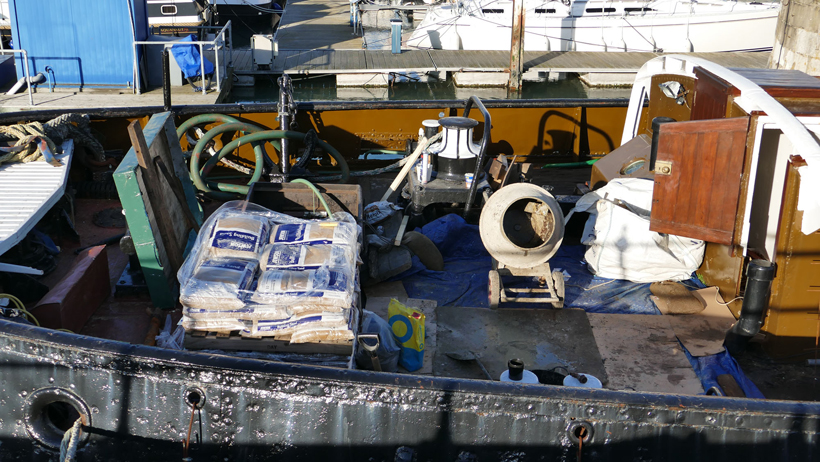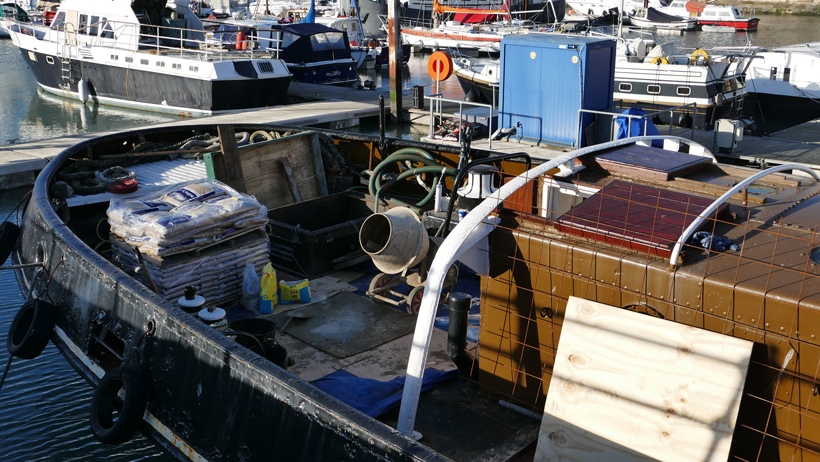 Wednesday, 12 December 2018 - 22:06
Post 5933
Sea News, Dover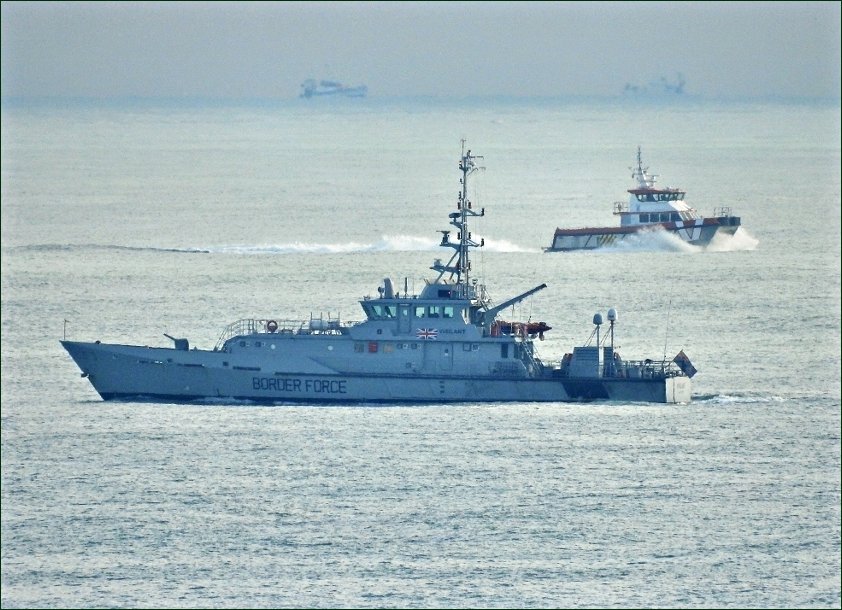 Following along from Mike's excellent picture of Vigilant in the post below...there she is again some time later out there in the channel. She had just left the Port and was out on patrol keeping a watchful eye on all movements. As we know...yet another overloaded dinghy with migrants was intercepted out there in the channel the night before. Time of Picture above :11.45am Tuesday morning.
The smaller boat passing behind Vigilant looks familiar...we may have featured that one before..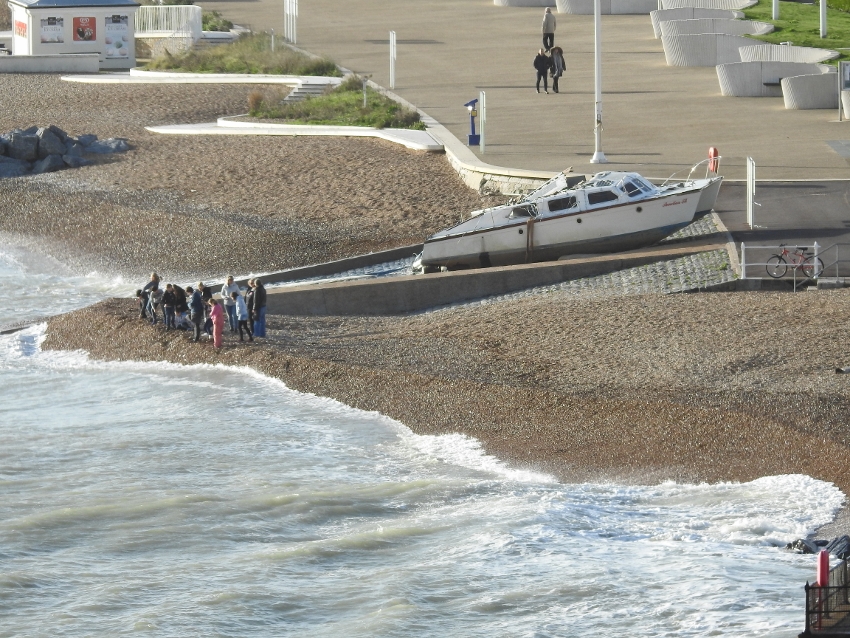 Looking up along the seafront above there on Saturday morning. The sunshine and the bracing elements brought a few hardy people out and about. You can see people enjoying the breeze and the surf above there. The second shot is just a wider view of the scene. All pleasant on Dover Seafront.
The following day below..altogether more grim. You can see the stricken Anneliese in all shots...and below the rising tide gets ever closer. One of these days, with a high tide and larger waves, she will probably re-float herself...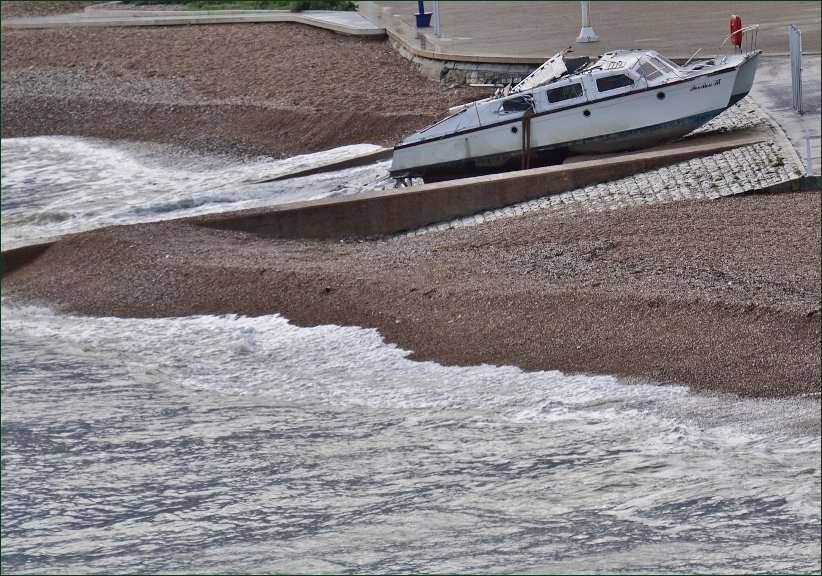 Well done with those pictures below Mike. Nice shots for sure.

PB
ps: we are still in the dark this end of the seafront. A third of all seafront lights not working. Its pitch so it is at the Premier Inn end of things. Must be more than a week now...can somebody put a shillin' in the meter....

Wednesday, 12 December 2018 - 07:13
Post 5932
Mike J., Dover
More asylum-seekers were picked up in the Dover Straits on Tuesday & brought into Dover, presumably by the VIGILANT who was in the Tug Haven during the afternoon with a lot of hi-vis jackets milling about.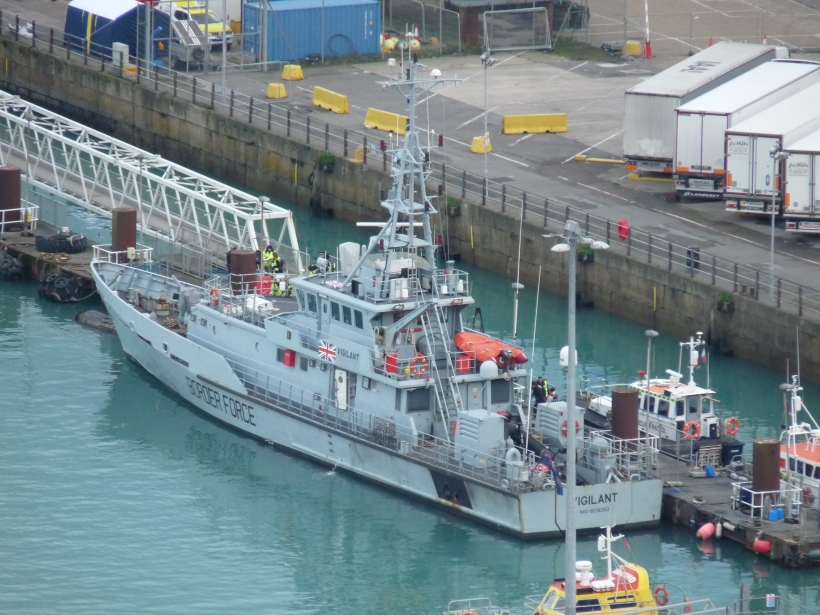 I was up at St.Martin's Battery to take a look at the big crane for the bridge lift job.
The Dutch tug KATHARINA 11 has just arrived in Dover from the Ghent Canal & is alongside Cruise-1 presumably with a barge & the bridge.
Tuesday, 11 December 2018 - 23:21
Post 5931
Sea News, Dover
The Nightime Departure of Saga Pearl II (last night monday)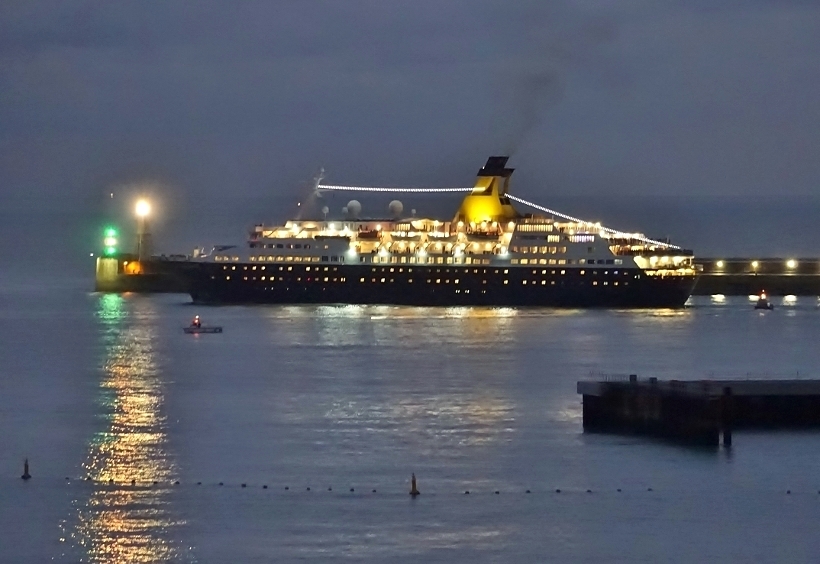 I say nightime but although fairly dark, the time of picture is only 4.20PM, there was still some light left in the sky as she left in fine style with lots of lights to cheer us all up. Is this the final farewell ? ...well it might be but as with a lot of things these days..."the situation is fluid!"
As its a night picture above we cant really see a great deal...so here are some extra pictures by way of a Saga Pearl celebration or indeed a commemoration. First two shots from this year 2018...that's the Costa Mediterranea also there in shot 2.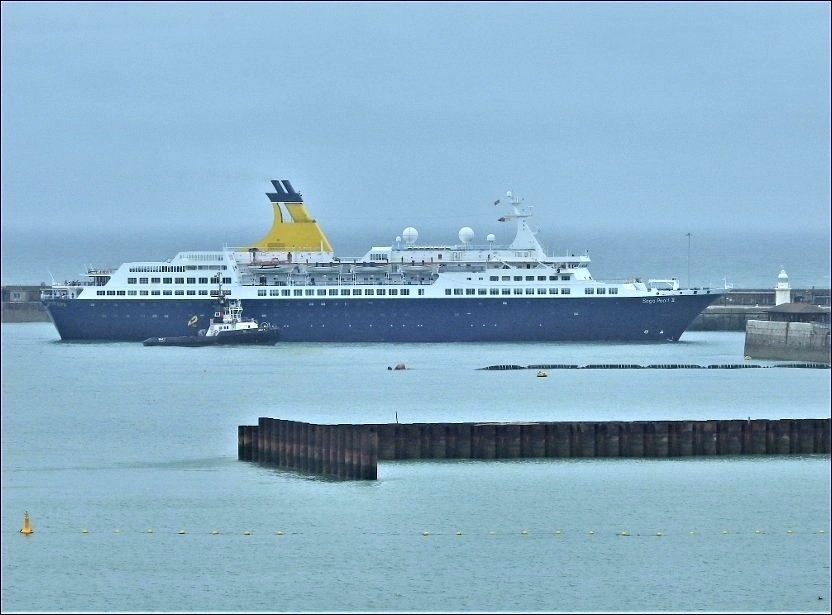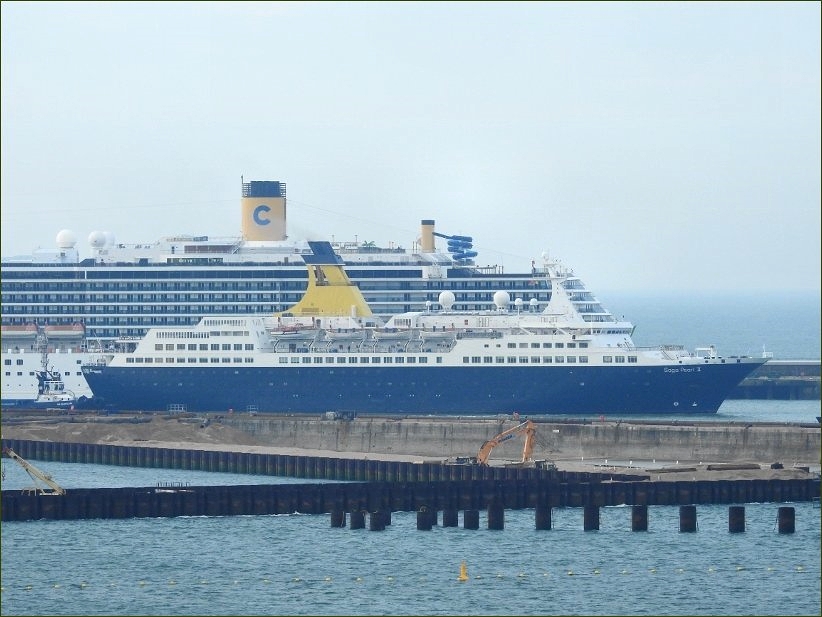 And two from 2015 when the funnel was blue...can you spot the plane ??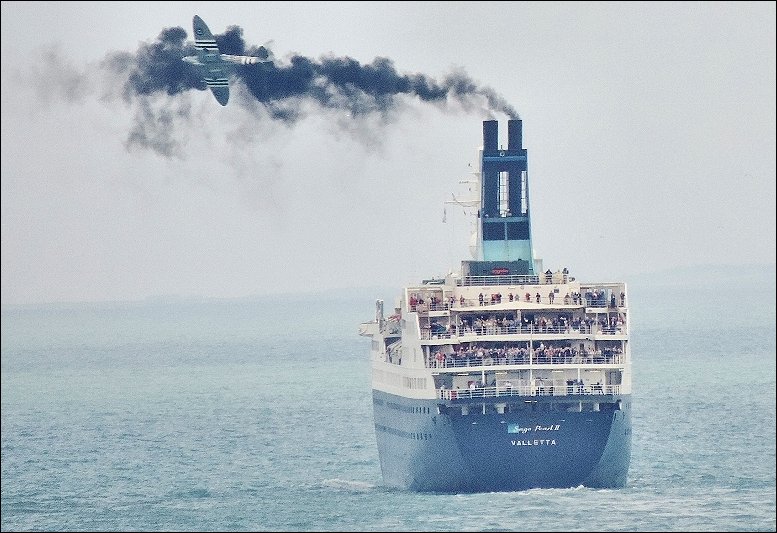 And one final one also from 2015 when we still had those harbour boat tours... see there in the foreground as Saga Pearl II moves away behind.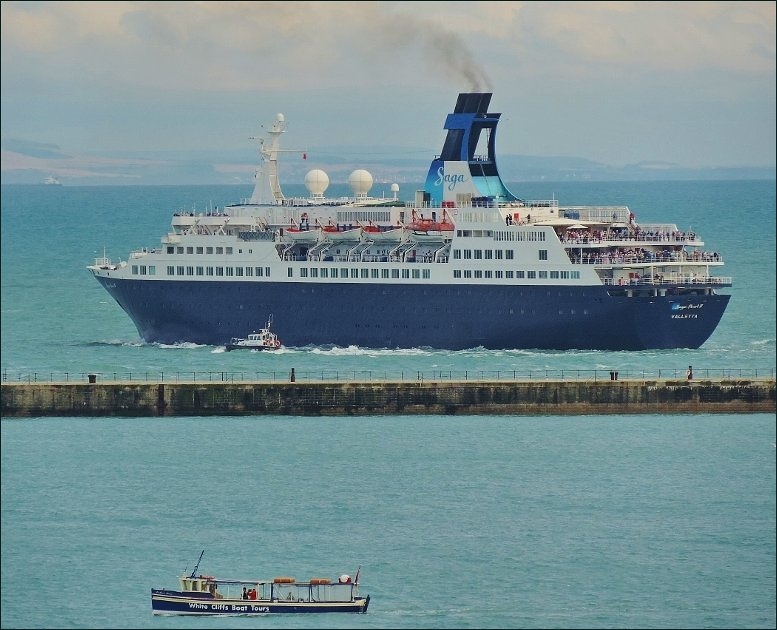 Yours truly promised a picture of Marco Pierre White's chopper and here it is. This picture is on the wall in Wheelers. Its behind glass so there is some reflection. Wheelers is Marco's English Fish n Chip traditional restaurant...situated next to Marco's English Chop House. Yours truly was in there sampling the delights at the weekend. It was all very good, very exciting to have these new ideas developing along the seafront. With the new marina coming too...well .. quoting the words of that famous song..."things can only get better"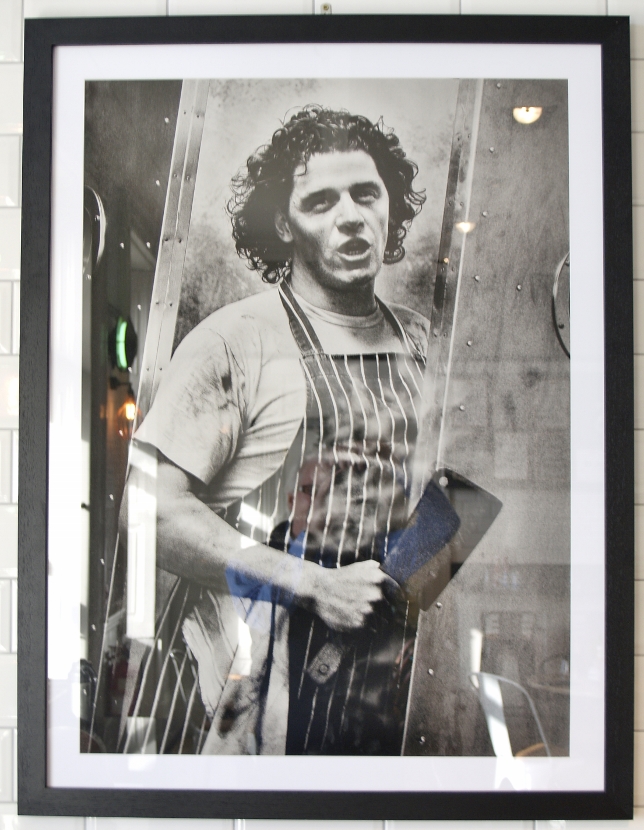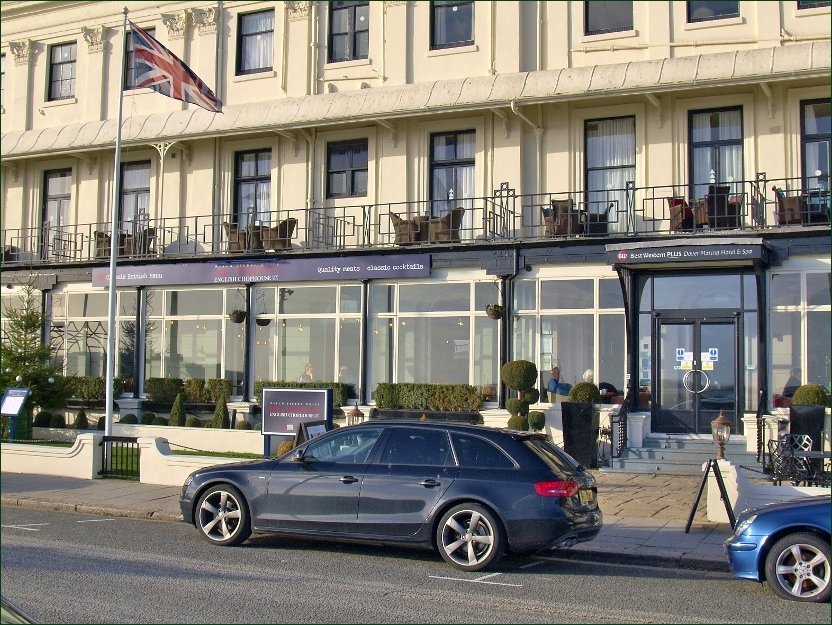 You wouldn't want the volatile Marco chasing you with that chopper...nosireee bob!

PaulB
Tuesday, 11 December 2018 - 05:12
Post 5930
Sea News, Dover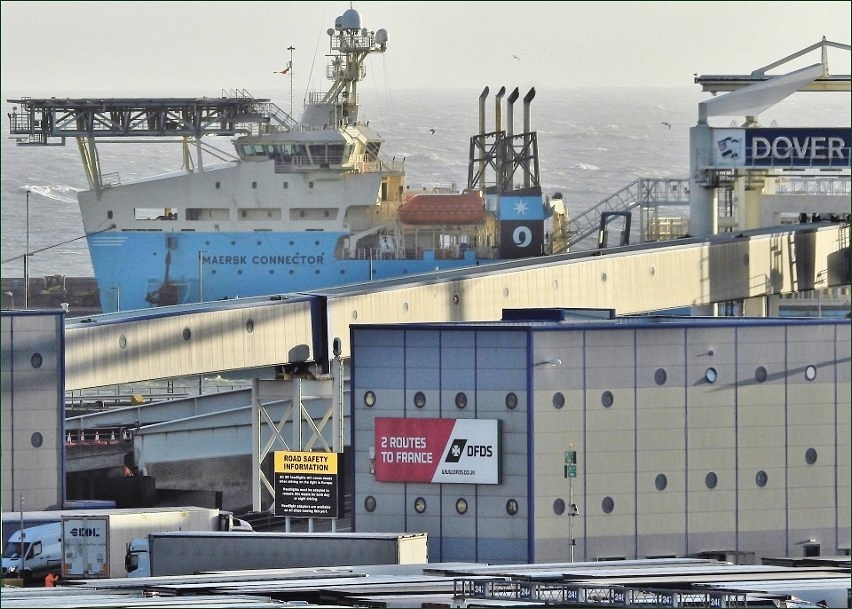 Looking 'across the rooftops' above there at the Maersk Connector. The vessel is still in Port as we speak (3.40PM Monday)...over there on the eastern arm. As you can see we have a wee bit of a restricted view from this angle. See also todays earlier post below focusing on the Megger story.
Monday, 10 December 2018 - 15:40
Post 5929
Sea News, Dover
The picture above was taken two days ago and shows a ship we hardly ever photograph for some odd reason. It gets missed over a little but not with any intent... but there she is now...its the Delft Seaways making her spectacular way back to the Port of Dover, pictured in some of the recent rough weather.
Planning Permission Set to Power New Growth for Megger in Dover
____________________________________________________________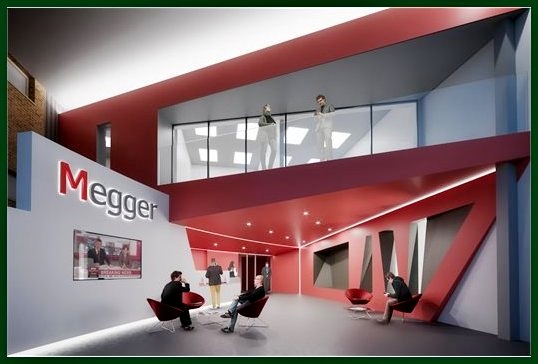 (Picture credit: Clague LLP)
Megger is set to transform its business in Dover after full planning permission was granted by Dover District Council for a multi-million pound investment in the company's HQ and manufacturing plant. The plans include a new manufacturing building and access arrangements on Channel View Road, a vibrant new staff restaurant, new product development and marketing facilities, a customer training facility with specialist servicing for vehicles used for high-voltage testing, and a heritage centre with historic displays. A modern new look for the existing building on Archcliffe Road will include solar shades and a green/living wall to the existing staff car park.
Megger has been based in Dover since the 1960s and employs 260 highly skilled staff in the design, development, manufacture and commercialisation of electrical testing equipment. The new investment will help the company to recruit and retain key talent as it continues to grow, creating a modern, inspirational working environment with office views out across the English Channel.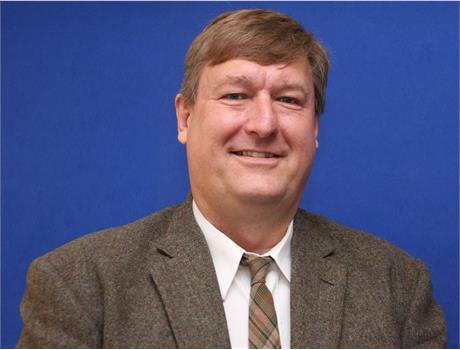 Cllr Keith Morris, Leader of Dover District Council, said: "This investment is a major vote of confidence in Dover from Megger, one of the world's premier manufacturers of electrical testing equipment. Megger has been an important part of the local economy since the 1960's, exporting products 'Made in Dover' around the world and creating a talent pool of highly skilled local employees."
Jim Fairbairn, Chief Executive, Megger Group Ltd, said: "We are delighted to announce this multi-million pound investment and couldn't be happier with the support of the local council around our plans to make our Dover site truly world class. Everyday I'm struck by the professionalism and dedication of our staff in our Dover facility and we are thrilled as business to be able to further in invest in our site."
The plans for the Megger site were developed by Clague Architects. Construction on the scheme is expected to start in the New Year.
ENDS
The picture below is slightly peculiar, it went odd but bear with...as its shows Megger and its location overlooking the Port. You can see Megger there in the background on the hill rising out of Dover. Also visible in the shot is one of the new cranes which has just arrived to do heavy lifting work on the new bridge over the canal/dock.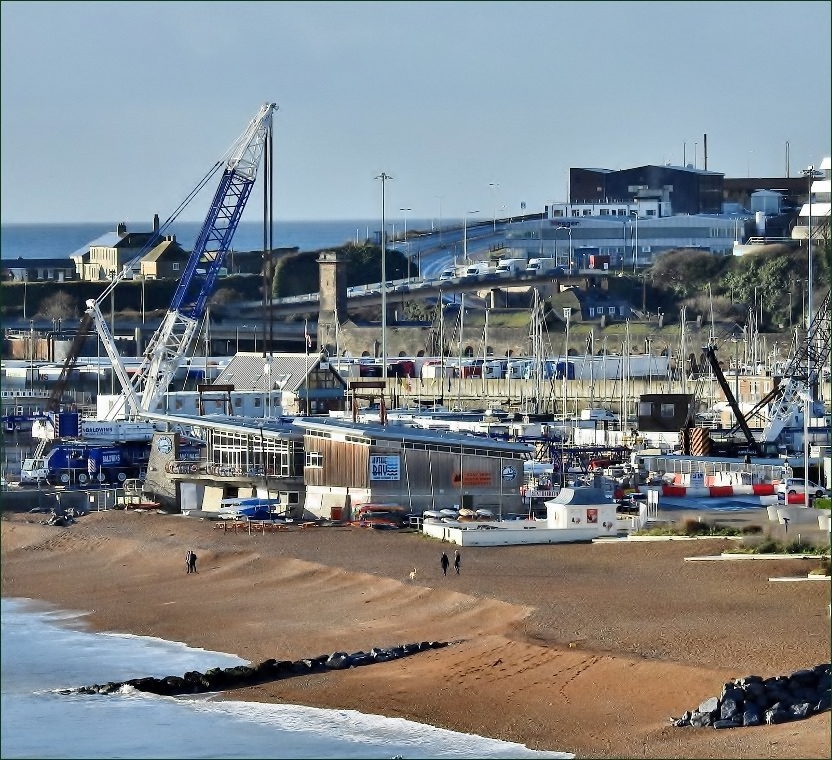 Yours truly has been fiddling with his photo-dials..always a mistake!
…
Megger must have faith in a positive Brexit fate, one that will keep the roads flowing.
Thanks for the all-round info below Mike.

.
Yes indeed the Maersk Connector has been with us all weekend...over there on the east wing. Still there too...
And yes Saga Pearl back with us again.
PaulB

Monday, 10 December 2018 - 06:05
Post 5928
Mike J., Dover
The MAERSK CONNECTOR is back & seems to be spending the weekend on the Eastern Arm.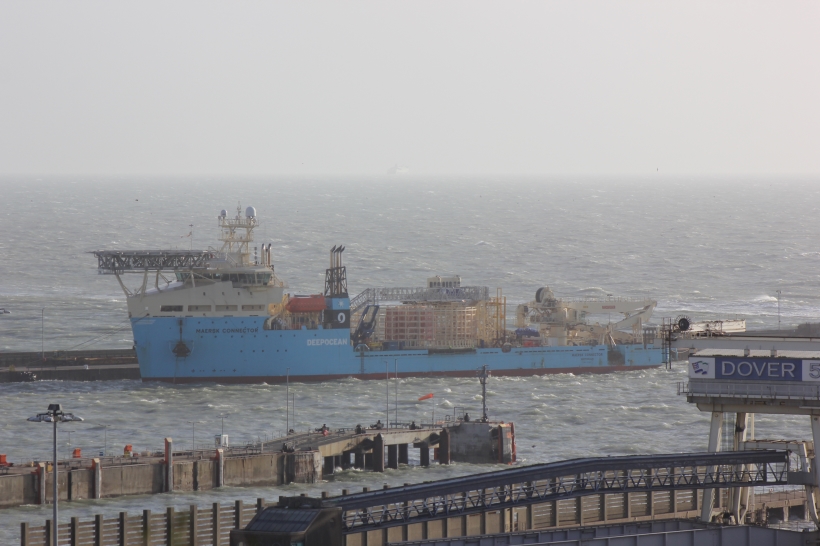 The SAGA PEARL 2 will be back in Dover on Monday, with AIS showing her coming down from Hamburg with an 0700 ETA - SAGA's website has her starting a 'Scandinavian Festive Delights' from Dover.
The final final visit ?
Who knows ?
No sign on AIS of any tug heading for Dover with the bridge for the Wellington Dock 'cut' but excellent photos from PatrickS on the preparations for the 'big lift' on the Dover Town forum.
There are reports that the arrival is delayed but the job should be worth a look when it finally arrives.
Re Paul's comments on his Premier Inn photos in post 5925 – I believe that when one of their hotels is being built or expanded there's a factory up in Manchester that builds their bedrooms & bathrooms as 'modules' which are brought down on the back of a lorry & slotted into position, connected up to the 'services' & are then 'ready to go'
Clever.
As to Paul's remarks in the same post about the BBC reporting Folkestone as still being a ferry port, I often think that when you hear about a subject that you DO know a little about, the information in the media is often inaccurate or totally wrong, so how accurate is the info in the media on subjects that we DON'T know about ?
Sunday, 9 December 2018 - 12:21
Post 5927
Sea News, Dover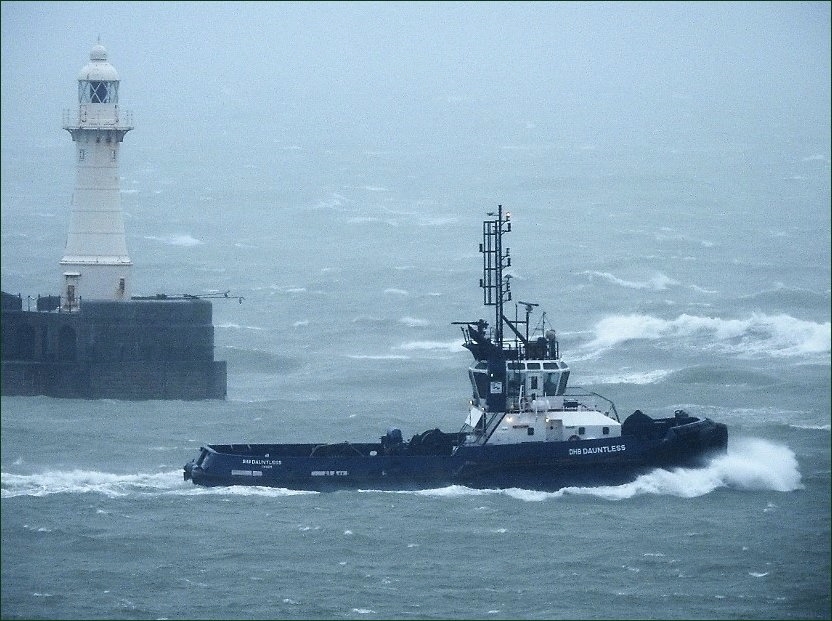 Tug Dauntless above there heading back to base for a brief break during the wild and woolly conditions on Friday. It was a tough day for sure but everyone kept right on going in brilliant style and the Port stayed operational.
The picture below is from a previous time. One from the archives. It shows Dauntless again on another fierce day...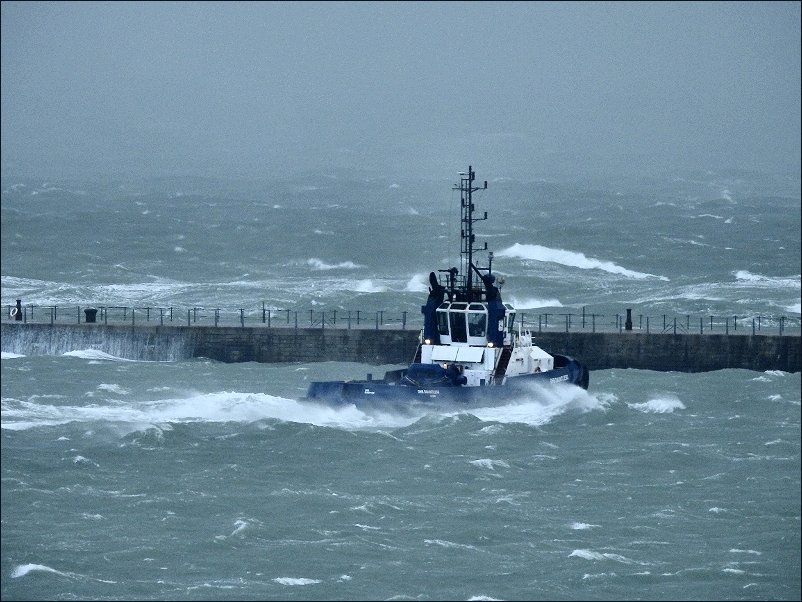 Good luck Del getting through the yellow vest or 'gilet jaune' situation...

PB
Sunday, 9 December 2018 - 06:04