Saturday, 14 December 2019
Sea Pictures from Dover....

WWW.DOVERFORUM.COM/SEA-NEWS
Featuring all the ships that come and go and work at the Port of Dover ..
... with further coverage of the surrounding ports.
Sea News Dover
Port of Dover: New CARGO TERMINAL opens for business see 6688....


Christmas

Spectacular Event at the Port 6648... Port Fundraise Record 6659.
MP Charlie Elphicke moving aside for wife..see 6646. Wife Natalie Elected 6694.
P&O: St Richards School trip to Calais for 6 year olds see 6630. New Apprentices 6662. AWARD SUCCESS 6681.
DFDS: Contract Cancelled see 6626. New Apprenticeships 6650. WORLD'S BEST see 6676.

P&O Ferries Choir dates for

Christmas

... see 6693.
Use our SEARCH ENGINE below to find all sorts on the SEA NEWS pages....type in the topic and away you go, or if you have the post number, just type it in the box, more than
- 6600 -
nautical posts now. Posts are welcome. just click 'Add Your Comment' below. Max of 5 pictures preferred although we can stretch that for special stories.. Sea News Editor Paul Boland - send info or pix to dover7@msn.com. Always welcome.
UPDATE:
To show your pictures at their best..it could be worthwhile resizing before posting to
850
pixels wide.
All pictures on these pages are the copyright of the owners and must not be reproduced without permission.
Post 6616
Sea News, Dover
BIG SKY AT DOVER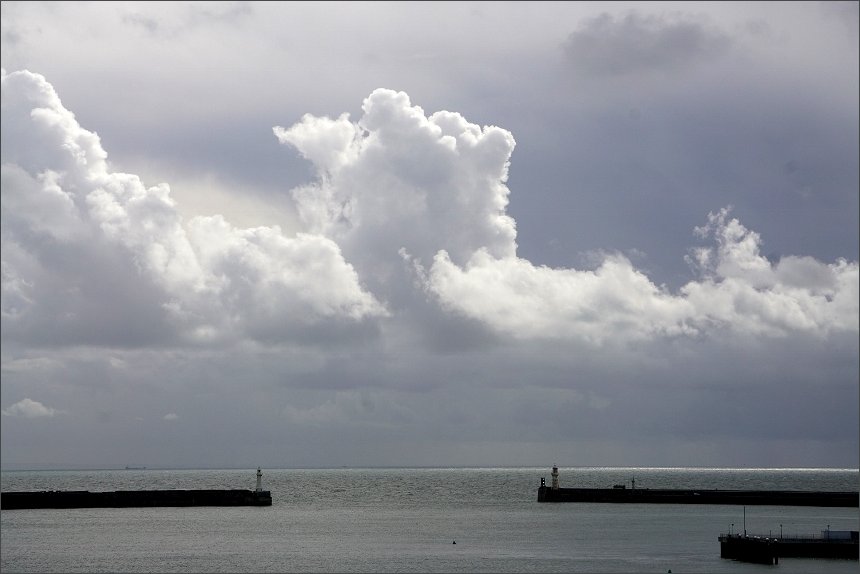 BALMORAL
The Balmoral had a fleeting visit with us yesterday...came into port in early pitch darkness and then left by 09:05. So it wasn't a usual style visit. Yours truly got some pix of her leaving at 09:05 but they were all murk drizzle and gloom. So opted to use the images above of her previous visit 5 or so days ago...under that big sky (see also 6605). Only a couple of AIDA visits left on the cruise schedule now...see the list at top.
Yes Mike mentioned and got a picture of Seabee arriving in Port late yesterday..see the post below 6615. Here she is approaching pier WD4 at 5.45PM (17:45) in fast fading light. She lingered there a while...just off WD4 as night fell. Had a try for some night pix and will look at those today to see if useable.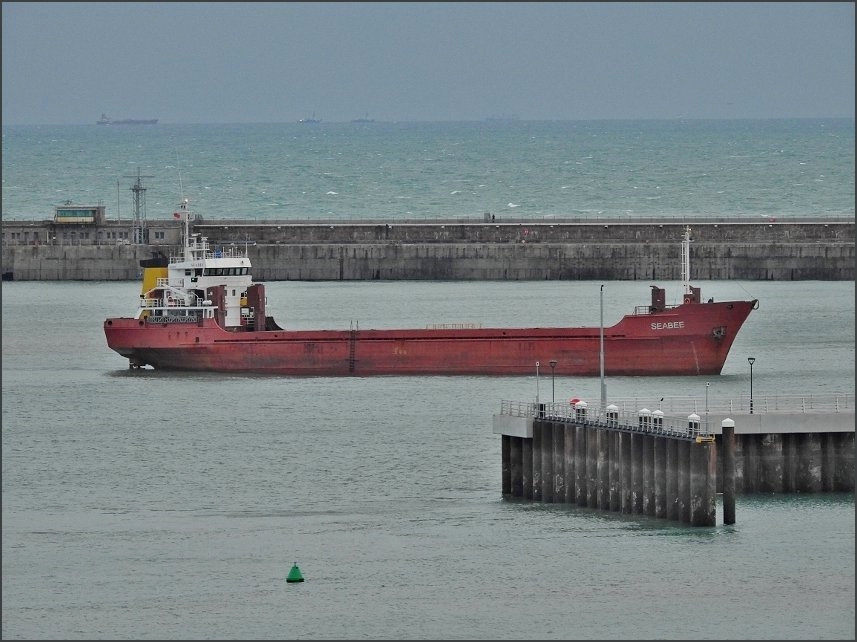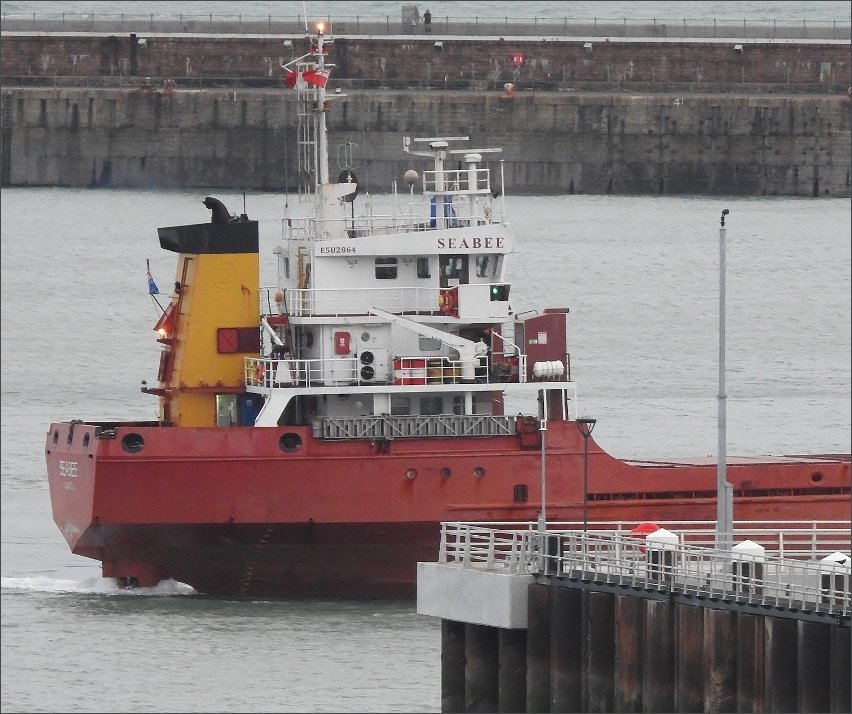 Great stuff from Mike below. I didn't capture those new reefers alas..great to see new names arriving, will look forward to them again for another chance at a shot or two. Yes got some pictures of Noordhoek Pathfinder but very misty near dark pictures...will see if we can recover them. Also have some pix of the departing Klaipeda so watch for all those...busy times....

We had some heavy congested traffic this week Del and Brexit hasn't even kicked in yet..Heavens!...main road rendered useless for much of the time for local residents. Not entirely sure what caused the latest upset to 'free flow'... its such a delicate mechanism that 'free flow' ..
PaulB
Friday, 25 October 2019 - 07:09
Post 6615
Mike J., Dover
Arrival of reefer AUTUMN WIND from Uddevalla midday Thursday.
She didn't stay long & sailed for the Panama Canal the same evening & was swiftly replaced by BARRINGTON ISLAND who had come across from Vlissingen.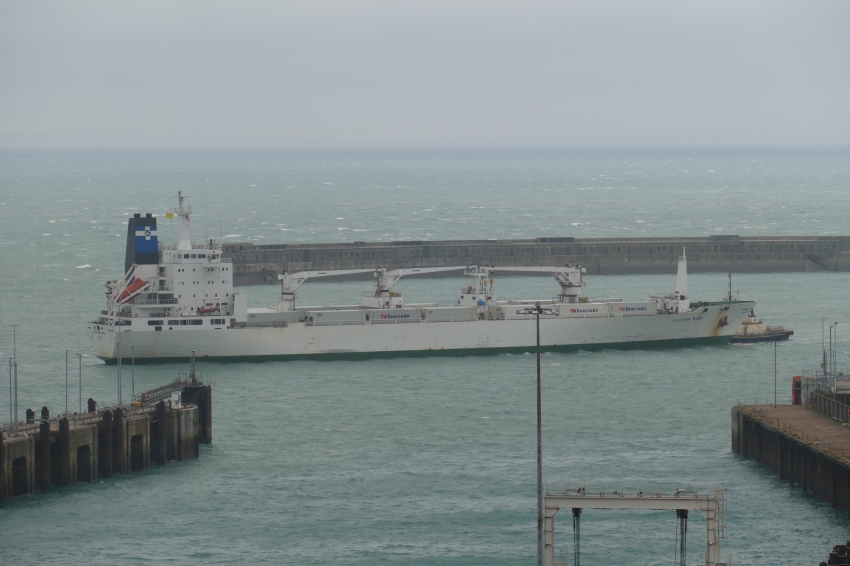 Two 'new' reefers for Dover methinks.
Grain loading completed the KLAIPEDA sailed for Leith late-afternoon & was swiftly replaced on WD4 by the SEABEE who had been anchored off Kingsdown after coming down from Gunness [near Scunthorpe].
Off Dover she waited for DOVER SEAWAYS & a P&O arrival before coming in.
The Dutch survey vessel NOORDHOEK PATHFINDER came down from Antwerp was working on Thursday between Dover & Folkestone for much of the day & is thought to be surveying the X-Channel power cables that were damaged in December 2016 by the bulker SAGA SKY [posts 3713/3761].
My pix weren't up to much but hopefully Paul has her 'in the bag'
Friday, 25 October 2019 - 01:27
Post 6614
Del Styan, Norwich
Sod the brexit debate, lets have more cormorants! Flying back and forth to France for free, and with no queues!

Thursday, 24 October 2019 - 23:10
Post 6613
Sea News, Dover
Pictures of Border Force Speedwell below as she starts off out on patrol yesterday. The patrolling action continues in the Channel as the migrant incursions are ever ongoing. Obviously nobody wants to see any further tragedies of any kind, so let us hope all will be safe out there. The news story from Essex yesterday where 39 bodies were found in the back of a refrigerated truck was truly horrifying...we see these trucks here in Dover every minute of every day so the potential for tragedy is enormous.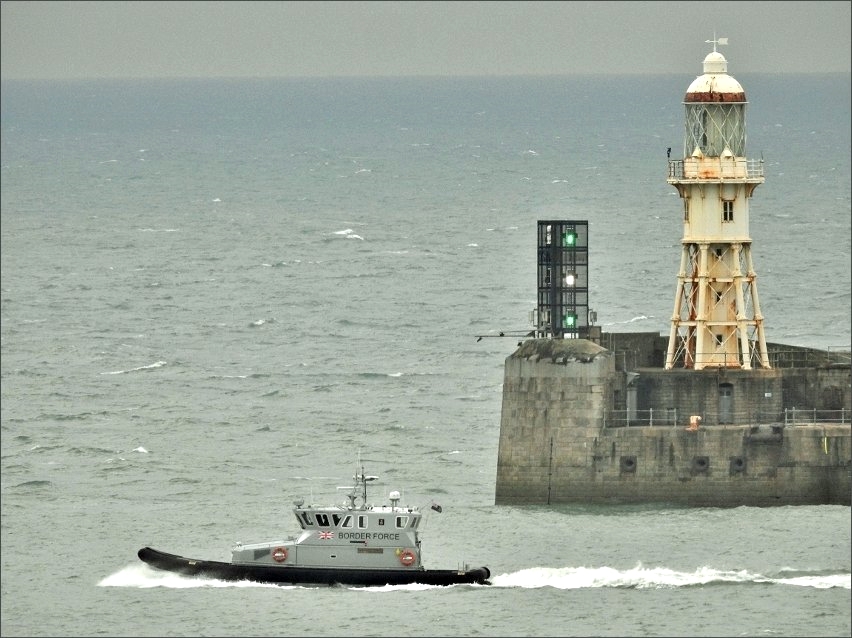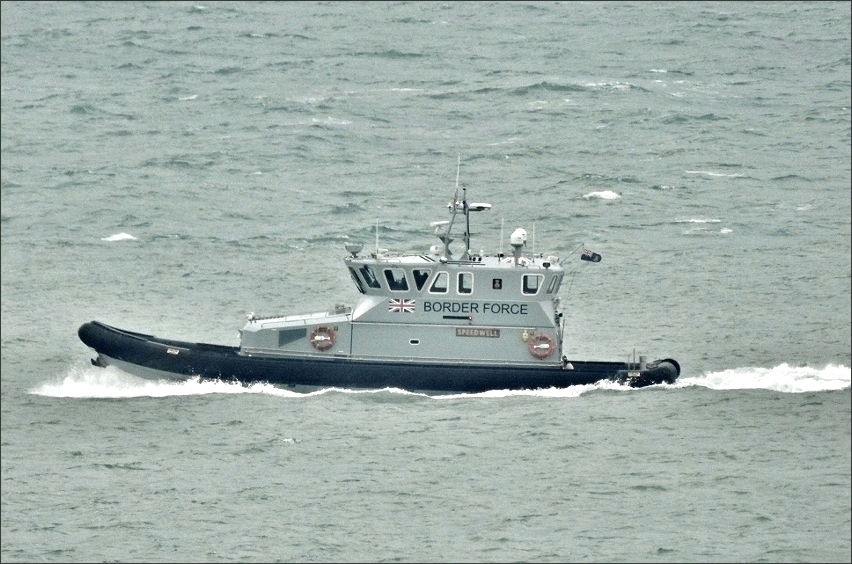 HMC Speedwell: pictures above from yesterday
picture below from recent times..
Border Force Speedwell.
Del...

will keep an eye out for more cormorants, they always make enjoyable pictures..

PaulB
Balmoral back in Port
Grain ship Klaipeda also in...
UPDATE: ultra short visit for Balmoral gone again by 09:05
Thursday, 24 October 2019 - 06:08
Post 6612
Del Styan, Norwich
Love the cormorant's "legs".

Wednesday, 23 October 2019 - 22:56
Post 6611
Sea News, Dover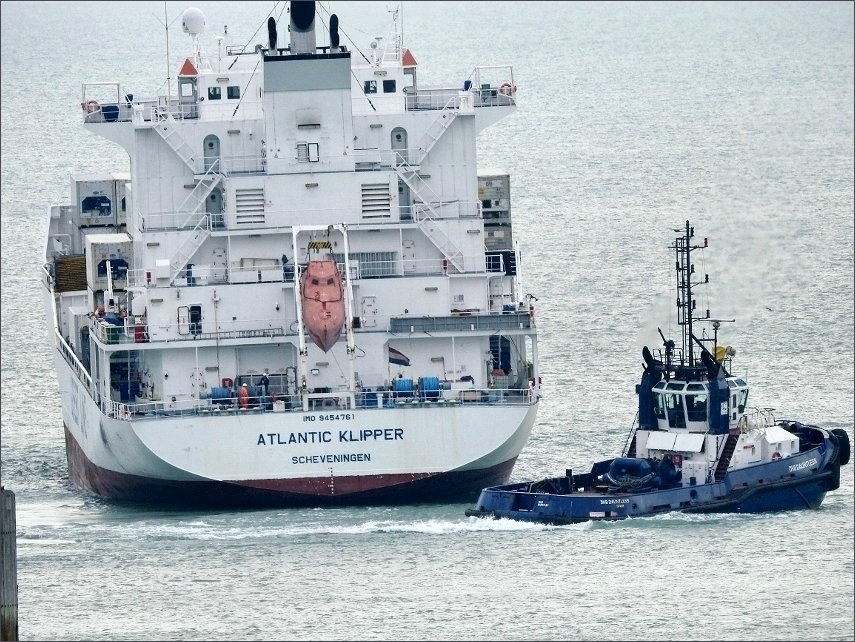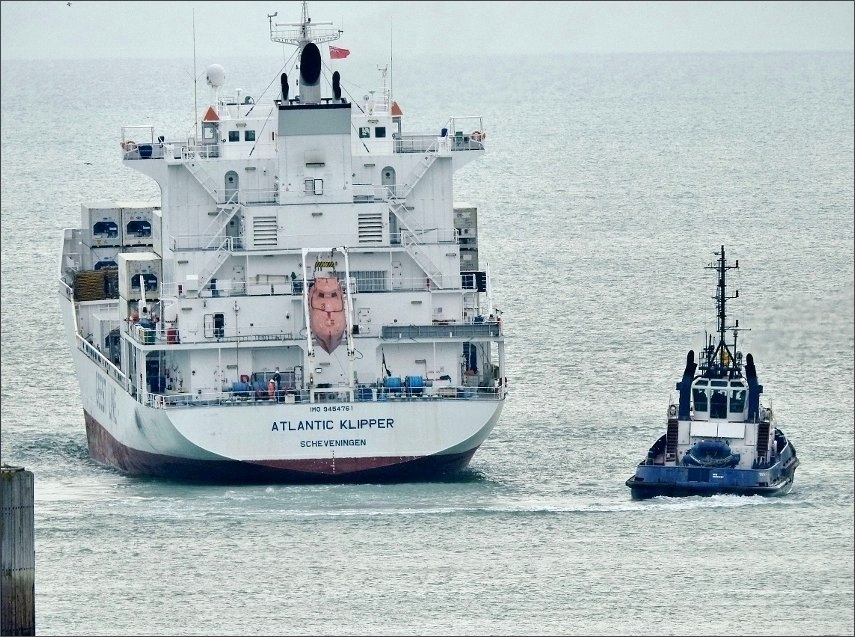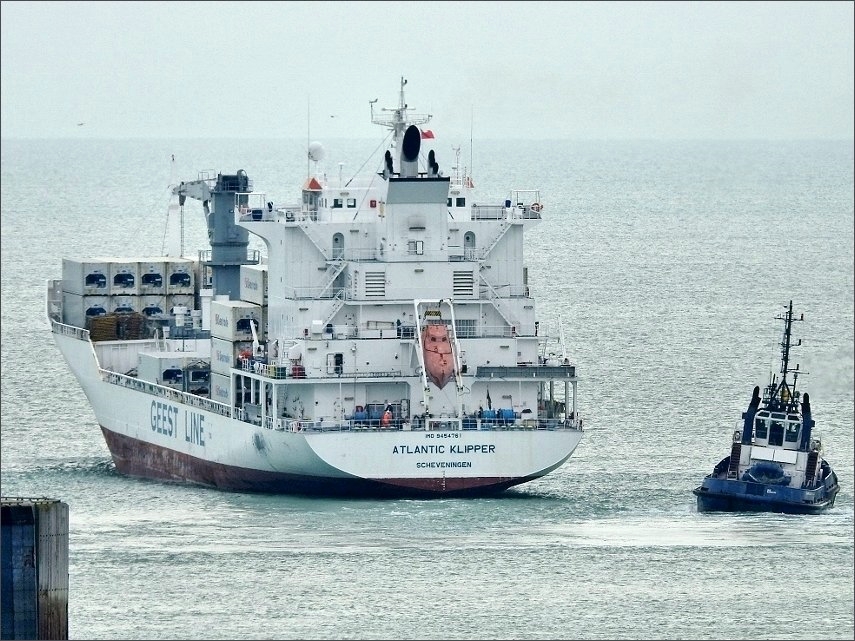 The Atlantic Klipper and Tug Dauntless:
A quick burst of pictures above there of the departing Atlantic Klipper on Sunday morning. It has been a busy time down at the Dover Cargo Terminal...there was another reefer waiting offshore while the Klipper departed. Off the top of head probably Atlantic Reefer. Was lucky enough just to catch Klipper nipping out directly from the Cargo Terminal...my view not blocked/obscured by any Spirit at Dover 9. On her way to Amsterdam I believe.....
The Star Stratos left the Port on Tuesday...yours truly had vacated the 'observation tower' so missed the departure...by way of compensation here we are with an extra shot below taken earlier in the week..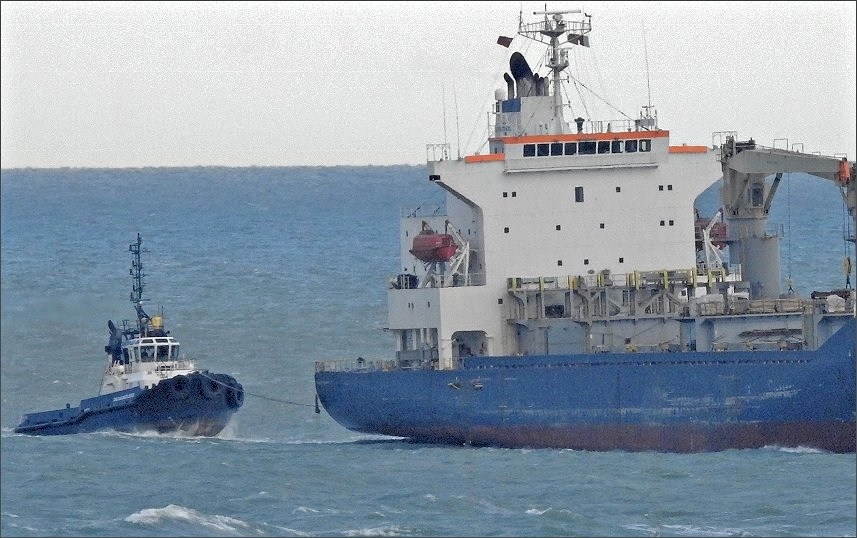 PaulB
Wednesday, 23 October 2019 - 07:08
Post 6610
Sea News, Dover

DFDS announce official keel laying for new vessel, Cote D'Opale
_________________________________________________________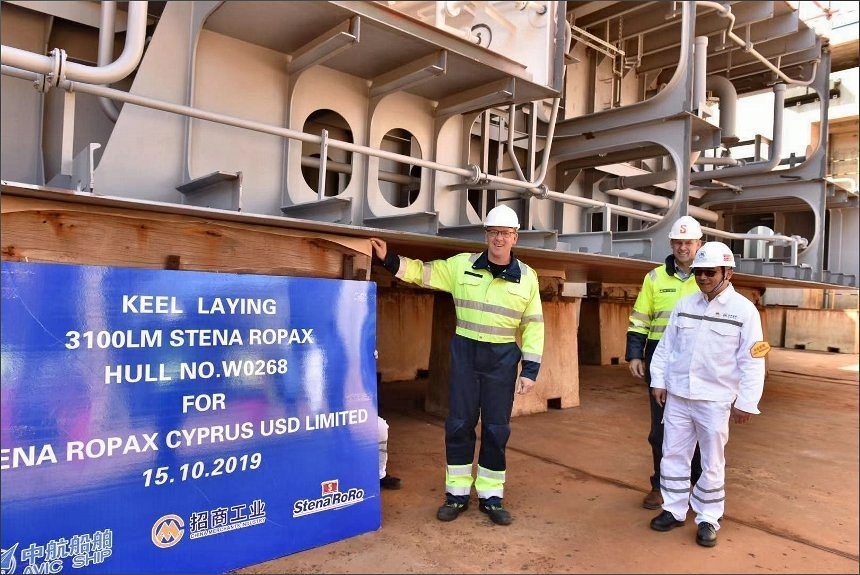 On Tuesday 15th October, DFDS, the world's leading ferry operator reached another milestone at the shipyard, Avic Shipyard in Weihai, China. The keel was officially laid on the new charter vessel, COTE D'OPALE.
The owner, Stena RoRo and DFDS will take the ferry on a 10 year bare-boat charter from delivery in China in June 2021 and the ferry will enter service on the Dover-Calais route. It will be the longest ship on the channel with capacity for 1,000 passengers and crew.
Artists impression of the Cote D'Opale below...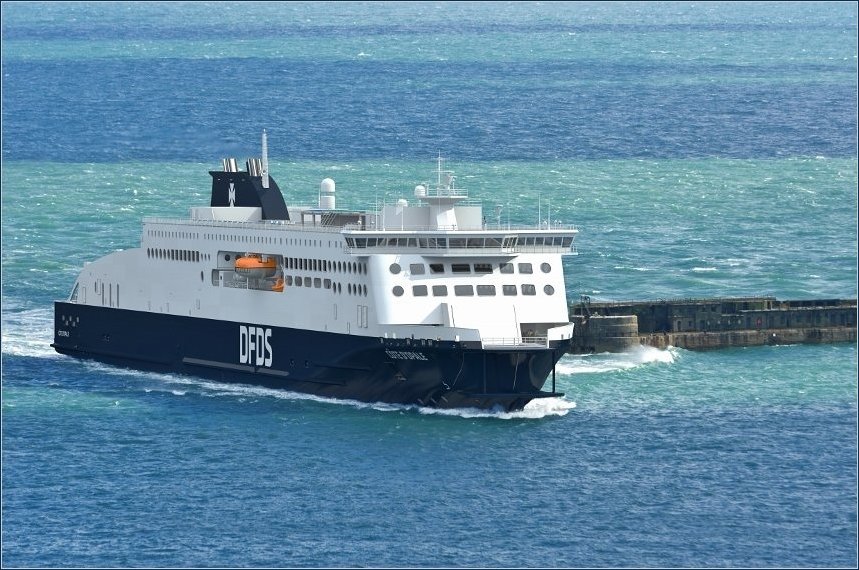 ENDS
Many thanks to DFDS for the info and images. Always welcome.
Exciting times for sure.

* *
Just across from the Premier Inn at low tide you can see the remnants of an old structure..great slabs of concrete lying in the water, presumably a section of pier from long ago. One of these slabs has a great iron ring protruding. This cormorant found said ring during a recent low tide and posed elegantly for yours truly's camera. The pictures are not 'BBC Attenborough quality' ... one doesn't have the equipment!.. but enjoyable all the same... and ermm no that's not a crocodile in the water behind him..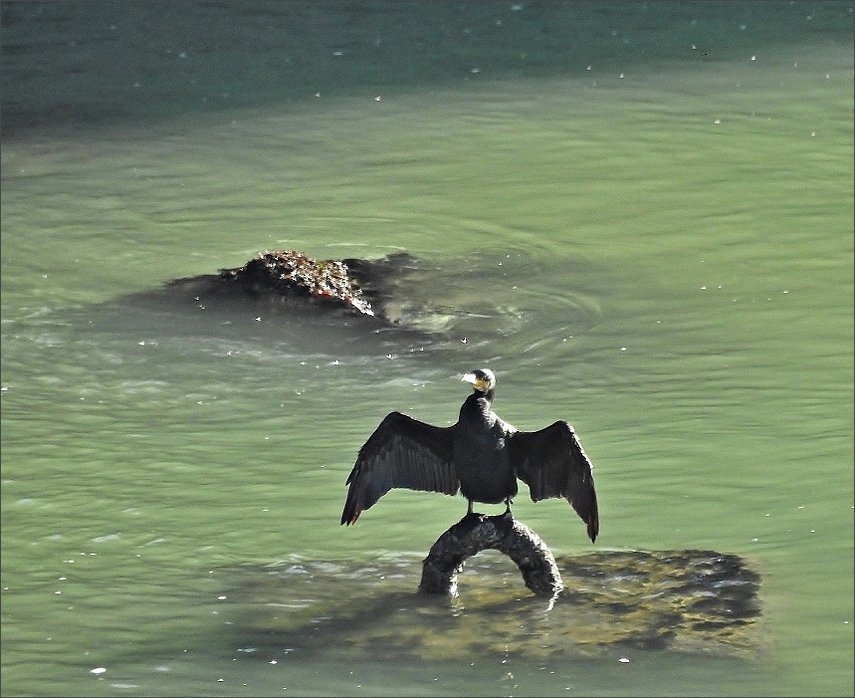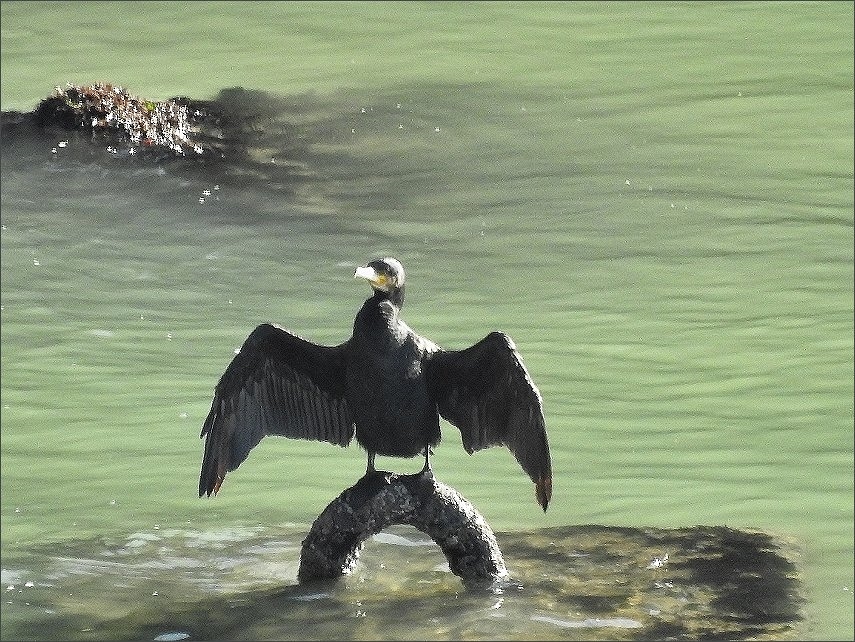 A shot below from last year showing all the cormorants relaxing on the breakwater while in the foreground the not-very-relaxed tug Dauntless battles back to base. Twas a rough oul day...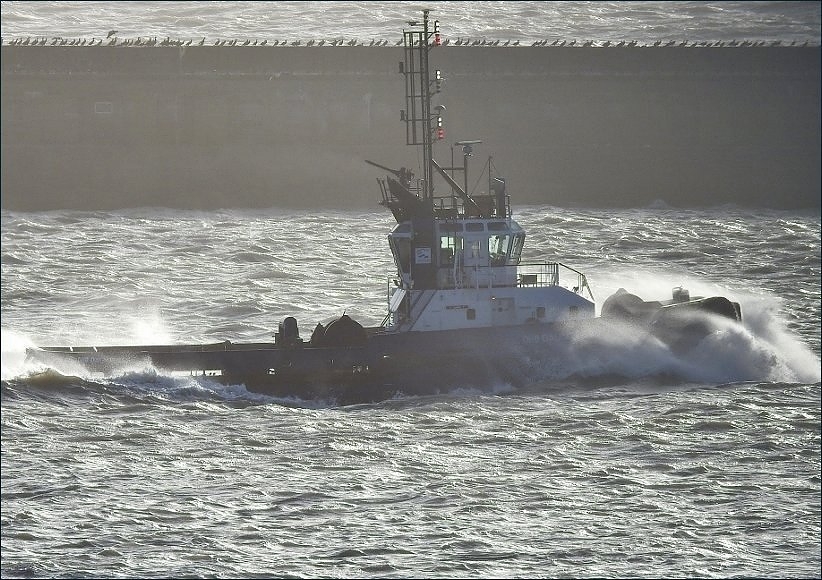 Well done Mike...nice shots below once again from the Eastern Arm

Yes indeed Jan the Police and Lifeboat have to be ready for almost anything as do the Border Force...never a dull moment

PaulB

Tuesday, 22 October 2019 - 07:02
Post 6609
Mike J., Dover
Interesting rescue sequence from Paul.
Two pix mysteriously went missing overnight from my reefer post.
Here they are, another view of the STAR STRATOS [who is now alongside the DCT] & the freight congestion image.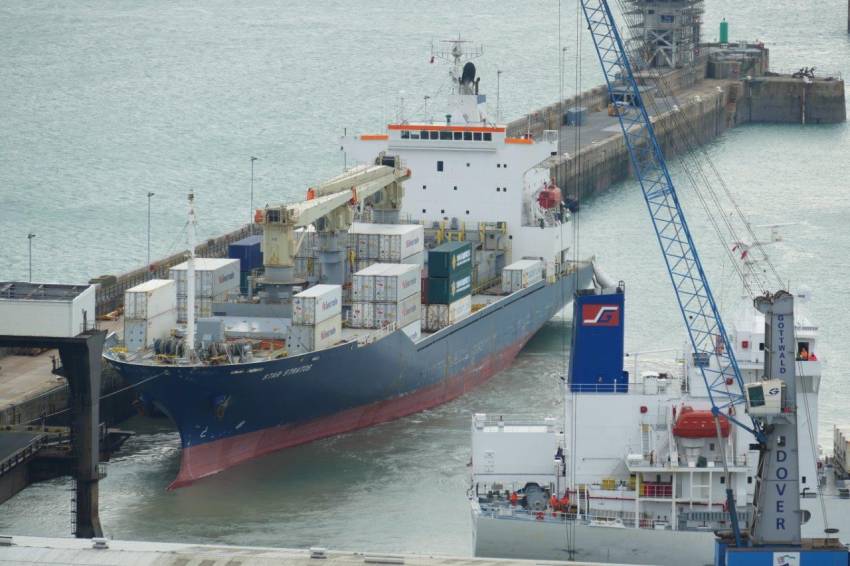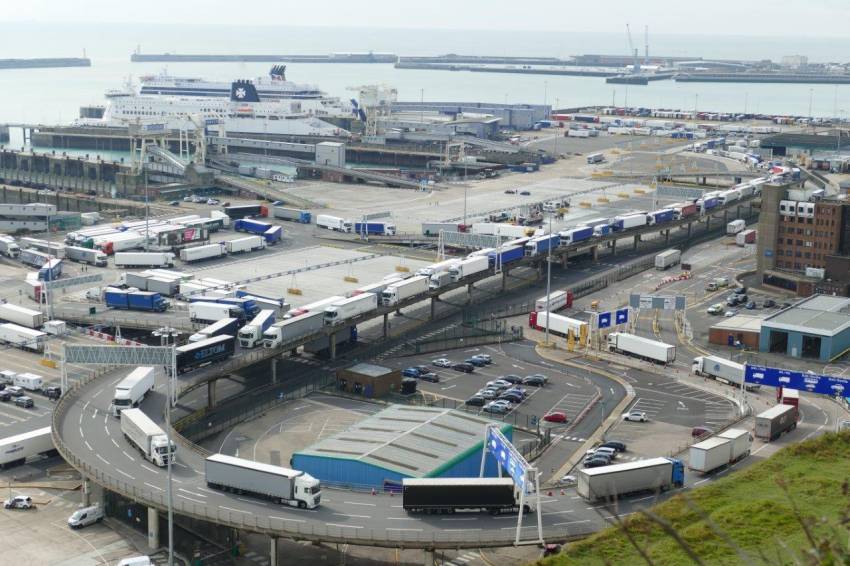 Monday, 21 October 2019 - 12:55
Post 6608
JanT , Dover
Well I guess that's one way of avoiding the Police, but a wet and cold way, hopefully the Police had a large towel to hand.
Just goes to show the Police and LifeBoat have to be ready for anything.

Monday, 21 October 2019 - 08:47
Post 6607
Sea News, Dover
There was something of a drama on Dover Seafront yesterday Sunday. It appears to be the case, surmising from afar, that the police wanted to interview an individual who was behaving erratically, the same individual took fully-clothed to the water to avoid immediate police contact...let the pictures take it from there...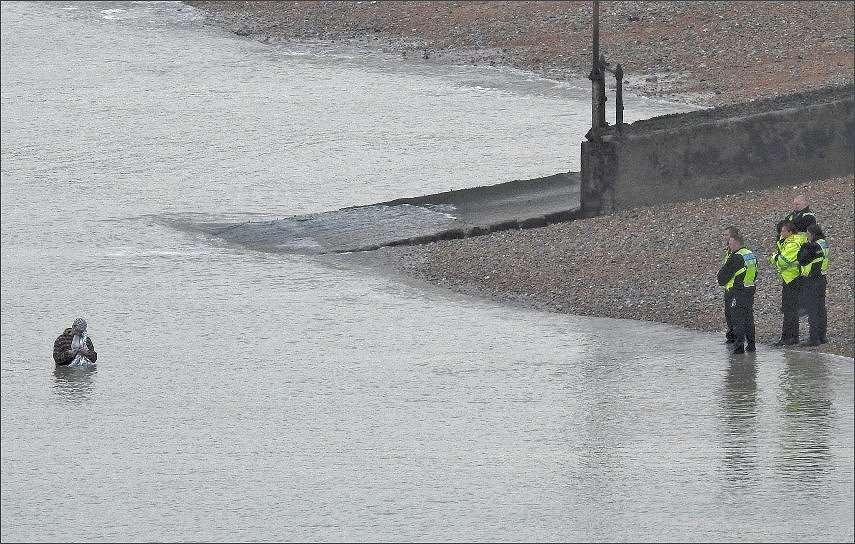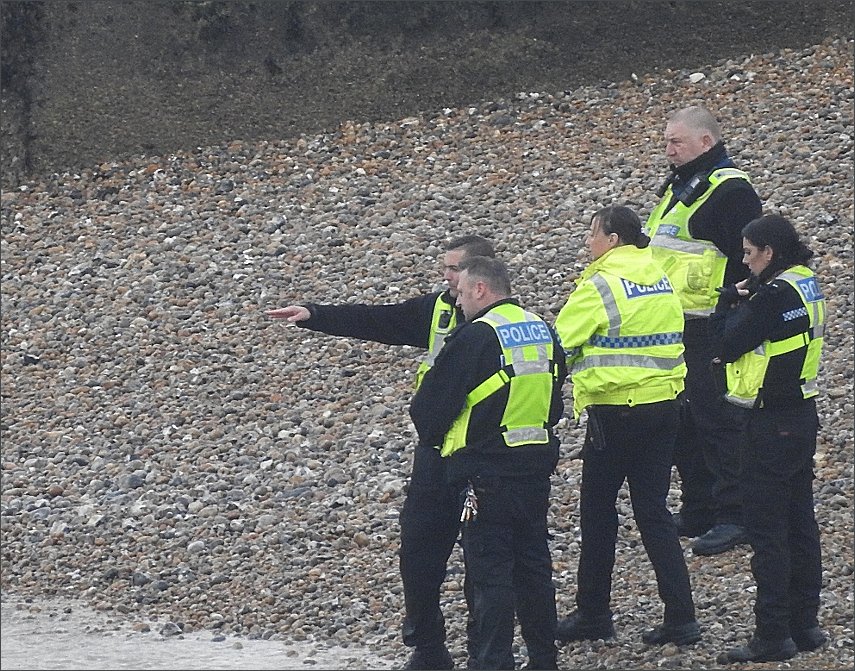 In a short while the Harbour Patrol Boat and then the Dover Lifeboat were on the scene to engage with the situation. The potential was there for an unfortunate outcome as the individual had moved further out to sea...further away from the beach. The Y Boat was launched from the Lifeboat and it went to fetch a Police Officer from the beach... the Y boat then engaged with the water borne individual...
The pictures tell the story from here...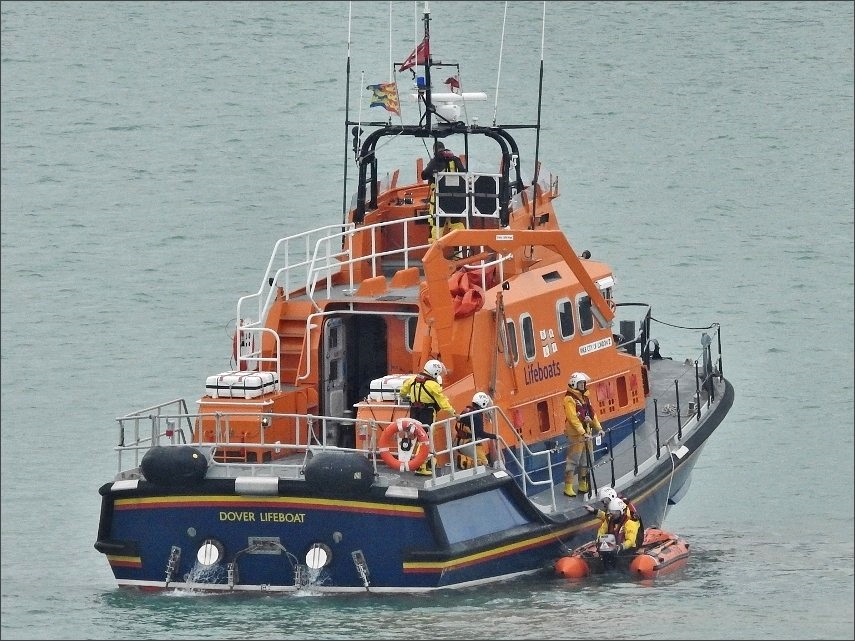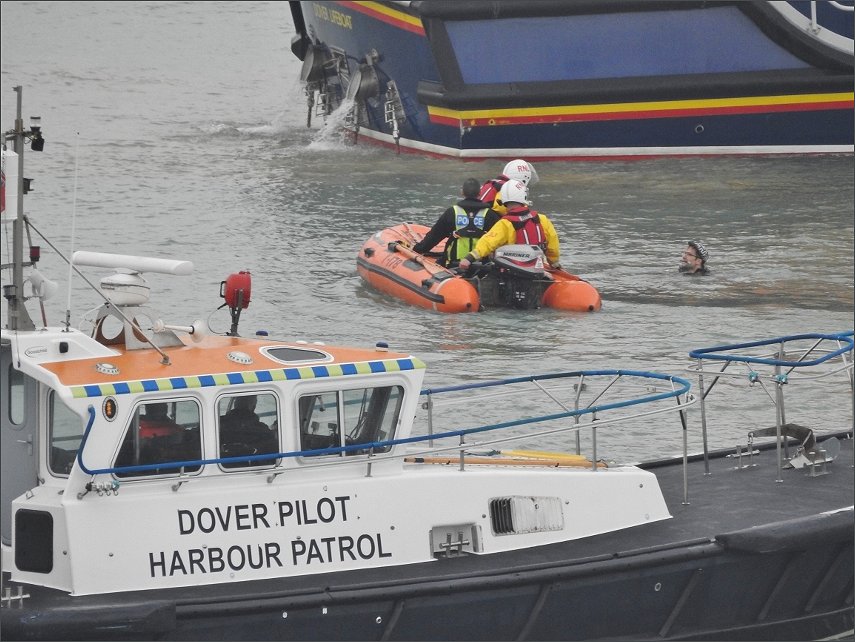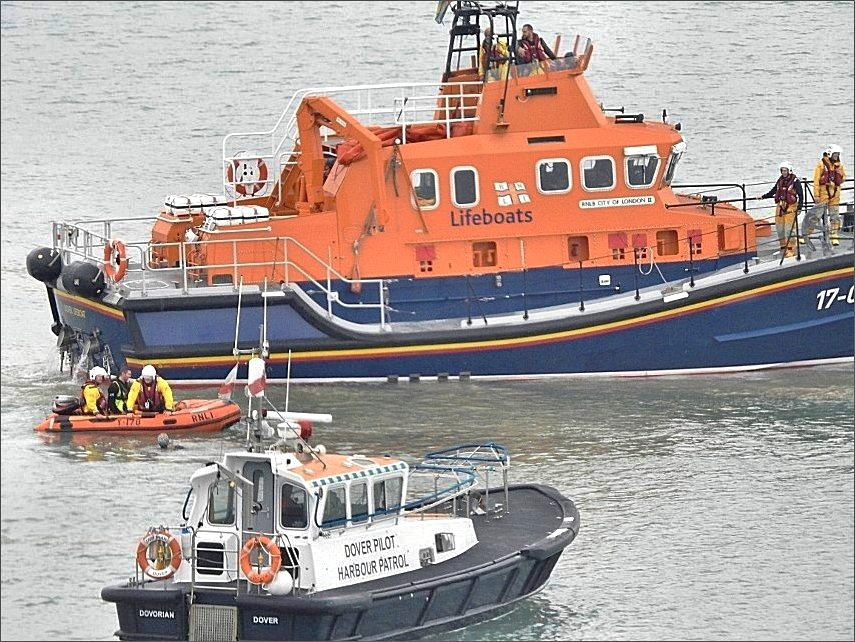 The Lifeboat crew did a sterling job talking the individual around and indeed the Harbour Patrol guys were helpfully on hand at all times...and in the end after much engagement the Lifeboat took the individual onboard. It was good to see a positive outcome...
PaulB
See Mike's enjoyable reefer collection below...great stuff there!

Monday, 21 October 2019 - 06:10
Post 6606
Mike J., Dover
Another visit to the cliffs un Sunday afternoon to get a clearer view of the STAR STRATOS now that the ATLANTIC KLIPPER had departed.
As I arrived the COTE DES DUNES was swinging to dock on No.2 berth & a P&O had just left via the Western Entrance.
Between the two ferries the Dover lifeboat was returning to Dover at speed, having been exercising near the SW Goodwin buoy.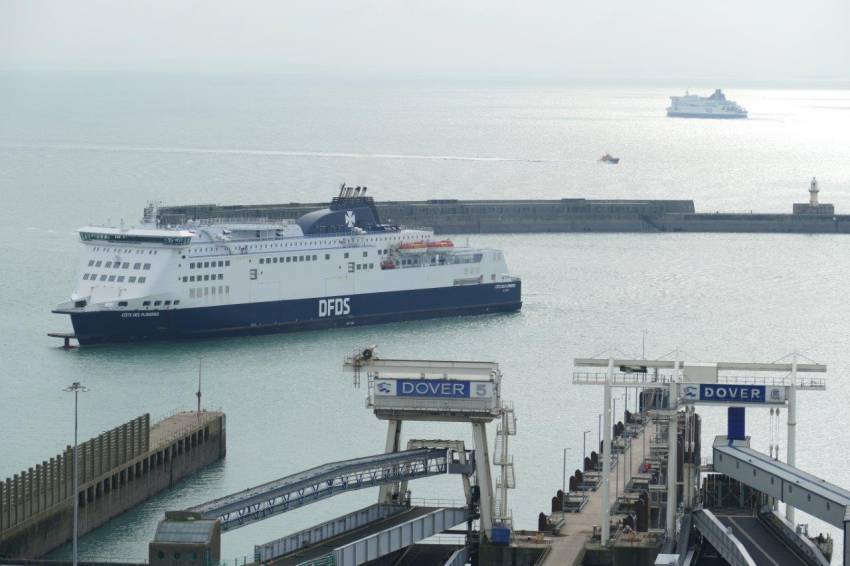 STAR STRATOS remained on the Eastern Arm & ATLANTIC REEFER, from Vlissingen, was approaching the DCT.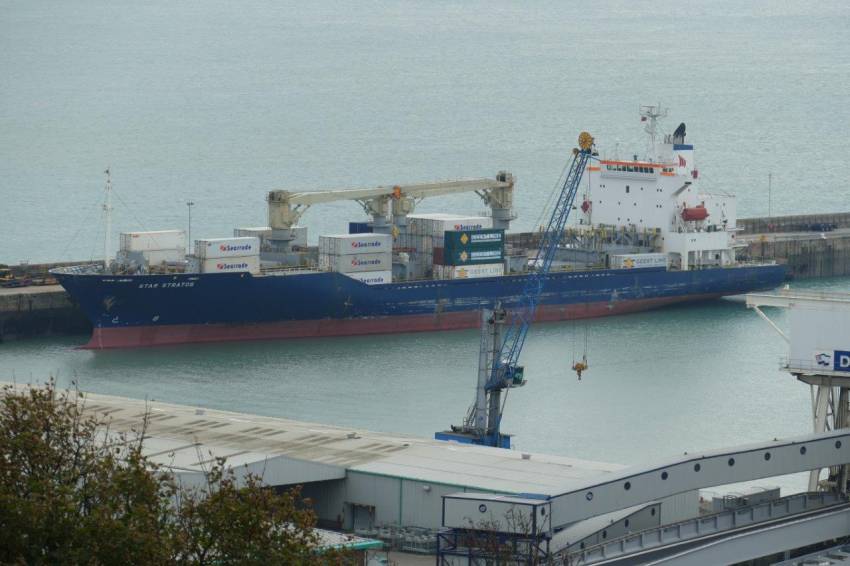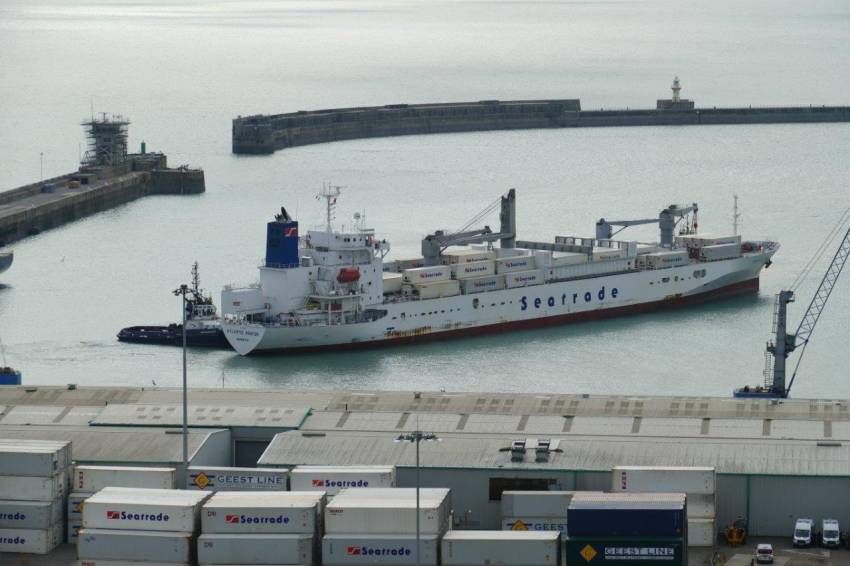 DOVER SEAWAYS departs as the ATLANTIC REEFER approaches wIth both tugs in attendance.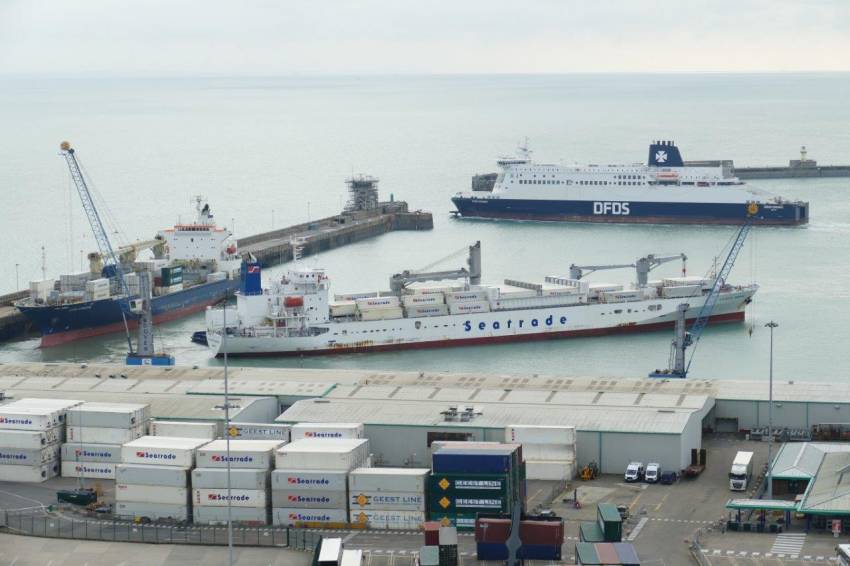 With SPIRIT OF BRITAIN & COTE DES DUNES both discharging at the same time the docks flyover soon filled with slow-moving freight,
Monday, 21 October 2019 - 00:28
Post 6605
Sea News, Dover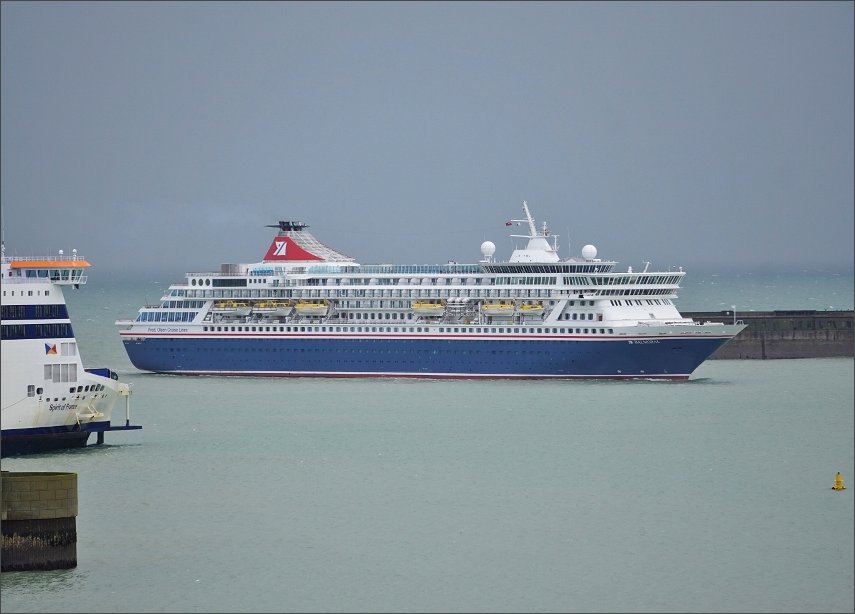 Balmoral
Balmoral arriving with us yesterday morning under dark skies..the ship looking good though .. in the gloomy light. She is on a short tour this time, 5 days. French rivers..and visiting the delightful locations of Honfleur and Rouen.
You know...one has a home in the country called Balmoral but one doesn't get there much now...

!!
Yes indeed gloomy weather, not ideal conditions for cruising but there we are. The sky is the main feature in the next two shots...
The pictures need to be mentally positioned side by side to get the full panorama.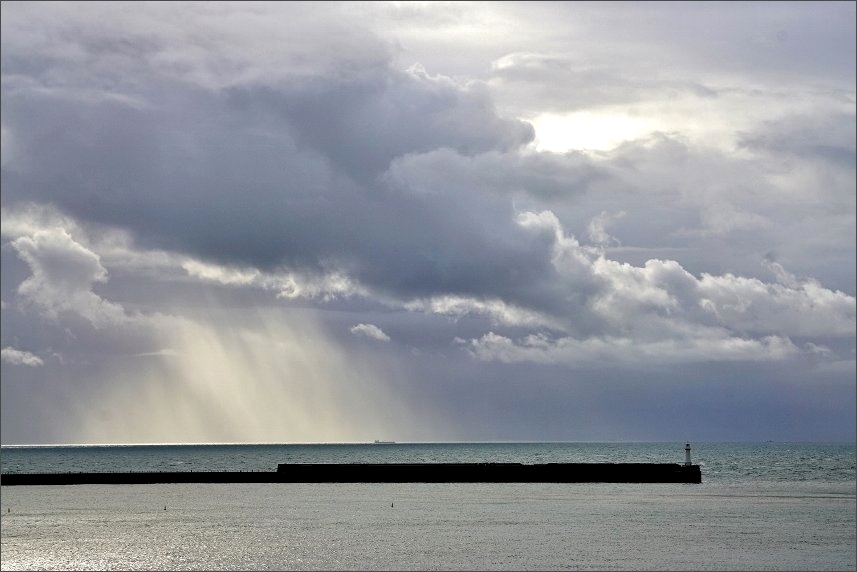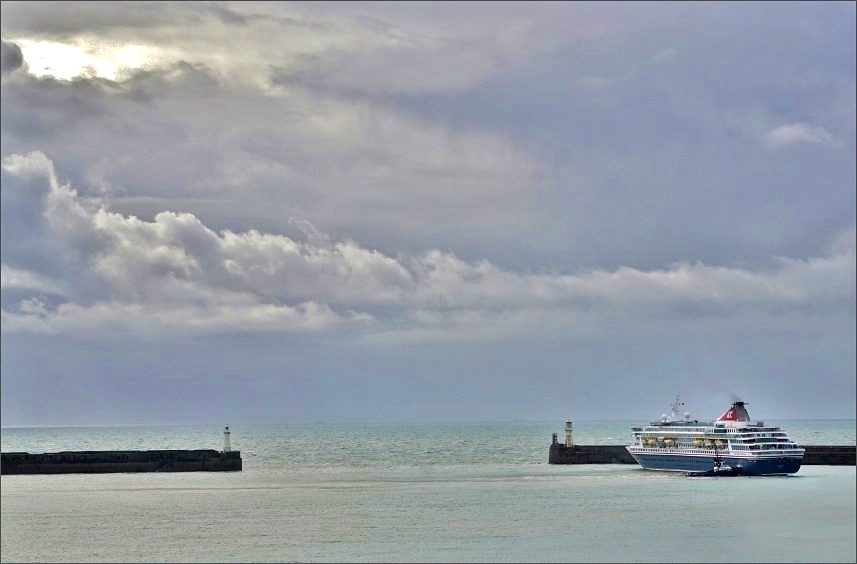 And below ... afternoon at Cruise Terminal 2, with the newly positioned crane in view.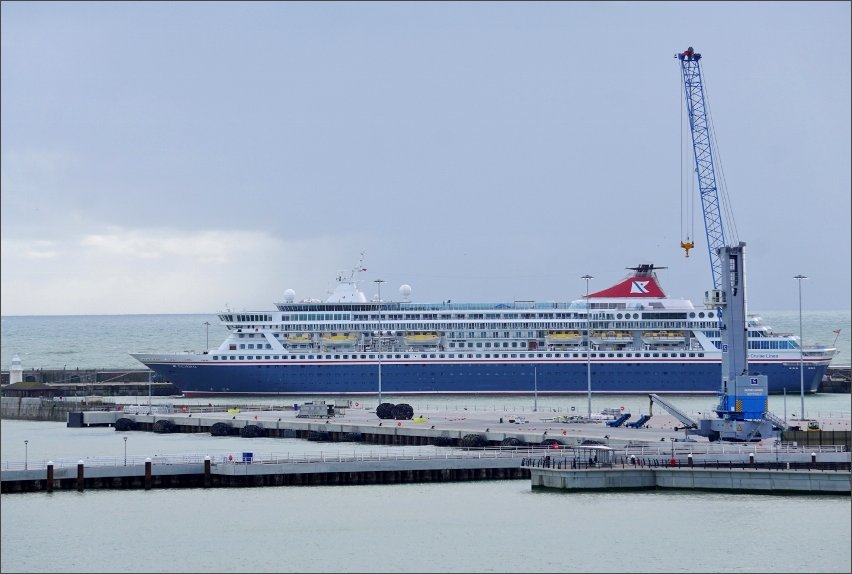 And here comes Andros again..coming to provide bunkering services, picture also taken yesterday early afternoon.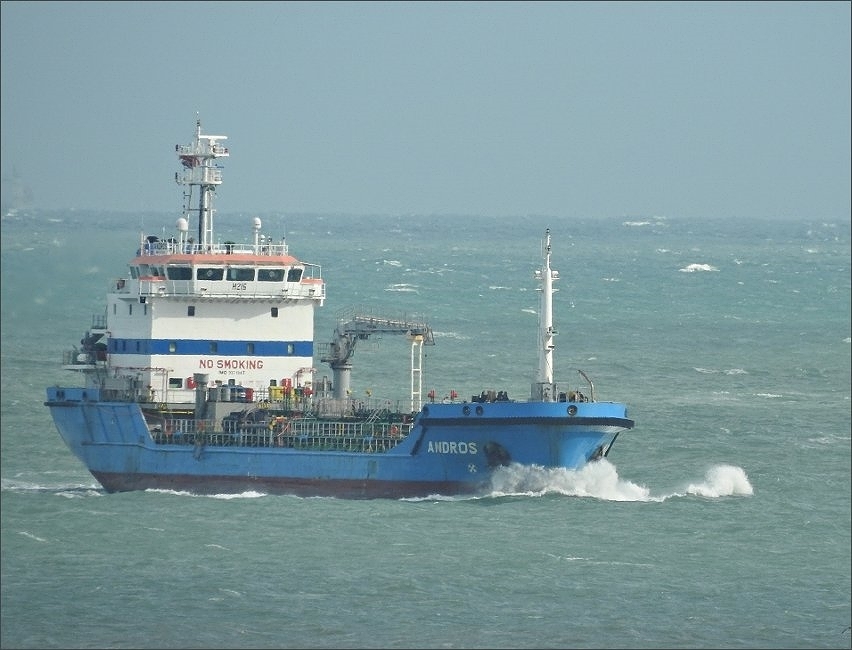 Andros
See also Mike's pix below capturing the two reefers..

PaulB
Sunday, 20 October 2019 - 07:25
Post 6604
Mike J., Dover
ATLANTIC KLIPPER on DCT on Saturday afternoon, when the sun finally came out after a morning of rain, with STAR STRATOS on the Eastern Arm after shifting from the DCT.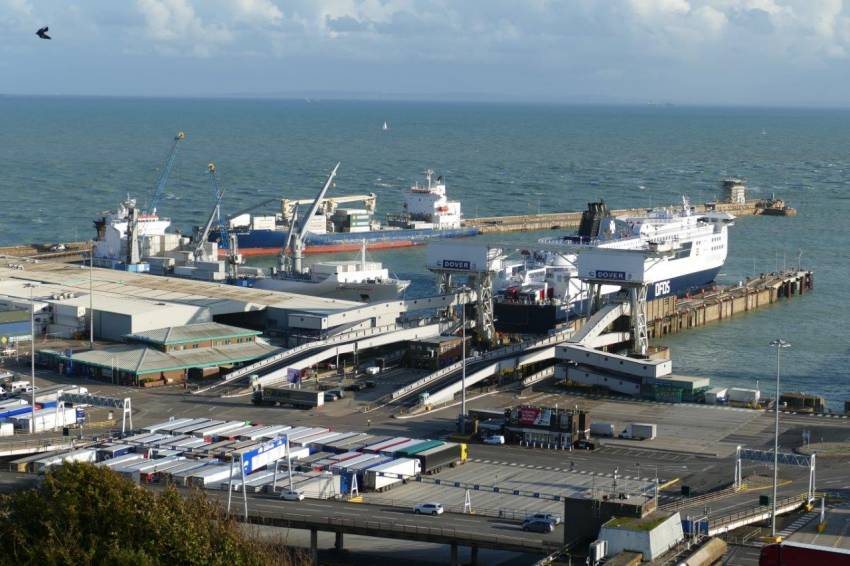 COTE DE FLANDRES berthing on No.2
Usual Saturday rush of freight heading home for le weekend.
Sunday, 20 October 2019 - 01:37
Post 6603
Sea News, Dover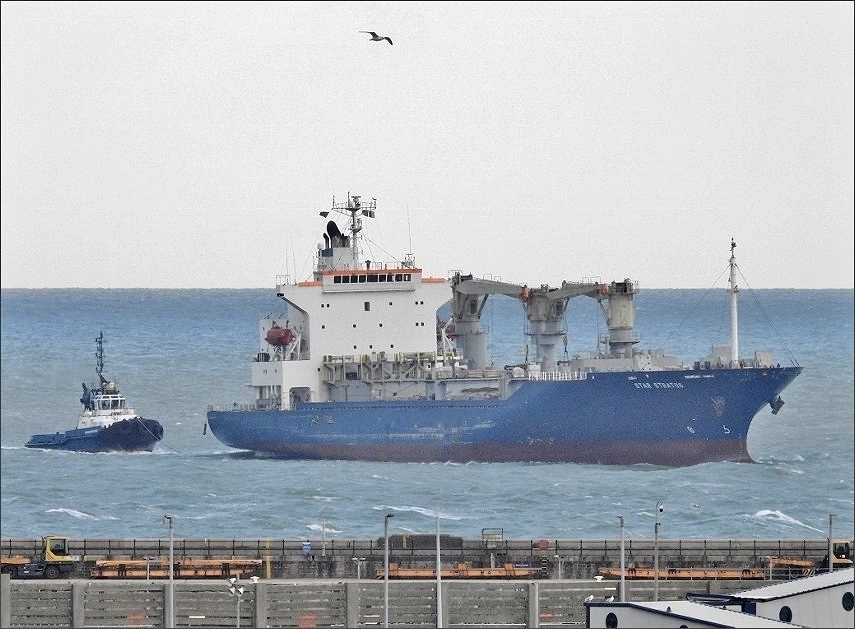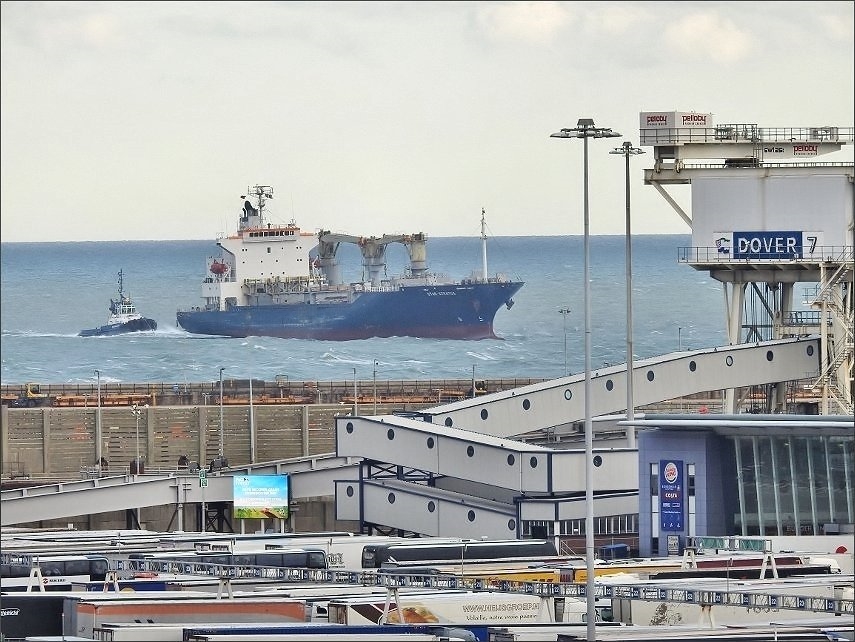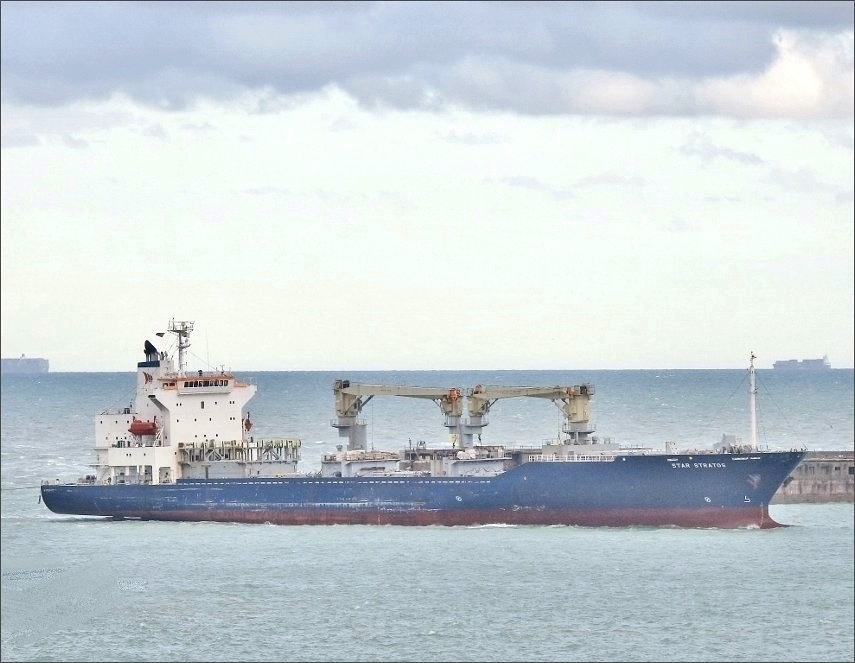 Just following along from Mike's pictures below of Star Stratos, here she is arriving from another angle. Top shot shows her approaching the Port, did some zooming in there, while the second has a wider more relaxed view...and then you see the ship arriving into Port. A dark ship in very dark grey conditions..had to boost the pix up a wee bit...Unfortunately no further angles were available as she moved stern first into the Cargo Terminal without further adooo ..pity
Yes I think its a first visit here for this one.... as mentioned she has come directly from St Petersburg in Russia.
Good work below Mike...

PB
ps: one of the few remaining cruise liners has come in...Balmoral..
only a few cruise visits left see list at top of page.
Also Atlantic Klipper cargo reefer has come in, probably in dead of night, and is at the Cargo Terminal
Star Stratos has moved to the Eastern Arm to make way. Busy down there...
Saturday, 19 October 2019 - 06:08
Post 6602
Mike J., Dover
A quickie before Paul posts his pix of the STAR STRATOS.
I missed a bows 3/4 view as the gap where I was hoping to phot the ship was suddenly filled by a berthing ferry but I'm sure that Paul will have covered the arrival from all angles.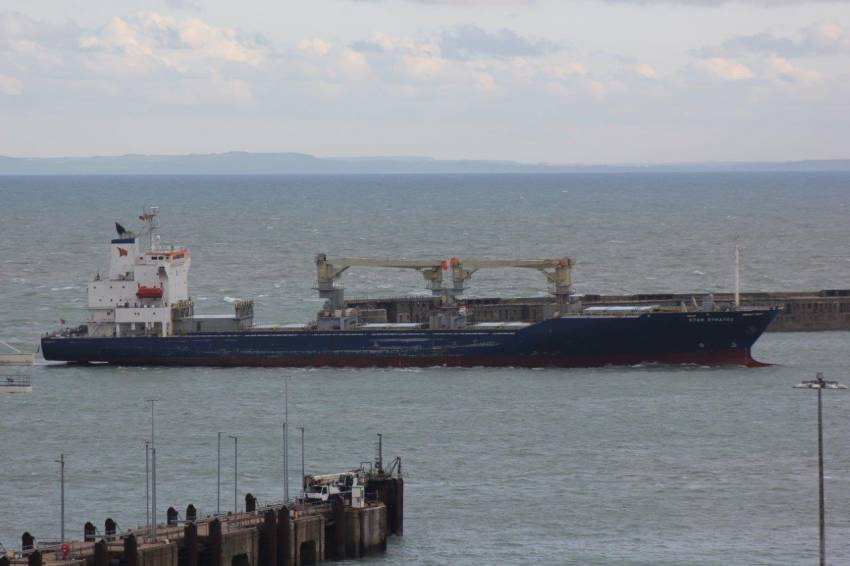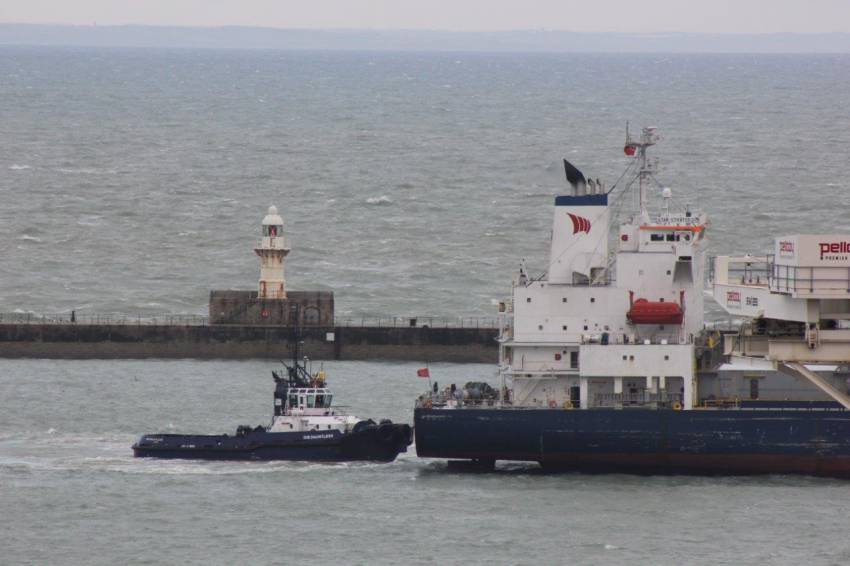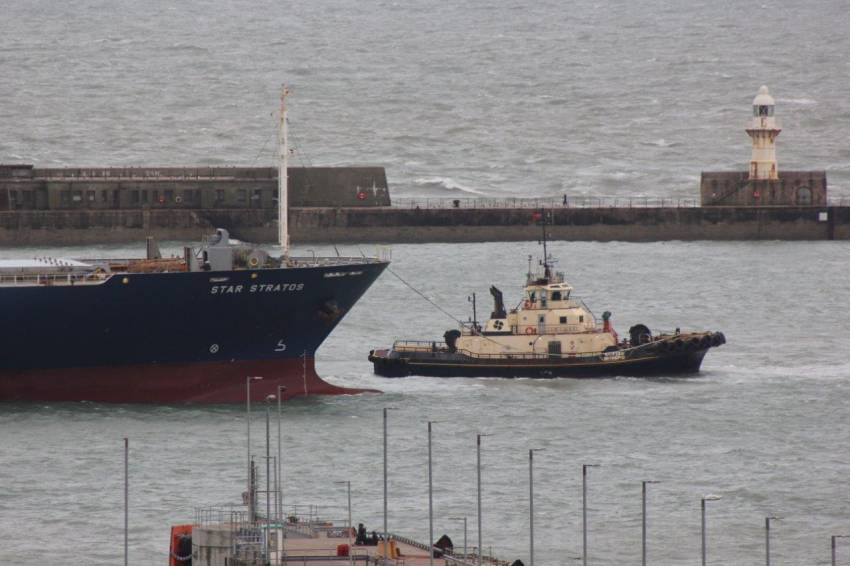 The Singapore-flagged reefer had come from St.Petersburg & is presumably loading empty boxes.
First Dover call ?
The DOUGHTY is up on the Humber for a refit & is expected back iearly November.
You get the oddest things coming ashore in Dover - I photted this lorry with a very curious load & couldn't puzzle out what they were, initially thinking of 'modern art dragons' or suchlike.
Cropping showed it the load to be three strange German agricultural implements.

Friday, 18 October 2019 - 10:15
Post 6601
Sea News, Dover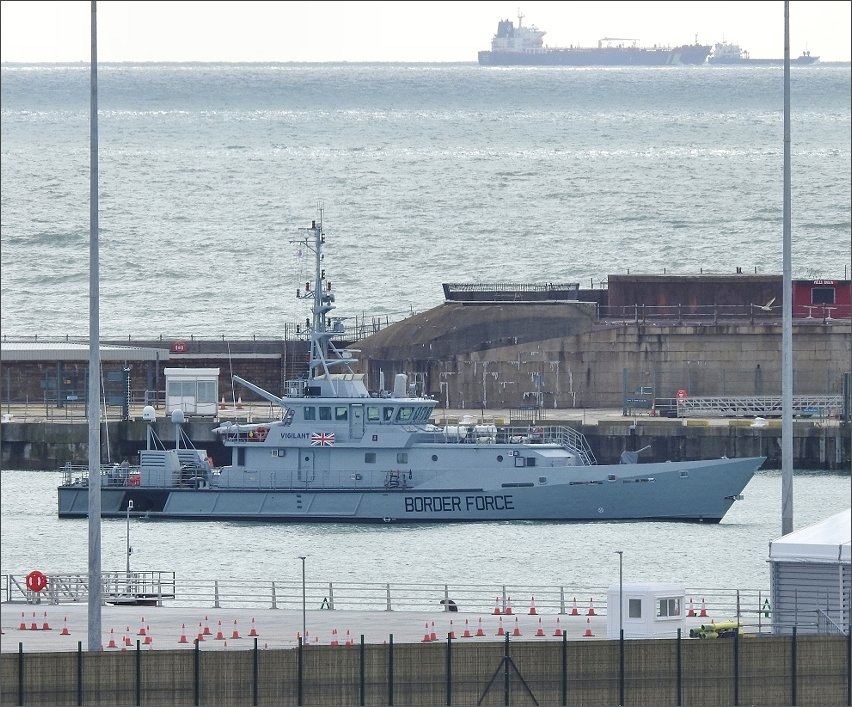 Border Force Vigilant in Port yesterday, no doubt 'taking a breather' from the considerable daily grind...or indeed maybe taking a crew change. The high level channel vigilance goes on as the attempts at illegal crossings continue … Vigilant vigilant…
The normally irritating light poles are almost helpful in the picture above..framing it nicely.
That's our story and we're sticking to it!!...

A couple of tail end straggler shots below of the departing Royal Klipper..following along from the pix featured yesterday...see those also..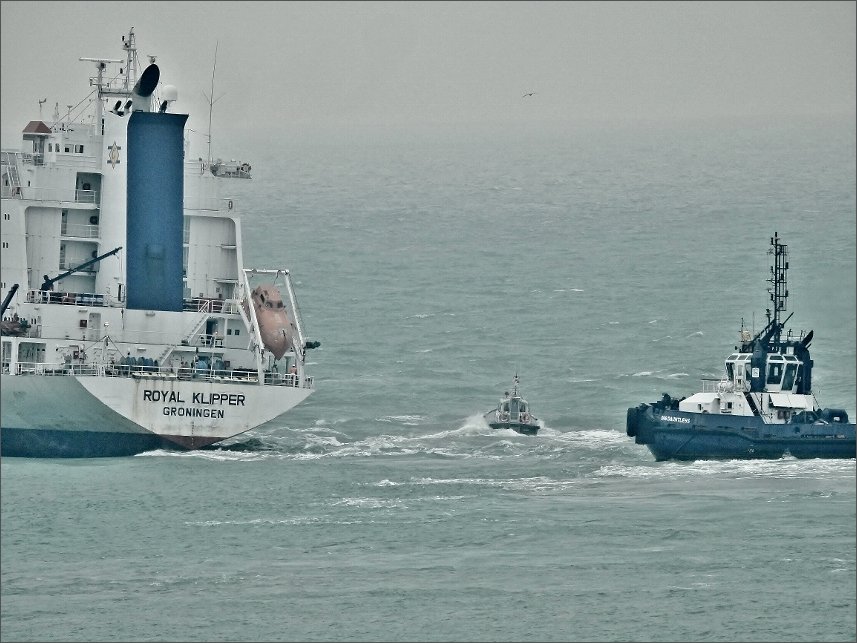 Dauntless pulls back and the pilot boat leaps forward into the situation...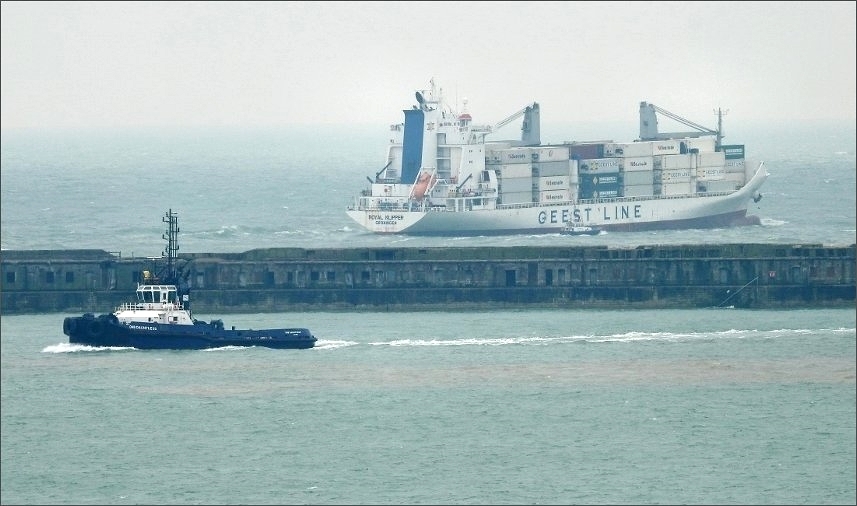 Dauntless now with Klipper job done...moves across to deal with the approaching Pacific Reefer...
Another reefer Star Stratos came into Port yesterday...not remembering this one previously, she has a different look, will have pictures..
PaulB
Friday, 18 October 2019 - 07:59
Post 6600
Sea News, Dover
P&O FERRIES' FANTASTIC FREE WINE OFFER IS BACK
_________________________________________________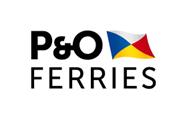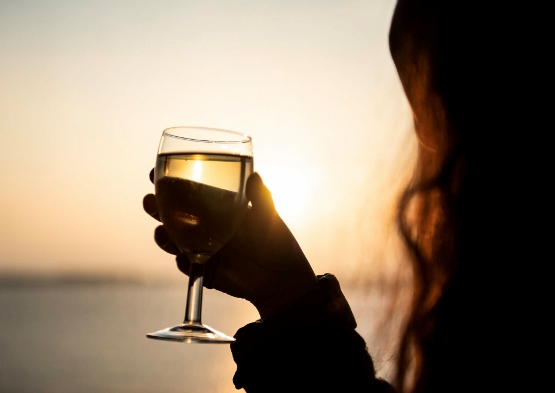 P&O Ferries is offering six free bottles of wine to those enjoying a day trip to France - all you have to do is travel between Dover and Calais with the ferry operator before October 31st.
Whether you want to stock up for a special event, save some money, or simply enjoy a treat when you get home, the choice between Banrock Red, or White Wine fits all occasions.
In addition, France, a country known for its wine regions and rolling countryside, is the perfect backdrop for a day trip. Within close proximity of the port, Calais offers great restaurants, scenic routes for hiking or cycling and the cities of Arras, Lille and Boulogne-Sur-Mer are only a short drive away. P&O Ferries' adventure planner is on hand to inspire the perfect itinerary to explore the highlights in a short period.
Sarah Rosier, Director of Passenger Sales at P&O Ferries, said: "Our free wine offer proved so popular with customers that we decided to bring it back ahead of the festive season. France has so much to offer at this time of year and what better way to end a day out than sailing back to the UK with six free bottles of wine to enjoy."
How to claim:
1. Book a day trip via the P&O ferries website
2. Enter promo code WINE19
3. Receive your voucher at Dover port check-in on the day of departure
4. Present your voucher at the tills on board during your outward journey
5. Pick up your six free bottles of wine
There are up to 23 sailings a day between Dover and Calais with P&O Ferries, which are 90 minutes in duration, giving flexibility to fit your schedule and ensuring a relaxing trip across the Channel. On board are a variety of eateries, including The Brasserie, as well as a Club Lounge for those who want to travel in further comfort, spaces are bookable from just £12 per person.
To book a crossing, or for more information, go to www.poferries.com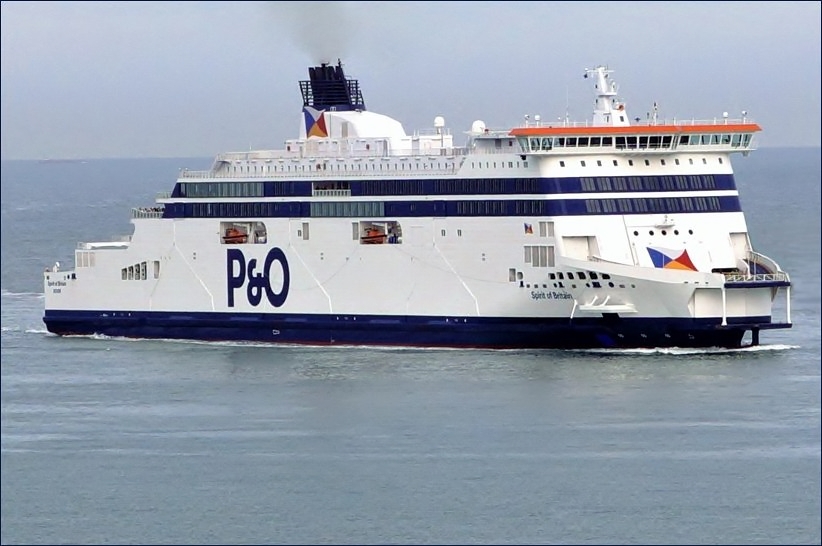 ENDS
The P&O wine offer is always a great idea...and with Christmas looming...well..

Book by 31st October.
And now as promised those pictures of the Royal Klipper departing through the western exit with tug Dauntless providing the support...the pictures show the reefer leaving for Bridgetown in miserable conditions a few days ago...
...just double checking which day...yes on Monday.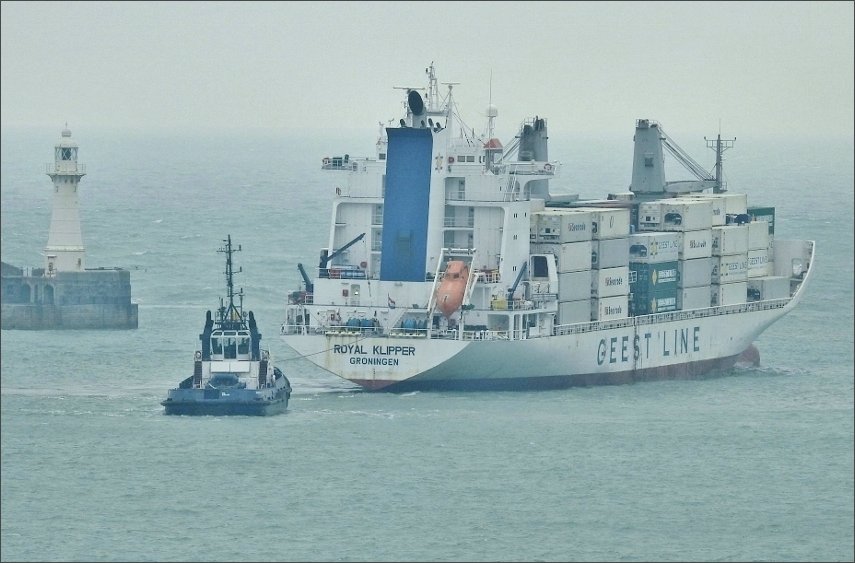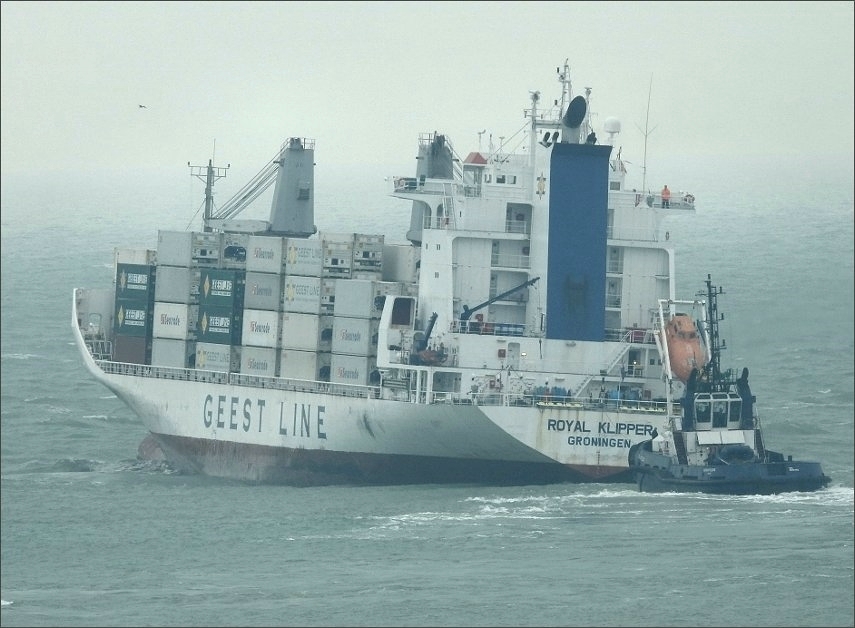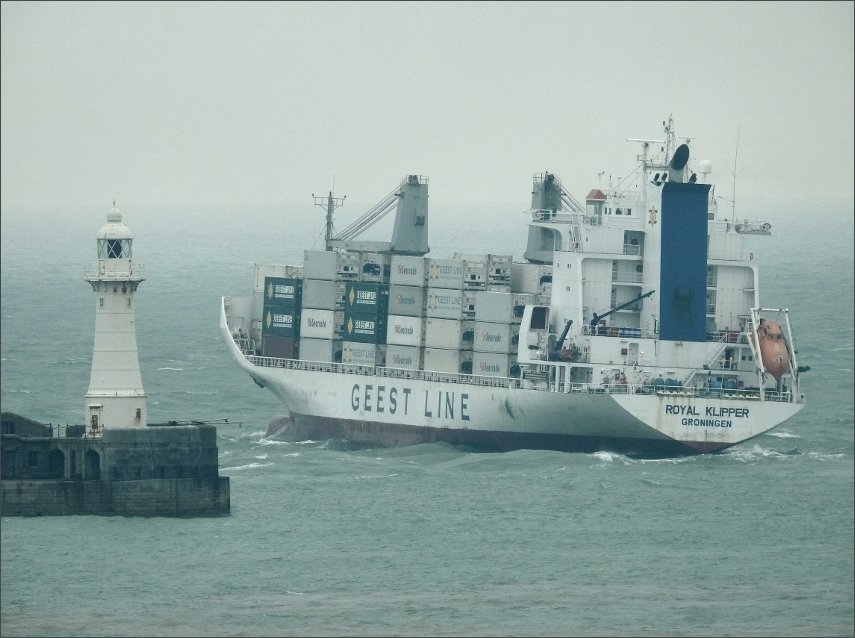 And she was on her way....Royal Klipper.
Nice collection below from Mike..great to get a close look at the 'smaller fry' below there...

PaulB

Thursday, 17 October 2019 - 06:04
Post 6599
Mike J., Dover
More 'small fry'
Workboat EAGLE in the boatyard about ten days ago, previously seen on the boat-lift in post 6492.
The pressure wash she was getting then now turns to be before lay-up as she has been blocked-up in the boatyard ever since.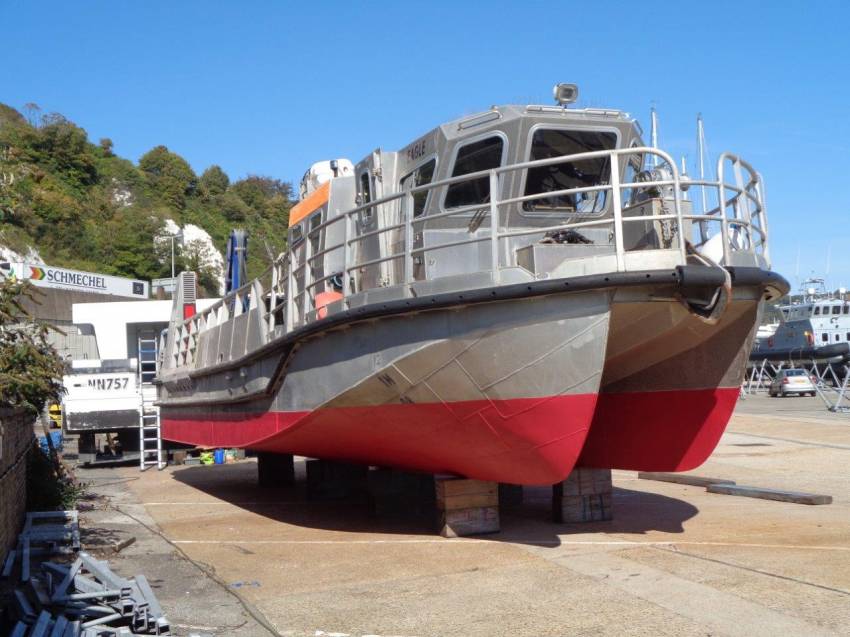 Also in the boatyard for a while, preserved Barnett class lifeboat WILLIAM & KATE JOIHNSTON.
Built in 1922 she was on station at New Brighton until 1950. & saved over 200 lives.
She has her own Facebook page.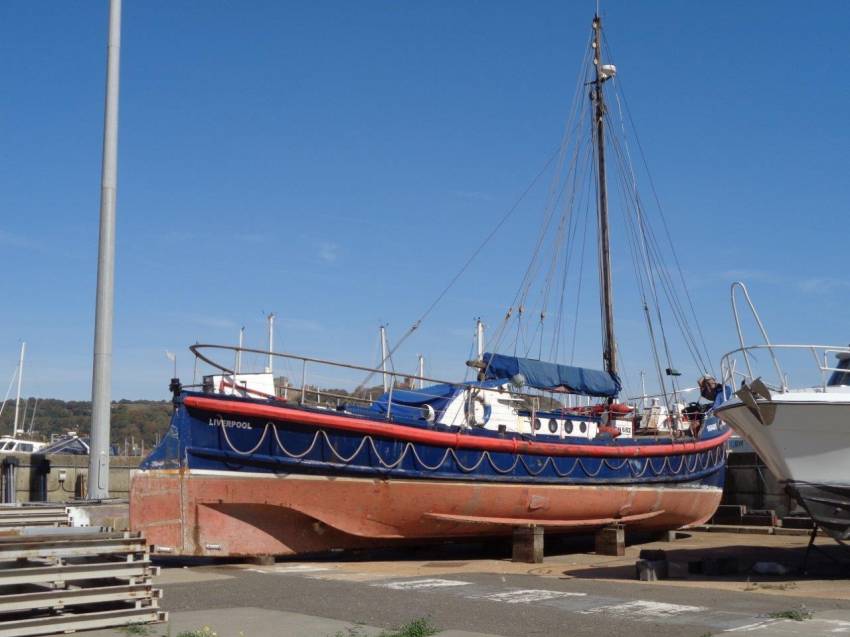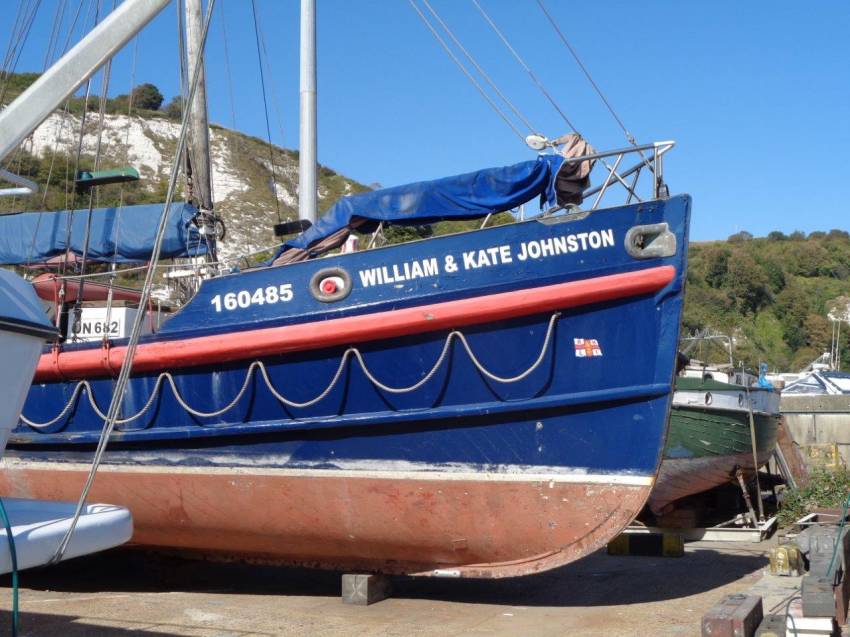 Long term resident of the Tidal Basin, the survey launch TRITAN DISCOVERY has some impressive equipment at the stern.
She makes occasional forays out sea, last spotted by Paul in post 6570.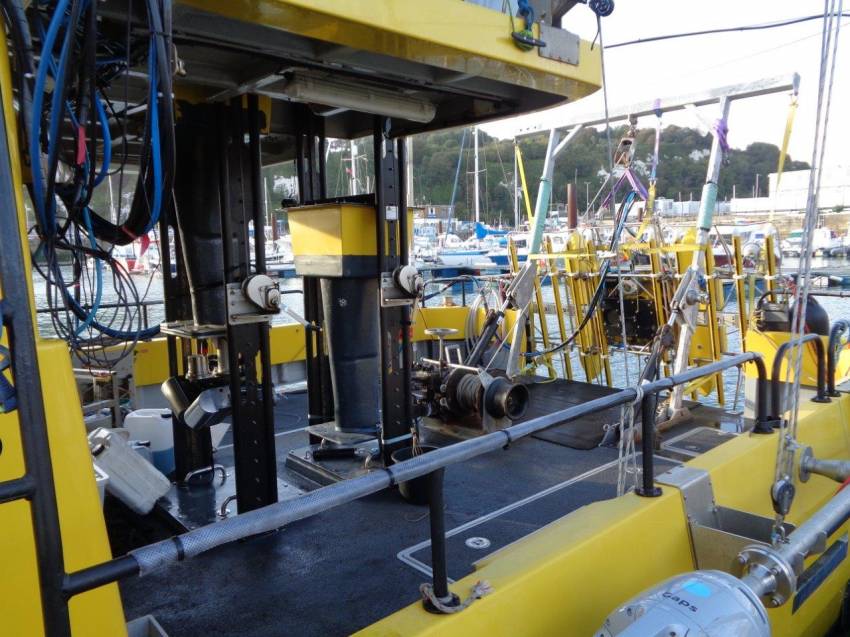 Thursday, 17 October 2019 - 00:16
Post 6598
Sea News, Dover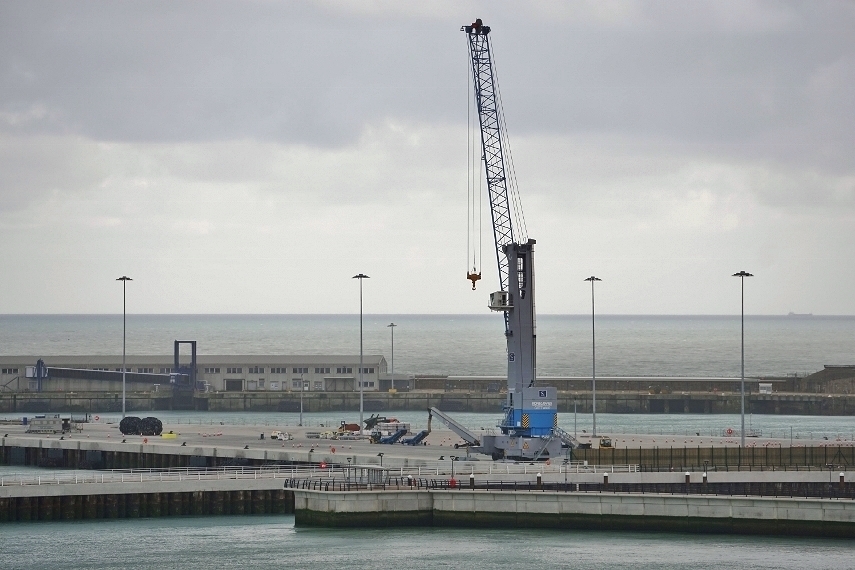 One of the giant cranes moved across yesterday from the new cargo terminal (WD5) to the position shown.. close to new pier/berth WD4. Some pictures of the crane's new position above there taken through the damp drizzly conditions. Perhaps there is some large delivery expected at WD4....
A picture from former times below to show the previous spot...the move is presumably temporary. This picture below shows the situation previously.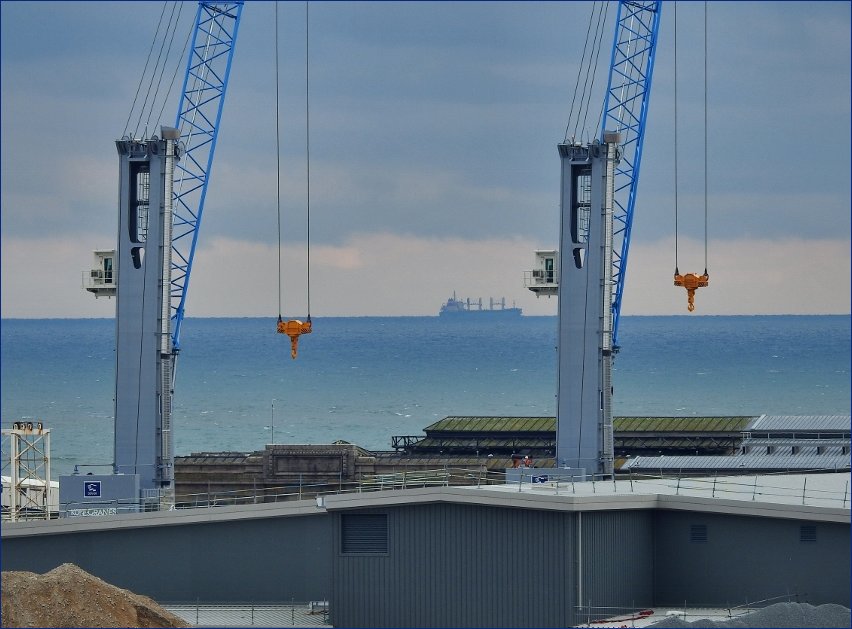 See also yours trulys earlier post today on the extra tug situation just below, and Mike's earlier post just below that.
PB
Wednesday, 16 October 2019 - 15:30
Post 6597
Sea News, Dover
We mentioned briefly yesterday that we have a new tug on the scene, an unfamiliar face, a temporary replacement for regular tug Doughty and here she is below.... already in the thick of the action..
Svitzer Intrepid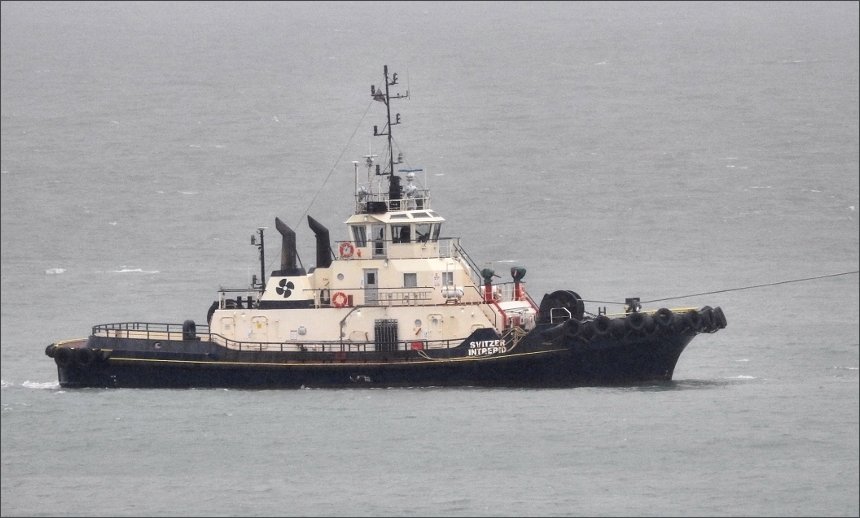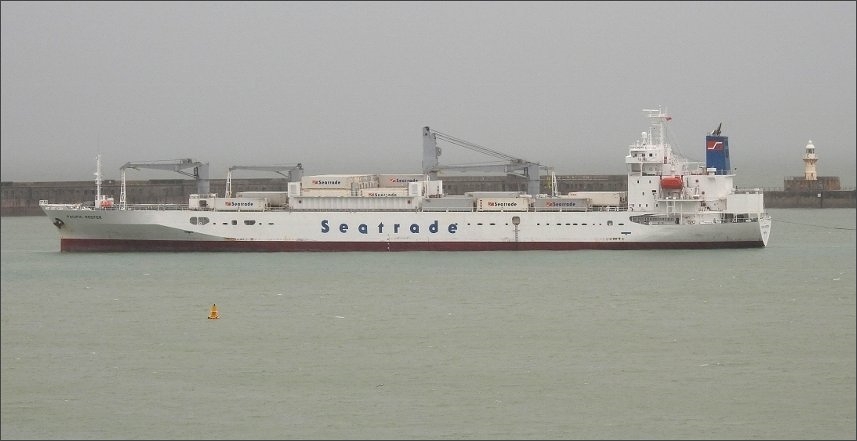 Our first glimpse was to see her working with Pacific Reefer.. as mentioned yesterday Pacific Reefer had been anchored offshore (see yesterdays picture 6595) but then came through to rest at the Eastern Arm of the Port while waiting for the departure of the Royal Klipper...Dauntless and Svitzer Intrepid did the necessary.
We had the following info through from Dave in Sandwich ¦ many thanks Dave..
"
In post 6595 you mention the Svitzer Intrepid, she is 5 years younger than the Dover tugs, built in 2005. She is different in design as she was built for the Japanese ports and this ˜look™ is common there. They are very well respected tugs, She is normally based in Sheerness working on the Medway and over at London Gateway.
"
And then a short time later below working with the departing Royal Klipper….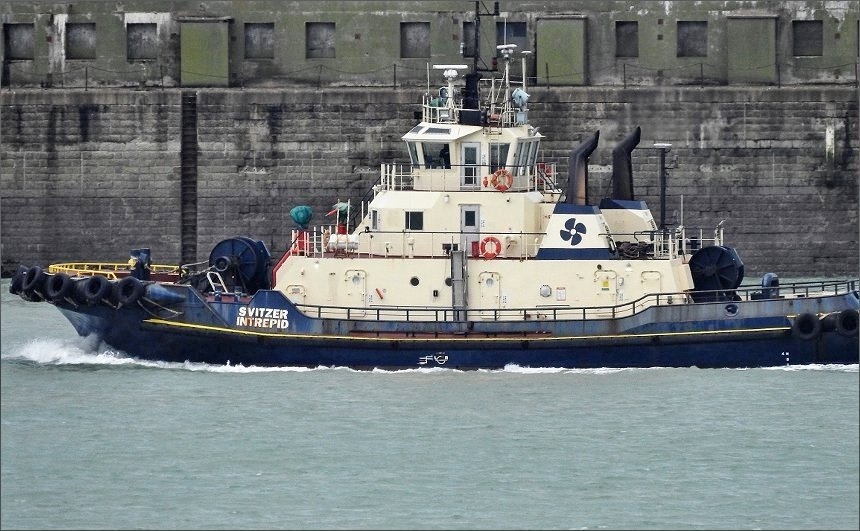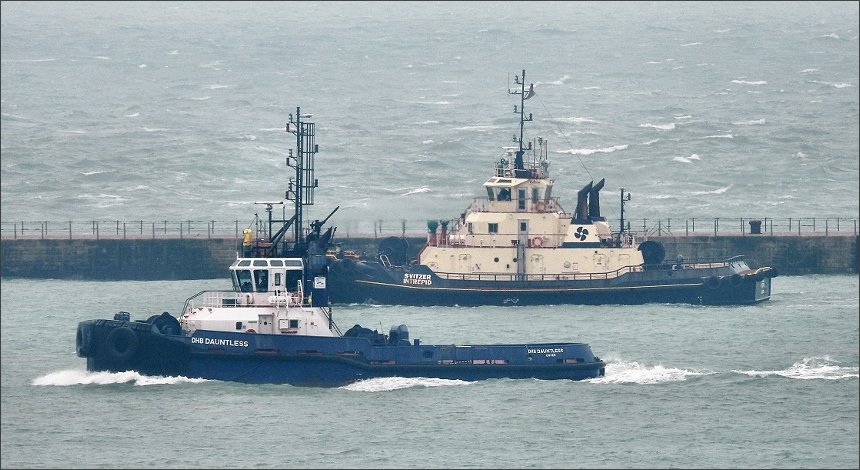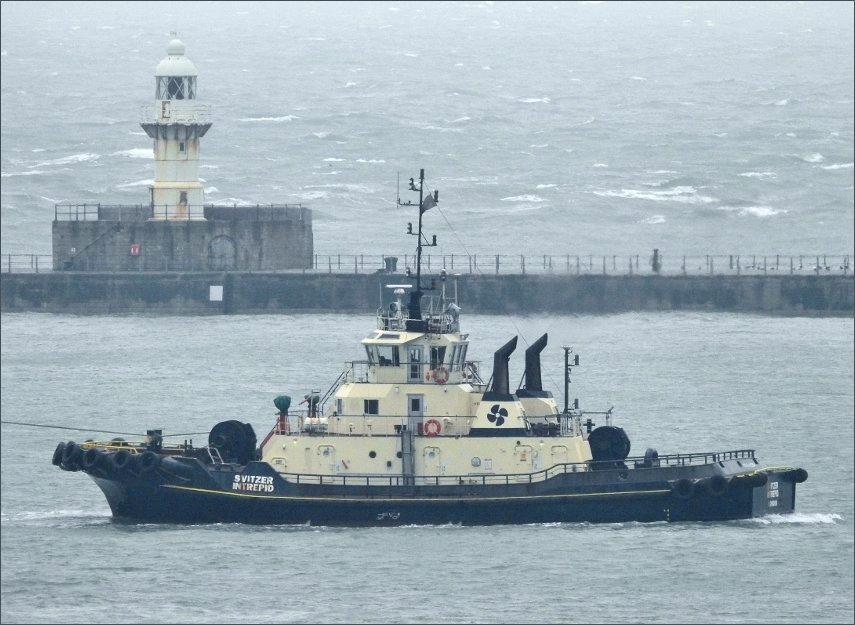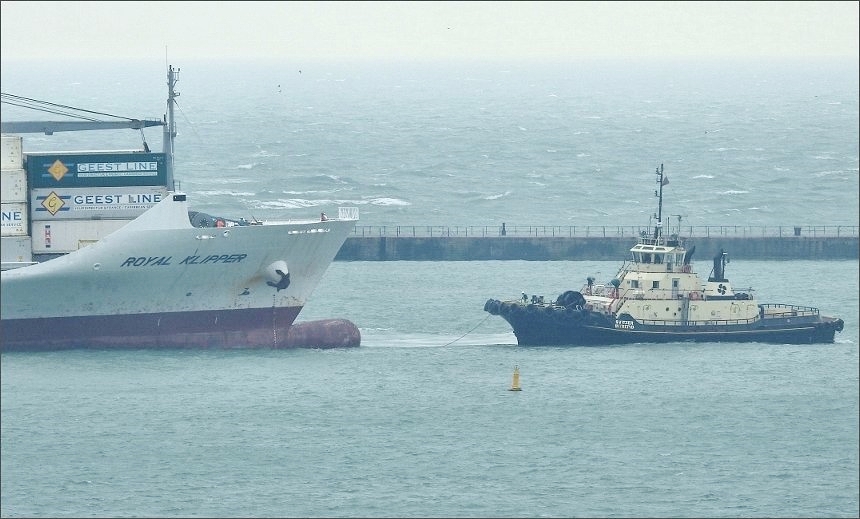 We had intermittent rain... so some of the pictures are a trifle soggy as they were taken through the aforementioned...
We will have pictures of Royal Klipper exiting Western later.
Interesting collection below from Mike our roving 'inshore correspondent'...don't miss those ones.

PaulB
Wednesday, 16 October 2019 - 07:16