Wednesday, 25 April 2018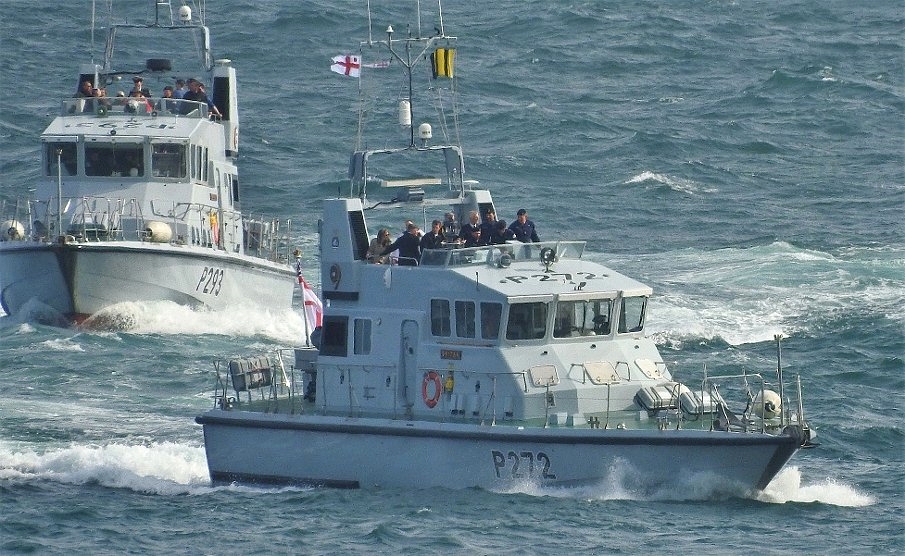 HMS Smiter and HMS Ranger approaching the Port of Dover in choppy seas Monday afternoon 3pm exactly....

doverforum.com/sea-news
Doverforum.com: Featuring all the ships that come and go and work at the Port of Dover with further coverage of the surrounding towns both sides of the Channel. Email: dover7@msn.com to send SEA NEWS pix or info.... or click ADD YOUR COMMENT below to post direct, no membership needed.

Port's Chief Executive TIM WAGGOTT RESIGNS see 4778
_______________________________________________________

P&O FERRIES presents big cash to RNLI Dover...see 4829.
P&O FERRIES recruiting...4745.
PORT of DOVER awards Cargo Refrigeration Contract see 4740.
PORT OF DOVER: Community Benefit 4688
TRADING GROWTH FOR DFDS DESPITE BREXIT see 4642
PORT OF DOVER RECORD FREIGHT see 4551.
PORT OF DOVER: GEEST LINE arrival see 4597.
SECOND FEMALE CAPTAIN FOR P&O see 4608.
Sea News Dover : Use our SEARCH ENGINE below to find all sorts on the SEA NEWS pages..more than 240 now with more than 4750 nautical posts. Posts welcome. Max of 5 pictures preferred per post.
Type CRUISE VISITS in our SEARCH ENGINE below for news of the latest arrivals.
Sea News Editor Paul Boland - dover7@msn.com .
Post 4765
Mike J., Dover

Del / Vic -

Re your posts about French HGV weekend bans, which cover ALL roads, not just motorways, [from the 'net] -

Most heavy goods vehicles over 7.5 tonnes are banned from the French road & motorway networks every weekend between the hours of 2200 Saturday & 2200 Sunday.
There are exceptions for vehicles carrying perishable or refrigerated produce.

An extended weekend truck ban is longer in July & August, when HGVs are banned from Saturday 0700 to 1900, and then from Saturday 2200 to Sunday 2200.
In other words, during these July and August weekends, there is a 3 hour chance on Saturday from 1900 to 2200 for HGVs to reach their destination or get out of France to a country without weekend HGV bans unless the Saturday in question is a French public holiday.
Three hours is usually enough time to get to Belgium from Calais or Dunkerque, Belgium has no restrictions, nor are there any in Holland.

Which explains why the freight heading for France is always very heavy on Fridays & particularly on Saturdays.
& of course most drivers want to try to get home for the weekend anyway !


Monday, 26 March 2018 - 23:22
Post 4764
Del Styan, Norwich
Thanks Vic, useful info - and it explains a lot!

Monday, 26 March 2018 - 23:05
Post 4763
PatrickS, Marine Parade
Just for a change, here's P&O's 'EUROPEAN SEAWAY' about to depart on its regular run to Calais this afternoon on a glass smooth sea.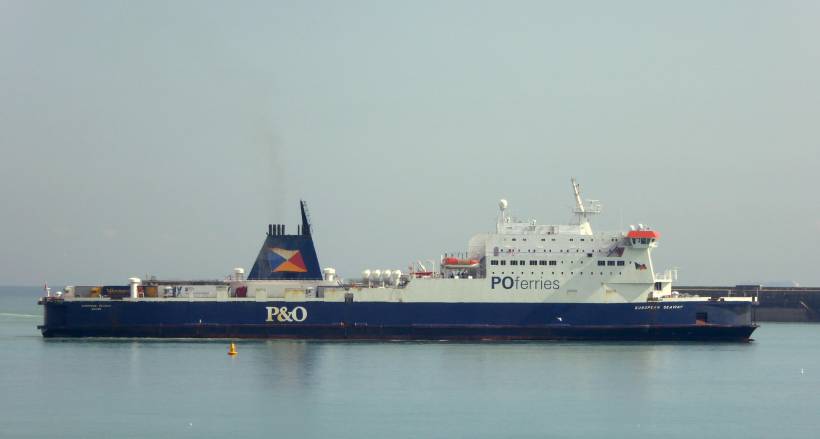 Monday, 26 March 2018 - 17:01
Post 4762
Andrew, Broadstairs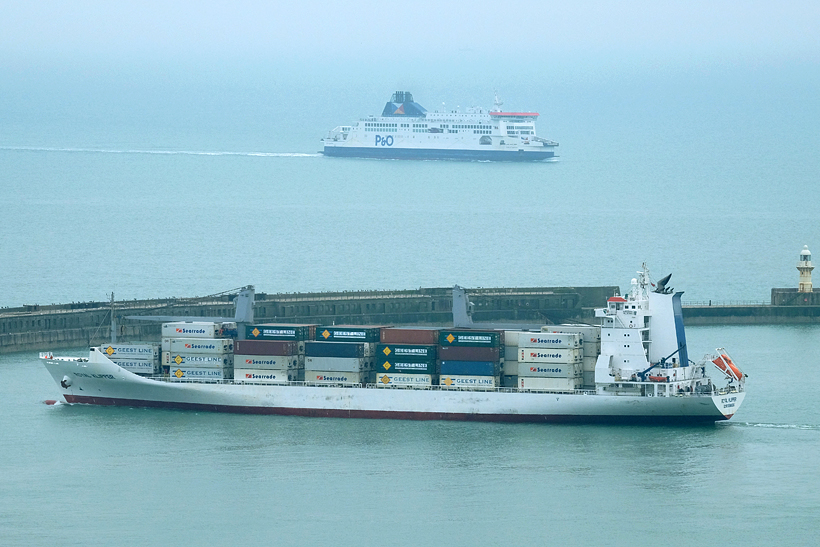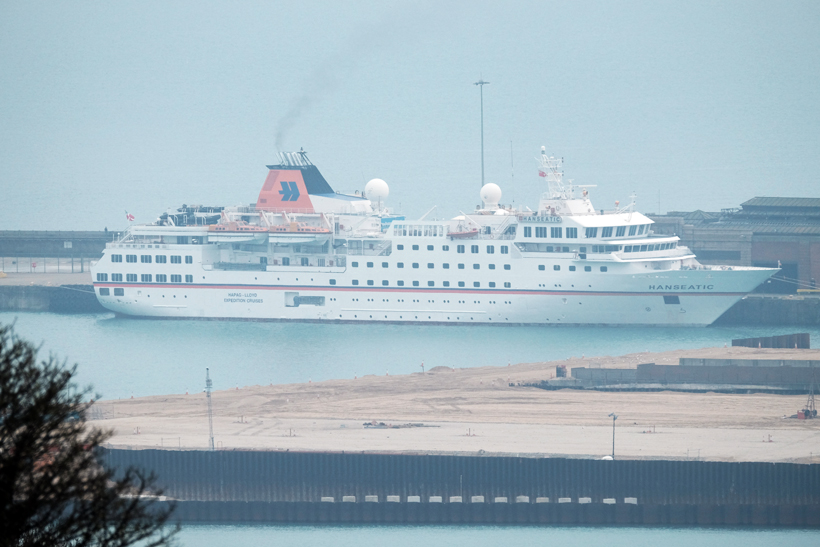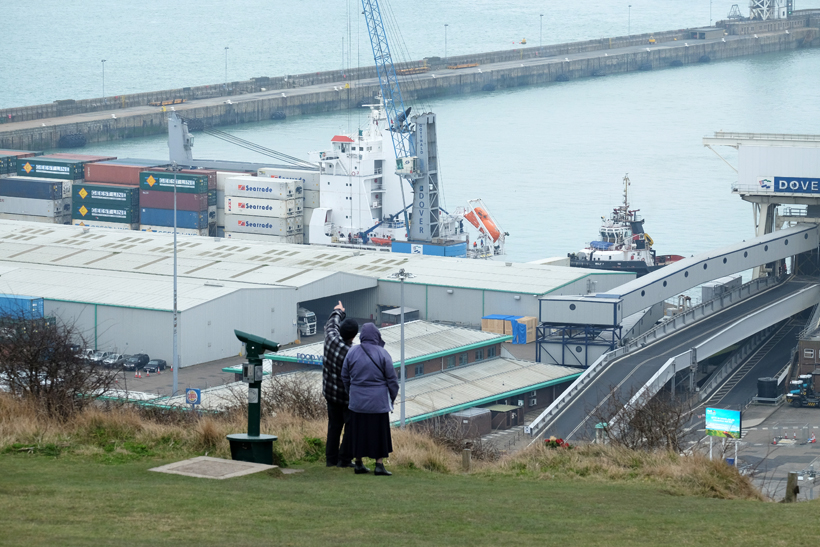 Encouraged by the enjoyment of the early morning visit (Post 4749) and an extra hour of evening light, I ventured out for a pleasant Sunday afternoon watching the Port and the shipping in the Dover Straits from Langdon Cliffs. The weather was supposed to improve but arriving in a shower of rain, the opposite was evident! Very dull with visibility restricted to a mile beyond the Southern Breakwater this was compensated by the Antarctic expedition ship HANSEATIC on her first visit to Dover? at Cruise 1 and ROYAL KLIPPER sailing assisted by relief tug WULF 7. The reefer's superstructure and funnel apparently being repainted for the new charterer Geest Line, perhaps she will have their funnel markings on her next visit.
Despite the gloom the cliffs were busy with 'watchers' who were not disappointed with the apparently seamless way the ferries divert from the Eastern to Western entrance as ROYAL KLIPPER departed. I can remember when use of the Western Entrance was restricted with cargo ships waiting escorted by tugs out in the 'bay' ready to shoot out, like a stone from a catapult, between ferry arrivals and departures. As Paul remarked (Post 4761) the longer evening did not improve the light so a 'token' shot of HANSEATIC was taken, not risking the wait until she sailed! HANSEATIC has the distinction of being given a five star rating by Berlitz Cruise Guide, the 'Bible' for those able to indulge in regular cruising. She carries a maximum of 175 passengers in the utmost comfort and being of modest size 8378 gross tons is capable of reaching the remotest of anchorages; she was built in Finland as SOCIETY ADVENTURE in 1991 and will be joined in 2019 by two new vessels HANSEATIC Nature and HANSEATIC Inspiration, perhaps they may visit Dover in the future.
Monday, 26 March 2018 - 12:16
Post 4761
vic matcham, Dover
It is only over there, I worked in france for a long time always drove back on a Sunday.

Monday, 26 March 2018 - 07:55
Post 4760
Sea News, Dover
THE ROYAL KLIPPER DEPARTS ...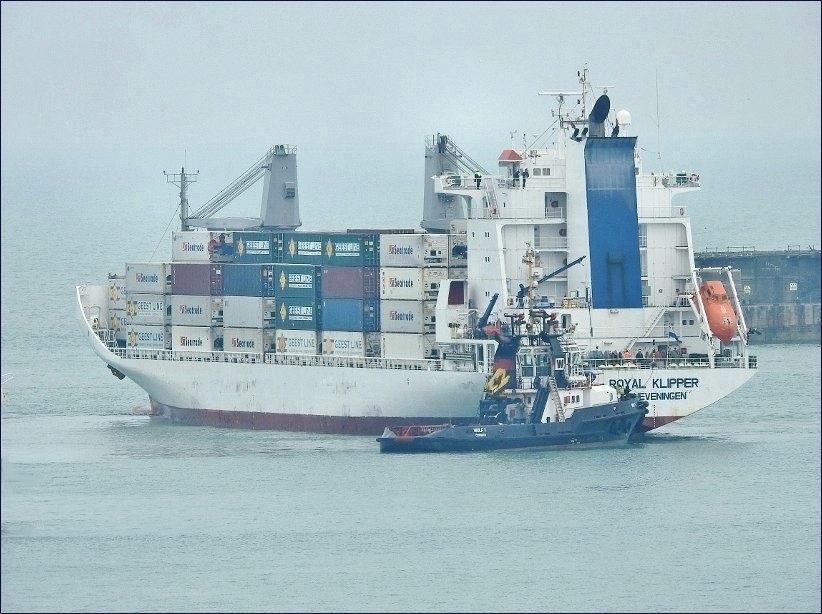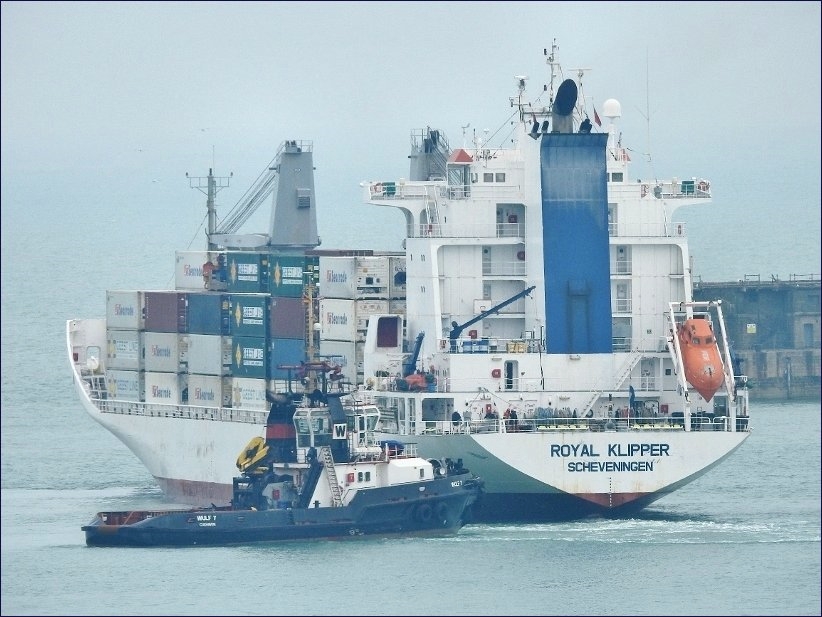 The Royal Klipper has been in with us here at the Port of Dover for the past couple of days. The pictures above there show her departing for Flushing in Holland yesterday late afternoon...around 5.30PM. It was a gloomy oul day here at the Port and it didn't get better than grey and novemberish... The tug in operation above there is WULF7 again. Well done 'the wulf'....
Following along from the news release we featured recently re P&O FERRIES recruiting at the Jobs Fair....this below from Charlie Elphicke MP, one of the organisers...
CHARLIE ELPHICKE: Fighting for more money and jobs in Dover and Deal
It was great to see so many employers and jobseekers at my Dover Jobs and Apprenticeships Fair on Friday. This was the sixth jobs fair I've held at Dover Town Hall – and they are always one of my highlights of the year.
Hundreds of people came along to speak to staff from more than 40 organisations offering jobs, apprenticeships and training schemes. They included the likes of P&O Ferries, who were this year's main sponsors, and electricals firm Megger who also contributed to the event. These businesses are stalwarts of Dover and two of our biggest employers. It's no surprise so many people want to work at firms like these – and often stay throughout their whole career.
I really enjoyed speaking to workers from all the businesses who came along to meet prospective employees. There was a great variety of stalls this year. Canterbury College were promoting their construction course. They were getting people to see how quickly they could drill four screws in a straight line into a plank of wood. I managed it in 20 seconds – so all that IKEA furniture building must be paying off!
We also had hairdressing students from East Kent College showing off their skills – as well as stalls from the Army, the Royal Air Force, Kent Police, the Port of Dover, Kent County Council and Aldi, plus so many more.
I spoke to one jobseeker called Fred and asked him what he thought of the event. He said: "I think this jobs fair is a very good idea and I've already found a couple of opportunities."
This is what my Jobs and Apprenticeships Fairs are all about. I'm passionate about getting people into work – and helping them find jobs which are right for them. It's so important to get employers and jobseekers together in the same room, so they can talk through opportunities face-to-face. Dover and Deal are full of hard-working, talented people. Many want a foot on the ladder, a new challenge, or to discover ways to help others and make the most of their skills. We must ensure we give them the chance to do so.
There was a great atmosphere in the town hall and a real sense that our area is on the up. It's vital we keep up the good work and continue to fight for more jobs and money for Dover and Deal. We have come a long way since 2010. More than £400 million has been invested in our area, unemployment has near halved and more than 6,000 apprenticeships have been created.
The St James development is bringing hundreds more jobs to town. The doors to Cineworld and Nando's are now open and already proving hugely popular – and there is so much more to come in the months ahead. Meanwhile the ambitious Western Docks Revival is set to create hundreds more jobs.
These really are exciting times for Dover and Deal. Our beautiful corner of Kent has so much potential. I'm more determined than ever to work hard to deliver more jobs and money to our area.
Charlie Elphicke MP
* *
Well done Charlie.

Also in Port yesterday was the explorer cruise ship Hanseatic. Not the best or the most cheerful picture below there...it shows her at Cruise Terminal One, the picture looks across some of the DWDR workings and was taken in ultra grey conditions. She left for Hamburg around 7PM last night... the murk continued but there is a possibility of a further picture if they are up to speed....still in camera as yet..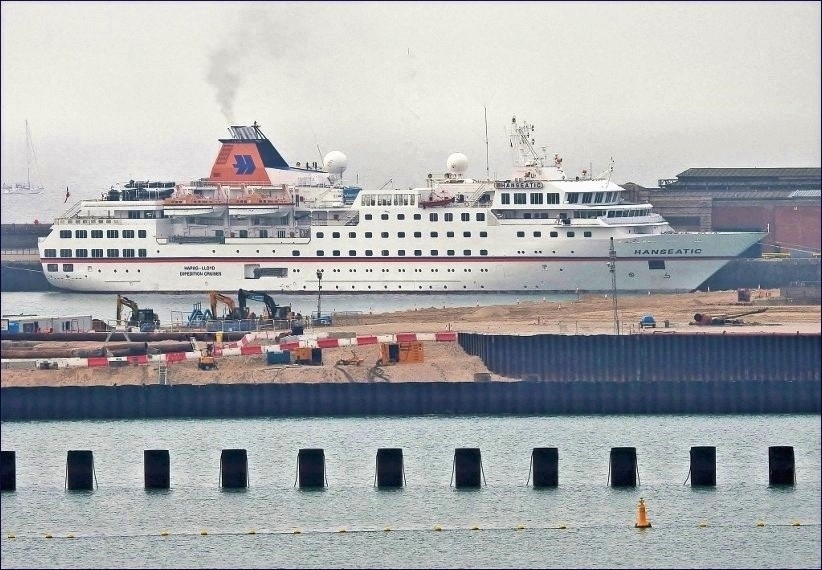 Vic and Del

PB.
Monday, 26 March 2018 - 05:04
Post 4759
Del Styan, Norwich
Is that right, Vic - about not allowing HGVs drive on motorways on a Sunday? I went over on a Sunday, and was surprised how quiet the ferry was.( I usually go over in the week ). Is it a French or UK regulation?
Great historical pics of the old docks just recently - more please!

Sunday, 25 March 2018 - 23:17
Post 4758
vic matcham, Dover
HGV not allow to drive on MWays on Sundays so some wait over here because of cost of parking up in France.

Sunday, 25 March 2018 - 16:17
Post 4757
Sea News, Dover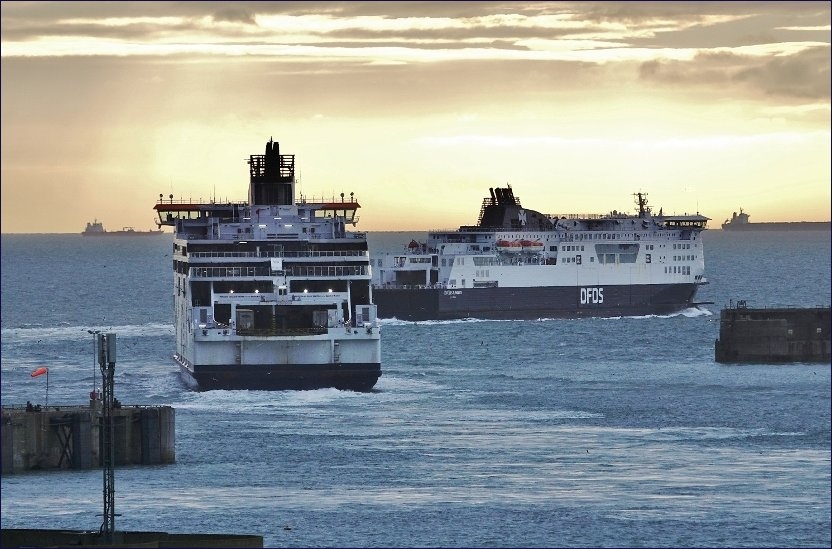 Early morning ferries above there on a cold day. One of the P&O Spirits to the left with the DFDS Cote des Flandres on the right. Off for another days work on the channel. Note that neither of them appear very full...lots of spaces onboard. Hopefully this Brexit thing wont leave our ferries struggling. If the trading slows where will we be. A good easy trade deal needed.
And speaking of cold days...it looks like that blasted Beast from the East 3.0 is coming our way for Easter. According to those gloomy weather people anyway. Straight from Siberia she comes once again. We haven't, it appears, blamed the Russians for this yet...but give it time. Before too long someone will claim that they hacked into the data and changed the weather patterns..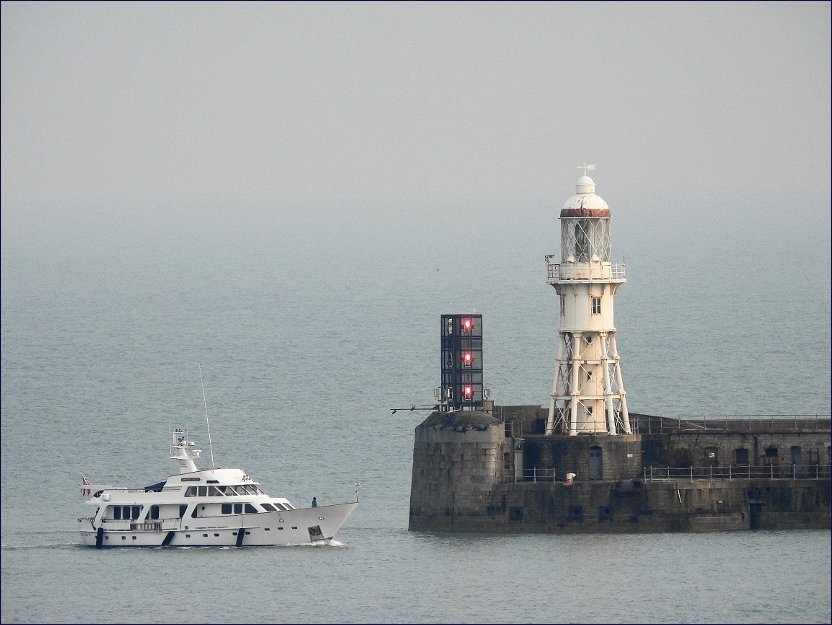 Following along from Mike's excellent pix...another one there of the impressive motor cruiser Midnight Saga II as she enters Port yesterday.
Well done Mike - a cracking set below there from our 'inshore correspondent'.
Great ones of Shamrock and Midnight Saga II.

Fascinating collection below there Ted (4755)...great work once again.

The latest cruise liner is in port, a smaller one this time Hanseatic, but no pictures as yet... barely visible through the gloom.
PaulB
Sunday, 25 March 2018 - 07:14
Post 4756
Mike J., Dover
Saturday afternoon & two recent arrivals - Westminster Dredgins's SHAMROCK arrived abut 1300 from Harwich.
Whether she's here to work or just making a brief call is unknown.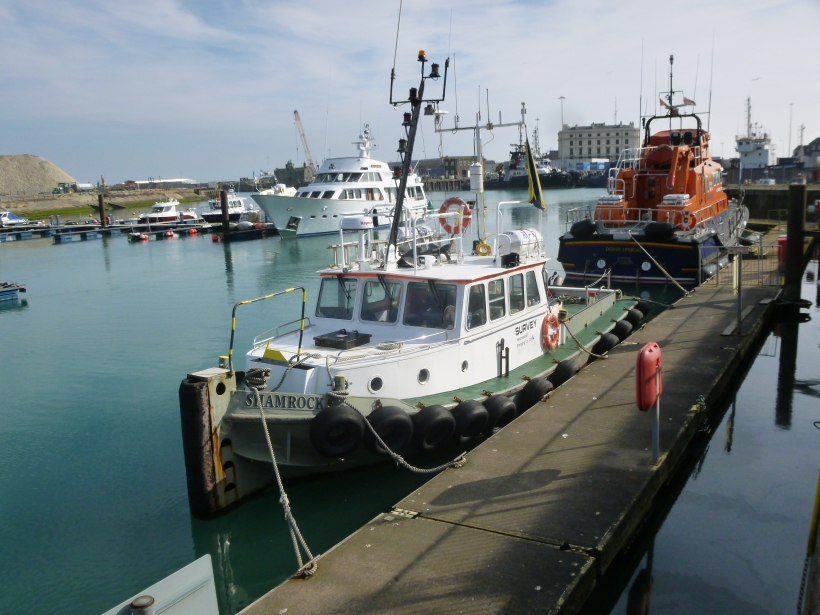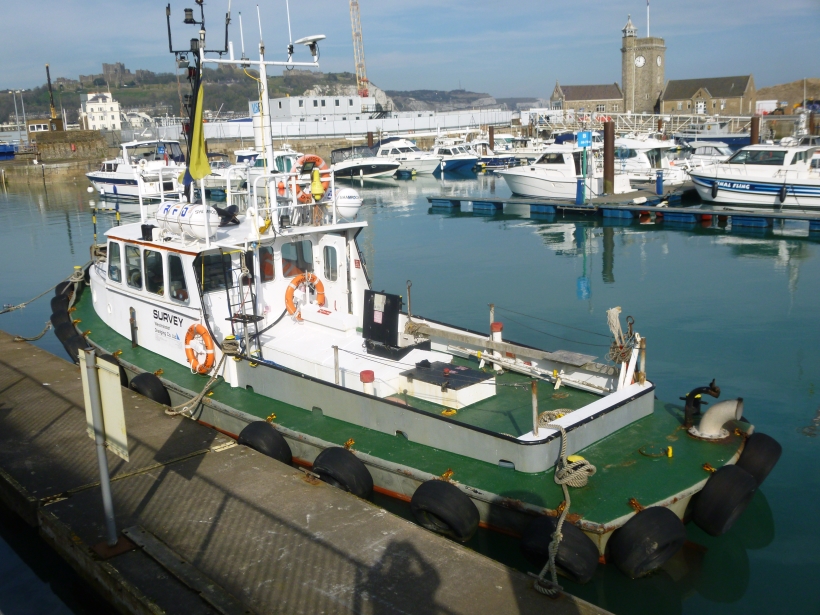 AIS wouldn't come up with any info on the movements of the rather smart Norwegian motor yacht MIDNIGHT SAGA II.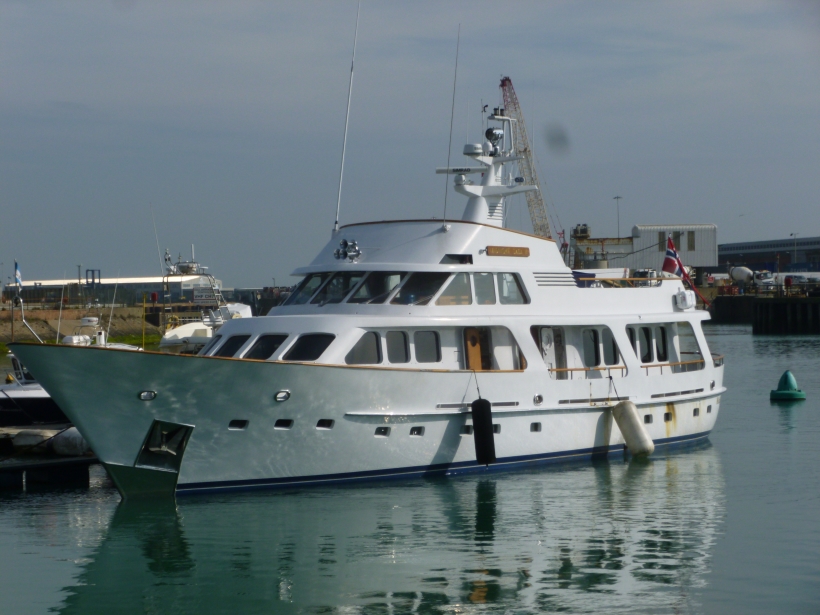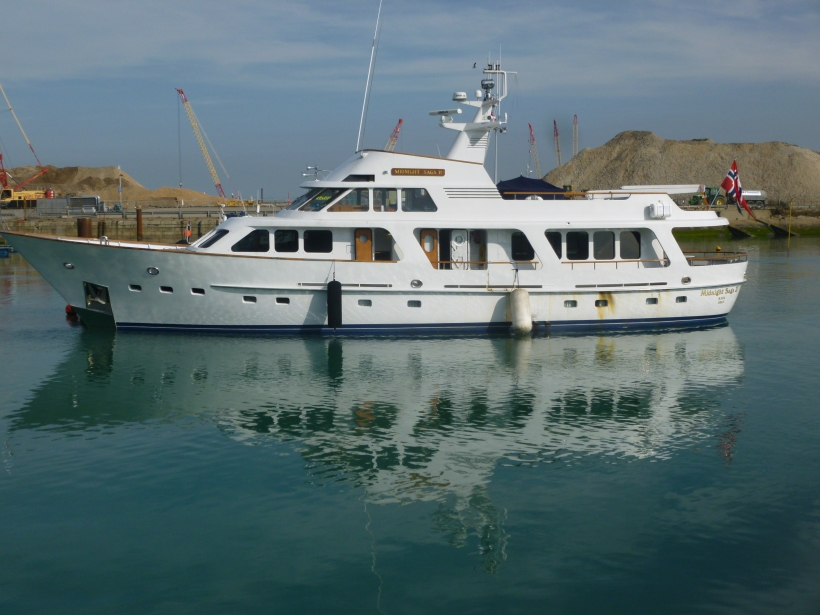 Saturday, 24 March 2018 - 23:24
Post 4755
Ted Ingham, Canterbury
'FIVE FROM ABOVE'
Fred Olsen's BALMORAL departs as the PRIDE OF DOVER enters.
Photographed on the 11th July 2008.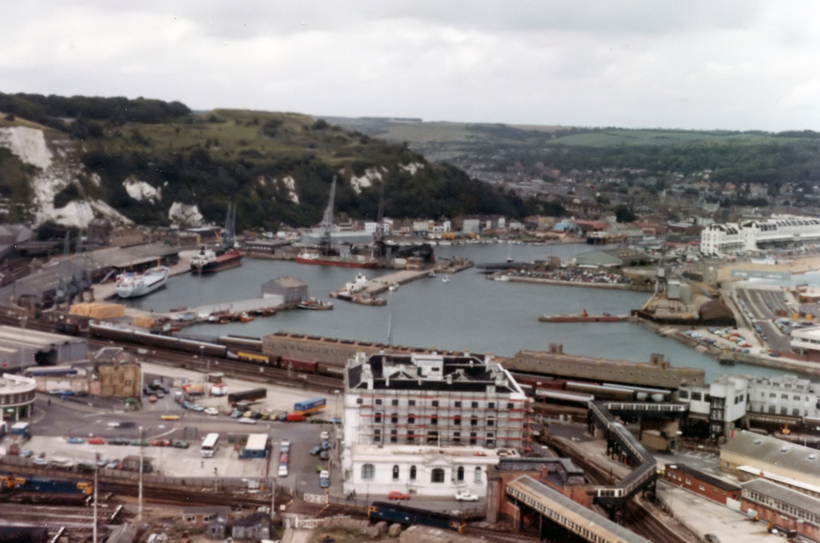 Photographed from the RAF SAR Wessex from Manston in the early 80's showing the Granville and Wellington Docks.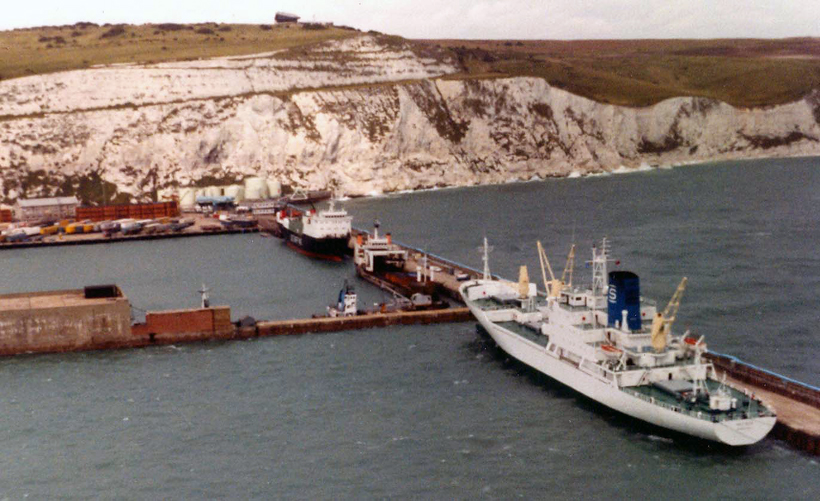 Again photographed from the Wessex of 22SQN showing the Camber and Eastern Arm.
At that time they were exporting coal from Tilmanstone Colliery in containers on a daily basis to Zeebrugge for a coke plant.The coal boat Taros Ilex can be seen ahead of the Rose Schiaffino. A large Salen reefer laying alongside Eastern.Not a container in site on her deck.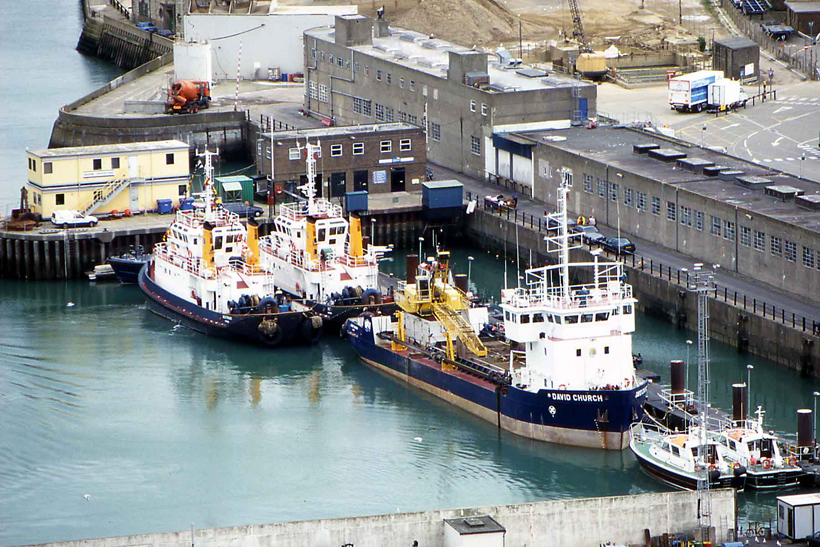 An early view of the tug haven with the tugs DEFT and DEXTROUS alongside.
The lifeboat station can be seen with the bow of the Thames Class lifeboat.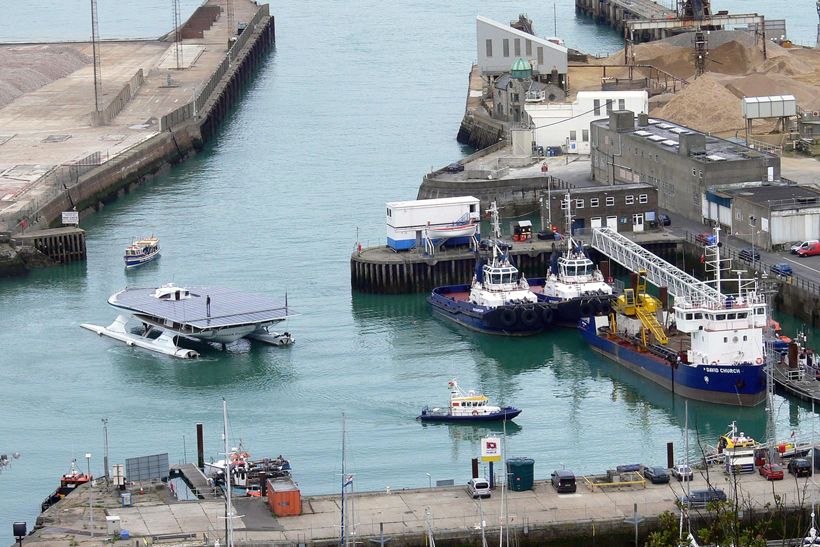 A later photograph of the tug haven taken on the 12th August 2010 showing the then largest solar powered craft in the world. TURANO PLANETSOLAR. Since 2015 she has been used a a demonstration and scientific platform in it's fight against plastic pollution of the Oceans.
The lifeboat station has now been moved and the Sea survival and training school established.
Saturday, 24 March 2018 - 11:04
Post 4754
Sea News, Dover
Climbing the walls ! ..well it has been a long winter...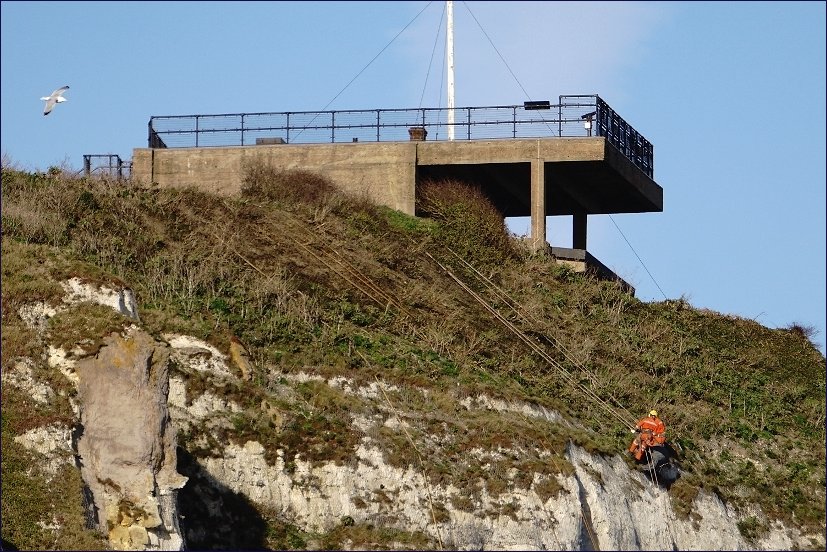 Yes these guys on ermm Thursday I think it was, were steadily climbing the North Face of the the local Eiger...or no no to put it more accurately.. the Southface of the scintillating White Cliffs. They were catching the afternoon sun as they scaled the dizzy heights. Pictures show them at various stages of the climb. In reality I guess it was a great deal less romantic than climbing the Eiger, as they were probably just doing essential maintenance work of some sort.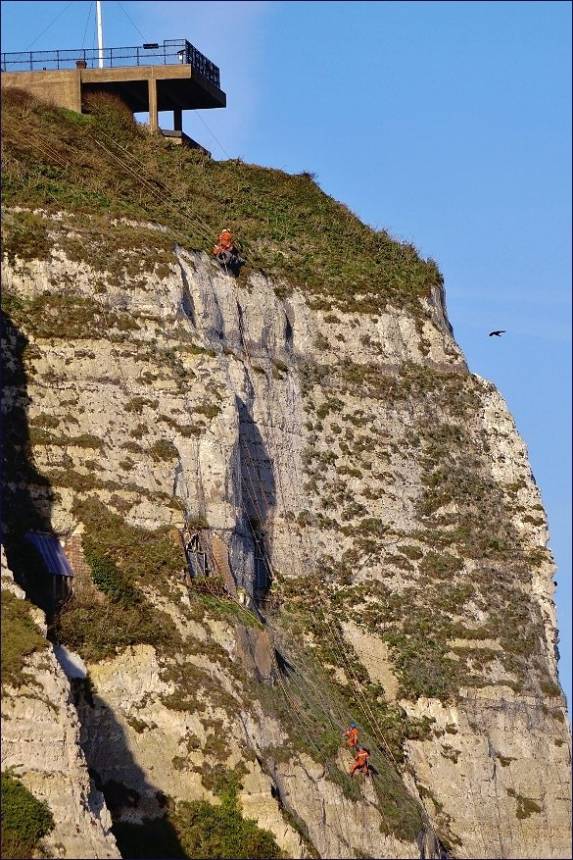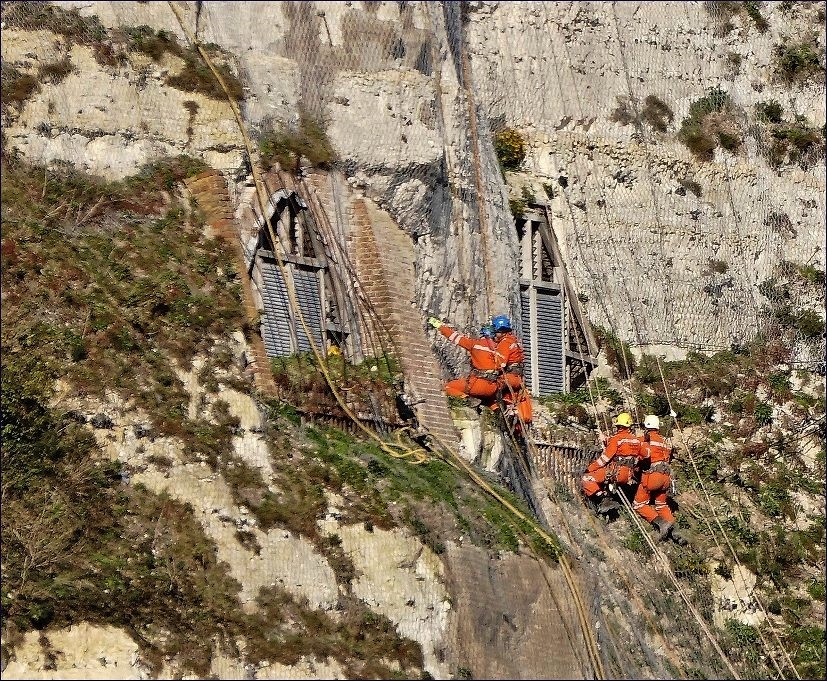 Just now I came across this pic below in the files from times past. The last time we saw similar climbers...and here they are scaling the sheer face of the infamous Burlington House. All change since then...will have more on the new development on Monday from MP Charlie Elphicke.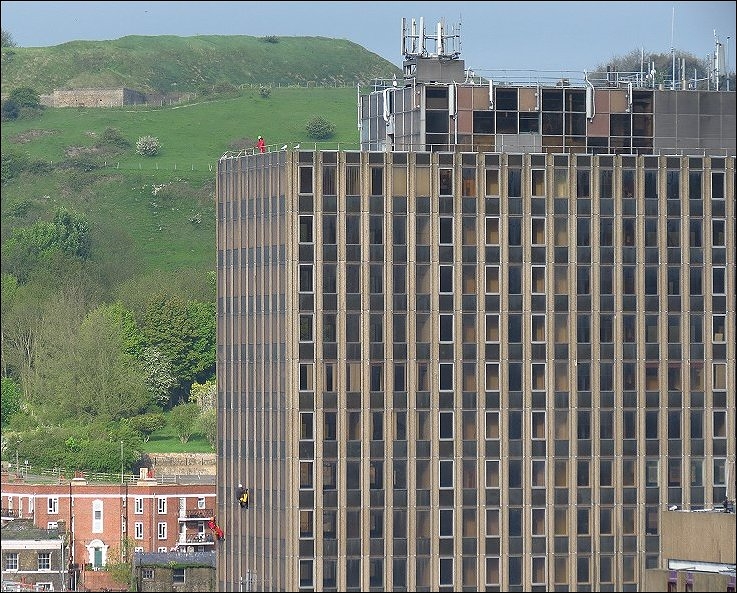 Nice shots below there Patrick. Great to see those. They are powering forward for sure.

Thanks Vic - glad you are continuing to enjoy the Sea News pages. Exciting times down here..

PaulB
Saturday, 24 March 2018 - 06:01
Post 4753
Patrick, Marine Parade
A couple of shots of the current progress on the former Hoverport site and Prince of Wales Pier, slowly morphing into the infill areas destined to be the new Cargo Terminal.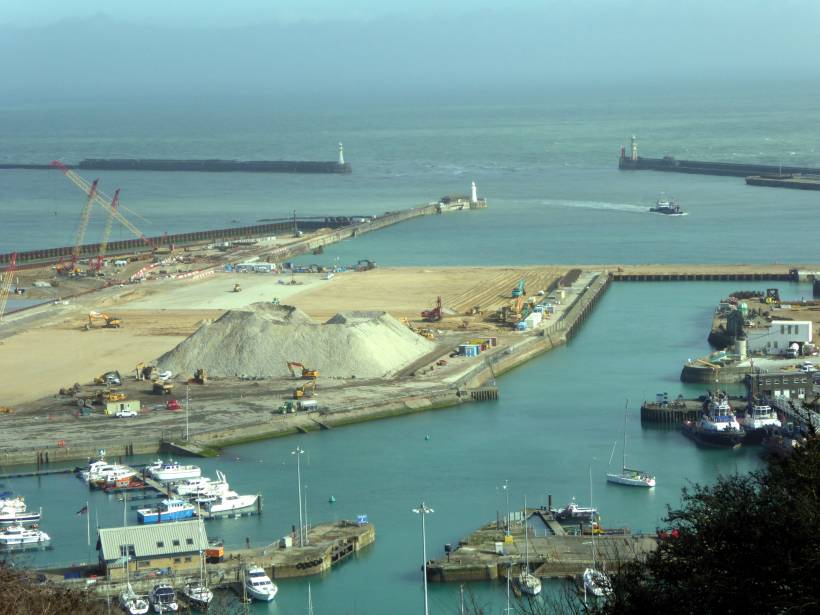 Friday, 23 March 2018 - 19:02
Post 4752
vic matcham, Dover
We are just back from Hayling island, had agood time but forgot to take my laptop so I am now seeing the photos of the Port of Dover, some very good ones there thank you.

Friday, 23 March 2018 - 12:15
Post 4751
Sea News, Dover
Another couple of extra pictures to enjoy now of the AIDAvita arrival on wednesday ....
I expect she is back in Hamburg by now after her brief stop in Amsterdam.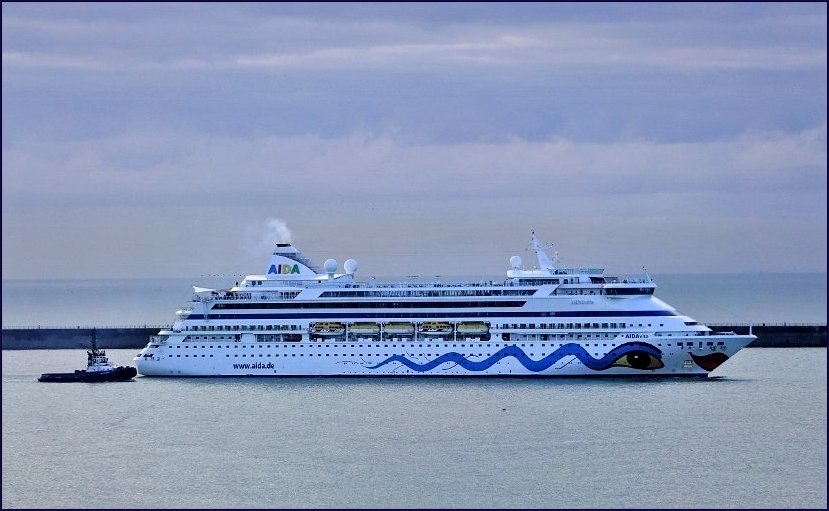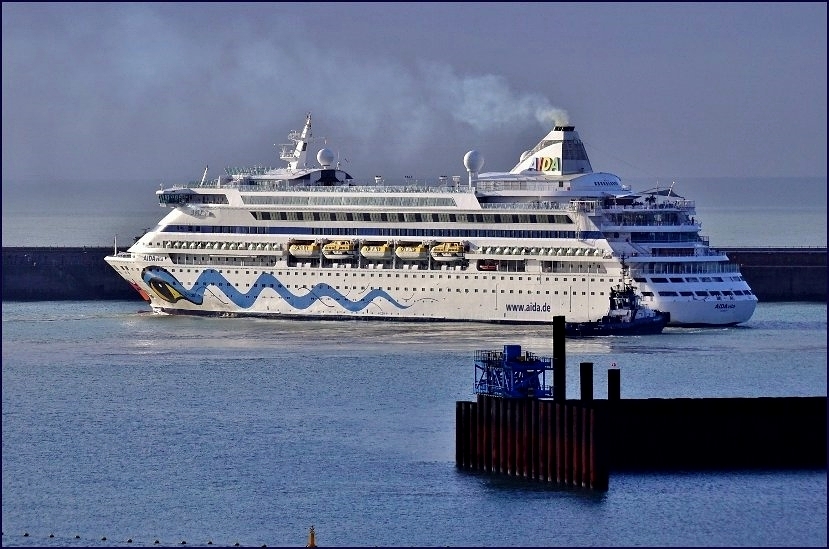 See also 4749 and 4750 immediately below.
Friday, 23 March 2018 - 06:52
Post 4750
Sea News, Dover
PORT OF DOVER WELCOMES FIRST CRUISE SHIP OF THE YEAR... AIDAvita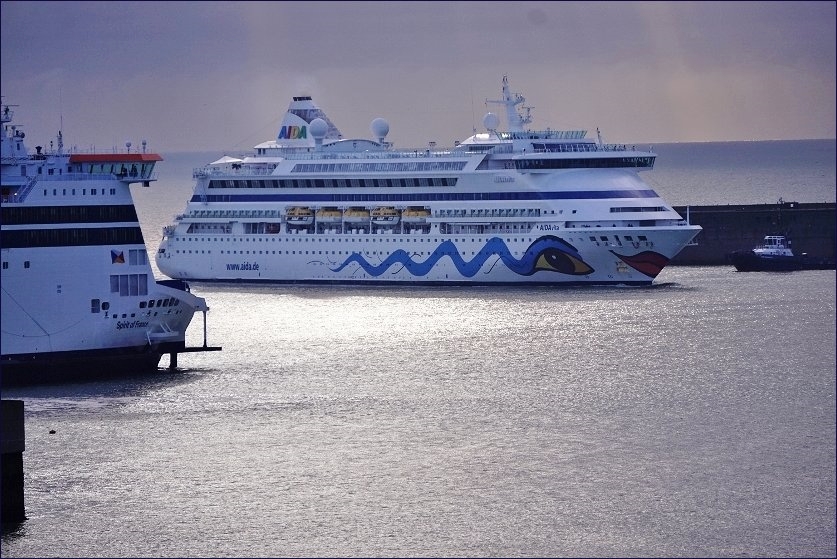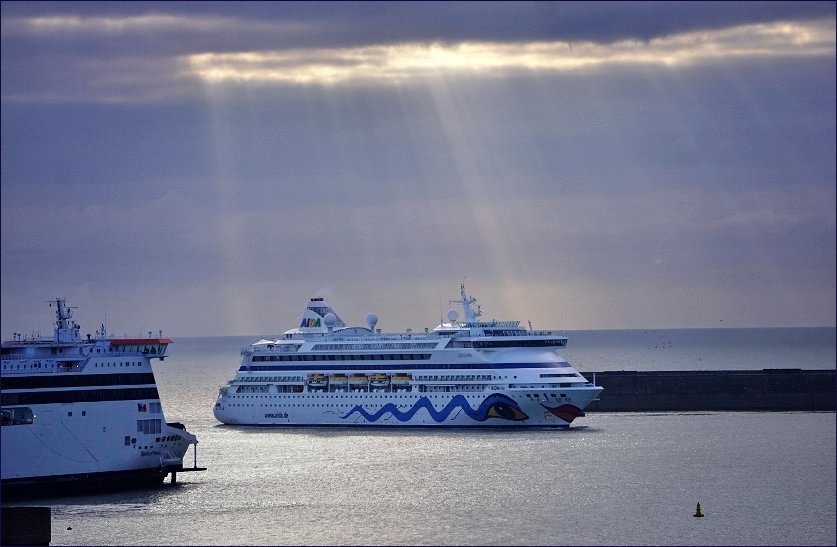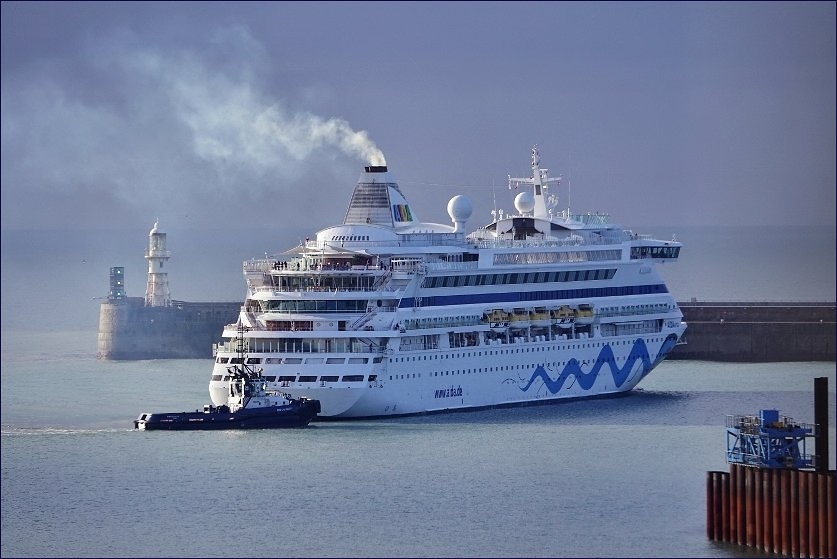 There she is .. AIDAvita ... a very welcome sight indeed, surely heralding the arrival of the long awaited Spring. It was a real delight to see her arrival.


( see also more cruise details from ColetteB in 4744 )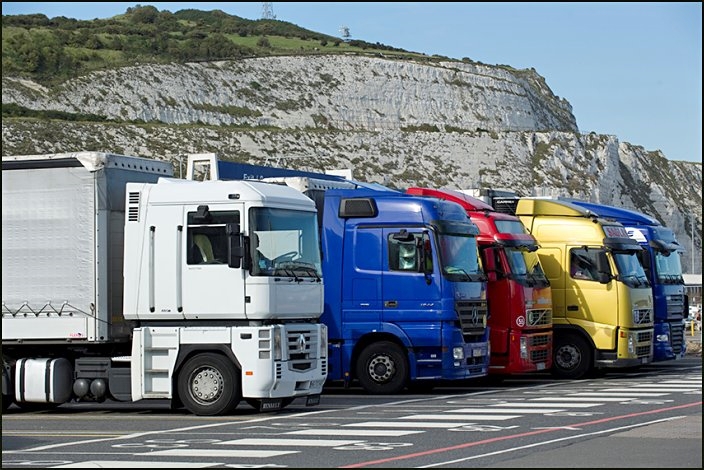 Neglected roads need urgent investment
_______________________________________
20th March 2018
Twenty percent of carriageways in England and Wales are five years away from being unusable according to a study by the Asphalt Industry Alliance.
Road Haulage Association chief executive, Richard Burnett said:
"The Government and local authorities can do a lot more to bring the network up to standard so that the roads aren't full of cracks waiting to turn into dangerous potholes that can cause collisions. Local roads where hauliers make their last-mile deliveries are often in a poor state and the damage they can cause to HGVs – in particular to their suspension systems – can be considerable"
"More potholes means more breakdowns, more roadworks and more delays. And delays in a 'just in time' economy are disastrous for business."
The RAC had reported a sharp increase in pothole-related breakdowns in the aftermath of the severe weather at the beginning of the month.
"It's not lost on us that the short-term impact of the recent severe weather – where supermarkets ran out of food because lorries couldn't get through – is leaving a longer-lasting legacy that exposes years of neglect from government and local authorities," he continued. "Local roads must be included in any plans to improve the strategic road network."
ENDS
I think most of us would echo that sentiment above. Some potholes have morphed into craters ...dangerous to all road users particularly cyclists and motorcyclists....but most of all we all saw how sparse the supermarket shelves were in the recent snow when the trucks couldn't get through...we need our trucks.

Following along from Mike's pictures of 'the wulf' (Wulf7) in 4741 ... here we are with another two as promised. More longer range these pix of course, taken a few days ago in grey conditions as she awaited the arrival of Timor Stream.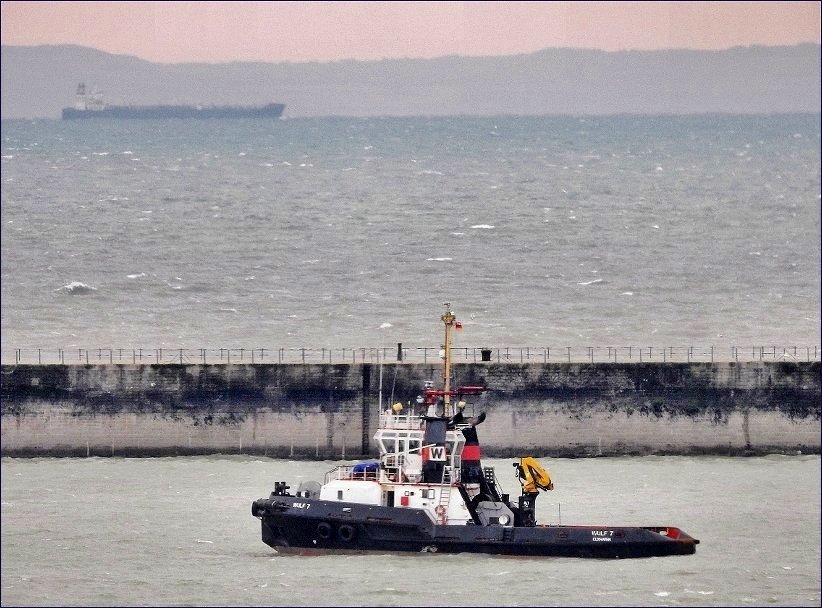 Well done with those pictures below Andrew, a very nice collection below there. Excellent.

Glad you made it in the end to the continent Del. Hope you had a great time and enjoyed your trip on DFDS.
Yes hopefully Spring is here..ish.


PaulB

Thursday, 22 March 2018 - 04:55
Post 4749
Andrew, Broadstairs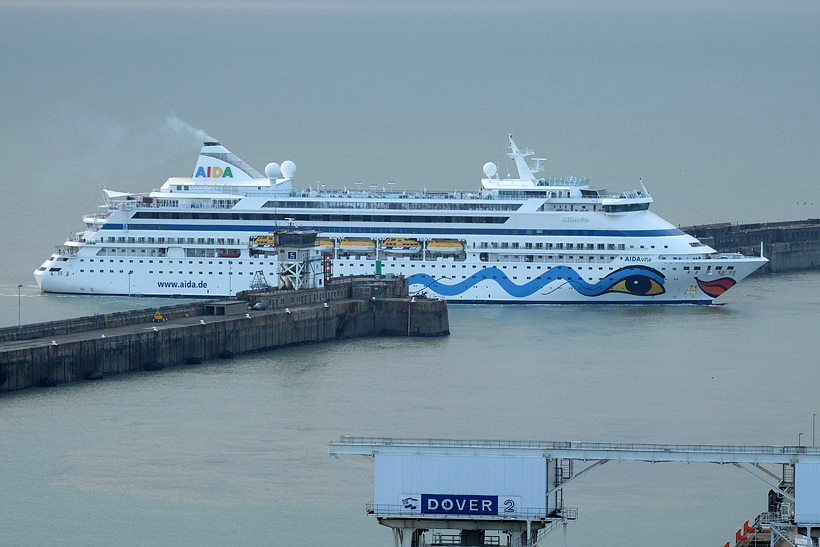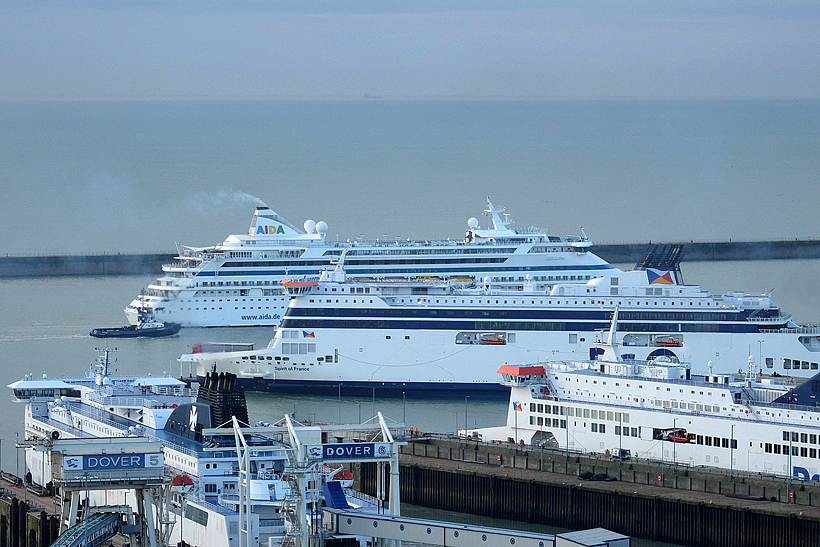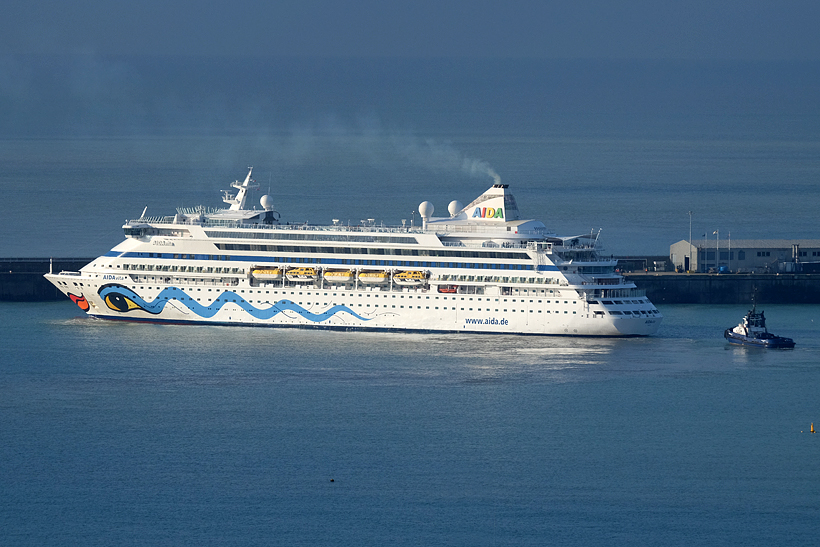 Inspired by Ted, Mike and the Team's excellent past and present photography of the Port's activities I thought it was about time I came out of hibernation and record the first cruise ship of the season. AIDAVITA arrived on schedule and glided across the harbour seamlessly fitting in with the constant ferry movements. With DHB tug DOUGHTY in attendance she turned off the Prince of Wales Pier ready to berth alongside Cruise Two catching the early morning sunlight, a perfect start.
Thursday, 22 March 2018 - 00:55
Post 4748
Del Styan, Norwich
Not put off by the snow last weekend, I went off to le continent on DFDS, and got back today. I do believe over the last 3 days I have seen spring arrive. It seems strange that only 10 days ago the snow brought Norwich to a halt.
And on the arrival of spring theme I managed to clock the first Cruise ship of the season today ( Wed ), smiling through the Western dock works.
Couldn't quite see your lens from where I was, but I'm sure you were on duty as it was such a sunny day.
More sun please!

Wednesday, 21 March 2018 - 23:09
Post 4747
Sea News, Dover
Yes exciting to see the first cruise ship of the year Jan - will have pictures in the morning.

Wednesday, 21 March 2018 - 17:55
Post 4746
Jan T, Dover
Crumbs open my curtains this morning to see a cruise ship,a nice surprise and sunshine as well blows all them snowy thoughts away.

Wednesday, 21 March 2018 - 08:03