Wednesday, 28 June 2017
Dover Lifeboat in recent action. Long range picture...
doverforum.com/sea-news
Featuring all the ships that come and go and work at the Port of Dover with further coverage of Ramsgate, Calais, Dunkerque.
Email:dover7@msn.com to send SEA NEWS pix or info.... or click ADD YOUR COMMENT below to post direct, no membership needed. Use our SEARCH ENGINE below to find all sorts on the SEA NEWS pages..more than 180 now with more than 3666 nautical posts. Posts welcome. Max of 5 pictures preferred per post. Sea News Editor Paul Boland.



Sea News Dover:



P&O Ferries give Lifeboat £10,000...see 3933.
DFDS Cycling Special : Tour de France see 3902.

P&O visit St Richards School 3904.
P&O Ferries award surprise Bursary.... 3816.
BEST EVER FIRST QUARTER FOR DFDS...see below..3813.
Highest ever Q1 Freight Volumes for P&O see 3623.
Type Cruise Visits in search engine below for the latest cruise ship arrivals..
in fact you can find anything in our Search Engine.
Post 3840
Colette B, Dover
CRUISE VISITS
_____________
Here are the last cruise calls for the month of May.
Starting Sunday May 28th Saga Pearl ll embarks on her 14 night North Cape Adventurer cruise. She is on an Arctic adventure to Norway's remote North Cape to discover a wilderness bathed in the ethereal glow of the midnight sun, taking in fjords including the beautiful Geirangerfjord. She arrives at CT1, 08.00, departing 16.00 hours, T/R.
Then on Tuesday May 30th we welcome the Monarch back to Dover, she last visited us in September 2016. She is on her way back to Warnemunde, Germany after visiting many ports including Lisbon, Vigo and Cherbourg. Arriving here at CT2, 08.00, leaving 20.00 hours, PoC.
The following day Wednesday May 31st we have the Albatros back with us, last here also in September 2016. She is calling into Dover following her 18 day cruise on her way back to Bremerhaven, Germany after sampling the delights of Monte Carlo (one of my favourites) Barcelona, Benidorm ,Tangier and Bilbao to name but a few. She arrives at CT2, 08.00, departing 20.00 hours, PoC.
That's the last of our cruise calls for May, I will be back soon with the first of our June visits which start on June 1st, Enjoy!!

Shame it was hazy when Disney Magic arrived on Wednesday but she will be here again on Wednesday June 28th. Hopefully we will have some clear sunny weather on the day. We can always 'Wish upon a Star'

Still some good photos there guys

Saturday, 27 May 2017 - 14:06
Post 3839
Mike J., Dover
Another sunny afternoon, another stroll up the Admiralty Pier, another long wait. another bacon roll at the fishermens' caff by the Turret & another angle on Paul and Ed's photos of the arrival of the German tug ARION & the crane barge ENAK.
The ENAK is capable of lifting up to 600 tons & is operated by the long-established German marine contracting company BUGSIER & will be involved in the removal of the Dunkirk Jetty for the next month or so.
DHB Notice to Mariners 34/17 gives further details of the work involved which will involve occasional closure of the access channel to the Tidal Basin & inner docks.
Googling 'Dover Harbour Board Notices to Mariners' should find the N to Ms.
The ARION & ENAK came down from Bremerhaven & docked on Cruise-2 without assistance from any other tugs on quite a blustery afternoon, altho' the AFON GOCH hung about nearby.
The ENAK can move under her own power if necessary.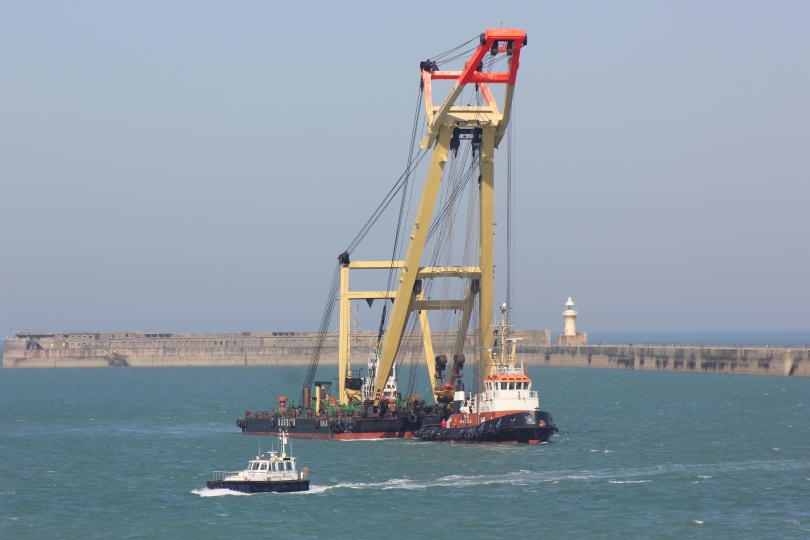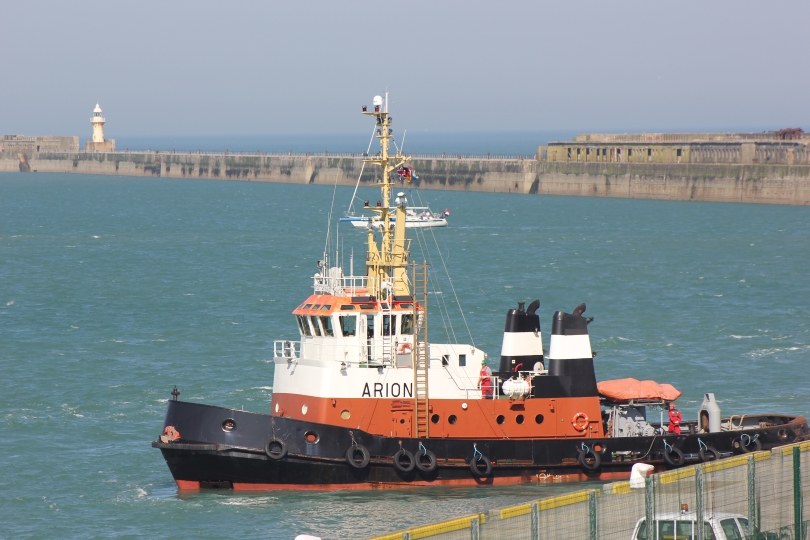 Late Thursday afternoon the Dutch coaster HARINGVLIET came in from Rotterdam with more piles & docked on the Prince of Wales.
She sailed late Friday night for Dintelnoord, in the Netherlands.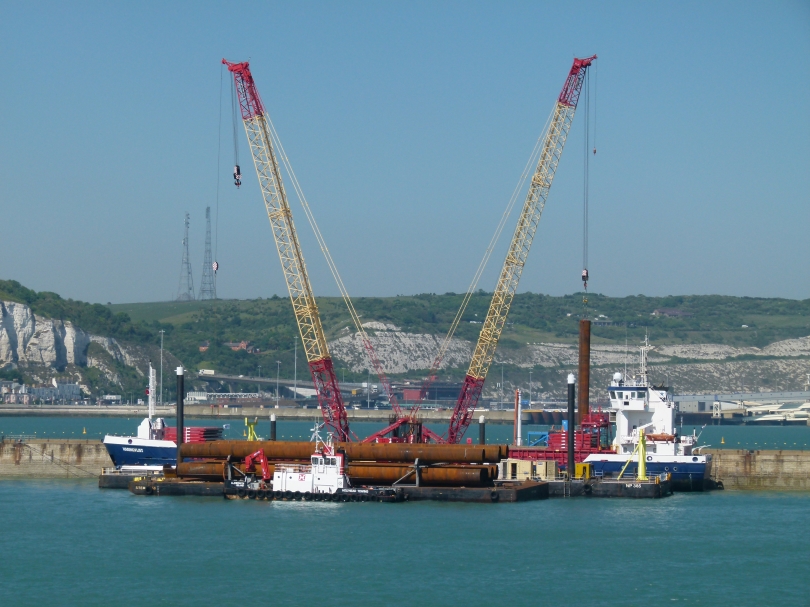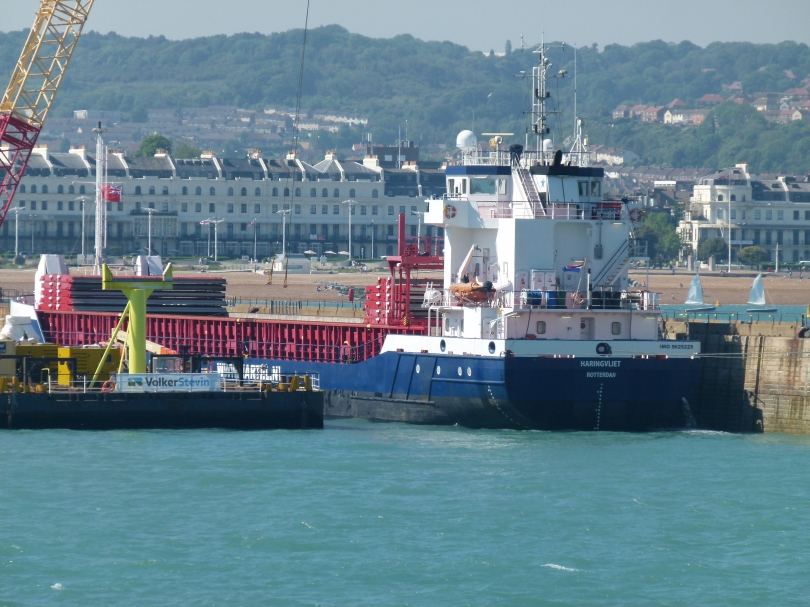 Talking of Bugsier, one of their flat-top barges, loaded with a big grab, probably for the ENAK, has just been brought into the harbour by the tug MISTRAL.
The ARION went out to meet the tow & help to bring her into the harbour.
Saturday, 27 May 2017 - 08:31
Post 3838
vic matcham , Dovor
As ever thank you for great photos,so much going on in the port in the way of work ,this page is the only way to keep up with it all.

Saturday, 27 May 2017 - 07:34
Post 3837
Ed Connell, Dover Strait
Sheerlegs Enak and tug Arion alongside at CT2.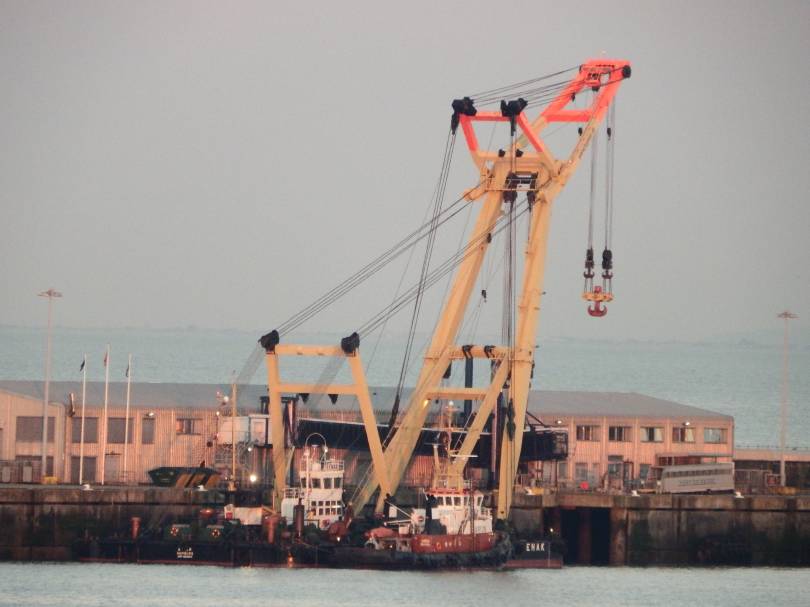 View of DWDR cranes.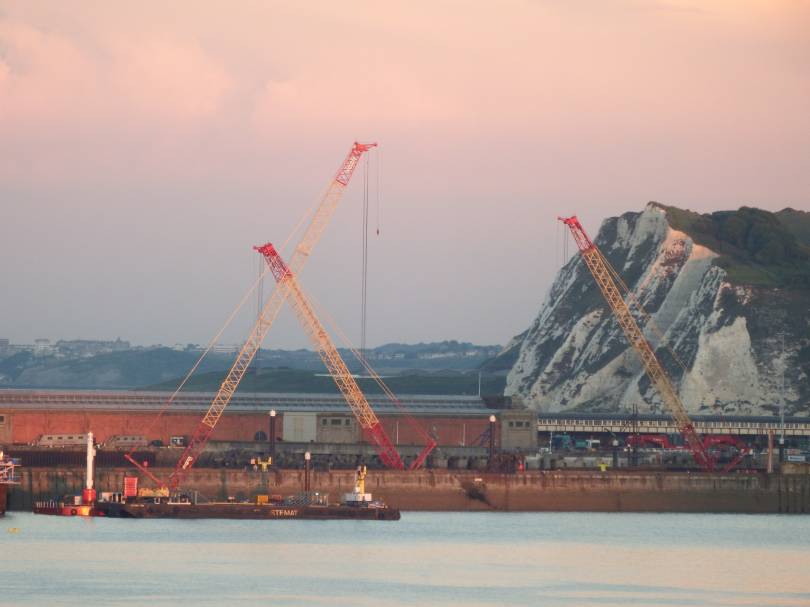 Coastguard helicopter overhead yesterday having dropped a man onboard for practice - right outside my cabin!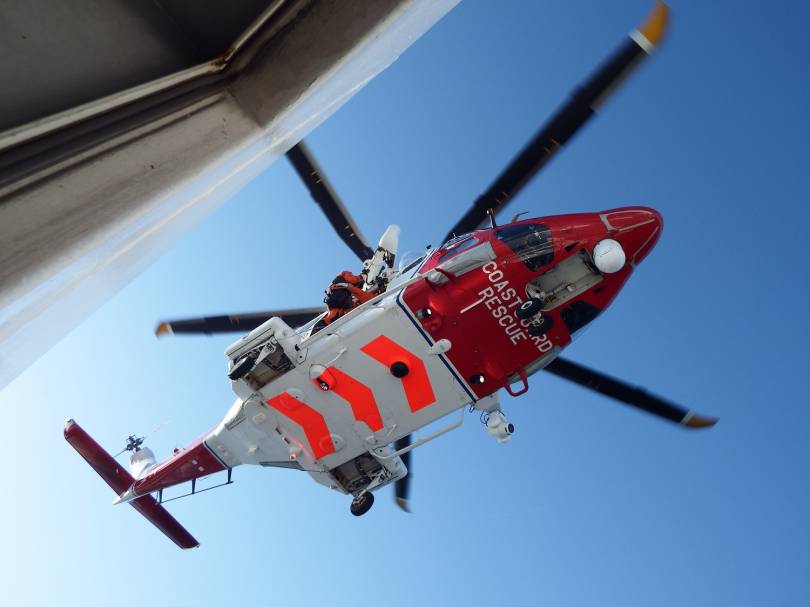 Some of our catering crew in group photos pinned to a noticeboard.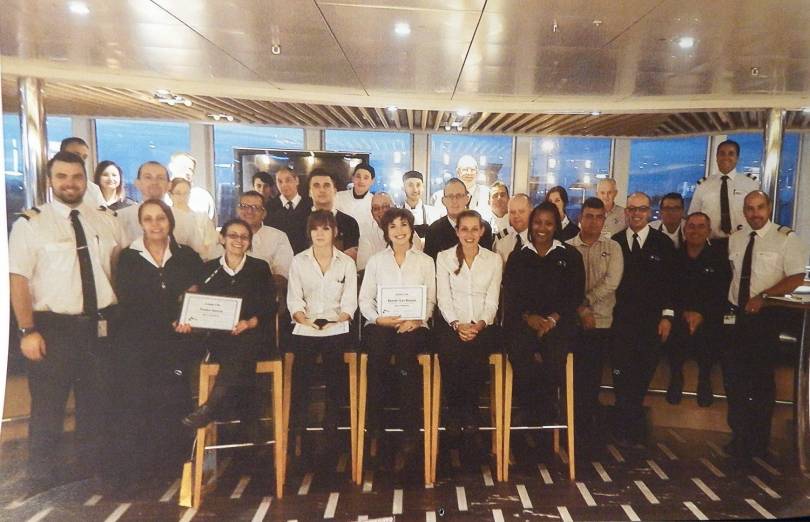 Saturday, 27 May 2017 - 05:54
Post 3836
Sea News, Dover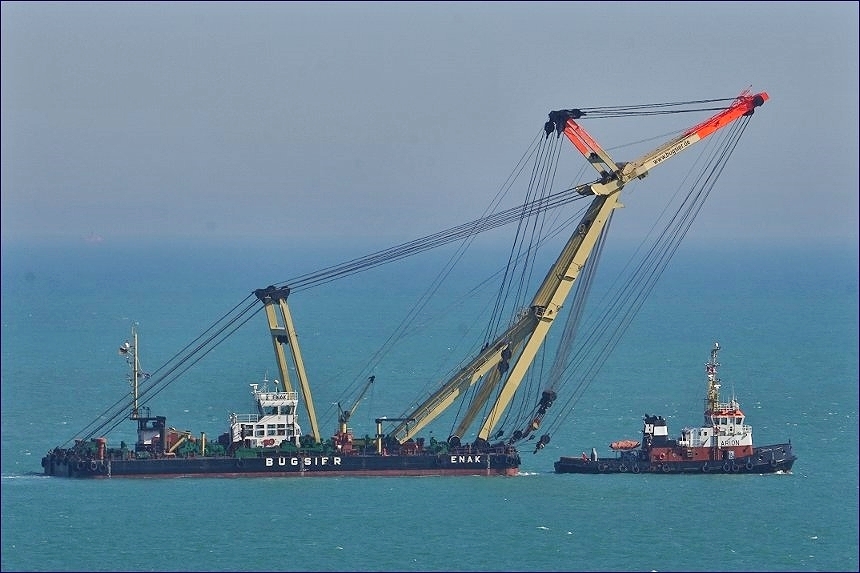 Following a tip off from Mike I was able to capture these guys arriving in big style. The vessels slip in and out of Port so quietly that you can easily miss the movements, but here we are with Tug Arion arriving yesterday with yet another DWDR crane...this time a whopper of a crane.
This one could almost lift my wallet...

The Happy River Big Lift guys left us for Rotterdam yesterday...job done. Time of the misty departure 16.30 (4.30pm)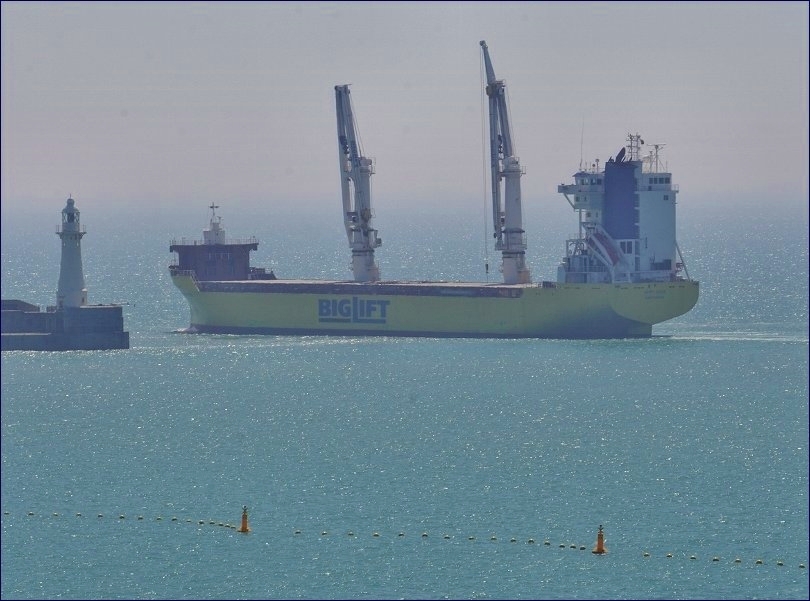 Below a pic from earlier in the day with that seagull trying to get in on the act again.
And the final shot of this post...the Balmoral departing mid-morning on wednesday. it is always surprising when they leave at oddball times like that...she looks good.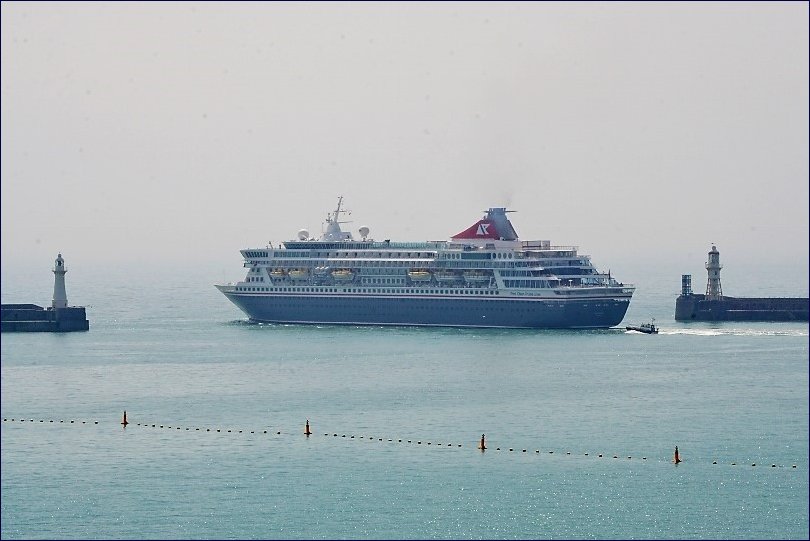 Well done Mike with the sequence in the post below.
Glad you caught that arrival. Ace work for sure.... PaulB

Saturday, 27 May 2017 - 05:13
Post 3835
Mike J., Dover
Arrival of the heavy-lift ship HAPPY RIVER on Thursday afternoon with another overhauled transformer for the Sellindge substation.
She swung off the end of the Prince of Wales on a gloriously sunny afternoon before backing down to her berth on Cruise-1.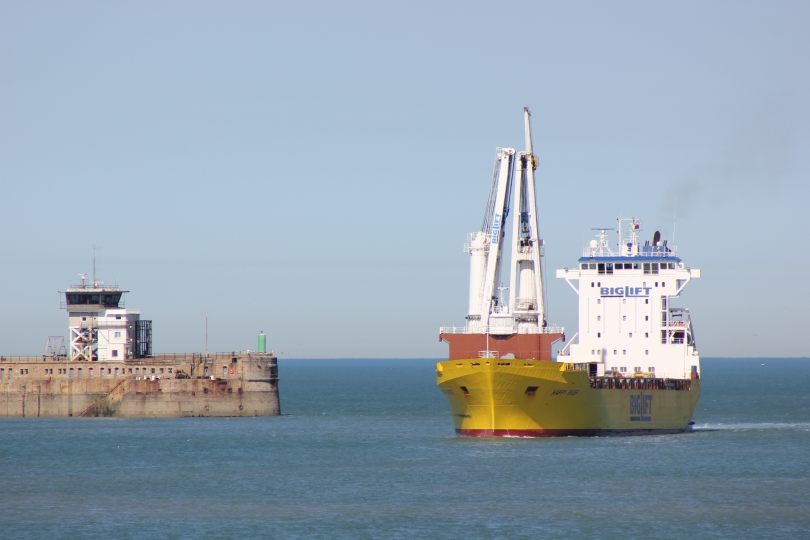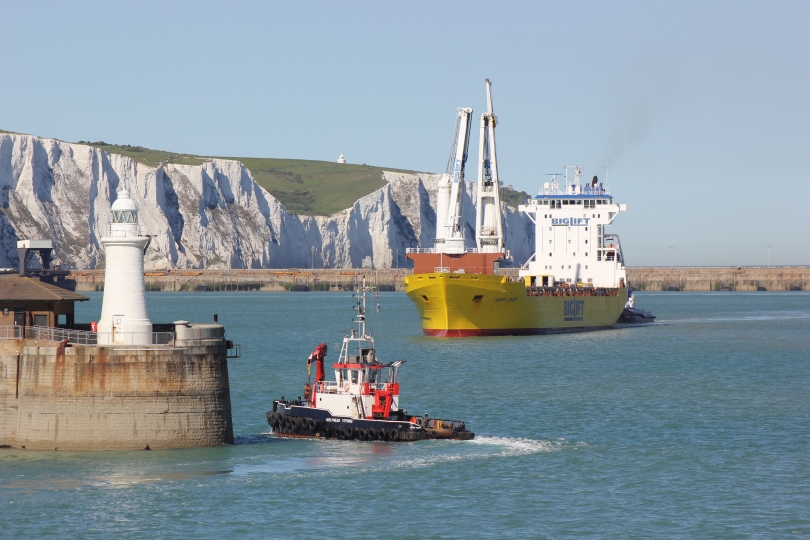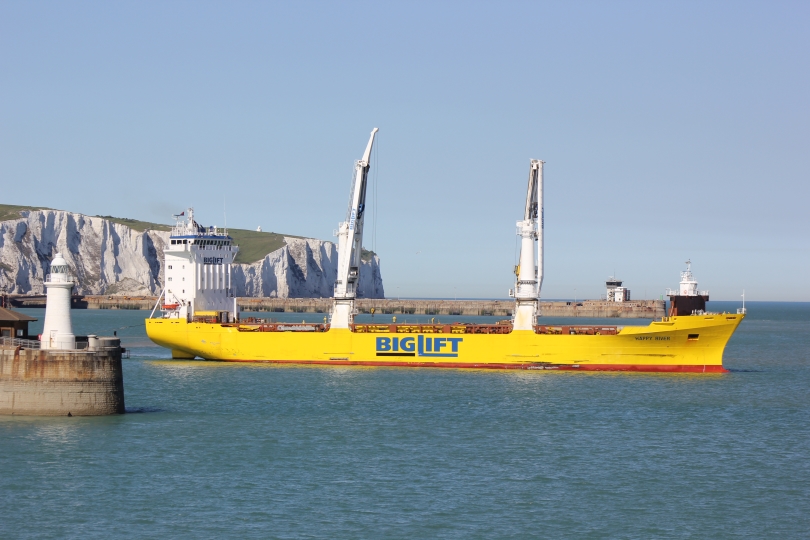 She has not come directly from Rotterdam but from Stanlow on the Manchester Ship Canal.
Stanlow is a major oil & chemical complex a few miles up the Canal, so presumably the ship had been there to unload some equipment there before continuing on to Dover.
Friday, 26 May 2017 - 01:38
Post 3834
Sea News, Dover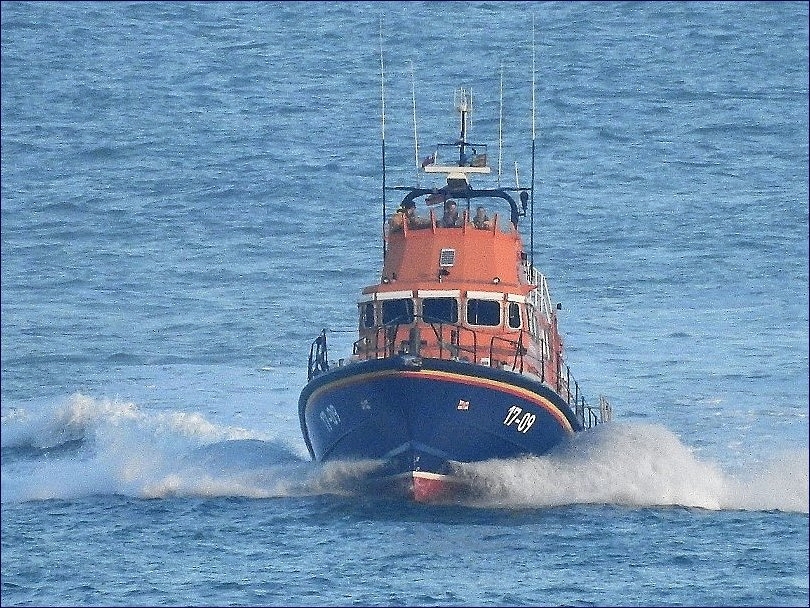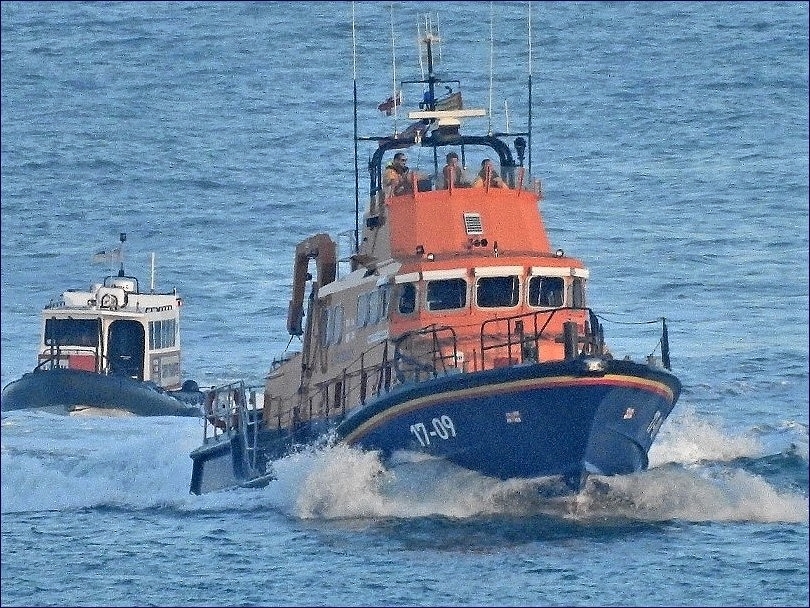 Above there we have some long range pictures of the Lifeboat returning from action late on Tuesday evening. It was beyond 8pm so the pictures are a bit strained, but glad to get them. I was watching through the long lens and the second boat popped into view. Yours truly got a bit of a shock for a moment as I thought the lifeboat was towing it at great speed. But no...I think the second boat is the one featured by Mike a few posts back...will get the number shortly...yes post 3817 called Grumpy. It wasn't visible at all and then suddenly it was there..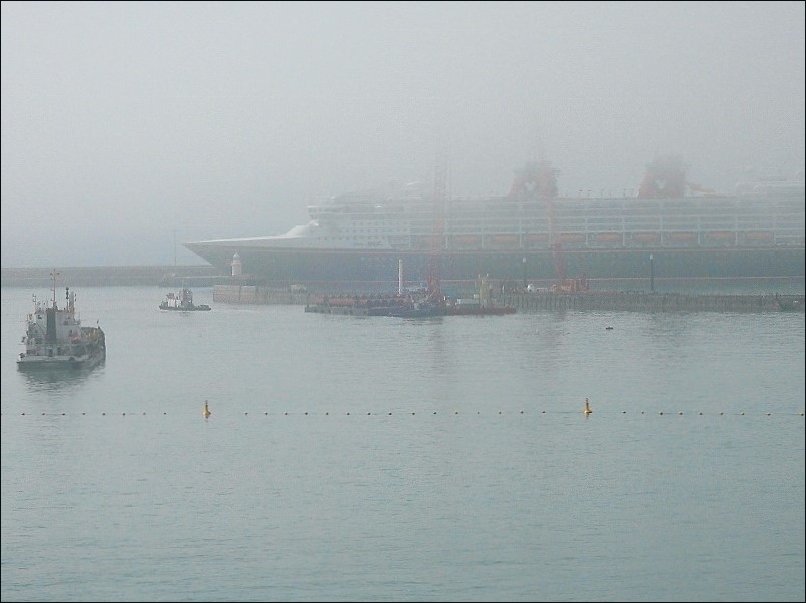 The lifeboat guys have had a busy spell once again..being called to a fatality below the cliffs a few evenings back, plus I understand there was a second incident too. Very busy times. Picture no 3 is the Disney Magic through the early fog with Sospan Dau and MoragM also in the frame.. I should have a better picture...will double check..
Well done Jeremy and Ed with the pictures of the Disney Magic - you did much better than me so great stuff guys! You saved the day.

I fixed the Esmeralda situation for you Ed so all's well there.
No problem can always fix.
Yes indeed Vic they have upped the tempo on the piling a wee bit.
Great work from Mike too below in 3830.Good to have those pix Mike.

Yes indeed the Pimms is a-rippling and now the Martini is shaken and not stirred..lol

!!
PaulB.
Thursday, 25 May 2017 - 07:02
Post 3833
Ed Connell, Dover Strait
Esmeralda preparing to leave the DCT today.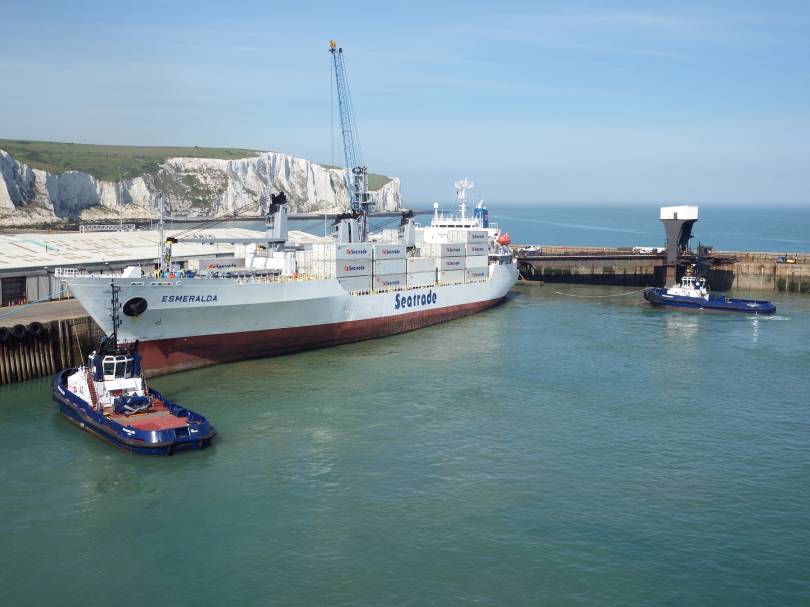 Disney Magic at the cruise terminals today.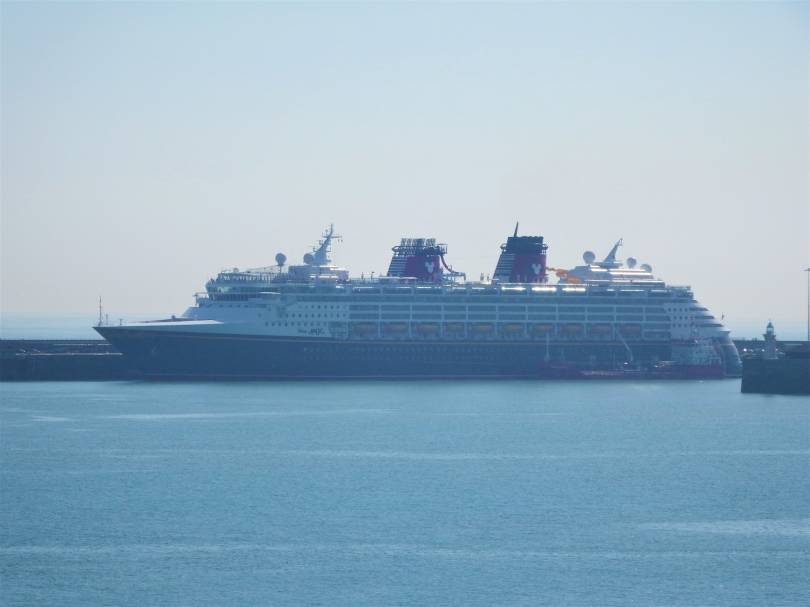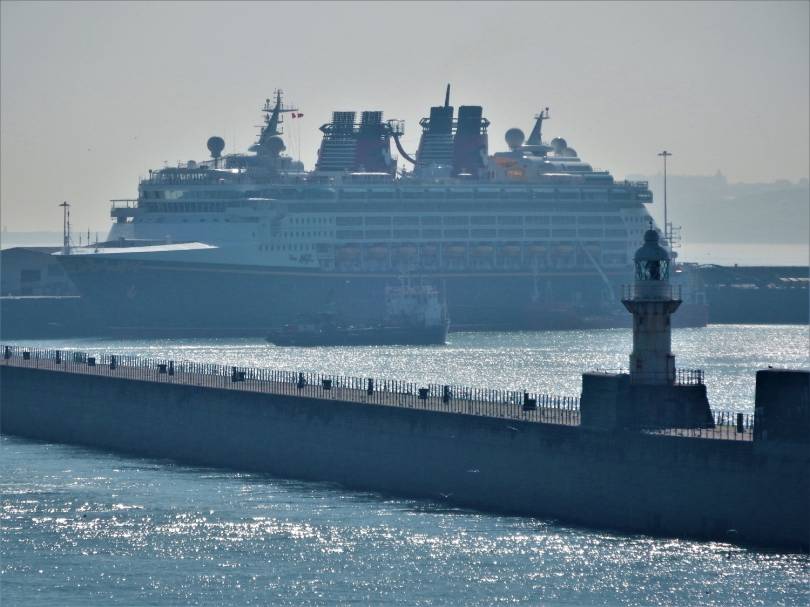 Wednesday, 24 May 2017 - 18:43
Post 3832
Jeremy Ward, Whitfield, Dover
Disney Magic in today. Rather hazy photo's sorry.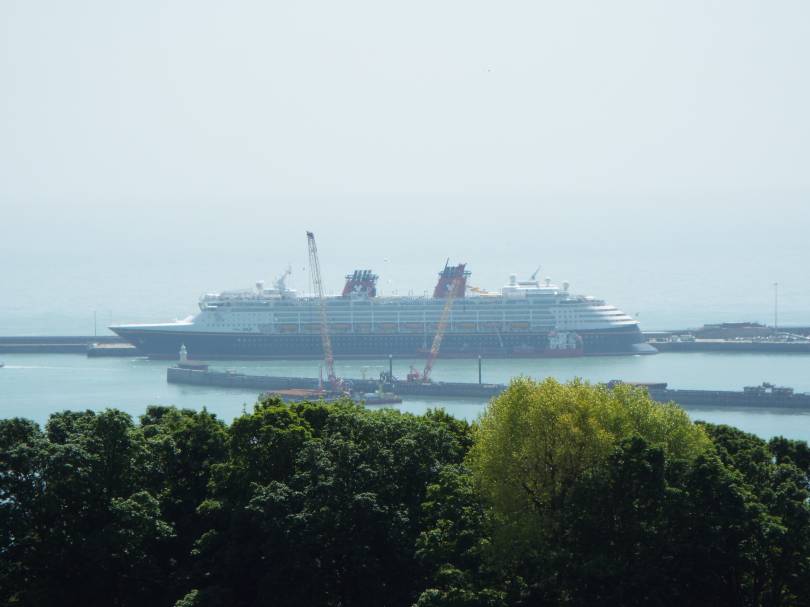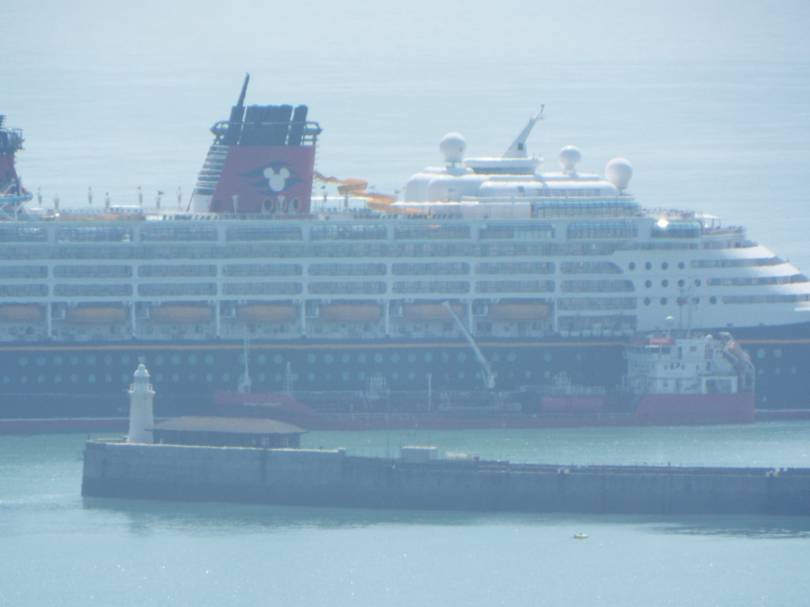 Wednesday, 24 May 2017 - 16:18
Post 3831
vic matcham , Dovor
I have to go and get my tin hat on I can hear them piling from my back garden
Wednesday, 24 May 2017 - 14:07
Post 3830
Mike J., Dover
Arrival & swing of the VISION OF THE SEAS from St.Martin's Battery.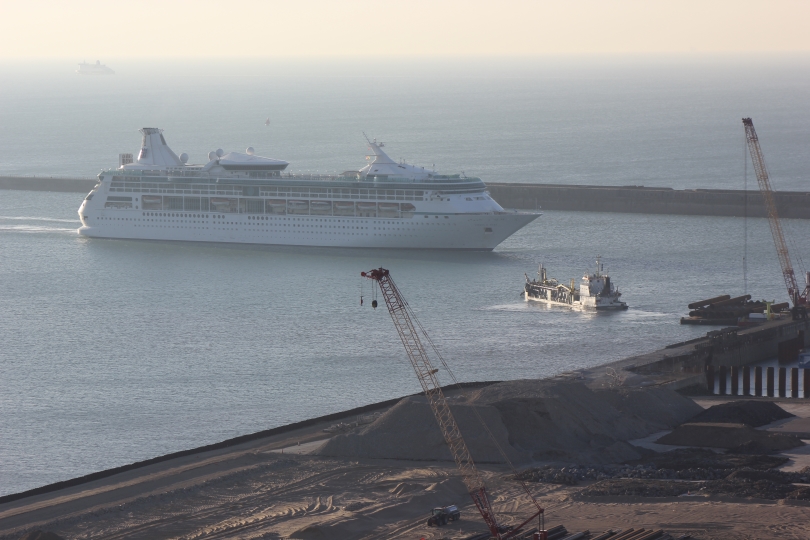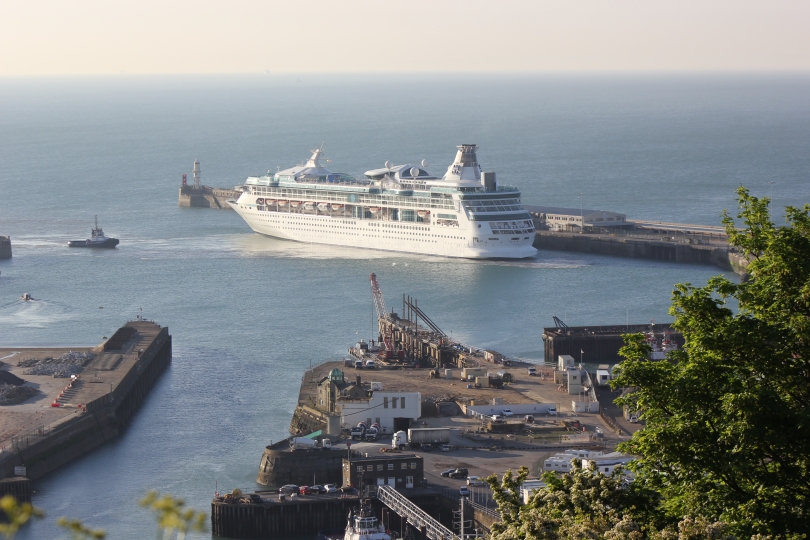 Note the structures that have appeared on the Dunkirk Jetty, presumably to do with it's current demolition.
A day or two ago the LLANDWYN ISLAND was 'pushing up' to the jetty which apparently to be demolished by sawing it up into big chunks.
A very big floating crane is supposed to be turning up in the near future for this job.
The workboat MORAG M was in the old Jetfoil terminal - she is registered in Greenock, but flying a Dutch flag, probably 'cos she is on charter to the Dutch who are the leading players in the DWDR job.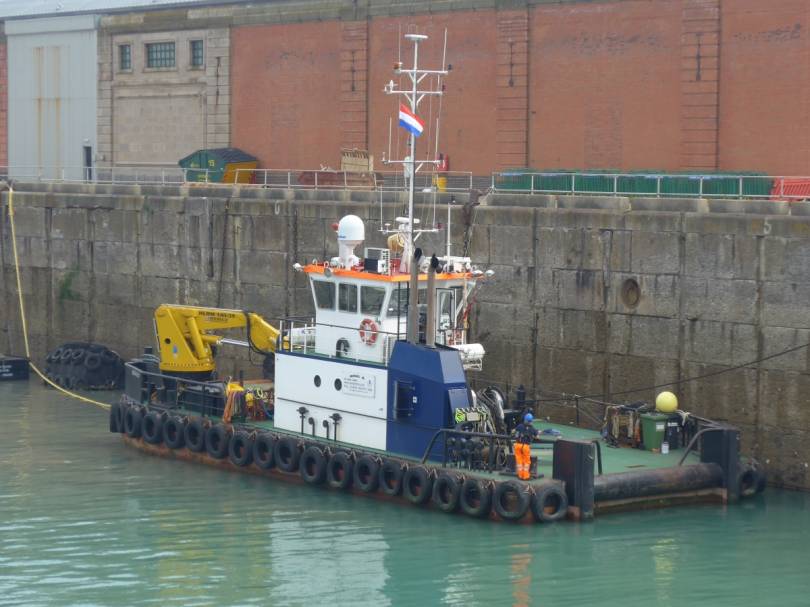 I hear the occasional burst of thumping from the DWDR pile-drivers, currently a lot less than everyone was expecting - the other day I could feel the thumps when I was down near the swing bridge.
Perhaps it is wobbling Mr.B's watchtower & rippling the Pimms.
Currently most of the noise heard on the seafront seems to be from the contractors who are demolishing two levels of one of the multistorey carparks in Eastern Docks,
Wednesday, 24 May 2017 - 11:27
Post 3829
Sea News, Dover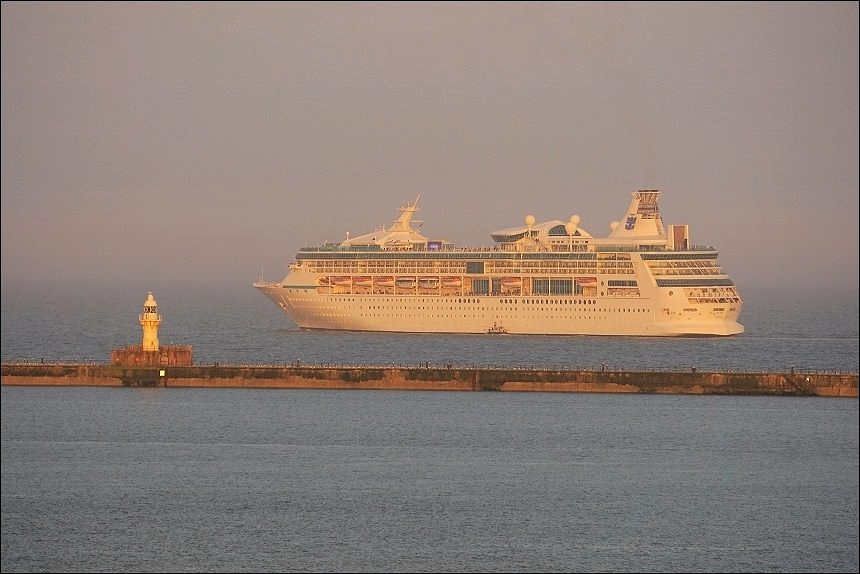 Here is the great Vision of the Seas moving away from these shores late last evening...she was just catching the colourful late rays from the dying sun and looking fabulous as she bid us farewell. The ship was on its way to Edinburgh or its nearby port at Leith.
As mentioned earlier the Disney Magic and the Balmoral are here with us today. No pictures as yet due to fog but you never know... things are picking up.
Wednesday, 24 May 2017 - 11:22
Post 3828
Sea News, Dover
Another few pictures now of the close to 80,000 tonner Vision of the Seas.
It is great to see ships like this here at the Port of Dover...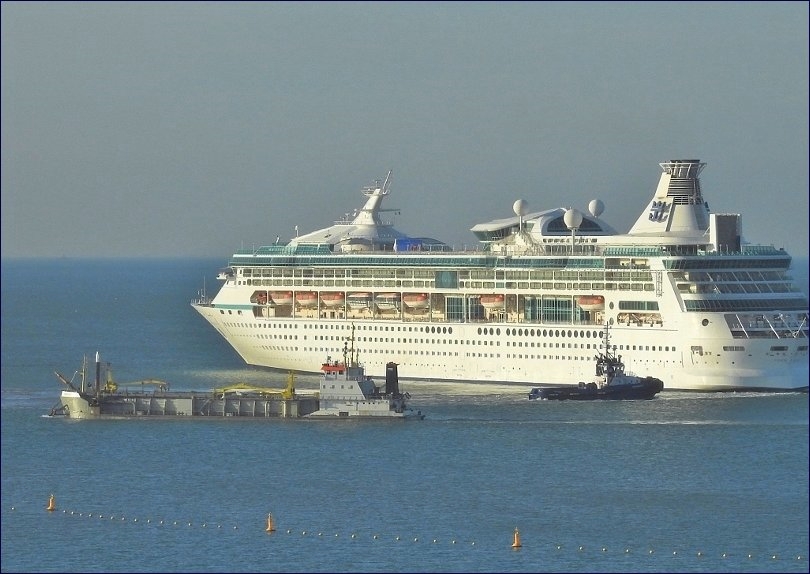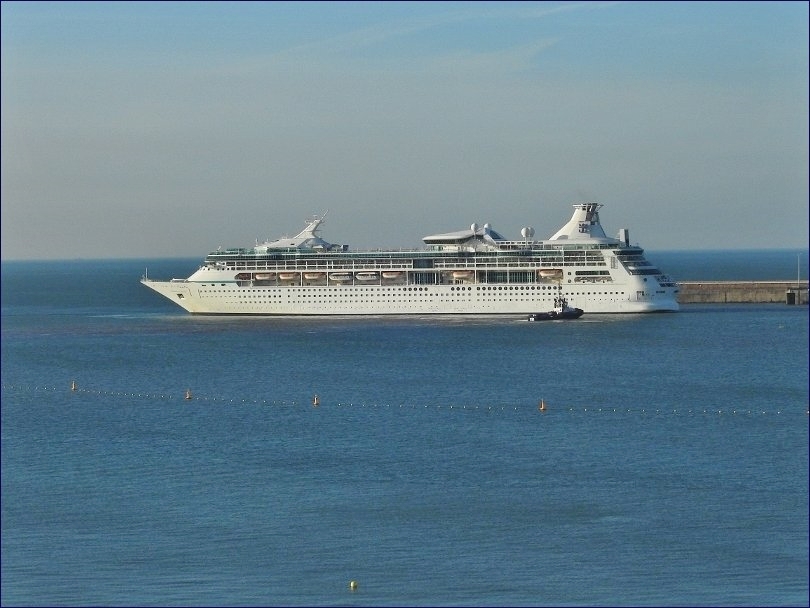 Mike tipped me off re the vessel below called Jade, a small coaster delivering materials for the ongoing piling re the DWDR.
Like that man said in the movies
"I love the sound of piling in the morning..."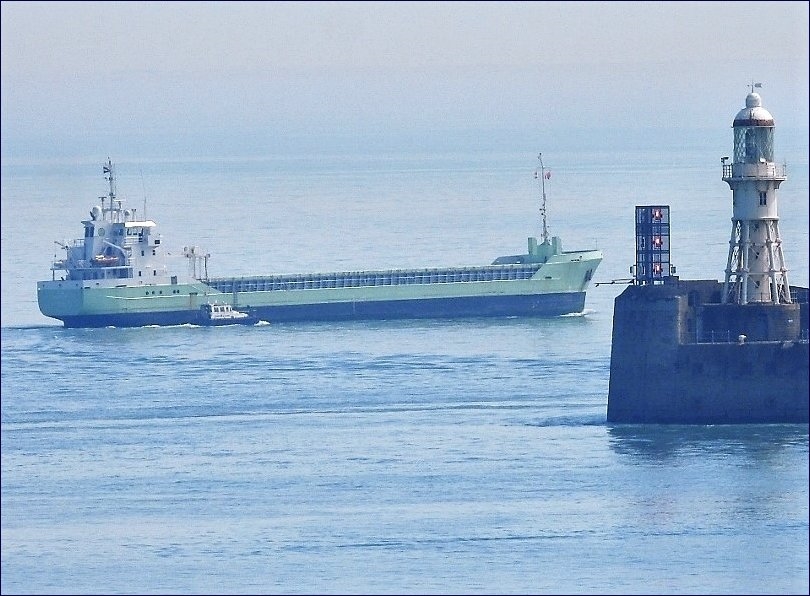 Just caught Jade at the last second as she left us heading westward. Will be impossible to catch anything this morning as we have thick fog.
UPDATE 10.20am : the fog is clearing and at last the magnificent Disney Magic is creeping into view. These magnificent ships keep right on coming here to the Port of Dover. We may have to resort to previous pictures of the Disney Magic at this rate as visibility is dire. Balmoral is also in and looking good.
Very sad news from Manchester yesterday.
Wednesday, 24 May 2017 - 07:10
Post 3827
Sea News, Dover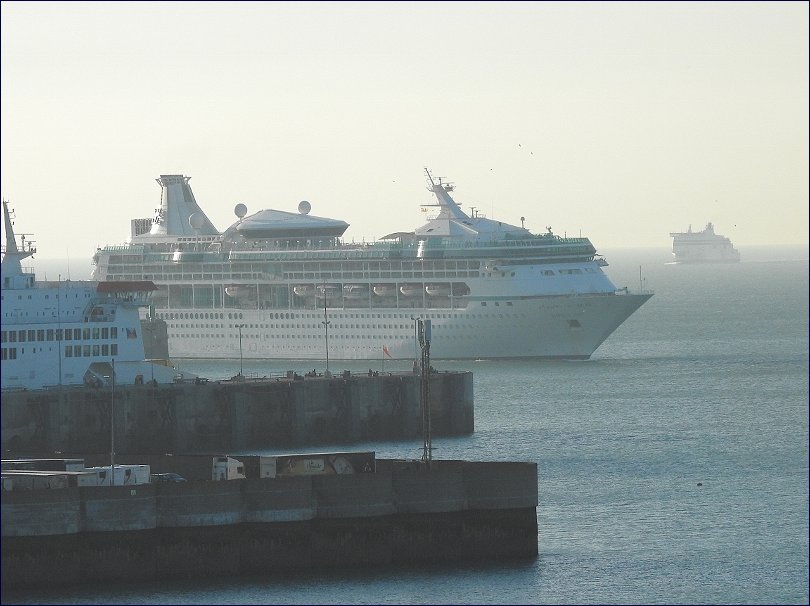 The magnificent Vision of the Seas arriving with us here at the Port of Dover this morning. What a stunner. Time of shot: eleven minutes past six am. ( 06.11 )
This pic shown at our new size of 810 pixels wide. We will have more pictures of the ship in due course.
Tuesday, 23 May 2017 - 14:55
Post 3826
Sea News, Dover
As promised some further photos of the late sunday departure action ....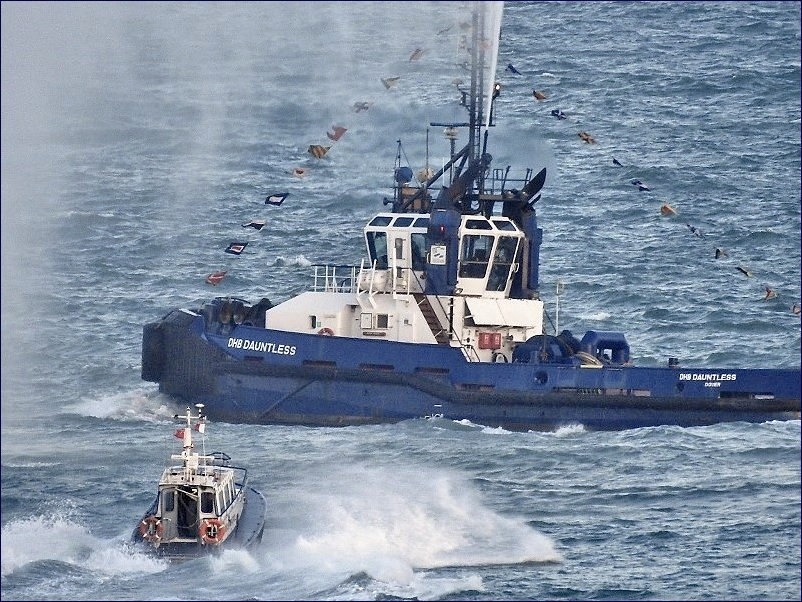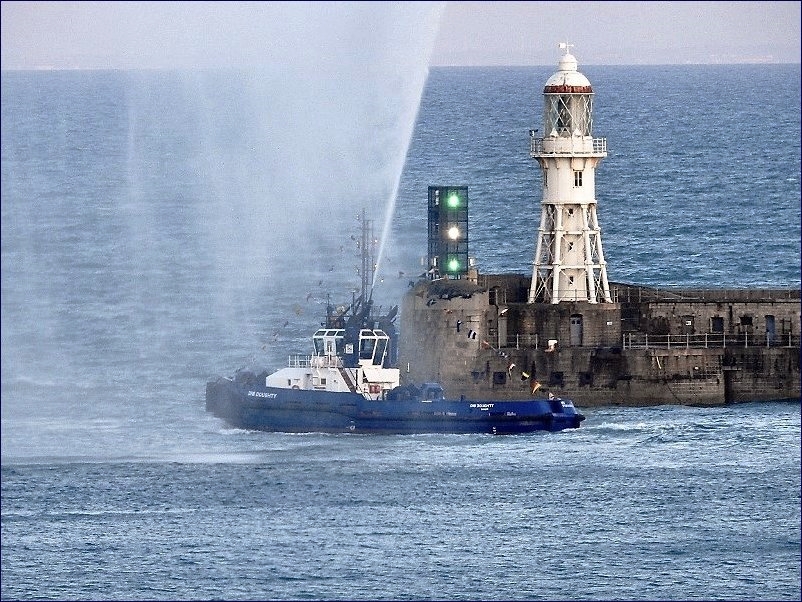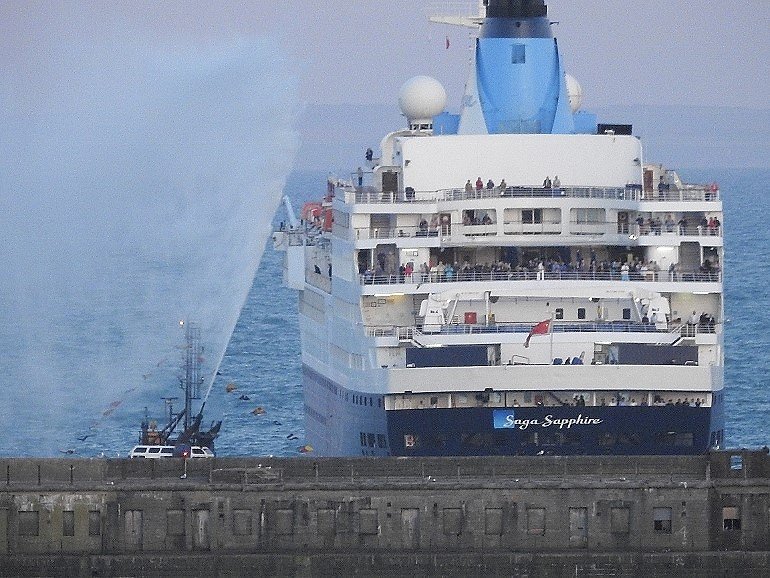 You will have seen the pictures of the early morning tug celebratory spraying at the arrival of Saga Sapphire a few days ago, that as mentioned was early morning and these pix are late evening. A bit too late for good pictures but ermmm .. we pushed the boat out .. that's Saga Sapphire again and both tugs putting on a fantastic display. A few minutes later Saga Pearl joined Sapphire just outside port to enjoy the scintillating fireworks...
...the last firework pic.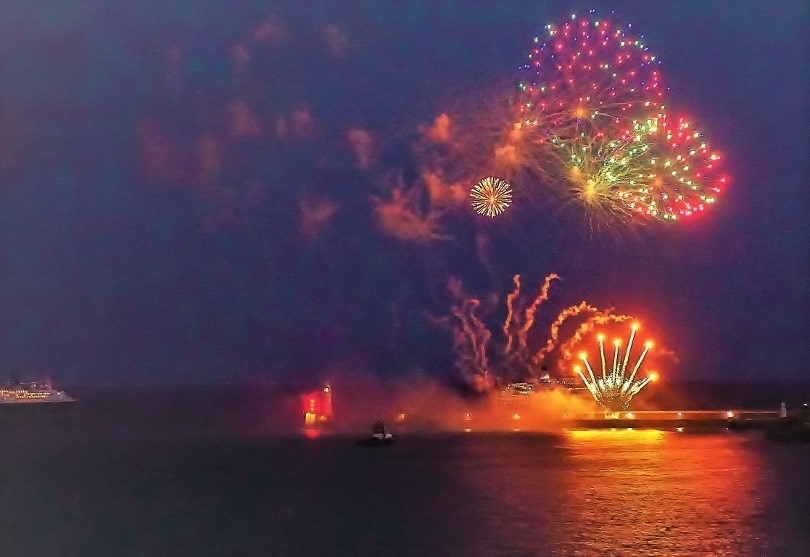 Saga Pearl earlier in the day sunday....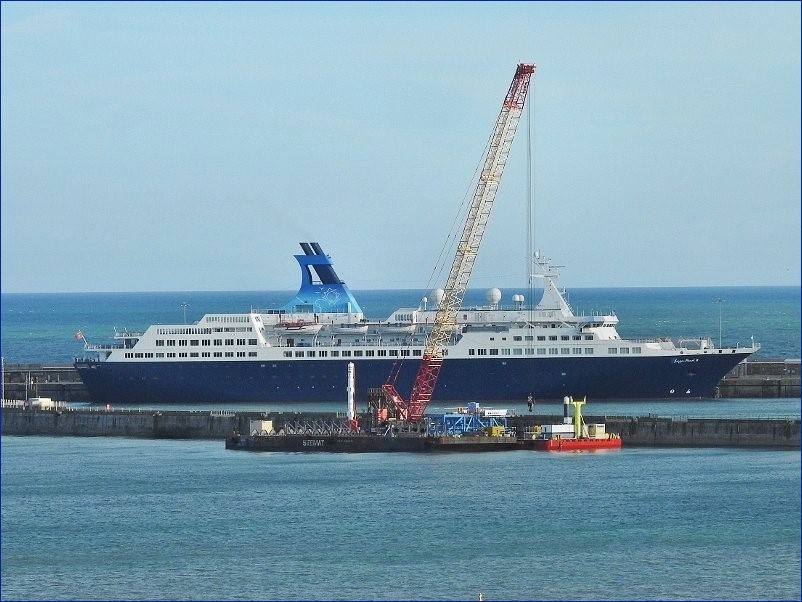 PaulB
More firework pictures below page.
The magnificent Vision of the Seas approaching...
Tuesday, 23 May 2017 - 05:05
Post 3825
Sea News, Dover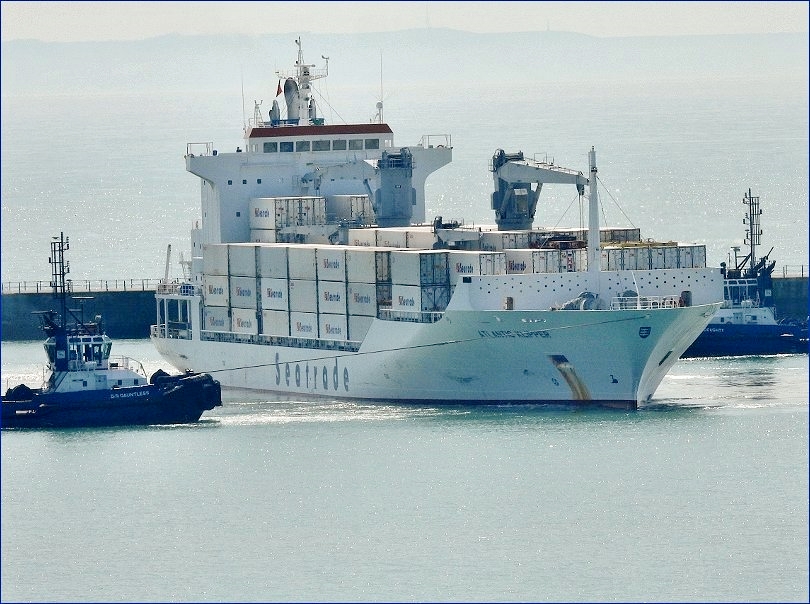 This is the well loaded Atlantic Klipper arriving with us yesterday at 10.50am, being aided by both tugs. She is of course not to be confused with the Baltic Klipper which we had recently. She left us in the early hours heading on to Hamburg in Germany.
NOTE: we have further news now about sizing. Good news in fact...in the world today there isn't much good news but this is good news. With excellent help from my good friend Chris Tutthill today ( see his new Archive section) we have increased once more the size that pictures are shown at. It is now 810 pixels wide. Note that number .. especially if you enjoy resizing your images which I do myself. 810pixels. This picture of the Atlantic Klipper is shown at the new size..810..I have resized it to the magical 810. This new measure will show pictures clearer.
PaulB.
PS: more pictures tomorrow of the late sunday departures...
Monday, 22 May 2017 - 13:39
Post 3824
Sea News, Dover
And now for something completely different !
And its a...nice day for a .. white wedding..yeah..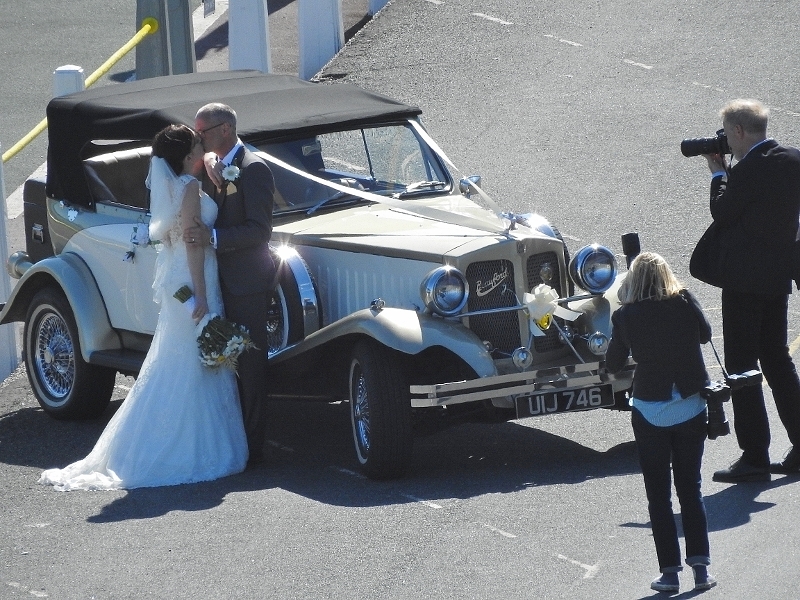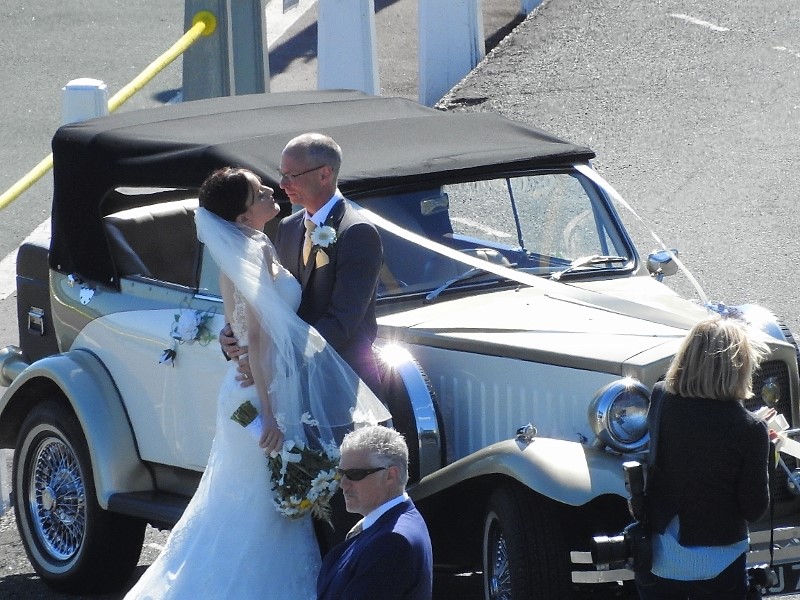 Prior to all the exciting kerfuffle with the Saga fireworks etc etc along the seafront on saturday ..this happy couple above were having their nuptials photographed in the blazing sunlight, and very fine it all was. Nice couple - nice car! Romance, well sometimes it can nearly be as exciting as fireworks...
Good luck to the happy couple, if they see these pictures lets hope they enjoy them...although they are probably off on their honeymoon right now with other things on their mind.
Well, that was something a bit different for sure.
PS: the wedding car is a Beauford, not a hugely familiar name but fascinating.
Artania was in with us yesterday, first time this year and here she is...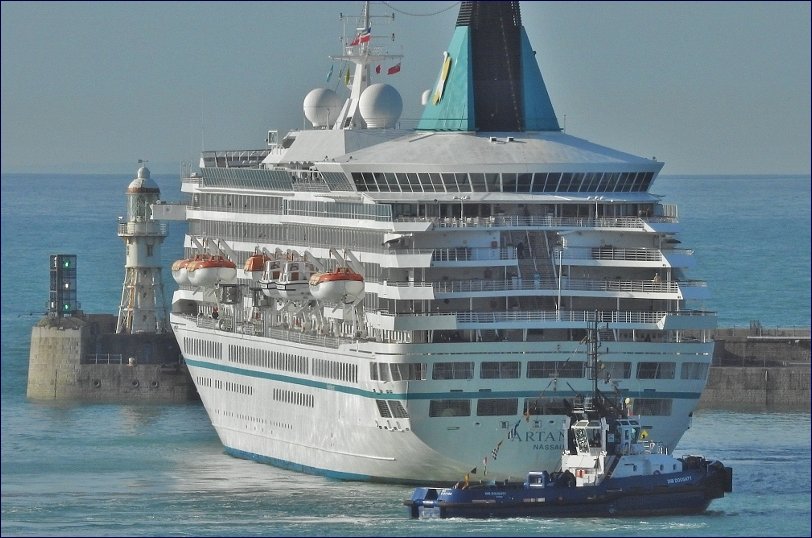 She left last night just after 6pm heading for the delights of Amsterdam.
Nice work below there Sarah. Exciting pictures of the Ramsgate Lifeboats in action, with the added bonus of the massive windfarms in the background.
Thanks guys re the fireworks, not really sure how to do fireworks but had a stab at it... and the pix came out better than expected.
Mark Ive used that one myself...I'll get my coat as well...lol

PaulB.
Monday, 22 May 2017 - 05:12
Post 3823
Sarah, Ramsgate
Fantastic firework photos Paul



It was Sea Safety Day in Ramsgate today, a few photos of Ramsgate Lifeboats putting on a show.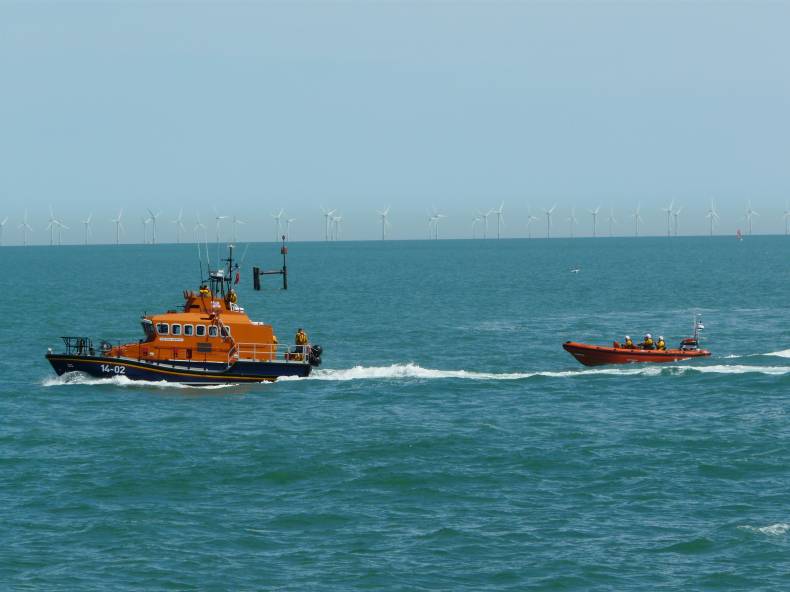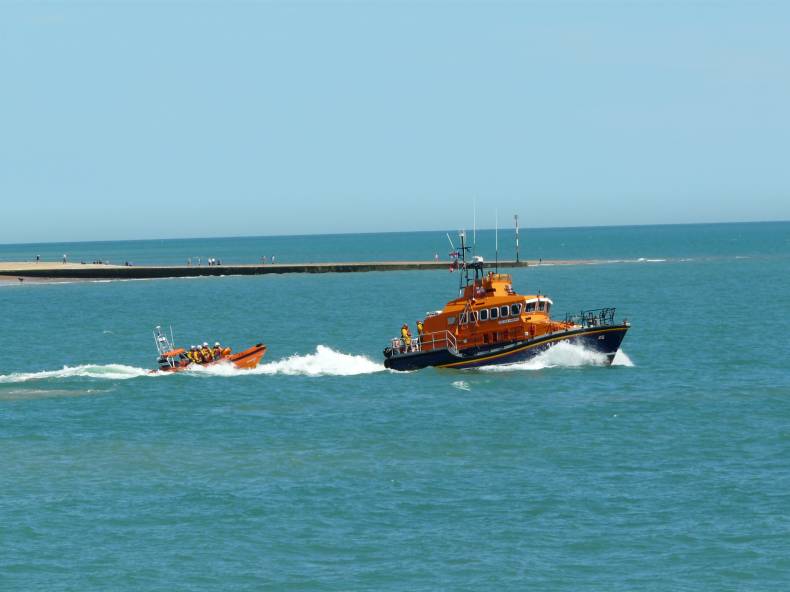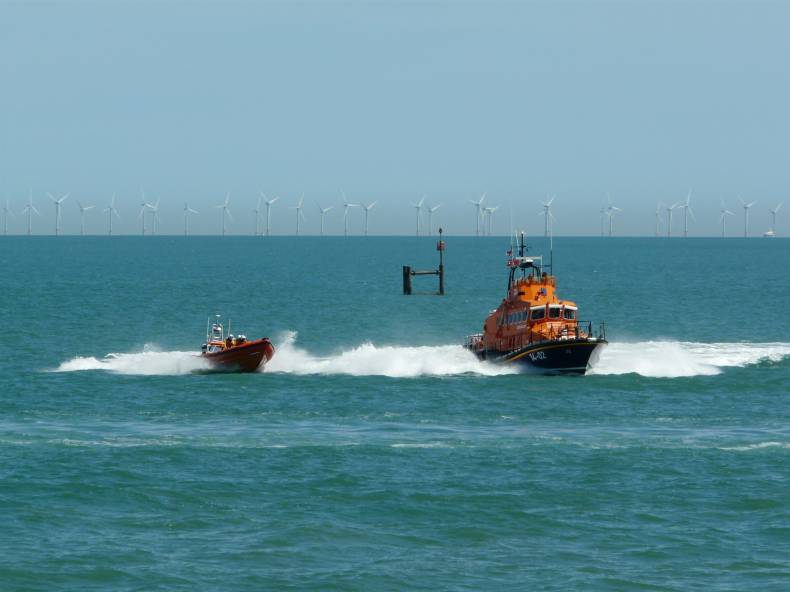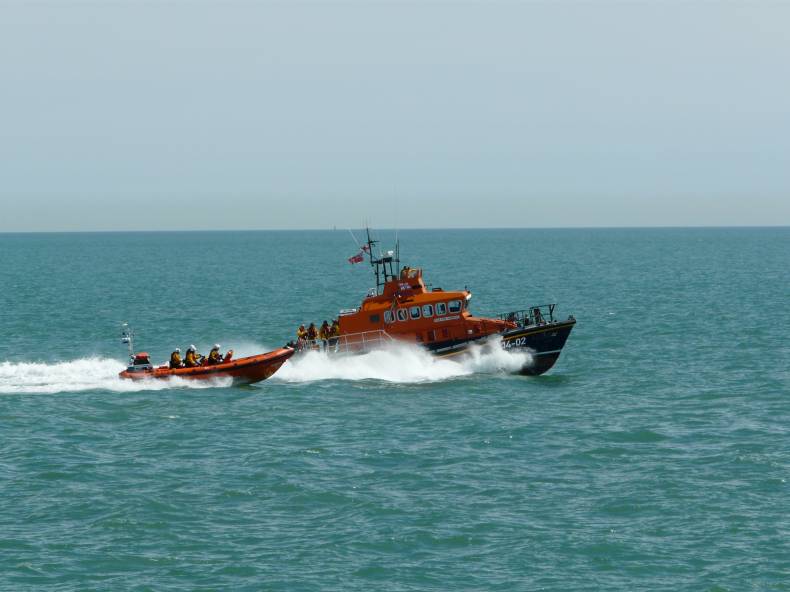 Sunday, 21 May 2017 - 18:12
Post 3822
Barry W-S, Dover
Wow!! Spectacular firework shots there PaulB, you missed me gaily twirling me sparklers, Ooh Missus lol!!

Sunday, 21 May 2017 - 12:06
Post 3821
Mark rushton, Northants
Nice fireworks there. You could say they pushed the boat out. Sorry. I'll get my coat.

Sunday, 21 May 2017 - 08:39