Monday, 27 May 2019

WWW.DOVERFORUM.COM/SEA-NEWS
Featuring all the ships that come and go and work at the Port of Dover ..
... with further coverage of the surrounding ports.
Sea News Dover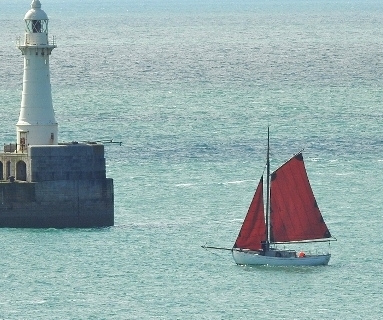 Port of Dover : Virgin Voyages 6289
Port of Dover: Brexit Resilience 6123
P&O Ferries: Record Fundraising for Lifeboats see 6253

Port of Dover: New Cargo Manager see 6205
Thames Estuary Forts 6250

DFDS: ORCA 6179
Premier Inn completes see 6149 plus
DFDS: For apprentice information see 6125
P&O: Jobs Fair/Apprenticeships 6187

P&O Ferries : FREE WINE with P&O !!!! see 6258
P&0 Ferries : FREE Fuel Voucher see 6268
Use our SEARCH ENGINE below to find all sorts on the SEA NEWS pages....
type in the topic and away you go, or if you have the post number as shown above, just type it in the box,
more than - 6250 - nautical posts now.
Posts are welcome. just click 'Add Your Comment' below. Max of 5 pictures preferred although we can stretch that for special stories..
Sea News Editor Paul Boland - send info or pix to dover7@msn.com. Always welcome.
CRUISE CALLS:
https://www.doverport.co.uk/cruise/find-a-cruise/
UPDATE:
To show your pictures at their best..it could be worthwhile resizing before posting to
850
pixels wide.
All pictures on these pages are the copyright of the owners and must not be reproduced without permission.
Post 6195
Mike J., Dover (helcion@hotmail.co.uk)
Thursday morning variety -
The SAGA SAPPHIRE on Cruise-1, She had arrived from Cadiz & sailed for Bergen about 1830.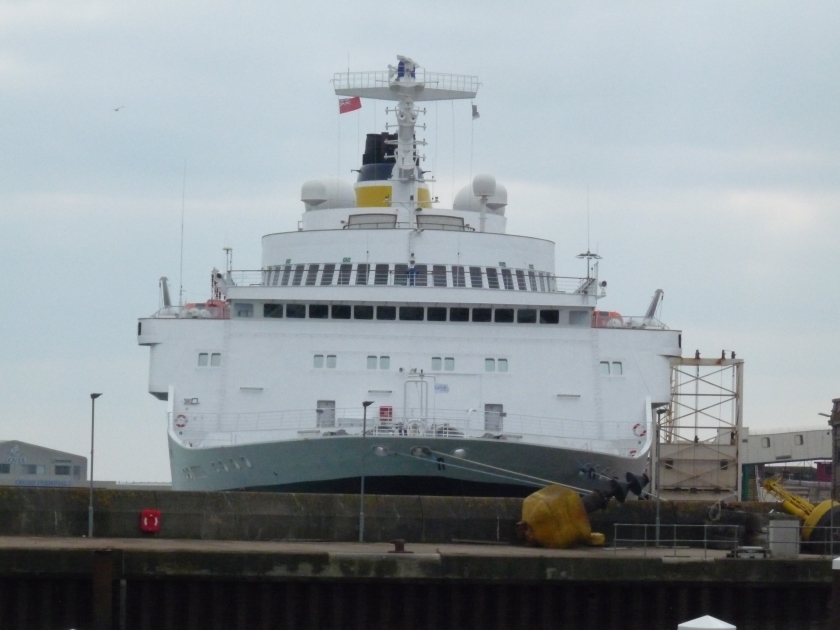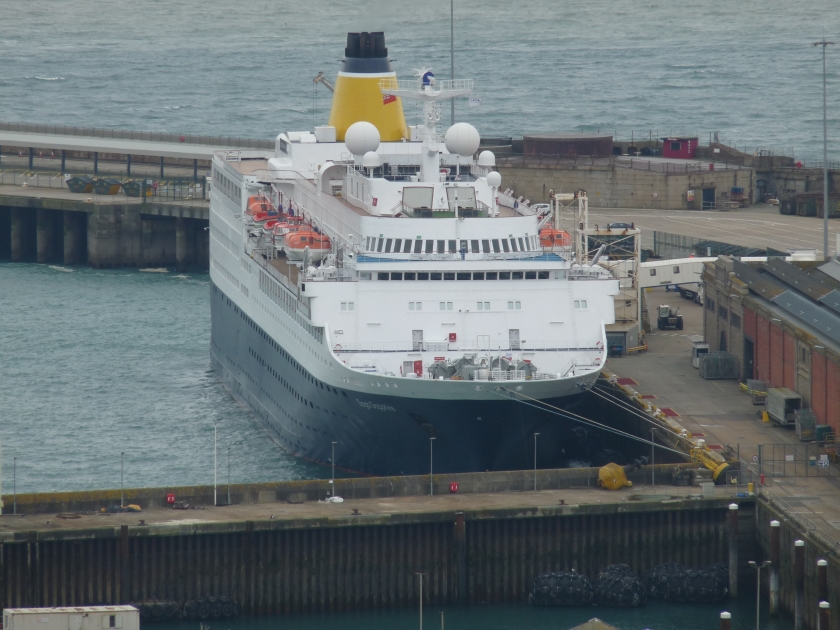 Survey vessel MORVEN in the Wellington Dock, she often calls at Dover & Ramsgate.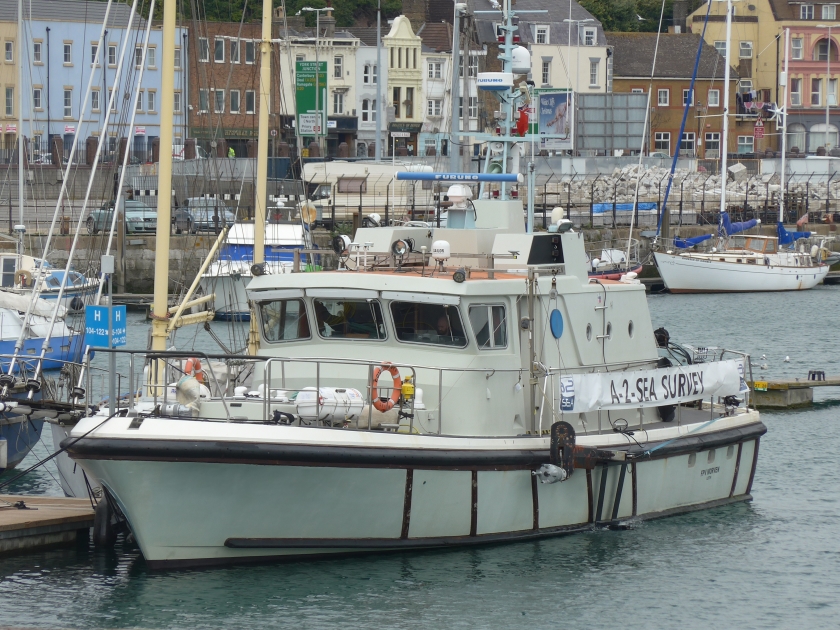 A 'Princess 55' motor yacht from Princess Yachts of Plymouth, presumably on a delivery trip.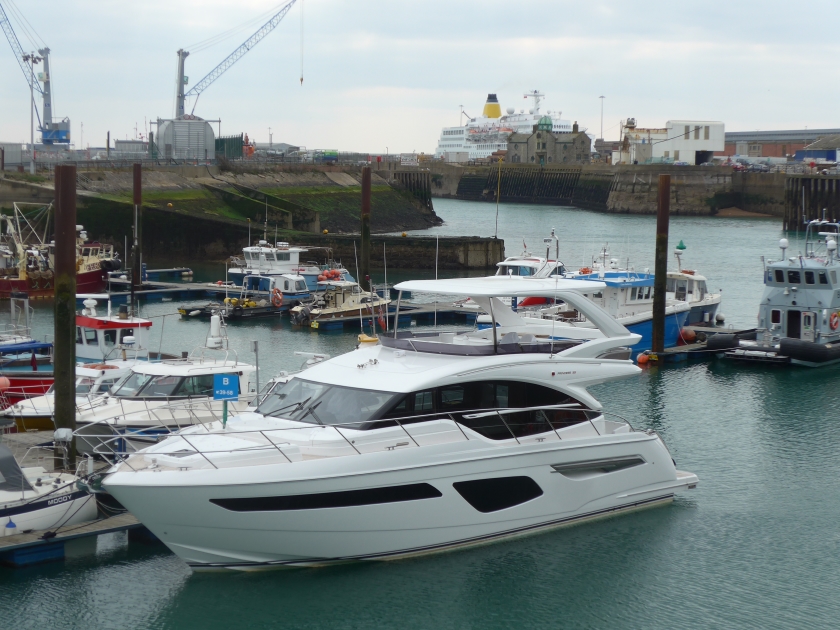 Also in the Tidal Basin Dover Sea Sports's DOVER TRAINER with a young lady under instruction, probably for a Powerboat licence.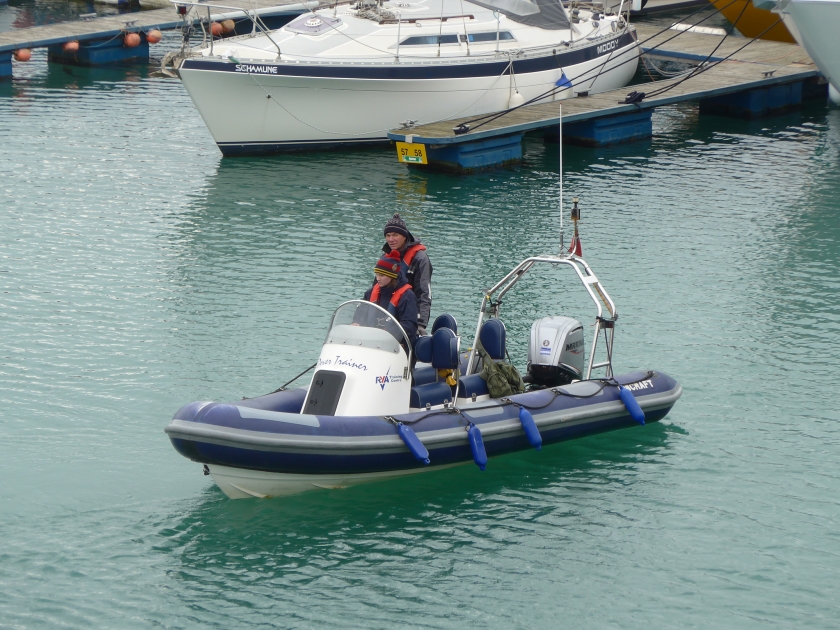 First time that this RIB has appeared in 'Sea News'
Friday, 12 April 2019 - 02:04
Post 6194
Del Styan, Norwich
Whoopee - another 6 months. Mind you its a bit worrying seeing the emergency vehicle trapped in the queue for the Eastern Docks. Well done for highlighting that.
Still, its all OK, because our lawmakers are having a couple of weeks off. Maybe we should all do the same. In fact I think I will. France - here I come!

Thursday, 11 April 2019 - 23:11
Post 6193
brian dixon, dover
party times for the Brexit ghouls, should be fun if they hold it at the dock entrance. lol

Thursday, 11 April 2019 - 15:05
Post 6192
Sea News, Dover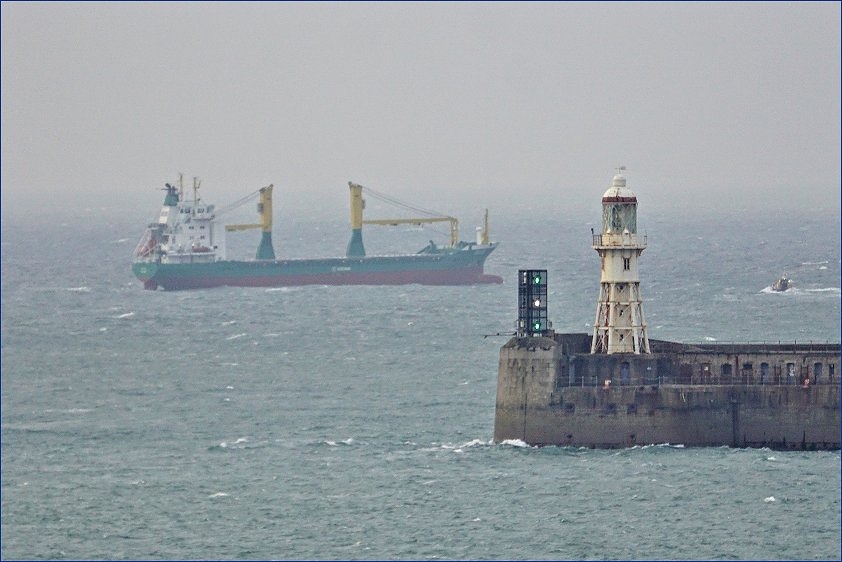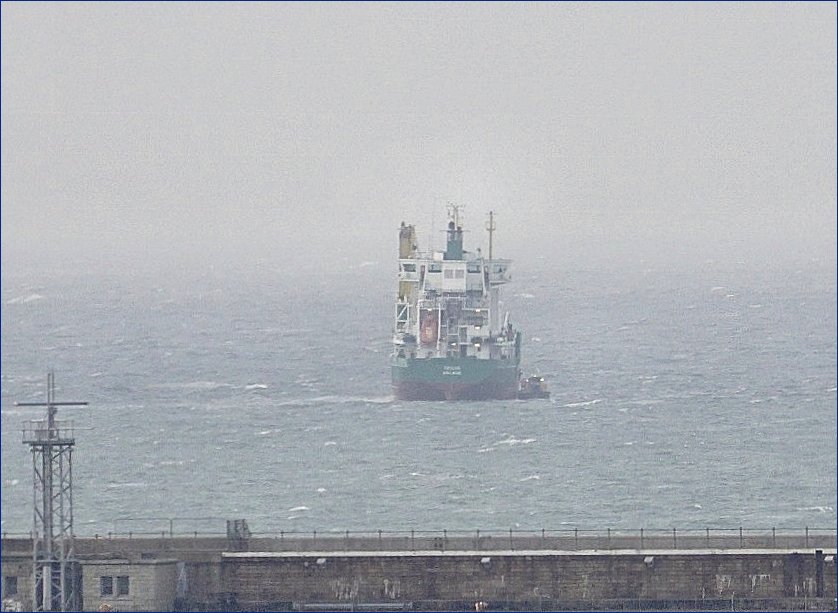 Poor quality pictures above there of general cargo ship Cellus as it came in close to Port yesterday morning early. Although yesterday turned into a nice bright blue day, early in the morning we still had the remnants of mist and murk as you can see in the pictures. Presumably Cellus had come in close to Port to allow a pilot to leave the ship, and its normally our pilot boat that goes out on these errants, but this time it was George Hammond. Whether that's significant or not...well... You can just see the George Hammond to the right in the top picture and alongside in the second.
It is so difficult for the emergency ambulance to get through our oft-times horrendous traffic...but they try. And full marks to them as they do it brilliantly. The victim however waiting at a roadside to be rescued/recuscitated/attended on.. might not feel the same because of delay. To be fair to motorists they do their best to get out of the way, mounting the central reservation etc, as you can just see in the pictures. But you have to say a well done to the ambulance drivers, it must be very stressful. Pictures show the situation 200 metres from the Port entrance.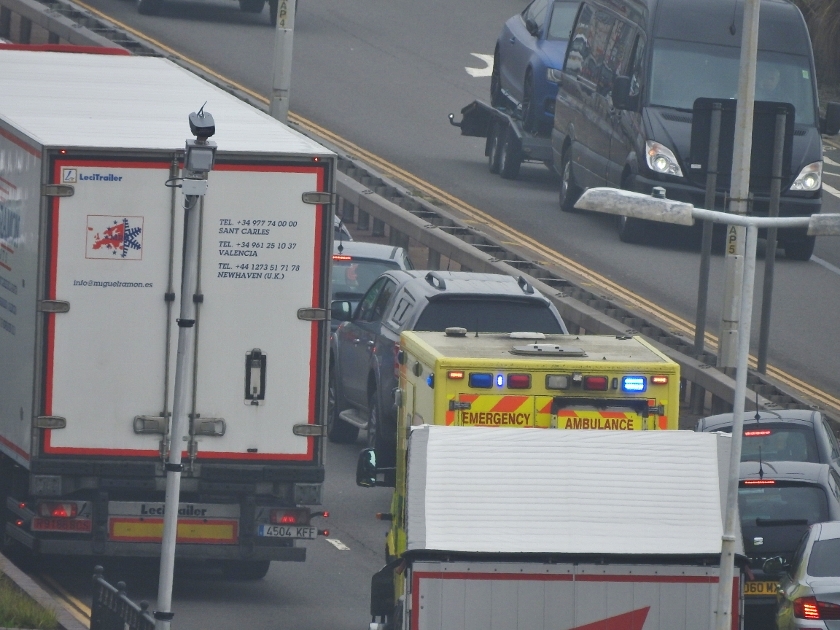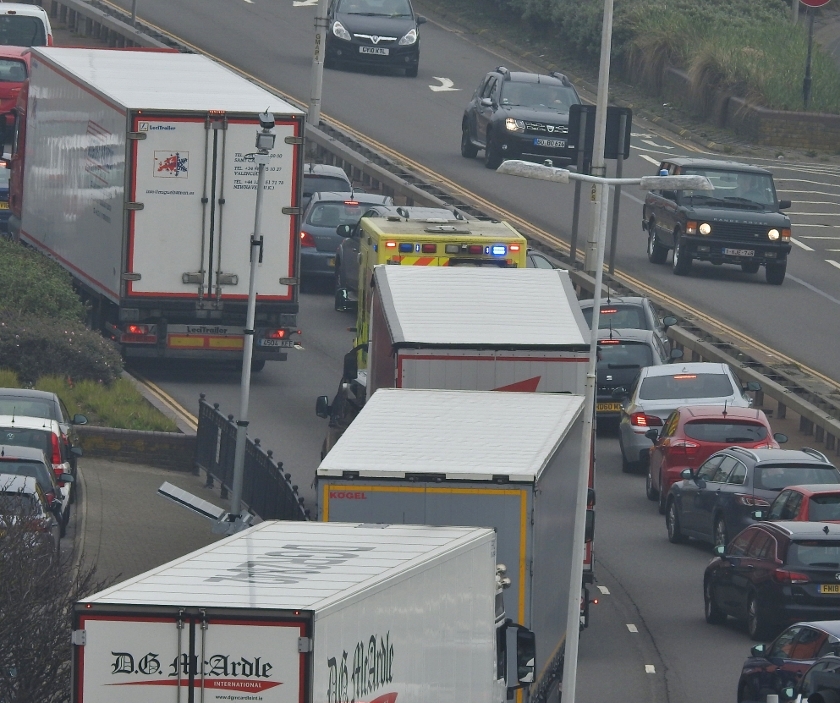 It looks like our 'no-deal' Brexit scenario has been postponed from this Friday until 31 October with one or two proviso's…
it will be a Halloween exit..

PaulB
Thursday, 11 April 2019 - 07:08
Post 6191
Sea News, Dover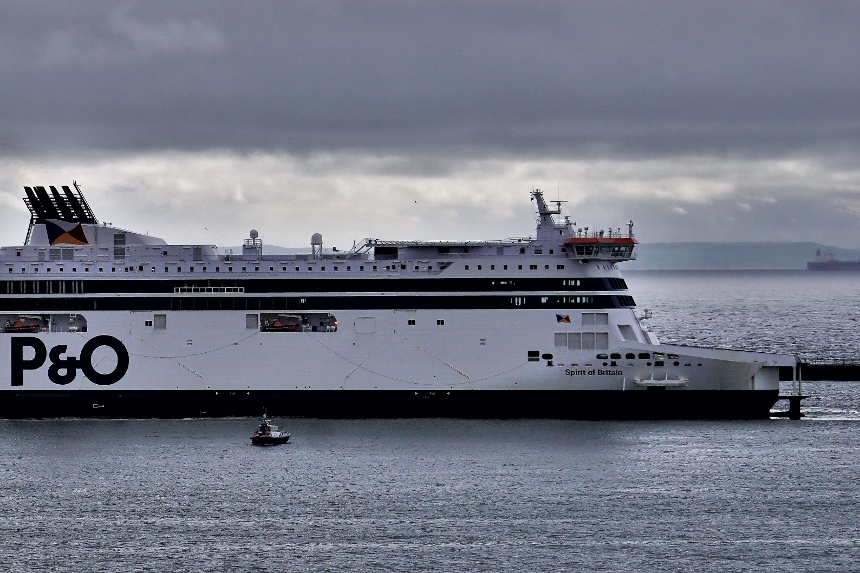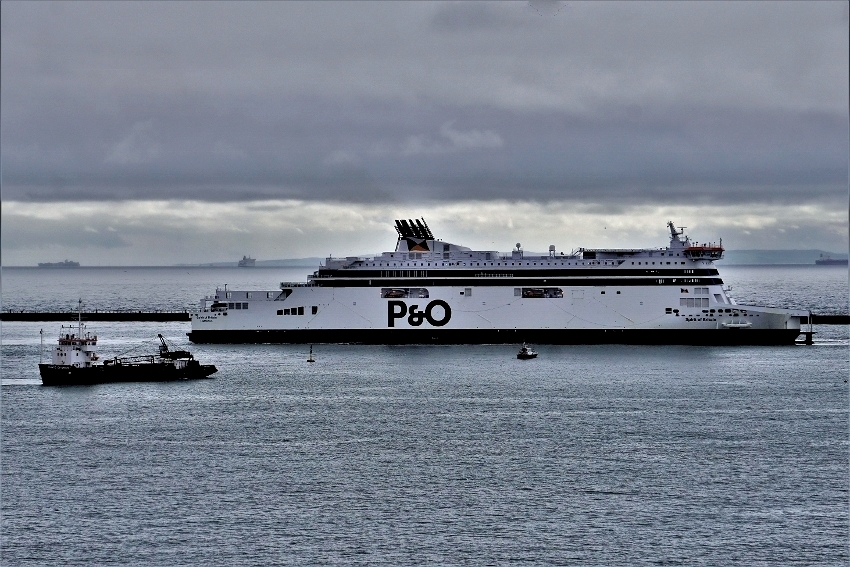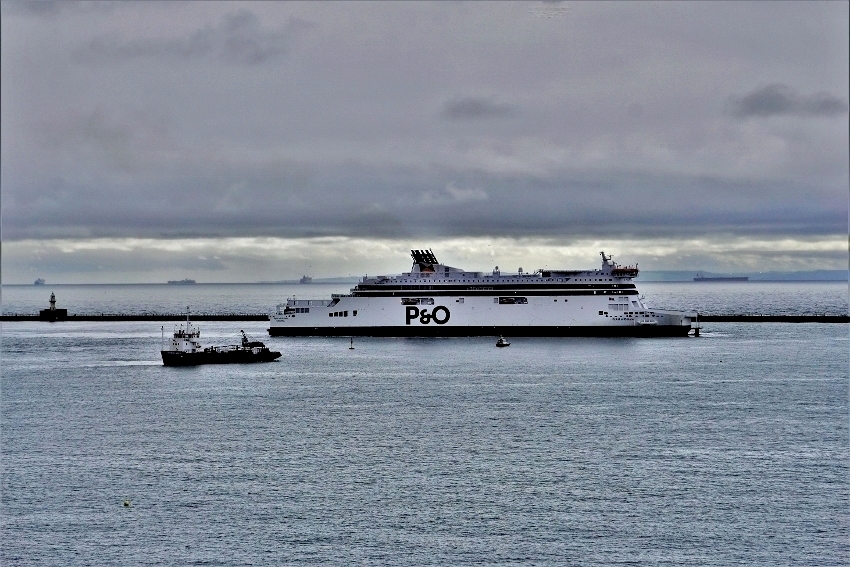 Rattled off three shots above there of the Spirit of Britain in the grim gloom of a few days ago...prior to the arrival of...and you have to lower your voice several octaves here...The Fog. The reason the pictures were taken was because of the close proximity of the Pilot Boat ... you can see her there alongside. It looked initially to the wide-eyed onlooker that there might be some kind of problem....but no...all was, we assume, well. All certainly looked okay anyway. Also in the pictures is the David Church...the hard working dredger.
Glad you like the birds Del

PaulB
Wednesday, 10 April 2019 - 06:03
Post 6190
Del Styan, Norwich
Nice relaxing birds - better than the other "B" thing!

Tuesday, 9 April 2019 - 23:01
Post 6189
Sea News, Dover
The normally whirring cameras have been hit by the continual fog here in Dover and we have had no new pictures for 4/5 days. Ah indeed... sad-to-say we are experiencing an artistic drought at this current time, and with more of the same today by the looks of it.
Visibility poor to none as we speak..
Gives us a chance to see these pictures from Sandwich taken about a week ago. Always colourful in Sandwich and very pleasant...with some great pubs and eateries too...
not that I..

The Bend in the River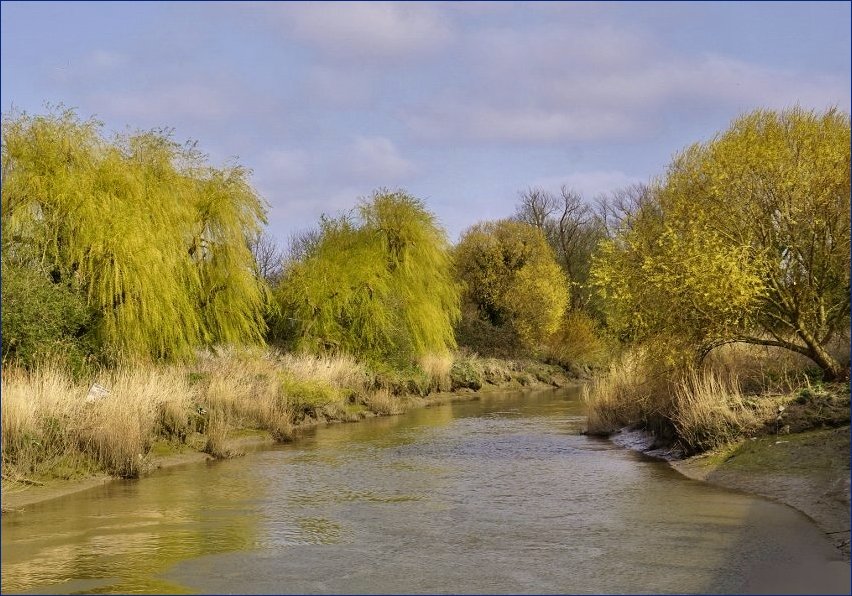 Gentle motor cruiser relaxation...
Duck, Sandwich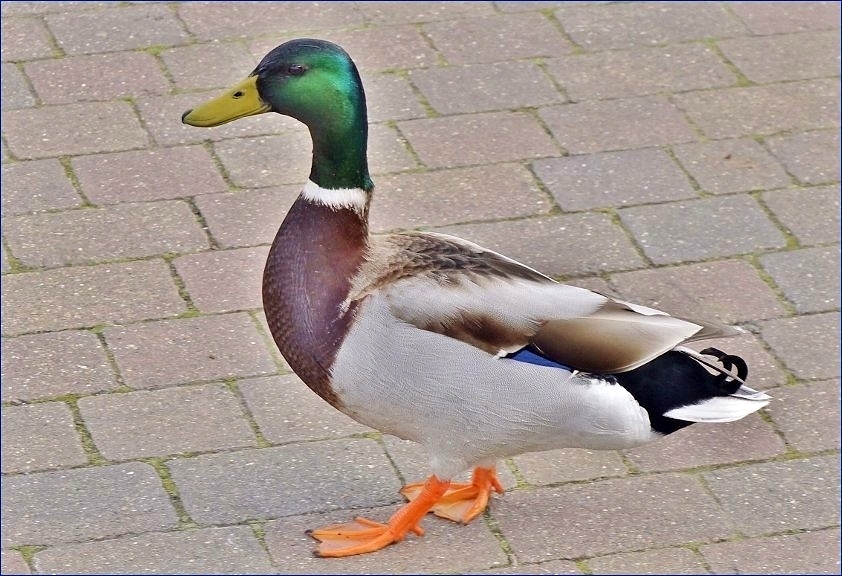 Extremely handsome fellow above there, taking the balmy afternoon stroll in fine feather fettle.
He wasn't alone either, his ladyfriend was following along behind as you can see in the pic below. Don't they look extremely well nourished and well fed. Their magnificent feathers colourfully all aglow in the weak afternoon sun of 7/8 days ago.Times must be good in Sandwich...or to put it another way, they must be eating good in Sandwich!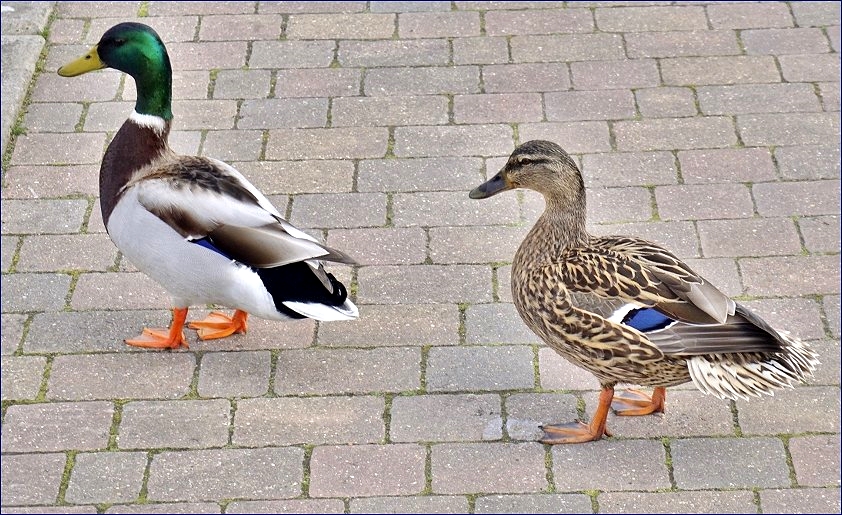 This shot below from a former time but who can resist the wildlife..
Seabird, Sandwich ...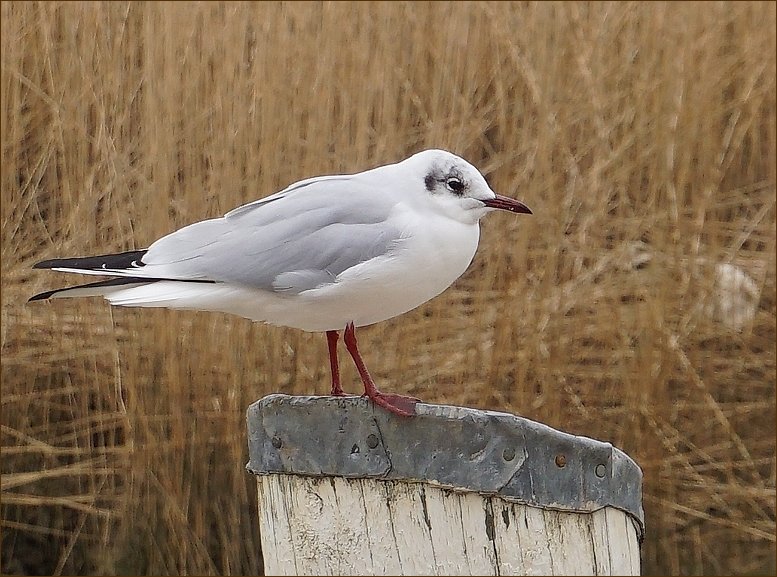 Yes always nice in Sandwich.
* *
Ah yes Del they are spending big money preparing us for the 'no deal' scenario... which may or may not happen this Friday. There are numerous votes against 'no deal' in the House...but no sooner have our MPs voted it down when it pops back again like a rubber ball on a string. Its as if all those late night sittings in the House are pointless. The 'indicative votes' got us precisely nowhere. This has to be the most amazing befuddlement of all time in Westminster. There is nothing like clear leadership and this is nothing like...etc etc etc.

PaulB
ps: The river featured is of course the River Stour.
Tuesday, 9 April 2019 - 06:22
Post 6188
Del Styan, Norwich
I see that Kent County Council has spent an extra - and I quote "A further £3.26 million has been spent on new signs, improved signals, and maintenance to structures.

"This included checks and repairs to drainage, power, ventilation and traffic management systems.

"Seven lagoons - that hold water drained from the highway - on the Thanet Way have been cleansed, maintained and enhanced."

Further quotes I have copied and pasted ...

Brexit In Kent. £9m of Kent taxpayers money on Brexit

Dover Schools in lockdown if a no-deal Brexit

Selective quotes, I admit, but it must be a hell of a worry for you. We have some beautiful sea scenes up here in Norfolk if you want to escape!!



Monday, 8 April 2019 - 23:14
Post 6187
Sea News, Dover
P&O FERRIES CONTINUES LOCAL APPRENTICESHIPS DRIVE AS LEAD SPONSOR OF DOVER JOBS FAIR
_________________________________________________________________________________________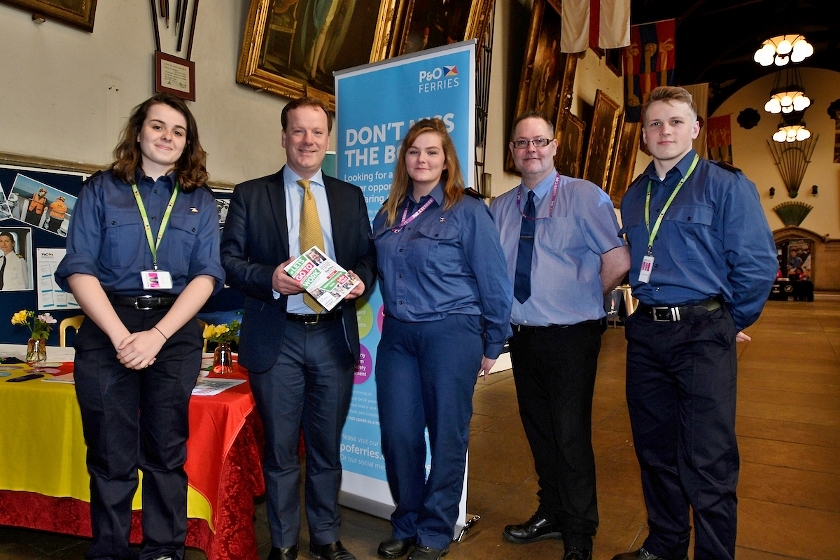 For the third year in a row, British ferry operator P&O Ferries was lead sponsor of the Dover & Deal Jobs Fair, which took place on Friday 29th March at Dover Town Hall, hosted by Charlie Elphicke MP.
The event, which is now in its sixth year, brings together employers and jobseekers to talk through opportunities face-to-face and gain insightful information. P&O Ferries brought along current vacancies and team members, including Mike Willis (Learning & Development Advisor) and Jacqueline Burns (Corporate Communications). Apprentices Charles Lewington-Turnbull (First year Deck Apprentice), Jade Townley (First year Deck Apprentice) and Marnie Ross (Second year Deck Apprentice) were also on hand to give insight into life working at sea.
The company's stand attracted great interest and was visited by over 200 job seekers, looking for roles across a variety of sectors including IT, HR, Customer Service, Finance, Administration, Marketing and Culinary, as well as apprenticeships. The stand was illustrated with photos of P&O Ferries team members old and new, highlighting the diverse range of roles both on-shore, or as crew.
Enquiries about cadet and apprenticeship courses proved particularly popular, with additional information on the Cadet Scheme also provided via Ship Safe Training Group, partner to the ferry company, who were also in attendance to offer advice.
Charles Lewington-Turnbull, first year Deck Apprentice on P&O Ferries' Pride of Canterbury said, "It was rewarding to encourage people to take on the amazing opportunity of becoming an apprentice. I only wish I had done the apprenticeship sooner. P&O Ferries is a great organisation which provides training you would not get from any other company and I have been telling anyone who asked me today about how great it is."
Jacqueline Burns, Corporate Communications at P&O Ferries said, "I really enjoyed attending the Jobs Fair and sharing my knowledge of working with P&O Ferries. Our Apprentice and Cadet schemes attracted a lot of interest and we spent a great deal of time providing information to potential applicants."
P&O Ferries is a leading pan-European ferry and logistics company, sailing 27,000 times a year on eight major routes between Britain, France, Northern Ireland, the Republic of Ireland, the Netherlands and Belgium. It operates more than 20 vessels which carry 8.4 million passengers and 2.3 million freight units annually.
The P&O Ferries Apprentice Scheme will be running again in 2019, with vacancies advertised this summer.
For more information visit www.doveranddealjobsfair.co.uk/
or www.poferries.com.
PICTURE:
Jade Townley, Charlie Elphicke MP, Marnie Ross, Charles Lewington-Turnbull, Mike Willis.
ENDS
Many thanks once again to the team at P&O Ferries for the info above

* *
And now more on the JOBS FAIR from Charlie Elphicke MP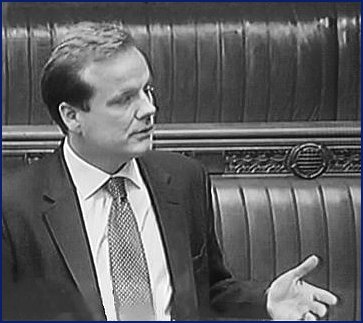 Another successful Jobs Fair
Hundreds of people came along to my seventh Jobs and Apprenticeships Fair on Friday. Jobseekers spoke to staff from dozens of organisations offering jobs, apprenticeships and training schemes at Dover Town Hall on March 29.
The main sponsors for this year's Jobs and Apprenticeships Fair were P&O Ferries. Dover Technical College, electricals firm Megger and food manufacturers Bakkavor also contributed to the event. Charlie spoke to workers from all the businesses who came along to meet prospective employees. A wide variety of stalls showcased opportunities including Border Force and Red Eagle Recruitment, whose spinning wheel gave people the chance to win freebies.
This is what my Jobs and Apprenticeships Fairs are all about. I'm passionate about getting people into work – and helping them find jobs which are right for them. It's so important to get employers and jobseekers together in the same room, so they can talk through opportunities face-to-face.
Our area is full of hard-working, talented people. Many want a foot on the ladder, a new challenge, or to discover ways to help others and make the most of their skills. We must ensure we give them the chance to do so.
Charlie Elphicke MP
* *
Del indeed... we cant seem to escape the B-word...
the fog of Brexit and natures very own fog swirls in Dover again today - no pictures this morning either.
Don't miss our 'roving reporter' Sarah's three posts below over the past few days...some great pictures below there...
PaulB
Monday, 8 April 2019 - 07:03
Post 6186
Del Styan, Norwich
Typical, isn't it. You get a day off from the B**** madness and its foggy!

Sunday, 7 April 2019 - 23:04
Post 6185
Sea News, Dover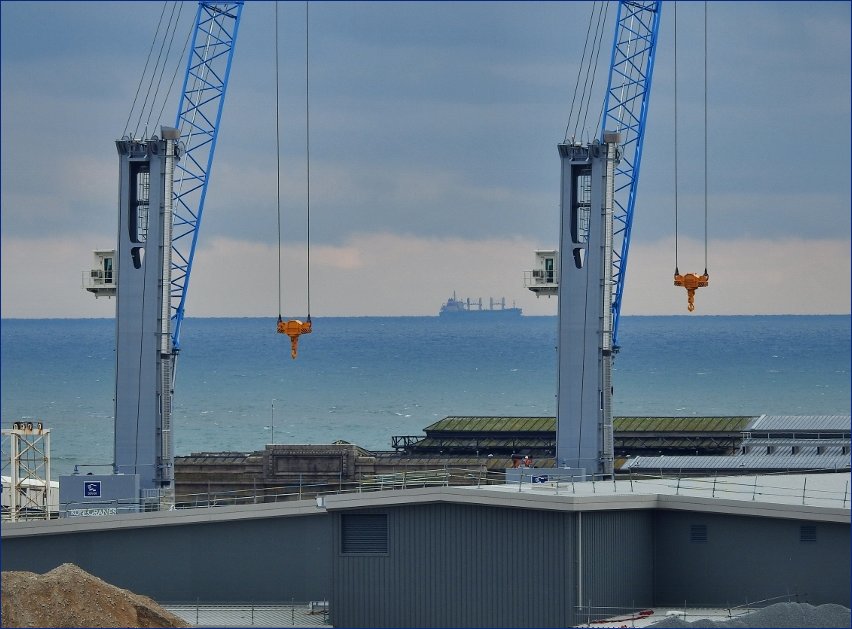 Cranes to the west of us, cranes to the east of us...
Top shot shows the new cranes at the all-new western cargo terminal...looking through them into the distance. To the east below and we see the old cargo terminal as the sun sets fire to the horizon. The reefer at the terminal is Luzon Strait...picture from two days ago. On the other hand there is no visibility at all today sunday...cant see a blasted thing..we're fogbound!
Ah great to see our 'roving reporter' in such fine form with the camera in the post below.
Great stuff Sarah...great to see those Whitstable pictures for sure..


PaulB
Sunday, 7 April 2019 - 07:47
Post 6184
Sarah, Ramsgate
Your "roving reporter" made it to Whitstable today.

Selection of photos are below.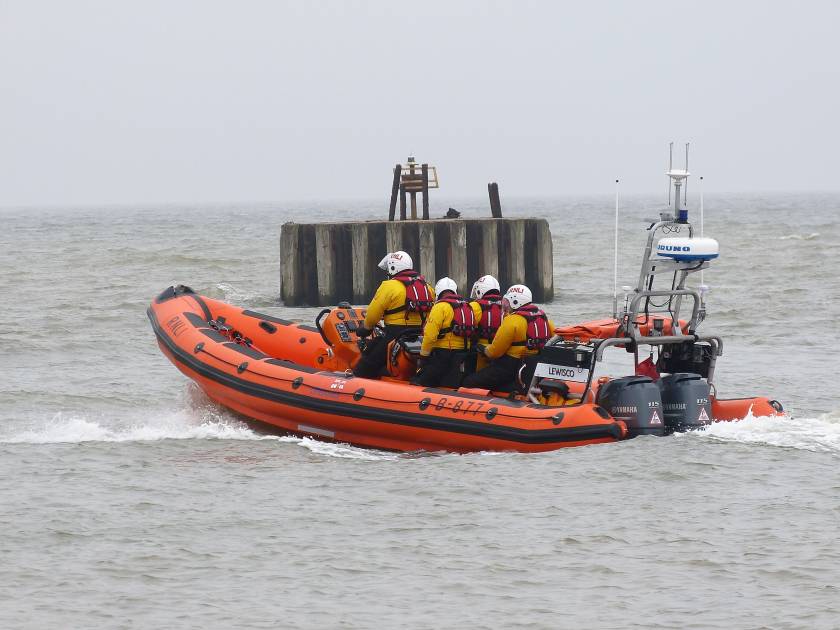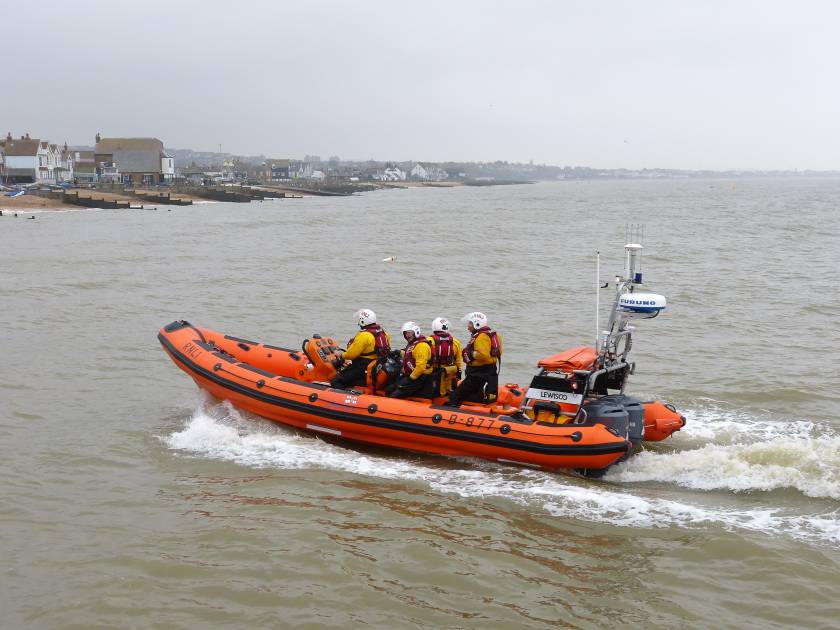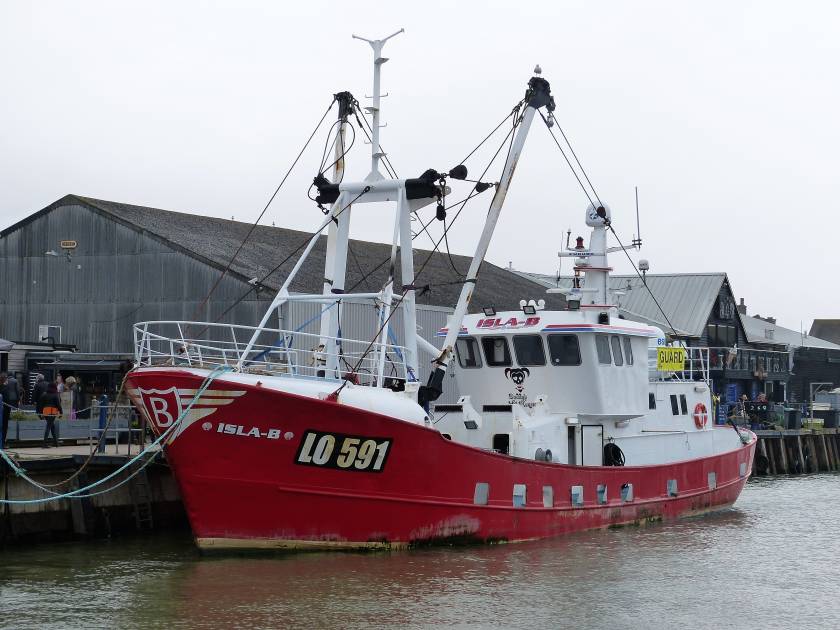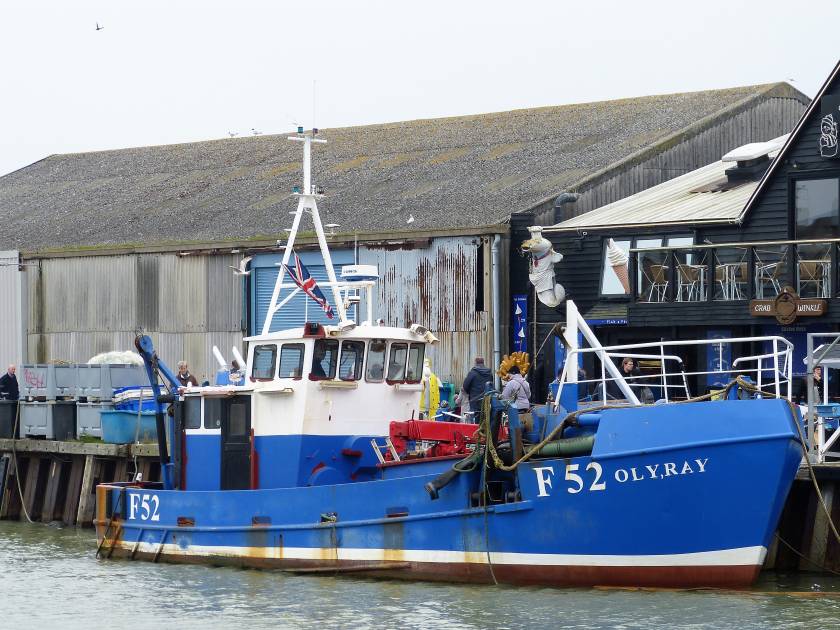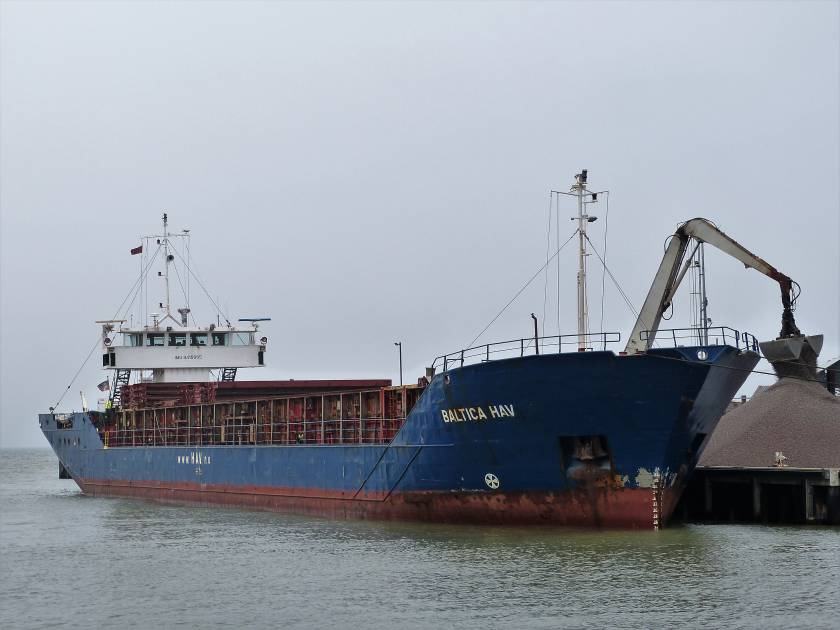 Saturday, 6 April 2019 - 22:29
Post 6183
Sea News, Dover
As promised here we are with the super and new drilling platform...Deepsea Nordkapp.
Pictures from midweek. The visibility was very good over the long range but it was dazzlingly bright one minute and ultra dull the next, but good clarity over the range. The Deepsea Nordkapp was close to the coast of France which you can clearly see in the pix. She was moving up channel at a slow rate.. destination unclear.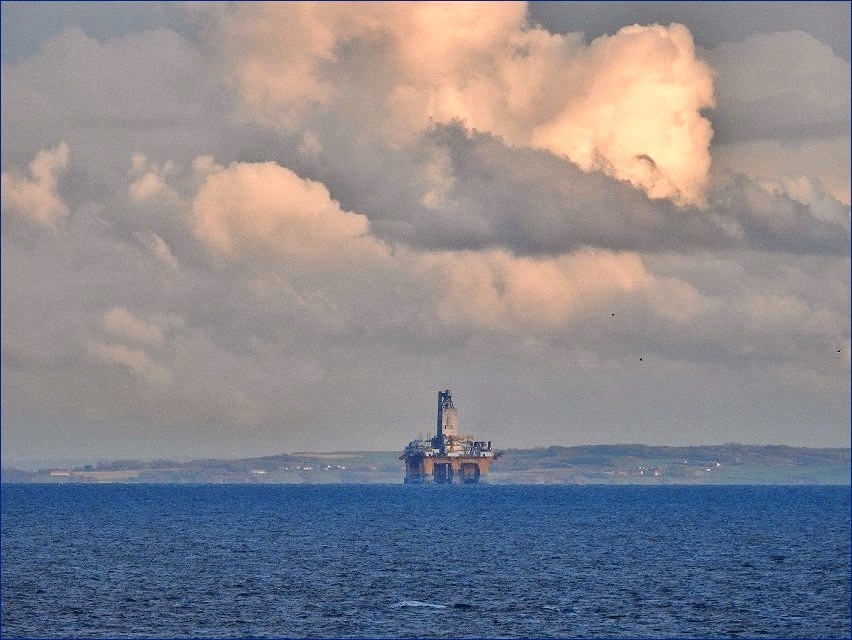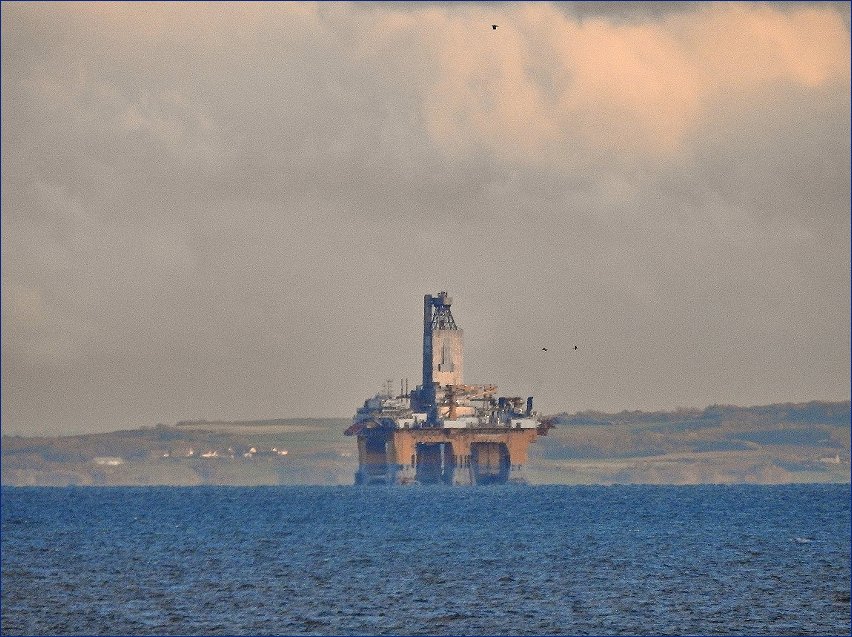 Deepsea Nordkapp

A brilliant collection below from Sarah. There are two posts so.. Don't miss those!
Well done Sarah - cracking stuff! Right in close to the action there and hugely enjoyable. One can feel the salty sea spray on the lips its so close.. great camerawork once again.

Del yes the possibility for traffic chaos around here is immense. They are making plans...we have Operation Stack, Operation Brock, Operation TAP and now on the wide Sandwich road just outside Dover on the eastern side (the A256 I believe it is)...they now have plans in place there with new traffic lights and so on for holding stacks more trucks there. Its a worrying scenario. Endless hold-ups a possibility.We must have free-flow.
Further ponder...
If it takes 10 hours for a truck to get from point A to point B the cost of the goods contained therein will be so much.
If it takes 40 hours for the same truck to get from point A to point B the costs of the good contained therein will be so much more..
Who will pay??
The consumer that's who !!
Anyway there we are... but there are endless Brexit permutations and scenarios.
But its Saturday - time to relax.


PaulB
Saturday, 6 April 2019 - 07:06
Post 6182
Del Styan, Norwich
Thanks for your Commons update, I did indeed wake up to good news. I can't help thinking that if Mrs May had reached out to others like Yvette Cooper and Oliver Letwin did, we could have been spared all this madness.
Well, if the Lords do their job, at least we will be spared a no deal debacle. I just hope the EC agree now to the latest extension to end June.
Anything which keeps the cross channel traffic flowing.

Friday, 5 April 2019 - 23:09
Post 6181
Sarah, Ramsgate
Excalibur leaving Ramsgate - 5th April 2019.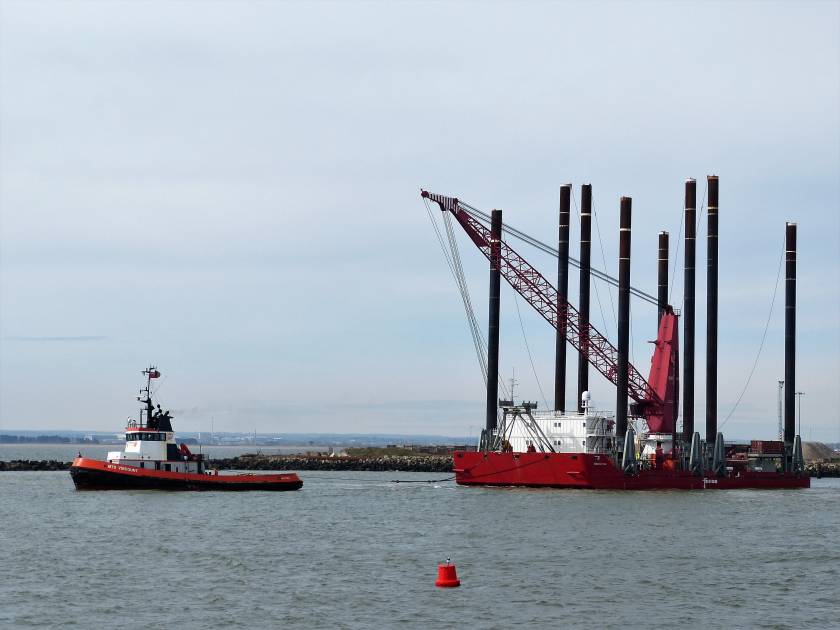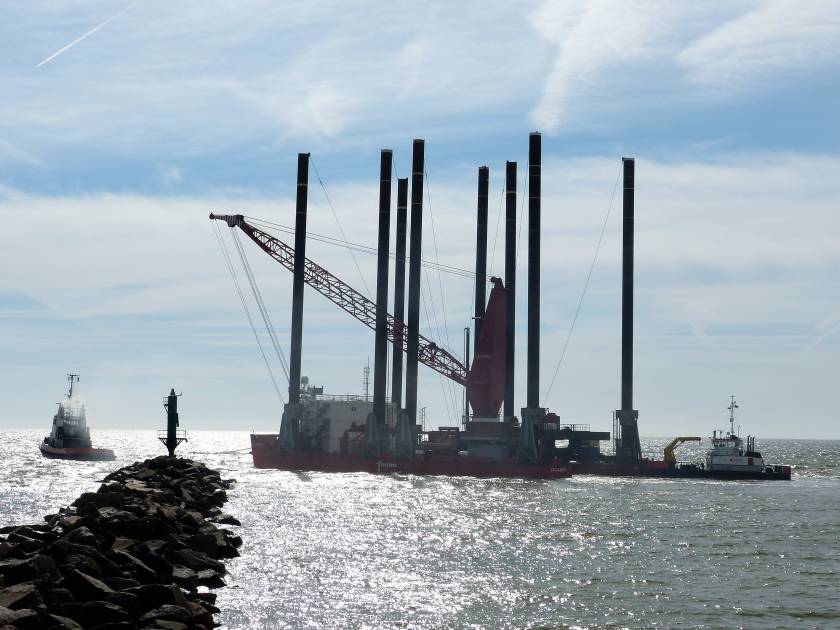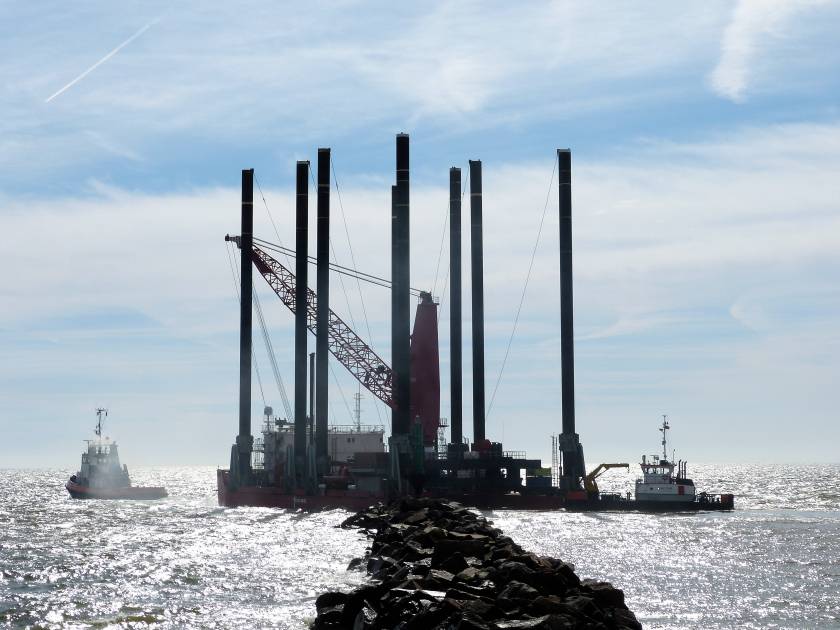 Pilot Boat - Estuary Elite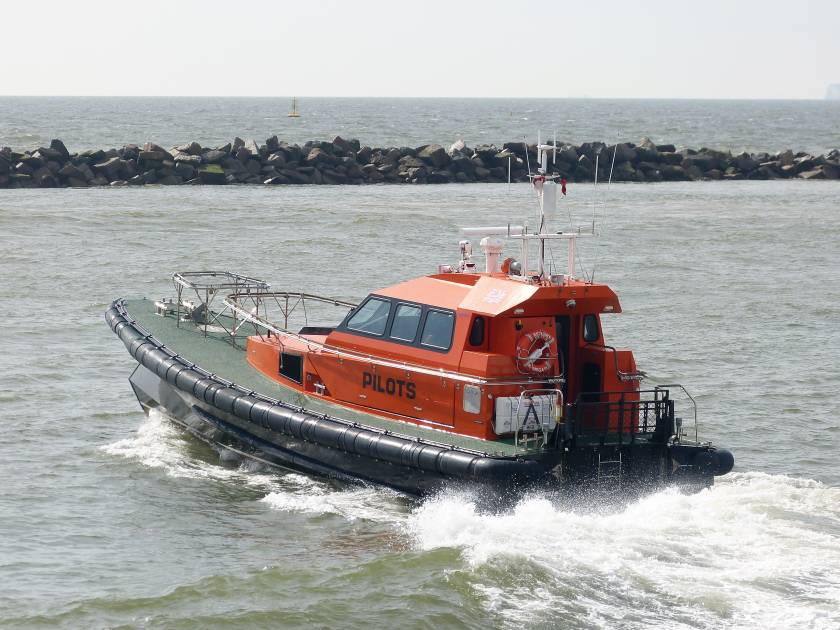 Windfarm vessel - Windcat 39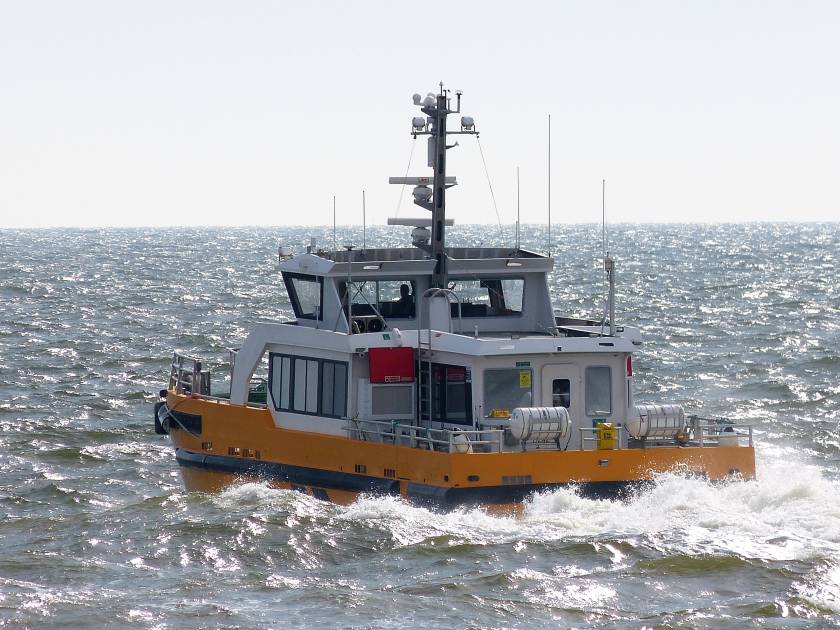 Friday, 5 April 2019 - 22:53
Post 6180
Sarah, Ramsgate
Recent Royal Navy activity in Ramsgate - 4th April 2019.
HMS Explorer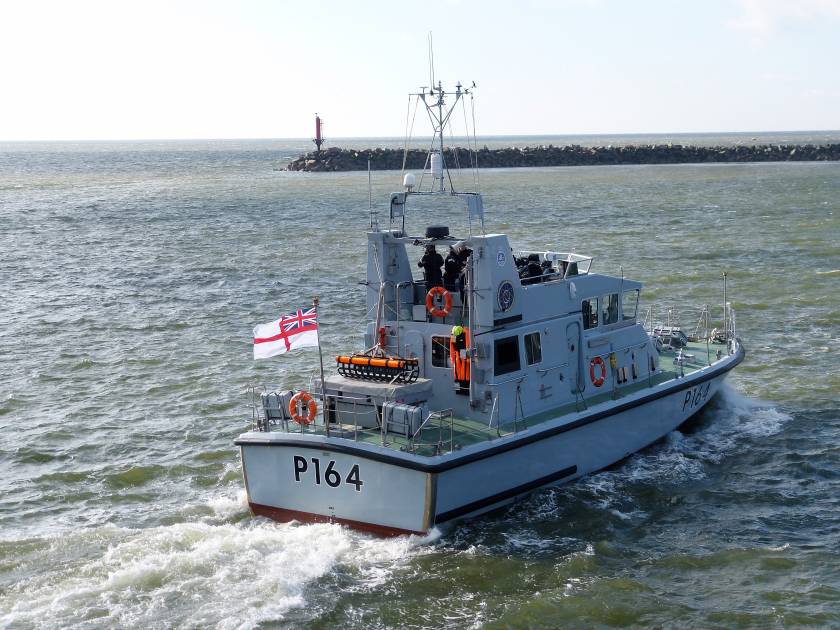 HMS Archer
HMS Example
Pilot Boat - Estuary Leader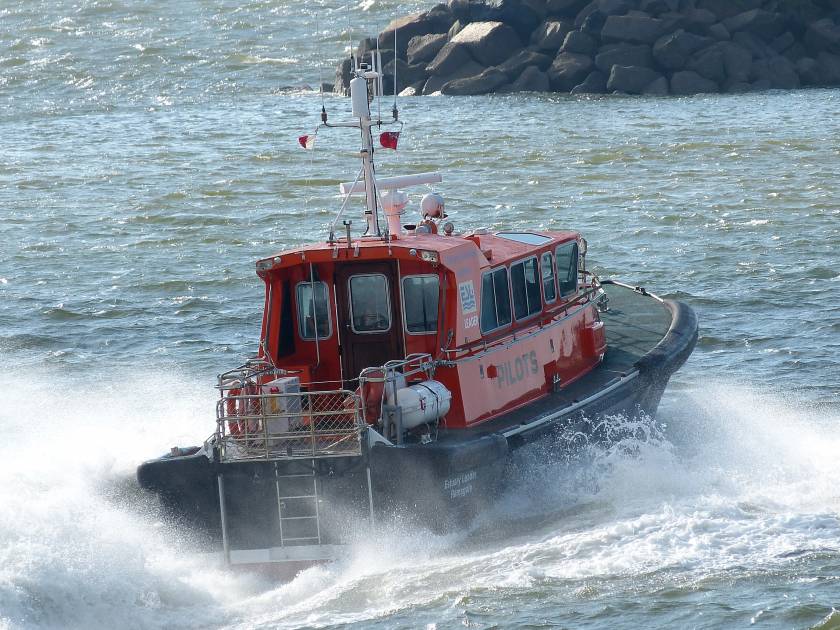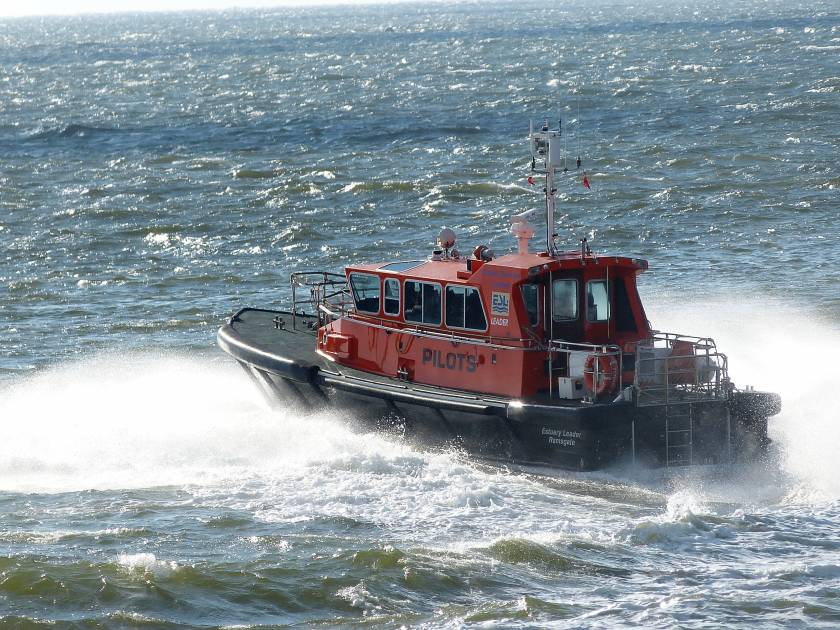 Friday, 5 April 2019 - 22:48
Post 6179
Sea News, Dover
DFDS AND ORCA EXTEND PARTNERSHIP FOR 13TH YEAR
__________________________________________________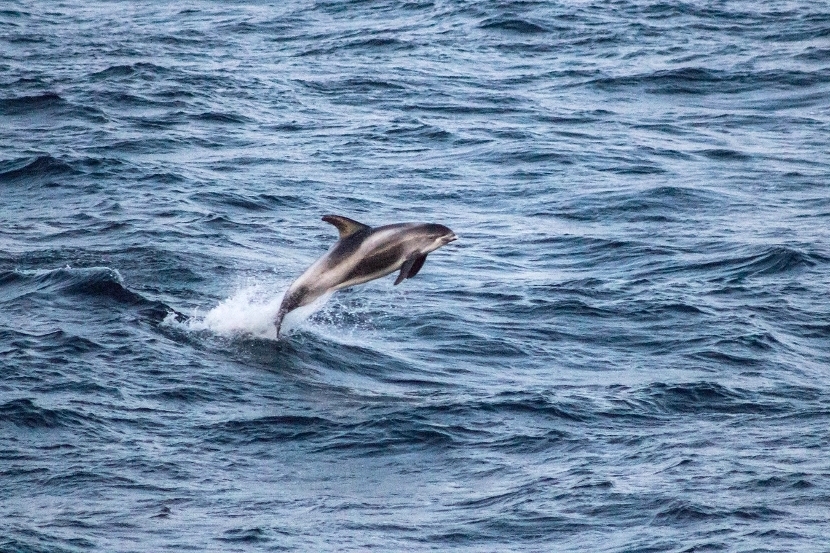 Europe's leading ferry operator DFDS and marine conservation charity ORCA, enter their 13th year in partnership, as the 2019 ORCA season begins.
The partnership sees on board ORCA marine wildlife experts engage with DFDS passengers to educate them about the diverse marine life and conservation work undertaken in British waters. Conservation talks, marine wildlife spotting sessions and wildlife-related games are offered to passengers of all ages, free of charge.
Until 27 September, ORCA's dedicated team of Marine Wildlife Officers will be on-board select DFDS Newcastle-Amsterdam crossings, and from 5 June to 8 September select Newhaven-Dieppe crossings.*
Steve Jones, Head of Partnerships at ORCA said, "We, at ORCA, are all looking forward to enjoying a 13th season with DFDS. We're hoping to engage with even more passengers than during last year's record-breaking season, which saw over 35,100 passengers take part in the ORCA education programme on-board. There is such a fantastic array of wildlife to be enjoyed on Britain's coastline and we can't wait to showcase it to passengers."
Naomi Thornton from DFDS said, "We are thrilled to have ORCA's team of Marine Wildlife Officers back on-board. We've now enjoyed 12 years working with the ORCA team on our Newcastle-Amsterdam route and are delighted to be extending this marine wildlife watching service to passengers on-board our Newhaven-Dieppe route, for the second year running. We look forward to seeing the ORCA team's findings across both routes this summer."
The 2018 season saw the opening of a brand new ORCA Wildlife Centre on board DFDS' King Seaways ship, where 35,100 passengers engaged with the on-board programme. These passengers were treated to more than 2,000 marine wildlife sightings, including 902 harbour porpoises, 30 bottlenose dolphins, 74 minke whales, 225 grey seals, and 652 acrobatic white-beaked dolphins.
DFDS offers daily sailings between Newcastle-Amsterdam - a two night mini-cruise is available from £84pp for two or £54pp for four. While on board, passengers can enjoy delicious fine dining in the North Sea Bistro, as well as an unlimited international selection, serving over 60 dishes from around the world in Explorer's Kitchen. Other on-board facilities include a shop, a casino, two cinema screens, showing the latest blockbuster movies and a kid's club to keep children entertained.
DFDS also offer multiple daily sailings between Newhaven-Dieppe, available from £75pp for two. On-board facilities include a family friendly self-service restaurant offering a variety of hot and cold snacks and main courses as well as the Beachy Head Bar, a split-level lounge providing stunning sea views. There is also a dedicated soft play area for young children to enjoy whilst older kids can take advantage of the video games available.
ORCA activities open to all passengers, at no extra cost. For more information or to book a crossing visit: www.dfds.co.uk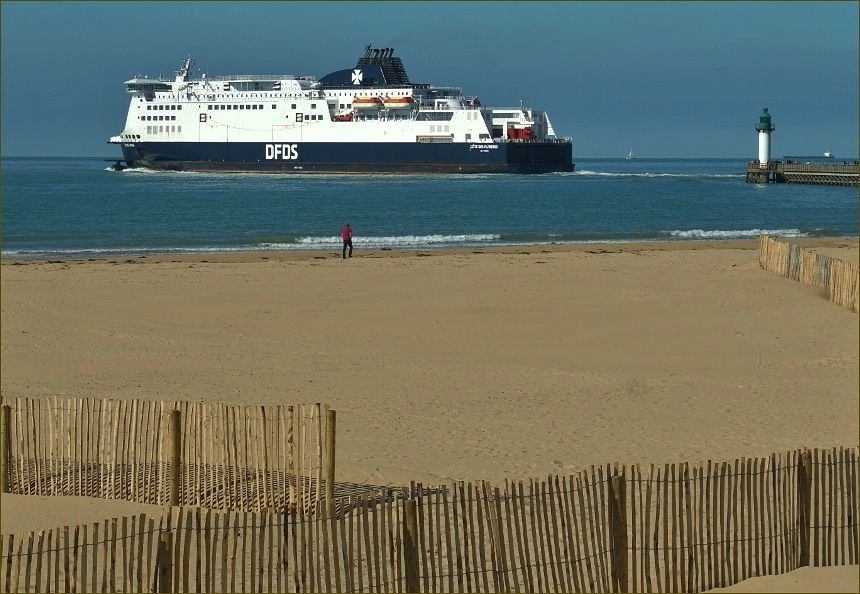 Cote des Flandres
Ends
Many thanks to the team at DFDS for the information above...

* *
And now to the latest Border Force action....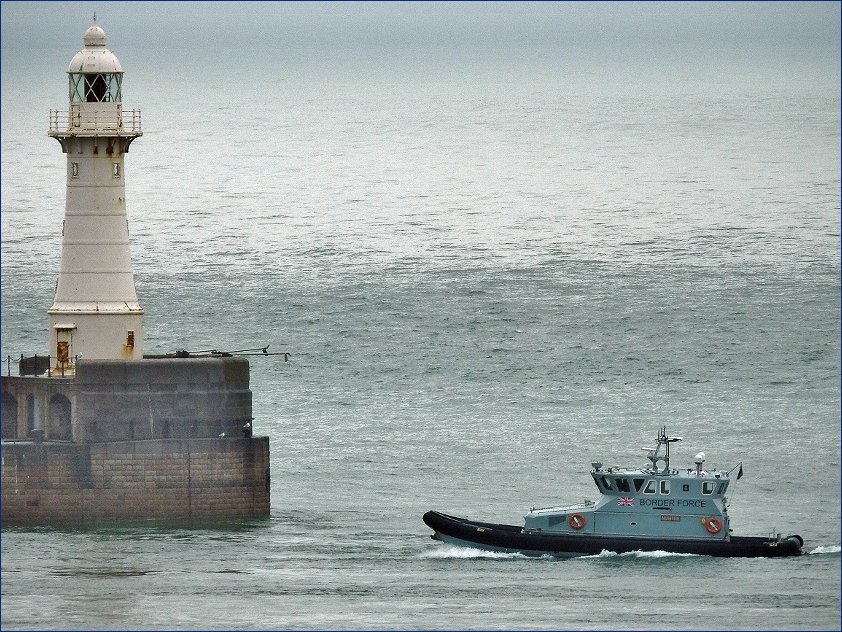 The picture above shows Border Force Hunter two days ago here at Dover. This is a very busy time for the Border Force as you know, with another migrant boat discovered yesterday at Samphire Hoe. The Dover Lifeboat, The HM Coastguard helicopter, as well as two Border Force vessels were in attendance we understand....
Below from the BBC:
Three men have been arrested after eight migrants were found on a Kent beach, the National Crime Agency said.
Police and paramedics were called to Samphire Hoe at about 08:00 GMT. A boat was later found near Folkestone and three UK nationals were arrested on suspicion of facilitating illegal immigration.
South East Coast Ambulance Service said it was called to reports of people "suffering from the effects of cold", but all were "discharged at the scene".
"The migrants are being dealt with by the immigration authorities," the NCA said.
At least 449 people have crossed the Channel in small boats since 3 November 2018.
Ends
The picture below shows the same Border Force Hunter a short while back with a migrant boat alongside....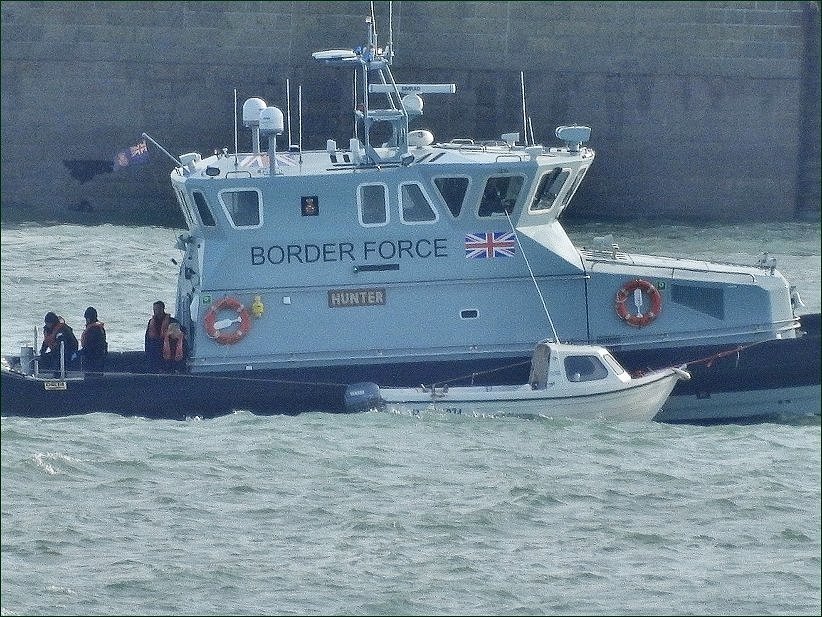 Border Force Hunter.
PaulB

PS:We have some pictures of Deepsea Nordkapp coming tomorrow.
They are very long range... will probably need some work beforehand...
Friday, 5 April 2019 - 05:59
Post 6178
Sea News, Dover
And now a sequence of shots showing the arrival in Port earlier this week ( Monday ) of our ol' friend the deep sea trawler Cornelis Vrolijk. The fishing vessel comes into Port every once in a while...
And here she comes...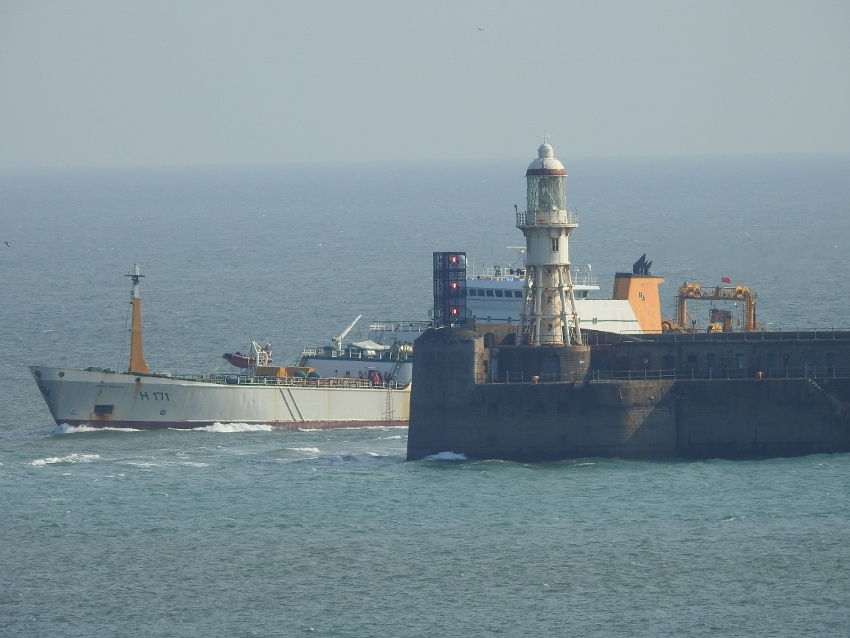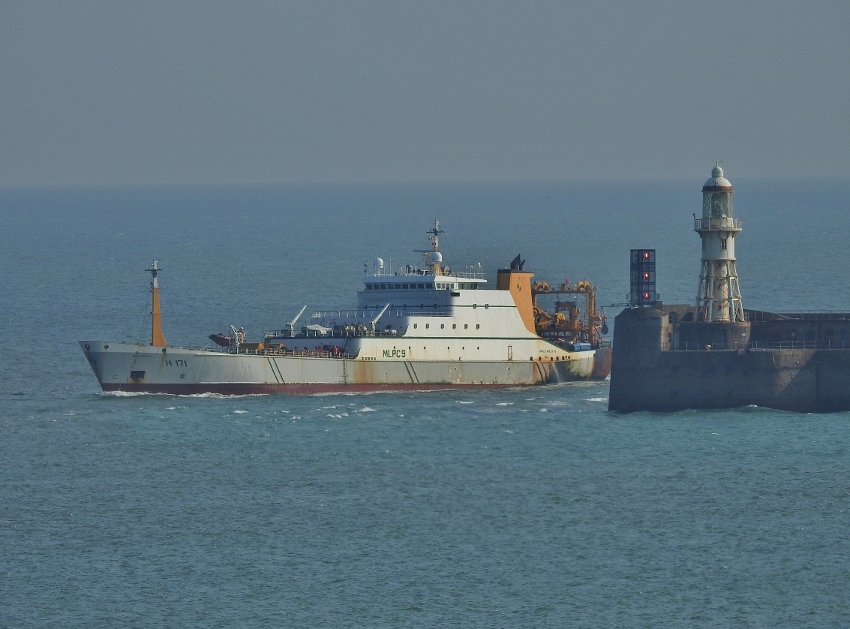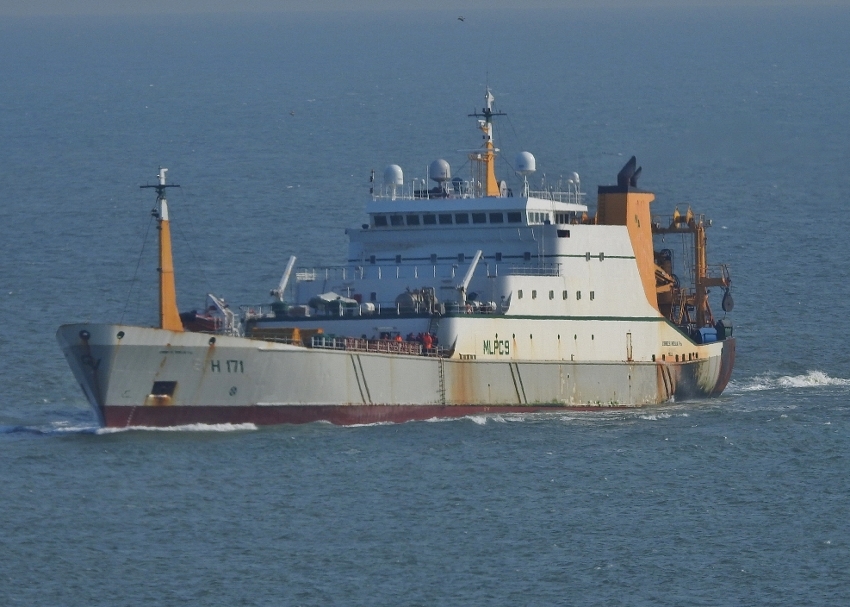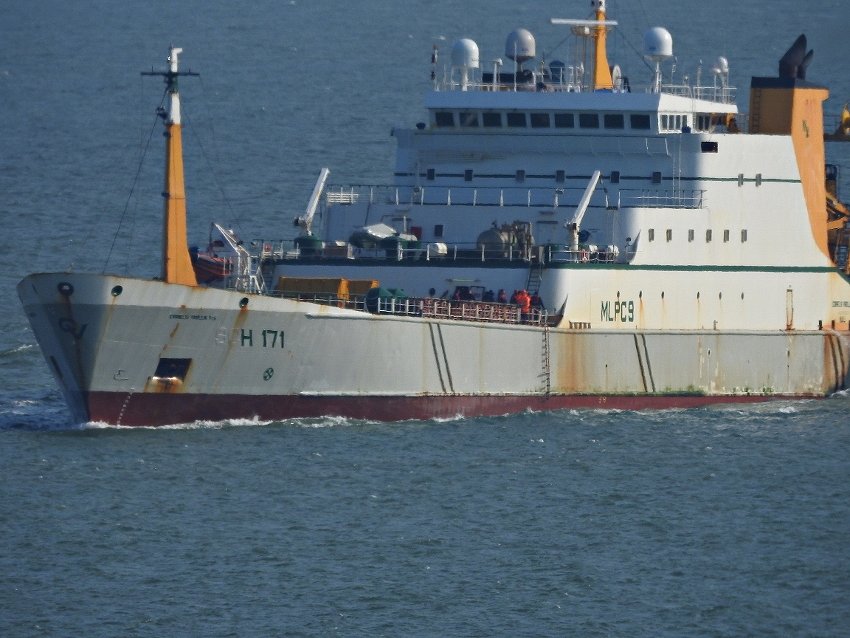 Cornelis Vrolijk
The George Hammond launch came alongside as they regularly do when Corny arrives, presumably to initiate a crew change.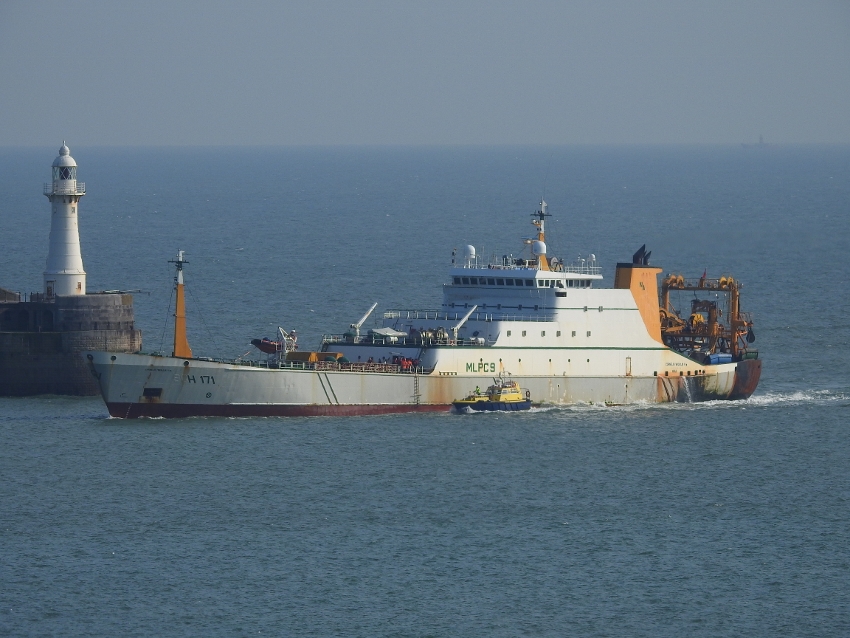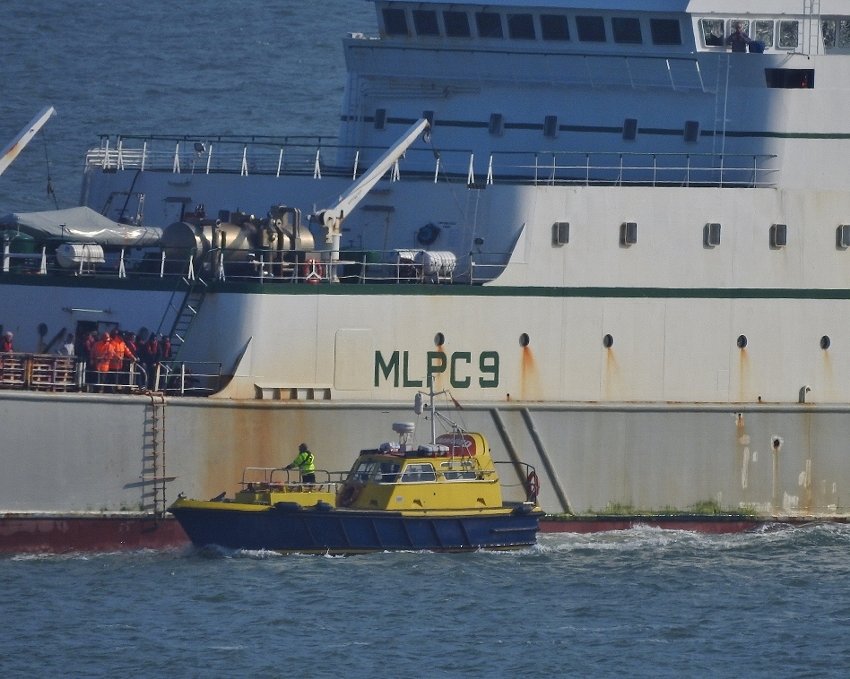 The vessel stayed for just a short time, probably less than an hour and away she went through the eastern exit.
No hanging about...no sirreee bob!
Del you will indeed wake up this morning to the Bill being passed. It succeeded by one vote. Yes according to the experts a 'no deal' scenario will be terrible for the movement of goods here in Kent and therefore local traffic flow...but MP Charlie seems to think its a good idea. One can only assume that the feverish Westminster 'red mist' has descended...
But now with the Bill being passed, the Lords will follow suite and 'no deal' will be further away.
That's the theory anyway.


PaulB
Thursday, 4 April 2019 - 07:08
Post 6177
Del Styan, Norwich
As I go to bed, MPs are voting on a bill to prevent a no deal exit. I hope I will wake up to the bill being passed. As far as I understand these things, that can only be good for Dover - I think? Or like Charlie - am I just confused?

Wednesday, 3 April 2019 - 23:14
Post 6176
Sea News, Dover
P&O FERRIES SAFEGUARDS TRAVELLERS WITH 'BREXIT BUFFER' FREE CANCELLATIONS OFFER
____________________________________________________________________________________
British ferry operator P&O Ferries has extended its 'Brexit Buffer' offer, giving free cancellations for all bookings made up till 11th April, to ease any travel uncertainty.
The offer, which is valid across all ticket types on any of its routes, for travel between now and 30th September 2019, allows crossings to be cancelled free of charge when booked directly via P&O Ferries.
Brits looking to experience the freedom of ferry travel on a memorable European break have a multitude of routes to choose from. With up to 23 sailings a day from Dover to Calais, just 90 minutes in duration, it's never been easier to journey to France and beyond. Discover the delights of the Netherlands and Belgium on an overnight crossing from Hull to Rotterdam, or Zeebrugge, with daily sailings featuring comfy cabins, extensive dining experiences and varied on-board entertainment. Alternatively, a scenic sailing from Cairnryan to Larne is the shortest way to cross the Irish Sea and get immersed in the bustling cities, spectacular Causeway Coasts and lush greenery that Northern Ireland has to offer.
Sarah Rosier, Director of Passenger Sales at P&O Ferries said, "There are so many amazing destinations across the continent reachable by ferry, offering a wealth of possibilities for all types of travellers. During this uncertain time we want our passengers to be reassured that should there be any impact on their travel plans they will be covered through our free cancellations offer, so shouldn't be deterred from planning their summer holidays now."
P&O Ferries is a leading pan-European ferry and logistics company, sailing 27,000 times a year on eight major routes between Britain, France, Northern Ireland, the Republic of Ireland, the Netherlands and Belgium. It operates more than 20 vessels which carry 8.4 million passengers and 2.3 million freight units annually.
For more information, or to book a crossing visit www.poferries.com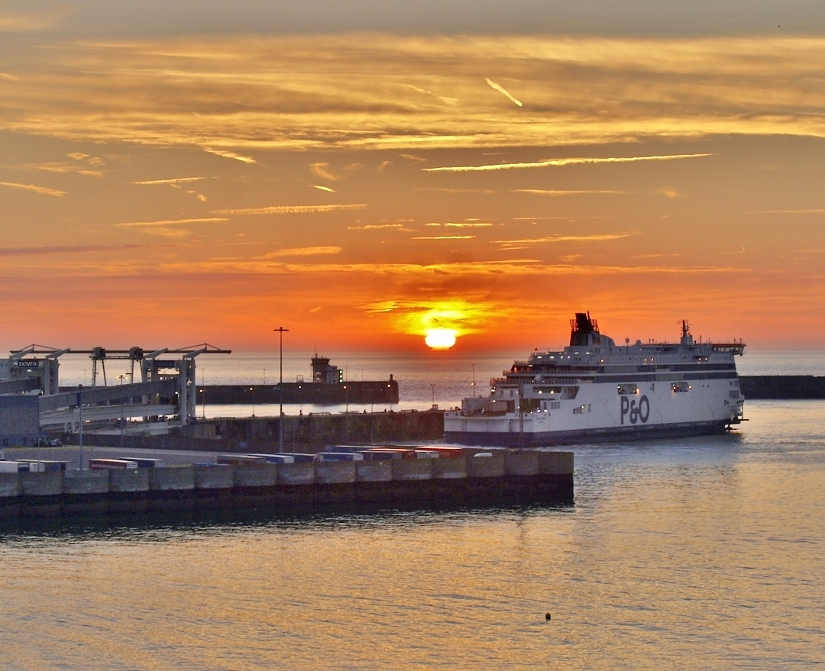 Ends
* *
Many thanks to the team at P&O for the information above..

Some shots below now of dashing racer Bella as she left the port on sunday evening, heading out in to roughish seas as you can see...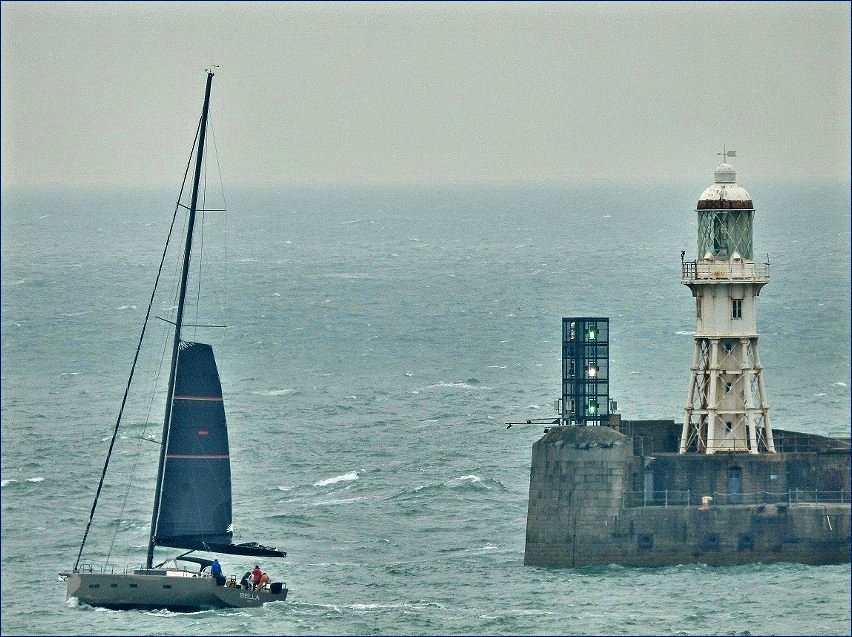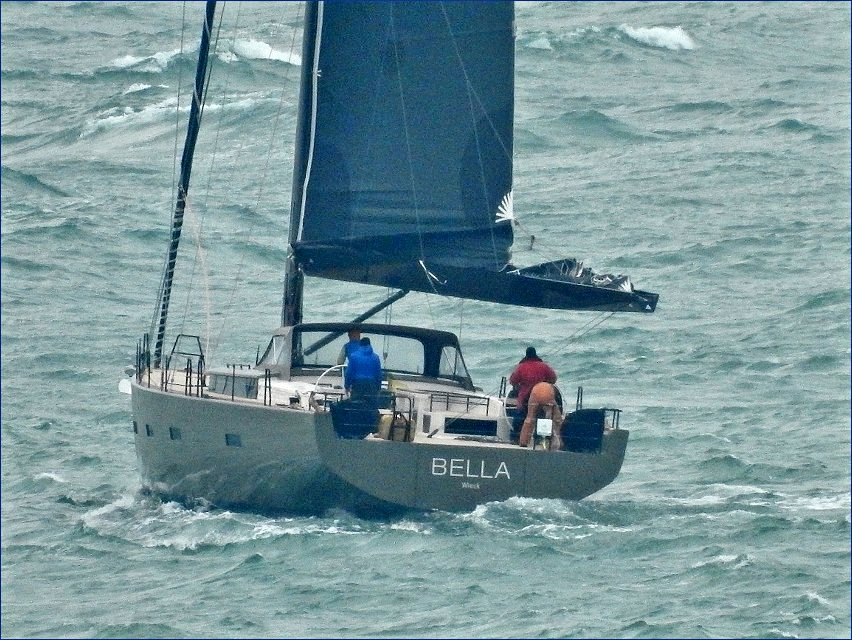 AIDAluna exiting for Hamburg on Monday evening, heading home after a long cruise from Montego Bay to yes indeed Hamburg...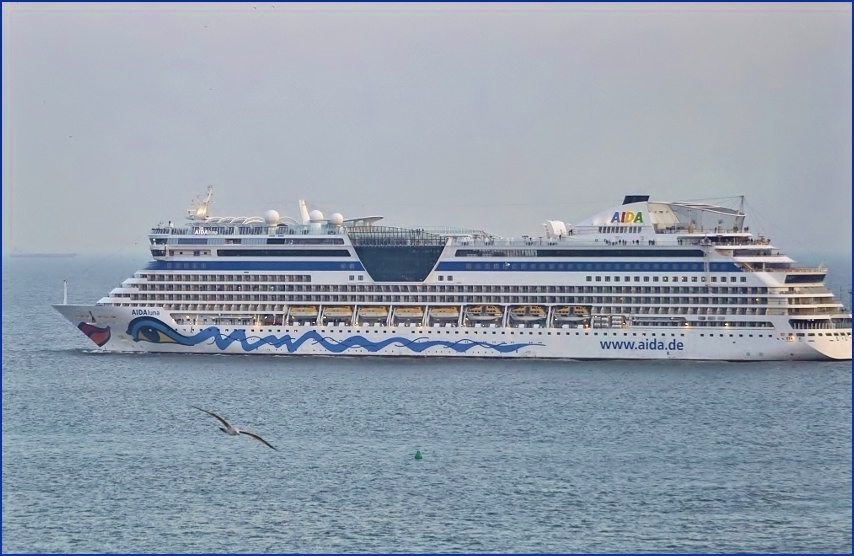 Hi Jeremy...I must admit I haven't noticed even though they are right in front of me here. It may just be a case of occasional schedule delay due to weather difficulties or what have you.

PaulB

Wednesday, 3 April 2019 - 07:12