Tuesday, 19 March 2019

WWW.DOVERFORUM.COM/SEA-NEWS
Featuring all the ships that come and go and work at the Port of Dover ..
... with further coverage of the surrounding ports.
Port of Dover: Brexit Resilience 6123
DFDS: For apprentice information see 6125
Sea News Dover :
Use our SEARCH ENGINE below to find all sorts on the SEA NEWS pages....
type in the topic and away you go, or if you have the post number just type it in the box,
more than - 6000 - nautical posts now.
Posts are welcome. just click 'Add Your Comment' below. Max of 5 pictures preferred although we can stretch that for special stories..
Sea News Editor Paul Boland - send info or pix to dover7@msn.com. Always welcome.
All pictures on these pages are the copyright of the owners and must not be reproduced without permission.
To show your pictures at their best..it could be worthwhile resizing before posting to
840
pixels wide.
Post 6048
Del Styan, Norwich
Snow in France - how do you get such great pics? Well done.

Saturday, 26 January 2019 - 22:55
Post 6047
Sea News, Dover
The Snowy Hills of France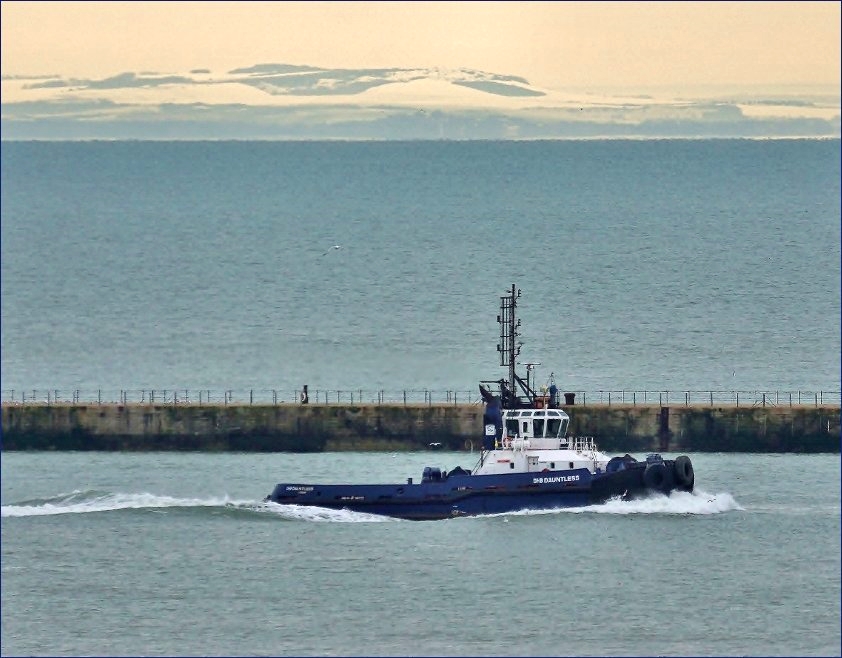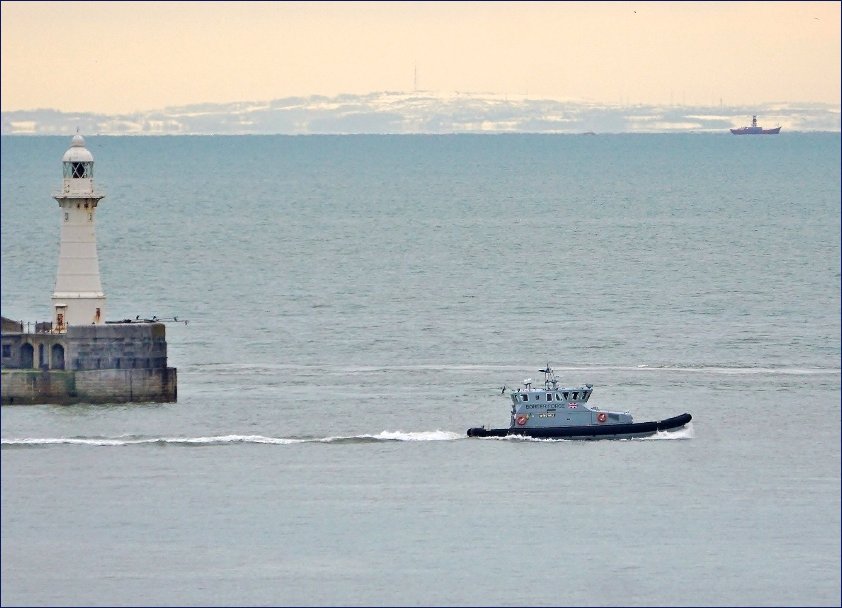 Top shot there captures Dauntless at work on our recent chilly Thursday. What is notable about a picture of the familiar Dauntless this time however, is the snow in the distance. We had snow ourselves but it soon dispersed, but the white stuff remained all down along the coast of France .. as you can see in both pictures.
The second picture shows Border Force Speedwell returning to its base here at the Port of Dover...once again highlighting the snow in the distance. That's the Varne Lightship also in the distance. Soon after the pictures were taken we had a flurry or two ourselves. I love an occasional flurry...well who wouldn't.

PB
Saturday, 26 January 2019 - 05:57
Post 6046
Sea News, Dover
As promised ... some further pics now of HMS Enterprise taken this week
...and here we are..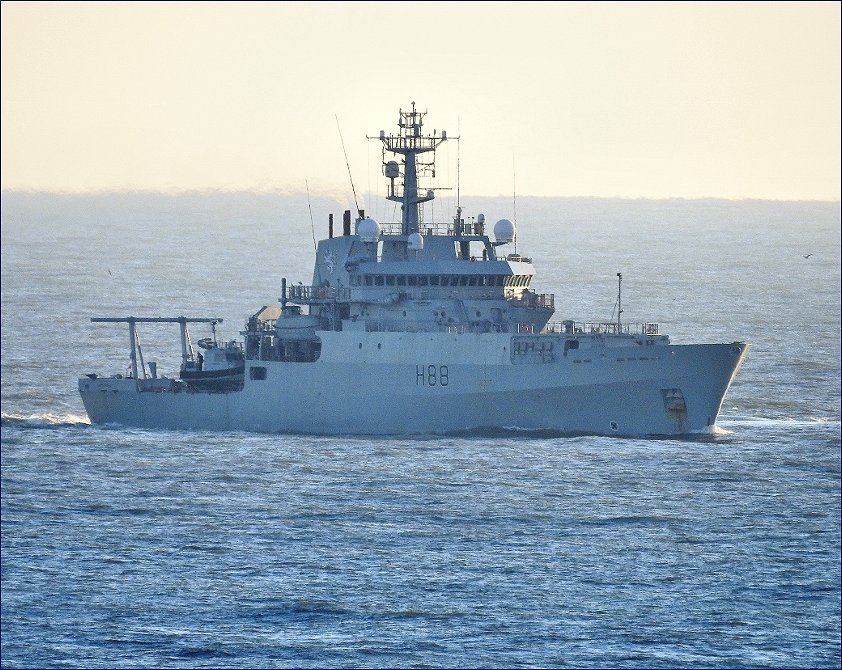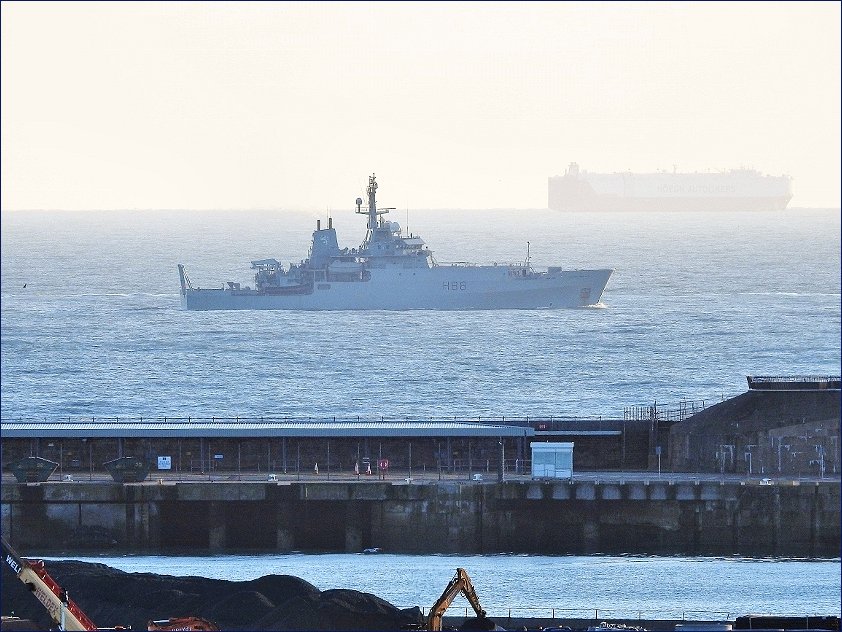 HMS Enterprise.
There she goes...patrolling the area west of the Port here at Dover.
Maersk Connector back in Port today - at cruise terminal one.
Yes indeed Brian

Friday, 25 January 2019 - 07:28
Post 6045
brian dixon, dover
yes paul, p&o are owned by dubai ports nowadays, doing what they have done makes them more tax effishant as barry w would say.

Thursday, 24 January 2019 - 13:28
Post 6044
Sea News, Dover
Tourism Thriving In White Cliffs Country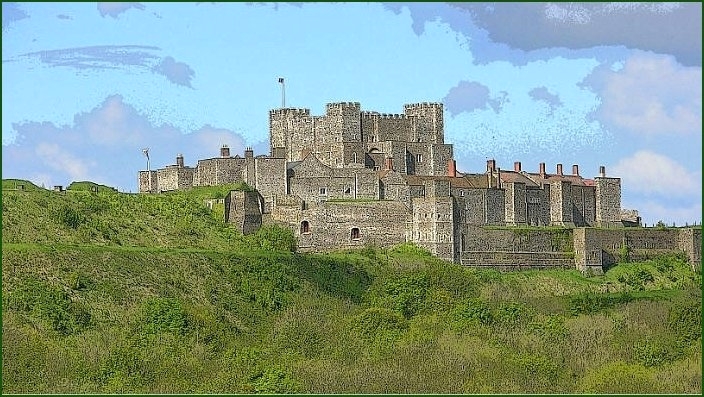 Dover Castle.
Tourism continues to flourish in the Dover District, with tourism related jobs increasing by 4.2% in 2017 and the industry now accounting for 17% of all total employment, according to research released this week.
Independent research commissioned by Visit Kent, on behalf of Dover District Council and the district's three town councils, also revealed that the value of White Cliffs Country's visitor economy grew by 6.5% in 2017 and is now worth £282 million.
Visits rose by 2.45% to 4.6 million trips which included nearly half a million overnight stays and an increase in the number of day trips to 4.2 million, a rise of 7.2% when compared to 2015. The economic value of day trips to White Cliffs Country also saw a healthy growth with a rise of 9.5%.
Cllr MJ Holloway, Dover District Council's Cabinet Member for Tourism, said: "I am delighted to see that tourism across the district has continued on its upward trajectory, creating more opportunities and wider economic benefits for our community.
"This research demonstrates why we have placed a key focus upon tourism and the visitor economy in the district with an ambitious tourism agenda. The future for the district is exciting with creative plans to put White Cliffs Country and our three principal towns of Deal, Dover and Sandwich firmly on the map as destinations of choice.
"We will be working hard with partners across the district to ensure that we harness the potential of the Open Golf Championship in 2020. The district can also anticipate the introduction of new possibilities to the tourism and visitor economy as we form new and strengthen existing relationships with industry partners and town councils to supplement and continue to facilitate our already fantastic visitor offer, which includes some of the finest heritage, landscapes and nature that Great Britain has to offer."
Deirdre Wells OBE, Chief Executive of Visit Kent, added: "Tourism is the UK's fastest growing service sector and these figures demonstrate the contribution which our vital industry makes to the economy of Kent."
Paul Carter, Leader of Kent County Council, said: "The results from the 2017 survey commissioned by Visit Kent clearly show that the visitor economy is increasingly important to the county's future prosperity."
For more information about White Cliffs Country, please see the White Cliffs Country website (www.whitecliffscountry.org.uk )
ENDS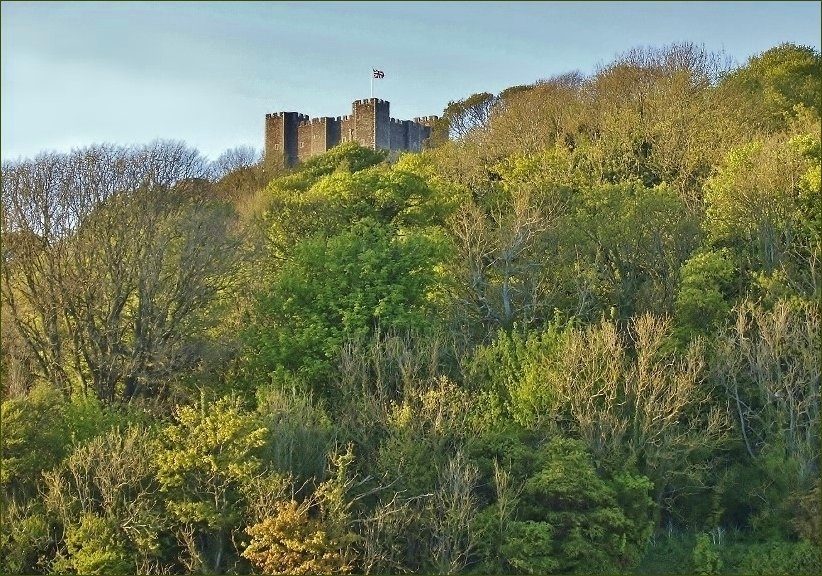 Dover Castle.
That is good news above there re Kent in general...you can understand now why the hotel groups such as Travelodge and Premier Inn are making these local investments...and you can see why Marco Pierre White has associated himself with the Dover Marina Hotel. The Hythe Bay Restaurant on the beach here is closed for a major refurb this month.... so its all happening. And then of course there is the new marina itself coming...exciting times..
* *
A picture gazing along the aggravated beach this week. You can see the way the tidal pattern in relation to the beach has changed. The new harbour build has shifted the tidal flow somewhat. The picture shows the situation at high tide. Will have some extra pictures of the beach workings in due course.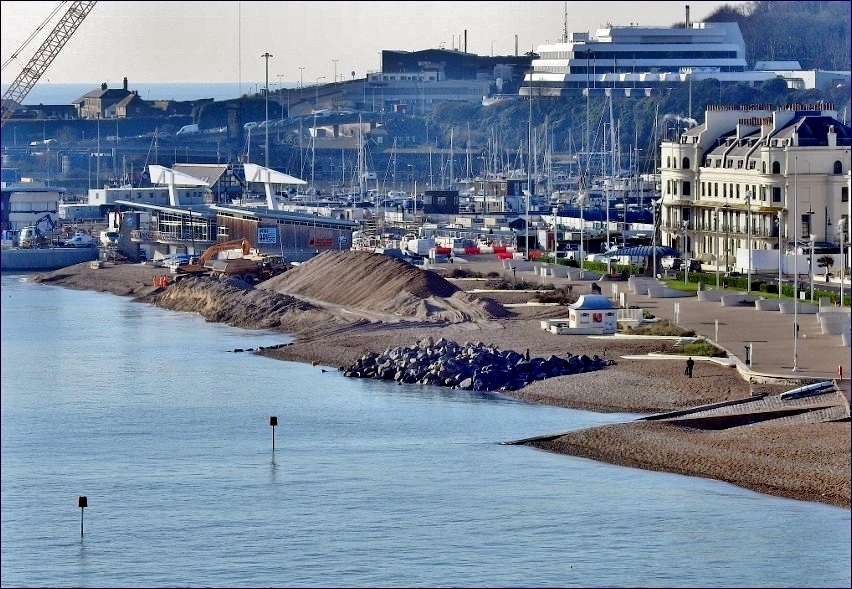 Interesting all round collection below there Mike...Topbond currently replacing Holyhead Towing as the main player. Those Holyhead guys seem to be all gone nowadays... much missed.

Brian yes I can totally understand the reasons behind P&O's decision...it is such a wide-eyed surprise though...them being the long time long term example of the stalwart British maritime tradition ( even though like much else they are Foreign owned these days ).

PaulB
ps: have some more pictures of HMS Enterprise coming...

Thursday, 24 January 2019 - 06:14
Post 6043
Mike J., Dover
HUNTER berthing in the Tidal Basin on a very high tide, midday Wednesday.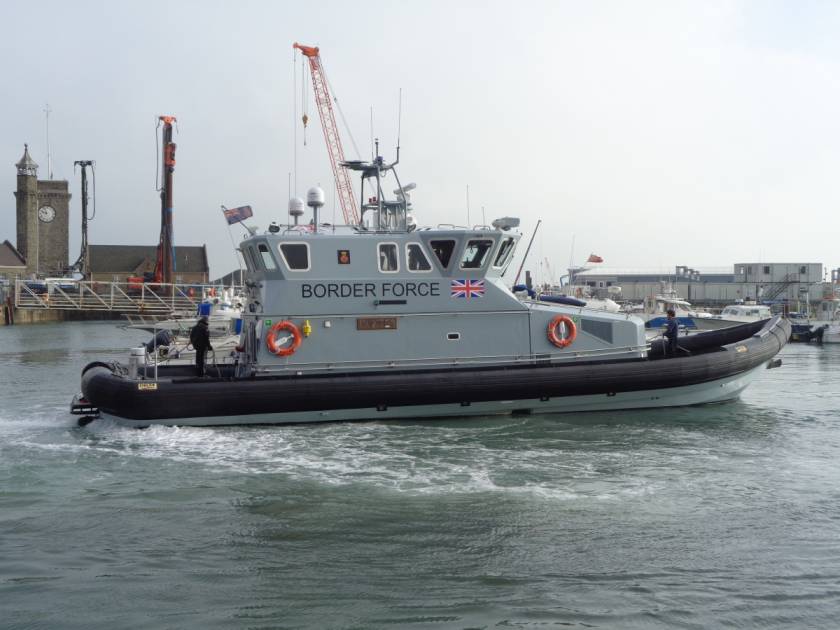 A Border Force RIB was on the waiting pontoon - an impressive craft, it seems larger than the RIBs carried aboard the BF Cutters.
[post 6027].
An addition to the fleet perhaps ?
.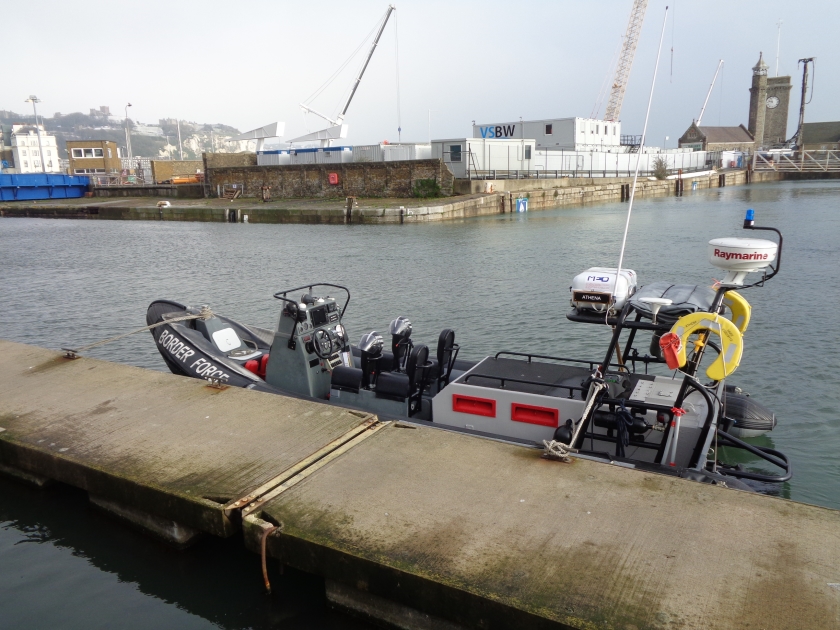 The TOPLIFT has returned to Dover & was in Wellington Dock, last reported in 'Sea News' in August 2016, post 3391.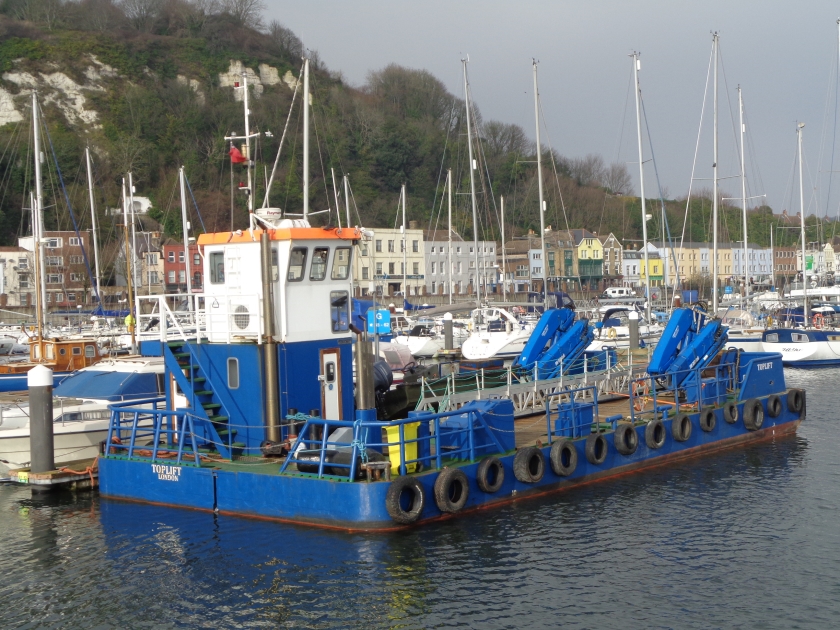 The split hull, to permit transport by lorry, can be clearly seen.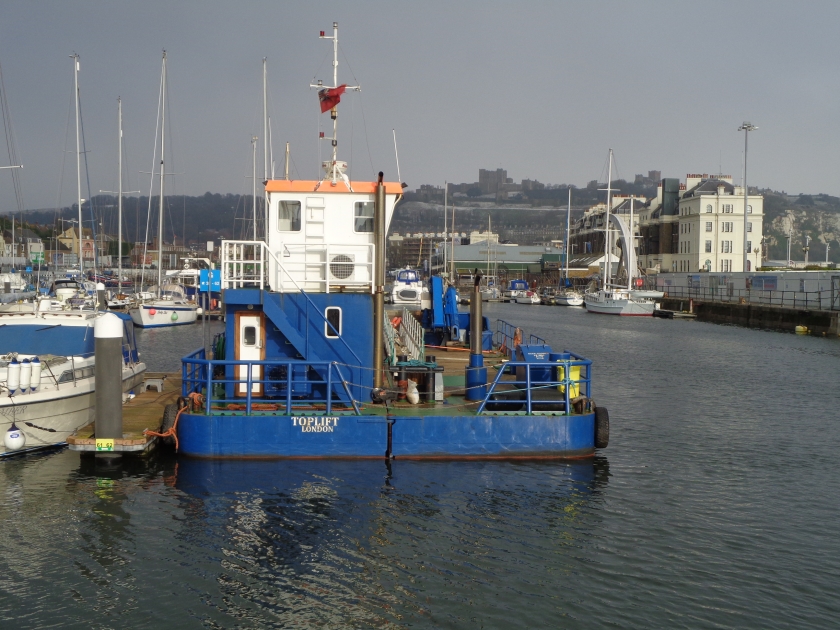 The larger TOPLOADER continues in service, mostly working out on the 'Marina Curve'
With the jack-up rig TOPJACK over in Eastern Docks there's quite a little gathering of the TOPBOND PLC fleet in Dover.
Thursday, 24 January 2019 - 01:14
Post 6042
brian dixon, dover
and who can blame p & o under the present circumstanes

Wednesday, 23 January 2019 - 16:36
Post 6041
Sea News, Dover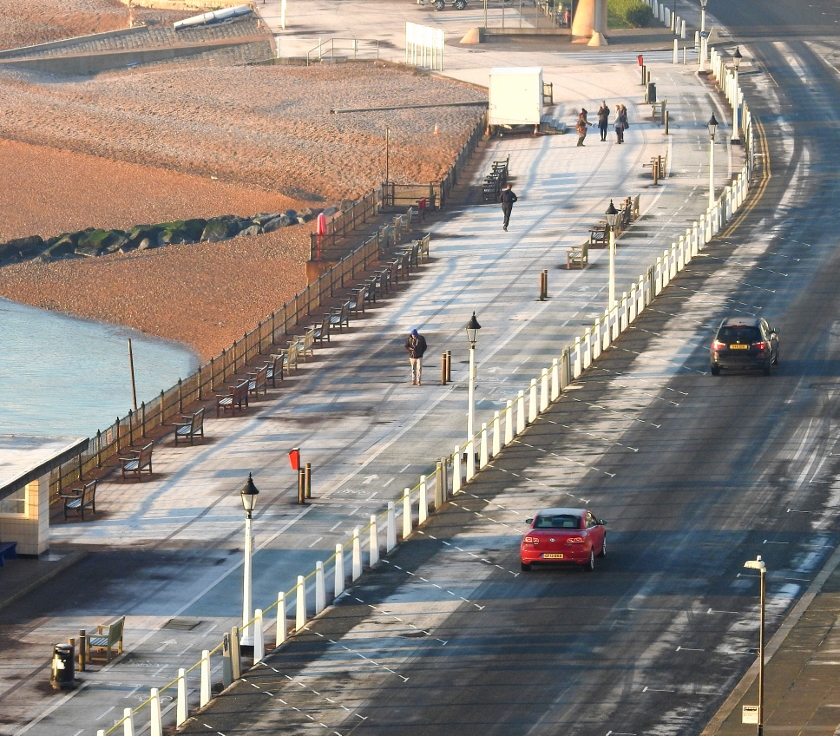 The picture above shows a hard frost on the seafront a couple of days ago..Monday in fact. Very cold and very slippery. You can see a few hardy souls out there bravely ..ermmm braving it. A good bracing walk stimulates the corpuscles. So they say. I of course prefer to watch others doing it..

That road looks a bit dangerous...not much gritting there..

And speaking of all things cold...below we have the latest picture of Cold Stream making its way to Hamburg in Germany. Just caught it in the distance, picture helped by some sunlight for a change.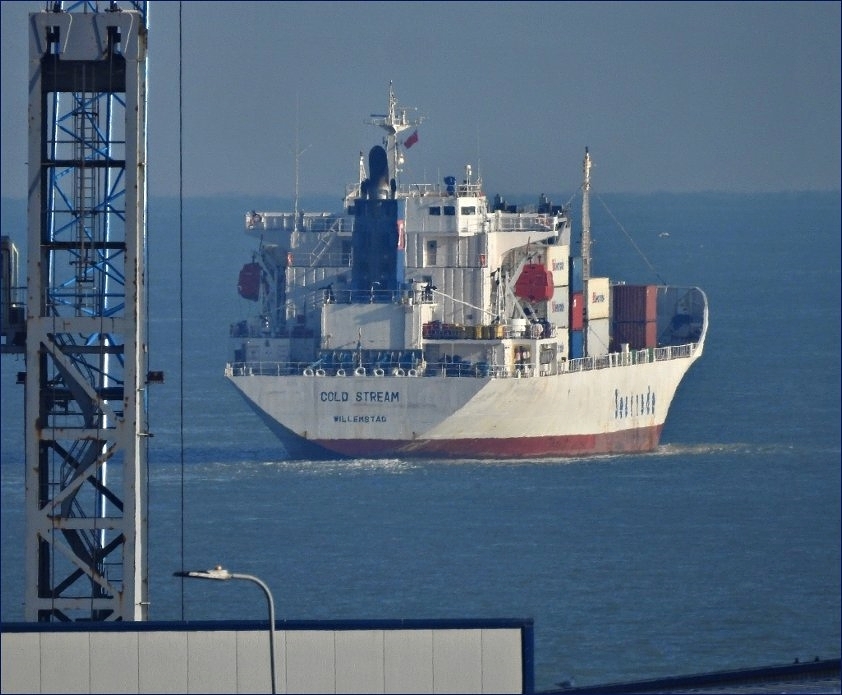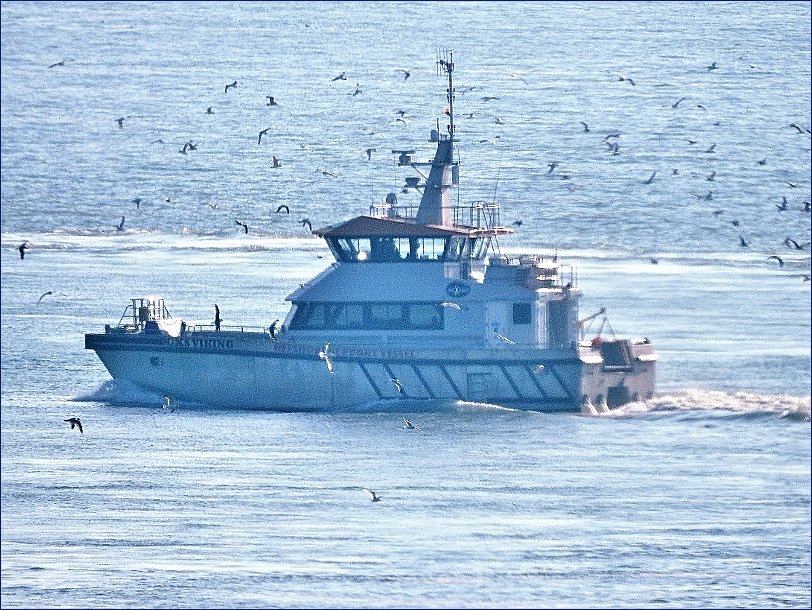 Above there we have GXS Viking moving off, scattering the birds as she goes. We featured her sister boat EMS Vulcan recently. She was presumably heading for Ramsgate. Quality not great on that picture...
Below we have an item about P&O's hugely disappointing reflagging ...
....following along from Mike's post in 6017.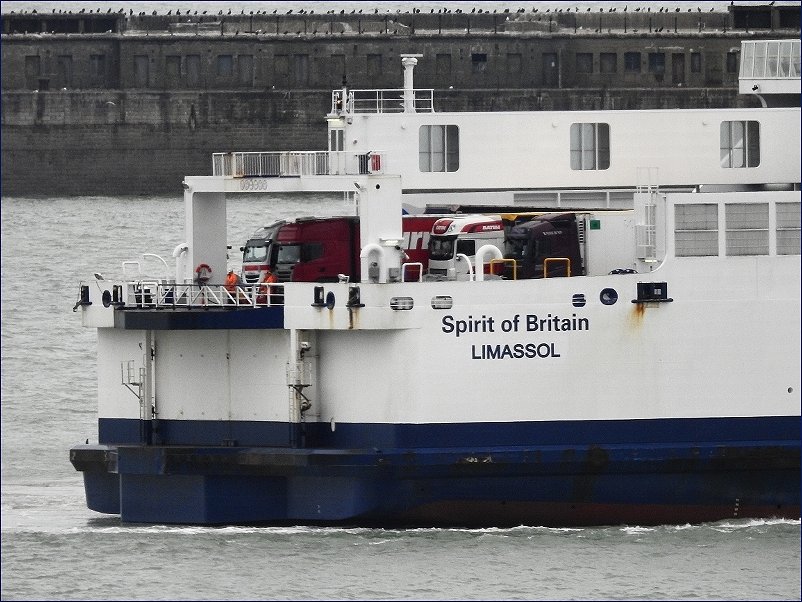 Words from the Microsoft Network today...MSN Money
( the picture is ours. The ship used to show Dover, now showing Limassol ).
_____________________________________________________________
Shipping operator P&O has announced it will be re-flagging its entire UK-registered fleet to Cyprus ahead of Brexit, in order to keep its tax arrangements within the European Union.
P&O had said in December that it would re-flag just two of its UK ships operating on the English Channel route to France to the Cyprus registry.
But the company has now decided that six of its 20 ships will be re-flagged, changing their national registration from British to Cypriot.
"In advance of Britain leaving the European Union on March 29, 2019, we undertook a review of the flag status of our ships on the English Channel," a P&O spokesman said in a statement on Tuesday.
"For operational and accounting reasons, we have concluded that the best course of action is to re-flag all ships to be under the Cyprus flag."
He said that the decision to re-register the entire English Channel fleet will lead to fewer inspections and delays, "and will result in significantly more favourable tonnage tax arrangements as the ships will be flagged in an EU member state".
ENDS

Many thanks Mike - great info all round there below. Great clock...good to hear that the beach will be fully restored in due course. Will get more pictures...

Thanks Andrew..yes dark political tunnel is right. Yes if you find those pictures by all means post them up. Always welcome.

yes well said Del... as Mike said the light at the end of the tunnel is probably a train coming at you. So many concerning stories everyday now. Latest one being that our schools are expecting to be heavily blocked in the trucking chaos, pupils not being able to get there and so on so on, and on the front page of most or all the Newspapers today ... arch Brexiteer Dyson has legged it...
PaulB
Wednesday, 23 January 2019 - 06:07
Post 6040
Mike J., Dover
Andrew & Del's remarks about 'the light at the end of the tunnel' always makes me pessimistically wonder whether the light is an oncoming train . . . .
The activity in Paul's post 6031 is the clearance of shingle from the piles of the new marina pier so that 'anodes' can be fitted to fitted to reduce corrosion of the piles with the shingle being temporarily stockpiled to the east of the Watersports Centre.
The temporary rock barrier on the other side of the Centre is also being removed which is the untidy pile by the existing groyne.
I'm sure that DWDR will let you have a few for your rockery if you ask them nicely.
The beach will be restored to it's previous profile when the work is completed, aided by the natural build-up of shingle which is confidently predicted.
This information from the DSS Facebook page with permission & with thanks..
Nice views of the slightly rusty Admiralty Pier lighthouse in Paul's recent posts.
Some years ago an interesting clock from the lighthouse was noticed in Port Control.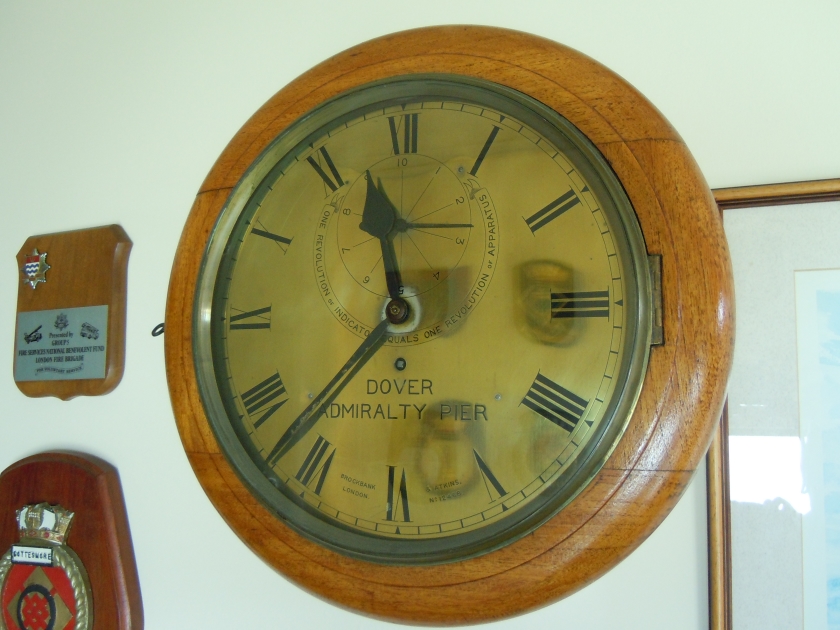 When in use the clock was connected to the light mechanism & showed the rotation of the light's lenses.
. . . . ONE REVOLUTION OF INDICATOR EQUALS ONE REVOLUTION OF APPARATUS . . .
In early days the lens, which gave the light it's 'characteristic' [flash sequence] would itself have been rotated by another clockwork mechanism.
.
View from Port Control on the same ioccasion in October 2012 with reefer CHIQUITA BREMEN & bunker tanker CORALWATER.
At that time a bunker tanker was semi-permanently based in Dover for the ferries, leaving port only to refill her own cargo tanks, usually at Rotterdam.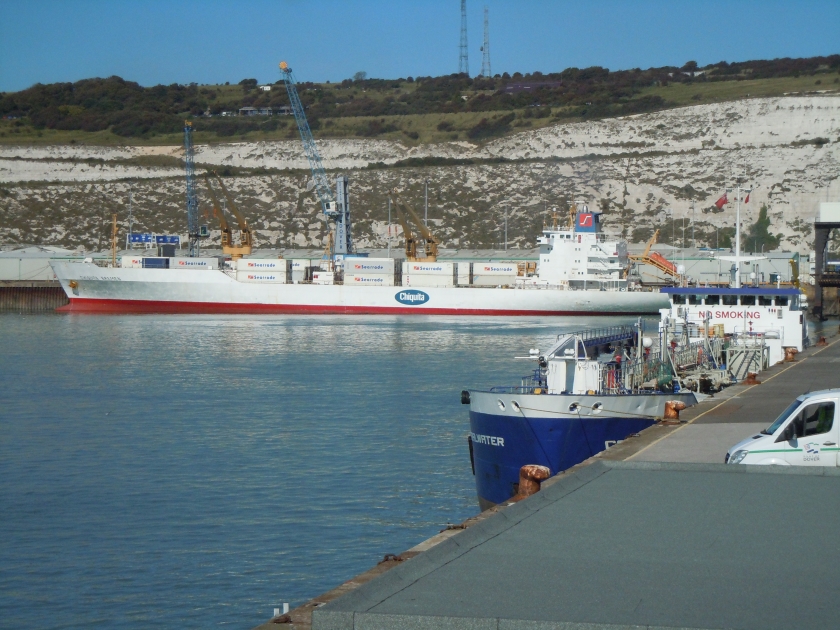 Wednesday, 23 January 2019 - 03:58
Post 6039
Del Styan, Norwich
Well said Andrew - you put it very well - I think I'll use it in the next few days! "Let us hope some light will soon appear at the end of the dark political tunnel we seem to be in at the moment". Hope you're not advertising the alternative way to cross the Channel.

Tuesday, 22 January 2019 - 23:07
Post 6038
Andrew , Broadstairs
Thanks Paul for the picture of HMS ENTERPRISE (H88), her motto - Spes aspera levat
("Hope lightens difficulties")! Let us hope some light will soon appear at the end of the dark political tunnel we seem to be in at the moment. On a lighter note (sorry), her nickname is "Starship" from the original TV series Star Trek and was originally given to the previous RN ship of the same name which with her sisters ECHO and EGERIA could regularly be seen around our shores with all three visiting the Granville Dock in the 70's/80's. I have a photograph somewhere, when I find the slide I will post it! The three vessels were involved with re-charting the Goodwin Sands after several groundings in the 60's when it was discovered that the 'sands' were constantly shifting in an anti-clockwise manner.


Tuesday, 22 January 2019 - 11:35
Post 6037
Sea News, Dover
HMS Enterprise off Dover
As mentioned earlier...here we are with a picture of HMS Enterprise taken yesterday just off the Port of Dover. We understand HMS Mersey is back in Portsmouth for the moment. Enterprise is patrolling in the same vein as Mersey.
Tuesday, 22 January 2019 - 10:57
Post 6036
Sea News, Dover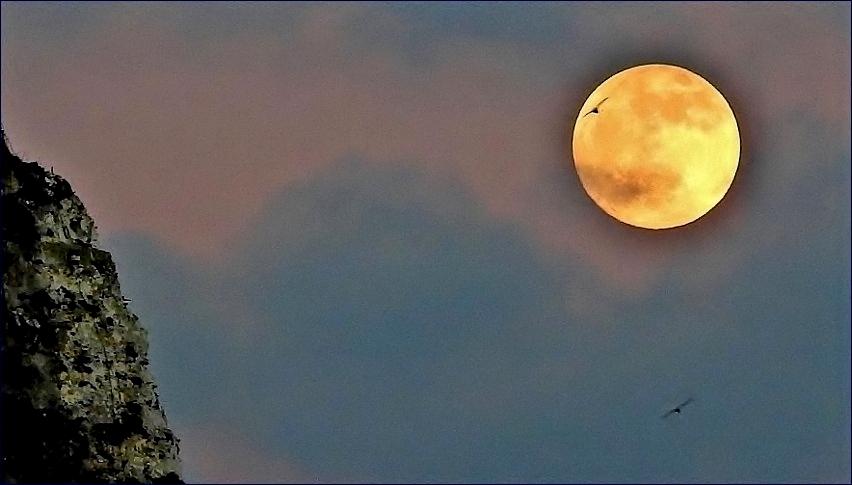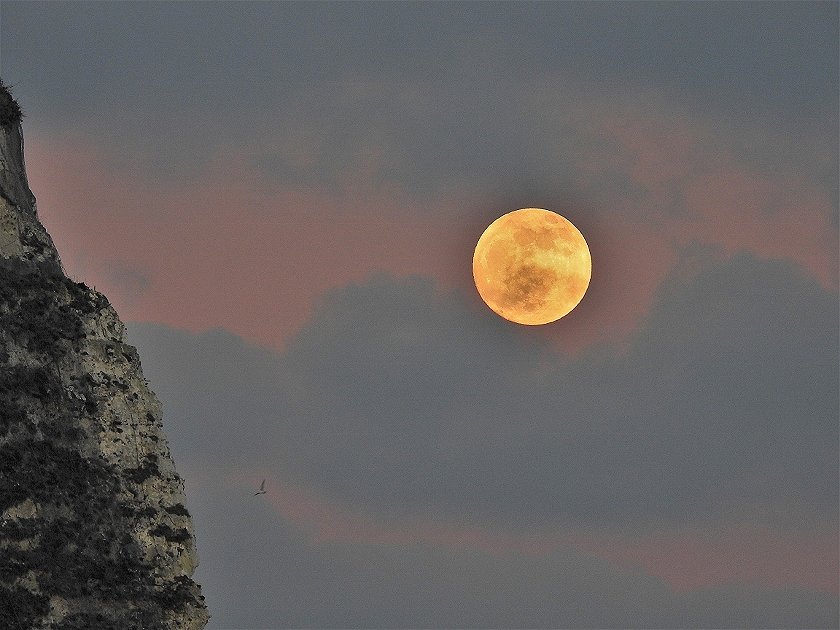 Some shots above there of the much talked about full moon Sunday/Monday. In the wee small hours it reportedly turned red. These pictures were taken before it went red...taken just as it rounded the headland here overlooking the Port of Dover.
The picture below shows Border Force Speedwell a few days ago going out into the channel to join the rest of the Border Force out there...keeping our borders safe and protected. We hear stories now that those promised extra cutters returning from the Mediterranean have been delayed. Home Sec Javid probably fired from the hip with that plan and caught everyone by surprise. That seems to be the way politicians operate at the moment.
Yes there we have Speedwell.. and in harmony in the foreground a small fishing boat ambles off.. rods at the ready. Bit of shimmer in that photo.
Another Royal Navy warship appeared on the scene yesterday..briefly. HMS Enterprise..tried a few shots. Grey on grey always difficult. The oul camera wont focus, but we should have at least one to follow in due course.
PB
Update: looks like the visit of HMS Enterprise wasn't too brief after all...she is out there again. Perhaps HMS Mersey is back in Portsmouth once again.
Tuesday, 22 January 2019 - 06:01
Post 6035
Sea News, Dover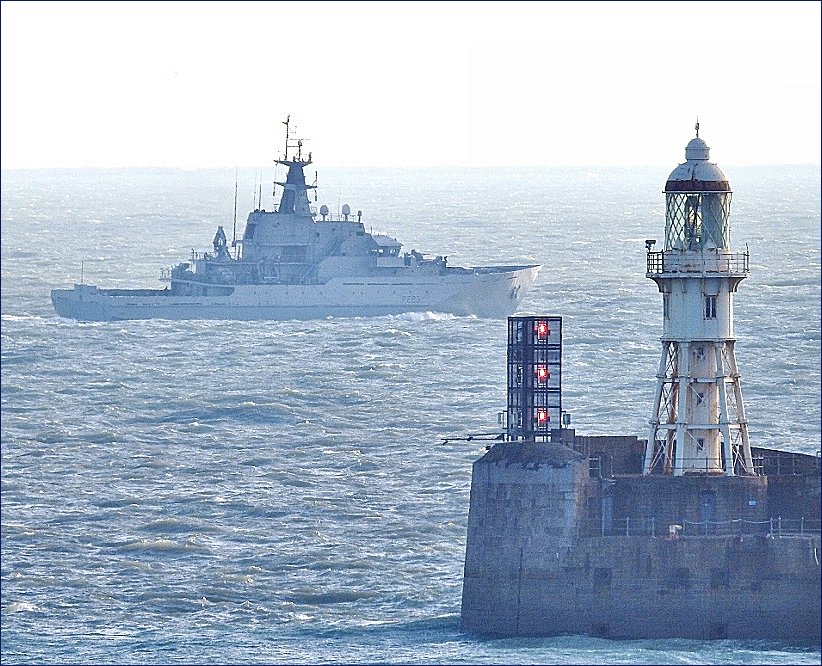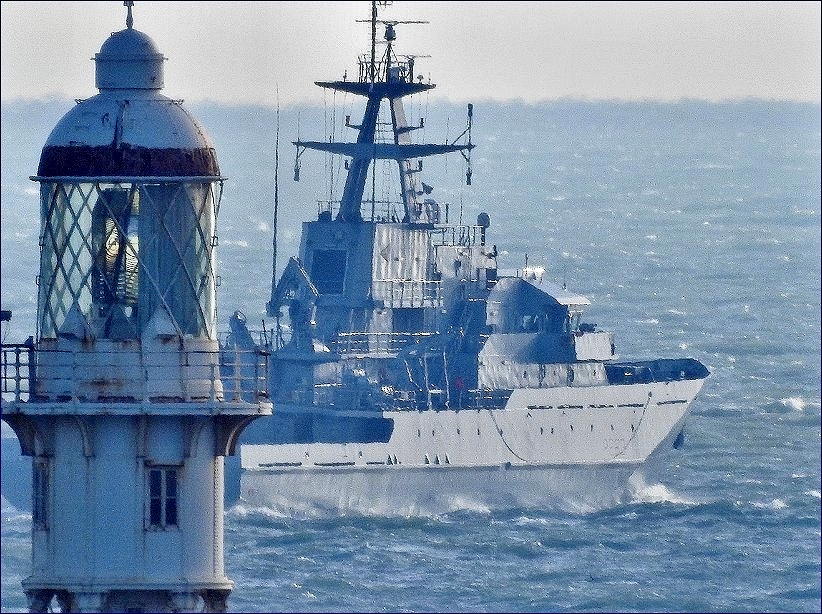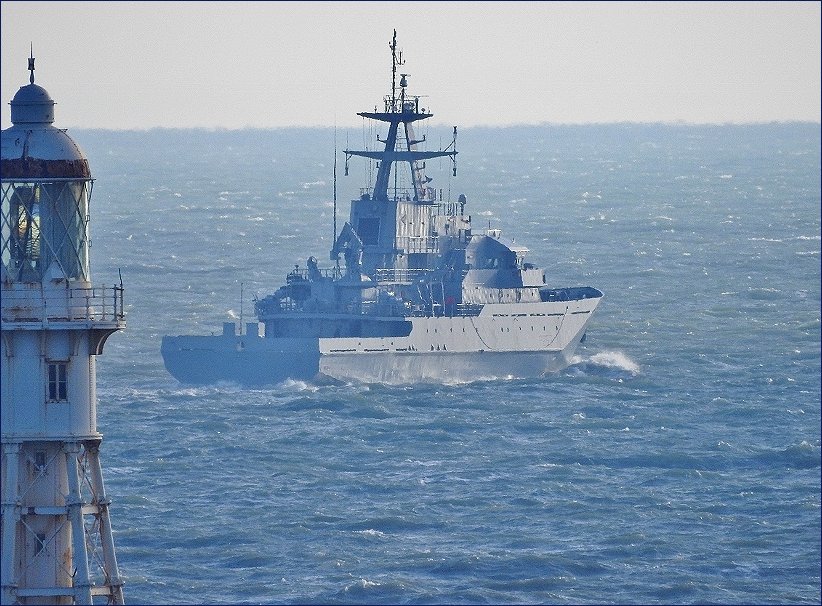 More Migrant Boats...
Our latest pictures above there show HMS Mersey just off the Port of Dover on Saturday … a busy time of it right now and the hectic nature of things goes on. This weekend we had yet more migrant boats coming through on sunday. The BBC reports that three boats made it through. One near Folkestone, one at Walmer and one here in Dover just off Shakespeare Beach. There was helicopter activity all morning yesterday which is a sure sign of another incursion...and so it proved to be. Also in the immediate area just off Shakespeare Beach was Border Force Searcher and Border Force Hunter.
Despite all this heavy hardware out there, it is quite amazing how these small boats get through to land on our beaches without being spotted. In our immediate stretch of water we had HMS Mersey, Border Force Searcher and Border Force Hunter all visible at the time.
* *
A nice collection below there Sarah of all the Lifeboat action. Well done getting those. Great stuff!

Yes Brian just like that

PaulB
Monday, 21 January 2019 - 06:56
Post 6034
Sarah, Ramsgate
Estuary Esprit returning to Ramsgate.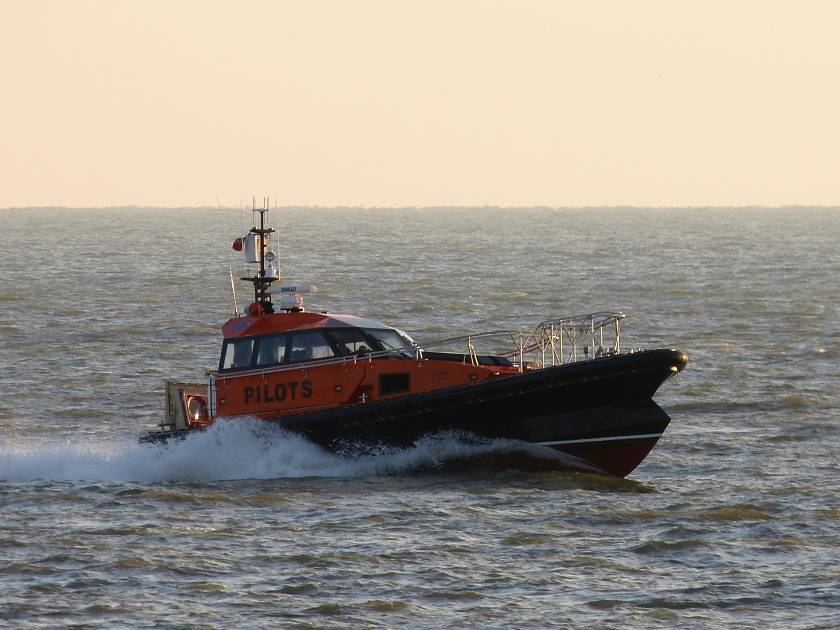 Ramsgate Lifeboat "Esme Anderson" leaving Ramsgate for Margate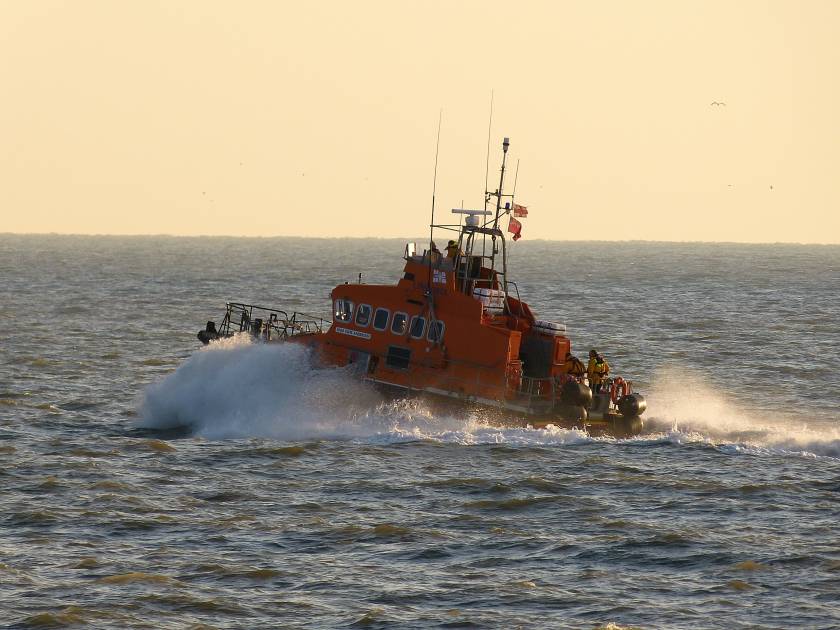 Departing from Margate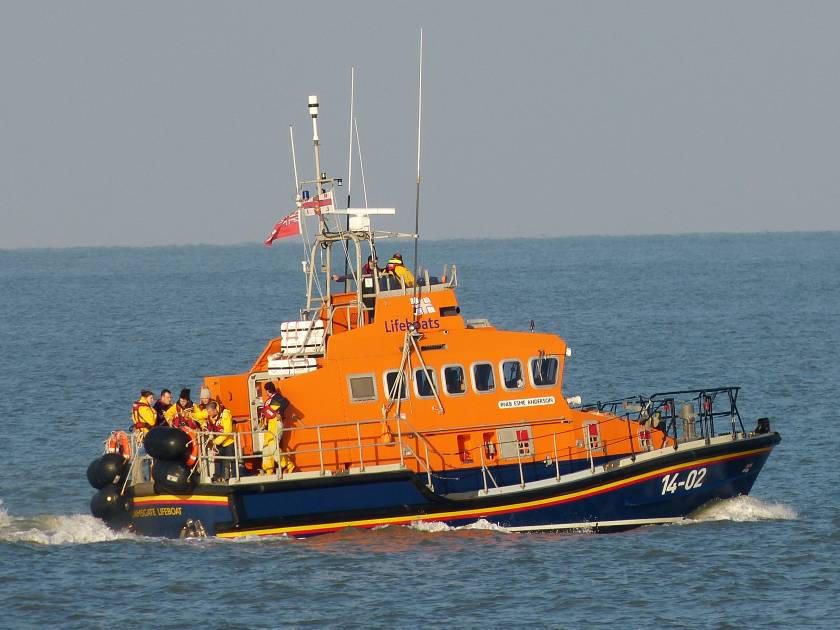 Margate Lifeboat "Tigger Three" on exercise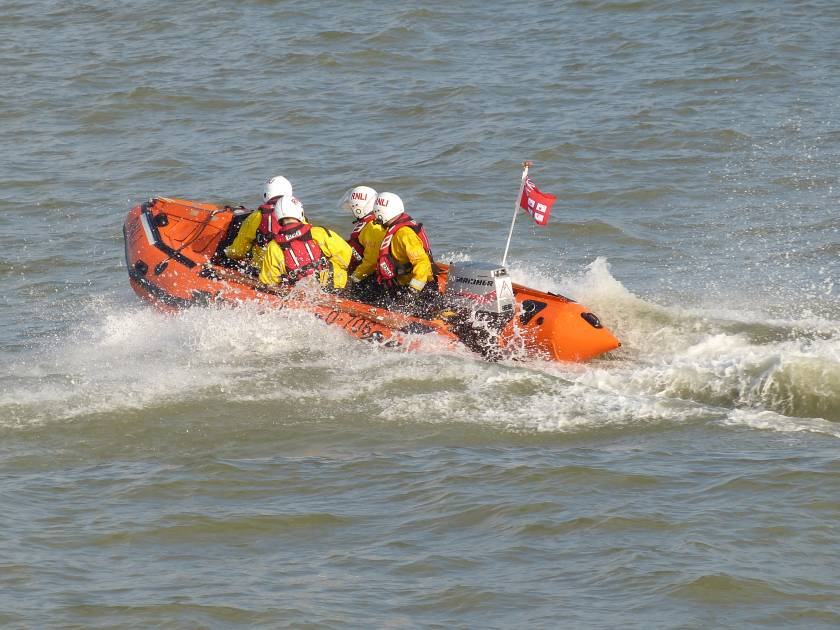 Sunday, 20 January 2019 - 20:11
Post 6033
brian dixon, dover
faster than time lapse pb.

Sunday, 20 January 2019 - 09:47
Post 6032
Sea News, Dover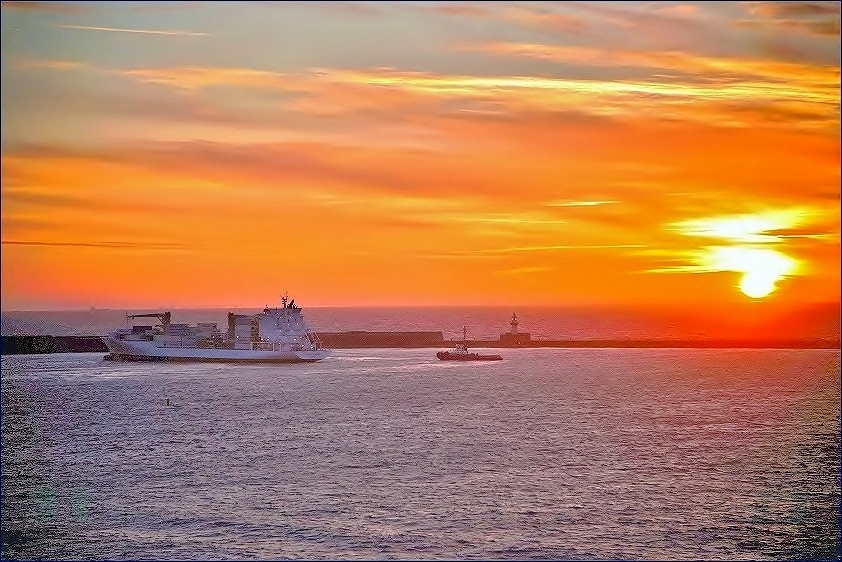 Some pictures above and below now of the Baltic Klipper leaving the Port yesterday morning Saturday...time of first picture 07.50. She was off on long haul to Bridgetown in Barbados. Unfortunately the pictures are not entirely 'au naturelle' as yours truly made a right royal mess of them and didn't realise until the moment had passed that they were very dark ( ie pitch dark ) so the computer was needed to bring them back to life...so slightly unreal...but what can ye do.
Aren't the weekends coming around very fast - you blink and the next one is here.
PB
Sunday, 20 January 2019 - 06:40
Post 6031
Sea News, Dover
They are knocking seven bells out of our famous Dover Beach at the moment...juggernauts and diggers to the fore! Presumably its some sort of tidal management but whatever it is anyway the digging is extensive. You can see they have moved all those rocks...we had a nice collection in pole position on the beach, a very popular addition some years back, but its been added too with some rougher looking ones as you can see. Lets hope they put it all back as it was in due course. I'm sure they will. Not a week to pick for yer annual beach picnic..Put the Champers back in the cellar Doris!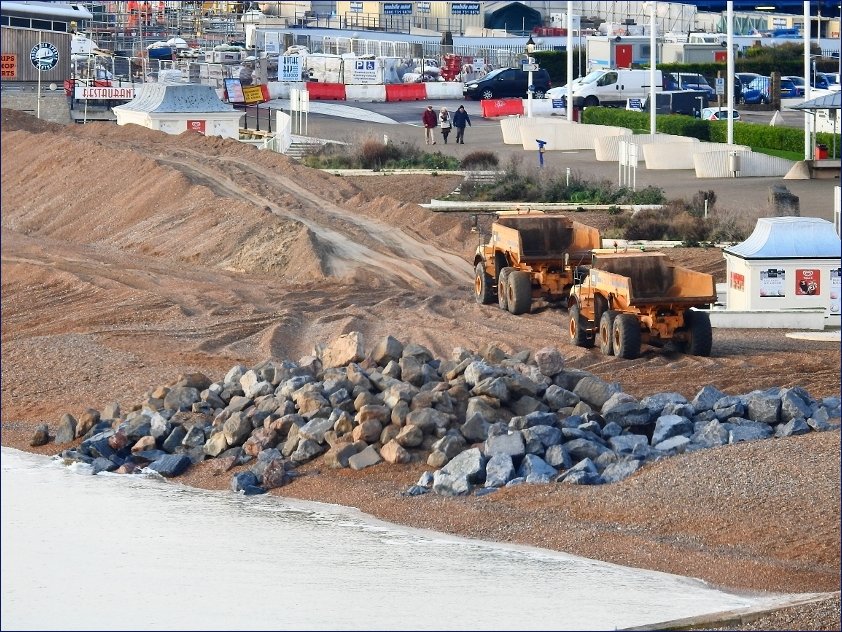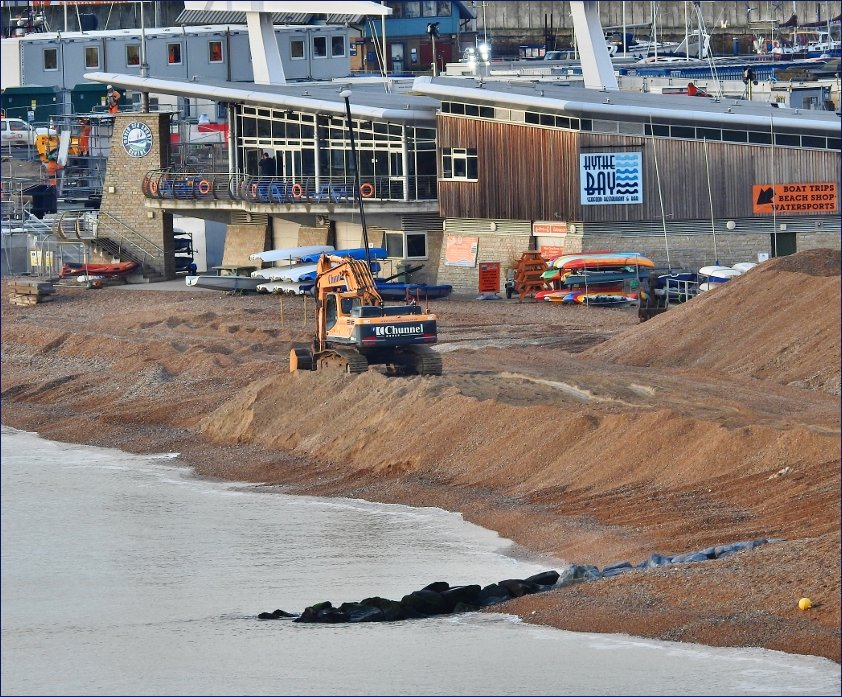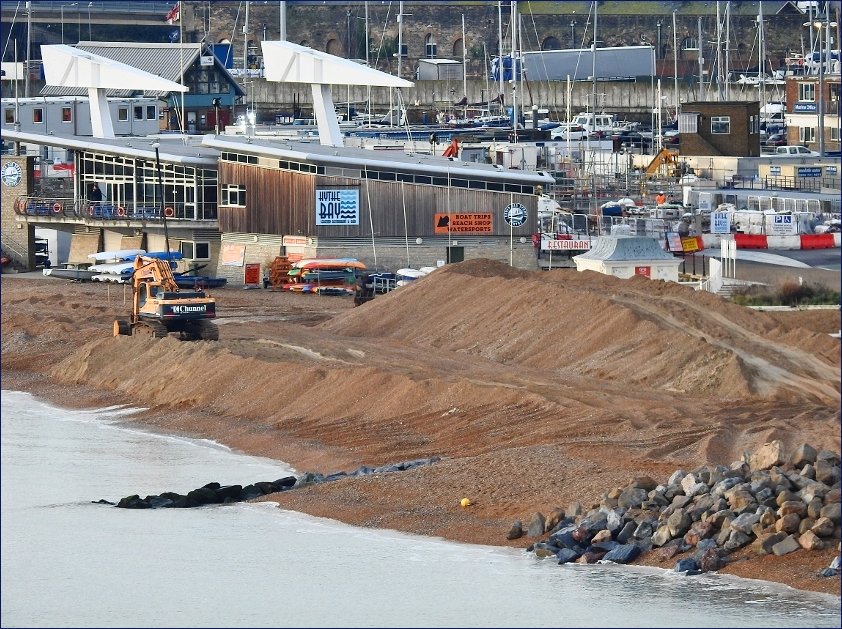 Great work by all the team below. Cracking pictures all round.
Scroll down the page to enjoy all the input.
Some totally fab shots of the Border Force from our 'roving reporter' Sarah over there Ramsgate. Some of these shots will be acknowledged by Google for sure. We have some good stuff on Google.
Well done Sarah. Ace work...

Great all round collections from our 'inshore correspondent' Mike below too. Man on the spot with very topical pictures right now and with the usual very good info.

Very dramatic pictures of that big beast from Patrick. Great stuff Patrick...terrific capture getting that one.

As we see all those trucks in Mike's pictures below Del...there is a heck of a lot of them. I don't think politicians further afield realise the sheer volume of freight coming through here...remember Raab!!

Mike Waight - thanks for that interesting one Mike … a trip down memory lane. Alas I'm not able to help with any info on that one myself.

PaulB
Saturday, 19 January 2019 - 05:03
Post 6030
Mike J., Dover
Tug MTS VALOUR [post-5963] parking a jack-up barge on Pier B on Friday morning.
She had brought the barge, owned by the same company as TOPLOADER, down from Tilbury.
The MTS VALOUR sailed at 1800 heading for Southampton for her next job.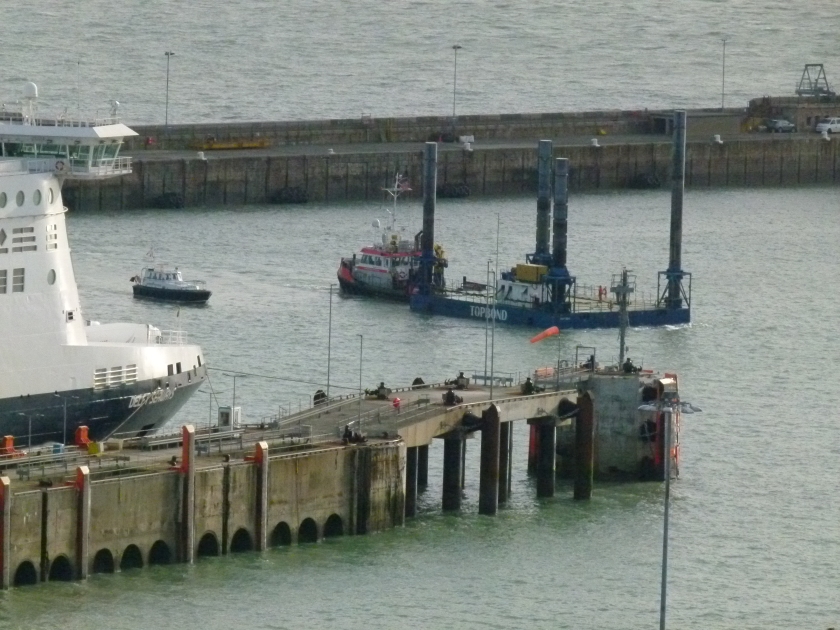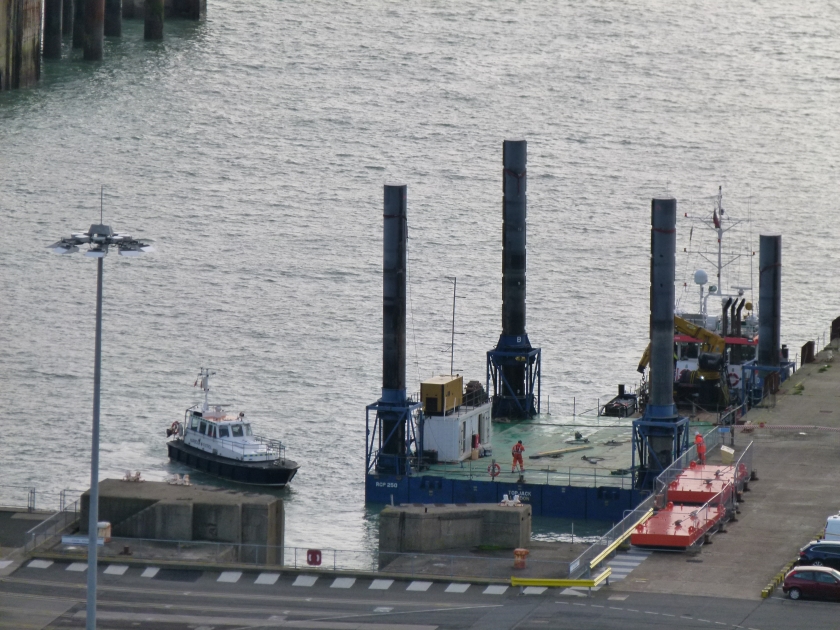 Freight ?
Dover can do freight ! The lifeblood of the Port.
This slow-moving traffic jam, from the SPIRIT OF BRITAIN on No.9 berth, was quickly cleared.
Plenty of freight waiting to go aboard as well.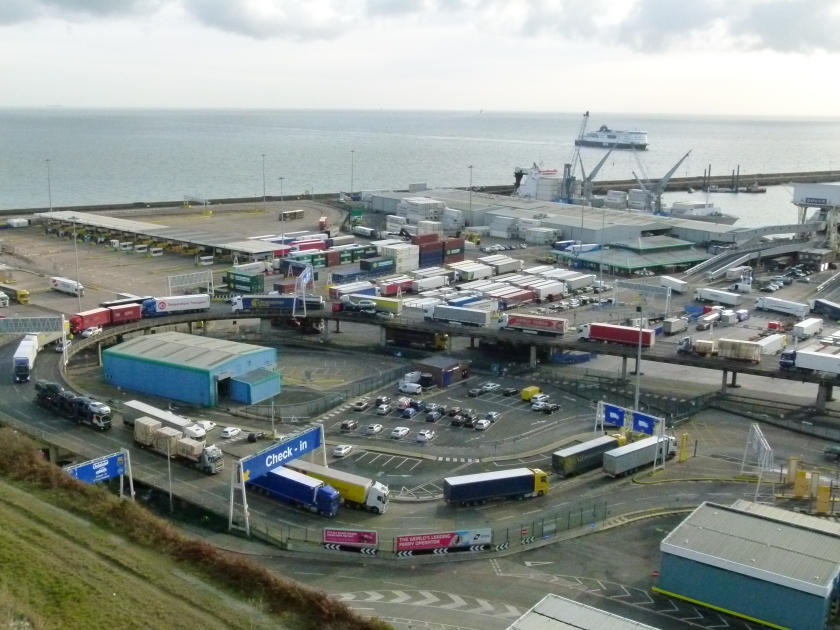 Saturday, 19 January 2019 - 02:11
Post 6029
Mike Waight, Wiltshire
Re #6015 photos of past ferries - Shepperton Ferry in particular - I well recall as a boy watching the train ferries loading and unloading at the Western Docks (circa 1950s) and being fascinated by the concept. I believe it still goes on in some parts of the world. Also remember the Belgian and other passenger ferries on Admiralty Pier. My father told me of one incident where a passenger ferry had backed into the last berth alongside Dover Marine Stn and failed to stop which caused her to run up onto the pyramid shaped tank traps. Anyone know if this happened? Tank traps used to be all over the place then - I recall some off the Deal road although I doubt they'll still be there.

Friday, 18 January 2019 - 15:58