Monday, 11 December 2017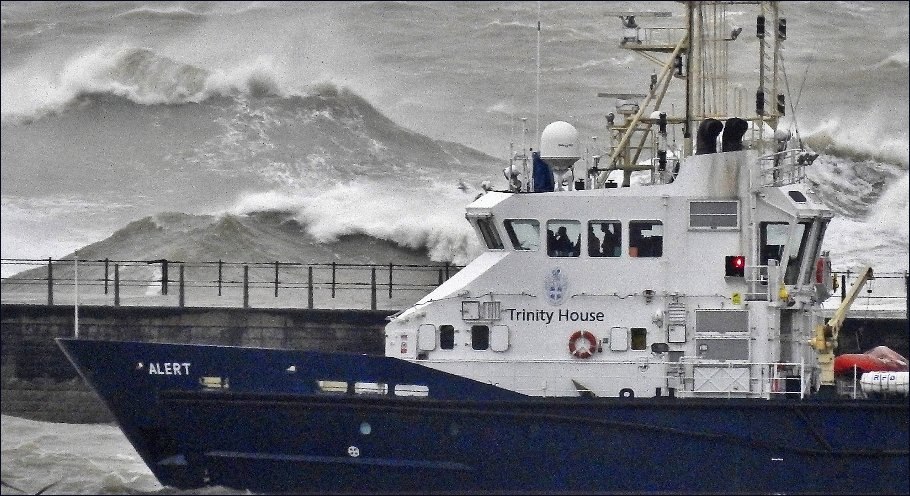 The guys onboard Trinity House Vessel Alert pause briefly before tackling the raging seas of Storm Caroline at Port of Dover. This is a zoomed-in cropped version of our picture further down the page with more emphasis this time on the rough seas.. PB.

doverforum.com/sea-news
Doverforum.com: Featuring all the ships that come and go and work at the Port of Dover with further coverage of Ramsgate, Calais, Dunkerque. Email: dover7@msn.com to send SEA NEWS pix or info.... or click ADD YOUR COMMENT below to post direct, no membership needed.

Port of Dover's Big White Christmas Ice Event. Delightful fun for all...see..http://www.whitecliffschristmas.co.uk/
See also post 4460 below.
Charlie Elphicke MP : On being suspended...see below 4424.

P&O Ferries- Britain's favourite 4465
Mammoth Tooth Find - Extraordinary at Port of Dover see 4389.
DFDS - Helping to tackle Breast Cancer - see 4377.
PORT of DOVER: COOL CARRIERS..great cargo coup. New Trade for Dover.. 4336.
P&O FERRIES...women in the workplace .. also 4336..also see 4370 for the new graduate seafarers.
also see 10 new local apprentices 4451.

PORT: Latest DWDR news and drone pictures...see 4330.

DFDS and the Maritime Catering Apprentices 4323.
P&O Ferries help children with serious illnesses cross to France 4316.
Port of Dover sponsors War Horse 4294
DFDS - Crowned Europe's leading Ferry Operator 4287.
DDC Leader Paul Watkins retires...see 4282 and 4270. Replacement 4328.

Use our SEARCH ENGINE below to find all sorts on the SEA NEWS pages..more than 200 now with more than 4000 nautical posts. Posts welcome. Max of 5 pictures preferred per post. Sea News Editor Paul Boland.
Type Cruise Visits (or indeed anything) in our Search Engine below for the latest cruise ship arrivals..
Post 4377
Sea News, Dover
DFDS SPECIAL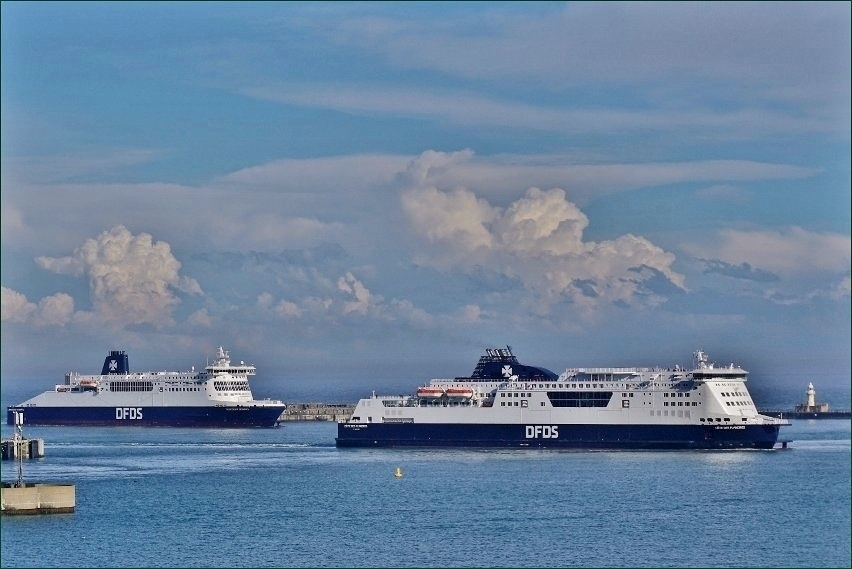 DFDS LAUNCHES CHARITY PARTNERSHIP TO HELP BEAT BREAST CANCER
___________________________________________________________
Ferry operator announces fundraising initiatives to support Breast Cancer Now
Europe's leading ferry operator, DFDS, is partnering with the UK's largest breast cancer research charity Breast Cancer Now, to raise funds to support the organisation's work in beating breast cancer.
The ferry operator is donating £5 to the charity for every booking made on its Dover to Calais or Dunkirk services, through a dedicated 'Think Pink' page on the DFDS website. Fares for travel are from £35 each way for a car and up to nine people and customers can also choose to match DFDS' donation and add-on an extra £5 to the charity if they wish.
Breast Cancer Now is the UK's largest breast cancer charity, dedicated to funding research into breast cancer. Right now breast cancer is at a tipping point; more women are surviving but more are being diagnosed than ever. Every 45 minutes, another woman dies from the disease. Breast Cancer Now want to change that.
Bernie Nolan, Head of Corporate Partnerships at Breast Cancer Now, said: "We're delighted to be working with DFDS and their wonderfully enthusiastic employees and we are very grateful for the support being shown. We wish all those taking part the very best of luck in their Channel Challenge on Friday.
"At Breast Cancer Now, we believe that by 2050 everyone who develops breast cancer will live, and it is with the fantastic support of companies like DFDS that we can continue to fund cutting-edge research to help put a stop breast cancer once and for all."
Pete Akerman from DFDS added: "We are delighted to be working with the country's leading breast cancer research charity, whose work is instrumental in beating this deadly disease. We hope that with our simple donation process at the point of booking, we can raise a significant amount to help support this worthy cause and get Breast Cancer Now that bit closer to their 2050 target of all women diagnosed with the disease, surviving."
On Friday 3 November, DFDS staff will 'Wear it Pink' in support of the charity, while six employees will run a relay marathon from Newhaven port to Dover port to raise further funds. The runners will cover 75 miles between them and each have a minimum fundraising target of £250. The total amount the team raise, will be matched and trebled by DFDS to further support the cause.
The Think Pink promotion is live until Thursday 30 November for travel until 23 March 2018.
DFDS offers up to 54 daily sailings on its Dover to Dunkirk and Dover to Calais ferry services. The ships café's serving hot and cold drinks plus light snacks; a self-service restaurant offering hot and cold meals; a shop with up to 20 per cent off high-street prices on fragrances, skin care and cosmetics, plus a range of travel essentials and duty-paid goods; and a Kidz Club children's play area that provides entertainment and activities for children during the holiday period. All of the company's ships also feature a premium lounge, which can be booked for an additional £12 per person each way.
For more information, or to book, visit: dfds.co.uk/think-pink.
-Ends-
A truly great initiative above there from DFDS. Yours truly is a tiny bit late with the news release but the message is clear and the initiative is still ongoing until NOVEMBER 30.

PB.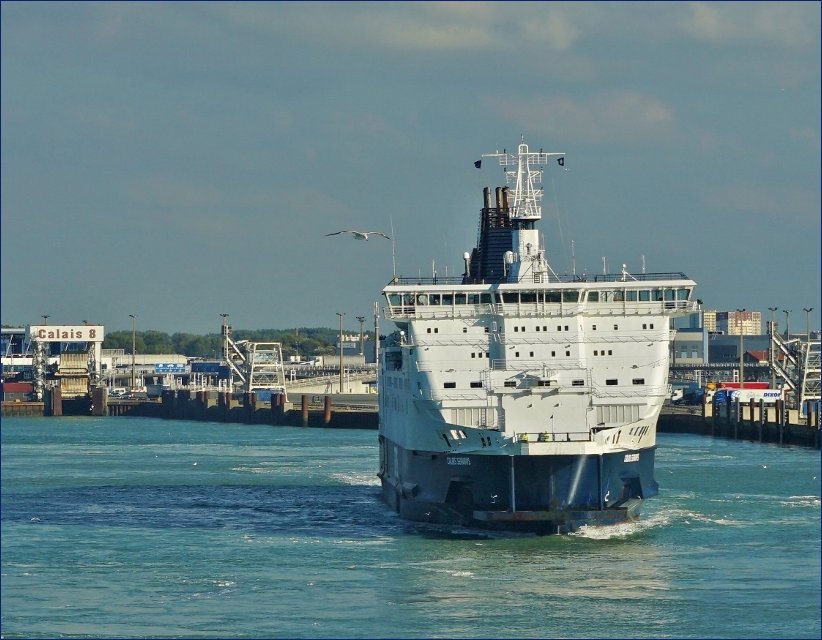 The Calais Seaways leaving ..well..Calais recently in glorious sunshine.
Cote des Dunes almost amongst the dunes on the approaches to Calais.
Top shot shows both the Dunkerque Seaways and the Cote des Flandres arriving recently at the Port of Dover.

Monday, 6 November 2017 - 07:27
Post 4376
Sea News, Dover
Following along from Patrick's fascinating picture and info on the Barent Zanen suction dredger...here we are with another couple of shots of her in harbour pumping action, just a few of days ago ( Nov 2 )...this time with Holyhead Towing's Morag M in close attendance ...
You can clearly see her connected to the pipeline here ....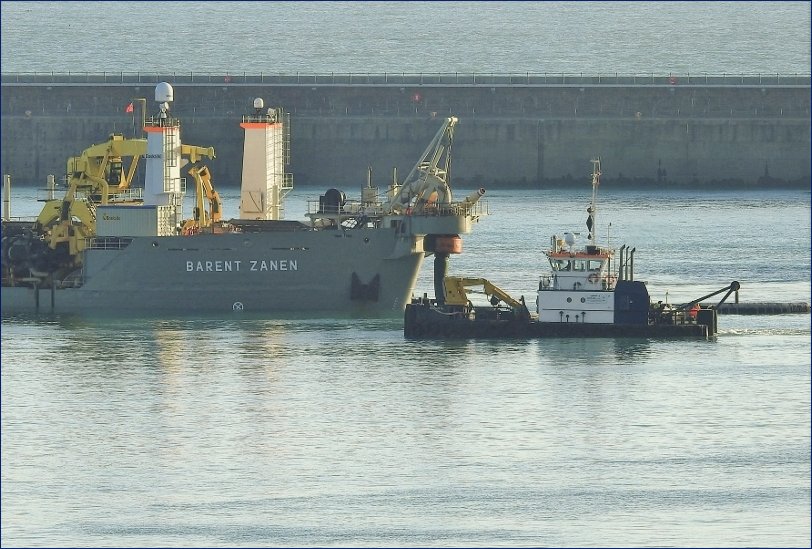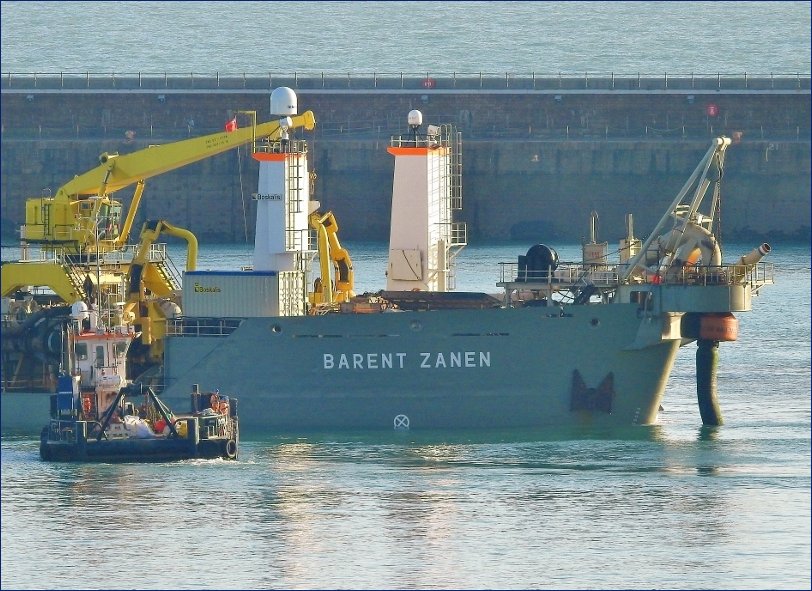 A couple of extra pictures below here...they show the Harbour Patrol guys trying to detangle ( at least that's what it looks like ) some of the inshore exclusion lines a couple of days ago ... on Friday to be exact. It was a bit gloomy so pix are a wee bit pushed..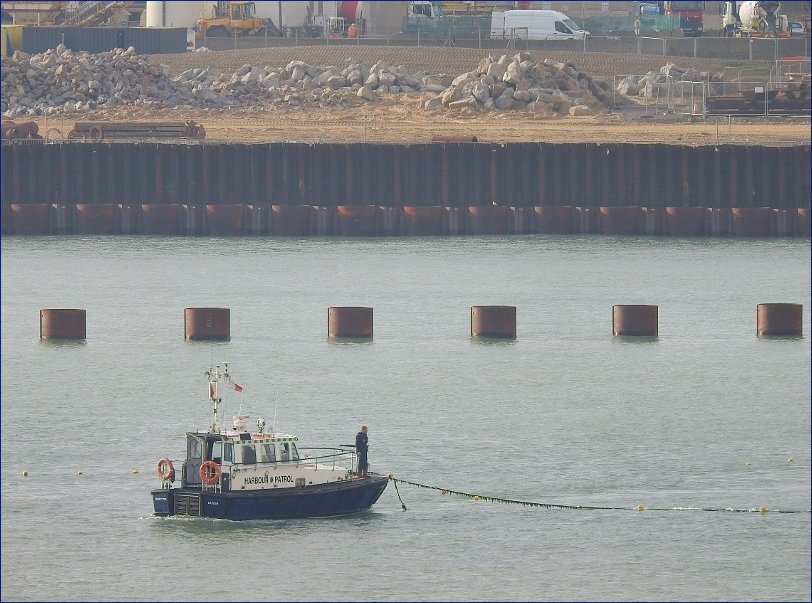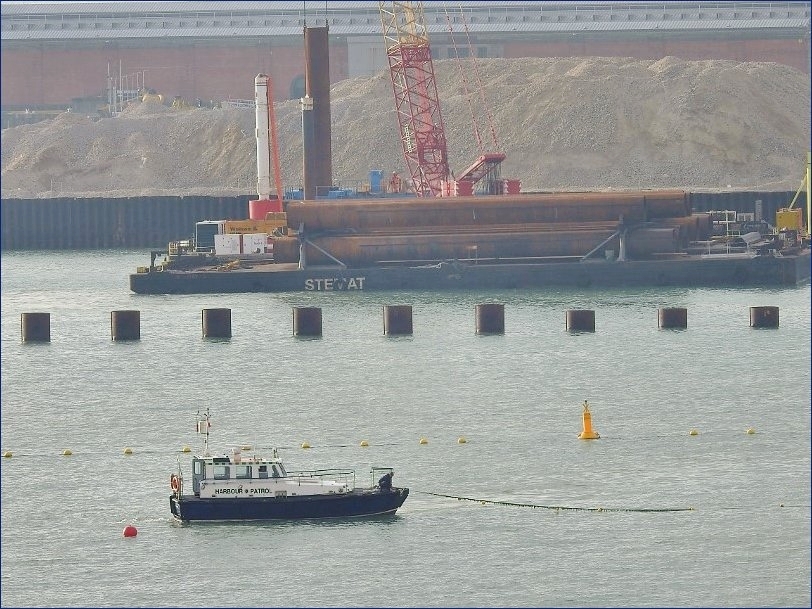 Thanks once again Patrick.

Thanks Sarah...a great time of year for sunrises over the Channel.

Sunday, 5 November 2017 - 06:49
Post 4375
Patrick, Marine Parade
Trailing Suction Hopper Dredger 'BARENT ZANEN' currently engaged in regular sand dredging trips to and from the Thames ground has recently started pumping sand into the outer harbour reclaim area. Her most recent trip was earlier today, and, having discharged on a rather murky morning, left at 08:45 UTC to collect more sand on a run of approx. two trips per 24 hours.
A bit too dull for today's photo so this one from 1st November. It shows the force used to pipe sand from the dredger along the Prince of Wales pipeline into the reclaim area. Discharge is taking around two hours.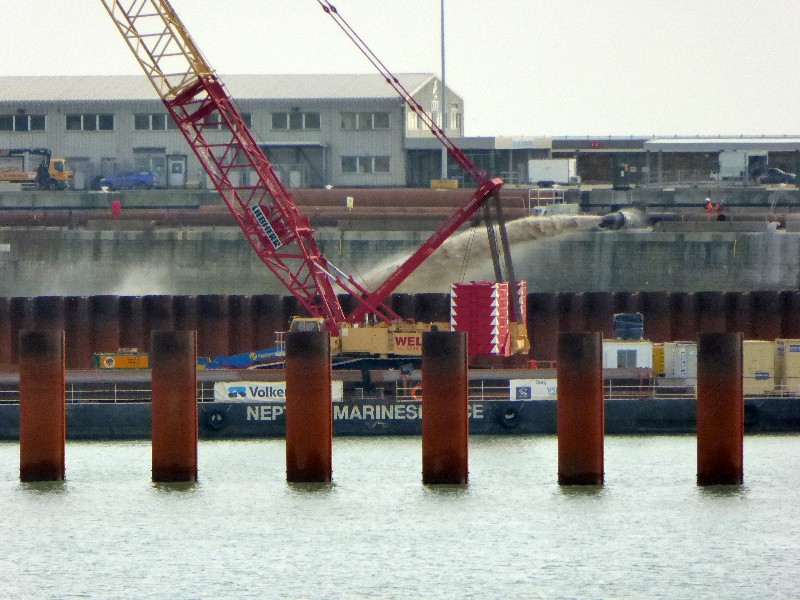 Dredger details from Boskalis website can be found here, showing how it operates:
https://westminster.boskalis.com/uploads/media/Barent_Zanen_LR_01.pdf
Saturday, 4 November 2017 - 09:56
Post 4374
Sarah, Ramsgate
Lovely photos Paul



Saturday, 4 November 2017 - 09:19
Post 4373
Sea News, Dover
Zooming in on the November Sun...
as it rises directly in a straight line over Calais, and of course over the Port of Dover.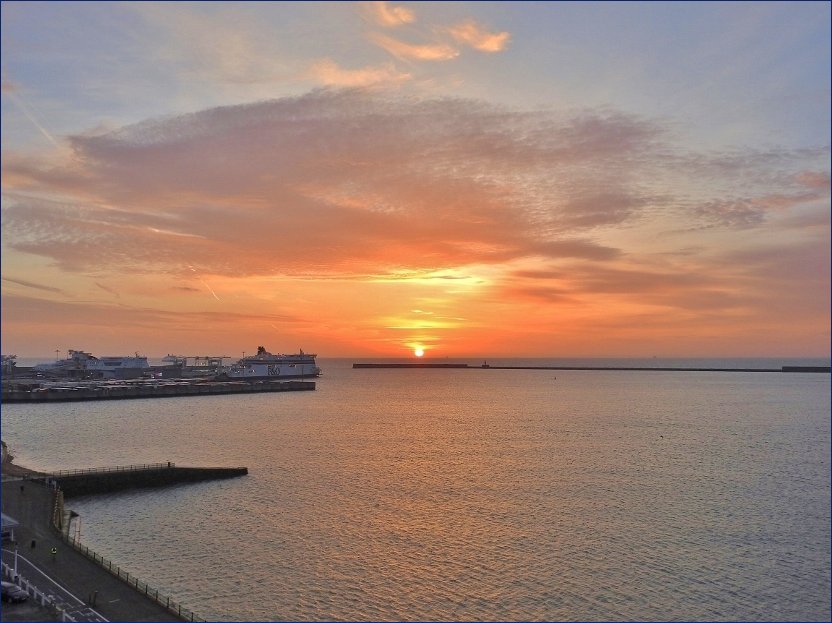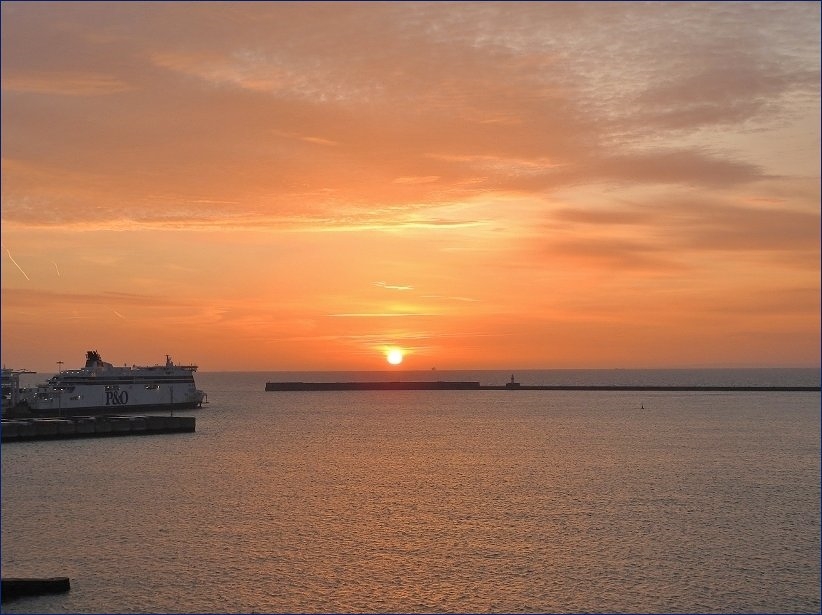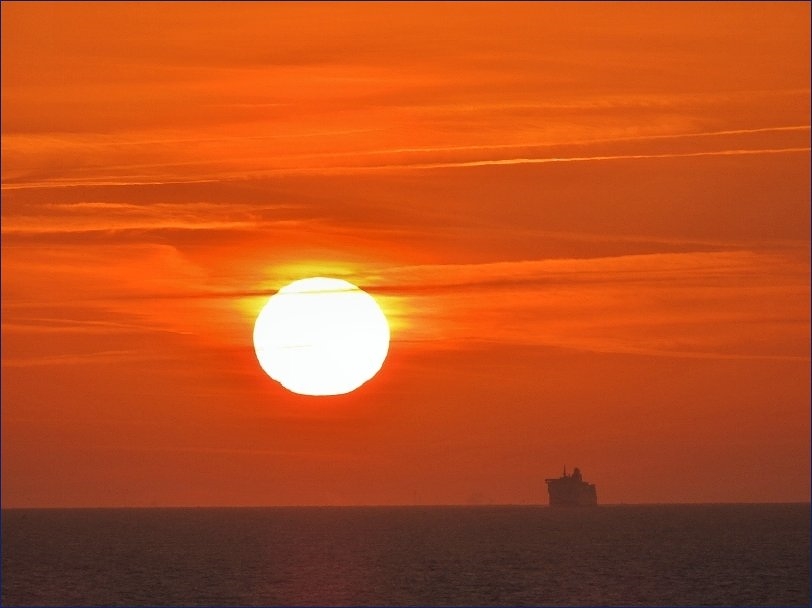 The pictures are from a couple of mornings ago. No chance of such a sunrise today as the whole scene is almost entirely slate grey...although I do see a hint of orange sky over towards Calais as we speak. Ah - the sun has burst through the grey, right on cue...

Nice pictures Sarah below there once again. Great to see those shots from Ramsgate.

PB
Saturday, 4 November 2017 - 07:04
Post 4372
Sarah, Ramsgate
Ramsgate Lifeboat "Esme Anderson, 14-02" & Relief Lifeboat "Forward Birmingham, 14-12" - 3rd November 2017.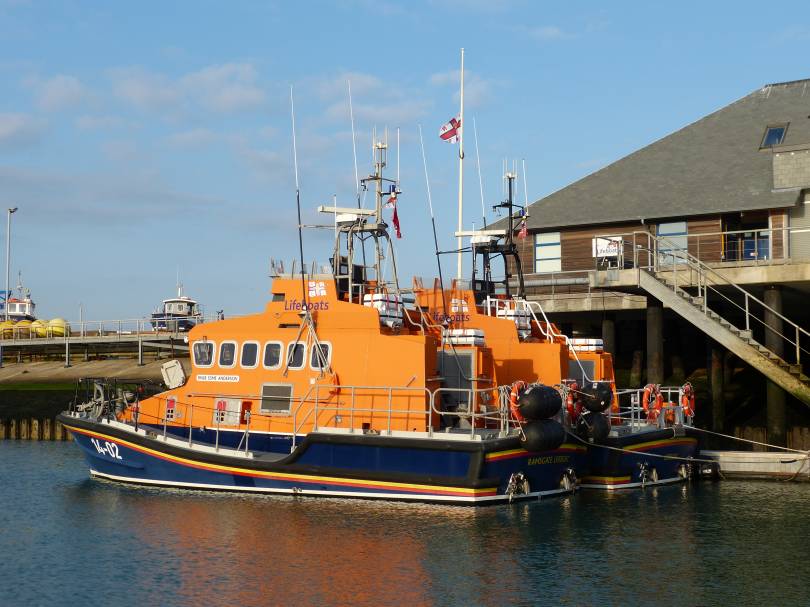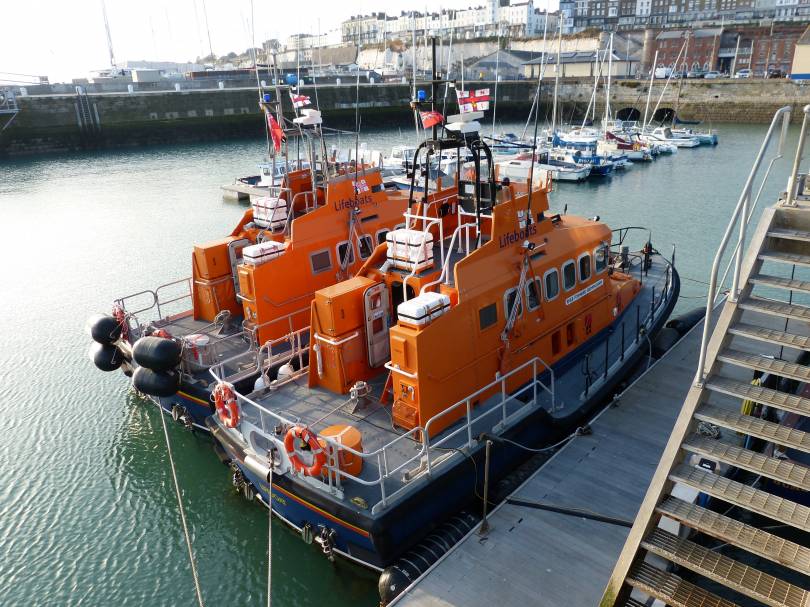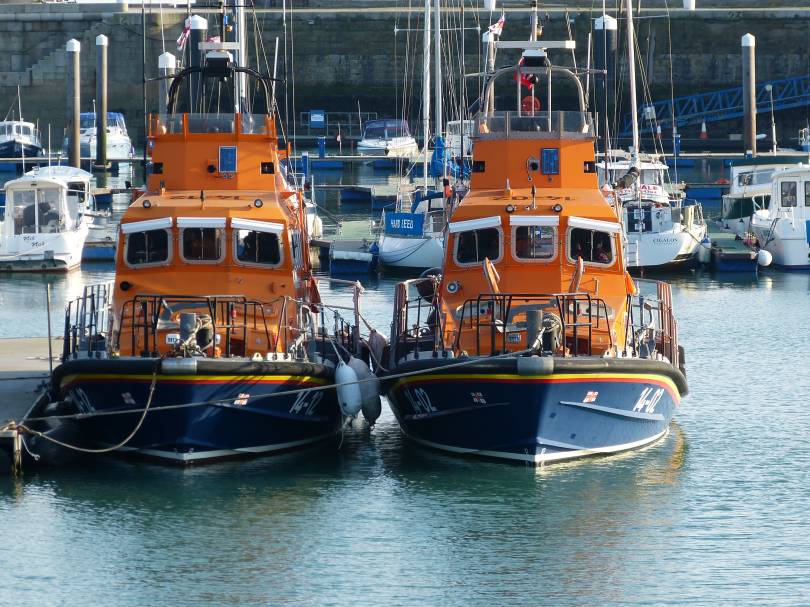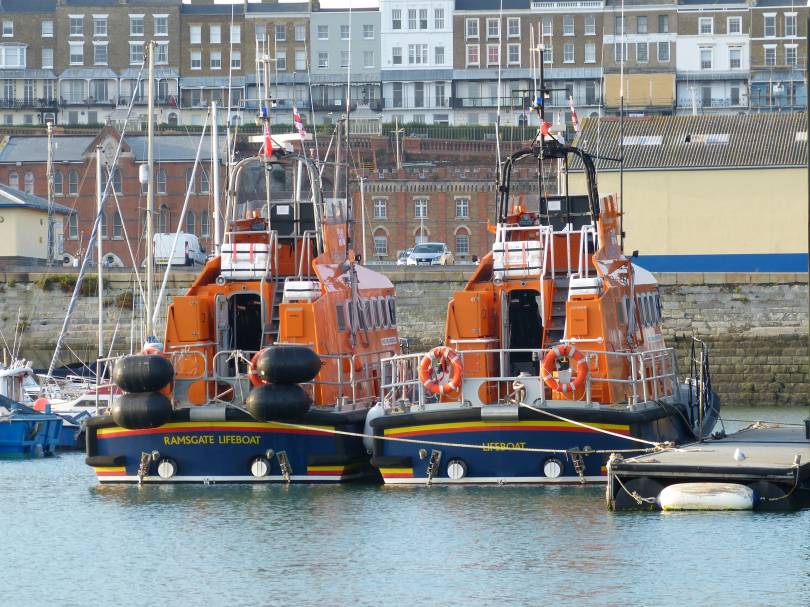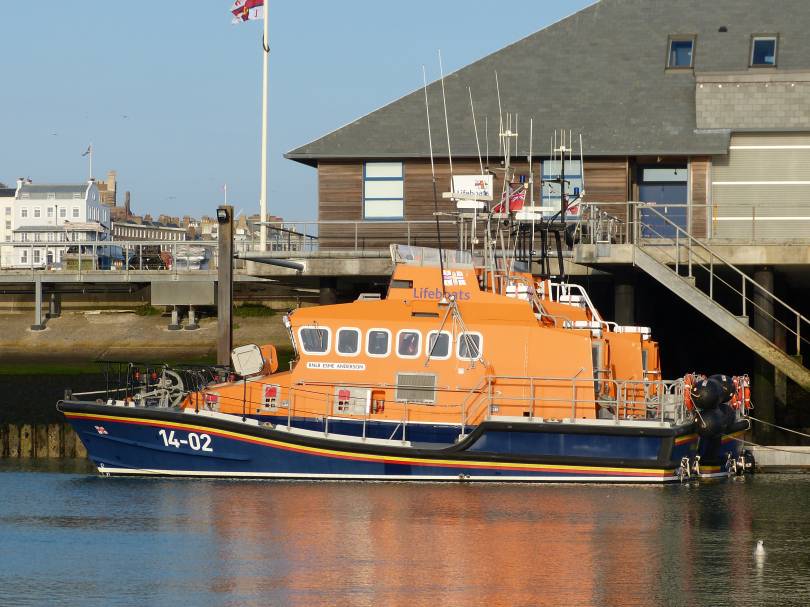 Friday, 3 November 2017 - 19:02
Post 4371
Sea News, Dover
Removing the marker buoys..
yes its the survey boat Diana below removing the safety markers that split the swimmers section of water from the boaters section, those markers which mark up the different zones and keep everyone safe and secure. Yachts one side, swimmers the other....all waters have now merged into one for November, apart from the Exclusion Zone which cordons off the DWDR. I had forgotten.. but in the files I have just seen pictures of Diana doing the exact same thing this week last year. Its a new phenomenon or procedure or.....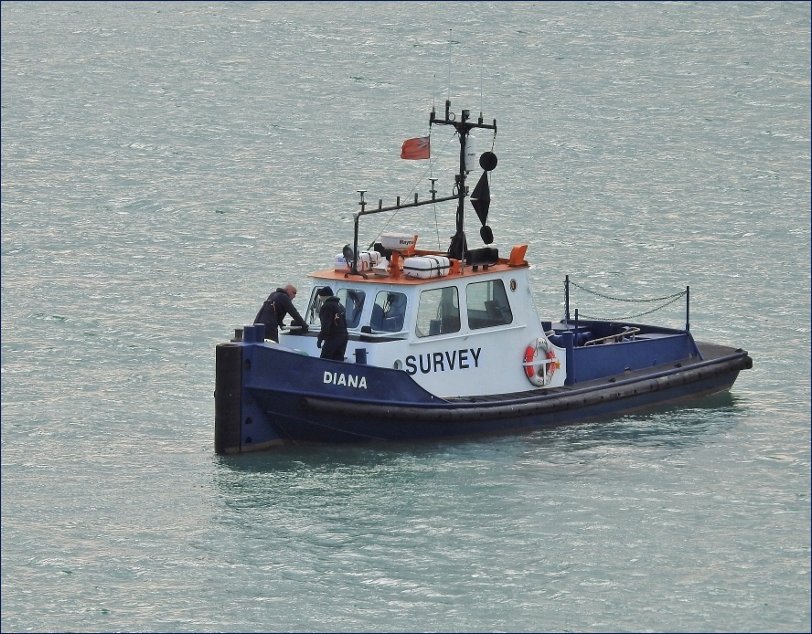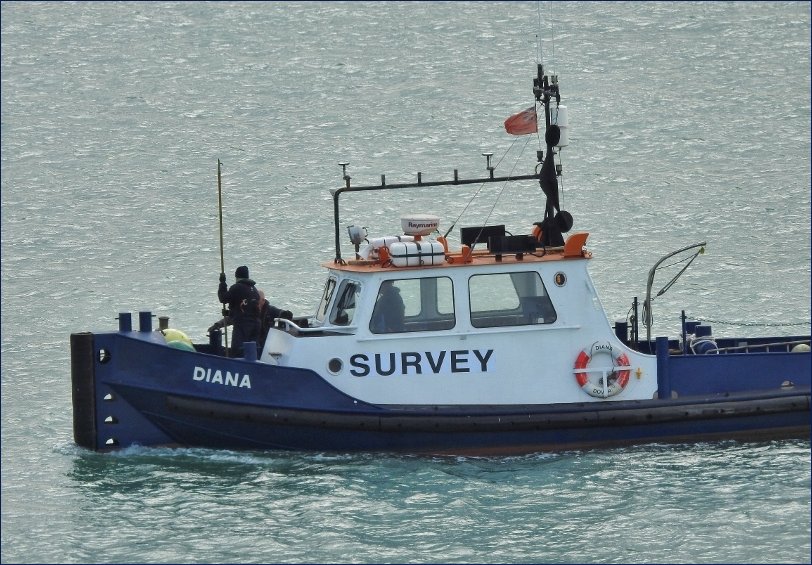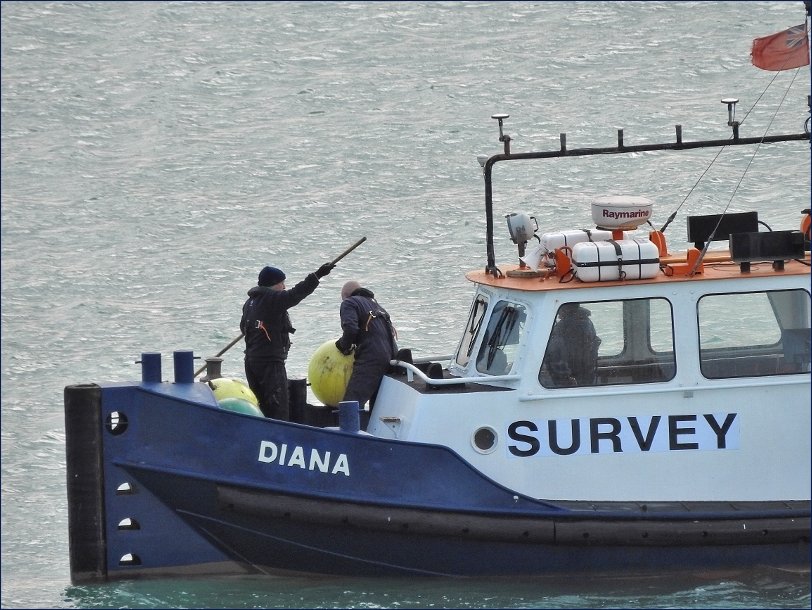 On the same day one of the crew workboats attached to the DWDR...Pampero, was dashing about in an industrious manner...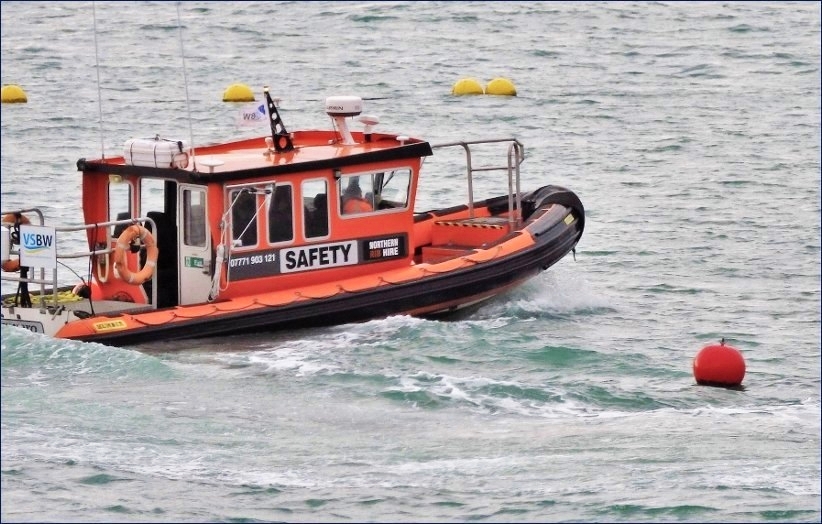 PB
Friday, 3 November 2017 - 07:59
Post 4370
Sea News, Dover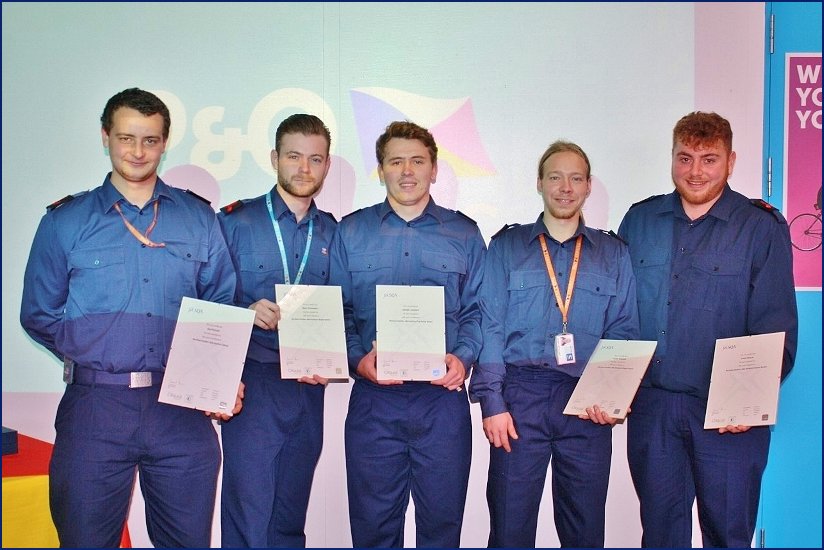 FIVE LOCAL APPRENTICES GRADUATE FROM P&O FERRIES SCHEME TO BEGIN CAREER AT SEA
___________________________________________________________________________________
P&O FERRIES celebrated five more apprentices graduating from the company's scheme last week (25th October) on their way to becoming fully qualified seafarers.
Dover-based Jay Prescott and Jasper Weyland joined Deal locals Lewis Pearce, Ryan Christopher and George Lansdown on the prestigious course in 2015, winning their places from a shortlist of 60 applicants.
During their two year training programme, the five apprentices helped to sail P&O Ferries' 47,000 ton ships on the English Channel and also completed three spells of academic study at North Kent College in Gravesend.
The five are pictured after being presented with their Able Seafarer - Marine Training Level 2 certificates from Captain John Garner, P&O Ferries' Fleet Director, and Steve Watkins, Curriculum Manager at North Kent College.
All the apprentices are now full-time employees of P&O Ferries and all will continue to work towards becoming full Able Bodied Seafarers, the rank required for anyone to be able to work on most merchant ships.
Ryan Christopher, 24, who will be working as an Engine Room Rating, said: "It has been a great experience and I am very grateful for everything that P&O Ferries has given me. I have thoroughly enjoyed working with my fellow apprentices."
Captain John Garner, Fleet Director at P&O Ferries, added: "We have been a major local employer for many years and Jay, Jasper, Lewis, Ryan and George are our seafarers of the future. The succession planning programme we have put in place means that this is only the start of their journey and they have an exciting career to look forward to. Being able to sail enormous 47,000 ton ships across the English Channel is an outstanding opportunity for all the young men and women on our apprenticeship scheme."
P&O Ferries' apprenticeships scheme has been running since 2014 and helps local people start a career at sea. The Dover-based employer's wider stakeholder programme offers visits to schools and colleges within the local community, a free initiative with the visit often tailored to school requirements and their current projects.
ENDS
Picture: L to R Jay Prescott, Ryan Christopher, George Lansdown, Jasper Weyland, Lewis Pearce.
Many thanks to P&O Ferries for all the info as usual. Below we have one of the P&O Spirits under a big sky, picture taken on a very colourful evening...just a few days ago. She is about to reverse into her berth at Dover 9.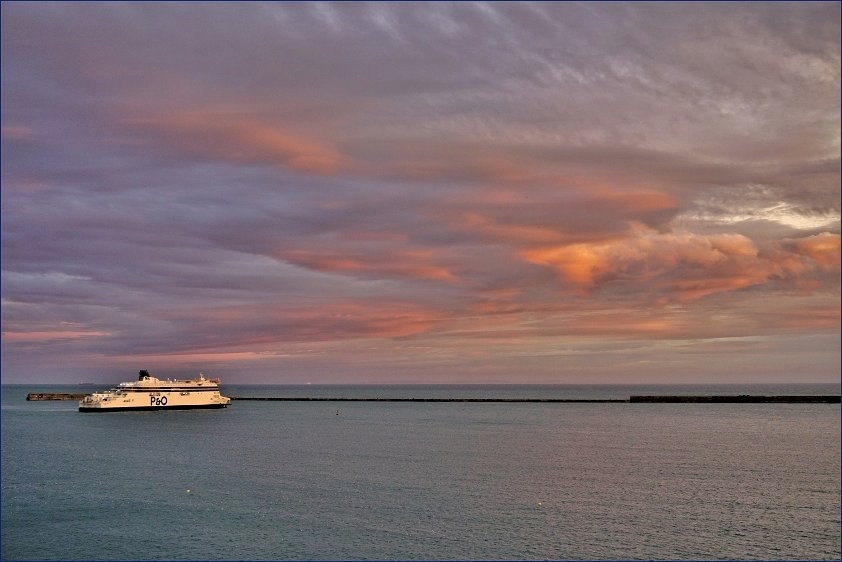 * *
Cargo Reefer Discovery Bay has been in with us...sadly couldn't get a picture as she came in the dark and left in the dark. Its difficult on these short days...so the pictures below are from a previous time.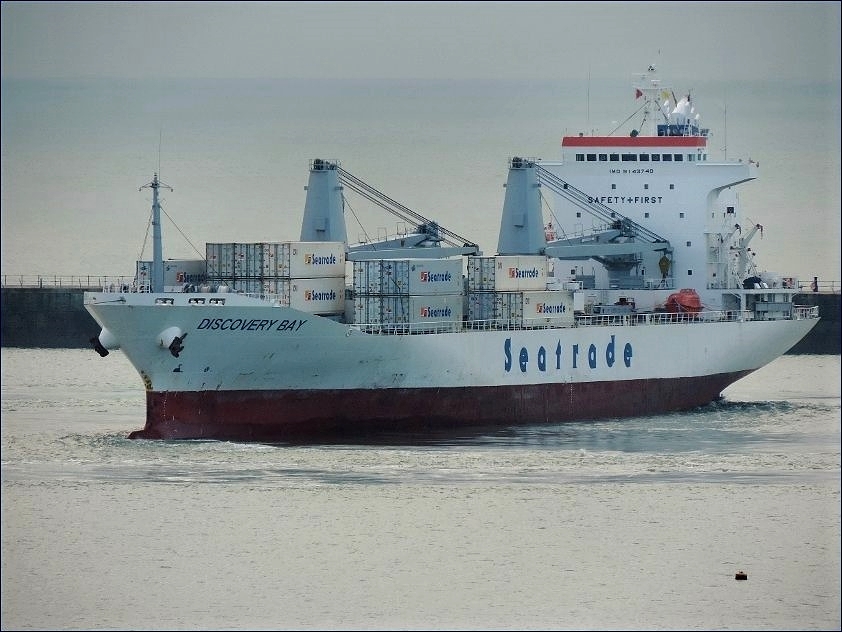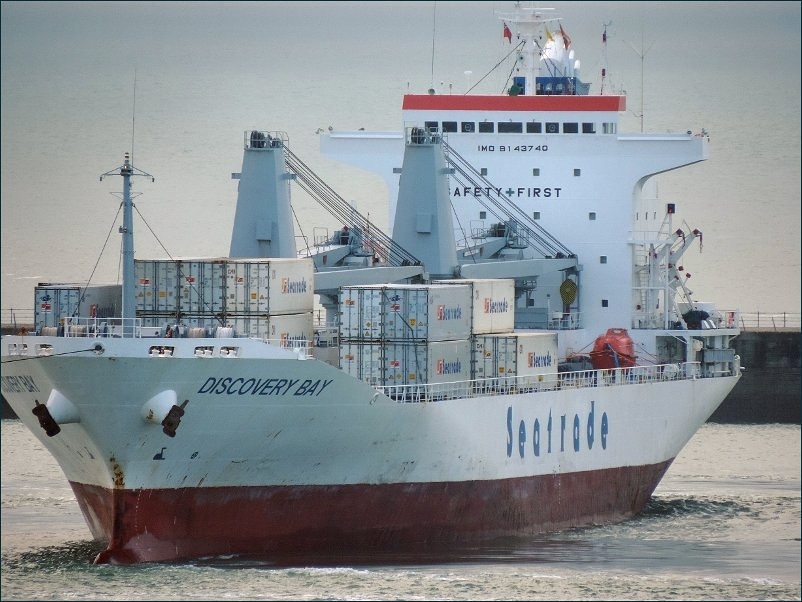 PaulB
Thursday, 2 November 2017 - 07:33
Post 4369
victor matcham, Dover
Thank you for showing me that and yes I have also put that kind in sometimes they are harded to put down then the round then the rounds one if they hit rock on the way down they can spit then have to be welded up and you get wet feet when you do it.

Wednesday, 1 November 2017 - 08:14
Post 4368
Sea News, Dover
A bit of recent gentle tranquil sailing above there as the young enthusiasts quietly meander across the harbour under useful supervision ...always good to have the more experienced close at hand. Dover Harbour as ever is a great location for sailing at all levels.
Below we have another pic of the area around the 'canal gates'...this is one specially for Vic. The reason for this pic...well its a tad different. You can see a new strand or line of different piling just to the right of the clock as we look on. Yes a different type of piling...square-ish rather than round or it appears to be from the distance. The clock looks on as ever...always right twice a day.

Picture taken on Monday.
* *
Fancy a job ?? - well there seems to be lots of them

Recruitment Drive For St James Development
Opportunities on offer at Dover Town Hall, Thursday 9 November (10am-3pm)
_______________________________________________________________
Tenants of the new £53m St James development in Dover town centre will begin a recruitment drive at the Dover Jobs Fair at Dover Town Hall on Thursday, 9 November (10am-3pm). Among those recruiting will be Cineworld, M&S, Next, Costa Coffee, Greggs, Shoezone and Trespass. In total, the St James development is expected to create 500 new jobs.
The Dover Jobs Fair is being organised by Dover District Council and its partners, East Kent College, and Kent Choices which offers advice and information for school leavers.
A wide range of local companies will also be recruiting, from science and engineering, to food production and maritime. There will be advice and information on further and higher education, apprenticeships, and volunteering. Staff from Dover Jobcentre will also be on hand.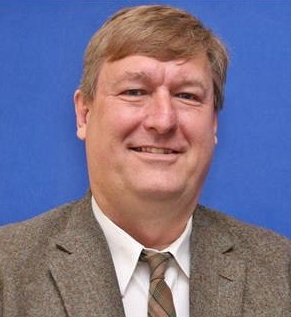 Cllr Keith Morris, Leader of Dover District Council, said: "We're delighted to welcome many of the tenants at the St James development to Dover Town Hall on Thursday, 9 November. It will be a great opportunity for people to come and see the job opportunities on offer when St James opens early in 2018.
"I am also delighted that many of the district's largest employers are also supporting the event, and demonstrating the depth of career, apprenticeship and training opportunities available in the Dover district."
Ends
Get that one in your diary if you are searching...
Thanks Del - glad you like that pic. Have had some positive comments on that one.
Its traditionally a season for striking sunrises etc etc
Yes sleep pattern bizarre..I don't seem to need much of it

PaulB.
Wednesday, 1 November 2017 - 06:41
Post 4367
Del Styan, Norwich
Another cracking shot of the port at dawn. I really worry about your sleeping patterns!

Tuesday, 31 October 2017 - 23:04
Post 4366
Sea News, Dover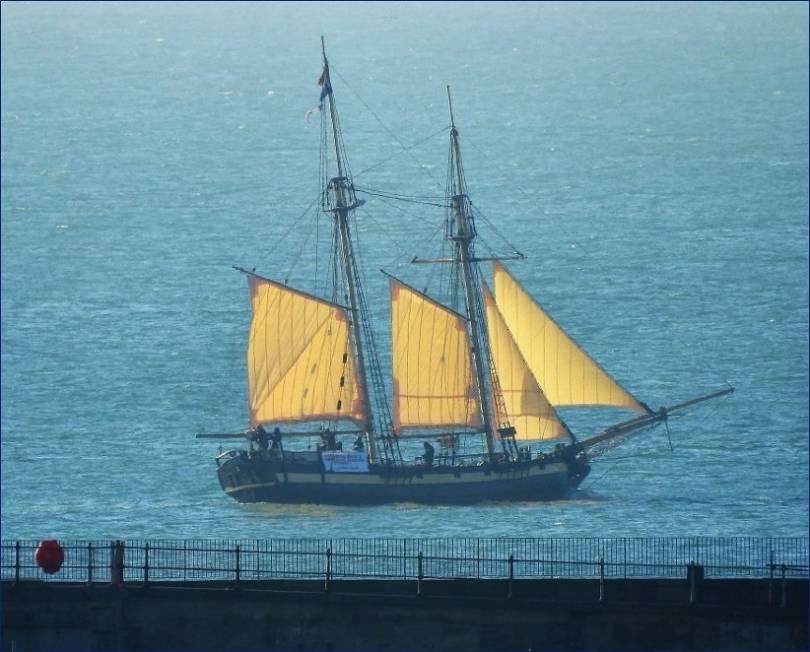 We've had the 'Schooner Pickle' with us for a few days, you will remember Patrick's earlier pictures (4352)...well there she goes yesterday morning around 10am, heading off down the coast. At the most recent time of looking at AIS .. late last night, she was moored off Eastbourne. The picture is a bit long range..yours truly didn't spot her actually leaving our port here, the pic above looks into the distance across the top of Admiralty Pier. A nice schooner for sure.
Available for chocolate box covers and calenders...

Below we have some clearer shots of the ship of the moment...Barent Zanen. These pictures are a bit clearer than my earlier efforts which were taken in poor low light. She continues to deliver her sandy load...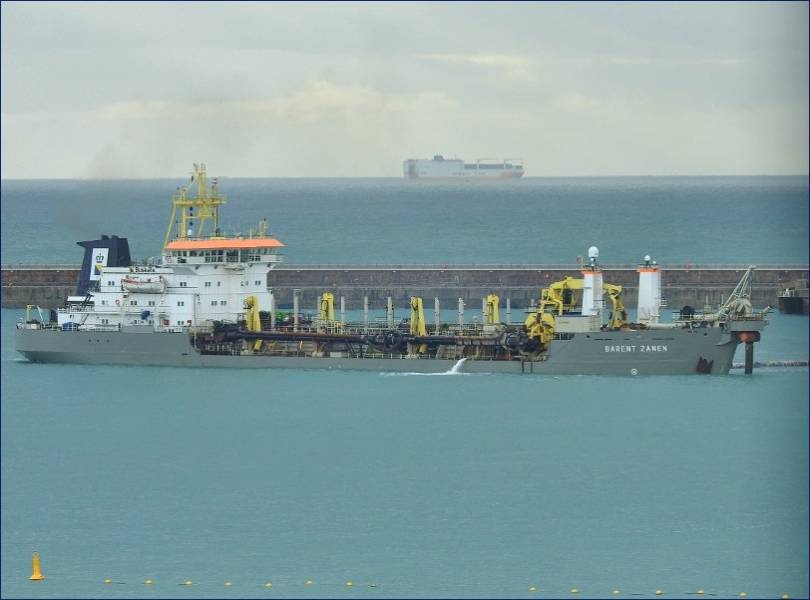 You can see her below there starting up those engines...job done...
And away she goes with the help of the pilot...
Cracking pictures below Patrick...as Del says there...very nice panorama.

Three Lifeboats in Mike. Good spot and an enjoyable picture too..

Vic your tales about the Piling are always interesting. Sorry you couldn't get down there with your bad legs, but we will continue to have lots of piling pictures so hopefully you will enjoy those.

PaulB.
PS: Cargo reefer Royal Klipper has been in with us - she left last night in pitch darkness around 10.20pm. Pity she left when she did... as we have no picture. Off the top of head I think that was a first visit here...
Tuesday, 31 October 2017 - 04:25
Post 4365
Del Styan, Norwich
Great panorama pic. Stretching your legs?

Monday, 30 October 2017 - 23:06
Post 4364
Mike J., Dover
The Dungeness Shannon class THE MORELLS came into Dover on Sunday & will be here for a few days while her launchng trolley is under repair.
We now have three lifeboats in Dover, the DANIEL L GIBSON as a relief boat for the CITY OF LONDON 2 who is being upgraded in the Granville Dock [post 4345] & now THE MORRELLS.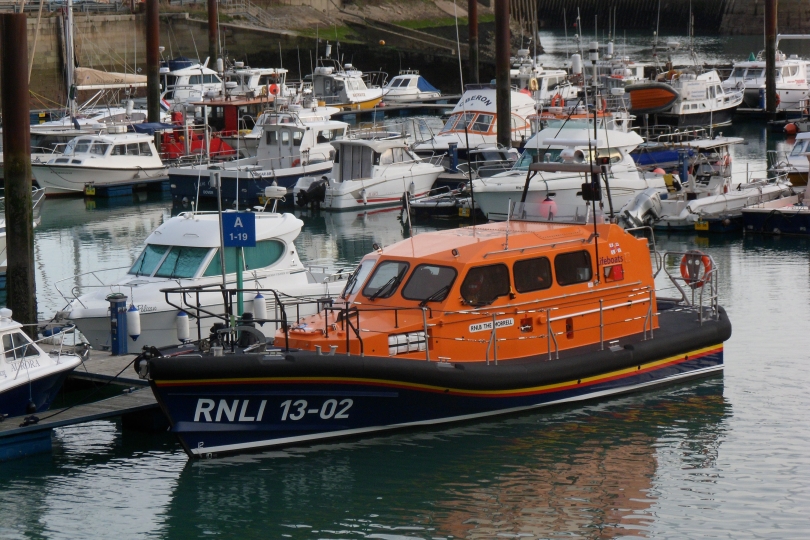 There are often two preserved lifeboats in Wellington Dock but I didn't check the dock today, the much-altered ADMIRAL DOUGLAS & the almost-unaltered WILLIAM & KATE JOHNSON, both built in the early 1920s. [post 2321].
Monday, 30 October 2017 - 21:00
Post 4363
Patrick, Marine Parade
Another view from St Martins Battery today - this one showing the recently arrived platform rig - as yet one more pile is put in place at the end of the new pier.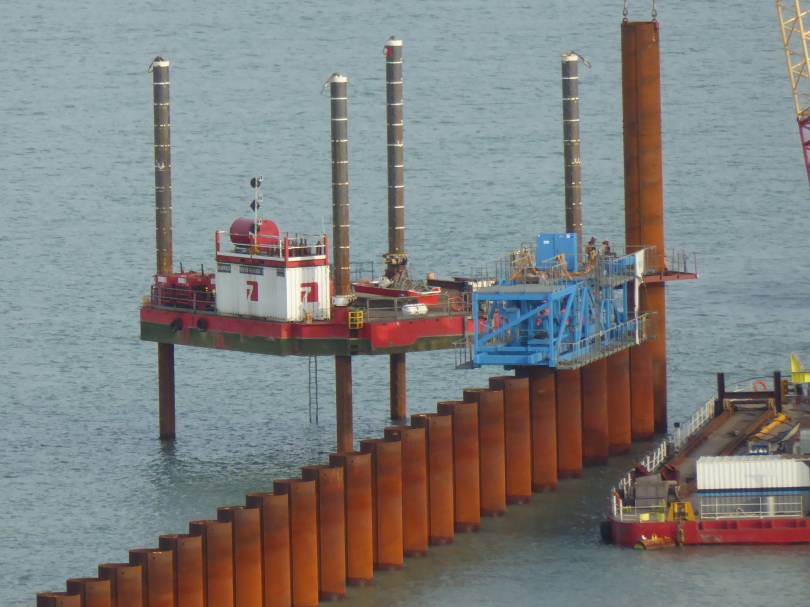 Dover Harbour panorama
Monday, 30 October 2017 - 17:48
Post 4362
Patrick, Marine Parade
Hopper Dredger 'BARENT ZANEN' discharging sand via pipeline along Price of Wales Pier to reclaim area in the piled off section of the Wick Channel alongside the Hoverport site.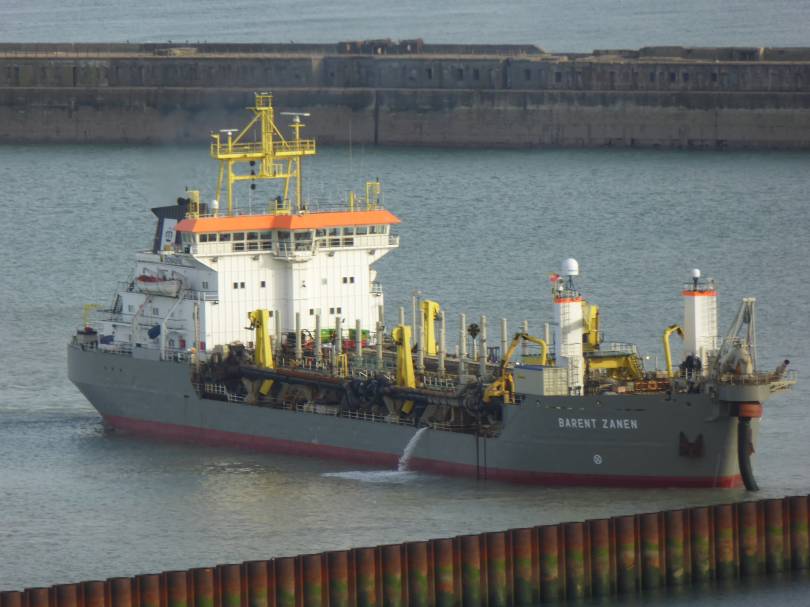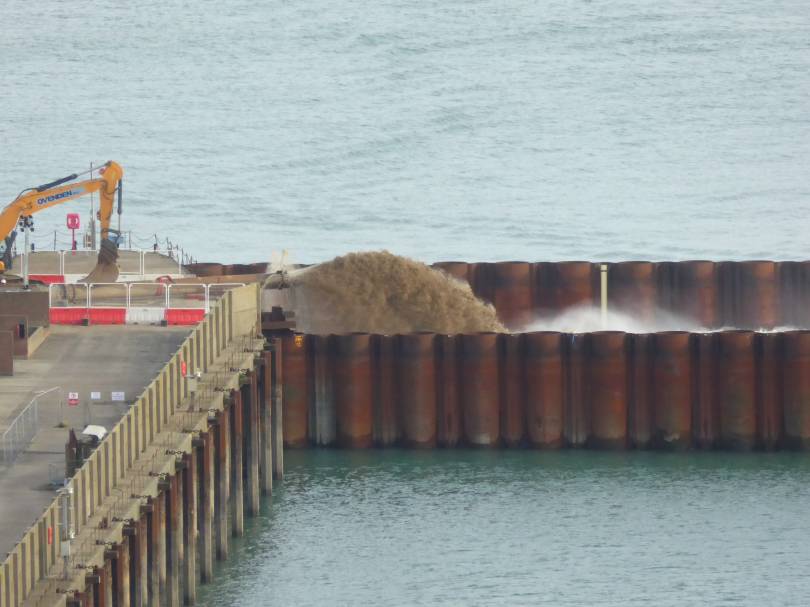 Monday, 30 October 2017 - 17:36
Post 4361
victor matcham, Dover
If you look on the photos of the piles you will see some have been welded to each other well that is because they were off cut off from other piles and then welded to each other so they can be put back into the ground making a saving on piles ,that might be done two or 3 times when they go down to each one making a big saving to the amount of piles they use,but the welding must be good,and that was just part of my days work when piling.

Monday, 30 October 2017 - 16:35
Post 4360
victor matcham, Dovor
Some time ago I did aske the Boss of the D,H.B because of all the piling I had done in the pass for the D.H.B.please could I have a walk to where they are working just to have a look.He told me he would look into it for me ,but because of my legs he did not think that would happen,
and it does look like I will not get along there.
Monday, 30 October 2017 - 15:12
Post 4359
Sea News, Dover
DWDR: Pictures from the waters edge...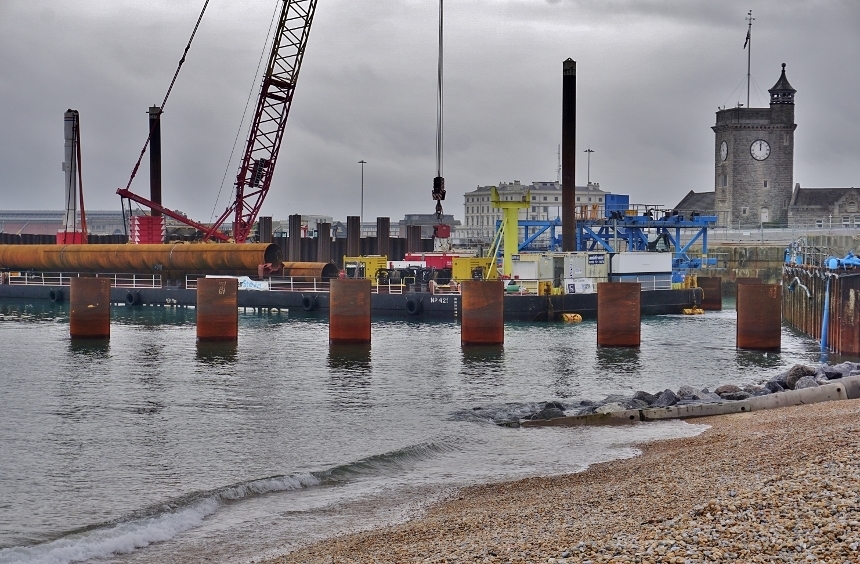 On a very recent gloomy day .. yours truly, the intrepid photographer extraordinaire, ventured across the shingled terrain under a menacing sky, to reach the waters edge...right next to all the DWDR goings-on...and captured these pictures. The top shot shows the ever busy 'canal gate' area and the pictures below swing slowly inwards in sequence from sea to shore..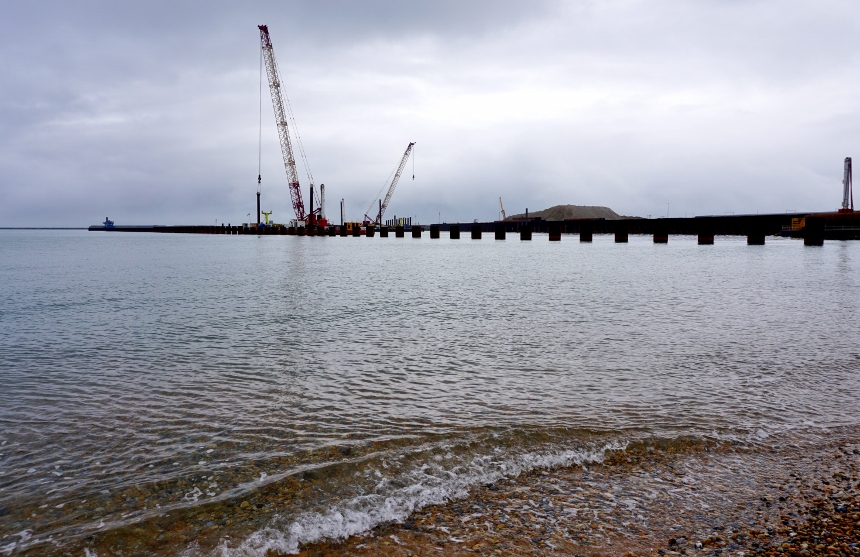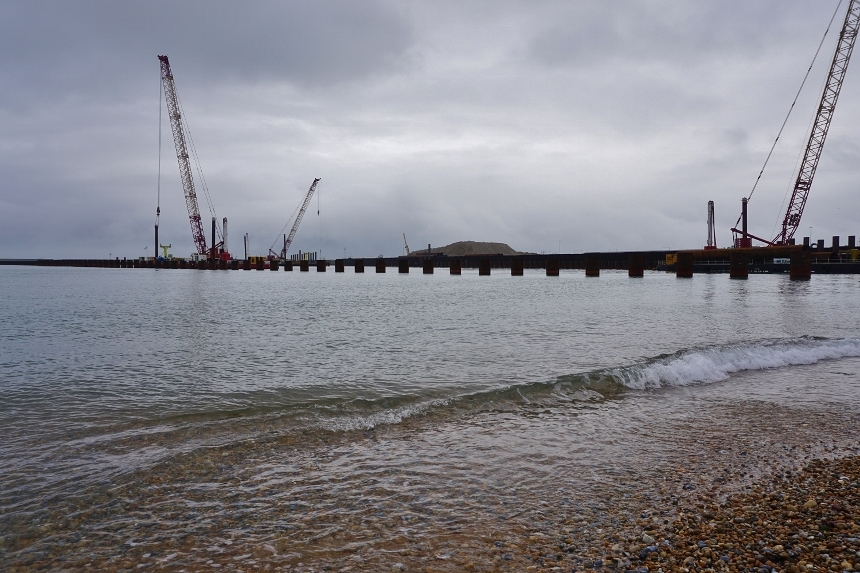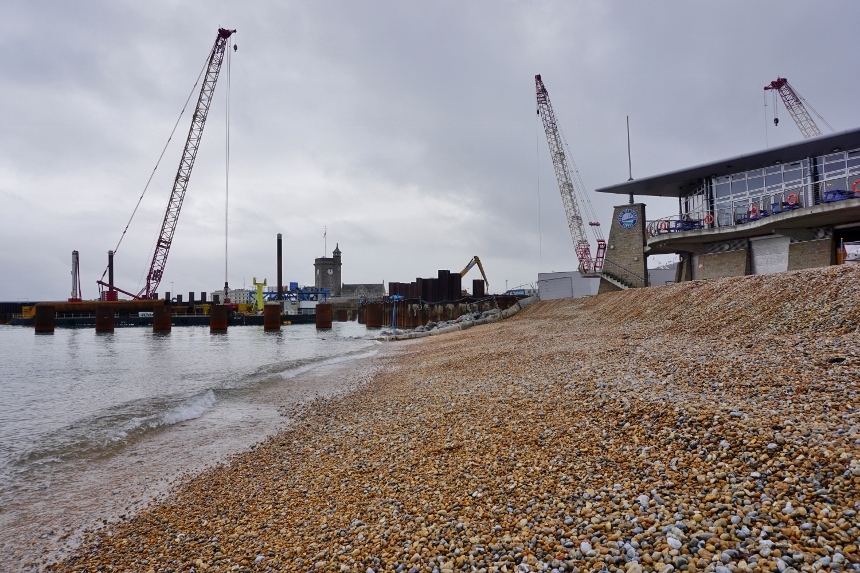 and finishing up with this shot gazing out to sea again, as we wait for more pounding, hammering and grinding...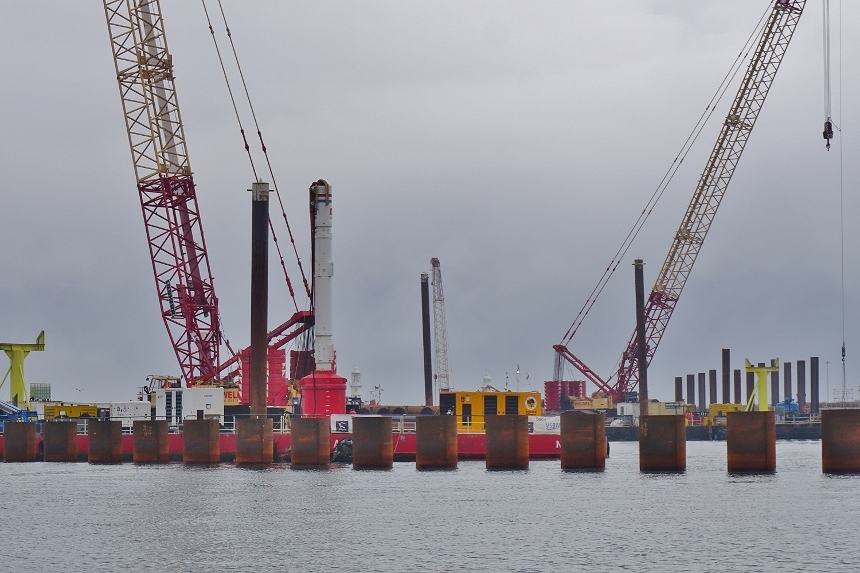 * *
The Zeebrugge Bell
Ringing Out Anew - Dover's Historic Zeebrugge Bell
Preparations ahead of 2018 centenary of WW1 raids
The historic Zeebrugge Bell, presented to the people of Dover by the King of the Belgians, Albert I, is undergoing conservation and repairs at the UK's last working bell foundry, as preparations get underway to mark the centenary of one of the most significant naval engagements of World War I.
Work on the Zeebrugge Bell is being undertaken by John Taylor & Co. in Loughborough. The work includes cleaning the bell and rehanging it on new fittings. Alongside conservation of the bell, Dover District Council has contracted Walmer-based Hipperson Builders to undertake conservation works to the stonework, window and door fittings around the Zeebrugge Bell housing.
The Zeebrugge Bell is housed at Dover's Grade I listed Maison Dieu and is struck each year by the Town Mayor at noon on St George's Day (23 April) as part of annual commemorations organised by Dover Town Council to mark the anniversary of the raids on the Belgian ports of Zeebrugge and Ostend. This audacious attempt to block German U-boats from entering the English Channel involved over 70 ships and 1,000 men, many of them volunteers from the Royal Navy and Royal Marines. Casualties were high with 200 dead and over 400 injured. Eleven Victoria Crosses and 679 other decorations were awarded for bravery.
The Zeebrugge Bell was hung at the harbour entrance at Zeebrugge and used to warn of enemy attack. It was presented to the Corporation of Dover in 1918 by HM The King of the Belgians through Vice Admiral Sir Roger Keyes of the Dover Patrol who masterminded the raids. Admiral Keyes is buried at the St James Cemetery in Dover, which is also the final resting place of 66 other servicemen who died in the raids.
Preparations are underway for events to mark the centenary of the raids in 2018 in both Dover and Deal. Many of the Royal Marines involved in the raids trained at the Royal Marines Depot in Walmer.
Ends
PaulB
Monday, 30 October 2017 - 06:28
Post 4358
Sea News, Dover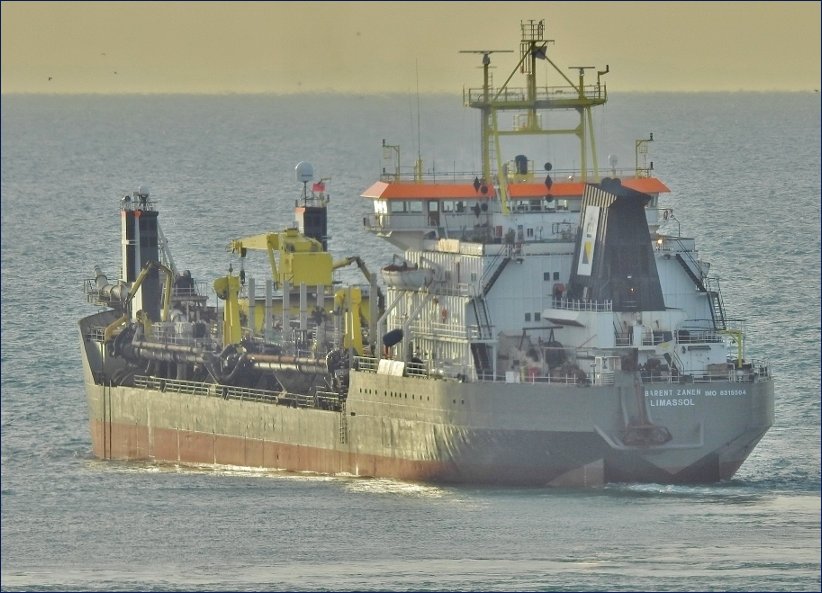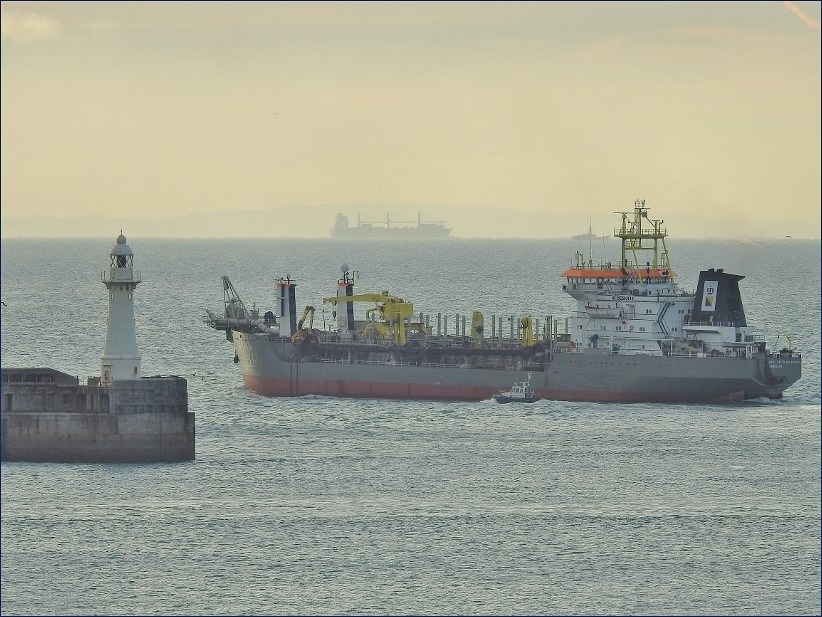 The ship of the moment Barent Zanen is back in port with us this morning, this will be the pattern now I guess, but as promised here we are with those shots of her departing yesterday under an earlyish yellow sky ..
Sunday, 29 October 2017 - 08:14