Thursday, 18 October 2018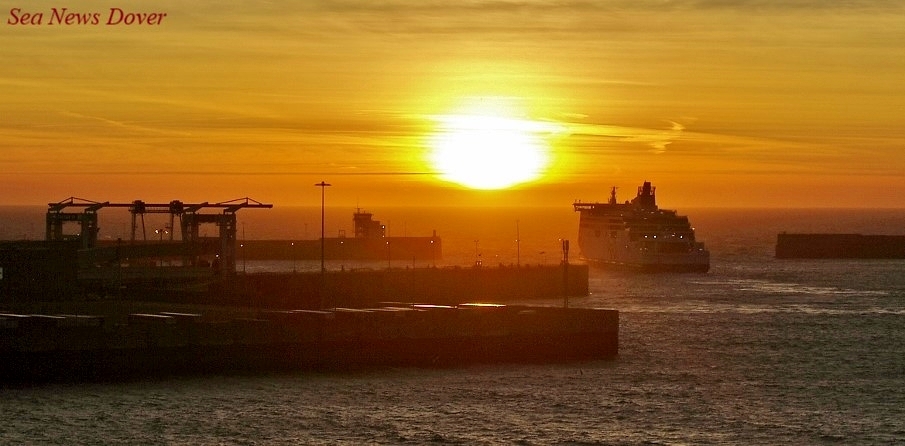 The Port of Dover with early ferry.

WWW.DOVERFORUM.COM/SEA-NEWS
Featuring all the ships that come and go and work at the Port of Dover with further coverage of the surrounding ports both sides of the Channel. Click ADD YOUR COMMENT below to post direct, no membership needed.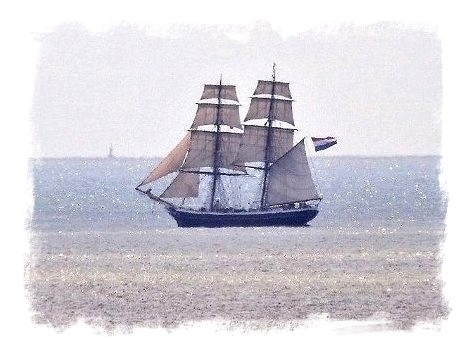 P&O: Schoolchildren mark WW1 see 5816.
Lower Thames Crossing boost..5812.
Dover Museum's revitalisation see 5807.
Port of Dover: Refrigerated Cargo Terminal .. software for 5801. Latest NATO also 5801.
Port of Dover: Great increase in summer traffic 5795.
Russian and shadow 5785.
The Waverley paddle steamer 5778...
New SAGA Ship launching in Dover see 5776.
P&O: To Rome on Horseback 5759.
DOUG BANNISTER: New Chief Executive Port of Dover see below 5734....
Merchant Navy Ceremonial images also 5734.
Dover Regatta Rescue incident plus .. see 5713.
Dover Regatta pictures Lifeboat etc..5716, 5717, 5718, 5720.
DFDS Expansion: More New Ferries on order... see 5693 see also 5500 and 5381.
Excellent tourist season for P&O Ferries see 5649.
VSBW Port of Dover - Women at Work 5638.
P&O Second Female captain see 5107. Also see latest 5570.



NEW:

For instant access to the items above - type the post number in the Search Engine below.



Sea News Dover : Use our SEARCH ENGINE below to find all sorts on the SEA NEWS pages....
... more than 5800 nautical posts now.
Posts are welcome. Max of 5/6 pictures preferred although we can occasionally stretch that on special stories.
Sea News Editor Paul Boland - send info or pix to dover7@msn.com. Always welcome.
Type CRUISE VISITS in our SEARCH ENGINE below for news of the latest cruise arrivals.
NOTE:

We have added a new feature. This has resulted in some slight change to the numbering system on the posts. We needed to align data in order for us to be able to use post numbers in the Sea News Search Engine. For example..type into the Search Engine box the number 5734 if you want the story on Doug Bannister...and it will pop up for you. This will be very useful going forward. You can still search in the older way too. My thanks to long time ace colleague Chris Tutthill for enabling the extra feature. Chris runs our sister channel..dover.uk.com. PaulB
All pictures on these pages are the copyright of the owners and must not be reproduced without permission.
Post 5714
Barry WS, Dover
It is amazing to see that the Security officer jumped into action so quickly & saved the young lad from the rough seas, Well Done!

Terrible weather for Regatta Day, I felt sorry for everyone involved, we braved it as long as we could but had to beat a hasty retreat as the stall holders were dismantling & packing their wares away
Monday, 27 August 2018 - 10:33
Post 5713
Sea News, Dover
REGATTA DAY:
Can you believe that weather. The Regatta was destroyed by the worst weather we have had all summer...of all the days to pick to do its worst, the weather picked Regatta day. A great shame, as lots of colourful stalls and tents/marquees/gazebos, classic cars etc etc had come by startime 10 am. By 12 midday the squally winds were starting to hit and these very tents etc began to lift from their moorings. The wind got stronger and people started to pack up their tents as the rain pelted down.
The stallholders began to go home. The classic cars followed and pretty soon the seafront was looking tired and barren..a great pity when you consider the effort put in by everybody involved.
While all the above was happening there was a....
REGATTA DAY RESCUE:
In the stronger winds the sea was getting very rough. A small band of boys were jumping in the water from the jetty or small pier. They looked very small in the raging surf. There was the usual squeeling and excited shouting from the boys as often happens, its part and parcel of the frivolity...however this time...the squeeling wasnt frivolous, as one of the boys was in trouble.
When regularly hearing this exciteable noise is the norm, you dont even notice when it turns to something else.
However...The security men in their fluorescent coats manning the concrete barrier ( another sad sign of the times )...spotted the situation straight away and sped into action. Such a brilliant response.
They ran down the jetty, the leading man whipped off his fluorescent jacket and his walkie talkie and leapt straight into the strong surf as one young lad was in deep trouble and another young lad was trying to save him. The security man now in the water came to their aid...and you can see this unfurl in the pictures below as the exhausted boys get further help from another security man too …
1. Security man grabs hold of boy in the raging surf.
2. He grapples through the surf to reach the beach.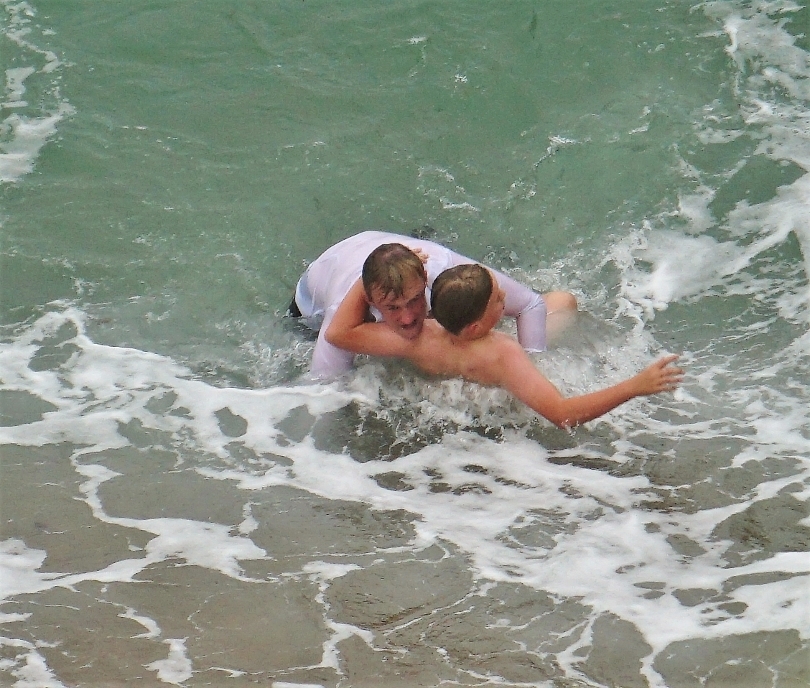 3.Second security man waits to lend a hand.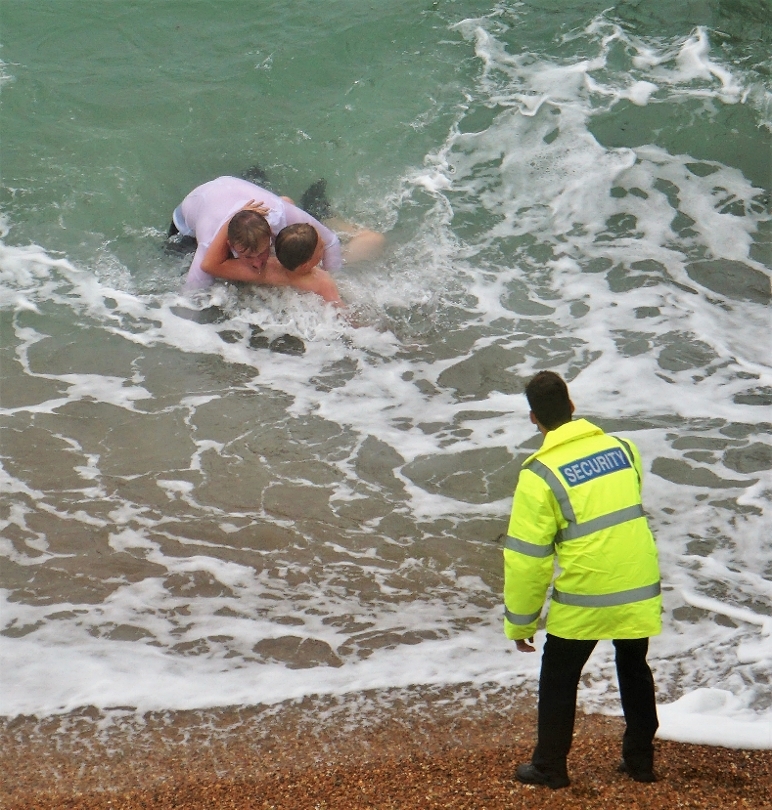 4.Second security man helps them out of water while second exhausted boy lies on beach.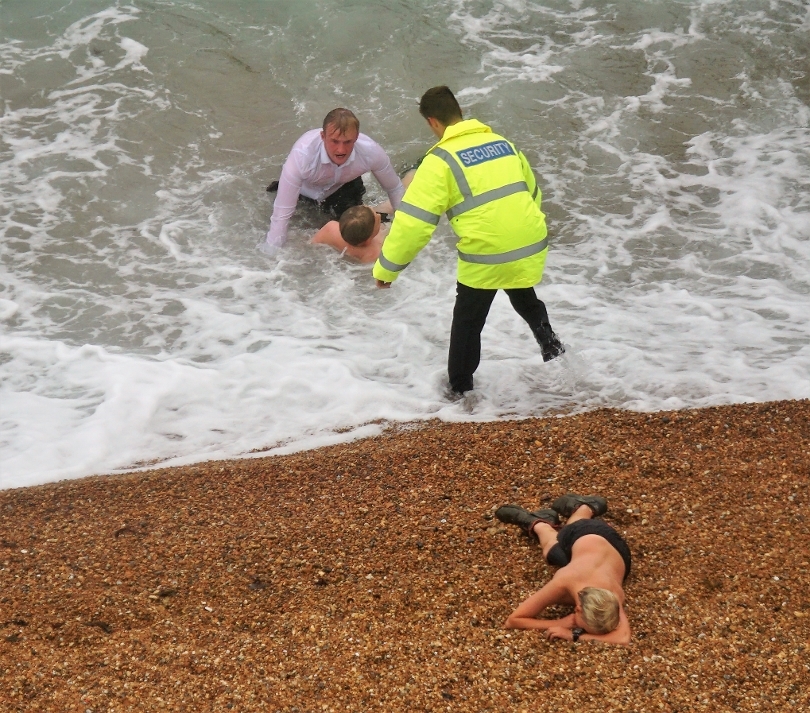 5. Fortunately they all walk away later... exhausted but safe.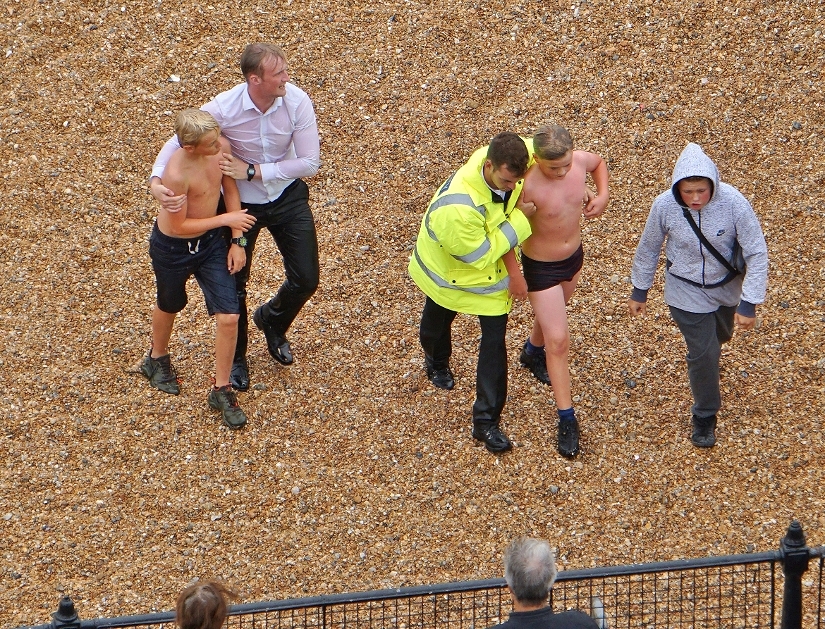 Brilliant work by the security guys and particularly so by the chap that plunged in.
Pinned

I will pin this in an effort to draw attention to the near tragic outcome here...young lads and indeed young girls should not jump into rough seas. Something they regularly do. In fact it would be ideal too if they had some supervision. A jolly time can so easily become disastrous.
Now Unpinned.
PaulB
* *
Exciting post below there Mike...hugely enjoyable pictures and words. Great stuff!

Thanks to Brian and Del for the info re the Pacific Princess.

Well done to John and Colette for having a go naming the cruise ships. I didn't dare...


We will have pictures of the Lifeboat and Tugboat displays coming over the next couple of days...all being well.

Monday, 27 August 2018 - 05:59
Post 5712
brian dixon, dover
it was 3 fishermen del, the other 2 where later found floating face down and recoverd by h.m. coastguard.

Monday, 27 August 2018 - 05:21
Post 5711
Mike J., Dover
Re Andrew's post 5174 - the hovercraft had arrived in Dover a few days earlier & was being used in a programme about the closure of the Dover hovercraft service in 2000.
A couple of former Hoverspeed stewardesses were interviewed & taken for a trip.
I remember the cameraman rigging a camera on a precarious looking pole for 'selfie views' of the craft underway as the budget obviously didn't run to an escort vessel - it worked quite well actually when the programme was broadcast.
An attempt was made to head out to sea but was abandoned due to 'lively' sea conditions encountered soon after leaving the Eastern Entrance.
Of course the much larger Hoverspeed SRN4s could have kept going.
I've only seen a hovercraft in Dover once since then when I noticed H187 four years later in the abandoned hoverport on 23/2/12.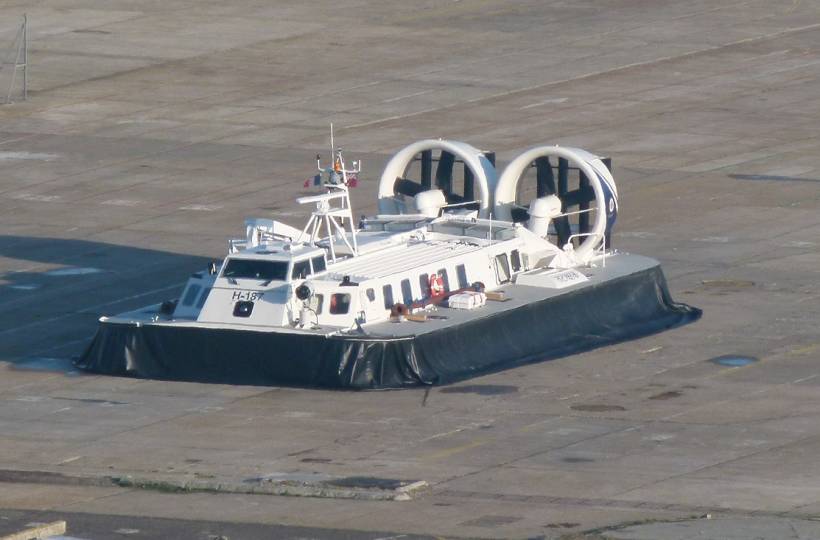 H187 was built for the Indian Coastguard at Griffon's works at Southampton & was on passage to a European port to be loaded aboard ship for transport to India.
A type 800TD apparently & larger than than the one on the beach.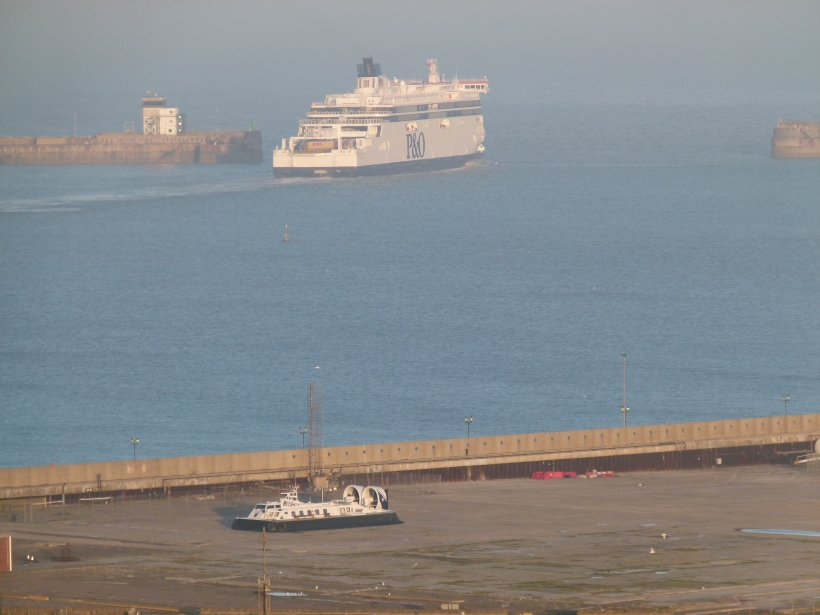 I tried for a closer view but was refused entry at the gate by Security who first looked at me as though I was bonkers & I was told 'Hovercraft stopped running years ago, Mate, you'll have to catch a ferry' & were quite surprised when I told them that one had sneaked in unawares behind them - their 'patrols' round the hoverport must have been pretty sketchy !
What a shame about the Regatta & the weather - Saturday's weather would have been perfect & Monday isn't supposed to be too bad.
Very disappointing for the public & disastrous for the stallholders.
Monday, 27 August 2018 - 00:53
Post 5710
Del Styan, Norwich
I see that yesterday the Pacific Princess rescued 2 fishermen off my coast here in Norfolk, so give them a special welcome from me!

Sunday, 26 August 2018 - 23:17
Post 5709
John Hendy, St Mary's Bay
I would have opted for the Astoria, MSC Symphonia and Balmoral.

Sunday, 26 August 2018 - 15:08
Post 5708
Colette B, Dover
Andrew, that's a Brain Teaser for sure... Now let me see

....I think the cruise ship on AP3 is the Astor (not seen here since July 2016), the MSC Armonia at CT2 (now cruising the Caribbean & Cuba from Miami), and the Fred Olsen ship at CT1 could be the Braemar or the Balmoral well something beginning with a 'B' anyway lol!

Great to see a hovercraft on Dover beach albeit small and 10 years ago

Brollies at the ready chaps..... it's Regatta Day!

Sunday, 26 August 2018 - 09:51
Post 5707
Sea News, Dover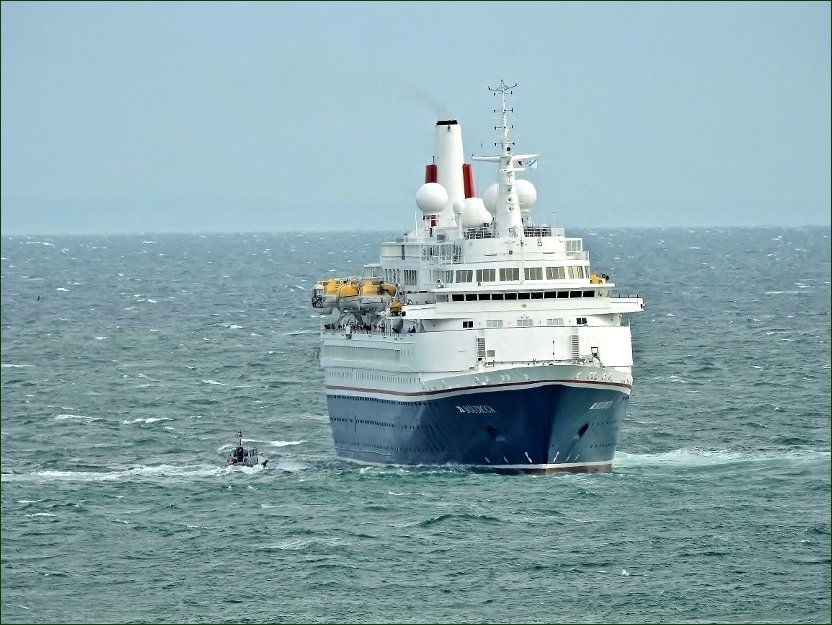 Above there we show Boudicca reversing out of Port on...lets see ...what day was it...yes Friday evening about 17.10 ( we have so many cruise calls now its like that old sixties adage...if its friday it must be Boudicca

) and as she goes you can see how rough/choppy the sea is as the pilot boat manoeuvres manfully alongside, bobbing and weaving all the while.

Very enjoyable post below Andrew, both words and pictures. Great to see that Hovercraft for sure. We will all have to do a bit of headscratchin' while wondering which cruise liners they are.
And speaking of Cruise Ships...the magically majestic Disney Magic is in with us today...a gentle giant for sure, also in Port the more modest sized Pacific Princess.
PaulB - Yes Regatta Day today.
Sunday, 26 August 2018 - 07:28
Post 5706
Andrew, Broadstairs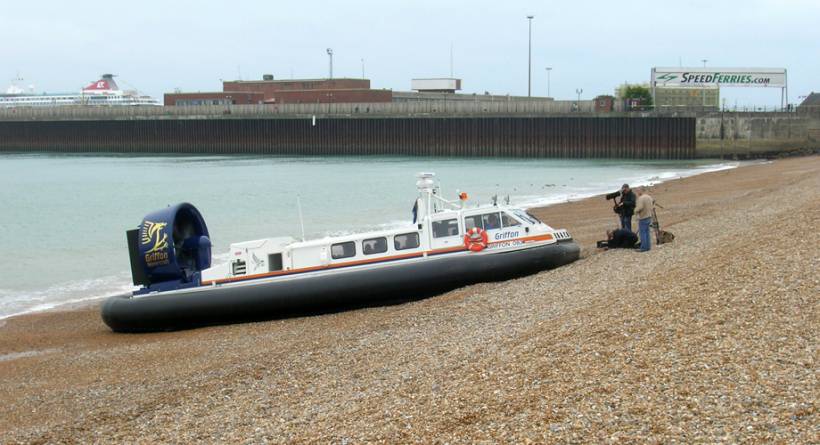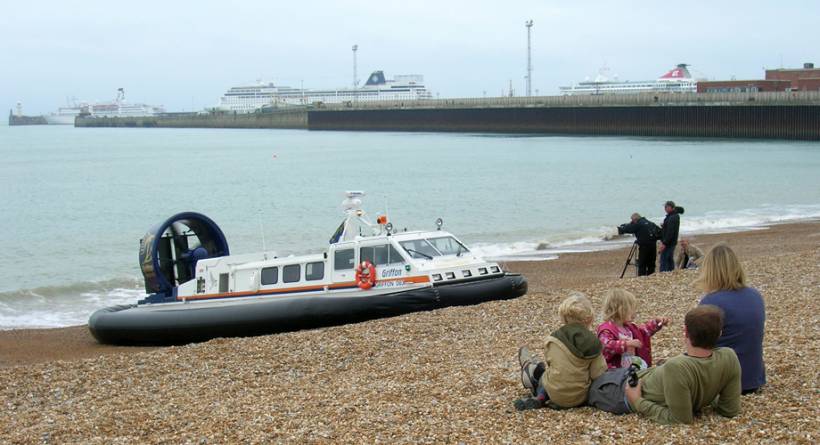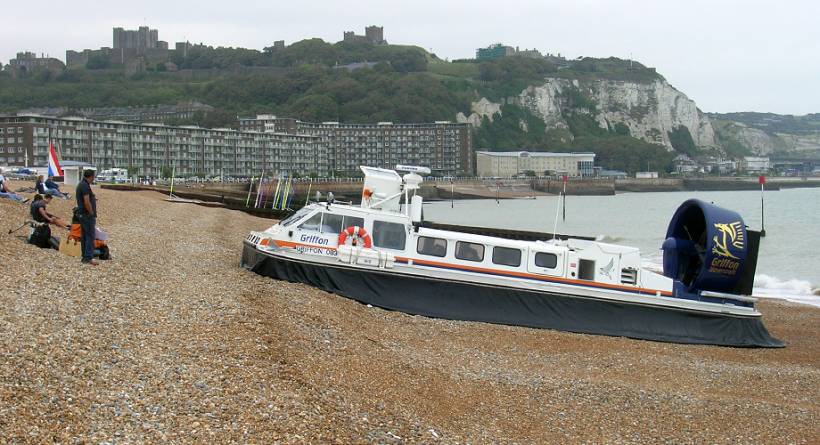 Three photographs taken a decade ago by my friend of even more years Mike our 'inshore correspondent'. Dated 26 August 2008 they show part of the beach and Prince of Wales Pier that this year, has changed forever. The Griffon hovercraft 038 was being filmed by the BBC, Griffon, based in Southampton, had just been formed from two pioneering hovercraft companies, they use marine diesels for propulsion to give more robust reliability in sea water and have found use all over the world, delivering mail in Alaska to airport emergency support in Singapore.
Colette, it was a three cruise ship day, can anyone identify them? Looking eastward the view has changed little, with Paul's observation tower prominent! Today this part of the beach will be filled with people enjoying the Regatta, I am sure the forecast weather will not dampen their spirits.
Sunday, 26 August 2018 - 00:44
Post 5705
Colette B, Dover
Thanks Guys, that's great glad you like it

Saturday, 25 August 2018 - 17:32
Post 5704
Sea News, Dover
The VIKING SUN departs ..
Some shots here of the departing Viking Sun from Thursday evening. She moved off across the bay to leave by the eastern exit, presumably because of the strong crosswinds. Always welcome when they leave that way as it gives us an extra angle or two. As she moved away the Coastguard Helicopter passed over close by...as you can see below.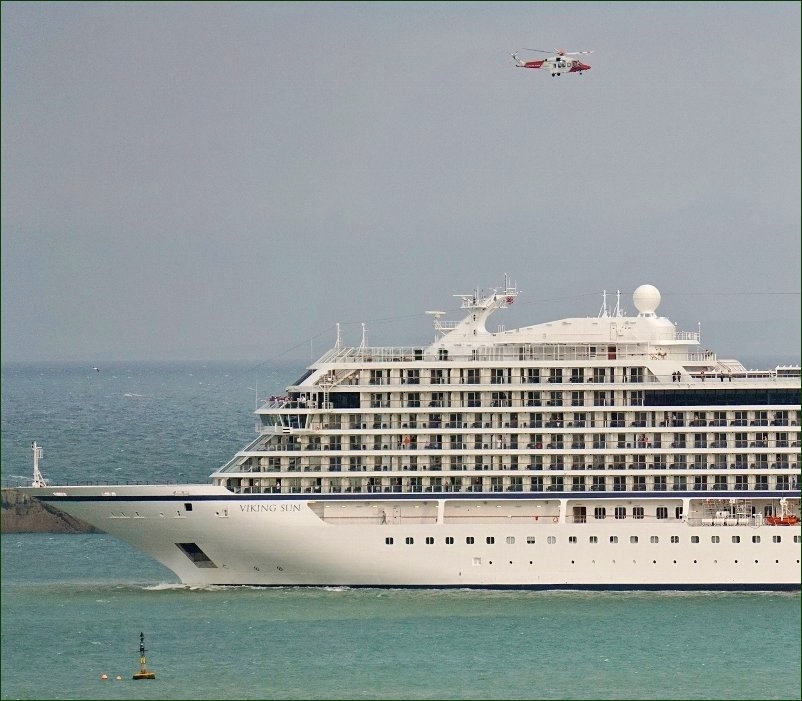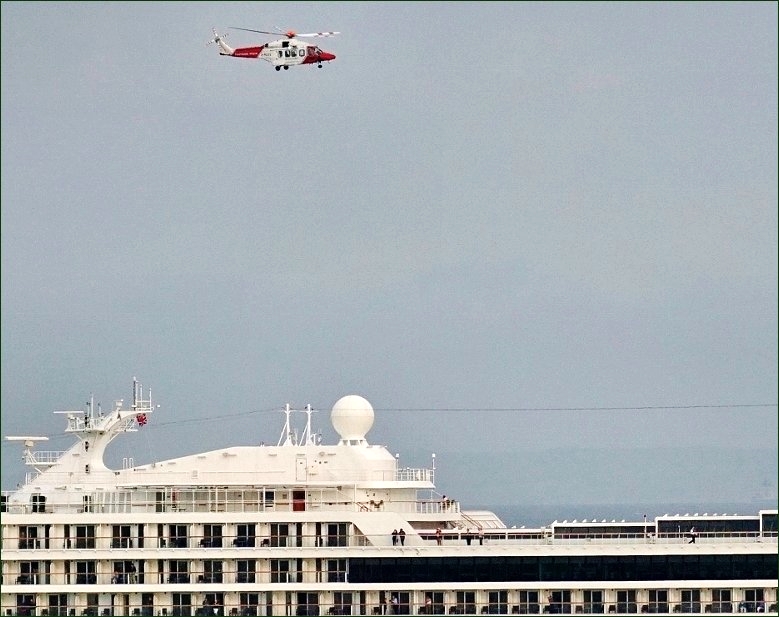 Thanks Vic .. yes some great pictures below there of the Blamann. Excellent stuff!

Great and comprehensive cruise listing from Colette below there too..

PaulB - Don't forget its REGATTA DAY tomorrow sunday 26th.
Saturday, 25 August 2018 - 15:01
Post 5703
vic matcham, dovor
STill great photos coming out from this page

Saturday, 25 August 2018 - 13:04
Post 5702
Cyril Jackson, Dover
Glad that you liked the BLAMANN pix, Colette - here's a couple more of this attractive vessel.
Thanks for the most useful cruise ship itinerary.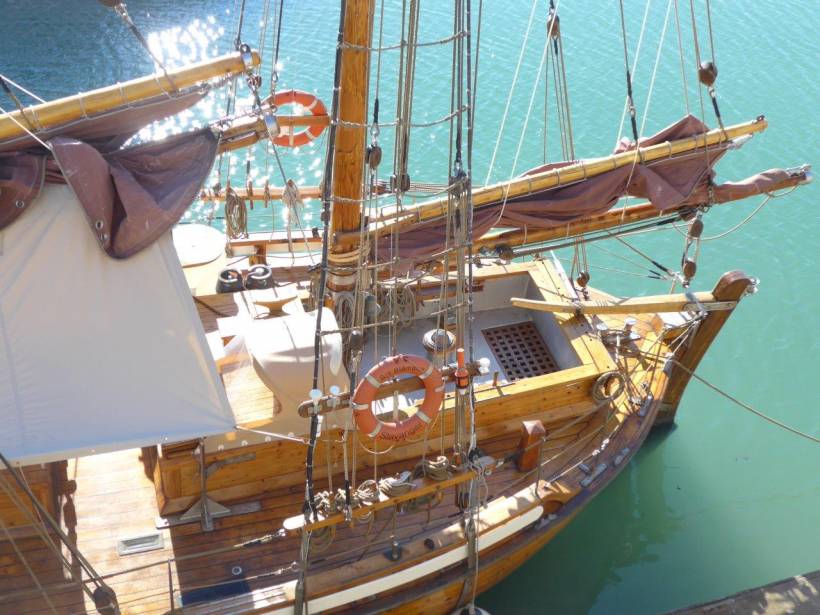 A nice-looking sailing vessel was in the background in Paul's view of the departing SAGA PEARL 2 in post 5166.
Perhaps there is a closer view ?
Paul mentioned the GRANDE SAN PAOLO who is one of many similar 'combination' container/RoRo vessels in the Grimaldi fleet.
They trade a lot to West Africa where there is a high demand for boxes & vehicles.
Many of the vehicles are secondhand or older, destined for a much longer life than they would have had in Europe.
The ketch MAYBE, towed into Dover on 12/8 after nearly going aground on the Goodwins safely made it to Ireland after she sailed from Dover on 15/8.
Saturday, 25 August 2018 - 00:29
Post 5701
Colette B, Dover
CRUISE VISITS
_____________
It's wonderful to see the variety of photos on Sea News this week. Great to see that the British woman who spent 10 hours in the sea after allegedly jumping from the Norwegian Star was rescued safely by the Croatian Coastguard, Well Done!

Wonderful shots of the traditional wooden hulled Baltic Fishing boat 'Blamann'(Well Done, Mike) and I love the photo of 8-year-old Dover Marina Open Day Winner Lauren Jolliffe, she looks so happy cuddling her white seal on the steps of Harbour House

I didn't think I'd be saying this so soon, but here is the last of the Cruise calls for the month of August.
Once Again Ladies & Gentlemen we have an interesting brace of Double Whammies!
Tomorrow, Saturday 25th August the Saga Pearl ll arrives at CT1 08.00 hours to start her 6 night 'Summer Regatta' Round Trip. Her first port of call is Ringaskiddy in the Republic of Ireland, it's really somewhere special and is not far from Cork. Whilst there you may like to visit the French inspired Gothic Cathedral Saint Fin Barre's and also the famed Blarney Castle where there's a certain stone which you might like to 'pucker up' & place a big kiss on lol!

She then sails on to St Mary's, Scilly Isles, with its quaint fishing harbours, charming hidden coves and white beaches. Then on to Dartmouth, the Elizabethan town that's steeped in Maritime history and a sight to behold. Also the Dartmouth Regatta will be in full swing with dozens of sailing ships competing on the River Dart and crossing the finish line right beside Saga Pearl ll. She departs at 17.00 hours, T/R.
She returns to Dover on Friday 31st August.
The following day Sunday 26th August 'Regatta Day' is the first of our 'Double Whammies' when Disney Magic glides into CT2 at the early hour of 04.00 so you would need to shake off the 'Pixie Dust' to capture her arrival. She begins her '7 night Norwegian Fjords' Round Trip.
Her ports of call are 'Wonderful, Wonderful Copenhagen'

then the Norwegian ports of Oslo, Kristiansand and Stavanger before returning to Dover on Sunday 2nd September. When you wish upon a Star …..She leaves us at 17.00 hours, T/R.
Two hours later Pacific Princess draws into CT1 at 06.00 hours to start her 15 night 'Iceland & the British Isles' Round trip. Her first port of call is Lerwick (Shetland Islands), then on to the Icelandic ports of Seydisfjordur, Akureyri, Grundarfjordur & Reykjavik before visiting Oban, Belfast, Dublin and Cork and then returning to the White Cliffs of Dover on Monday 10th September.
She will be leaving at 17.00 hours, T/R.
You haven't got long to wait for the second of our 'Double Whammies', as on the following day Monday 27th August Saga Sapphire arrives at CT2, 08.00 hours. She is on her 17 night 'Rhythms of the Baltic' Round trip. With musical aplomb aplenty

her ports of call are Skagen and Kalundborg, Zealand island (Denmark), Stockholm, Helsinki, St Petersburg, Kotka (Finland), Tallinn, Gydnia (Poland) and Kiel before dropping anchor in Dover Thursday 13th September.
She leaves us at 16.00 hours, T/R.
At the same time 08.00 hours, Viking Sun arrives at CT1 on her 12 night 'One Way London Tilbury to Bergen' cruise. She left Tilbury for Dover yesterday and calls at the following ports Dublin, Holyhead, Liverpool, Belfast, Ullapool, Kirkwall, Edinburgh, Invergordon and Lerwick in the Shetlands before arriving at her new home the Port of Bergen, where she will be based for the month of September. She departs at 18.00 hours, PoC.
Then on Wednesday 29th August we have the third of our 'Double Whammies', firstly, Boudicca graces us with her presence at CT2, 08.00 hours to start her 7 night 'Scenic Fjords of Norway' Round Trip. Her ports of call are Eidfjord, Hardangerfjord, Flam and Bergen before returning to our shores on Wednesday 5th September.
She leaves us at 17.30 hours, T/R.
At the same hour 08.00 AIDAAura sails into CT1 with her everlasting smile, she is on her 14 night 'Great Britain & Ireland' Round Trip from Kiel where her first call was Newcastle-upon-Tyne. After visiting us here in Dover she sails on to the following ports, Dublin, Liverpool, Belfast, Invergordon then the Danish port of Aarhus before dropping anchor in her home port of Kiel on Saturday 8th September.
She departs at 21.00 hours, PoC.
Finally on Friday 31st August Saga Pearl ll arrives at CT1, 07.00 hours where her passengers disembark after finishing their 'Summer Regatta' cruise. She leaves us at 12.00 noon and sets course to Southampton for her 'Adult only' Mini-Cruises, Ooh-La-La

She returns to our shores Tuesday 2nd October.
That's it for now, Chaps!

Friday, 24 August 2018 - 14:00
Post 5700
Sea News, Dover
Also from Thursday morning some pictures of the two cruise ships arriving. It was a 'double whammy' day once again for the Port of Dover, this time with Viking Sun and Europa on show... striking ships once again..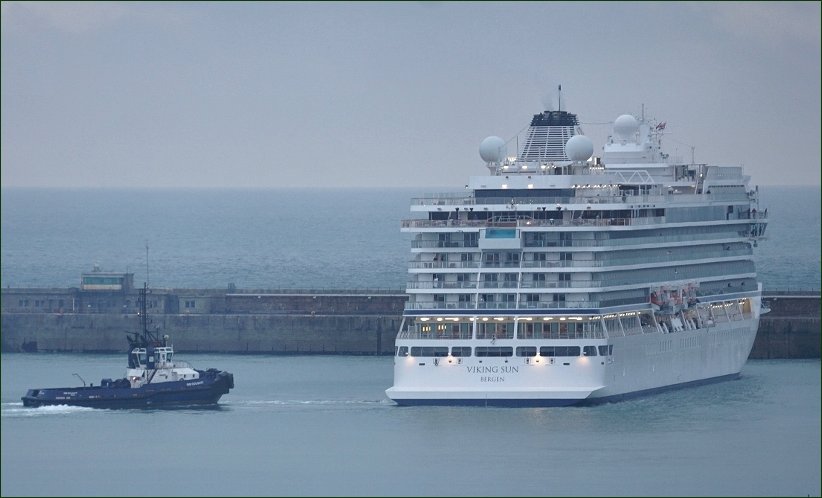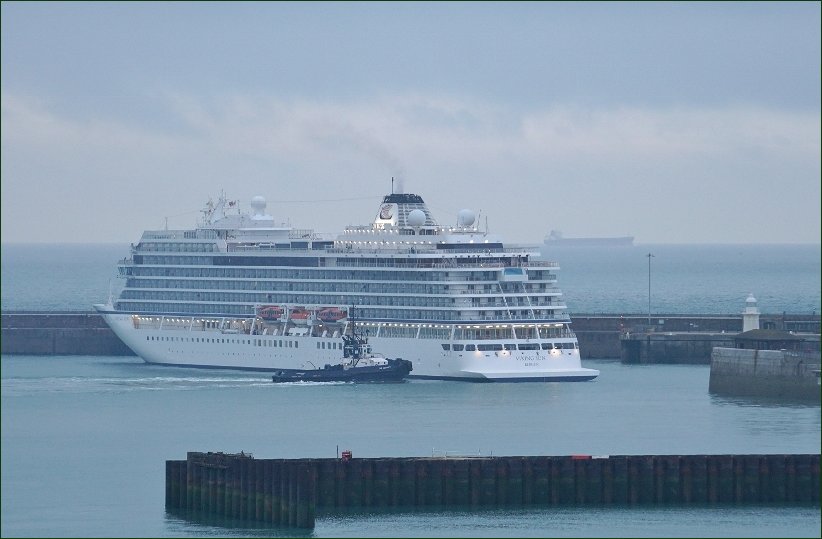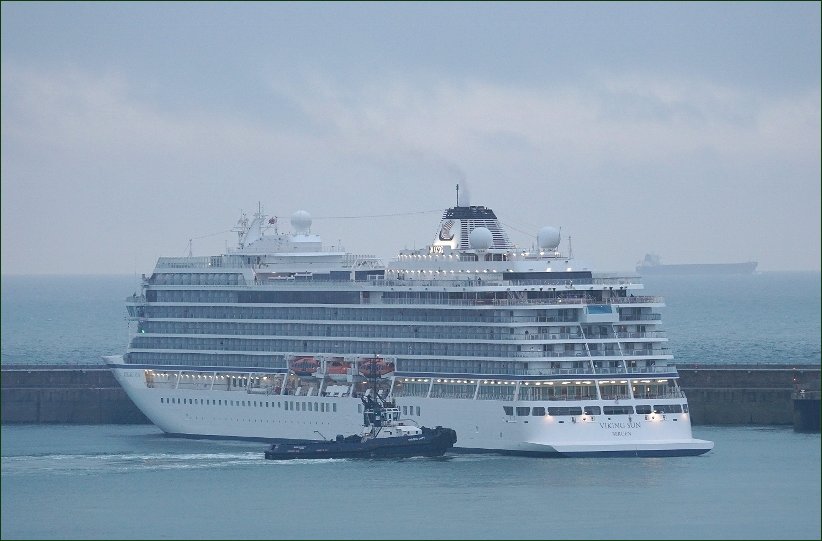 It was early morning arrival time for sure...somewhere around 06.30 and even earlier for the one below...the Europa. The camera wouldn't wake up for this one below...way too early

Just caught her reversing in towards Cruise Terminal One.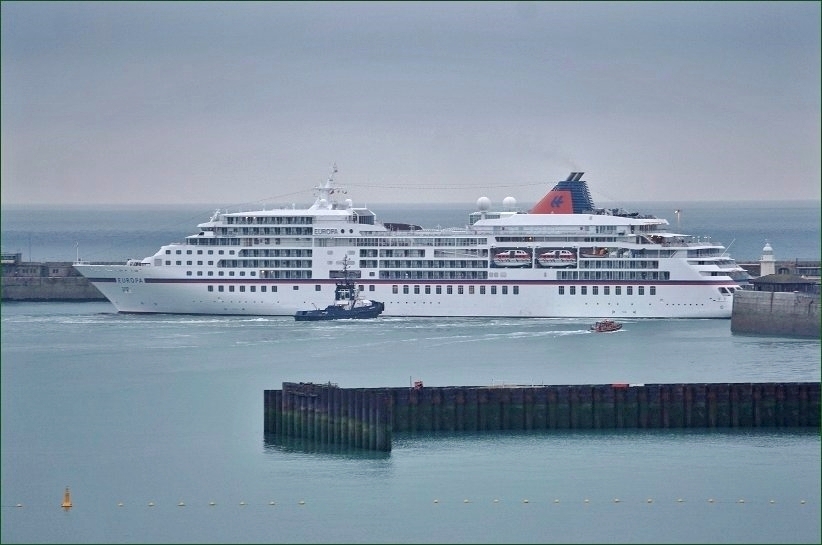 Nice collection below Mike...excellent clarity there on those inshore shots. Good to see all the happenings.

PaulB
Friday, 24 August 2018 - 06:33
Post 5699
Mike J., Dover
Thursday morning found three very smart VSBW RIBs in the Tidal Basin - immaculate, they looked 'fresh out of the box'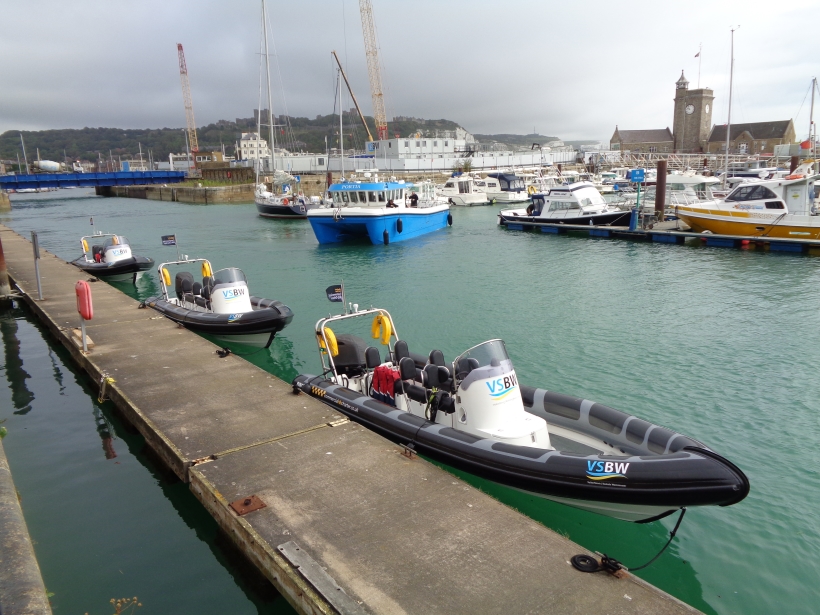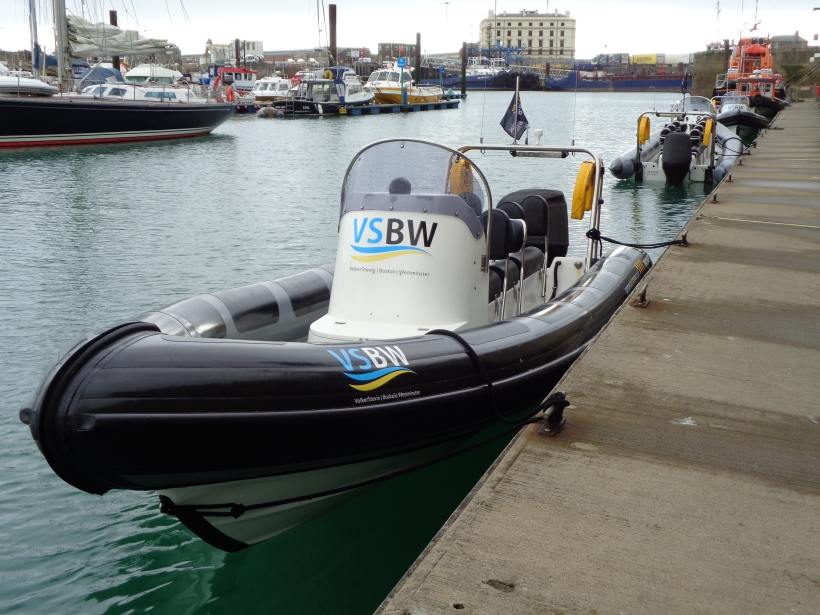 Presumably here for VIP trips to the DWDR works or other PR work - during the afternoon they took out a party of office staff for a 'choppy' trip.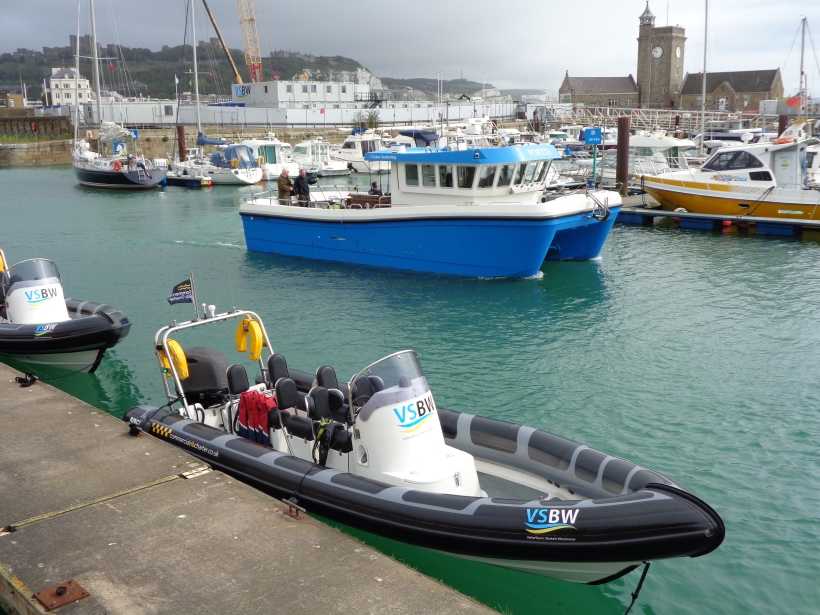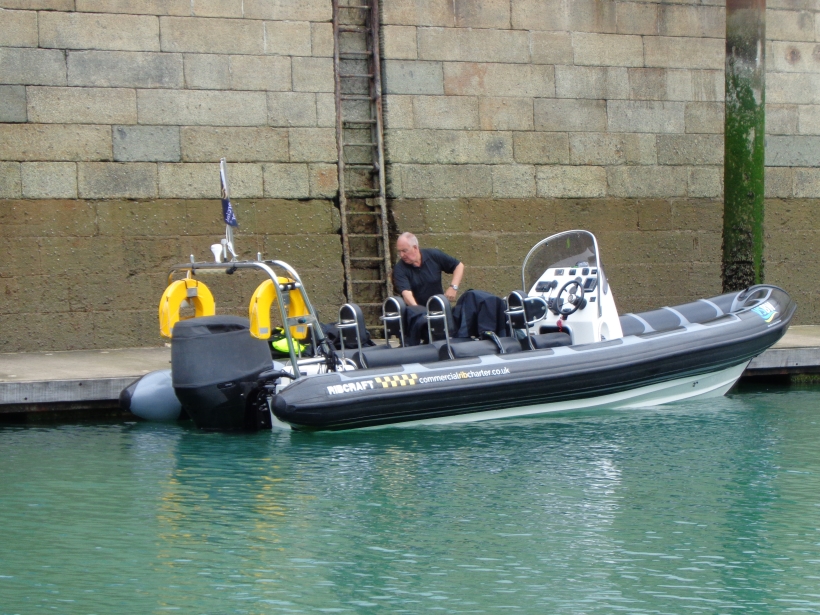 Maybe they'll be performing at the Regatta in a few days altho' I also heard that they were only here for one day.
We'll see . . . . . . .
Friday, 24 August 2018 - 00:23
Post 5698
Sea News, Dover
Just a general catch-up now with all pictures here taken within an hour or so of each other on Tuesday evening...
First up the Lifeboat guys. Time of pix about 8pm, so it was getting darkish as the guys did their regular Tuesday evening training exercises, had to force the pictures a wee bit due to the poor light .. but here we are...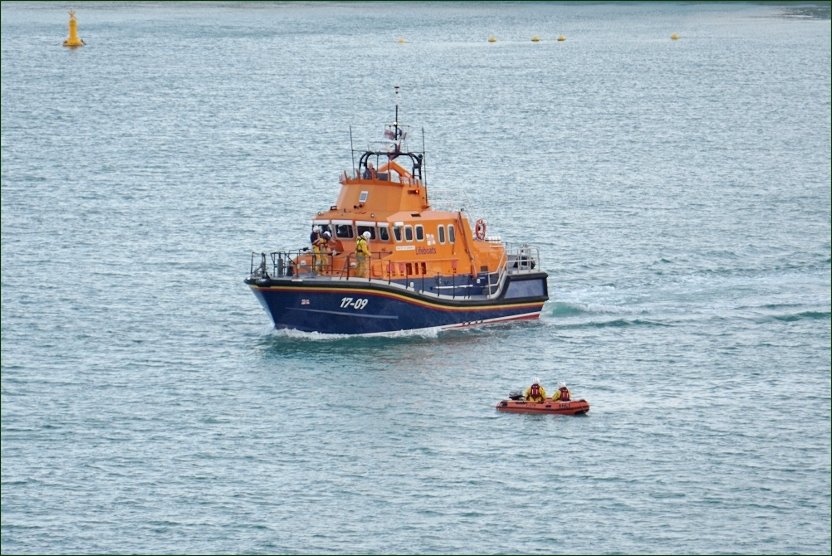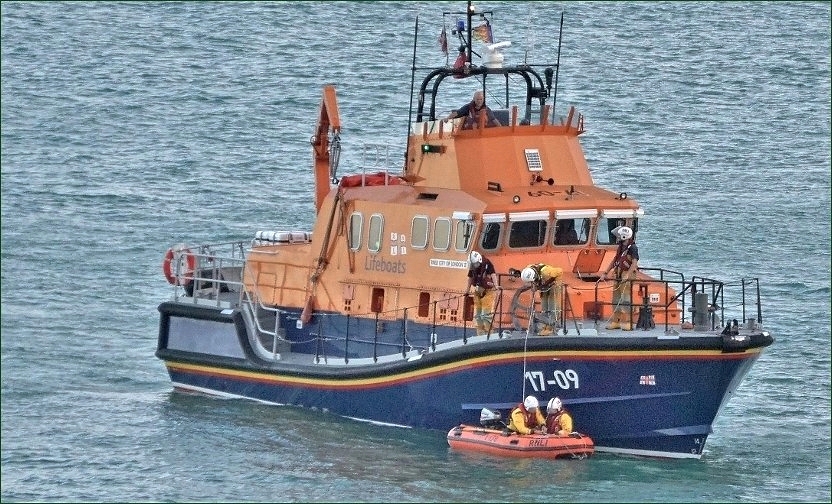 A tad earlier in the evening saw the Grimaldi Lines Grande San Paolo, called after yours truly of course...amble on by. She was not toooo far out so thought it worth a shot or two as she passed the rolling hills of France. The Grimaldi Lines are normally vehicle carriers or so I thought, but not sure about this one. She had left Antwerp earlier and was calling at le Havre but no doubt destined for ports further afield.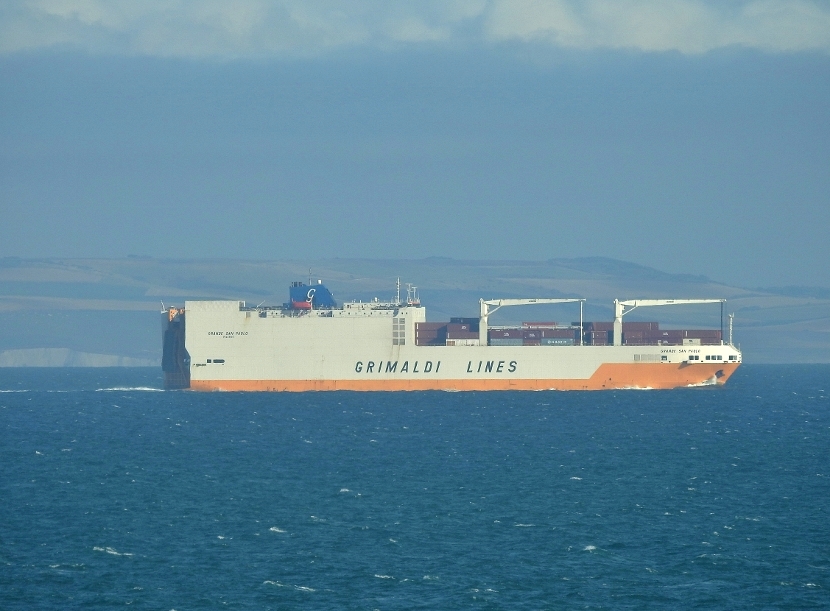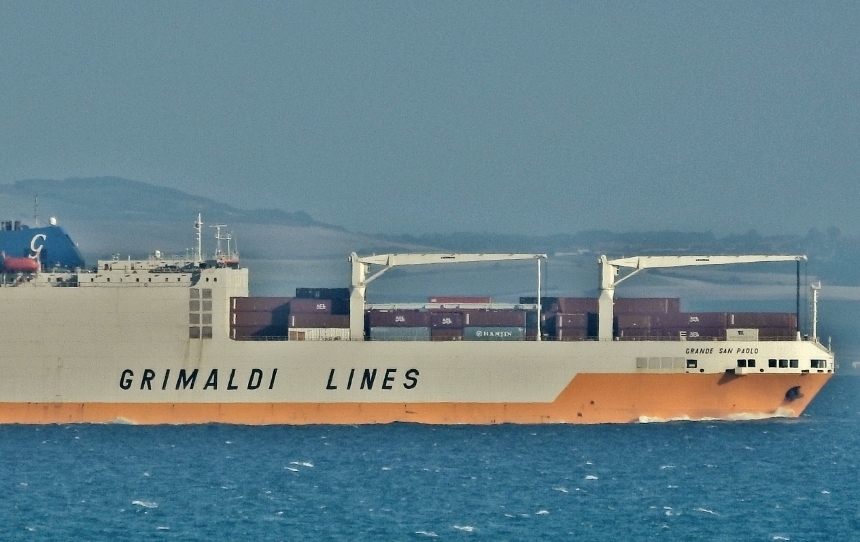 Lastly for the moment the Saga Pearl moves off on another grande tour..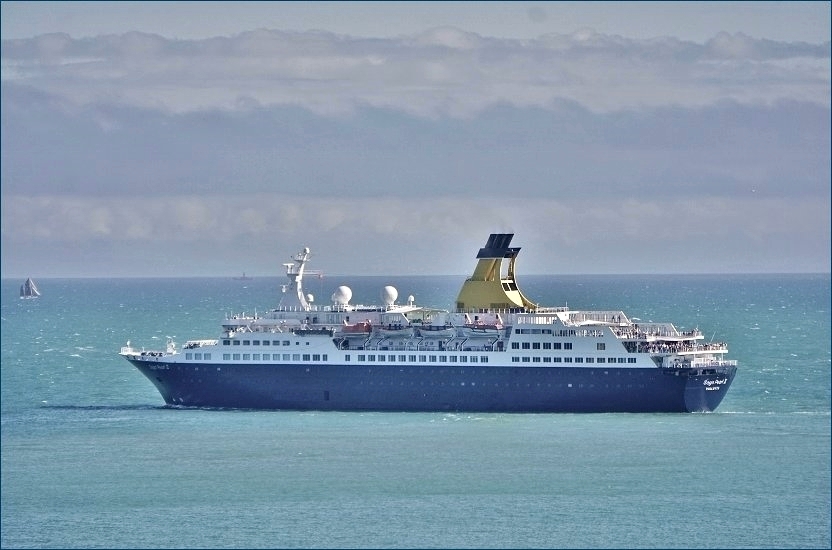 It had been very foggy earlier in the day Tuesday with the tolling bell wailing through the mist like a lost banshee ...so it was a delight to have a clear evening.
PB.
Thursday, 23 August 2018 - 06:38
Post 5697
Sea News, Dover
Port of Dover tour for prize winning Lauren
_______________________________________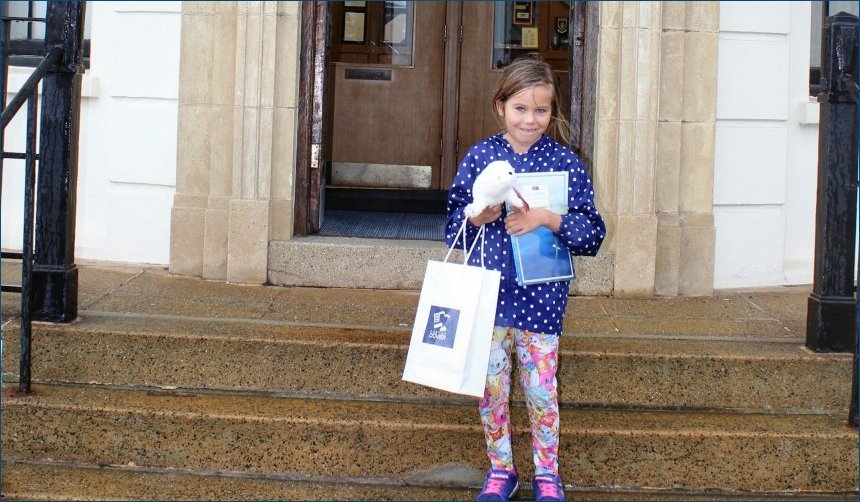 VIP visit to the Port for local girl
Lauren Jolliffe, aged 8, of Dover was this year's lucky first prize winner of the Dover Marina Open Day kid's competition winning an exclusive VIP tour of the Port of Dover.
Mum, Sharon and Lauren were shown around by the port's CSR Officer, Jenny Beacon. First stop was a visit to the port's Eastern Arm and Port Control. Situated close to the Eastern Entrance where ferries enter and leave the port she learnt about VTS (Vessel Traffic Service), the marine traffic monitoring system used by the port which is similar to air traffic control for aircraft. She learnt how Port Control Officers manage over 140 vessel movements per day, including Cruise ships, ferries and yachts, in one of the world's busiest shipping lanes. And from here she also exchanged a friendly wave with a ferry Captain on his Bridge as his ferry left the port on one of the 60 crossings per day.
To find out how shore side operations are monitored and managed, Lauren called into Terminal Control, the operational nerve centre for the Port of Dover. From the Control Room, on the top floor of the building she had a great view of the port in action and learnt about the sophisticated traffic management system and port of Dover Police.
For the last stop on the VIP tour, everyone took to the sea on the Dover Harbour Patrol Launch (HPL), one of the Port's dedicated vessels that patrols the Harbour 24 hours a day, 7 days a week in all weathers. The HPL's duties include guiding vessels safely into the Harbour and ensuring that, for safety, everyone using the Harbour abides by its rules.
At the end of her tour, Lauren was presented with a cuddly Sammy the Seal and a book about environment and the planet to remind her of her special day. "It was really good and lots of fun, I especially enjoyed going out on the Harbour Patrol Launch" She said.
Jenny Beacon, CSR Officer at the Port of Dover said: "It was a real pleasure to show Lauren around and explain how Europe's busiest ferry port operates. She was given a detailed insight into the day-to-day running of the Port and the many different jobs and people working together to keep this vital transport hub moving."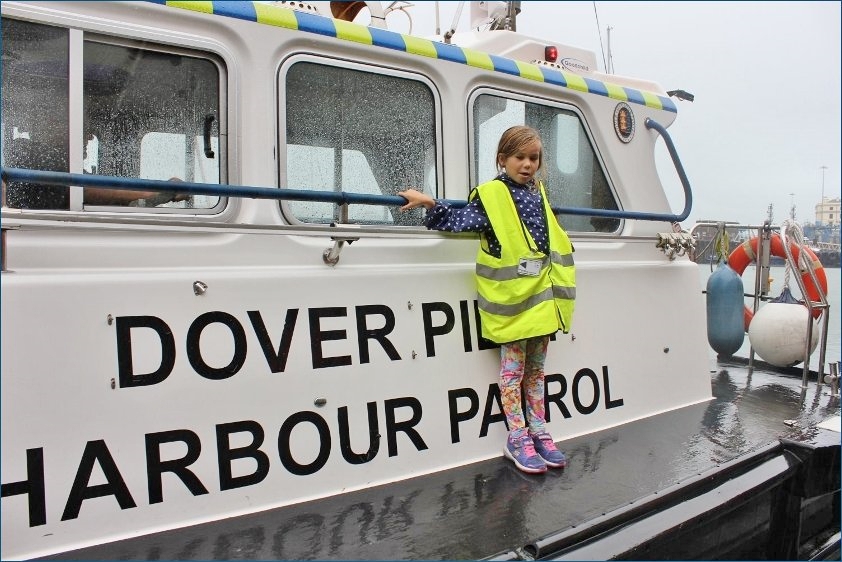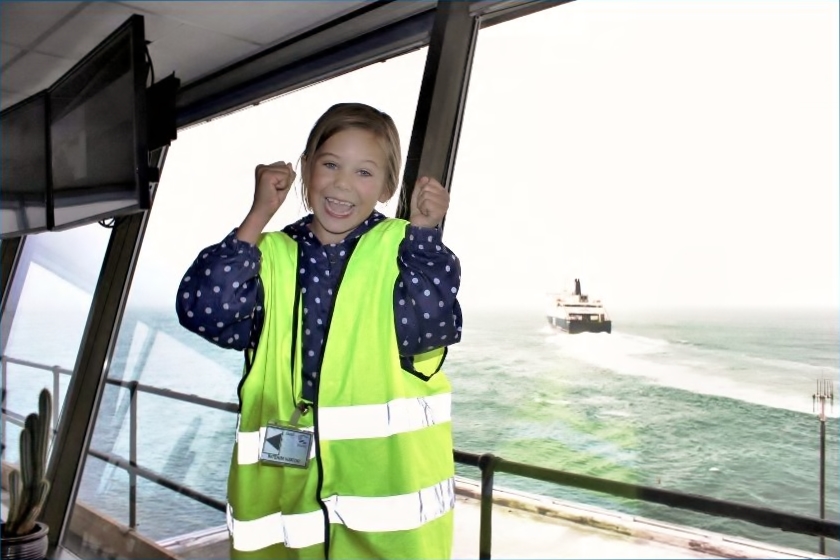 ENDS
Looks like Lauren enjoyed her exciting day there.

Wednesday, 22 August 2018 - 06:26
Post 5696
Sea News, Dover
Thanks for the excellent info below Andrew. That's a route I used to be familiar with in the old days.
Have some pleasant memories of those times - as long as we don't mention the Princess Maud...Yikes!


Great to know our featured ferry is still in action Andrew.

PaulB
Don't Miss the DFDS Special below with the new ferry expansion news.
Tuesday, 21 August 2018 - 18:23
Post 5694
Andrew, Broadstairs
Good Morning Paul, Thanks for picture from the past of DIEPPE SEAWAYS she is still in UK waters on the Dublin / Holyhead ferry route as STENA SUPERFAST X.

Tuesday, 21 August 2018 - 08:16