Sunday, 25 February 2018
Dover Lifeboat in evening action. More below...

doverforum.com/sea-news
Doverforum.com: Featuring all the ships that come and go and work at the Port of Dover with further coverage of Ramsgate, Calais, Dunkerque. Email: dover7@msn.com to send SEA NEWS pix or info.... or click ADD YOUR COMMENT below to post direct, no membership needed.

TRADING GROWTH FOR DFDS DESPITE BREXIT see 4642
PORT OF DOVER RECORD FREIGHT see 4551.
PORT OF DOVER: GEEST LINE arrival see 4597.
SECOND FEMALE CAPTAIN FOR P&O see 4608.
Sea News Dover : Use our SEARCH ENGINE below to find all sorts on the SEA NEWS pages..more than 230 now with more than 4500 nautical posts. Posts welcome. Max of 5 pictures preferred per post. Sea News Editor Paul Boland.
Post 4571
Sea News, Dover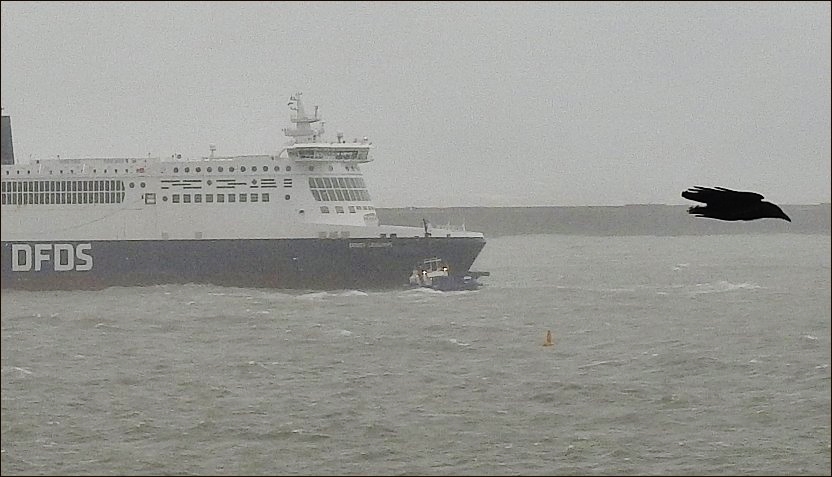 If you live anywhere along the channel you wont need me to tell you that we had a rough oul day yesterday, the timbers were a-shakin around here in the high winds...not to mentioned some lofty swaying in the high-tower thrown in for good measure.
The weather didn't stop that large crow in the top pic there enjoying himself... hanging on in there with superb airborne skills in the 'severe gale 9' .. while in the background we have a near replay of the situation shown a week or so ago...yes its the tug Dauntless helping the Dover Seaways into Dover 8. Life repeating itself.
If it was tough on dry land...well it was even tougher for the crews on the ships and as ever they did an excellent job keeping everything running.
Some pictures below of the waves thundering against the promenade.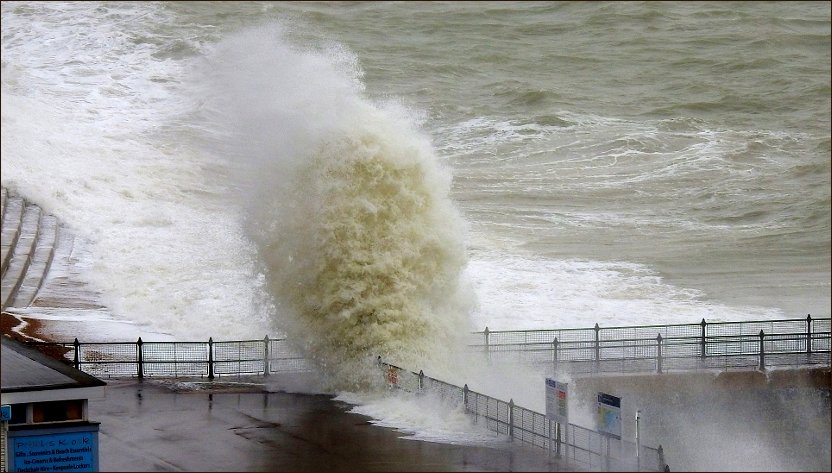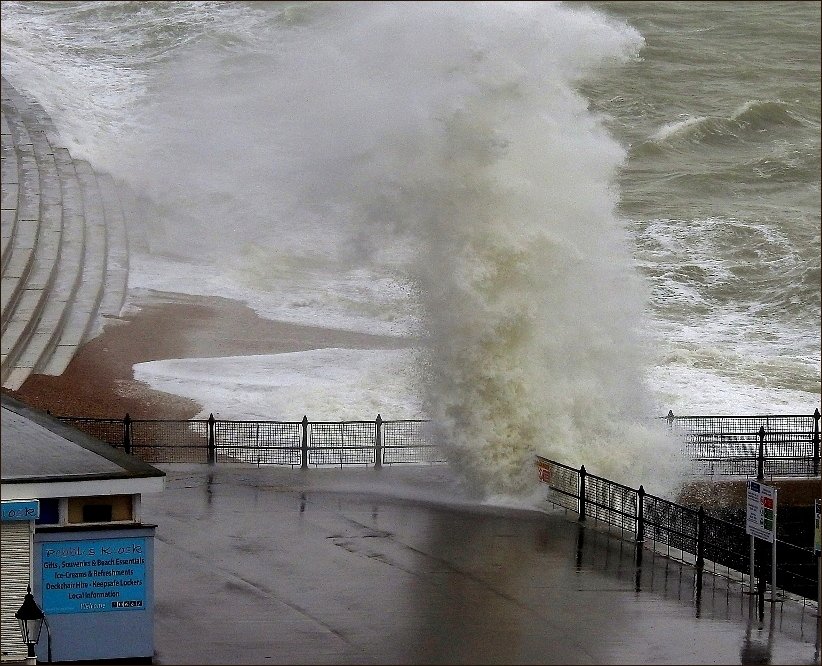 A few days earlier and we have some pictures below of that new safety/efficiency device used in the piling procedure..as featured previously in post 4509.... this time we see it airborne!
"
The 'walking piling gate', which improves the safety, environmental standards and efficiency of the construction process, has been recognised as an innovation by the Considerate Constructors Scheme (CCS), and is featured on the Scheme's Best Practice Hub – the key online resource showcasing best practice in the construction industry.
The Port's principal contractor, VSBW (VolkerStevin and Boskalis Westminster), has been using the custom-built equipment to install large diameter tubular piles for the Port's new berths, pier and marina curve, and is already reporting the kit has increased the number of piles being driven daily from three to a maximum of 10.
"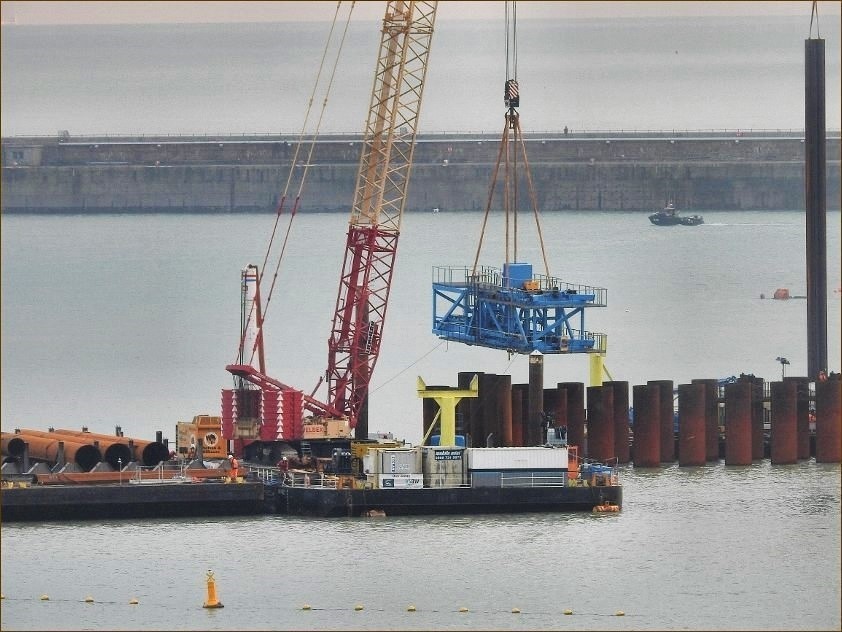 Thanks Del - lots more to come for sure

That's an excellent picture of Emerald below Ed. Love that one...you can feel the weather and atmospherics through the picture. She left soon after that...heading for Hamburg if I'm remembering rightly. But the weather was abysmal..driving rain etc...couldn't get a worthwhile shot.

PB
Tuesday, 16 January 2018 - 07:06
Post 4570
Del Styan, Norwich
Lovely shots of cormorants / geese. Keep up the good work.

Monday, 15 January 2018 - 23:05
Post 4569
Ed Connell, Dover Strait
Emerald at the DCT this morning.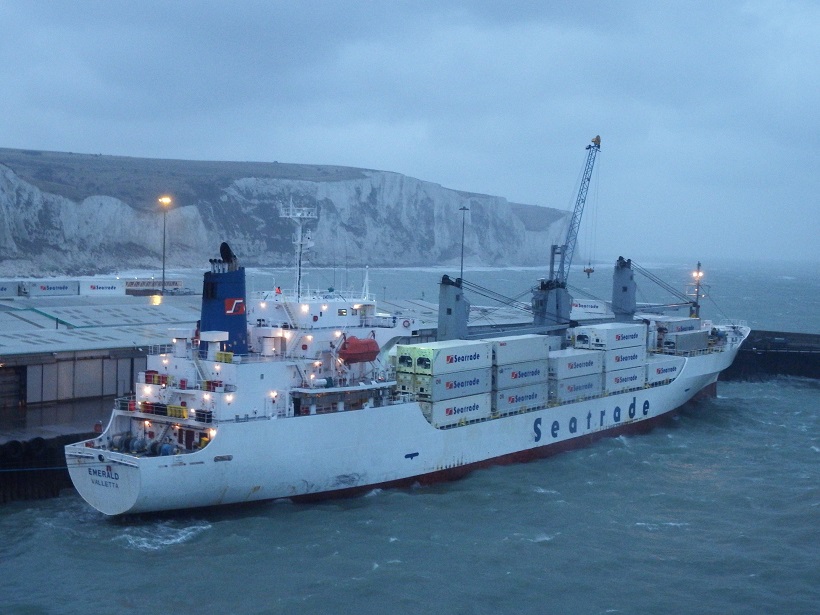 Monday, 15 January 2018 - 08:05
Post 4568
Sea News, Dover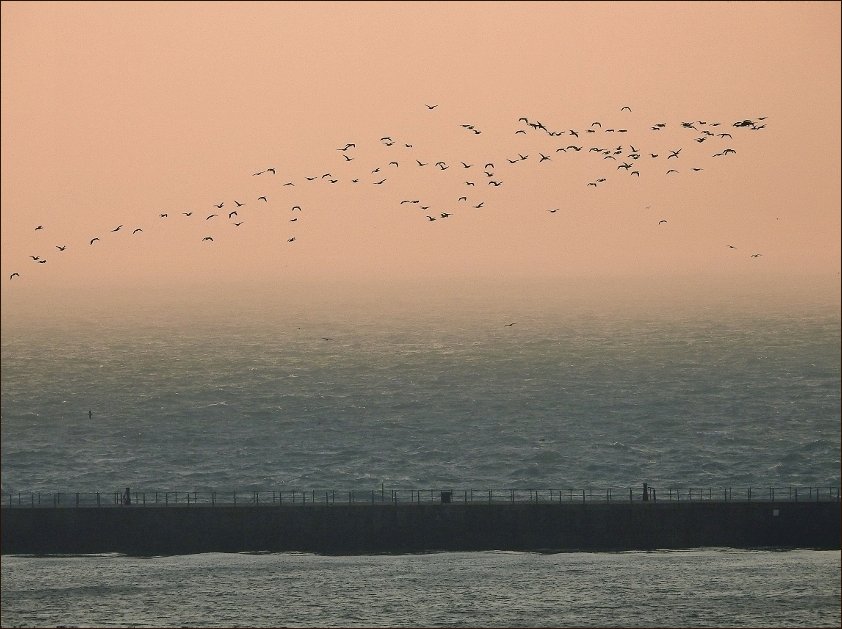 While photographing the reversing Spirit of Britain on Saturday early, see post 4565, I noticed a shadow pulling this way and that in the distant yellow sky. As the shadow grew closer it became clear that it was a flock of travelling birds. Quite a large flock too...yours truly had a stab at photographing them. Alas...yours truly is nobody's idea of a wildlife photographer but there we are anyway. Thought they were worth including. The birds look like cormorants on the move again...however .. could be wild geese and so on.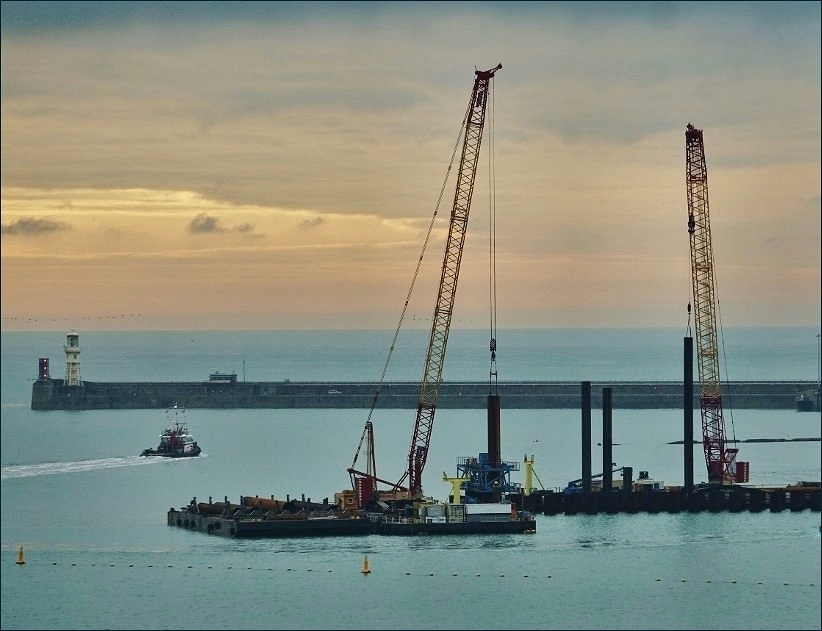 The same morning and the cranes and the work teams are still hard at it..
This picture below was taken and sent in by Valerie Blankhart.
Valerie lives further along the seafront and managed to get this early shot below on her phone.
Many thanks Valerie - its a nice shot.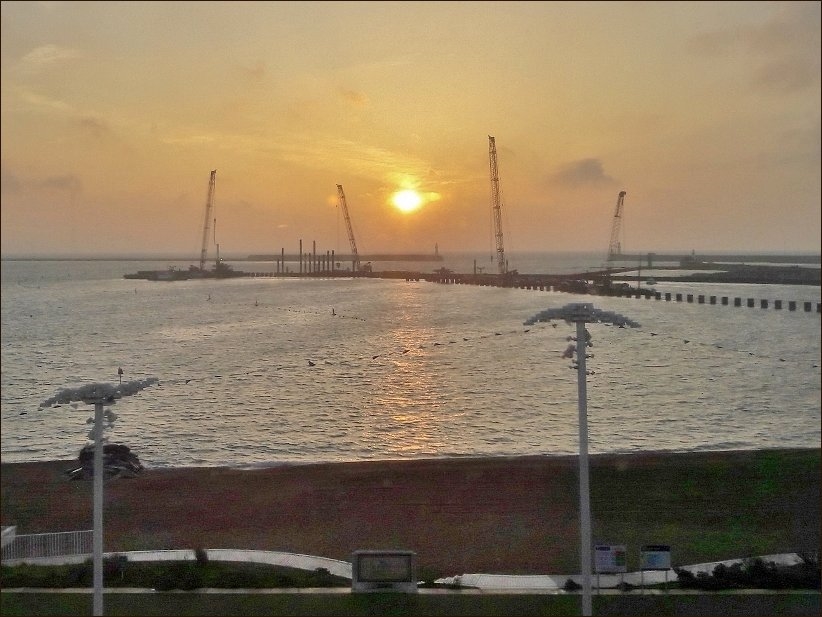 Well done with that excellent post below Mike. Great stuff! Great info...

And...Great to see those pictures from Nigel. Nice work Nigel

PaulB
Monday, 15 January 2018 - 06:02
Post 4567
Mike J., Dover
Further to Paul's post of the PUMA -
During the wee small hours of Sunday morning both DHB tugs went to the aid of the tug NAS PATHFINDER who had engine trouble off Dover whilst towing the larger tug PUMA en route Messina, Sicily from Holland.
The two tugs were towed in & berthed on the Ad.Pier.
Both Paul & I tried for photos during the morning, mine were rubbish, but Paul's came out very well considering the conditions.
The weather must have improved later as Nigel Scutt got some excellent photos later when he passed them aboard the diveboat MAVERICK & later posted them on his Marina Facebook page with further details.
Many thanks to Nigel for letting me post them here.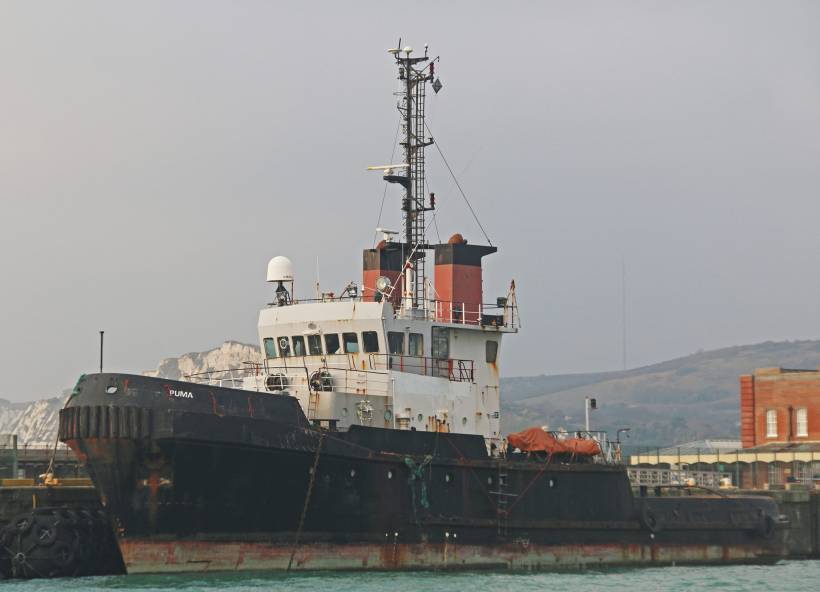 The PUMA, now looking like a bit of a rustbucket, has had quite a history having started life for United Towing in 1978 as the YORKSHIREMAN under the British flag.
The much smaller NAS PATHFINDER is Panamanian-flagged & is four years older than the PUMA.
There's no specific information [yet] why the tow is taking place, perhaps the scrapyards of the Eastern Mediterranean are beckoning for the PUMA & the two tugs were following the same route as the final voyages of the PRIDE OF DOVER & THE PRIDE OF CALAIS to Turkey, perhaps calling Messina for bunkers.
Pure speculation !
Monday, 15 January 2018 - 00:43
Post 4566
Sea News, Dover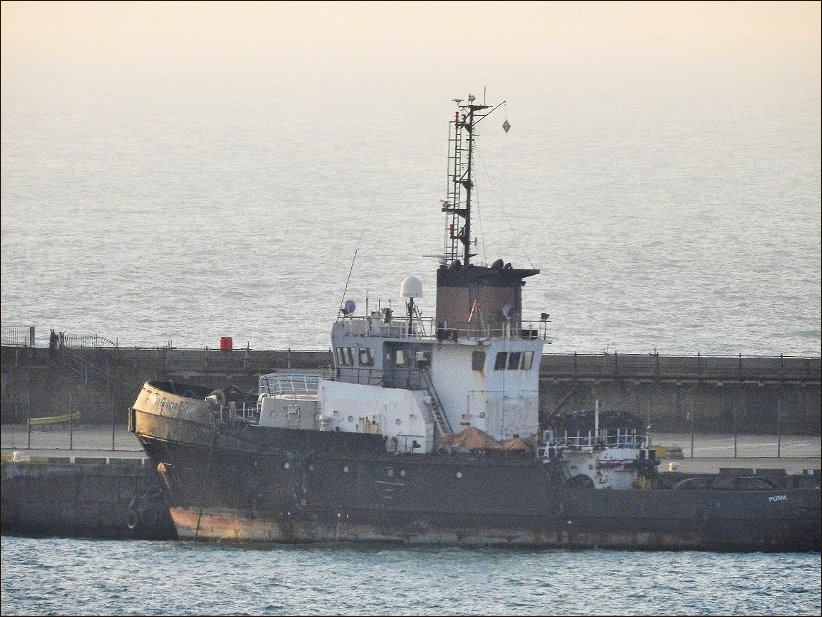 Mike gave me the nod this morning about some harbour visitors...an interesting old tug was being towed by another tug. I promised to try and photograph them.They were in the harbour alright but lost in low level grey/blue murk as they rested near the cruise terminal. I couldn't get the first tug Pathfinder but got the one being towed called Puma..and that's Puma above there. I needed much help from the computer to get an image at all...and there it is.
PaulB
Sunday, 14 January 2018 - 18:08
Post 4565
Sea News, Dover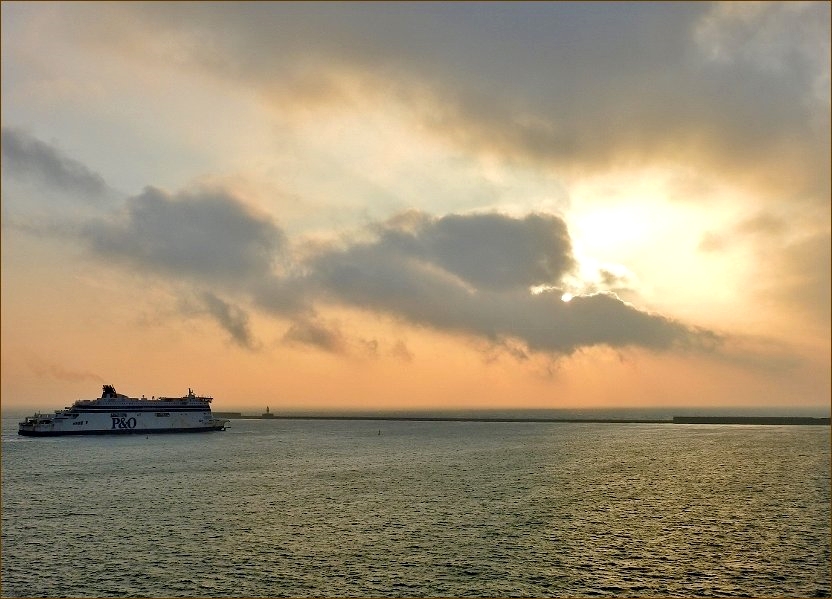 Ah yes Harald.. pity you didn't get a chance to see the Spirit of Britain over there at Damen in Rotterdam , but yes indeed we had some great pictures of her from Ed and Jeremy..excellent shots they were ( 4560 and 4561 ).
That's the Spirit of Britain back in service yesterday morning early in the picture above...cold day as she reverses into berth 9.
...all seems back to normal.
Thanks Mike as ever for the info.

Sunday, 14 January 2018 - 05:04
Post 4564
Mike J., Dover
1335 - Ramsgate webcam is working !

Just seen a blue survey craft craft come in & park up amongst the yachts.
AIS reckons that it's the THAMES GUARDIAN.

Saturday, 13 January 2018 - 13:42
Post 4563
Harald Boot, Tholen, The Netherlands
Thanks for the great photos! It is lovely to see the Spirit of Britain back home in Dover again after her short trip to Damen in Rotterdam. Unfortunately I did not have a chance to go and see her there.

Saturday, 13 January 2018 - 11:33
Post 4562
Sea News, Dover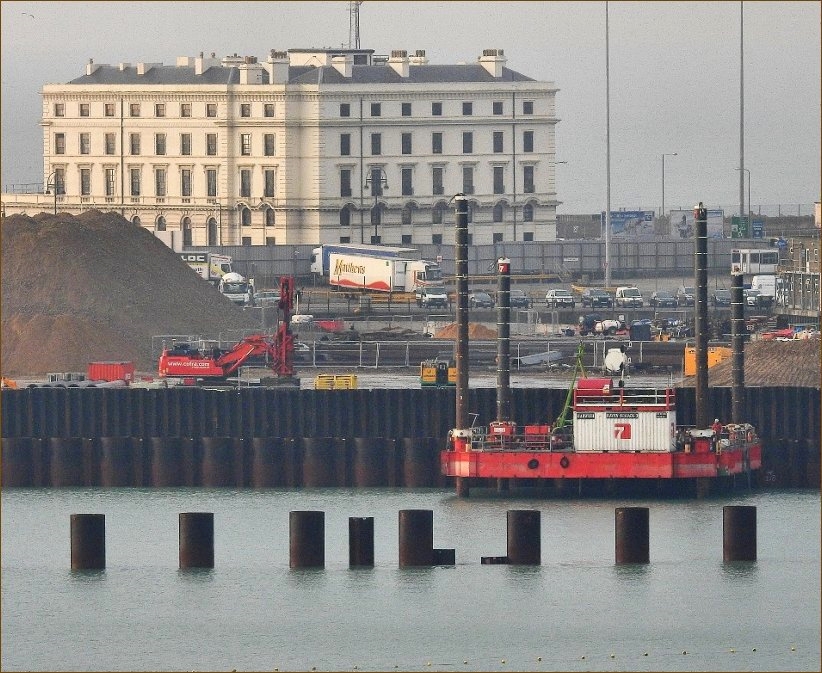 New Year, New JacK. yes this appears to be a new guy on the scene, its called Haven Seajack 3. Yours truly hasn't seen it before so presumably its a new addition to the working DWDR fleet. Its all very busy at the moment with the various workings piledrivings and drillings all powering the project forward with a new year gusto.
Despite all this you cannot suppress the enthusiasm of youth for a bit of wintry sailing...all in the shadow of the bulldozers and the piling. Its a tad chilly out there on the briny at the moment but that doesn't hold the enthusiasts back...
Both pictures from Thursday.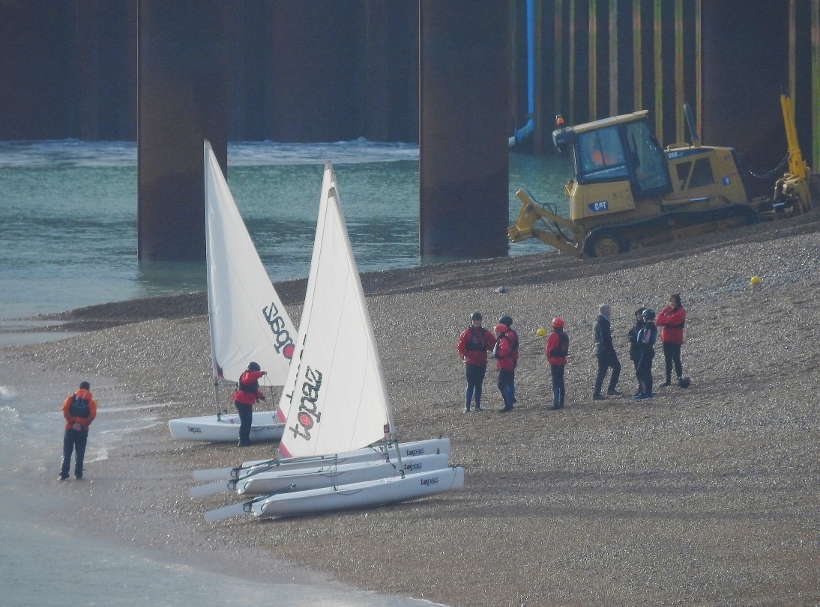 Great topical collection of pictures below from Ed, Jeremy, and Mike.
Great to see all those of the Spirit of Britain, nice shots for sure, very good to have them in the collection. I couldn't get a shot of the laid-up Spirit myself... and really nice shots of the Smit Young too Mike.

PaulB.
Saturday, 13 January 2018 - 06:19
Post 4561
Ed Connell, Dover Strait
Spirit of Britain on the Eastern Arm today.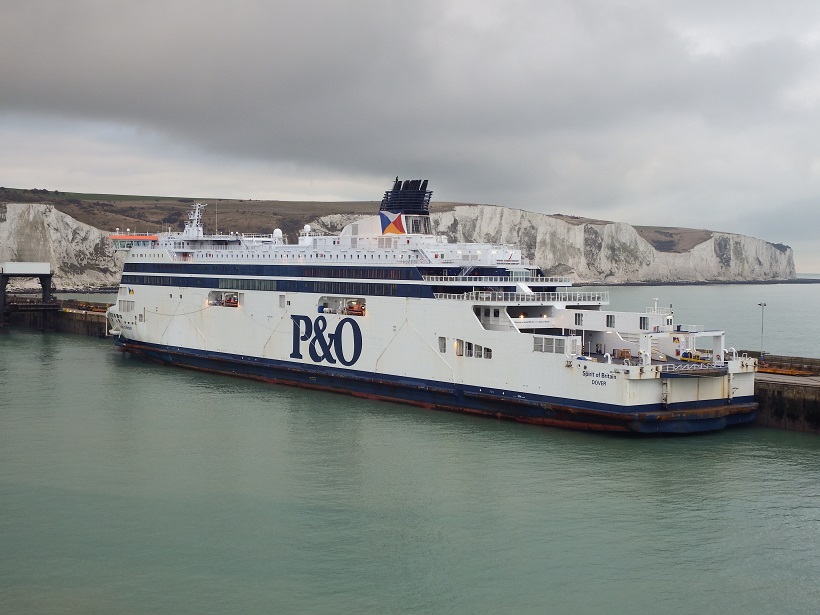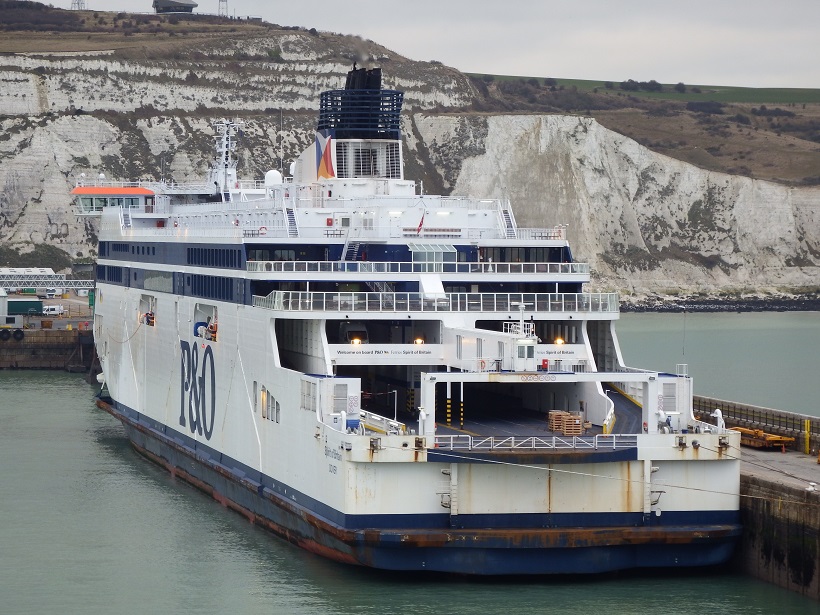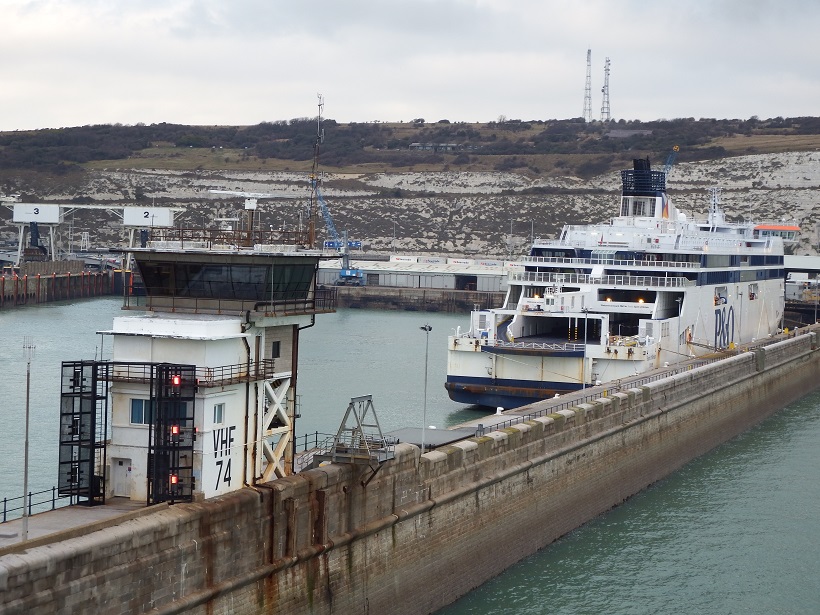 Friday, 12 January 2018 - 22:47
Post 4560
Jeremy Ward, Whitfield, Dover
Whilst at the White Cliffs this afternoon noticed that the Spirit of Britain was moored at the Eastern Arm with her front bow doors open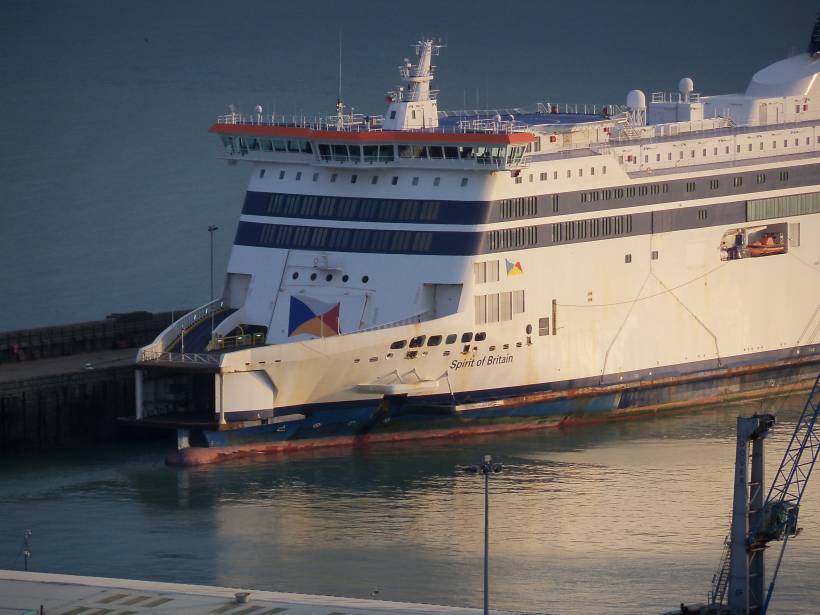 Friday, 12 January 2018 - 22:46
Post 4559
Mike J., Dover
Friday afternoon & the SMIT YOUNG returns to the Tidal Basin after 'attending' the BARENT ZANEN.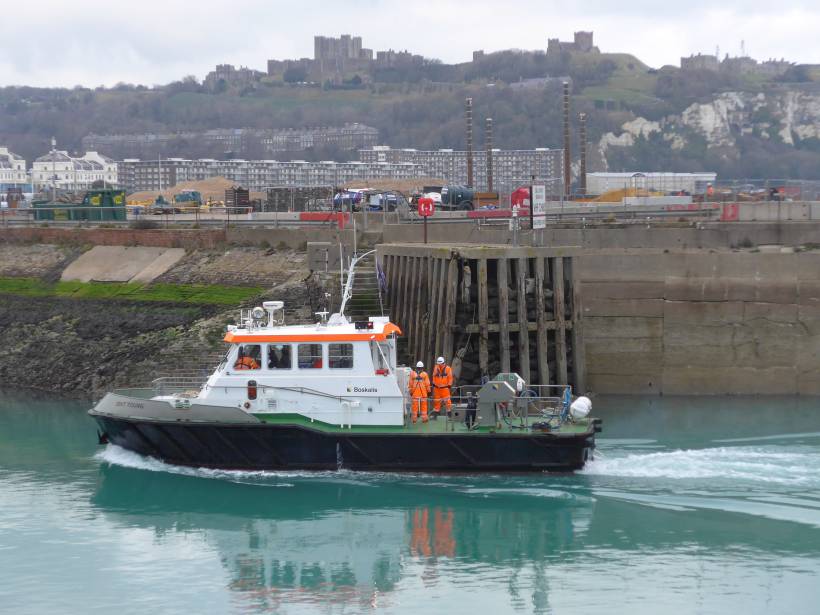 As soon as I recommended the Ramsgate webcam it packed-up !
It WAS working on Thursday, Honest.
Friday, 12 January 2018 - 22:19
Post 4558
Sea News, Dover
Nice work Ed getting a picture of Eastern Bay up on display yesterday...I wasn't sure if we would have a pic so I prepared the one above from the archives. It hasn't been used before so worth a look even if not up to the minute. Eastern Bay left last night at 7Pm approx. and went south. Unusually the ship was heading for ...lets see I wrote it down somewhere...yes here it is..Radicatel. I had to look that one up. Its located at the mouth of the Seine just behind Le Havre and semi across from Honfleur. So there we are...why there??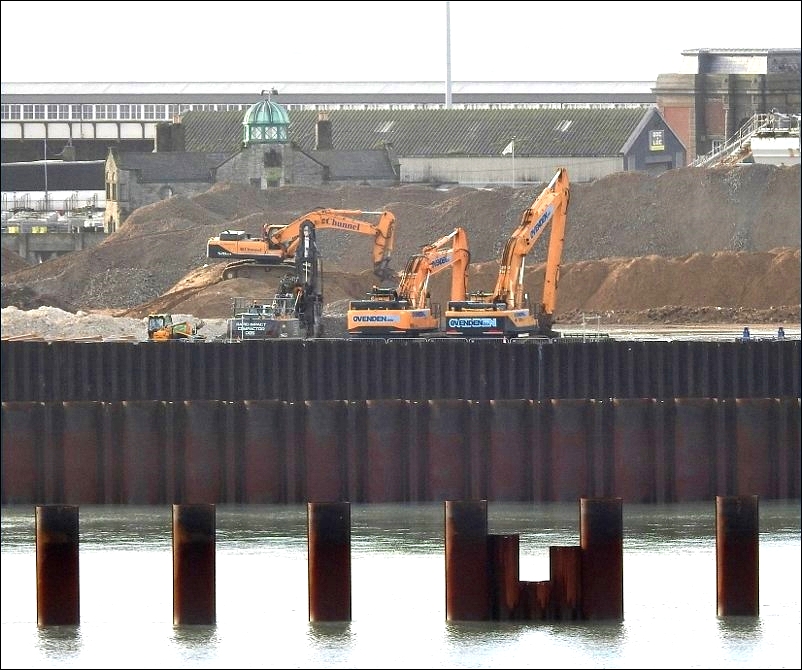 We showed a picture of the Olde Custom House a few days back ( 4549 )...there she is above yesterday morning and the whole view has completely changed. Now almost hidden behind a mountain of sand/gravel/spoil you name it. Amazing amount of work in a few days....much work now going on again right across the DWDR with some more delightful piledriving to enjoy...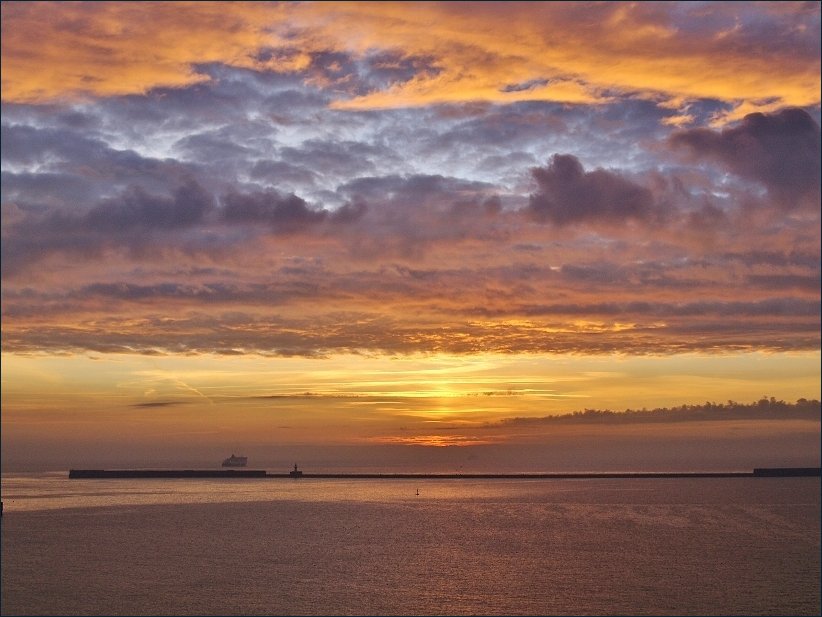 Above we have the scene across the channel yesterday morning. Staggering colours. This is a bog-standard point n shoot shot, no colour or anything added. Just spectacular nature at work.
Good to get the Eastern Bay looking good there Ed...nice shot and good to see the transporter too.

Will enjoy a look at that Ramsgate webcam later Mike... might even see our ace roving reporter at work over there.


PaulB.
Friday, 12 January 2018 - 06:01
Post 4557
Mike J., Dover
I found another webcam, this time for Ramsgate.
Presumably installed so that Sarah can keep an eye on the Lifeboat.

Google 'CAMSECURE' & on their home page go to 'Live Cameras' & click on the 'southeast' area on the map.
If Ramsgate doesn't come up straight away click on it on the list of cameras.

A number of other ports have 'public' webcams, good PR for the ports involved, a pity that DHB don't have the same attitude as there is great interest in the port from the public, look at the numbers of folk up on Langdon Cliffs watching activity in Eastern Docks.
A 'public' camera looking at the DWDR works from on high would be interesting as well.



Friday, 12 January 2018 - 01:01
Post 4556
Ed Connell, Dover Strait
Eastern Bay at the DCT today.
Sellindge transformer convoy sitting in the lanes behind the DCT yesterday.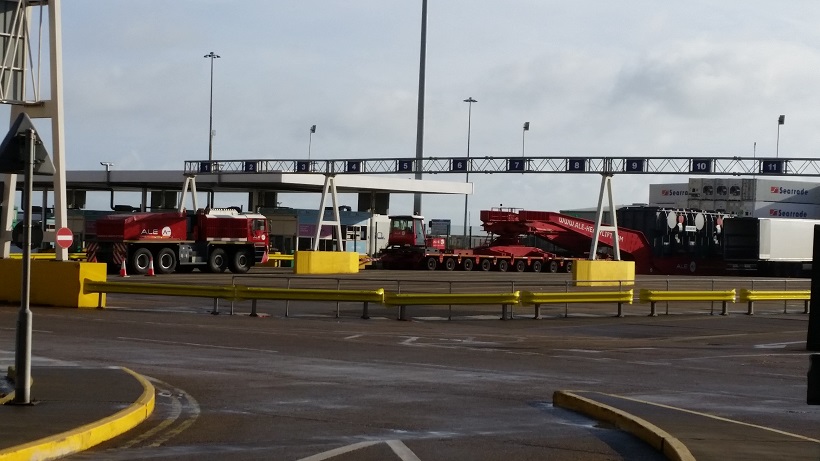 Thursday, 11 January 2018 - 19:23
Post 4555
Sea News, Dover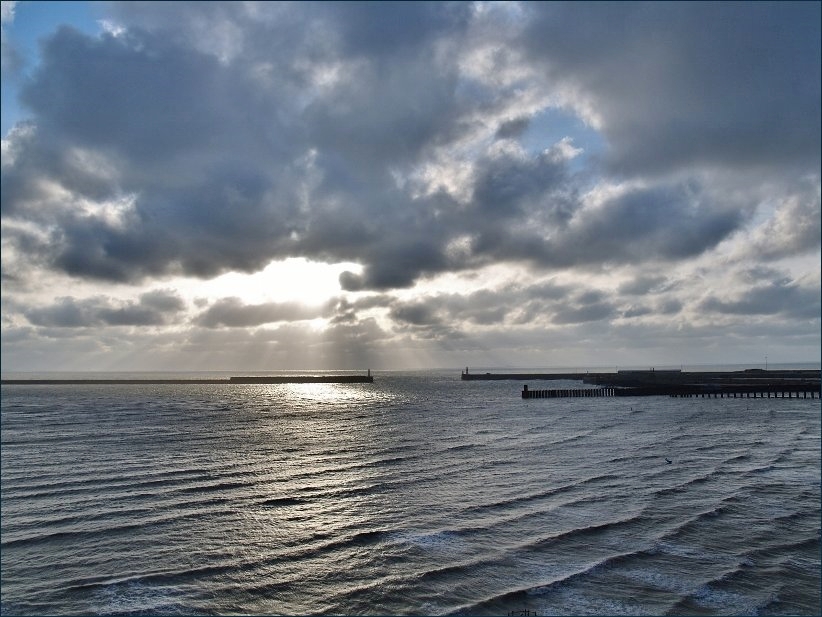 These top two pictures were taken in the last few days just as the worst of the rough weather subsided. The harbour looks dramatic when the wind whistles in coldly from the east ....it changes the direction of the waves in the harbour producing the effect shown above...and it is always chilly at these times, very chilly...brrrrr..
The picture below shows the sun bursting through the clouds over the channel in dramatic fashion a couple of days ago.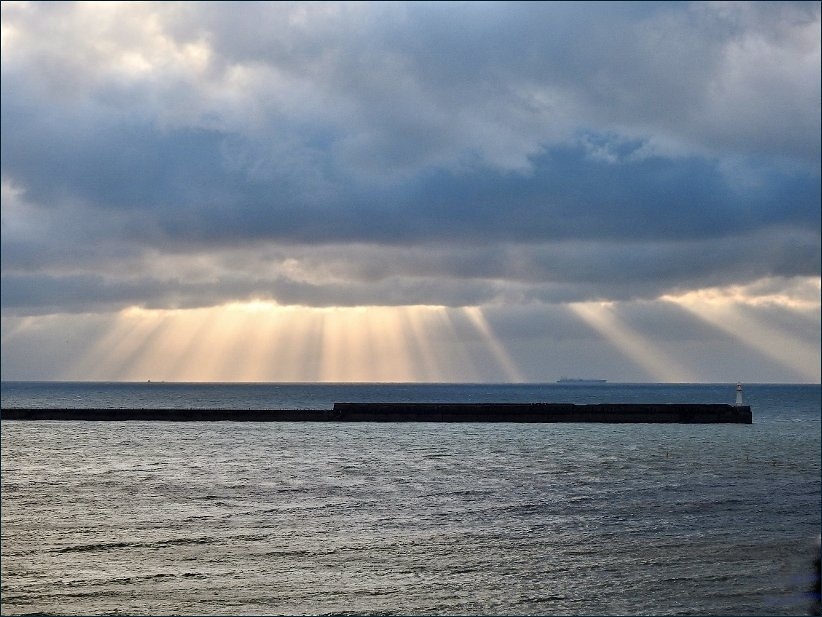 CHARLIE ELPHICKE: Ambitious for our area in 2018
________________________________________________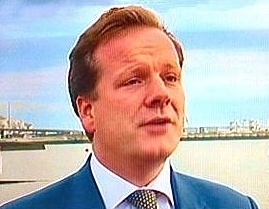 Dear Mr Boland,
As the New Year begins it's time to ask: what's next for Dover and Deal?
Everyone knows the story of how far we have come since 2010. A new hospital built in Dover. Deal hospital saved. The port sell-off stopped. £400 million invested in our area. Unemployment near halved. The Calais Jungle dismantled. The fast train sweeping into our stations, all day every day.
Everyone should be proud of what we have achieved together in the past seven years. Yet we must keep moving forward.
So what are the next steps?
A new cinema, shops and restaurants are being built in the heart of Dover. The St James development will bring in yet more jobs and money to our area. When we watch a movie at Cineworld or go shopping in Next, we must never forget that barely two years ago this area was blighted by the awful multi-storey car park and Burlington House. It has taken so much hard work to get this far.
St James is going to massively improve things in Dover – yet we need our high street to flourish too. Everyone wants the entire Dover town centre to succeed. Making sure the St James development draws more visitors to our high street is our top priority.
We need plans in place to link St James and our stunning seafront. We must find a way of getting visitors to see and enjoy all our town has to offer. That means guiding them from St James to our brilliant independent cafes, shops and micropubs in town – and the amazing Roman Painted House. I would love to see a footbridge over the A20, linking Bench Street and our Banksy to the seafront. I'm really interested to hear people's views on how we can make this work.
Deal has gone from strength to strength in recent years, following the arrival of the fast train. Yet there is still more to do. Firstly, we must seize the opportunity to rejuvenate Deal Pier and ensure this iconic landmark is brought into better use.
Dover is getting a new cinema. Deal's Regent Cinema was supposed to be re-opened years ago. The owners need to shape up and get film reels rolling at the Regent once more – or sell to someone who will.
And we need better road access for Deal. The A258 from Dover is too often gridlocked – leaving no other way to get to town. And traffic heading to Thanet ends up blocking Middle Deal Road. That's why we need to look at building a dualled spur from the A256 to connect to Middle Deal and the North End.
There is so much potential in our beautiful corner of Kent. The Citadel is a site ripe for development. We could use the leisure centre site for more parking and shops. I will be pushing for more services at our hospitals, more funding for our outstanding schools and better broadband across the villages. And we must continue to do everything we can to support our brilliant small businesses.
On top of all of this we have Brexit. I have been working hard to ensure we have the right plan in place so that traffic continues to flow freely between Dover and Calais. I've been working with the French to make sure they are ready too. We are leaving the European Union in little over a year – and we must be ready on day one for every eventuality.
It's clear there will be many challenges in the 12 months ahead. Yet after we've achieved so much over the past seven years – it's now time to push on and truly build a brighter future for Dover and Deal.
Charlie Elphicke MP for Dover and Deal.
* *
A selection of shots below of Atlantic Reefer manoeuvring into position as she readies for departure at midday yesterday wednesday. She was off to Hamburg in Germany. Busy times...
Schweiz Reefer left the day before, see post further below and in today already...Eastern Bay.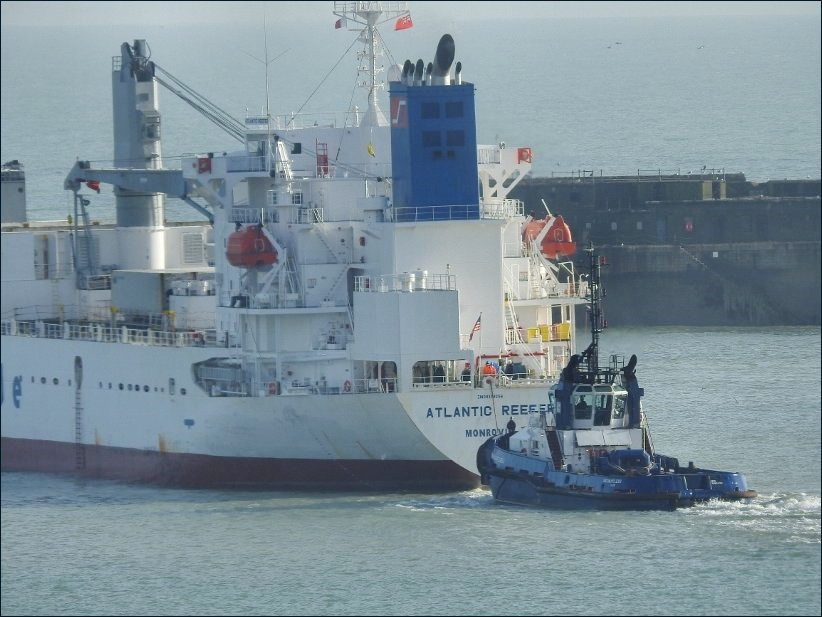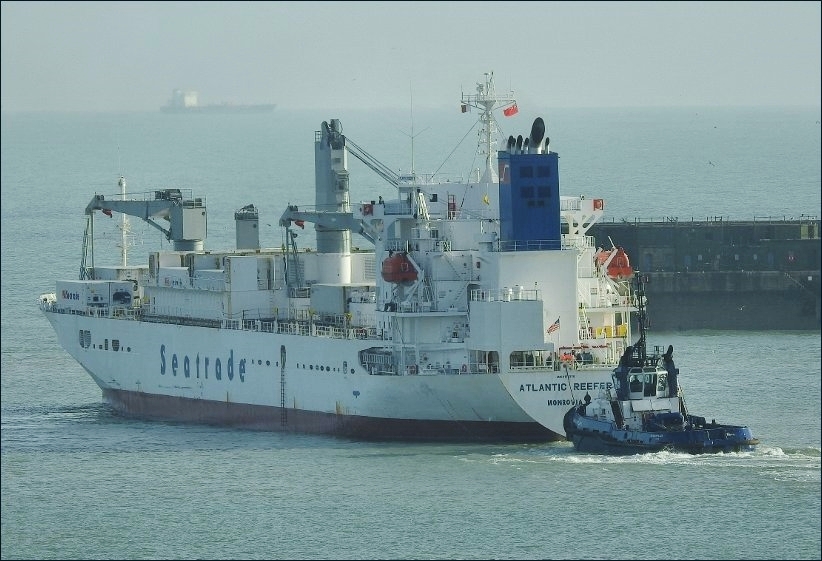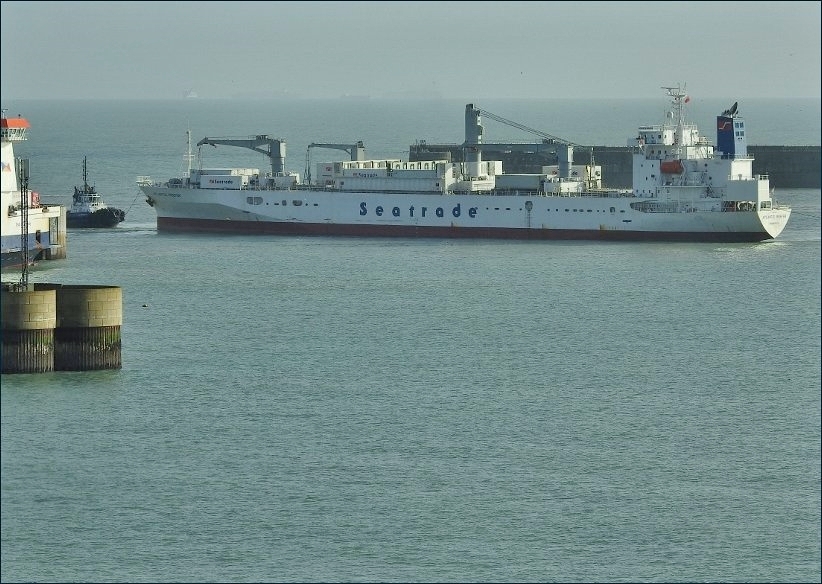 And away she goes...helped by the tugs as ever.
Thanks Mike for the info on the pubs...good to hear its still open down there and has a ghost too... one of these days I must get down there and have a look for that ghost...
"it was a dark and stormy night..."
Thanks for the further info Brian on all those pubs...of course it was different down there once with the Railway Station and so on... Dover Marine it was called I believe.
Yes that's good news indeed on the increased freight traffic Del. Hopefully it will all continue to flow in fine style..even Charlie refers to this essential need in his piece above. Yes indeed re the workers and the pub, but also there is a new truck park down there these times which also must help...

PaulB
Thursday, 11 January 2018 - 06:42
Post 4554
Del Styan, Norwich
Interesting that the pub mentioned is still open - is that so? Perhaps the new harbour workers are keeping it afloat .

And it's such good news about the record levels of traffic through Dover, and heartening to hear Calais's echo of the Dover management's plea for seamless trade. As you say
" just like now.." We can only hope!
Wednesday, 10 January 2018 - 23:13
Post 4553
brian, dover
there used to be four [4] pubs in that area,rose and crown,sink ports,golden arrow and fineally arshcliffe fort.

Wednesday, 10 January 2018 - 19:08
Post 4552
Mike J., Dover
Post 4549 - the pub over the bows of the tugs is the 'Cinque Port Arms' which is alive & well & has a resident ghost.

The building behind it used to be a pub as well - the 'Golden Arrow' closed in the late 80s, & had various other uses, cafe, offices etc., but is now boarded-up.

Both pubs have 'history'

Wednesday, 10 January 2018 - 14:06