Tuesday, 14 August 2018
All the Ships at the Port of Dover...plus...

WWW.DOVERFORUM.COM/SEA-NEWS
Doverforum.com: Featuring all the ships that come and go and work at the Port of Dover with further coverage of the surrounding ports both sides of the Channel. Email: dover7@msn.com to send SEA NEWS pix or info....
or click ADD YOUR COMMENT below to post direct, no membership needed.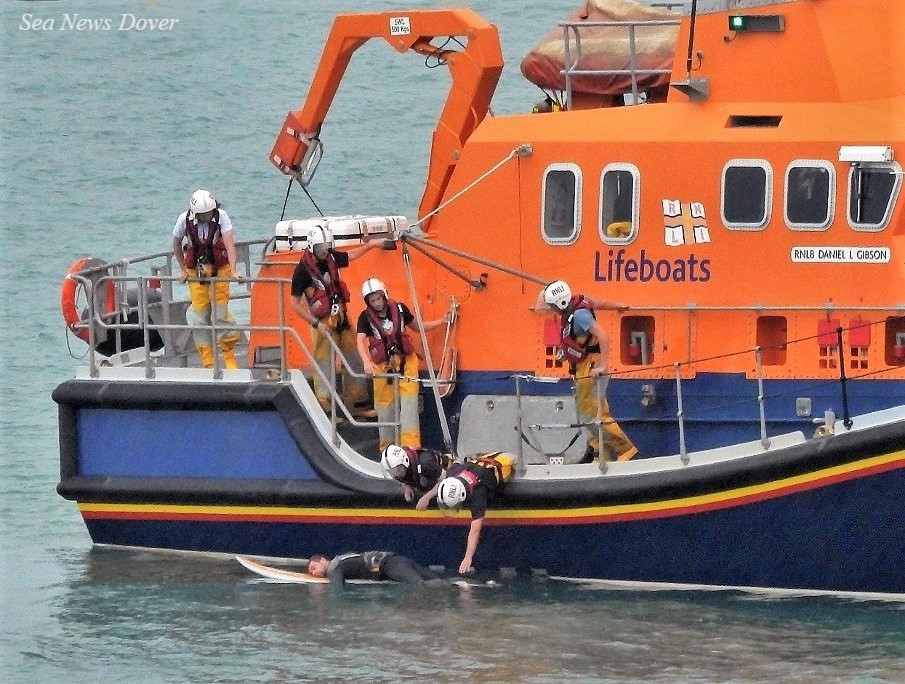 Dover Lifeboat action from Tuesday evening... the Lifeboat guys do training sessions on Tuesday evenings so we assume this to be a training session. We hope so, as the chap on the surfboard looks all in.
Excellent tourist season for P&O Ferries see 5127
VSBW Port of Dover - Women at Work 5117
P&O's summer recruits plus night-time fare deal see 5108
Port of Dover's influential project gets recognition see 5089
P&O - Students at the forefront..see 5087
DFDS and Marine Conservation at Dover Grammar Girls School see 5077
PORT OF DOVER new Board Member plus new Maritime Safety investment... see 5073
P&O FERRIES New Menu Launched...see 5071
DFDS the Success Story continues .. plus night-time fare deal 5068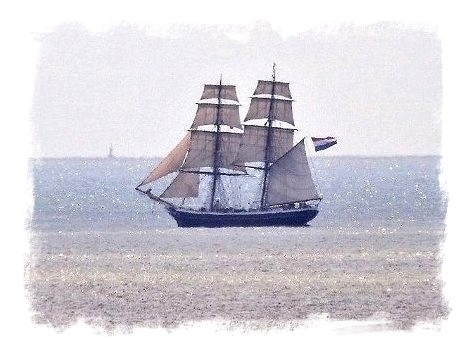 Fires near Dover Seafront .. see 5060
P&O's Jenny Evans - Maritime Young Person of the Year 5054 (also see 4608)
Europe's Best Festivals with DFDS 5029
P&O Pets Travel Free see 5019
DFDS Celebrates apprenticeship programme...5016
New Mobile App for P&O FERRIES see 5008
DFDS and ORCA see 5003.

DFDS ACQUISITIONS and EXPANSIONS...see below 4984
Dover Marina Control - New Contract Awarded see 4970.
PORT OF DOVER: Konecranes for new Cargo Terminal 4916.
PORT OF DOVER: £21 Million DWDR 'paving plus' contract awarded 4895.
PORT of DOVER - three cruise ships, one day 4885.
DFDS Charters New Ship see 4866.
New Marina Pier ... Latest...see 4861.
P&O FERRIES presents big cash to RNLI Dover...see 4829.
PORT of DOVER: Chief Executive TIM WAGGOTT Resigns...see 4778.


P&O FERRIES recruiting...4745.
PORT of DOVER awards Cargo Refrigeration Contract see 4740.
PORT OF DOVER: Community Benefit 4688
TRADING GROWTH FOR DFDS DESPITE BREXIT see 4642
PORT OF DOVER RECORD FREIGHT see 4551.
PORT OF DOVER: GEEST LINE arrival see 4597.
SECOND FEMALE CAPTAIN FOR P&O see 4608.
The Community REGATTA is on this year on the 26th August - see 5103.
Sea News Dover :
Use our SEARCH ENGINE below to find all sorts on the SEA NEWS pages....
More than 250 now with more than 5000 nautical posts.
Posts are welcome. Max of 5 pictures preferred per day although we can occasionally stretch to 6 on special stories.
Type CRUISE VISITS in our SEARCH ENGINE below for news of the latest arrivals.
Sea News Editor Paul Boland - dover7@msn.com .
Post 5081
Del Styan, Norwich
Good to see all the children cycling, but why, and where to? Perhaps just to get them out of the car habit?
By the way, did you fill up with goodies on your Calais trip?

Tuesday, 24 July 2018 - 23:09
Post 5080
Patrick, Marine Parade
A pair of Naval coastal training craft came our way a couple of days ago.
Here HMS 'Exploit' was a caller in the outer harbour for a short while meeting up with the DHB Launch before heading off to foreign parts. Her sister - HMS 'Blazer' - carried on up to Ramsgate and from there also left for foreign parts.
Both were in the River Dart a week before seen in this Youtube video.
https://youtu.be/iy409zZlpyY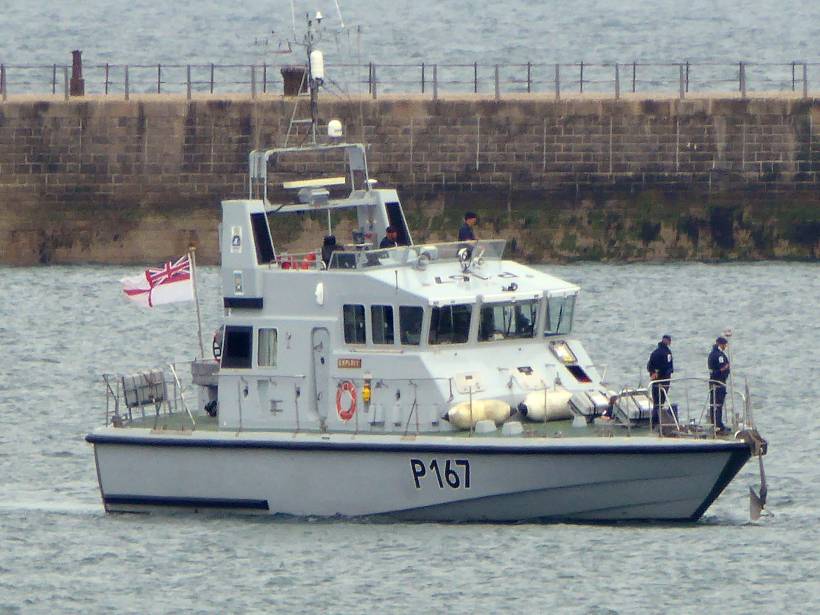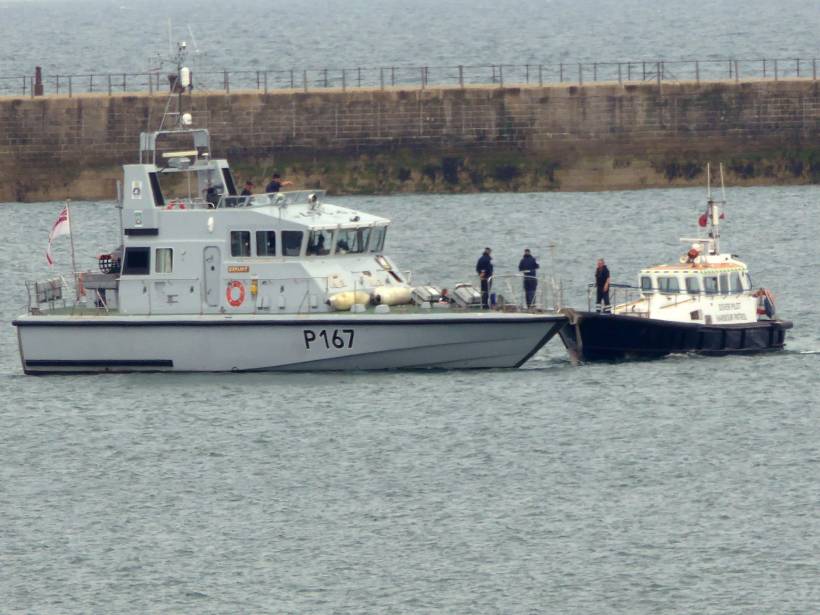 Meanwhile the second of the Self Discharging Bulk Carriers - the 'Splittnes' - docked this evening and commenced discharge on the new infill area of DWDR. This is the second visit from these SDBC's following the 'Sandnes' earler this month.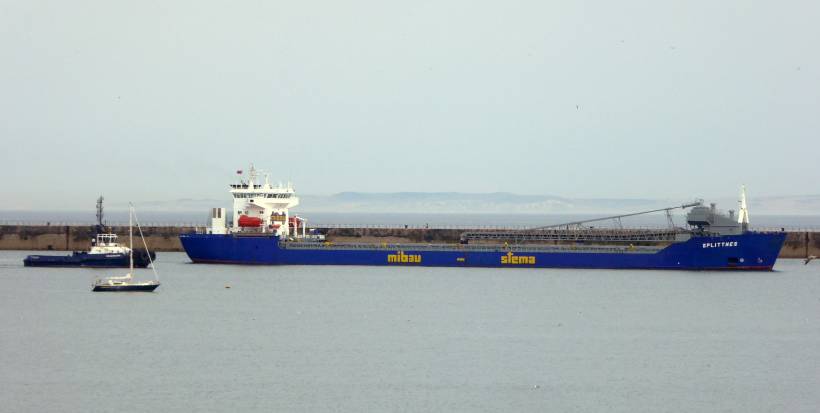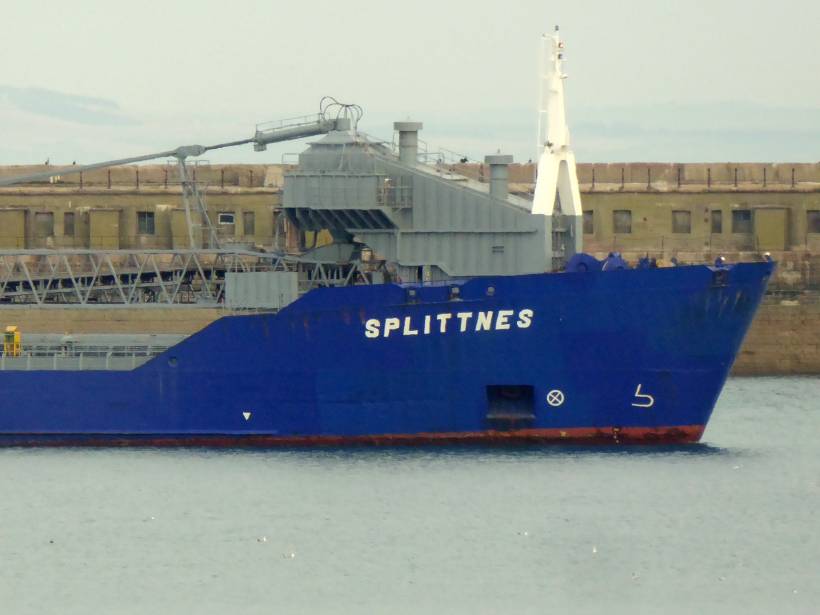 Tuesday, 24 July 2018 - 22:12
Post 5079
Jeremy Ward, Whitfield, Dover
A long distance shot of the Celebrity Eclipse on a very warm muggy afternoon.
Tuesday, 24 July 2018 - 15:49
Post 5078
Sea News, Dover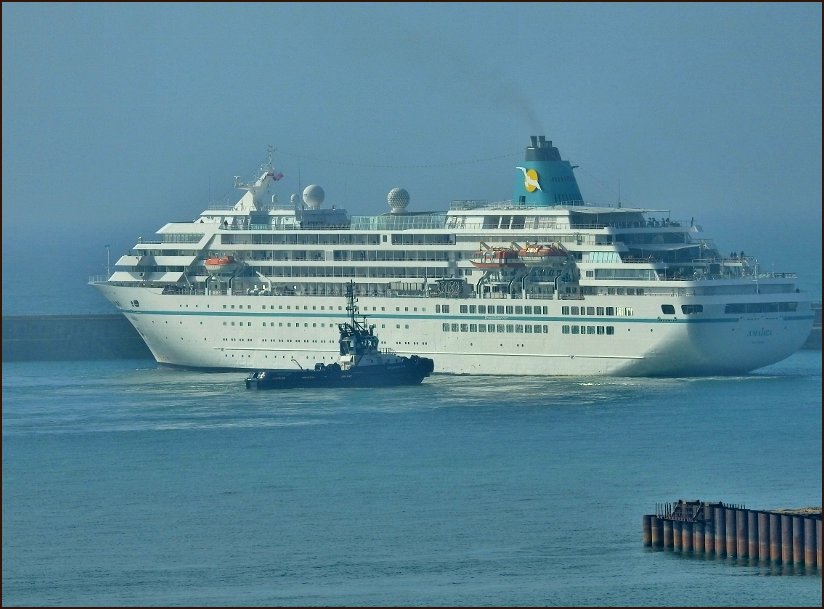 The 'small but beautifully packaged' Amadea was in with us yesterday. The shot above shows her arriving but the conditions were very misty...its all this heat isn't it .. so the pictures were limited. Yours truly decided to wait until departure time late in the day...but the thing was .. late in the day turned out to be just too late.
So here below we have a pic from a former visit.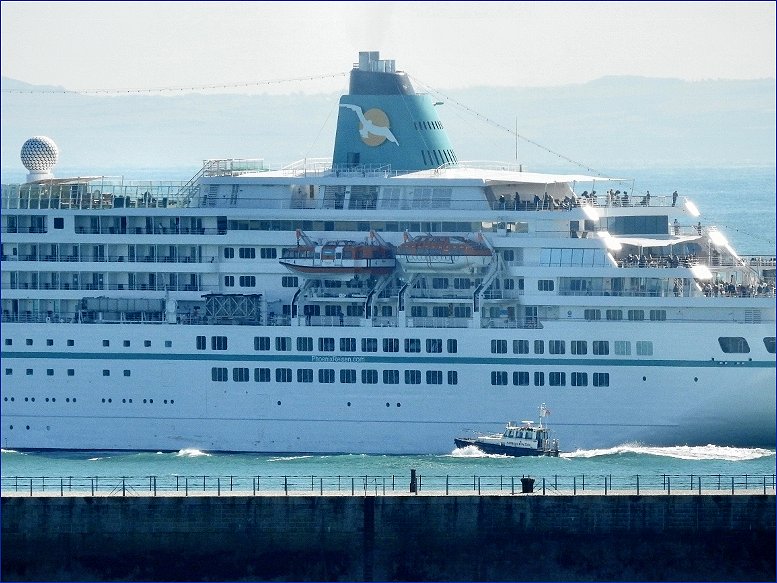 The amount of people cycling has seemingly soared. The shot below shows a huge group of cyclists peddling by on the shimmering seafront two days ago. Believe me...there were many more, this picture just shows barely half the group. Its the proverbial 'army on wheels'. That Bradley Wiggins has a lot to answer for...

Not sure where they might be heading going thataway...the choices are .. over the cliffs or over the sea.
The totally stunning gorgeous monster Celebrity Eclipse is in Port today. What a ship...huge...how did she fit in...

!!!
PB
Tuesday, 24 July 2018 - 06:58
Post 5077
Sea News, Dover
DFDS AND MARINE CONSERVATION PARTNER ORCA INSPIRE LOCAL STUDENTS

Pupils at Dover Girls Grammar School participated in informative interactive presentation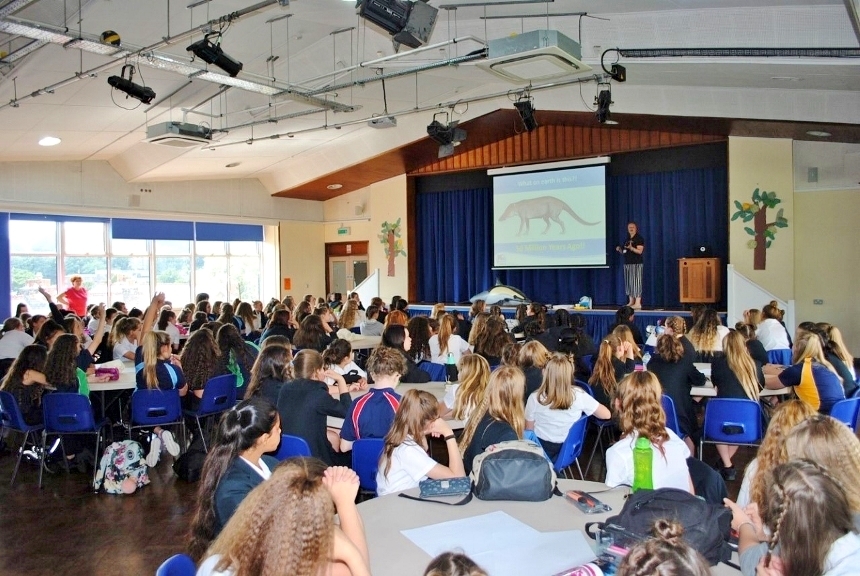 As part of ferry operator DFDS' ongoing partnership with ORCA, the charity were invited to address 120 Year 7 students at Dover Girls Grammar School, on Tuesday 10 July. ORCA is one of the UK's leading marine conservation charities protecting whales and dolphins.
The students were presented with an engaging array of facts on these mammals and other marine species, forming part of an Enrichment Programme, during which students participated in a wide range of creative, sporting and educational extra-curricular activities.
UK and European waters are home to a third of the world's whales, dolphin and porpoise species and many of the students were shocked at what resided in the waters around the UK. One year 7 student said, "It was amazing to hear just how many kinds of whale and dolphin species surround us in the UK". Mr Benson, Head Teacher at Dover Girls Grammar School said, "My thanks to ORCA and DFDS for providing this stimulating and fascinating experience for the year 7 students".
ORCA Education Co-ordinator, Anna Bunney presented a number of interesting exhibits for the students to study, ranging from baleen and sperm whale teeth to cetacean skulls, quizzing the students on what they could be, along with a discussion around the threats facing marine life today. "Inspiring the next generation is a crucial part of ORCA's mission to create safer spaces for whales and dolphins around the UK. A huge thank you to Dover Grammar School for Girls and DFDS for giving us the opportunity to meet such an enthusiastic group of students and to talk about our work in the English Channel, North Sea and beyond."
ORCA's community outreach programme aims to raise environmental awareness at a local level. The interactive presentation was intended to educate, inspire and encourage the students to be more environmentally and ecologically aware. Anna also hopes to have stimulated interest in her audience to consider a future career in marine biology.
Speaking of the event Stephen House, Head of UK Campaigns at DFDS said, "DFDS is very pleased to be able to support the Dover Girls Grammar Enrichment Fortnight by utilising our partnership with ORCA. The student engagement from the day was fantastic and it was great to see the girls getting enthused about the marine ecology that surrounds our shores."
-Ends-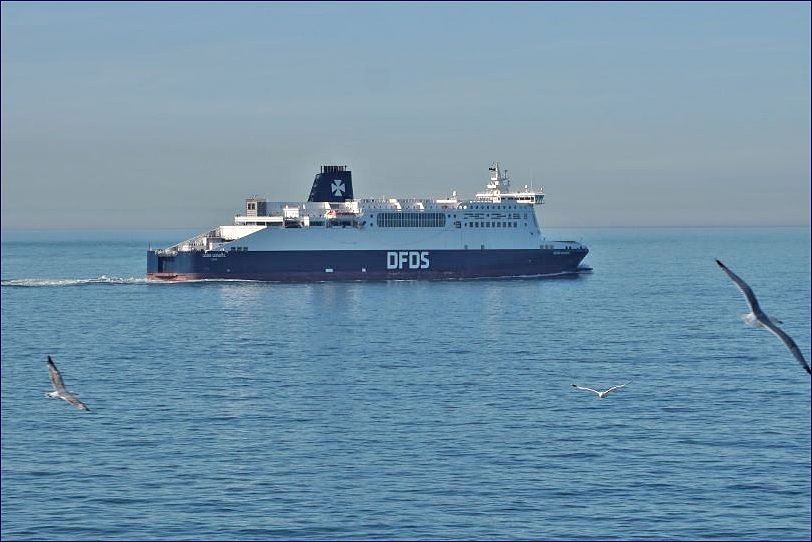 The DFDS ferry Dover Seaways above...
Many thanks once again to the DFDS team for all the info...

* *
Now below.....The Holyhead Towing team coming across the Port for another hard day at the office. Part of the essential workforce, as the DWDR moves forward. Featured here.. Llanddwyn Island leading the charge with Afon Lligwy bringing up the rear. A very recent set of pictures...from three days ago.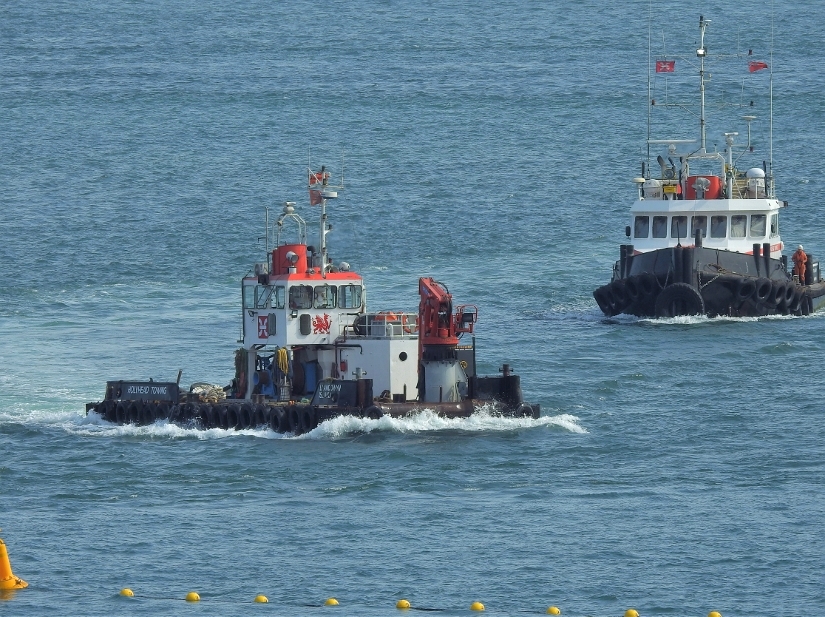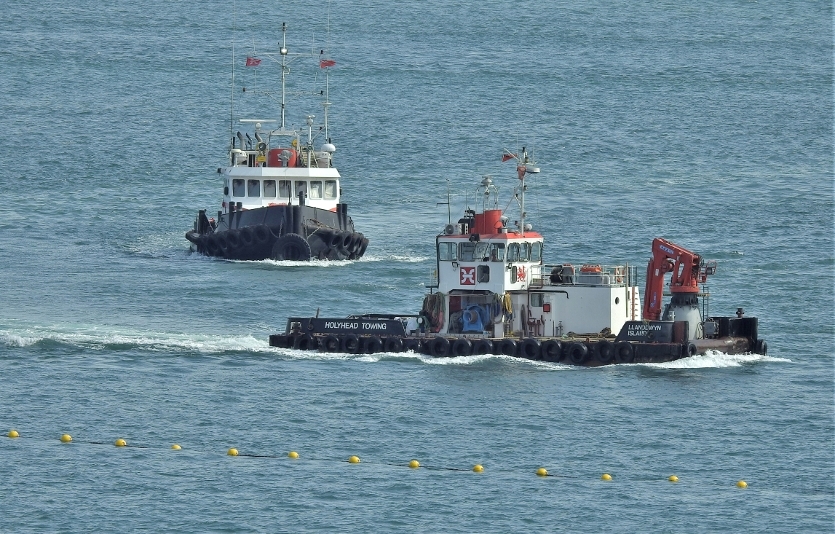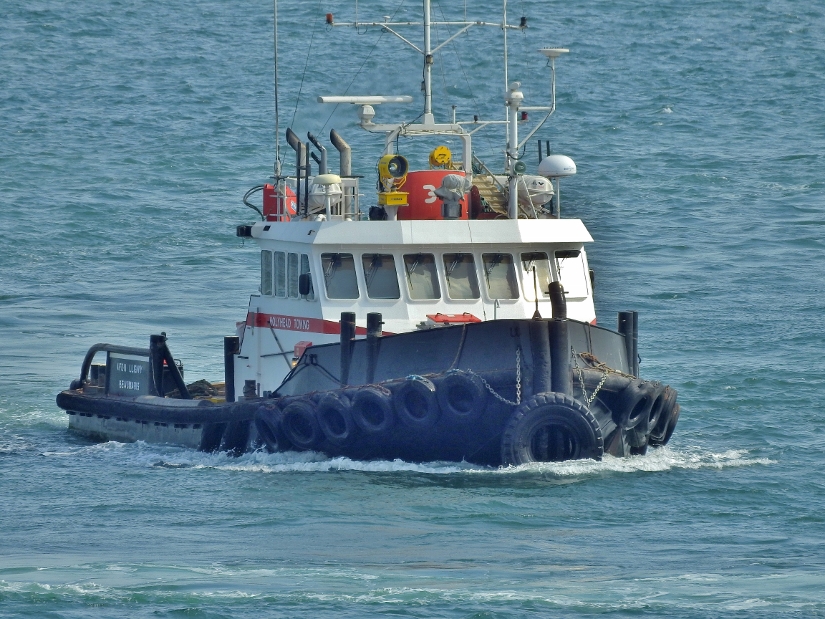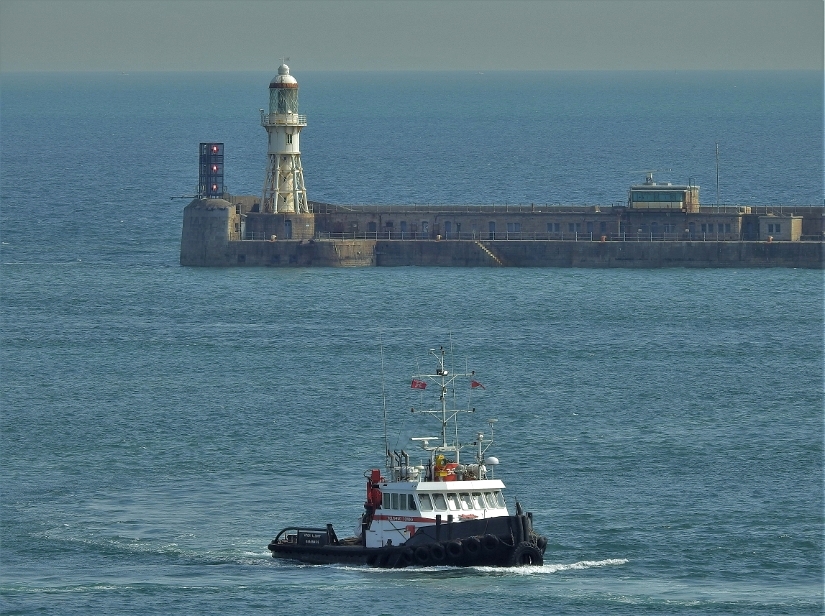 PaulB

Monday, 23 July 2018 - 06:31
Post 5076
Sea News, Dover
A small selection of pictures below from yours trulys recent trip to the Port of Calais...have actually ventured over twice in recent days...oooh the excitement of it all. There are great picture opportunities over there...always good fun, and the wine helps everything flow along nicely. So they say anyway, not that I …

The next two shots below show The Spirit of Canterbury entering the Port of Calais early morning, accompanied by a small local fishing boat... you can feel the heatwave as another scorching day begins in Calais..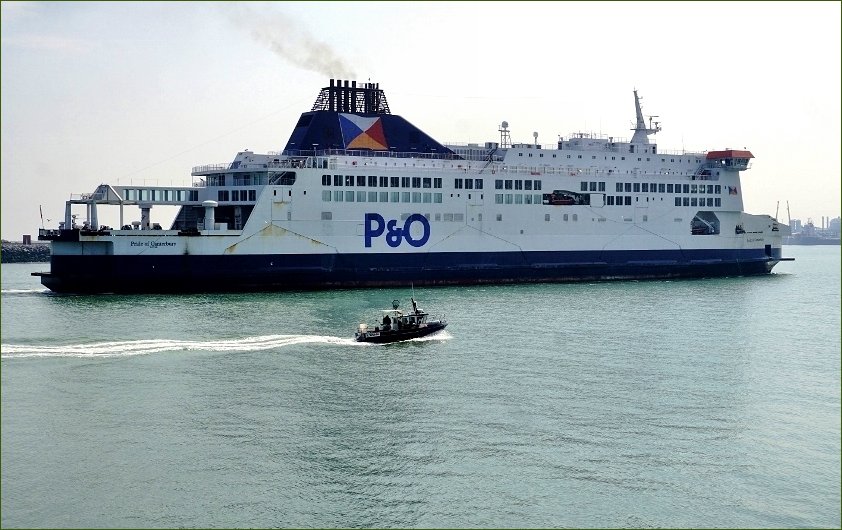 Below, there she goes, the Spirit of France heading for the UK and the Port of Dover. You can see the 'sugar refinery' at its rear. I think Ed told me what that structure was years ago but have forgotten again. It may be a grain holder or....couldn't find anything on Google. But there it is featured again in photo4 below...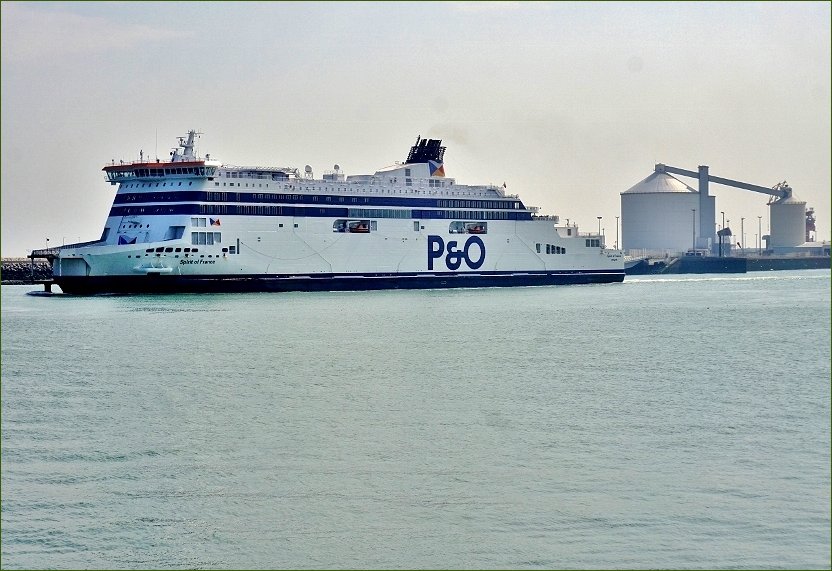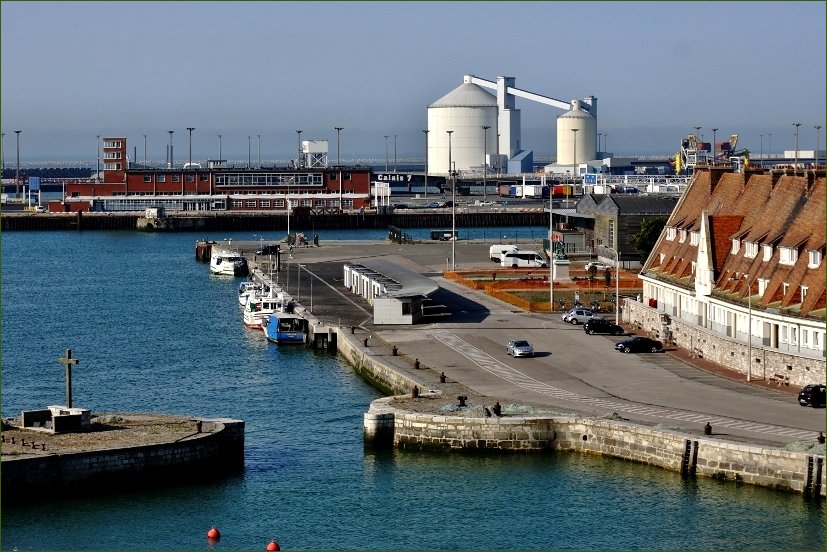 Was there ever a summer like this...

phew!!
PaulB
Sunday, 22 July 2018 - 04:14
Post 5075
Sea News, Dover
Saga Sapphire Moves Off...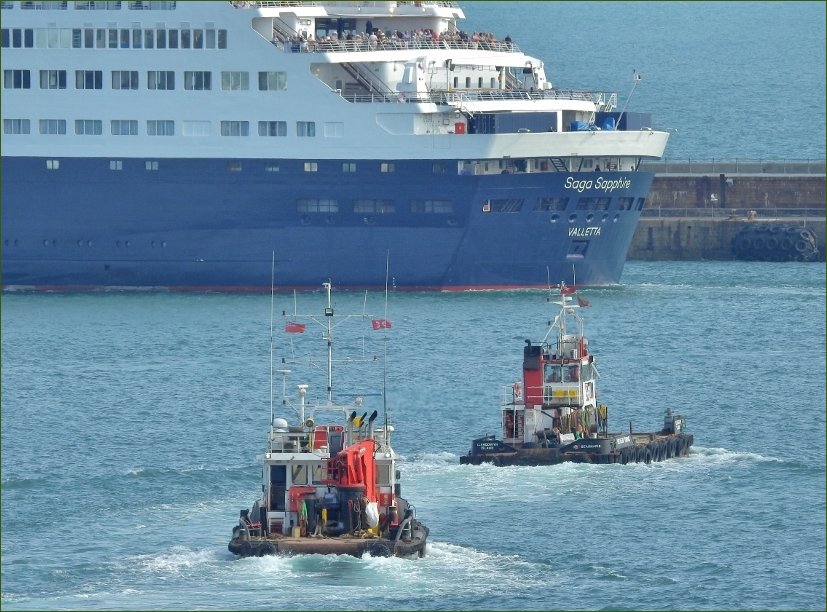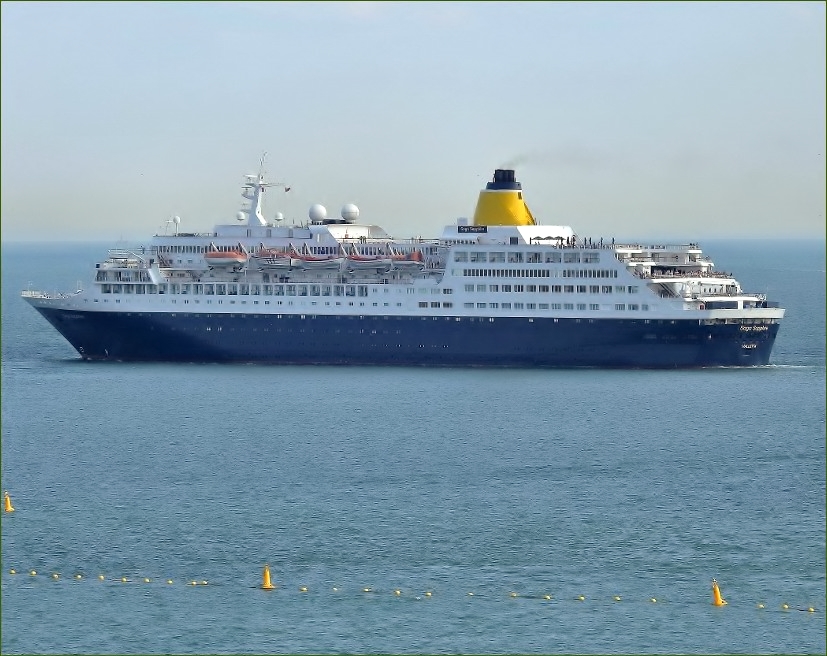 Yes that's the Saga Sapphire above there moving away on Thursday evening. She was heading south on an exotic and extended Mediterranean cruise...calling at many famous places down there, one of note...the fabulous Monte Carlo.
"Monte Carlo or Bust"...as they say in all the right places

Also.. in the top picture above there we have some of the Holyhead Towing guys heading back to the inner sanctuary... the hard working LLanddwyn island and Afon Lligwy. More pictures of those Holyhead Towing guys on Monday.
* *
Dover District Council Responds To Operation Stack Consultation
___________________________________________________________
Dover District Council's Cabinet Member for Access has responded to Highways England's consultation on Solutions to Operation Stack with a letter outlining a number of key issues.
A number of key points have been raised with Highways England, including:
The impact of freight traffic includes two major issues, the impact of Operation Stack and the issues around overnight lorry parking
The two strategic routes to and from the Port of Dover (M20/A20 and M2/A2) need to be considered together, and joint solutions to Operation Stack and overnight parking are needed
The Dover Traffic Access Protocol (TAP) does not provide the long term fix in the event that Operation Stack is implemented
DDC is currently engaging through the planning process with a number of enquiries for private sector overnight lorry parking facilities, which it is hoped Highways England will also engage with
DDC does not support the view that Manston Airport can provide an effective short-term solution for lorry parking in the event of Operation Stack
Solutions on M20 route should be accompanied by solutions on the M2/A2 route. Suggestions for a TAP scheme on the A2 should only be considered on the dual carriageway section, subject to confirmation of policing
A joined-up approach to infrastructure is long overdue and the dualling of the A2 from Lydden to Dover should be given the highest priority. This would align with and support the Lower Thames Crossing, the strategic position of the Port of Dover, and the wider housing/growth agenda in East Kent.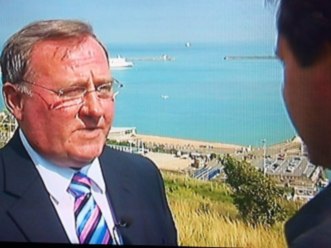 Cllr Nigel Collor, DDC Cabinet Member for Access said: "DDC and the local community have long experience of the impact of freight traffic through the area. A joined-up approach is needed, and we welcome the recognition that solutions must be found. We were pleased to take the chance to respond to Highways England, and we will continue to work with our partners to explore solutions for the future."
Ends
Saturday, 21 July 2018 - 07:20
Post 5074
Sea News, Dover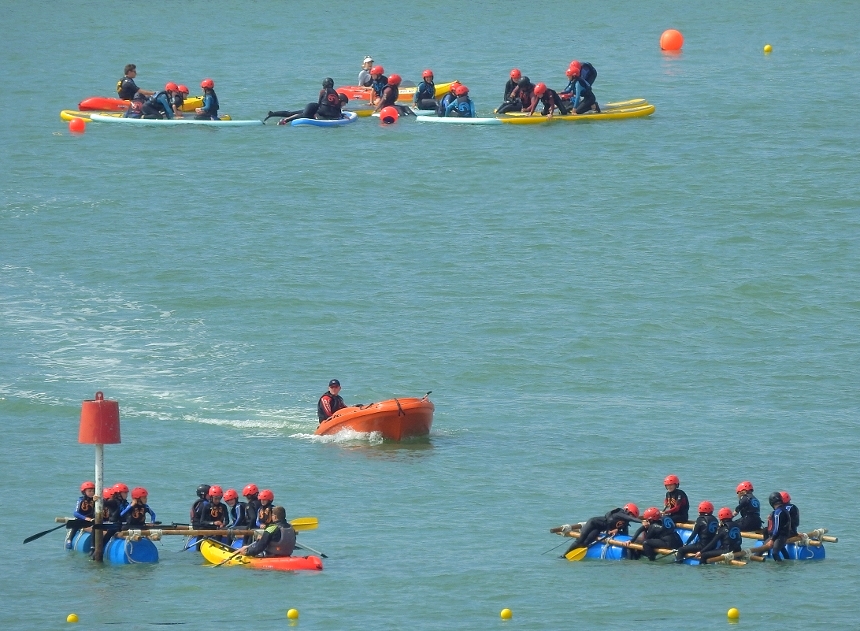 A picture above there of a delightful group of kids out there on the water doing their kayak training. Picture from just a few days ago. It all looked like great fun and in order for all to see properly, I have pushed the picture up to show it as large as possible. Hopefully it works...
The kids appear to be very well looked after with lots of ongoing support which is great to see.
A close crop below. You can see one little hand holding on to the 'lampshade'

it looks like a hugely enjoyable way to spend your time.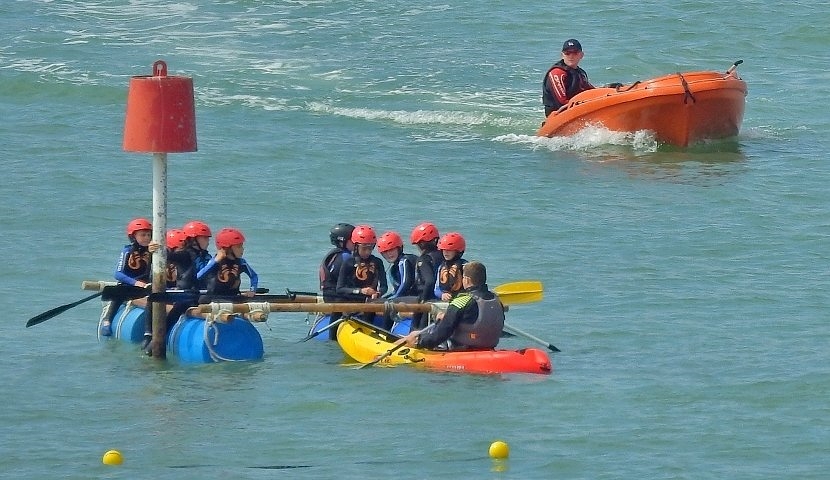 Below we have the Pacific Princess arriving with us here at the Port of Dover on a gorgeous morning ..yes the Wednesday morning just gone. The weatherman says this heatwave is due to go on... well I never! There may be the odd isolated thunderstorm hiccup but otherwise...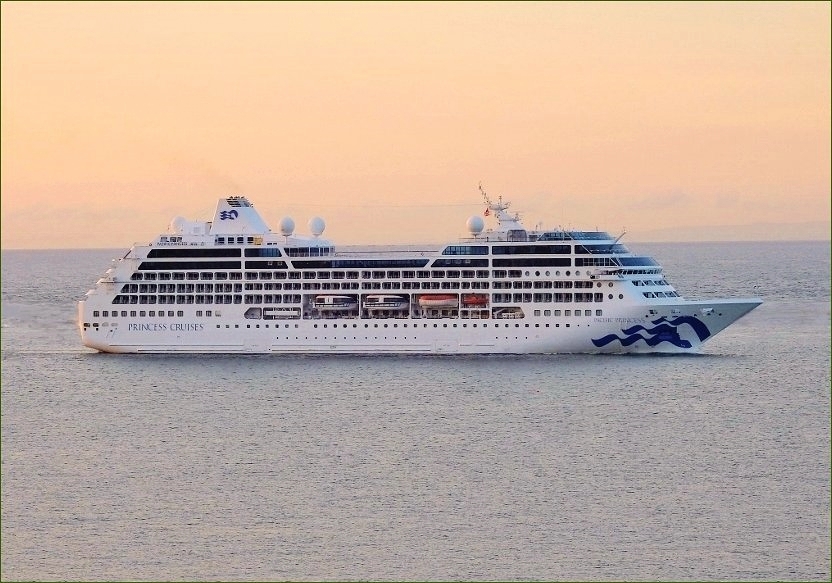 And talking about making pictures work...that large wide pic of the port in the 'Port Special' post below didn't really work for us, as trying to squeeze huge wide pictures into our tight space doesn't always pay off. Its not the picture..the picture is fine, its our tight space. Yours truly didn't get that one quite right.
PaulB
Friday, 20 July 2018 - 05:18
Post 5073
Sea News, Dover
PORT SPECIAL
PORT of DOVER: New Board Member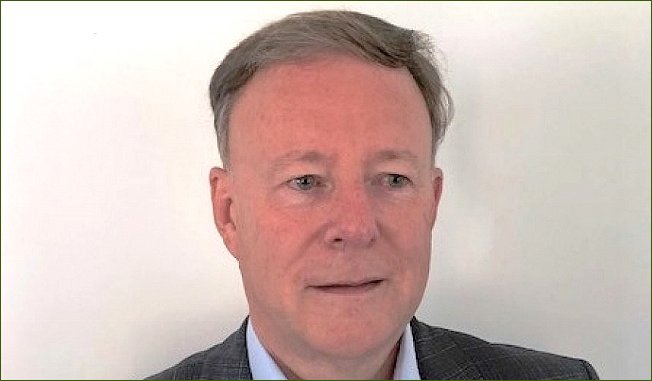 Mr. Perry Glading appointed to Dover Harbour Board as Non-Executive Director
______________________________________________________________________
Dover Harbour Board is pleased to announce that the Secretary of State for Transport has appointed Perry Glading as a Non-Executive Director following the expiry of Erik Østergaard's terms of appointment.
Perry is Chair of a Board of Governors at an Independent School in Ipswich and also chairs the Thurrock Business Board, which includes Non-Executive Board positions with OSE (Opportunity South East) and the SELEP (South East Local Enterprise Partnership).
Previously, he was employed for a total of 18 years by Forth Ports Ltd where he held the roles of managing director, port of Tilbury for 12 years and later, chief operating officer for the entire Forth Ports Group responsible for all operations, health & safety, risk management, commercial agreements, asset utilisation planning and setting Group strategy. Prior to this he held various positions for Geest North Sea Line, a Dutch container shipping line for 21 years culminating in the role of main board director.
Richard Everitt CBE, Chairman, Dover Harbour Board, said: "Perry joins the Board at a unique and historic time for the port of Dover and our entire nation. Contributing to a port business that is fundamental to our national economy and that of our European partners will offer its challenges and opportunities during this transitional period and I have every confidence that his vast experience in shipping and operational port management will be an invaluable asset as we continue to shape the future port business."
Perry Glading said: "Now is an exciting time of regeneration and transformation at the port of Dover and I am delighted to be joining the Board that will oversee the culmination and success of the port's major development in the Western Docks and contributing to a positive and productive future for Dover and the port."
Mr Glading's term of office commenced on 1st July 2018.
ENDS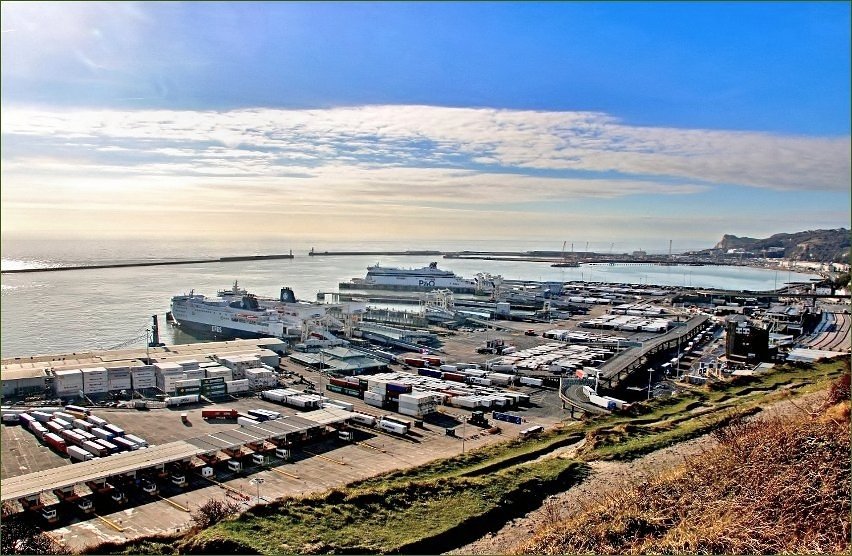 The Port of Dover has launched a major overhaul of its crucial navigation and maritime safety systems.
__________________________________________________________________________________________
In the biggest upgrade of its kind for 14 years, harbour masters are overseeing £1.4 million of investment in cutting edge technology at Europe's busiest ferry port to ensure shipping and recreational marine stakeholders continue to have the highest standards of protection and advice available.
Specialists have already installed a new tide gauge – the first of a suite of state-of-the-art environmental monitoring systems that will ultimately give maritime traffic live feeds on sea and weather conditions in the port.
Engineering teams are now looking to create temporary accommodation at Dover's Terminal Control Building to house vessel traffic services officers while their Port Control facilities are extensively refurbished.
In November, the port will upgrade existing radar equipment on both the Eastern Arm and Admiralty Pier. An additional radar will be installed on the new marina pier facility currently being constructed as part of the Dover Western Docks Revival programme.
These new radars will link to improved CCTV cameras, each equipped with thermal imaging capabilities that will give Port Control Officers greater ability to track, target, record and intercept vessels navigating dangerously.
Steve Masters, the Port of Dover's Harbour Master, said: "This is a major investment in port maritime safety which will serve the UK, seafarers and passengers for years to come. We have been fastidious in keeping our existing systems effective and fully operational, but the latest work will take the port's maritime safety management compliance abilities to a whole new level, in line with continued industry best practice guidance from the UK's Port Marine Safety Code.
"The work we are doing not only benefits those who use the sea, but also supports households and businesses across the country who rely on a smooth, safe operation in Dover to facilitate the movement of 17 percent of the UK's entire trade in goods, worth £122 billion to the economy."
There were 1,760 commercial shipping, 36,331 ferry and around 9,500 leisure craft movements through the port during 2017.
During this period, the port registered a significant drop in safety incidents within its main operational areas. Ferry incidents fell by 16 per cent (25 in 2016 compared to 21 in 2017), commercial shipping incidents were down by 25 per cent (eight in 2016 compared to six in 2017) and recreational boating saw a fall of 53 per cent (152 incidents in 2016 to 71 in 2017).
In total, there were 266 safety incidents of varying degrees last year, ranging from communications issues (where leisure craft failed to notify port control of their intentions) to a man overboard on a construction barge.
The drop in incidents coincided with a major port navigational awareness drive which saw the maritime safety team publish a vessel traffic services guide, produce a public safety film on navigating the Port of Dover, hold safety workshops with local marine stakeholders, and invest £10,000 in new safety signage for bathers and beach users.
ENDS
* *
Many thanks to the team at the Port for the info and pictures above.. we have a double whammy there...

Just caught cargo ship Emerald departing the other evening in the bright and dazzling late sunlight. It is certainly dazzling when it hits a white ship! But here she is below on Tuesday evening ...off to Hamburg she was in fine style...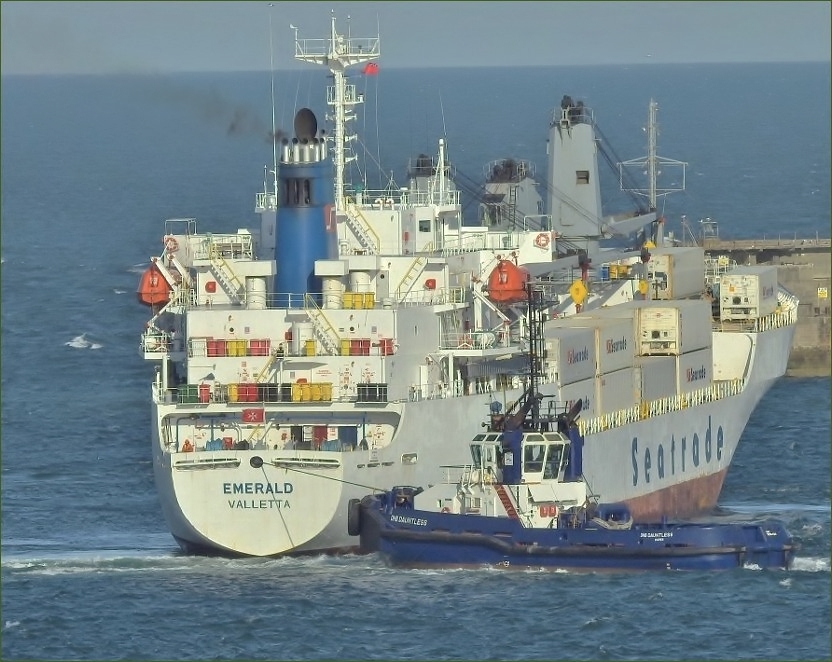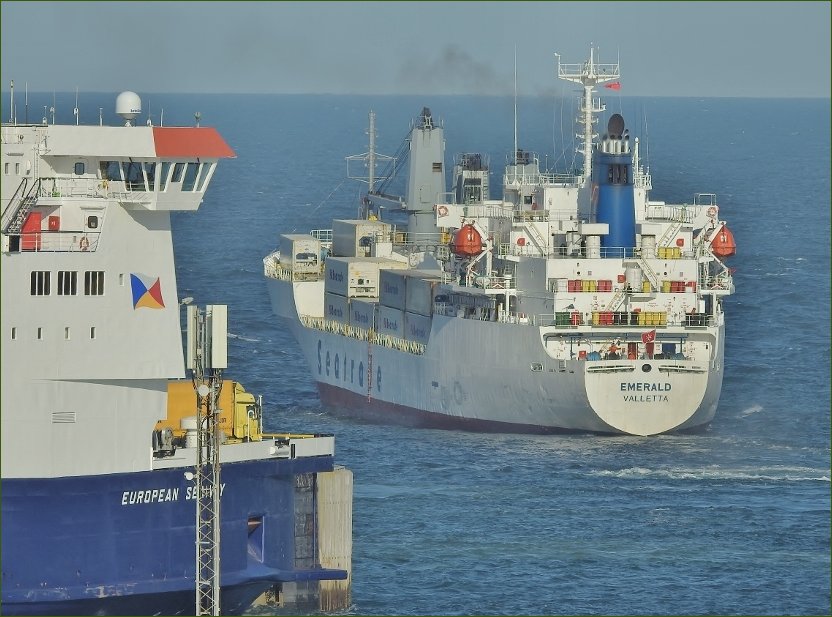 An extra recent picture below of the Atlantic Reefer...we had pix covering her departure a few days ago... who can resist an extra one...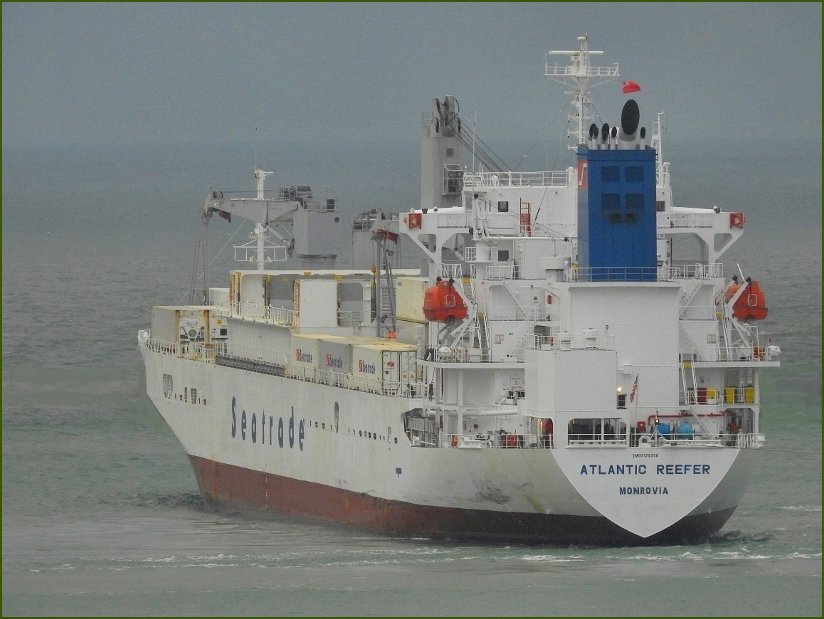 PaulB
An excellent collection of shots ( and info ) from Ramsgate below there Ted. You have a terrific method going with your pictures. Another excellent 'Famous Five' there. Don't miss those...

Thursday, 19 July 2018 - 06:53
Post 5072
Ted Ingham, Canterbury
"Five from Ramsgate"
The Atlantic Avengers training off Ramsgate with the Wind Farm Vessel "Vos Sampson" steaming past.
The Atlantic Avengers will take part in the Columbus Challenge and follow in the footsteps of Christopher Columbus.
Starting at Cadiz in Novemeber 2018 they will row the Atlantic covering 3,800 miles in 3 months arriving at Nelson's Dockyard,Antigua.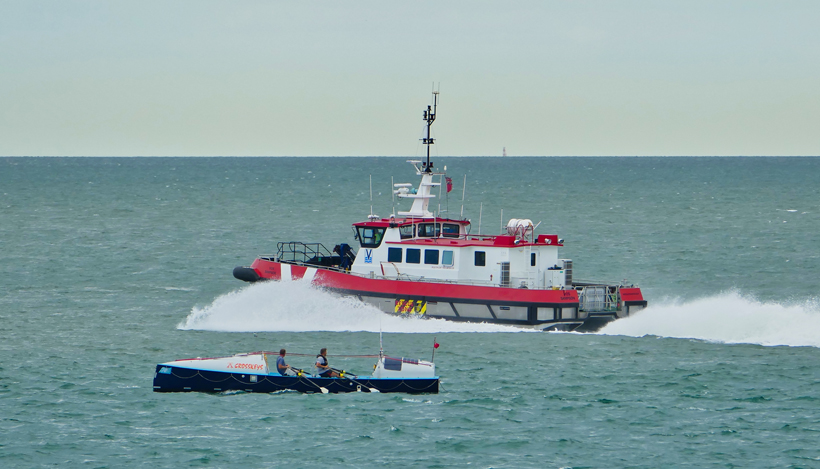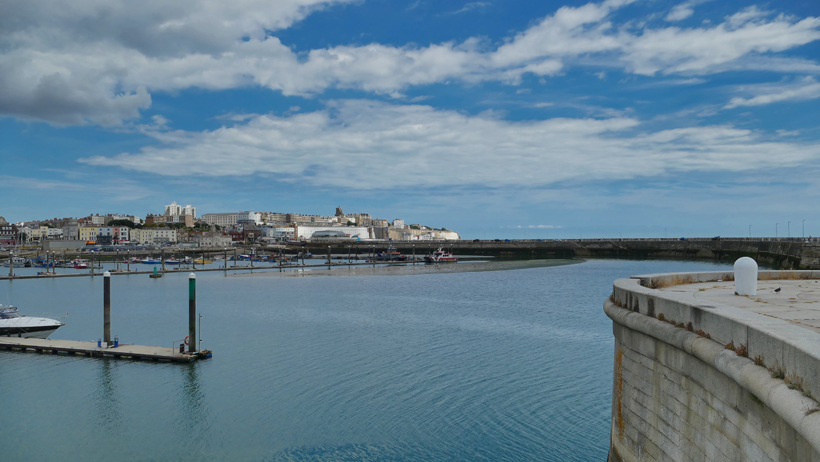 Another very low tide.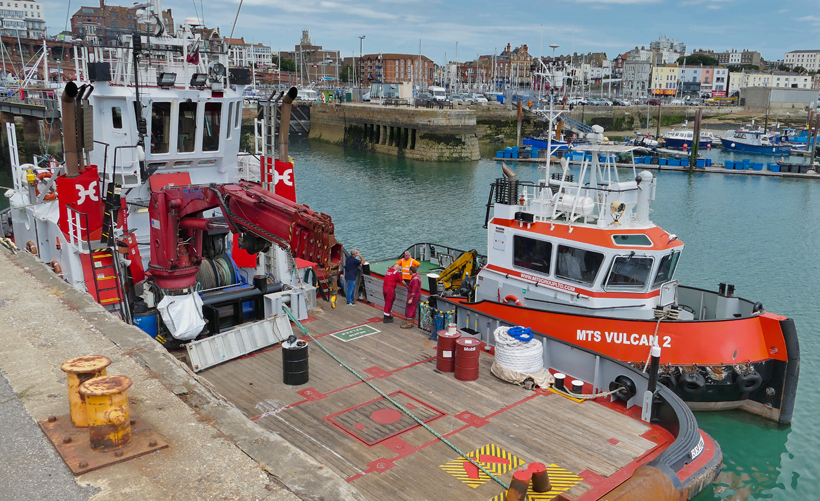 The AFON LAS and the MTS VULCAN 2 alongside the Commercial Jetty.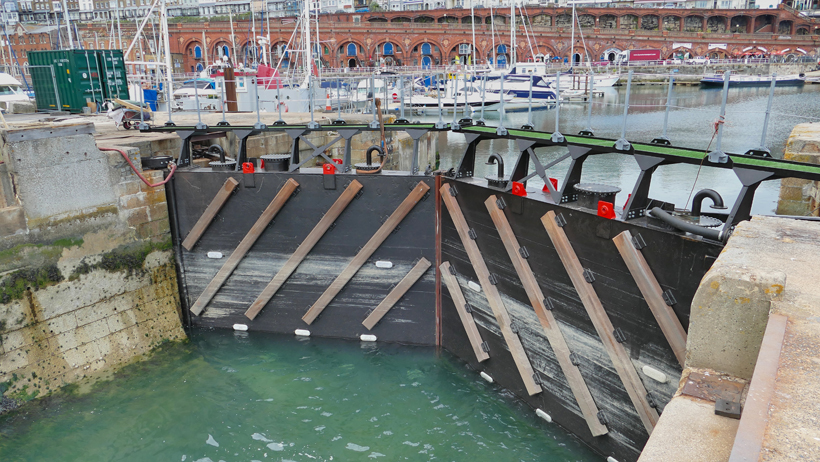 The newly refurbished lock gates.The refurbished bridge will be fitted in 2 weeks.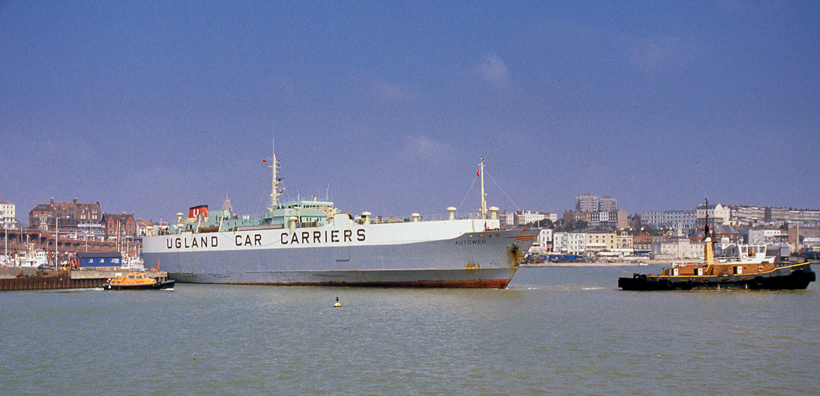 " A blast from the past"
The car carrier AUTOWEG departs the Royal Harbour after discharging cars at the cross wall.
Wednesday, 18 July 2018 - 20:41
Post 5071
Sea News, Dover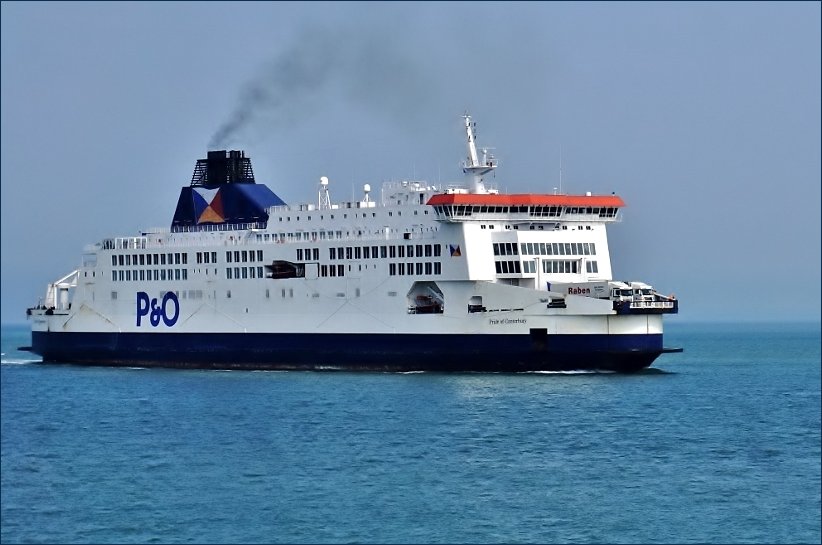 P&O's Pride of Canterbury above and below....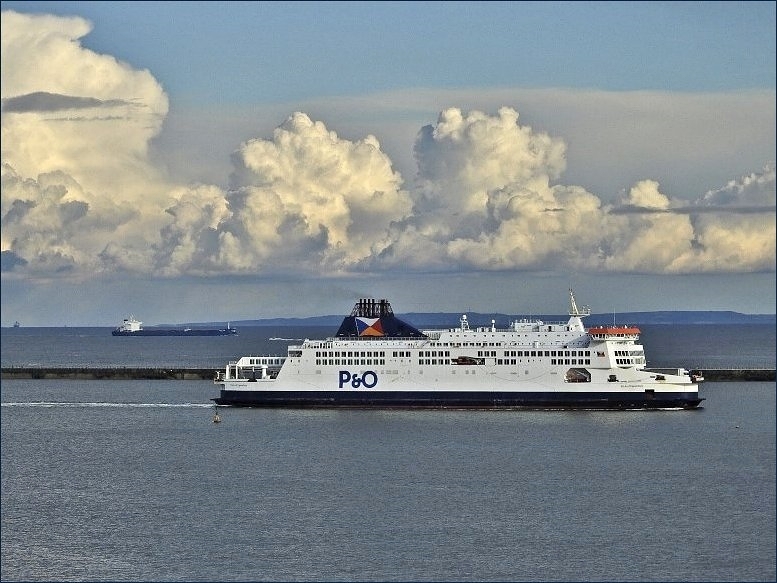 P&O FERRIES LAUNCHES NEW MENU WITH EVERY INGREDIENT SOURCED IN BRITAIN
_____________________________________________________________________________
P&O FERRIES this month launches a new 'grab and go' menu across its ships on the English Channel and North Sea in which every single ingredient will be sourced in Britain.
The new initiative by the ferry and logistics company - which will give its millions of passengers every year an on-board food offer to rival anything on the high street - is designed to put fresh, high quality seasonal food at the heart of the customer experience.
Culinary highlights will include tuna nicoise salad with sliced British free range egg, black olives and red onions, classic Atlantic prawn mayonnaise on wholemeal bread and Barbers West Country mature cheddar and salad on granary bread.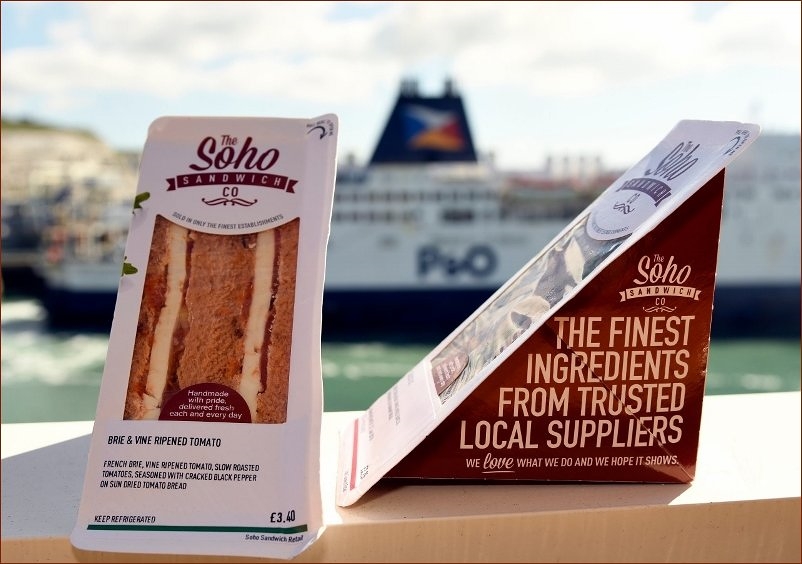 Sarah Rosier, Director of Passenger Sales at P&O Ferries, said: "One of the main reasons why so many people sail with us to travel to and from their summer holiday in Europe is that they can break their journey for a few hours and enjoy a first class meal on board. This new and quintessentially British menu will enable our customers to eat high quality fresh food quickly and easily at the beginning and end of their trip abroad."
"We have partnered with the Soho Sandwich Company to create a menu on which all of the meat is British-sourced and accredited by Red Tractor, all the eggs are free range and British Lion-accredited and all the cheese is from Barbers Farmhouse, which has been making cheese since 1833 and uses dairy cows which graze in Somerset and Dorset."
"It is often said that we are moving to an 'experience economy' where memories become the product. Imagine eating fresh and delicious food on one of our ships against the backdrop of the glistening blue sea and you get a sense of what a trip to Europe with P&O Ferries has to offer this summer."
P&O Ferries is a leading pan-European ferry and logistics company, sailing 27,000 times a year on eight major routes between Britain, France, Northern Ireland, the Republic of Ireland, Holland and Belgium. It operates more than 20 vessels which carry 8.4 million passengers and 2.3 million freight units annually.
ENDS
Many thanks to the team at P&O Ferries for the latest news - we all love a culinary delight or two especially when travelling.

* *
The harbour patrol boat/pilot boat appeared to be helping these guys back to shore. They may have drifted out too far in their not-so-seaworthy inflatable...just as I took the picture I noticed a swimmer diving off the front of the boat. What was going on ..well Gawd knows...fluke shot once again. The second pic is a crop of the first...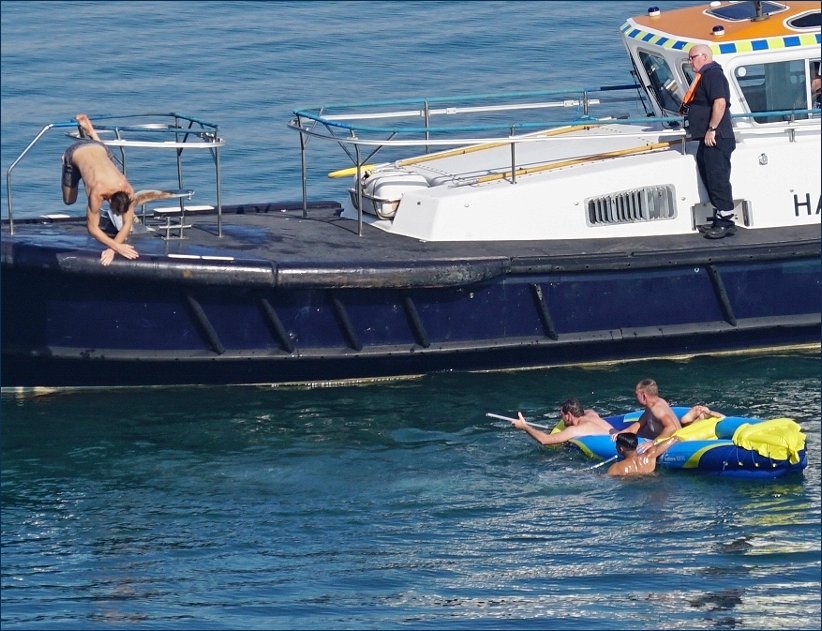 ...never a dull moment...

PaulB
EXTRA: Pacific Princess is in with us today.
Wednesday, 18 July 2018 - 05:52
Post 5070
Sea News, Dover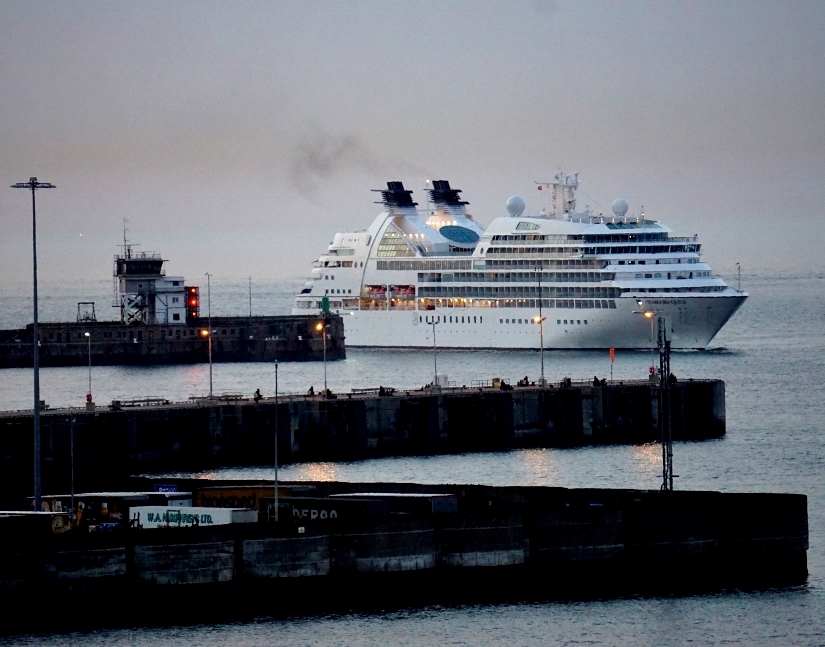 A picture above there from very early yesterday morning (monday). Time:04:45 as the striking Seabourn Quest pulls into Port. It was still darkish as you can see. Yours truly was up pacing the floorboards in eager anticipation .. and there she is above. Seriously though, sleep is sometimes hard to find in this the hottest of summers... but the wide awake-ness can be put to good use..

Below we have Crystal Serenity moving south the evening before, heading off on a mostly British Isles tour. You can see the pilot boat returning there to the left. A beautifully tranquil evening as you can see.
An up to date picture below following up on the recent fire in the old boathouse. The picture was taken to show the fire damage to the beautiful trees. A pity that...some may need to be cut down now...while the old boathouse looks remarkably fresh....it looks even better than it did before, in an odd way. You could say that its an aesthetic improvement without the roof.
Like the man said " you shudda seen the state of de roof!"

( more on the fires in 5060 )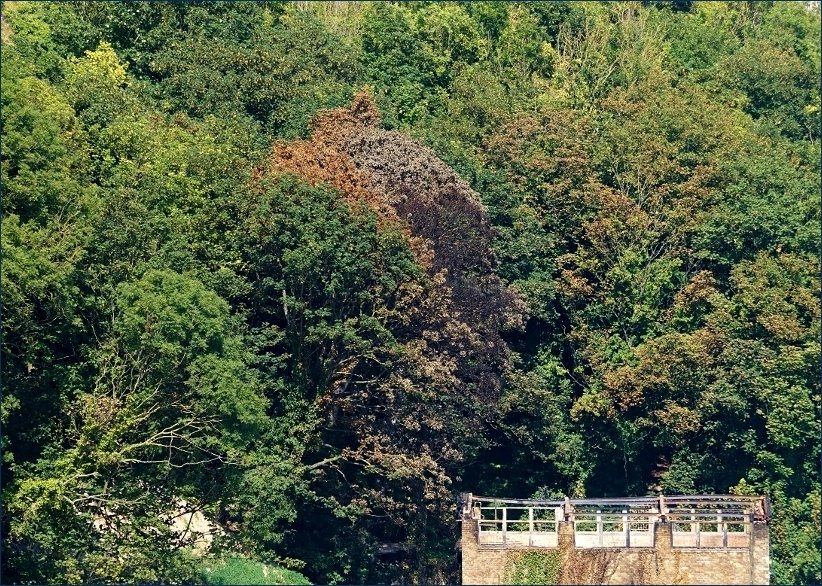 Glad you enjoyed those fine pictures below from Rye Vic - it clearly brought back some old memories of doing the piling there. Great stuff! Well done again Sarah.

PaulB
Tuesday, 17 July 2018 - 06:11
Post 5069
vic matcham, Dovor
more of my work can be seen in the photos of Rye, I done the piling along side of the banks

Good photos still coming out thank you.
Monday, 16 July 2018 - 06:57
Post 5068
Sea News, Dover
DFDS SPECIAL

DFDS NAMED EUROPE'S LEADING FERRY OPERATOR AT WORLD TRAVEL AWARDS
____________________________________________________________________
Company retains title for seventh consecutive year
DFDS has been named 'Europe's Leading Ferry Operator' at the World Travel Awards™, for the seventh consecutive year.
The awards ceremony, which is now in its 25th year, took place in Athens, Greece on 30 June 2018, bringing together more than 300 of the leading figureheads and VIPs from across Europe in celebration of standout hospitality.
The awards recognise excellence in the global travel and tourism industry and winners are decided by votes from the public and travel industry professionals.
Pete Akerman, Passenger Marketing Director at DFDS said: "We are delighted to once again be named 'Europe's Leading Ferry Operator' at the World Travel Awards. Our teams on board our ships and ashore work incredibly hard to provide our customers with the best possible service each and every day, motivating us to do more.
"We value this award highly as it is decided by both the public and industry professionals – those who have first-hand experience with our service and our people. We're passionate about providing a ferry travel experience that is more than just transporting people from A to B. We strive to improve where improvement is needed.
"We're always innovating to bring our customers new on-board activities and offerings to enhance their travel experience with us, which we think helps us to stand out from our competitors. This past year we have put extensive investment into ensuring our ships are best meeting our customer's needs, with new catering concepts on our North Sea route and the introduction of new themed packages across all routes. We're also investing in a substantial fleet renewal programme to ensure that we continue to grow and improve over the coming years."
DFDS supports a range of charities, sports groups and not-for-profit organisations, and also runs an apprenticeship programme to support future industry professionals.
DFDS operates a comprehensive passenger route network, including four services from the UK to Europe, via Dover-Dunkirk, Dover-Calais, Newhaven-Dieppe and Newcastle-Amsterdam, offering passengers a gateway to the heart of Europe. The company also operates a number of passenger ferry routes across the Baltic Sea, including a cruise ferry service between Copenhagen and Oslo.
To book, or for further information please visit www.dfds.co.uk.
-Ends-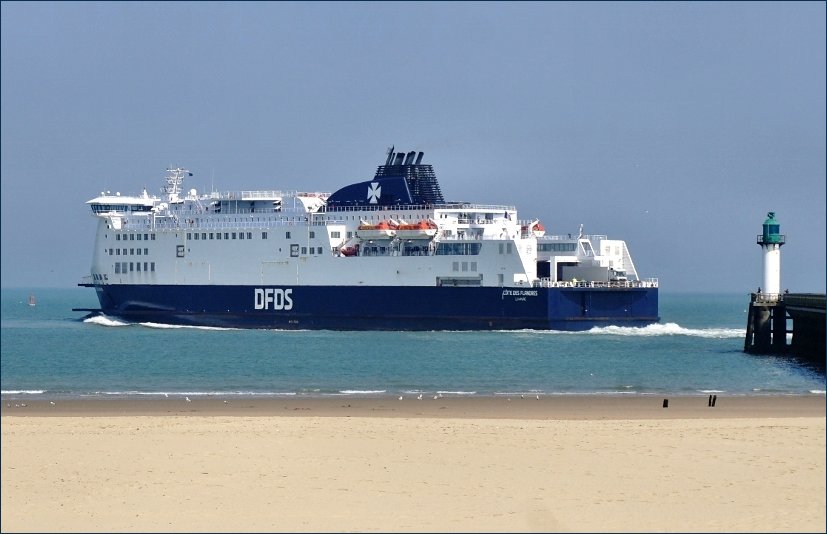 The DFDS ferry Cote des Flandres off Calais
SAVE 20% ON SELECTED OVERNIGHT SAILINGS WITH DFDS
____________________________________________________

Dusk to Dawn offer on now
Award-winning ferry operator DFDS is launching a special Dusk to Dawn offer with a 20% discount on night-time ferry crossings on its Dover-Dunkirk and Dover-Calais services.
With prices starting at £28 each way for a car with up to nine passengers, and over 19 weekday and 9 weekend crossings to choose from, you're sure to find a sailing to suit you.
This offer is available to book by 13 August 2018 and is valid for travel on select night time departures until 13 December 2018.
Quieter night-time roads and quicker transit through ports means less time travelling, and more time spent at your selected destination. Set sail from Dover and you'll arrive in Calais or Dunkirk in just 90 minutes or two hours respectively.
All of the ship's on-board facilities remain open throughout the night, including the self-service restaurants, cafes, bars, and shops – so you won't be missing out on anything by choosing a night time crossing.
Those wanting a more luxurious crossing can upgrade to the Premium Sea View Lounge from £12 per person, which includes complimentary fruit, biscuits, tea, coffee and cold drinks.
To book your overnight travel and receive the 20% discount, use offer code ECNIGHTO when booking.
The DFDS Dusk to Dawn offer is valid for selected times and days only, often between the hours of 10pm to 6am for travel, subject to change. Travel on this offer is fixed to your booked times only.*
For more information or to book a crossing visit: www.dfds.co.uk
-Ends-
*Bookings cannot be changed. Available for bookings made between 15th June and 13th August. Terms and conditions and exclusion dates apply.
Many thanks to DFDS for all the information


Monday, 16 July 2018 - 05:15
Post 5067
Sea News, Dover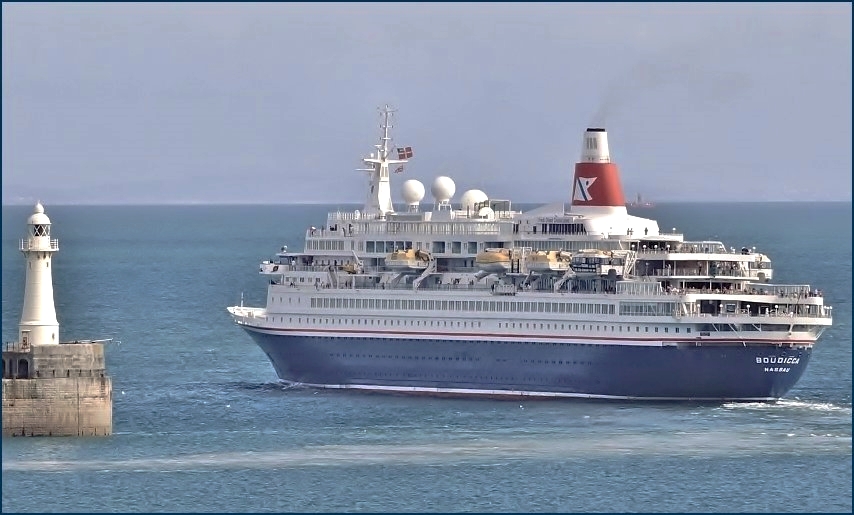 A picture above there of Boudicca moving away a couple of evenings ago. She was off to the 'Scenic Fjords of Norway'...a great place to stay cool.
Yours truly was about to call this picture below 'waterboarding' but then I remembered 'waterboarding' has an altogether more sinister meaning...so lets just call it paddling by on surfboards. A nice gentle evening pursuit and nothing sinister about it. This couple are gently enjoying things...enjoying the summer evening.
Ahhh that'a a good capture below there Sarah...nice work there from our 'roving correspondent' who was over in Rye this time.
It's a very pleasant town.

Well done with that cruise info Colette. Comprehensive listing there...another busy spell coming up. Crystal Serenity already in as I write... (to access the latest cruise arrivals always type Cruise Visits in our Search Engine above).

PaulB
Sunday, 15 July 2018 - 06:28
Post 5066
Sarah, Ramsgate
Neptune in & leaving Rye Harbour, I normally see her in Ramsgate or Whitstable so it was a pleasant surprise to see her today - 14th July 2018.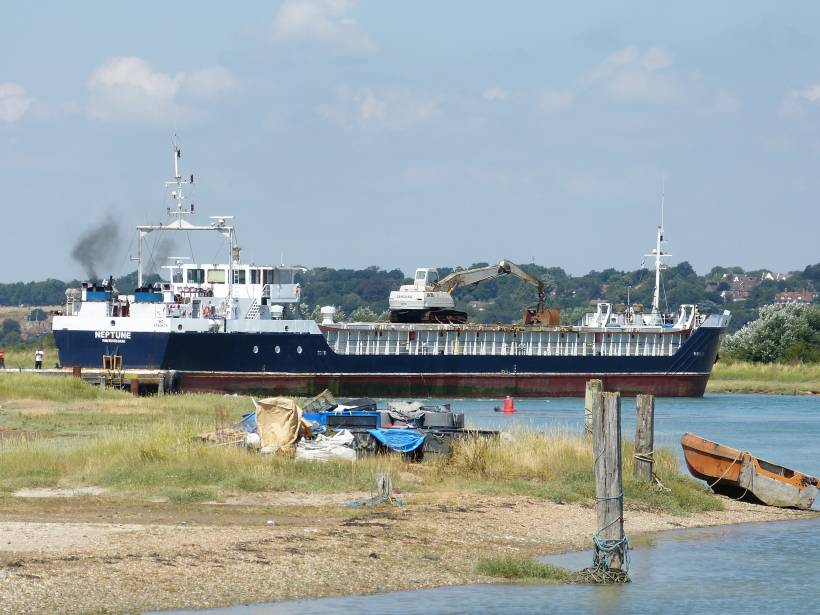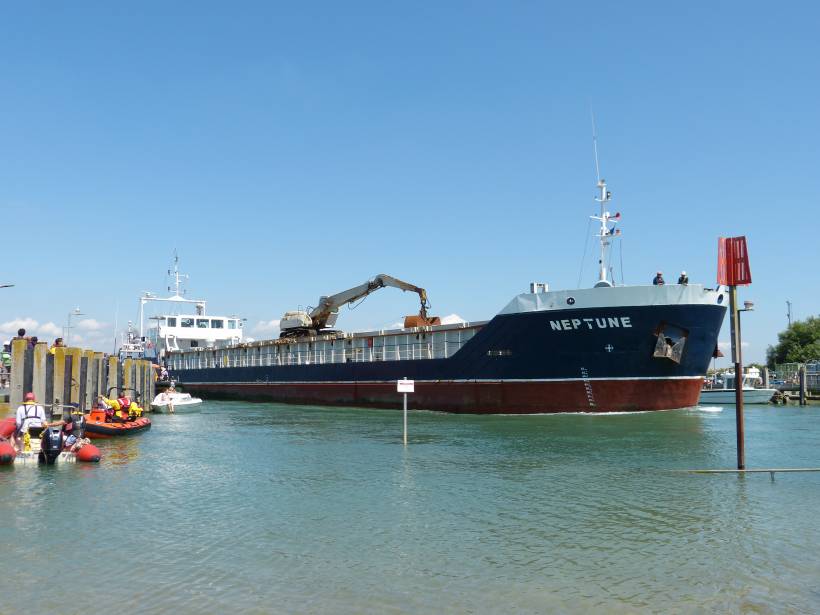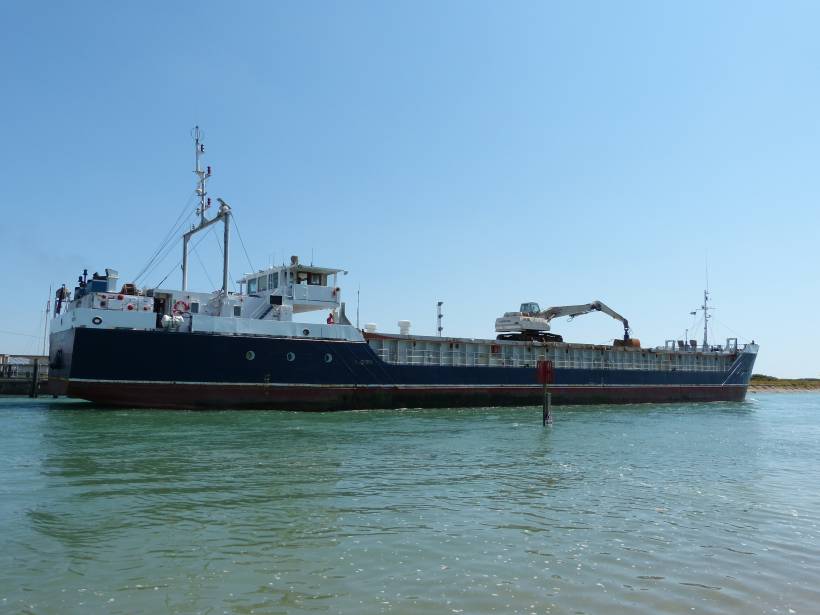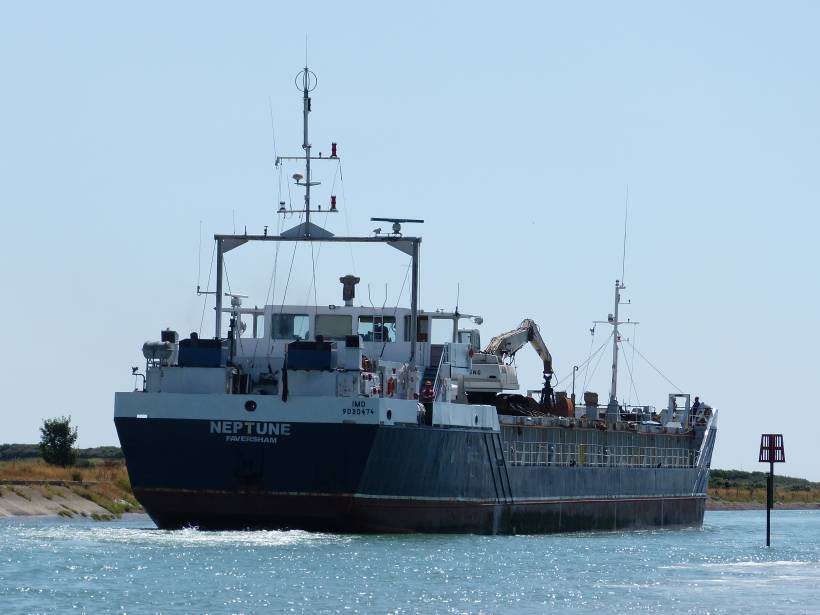 Saturday, 14 July 2018 - 22:52
Post 5065
Colette B, Dover
CRUISE VISITS
_____________
The Hustle & Bustle of ships to & fro, be they Cargo ships, ferries, cruise liners, tugs & construction ships are great to see. Also the photos of the Old Boathouse & Nu-Age fires, great shame but a Great Scoop MrB

Here we go again Chaps with the next batch of visitors.
Tomorrow Sunday 15th July, Crystal Serenity arrives at CT2, 06.00 hours to start her 14 night round trip 'Irish Sea Soliloquy' (very poetic). Her ports of call are the channel island of St Peter Port, Guernsey, Dublin, Belfast, Greenock, Dundee and Edinburgh. She then sails across to Amsterdam and Zeebrugge before returning to our shores on Sunday 29th July.
She departs us at 18.00 hours, T/R.
The following day Monday 16th July the stylish Seabourn Quest calls into CT1 at 07.00 hours to start her 21 Day 'Route of the Vikings' cruise. Her ports of call are the Cornish port of Penzance, Milford Haven, Douglas, Isle of Bute, Oban, St Kilda, Ullapool, Kirkwall (Orkney), Lerwick (Shetland Island). Then setting sail for Torshavn in the Faroes, before visiting the Icelandic ports of Vopnafjordur, Akureyri and Siglufjordur, she then crosses the Atlantic to Greenland visiting Tasiilaq, Ammassalik and Skojoldungen Islands then back to Grundarfjordur before dropping anchor in Reykjavik on Monday 6th August… Wow! What a cruise

She leaves us 17.00 hours, T/R.
Then on Wednesday 18th July Pacific Princess arrives at CT2, 06.00 hours to begin her 15 night 'Iceland & Norway' Round Trip. She calls at the following ports Stavanger, Seydisfjordur, Akureyri, Grundarfjordur, Reykjavik, Alesund, Flam, Bergen and Eidfjord before returning to Dover Thursday 2nd August.
She departs at 17.00 hours, T/R.
On Thursday 19th July Saga Sapphire arrives at CT1, 08.00 hours on her 19 night 'Musical Mediterranean' round trip. Her ports of call are Lisbon, Cartegena, Ibiza, Livorno, Monte Carlo, Barcelona, Castellon de la Plana and Gibraltar before returning here Tuesday 7th August.
She leaves at 16.00 hours, T/R.
The day after, Friday 20th July the forever graceful Boudicca arrives at CT2, 07.30 hours to start her 10 night round trip 'Swedish Waterways & Classic Cities' cruise. She visits Malmo, Visby (Gotland Island), Stockholm and Goteburg returning to Dover Monday 30th July.
She departs at 23.00 hours, T/R.
On Monday 23rd July, Amadea calls at CT1, 08.00 hours on a 14 night British Isles Round Trip from Bremerhaven. She has visited the following ports, Invergordon, Isle of Skye, Belfast, Holy Loch, Dublin, Liverpool, Waterford, Swansea, Falmouth and Torbay before dropping in to say Hello before returning to Bremerhaven once again. She leaves us at 23.00 hours, PoC.
Finally on Tuesday 24th July we have a welcome new visitor, Celebrity Eclipse calls into CT2 at 06.00 hours whilst on her 12 night 'Scandinavia & Russia' round trip from Amsterdam. She has been visiting the following ports of Warnemunde-Rostock, Stockholm, Helsinki, St Petersburg, Tallinn and Copenhagen before returning to Amsterdam via Dover. She departs at 16.00 hours, PoC

Phew!!
See you soon.
Saturday, 14 July 2018 - 20:35
Post 5064
Sea News, Dover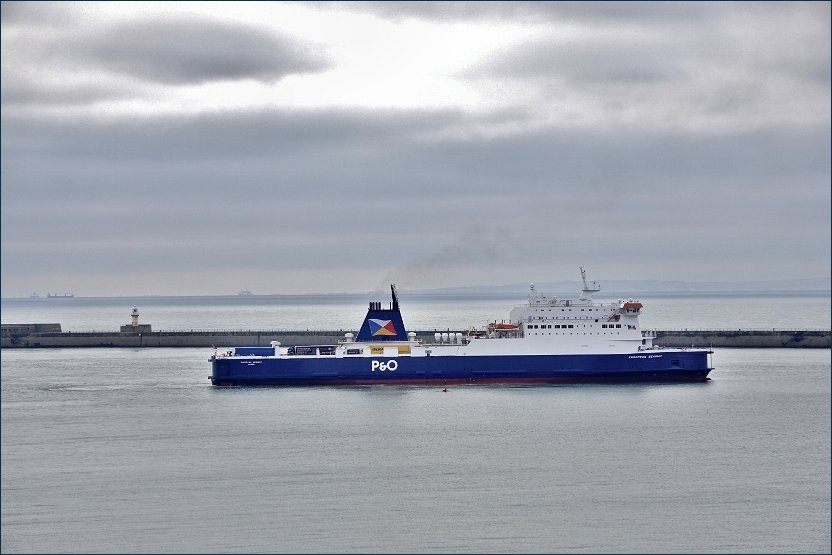 As we saw in Mike's picture in 5061, the European Seaway was laid up for a while alongside the eastern arm of the port. Not at all sure why, perhaps she had returned from a redo/refit as the ship looks immaculate, as you can see in the wide picture above...there she is complete with new logo. The picture above was taken just as she rejoined the fray yesterday.
Will just add this shot below showing her previously...with the old logo. The pic below is from 2015, it was sent over to us here by P&O themselves. Nice drone work there, or of course it might have been a helicopter in those days.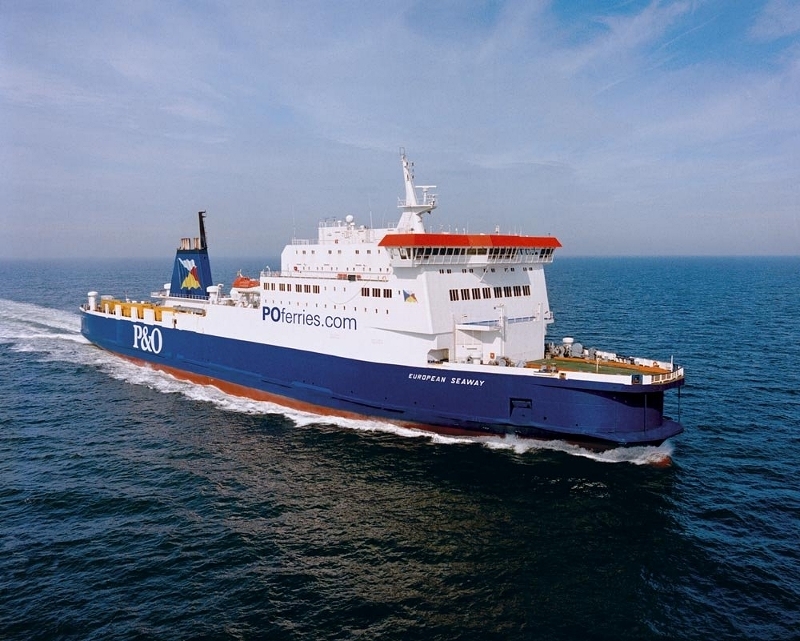 These pictures below from thursday show FireFox out there in the harbour close to the 'observation tower' ..
she was engaged in a bit of filming...
"I'm ready for my close-up" said I from the window but nobody heard... sheesh!..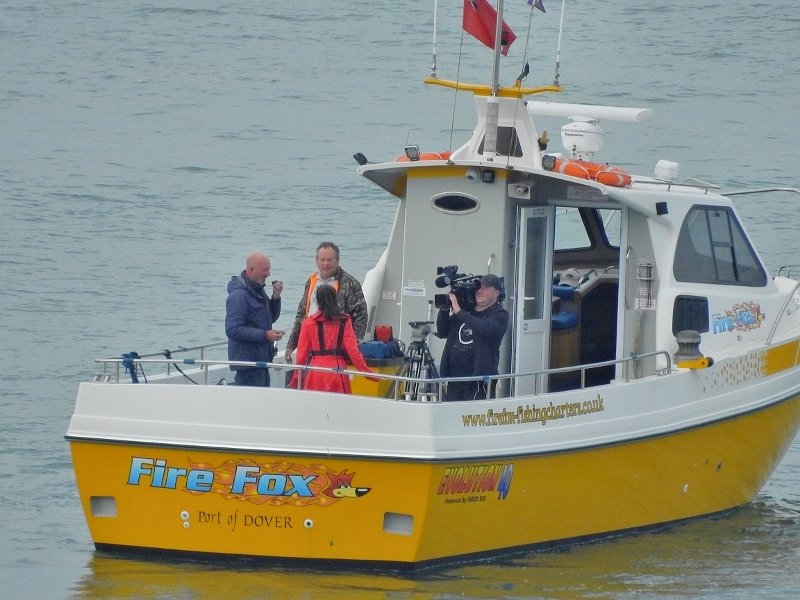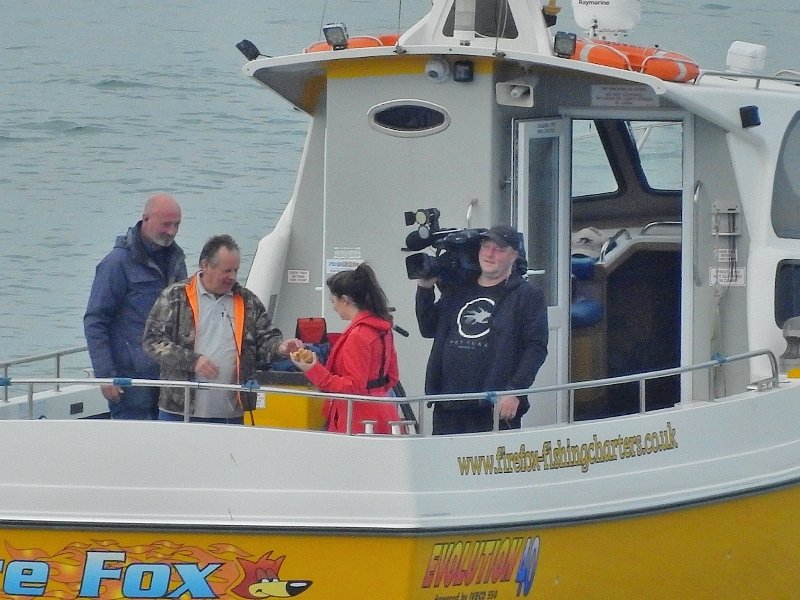 Well done Mike - nice collection below.

PB
Saturday, 14 July 2018 - 06:26
Post 5063
Mike J., Dover
Three familiar local craft 'on the blocks' in the Boatyard, Friday afternoon.
CITY OF LONDON II shortly after arriving from her long lay-up in Wellington Dock.
Sister 'Severn' Class DANIEL L GIBSON remains on duty as Dover relief lifeboat.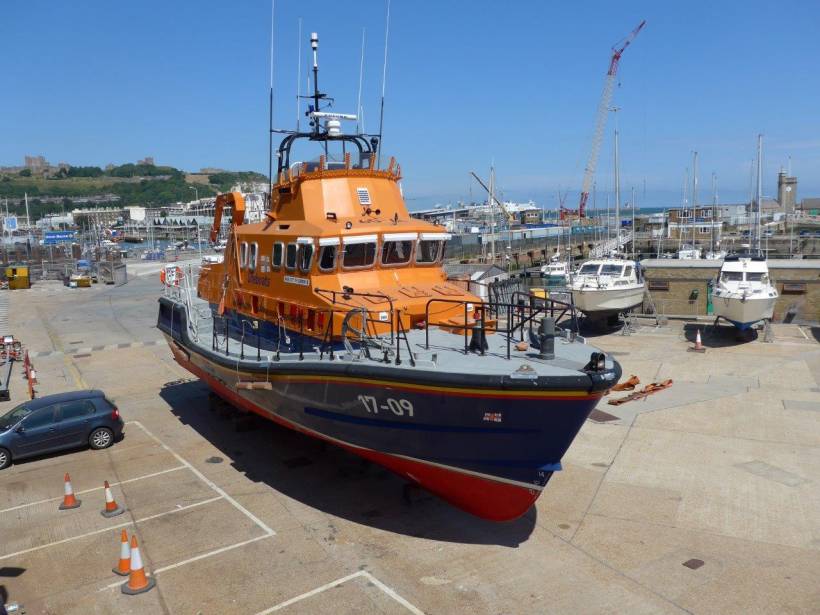 Sealift Diving's SEALIFT III with Tug Haven & BOUDICCA in the background.
Riley Marine's workboat DOVER WORKER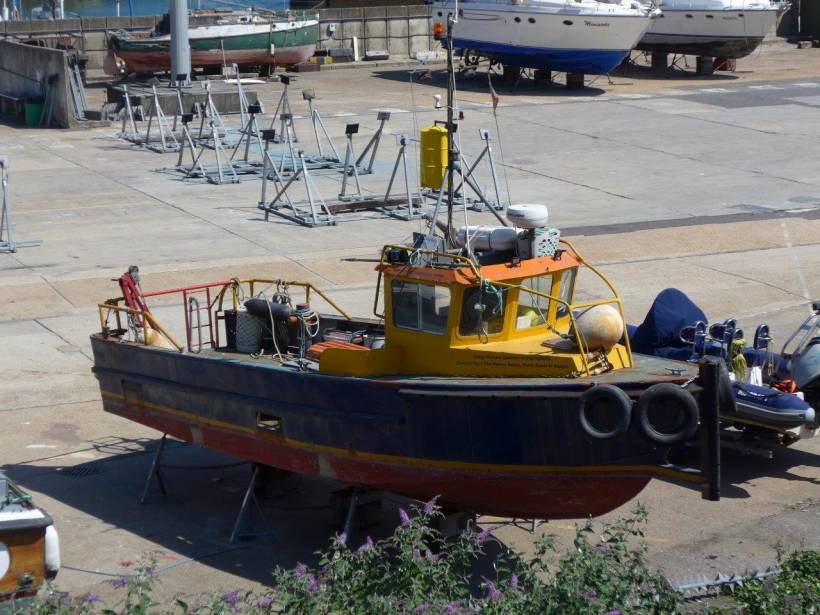 The websites for SEALIFT DIVING & RILEY MARINE are well worth a look.
A slightly different angle on DUZGIT HARMONY & SAGA PEARL II on Thursday [post 5061].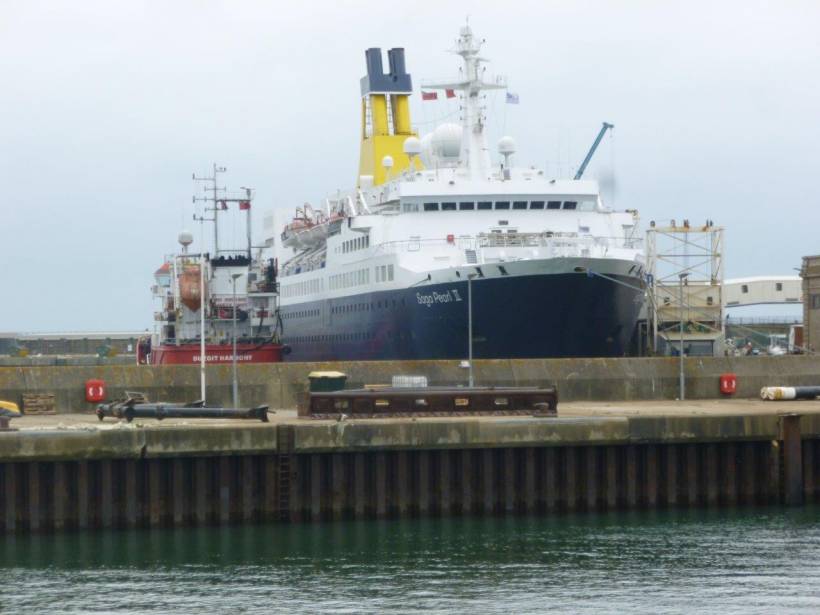 Saturday, 14 July 2018 - 00:57
Post 5062
Sea News, Dover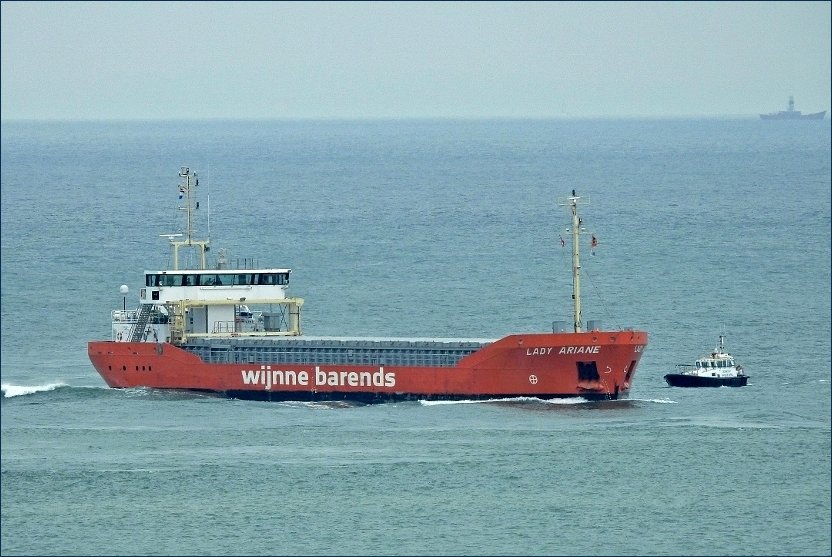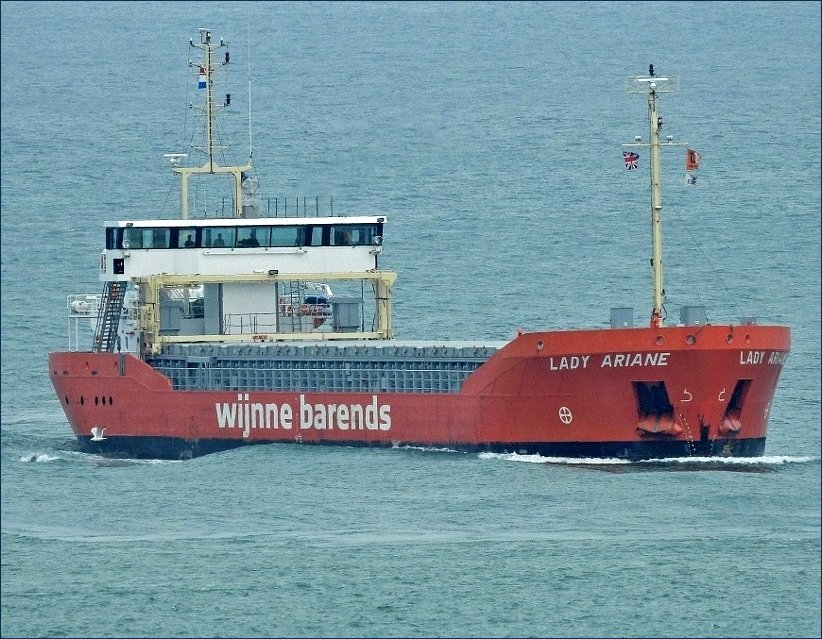 Another couple of shots above there of the Lady Ariane coming into Port on wednesday morning with more concrete sections for the DWDR inner harbour walls. See also Mike's shots of the Lady further below page ( see 5059 ) and we currently have an extra picture at the top of page right now too.
Below we see the Saga Pearl gently moving towards the cruise terminal yesterday on a cooler greyer morning... the cool grey morning suiting the mood after England's defeat in the World Cup.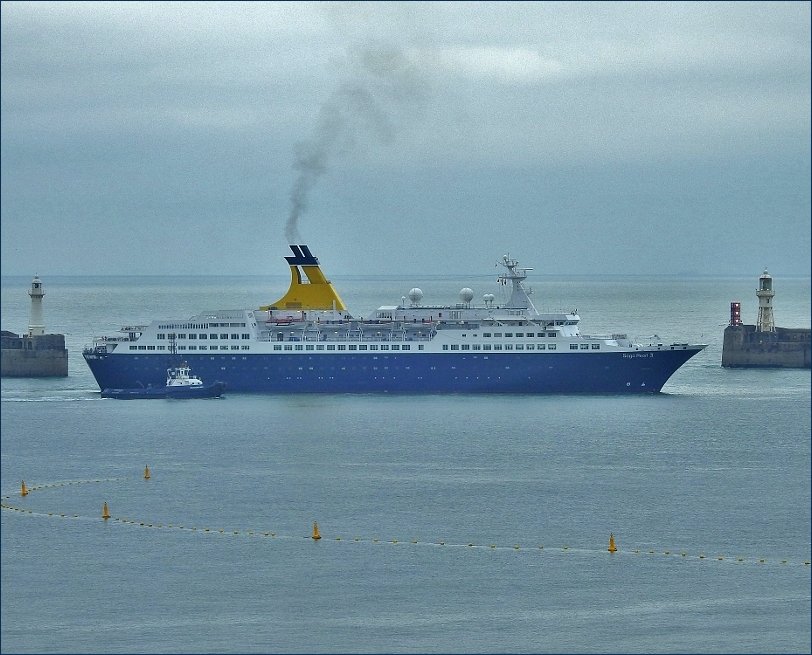 Nice pictures again Mike below - well done with those. Great stuff as ever!

PaulB
Friday, 13 July 2018 - 06:47