Wednesday, 28 June 2017
Dover Lifeboat in recent action. Long range picture...
doverforum.com/sea-news
Featuring all the ships that come and go and work at the Port of Dover with further coverage of Ramsgate, Calais, Dunkerque.
Email:dover7@msn.com to send SEA NEWS pix or info.... or click ADD YOUR COMMENT below to post direct, no membership needed. Use our SEARCH ENGINE below to find all sorts on the SEA NEWS pages..more than 180 now with more than 3666 nautical posts. Posts welcome. Max of 5 pictures preferred per post. Sea News Editor Paul Boland.



Sea News Dover:



P&O Ferries give Lifeboat £10,000...see 3933.
DFDS Cycling Special : Tour de France see 3902.

P&O visit St Richards School 3904.
P&O Ferries award surprise Bursary.... 3816.
BEST EVER FIRST QUARTER FOR DFDS...see below..3813.
Highest ever Q1 Freight Volumes for P&O see 3623.
Type Cruise Visits in search engine below for the latest cruise ship arrivals..
in fact you can find anything in our Search Engine.
Post 3880
Ed Connell, Dover Strait
Saga Sapphire departing by the Eastern Entrance this evening.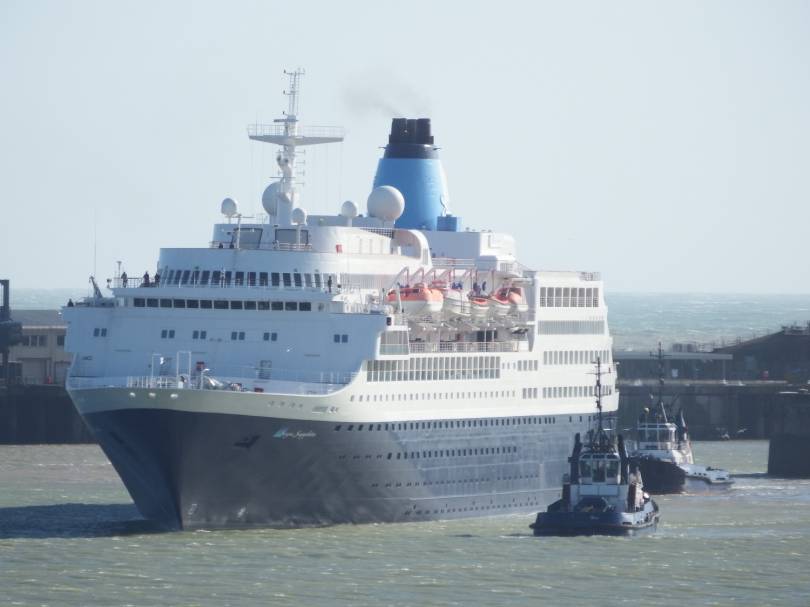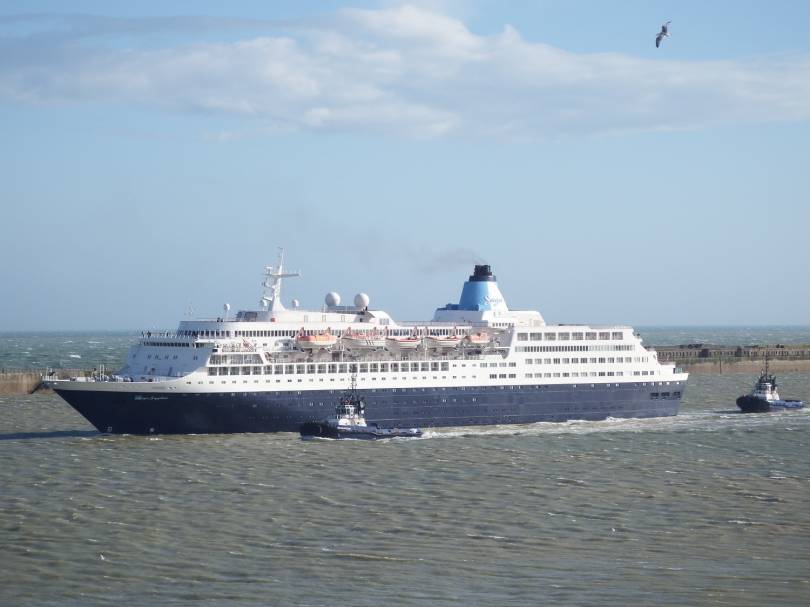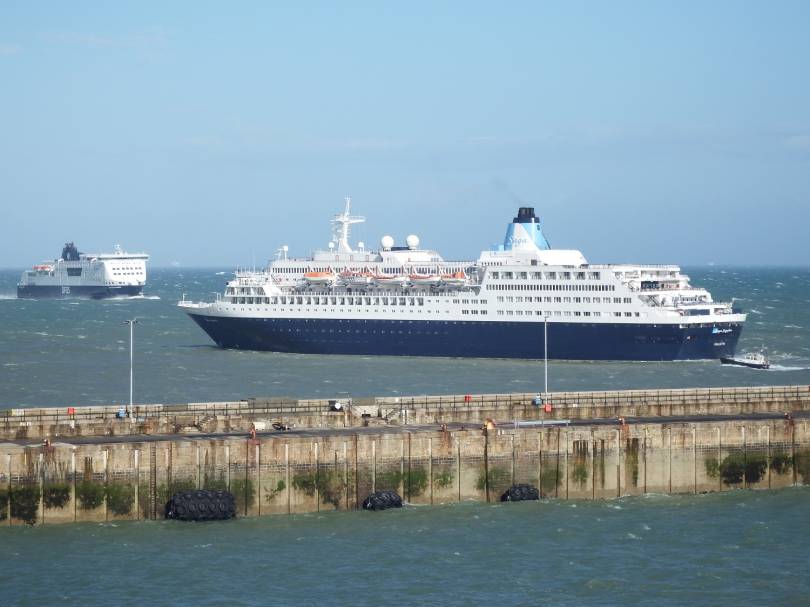 Tuesday, 6 June 2017 - 18:24
Post 3879
vic matcham , Dovor
You are right there Paul.and there will be no crane work down the docks today ,so the workers will be going home soon ,no overtime today.
Tuesday, 6 June 2017 - 12:16
Post 3878
Sea News, Dover
The Spirit of Britain battling towards France a short while ago as I write...dreadful conditions... PB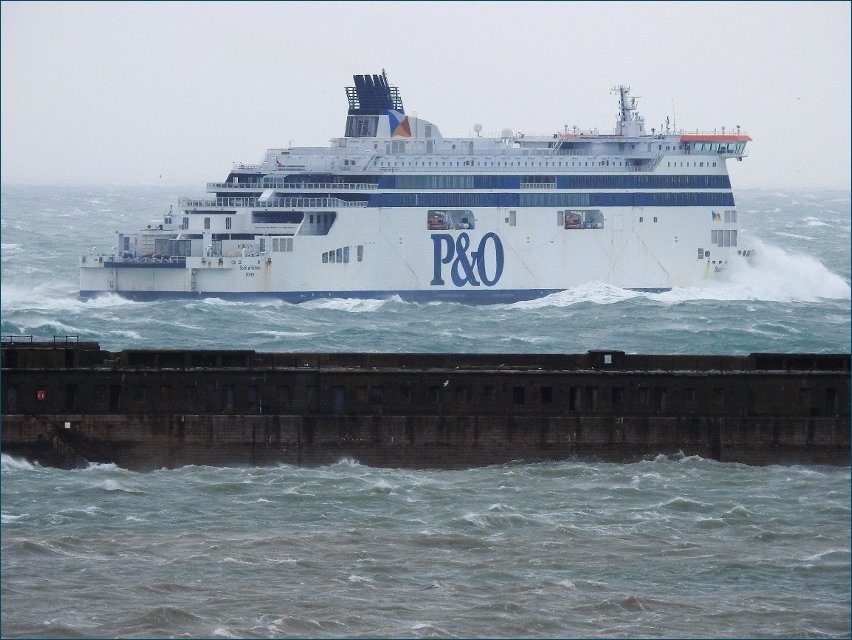 See also todays earlier posts below.
Tuesday, 6 June 2017 - 10:07
Post 3877
Sea News, Dover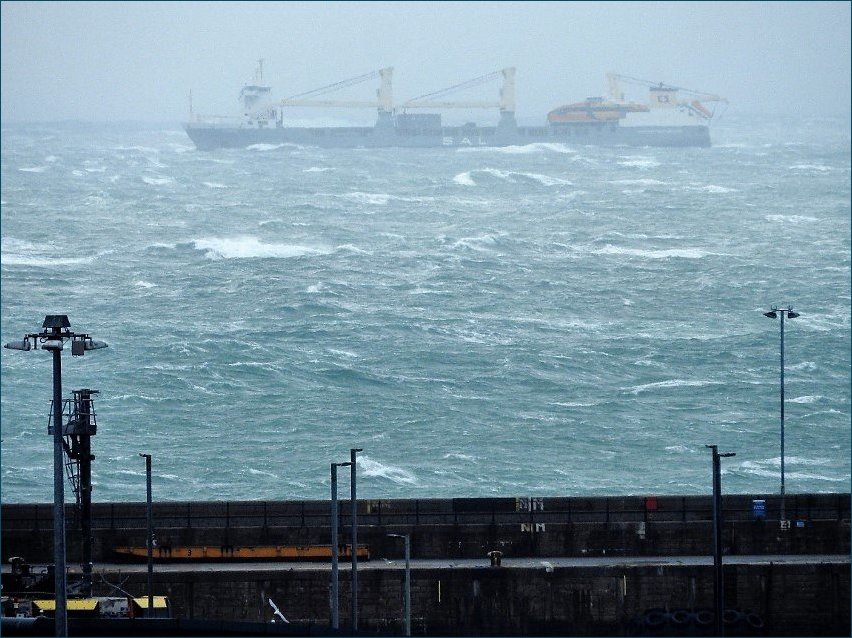 Vic there you are...its very rough out there. I'm taking a wee bit of a chance with this picture as not sure if it will reproduce well .. conditions are dire so picture is a bit forced but it shows the conditions. Cant quite get the name of the ship but it looks like its heading for shelter off Deal. Picture taken in the last half hour or so. Hopefully all will be safe out there.
Tuesday, 6 June 2017 - 09:41
Post 3876
vic matcham , Dovor
Not a good day for working outside or being at sea.And we are in summer time.
Tuesday, 6 June 2017 - 09:00
Post 3875
Sea News, Dover
The Schweiz Reefer left us last night in the dark at 9.45pm, making it away before the onset of the rough weather. And there was indeed some rough oul weather through the night. But earlier in the day all was good and fair for her arrival and here she is below ...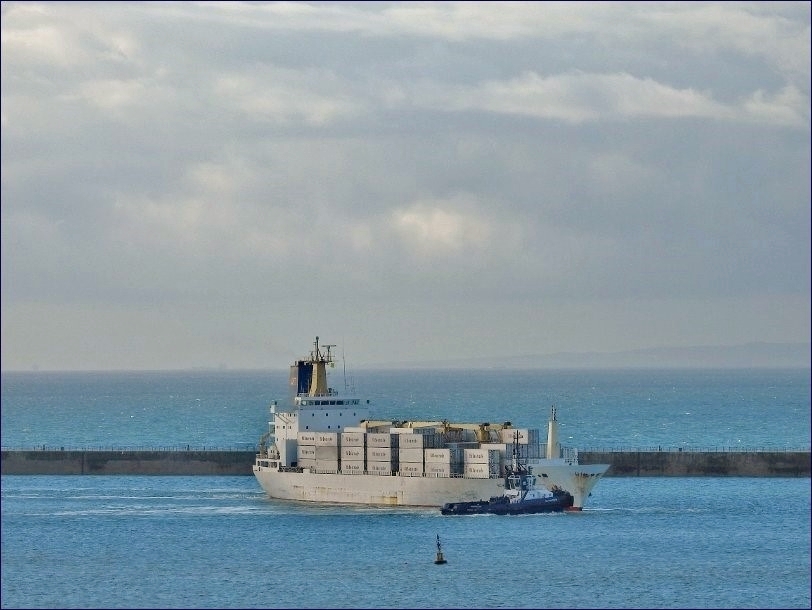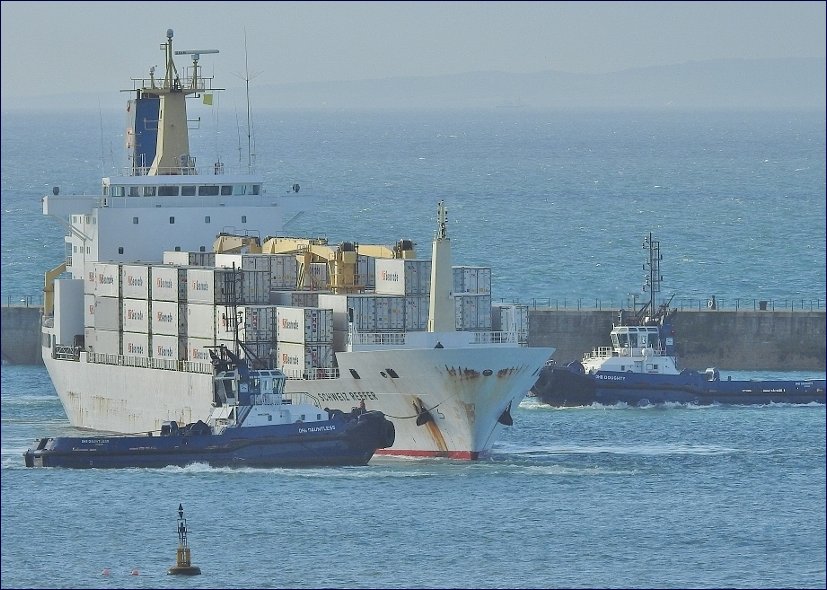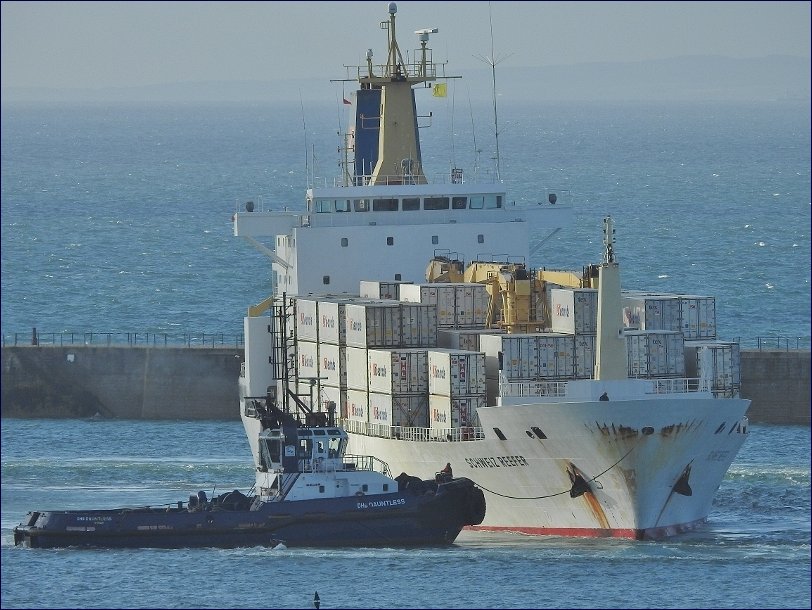 See also Ed's picture of the ship below page in 3872.
Port of Dover excels during 2017's busiest period to date and continued heightened security.
______________________________________________________________________________
This May Bank Holiday saw one of the Port of Dover's busiest and most successful periods.
Well over 200,000 passengers in almost 40,000 vehicles travelled through the Port between Friday and Monday. Continued heightened security checks were undertaken however minimal delays were incurred as a result. Additional staff were drafted in to provide support to customers whilst they waited to board their ferries and traffic flows were continuously monitored to pre-empt any potential extended delays.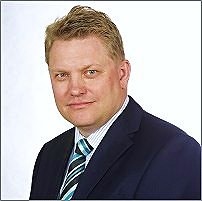 Tim Waggott, Chief Executive of The Port of Dover said: ""We stand together in delivering business as usual. Alongside our French and UK border colleagues, the security services and our ferry operator partners the team worked diligently to get customers safely through the Port and onward for their journeys as quickly as we were able. Our thanks go to all concerned for their patience and support."
Ends
Thanks for the post below Patrick.
The Saga Sapphire has just come in, bet they've had a rough oul night.
Edited.
Tuesday, 6 June 2017 - 05:59
Post 3874
Patrick, Marine Parade
Is there name for a collection of crane & piling barges? Pictured today in the outer harbour alongside the POW.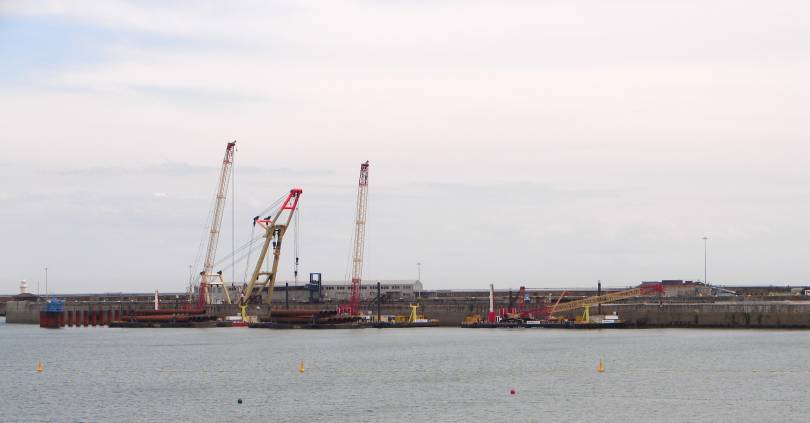 Monday, 5 June 2017 - 16:48
Post 3873
Sea News, Dover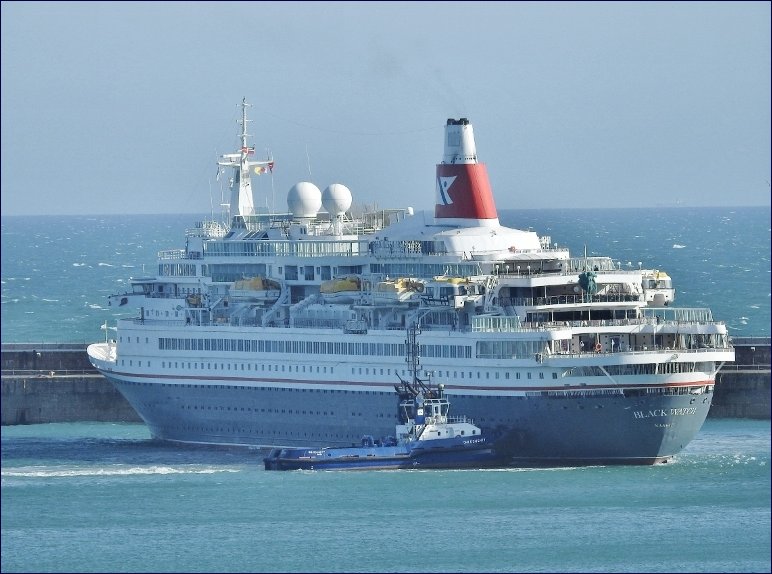 A couple of pictures now of the arriving Black Watch. She came yesterday evening, time of pictures around 5.35PM. As ColetteB said in her cruise list, she had finished her trip to the Cannes Film Festival and was now heading for the Norwegian Fjords...stopping in here first at the unusual time of 5.35pm in the evening.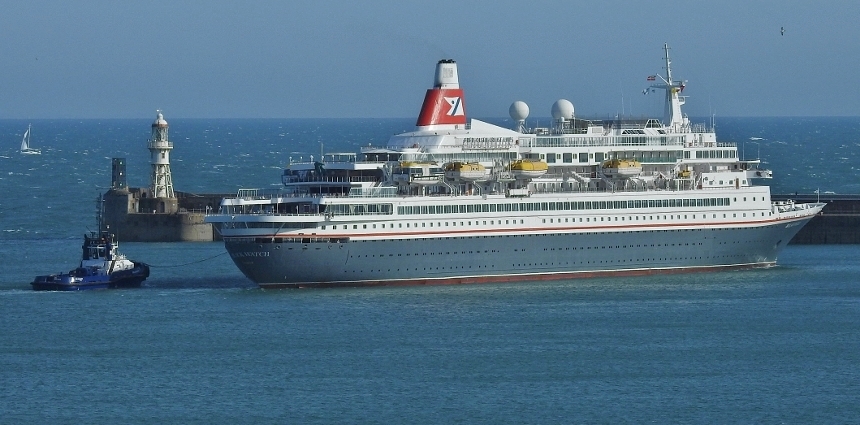 Thanks Ed for those shots below, I will also have some of the arriving Schweiz Reefer, probably in the morning now, and indeed have some more DWDR works ones in the ermmm .. pipeline.
Thanks Mike ... will have a look at that item on the 'cliff repairs'. fascinating stuff!
ah yes a nice idea there for Del but sadly this traffic problem for the seafront hotels is not a good one...nor is it good for the residents. A situation rather oddly overlooked in the planning.
I will fetch up the original SOUR NOTE in a moment so that all will know the issue.. yes here we are...
SOUR NOTE:
Yes indeed sorry about the sour note but here we are.
The new road layout through Dover is working fine save for one thing. Let me explain..
The hotels on the seafront are packed with visitors this time of year all heading for the port and of course further afield to Europe. They leave the seafront to go to the port in the mornings and when they go onto Townwall St ( the main road) at the outlet next to the Premier Inn, they are shuttled away from the port for a couple of miles. They have to go all the way to the old roundabouts in order to turn back towards the Port.
Of course the visitors don't know this plan. They are shuttled back from whence they came knowing the port is getting further and further behind them, and many in panic are doing u-turns at the main intersections of York St and at the Maison Dieu/Leisure Centre. And who can blame them...?
Some way for them to head towards the port sooner needs to be found. A new legal U-turn section added at one of the main intersections would be useful and safer for all.
PB.
Monday, 5 June 2017 - 14:58
Post 3872
Ed Connell, Dover Strait
Schweiz Reefer at the DCT today.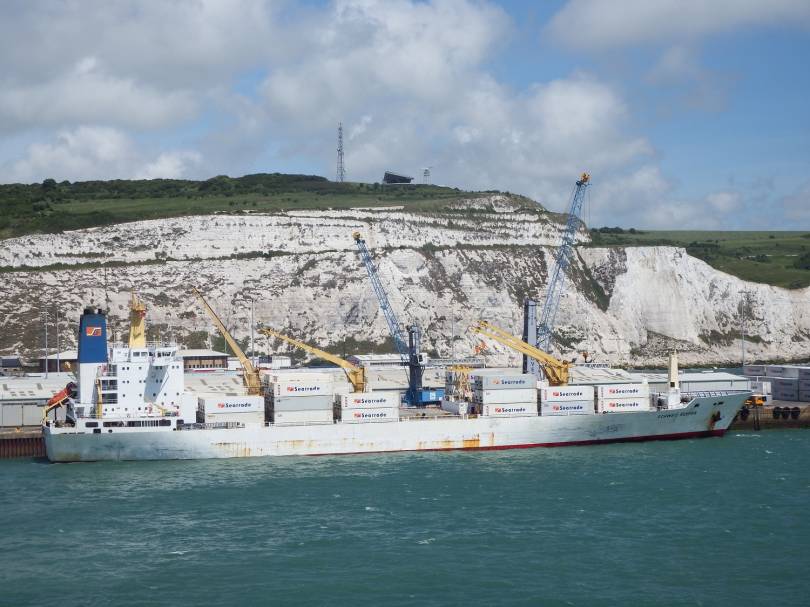 DWDR activity a couple of days ago when we departed by the Western Entrance.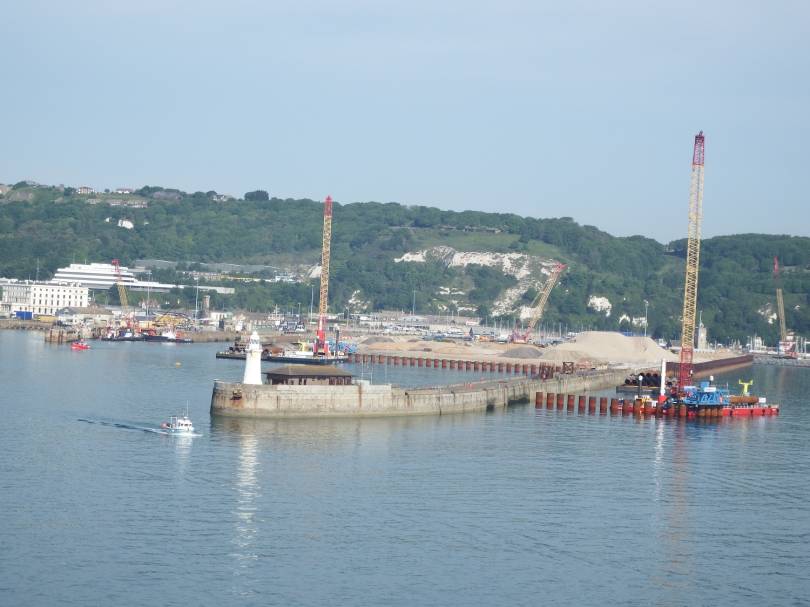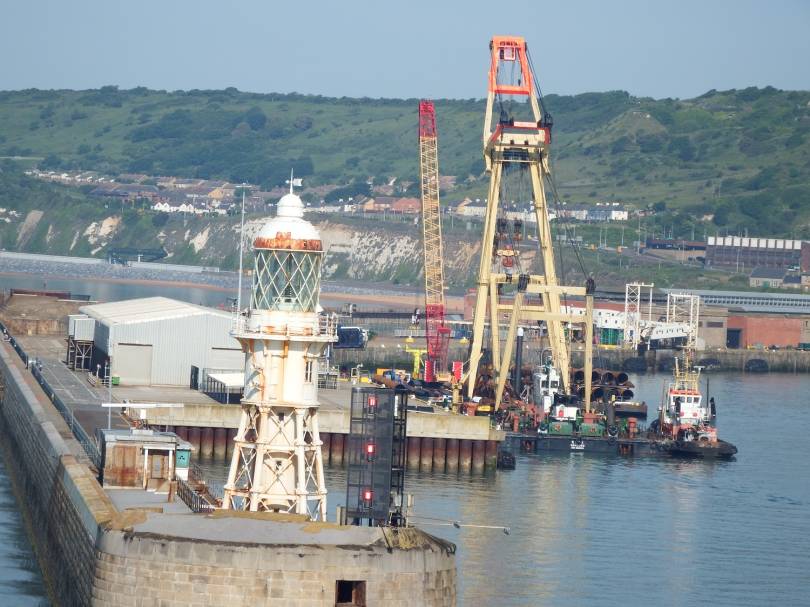 Monday, 5 June 2017 - 12:21
Post 3871
Mike J., Up in the Midlands, not a ferry in sight
Nice crisp seagull pix.

Ref Paul & Ed's interesting posts 3868 & 3869 about the 'cliff repairs' if you google 'pathe news dover white cliffs repairs' & then look for 'cliff repairs 1968' you'll find movie footage of this job.

Del - post 3862 - if you used the Premier Inn at the top of Jubilee Way off the A2 (Duke of Yorks?) you'd avoid all the kerfuffle on the A20 & ve able to drive straight into Eastern Docks.

Monday, 5 June 2017 - 12:02
Post 3870
Sea News, Dover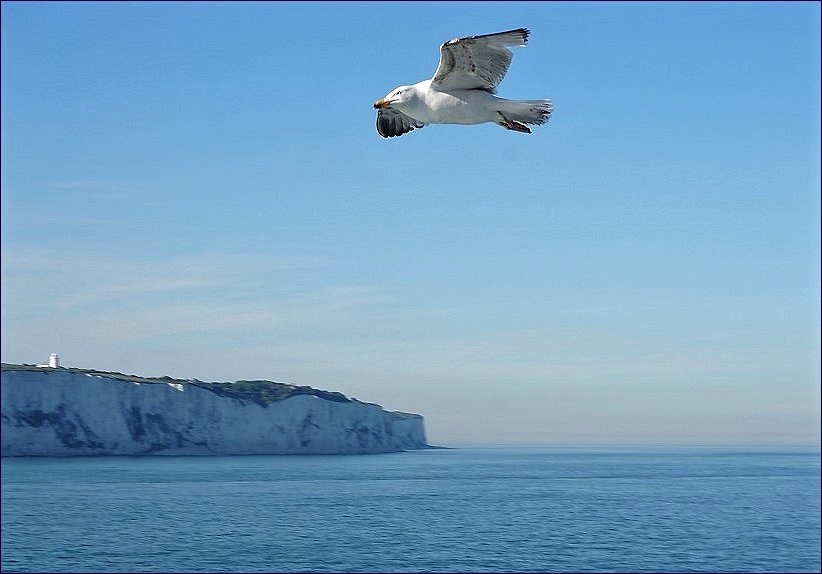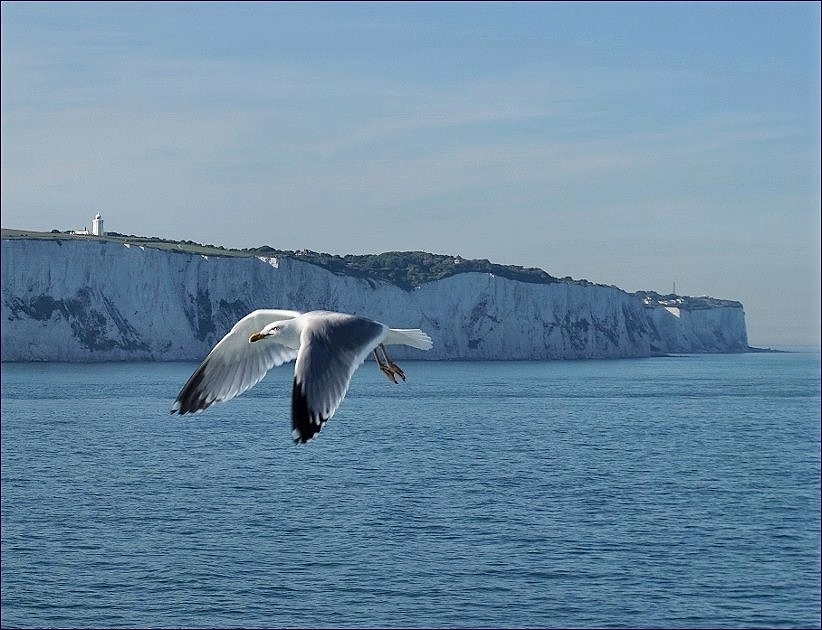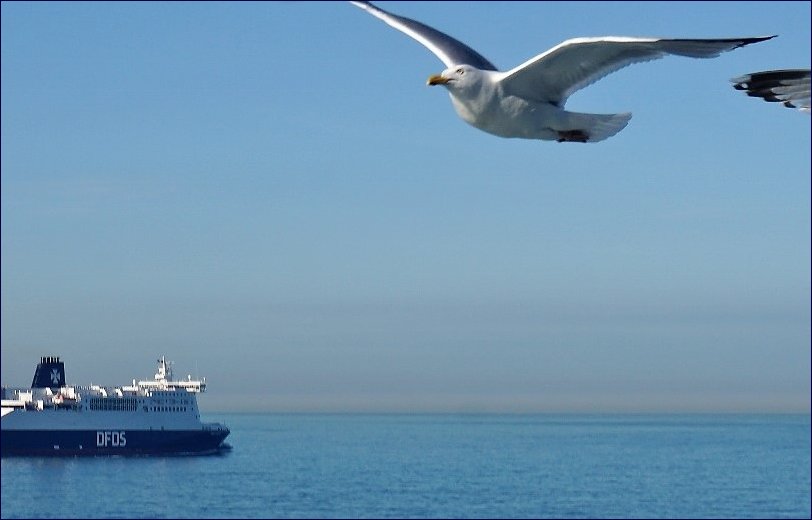 On returning from Calais a couple of days ago...a chap on the top deck began feeding the gulls. This gave an excellent chance to the camera to do some clicking away as the White Cliffs approached. The airborne fraternity got in allsorts of levels of excitement as they chased each and every crust... and there we are above.
The Schweiz Reefer has just come into Port - will have pictures of that one in due course.
Nice item below Ed...good to see that one. The cliff pinning goes on...
PB.
Monday, 5 June 2017 - 06:56
Post 3869
Ed Connell, Dover Strait
Re Paul's photo of the climbers: This is a scan from Historic Images showing workmen pinning the cliffs with bolts above the Eastern Docks in 1968.

Saturday, 3 June 2017 - 19:01
Post 3868
Sea News, Dover
Hanging around...
There's climbers a-dangling on them thar hills...can you spot them??
There they are...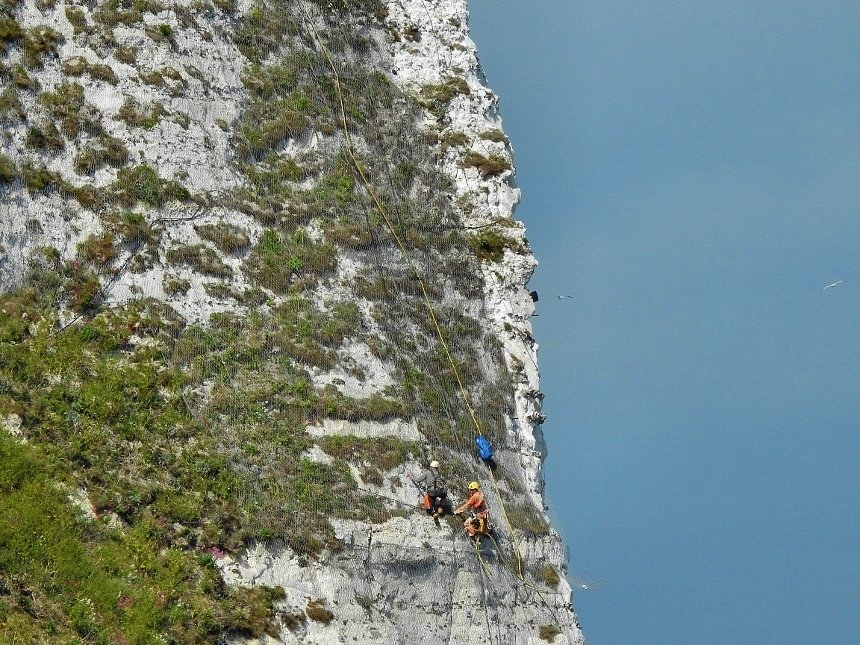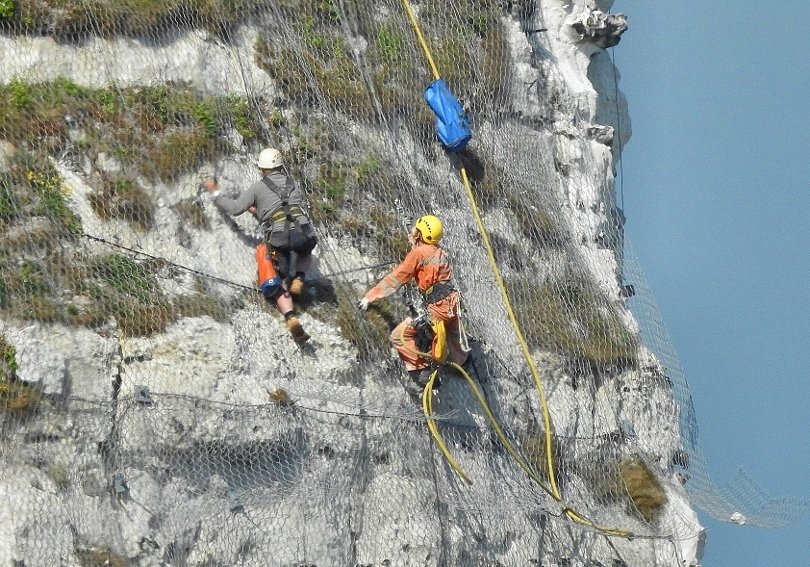 Saturday, 3 June 2017 - 06:35
Post 3867
Sea News, Dover
Following along from Mike's picture of the ship below in post 3684...here we are with another couple of shots of the Silversea Expedition's Silver Explorer arriving on Thursday morning...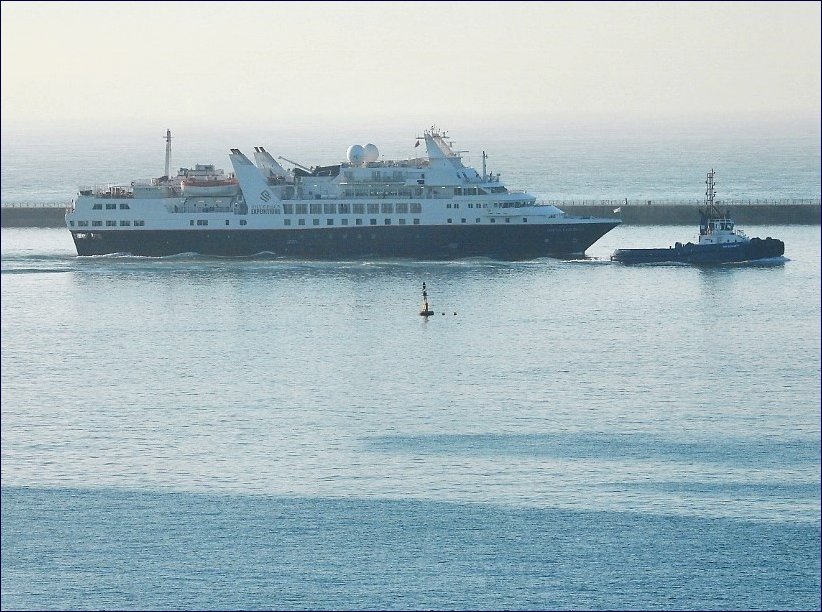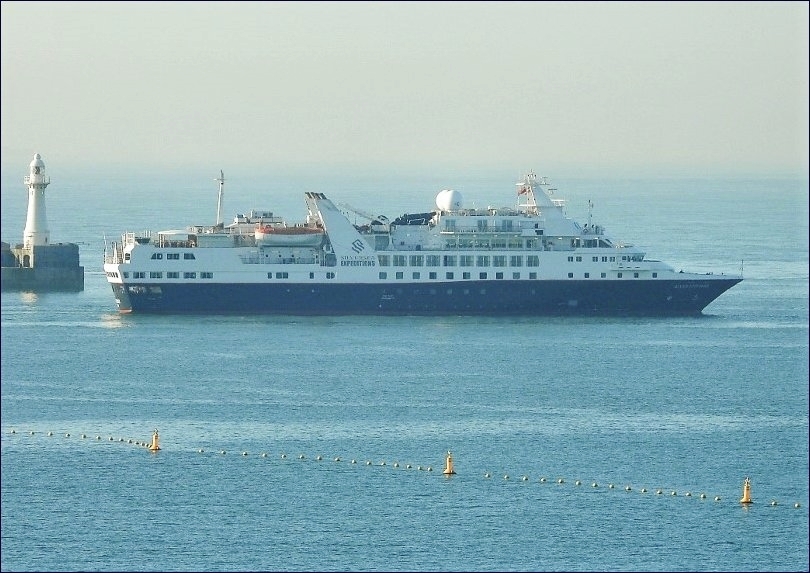 Well done below there Sarah - you got a bit of a scoop there. The Border Force had suffered cutbacks so amazingly there we go...aren't elections wonderful things..!!?


Well done Mike good pix there too.

Friday, 2 June 2017 - 14:10
Post 3866
Patrick, Marine Parade
Mike,

Rather liked the sepia effect in your Post 3864. Takes me back to my childhood when we used to develop our own that often turned out that way.

Friday, 2 June 2017 - 10:38
Post 3865
Sarah, Ramsgate
Breaking News Border Force "Eagle" has a pal Border Force "Alert" not to be confused with the Trinity House Vessel Alert. Funny how it came into service whilst we are in the middle of a General Election campaign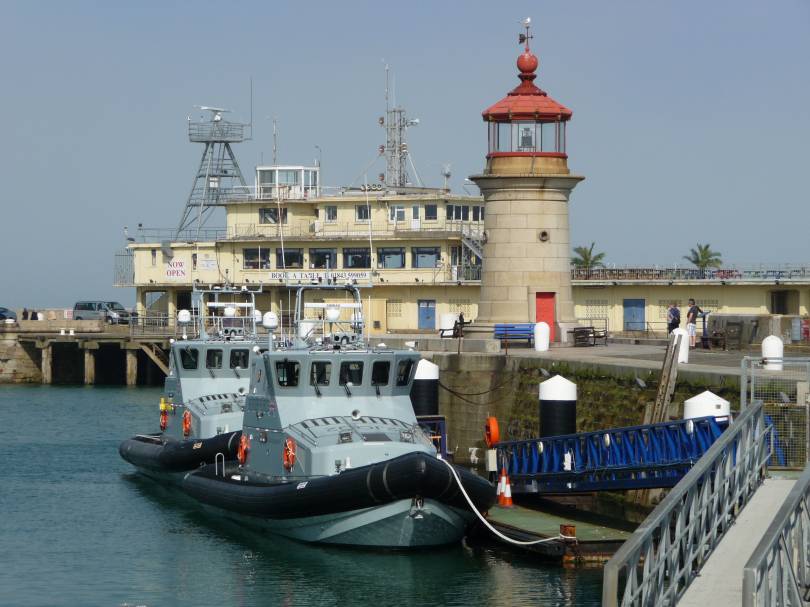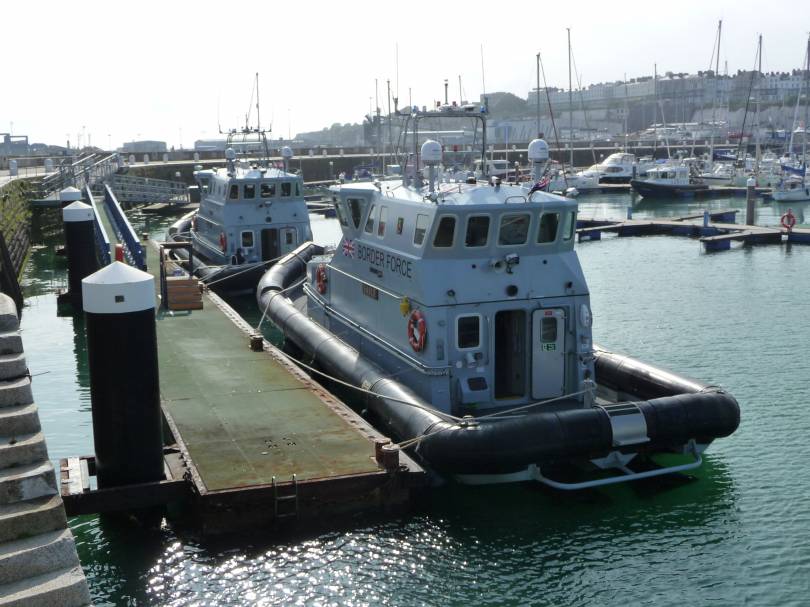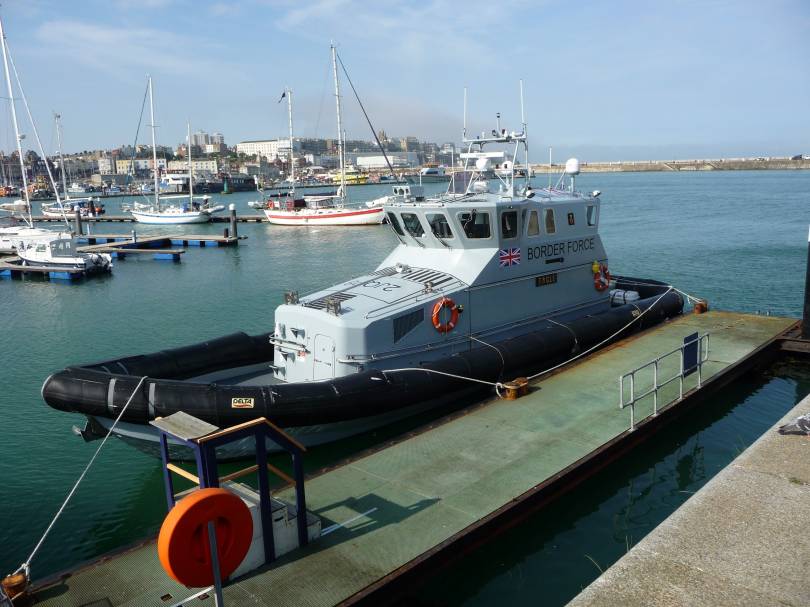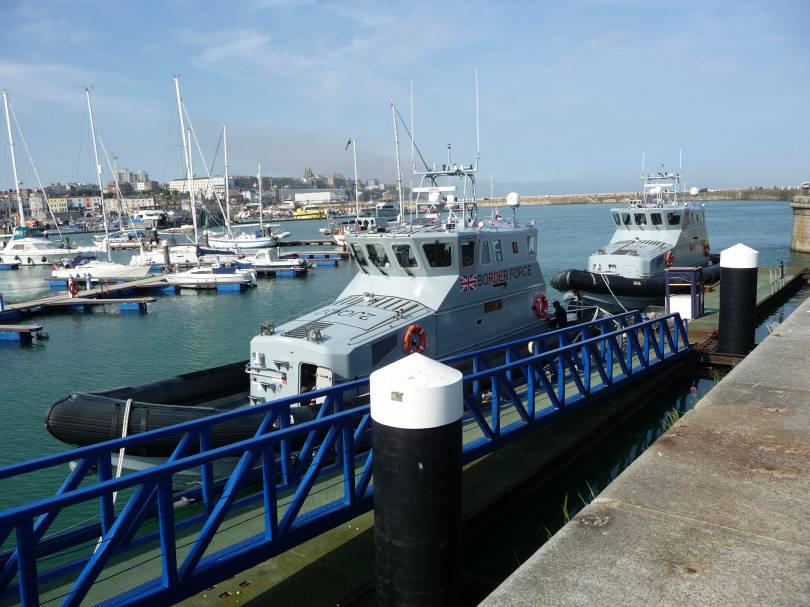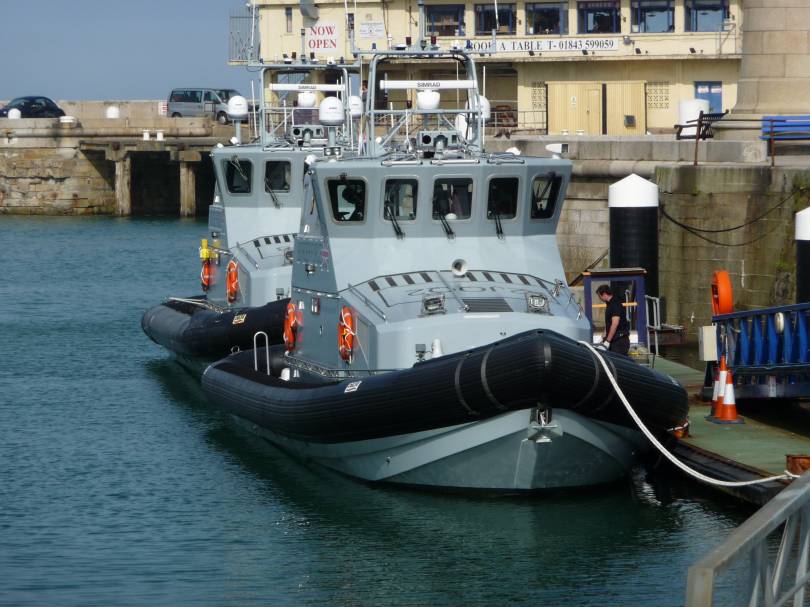 Thursday, 1 June 2017 - 10:17
Post 3864
Mike J., Dover
Return of the HARINGVLIET on Wednesday morning with more piles for the DWDR job.
She didn't stay long & sailed about 0800 today.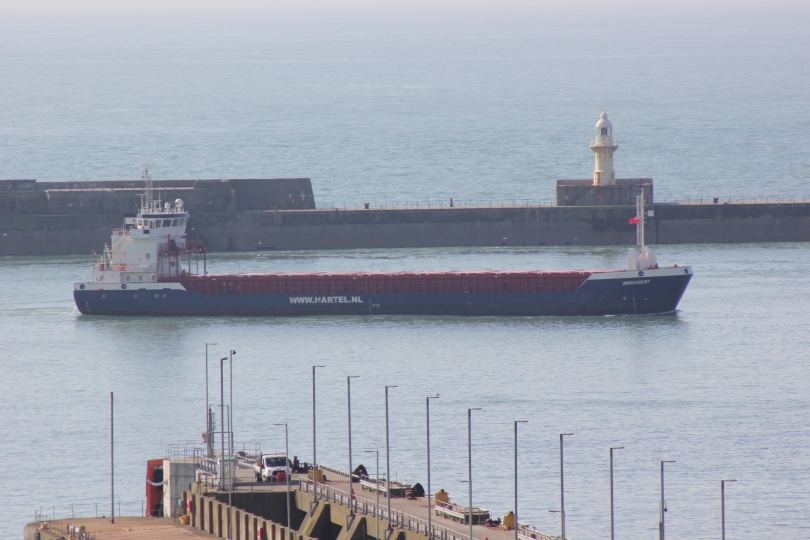 Soon after she docked on the POW the fog rolled in & by about midday the ENAK was starting to disappear as she prepared to take a bite at the Dunkirk Jetty.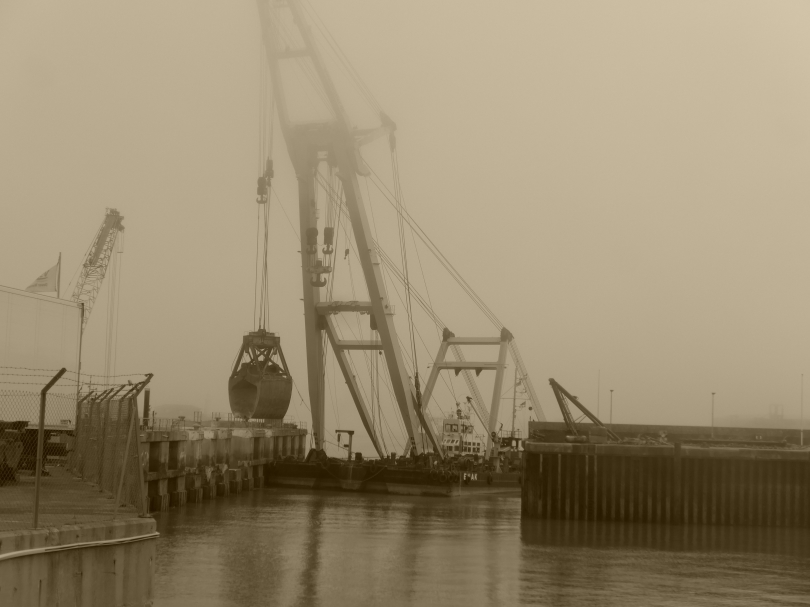 Apologies for the 'sepia' effect, a change in settings on my 'pocket camera' that I hadn't noticed till I downloaded the pictures.
Must try harder.
Beautiful clear morning today as the DOVER SEAWAYS sailed & the tiny SILVER EXPLORER entered.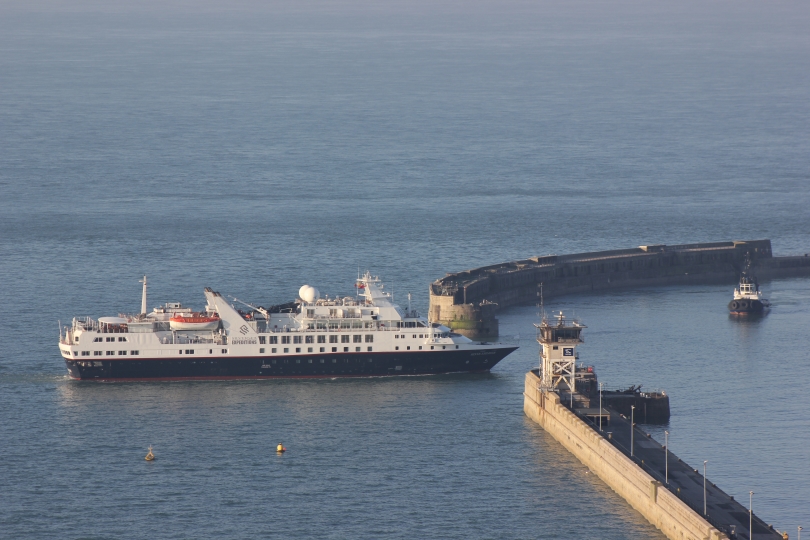 Thursday, 1 June 2017 - 08:54
Post 3863
Sea News, Dover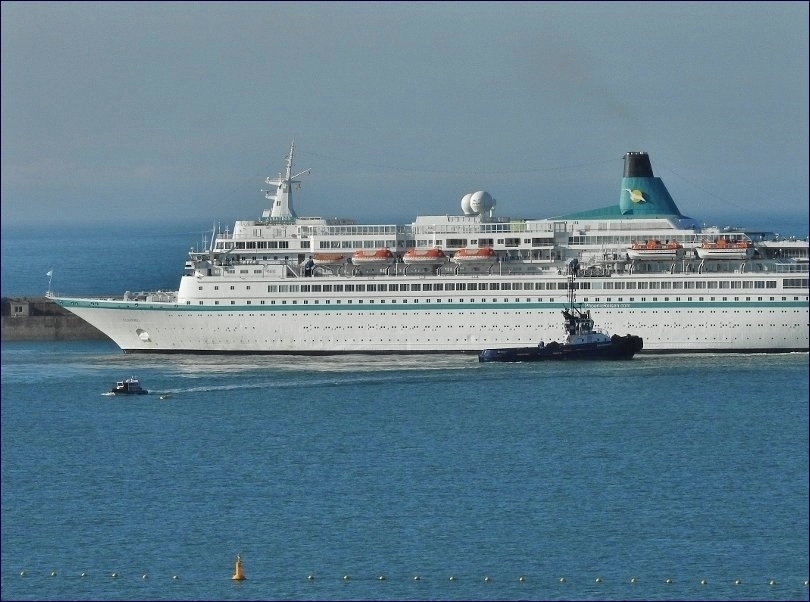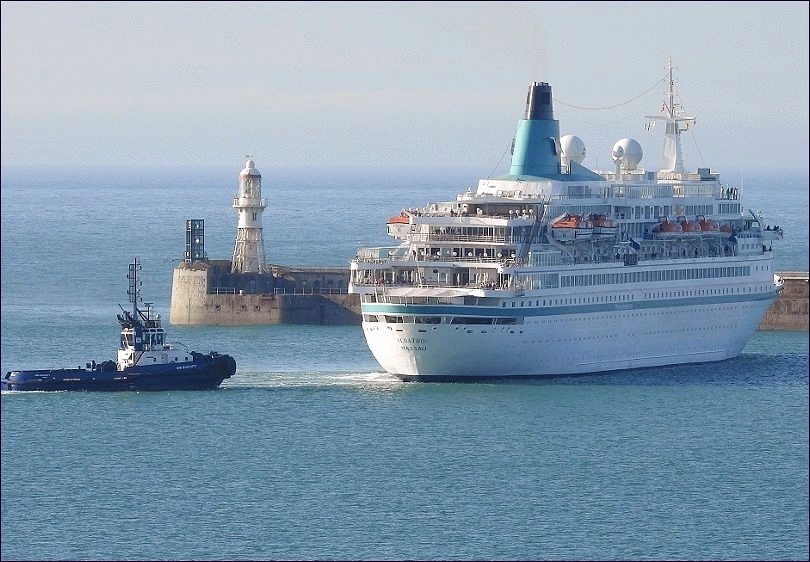 A couple of pictures above there of Albatros arriving yesterday morning early. pretty soon after that we were plagued by fog for most of the day...this was yours trulys last decent vision of the ship..
Well said Patrick we are in harmony there..."we have a problem"
Del yes indeed you will see what we mean when you come down to the Premier Inn.
Thanks for the cruise list again Colette. Busy times for sure.
Smashin' shot Ed of Elvira.

Thursday, 1 June 2017 - 05:40
Post 3862
Del Styan, Norwich
That new traffic scheme sounds a bit iffy. I shall have to watch my step if I stay at the seafront Premier Inn on my next trip. Do I have to go sort of backwards from the Ferry Terminal?

Wednesday, 31 May 2017 - 23:10
Post 3861
Colette B, Dover
CRUISE VISITS
Here we go, 'June is busting out all over' ……..
Tomorrow Thursday June 1st we have a great start to the month with the inaugural visit from Silversea Cruises, Silver Explorer, calling into Dover whilst on her 12 day cruise from Lisbon to Honfleur . She is a purpose-built luxury expedition cruise ship, specifically designed for navigating waters in some of the world's most remote destinations including both of the earth's polar regions. She has a strengthened hull so can push through ice floes at ease. She also carries a fleet of zodiacs to reach those off the beaten track locations. She arrives at CT1, 07.00, leaving 18.00 hours, PoC.

Then on Sunday June 4th a long lost friend is paying us a visit, it's the Black Watch, last seen in Dover in July 2016. After just returning from her Cannes Film Festival cruise, she is starting an 8 day round trip to the Phenomenal Fjords of Norway. Arriving CT2, 18.00, departing 23.00 hours, embark only.
On Tuesday June 6th we have a Double Whammy, firstly Saga Sapphire starts her 12 night Celtic Charms cruise. She calls in to say 'top of the morning' at the following charming ports in the old Emerald Isle, Cork, Glengarriff, Killybegs, Belfast and of course Dublin. She arrives at CT1, 08.00, leaving 16.00 hours, T/R.
Also on the same day we have a surprise visit from AIDAbella, last here in October 2015, puzzled, as she is meant to be visiting Rome at the same time. Arriving CT2, 07.15, leaving 20.00 hours, PoC. So could it be a case of 'Arrivederci Roma, Ciao Dover'. We'll wait and see

I'll be back with more cruise visits real soon.
Loving the photos of the flowers on the seafront Mr B


Wednesday, 31 May 2017 - 15:23