Sunday, 25 February 2018
Dover Lifeboat in evening action. More below...

doverforum.com/sea-news
Doverforum.com: Featuring all the ships that come and go and work at the Port of Dover with further coverage of Ramsgate, Calais, Dunkerque. Email: dover7@msn.com to send SEA NEWS pix or info.... or click ADD YOUR COMMENT below to post direct, no membership needed.

TRADING GROWTH FOR DFDS DESPITE BREXIT see 4642
PORT OF DOVER RECORD FREIGHT see 4551.
PORT OF DOVER: GEEST LINE arrival see 4597.
SECOND FEMALE CAPTAIN FOR P&O see 4608.
Sea News Dover : Use our SEARCH ENGINE below to find all sorts on the SEA NEWS pages..more than 230 now with more than 4500 nautical posts. Posts welcome. Max of 5 pictures preferred per post. Sea News Editor Paul Boland.
Post 4611
Ed Connell, Dover Strait
Luzon Strait approaching Dover at lunchtime, now berthed at the DCT.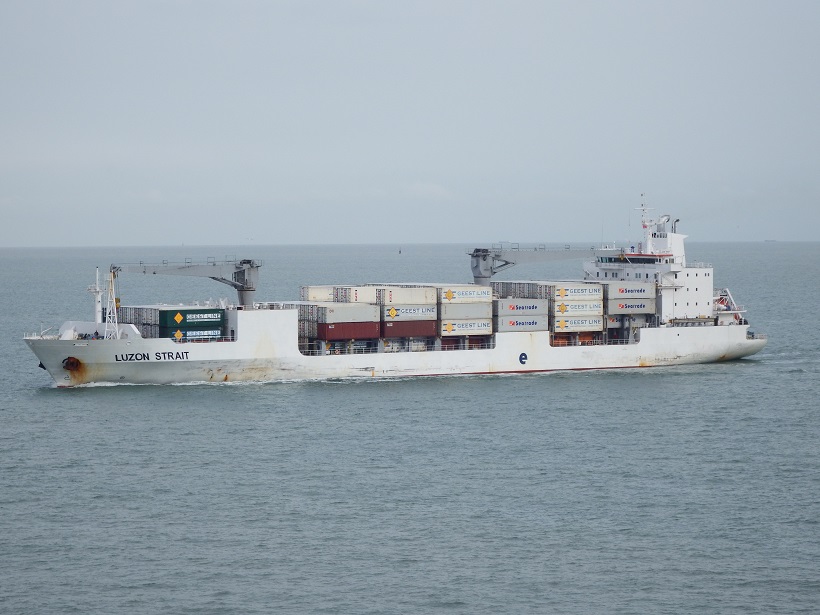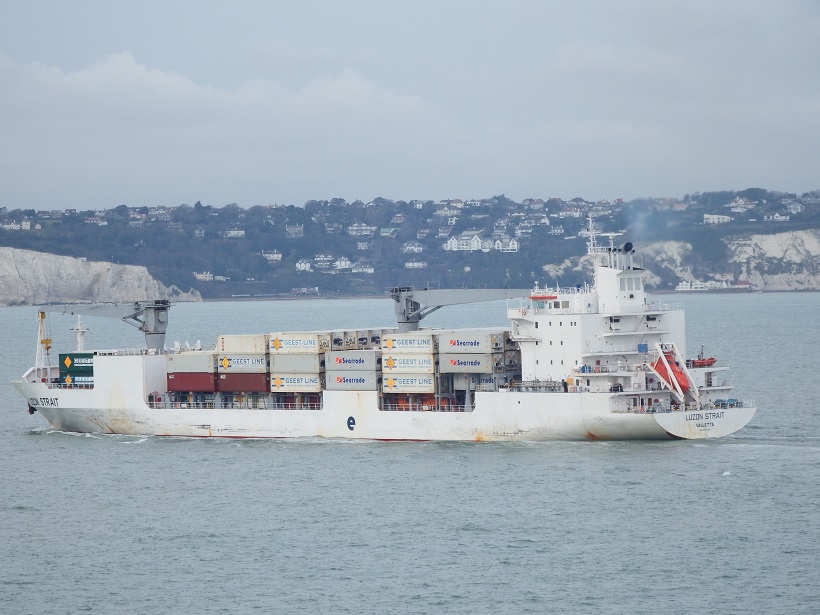 Saturday, 3 February 2018 - 18:06
Post 4610
Sea News, Dover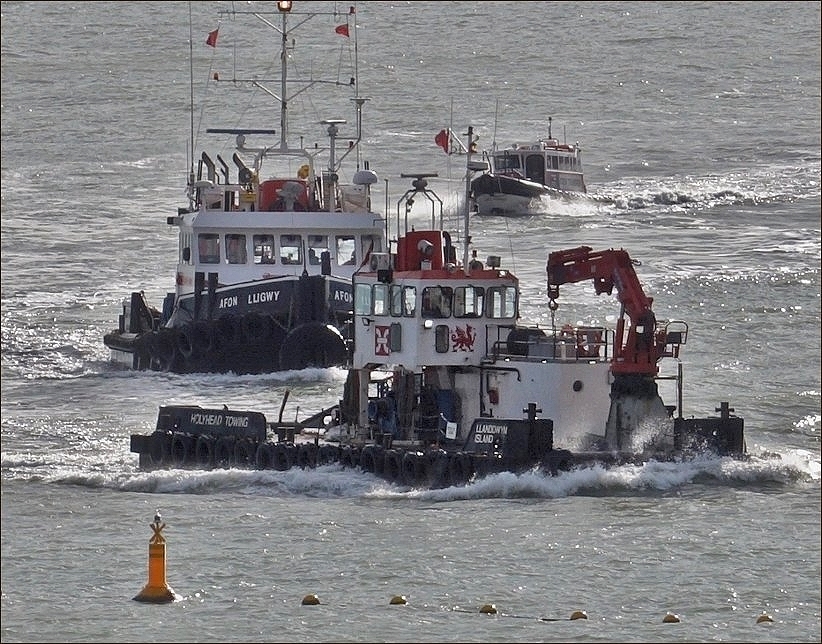 The morning charge to the 'office'...we caught them in convoy above there.. Llanddwyn island, Afon Lligwy and Grumpy all coming for another days work in and around the piledriving. Life in the fast lane eh...

Below...well its the day after the supermoon and the tide is high..all that surging water swallowing up the piling. Tips of it barely showing and other bits swallowed completely ...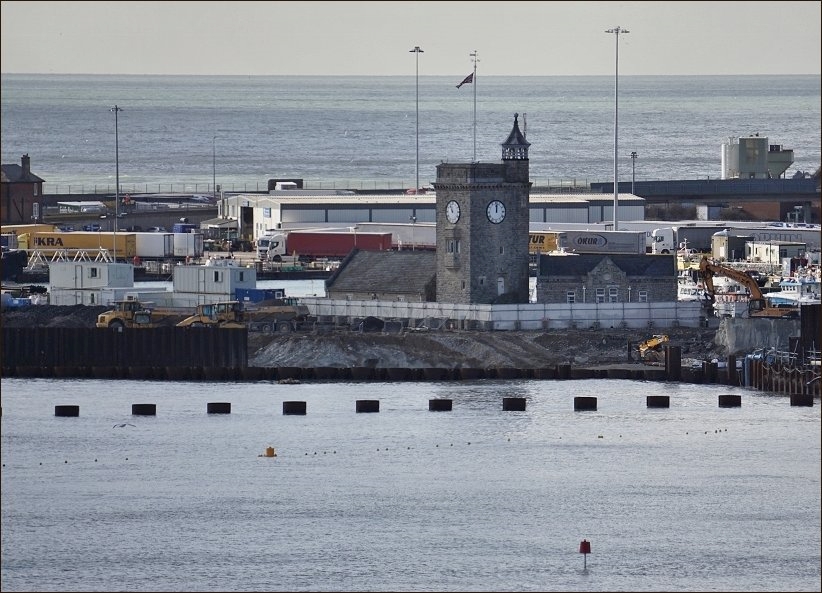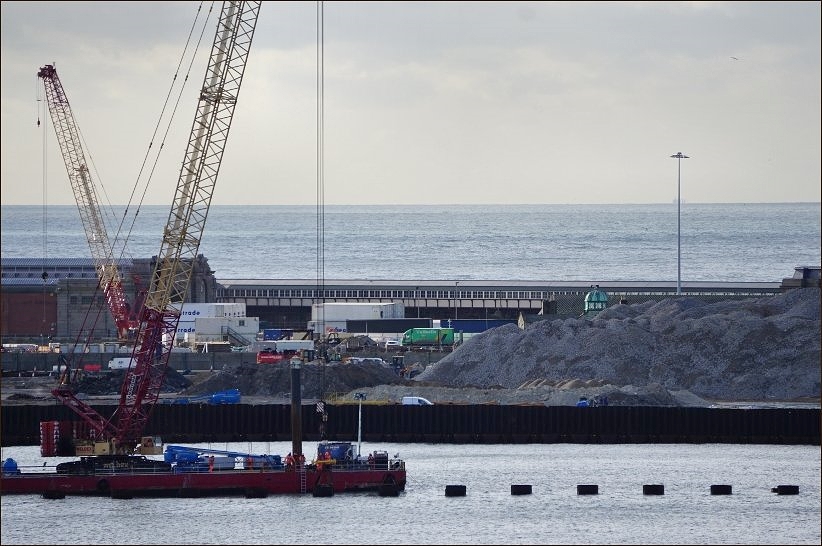 Ahh nice shot that below Ed...and very welcome too.

PB.
Saturday, 3 February 2018 - 06:49
Post 4609
Ed Connell, Dover Strait
Spirit of Britain on the Eastern Arm yesterday.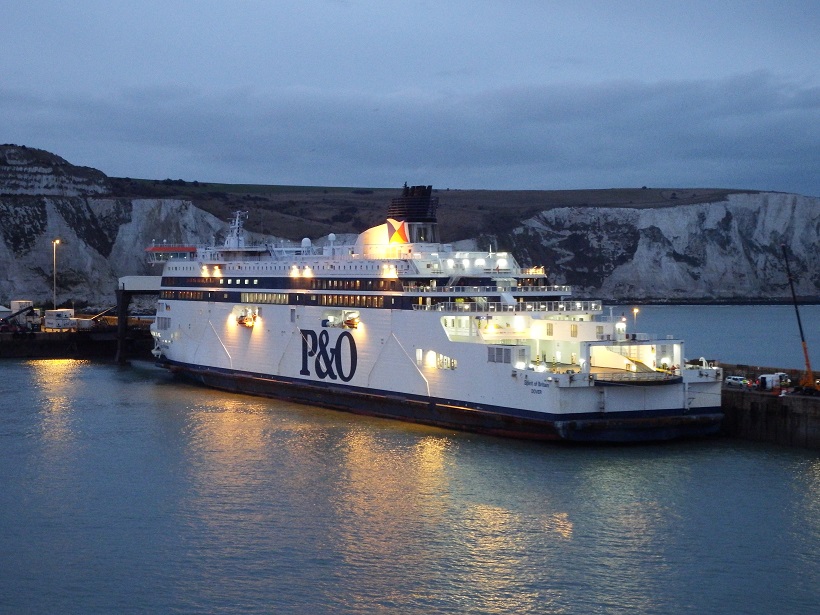 Friday, 2 February 2018 - 10:21
Post 4608
Sea News, Dover
JENNY EVANS BECOMES THE SECOND FEMALE TO CAPTAIN A P&O FERRIES SHIP
_____________________________________________________________________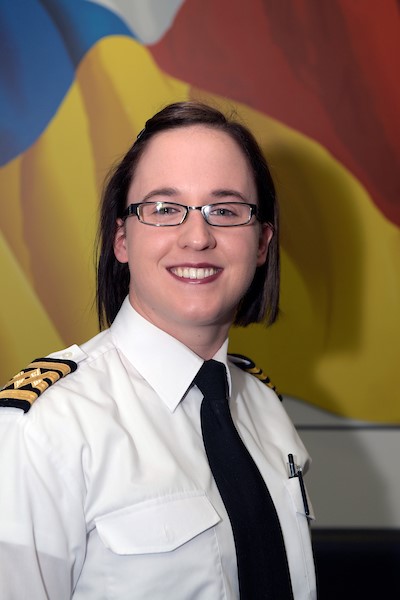 KENT local Jenny Evans has become only the second woman ever to captain a P&O Ferries ship after being promoted to the rank of Master on the Spirit of France.
The 30-year-old, who joined P&O Ferries straight after taking her GCSE's, now has responsibility for up to 200 crew members and 2,000 passengers who sail on the 47,000 ton ship between Dover and Calais.
Jenny, who lives in Rochester with her husband David, said: "I wanted a career at sea from the age of 13. My dad, Jim Grove-Quinn, also worked for P&O Ferries and whenever we went to Calais on our holidays I spent most of my time going up to the captain's bridge to see how the ship was being run."
"At my dad's suggestion, I joined P&O Ferries straight from school and took a cadet course at South Tyneside College which set me on the path to becoming an officer. Since then I've worked on most of the ships in our English Channel fleet. I love the job, which is very busy and always has something going on."
"My dad still works for the company on our sister ship the Spirit of Britain and is very proud that his daughter has reached the rank of Master. Although he's made me promise never to tell him what to do if I ever see him on board."
P&O Ferries, which is this year celebrating the 180th anniversary of the founding of P&O, appointed its first female captain in 2015.
John Garner, the company's Fleet Director, added: "Jenny's progression through the ranks illustrates the remarkable career opportunities which are available to young men and women who choose a career at sea. We are all proud of her and wish her many years of happy and safe sailing with P&O Ferries."
P&O Ferries is a leading pan-European ferry and logistics company, sailing 27,000 times a year on eight major routes between Britain, France, Northern Ireland, the Republic of Ireland, Holland and Belgium. It operates more than 20 vessels which carry 10 million passengers and 2.2 million freight units annually.
Together with its logistics division, P&O Ferrymasters, the company also operates integrated road and rail links to countries across the continent including Italy, Poland, Germany, Spain and Romania. P&O Ferrymasters also owns a rail terminal in the Romanian city of Oradea, which facilitates the onward movement of goods to Britain from Asian countries via the Silk Road.
ENDS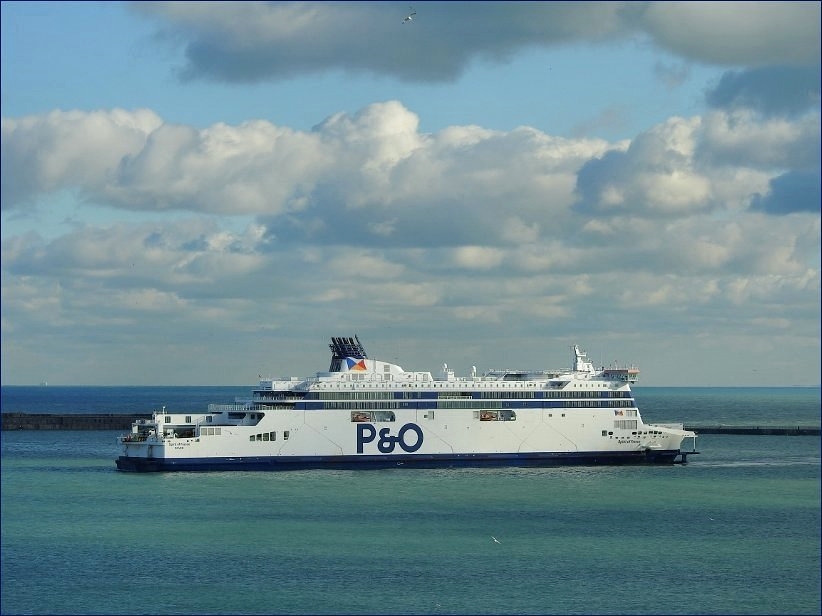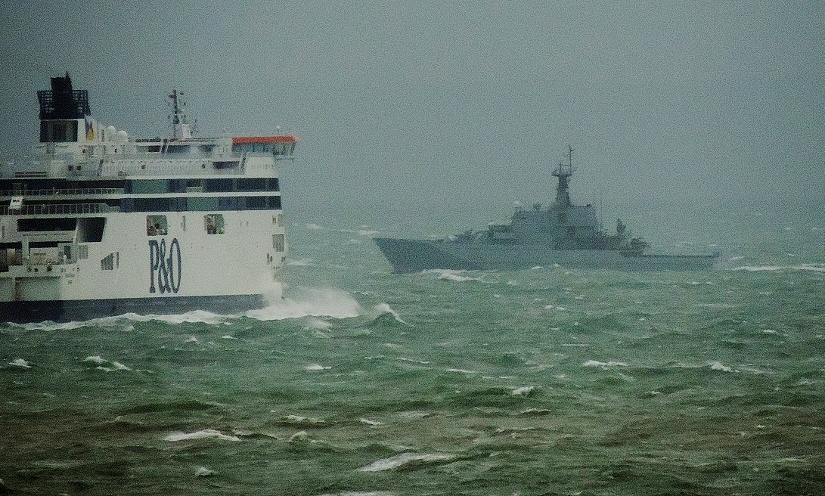 A couple of shots above there of the Spirit of France from the files...showing the ferry in different conditions. Great news above there about Jenny Evans. Well done Jenny and P&O.
That's a cracking shot of the waiting trucks below there Mike. Nice work.
Like the other one too.

Thanks again for the info Vic...glad you are enjoying the DWDR pix.

Hope you didn't do too much howling at the moon Jan...once you start you cant stop... so they tell me...


Many thanks to P&O Ferries for the info above. PaulB.

Friday, 2 February 2018 - 05:14
Post 4607
Mike J., Dover
Freight congestion on Thursday afternoon may have been partly due to the SPIRIT OF BRITAIN being on the Eastern Arm for about eight hours.
She was back on the run by 2000.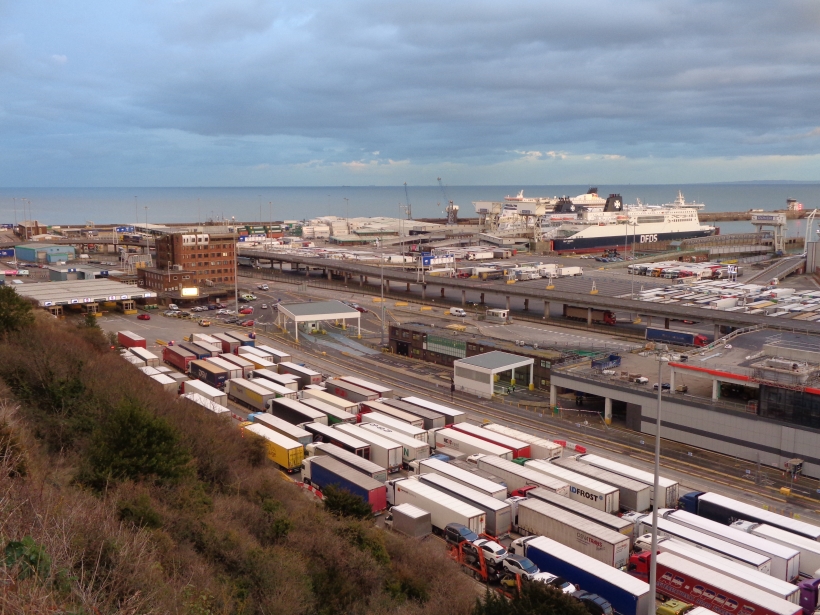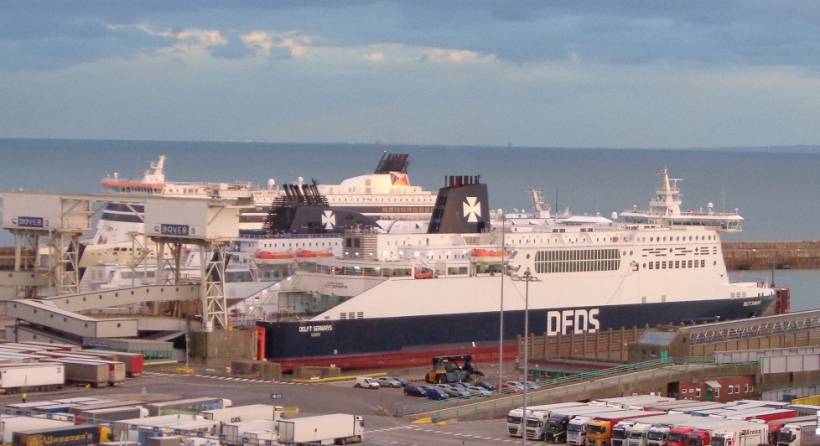 New January 2018 DWDR drone footage - very interesting, DWDR is really taking shape.
Go to YouTube & ask for -
Dover Western Docks Revival (DWDR) Latest Progress January 2018
This should give you earlier films in the series as well.
Friday, 2 February 2018 - 00:43
Post 4606
victor matcham, Dover
Well they have done a very good job up till now down at the western end piling was done very well alot more easy then the days I done it great to see all the work being done on this page. THe D.H.B, got their act together on doing it ,the only thing was the sand being taken from the Good wins which now looks that will not happen.And if they get a move on I will still be about to see it all done.


Thursday, 1 February 2018 - 15:45
Post 4605
Jan T, Dover
The moon certainly was impressive last night, the cloud cleared enough to see it, really expected to hear those werewolves.
Very creepy.
Like the picture of the super moon over the docks

Thursday, 1 February 2018 - 08:47
Post 4604
Sea News, Dover
Homage to the Supermoon.
The fabulous supermoon is blazing overhead as we speak at 06.30. It was too high this time around, when it arrived from behind thick cloud, to get a shot of it over the harbour...however...here's one I ermmmm.. made earlier, from a recent visit.
Woof! One gets this urge to howl...I don't know why ...


Some further shots below of the blue efficiency/safety device currently in use with the piling. There are two ( maybe three) of these blue devices in use. The pictures below show one of these in further action ...giving some scale of the device. First shot shows some near piling about to be hammered powerfully into position, the second one shows scale, and the third pic shows the other blue device with the new land mass behind once again.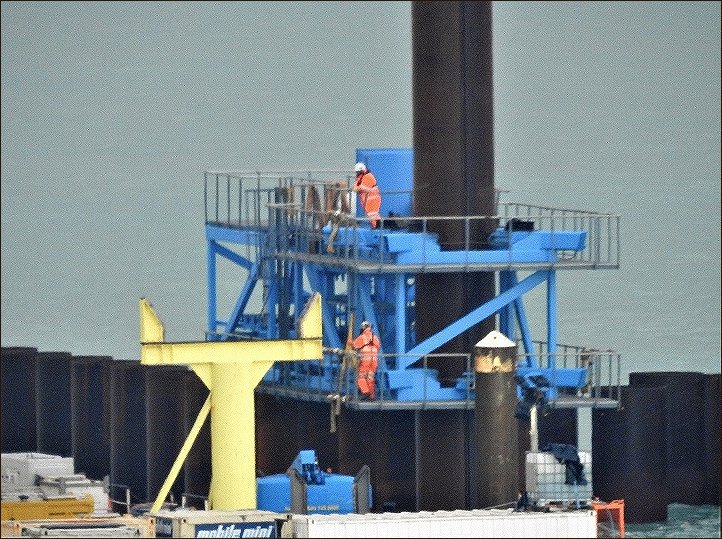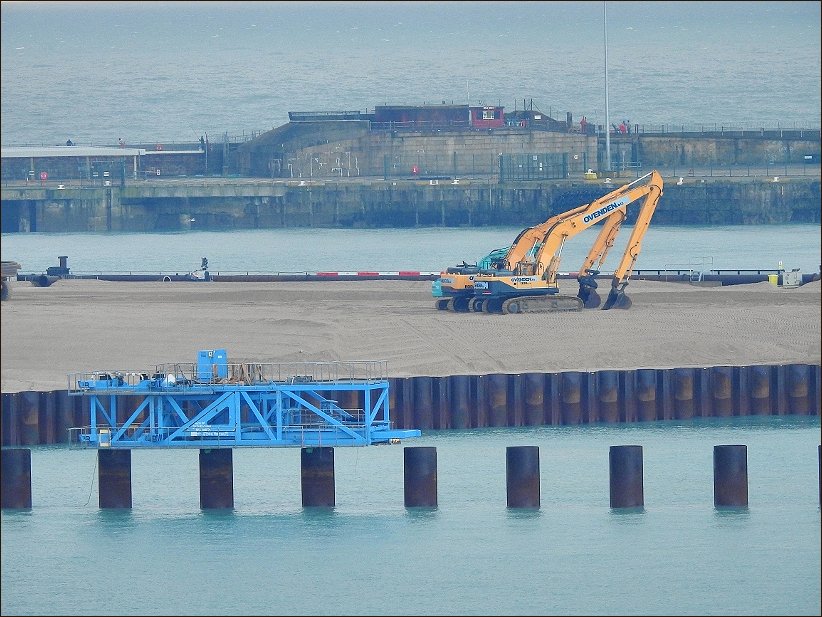 Nice all-round collection and info below from Mike our 'inshore correspondent'

Don't miss those ones...
PaulB.
Thursday, 1 February 2018 - 06:31
Post 4603
Mike J., Dover
Dover lifeboat returning to her berth midday Wednesday after a busy time over the last 18 hours with two 'shouts' & three 'jobs'
Tuesday evening she was sent to Folkestone after reports of someone in the water & from there she went directly to the vicinity of the Sandettie lightvessel to help a disabled yacht.
At about 0900 this morning she was sent, with the Dungeness lifeboat, to a small craft reported drifting off Dungeness.
Eastbourne lifeboat was also involved & TV reports mentioned that a number of [presumed] asylum-seekers from a RIB were landed at Eastbourne.
Interesting AIS tracks of these operations, although they will disappear soon.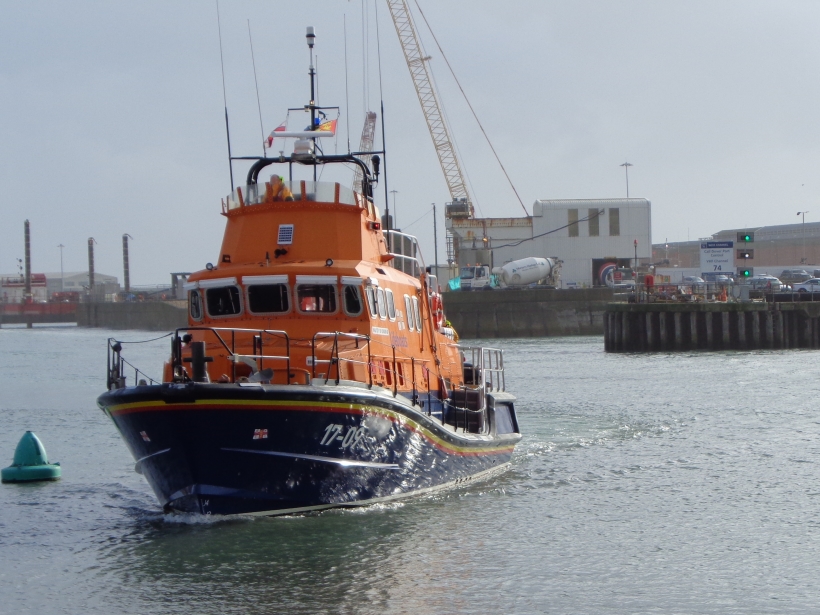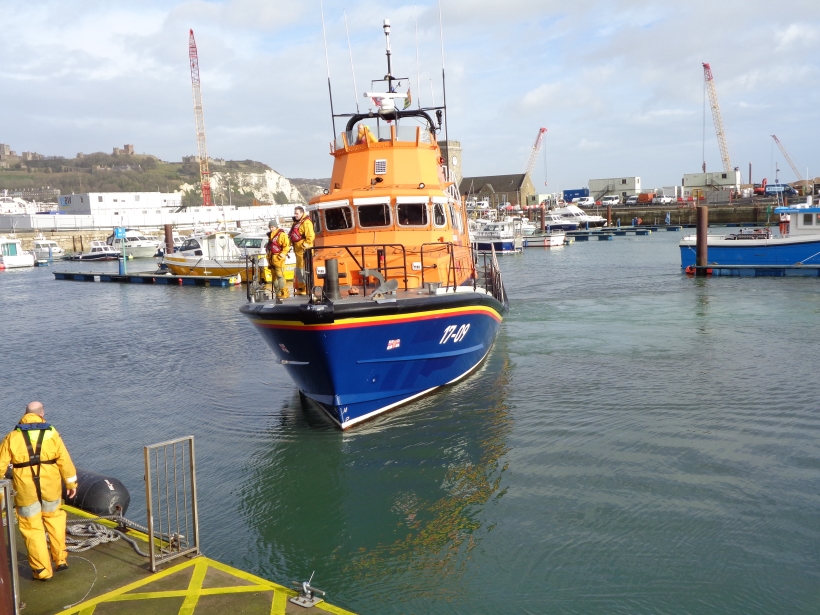 As the lifeboat was being checked-over & readied for service the GRUMPY paid a brief visit to the Crosswall to pick up another DWDR customer.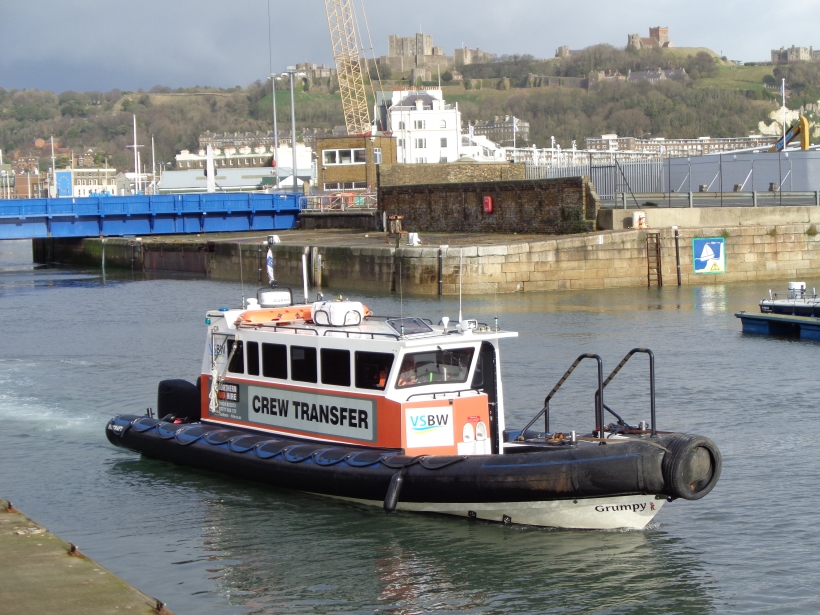 Of the other crewboats the PAMPERO seems to spend a lot of time tied-up recently, perhaps the work has eased off, & the CRC ATLAS rarely shifts from the piling barges, presumably working as a safety boat there & the SMIT YOUNG remains in the Granville Dock.
Thursday, 1 February 2018 - 00:58
Post 4602
Sea News, Dover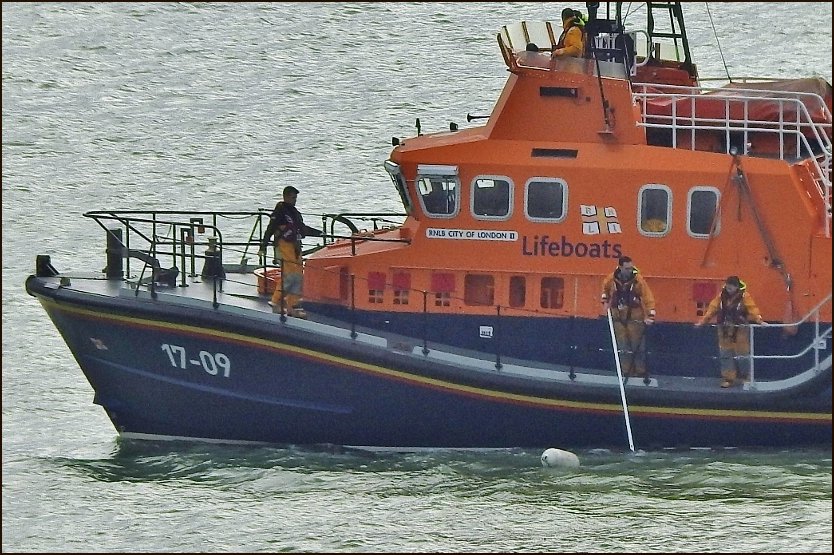 Following along from the Lifeboat post below (4598) when we referred to the guys retrieving a simulated person from the water...there we are with an extra pic above of them doing the necessary. It shows the situation a bit better. I missed this picture in the upload file first time around...
Thanks for that knowledgeable information below Vic...always useful and always welcome.

PB.
Wednesday, 31 January 2018 - 19:31
Post 4601
victor matcham, Dover
That lorry going to Whitfild only does about 4miles per hour with a full load When working building a crane at parkers at Canterbury we had to wait 5 days for one to get to us and then a day just getting it into parkers yard. there is a drivers mate at the back of the long trailer who has a conrol box and he can lift the back up so the trailer can get over the walls great to see how it is all done.

Wednesday, 31 January 2018 - 09:13
Post 4600
Sea News, Dover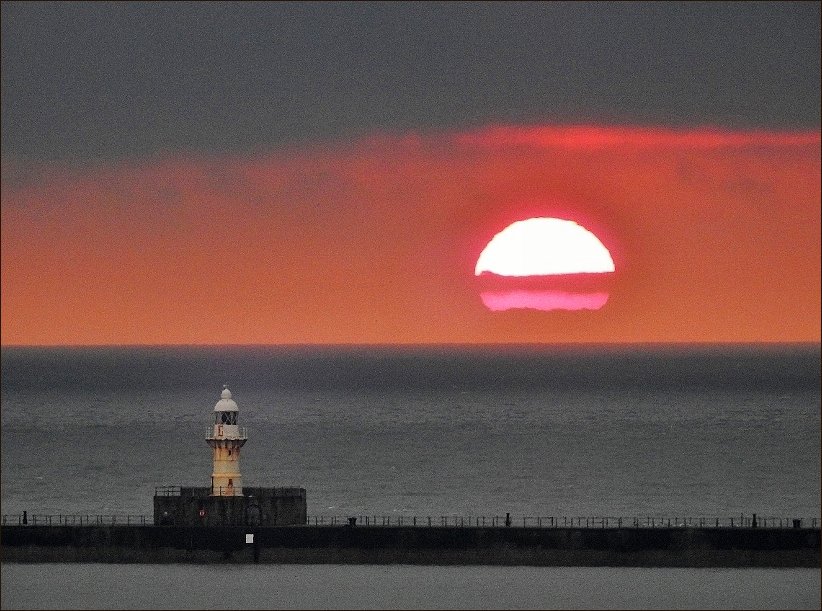 The near exotic sunrise a few days ago. A gorgeous golden red globe rises through the gloom. I thought the shot was semi unique until uploading now and found we had virtually the same thing from exactly 2 years ago...that's it below in January 2016 in the different size picture we were using then. The one above...4 days ago.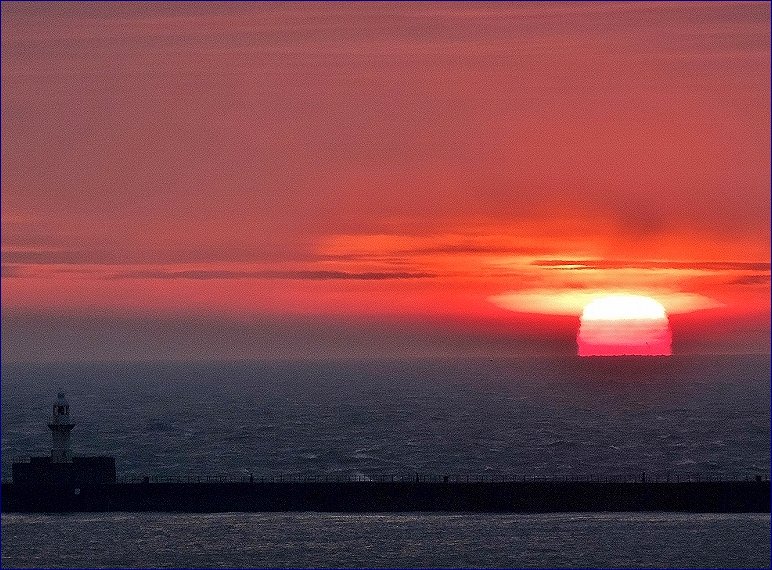 The pounding grinding and drilling goes on...this shot below is from yesterday morning when yours truly noticed a different 'hammer' in operation. As is clear to all I'm sure...yours truly doesn't know his sledgehammer from his jackhammer but the whole thing is fascinating to watch all the same. Great progress is being made and at great speed.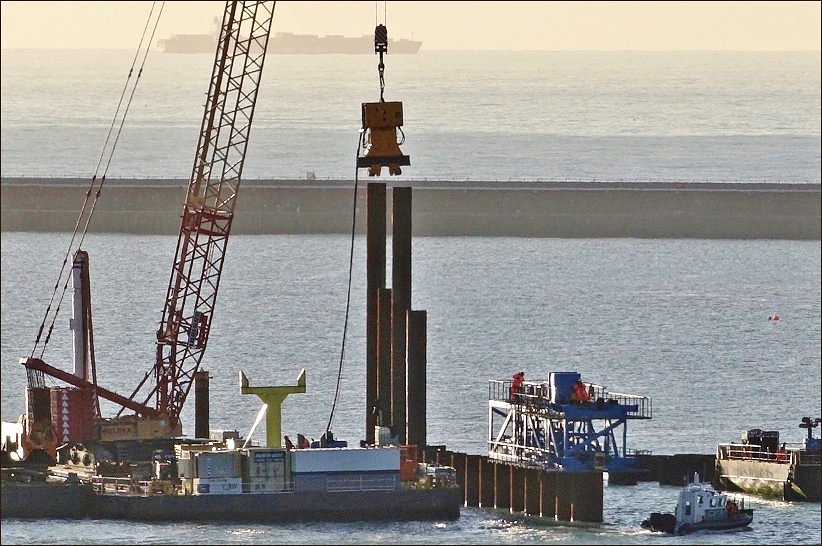 We have had a busy few days at the Cargo Terminal. The picture below shows the Timor Stream. Not a great view of the ship alas but we will do better when the days grow longer and brighter. There have been new callers and that's one of them...doesn't show much of the ship but bear with...we will get there in the end.
Yes indeed a very busy few days. The Geest line now calling too, adding to the busy-ness...we had the Baltic Klipper first while the Atlantic Klipper waited off Deal. Then we had the Atlantic Klipper while Timor Stream waited off Deal...then she was in at last. Now the ship has left us and is on her way to Hamburg.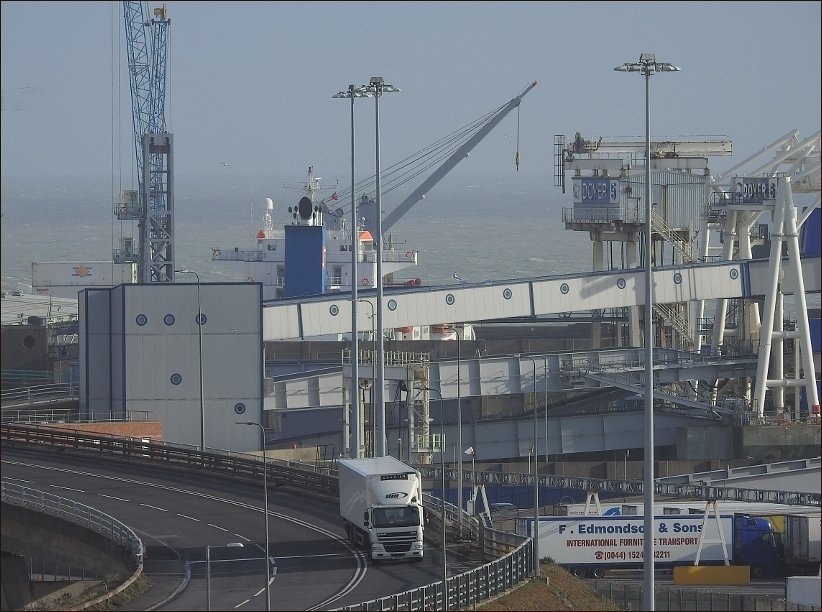 Hi Del...ah yes very slow moving. I think the thing moves a few feet a minute or something...if I see anything happening will let you know but it all happens slowly and in the dead of night. Watching it could be heralded as an instant cure for insomnia.

PaulB
Wednesday, 31 January 2018 - 06:22
Post 4599
Del Styan, Norwich
Several hours to get to Whitfield!! Are they going via North Korea?

Tuesday, 30 January 2018 - 23:17
Post 4598
Sea News, Dover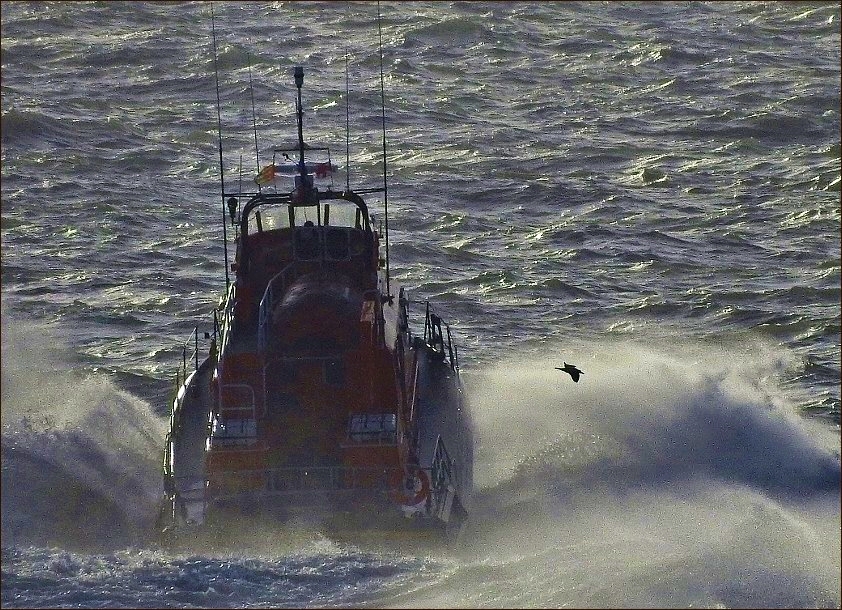 That's the Lifeboat in high speed action on Sunday morning. Just caught her above there as she powered out into the channel at considerable speed. You can see her there blasting through the rough oul surf with considerable panache. We believe they were out on a training session, something they do regularly on a Sunday morning.
From a creative artistic point of view, yours truly would have needed her to pull to the left or right for a better shot....but no doubt they had deeper things on their mind...

Below and its a little time later in the morning, the Lifeboat had returned and was carrying out some exercises in the harbour...there we are below. It looked like they were practising retrieving an object/person from the water.
Always good to see them...
Raising the Roof on New Dover District Leisure Centre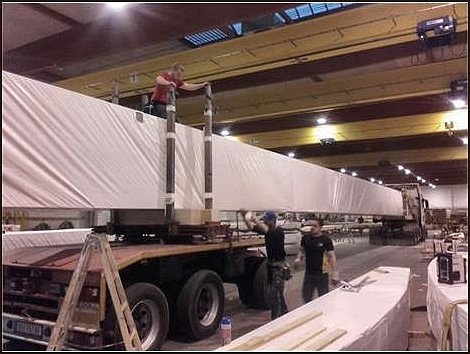 Roof beams for the new £26m Dover District Leisure Centre are set to make their way from the Port of Dover to Whitfield in a special overnight operation on Wednesday, 31 January. The glulam beams have been manufactured by Rubner Holzbau in Austria and are being shipped to Dover by ferry.
Glued laminated timber (glulam) has a high strength to weight ratio ideal for spanning large distances such as swimming pools without the need for columns. Five 34m long, 9 tonne spruce beams will support the roof of the new leisure centre, with a further eight larch columns as a feature of the main entrance canopy.
Transporting the beams from the Eastern Docks Ferry Terminal to the site of the new leisure centre in Whitfield is a major logistical exercise that has taken many months of planning. The abnormal load is expected to leave the port around midnight and will take several hours to reach Whitfield. Motorists are advised to avoid the route of the convoy which will be accompanied by escort vehicles.
Cllr Trevor Bartlett, portfolio holder for property management, said: "The delivery of the roof beams is another exciting phase in the construction of the district's new leisure centre. The use of PEFC* certified glulam beams is a great example of how we're striving towards a very good BREEAM rating for the building by using sustainable materials."
ENDS
PaulB
Tuesday, 30 January 2018 - 05:52
Post 4597
Sea News, Dover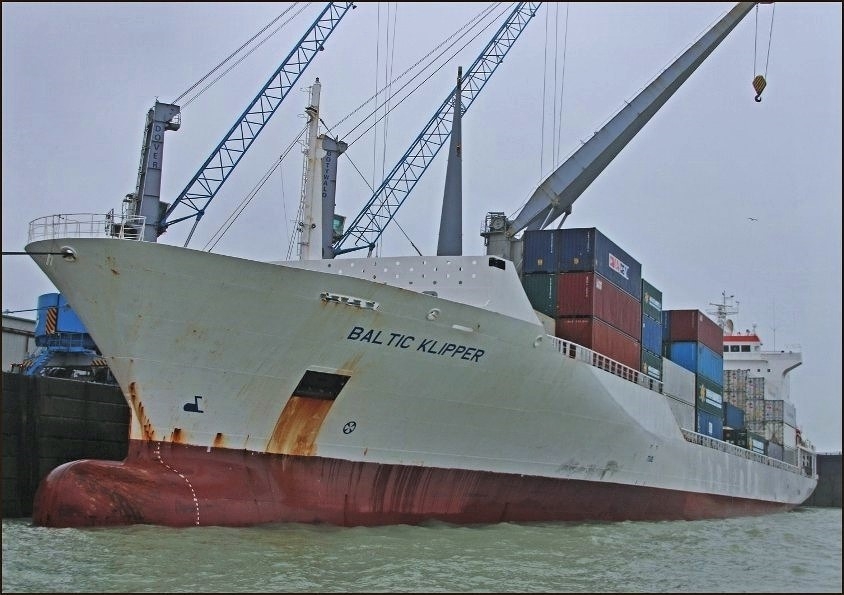 Geest Line's Dover arrival heralds new era of trade links
_________________________________________________


The Port of Dover has welcomed its first Geest Line vessel, heralding the start of a long-term partnership with the expanding Europe-to-Caribbean freight firm.
The 14,000-ton Baltic Klipper is the first of a newly strengthened fleet of five Geest Line ships to discharge its eastbound fruit cargo in Kent following loading in Colombia and the Dominican Republic.
The call follows a relocation of the firm's south of England cargo handling from Portsmouth, prompted by the need to accommodate a revised rotation schedule and more shipping capacity.
Geest Line initially joins other commercial shipping lines operating from Dover's eastern docks cargo terminal.
Operations will move to new, state-of-the-art specialist handling facilities at the western docks once a major development project is completed in 2019.
Captain Peter Dixon, Managing Director of Geest Line, who was dockside when the Baltic Klipper came in, said:
"The arrival of our first vessel is truly the start of a new era of imports and exports for UK and European trade through Dover. As well as being able to handle our requirements immediately, Dover offers the prospect of further growth through its exciting port development on the western docks. This potential makes Dover an ideal partner for Geest Line operations."
Captain Dixon added:
"Our move to Dover has been achieved and accommodated smoothly and professionally thanks to the Port of Dover and our agents George Hammond plc. They couldn't have been more helpful. The welcome we have had has been extremely positive and we look forward to being an active member of the port community here."
Geest Line's move is good news for the Port of Dover which already supports 22,000 jobs, many of them in east Kent.
Barbara Buczek, the Port's Director of Corporate Development and Operational Business, said:
"Geest Line's fleet expansion and increased capacity have inevitably changed the necessary logistics for their transatlantic sailings, inter-island stops in the Caribbean and European calls. We're delighted that the Port of Dover is their choice for cargo operations in the south of England.
"We look forward to a long, positive relationship with Geest Line as we grow our cargo facilities with Dover Western Docks Revival providing ongoing employment stability and significant future job creation opportunities as well as facilitating a prosperous outlook for the economy."
The move to Dover comes as Geest Line replaces its fleet of four charter vessels with five larger and newer ships, increasing container and breakbulk capacity by over 40%.
As well as the Baltic Klipper, the new vessels, all chartered from Seatrade, are the Lombok Strait, Luzon Strait, Atlantic Klipper and Royal Klipper.
Two port calls in Colombia have been added for fruit loading while a new stop at Flushing in The Netherlands will help with northern European freight handling.
Headquartered in Fareham, Hampshire, Geest Line handles all kinds of general cargo from tiny perishables to large project machinery, returning from the Caribbean with fruit, mainly bananas, for markets in the UK and across Europe.
ENDS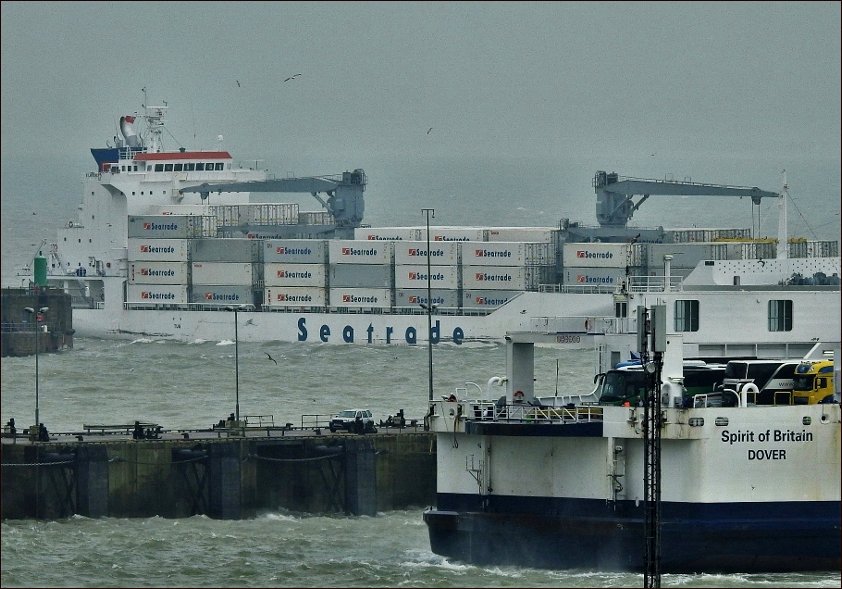 The Atlantic Klipper arriving above there at a previous time. She has been in Port for the past couple of days. ..
Top shot shows the Baltic Klipper.

* *
Ah..tis great to see the kids out sailing despite the January conditions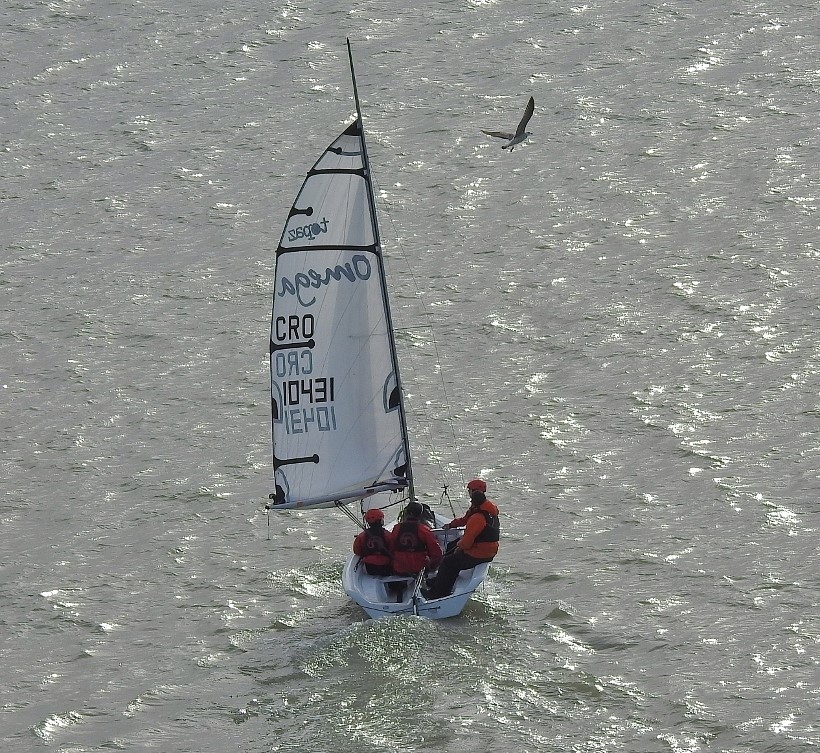 Great news above there re GEEST. Very welcome.

Ace posts below there from Sarah and Mike. Cracking stuff all round. Well done teamsters


Great pictures to enjoy below there.
Yours truly is lucky this morning to be able to get a post up at all...plagued with TALK TALK outages currently Grrrrr
PaulB

Monday, 29 January 2018 - 07:05
Post 4596
Sarah, Ramsgate
Following on from Mike's post, Victor Freeman had to come into Ramsgate after departing from Dover as she had engine trouble. After a spell getting her going again she later departed to Harwich then on to Walton.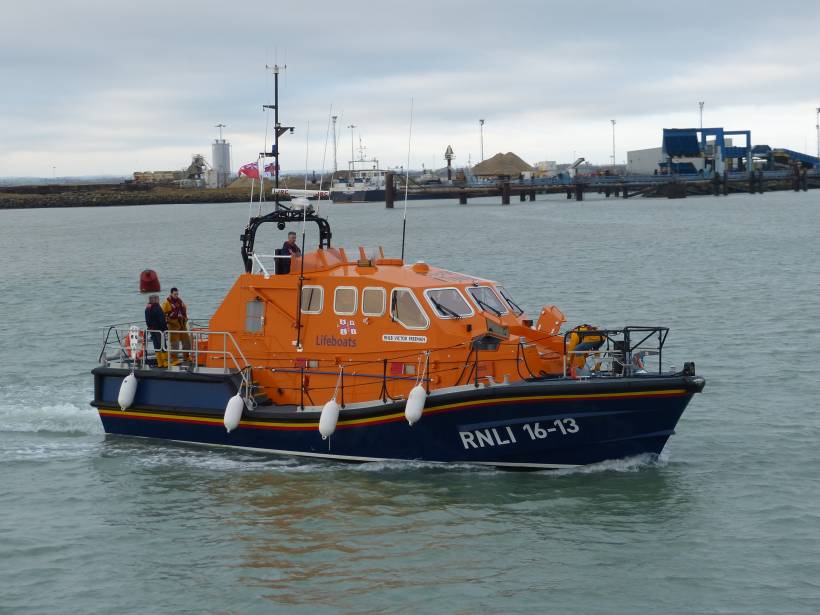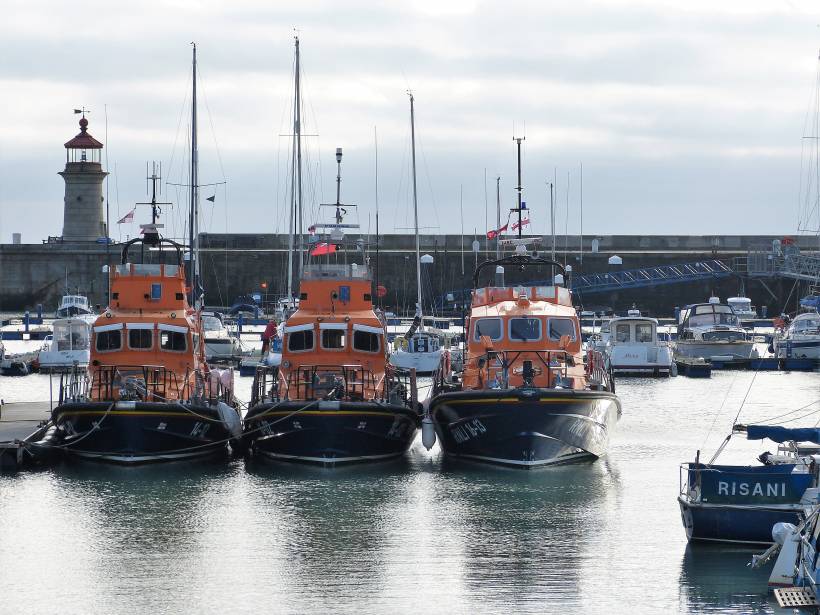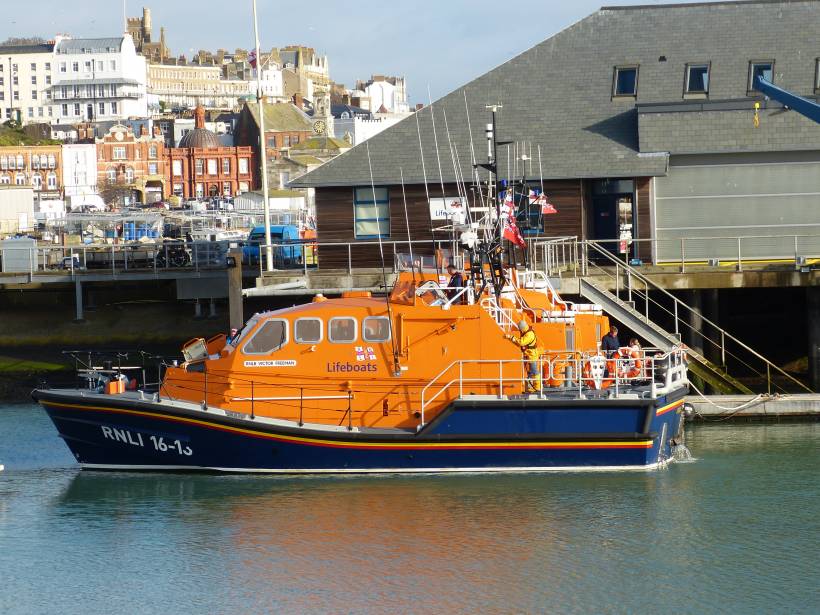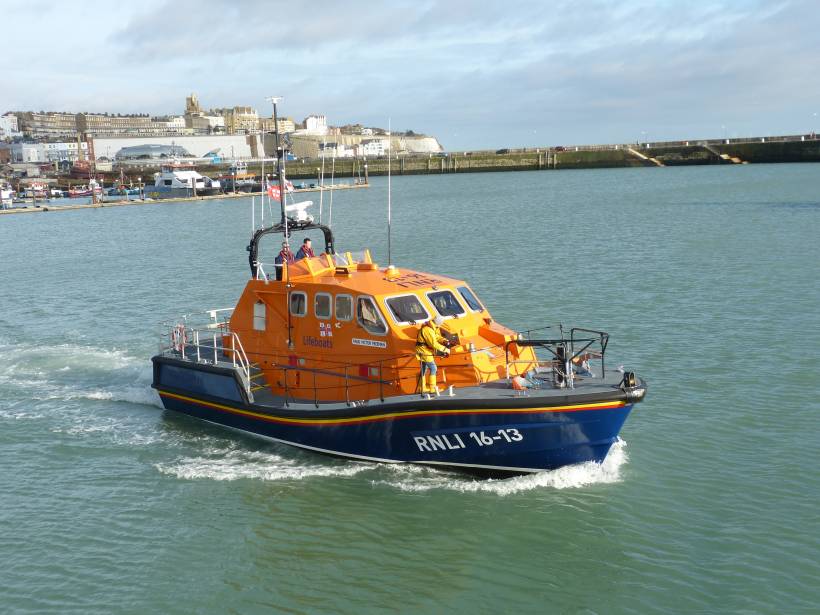 St. Brendan/Irish Mist departed today. Count the number of lifeboats in this photo.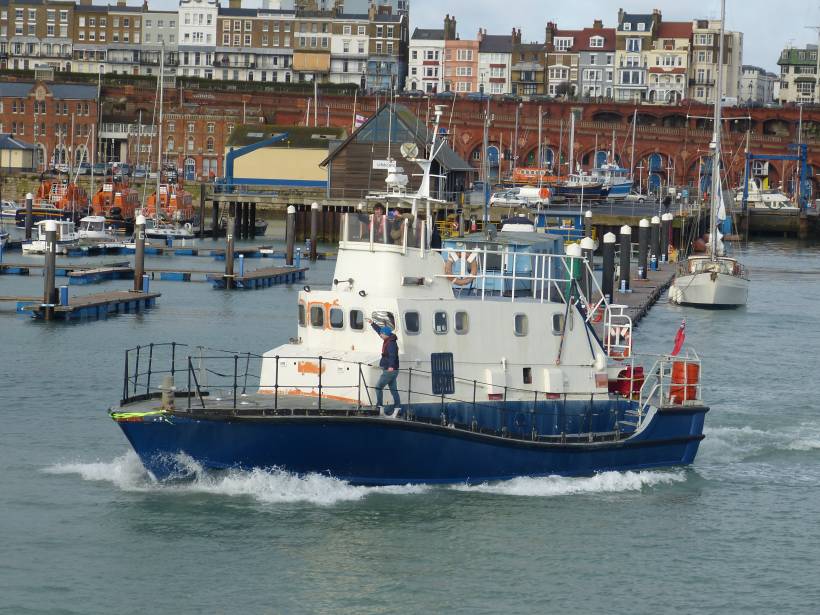 Sunday, 28 January 2018 - 22:40
Post 4595
Mike J., Dover
Tidal Basin, Sunday morning , with PORTIA coming alongside the pontoon to collect an angling party whilst astern of her reserve 'Tamar' lifeboat 16-13 VICTOR FREEMAN was overnighting after arriving Dover Saturday evening from Poole.
16-13 was en route Walton & has now arrived,calling briefly at Ramsgate & taking fuel at Harwich.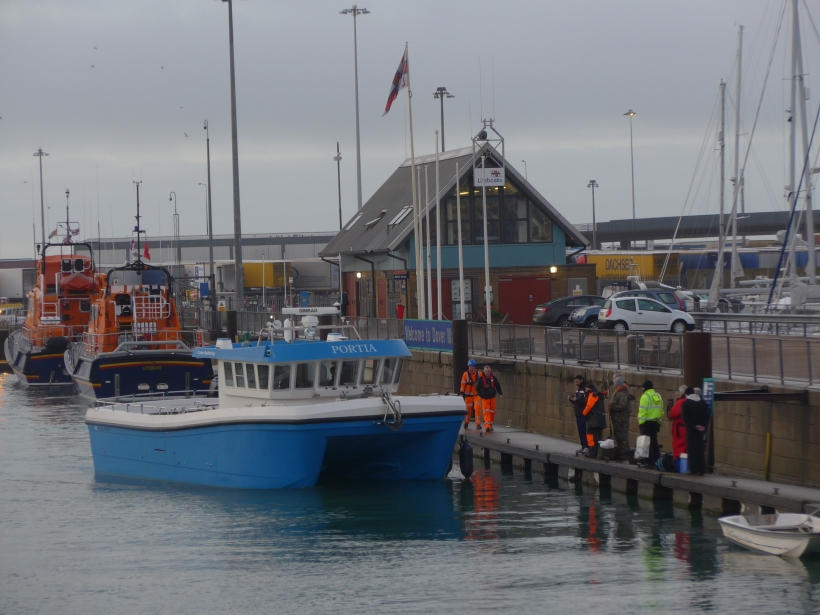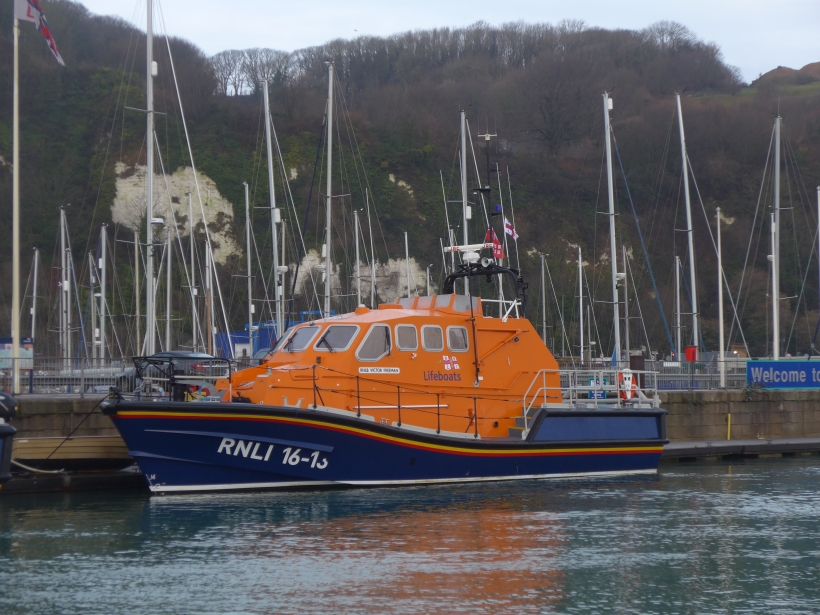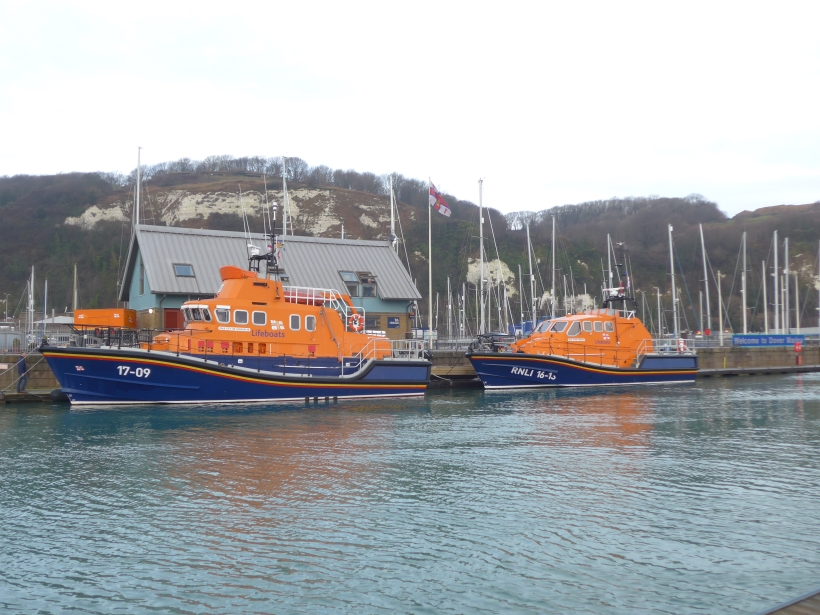 PAMPERO & ALERT were moored in the Tidal Basin - the ALERT later sailed.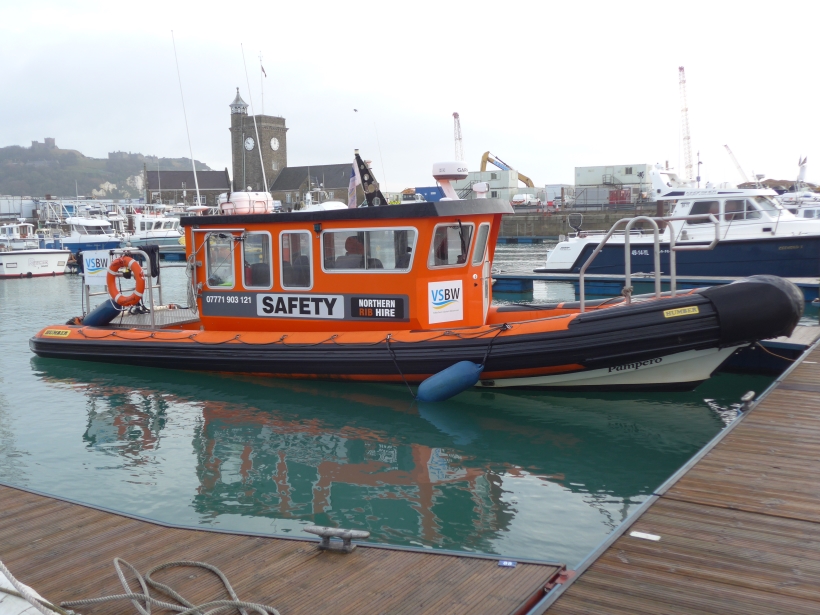 The SMIT YOUNG, usually in the Tidal Basin, had retreated to a corner of the Granville Dock, presumably temporarily not needed as the BARENT ZANEN is currently in Rotterdam.
Our old friend the NAS PATHFINDER [hopefully with the PUMA in tow] continues to make slow progress towards the Mediteranean & at 2030 was south of Swanage doing 2.5 knots.
Earlier in the day she was stopped.
Sunday, 28 January 2018 - 21:29
Post 4594
Sea News, Dover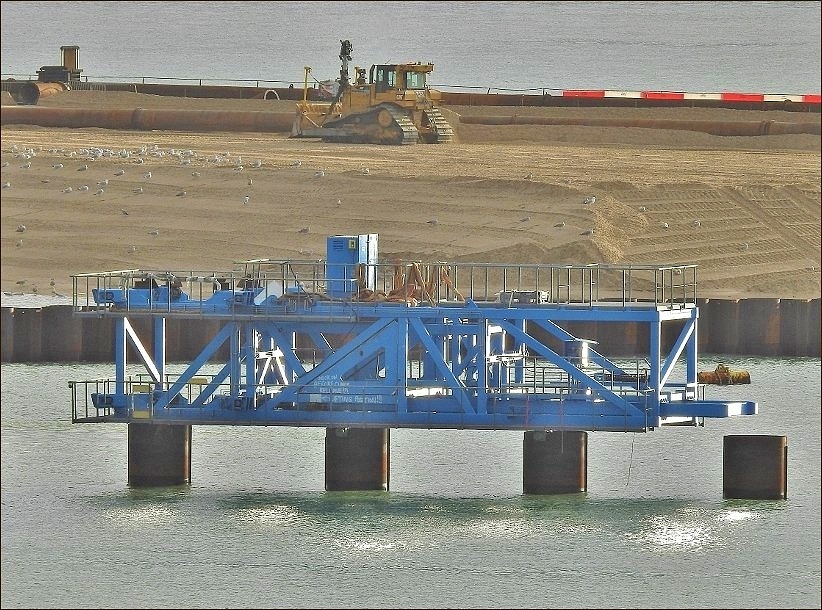 Another picture above there of the piling safety/efficiency device we featured recently in posts 4509 and 4571. a fascinating device for sure...see the earlier posts with more detail. In the background you can see our new 'land mass' as the digger smooths out the sand delivery. There were other mechanical monsters just out of shot.
The picture below, taken yesterday Saturday morning, shows the aforementioned device in use...as another two giant pilings are steadied for pounding. These ones quite close to the 'observation tower'.. a chap gets used to the noise...eventually.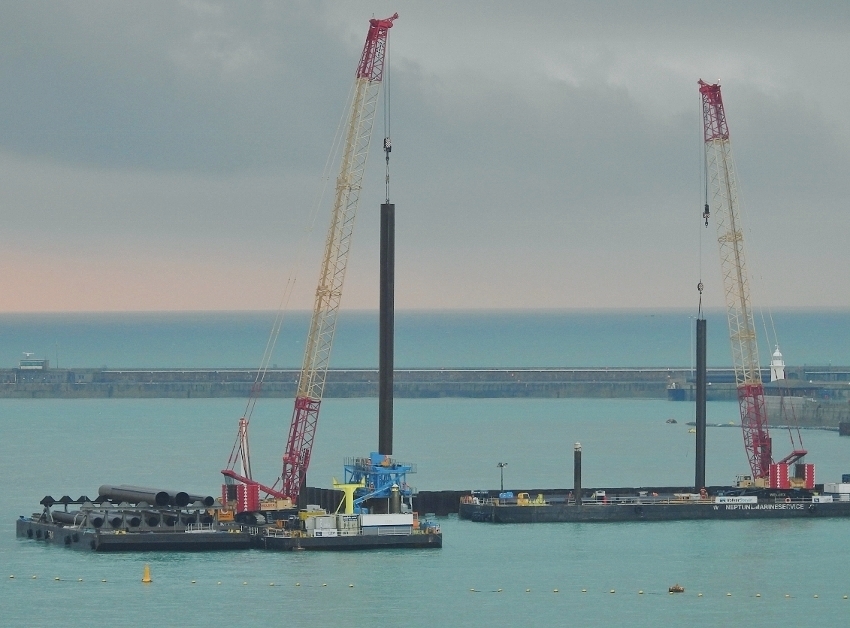 This picture below shows the newly arrived workgang at the tip of the Admiralty Pier. These were pictured 2 to 3 days ago. Much work going on all over the place at the moment - no stone unturned.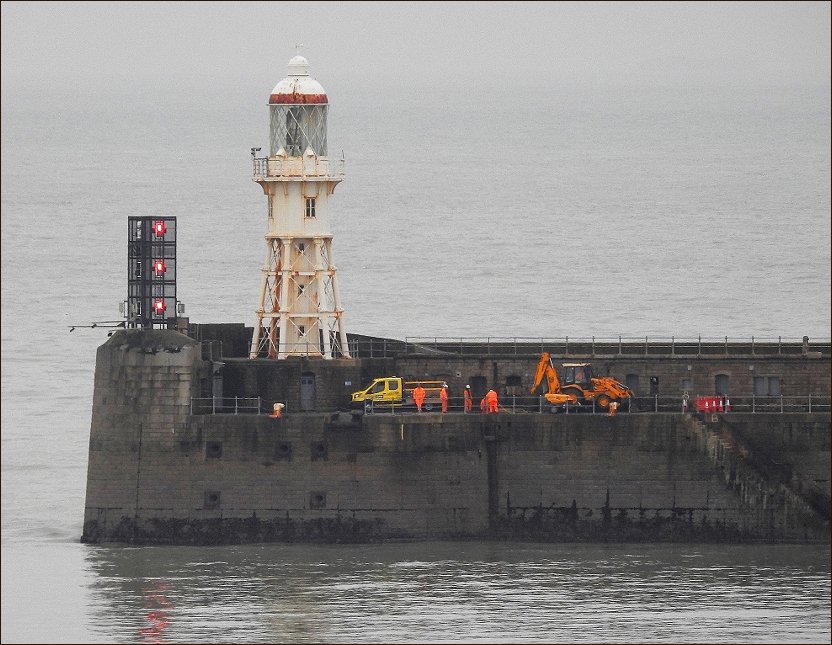 Well done with post 4592 below Mike. It was a long stint down there on the Admiralty Pier...sorry you missed the tugs but nice shots below all round. Glad you could get a hot drink down there...

Great and enjoyable pictures below there Sarah of the former Rosslare Lifeboat, all the way from 'de emerald oisle', great to see that one arriving...fascinating pix for sure.

Sunday, 28 January 2018 - 06:21
Post 4593
Sarah, Ramsgate
Ex Rosslare Harbour Lifeboat arriving at Ramsgate today to overnight.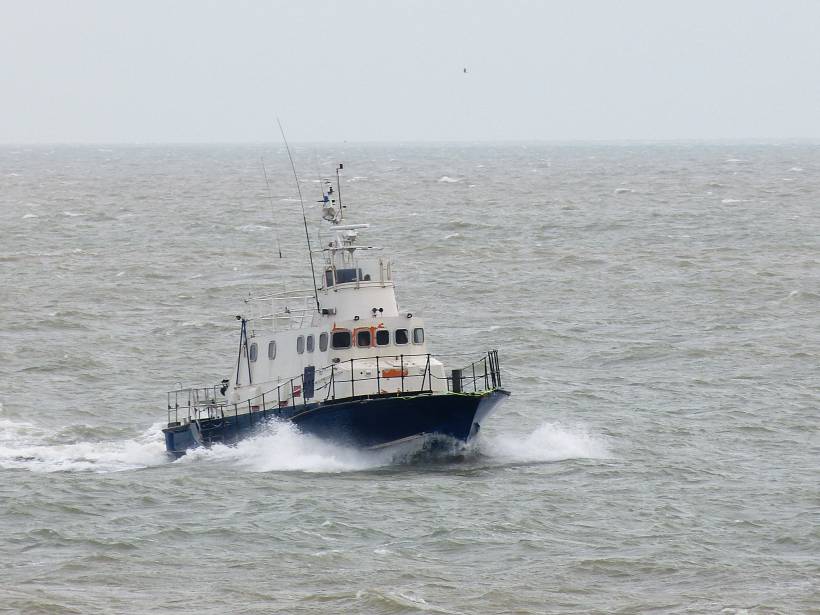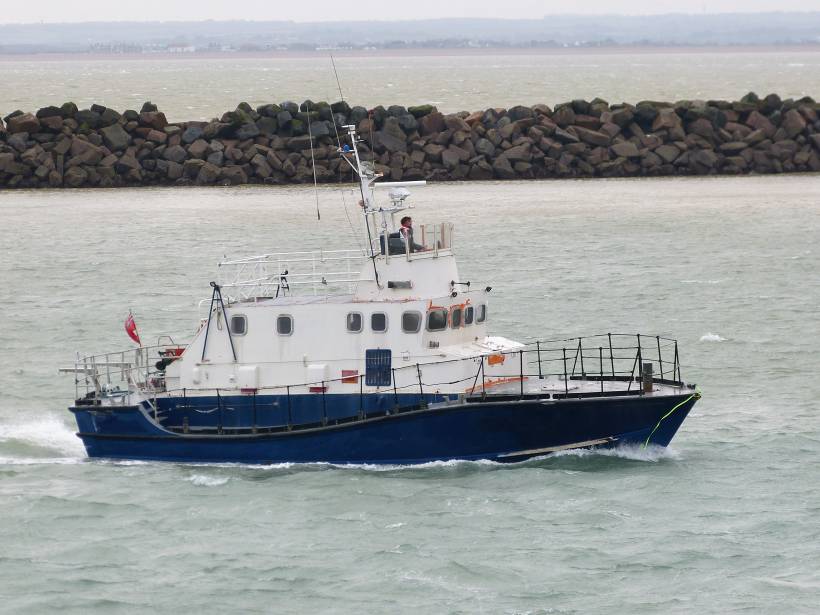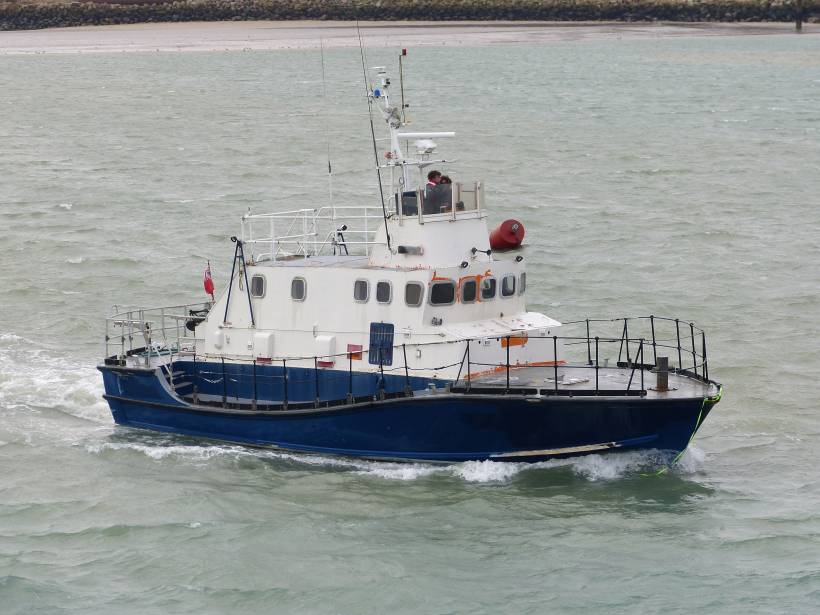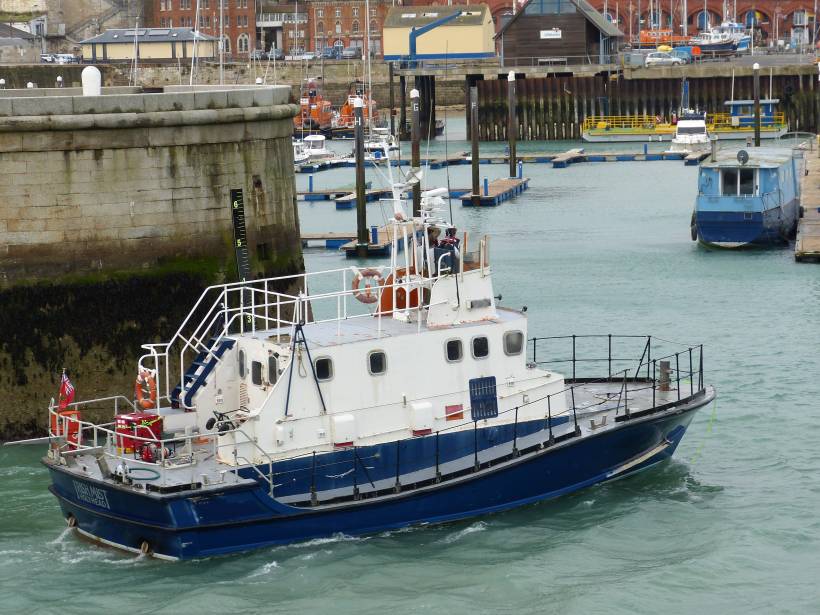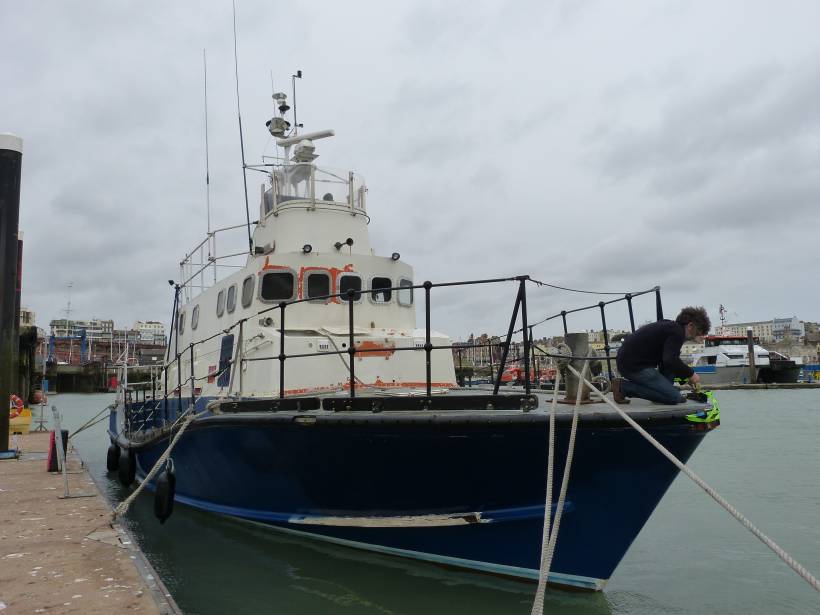 Saturday, 27 January 2018 - 22:09
Post 4592
Mike J., Dover
Two 'reliable sources' had told me that the PUMA & NAS PATHFINDER were expected sail at 1200 so I was out at the Turret on the Ad.Pier in good time.
Things looked hopeful as the pilot launch came out soon after I arrived & laid alongside the PATHFINDER & a linesman was waiting on the quay.
However after about 30 minutes the pilot boat departed as did the linesman so there was obviously a delay.
I stayed on for a few hours, with optimism fading with the temperature & amusing myself with passing traffic.
Fortunately 'Mels Shack' at the Turret was open for life-saving coffee, but sadly no bacon rolls.
With no sign of any action & the light starting to fade I gave up.
A pity to miss the departure of two interesting tugs.
Later, watching on AIS, they sailed about 2030 with the DOUGHTY seeing them off the premises.
By midnight the little convoy was approaching Dungeness at a blistering 4 knots & I wonder what adventures will befall them during the long trip ahead.
Word on the street has the PUMA bound for scrap.
Border Agency ALERT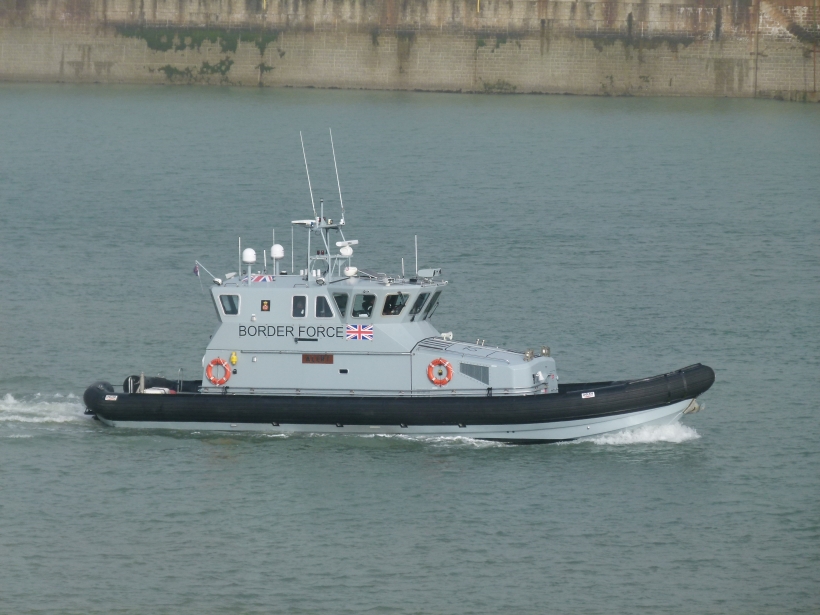 AFON LLIGWY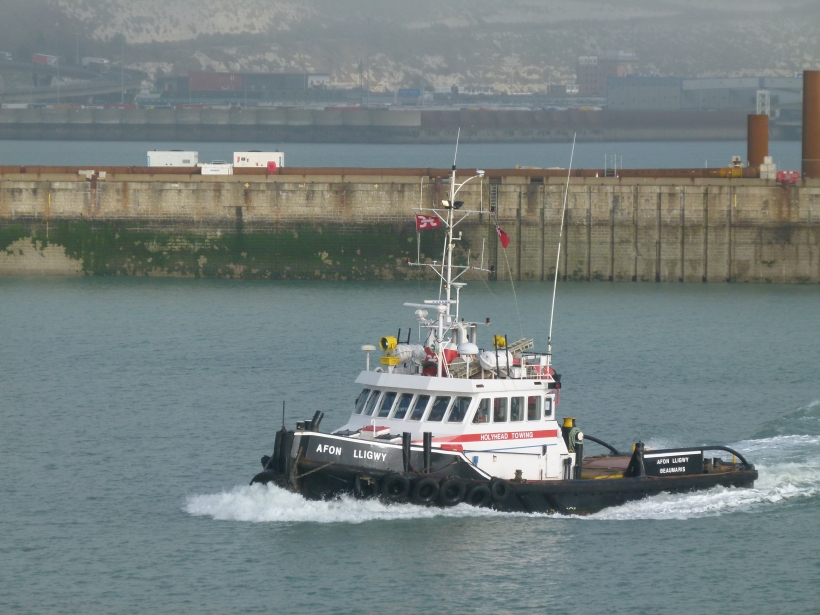 Barge shift & SMIT STOUR returning after a spot of surveying off the port.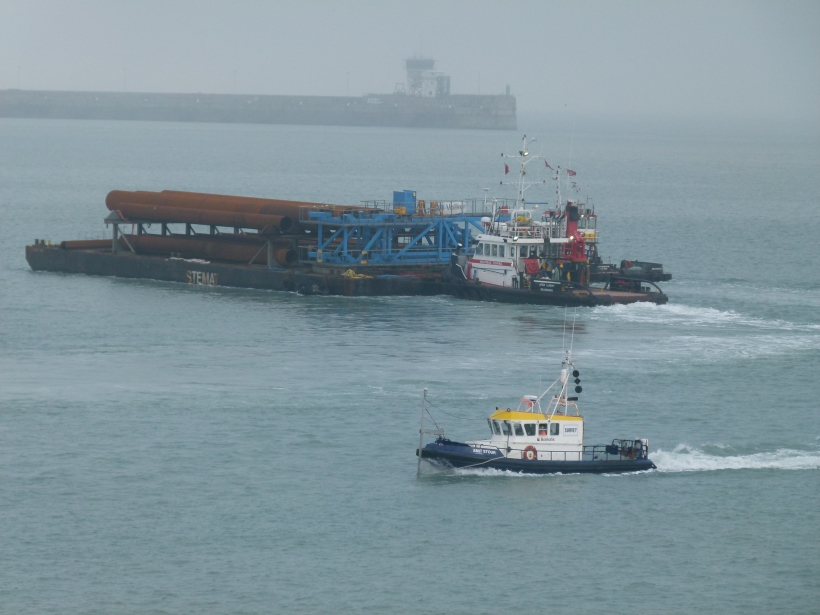 Guess . . . . .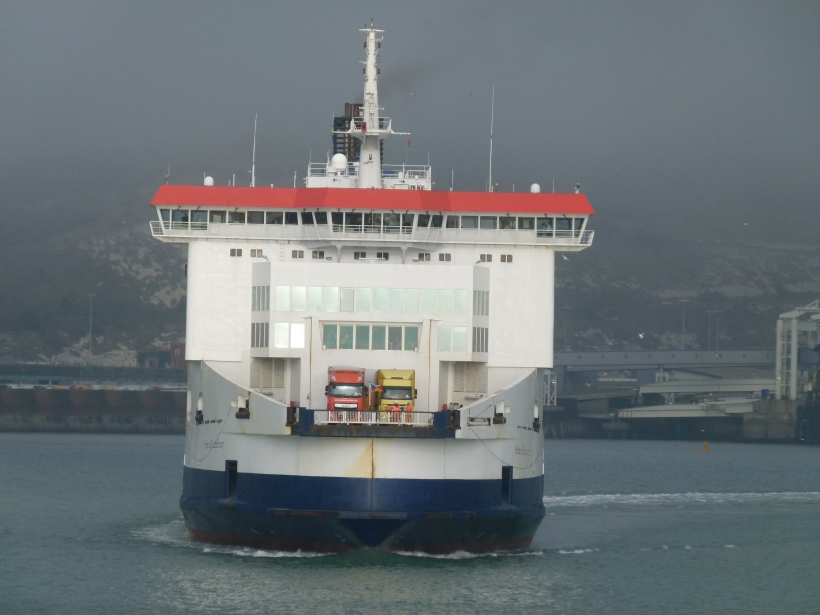 My ship is so small . . . . . angling boat SEREN outward bound.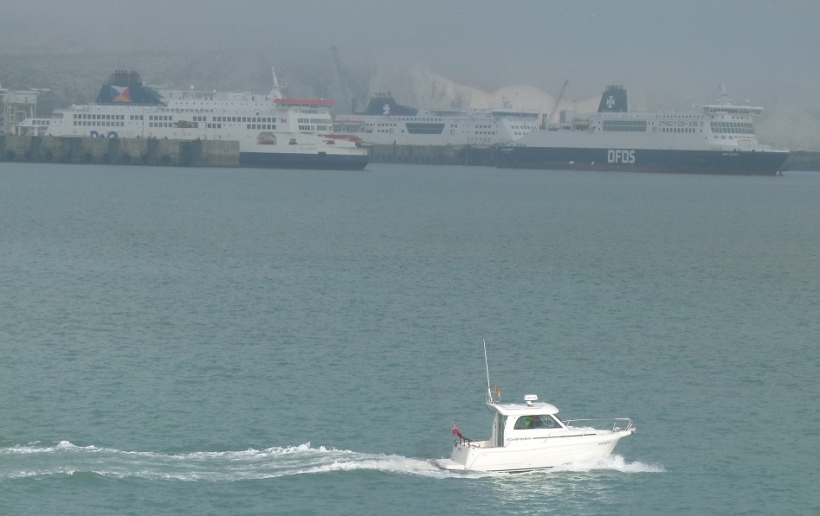 Saturday, 27 January 2018 - 00:37