Wednesday, 25 April 2018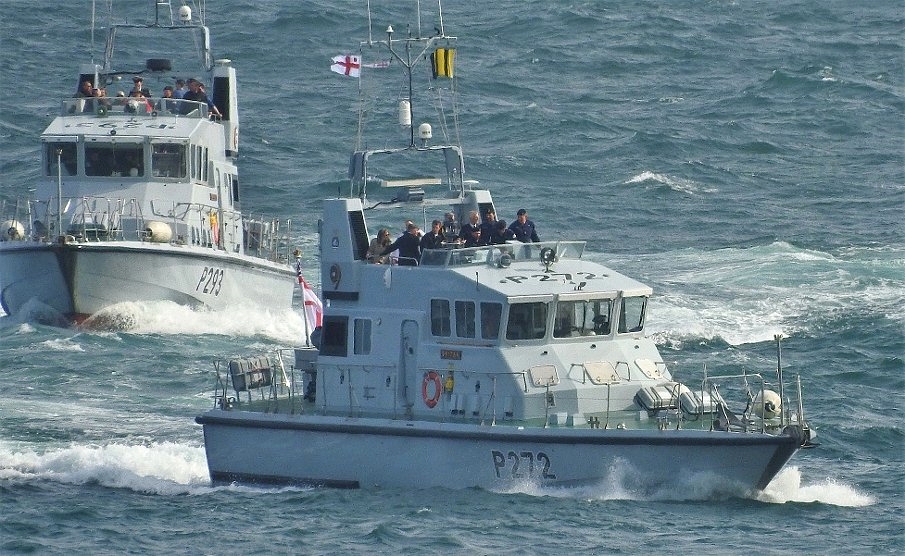 HMS Smiter and HMS Ranger approaching the Port of Dover in choppy seas Monday afternoon 3pm exactly....

doverforum.com/sea-news
Doverforum.com: Featuring all the ships that come and go and work at the Port of Dover with further coverage of the surrounding towns both sides of the Channel. Email: dover7@msn.com to send SEA NEWS pix or info.... or click ADD YOUR COMMENT below to post direct, no membership needed.

Port's Chief Executive TIM WAGGOTT RESIGNS see 4778
_______________________________________________________

P&O FERRIES presents big cash to RNLI Dover...see 4829.
P&O FERRIES recruiting...4745.
PORT of DOVER awards Cargo Refrigeration Contract see 4740.
PORT OF DOVER: Community Benefit 4688
TRADING GROWTH FOR DFDS DESPITE BREXIT see 4642
PORT OF DOVER RECORD FREIGHT see 4551.
PORT OF DOVER: GEEST LINE arrival see 4597.
SECOND FEMALE CAPTAIN FOR P&O see 4608.
Sea News Dover : Use our SEARCH ENGINE below to find all sorts on the SEA NEWS pages..more than 240 now with more than 4750 nautical posts. Posts welcome. Max of 5 pictures preferred per post.
Type CRUISE VISITS in our SEARCH ENGINE below for news of the latest arrivals.
Sea News Editor Paul Boland - dover7@msn.com .
Post 4785
Sea News, Dover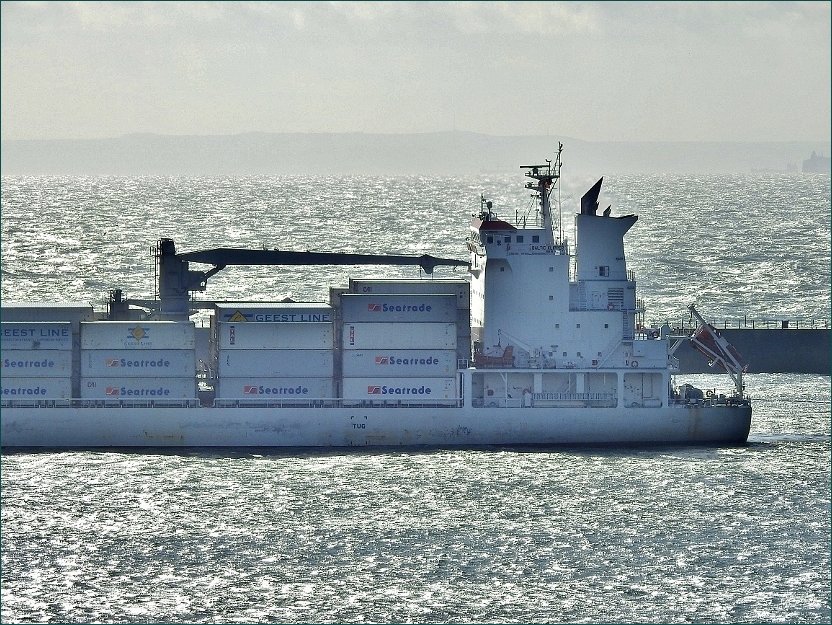 That's a picture above there of Baltic Klipper arriving yesterday mid morning. Unfortunately .. the blinding light reflecting off the water made it near impossible, for a better overall picture see Ed's shot in 4780.
Last night there was a huge and impressive walk along the seafront in support of those with Breast Cancer. The seafront was blocked off for most of the day while they readied for the event. Then Dover Castle went red/pink in support... a very impressive walk indeed with literally hundreds and hundreds of people.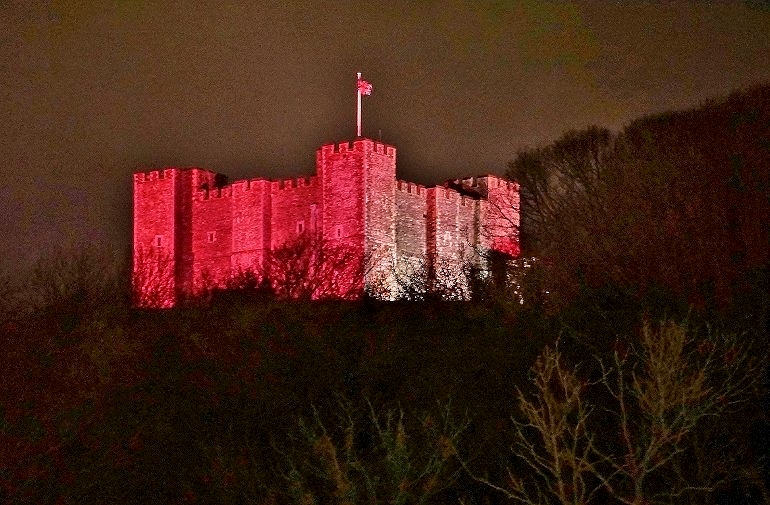 As mentioned above .. see Ed's shot of Baltic Klipper further below. Nice one Ed

Well done Ted re that collection from Granville Dock. David did well there. Fascinating stuff!

Colette thanks for that LIST again. Great info there...Albatross is approaching as I write... well done.

Glad you like that one Del...lots more to come ..

Thanks for that info Vic.

PaulB
Sunday, 1 April 2018 - 07:12
Post 4784
Del Styan, Norwich
Love the shot 4779, showing in detail the Opal Coast in the background. Your long distance shots from the Observation Tower really narrow the distance between the French coast and us.

Saturday, 31 March 2018 - 23:22
Post 4783
Colette B, Dover
CRUISE VISITS
____________
I can't believe it's April already
and we have a 'Bevy of Beauties' visiting the port this week.
We start tomorrow, Sunday 1st April, (All Fools Day) with Albatros seen here in May last year.
She is calling in from Hamburg on her 7 night Easter English Channel cruise, arriving here at CT1 08.00 hours, visiting Le Havre, Portland, Zeebrugge, Ijmuiden before dropping anchor back in Hamburg. She leaves us at 20.00 hours, PoC.
She has just returned after a whopping 100 night cruise from South America to her home port of Hamburg, Wowser!

Then on Tuesday 3rd April, once more we have the old girl herself, Boudicca, arriving at CT2 06.30 hours before setting off on a 10 night Round trip of the German Waterways. Calling at Hamburg, Kiel, Travemunde, Warnemunde-Rostock then back through the Kiel Canal on to Bremerhaven before her return to Dover. She departs at 17.00 hours, T/R.
Some good friends of mine are on this cruise and are looking forward to a day trip visiting Berlin

The following day Wednesday 4th April we welcome back another smiling face, AIDAsol, arriving at CT2 at 08.00 hours, last seen here in August 2017. She is on her way to her home port of Hamburg via Amsterdam on her 13 night cruise from Las Palmas in the Canary Islands after calling at ports in Spain, Portugal and France. She leaves us at 20.00 hours, PoC.
Beautiful Sunrise photo MrB, very fitting for Eastertime. Happy Easter to everyone

See you soon...

Saturday, 31 March 2018 - 19:46
Post 4782
victor matcham, dover
Great photos of the old docks and dockside cranes and yes it was part of my job at the time to keep maintenance and the welding up to working standard which I done at weekends.

Saturday, 31 March 2018 - 16:00
Post 4781
Ted Ingham, Canterbury
'FIVE IN THE GRANVILLE'
Five coasters that were regular visitors to the Granville Dock.
The Ardingly,Argus Pride,Christopher M, Glen Cree and the Luminence.
As part of the DWDR this will eventually be filled.
All photographs taken by my brother David.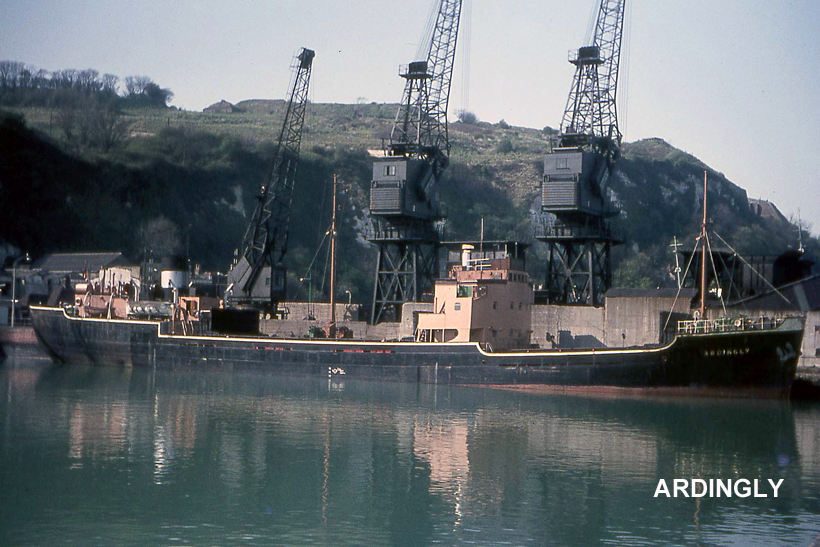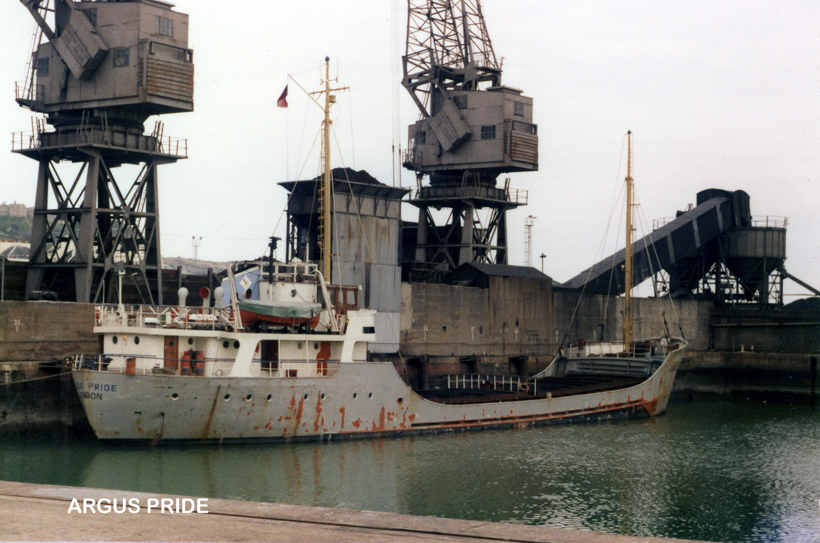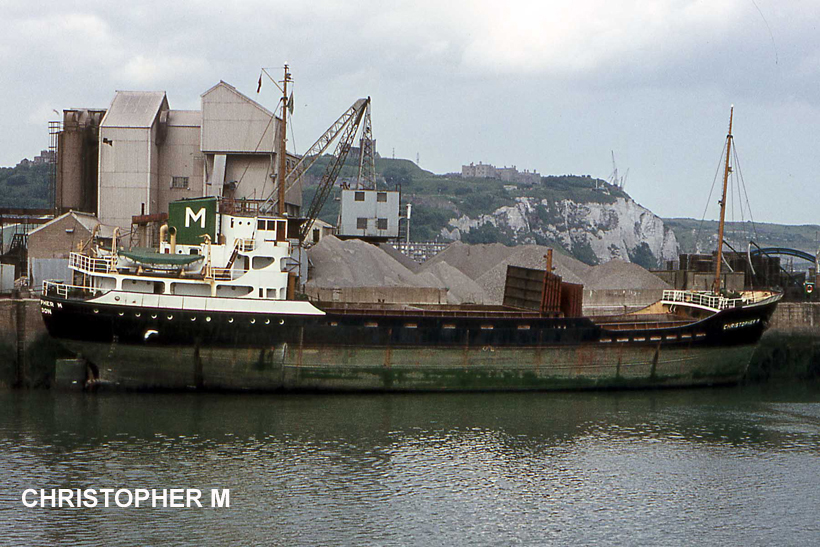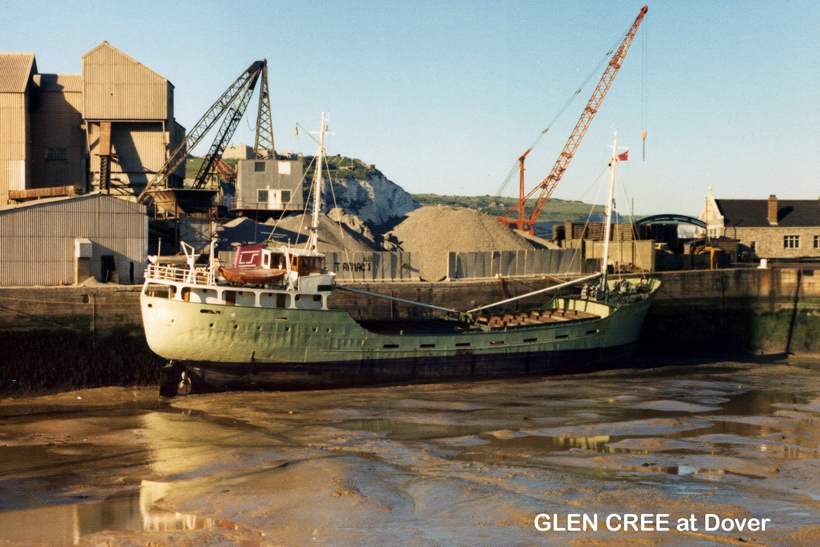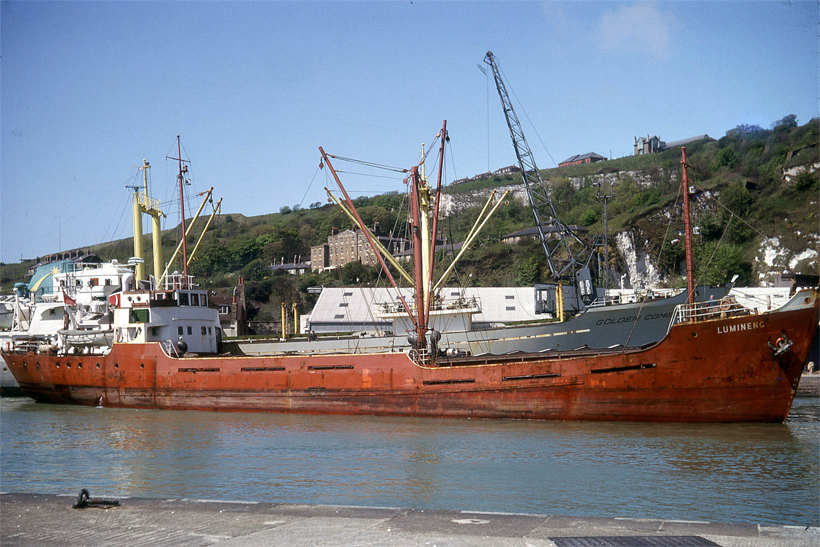 Saturday, 31 March 2018 - 15:43
Post 4780
Ed Connell, Dover Strait
Baltic Klipper at the DCT today.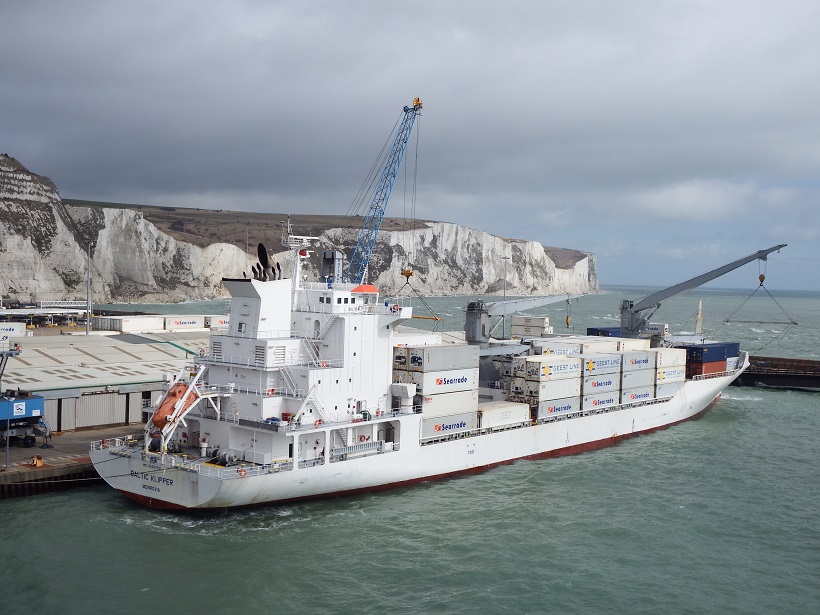 Saturday, 31 March 2018 - 12:05
Post 4779
Sea News, Dover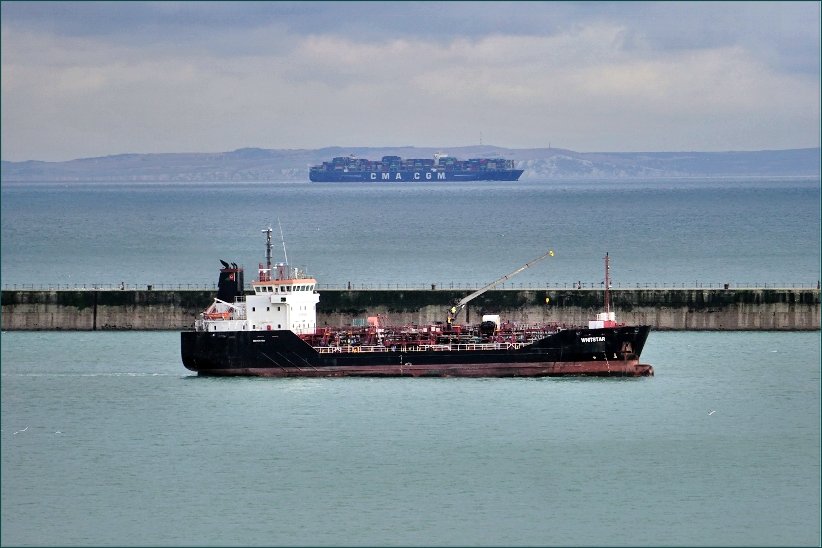 Shortly after the arrival of Boudicca the other day...Whitstar above came into view and into Port. She had come to supply bunkering services to the aforementioned cruise ship and she did indeed. In the far distance there you can see one of those great CMA CGM monsters going down the channel. Alas yours truly didn't get the name of that one - made a mental note to do it...but...simply forgot. Grrrrrrr..
And then in due course Boudicca was off on her mysterious 'mystery cruise' and hopefully they are all having a jolly good time of it onboard.
Yes she's leaving .. and just as the pictures were being taken, camera A runs out of memory. 'Oh fiddles' says I, or words to that effect... camera B then hurriedly comes into play. Note the different colour balance.
Anyway , we got there in the end.... sort of..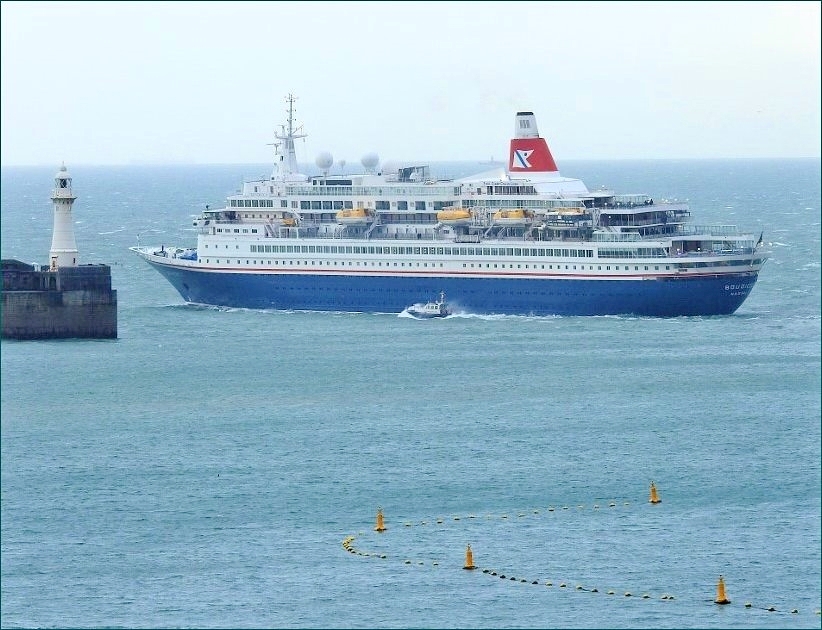 PaulB
Saturday, 31 March 2018 - 04:44
Post 4778
Sea News, Dover
Chief Executive Tim Waggott has decided to leave the Port of Dover at Easter to pursue new opportunities
_____________________________________________________________________________________________
Tim Waggott has decided to leave the Port of Dover at Easter to pursue new opportunities following more than a decade of service to the organisation in various positions, and as Chief Executive since 2013.
Chairman Richard Everitt said, "Tim has led a number of successful initiatives including securing new powers, commencing the transformational Western Docks development, raising the profile of the Port (particularly in relation to Brexit), delivering improved community relations, and coping with many challenges to consistently deliver record volumes of freight traffic."
Mr Waggott said "It has been a great privilege to work at the Port of Dover. I have had an incredible journey and made many friends who I thank wholeheartedly for their support. I am proud of the achievements of the entire team and I know they will go on to be ever more successful in delivering for future generations."
The port continues to be run by a strong executive team under the direction of the board.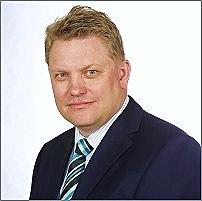 Friday, 30 March 2018 - 06:07
Post 4777
Sea News, Dover
Some further pictures of the arrival of Boudicca ...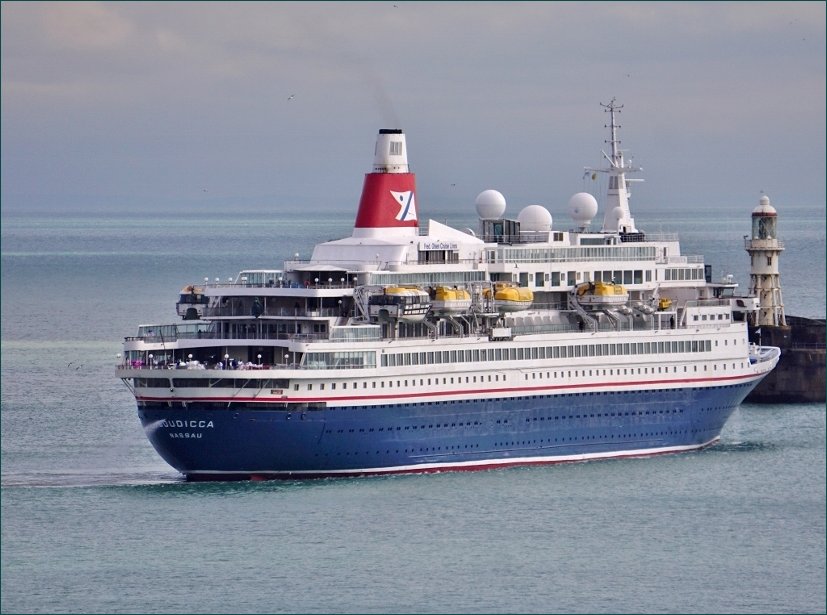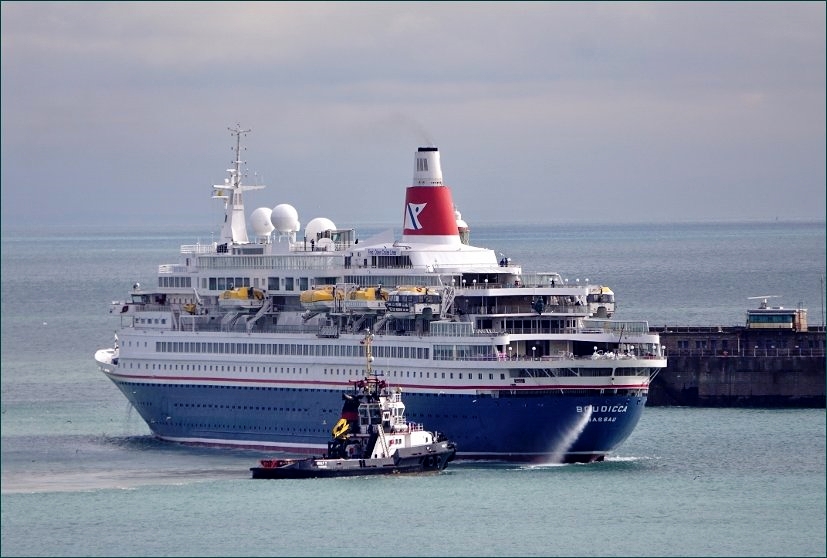 Friday, 30 March 2018 - 06:02
Post 4776
vic matcham, dover
Who is going to take over the running of it all now?

Thursday, 29 March 2018 - 16:40
Post 4775
Sea News, Dover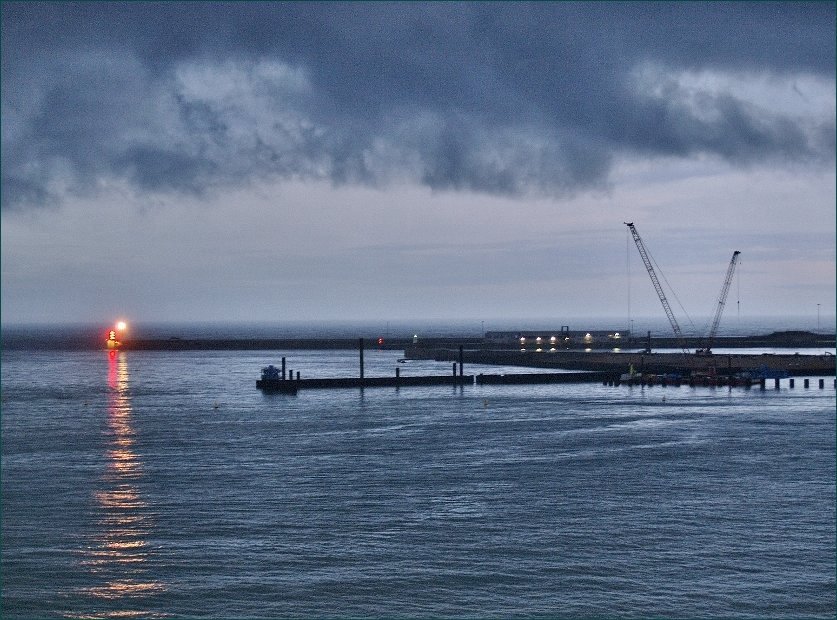 Trying here to capture the ongoing dynamics during the horrendous downpour late Tuesday evening. It thundered down onto the roof of the observation tower with much noise...yours truly thought Armageddon had finally arrived. As soon as there was a pause I stuck the camera out the window and hoped for the best...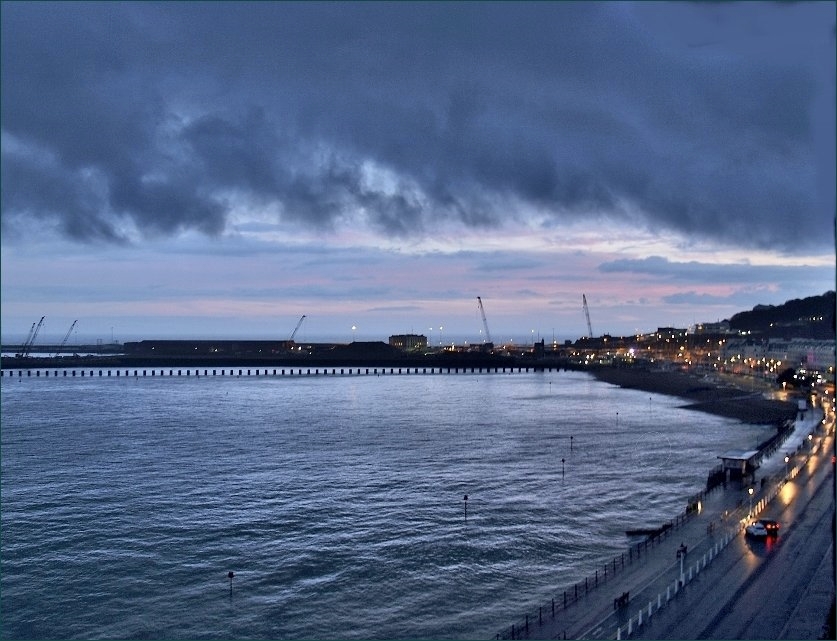 Yes indeed Brian.. Boudicca made a glamourous entrance ahead of schedule late yesterday afternoon...looking good. Will aim to have some more pictures - have put one pic at the tip top of page.
Still some thumping thudding and banging Del - its amazing though what you can get used to.. after a while it fades away...

PB.
Thursday, 29 March 2018 - 08:05
Post 4774
Del Styan, Norwich
Ah Brian, you're talking Radio 4 Extra now. A trip down memory lane.

Glad to see the swimmers reinstated on the beach. The Western Docks is certainly getting there. I hope the piling is at an end?

Wednesday, 28 March 2018 - 23:05
Post 4773
brian, dover
Boudicca now berthed on ct2,what a nice ship she is too.

Wednesday, 28 March 2018 - 17:29
Post 4772
Sea News, Dover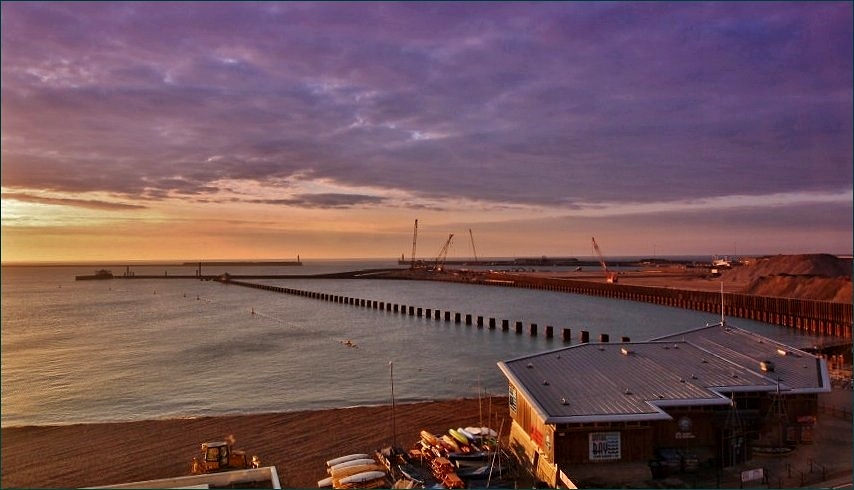 Harbour swimming reinstated as Port moves forward with vision at Western Docks
________________________________________________________________________
Visitors to Dover beach will be delighted to hear that swimming in Dover will be reinstated as the Port's contractor, VSBW, was able to install over 700 tube and 1500 sheet piles during 2017; resulting in the bulk of the major marine infrastructure for Dover Western Docks Revival (DWDR) being completed.
As a result of the considerable progress made on DWDR, the Port has been able to remove all the swimming restrictions along Dover's seafront well ahead of the summer season and in time for the start of Channel swimming training.
Dave Herrod, DWDR Programme Director at the Port of Dover, said:
"We have worked hard with our contractor to ensure that the bulk of the piling infrastructure has been completed in time for the start of the leisure season.
"The Port is happy to say that access for swimmers has now been reinstated, and this now forms part of the incremental return of the public realm and enhanced waterfront experience.
"We thank the communities of Dover for their continued patience and support."
In addition, the marine safety exclusion zone which was established in the harbour to provide delineation between the dedicated swim and leisure zone and the marine construction area, to the east of the Prince of Wales Pier, has now been reduced from 150m to 70m, providing public access to a greater area.
The updated safety zones will be signposted at various locations along the seafront Esplanade, and will remain in place throughout the remaining construction stage. Marine users are still advised to navigate with caution at all times and to take directions from Dover Port Control (VTS) when required.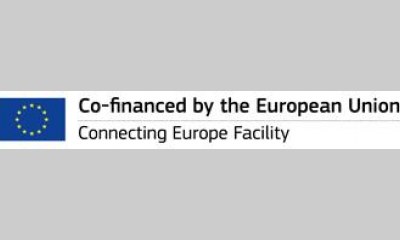 ENDS
Good to hear that news above - ever moving forward.

DWDR workhorses Llanddwyn Island and MoragM photographed on a recent cold day...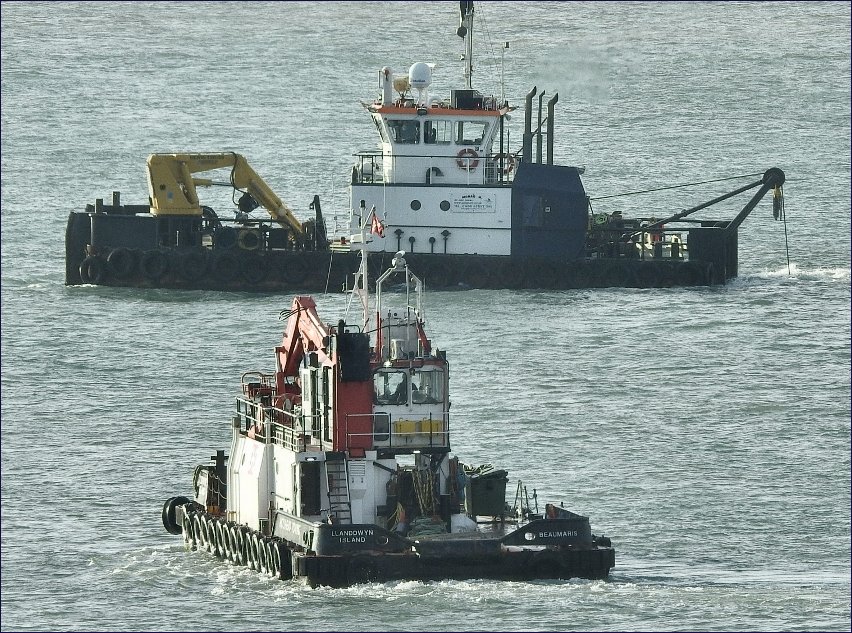 Great picture below there Patrick of the rainbow/s...cracking shot... hope you got out there with yer shovel!
There's a pot of gold down there for sure.


Mark nice story that. On an Antarctic Beach with a quarter of a million penguins...great story.
You will certainly remember that forever.

Nice set of pictures once again Ted. Great to see those from times past.

Del and Brian

PaulB
Wednesday, 28 March 2018 - 07:04
Post 4771
brian, dover
del, don't forget the navy lark and the goons on the radio.

Wednesday, 28 March 2018 - 04:36
Post 4770
Del Styan, Norwich
Thanks Mike J for your post. I had no idea about any of this before Vics post. As I said before, it explains a lot. It all fits with the French general close down on Sundays.
As I'm of a certain age, of course I remember when Sundays were a dead day, and Two Way Family Favourites and Sing something Simple on the light programme were the height of Sunday entertainment.
I've learnt to just remember those days when visiting France on a Sunday, but I never realised there were traffic restrictions too. Thanks again.

Lovely rainbow, by the way!


Tuesday, 27 March 2018 - 23:13
Post 4769
Patrick, Marine Parade
How about this for a 'pot of gold'. Wonderful rainbow arc over the harbour this afternoon that came down right to the edge of the prom. Almost near enough to touch. You can just make out the faint outline of a second rainbow above it.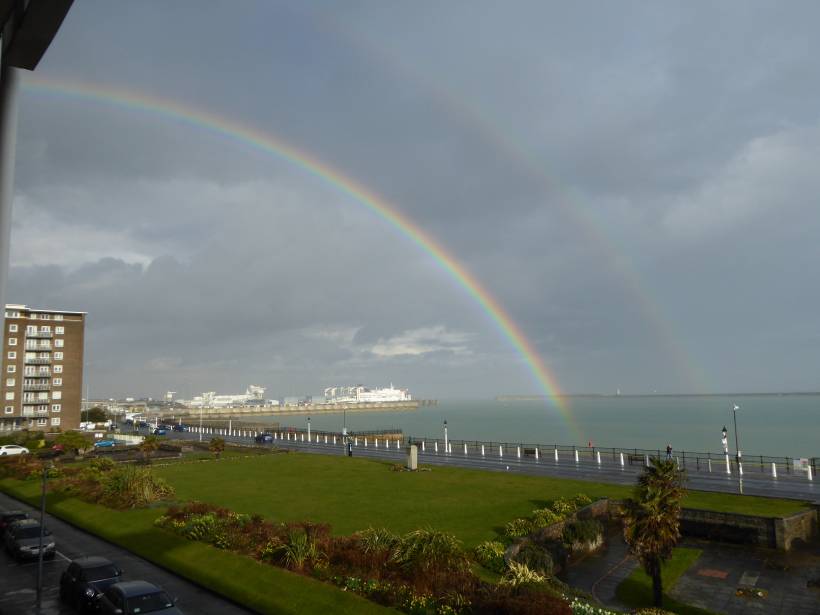 Tuesday, 27 March 2018 - 22:34
Post 4768
Ted Ingham, Canterbury
VIEWS OF THE HARBOUR FROM DOVER COASTGUARD.
A series of photographs taken from the Operations Room from 2004 to 2010.
The first one was photographed on the 10th July 2008.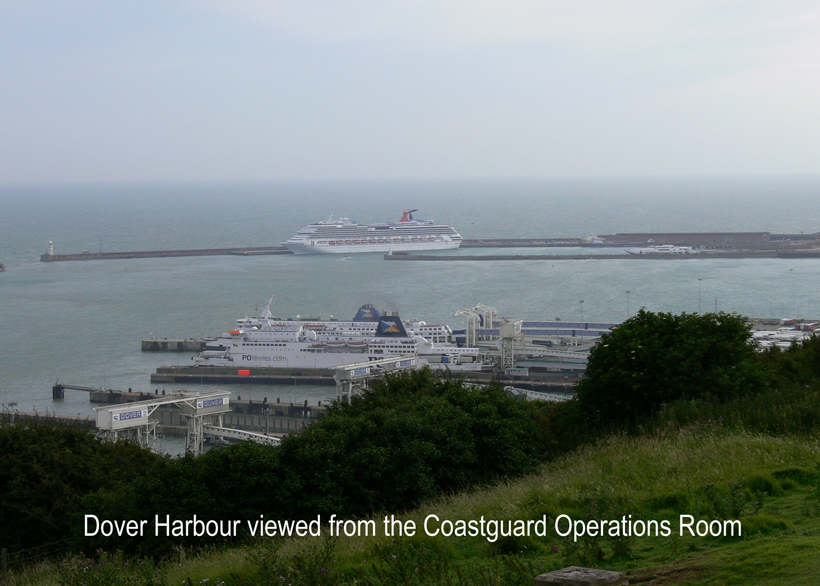 Photographed on the 30th May 2009.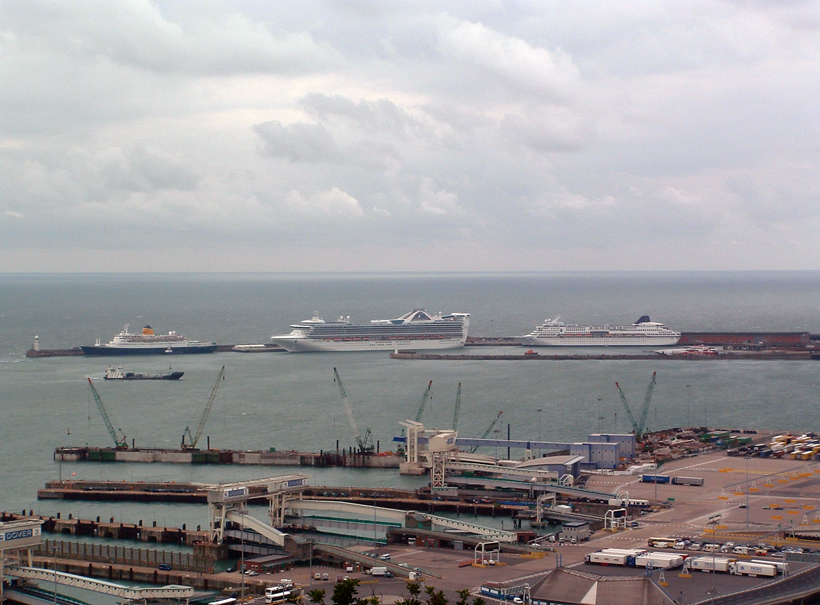 Photographed on the 29th August 2004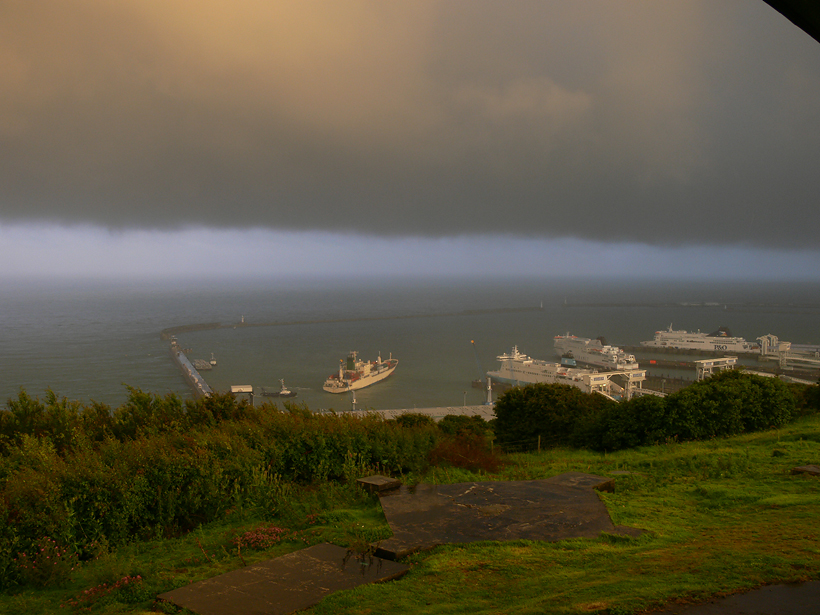 Photographed on the 26th July 2007.Hard to believe it is Summer....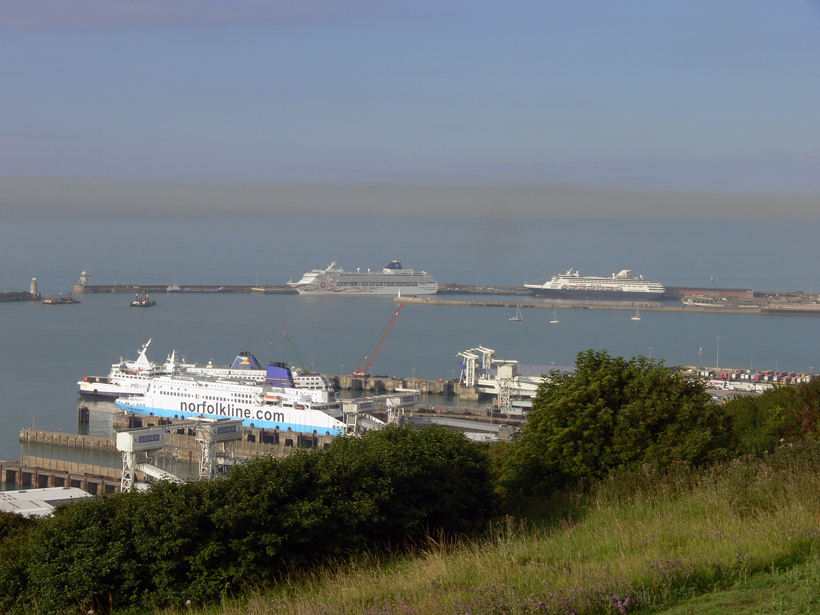 Photographed on the 3rd August 2010.
Tuesday, 27 March 2018 - 11:05
Post 4767
Mark Rushton, Northants
Nice pictures of the Hanseatic there, in her last season with Hapag Lloyd. She's off to join One Ocean Expeditions as the Resolute this autumn, and will be doing southern summers in Antarctica and northern summers up in the Arctic. Watch out for One Ocean's two existing ships, Akademik Ioffe and Akademik Vavilov (1980s Russian research vessels) when they pass Dover in a couple of weeks time on route for Gdansk. They left the Falklands last night at the end of the Antarctic tourist season and will pop in to the Polish port for some light maintenance before starting the summer season visiting Greenland, Svalbard and North East Canada. I can highly recommend One Ocean, having dome the Antarctic trip myself a couple of years ago. Standing on a South Georgia beach with a quarter of a million penguins is something you never forget....

Tuesday, 27 March 2018 - 11:01
Post 4766
Sea News, Dover
The Departing Hanseatic....
Another picture above there of Hanseatic as she departs through and into the gloom on Sunday evening. Next stop Hamburg. Time of picture: 7PM. This picture making use of the extra hour of daylight. But 'twas a miserable oul day and wouldn't have cheered the visitors up... but as they say, better days ahead !
The Lady Ariane reasonably recently brought in to Port a cargo of concrete casings or concrete cladding, not sure of the correct terminology there....now in the pictures below you can see how this concrete has been put to use. The casings are placed at the base of the piling as you can see in the pictures below. Just a small amount of casing work completed as of yet and all the concrete gets swallowed up by the incoming tide and then revealed again later. You can see the previous posts re the Lady Ariane by typing the name in our search engine above.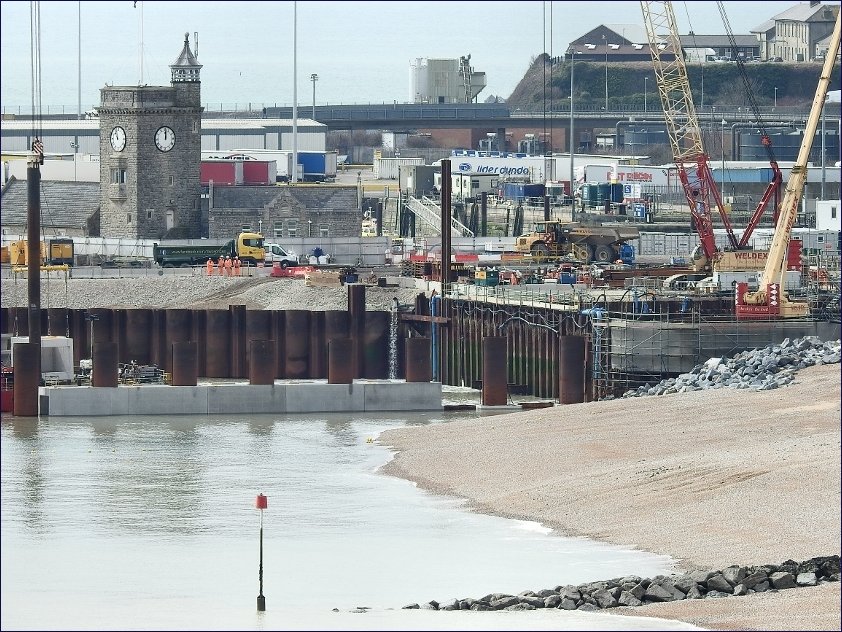 Great set of pictures below there Andrew, particularly so when you consider the gloomy conditions. Great story too...

Thanks for that info Mike on the sunday driving laws..

Nice picture Patrick of the much overlooked European Seaways

Del and Vic...lots of info there now...

PaulB.
Tuesday, 27 March 2018 - 06:22