Wednesday, 22 January 2020
Sea Pictures from Dover....

WWW.DOVERFORUM.COM/SEA-NEWS
Featuring all the ships that come and go and work at the Port of Dover ..
... with further coverage of the surrounding ports.
Sea News Dover
Use our SEARCH ENGINE below to find all sorts on the SEA NEWS pages....type in the topic and away you go, or if you have the post number, just type it in the box, more than
- 6750 -
nautical posts now. Posts are welcome. just click 'Add Your Comment' below. Max of 5 pictures preferred although we can stretch that for special stories.. Sea News Editor Paul Boland - send info or pix to dover7@msn.com. Always welcome.
Book with P&O - Free Fuel see 6760
NEW UPDATE ..just in:
To show your pictures at their best..it could be worthwhile resizing before posting to
860
pixels wide. Our new standard size.
All pictures on these pages are the copyright of the owners and must not be reproduced without permission.
Post 937
PaulB, Sea News, Dover.
WELCOME TO THE TOUR de FRANCE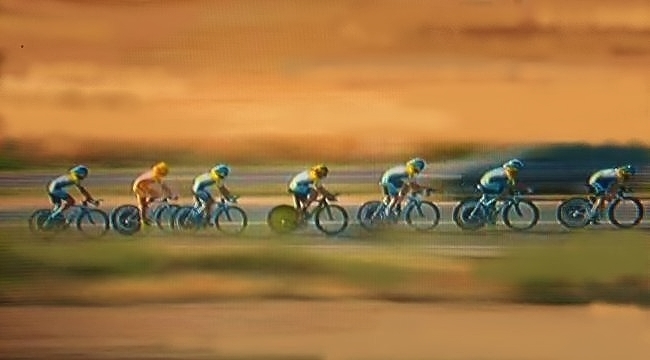 P&O Ferries supports Tour de France 2014
___________________________________
P&O Ferries has become an Official Supporter of the world's greatest cycle race, the Tour de France.
The ferry company will carry the huge caravan of vehicles which support the Tour, as the race comes to the UK for its Grand Départ.
This will be the 20th time in the 101 year history of the event that the race starts outside France. The Grand Départ gets under way in Leeds on 5 July for the first stage to Harrogate. Stages between York and Sheffield, and Cambridge and London follow.
The Tour then returns across the Channel to France to resume from Le Touquet en-route to the finish in Paris on 27 July. By the time the riders approach the finishing line on the Champs Élysées they will have covered a distance of 3,656kms during
21stages.
P&O Ferries expects to carry many thousands of cycling enthusiasts to follow Le Tour. Sarah Rosier, head of marketing and sales for P&O Ferries, said: "We're delighted to confirm our status as an Official Supporters of the Tour de France 2014.
"The timing couldn't be better. There's a huge surge of interest in cycling in the UK, combined with the Tour returning to our shores for the Grand Départ right on the doorstep of our services from Belgium and Holland. The Tour de France has an incredibly strong appeal across all the countries our route network serves and we look forward to supporting this ultimate pinnacle of the road racing calendar."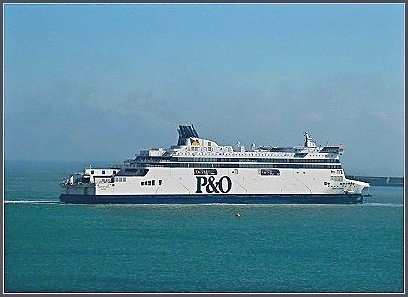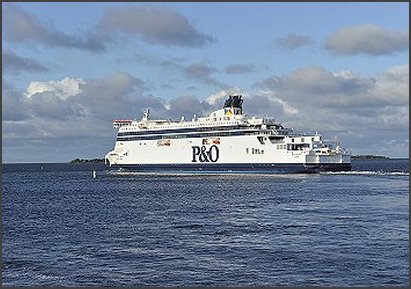 Also
from
THE PORT of CALAIS
_________________
The Port of Calais will play host to the legendary Tour de France cyclist race in early July, as well as welcome the caravan of the Tour and the thousands of fans that follow it. The P&O Ferries shipping company, which operates on the Channel, has announced that it has been appointed an Official Supporter of the Tour de France for the first time in 2014 and will be the official carrier for the celebrated Tour caravan.
The first leg of the race will start in Leeds on July 5, finishing in Harrogate. The following legs will take place between York and Sheffield, followed by Cambridge and London. The Tour will then return to France via Le Touquet.
The Port of Calais expects the hundreds of vehicles in the caravan and thousands of avid fans of the legendary event to use the port's facilities.
(See also the latest pictures from Calais further down the page).
Friday, 4 July 2014 - 06:03
Post 936
PaulB, Dover
And now catching up with the departing Saga Sapphire on the glorious colourful summer evening of Tuesday. She was heading south to somewhere called Montoir as I understand it according to our Channel Traffic feature, as seen at the top of our sister publication..dover.uk.com see menu left...but where Montoir is I know not alas! All looking good as she begins her journey in the dazzling sunshine.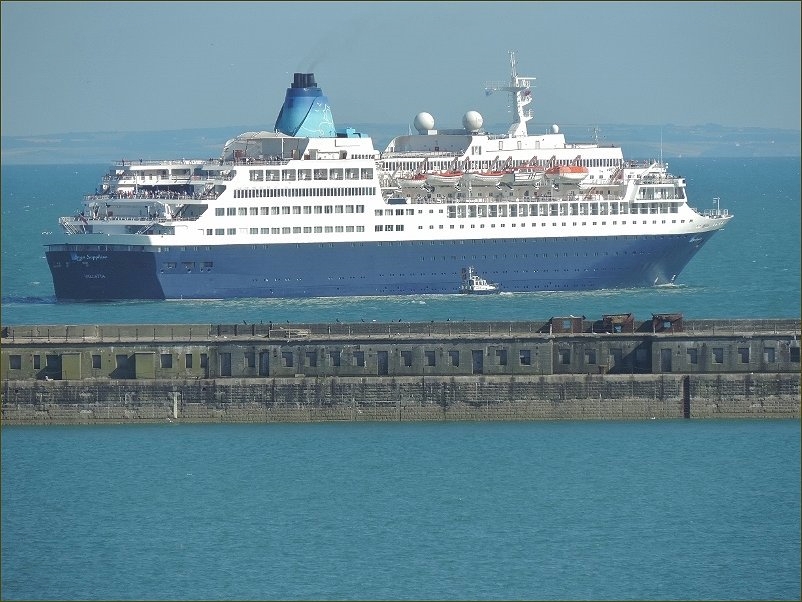 You can see the Pilot boat readying itself to depart.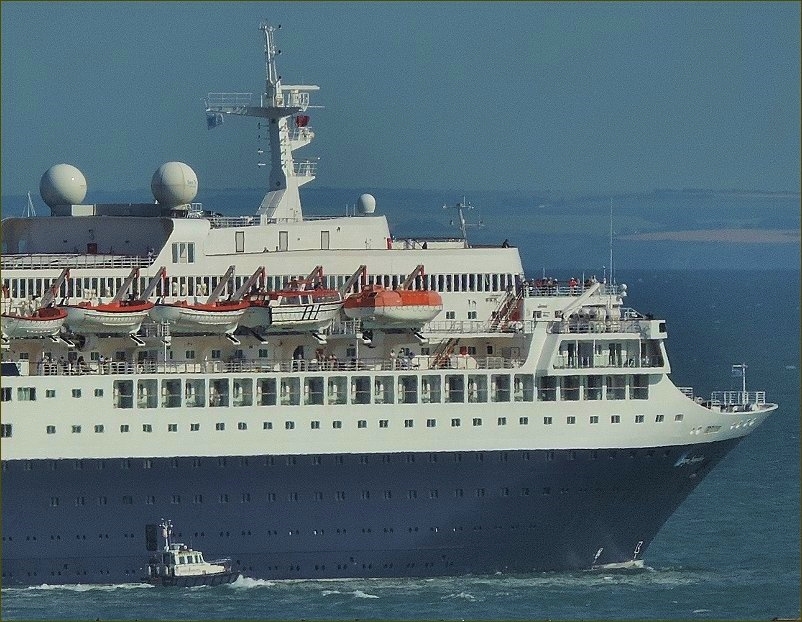 And above with a close up view.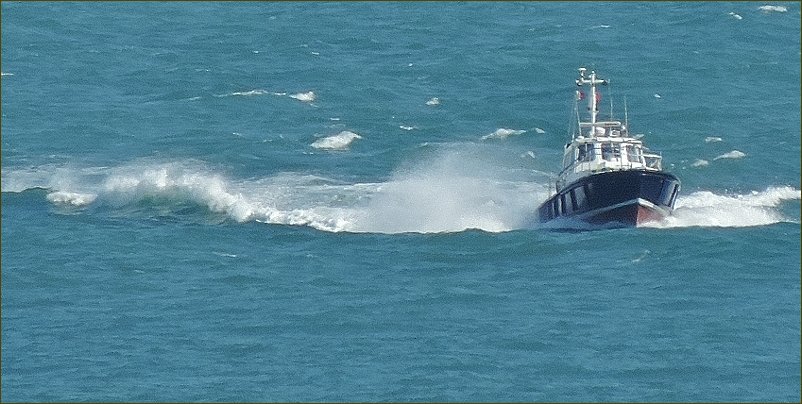 The Pilot returns after another job well done.
Thursday, 3 July 2014 - 06:38
Post 935
JanT, Dover
Yes Calais certainly has gone full steam ahead it's buzzing,

and it is worth more than a linger to have a good look round and see the changes, then after you can spend time in one of their thriving cafés.


Wednesday, 2 July 2014 - 14:12
Post 934
PaulB, Dover
Many of us are too-ing and fro-ing to Calais this time of the year, most I guess are simply passing through the town, but sometimes Calais ought to be considered in its own right as a destination as it is most definitely worth a dally and a linger. There are terrific restaurants to enjoy for example and all sorts of new developments in the town itself...new fountains, new statues, and any amount of events to enjoy and so on. The town of Calais has been spending money in a big and grand way. And of course as an extra treat for us Sea Newszers on the go there are always the ships...the ships..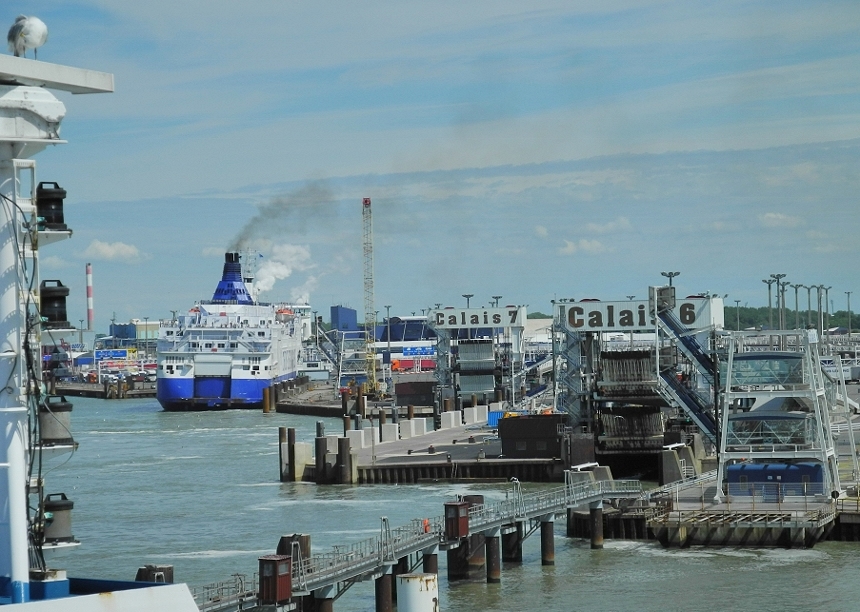 The Harbour at Calais is very busy this time of the year as you can imagine. The picture above shows one of team DFDS unloading or reloading. I am not sure which ship it is but maybe one of the guys will know..could possibly be the Calais Seaways also seen further down this page..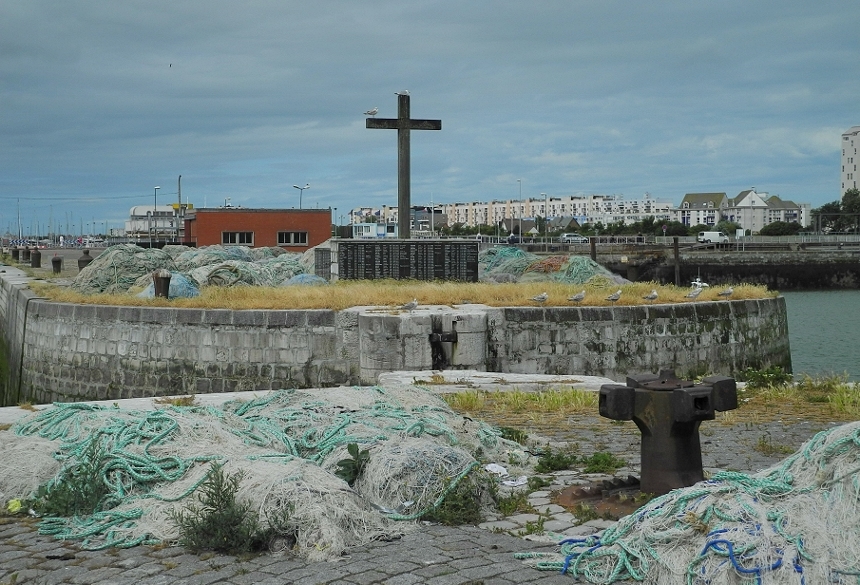 There is something bleak yet beautifully striking about the harbour cross. It is located on the small half pier in the outer harbour and the cross itself is part of an altar/memorial in remembrance of those lost at sea in times past. In the foreground you can see some of the many fishing nets spread out across the harbour. They smell earthily and magnificently of the sea...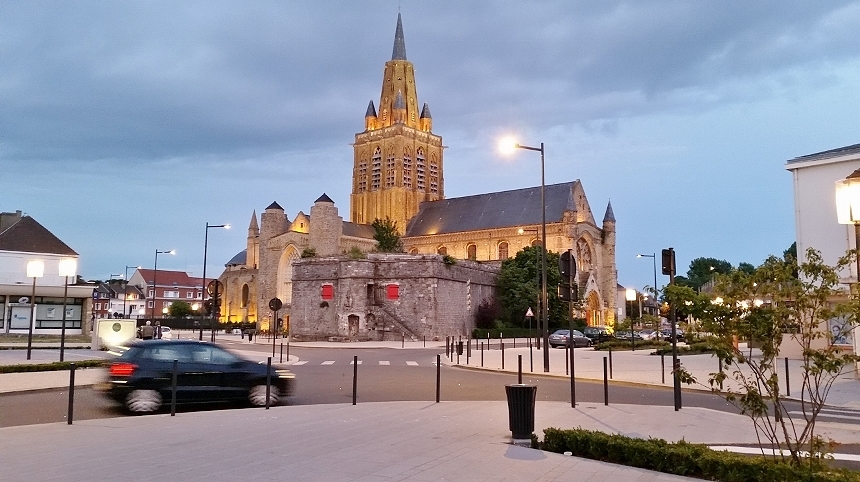 And speaking of things reverential...Calais have spent huge money in and around the town, not least on this great building...Eglise-Notre Dame. Now beautifully restored and excellently floodlit at night and captured here by Jan Tranter on her mobile phone. The picture is even better much larger. Who would have thought it...a mobile phone, and there was I trudging around with a Nikon and couldn't match it. Just goes to show that purists cant dismiss mobile phones any more picturewise. This is the state of the art phone though...the latest Samsung Galaxy S5. I think that's what its called anyway...
Wednesday, 2 July 2014 - 06:03
Post 933
PaulB, Sea News, Dover.
And now one for the gastronomes for sure.....
Create Your Perfect Match with DFDS SEAWAYS this Summer
- Share your ideal wine and food combination for £5 saving each way on Dover-France crossings


______________________________________________________________________
Award winning ferry operator, DFDS Seaways, is offering passengers a £5 discount each way on their cross Channel sailings if they name their favourite French food and wine pairing.
France has long been famed for its delicious cuisine and range of fine wines. Choosing a wine to accompany your favourite French dish might seem like a dark art, but creating the right 'pairing' can make a real and positive difference to your dining experience. Traditional pairings include Boeuf Bourguignon and a nice red pinot noir wine from the Burgundy wine region, such as Vosne-Romanée or Morey-Saint-Denis. Other, more eclectic choices include pairing a smooth, meat paté, with a sweet wine, such as Sauterne from the Bordeaux wine region.
Whether you have a sweet tooth or prefer something savoury, you should be able to find a delicious French wine to suit your palette. To share your own perfect pairings visit the DFDS website: www.dfds.co.uk/pairings. All you need to do is choose your preferred vine before the end of July, tell us your favourite dish to pair it with and we will give you an offer code providing you with £5 off each way when sailing with DFDS Seaways on our Dover routes.
DFDS Seaways sails up to 44 times a day between Dover and France, providing passengers with flexible crossing times, a luxury travel experience and convenient travel options.
During your sailing with DFDS Seaways, you can enjoy a delicious meal or snack in one of the onboard cafes or restaurants, shop for holiday essentials and luxuries, or relax as the children play in the dedicated children's area, ensuring your holiday starts as soon as you board.
To find out more information, visit www.dfds.co.uk, or telephone 0871 574 7235.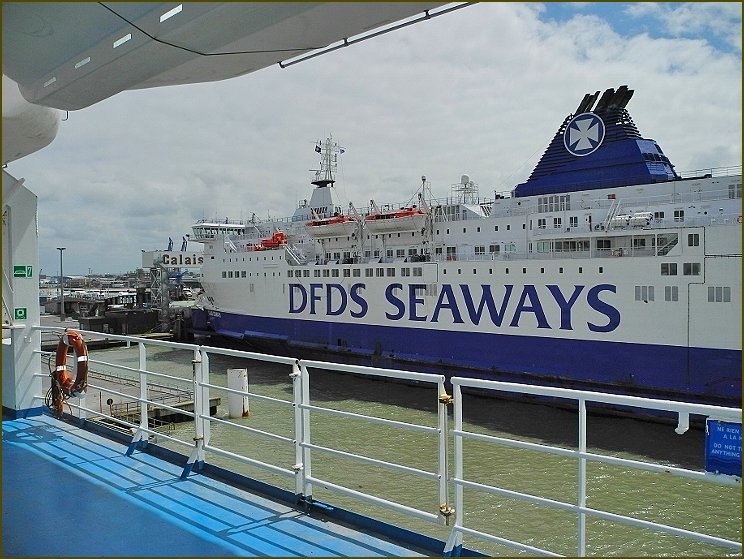 The Calais Seaways in Calais.
Tuesday, 1 July 2014 - 16:42
Post 932
ColetteB, Dover
Yes, thank you Brian for the update re Sunday, I'm sure great relief all round that the child is safe & well

Lol!!! Pauli, your family are always lurking around somewhere

Tuesday, 1 July 2014 - 10:08
Post 931
PaulB, Sea News, Dover.
Port of Dover:
Workshop Agrees Route to First Community Director
_________________________________________
On Friday 27 June representatives of the Dover Harbour Board Nomination Committee met with elected representatives of the community and the independently chaired Port and Community Forum and Port Users' Group to debate the process for appointing the very first Community member of Dover Harbour Board (DHB).
The wide ranging workshop discussed a draft person specification, criteria for eligibility and the timetable for appointment with all parties confirming their desire to establish a process that was transparent, open and accountable.
In order to continue the momentum and positive engagement that has been evident in improved relationships between DHB and local community groups, it was agreed that the recruitment process would commence in the summer with the aim of securing an appointment in the late autumn of 2014.
George Jenkins OBE, Chairman of Dover Harbour Board said "It was a privilege to host a group of people who were willing to work together towards finding a consensus approach to securing this key appointment. I was delighted with the healthy nature of the conversation and it is clear to me that all present wished to see a positive outcome for both the port and the town of Dover."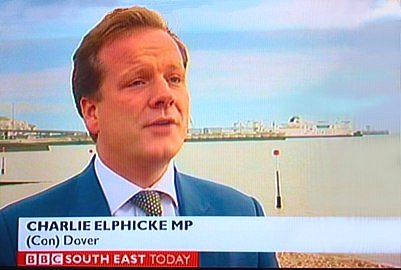 Commenting on the workshop, Charlie Elphicke, MP for Dover and Deal, from whose constituency the selected candidate will be drawn said "It's great to see a shared desire from the Harbour Board and the community to build a stronger partnership to take the town forward. I am delighted we are making progress. The developments over the coming months should take us a further step to bring the port, port businesses and the people together in the shared venture of changing Dover. The deeper partnership, the investment with development of the port and the new jobs it can create could really transform things."
ENDS
Below the Saga Sapphire arriving just moments ago as I write (08.25 approx)....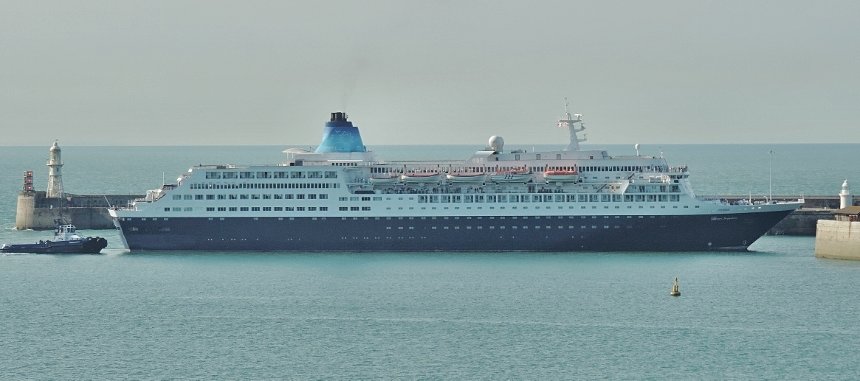 Tuesday, 1 July 2014 - 08:28
Post 930
PaulB, Dover
Thanks for that update Brian. Good to get that latest info on the child concerned especially as it is very good news indeed.

Tuesday, 1 July 2014 - 06:14
Post 929
JanT, Dover
That's very good news Brian, relief for the parents too I'm sure.


Monday, 30 June 2014 - 23:04
Post 928
brian., sover
child doing well,got taken to William Harvey for a head scan.got the all clear and now back safely back home.

Monday, 30 June 2014 - 19:32
Post 927
PaulB, Dover
Further re the Kent Air Ambulance as mentioned further below in 858.
Yours truly had literally just walked in the door from France and saw all the goings on up along the seafront. Well done with those pictures below Colette in post 858. Both yourself and Dr BB are in my following shot although I didn't know it at the time.
Glad Briony was able to offer medical assistance if it was needed...well done.
Thanks for that info Brian. Really hope the young child is recovering well.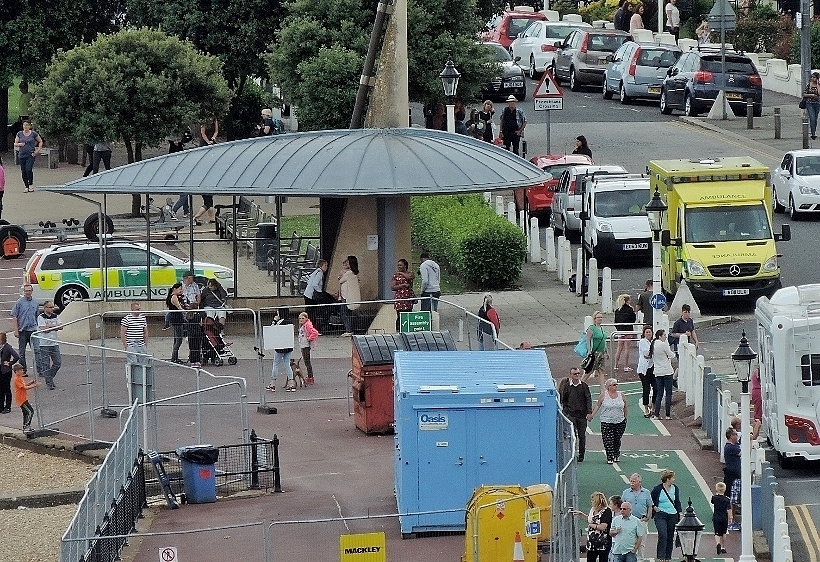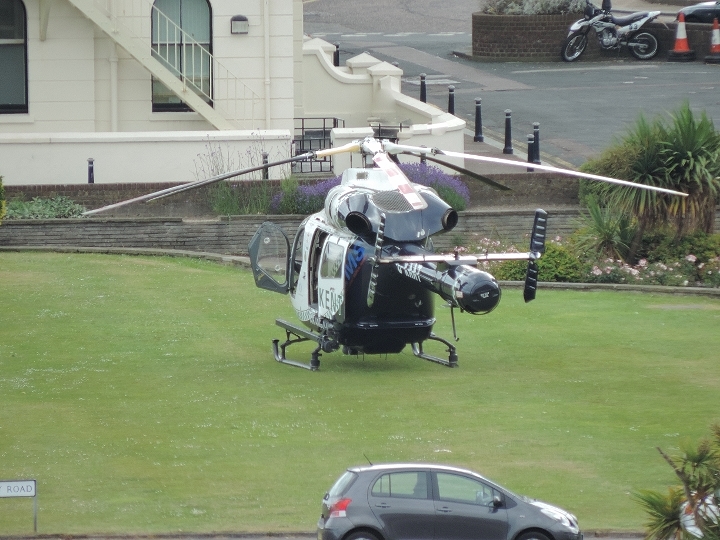 As all can see the helicopter was parked on the green area as shown, initially it appears to have been on the beach as seen in Colette's pictures below. Finally later we have lift off as seen here.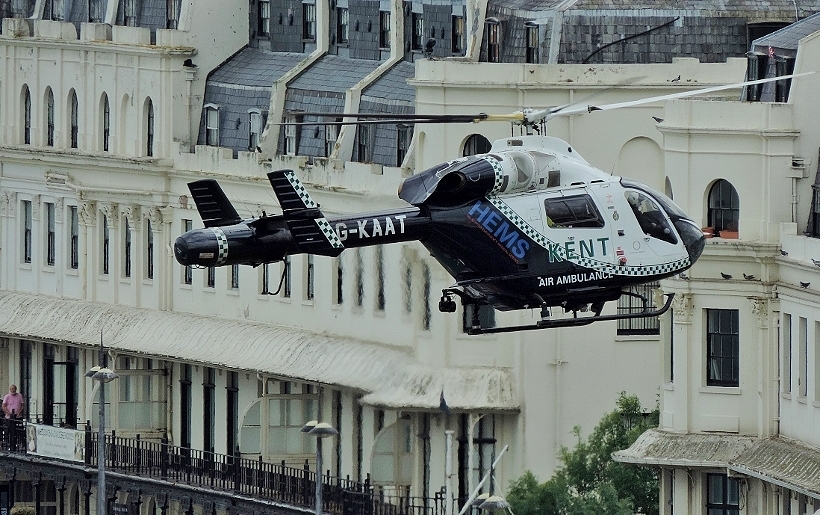 Monday, 30 June 2014 - 14:54
Post 926
brian, dover
reports of a young child falling into the sea,according to a facebook report.

Monday, 30 June 2014 - 10:40
Post 925
ColetteB, Dover
The Kent Air Ambulance landed on Dover Seafront yesterday at approximately 4 pm. Daughter Briony & I were driving along the other end of the seafront when we saw it arrive. Not sure what happened, Briony went along to the road ambulance to offer her help as a Doctor but they already had one in the ambulance. The guys from the helicopter rushed over to the ambulance, after about 30 minutes the ambulance left, no one was taken on board, the ambulance then left.
Not sure what happened.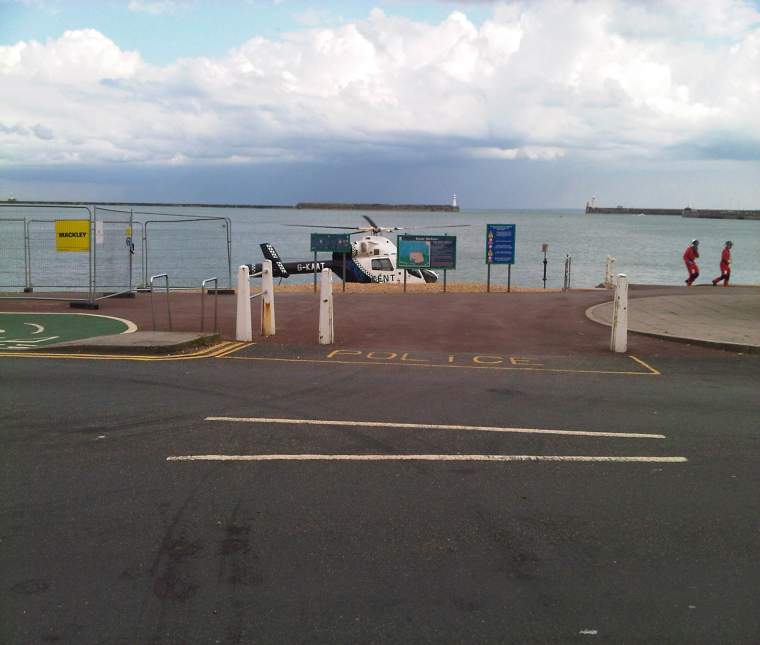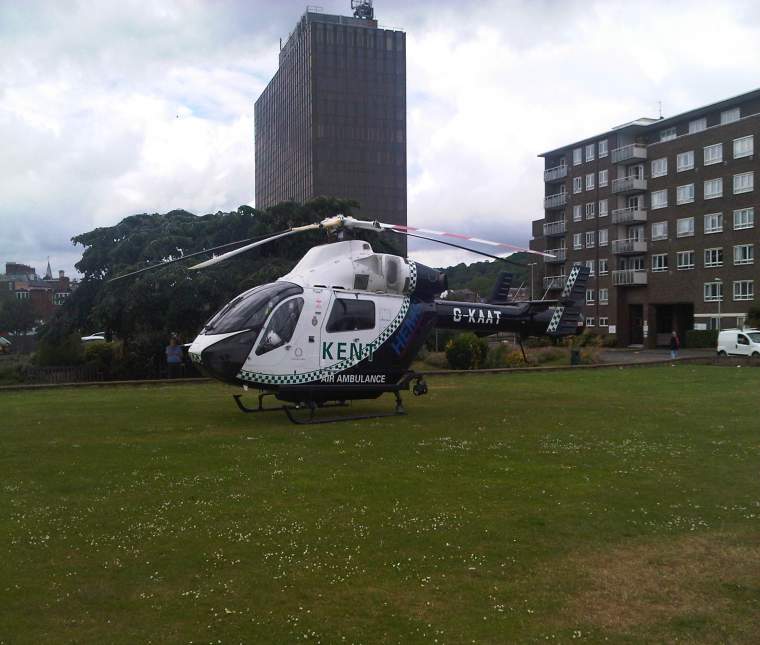 Monday, 30 June 2014 - 09:38
Post 924
PaulB, Dover
This spectacular rainbow picture was taken by Paul Sampson from the Drop Redoubt on Western Heights...
they were having a WCCP/WHPS photographic day up there on Saturday and the rainbow and Paul delivered.
Sent in via Howard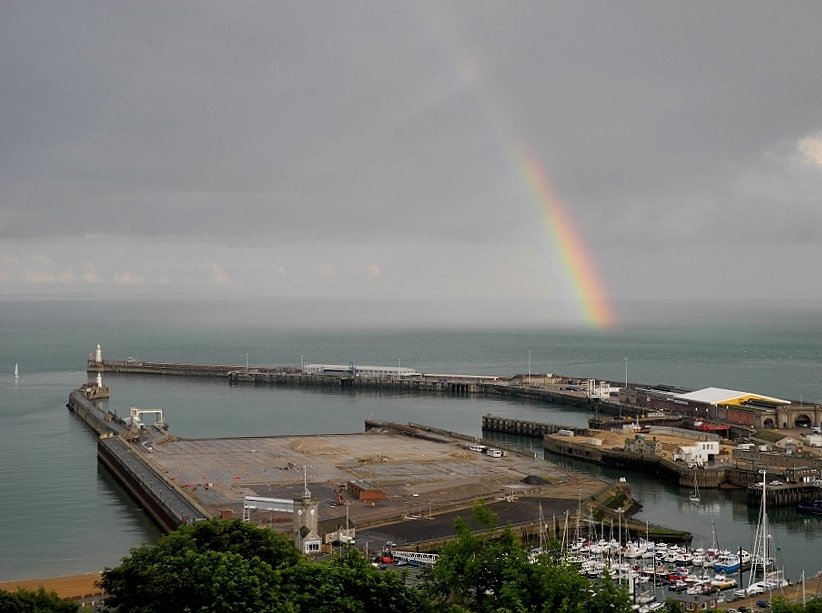 Nice pix below lads and thanks for the cruise info Colette...
keeps us up to speed.
Monday, 30 June 2014 - 08:21
Post 922
Ed Connell, Dover
Another view of Ryndam from outside the breakwater as the Dover Seaways left by the Western Entrance, Ryndam being followed by a queue of ferries as she entered by Eastern.
Monday, 30 June 2014 - 05:44
Post 921
ColetteB, Dover
A hive of activity indeed Mike, good shots there

Not so many cruises for July as I first thought but August is a wicked month

Next cruise ship in Dover will be Tuesday July 1st when the Saga Sapphire arrives back at CT1, TR.
No more then until Sunday 6th July when the Ocean Princess arrives back to CT2, TR.
The following day Monday 7th the Saga Pearl 11 returns to CT1, TR.
Be back again soon

Sunday, 29 June 2014 - 22:21
Post 920
Mike J., Dover
The RYNDAM sailed for Copenhagen about 1630 on Saturday & left via the Eastern Entrance.
The PRIDE OF KENT was swinging for No.8 berth as the RYNDAM departed & the SPIRIT OF FRANCE was on No.9
Busy place, Dover !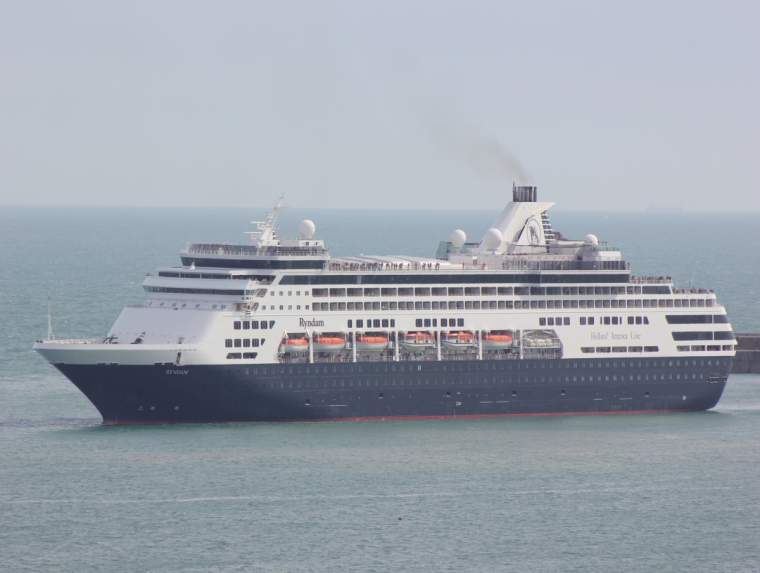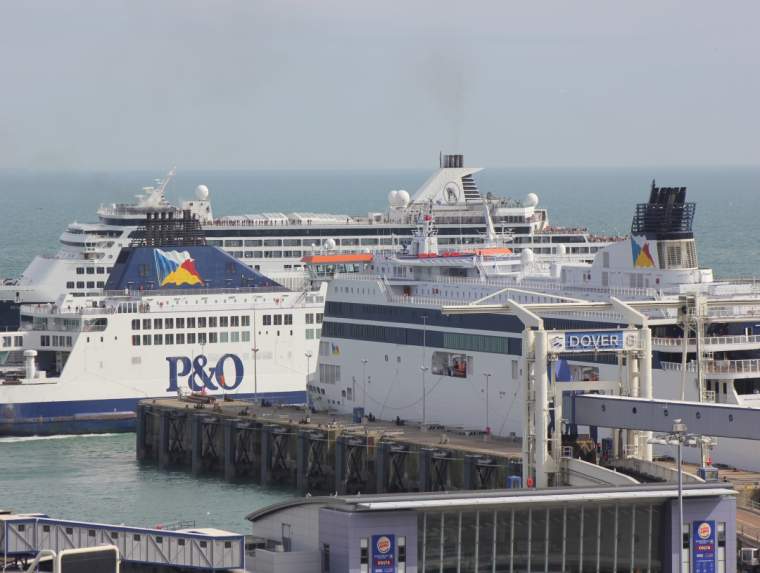 Saturday, 28 June 2014 - 23:37
Post 919
PaulB, Sea News, Dover.

As promised here we are with the opposing responses to the earlier statements ( see post 850 below)..this time from P&O and DFDS SEAWAYS


* * * * *

P&O Ferries responds to Competition and Markets Authority ruling on Eurotunnel


We believe today's decision by the CMA is in the interests of fair competition and the long-term interests of consumers and freight customers who otherwise might have been faced with a dominant Eurotunnel in the cross-Channel market.

MyFerryLink has gained a large share of the market by selling its services at below cost which is unsustainable.

As an Anglo-French employer, we are acutely aware of the sensitivities surrounding this announcement in northern France.
We employ hundreds of French staff and would be receptive to working with interested parties to see what we can do to help preserve French jobs.


_________________________________________________________________________________________________________________________

FROM DFDS SEAWAYS:

UK COMPETITION AUTHORITY BANS EUROTUNNEL FERRY ACTIVITIES

This morning (Friday June 27, 2014), the UK Competition & Markets Authority (CMA) banned Eurotunnel from operating ferries from Dover, thereby upholding its original decision made more than a year ago.

"Today's final report from the CMA is good news for DFDS Seaways and our 1,300 loyal employees providing ferry services on the Channel. As a result, we can now start to finalise our plans for the future. For the sake of all stakeholders, we hope the decision will be implemented as swiftly as possible," says Carsten Jensen, senior vice president at DFDS Seaways.

Implications of today's decision on future timeline:

Following today's decision, there are still a few details that need to be finalised before the case is fully resolved. Firstly, there is a four-week period where appeals can be lodged with the Competition Appeal Tribunal (CAT) on the issues addressed in the CMA's decision (covering jurisdiction and material change of circumstance). Furthermore, the CMA must issue an implementation order for the decision to come into force. This process includes a four-week consultation period dated from the issue of a draft order, followed by a six-month implementation period for the final order. The duration of this process may also be affected should any appeals be lodged.

Given these remaining steps, we now estimate that the implementation of the final order can be completed in Q1 2015 at which time Eurotunnel must cease their ferry operations.


Ends

See also Post 850 below.




Saturday, 28 June 2014 - 05:09
Post 918
brian., sunny aycliffe
it seems that the cma prefer Arab/Danish companys to a local company. i smell a rat or two.
Friday, 27 June 2014 - 17:18
Post 917
JanT, Dover
I find this decision by the CMA against MyFERRYLink a very bad one, apart from putting people out of work both sides of the channel,and limiting the ordinary traveller crossing the channel to less choice, surely with the port expanding and more people travelling why take away the publics choice on who takes them across to France.
The other two companies are worldwide companies with many other outlet's as well, so I for one will be using MyFERRYLink for as long as it keeps on running.
And hope that they can find a solution to this problem.


Friday, 27 June 2014 - 15:26