Friday, 27 November 2020

www.doverforum.com/sea-news
Sea Pictures from DOVER ....
See the OPEN LETTER from Port of Dover CEO Doug Bannister further below....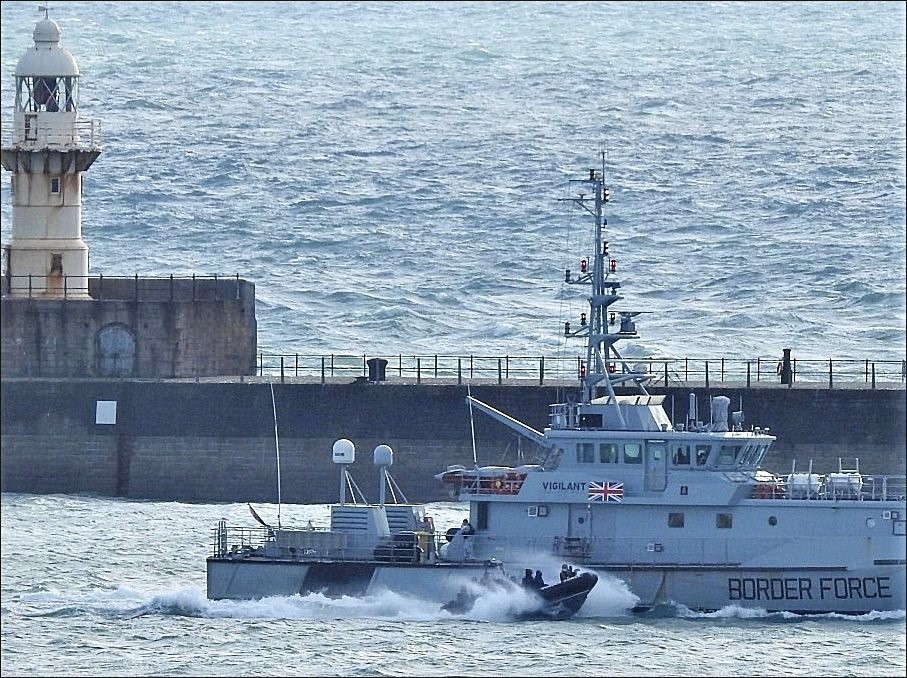 Border Force Vigilant seen here returning to the Port in the past few days...we believe the Border Force rib powering alongside contained some migrants as several incursions were reported on the day.
The Disney Magic resting tranquilly at new pier WD4 Port of Dover, the tranquility making a change from all the recent rough weather...while in the foreground the Harbour Patrol Boat meanders along keeping everything safe and secure... In the far distance you can just see the Vasco da Gama cruise ship heading for Portugal.
Below...the Sun Rising through the drizzle on the Dover Straits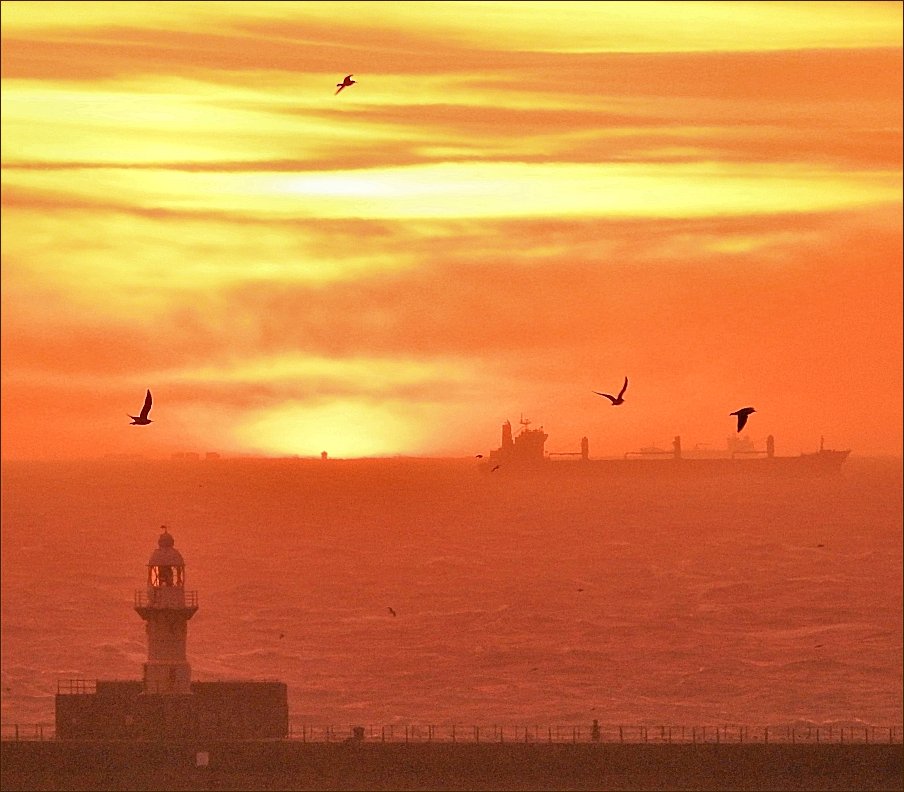 Yes the Sun rising through the drizzle... it begins to climb over Calais...as we look across the ever busy Dover Straits.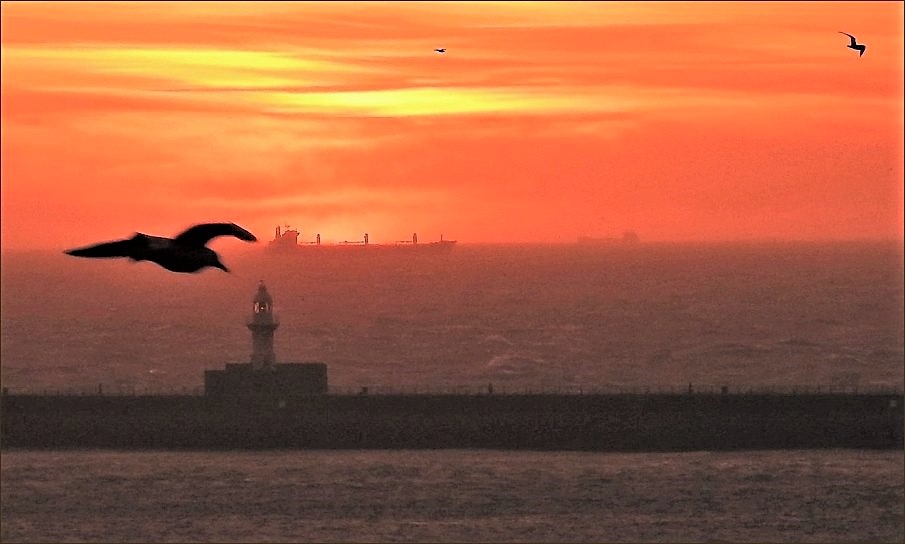 This picture taken a few moments before the one above....
November Sky - Dover Seafront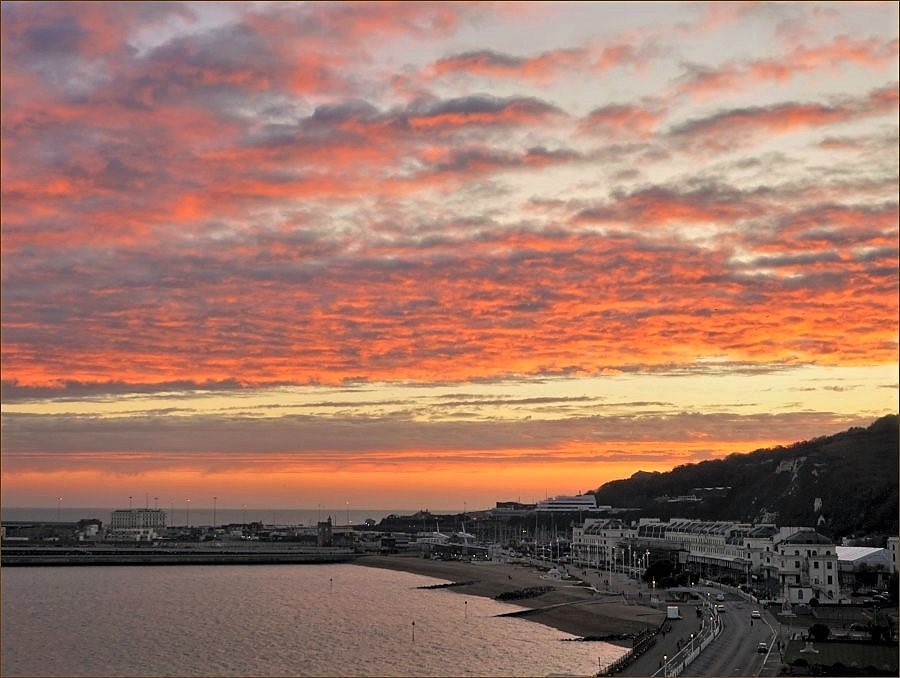 Dover Seafront November:
Striking evening sky as we look along Dover Seafront at sundown.....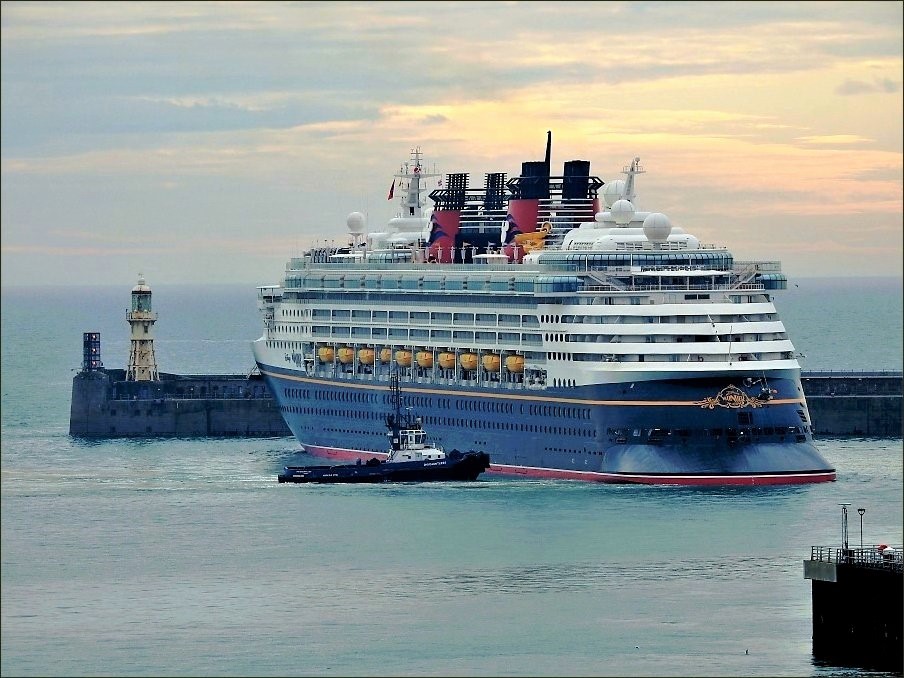 The Disney Wonder:
The Disney Wonder pulled away from Dover on the recent saturday heading for Funchal we understand...
.......a rough ol' trip in the prevailing conditions....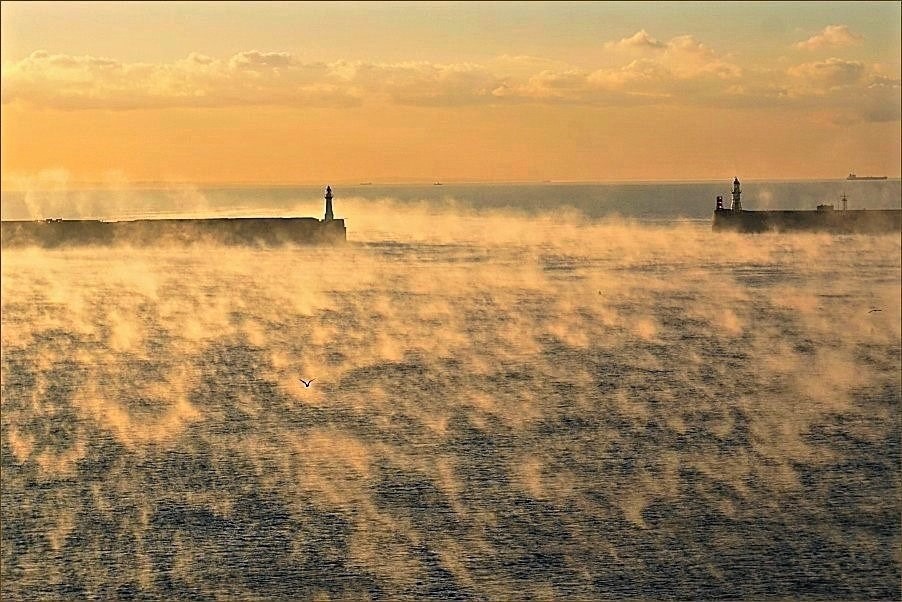 Dover Harbour: something of a rare site this...fog shimmering across the surface in this way, as shown above. Picture taken on a recent chilly but dazzlingly bright and sunlit morning.
" smoke on the water, fire in the sky "
DISNEY at DOVER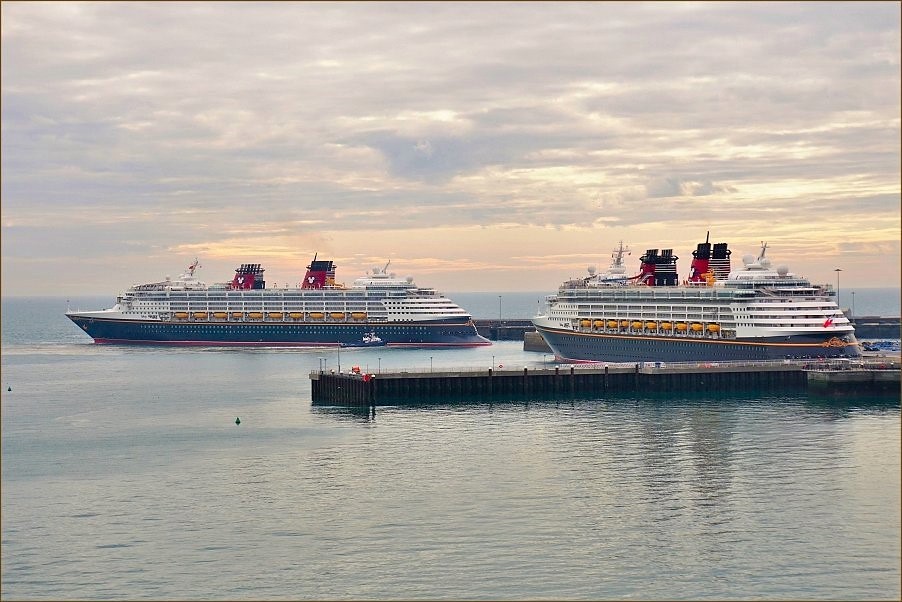 The Disney Wonder and the Disney Magic
If you quietly wish upon a star, hoping for even more wondrous magic in Dover,
...well you might just end up with two Disney's....
Fire on Western Heights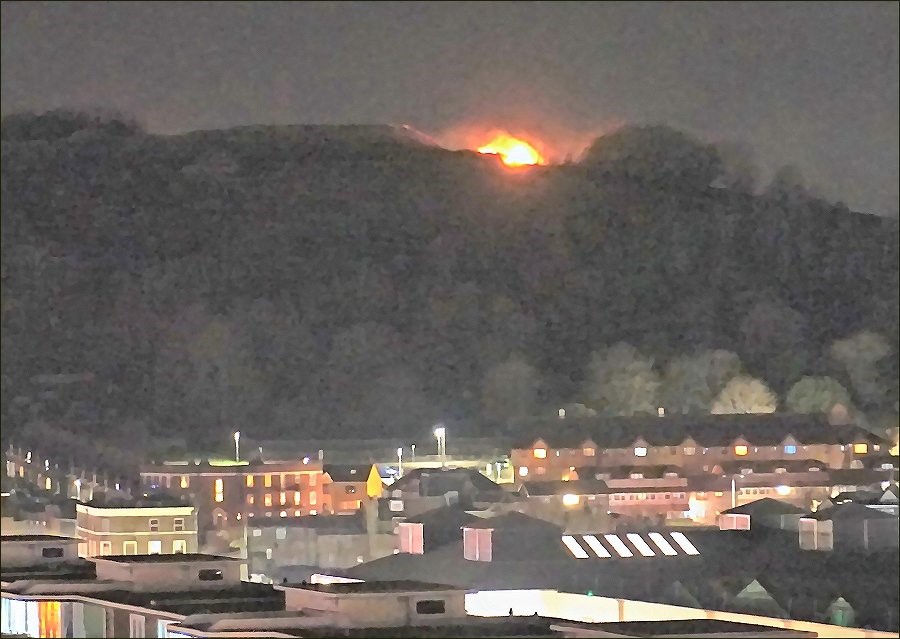 Something of a forced picture taken on friday night of the fire on Western Heights here in Dover. It seems a stray rogue firework caused it, setting scrubland alight. Four fire engines were in attendance we understand. The picture is of poor quality taken through the darkness, but it gives the general gist as we look across the rooftops.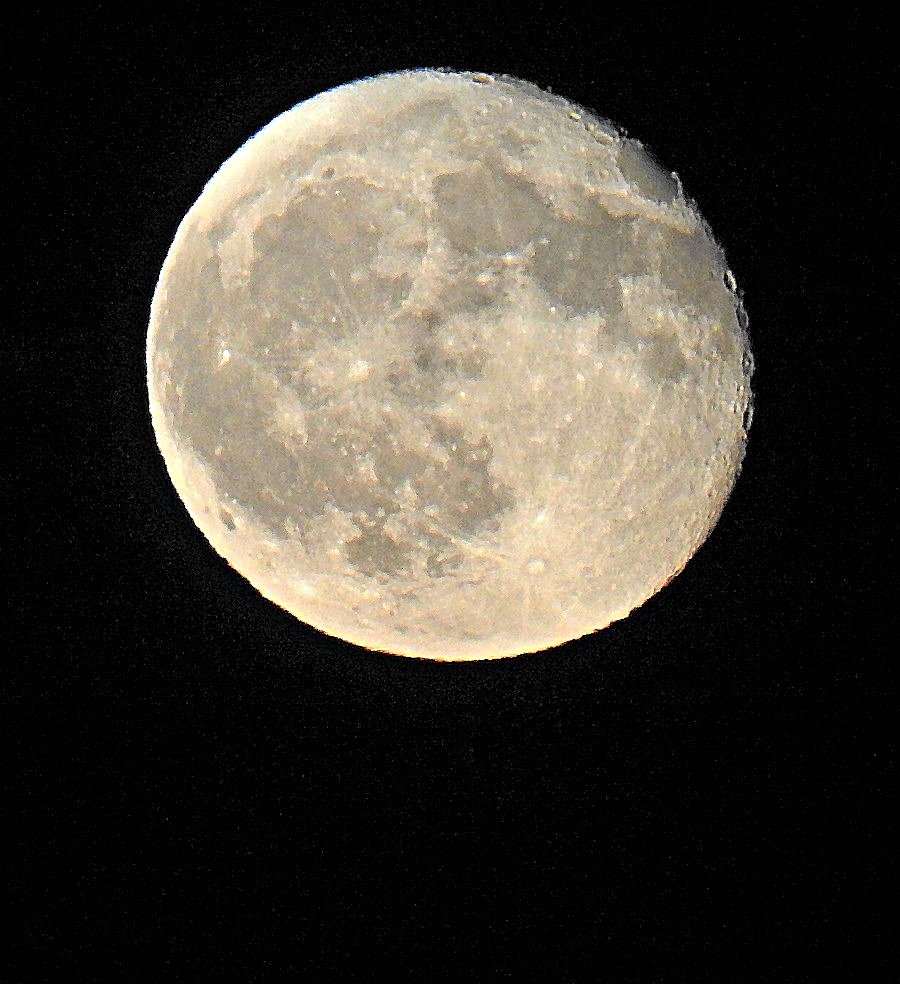 Full Moon over Dover....
The 'Blue Moon' over the Port of Dover in recent times.
Look at that rugged terrain...
* *
OPEN LETTER FROM DOUG BANNISTER, CEO, PORT OF DOVER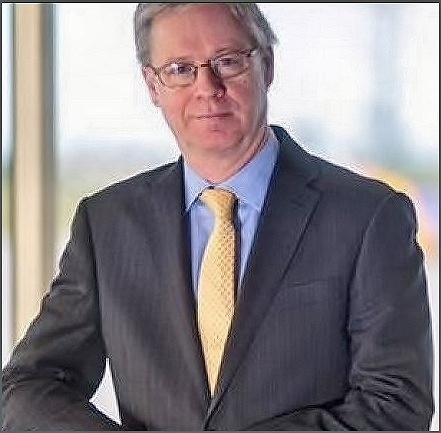 Dover is the right choice for business and consumers now more than ever
The United Kingdom Major Ports Group ('UKMPG') has issued a 'briefing paper' intended to encourage businesses to transfer cargo away from the Short Straits, the UK's most vital link to European markets.
The paper points out that the Short Straits, which includes ferry links between Dover and Calais, as well as the Channel Tunnel, has a 60% market share of 'British-Continental EU trade'. The Short Straits has achieved this market share because it is the right choice for business. Indeed, the paper acknowledges that the routes businesses use today are the right ones and the reason businesses choose the Short Straits is simple; it offers the most time efficient, cost effective and resilient access to international markets, delivering an estimated £3 billion saving for British businesses and consumers compared to alternative routes.
Our own independent analysis (Oxera 2018) has previously suggested that it would cost around £2.7 billion to take just 20% of our existing traffic in order to pay for new ferries operating on longer and slower routes. Importantly, these new ferries do not exist today and need to be built. With shipyard capacities and construction lead times, delivering such a fleet of new ferries holds significant lead time.
The UKMPG paper suggests that other ports might have capacity to take up to 60% of Short Straits traffic now, but acknowledges that this requires both Government and trader support for this offer of 'resilience' to be possible. Exponentially, this suggests that the cost to businesses and ultimately the consumer could be up to around £8 billion.
For Port of Dover, when looking at the overall UK Trade Resilience we take a systemic view – across ports, vessels, capacities, frequencies, operating models and traffic management schemes. To focus only on port capacity is terribly one-dimensional.
The geographic advantage that Port of Dover holds with the UK's largest trading partner means that a single vessel can complete up to five round voyages in a single day, making our ferries hugely productive assets. Further, our operating model delivers an average inbound dwell time at our port of just five minutes, providing unparalleled port efficiency.
Other operating models, for example containers and unaccompanied trailers may have inbound dwell times from several hours to even several days, adding inefficiency to the system-wide supply chains. For those routes with longer sea voyages, a single vessel may only make a single round voyage in a day – meaning to replicate the capacities and frequencies offered via Port of Dover would require five times as many vessels.
The UKMPG paper admits that a 'short term' constraint might be the availability of additional ferries to handle the trucks being encouraged to divert to other routes, whilst also citing wider capacity issues on the southern North Sea corridor.
The report is right to focus on resilience as we approach the end of the Transition Period, but what resilience do you have if you are sending traffic to ports where the ferries do not exist? Neither is that a quick fix. The market dynamic is important here. In fact, rather than investing in new ferries, operators at some of the alternative ports have actually been closing these longer routes with tonnage moving back to the short routes as that is what the market wants – Dover has of course kept going throughout the pandemic. This dynamic applies to the European side too, with the majority of freight vehicles choosing to route through northern France to Calais and Dunkirk as it is simply closest.
All EU-facing UK ports will be under the same rules – there will be a standard process and transaction applied everywhere. We know from examples elsewhere, such as 'Operation Wellington' on the Humber, which anticipates using parts of the M62 and M180 as holding areas for HGVs, that if there is disruption it will be everywhere. The report itself admits that there is already a risk of disruption at these alternative ports due to new systems for HGVs. Therefore, on top of this, sending more traffic to ports that do not even have the ferry capacity will make the situation far worse and create far less resilience for UK trade.
In contrast, the traffic management regimes for the Short Straits are tested and proven – in short, we know they work. For example, the recent national security operation that affected all ports with additional screening and searches left around 4,500 lorries in Operation Stack. When the security operation ended, Dover had cleared all queuing traffic and was back to normal operations within just 12 hours. Nowhere else could do that. It would take weeks with the current vessel capacities and frequencies available elsewhere. For UK trade resilience, supply chains must have the confidence in managing periods of disruption, and crucially recovery and restoration of normal flows as swiftly as possible – both areas in which Port of Dover has excellent credentials.
As we all navigate the massive economic difficulties caused by COVID, and the uncertainties as we approach the End of Transition, it is right to showcase the incredible efforts of the maritime sector, and the excellent ports that we have across the nation towards ensuring supply chains are robust and functioning well.
Come what may, we will keep working to keep the nation supplied with the essential goods people need at this difficult time and give all businesses wherever they are the benefits of Dover's unrivalled service. This is what we do all day, every day.
Indeed, as the Maritime Minister said on a panel discussion with us only the other day regarding the national trade network; 'you have to have goods and people moving around freely. So if you are to have parts moving quickly and efficiently across the Channel, and through Dover, and through the country, you have a much easier opportunity for companies that might exist in the Midlands or in the North to get involved in whatever that industry is.'
The report says that the UK has not always been reliant on the Short Straits, harking back to pre-Single Market days. Equally, the UK has not always been reliant on the internet and same day/next day/just-in-time deliveries, but it is now.
A vision that takes the UK backwards is not the vision of the future we want to see. We need one that backs consumers and businesses everywhere for the challenges and opportunities ahead of us. We feel that we should celebrate our impressive, modern and efficient supply chains across all ports and modes throughout the nation.
For Dover, we fully appreciate the essential role that we conduct for the nation, and will continue to take our responsibility with all of the due care and attention the British people would expect of us, which is why Dover will remain the clear market choice.
Doug Bannister, CEO Port of Dover.
ENDS

WWW.DOVERFORUM.COM/SEA-NEWS
Sea Pictures from DOVER ....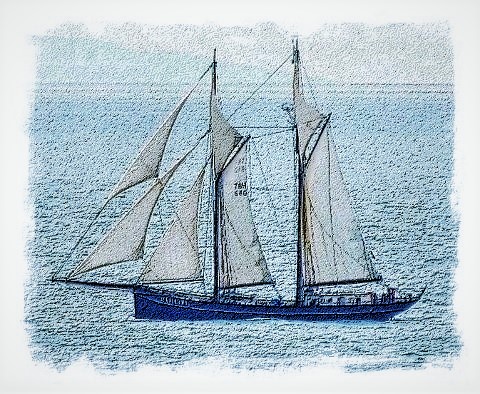 Use our SEARCH ENGINE below to find all sorts on the SEA NEWS pages....type in the topic and away you go,
or if you have the post number, just type it in the Search Box.
There are more than
- 7000 -
nautical posts in the section below.
Paul Boland - dover7@msn.com
Sea News Dover:
All pictures on these pages are the copyright of the owners and must not be reproduced without permission.
Post 1269
PaulB, Dover
Picture of the scene this morning monday ( 07.40 )...very menacing skies and driving rain, with added thunder and lightning just out of shot!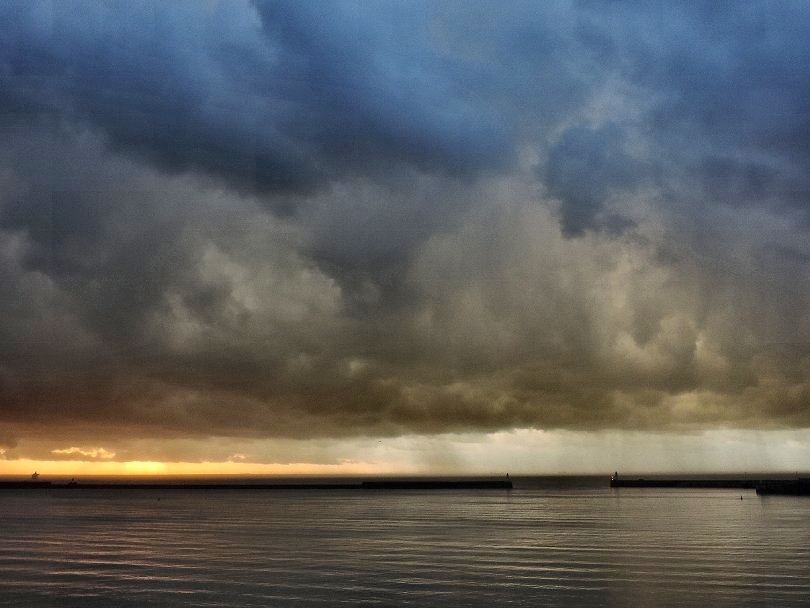 See also the posts below re Dover Seaways.
Monday, 10 November 2014 - 07:41
Post 1268
PaulB, Dover
Its one stormy morning !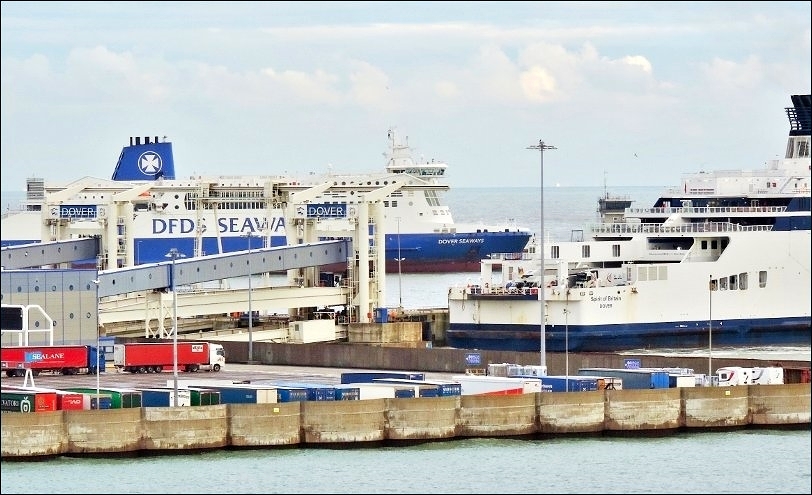 Above we have a picture of the Dover Seaways against the eastern outer wall yesterday afternoon. The ship has moved away since then...now on its way to Rotterdam presumably for repairs although it appeared from the distance that the damage was minor, although no doubt we will find out the exact situation in due course. We wish well all those that suffered the shock of it all and wish a get well soon to those that sustained injuries....and an all-round thumbsup for the responses of the crew and the emergency services.
Below we have a picture of the ship in the happier days of only last week.
Now with lightning flashing all about and thunder rattling in the ears..yours truly heads for the burbling coffee.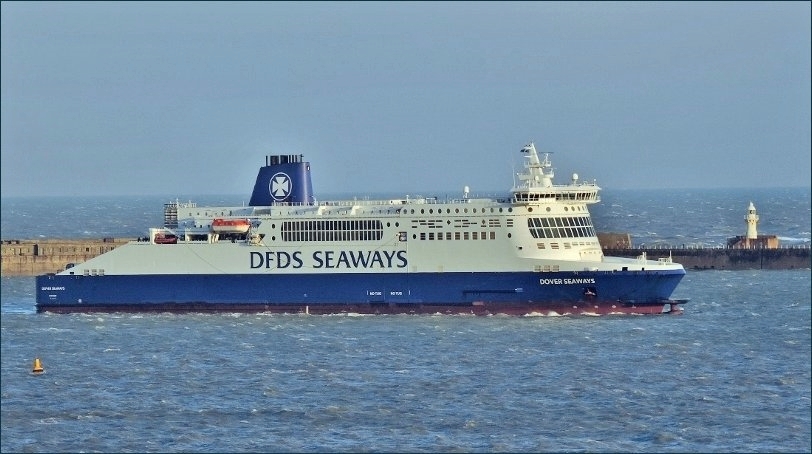 Monday, 10 November 2014 - 07:25
Post 1267
PaulB, Sea News, Dover.

PORT INCIDENT - STATEMENT FROM THE PORT OF DOVER AT 10.15am
_________________________________________________________

Port of Dover can confirm that an incident has occurred this morning involving Dover Seaways making contact with one of the harbour walls.

All relevant emergency services are in attendance dealing with the incident.

Our first priority is to ensure safety of all those on board the vessel. Clearly we are very concerned for the well being of passengers and crew and we are supporting DFDS and emergency services in assessing any injuries to passengers and crew.The crew of the Dover Seaways ( SEE PIC OF SHIP IN POST 1190 BELOW ) and our own team have immediately put emergency plans into practice to ensure the safety of those on board. The vessel, Dover Seaways, is safely berthed in the Eastern Docks. We praise all concerned for their swift response.

Naturally the incident will be subject to our own internal investigation and that of the appropriate statutory authorities.

UPDATE @ 11.45am
___________________

Port of Dover can confirm that an incident involving Dover Seaways is ongoing. All relevant emergency services were in attendance but have now left the scene.

All passengers and vehicles have now been discharged from the vessel. A small number of passengers and crew were dealt with by South East Coast Ambulance Service at the scene. Four of those passengers were taken to hospital for further checks; none are believed to have suffered serious injuries.

Our first priority is to ensure safety of all those involved and we are supporting DFDS and emergency services in supporting passengers affected by this incident. The crew of the Dover Seaways and our own team have immediately put emergency plans into practice to ensure the safety of those on board. The vessel, Dover Seaways, is safely berthed in the Eastern Docks. We praise all concerned for their swift response.

LATEST: The emergency is now stood down. The ferry is resting at the outer wall east.


Sunday, 9 November 2014 - 10:42
Post 1266
PaulB, Dover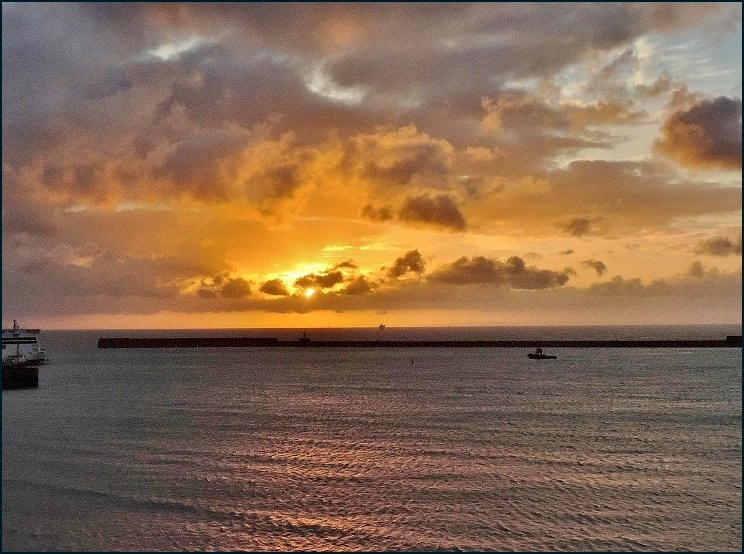 Saturday morning around 8am and one of the tugboats awaits the arrival of the Costa Rican Star, a regular visitor here to Dover. The second tug is already out in the open sea helping with the arrival. And here we see the arrival below...just as the sun bursts through in dazzling style. The weather deteriorated pretty swiftly after this though and we were back in very windy blustery conditions.. The Costa Rican Star is just this moment leaving again as I write sunday 7.40am. No dazzling sunlight today alas to help her on her way..she heads for Antwerp.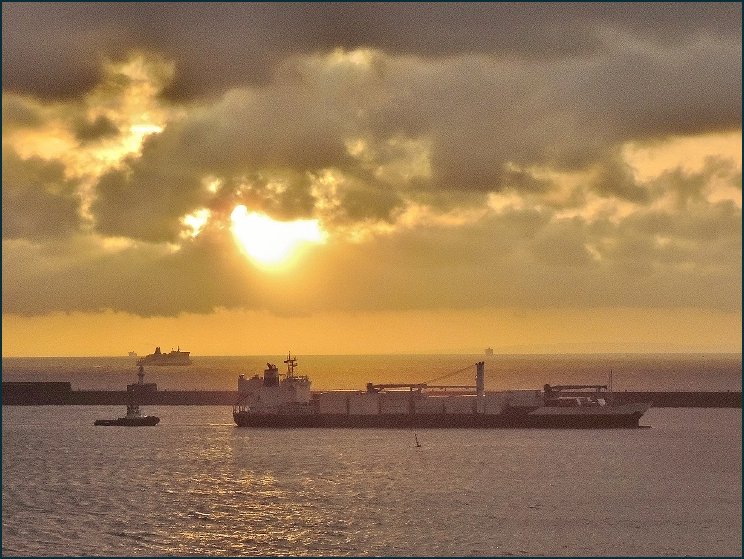 Sunday, 9 November 2014 - 07:43
Post 1265
PaulB, Dover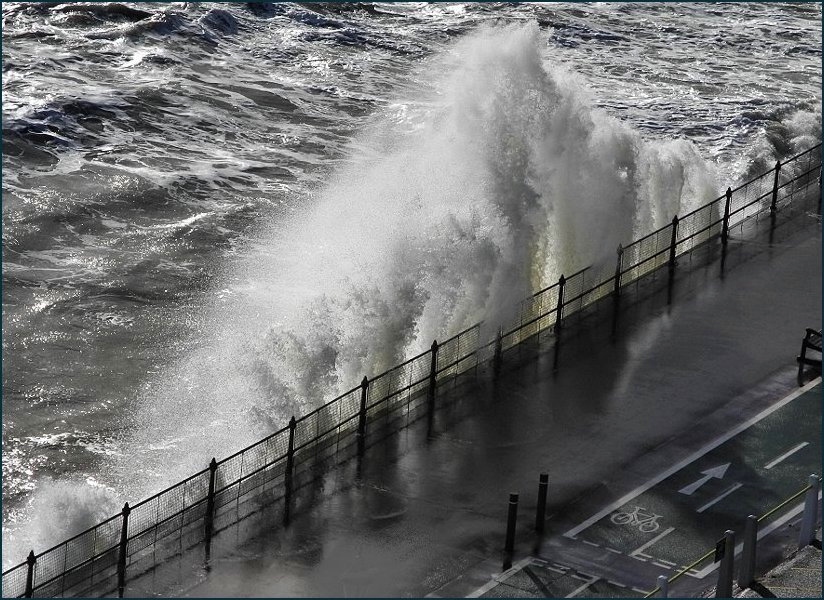 A couple of blustery weather pictures above there taken yesterday. Friday was indeed a dramatically rough day and the weather threw everything but the kitchen sink at us here in Dover. There were some delays on the ferries as you would expect but all and all the Port managed very well. Its early on in winter so no doubt there will be much more of this kind of weather to come. Very dramatic picture opportunities all day but.. Note for diary: don't run out of battery power when its needed most !

lol Brian you are wicked

Stella and fry up in a Force 9 !!..
Saturday, 8 November 2014 - 06:19
Post 1264
brian, dover
better to have a full English and washed down with a few pints of stella .
Friday, 7 November 2014 - 15:54
Post 1263
PaulB, Dover
You wont be needing me to tell you at this juncture that it has been a rough ol' day, and its not over yet. The weather boffins tell us that there has been a Severe Gale 9 out there in the channel and I can well believe it. The sea is very rough indeed... rough enough to rattle Long John's timbers and no mistake. Not a day for a genteel crossing with the Pimms and cucumber sandwiches..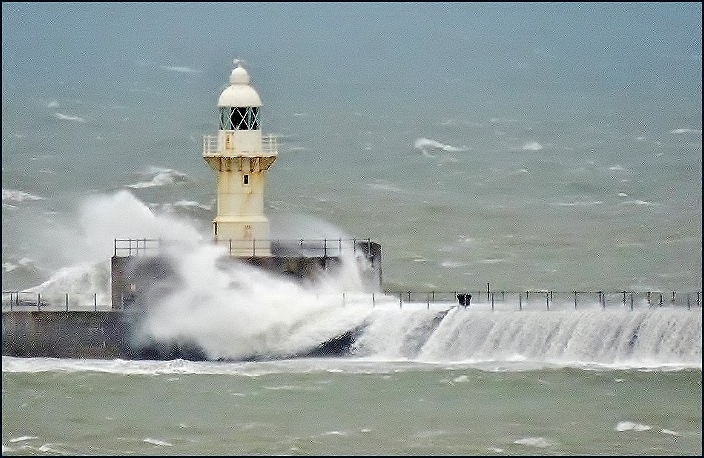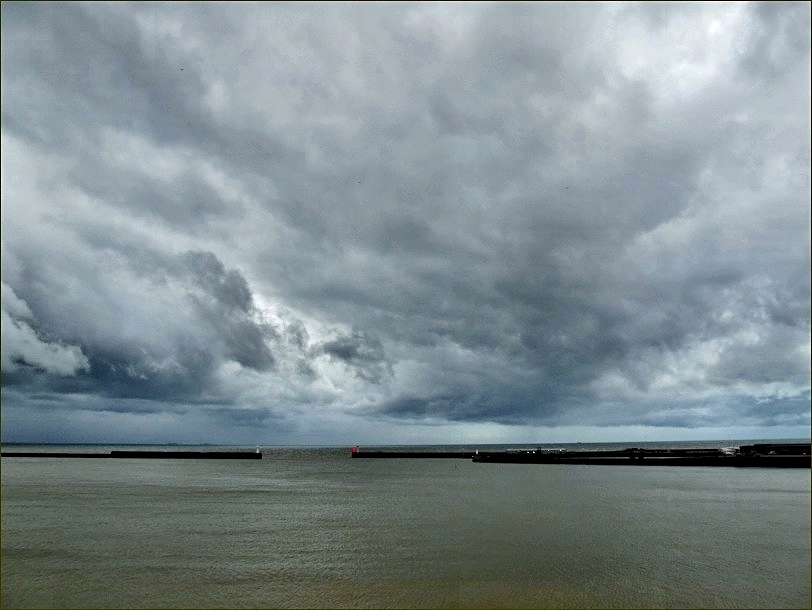 That's a terrific get that one in the post below Ed...the Ernest Shackleton well I never.

Just to add this extra picture here from a couple of days ago as I try to catch up with events. Its our old friend the Magellan Strait, yours truly was disappointed to miss it while in harbour as she would have turned about right under our noses. But here she is nonetheless heading off into the distance with quite a load..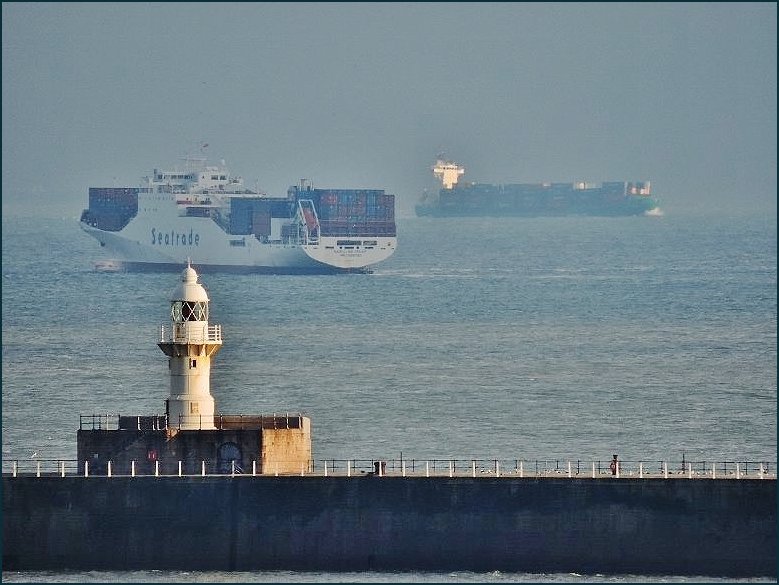 Don't forget to check out those latest deals and ideas from DFDS...see post 1190.
Friday, 7 November 2014 - 15:12
Post 1262
Ed Connell, Dover
Royal Research Ship "Ernest Shackleton" heading down the southwest lane past Dover this afternoon. Operated by the British Antarctic Survey as a research and supply vessel in the Antarctic.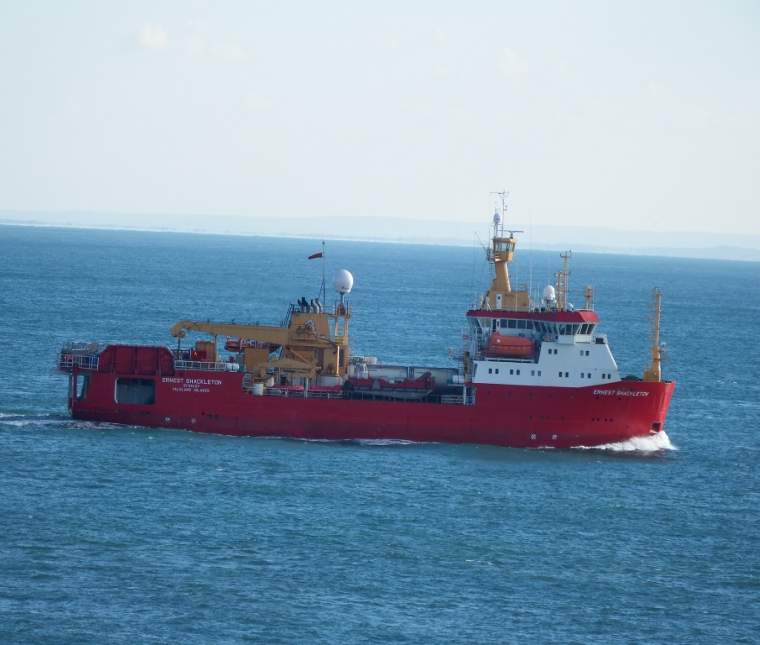 Thursday, 6 November 2014 - 23:16
Post 1261
PaulB, Sea News, Dover.
Fall in Love with DFDS Seaways' Autumn Offers to France
- Save £10 on a return crossing from Dover to Calais
- Exclusive discount on entry to Nausicaà aquarium in Boulogne
___________________________________________________
Award winning ferry operator, DFDS Seaways, is offering passengers a range of short break offers on its Dover to Calais ferry service this Autumn.
With the mild weather and vivid colours of Autumn in full splendor, now is a great time to make a pre-Christmas break to cities, such as Boulogne, on the northern coastline of France. The leaves are not the only things that are falling at the moment, as passengers can bag a £10 saving on return crossings from Dover to Calais if you return more than five days after your departure. This offer must be booked by the 30 November for travel any time before 17 December, for a car and up to nine passengers using offer code ENAUS.
Boulogne-Sur-Mer
If you're looking for inspiration on where to visit in France, then Boulogne-Sur-Mer could offer the perfect escape. One of the most famous tourist destinations on France's northern coast, this popular bustling port and fishing town is just 22 miles from the Calais port. Dubbed the "City of Art and History", Boulogne is home to some striking architecture, including a 13th century castle and the city's belfry, which is a UNESCO World Heritage site.
As an extra treat, DFDS Seaways passengers can also take advantage of our exclusive €8 discount off entry for couples or families into Nausicaà, France's largest aquarium and Boulogne's most popular tourist attraction.
Nausicaà
Nausicaà is home to more than 35,000 animals from over 1000 different marine, land and freshwater species. There are more than 50 aquariums and pools in Nausicaà, and all of the signs and exhibitions are in English as well as French so you can learn as much as possible from your visit.
The €8 discount is available for all DFDS Seaways passengers who book our £10 off Autumn offer, or one of our fixed price short break crossings detailed below. All you have to do is print off your booking confirmation and present it at the Nausicaà reception.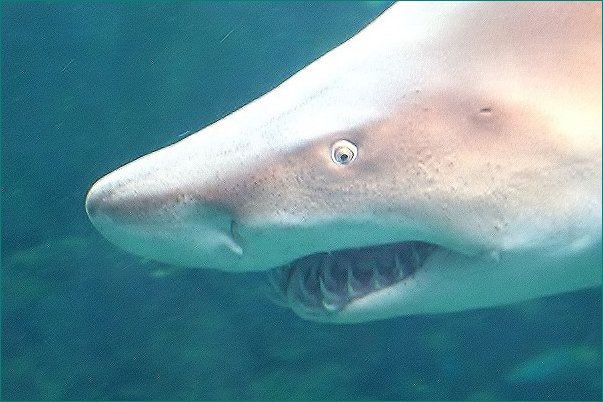 Short break offers:
· Day trip from Dover to Calais for £19 each way for a car up to nine passengers. Book by 30 November using offer code EDAYCB. You must return the same day, on or before the last crossing to take advantage of this offer
· 3-day fare from Dover to Calais for £24 each way for a car and up to nine people. Book by 30 November using offer code E3DAYCB. You must return on or before the last crossing 3 days after your departure.
· 5-day fare from Dover to Calais for £28 each way for a ca and up to nine people. Book by 30 November, using offer code E5DAYCB. You must return on or before the last crossing five days after your departure.
Dover-Calais
Our ferry from Dover takes just 90 minutes to arrive in Calais, meaning you can get straight onto the road and continue to your destination. The port is conveniently located with easy access to transport and motorway links to the rest of France, plus with 20 daily sailings between Dover and Calais, you can be sure to find a crossing at a time that suits you.
The crossings on our route from Dover to Calais are short, but there is still plenty to do onboard to keep you busy. While you sail why not relax in our onboard bar and catch up on the latest news or sports, have a bite to eat at our self-service restaurant or cafe or just enjoy the view from our outdoor deck area? With our dedicated children's area, there is plenty for everyone to see and do.
To find out more information, visit www.dfds.co.uk, or telephone 0871 574 7235.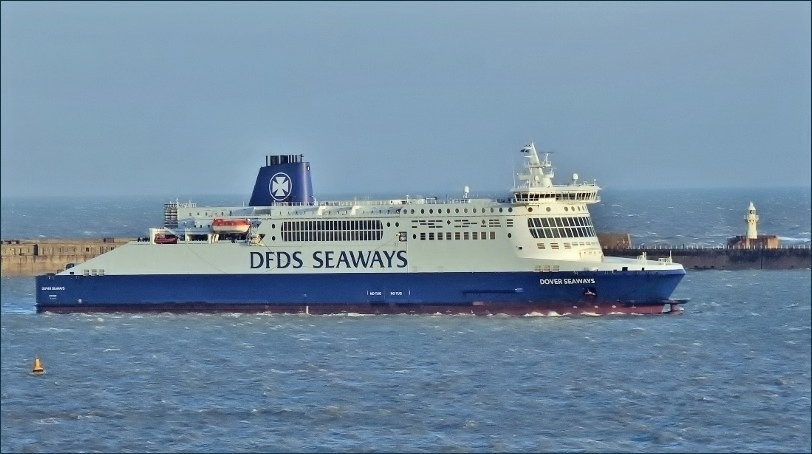 - ENDS –
Many thanks to DFDS for the above information. Great ideas there for colourful autumn travel. Don't forget to quote the offer codes when booking.
Yours truly often enjoys the best of Boulogne and surrounding coastline and for years one couldn't keep ones daughter away from the dazzling delights of Nausicaa. We took that picture of the shark there several years ago and it looks just as menacing to this day !

Thursday, 6 November 2014 - 07:04
Post 1260
PaulB , Dover
RESCUE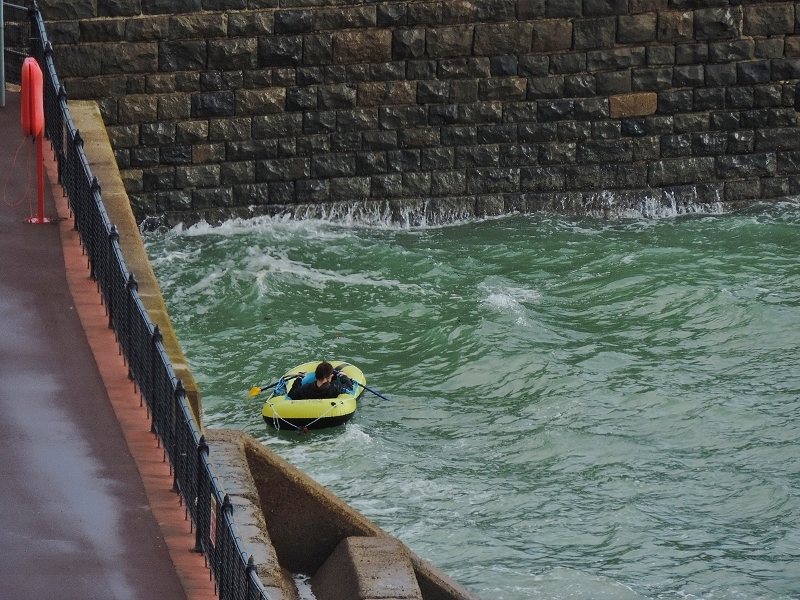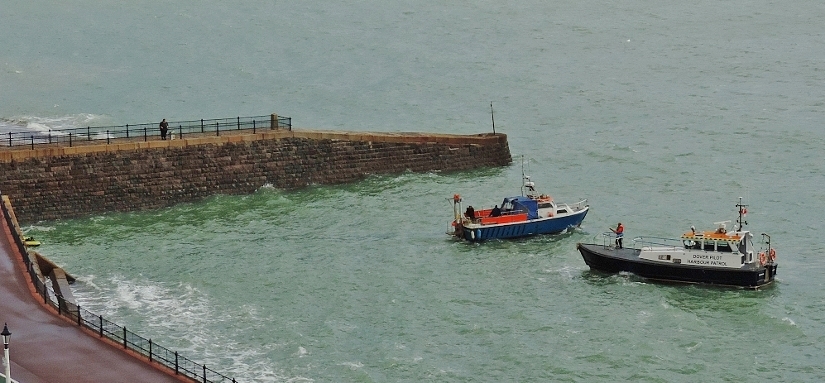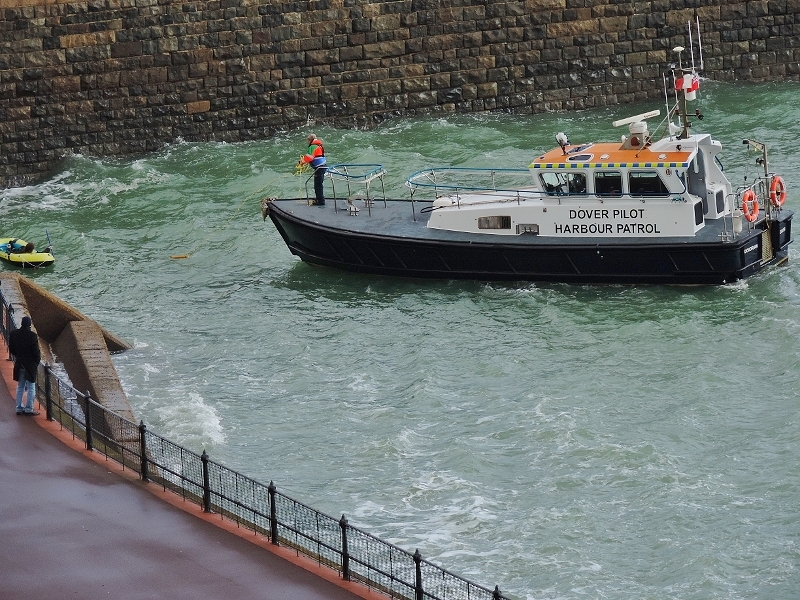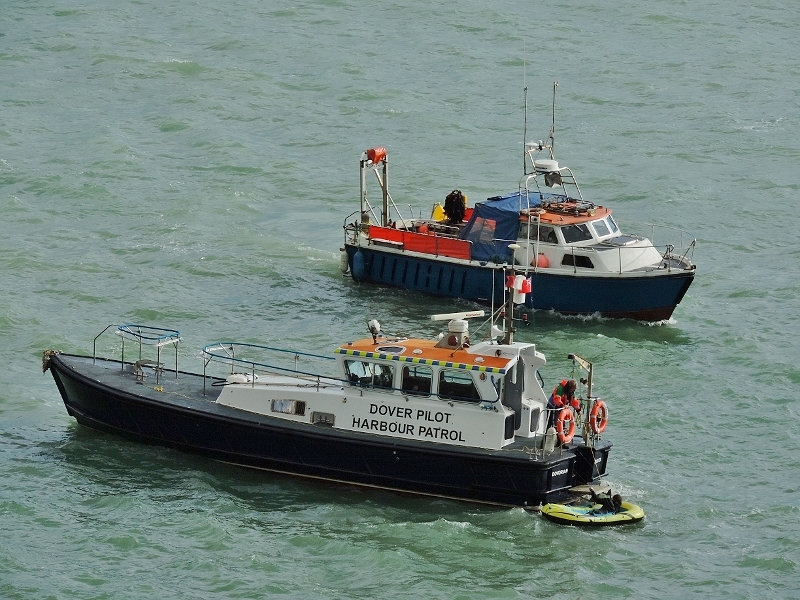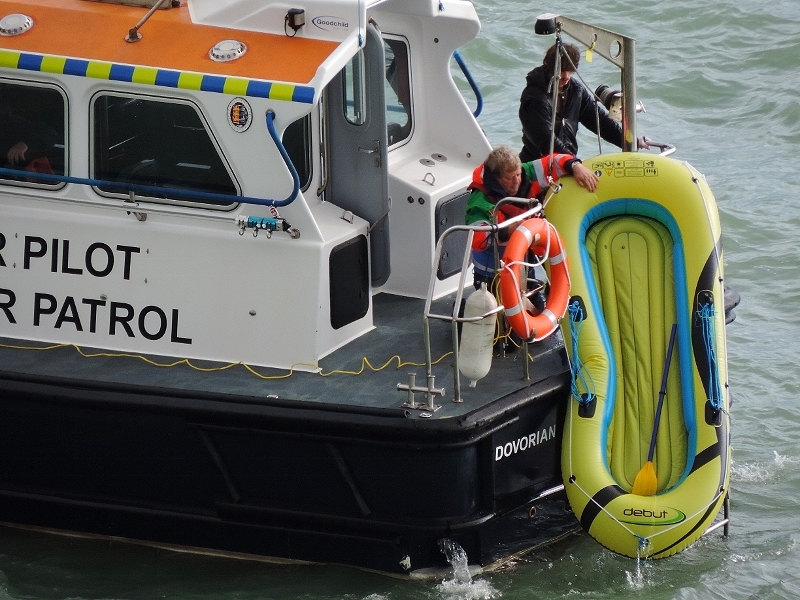 Just before lunchtime on Tuesday this young lad featured here dropped a dinghy, with the help of a friend, into the water from the small pier. It looked precarious to say the least as he tried to get onboard. He managed to do it, but a short time later in the swell was swepped into the troubled waters at the corner as shown.. and couldn't get out. Fortunately some of the experienced seasoned guys in the larger boats out in the harbour recognised there was a dangerous situation taking place. First on the scene was a boat which is I understand usually involved in the channel swimming, then shortly afterwards the harbour patrol guys arrived...as you can see in the pictures above. The upshot was that they managed to get a tow to the dinghy..pull him free from the treacherous corner and it all ended safely, but looked a dangerous situation for a while.
Tuesday, 4 November 2014 - 15:20
Post 1259
PaulB, Dover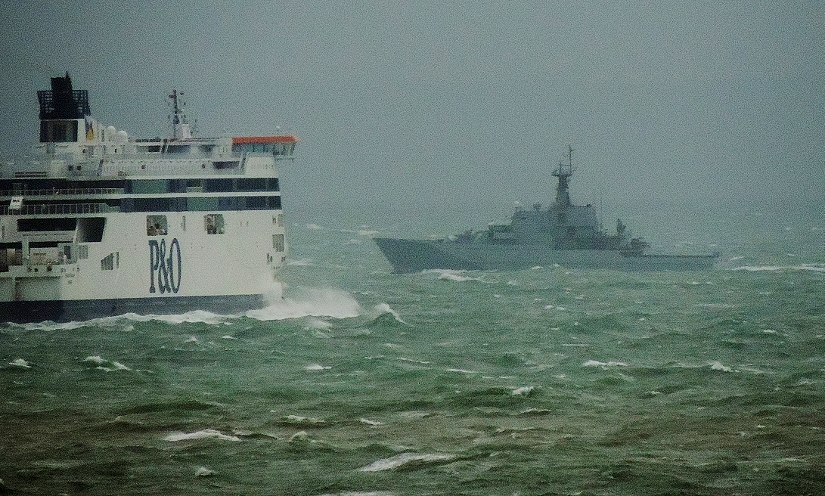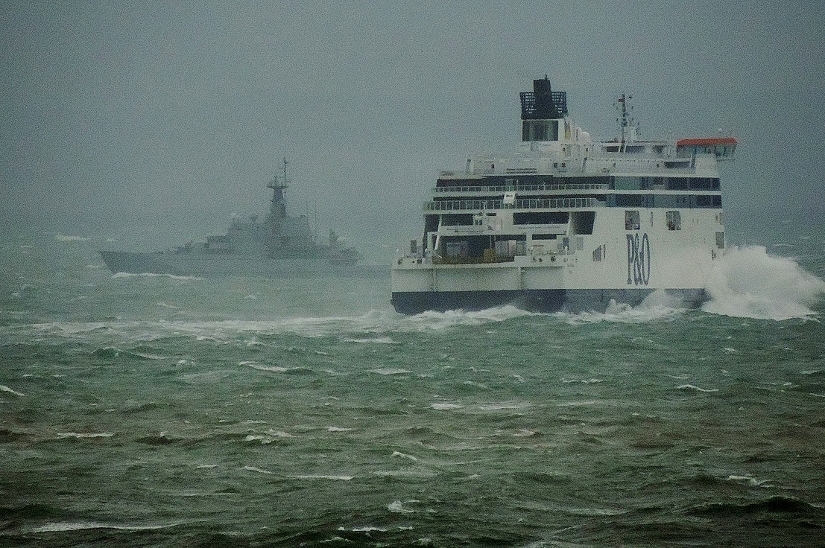 The two pictures above are once again from Sunday, we have an over abundance of pictures at the moment so bear with..its taking a while to get everything on show. These pictures above show one of the P&O Spirits, probably the Spirit of France , battling its way over to Calais on sunday afternoon. I was trying to get pictures of this ship when out of the blue, the misty blue, came a warship right into the picture. Not sure whose navy ?? as nothing showed on the Channel Traffic System ( see top of Dover.uk.com our sister channel ). You can see how rough the sea was at the time and it continues to be turbulent. Pictures are a bit grainy sadly as taken at very long range and in poor conditions but worth showing.
Below we have both tugs from yesterday Monday. The ferries were needing help and the tugs were delivering in the very strong winds. You can see them here nestling together between jobs as the strong winds whip across the harbour right to left, west to east.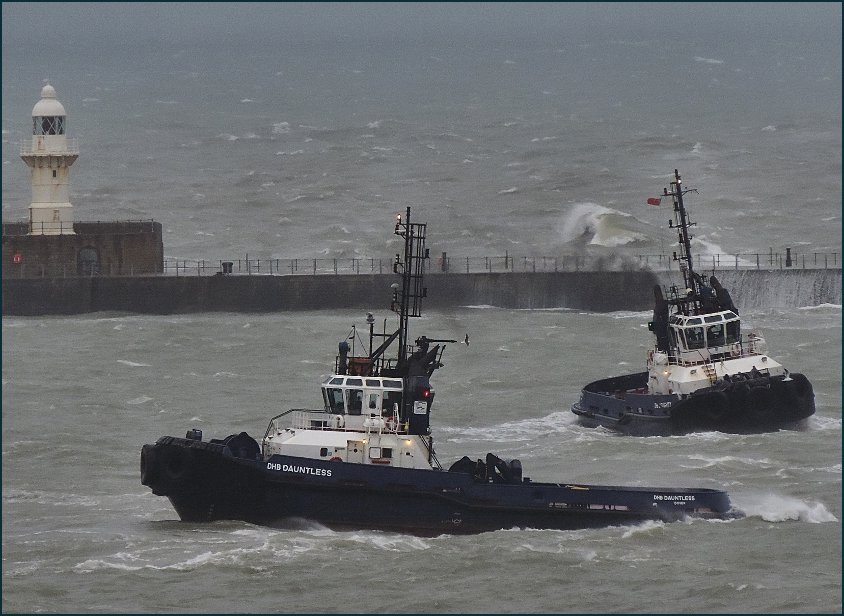 Yes Barry it was a rough arrival for Elvira. Thought at one time we might be losing one or two of those containers as it really was bad...but all was okay in the end.
Tuesday, 4 November 2014 - 06:31
Post 1258
Barry W-S, Dover
Great Photo PaulB of the container ship battling against the storm, seeing these pictures of maritime vessels ploughing through the waves makes me glad that I am on terra firma.

Monday, 3 November 2014 - 12:42
Post 1257
PaulB, Dover
Woe! its a rough day and no mistake. It is just after 6am as I write and its no weather for picnicking. It was getting this way yesterday sunday as you can see in the following pictures. First one shows cargo reefer Elvira approaching the harbour in very rough seas indeed. Most definitely gale force winds on show here...not an entrance for the fainthearted..its a tough game for sure..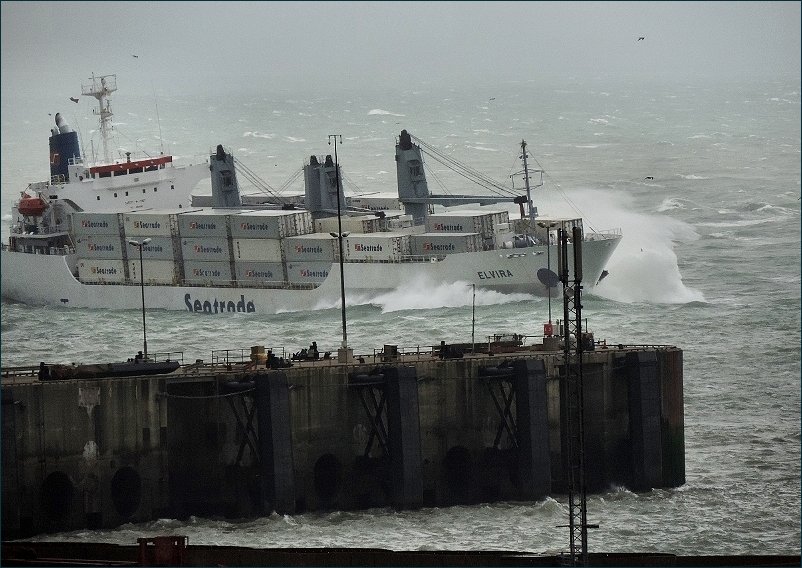 This picture above was taken about mid-day sunday.
The following pictures were taken earlier in the day yesterday sunday..it was still early morning with the sun bursting into play and 'twas fairly rough even then, rough enough for the ferries to need assistance from the tugs, but of course it got worse later and is still bad. Here we see Dauntless leaping into action...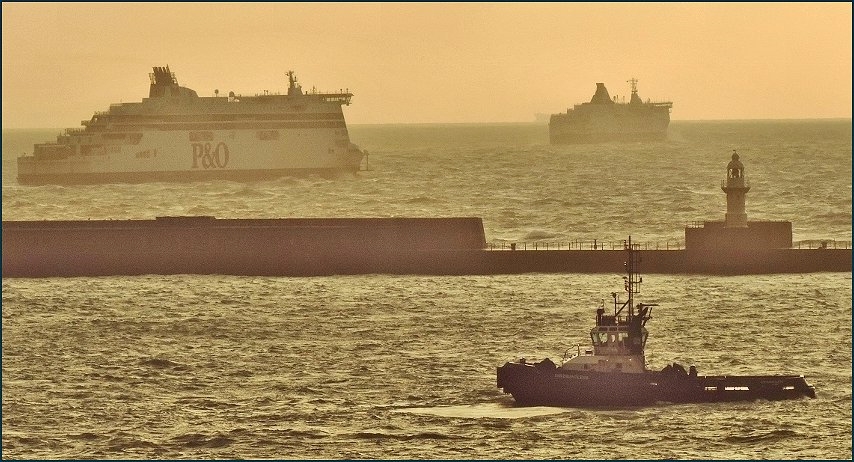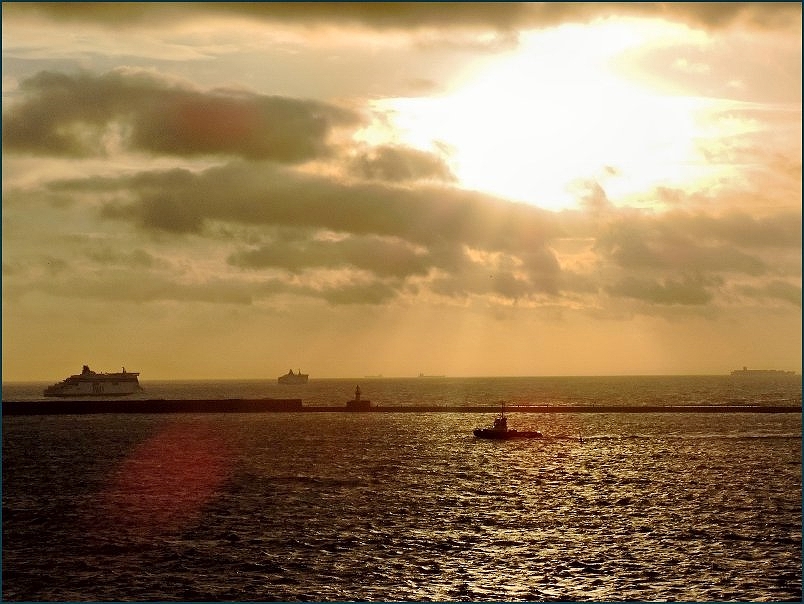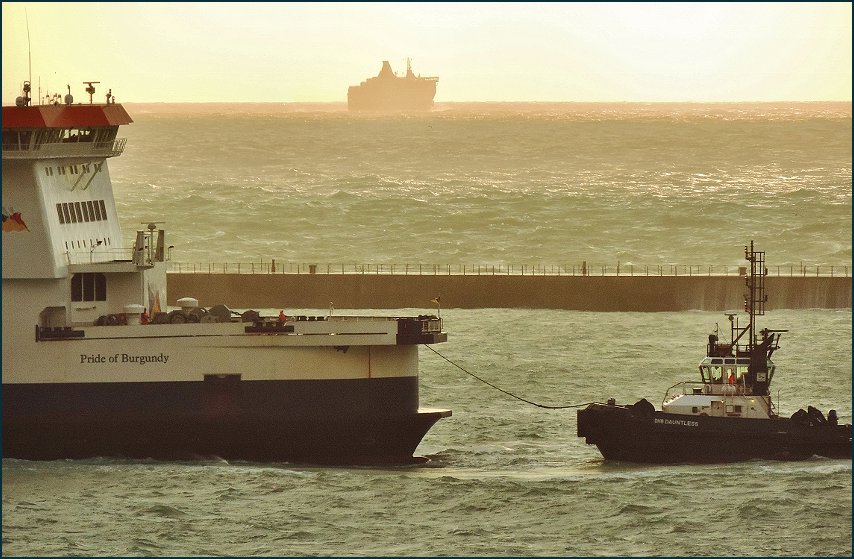 Monday, 3 November 2014 - 06:28
Post 1256
PaulB, Dover
Our old friend Tugboat Doughty is back in the thick of the action again. She was away for a refit we understand but here she is again back in the fray. The top picture shown here was actually taken just before her refit...it dates from roughly about two weeks ago as she battled across the harbour in the strong winds then...the other two pictures below are from yesterday as she dealth with the arrival of a regular visitor and another one of the 'Star' ships...this time the Caribbean Star.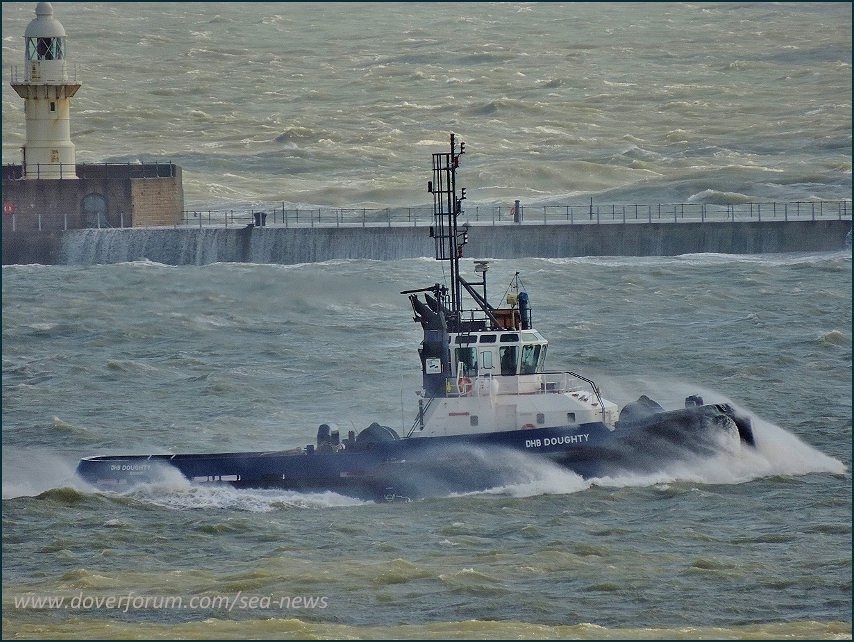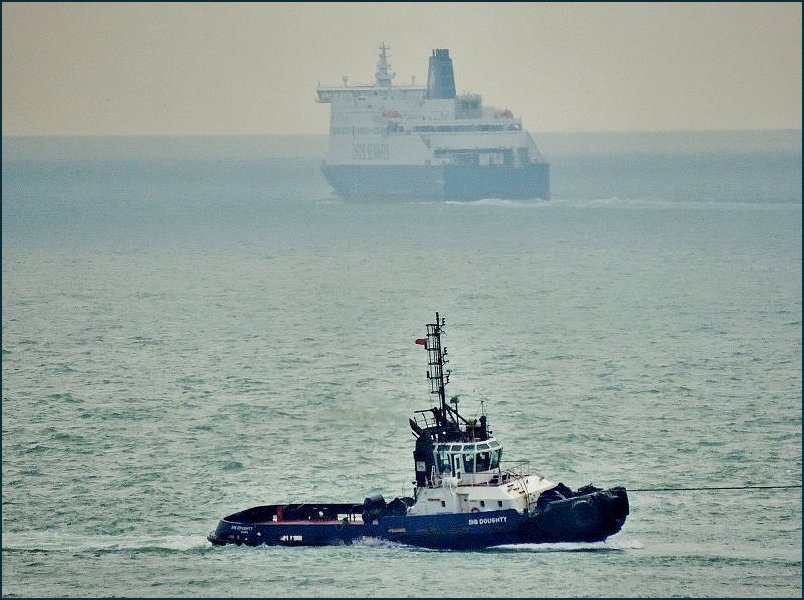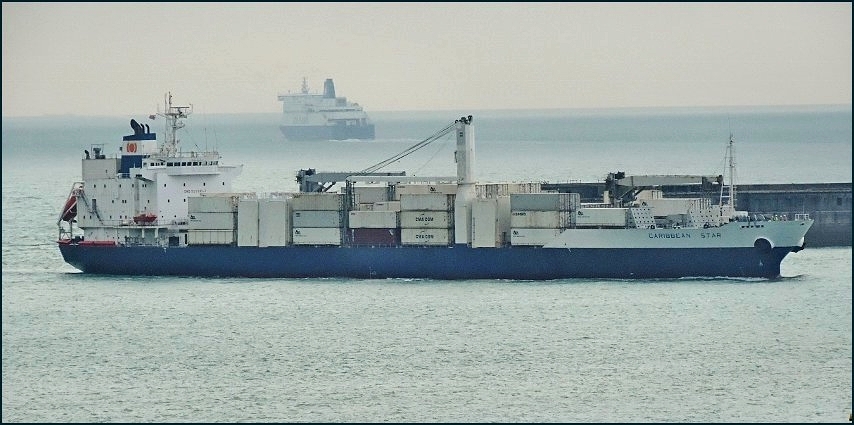 Strong blustery winds again today whipping across the harbour with at least one tugboat assisting the ferries. The Caribbean Star pictured above only arrived here in Dover yesterday but has already long since departed. Brilliant fast work once again by the team at Dover.
Sunday, 2 November 2014 - 07:26
Post 1255
PaulB, Dover
While we are talking about vegetation in general its worth mentioning too that all the seafront flowers have now been stripped away down along by the Gateway and around the Memorials. The lovely flowered Norwegian Flag for example is no more, but no doubt will return again in all its glory in the spring next year. This gives me an excuse to use this picture..a purposely soft focus picture of the colours surrounding the new Royal Norwegian Navy plaque. When we did pictures of the unveiling back in early September (post 1052) I don't think we managed to get one up on here of the actual plaque itself...so here we are now. We also have a sharp version in reserve should anyone prefer.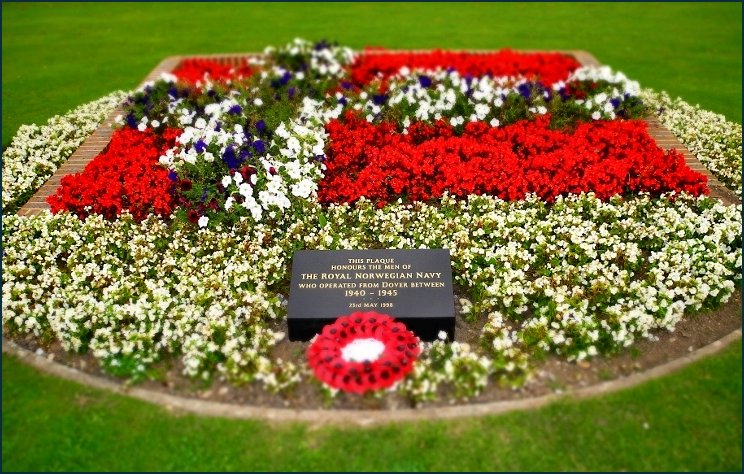 All fairly quiet at the moment generally.
Saturday, 1 November 2014 - 07:44
Post 1254
Mike J., Dover
I hope that the 'stays' [good nautical term!] don't cause the top of the tree to snap off in a strong gale !

Perhaps that's the reason why trees have never become established along the seafront.

If you take a walk along the clifftops, particularly close to the edge of the cliffs, you'll see that the bushes have been 'shaped' by the mostly southerly & southwesterly winds.



Friday, 31 October 2014 - 10:06
Post 1253
PaulB, Dover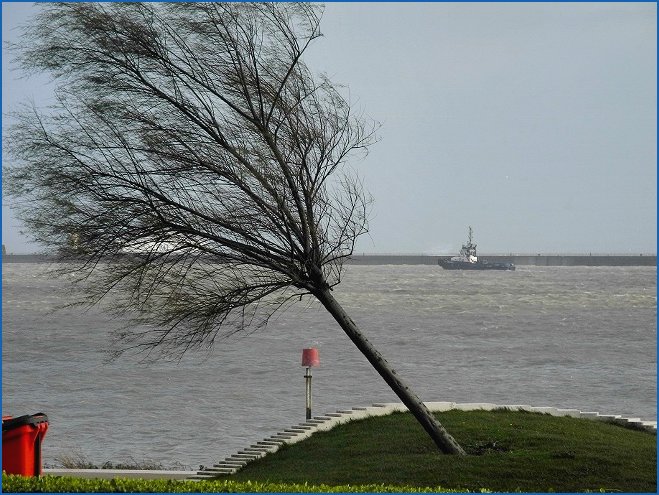 Many of the trees along our lovely seafront had long since adopted the position above, instead of leaping skywards as you would expect, they were kinda leaping towards Margate..so that would never do ! The horrendous storms of last winter rendered them more than a tad weatherbeaten. Yours truly quite liked them like that, as it showed something of a storm force character, but ones family members have often cried over their Pinot Grigios in the Dover Marina Hotel when gazing at the 'poor bent tees'. The good news now is the trees are restored to the erect position and are leaping skywards once again ...and now fully reinforced with 'stays'.. (not sure of the correct gardeners term there but the trees are now supported fully). A team came during the week complete with a JCB thingy and now all trees are restored to the perpendicular. No pictures yet of the re-aligned trees but watch this space in due course...

Vic the good news now is that all seem to be pulling together re the Port. so we can all drive forward hopefully in top gear. All seems more optimistic now than it has been for a long time.
Nice pictures below Mike. Its amazing what turns up in Dover Harbour ..never a dull moment. Nice story about it snaking all the way to Switzerland.
Friday, 31 October 2014 - 08:15
Post 1252
vic matcham, river
Nothing to do with the election next year then ( see post 1179 ),What the D.H.B. is doing had nothing to do with Dovers MP if he had his way it would have been sold off to a group call the Dover Port or wording of that kind, putting a rope round the neck of the port for a 100years paying ofF a loan. But port stayed a Royal Port after all now it can look forward and move ward in the safe hands of the D,H,B.

Thursday, 30 October 2014 - 17:10
Post 1251
Mike J., Dover
Inshore survey vessel HMSML [Her Majesty's Survey Motor Launch] GLEANER was berthed in the Tidal Harbour on Thursday afternoon.
Built in 1983 & said to be one of the smallest vessels commissioned into the Royal Navy she also has the rare distinction of being the only Royal Naval vessel to have visited Switzerland, going up the Rhine to Basel in 1988.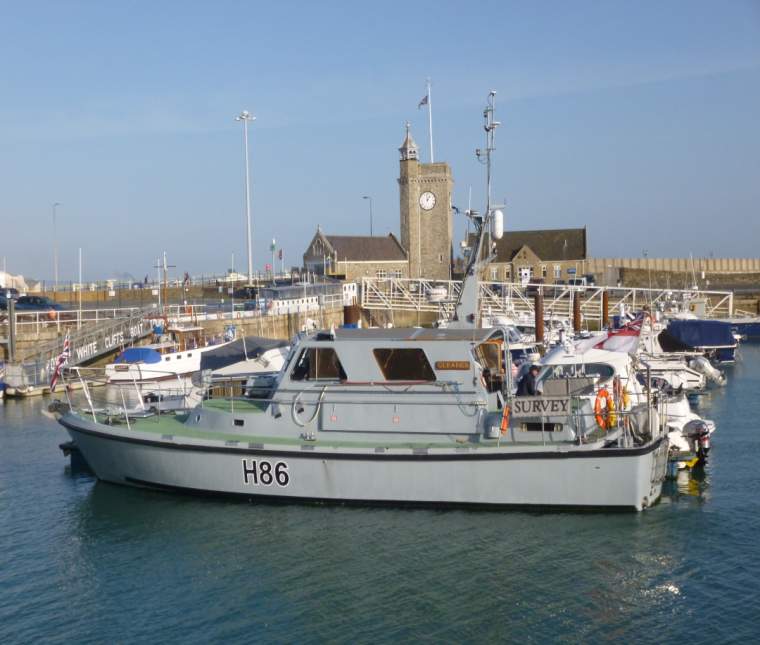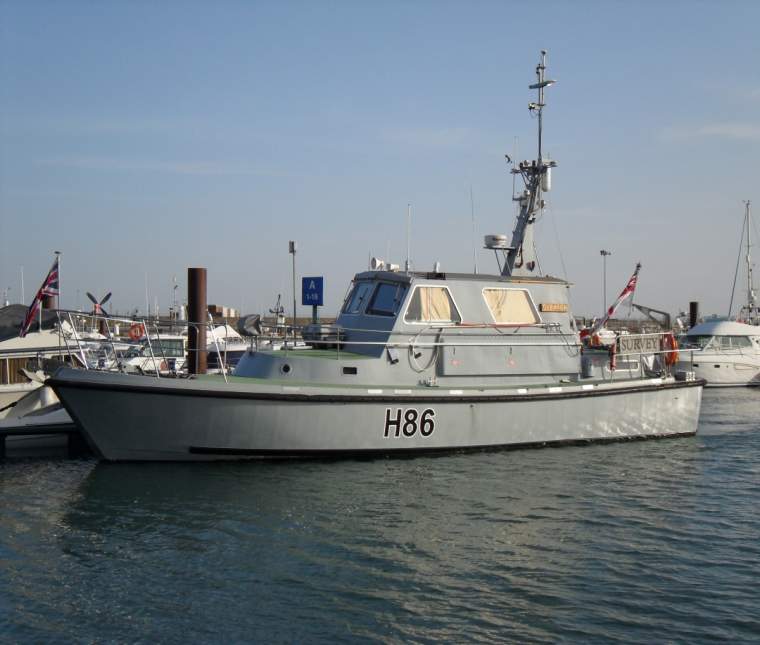 Thursday, 30 October 2014 - 15:53
Post 1250
PaulB, Sea News, Dover.
A PEOPLE's PORT IS RISING AT THE DOCKS says MP Charlie Elphicke
_______________________________________________________
Last week the New Ports Minister John Hayes visited the Port of Dover. He saw the progress that has been made over the last few years and the real change we have made together. It's important to remember that back in 2010 our port was about to be sold off. The previous Government planned to sell it to the French or whoever. When I was first elected all that was needed was the flick of the Minister's pen and it would all have been over.
Since that time we've come a long way. The battle against privatisation brought together the community, port workers and trades unions. It saw the foundation of the People's Port Trust with a plan to buy the port if the sell off was to go ahead. A referendum was held in Dover. The result was emphatic on a higher turnout than had been seen in the previous elections for the district council. Finally I took the battle to Parliament and defeated the Government in a key Parliamentary vote. After that Ministers decided that the sell off would not go ahead. Dover's port would be Forever England.
That was a great victory. Yet there was more. The campaign to save the port highlighted three serious problems. First the port needed to be able to raise money for investment. We need a great modern port fit to beat the competition from the Tunnel. Second people felt the port did nothing for the town. There needed to be a community fund to benefit our community. Third there needed to be a closer partnership between the port, port users and the people.
Things had to change. Business as usual was not an option. So some six months ago the previous Ports Minister, Stephen Hammond, visited Dover to set out his plan. The port would have new powers to raise the investment it needed to modernise and grow. Already the harbour revision order for this has been passed. Port management have also set out an ambitious plan for the Western Docks Revival with hopes to create 600 new jobs. A community fund would be set up which is now happening. It will help provide support for the skills, training and life chances of our young people. Finally he said there would be community directors. The first of these is currently being appointed.
The new Ports Minister was deeply impressed by what he saw. Much new investment is being made. There are plans for more. We've already seen demolition ahead of the Western Docks Revival. We have the area around the Marine Station in our sights. Alongside the moves to get Burlington House down many of the building blocks for the greater future of Dover are now in place. The next stage is to see through this change and transform our town.
ENDS
Charlie Elphicke is of course MP for Dover and Deal. Charlie sends out regular Newsletters and when they relate directly to the Port we are happy to reproduce on our Sea News pages even though we don't specifically do politics on these pages here. Charlie has been more involved with the team at the Port in recent times as all can see in our regular press releases.
More on the aforementioned ministerial visit in the earlier post number 1160 below.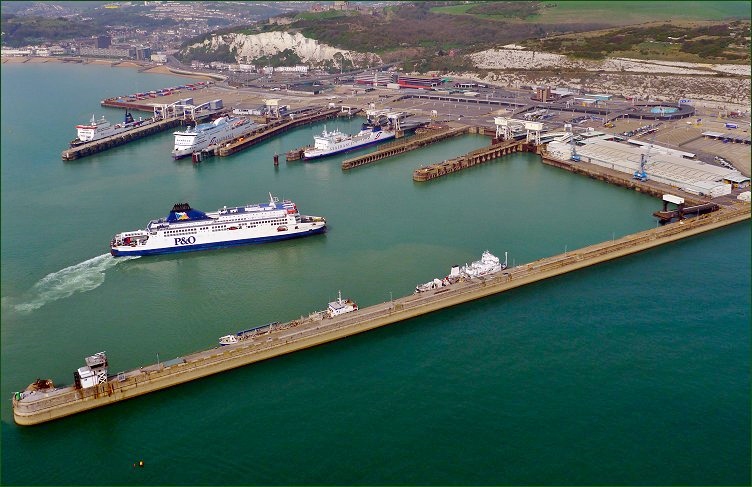 Thursday, 30 October 2014 - 07:10