Thursday, 22 March 2018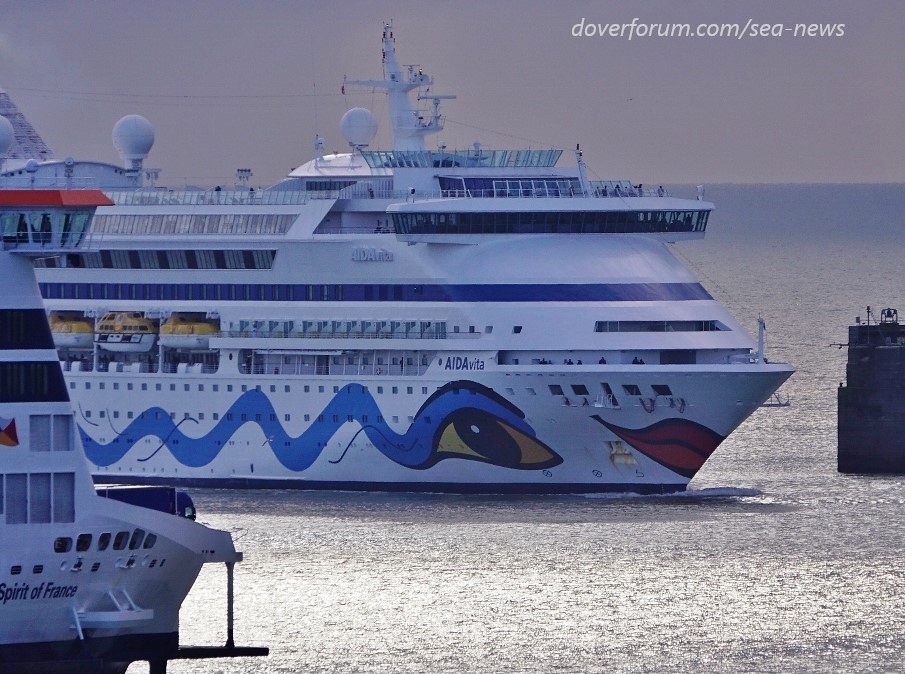 AIDAVita arriving - first cruise ship of the year at the Port of Dover. More images below page....

doverforum.com/sea-news
Doverforum.com: Featuring all the ships that come and go and work at the Port of Dover with further coverage of Ramsgate, Calais, Dunkerque. Email: dover7@msn.com to send SEA NEWS pix or info.... or click ADD YOUR COMMENT below to post direct, no membership needed.

P&O FERRIES recruiting...4745
PORT of DOVER awards Cargo Refrigeration Contract see 4740
PORT OF DOVER: Community Benefit 4688
TRADING GROWTH FOR DFDS DESPITE BREXIT see 4642
PORT OF DOVER RECORD FREIGHT see 4551.
PORT OF DOVER: GEEST LINE arrival see 4597.
SECOND FEMALE CAPTAIN FOR P&O see 4608.
Sea News Dover : Use our SEARCH ENGINE below to find all sorts on the SEA NEWS pages..more than 230 now with more than 4500 nautical posts. Posts welcome. Max of 5 pictures preferred per post. Sea News Editor Paul Boland - dover7@msn.com .
Post 4750
Sea News, Dover
PORT OF DOVER WELCOMES FIRST CRUISE SHIP OF THE YEAR... AIDAvita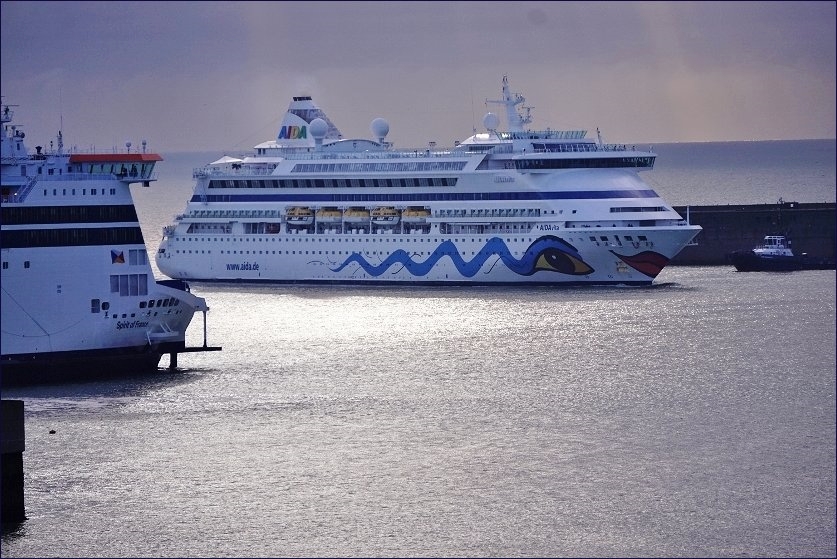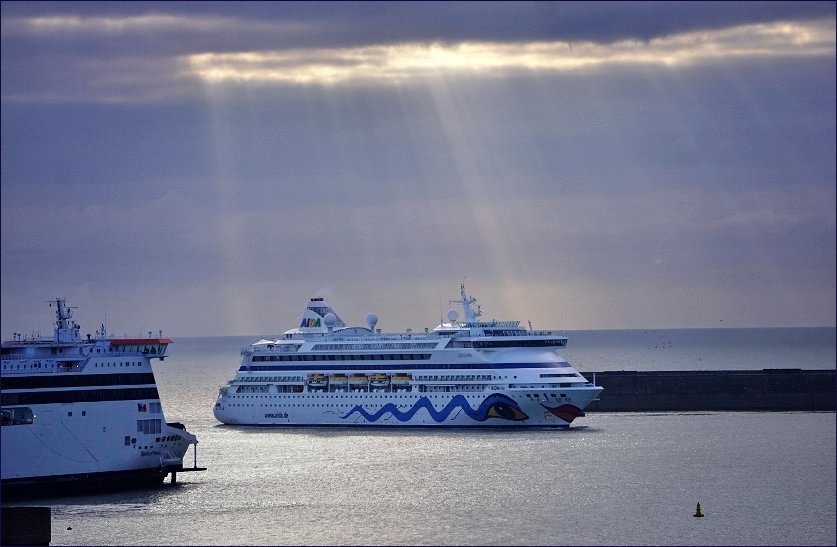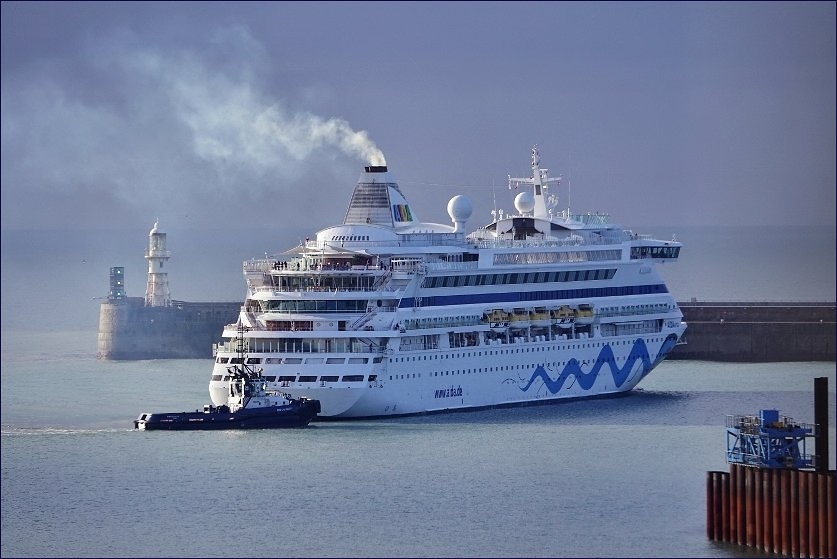 There she is .. AIDAvita ... a very welcome sight indeed, surely heralding the arrival of the long awaited Spring. It was a real delight to see her arrival.


( see also more cruise details from ColetteB in 4744 )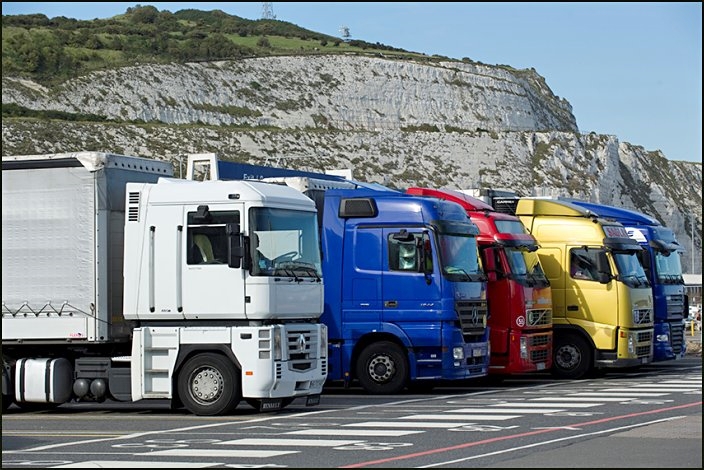 Neglected roads need urgent investment
_______________________________________
20th March 2018
Twenty percent of carriageways in England and Wales are five years away from being unusable according to a study by the Asphalt Industry Alliance.
Road Haulage Association chief executive, Richard Burnett said:
"The Government and local authorities can do a lot more to bring the network up to standard so that the roads aren't full of cracks waiting to turn into dangerous potholes that can cause collisions. Local roads where hauliers make their last-mile deliveries are often in a poor state and the damage they can cause to HGVs – in particular to their suspension systems – can be considerable"
"More potholes means more breakdowns, more roadworks and more delays. And delays in a 'just in time' economy are disastrous for business."
The RAC had reported a sharp increase in pothole-related breakdowns in the aftermath of the severe weather at the beginning of the month.
"It's not lost on us that the short-term impact of the recent severe weather – where supermarkets ran out of food because lorries couldn't get through – is leaving a longer-lasting legacy that exposes years of neglect from government and local authorities," he continued. "Local roads must be included in any plans to improve the strategic road network."
ENDS
I think most of us would echo that sentiment above. Some potholes have morphed into craters ...dangerous to all road users particularly cyclists and motorcyclists....but most of all we all saw how sparse the supermarket shelves were in the recent snow when the trucks couldn't get through...we need our trucks.

Following along from Mike's pictures of 'the wulf' (Wulf7) in 4741 ... here we are with another two as promised. More longer range these pix of course, taken a few days ago in grey conditions as she awaited the arrival of Timor Stream.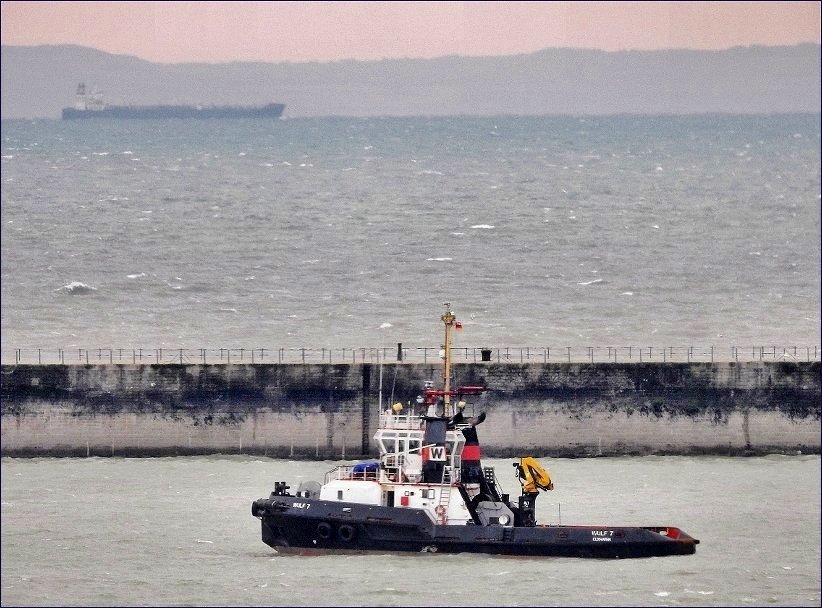 Well done with those pictures below Andrew, a very nice collection below there. Excellent.

Glad you made it in the end to the continent Del. Hope you had a great time and enjoyed your trip on DFDS.
Yes hopefully Spring is here..ish.


PaulB

Thursday, 22 March 2018 - 04:55
Post 4749
Andrew, Broadstairs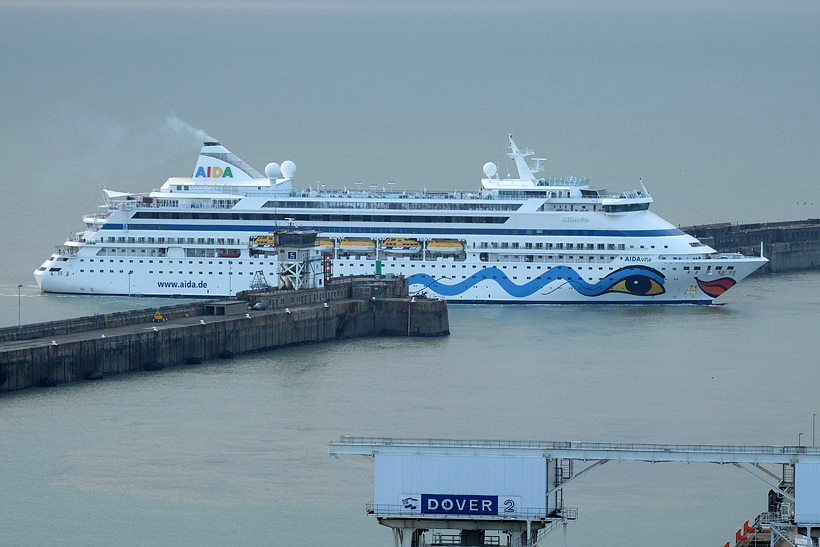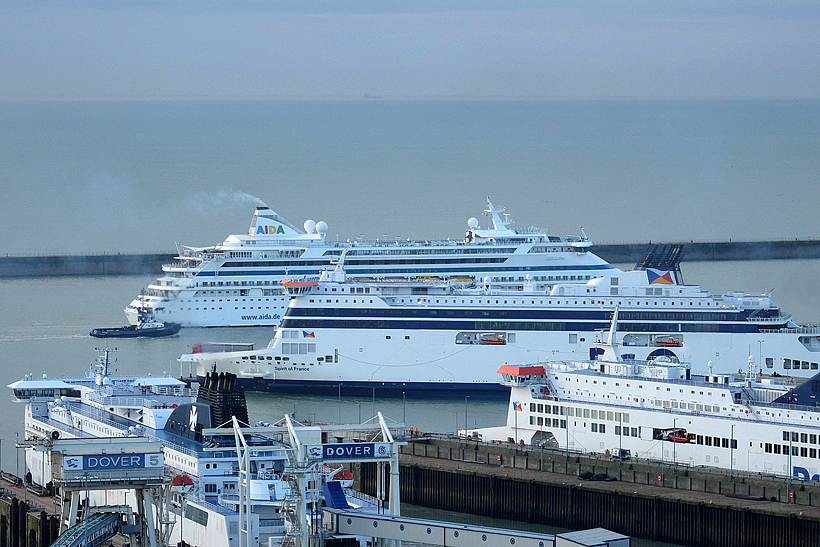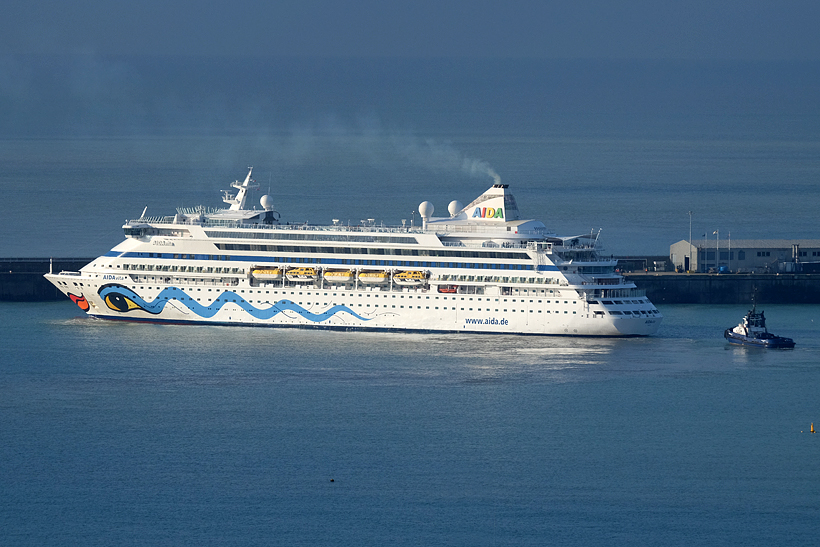 Inspired by Ted, Mike and the Team's excellent past and present photography of the Port's activities I thought it was about time I came out of hibernation and record the first cruise ship of the season. AIDAVITA arrived on schedule and glided across the harbour seamlessly fitting in with the constant ferry movements. With DHB tug DOUGHTY in attendance she turned off the Prince of Wales Pier ready to berth alongside Cruise Two catching the early morning sunlight, a perfect start.
Thursday, 22 March 2018 - 00:55
Post 4748
Del Styan, Norwich
Not put off by the snow last weekend, I went off to le continent on DFDS, and got back today. I do believe over the last 3 days I have seen spring arrive. It seems strange that only 10 days ago the snow brought Norwich to a halt.
And on the arrival of spring theme I managed to clock the first Cruise ship of the season today ( Wed ), smiling through the Western dock works.
Couldn't quite see your lens from where I was, but I'm sure you were on duty as it was such a sunny day.
More sun please!

Wednesday, 21 March 2018 - 23:09
Post 4747
Sea News, Dover
Yes exciting to see the first cruise ship of the year Jan - will have pictures in the morning.

Wednesday, 21 March 2018 - 17:55
Post 4746
Jan T, Dover
Crumbs open my curtains this morning to see a cruise ship,a nice surprise and sunshine as well blows all them snowy thoughts away.

Wednesday, 21 March 2018 - 08:03
Post 4745
Sea News, Dover
P&O FERRIES SETS OUT STALL TO HIRE ENGINEERS, QUARTERMASTERS AND OFFICE WORKERS....
... AT DOVER AND DEAL JOBS FAIR
_____________________________________________________________________________________________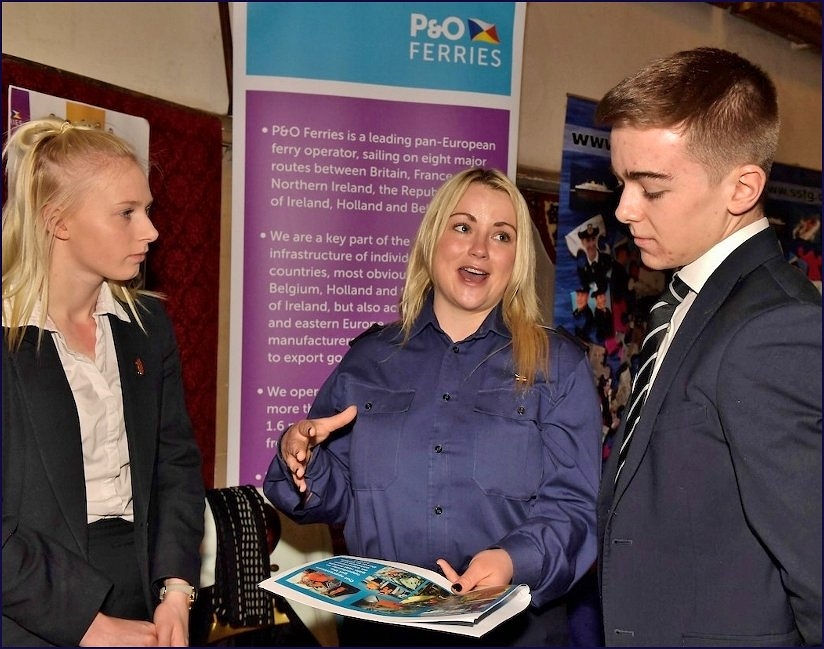 P&O FERRIES was looking to fill vacancies for positions including engineers, quartermasters and contact centre agents at last week's Dover and Deal Jobs Fair.
The integrated ferry and logistics company was the main sponsor of the event, which is organised by Dover and Deal MP Charlie Elphicke.
Jacqueline Burns, Corporate Communications Officer at P&O Ferries, said: "We are one of the biggest employers in the local area and our team spent the day explaining to job hunters why P&O Ferries is such an exciting place to work. We have current vacancies both on our ships and at our offices and handed out more than 100 leaflets to would-be applicants."
"Two of our apprentices from last year's intake - Stacey Gregory (pictured, speaking with students from Dover College) and Adrian Vincent - were on hand to tell people what life is like at sea sailing one of our 47,000 ton ships between Dover and Calais. Our apprenticeship scheme generated a huge amount of interest from people on the day and we will be inviting applications in the summer in advance of interviews later in the year."
"We also have a cadet scheme for training future officers on the ships. If you are a highly motivated job seeker who has the energy and determination to build a career at a world class company, I would urge you to visit www.jobtrain.co.uk/poferries to find out more about what we have available."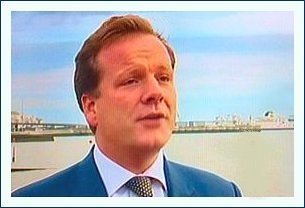 Charlie Elphicke MP added: "P&O Ferries are one of our area's biggest employers and do a lot for the local community. It's no surprise that so many people want to work there – and often stay throughout their whole career."
P&O Ferries is a leading pan-European ferry and logistics company, sailing 27,000 times a year on eight major routes between Britain, France, Northern Ireland, the Republic of Ireland, Holland and Belgium. It operates more than 20 vessels which carry 8.4 million passengers and 2.3 million freight units annually.
Together with its logistics division, P&O Ferrymasters, the company also operates integrated road and rail links to countries across the continent including Italy, Poland, Germany, Spain and Romania. P&O Ferrymasters also owns a rail terminal in the Romanian city of Oradea, which facilitates the onward movement of goods to Britain from Asian countries via the Silk Road.
ENDS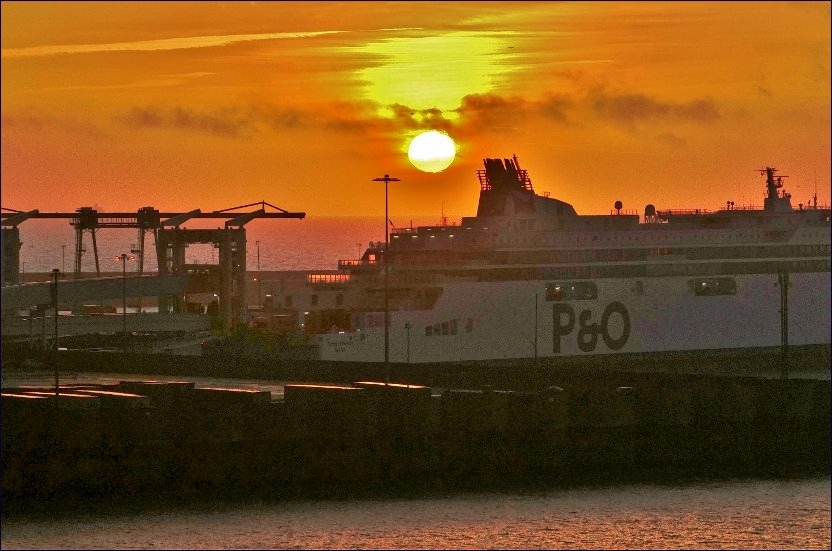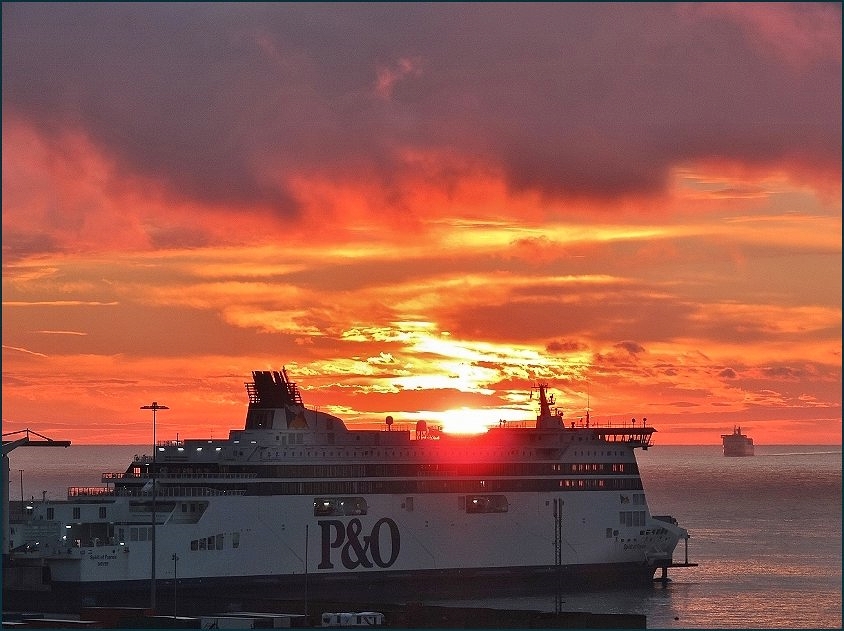 Some pictures above there of the P&O ferry the Spirit of France . Taken at sunrise as you can see. The top shot taken just in the past week and the second one...an old favourite from 2014. You can spot the difference in the logo there ...
Great to see P&O FERRIES recruiting. Great stuff guys!

Many thanks once again to P&O FERRIES for the info.
* *
Another shot below of Timor Stream, now enjoying the delights of Hamburg having left us yesterday morning. Focussing here on the chap at the bow.... there he is embracing the bracing sharp sea breezes from the ..ermmm sharp end.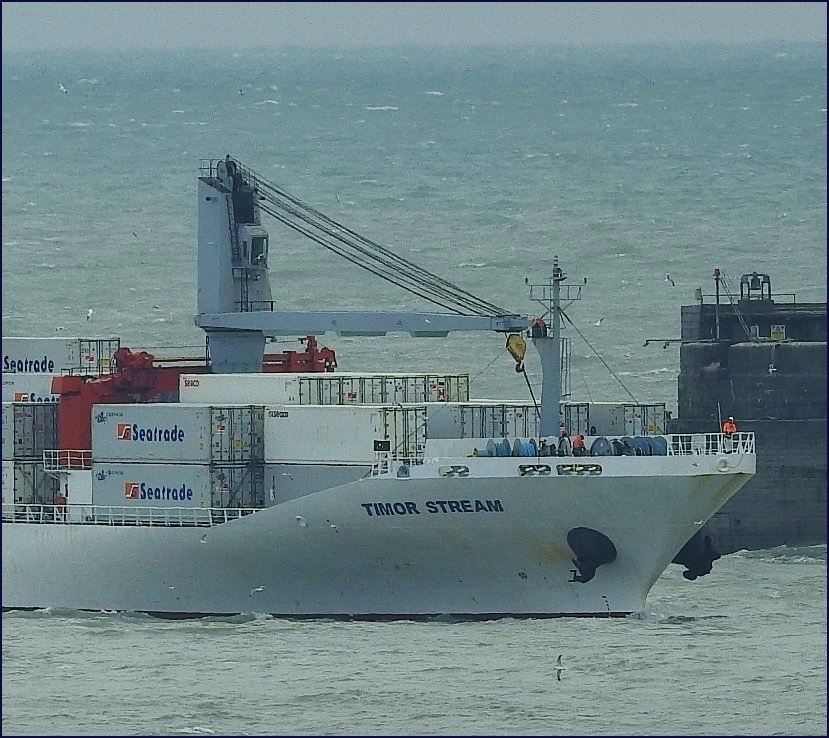 Many thanks for the Cruise info below Colette. You took me by surprise there. I still figured we were up to our snowy armpits in the bleakest of bleak midwinters .. had forgotten all about cruise visits.

Nice collection of cruise ships below there Ted...

its all happening
PaulB
UPDATE: yes AIDAvita is in Port.

Wednesday, 21 March 2018 - 05:16
Post 4744
ColetteB, Dover
CRUISE VISITS
I can't believe it! …. It's that time again Guys, Cruise season is upon us, almost got caught out …
Let us start ……
Tomorrow Wednesday 21st March the first cruise ship to grace our shores in 2018 is the forever smiling AIDAVita last here in September 2017. She will arrive at CT2 at 08.00 hours on her way back to her home port of Hamburg. She is on her 13 night Las Palmas to Hamburg cruise visiting Portugal, Spain & France along the way. Her next port of call is Amsterdam before dropping anchor in Hamburg on Sunday 25th March, she will leave us at 19.00 hours, PoC.
Then on Sunday 25th March we welcome a Newcomer, Hanseatic (Hapag Lloyd) arrives at CT1 at 07.00 hours on her 17 night cruise from Dakar (Senegal) visiting such delights as the Canaries, Casablanca, Spain and Portugal before dropping by. She departs at 15.00 hours onward to Hamburg for Tuesday 27th March, PoC.
The third and last call for the month of March on the 29th is a much loved friend, Boudicca, arriving at CT2 06.30 hours on a 5 night Easter Mystery Cruise, maybe meeting the Easter Bunny along the way?

I cannot believe that she was last here in May 2015, she recently returned from a 35 night cruise sailing from Cape Town to Southampton and I would like to be one of the first to say welcome back. She leaves us at 16.30 hours, Embark Only.
Back soon ..


Tuesday, 20 March 2018 - 20:45
Post 4743
Ted ingham, Canterbury
MIND THE GAP....Five more cruise ships photographed from the Operations Room at Dover Coastguard.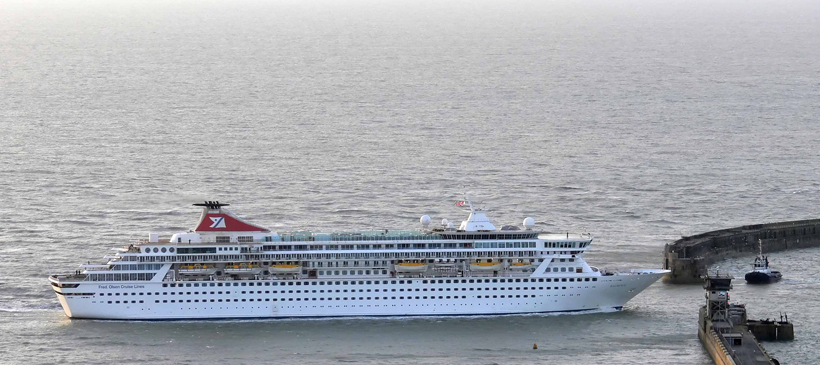 BALMORAL entering on the 1st February 2008.
Fred Olsen had purchased the vessel in November 2007.She was dry docked at Hamburg for a major refit and an insertion of a 30 m (99ft) section amidships.She arrived at Dover for her inaugural cruise.The Balmoral is due for another major refit at Hamburg this year along with two other Freds.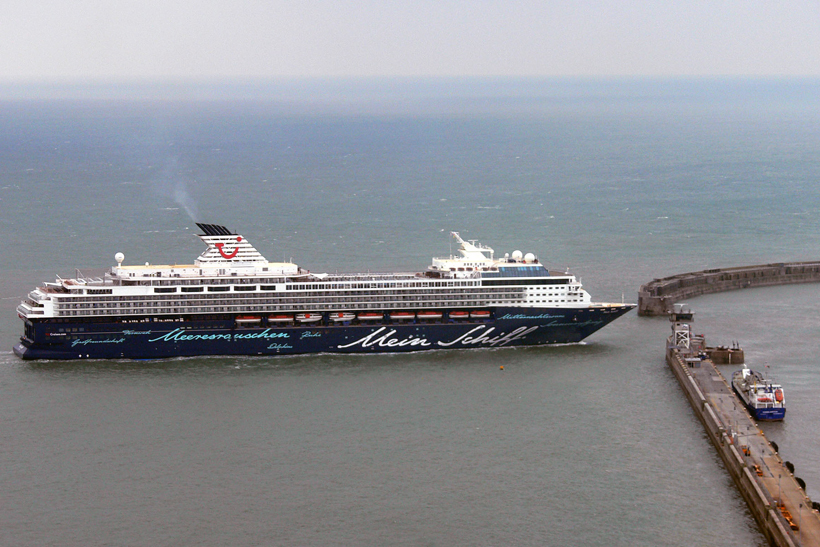 MEIN SCHIFF 2 photographed on the 7th May 2010. Previously the CELEBRITY MERCURY.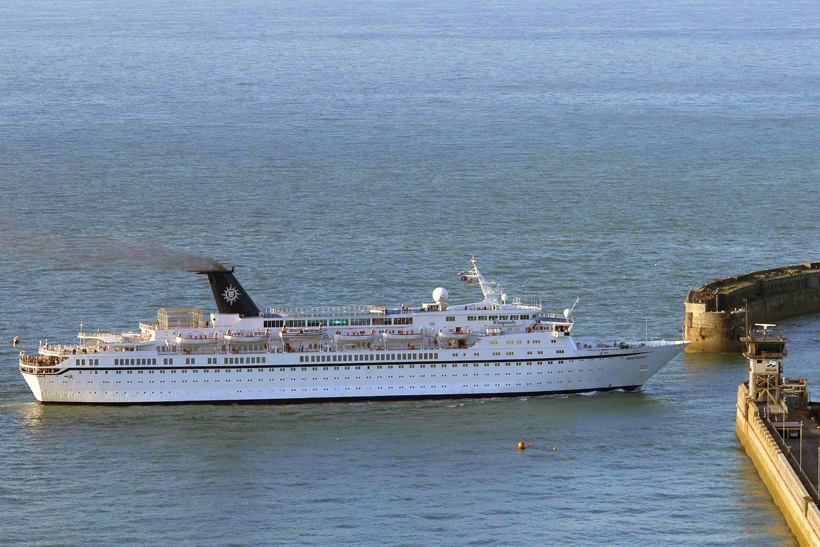 RHAPSODY photographed on the 19th July 2007.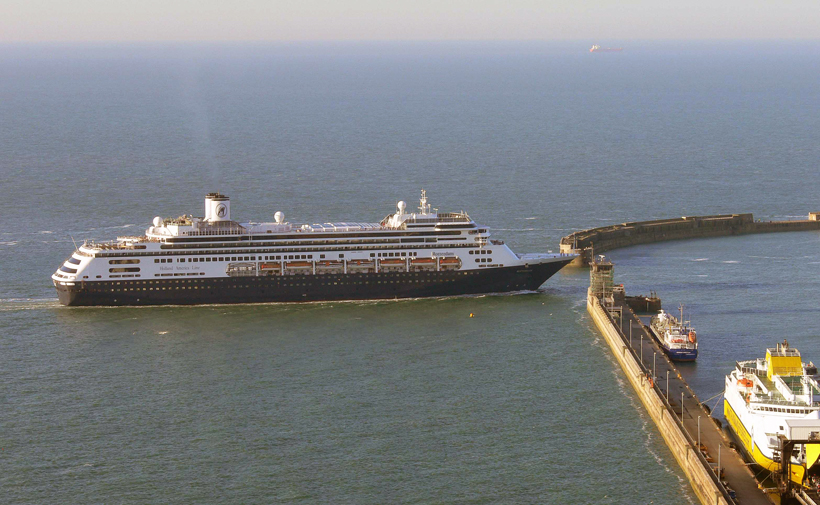 ROTTERDAM photographed on the 30th May 2009.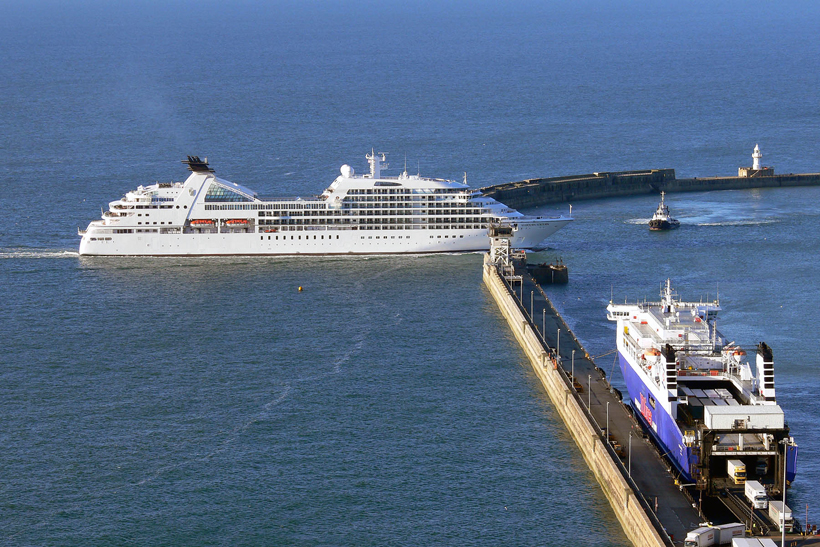 SEABOURN SOJOURN photographed on the 3rd June 2010.
Tuesday, 20 March 2018 - 11:10
Post 4742
Sea News, Dover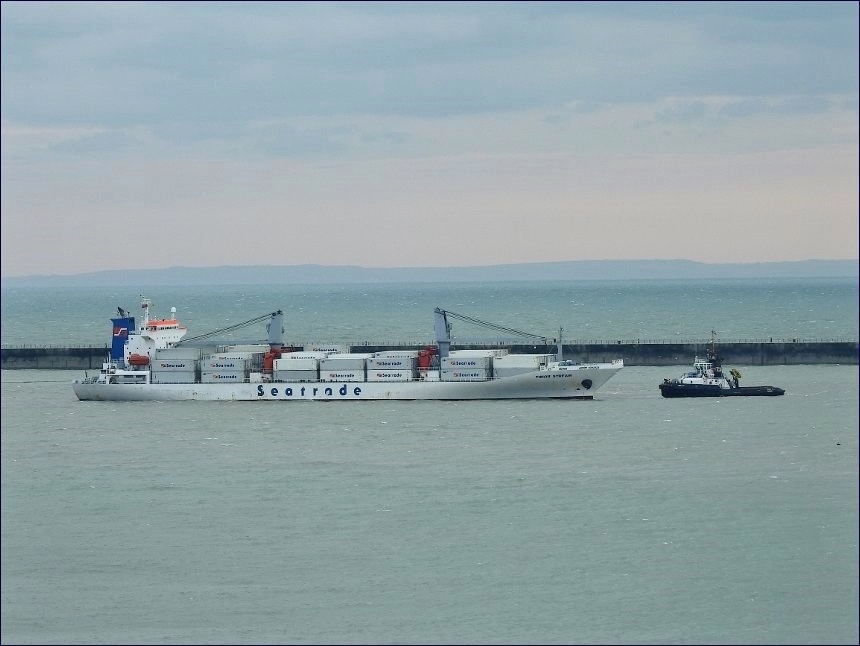 Pictures above and below now of Timor Stream arriving here at the Port of Dover yesterday morning. Fortunately it was relatively bright for the arrival and so yours truly was delighted to get some pictures of the ship. I think its just her second visit so quite a rarity...so far.
Top shot shows her pausing with Wulf 7, the stand-in tug, while you can also see the coast of France in the distance however hazy. It was great to have some reasonable visibility back. The pic below shows her just a few minutes earlier yesterday morning arriving here at the Port.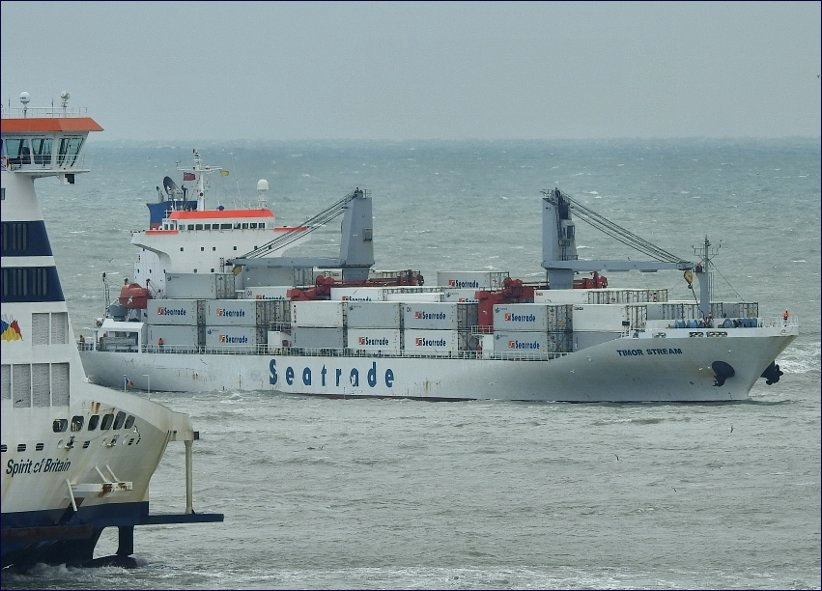 During the rough tough weather of recent days, and as we mentioned before, quite a few large ships came in close to shore. Unfortunately poor visibility conditions killed off the possibility of many worthwhile pictures, but in between the snow showers etc etc .... we managed the two below anyway.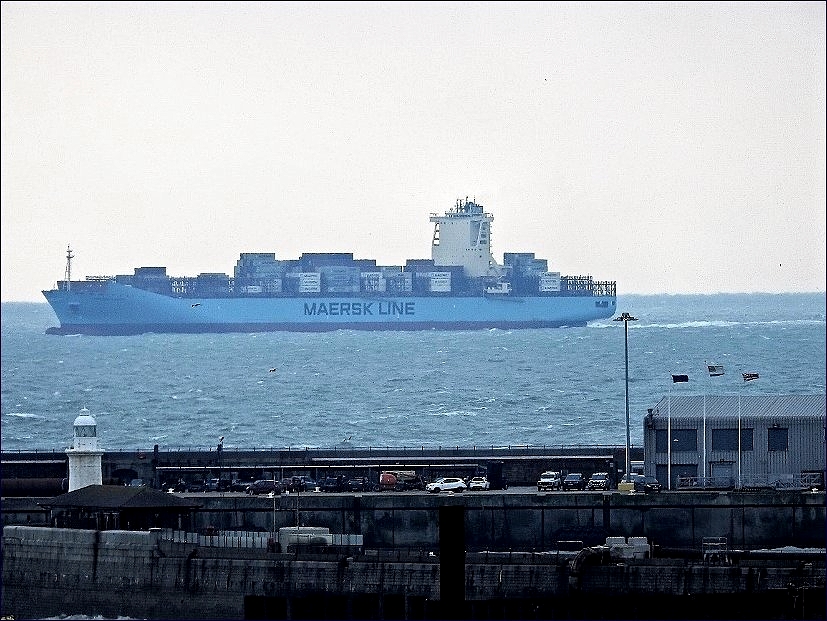 Mearsk Lanco above and MSC Beatrice below.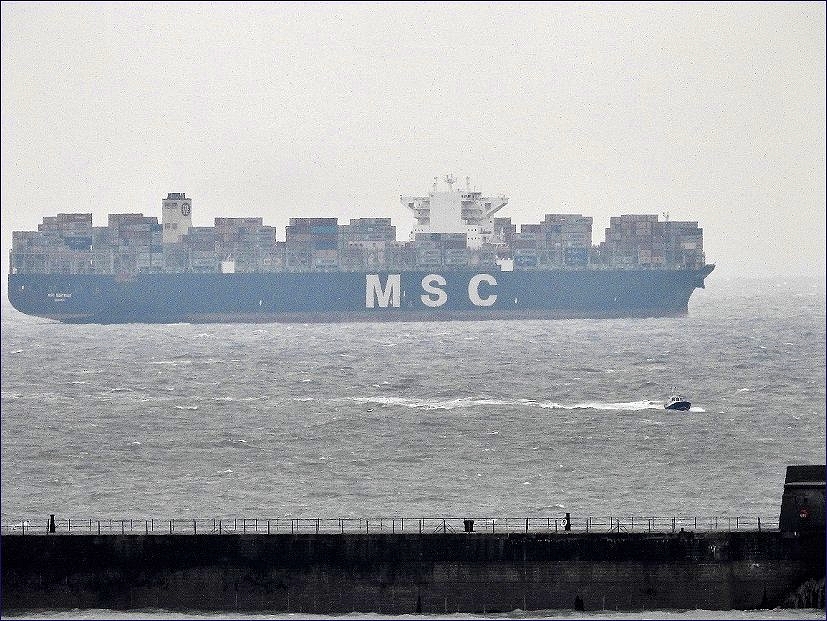 It's a poor quality shot of the MSC but isn't it a great ship..a great beast.. you can see the pilot boat powering its way homeward.
Just adding this one below unscheduled, was thinking of it for top of page, but will place it here now. Finnsun....of Finnlines ro ro cargo. You can just spot the pilot in this shot too.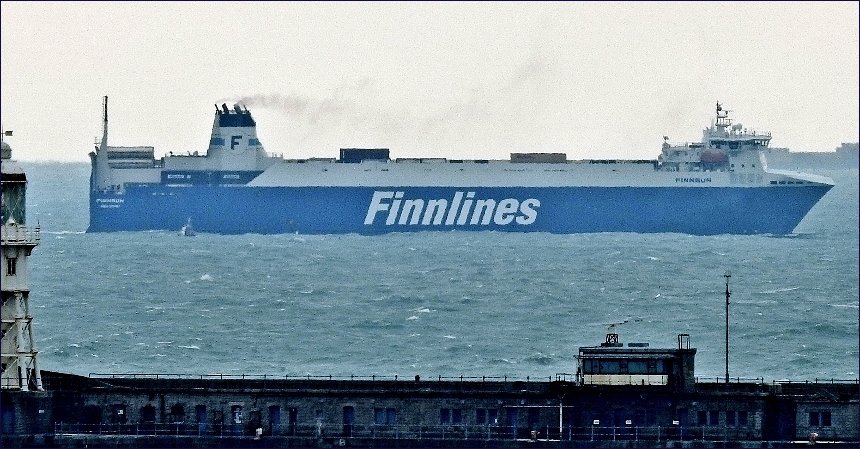 Nice pictures of the Wulf below there Mike...might be able to add to those in the next couple of days. Yes Wulf was doing the business with the Timor Stream..
PaulB
Tuesday, 20 March 2018 - 06:08
Post 4741
Mike J., Dover
1300 Monday & WULF 7 returns to the Tug Haven after assisting with berthing of TIMOR STREAM.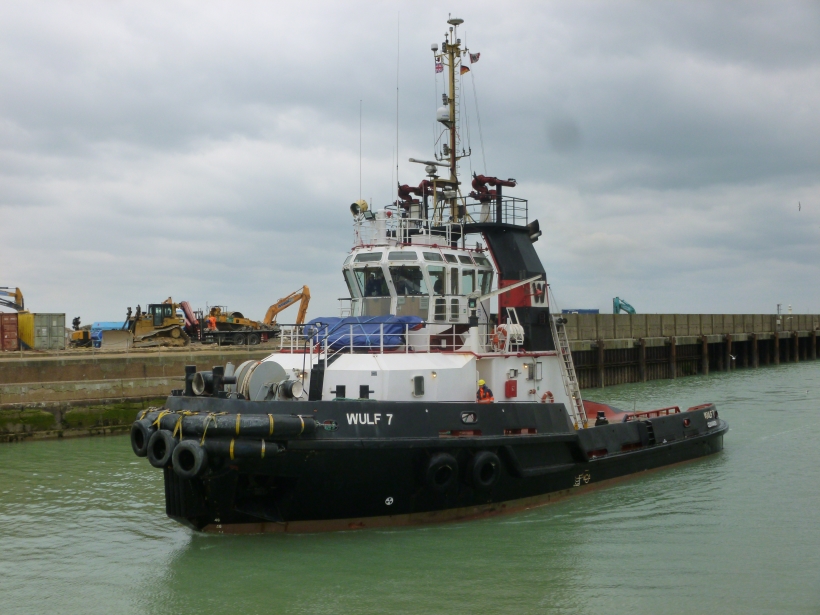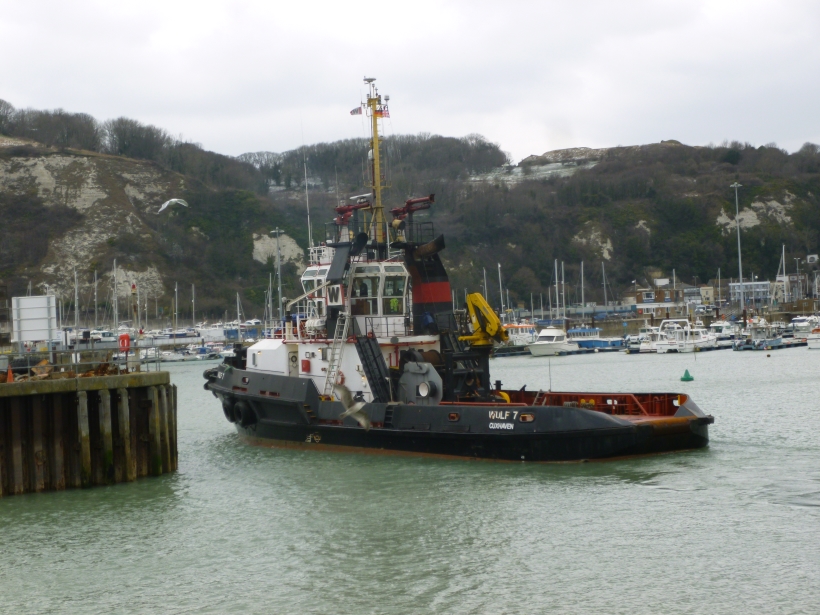 Tuesday, 20 March 2018 - 00:38
Post 4740
Sea News, Dover
Port of Dover awards major contract for new Refrigerated Cargo Terminal
__________________________________________________________________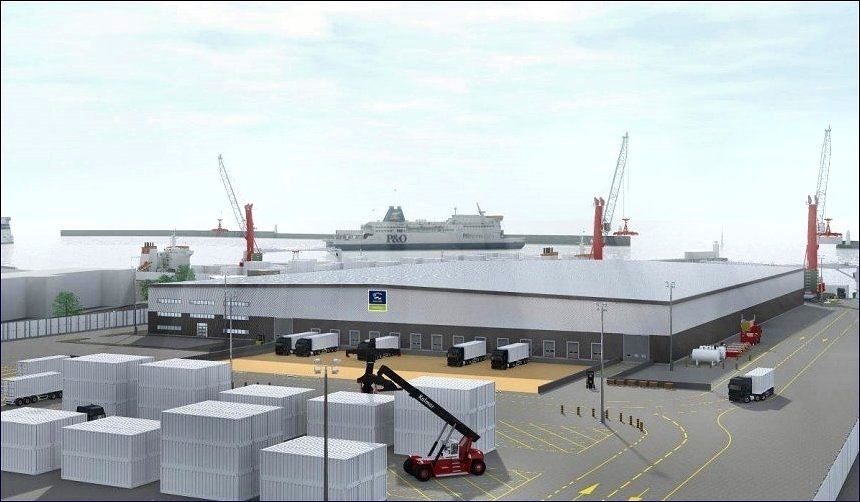 In another milestone for the Port of Dover's flagship Dover Western Docks Revival (DWDR) development, Buckingham Group Contracting Ltd has been awarded the contract to build the new Refrigerated Cargo Terminal (RCT).
With a value of £15million the contract will deliver the construction of a 9,630 square metre multi-purpose refrigerated cargo facility designed to meet the future demands of the business.
The new RCT will be an externally clad steel frame building with state-of-the-art facilities including eight chambers, each individually temperature controlled and capable of holding cargo between +1 and +14 degrees Celsius (+/-1C), with 20 dock levellers to produce a rapid turnaround for Port of Dover Cargo Ltd customers.
Dave Herrod, DWDR Programme Director at the Port of Dover, said: "The appointment of Buckingham Group represents a significant milestone for the Port.
"Projected increases in cargo volumes present a golden opportunity to further develop the cargo business and this is key to why the Port is delivering the Dover Western Docks Revival now."
Scheduled to open in the first quarter of 2019, the terminal will be served by completely new marine and land infrastructure including two cargo berths (Berth A: 251m and Berth C: 300m, plus a dolphin) and Gottwald 5 series mobile cranes.
During construction of the RCT building over 70 jobs will be created. Andy Morris, Senior Project Manager at Buckingham Group Contracting Ltd, said: "We are delighted to have been awarded this exciting, high-profile contract.
"We are looking forward to working with the Port of Dover and other contractors to deliver one of the most important cargo projects in North West Europe and support the creation of new jobs for local people."
Sam Stewart, General Manager at Port of Dover Cargo Ltd, said: "The new multi-purpose cargo terminal and ongoing transformation of the Western Docks will equip the Port of Dover to meet future demand for cargo services and to strengthen its position as the ultimate strategic location with fast, dedicated and direct access to the wider UK and Europe."
DWDR is the single biggest investment ever undertaken by the Port of Dover and represents the next exciting evolution of the Port, delivering long-term capacity for a key international gateway handling trade to the value of £122bn and representing up to 17% of UK trade in goods.
ENDS
Great news above there...moving forward.

The GEEST reefer Lombok Strait loading up bigtime at the current Cargo Terminal yesterday Sunday...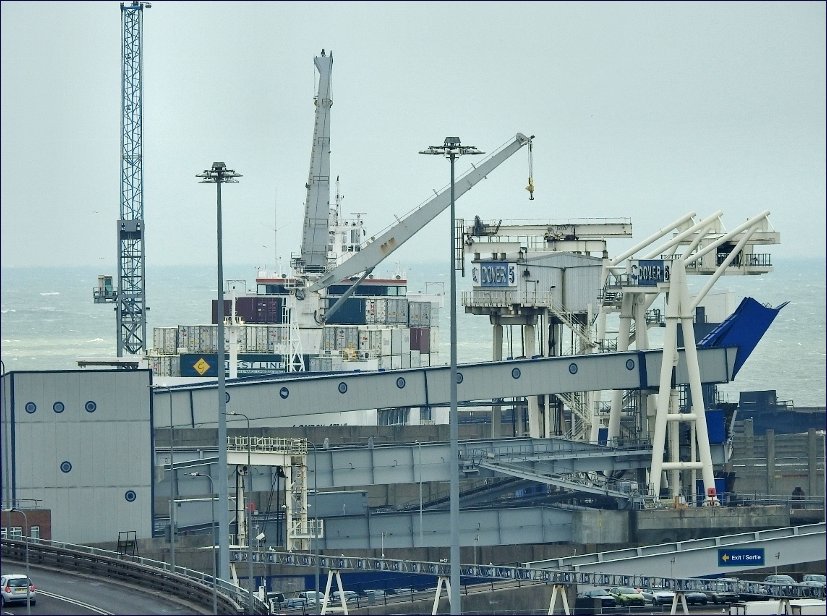 And one below from the files.... she left in the wee small hours of the morning....
* *
Snow again...shiver me timbers....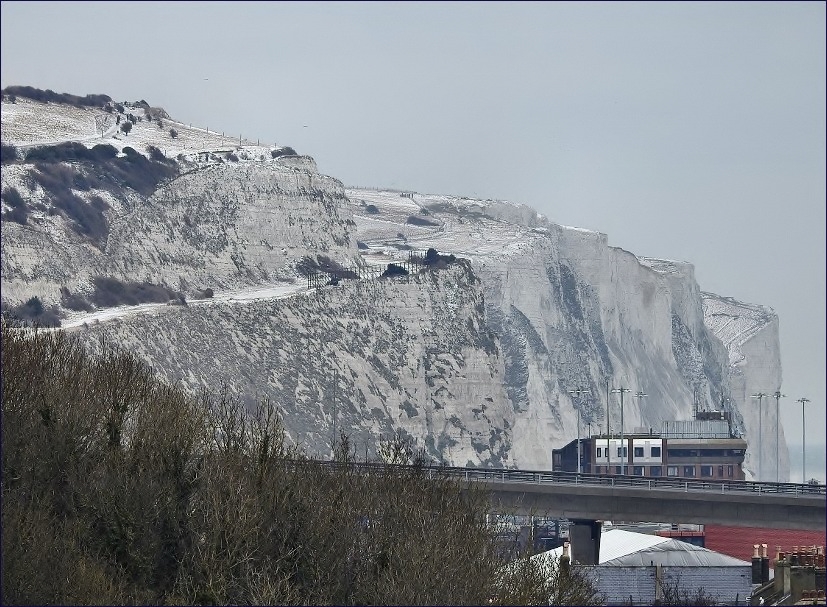 The White Cliffs of Dover looking even whiter than usual above there...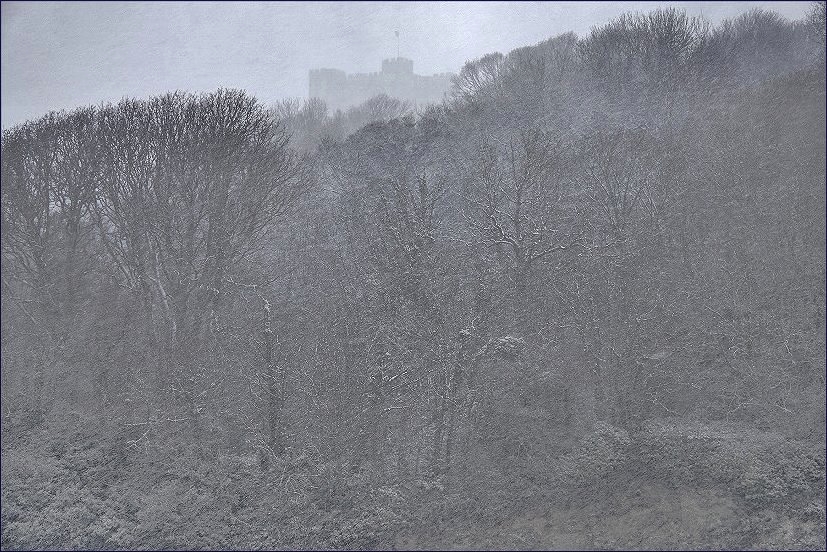 Dover Castle peeps through the frozen trees and the driving snow..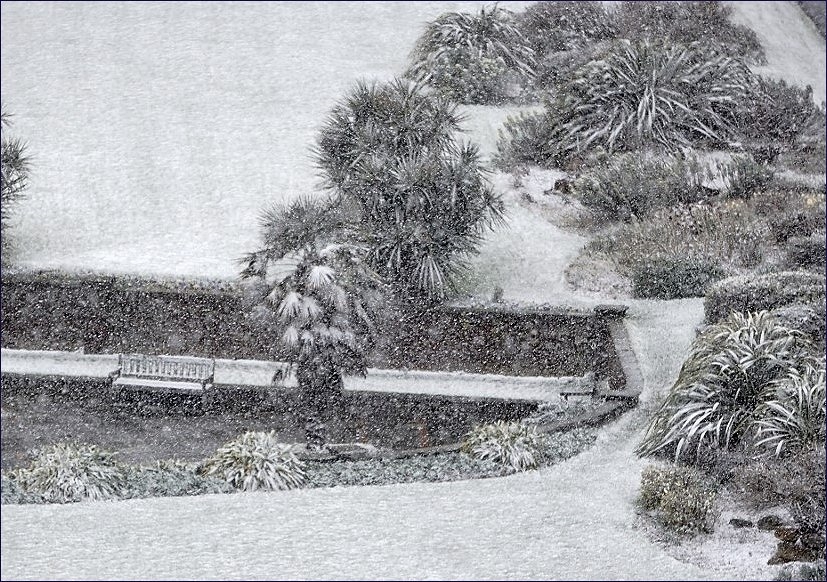 The seafront palm trees plus...covered in snow again..
All pictures from Sunday.

Monday, 19 March 2018 - 05:08
Post 4739
Ted Ingham, Canterbury
SOMETHING FOR THE WEEKEND...
Sorting through my Coastguard archives I thought the readers would be interested in some early photographs of our Channel Navigation Information Service.
I joined in the late 80's before the whole Station was upgraded in the early 90's.
At that time we were using Decca and the consoles were operated in a darkened room.
After the upgrade and refit we were out in the daylight using very large TV monitors and as a bonus the screen was in colour.
As time passed and the technology enhanced we were upgraded several times.
The first photograph is Langdon Battery during the Second World War showing the three six inch gun emplacements.
The photograph underneath is of Dover Coastguard as is today.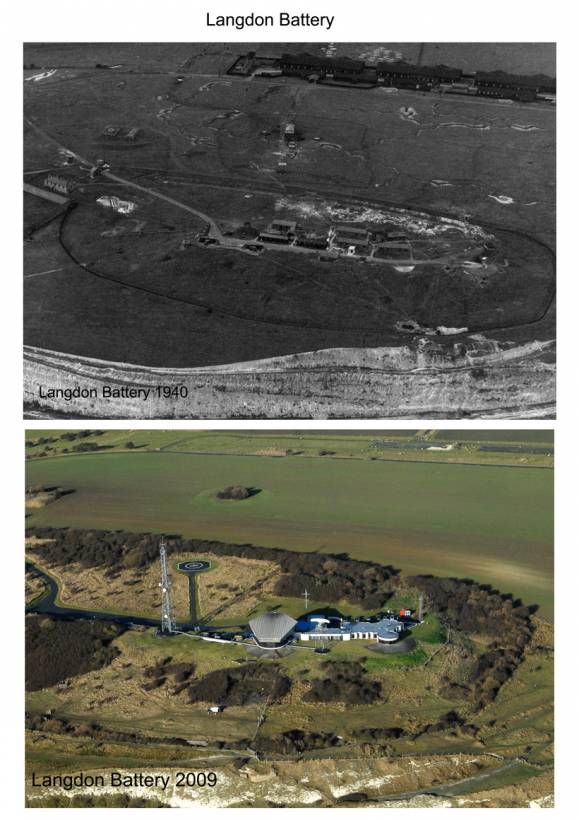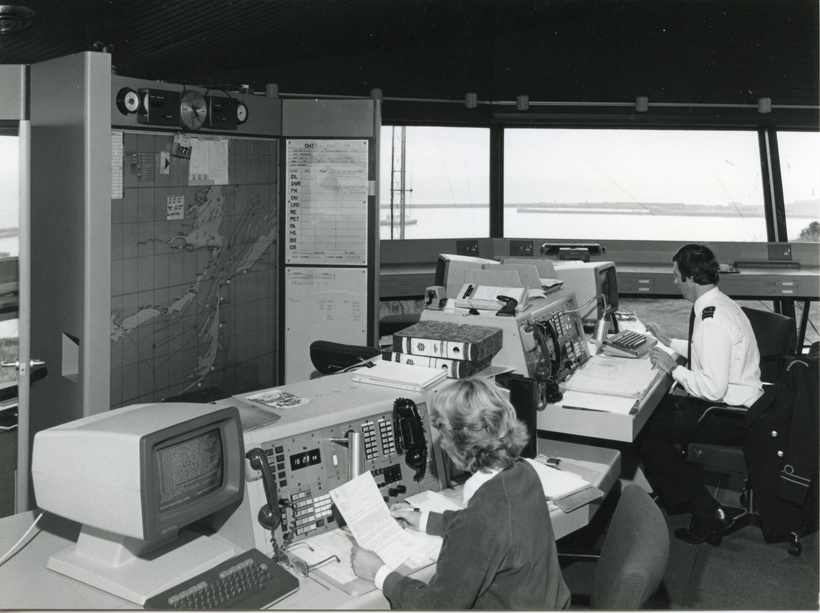 The Operations Room in the 1980's.We were the first Coastguard station to have computers installed.
The Radar Room was behind the console.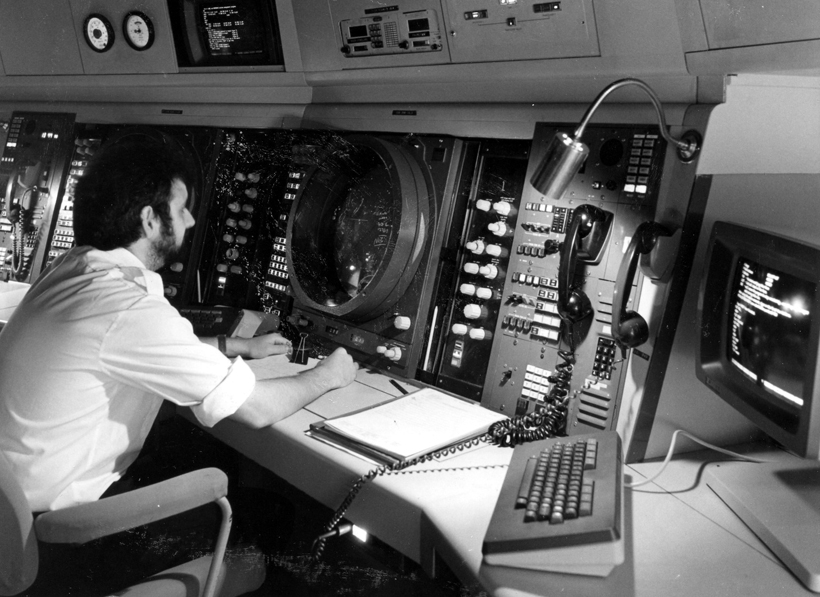 Inside the Radar Room we see Coastguard Officer John Rossiter at the console.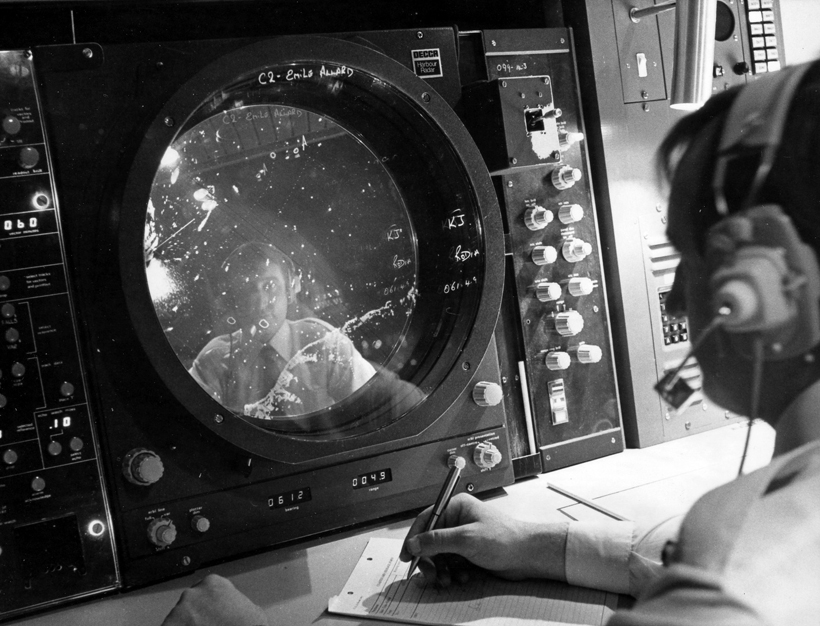 When a vessel called Dover Coastguard their details were typed into the computer and a track identification number was attached to the radar target.
Other information had to be overlaid on the screen by china graph pencil.
The complete picture of the Dover Strait.
At the time this screen was used on television programmes showing the density of traffic.
It was often shown moving with high speed graphics.
Sunday, 18 March 2018 - 11:28
Post 4738
vic matcham, Dover
Yes we was going away but lost our money because the hotel was booked, but with my legs the weather was just too bad for me to drive. So stayed indoors watched TV, but still looking in on this page to see how the port is doing in the weather ,thank you for the photos.

Sunday, 18 March 2018 - 07:27
Post 4737
Sea News, Dover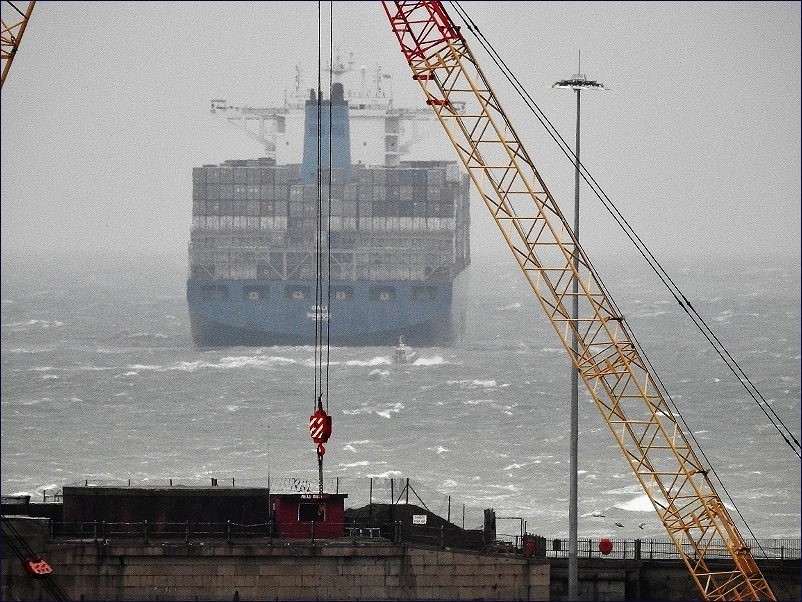 You wont need me to tell you that yesterday was a rough oul day. During the adverse conditions a number of ships came in close to Port but they were virtually impossible to see...mere shadows through the blizzards they were. However at one point during a lull in the horrors...the huge ship pictured here came close in and was see-able. Throughout the day, the pilot boat had to battle through those rough seas to each ship...you can just see the pilot above there as he approaches the vessel called...Dali ( maybe after the painter!?) ..look at all those containers.
About half an hour later, it had brightened up a tad briefly, and she began to move away, heading for Felixstowe I believe. And here she goes...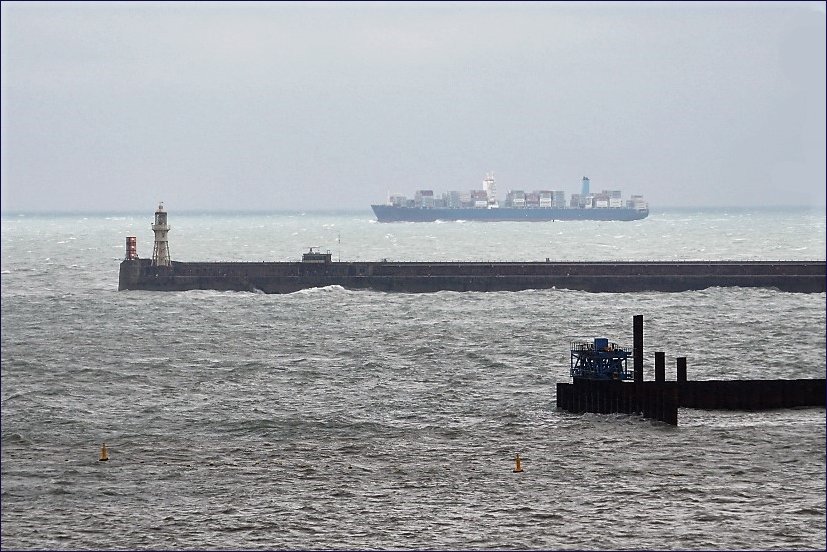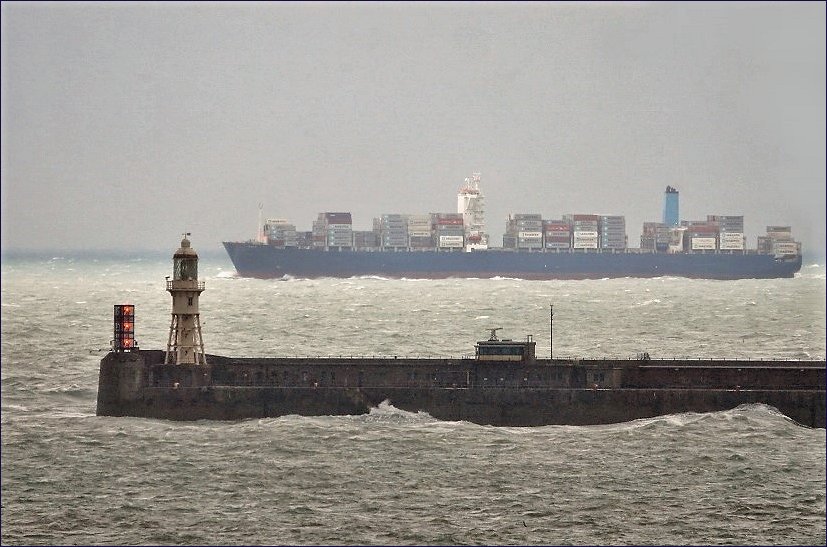 It continues to be bleak cold and grey...but spring is just around the corner...isn't it?! Good luck with your trip Del.
PB
Sunday, 18 March 2018 - 06:45
Post 4736
Del Styan, Norwich
Mike - you're quite right, I should resist the temptation to air my views on this forum. But It's hard...

Thanks PB for the travel advice. As I look out my window, all I see is white - so we'll see tomorrow morning.

Cheers

Saturday, 17 March 2018 - 22:57
Post 4735
Sea News, Dover
Snow on the Western Heights - overlooking the Port of Dover. Saturday 4PM.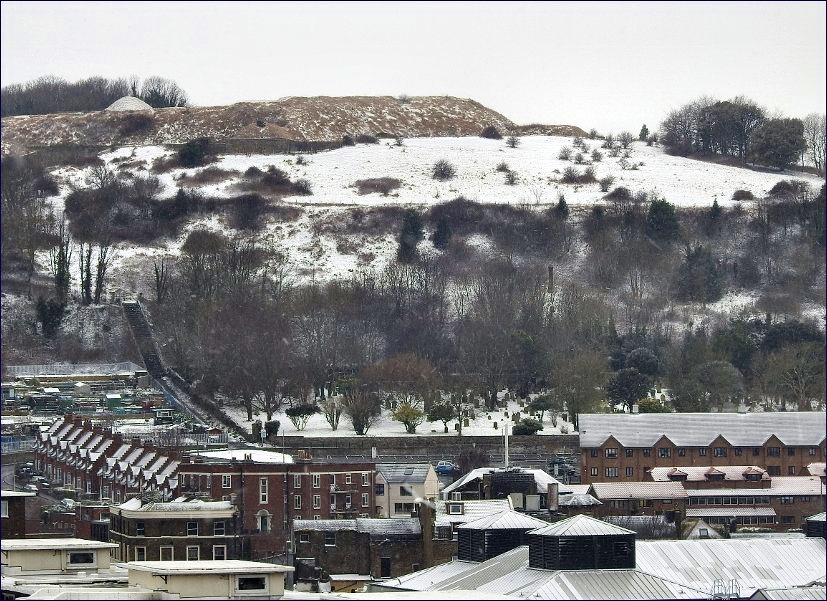 St Patricks Day in Dover...who'd be expecting snow on St Patricks Day.
Nice collections below from both Ted and Mike there ...
enjoy those. Great stuff indeed lads

Hope you manage to make that trip Del...the roads are wet but seem to be okay, down here anyway.

PaulB
Saturday, 17 March 2018 - 16:55
Post 4734
Mike J., Dover
A wonderful selection of cruise ships from Ted - you can't beat dawn & dusk light at Dover !
Not very good light late Friday at dusk shortly after the arrival of the British DEEP VOLANS from Ymuiden.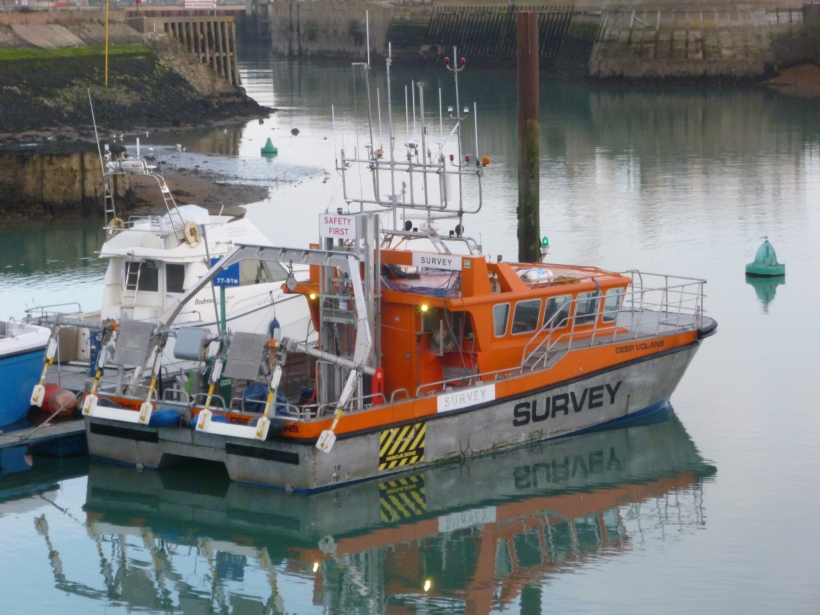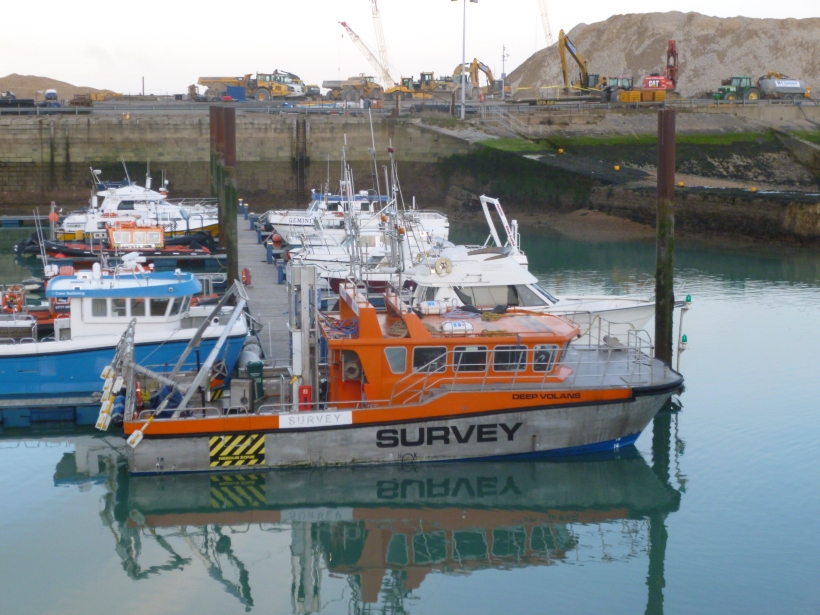 Earlier in the afternoon the SOLENT GUARDIAN came in from Ramsgate.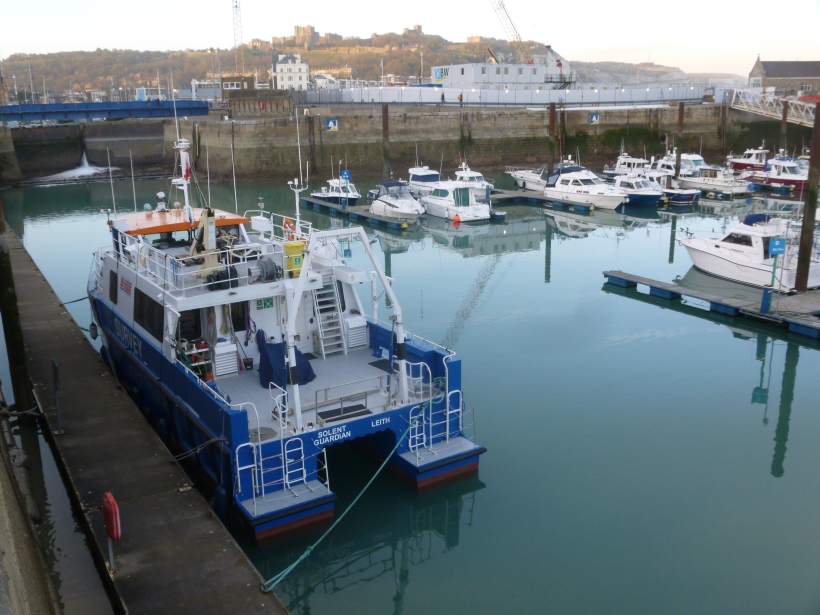 Waiting for the tide - the SOLENT GUARDIAN Later came into the Wellington Dock & so may be staying for a few days.
Not the first time she's been to Dover.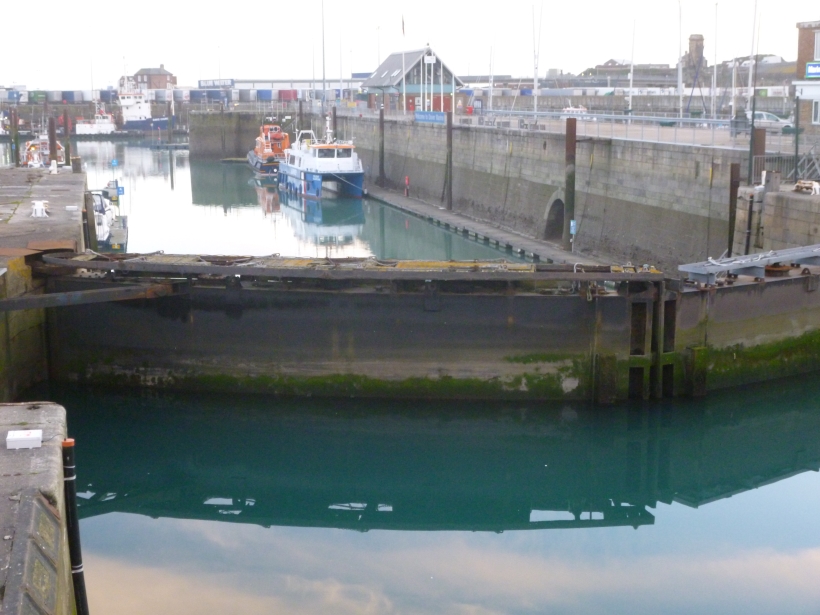 Del - I don'r really want to get involved with politics here , there's other forums for that, but I do get the feeling that the British Government is making up it's BREXIT polIcies as it goes along . . . . .
Saturday, 17 March 2018 - 01:27
Post 4733
Del Styan, Norwich
Yes Mike, I listened to that R4 Brexit show, more than a bit worrying, I thought. But all is well, Mr Grayling says everything will be OK. So that's alright then. Mind you, some folk think his comments were a trifle - how should we say - optimistic maybe?

The recent photos, especially the old uns, have been great.

In theory, I will be passing through Dover on Sunday, if the wind / snow lets me, that is!

I look forward to seeing how the dock development is getting on.



Friday, 16 March 2018 - 23:13
Post 4732
Ted Ingham, Canterbury
MIND THE GAP
A series of photographs taken from the Operations Room at Dover Coastguard of the cruise liners visiting the port.
Depending on our shift pattern we could catch the early arrivals as most of them appeared on the horizon between 4 and 5 am.
I must admire the local pilots on their skill in bringing the larger liners through the narrow entrance of the Eastern especially with the cross tide.My thought also went out to the Quartermaster on the helm as the gap closed.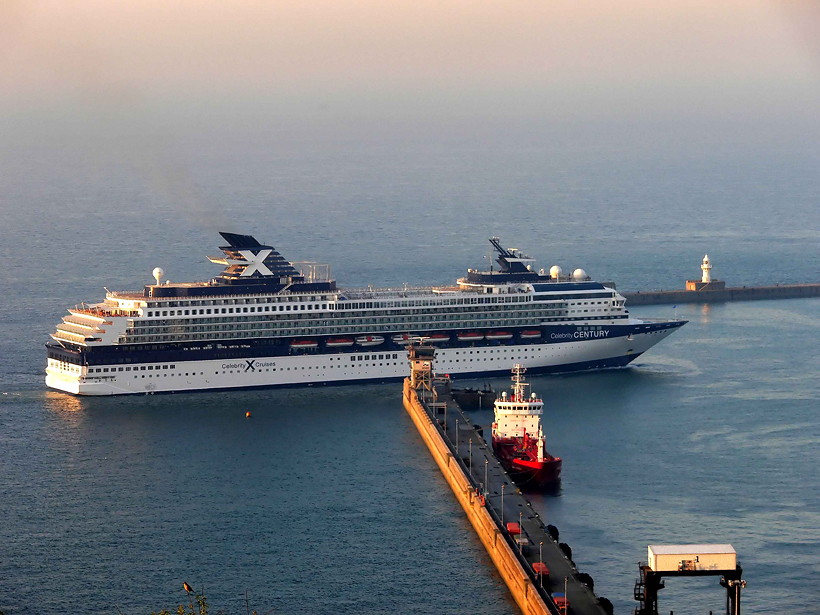 CELEBRITY CENTURY photographed on the 11th May 2008.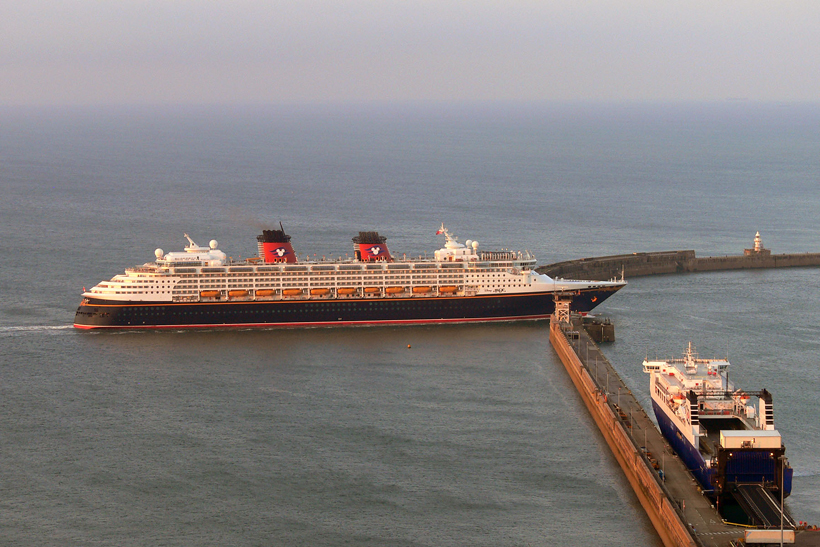 DISNEY MAGIC photographed on the 12th June 2010.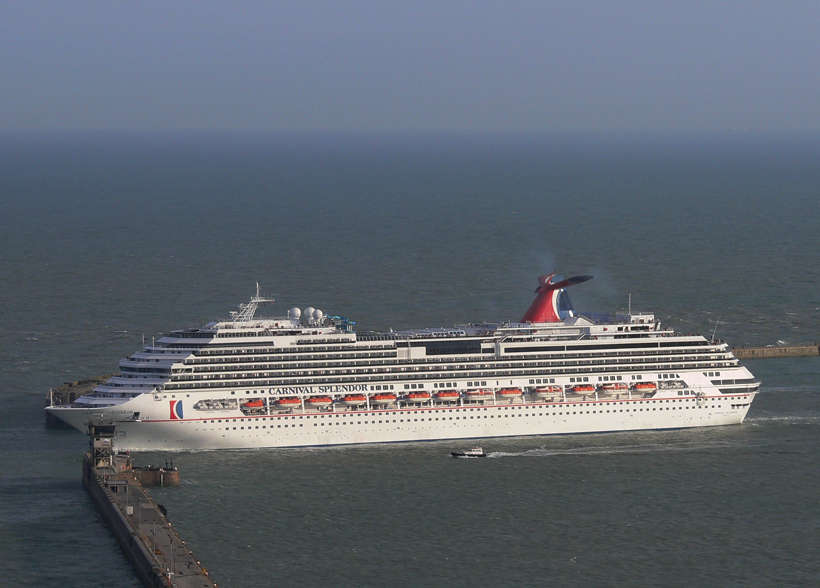 CARNIVAL SPLENDOUR photographed on the 10th July 2008.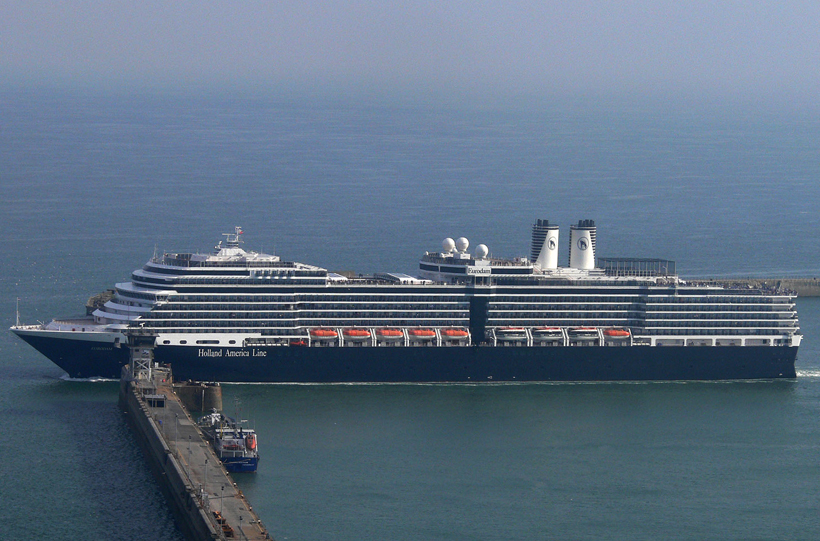 EURODAM photographed on the 9th June 2010.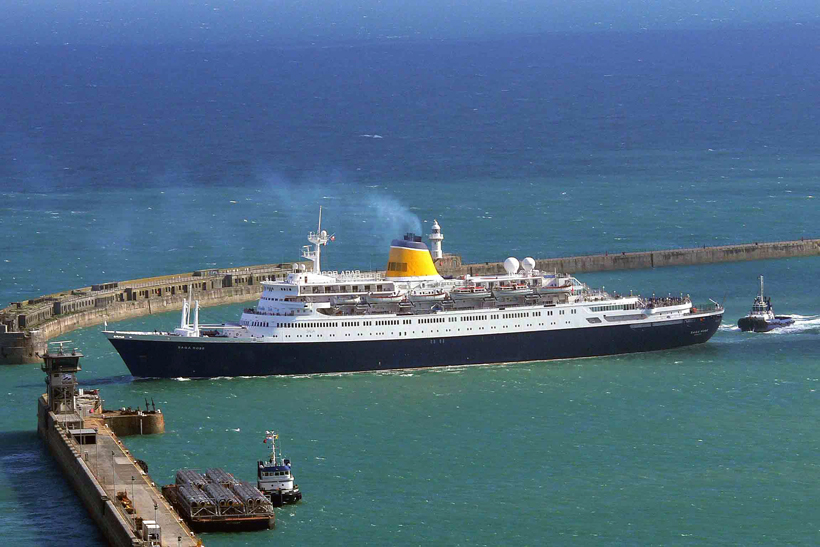 SAGA ROSE photographed on the 24th July 2007.
Friday, 16 March 2018 - 10:07
Post 4731
Sea News, Dover
Yes indeed Del and Mike, the Question Time people were in Dover yesterday and yes the main local concern was the possibility, after Brexit, of 29 mile ( a figure reached after analysis it seems) queues across Kent as trucks wait to get through the Port of Dover. Many were/are rightly concerned. The cameras love us lately as also in town filming yesterday were the crew from BBC's Flog It. They were filming just beneath the 'observation tower' and here they are...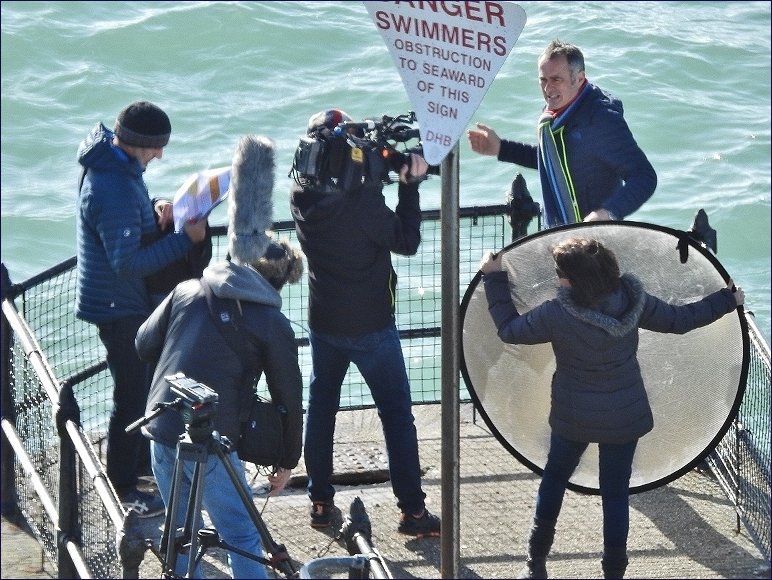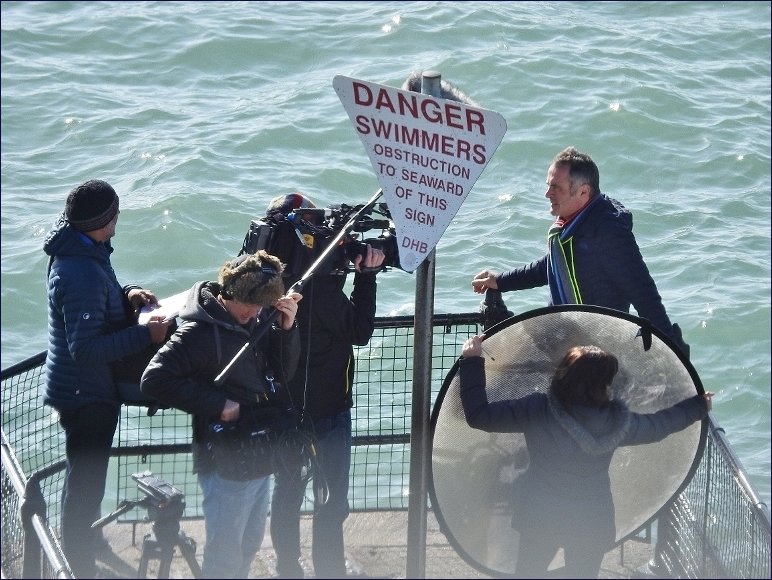 I believe the presenter is Paul Martin, you can see him there chatting to camera...
Below we have a pic of Llanddwyn Island and MoragM in the one shot. Llanddwyn adjusts the Exclusion Zone markers in the foreground, as Morag ambles by behind. In the far background you can just see all the heavy DWDR hardware in operation. Quite an armada of heavy metal there...I sould have made more of it in the picture... PB
Friday, 16 March 2018 - 06:24