Thursday, 20 September 2018
All the ships at the Port of Dover...plus...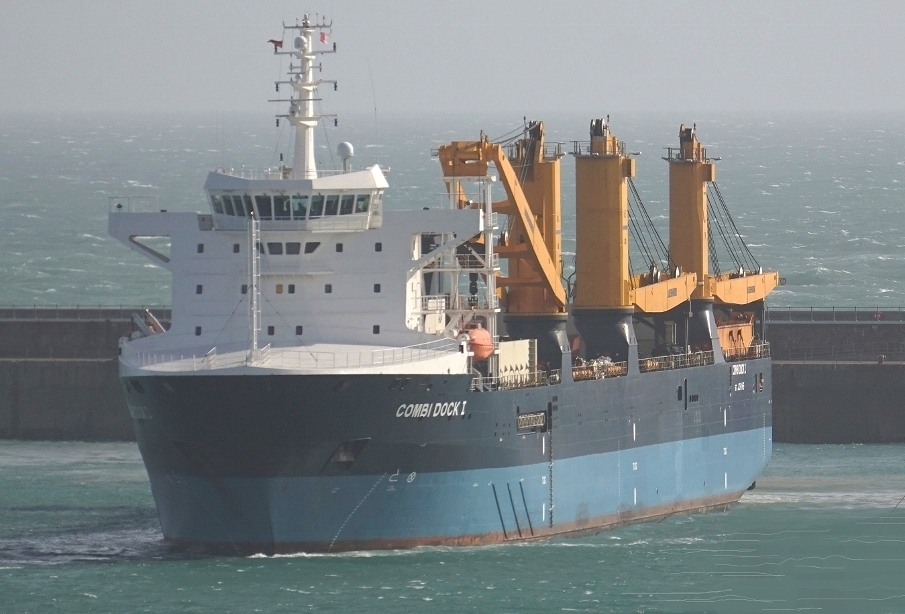 Heavy lift ship Combi Dock 1 at the Port of Dover. More pictures below....

WWW.DOVERFORUM.COM/SEA-NEWS
Featuring all the ships that come and go and work at the Port of Dover with further coverage of the surrounding ports both sides of the Channel. Email: dover7@msn.com to send SEA NEWS pix or info....
or click ADD YOUR COMMENT below to post direct, no membership needed.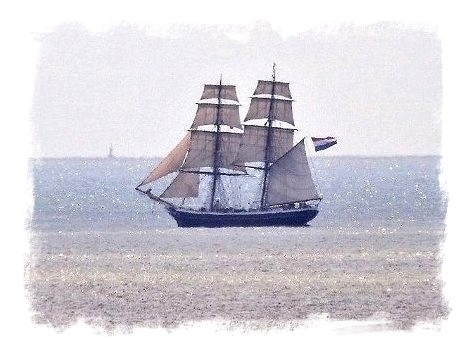 P&O: FREE WINE offer 5763.
P&O: To Rome on Horseback 5759.
DOUG BANNISTER: New Chief Executive Port of Dover see below 5734....
Merchant Navy Ceremonial images also 5734.
DFDS: Motorhome and Caravan savings deal see 5733.
Dover Regatta Rescue incident plus .. see 5713.
Dover Regatta pictures Lifeboat etc..5716, 5717, 5718, 5720.
DFDS Expansion: More New Ferries on order... see 5693 see also 5500 and 5381.
Excellent tourist season for P&O Ferries see 5649.
VSBW Port of Dover - Women at Work 5638.
P&O Second Female captain see 5107. Also see latest 5570.

For instant access to the items above: type the post number in the Search Engine below.

Sea News Dover :
Use our SEARCH ENGINE below to find all sorts on the SEA NEWS pages....
... more than 5700 nautical posts now.
Posts are welcome. Max of 5 pictures preferred per day although we can occasionally stretch to 6 on special stories.
Type CRUISE VISITS in our SEARCH ENGINE below for news of the latest cruise arrivals.
Sea News Editor Paul Boland - dover7@msn.com.
NOTE:

We have added a new feature. This has resulted in some slight change to the numbering system on the posts. We needed to align data in order for us to be able to use post numbers in the Sea News Search Engine. For example..type into the Search Engine box the number 5734 if you want the story on Doug Bannister...and it will pop up for you. This will be very useful going forward. You can still search in the older way too. My thanks to long time ace colleague Chris Tutthill for enabling the extra feature. Chris runs our sister channel..dover.uk.com. PaulB
All pictures on these pages are the copyright of the owners and must not be reproduced without permission.
Post 5766
Sea News, Dover
As promised here we are now with a collection of the impressive heavy lift ship Combi Dock 1 which has been in the Port for the past few days. The pictures show her readying for departure yesterday in the strong winds. She left by the eastern exit...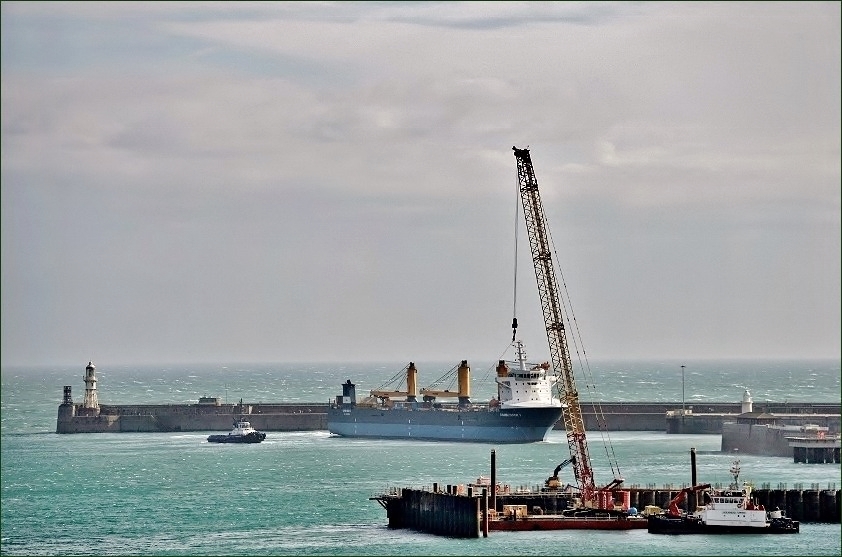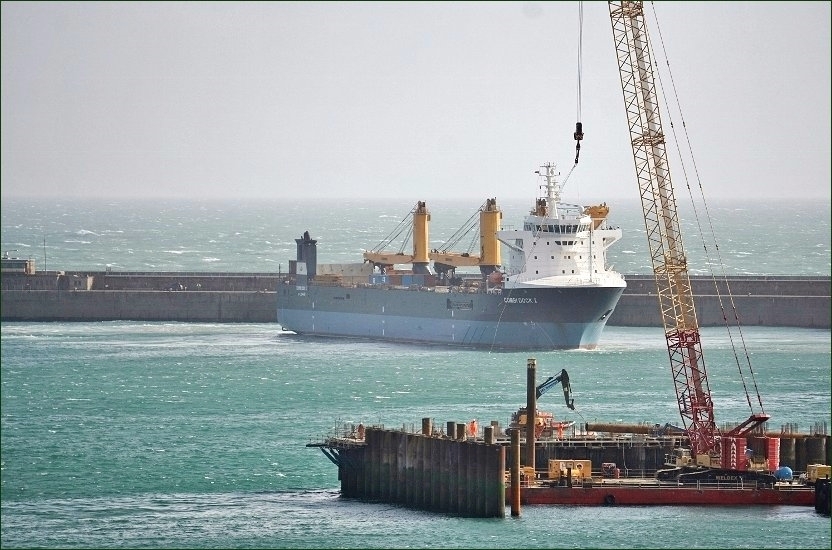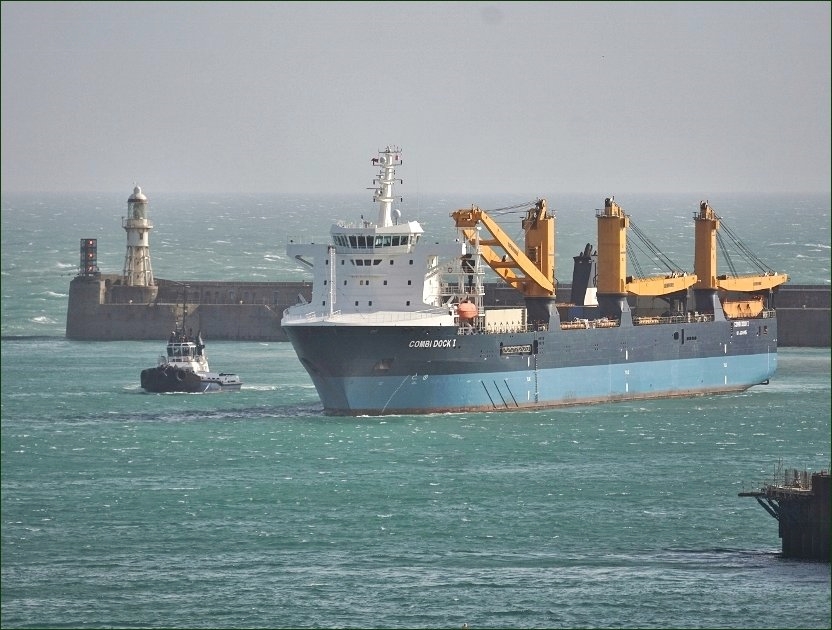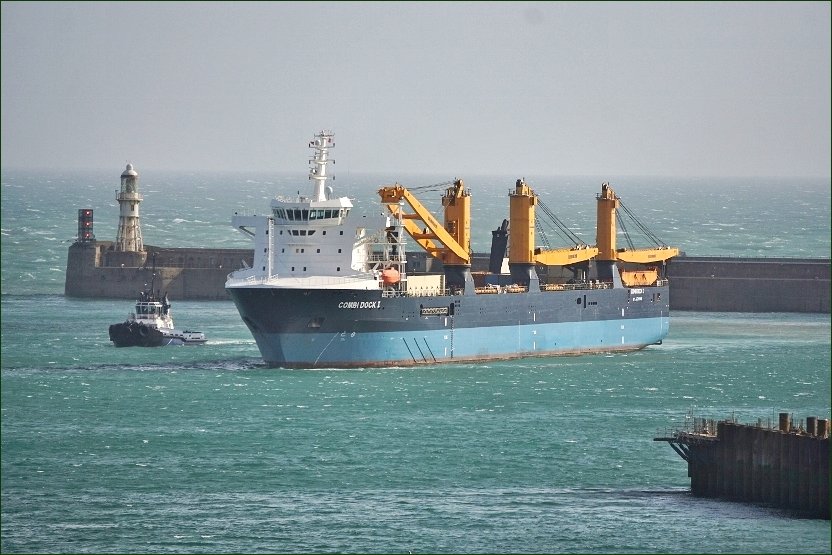 There she goes... time of pictures : roughly 3.30pm yesterday Wednesday.
Roughly being the operative word...

PaulB
Thursday, 20 September 2018 - 05:49
Post 5765
Sea News, Dover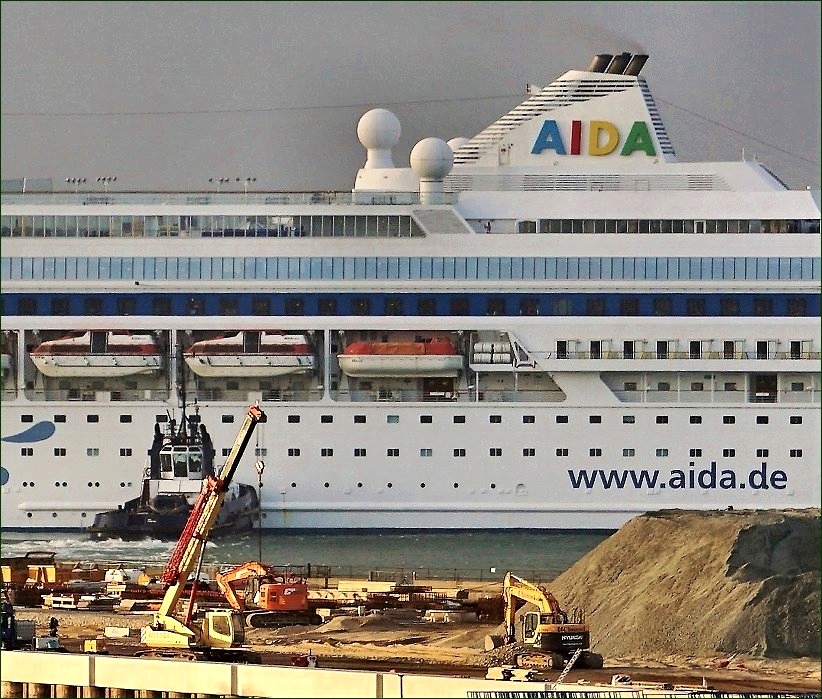 Another pic of the windswept AIDAcara yesterday. A zoomed in shot this time showing once again the tug pinning the cruise ship to the dock in the fierce wind. More in the posts below. We had more high winds today but probably not as bad as forecast, or indeed as bad as elsewhere.
Nice collection below Mike.

Will have a collection of pictures of the departing Combi tomorrow...just getting them sorted.
PB
Wednesday, 19 September 2018 - 19:19
Post 5764
Mike J., Dover
Heavy lift carrier COMBO LIFT 1 arrived from Antwerp in the wee small hours of Tuesday morning with another refurbished transformer for Sellindge.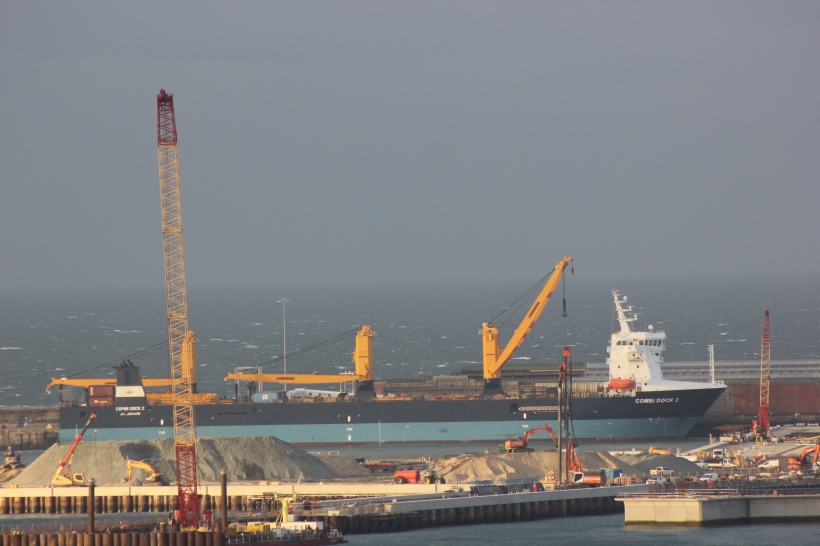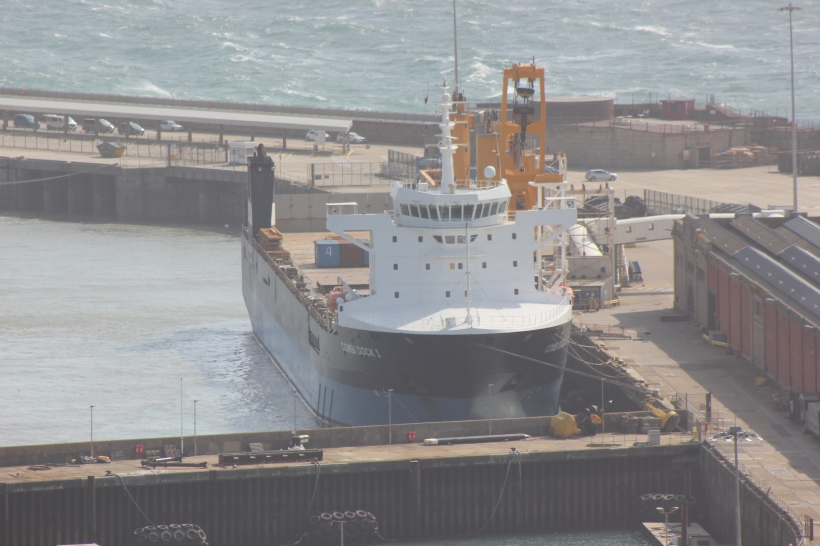 She's still alongside Wednesday morning so presumably was unable to unload due to yesterday's unpleasantness which had a tug 'pushing up' on the AIDA CARA for much of the day.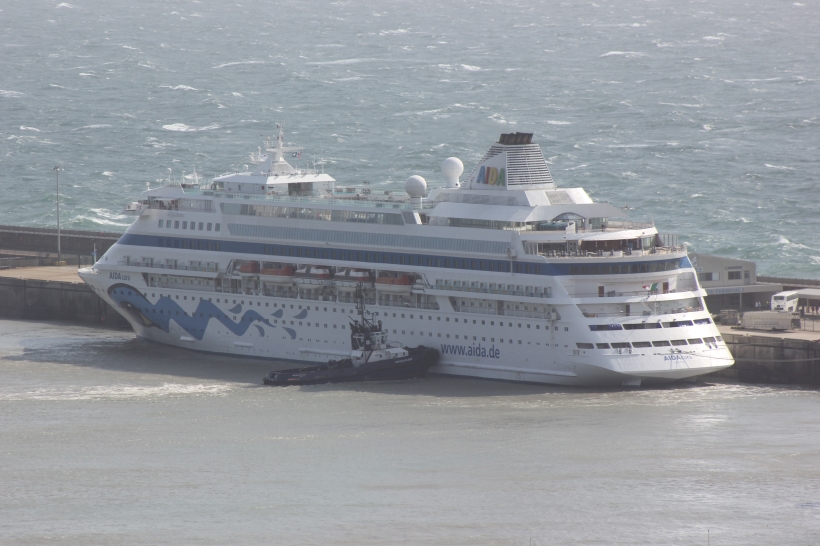 DWDR - there is an excellent selection of photos by one 'Patrick S' on the Dover forum, under 'Dover Harbour Plans' showing the work around the new lock - you can now walk across a new footbridge that crosses the lock chamber but it's hard to see much due to a very fine plastic mesh along the security fences.
Yesterday the footpath was closed from time to time as cranes lifted loads across the footpath.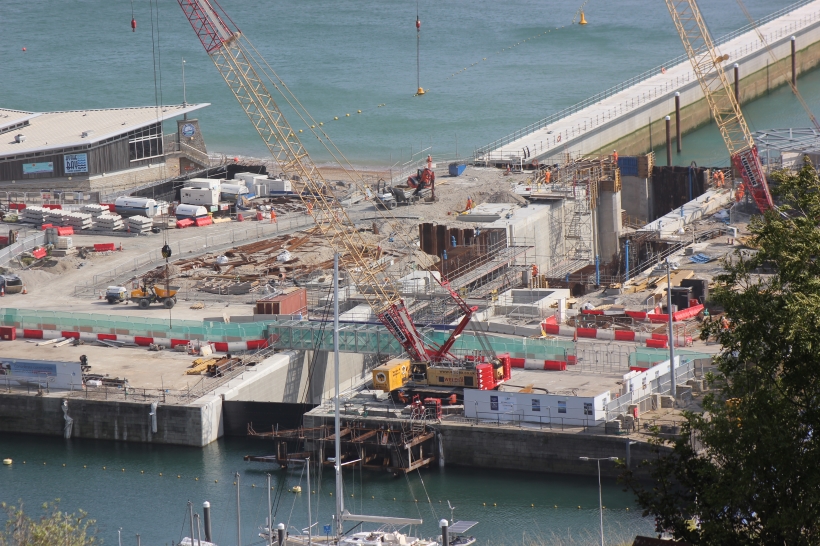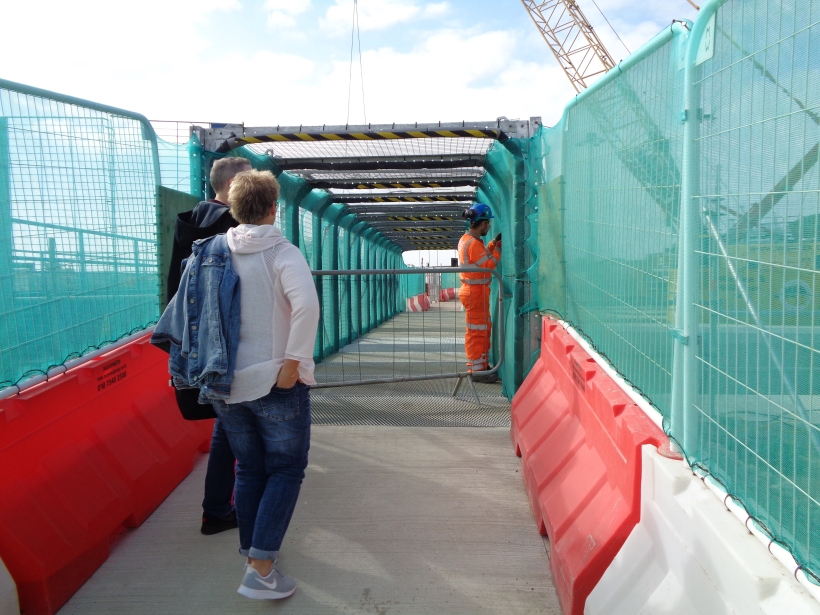 Re post 5762 & Deal Pier - good to see some money spent on it, but I'll bet a pound to a penny that timber fendering hasn't been installed at the pierhead to permit the WAVERLEY to berth there which would be good for business to have another landing place.
WAVERLEY has been in Dover in the past but no longer calls - probably too expensive & of course the Prince of Wales is no longer available.
On one of her calls the Master was a former DHB tug skipper & at least once she has entered thru Eastern, crossed the bay & left via Western without stopping !
Wednesday, 19 September 2018 - 09:28
Post 5763
Sea News, Dover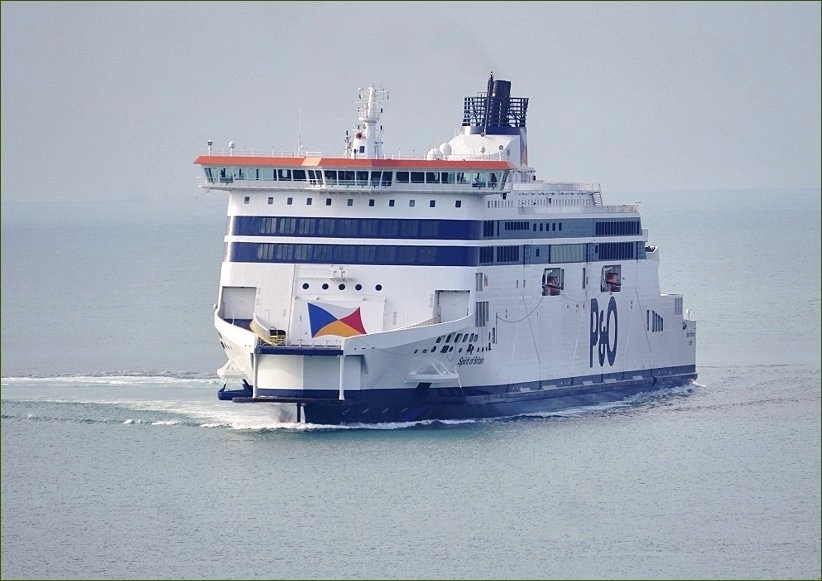 Enjoys a day trip to France with 6 bottles of wine thrown in for FREE


Free Wine Day Trip Offer
Our popular FREE WINE DAY TRIP OFFER is back!
SAY P&O FERRIES
To take advantage of this great promotion, simply book a day trip between now and 7th October 2018 using discount code 'WINE18' in the farefinder for travel between 17th September and 26th October 2018.
Your voucher will be printed at Dover check-in and you can collect your 6 bottles of red or white Banrock Station wine from the onboard shop on your outward journey only.
Now is a great time to stock up your wine cabinet, so why not take advantage of our other great on board offers too!
* *
We cant do live links here but copy and paste this below...it should work fine n dandy
www.poferries.com/en/dover-calais/offers/day-trip-offer?promotionCode=WINE18
or
http://www.poferries.com/en/dover-calais/offers/day-trip-offer?promotionCode=WINE18
* *
If you want to enjoy a day trip over you might want to pick a better day than yesterday...man it was rough! Yours truly had to nail everything down up here in the 'Observation Tower'.. I was a-quakin' and a-ratllin' … and there is more rough stuff scheduled by the weatherman later on today.
A couple of pictures below from yesterday. First one shows the Cote des Dunes battling through the rough seas yesterday afternoon with the Spirit of Britain in the foreground, and this was after it had calmed somewhat.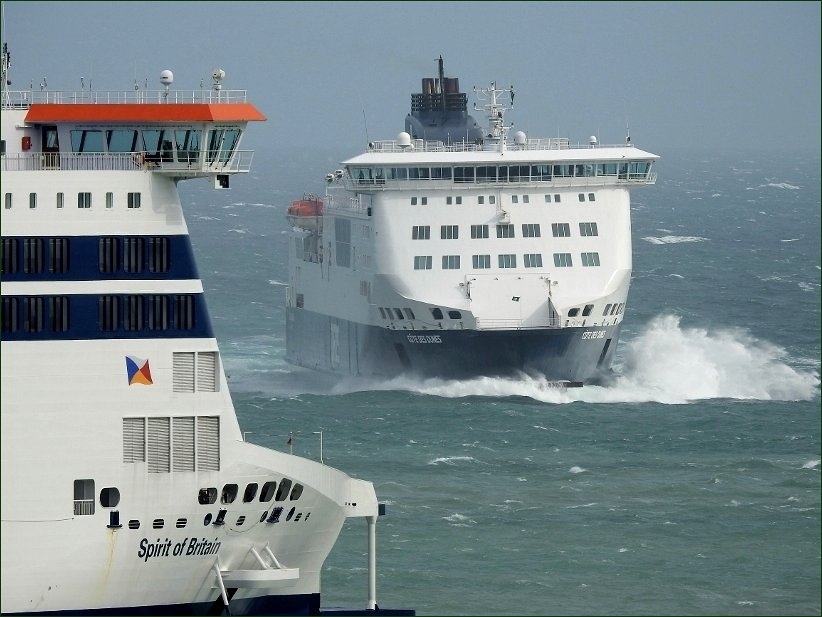 The AIDAcara came and went in pitch darkness yesterday...her sleek lines leaving through the eastern exit last night at 8pm because of the rough weather. The pic below shows her over at Cruise Terminal Two where she was pinned to the dock all day by the tug...all day.. you can see the tug there...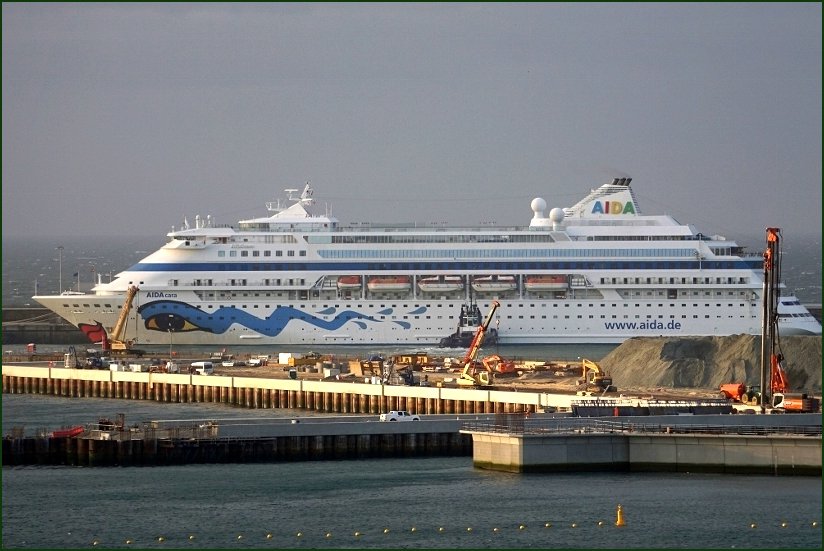 PaulB
Wednesday, 19 September 2018 - 06:54
Post 5762
Sea News, Dover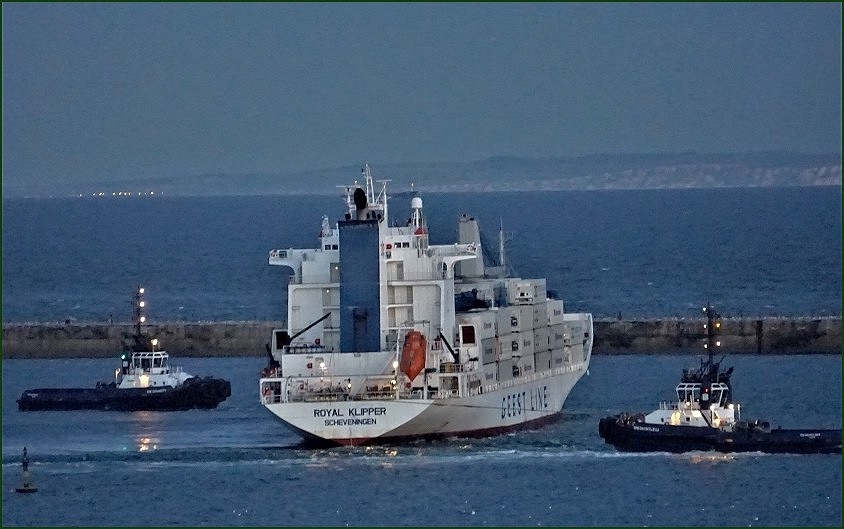 Lucky to get a nice nightime shot of the departing Royal Klipper. She was off to Vlissingen on Sunday night, time 19.30 or 7.30PM ..whichever you prefer, and you can see the inviting channel quite clearly behind her. There was still some light in the sky which helped. You can see the lights of the Calais approaches in the far distance and in the near distance the tugboats as ever do their thing with Royal Klipper...
For those who like dining on Deal Pier..read on..
The café at the end of Deal Pier is set to reopen as Deal Pier Kitchen.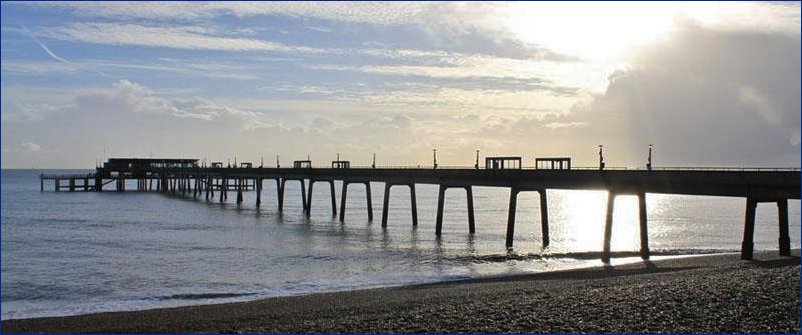 The RIBA award-winning structure will be occupied by Deal Pier Kitchen Limited, which was founded by Tim Biggs and Rebecca Hodson.
Tim Biggs commented: "Deal Pier Kitchen firmly believe that the best restaurants are borne out of a true partnership with the community. Our aim is to build such a partnership with Deal's community by working together to create a highly successful, enjoyable and welcoming environment that proudly reflects and enhances the reputation of Deal. We were drawn to this particular property due to its irresistible and individual views, which we hope to capitalise on with the design of the interior."
The property will now undergo a comprehensive refurbishment programme. Once completed, Deal Pier Kitchen will offer an all-day dining menu in a modern environment, which will also feature a baby grand piano.
Tim Biggs continues: "We are intent on creating a warm and welcoming atmosphere, with a unique menu to meet the needs of the Deal residents. We are passionate about great quality, healthy and locally sourced produce, with a focus on reducing the journey from farm/sea to plate. Our main offering will be an exciting mix of brunch and lunch dishes accompanied by interesting drink and dessert options; and we hope to expand our evening offering as the summer nights get longer in 2019."
Cllr Trevor Bartlett, Dover District Council Cabinet Member for Property Management, said: "We're delighted that the Deal Pier Kitchen is bringing a new, fresh offer to the café at the end of the pier which is enjoyed by local people and visitors to Deal alike as a place to sit and enjoy the magnificent views out across the English Channel.
"Having been opened in November 2008 by the Lord Warden of the Cinque Ports, Admiral The Lord Boyce, the Deal Pier café is an iconic and award-winning part of the seascape. Designed by Niall McClaughlin Associates the timber framed café features on the Chalk Up 21 trail celebrating contemporary coastal architecture on the stretch of coastline from Capel-le-Ferne to Deal."
Simon Bland of leisure property specialist Fleurets, who sold the 20 year lease to Deal Pier Kitchen on behalf of Dover District Council commented: "It has been a pleasure to work on this project for Dover District Council. Interest was exceptionally strong in what is a fantastic and of course unique business opportunity. I'm excited to see the Deal Pier Kitchen open and serving customers very soon and adding something special to the vibrant local food and drink scene."
ENDS
Many thanks to DDC for the info above.
Another pic now of the arriving Alert a few days ago. Picture taken at the same time roughly as the previous one in post.. 5757 which also shows the fast boat bringing up the rear. Those Alert pictures were gloomy late evening shots and needed a bit of work...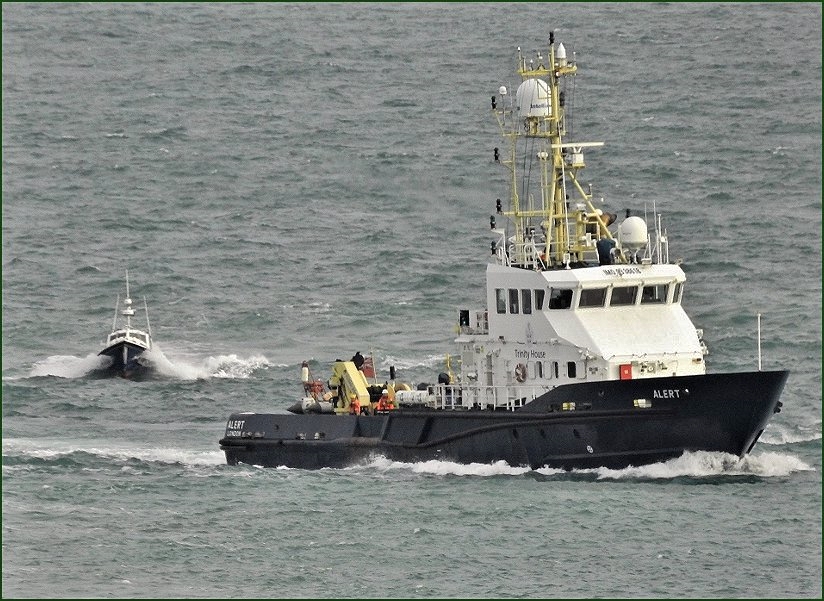 Nice pictures and info below once again from Mike our 'inshore correspondent' ...great to get all the latest 'goings-on'.

Well done Colette with the cruise list once again in 5760. Great stuff!
Keeps us up to speed.

Interesting lift ship Combi Dock 1 is in Port also AIDAcara has arrived. More on those in due course... no pictures as yet as too dark.
PaulB
Tuesday, 18 September 2018 - 06:41
Post 5761
Mike J., Dover
About ten days ago I noticed on AIS that Holyhead Towing's LLANDDWYN ISLAND had been replaced by the almost identical SALT ISLAND & finally cornered her in the old Jetfoil terminal on Saturday, parked-up with long-serving AFON LLIGWY who is on the 'inside'
Quite a contrast in designs.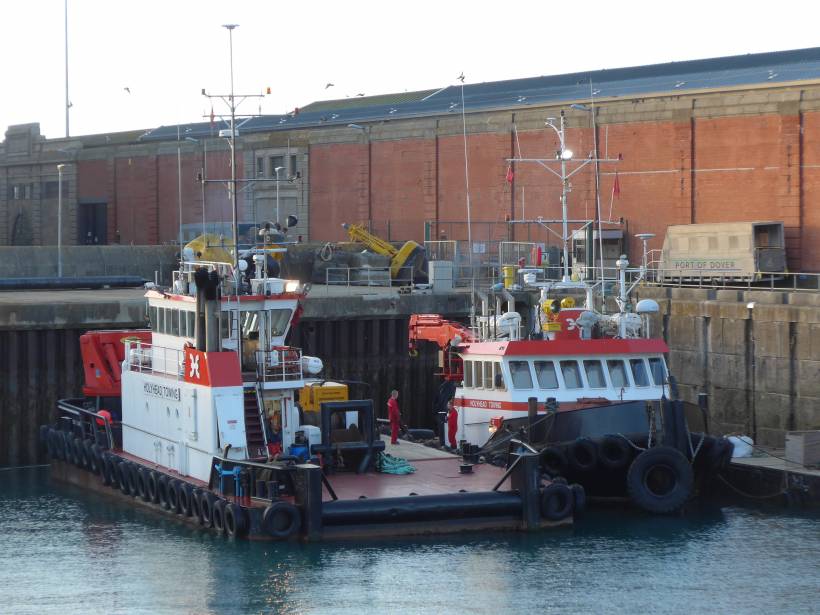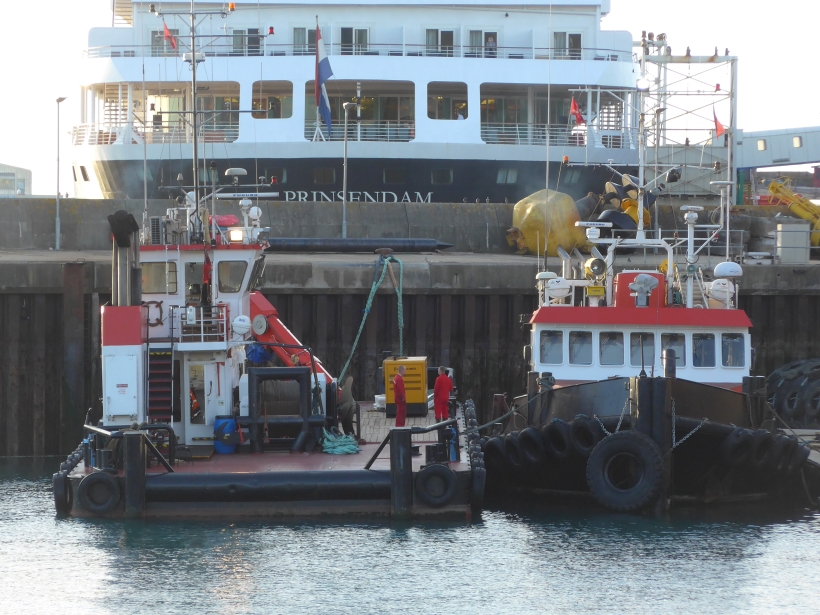 AIS shows the LLANDDWYN ISLAND currently in drydock in Great Yarmouth.
SALT ISLAND had come down from Holyhead.
Perhaps 'Sea News' readers remember storm EMMA back in March which destroyed Holyhead's Marina ?
Quite a few Holyhead Towing craft were damaged as was one of the Border Agency's big RIBs & many yachts & other small craft.
For pix & video of the devastation try Googling 'HOLYHEAD MARINA DESTROYED'
Re post 5752 & the sinking of the SOUTHERN QUEEN & another Sandwich trip boat - vandalism is thought to have been the cause. Mindless idjits.
Monday, 17 September 2018 - 22:55
Post 5760
Colette B, Dover
CRUISE VISITS
_____________
Great photos all round from the Sea News team, Sarah's photos of USN P22's visit to Ramsgate looks as though we have travelled back through time

then Mr B's pictures of HMS Archer brings us back to the present day.
Wonderful action shots of the pilot boat powering through the waves MrB and also good to see that the sedate floating garden/houseboat on the St Michael was still in one piece after being towed into Ramsgate(thanks Mike).
It's all in a day's work for our team, Well Done Guys!

Thanks for feedback Patrick, you're very welcome.
Now for our cruise calls this week.
Tomorrow Tuesday 18th September we welcome back an old friend

AIDACara arrives with a beaming smile at CT2, 08.00 hours. She is the oldest of the AIDA fleet (launched back in 2002, her last visit was in September 2015), She is visiting us whilst on her 15 night one way 'Hamburg to Palma de Mallorca' cruise.
Her ports of call are the lovely Honfleur, St Peter Port Guernsey, La Coruna, Porto, Lisbon, Cadiz, Valencia, Palamos, Port Mahon finally dropping anchor in the Majorcan port of Palma de Mallorca on Monday 1st October. She will be based there until late February 2019 visiting the Canaries & the Azores

She departs our shores 19.30 hours, PoC.
Then a few days break until Friday 21st September when Saga Sapphire arrives at CT1, 09.00 hours to start her 28 night 'Nova Scotia & St Lawrence in the Fall' cruise. Her first port of call being Ponta Delgada (Azores), she crosses the North Atlantic calling at Halifax, Sydney (Nova Scotia) and Havre-St Pierre on the north shore of St Lawrence river. Then Quebec City, Montreal, Gaspe (Quebec) and St John's (Newfoundland) before dropping anchor in Southampton on Saturday 29th October.
She leaves us at 18.00 hours, T/R.
Just the two cruise calls, many more to come next week, see you then

Monday, 17 September 2018 - 19:15
Post 5759
Sea News, Dover
THE PILGRIMS PROGRESS....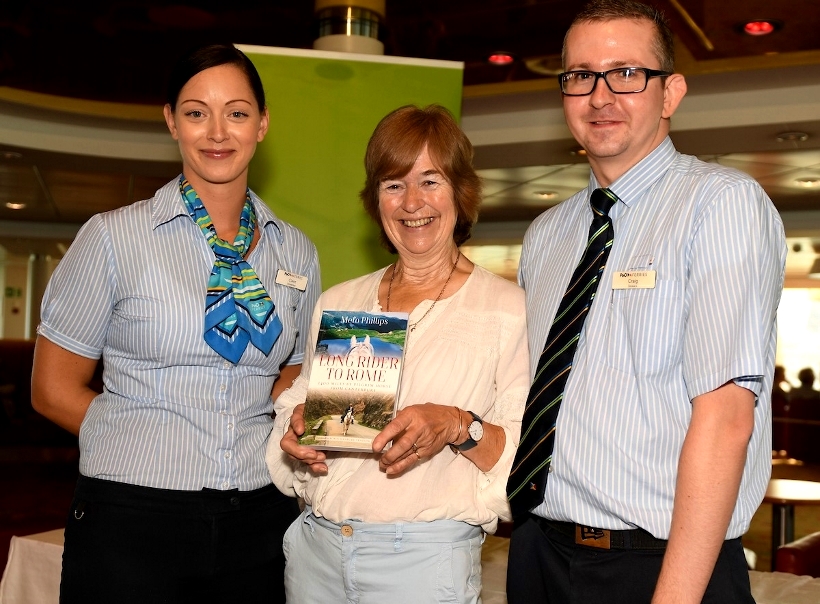 P&O FERRIES HOSTS ON-BOARD LAUNCH OF BOOK CHRONICLING PILGRIMAGE TO ROME ON HORSEBACK
_____________________________________________________________________________________________
A P&O Ferries ship last week hosted the launch of a book by a Kent woman who rode her horse from Canterbury to Rome in aid of the Alzheimer's Society.
Mefo Phillips' Long Rider to Rome details her three month journey in 2006 from being blessed at Canterbury Cathedral to St Peter's Square in Rome.
She crossed the English Channel on a P&O ferry and slept in her Bedford horsebox most nights to save money. Her horse, Leo, spent the nights in a pop-up pen created by a mobile electric fence.
Once in Italy they followed the same route to Rome once trodden by St Francis of Assisi and taken by many pilgrims today.
The 69-year-old author launched her book on P&O Ferries' Spirit of France and gave a talk to passengers about her adventures over afternoon tea in the family lounge. She signed copies of her book, which will be stocked on board P&O Ferries' ships.
Mefo said: "I had a great time meeting everyone and thoroughly enjoyed my day - I am a lucky author to have received such special treatment. Long distance horse riding is a bit of a mad pursuit but I loved it and was very pleased to ride in aid of the Alzheimer's Society."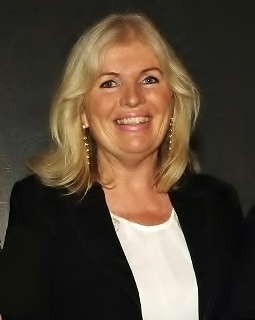 Jacqueline Burns, Corporate Communications Officer at P&O Ferries, said:
"We were very pleased to have helped Mefo and her horse Leo make their journey to Rome all those years ago and even more delighted to host the launch of her book. We have spaces on board which are perfect for hosting receptions, conferences and weddings and we hope that this will be the first book launch of many."
ENDS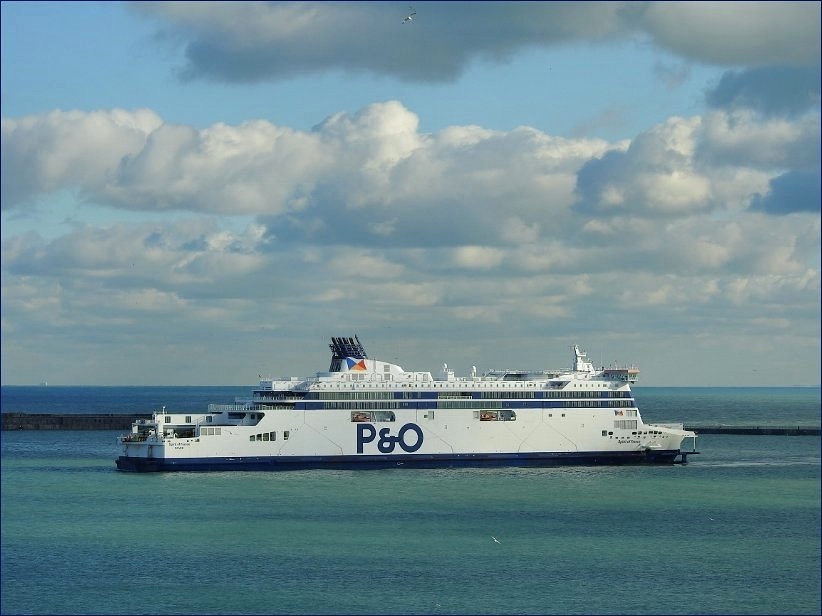 The Spirit of France...
Thanks once again to the guys at P&O Ferries for the interesting news release above.
A nice story for sure.

* *
Following along from Patrick's pictures of Prinsendam and Seabourn Ovation...here we are with some more. Quite exciting indeed to see two cruise ships depart almost at the same time...and here we go..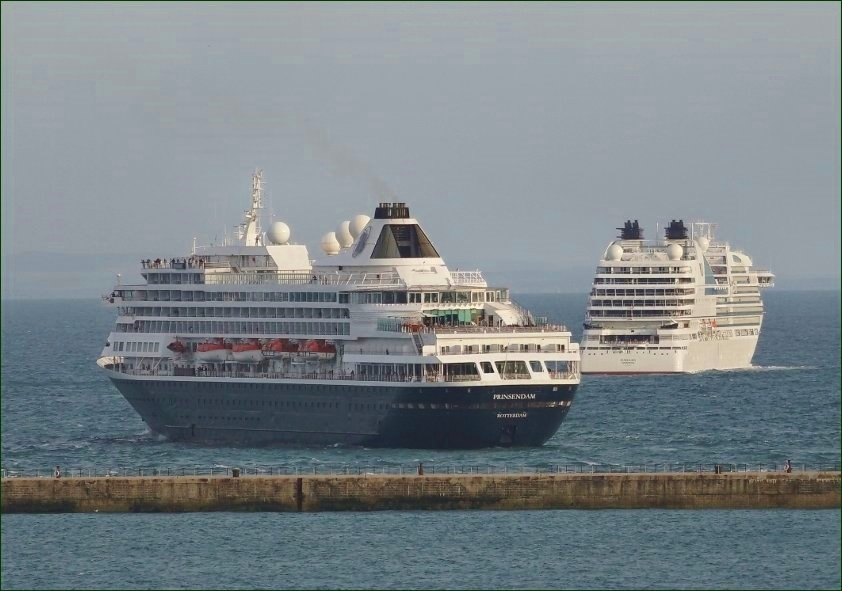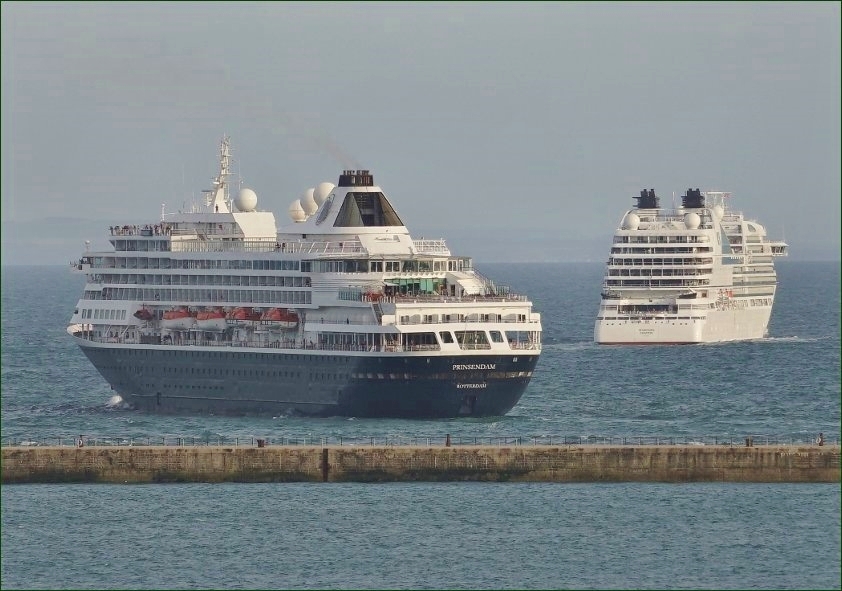 Yours truly wasn't sure which picture to use above there...couldnt decide which was best, so the upshot is …. when you strike 'dither mode' use both...

Singular shots below of both ships... Prinsendam first and finally the very new Seabourn Ovation.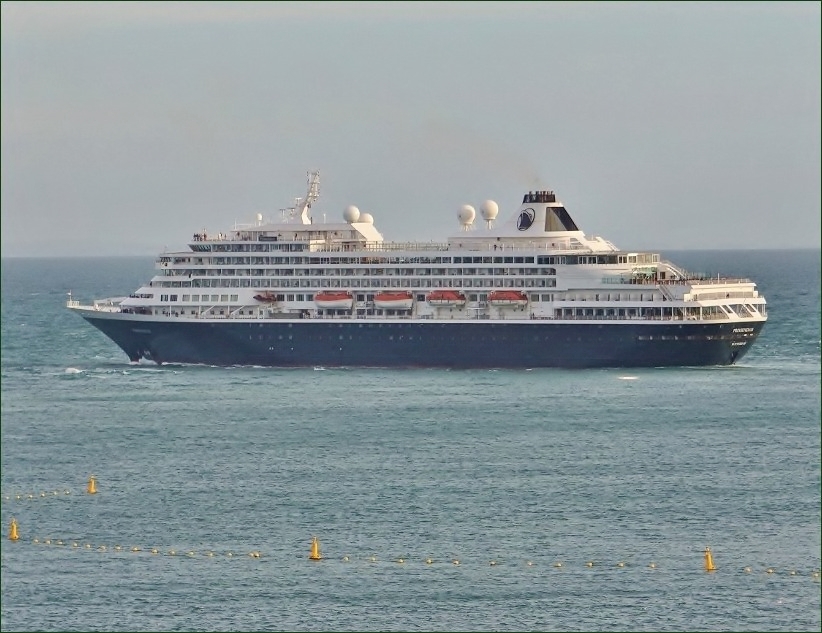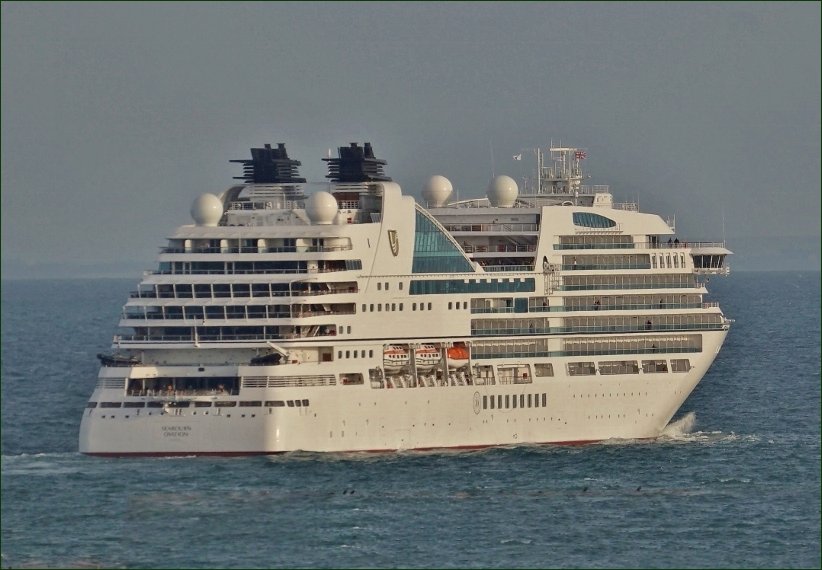 See also Patrick's post below...

PaulB

Monday, 17 September 2018 - 05:56
Post 5758
Patrick, Marine Parade
Just managed to catch the double departure yesterday of the 'Seabourn Ovation' and 'Prinsendam' just before 6pm with the light fading fast these days. Busy afternoon for the pilots and launch.
Very first visit to Dover the newly built 'Seabourn Ovation' (thanks for the info Colette)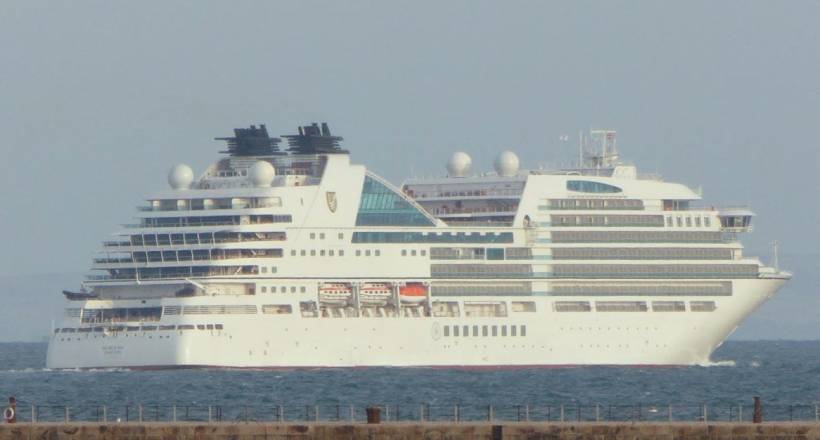 departed south for Portland
'Prinsendam'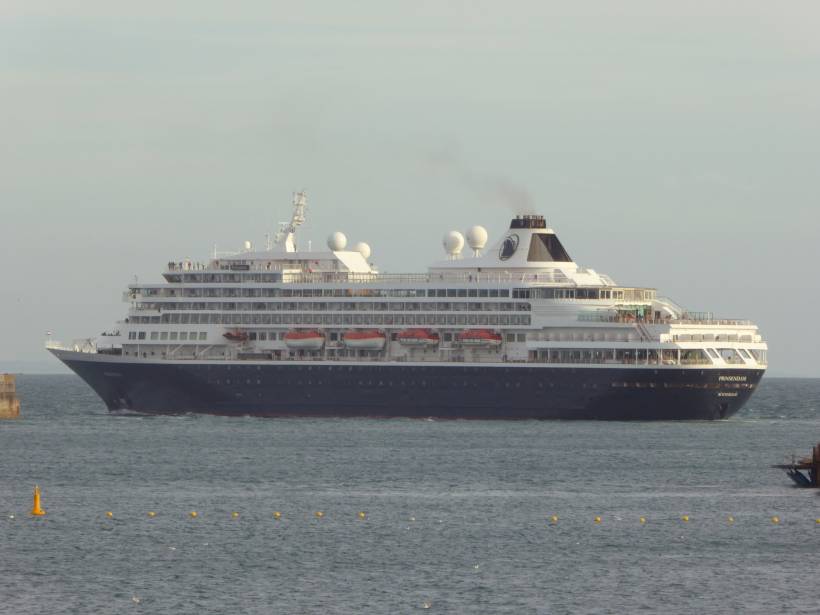 departed north for Amsterdam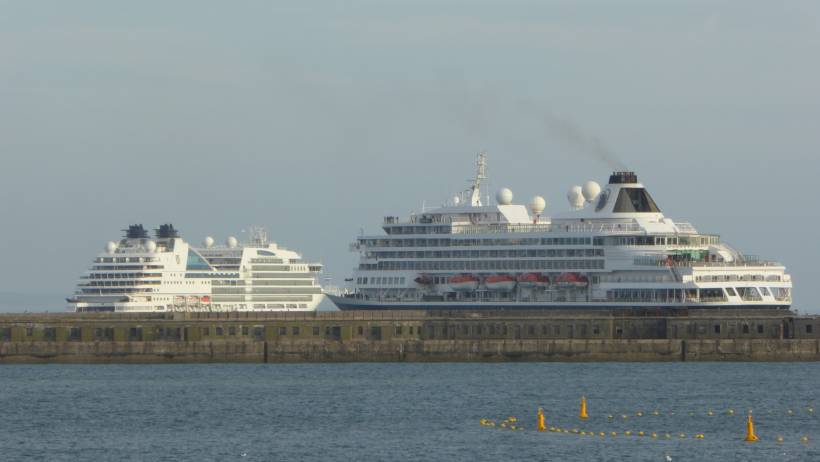 busy day for the pilots and launch
Sunday, 16 September 2018 - 17:11
Post 5757
Sea News, Dover
Friday evening saw the Trinity House Vessel and ol favourite Alert approaching the Port in some choppy conditions as you can see above. When yours truly took the fairly long range pic ...well he hardly noticed the small boat chasing along behind at some speed...so its name was never looked up. When looking at the pictures later it was clear the small boat was playing its part in the image...
A pic below from a few days earlier and we see both tugs Doughty and Dauntless ready to leap into action as they pause out there close to the breakwater....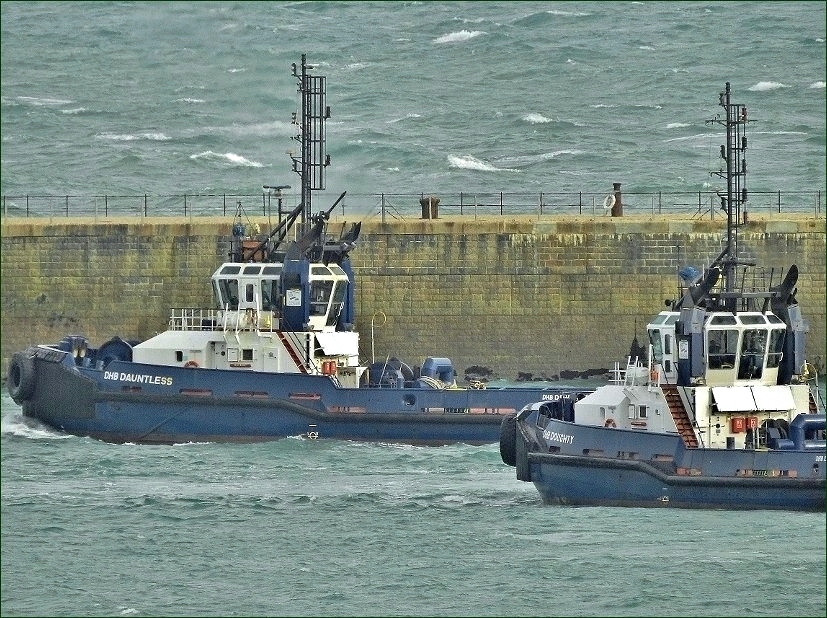 On reflection...that pic above of the tugs looks a tad biliously green...

Excellent enjoyable pictures below there Mike from Ramsgate. Good to see those. There is something special about the light over there at Ramsgate...
Nice to see Andrew in the distance.

See also Sarah's excellent recent Ramsgate pix in 5751.
PaulB
Sunday, 16 September 2018 - 05:14
Post 5756
Mike J., Dover
On Thursday the large houseboat ST.MICHAEL was towed in from the Thames by the tug SPEEDWELL for a visit to Ramsgate's slipway.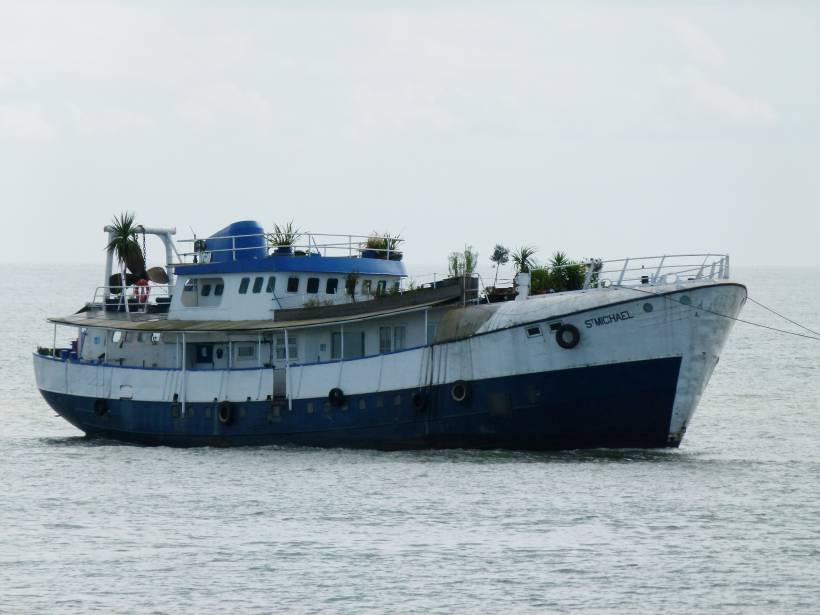 They were met by the Ramsgate fishing boat SILVER LINING who assisted with manoeuvering the tow thru the harbour entrance.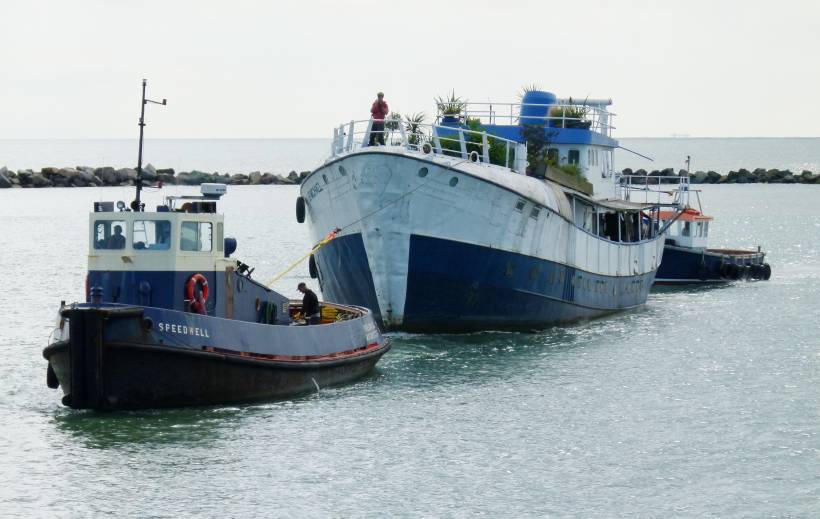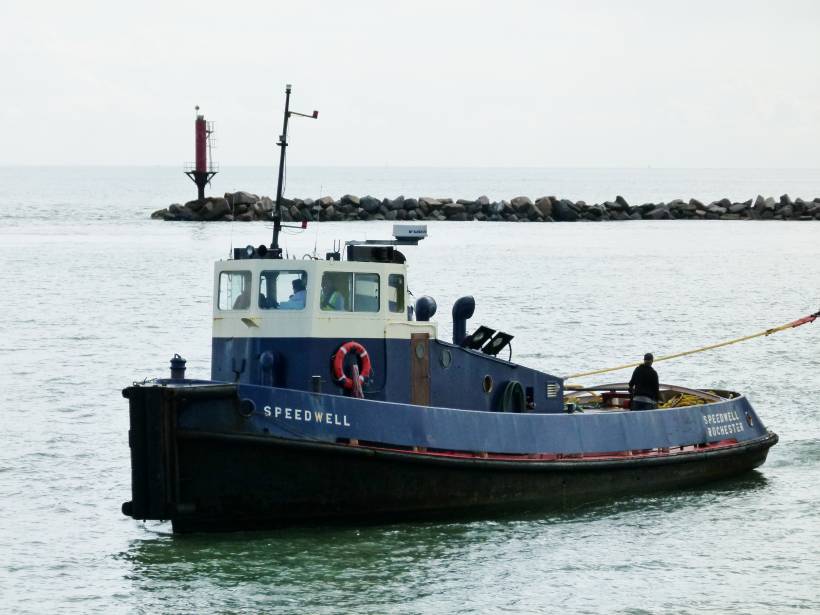 The ST.MICHAEL is a former Lowestoft trawler, Belgian-built in 1974 & converted to a houseboat in 1994 & still carries her fishing vessel name & fishing registration number LT326.
Her garden seems to have survived the trip down from the Thames, other photos show her with statuary on deck in London.
The SPEEDWELL was built in 1968 for service on the Gloucester & Sharpness Canal but is now operated by Medway-based Kent Marine Towage who have a small but interesting fleet.
Above the bows of the SPEEDWELL as she enters 'Sea News' correspondent Andrew Humphreys can faintly be seen.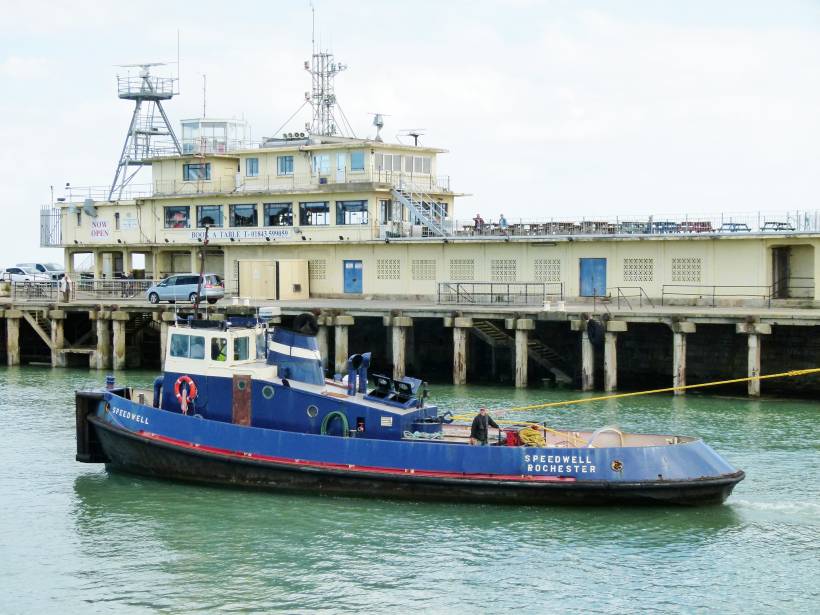 .
Saturday, 15 September 2018 - 23:05
Post 5755
Sea News, Dover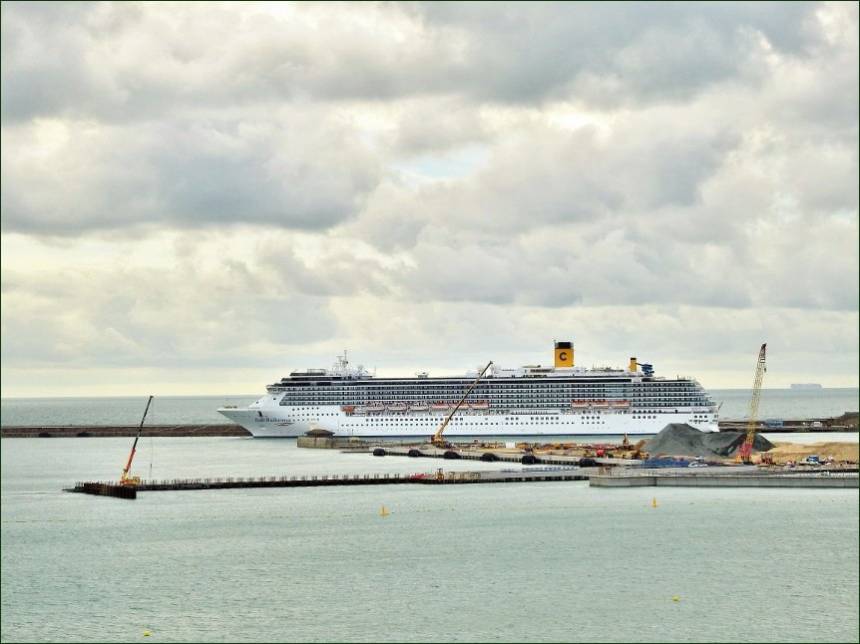 Just a general round-up now of some of the visiting cruise ships from the past few days. Its been a very busy time for sure, so we haven't included all...as yet. Top shot there shows the super exotic Costa Mediterranea resting on a blustery day amongst all the new development. Quite a ship as you can see, pictured above there earlier in the week.
Below she provides a glamourous backdrop for the departing Pacific Princess.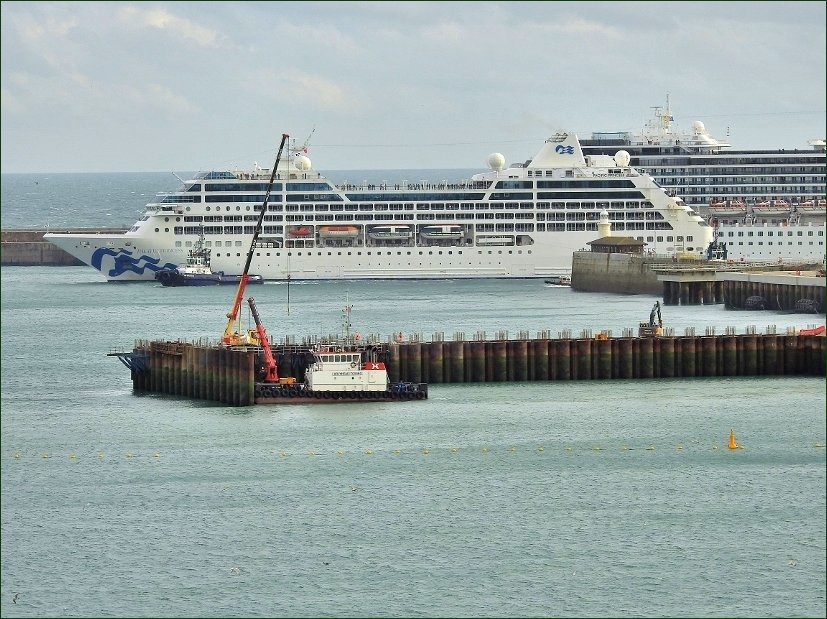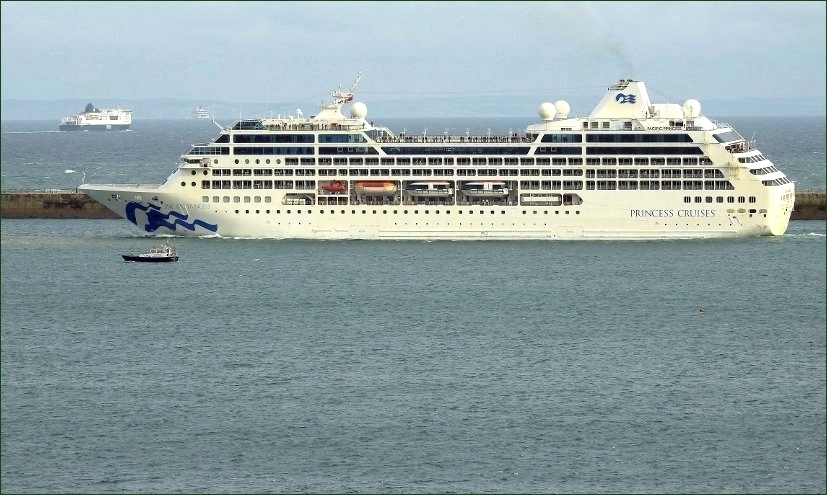 Taking the eastern exit...
Also in this week was the Pullmantur Zenith and there she is below...the second picture from a previous visit.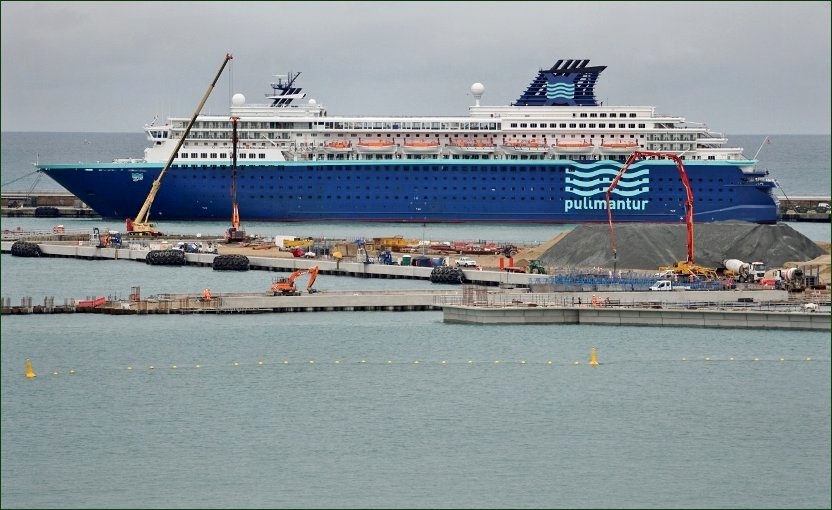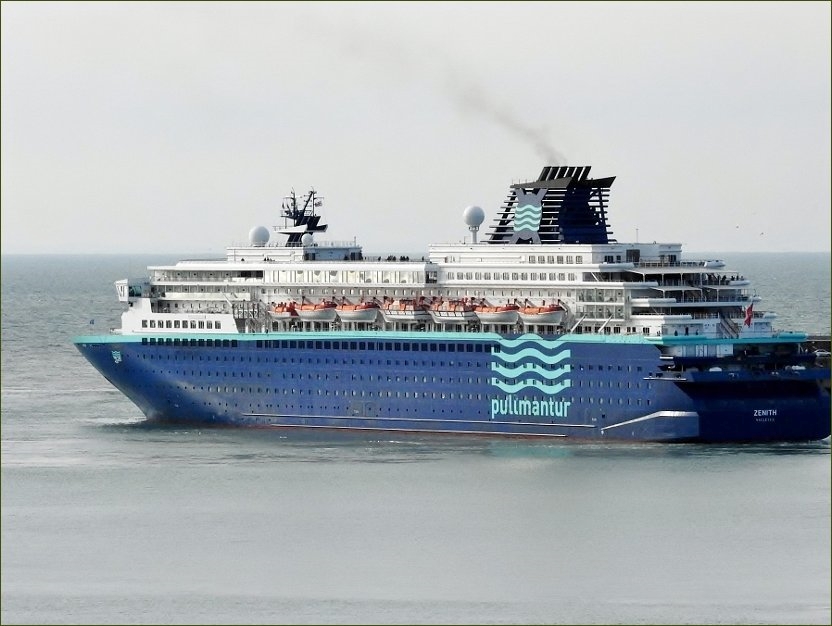 Thanks for the comments Patrick...nice shot below there too.

PaulB
ps: Two interesting cruise ships in today too...the all-new Seabourn Ovation and also Prinsendam. A very exciting combination.
Saturday, 15 September 2018 - 07:32
Post 5754
Patrick, Marine Parade
Great pictures all round from Sarah, Mike & Paul. Superb action shots there too. As usual many thanks to Colette for keeping us all alert for the forthcoming cruise visits.
'Saga Sapphire' alongside CT1 yesterday awaiting new influx of happy cruisers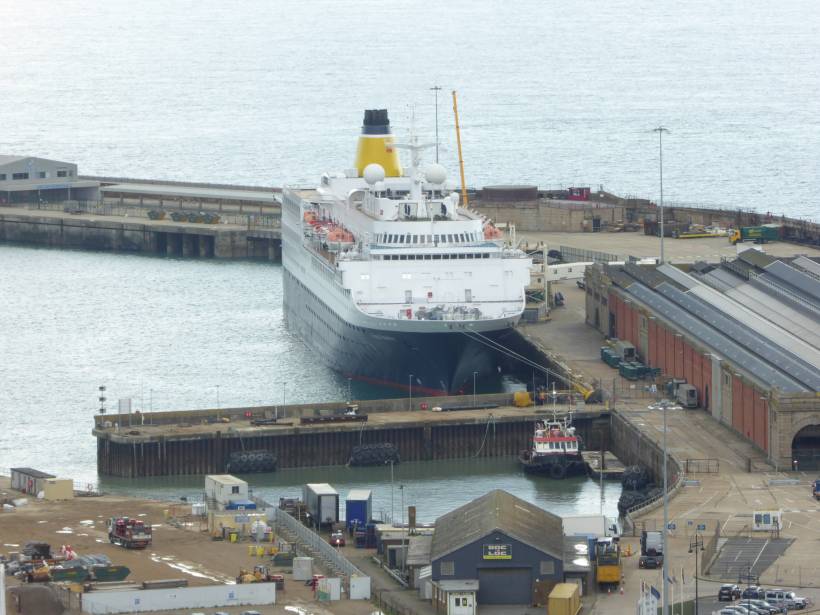 Friday, 14 September 2018 - 18:37
Post 5753
Sea News, Dover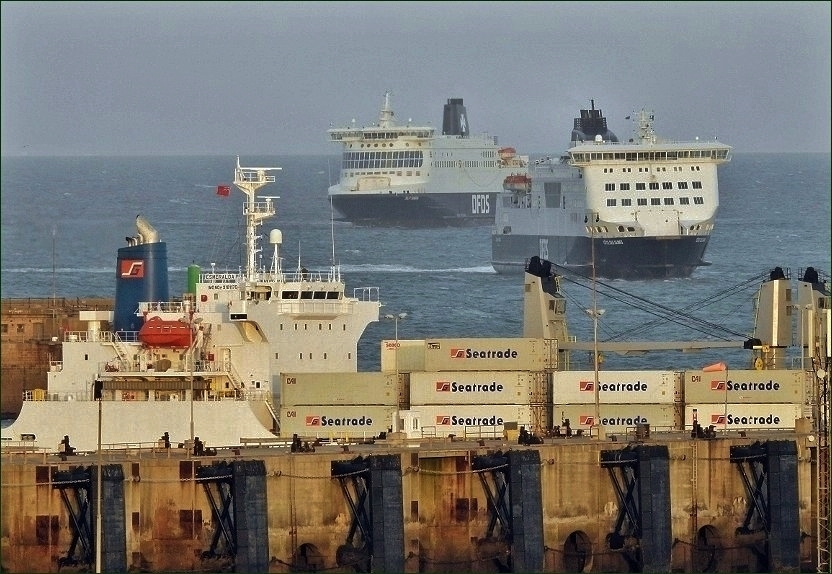 Spotted Esmeralda as she began to glide across from the Cargo Terminal just recently...the ship is partially hidden above there as she drifts into view, while in the background two DFDS ferries approach. The first one is the Cote des Dunes and the distant one is...the Delft Seaways.
In harmony with the picture currently at the top of page, we can see below Esmeralda making her turn with the aid of the tugs Doughty and Dauntless ( Doughty just out of shot in this one). And then away she goes...Hamburg being the destination this time..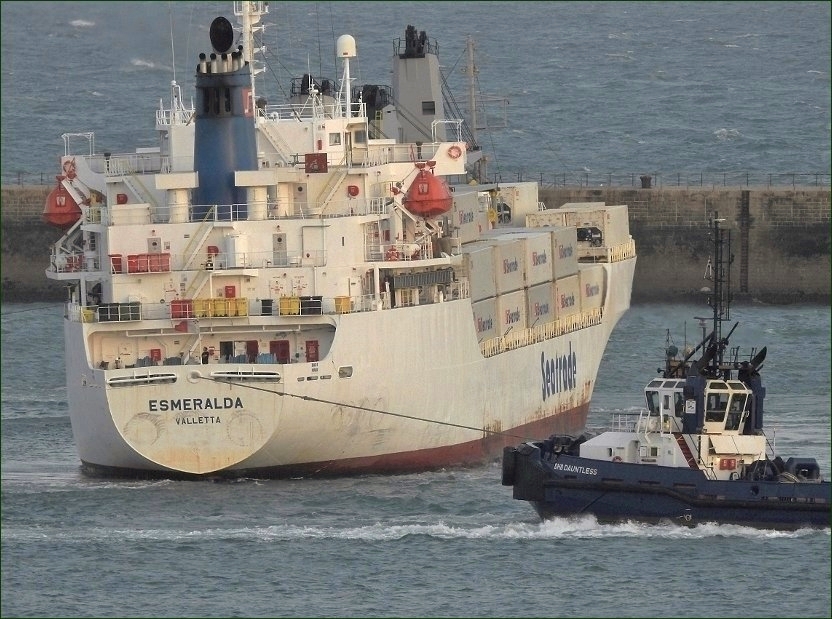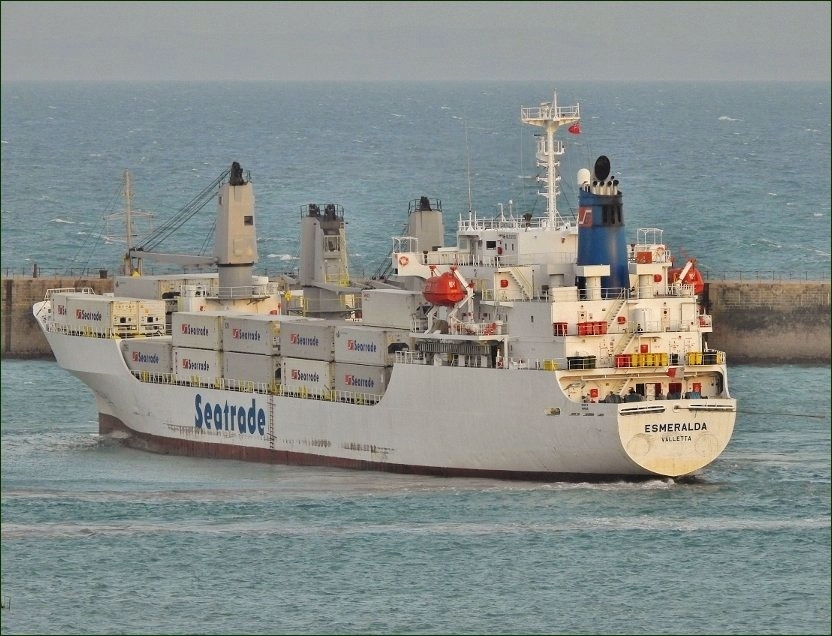 Absolute cracking pictures below there from Sarah in 5751. Blinders! Great to see those for sure...Dont miss those...

Thanks for that info Mike.

PB
Friday, 14 September 2018 - 04:22
Post 5752
Mike J., Dover

Excellent sequence from Sarah of the Heritage Days at Ramsgate.

Astern of her, on the pontoon, is the SAINT DAVID.
I wonder how many of the onlookers knew that she once flew the Swastika ?
More info if you put SAINT DAVID into the Sea News search box.

Catching up after being away from the computer for a few days I was most surprised to see that the SOUTHERN QUEEN who used to run trips at Dover before moving to Sandwich has sunk, together with another 'trip boat'
The SOUTHERN QUEEN has been refloated.

Photos on the 'Dover Marina.com' Facebook page.

Friday, 14 September 2018 - 01:10
Post 5751
Sarah, Ramsgate
USN P22 once a resident in the inner harbour visiting Ramsgate from Sandwich for a couple of Heritage Days.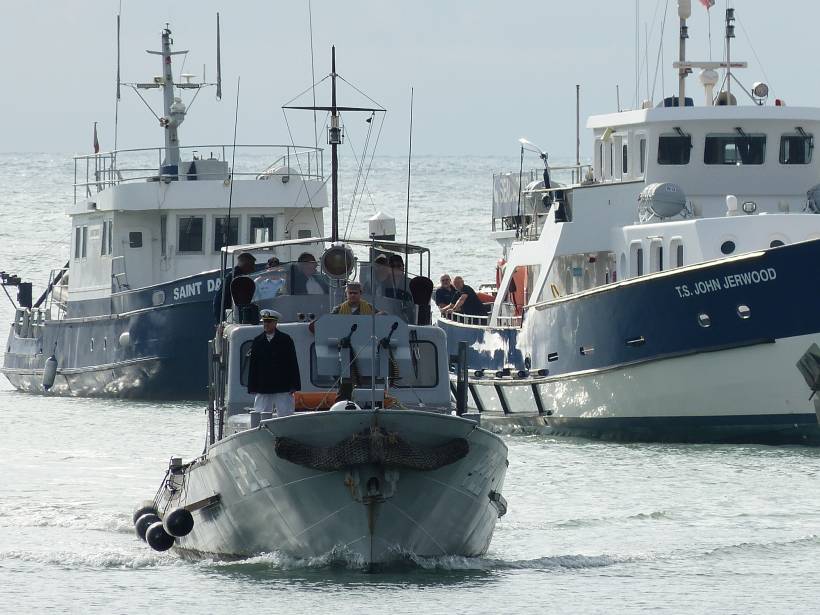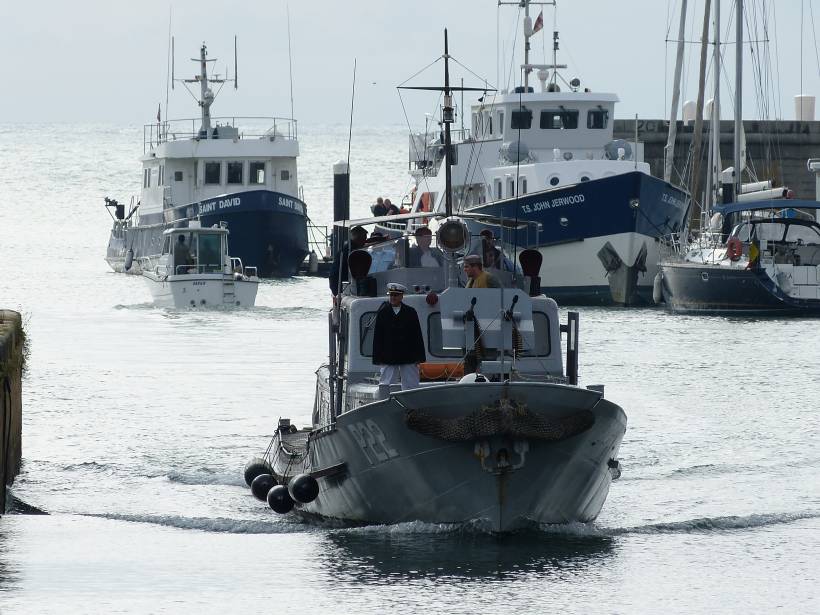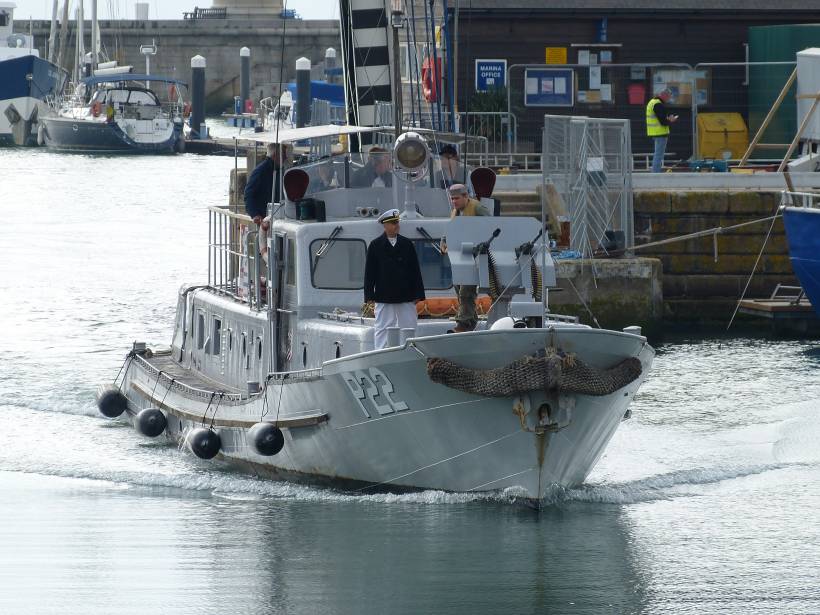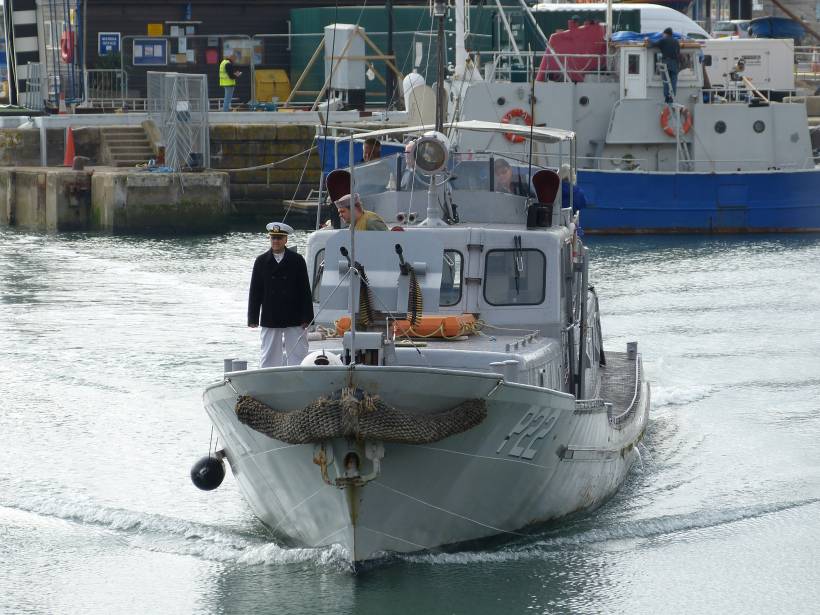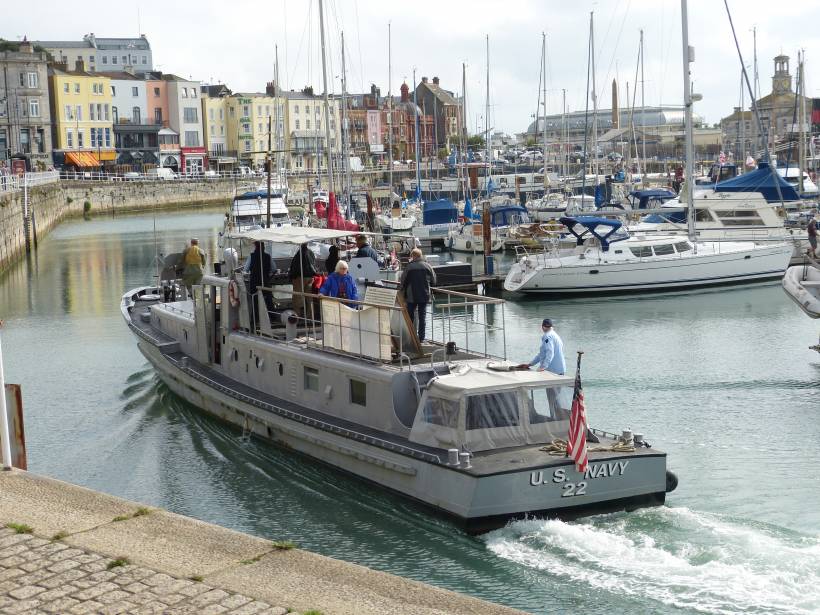 Thursday, 13 September 2018 - 23:05
Post 5750
Sea News, Dover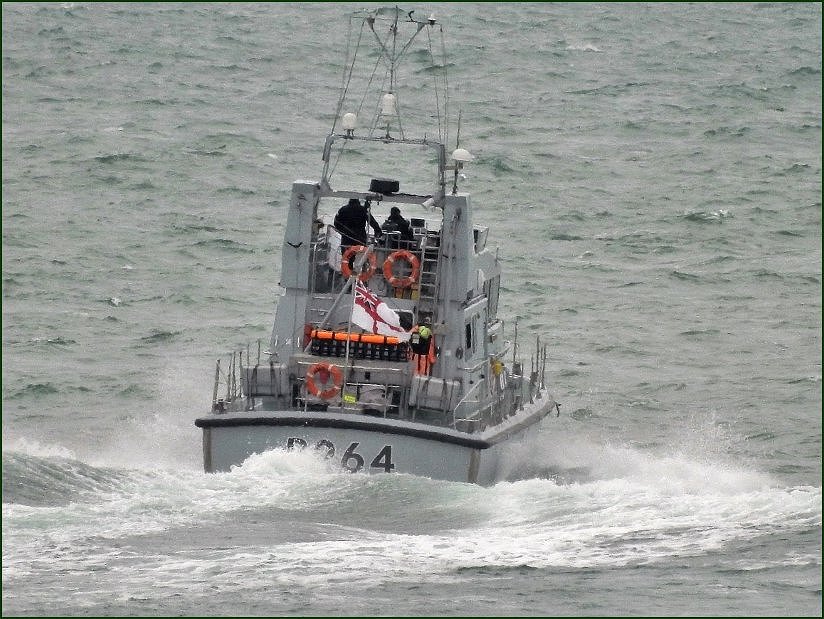 You will have seen our picture shown yesterday of HMS Archer arriving in the blustery conditions of tuesday...well we just caught her departure by happy accident yesterday wednesday and there she goes above. Just saw her at the last minute so the picture is quite long range. She turned west eventually...hopefully the medical emergency is all sorted and all are well and okay onboard.
Hark back now to a few days earlier and we see the arrival of the self discharging sand carrier Bulknes. The vessel is remarkably similar to the previous ones of the same ilk... Sandnes and Splittnes. You can find them using our Search Engine above and you will see the similarities. An assorted collection below...finishing with the late night discharging...hopefully all can see that one clearly.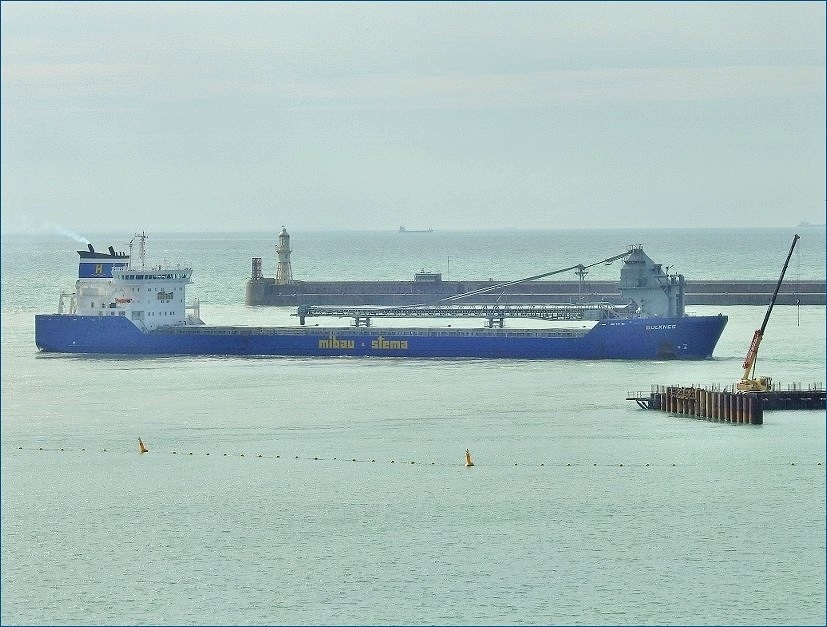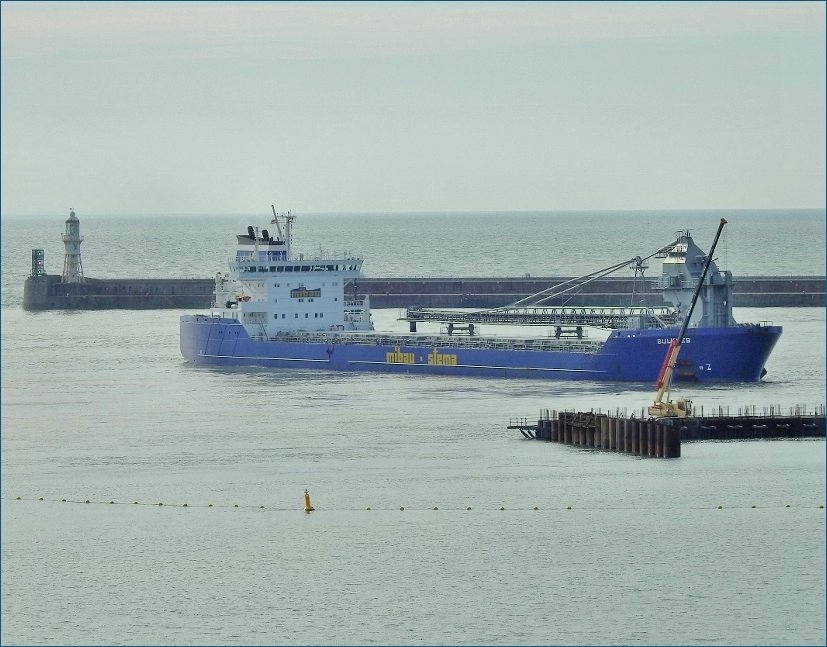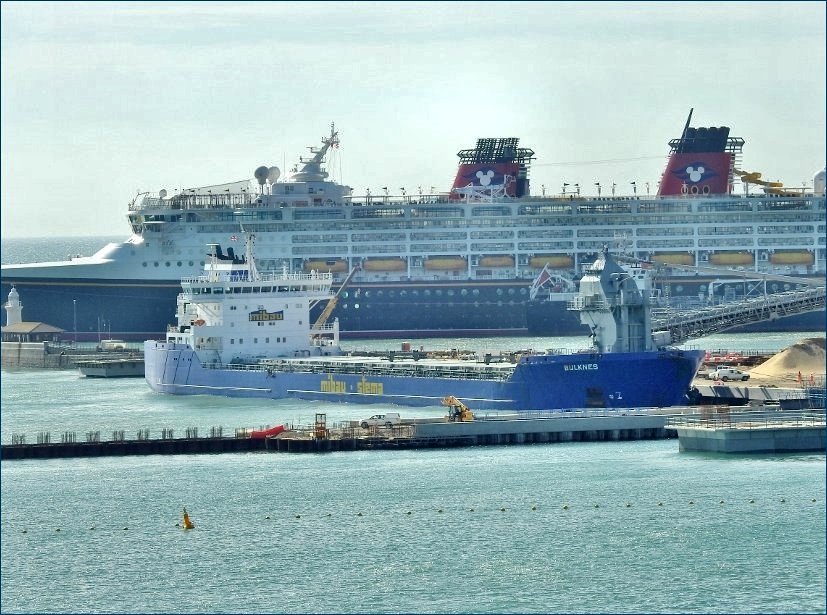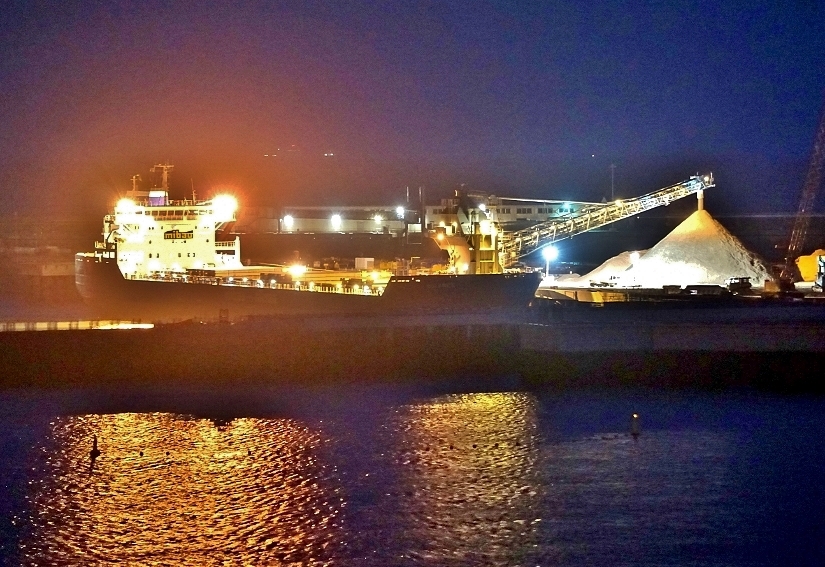 PaulB
Thursday, 13 September 2018 - 07:17
Post 5749
Sea News, Dover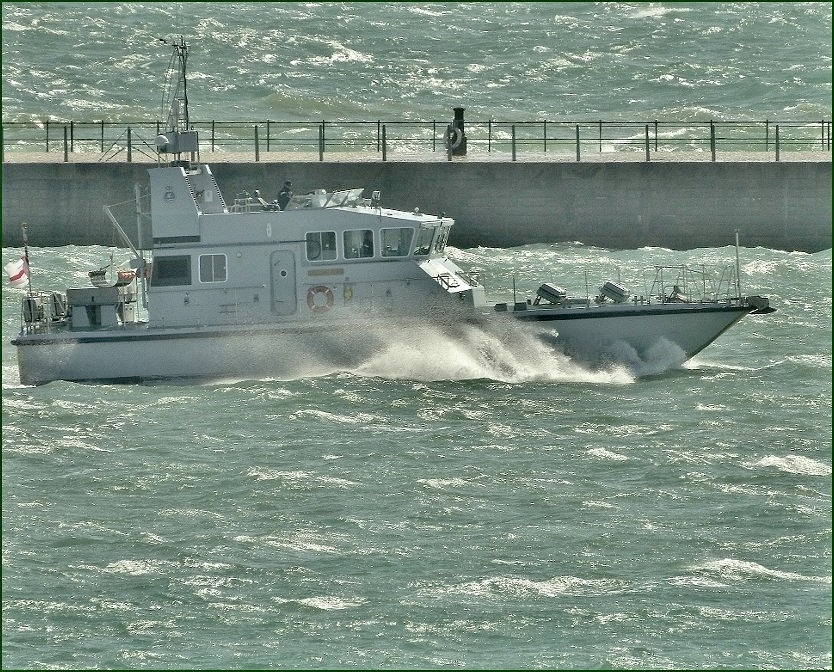 The shot above there shows HMS Archer just after her arrival in the Port yesterday..time of picture 12:18. This was an unscheduled visit we understand, as apparently a crew member was in need of medical assistance. We don't have any further information but hopefully all was okay in the end. The conditions were quite rough out there...ferries were delayed etc...and HMS Archer was spotted approaching the Port powering and bobbing through the rough conditions. The picture above there shows her inside the harbour but it even looks rough inside the harbour as you can see.
And speaking of rough tough conditions... here we are as promised with pictures of the returning pilot boat. The pilot was returning after assisting the Disney Magic as she moved away and as you can see it was an errrmm 'interesting' return to Port...
You can see the wider view of the returning pilot in 5748.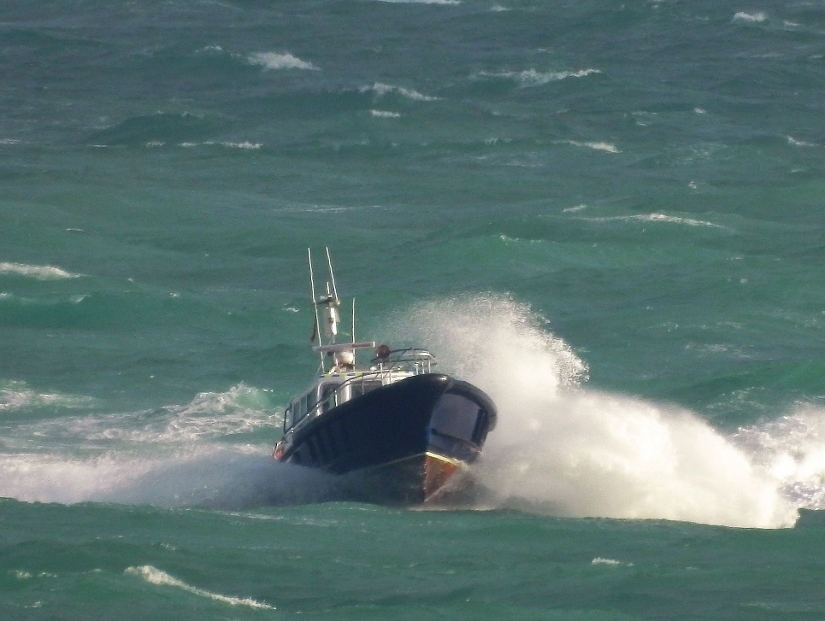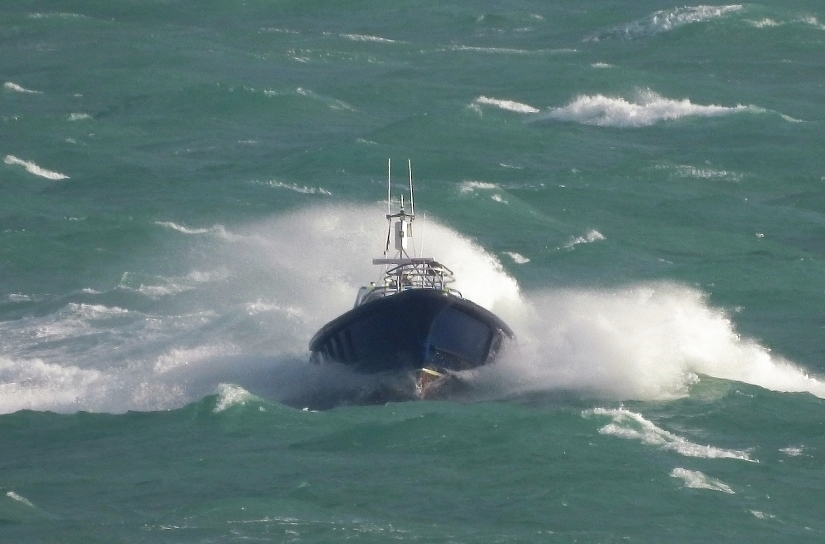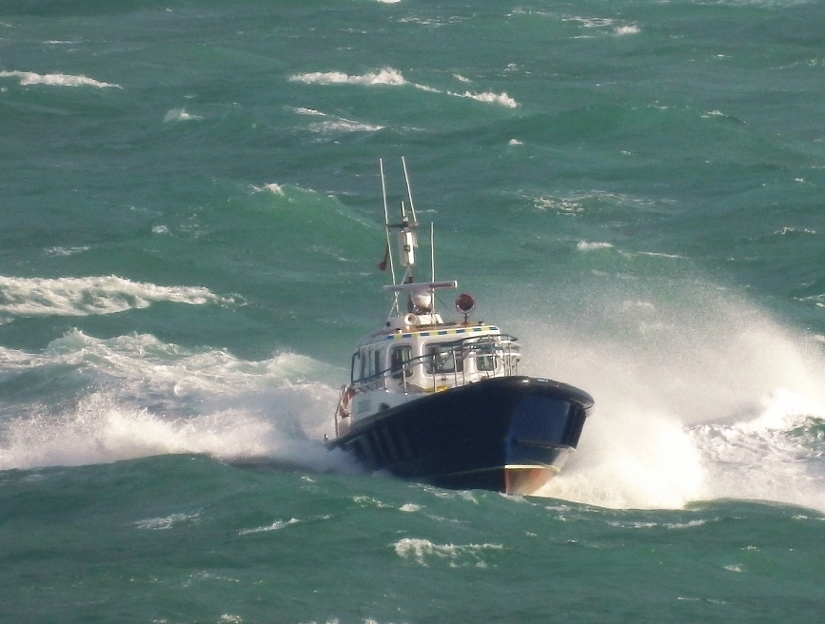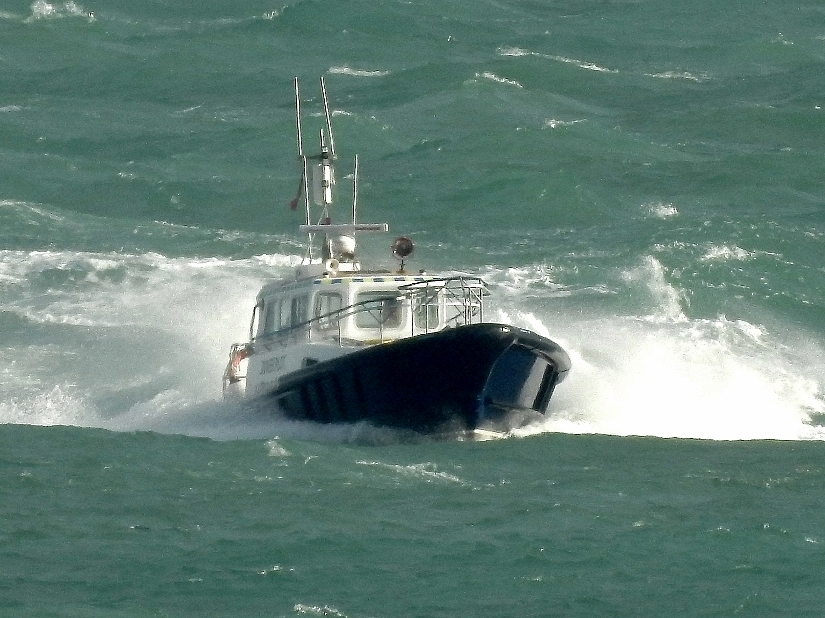 "Fasten your seatbelts, its going to be a bumpy ride"

PaulB
Wednesday, 12 September 2018 - 05:54
Post 5748
Sea News, Dover
The Disney Magic moves off.....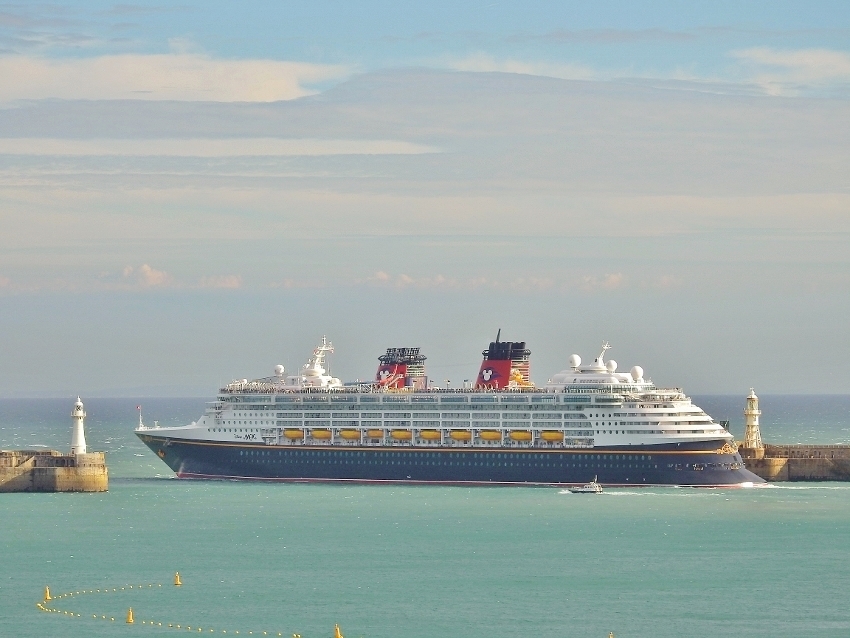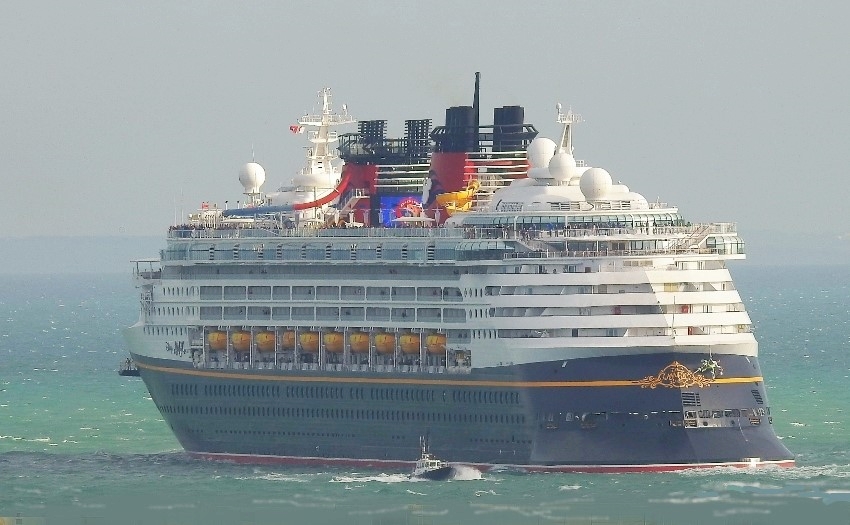 A fond farewell to the ultra glamourous Disney Magic for this year. We will see more of her next year... the pictures show her on sunday evening as she heads off for main destination Cork in Ireland and then across the Atlantic. A long haul... The sea was quite rough-ish for departure, the pilot boat got a wee bit of a bashing on the way back and we will have some pictures of that in due course...also in port since then was Costa Mediterranea, the Pacific Princess, and the sand hauler Bulkness ...lots to catch up on...

Come back soon Disney!

Tuesday, 11 September 2018 - 07:18
Post 5747
Sea News, Dover
These pictures of the delightful old sailing boats were taken a couple of weeks back, because there is so much action happening in and around the Port yours truly forgot to use them...they went onto the backburner and stayed there alas, but now halleluhah here they are...rediscovered..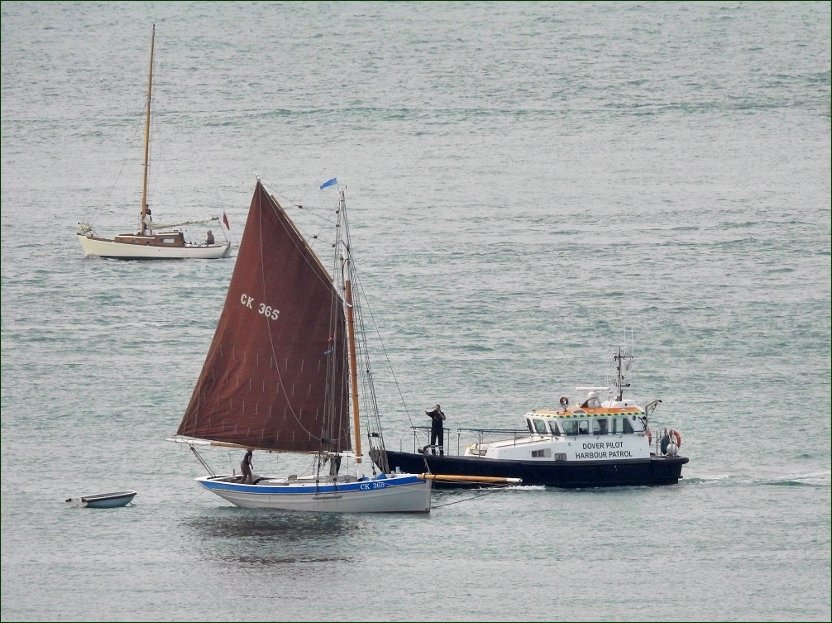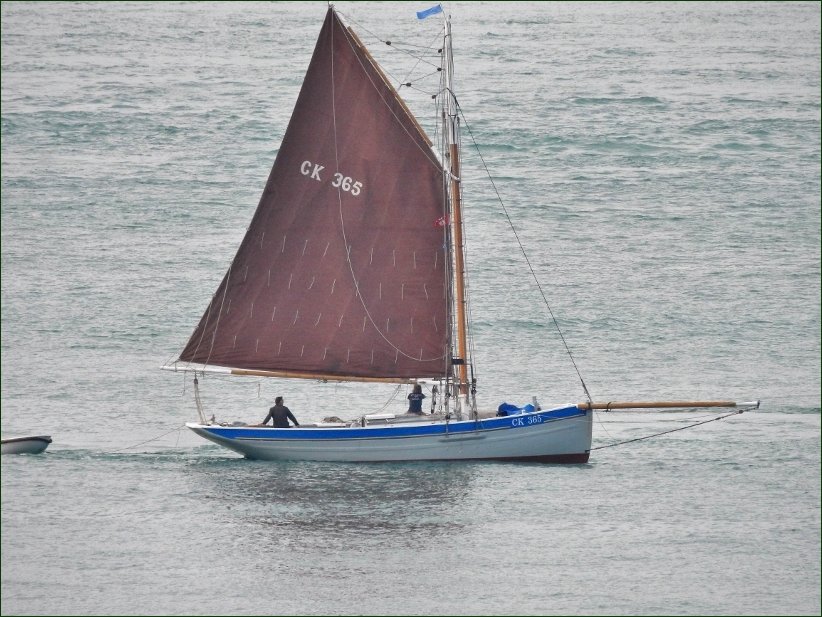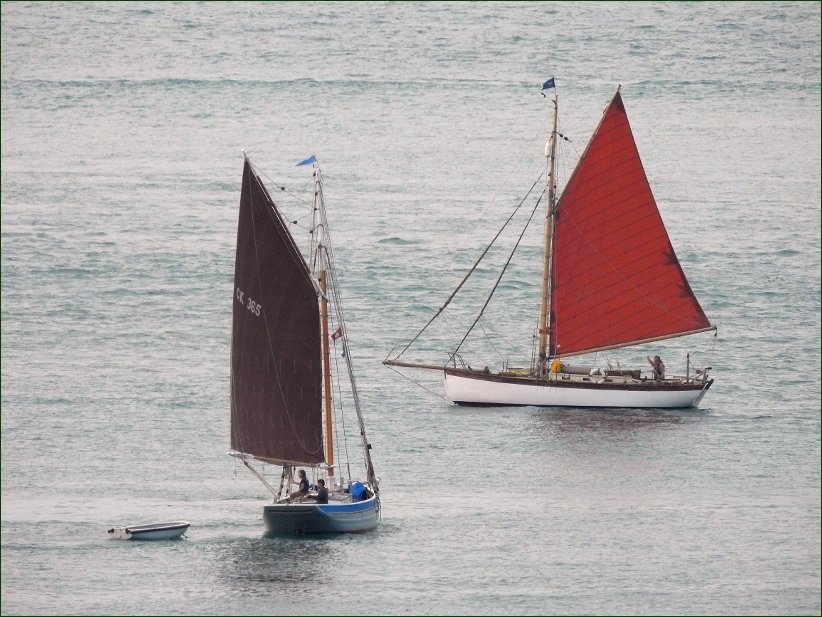 Date of pictures: August 22nd.
The picture below of the Disney Magic is from her previous visit. Will have the latest pictures following along soon...we got some reasonably nice shots of her departure yesterday Sunday evening.. and we have general pictures of the other happenings as well.
So much to do, so little time..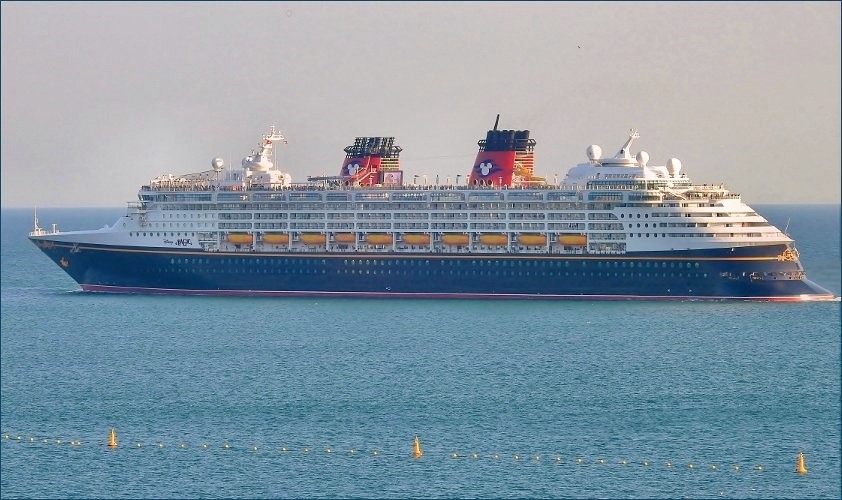 Great cruise post below there Colette. Lots of info there for sure. Yes another double whammy of cruises in today. Exciting ships again.. see below (also .. thanks for that delivery Colette).

PaulB
Monday, 10 September 2018 - 08:02