Saturday, 25 April 2015
SEA NEWS
Scroll down the page and over the many pages for all the stories in and around the Port of Dover.....
MORE PICTURES OF THE MALO SEAWAYS BELOW - THE NEW DFDS SEAWAYS FERRY - SEE 1496...SEE also 1498.
NOW ENTERING SERVICE see 1503 and now 1507. See more on ROYAL VISIT below....
Dover.uk.com and Doverforum.com have merged to produce an entirely local and comprehensive Dover website. Nautical contributions are welcome on this page with a max of 4 pictures preferred per contribution, all pictures remain own photographers copyright. Email:dover7@msn.com to send Sea News pix or info..or click ADD YOUR COMMENT below to post direct, no membership needed. Paul Boland.
SAY HELLO TO OUR NEW SEA NEWS SEARCH FACILITY...
Post 1507
Sea News, Dover
DFDS SEAWAYS WELCOMES MALO SEAWAYS to CALAIS SERVICE

• Malo Seaways enters service as replacement for Dieppe Seaways
• DFDS Seaways' Dover-France fleet back to five ships
_______________________________________________________________
Award-winning ferry operator, DFDS Seaways, has welcomed Malo Seaways to its Dover-Calais service. Her first official sailing on the service left Calais at 13h30 CET on Wednesday, 22 April.
Named in honour of the French coastal city, Malo Les Bains, which is located north of Dunkirk, the new ship brings DFDS Seaways' Dover-France fleet back up to five ships, following the departure of Dieppe Seaways. She joins Calais Seaways on the Dover-Calais service, offering passengers a comfortable and easy 90 minute crossing between the UK and France.
Malo Seaways has been newly refurbished and rebranded in the DFDS Seaways colours. Passenger facilities on board include a restaurant serving delicious hot and cold food, a dedicated children's area, an additional comfortable seating area, a café bar with a selection of drinks and snacks, and an onboard shop stocked with holiday favourites and essentials.
Passengers can also book access to the Sea View Lounge, where there is a selection of hot and cold drinks included in the lounge access price of £8 per person. Malo Seaways also has dedicated commercial driver facilities in the Road Kings areas, which include a restaurant, relaxation lounge and shower facilities.
The latest addition to the DFDS Seaways passenger and freight fleet of ferries is around 170m long with capacity for around 375 cars and 400 passengers.
Max Foster, passenger director at DFDS Seaways, commented: "We're very grateful to the Mayor of Malo Les Bains for allowing us to name our new ship after the city and are delighted that the Dover-France fleet is back to its five ship capacity. We're looking forward to welcoming passengers on board our latest addition to the DFDS Family."
DFDS Seaways sails up to 44 times a day between Dover and France, including up to 20 daily crossings on the Dover-Calais service. These ferry services are designed to provide passengers with flexible crossing times, a luxury travel experience and convenient travel options. To find out more information, visit www.dfdsseaways.co.uk, or telephone 0871 574 7235.
-Ends-
Huge thanks to DFDS SEAWAYS for sending the info and picture at top through...

To see lots of pictures of the MALO SEAWAYS (thanks to the guys) scroll down the page to posts...1496, 1498, and 1503.

* *
And now more on the ROYAL VISIT from earlier in the week...
The Royal Cinque Ports Yacht Club (RCPYC) and the Port of Dover are honoured to have welcomed
HRH The Princess Royal to Dover in her capacity as President of the Royal Yachting Association.
____________________________________________________________________________
In order to get a nautical perspective on what Dover's port and harbour have to offer and the vibrant sailing activities that take place, The Princess Royal was taken for a special tour in the harbour on board the Port's harbour patrol launch 'Dovorian'.
The Princess Royal was received by the Lord Lieutenant of Kent, Viscount De L'Isle MBE, who presented George Jenkins OBE, Chairman of Dover Harbour Board and Tim Waggott, its Chief Executive along with Admiral The Lord Boyce KG GCB OBE, Lord Warden of the Cinque Ports, who is President and a great supporter of the RCPYC. Lord Boyce then presented Sarah Treseder, Chief Executive of the Royal Yachting Association (RYA), together with Bernard Sealy, Commodore of the RCPYC and its Vice-Commodore Richard Hart.
Tim Waggott, Chief Executive, Port of Dover, said:
"It was a fantastic privilege to explain to The Princess Royal how the Port and the Yacht Club are working brilliantly together in a way that enables a full yachting programme and related activities to run successfully alongside a major international port."
Bernard Sealy, Commodore, RCPYC, said:
"It is a proud moment for our famous club and equally recognition of the progress that Dover is once again making not only as a yachting centre but as destination rather than a place where people pass through."
On returning to the Royal Cinque Ports Yacht Club, formed in 1872, The Princess Royal was shown historic archive material and had the exciting future plans for the Port explained to her, including those that will benefit partners such as the RCPYC and the wider community with the prospect of major waterfront development and regeneration.
Bernard Sealy said:
"Today we have shown what we have done, what we are doing and importantly what we are trying to achieve by working together with the Port and a host of other organisations towards a common vision."
Tim Waggott explained:
"Such a rich tapestry of maritime experience in Dover already makes it a fascinating destination to explore. With our shared vision for major waterfront regeneration as part of our Dover Western Docks Revival project, The Princess Royal has also now seen the wonderful future being created in Dover that will result in an even more vibrant maritime community."
The Princess Royal met RCPYC members in the Lord Nelson Suite overlooking Dover harbour, as well as representatives from a variety of other organisations, both at home and abroad, including Dover Museum, Dover and Deal Sea Cadets, Dover Bronze Age Boat Trust, the Cinque Port Pirates Sailing Club, Dover Rowing Club, Dover RNLI, Dover Coastguard, and Dover Sea Sports Centre, once more reflecting the rich maritime heritage in Dover.
ENDS
• PICTURE: Port of Dover Chairman, George Jenkins, Port of Dover Chief Executive, Tim Waggott and HRH The Princess Royal discussing the Dover Western Docks Revival plans. The 'flypast' below showing fine style.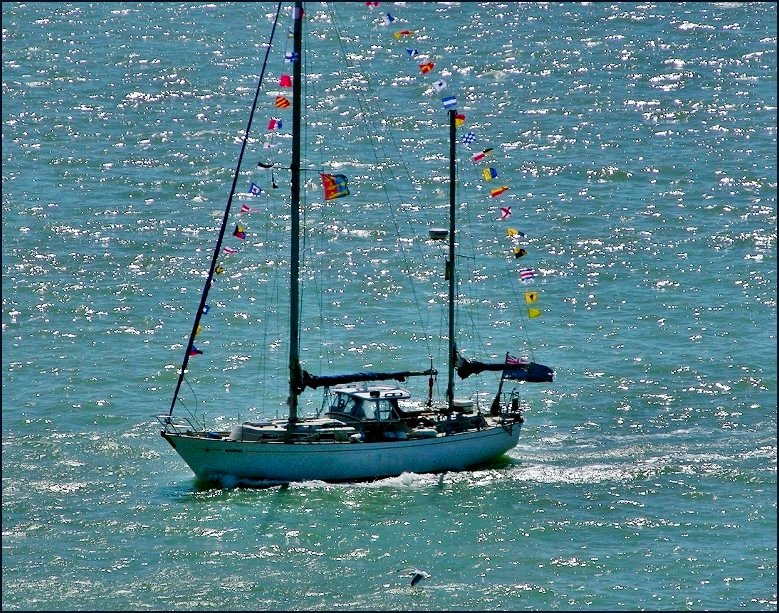 Friday, 24 April 2015 - 06:47
Post 1506
JanT, Dover
Remember very well taking the picture of the church in Calais, a wonderful building and really pleased to hear that our very own P&O choir has been invited to sing there.
It is a magnificent place to be asked to sing in especially with its historic past.


Thursday, 23 April 2015 - 09:07
Post 1505
Sea News, Dover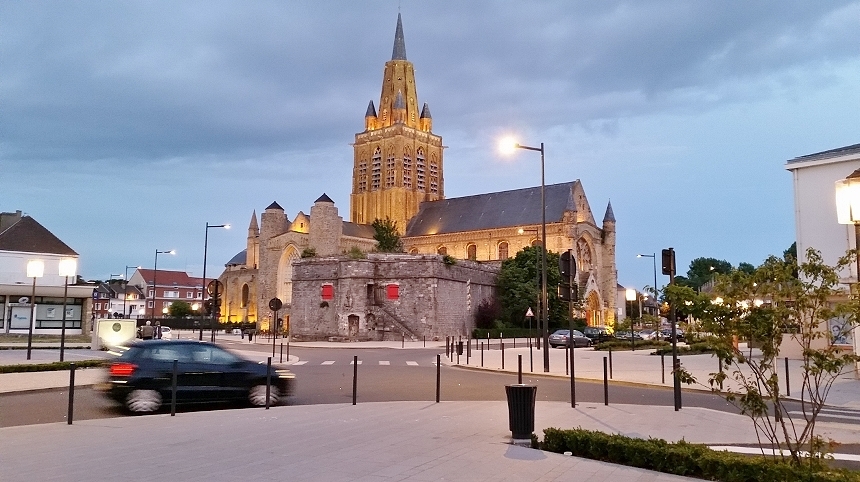 Next Stop Calais for P&O Ferries Choir
_______________________________
The P&O Ferries Choir will make its first foray overseas when it crosses the Channel to perform at the annual Musi Chorales festival in Calais on 17 May.
The festival is staged in the grand medieval church Eglise Notre-Dame which provides both a stunning architectural backdrop and outstanding acoustics. Many of the kings and queens of England and France have worshipped in Eglise Notre-Dame and Charles de Gaulle was married there.
"It is a great honour to be invited to take part in the festival and we're thrilled to have the opportunity to sing in such a magnificent and historic church," said choir member Nick Wickham. "Calais and the wider area have a really vibrant choral community so we feel privileged to be able to join this event," he added.
The singers from P&O Ferries will join two highly regarded local choirs for the festival, the Chorale Saint Joseph, plus the choir from the Lycee Pierre de Coubertin.
As well as performing individually, the choirs plan to come together in song for a grand finale of more than 100 voices with Requiem Aeternam, an exciting choral setting of Nimrod from Elgar's Enigma.
Musi Chorales Calais takes place on the afternoon of Sunday 17 May from 3.30pm (French time) and entry is free of charge. Eglise Notre-Dame is on Rue de la Paix, a five minute walk from the large parking area at Place d'Armes, and a short walk from the shuttle bus service linking the town with the ferry terminal.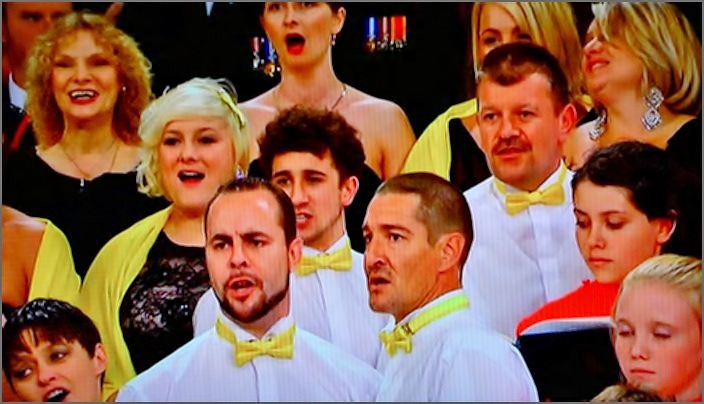 Many thanks to P&O as ever for the info. Brilliant event for sure -
I am sure we all know that Church very well indeed. It is right in the heart of Calais and within easy reach.. being just off Place d'Armes. Google.

Top Picture of the aforementioned Church ( Eglise Notre Dame, Calais ) is by Jan Tranter.
Second picture shows the P&O Choir belting it out in fine style on TV last year.

Thursday, 23 April 2015 - 07:11
Post 1504
Sea News, Dover
TRAFFIC MANAGEMENT - LATEST NEWS
Assessment of new A20 traffic management measures – what to expect
_____________________________________________________________
New traffic management measures are currently being assessed on the A20 on its approach to the Port of Dover. They are being used to regulate the flow of traffic on the A20 when the Port is especially busy and reduce the likelihood of queuing traffic forming on the A20 through Dover. Ultimately, the assessment is being undertaken in order to find a solution to address the impact that the growing economy is having on the Port's customers and the local community.
A week into the assessment and following an implementation of the measures at the weekend, the Port thought it would be helpful to set out some further explanation as to what to expect when heading to Dover on the A20.
How it works
At busy times, if the Port of Dover is nearing capacity for check in, its operations staff will initiate new traffic lights on the A20 just outside of Dover to hold freight and/or tourist vehicles whilst space becomes available within the Port to accommodate them. The traffic is then released in batches to match the space available and therefore keep local traffic and Dover moving.
There is currently a 40mph speed limit from the Western Heights roundabout through Dover and this has been extended to Roundhill Tunnel at Folkestone in order to promote safety for the duration of the assessment.
The traffic signals will be in use in periods roughly three days per week and incorporate a vehicle number plate recognition system so that only freight vehicles that have been through the signals are accepted by the Port.
Cars, light vehicles and coaches heading for Dover Town Centre will still be able to use the A20. Lane 2 is available exclusively for their use when the traffic signals are in operation, or they can use the B2011.
Local freight vehicles do not have to go through the A20 signals if that would not be their natural route. Freight vehicles that have passed through the signals and are parking at MOTIS in the Western Docks do not then have to go back through the signals before heading to the ferry terminal. These will be given a date stamped card.
Tim Waggott, Chief Executive, Port of Dover, says: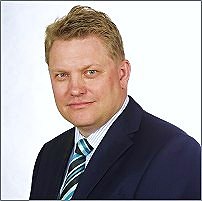 "We will continue to work closely with our partners in order to address any teething issues and
deliver the long term solution that is required for our customers and community."
The Port would like to thank its customers and community for their patience and understanding whilst the assessment is carried out.
ENDS
Thanks as ever to the guys over at the Port for all the latest info.

* *
Great scoop pictures below Ed once again. Ace stuff! Great to see indeed.

Thursday, 23 April 2015 - 06:56
Post 1503
Ed Connell, Dover
Malo Seaways entered service today. Seen here loading and departing from ED3 as viewed from Delft Seaways on ED2.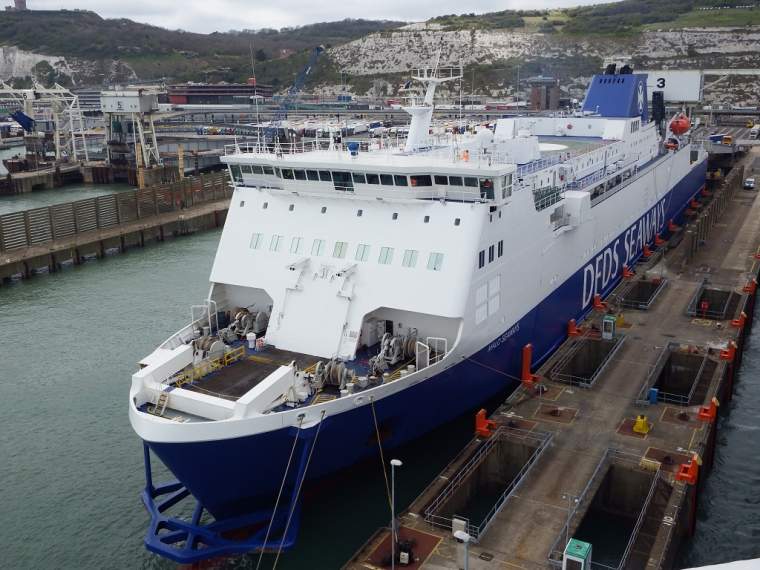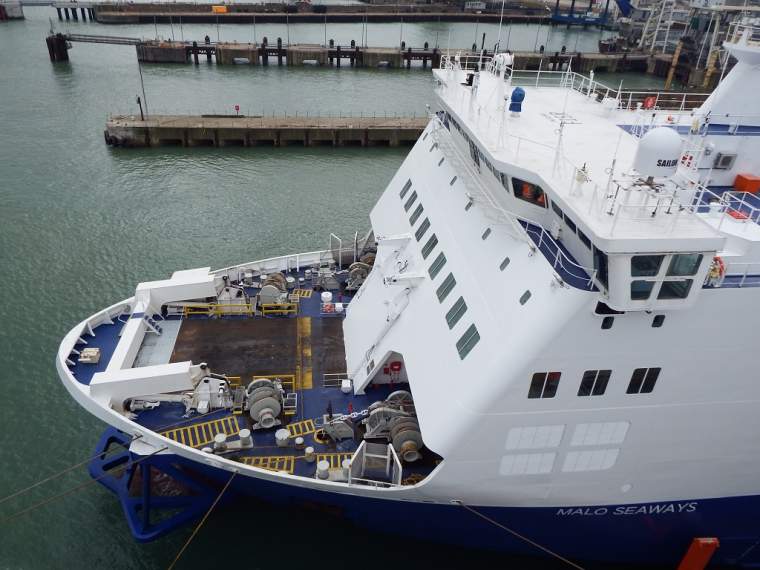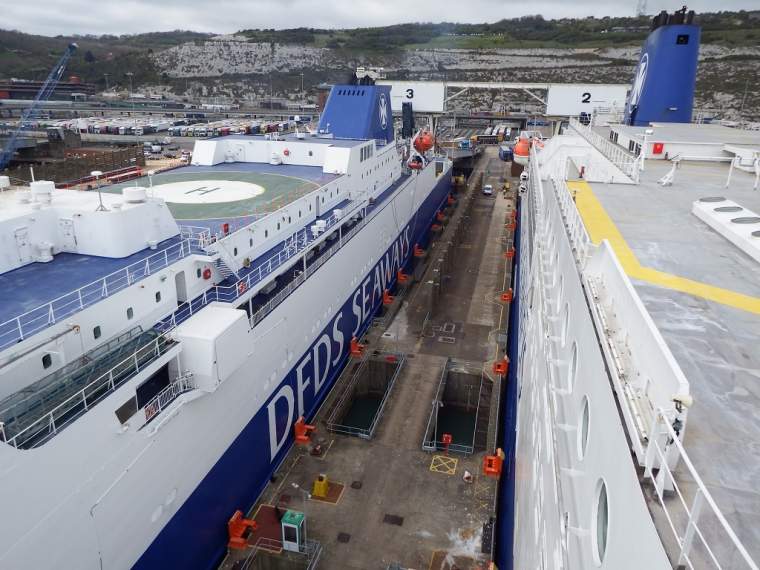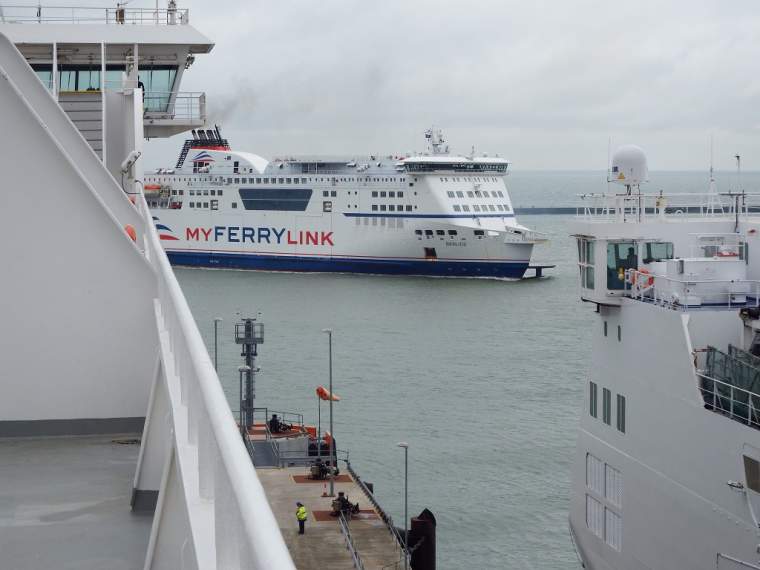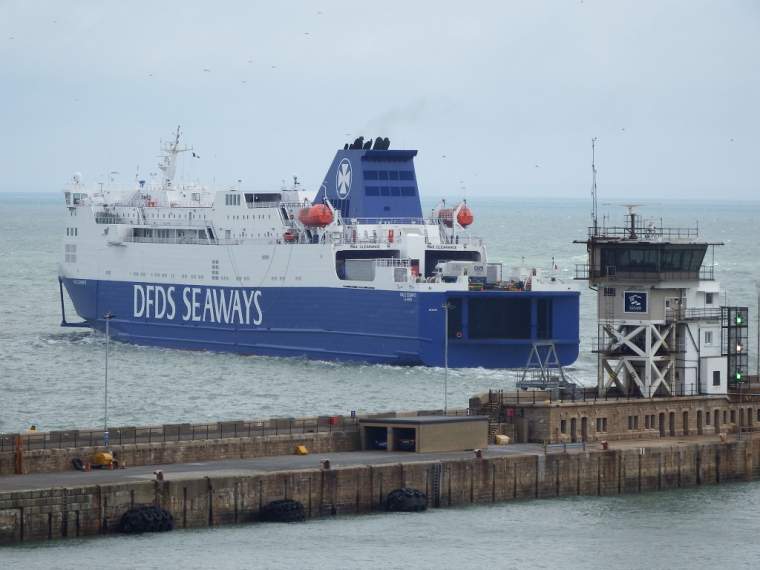 Wednesday, 22 April 2015 - 21:53
Post 1502
Ed Connell, Dover
Cargoship Emerald at the DCT today.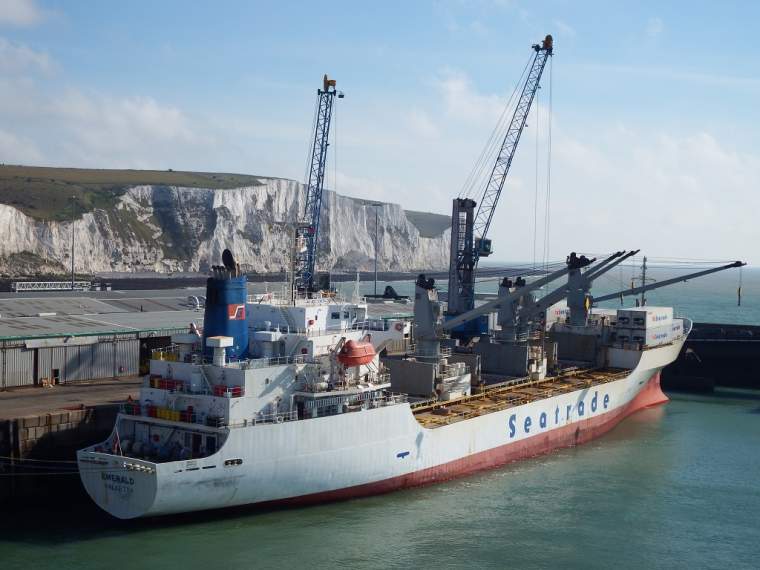 Wednesday, 22 April 2015 - 09:38
Post 1501
Sea News, Dover
THE FURTHER MEANDERINGS OF THE EXPLORATORY PLATFORM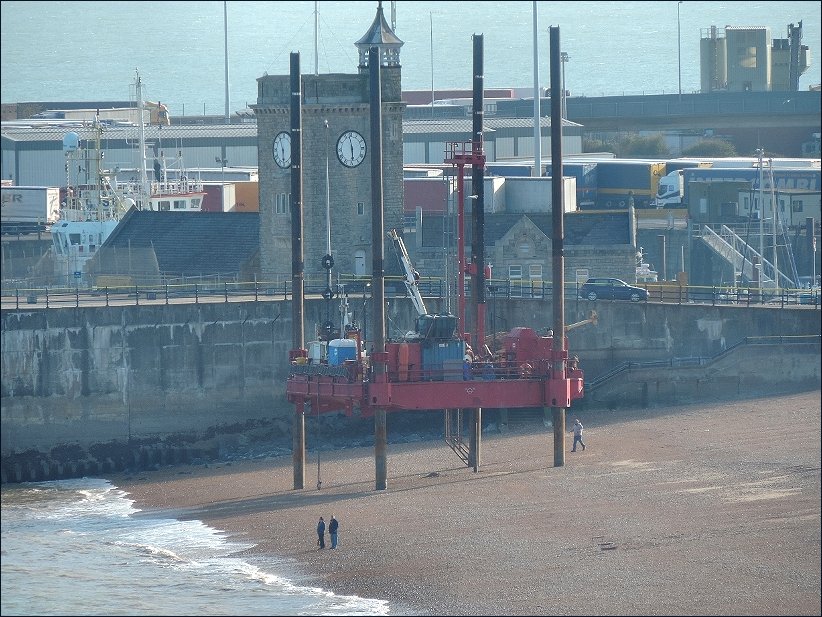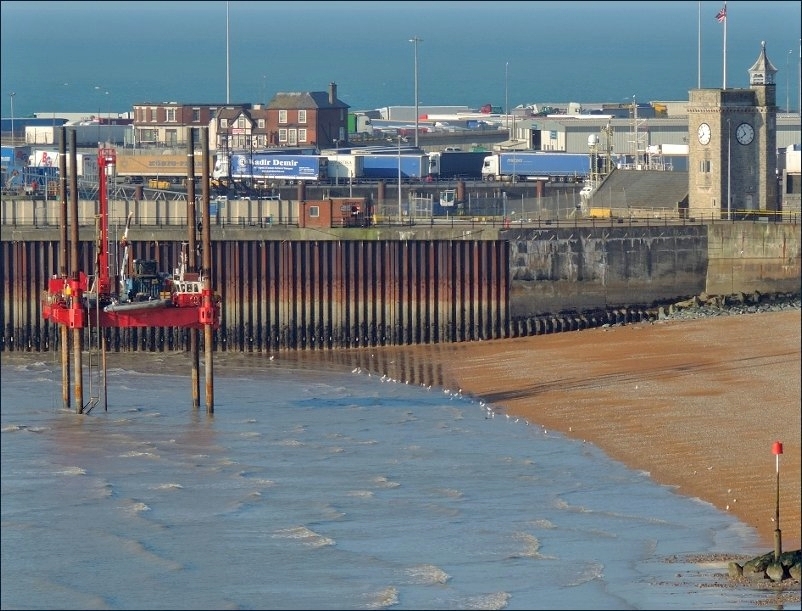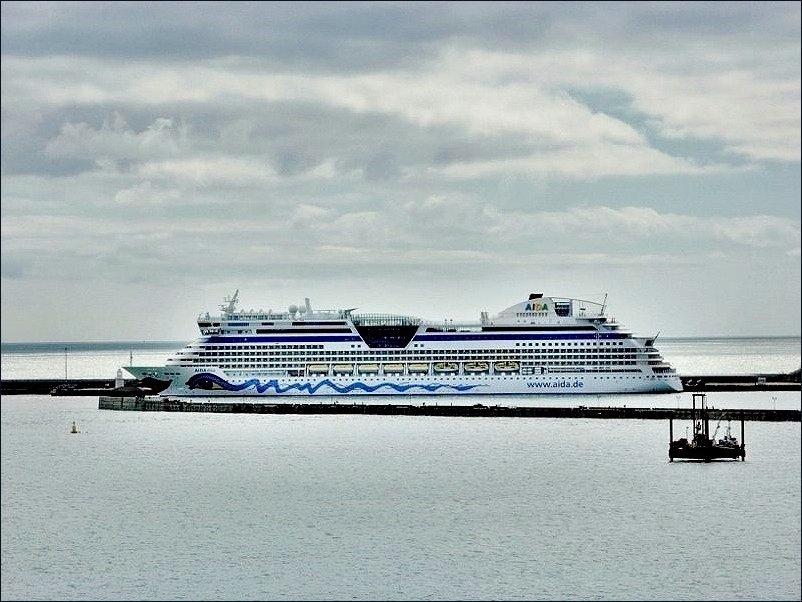 Some further pictures of our old friend by now...the Coastal Explorer platform as she makes her way here and there around the harbour and all the while working 24 hours a day. One day she is here, the next day she is there, but it all makes for a considerable excitement for sure. Just imagine if she strikes oil we will all be seriously rich...it could turn into Texas here.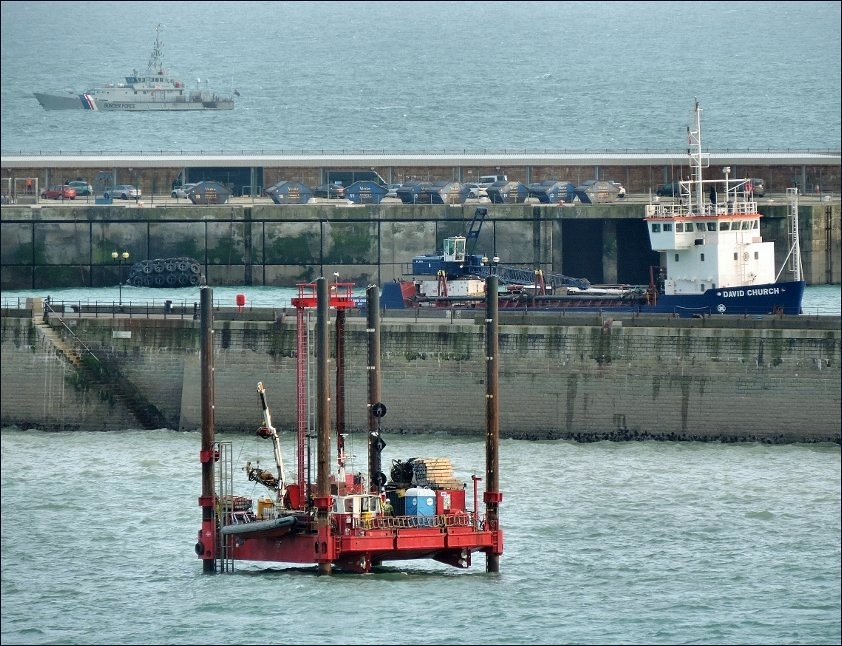 All pictures above taken in the past couple of days.
Ah no Colette..alas I missed out on the cucumber sandwiches this time. There is no justice!

Still enjoying those ace pictures of the Malo Seaways below.

Wednesday, 22 April 2015 - 07:00
Post 1500
ColetteB, Dover
And I thought you would be taking tea with the Princess on the Queens Birthday today PaulB

Terrific array of photos yet again over the last few days Guys, truly awesome, Luvit!!



Tuesday, 21 April 2015 - 19:25
Post 1499
Sea News, Dover
Great stuff Mike. You guys did great with the pictures of the Malo Seaways...I didn't get a sniff at all. Left the features at the top for max effect. Very enjoyable.
But here we are now in total paparazzi mode as we understand Princess Anne visited the Yacht Club today. By the time we knew most of the event was probably over but here's a snap of some of the gathering anyway... pictured moments ago.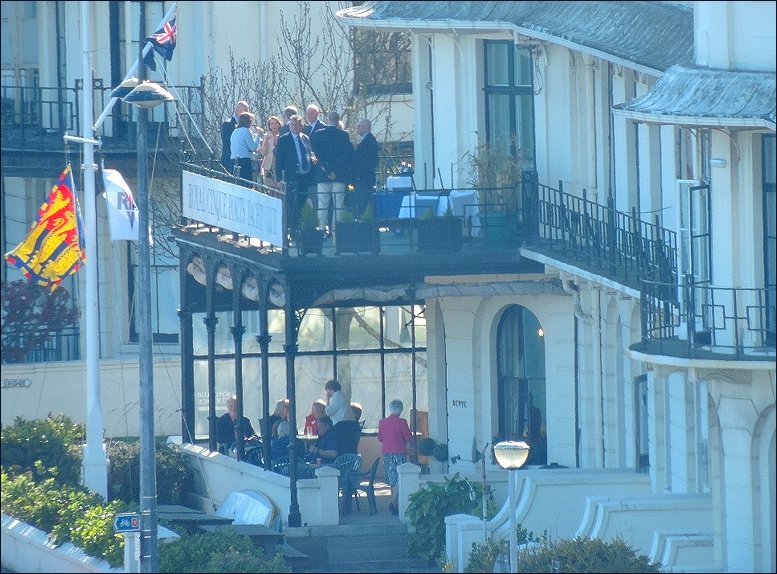 We could have zoomed in further but a bit of decorum was required.

Tuesday, 21 April 2015 - 17:01
Post 1498
Mike J., Dover
Excellent pix from Ed - the Man on the Spot !
Here's some different angles.
After completion of berthing trials at Dover the MALO SEAWAYS returned to Dunkirk for more work before entering service.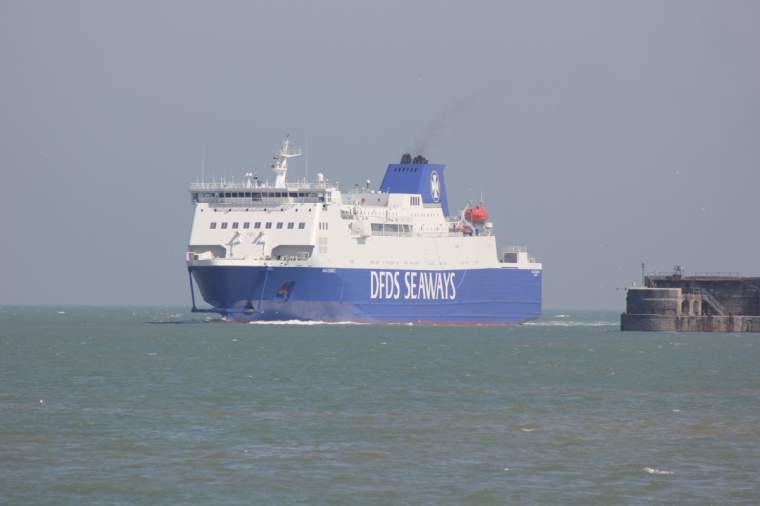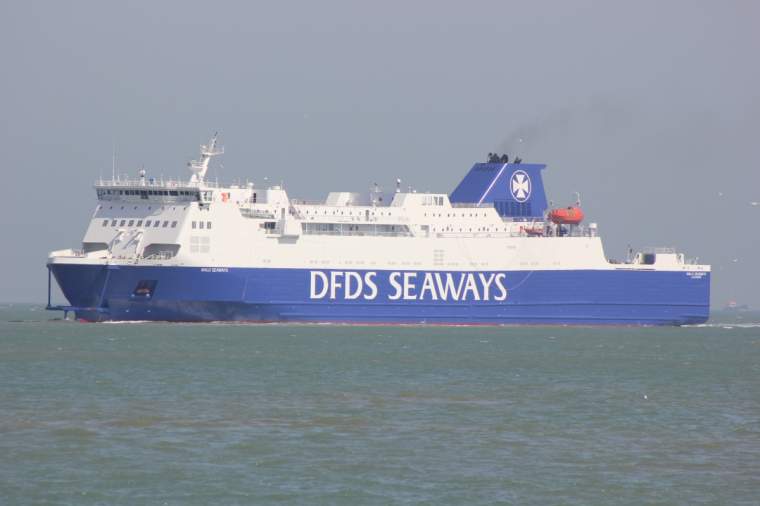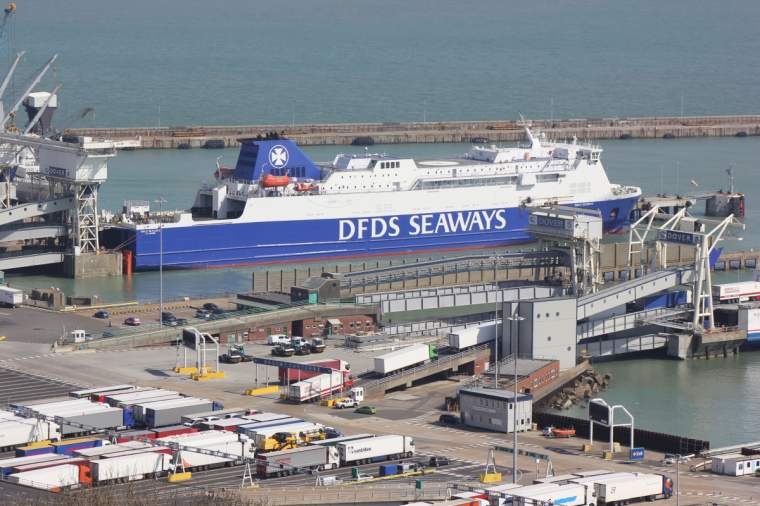 Monday, 20 April 2015 - 22:44
Post 1497
Sea News, Dover
Wow Ed!! Cracking pictures - you got the ace scoop there


Monday, 20 April 2015 - 16:27
Post 1496
Ed Connell, Dover
Malo Seaways conducting berthing trials in Dover this afternoon. This is the ex Stena Nordica which has been chartered to replace the Dieppe Seaways which was returned to her owners some time ago.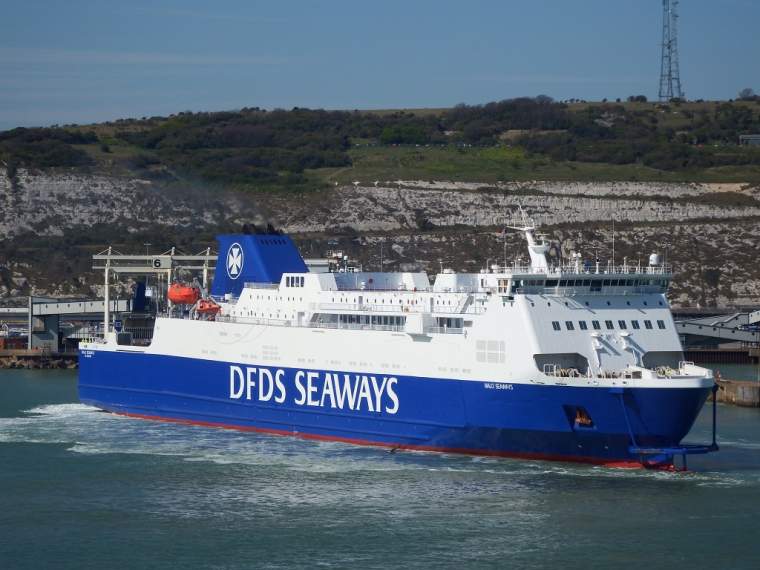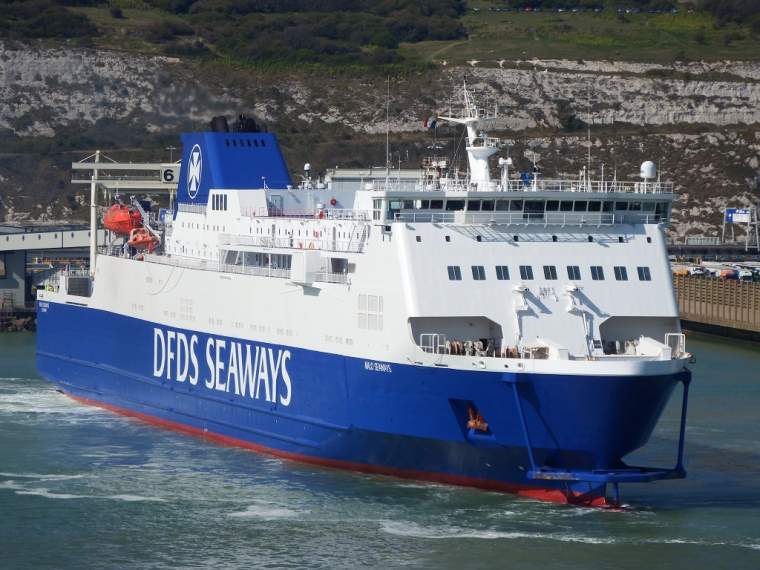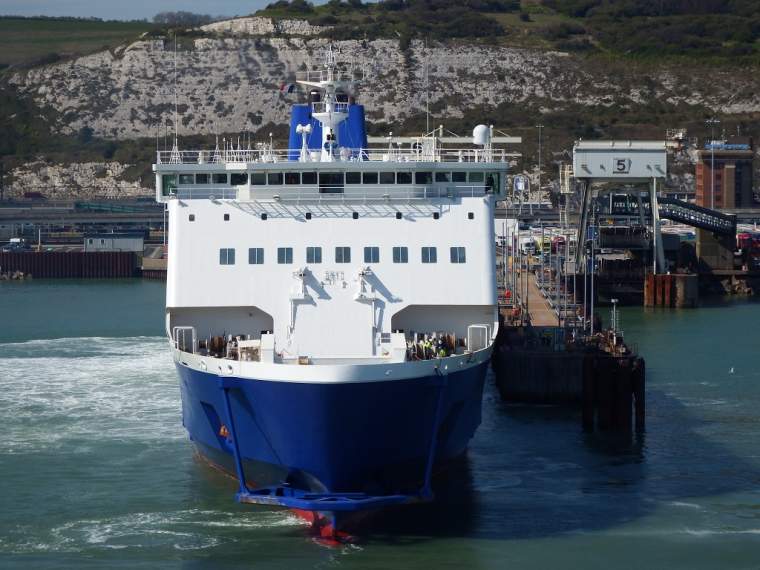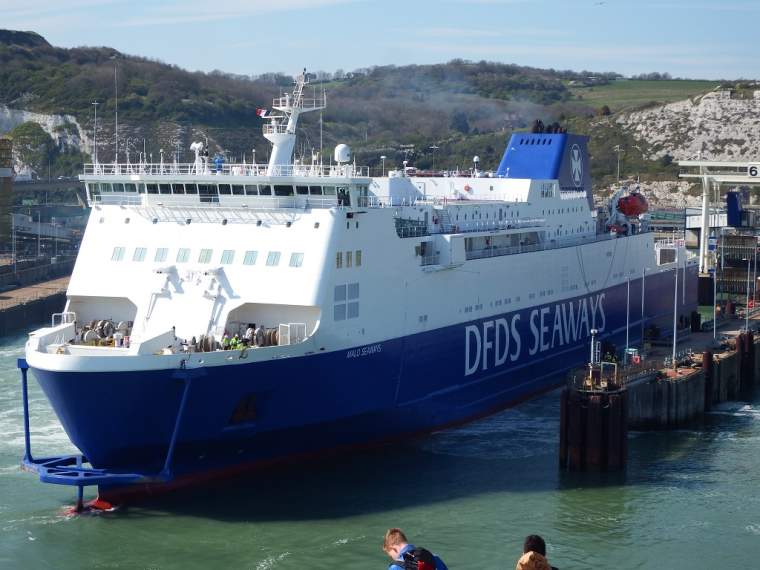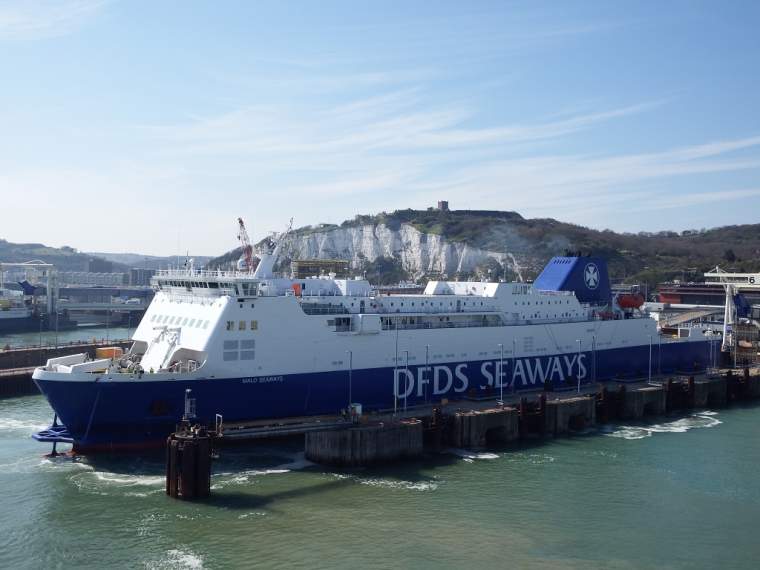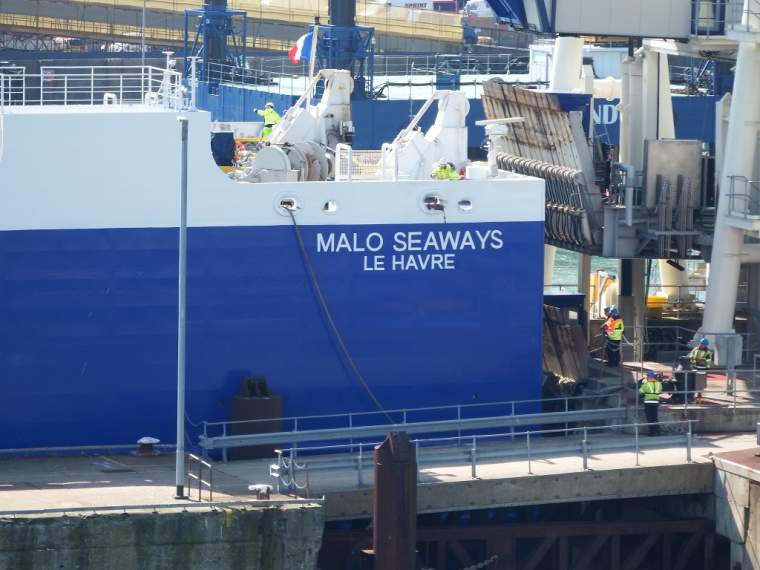 Monday, 20 April 2015 - 15:47
Post 1495
Ed Connell, Dover
AIDAdiva, renovation works on ED7, and Pacific Reefer.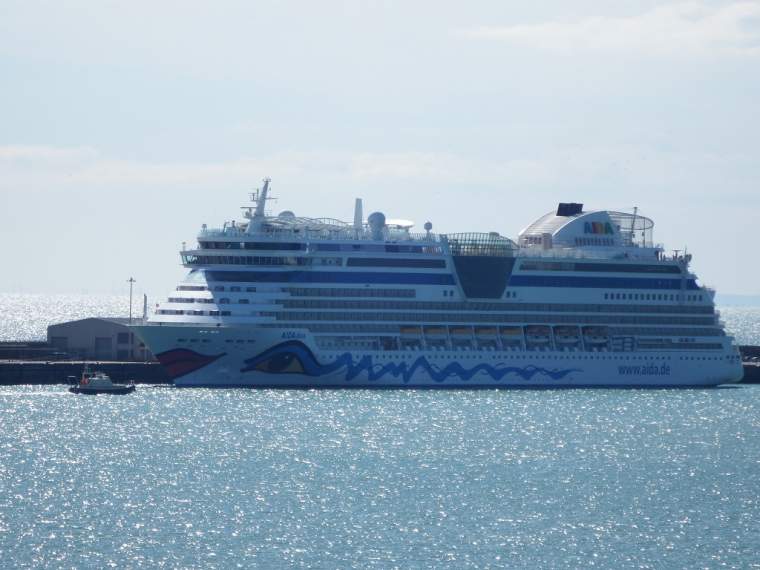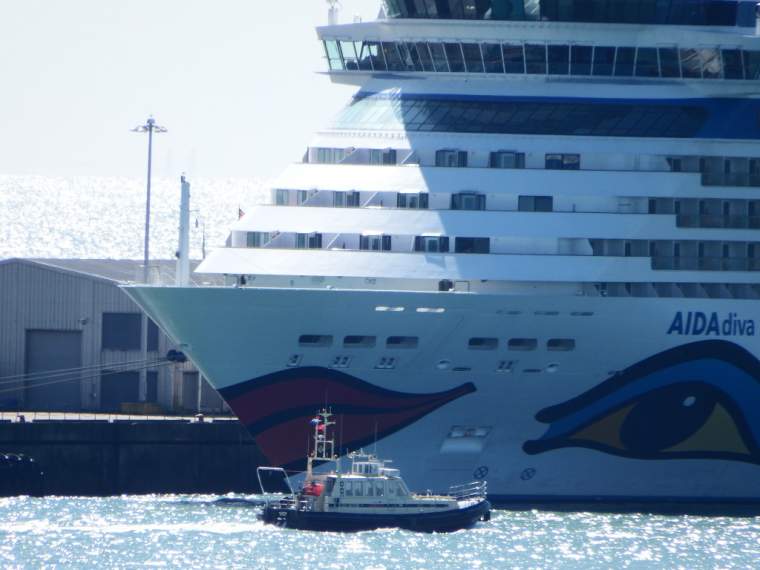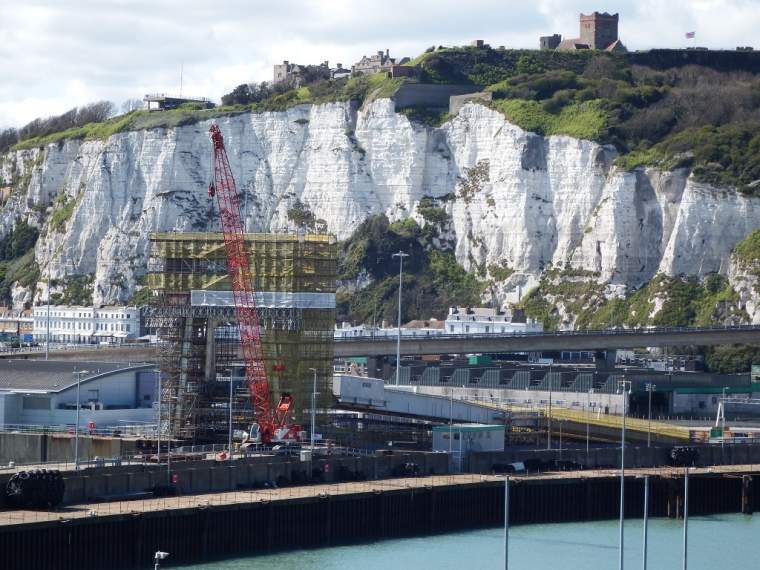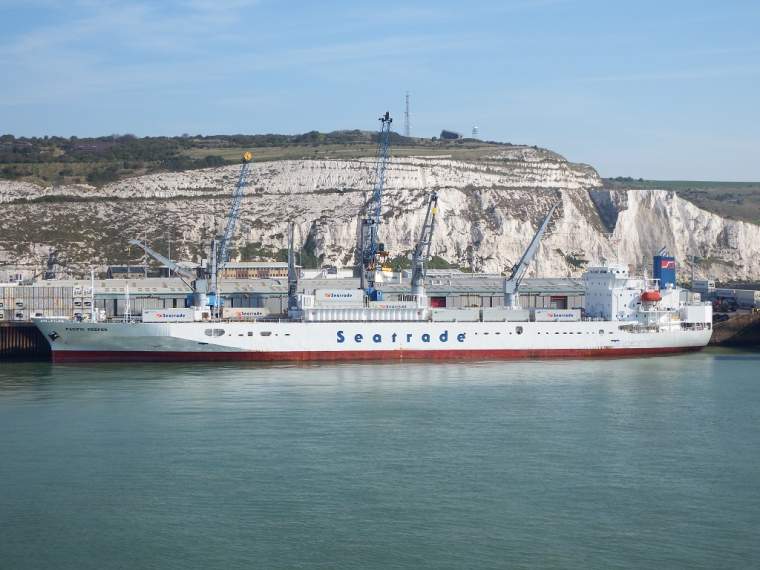 Monday, 20 April 2015 - 09:47
Post 1494
brian, dover
aidamar was hanging about outside the harbour last night,at the same time the aidadiva set sail.

Monday, 20 April 2015 - 06:11
Post 1493
Sea News, Dover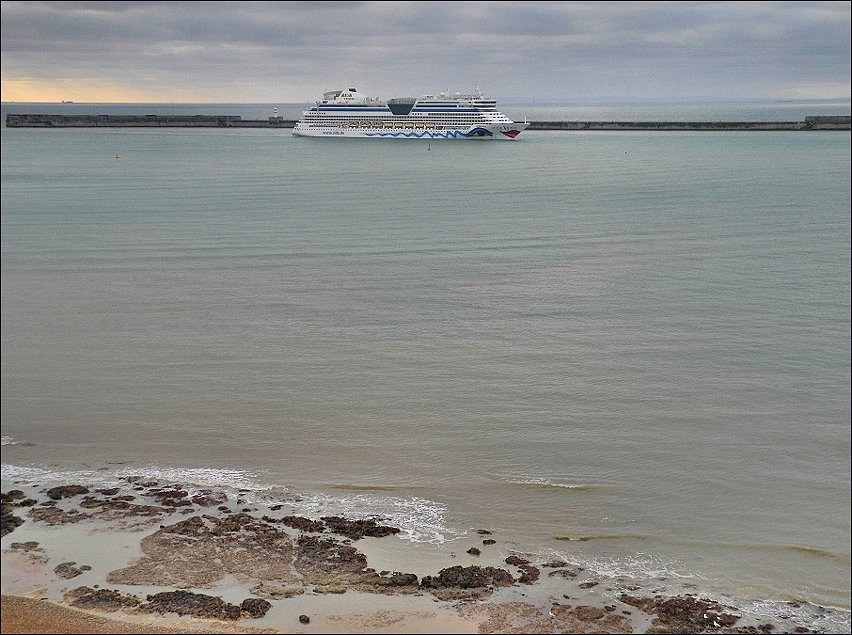 This is the AIDA Diva arriving with us here in Dover yesterday morning sunday. A first for us and of course a delight to see the 70,000 tonner gracing our immediate waters. There is not a great deal of difference between the AIDA ships to help distinguish one from another and last night as she left she crossed paths with another AIDA...the AIDA Mar , heading to Southampton. Yours truly thought he was having double vision for a moment or two but no, all was well...It would have made for an interesting set of pictures if it hadn't been 8.15pm and just that bit too dark.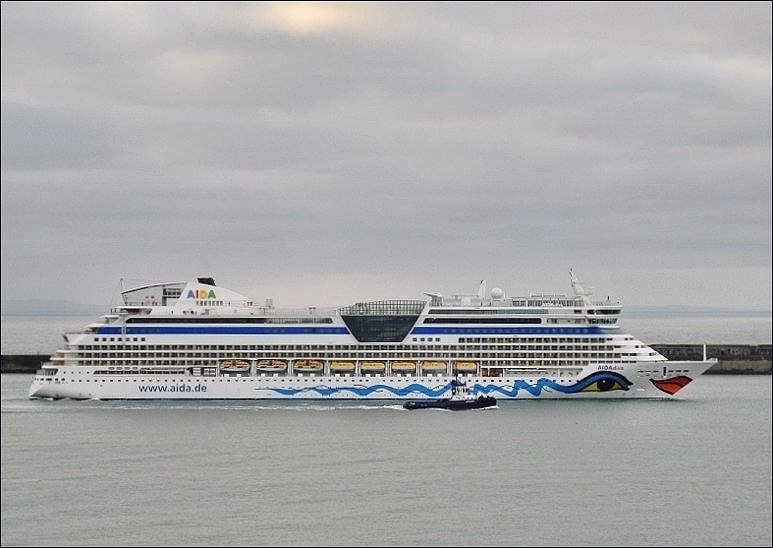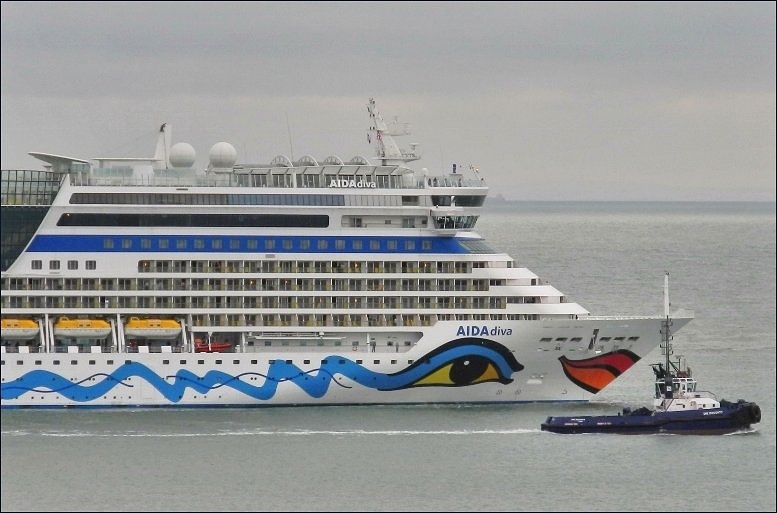 Monday, 20 April 2015 - 06:06
Post 1492
Sea News, Dover
CHINESE DELIVERY!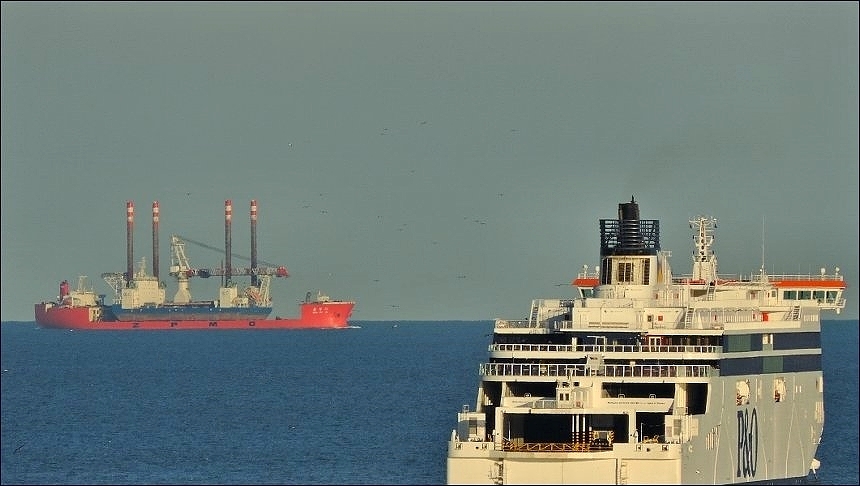 The Zhen Hua with one of the P&O Spirit ferries.....
Ed's post 1489 reminded me that I had some recent pictures of the same Chinese ship Zhen Hua...I think it is the same ship anyway but these lifting ships change appearance in relation to the cargo carried. My pictures shown here are from the 5 April and as you can see the ship is heading in the opposite direction, coming down the channel, so it has been a busy hard-working bee. It was a very colourful evening as you can see too - late in the day lighting.
Fascinating picture below Mike. Exciting change coming for sure..things are moving forward.

Woe!! strike a light!! as they used to say in all the best Ealing comedies...the AIDA Diva is just sweetly gliding across the bay as we speak.
Fab! This is a first for us.
See also Post 1481 Cruise Visits.
I better go and get some pictures or we might miss out...another fabulous cruise liner. PB.
Sunday, 19 April 2015 - 07:26
Post 1491
Mike J., Dover
The shape of things to come . . . . .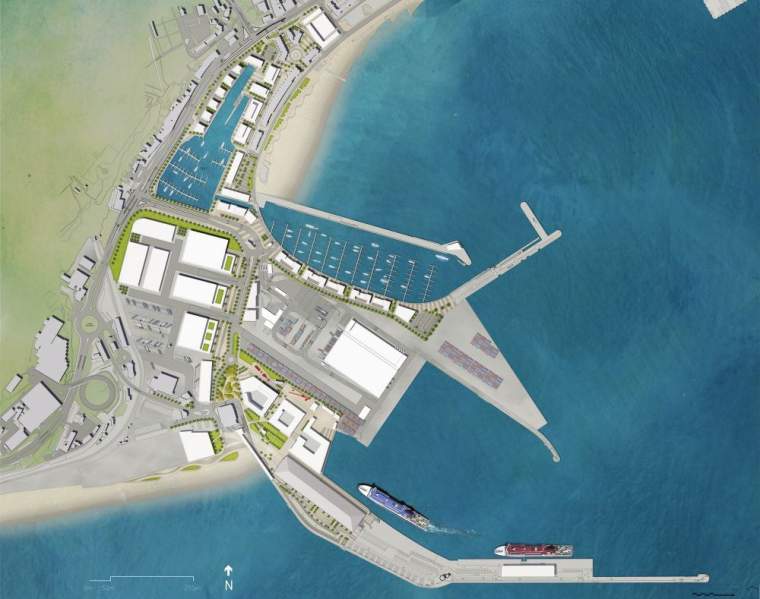 Saturday, 18 April 2015 - 20:33
Post 1490
Sea News, Dover
DFDS Seaways offers great savings on mid-week cross Channel sailings
- Save 30% on single or return fares on Dover-Dunkirk route
_____________________________________________________
Award winning ferry operator, DFDS Seaways, has launched an offer with a 30% discount on mid-week sailings on its Dover-Dunkirk service.
This means that you can travel to France in your car with up to nine passengers from just £28 per crossing (one way). This offer is valid for single or return sailings between Monday and Thursday from 22 April until 15 July, subject to availability.
To take advantage of this offer, use code E30OFF when booking online or via the contact centre before 6 May. With only 3,600 tickets available through this offer, we suggest you book early!
Our port in Dunkirk is located 25 miles north of Calais, meaning it is the ideal starting point for a break in France's beautiful northern coast or the historic cities of Lille or Arras. Or you can travel to beautiful Bruges where you will find a delicious array of beer, chocolate and Flemish delights on offer.
Our fleet of three modern ships on the Dover-Dunkirk route can transport you to northern France in just two hours. Whilst on board, you can enjoy a delicious hot meal or choose from a range of hot and cold snacks in one of the cafes or bars, shop for holiday essentials and luxuries, or sit back and relax while the children play in the dedicated children's area. There is something for everyone on DFDS Seaways' ferries, meaning your holiday starts as soon as you board.
DFDS Seaways sails up to 24 times a day between Dover and Dunkirk, providing passengers with flexible crossing times, a relaxing travel experience and convenient travel options.
To book this offer now, or for more travel inspiration, visit www.dfds.co.uk, or telephone 0871 574 7235.
- ENDS -
A great offer above there from DFDS SEAWAYS - huge thanks to DFDS as ever for the info direct.
Its great in Dunkerque ( Dunkirk) so well worth popping over at those prices. Excellent. Picture above shows the Dunkerque Seaways in fine action.

* *
Just to add now a few pictures of yesterdays activities in and around the harbour.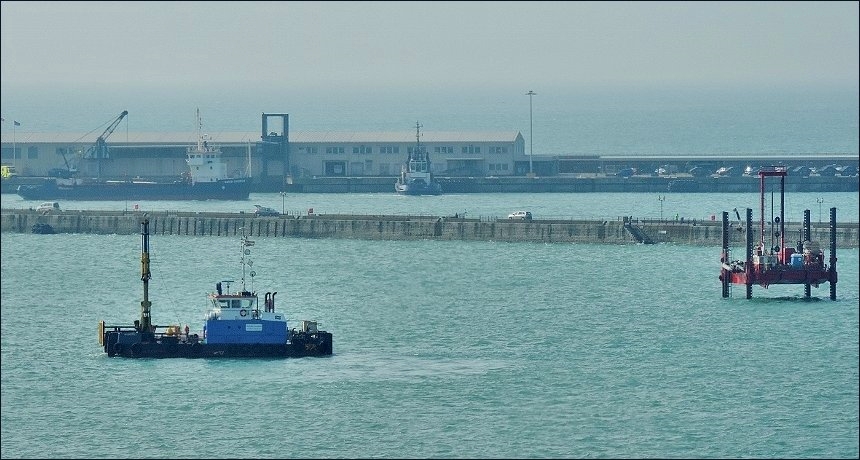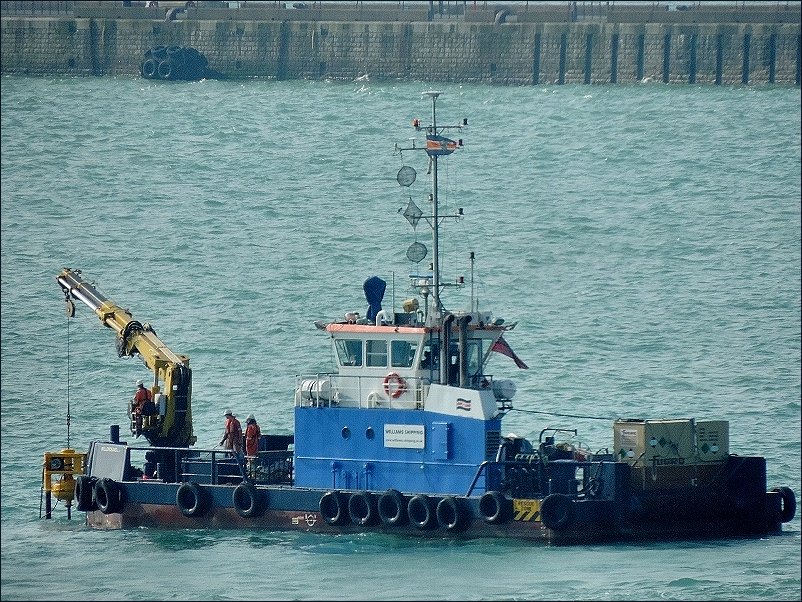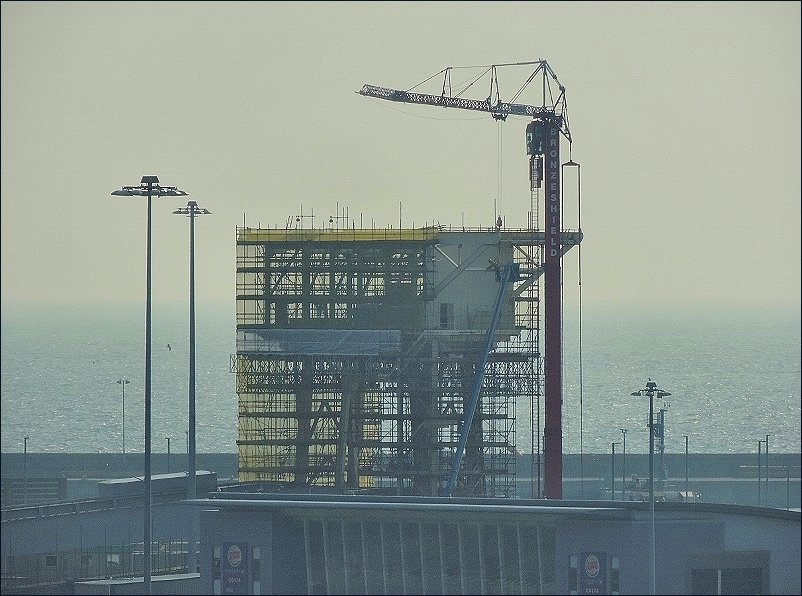 The top shot shows the Willendeavour working hard around the harbour yesterday, at a guess surveying and probably in harness with the drilling/exploring platform Coastal Explorer also in shot. Second picture is a closer one of the Willendeavour in action. We then swing the camera around and we have the workings the other end of Port on Dover 7. There was also much activity over at CT2 but visibility was grey all day so yours truly wasn't entirely sure what was afoot.
Ah yes indeed Ray a tight squeeze but probably not quite as bad as it looks in the pic...

Fascinating picture again Ed. Cracking stuff!
Friday, 17 April 2015 - 06:42
Post 1489
Ed Connell, Dover
Chinese heavy lift ship Zhen Hua 19 heading up the Northeast lane on Thursday afternoon with a cargo of container cranes.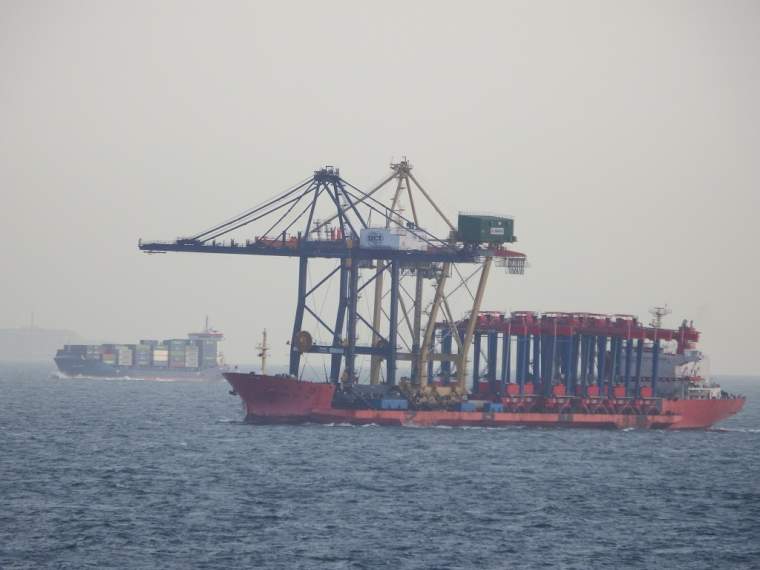 Friday, 17 April 2015 - 02:05
Post 1488
Ray, Dover
Magnificent shot of the Aida Luna squeazing past the P.O.W. Pier, there must have been a few worried folk on the Bridge at that moment as she looks about to contact the end of the Pier. In which case the folk on the pier head would have cause to be concerned!
Let's hope the camera angle made it look worse than it actually was.

Thursday, 16 April 2015 - 22:55