Sunday, 25 February 2018
Dover Lifeboat in evening action. More below...

doverforum.com/sea-news
Doverforum.com: Featuring all the ships that come and go and work at the Port of Dover with further coverage of Ramsgate, Calais, Dunkerque. Email: dover7@msn.com to send SEA NEWS pix or info.... or click ADD YOUR COMMENT below to post direct, no membership needed.

TRADING GROWTH FOR DFDS DESPITE BREXIT see 4642
PORT OF DOVER RECORD FREIGHT see 4551.
PORT OF DOVER: GEEST LINE arrival see 4597.
SECOND FEMALE CAPTAIN FOR P&O see 4608.
Sea News Dover : Use our SEARCH ENGINE below to find all sorts on the SEA NEWS pages..more than 230 now with more than 4500 nautical posts. Posts welcome. Max of 5 pictures preferred per post. Sea News Editor Paul Boland.
Post 4671
Sea News, Dover
A couple of extra images of the fire on Western Heights - see also the post below...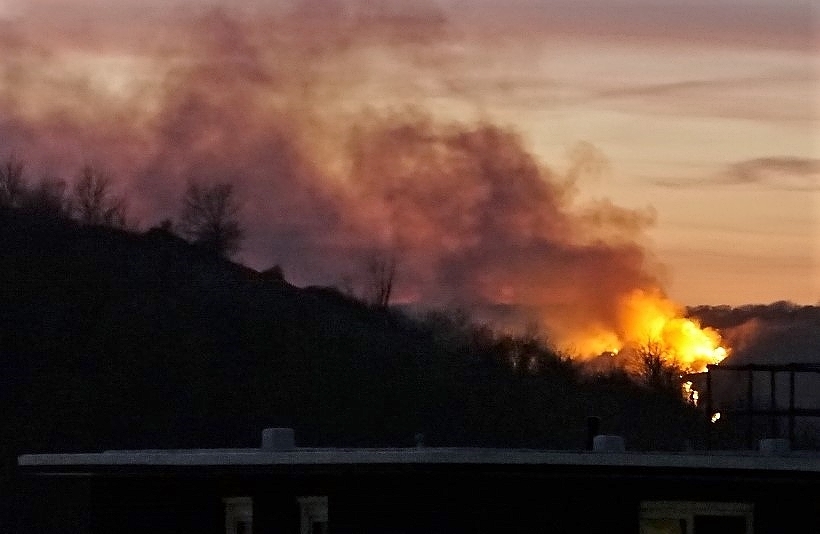 Sunday, 25 February 2018 - 08:03
Post 4670
Sea News, Dover
Fire on Western Heights last night around 6.15pm ... the trees were ablaze.
The Heights overlook Dover, overlook the Port.
It is unlikely to have started by spontaneous combustion - not in this chilly weather.
The Baltic Klipper is back in with us...one of the Geest newly chartered vessels. Very busy week...

Sunday, 25 February 2018 - 07:35
Post 4669
Sea News, Dover
Dover Lifeboat: In the earlier post we spoke about the Lifeboat and the HM Coastguard helicopter working in tandem below the White Cliffs, and then we saw pictures of the Lifeboat's return to harbour. The Lifeboat guys then went on to another situation, this time on Dover Beach...where a man and his small boat were needing assistance. You can see all this unfurl in the pictures below... you can see that a smaller craft crewed by Lifeboat guys also lended assistance.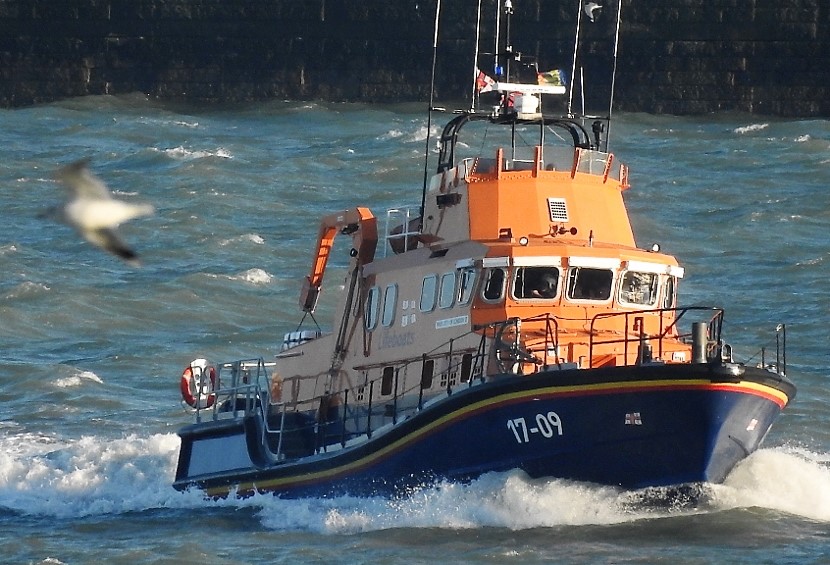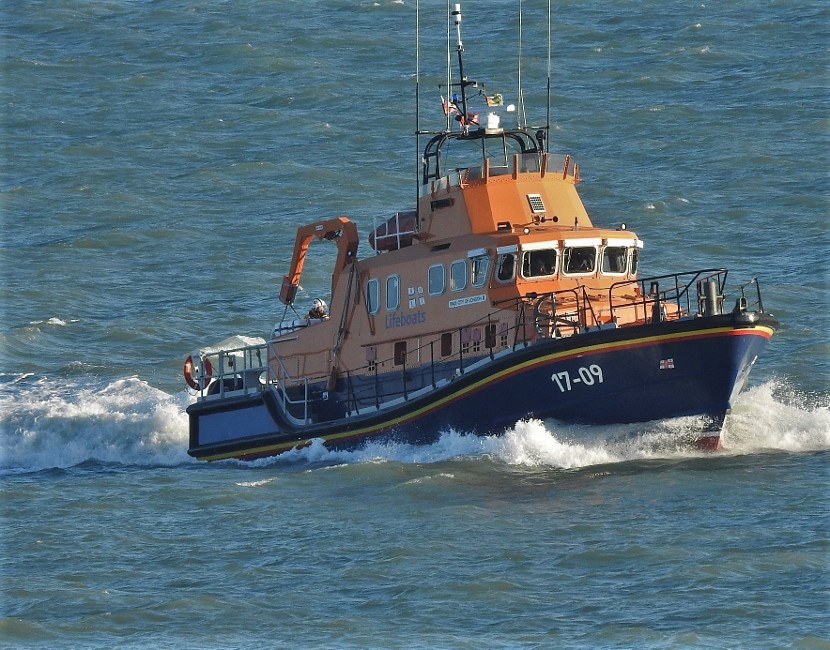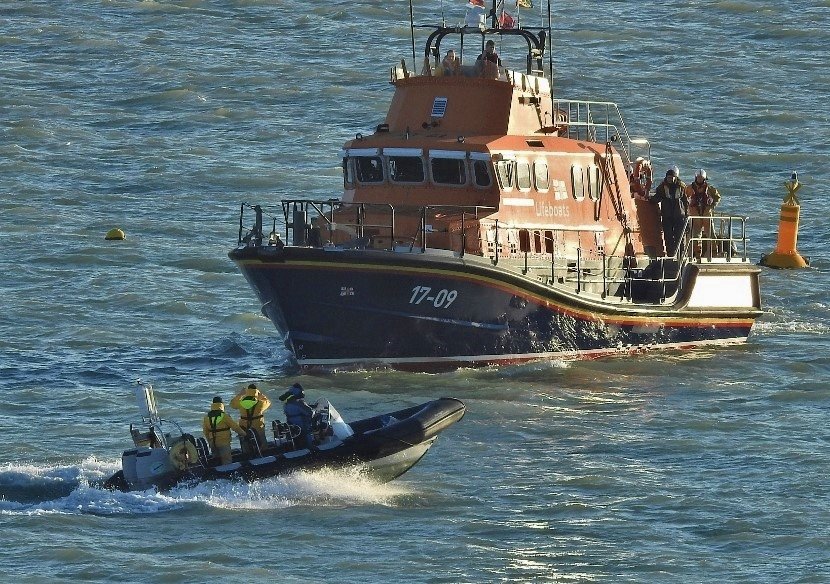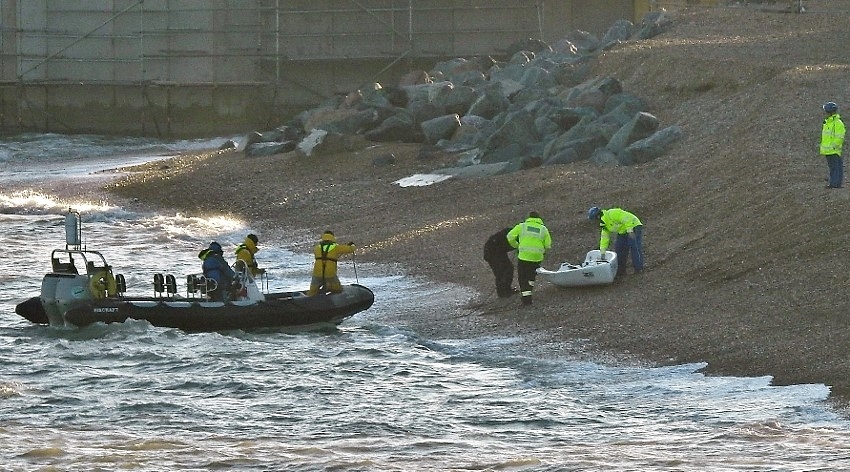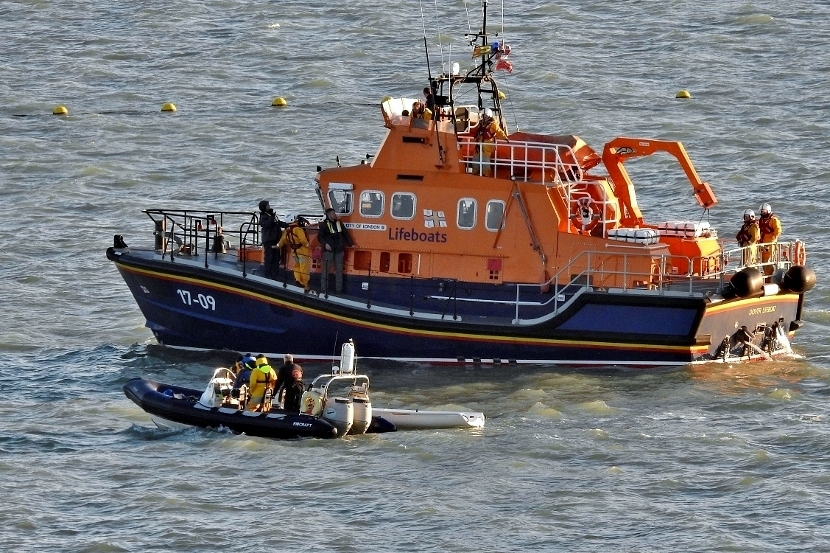 Pictures were taken around 4.30pm thursday, late in the day with a low sun which isn't the best lighting but there we are. All ended well overall which of course is the main point.
PaulB

Saturday, 24 February 2018 - 06:27
Post 4668
Sea News, Dover
The HM Coastguard helicopter had a busy time of it yesterday. She patrolled the coast as you might expect and then on numerous occasions throughout the day circulated the Coastguard Station on the cliffs... perhaps liaising etc. Later in the day, in the late afternoon, yours truly spotted Dover Lifeboat and the Coastguard helicopter working closely together once more, they appeared to be searching the sea just below the famous White Cliffs. Whether there was another incident with a faller...well .. not sure as yet.
I just couldn't get a shot of them together which was a pity. Just too far...and just too awkward shooting across the top of Jubilee Way, the road to the Port.
But here below is the Lifeboat in a long range picture, its a bit of a watery picture....as she powered around Langdon Bay beneath the Cliffs...and then the second shot as she reached the open mouth of the Port here on her return some minutes later..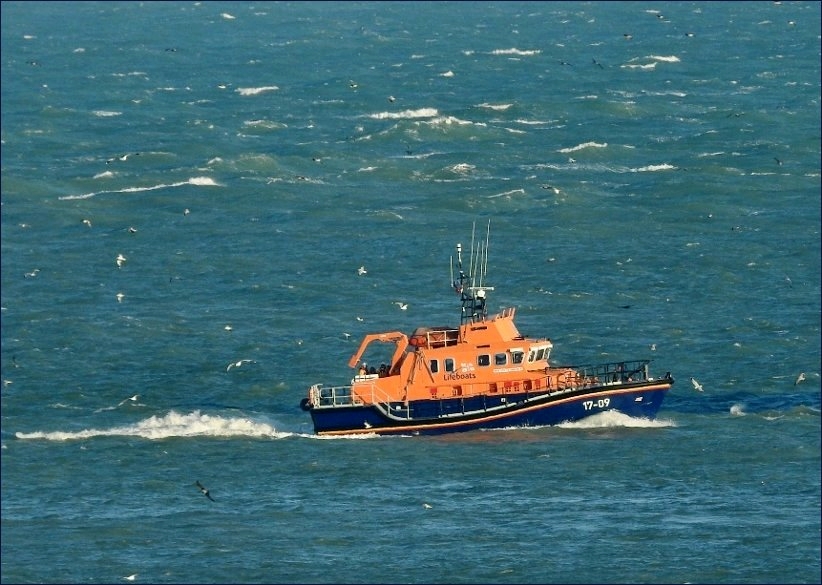 There was a further incident on the beach here in the Port which involved the Lifeboat....will have more pictures of that to follow in due course, so watch for those...
still in camera, still need sorting.
Ah yes indeed Del, in the old days we just called it winter...its now the 'Beast from the East' ...lol!

PaulB
ps: Polarstream was indeed back with us here in Port, she left last night in the dark heading for Rotterdam. I think it was around 8pm. No picture alas.. but...eventually ..
Friday, 23 February 2018 - 06:38
Post 4667
Del Styan, Norwich
After watching the winter olympics, I've got my skis and curling equipment ready for the cold blast. Or as we used to call it - winter.

Thursday, 22 February 2018 - 22:56
Post 4666
Sea News, Dover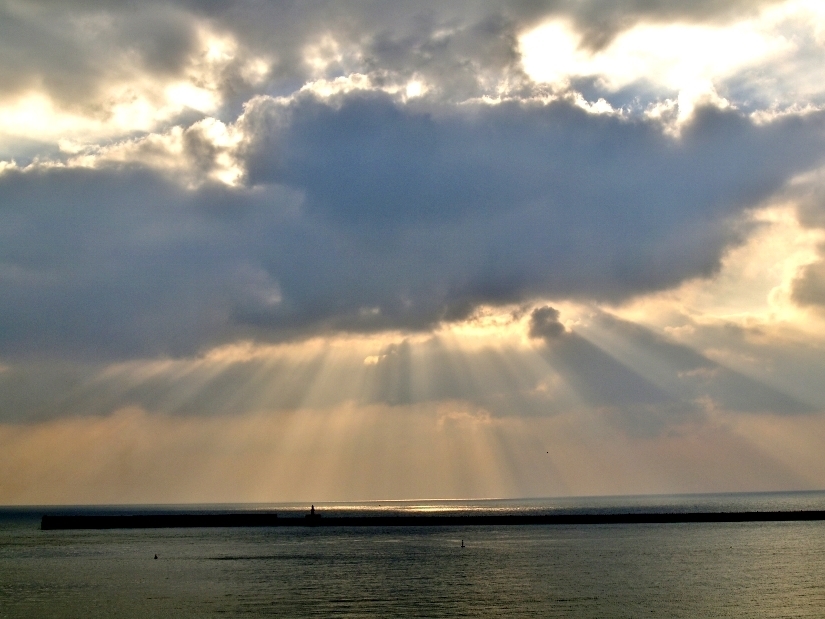 Dramatic skies over the channel earlier....
Its relatively mild..well mildish...but we have been promised the 'Beast from the East' and its coming in the next few days, particularly early next week, when the wind will be whipping in from Siberia...and that's ermmm .. very east. Yes its the Russian winter and its coming to call.

Shiver me timbers...
Fetch out yer thermals.

Thursday, 22 February 2018 - 19:18
Post 4665
Sea News, Dover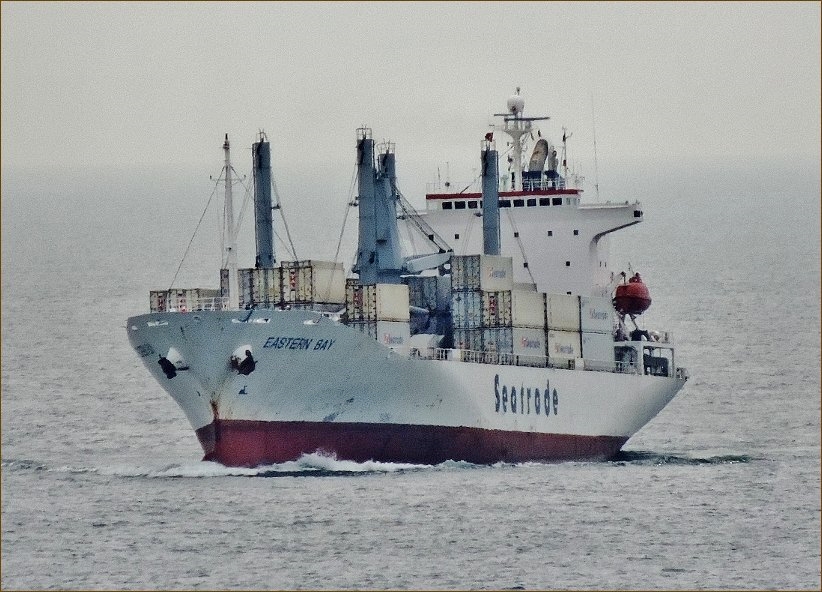 After Polarstream left us the Eastern Bay quickly came into Port to the Dover Cargo Terminal ( DCT). So busy is the system at the moment that she (Eastern Bay) was another one waiting off Deal/Walmer for the slot to become vacant. One out, one in. Eastern has now also left us too, moving off in the dead of last night, and is on her way to Hamburg as we speak The pictures on show here show the ship coming and going at a previous time.
My AIS is showing PolarStream back in with us here...but... is that possible? Am I having a meltdown!!

Will have a further check later....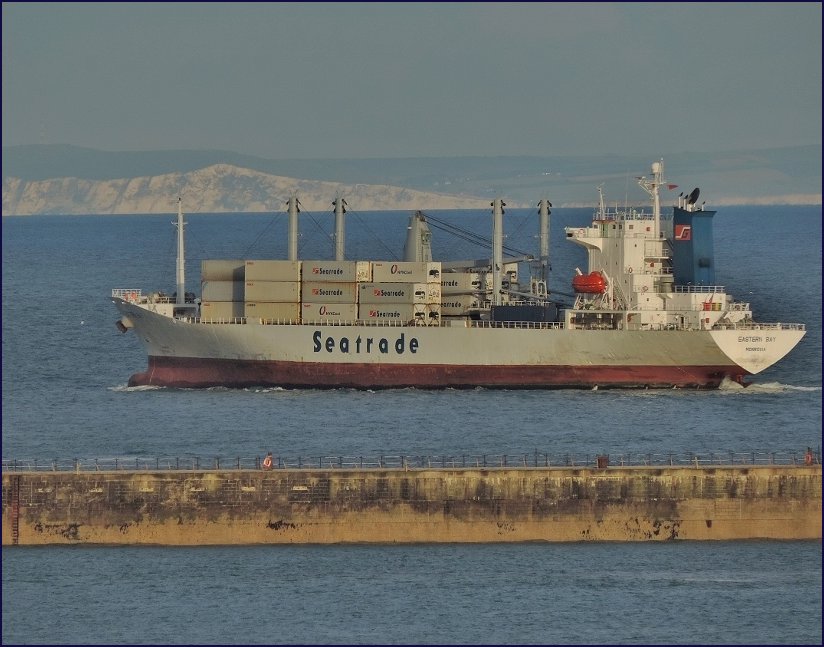 The Spirit of Britain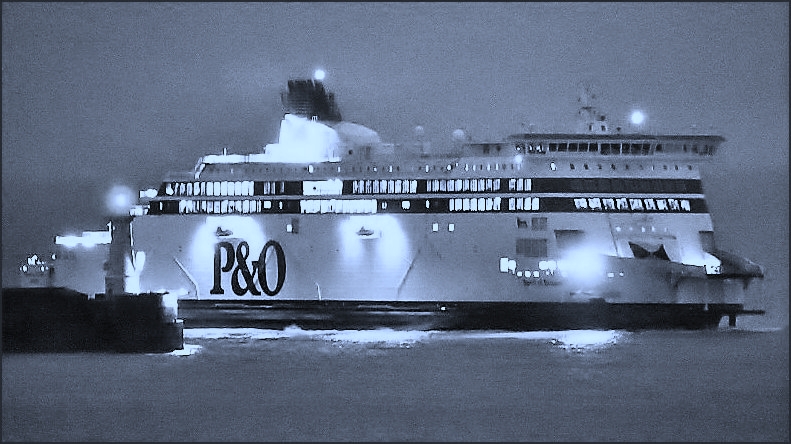 A small night shot of the Spirit of Britain above there arriving at Port...taken through a recent drizzly evening as she rounded the breakwater and entered via the western exit/entrance. Just double checking the logo there...we spoke about it a couple of days ago in 4662. As you can see, she still sports the older logo.
Oh well done Mike. A cracking collection below there .. great to get those shots of that new tug Buffalo in particular.

Thanks for that message Andy. Hopefully Ted will see that now (4663).

PB.
Thursday, 22 February 2018 - 06:16
Post 4664
Mike J., Dover
The brand new tug BUFFALO came into Dover for a few hours on Wednesday afternoon on her delivery voyage from Rotterdam to Southampton where she will join the KOTUG fleet.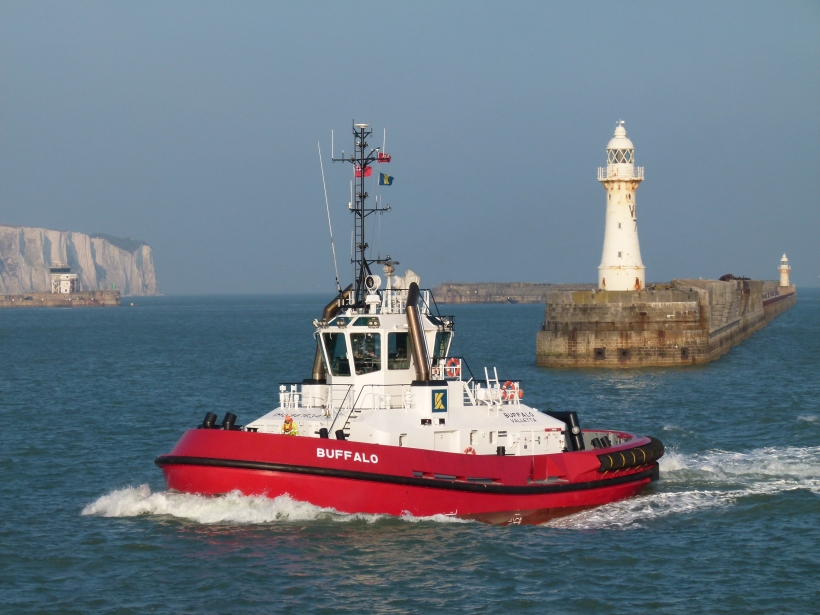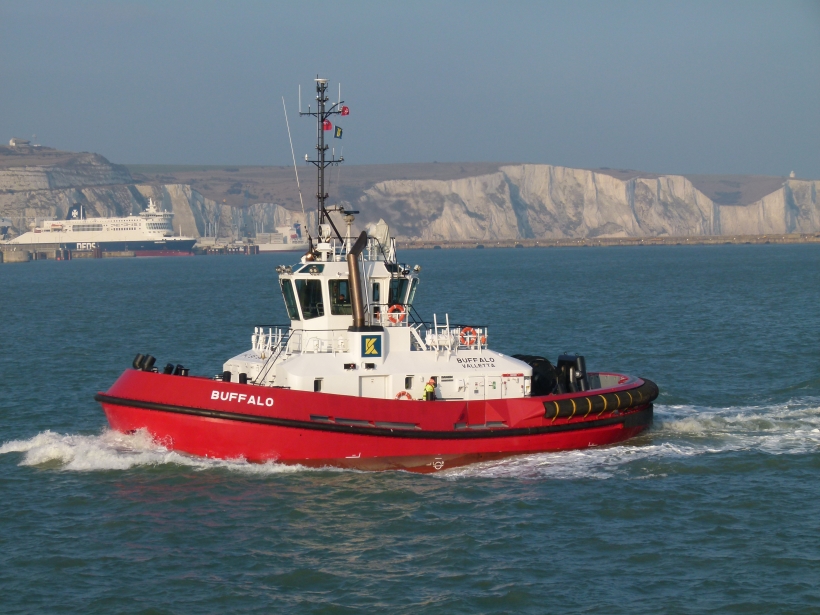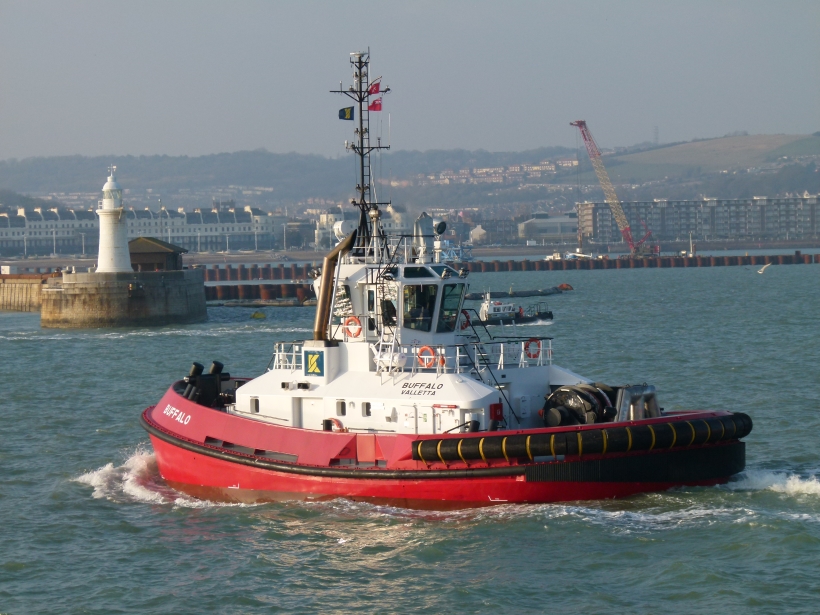 The AFON LLIGWY was working in the old Jetfoil terminal before I walked up the Ad.Pier.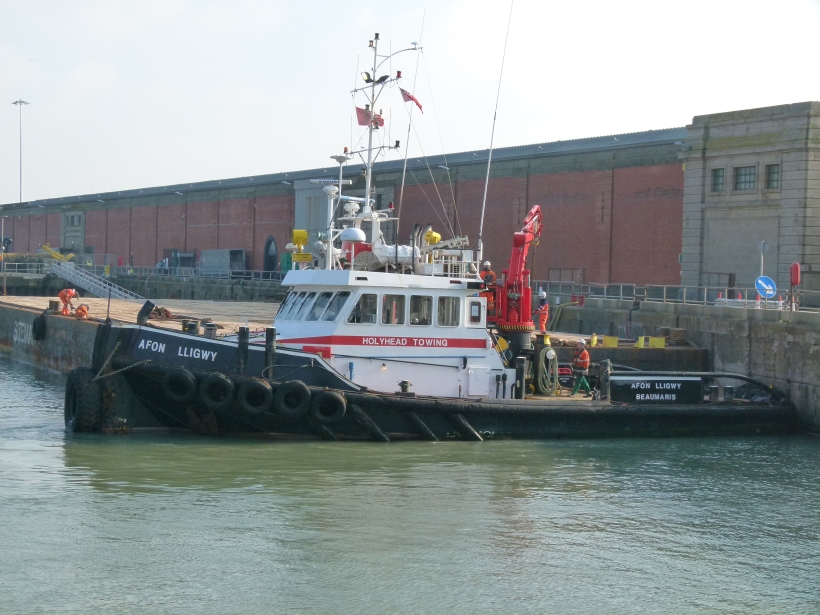 To complete the Holyhead Towing's DWDR pair here's the LLANDDWYN ISLAND coming into Dover after escorting the HANDFAST & her tow out to sea few days ago.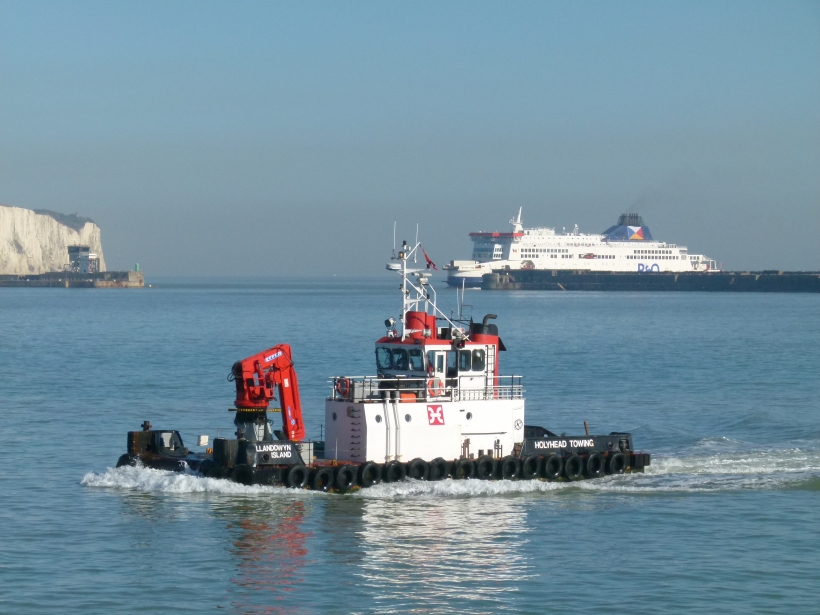 Wednesday, 21 February 2018 - 22:29
Post 4663
Andy Gilbert, Newhaven (andrew@andrew-gilbert.com)
Ted, if you read this, I'd love to use the Ramsgate photos of Nore Crest in my Meeching/Nore Crest life history and to ask permission to post them on the Our Newhaven website. She still has a big following down here!

Wednesday, 21 February 2018 - 08:49
Post 4662
Sea News, Dover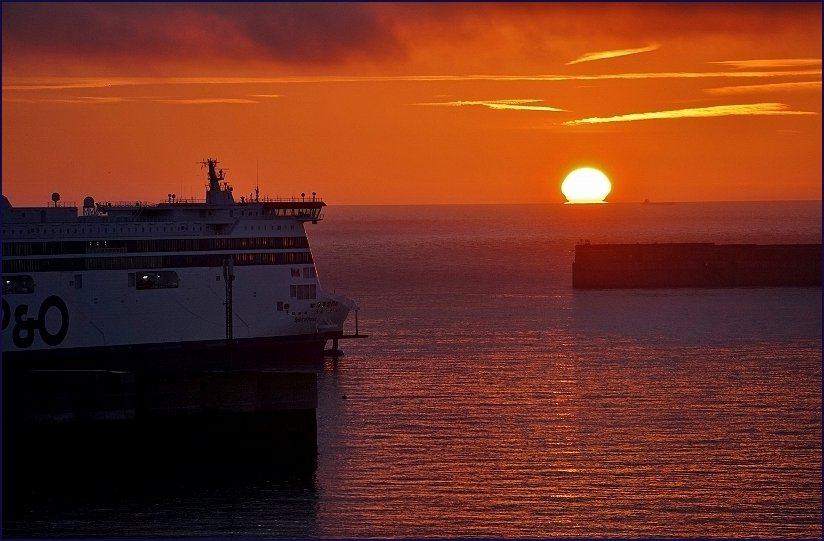 The sun rises over Calais during the weekend just gone .. while in the foreground the Spirit of France waits to depart. Its going to be a delightfully tranquil crossing for all those half-term kids - look how calm the sea is. My kind of crossing for sure.
Just spotted this one below in the archives while uploading...a similar shot but from a couple of years ago. The sun rising in a slightly different place...it journeys with the time of year. Note the different logo on the side. The newer logo in the top shot of course.
Off the top of head - I believe the Spirit of Britain still has this old logo/livery. PB.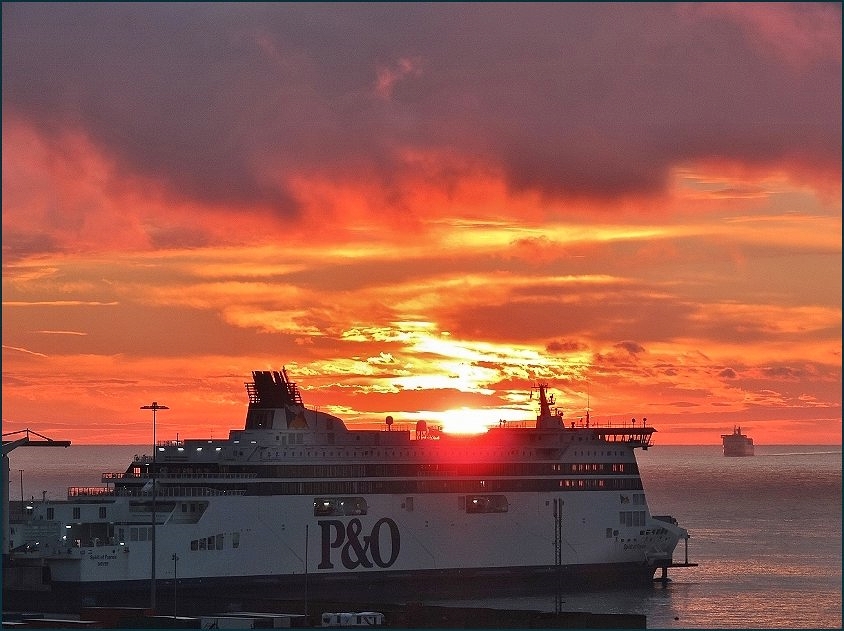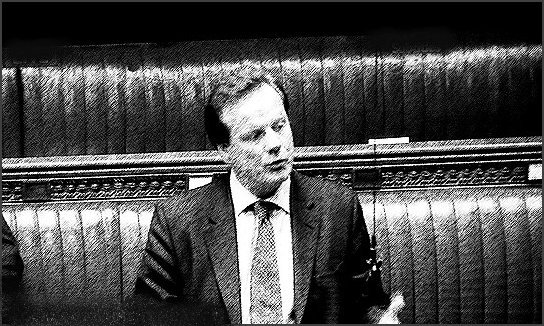 CHARLIE ELPHICKE MP: Fighting for the investment Dover and Deal deserves
_____________________________________________________________________
We've been fighting hard to get more money for our police and local services. Everyone knows that savings have needed to be made in recent years. It was the only way of dealing with the mountain of crippling debt left by Labour. Yet here in Kent the local authorities have done an incredible job. Rather than go on wild borrowing sprees, they've worked hard to balance the books.
Of course, we need to speak up when we think they've got something wrong. That's why we fought hard against proposals to slash subsidised bus services in Kent. The council did the right thing, listened to public concern and reversed the decision.
Yet the money they need to run public services properly must come from somewhere. That's why I and fellow Kent MPs have been battling more funding for local services and met with Ministers this week. We felt the funding being offered to Kent this financial year wasn't enough – and demanded it be increased.
So I'm delighted that the Government listened to our case and boosted Kent County Council's "core spending power" by £26.9 million to £938.1 million for the coming financial year. KCC was also handed an extra £3.9 million for social care spending.
Kent Police's funding was boosted too, from £279.3 million to £288 million. I've written to Matthew Scott, Kent's impressive Police and Crime Commissioner, calling on him to use this opportunity to boost police presence in Dover and Deal. The more bobbies on the beat the better.
In Deal in particular, residents tell me they want more opportunities to speak face-to-face with the police – the Deal Police Station front counter is only open two hours a day, Monday to Friday. So I've asked the Commissioner to consider doubling the number of hours residents have access to the local force.
We've achieved some real victories on local funding. Yet there is still more to do. I also met this week with Immigration Minister Caroline Nokes. The Home Office owes KCC nearly £5 million for caring for unaccompanied asylum seekers this financial year.
I have also written to Home Secretary Amber Rudd on the matter. My letter, signed by nine fellow Kent MPs, calls for KCC to be given additional funding to cover the costs of caring for the refugees.
In recent years Kent has cared for nearly a quarter of all unaccompanied asylum seeking children in the UK – and the council has had to cover the soaring costs. Meanwhile, we have handed over more than £200 million to the French to spend in Calais, where most of these vulnerable people are coming to Britain from. It's not fair for taxpayers in Kent to shoulder so much of the burden.
We're making progress but we need to keep the pressure up to ensure the Government invests more in our area – particularly at the Dover frontline.
Charlie Elphicke MP for DOVER and DEAL
ENDS

Wednesday, 21 February 2018 - 07:29
Post 4661
Sea News, Dover
We went from ultra bright dazzling weather to ultra grimmm .. we can see hardly a thing.
Visibility fluctuates bigtime currently, going from dire to dismal. So here we are with a couple of pictures of the tugboats Dauntless and Doughty in action late last week in the very choppy conditions...these guys do a great job ...they are seen here helping new visitor Benguela Stream on her way to foreign climes.
Twas a rough ol day for sure...
There is another cargo ship/reefer in today. Polar Stream. They are coming thick and fast now. Great news.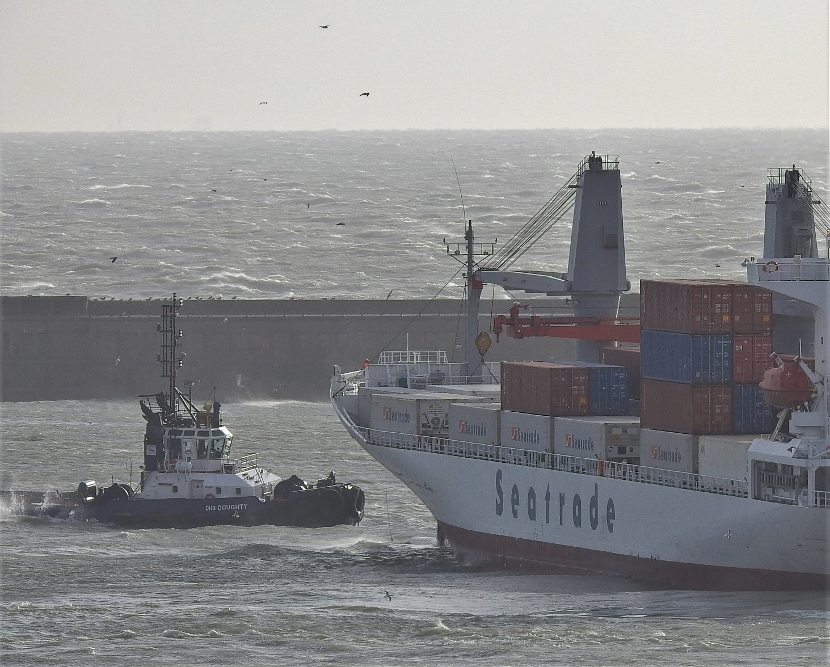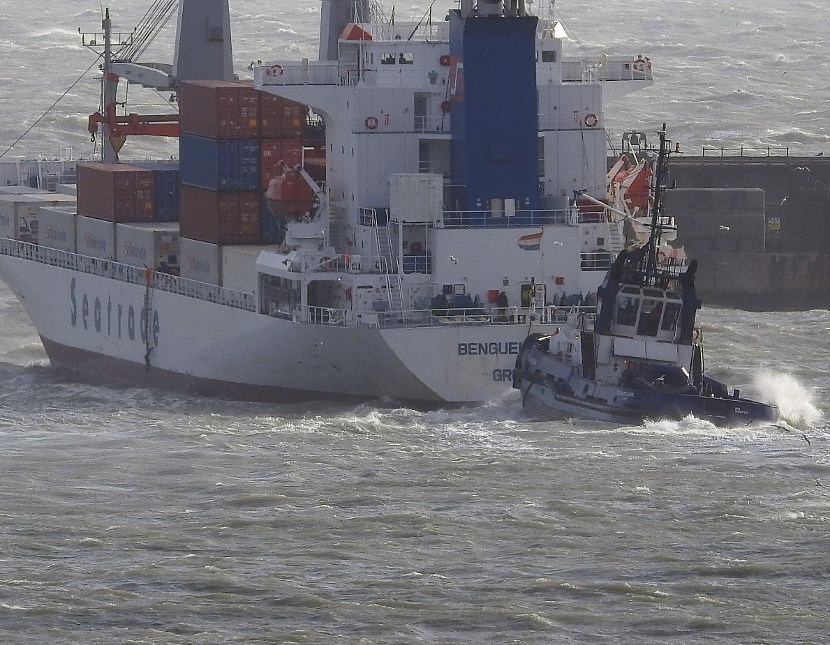 A couple of images below of the piling at night...not fully night, but just as night falls over the harbour. Yours truly waited to catch the flashing lighthouse. The beam circulates the harbour every...well...20 seconds or so. Wait for it to come round, press the camera shutter at the appropriate time, and hope for the best ...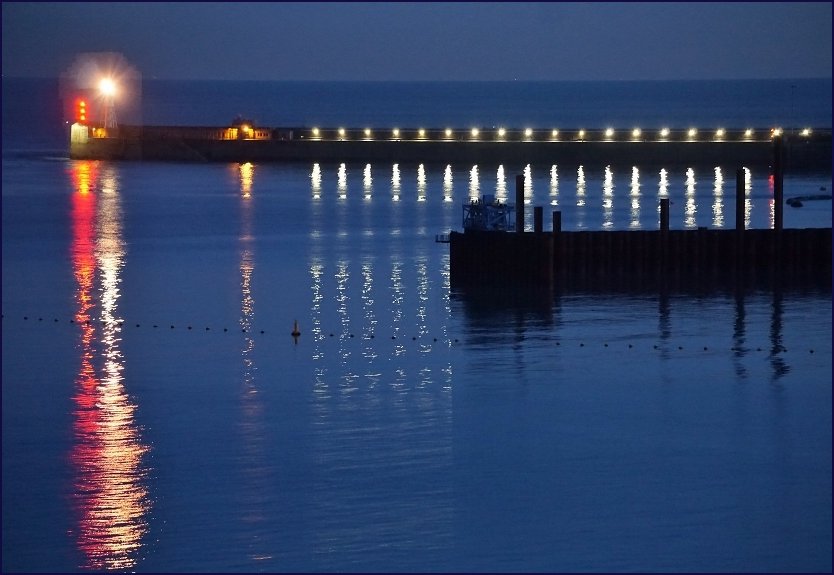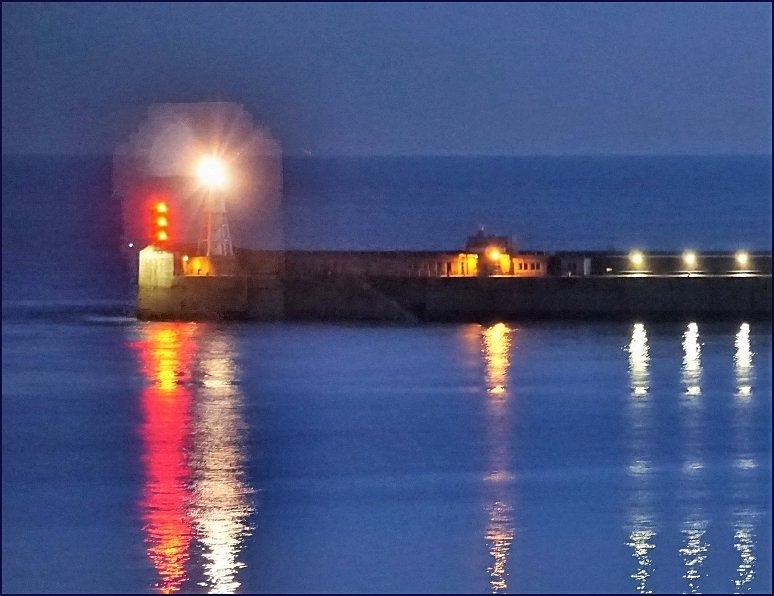 Many thanks for that info below Ted...always interested. That was a great group of pictures last week in 4648 indeed.

PaulB.
Tuesday, 20 February 2018 - 07:05
Post 4660
Ted Ingham, Canterbury
Good Evening,
Regarding the photographs of the Car Carrier QIUDAD DE CADIZ and the tug NORE CREST at Ramsgate (Post 4648) I have produced a video taken at the same time.
To view this video and other videos of shipping on the Swale,Medway and Thames taken from my boat,, just Google "You Tube" and in the SEARCH parameter box type TED INGHAM. This will take you to my page and the thumbnails.Click on the thumbnail and you will be 'all at sea'. Hope you find them interesting. Loud Cheers, Ted

Monday, 19 February 2018 - 21:26
Post 4659
Sea News, Dover

lol Vic - I changed that for you..

Nice set of pictures below there from Sarah...some crackers there from our roving reporter. Don't miss those..

Paul
Monday, 19 February 2018 - 15:06
Post 4658
victor matcham, Dover
Sorry it is Whitby

Monday, 19 February 2018 - 14:54
Post 4657
victor matcham, Dover
We both love Whitby what a great port with a steam train, we went out in a 1936 old life boat , but it was not the same crew. And Robin Hood Bay not far away we must go back.

Monday, 19 February 2018 - 14:51
Post 4656
Sarah, Ramsgate
Following on from Mike's post about Dover Lifeboat getting some TLC here is the Ramsgate Crew giving some TLC to relief lifeboat "Forward Birmingham" in order for her to go to Whitby.
Washing off the gunk on the bottom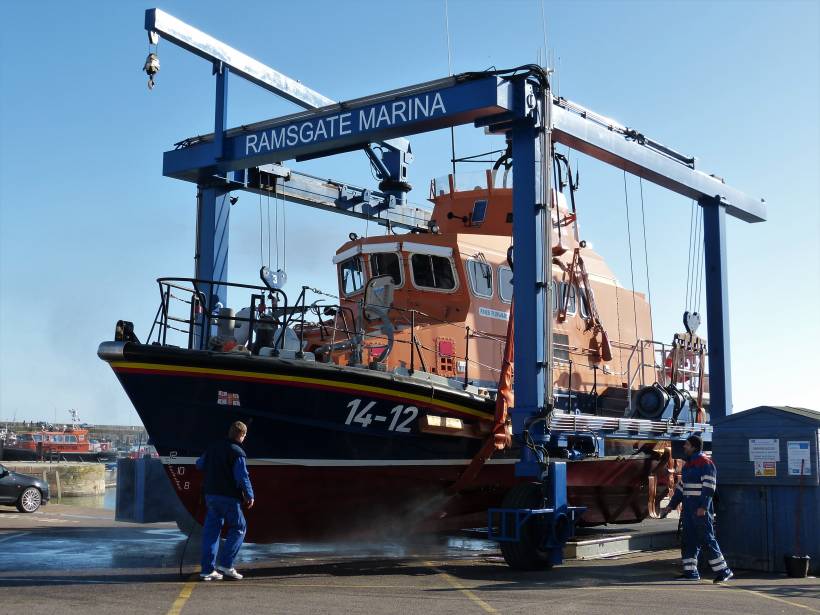 Painting the red section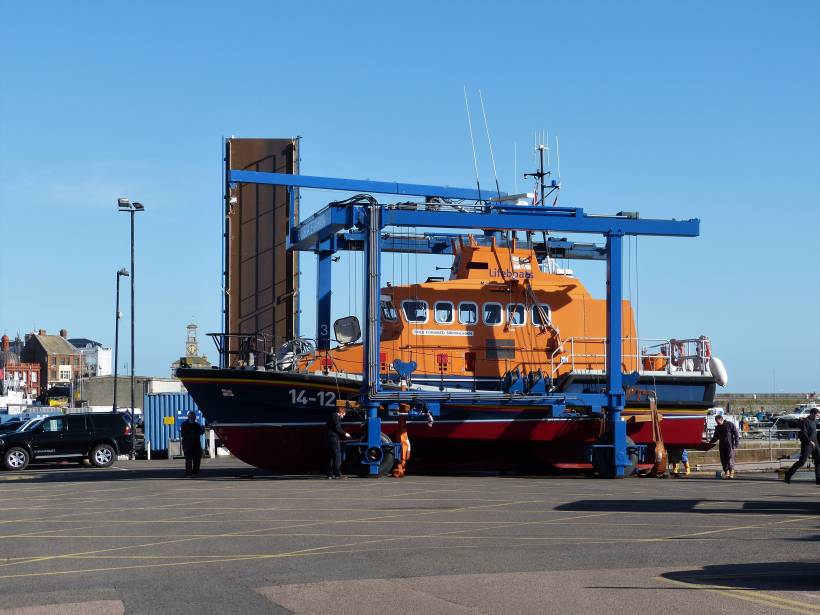 Off on exercise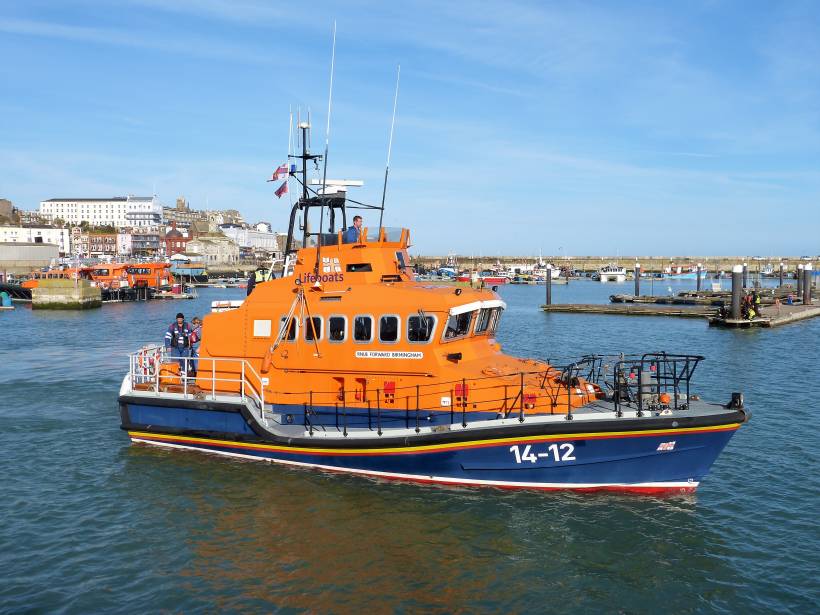 Returning from exercise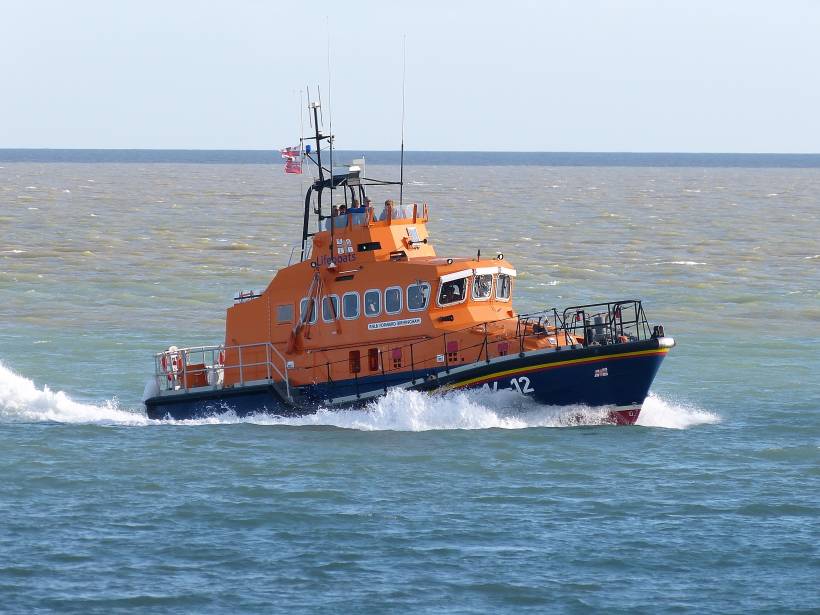 Leaving Ramsgate for Whitby via Lowestoft.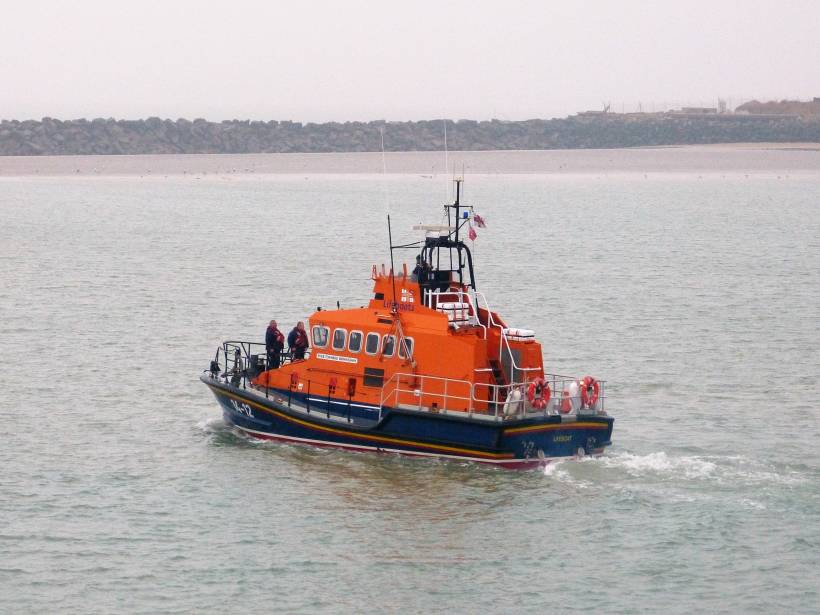 Monday, 19 February 2018 - 10:44
Post 4655
Sea News, Dover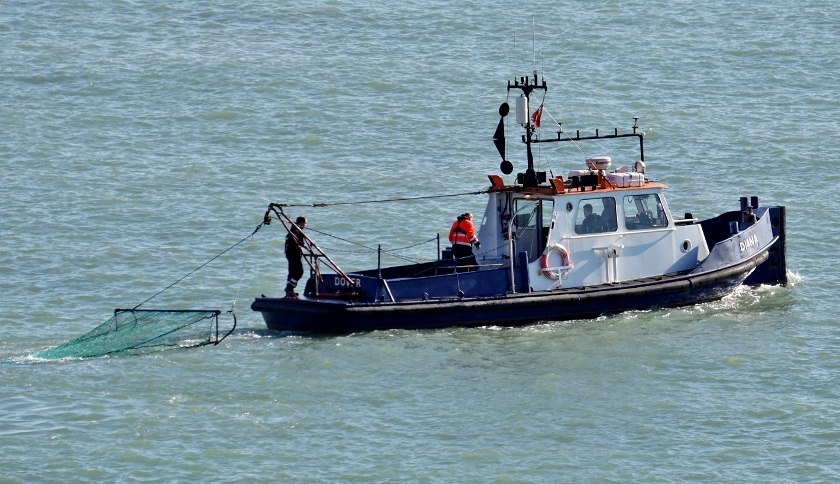 Some pictures above there of the survey boat Diana working across the harbour on Friday morning in the blazing sunshine. She paused at one point, dropped a large net, and then pushed on once more.. trawling the net behind..as you do. All fascinating stuff indeed...wonder what they were expecting to envelop within that net?
The glorious sunshine carried on all weekend. So on Sunday morning this Cormorant below took advantage and spread his wings in fine style. He was utterly relaxed, despite the seagull traffic hurrying by. No sunshine today Monday - we've got hanging mist.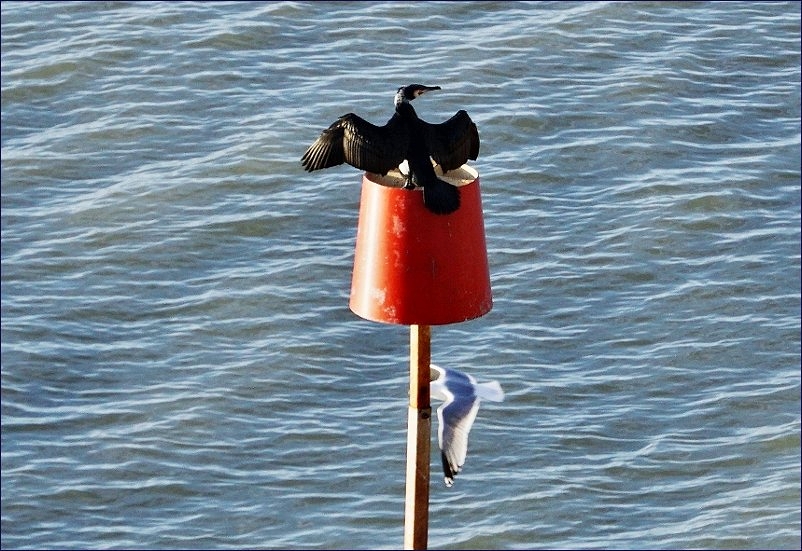 Following along from Mike's mention of the incident on earlier post 4653.
A man died after falling from the Cliffs on Saturday...Walmer and Dover lifeboats attended as did the Coastguard helicopter.
"
DOVER update: A man died after falling from Langdon cliffs around 1:50pm yesterday (Saturday). Police say the death is not being treated as suspicious and they are asking for anyone in the area at the time with information about the incident to call them on 01843 222289.
"
ENDS
Monday, 19 February 2018 - 06:42
Post 4654
Sea News, Dover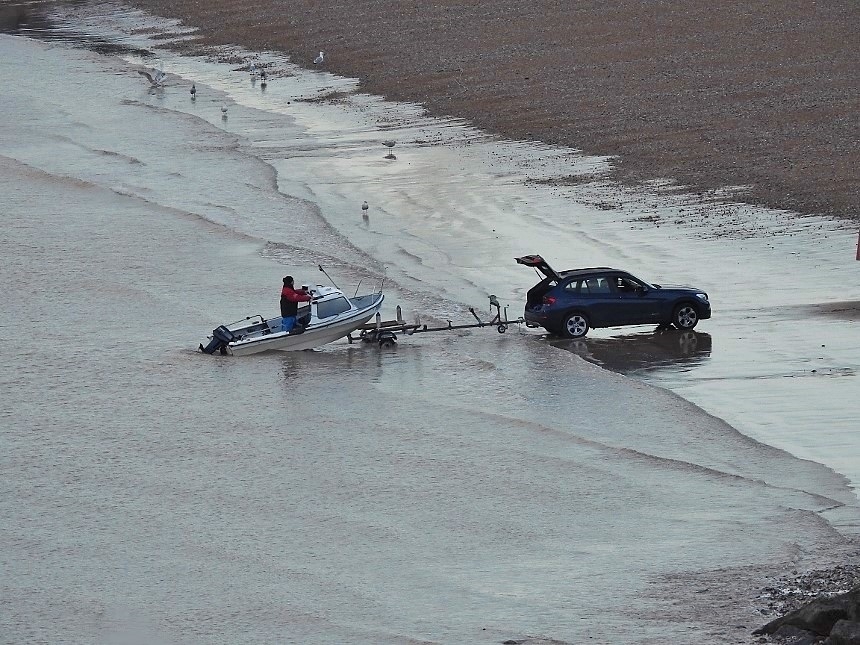 Boat Beach Launch: That's a scene above we haven't seen for a while, not since we were set upon by the long dark days of winter.. could this 'lazyday on the water' image herald the arrival of Spring. Let's hope so. Yesterday was a gorgeous Spring-like day here in Dover...it got people out strolling en masse. Marvellous what a bit of warmish sunshine will do this time of the year.
The low-tide boat launching above was very early in the morning...before the sun got going in earnest.
Below...well its a poor picture, but it shows the chemical tanker Jag Punit off the Port yesterday morning. It was very hazy and I couldn't get much of an image. She lingered there for a while and then went on her way to Rotterdam.
Punit is an anagram of Putin...but say no more...

!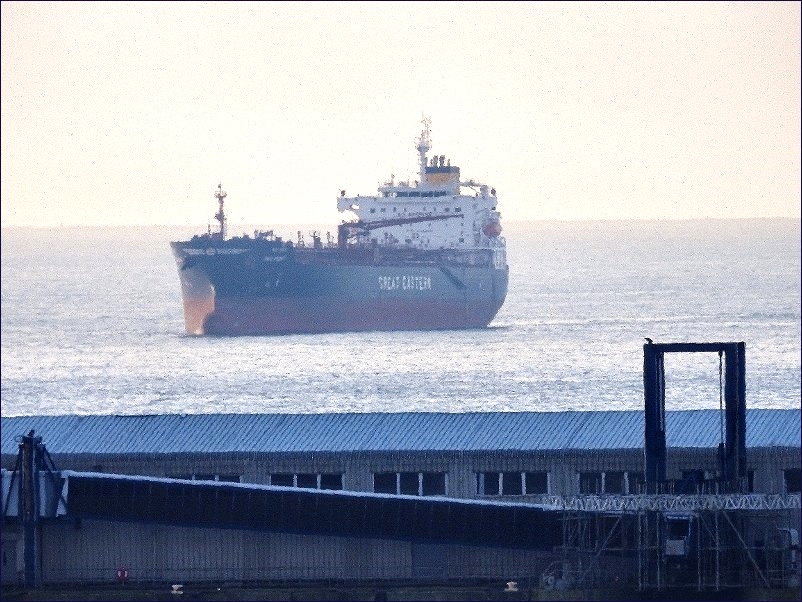 The fascination goes on with the golden globes in the sky
...the sun hovers over Calais this time of year....
I expect the citizens there can reach up and touch it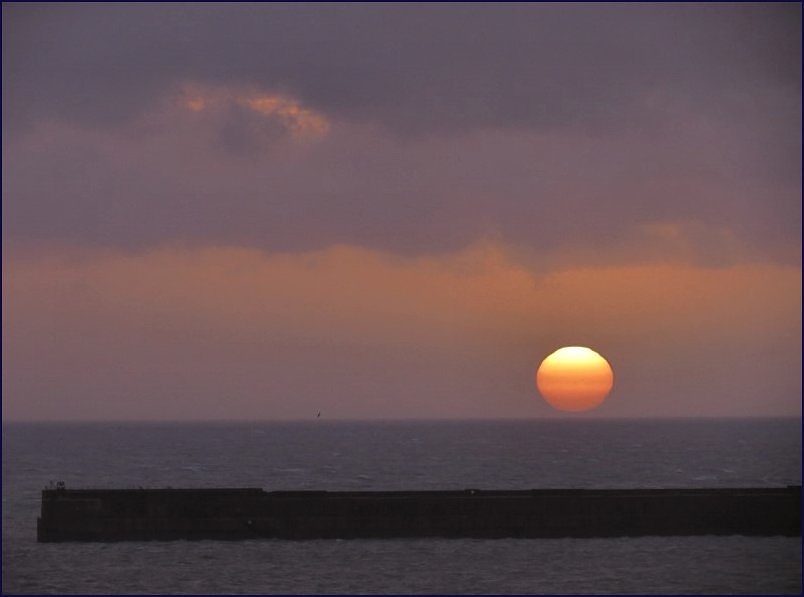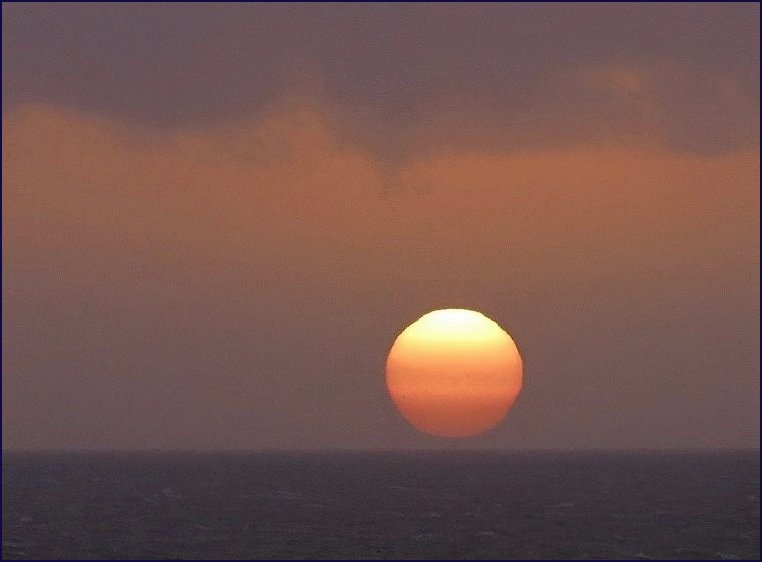 Unfortunately I missed the Royal Klipper departing....yours truly was yapping on the phone and never noticed a thing. I'll get it eventually. But you can enjoy Ed's pictures of the ship in 4476. Don't miss those.
A nice collection of all the comings and goings below there from our 'inshore correspondent'. Dont miss those either.
Well done once again Mike with the pix and info.

Great that you were able to get to see the inside of an Airbus Beluga Barry - Great stuff !

PaulB.
Sunday, 18 February 2018 - 06:33
Post 4653
Mike J., Dover
m/y VESPER came in from Brighton Marina early Friday evening & looks a little more seaworthy than recent visitor YACHT-95 who is now tucked up in Rotterdam.
Breakfast time Saturday morning & the tug HANDFAST came in from Poole & docked in the Jetfoil terminal, alongside the red jack-up rig thats been working here.
The rig is now legless & my spy in the docks tells me that it is bound for the scrapyard.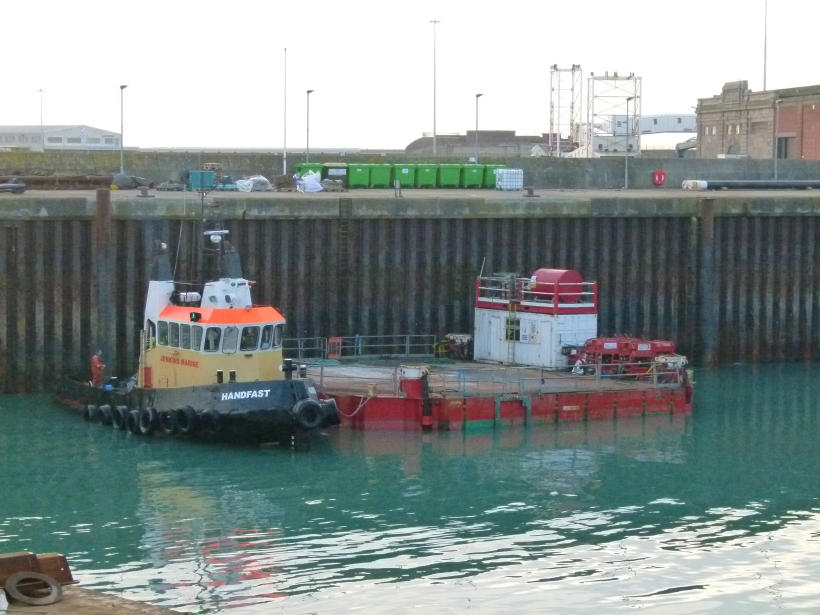 HANDFAST & the rig sailed downchannel at midday for an unknown destination, escorted out of the harbour by the LLANDDWYN ISLAND.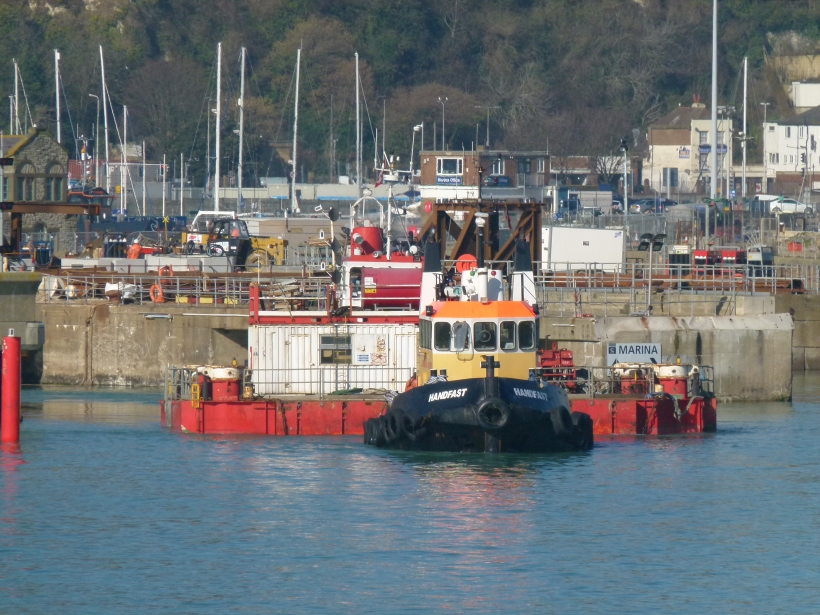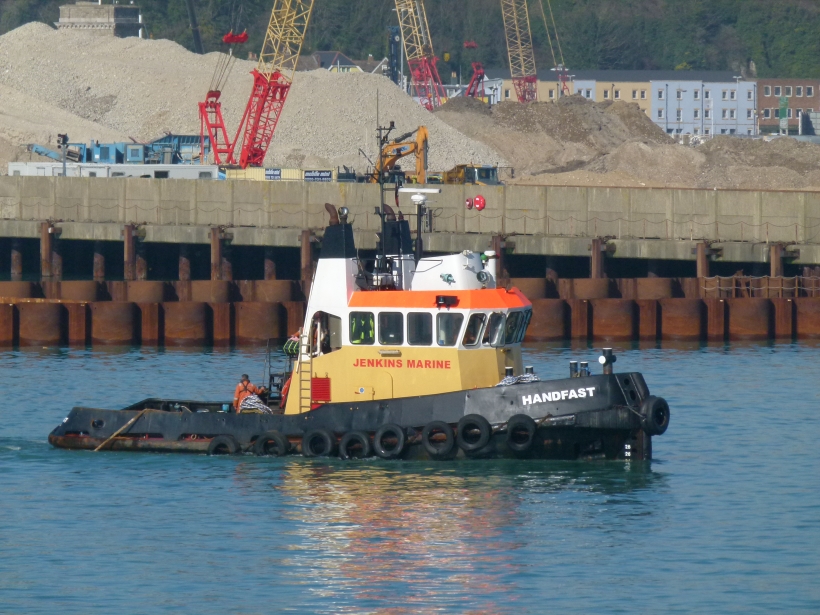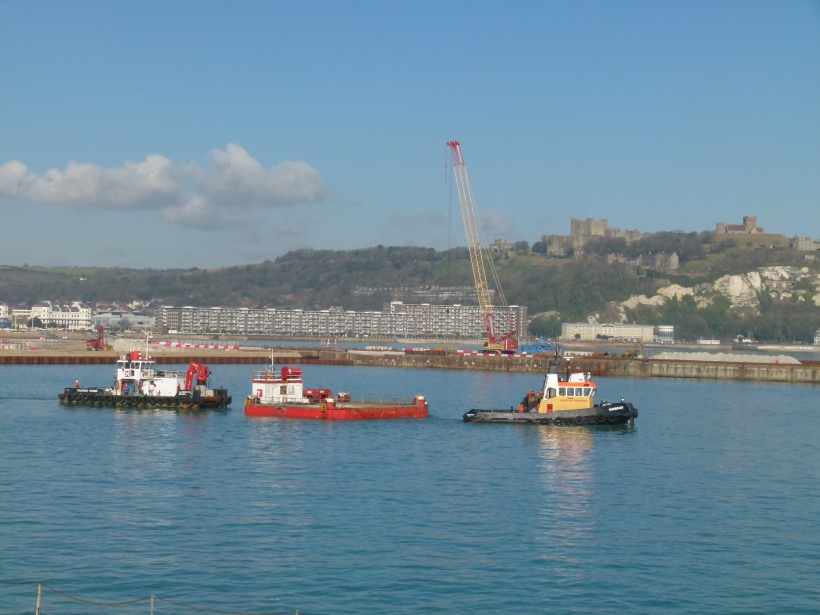 [A few minutes later the Windcat CWIND ARTIMUS sailed after calling in for a very brief Dover visit on her trip from Ramsgate to Newhaven..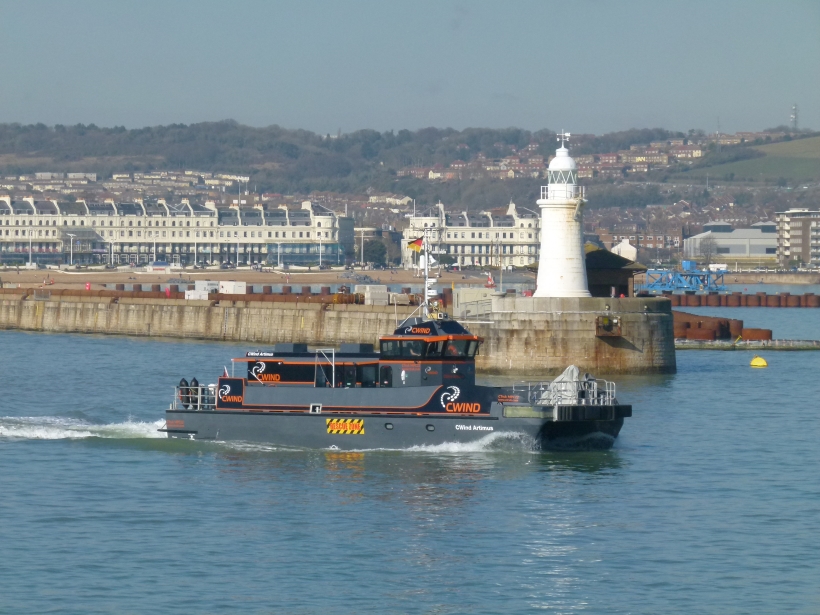 [During Saturday afternoon Dover lifeboat & the CG helicopter attended an incident in Fan Bay, just below the Coastguard Station.
Saturday, 17 February 2018 - 21:46
Post 4652
Barry W-S, Dover
Great photo of the Airbus Beluga, a successor to the 'Super Guppy'. Having seen the interior of one, she can carry cockpits as well as wings, she literally Awesome!!!

Saturday, 17 February 2018 - 13:12