Tuesday, 18 February 2020

WWW.DOVERFORUM.COM/SEA-NEWS
Sea Pictures from DOVER: Featuring all the ships that come and go and work at the Port of Dover ..
... with some further coverage of the surrounding ports.
Sea News Dover
Use our SEARCH ENGINE below to find all sorts on the SEA NEWS pages....type in the topic and away you go, or if you have the post number, just type it in the box, more than
- 6750 -
nautical posts now. Posts are welcome. just click 'Add Your Comment' below. Max of 5 pictures preferred although we can stretch that for special stories..
Sea News Editor Paul Boland - send info or pix to dover7@msn.com. Always welcome.
Port of Dover, DFDS, P&O say...Travel with Confidence from Dover.. see 6786 below.
DFDS Refit Investment...luxury lounges 6821.
P&O FERRIES - POST BREXIT travel info below 6780.
P&O NEW FERRIES Images below 6775...
P&O Ferries - new Catering Apprentices see 6790...
Book with P&O - Free Fuel see 6760
Visit us here in White Cliffs Country see 6772
Natalie Elphicke MP - thoughts post Brexit 6784
Just type the post number in the Search Box below.
NEW UPDATE:
To show your pictures at their best..it could be worthwhile resizing before posting to
860
pixels wide. Our new standard size.
All pictures on these pages are the copyright of the owners and must not be reproduced without permission.
Post 6821
Sea News, Dover
DFDS reveals NEW Relax Lounge as part of a £3.9m refit investment
____________________________________________________________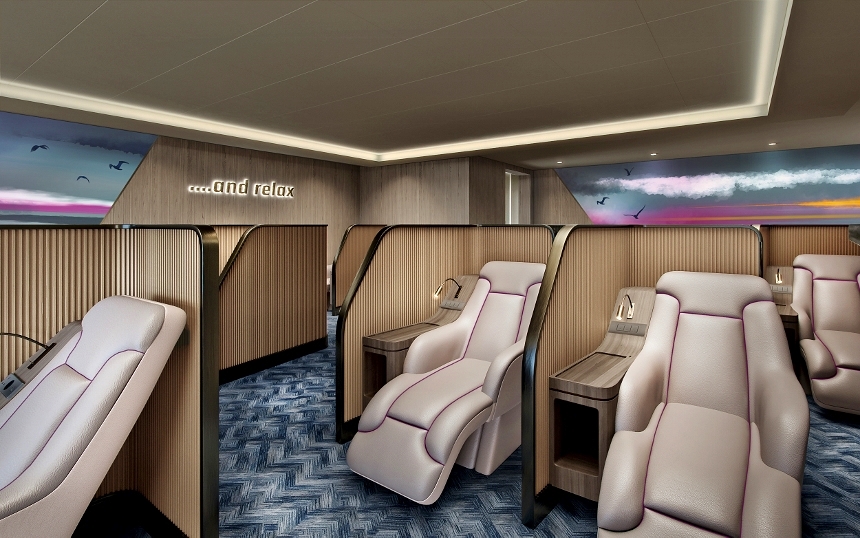 Relax Lounge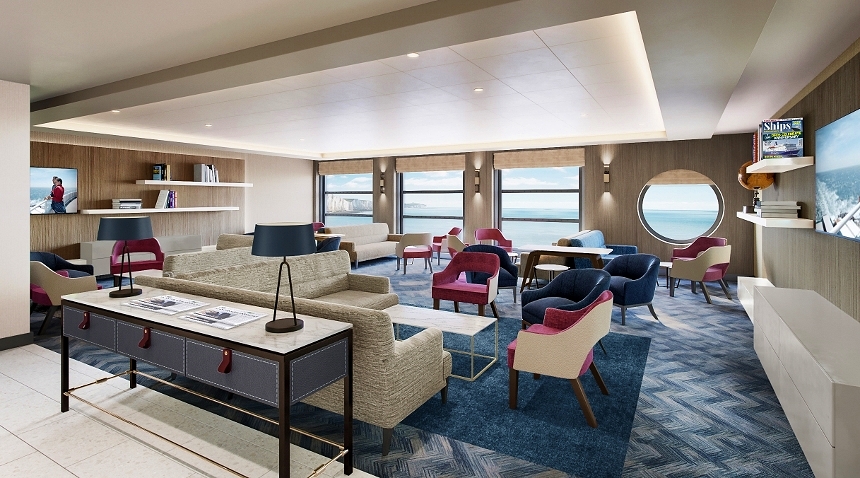 Premium Lounge
DFDS' Dunkerque Seaways will be the first of the three ships on the Dover to Dunkirk route to reveal a number of new looks as part of a £3.9m investment.
DFDS understands that in a busy world, with many customers travelling long distances, the chance to relax in comfort whilst travelling is welcome. With that in mind from Monday 17th February, passengers looking for peace and quiet can enjoy the new Relax Lounge. The lounge boasts luxury reclining chairs built into an airline style pod for extra privacy, complimented by soft lighting for the perfect stress-free environment. Prices depend on availability and start from £6 per person each way. Guests of the Relax Lounge will also receive a complimentary Rituals Karma set*. Children under 16 are not permitted into the Relax Lounge.
The ships' Premium Lounge areas have also been fully refurbished with comfortable lounge furniture and modern décor to provide the luxurious and peaceful surroundings demanded by the modern traveller. This private lounge is open 24 hours a day and is available for all ages from £12 per person each way. Passengers can enjoy complimentary glass of Prosecco, premium snacks and pastries, hot and cold refreshments and hot food available from the Premium Lounge menu.
With the success of the Horizon restaurant, a pizza, pasta, salad concept on the Dover to Calais routes, the refit also includes this restaurant being installed on all three ships on the Dover to Dunkirk route. Here guests can enjoy a selection of freshly cooked, made to order pizzas, pasta dishes and healthy salads. Passengers can place their order, take a buzzer with them to their table and collect their meals when called.
Passengers will also benefit from new bathroom facilities throughout the ship and can now enjoy watching a spot of television in the Lighthouse Café, with newly installed TVs as an additional feature.
Steve Newbery, Onboard Commercial Director for BU Short Routes and Passenger at DFDS said: "This is a very exciting refit programme and continues on from last year's successes with our Lighthouse Café and demonstrates our commitment to improving the passenger experience on board our DFDS ferries.
"We believe the improvements will help our passengers increase their sense of relaxation and give them the best possible start to their onward journeys. Many of the changes are in response to ideas and suggestions from our customers, so I am looking forward to the feedback from our passengers."
ENDS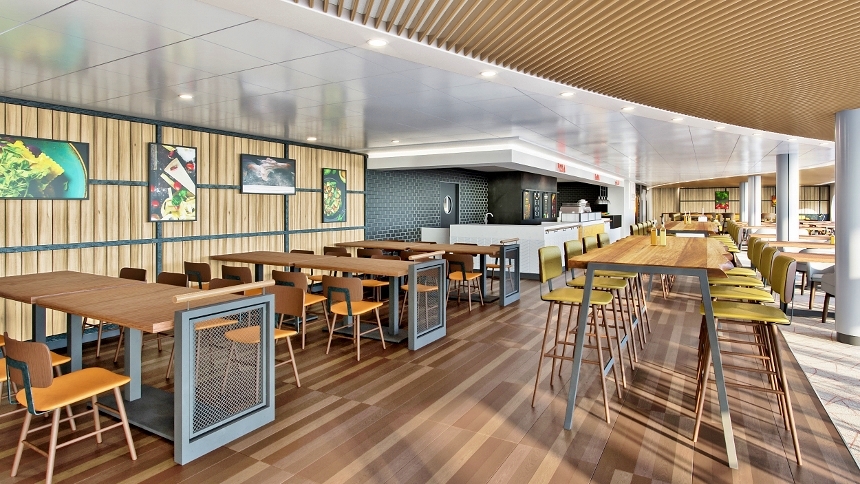 Horizons Restaurant
* *
Wow! great lounge development above there on the DFDS ships...have to try some of that!
Great encouragement for us to get out there.. and with a little touch of luxury...well...

Its lovely to cross the channel in the mornings when the sky looks like this below...picture taken in between the recent storms.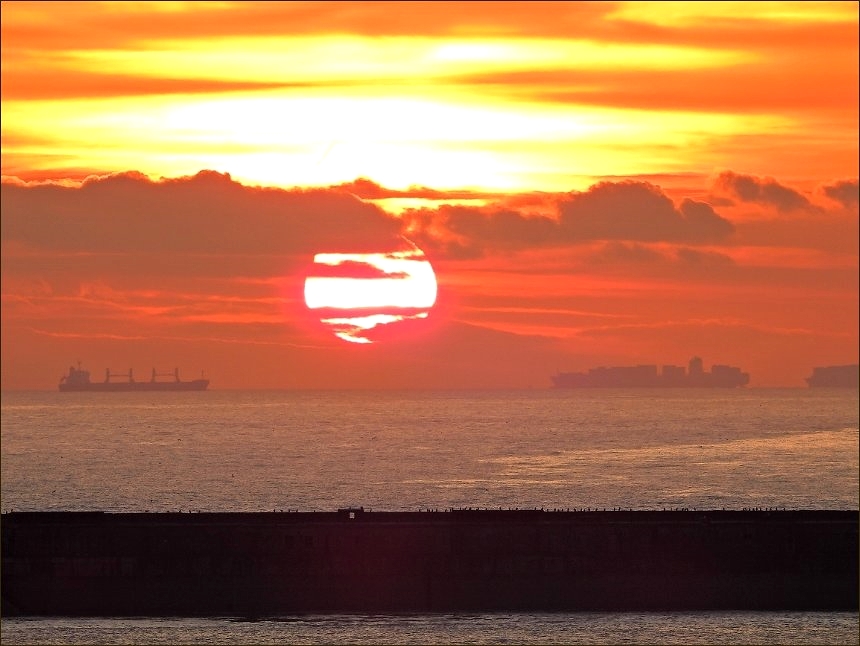 English Channel sunrise.
PaulB
Pinned

Tuesday, 18 February 2020 - 07:01
Post 6820
Sea News, Dover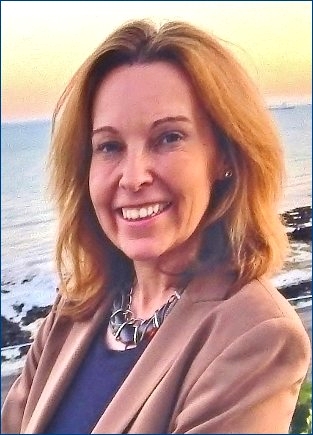 Protecting our Marine Environment
________________________________
With our area's role as a gateway of international maritime trade, it could be easy to forget that it is also home to one of the most special and famous marine sites around, the Goodwin Sands.
The Goodwin Sands SOS group has done a fantastic job of ensuring we don't forget – and that we cherish this special habitat. The unusual sandbank, lying only a few short miles from Deal, is undoubtedly a site worthy of protection.
It is the last resting place of airmen whose battles raged over our skies, as well as light-vessel men who perished in 1954 when their boat, a type of lighthouse, wrenched free from its moorings. We will never forget their bravery and sacrifice. We shouldn't forget their final resting place either.
The Sands also contain a diverse range of sea life. Blue mussels, ross worms, shellfish, the protected Thornback Ray all make the most of the rare sand-on-chalk platform in the middle of the sea. It contains special rest and relax areas for Grey Seals, and much more besides.
The Sands have a special place in our own cultural history – stories abound of Deal residents in years past rescuing, or thieving, from people and boats shipwrecked in and near the sands. From Nelson's fleet to the modern day, it is part of a natural area of shelter from the sea's stormiest heights.
It's for these reasons that I am trying to secure better environmental protections for special marine sites. So that they can have similar protections to special sites on land. Just last year, the Goodwin Sands was designated a marine conservation zone. That gives it protection most similar to a green belt designation on land – a 'blue belt' equivalent.
That's a great start and I want to go further, to strengthen that protection. I want to see a new class of 'special marine interest' sites created with Goodwin Sands at the top of the list. The new classification would provide similar protections to Sites of Special Scientific Interest on land – with a much higher threshold for commercial activities like aggregates extraction.
I recently met with the Environment Secretary to discuss the idea – and I will keep working with them and marine-minded colleagues in the months ahead to take it forward. I also met with the Goodwin Sands SOS group. I will be seeking further engagement with Government agencies around the dredging work that is already planned, so that it can be approached as sensitively and sensibly as may be possible.
Our marine environment is so important – especially to coastal communities like ours. Whether it's trade, tourism, or a simple day out with the family, the sea is in the heartbeat of our community.
We cannot take it for granted. We must ensure it is protected for every person and every generation – so that where we live continues to remain such a special corner of our nation.
Natalie Elphicke MP Dover and Deal
This week Natalie called for the Government to be ready at the border so the port can "grow and prosper" after Brexit. This amid HMG suggestions the frictionless trade might not be quite as frictionless as once mooted...
My thanks to Natalie Elphicke for the above.

* *
Some rough oul pictures from yesterday. Storm Dennis didn't hit us quite as hard in Dover as elsewhere but it was a grim old period nonetheless with rain drizzle and of course high wind..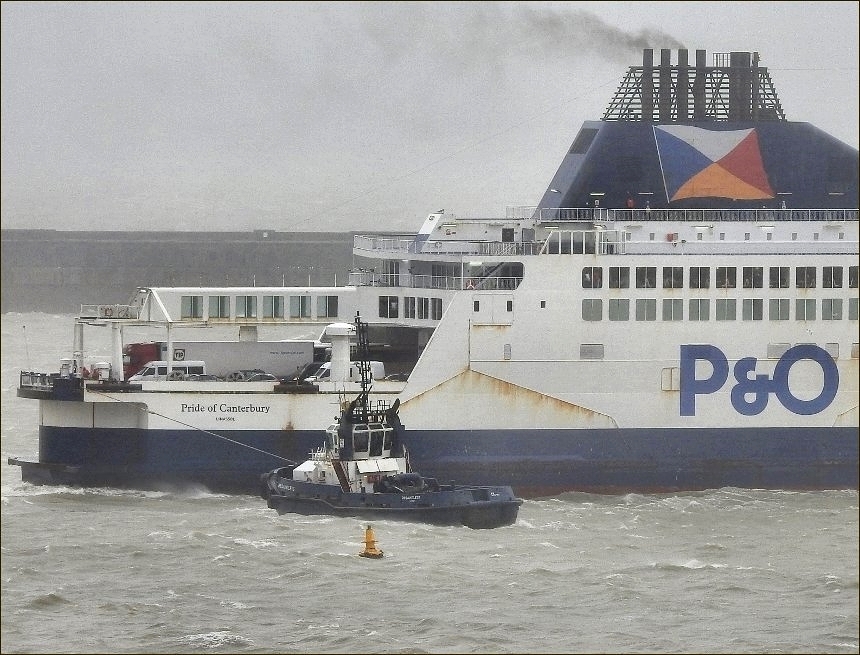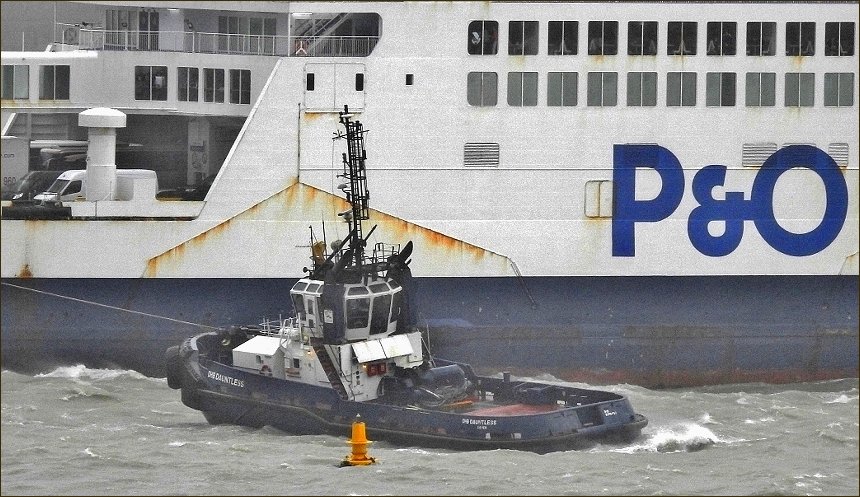 Manoeuvring the Pride of Canterbury into Dover 9: Visibility was poor taking these pictures yesterday morning. Dennis wasn't quite as 'visual' as Ciara a few days back...some tug work photographed here. Below roughly an hour later than the ones above at 09.59 .... working to send Delft Seaways on her way.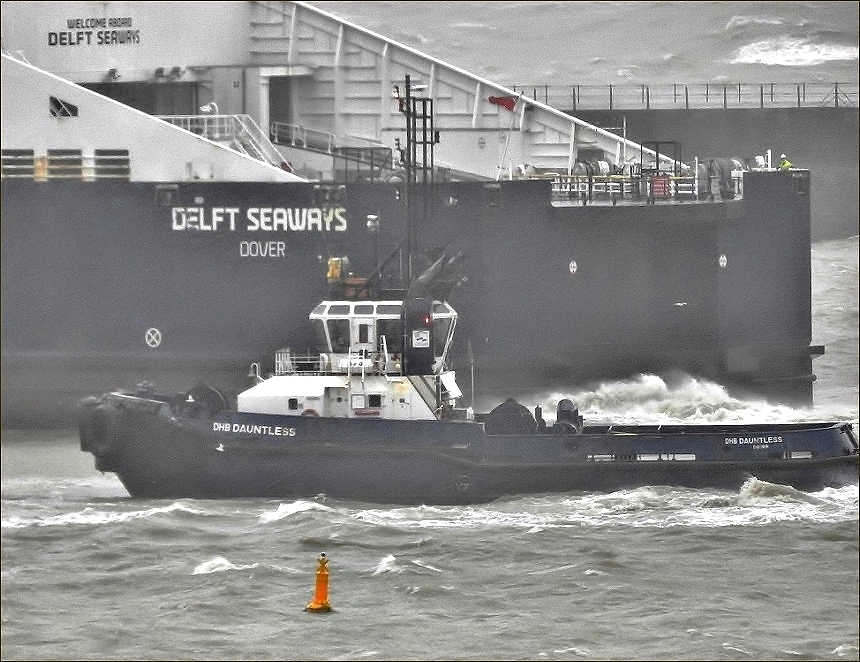 Huge thanks to Mike for his central main post on Ed Connell 6814.
Thanks also to Brian and Jan for the acknowledgments.
PB

Monday, 17 February 2020 - 04:54
Post 6819
JanT , Dover
Sorry to hear the sad news about Ed, who captured many pictures out there in the channel for seanews.


Sunday, 16 February 2020 - 08:09
Post 6818
Sea News, Dover
I am very sorry to hear the sad news about Ed Connell, he was a grand guy and I have known him through my forum days for years. He always supplied us on Sea News with great and welcome pictures from the Dover Straits and you can see in his final post 5314 that he regarded himself as our 'dover straits correspondent'. But of course he was so much more.

We enjoyed some great and fascinating pictures from his seagoing positioning and always missed his input after he left.

Our thoughts are with his wife Chris and family.

* *

This is what I said when he told us he was leaving... from April 2018 post 5316.

"
Ah gosh Ed I am sorry to hear that our famous nautical man on the dover straits has made his last post for us here on Sea News. You have been a great correspondent with excellent news items and excellent pictures. We have known each other for years right through the old forum days and its all been great fun plus. I hope your medical treatment goes very well and I bet the team on the Delft Seaways and formerly the Dover Seaways were all sorry to see you go. Yes keep looking in and we will do our best to entertain you.

"

PaulB

Sunday, 16 February 2020 - 06:40
Post 6817
brian dixon, dover
a report of the missing man is on the forum

Saturday, 15 February 2020 - 14:27
Post 6816
brian dixon, dover
reports of man over board just of margate at 0600 this morning. 2 lifeboats a sars helicopter and a naval vessel shearching for him.

Saturday, 15 February 2020 - 14:18
Post 6815
brian dixon, dover
sad news indeed, condolences to the famley .

Saturday, 15 February 2020 - 14:14
Post 6814
Mike J., Dover

'Sea News' readers may recall Ed Connell who has passed away after a long illness, bravely borne.

Ed worked on the ferries for many years after he left deepsea, initially with Sealink & finally with DFDS working as a Radio Officer until the rank was abolished, continuing as an Electro-Technical Officer.

A frequent contributor to 'Sea News' Ed's photos were much valued, particularly as he was the main contributor of photos of vessels passing thru the Dover Straits & taken from aboard his ferry until he came ashore in April 2018 [post 5314]


Ed was very knowledgeable about shipping & particularly interested in local history & was contributing to the 'Dover History Pages' Facebook page until last November.

A real character with an impish sense of humour & a real gentleman, Ed will be much missed & our sympathies go out to Chris his wife & to his family.




Saturday, 15 February 2020 - 12:33
Post 6813
Sea News, Dover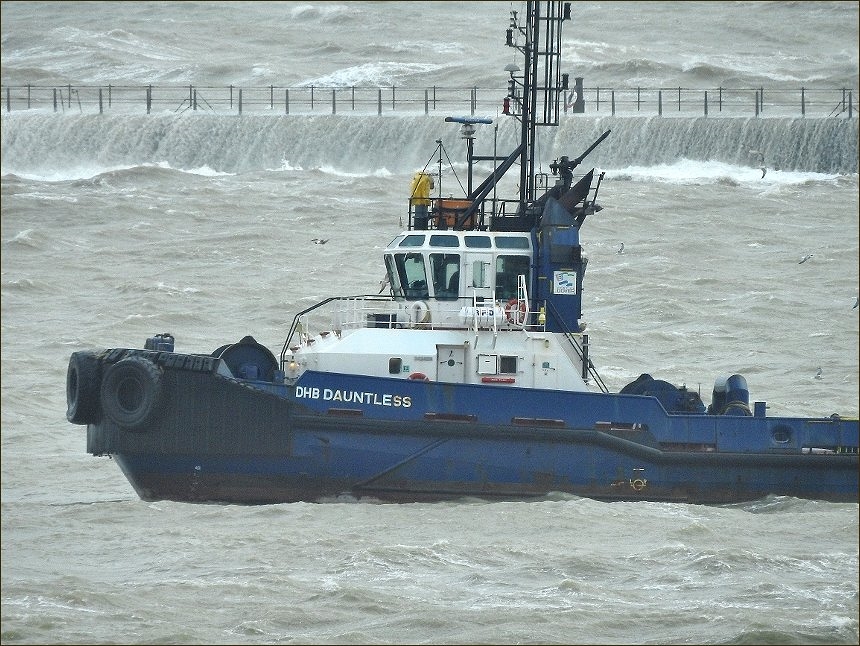 Tug Dauntless
We are expecting more rough weather...with Storm Dennis due and ready to menace. The picture above of Tug Dauntless was taken during Storm Ciara a few days ago, it shows the tug on standby duty mid-harbour, ready to assist the incoming ferries dock in the rough weather. You can see the breakwater behind Dauntless over-run with the high seas...we are expecting more of the same..
The picture below is another one of Norman at WD4...Norman our latest visitor. We have a picture further below too in 6812 taken at a different time, this is a wider version showing the wider scene as it were. Norman is now at WD5, the new cargo terminal.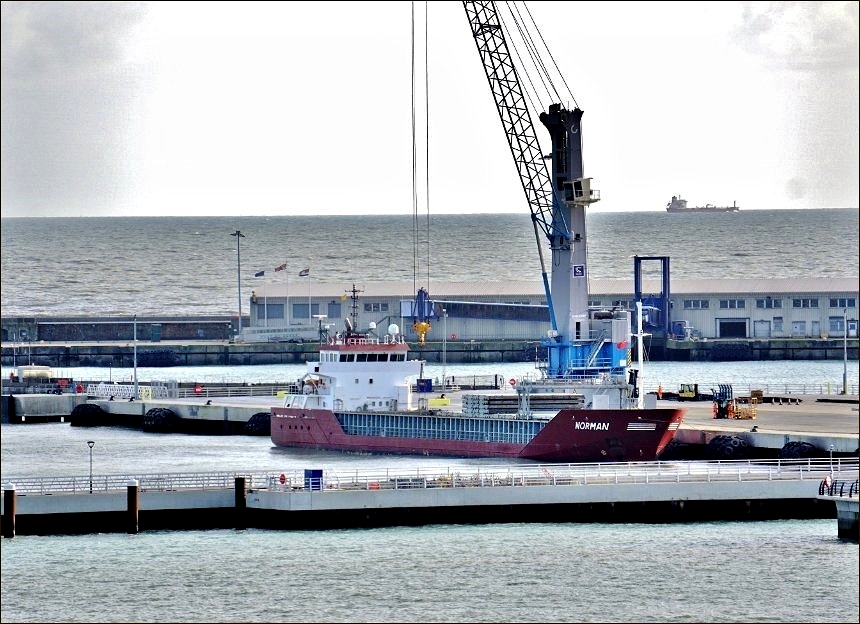 Update: Norman has just left for a 'Margate Anchorage'
PaulB
Saturday, 15 February 2020 - 05:56
Post 6812
Sea News, Dover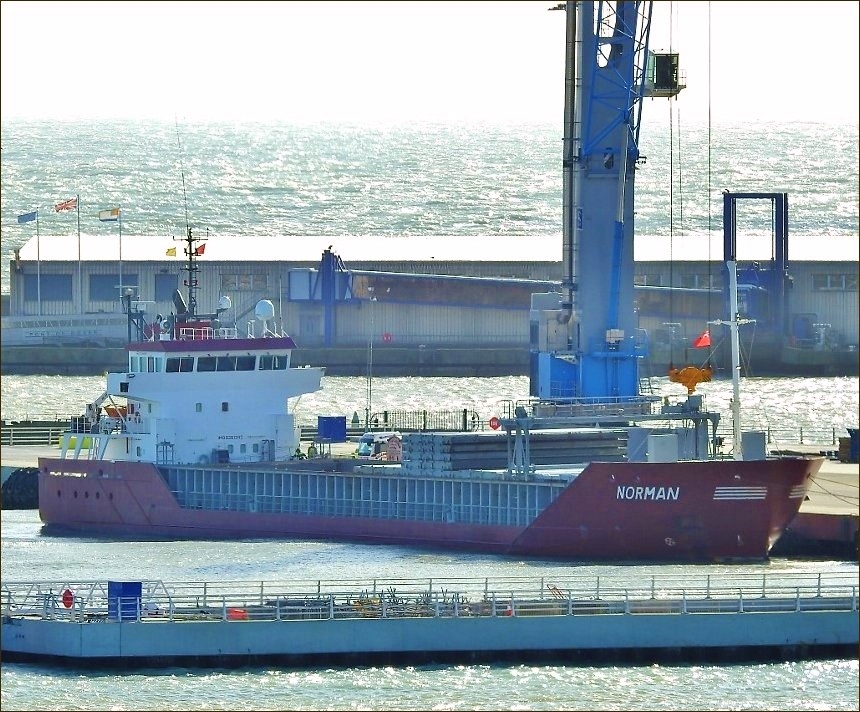 The latest arrival at the new grain pier WD4 is...well yes you've guessed it,,,Norman. I thought she was another grain vessel but it seems not...she was waiting for the Lady Rosemary to vacate WD5 the new cargo terminal...she is now over there .. after Lady Rosemary set out for Vlissingen fully recovered.
Initially I thought aloud...
"Its Norman
sheltering from the storm in
WD5"
....as it was stormy yesterday morning.
We've got Shakespeare worried there as you can see...


Yes Del, some dicey weather coming this weekend. Better brace ourselves. yes I think that's how we spell dicey as my spellchecker hasn't gone in to meltdown..


Interesting collection below from our 'inshore correspondent' ...well done with those Mike.
PB
Friday, 14 February 2020 - 07:45
Post 6811
Mike J., Dover
Excellent Maersk pix !
The Smit/Boskalis SMIT DEE, supposedly a 'training vessel' came into Dover from Weymouth early on Wednesday & remained in The Tug Haven on Thursday morning,
She was tied-up alongside DAVID CHURCH who provided a rather confusing background.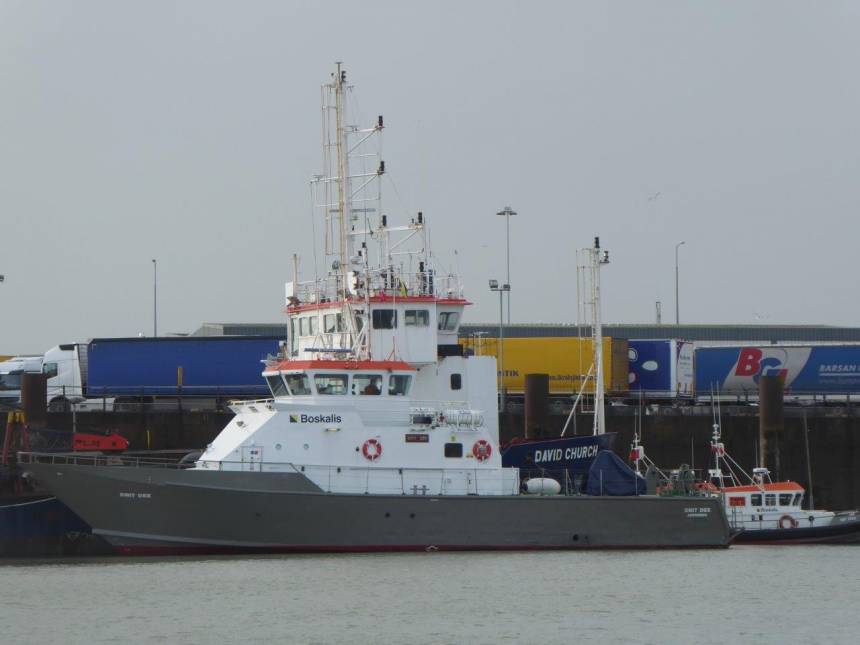 Rain was starting when I was on the pontoon & was throwing it down by the time I got up to St.Martin's battery . . . . .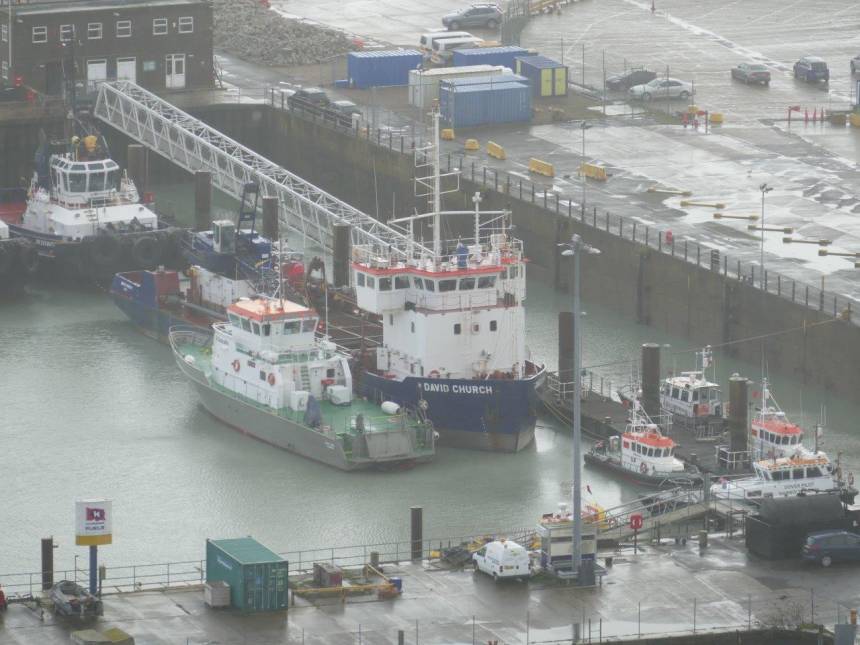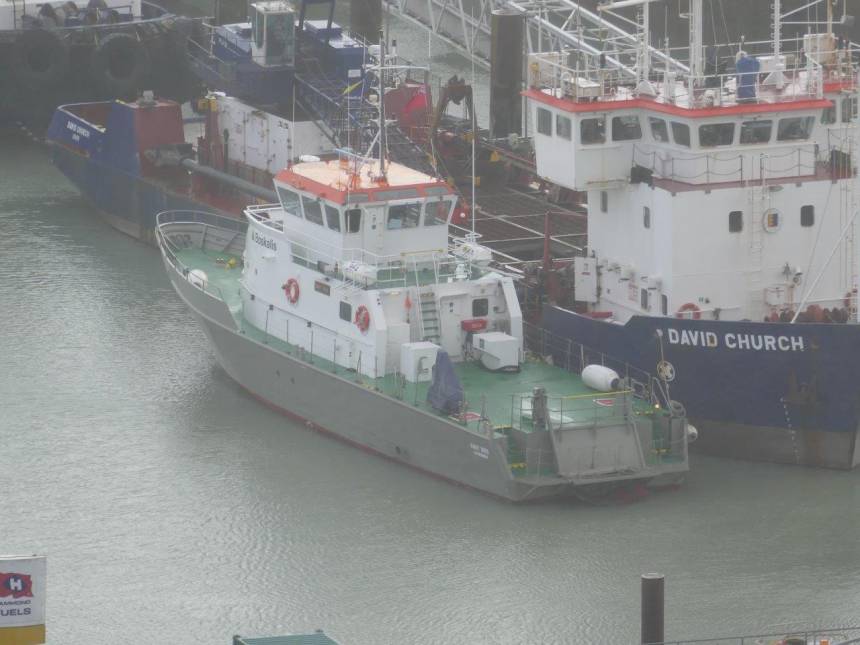 Friday, 14 February 2020 - 00:30
Post 6810
Del Styan, Norwich
Good luck this weekend with Dennis - that Jubilee way pic looks a bit dicey - if that's how you spell dicey!

Thursday, 13 February 2020 - 23:04
Post 6809
Sea News, Dover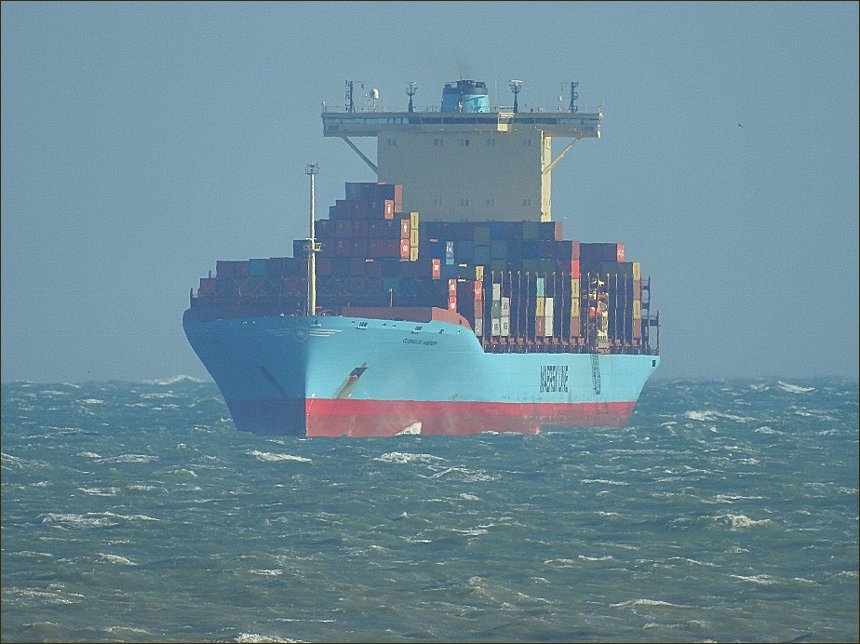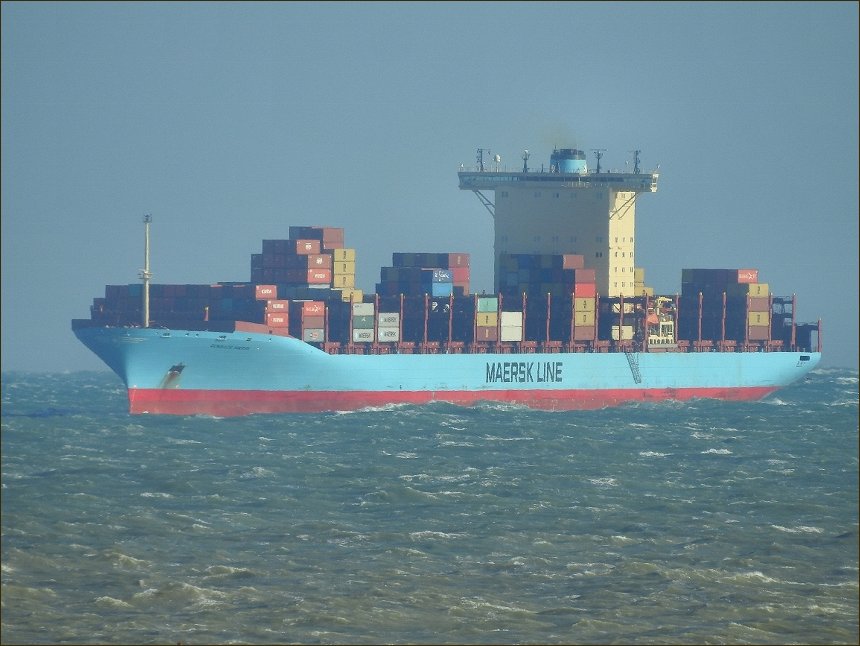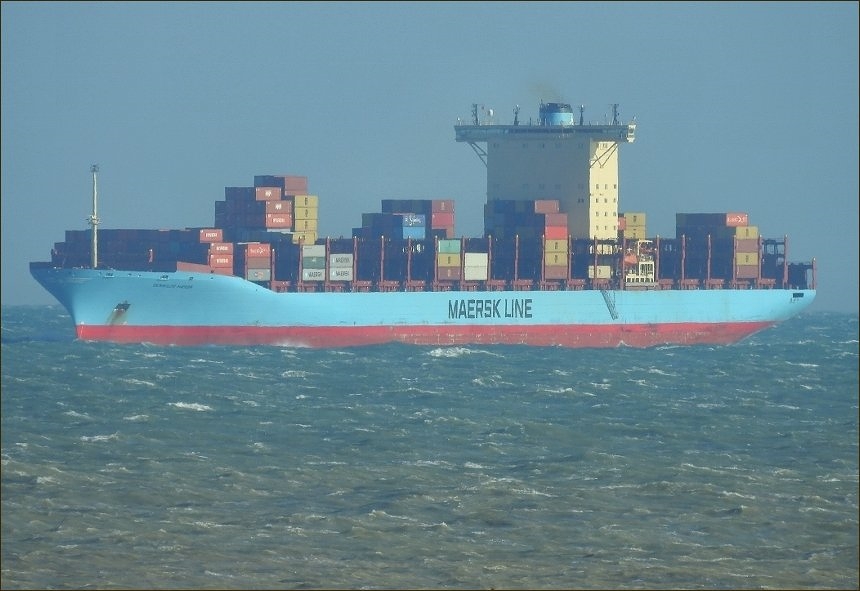 Gunhilde Maersk: this one came in close to Port on Tuesday while the weather was a tad easier...presumably to let the pilot off or similar. She paused here for a time....If yours truly is remembering correctly...she was on her way to Felixstowe. Always happy to see them linger here...
The picture below is from 5/6 days ago...just prior to Storm Ciara...shows the magnificent Morten Maersk in the gentle evening light...all 195,000 tons of her. Almost twice the size of Gunhilde above...which is a 100,000 tonner.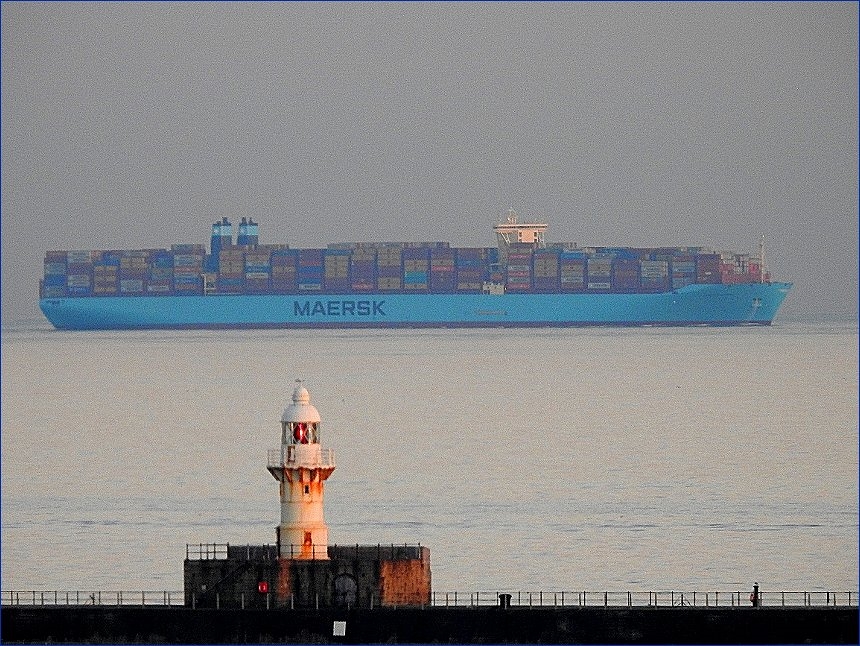 We are having some very rough weather again as I write...is this Storm Dennis ahead of schedule?
We're getting too much menace from Dennis!
A last one of Storm Ciara below which shows the scale of the waves in relation to the truck coming down Jubilee Way. Granted the truck is that bit further away but you get the drift.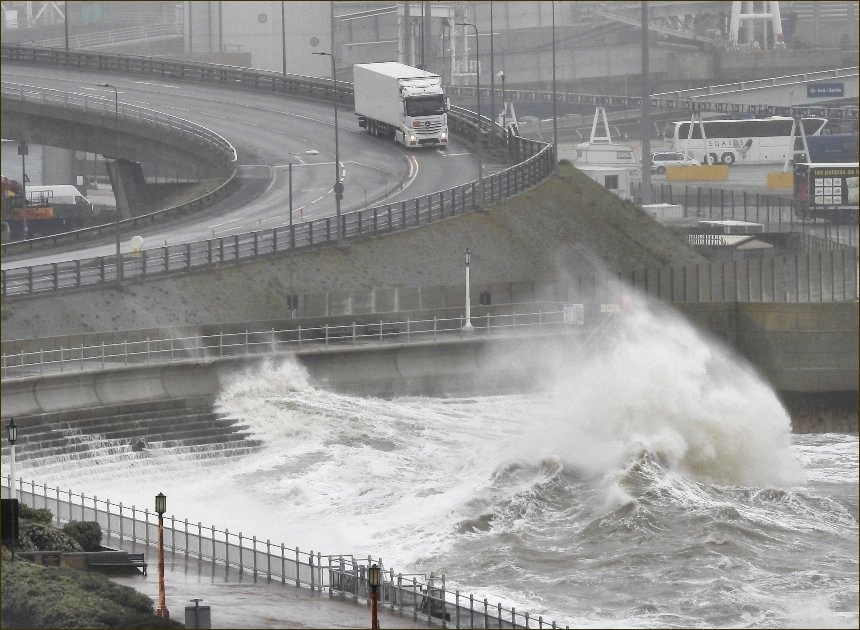 PaulB
Thursday, 13 February 2020 - 06:18
Post 6808
Sea News, Dover
Lady Rosemary listing as she approaches the Port of Dover yesterday Tuesday… look at the containers!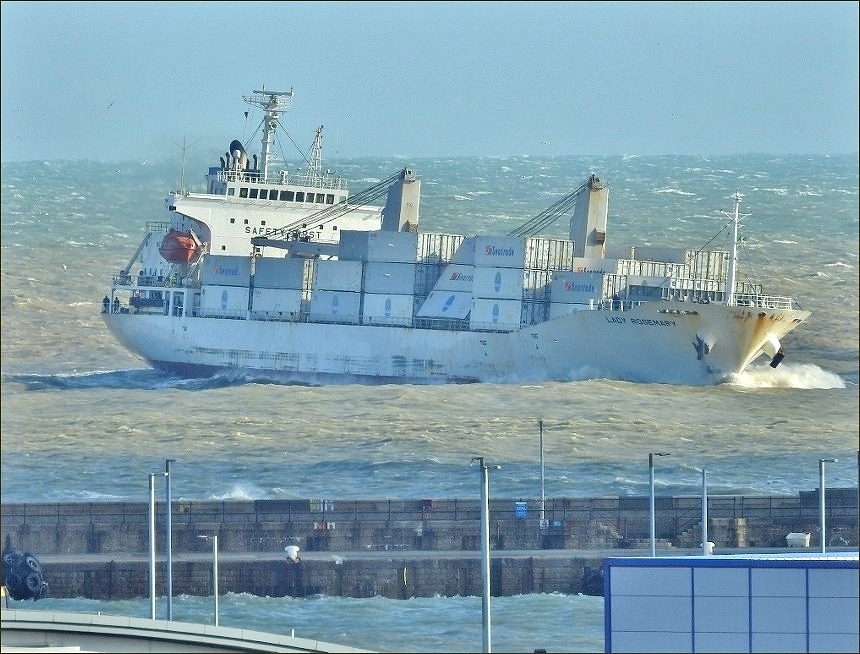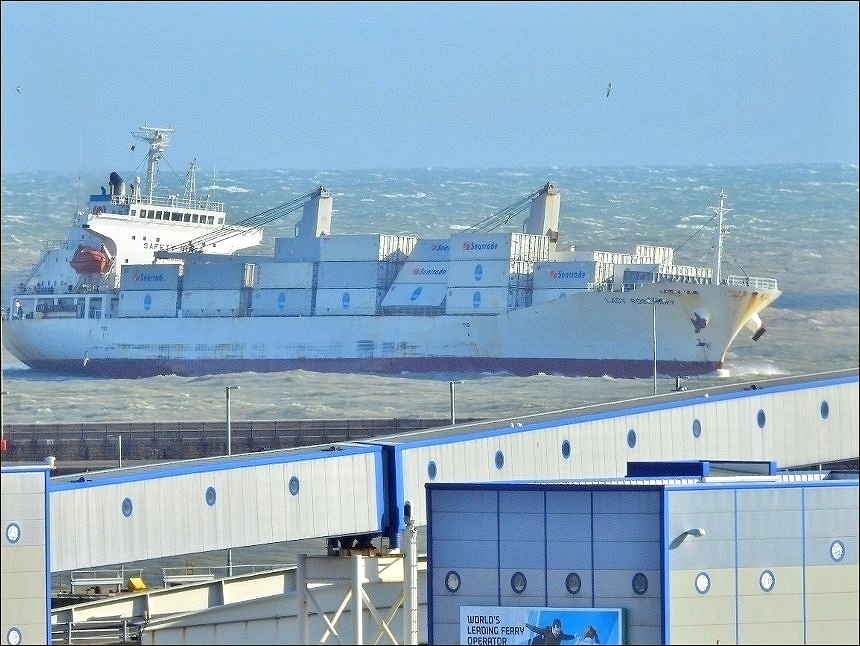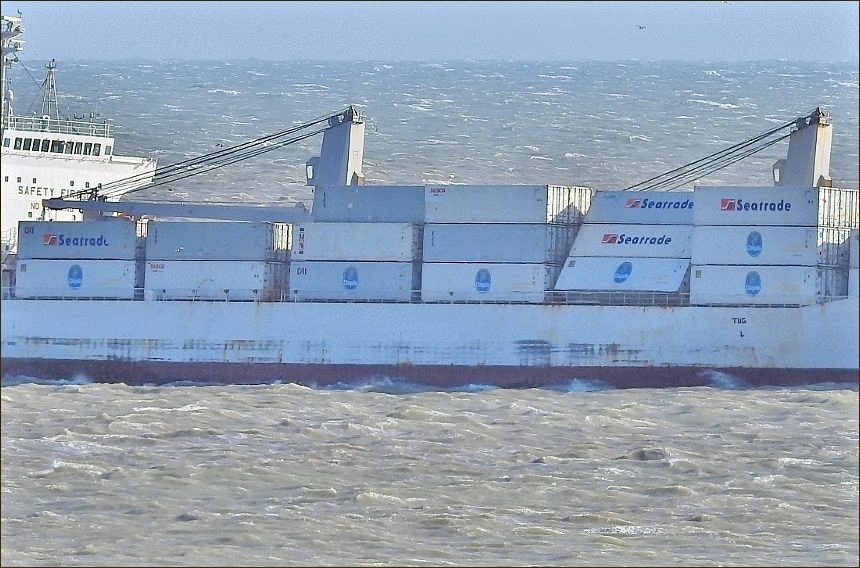 Following a tip off from Mike I was able to spot our recent friend Lady Rosemary coming to Port just off South Foreland. She had suffered from shifting cargo in the fierce storms and was listing...and you can see that in the pictures above. Several of the containers have toppled over as you can see....
When she got close the tugs were able to lend a hand and she got into the new western cargo terminal safely enough....
A couple of shots below of Calais Seaways approaching the Port on Monday evening... in a little bit of weak sunlight but still with very windy weather. The ferries were still delayed...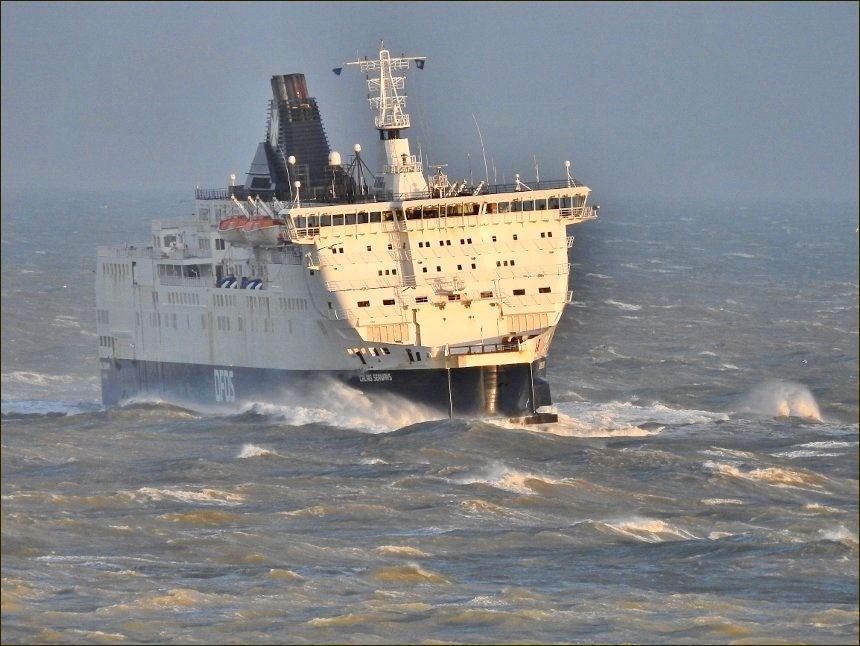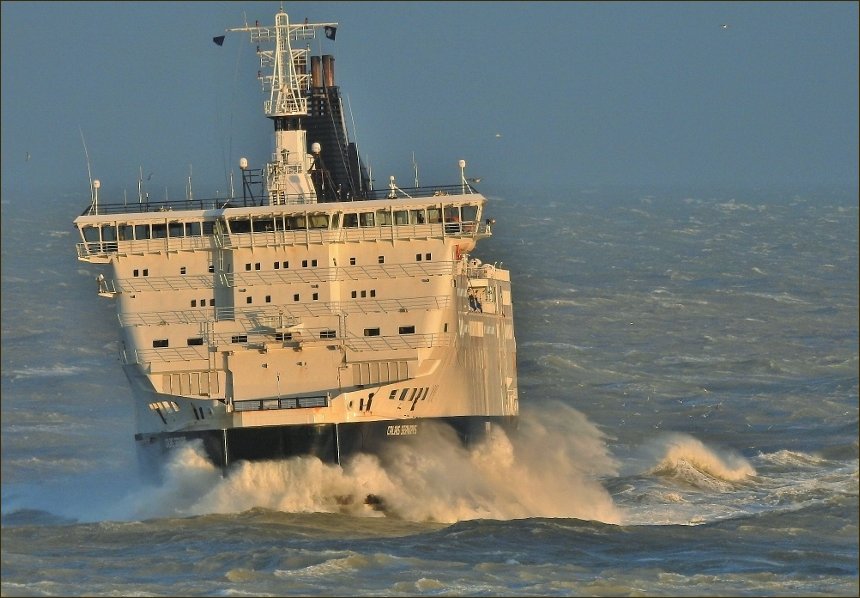 PaulB
Wednesday, 12 February 2020 - 05:06
Post 6807
Sea News, Dover
Some more pictures now from Storm Ciara's reign of terror...
Stormy Dover.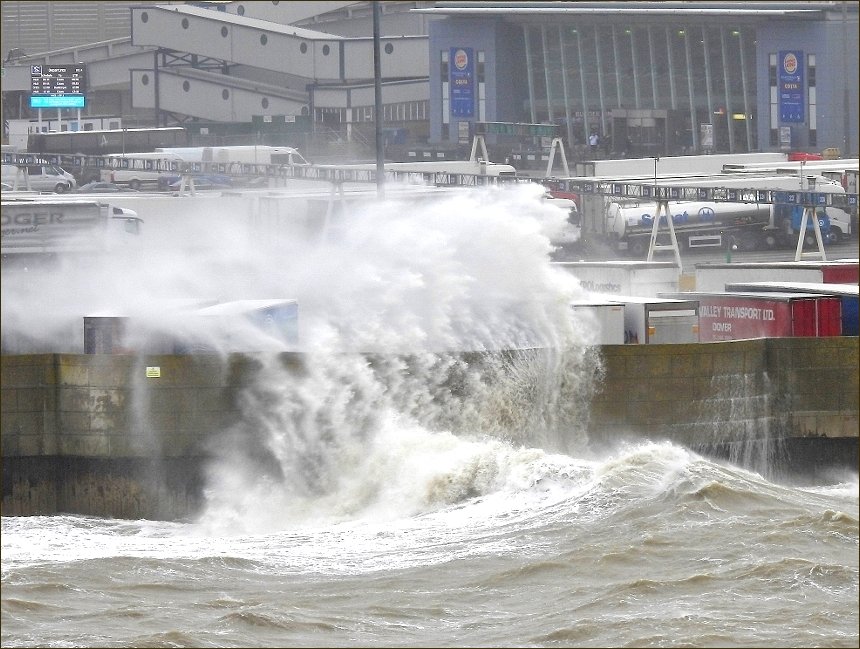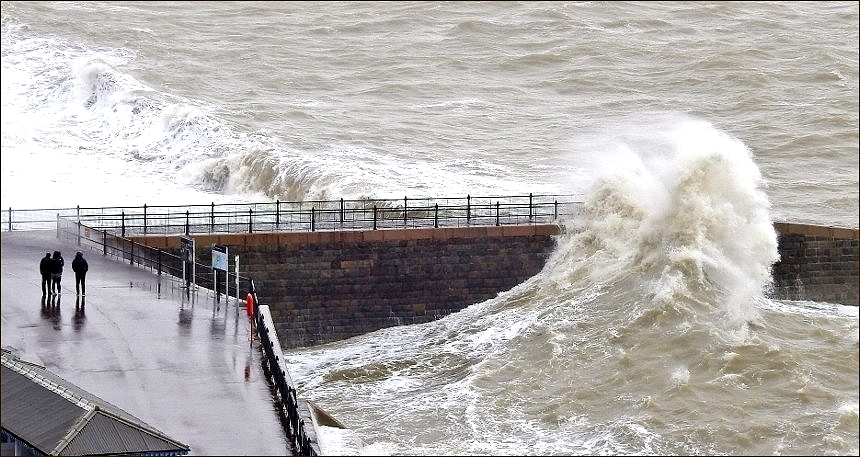 Just prior to Ciara the MPI Enterprise went by the Port, heading northwards, the visibility was terrible so this is more a computer image than a camera image. We have featured a number of these MPI vessels in the past as they amble by, more in the Search Engine above..which will take you through our own pages..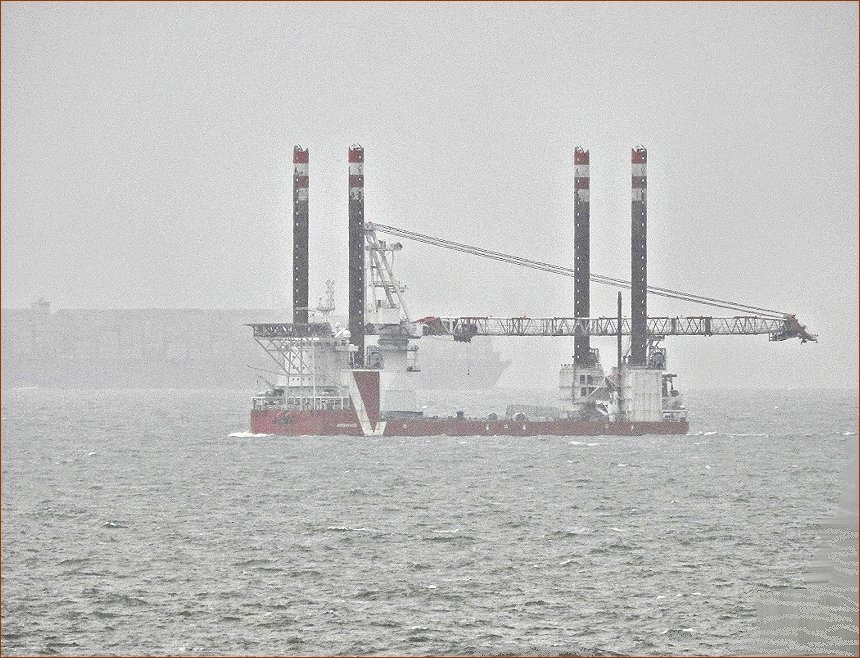 Brian

It seems the blustery conditions are likely to go on...according to the weather persons..
PaulB
Tuesday, 11 February 2020 - 06:33
Post 6806
brian dixon, dover

yes thanks paul, came over loud and clear.

Monday, 10 February 2020 - 14:44
Post 6805
Sea News, Dover
The last ferry to leave the Port yesterday ( Sunday ) before it closed...
yes the pictures here show Delft Seaways struggling manfully in Storm Ciara's fierce winds with the help of the tugs... the tug featured in these pix...Tug Doughty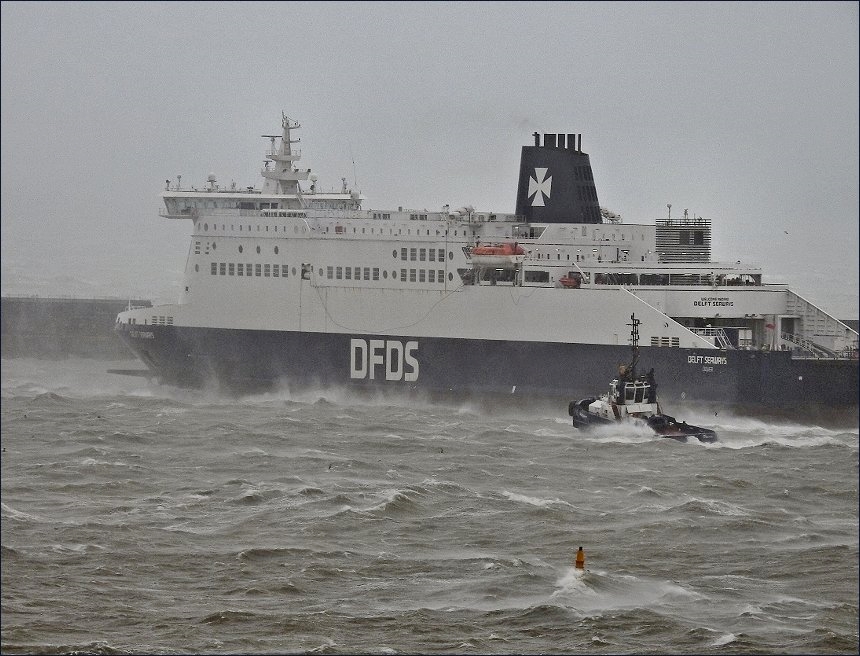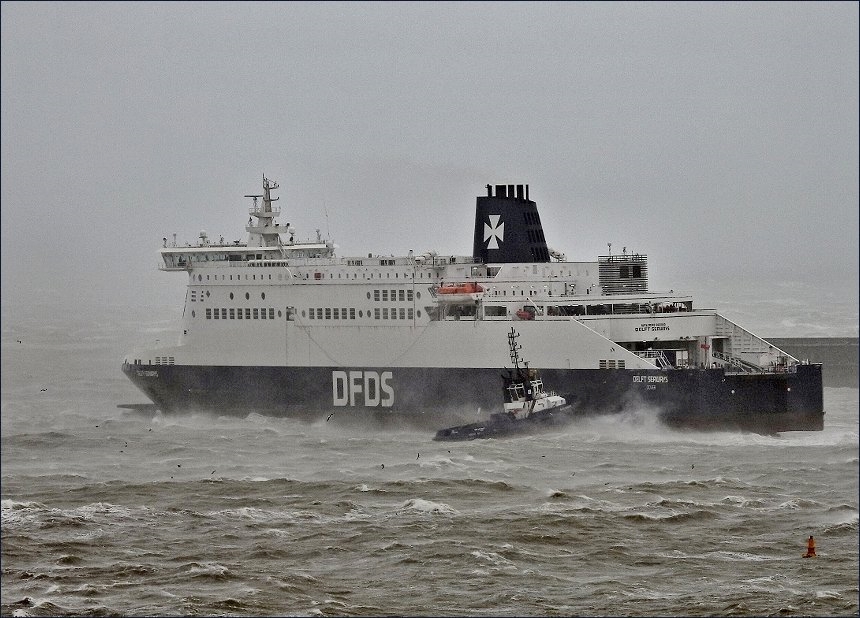 Delft Seaways
I must admit I would not have wanted to be on that ferry...the conditions..phew!
Time of the first picture above 09.31.
Taken from the rear window of the 'observation tower' ..the normal viewing position inaccessible due to safety concerns...

Although the conditions were fierce and in some cases destructive, the sea nevertheless provided quite a spectacle. Tons of sightseers descended onto the seafront ..you can see all the cars coming in the pix below. At the moment these pictures were being taken Simon Jones was doing a live report...the BBC 4by4 is in the pic. I said to myself 'that report is NOT live'
but then I realised it was, Simon was taking some shelter from the ermm shelter while doing it, so was obscured from my pictured view.
I guess the cameraman had to hold on to his equipment

!!...

Anyway here we go...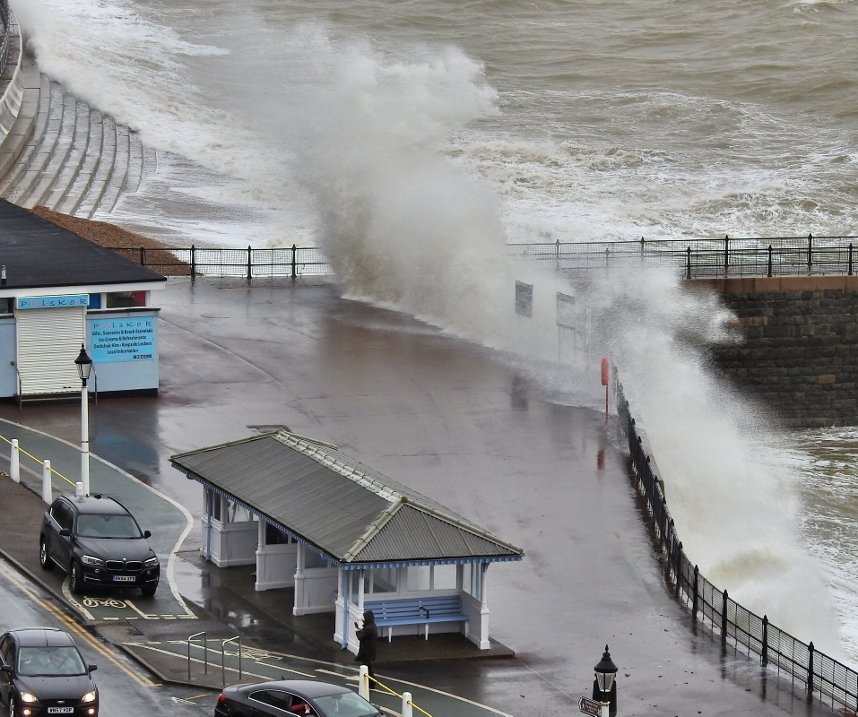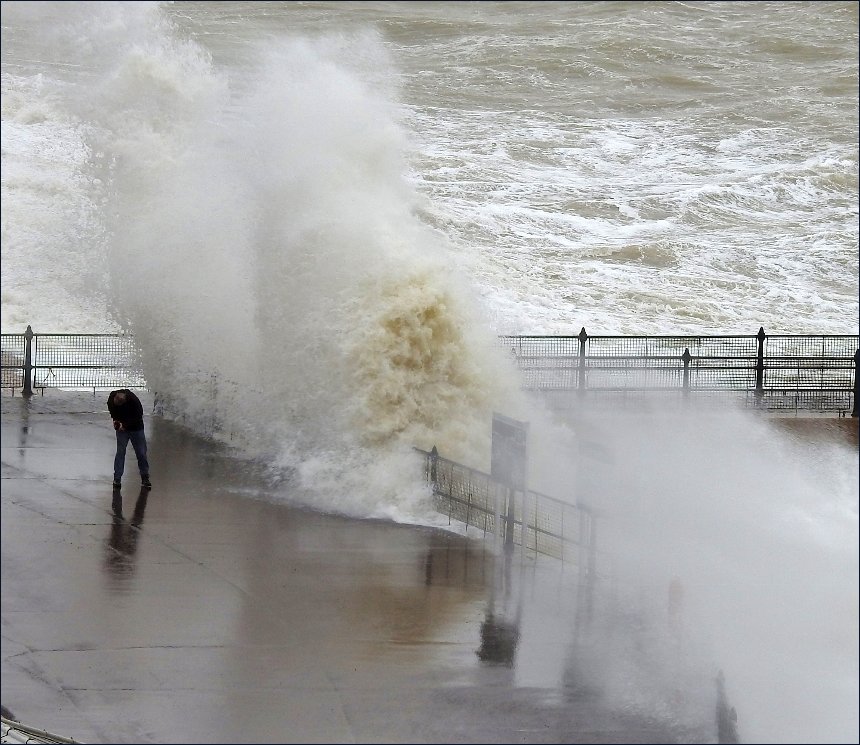 Duck!! That chap got a soaking... and there were others getting the similar soaking...
will aim to have some further pictures...
More...

Great round up info below there Mike - well done with that. Enjoyable pictures too.Excellent stuff!

Thanks to Nigel once again.

Del I think they probably held the traffic outside of town yesterday..in the Operation StacK thingy

Brian hope you got the info below there last night.

Ah yes indeed Mark...some ferries were held up for hours offshore yesterday, cant have been very nice onboard..

Thanks for that fascinating picture Terry (from up there in Gloucestershire)...very enjoyable post.
PaulB
ps: weather seems a lot calmer as I write...
Monday, 10 February 2020 - 07:01
Post 6804
Mike J., Dover
Sunday & storm CIARA - a filthy day indeed with SW winds up to 60kts, horizontal rain & flickering rural electricity supplies.
A day for staying at home.
The port was closed for most of the day with the PRIDE OF CANTERBURY marooned on No.9 berth.
The wind dropped during the evening & the first movement was the arrival of the DOVER SEAWAYS, as noted by Paul, with the PRIDE OF CANTERBURY sailing at 2100 adter which the SPIRIT OF BRITAIN entered..
The CANTERBURY did not sail for Calais, but headed up into the Downs to join the PRIDE OF BURGUNDY.
At the height of the storm there were 21 ships sheltering in Margate Roads, with eight more vessels a little further north in the Tongue anchorage..
Much nicer sunny weather on Thursday & Friday so a quick 'small fry' catch-up.
During the migrant activity on Thursday two of Viking Marine's rescue craft went out on a training exercise, returning shortly before the Dutch lifeboat KOOPMANSDANK sailed.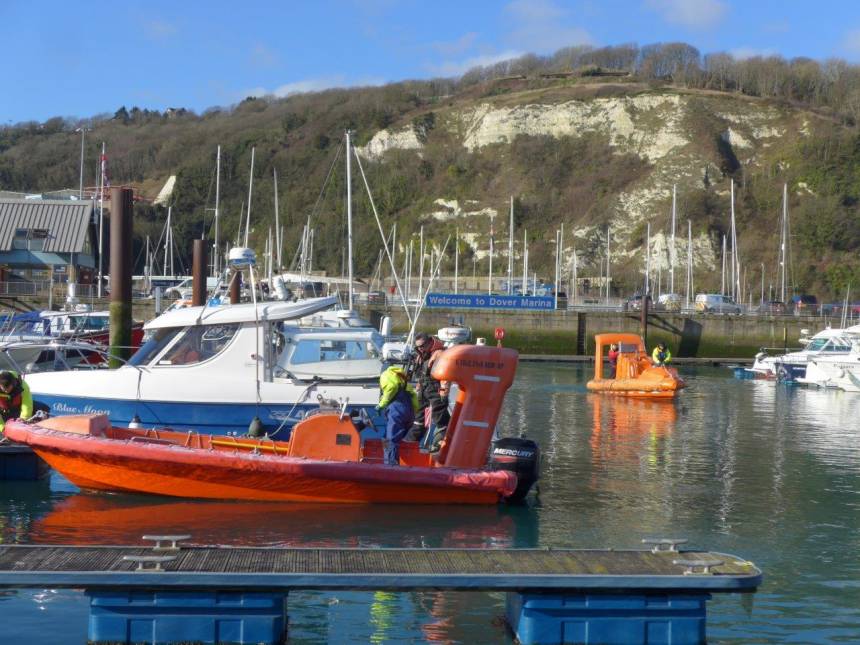 The second one was the rescue boat from the Holland America cruise ship WESTERDAM [post 6322] .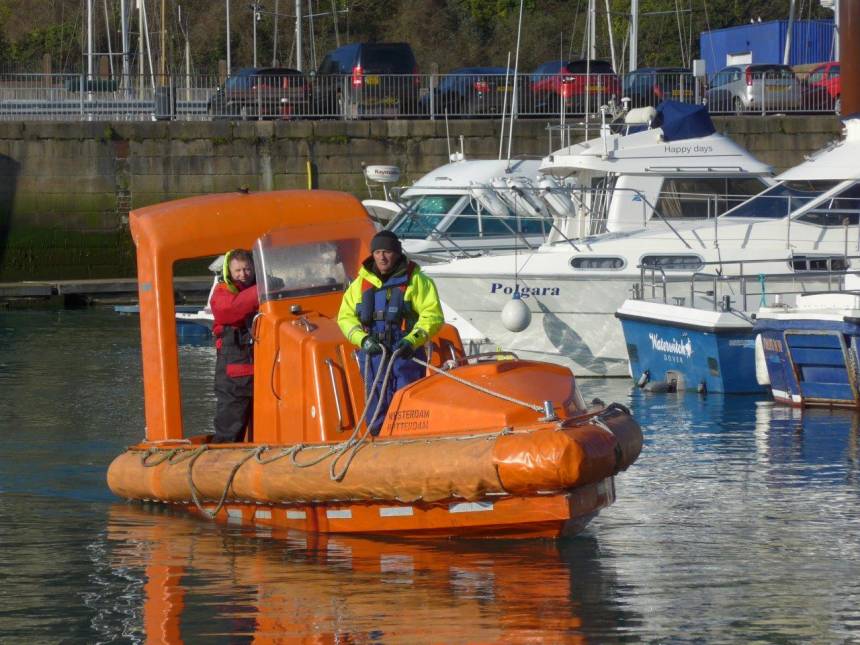 In the wee small hours of Friday the small tug NEW ROSS 1 limped in towing a barge that she had brought up from the Solent en route Felixstowe & docked on Cruise-1.
She was quite invisible from Paul's lookout post & Langdon Cliffs & just a uninteresting blob from St.Martins Battery & this excellent view of her taken after she shifted to the Tug Haven is copyright & courtesy of 'Dover Straits Shipping' - Thanks Nige !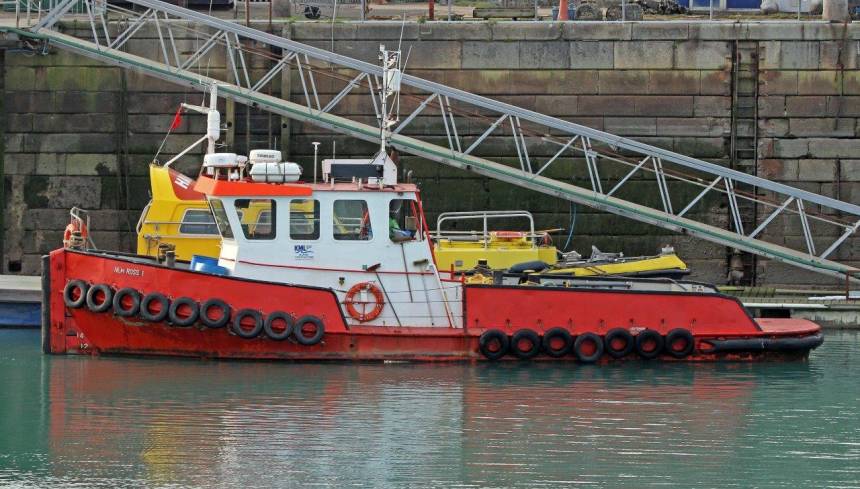 After repairs she sailed Friday evening & made it safely to Felixstowe before CIARA came on the scene.
On the other side of the pontoon the yellow object is the George Hammond launch, GEORGE HAMMOND, used mostly for offshore crew transfers & stores deliveries.
She also transfers pilots from Hammond's own pilotage service which covers Northern European waters & also frequently collects over-carried pilots who have been unable to disembark after leaving European ports due to bad weather.
Established in 1767 Hammonds have an interesting website covering their various shipping services.
Monday, 10 February 2020 - 02:33
Post 6803
Del Styan, Norwich
I'm intrigued to know how the roads were today, with the ferries "off line".

Sunday, 9 February 2020 - 23:04
Post 6802
Sea News, Dover
Just a quick one Brian - will have a more general post in the morning with pictures.
The Port appears to be closed still - there is no activity.

Update: Ah ...no sooner had I spoken and I see a ferry approaching ..Time 8.25pm (20.25) .. tug ready and waiting to help,
so it looks like 'all systems go' again.
PB

Sunday, 9 February 2020 - 20:14