Wednesday, 24 September 2014
SEA NEWS
LATEST - FREE WINE with P&O - see below.
Beachwatch Big Weekend..see below 1085.
Port of Dover Exercise....see below 1069.
Merchant Navy Memorial Service on seafront see 1052.
A Great Summer Season for the Port of Dover, see 1049.
The Ryndam - leaving Dover for the last time..see 1041. Also 1064 for latest.
MY FERRY LINK - two years old, see Post 1031.
Sea News - one year old 1023.
Breaking New Ground with the Port of Dover see 1016.

DOVER LIFEBOAT..tragic start to the August Bank Holiday Weekend see 1012.
THE SEA DREAM I FIRST VISIT ...pictures in posts 987, 989. ALSO See latest picture of the inaugural presentation 1020.
The Lifeboat in the thick of the action again. See 976.
Summer at the Port of Dover, see 944.
The Port of Dover Community Regatta....first pictures in 914..then 918 and 929..also 920 for THE BLADES.

Charlie Elphicke MP - Thoughts on the Port - see post 818. Further thoughts 955....see LATEST BELOW at 1061.




MyFerryLink..New Appeal in Post 906
The Publicans Walk for Charity see 924.
The Esmeralda Drugs Bust 934.
UK Border Agency in close operation..see 884, 886.
RECORD FREIGHT Departures see 883.
IMPORTANT STATEMENTS BELOW on the future of MyFerryLink..see 850, 853.
THE TOUR de FRANCE passing through see posts 870, 877, 882.
Seafront Air Ambulance drama see 858, 860.
Calais 867 and Calais Lifeboat...828.

Eastern Dock Developments..latest pictures see 835..
Stay Safe in the Harbour this summer 823
Aerial Map of berths 815.
Pictorial Tribute to the Dover Lifeboat guys...see 799
THE DELIGHTS of DOVER SEAFRONT..also 779
MARCHING FORWARD WITH A SHARED VISION see 687.

Pictures: Colourful red sail vessel departing Dover recently, heading out into the channel in beautiful conditions.
The glorious white sails of HMS Falken of the Royal Swedish Navy now added.



Scroll down and over for much much more....

. SEE POST 1068 FOR A LIST OF UPCOMING CRUISE LINER VISITS

For all the general sea news and pictures see down this page and over the many pages. Dover.uk.com and Doverforum.com have merged to produce an entirely local and comprehensive Dover website. Please feel free to join in with the discussion and chatter. See the link to dover.uk.com on the menu left for the latest frontpage topical news stories, and/or click on Forums Direct on the menu left to join in with the latest chat.

Nautical contributions are welcome on this page - max 4 pictures preferred per contribution, all pictures remain own photographers copyright.
Email:dover7@msn.com to send Sea News pix or info..or click ADD YOUR COMMENT below to post direct. Paul Boland.
Post 1095
PaulB, Sea News, Dover.
FROM MONDAY SEPTEMBER 22nd - FREE WINE WITH P&O FERRIES DAY TRIPS

___________________________________________________________________
P&O Ferries has uncorked a cracking deal for day trippers heading across the Channel this autumn.
Book a Dover - Calais day trip for a car and passengers, with fares from just £25 return, and collect six free bottles of the new red, white or rosé Vive La Vie! wine from JP Chenet on board.
The offer applies to bookings made from now until 31 October, for trips between 22 September to 13 November. Full details at www.POferries.com.
Ends
Picture below of the Spirit of France was taken on sunday from a sunny but windy Calais beach.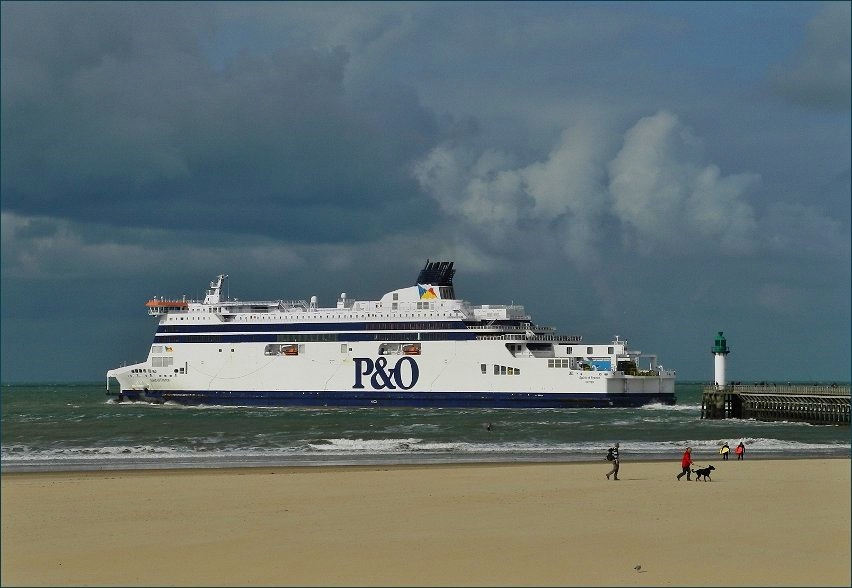 Somebody mentioned that sunday's wind on Calais beach would whip the skin off a rice pudding. Fortunately yours truly didn't have a rice pudding!

* *
As ever those FREE WINE offers from P&O are terrific. Helps to stock up especially with those unmentionable festivities just around the proverbial corner.
Nice picture in the post below Karine. Well done with that. Yes there was some weird but wonderful weather in the past week giving interesting picture opportunities for sure. By the way.. also liking those bird pictures on the Castle thread in the main forum too.
Pinned

leaving this one pinned for an extra period so that all can take advantage..newer posts below.
Monday, 22 September 2014 - 06:35
Post 1094
PaulB, Dover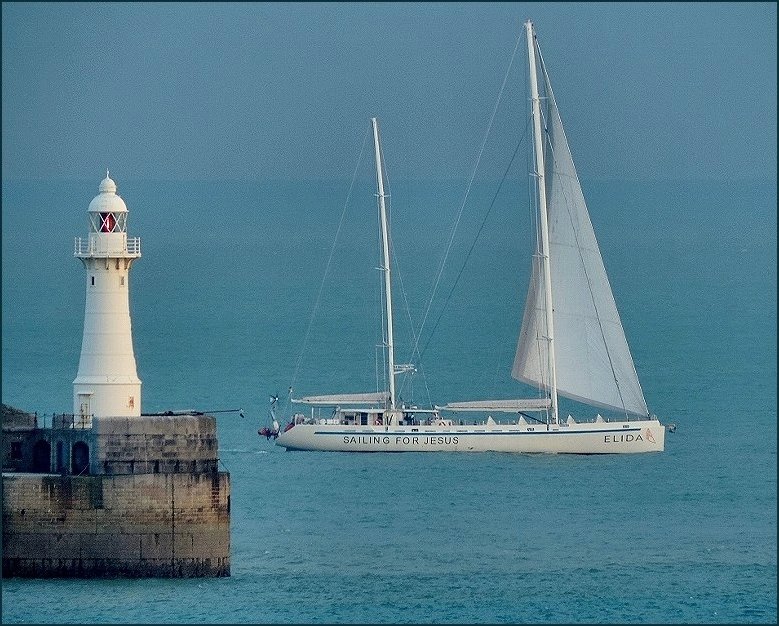 The 'Sailing for Jesus' sail boat Elida passed by in elegant style on sunday evening. An appropriate day. Thought she might pop in as we remember seeing her in the harbour a year or two back. But not this time. No souls need saving in Dover...well not this time around anyway.
Here is some info from Wikipedia...
"
Elida is a Swedish all-Christian organisation, working under the motto "Sailing for Jesus" with the goal of spreading the message about Jesus Christ via a sailing boat with the same name. During spring and autumn, it sails mainly with youth, but also with corporations and other groups. In summertime it tours along the Swedish west coast with singing and music bringing the Christian message through people's life stories and testimonies. Wintertime it sails in southern Europe. The boat is normally berthed in Gothenburg, Sweden.
"
Busy day again yesterday for the cargo ships, one went out and within minutes this one pictured here...the Cote Divoirian Star arrived with the full load as you can see. I tried to get a pic of the one departing too, the Atlantic Klipper bound for Hamburg but the mist and bad light left me with just a silhouette.
Great to see Dover getting ever busier with these cargo visits.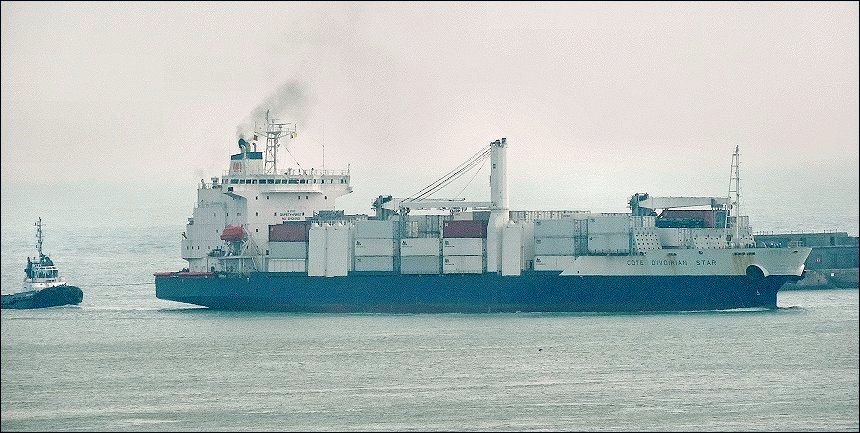 Tuesday, 23 September 2014 - 07:05
Post 1093
PaulB, Dover
Yours truly is nobody's idea of a wildlife photographer, but one couldn't resist this fella..there he was a-preening and a-fussing in the sunlight so I managed to zoom in and get something of a reasonable picture...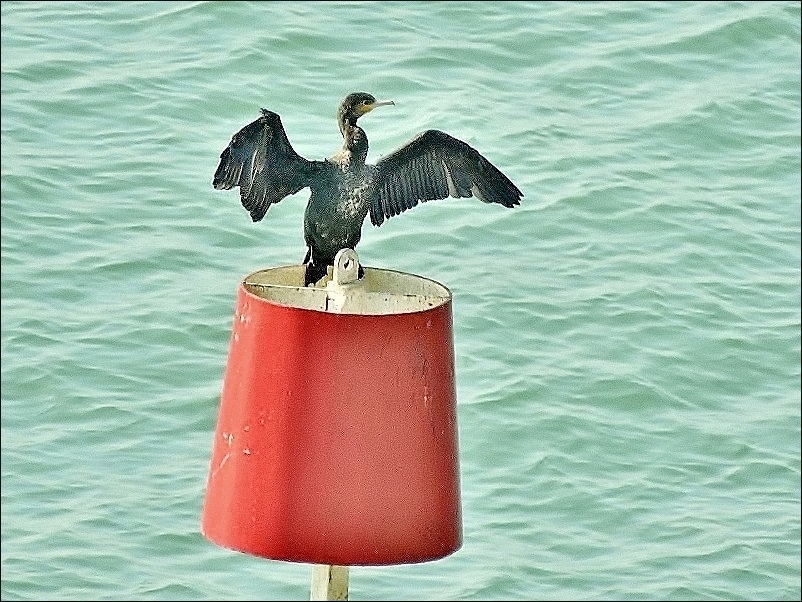 Now we know what those lampshades are for ! It is usually a clear sign that summer is gone for sure when we see the Cormorants on the seafront. The heaving populace move out and the wildlife move in. The chap here looks a bit battlehardened and weatherbeaten but a Cormorant is a Cormorant.

If you want to see proper wildlife pictures see the Wildlife thread on the main forum...Phil Smith is the star player there with some blindin' pictures... and many good pix from other guys too.
Monday, 22 September 2014 - 15:36
Post 1092
brian, dover.
so p& o are offering a bribe of free bottles of wine,intresting.would be a better bribe if they redused there fares by the same amount as the bottles of wine would cost plus an extra 10 % of to.lol

Monday, 22 September 2014 - 13:24
Post 1091
Howard McSweeney, Dover
We have seen many images on this thread where the weather has played a part.
This one was taken by Karine on the beach a few days ago of the "Spirit of France" appearing to float over the top of things.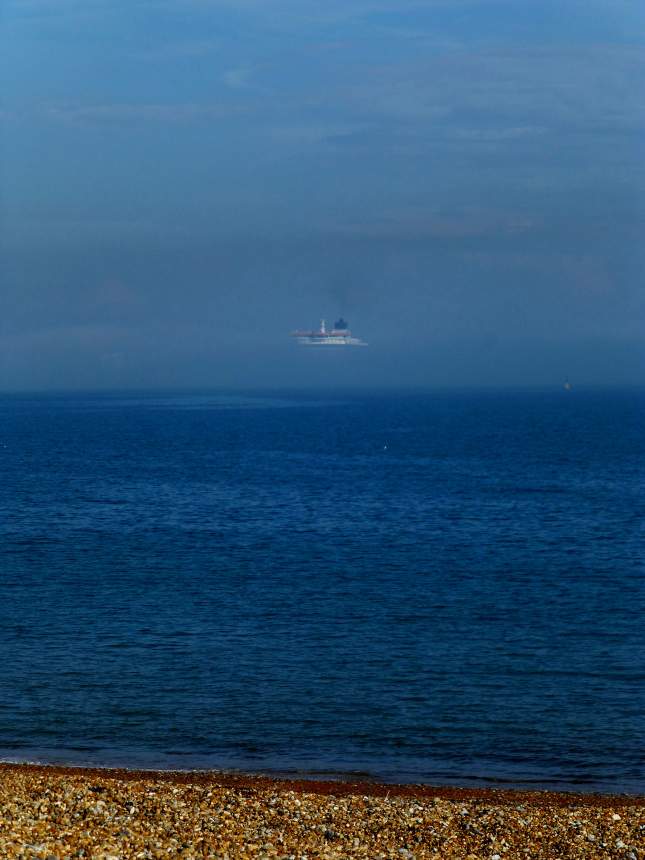 Sunday, 21 September 2014 - 19:20
Post 1090
PaulB, Dover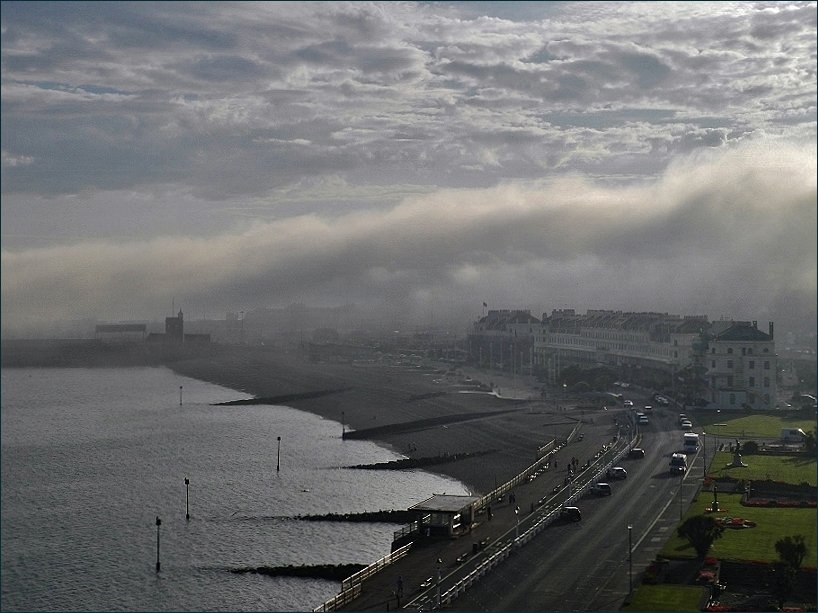 The fog continues to play a big part in the weather here in Dover, although it could probably just be called poor visibility at the moment of writing rather than thick fog. Yesterday (Friday) though we had it thick and solid. The picture above was taken about 5pm and it shows the fog beginning to roll back in dramatic fashion. This is as was...no skullduggery with the picture. It really was a sort of a Freaky Friday weatherwise. You can see Harbour House in the middle of picture as the fog pulls back, that's it with the flag flying high. This, the DHB headquarters, is emerging from the shadows in more ways than one as it currently appears to be disrobing its blue netting and scaffolding too..slowly but surely.
Saturday, 20 September 2014 - 15:23
Post 1089
PaulB, Dover
Good set of pictures below there Mike. Exactly as it was as the fog began to roll back about 4ish.
Foggy again today of course. Ferries are affected somewhat I understand. Will have a general pic or two later today.

Saturday, 20 September 2014 - 07:44
Post 1088
Mike J., Dover
Out of the fogbanks came the CALAIS SEAWAYS on Friday afternoon.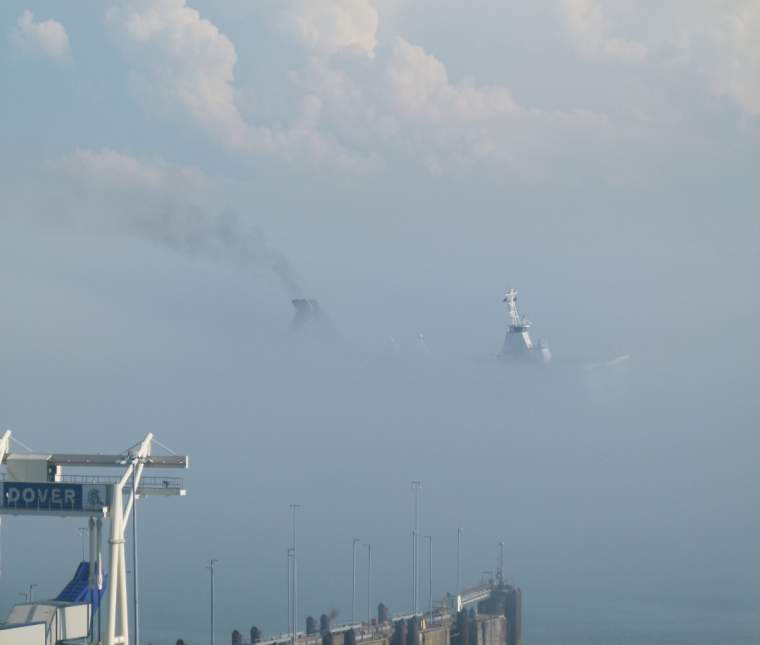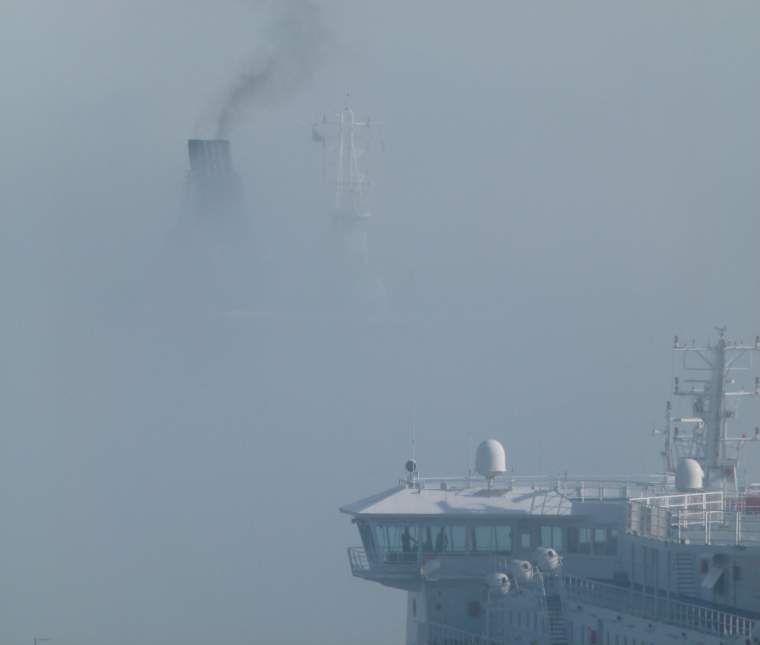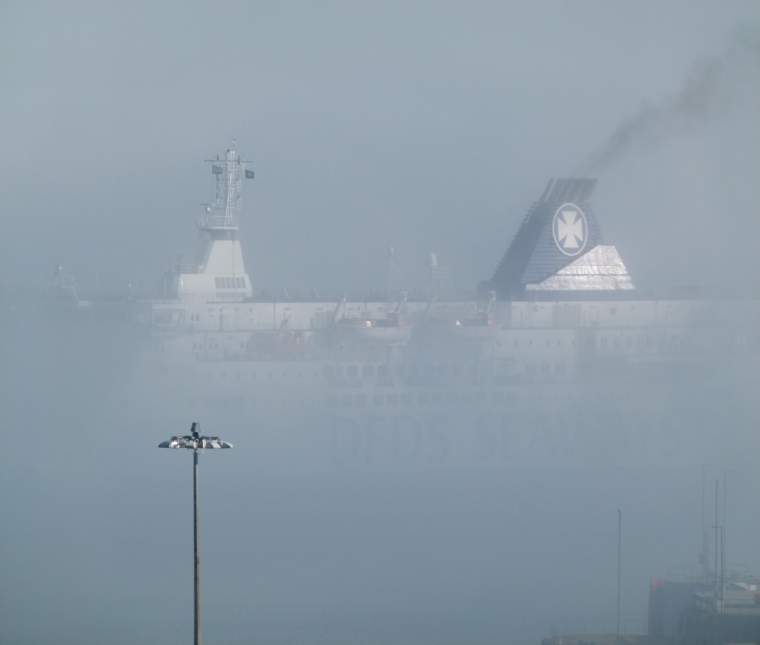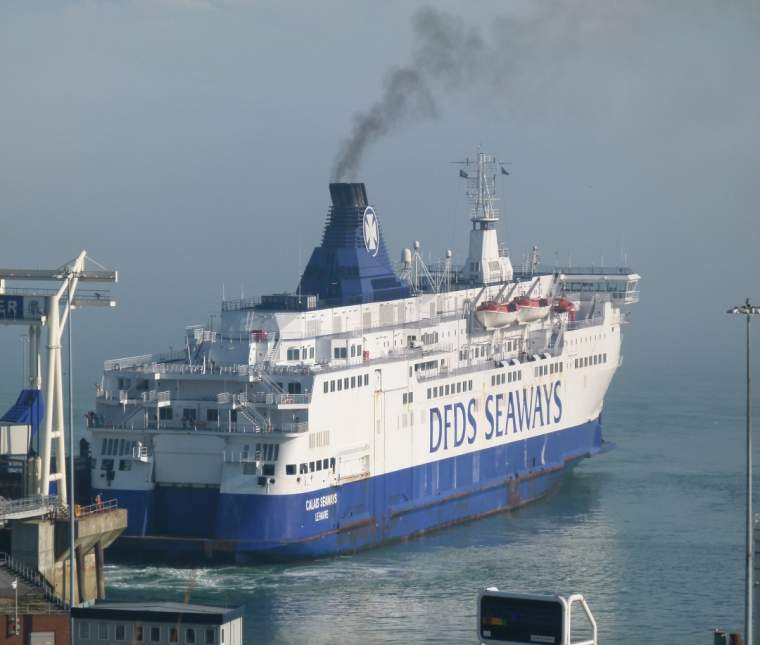 Season of mists & mellow frightfulness . . . . .
Friday, 19 September 2014 - 23:12
Post 1087
ColetteB, Dover
Just to remind everyone that there are no cruise ships due into Dover until next Saturday 27th September when the Saga Pearl II returns for the last time this year at CT1, TR.
I will be back later next week with the rest of this year's cruises

Looking at those photos of the murky conditions in the channel, I'm pleased that I'm not on a ferry today

Friday, 19 September 2014 - 16:18
Post 1086
PaulB, Dover
The wailing warning bell rings out across the harbour, skipping over the water like a bouncing stone...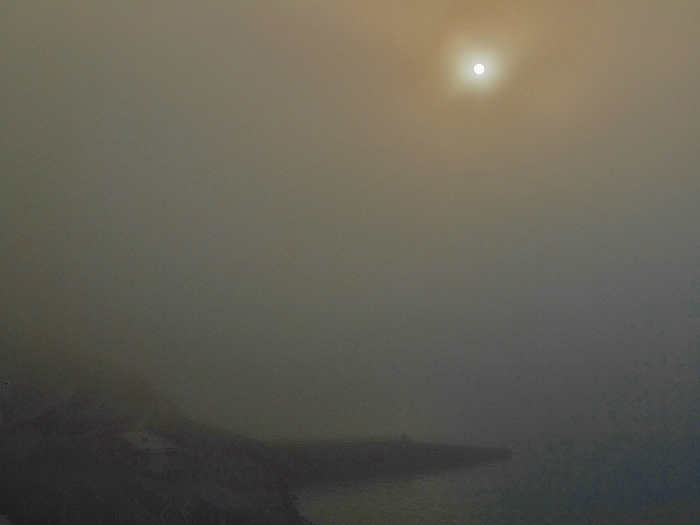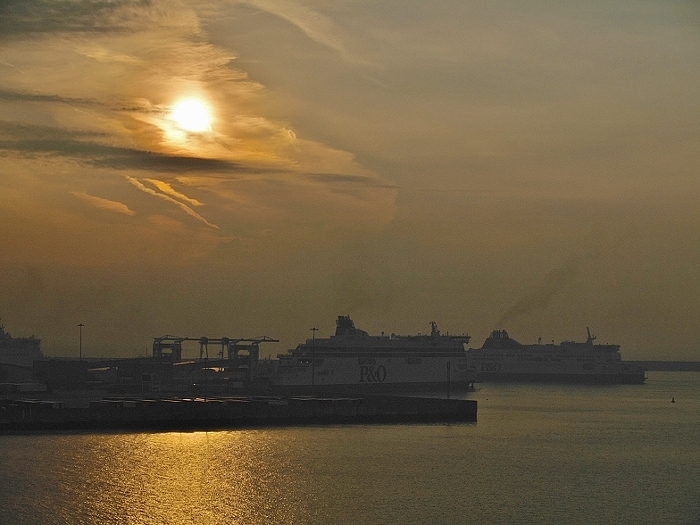 Yes thick fog everywhere today, foghorns, electronic pulses, the whole works....yours truly cant see a blasted thing

It has a sort of romantic enchantment though....yes really !
Don't forget if you want to Join the guys on the super Beach Clean this weekend...see the post below for details of how to get involved. Its simples..
Friday, 19 September 2014 - 11:11
Post 1085
PaulB, Sea News, Dover.
Port Supports Community Role in National Beachwatch Big Weekend

_________________________________________________________
The Port of Dover is sponsoring the annual Shakespeare Beach survey and beach clean as part of the Marine Conservation Society's (MCS) Beachwatch Big Weekend. Organised by the White Cliffs Countryside Partnership, the organisations will be jointly carrying out a marine litter survey and clean-up on Sunday 21st September.
Last year's Shakespeare Beach clean was a resounding success with over 7,500 items of litter collected. This year, the organisers hope to welcome even more volunteers looking to play their part in keeping this local beach clean and safe.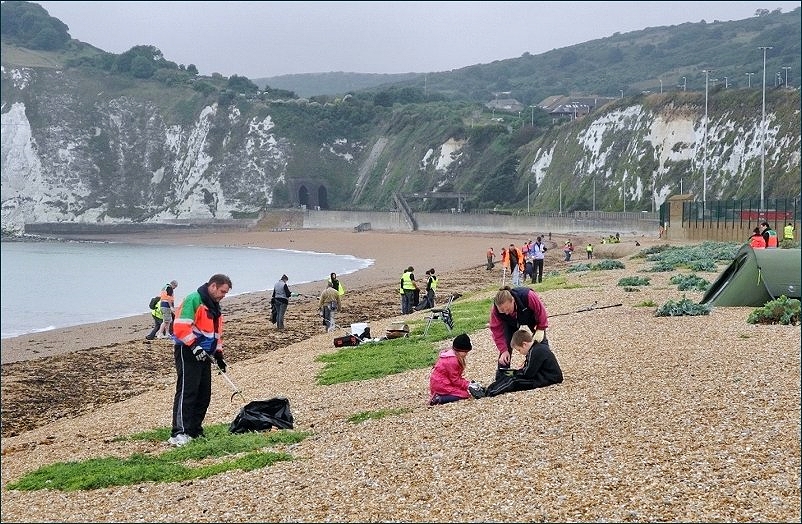 Paul Sampson, Partnership Ranger, White Cliffs Countryside Partnership, said: "The beach clean and survey helps us and the MCS to find out what type of litter is making its way by sea to this part of East Kent as well as give the shingle beach a deep clean."
Enthusiasm is all that is needed to help conserve the local marine environment as all of the necessary equipment is provided.
Vicki Jago, Environmental Manager, Port of Dover said; "The beach clean and survey is a fun event for all the family with prizes awarded at the end of the day, but it is mainly about us all showing our commitment to our community in keeping such valued community assets clean and safe for everyone, including the wildlife that calls Shakespeare Beach its home."
This is the fifth year that the Port of Dover, along with the WCCP, will be joining hundreds of other Beachwatch events taking place throughout the country.
Ends
VOLUNTEERS : further to the above....
· Volunteers are asked to come down to Shakespeare Beach on Sunday 21st September and are asked to meet at the gate to the beach off Lord Warden Square where a health and safety talk will be given as well as advice on how to complete the survey forms. Volunteers are asked to come down at 10.00am and stay as long or as little as they can spare. The event will finish at 2.00pm
· Volunteers should wear suitable clothing and appropriate footwear to walk along the beach and bring something to eat and drink.
· Gloves, litter pickers and hi viz tabards will be available.
* *
Good luck to all with the Beach Clean. The picture above is from our archives and may have been taken by Paul Sampson himself. Sadly due a computer implosion in recent times many details were lost. If its yours Paul let me know. Its a nice picture of the anti-litter action on Shakespeare Beach.
Yes Vic the old lifeboat below from 1923 is a treasure for sure. Great to see it still about.
Yesterday we had a visit from the Empress, but the foggy murky weather spoiled it for us picturewise. Here is a gloomy pic however to add to the collection....
Thursday, 18 September 2014 - 06:23
Post 1084
vic matcham, dover
Great Photo of the old lifeboat and good to see she is still in use on the high seas.

Wednesday, 17 September 2014 - 15:53
Post 1083
PaulB, Dover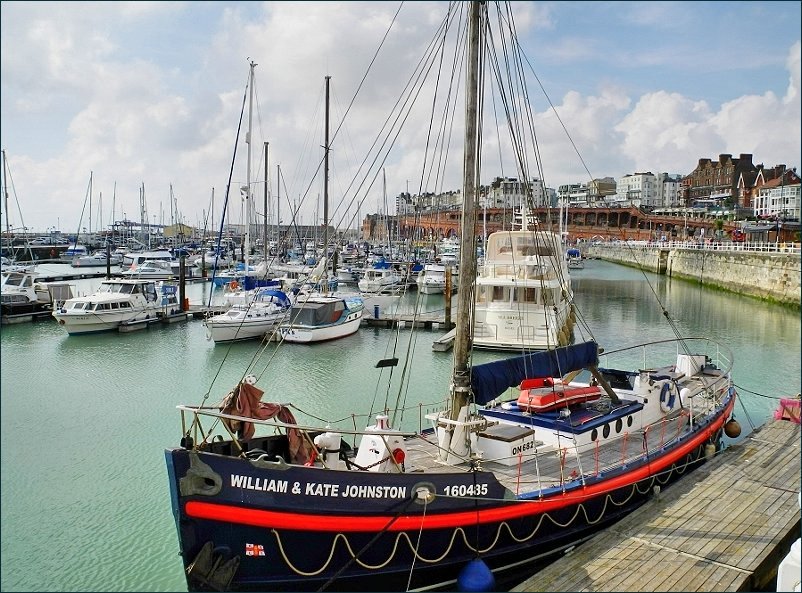 Was surprised to find this old Dover favourite basking in the sunshine in Ramsgate harbour on sunday afternoon. She looks in great condition. On several occasions we saw the guys restoring her to pristine condition right here in Dover in the inner harbour. The William and Kate Johnston was launched in 1923 and at the time she was the largest lifeboat in the world. A little more detailed info below....
The lifeboat historian Nicholas Leach has written:
"The 60ft Barnett class represent one of the best and most seaworthy designs ever built for the RNLI, as well as one of the most elegant .... With a displacement of forty tons and a draught of 4ft 6ins such a lifeboat had never before been built. Her size however meant that she was immediately limited to operating from stations where she could be kept permanently afloat ....
The class had flush decks, without sunken well or cockpits. Shelter for the crew, engine controls and engine room hatches were all mounted at deck level. For the first time two cabins were provided, one fore and one aft, which could hold between them about fifty people. As they were fitted with a stove and lavatory "for the first time it will be possible to give at once to the rescued shelter, warmth and warm food". This was quite a bonus and rather a novelty for the time .... The innovation of shelters, as they were then, was quite novel for the RNLI as crews were expected to be able to cope easily with anything the sea threw at them more or less unprotected. Barnett considered this shelter useful as it "also affords considerable protection to the coxswain and other members of the crew stationed aft."
The hull was contructed of teak, double skinned with eleven transverse and three longitudinal steel bulkheads which formed fifteen main water tight compartments. The idea of having two engines ... impressed the RNLI's technicians quite considerably, in fact so much so that only a jury rig was provided consisting of a small triangle fore lug and jib which could be set on a single mast ... Although not self righting the hull was considered unsinkable, a word which has been bandied about when talking about lifeboat designs from before 1800 right up to the present day. Suffice to say she was as near to unsinkable as the skills of her time permitted. No expense was spared."
And now another couple of shots from the very pleasant Ramsgate harbour.
I believe this building is called the Clock House. Looks like and old customs and excise building. Meant to check it over in closer detail while I was there but was unable to as time passed. Reminds me of some of those old buildings in Dublin, same sort of stone. Very evocative of times past.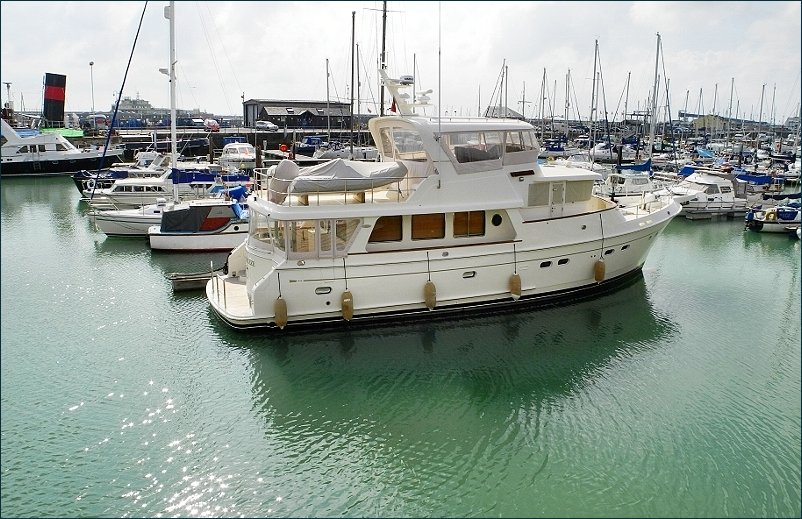 This large piece of exotic equipment was moored almost next to the William and Kate Johnston. Looks a bit delightful for sure...hung around for a while hoping to get invited onboard for a champagne lunch but alas alas it didn't happen...

Had to settle on the local pasta emporium !
She's called the Sea Breeze and hails from Basel in land-locked Switzerland.
Re the Truck fire, as previously mentioned in the post earlier below. This is a crop of the previous shot. See also post 1081.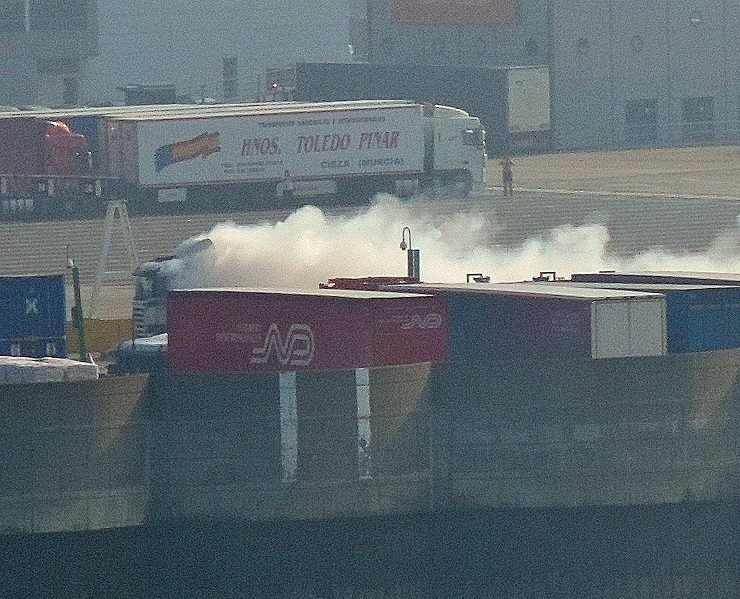 Howard yes interesting about the 'Bosphorous' picture. It was taken on a very old Olympus camera. The only picture taken on that camera in the entire Sea News. Its a huge camera by todays standards and I only used it when I ran out of battery power on the normal ones. Also I didn't realise it was set to the RAW file format when I took the picture. Might be worth another go...
ADDED: the Empress is arriving in foggy conditions..08.05. Nice ship.
Wednesday, 17 September 2014 - 06:34
Post 1082
Howard McSweeney, Dover
Very atmospheric photo of the "Costa Rican Star" Paul, reminds me of those programmes on one of the BBC channels covering the Bosphorous in Asia Minor.

Tuesday, 16 September 2014 - 19:37
Post 1081
PaulB, Sea News, Dover.
There appeared to be a truck on fire in the Port a few minutes ago (10.35).... the vehicle was moving from right to left in the picture leaving a thick white trail...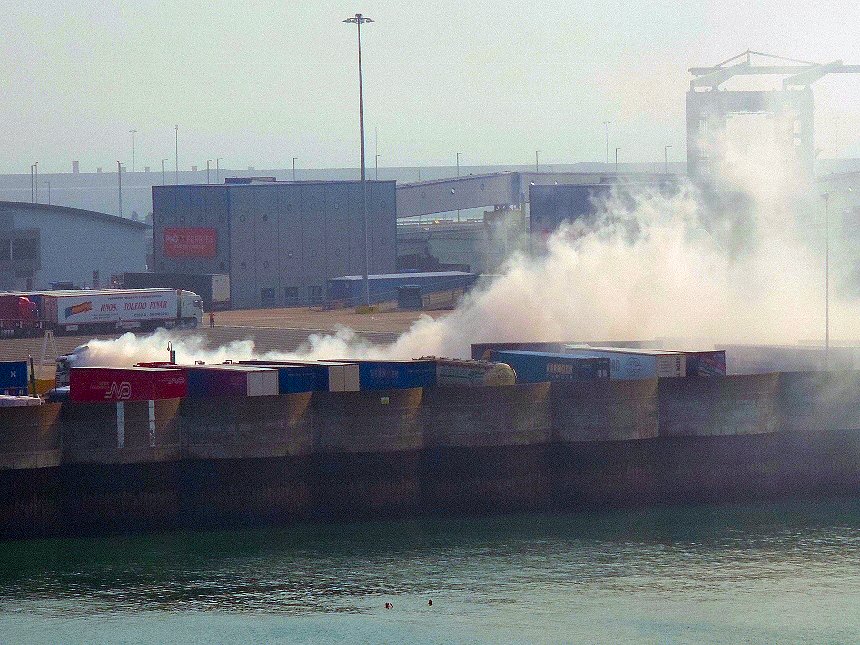 All seemed to be okay within minutes as the smoke had vanished completely. Swift action I guess.
Note the two paused swimmers in the foreground...wondering where all the smoke is coming from.
Tuesday, 16 September 2014 - 10:46
Post 1080
PaulB, Dover
This picture shows the Costa Rican Star readying to depart Dover just a few minutes ago as I write ( about 08.30 )...waiting in the approaches out of shot is the Pacific Reefer. Conditions very misty this morning...mist swirling, coming and going. As soon as the Costa Rican departs the Pacific will be in.
The Costa Rican Star is heading off to Antwerp.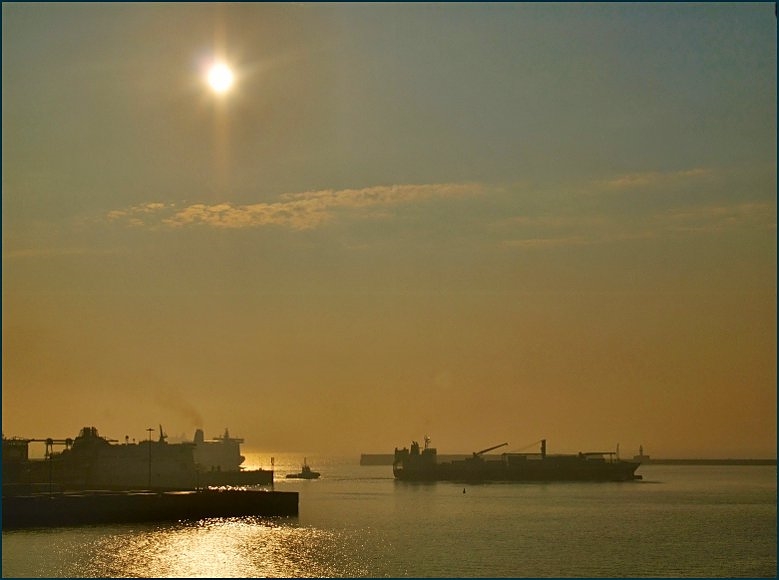 Tuesday, 16 September 2014 - 08:31
Post 1079
PaulB, Sea News, Dover.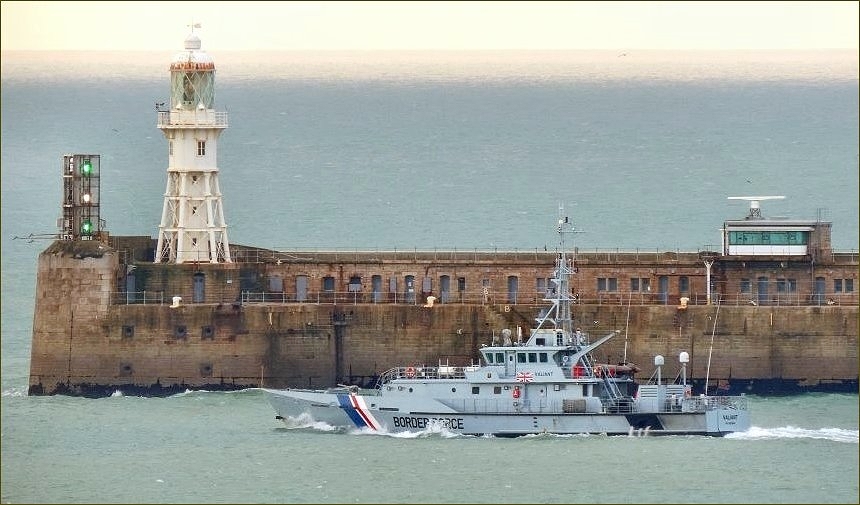 HMC Valiant of the UK Border Agency is seen here powering out into the channel to do battle for yet another day, keeping our borders safe from the intruder.....pictures once again from a busy sunday morning...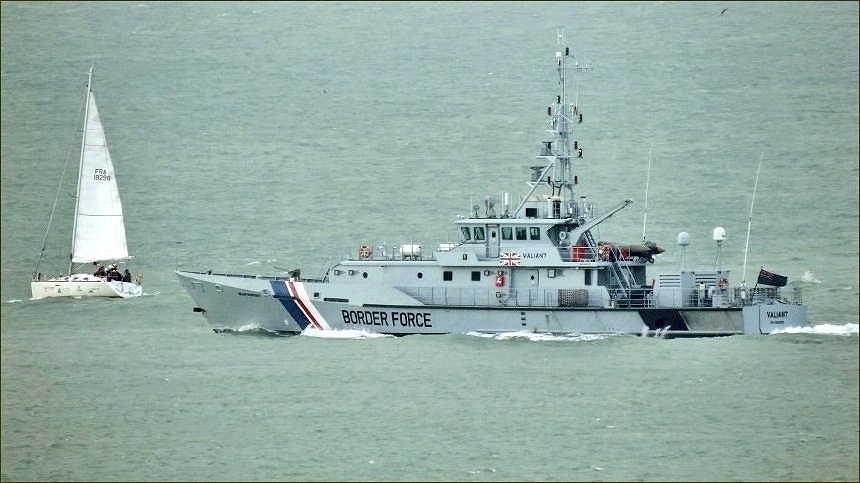 * *
Paul Watkins and KCC not at one over truck park suggestion, but what to do with them all...
LEADER EXPRESSES CONCERNS
AT LORRY PARK PROPOSAL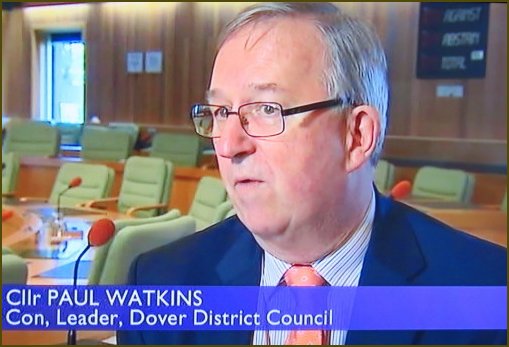 The Leader of Dover District Council has expressed concerns that the White Cliffs Business Park has been identified as one of three possible sites for a potential lorry park, in a recent report by Kent County Council.
Cllr Paul Watkins, Leader of Dover District Council, said: "We have serious concerns that this proposal is not appropriate for this site. With growing investor interest in the business park, and with the nearby housing development, this use does not sit comfortably with the Council's wider growth and regeneration agenda, and would not make best use of this land. It is also entirely inappropriate to consider a lorry park on the A2 route in advance of improvements to the route, which DDC has been lobbying for over many years.
"Although this proposal may not be seen as an immediate priority for Kent County Council, we are concerned that a lorry park of this nature could impact on investor confidence, and create uncertainty in the locality, whilst also prejudicing the nearby facilities operated by Priority Freight."
- ends –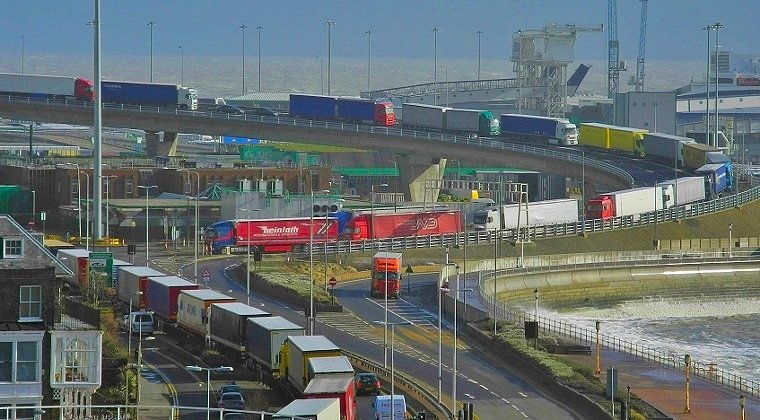 Tuesday, 16 September 2014 - 06:42
Post 1078
ColetteB, Dover
That Swedish sailing ship is a real beauty for sure, nice photo despite the cloudy conditions. I do love the little 'Red Sails in the Sunset' one at the top of the page

Monday, 15 September 2014 - 12:27
Post 1077
PaulB, Dover
This magnificent sailing ship went down the channel yesterday morning sunday...made quite a sight..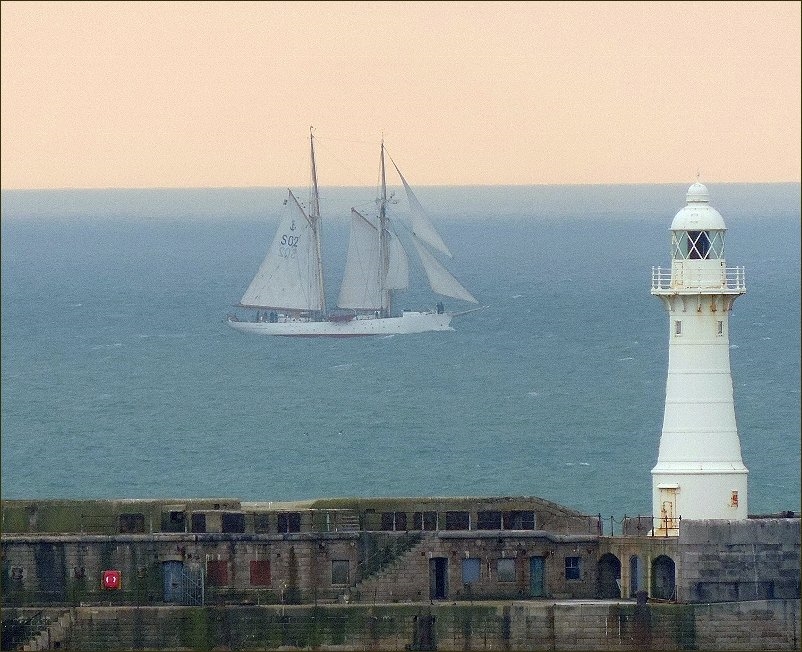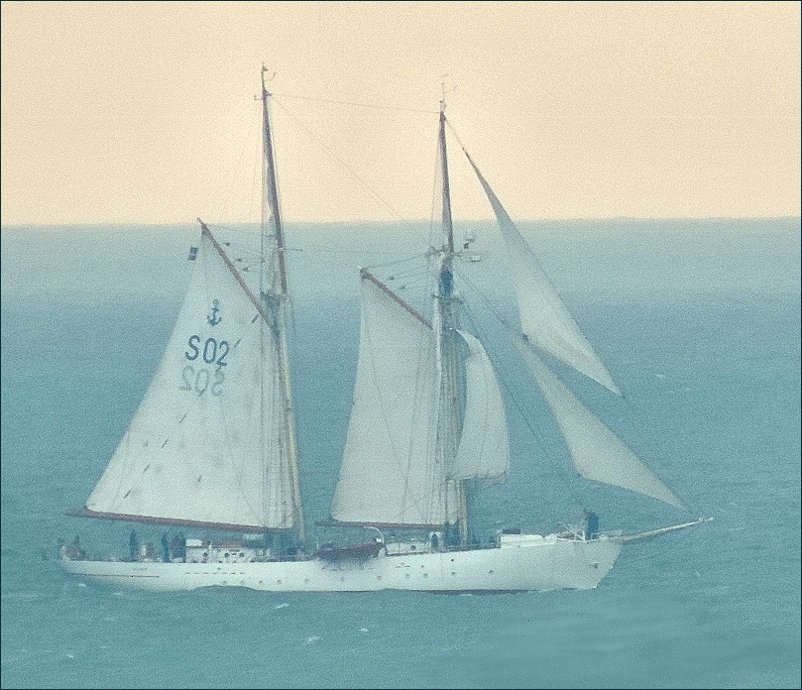 She is a Swedish sailing vessel called HMS Falken ( means falcon in English I guess ). While she was gliding gently by yesterday morning we had disappointingly heavy cloud cover, I say disappointing as most of the day was beautifully bright, so the pictures suffered a tad as a consequence. I don't know much about the ship other than the fact that she was heading for the Channel islands...Alderney . Will add some info later if I can find out more.
"The schooner HMS Falken, commissioned under Royal Swedish Navy, sails with 9 officers, 19 midshipmen and 5 crew members. The vessel is 132 ft long and is part of a Schooner Squadron that helps train cadets of the Royal Swedish Navy. The cadets get a strong foundation of basic seamanship during their weeks onboard." The ship dates from 1946 we believe..
Glad all fine now Jacqui

Monday, 15 September 2014 - 07:28
Post 1076
Jacqui, Dover
Wow! That was quick! All fixed now. Thank you Paul x

Sunday, 14 September 2014 - 09:05