Monday, 18 June 2018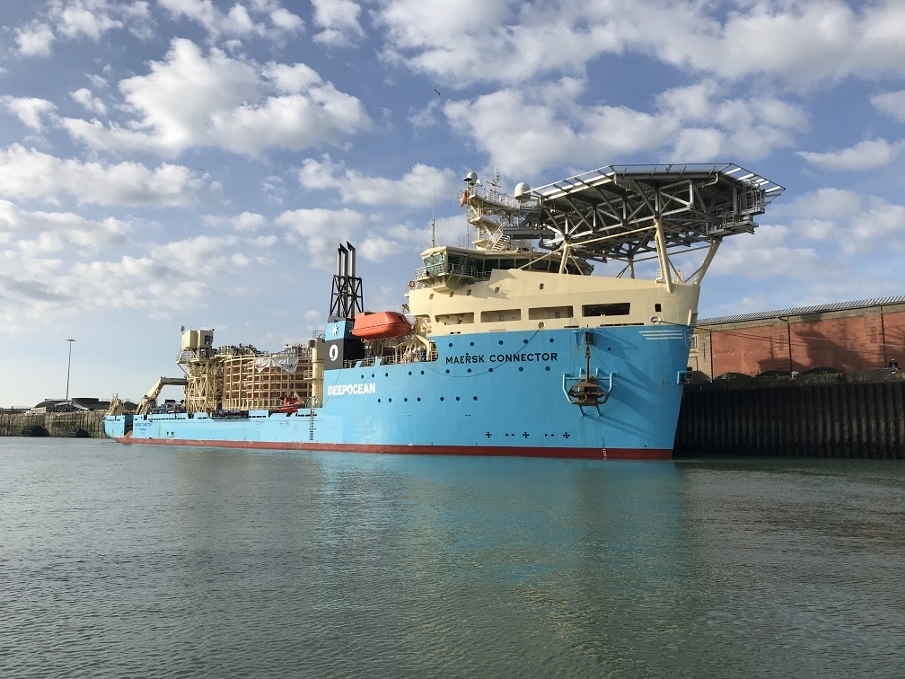 The Maersk Connector - currently at the Port of Dover. Pictured by Benjamin Payne. Great pic. Many thanks Ben.

WWW.DOVERFORUM.COM/SEA-NEWS
Doverforum.com: Featuring all the ships that come and go and work at the Port of Dover with further coverage of the surrounding towns both sides of the Channel. Email: dover7@msn.com to send SEA NEWS pix or info....
or click ADD YOUR COMMENT below to post direct, no membership needed.
DFDS ACQUISITIONS and EXPANSIONS...see below 4984
Dover Marina Control - New Contract Awarded see 4970.
PORT OF DOVER: Konecranes for new Cargo Terminal 4916.
PORT OF DOVER: £21 Million DWDR 'paving plus' contract awarded 4895.
PORT of DOVER - three cruise ships, one day 4885.
DFDS Charters New Ship see 4866.
New Marina Pier ... Latest...see 4861.
P&O FERRIES presents big cash to RNLI Dover...see 4829.
PORT of DOVER: Chief Executive TIM WAGGOTT Resigns...see 4778.
P&O FERRIES recruiting...4745.
PORT of DOVER awards Cargo Refrigeration Contract see 4740.
PORT OF DOVER: Community Benefit 4688
TRADING GROWTH FOR DFDS DESPITE BREXIT see 4642
PORT OF DOVER RECORD FREIGHT see 4551.
PORT OF DOVER: GEEST LINE arrival see 4597.
SECOND FEMALE CAPTAIN FOR P&O see 4608.
Sea News Dover :
Use our SEARCH ENGINE below to find all sorts on the SEA NEWS pages....
more than 240 now with more than 4750 nautical posts.
Posts are welcome. Max of 5 pictures preferred per day although we can occasionally stretch to 6 on special stories.
Type CRUISE VISITS in our SEARCH ENGINE below for news of the latest arrivals.
Sea News Editor Paul Boland - dover7@msn.com .
Post 4998
Sea News, Dover
Some pictures now of the Atlantic Klipper approaching and then arriving at the Port of Dover on Saturday morning. First shot looking across the rooftops as it were. You can see some passengers there waiting for departure on a DFDS ferry. The other two pix show her turning about after arrival. She left for Vlissingen in the wee small hours of this morning. Approaching the Port now as I write...another reefer, Esmeralda...
But here we are with the Atlantic Klipper pictures...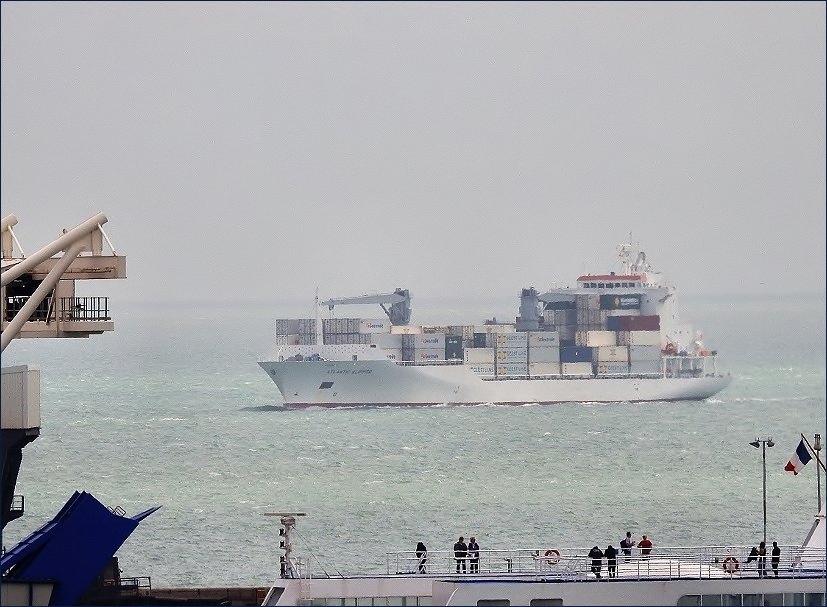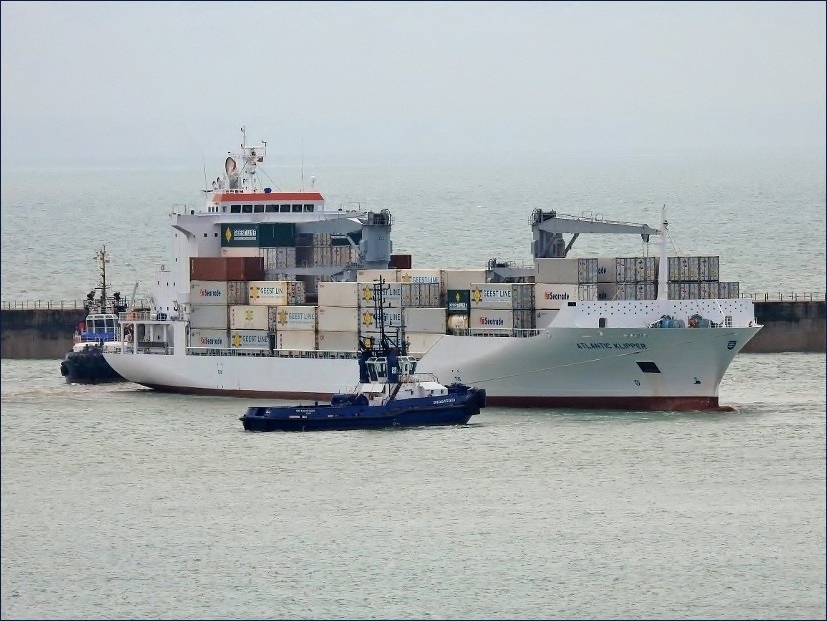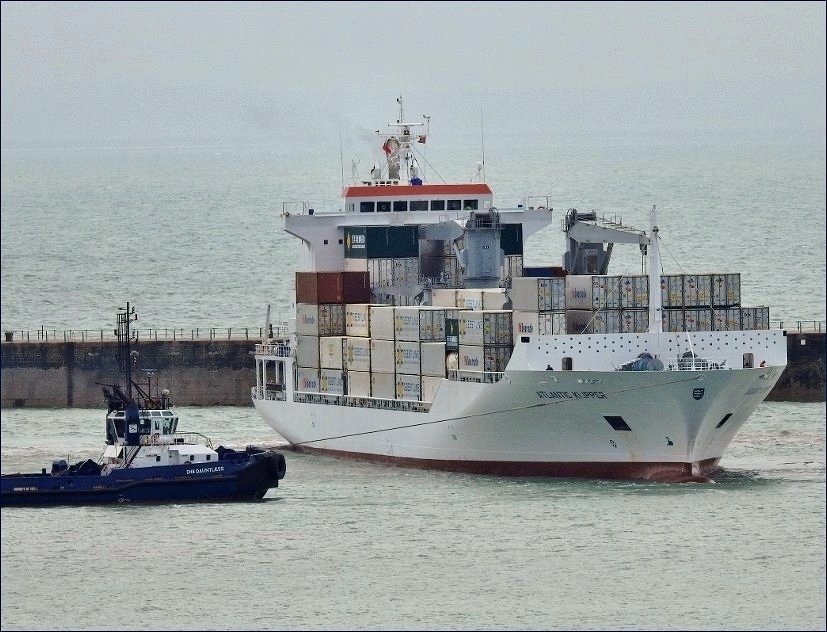 Well done with that comprehensive cruise listing below Colette. Great stuff there...glad you are enjoying all the general pictures plus from all the team. Yes Pacific Princess is in Port as we speak...heavy mist today inhibiting pictures.

PaulB
Monday, 18 June 2018 - 07:06
Post 4997
Colette B, Dover
CRUISE VISITS
_____________
Wow! So much has happened over the past week or so …… Ben's awesome photo of 'Maersk Connector' and Mr B's dramatic photos of the new Dutch tug 'Innovation' powering through the waves, the Racing yacht Boudraggon passing by and the amazing backdrop of Boulogne with the Varne Lightship in the foreground. Also great to see Harald's photos of the Spirit of Britain in Rotterdam

What a team Sea News has ….from Patrick's Swimming Championship photos, Mike's Fab Head on photo of the Maersk Connector, the Sea Cadet's TS Jack Pechey in Ramsgate and of course the Innovation. There is never a dull moment Mr B, Canoe Regatta, terrific shots of Sea Cloud ll and 'Oscar' the seagull, everybody's favourite

I feel as though it was only a short time ago that I posted the beginning of our June sailings and lo & behold here are the cruise visits for the last week of June.
Tomorrow Monday 18th June, it's nice to welcome back Pacific Princess (last here September 2017) calling at CT2, 06.00 hours. She will be setting off on her 16 night Round Trip 'Midnight Sun, Spitsbergen & Summer Solstice' cruise . She left for Dover from Fort Lauderdale at the end of May calling at the 'Big Apple', Iceland and Scotland along the way. Dover will be her new home port until 6th October

She leaves us at 17.00 hours, T/R, her ports of call include the Norwegian ports of Stavenger, Flam, Alesund, Trondheim, Honningsvag, Longyearbyen and the Arctic Norwegian port of Spitsbergen. Then on to the ports of Tromso, Hellesylt, Geiranger and Bergen before returning to Dover on Wednesday, 4th July (USA Independence Day).
Then on Tuesday June 19th, Saga Pearl ll arrives at CT1, 08.00 hours. She will be setting sail on her 17 night, 'Celebrations in the Mediterranean' cruise. Her ports of call are Cadiz, Ibiza, Port Mahon, St Tropez, Marseille, Palamos and Tarragona on the Spanish Costa Daurada where we ourselves spent many a great family holiday

She then calls at Gibraltar before returning to Dover. She departs at 16.00 hours, T/R.
The following day Wednesday 20th June, Saga Sapphire arrives at CT1, 08.00 hours on a 4 night 'Maritime Heritage' cruise. Her ports of call are the Channel island of St Peter Port, Guernsey and Portsmouth, returning here Sunday 24th June. She leaves at 16.00 hours, T/R.
On Thursday 21st June (the Longest Day)
, the grand old lady Boudicca arrives at CT2, 06.30 hours to start her 9 night Round Trip 'German Waterways and Kiel Week' cruise. Her ports of call are Kiel Canal, Kiel, Travemunde back through Kiel Canal on to Hamburg and Bremmerhaven. She arrives back here on Saturday 30th June. She will be departing at 17.00 hours, T/R.
A few days later Sunday 24th June, once more Saga Sapphire arrives at CT1, 08.00 hours. She is off on a 15 night 'Adventure to the North Cape'. Her ports of call are as follows, Lerwick in the Shetlands then Norwegian ports of Tromso, Hammerfest, Honningsvag and Bodo. She then visits the Icelandic port of Seydisfjordur returning here on Monday 9th July. She leaves us at 16.00 hours, T/R.
Then on Saturday 30th, we have the final visit for the month of June, the Grand Dame Boudicca arrives with us again in all her glory at CT2, 06.30. She starts her 13 night 'Authentic Baltic, Tallinn Medieval Festival' Round Trip. Her ports of call include Kiel Canal, Travemunde, Ronne and the Danish port of Bornholm Island. She then calls at St Petersburg (Russia), Tallinn (Estonia), Stockholm and Visby, Gotland Island (Sweden), returning back to Dover via Kiel on Friday 13thJuly

She leaves at 17.00 hours, T/R.
Back with the first of our July cruise visits very soon

Sunday, 17 June 2018 - 15:46
Post 4996
Sea News, Dover
The long range picture above was taken on Wednesday evening from yours truly's 'observation tower'. A beautiful evening it was. Well its not often you see the situation like this...some pretty good clarity above there and even the oul camera did its bit. Makes a change for sure from that extended period of damp foggy weather recently, when all you could see was the glass of wine at the end of your arm..

That's the Varne Lightship above there in mid channel, and in the far far distance is the town of Boulogne with the magnificent Cathedral at the top of the hill. Must get over there again soon...
Of course over in Boulogne you can see these guys below swimming about. Yes indeed..hold on to your hat its a mean looking shark. But be not alarmed, no not at all, as these sharks are not out in the open sea but safely held within the confines of Nausicaa over there. This picture was taken at Nausicaa there a few years back.
Don't go dangling yer toes in his particular pool..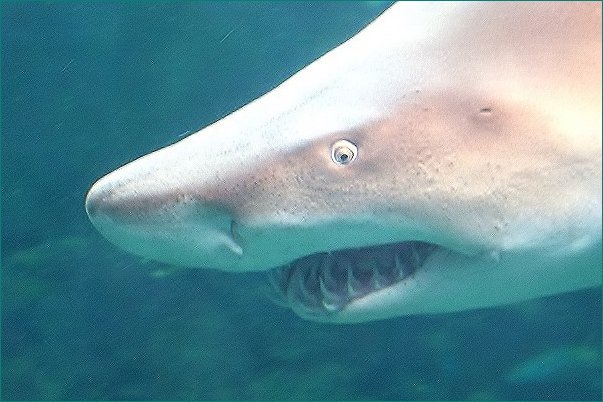 Many thanks Andrew, good to hear from you as always and once again glad to get the extra info.

Nice collection of Maersk Connector below Mike and nice shot from Ramsgate too. Great stuff all round! Yes Ben got a very good one above.

Yes indeed Patrick...a big swimming event yesterday. Well done with those colourful shots. Glad you were able to get those.

PaulB
Sunday, 17 June 2018 - 06:53
Post 4995
Patrick, Marine Parade
BLDSA (British Long Distant Swimming Association) ''Champion of Champions' Event held in Dover Harbour today.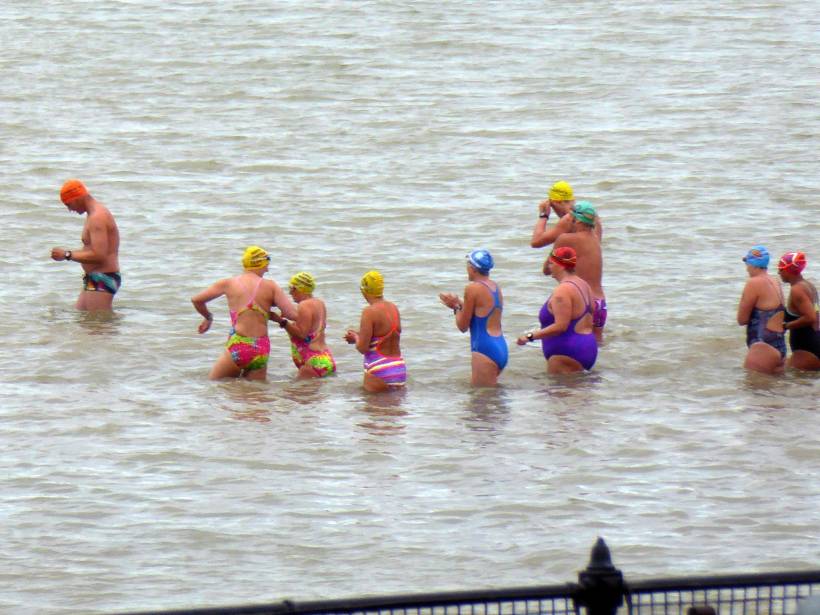 Saturday, 16 June 2018 - 18:34
Post 4994
Mike J., Dover
Superb photo of MAERSK CONNECTOR by Ben !
Here's a few pix of her arrival on Friday morning - she's involved with the 'Nemo Link' project with a power cable being laid between Pegwell Bay & Zeebrugge & is in port for a few days.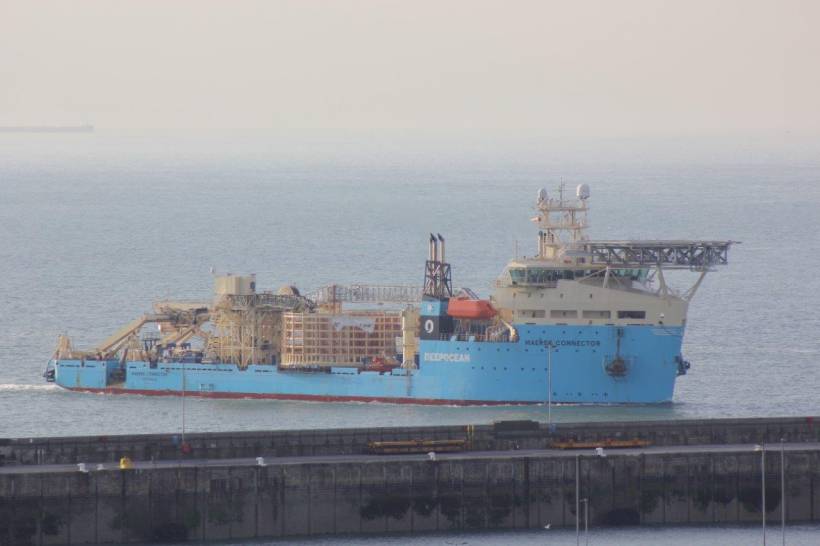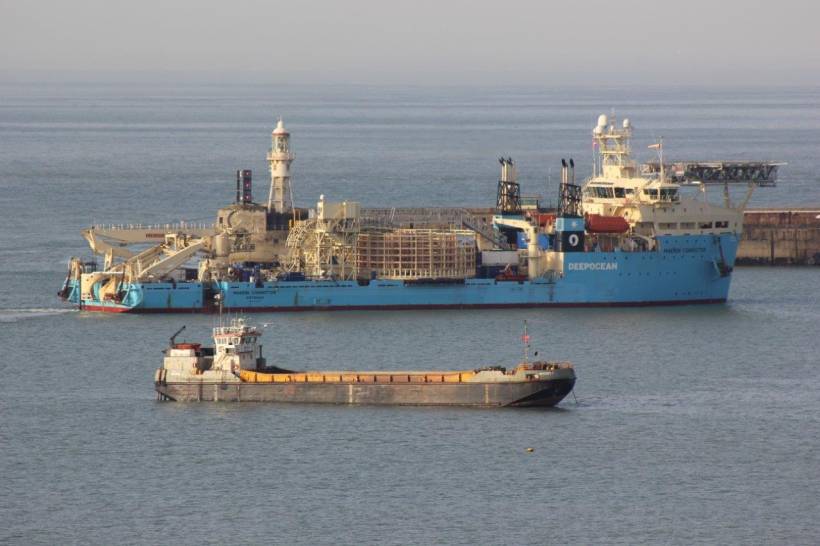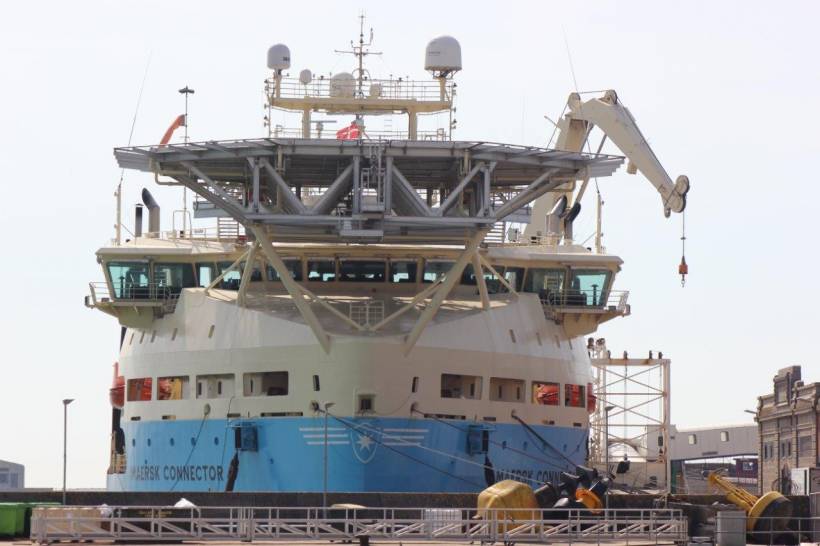 Poaching Sarah's patch again !
The very smart Marine Society/Sea Cadets training vessel TS JACK PECHEY at Ramsgate on Tuesday, named after a major benefactor.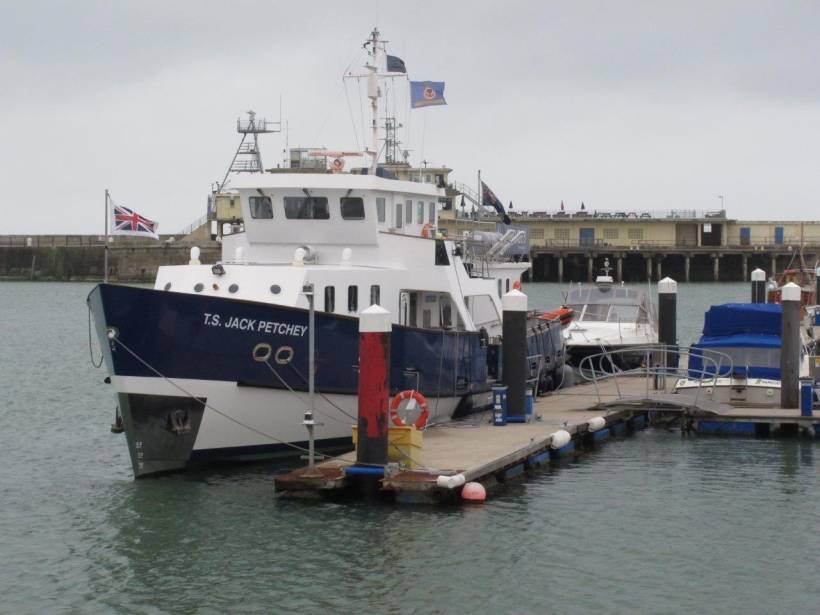 Saturday, 16 June 2018 - 10:14
Post 4993
Andrew, Broadstairs
Thank you Paul for your excellent photos of RMS RUHRORT departing Dover for Rotterdam after loading a cargo of grain. I thought I ought to put it on record as it used to be an important, locally grown, export trade from the Granville dock It is good to see that the trade continues despite having to load and clear away the dust between the cruise terminals.

Saturday, 16 June 2018 - 08:29
Post 4992
Sea News, Dover
Some shots now of general cargo ship RMS Ruhrort as she begins to make her way back to Rotterdam, accompanied below there in the pictures by the Pilot boat as she exits the harbour. She spent a couple of days here in the port ...not entirely sure what her cargo was but at a wild guess it was probably more vital equipment for the DWDR as it pushes forward. Ah - just had an update from Mike. RMS Ruhrort was in Dover to load grain.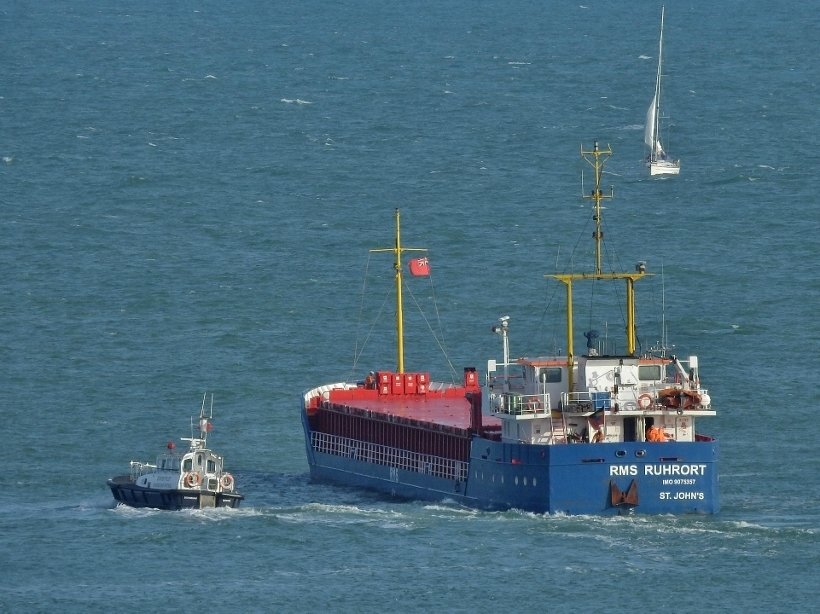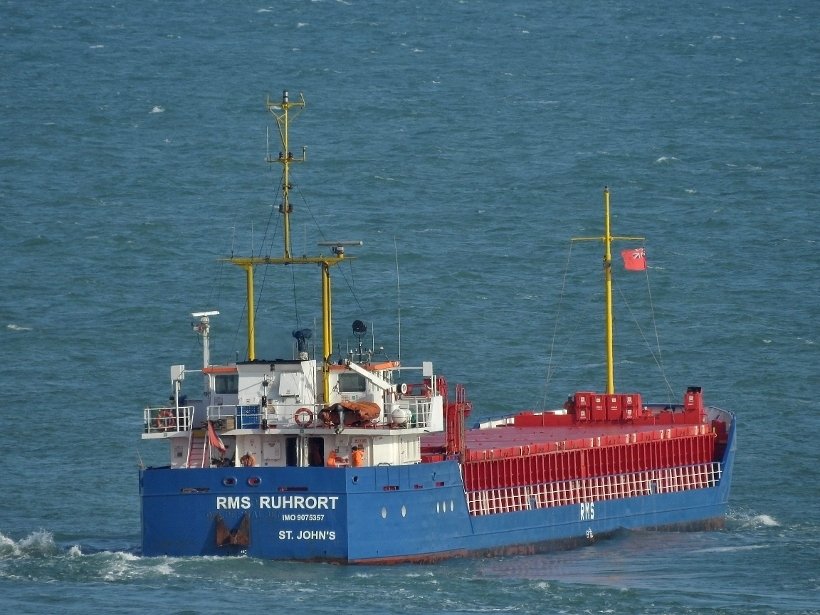 Well done Mike - a nice collection below there of the all new fascinating Tug Innovation.

PaulB
Saturday, 16 June 2018 - 06:01
Post 4991
Mike J., Dover
Dutch tug INNOVATION making her way back to the Tug Haven soon after Paul's photos.
She had arrived from Southampton about 0700 & had just been out to sea on a PR trip.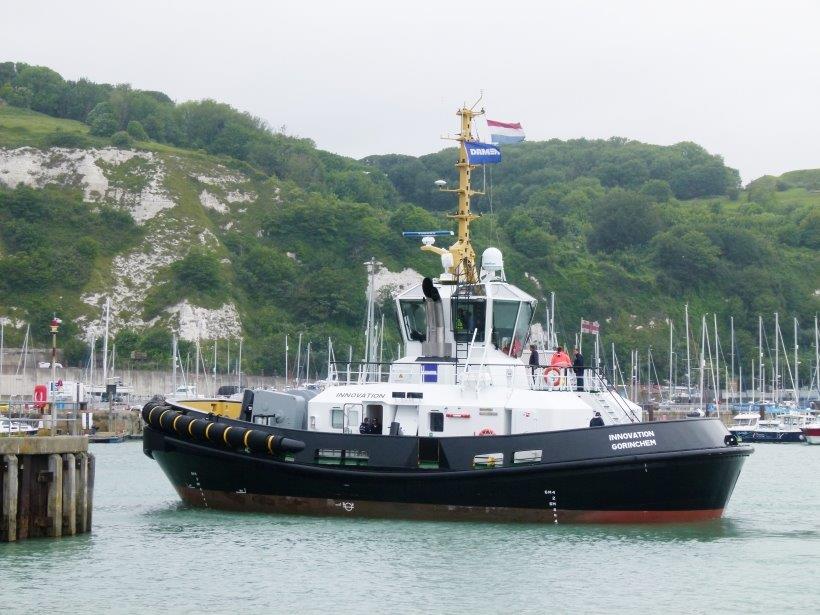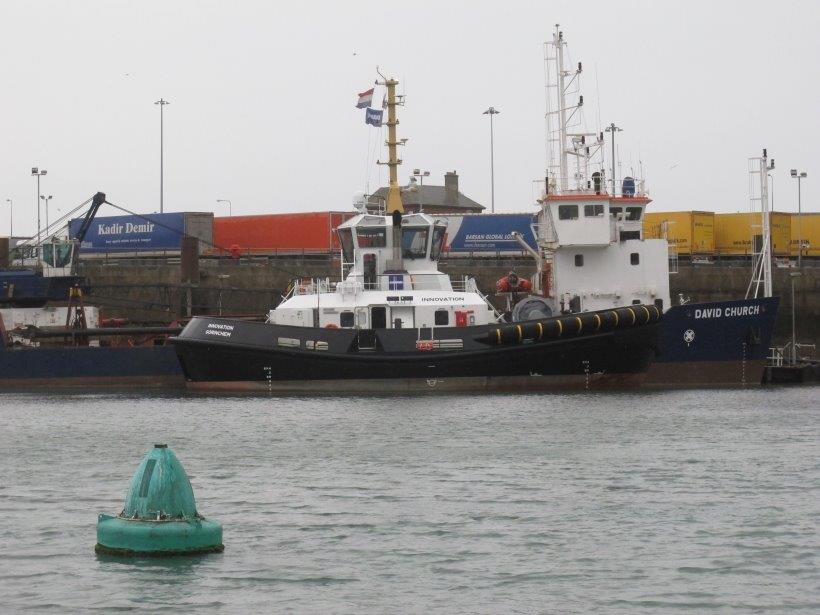 She is brand new & is on tour as a 'demonstrator' for a new design of tug ['Reverse stern drive 2513' class ] from the big Dutch shipbuilder/ship repairer DAMEN [who now operate the former Arnos yard in Dunkirk, often visited by Dover's ferries].
The INNOVATION has been in the Mediterranean & is now working her back to the Netherlands with further calls planned in Belgium & Denmark.
A marine journalist friend of mine visited her in Southampton & seemed to enjoy the experience -
. . . . .we had a presentation, tour and trip down to Netley including some very violent high-speed manoeuvring which they only carried out once the master and crew could see everyone firmly holding on !
It was needed as it was a roller-coaster ride, amazing amount of power ! . . . . . .
Sounds like fun.
Paul caught her returning from the demonstration trip mid-morning.
She left Dover about midday, headed for Rotterdam.
A very low spring tide this morning, with the INNOVATION visible in the distance amongst the other tugs.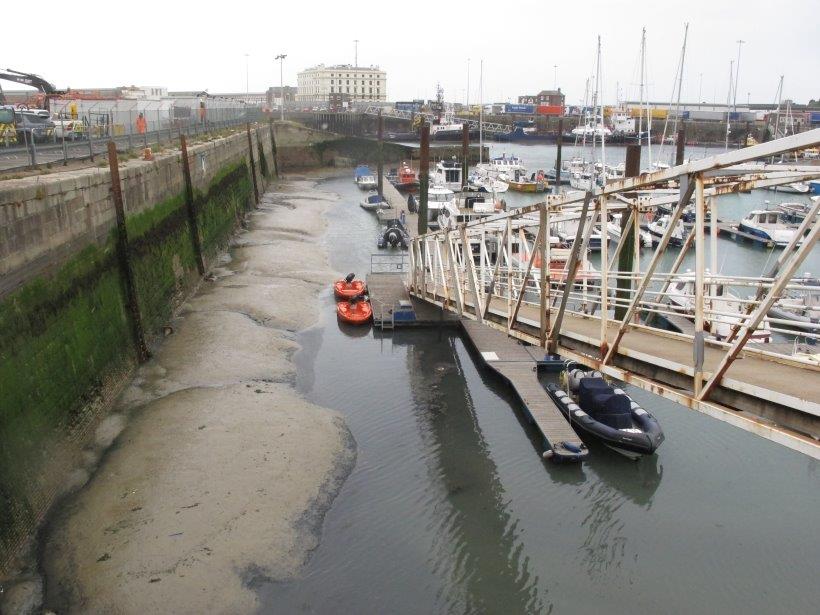 Friday, 15 June 2018 - 01:47
Post 4990
Sea News, Dover
Mike tipped me off about this modern new tug called Innovation... due to arrive in the port sometime soon...so I kept my eye out for it and here she is in rough wild weather this morning. Hot enough for June ?...I don't think so.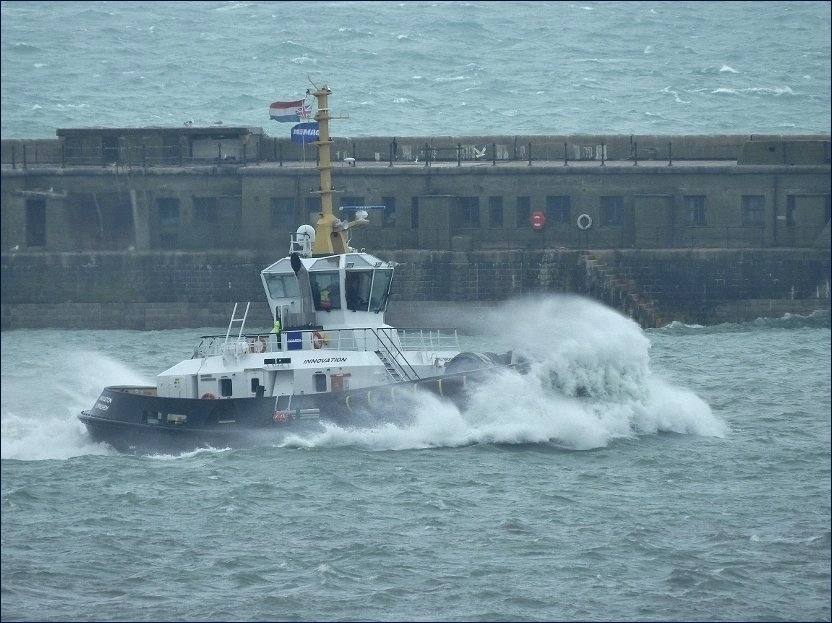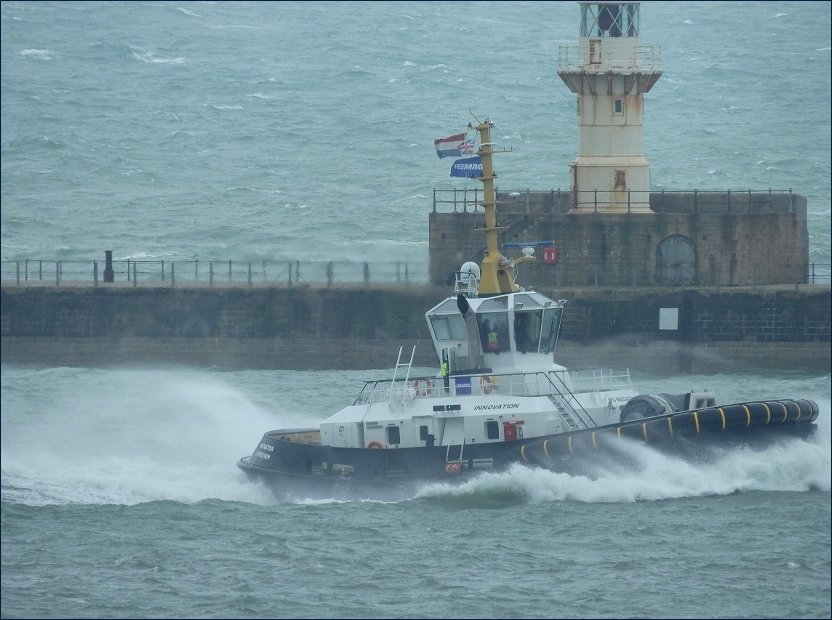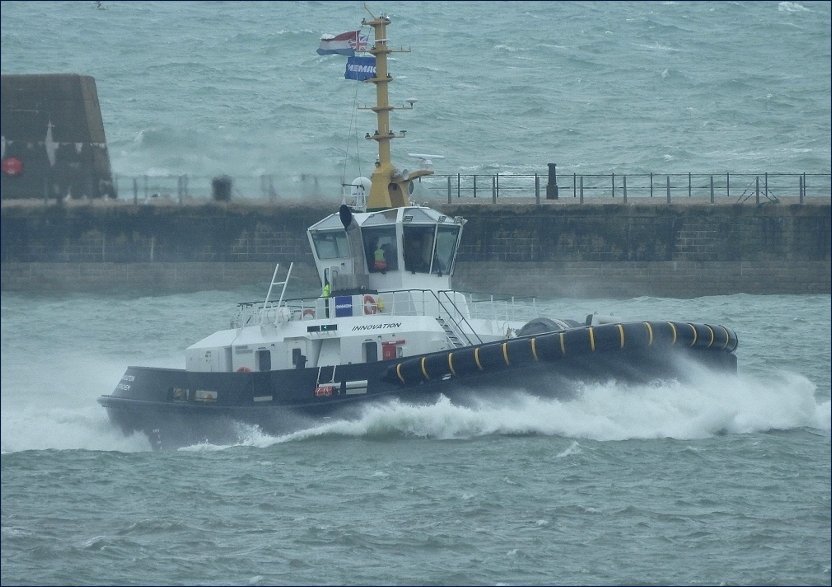 As you can see she has an unusual saucer like shape. A modern design from the Dutch shipbuilder Damen. Well I hope you can see fairly clearly anyway...the conditions were rough and blustery and that was just for yours truly holding the camera.
Twas wild out there...
This weather isn't in the script

PB
See todays earlier post below....
Thursday, 14 June 2018 - 15:31
Post 4989
Sea News, Dover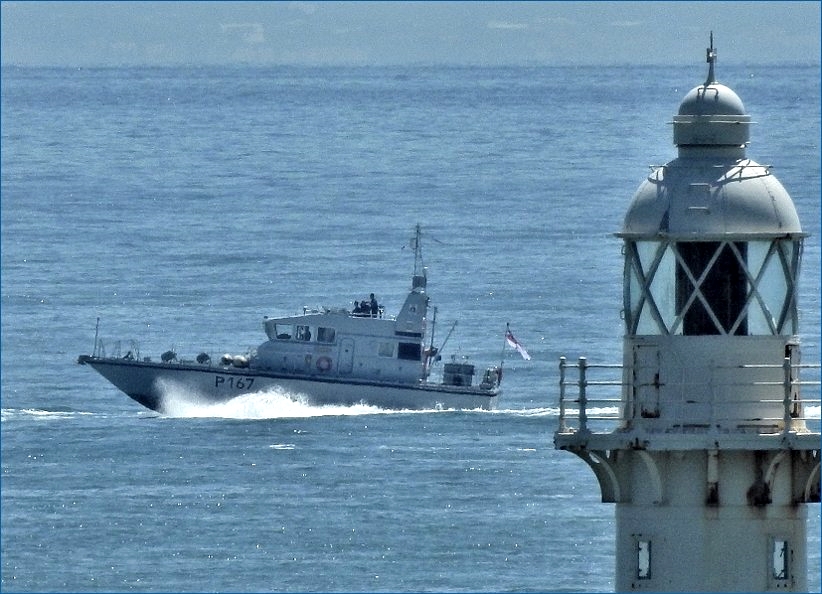 Yesterday Wednesday we had a beautifully tranquil morning (its much fresher today Thursday)...gazing out from the 'observation tower' yours truly noticed two...what I thought were Border Force vessels .. so I hastily grabbed the camera but by then the leading craft was a bit too far away. The second one was captured though and that's her above. Not Border Force at all but the Royal Navy patrol vessel P167 HMS Exploit. Buildings on the French coast just visible there in the background.
Roughly at the same time this racing yacht came through, its from The Netherlands and there she goes looking good with the considerable potential for speed...name Boudraggon.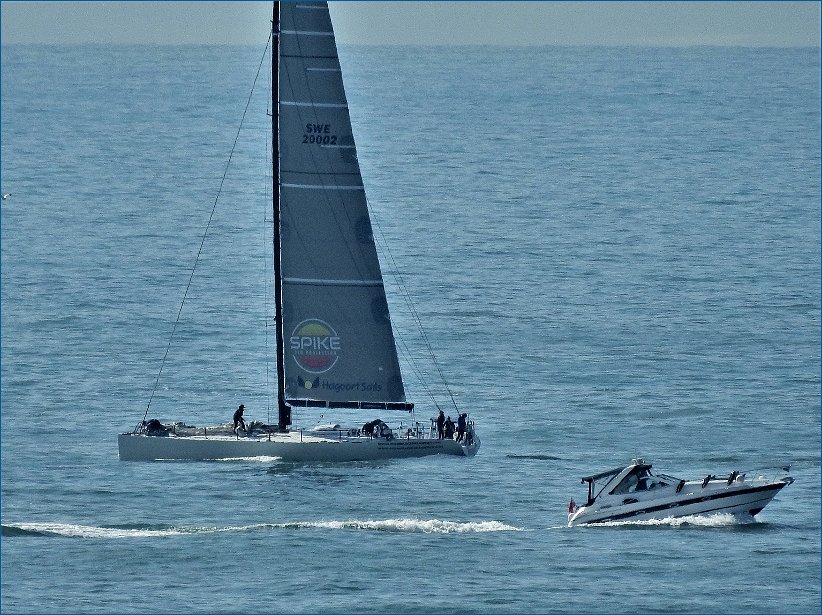 Ships that pass in the..ermmm...daylight..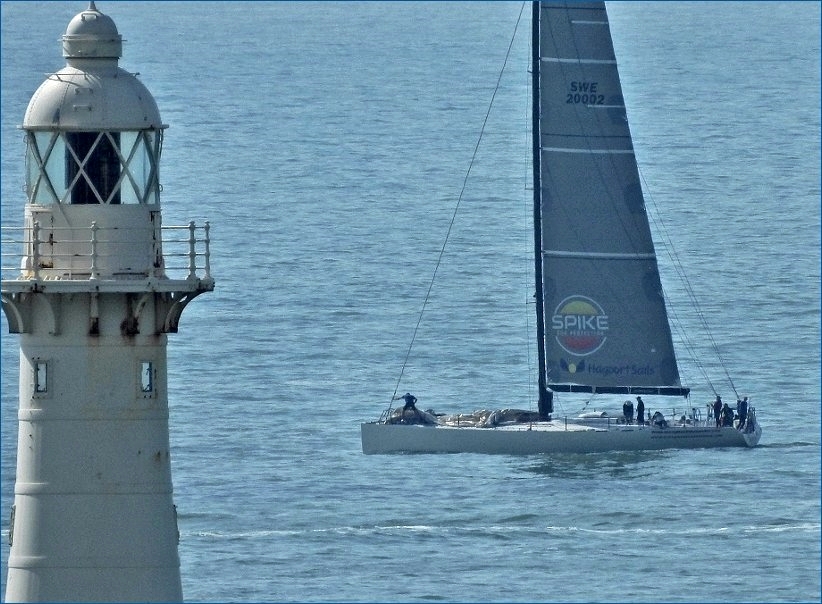 Roll on Spike... by the way that's the small lighthouse at the west end of the breakwater featured in the pictures today.
Glad you are still enjoying the Sea News pages Vic. But sorry to hear you were in hospital with your leg. Yes indeed the NHS doctors and nurses are the best and they will look after you for sure, my daughter is a doctor in the NHS and yours truly has seen close hand the hours and dedication they put in. Yes a couple of days away is good for recovery.

PaulB
Thursday, 14 June 2018 - 06:08
Post 4988
vic matcham, dover
Great shots of a great sailing ship and of the working at the Western end of the port.I have just had some surgery done to my leg at Margate I was well looked after like always, the NHS is very good and very good staff .Anyway we are looking to go away soon for just a few days.I am looking forward to seeing the Royal Port of DOVOR when all the work is done,but till then I will keep logging to the very good photos of the Doverforum sea news page which is the best. Thank you.


Wednesday, 13 June 2018 - 10:55
Post 4987
Sea News, Dover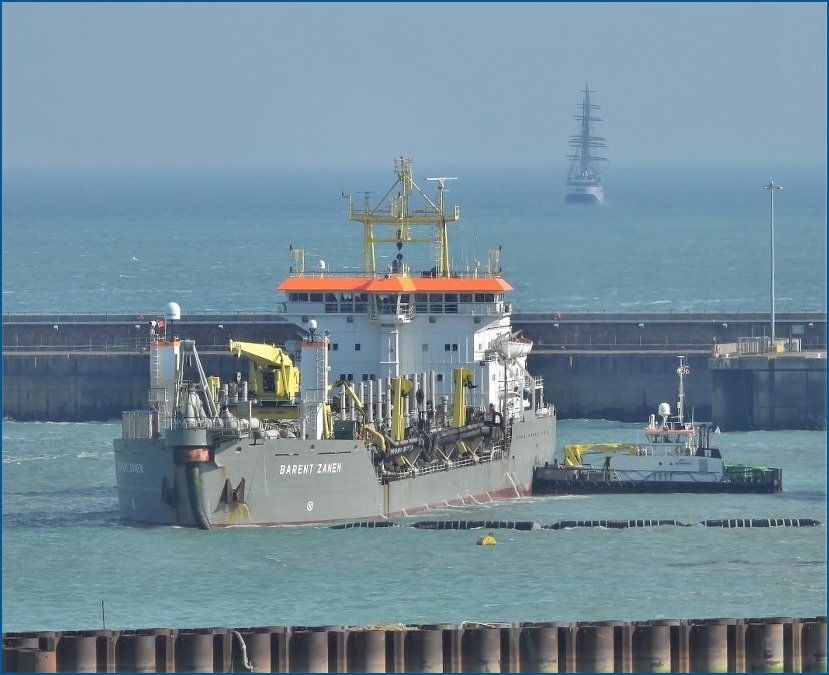 Yes indeed Barent Zanen is back with us and already in action bringing more sand in, as Patrick says, from the Thames Estuary. I took that shot above almost at the same time as Mike did further below (4983)... Mike was coming at it of course from the directly opposite angle, amazed he is not in the background of that picture above there. Also in picture is the newly arrived workboat/tug .. Kim. An evening shot, taken soon after Barent's arrival. In the far background you can see the magnificent Sea Cloud II as she sails off into the sunset ( well there wasn't much of a sunset but I couldn't resist that one!).
Another picture below of the DWDR operations as it powers forward. This time we have super tug ISA guiding the dredging platform Nordic Giant, while in the background one of the loaded Wadden barges heads off to the designated dropzone. Another evening shot.
Well done Patrick, some nice shots below there. Great work

PaulB
Wednesday, 13 June 2018 - 06:44
Post 4986
Patrick, Marine Parade
As Mike J reported yesterday our favourite dredger - 'Barent Zanen' is back taking sand from the Thames dredging ground to pipe into the DWDR infill area.
Here on arrival at Dover the crew can be seen 'up front' preparing to connect to the floating pipeline.
Tuesday, 12 June 2018 - 23:15
Post 4985
Patrick, Marine Parade
A couple more pictures of the special cruise barque - 'Sea Cloud II' - departing Dover yesterday en route to Portsmouth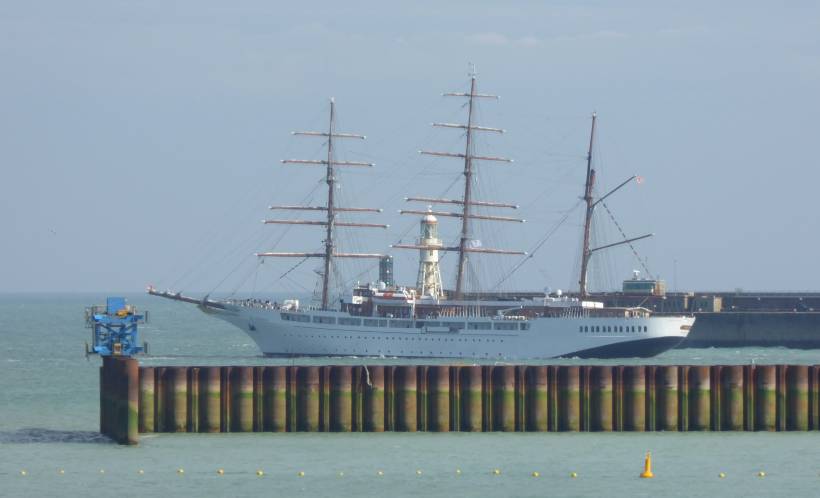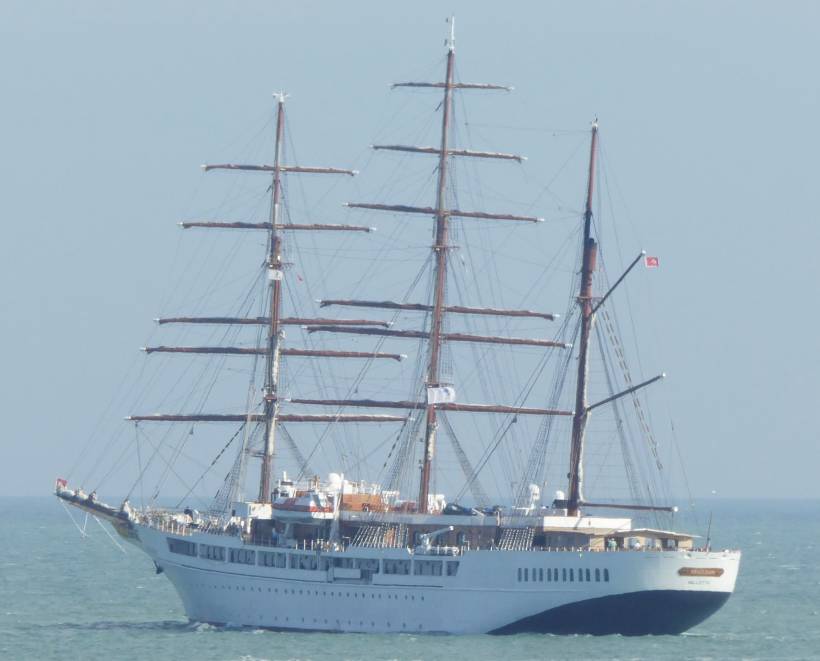 Tuesday, 12 June 2018 - 12:05
Post 4984
Sea News, Dover
Latest News from DFDS plus the Sea Cloud arrival...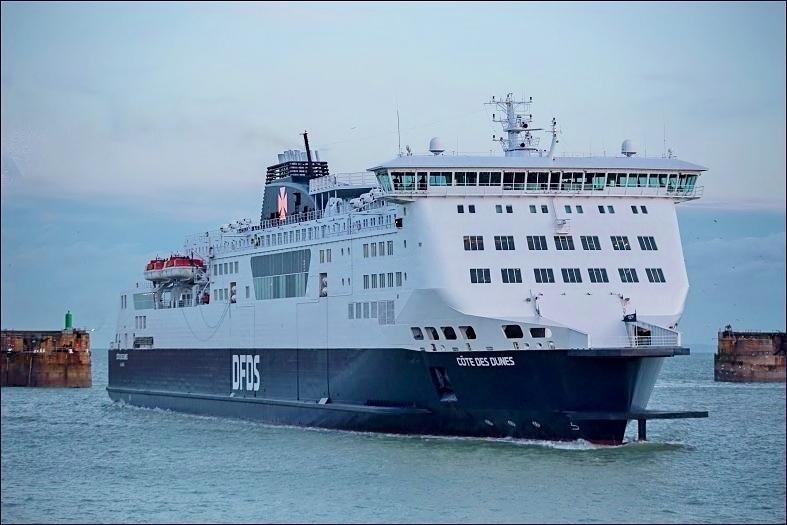 DFDS COMPLETES MAJOR ACQUISITION AND SUBSTANTIAL FLEET INVESTMENT
_________________________________________________________________________
Following a successful first quarter in 2018, ferry operator DFDS has acquired the Turkish shipping company U.N. Ro-Ro and unveiled a substantial ship investment programme to drive continued growth in both trade and travel.
"I am very pleased to announce that on 7 June 2018, the deal was completed and U.N. Ro-Ro and its strong Mediterranean shipping network became a part of DFDS," said Niels Smedegaard, CEO & President of DFDS.
"Trade between the EU and Turkey has been booming for a long time and the future prospects are very encouraging for seaborne transportation, which bypasses border controls and road congestion in several countries" continued Smedegaard. "Together, we will be able to offer our customers a unique service, with U.N. Ro-Ro being strong in the Turkish and Mediterranean markets, and DFDS having a very efficient network in Northern Europe."
U.N. Ro-Ro operates five freight ferry routes connecting Turkey with Trieste in Italy and Toulon in France, with 12 freight ferries and its own port terminals in Istanbul and Trieste. In Europe, the company also offers intermodal solutions to and from other European markets. The company has an annual revenue of EUR 240 million and more than 500 employees.
In addition to this, DFDS has engaged in a substantial fleet renewal programme with seven ships on order. The programme began last year when two new ro-ro ferries were delivered from the Flensburg shipyard in Germany for services between Rotterdam and the UK. Furthermore, DFDS has ordered four ro-ro vessels from the Chinese Jinling Shipyard. The ships will be the largest in DFDS' history with space for 450 trailers and will be deployed from 2019 in their ro-ro freight markets. This includes the North Sea, where trade and other markets are expected to grow in the future, despite Brexit.
DFDS is also investing in two ro-pax ships to cater for growing volumes in its Baltic route network from 2021. With 4,100 metres of lanes for cargo and capacity for 600 passengers, the ro-pax ships will be considerably larger than the current ships on the Baltic routes.
Additionally, DFDS has signed an agreement for the charter of a new ship for the English Channel, where the business operates two routes between Dover and France. The ship will replace the older Calais Seaways to provide far greater capacity, with space for 140 trailers compared to the current 80.
"I am really looking forward to getting this fantastic ship to boost the business on the Channel" says Kasper Moos, VP and Head of DFDS' Eastern and Western Channel services. "This new ship gives us excellent opportunities to develop our business and will enable us to continue servicing our customers on a modern fleet in the future."
"With these investments, DFDS will be increasing its capacity and expanding its network to be in a strong position to take advantage of the economic growth we expect in Turkey, in the EU, and even in the UK after Brexit. This will enable us to be more efficient and contribute even more to customer growth in the future, for the benefit of trade and jobs," stated Niels Smedegaard, CEO of DFDS.
For more information, visit www.dfds.com.
ENDS
Many thanks to the team at DFDS for all the info above. Great news there for these changing times..

* *
Also yesterday was a very exciting day here at the Port of Dover with the arrival of the super elegant Sea CLoud II...what a fab ship. Chocolate box images now of her colourful early morning arrival ...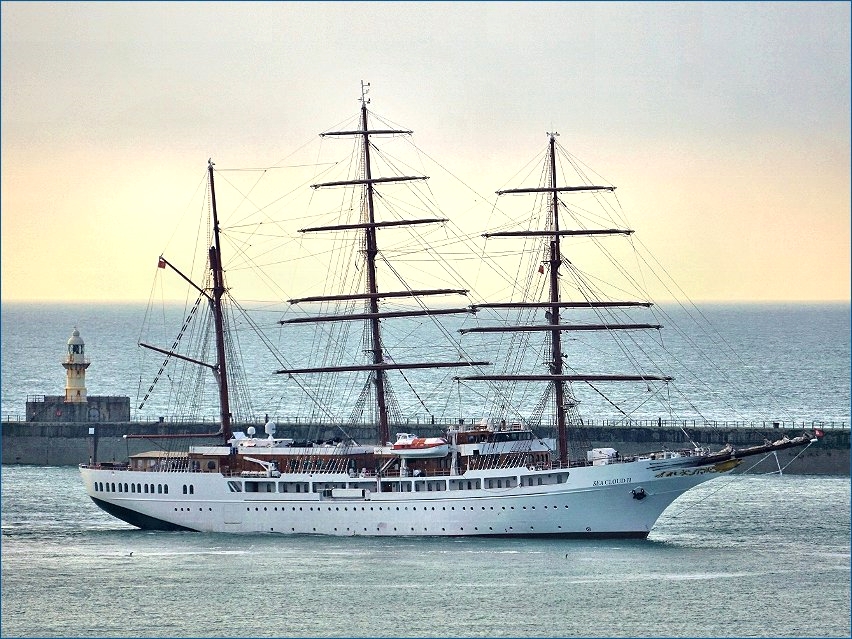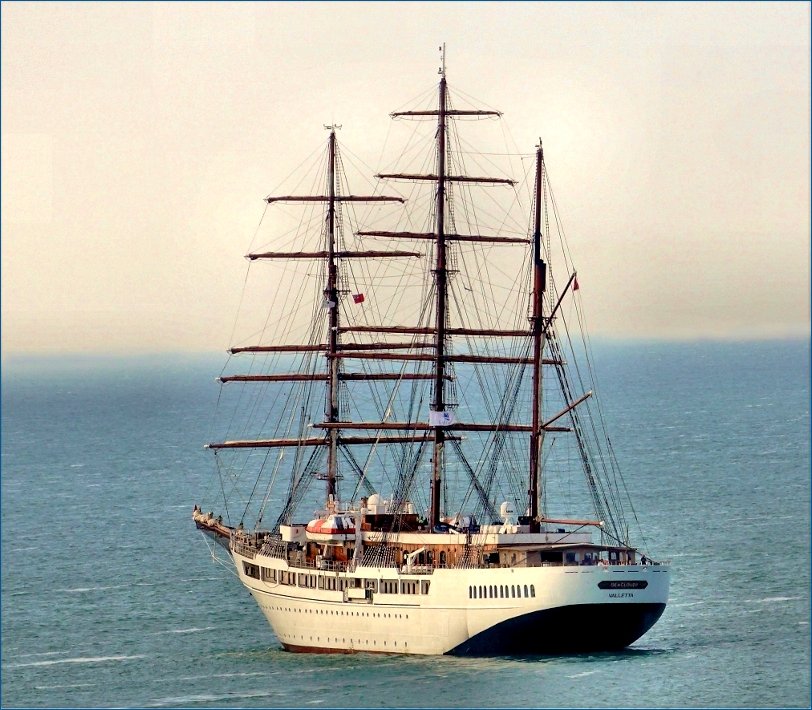 Here's one from a past visit below taken by one of the Port powerladies...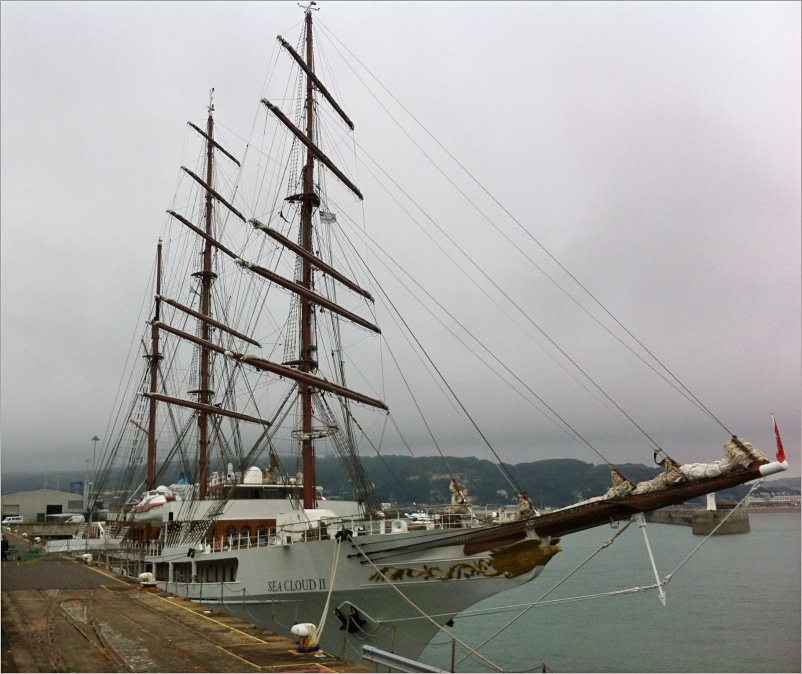 Ah some great pictures below there Mike. Man on the Spot. Great captures with the Castle behind. Ah yes we would love to see the ship under full sail. Maybe one day soon...

PaulB

Tuesday, 12 June 2018 - 06:42
Post 4983
Mike J., Dover
The elegant SEA CLOUD 2 sailing at 1700 on Monday.
She looks good, but would have looked better with sails set !
No sign of them being set as she headed out to sea, bound for Portsmouth.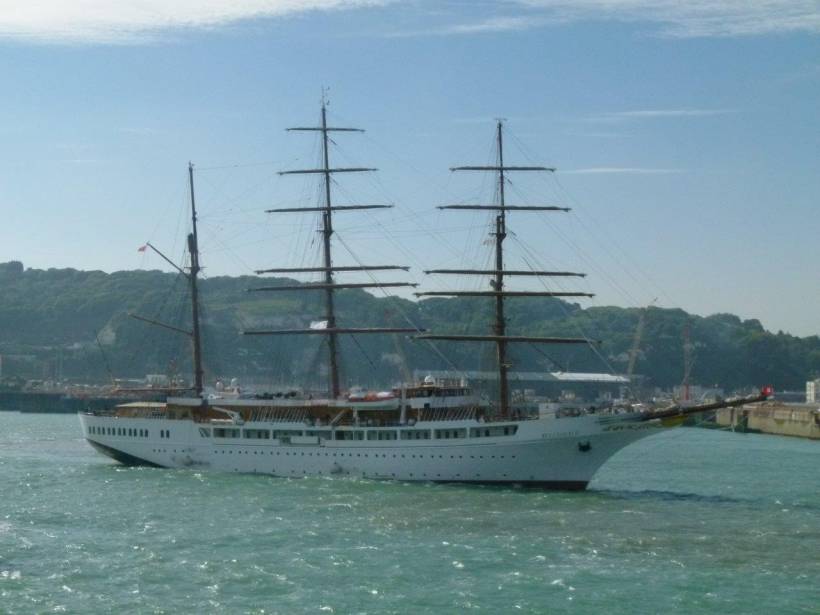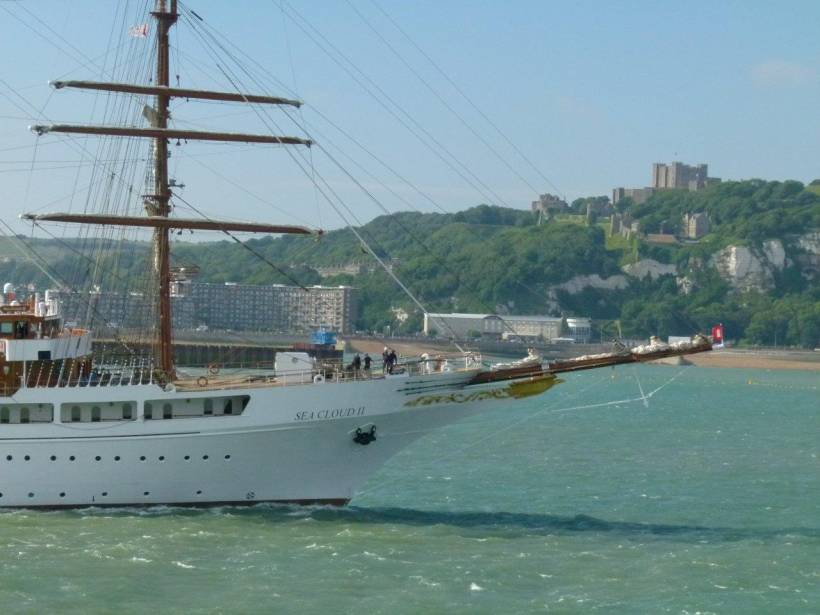 WULF 7 assisted SEA CLOUD's departure,
The BARENT ZANEN is back in town.
Here she is, connected to the floating pipeline & about to start discharging, with the KIM in attendance.
An hour later she was returning to her dredging grounds in the southern North Sea, east of Harwich.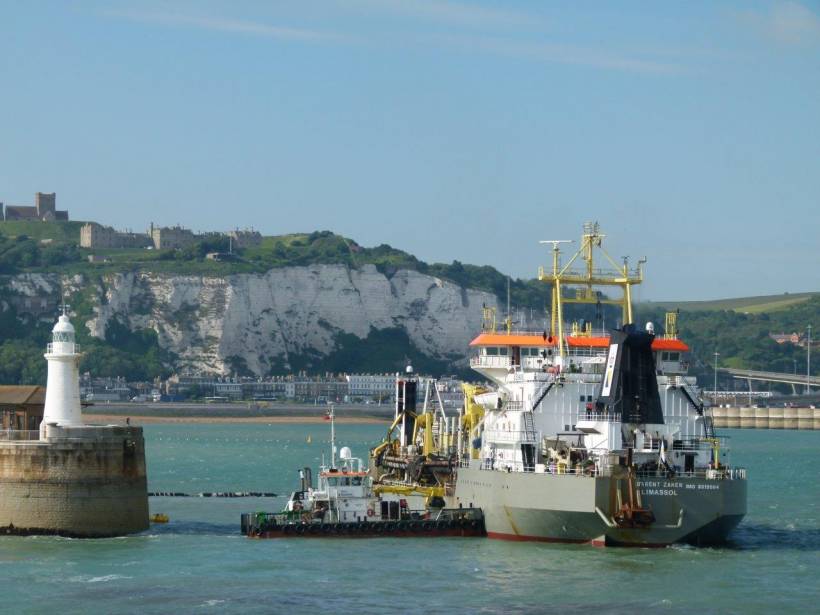 Tuesday, 12 June 2018 - 00:03
Post 4982
Sea News, Dover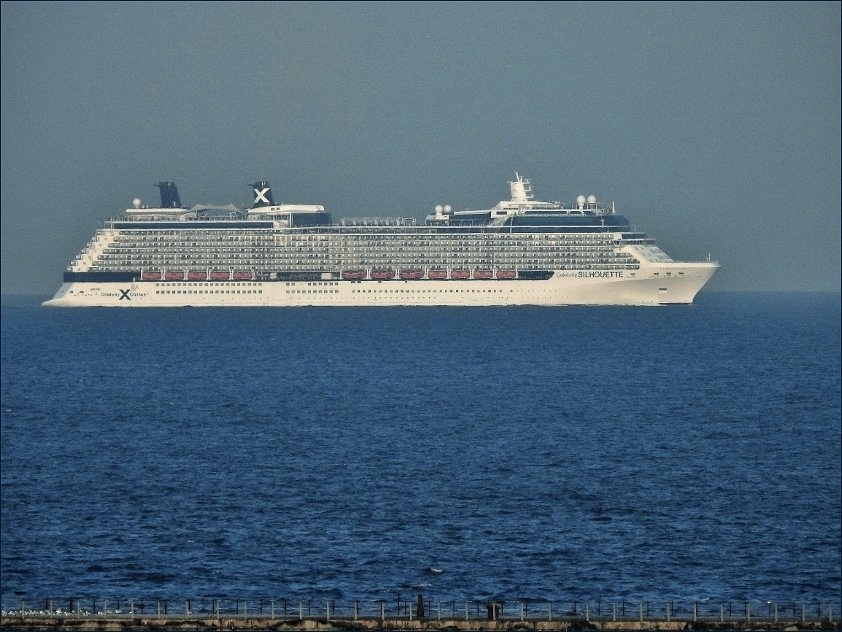 This is the magnificent Celebrity Silhouette passing us by on Friday evening in grand elegant style. A large ship for sure and heading along the coast in blazing sunshine to Southampton. We don't have her full itinerary but there she goes .. and looking good...
She came in here to the Port of Dover on previous occasions...here is a shot below of her departing the Port in 2015...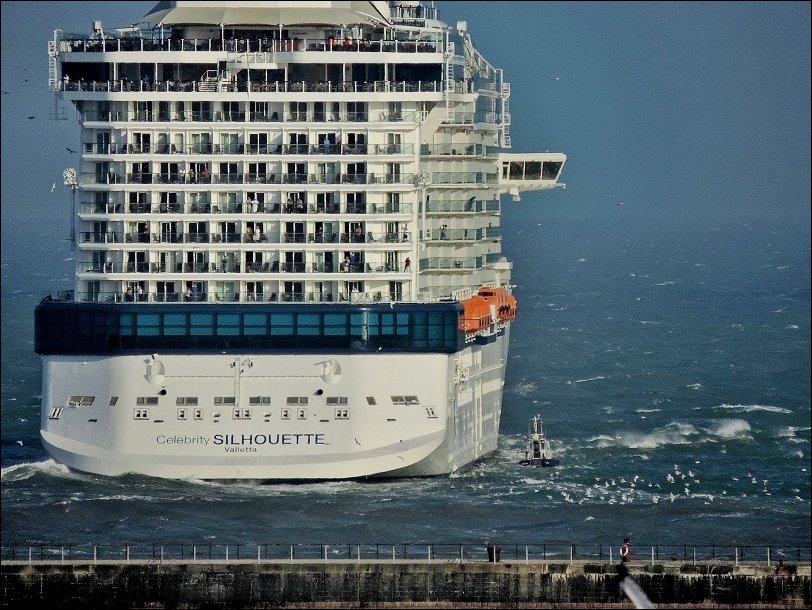 Also don't miss todays other post below.
Will have more pictures of the fabulous Sea Cloud II in the morning all being well... working on those as we speak.
PB
Monday, 11 June 2018 - 17:38
Post 4981
Sea News, Dover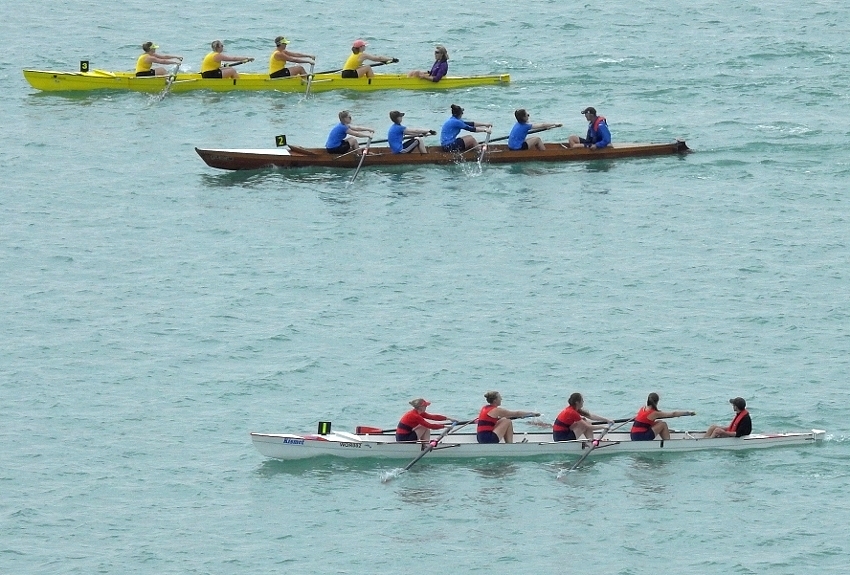 Regatta: This was a very quiet event, no pre-publicity that we knew of here anyway, but obviously well known in rowing circles as there were lots of crews taking part. We just have a small amount of pictures here just to mark the occasion. Top shot above there shows the competitive teams racing hard...while below we have a couple of longer distance pix of the beach at various stages during the event.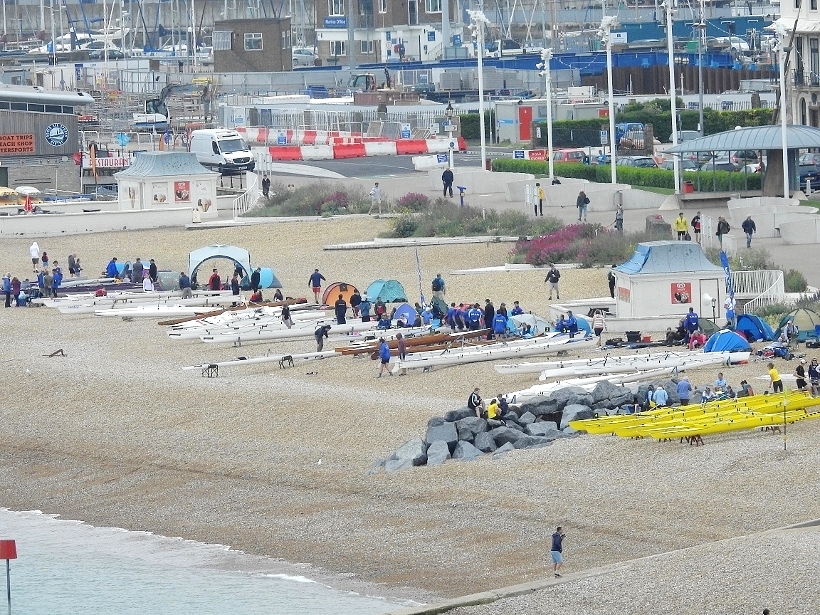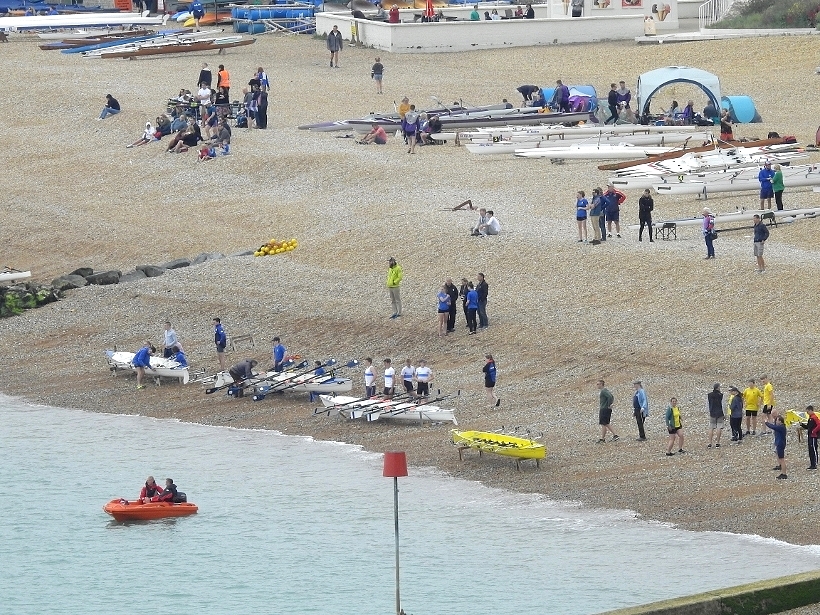 The event took place on Saturday.
The shot below isn't terribly exciting, in fact it could possibly work as a cure for insomnia if you stare at it long enough...however it marks an occasion for us here on Sea News so we can let everyone know that the Dover 9 daily berthing/docking arrangements seem to be back in full swing. The pier has been out of action for some time.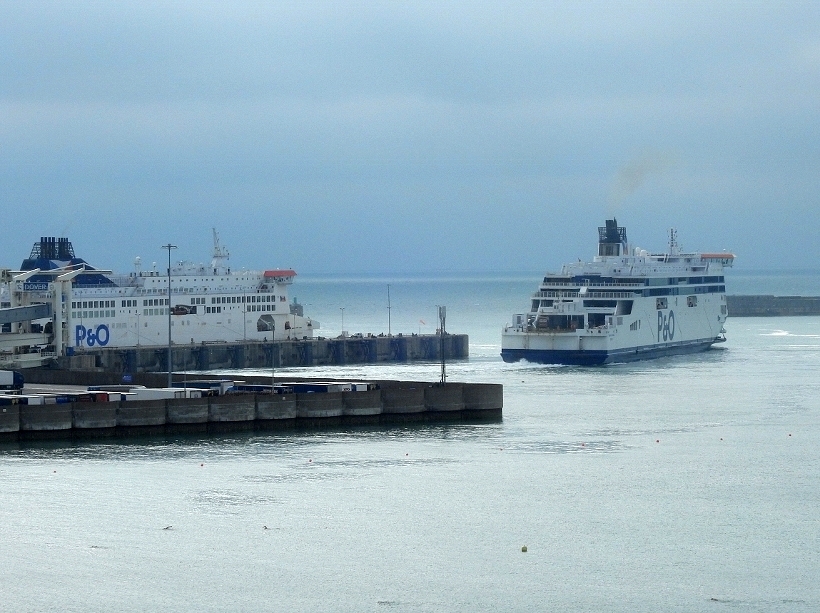 * *
It is potentially a grim prospect - but Charlie has an optimistic take on things below here ...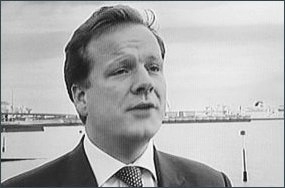 How traffic and trade can flow freely after Brexit
_____________________________________________
Dear Mr Boland,
Up to 10,000 trucks pass through the Port of Dover every day. Line them all up and you get 180 kilometres of lorries. Enough to queue all the way up the M20 and round the M25. This grim picture is every motorist's idea of hell. And that's before you take the Channel Tunnel, which is the same again.
This is why we've got to keep trade flowing freely across the border post-Brexit. That means building resilient roads – dualling the A2 all the way to Dover and opening up more lorry parking facilities.
Whether we were leaving Europe or not, it's investment we desperately need anyway. This past Bank Holiday weekend, we had queues of lorries stretching back along the A20 to the Roundhill Tunnels. We're a victim of our own success. Dover is still the best and most popular way of getting to Europe for tourists and truckers. And it's going to get busier.
Over the next 10 years a huge £6 billion is being spent on the Lower Thames Crossing. To take pressure off Dartford, two three-lane tunnels are being dug under the Thames to link the M25 near North Ockendon, Essex, with the A2 near Shorne, Kent.
In order for this scheme to be a success it is vital the A2 is dualled. The previous Labour government axed plans for this essential infrastructure – but we've been working relentlessly to get the scheme back on the table. The new Thames Crossing opens in 2027. By 2030, freight traffic at Dover is set to have risen 40%. A single carriageway is simply inadequate.
The Port of Dover say that if the A2 was fully dualled, a second 'Dover TAP' scheme could be used on this route. Like the current A20 TAP, it would involve queueing lorries in the left-hand lane when there are delays at the port. They say this would cost less than the £250 million quoted for the axed Stanford lorry park plan.
Yet this alone is not enough. I'm deeply concerned that a new A2 Dover TAP – along with the proposed Operation Brock 'contraflow' on the M20 – would turn the roads to Dover into one long rolling lorry park. Our town would be cut off from the rest of Kent. And everyone knows what a battle it was to sort out the A20 TAP scheme.
That's why it's just common sense to build more lorry parking facilities, like at the Stop 24 services off junction 11 on the M20. Brenley Corner on the A2 is another option. And we need a wider network of lorry parks up and down the country.
Combined, Dover and Eurotunnel handle 30% of the UK's trade in goods – around £210 billion. So this isn't just a local issue. This is a national priority. It's high time we had real investment in East Kent's roads – and I will keep fighting for it.
Charlie Elphicke MP for DOVER and DEAL
* *
Like it Del ... a birdland in the sky with lots of fish n chips...delish !
- Very tempting - Im going there but not anytime soon.


Well done Harald, excellent pictures from Rotterdam below there.
Really good to see those. Rotterdam pictures always welcome.

Sea Cloud II approaching....looking fab...

PaulB
Monday, 11 June 2018 - 06:16
Post 4980
Del Styan, Norwich
Love your Gull shots - I hope Oscar went to that great birdhouse in the sky where every day is full of fish - and maybe the odd chip.
And well done Patrick for scaling the Heights to give us such good photos.

Sunday, 10 June 2018 - 23:05
Post 4979
Harald Boot, Tholen, The Netherlands
The Spirit of Britain at Damen Verolme in Rotterdam yesterday. I wonder if they will change the logo now.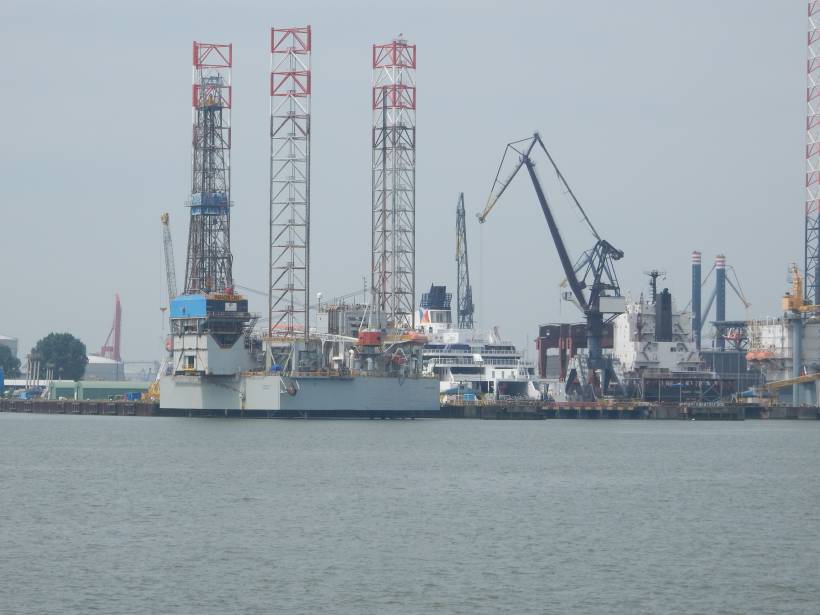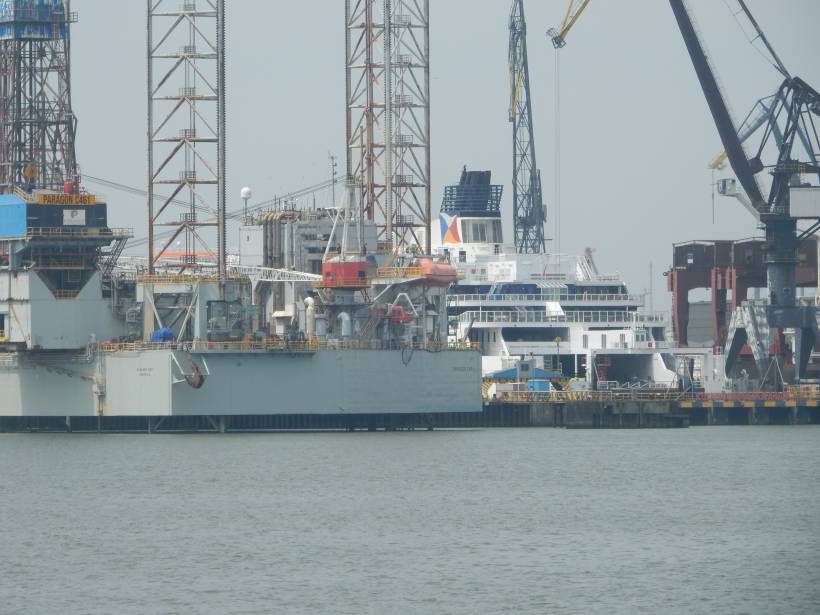 Sunday, 10 June 2018 - 11:09