Saturday, 22 October 2016
Ferry operator, DFDS, is putting out the call for professional or amateur artists to create a poster that will be used in their 150th anniversary celebrations this year. Posters have a long history in the travel world and were used to visually entice people on journeys to far-reaching and exotic places.

Judged by a panel of international experts, the winner will receive a cash prize of €3,500 and a luxury mini-cruise, runner-ups will receive a cash prize of €650 (cash prizes subject to change).

Entries must be submitted to 150@dfds.com by
October 25
to be considered for the competition and should incorporate elements of the signature DFDS logo with graphical and visual creativity and a re-interpretation of the travel poster as a medium
Alongside are some examples of previous posters that the company has created over its decades of operation.
Good Luck !!
SEA NEWS
INVESTING in DOVER see 3128
JOINT STATEMENT ON CALAIS JUNGLE.. see post 3034
The DFDS Apprentices see 3078
Award Winning DFDS ...see 3036 also 3131
HUGE GROWTH IN FREIGHT FOR DFDS .. see below/over 2985...
PORT ACCESS - AUTUMN ROADWORKS LATEST 2975
Scroll down the page and over the many pages, now more than 150, for all the stories in and around the Port of Dover. You can find anything you want in our SEARCH ENGINE. Type in CRUISE VISITS for example or DISNEY or REGATTA or anything at all......
Dover.uk.com and Doverforum.com have merged to produce an entirely local and comprehensive Dover website. Nautical contributions are welcome on this page with a max of 5 pictures preferred per contribution, all pictures remain own photographers copyright.

Email:dover7@msn.com to send Sea News pix or info..or click ADD YOUR COMMENT below to post direct, no membership needed. Paul Boland.
SAY HELLO TO OUR NEW SEA NEWS SEARCH FACILITY BELOW...
Post 3160
vicmatchamThank, heading south.
Thank you for showing them,

Friday, 21 October 2016 - 16:10
Post 3159
Sea News, Dover
Yes indeed Vic the Russians came and went this morning. There was much excitement on the TV news channels and they passed by between mid morning and lunchtime...all ships about a mile apart. Must have been about 12 ships or more including an aircraft carrier.
The lighting was poor which was a pity. Some days on the channel you can see for miles with great clarity, today wasn't one of those days. You could see alright but with blue haze everywhere....anyway here are a few okay pictures, nothing special alas.. the aircraft carrier leading the way on these shots...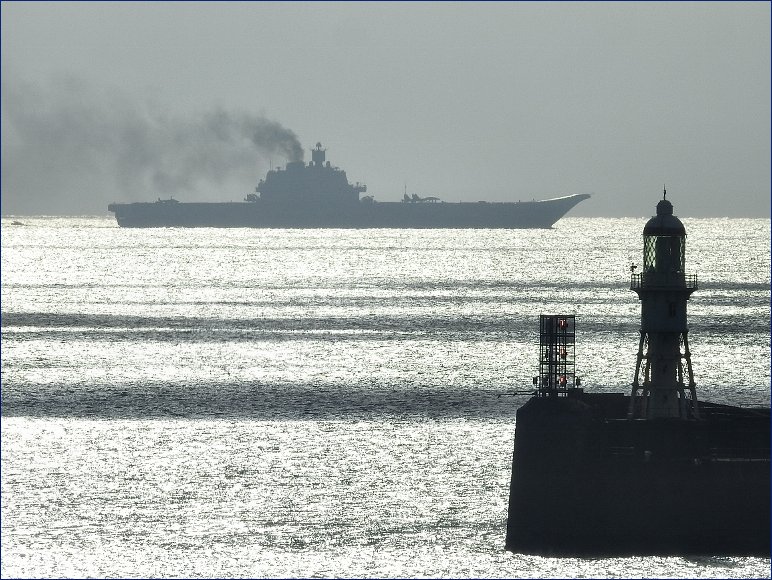 The Admiral Kuznetsov above with two jets on the deck.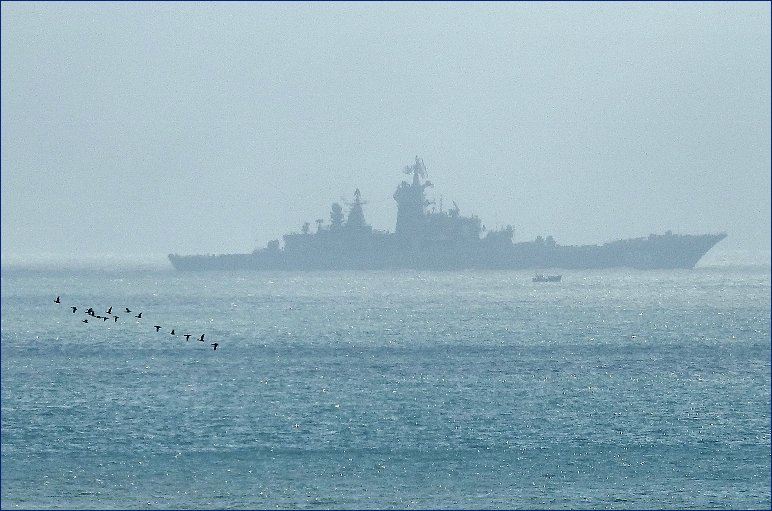 Wild geese passing by the Russian fleet, probably heading to winter in mother Russia itself.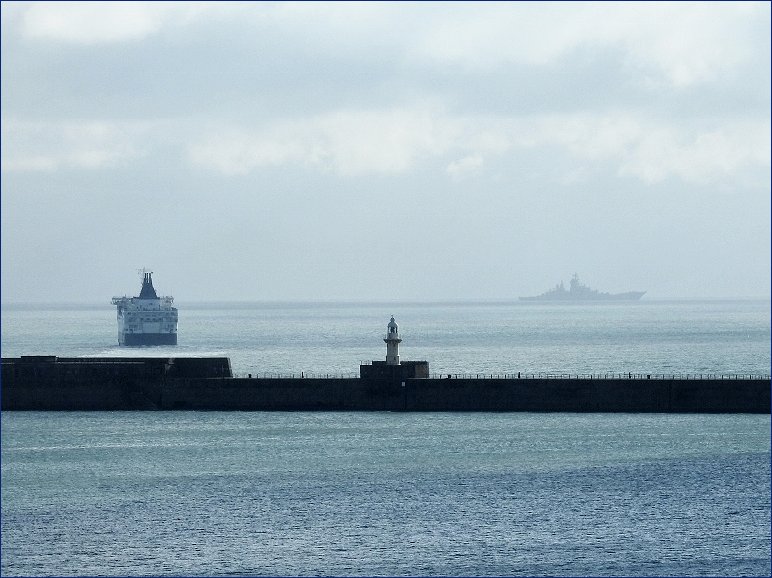 The ferries had to adjust accordingly...above and below..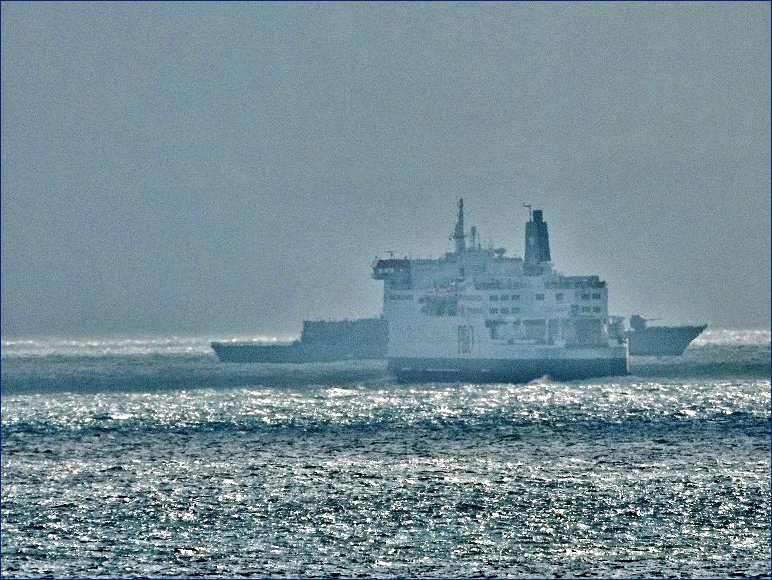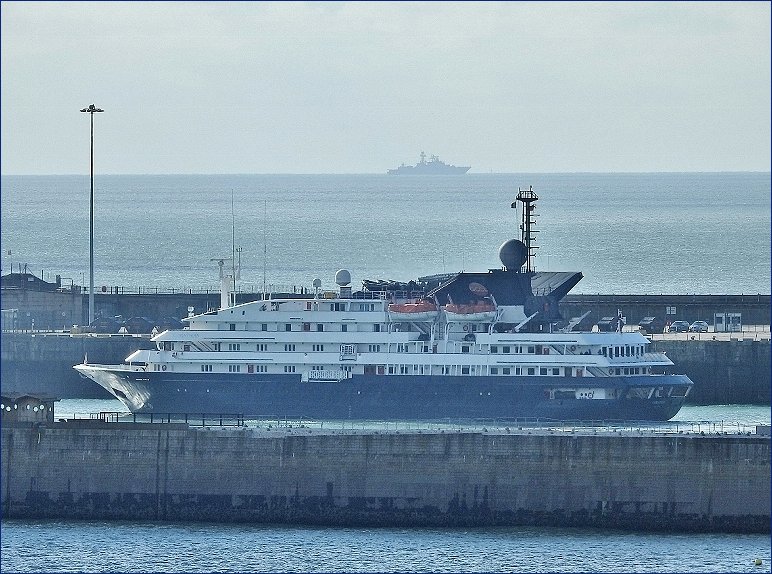 The Corinthian came in..somewhat overshadowed in the midst of all the Russian excitement...she was mentioned on Colette's list of cruise visits, see post 3136.
That's another Russian warship in the background.
Friday, 21 October 2016 - 14:46
Post 3158
vic matcham , on the move
Well done to the port in getting the reward.
I hope you keep the film rolling and get some good shots of the R/war ships heading our way.It would be great to let them stay at Dover for s few days just think of the trade that would bring to Dover and its shops and bars,

Friday, 21 October 2016 - 08:09
Post 3157
Sea News, Dover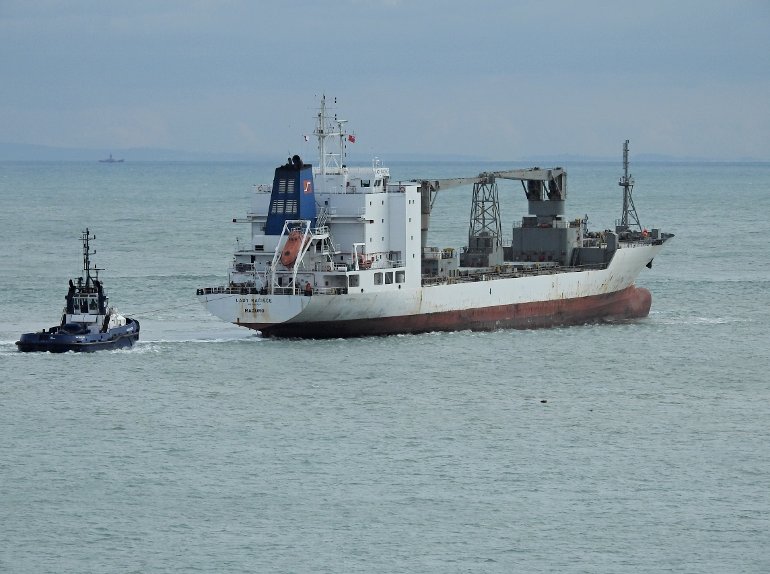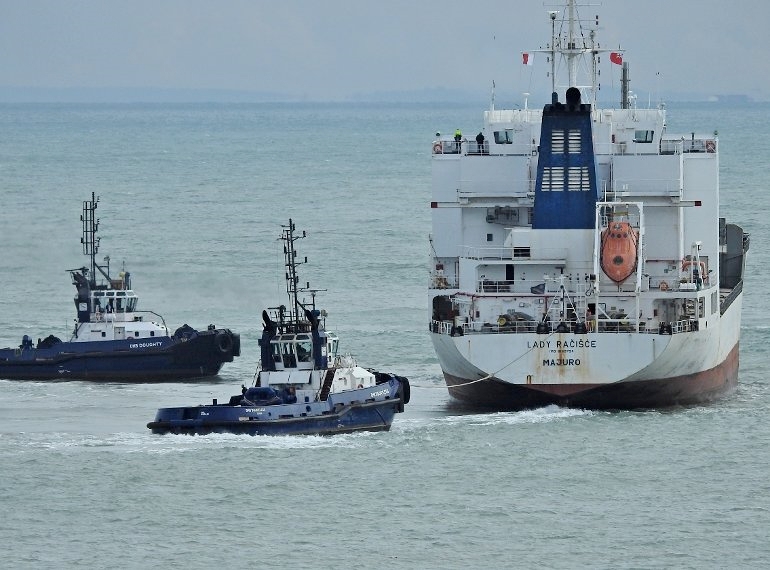 Some pictures above there of the Lady Racisce leaving us on...let me think, what day was it... yes Wednesday afternoon. She came right across the harbour with the help of both tugs and left through the western exit, heading off to Antwerp. Its always very helpful for us when they leave through the western exit. Although the ferries do it a lot now its rare for the cargo ships to leave this way. You will have noted I'm sure that she has no cargo, no containers to be seen which is unusual and the ship itself looks a little...well tired. Not sure if there was anything wrong. Fairly standard but pleasant shots above and an extra one below which is very zoomed in...trying to get into the heart of the action.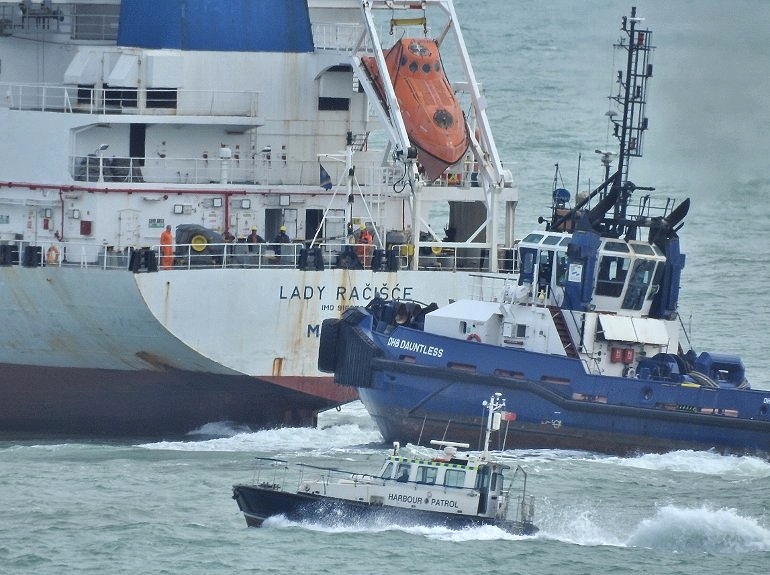 PaulB
Also just in from the guys at the Port..
The Port of Dover wins national recognition of its Heart Safe training and facilities for the second year running.
_____________________________________________________________________________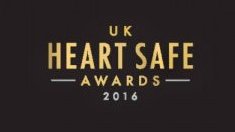 Despite winning the accolade of Large Business of the Year in 2015, the Port of Dover has continued to advance with training, demonstrations and the promotion of the Port's Automated External Defibrillators (AED's). As a direct result of this work, the Port's ship operators and external construction contractors have now gone on to purchase AED's for their own sites and to train their own staff – not only in Dover, but at other locations around the UK where they operate.
Within the Port itself, equipment is located with the Harbour Patrol Launch providing cover for marine incidents; the Marina Office ensuring that visitors mooring at the Marina have access to advanced medical facilities and two units in the Port's busy Cruise Terminal, catering for advanced care for cruise passengers. Redeployment of the AED locations this year has also allowed for mobile units to be utilised by the Port of Dover Police to provide a third 'blue light' response to areas within and outside of the Port. Investment was also made into ensuring all seven units have paediatric pads for the use on children, enhancing the flexibility of deployment.
As part of the continued promotion and use of AED's, the Port delivered first aid and defibrillator training to staff on save a life days, Port-centric safety day and customer safety roadshows to the wider community.
This ongoing work has continued to provide necessary and immediate care. A recent case in point saw the deployment of the Port Police and safety personnel to the scene of a sudden cardiac arrest and the availability of equipment meant that two AED units were deployed to the scene allowing for Cardiopulmonary Resuscitation (CPR) and defibrillation within two minutes.
The judges were impressed by the Port's improvement year on year, its outward looking approach and commitment and passion for AEDs.
The Port of Dover Lead Safety Advisor, Andy Stephens said: "Winning this award for a second year is a true representation of the investment of both the Port and its staff in committing to create a safer environment for colleagues, the wider Port community and the travelling public. It further endorses the work being undertaken with the local community and the training provided to local clubs and organisations, and also has a positive impact with close business partners who have been further influenced to enhance their own AED and basic life support provisions as a result."
Ends
AIDA Sol in today for the last time this year. Pictures later.
Well done once again to DFDS for achieving that milestone below.

Friday, 21 October 2016 - 06:01
Post 3156
Sea News, Dover
DFDS CARRIES MILLIONTH FREIGHT UNIT ON CHANNEL
_______________________________________________
Freight volumes for the DFDS Dover-Dunkirk and Dover-Calais routes have been roaring ahead this year and the operator has just smashed its predictions on setting a record million units.
Freight sales director Wayne Bullen said: "We knew we were on course, but the special moment came earlier than we originally predicted. Milestones such as this emphasise the high level of service we are offering on the Channel routes and underline the confidence and loyalty we receive from our customers."
DFDS celebrated the occasion by handing out complimentary branded travel mugs to freight drivers arriving for the one-million-mark sailing from Dover, and presented a hamper of goodies to the driver of the millionth vehicle.
He was Michal Vrba, a driver with Inex Spedition, a transport and storage operator based in the north east of the Czech Republic at Trutnov, some two hours from the nation's capital of Prague.
The company operates a modern fleet of 43 trucks. Michal was delighted that his vehicle was the millionth shipped with DFDS on the Channel during 2016. "I like DFDS, they look after drivers, though I never expected this as well," he said, smiling and accepting the prize hamper.
Wayne Bullen thanked him for his and his company's valued custom and added: "We are now confident that we will carry over 1.3 million freight units by year end, cruising past the 965,000 record we set for 2015 and confirming our status as the market leader for ferry traffic on the Channel.
"It also reflects on our long-standing policy of valuing our freight customers, whose drivers enjoy dedicated facilities in the Road Kings club on board our vessels as a reward for their loyalty."
DFDS has already celebrated a 63 per cent increase in freight volumes on the Dover routes in the second quarter of this year, part of an upswing following the addition of two new ships on the Calais route in the spring, Cote des Dunes and Cote de Flandres. This means that DFDS now offers up to 54 daily sailings on its two routes to France with the help of a dedicated online booking service for freight, which was launched in March. This simplifies the booking process and allows operators to track shipments and view real-time departure information.
A new and improved terminal at Dunkirk has also boosted traffic, by allowing a faster check in process and a safe and secure parking area for up to 260 vehicles at the port.
DFDS provides shipping and logistics services to more than 8,000 freight customers across its 30-route network, including 11 UK routes. For more information visit www.dfds.co.uk
Ends
Picture shows Wayne Bullen left with Michal Vrba of Inex Spedition in the Czech Republic.
A stunning performance above there from DFDS.
Many thanks once again to the team there for sending the info through

* * *
Spotted this gem passing down the Channel on Tuesday. The ship is called the Roald Amundsen and she was on her way to the delightful French coastal town of Cherbourg. It is a very long range picture as you can see...that's Cap Gris Nez in the background there, on the coast of France. She is a German vessel albeit with a Norwegian name..more below ...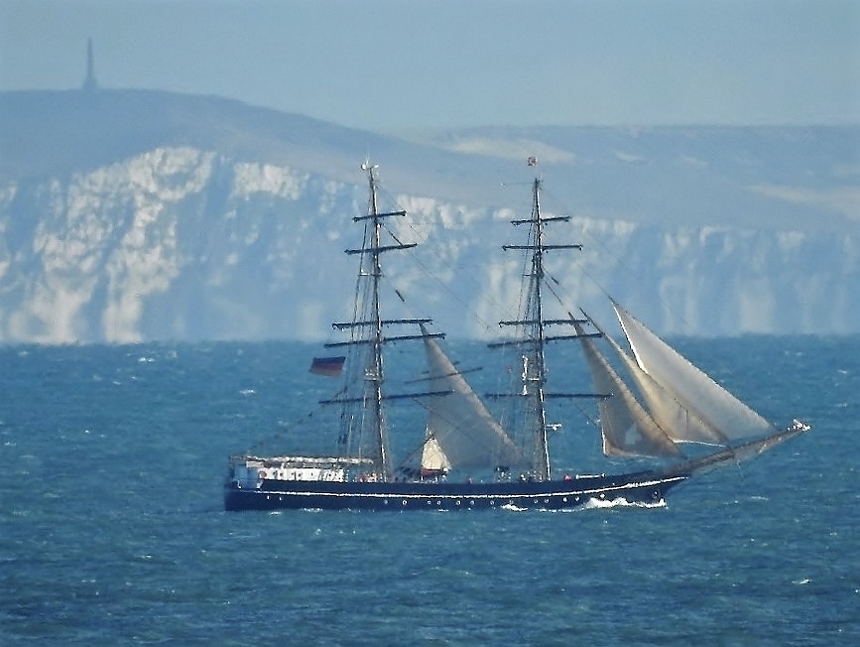 "
Roald Amundsen (named in honor of Norwegian polar explorer Roald Amundsen), is a German steel-ship built at the Elbe River in 1952. Having worked in different areas, she was refitted in 1992 to 1993 as a brig (two-masted square-rigged sailing ship) and now serves as a sail training ship. During summer, she usually operates in the Baltic Sea, and usually embarks for journeys to farther destinations for winter, including several trans-Atlantic crossings.
"
EXTRA
"
Roald Engelbregt Gravning Amundsen (Norwegian: [ˈɾuːɑl ˈɑmʉnsən]; 16 July 1872 – c. 18 June 1928) was a Norwegian explorer of polar regions. He led the Antarctic expedition of 1910–12 which was the first to reach the South Pole, on 14 December 1911. In 1926, he was the first expedition leader for the air expedition to the North Pole.
Amundsen is recognized as the first person, without dispute, as having reached both poles.[2][3] He is also known as having the first expedition to traverse the Northwest Passage (1903–06) in the Arctic.
In June 1928, while taking part in a rescue mission for the Airship Italia, the plane he was in disappeared. Amundsen was a key expedition leader during the Heroic Age of Antarctic Exploration, in the class of Douglas Mawson, Robert Falcon Scott, and Ernest Shackleton.
"
So there you have it....

Thursday, 20 October 2016 - 07:22
Post 3155
Sea News, Dover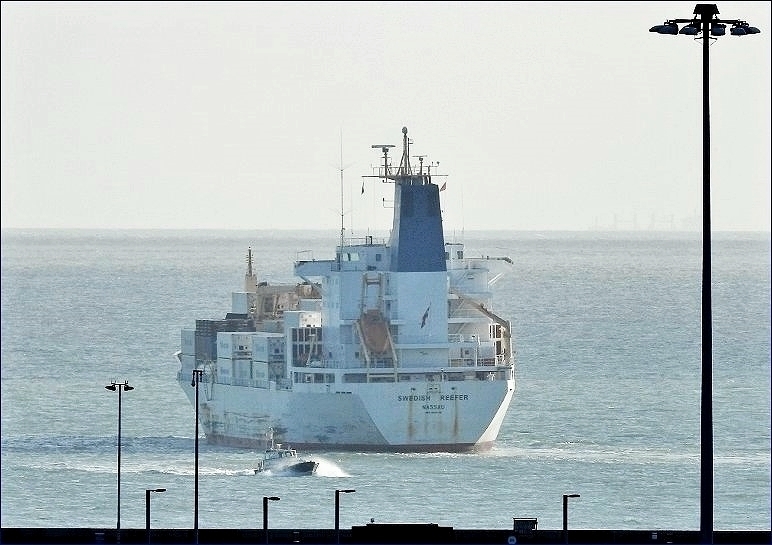 Here we are as promised with some shots of the Swedish Reefer heading off to Hamburg on Monday. Fairly long range these ones are. You can see the pilot boat returning. I have cropped the top picture and shown it as pic two. The third picture shows the pilot powering homeward but still outside the harbour and being hit with some choppy turbulence. Spray everywhere. Lady Racisce is in at the moment so the pace goes on at the Cargo Terminal.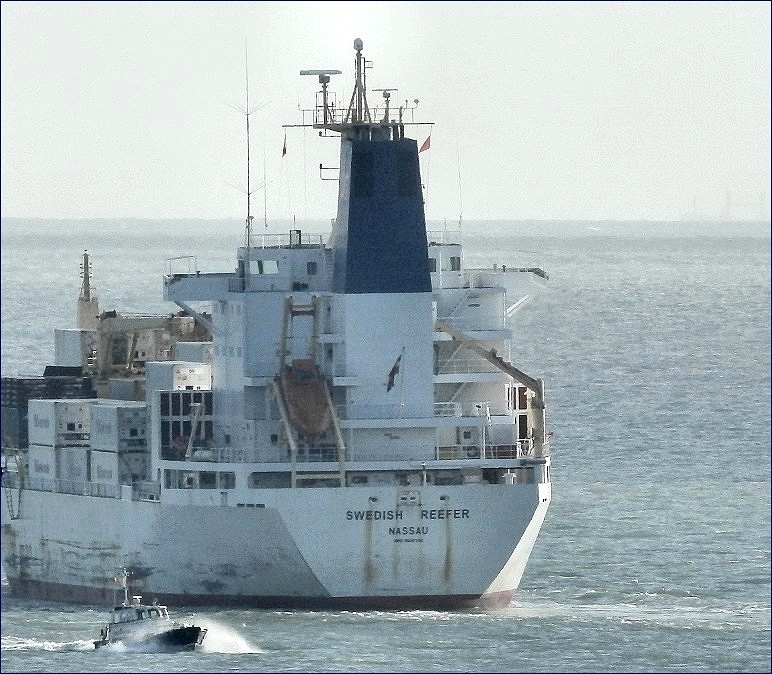 SCARY TIMES: we have shown the following item previously at the top of page in the editorial section, but here is another chance to see it as a reminder...the kids will love this one....should be great fun on the day.
...ooooh I'm a-shiverin' with fear....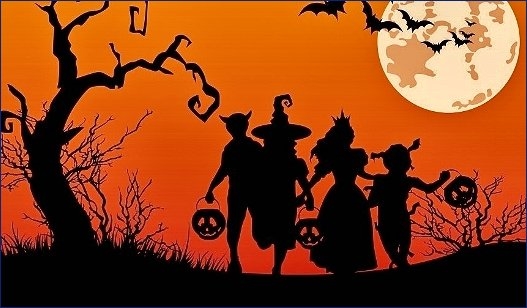 DONT RUN SCARED- RUN SCARY!!
Join the Port of Dover Halloween Mini Monster Race
_________________________________________
We're hunting high and low for alarming athletes, frightening fun runners and creepy kids to dress up in their scariest, spooky costumes and race along Dover's seafront in this years' Port of Dover Magnificently Macabre 'Mini Monster Race' on Friday 28 October.
With fantastic prizes for the most menacing monster fancy dress and for the race winners, it's a spook-tacular that's not to be missed.
All monsters competing in the race will receive a morbid medal and a terrifying 'Trick or Treat' goody bag. The sinister setting will be the Seafront Kiosk (on Dover Seafront opposite Horrifying Harbour House).
There will be two heats on the day; one for three to seven-year-olds (and their petrifying parents) and another for eight to fourteen-year-olds with availability for only 40 revolting runners in each heat.
Check in will be at 3:30pm with the little monsters' race at 4:00pm, the second race for the older monsters at 4:30pm.
After the run there will be ghoulish grub and devilish drinks – and some shocking surprises. Finally, at 5:00pm at the Kiosk, the wicked winners will receive their prizes.
All proceeds from the day will go to local charities.
Entry is free so register for a place online at www.doverport.co.uk/events or for a booking form contact ...
Karen.webber@doverport.co.uk

* * *
Thanks Del, glad you liked that one... twas very atmospheric, the strange light lasted for just a few fleeting moments.

PaulB.
Wednesday, 19 October 2016 - 07:44
Post 3154
del styan, Norwich
Lovely shot of the harbour at twilight, Very peaceful.

Tuesday, 18 October 2016 - 23:17
Post 3153
Sea News, Dover
Pacific Orca moving down the channel yesterday morning Monday under a stunning and dramatic sky. She was heading for an un-named offshore field I believe having left Vlissingen in Holland earlier. Time of pictures 08.10. I think we may have featured this one before...scratching ones head...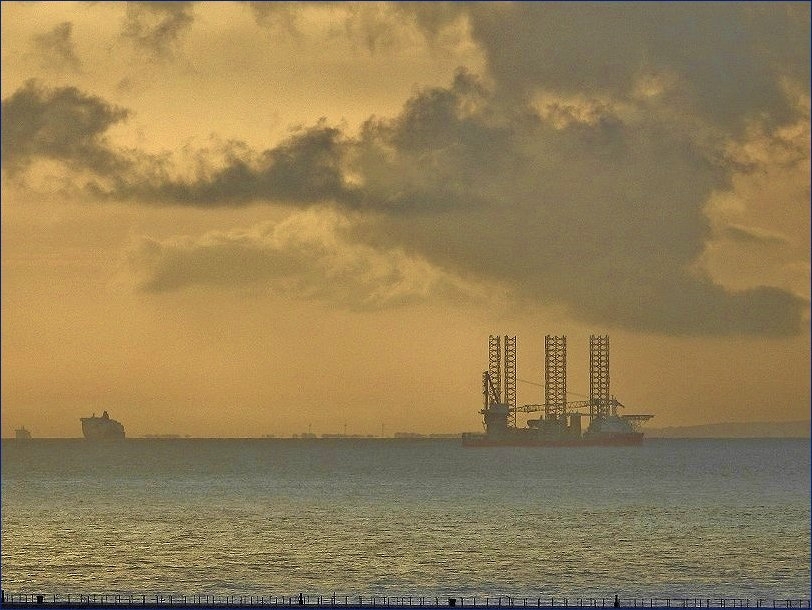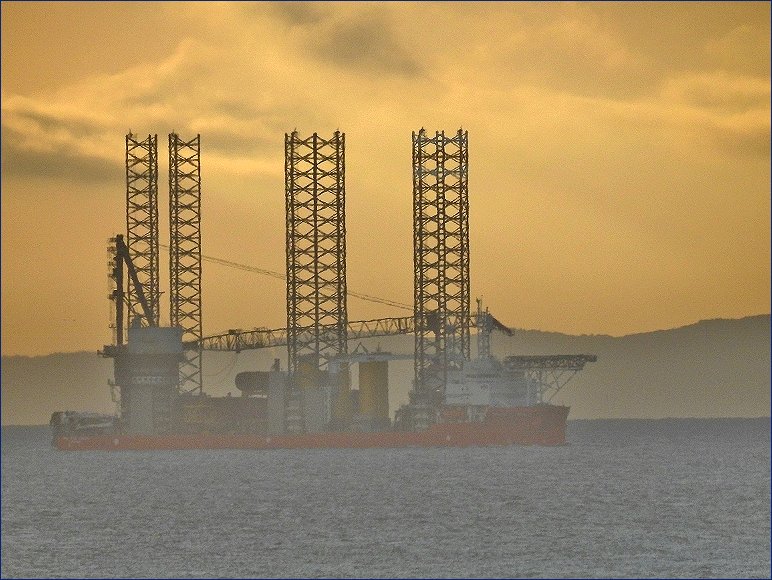 Some pictures to follow in the morning of the departing Swedish Reefer...all being well.

PB.
Tuesday, 18 October 2016 - 17:16
Post 3152
Sea News, Dover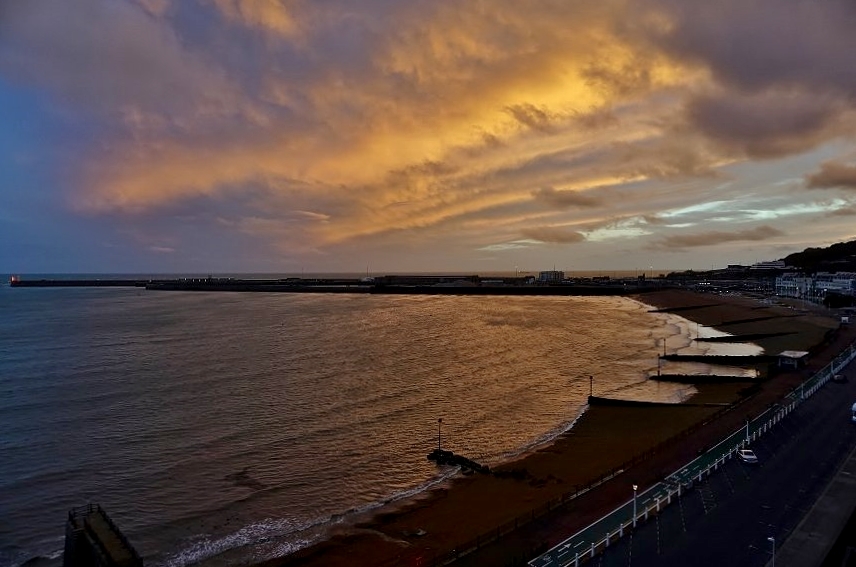 This was the scene above and across the harbour on sunday night...or indeed late evening to be more precise. Yes just before nightfall the whole scene went a kind of rustic orange twilight, it lasted for five minutes no more, it was a kind of an autumn twilight zone...delightfully weird. And then it was gone. Hopefully we have captured some of the mood above there. This is a kind of secondary light, the sun sinks nowhere near...its much further to the right of shot.
Below we have the magnificent AIDA Sol at distance across the harbour yesterday morning on a grey day. She is still coming regularly, with one more visit due yet. She left last night about 9pm...probably heading for Hamburg as per usual.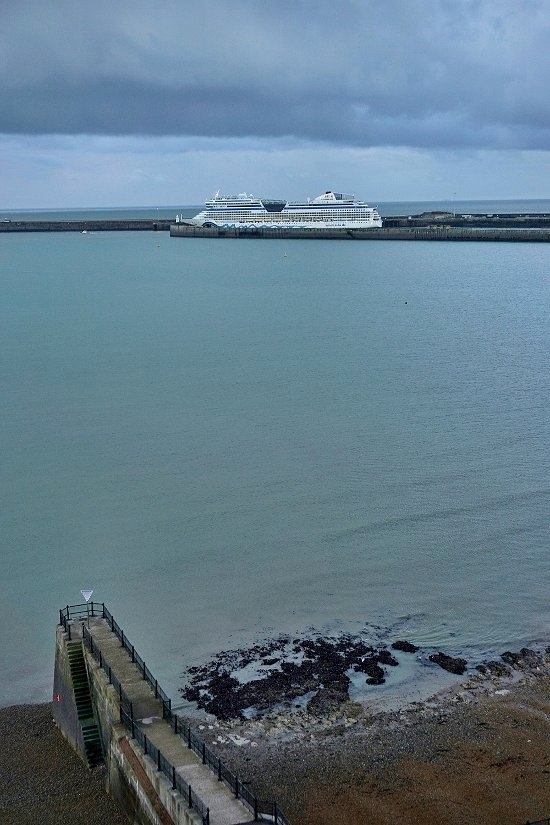 Be Part Of The Future! Dover Skills & Business Expo - Dover Town Hall, Tuesday 15 November (9am-3pm)
_____________________________________________________________________________________
Job seekers, students and local businesses are being offered the opportunity to be part of the future at the Dover Skills & Business Expo being held at Dover Town Hall on Tuesday, 15 November (9am-3pm).
The exhibition, featuring some of the Dover district's biggest employers will showcase the many new developments that are creating new jobs, training, and business opportunities. This includes:
Investment in town centre leisure and retail at the Dover St James development
Development of a new cargo terminal and logistics hub at Dover Western Docks
Construction of new manufacturing space at the Discovery Park Enterprise Zone
Opening of a New Visitor Centre at the Betteshanger Country Park
Launch of the new Dover Maritime Skills Academy
Investment in skills and training at East Kent College.
The exhibition is being organised by Dover District Council in conjunction with East Kent College, who will be providing a whole host of interactive activities in the Skills Zones where people can get hands on with engineering, construction and building trades, automotive, and IT.
Cllr Paul Watkins, Leader of Dover District Council, said: "We're seeing the biggest investment in the district's future in a generation. We want local people and businesses to benefit with opportunities to gain new skills, careers and business opportunities so we're bringing together a whole host of employers, colleges, and training providers under one roof. It will also be an opportunity for small businesses to network with some of the district's biggest companies."
Graham Razey, Principal of East Kent College, said: "Dover district has been a real success story, with fantastic growth across a range of sectors. We're extremely happy to be playing a part in that story by delivering the high quality skills training and apprenticeships which Dover needs to keep on growing.
"We'll have a number of our curriculum areas at the Dover Skills & Business Expo, and will be holding a range of interactive activities for those who are interested in finding out more about what they could learn at East Kent College's Dover Campus."
Entry to the Dover Skills & Business Expo is FREE. For more information, visit www.skills4dover.co.uk
Ends
Tuesday, 18 October 2016 - 06:31
Post 3151
Sea News, Dover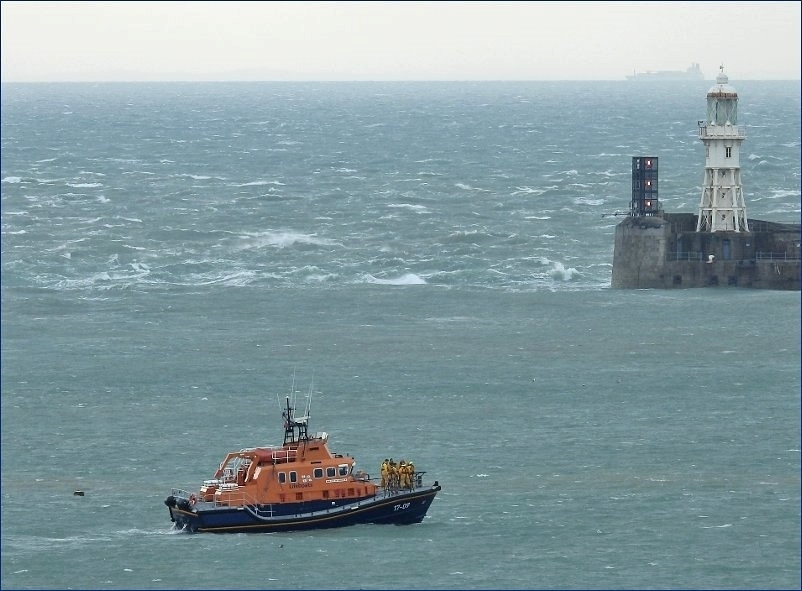 The Lifeboat guys usually comes out on sunday morning for their training sessions and so on, I understand they have a batch of new recruits down there now too so good luck to them. The weather was rough, as was the sea, you can see the conditions just outside the harbour in the picture above. They clearly opted to stay inside the harbour this time although these guys know how to get through rough weather when they need to.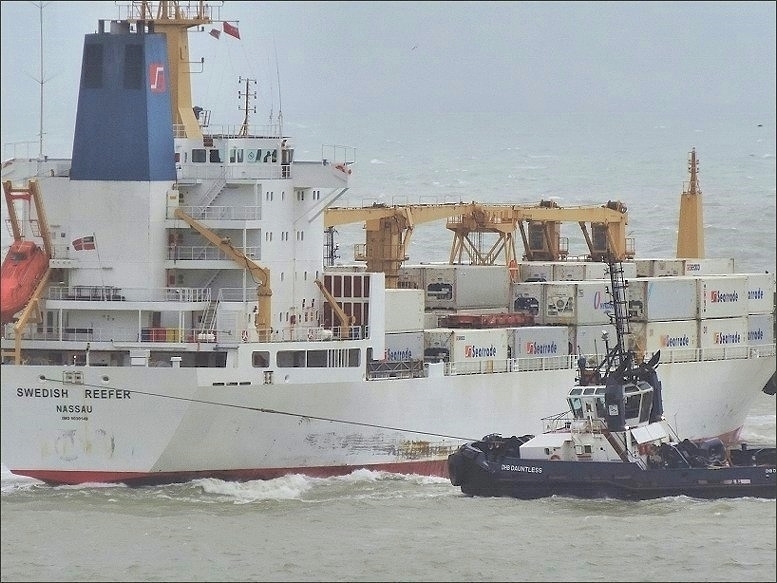 A picture above there of the Swedish Reefer which came into Port yesterday around mid-day through the rough weather...this pic above from the previous time.
AIDASol back in with us again today. She makes a great sight across the ( at the moment) leaden grey harbour.
If there are any designers or artists out there looking in.. have a go at that DFDS Poster comp you can see at the top of page. Entries in by 25 October. There are cash prizes too...wowser! . Go for it ! Send designs to 150@dfds.com.
PaulB.

Monday, 17 October 2016 - 06:48
Post 3150
brian, dover
off the nearest beach vic...........

Monday, 17 October 2016 - 05:33
Post 3149
vicmatcham, some where in the uk

Can you please tell me where the D.H.B.is now going to get the sand they need now we won an order stopping them taking it from the goodwins?
Sunday, 16 October 2016 - 18:46
Post 3148
brian, dover
chasing scotish lassies around inverness to be precice paul......

Sunday, 16 October 2016 - 14:09
Post 3147
Sea News, Dover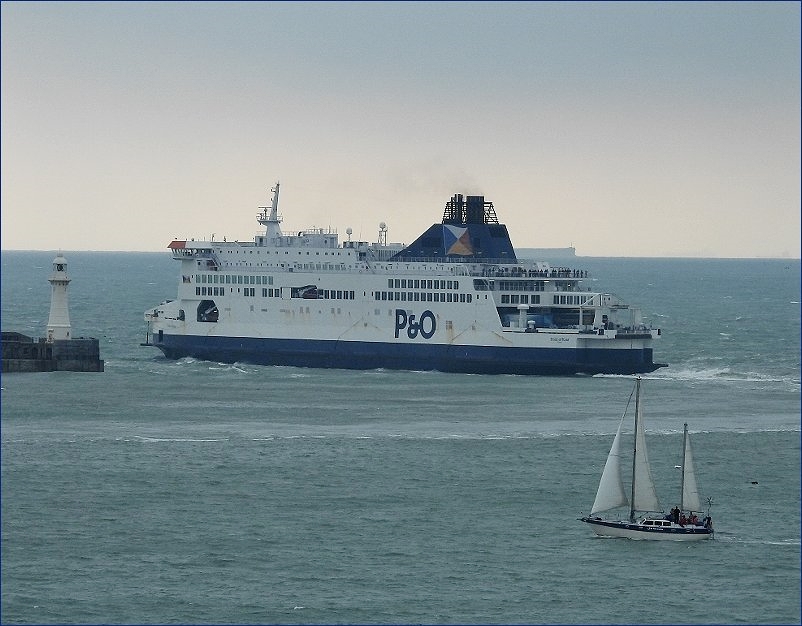 It was a bit of a rough oul day yesterday saturday, the wind was rough, the sea was rough and yours truly was r....no no no no , but the weather was indeed tough for sailing out there. Yet these hardy souls took it on, aboard the solitary yacht Shimoda. They were well wrapped up for the bracing weather and they meandered around the harbour for a couple of hours fighting the elements with gusto. I took a small burst of pictures and here they are in sequence. In the background the Pride of Kent winds its weary way to Calais.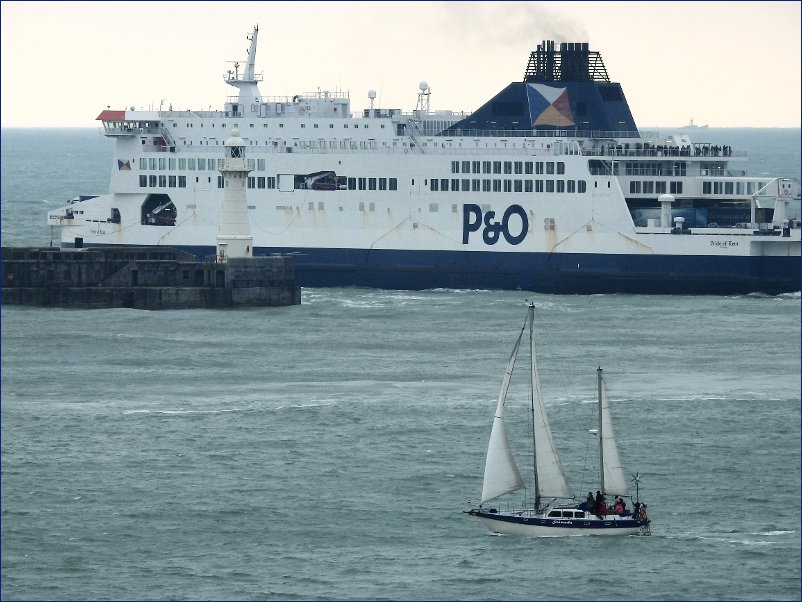 Nice picture that below Mike. Yes its difficult getting from point A to point B here in Dover at the moment with any certainty.
Thanks Vic for the comment ...from the middle of nowhere.

PB.
Sunday, 16 October 2016 - 08:09
Post 3146
Mike J., Dover
I saw the SEARCHER entering on Saturday afternoon but then got caught up in the Snargate Street roadworks & by the time I got clear she was parked-up & had missed the 'underway' snap that I was hoping for.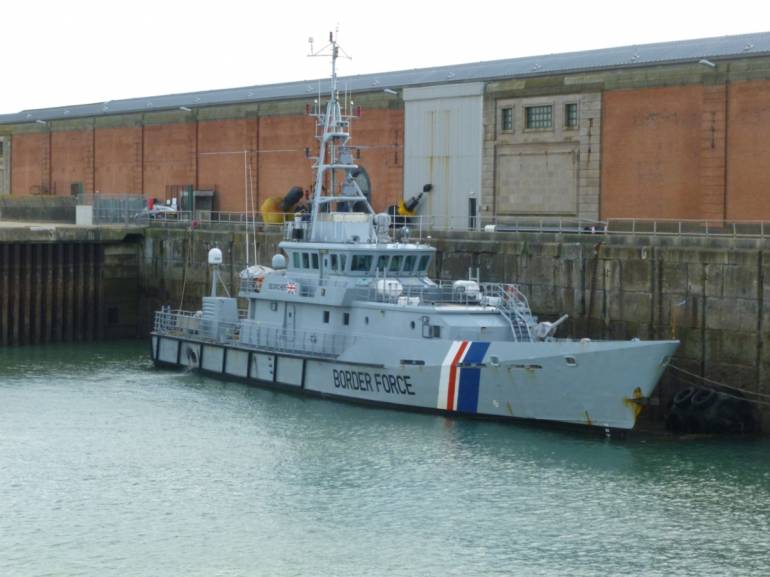 Saturday, 15 October 2016 - 21:28
Post 3145
vic matcham , some where
great photos still of the port weather is still holding out.
I see our MP is still talking he is very good at that but not a person of action.
Again thanks for the photos,


Saturday, 15 October 2016 - 08:43
Post 3144
Sea News, Dover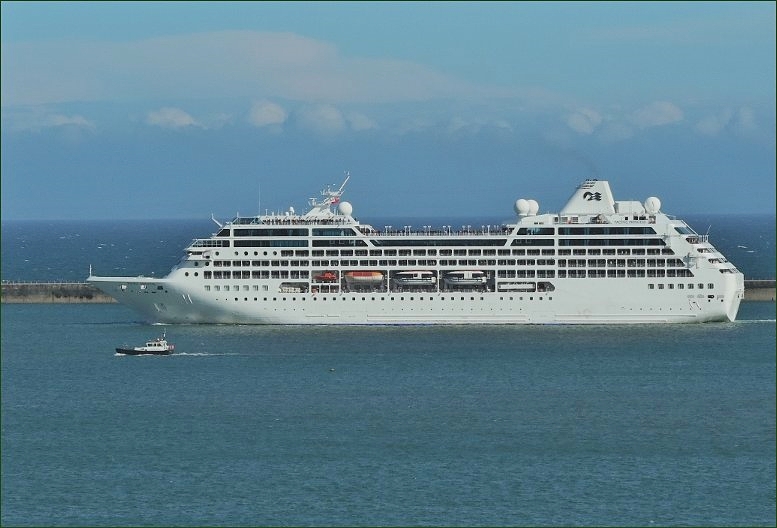 Following along from Howards post below...lets hope the Pacific Princess is soon restored to pristine condition. She is a nice looking ship for sure, that's the ship above for those who have forgotten for the moment. That particular photo was taken on a visit in June and looking good as you can see.
It was a quiet day yesterday... so here below is another picture to enjoy of the departing Emerald from a couple of days back ....
The AIDA Sol certainly looks great at night Barry when she departs. Its a fab sight... haven't been able to get a night picture of the departure, it doesn't seem to work....so far, but one of these days.

Saturday, 15 October 2016 - 08:05
Post 3143
Howard McSweeney, Dover
Just read that the "Pacific Princess" last here in September hit a seawall on arrival in Nice this morning. It was holed below the waterline but watertight doors were immediately closed to prevent further problems. Most of the passengers have gone off on tour as there were no reported injuries. Divers have been down to assess the damage.

Friday, 14 October 2016 - 15:20
Post 3142
Barry W-S, Dover
I saw the Aidasol leaving for Hamburg last night, she looked Great with her decks illuminated in the night's sky. Shame I wasn't in the position to take a photo

Friday, 14 October 2016 - 12:56
Post 3141
Sea News, Dover
With members of 'the Jungle' rioting again yesterday in Calais, and tear gas being used by French Police, the latest Charlie Elphicke newsletter below is very apt at the moment. With President Francois Hollande promising to close the camp and humanitarian groups against closing the camp, the situation is very muddled indeed.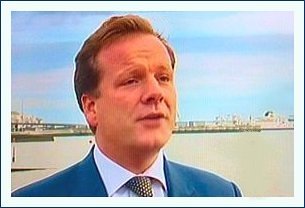 Calais Jungle must be fully dismantled – never to return...says CHARLIE ELPHICKE MP
_________________________________________________________________________
At long last, it appears the Calais Jungle's days may be numbered. When I visited the camp last month, I was shocked. It's worse than I have ever seen it. It should have been dismantled years ago. Instead the numbers there have swollen to 10,000 people.
Traffickers roam free, feasting on people's hopes of a better life – yet all they sell are broken dreams and a life of modern slavery should the migrants make it to Britain. This situation puts real pressure on our border at the Dover frontline.
We've heard empty promises from the French before. This time they must ensure the Jungle is fully dismantled – and never allowed to return.
What is needed is a clear plan where the British and French Governments work together to put an end to this shameful situation once and for all:
1. The people traffickers must be caught and jailed. Make no mistake – these evil slave-masters are at the heart of the migrant crisis. Britain and France must work together to smash the trafficking gangs and disrupt their networks.
2. Protect tourists, truckers and trade at Calais. The attacks we have seen by these chainsaw wielding, tree throwing, petrol bombing criminals on the road to Calais are totally unacceptable. The tragic case of an Eritrean migrant killed in Calais on Sunday by a British driver, who was swerving to avoid an attack by traffickers, shows how dangerous the situation has become. Urgent action is needed to catch these gangs and end their evil trade of modern slavery.
3. Patrol our English Channel. We should increase the Border Force budget and have more than three boats to guard 7,000 miles of coastline. Last month, three Iranians arrived at Walmer beach in a dinghy and claimed asylum. Migrants are detected landing on the beaches of Kent in small craft on a monthly, if not weekly basis – who knows how many more arrive undetected? We need a bigger fleet of border boats patrolling the Channel and a squadron of Dover drones tracking traffickers from the sky.
4. The Jungle should be fully dismantled – now. That means properly dismantled and the people there should be moved to places of safety far from Calais. The French need to be sure people cannot simply sneak back to Calais. The Jungle must never return.
5. The migrants should be helped back to their home nations. Any asylum claims should be processed and failed asylum seekers should be repatriated.
The situation at Calais is appalling. The conditions there are an affront to humanity. That's why it is vital Britain and France work together to help the vulnerable, bolster border security and wage war on the people traffickers. Only then can we properly protect tourists, truckers and trade – and end the evil of modern slavery.
Charlie Elphicke MP for Dover and Deal.
* * *
Well done with those pictures from Ramsgate Mike. Good to see those.
Yes indeed Del staying off the roads recommended late on the 24th October
...see post 3138.
PaulB.

Friday, 14 October 2016 - 07:28