Wednesday, 24 August 2016
SEA NEWS
HUGE GROWTH IN FREIGHT FOR DFDS .. see below 2985...
PORT ACCESS - AUTUMN ROADWORKS LATEST 2975
DOVER TRAFFIC CHAOS...see STATEMENTS below 2913, 2911, 2924.
Protecting our borders - Charlie Elphicke MP see 2957
Scroll down the page and over the many pages ( more than 100 ) for all the stories in and around the Port of Dover. You can find anything you want in our SEARCH ENGINE. Type in CRUISE VISITS for example or DISNEY or REGATTA or anything at all......
Dover.uk.com and Doverforum.com have merged to produce an entirely local and comprehensive Dover website. Nautical contributions are welcome on this page with a max of 5 pictures preferred per contribution, all pictures remain own photographers copyright.

Email:dover7@msn.com to send Sea News pix or info..or click ADD YOUR COMMENT below to post direct, no membership needed. Paul Boland.
SAY HELLO TO OUR NEW SEA NEWS SEARCH FACILITY BELOW...
Post 2989
Ed Connell, Dover
Some seriously good model ships on display by the Model Boat Association Dover at the Dover Transport Museum event over the weekend.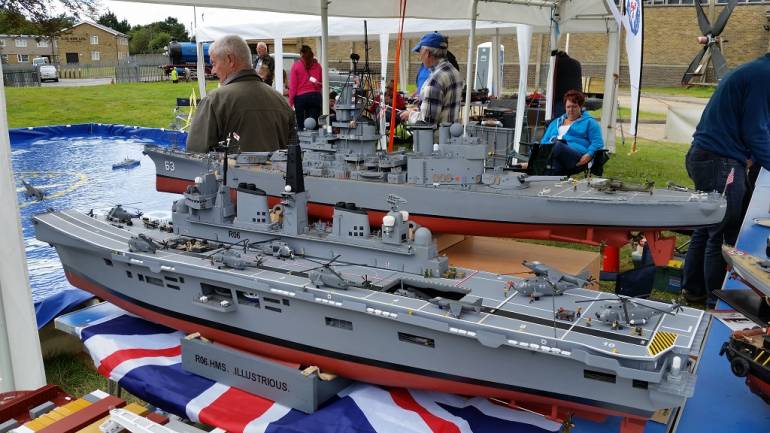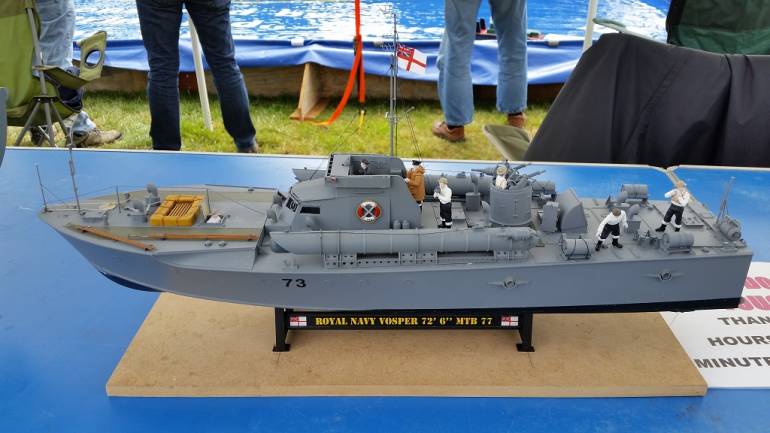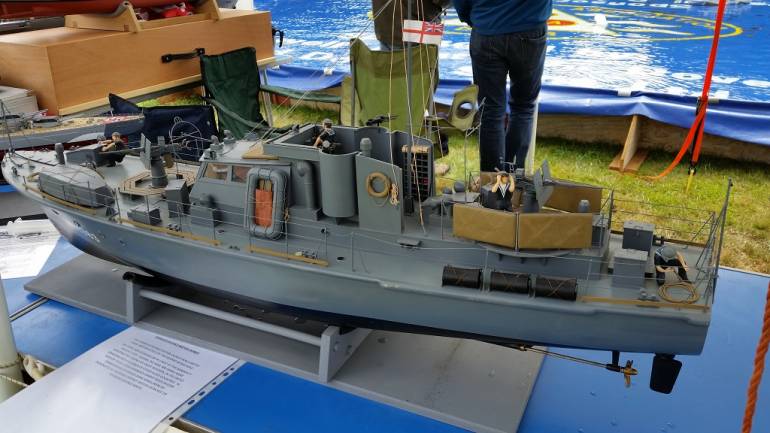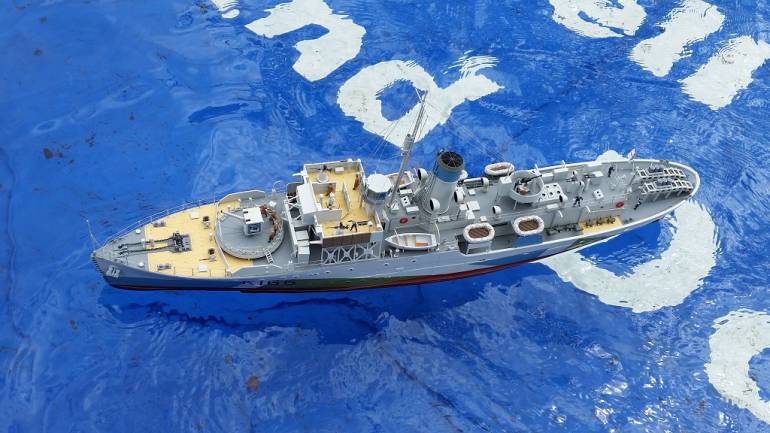 Wednesday, 24 August 2016 - 01:08
Post 2988
Sea News, Dover
The weatherman says we are about to have some good hot summer weather in these parts for the next few days. It should be very pleasant, get out the Pimms! But just a few short days ago we had some 'orrible weather and no mistake, with raging gales and at times...driving rain. I speak of last Saturday. During all this...with ferry delays and so on, cargo ship Crown Opal tried to enter Port..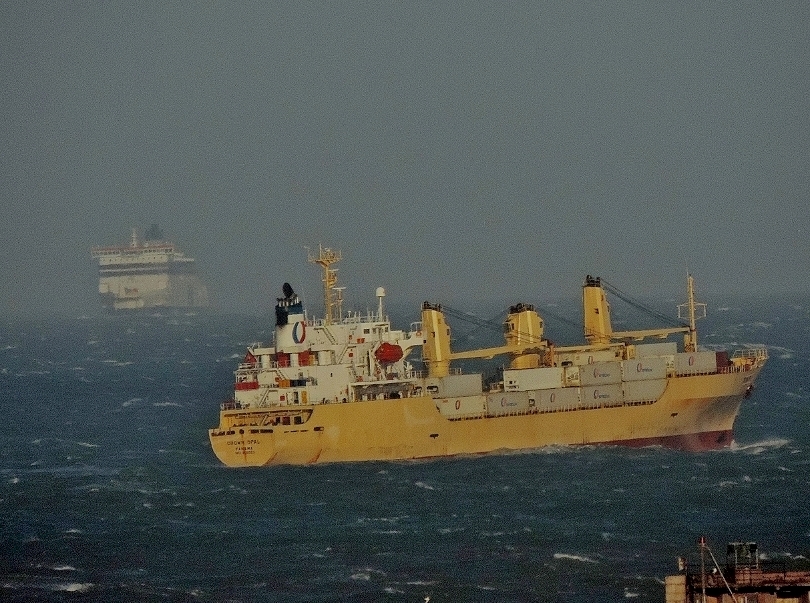 You can see her above there at one point trying to enter Port. One couldn't swear to it but it looks like this attempt was aborted, you can see the edge of the Port entrance bottom right...she turned away at the last minute to wait offshore further down the coast. Crown Opal is a new one on me....off the top of head I think this was a first visit for Crown Opal. It was a rough oul day. She eventually got into Port and since then, in the space of a few days, Atlantic Reefer has also been in and she too has left us. Its all go!
Yes busy times for the Lifeboats Sarah....well captured below.

Yes indeed great news in the posts below about
the Rail Line, post 2986
and the DFDS freight figures, post 2985
always good to hear positive news.
PaulB.
Tuesday, 23 August 2016 - 07:33
Post 2987
Sarah, Ramsgate
As a train user I'm delighted to see that the line will re-open ahead of time.

Ramsgate Lifeboat was called out this evening to assist a stricken vessel.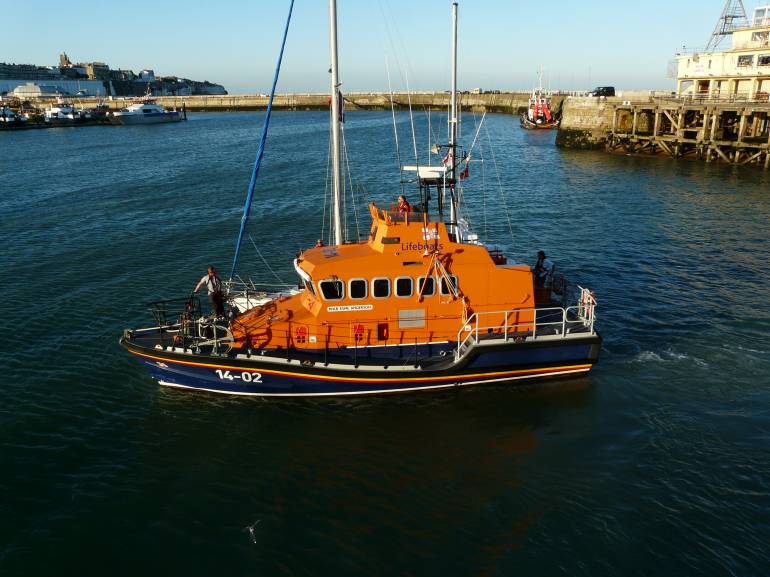 Monday, 22 August 2016 - 23:34
Post 2986
Sea News, Dover
Dover District Welcomes Re-Opening Of £39.8m Rail Line
______________________________________________
Dover District Council has welcomed today's news that the Dover to Folkestone rail line will re-open on Monday, 5 September, three months ahead of schedule. The line has been out of action since Christmas Eve 2015 following storm damage to the sea wall at Shakespeare Cliff.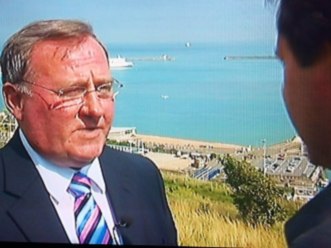 Cllr Nigel Collor, portfolio holder for access, said: "We are delighted to have our rail link reinstated, and in particular, the high speed services that are so vital to local people and the regeneration and investment that we are seeing across the district.
"Thanks must go to Network Rail and their contractors for pulling out all the stops to complete this massive engineering project three months ahead of schedule, and to the Southeastern passengers for their patience over the past nine months."
Alongside the £39.8m revamp of the Dover to Folkestone rail link, work is continuing on a replacement footbridge that will allow access to Shakespeare beach.
High speed rail services operated by Southeastern Railway call at Dover Priory, Martin Mill, Walmer, Deal and Sandwich.
Ends
Many will be gladdened by the news above. Thanks to DDC for the info.
Stunning performance stats from DFDS...see below.

thumbsup all round!
Monday, 22 August 2016 - 19:21
Post 2985
Sea News, Dover
DFDS SPECIAL :
HUGE GROWTH IN FREIGHT VOLUMES HELPS DRIVE POSITIVE RESULT FOR DFDS ON CHANNEL ROUTES
____________________________________________________________________________________
A 63 per cent increase in freight volumes on the Dover-Dunkirk and Dover-Calais routes in the second quarter of 2016 has helped DFDS register a positive financial performance for the first half of the year.
The growth, which has been achieved following the introduction of two new ships on the Dover-Calais service, is the strongest recorded in the company's history. With the introduction of the Cotes des Dunes and Cote de Flandres to the route during the spring the ferry company now offers greater flexibility, reliability and choice for its freight customers.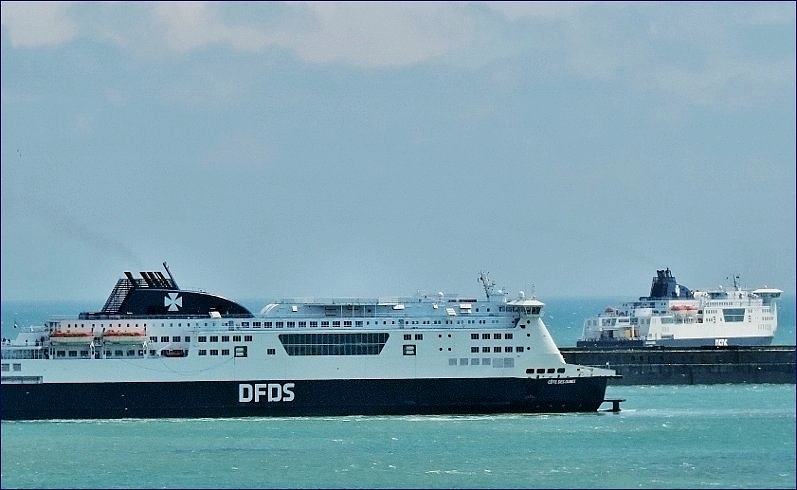 The business provides up to 54 daily sailings on its two routes to France and recorded record freight volumes in March 2016, carrying more than 110,000 vehicles on the Dover routes for the first time. It launched a dedicated online booking service for freight, simplifying the booking process and making it possible for operators to track shipments and view real-time departure and arrival information.
Wayne Bullen, freight sales director for DFDS on the Channel, said: "We've invested heavily in improving capacity and enhancing both the booking and travel experience for our freight customers on the English Channel routes. Our new Dover-Calais ships allow us to offer higher frequency and more choice for our customers and we're delighted to see the significant volume growth achieved as a result.
"We're also seeing the benefits of our new and improved terminal at Dunkirk. Traffic flow has been improved to allow for faster discharge and loading at the port, which helps us better utilize the ships' capacity and ensures we keep shipments on track for our customers. This is a strong performance across both routes that reflects the hard work and customer-focused approach of the whole team here."
Freight drivers benefit from their own dedicated services on board when travelling with DFDS, including private lounges, the Road Kings restaurant, and free shower and Wifi facilities.
DFDS provides shipping and logistics services to more than 8,000 freight customers across its 30 route network, including 11 UK routes.
For more information visit
www.dfsd.co.uk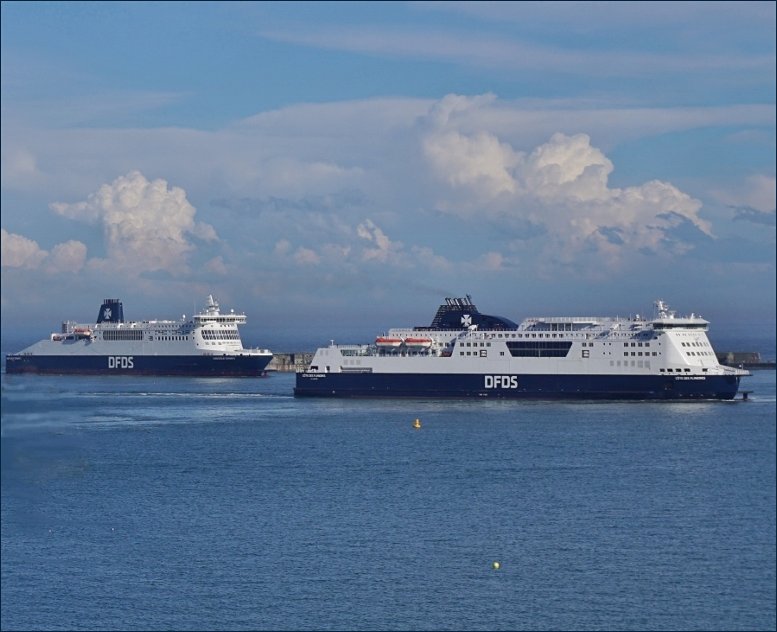 ENDS
Huge thanks to DFDS for the information coming through above. A stunning performance for sure.
Both the exciting new ships Cote des Dunes and Cote des Flandres are shown in the added pictures.

Don't miss the excellent coverage in the posts below from Sarah and Mike..

Monday, 22 August 2016 - 06:50
Post 2984
Sarah, Ramsgate
Carrying on from my last post
Coastguard Helicopter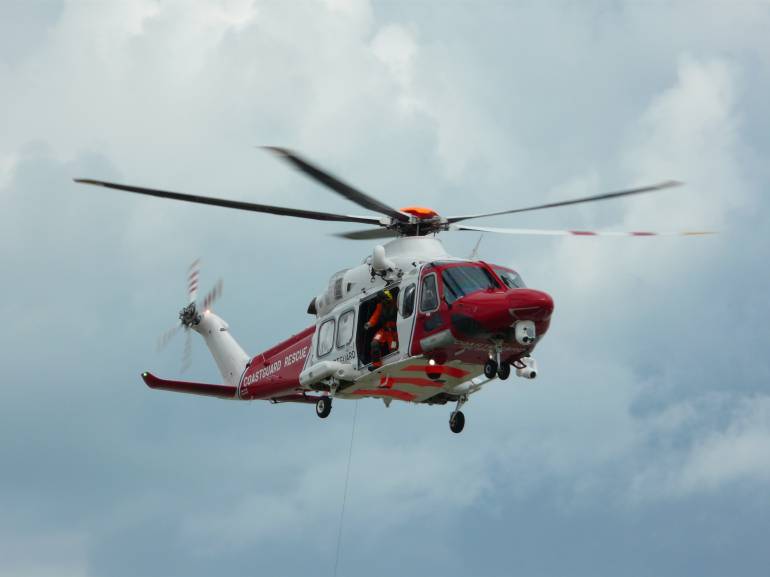 Smit Cerne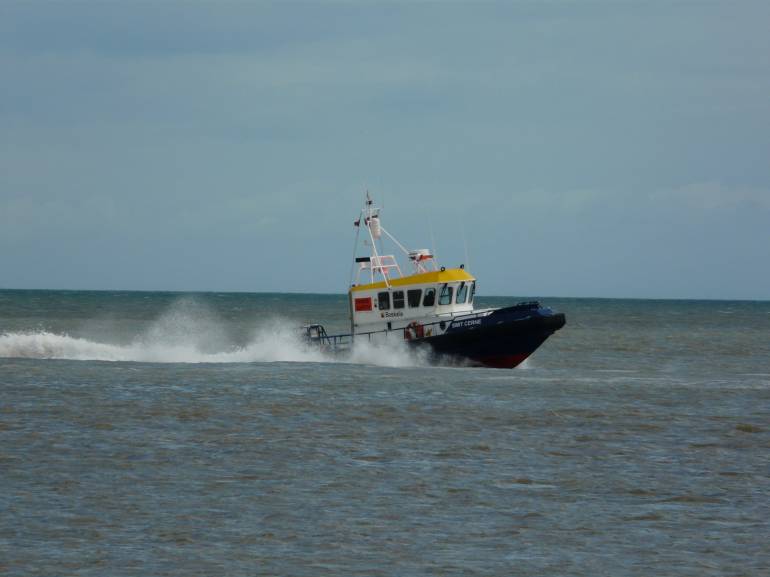 Dover's Y Class Boat
Monday, 22 August 2016 - 00:43
Post 2983
Sarah, Ramsgate
Dover Lifeboat attended the Emergency Services Day on Sunday, along with Dungeness Lifeboat & the Littlestone Relief Lifeboat. Also present was the Coastguard Helicopter & Smit Cerne. A great day out which I most heartedly recommend.
The three lifeboats in action.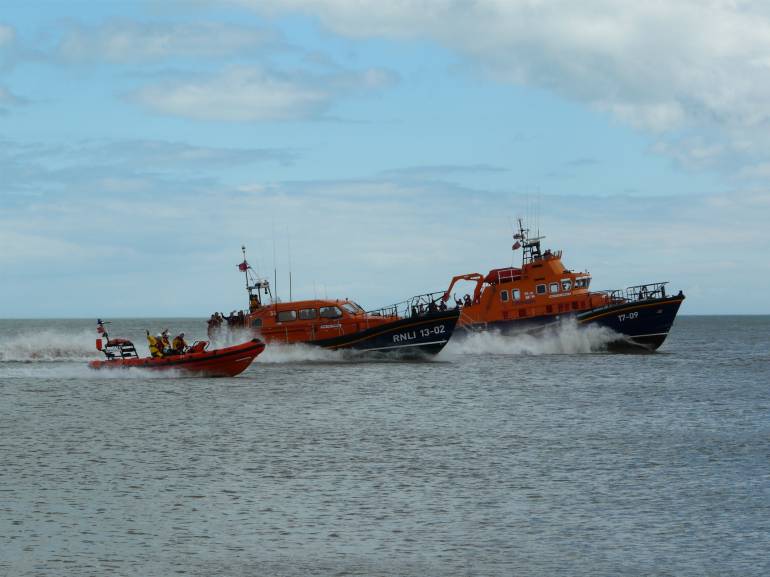 Dover Lifeboat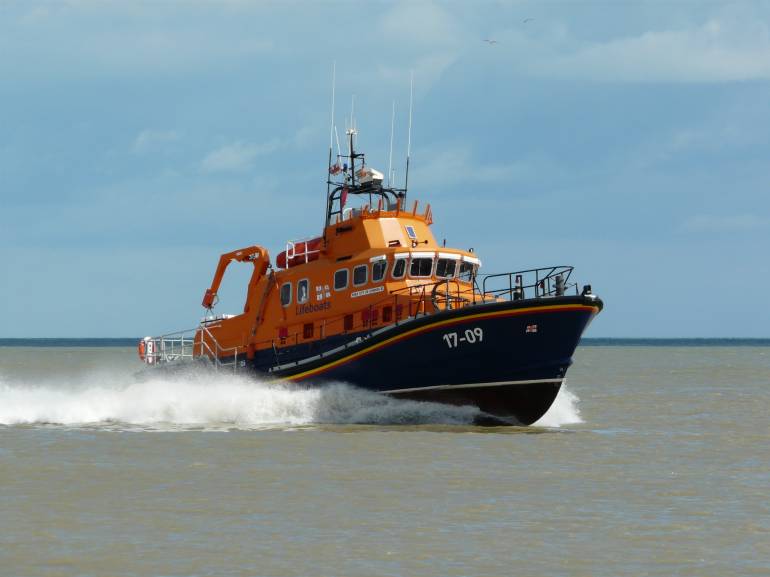 Dungeness Lifeboat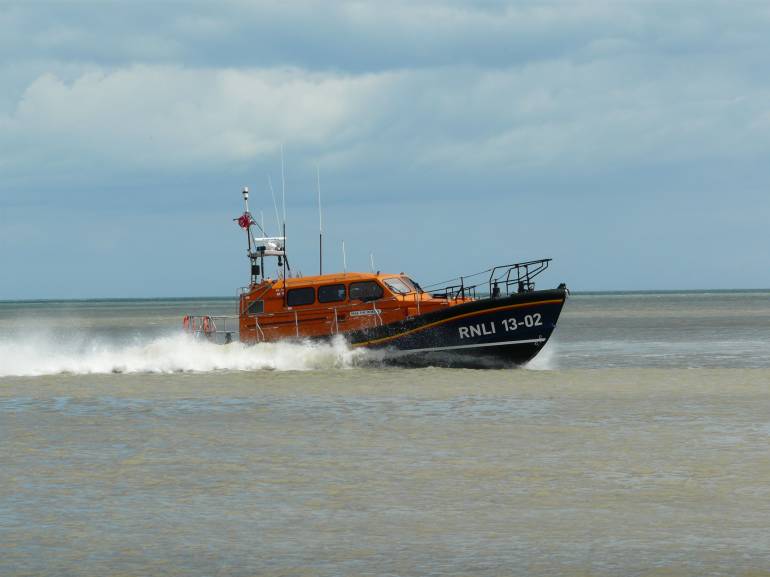 Littlestone Relief Lifeboat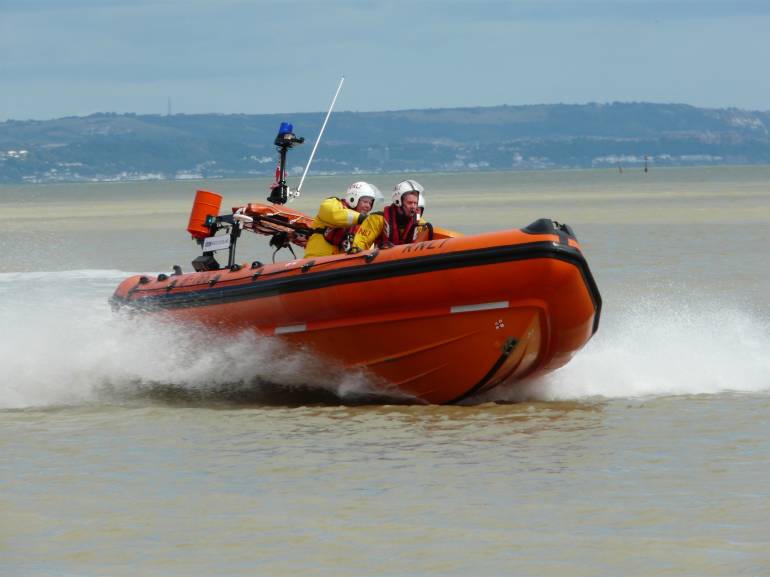 Monday, 22 August 2016 - 00:38
Post 2982
Mike J., Dover
Western Docks, Sunday morning.
Survey vessel SOLENT GUARDIAN was in the Tidal Basin.
She's featured [starred ?] in 'Sea News' a few times before.
THV ALERT was sheltering in the old Jetfoil terminal & the lifeboat returned to the Boathouse after a Sunday morning 'exercise'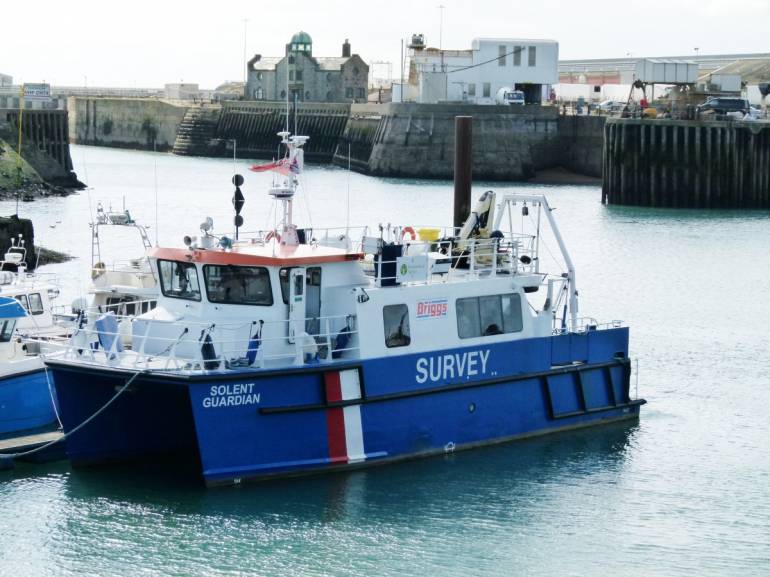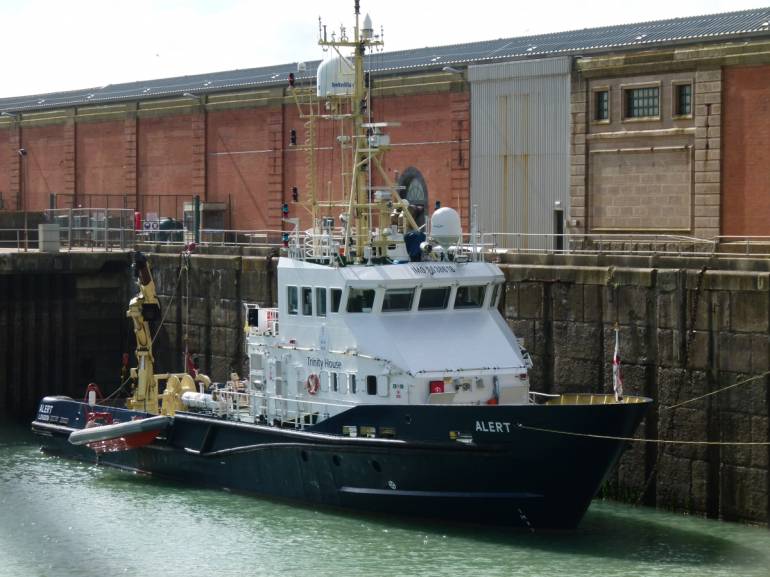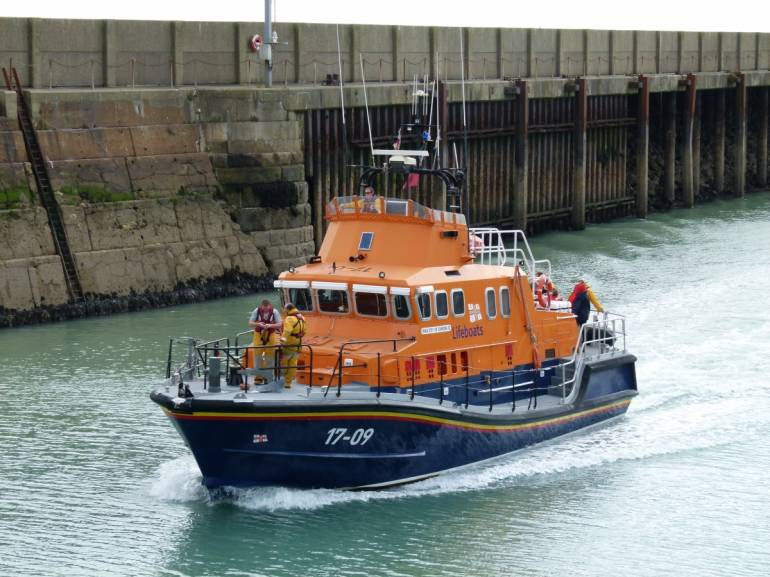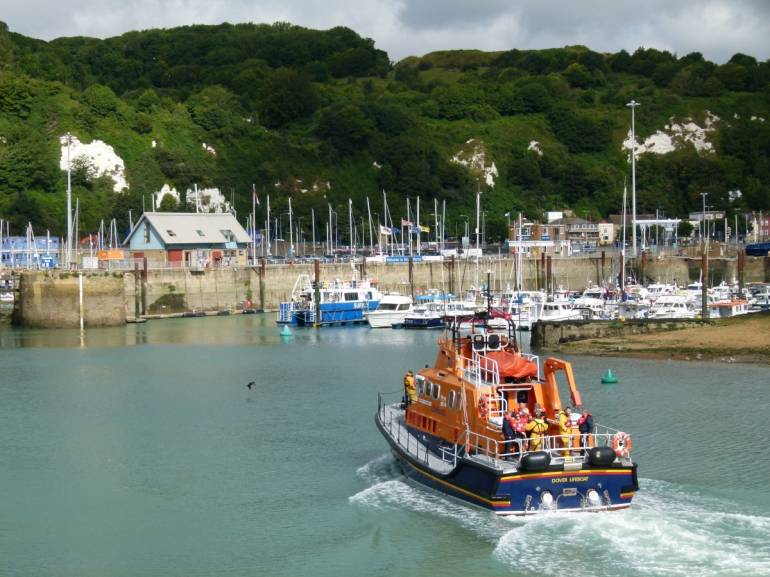 Sunday, 21 August 2016 - 23:45
Post 2981
Sea News, Dover
A FAREWELL TO THE SEABOURN QUEST FOR THIS YEAR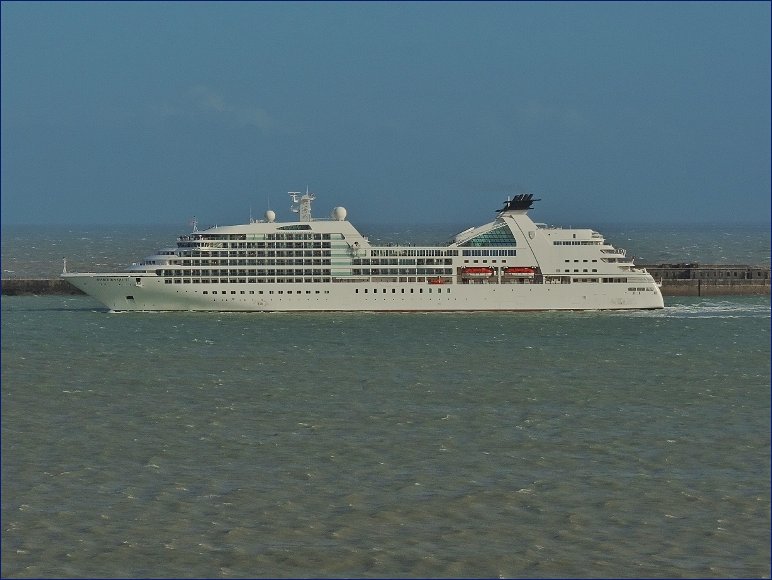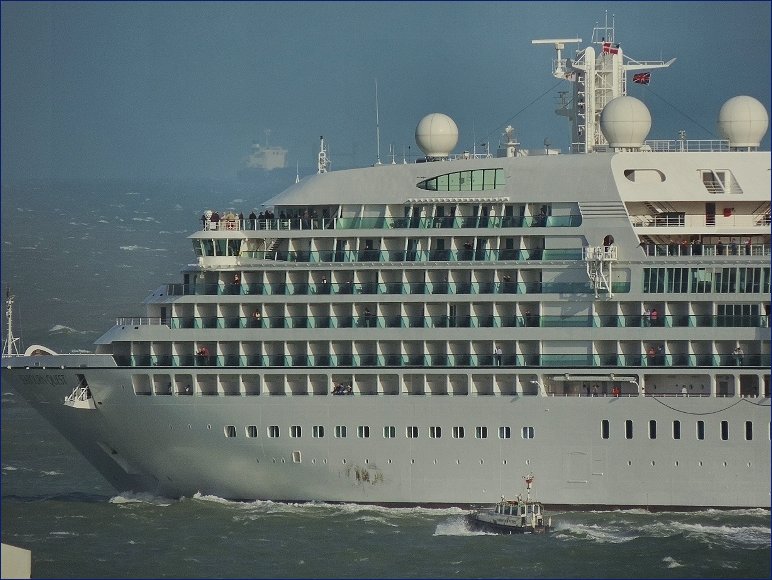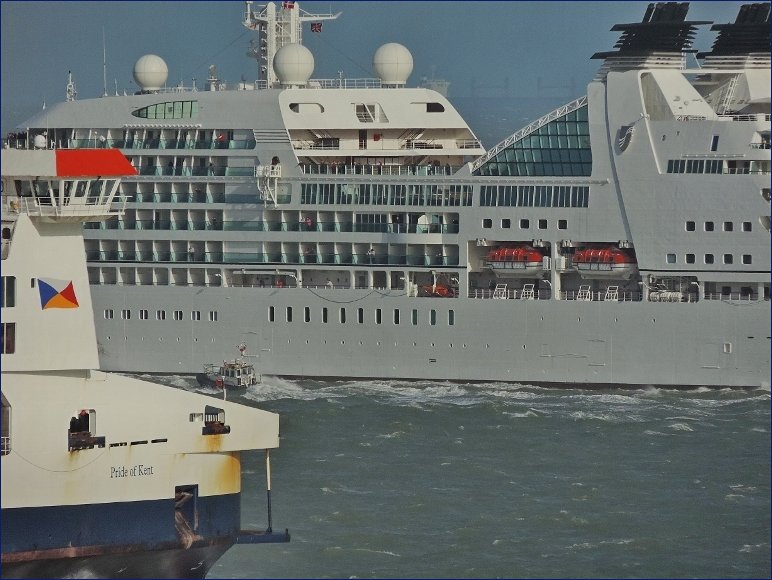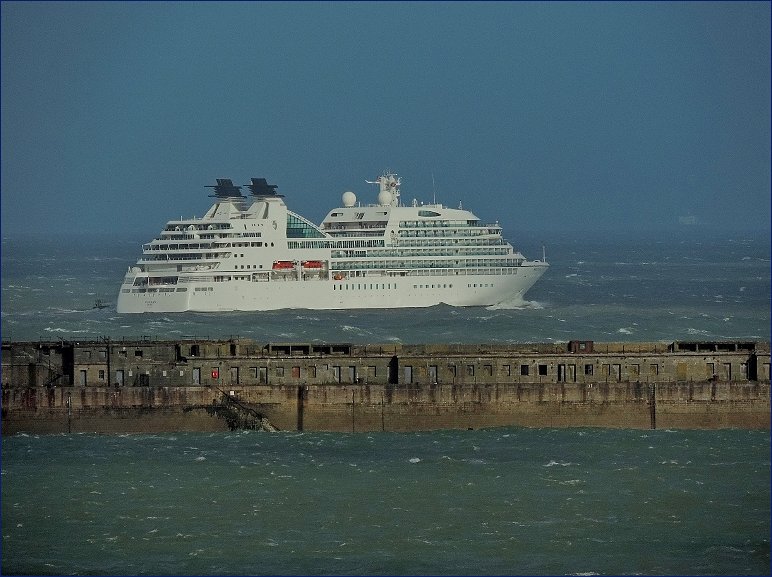 Some more pix above there of the splendid Seabourn Quest leaving us for the final time this year. She left us around 17.30 ( 5.30PM) yesterday evening saturday. Yes indeed as Mike says below, another one off to Dublin. And certainly a nice way of getting there for sure. I wont mention the Princess Maud again - no sir! Although hmmm, the weather was very rough for the trip yesterday. Perhaps on a nicer evening a chap could be tempted... that oul Irish sea...well ...
Hope to see the Seabourn Quest again next year.
Once again it was easy to see how well the local hotels do out of the cruise business. Good luck to them. Good news for the economy in general and for the local economy in particular.
Couple of nice shots below there Mike - well done with those.

Sunday, 21 August 2016 - 06:17
Post 2980
Mike J., Dover
The SEABOURN QUEST sailing via Eastern 1700 before turning & heading downchannel bound for Dublin.
A windy old day today altho' nice & sunny.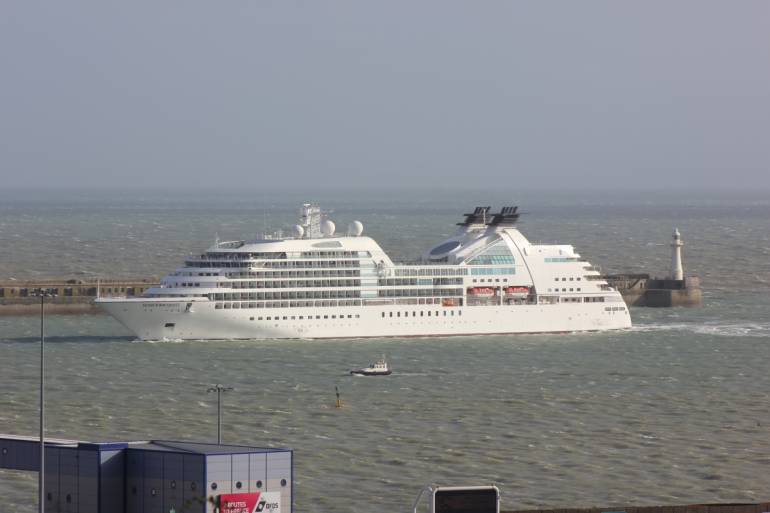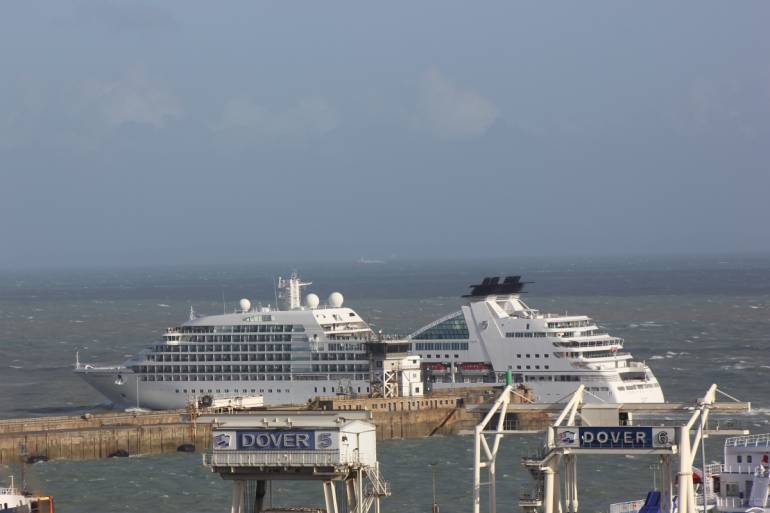 About three weeks ago the CHARLIE ROCK was dumping rocks for the railway seawall works, assisted by the AFON GOCH who is still in Western Docks.
For a couple of interesting drone sequences of the rock-dumping go to YouTube & type 'DOVER BARGE MARK ADAMS' into the search box & both videos should come up at the top of the list.
Saturday, 20 August 2016 - 21:59
Post 2979
brian, dover

Saturday, 20 August 2016 - 17:04
Post 2978
Sea News, Dover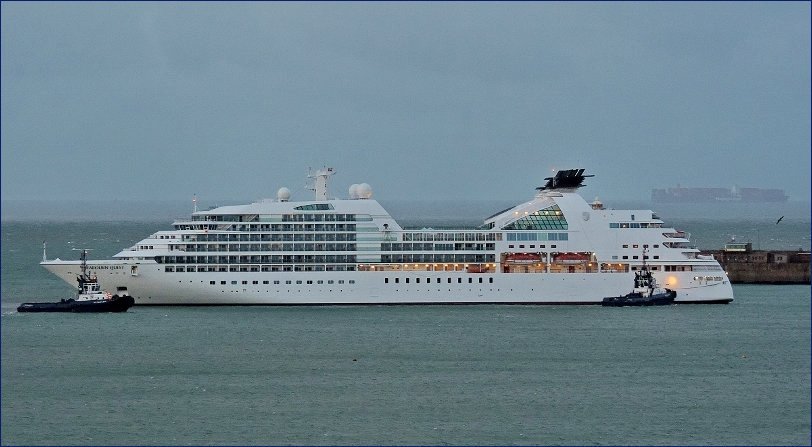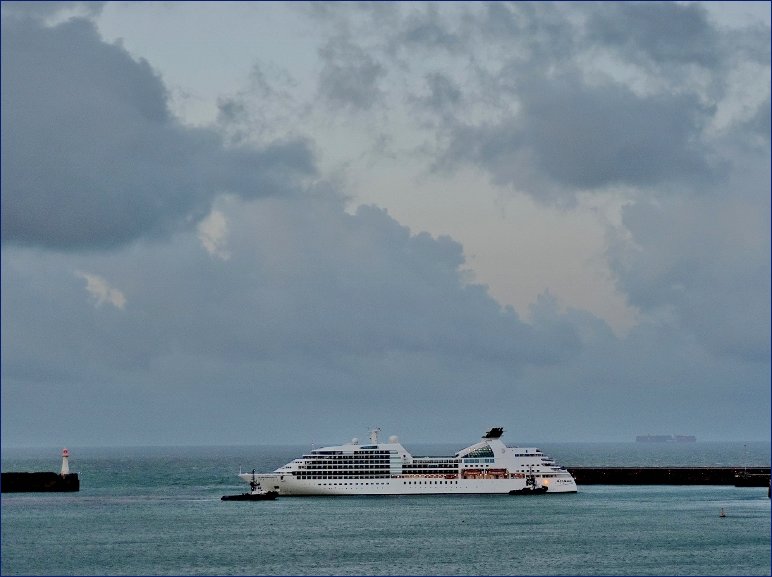 Whoa!! its a blustery day and no mistake. A fierce wind is whipping through from the west. The ferries are lining up trying to enter Port, the tugs are in operation trying to help, the sea is raging. Its tough out there...quite a nautical shock for the casual august tripper. Yours truly is keeping these boots on terra firma.
The pictures show the very classy Seabourn Quest arriving this morning about 06.15. Both tugs helping her into position in the strong winds. The shot below shows her a tad later, just a tad, when some watery sunlight filtered through. One of the tugs is still pinning her into this position on Cruise Terminal One.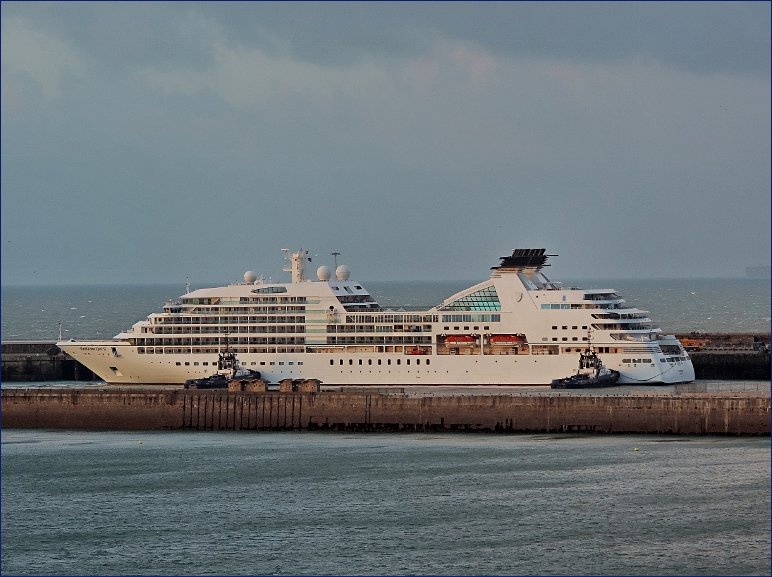 Excellent pictures below Sarah....the weather adds to the mood in those shots.... left them enjoyably in top slot there for most of the day.
Brian yes it looks like there will be a bit of trouble for your bus. The only option the bus has, if it is to stick to its near-normal route, is to go all the way down to the Port roundabout and make its way back from there. But the traffic is often bad from there now with the roadworks, so it may not be a viable option. Good luck! PB.
Saturday, 20 August 2016 - 15:31
Post 2977
Sarah, Ramsgate
Margate Lifeboat during a service call that resulted in it towing a boat into Ramsgate. Shame the weather wasn't good today.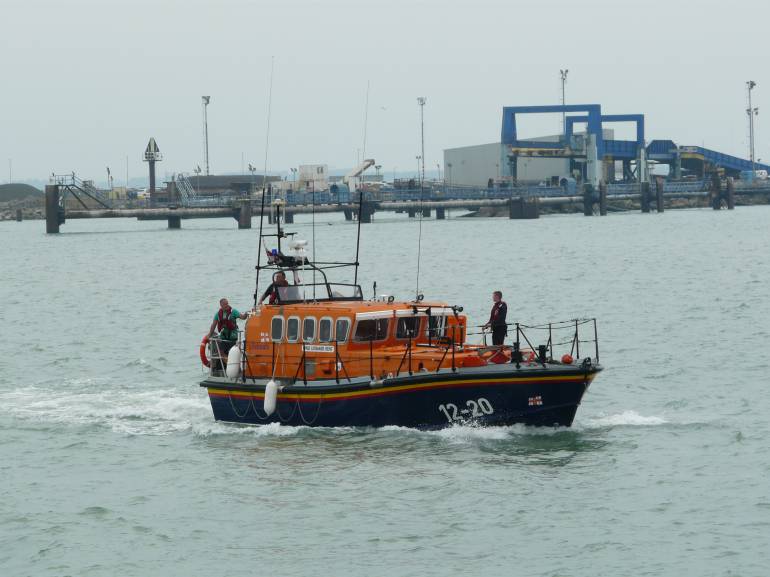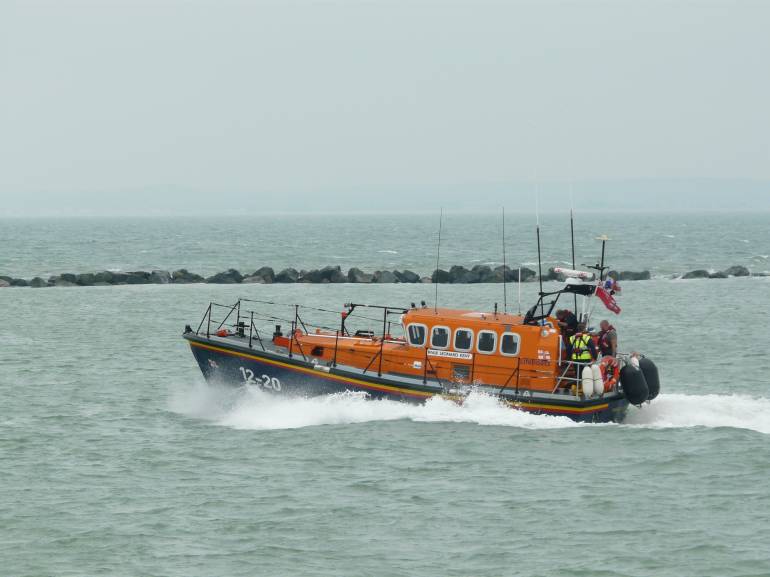 Friday, 19 August 2016 - 17:53
Post 2976
brian, dover
well if you cant turn right into snargate street thats scupperd the bus servise to aycliffe

Friday, 19 August 2016 - 15:07
Post 2975
Sea News, Dover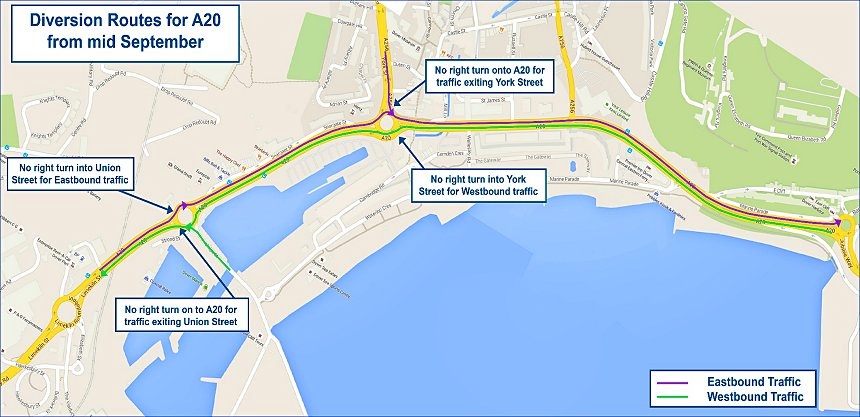 Next phase of key A20 junction work to get underway
_____________________________________________
The next phase of the A20 junction improvement scheme will start in mid-September as work gets underway to replace the York Street Junction with "smart" technology traffic lights.
The A20 work is designed to improve the flow of traffic in Dover and to maximise the potential of Dover's key regeneration projects including the Port's Dover Western Docks Revival (DWDR) and Dover District Council's St James development.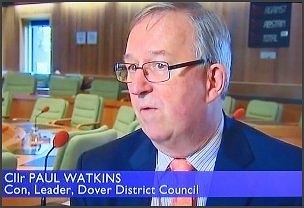 Cllr Paul Watkins, Leader of Dover District Council, said: "This is an important scheme for Dover and we'd like to thank everyone for their patience with the works at the Prince of Wales Junction. We're working towards a swift completion of the works, and whilst there is still some inconvenience to come, this scheme will deliver an important link to the St James and Western Docks developments now underway."
Whilst the first phase of improvements to the Prince of Wales and Union Street Junction has made good progress, issues with underground services have resulted in a delay in completing the first phase.
Work will now be taking place concurrently on the Prince of Wales and York Street Junctions until November – when the Prince of Wales Junction will be completed.
Extensive traffic modelling has been undertaken to evaluate the potential impacts of concurrent work on both junctions, and the results show traffic flows as coping well, including with Dover TAP (Traffic Assessment Project). Procedures are in place to monitor traffic flows and to quickly clear breakdowns.
The work at the York Street Junction is expected to last until completion of the scheme in January 2017. The traffic lights at Woolcomber Street will then be upgraded before the A20 junction improvement scheme concludes in February 2017.
Highways England Project Sponsor, Kat Saradinova said: "We are working closely with the Port of Dover to ensure any disruption to drivers and the local community is kept to a minimum. Working at both junctions will reduce any potential delays to the scheme for the 25,000 drivers that use the A20 each day."
All partners thank the public for their patience and understanding whilst this key regeneration-enabling project is delivered for Dover.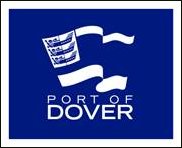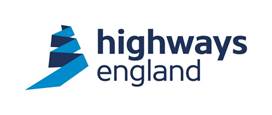 ENDS
The Saga Sapphire was with us yesterday. The picture below shows her departure...however it was taken on a previous visit as thick mist/haze scuppered the picture opportunities yesterday at departure time.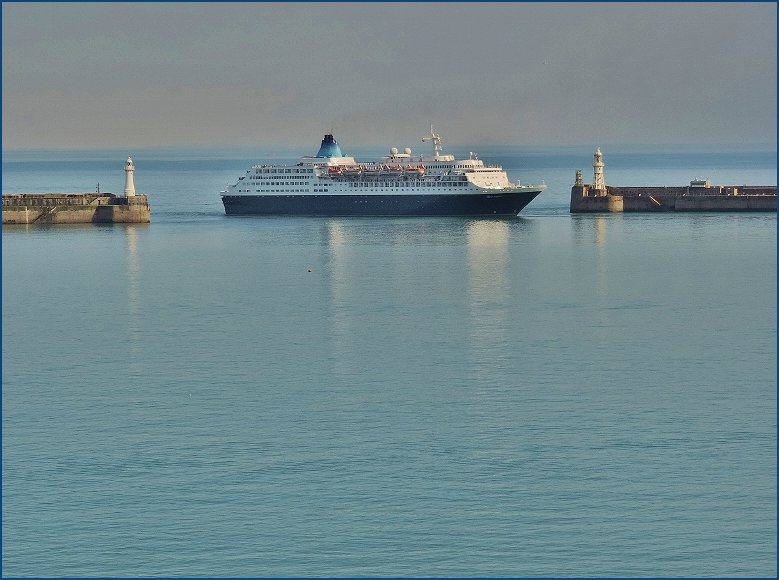 Hopefully all can see the detail in the picture re the traffic plans at top. This is as large as I can go.
Because this traffic masterplan is so relevant to both the people of Dover and the travelling public, and of course to our vital freight...
we will leave it PINNED to the top for 24 hours. PaulB.

( now unpinned )
Friday, 19 August 2016 - 06:32
Post 2974
Sea News, Dover
The AIDAvita languishing in the hot sunshine yesterday here in Dover...
picture taken from the blistering beach as the sail boats drift too and fro. She left late last night in the darkness in a blaze of light and under a stunning full moon. Quite a sight but unfortunately a bit too dark for pictures at range.
A couple of shots below show her arriving with us here at 06.30 yesterday.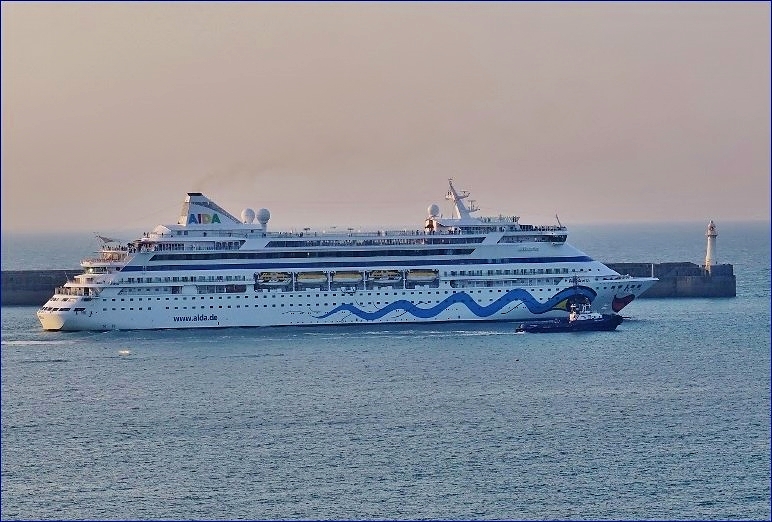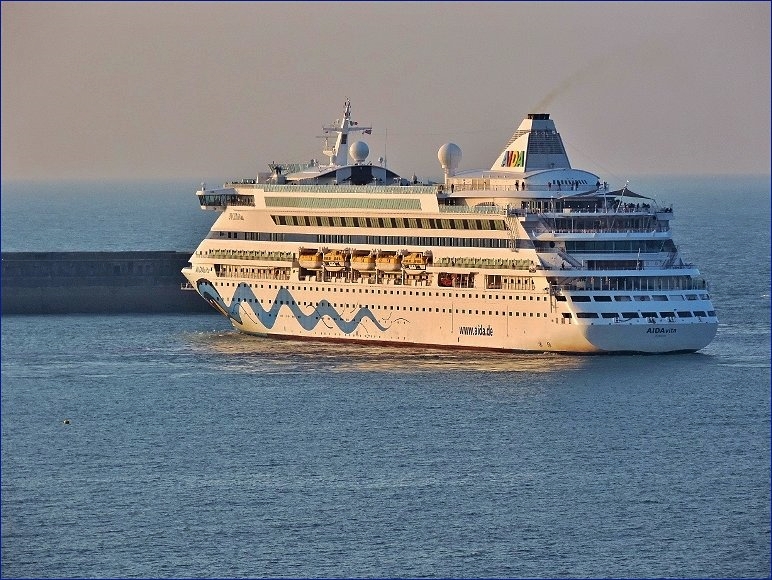 Will have details following soon about Dover's ongoing roadwork scheme.
It has been difficult

...but, better days ahead.
Thursday, 18 August 2016 - 06:23
Post 2973
Sea News, Dover
Following along from Ed's pictures of the Elsebeth in post 2970...here are a couple more to add to the collection. Taken at the same time as Ed's but from a different angle, here she is arriving from Vlissingen in the Netherlands yesterday morning. She is still at the cargo terminal as I write....on a blisteringly hot day on Dover Seafront. First following picture taken across the rooftops as it were when she was just outside of Port, second one shows her securely in harbour. PB.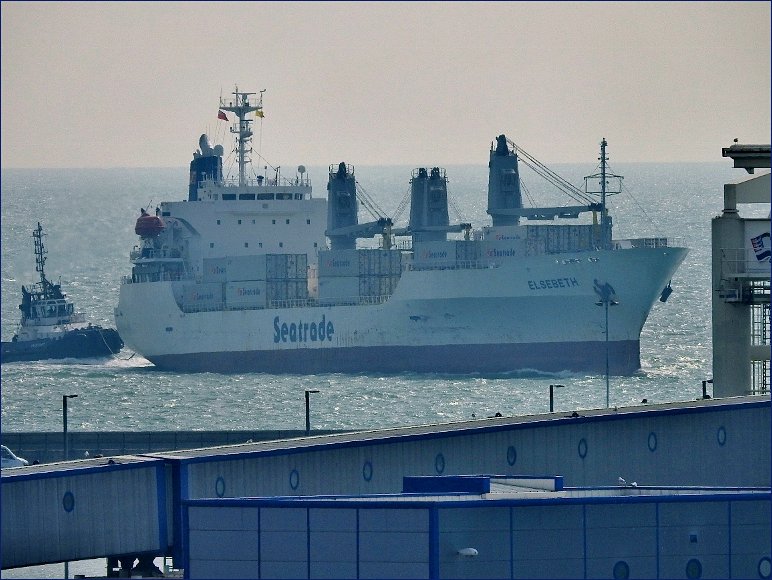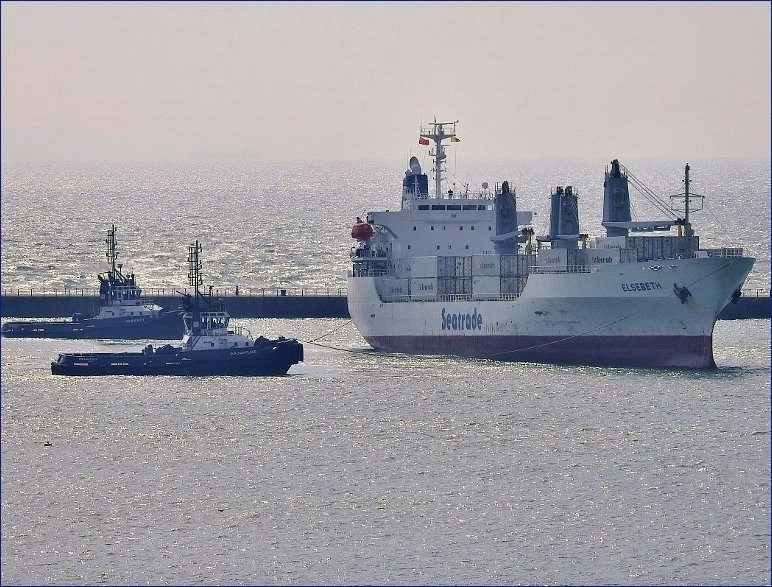 Wednesday, 17 August 2016 - 16:06
Post 2972
Sea News, Dover
Carbon Trust Standard for Carbon Awarded to Dover Harbour Board

_______________________________________________________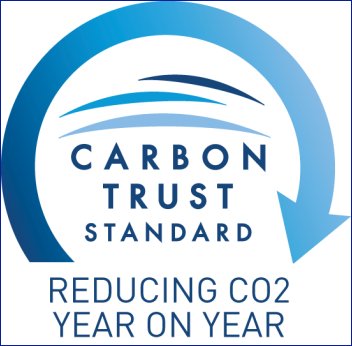 Port also achieves commendation for carbon management performance.
Dover Harbour Board is proud to announce the achievement of the Carbon Trust Standard for Carbon Award for the fourth time after accomplishing an impressive 17.2% absolute reduction in the Port of Dover carbon footprint.
The Carbon Trust Standard is a mark of excellence that is awarded in recognition of measuring, managing and reducing carbon emissions. Successful certification requires organisations to demonstrate good all-round carbon management performance in their day to day operations. The Port's performance was particularly high in several categories including Responsibility, Operating Procedures, Investments and Supply Chain Engagement where scores of 100% were awarded by the Carbon Trust.
The Carbon Trust Standard is a two year certification and the Port of Dover will need to resubmit details of its carbon reduction endeavours in 2018 to retain the Standard.
Port of Dover General Manager Safety and Security, Emma Ward said: "This is an incredible achievement and I am extremely proud of all those involved. The Port of Dover Environmental Team has successfully led the challenging work to continually find and implement new and innovative ways to reduce the Port's carbon footprint.
"As a responsible Port we will continue to examine environmentally responsible options in all areas of the business. I am confident the Port of Dover will continue to lead the way in this sector, realising another milestone in our aim to be the best Port in the world for our customers and our community."
Ends
Just to add a couple of colourful jet stream filled pictures of the sky above the Port of Dover yesterday morning at 6am on the button.
Just point and shoot pictures on a simple compact, nature did all the work.
A hint of the autumnals to come.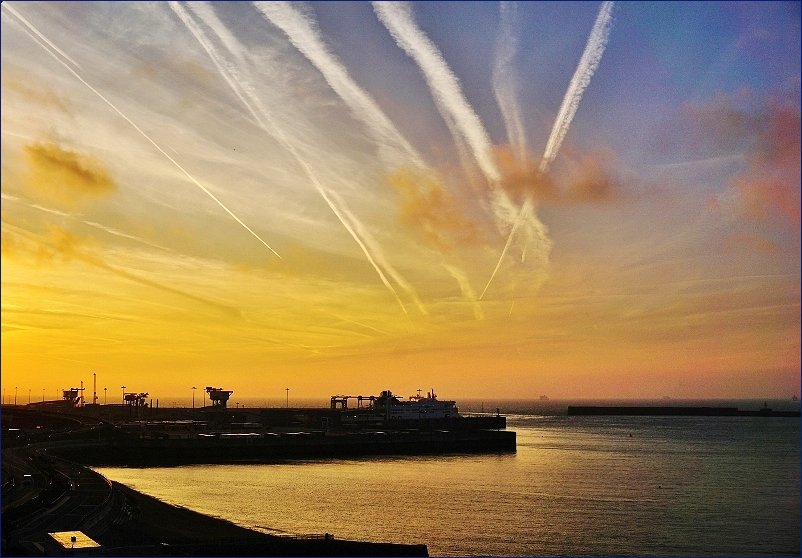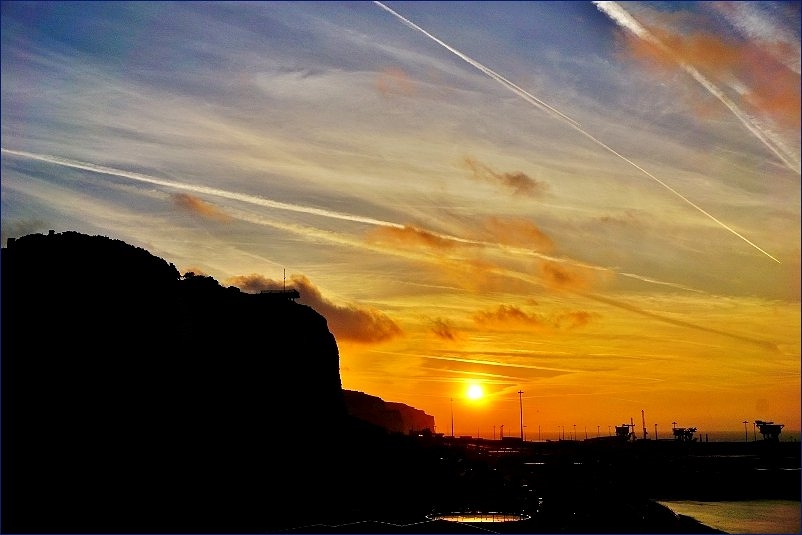 Thanks for the info once again Colette on the cruise visits...will watch for those, especially with AIDAvita due in today.
Nice pix Ed of the Elsebeth plus, right on the spot. Great stuff! I will be be able to add a couple of extra ones later as also caught her as she arrived from Vlissingen, but the light was behind her in my case so....
Yes indeed Del. very busy holiday period here.

Wednesday, 17 August 2016 - 06:25
Post 2971
Del, Norwich
Happy Hols!

Tuesday, 16 August 2016 - 23:29
Post 2970
Ed Connell, Dover
Elsebeth waiting in the bay this morning as ferries manoeuvre.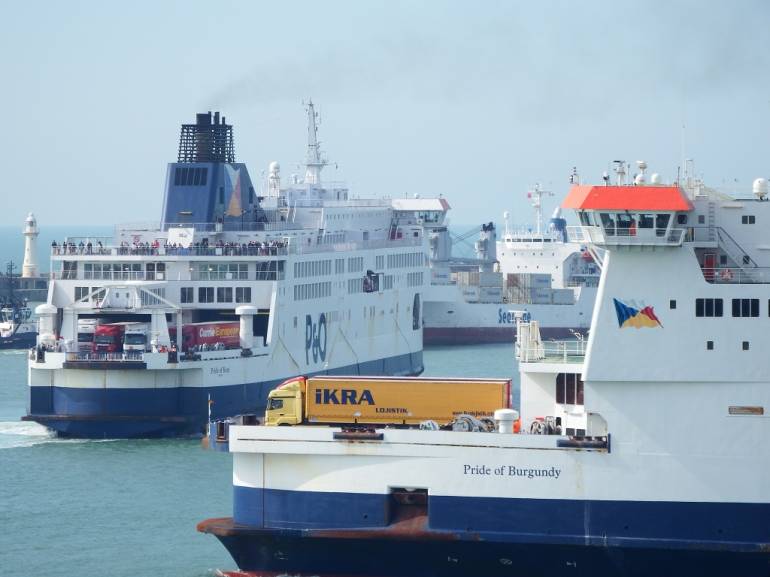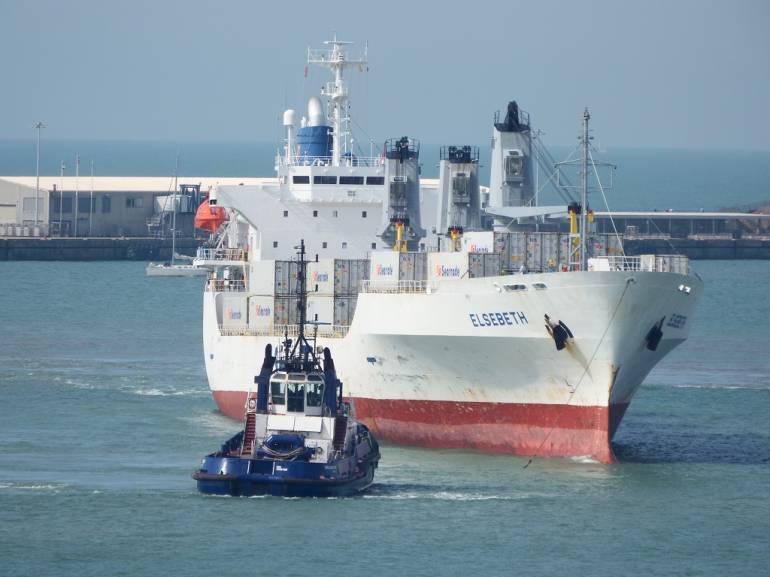 Tuesday, 16 August 2016 - 13:00