Wednesday, 28 June 2017
Dover Lifeboat in recent action. Long range picture...
doverforum.com/sea-news
Featuring all the ships that come and go and work at the Port of Dover with further coverage of Ramsgate, Calais, Dunkerque.
Email:dover7@msn.com to send SEA NEWS pix or info.... or click ADD YOUR COMMENT below to post direct, no membership needed. Use our SEARCH ENGINE below to find all sorts on the SEA NEWS pages..more than 180 now with more than 3666 nautical posts. Posts welcome. Max of 5 pictures preferred per post. Sea News Editor Paul Boland.



Sea News Dover:



P&O Ferries give Lifeboat £10,000...see 3933.
DFDS Cycling Special : Tour de France see 3902.

P&O visit St Richards School 3904.
P&O Ferries award surprise Bursary.... 3816.
BEST EVER FIRST QUARTER FOR DFDS...see below..3813.
Highest ever Q1 Freight Volumes for P&O see 3623.
Type Cruise Visits in search engine below for the latest cruise ship arrivals..
in fact you can find anything in our Search Engine.
Post 3940
Ed Connell, Dover Strait
Disney Magic at the cruise terminals today.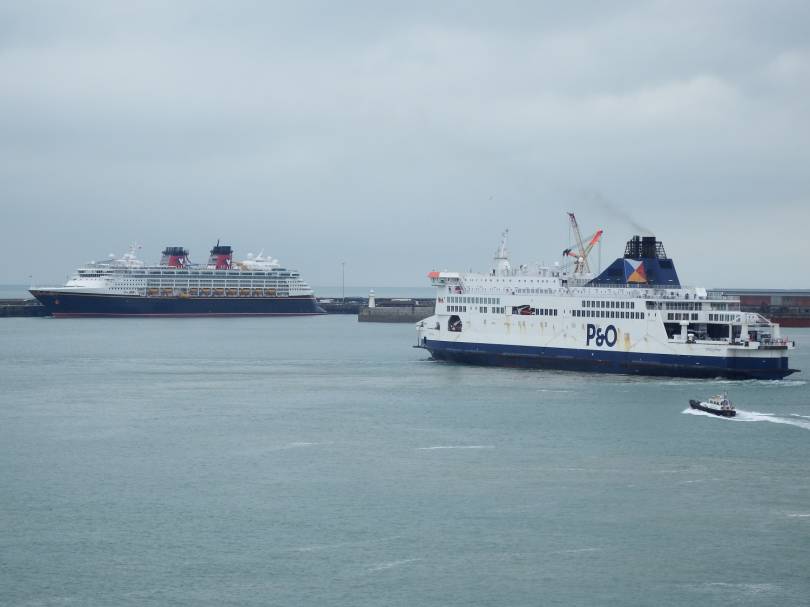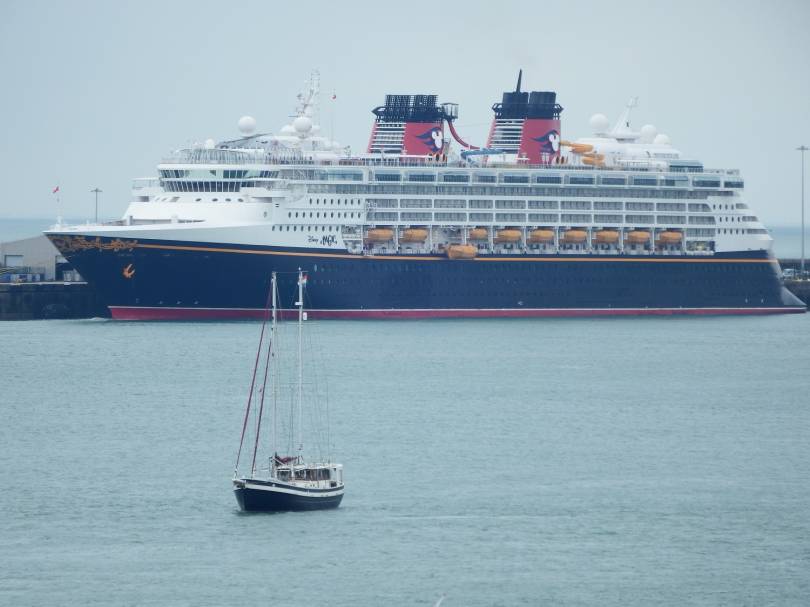 Wednesday, 28 June 2017 - 12:19
Post 3939
Sea News, Dover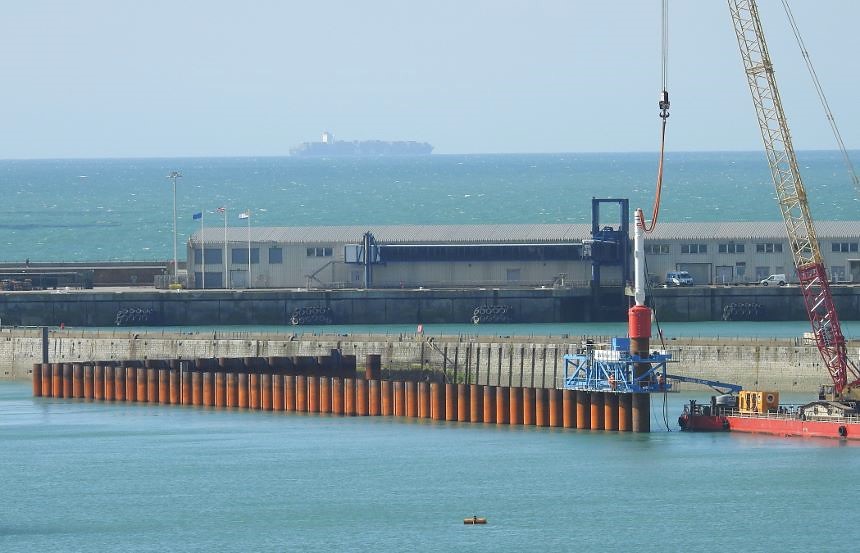 That's the latest picture of the piling above..taken a couple of mornings ago before the gloomy weather set in. As you can see its quite extensive now, some very strong thumping and grinding was needed to accomplish this so far.
Below we have a couple of shots of the well loaded Baltic Klipper arriving with us on sunday morning and looking good. She departed in the fullness of time and the Discovery Bay went in to her vacated slot at the cargo Terminal...you can see the Discovery Bay in Ed's picture below page .. no 3936...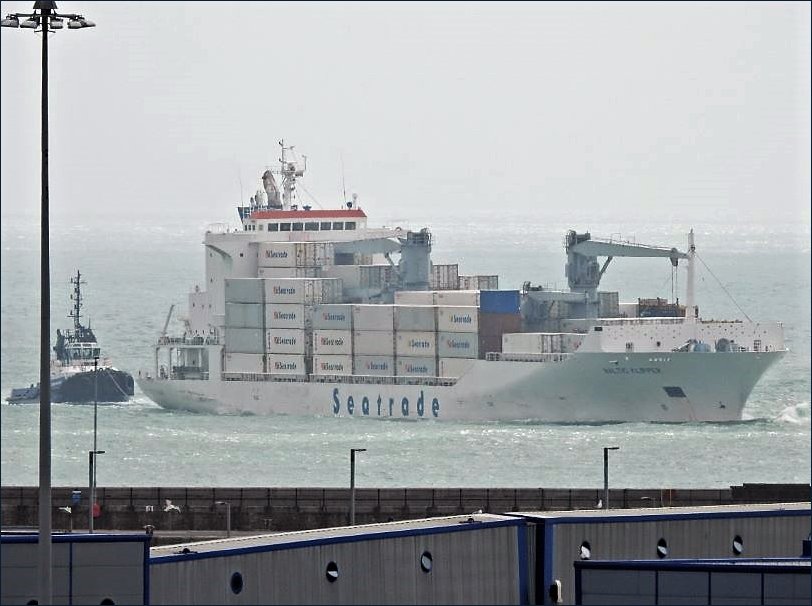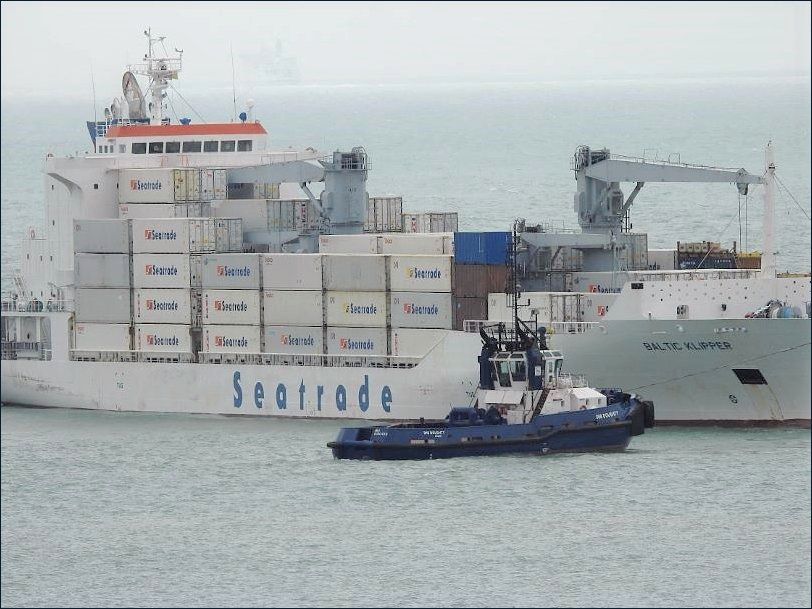 Nice shot below of the Dutch landing craft near Dunkerque Ed.... great to see that.

The Disney Magic is arriving through the mist as we speak..
Wednesday, 28 June 2017 - 05:13
Post 3938
Ed Connell, Dover Strait
Dutch landing craft L9528 outward bound in the Dunkerque fairway this afternoon.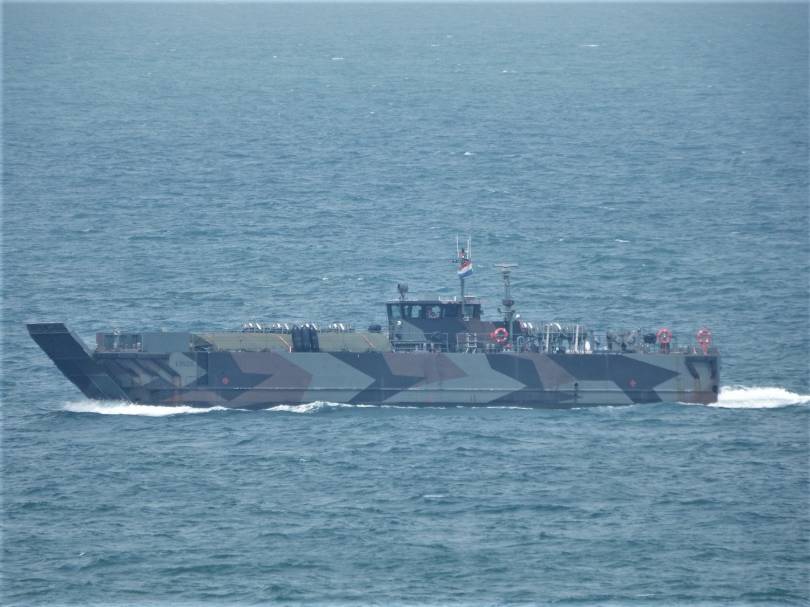 Tuesday, 27 June 2017 - 18:55
Post 3937
Sea News, Dover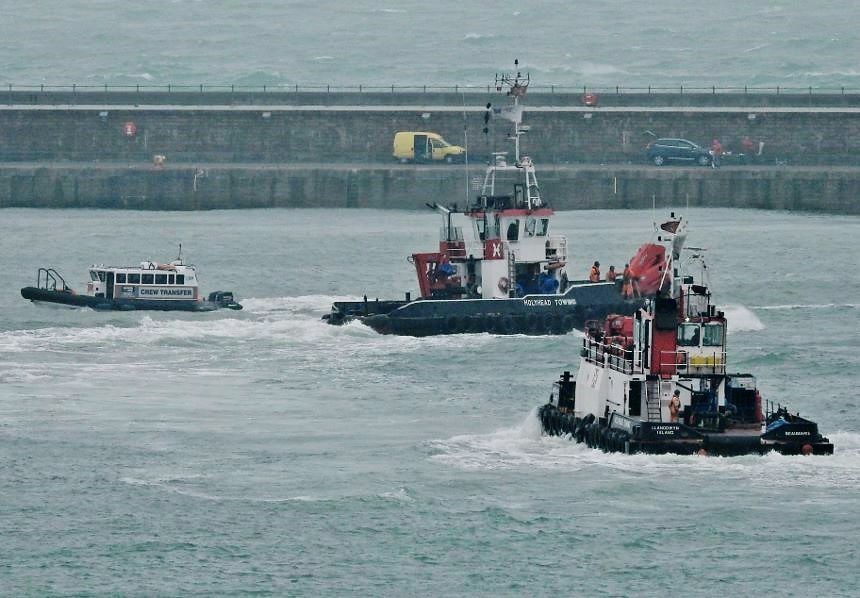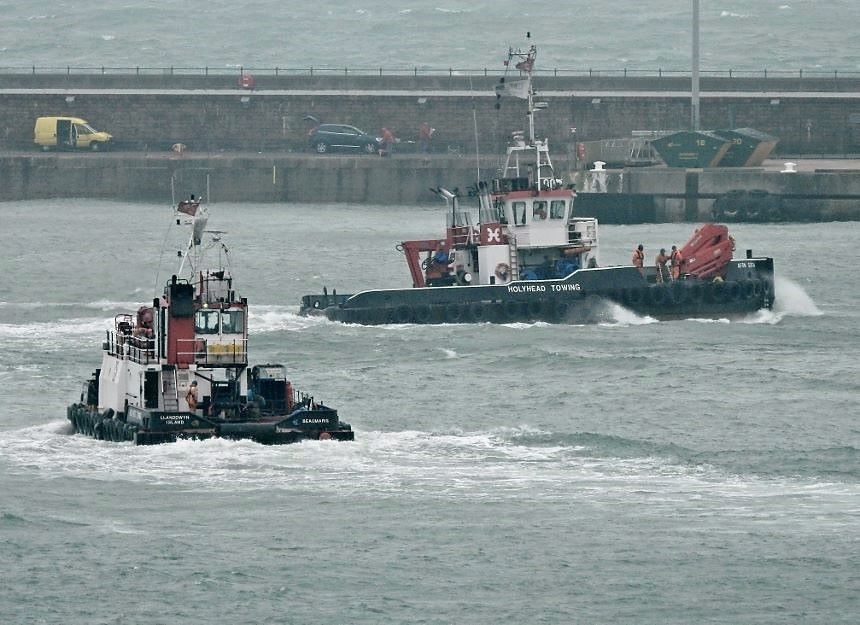 The pictures above were taken in the rough oul gloomy conditions on Saturday just around noon. It was windy rough and tough as you can see, but tugs Llanddwyn island left and Afon Goch were out there in the thick of the action. In the top shot you can also see one of our favourites...crew transporter Grumpy...coming out of the inner harbour while the tugboats meander back in.
Nice shot of Discovery Bay below Ed. I still haven't got the Baltic Klipper up yet but have it in the pipeline. Bear with...the Baltic Klipper was in just before the Discovery Bay. Will have pix along very soon. Will get them sorted later. Great to see all the cargo ships.

Thanks for that info Mike, will keep an eagle eye out for that Oirish vessel.

Great cruise info Colette..yes the Pacific Princess was in here from early, came before yours truly saw the light of day , may be able to get a nice picture or two when she leaves... exciting ships coming in..

Tuesday, 27 June 2017 - 15:04
Post 3936
Ed Connell, Dover Strait
Discovery Bay at the DCT today.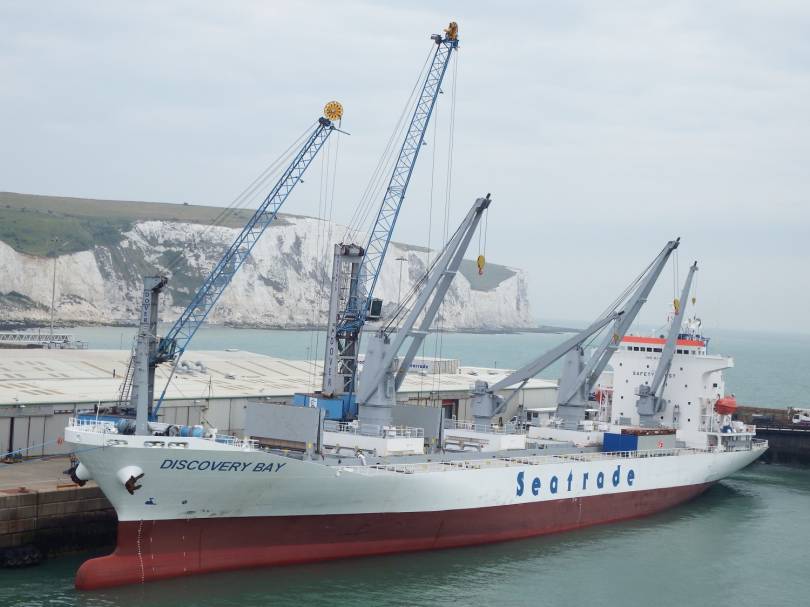 Tuesday, 27 June 2017 - 12:06
Post 3935
Mike J., Dover
The Admiralty Pier will be totally closed tomorrow, Wednesday, as Paranoid Disney are visitng.

A pity, as an Oirish coaster, the ARKLOW FORTUNE, is also arriving.
AIS shows her ETA as 1300, coming up from Cardiff.

Tuesday, 27 June 2017 - 07:24
Post 3934
Colette B, Dover
CRUISE VISITS
Wow!! Phenomenal photos! Stunning lifeboats and a conglomerate of cranes, Well Done, Guys!

As promised here are the last of the cruise calls for the month of June and Great ones, for sure.
Tomorrow Tuesday June 27th Princess Cruises 'Pacific Princess' arrives all the way from Fort Lauderdale, Florida in the 'ole U.S of A to start her 18 night Midnight Sun & Spitsbergen cruise. She was last with us September 2016, her first call will be the Norwegian ports of Bergen then on to Trondheim, Spitsbergen, Tromso, then Murmansk in Arctic Russia, Brrrrr
She also visits Honningsvag, Vestvagoy Island, Hellesylt, Geiranger and Haugesund (try pronouncing that lot) before returning to Dover. Arriving at CT1, 06.00, departing 17.00 hours, T/R.
Then on Wednesday June 28th with Goofy precariously painting the stern, once again, we have the very welcome visitor, Disney Magic. She starts her 11 night 'Norwegian Fjords & Iceland cruise' sampling the 'Frozen' (I couldn't resist it

) delights of Stavenger and Alesund in Norway, Akureyri and Reykjavik in Iceland then on to Invergordon in Scotland. She arrives at CT2, 04.00, leaving 17.00 hours, T/R.
On Friday June 30th we have a 'Double Whammy' firstly, the Black Watch starting her 14 night cruise to Iceland. She visits Falmouth, the Isle of Mull, Stornoway in the Isle of Lewis & Harris, the Faroes, Iceland and dear old Dublin in the Emerald Isle. Arriving here at CT2, 07.30, departing 17.30 hours, T/R.
Also on the same day Saga Pearl ll starts her 16 night 'Icelandic Explorer'cruise, on the itinerary is Whale watching with Orca representatives, sounds Ab Fab! She first visits Wales (the country that is), then the Westmann Islands off the coast of Iceland, Iceland of course, the Faroe Islands, Shetland and Orkneys. She arrives at CT1, 08.00, leaving 16.00 hours, T/R.
That's the last of our cruise calls for June, I will be back real soon with the first of our July visits which start on Monday July 3rd. The time is a flying by................
Monday, 26 June 2017 - 12:53
Post 3933
Sea News, Dover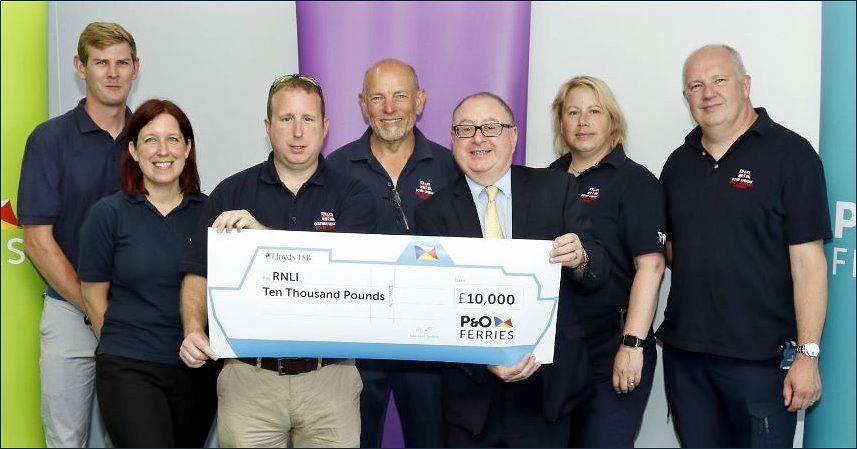 P&O FERRIES HANDS OVER CHEQUE FOR £10,000 TO ROYAL NATIONAL LIFEBOAT INSTITUTE
__________________________________________________________________________
VOLUNTEERS and officials from the Royal National Lifeboat Institute (RNLI) visited P&O Ferries' Dover headquarters this week to receive a cheque for £10,000 which was raised by the ferry and logistics company's employees and customers last year.
The RNLI has been P&O Ferries' official charity for twenty years, with collection boxes positioned on all six of its ships on the English Channel and four of its ships on the North Sea. No other charity is permitted to place collection boxes on P&O Ferries' ships.
Joe Ciantar, Head of Gaming at P&O Ferries, said: "We are delighted to be able to give another £10,000 to a charity which plays such a vital role in keeping people safe at sea."
"The RNLI collecting boxes on the ships are incredibly popular with our passengers, who can deposit coins of any currency they wish which we will then change back into pounds. Furthermore, many of our crew and employees organise events of their own to raise money for a cause which is extremely close to their hearts. We hope that our relationship with the RNLI will continue for many years to come."
The RNLI saves lives by providing a 24-hour lifeboat search and rescue service, together with seasonal lifeguards, water safety education and initiatives, and a flood rescue response.
Ellie Wood, Community Fundraising Manager at the RNLI, added: "We would like to thank the employees and customers of P&O Ferries for their generous support over many years and can assure them that this cheque will help us to save even more lives at sea. I know that both P&O Ferries and the RNLI are absolutely committed to keeping people safe on the sea and we hope that we can work together for another 20 years."
P&O Ferries is a leading pan-European ferry and logistics company, sailing on eight major routes between Britain, France, Northern Ireland, the Republic of Ireland, Holland and Belgium. It operates 20 vessels which carry more than 10 million passengers, 1.6 million cars and 2.2 million freight units every year.
ENDS
Dover Lifeboat winding down on Tuesday evening after another intense training sessin....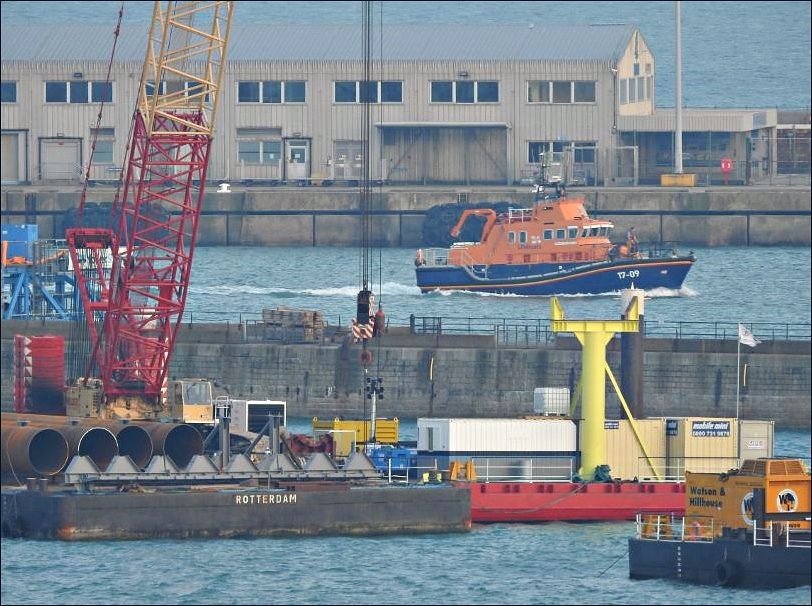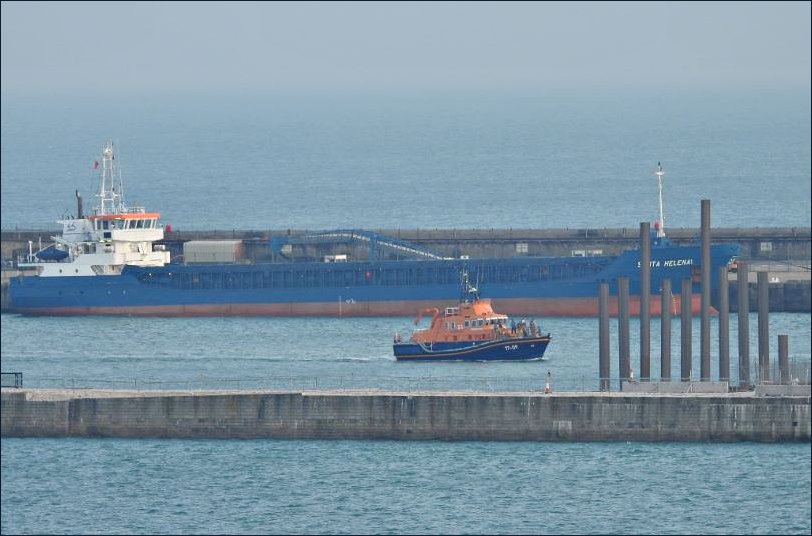 Well done P&O....brilliant!

* *
Nice shot again below Mike in 3932

Thanks for the recent info Vic.

We have many lifeboat pictures, check with our Search Engine
and see the latest post from Sarah below no 3928.

Monday, 26 June 2017 - 06:51
Post 3932
Mike J., Dover
Paul - glad that you liked the ENAK detail in 3925.
Here's another view of her cluttered maindeck, all winches & wires but everything there for a purpose.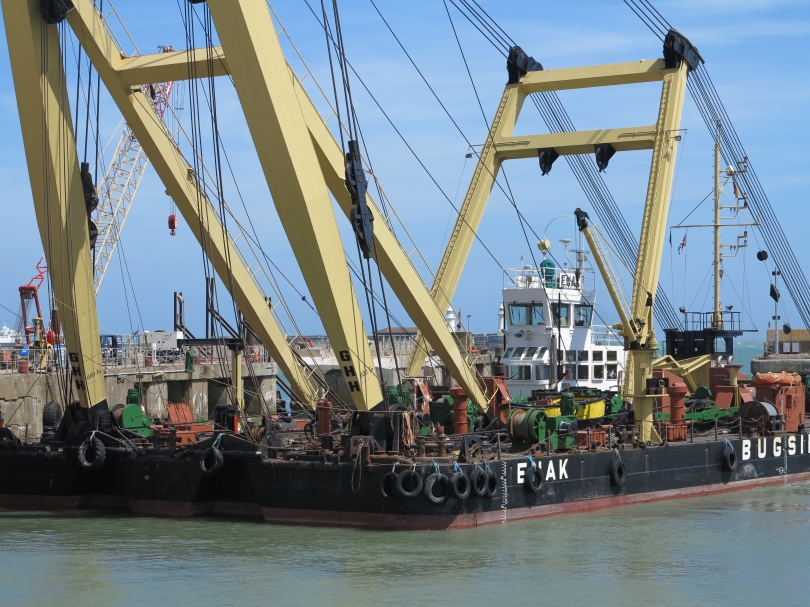 Sunday, 25 June 2017 - 08:43
Post 3931
vic matcham , Dovor
Sorry lads you got it wrong there,have a close look they not piles but steel beams and they are very hard to hammer down that is why you see the ex hard pushing down gear fixed to them that is to give them the ex power to get them down

Sunday, 25 June 2017 - 07:40
Post 3930
Sea News, Dover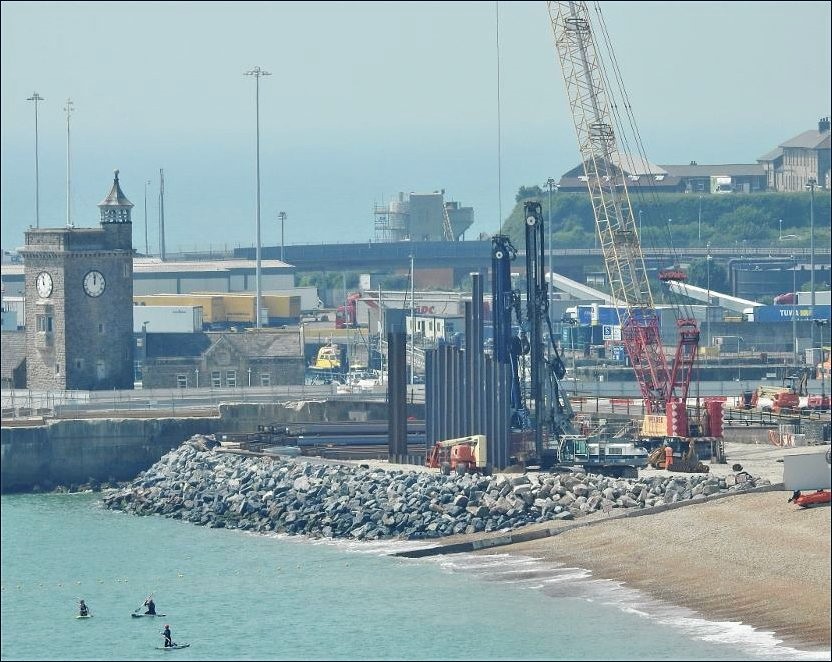 Some images above there from friday as the onshore piling reverberates around the seafront with some force, our tender ears are being assaulted on several fronts but its all very enjoyable. Yours truly must be mad to be enjoying it all but there we are. The second picture above there is a crop of the top one in an effort to make all clearer....hopefully.
Brilliant work in the posts below Mike. You got some terrific detail there with the camera. Well done. The pictures generally are all showing much better since we did the recent upgrade on the site (Now showing at 810 pixels wide).

Cracking stuff from Sarah immediately below...all great pictures and one of those pix is a quadruple whammy...
..and its not often you can say that..


Have a wee bit of a lifeboat special coming tomorrow monday too so watch for that.
Ah yes indeed Del...a great ship. Some tourists stay in the town and wander around and many are also bussed off to pre-arranged destinations, but its all good fun. I'm sure all enjoy visiting the Port of Dover, even though they must endure some development works at the moment.

Glad you are enjoying all the pictures Vic.

PB.
Sunday, 25 June 2017 - 06:30
Post 3929
Del Styan, Norwich
That AIDAbella cruiser is a whopper. How did it manage to dock? And did it's holidaymakers go shopping in Dover?

Saturday, 24 June 2017 - 23:17
Post 3928
Sarah, Ramsgate
Dover Lifeboat was busy entertaining the crowd at Walmer Lifeboat Day today.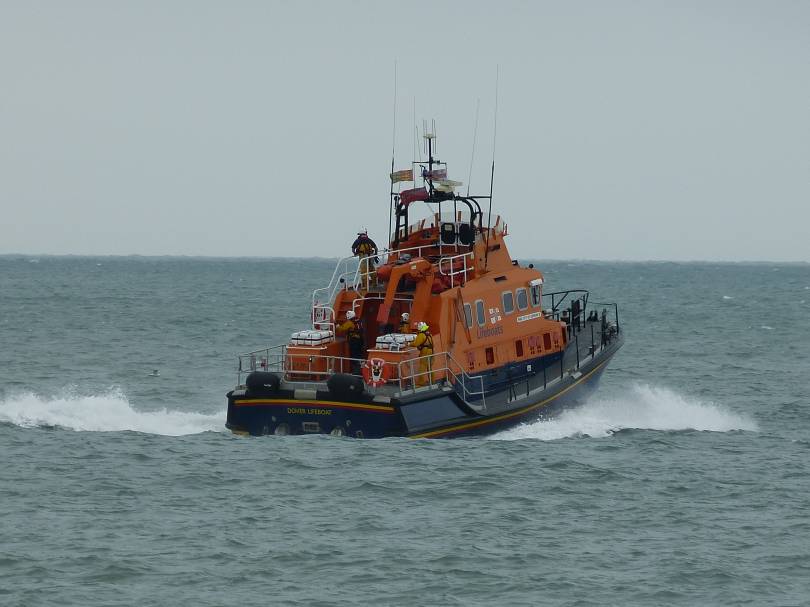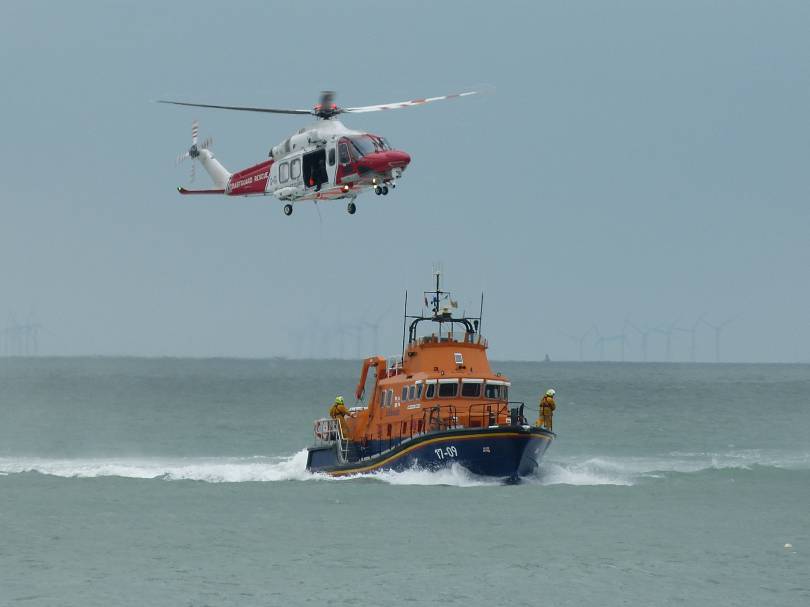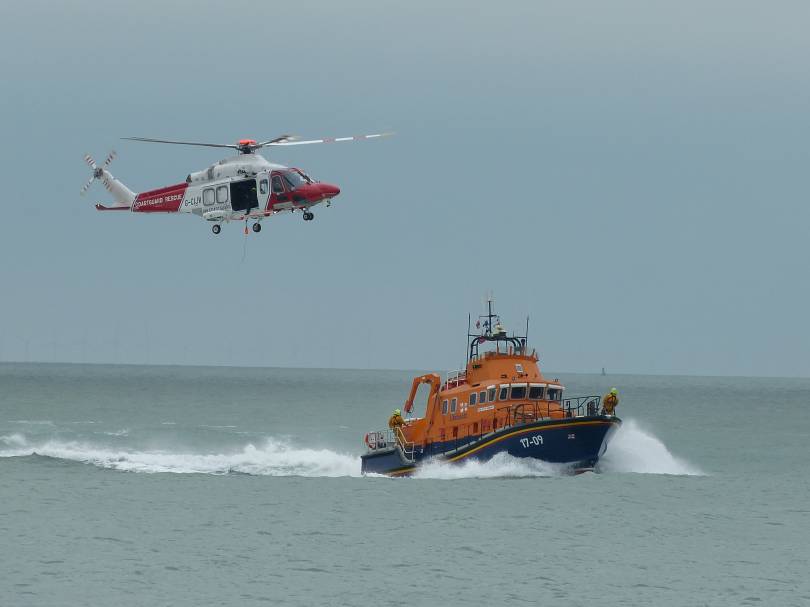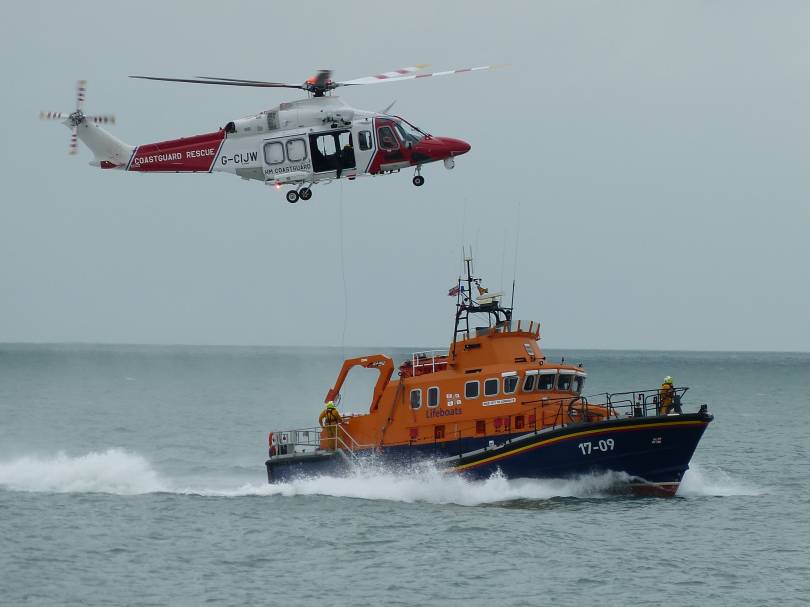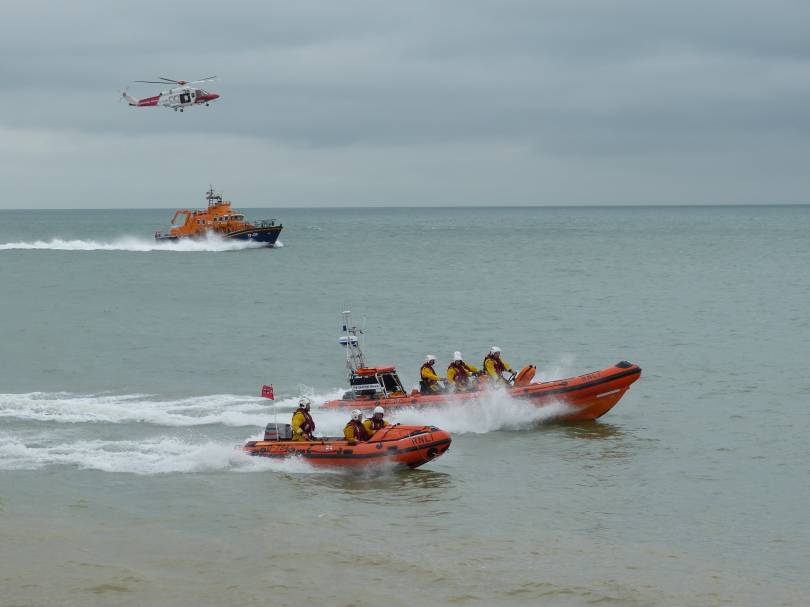 Saturday, 24 June 2017 - 21:08
Post 3927
Mike J., Dover
A definite change in the weather as another cargo of piles from Dindelnoord is unloaded from the Dutch coaster MARE who had arrived about 0700 Saturday morning,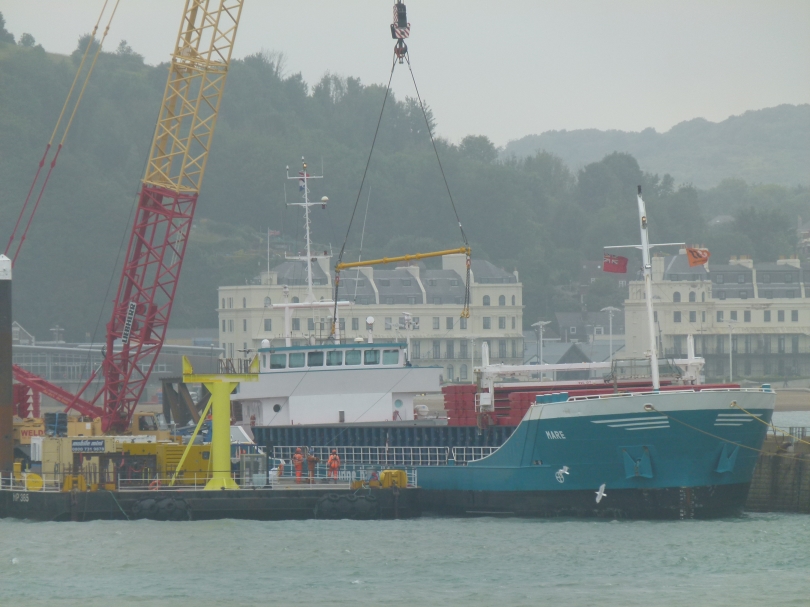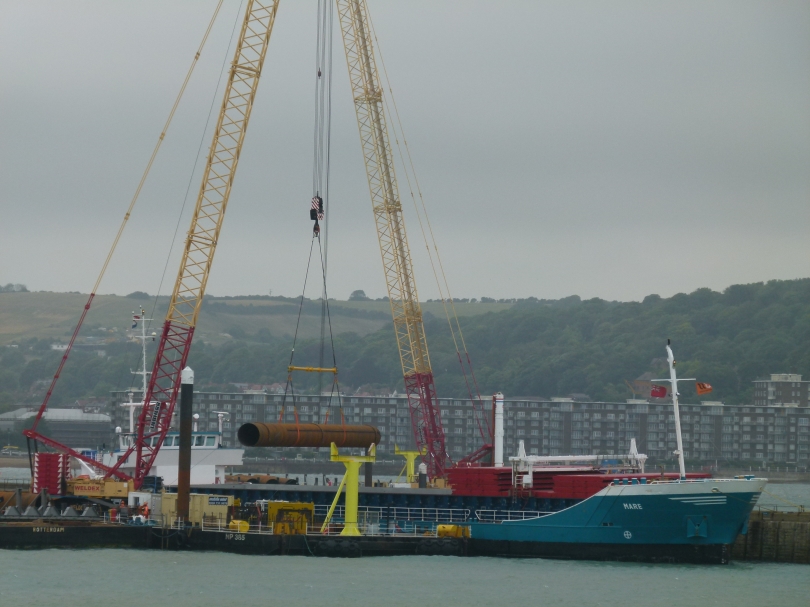 Saturday, 24 June 2017 - 21:03
Post 3926
vic matcham , d
Great photos thank you, as you know they go out round the world for all to see how the best port in the world is moving on, just wish that the D.H.B. WOULD notice more what the public of the town are saying.

Saturday, 24 June 2017 - 08:26
Post 3925
Mike J., Dover
On Friday afternoon the crane barge ENAK was in the old Jetfoil Terminal,
Her big grab was empty so she was probably waiting to depart after unloading another chunk of the Dunkirk jetty onto the waste ground which had once been part of original train ferry dock area.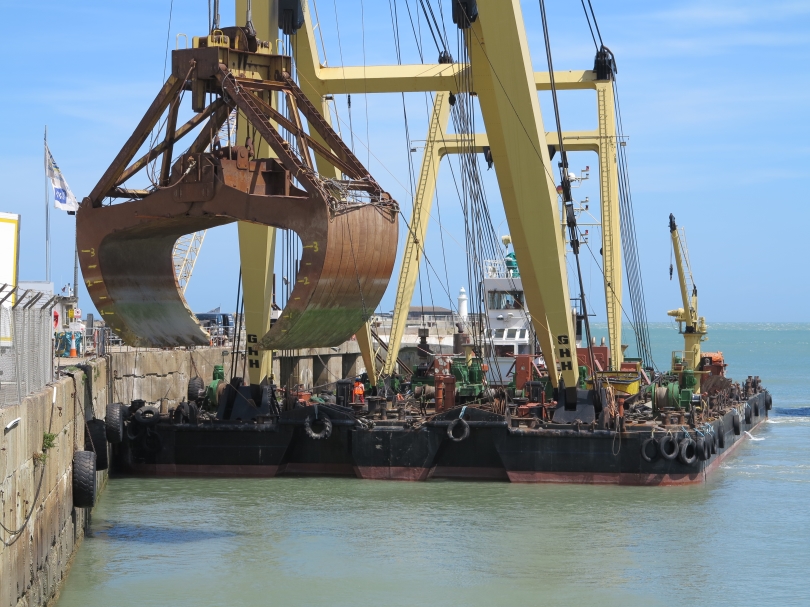 She was manoeuvring herself with the ARION standing-by just outside the entrance to the terminal,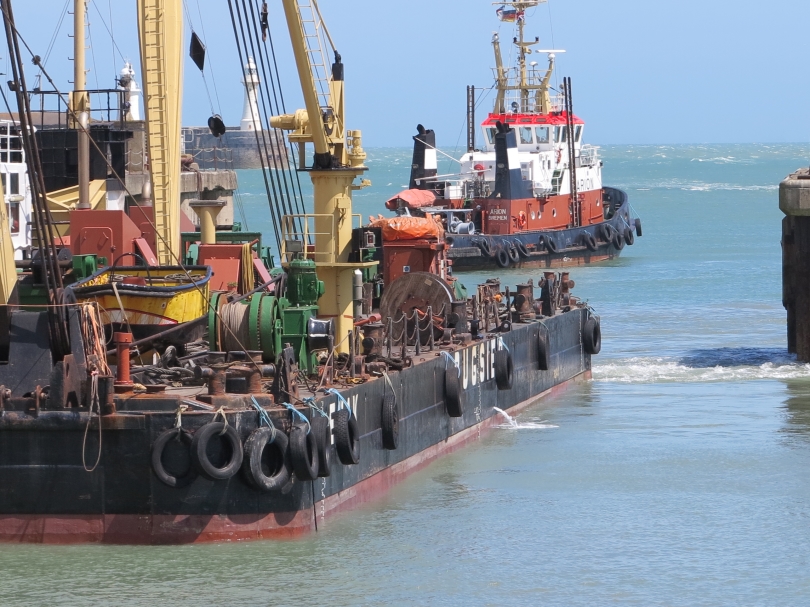 When I was back in Dover a few hours later the ENAK had returned to the east side of the Prince of Wales waiting to be called back for another nibble of the Dunkirk Jetty.
An unexpected bonus a few mInutes later was the arrival of yet another windcat, this time the MPI TRAFALDI who moored in the Tidal Basin after coming down from Lowestoft.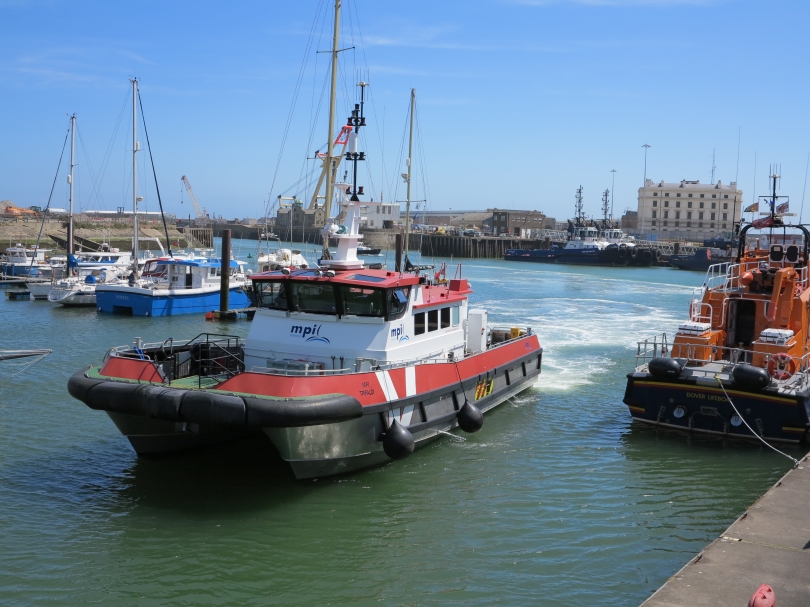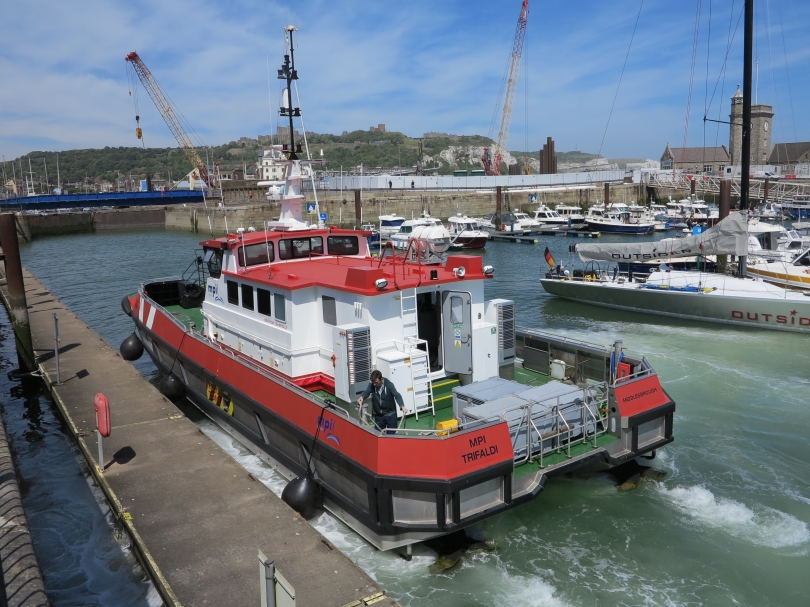 Saturday, 24 June 2017 - 00:57
Post 3924
Sea News, Dover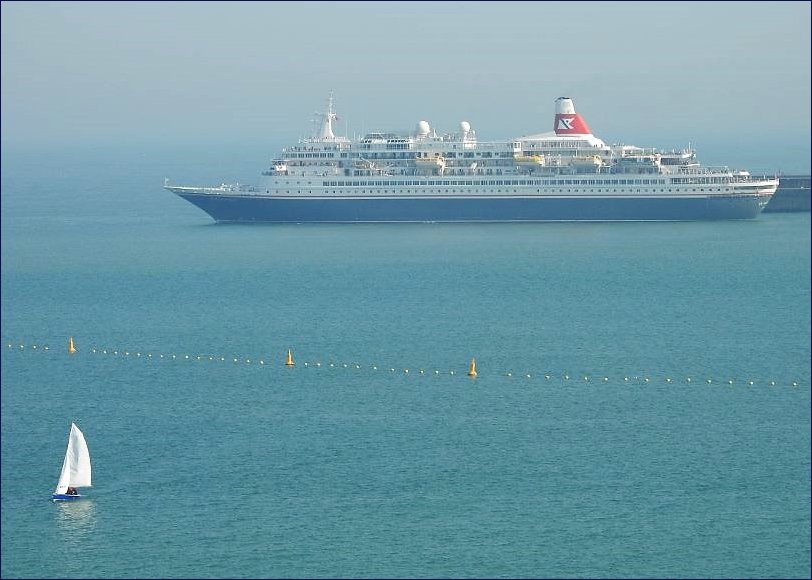 The top shot shows the Black Watch leaving us on...let me see...yes Wednesday evening. She was off through the hazy searing heat...heading to Kiel in Germany...while in the foreground a delightful sailboat lazily idles by, taking the light sea breezes.
Dover has been near tropical...just look at that gorgeous sea in the pictures below, both pictures taken over the past 2 days...almost makes a chap want to go and have a dip dip dip ...oooh steady!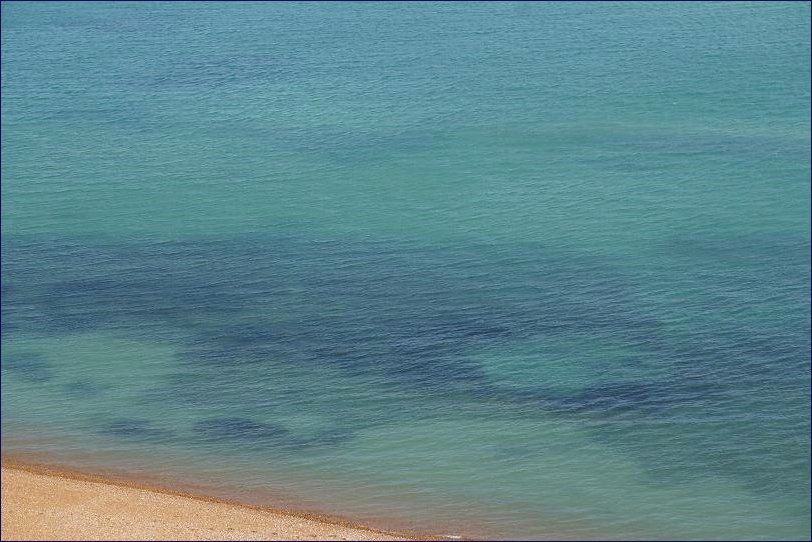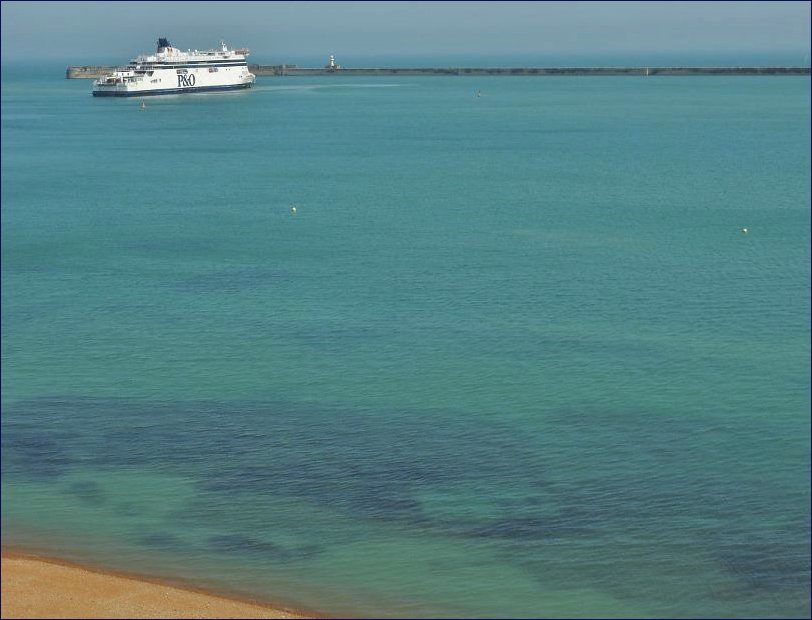 Save our Banksy...says Charlie Elphicke MP.

Dear Mr Boland,
We've been battling to renew Dover for years. And then a multimillion pound piece of artwork turns up in the middle of our town overnight. It would be daft to get rid of it. That's why I'm campaigning to Save Our Banksy.
On Friday, I met with residents at the giant Brexit-themed Banksy in York Street. Everyone was in agreement about what an amazing work of art it is – and that we must do all we can to save it.
The Dover Banksy is iconic. Our town is the gateway and guardian of the nation – and on the frontline of Brexit. Wherever you stand on Brexit, this artwork is a statement on our times. Brexit and the European question will loom large over everything for a long time.
The people of Dover want it to stay – and so do I. That is why I am asking for all your support to help save our Banksy. Because in Dover we have not done well enough in protecting our heritage and culture – in looking after the things Dovorians through the ages have loved dearly.
It's clear work needs to be done to improve Bench Street too. Everyone knows I have been calling for the site of The Crypt to be restored. It's been a wasteland ever since the terrible fire 40 years ago. The Crypt site is owned by the very same people who own the Banksy building. I urge them to work with us – to help us build a better Dover where we celebrate our culture and our history.
I hope the building's owners will listen to what the people of Dover want. Yet following the fiasco with the Folkestone Banksy, it's clear we cannot take anything on trust. That's why I have sent an application to Historic England explaining why it is essential this work of art is protected. The Abbey Road crossing immortalised by The Beatles has been listed. Even a 1960s Bournemouth bus depot described as "hideous" was listed. If they are going to list things like that, they should list an iconic piece of art like our Banksy.
It's also important for on Dover District Council to use all powers they have at their disposal to halt any demolition or removal of this Banksy. For it is clear the building's nature has fundamentally changed. The new waterfront development should be reworked to have this Banksy at its heart – as a central attraction. It will draw so many people to visit the town and help make the development a success. Renewal is about more than just new buildings. This is about protecting a piece of our culture and history for the people it was intended for, their children and grandchildren.
This artwork may be worth millions. Yet to the people of Dover it is priceless. Let's work together. Let's Save Our Banksy.
ENDS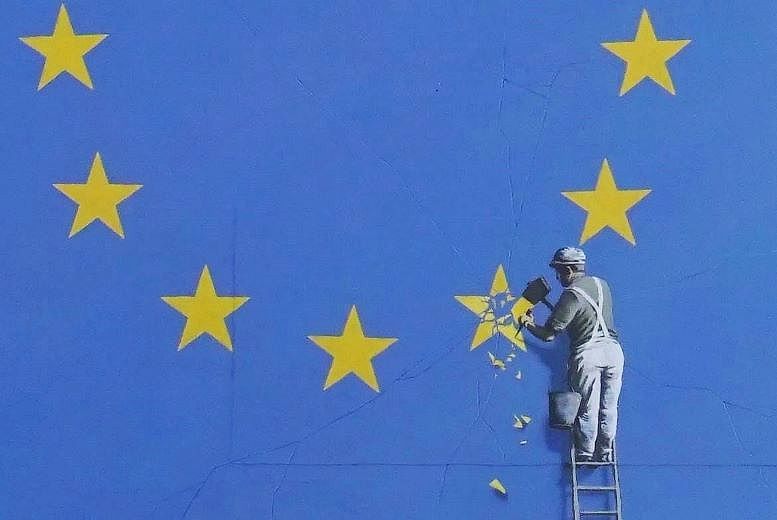 Banksy in Dover.
Well said Charlie above. Go for it!

( see also posts 3907, 3885, 3789. )
Very nice pictures below Mike, Very enjoyable.


PaulB.
Friday, 23 June 2017 - 15:23
Post 3923
Mike J., Dover
Another RIB has joined Northern Rib Hire's GRUMPY on the DWDR contract.
The PAMPERO is a little smaller than GRUMPY & is working similarly as a crewboat & operates a taxi service between the Crosswall quay & the various barges & workboats & has been at work for a few days.
Both craft are capable of 40kts but DHB regulations restrict them to a sedate 8kts in the Outer Harbour & 4kts in the Wick, the approach channel to the Tidal Basin.
Must be a little frustrating for the Coxns !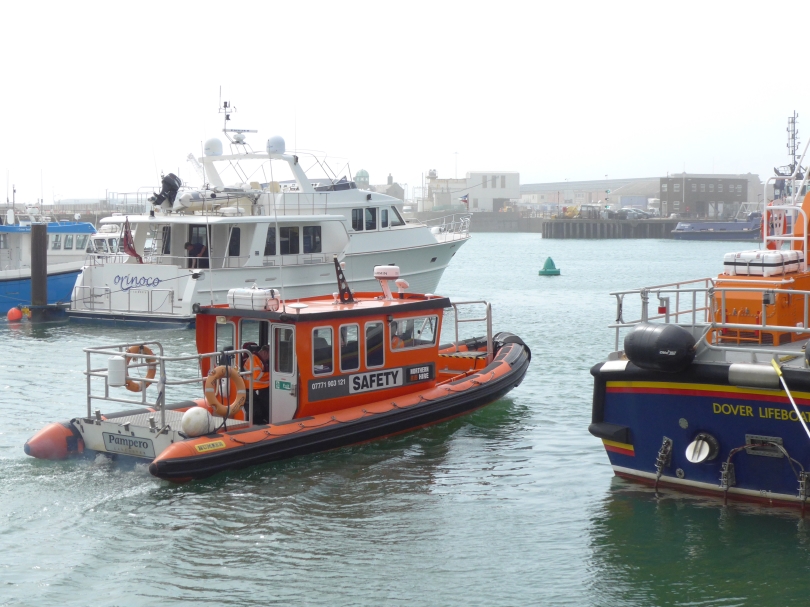 An arrival on Wednesday evening was the Ramsgate-registered windcat CWIND SWORD, one of the larger CWIND craft.
She came in from Ramsgate & moored in the Wellington Dock.
Thursday, 22 June 2017 - 22:58
Post 3922
Sea News, Dover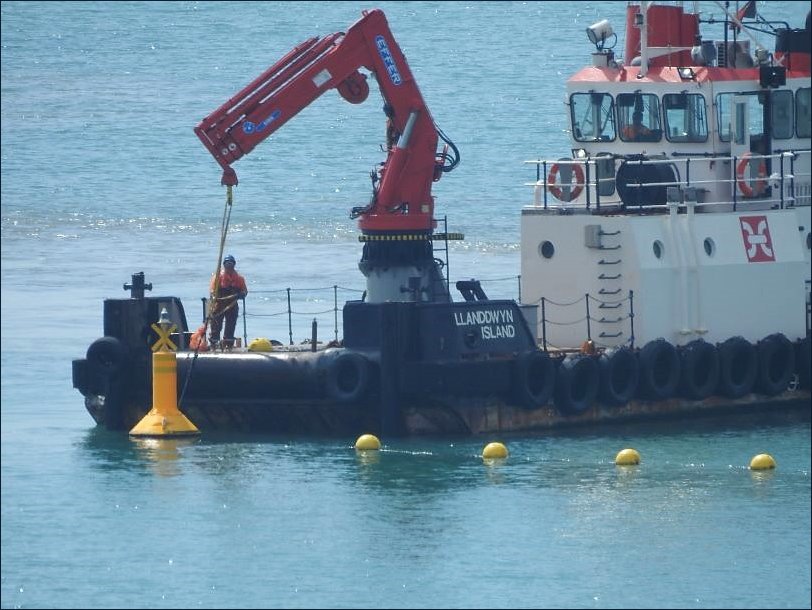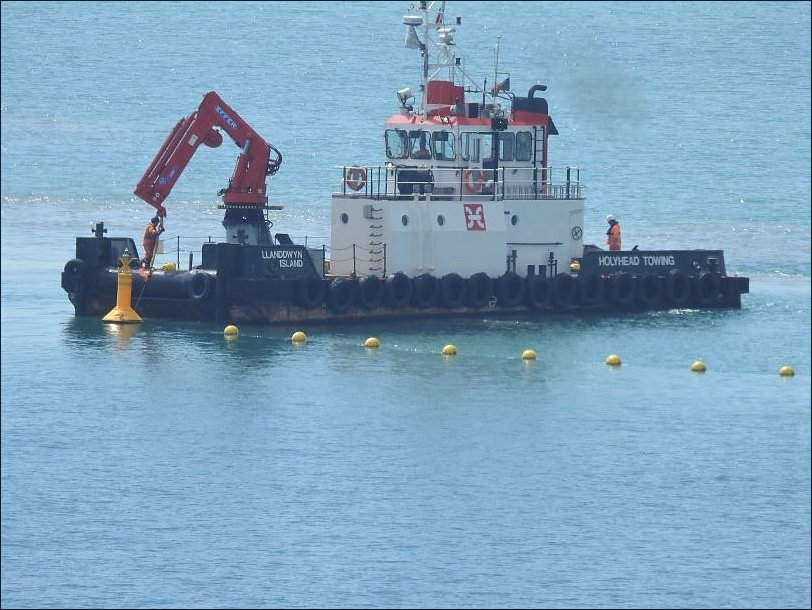 In the early part of the recent weekend, the guys onboard Llanddwyn Island appeared to set about the removal of the exclusion zone. They removed the chainlink(?) between the marker buoys and it looked like a big task, but then they replaced it later on...there was much other excitement going on last weekend and this work almost went un-noticed. Suffice to say however that the exclusion zone is still in place and fully operational. PB.
Thursday, 22 June 2017 - 14:51
Post 3921
Sea News, Dover
To use Mike's term again...there we are above with 'Crane City' once more. This time as a whole mass of cranes gather in the late hazy yet colourful evening sun...there is something of beauty about the things...
Below we have a couple of shots of the departing AIDAbella from a shimmering last Monday evening... she can just about squeeze out there through the western entrance/exit.
The final shot below is a bit weak...but its probably just about worth giving it some airtime.. the pilot returns home.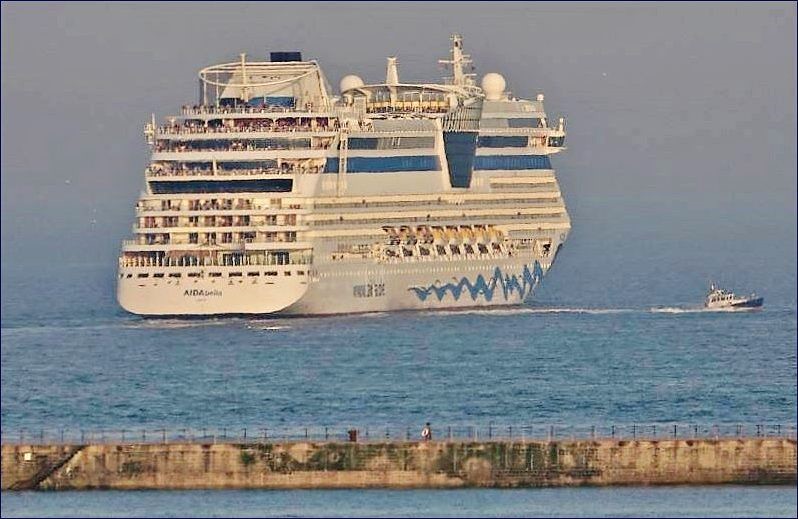 Well done Ed below...good shot that, a fresh angle on things there. Yes indeed the European Seaways returns.

Vic oh no I guess we wouldn't fancy it night and day. But to be honest I don't really mind the banging and thudding and grinding...one loves a bit of grinding. The whole truth is however my Ming Vase has shattered, my fine bone china given to me by the King of Siam lies in pieces, my Faberge egg has shattered to dust at the bottom of its cage and my dental fillings have all fallen out ....but do I complain...no!

( the old jokes are the best!

)
PaulB
The fog returns...
Thursday, 22 June 2017 - 06:54