Wednesday, 26 November 2014
SEA NEWS
Scroll down the page and over the page for all the stories...
Winter Getaway through Dover 1213 plus Christmas ideas from MYFERRYLINK just below in 1214.
CHRISTMAS SHOPPING with P&O see Post 1208 below ..plus latest news on THE P&O CHOIR in 1209.
PORT PRODUCES HUGELY ENCOURAGING Q3 FIGURES SEE POST 1200.
REMEMBRANCE pictures below in post 1199....
INCIDENT at PORT see posts 1196, 1197.
AUTUMN TRAVEL OFFERS with DFDS SEAWAYS see Post 1190.

HARBOUR RESCUE BELOW see 1189 ........
FREE Magnum of Wine with MyFerryLink see 1178.
PORT CELEBRATES NEW POWERS TO DELIVER FOR DOVER see post 1145.
DOVER HARBOUR BOARDS BIGGEST EVER INVESTMENT IN DOVER...plus..see post 1119.
Also latest...Port gives Quarter Million to Community Fund...see 1136.
Phoenix Angling Club raise Fab Sum for LIFEBOAT...see 1117.
Dover Harbour Board chairman reappointed...see post 1097.



CHARLIE ELPHICKE MP - Thoughts on the Port - see post 818. Further thoughts 955 and at 1061,1179...also LATEST BELOW 1205.
SAILING BOATs in DOVER HARBOUR see post 1177..
The LIFEBOAT in the thick of the action again. See 976 also 1012. see also LATEST LIFEBOAT PICTURES 1156.
Merchant Navy Memorial Service on seafront see 1052.
A Great Summer Season for the Port of Dover, see 1049.
THE SEA DREAM I FIRST VISIT ...pictures in posts 987, 989. ALSO See latest picture of the inaugural presentation 1020.
The Ryndam - leaving Dover for the last time..see 1041. Also 1064 for latest.
Summer at the Port of Dover, see 944. also Breaking New Ground with the Port of Dover see 1016.
The Port of Dover Community Regatta....first pictures in 914..then 918 and 929..also 920 for THE BLADES.

A Fishy Sunday Lunch 1106
MyFerryLink..New Appeal in Post 906
UK Border Agency in close operation..see 884, 886.
RECORD FREIGHT Departures see 883.
IMPORTANT STATEMENTS BELOW on the future of MyFerryLink..see 850, 853.
THE TOUR de FRANCE passing through see posts 870, 877, 882.
Seafront Air Ambulance drama see 858, 860.
Calais 867 and Calais Lifeboat...828.
Aerial Map of berths 815.
Pictorial Tribute to the Dover Lifeboat guys...see 799
THE DELIGHTS of DOVER SEAFRONT..also 779
MARCHING FORWARD see 411 and 687.

Picture: The Hellas Reefer.
For all the general sea news and pictures see down this page and over the many pages. Dover.uk.com and Doverforum.com have merged to produce an entirely local and comprehensive Dover website. Please feel free to join in with the discussion and chatter. See the link to dover.uk.com on the menu left for the latest frontpage topical news stories, and/or click on Forums Direct on the menu left to join in with the latest chat.
Nautical contributions are welcome on this page - max 4 pictures preferred per contribution, all pictures remain own photographers copyright.
Email:dover7@msn.com to send Sea News pix or info..or click ADD YOUR COMMENT below to post direct, no membership needed. Paul Boland.
Post 1228
Sea News, Dover
Thanks for that information Brian. Never spotted it myself through the gloomy weather, so it seems as though the nasty Live Export trade continues. The Port of Dover is obligated into accommodating this trade by law, until that changes we may well be stuck with the unpopular trade. Although I understand the Joline as shown in pic below now operates through Ramsgate as well. Here she is following one of the MyFerryLink ships out of Port and into the open sea. PB.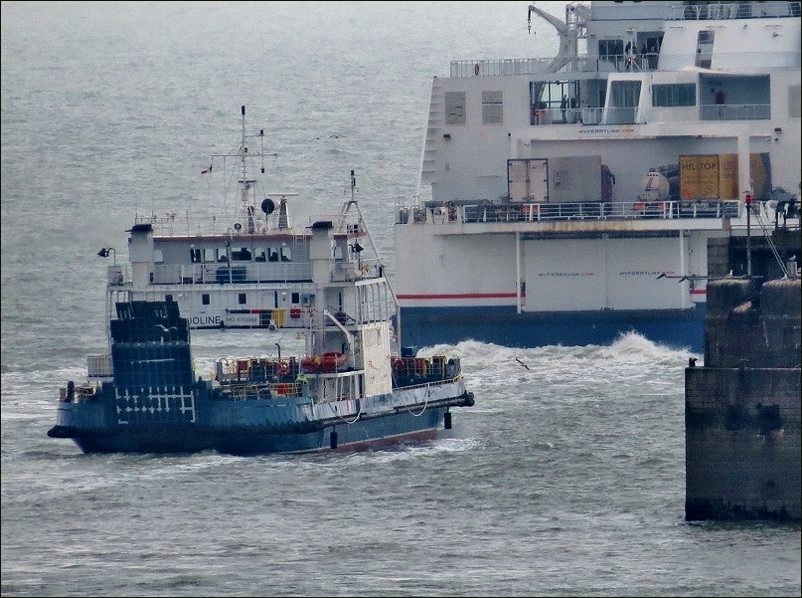 The picture is from an earlier time but we show it so that any of our new readers who dont know the actual vessel can see it here and now. It is rather small and dwarfed amongst the ferries.
Wednesday, 26 November 2014 - 07:20
Post 1227
brian, dover.
I noticed that the tank/sheep carrier joline has made a visit today.

Tuesday, 25 November 2014 - 19:17
Post 1226
Sea News, Dover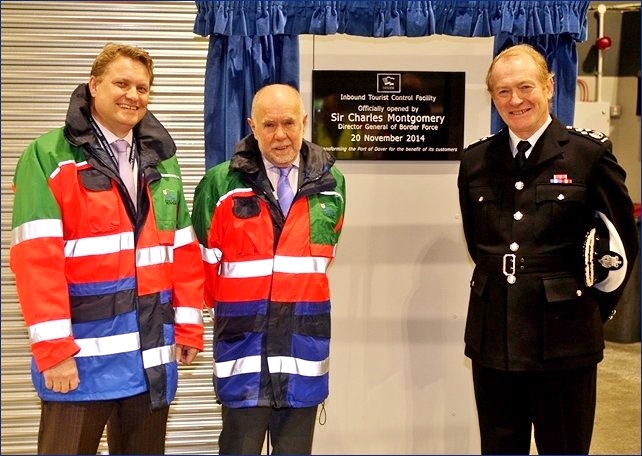 Hail the ongoing Port transformation.
______________________________
The Port of Dover's new Inbound Tourist Control Facility was officially unveiled by Sir Charles Montgomery, Director General of Border Force, at a ceremony held at the Port's Eastern Docks on Thursday 20 November 2014.
The new facility is a key milestone in the ongoing development of the Traffic Management Improvement (TMI) project that is transforming Europe's leading ferry port.
TMI is part of an £85 million upgrade programme focused on the Eastern Docks, which is being delivered at the same time the Port has recently committed to investing up to £120 million in phase one of the Dover Western Docks Revival Project, the biggest single investment ever made by the Port. Together, such investments are transforming the Port for the benefit of its customers and community.
Sir Charles said:
"I am extremely impressed by the quality of the facilities and infrastructure. It is an extraordinary transformation taking place at the Port of Dover. With the growing relationship developing between Border Force and the Port, it was an honour and privilege to be at the Port for the official unveiling."
Tim Waggott, Chief Executive of the Port of Dover, welcomed the guests and outlined the significance of TMI to the Port's ongoing development.
"This is another important step in the ongoing transformation of the Port of Dover. We are creating an additional four kilometres of lanes, a holding facility for 220 freight vehicles and removing the bottlenecks within the Port. The scheme is due for completion in late 2015 and we will see the re-routing of traffic flows, new variable messaging services and lane control and the significant bonus of reducing congestion and air pollution in the external road network.
"The Port of Dover is changing and we are at the forefront of developing a port we can all be proud of by working together with our partners to be the best port in the world."
ENDS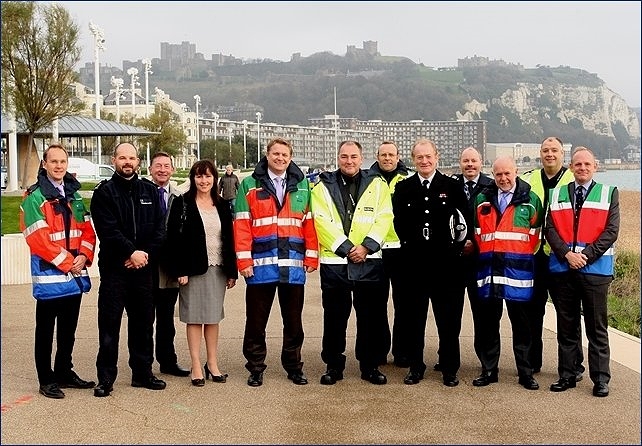 Top Shot From left to right: Tim Waggott, Port of Dover Chief Executive, George Jenkins OBE, Chairman of Dover Harbour Board and Sir Charles Montgomery, Director General of Border Force.
Bottom Shot: Tim Waggott, Port of Dover Chief Executive (5th from left), Paul Morgan, Border Force South East & Europe Director, Sir Charles Montgomery, Director General of Border Force and George Jenkins OBE, Chairman of Dover Harbour Board (2nd from right), with representatives from the operators, Border Force and Port personnel
Tuesday, 25 November 2014 - 06:22
Post 1225
Sea News, Dover
Much brighter morning this monday morning and no mistake...but chilly with it. Ones assets are frozen !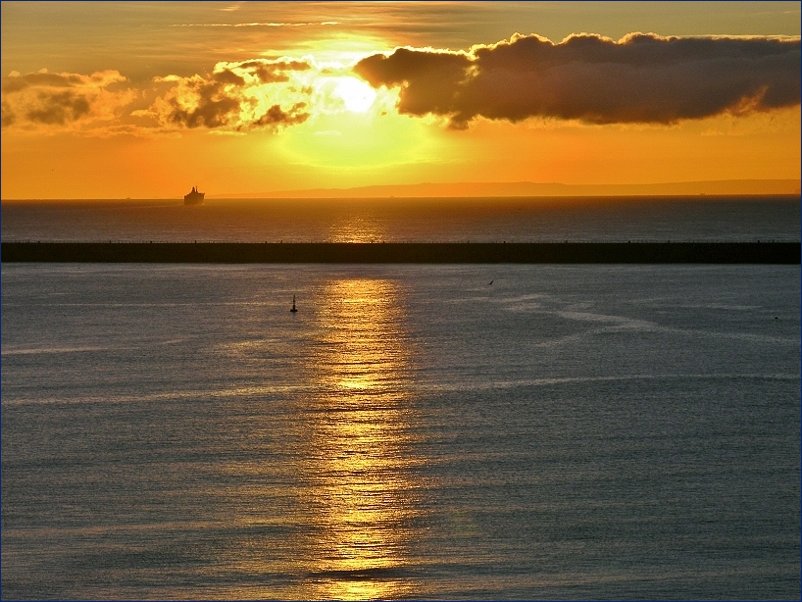 Yours truly's ancient Nikon is still delivering above.

See also pictures from Sunday just below.
Monday, 24 November 2014 - 08:38
Post 1224
Sea News, Dover
THE ARRIVAL OF THE SCHWEIZ REEFER ON SUNDAY.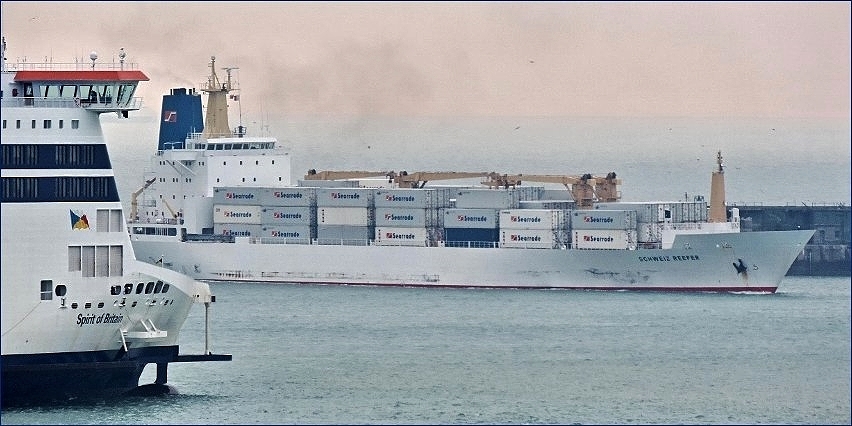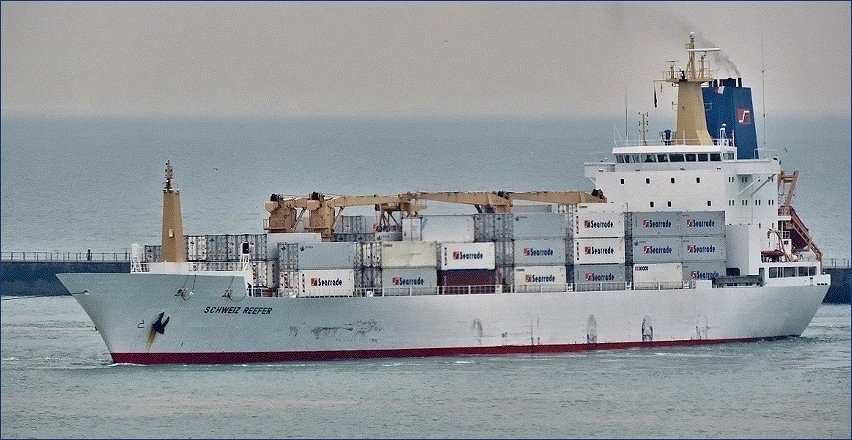 Twas a rather grey ol sunday morning for the arrival once again of the Schweiz Reefer. This ship was a new arrival to the scene fairly recently.. as I understand it anyway, but now appears to be something of a regular player here in Dover and very welcome too. As we have said previously there is a much wider range of cargo ships coming lately which is good to see. Dover marches onwards and upwards. You wont need me to tell you the weather got much worse after these pictures were taken and it turned into a gloomy miserable wet Sunday along the harbour. Not a soul ventured out. All outdoor life abandoned!...well...mostly. Sadly the pictures are a bit grey in tone.
Below we have a picture of our two tugs returning to base yesterday, making their way slowly back across the harbour, their job over with the Schweiz Reefer.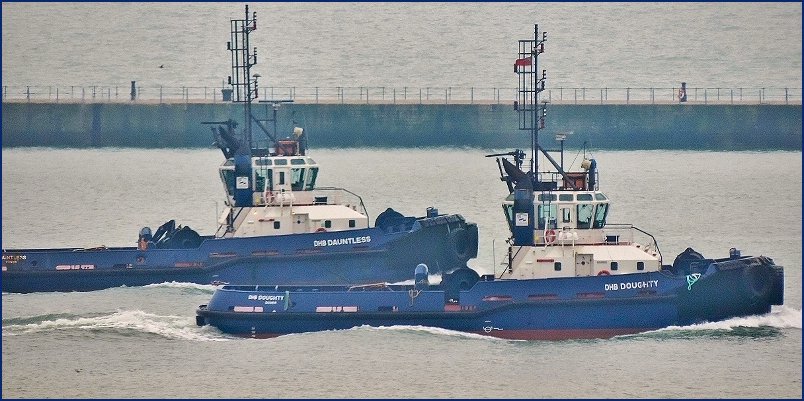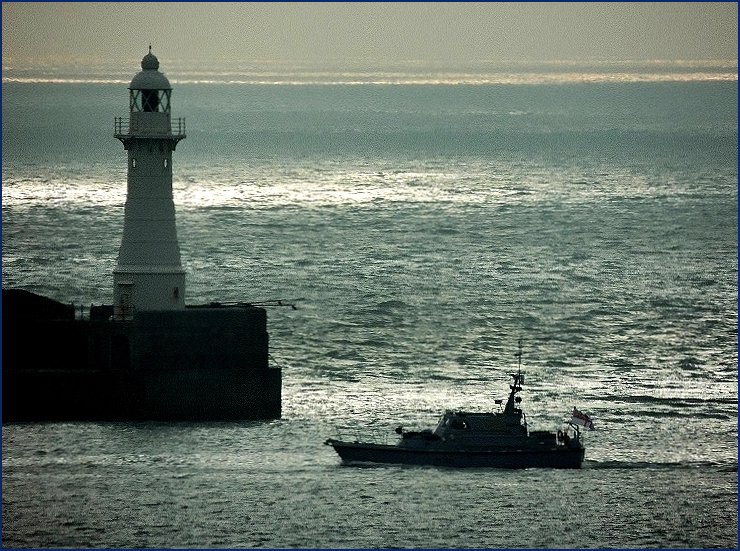 Mike mentioned HMS Gleaner a few posts below and here she is above late last week meandering around the harbour. Surveying...I think Mike said. There are clearer closer pictures of HMS Gleamer by Mike in post 1180 now on page 3 where he mentions that she is the only Royal Naval vessel to have made it inland as far as Basel in dear old Schweiz...do you see how all this brilliantly links together !

Not sure if the post below from New York is a genuine attempt or just spam from the big apple. John in case its a real attempt ..you could post that in our Politics Section in the main forums which would be the best place for it. The Politics Section is ideal for that sort of thing. We don't do politics on here unless its something directly related to the Port of Dover or maritime related generally. I will leave the post in place for another day in case its genuine and then I will have to delete as it doesn't fit our remit. Thanks. PB.
Monday, 24 November 2014 - 06:03
Post 1223
John Newell, NYC USA (jnewell957@earthlink.net)
Procedure By which conservatives Could Win Control of Parliament


If UKIP is Lucky, UKIP could get, perhaps, get five to ten seats
in Parliament. Do not forget, the public still regards UKIP as a
one issue party. To gain control of Parliament UKIP and (and frie-
nds) should form a new conservative party with a platform that is
close to that of the existing Conservative party, omitting, of course,
policies that are objectionable to conservatives. The purpose would
be to make a bed that would be easy for conservatives to slide into,
including the eighty percent of the Conservatives who left Conser-
vative associations. UKIP and the conservatives should then form
a political association in each parliamentary district. UKIP could
merge with the new party, thus getting rid of the one issue problem.
Every one who would have worked to form the new, conservative,
party should be prevented from joining the new party for
a period of time to prevent the impression that UKIP controls it.

The two or three conservative parties should hold a primary election
to determine who runs as the Parliamentary candidate, with the losers
to help the winner. The cost of forming new associations can be raised
by local contributors. It is suggested that the new conservative asso-
ciations and the political party be controlled by the lowest level of con-
servatives, such as teachers, small businessmen, solicitors, professionals
etc. If the above procedure can not be completed in time to get
candidates elected to Parliament, the new party must wait until
after the election and hold a petition demanding that the elected
MP resign. Note: an MP represents every person in his district, not
just members and supporters of his party. When the petition reaches
fifty percent of those who voted in the prior election, the conservatives
will be morally justified in demanding their MP"s resignation. Then the
new party could run their candidates in the following by elections.

To select a candidate, a local association should advertise for applicants
for the position of candidate for Parliament, then select the best app-
licant by using rigorous tests, including, most importantly, psychological
evaluation. Psychological evaluation is an absolute necessity, as psych-
ological evaluation is the only way to tell who is honest and who is a con-
artist; members of the public cannot. Without psychological evaluation,
we will get corruption until the end of time, and there is nothing we
could do about. Testing could be required of the association officers,
committee members and delegates, etc.

The platform selected by new party associations, should be some what
vague in order to facilitate integration the platforms of the new assoc-
iations into one platform. It is suggested that self forming cliques of those
who are honest and trust worthy be formed; then form self forming
cliques of those who have political skills and capabilities, within the first
described clique.

Please forward to those who might be interested.

Request more information. Comments welcome, Questions answered.


Sunday, 23 November 2014 - 16:02
Post 1222
Sea News, Dover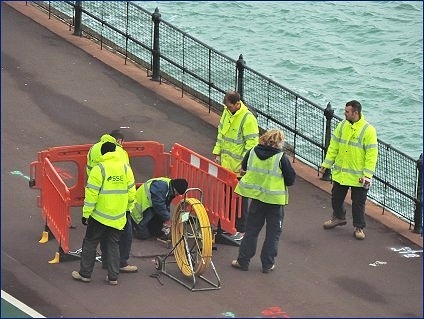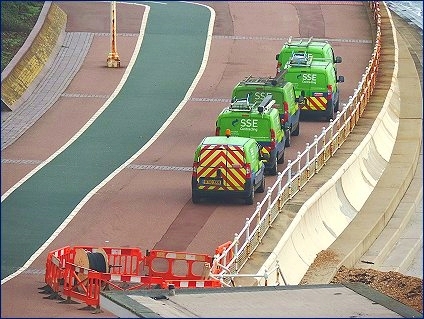 All week there were guys marking up the seafront. Red arrows this way, green ones that way, yellow ones the other. Eventually we could see why...this convoy from SSE rolled into town. Oh no...you think of energy companies nowadays and the word fracking is never far behind, dark images were being conjured up in yours trulys brain. But no..after several tranquilisers I realised it wasn't freaky fracking Friday but just some serious cable laying by the French group.

Our ol' friend the Dover Seaways was back in action again yesterday which was good to see. She was only out of service for a relatively short time and I suspect the much talked about crash was probably not much more than a jolt, but no doubt the official enquiry will get the accurate picture.
Here she is heading for Dunkerque yesterday around 13.15..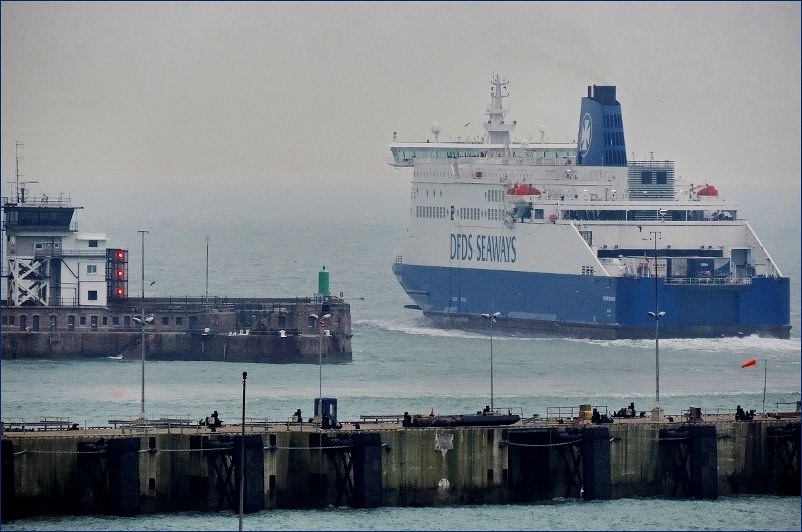 We still don't have any news on the Pride of Canterbury and as we know the Spirit of France is out of service for the moment too..
....this always puts a strain on local traffic.
Yes that is indeed a sinister looking vessel in your post below Mike... hadn't spotted that one.
Yes Daryl the Port of Dover and all the ferries always keep going no matter what is thrown at them.
PaulB.
Sunday, 23 November 2014 - 06:45
Post 1221
brian, dover
daz, see ferry problems on main forum.

Saturday, 22 November 2014 - 06:51
Post 1220
Daryl Dixon, North Yorkshire (daryldixon9@hotmail.com)
I have to say hats of to all officers and crews on all the ships, I'm a coach driver and a regular traveler on P&O, both to Calais and Zeebrugge, and no matter what the weather throws at them they always get through

Friday, 21 November 2014 - 22:32
Post 1219
Daryl Dixon, North Yorkshire (daryldixon9@hotmail.com)
Cheers for that, thought it was its dreaded vibration come back to haunt it,, prop problems would explain slow speed,,,, Any news on Pride of Canterbury`s progress

Friday, 21 November 2014 - 22:28
Post 1218
Howard McSweeney, Dover
The Spirit of France has gone to dry dock, propeller problems apparently.

Friday, 21 November 2014 - 22:04
Post 1217
Daryl Dixon, North Yorkshire (daryldixon9@hotmail.com)
Hi just been watching the fleet Mon tracker, noticed Mv Spirit of France limping towards Rotterdam, got a lot of tweets from p&o saying all service cancelled,, anyone know whats up with her ?


Friday, 21 November 2014 - 21:56
Post 1216
Howard McSweeney, Dover
After reading about the passengers stuck on Eurostar for 15 hours yesterday after a power cut it is worth remembering how well our ferries run in all sorts of weather.

The port and ferry companies manage to keep going regardless.

Friday, 21 November 2014 - 18:01
Post 1215
Mike J., Dover
With her work on the Southern Breakwater completed the workboat TOPLIFT is laid up again in the Wellington Dock.
She has been joined by the sinister-looking CWIND ENDURANCE, a high-speed catamaran crew transfer vessel which came into servcie in 2014.
HMS GLEANER [post 1180] continues to carry out survey work in the bay & is expected to continue until mid-week next week.
Friday, 21 November 2014 - 17:39
Post 1214
Sea News, Dover
Save £££s this Christmas with MyFerryLink


Fantastic deals on restaurants, accommodation, attractions and onboard
____________________________________________________________
MyFerryLink has some fantastic offers available just in time for Christmas to ensure the whole family gets in the festive mood while watching their wallet. As well as offering peak season crossings from £39 one way for a car and up to nine passengers in the run up to Christmas, MyFerryLink has put together the following money saving deals for customers:
Grab a bargain from MyFerryLink's onboard boutique – select from a wide range of products including perfume gift sets, wines and spirits, chocolates and cosmetics
Save 10% on any French wines at Calais Vins on purchases over €100 in store – available now until 31 January 2015
· Receive a €25 gift voucher on purchases more than €200 at Carrefour Cité Europe - this voucher can be spent any time before 28 February 2015
· A room for two people from just €85.50 on a bed and breakfast basis at the modern Inter-Hotel L'Haut' Aile a short drive from Cité Europe shopping centre – saving up to 50%
· Dine at restaurant with a view La Brasserie du Thomé and receive a free bottle of wine with the €20 set menu
These offers are available exclusively to MyFerryLink customers. To make these savings, customers need to show their lane hanger or MyFerryLink booking confirmation upon arrival at the hotel, restaurant or when paying for purchases.
For more details or to take a look at other offers, go to www.myferrylink.com and click on 'partner offers' under the 'News and Travel Tips' icon.
MyFerryLink operates up to 16 daily crossings on the Dover-Calais route. Fares for a car and up to nine passengers start from £35 each way any duration and £24 return for a day trip. The best fares are available online, with offers regularly available.
To find the best fares, visit www.myferrylink.com or call 0844 2482 100
Ends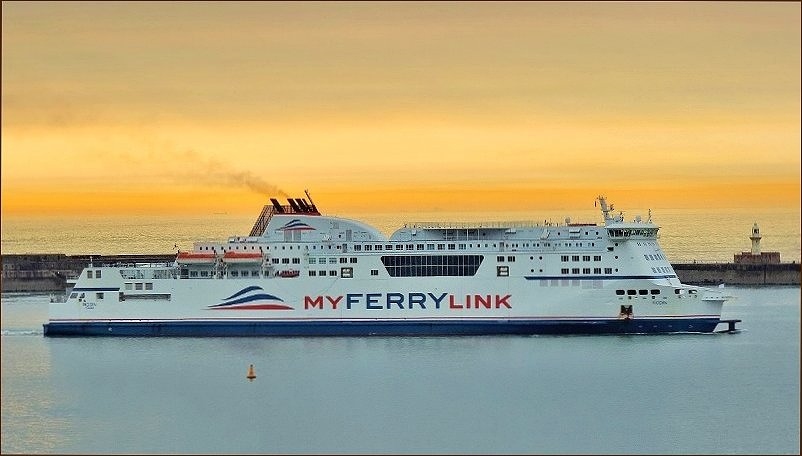 The Rodin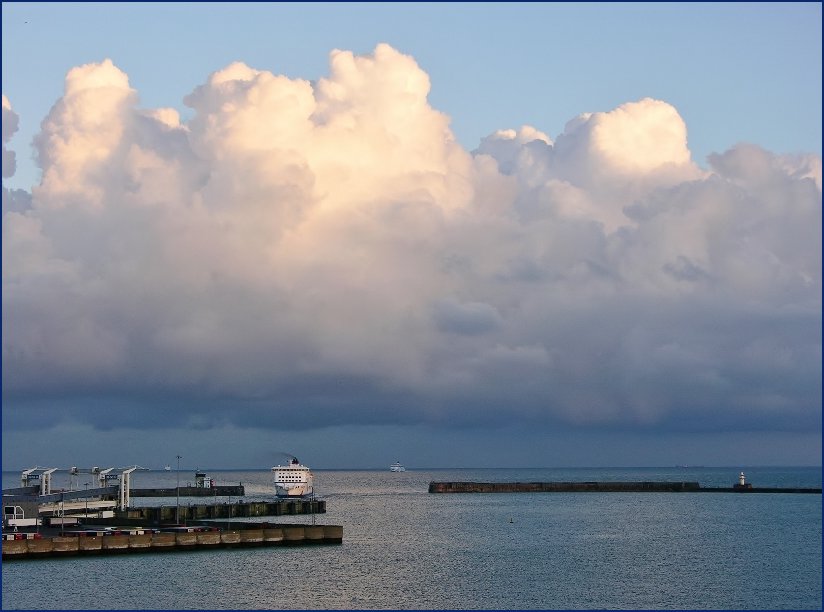 Friday, 21 November 2014 - 06:47
Post 1213
Sea News, Dover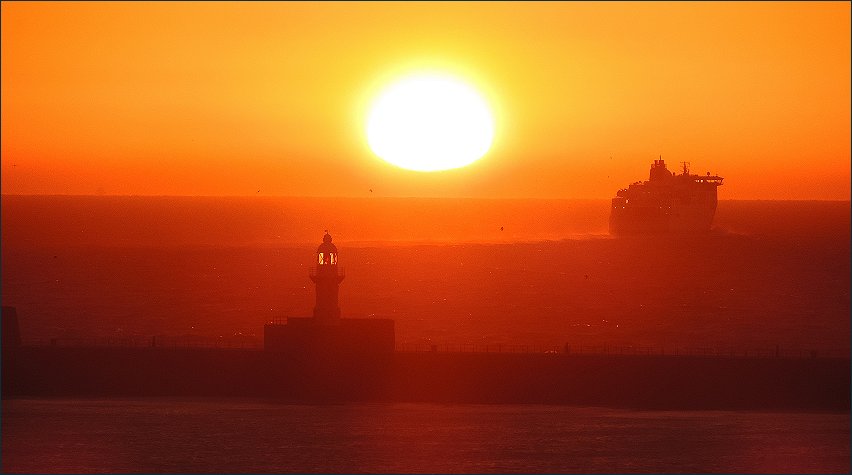 Dover offers a fast Winter Getaway this year.
The start of winter signals the ideal time to get away with skiers, partygoers and Christmas travellers looking to use Europe's busiest ferry port as their preferred departure point this year either by car, coach or on foot.
Christmas markets in Paris, Mulhouse, Avignon and across northern France kick into action at the end of November and run right through to Christmas Eve giving day trippers and travellers an opportunity to stock up on wine, Christmas gifts and sample the wide range of seasonal food and drink on offer.
It is not only day trippers taking advantage of the 90 minute crossing on the shortest route between the UK and France. There are more than 300,000 British skiers and snowboarders who travel to Europe each year driving to the French Alps to resorts such as Chamonix, La Plagne and Les Arcs. The benefit of taking your vehicle from Dover to Calais is that you can stop off along the way to relax, shop and enjoy the Winter treats of France. More importantly you don't have to suffer the pain of excess baggage charges for all your equipment and those delicacies you decide to bring back on the ferry from Calais.
Passenger and vehicle numbers continue to increase as more people appreciate the relaxed travel and round the clock departures from Dover's recently revamped ferry terminals. Dover is the UK's leading ferry port and has seen an increase of 6% in coaches and 3% in passenger traffic compared to 2013 year to date.
Tim Waggott, Chief Executive, Port of Dover, said: "Starting any journey, particularly when it's a Winter Getaway for Christmas shopping or skiing and snowboarding, should be about comfort, relaxation and enjoyment. The Port of Dover is the ideal departure point into the heart of northern France and for the French Alps. Travelling should also be about the journey and Dover's ferries are as much a part of the enjoyment as the destinations."
Ends
* *
Picture shows the early ferry, it was taken just a few days ago..just before the onset of all this current grey weather. You might need to don some sun glasses to look at it. But it shows that its still a great time of year for a nice getaway through Dover. All the immediate people I know seem to be 'going continental' in the next few weeks to those wonderfully exciting Christmas markets. PB.
Thursday, 20 November 2014 - 07:31
Post 1212
Sea News, Dover
Busy once again on the approach roads to the Port. This is the traffic a few moments ago as I write ( 3pm ) but as you can see its mostly a build up of freight vehicles, some getting a bit fraught with the freight ! The casual tripper should be fine n dandy...ermmm touch wood!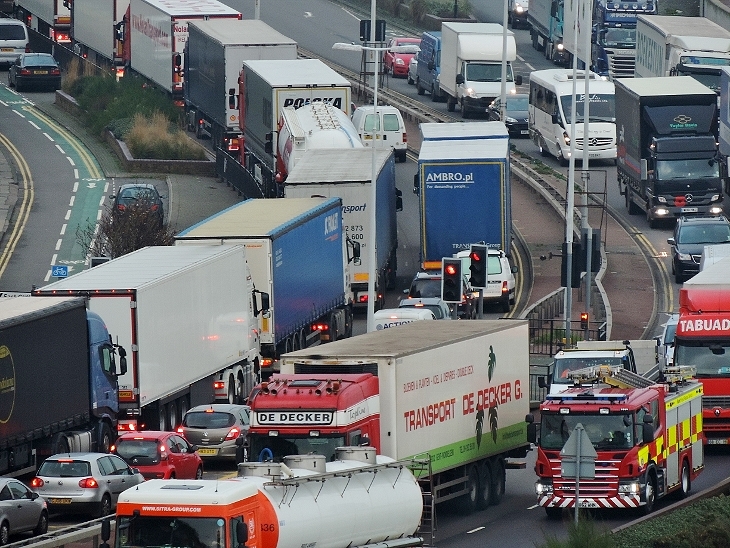 Yes should be a great night up there at the Castle with the fab P&O Choir Barry...all for worthy causes too - the RNLI and the Martha Trust. Excellent.
Wednesday, 19 November 2014 - 15:19
Post 1211
Barry W-S, Dover
To watch the P&O choir at the Saxon church by Dover Castle is a must for a great way to boost the Christmas spirit, not forgetting to have a glass of mulled wine or two with a mince pie on the side

Wednesday, 19 November 2014 - 10:55
Post 1210
Sea News, Dover
Some pictures now of the cargo ship Hellas Reefer departing around midday Monday. Great to see the upsurge in trade in recent times and here we are with one of our regular reefers, Both tugs were in operation lending assistance on a gloomy ol' day. In the background passing is at a guess one of the Trinity House vessels. Not sure which one...meant to look it up on our channel traffic device on sister page dover.uk.com but forgot completely at the time.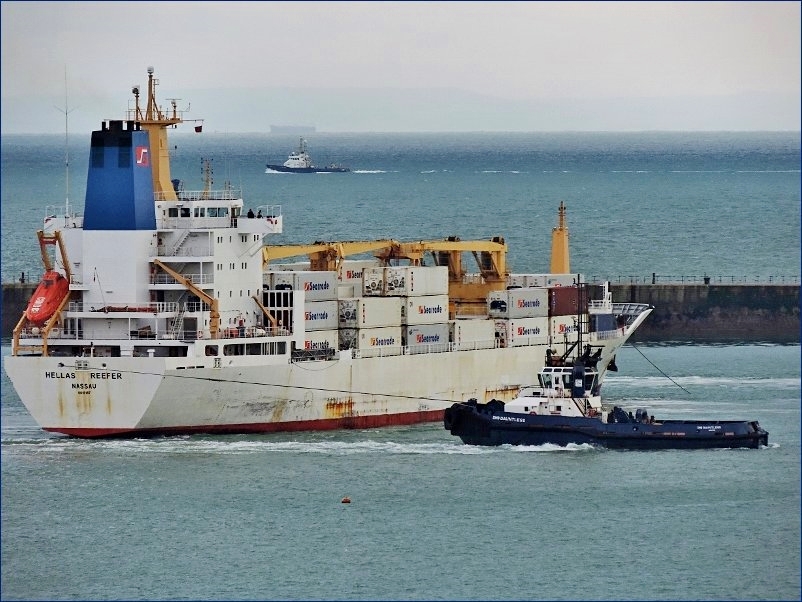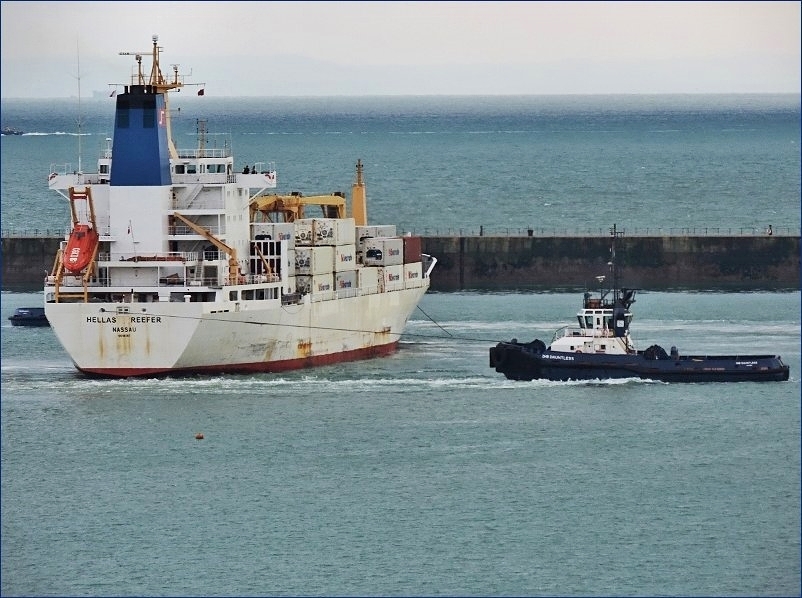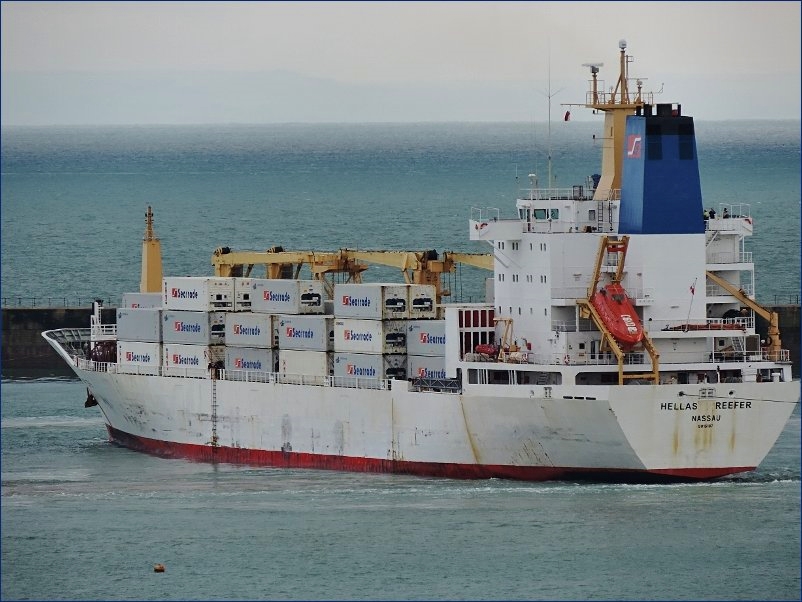 We have considerable delays to freight traffic most days again. Long queues of lorries as far as the local eye can see, just as we experienced last week. Interesting to note that one of the causes being mentioned on Twitter is that we have two ferries out of service.
Interesting...think MFL !
Wednesday, 19 November 2014 - 06:38
Post 1209
Sea News, Dover
The P&O Ferries Choir will bring its year to a close by performing in the stunning surroundings of Dover Castle.
________________________________________________________________________________________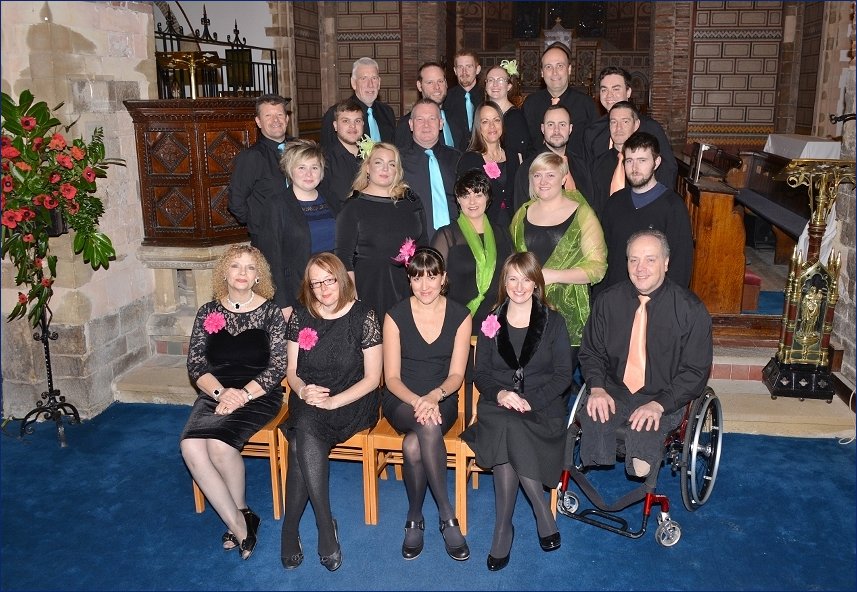 The choir has had a whirlwind year since winning the BBC TV series Sing While You Work last December. Performances have included taking to the stage with mezzo-soprano Susan Boyle at the Hammersmith Apollo, with the Royal Philharmonic Orchestra at the Leeds Castle Classical Concert, and in front of 40,000 people in Hyde Park for the BBC's Last Night of the Proms.
To bring its 2014 programme to a close the choir will perform at Dover Castle on Thursday 18 December, thanks to the generous support of English Heritage.
The concert will take place in the castle's Saxon church, St Mary in Castro, at 3pm. Afterwards the audience will be invited into the castle keep for mince pies and mulled wine and further entertainment by an ensemble from the award winning Blossom Street whose CD Sleep, Holy Babe was acclaimed as Christmas CD of the year on Classic FM.
"Our first public engagement after winning the television series was in Dover at the very start of this year and we wanted to close out the year on home ground, where we've enjoyed so much support," said the choir's Stacey Young. "In doing so we'll support two charities, the RNLI and Martha Trust, which provides long term residential, respite and day care for people with profound physical and learning difficulties."
Tickets are priced at £15 and are available by calling 01304 863863.
* *
P&O SPECIAL
See also the post below for the great Christmas idea onboard The Christmas Spirit of Britain.
Tuesday, 18 November 2014 - 07:24