Monday, 1 May 2017
Dramatic bank holiday weekend sunrise over port ...the famed white cliffs looking black, dark, and brooding...
doverforum.com/sea-news
Featuring all the ships that come and go and work at the Port of Dover with further coverage of Ramsgate, Calais, Dunkerque.
Email:dover7@msn.com to send SEA NEWS pix or info.... or click ADD YOUR COMMENT below to post direct, no membership needed. Use our SEARCH ENGINE below to find all sorts on the SEA NEWS pages..more than 180 now with more than 3666 nautical posts. Posts welcome. Max of 5 pictures preferred per post. Sea News Editor Paul Boland.



Sea News Dover:



HARBOUR PILING ABOUT TO START see 3698.

Vessel Arrivals herald progress on DWDR see 3639.
P&O Reports highest ever freight volume SEE 3623.
DWDR - HARBOUR EXCLUSION ZONE see 3607.
JOBS FAIR: Jobs with P&O Ferries 3563.
First Cruise Ship of the Season and lots more to come...see 3548.Type Cruise Visits in search engine below for the latest..
DOVER WESTERN DOCKS REVIVAL - a lasting legacy see 3532

STRONG GROWTH FOR DFDS DESPITE BREXIT VOTE see 3507.
NEW BOOK on the history of P&O FERRIES see 3463.
Bankers Back Dover Western Dock Revival see 3442 - Record Freight through Port of Dover 3418 - Refit News from P&O see 3413. - A strong future for cargo at Dover see 3374 - also see 3390 as the Port construction moves forward.
Post 3743
vic matcham , Dovor
Done some welding repairs on her years ago ,do not know if that was the name of her then.it was a good ship with good food and they looked after us for a few days.

Monday, 1 May 2017 - 03:12
Post 3742
Ed Connell, Dover Strait
Cote d'Albatre having departed Dunkerque East seen passing Dunkerque West.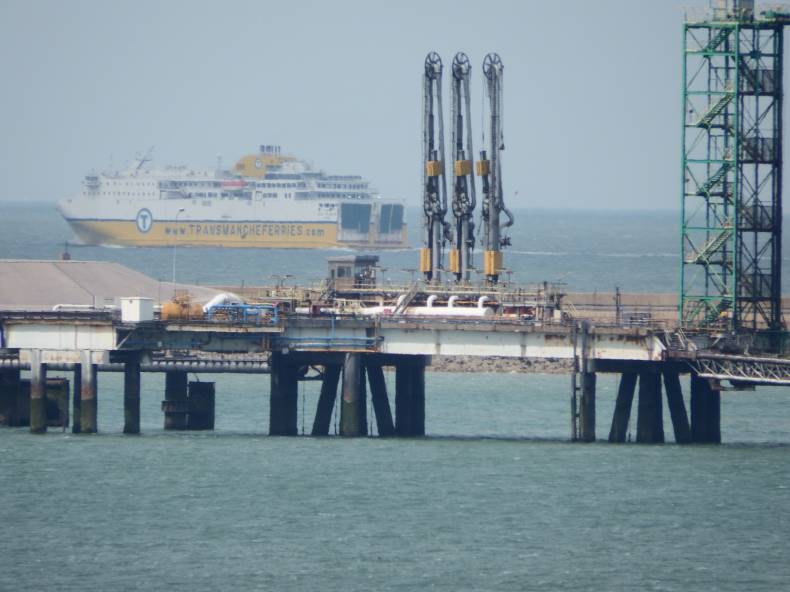 Duzgit Harmony at the DCT today.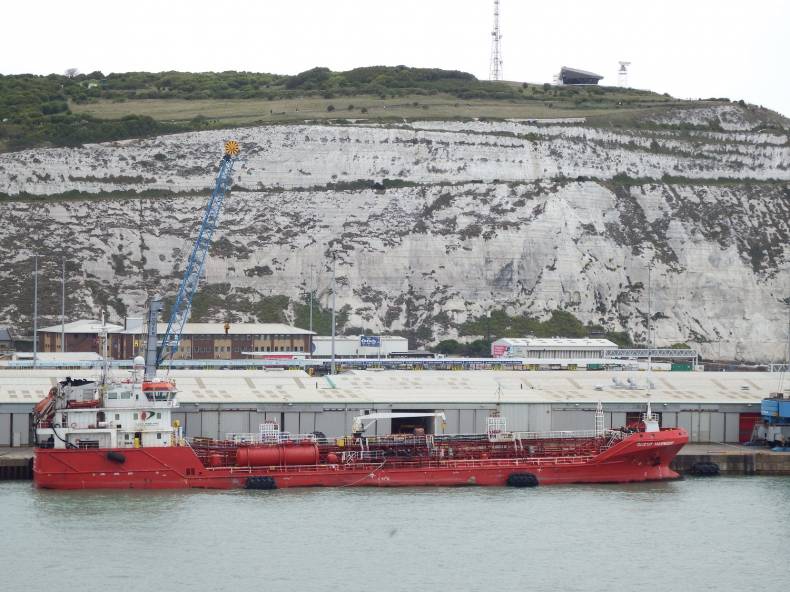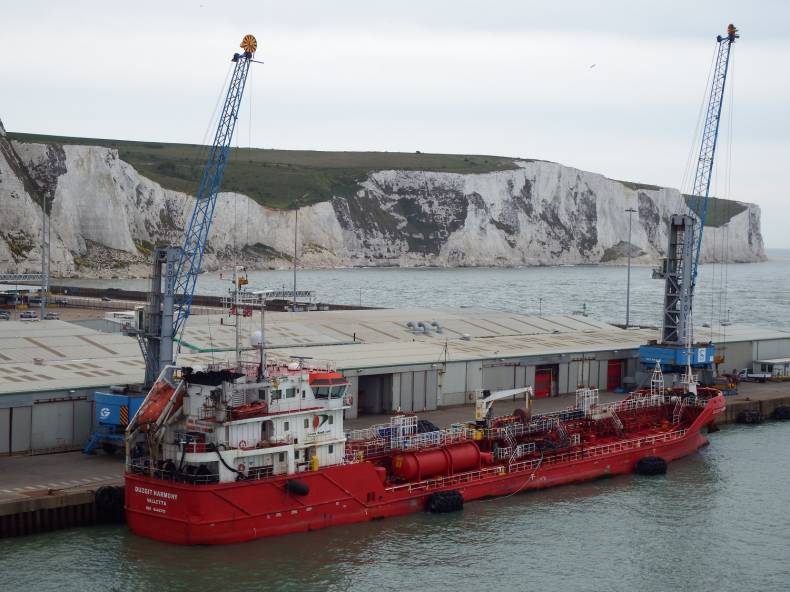 Sunday, 30 April 2017 - 23:07
Post 3741
Ed Connell, Dover Strait
Russian frigate Admiral Essen proceeding down the Dover Strait yesterday.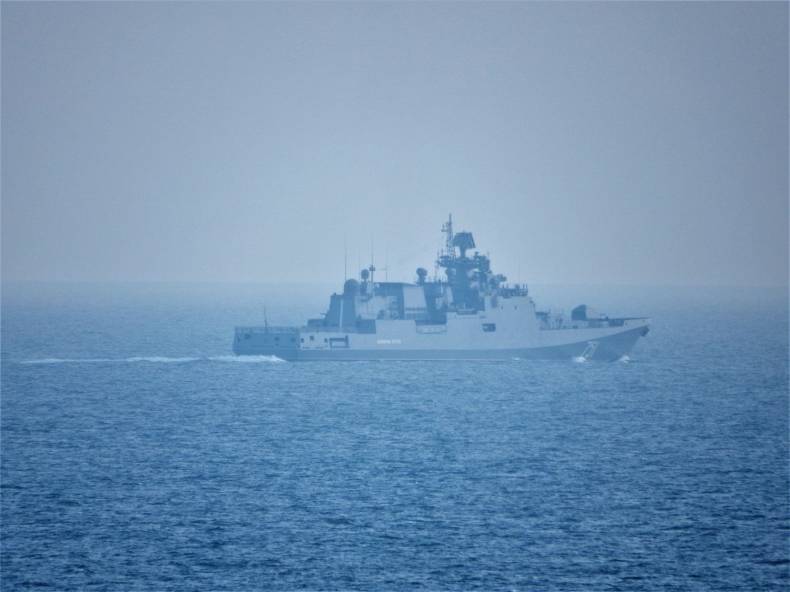 Shadowed by the Royal Navy frigate HMS St Albans.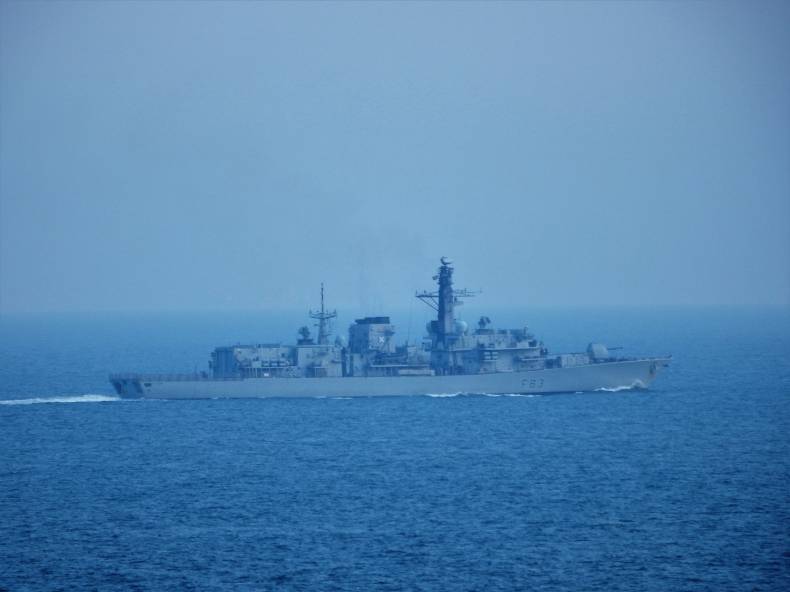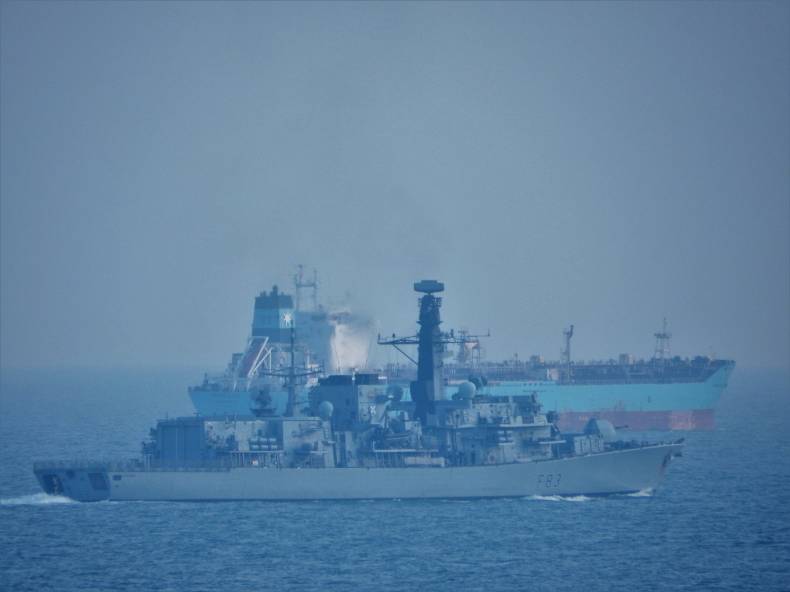 Sunday, 30 April 2017 - 22:45
Post 3740
Ray Woods, Canterbury
Cargo Dock works in progress, from Deck 9 of the 'Saga Sapphire', 28 April 2017.

Sunday, 30 April 2017 - 12:28
Post 3739
Ray Woods, Canterbury
I'm particularly interested in the destinations that the cruise ships' passengers are offered for their shoreside excursions.
For many, it's a trip to London, for others a mixture of Canterbury, Leeds Castle, Hever Castle &c.
A destination which has recently become popular is to, of all places, Rye!
I hasten to add that I'm not denigrating Rye as the town is well-known to me because of past family hotel connections, but I don't think that there are that many attractions there.
Perhaps the excursions take in Winchelsea, as well as Camber Sands - it would be interesting to find out!

Sunday, 30 April 2017 - 12:18
Post 3738
vic matcham , Dovor
Thank you for the remarks sir but I was not the only one working there

Going back to our port,yes we are getting just a small drop in the number of calls by the cruise ships, but more next year,there are more ports in theUK for them to call at now and as we all know money talks so some cruise lines call where the cost is lower.
But when all the work is done the number will go up again with lots more for all to see and stay in Dover with all the new shops as well as the work done to the port.Again some great photos of the bigger kind of cruise ships now calling in,years ago when the port first open to the cruise ships they were very small,we still welcome them today but also nice to see the real big ones.I would love to go on one of them,my family go a lot some times 3 times a year, but my funds do not go that far.But you never know I have just stopped doing the Lotto and now doing the post code one will give that a try for a few months to see if we can do better.


.I hope you liked the true story about piling .I will tell

one more soon which will make you smile but for myself at the time it looked like ----.

Sunday, 30 April 2017 - 07:11
Post 3737
Sea News, Dover
A few extra pictures now of the Serenade of the Seas as she arrived yesterday morning 06.20. She was a magnificent visitor for sure and hugely welcome...you can see her sequenced arrival below... she left last night at 2100 hours on the button, sailing away in an exotic blaze of glamourous light, heading for Zeebrugge and beyond..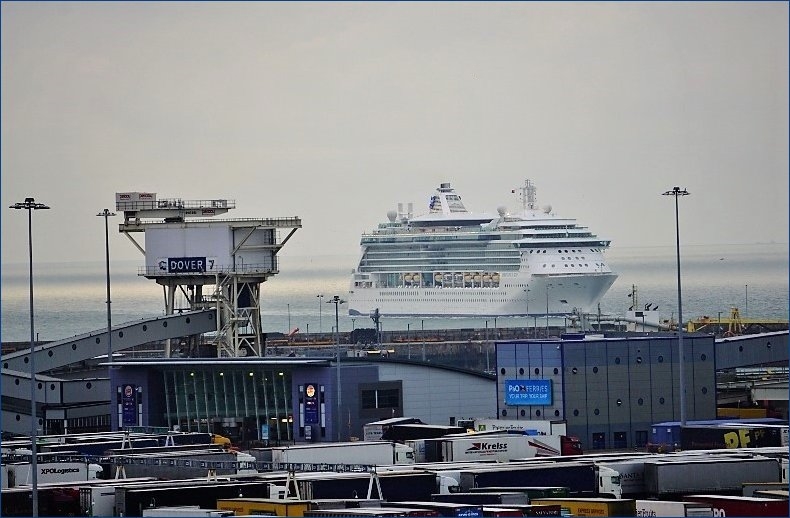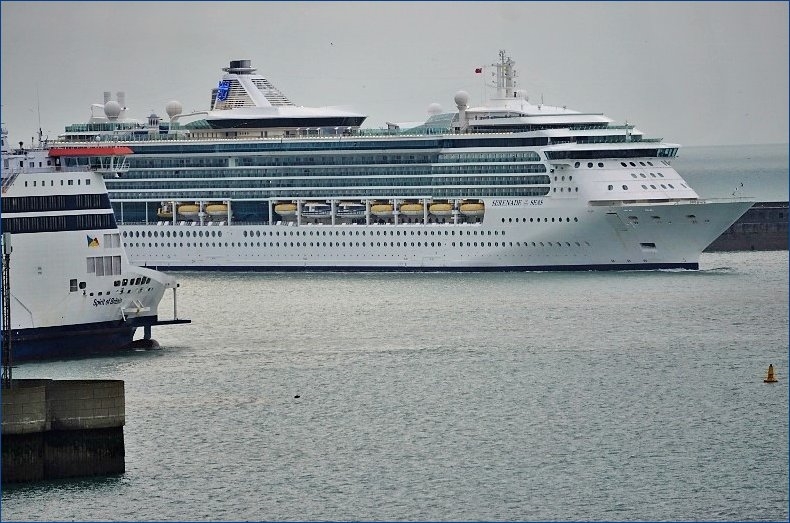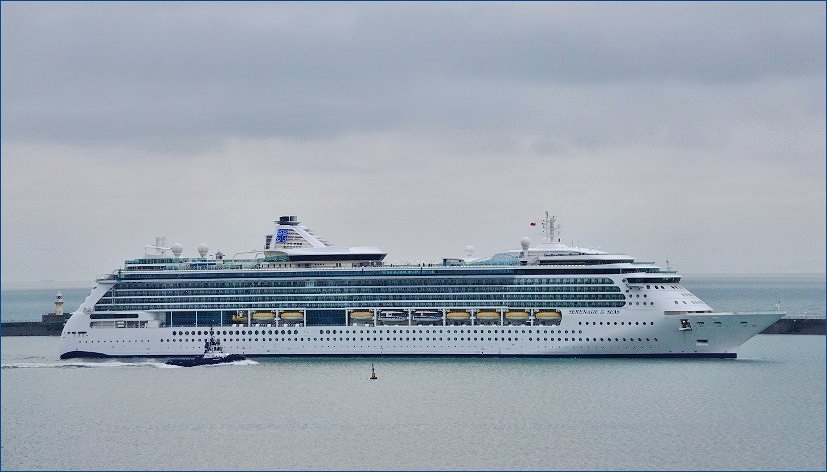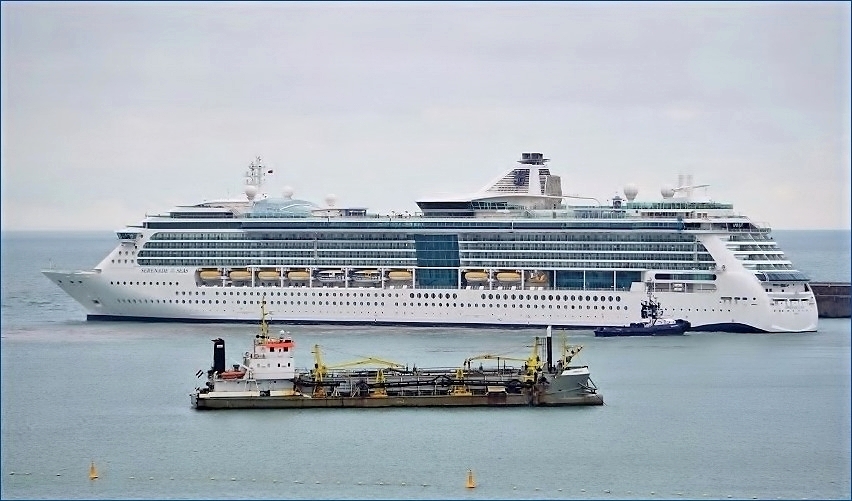 That's Sospan Dau in the foreground there...
Great pictures below there from both Mike and Ed

we really gave her some excellent coverage.
Today we have Balmoral in as well, so the cruise liners are coming thick and fast, we can hardly keep up. And still with us...is the Saga Pearl II. They look great on a blustery fresh morning.
There you are Del, it all helped up there as you trek back and forth supporting the canaries..

Sunday, 30 April 2017 - 06:54
Post 3736
Del Styan, Norwich
Well, now I know who to thank for the improved railway times to the South and my good access to Carrow Road to see the Canaries. Thanks Mr Matcham for all your good work up here in Norfolk.

Saturday, 29 April 2017 - 23:27
Post 3735
Mike J., Dover
Arrival of the SERENADE OF THE SEA, an impressive sight - virtually the same length as the DISNEY MAGIC.
DELFT SEAWAYS sailing & dredger CAUSEWAY on the Eastern Arm.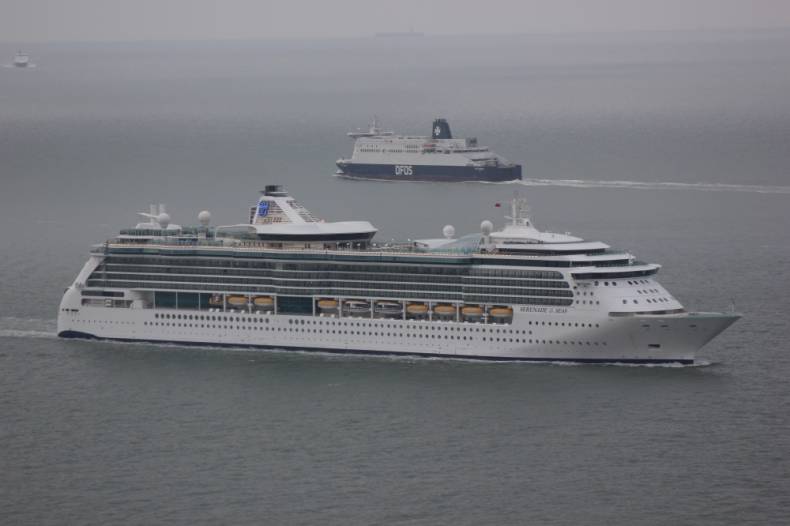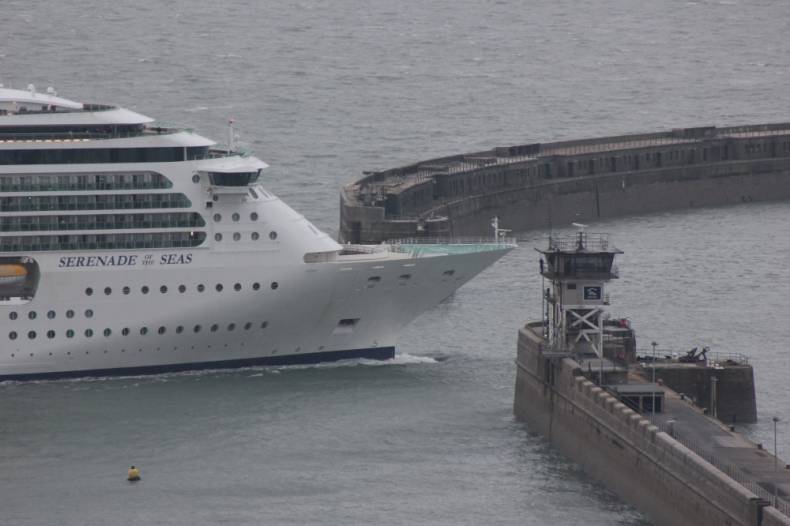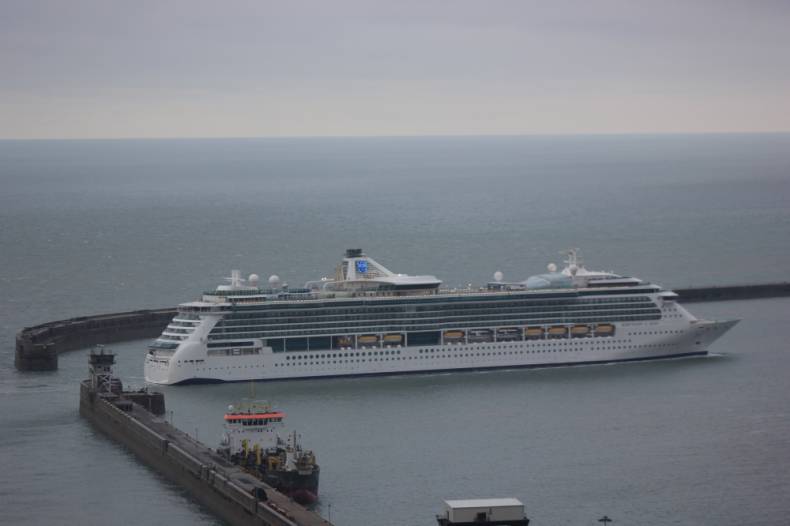 Re post 3716 & the lack of dredging activity on Thursday - apparently work was suspended as 27 May was a Dutch public holiday to celebrate the Dutch Royal family.
An indication of the major Dutch involvement with the DWDR project.
Saturday, 29 April 2017 - 22:47
Post 3734
Ed Connell, Dover Strait
Serenade of the Seas, Saga Pearl II and flypast.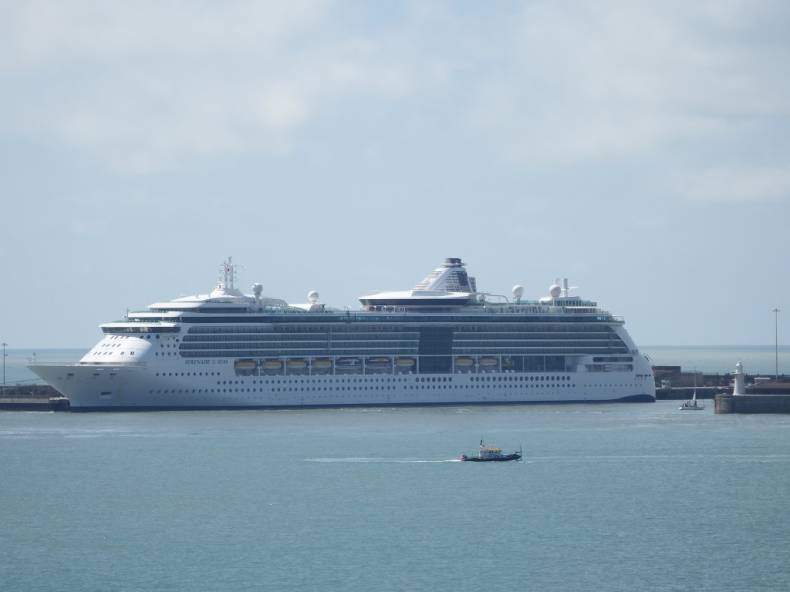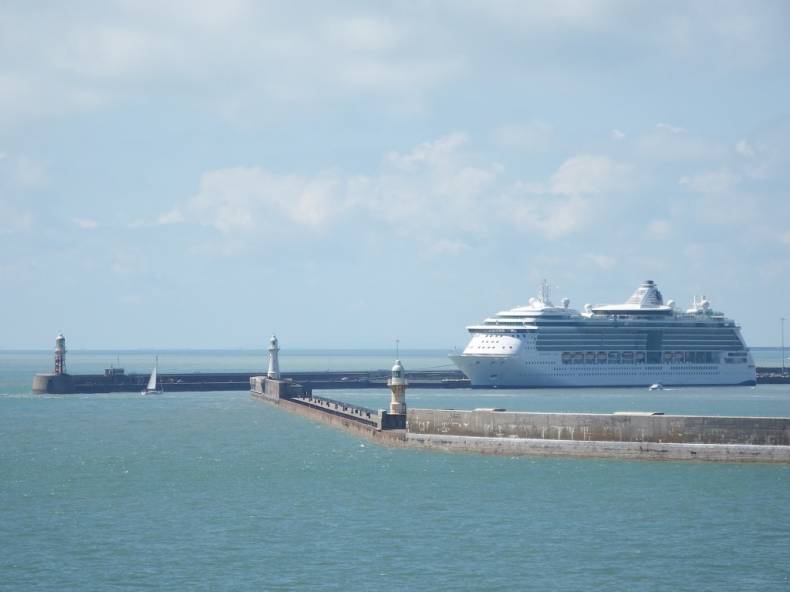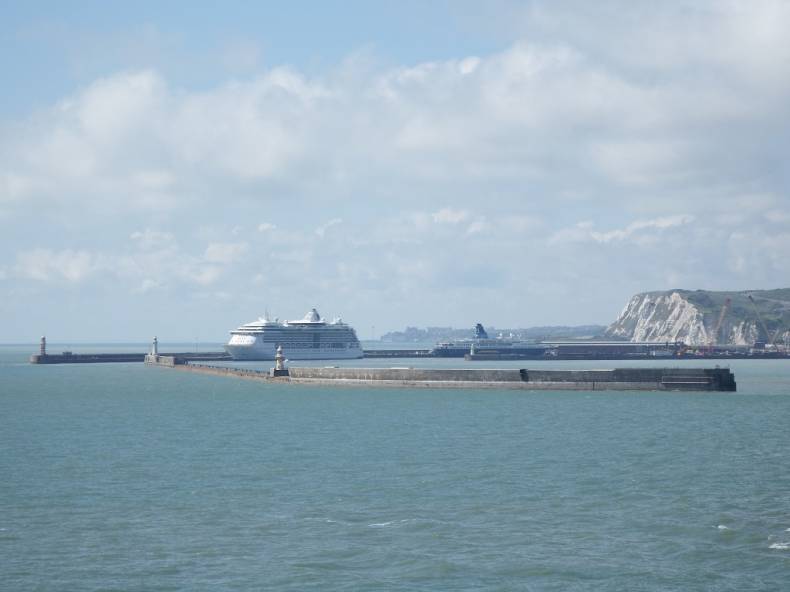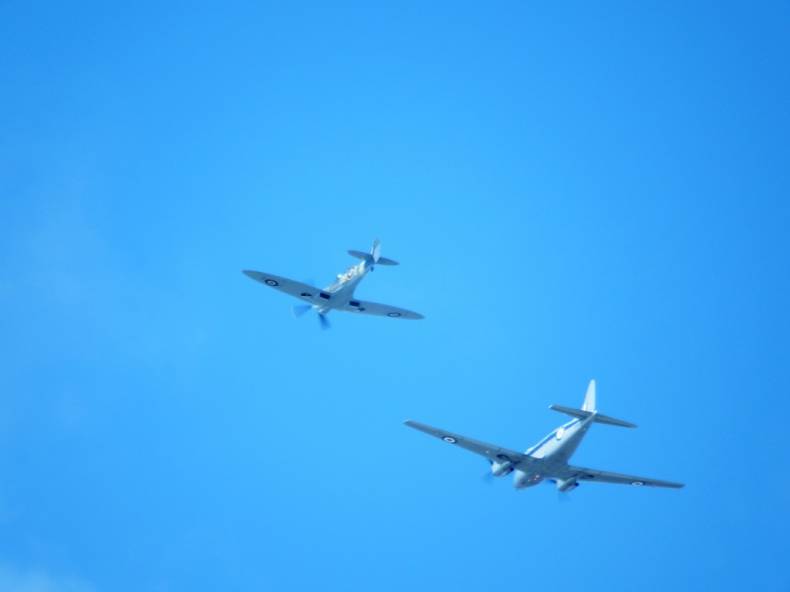 Saturday, 29 April 2017 - 19:44
Post 3733
Sea News, Dover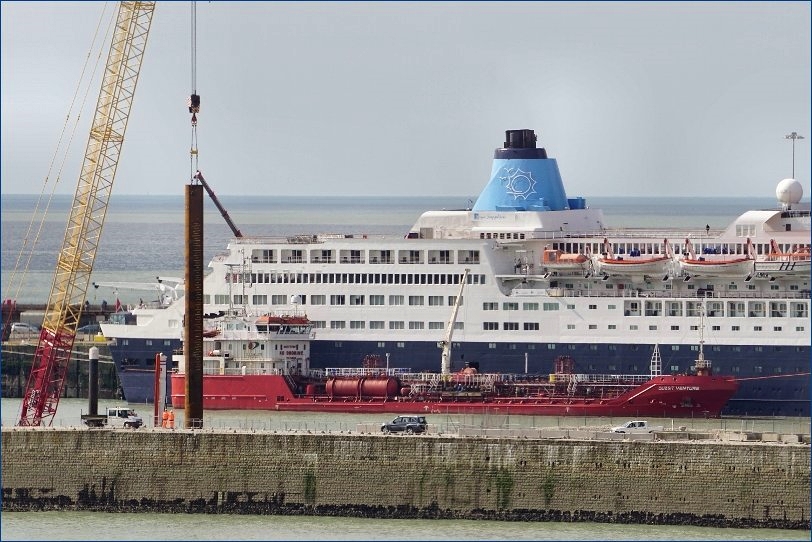 A picture above there from yesterday afternoon and to the left of shot you can see the piledriver device which was in operation for a short while. You can see the scale of it by comparing to the size of the automobiles in shot.
In the background the Duzgit Venture came back to Port to service the Saga Sapphire.
And here we are a tad later last evening...the Saga Sapphire reverses out through the western exit.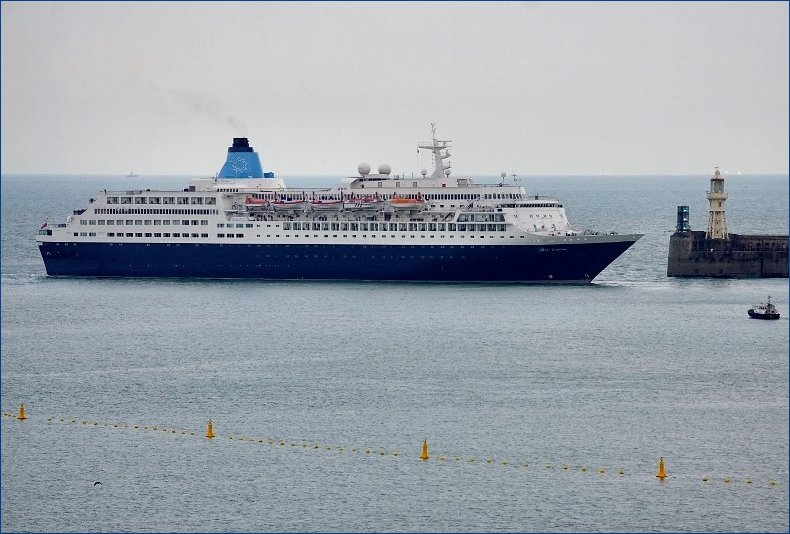 Cracking pictures below Ed of that fabulous car...Wowser! I want one of those as the Sea News runabout...


Well done Jeremy...nice shot of the Serenade of the Seas.

Yours truly will have some further pictures of the Serenade...at this point it will be tomorrow morning now... catching up as ever.
Lol! Vic

Bet you enjoyed lunch on the Saga Sapphire Ray...sounds good!

PB.
Saturday, 29 April 2017 - 16:43
Post 3732
Jeremy Ward, Whitfield, Dover
Long distance shot of the Serenade of the Seas taken today from White Cliffs.
Saturday, 29 April 2017 - 15:18
Post 3731
Ed Connell, Dover Strait
Koenigsegg CCR supercar carried across this morning.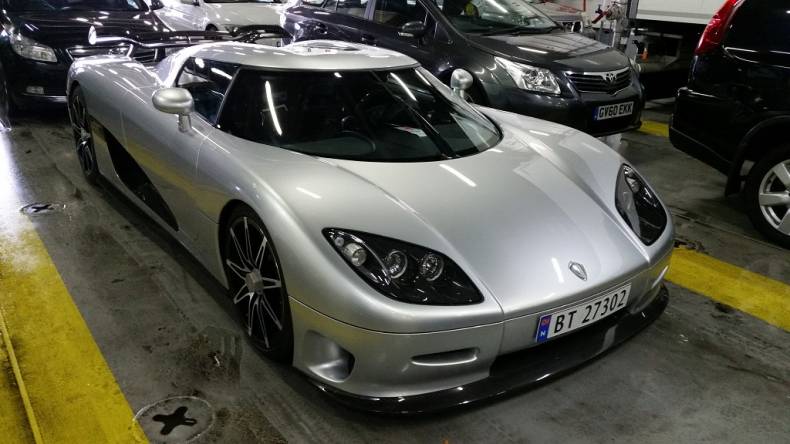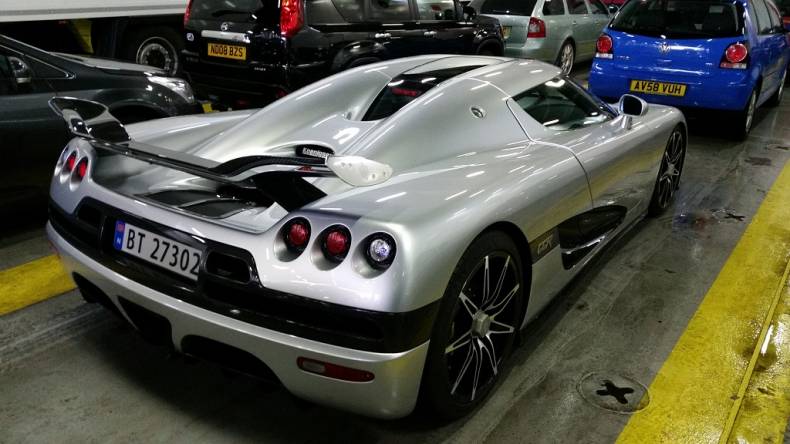 Saturday, 29 April 2017 - 12:17
Post 3730
vic matcham , Dovor
I think the D.H.B. should give Mr Wiggins the push out,and put me there .where I could keep a eye open to all the work going on and piling making shore they are doing right.



Saturday, 29 April 2017 - 11:56
Post 3729
Ray Woods, Canterbury
Went on board the 'Saga Sapphire' for lunch yesterday and took some pics of the work in progress with the cargo terminal.
Learned that there was a drop in the number of cruise ships using the port this year, about 101 as opposed to over 130 last year.
However, next year it is estimated that 140+ will come in.


Saturday, 29 April 2017 - 09:04
Post 3728
Sea News, Dover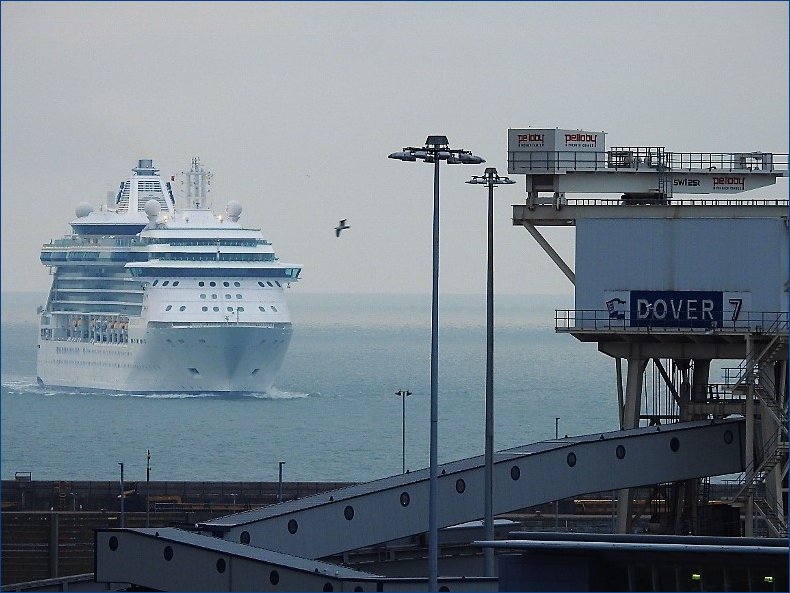 Longish range pic above there of the approaching Serenade of the Seas this morning early, time of shot 06.20. We will have more pictures in due course. The picture above doesn't quite show the the scale of the magnificent ship.. its rather huge. Also in today is the Saga Pearl II. So we have a double header of excitements. The Saga Pearl is something of a minnow in comparison. PB.
Saturday, 29 April 2017 - 08:58
Post 3727
vic matcham , Dovor
Ah,Mr STYAN that might have been myself done a lot piling in Norfolk and repairs to the old wood swing bridges across the rivers they were railway ones,also piling in Norwich it self and big repairs to the road bridge leading up to the the football ground Cower rd.This was in the 80s and 90s and 2000.

Saturday, 29 April 2017 - 08:25
Post 3726
Sea News, Dover
As promised - the AIDAluna arriving yesterday.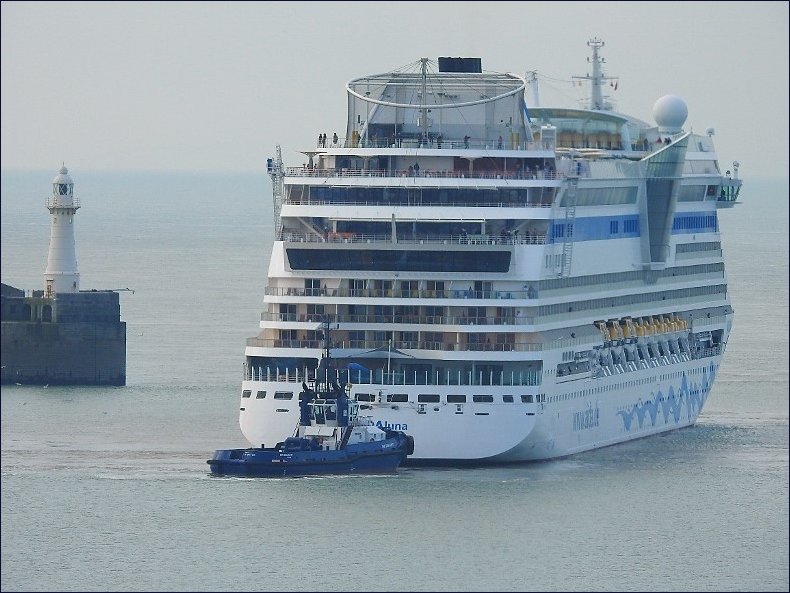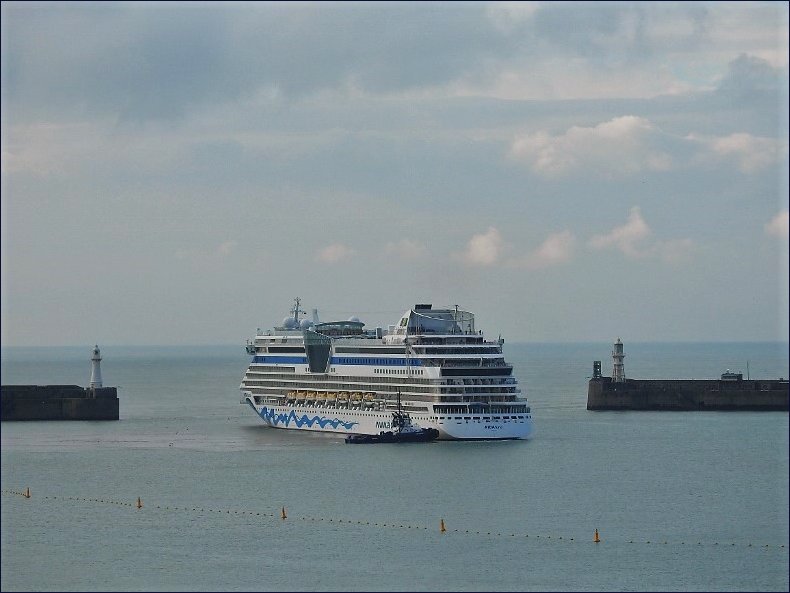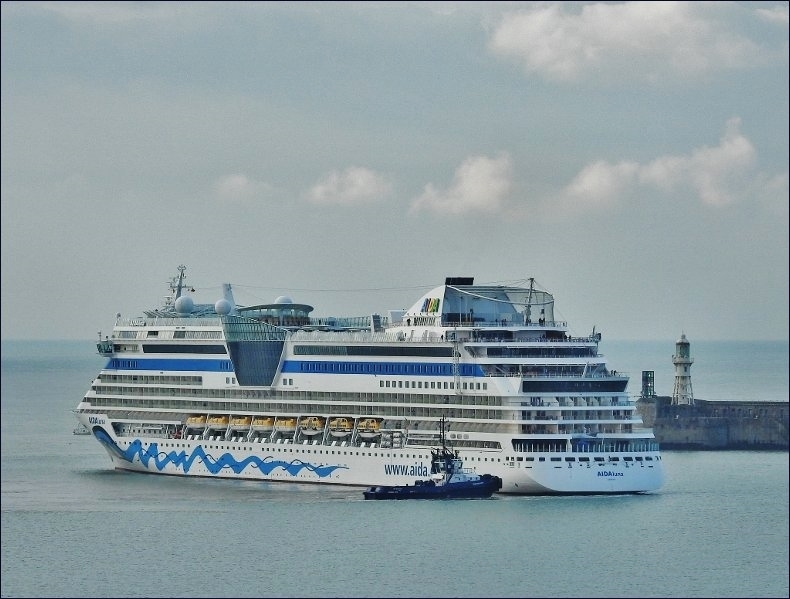 Hopefully we will be spared some of the extreme pile driving Del, there was a hint of it yesterday but it didn't last for more than a few minutes.
Thanks for the tip Howard...will watch for that arrival for sure.
Nice picture from Dunkerque again Ed - great to see all those pix from Dunkerque.
Well done with those two shots Patrick..good work there.
PB

PS: 90,000 tonner Serenade of the Seas approaching..
Saturday, 29 April 2017 - 04:55
Post 3725
Del Styan, Norwich
I'm glad you're getting vibrations, rather than thumps. When I lived up on the North Norfolk coast Cromer Pier was repaired, and we could hear, and feel, the piling going in some mile and a half away. Hope you are to be spared that! Hopefully the technology has moved on from Vic's time.

Friday, 28 April 2017 - 23:25
Post 3724
Howard McSweeney, Dover
Just heard that the Royal Caribbean cruise liner "Serenade of the seas" is being diverted to Dover arriving 0700 hours tomorrow leaving at 2100 hours with 2500 passengers on board. Could be busy in town.

Friday, 28 April 2017 - 19:20