Wednesday, 28 January 2015
SEA NEWS
Scroll down the page and over the page for all the stories...
RECORD FREIGHT LEVELS AT PORT OF DOVER....see post 1304.
MYFERRYLINK ruling see below 1309, 1311...
Port of Dover Remains Traffic Resilient see 1328. - Also see Latest from DDC re current Traffic problems..just below 1335.
Quarter Million Pound handover to Community from the Port of Dover see 1270 also NOTE - FUND NOW OPEN SEE 1334 BELOW !!
__________________________________________________________________________________________________

DFDS SEAWAYS latest deal 1343 see below
FREE WINE with P&O..see post 1326 below.
THE DOVE OF PEACE see 1279 below...
Marina retains Gold Anchor Award 1291.. Port also retains Park Mark Award see post 1294.
PORT COMMUNITY DIRECTORS ANNOUNCED...see 1252.
Multi-Million Pound Flood Defences see 1267.
DOVER RACE FESTIVAL - join in 1269
Follow in the footsteps of TOWIE with MyFerryLink see 1256.
Restoring the Fairbairn crane...see post 1247.
CHARLIE ELPHICKE MP - Thoughts on the Port - see post 818. Further thoughts 955 and at 1061,1179,1205..LATEST 1290.
The LIFEBOAT in the thick of the action again. See 976 also 1012. see also LATEST LIFEBOAT PIX 1156, 1295, 1312, 1341...
REMEMBRANCE pictures in post 1199....
For all the general sea news and pictures see down this page and over the many pages. Dover.uk.com and Doverforum.com have merged to produce an entirely local and comprehensive Dover website. Please feel free to join in with the discussion and chatter. See the link to dover.uk.com on the menu left for the latest frontpage topical news stories, and/or click on Forums Direct on the menu left to join in with the latest chat.
Nautical contributions are welcome on this page - max 4 pictures preferred per contribution, all pictures remain own photographers copyright.
Email:dover7@msn.com to send Sea News pix or info..or click ADD YOUR COMMENT below to post direct, no membership needed. Paul Boland.
Post 1347
Sea News, Dover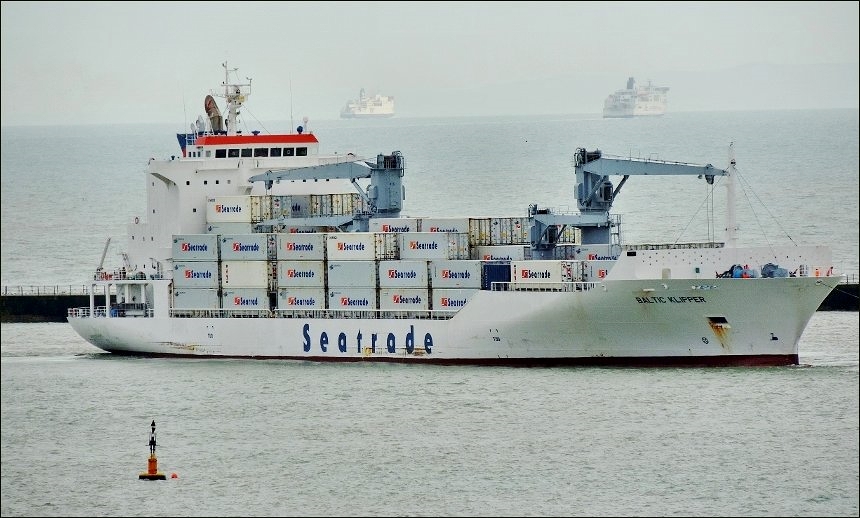 Another couple of pictures to add to the mix above...yes its another couple of the Baltic Klipper with our redoubtable tugboats included.
This vessel has since departed of course as busy busy...at the cargo terminal today is another old friend the Atlantic Reefer.
Wednesday, 28 January 2015 - 07:46
Post 1346
brian, trapped agan dovorin
yes paul rather annoying it really is. back to being blocked again this morning. 0730 ish.

Tuesday, 27 January 2015 - 07:59
Post 1345
Sea News, Dover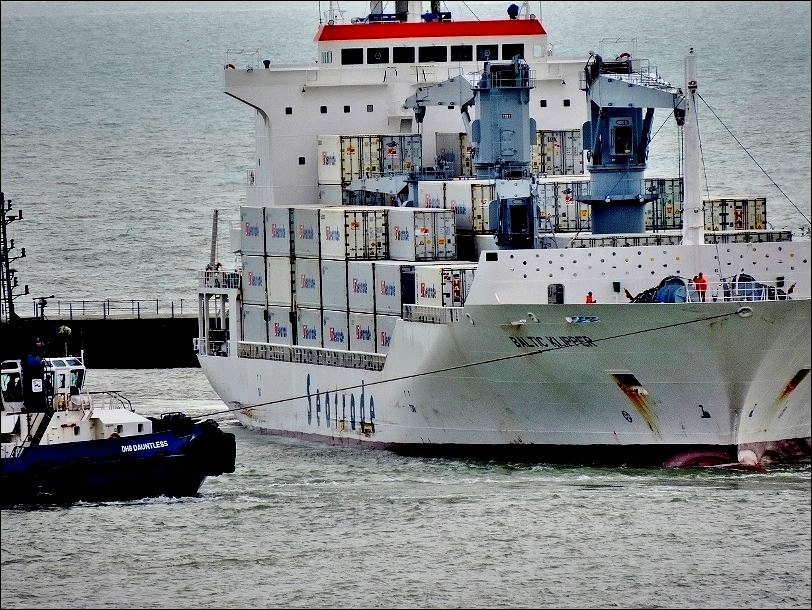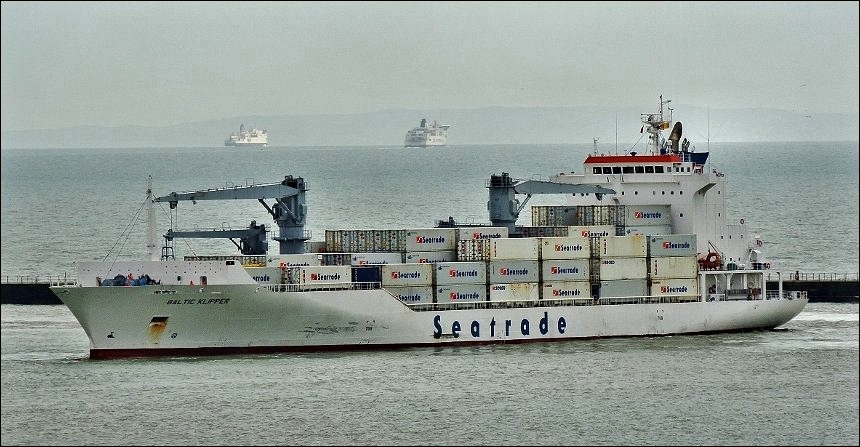 The pictures above show the Baltic Klipper arriving on sunday. I don't think we have seen this one before here in the Port of Dover...seems a new name to me. Great to see the cargo trade powering on into 2015.
Brian yes the situation got very busy again last night with trucks lining up for hours. I don't think for example that we would need one of those long winded government reports to tell us that we simply don't appear to have enough capacity. One glance out the proverbial window tells the story. At 4.30pm yesterday monday I noticed the trucks were tailing back miles again and I also noted that there was just one ship in Port...one of the P&O Spirits. PB.
Tuesday, 27 January 2015 - 07:46
Post 1344
brian, fed up dovorian.
I note that the A20 is at a stand still again.

Monday, 26 January 2015 - 19:45
Post 1343
Sea News, Dover
DFDS SEAWAYS SPECIAL
_____________________
Book Early for a Ferry Great Offer across the Channel - Save 20% on return crossings from Dover-France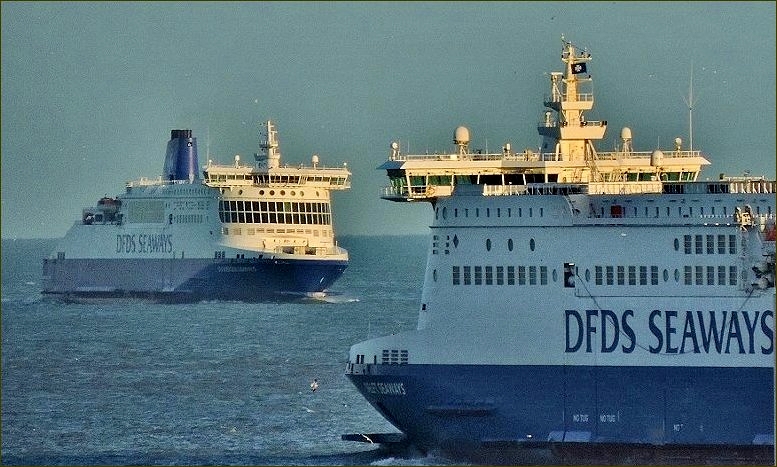 Award-winning ferry operator, DFDS Seaways, has launched an early booking offer on its crossings from Dover to Calais and Dunkirk. If you book before 28 February, you can save 20% on your ferry crossing for a car and up to nine passengers. This means you can sail from as little as £28 each way to Dunkirk and from £32 each way to Calais. Travel is for selected dates until 11 December on up to 34 daily sailings, and comes with no baggage weight or size restrictions.
Gateway to Europe
Take your car across the Channel on one of our 34 daily sailings between Dover and France and you can open the gateway to Europe and explore the continent at your own pace. Not only are our ports linked to major cities and holiday regions in France, but also in neighbouring countries. What's more our Dunkirk port is the closest port to Eastern Europe accessible from Dover.
Dover-Dunkirk
Our ferry from Dover to Dunkirk is short, taking just 2 hours, and, with the port being located just 25 miles north of Calais, is a convenient way to access France, Holland, Germany, Belgium or beyond. There are up to 24 daily sailings between Dover and Dunkirk, running all day and night, so you're sure to find a crossing to suit your time and budget.
Dover-Calais
Our ferry from Dover takes just 90 minutes to arrive in Calais. The port is conveniently located with easy access to transport and motorway links to the rest of France with up to 10 daily sailings at convenient times.
To redeem this offer use the discount code E15EBO at the point of purchase.
During your sailing with DFDS Seaways, you can enjoy a meal or snack in one of the onboard cafes or restaurants, shop for holiday essentials and luxuries, or relax as the children play in the dedicated children's area, meaning your holiday starts as soon as you board.
DFDS Seaways sails up to 34 times a day between Dover and France, providing passengers with flexible crossing times, a luxury travel experience and convenient travel options.
To find out more information, visit www.dfds.co.uk, or telephone 0871 574 7235.
* *
Here are a few pictures showing the sleek lines of the Dieppe Seaways by way of a tribute... if indeed she has gone off the route. Would be sad to see her go of course, at the very least she is immensely photogenic...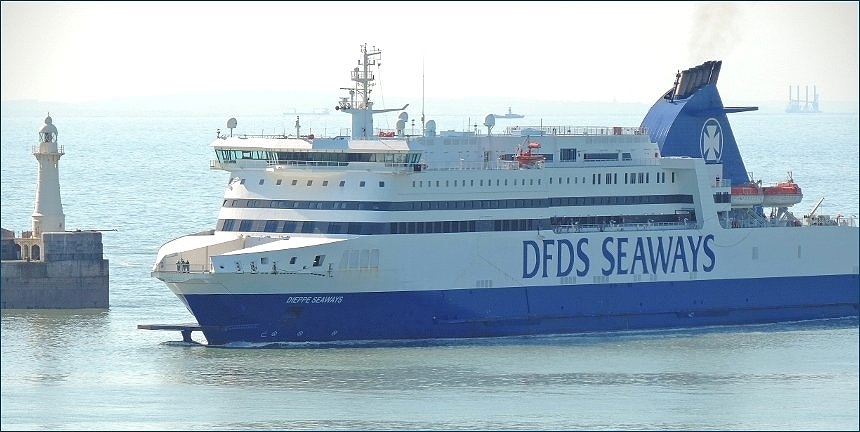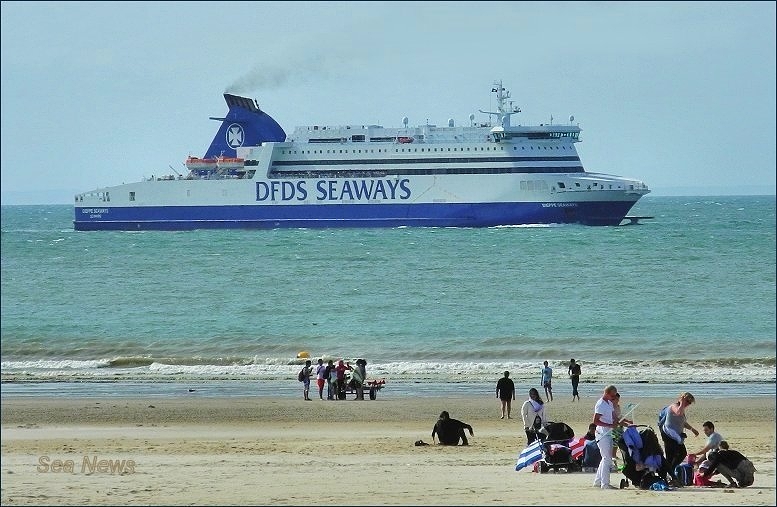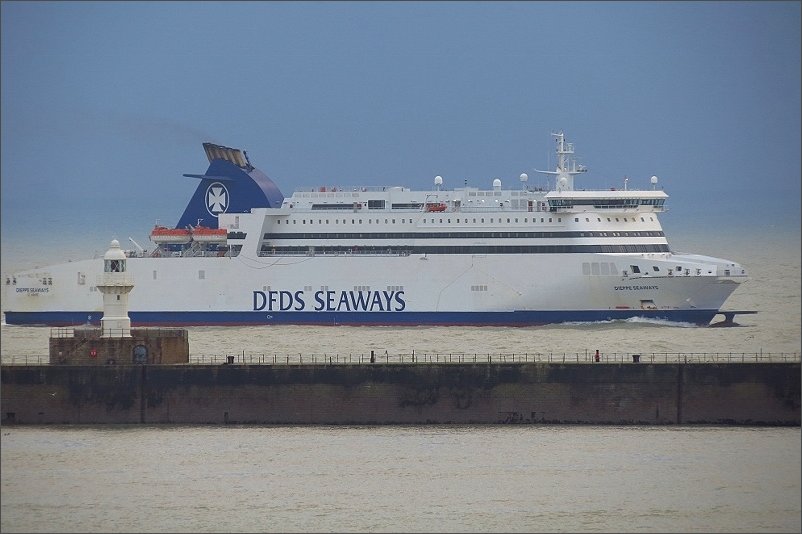 Monday, 26 January 2015 - 08:06
Post 1342
Sea News, Dover
Far Right Group en route to Blockade Port of Dover
__________________________________________
Here are a few pictures from todays far right protest. Pictures taken at approx 13.35 (1.35pm) There was an opposing group also joining in.... from the Anti-Fascist League.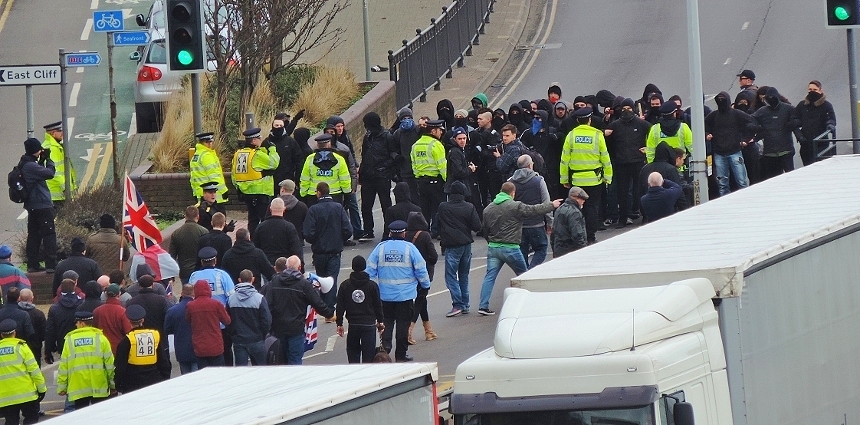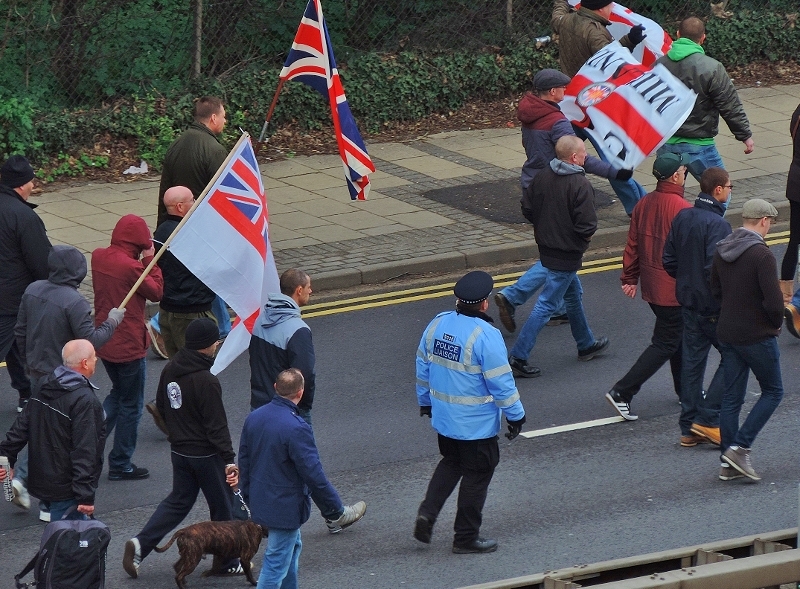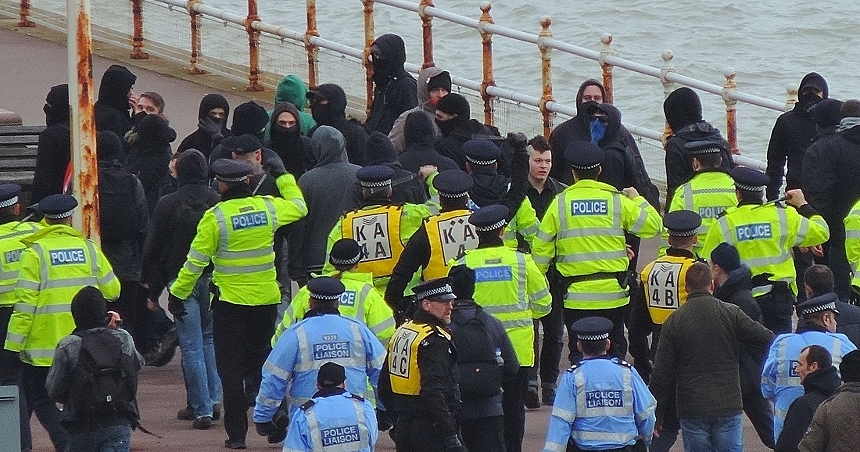 Some sinister looking images above there which is unfortunate. The Police were determined to keep the two groups apart and they were successful most of the time but when the groups moved onto the seafront scuffles broke out. The Police managed to separate them again but as ever it was an ongoing headache for the Police not to mention the other road users...unwelcome, particularly after the chaotic travel week we have already endured here in Dover. The far right group.. I'm not entirely sure who or what they are... presumably anti-foreign otherwise why target the Port of Dover, but what their ultimate aims are is unclear...other than to block the Port of course. I ought to declare at this point of course that yours truly is foreign himself so cant muster up any all-round sympathy...but there we are. We have other pictures but.... PaulB.
Pity to take Jon Miell's photo off the top...see below. Fascinating shot Jon. PB.
Sunday, 25 January 2015 - 15:58
Post 1341
Sea News, Dover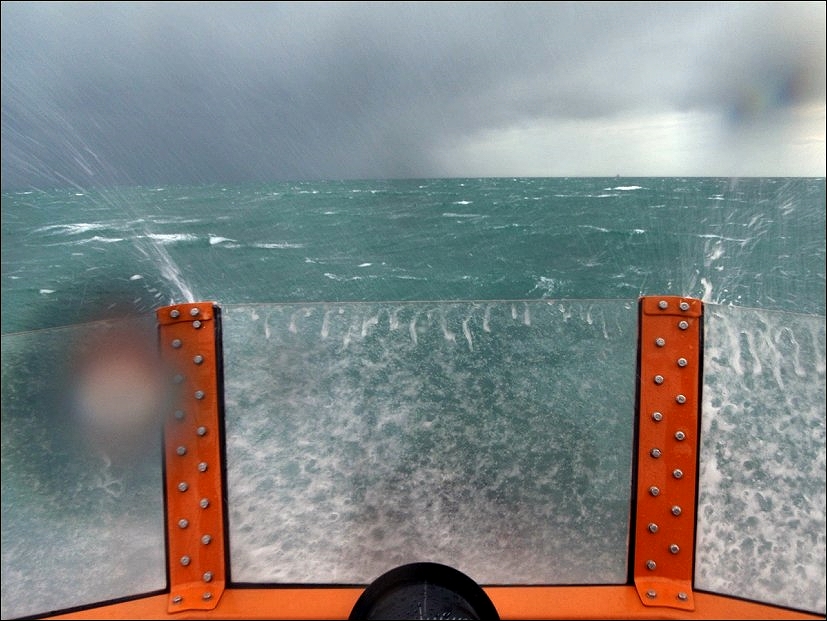 Had the fascinating picture above through from the Lifeboat guys and from Jon Miell in particular. Jon is the Deputy Coxswain and he took this picture of the lifeboat out in the thick of it. He refers I understand to the picture in post 1324 below page...
Jon says.....
"There was a picture published of the lifeboat exiting the Eastern a few days ago on it's way to search for some wreckage. The boat was out the following day, again looking for debris, with James Clapham in command. I took this picture from the flying bridge just after having a wave break over the upper steering position. It was rougher than the picture portrays but the remnants of the wave on the screen makes a nice shot."
I remember the day well and it was very rough indeed.
The opposite to rough below...a tranquil scene below as night falls over the harbour on Friday evening. We can enjoy a bit of relaxation now as the worst of the trucking backlog situation seems to be over. Brian is freed up.....
..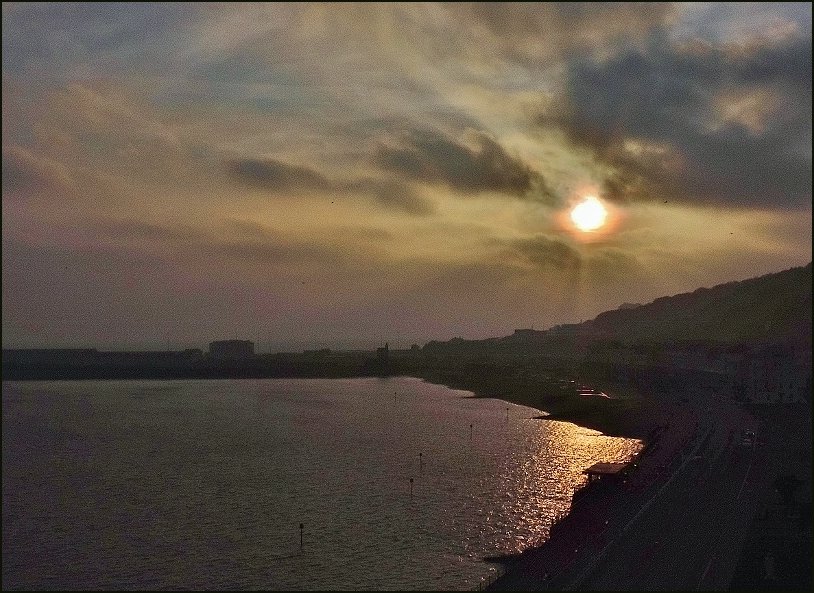 Thanks Kevin for that info. Very interesting. Got some good pictures of the Dieppe Seaways over time ...must fetch a couple out as a tribute.
Thanks once again Jon Miell. See more of Jon's pictures in post 1312. PB

Sunday, 25 January 2015 - 08:36
Post 1340
Kevin Charles, Dover
DFDS have taken the Stena Nordica on an 18 month lease to replace the Dieppe Seaways on their Dover/Calais service. A welcome capacity boost.

Saturday, 24 January 2015 - 21:40
Post 1339
brian, freed dovorian.
it just go's to show in the last week what could happen when 3 ferries go missing, and the tunnel is shut.

Saturday, 24 January 2015 - 15:38
Post 1338
vic matcham, dover
They must have a rethink about taking the company off the run and a good one at that, just think what would have happen if they were not there at this very time.

Saturday, 24 January 2015 - 07:52
Post 1337
Mike J., Dover
Brian's comment in post 1333 -

'some bad news the rodin has gone for refit. one less big ferry to cart off these infernal lorries'

The RODIN has certainly gone but the NORD PAS DE CALAIS has re-entered service after her refit.
This old-timer, built in 1987 & the last of the train-ferries, carries only freight & will be most useful.



Friday, 23 January 2015 - 22:14
Post 1336
brian., trapped dovorian.
so that's what a police man looks like. please send him up my way paul.

Friday, 23 January 2015 - 14:41
Post 1335
Sea News, Dover
DDC CALLS FOR GOVERNMENT STRATEGY ON
CROSS-CHANNEL FREIGHT TRANSPORT RESILIENCE
__________________________________________
Dover District Council is welcoming news that Government has ordered an urgent review of the resilience of the road network in East Kent to cope with periods of severe congestion at Eurotunnel and the Channel Ports.
The news follows a meeting today between East Kent MPs and the Roads Minister, John Hayes MP amidst on-going traffic problems caused as a result of reduced capacity at the Channel Tunnel following a fire on Saturday (17 January). Whilst praising the efforts of the Port of Dover and the ferry operators in handling a dramatic increase in traffic, the Leader of Dover District Council has lamented the lack of resilience to cope with such demand.
Cllr Paul Watkins, Leader of Dover District Council, said:
"It is unacceptable that communities in East Kent are expected to bear the burden of what is a national issue. The UK economy relies on Dover and the Channel Tunnel to keep the nation's trade moving. Yet time after time we are left isolated and cut off by the lack of resilience in the road network and a lack of investment to support the nation's premier roll-on/roll-off port.
"We're calling on the Government to take action to develop a strategy on cross-Channel freight transport resilience so that the police and highway authorities have the resources to manage the situation more proactively.
"Dover is as important to the national economy as Heathrow Airport. If Dover's not working, the nation isn't."
Cllr Nigel Collor, DDC Portfolio Holder for Access, said:
"It's frustrating that local communities in Dover, Shepway and Ashford are being left to cope with this situation. It is impacting businesses, tourists and local residents alike. We share their frustration and support the widespread calls for a more proactive response from the Government. We're doing as much as we can to alert the police and highways authorities to bottlenecks in the town, but it's evident that a long-term solution to deal with the issue is needed."
- ends -
Below a lone Policeman checks each truck one by one as they come down Jubilee Way...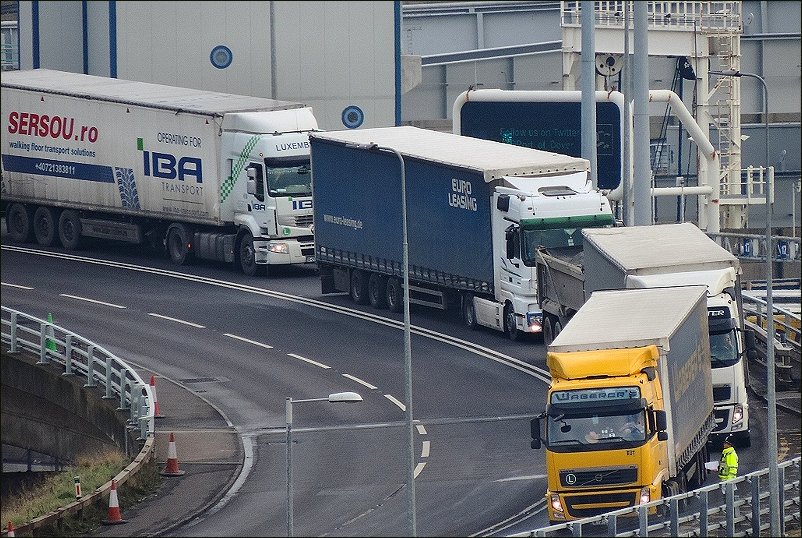 Friday, 23 January 2015 - 07:28
Post 1334
Sea News, Dover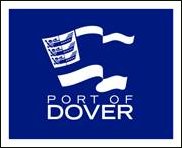 Port of Dover Community Fund NOW OPEN!

_________________________________________
The Port of Dover is delighted to announce that the Port of Dover Community Fund is now open for applications.
Focused on skills, jobs and the community, the Port recently gifted the Fund £250,000 to launch it and ....
will contribute 1% of pre-tax profits each year to support it.
The Port of Dover Community Fund will be managed by Kent Community Foundation, a leading Kent charity with over 13 years' experience of delivering effective grant-making programmes on behalf of companies, individuals and foundations. Kent Community Foundation has distributed over £20 million in grants and specialises in community grant-making reaching very local causes working at the grassroots. The management cost associated with the administration of the Port of Dover Community Fund is being covered by the Port in addition to its existing financial contribution to the Fund.
Carol Lynch, Chief Executive of Kent Community Foundation, says:
"Kent Community Foundation is delighted to be setting up this important new Fund for Dover, thanks to the Port of Dover's significant commitment to the local community. We look forward to working with the advisory panel to encourage local groups to make the most of this great source of local support and bring lasting benefit to the Dover community."
The current funding round is open until 31st March 2015, following which the Port of Dover Community Fund Panel, a local advisory panel, will assess the applications. The majority of successful applications are likely to receive grants of between £2,000 and £10,000.
Tim Waggott, Chief Executive, Port of Dover, says:
"What a fantastic way to start 2015! I am extremely grateful to the Kent Community Foundation for taking on the independent management of the Fund and also to the advisory panel, led by the Right Reverend Trevor Willmott, Bishop of Dover, for its commitment to ensuring that the Fund is used to deliver the greatest benefit for our community. I therefore encourage local groups and organisations to start applying in order to make the positive difference the Fund has been set up to create."
Under the chairmanship of the Bishop of Dover, the advisory panel consists of a number of local people including Ronnie Philpott, Roger Knight, Emma Liddiard and Jack Williams.
The Right Reverend Trevor Willmott says:
"The Port of Dover Community Fund can bring hope to young people and to the community of Dover. I and the rest of the Panel trust that the community will make full use of this fund. It is our job to ensure that it supports those projects that can make a real, positive and lasting difference to people's lives."
To apply for funding from the Port of Dover Community Fund, please visit:
www.kentcf.org.uk/apply/funding-round/#Port of Dover
ENDS

* *
Thanks for the info re the Rodin Brian...trapped Dovorian !

Thursday, 22 January 2015 - 15:20
Post 1333
brian, trapped dovorian.
some bad news the rodin has gone for refit. one less big ferry to cart off these infernal lorries.

Thursday, 22 January 2015 - 10:22
Post 1332
Sea News, Dover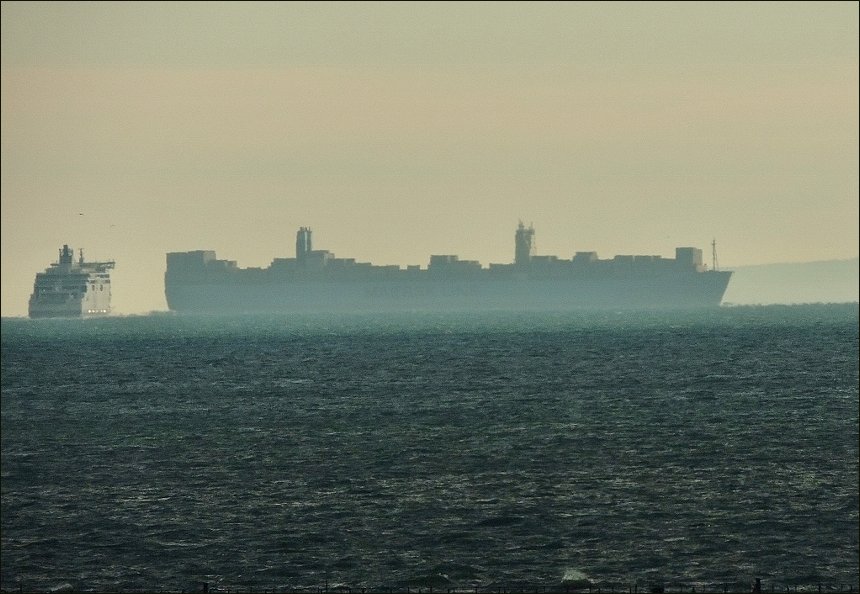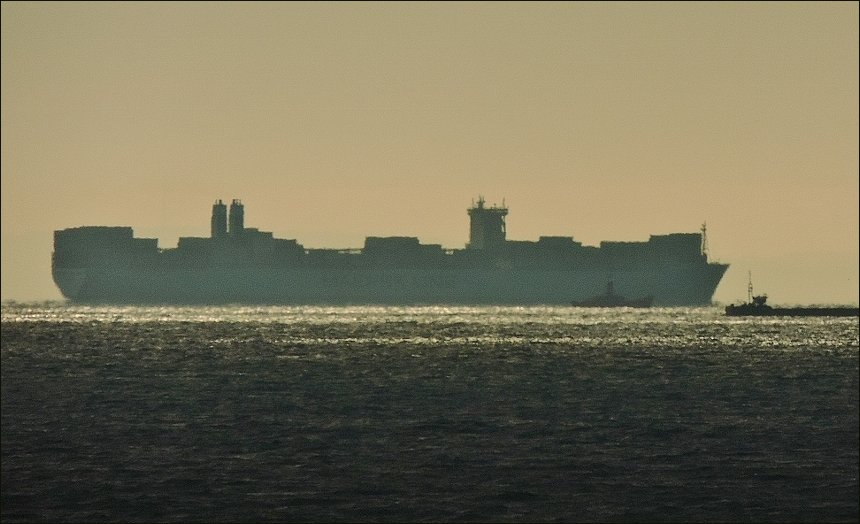 Look at this beast. This great ship moved down the channel on Tuesday heading for foreign climes. At the time of launch in 2013 she was the biggest ship in the world...
"MV Mærsk Mc-Kinney Møller is the lead ship of Maersk's Triple E class of container vessels. At the time of its entry into service in 2013 it was the largest ship in the world, it had the largest cargo capacity of any vessel, and was the longest ship in service worldwide. Constructed for Danish company Maersk by Daewoo Shipbuilding & Marine Engineering (DSME) of South Korea, it was launched in February 2013 and entered operational service in July 2013. It was named after Mærsk Mc-Kinney Møller, the CEO of Maersk between 1965 and 1993.The ship is the first of a class of 20 identical vessels. "
See also Ed Connells post number 1265 for another of the Triple E's...
See also 1305.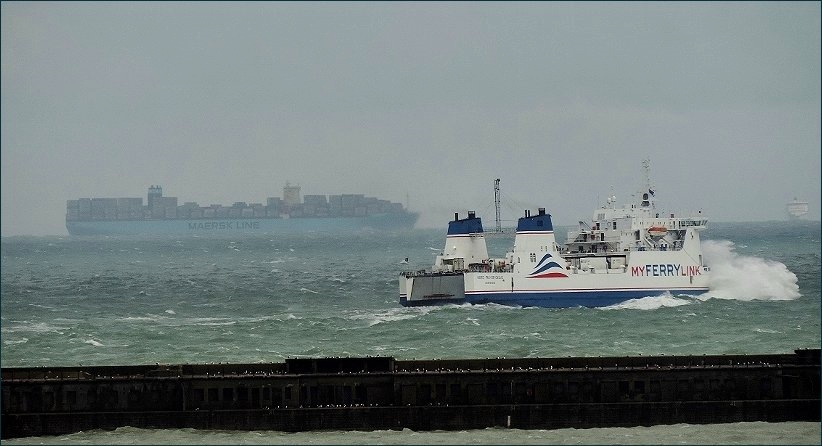 I noticed late yesterday as it was getting dark, too late for a picture, that the Nord Pas de Calais, the familiar ol' warhorse, was back in action. The picture above is from a recent time but as the traffic situation is still very bad with trucks still queuing all through the night, spare a thought for the poor trucker, the extra capacity will help for sure.
Thursday, 22 January 2015 - 08:53
Post 1331
Sea News, Dover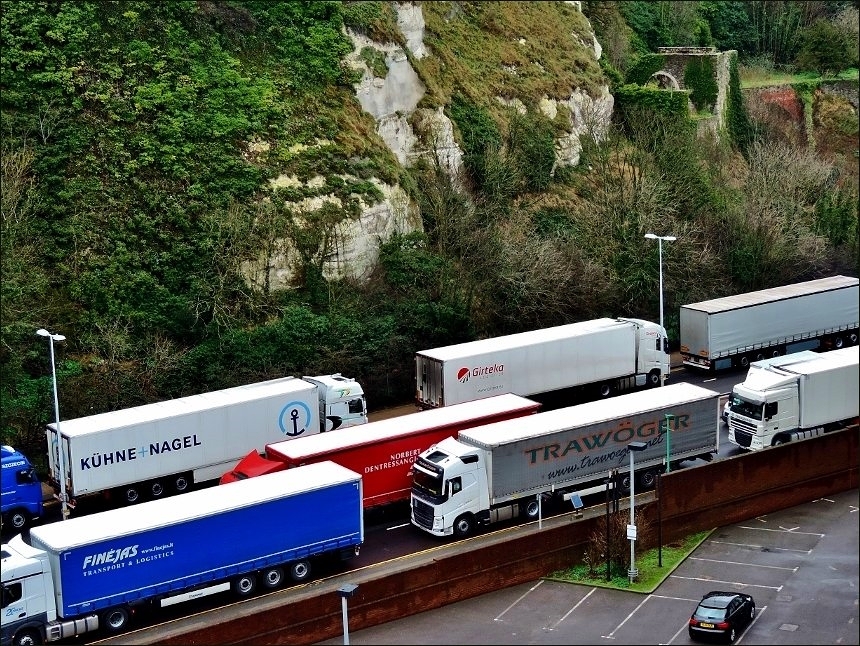 Vic I think you make a fair point there. Reduce capacity in any sector and this is what we get...and of course the citizenry of Dover feel the brunt of the disruption. The Tunnel is still in turmoil and with a couple of ships down here at Dover the result is what you see. Without MyFerryLink surely this chaotic situation would go on.
* *
Operation Stack Phase Two in place.
______________________________
Phase Two of Operation Stack was put in place on the M20 southbound in the early hours of Wednesday 21 January due to reduced capacity at the Channel Tunnel.
Non-freight traffic is being diverted onto the A20 from Junction 8 (Hollingbourne) and rejoining the motorway at Junction 9 (Ashford West). This allows backed-up freight traffic to park on the coastbound carriageway.
Kent Police is reminding lorry drivers that those at the front of the queue will get a ticket to continue their journey to the continent. Those who use the diversions for non-freight traffic in an attempt to get closer to the front, and who do not have a ticket, will be sent to the back of the Op Stack queue.
What is Operation Stack?
Operation Stack is where parts of the M20 are used to queue lorries travelling towards the continent, to avoid causing gridlock across Kent's road network. It is only introduced as an emergency measure after consultation with other agencies and implemented following a thorough assessment of issues, including safety concerns and disruption on the road network.
Check with your operator
Contact your travel operator before setting off on your journey. Here are a few useful numbers:
Eurotunnel - call 08444 630000.
Eurostar - visit www.eurostar.com
The Port of Dover - call 01304 240 400 or visit www.doverport.co.uk
...the message above is from Kent Police.
* *
Good selection of pictures below there Mike. Yes indeed I bet it was rather cold down there on the Prince of Wales Pier...brrrr ! PB
Wednesday, 21 January 2015 - 14:40
Post 1330
vic matcham, dover
With all what is going on tells me we still need all the ferry companys working just think if My Ferry Link had already gone there would have been 3 less ships that means the hold ups would have been longer .

It is crazy to get rid of one company they are all making money and giving locals a job .Jus

t crazy

Wednesday, 21 January 2015 - 11:36
Post 1329
Mike J., Dover
The elderly self-discharging bulker HENRIETTE [built 1971] came into Dover for bunkers late Monday night & docked on Cruise-2.
She rather unsportingly sailed on Tuesday morning while I was trudging up an icy Prince of Wales & I had to make do with the tug AFON CEFNI who was berthed on the Ad.Pier.
The HENRIETTE has been involved with rock-dumping operations down at Dungeness & the AFON CEFNI has been popping down there to help out from time to time.
In Wellington Dock the Environment Agency's survey vessel SOLENT GUARDIAN was tied up ahead of our old friend TOPLIFT who has been laid up there since she was involved in the Southern Breakwater reairs a few months back.
Looking at her AIS track on Marine Traffic the SOLENT GUARDIAN was heading upchannel from the Eastbourne area & passed Dover during Monday night, but changed her mind off Deal & came to Dover instead.
Oddly her AIS information has her as a 'Law Enforcement Vessel'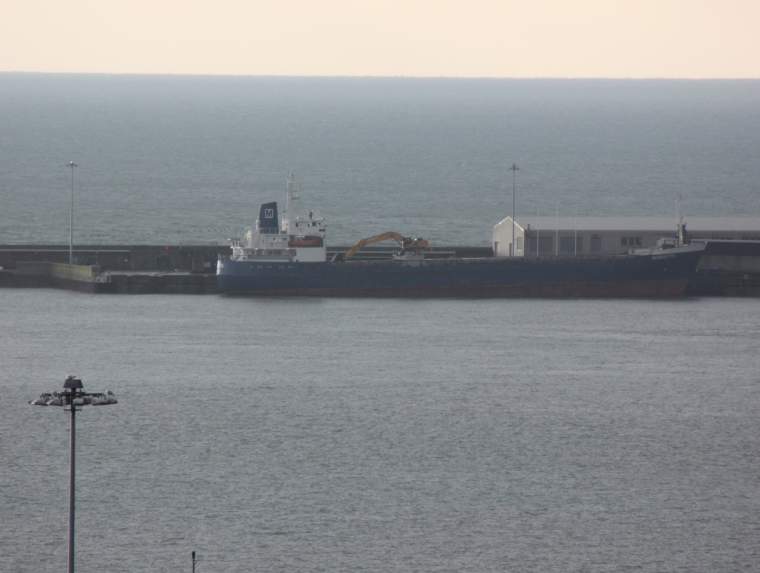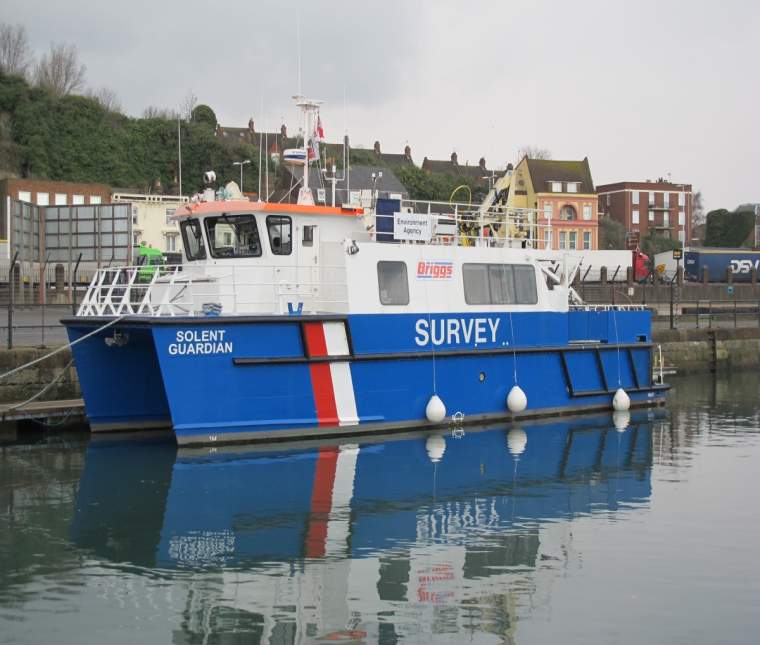 Wednesday, 21 January 2015 - 00:56
Post 1328
Sea News, Dover
Port of Dover Remains Resilient
__________________________
Passengers stranded by the problems with Eurotunnel over the weekend were offered a safe alternative to reaching their destinations by the Port of Dover and its world renowned and reliable ferry services.
Over the weekend, the Port of Dover and its three major ferry operators provided emergency assistance in getting stranded Tunnel passengers across the Channel. The Port continued to maximise available capacity for the additional traffic whilst maintaining a first class service for customers already heading to Europe's busiest ferry port. Nearly 35% extra traffic resulted in increased ferry services over the weekend to cope with the stranded travellers.
Tim Waggott, the Port of Dover's Chief Executive, believes the Port reacted in very quick time to assist the hundreds of passengers and freight vehicles caught in the Eurotunnel problems:
"Despite the increased number of customers heading through the Port, we succeeded, along with our ferry partners, in providing a safe and reliable service to help those passengers frustrated with their travel issues. Our staff embraced the challenge and passengers have expressed their appreciation of the extra effort made to keep them informed. We were happy to help those who passed through the Port and hope we managed to rescue travel and commercial plans."
As Europe's busiest ferry port, Dover is used to handling large volumes of traffic heading across the shortest route between the UK and mainland Europe.
ENDS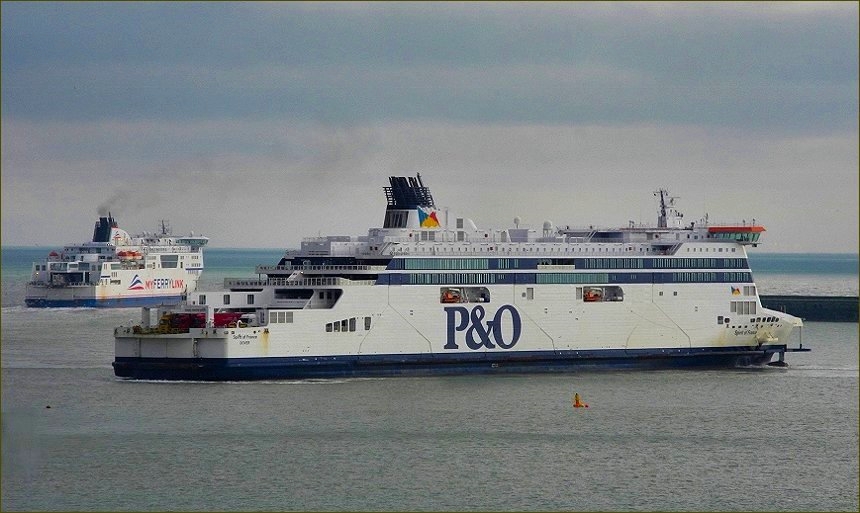 The ferries above working hard as ever but despite that we still have a freight backlog this morning tuesday with trucks extended back as far as this eye can see. We are several ships down at the moment too so it doesn't take much to cause the build up of commercial freight and with the tunnel also in backlog....well...
Tuesday, 20 January 2015 - 09:06